Last Updated on March 24, 2023 by Editor
Who says you can't celebrate Valentine's Day every day? Capture that loving feeling on romantic getaways in the USA that are as special as your significant other.
Romantic getaways are as unique as individual couples. For some, it's the first weekend getaway where they just get to know each other. For others, it might be a babymoon, or a chance to reconnect after an empty nest.
Whatever the life stage, shared interests inspire endless vacation possibilities.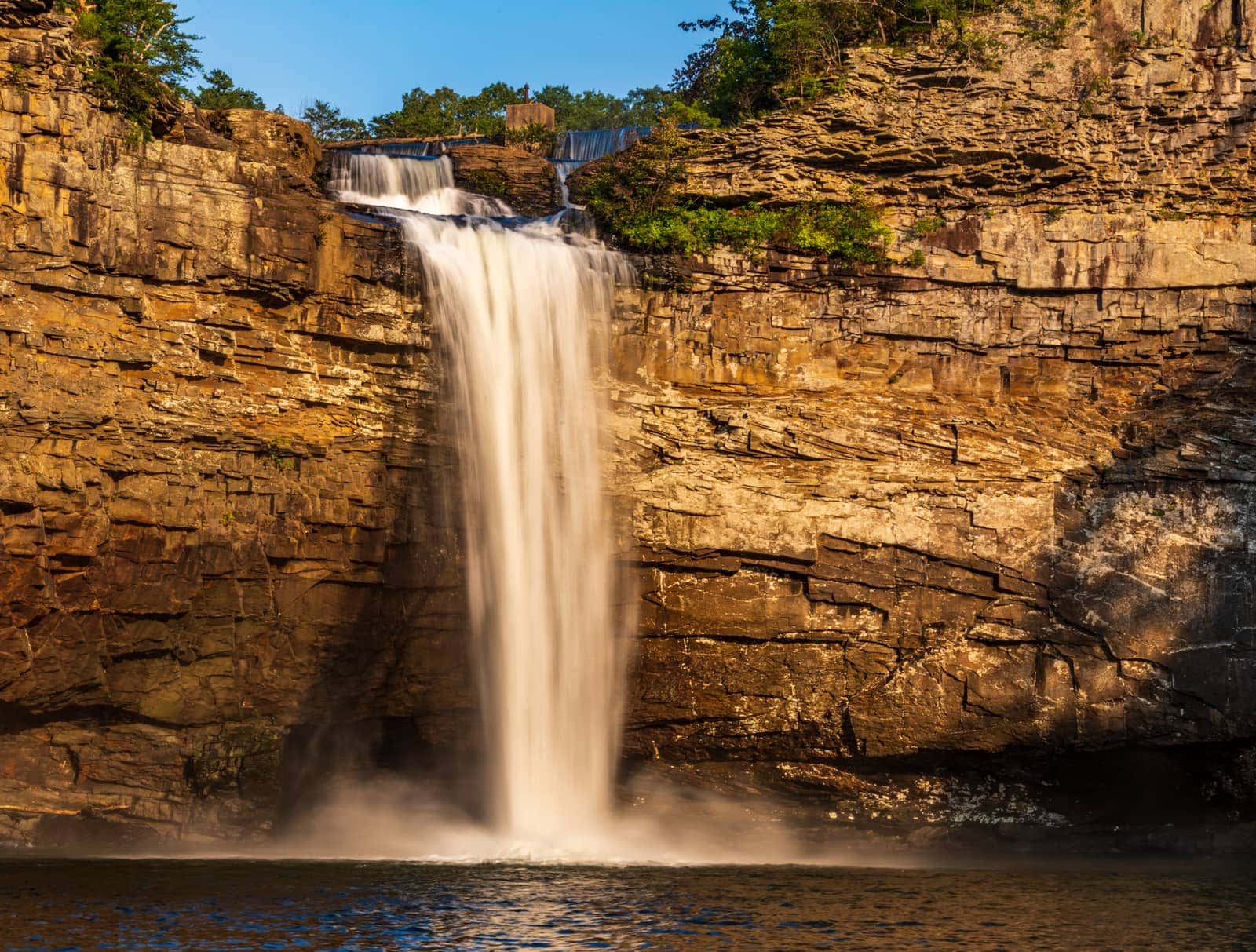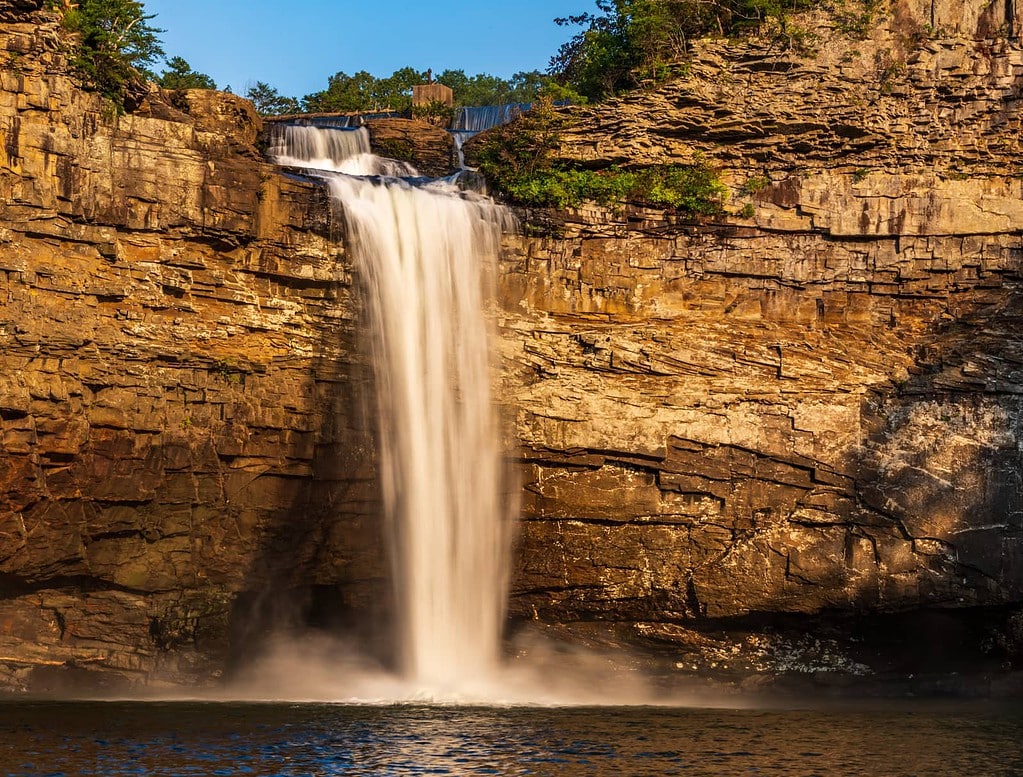 We've selected one hundred and fifty of the most romantic getaways in the US. There are three couples getaways in each state, many with links to our regional travel guides or romantic destinations lists. You're sure to find inspiration for a life-changing weekend getaway near you!
TIP – Use the Table Of Contents to quickly scroll to a romantic getaway near you.
Romantic Getaways In Alabama
1. Sunbathe On A Beach Getaway In The Gulf Shores
Open vistas, white-quartz sand, and at least ten public access beaches offering 32 miles of beachfront means that you can easily find a beach getaway on Alabama's Gulf Shores to suit you.
For example, a bridge connects relatively remote Dauphin Island and cottage rentals let you choose between small-town charms or blissful solitude.
2. Soak In Hot Tubs On Romantic Cabin Getaways In Alabama
If your idea of romance is a log cabin in the woods with a hot tub, then Lookout Mountain in Mentone, AL is the place to go. Virtually untouched by tourism, this getaway is for nature lovers who appreciate mountain views and swimming holes. T
he best surprise here is the funky and fabulous Wildflower Cafe; set in a historic cabin, it's part shop, part live music venue, and wholly farm-fresh restaurant. (Tip: Try the Southern Tomato Pie.)
3. Be Creative On A Weekend Getaway In Huntsville AL
Huntsville, Alabama is known as the "Rocket City," but as they say, you can't get to space without being creative. Space nerds flock to Huntsville to visit the U.S. Space and Rocket Center, but this city getaway destination also appeals to art lovers.
In addition to various art museums and the outstanding Huntsville Botanical Garden, the city boasts one of the largest arts centers in the South, Lowe Mill ARTS & Entertainment.
For a romantic stay, consider the artsy 106 Jefferson. Newly opened, its rooftop bar looks out on downtown Huntsville while the upscale on-site Revivalist restaurant pairs Southern hospitality with a decidedly avant-garde menu.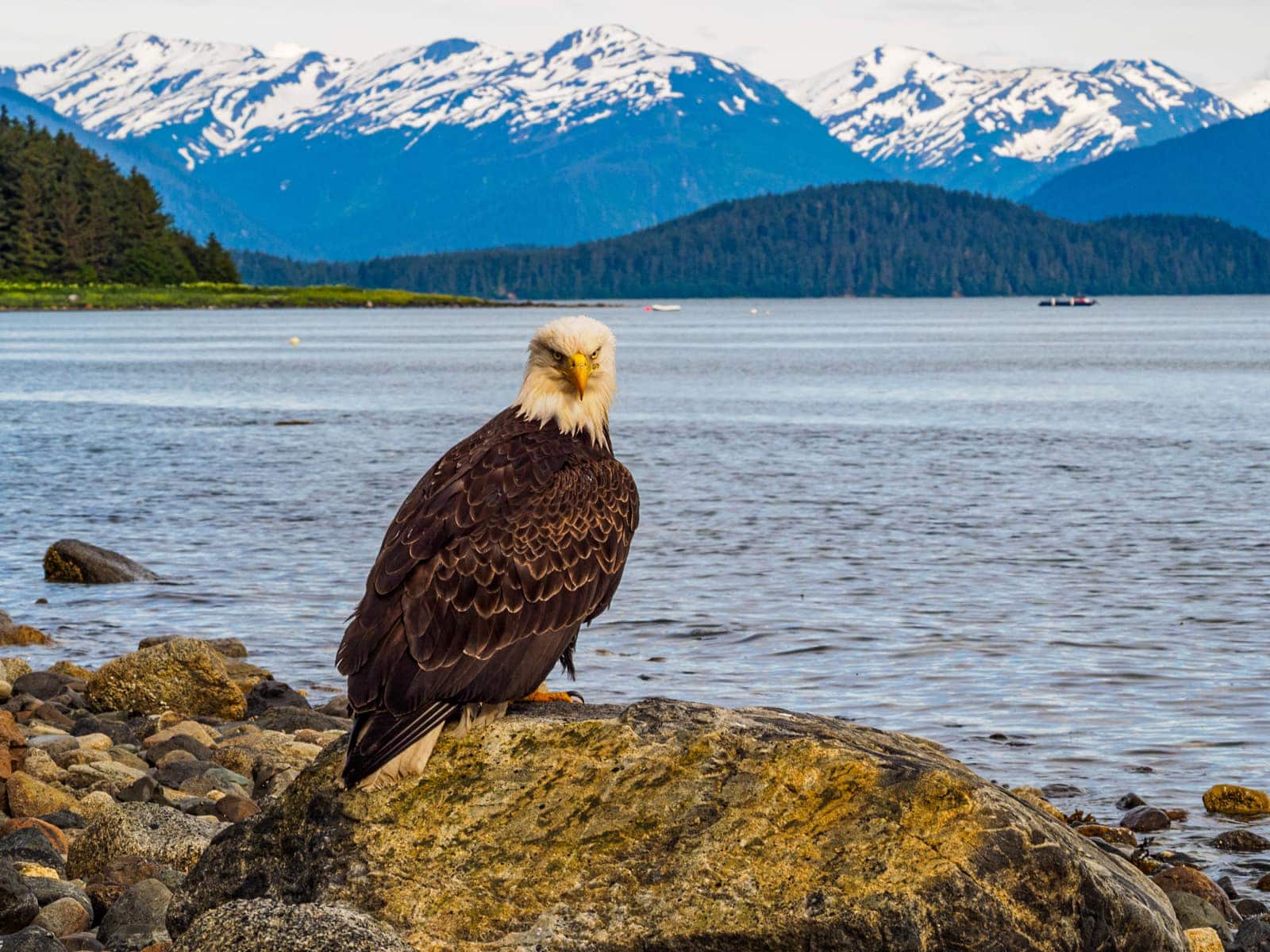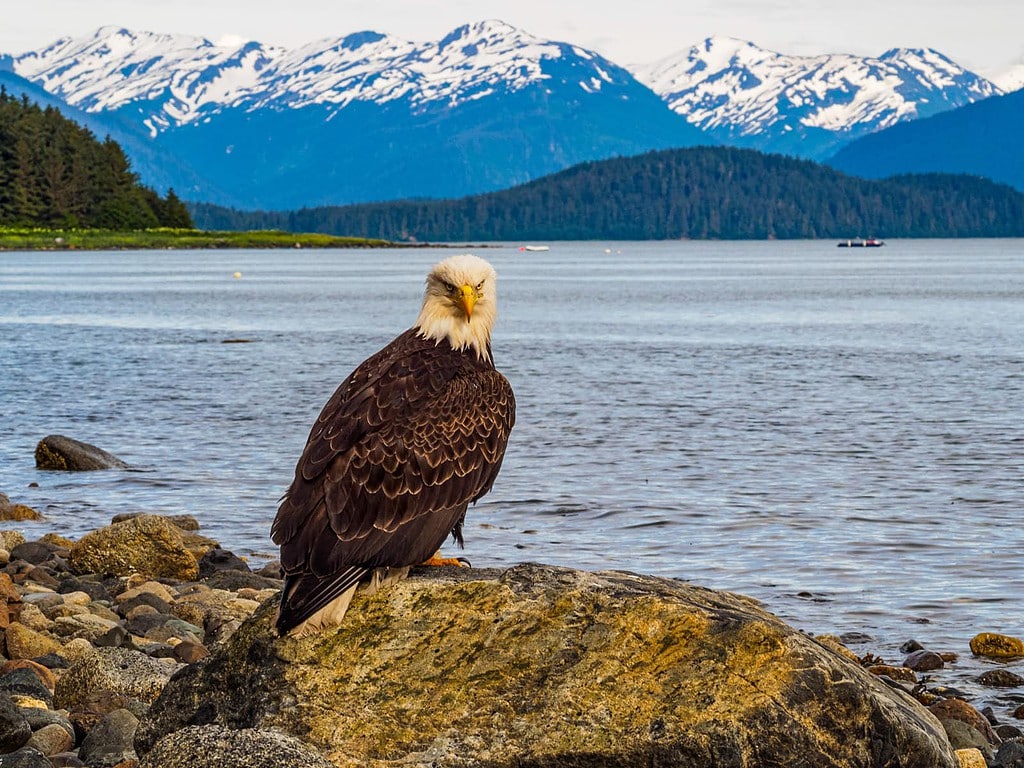 Romantic Getaways In Alaska
4. Sail Away On A Romantic Alaskan Cruise
An Alaskan cruise is on many couples' bucket lists, and there are several cruise lines to choose from. But on Windstar Cruises, smaller is better. Explore narrow fjords on ships with several onboard expedition experts and less than 350 guests.
5. Stargaze Amidst The Northern Lights
From late August to April in Fairbanks, AK, visitors come from around the world for Aurora Season. And while there are several ways to see the Northern Lights – ice fishing, sled dog rides, or snowcat tours among them – possibly the most romantic way to gaze at the lights is from a warm and cozy bed in an igloo at Borealis Basecamp.
6. Catch Your Fill On Alaska Fishing Trips
If your idea of romance includes the freshest seafood, outstanding service, and the thrill of catching a year's worth of fish in one week, then Shelter Lodge offers one of the best Alaska fishing trip packages.
All-inclusive rates include pickup at Juneau Airport, meals, lodging, daily fish runs for seasonal catch such as salmon or halibut, use of gear and equipment, and cleaning and packing fish in airline-approved boxes.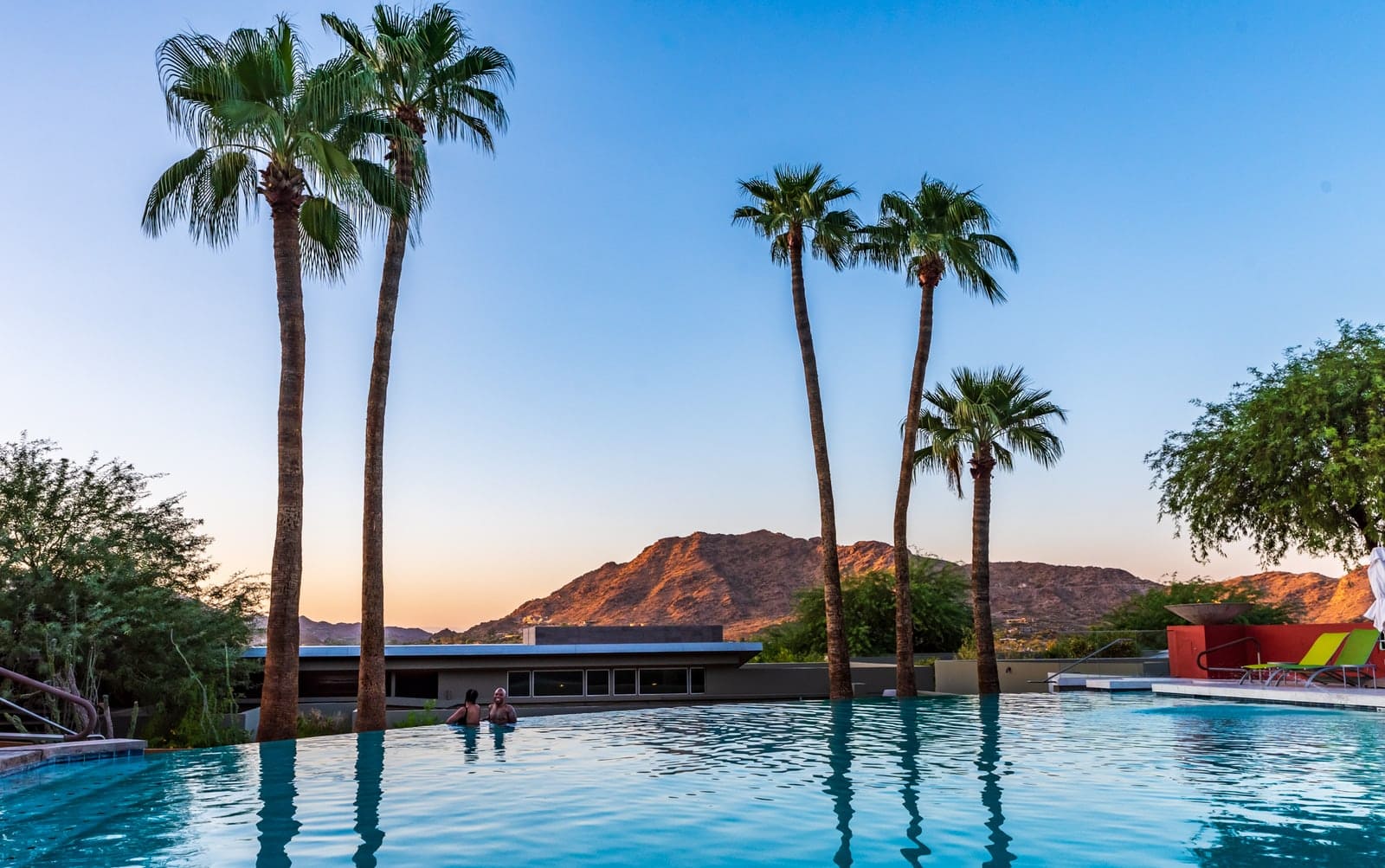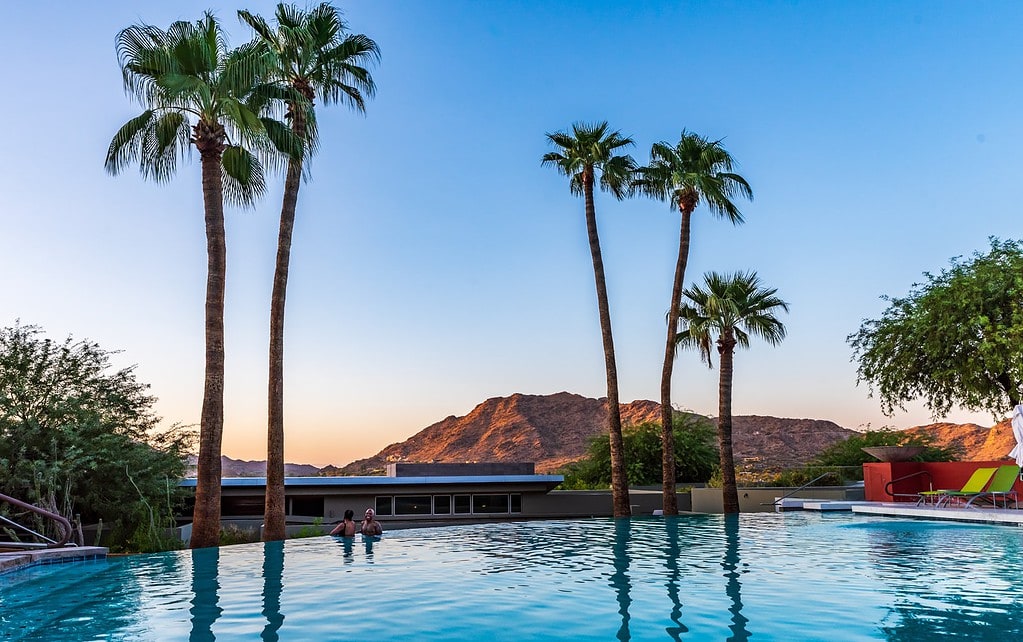 Romantic Getaways In Arizona
7. Indulge In A Wellness Getaway
Only minutes away from the hustle and bustle of Phoenix, the Sonoran Desert is as breathtaking as it is warm year-round. Canyon Ranch opened a health spa resort in Tucson in 1979, establishing a long tradition now found at four locations around the country. Today, there are many wonderful retreats in Arizona.
At one of the most luxurious of wellness retreats, Sanctuary Camelback Mountain offers world-class spa treatments, stylish private casitas, poolside Artisan cocktails, and a perfect perch for exploring the desert landscape.
8. Romance Latin Fusion At Sedona Vortex
The ultimate wellness retreat may just be in Sedona, Arizona. For decades, visitors have been attracted to the healing qualities of the Sedona Vortex. Even discounting the metaphysical, no doubt experiencing this red rock landscape has a restorative effect on any relationship.
An ideal vacation might mix challenging hikes with wine tasting and stargazing. Regardless, the best sunset views are at Latin-fusion Mariposa. It's one of four restaurants created by Chef Lisa Dahl, author of A Romance With Food.
9. Swim Under Havasu Falls
Home to Grand Canyon National Park, Arizona is known for superlative terrain and rugged hikes. Even so, Havasu Falls stands apart. Getting to the stunning turquoise waterfalls requires a 10-mile hike (alternatives include helicopters or pack horses,) and accommodations are limited.
Havasupai reservations are difficult to get (see our guide for tips.) And yet, the journey to the sacred blue-green waters may be one of the most life-defining experiences on North American soil.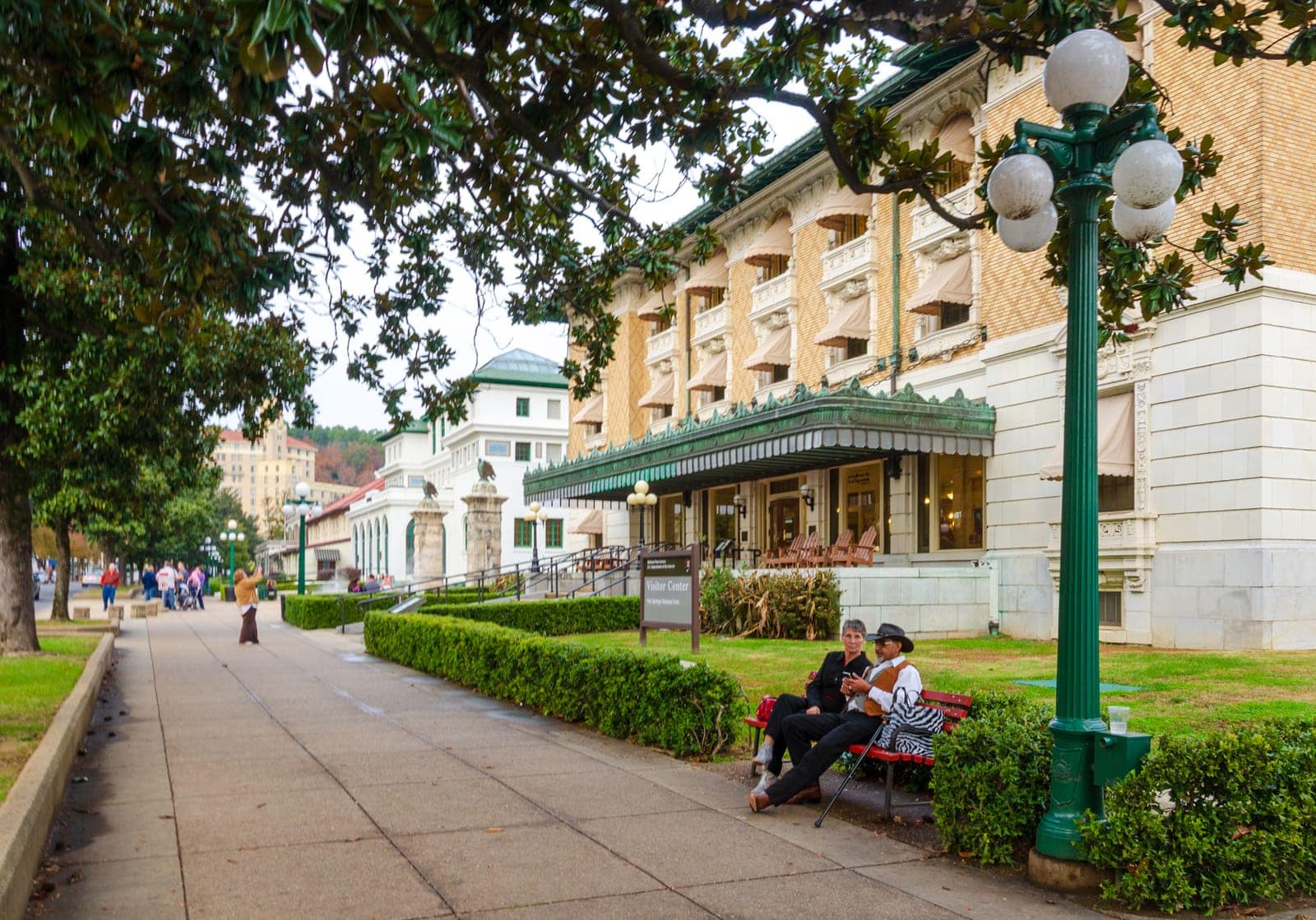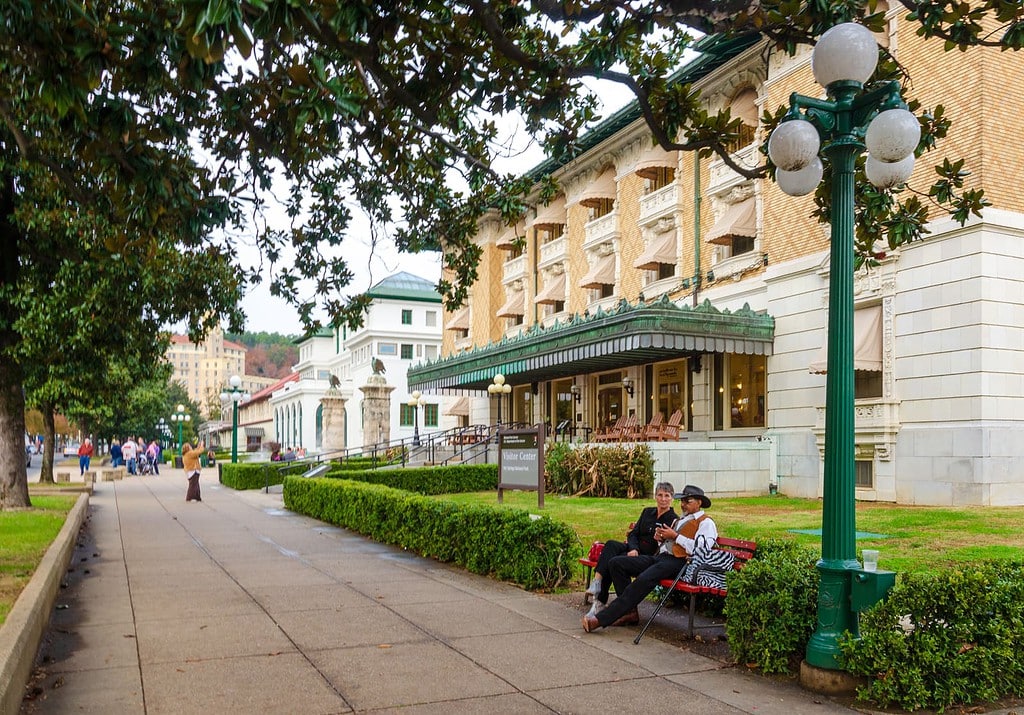 Romantic Getaways In Arkansas
10. Soak Up History In Hot Springs, Arkansas
Even before a national park system in the US, Hot Springs National Park land was designated for preservation. Museum exhibits at the historic bathhouses are a fascinating look at health and fitness notions through the years.
Visitors still fill up gallon jugs of healing waters at outdoor stations. Plus, you can soak in the therapeutic pools at two bathhouses.
More museums, including a Gangster Museum, round out cultural offerings; while Ouachita National Forest, Magic Springs Water, and Theme Parks offer contrasting ways to get active.
11. Cozy Up To A Cabin Getaway In The Ozarks
Known as the "Natural State," Arkansas presents various cabin rentals. With the two Ozarks mountain ranges running through northern Arkansas and southern Missouri, you can find anything from simple hunting lodging to luxurious retreats on VRBO.
At Silver Ridge Resort, handcrafted cabins made from local pine and cedar marry the old-timey pleasures of a stone fireplace and front porch woodland views with modern conveniences like hot tubs and full kitchens.
12. Plan A Wedding In Eureka Springs, Arkansas
One of the most popular places to get married in the Ozarks is the charming town of Eureka Springs, Arkansas. The entire downtown of Victorian-lined streets is on the National Register of Historic Places and is filled with historic hotels and unique shops.
Eureka Springs was built around the city's natural springs and you can still find fountains to fill a water bottle on the designated trail. Alternatively, appreciate local waters at Beaver Lake (a man-made reservoir off of White River) or in the beer garden of Eureka Springs Brewery.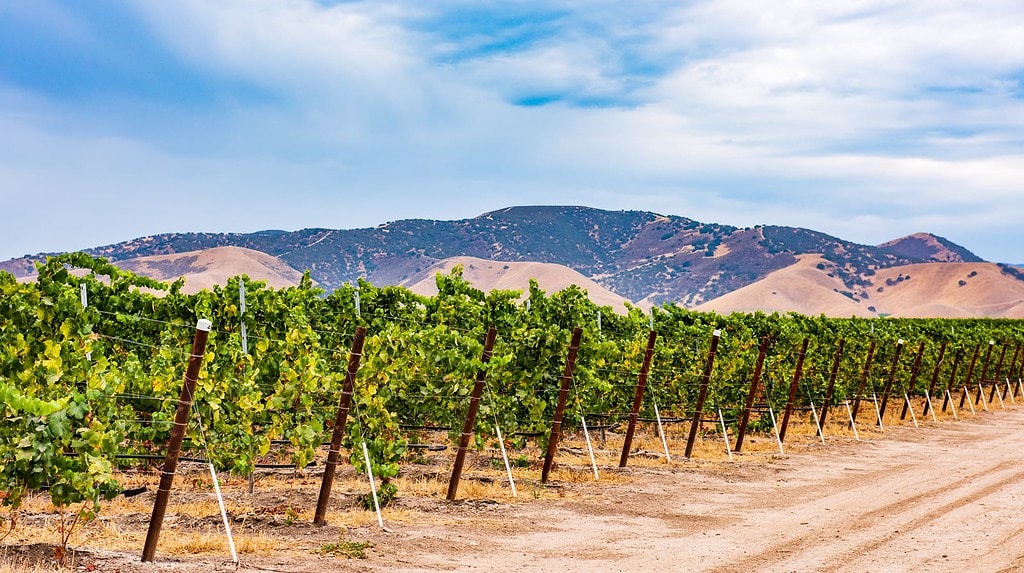 Romantic Getaways In California
13. Cruise Highway 1 California To A Beach Getaway
Some of California's most stunning coastal scenery can be found on iconic Highway 1 between Big Sur and Half Moon Bay. Tiny Carmel-by-the-Sea is often cited as a bucket list destination for its seaside charms and art galleries. Remarkably, the beach town also happens to be extraordinarily dog friendly.
Closer to San Francisco, Silicon Valley's Half Moon Bay covers sixty miles of the Pacific Ocean waterfront. And while you can find all that makes California beach vacations so appealing, its claim to fame is that of the quirky romance kind as the setting for the 1971 film Harold and Maude.
So, in addition to the typical beach getaway, you can also visit historic sites, formal gardens, and several wineries.
14. Ride A Horse In A Vineyard At Paso Robles
Napa Valley and Sonoma Valley are well-known as California wine country couples vacation destinations. Still, Paso Robles is quickly gaining recognition for producing Rhone-style and Bordeaux-style wines.
And with three hundred wineries in the area, there are a lot of vineyards to explore.
Stay at the centrally located Hotel Cheval; the equestrian-themed luxury boutique near Downtown City Park in Paso Robles is close to several shops, restaurants, and wine-tasting venues.
It's an excellent home base for exploring vineyards – including trail rides courtesy of Central Coast Trail Rides – Cayucos or Morro Rock Beach, and the amazing Sensorio art installation by British artist Bruce Munro.
For an even sexier getaway, consider the Madonna Inn in San Luis Obispo. Each of its 110 hotel rooms is decorated in a different theme, from the Love Nest luxury suite to the Daisy Mae with a rocky waterfall shower.
15. Helicopter to Catalina Island's Backcountry For A Picnic
Known as the "Island of Romance," Catalina Island has a long and storied history of love. Over 500 films and tv shows have been set here, including the final episode of the Netflix series Love.
Given this, it should be no surprise that you can find over-the-top romance packages here, including IEX helicopter picnics into the backcountry – gourmet basket and champagne included.
If you choose to stay on the island, romantic accommodations range from Airbnb rentals to the Mt Ada Bed and Breakfast (former mansion owned by William Wrigley Jr. and his wife Ada) or the Zane Grey Hotel (originally the Pueblo home of the best-selling Western author.)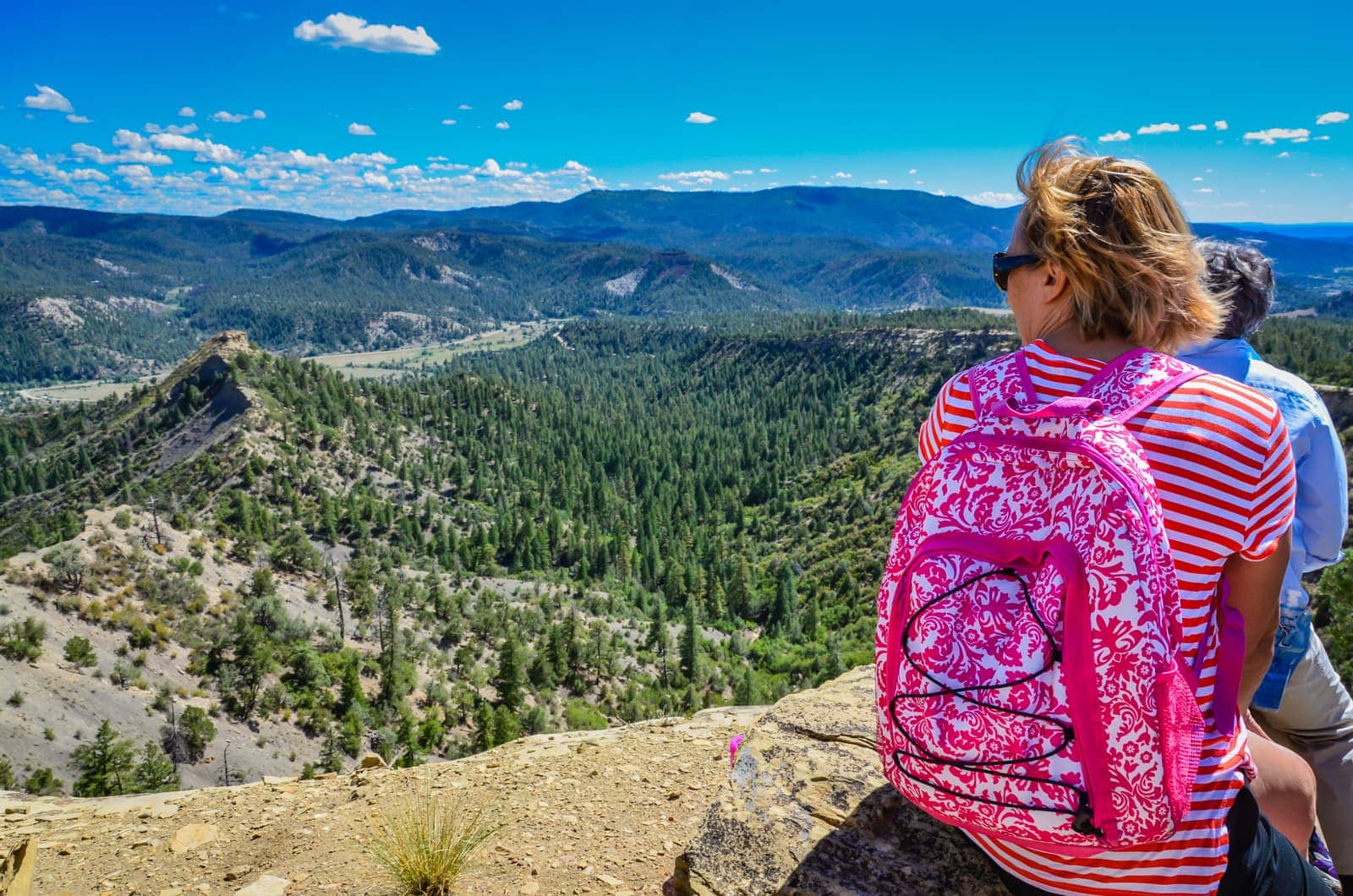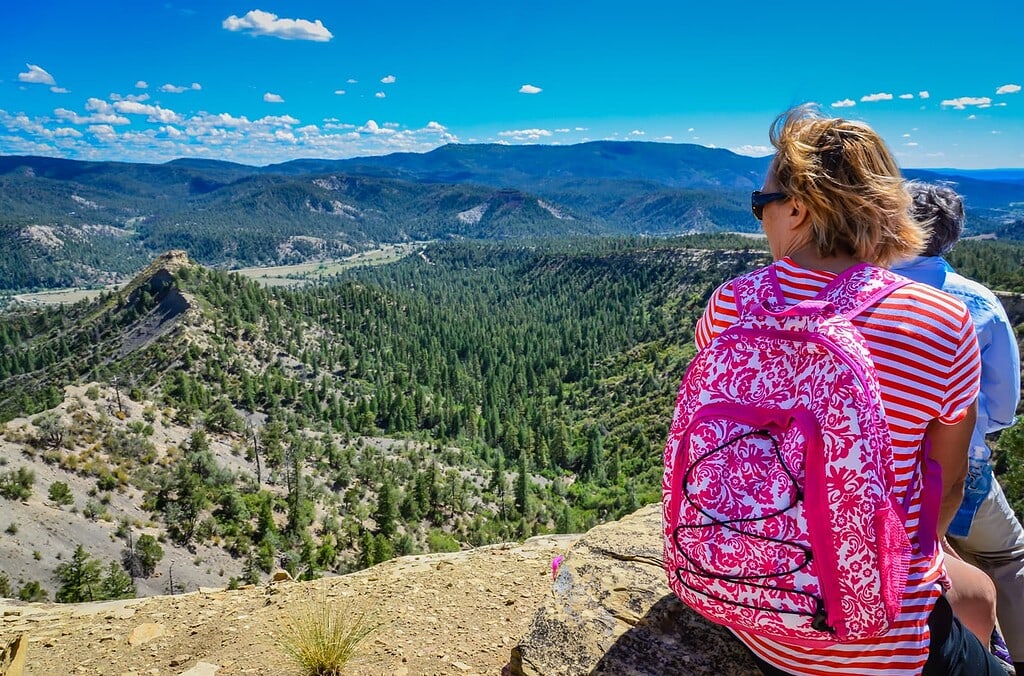 Romantic Getaways In Colorado
16. Opt Outside And Inside In Denver Colorado
Denver appeals to both outdoor and culture lovers. When it comes to outdoor adventures, if you can imagine it, you can probably do it in or near Denver CO. Hiking, especially, is phenomenal with trails ranging from easy 1-milers at Red Rocks Park to fourteeners in the Rocky Mountains that are within day-trip distance.
As the state capital, and the state's largest city, there are many fun things to do in Denver Colorado. Cultural amusements include several notable art institutions, history museums, historic homes, botanical gardens, and shopping districts. Located within walking distance of major attractions, The Curtis Hotel is a fun place to stay anytime, but particularly so in February, when they offer the adults-only Heart Throb Hyper Pop-Up room.
17. Hike Into History At Mesa Verde National Park
Seeing the Cliff Dwellings at Mesa Verde National Park is one of those experiences that top any list of things to do before you die. Getting there can be a little challenging as it requires reservations, hiking, and driving a steep and winding road. And, unfortunately, park lodging and camping are limited. Consider checking Glamping Hub for romantic cabins, yurts, and other outdoor accommodations.
18. Elope To Rocky Mountain National Park
Rocky Mountain National Park is one of the most popular places to elope in the US. It's so popular, in fact, that as of 2021, the park is only issuing 250 permits per year. Fortunately, you don't have to get married there to enjoy a romantic weekend getaway.
Base your stay at Bella Terra, an adults-only boutique inn at the Fall River entrance to the park, where luxury suites come with soaking tubs, see-through fireplaces, and hot tubs on private balconies.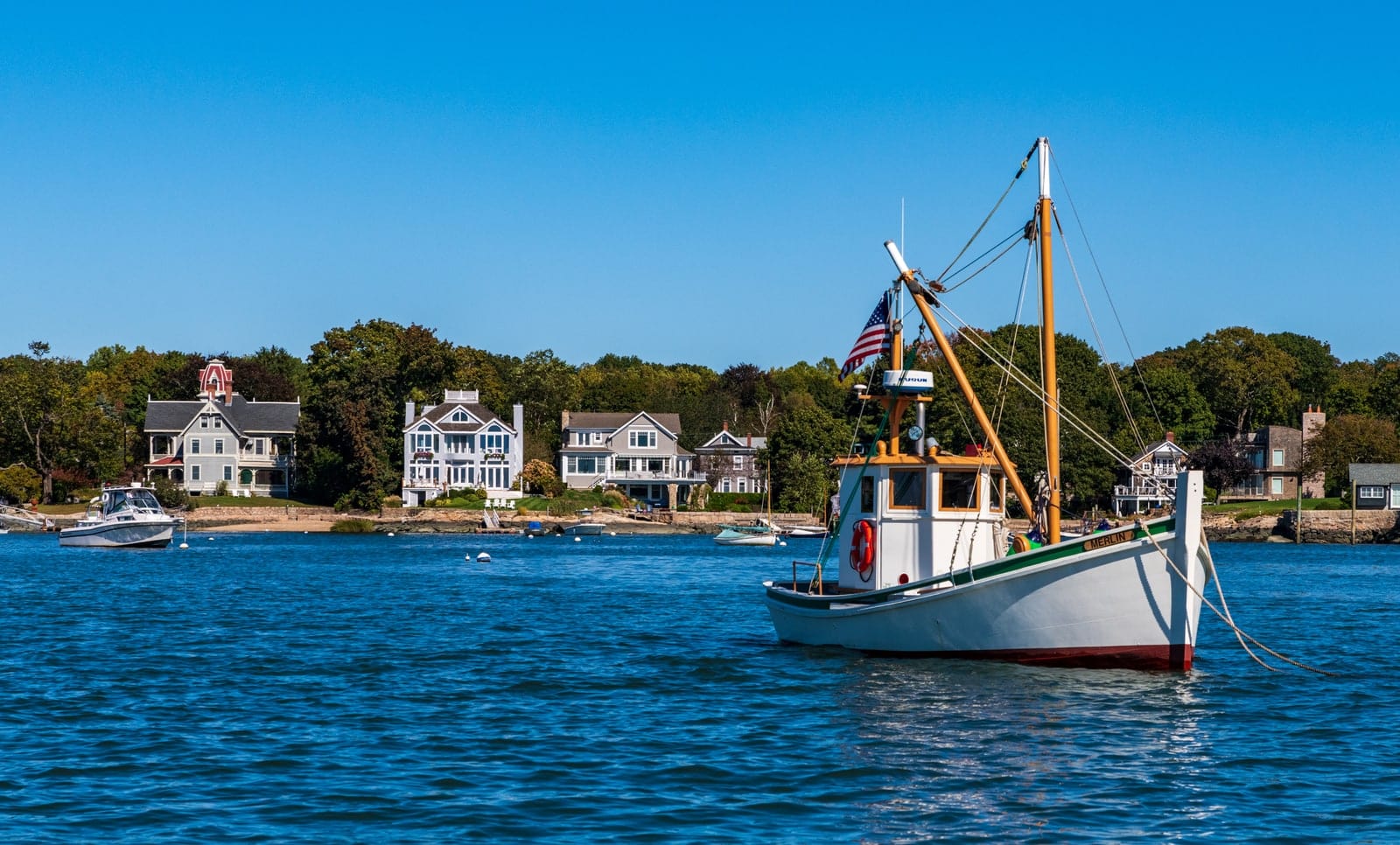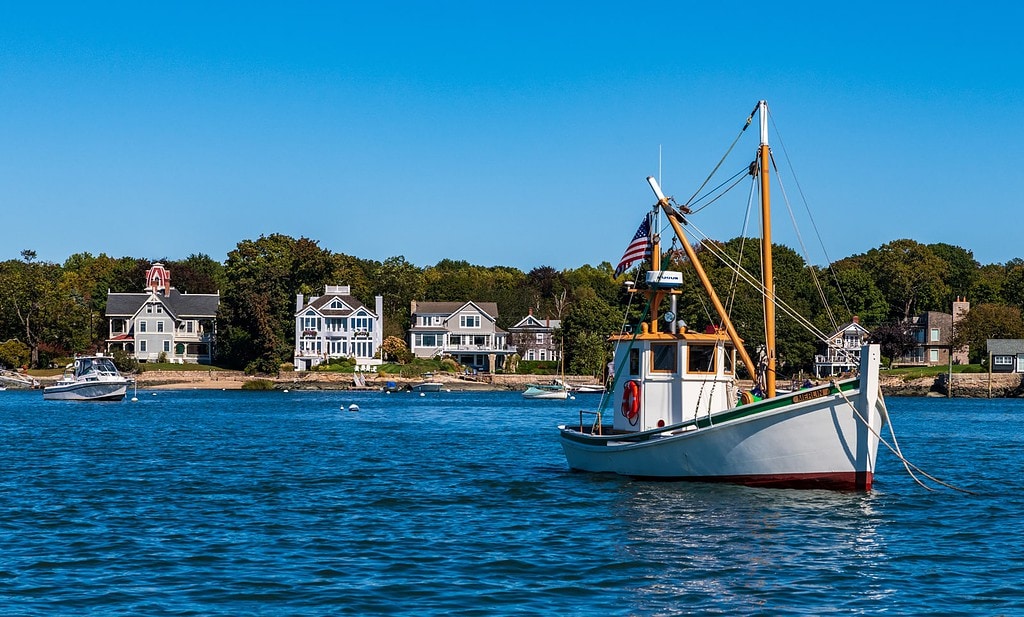 Romantic Getaways In Connecticut
Getaway Maven Malerie Yolen-Cohen knows Connecticut intimately, she's been living there for years. Discover her choices for Best Romantic Getaways In CT here.
19. Picnic By A Vacation Lake In Connecticut
Lake vacations are a tradition in Connecticut, and you can find cabin rentals at many lakes throughout the state. Set between Wononskopomuc Lake and Wononpakook Lake, Salisbury CT is where A-listers come to hide out.
Paddle, shop, race cars (well, dream of racing) and stay at Interlaken Inn where a celebrated "Lobster chef" is drawing foodies and travelers seeking rural rustic-luxe peace and quiet as well.
20. Cruise the Connecticut Coastline
Salt marshes spread like the Kansas prairie. Sea-stained buoys hang from weather-beaten balconies. The Connecticut coastline has inspired artists and writers for over a century. Find out what all the fuss is about in our Thimble Islands travel guide.
21. Indulge In Fresh Steamed Lobster
Connecticut's most popular town is awash in touristy attractions, not least of which is the Mystic Seaport. Why fight it? Stroll arm in arm among the shops and historic sites, and when you're ready for more, check out our list of best things to do in Mystic CT. The travel guide also names our favorite places to stay, as well as where to get the freshest lobster.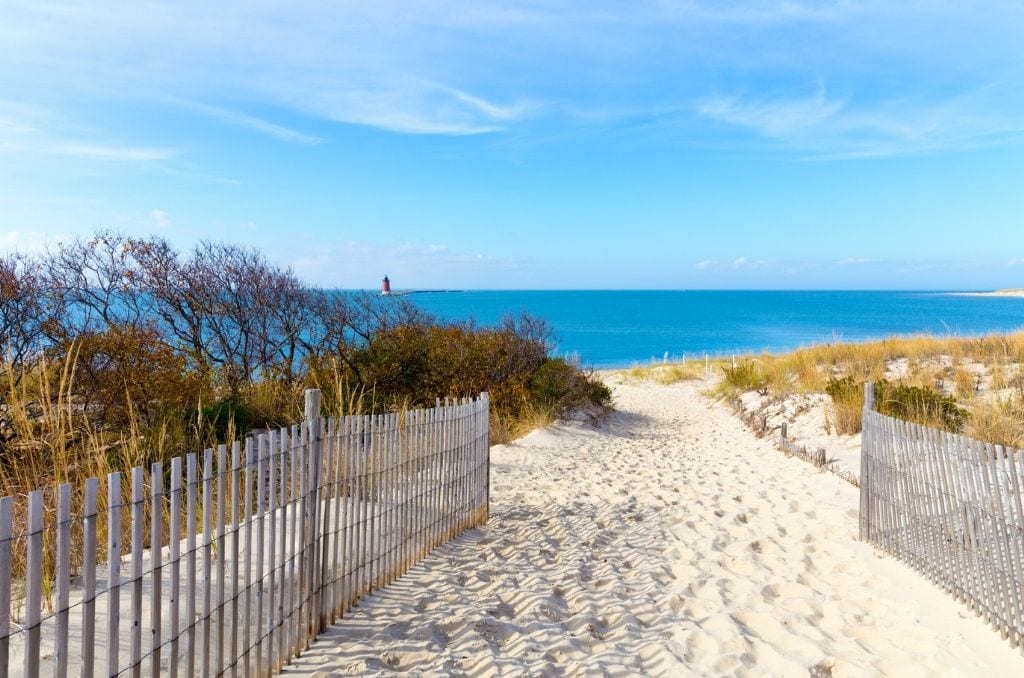 Romantic Getaways In Delaware
22. Plan A Romantic Beach Getaway On The Shoulder Season
The classic summer beach vacation at Rehoboth Beach, Delaware – sand, mile-long boardwalk, and food haven – is even better in the shoulder season. Just after Memorial Day and before mid-June everything is open, but it's at a fraction of the price.
And, since most kids are still in school, this is when couples can best savor quieter oceanside delights.
23. Roll With Millionaires in Wilmington DE
Some of America's most lavish estates can be found in Wilmington, Delaware. The extreme wealth of the Du Pont family is on display on tours of historic sites.
As is the slavery that enabled the accumulation of material goods, and, perhaps even more of interest, is what can be learned about the Abolitionist movement.
A romantic getaway in Wilmington DE is for those who appreciate history, great dining, and luxury bedding.
24. Savor The Seaside Brunch Scene
Still relatively quiet for a beach resort town, Lewes, Delaware has become a fun and funky culinary destination. A long list of fabulous things to do in Lewes DE includes vineyards, lavender fields, museum visits, and all the watersports.
Great waterfront dining and boutique hotels too, including the dog-friendly Dogfish Inn created by the irreverent makers of Dogfish Head Beer.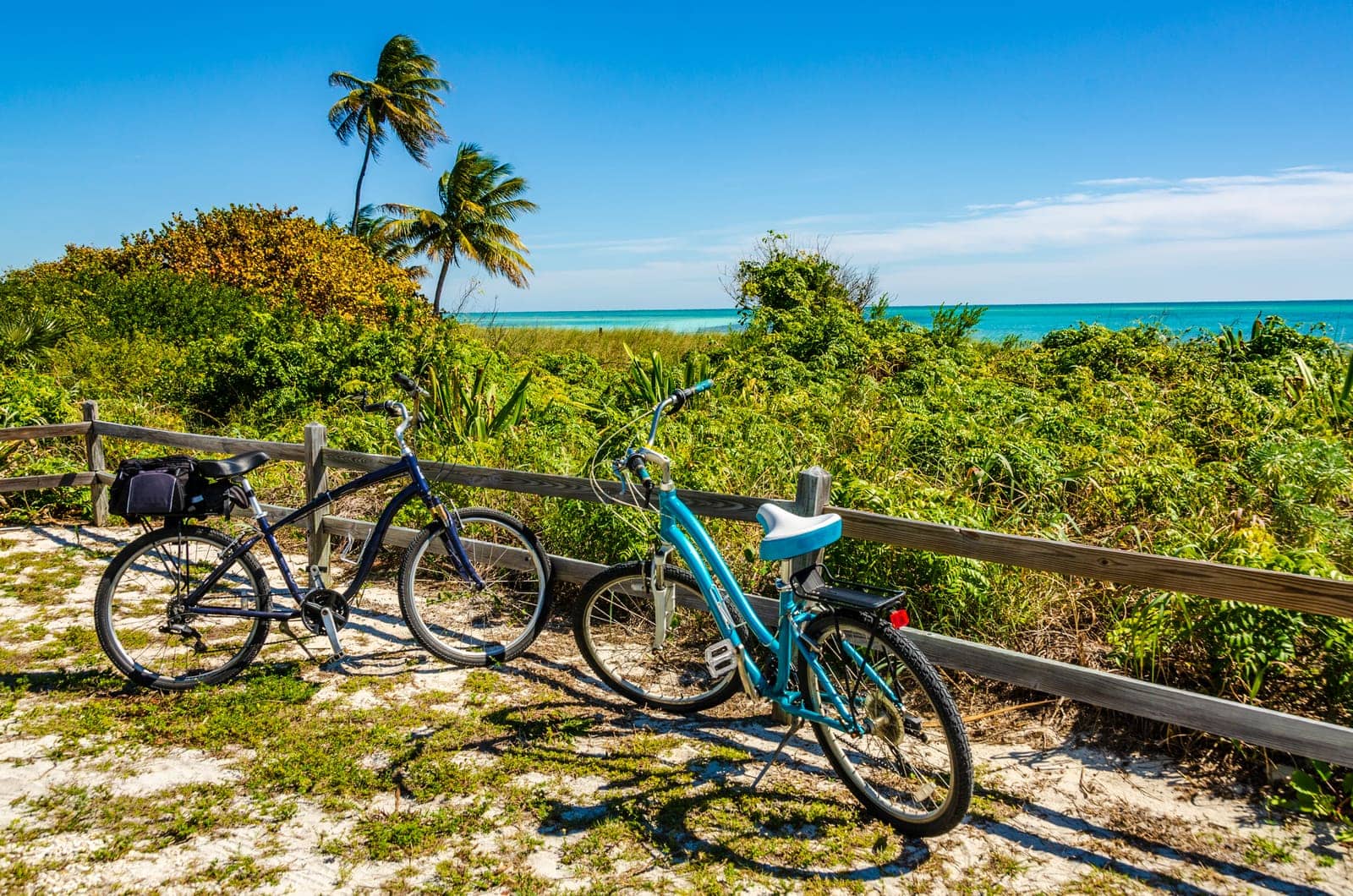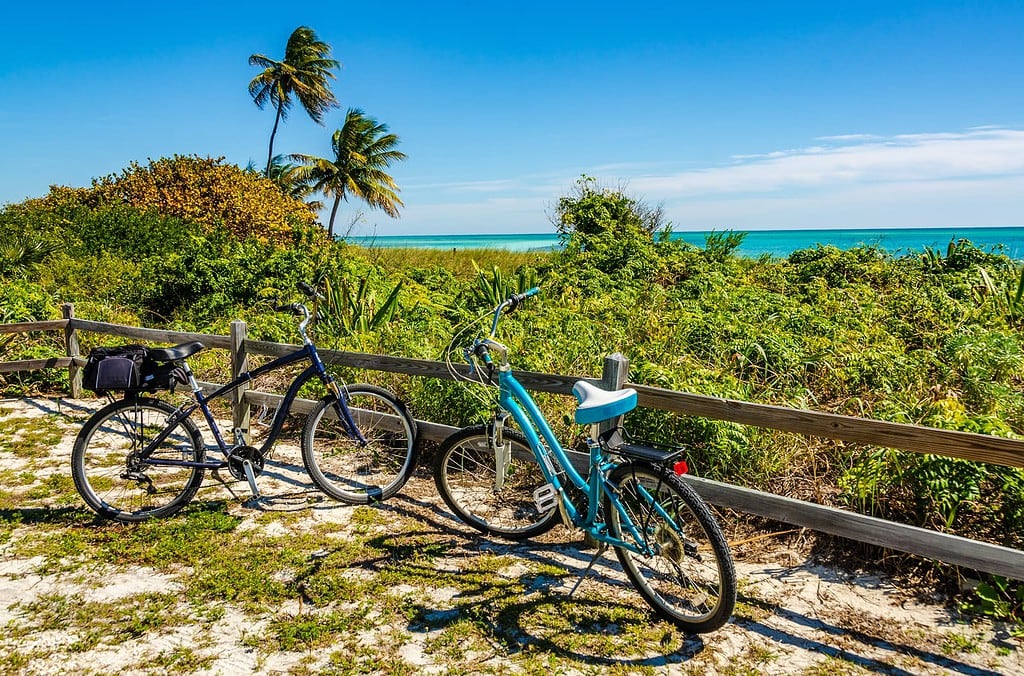 Romantic Getaways In Florida
25. Woo Your Sweetie On A Date In Old Florida
If you like theme parks, then you already love Orlando, Florida. And yet there's so much more to adore about Old Florida: tubing along a natural lazy river, paddling a swan boat, art museums, botanical gardens, delicious dining, and yes, the nightlife.
Check out our list of date-worthy things to do in Orlando for the travel guide.
26. Sip From The Fountain Of Youth
Said to be where the explorer Juan Ponce de Leon landed in 1513, the Fountain of Youth Archeological Park weaves myth and history. It's one of the many fun and romantic things to do along Florida's Historic Coast which includes St. Augustine, Ponte Vedra, and world-class beaches.
27. Find Paradise In The Florida Keys
You don't have to look too hard to find the things to do in Key West that Ernest Hemingway fell in love with in the 1920s. Deep-sea fishing, raucous bars, and the quiet solitude to write novels are still there, along with sunset sails and oceanfront dining.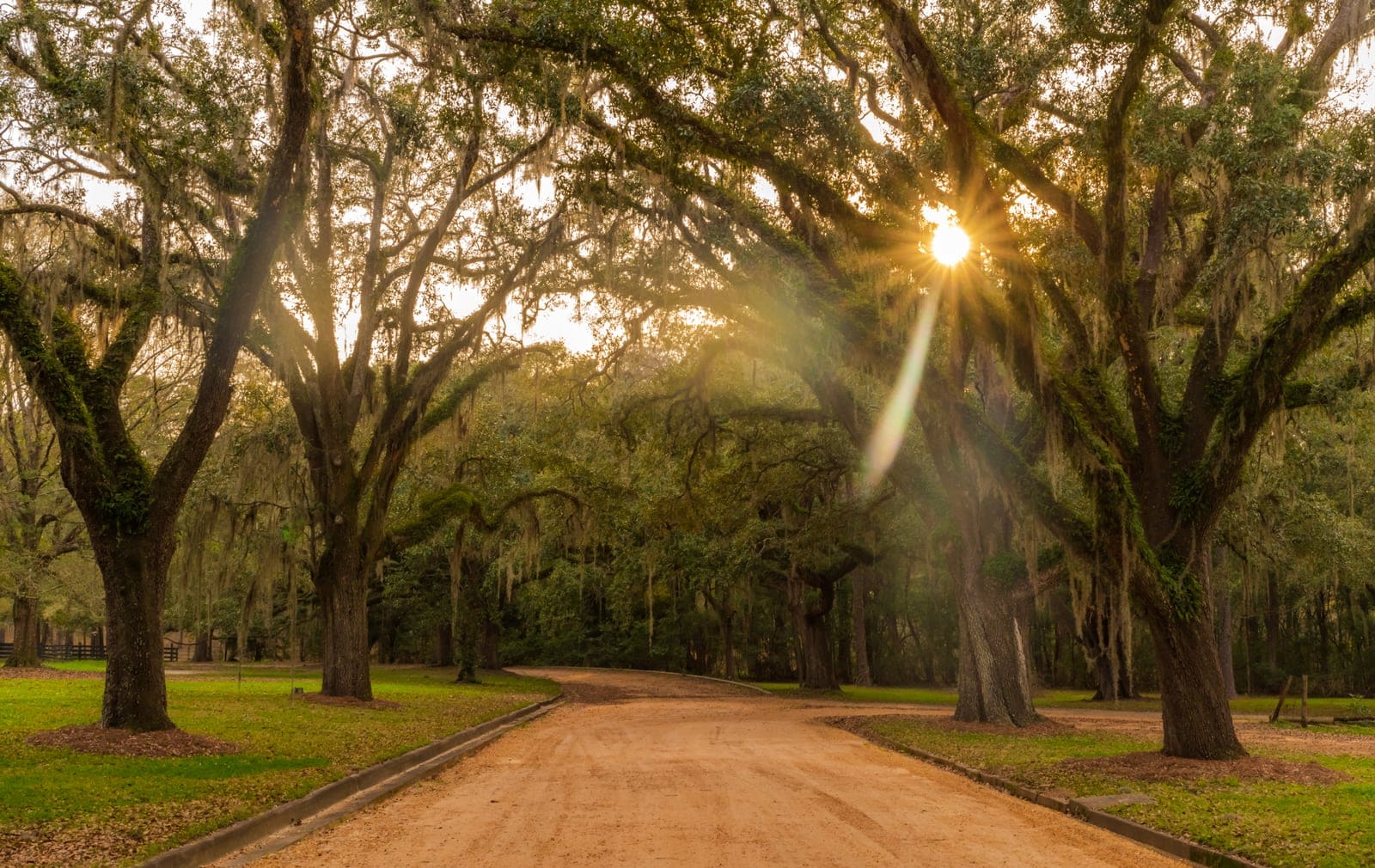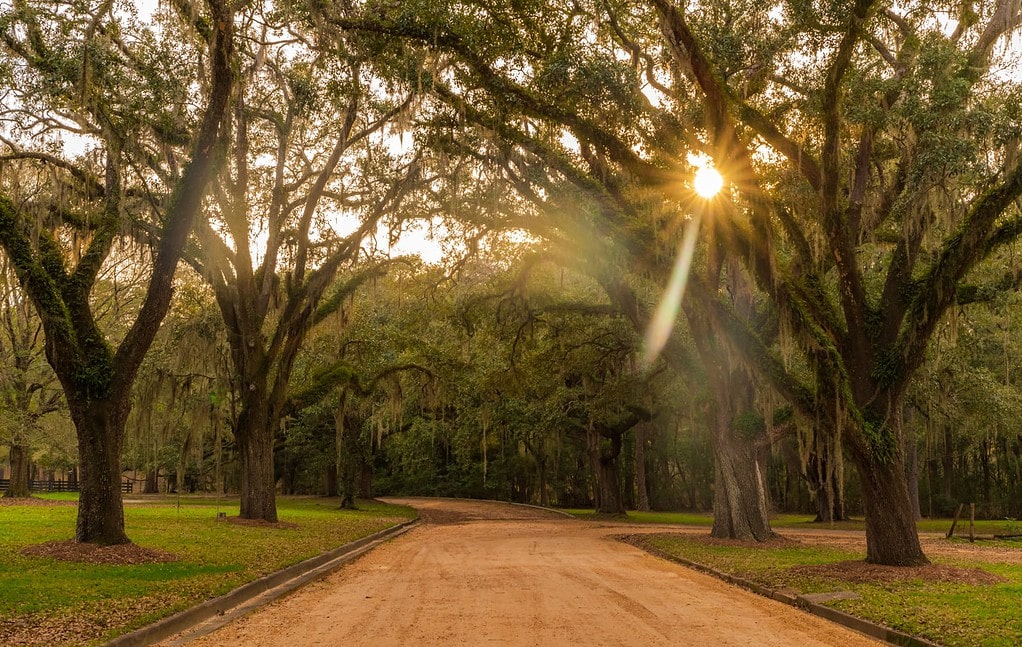 Romantic Getaways In Georgia
28. Delight The Senses In The City Of Trees
The US is blessed with many romantic cities but Atlanta, Georgia stands apart. Many first-time visitors are familiar with tourist attractions in Downtown Atlanta, and yet, Midtown Atlanta holds the greatest collection of cultural institutions in the Southeast. Passionate foodies will be intrigued by a new Midtown hotel, the Epicurean Atlanta promises to delight appetites at their Epicurean Theater, a "signature immersive experience."
29. Open Up A Box Of Chocolates In Savannah
"My mama always said, life was like a box of chocolates. You never know what you're gonna get," said Forrest Gump, sitting on a park bench at the Chippewa Square Bus Stop in the 1994 film.
Explore some of the many town squares of one of the South's most charming cities on a walking tour described in Savannah In A Day, a travel guide for loving couples short on time. Or stay a little longer to experience all the spectacular things to do in Savannah.
30. Hunt For Something In The South
Quail hunting remains a huge draw in Thomasville, Georgia. During Quail Season, October-February, private jets drop off some of America's wealthiest for annual jaunts to private bird hunting plantations.
Less well-heeled visitors may sample the good life at South Eden Plantation; a popular wedding venue, the live oak-lined property is known for its wedding chapel. Originally the Showboat Theater, the Georgia historic site was the first to premiere Gone With The Wind.
A charming Southern town, a beautiful rose garden, and a Southern food tour are just a sample of fabulous things to do in Thomasville GA. And for a booklover's perspective, check out this Thomasville weekend getaway itinerary from Erin at Flying Off The Bookshelf.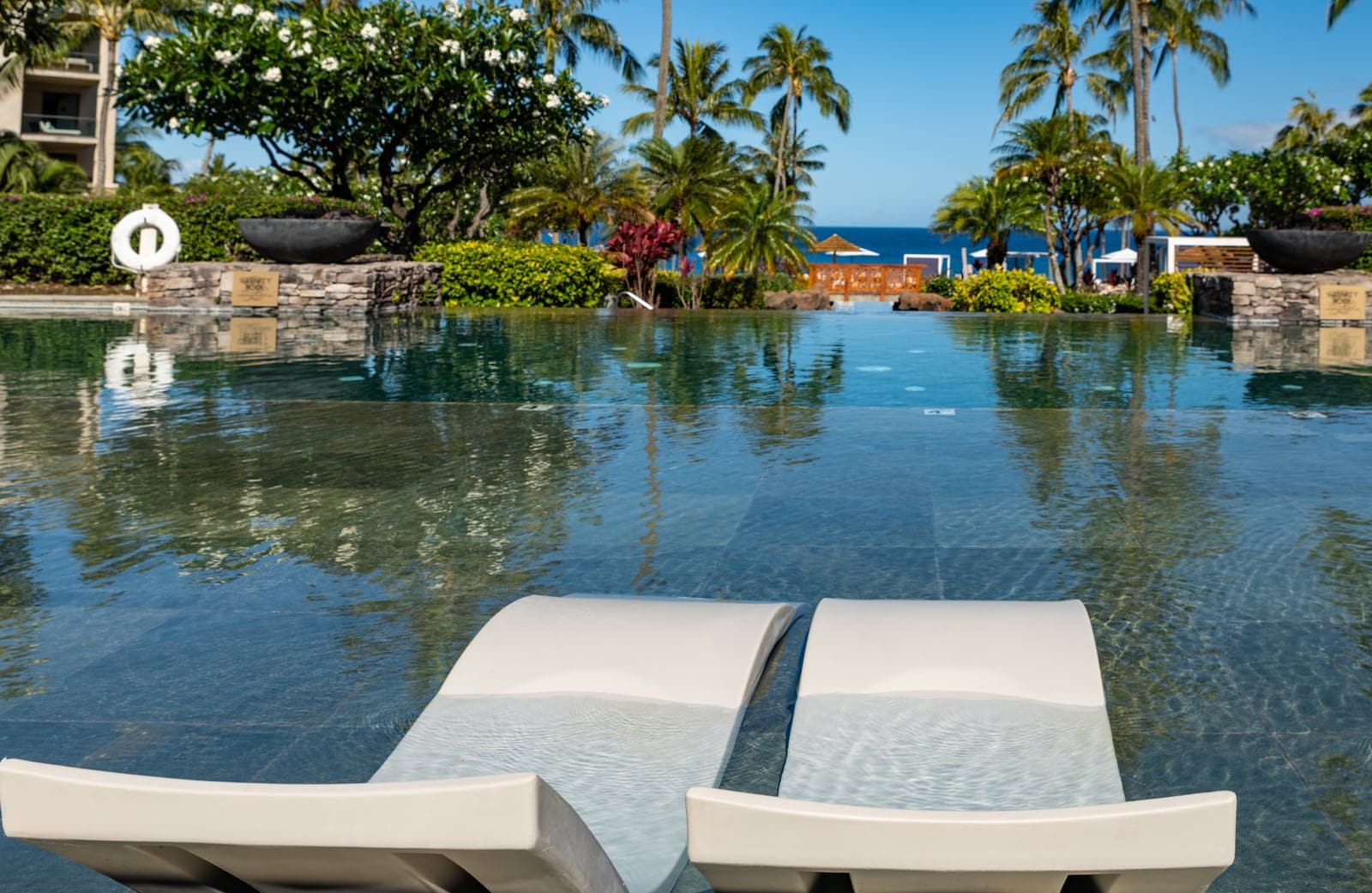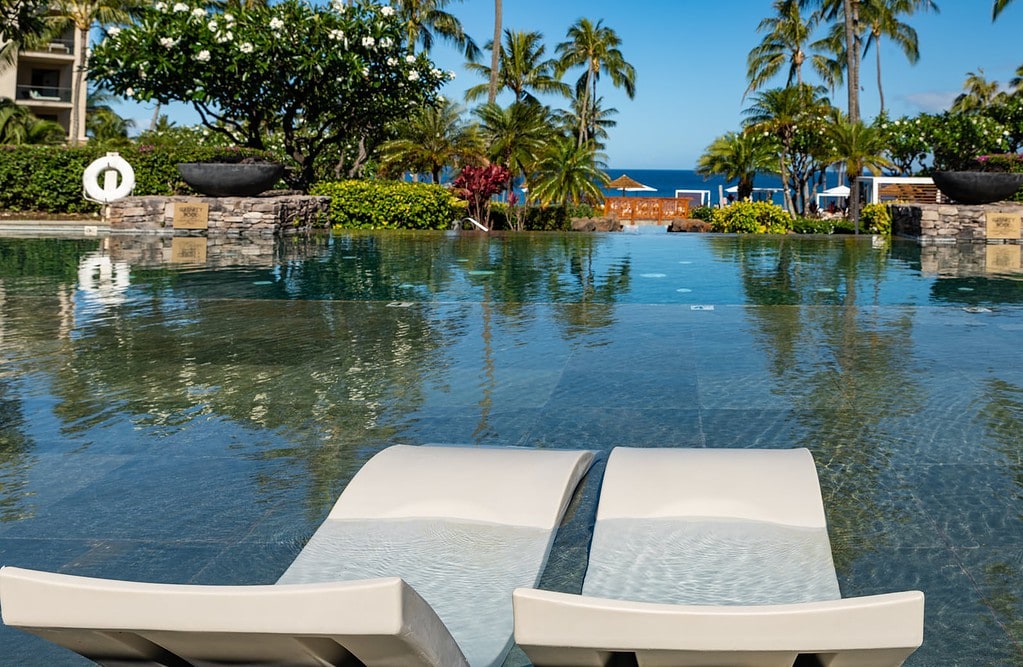 Romantic Getaways In Hawaii
31. Surf Around Honolulu
Adrenaline junkies place Oahu's North Shore at the top of their wish list, but less adventurous couples love it too for the laidback vibe. Meanwhile, Waikiki, on the other side of the island, has a popular surfer's beach that's surrounded by skyscrapers.
Honolulu is big enough to accommodate all sorts of romantics, from those who crave the beach life to those who live for the nightlife.
32. Be Adventurous On The Big Island AKA Hawaii
Couples can test their limits on the Big Island. Drive from sea level to 14,000 feet at the summit of Maunakea; ride a helicopter to view lava eruptions Halema'uma'u crater; ride a horse into the rainforest; cliff jump at South Point; or snorkel with manta rays at night.
The island of Hawaii offers some of the most thrilling experiences, but it's also big enough to host beachside resorts where you don't have to do anything more strenuous than turn over on the chaise lounge.
33. Dream Of Romantic Getaways In Maui Hawaii
Passions flare when arguing about why Maui is the best Hawaiian island. Is it history? Or unrivaled beaches? For sure, the best thing about Maui is the literal farm-to-table food.
Or no, it's holistic experiences in 5-star resorts at the best areas to stay on Maui. Bottom line, all of the above play into why Maui is such a wonderful island for romance.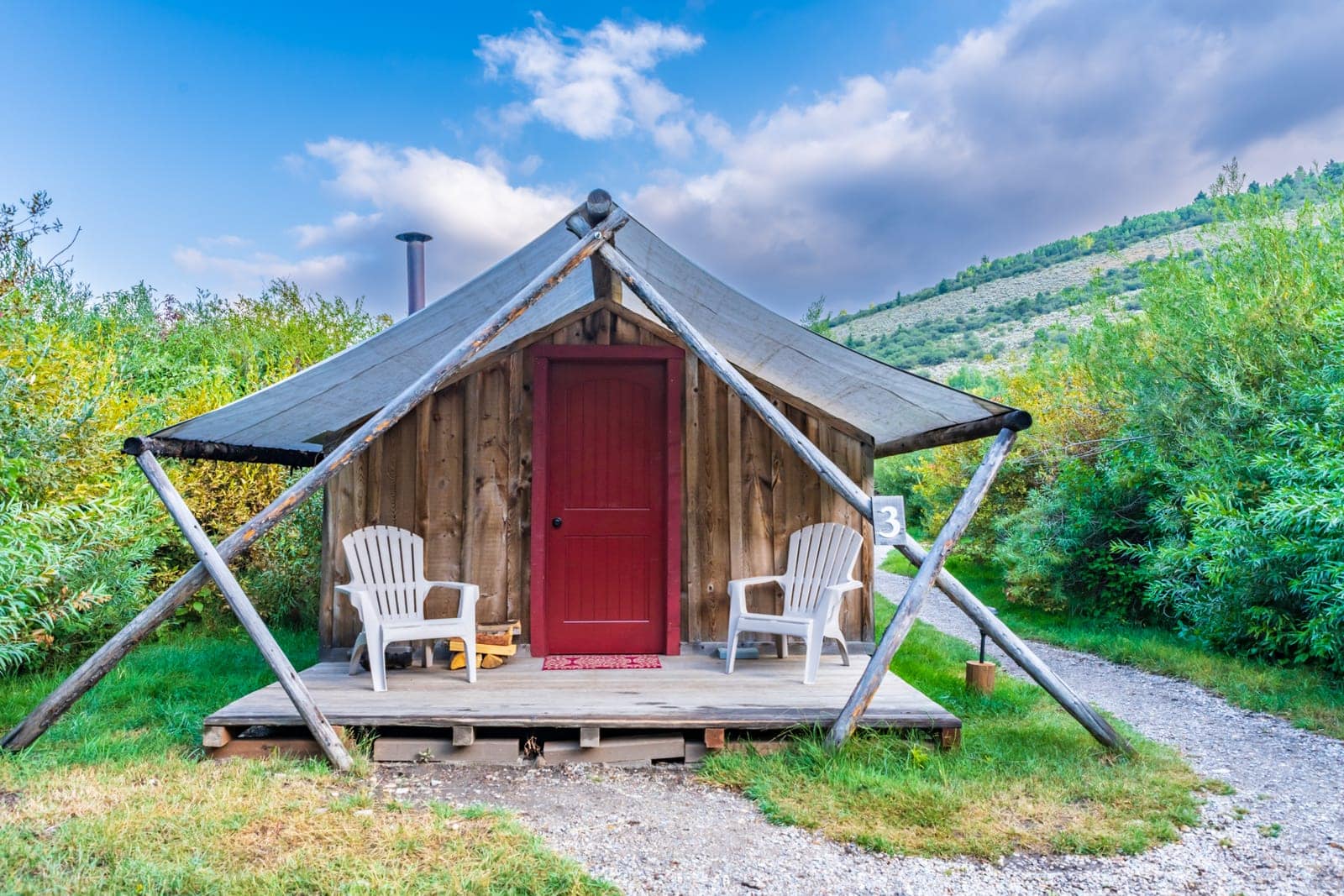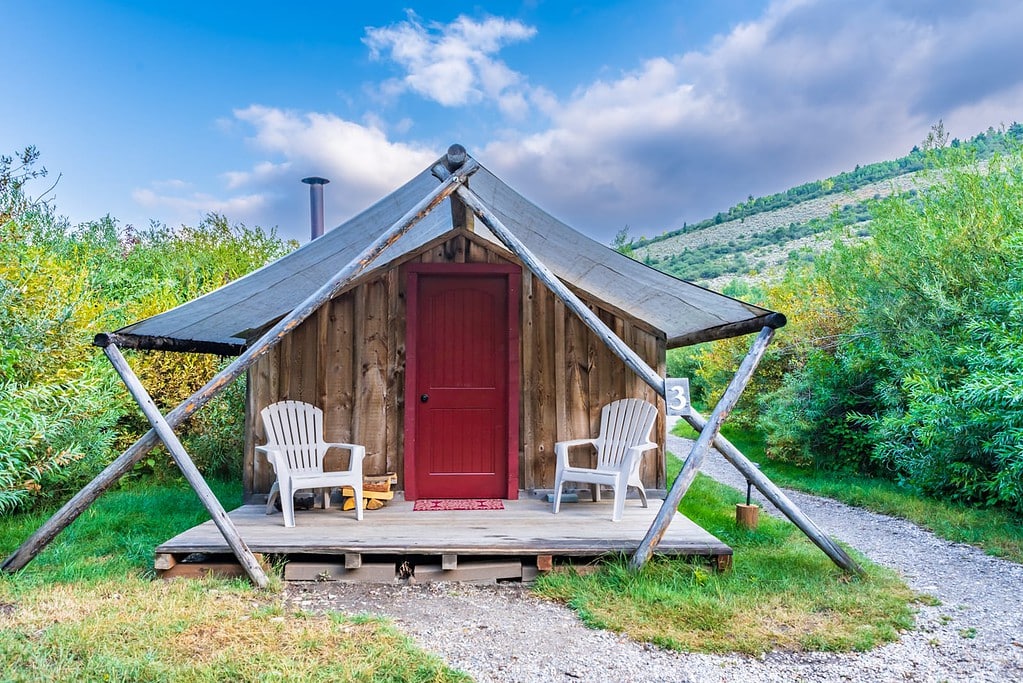 Romantic Getaways In Idaho
34. Float In A Winter Hot Tub
Located in the mountains of northern Idaho, the nearly 30-mile Lake Coeur d'Alene and the surrounding area offer plenty of room to roam for exciting watersports and outdoor adventures. The blue lake makes a beautiful setting for the region's most romantic hotel, The Coeur d'Alene Golf & Spa Resort.
Summer months, partners appreciate all the exciting watersports in addition to one of the most memorable golf features, The Floating Green.
In the winter, the Lakeside Infinity Pool at The Coeur d'Alene Resort transforms into a huge hot tub, adults-only at the later session, and you can stargaze while sipping artisanal cocktails. Drinks and appetizers are included when you reserve Private Poolside Igloos.
35. Dare To Raft Legendary White Water Rapids
A multi-day Western white water rafting trip tops the wishlist of many an adventurous duo, and the Salmon River offers some of the gnarliest challenges. Flowing over 425 miles, it's the 105-mile stretch of the Middle Fork over 100 rapids that thrills rafters. But it's the natural hot springs and campsites that please couples.
36. Set Out Into TheTeton Valley Wilderness Without The Gear
Relax in a wilderness campsite with all the bells & whistles, and none of the hassle. Located near Jackson Hole, WY, and Grand Teton National Park, Moose Creek Ranch provides cabins, lodge suites, and RV sites. But the most romantic accommodations are the secluded creekside Glamping Tents.
Enter the red door, past the front porch Adirondack chairs, to find a cozy quilt-covered queen bed in a woodstove-heated room. Only the outdoor fire pit reminds you that you are, indeed, camping.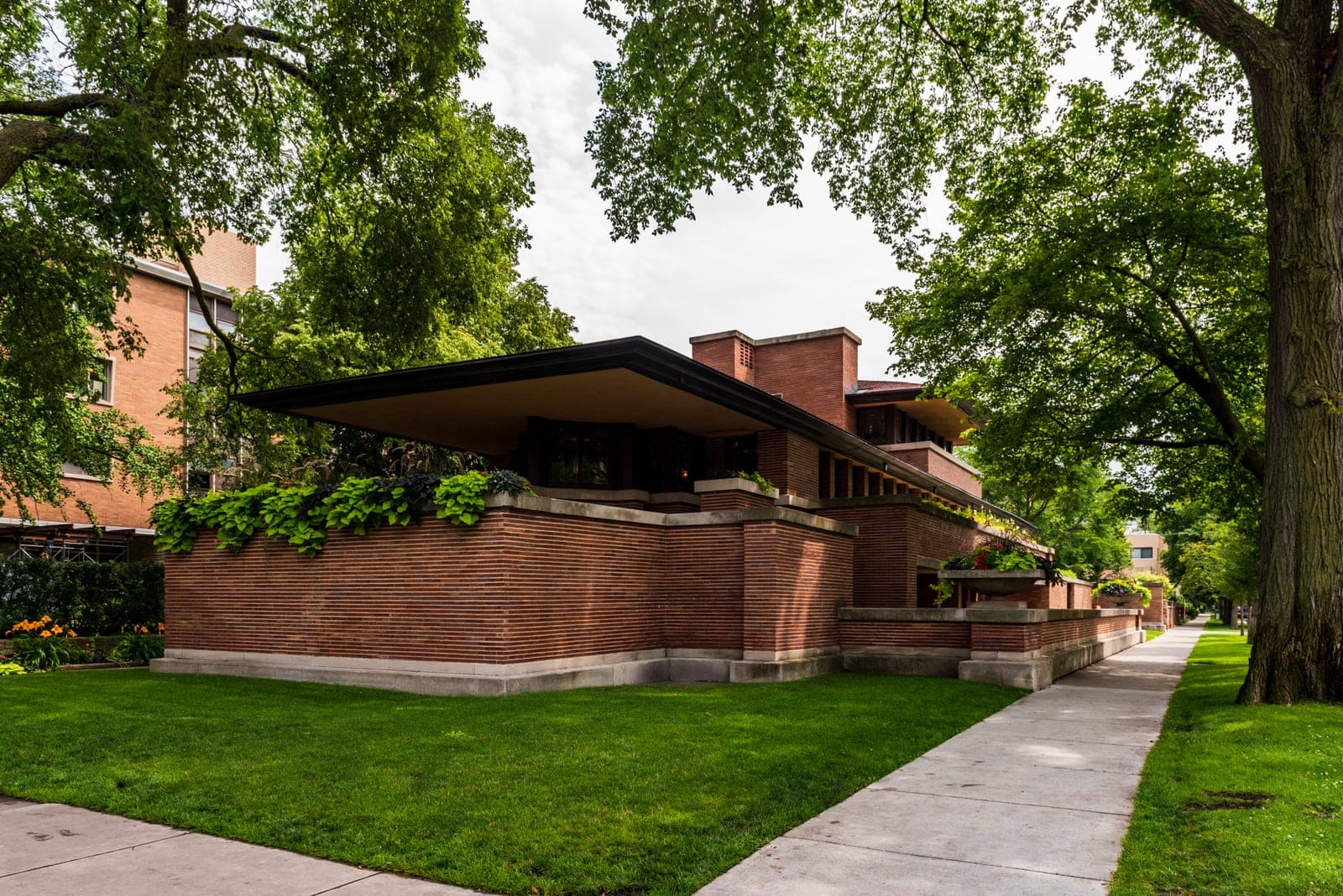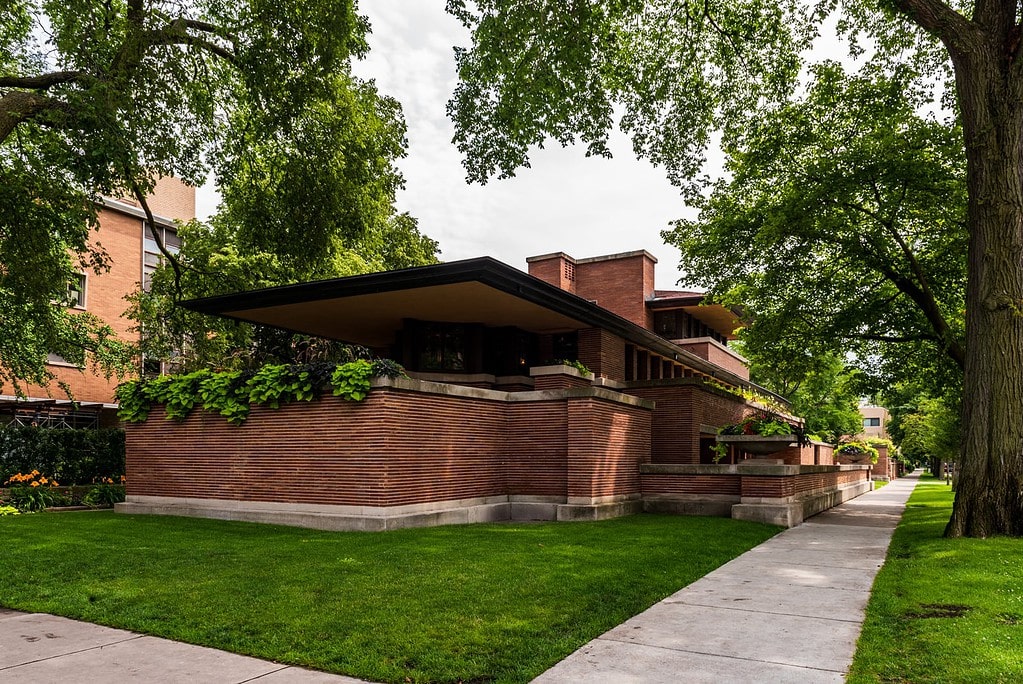 Romantic Getaways In Illinois
37. Hit Up All The Cultural Institutions In Chicago
With such a big city, there are so many things for couples to do in Chicago that we extended our usual weekend getaway guide into what to do with five days in Chicago.
Suffice it to say we recommend the usual iconic sites plus a Gangsters Walking Tour, the Architectural River Cruise, plus the inner city's real sand beach. And yes, we do wade into the Pizza Wars.
38. Settle Into The Midwest's Best Main Street
Once a prosperous mining town turned ghost town, Galena IL is now a remarkably well-preserved historic town. With nearly one hundred shops, including several ice cream shops and farm-fresh restaurants, Galena is home to the "Best Main Street In The Midwest."
As for romantic accommodations, stay in one of the best bed and breakfasts in America. Built in 1867 as a hotel, Farmer's Guest House is one of the rare properties to continue serving its original purpose. Several suites feature fireplaces and Jaccuzi tubs.
But what sets this B&B apart is the award-winning decadent breakfast; guests rave about the Pecan French Toast.
39. Find Out If She Thinks Your Tractor Is Sexy
Moline IL, on the Illinois side of the Quad Cities, sits between Rock River and the Mississippi River on the easily accessible fertile land that inspired John Deere to set up headquarters in 1848. Today, the John Deere Pavilion is one of the most popular tourist attractions in Illinois.
A romantic getaway in Moline IL is a celebration of Americana; our list of things to do in the Quad Cities includes visiting an active US Army installation, holding hands over an old-fashioned ice-cream soda, and dancing the night away on a Mississippi riverboat.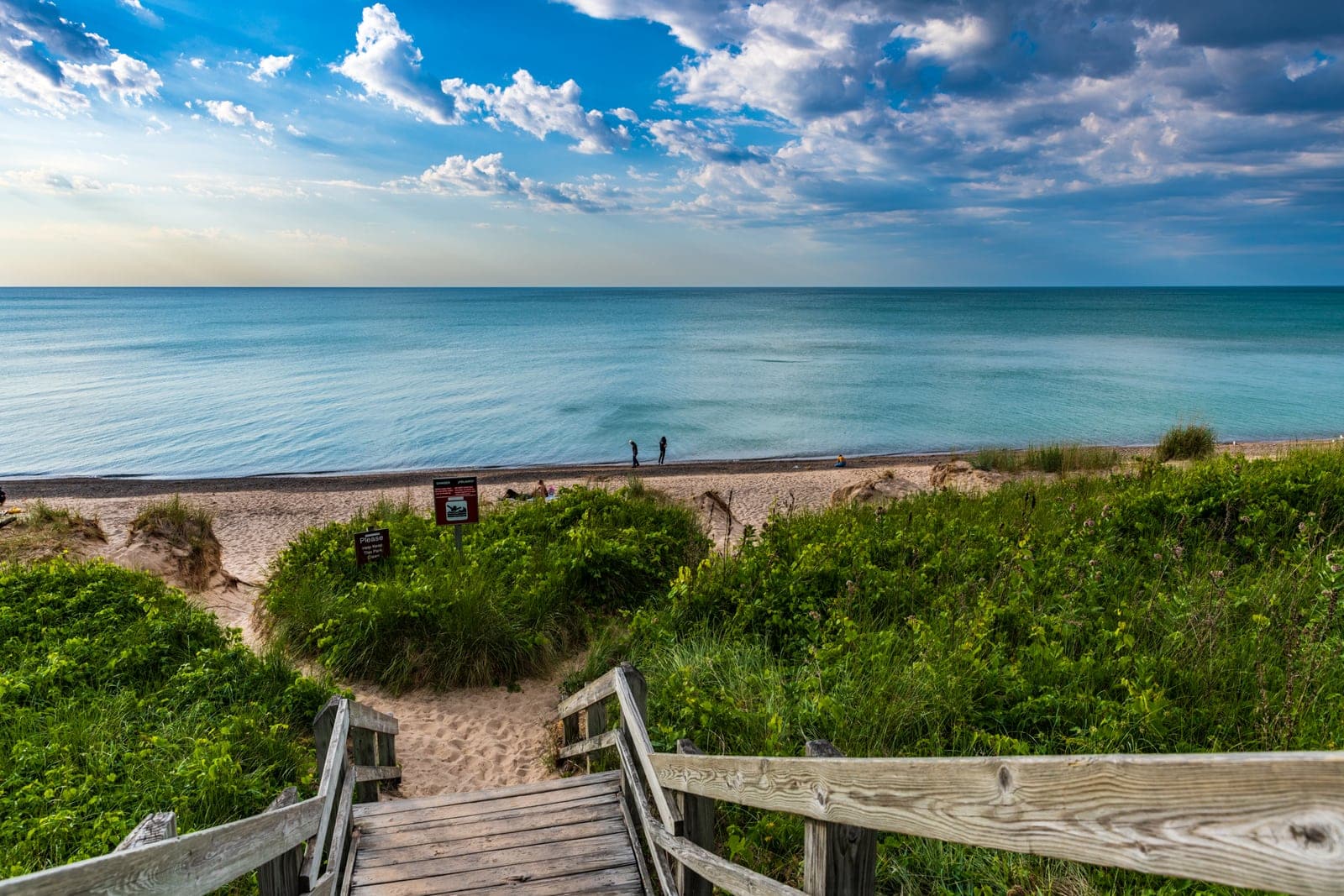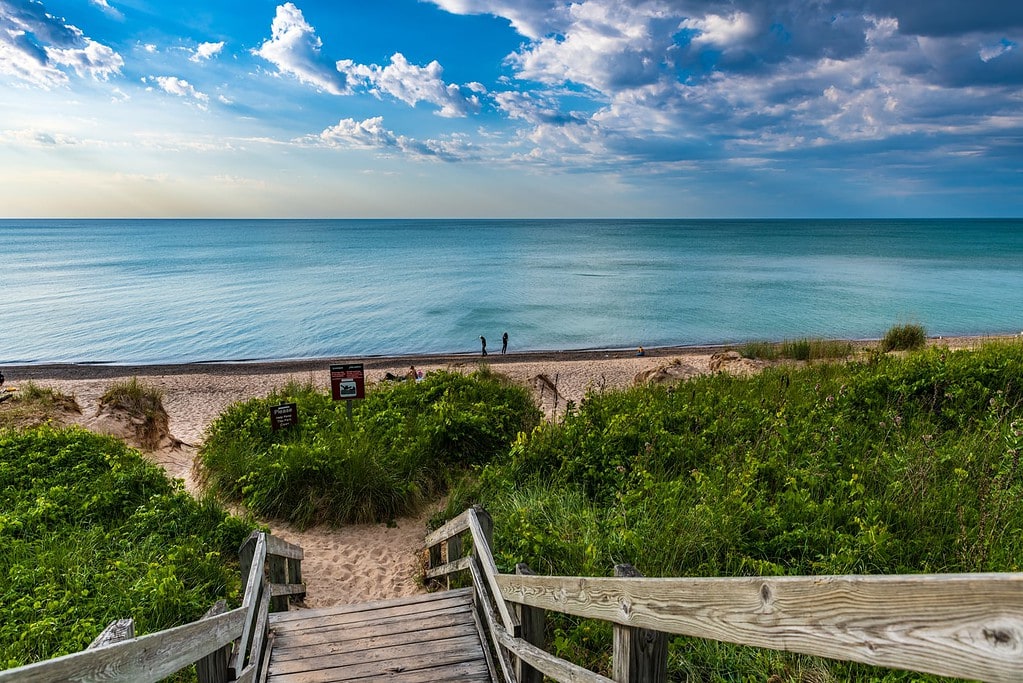 Romantic Getaways In Indiana
40. Go On A Romantic Road Trip Along Route 6
A windmill museum, Amish country shops, and a little-known German Jewish town are just a few of the roadside attractions to be found along Route 6 in Indiana. US Route 6, also known as The Grand Army of the Republic Highway, is the longest contiguous transcontinental route in the USA.
The entire route is an invitation to slow down and discover little-known stories of America. And Getaway Maven Malerie Yolen-Cohn wrote a guidebook to show you how.
41. Indulge All Your Senses In Indianapolis
Stroll hand in hand along the 3-mile-long Canal Walk promenade in White River State Park in downtown Indianapolis. Pedal boats and even sunset gondola rides add to the festivity on sultry summer nights. Indianapolis is a major urban destination with a full assortment of cultural attractions, but it has at least one thing that's hard to find within a big city.
The adult-only Sybaris Pool Suites location in Indianapolis offers 22 individual cottages, with private swimming pool suites that feature slides, waterfalls, steam rooms, and fireplaces. Romantic gifts are available to purchase in the lobby. Note that because Sybaris operates as a private club, a membership fee ($30) is required.
42. Stargaze In A Dark Sky Zone
One of the most recent places to earn its designation, Indiana Dunes National Park includes sandy shores along the southern edge of Lake Michigan, as well as 50 miles of trails through forests and prairies.
But, unlike many other national parks, there's a great assortment of lodging options ranging from a vintage rail car remodeled into a bed and breakfast to a historic mansion turned into a boutique hotel.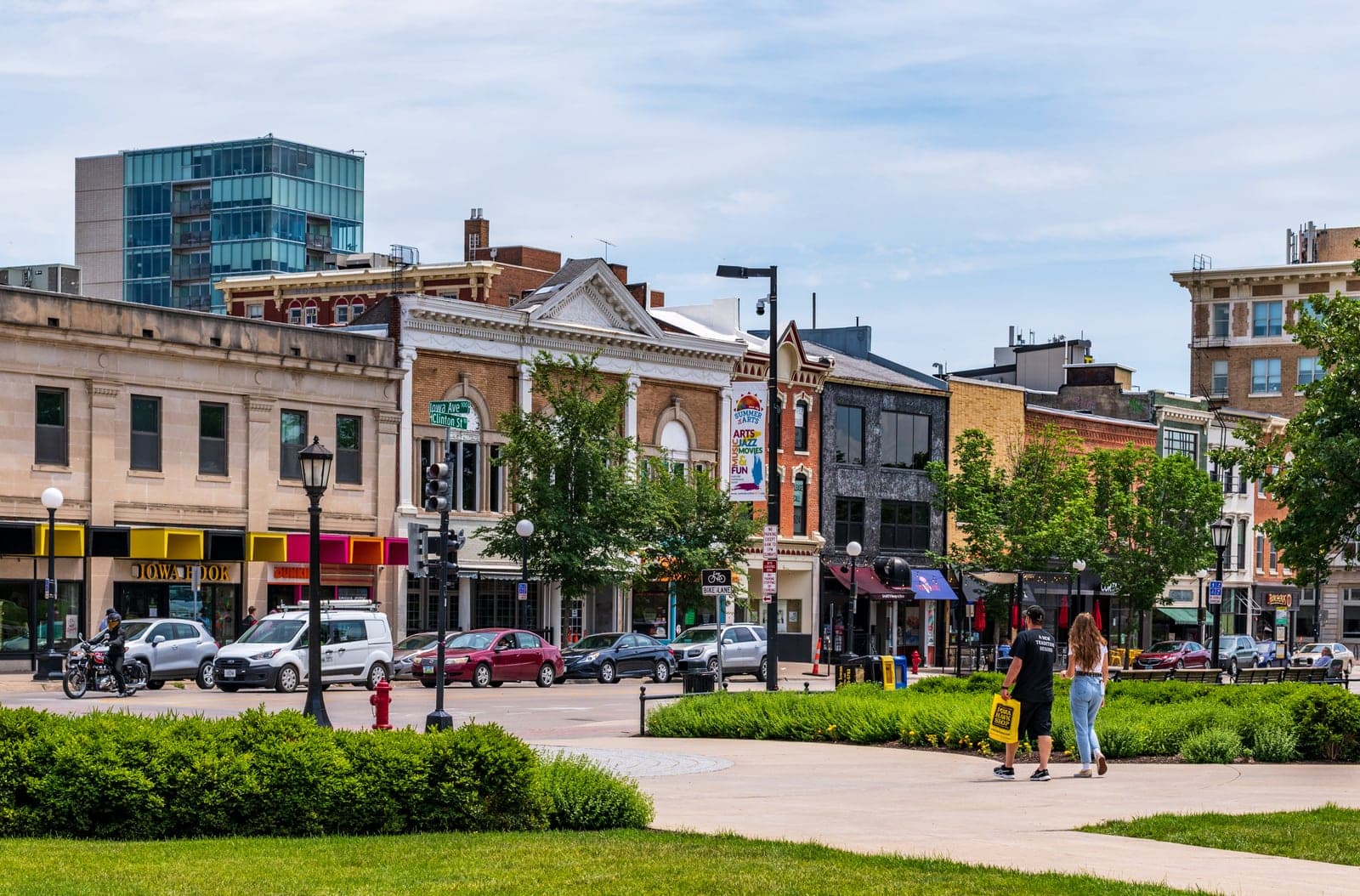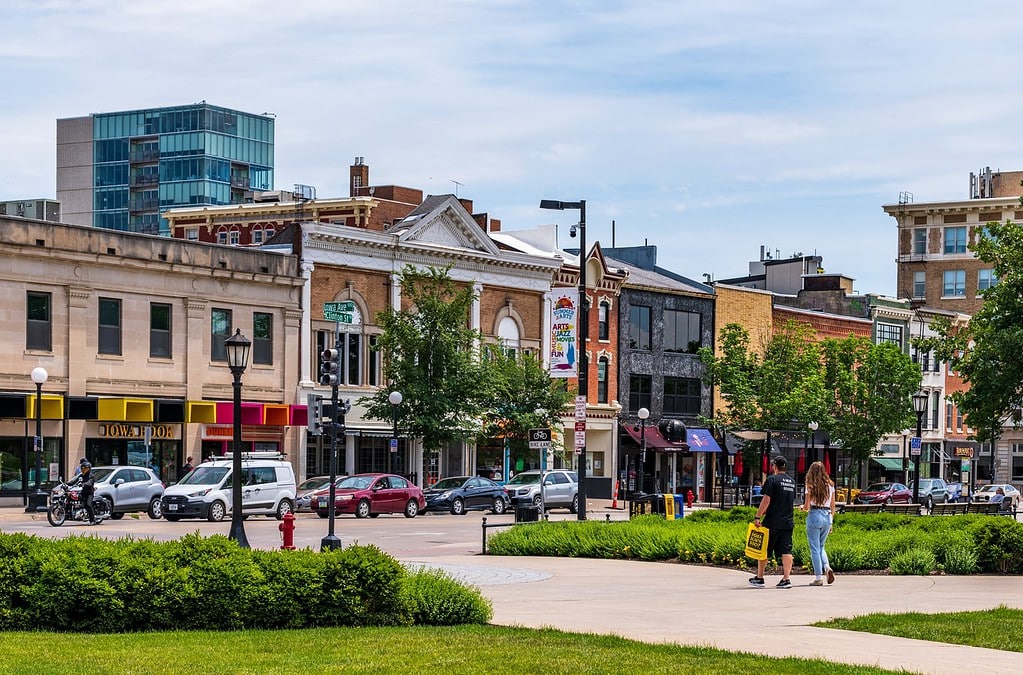 Romantic Getaways In Iowa
43. Dive Into A Book In Iowa City
Iowa City pays tribute to its recognition as a UNESCO "City of Literature" with a Literary Walk featuring bronze panels that celebrate 91 writers with ties to Iowa. Sidewalk plaques wind around outdoor cafes, shops, nightclubs, and the Prairie Lights Book Store where the Live From Prairie Lights reading series is recorded.
(For more amazing bookstores, check out our list of Top 10 Literary Spots In The Northeast.)
Book lovers will want to stay at the centrally located The Graduate Iowa City hotel. In addition to an incredible collection of published works in the lobby, artwork in guest rooms challenge you to discover Iowa City's connection to famous novelists such as Kurt Vonnegut. (It's the Writers Workshop, of course.)
44. Taste The Fruits Of The Immigrant Experience
Immigrant stories come to life at two captivating Iowa institutions. In Cedar Rapids IA, follow a visit to the National Czech and Slovak Museum and Library with a little window shopping in the Czech Village and the pork tenderloin at Little Bohemia, the town's oldest tavern.
A short drive away, one of America's longest communal societies, the Seven Villages of the Amana Colonies, began with the arrival of German immigrants seeking religious freedom. Today, you can pair outdoor activities (hiking, biking, and golf) with a Sampling Tour (most of the restaurants and food shops offer tasting bites.)
45. Steal Away To A Covered Bridge In Madison County
One of the best-selling romance novels of the 20th century, The Bridges of Madison County, was set in central Iowa. Enjoy the quiet pace of exploring covered bridges, the Iowa Quilt Museum, and the John Wayne Birthplace Museum.
Plan to stay at one of the area bed and breakfasts, or nearby in Des Moines at one of the fireplace suites at Des Lux Hotel.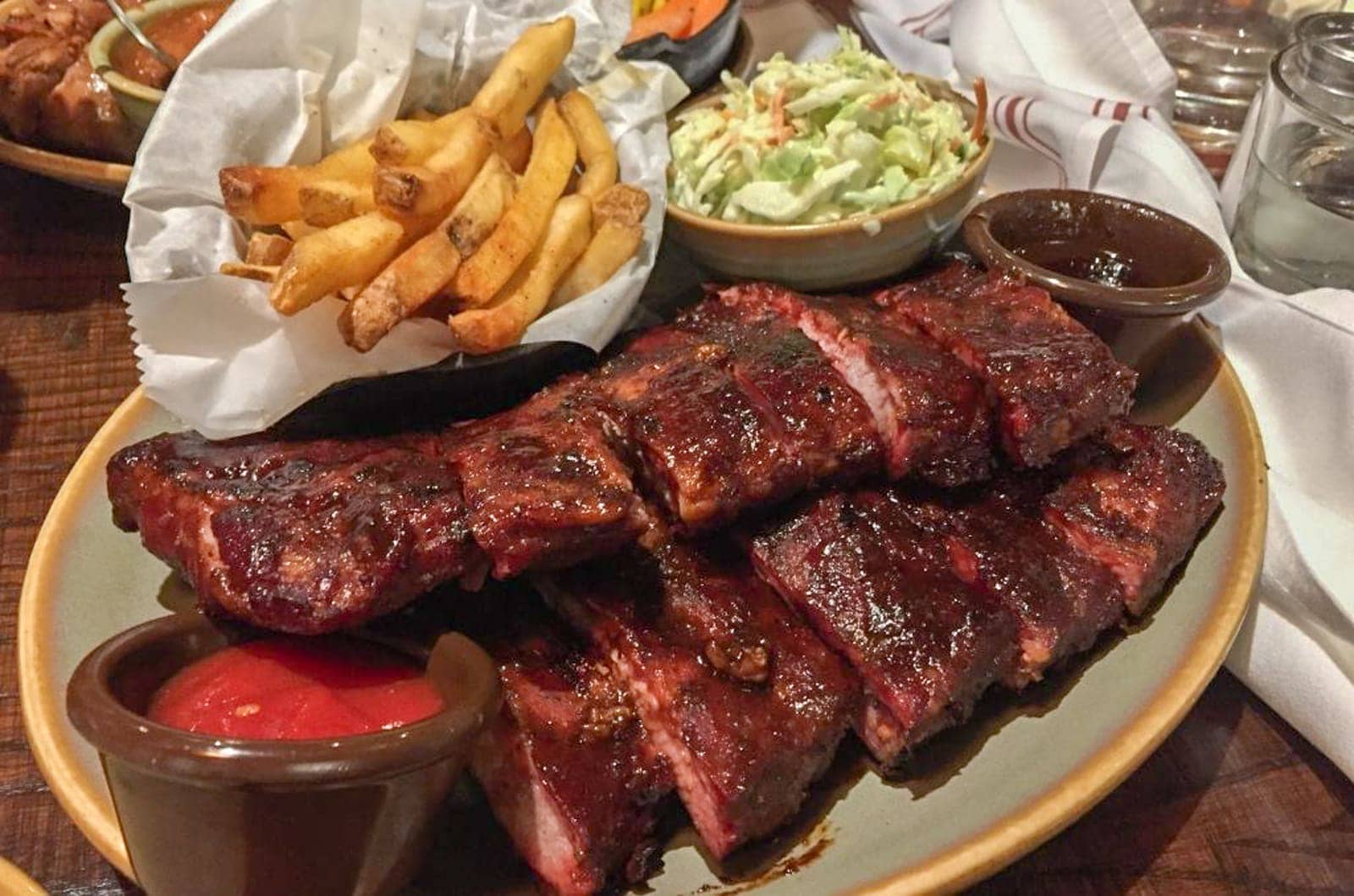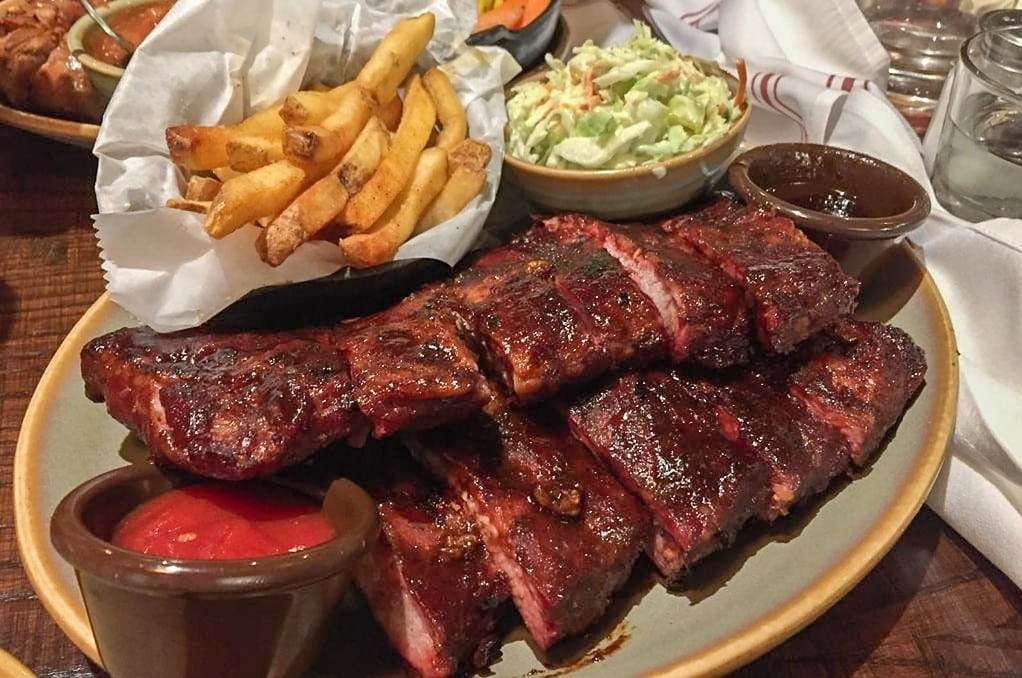 Romantic Getaways In Kansas
46. Discover Some Of The Best Places To See Fossils
Amateur paleontologists, or anyone with an interest in fossils, will be fascinated by the exhibits at The Sternberg Museum of Natural History in Hays, Kansas. Because in prehistoric times the region was covered by a deep ocean brimming with marine life it left a rich deposit of shells and fossils.
One of the more interesting finds is a fish-within-a-fish fossil discovered at the Chalk Pyramids of Kansas, aka Monument Rocks, where new discoveries are still to be found.
As for lodging, Hays KS offers a good selection of franchise hotels, some with hot tubs. VRBO lists a few apartments and cabins, including a very intriguing historic 1893 Limestone House.
47. Get To The Heart Of America
The geographical heart of America is found in Wichita KS, and at the center of the city spring the Museums on the River. Wichita has all the friendly small-town charm of a Midwest town, but with the cultural attractions of Kansas' largest city.
As such, you can stay in the luxurious jacuzzi suite of the Hotel at Old Town and still easily get to outstanding fishing at El Dorado Lake or hikes at Tallgrass Prairie Natural Preserve.
48. Chow Down On The Best Kansas City BBQ
Words get heated when it comes to who has the best BBQ – is it in Kansas City, Kansas, or in that other Kansas City in Missouri? Find out for yourself. Both cities are minutes from each other across the Missouri River so it's easy enough to sample the goods at all 50 or so BBQ joints.
Base a foodie getaway at uber-luxurious The Inn at Meadowbrook, an intimate boutique hotel that's the perfect antidote to culinary excess.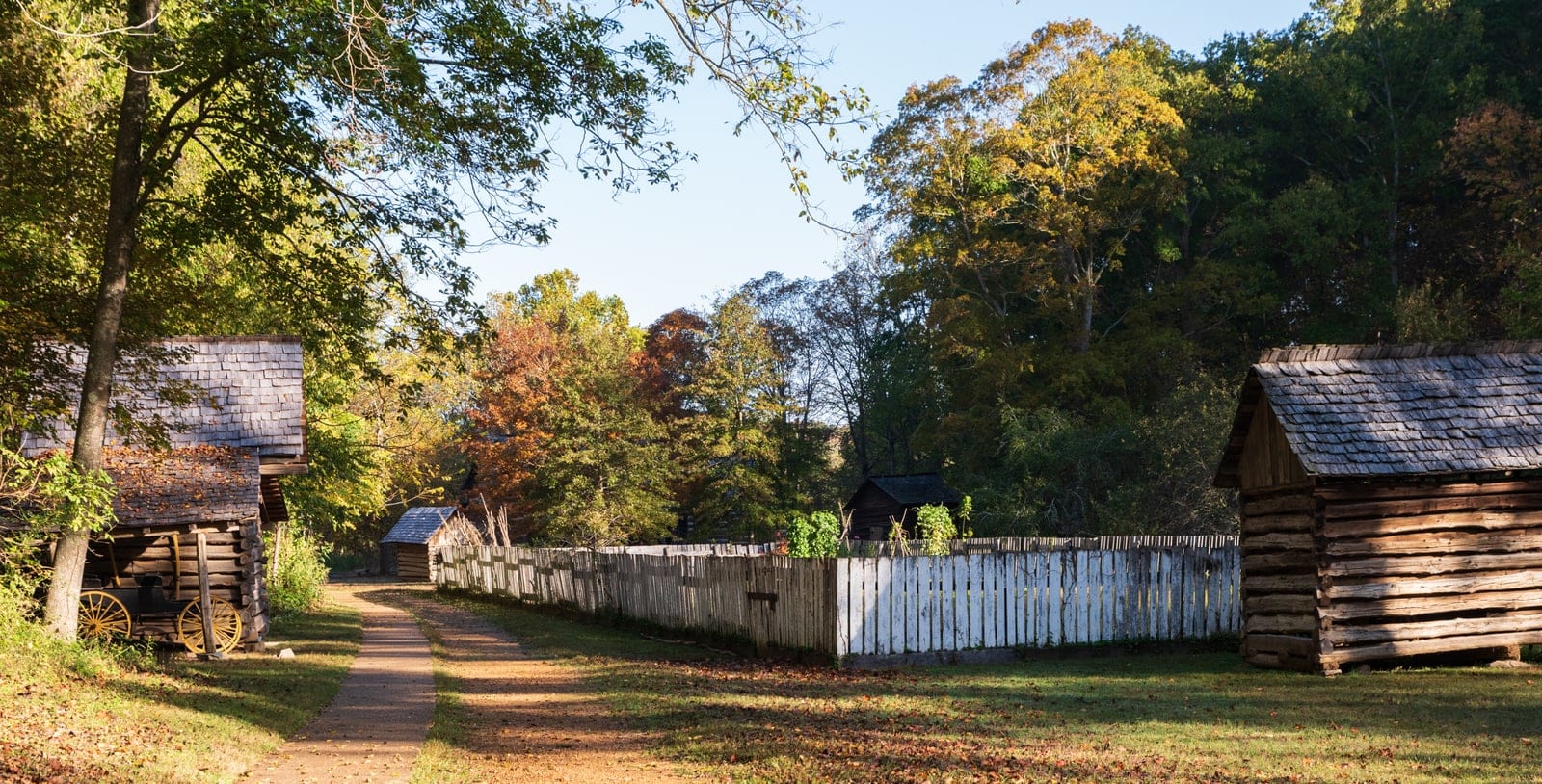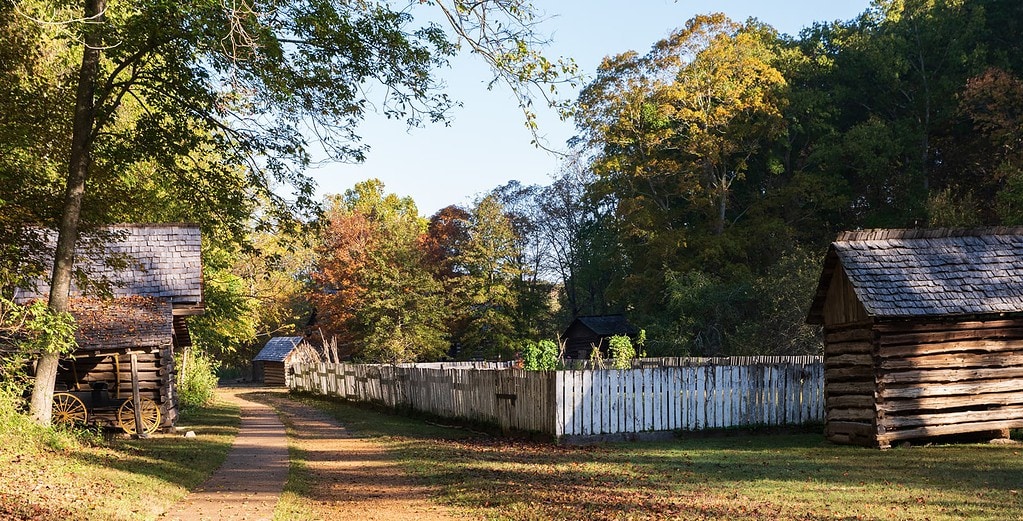 Romantic Getaways In Kentucky
49. Go Wild In The Land Between The Lakes
Nature lovers will find paradise at Land Between The Lakes National Recreation Area, a 170,000-acre stretch of land between Kentucky Lake and Lake Barkley in western Kentucky that stretches into Tennesee. Rent a cozy cabin, amenities range from the most primitive cabins within Land Between The Lakes to stunning lakefront cottages just outside.
For a good list of things to do in Land Between The Lakes, check out the article by our friend, Melody Pittman at TravelAwaits.com.
50. Taste Your Way Through The Bourbon Trail
Horses, bourbon, and history, the Southern triumvirate, can all be found in Lexington, Kentucky. Book a room at the historic Fayette National Bank Building now art gallery/21c Museum Hotel Lexington. It's one of several wonderful spots to appreciate art in Lexington.
Make this your base of operations for heading out for tastings and tours at the eighteen bourbon distilleries located between Lexington and Louisville. It will take at least five days to visit all the distilleries, and there are still a lot of amazing things to do within Lexington: historic homes, horse farm tours, and too many must-try restaurants to name.
51. Pop The Question In A Mammoth Cave
Snow Ball Cave, at Mammoth Cave National Park, has long been a popular spot for a glorious marriage proposal. And if she (or he) says YES, then look no further than the Grand Victorian Inn in Park City, Kentucky for a lovely wedding venue.
Need more inspiration for where to pop the question? Here are a few of the best places for an epic marriage proposal:
*10 Perfect Places To Pop The Question In Connecticut
*10 Perfect Places To Pop The Question In Delaware
*10 Perfect Places To Pop The Question In Maine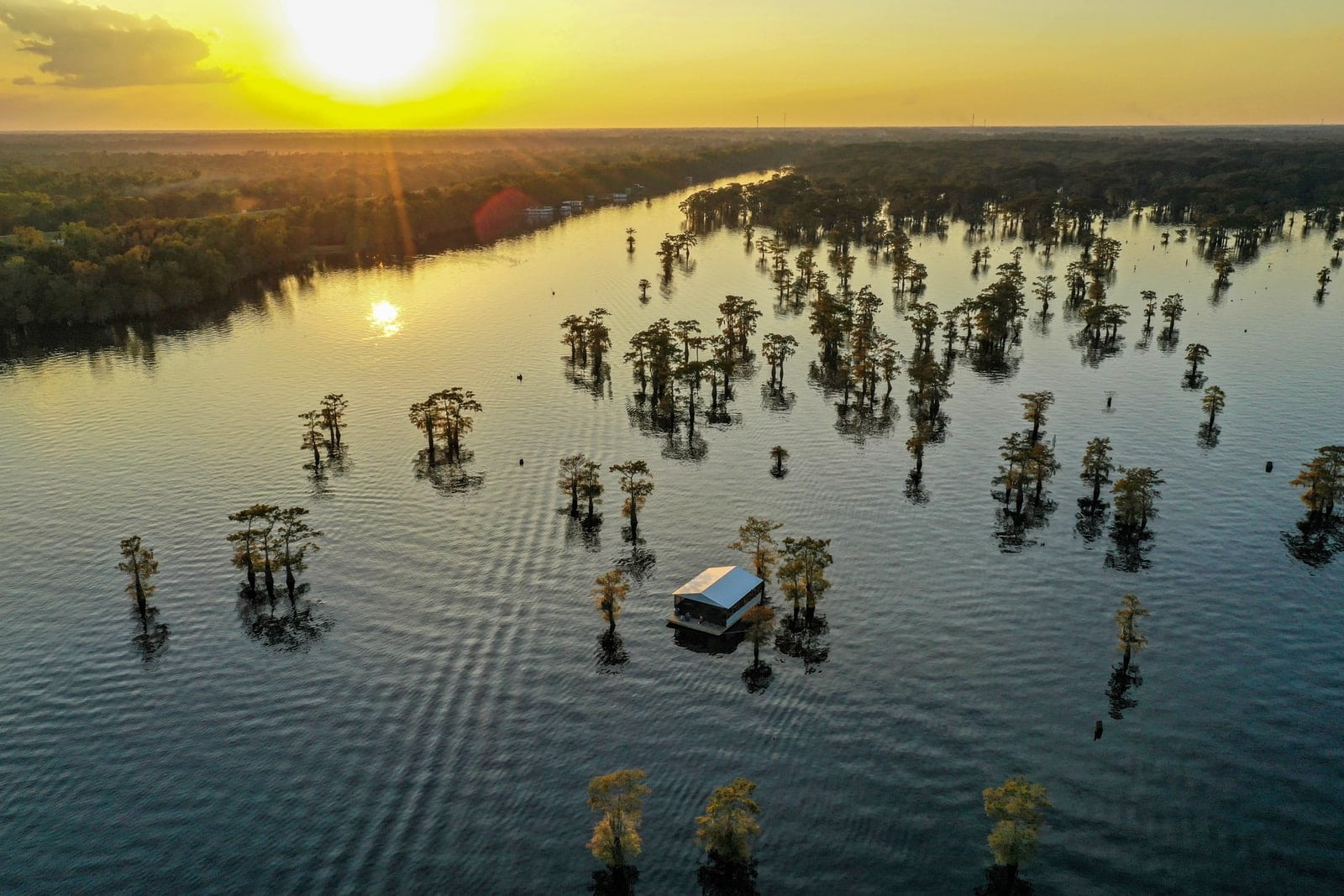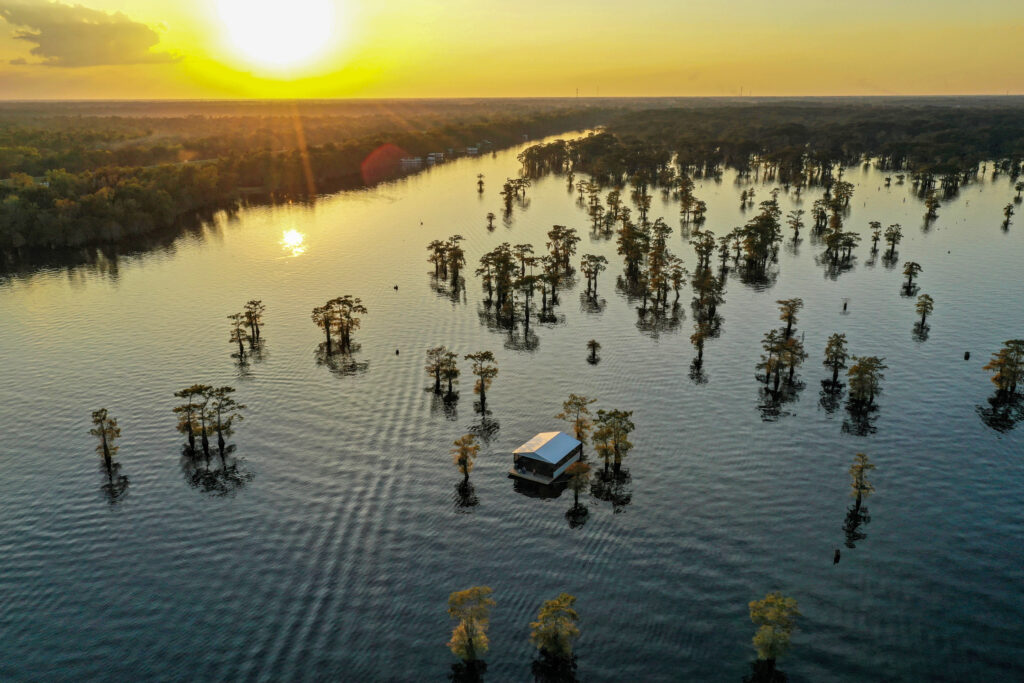 Romantic Getaways In Louisiana
52. Binge On Love Stories In Romantic New Orleans
No city in America is quite as romantic as New Orleans, Louisiana. By one count there are over seventy romantic novels set in New Orleans, and that doesn't even include the ones by Anne Rice, the Queen of Vampire Erotica.
There are so many ways to experience New Orleans, it can be a bit overwhelming. Fortunately, Visit New Orleans, the official tourism board, publishes a Romantic Itinerary. And Kristin Luna, one of our favorite travel bloggers, wrote up the ultimate New Orleans Couples Guide.
53. Relish The Flavors of Cajun Country Around Lafayette
Swamp tours may not be top of mind when it comes to romance, but, as any reader of Sandra Hill's Cajun Love books can attest, Cajun Country is hot, hot, hot! Lafayette, Louisiana is at the heart of the South's Cajun & Creole Country, and it offers a number of wonderful places to stay near Atchafalaya National Heritage Area.
McGee's Louisiana Swamp & Airboat Tours runs all-day paddle trips and sunset dinner cruises on the Atchafalaya Swamp, and both cabins or houseboats are available to rent via the heritage area organization.
But another great option is the Maison Madeleine B&B, near Beaux Bridge, the "Crawfish Capital of the World." In addition to lovely rooms and tasty breakfasts, the B&B hosts private cooking classes and Secret Suppers that bring in James Beard award-nominated chefs and GRAMMY-nominated musicians.
54. Get Hooked On The Freshest Seafood At Grand Isle
Plan to slow down even before reaching Grand Isle. Louisiana's only inhabited barrier island just has one road in, and it gets busy in the summer months. Fishing is a big deal here, with fishing rodeos scheduled from Spring through Fall.
Because of that, seafood reigns supreme, and some restaurants participate in Louisiana's Catch and Cook program which permits them to cook your catch of the day.
Stay at the Blue Dolphin Inn & Cottages and they provide fish cleaning and cooking facilities, for fish you can catch on the pier, from one of their kayaks, or from your own boat.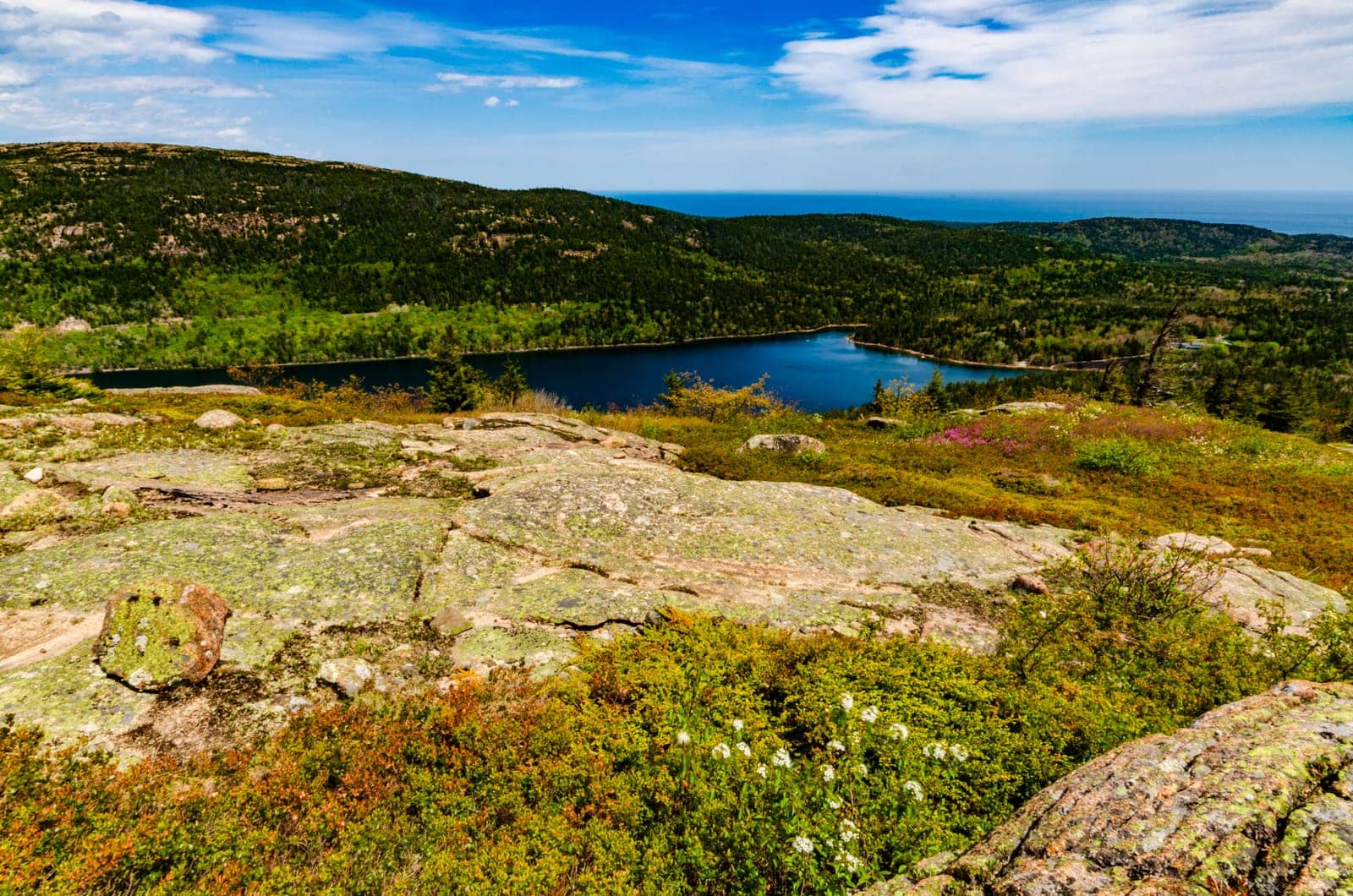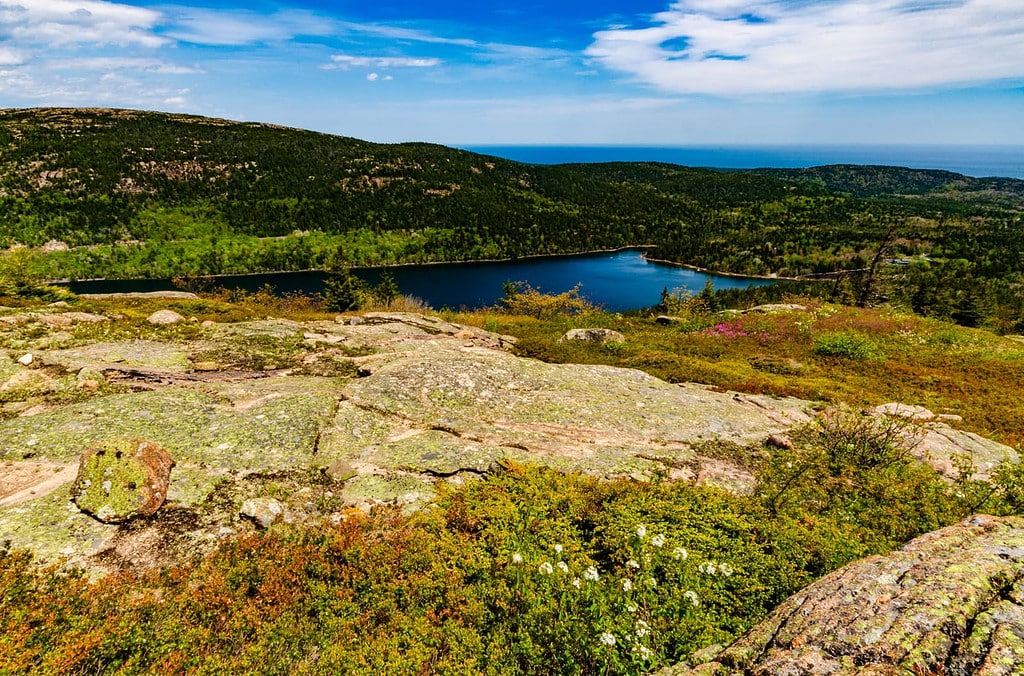 Romantic Getaways In Maine
The Getaway Mavens have been writing about weekend getaways in Maine for nearly ten years; so far, we've covered 17 Best Romantic Getaways In Maine. The following are three of the most romantic weekend getaways in Maine.
55. Explore The Quieter Side Of Acadia National Park
Getaway to Schoodic Peninsula Maine, the quiet side of Acadia National Park, where crowds are low, even in high season. Explore the Schoodic Institute – the largest of 18 National Park Service Research Learning Centers in the USA, learn about "Pickled Wrinkles" and dare each other to try one at The Pickled Wrinkle in Birch Harbor. And stay at the sweetly romantic Acadia Oceanside Meadows Inn.
56. Find Your Own Secret Hideout (With Lobster) In The Kennebunks
Fresh New England cuisine, the sea at play on rocky shores. All that makes Maine Maine is in the Kennebunks, but on a much smaller, less touristy scale. For an optimal romantic stay, book a cottage at the very hidden, Hidden Pond, or a room right on the ocean at the Cape Arundel Inn & Resort.
57. Take Your Bae on a Maine Windjammer Cruise
Book a sailing vacation aboard a Maine Windjammer around the breathtaking Penobscot Bay. Launched in 1871, the Schooner Stephen Taber is the oldest documented vessel in continuous service in the US, with an amazing crew.
Windjamming is one of the most soul-stirring sailing and dining experiences on the planet and makes for a perfect romantic getaway.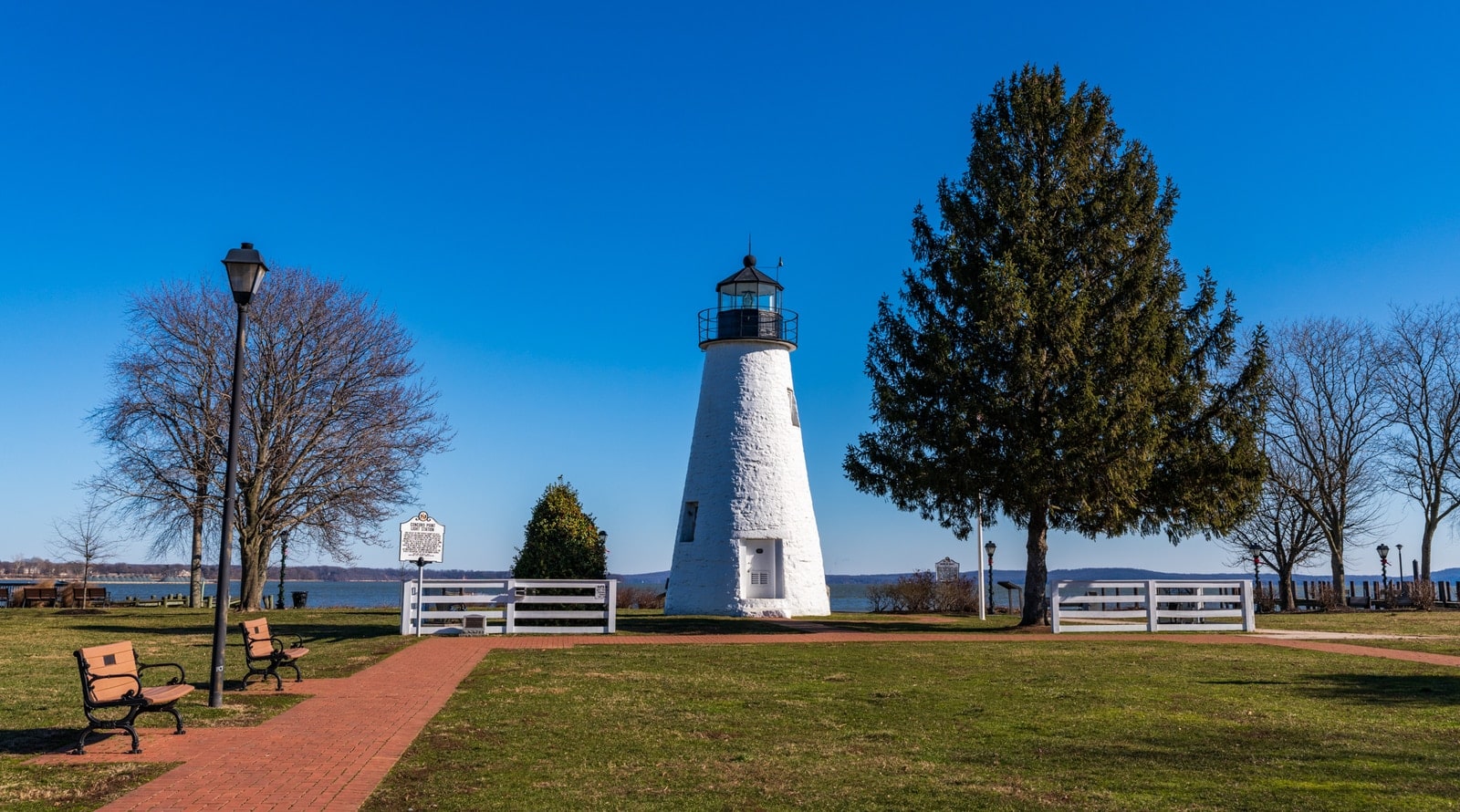 Romantic Getaways In Maryland
For even more travel inspiration, check out our list of 18 Top Romantic Getaways In Maryland.
58. Be Swept Away In Boonsboro and Hagerstown MD
Find out why famous romance author Nora Roberts makes Boonsboro – near Hagerstown MD – her home. Yes, the region offers arts, shops, and 5 national parks. But Robert's luxury Inn Boonsboro, features thematic rooms named after the most romantic couples in fiction. You can't help but be swept away in them.
59. Duck Out To Havre De Grace
A lighthouse, duck decoys, a magnificent topiary garden, a sweet B&B, and other hidden delights round out a romantic getaway in Havre De Grace at the top of Chesapeake Bay.
60. Salute Sunset Over The Chesapeake Bay
Nothing beats a glass of wine overlooking the Chesapeake Bridge at sunset in Queen Anne's County. This easternmost quarter of the Delmarva Peninsula is less than an hour's drive from Washington DC and Baltimore, and a world away. No wonder so many weddings take place here.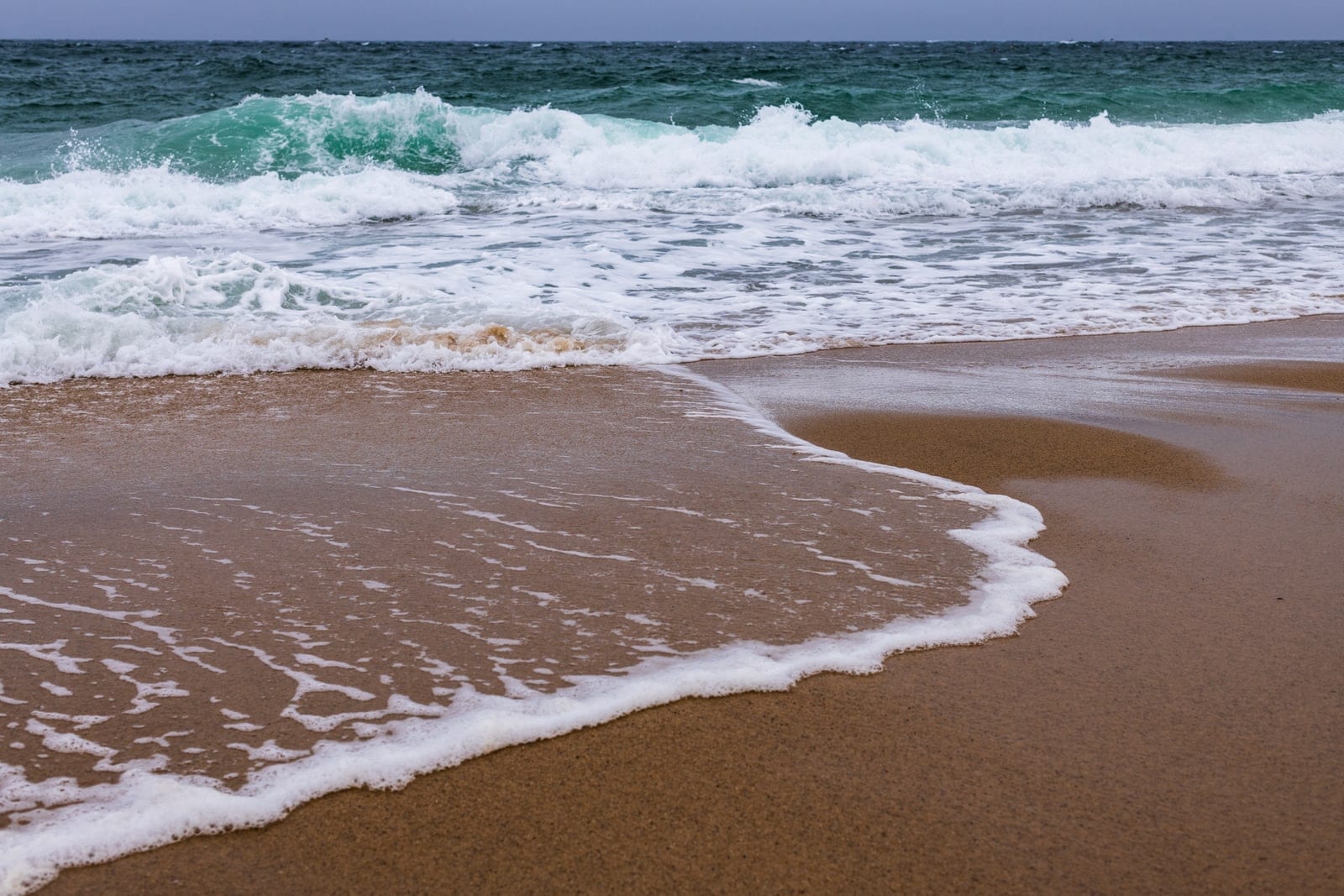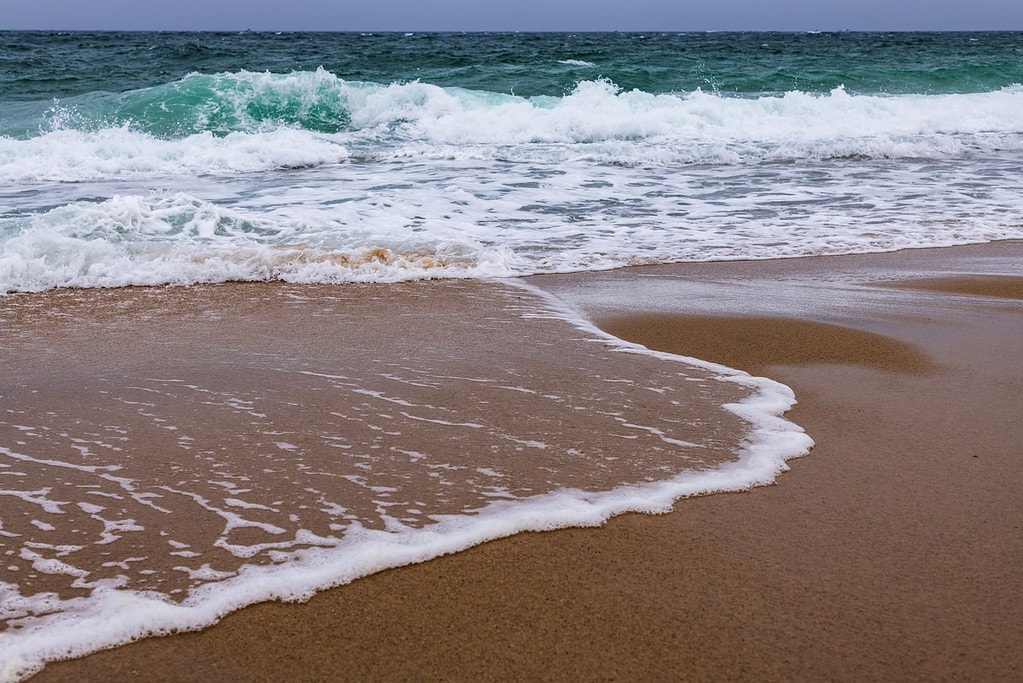 Romantic Getaways In Massachusetts
For even more travel inspiration, check out our list of 14 Romantic Getaways In Massachusetts or even more choices in our roundup of 57 Romantic Getaways In New England.
61. Walk Through "Cupids Grove" With the Adams in Quincy
The most unlikely romantic Founding Father, John Adams, was born in Quincy and is interred side by side with his beloved Abagail. You can place your hands on the tombs of this hot and heavy couple, walk through wildflowers at their homestead, and revel in the stirrings of our new nation on this surprisingly romantic Quincy MA Getaway.
62. Unleash Your Inner Free Spirit In Cape Cod
On the tip of Cape Cod, Provincetown MA is high-energy and gay in all definitions. This "end of the earth" locale is both beautiful, fun, and ultra-cheeky. So, cast your inhibitions into the sea and let loose with your honey as you explore art galleries, cool shops, the best Cape Cod restaurants – and each other.
63. Unveil The Mysteries Of A New England Island
Visit Nantucket MA for beaches, and boutiques, or because this remote New England island is so steeped in history, it's a National Historic Landmark. Once known for its whaling ships, it's now a hotspot for bachelorette and wedding parties. Still, couples can find room for alone time on the ideal Nantucket itinerary.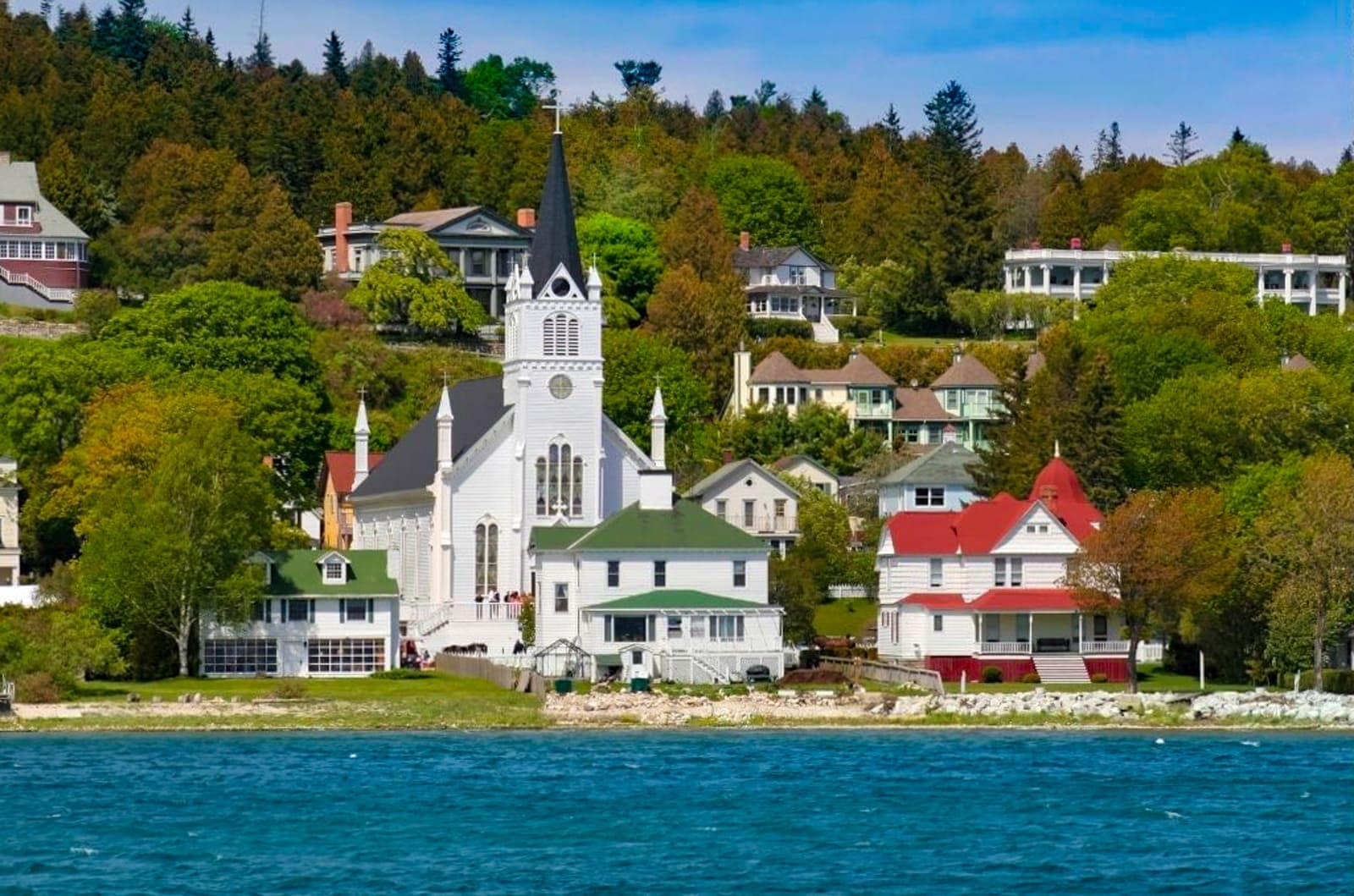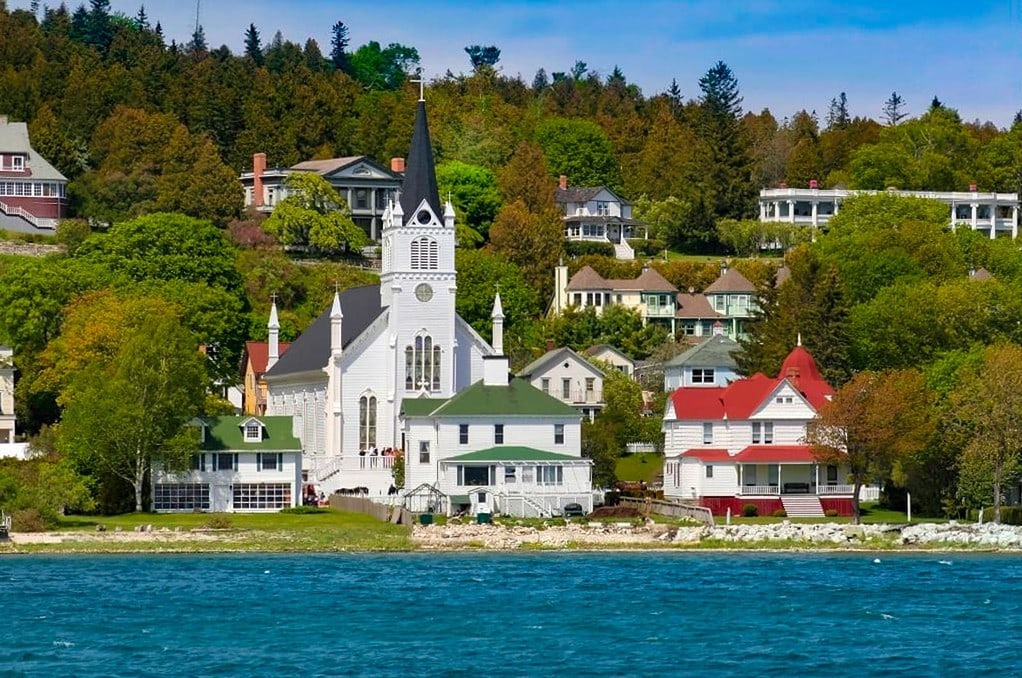 Romantic Getaways In Michigan
64. Play In Traverse City
Some couples just want to have fun. Whether that means slippin' and sliding at a waterpark, a round of golf, or climbing sandhills at Sleeping Bear Dunes National Lakeshore, Traverse City has you covered.
65. Get Hitched On Mackinac Island
The wedding season on Mackinac Island begins on May 1 and ends on November 1, although winter weddings can also be lovely. And elopements, without the expense and stress of fairytale weddings, may be the most magical of all.
Naturally, all of the elements that make this Lake Huron island an ideal wedding destination make it (possibly) an even better romantic getaway spot.
66. Forest Bathe At Isle Royal On Lake Superior
Truly adventurous couples may choose to spend their honeymoon backpacking in Isle Royal National Park. It's not an easy choice, but hiking the backcountry is the best way to experience the ultimate secluded retreat. But if you'd rather forest bathe by day, and a comfy slumber by night, consider renting out a Fresh Coast Log Cabin.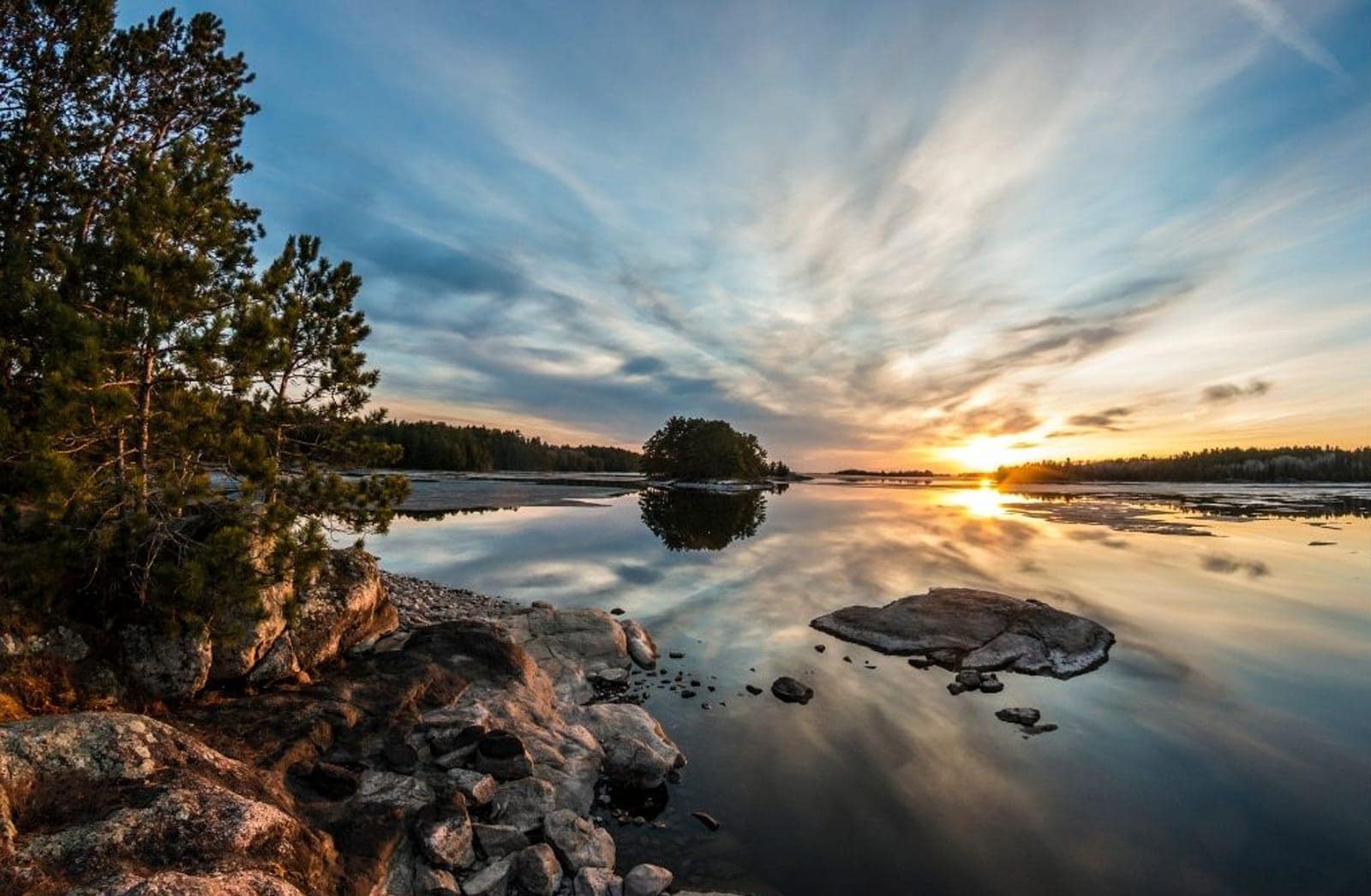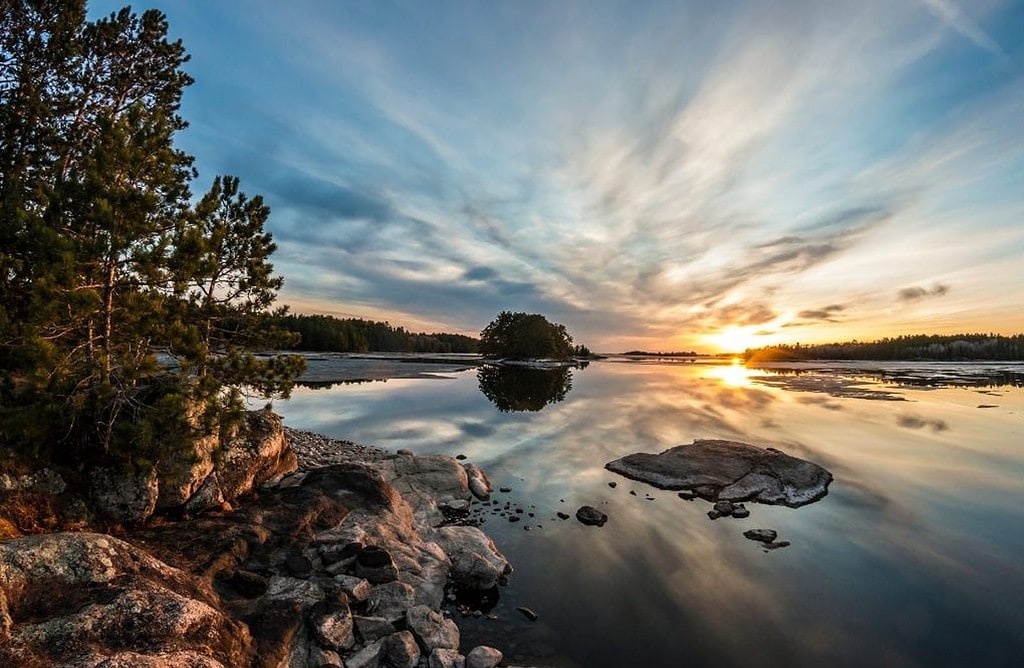 Romantic Getaways In Minnesota
67. Go Crazy In Minneapolis
It's almost impossible to choose the very best love song by Prince. Could it be International Lover, Purple Rain, or (a personal favorite) Let's Go Crazy? Prince fans could easily spend a month exploring every Minneapolis Hometown connection.
Fortunately, the city tourism board put together a romantic weekend itinerary with the not-to-be-missed stops.
68. Vacation On A Houseboat At Voyageurs National Park
Near the Canadian border, the dark skies in Voyageurs National Park are excellent for seeing the Northern Lights. And here you can stargaze from the deck of a houseboat.
Novice skippers are welcome to rent a houseboat with a 3-day minimum from Voyagaire Lodge & Houseboats, whose complete list of amenities includes "room service with a wake."
69. DeStress In A Nordic Sauna On Caribou Lake
Introduced by Finnish immigrants in the 1800s, saunas are a mainstay in Minnesota and can be found at many resorts across the state such as The Resort On Caribou Lake. Said to be the clearest lake in Minnesota, both divers and fishermen are drawn here.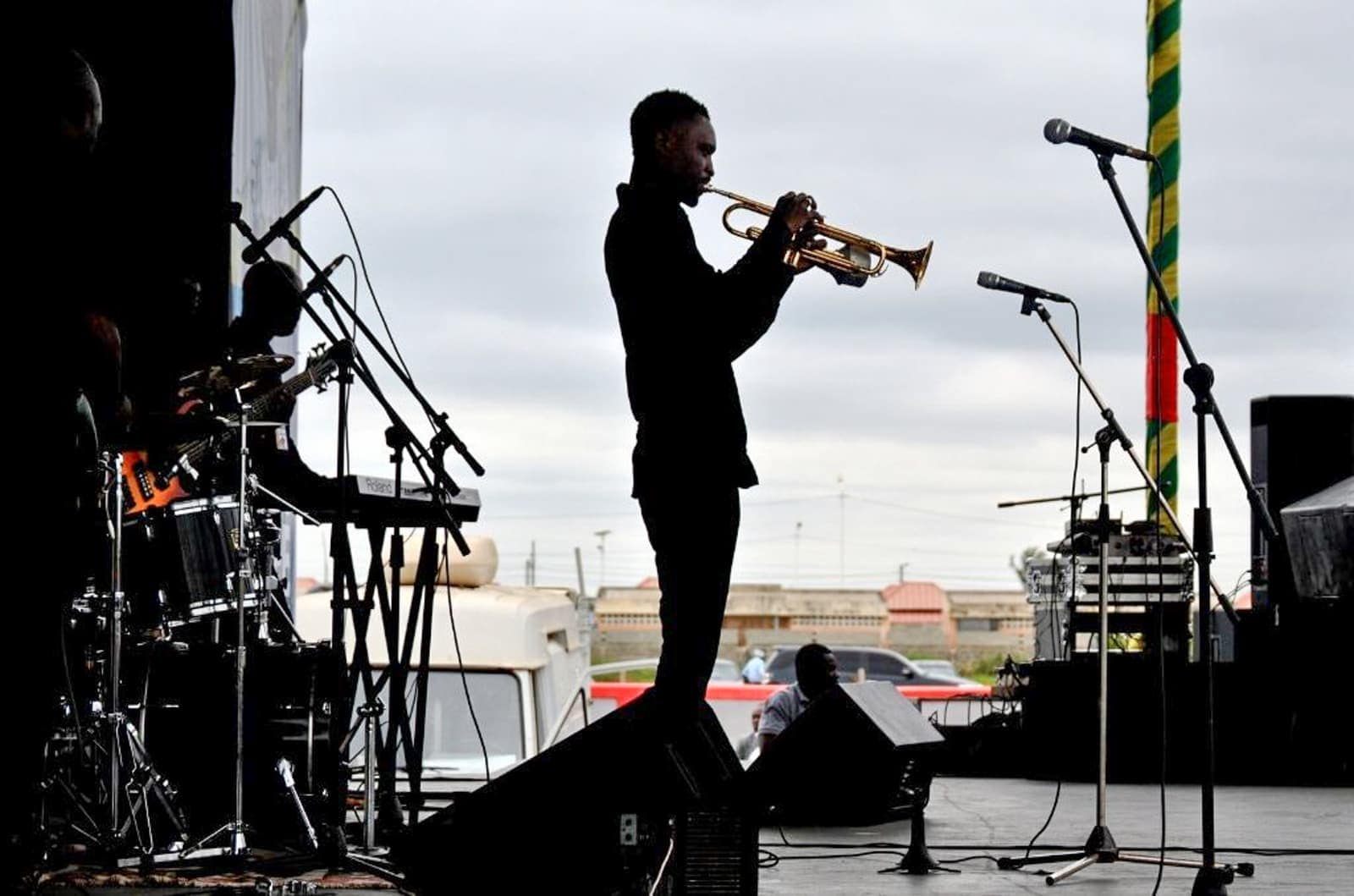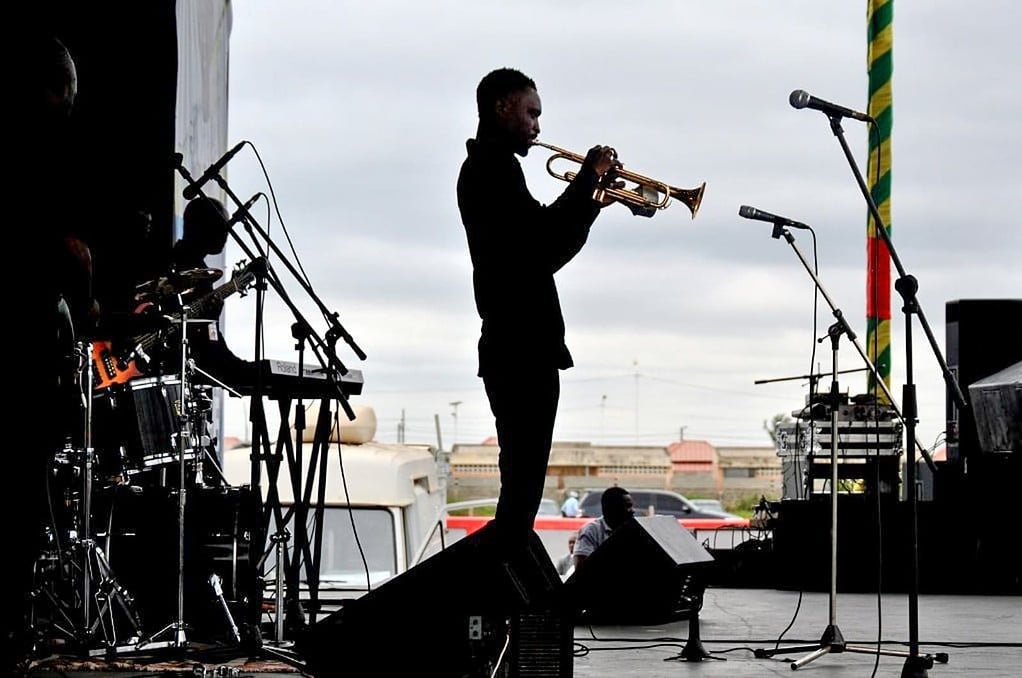 Romantic Getaways In Mississippi
70. Go Down To The Crossroads And Get On Up On The Blues Trail
The legend of the crossroads can be traced back to long before Mississippi came to be; and yet, the notion that Robert Johnson sold his soul to play the guitar sends chills even to nonbelievers. Find the roadside marker, a pole with three guitars, on the Mississippi Blues Trail.
But if you love the blues, then don't miss Morgan Freeman's Ground Zero Blues Club. As for where to stay, it's got to be the well-named Shack Up Inn.
71. Meander Along The Natchez Trace Parkway
Passing through three states, the 444-mile Natchez Trace Parkway runs from Natchez, Mississippi to Nashville, Tennessee. It's not a very long distance, but with a maximum speed limit of 50mph, it can take 10 to 12 hours to drive the distance.
And when you factor in stopping to read historical markers, visiting historic sites, or taking a hike, it can take much longer.
There are three campgrounds in the parkway, in addition to bed and breakfasts located nearby that are conveniently listed in tandem with road sections.
72. Discover The Natural Treasures Of The Secret Coast
Much of the Mississippi Gulf Coast has been designated a National Heritage Area to help preserve its natural treasures. As such, there are a number of ways to explore the wild biodiversity of the region, including eco-tours, arboretum visits, Audubon birding experiences, or the very popular Biloxi Shrimping Trip.
For a romantic stay, consider The Roost Boutique Hotel in Ocean Springs MS.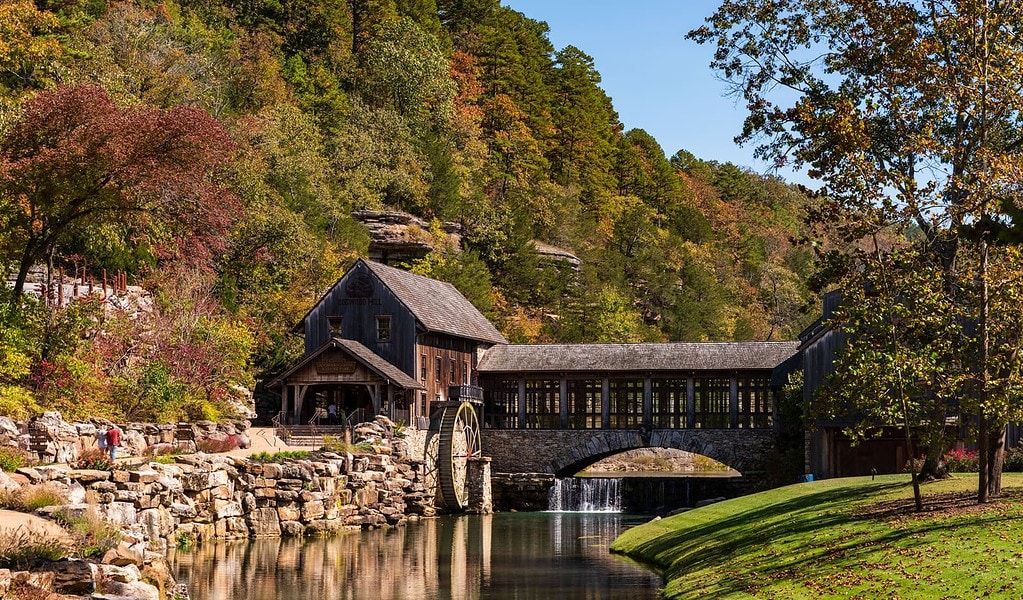 Romantic Getaways In Missouri
73. Choose A Coat Of Many Colors In The Ozarks
Romantic getaways in Branson, Missouri can take on different shapes. If you're into shows, Branson gets A-listers in addition to all the long-running performances. Foodies will find fine dining, as well as all the major chains.
A theme park and all kinds of touristy attractions can be fun. Alternatively, you could rent a mountain cabin for wilderness seclusion or lakefront property for all the watersports. But if you desire a high-end experience at an iconic Ozark lake resort, book a room at Chateau On The Lake. You won't be disappointed.
74. Do Date Night In Springfield MO
Do you like retro or cutting-edge? You can find both in Springfield MO. Because it's the "Birthplace of Route 66," you can find several related attractions and at least one motel, the Best Western Route 66 Rail Haven, with a car for a bed.
But also because it's a college town – there are 22 colleges, including Missouri State – the city square is a popular place for date nights. Several restaurants, Instagram spots, bars, and clubs liven up after hours; while the rooftop bar at Hotel Vandivort is where to go for cocktails with a sunset view.
75. Jazz It Up In St. Louis
A hybrid between Gateway to the West and Southern Charm, it's the vibrant arts scene that weaves its way through all the creative things to do in St. Louis.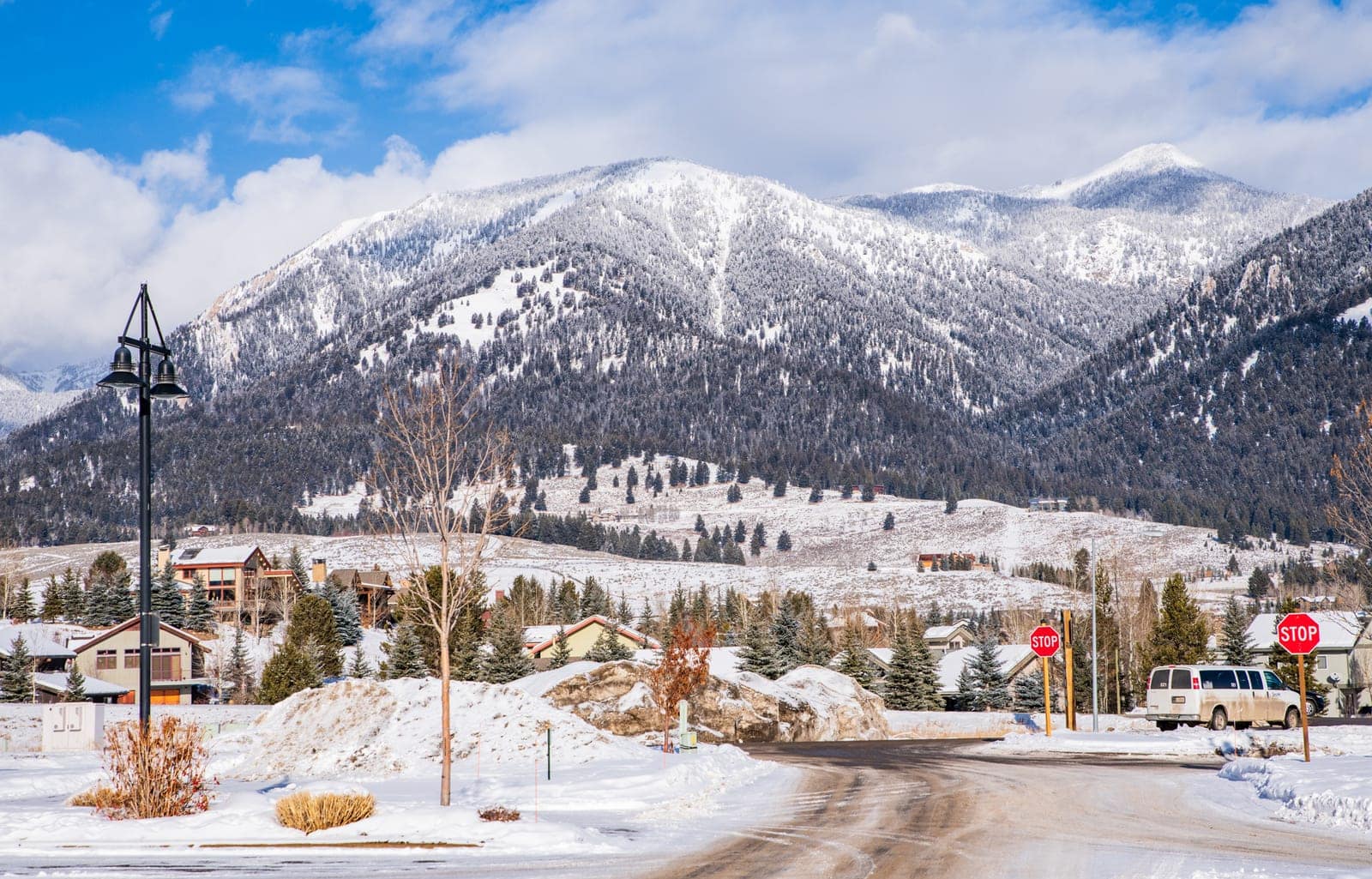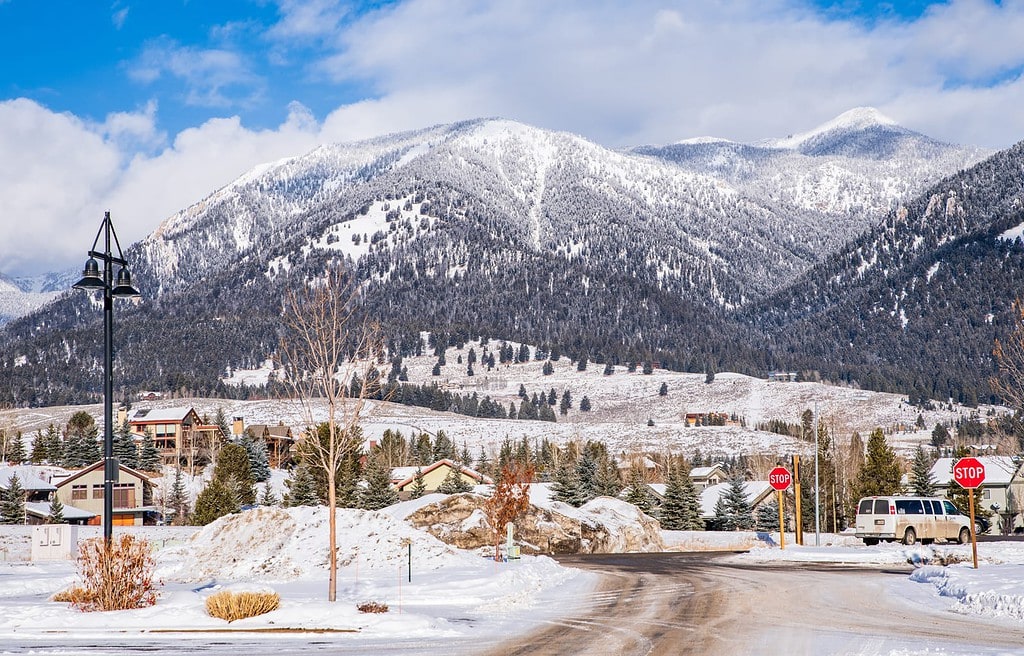 Romantic Getaways In Montana
76. Ride Into The Woods And Hike On A Glacier
The most romantic lodging near Glacier National Park is at Flathead Lake Lodge, a 3rd generation luxury dude ranch. Set right on beautiful Flathead Lake, a weekend getaway could very well be spent sailing and playing on the water, with just the occasional trail ride. But do take advantage of the proximity to at least one day trip to Glacier National Park.
77. Ski Big Sky But Snowmobile Yellowstone
If you're up for the challenge, Big Sky Ski Resort gives as good as it gets. With more runs than just about anywhere and Intermediate Trails that would be labeled Black Diamond on the East Coast, it's a skier's dream.
In Winter, Big Sky is also close enough to the West Entrance of Yellowstone National Park that you can join snowmobile tours while in summer, it's just far enough away to avoid the crowds.
78. Steam It Up In A Hot Springs Pool
In the year 2000, the population of Paradise, Montana was 184. Those figures are likely greatly enhanced when weddings at Quinn's Hot Springs Resort fill the lodge and cabins. Lodging guests may use the hot springs pools from early in the morning until well into the night, while day-use sessions are offered in 5-hour increments.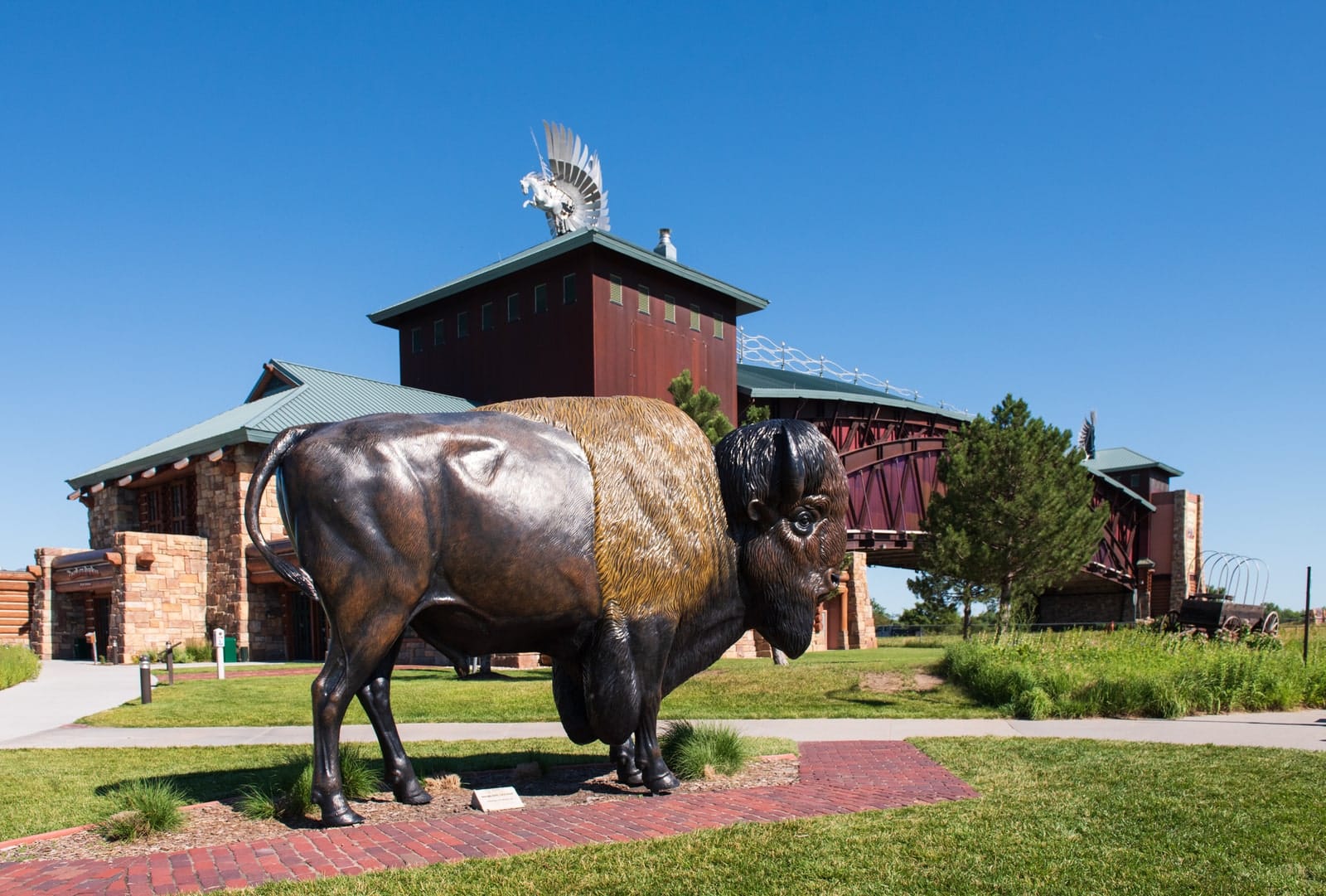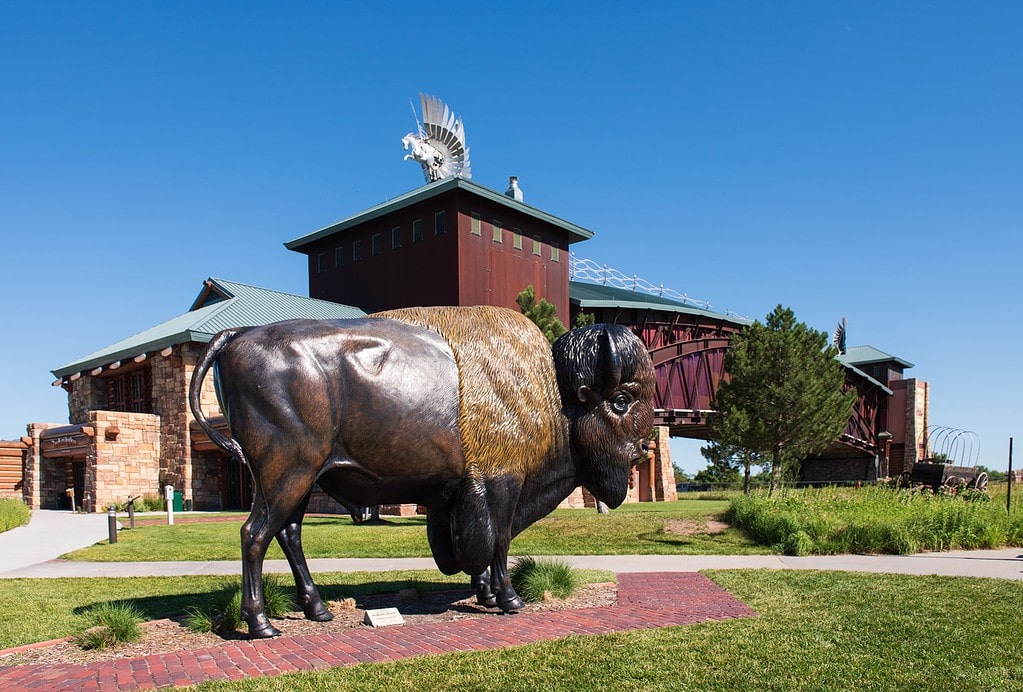 Romantic Getaways In Nebraska
79. Get Weird in Lincoln
Lincoln NE has the ingredients that make for an idyllic escape: gardens, art, boutique hotels, and for adventurous couples: weird museums. The interior of the Nebraska State Capitol building is positively poetic, with inlaid marble floors and walls blanketed with gorgeous mosaic murals. You might just detect a come hither look from your love while on a free tour.
80. See What Giving Can Accomplish
Omaha NE has artsy, romantic, philanthropic vibes. Add fun eateries and boutique hotels and you've got a recipe for the perfect getaway. Hold hands as you walk a path through the world's largest indoor desert at the Henry Doorly Zoo and Aquarium.
And of course visit the Joslyn Art Museum, funded by Sarah Joslyn as a memorial to her beloved husband in 1931 – and, as a gift to Omaha. As such, museum admission has always been free.
81. Drive Off The Beaten Path On US Route 6
Drive 373 miles of US Route 6 in Nebraska, and stop at these 13 homespun towns and attractions. You'll find romance in the unlikeliest places. Want to keep going? Getaway Maven, Malerie Yolen-Cohen, wrote the guidebook to all 3,205 current miles (3,652 historic) of transcontinental US Route 6.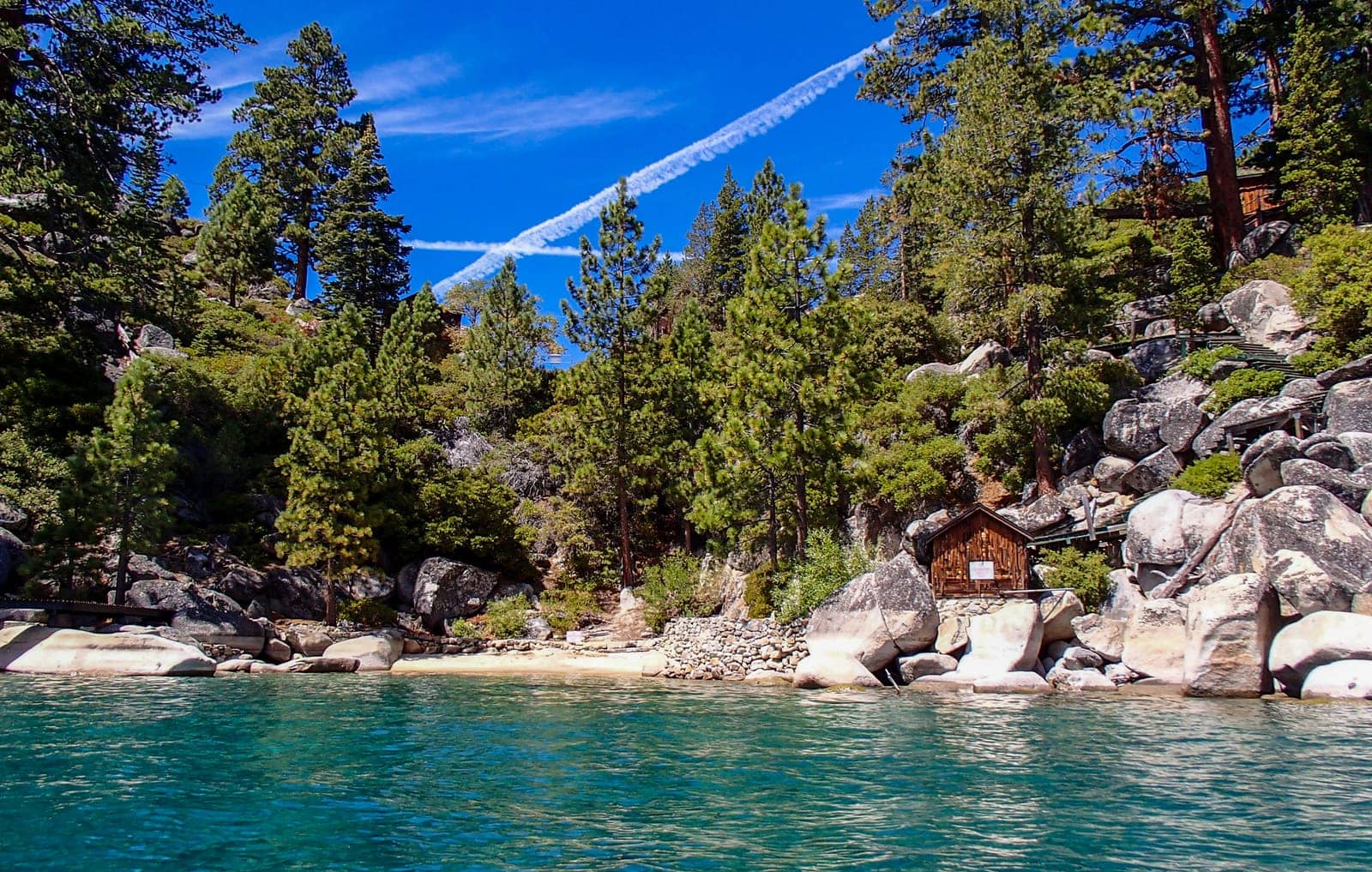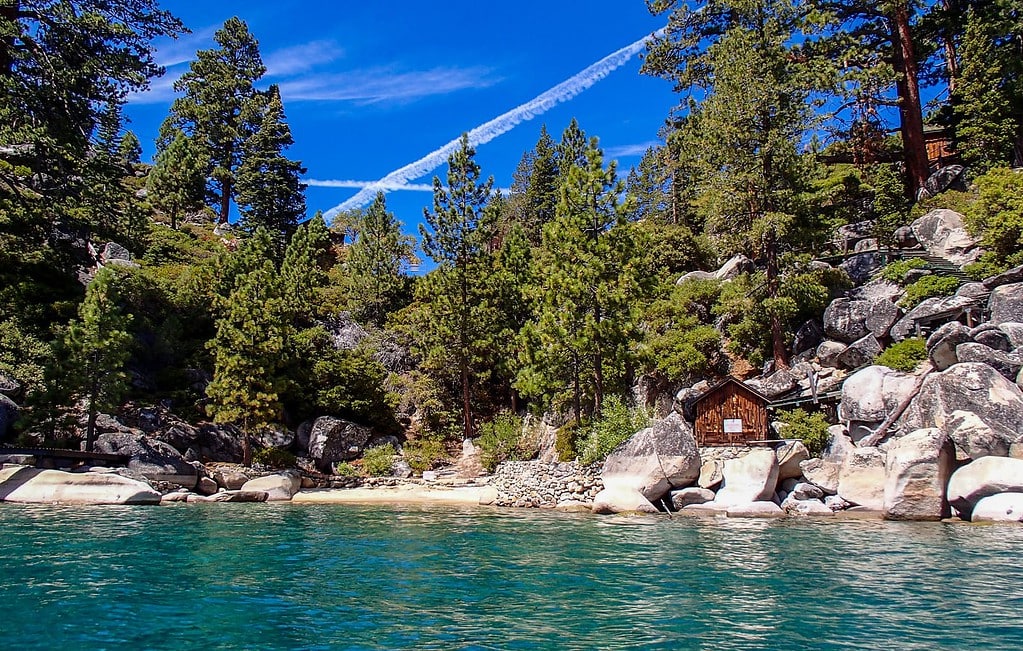 Romantic Getaways In Nevada
82. Gamble On The Loving In Viva Las Vegas
Even if gambling is not your thing, there are at least a dozen or more date-worthy things to do in Las Vegas. Renew your vows in an Elvis chapel. Feast on escargots while admiring the fountain show at the Bellagio.
Float away the day in the Lazy River at Mandalay Bay. Attend the Beatles Love Show OR the new Cirque Beatles Tour. You get it. Las Vegas was made for lovers.
83. Celebrate Your Love At Lake Tahoe
In its heyday, the Cal Neva Lodge on the border of California and Nevada hosted Hollywood stars and Vegas mobsters. Owned by Frank Sinatra from 1960 to 1968, it was where Marylin Monroe mysteriously spent the last weekend before her demise.
Sadly, the property remains closed in recent years awaiting renovations. In the meantime, couples, celebrities, and otherwise, may enjoy all the restorative effects that Lake Tahoe offers at other luxury resorts such as Edgewood Tahoe Resort.
84. Save A Horse (Ride A Cowboy)
Nothing cements a loving relationship like shared labor. Couples who aren't afraid of a little hard work will feel the healing powers of a stay at the Cottonwood Guest Ranch. Situated in Nevada's Great Basin, the ranch is a fifth-generation working horse and cattle ranch.
Besides horseback riding, activities include birding, hunting, and mountain biking. And if all works out, partners can plan a ranch wedding onsite.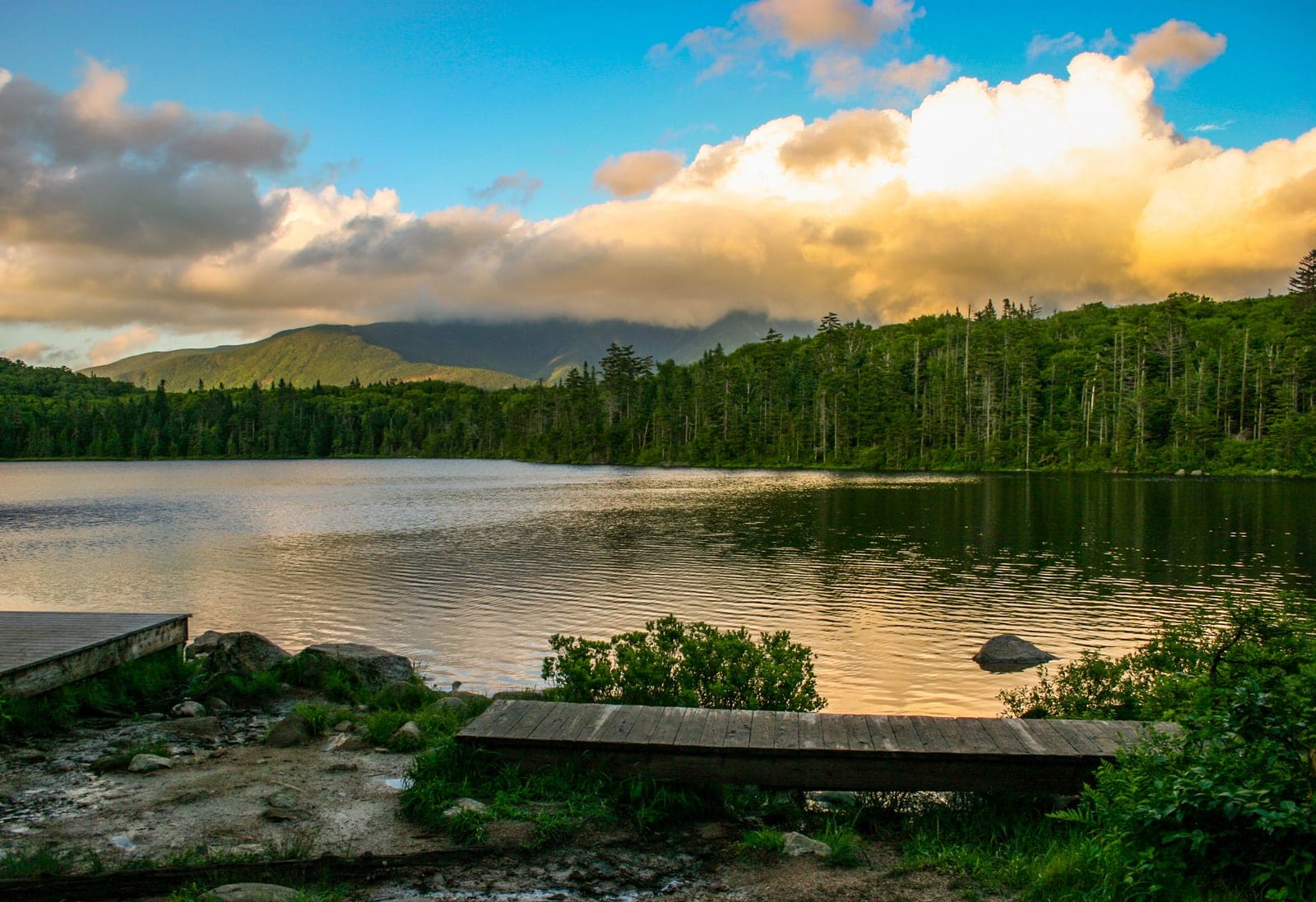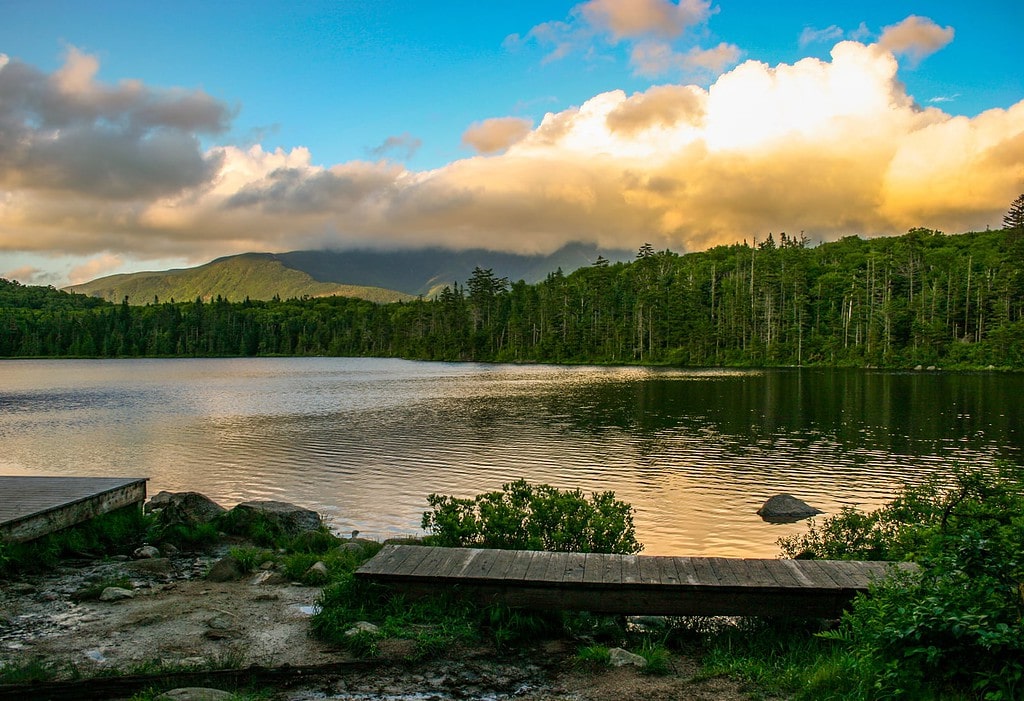 Romantic Getaways In New Hampshire
For even more travel inspiration, check out our list of Best Romantic Getaways In New Hampshire.
85. Cruise Into Colonial Portsmouth NH
Known for unique boutiques and shops, and for a burgeoning culinary scene, here's your guide to the best of Portsmouth NH. To spice things up, take a cruise to Star Island on an Isles of Shoals Steamship Co. ferry.
There – you can scramble around a boulder-strewn shoreline, or kayak around, and then sit on the veranda of the Victorian-era Oceanic Hotel taking in the views.
86. Hike It Up In The White Mountains
Never tamed, the White Mountains in New Hampshire have been drawing outdoor lovers since colonial times. The region is actually one of the first USA travel destinations. Those enamored with each other will find attractions both active and kitschy.
Hike through waterfalls and under cool rock formations. Or, take in a trained bear show at Clark's Trading Post. You're bound to find something to suit your own romantic style.
87. Romance The Golden Years On Squam Lake
Deep lakes bounded by mountains, the New Hampshire Lakes Region is an exquisite breath of fresh air for city-weary folk. Although Lake Winnipesaukee is the area's largest, with the most going on, nearby Squam Lake is much more intimate.
On Golden Pond, the movie that reunited Jane Fonda with her father, Henry, was filmed right on Squam Lake – and it still holds that pristine, undeveloped mystique.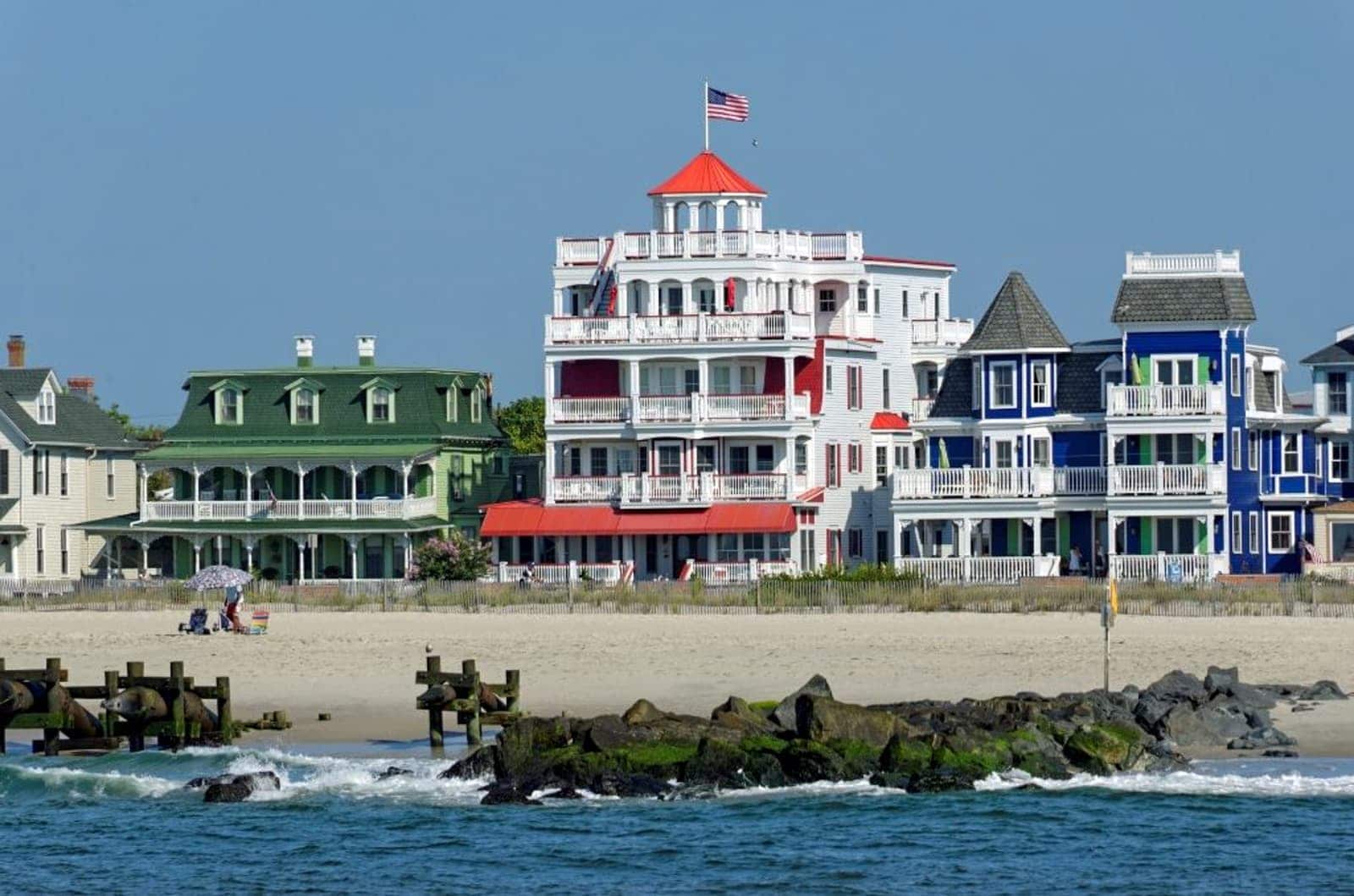 Romantic Getaways In New Jersey
For even more travel inspiration, check out our list of Romantic Getaways In New Jersey.
88. Roll Out On The Boardwalk In Asbury Park
Asbury Park NJ, on the Jersey Shore, faded in the 1980s and is now staging a comeback. Murals, boardwalks, and downtown cafes are just the start. Sure, the vibe can get a bit rowdy in the heat of the summer (just ask hometown boy, Bruce Springsteen), so come off-season when the scene is more tranquil, and, honestly, more seductive.
89. Collect Seashells And Memories By The Seashore
Known as one of America's prettiest towns due to colorful Victorian houses, Cape May NJ is popular with bird watchers and beach lovers. Dog lovers in love can bring their pup to The Boarding House, a stylish-casual small hotel that takes its four-legged guests as seriously as its two-legged ones.
Complimentary afternoon beer and wine for one, and water and treats for the other.
90. Say Your I-Do's On a Mountaintop in Sussex County
The Appalachian Trail runs through Sussex County NJ in the state's Northwest region known for its 4-season recreational attractions. That the landscape is breathtaking is only part of the appeal for outdoorsy couples.
Wine aficionados can also tour one of the country's largest wine cellars, try out fantastic restaurants and breweries, and stay in romantic lodgings – both big and small.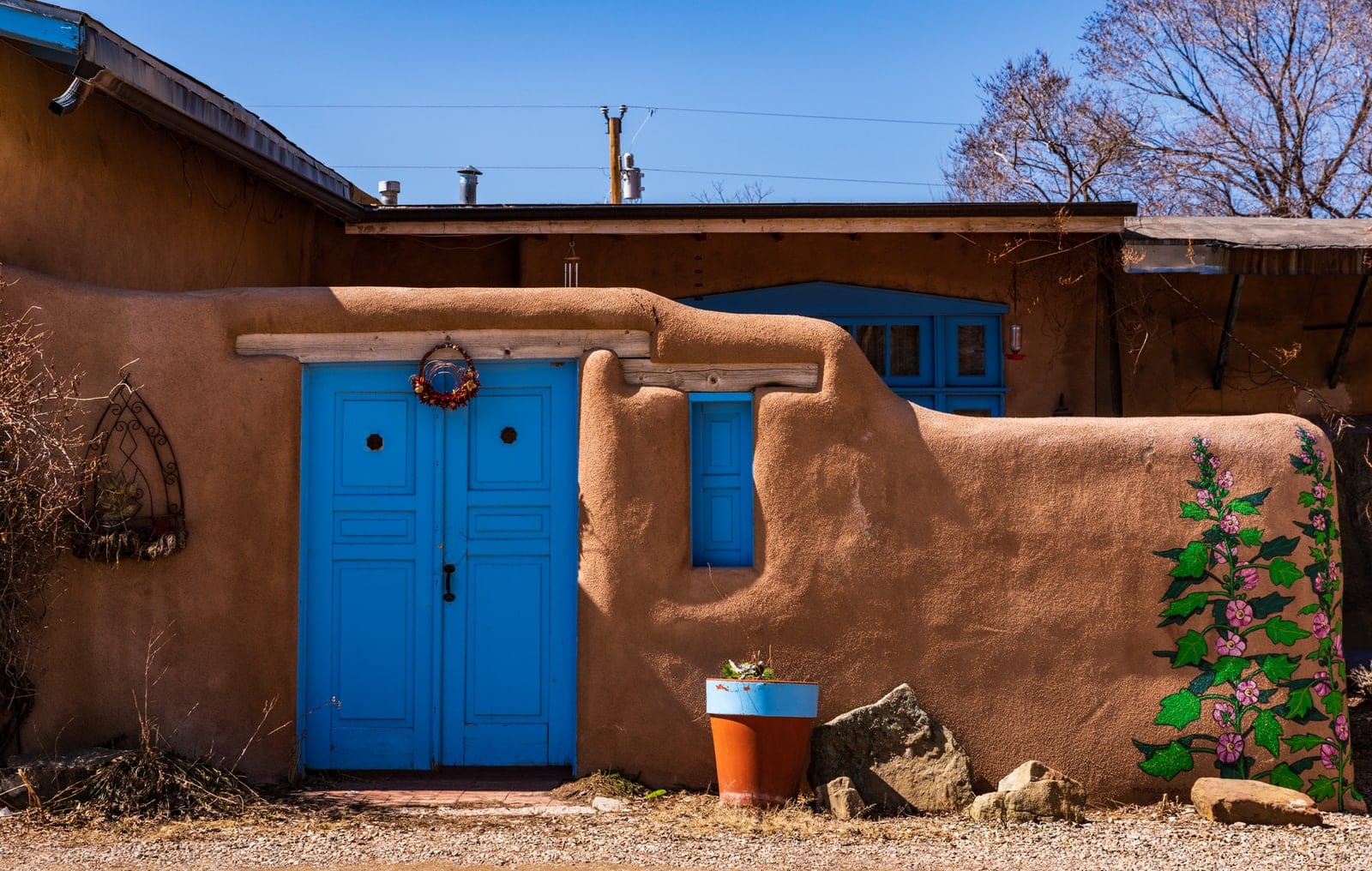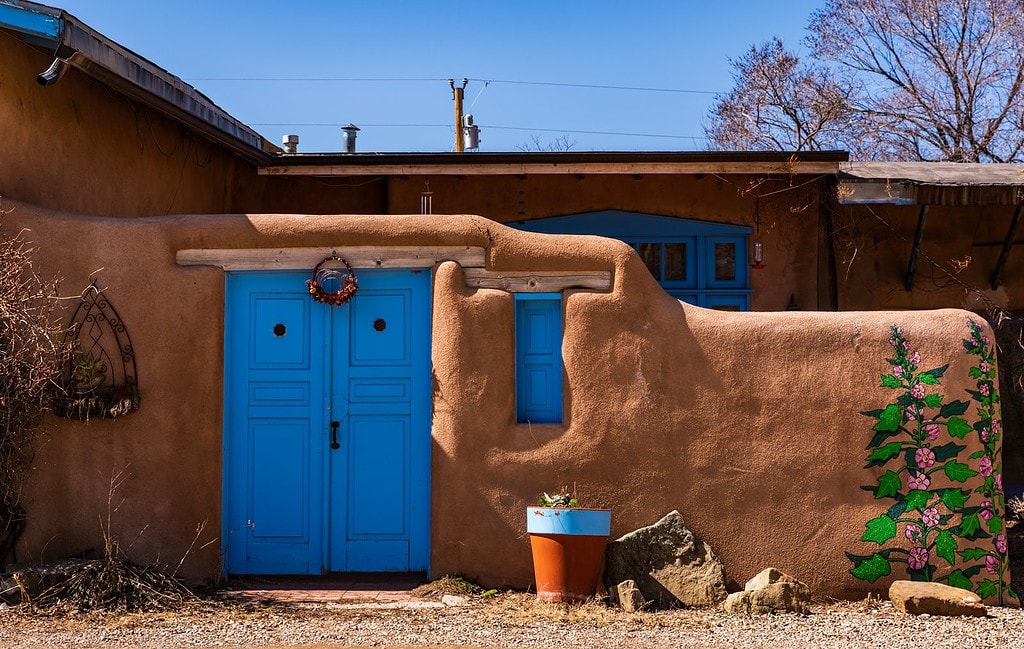 Romantic Getaways In New Mexico
91. Albuquerque – Hot Peppers and Hot Air Balloons
Ruggedly beautiful, a romantic getaway to Albuquerque mixes the outdoor activities in the Southwestern mountains with the attractions of the city's cultural heritage.
92. Taos, In The Land Of Georgia O'Keefe
In winter, Taos is known as an outstanding ski destination. But any time, it's the arts and culinary scene that draws lovers.
93. White Sands
Grab a sled and slide on white sand dunes. A visit to White Sands National Park is an open invitation to play, but there's also significant history and culture to learn about.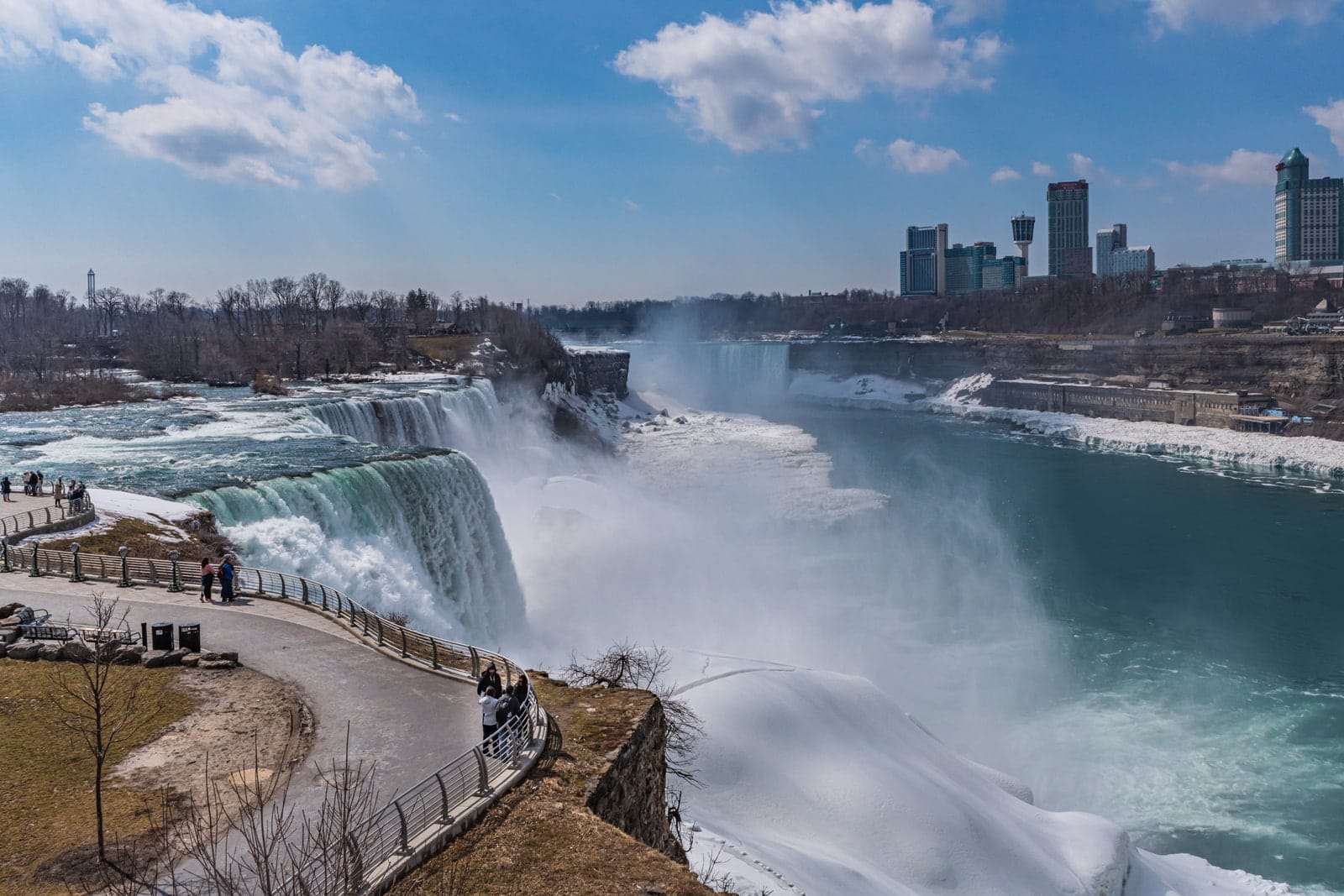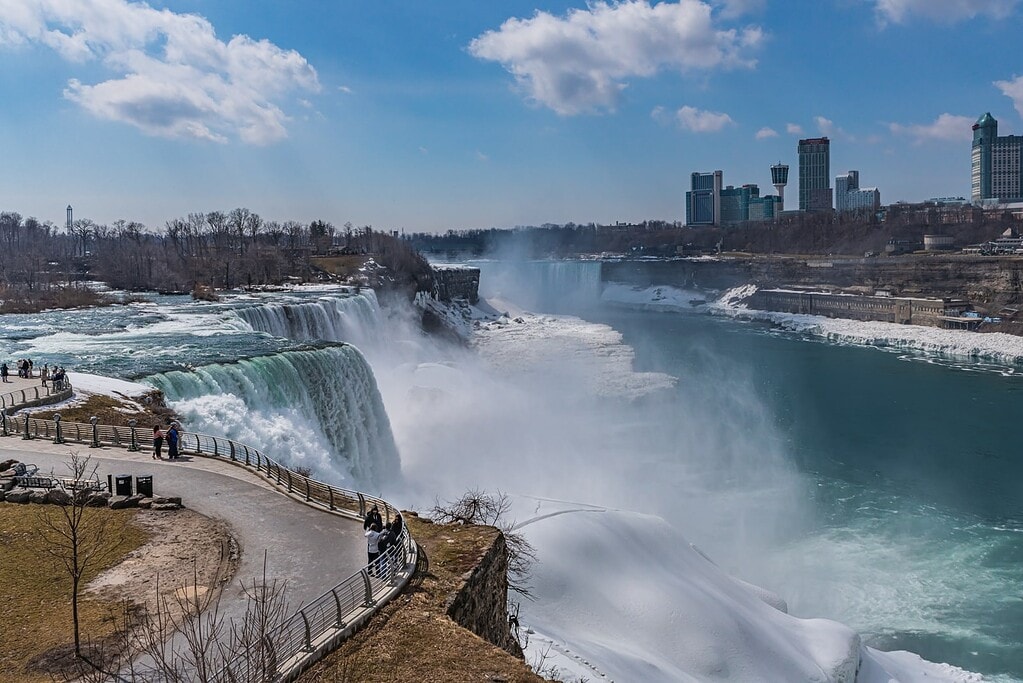 Romantic Getaways In New York
For even more travel inspiration, check out our list of Romantic Getaways In New York.
94. Honeymoon At Niagara Falls
Niagara Falls, New York is one of America's favorite honeymoon destinations for over two hundred years. Extremely popular in the summer, discover why a Niagara Falls winter getaway is even better for couples.
95. Adventure In The Adirondacks
Nature awaits the adventurous on an Adirondack getaway at Lake Placid NY, the village gateway to America's first vacation destination–the Adirondack Mountains. And after all the exertion, do reserve the couples massage at Mirror Lake Inn with the Maple Syrup Body Scrub, it's quite the treat.
96. Buffalo Proud In Upstate New York
Beyond chicken wings, exceptional architecture, gardens, culture, and restaurants attract history buffs and epicurean–minded visitors to Buffalo NY. See why this rarified city is drawing so much attention, and why so many locals are "Buffalo Proud."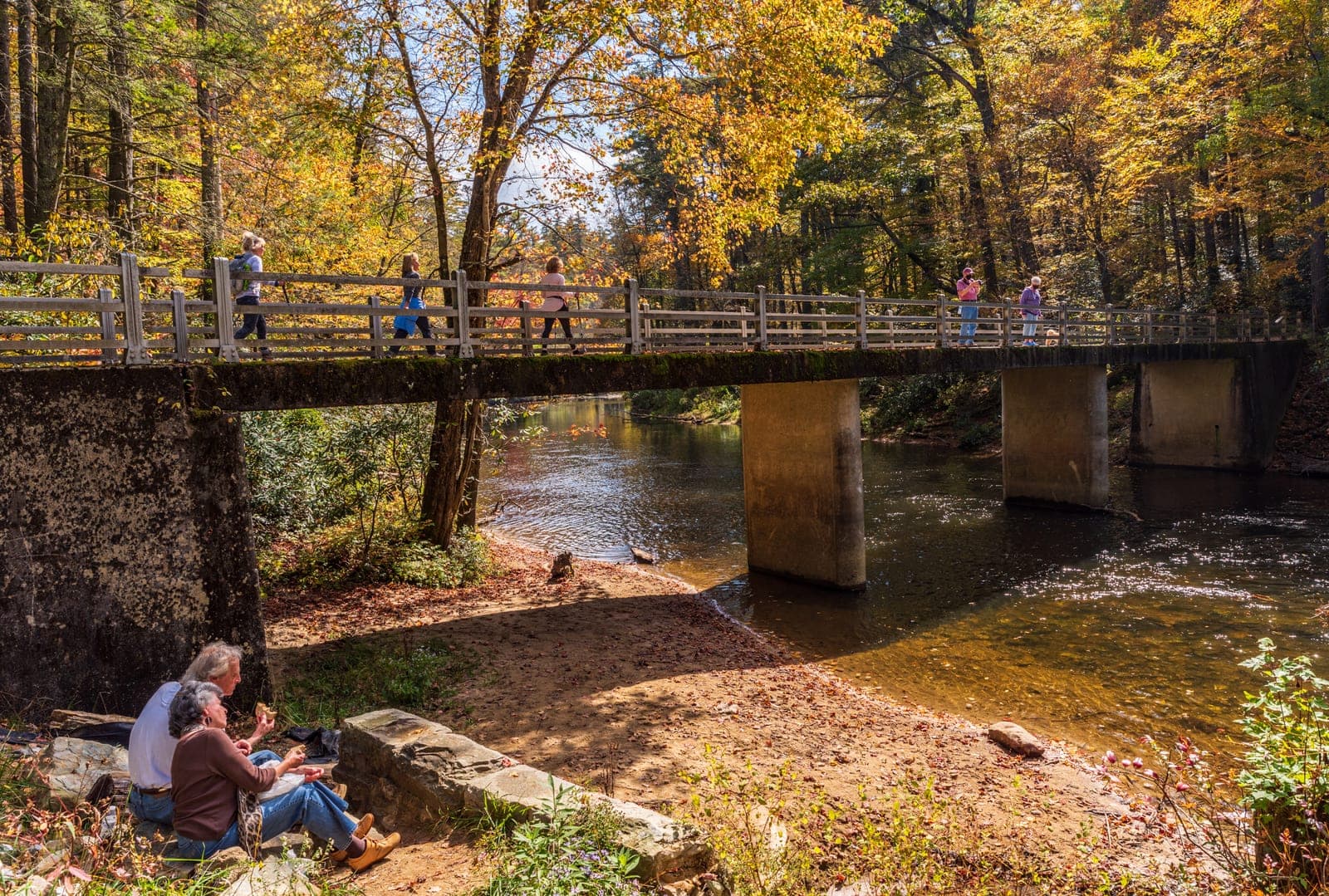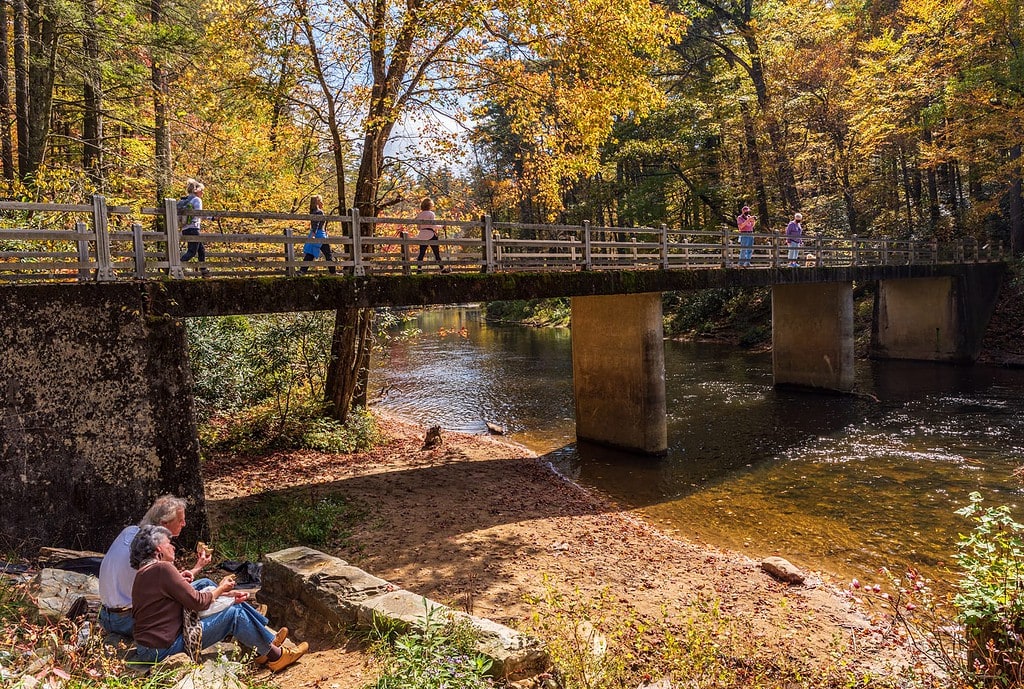 Romantic Getaways In North Carolina
97. Wine and Dine In Asheville
Located near enough for Blue Ridge Mountain vistas, Asheville, North Carolina is funky, fun, and just enough hipster to be cool. We like drum circles, vegan restaurants, and touring one the Biltmore, one of America's grandest castles.
98. Begin, Or End, A Blue Ridge Parkway Road Trip In Cherokee
At the base of the Blue Ridge Mountains and near enough to Smoky Mountain National Park, Cherokee, North Carolina make a great base for a mountain getaway.
99. Sunbathe And Chill Out On The Outer Banks
Long, leisurely strolls on the beach. Reading paperback novels on the porch deck. A summer cottage vacation in the Outer Banks is all about relaxation, fresh seafood, and romance.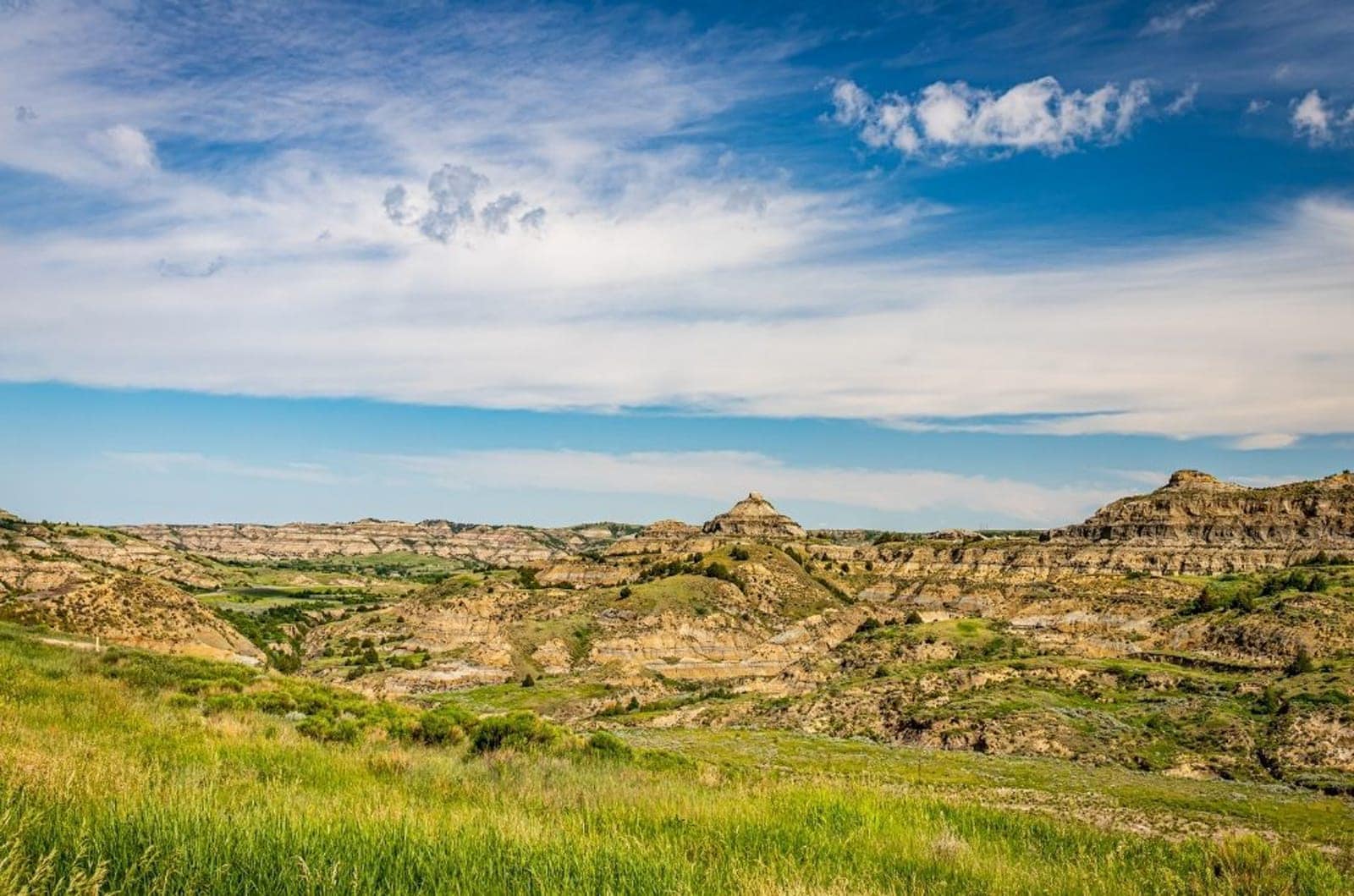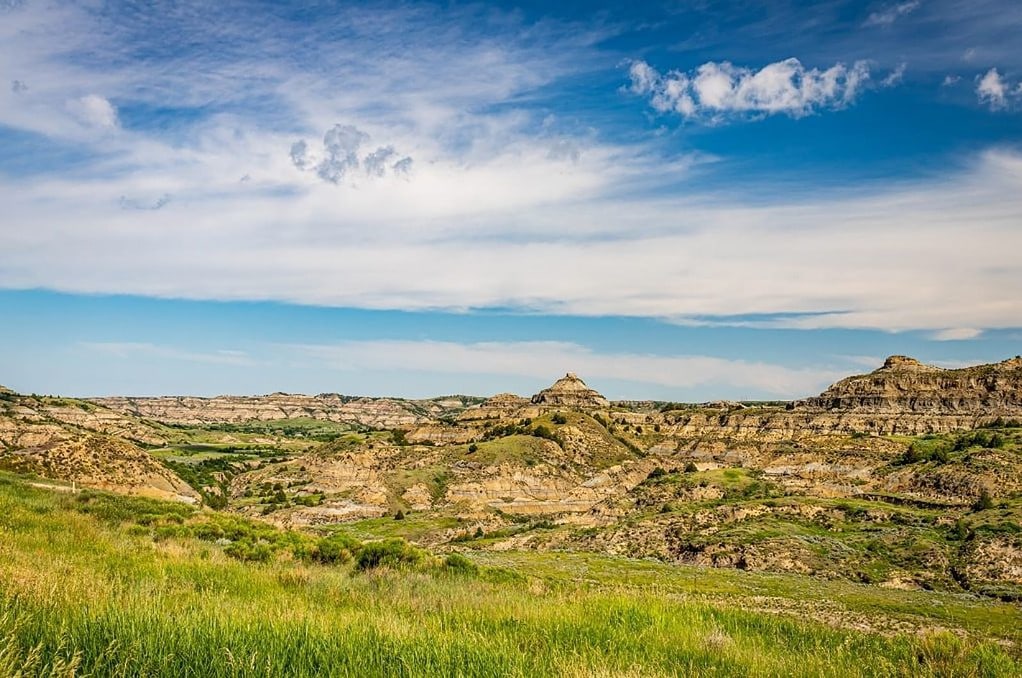 Romantic Getaways In North Dakota
100. Bring A Sense Of Humor To Fargo
Fargo doesn't take itself too seriously; in fact, the city keeps the original woodchipper from the 1996 film on display for photo ops. And that's just what we like about visiting Fargo. Winters are just as cold as you might imagine, but they're also fun. Hockey, snowshoeing, and fat-tire biking are just a taste of winter outdoor activities.
101. Cowboy Up At Theodore Roosevelt National Park
Solitude in the wilderness is the most precious gift of the national park system, and Theodore Roosevelt National Park offers that in spades.
102. Birding, Boating, and Miles Of Shoreline At Lake Sakakawea
180 miles of shoreline along Lake Sakakawea and several state parks open lots of opportunities for fishing, boating, and all the watersports. Camp or rent a cabin, it's all good.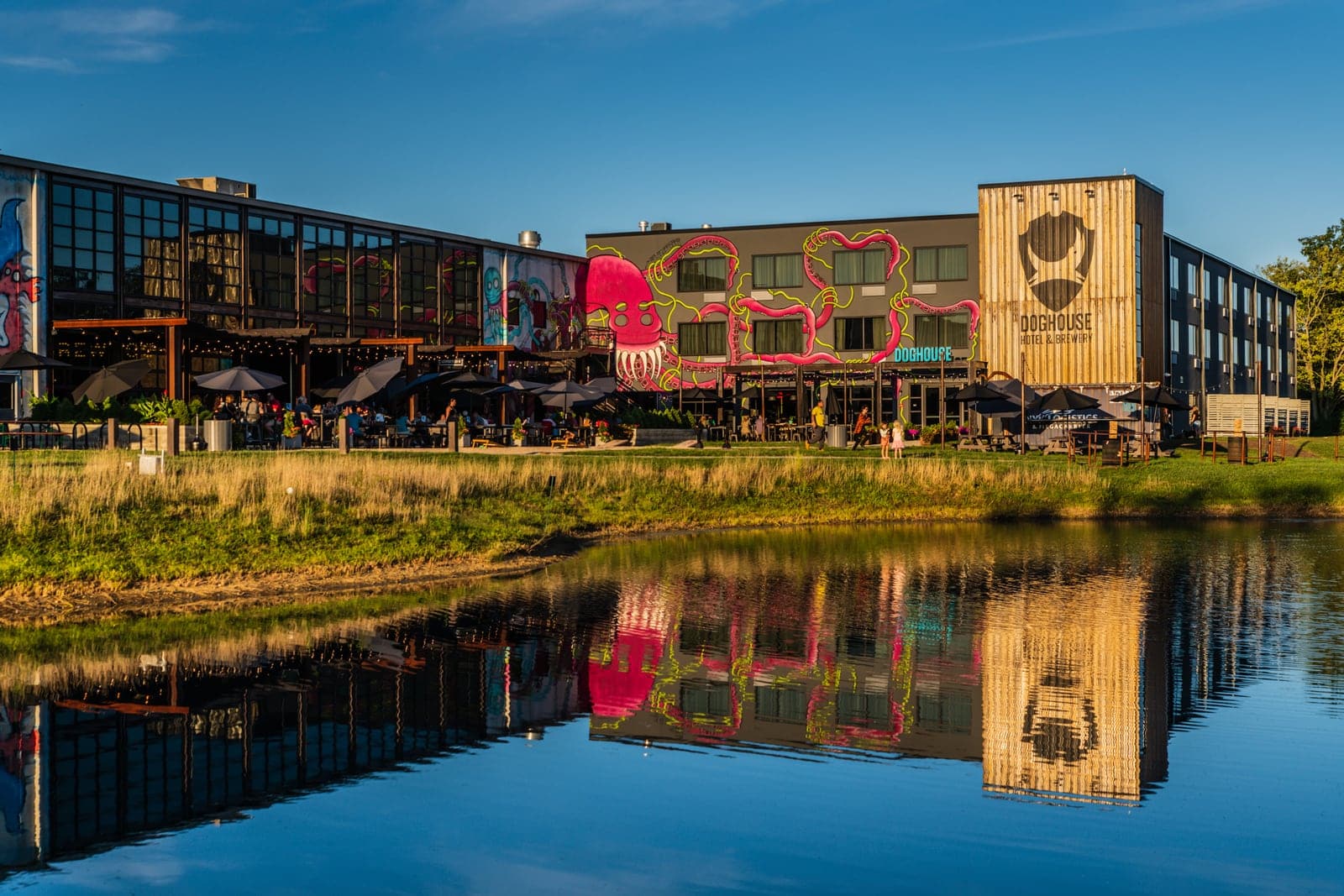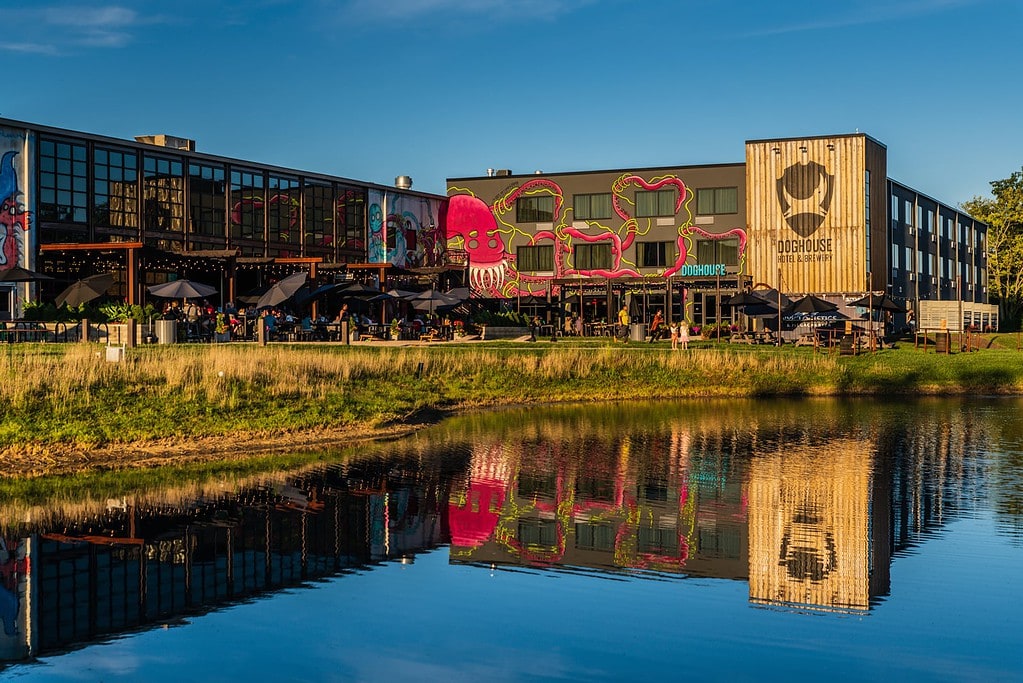 Romantic Getaways In Ohio
103. Rock On In Cleveland
Hark, all you rock-solid duos who embrace Rock Music! Consider Cleveland OH for a romantic Getaway. This city on Lake Erie was chosen for the location of the Rock & Roll Hall of Fame for a reason.
It's got great food, the most highly concentrated square mile of cultural institutions in the United States around University Circle, and fan-crazy sports team.
104. Don Your Beer Goggles In Columbus
Nothing screams romance like chugging a brewski, right? Wrong. Or maybe it's so wrong that it's just right. Go all in and stay at a beer hotel, the Doghouse Columbus Hotel is pure fun. Monster burgers, vegan vittles, and a party vibe welcome you at the indoor/outdoor Taproom. But you don't even have to leave your room for a frothy one.
There's a tap, a fully stocked mini-bar, and a beer shower fridge to keep you well supplied. The Doghouse is the ideal place to stay when checking out the 50+ craft breweries on the Columbus Ale Trail.
105. Skirt The Lake Erie Shoreline Along US Route 6
From Cleveland to Sandusky, Ohio, US Route 6 curves along the shores of Lake Erie. Snack on "Midway Fries" and check out the Merry Go Round Museum, this and more is covered in the post.
But if you want to keep on going – US Route 6 extends from Massachusetts to California – our own Malerie Yolen-Cohen wrote the guidebook.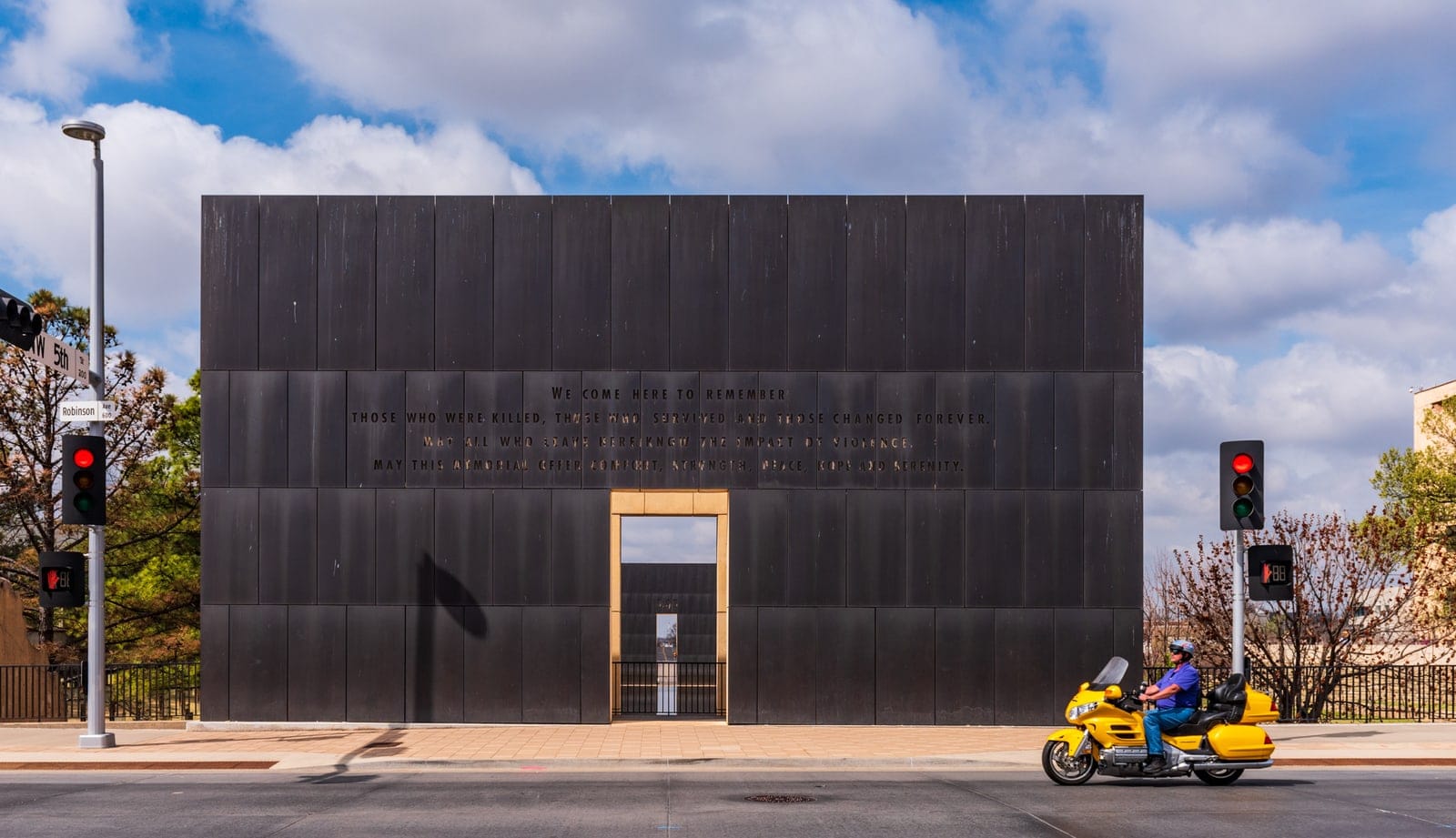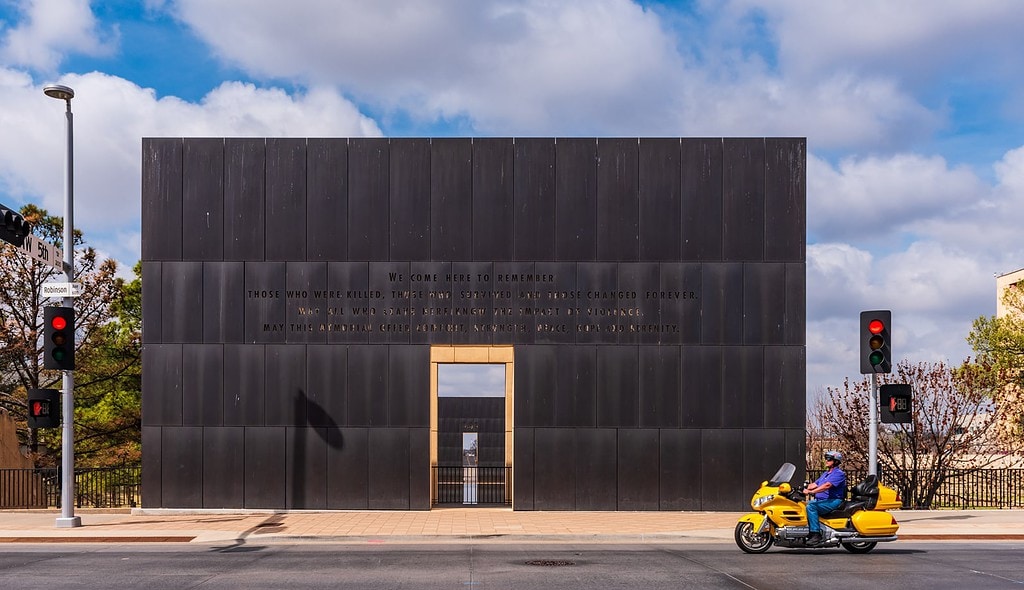 Romantic Getaways In Oklahoma
106. Style An Artful Stay In Oklahoma City
If you only know Oklahoma City for the National Memorial, you may be surprised to learn that its Paseo Arts District is home to over 20 galleries and more than 80 vibrant artists. Between the art galleries, restaurants, and boutiques, the District is a fun date spot. And that's not all.
Other fantastic cultural institutions include the Oklahoma City Museum of Art, home to one of the country's largest Chihuly collections, and the new First Americans Museum.
Current exhibits include one that brings in sacred objects from the Smithsonian's National Museum of the American Indian archives, and another sharing the stories of Oklahoma's 39 tribes.
As for a romantic getaway, pair a culturally enriching trip with a stay at the historic and colorful Bradford House. Do add the Romantic's Respite package; it includes flowers, a dessert board, and prosecco.
107. Go Underground In Tulsa
Tulsa, Oklahoma has one of the greatest collections of speakeasies outside of Chicago and New York City. Beyond that, it's a culturally rich big little city. And with Tulsa's location on the Mother Road, it's a great spot to begin or end a road trip on Route 66.
108. Get Your Kicks On Route 66
The longest driveable section of Route 66 goes through Oklahoma, making this a great entry point for the dream road trip. Stay in retro motels, eat in diners, and stop for any or all roadside attractions.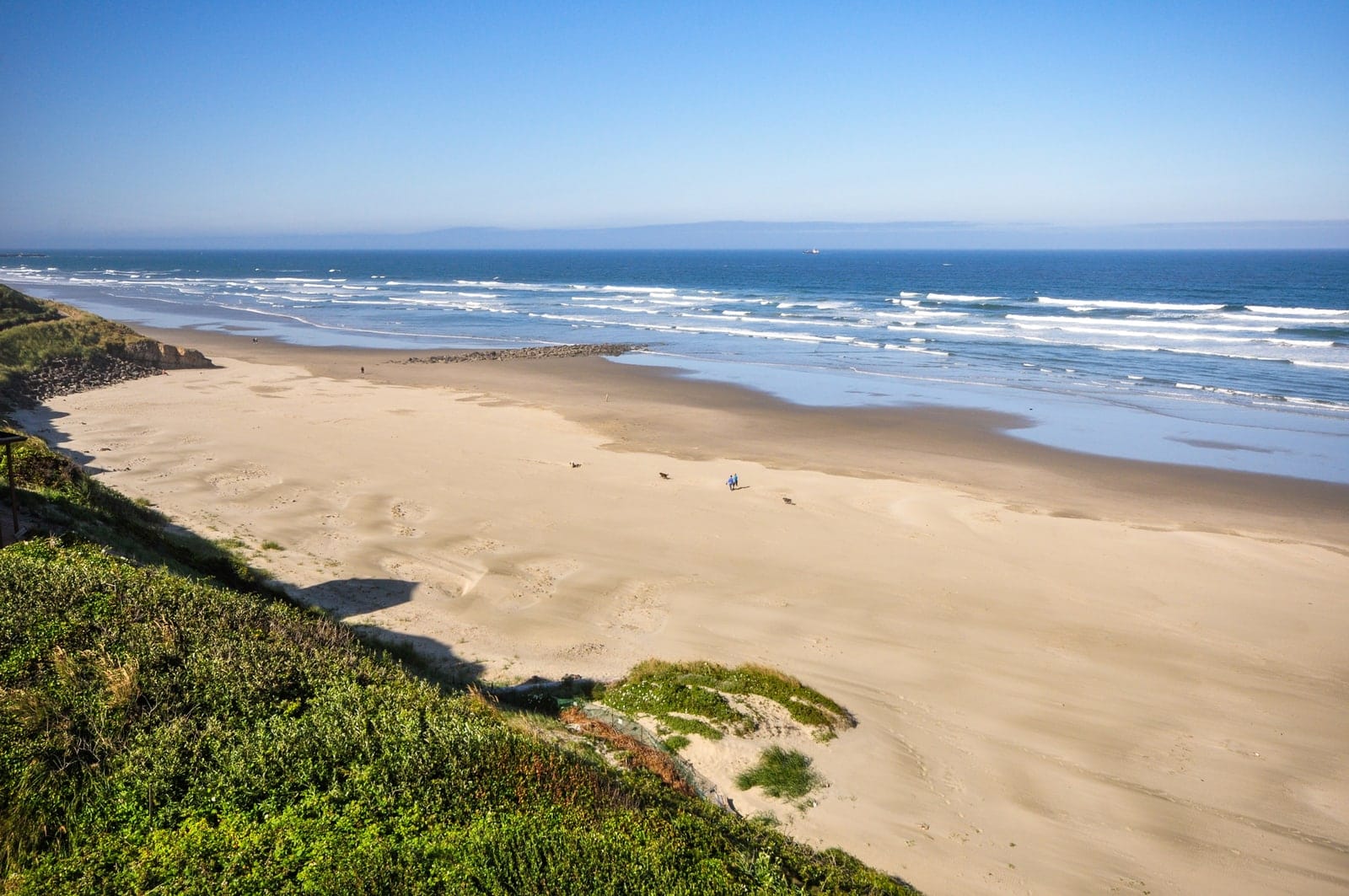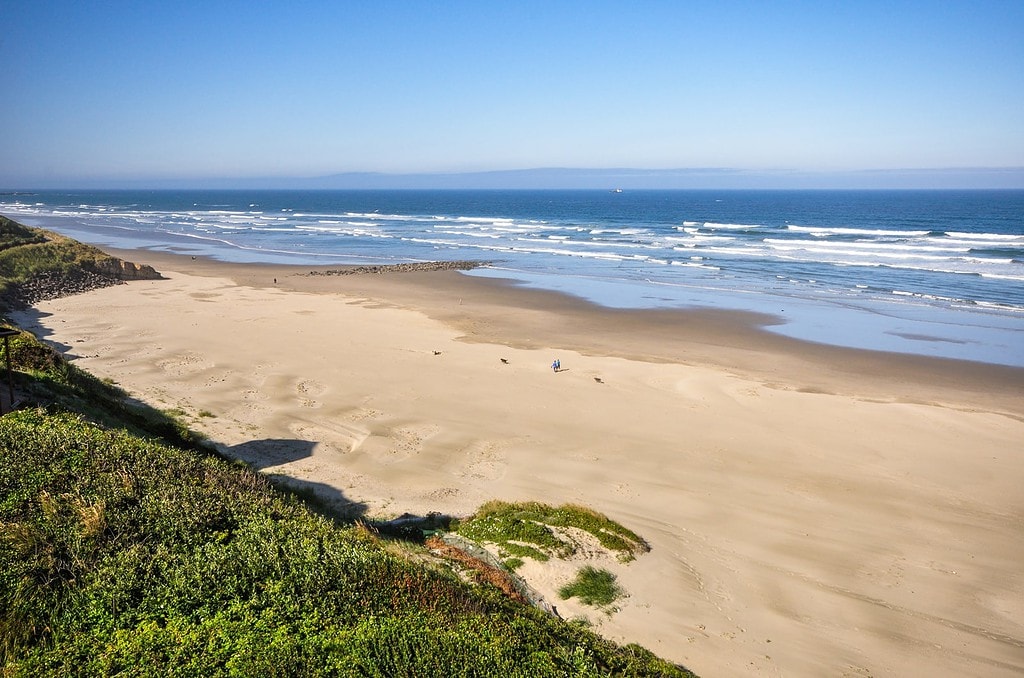 Romantic Getaways In Oregon
109. Pause To Smell The Roses In Portland
A fabulous rose garden, city bike trails, and some of the friendliest breweries are just a few of the reasons that couples love Portland, Oregon.
110. Get Lost In A Story At Sylvia Beach
At Sylvia Beach Hotel, pair long stretches of coastline with a historic beachfront that's custom-built for book lovers. All the rooms are well stocked with books, but the rooms go a step further. The decor in each one is inspired by a particular author, and they run the gamut from Shakespeare to J.K. Rowling.
111. Tarry At A Tidepool
Cannon Beach, on the Oregon coastline, features one of the most recognizable landmarks, Haystack Rock. Rent a vacation home or stay at a lodge, take long walks past colorful tidepools, or head to the village for the arts, shops, and delightful restaurants.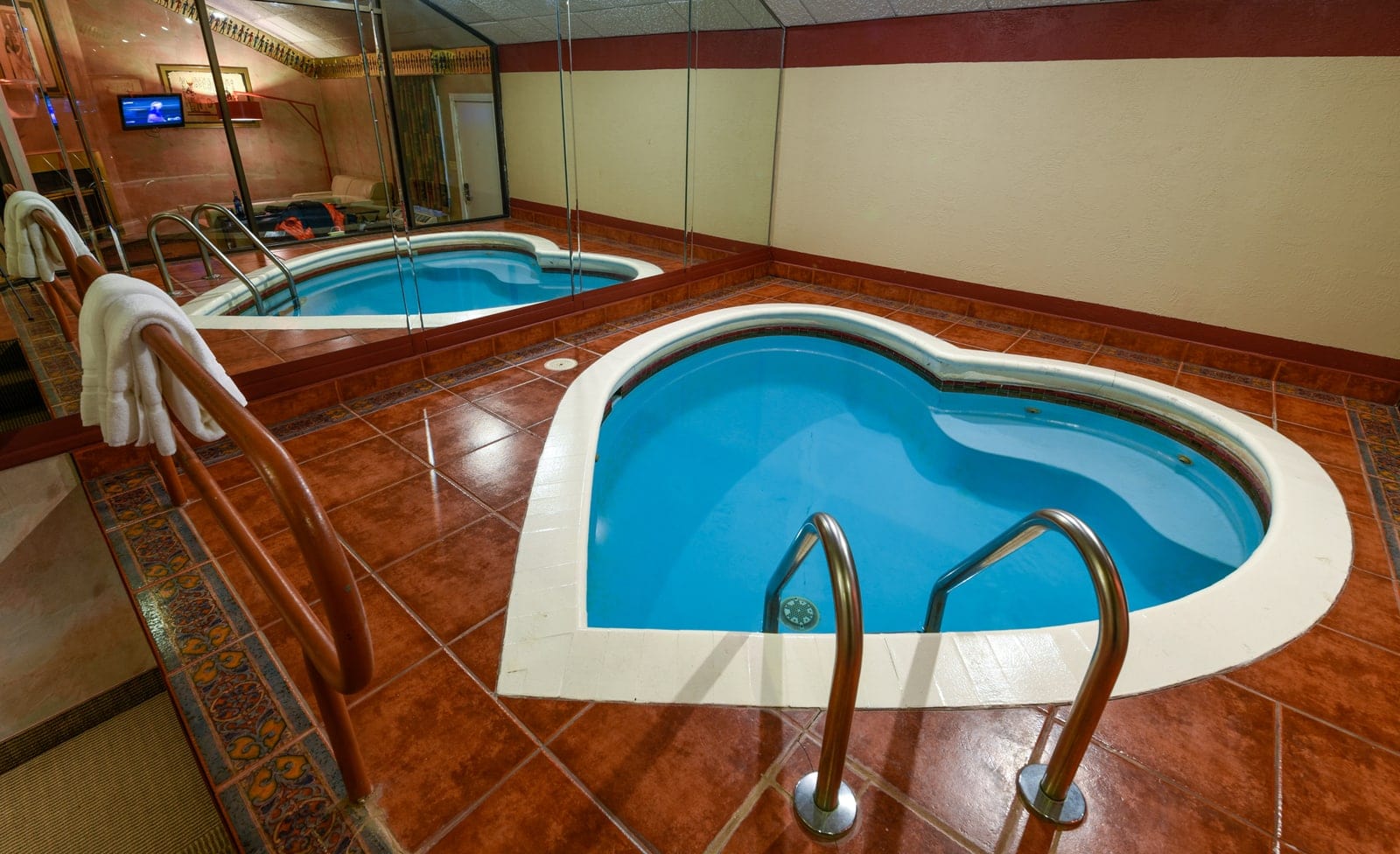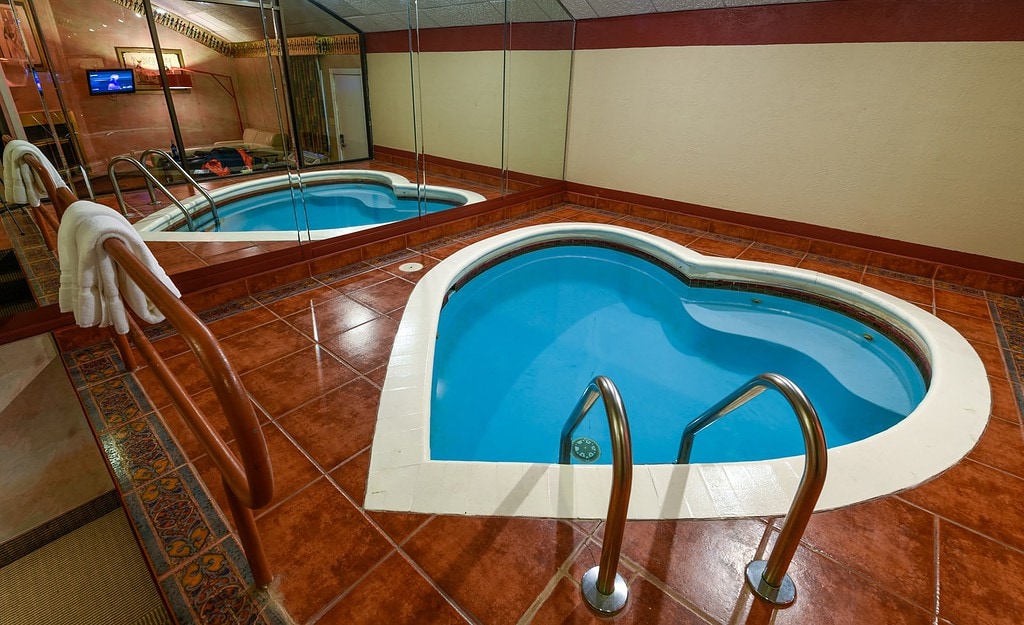 Romantic Getaways In Pennsylvania
For even more travel inspiration, check out our list of Romantic Getaways In PA.
112. Couples Retreat In The Poconos
Boomers will remember the radio jingle about Mount Airy Lodge, "All you have to bring is your love of everything." Since then, the original structure was demolished and the Mount Airy Casino Resort replaced it.
Non-gambling guests will find lots to do at Mount Airy Casino Resort. Hiking, skiing, and legendary American Championship golf are just a few attractions.
As for those who miss the original couples retreat, they can still find suites with heart-shaped hot tubs, private pools, and Jacuzzis shaped like champagne bottles at the Cove Pocono Resort (see what we mean in our Poconos Romantic Getaway post.)
113. Urban Retreat In Philadelphia
Plan a romantic weekend getaway to Philadelphia PA where you'll find that the word "Garden" can be interpreted in many ways. There is actually a slice of Philly for every kind of romantic.
We've covered:
You don't have to choose if you're into all five approaches to this fantastic Pennsylvania city.
114. Sweet Dreams In Hershey PA
Chocolate dominates everything at Hershey PA, including the spa where you can Nirvana out to a dip in a cup (or in this case a bathtub) of hot cocoa.
But, for impassioned lovers passionate about the best of humanity, make it a point to learn a bit about the residential Hershey School. You will be moved.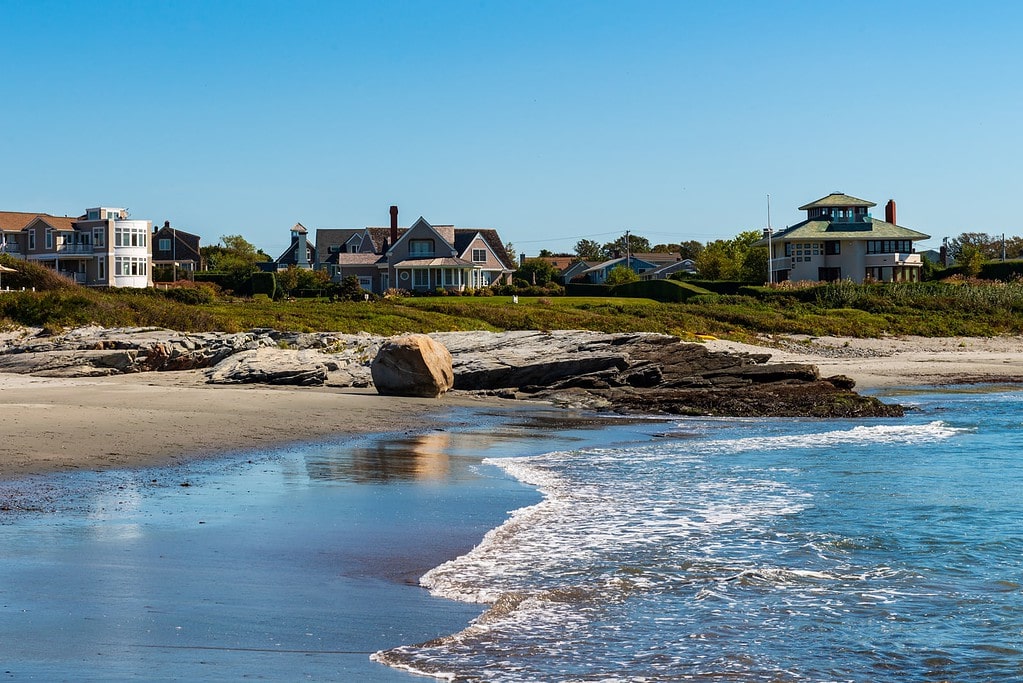 Romantic Getaways In Rhode Island
For even more travel inspiration, check out our list of Romantic Getaways In Rhode Island.
115. Encounter The Arts In Providence RI
Experience an ongoing renaissance in Providence RI. Shop funky, and eat splendidly in this artsy and eclectic College Town getaway.
116. Indulge In A Posh Getaway In Newport RI
It's an exciting time to come to this playground for filthy rich Victorians. Get your Gilded Age fix touring grand mansions. Get racy on an America's Cup yacht. Lob balls on grass tennis courts.
And learn about hooch-smuggling on a Rum Runner. With foodie-approved restaurants and luxe-cool digs, Newport RI is the perfect posh getaway.
117. Play On The Beach At Block Island
Ignore the revving SUV's and it could be 1890 on tiny Block Island RI. Beaches are relatively rustic, as are many age-old hotels, retooled for modern times. And nothing is gussied up. Not even people.
If the two of you yearn for a simple getaway, come off-season, when you're not bound to run into bachelorette groups and loud city folk responsible for those gas-guzzling SUVs.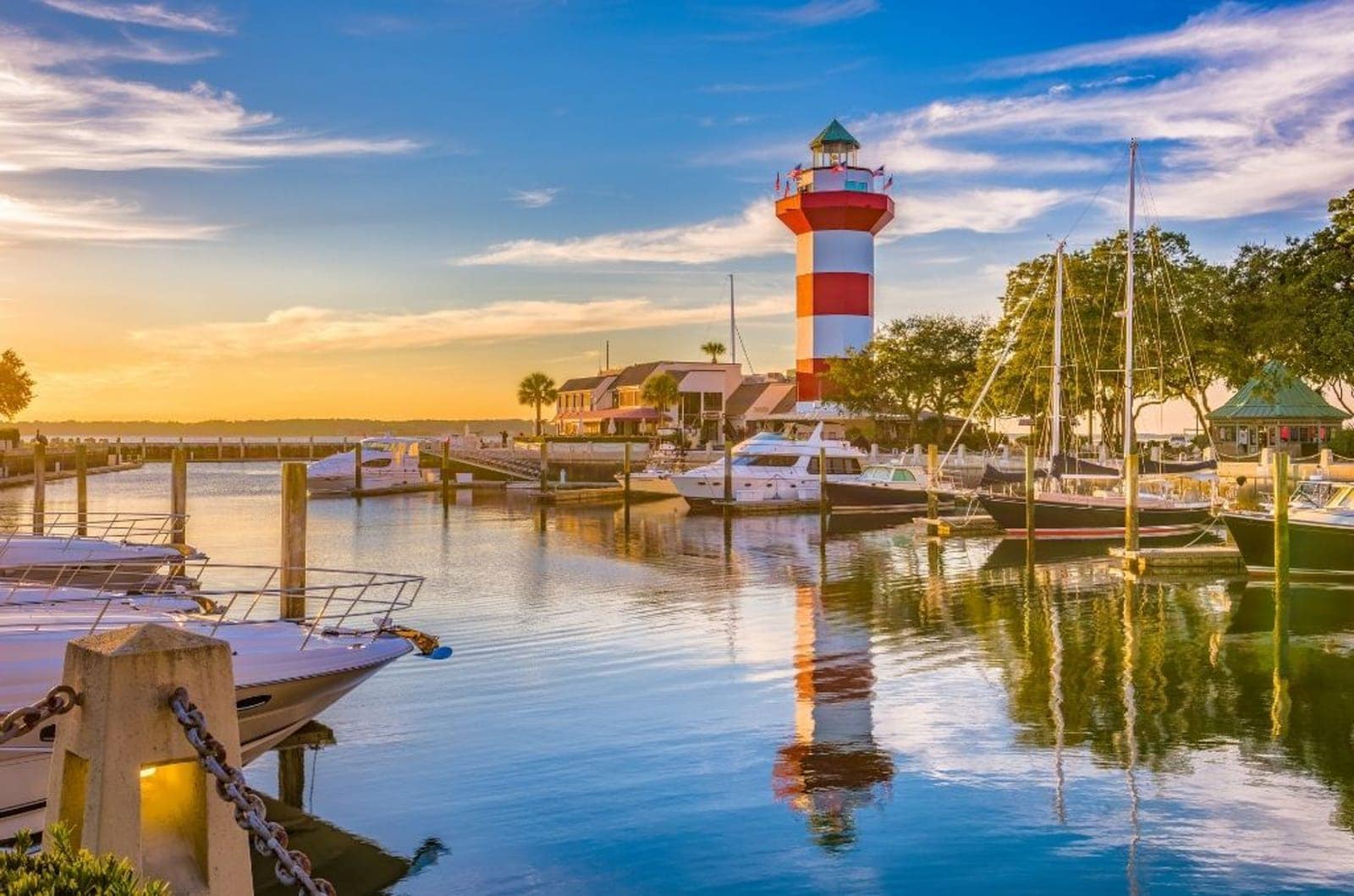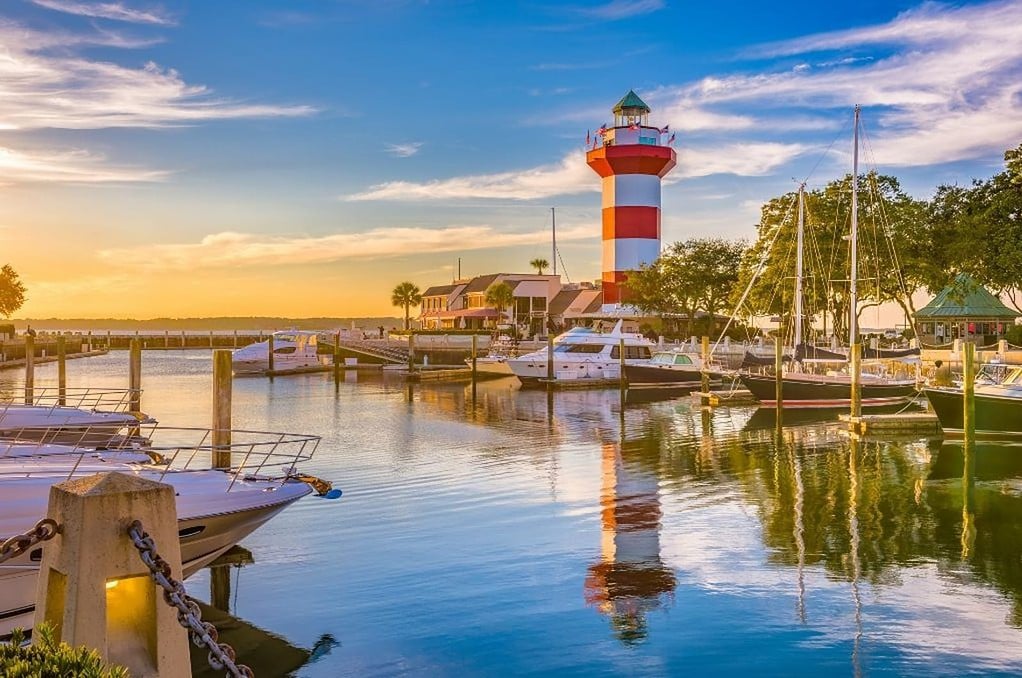 Romantic Getaways In South Carolina
118. Southern Charm In Charleston
Stay in a lovely bed and breakfast and appreciate the slower pace of life in beautiful Charleston, SC. Waterfront strolls, elegant dining, and Southern charm are the hallmark of a stay here.
119. Summer Vacation On Hilton Head
Found in South Carolina's Low Country, Hilton Head Island is the quintessential moneyed beach vacation getaway. And with over 6000 rental villas and a plethora of restaurants covering the gamut of cuisines, it's all about choice here.
120. Winter On Kiawah Island
The Getaway Mavens recommend 14 best things to do on Kiawah Island SC in winter. Golfing, biking, and saluting the sunset are just the start. There are plenty of things to do on Kiawah Island in the winter.
Romantically adventurous couples know that our coldest season is the most energizing time to visit this barrier island on the United States Atlantic coast.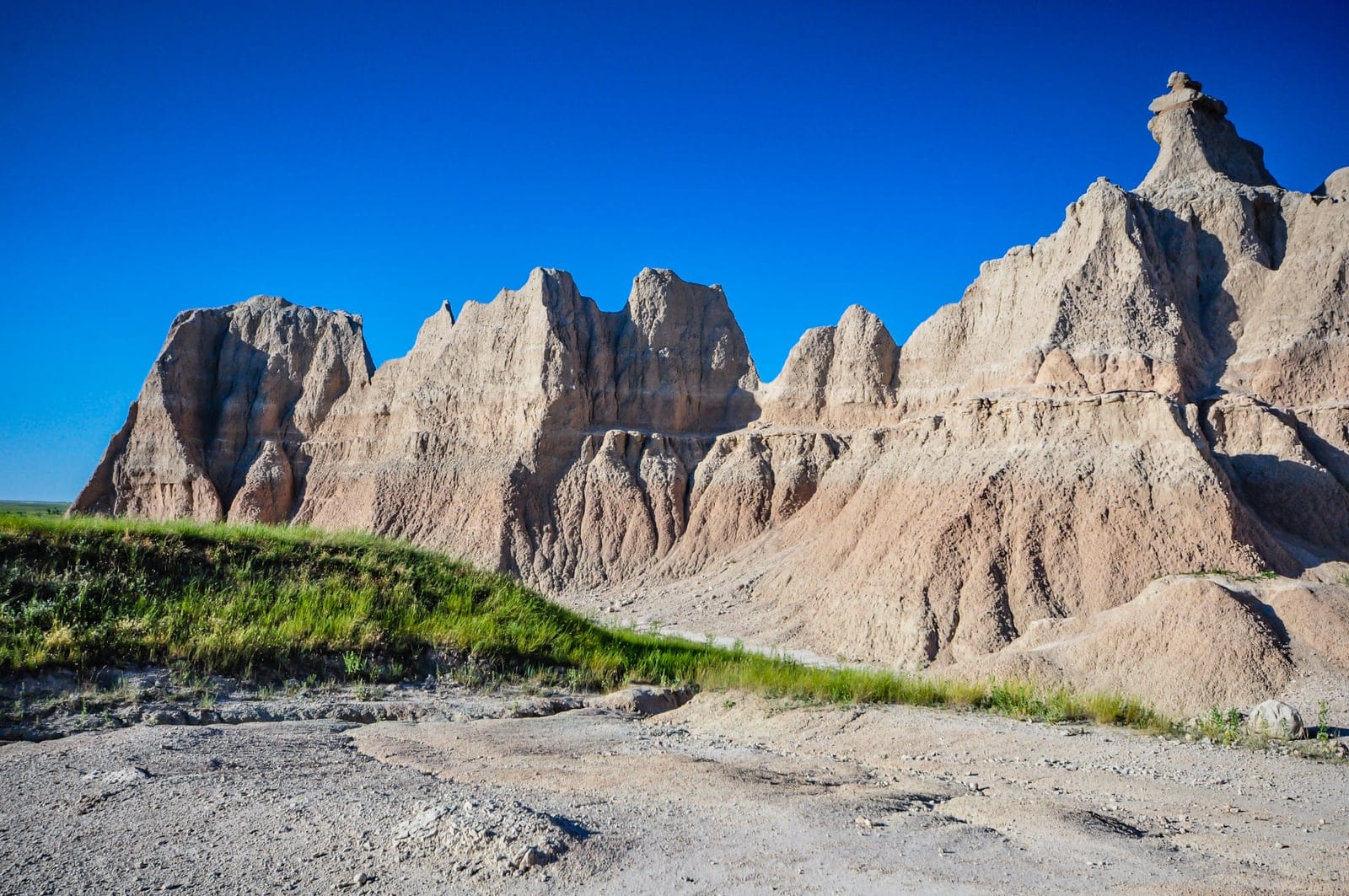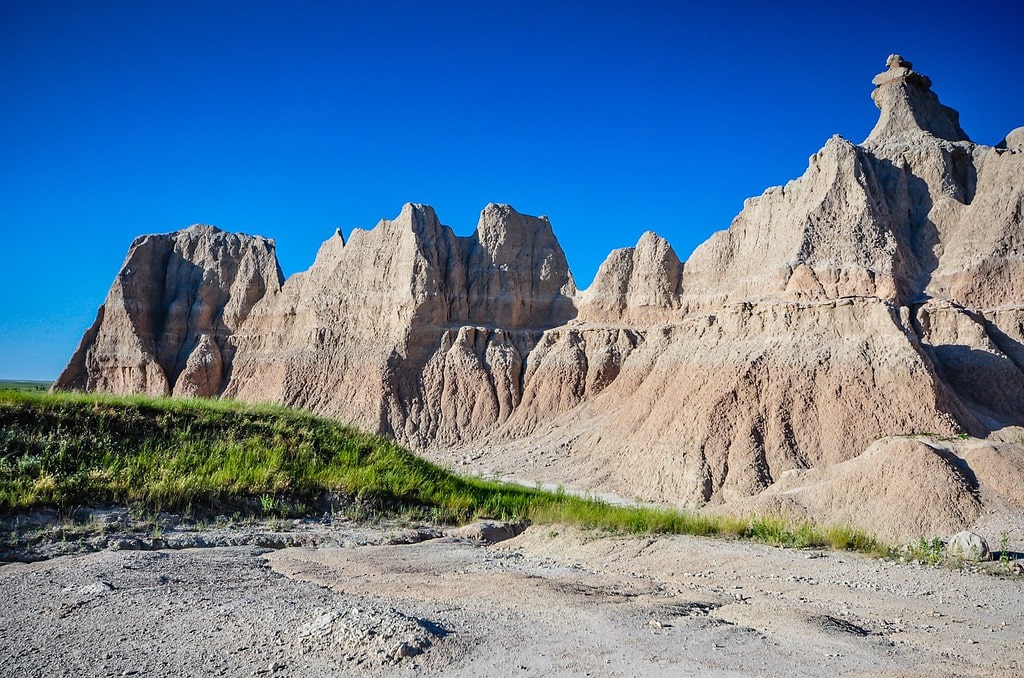 Romantic Getaways In South Dakota
121. Rapid City And Native American Culture
Attend a PowWow, visit The Journey Museum, or shop at the Dakota Drum Company. Rapid City, South Dakota presents multiple ways to learn about the Native American experience.
122. Live The Western In Deadwood
Travel back in time to the wild, wild West in Deadwood, South Dakota. Learn about the brothels, watch a gunfight, and chow down on a steak dinner.
123. Catch The Sunset In The Badlands
Sunsets are magical at Badlands National Park, and the painted desert is gorgeous anytime, but especially so under golden rays.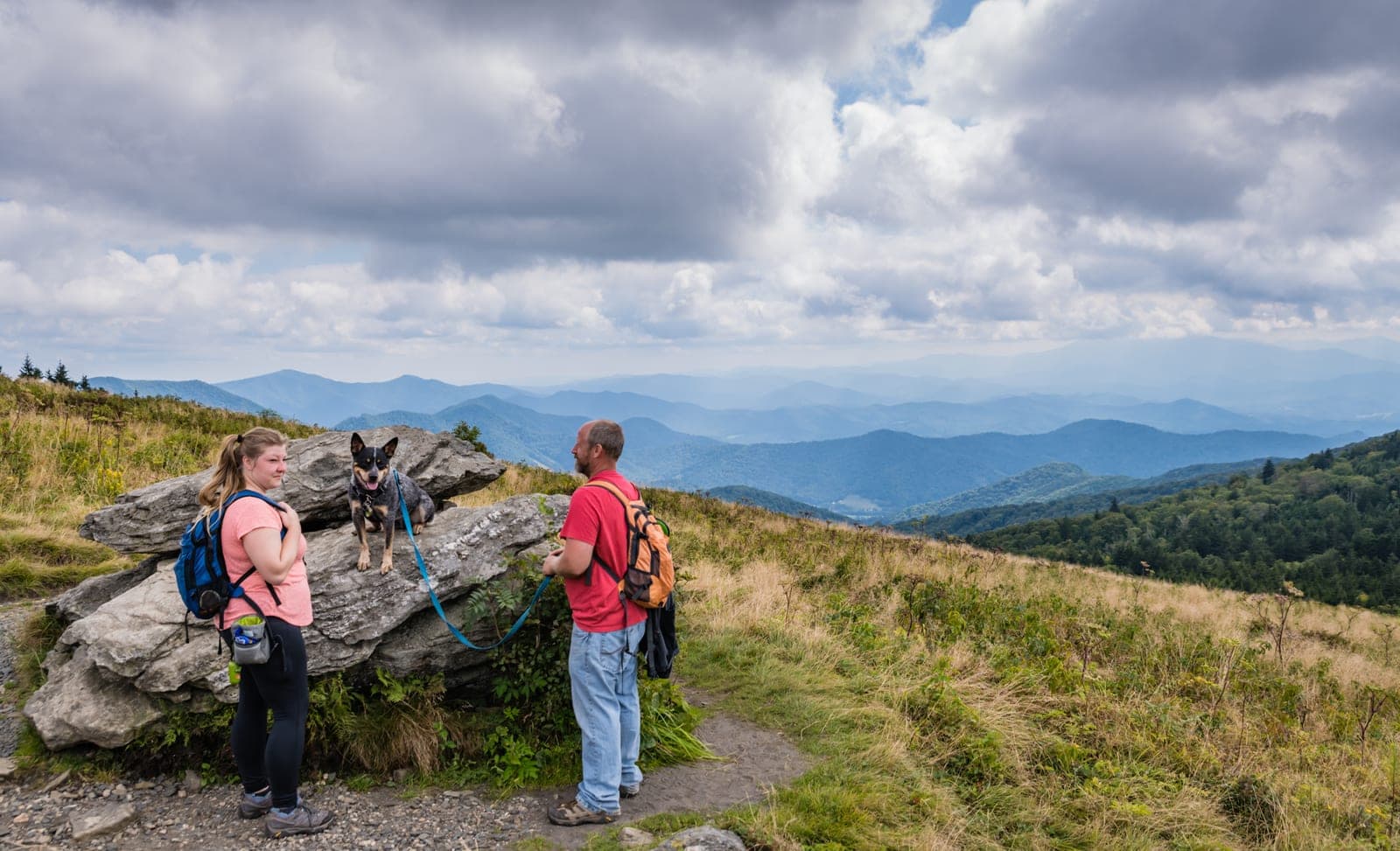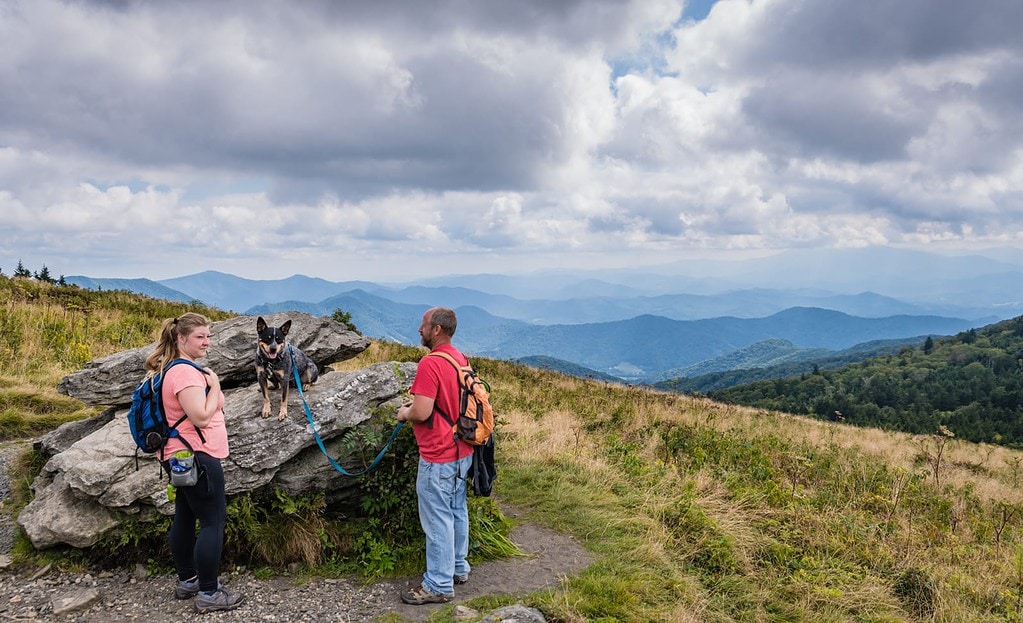 Romantic Getaways In Tennessee
124. A Little Bit Country In Nashville
Nashville, Tennessee, the Music City, is all Country. Experience it with concerts, bespoke tours, great BBQ, and five-star accommodations.
125. Opt Outside In And Around Johnson City
Our romantic getaway trip guide to Johnson City TN appeals to outdoor lovers, and couples who enjoy luxury hotels and fun nightlife.
126. From Kitch To Nature
Touristy in all the best ways, Pigeon Forge is as loud and bright as the Smoky Mountain National Park is serene wilderness.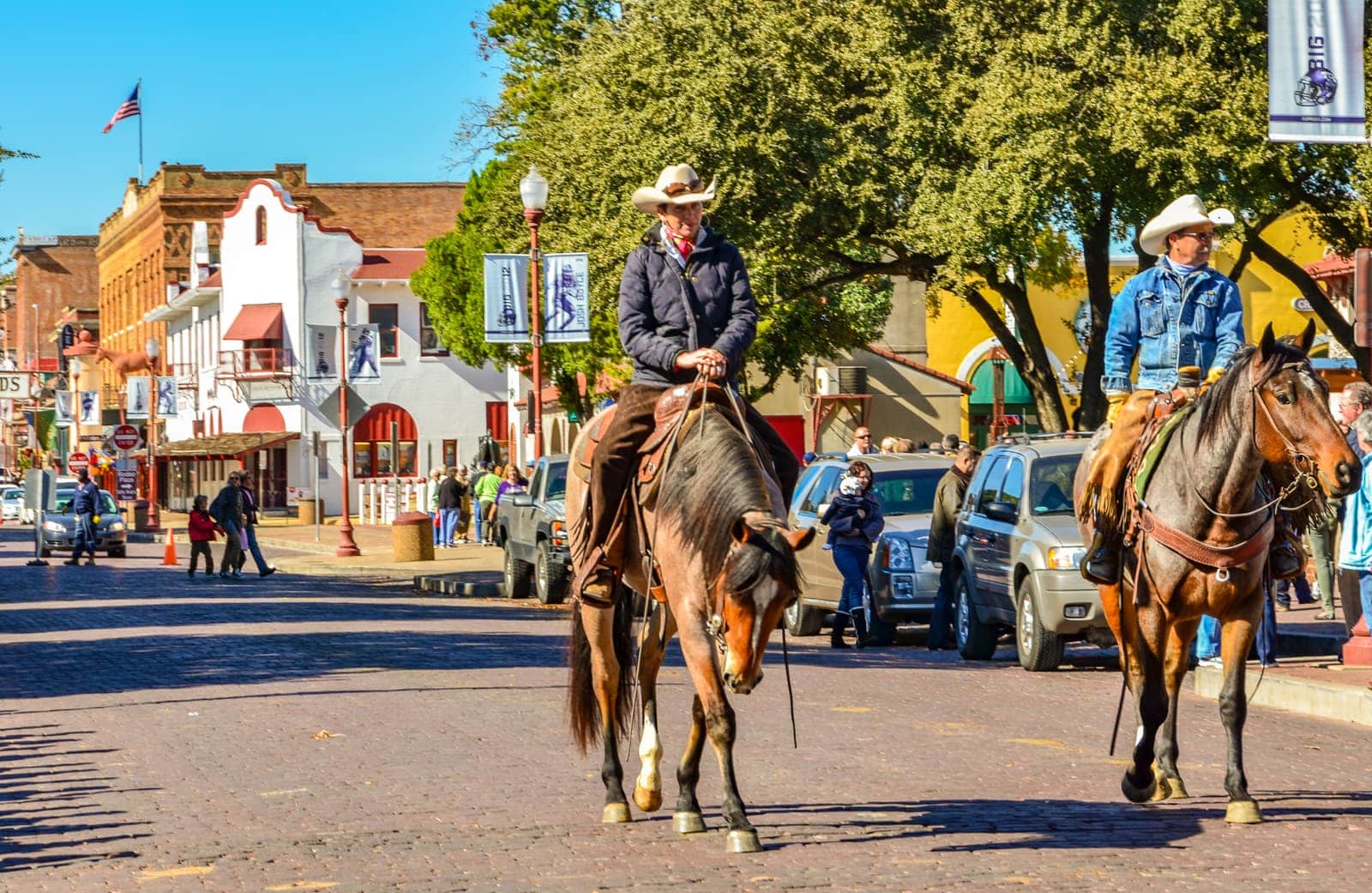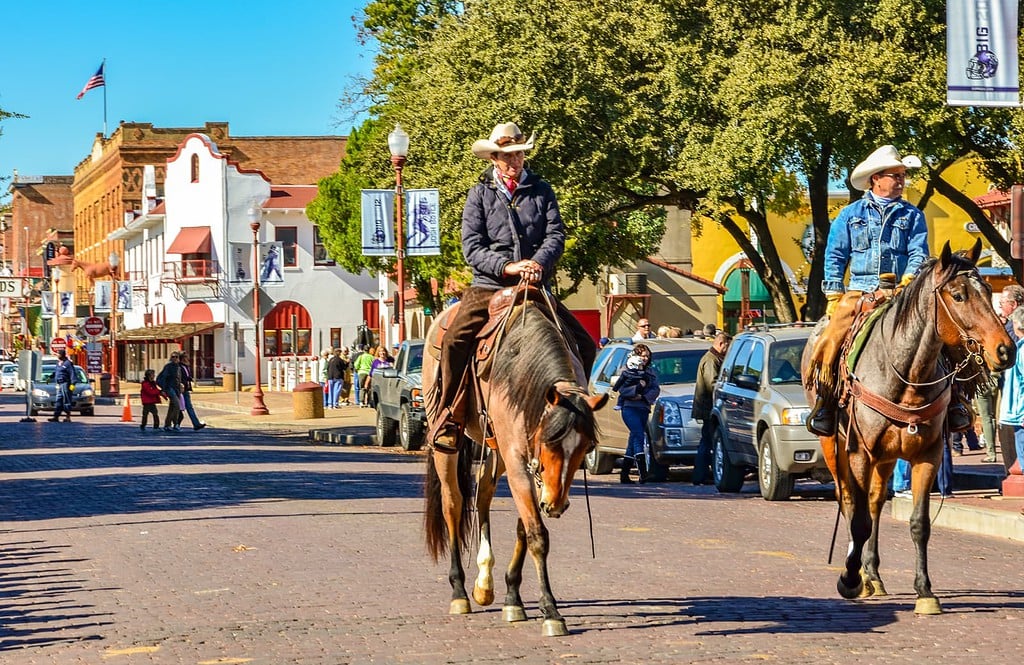 Romantic Getaways In Texas
127. Round Up To Enjoy The Arts In Fort Worth
Cowboys & Culture flavor things to do in Fort Worth in a Weekend Getaway that features Western heritage, world-class art, comfort food & comfortable hotels.
128. Party In Austin
On a weekend night, Austin's city streets turn into a vibrant party scene. On a weekend getaway, you may just barely scratch the surface of all the cultural attractions the city offers.
129. Relax In Texas Hill Country
Fredericksburg, Texas in the Texas Hill Country is the very definition of quaint. 19th-century wooden buildings line a boulevard, where strolling visitors can shop in cute shops.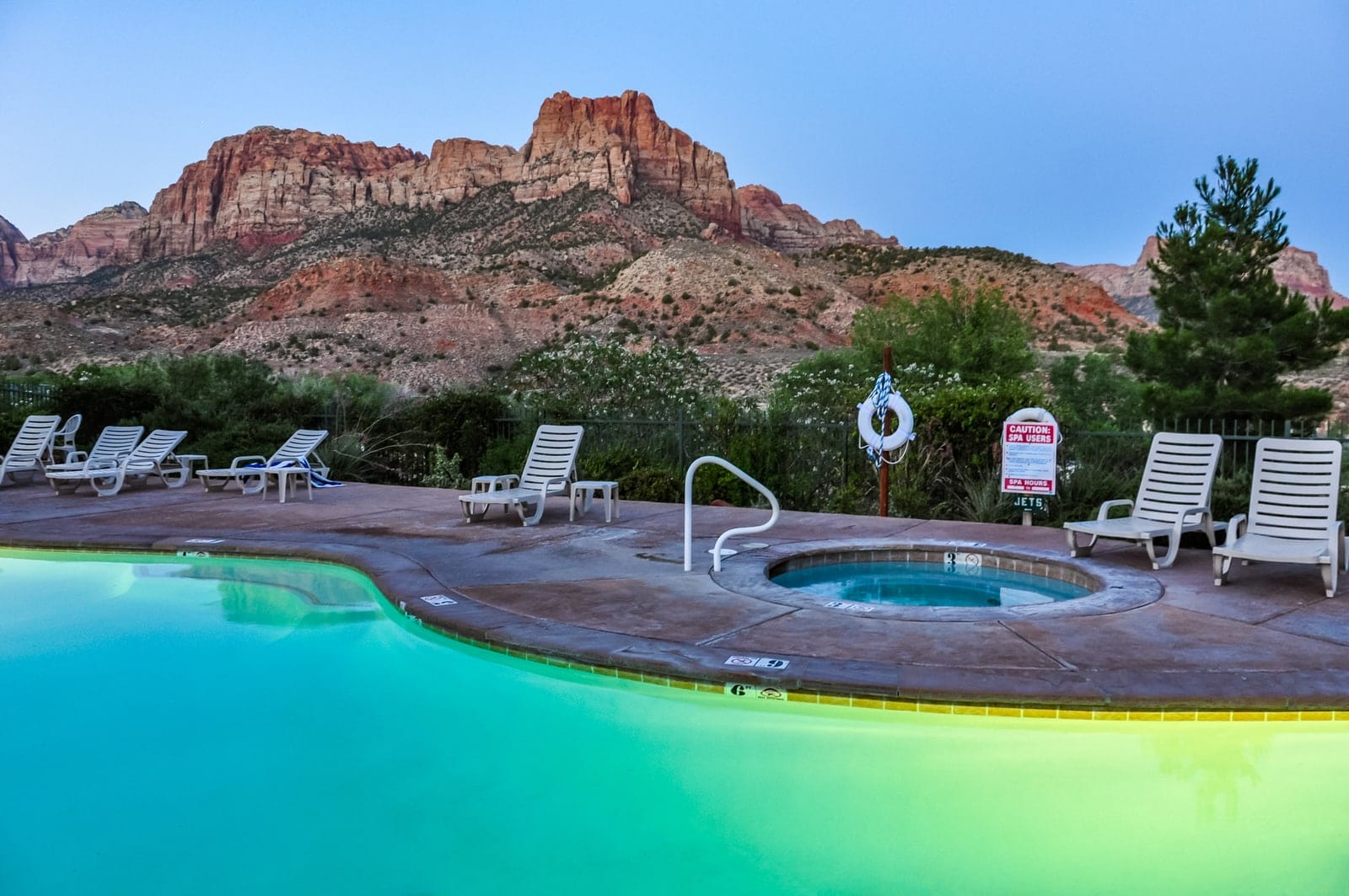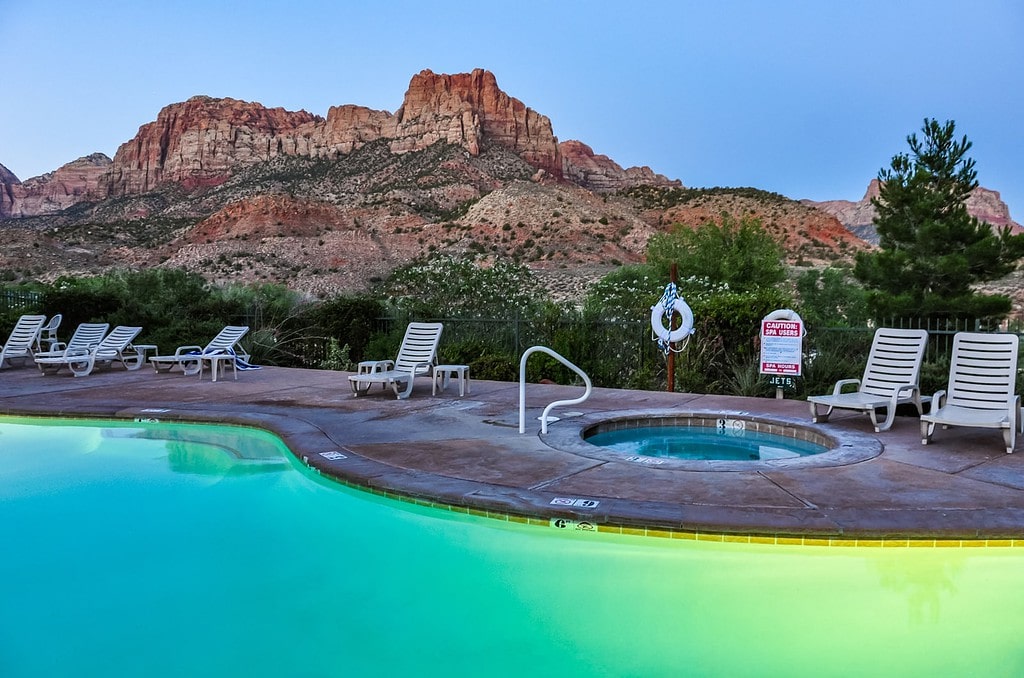 Romantic Getaways In Utah
130. Birding and Beer Tours In Salt Lake City
Great Salt Lake, on the border of Salt Lake City, is a major migratory bird path. Because of that, birding is particularly rewarding. And surprising since it's by a major city, where shopping and beer brewery tours reign supreme.
131. Park City
Outdoorsy in all the best ways, Park City offers active recreation all year long. Ski resorts might offer the best-known things to do in Park City Utah in winter. But in summer, couples can get outdoors to fly fish; horseback ride; kayak; hot air ballooning; and so much more.
132. Moab – Gateway To The Parks
Outdoor adventures in some of the country's top national parks – Aches, Bryce, and Zion – bring travelers from all over the world to Moab, Utah.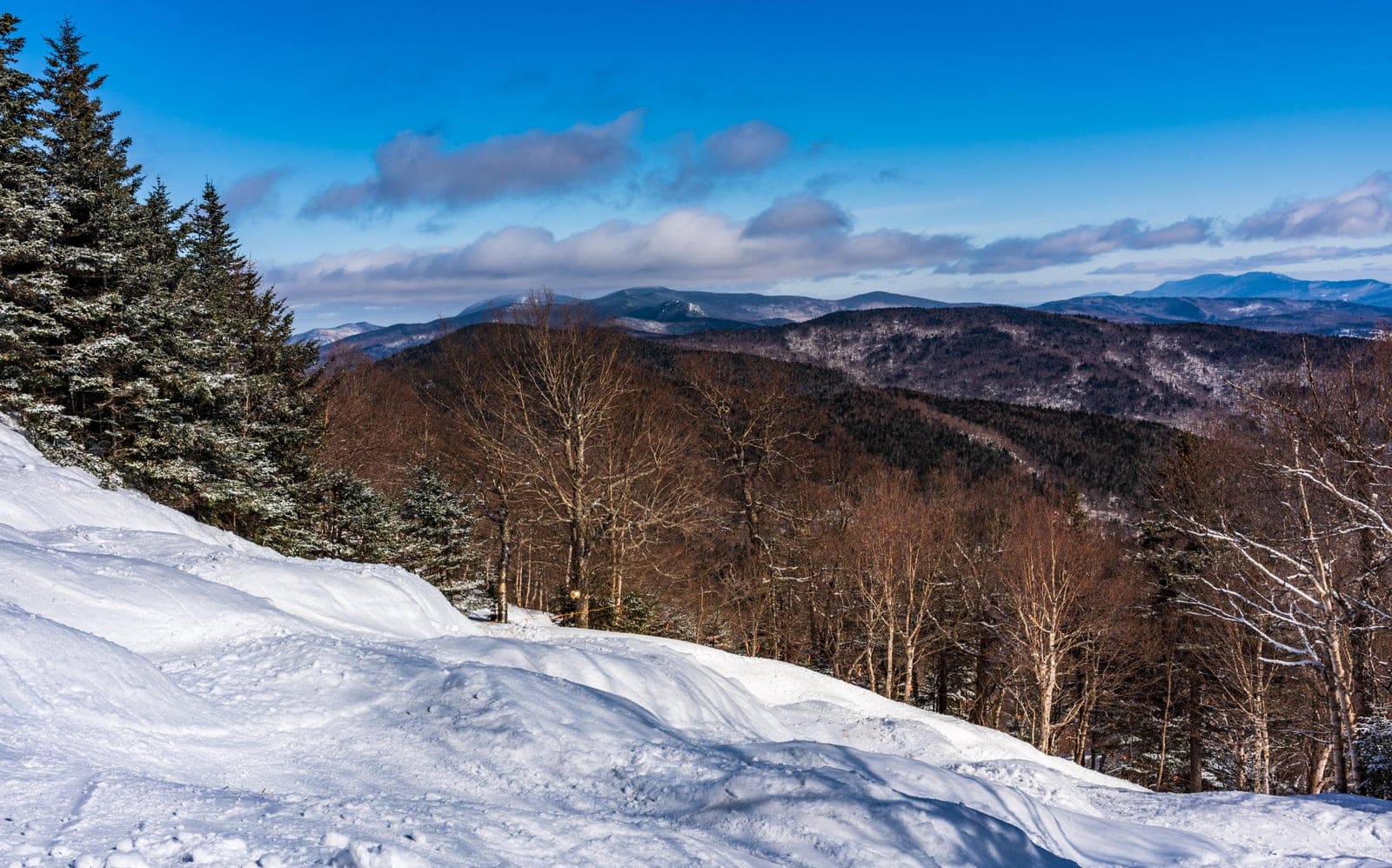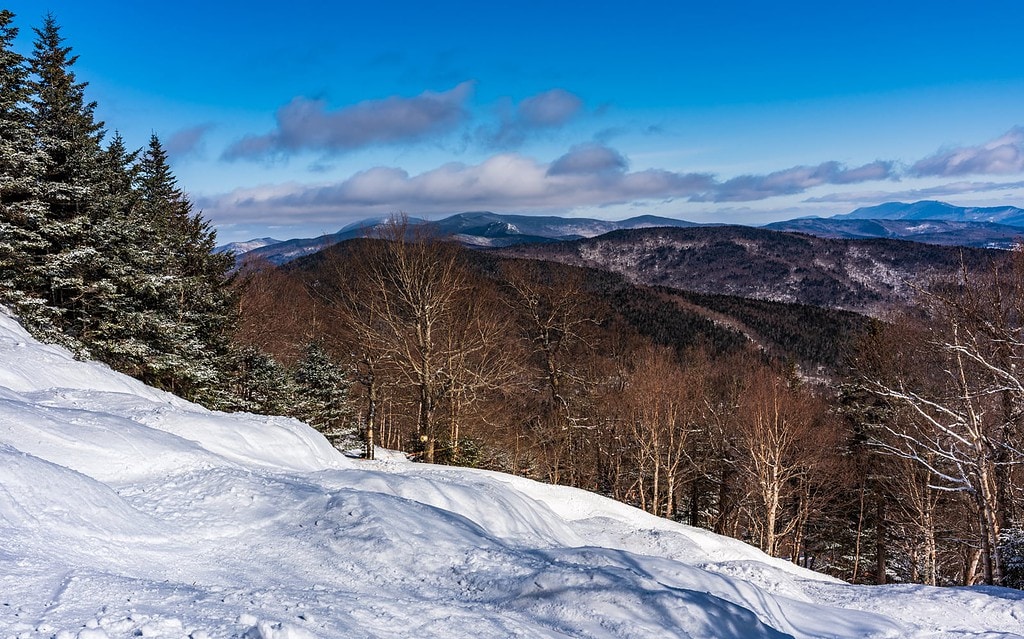 Romantic Getaways In Vermont
For even more travel inspiration, check out our list of Best Romantic Getaways In Vermont.
133. Savor Farm-To-Table In Burlington VT
Burlington VT, a progressive lakeside college town, has been at the forefront of locally sourced, eco-friendly food and culture. A yummy getaway.
134. Spring, Summer, and Fall, Okemo Delights Beyond Ski Season
Most come to Okemo to ski-it's a top East Coast ski resort-but there's lots more to do. Ludlow VT and the Okemo Valley Region are fun year-round.
135. Grafton VT (Magic Mountain)
Winter visitors to Grafton, VT find history, community ties, and some of America's most magical snow terrain.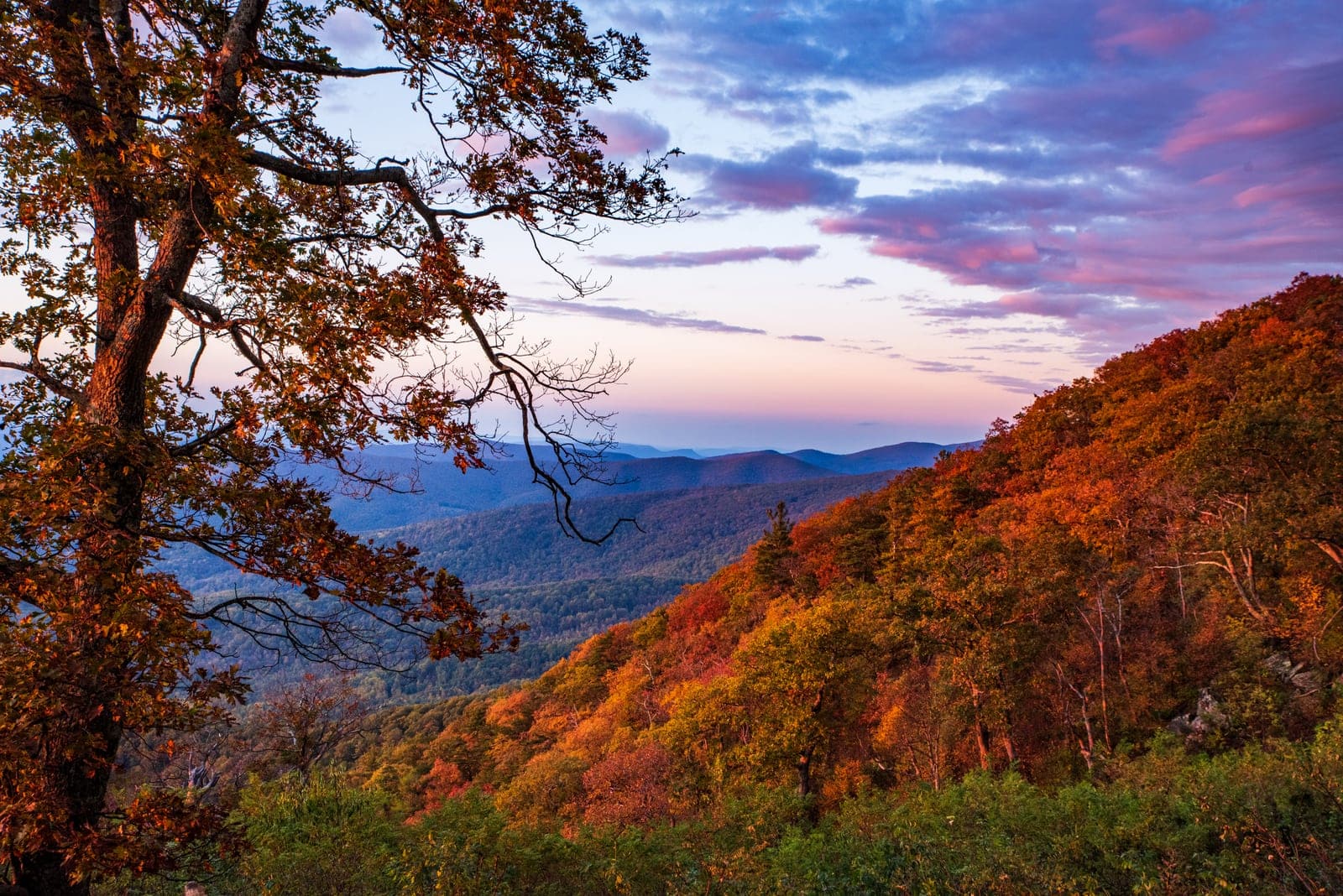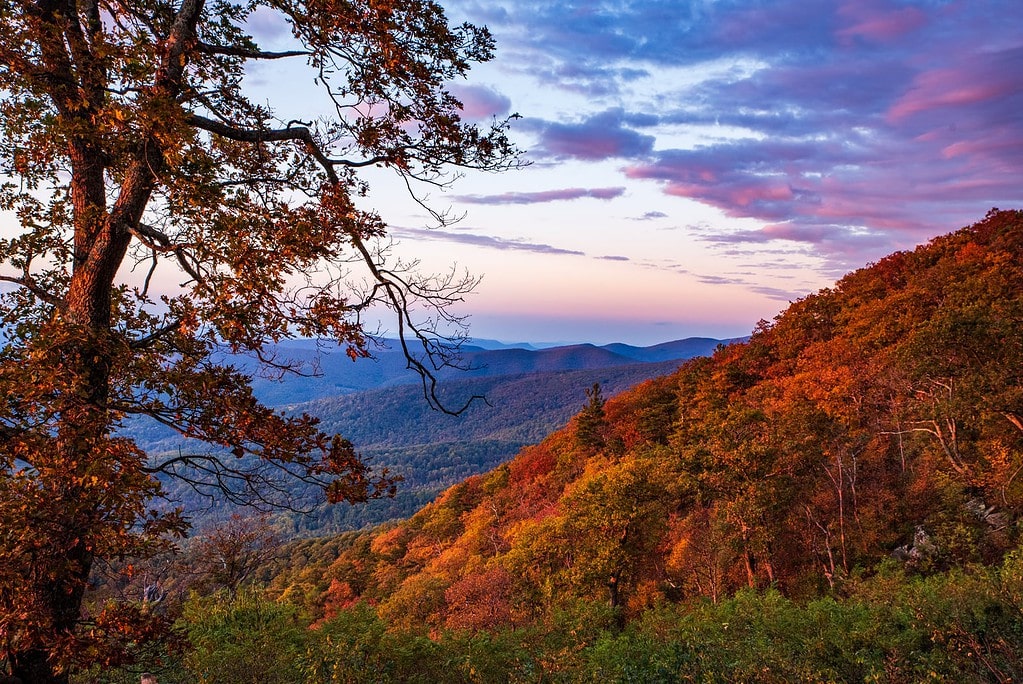 Romantic Getaways In Virginia
For even more travel inspiration, check out our list of Romantic Getaways In Virginia.
136. Run WithThe Ponies In Chincoteague
Spend a few days at the Eastern Shore, mingling with wild ponies and noshing scratch food beneath the flames of space-bound rockets in Chincoteague VA.
Horse fans most likely read Misty of Chincoteague (taxidermied for all time, and on display at the local history museum), so no surprise about the ponies. But duos nuts about space exploration will certainly find rocket launches at Wallops Island totally titillating.
137. Hike In The Blue Ridge Mountains
Escape to the mountains in Shenandoah County. Just 90 minutes from Washington DC, Virginia's Shenandoah National Park is seeing a surge of long and short-term visitors seeking wide-open spaces and outdoor recreation in majestic mountains.
Small towns in Shenandoah Valley have some pretty cool things to do, as well – among them one of the most eclectic General Stores known to man (in New Market).
138. Go Wine Tasting On The Other Coast
Loudoun County VA, and its towns of Leesburg and Purcellville, are growing in prominence as Washington DC's Wine and Spirits Region. Thomas Jefferson might have started the trend in the State back in the 1700's, but lately, wine and spirit-makers have kicked offerings into high gear.
Stay downtown in Middleburg at the iconic Red Fox Inn, or a ways out at the swanky equestrian-focused Salamander Resort for optimal gushiness.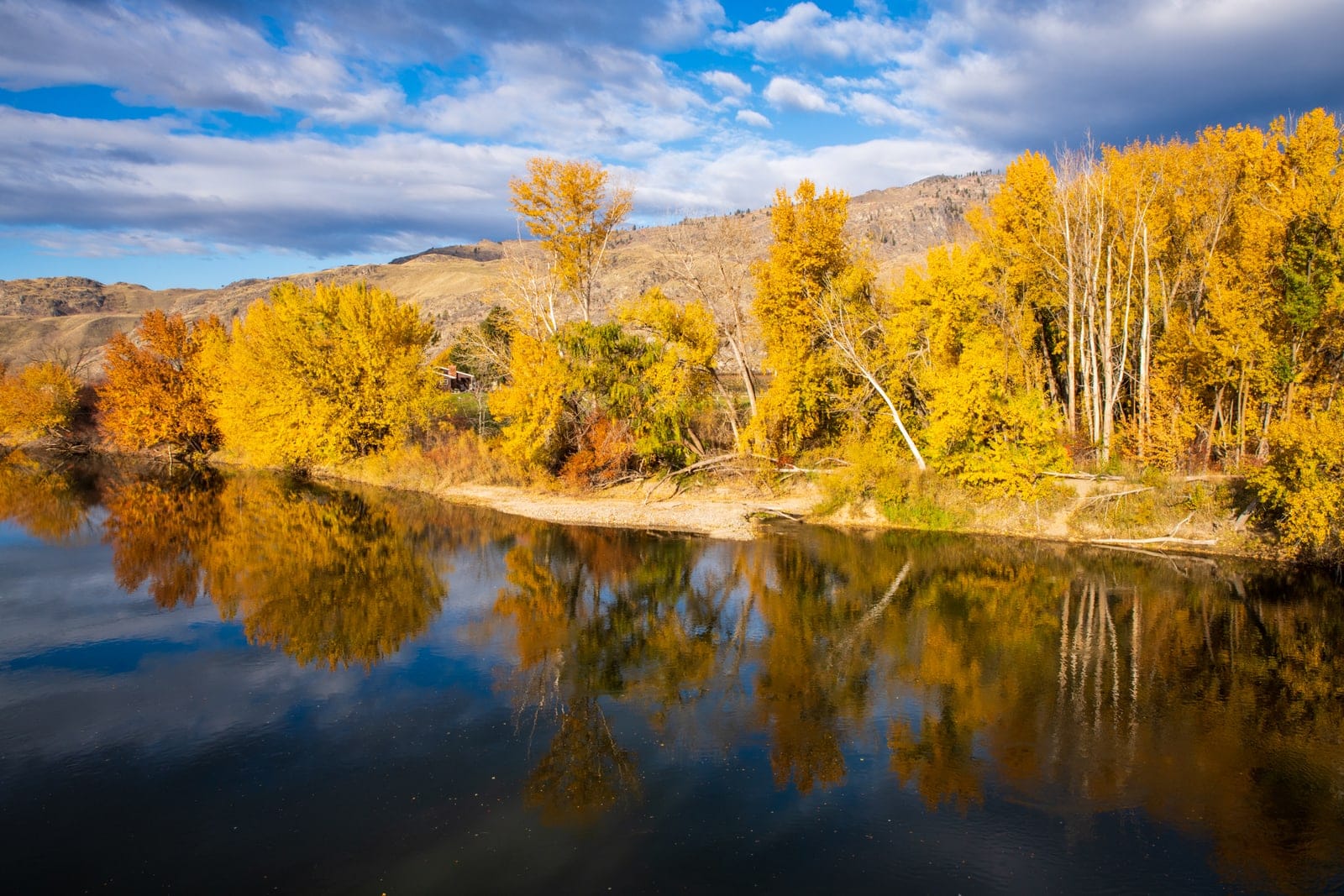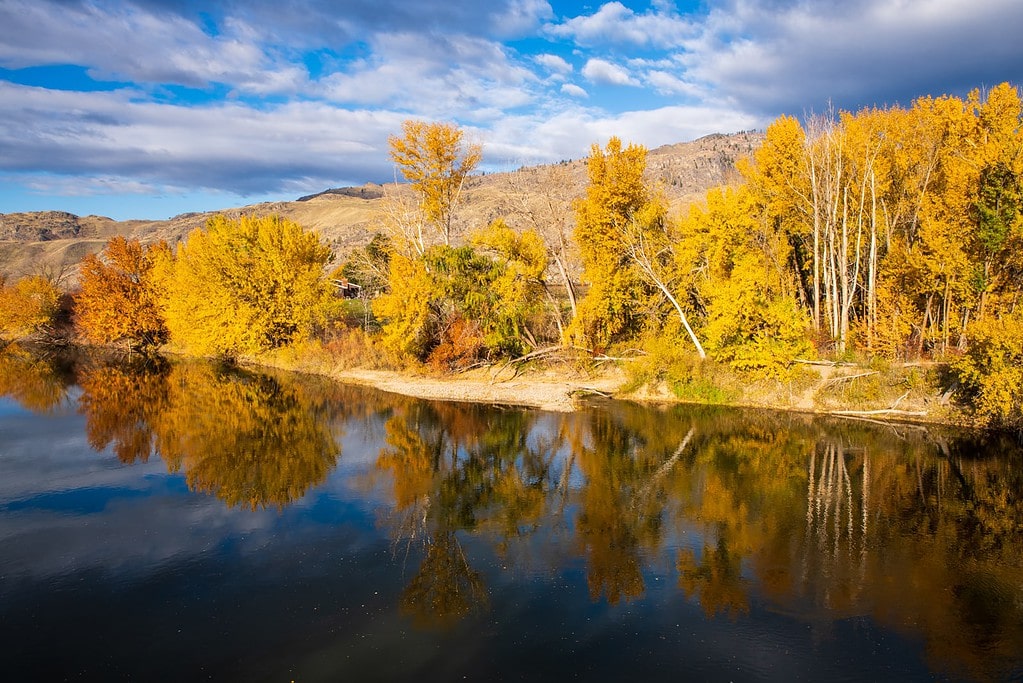 Romantic Getaways In Washington
139. Food Fusion In Seattle
Seattle is one of the great Western cities, offering a fusion of people, food, and culture. And because it's a flight hub, it's remarkably easy to get to from all around the US.
But do check out this how-to guide for getting from the airport to Downtown Seattle for an even easier romantic getaway.
140. Wine Tasting In The Tri-Cities
With over 200 wineries, the Tri-Cities in the Columbia Valley produce some of the country's best wines and especially outstanding Rieslings.
Pair wine-tasting tours with miles of hiking or biking, and bed down in a luxurious bed and breakfast.
141. Hike (Or Ride The Gondola) To The Summit Of Mount Rainier
Hike among the marmots, wildflowers, and waterfalls on Mount Rainier. End your days on a wellness spa retreat.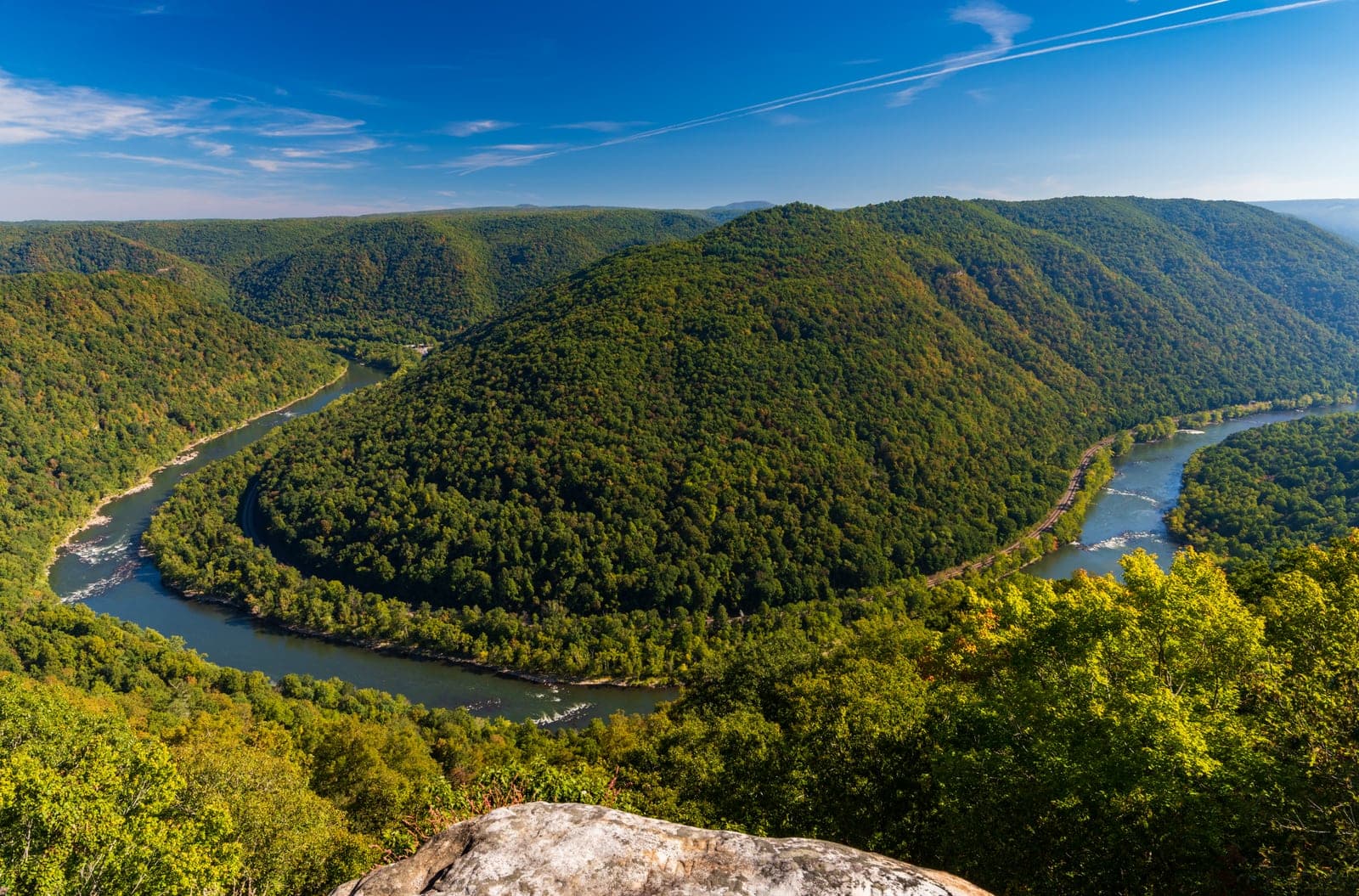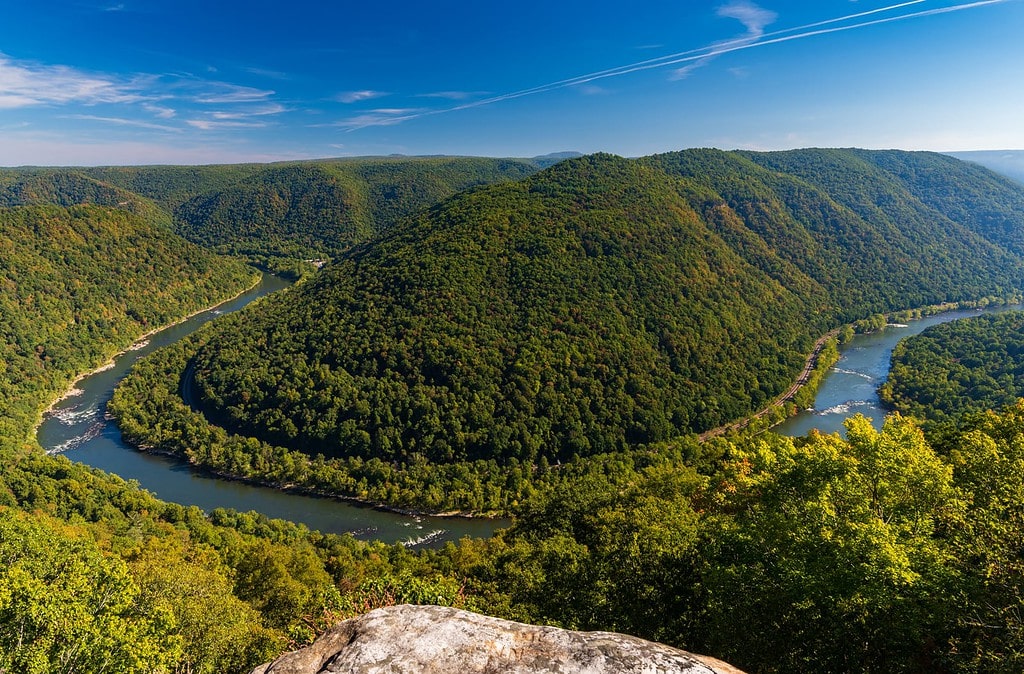 Romantic Getaways In West Virginia
142. Hike Into History At Harpers Ferry On The Appalachian Trail
At Harpers Ferry National Park, costumed interpreters greet visitors at 19th-century historic sites at the point where the Shenandoah and Potomac Rivers meet. Learn about the history, hike up to stunning views, and enjoy fine dining as well as a fine stay at an elegant period piece bed and breakfast.
143. Explore Town And Country In New River Gorge National Park
America's newest national park, New River Gorge, protects natural treasures amidst the history and history of a long-lived community. And because it does reside on the edges of town, there are plenty of great restaurants and hotels to sweeten the experience.
144. Adventure At Seneca Rocks In Monongahela National Forest
There's no end to adventures in Seneca Rocks – biking, rock climbing, mountain biking, horseback riding, and more – and that's just in the summer. Rent a cabin and enjoy this slice of heaven.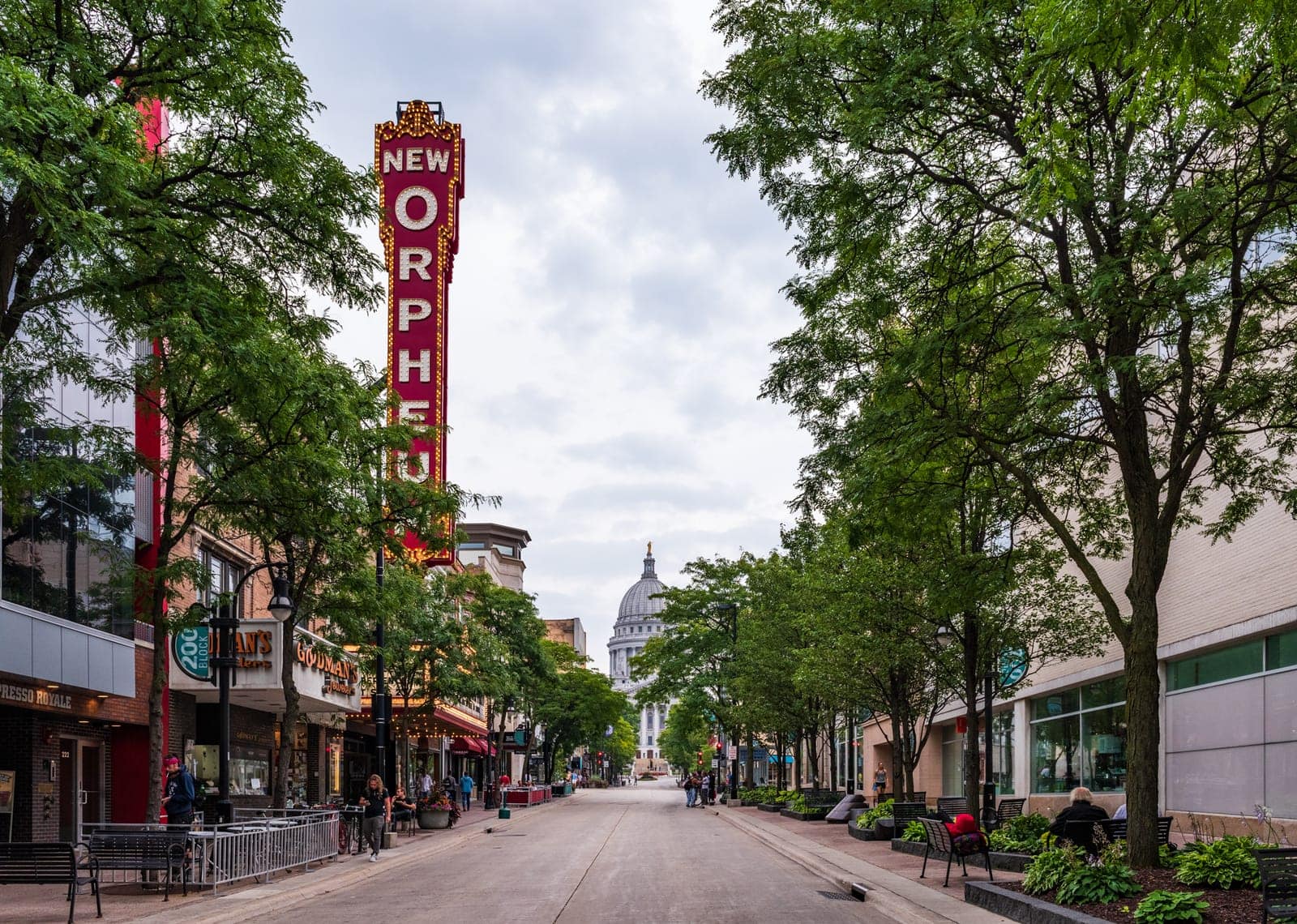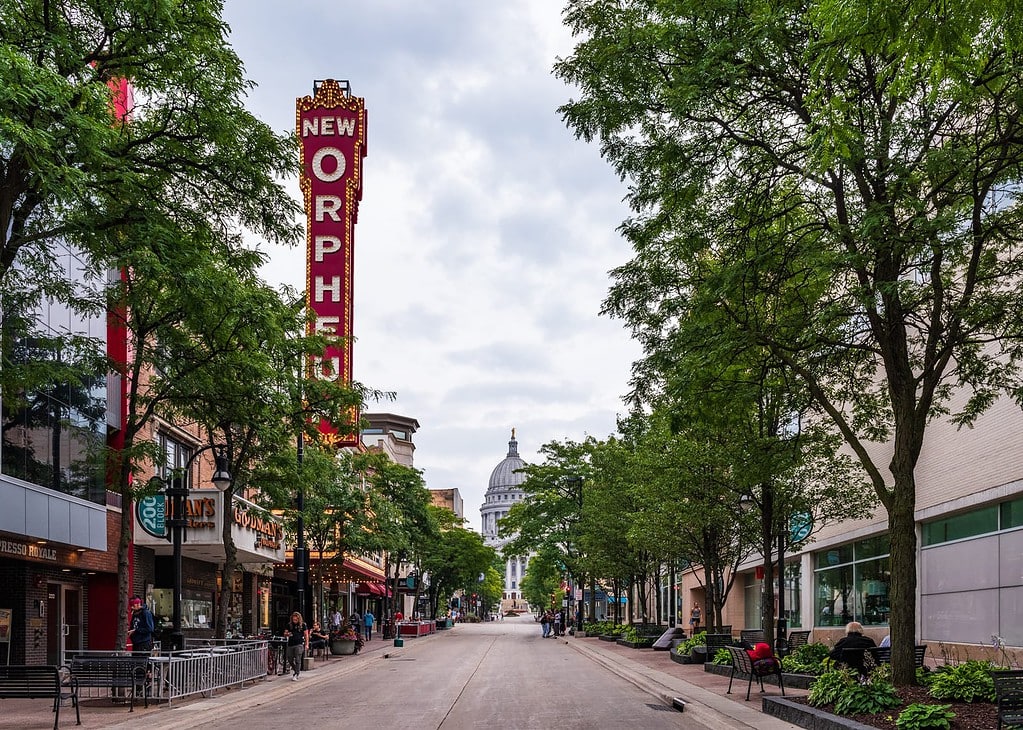 Romantic Getaways In Wisconsin
145. Lakeside In Madison
Covering 15,000 acres, Madison, Wisconsin's five lakes offer any number of water-based recreational opportunities in addition to the usual city attractions. But what's particularly outstanding in Madison is the lively food and craft beer scene.
146. Boat Around The Apostle Islands
Boating around the Apostle Islands can take multiple forms. Covering a stretch of shoreline in northern Wisconsin, twenty-one islands punctuate this area of Lake Superior. Explore it via kayak, private boat, or Apostle Island Cruises.
147. Be As Active As You Like In Milwaukee
Brewskies and Sports Bars are what you might expect to find in Milwaukee, Wisconsin. But, perhaps surprisingly, the city also has a great beach, in addition to the access to three rivers that prompted the 3-mile award-winning RiverWalk. Milwaukee is a fun and active city to visit.
BONUS – Check out our post on all the best things to do in Appleton WI!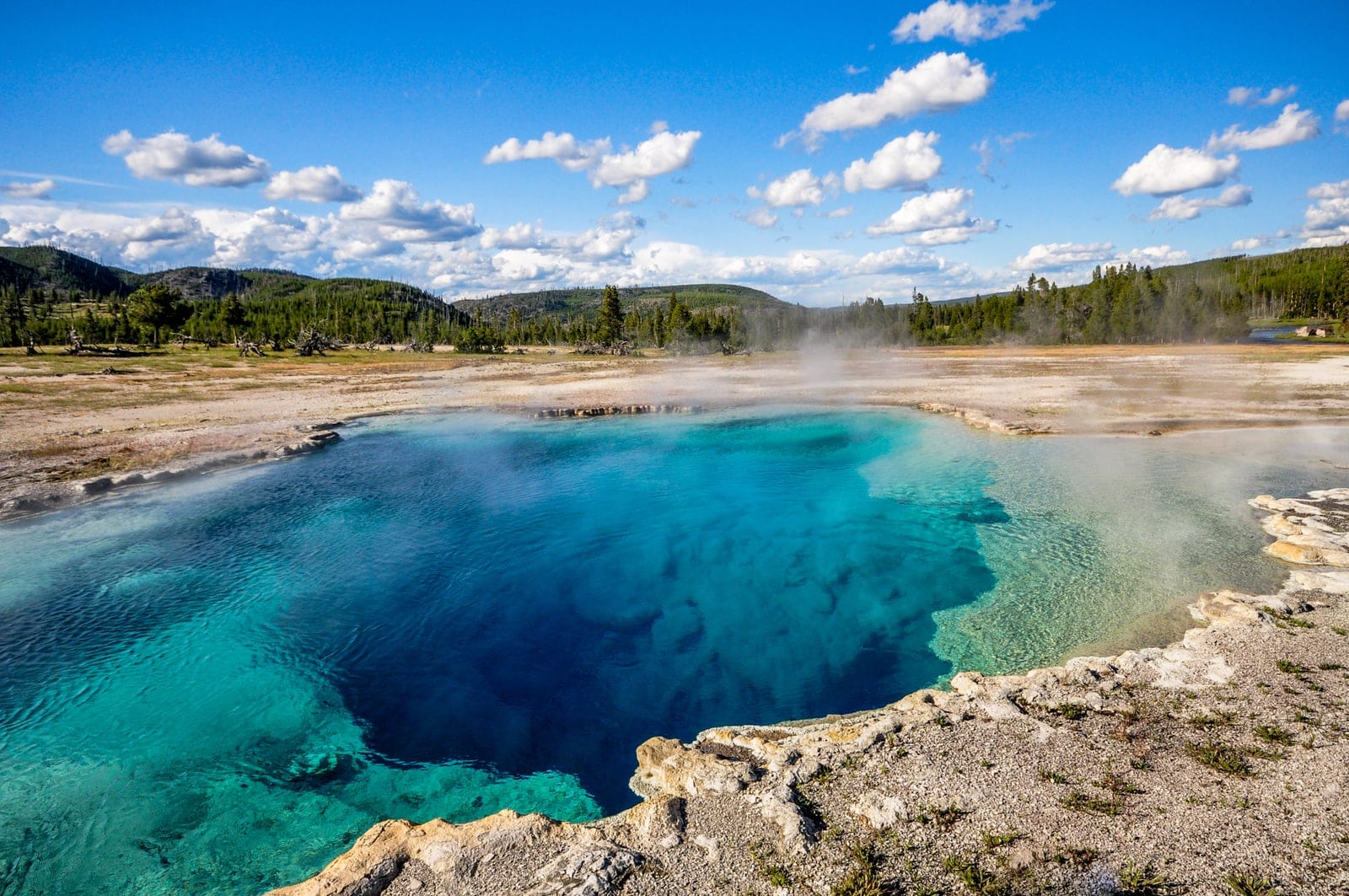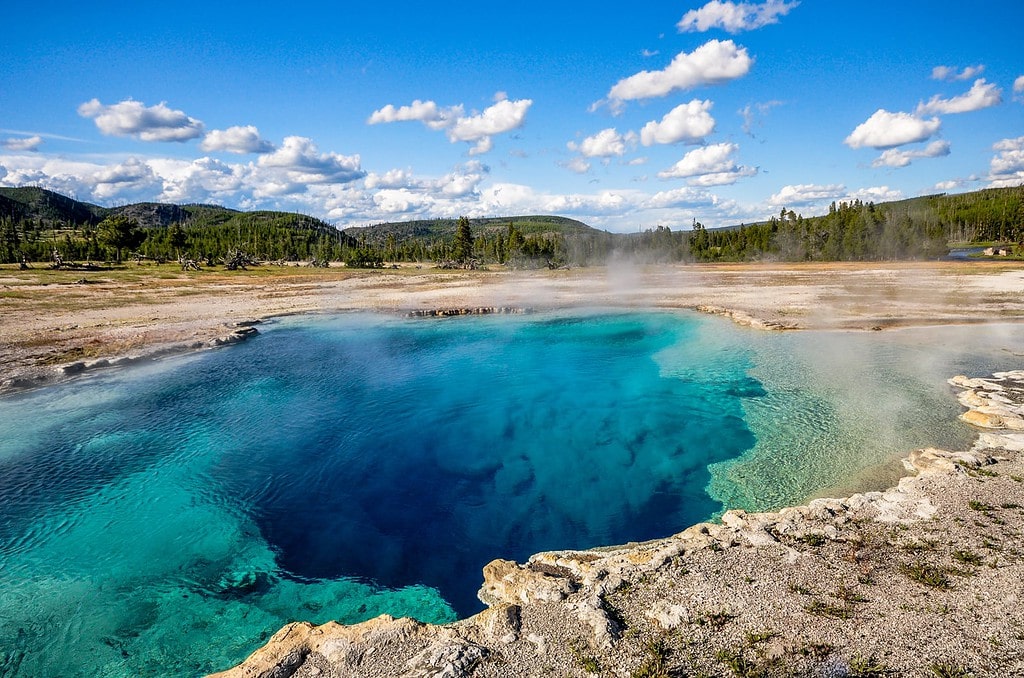 Romantic Getaways In Wyoming
148. The Wild West Lives In Legendary Cheyenne
Cheyenne, Wyoming is the stuff of legends. At the town's center, the historic Plains Hotel once hosted cattle barons and oil tycoons. Today it's a good base for attending the rodeo and seeing local landmarks.
149. Soak In The Hot Springs At Thermopolis
Legend Rock Petroglyphs in Thermopolis, Wyoming holds one of the most impressive petroglyph sites, in addition to fossil discoveries and a world-class dinosaur museum.
Balance scientific research with relaxing Hot Springs soaks great restaurants and cabin rentals.
Of all the amazing national parks in the United States, Yellowstone National Park stands out for its diversity of geology, geography, wildlife, lodging, and things to do. Geothermal features like the Grand Prismatic Spring are breathtakingly beautiful.
More Of The Best Romantic Getaways In The US