I recognized a few pale-faced empty nesters huddled at the shallow beach entry of the Madonna Inn's cerulean pool.
Earlier that week, I had seen them among the families lugging pillows and plastic crates during Moving In Day at California Polytechnic State University in San Luis Obispo, CA. "SLO," as everyone calls it, is a lovely town–the happiest place in America, according to Oprah Winfrey–midway between San Francisco and Los Angeles.
But those shell-shocked eyes were blind to the 360-degree view of California's coastal hills or even the ingenuity of a 45-foot man-made Alpine waterfall.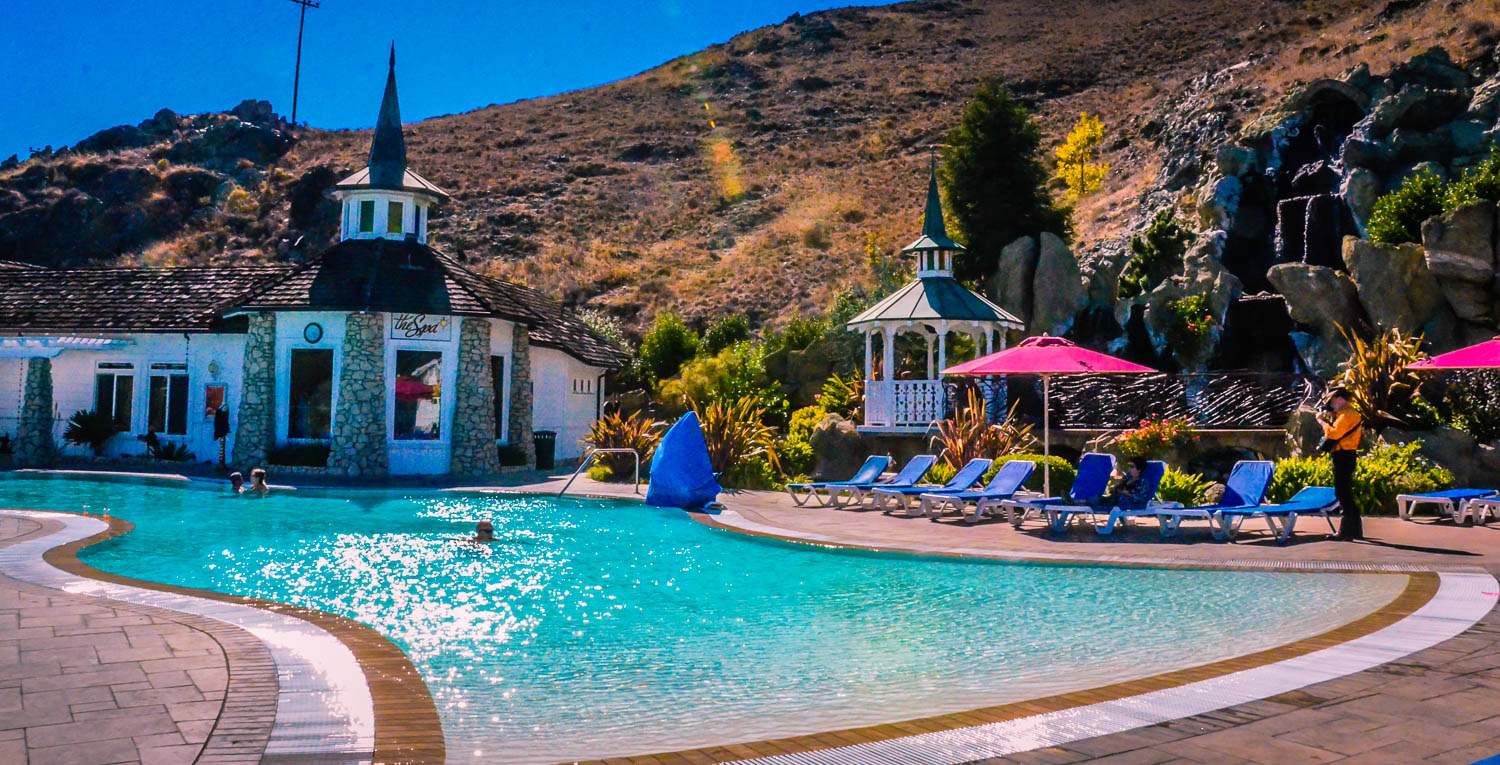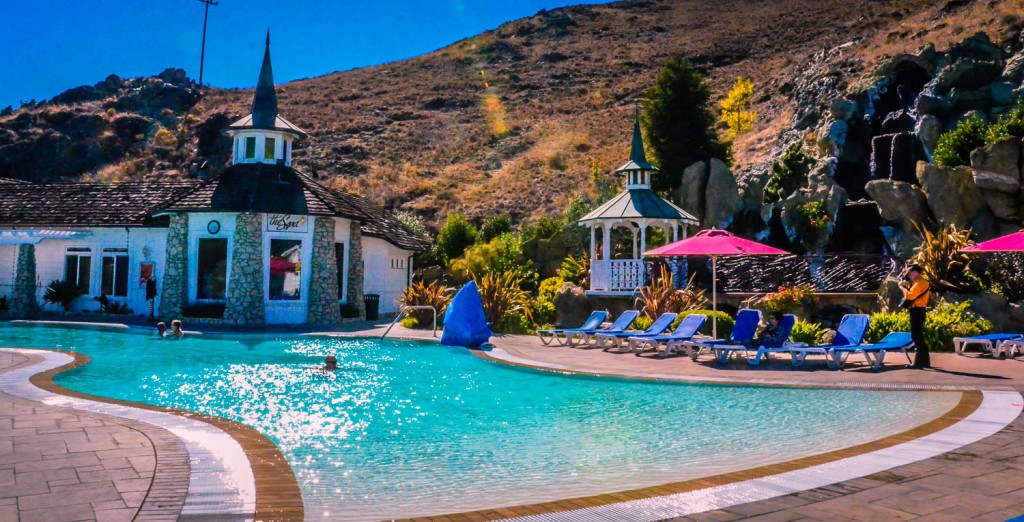 Turning to a beaming stranger sipping a sunset-colored cocktail below a dark blush umbrella, I asked what was good at the Terrace Pool Bar. The older woman, whose youthful floral sundress belied wrinkles and gray hair, said I had to try the bar's signature drink: a Mai Tai.
A pineapple and rum concoction often associated with Tiki culture makes perfect sense at a motel that defines roadside kitsch. The Disney-gone-wild mindset quickly reveals itself upon arrival at the Swiss-Miss-on-steroids main building.
"Sandra, you have to go in the men's restroom!" my husband demanded, although I'm sure I could've lived without seeing the waterfall urinal immortalized in "Weird Al" Yankovic's 1978 song "Take Me Down."
The Madonna Inn Rooms
Like Forrest Gump's box of chocolates, "You never know what you're gonna get" when you book guest rooms at the Madonna Inn. Some folks devote a lifetime sampling each of the 110+ unique hotel rooms.
Favorites include The Caveman, a primitive den covered in animal prints and stone facades, whose grotto-style bathroom features a cascading waterfall shower. Room 139, aka Jungle Rock, provides a variation on this theme but with the enhancement of a canopy of trees and vines.
Dave and I lucked into Carin on our first stay, the name is a Swiss endearment; Room 218 is a teen-crush Valentine's Card come to life. Perched alone atop a winding staircase, I gasped (asthmatically, mind you, after climbing three flights) to find floor-to-ceiling swathed in many shades of rose.
Pink peaked ceiling, pink bedspread, pink leather loveseat, even glittery pink sequin walls.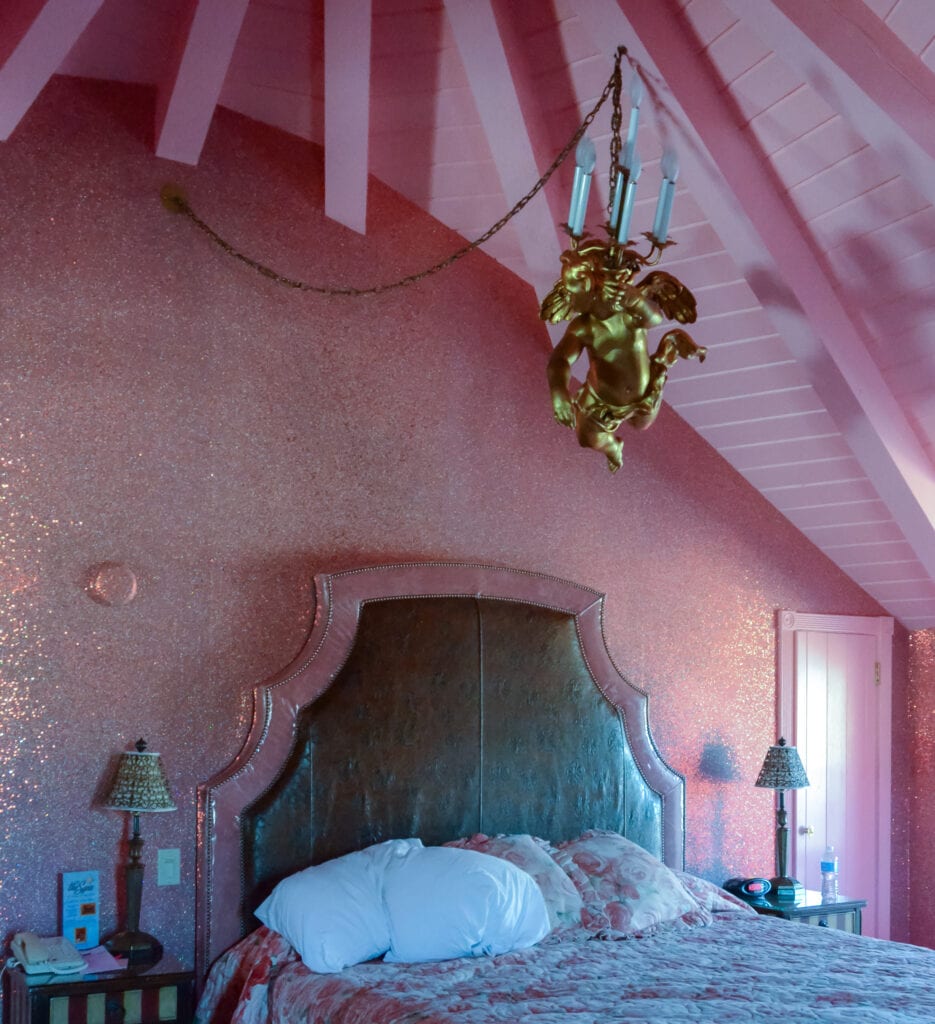 Two balconies, each furnished with mint and magenta patio seats–one looking out on mountain trails, the other at US-101–gave some relief from the unrelenting hue. As did the room's focal point, a life-size gold cherub bearing a candelabrum suspended above the king-sized bed.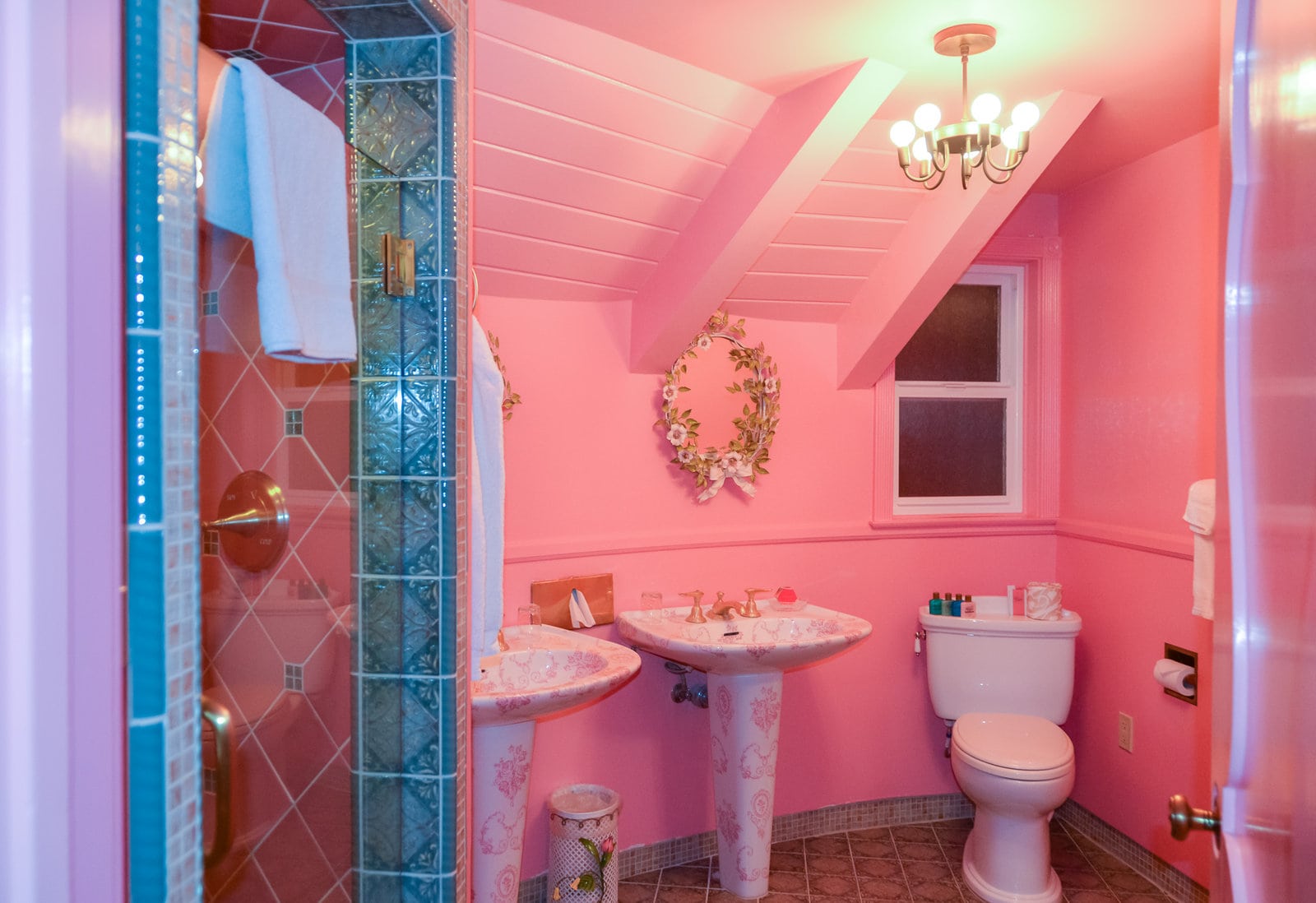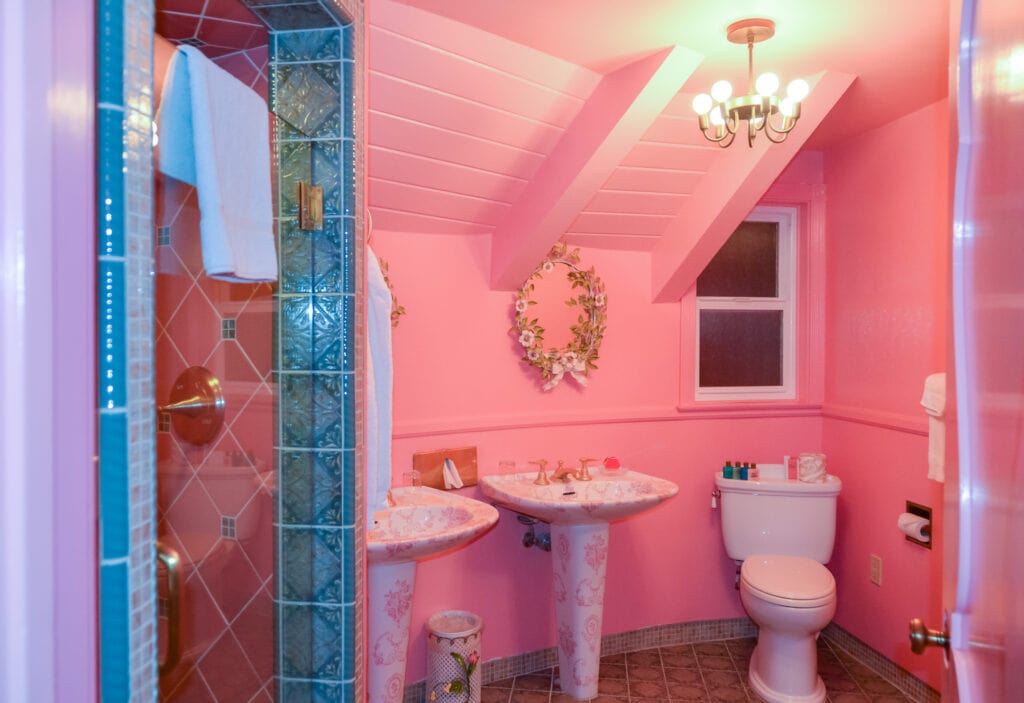 The bathroom, a rococo affair of brass fixtures and enameled flowers, seemed almost staid by comparison.
Things To Do At The Madonna Inn
That first Mai Tai went a long way toward a swift attitude adjustment, but the Madonna Inn affords several pleasing alternatives. Besides the pool, we could have played on (pink!) tennis courts and basketball courts or gone hiking and biking on nearby trails (pink bikes and gear available to rent.)
And with a nod to the ubiquitous rock motif, The Spa offers a Caveman hot stone massage and a variety of beauty and massage treatments.
Because San Luis Obispo is in the heart of wine country, only a 4-hour drive from Napa Valley Wine Country, tastings and cheese or chocolate pairings make for tasty diversions. And lest you forget that this is the Wild West, Madonna Inn Trail Rides provides gentle and friendly horses for short trail rides.
The Madonna Inn is a great place to stop on a road trip to see the national parks near San Francisco, including exploring the things to do in Redwood National Park. There are 28 national parks in California, and the Madonna Inn's central location places it on the way to many of them.
Dining At The Madonna Inn
Creative themes extend into the hotel's restaurants. The casual Copper Café suggests a never-ending Oktoberfest with its Bavarian décor and dirndl-dressed waitresses. Breakfast, lunch, and dinner are popular here, as are the world-famous cakes and pastries provided by the onsite bakery.
I couldn't say no to the most glorious expression of over-the-top fabulousness, the Madonna Inn Pink Champagne Cake.
Mellowed by the Mai Tai and afternoon swim, we dined at the Gold Rush Steak House on the last night of our stay in San Luis Obispo. Cocooned in a bubblegum pink and gold circular booth under twinkling lights and giant artificial blossoms, we could hear the live band performing next door in the Silver Bar Cocktail Lounge.
Sinatra standards cast a beckoning lure as we chewed hefty yet tender steaks. (Tip- Split the 16 oz steak entrée; just add extra sides.) Through a break in the greenery, I spotted the grizzled honeymooners embracing on the dance floor. Dared we?
That night we danced. And in the morning, I rode a horse to a scenic lookout on Madonna Mountain, where I could gaze at the golden valley below. Maybe I would finally take those riding lessons I'd always wanted, or I might check out line dancing lessons.
This wasn't an empty nest but a life full of possibilities.
Just the Facts about the Madonna Inn
Rooms and suites at the Madonna Inn range from $189 to $599 (depending on room and season), plus a resort fee that includes on-site activities, a pool, tennis/basketball courts, WiFi, airport shuttle, and other amenities.
Frequently Asked Questions
Where Is The Madonna Inn?
The Madonna Inn is located just off Highway 101 on the Pacific Coast, halfway between Los Angeles and San Francisco.
Is The Madonna Inn haunted?
While there are rumors and stories of ghostly encounters at the Madonna Inn, there is no concrete evidence that the hotel is haunted. Some guests have reported strange occurrences, such as doors opening and closing on their own, unexplained noises, and sightings of a mysterious woman in white, but these stories are largely anecdotal and have not been verified. The hotel's unique and whimsical decor may contribute to a spooky atmosphere, but it's up to individual interpretation whether or not the Madonna Inn is truly haunted.
Does The Madonna Inn ship cakes?
The hotel's bakery produces a variety of delicious cakes in unique flavors such as Pink Champagne, Chocolate Eclaire, and Toffee Crunch, and they can be ordered for pick up. But they're too fragile to ship. However, the bakery does ship cookies.
Is The Madonna Inn pet-friendly?
The Madonna Inn does not allow smoking or pets in rooms.
How Far From Paso Robles to the Madonna Inn?
Paso Robles is about a 30-minute drive along the Pacific Coast. But it's only 14-minutes from Pismo Beach or 20-minutes from Morro Rock.
Looking for more places to visit with your honey? Check out the Getaway Mavens' roundup of 50 Romantic Getaways In The USA.
More Sexy Hotels In The USA