Last Updated on April 26, 2021 by Editor
WHY GO: If you've been to Washington DC before, you've probably visited the Monuments, the Capitol Building, the White House – and presumably the more popular Smithsonian Museums.
But there are new and other lesser known institutions – like a wild cutting edge "tech" art attraction, the Museum of African American History, Museum of the American Indian, Museum of the Bible, a new Spy Museum, the Library of Congress, and Museum of Women in the Arts, that have either been miles off your radar or impossible to get into.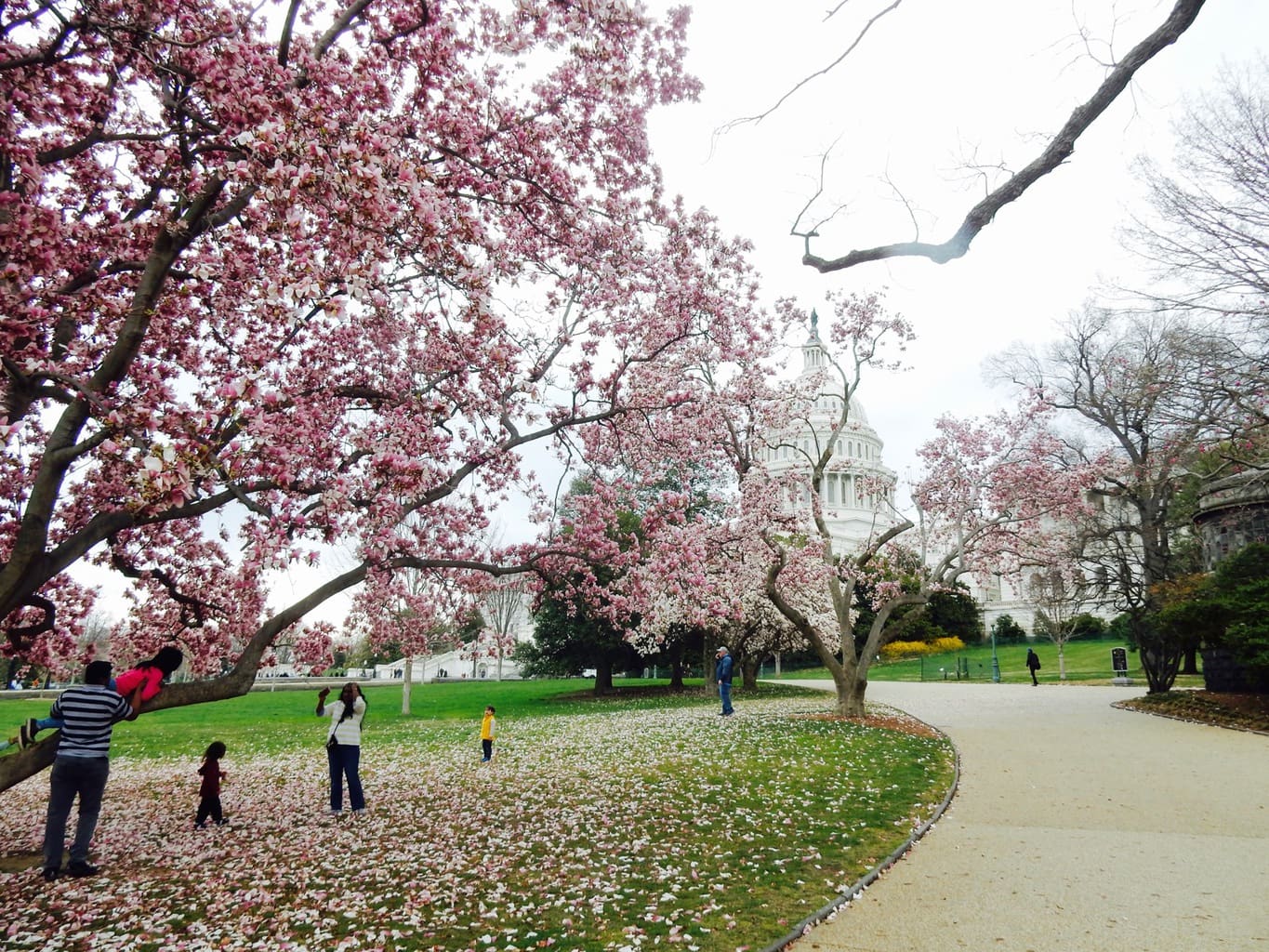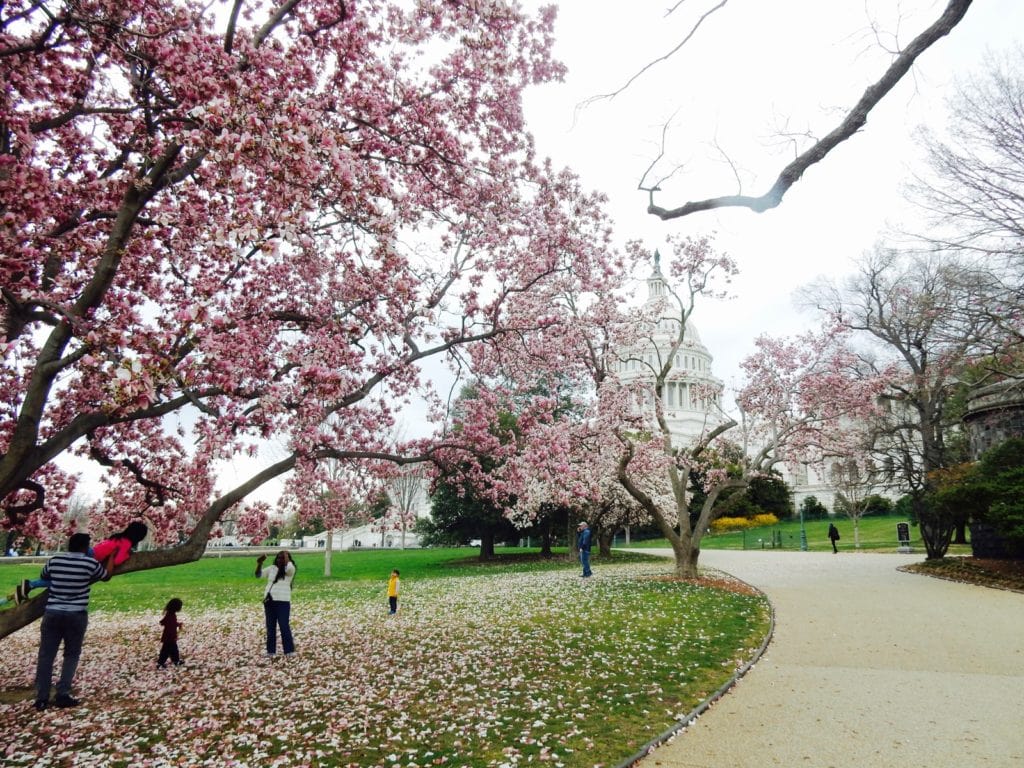 Spring, and the blooming Cherry Trees and their lush, pink blossoms, draw crowds to Washington DC every year. Come in late March and early April, and you'll be in plenty of company. To buck the crowds and gain access to the more popular attractions, come off-season – in winter or dead of summer.
New, Notable, or Under The Radar in Washington DC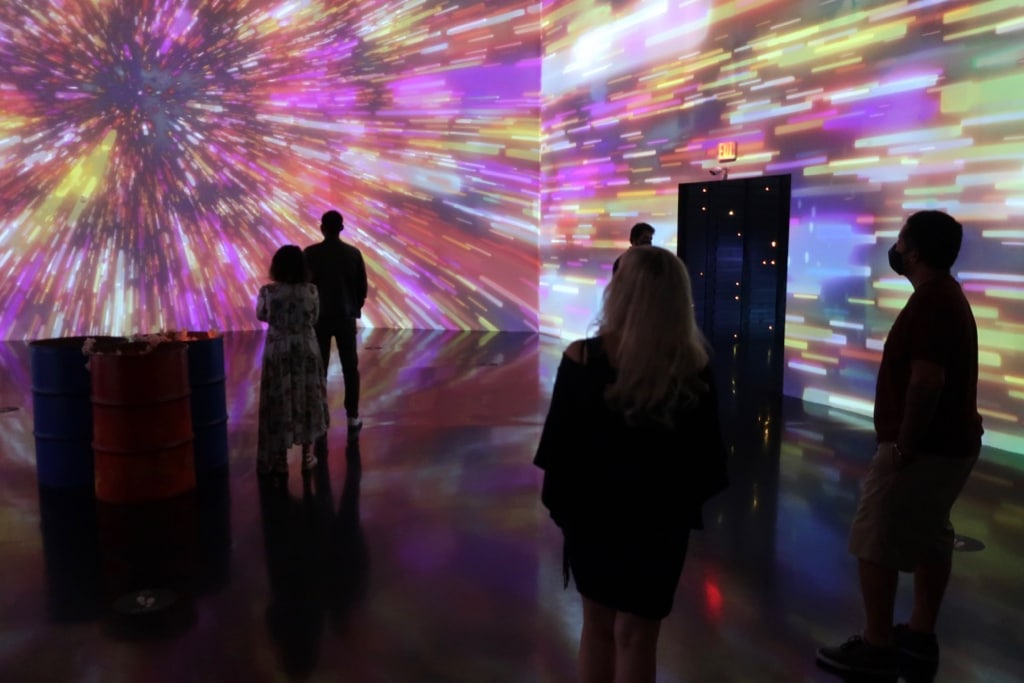 This trippy DC museum, the third Artechouse to open after Miami and NYC, allows guests to engage in stimulating and experimental exhibits, with immersive, interactive installations that change a couple of times a year.
In short, Artechouse is "the first innovative art space dedicated to showcasing experiential and technology driven works" by cutting edge artists. Animated "exhibits" are downright mesmerizing.
Based on its novelty and popularity (judging by the number of people lined up at the door when I visited), this type of "infotainment" seems to be the arbiter of museums to come.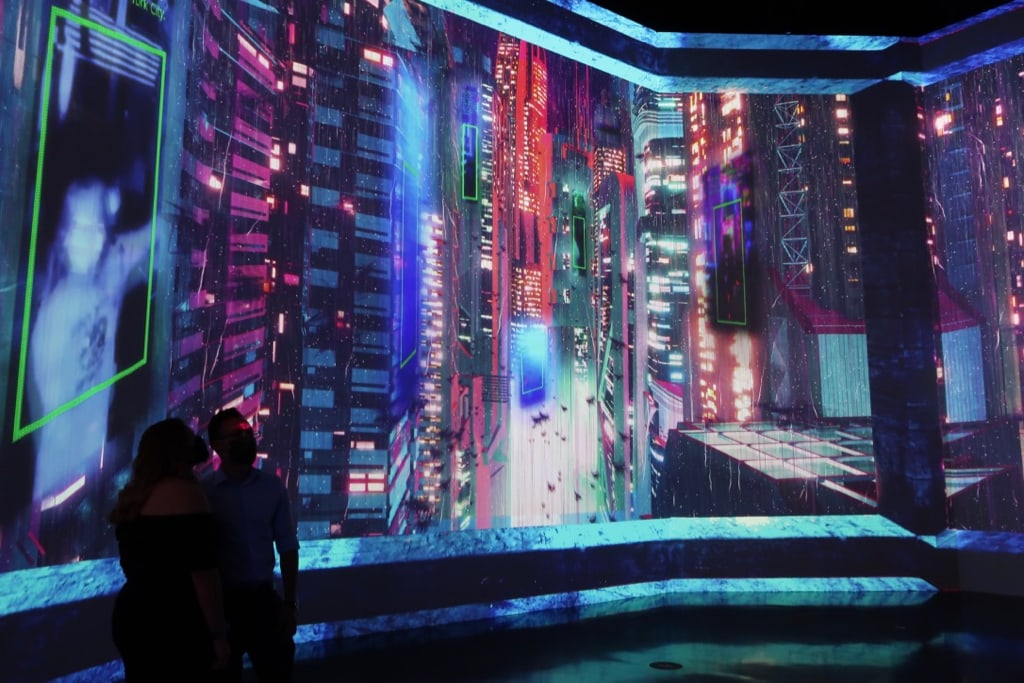 The current exhibit, Renewal 2121, places you in Tokyo where either a blizzard of cherry blossoms, or towers of garbage, grow exponentially depending on visitor's engagement with the IMAX-sized screens.
"Part of the experience," say docents, "is figuring out how your presence effects what happens." In my case, when I got close to the screen, Cherry Blossom trees grew and bloomed.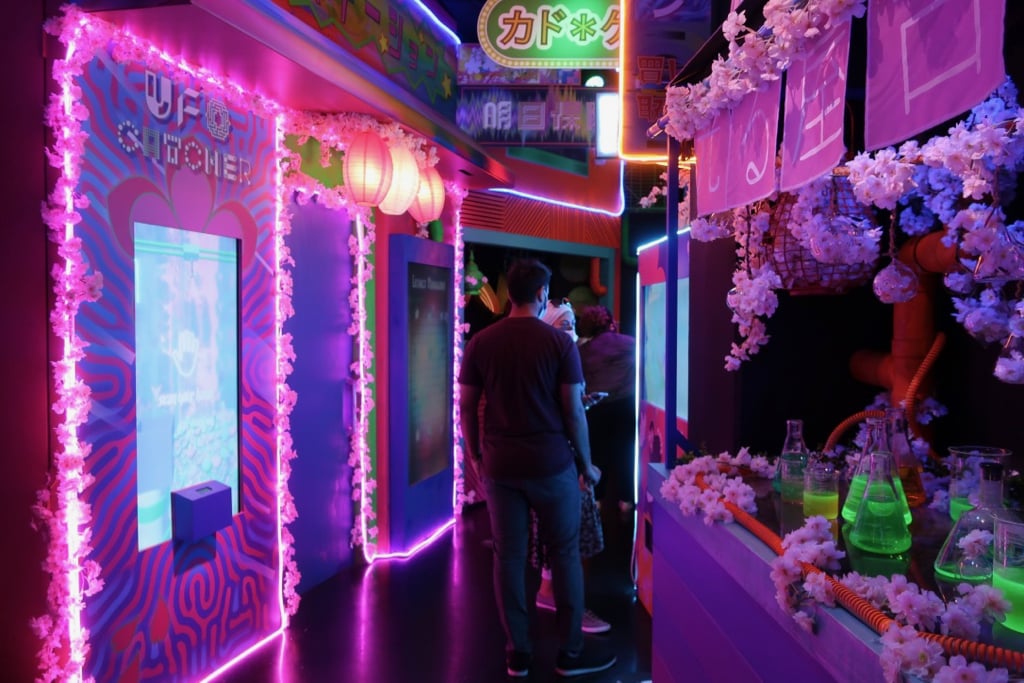 Doors around the perimeter of the mega room area lead into smaller, more intimate exhibits. "Gather" flower-spewing drones together. "Cook" in digital pots. There are lots of ways to engage. Daily 10am-10pm, $24 adults, $17 kids, for one hour. Purchase tickets online.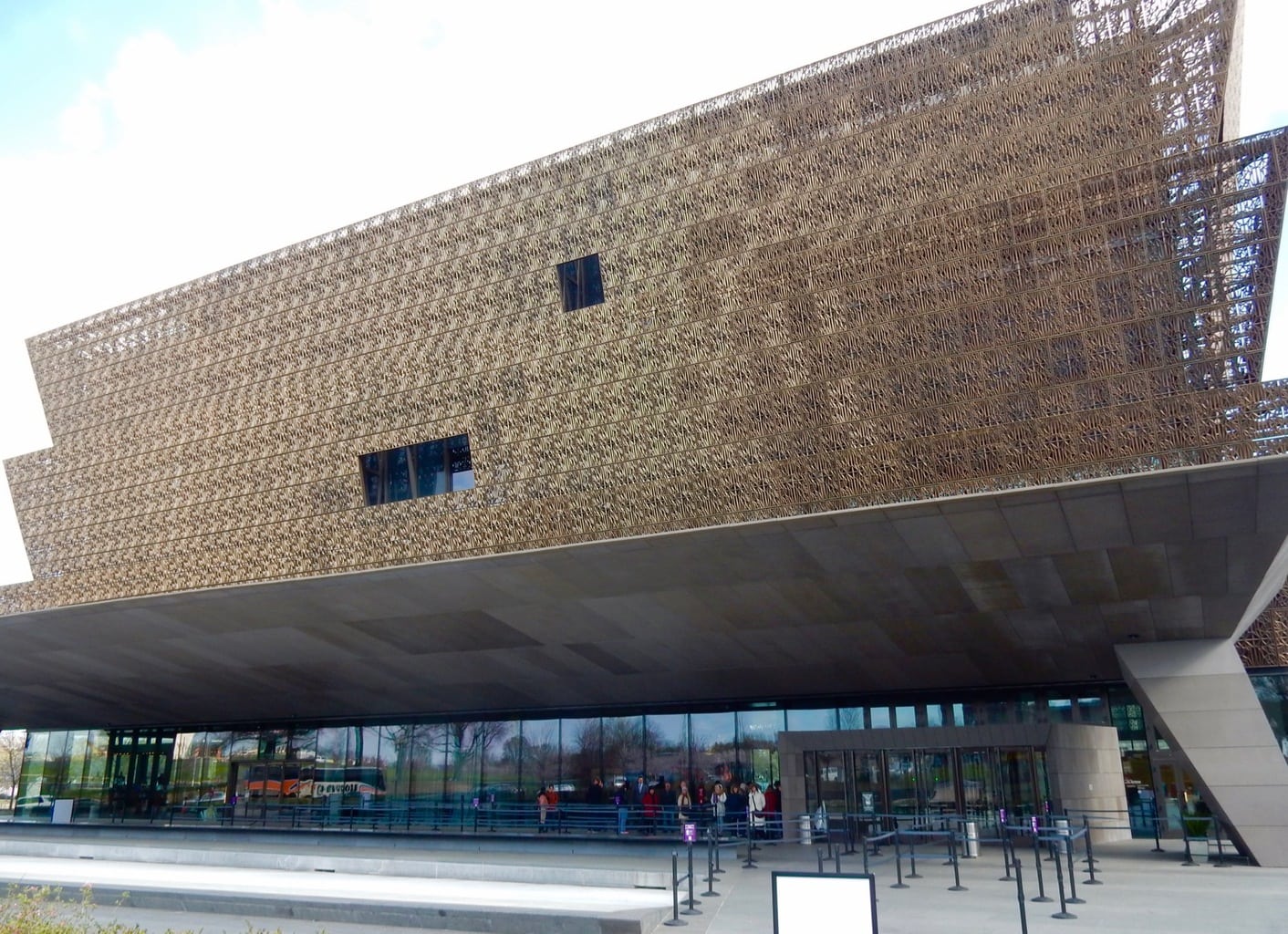 "The NMAAHC is a tougher ticket than Hamilton," I was told, before embarking on a three-day trip to DC. Good thing I was persuasive, and it was just little ole me – who wouldn't take up too much space at the opening bell on an early April morning. But FYI for everyone else – if you plan to go, sign up for a Pass on the NMAAHC website.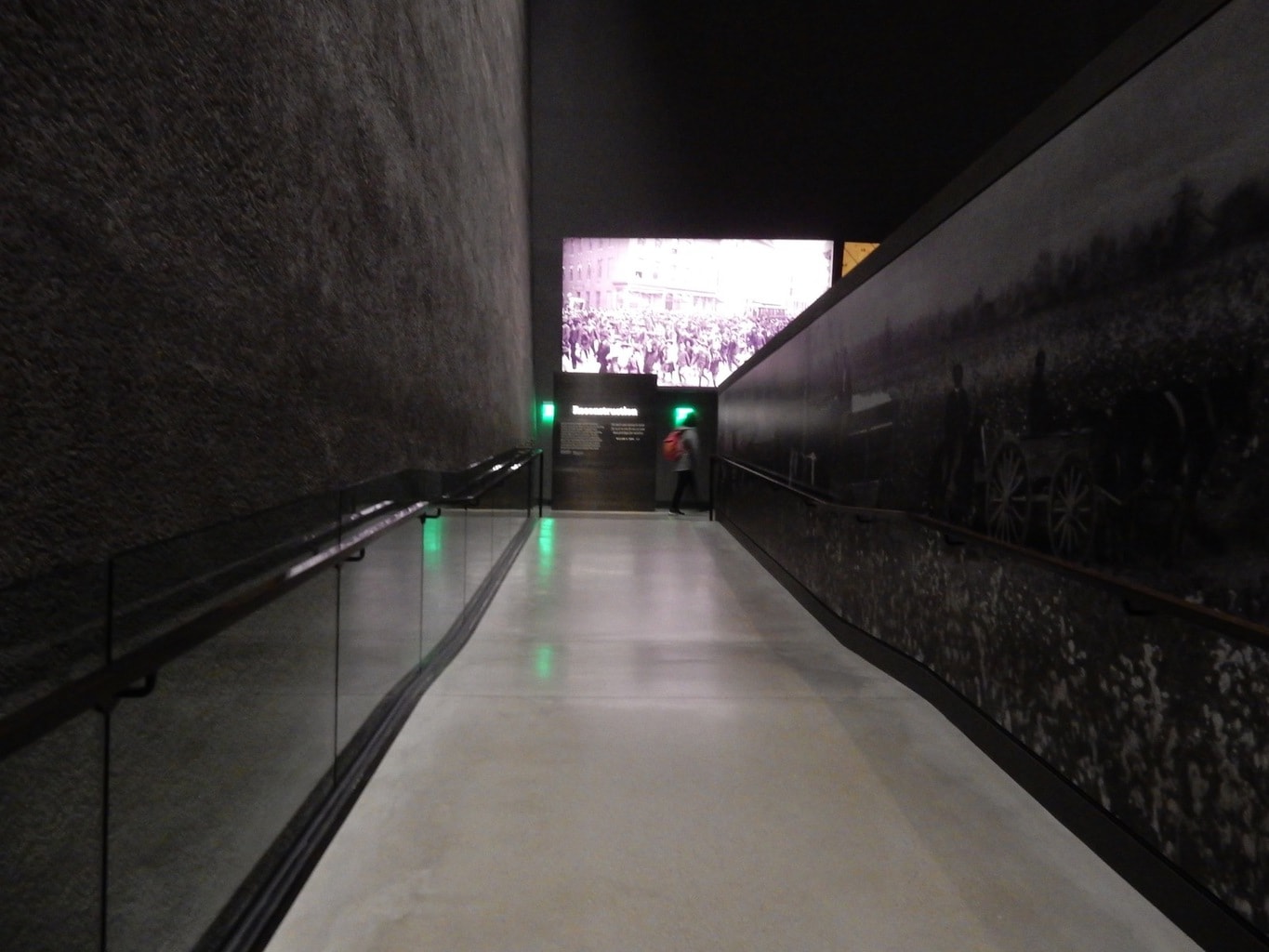 And, no wonder. This is an exceptional museum, with plenty on exhibit, and plenty to unpack; from somber to razzle-dazzle. Plus, it's chatty as all get out. While the Holocaust Museum stuns visitors into silence, this museum has the opposite effect.
Sparking Intergenerational Conversations
Every section sparks conversation, admiration, motivation, reaction, and reflection in those who move through its many halls. While the darkest and most challenging aspects of Black history are not glossed over, more attention is paid to the achievements and strong communities of the African American experience.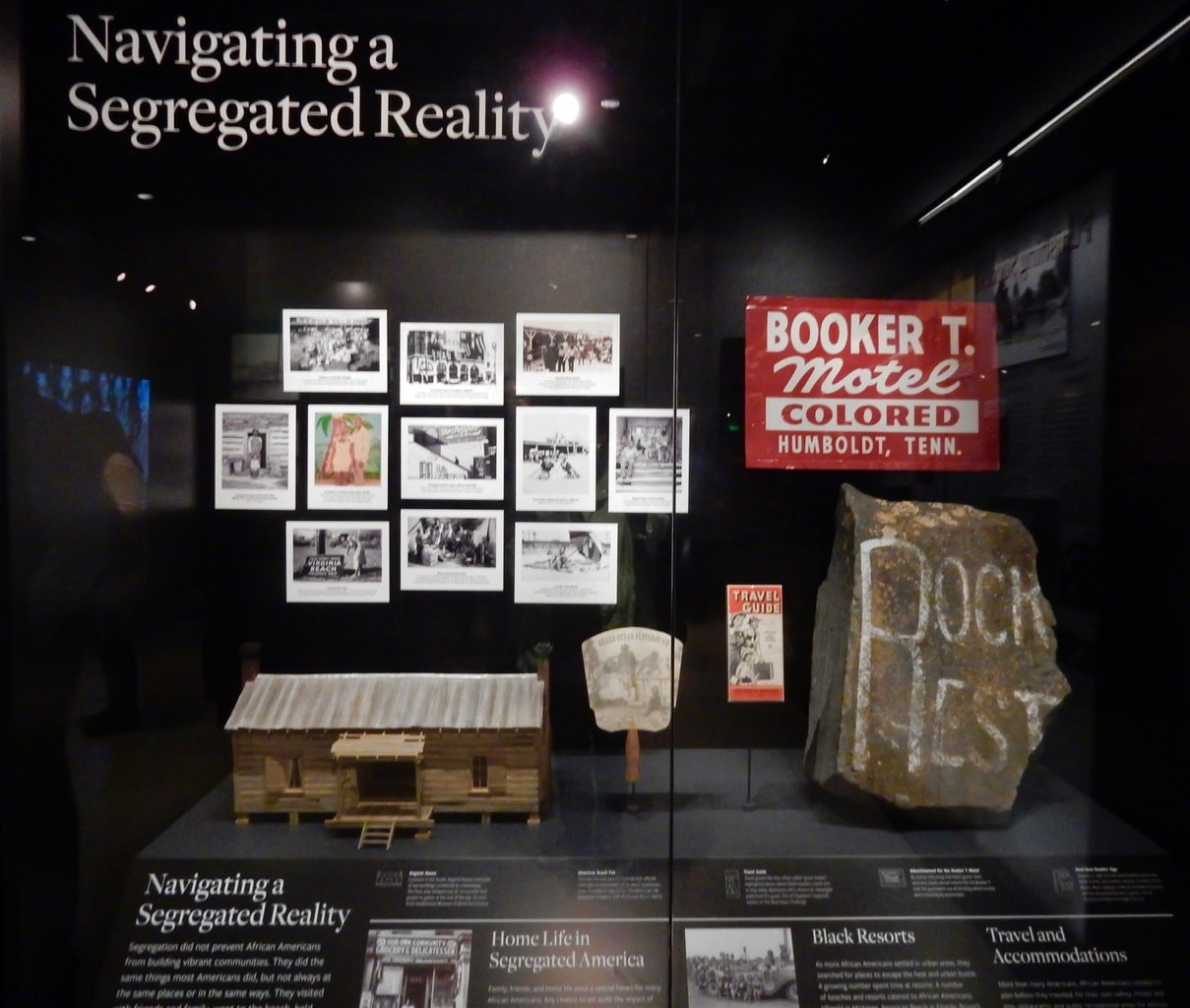 It begins in the hold of a Slave Ship, in a subterranean part of the museum three levels below the basement floor, accessed by a glass elevator.
Dark and dimly lit, the roots of slavery in America start here. Moving from the American Revolution to the Civil War; President Lincoln, Frederick Douglas; Reconstruction leading to Segregation and Jim Crow, to the Civil Rights Movement.
Near the display showcasing a lunch counter stool from the 1960 Greensboro Sit In, I overheard a Mom tells her two young sons, "If you know the difference between right and wrong, you can make a change…you can start a movement."
They listened raptly – seeds for future leadership firmly planted. I heard these kinds of conversations throughout the museum.
MLK Inspirations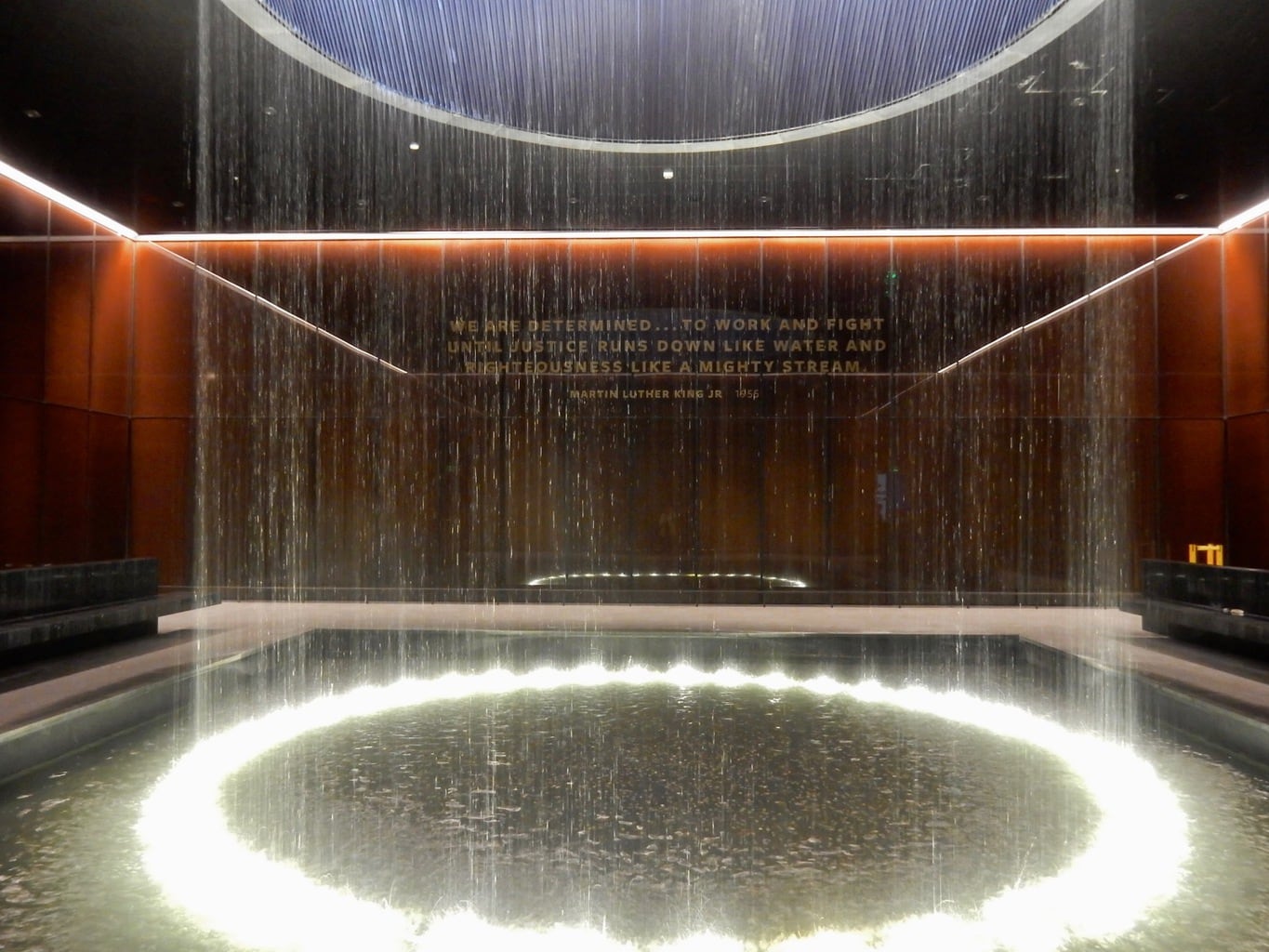 As you climb the ramps, watch for a sign showing the way to the "Contemplative Court." Don't miss it. An upside-down fountain raining from the ceiling in a vast room, the installation is Martin Luther King's "justice runs down like water," made manifest.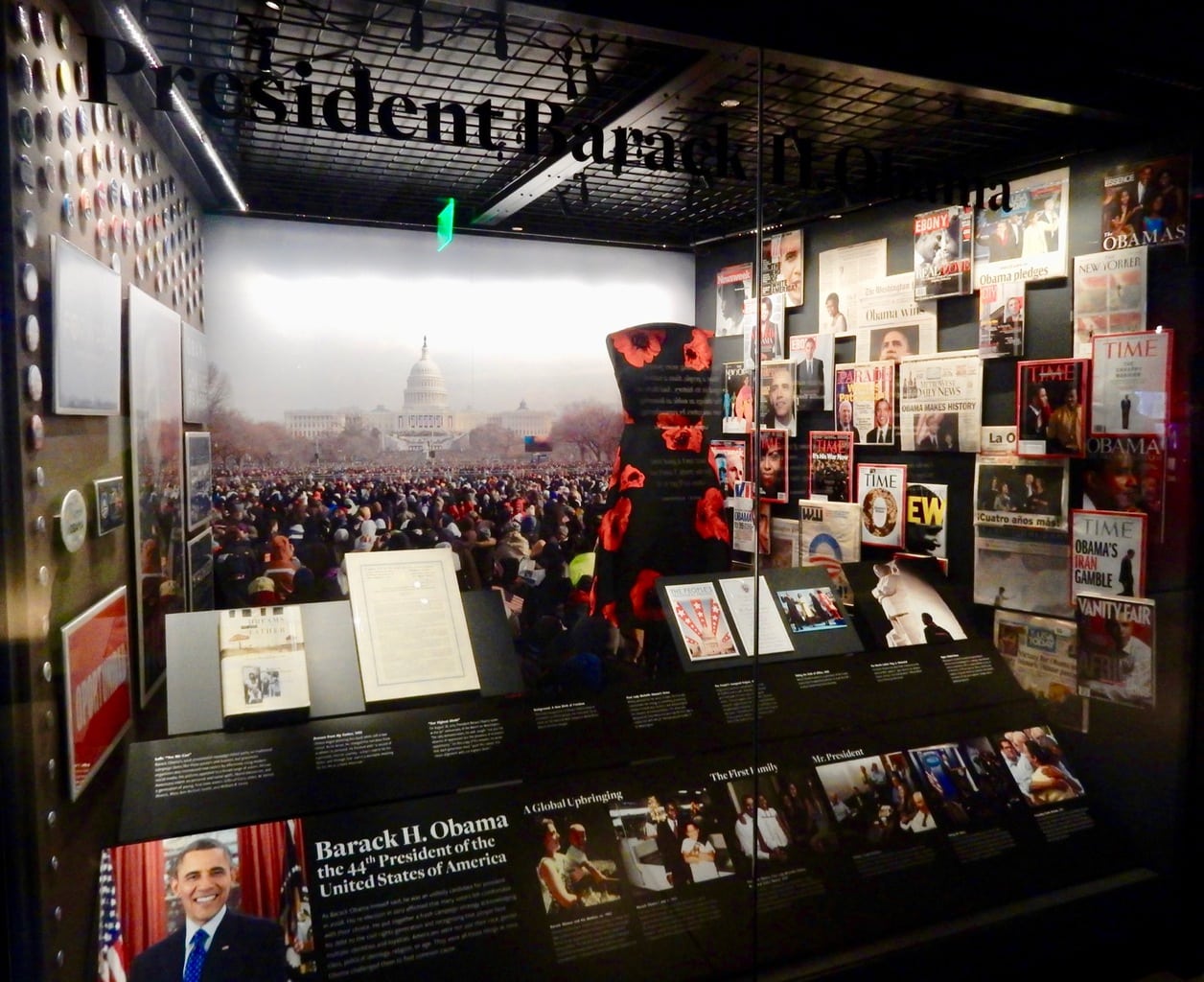 It might take a couple of hours just to get through the lower level history sections, but there are four other floors to explore.
And each easily takes an hour or more to see. From Tubman to Winfrey, Douglas to Obama – A Changing America points to Black Is Beautiful and Black Power of the 60's as pivotal movements.
Interactive Exhibits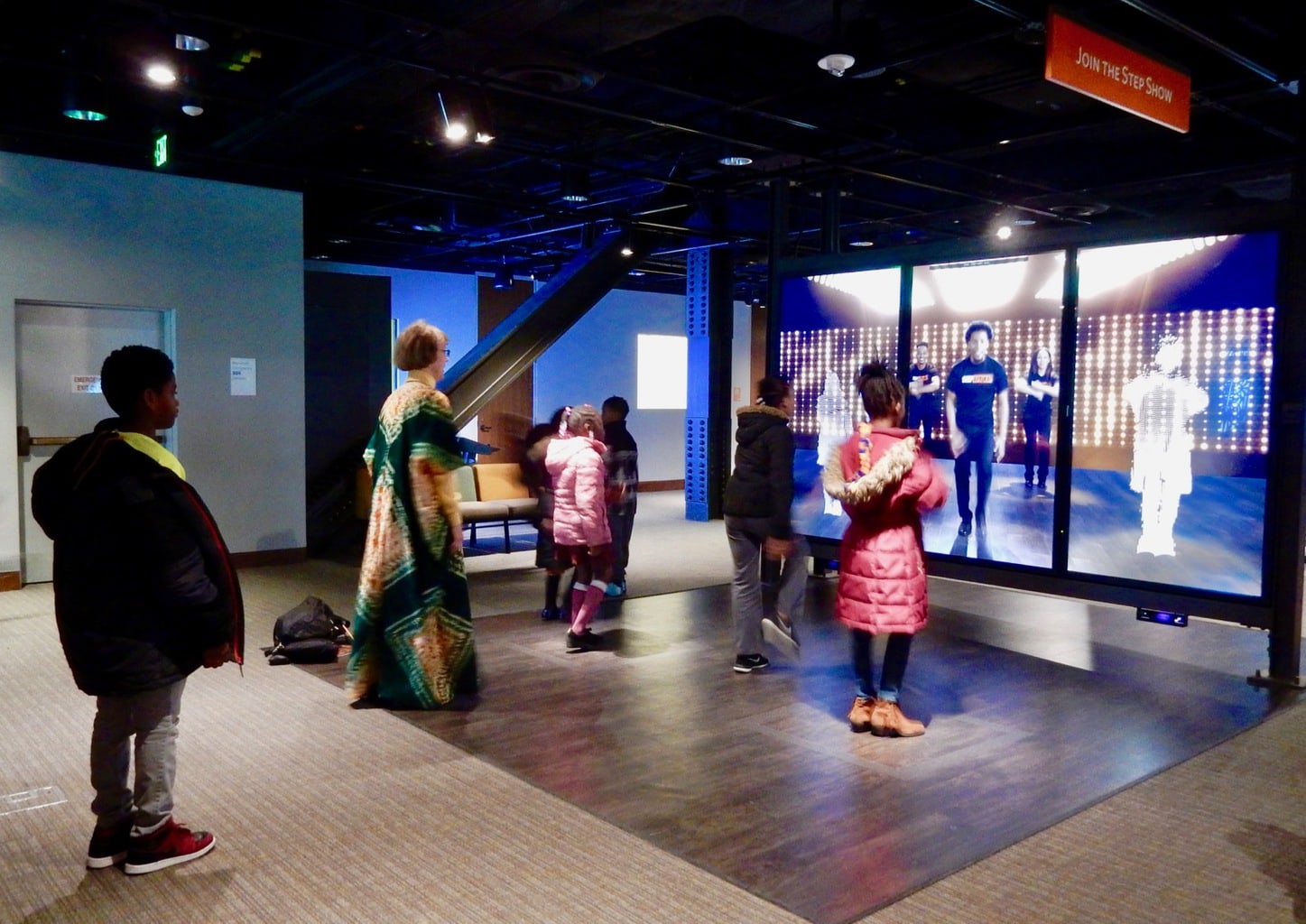 Another floor engages kids and adults with 'The Step Show,"  a hip hop instructional and interactive dance class. The "Choose Your Route" as a "Negro Tourist" in 1962 exhibit invites you to attempt a road trip across America.
You must choose either to eat in a restaurant or sleep in a hotel that will allow Blacks. But not both. It's a sobering exercise in Jim Crow restrictions.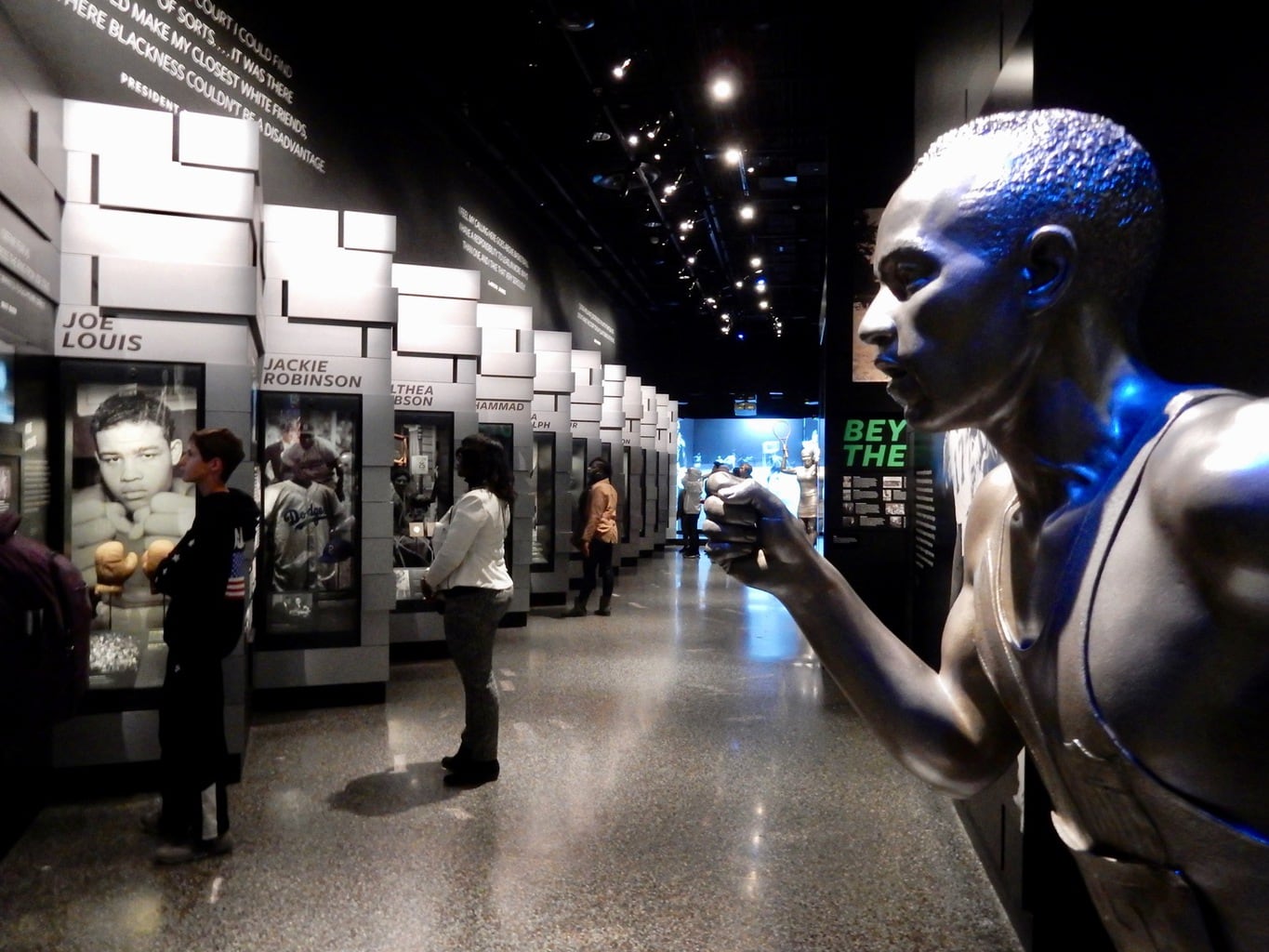 The third floor consists of the "Community" galleries – Foundations of Faith, Military, Education, Medicine, and Sports.
These displays illuminate the extremes of African American life, from the high-society Black "cottagers" in Oak Bluffs on Martha's Vineyard (since the late 1800's), to the originators of Hip Hop in the struggling Bronx.
There's a section on "Game Changers:" Jesse Owens, Arthur Ashe, Venus and Serena Williams, Mohammad Ali, Michael Jordan, Tiger Woods and other household names in the sporting world.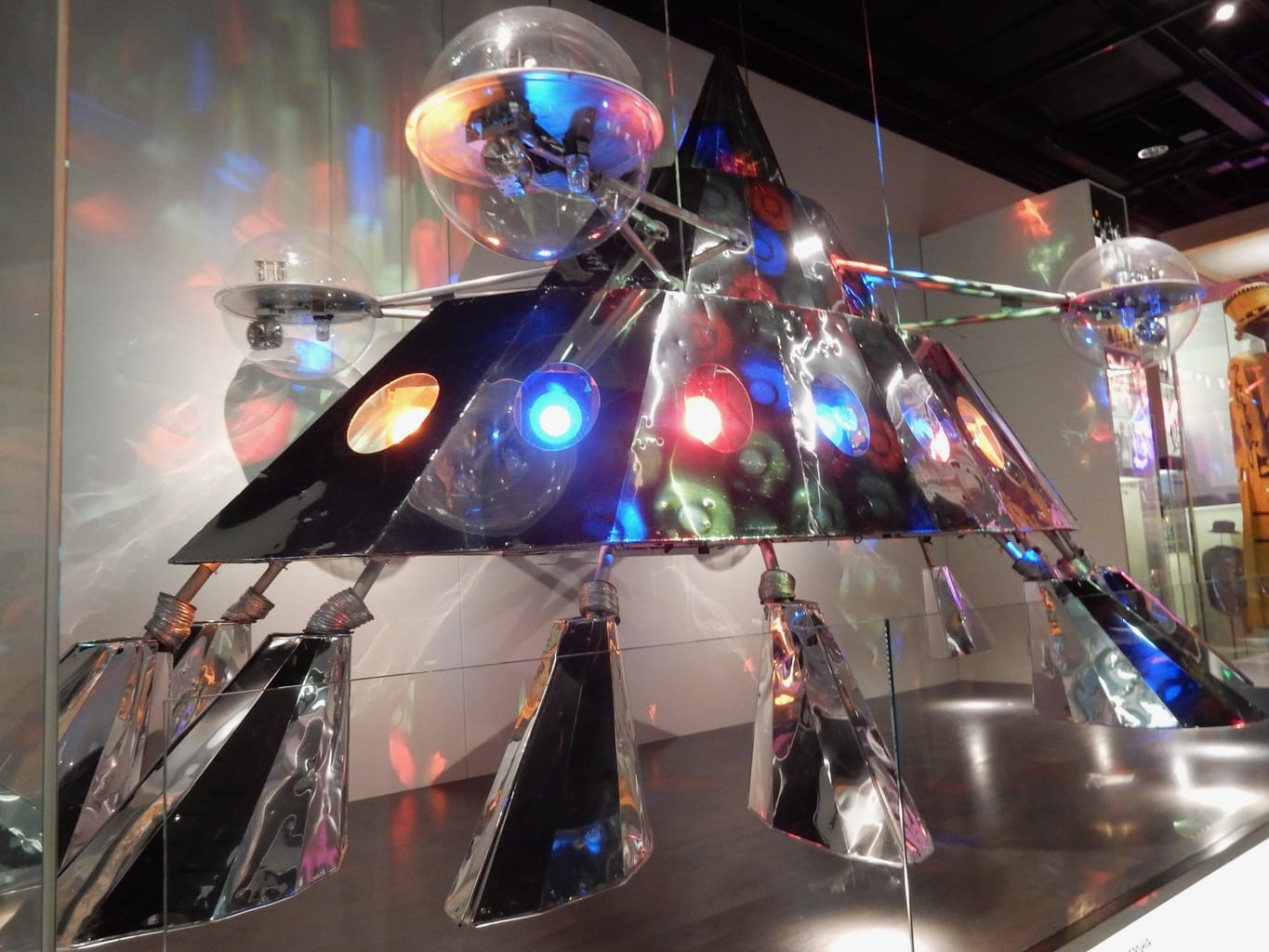 You'll want to devote at least an hour to the top floor – the Culture Galleries, starting with "Foodways" of various communities.
Take your time in the maze of rooms that feature a wiz-bang collection of the greats in TV, Hollywood, Theater, Dance, and Music. The P-Funk "Mothership" concert prop and Chuck Berry's Eldorado figure prominently. Museum open daily 10-5:30. Timed pass necessary – booking three months out.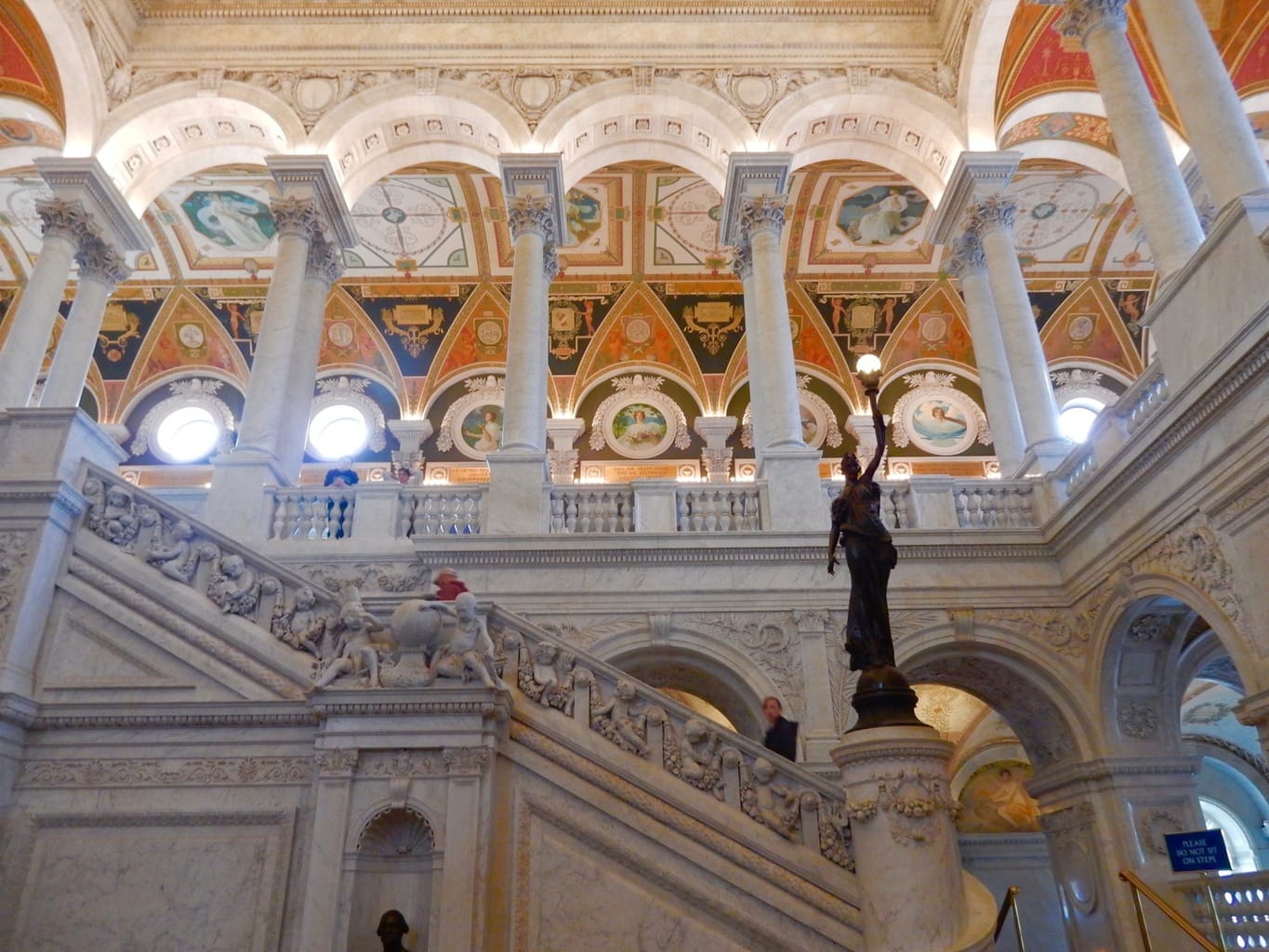 Those who relish books and iconic artifacts will not want to miss a free hour-long tour of the Library of Congress. The oldest cultural institution of the US Government, and home of the U.S. Copyright Office, I guarantee that you will be inspired and entranced by the our Nation's Library, which holds billions of words and more literary treasures than any other library in the world.
Library of Congress Holdings That Will Blow Your Mind
Those include the 1502 "Book of Privileges" by Christopher Columbus, the 1632 book written by Galileo that led to his condemnation by the Church, the oldest Koran in existence, one of 4 maps, wrinkled with use, carried by Lewis and Clark on their American expedition, a first printing of the Declaration of Independence, the first video of a football game in 1903 – Yale vs. Princeton – and a $5 Confederate bill found in Abraham Lincoln's pocket on the eve of his assassination.
The Library of Congress has in its archives over 167 million items, with 12,000 added per day.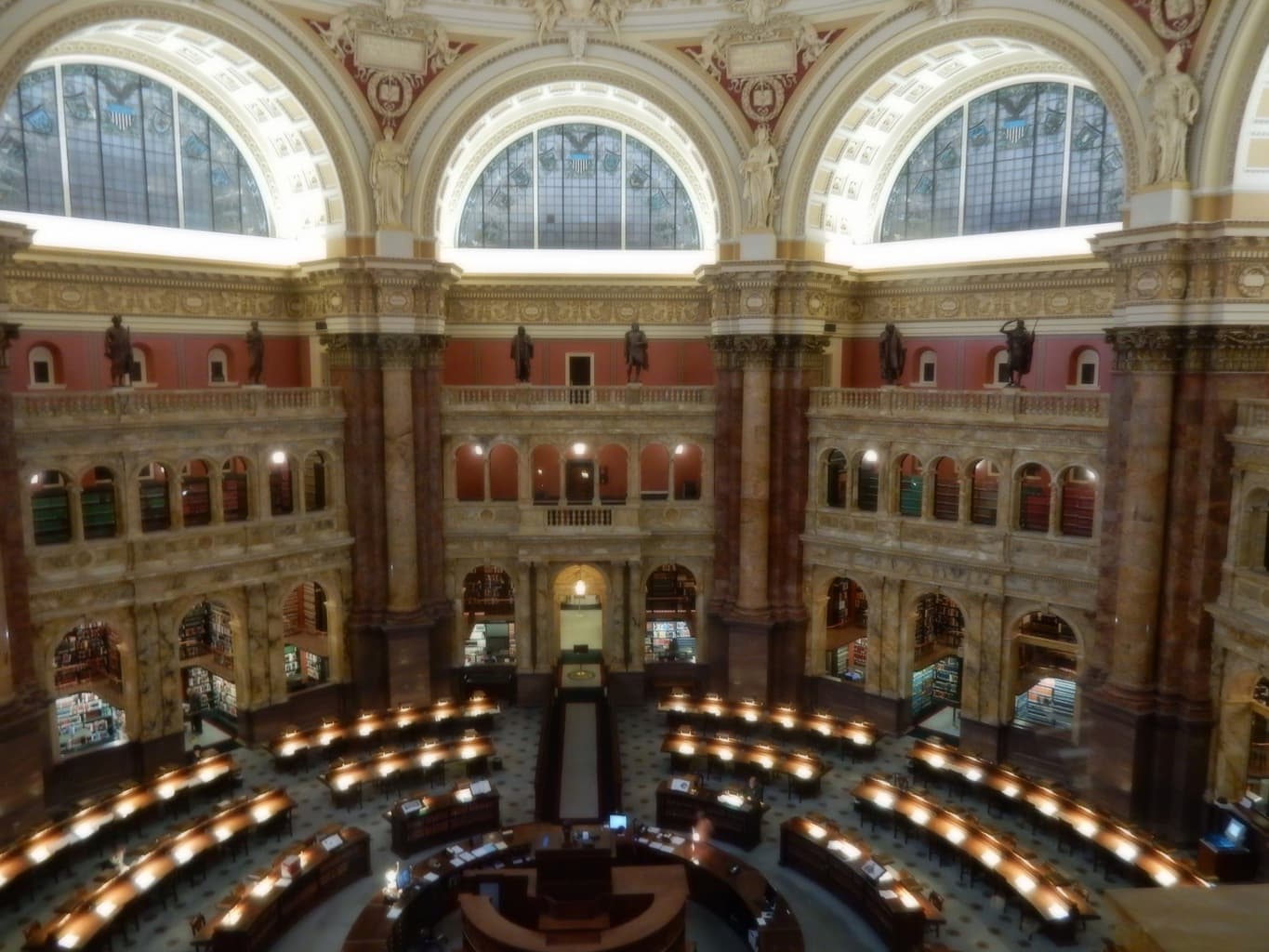 The Library of Congress Jefferson Building was constructed from 1889-1897 in the Italian Renaissance style at a cost of $6.5 million – a fortune at the time.
It's central court is palace-like in its lavishness: stained glass ceiling, compass rose inlayed floor, and two sweeping marble staircases that ascend to a viewing gallery into the Main Reading Room.
This is where you'll find Elihu Vedder's murals depicting the consequences of Good and Bad Governments, comparing corrupt self-interested leaders with those who govern for all, leading to anarchy vs. prosperity.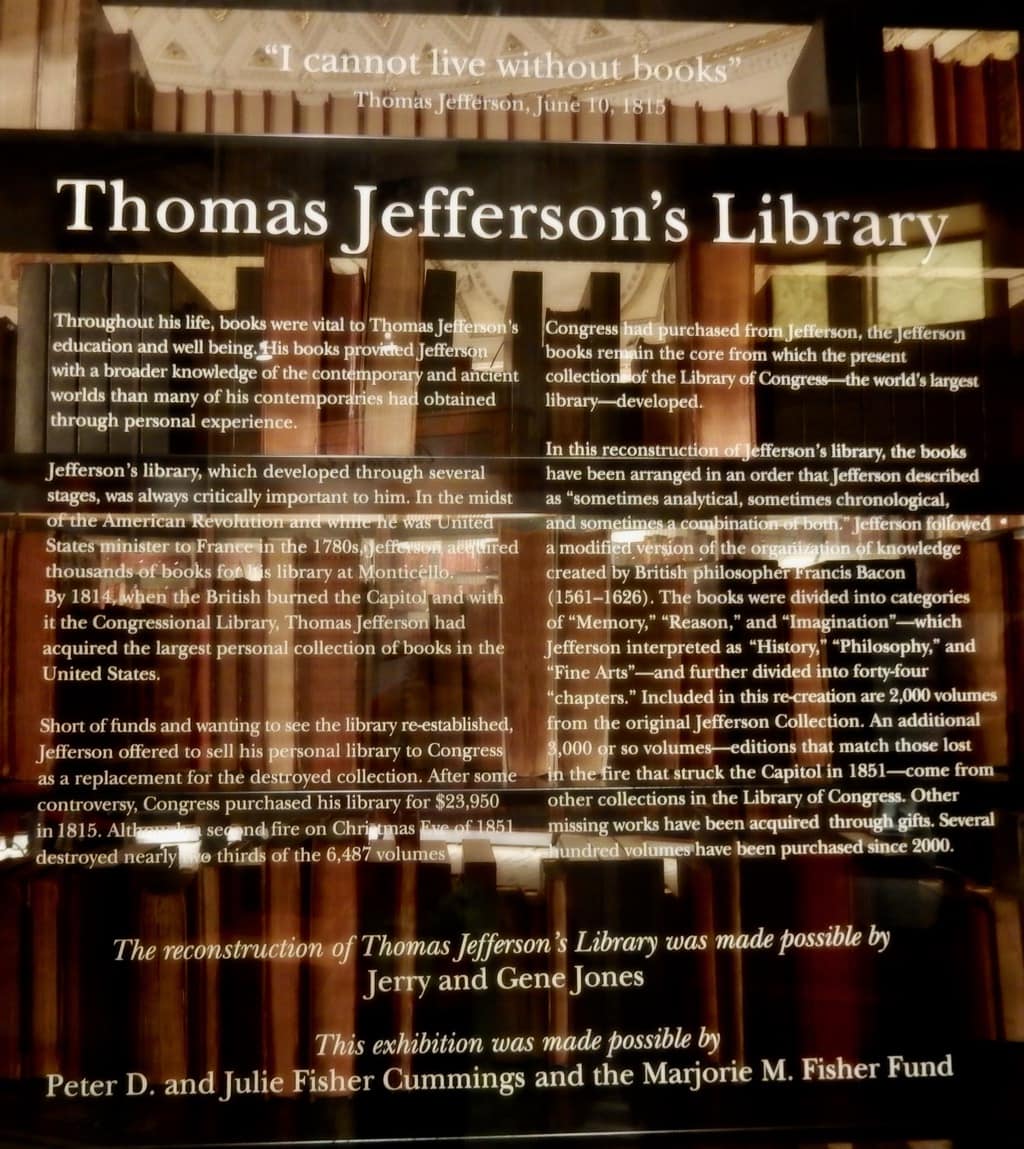 You can see the Capitol Building through the windows. In fact, when the Capital of our new country was moved to Washington DC, Congress recognized the need for a research library. The first, containing 740 books and 3 maps, was installed in 1800 in the Capitol Building – in what is now Mitch McConnell's office.
Thomas Jefferson's Library
These initial books were destroyed when the Brits torched DC's public buildings in August 1814. In 1815, Thomas Jefferson sold his complete 6,487-book library to the Library of Congress (for $23,950) and it was reborn.
Now, Jefferson's original library is on exhibit for all to see. Though 3/5ths of his books were destroyed in a 1850's fire, some (marked by green ribbons) survived. Others are exact copies of those that burned, and still others are being sought to complete his collection.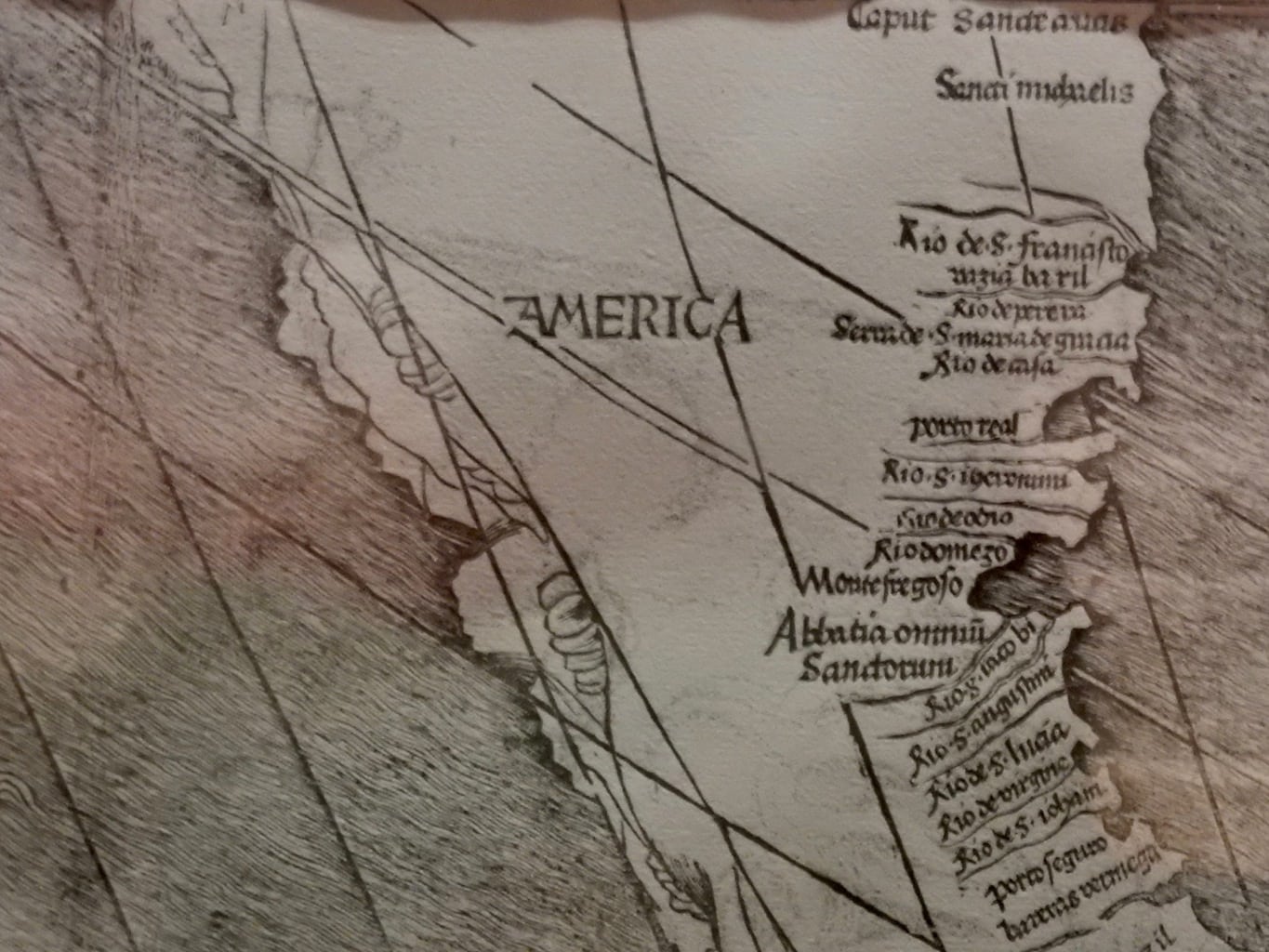 Our guide was keen to show us another little known remnant of history – hidden in an exhibit wing behind one of the temporary displays: "The Birth Certificate of America."
It's a 1506 World Map, drawn by a German monk who inked as accurate a depiction of the world as could be imagined in the 16th Century.
While the continents of Africa and Europe are relatively spot-on, the New World is drawn as thin as a Finger Lake, stretching from extreme North to South.
Look closely though, and you'll see what is now South America labeled simply "America." It's the first known document on which that name appears. Open 8:30-4:30. The free tour is worth an hour of your time, every hour on the half hour from 9:30-3:30.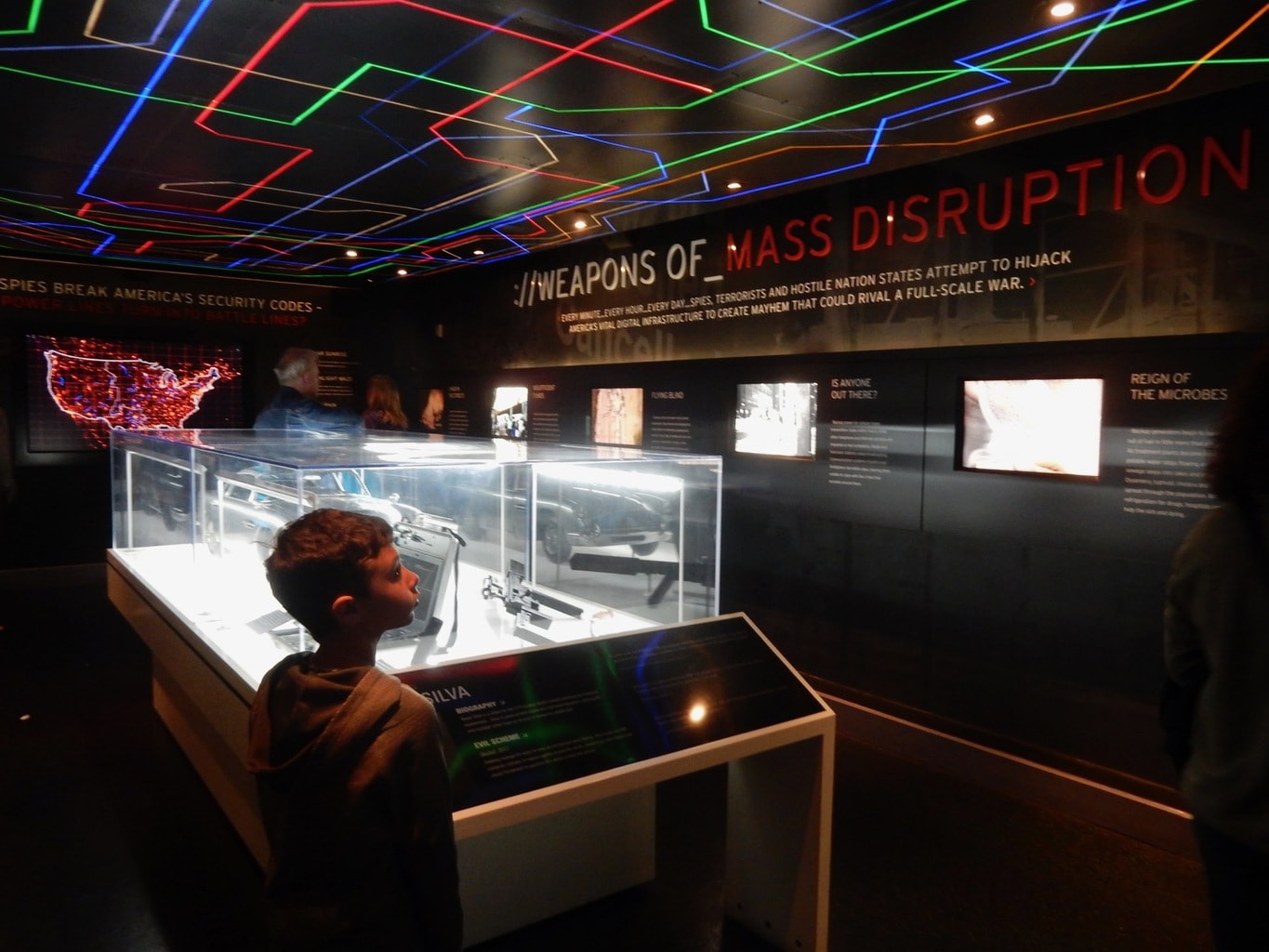 It could be hokey. It could be cartoonish. And yes, it has some elements of both. But you may leave the International Spy Museum trusting no one, due to some revealing and shocking unclassified information, including the Russian use of nerve gas (hidden in cylinder wrapped in a newspaper) to eliminate double agents. From the 1950's!
Also on view, dog poop surveillance, gadgets and weapons that 007 could only dream of, pigeons equipped with cameras (our first drones), a car cleaved in half showing how escapees from Communist countries contorted themselves under engines and in wheel wells for hours, and so much more.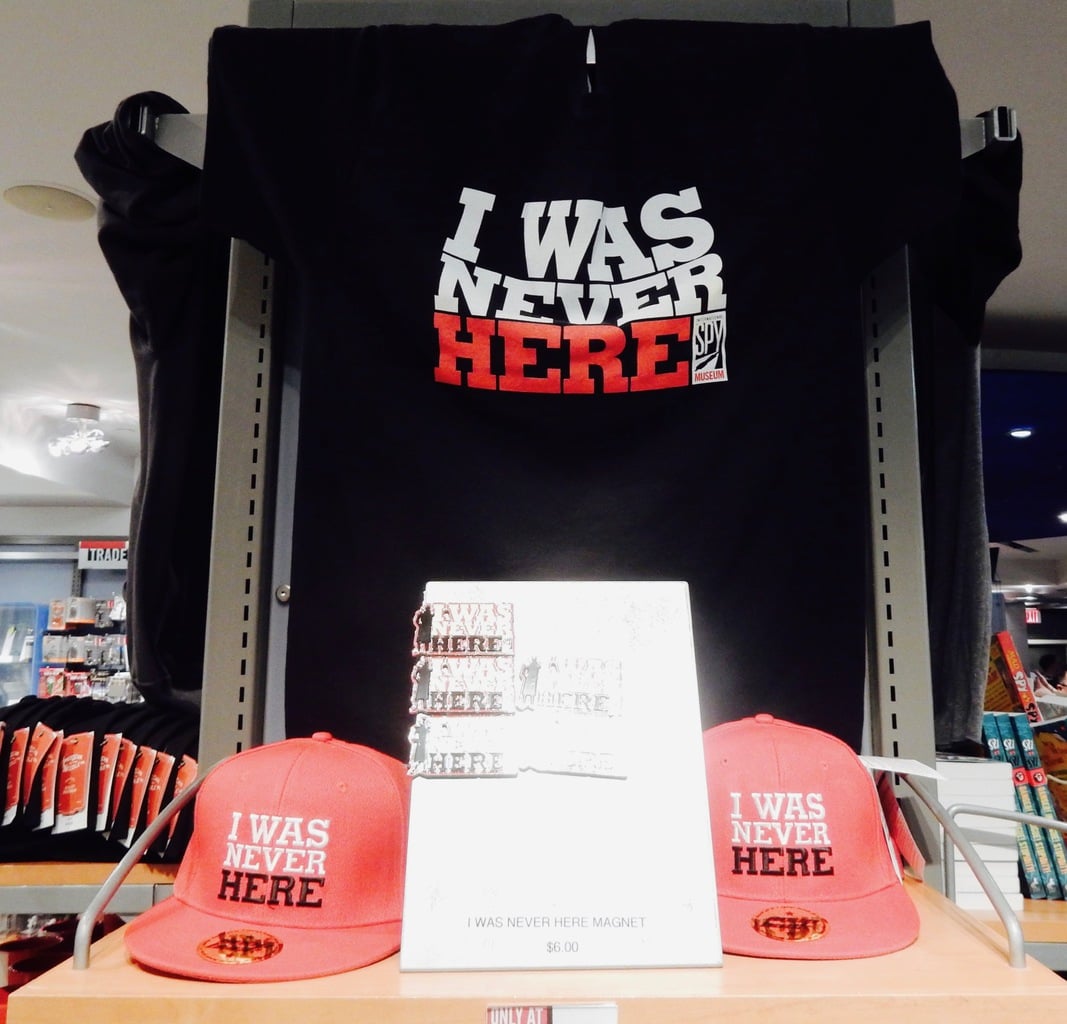 Recently reopened in larger digs, this museum illustrates the "Tradecraft" of spying, with video interviews of those who were once in the "game." Yesterdays Spymasters included Moses, Harriet Tubman, and George Washington: all relied on intelligence to lead. Open daily – check website for hours, usually 9 or 10 until 6 or 7, $22.95 adults, $14.95 kids.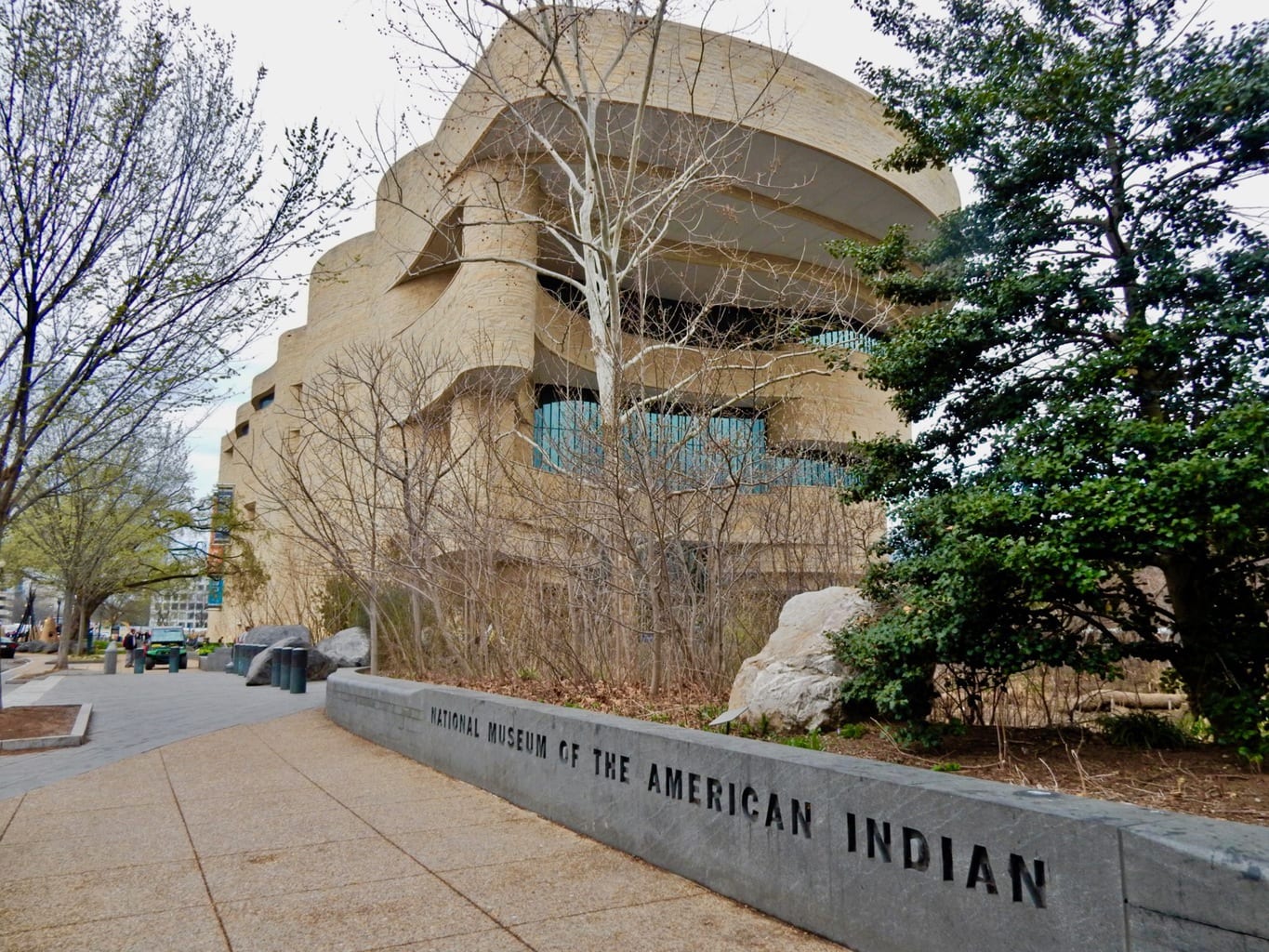 Though this incredibly moving museum is often overlooked in the constellation of Smithsonian Museums, it shouldn't be. Highlighting the indigenous natives who were here before the first Europeans arrived, original Americans are given their due here.
Representing 12,000 years and hundreds of tribes throughout North and South America, the exhibits and collections can be overwhelming.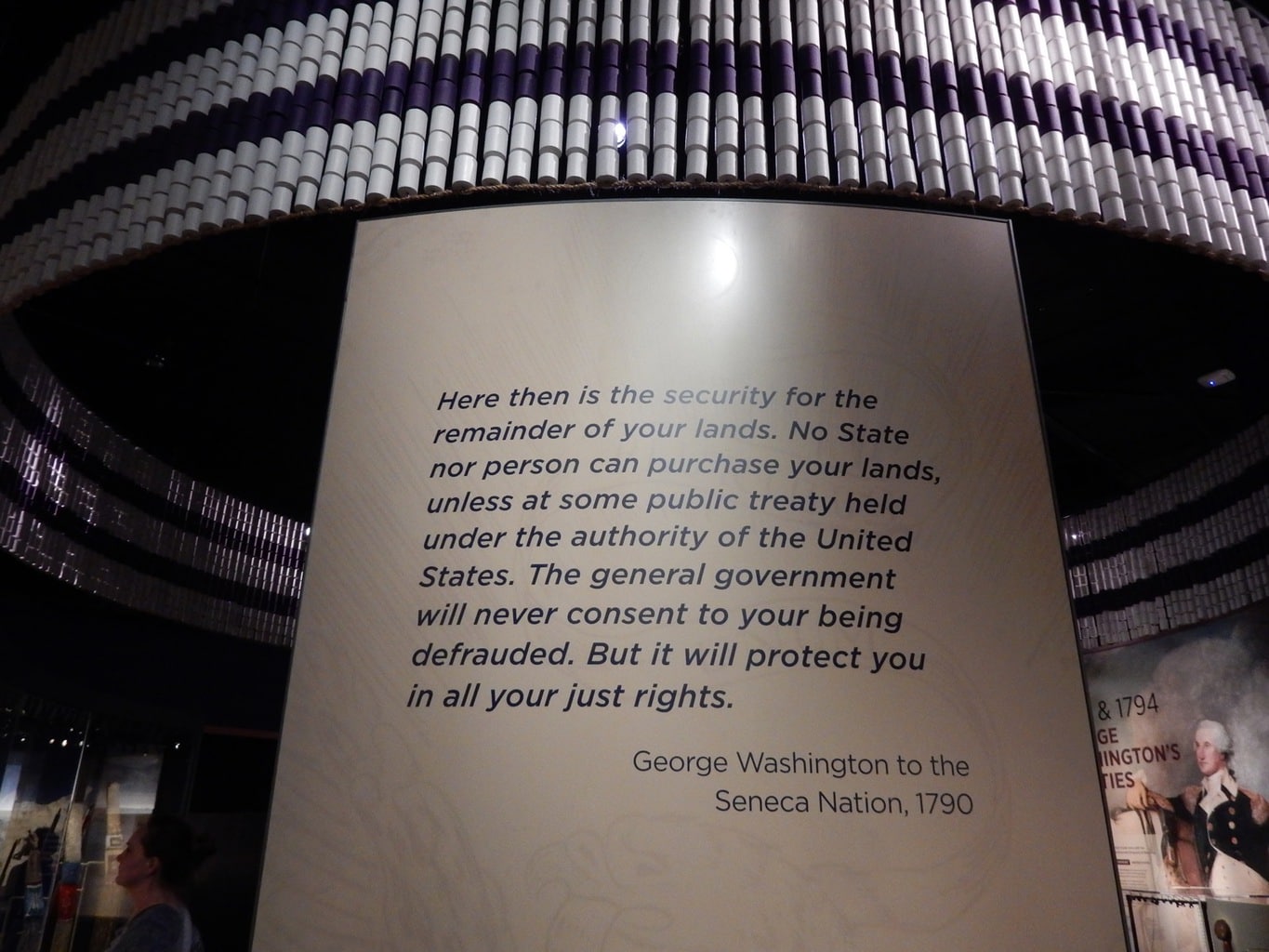 Our initial contact with Native Americans was promising, represented by the "Two Row Wampum Belt" that embodied insight on how different Nations could co-exist.
In 1790, George Washington offered the Seneca Nation "security" for their lands. "The government will not consent to you being defrauded. But it will protect you in all your just rights."
Bloody Bloody Andrew Jackson
A mere 40 years later, in 1830, "bloody, bloody" Andrew Jackson, signed the Indian Removal Act, justifying the removal of over 67,000 American Indians from their land with these words: "They have neither the intelligence, the industry, the moral habits, nor the desire of improvement which are essential to any change in their position. Without appreciating the causes of their inferiority or seeking to control them, they must yield to the force of circumstance and ere disappear."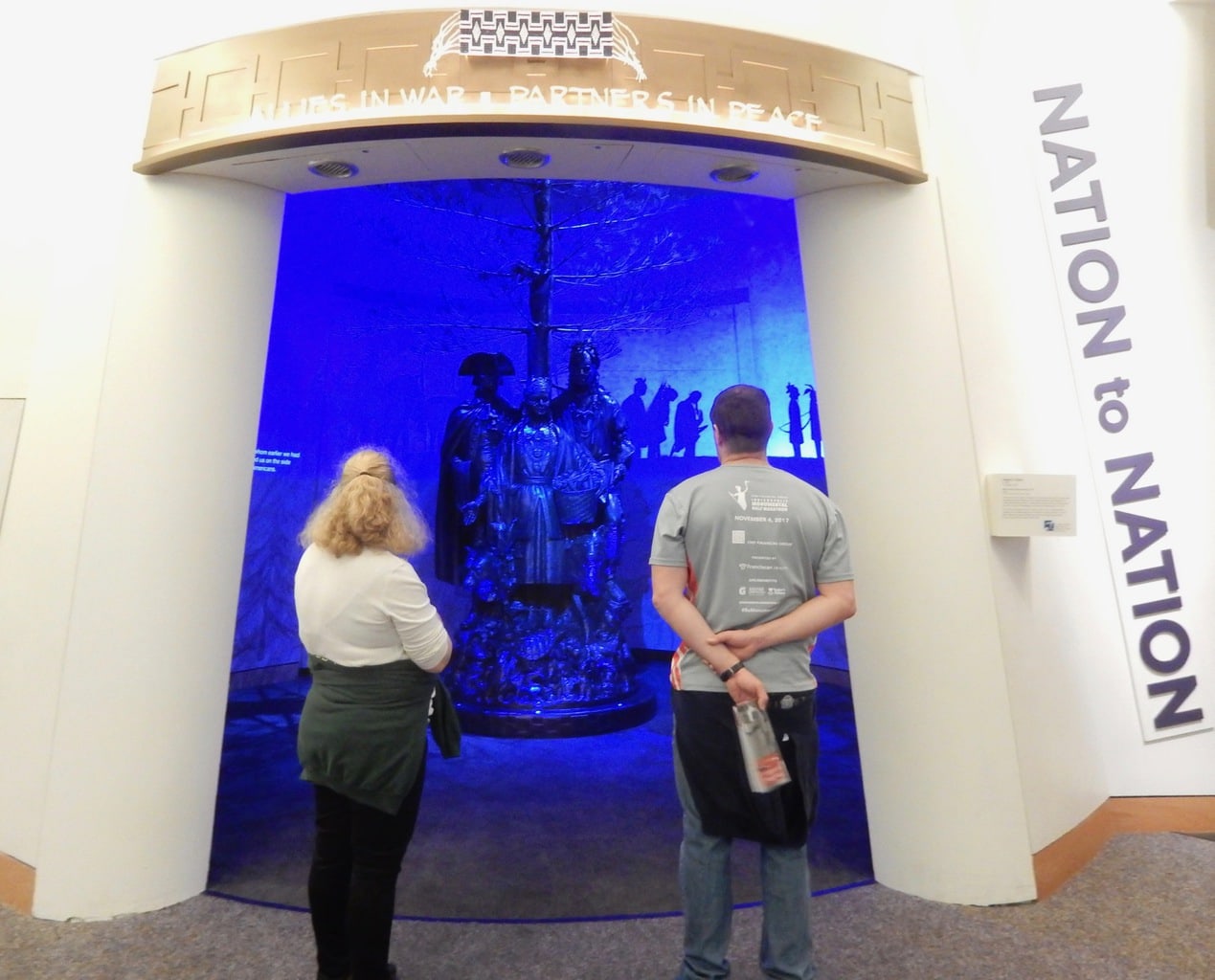 This expulsion, leading to the Trail of Tears, represented one of our country's darkest measures. Still, today, Native Americans are attempting to return to the ideals of the Wampum Belt. Be sure to have lunch in Mitsitam – the Native Foods Café on the main floor – featuring representative dishes from a variety of regions in the USA. It's one of the best meals in town. Open daily 10-5:30, free.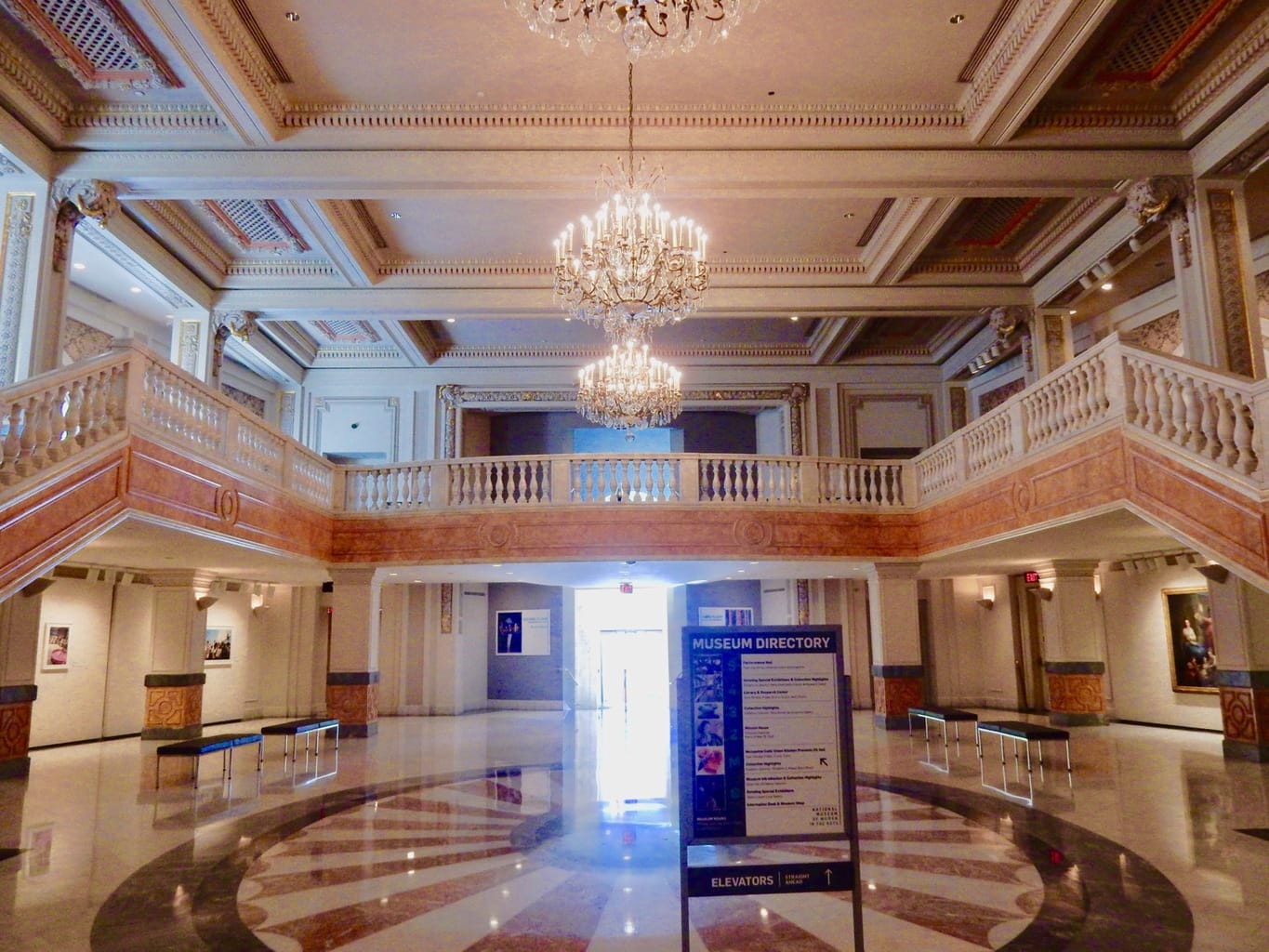 No big surprise that women have been underrepresented in most of the world's venerable Art Museums. The National Museum of Women in the Arts, opened in 1987, sought to rectify that, as the only museum in the world dedicated to women's creative contributions.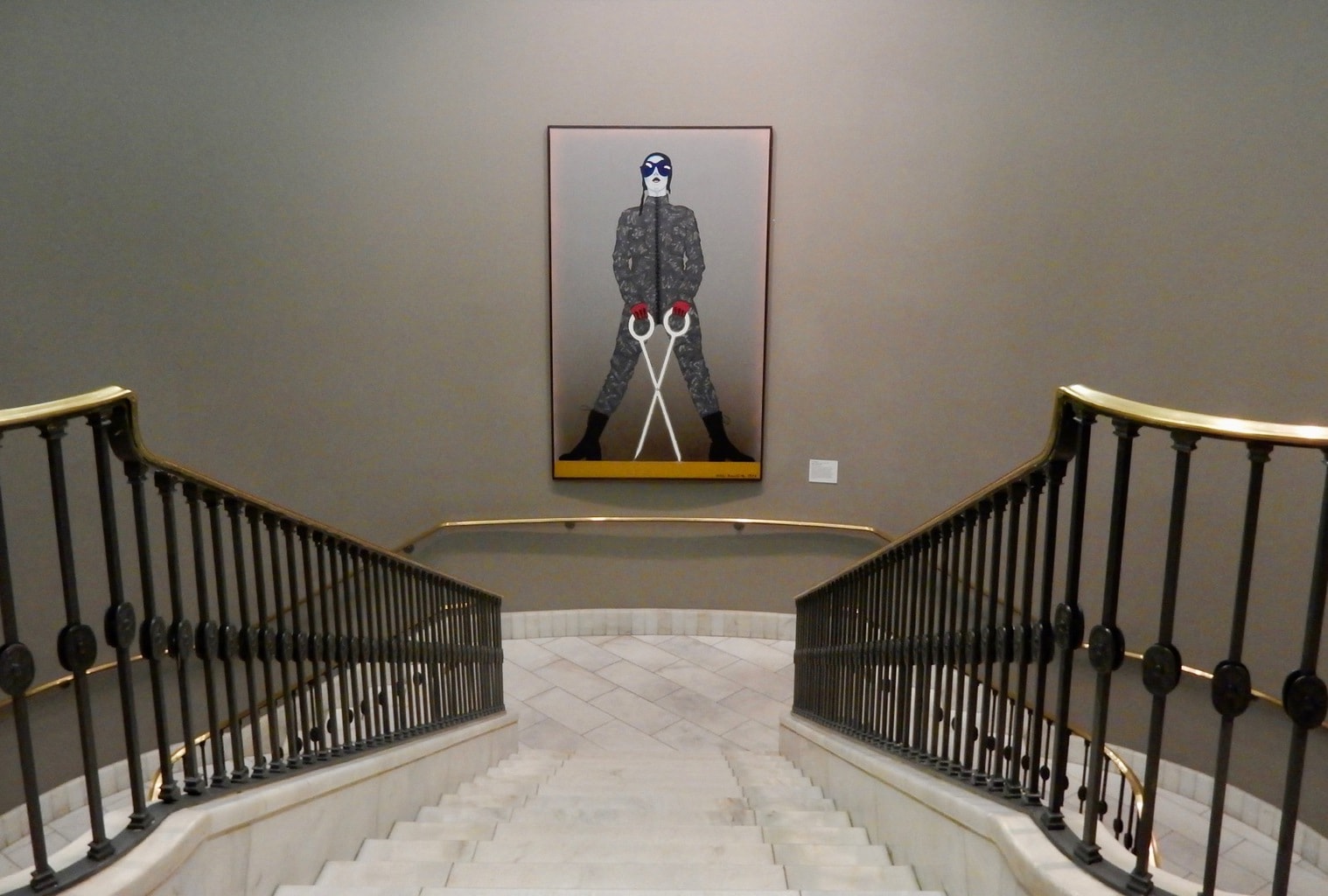 You'll find the bold renderings of Frida Kahlo, women's genitalia from Judy Chicago, 18th Century portraits done by Elisabeth Louise Vigee-LeBrun, the scribbles of Elaine de Kooning, sculptures by Sarah Bernhardt, and so much more on four floors.
The NMWA is situated in a stunning 1908 Classical Revival –originally built as a Mason Temple. At the time, the Masons, ironically, did not allow women as members. Open Mon-Sat 10-5, Sun 12-5, $10.
This relatively new museum (opened November 2017) focuses on one of the Best Selling books in the world – the Bible. Walk through 40 ft tall bronze doors, emblazoned with text from the Guttenberg Bible, into a soaring hall with a 140 ft. digital ceiling, pay the suggested $15 donation, and head up to the 5th floor to start your tour, beginning with ancient artifacts unearthed in Israel.
On the 4th floor, wander through The History of the Bible Exhibit, where a babble of voices in Hebrew and English waft through the air.
Scan a dizzying array of relics, signage, and quotes from both the Hebrew Torah and New Testaments. Though all forms of the Bible are displayed (you can watch a Torah Scroll being inscribed by a Rabbi who has set up his desk in the museum), this institution does have a slight bent towards the Christian version of the Good Book.
Multi-Media Experiences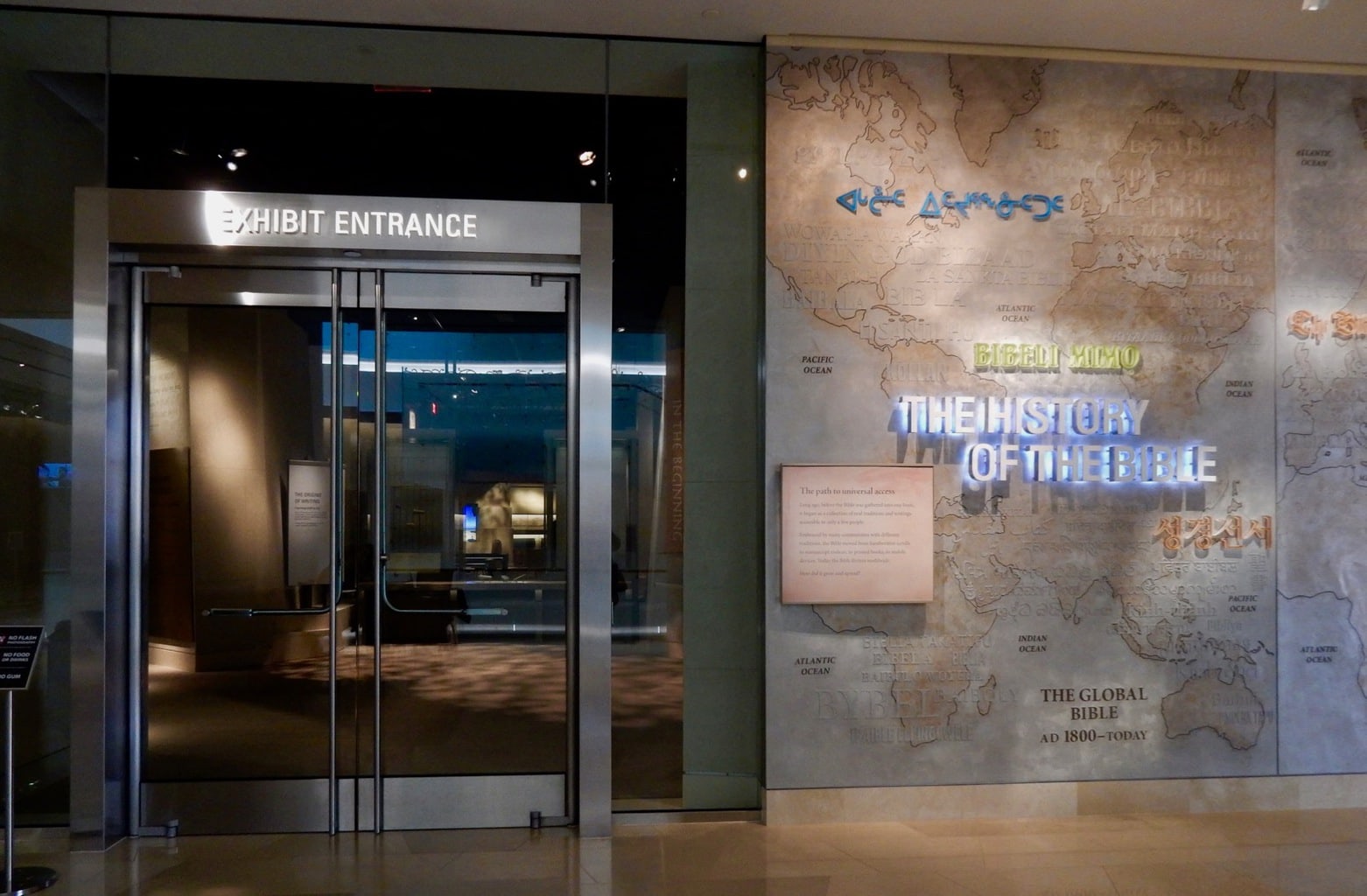 The most popular "exhibits" are actually 30-minute multi-media walk-through experiences. Lines to enter form early. One revolves around the stories from the "Old Testament – the "Tanakh." It employs blazing white light for the "G-d said let there be light" opening scene, and other exciting sensory experiences that add pizzazz to the Burning Bush, Ten Plagues, and splitting of the Red Sea.
Two other walk-through experiences incorporate the New Testament and "The World of Jesus of Nazareth." The 2nd floor exhibits focus on the impact that the Bible has had on music, fashion, government and American Culture. Open daily 10-6, $15 suggest donation.
Cool Restaurants in Washington DC

You could very well be in Paris at this uber-popular French eatery in DC's uber-popular "14th St. Corridor." Patrons, some with dogs at heel, eat at tables and protected booths that spill out onto sidewalks and off the curb – providing lots of Covid-era dining space outside. You can make a meal of French Onion Soup and a glass of wine – or a range of traditional Parisian foods. (A 7 minute walk from Hotel Zena)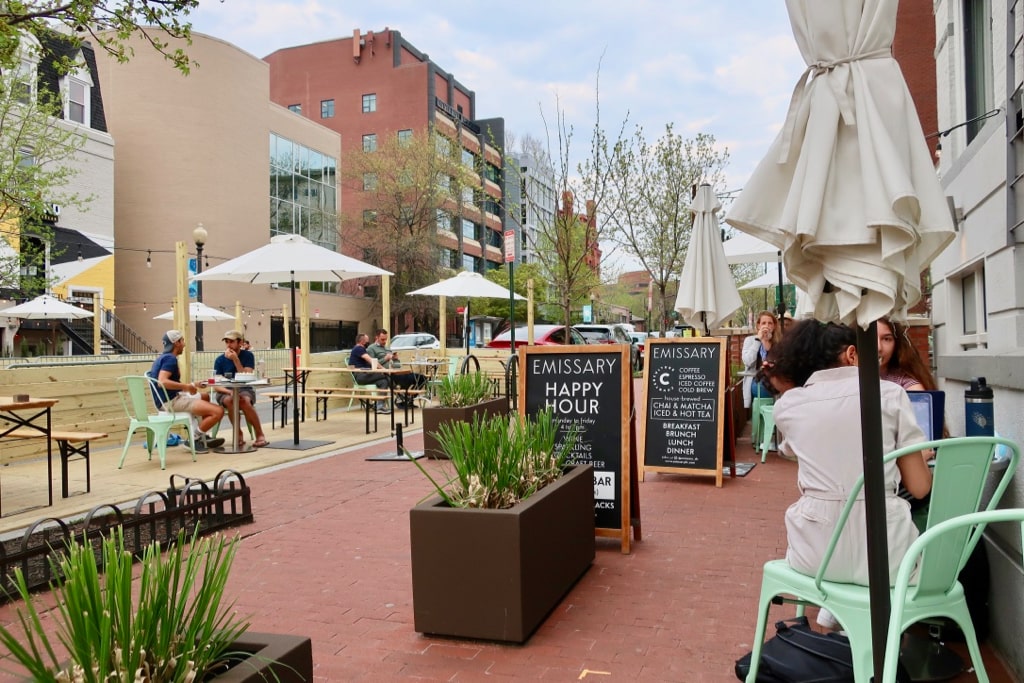 EAT/DUPONT CIRCLE: Emissary
Sit outside of this coffee/wine bar, and watch the 20th St. action as you savor a glass of wine (yay Happy Hour!) and one of the best gooey craft Grilled Cheese sandwiches you'll ever have. (Around the corner from "The Ven" Hotel).
Best Washington DC Hotels For Romance
We've rounded up three very different Romantic and Sexy hotels in Washington DC for your getaway pleasure. Read much more about them by clicking on the name links.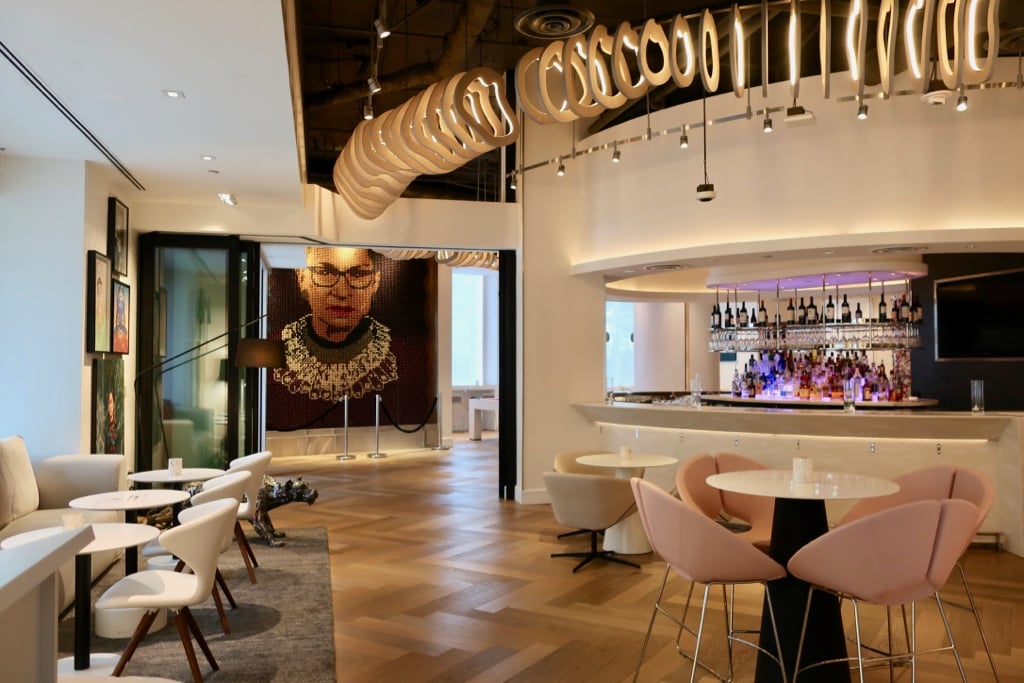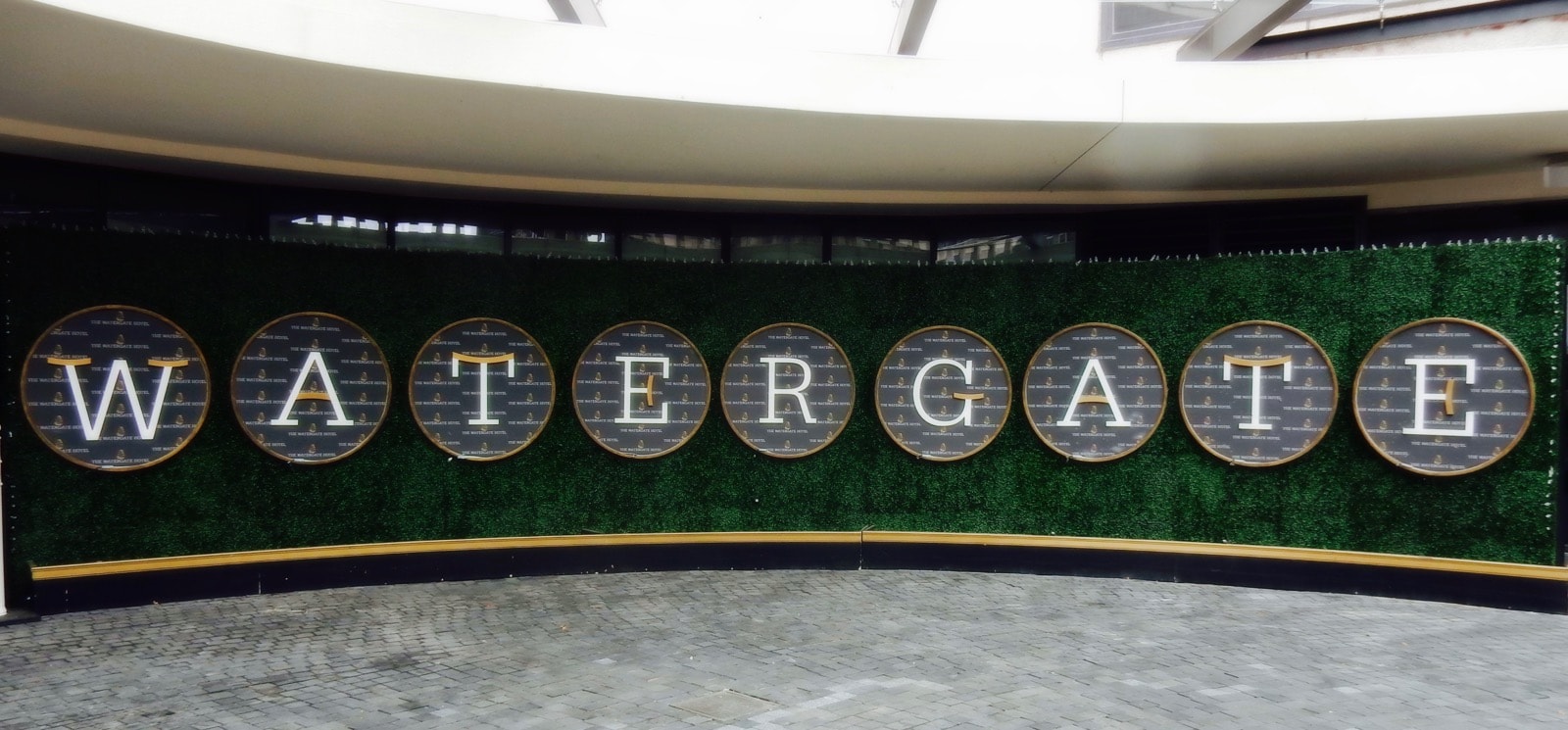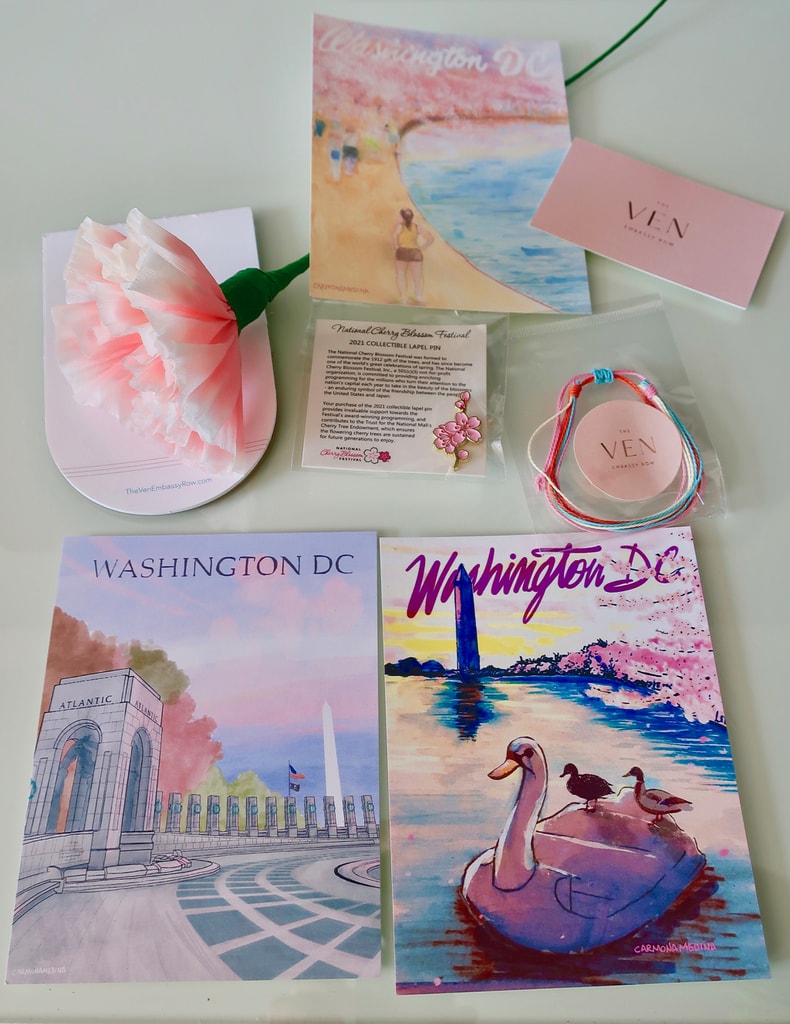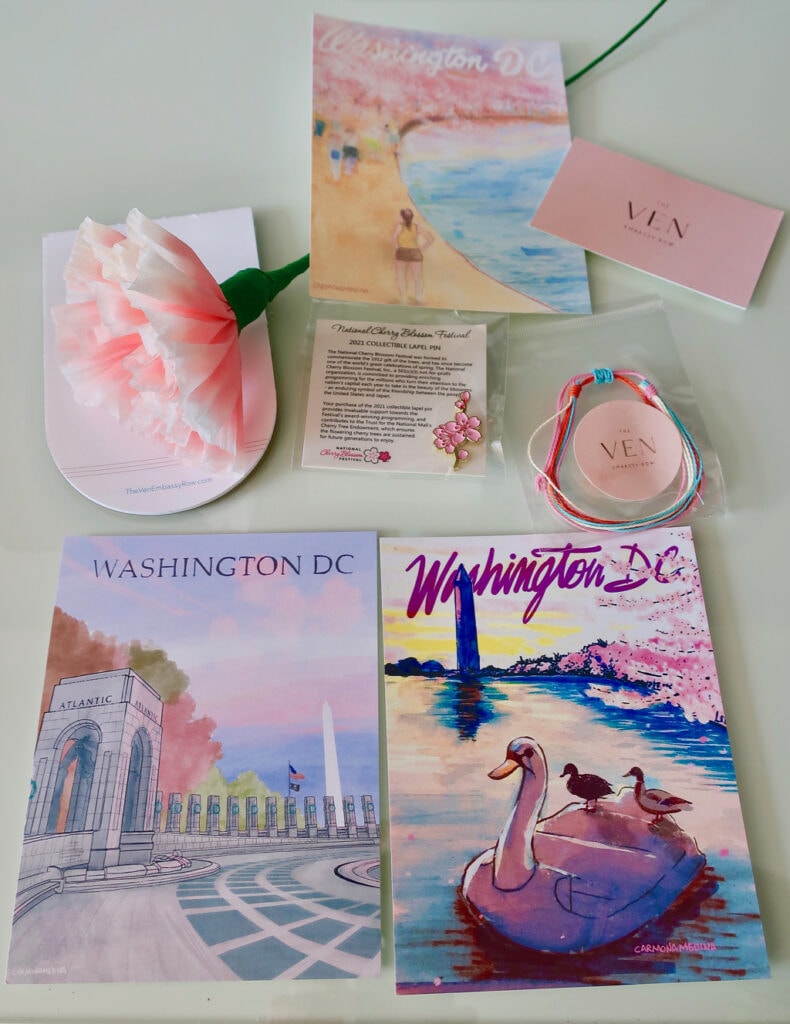 Washington DC Getaway Guides:
Weekend Getaways Near Washington DC: