WHY GO: Hagerstown MD, in western Maryland, has many stories to tell. It's rare that an Eastern State has more than two National Parks, but Washington County MD, just one county on the PA border, has five. These include Antietam Civil War Battlefield, part of the Appalachian Trail, the longest stretch of the C&O Canal, a good deal of Harper's Ferry NP, and the Potomac National Scenic Trail.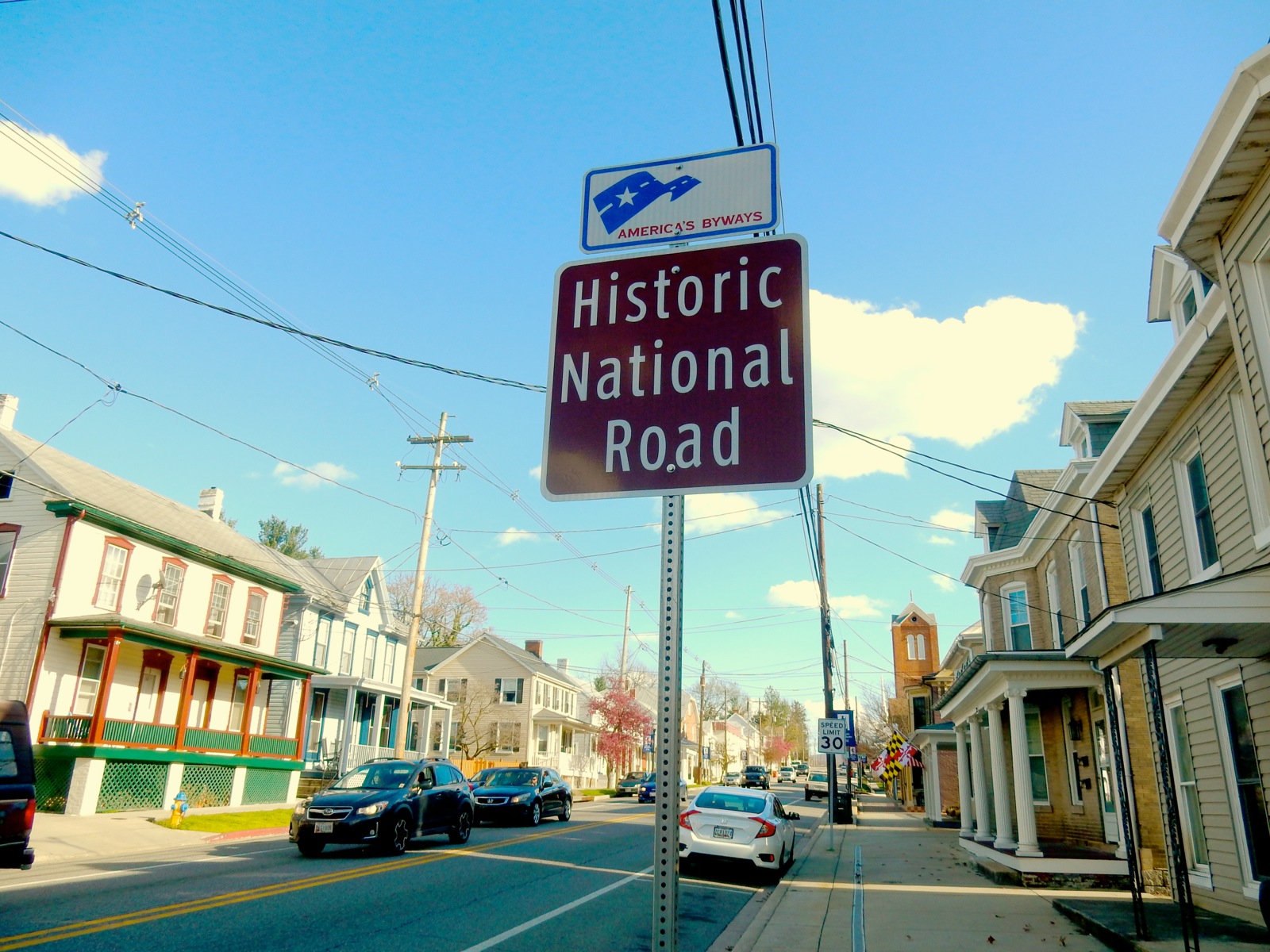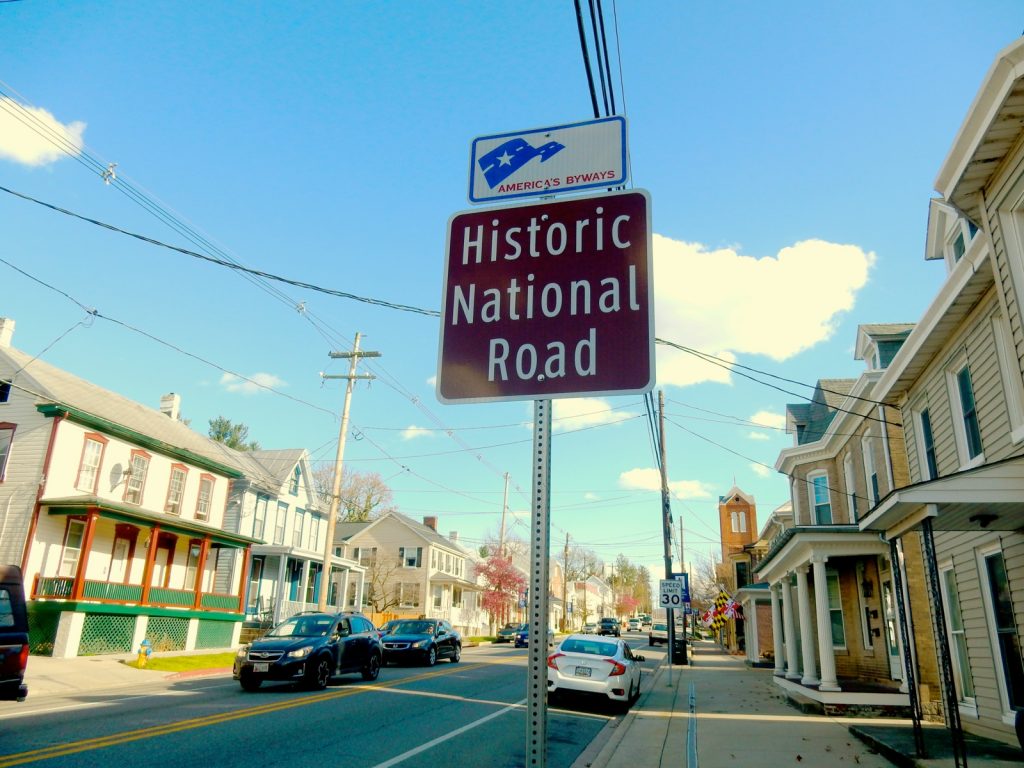 And this just represents a fraction of historic and natural sites in the region that famed novelist, Nora Roberts, calls home, in Boonsboro MD. You can actually stay in a luxury inn owned by the Robert's family, dine in a couple of restaurants in town, and shop for gifts and books in Roberts'-owned stores.
But you'll also discover a stunning winery, an unsung cave system, a premier Art Museum, and a new Cultural Walking Trail on this surprisingly satisfying History, Art, and Bookish getaway.
Boonsboro is on our list of 17 Best Romantic Getaways in Maryland. Check it out for more adventures with your loved one.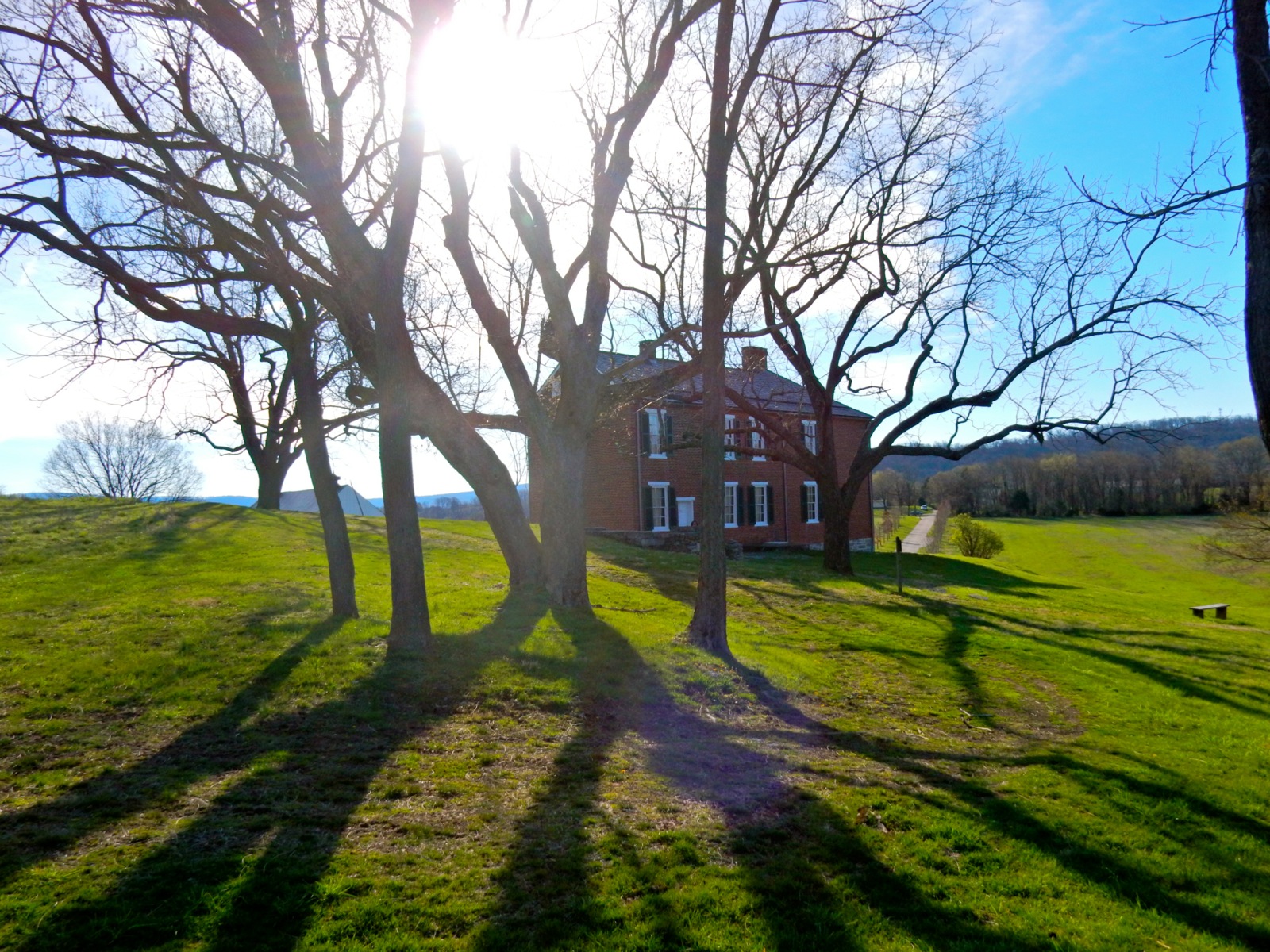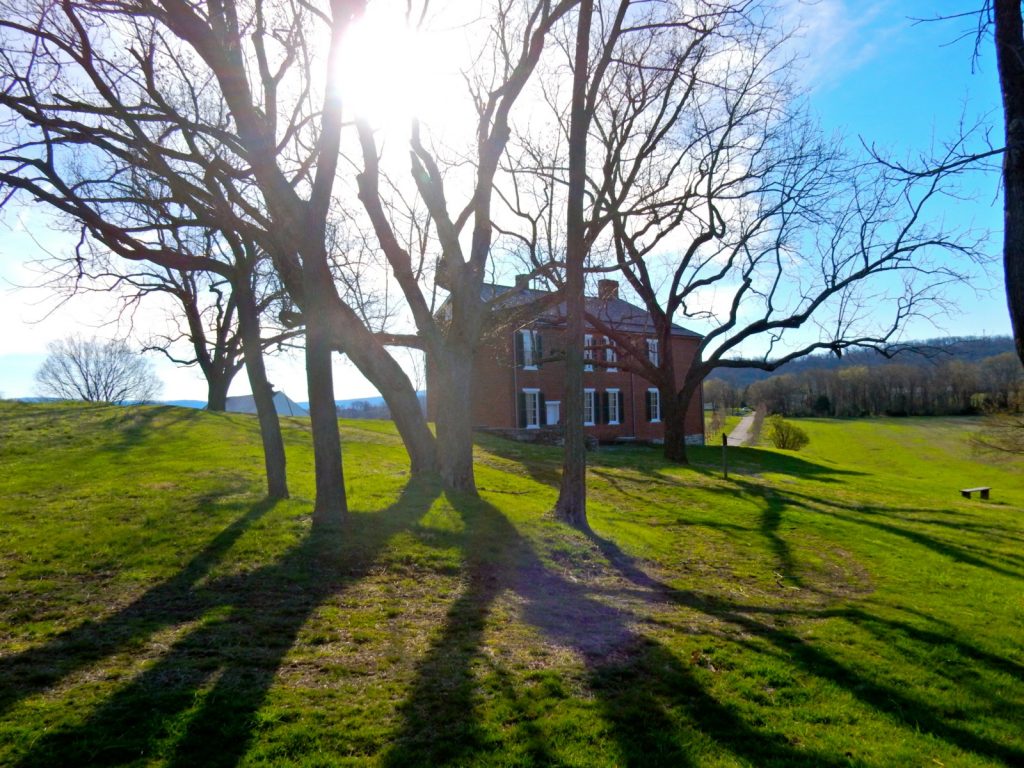 The Battle of Antietam on September 17, 1862, pitted 75,300 Union soldiers against 52,000 Confederate troops. It was the bloodiest day of the Civil War, with over 23,000 Confederate and Union soldiers killed, wounded or captured.
The antithesis of Gettysburg in terms of commercial encroachment and crowds, Antietam, left exactly as it was 150 years ago, is the country's "most pristine battlefield of any war."
The Country's 1st Northern Battle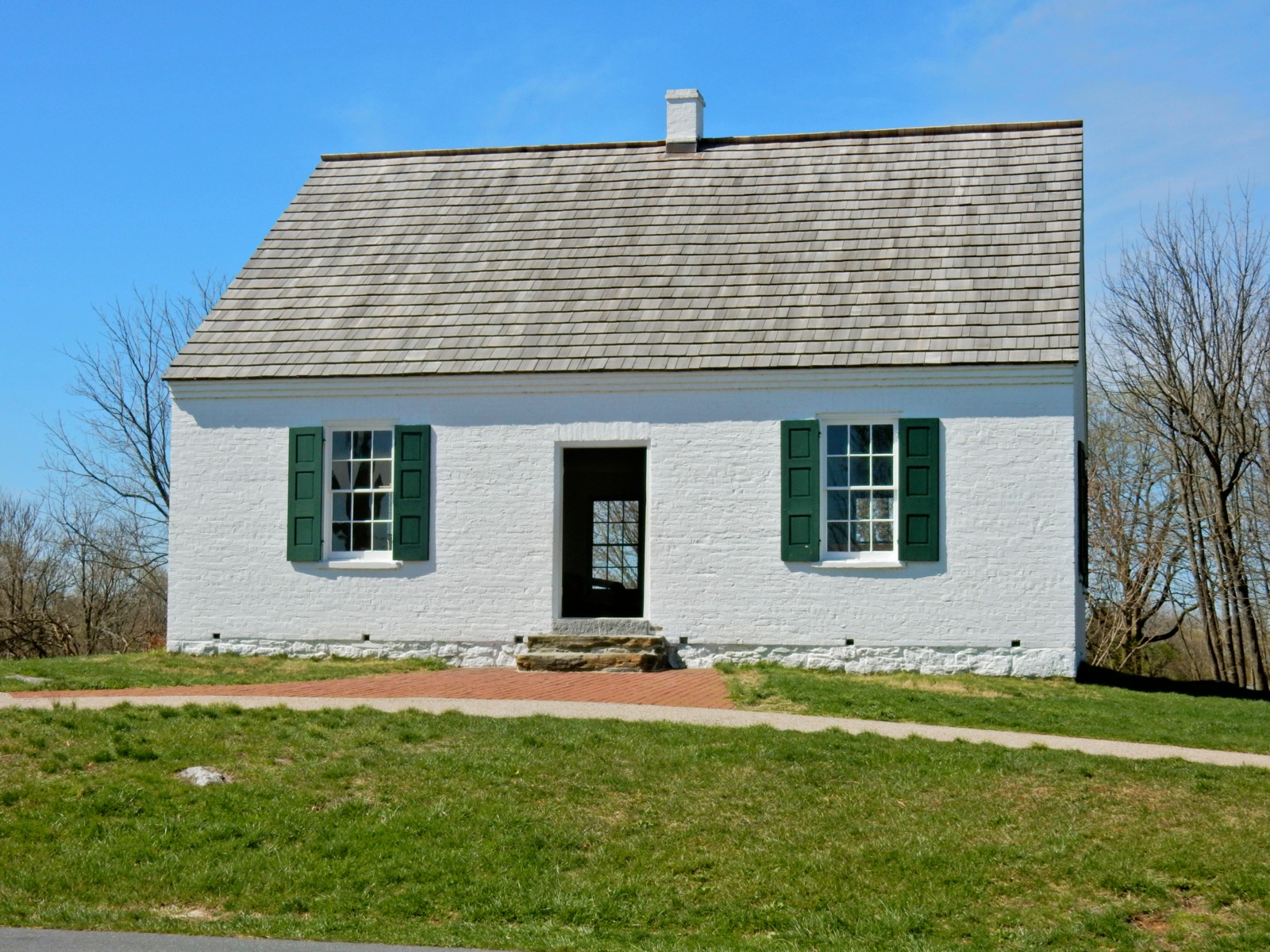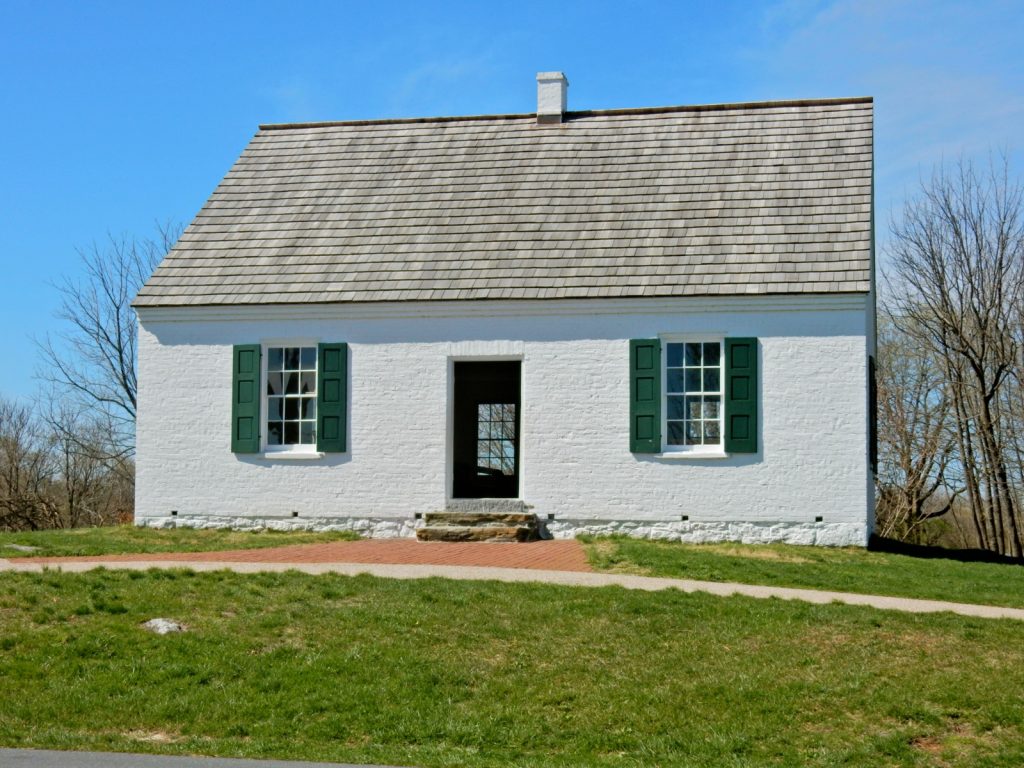 Until this Battle, the War Between the States was fought in the South. Maryland, at the center of the North/South divide, was under Union Martial Law.
Confederate General Robert E. Lee miscalculated Marylander's loyalties.
He expected the bulk of the population to feel oppressed; eager to join the Confederacy when he arrived. But many locals were devoted to the Union and had no wish to be part of Lee's ragtag troops. To add insult to injury, Lee's misplaced battle plans got into the hands of Union General George B. McClelland.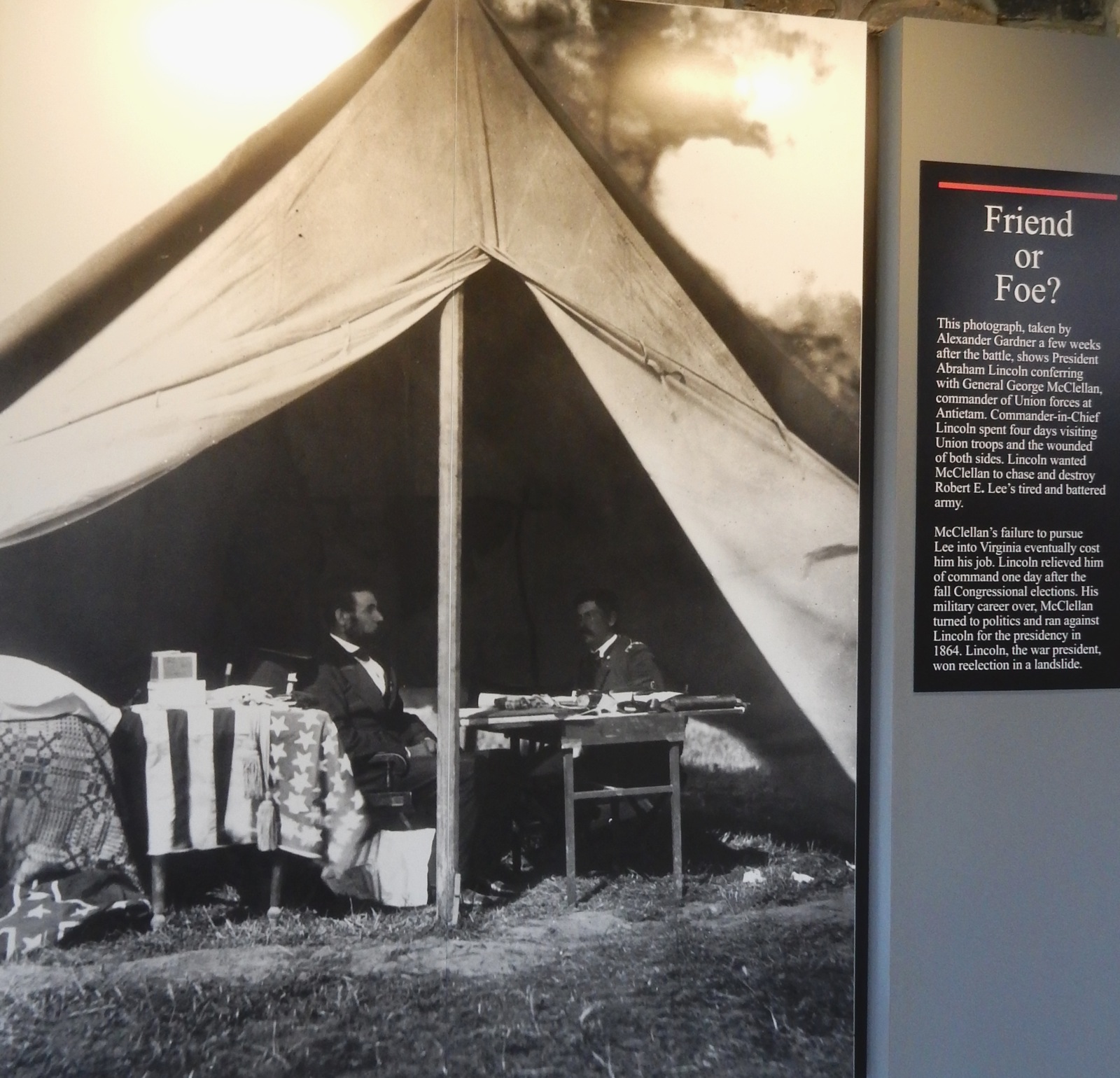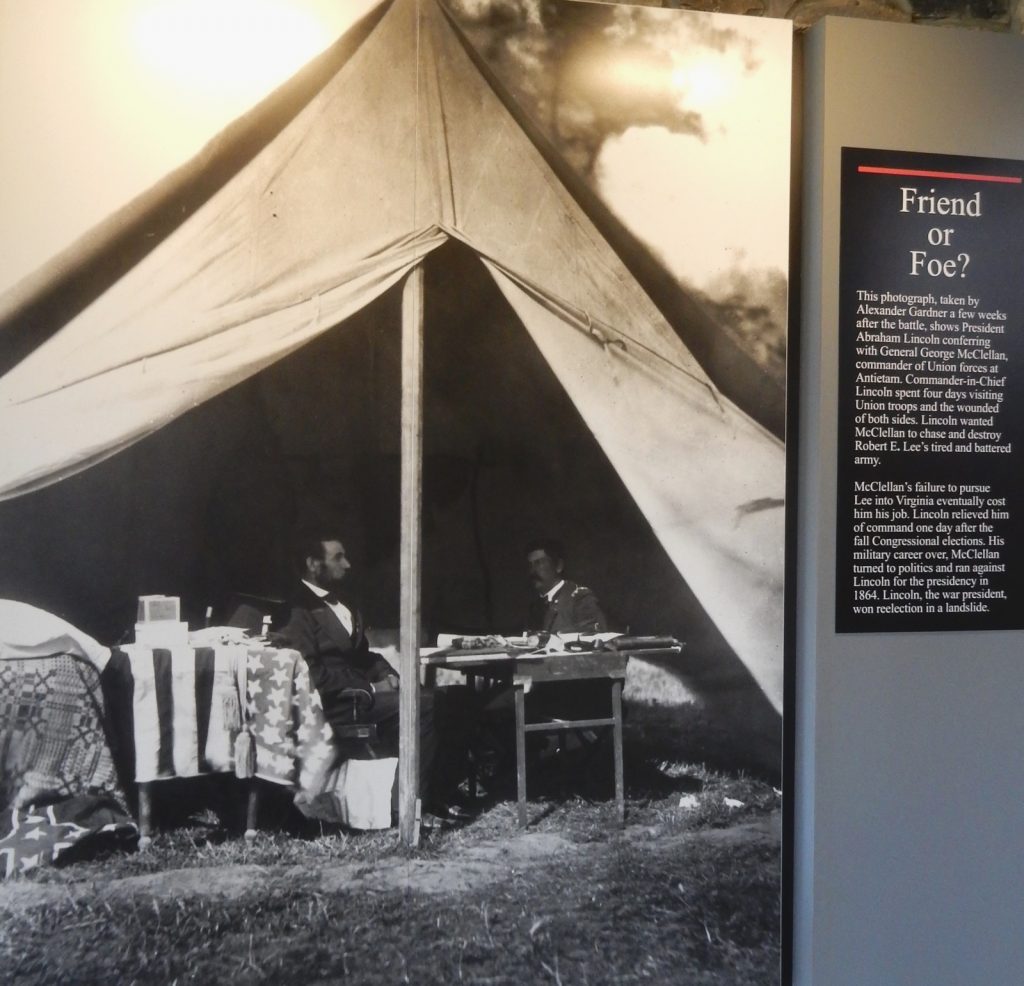 Due to the Union General's over analytical mind, however, McClelland was slow to act. This inaction led to a clash that would take the lives of more Americans (on both sides) in one day than at any other time during the Civil War.
There were so many dead soldiers buried in haste on this field, farmers couldn't plow their own land without striking bodies. (After the War, the dead were moved elsewhere. Union soldiers were buried in the National Cemetery down the road. And Confederate soldiers were interred in Hagerstown).
Neither side "won." And in fact, President Lincoln came out to the field to "fire" McClellan, a meeting captured for all time in a famous photograph on exhibit at the Visitor's Center.
Start in the Visitors Center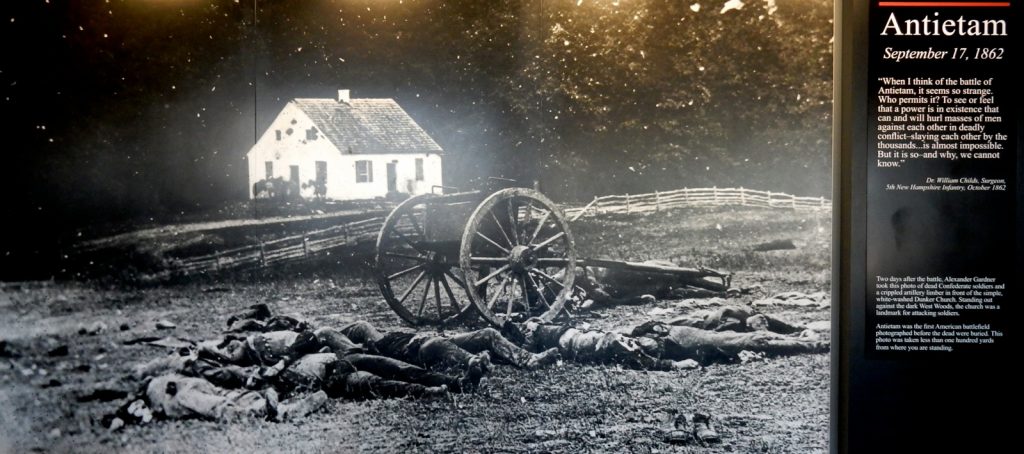 Begin at the Visitor's Center for an overview in an excellent museum. Pick up an Audio Tour and begin your 5-mile loop drive by stopping first at a reproduction of what became the "iconic shot of Antietam," the Dunker Church, riddled with bullet and cannon holes, taken right after the clash.
Before the battle, the pacifist Anabaptist congregation prayed for peace – obviously to no avail.
Bloody Lane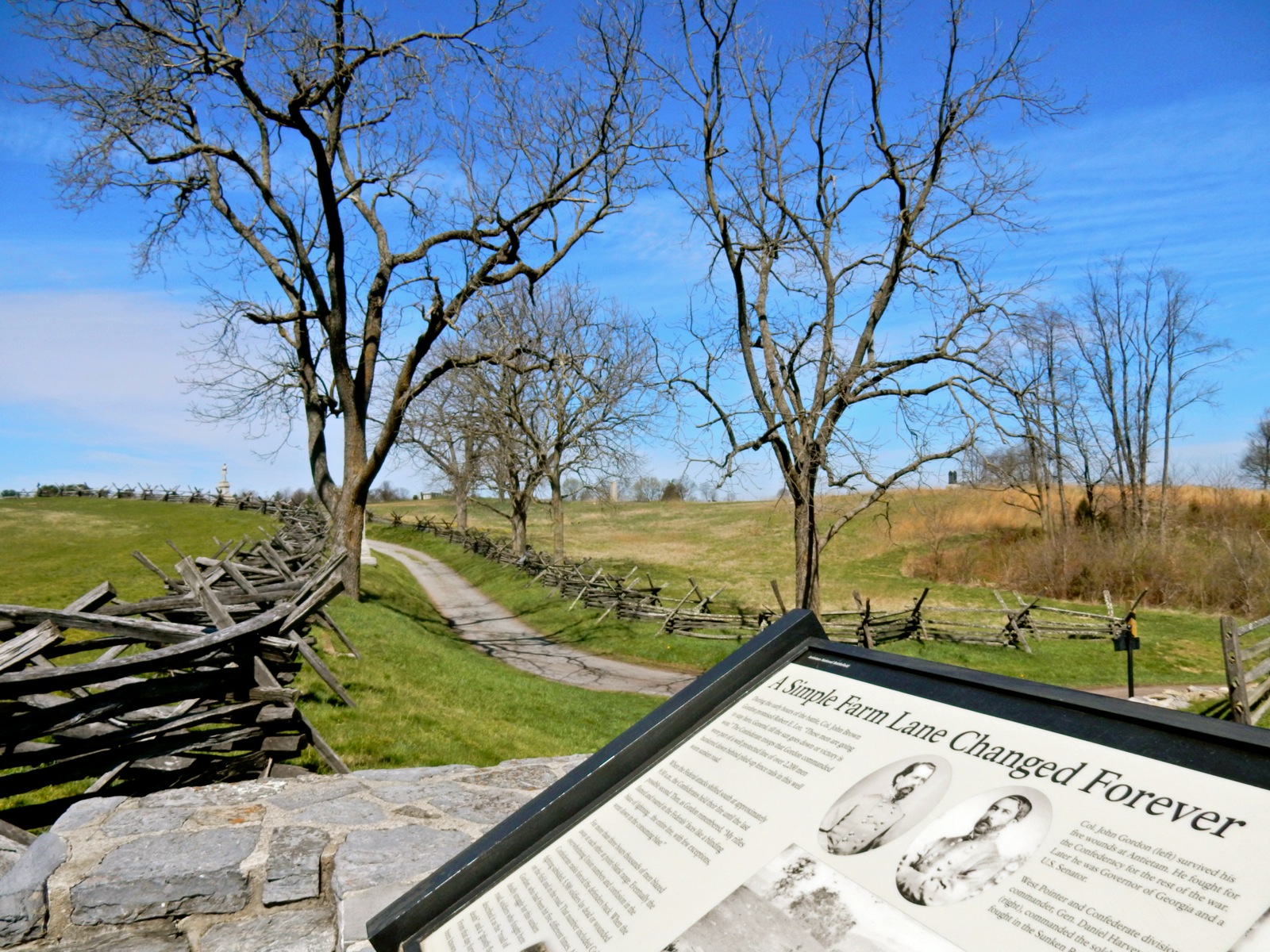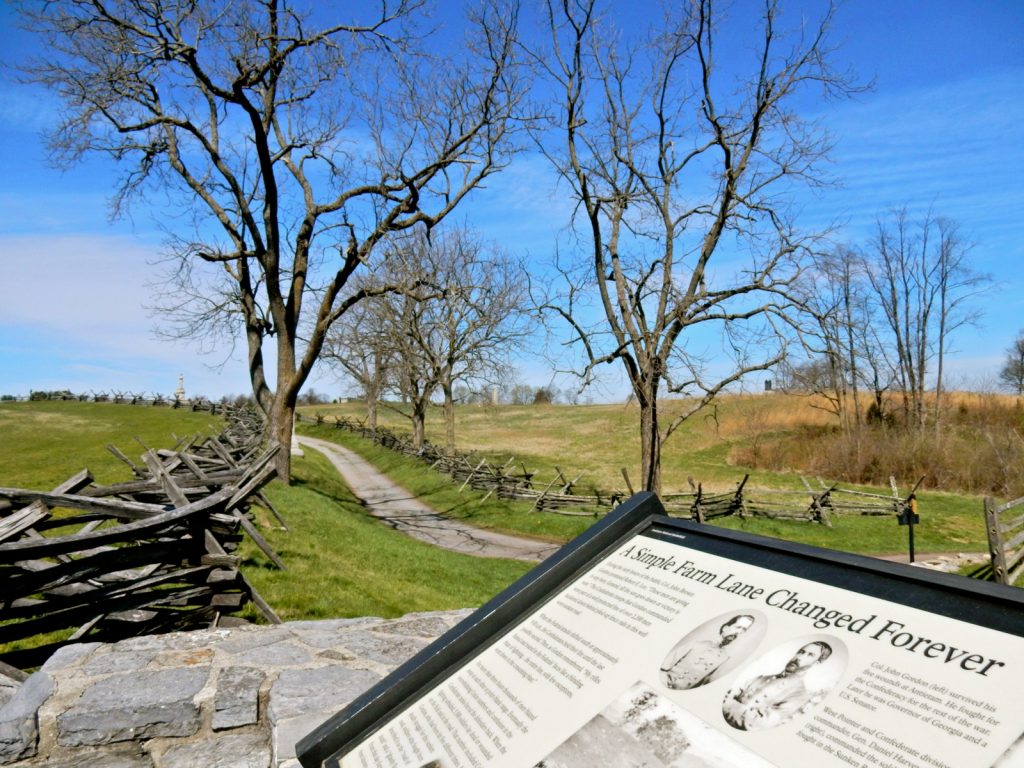 Stop at "Bloody Lane," set within a naturally occurring depression, called a "Sunken Road" between two "worm fences." (These zigzagging split rail fences demarcated property lines that could be changed quickly without the need to dig holes).
Fifty five hundred troops from both sides burrowed in, believing that the shallow "foxhole" would protect them. In fact, they were sitting ducks. Throughout the battle, horses and carriages continued to run over the dead or injured soldiers, adding to the carnage. Thus the road earned its gruesome nickname.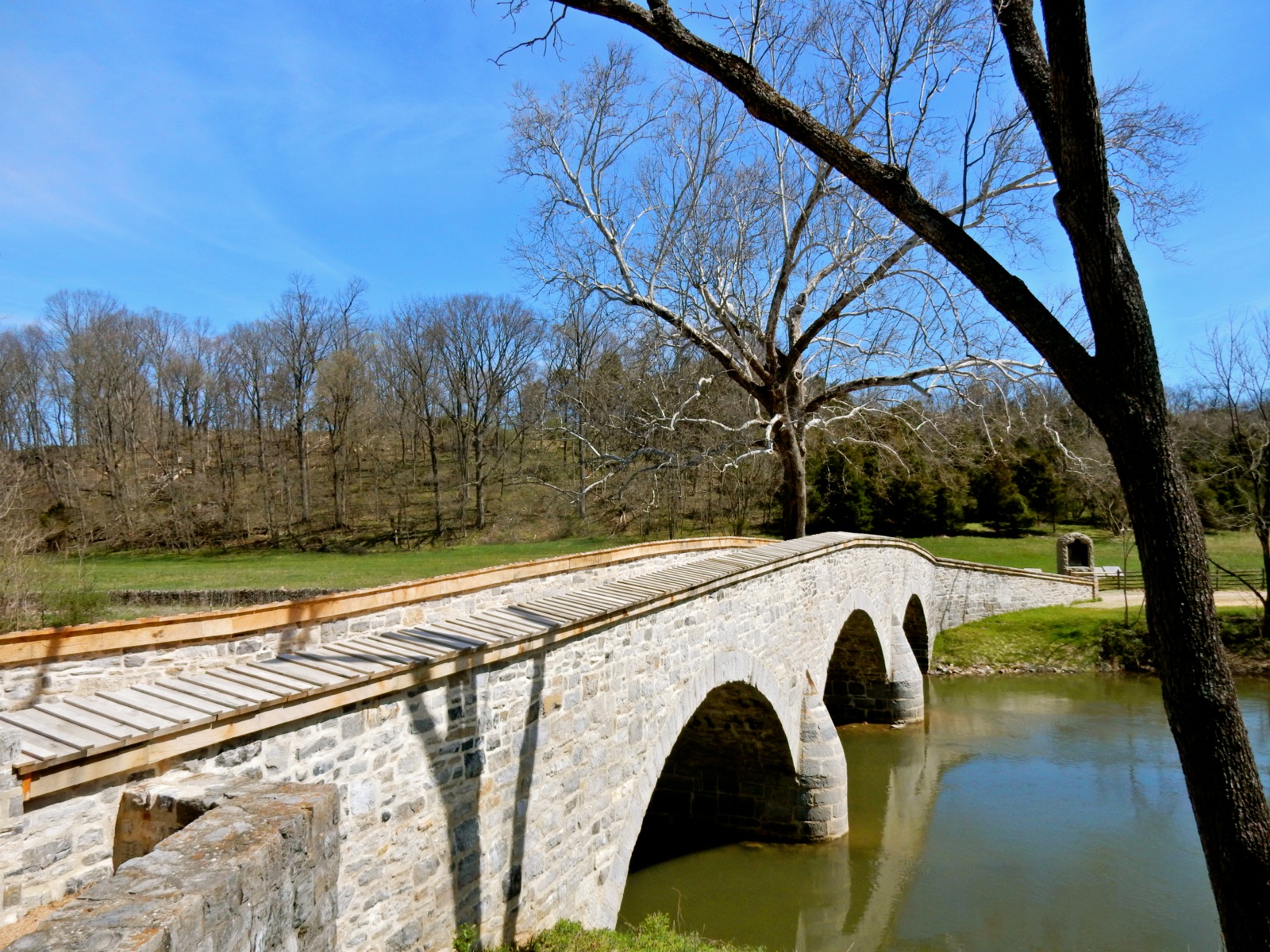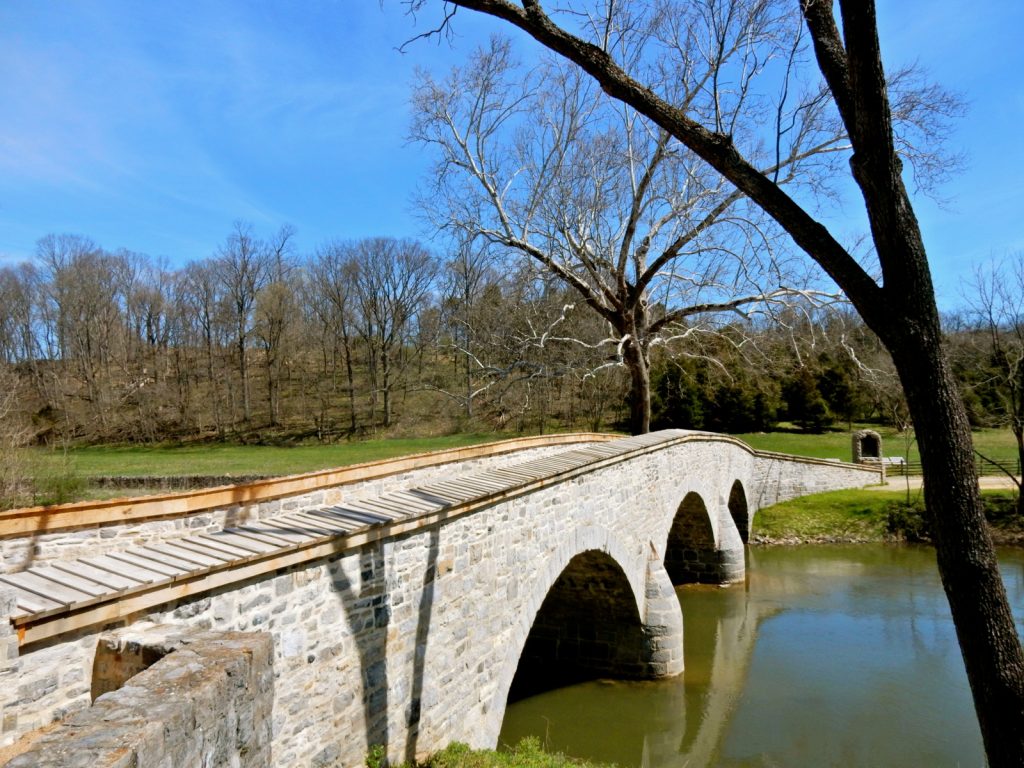 Before leaving Antietam, walk down to the just restored Burnside Bridge, one of 26 beautiful stone bridges in Washington County.
There's a split-trunk "witness tree" at the foot of this one, named for commanding Union General Ambrose Burnside. (The General's heavy muttonchops inspired the term "sideburns"). Burnside led a "suicide mission" across the river where Confederates held the high ground. It is, like most of Antietam, untouched by time. Visitor's Center open daily 9-5, $5 per person for 3 days, $10 per car.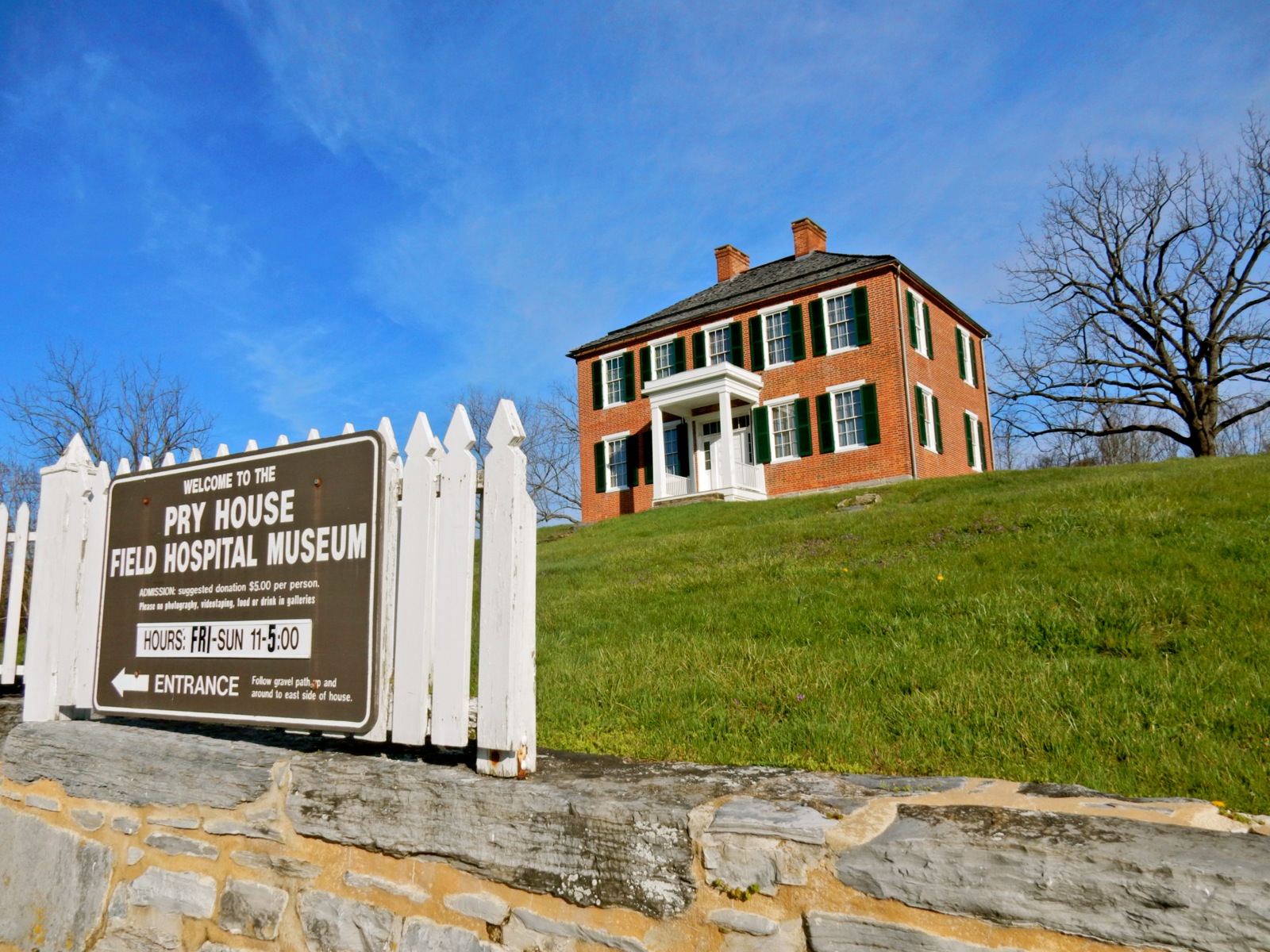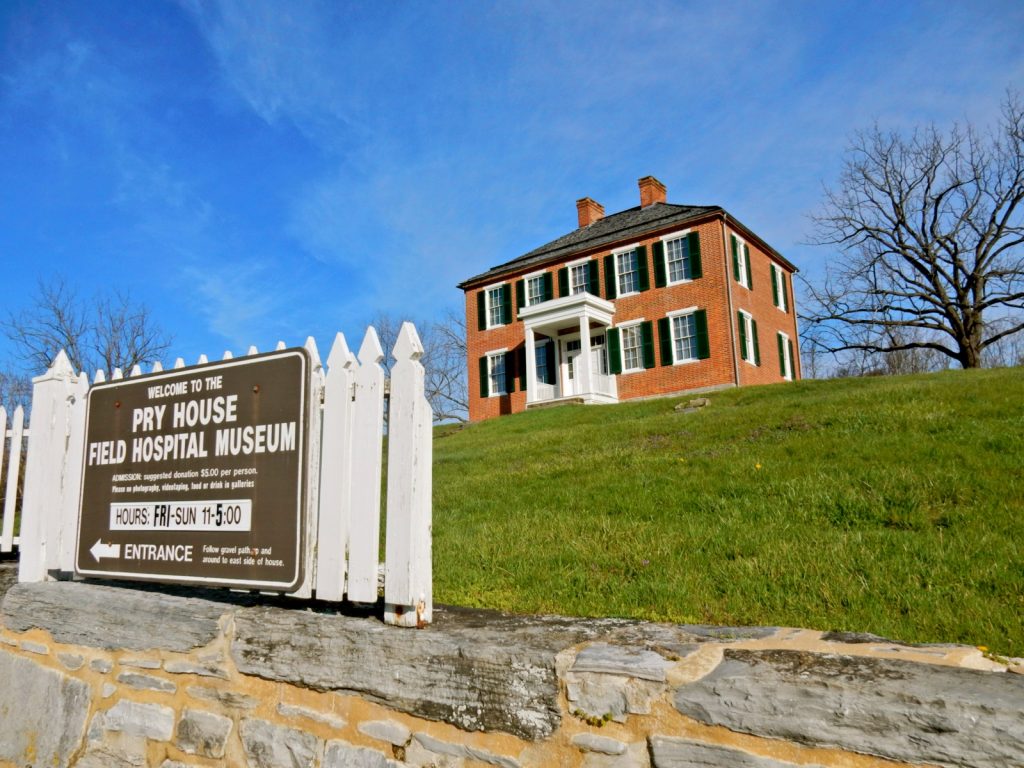 Part of Antietam, and serving as an extension of the National Museum of Civil War Medicine (in Frederick MD) this home was headquarters for Union General George B. McClellan. It also served as a field hospital during the Battle of Antietam.
One room is devoted to the "Father of Battlefield Medicine," Dr. Jonathan Letterman, who first put his methodical steps in a soldier's care into practice here.
The wounded were first treated on the battlefield, then shipped to a field hospital, and finally, when stable, to a larger city facility for recovery.
At Antietam, Letterman moved 17,000 men from the combat zone in 12 hours. His process is still the basis for our modern military evacuation system.
Hookers and Hauntings at the Pry House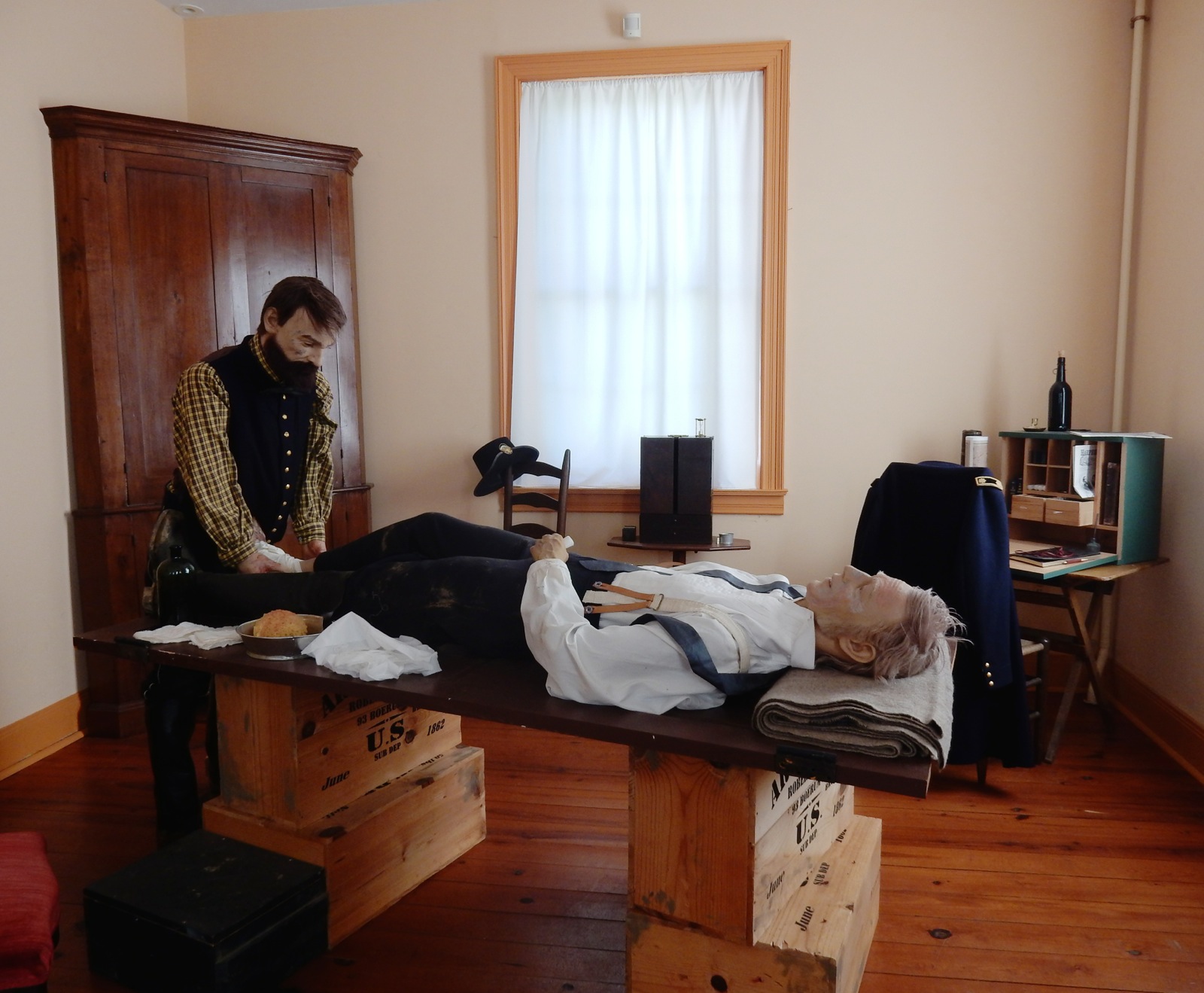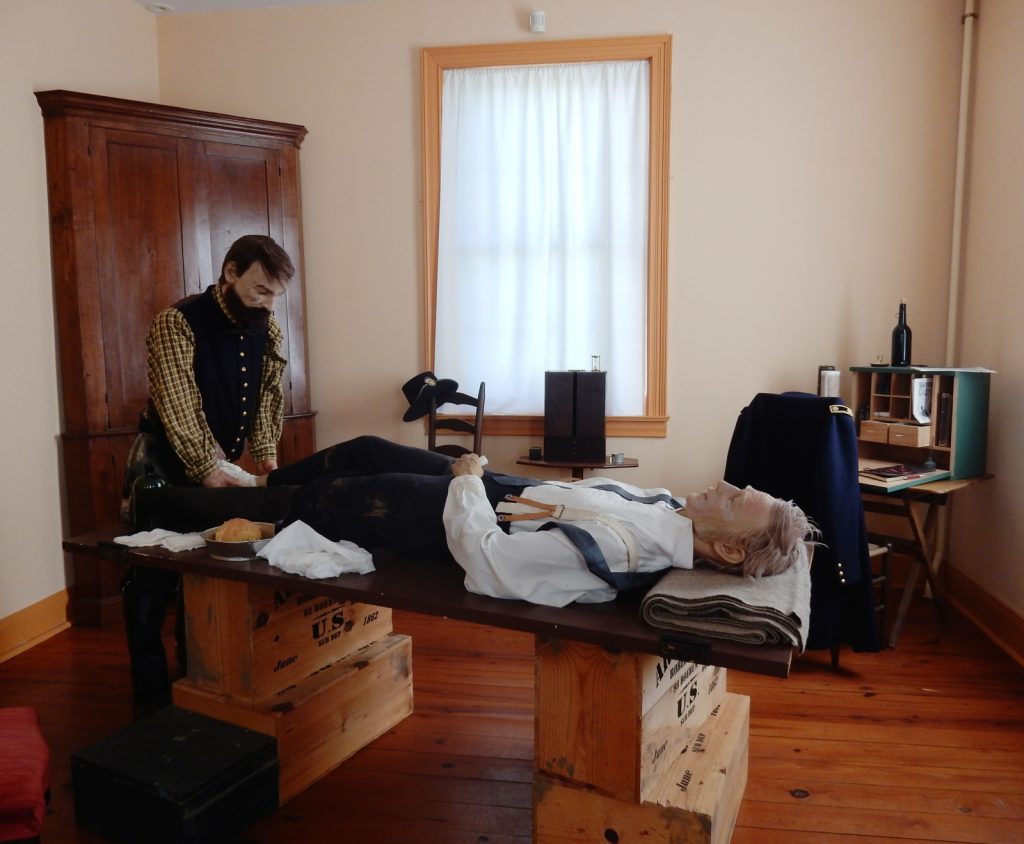 A guided tour of the Pry House includes juicy stories about real characters portrayed in exhibits and dioramas. An 1874 Pry Family Memory Quilt, signed by members of the local community following the Civil War, is a huge draw here, but most of the displays concern medicine and injuries of Generals on nearby fields.
One of these was Joe Hooker, who was treated and sent back to DC to "do some politickin'" after a cannonball passed right through his foot. Patched up with warm water bandages and ointment in the Pry House, he was sent to a Washington asylum (at that time for medical rather than mental reasons) to complete his recovery.
Another was Israel "Fighting Dick" Richardson, a West Point grad from Pontiac Michigan considered "slovenly," "slouchy," and "unpretentious" by those who knew him. Richardson, injured on the field, died of pneumonia in a 2nd floor bedroom, and might have stuck around to haunt it. Word has it that the Pry kids wouldn't step foot in this room for fear of encountering the Major General's ghost, so it was where their Mother stored her pies and cookies.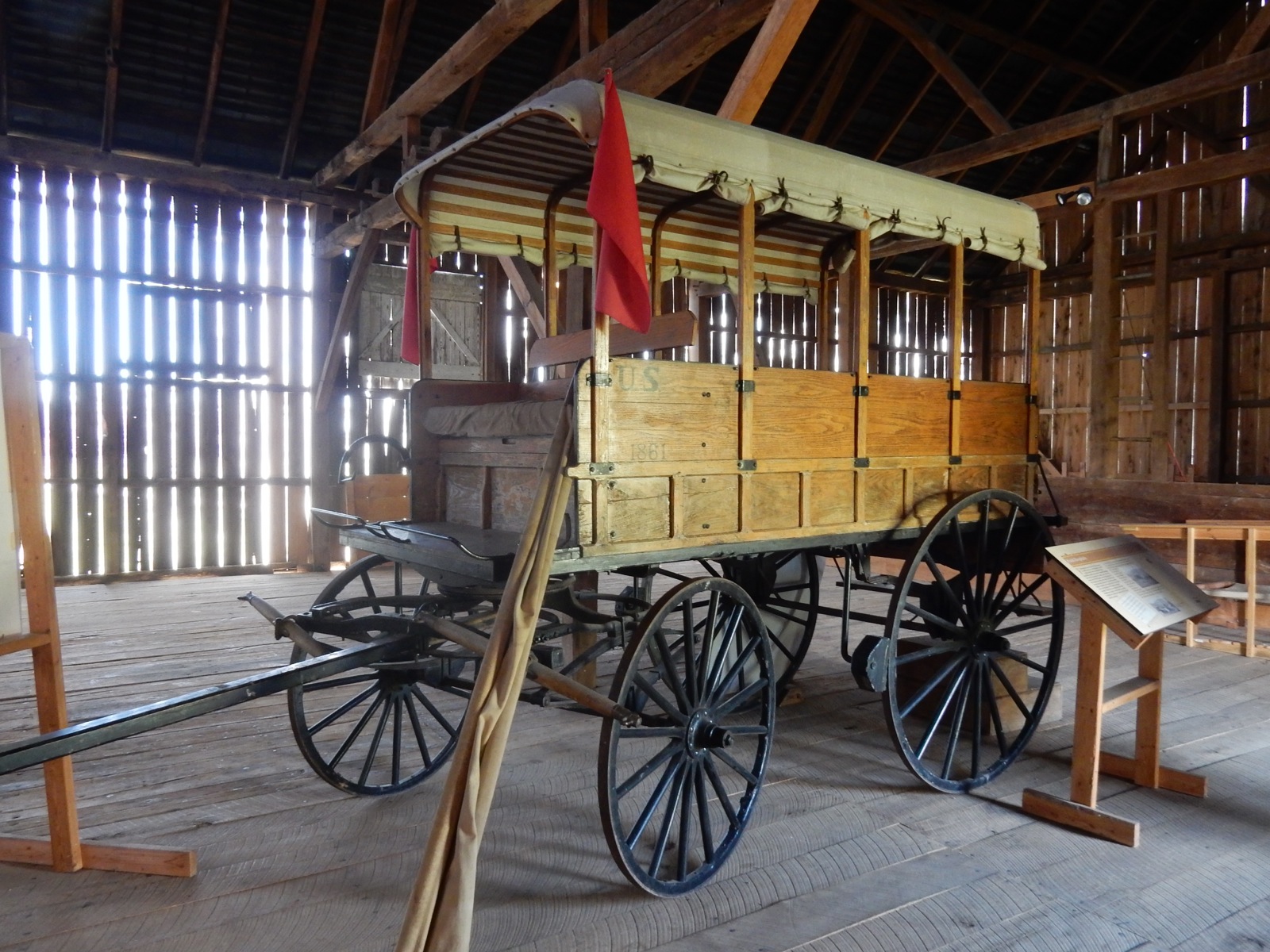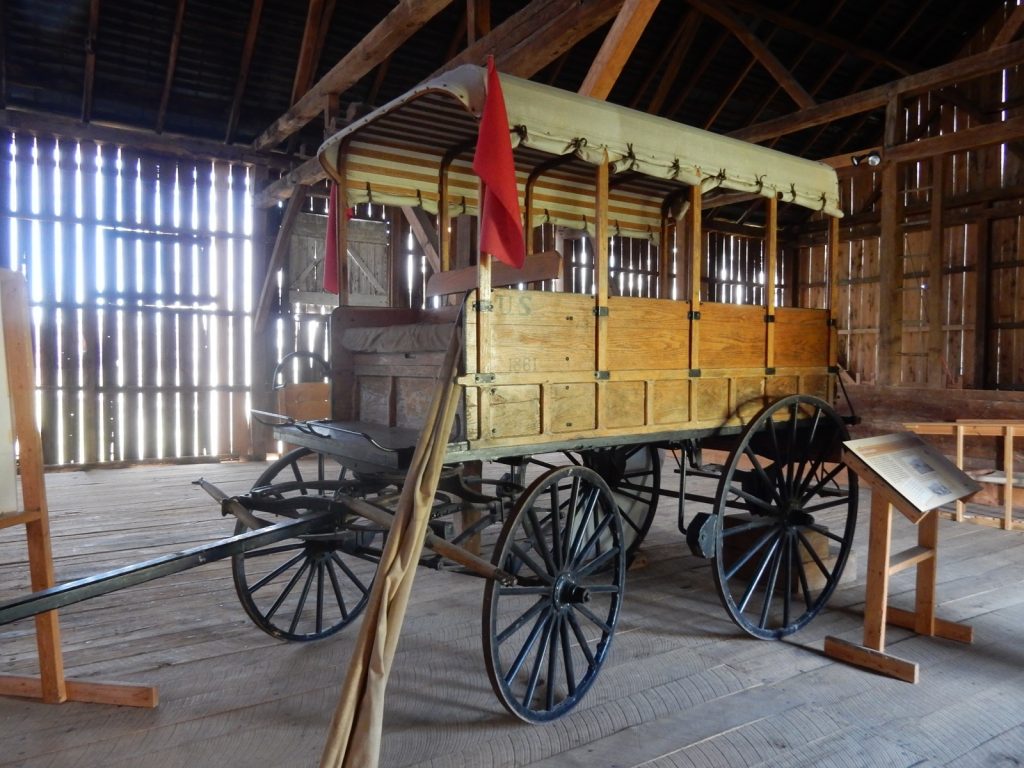 You tour ends in the barn, also used as a field hospital as it had water (in the nearby Springhouse), hay and ventilation for the horses. It now houses a reproduction of an 1861 horse-drawn ambulance. You can climb into it and take pictures – a great photo op. Open Fri-Sun 11-5, $5.
VISIT: Other Antietam sites
Visit the National Cemetery to pay your respects to the soldiers who died here. If there's time, tour the Newcomer House, the second of two pre-Civil War houses you can visit.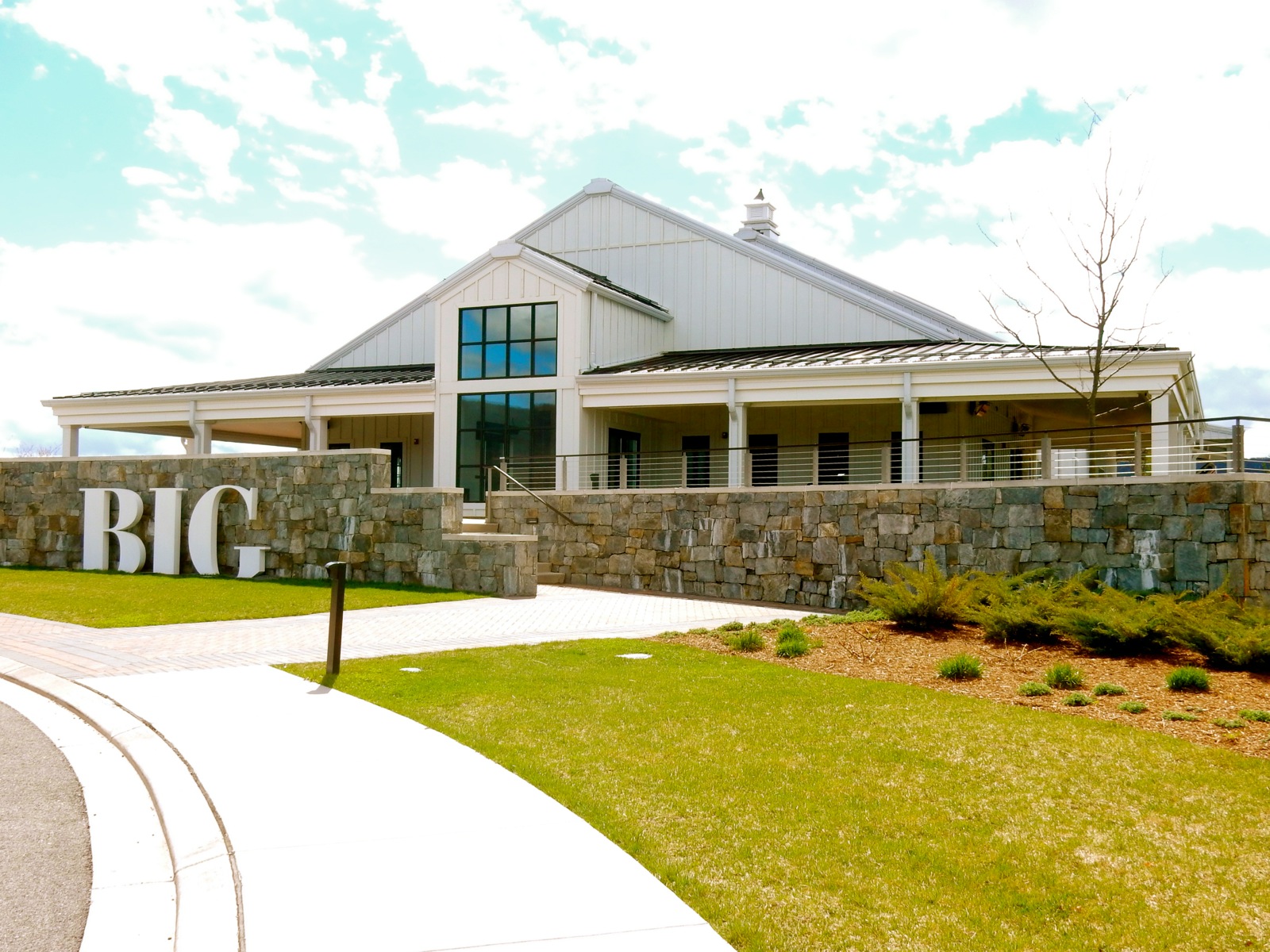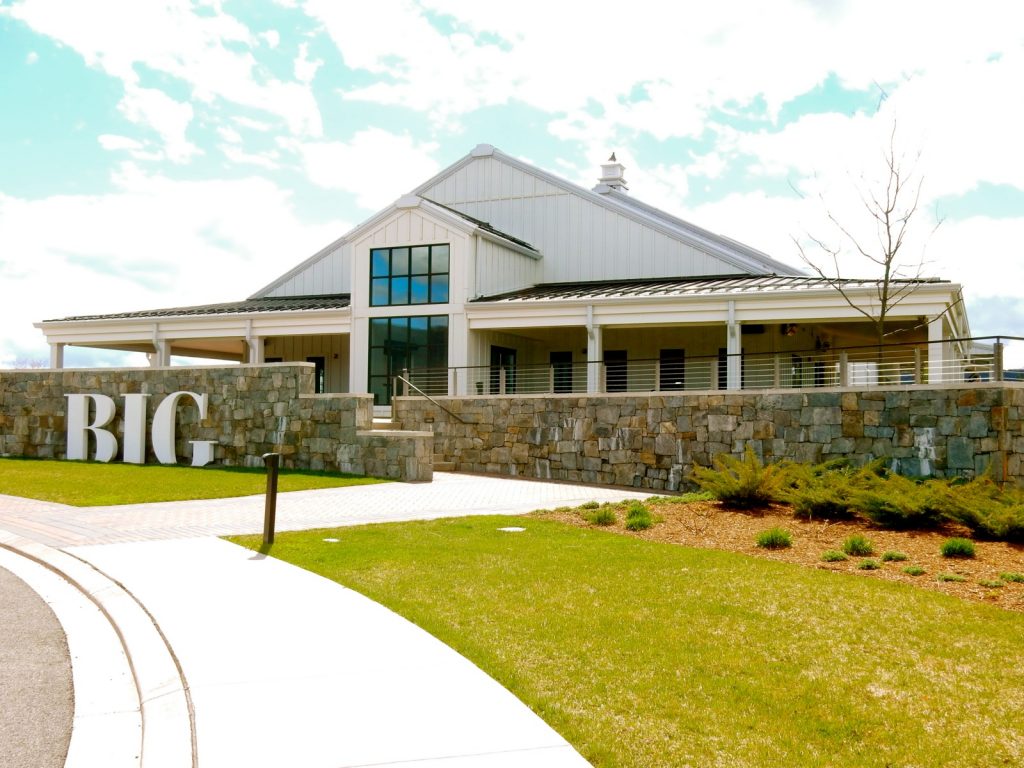 Not only is Big Cork Vineyard's production and tasting building a stunner of epic proportions, the wine within is some of the best in the region.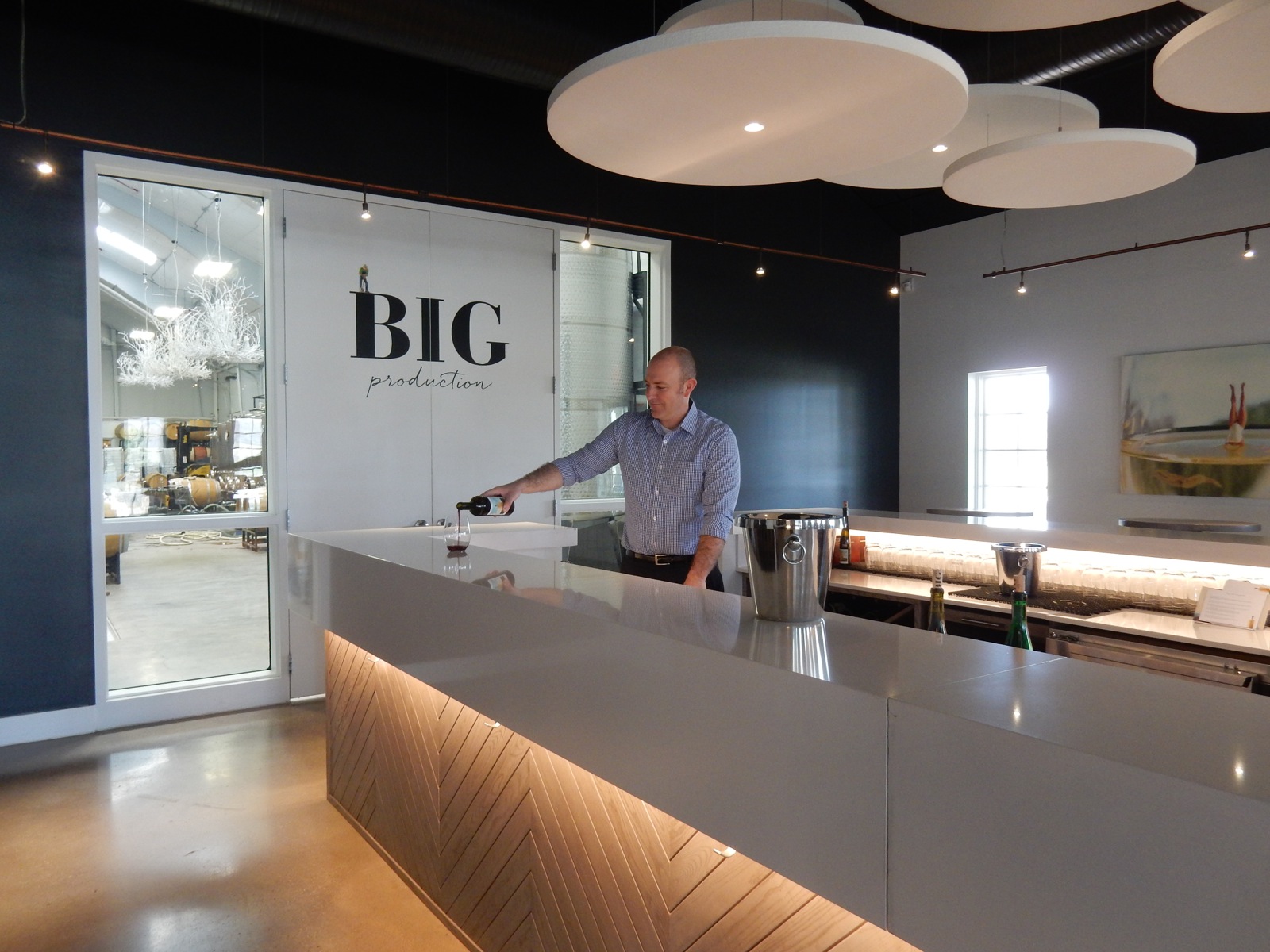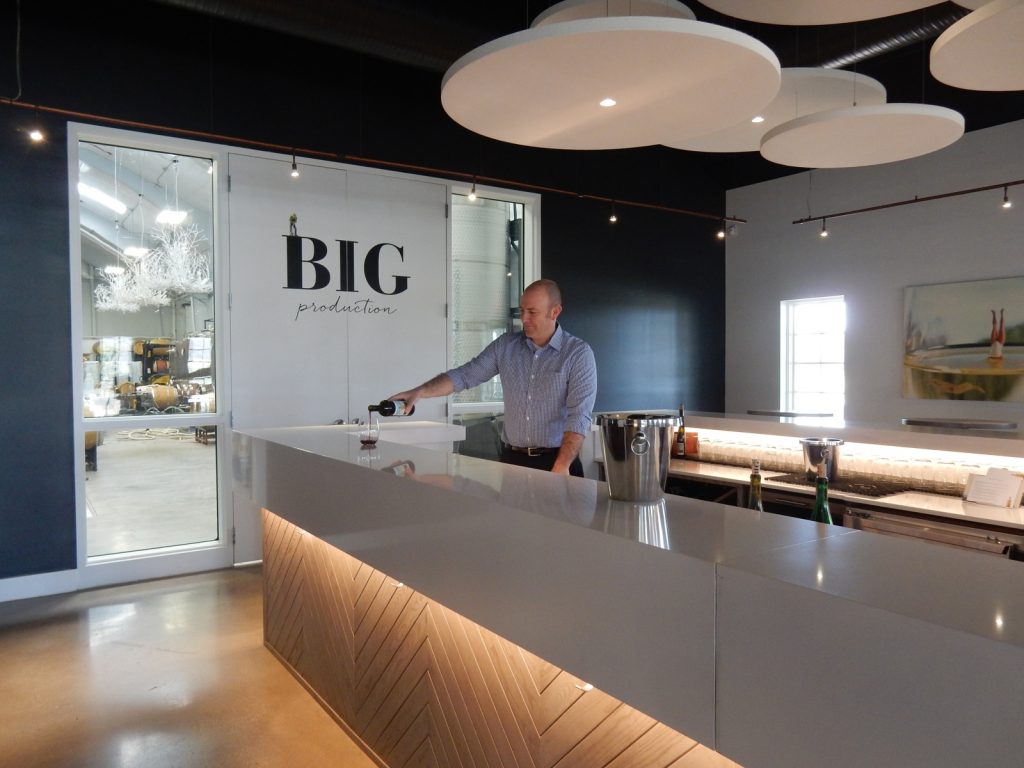 Owned by Randy and Jennifer Thompson, this destination winery offers visitors a fantastic experience and ambience.
The Thompsons love wine and entertaining and discovered that their property was ideal terrain to plant a vineyard.
In the Mid-Atlantic, summers are defined by moisture; so it's generally not so great for winemaking. But this valley-nestled property features a constant breeze and exceptional drainage, perfect for growing Petit Verdot, Cabernet Franc, Barbara, and Nebbiolo grapes, ripened to perfection.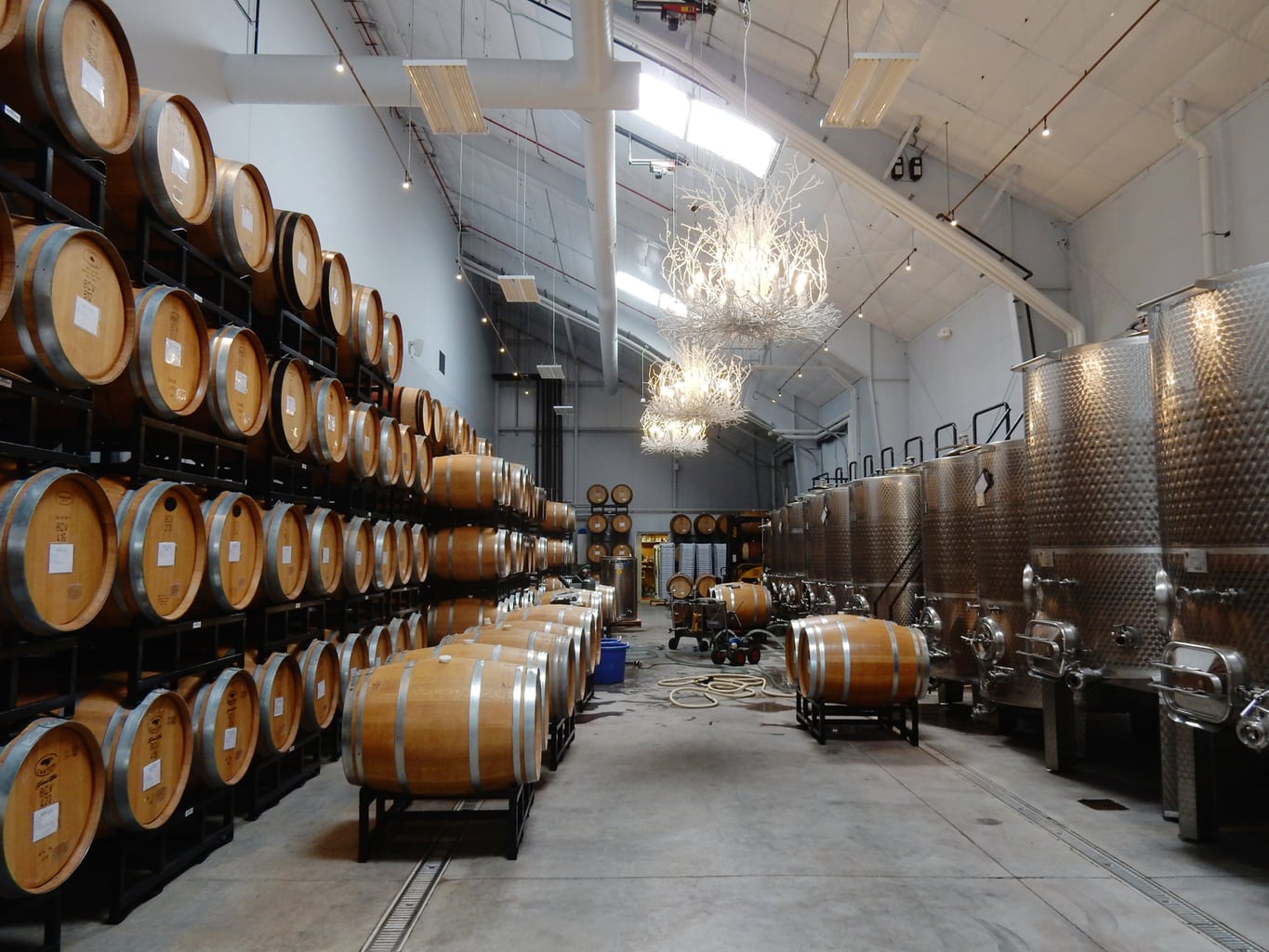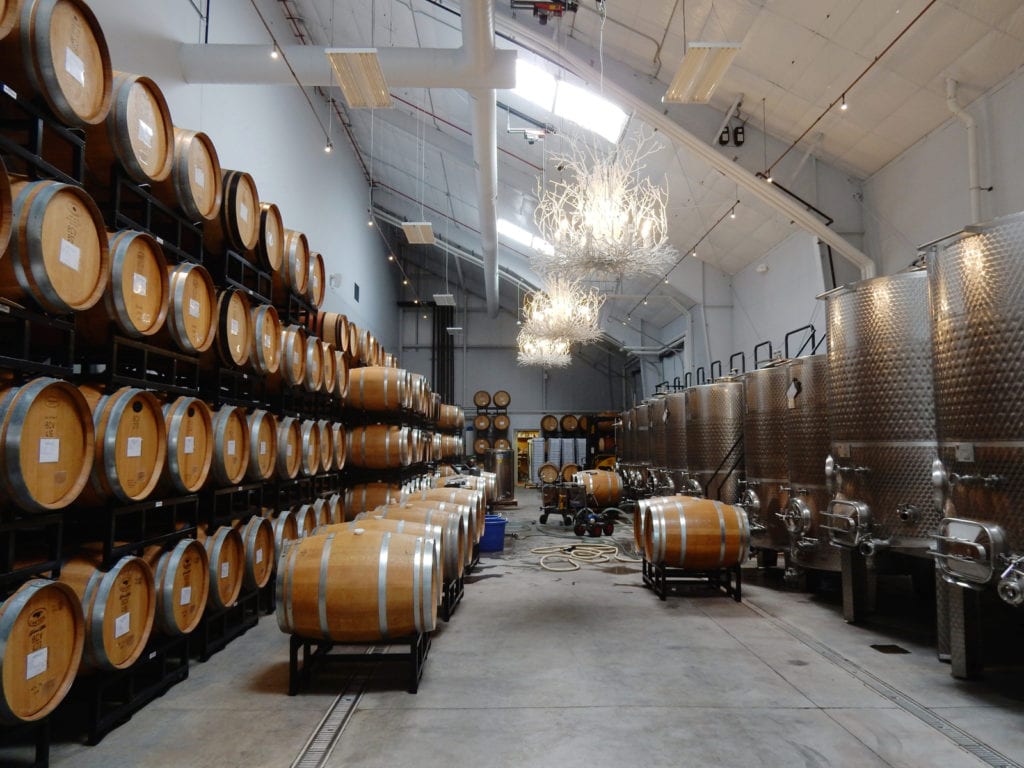 Winemaker Dave Collins, aka "Mr. Nebbiolo" is a maestro at turning 95% of estate- grown grapes into complex, full-bodied, award-winning Malbec, Cab Franc, old-world Meritage, and a host of other Reds and Whites. Taste them all in the contemporary, highly stylized tasting room/shop.
Though the focus is on dry, sophisticated wine here, Big Cork is also known for its smooth, slightly sweet Black Cap Port, made entirely with raspberries – a treat for the taste buds, especially when paired with dark chocolate. Open Thurs-Mon 11-5, Fri. 11-9pm, tours at 12 and 1pm.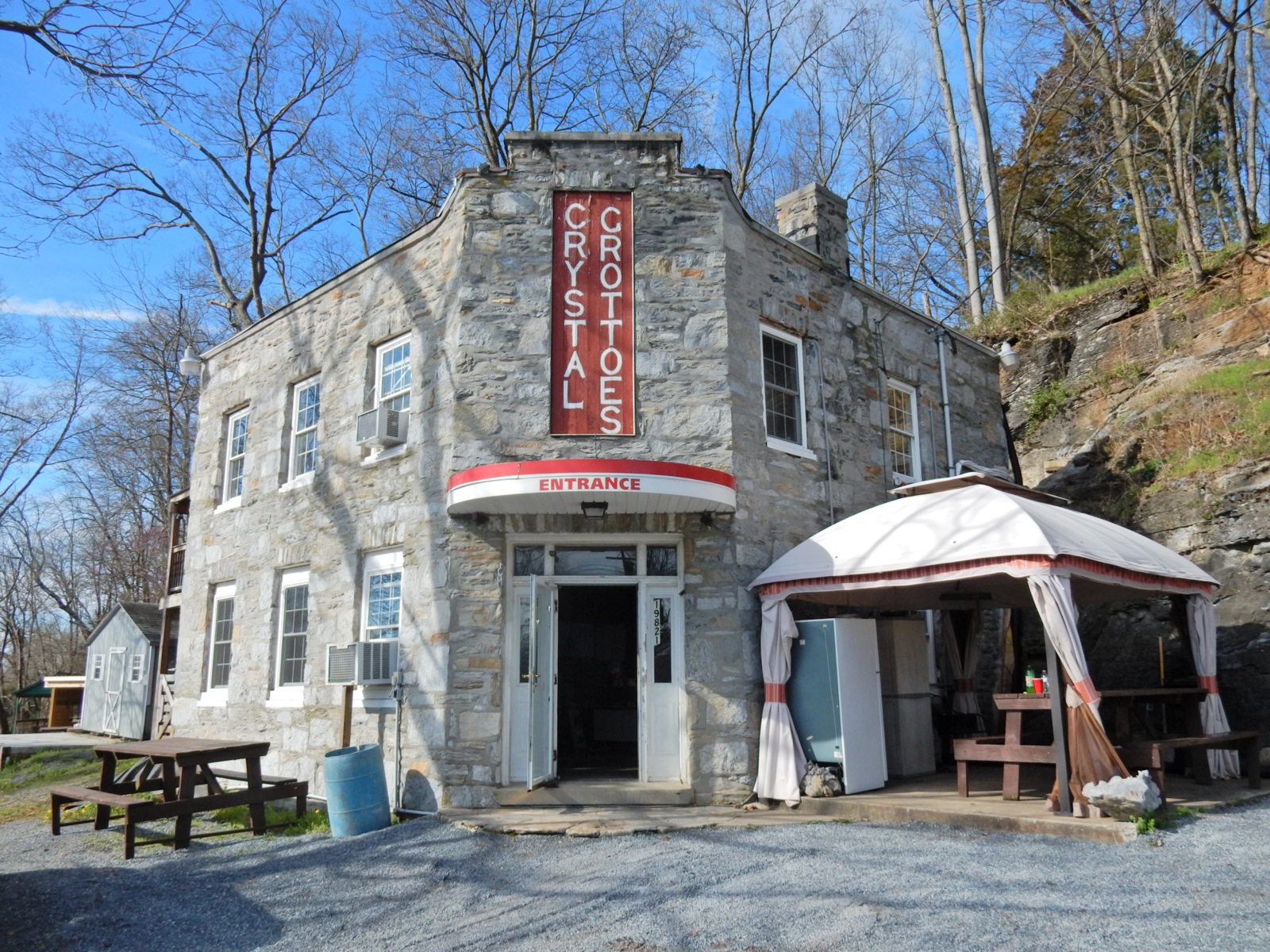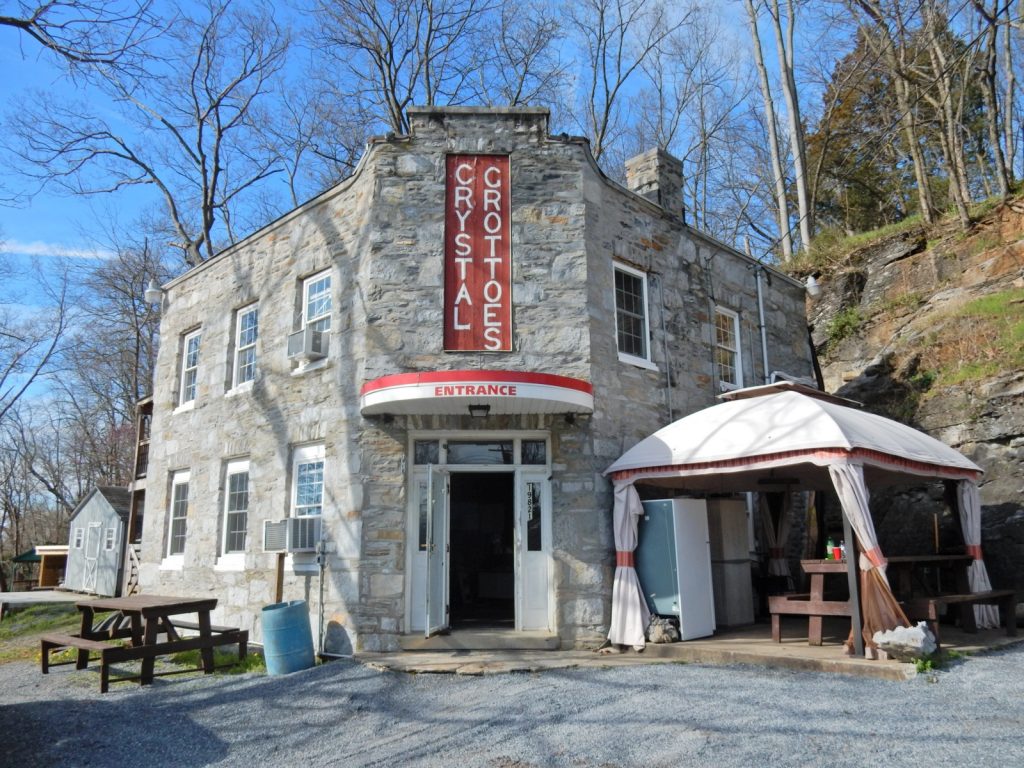 It's easy to pass by the small building on busy Route 34 that marks the entrance to Crystal Grottos. But don't. On the National Historic Register, this cave system has some of the most extraordinary formations along a 1,200-foot walking path. Some is so sparkly, it's like being inside a giant geode.
The cave system was discovered in 1920, when road builders lost several drill bits and went to look underground for them. In 1922, Crystal Grottos launched its first tour for seven cents.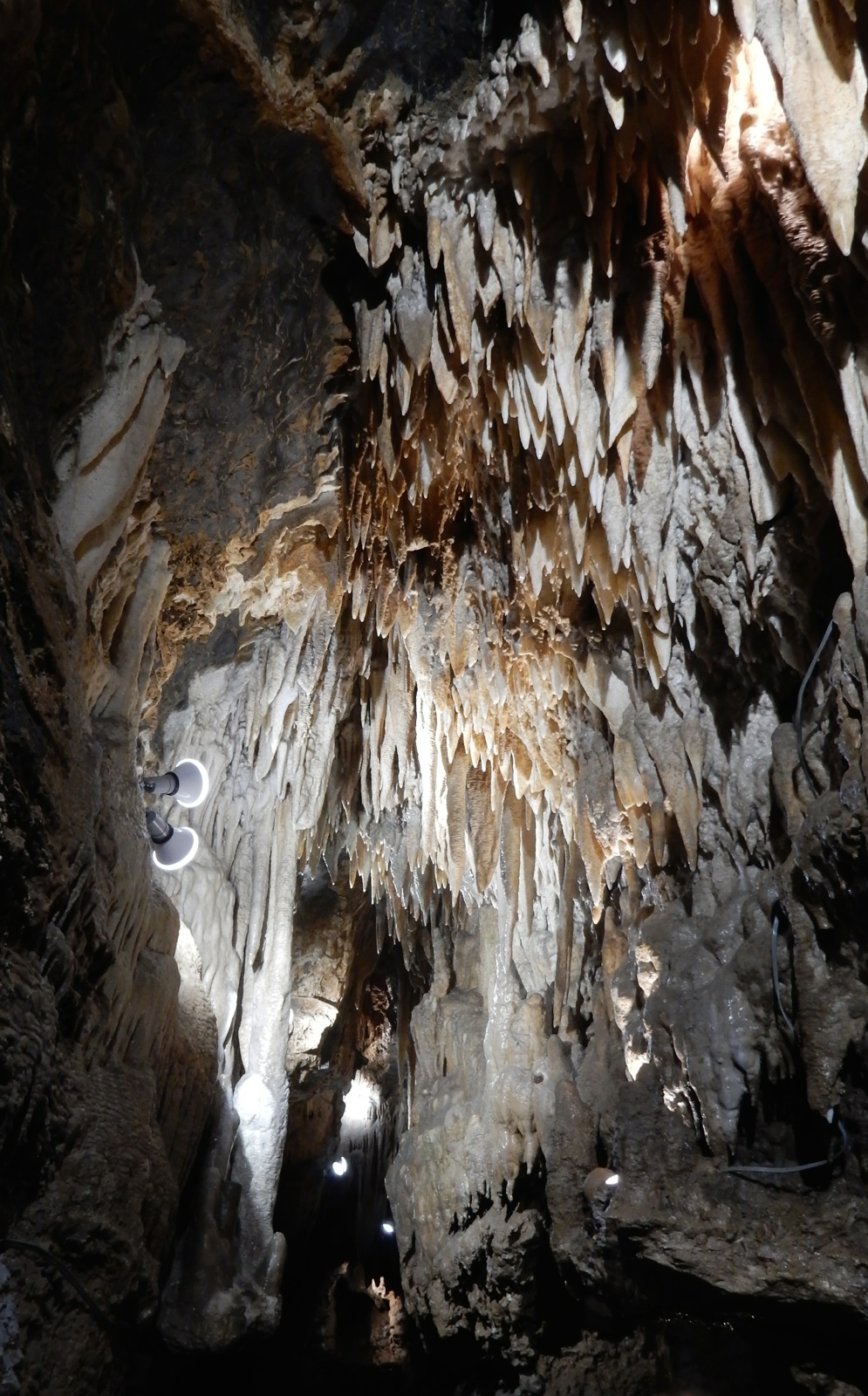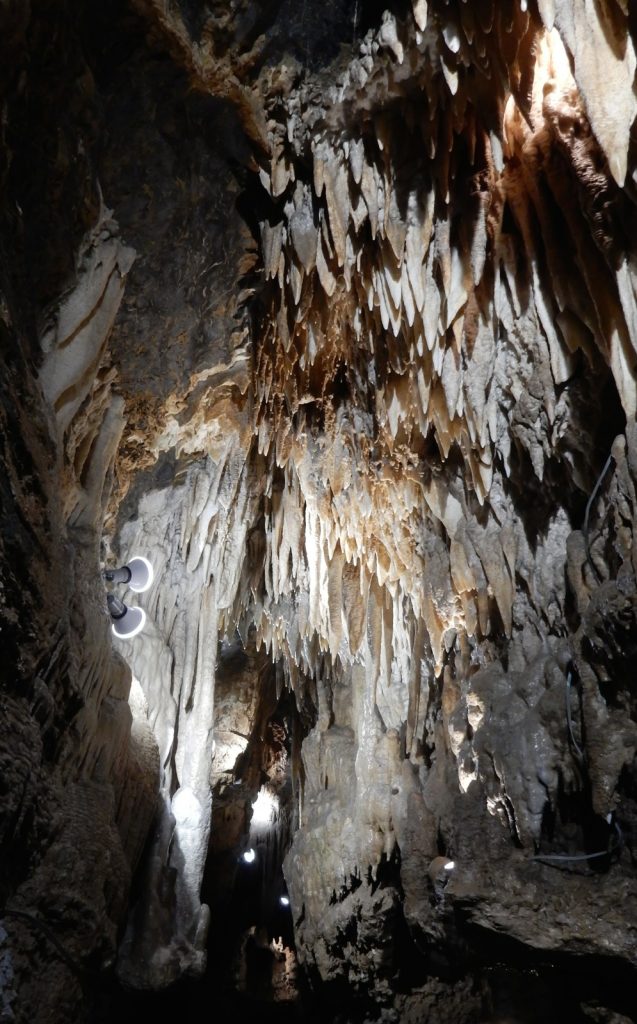 And what a wet and drippy tour it is. Stalactites are till forming, with drops of water falling along "melty" flow stones. You'll see ribbons and drapes on cave walls, serrated edged stalactites, "soda straws"(baby stalactites), frozen waterfalls, a small salamander-filled lake, and the glittery Crystal Palace Room festooned with calcite crystals.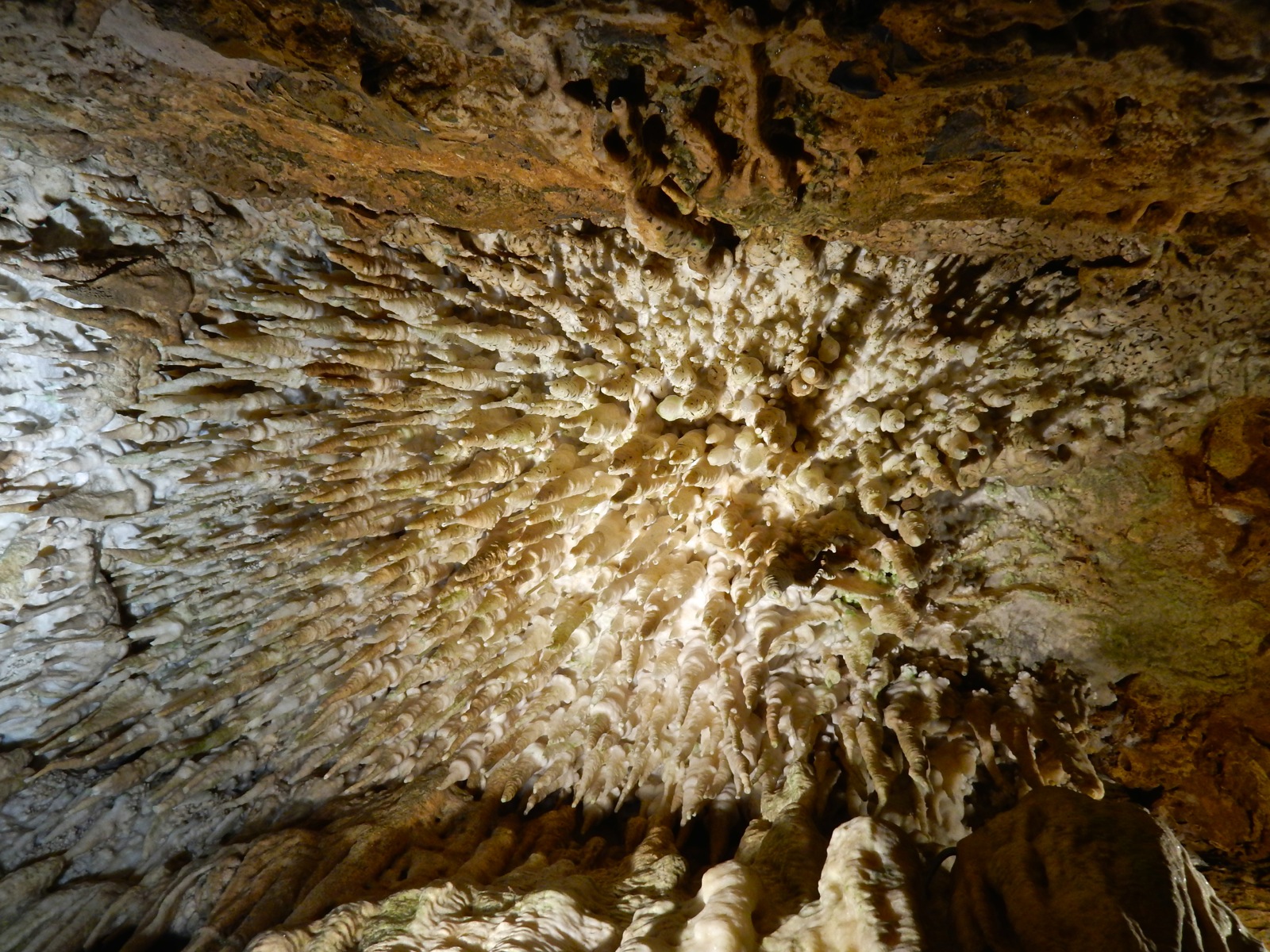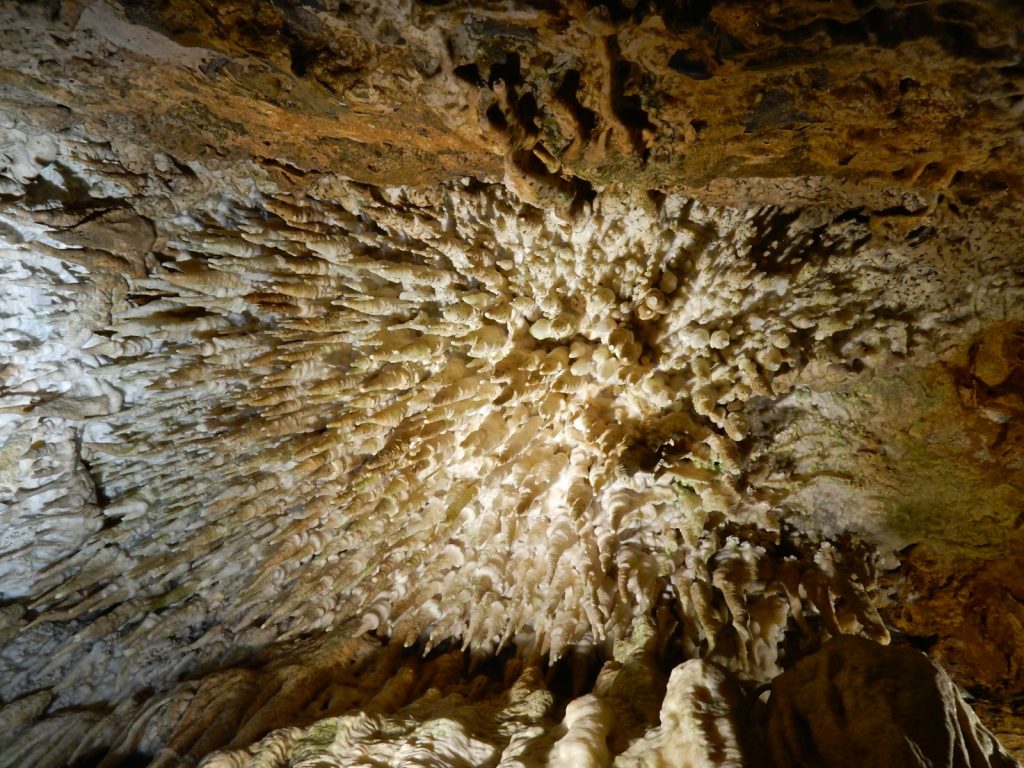 There are more formations per square foot here than in any other public cave in the world, according to owner, Gerry Downs. After a visit, you won't doubt it. April-Nov, 10-5 daily, $20.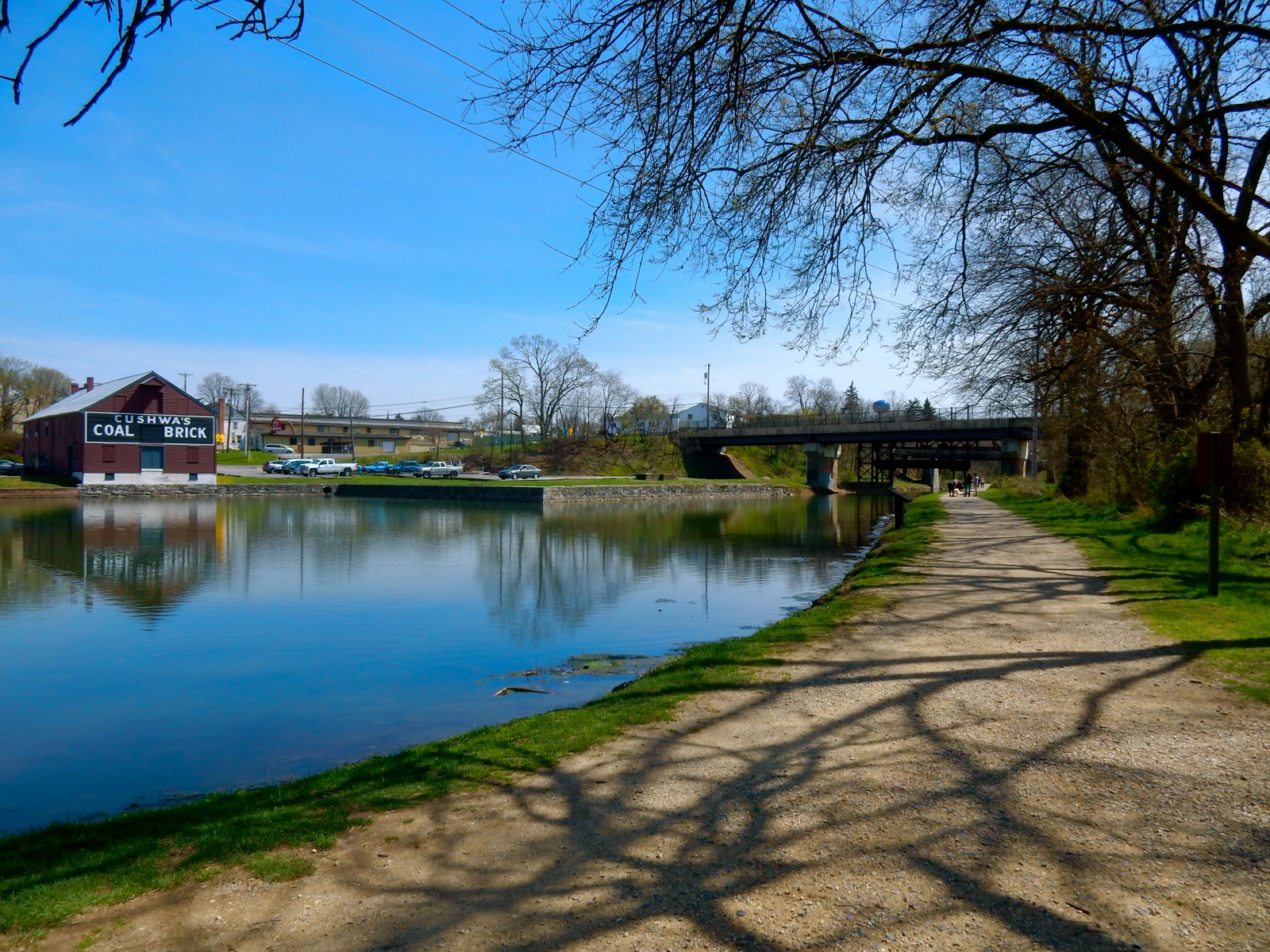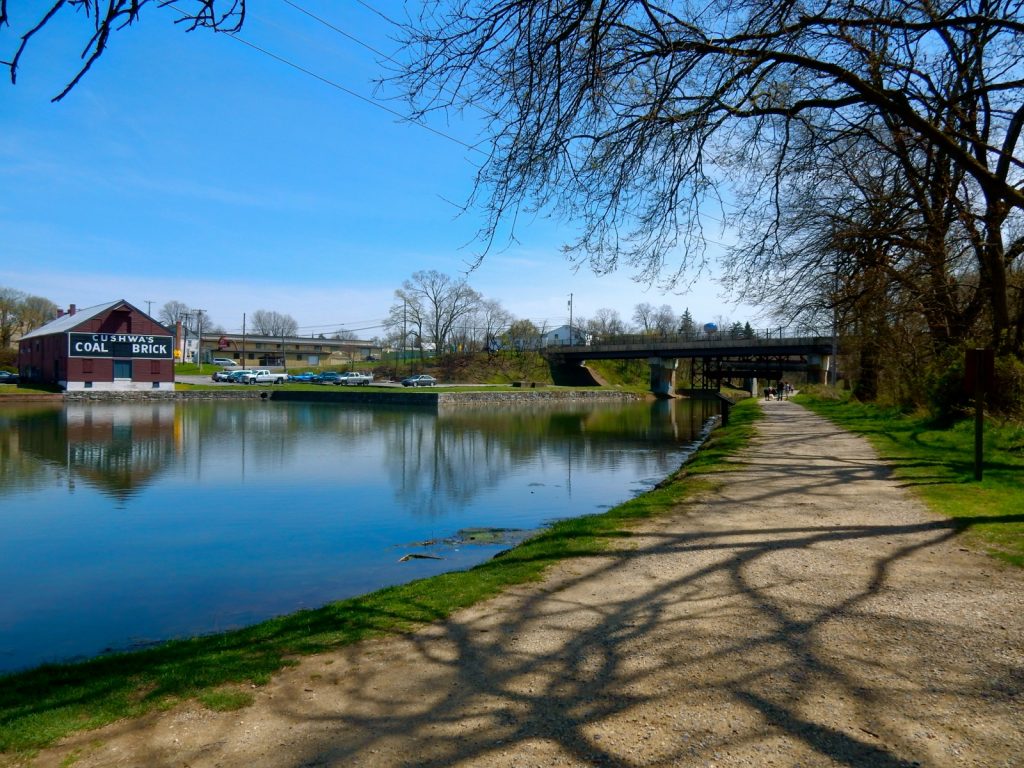 According to the National Park Service, the C&O Canal is the nation's 12th most visited National Park. Who knew? The Chesapeake & Ohio Canal ran 184.5 miles from Cumberland WV to Georgetown in Washington DC along the Potomac River. The longest stretch, 80 miles, travels through Washington County MD.
Construction began in 1828. The canal, with a 600 ft. elevation requiring 74 locks, was already obsolete when completed in 1850 (due to the railroad). In Williamsport, you'll see every canal feature within a half-mile stroll; lift gates, locks, aqueduct, lock house, warehouse, and turning basin. But that's not all.
Bikers and hikers are already aware of this fantastic, gorgeous, relatively level 184.5 mile path. Nearly 75,000 bikers came through last year, staying overnight at lodges and B&B's that advertise on the trail and provide shuttle service.
The Aqueduct Bridge, partially destroyed by a canal boat that fell off into the river, has been restored to its 1920 appearance. For the first time since 1924, the historic Conococheague Aqueduct is fully operational, allowing a canal boat to pass over the Conococheague Creek. Visitor's Center Open March-Nov, Wed – Sun 9-4:30, free.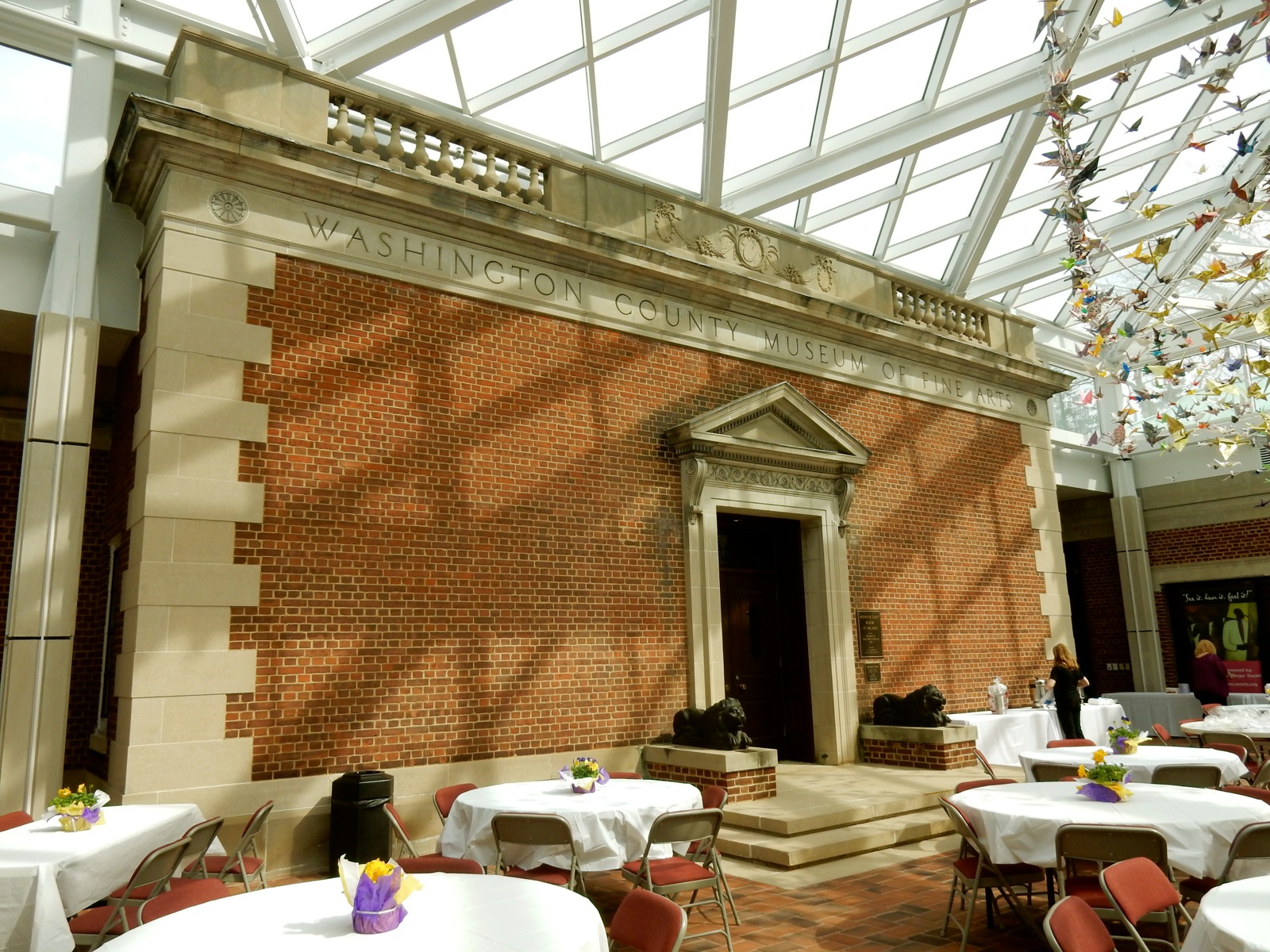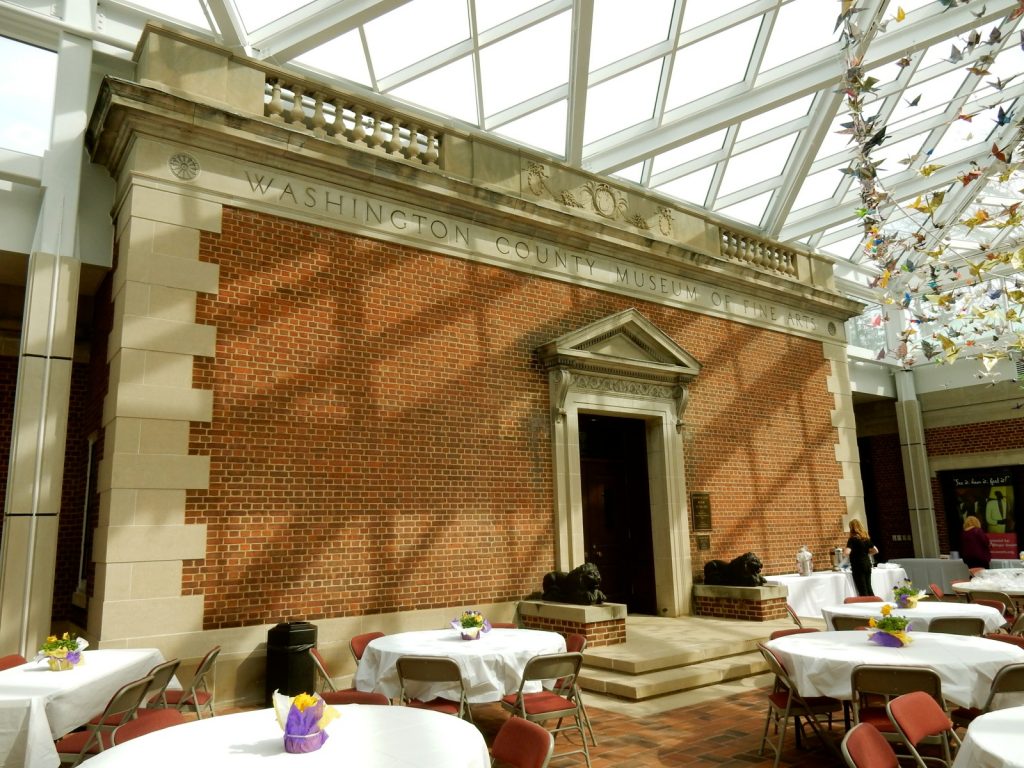 This premier free-to-enter institution, one of only four accredited art museums in Maryland, is a gift to the community and to the world. Right off of I-81 and I-70 and just an hour from Washington DC and Baltimore, the WCMFA first opened in 1931, with several serious expansions since. It has been drawing big city patrons for decades. In other words – there's nothing "small town quaint" about it.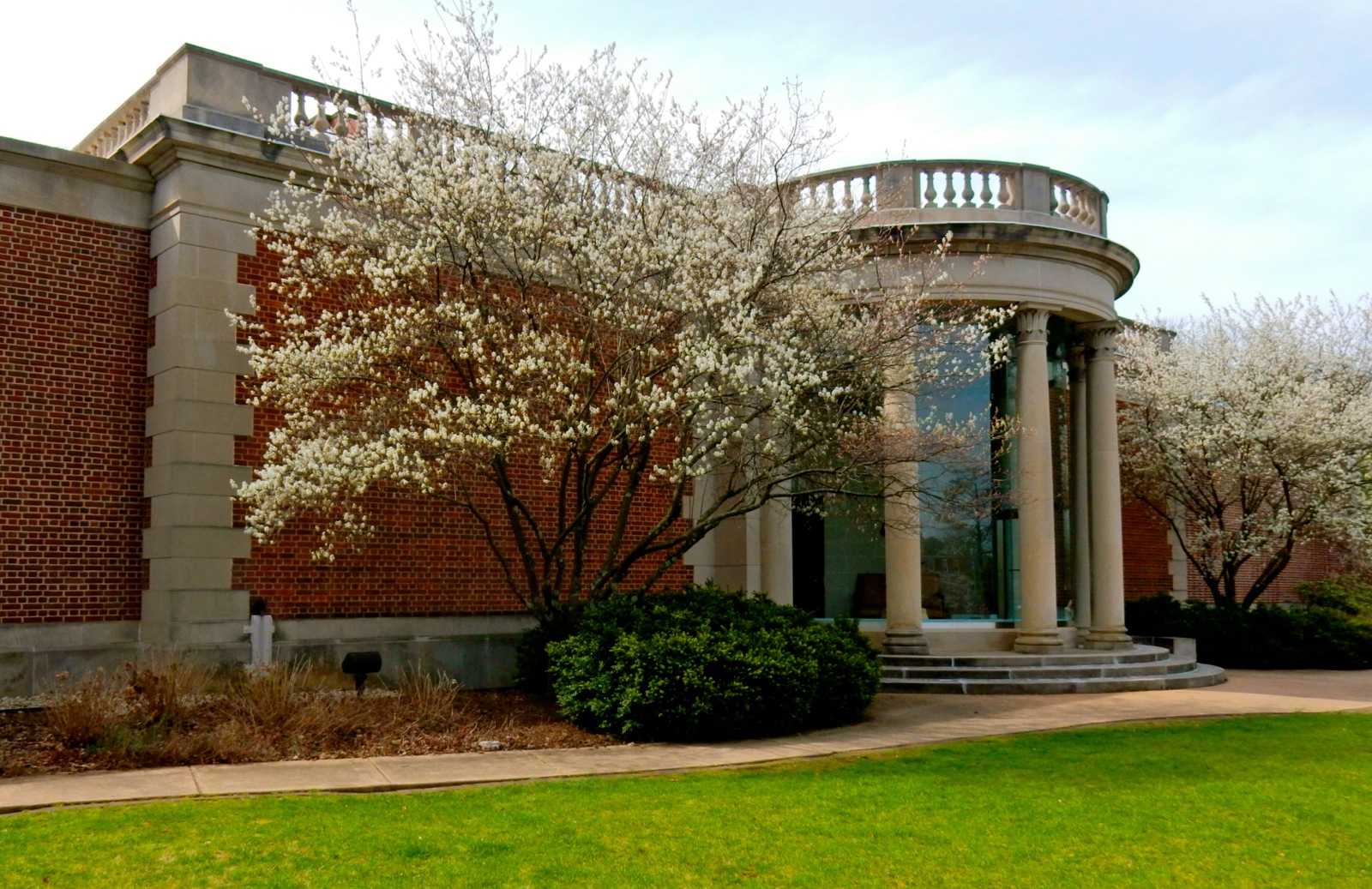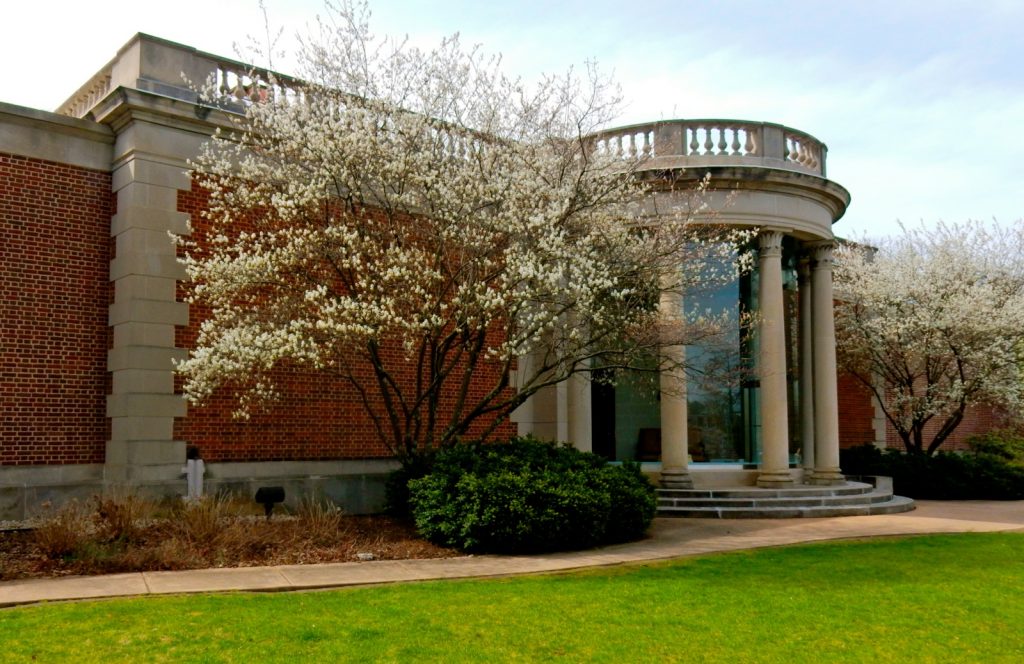 This classic institution is a cool respite on a hot day and warm on chilly afternoons. Peruse its marble halls and gaze upon prestigious works of art, from Old World Masters to 18th and 19th Century American, Original WPA Muralists, Hudson River School painters, a Guzman Borglum bust of Abraham Lincoln, and several Rodin sculptures, among a host of others.
Curious about a particular painting or artist? There are interactive touch-screen kiosks in most galleries for instant info. Free, Open Tues-Fri 9-5, Sat. 9-4, Sun 1-5.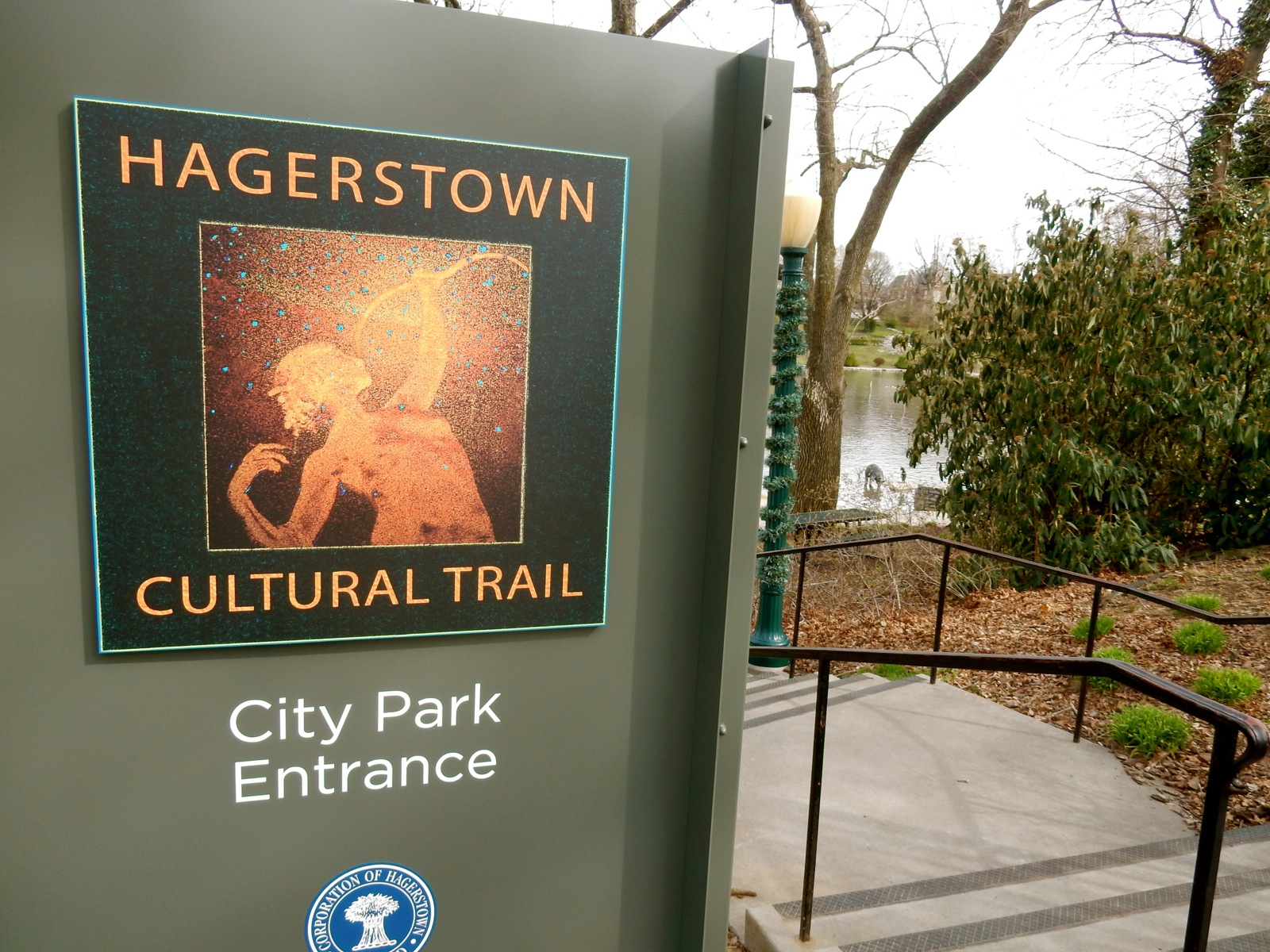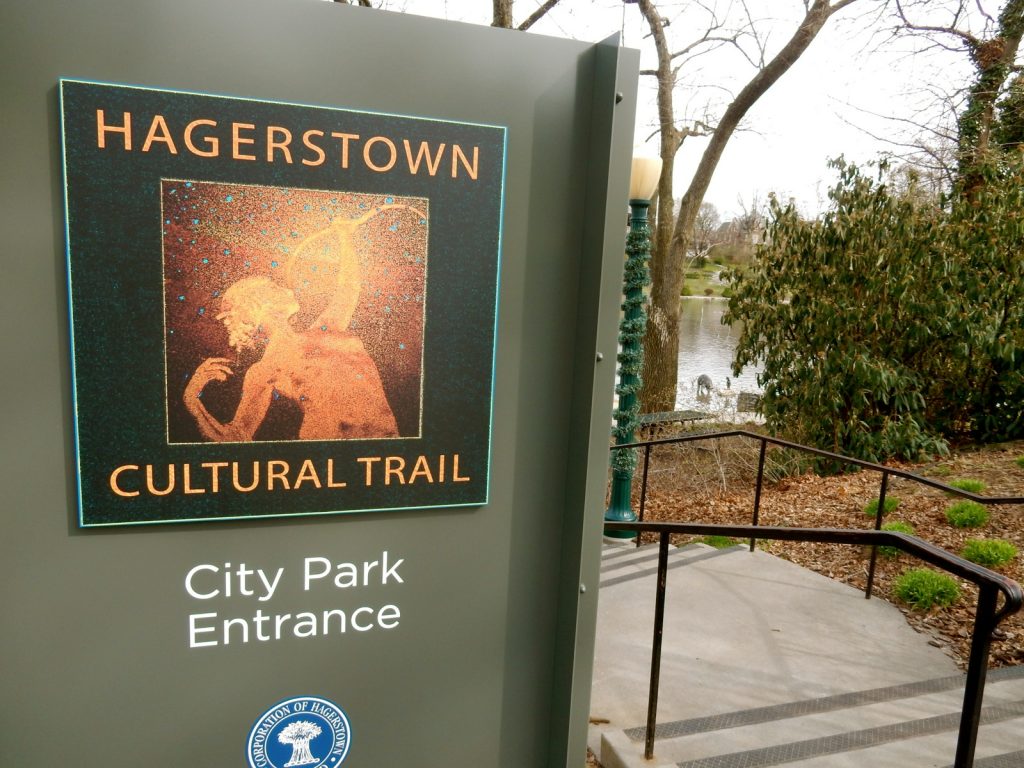 This brand new half-mile trail begins at the City Park lake right outside the Washington County Art Museum. Just follow the Red Brick Road.
Along the way, you'll see the work of new artists, passing an old rail yard, industrial buildings, and the 80 foot high "Mural of Unusual Size." A sculpted, whimsical garden is juxtaposed with the bordering "Car Wash Auto Spa," and "Faces of Hagerstown," mounted on sculptural fencing.
Anchored on one end by the Art Museum and at the other by Hagerstown Arts and Entertainment District, the Cultural Trail is the perfect way to slow down and enjoy the city's artistic heart.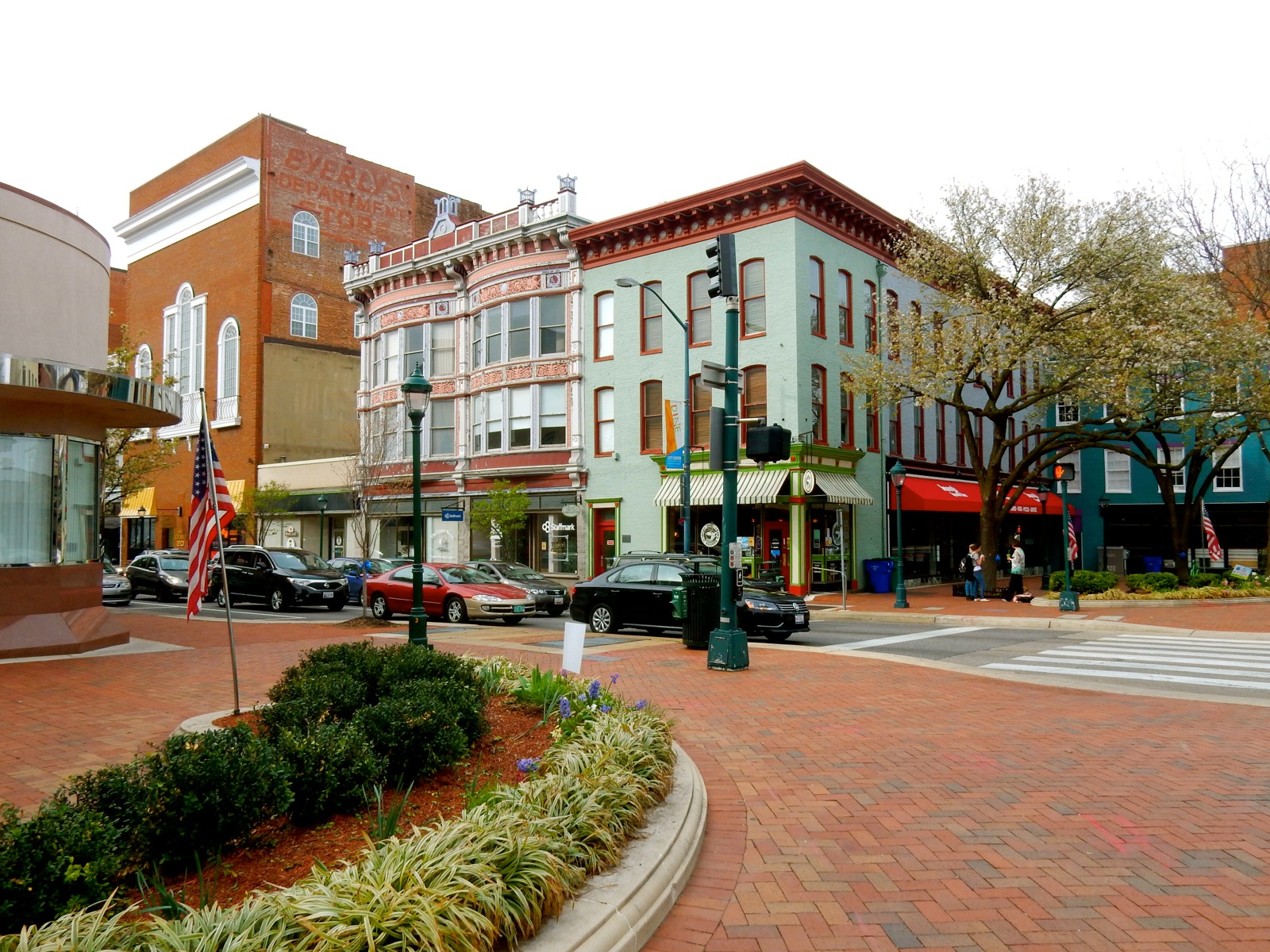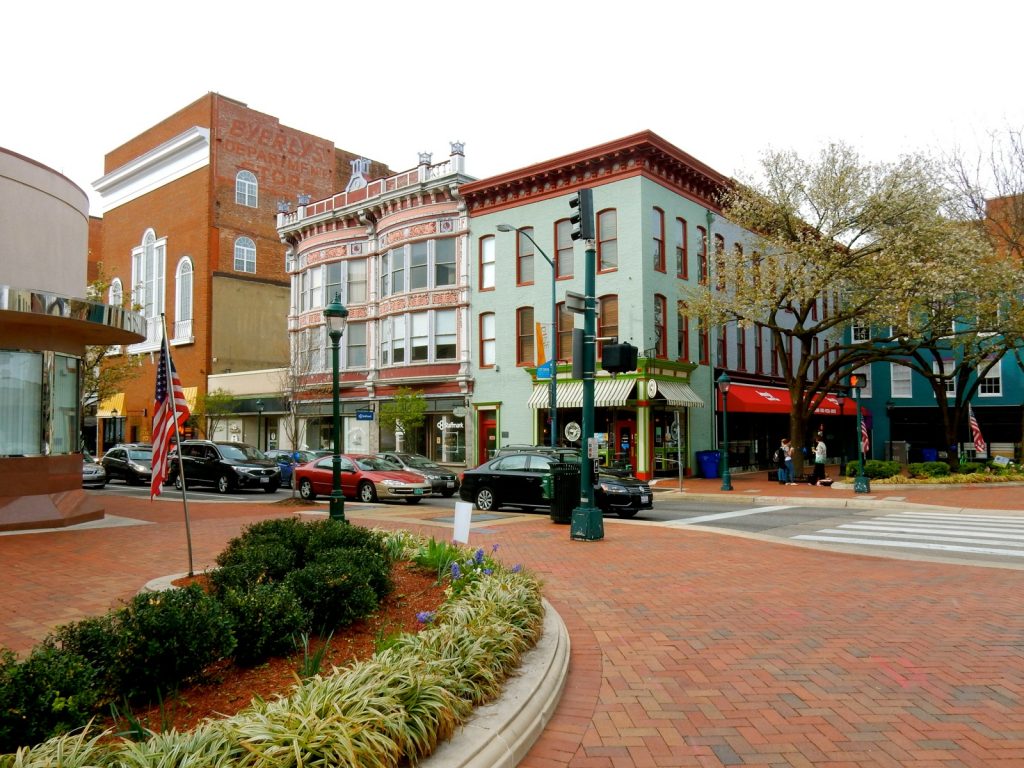 Small towns are enriched by community and regional theaters – and this one has the added component of the Barbara Ingram School for the Arts – a magnet public High School right next door.
Though The Maryland Theater attracts comedians like Jay Leno, and other first class acts, it is a showcase, also, for students and a venue for local events.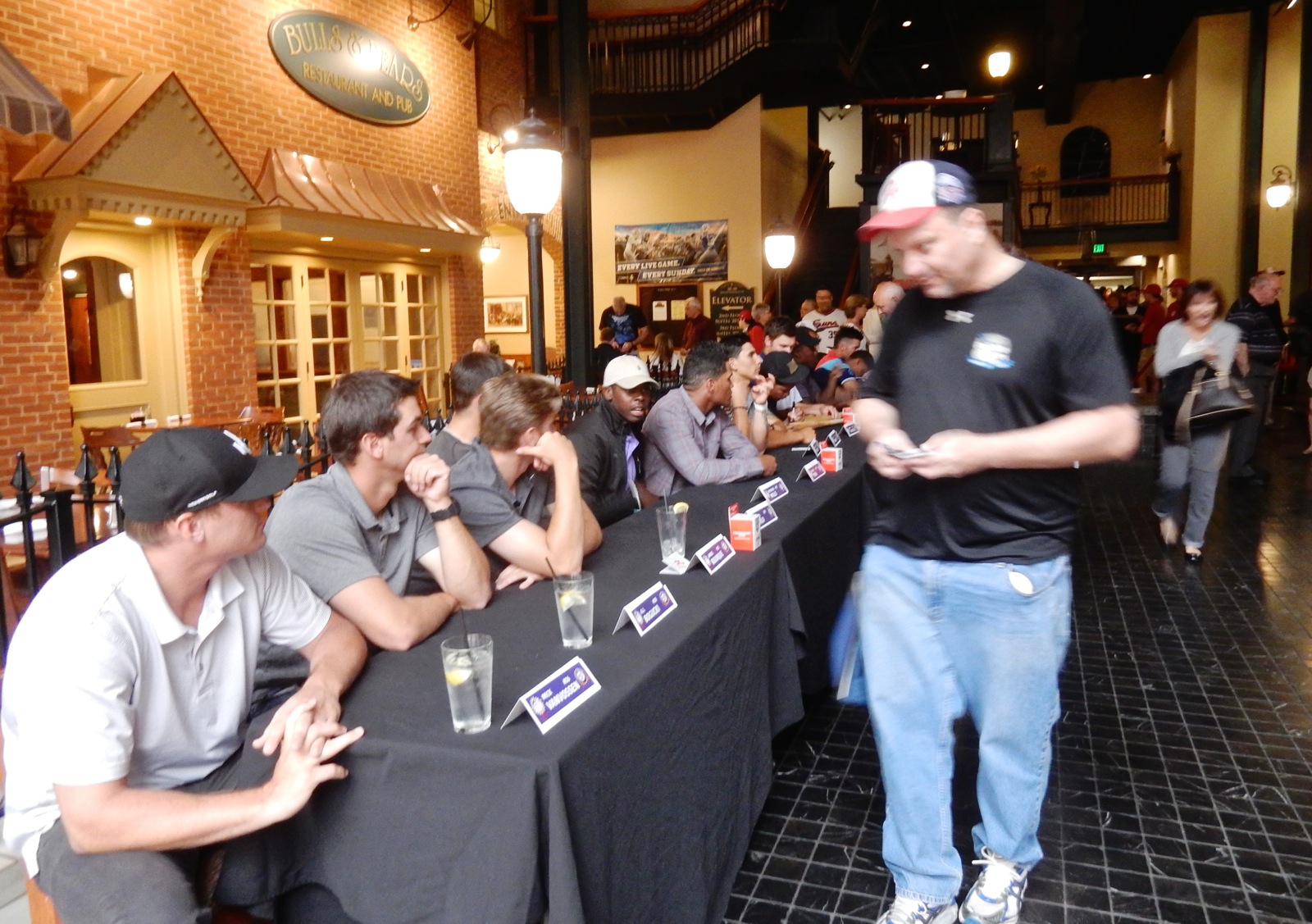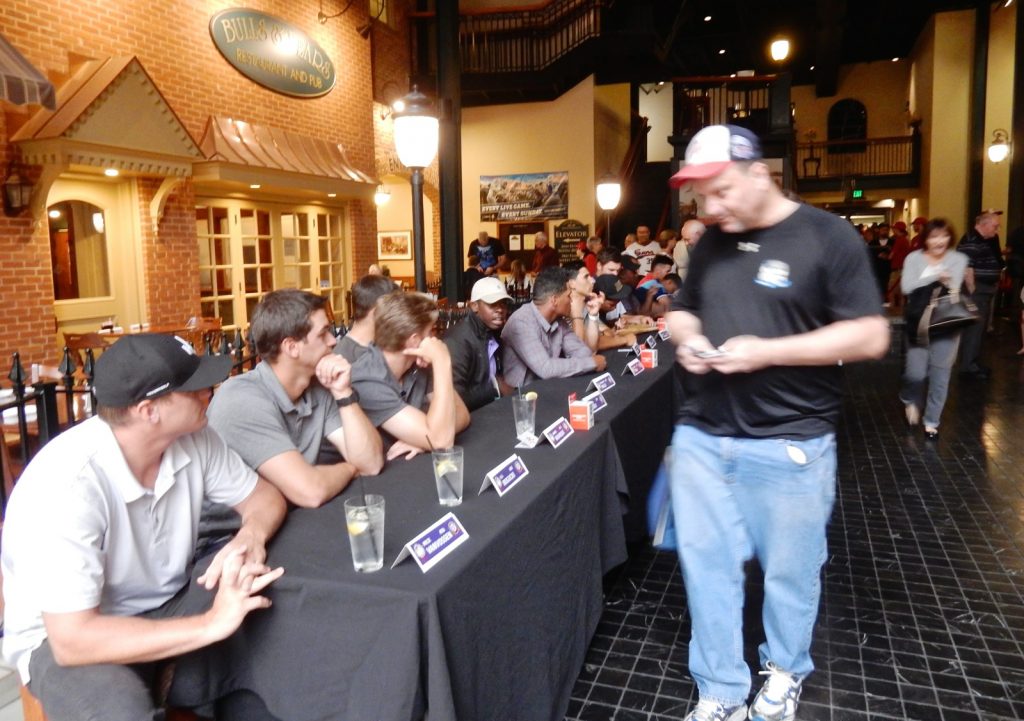 Baseball enthusiasts will want to catch a Minor League Hagerstown Suns' game in season. A winning team, they've got a mega fan base here.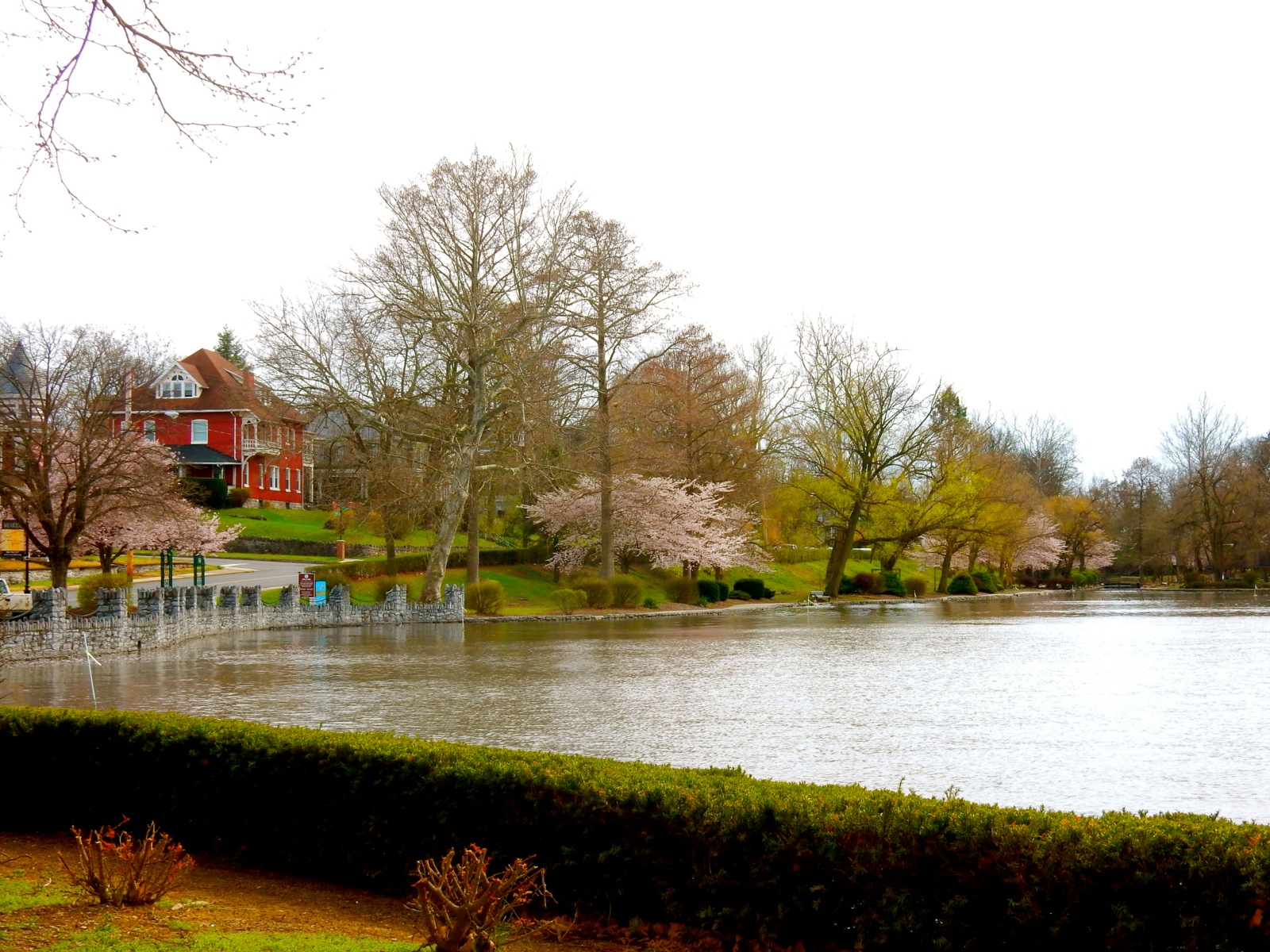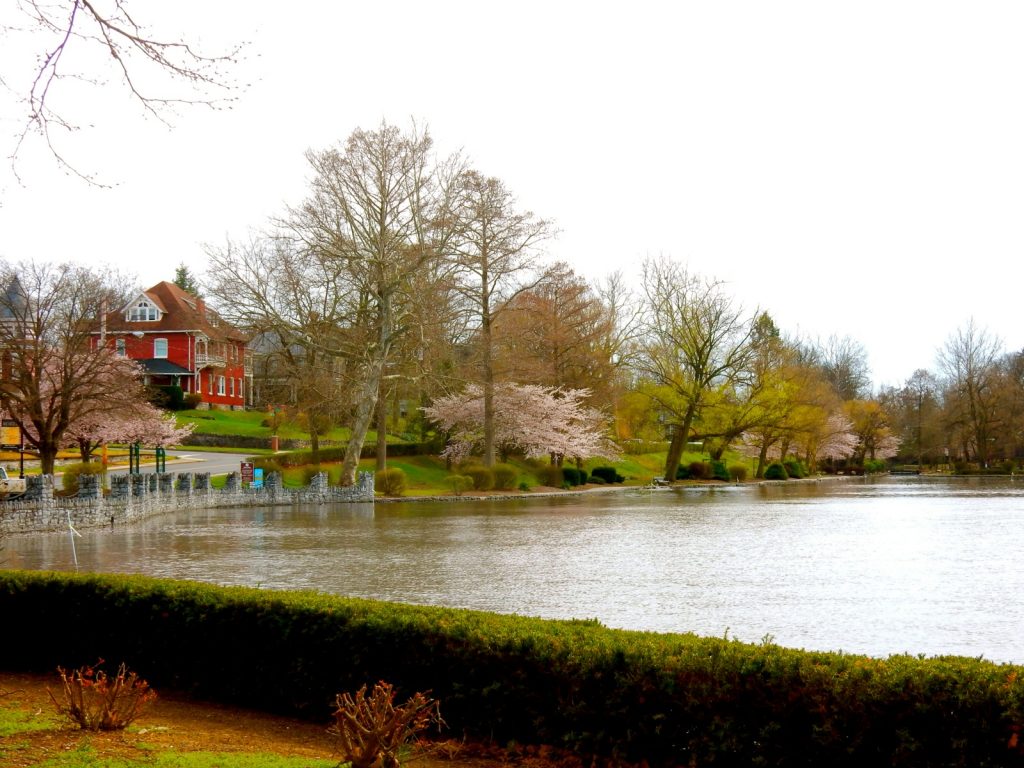 WANDER: Hagerstown City Park
Designed by a student of Frederick Law Olmstead, this strikingly landscaped park has acres of water features, delightful footbridges, playgrounds, concession stands, sculptures, and a spring-fed crystal clear pond.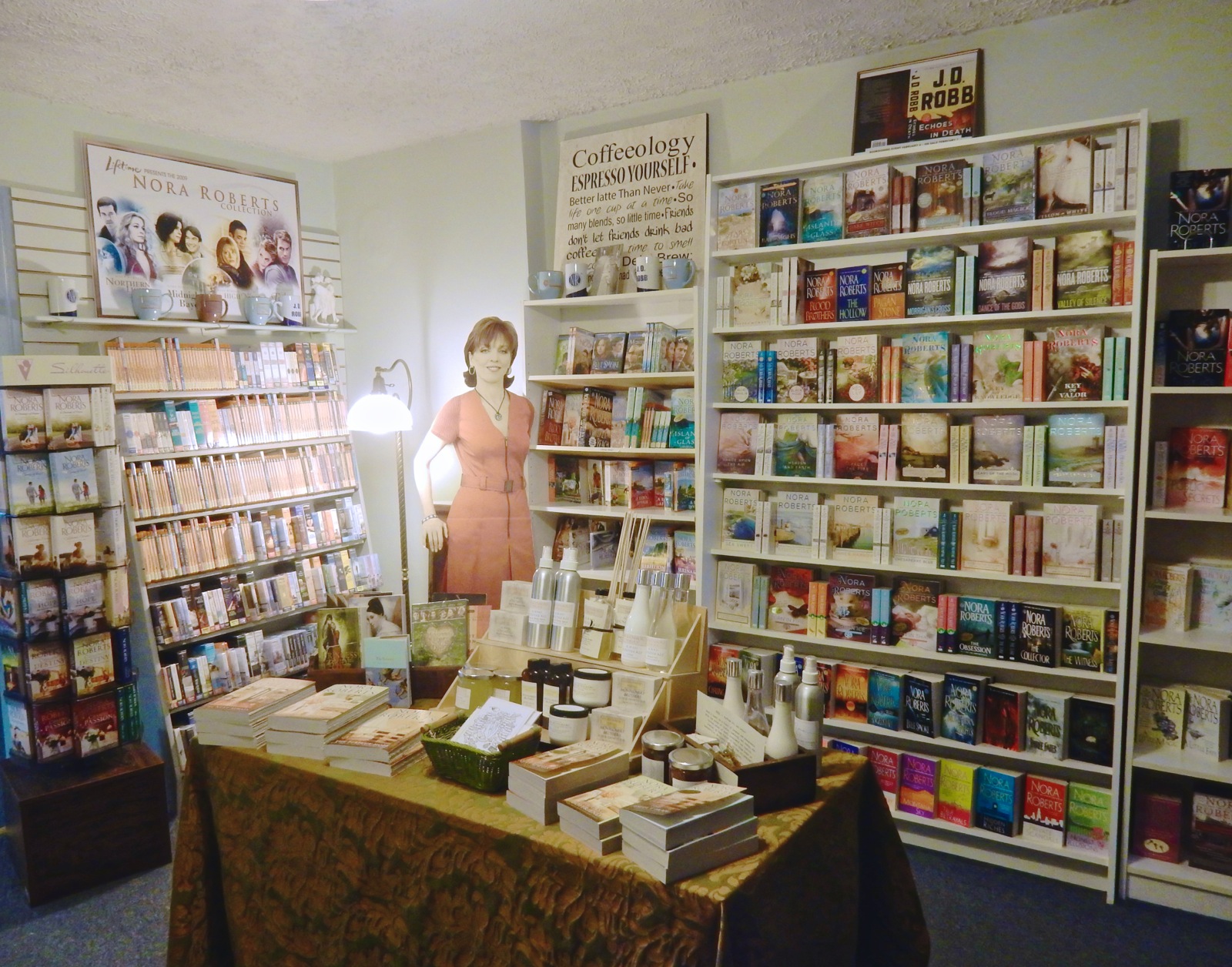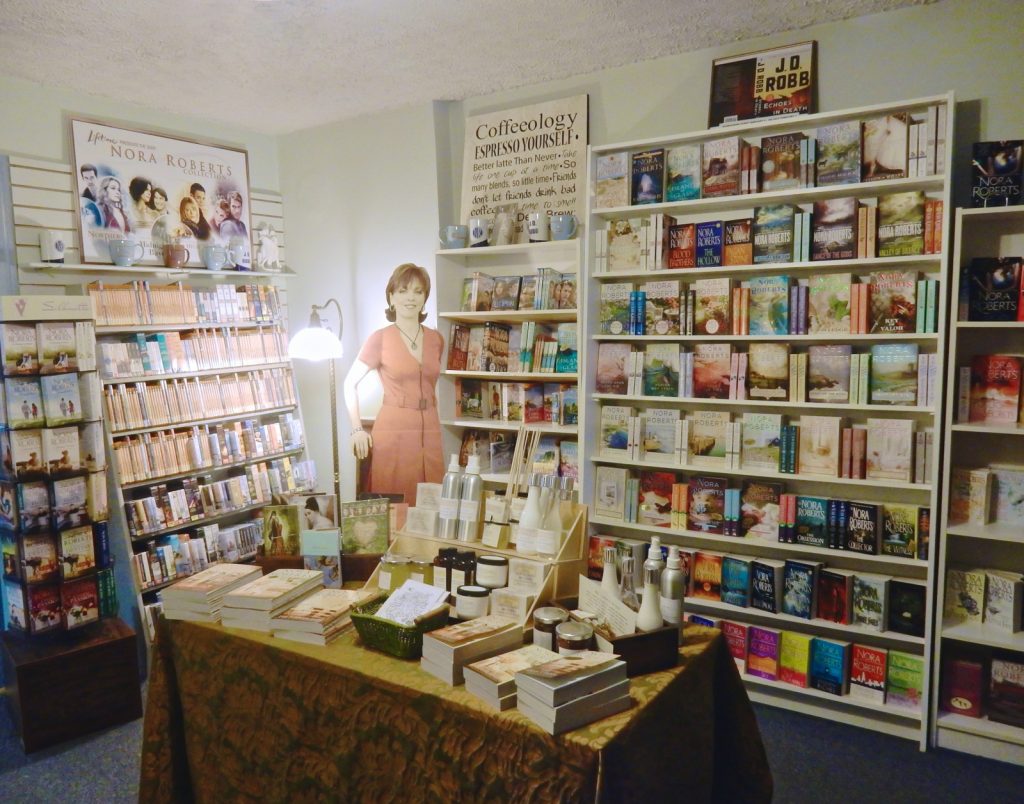 What happens when the husband of a best-selling author opens a bookstore? This place. Though the shelves in the "Nora Room" are stocked with nearly all of the 200 plus books that Nora Roberts has written (that are still in print), you will find the work of many other writers in a warren of spaces, as well as a small Organic Fair Trade coffee nook.
Roberts doesn't sit behind the counter. She's too busy writing at home from 9-5 daily. However, she does come to the store for book-signings six times a year.
Extremely prolific, Roberts publishes five books a year – two under her pseudonym JD Robb, two out of three in a series, and a stand alone Nora Roberts tome. Pick up signed copies here, and/or sign up to receive her latest, delivered on your doorstep on the date it's released. Open Mon-Sat 10-6, Sun 11-4.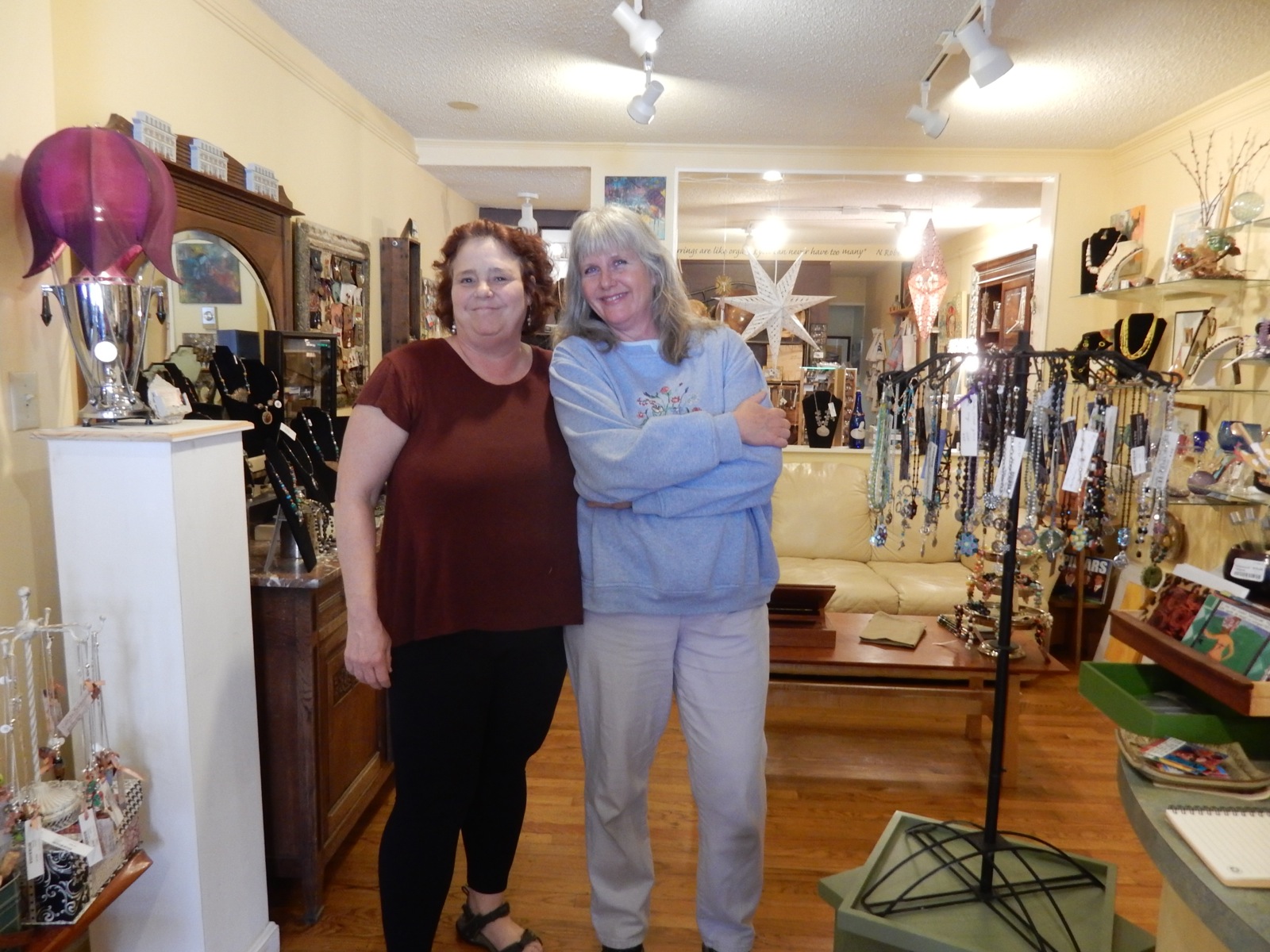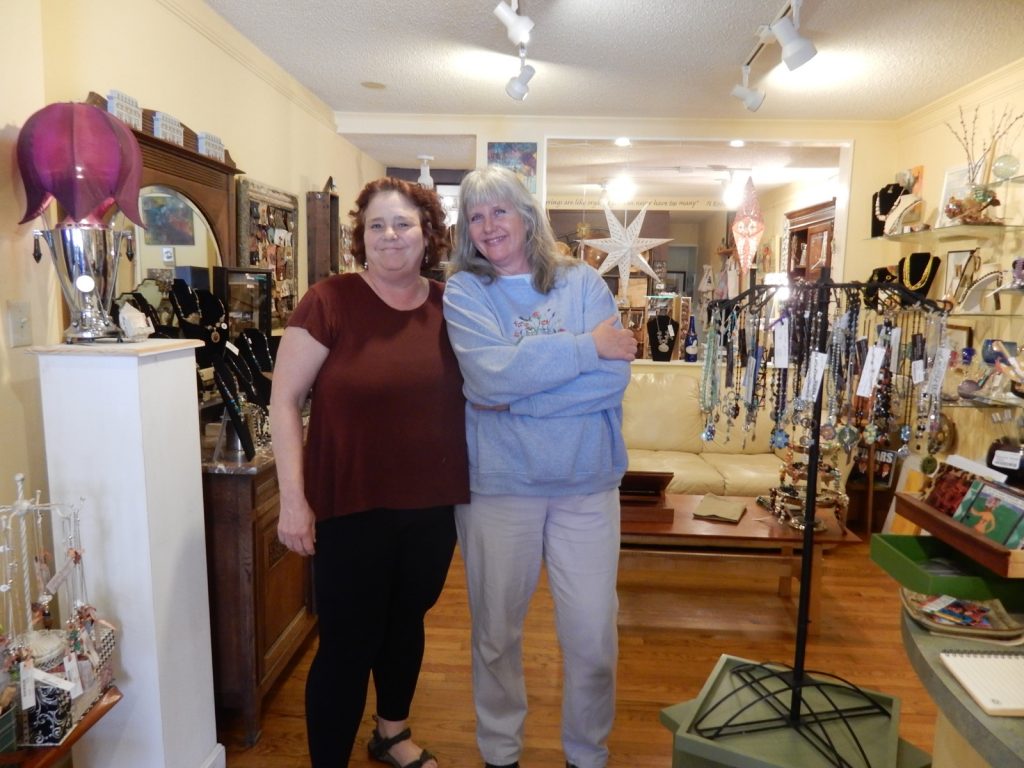 If you love the Cedar Ridge soaps, lotions and shampoo at Inn Boonsboro, you're in luck. You can buy larger versions in this gift shop across the street from the inn, along with great jewelry, fiber arts, and crafts made by 100 local and regional artists in a four-room gallery. Open Mon-Sat 10-6, Sun 11-4.
Best Restaurants in Washington County MD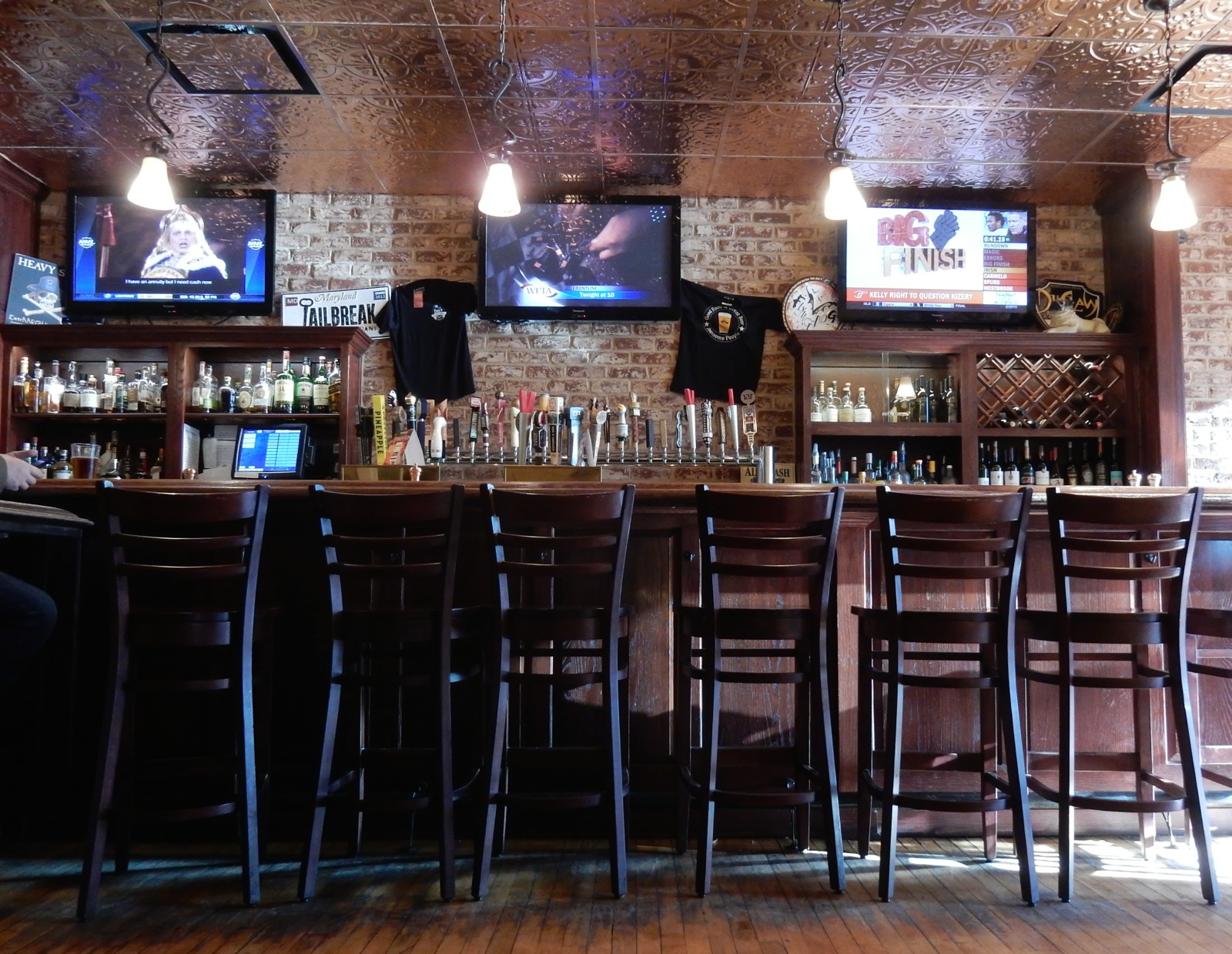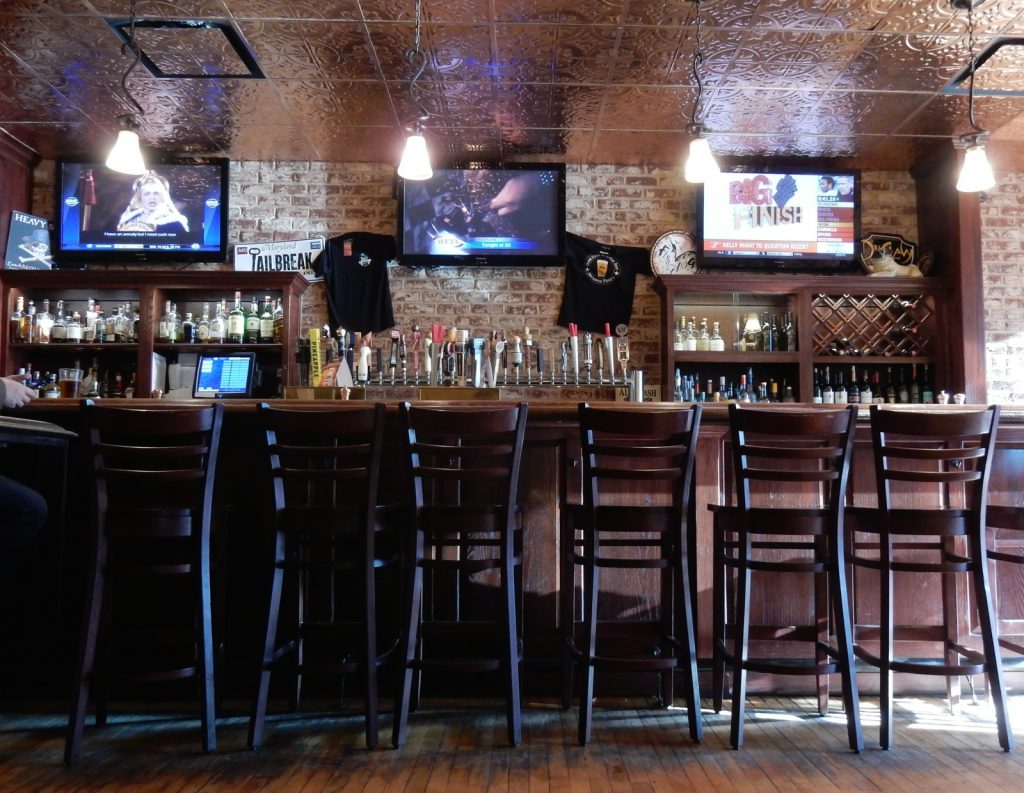 "Dan" is Dan Roberts, son of Nora, who is an apparent fan of American Craft beer, Bourbon, and Scotch. As are the restaurant's patrons, who congregate at the attractive brick-backed bar to sample flights of each. Specialties of the house include half-pound burgers, Taphouse Carbonara, IPA-Battered Asparagus, and other upscale pub food.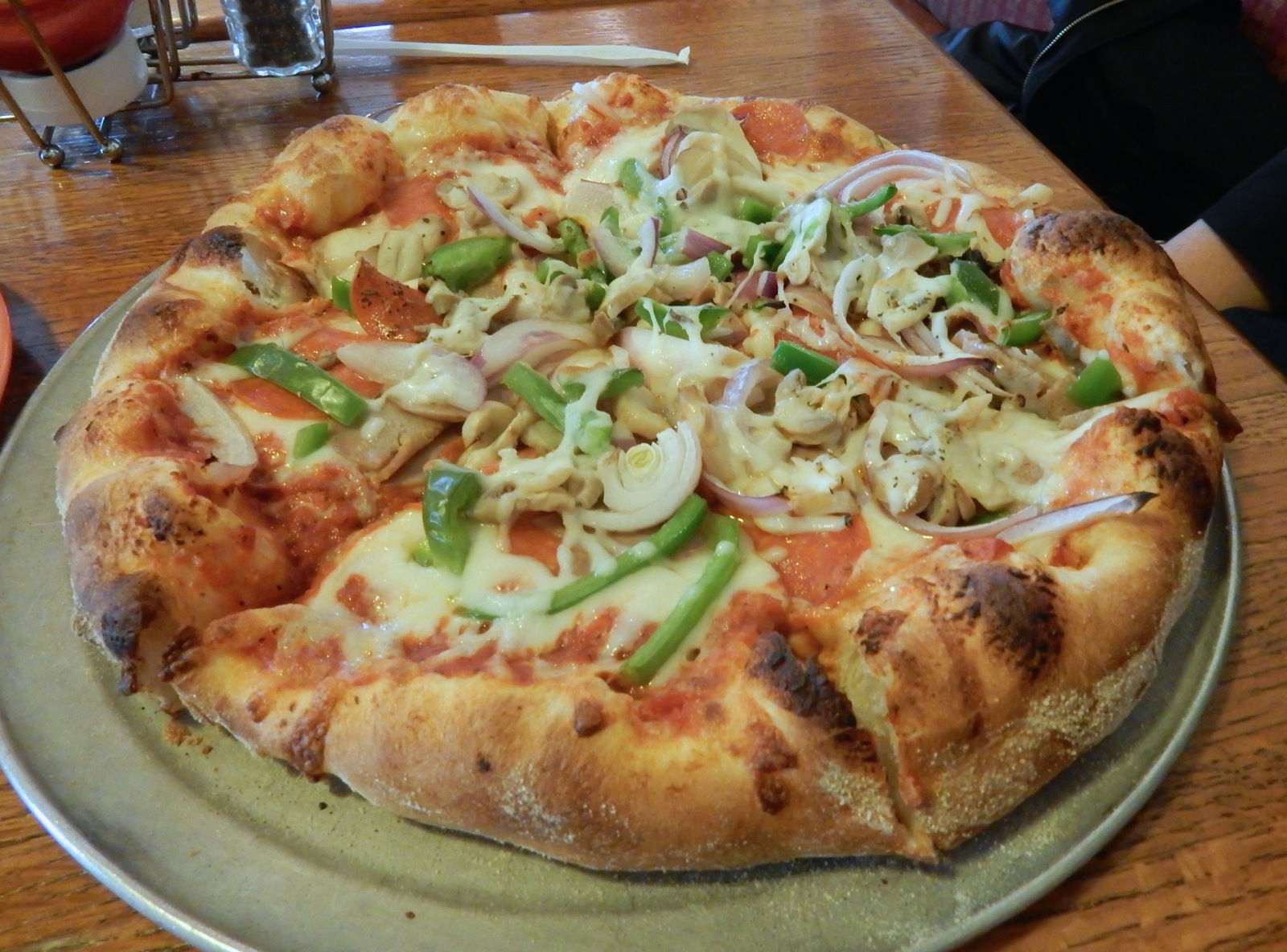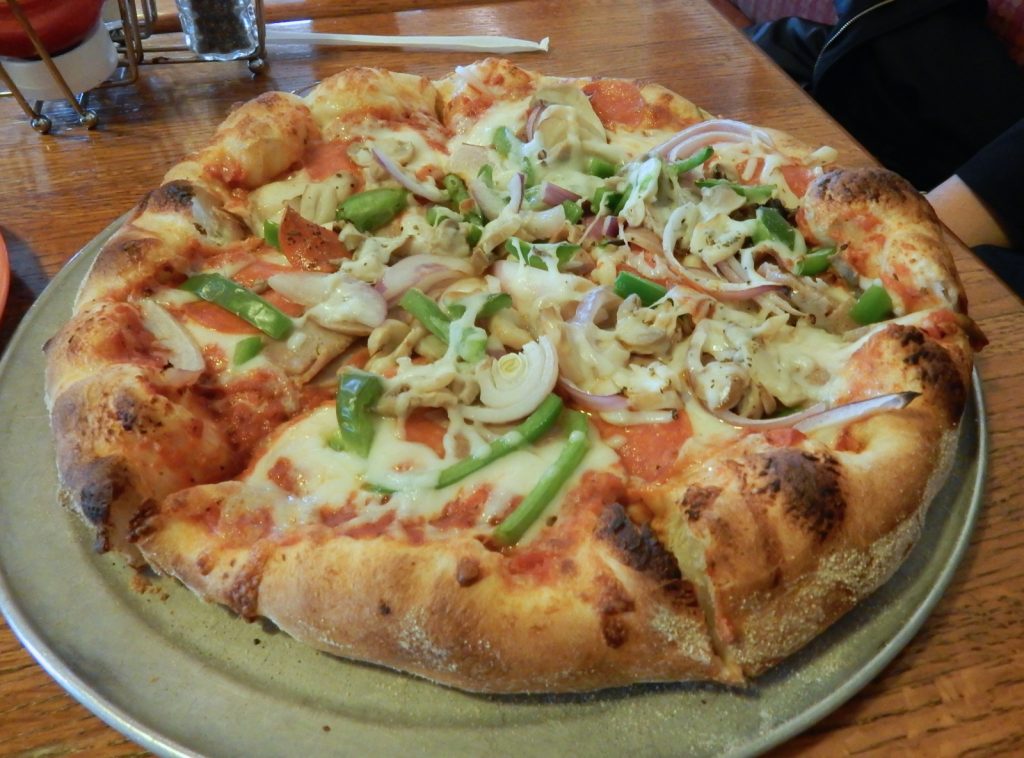 EAT: Vesta Pizzeria and Family Restaurant, Boonsboro
Nora Roberts owns this understated family spot – a good choice for a wallet-friendly lunch. The "Boonsboro Farmer's Market" Pizza brims with portobello mushrooms and other veggies on thick crust. In addition, you can get "Hand Helds," Salads, and even Mussels. The vibe is casual and friendly and the food is very delish.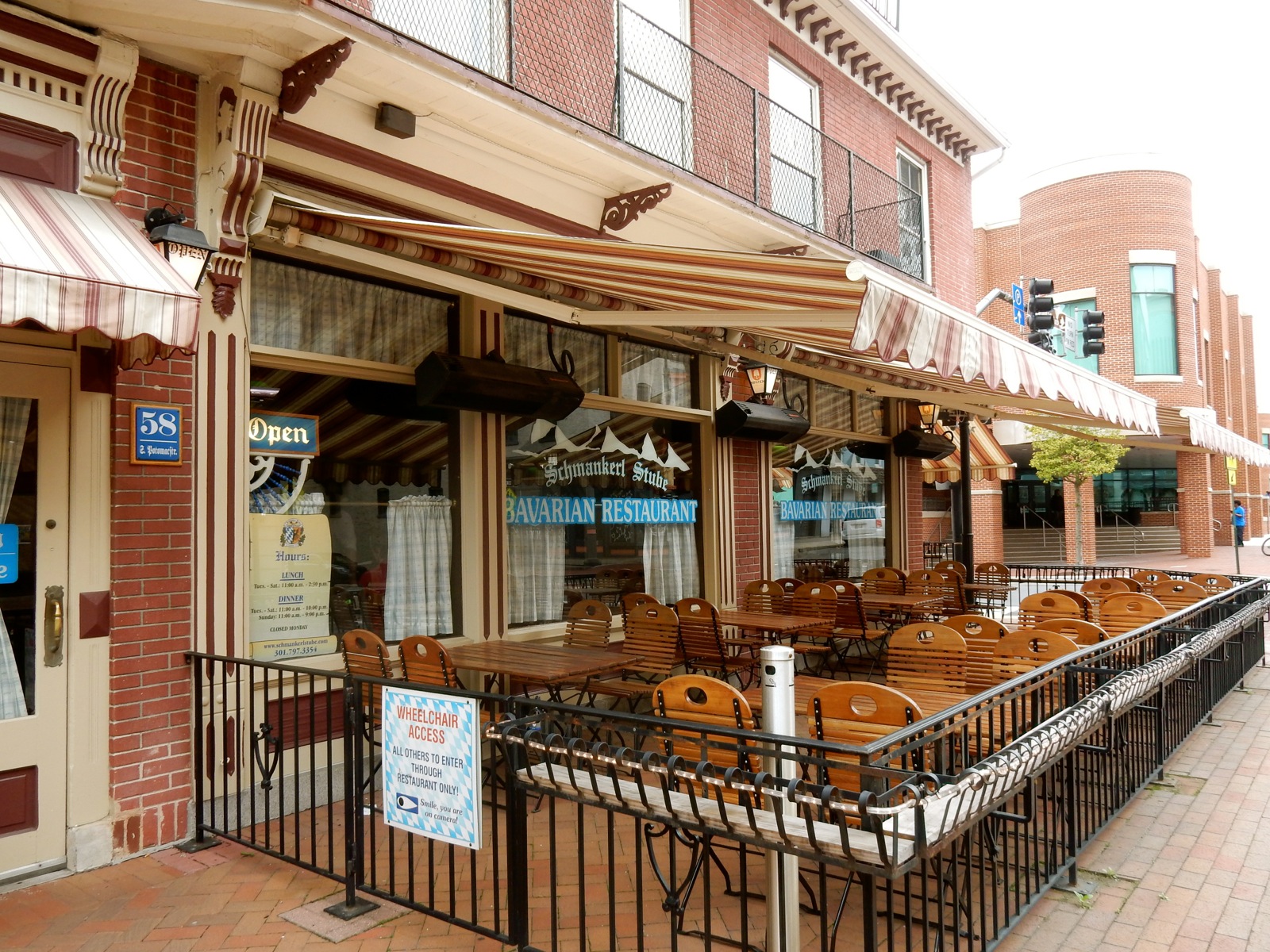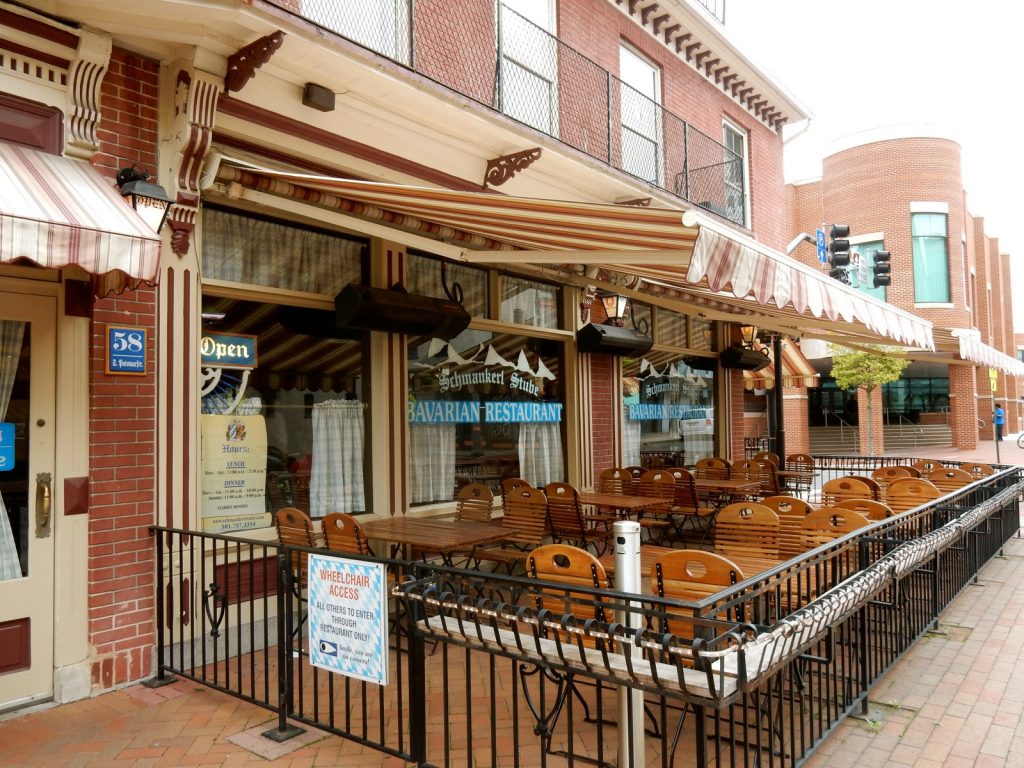 A local favorite, this Bavarian spot excels at great German beer on draft and a variety of Wursts.
EAT: Hagerstown Locals Recommend
28 South, Dolce, and Rik's Café.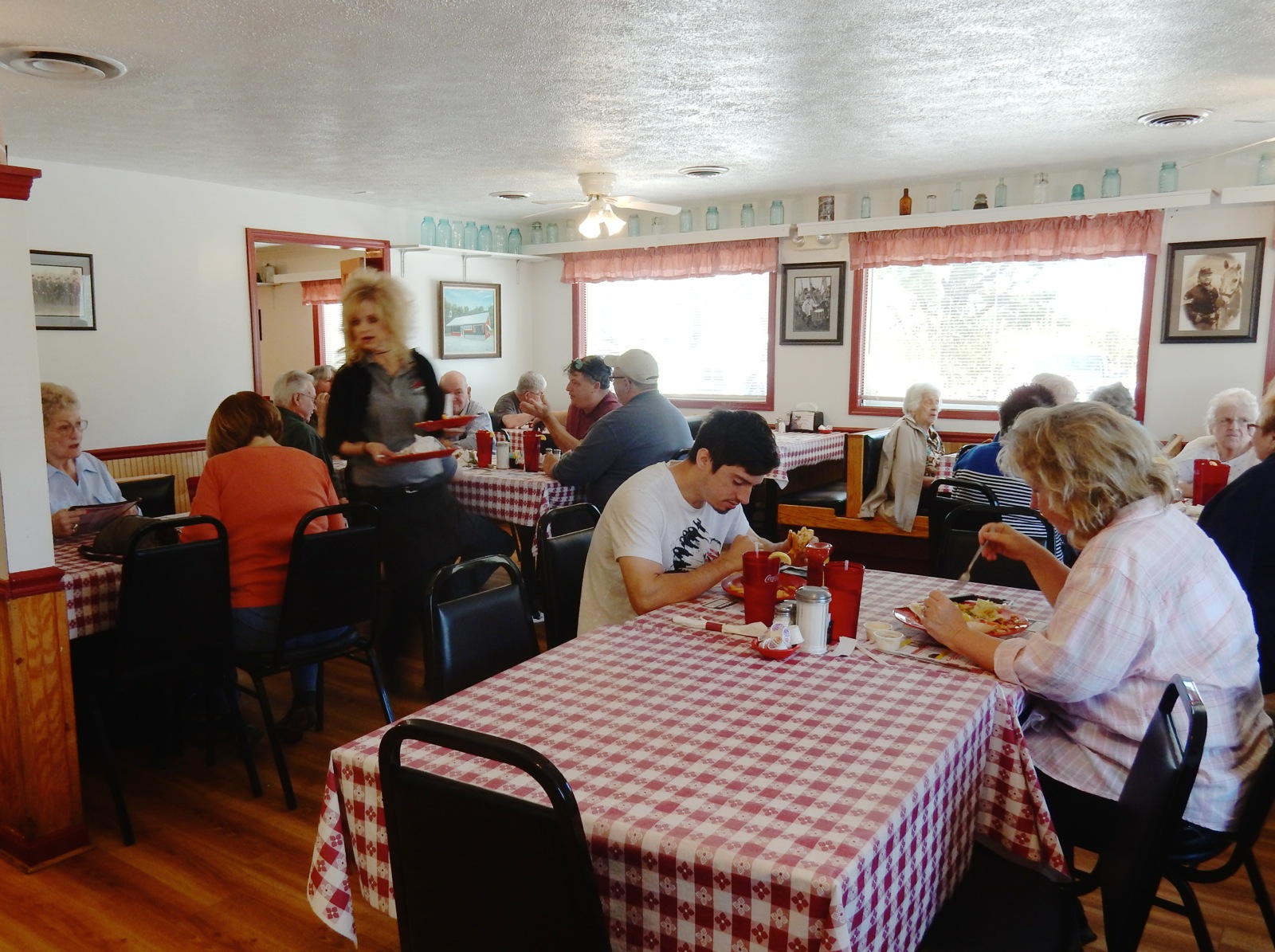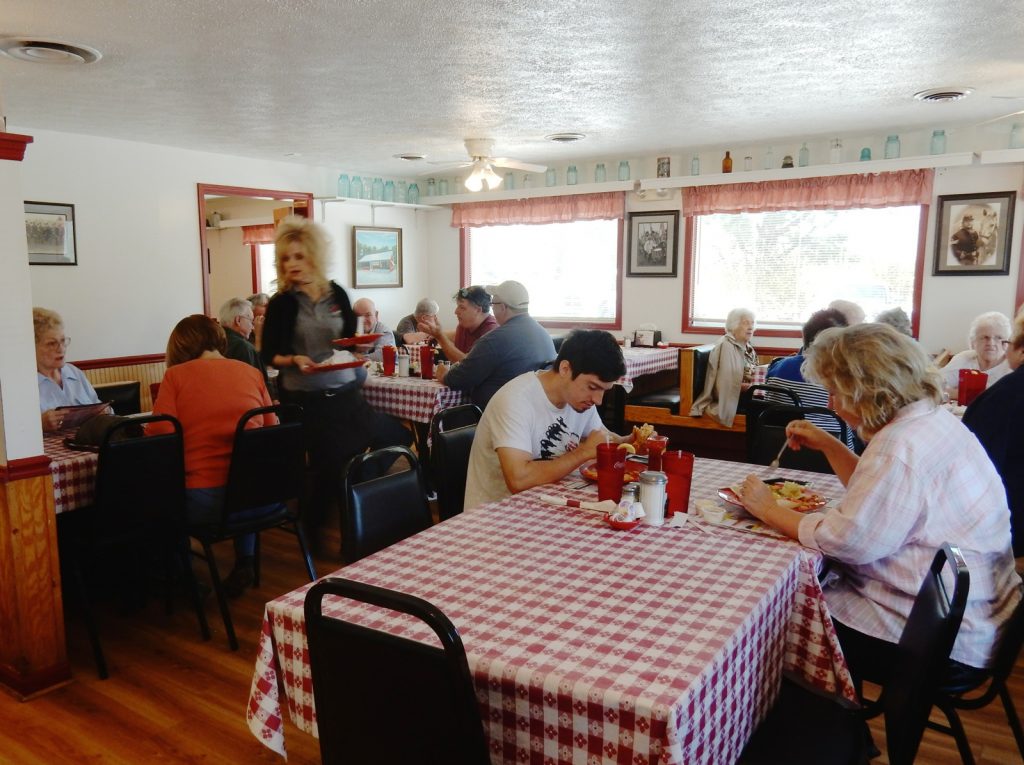 EAT: Bonnie's @ The Red Byrd, Keedysville
Locals love this homey red and white checked tablecloth authentic homespun eatery, especially for its signature pies, Red Velvet Cake and "Big Byrd Sandwich Platter." It's "Cheers" as country café.
Best Place to Stay in Washington County MD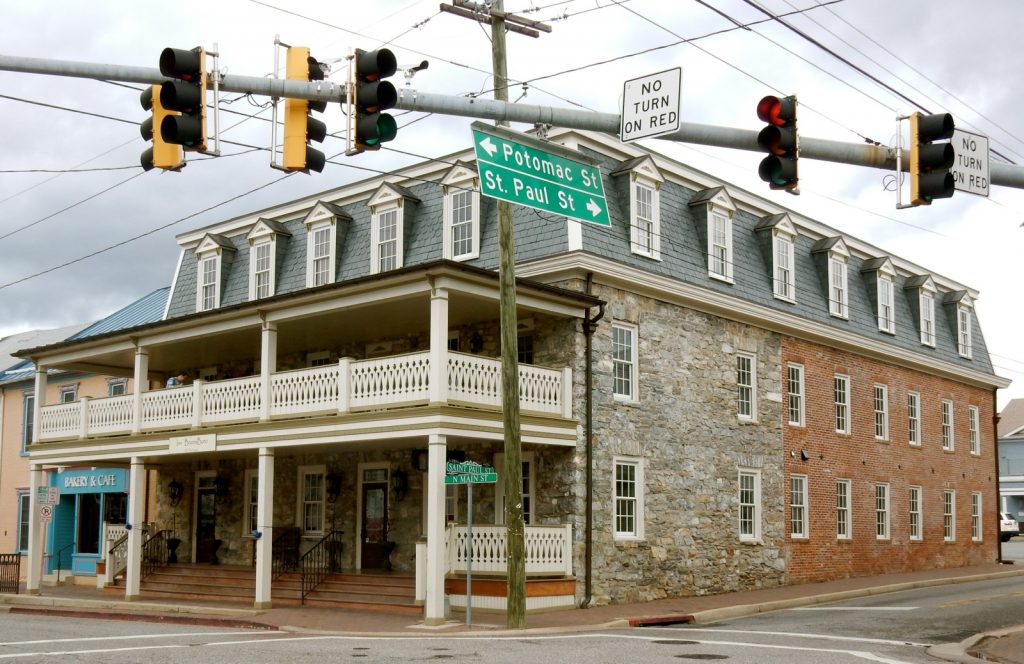 Inn Boonsboro sits on a busy crossroads in tiny Boonsboro MD. The stone French Second Empire Style building, erected in the late 1700's, operated as the Eagle Hotel until it was left to rot.
In 2008, the Roberts family saved, renovated, and reopened the Eagle Hotel as Inn Boonsboro. This endeavor was fictionalized, barely, in Nora Robert's Inn Boonsboro Trilogy.
Fans have been known to call up the B&B, surprised that an actual human answers. "You mean, you're a real place?"
Inn Boonsboro is so romantic, we included it on our Best Romantic Hotels in Maryland post.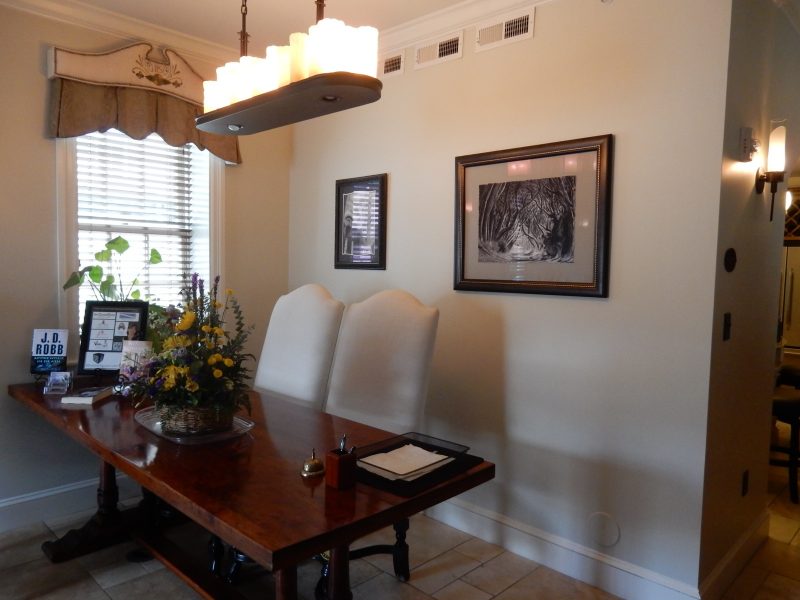 Indeed, Inn Boonsboro is real. And lovely.
All 8 rooms are named after literary characters from the Classics: Elizabeth & Darcy, Jane & Rochester, Nick and Nora, and the like. And each room is decorated to the nines as nods to those stories the characters represent.
Just don't expect Nora herself to check you in. Or check in on you, once you're here. She lives a few miles away in Keedysville, and stays home to write from 9-5 each day.
Six times a year, Roberts comes to Boonsboro to sign books at Turn the Page Bookstore. So the answer to the question, "will I get to meet Nora?" is, "Not unless you visit on one of those six book-signing days."
Rooms at Inn Boonsboro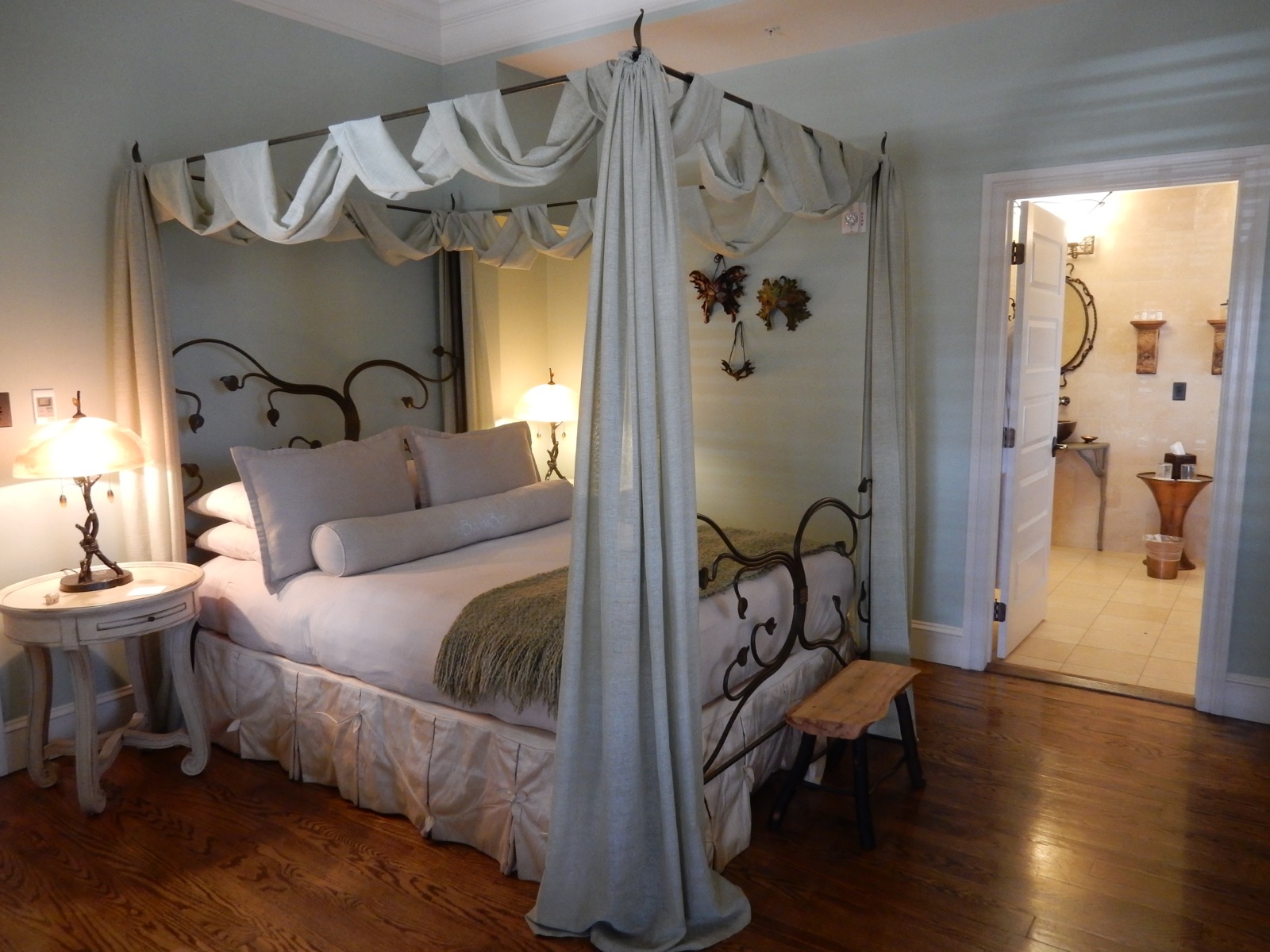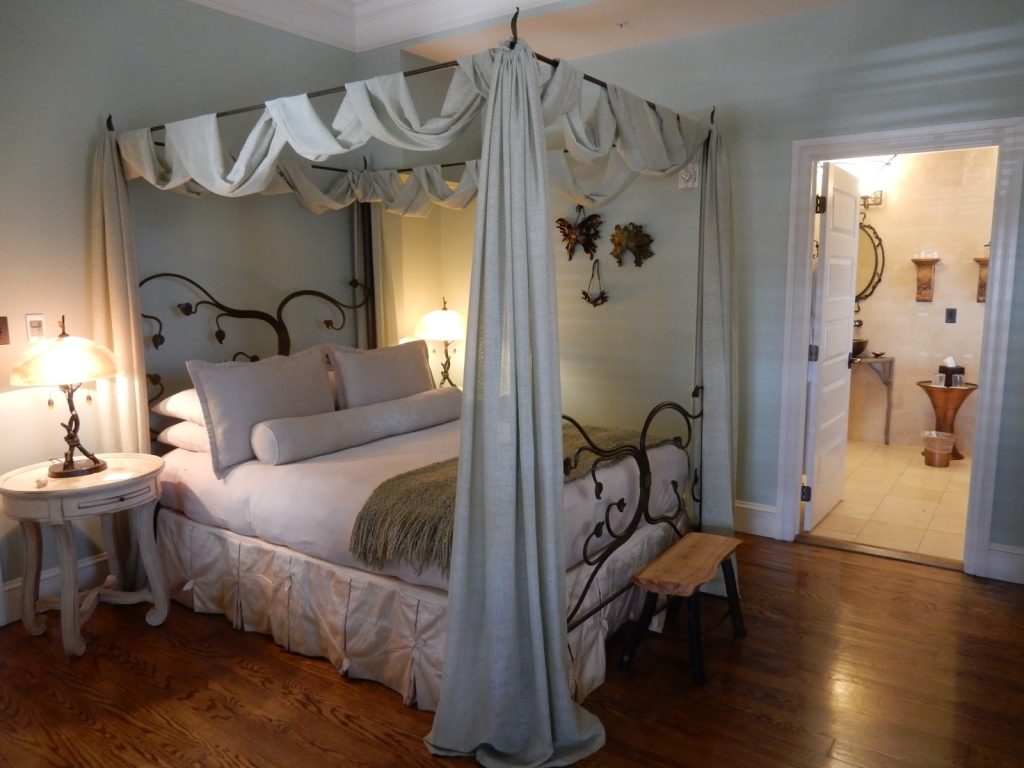 I stayed in Tatiana & Oberon from Shakespeare's A Midsummer Nights Dream. It is indeed a dreamy room, complete with a vine-sculpted wrought iron canopy bed, wound with yards of raw linen and piled with a thick duvet and multitudes of pillows.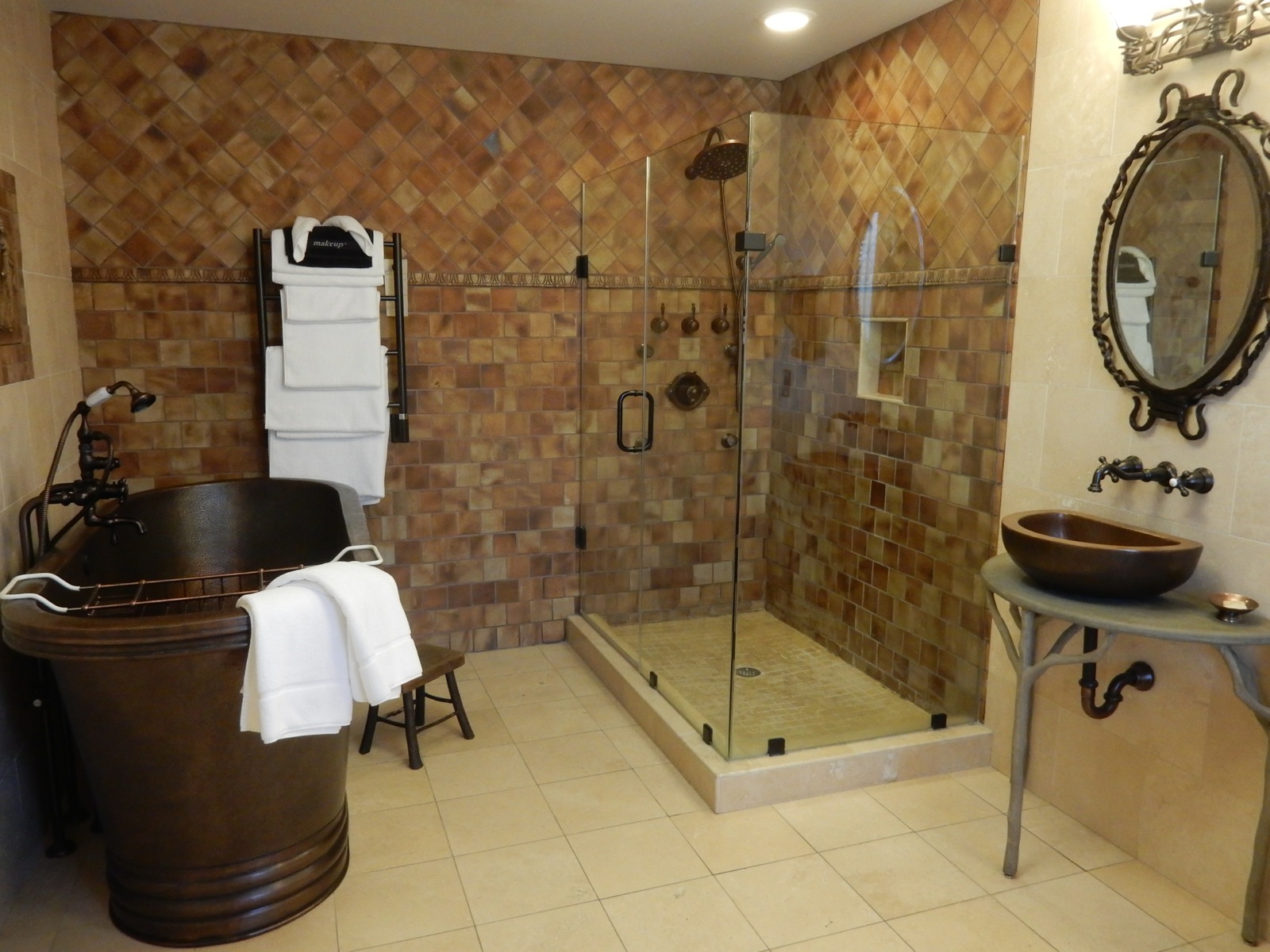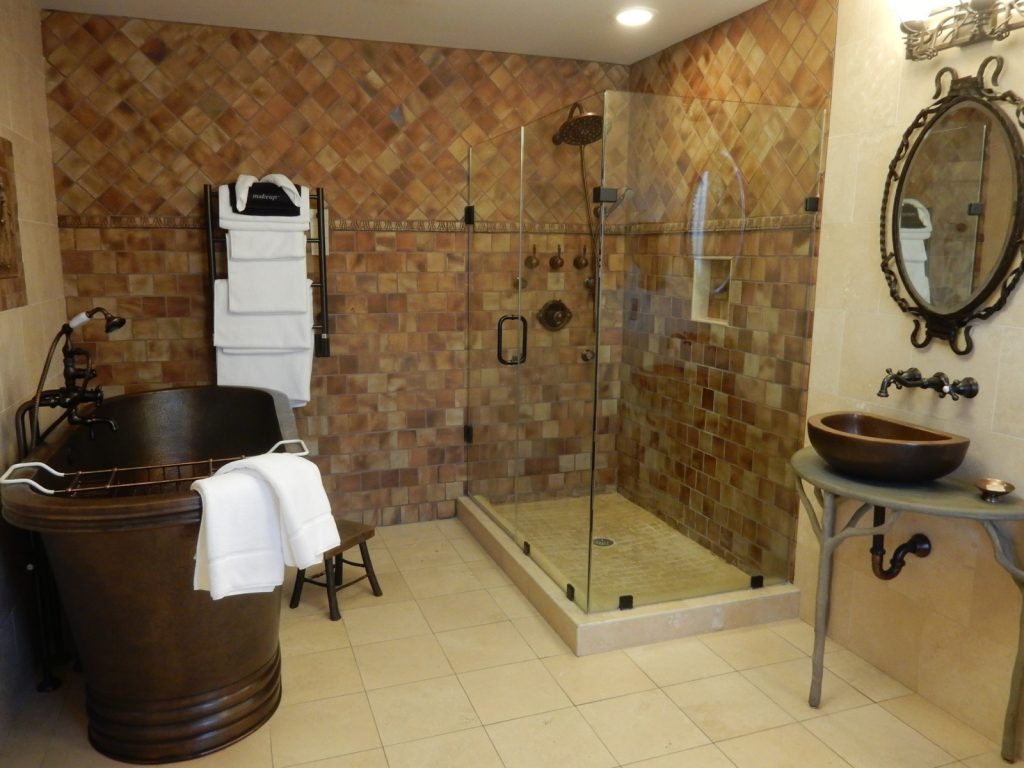 The enchanting Italianate bathroom, clad in a mélange of coffee-colored tile, features a huge glass rain shower and deep hammered copper tub. Bath salts are provided.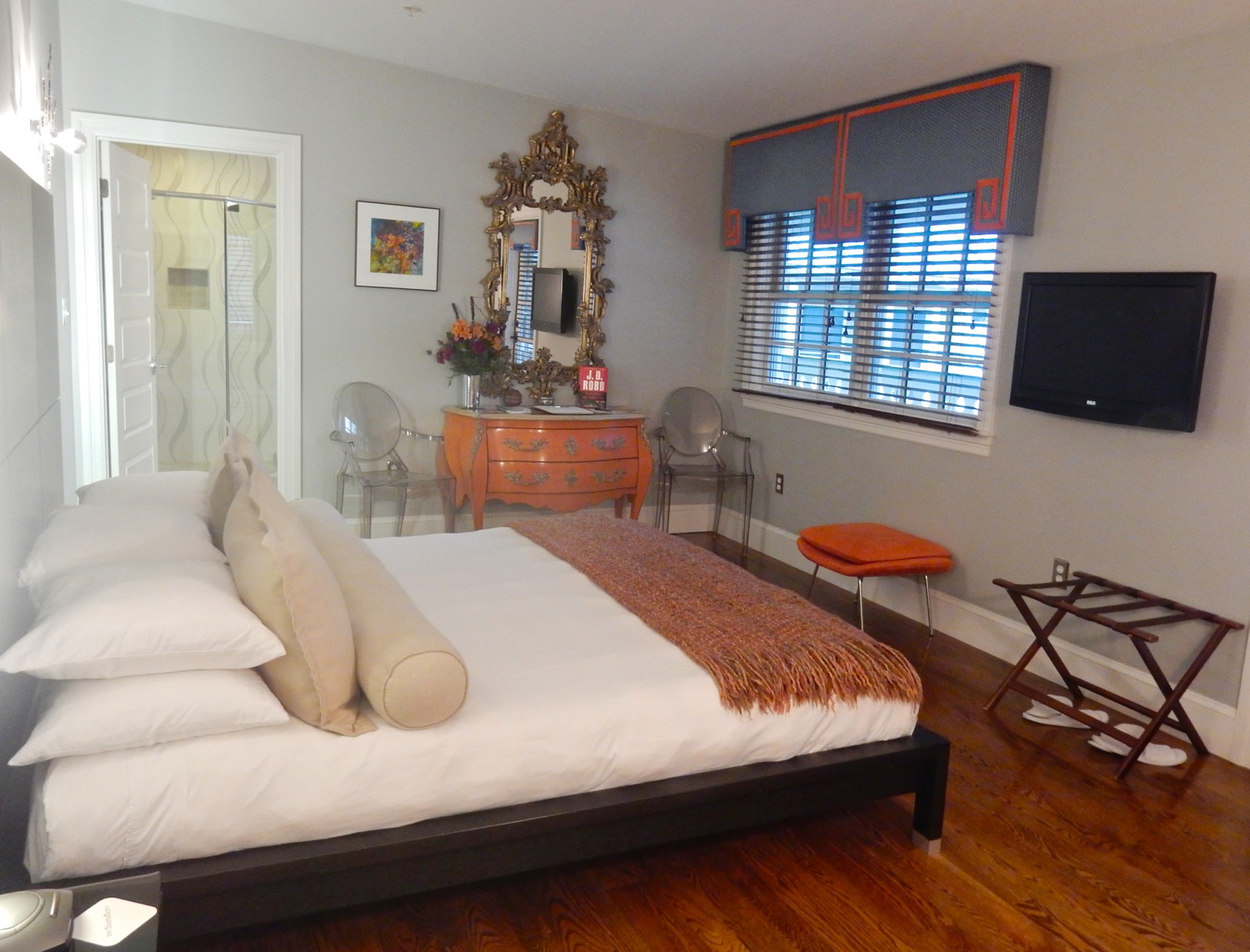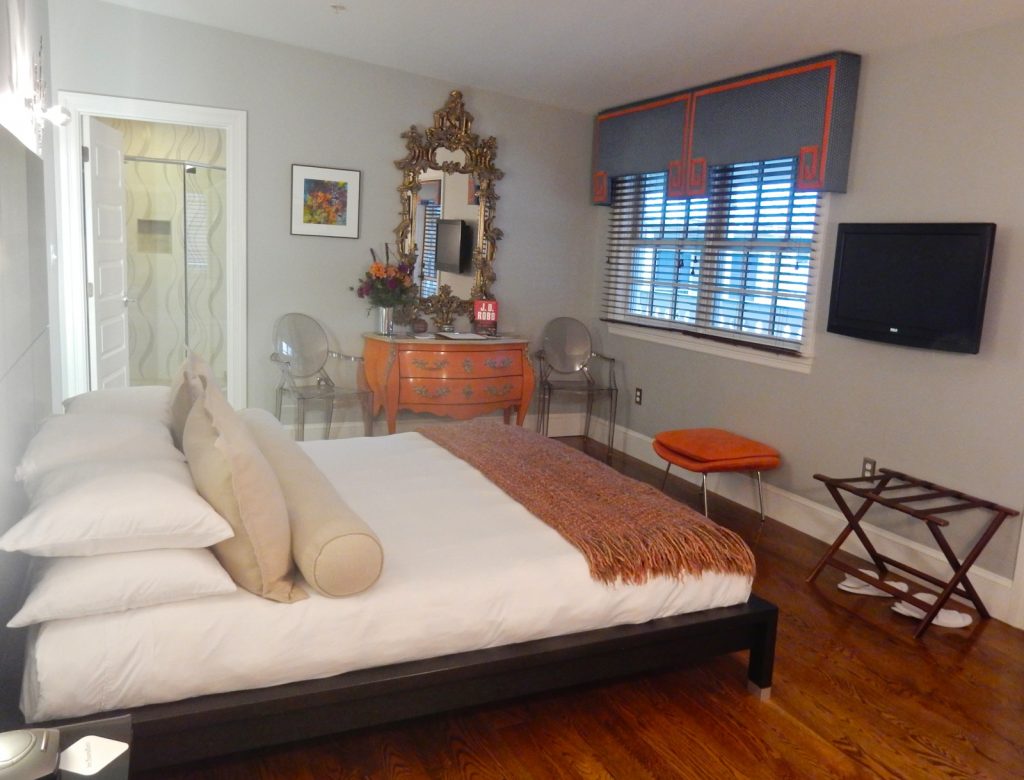 Each room has its own personality. So, some repeat guests make it a point to stay in a different room each time. Fans of mid-century modern will adore the Eve and Roarke room (the only one named after Roberts' characters).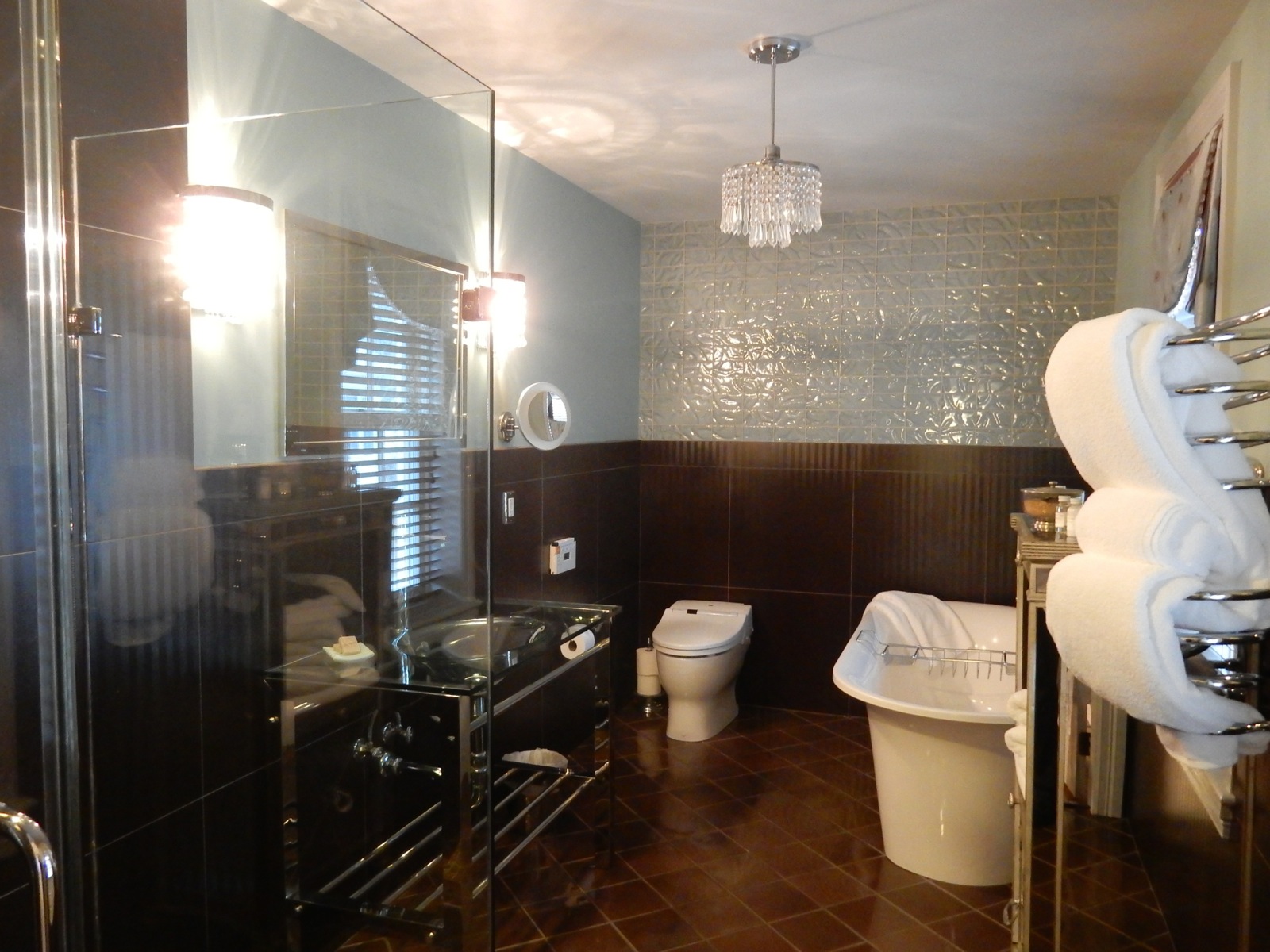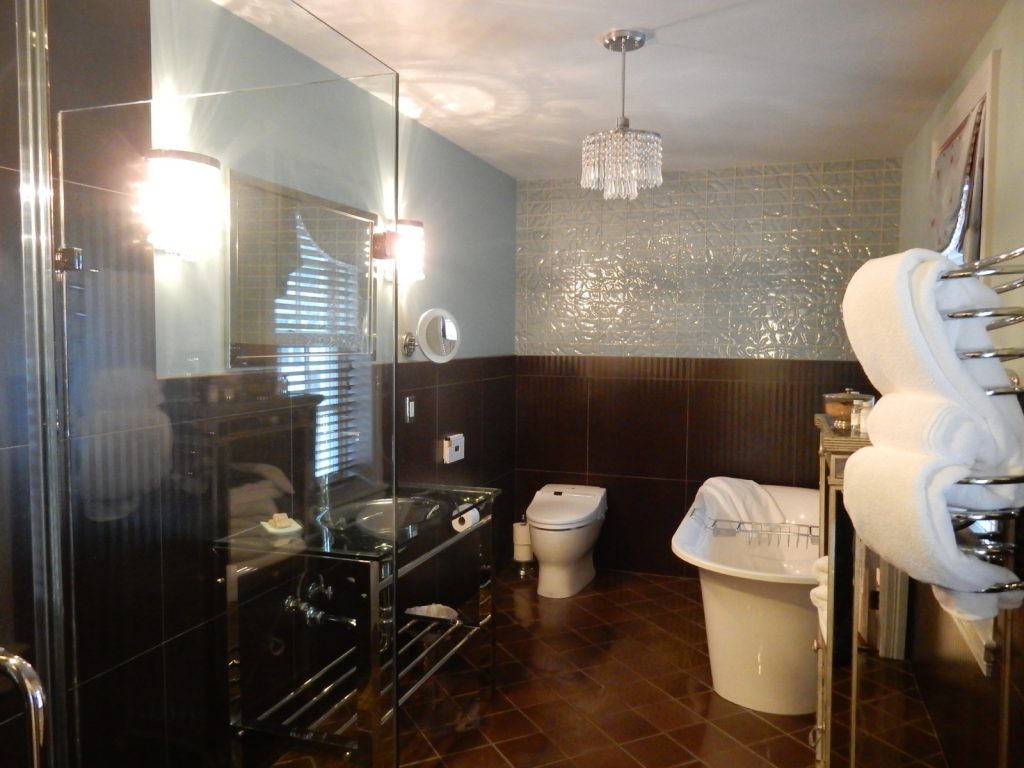 For the coolest bathroom, you've got to book the Nick and Nora room. Its salle du bain is a yin-yang of tiled black floor and wainscoting, juxtaposed with glistening iridescent glass.
Food at Inn Boonsboro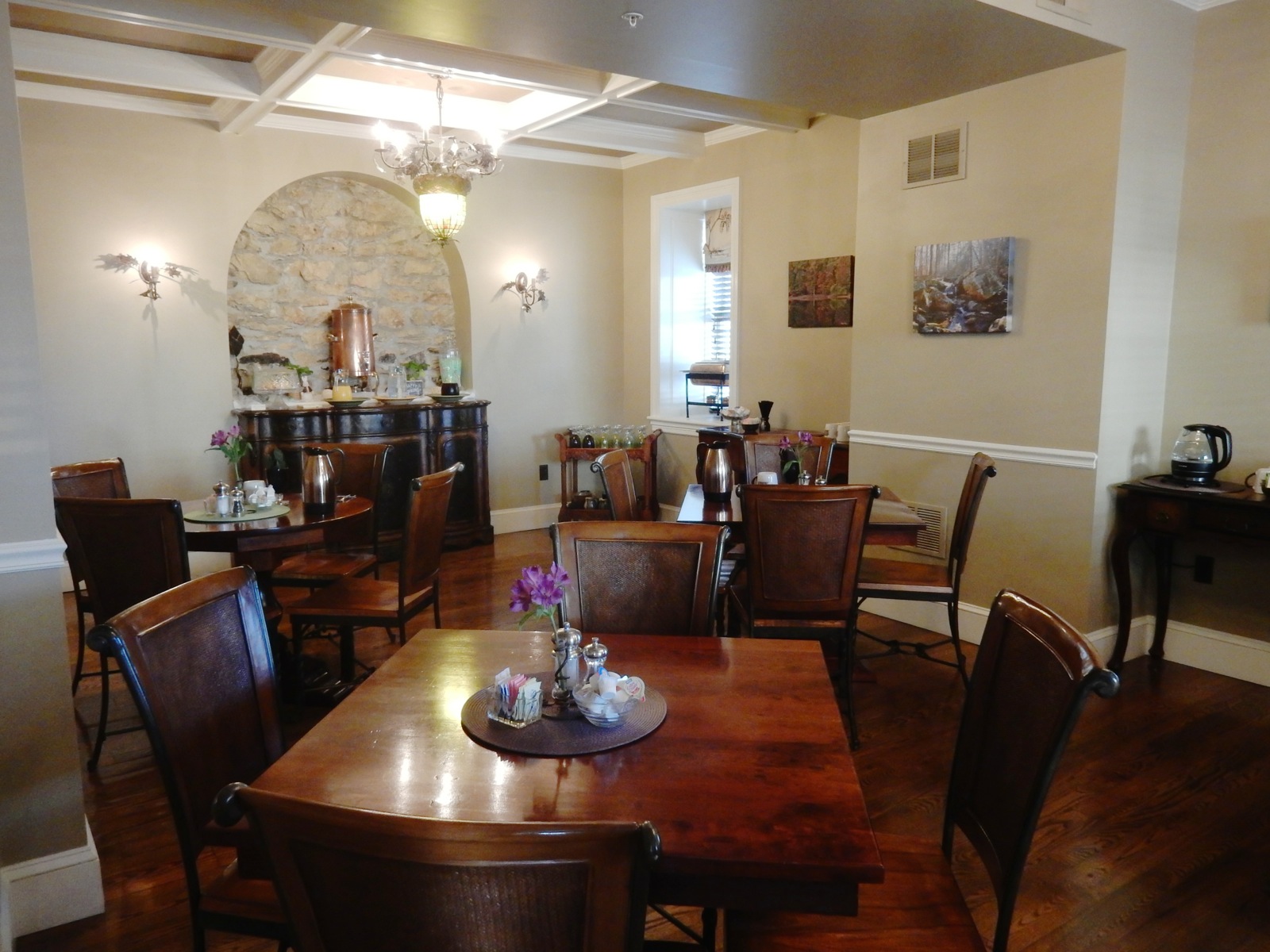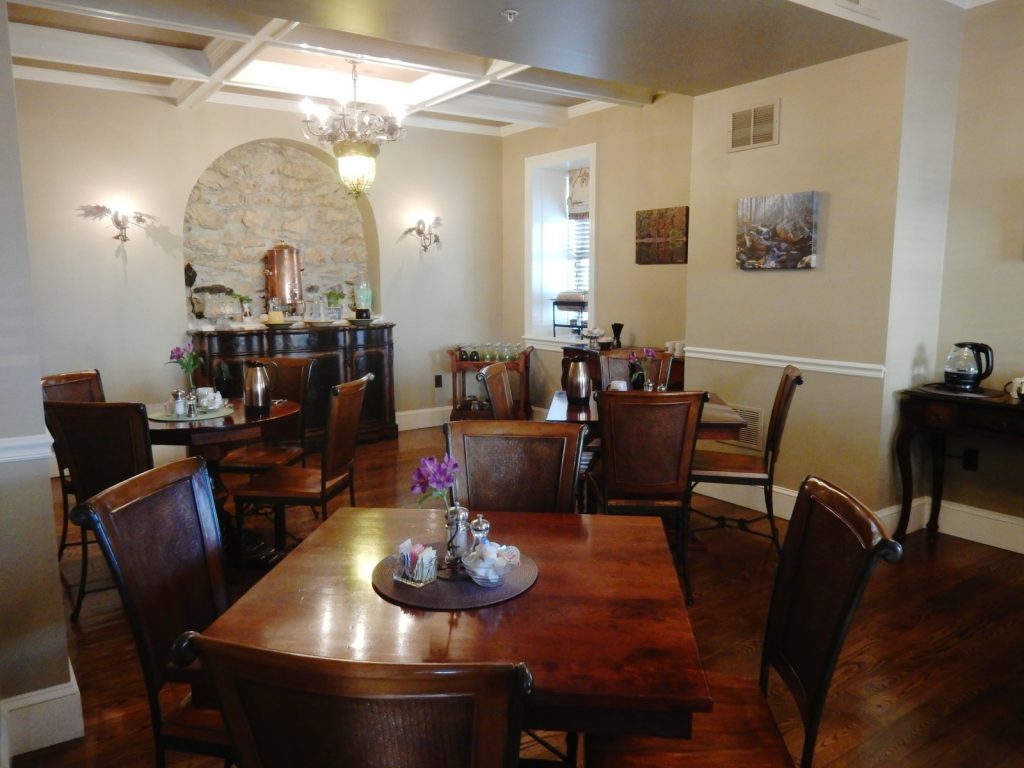 Breakfast is bliss. It begins with ethereal fresh-baked scones and a full carafe of coffee on each table. This is followed, quite possibly, by one perfect crispy-creamy blintz with fruit compote, and then a made-to-order omelet plated with Panko-Crusted Tomatoes, Old Bay seasoned Home Fries, and the house signature – "ribboned" Brown-Sugar Bacon.
Your morning meal will change by the day. Chefs are quite adept at catering to dietary needs as well.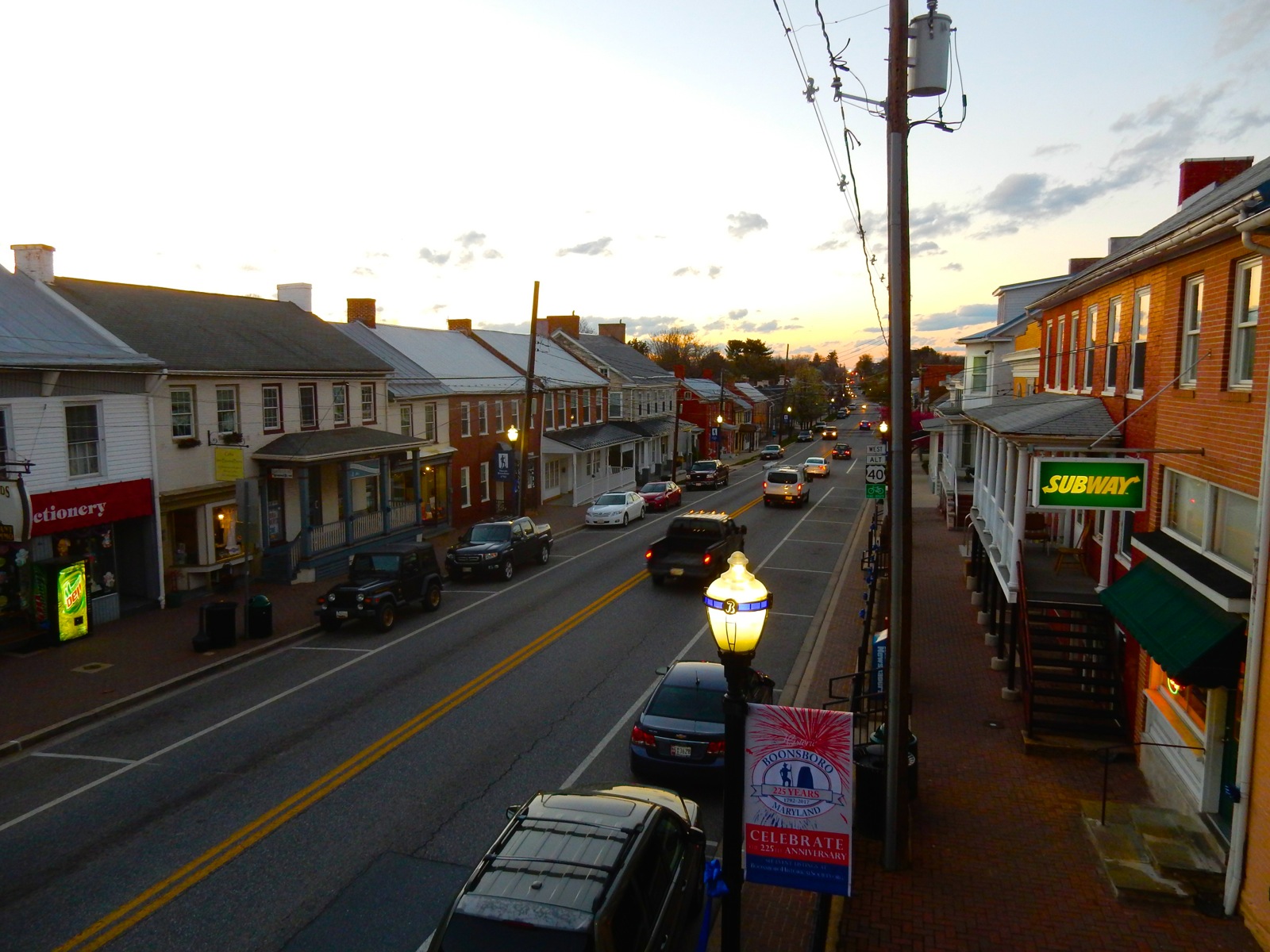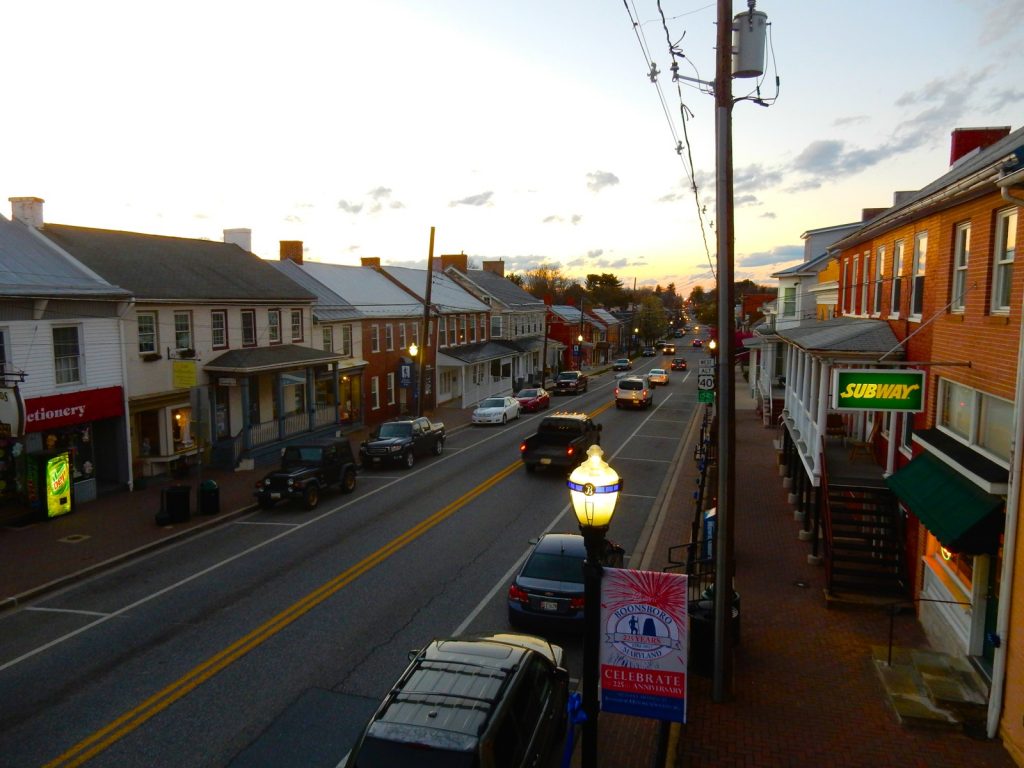 The Inn hosts a daily wine and cheese hour from 6pm-7pm each day. It encourages guests to mingle in the downstairs lounge. There, you'll also find water and soft drinks for the taking 24/7. Upstairs, in the library, take a nip from the decanter of Irish Whisky to enjoy while watching TV or reading a book.
Amenities at Inn Boonsboro
Daily two-course gourmet breakfast.
Afternoon wine and cheese hour.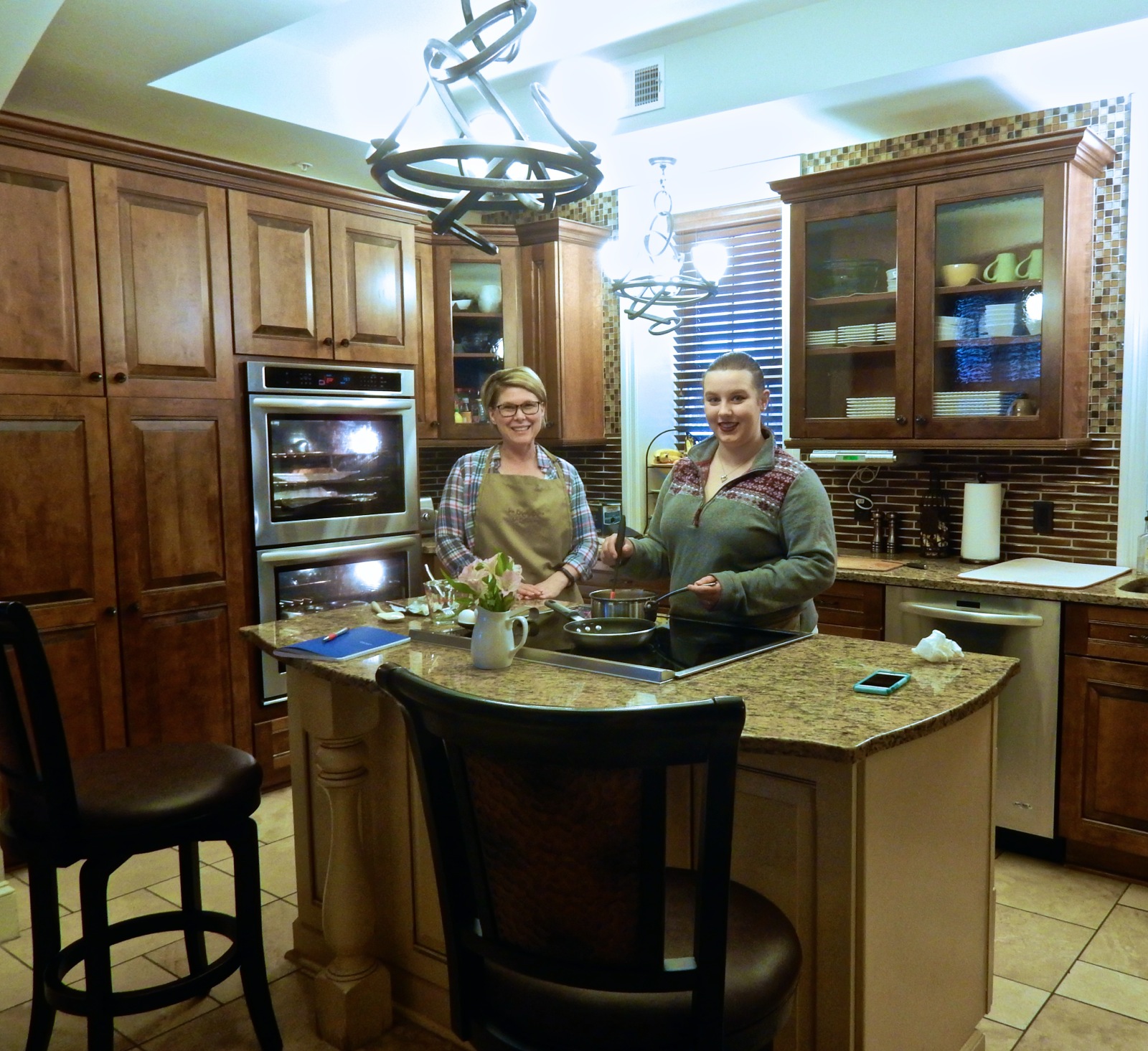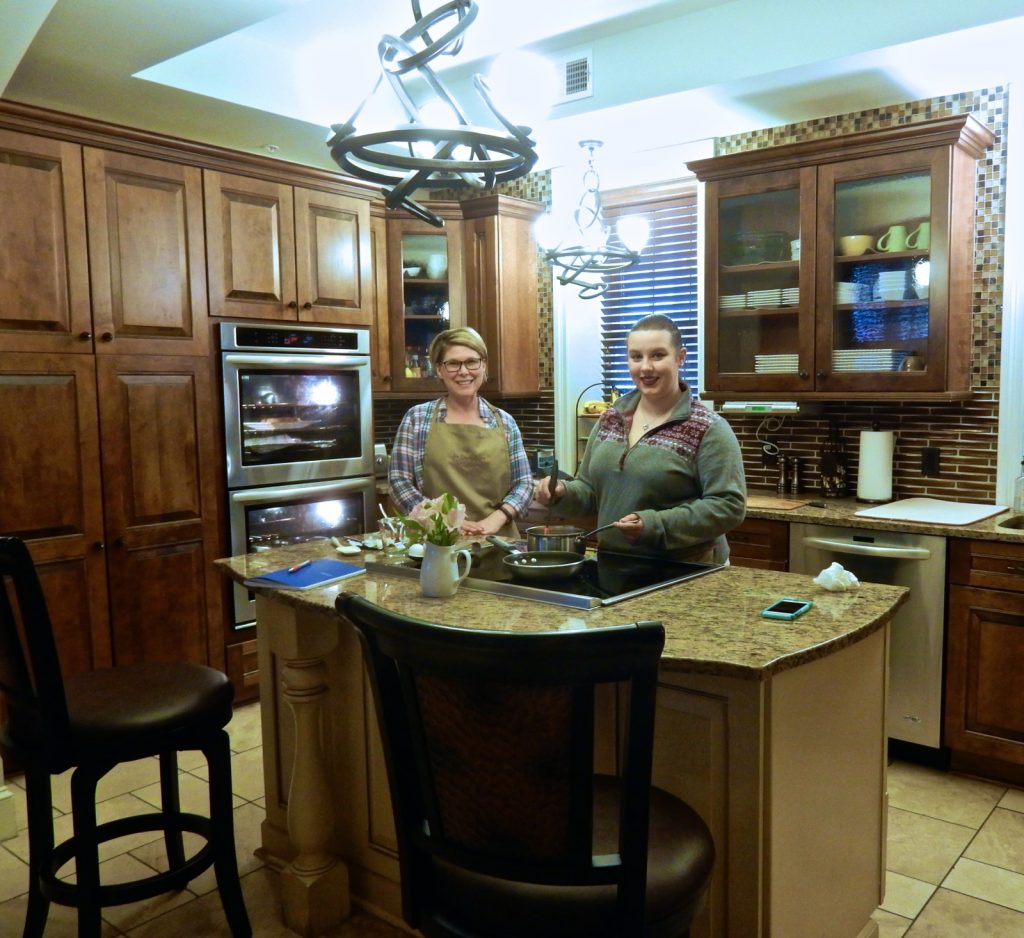 Soft drinks and water 24/7.
Baked Goods in the Afternoon.
Free parking.
Free Wi-Fi.
Room rates from $239-$299 include all of the amenities above.
Find Inn Boonsboro on Getaway Mavens 15 Top Romantic Hideaways Northeast US 2022