Last Updated on May 27, 2022 by Editor
WHY GO: A vacation spot since the late 1700's, Cape May NJ attracted city dwellers who traveled by packet steamers down to the shore.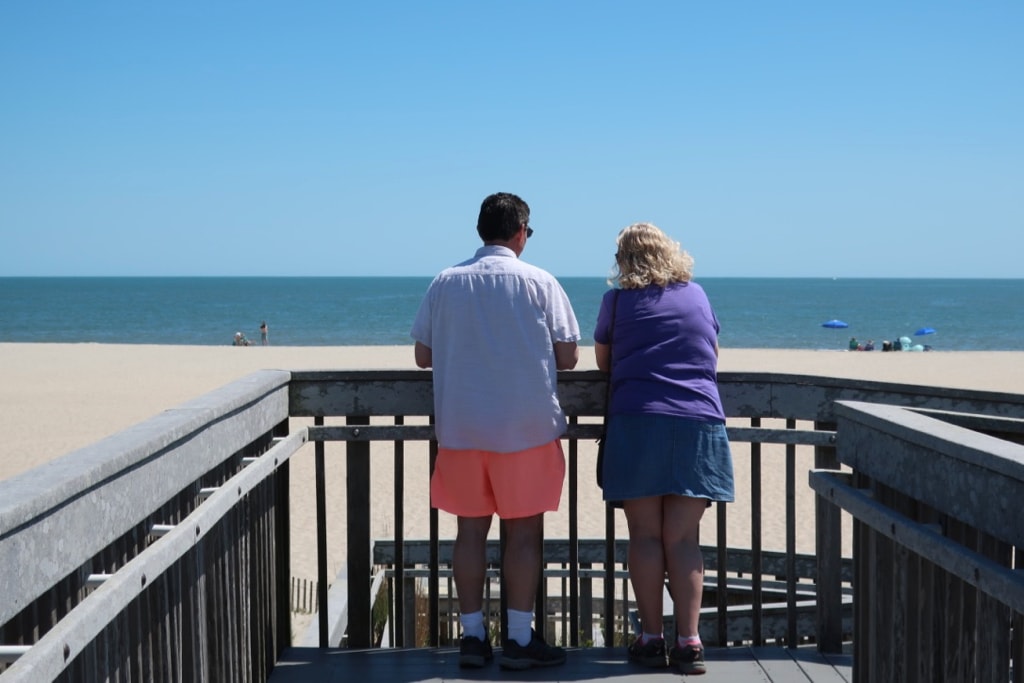 There, they'd "bathe" in the Atlantic Ocean, essentially bobbing up and down in the waves wearing barbell-heavy woolen "bathing attire."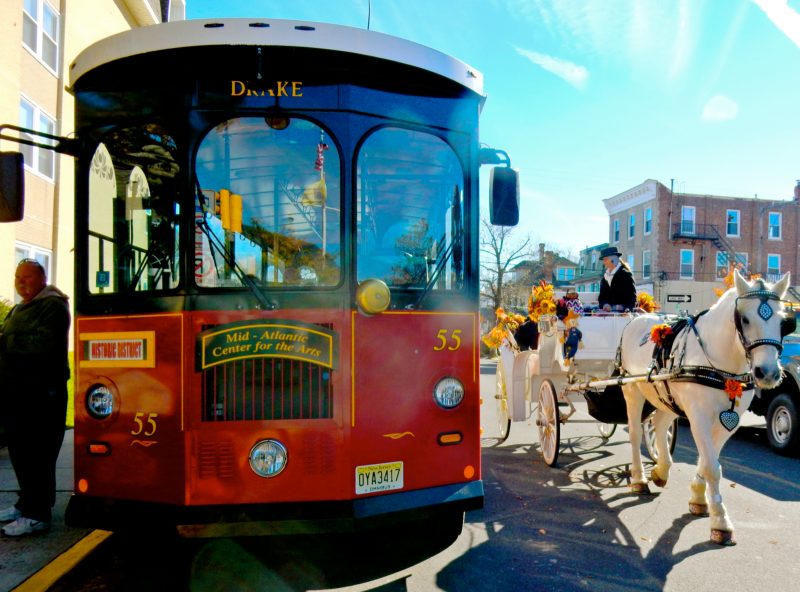 Since then, Cape May tourism has waxed and waned. A fire in 1878 destroyed nearly every home in the Historic District, leading to an almost instantaneous building boom. Thus was formed the concentration of Victorian Homes that survive till today.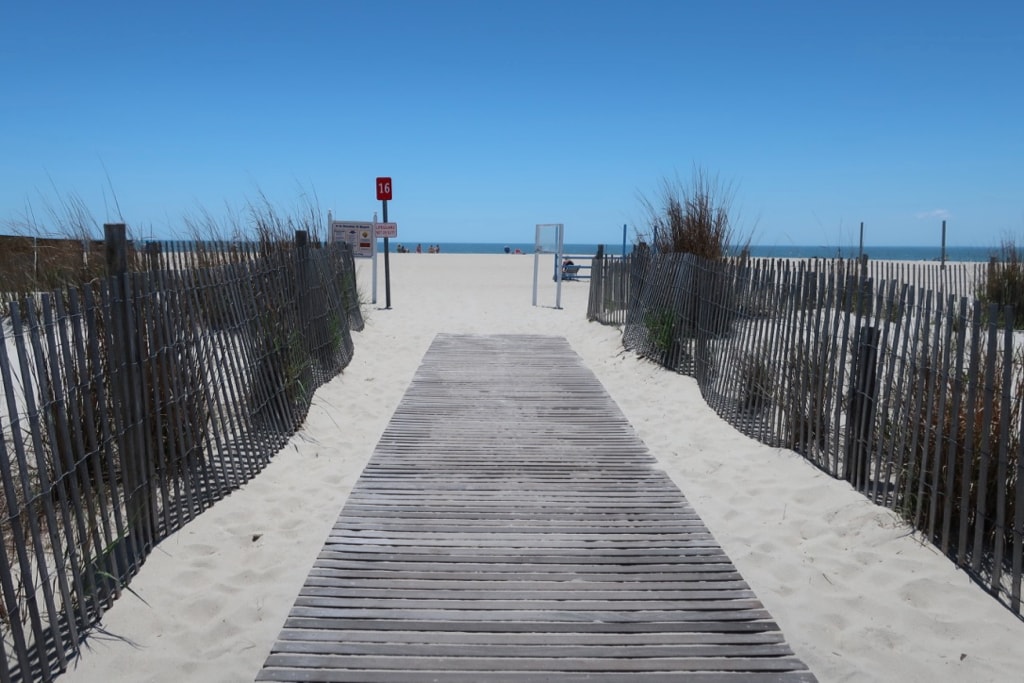 In 1976, this collection of vividly colored Cape May NJ Victorians earned designation as a National Landmark Historic District. Since then tourism has once again been on the upswing.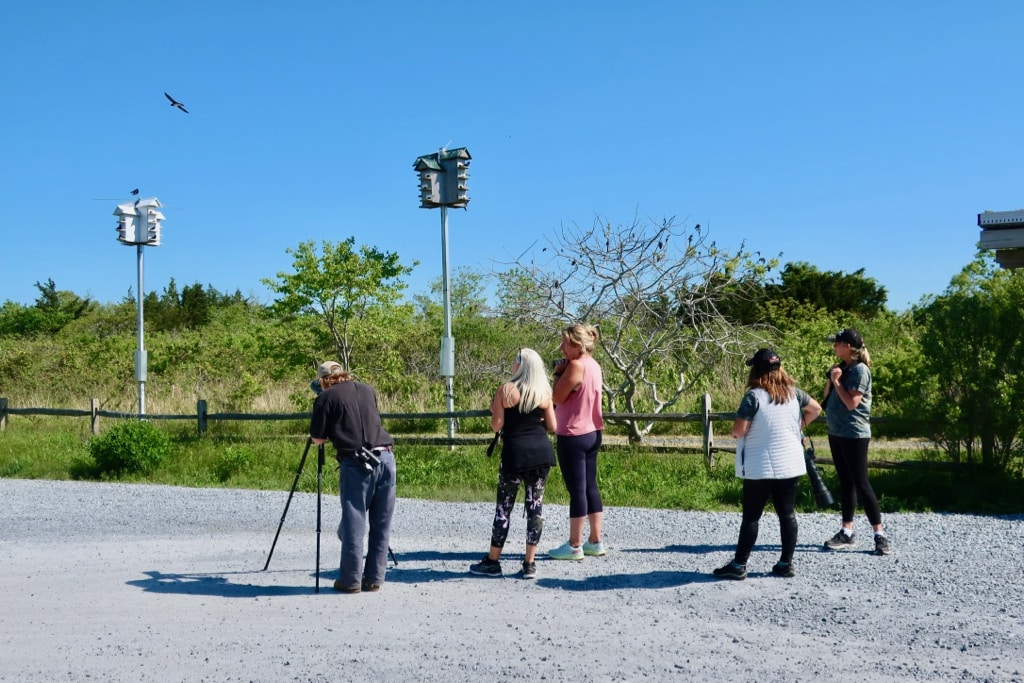 Not only does Cape May, affectionately called "Exit Zero" – as it's the final exit of the Garden State Parkway –  draw beach-going families, it's also is a birder's paradise.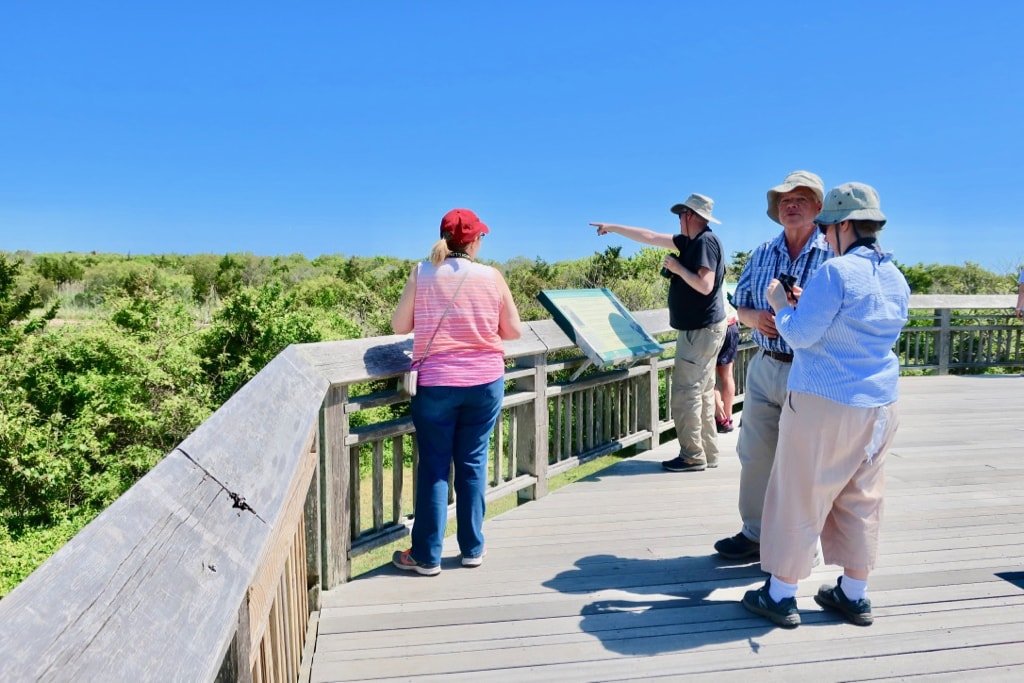 Considered the "Bird Migration Capital of North America" this area of the Jersey Shore was one of Roger Tory Peterson's favorite "birding hotspots." In Spring, shore birds from South America fly to the Arctic – stopping in the Delaware Bay to fuel up.
(The Getaway Mavens recommend this as one of the Best Places to Propose in NJ.)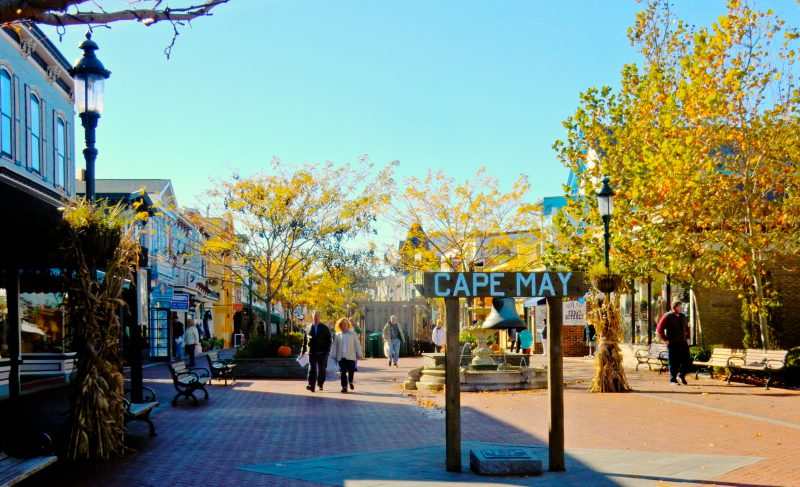 Though known best for its Victorian B&B's, we focus on a couple of hotels. One, the Boarding House (see below) a hot new upscale, stylish dog-friendly "boutique" style motor lodge. And, the other, one of the best family-owned beachfront hotels, with a harrowing and poignant WWII refugee back-story. Plan to stay in one as base when exploring what Forbes Traveler deemed one of "America's 20 Prettiest Towns."
FYI the brand new dog-friendly hotel, The Boarding House, made it onto our 20 Best Romantic Hotels Northeast USA 2021 list.
The Getaway Mavens included Cape May on our "12 Romantic New Jersey Getaways" roundup here. Check it out for more to do in the Garden State.
Interestingly, Cape May is also on the Harriet Tubman Trail from Birth to Death.
Things To Do in Cape May NJ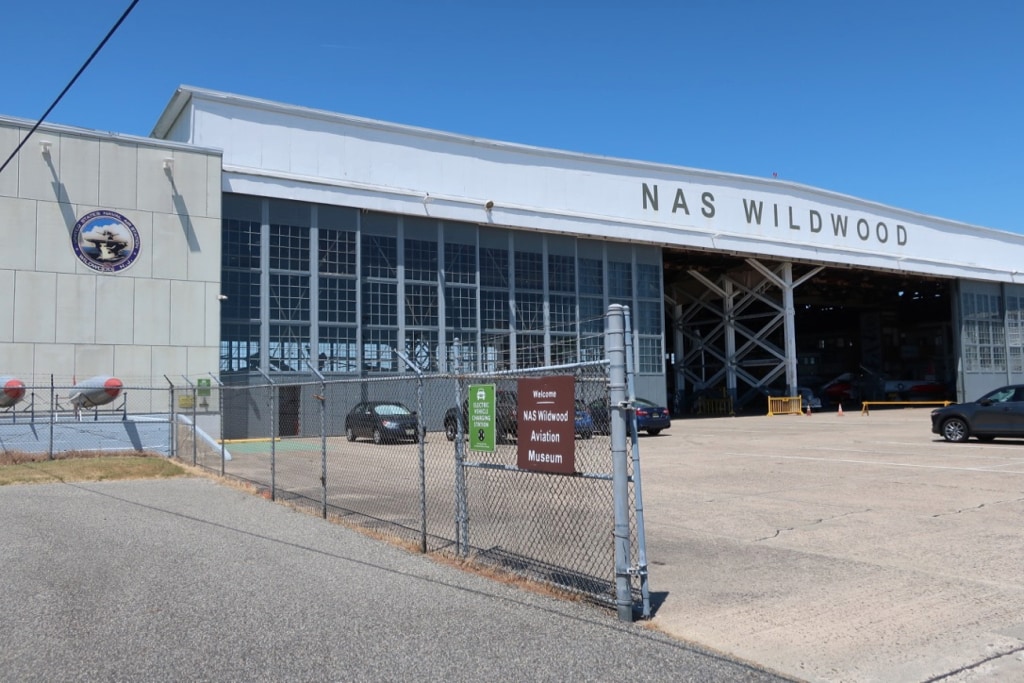 "Can you believe this Boardwalk beach town was where Navy Dive Bombers trained during WWII and no one knows?" said Bruce Fornier, Executive Director of the Aviation Museum. "Practicing for combat was nearly as dangerous as being in the middle of it: 42 men died in training for the Pacific Theater right here in Cape May."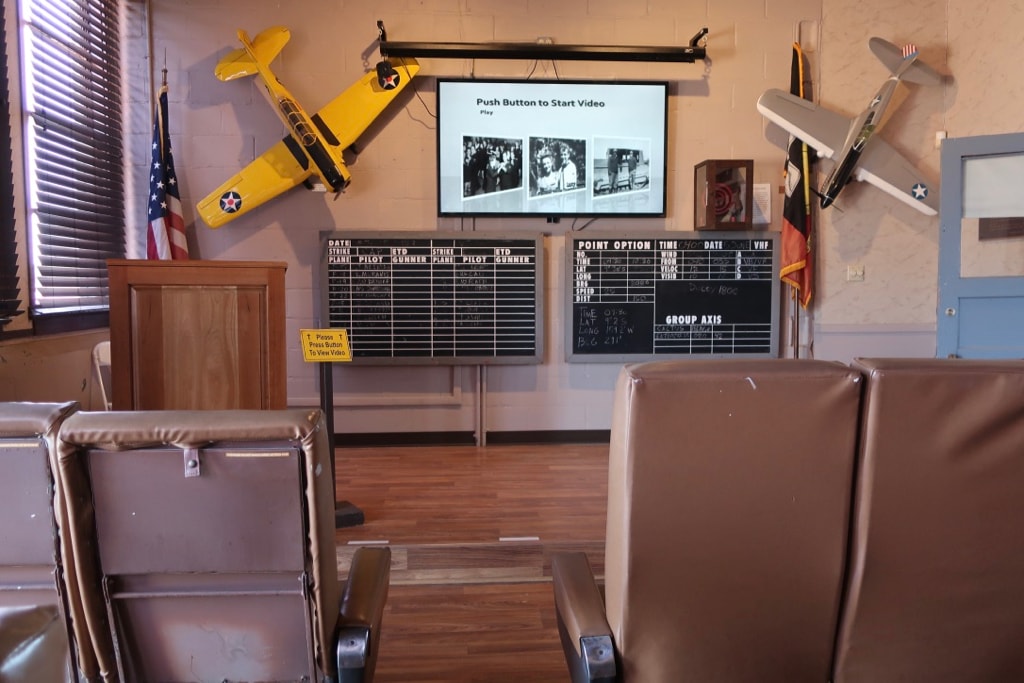 The Aviation Museum, according to Fornier, has a "three pronged mission." One, as a memorial to those "Helldivers" who lost their lives here; second, to restore this historic wooden hanger (with its 4,000 windows); and third, to educate the public.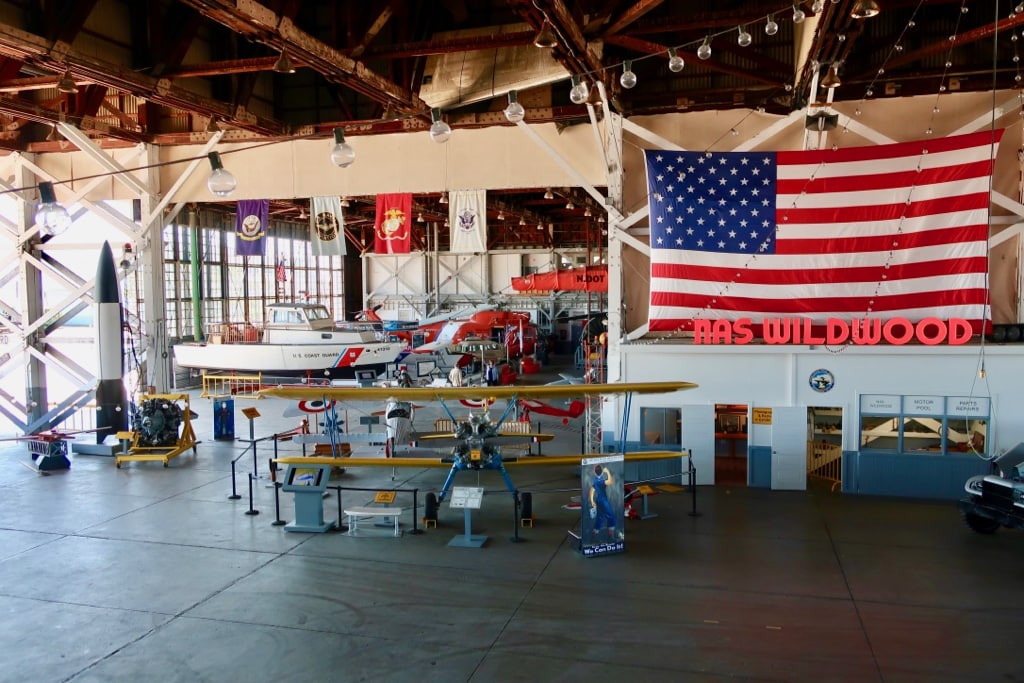 Start by strapping yourself into an airplane seat to watch a riveting 8-minute video about this place, opened in 1943, and the daring young men who put their lives on the line. And then walk through the massive hanger where you'll find copters, giant engines, planes (e.g. McDonnell Douglas Skyhawk II – one of the Blue Angels), and more. Plan on at least an hour here. Open daily 10-4, $14 adults, $10 kids.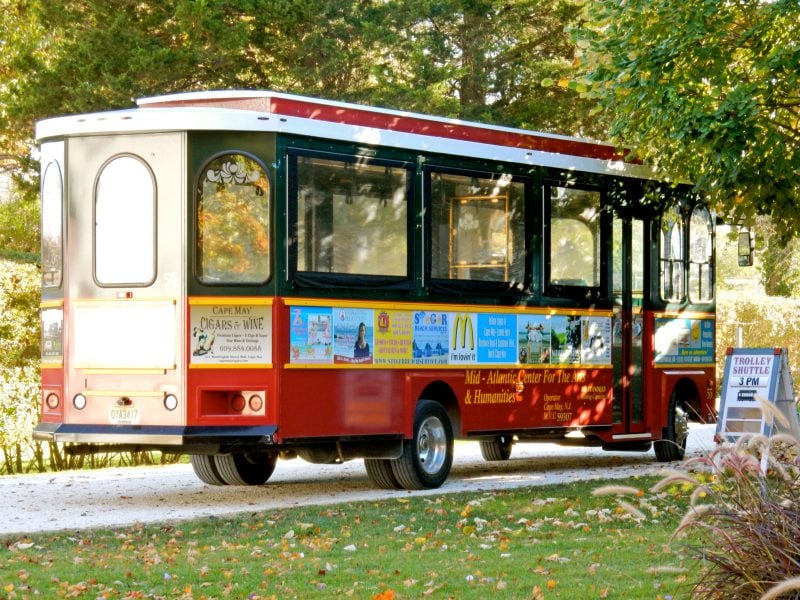 MAC offers a host of themed tours, from Architecture Tours to Historic District/Physick Estate Tours, Haunted Tours, Holiday Tours and more. All provide a variation on a theme – that of Victorian-Age Cape May and its relevance to modern day society.
First timers to the area will get the most out of an Historic District Tour, focusing on the history and elements of Victorian Architecture in Cape May.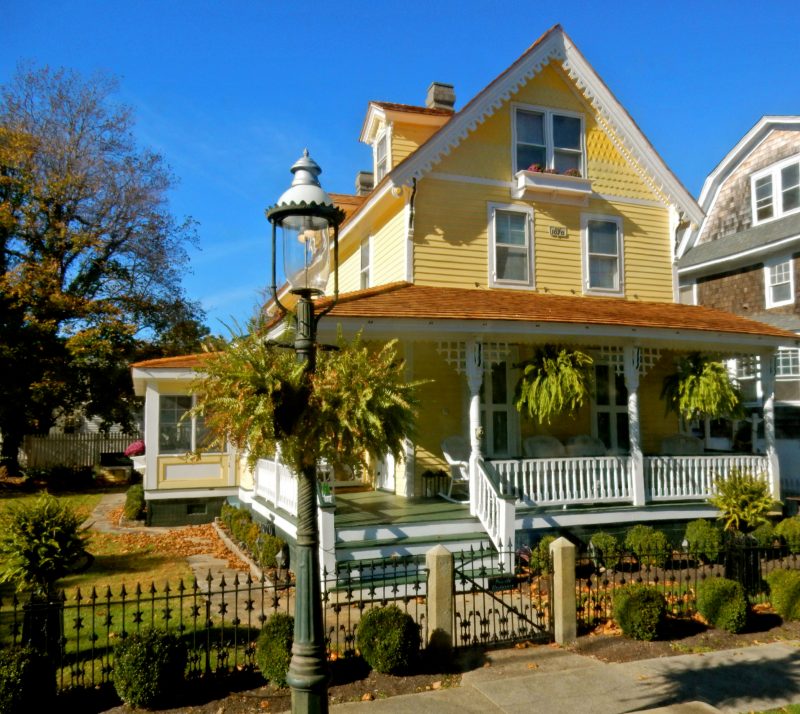 Driving slowly up and down shaded streets lined with meticulously restored homes, you'll learn that all these vibrant paint jobs are actually a latter-day attempt to jazz up the formerly muddy brown and mossy green pigments favored by the Victorians.
Hugh Street is the most picturesque. You'll view an array of shaded private homes embellished with delicate ornate woodwork known as Gingerbread or Carpenter's Lace.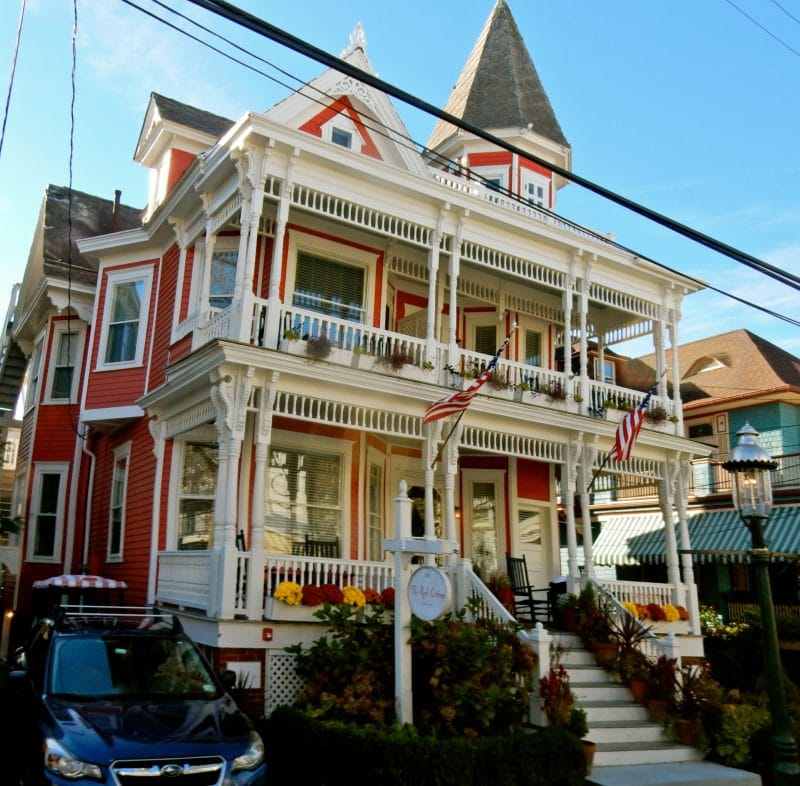 Though the "place to be" in the 19th century, by the 20th Cape May had "fallen out of favor." The trolley takes visitors to the Emlen Physick Estate, where you can either get off for a combination tour –highly recommended – or continue on. The Physick Estate was the first Victorian saved by MAC. It turned out to be the leading edge of a robust preservation movement to save historic Cape May.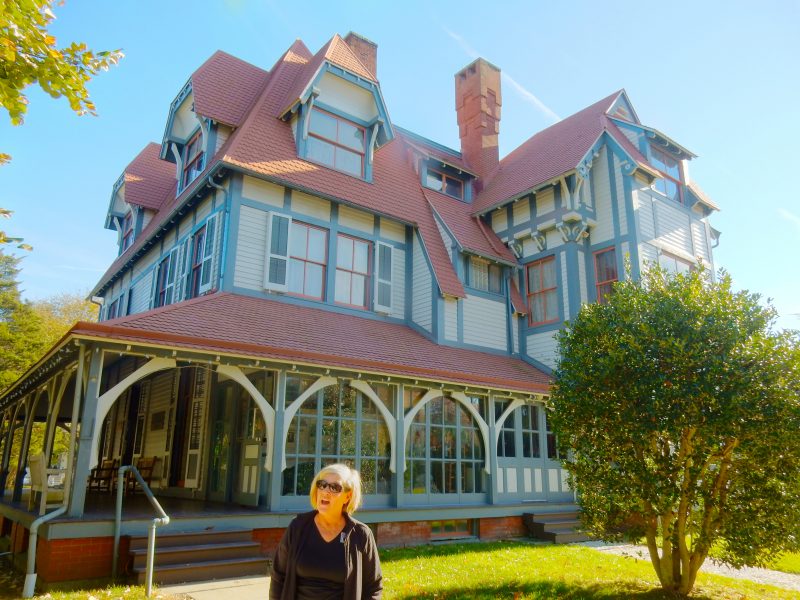 Dr. Emlen Physick graduated medical school at the age of 22 with "his diploma in one hand and inheritance in the other." Endowed with such riches, he never practiced medicine a day in his life.
During the late 1800's Cape May was a popular summer resort. It was the more southern, less ostentatious Newport RI. In 1879, the year after Cape May's Great Fire, Physick commissioned Louis Sullivan's protégé, Frank Furness, to design this grand home. Furness incorporated linear, geometric lines based on English architecture.
Physick died in 1916 having never married. But, he did invite his mother and aunt to live with him. With two women in the house, the Estate was a familiar hub of activity and entertaining.
Physick Estate Renovation
In great disrepair by the 1960's the Physick Estate was known to locals as "the haunted house on Washington St." M.A.C. historians painted it pale and dark grey with red roof, and almost completely restored the interior.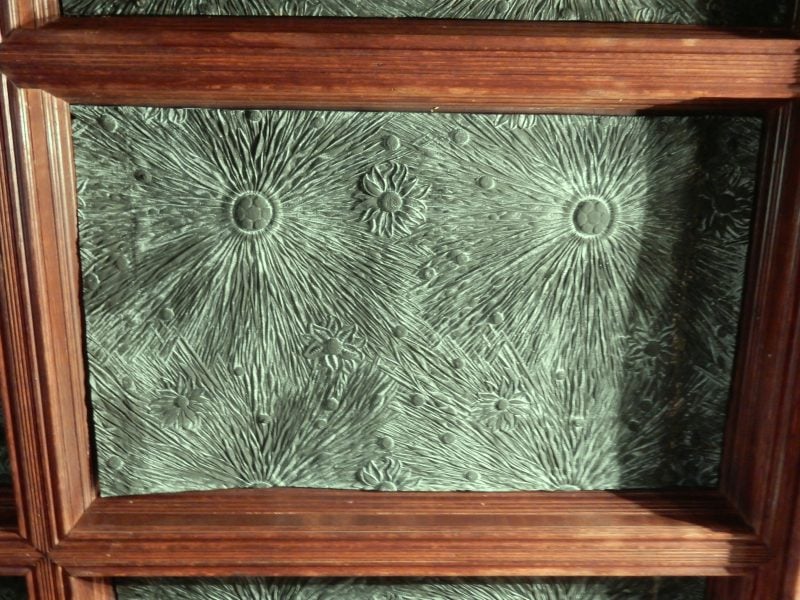 The guided tour of the home begins in the "screening room," aka the entrance hall, where callers were announced and then either invited in or sent away.
Look up at the marvelous "sunburst" tiled ceiling – the first of many architectural details that make this house so intriguing. The French-style light and airy parlor, with its oak fireplace mantle inlayed with gorgeous turquoise Furness-designed tiles, is a departure from typical dark English Victorian décor.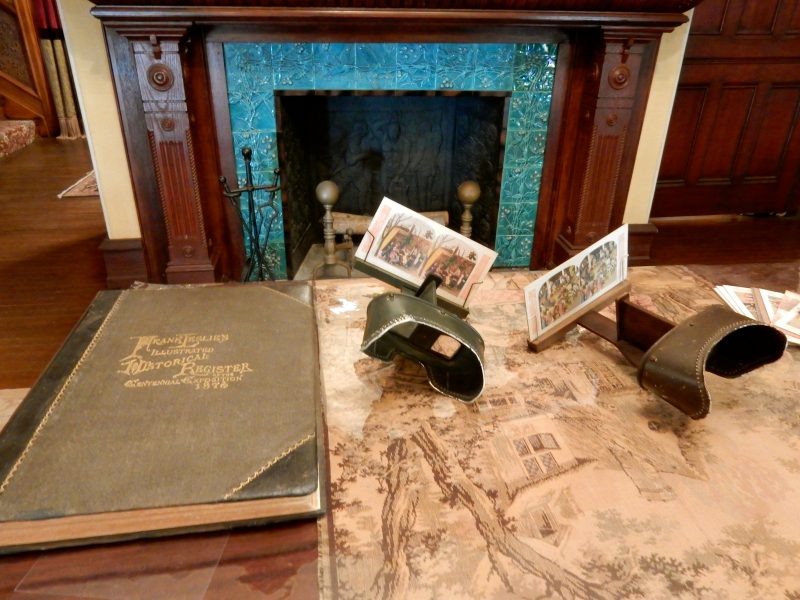 The cocktail table is stocked with items of interest, such as books and stereoscopes, so that dinner guests would have topics to discus during the meal.
Before leaving, guests can stop into the gift shop in the Carriage House, where Dr. Physick kept the first automobile in Cape May. "He was also the first in town to have an accident," laughed our guide. Check website for times for Trolley and Estate Tours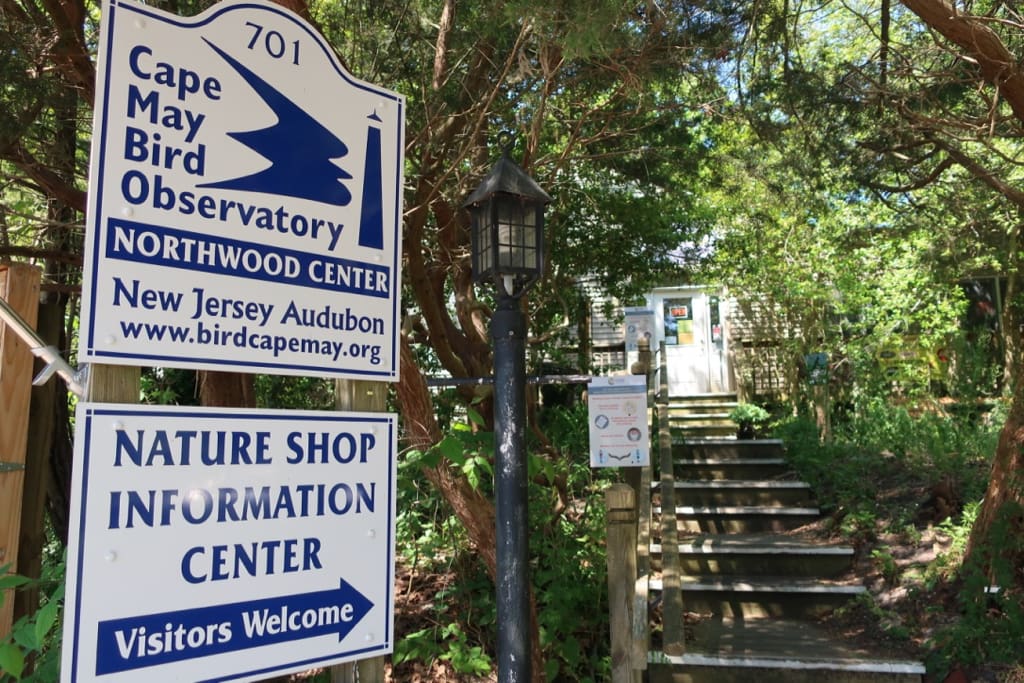 Birders will be keen to stop into this office for info on where to find our fine feathered friends right now. Using real time data, staff will clue you in on the best observation spots nearby. They offer field trips, and programs daily through migration season. Open Tues-Sat 9:30-4:30.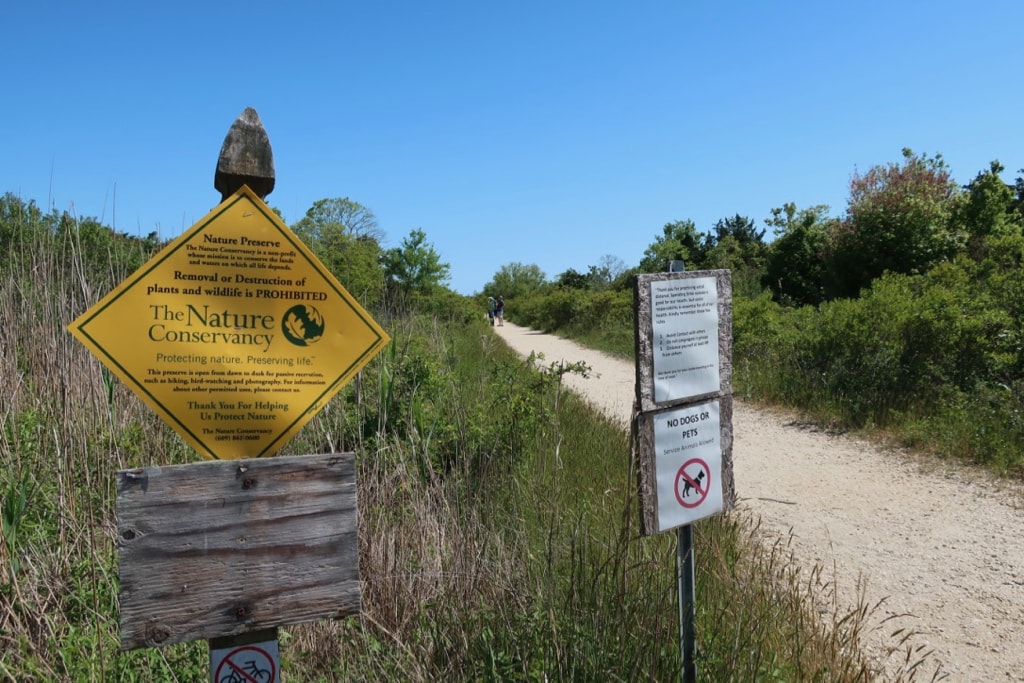 Spend an hour among bird enthusiasts walking through habitats from scrub to ocean beach to mudflats. Even if those creatures don't hold particular fascination to you, just getting out of town, and in nature, is balm for the soul.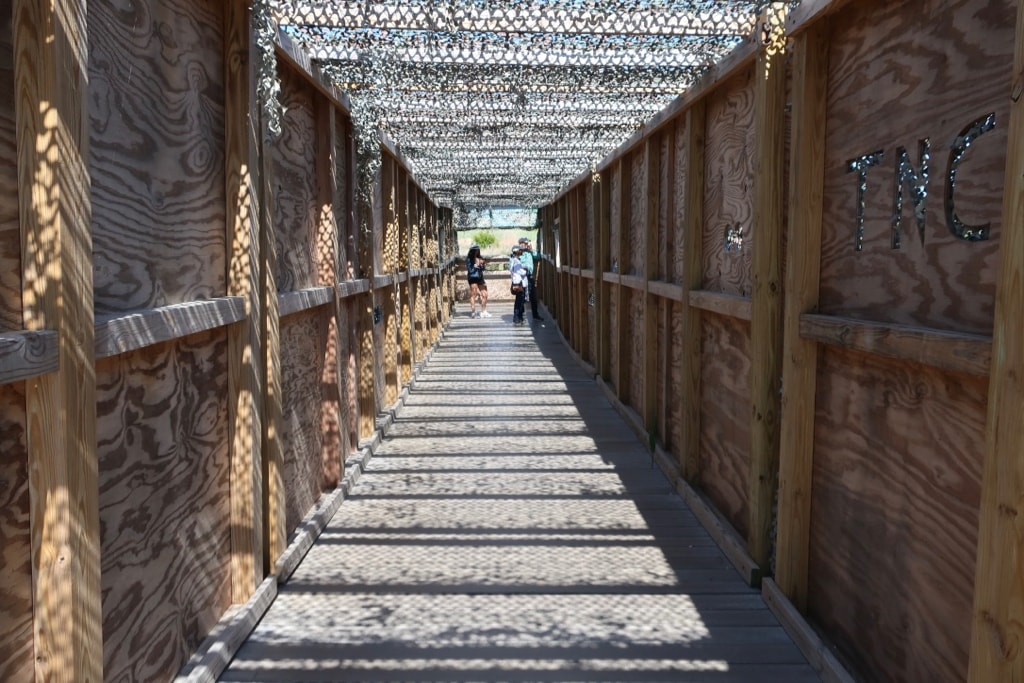 You may bump into a professional nature photographer, or others just out for the joy of it. Make sure to walk up one way, and back another to access a funky "duck blind" that allows you to watch shore birds up close, dining on whatever it is they're picking up from the shallows.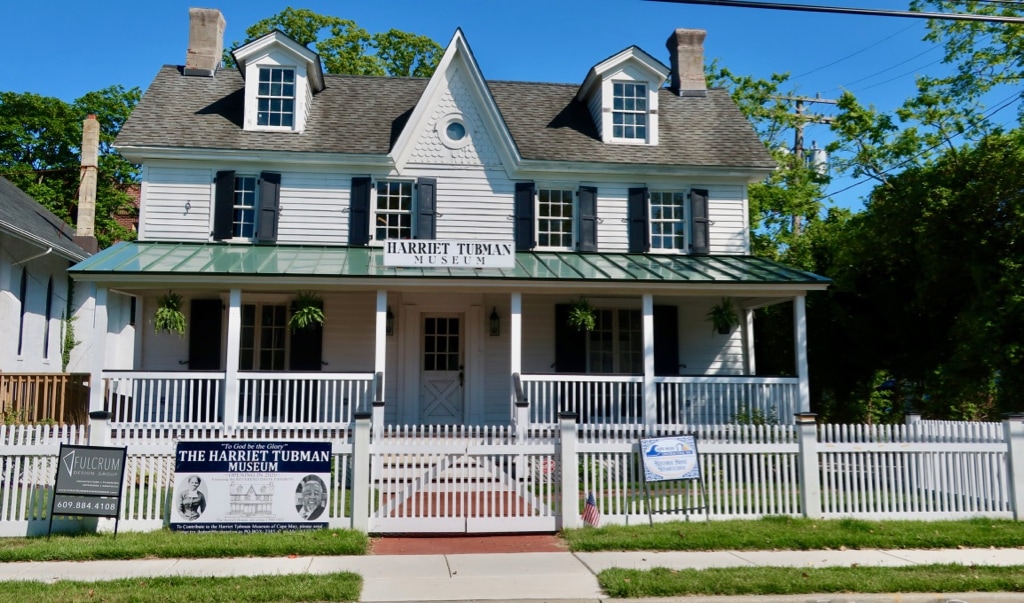 Harriet Tubman worked in Cape May to earn money for her dangerous missions. The Cape May Light guided freedom seekers to this New Jersey town, 16 miles across Delaware Bay. From Delaware, NJ was one state closer to safety up North.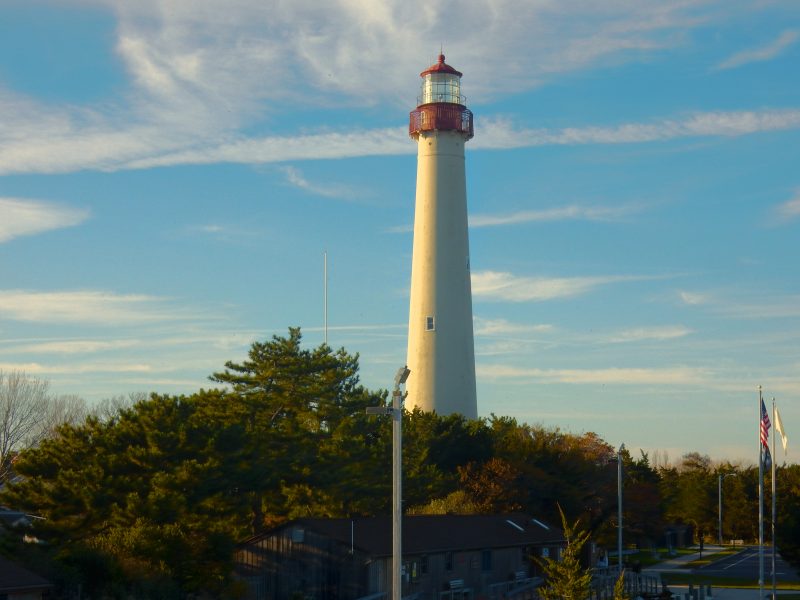 Climb the 199 steps to the top of this 1859 Lighthouse for great views of the Jersey Cape where the Delaware Bay meets the Atlantic Ocean. $8 adults, $5 kids.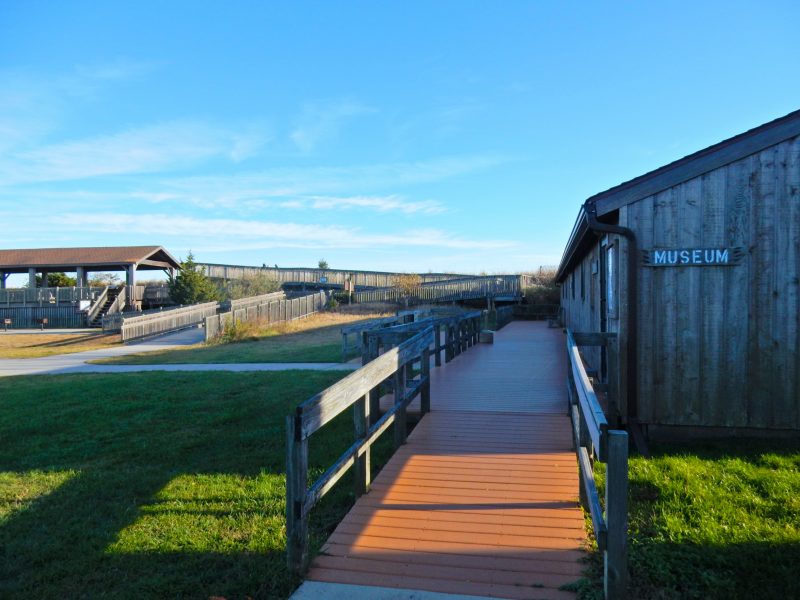 Cape May Point Park also has a small, but very cool Nature Center Museum stocked with lots of very active snakes, lizards and other native wildlife. And for sure, don't miss Bird-Watching- the best on the East Coast.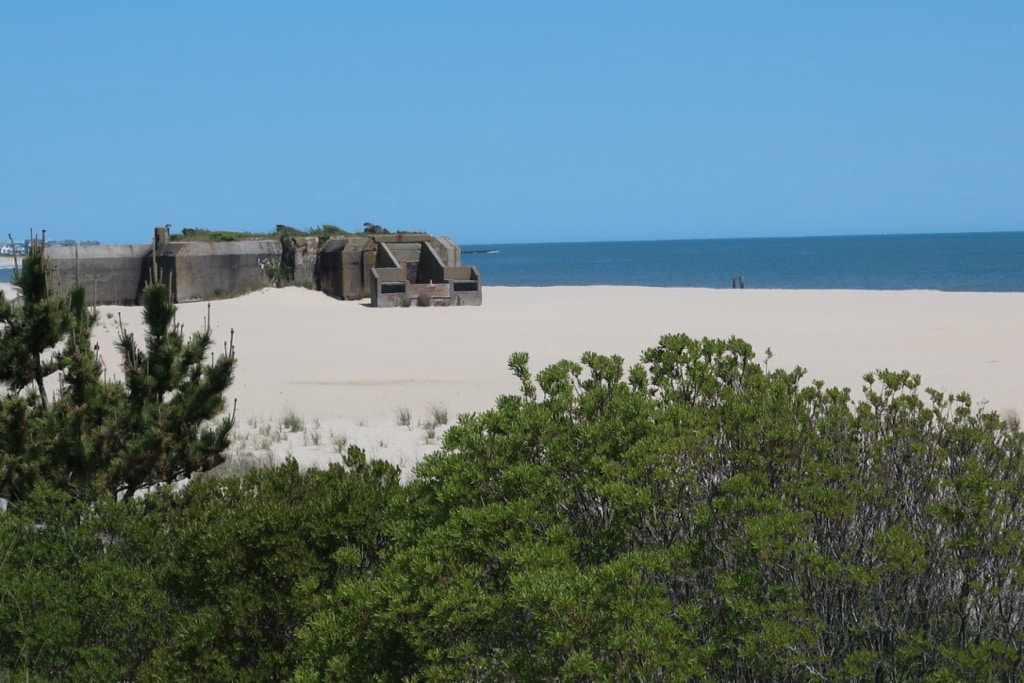 Restored in 2009, this six-floor concrete tower was used to triangulate coordinates of enemy war craft during World War II.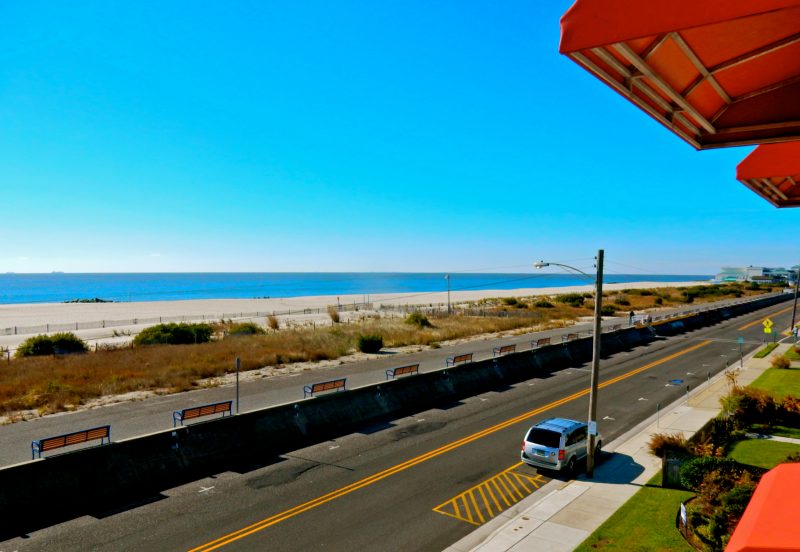 WALK/JOG/BIKE: The Promenade
A paved path runs the length of Cape May Beach along Beach Ave. It's a favorite of walkers and joggers – and in season, fringed surreys (which, with bikes, are allowed on the boardwalk from 7-10am).
WALK/SHOP: Washington Street Mall
A lovely landscaped pedestrian mall with a real "Five and Dime" and many more emporiums.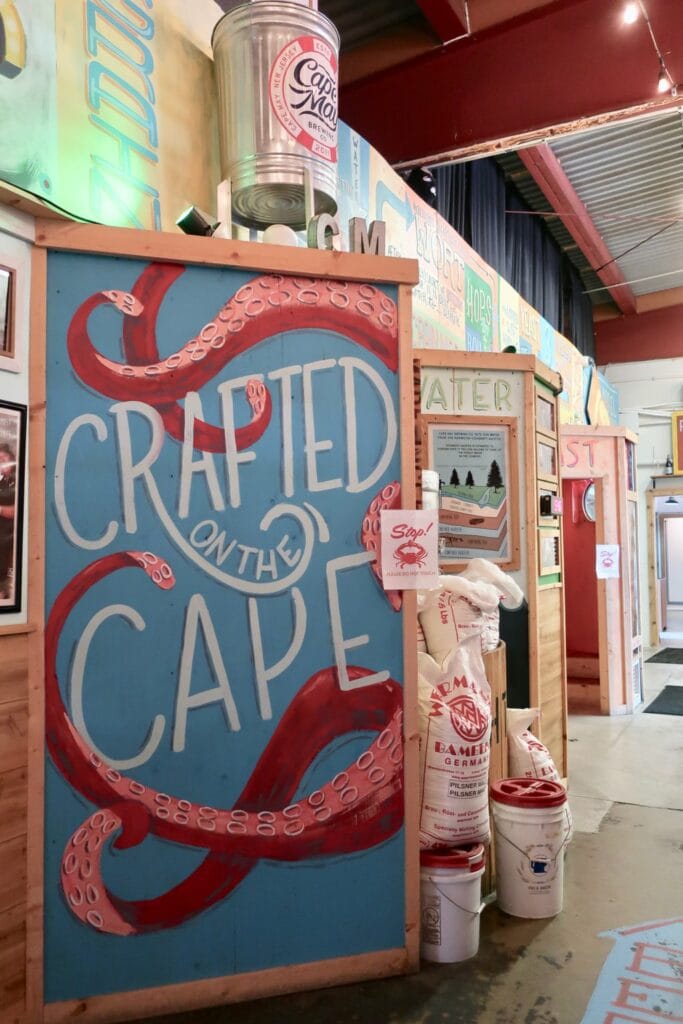 Cape May Brewery owners, Ryan Krill (the finance guy) and Chris Hanke (engineer), met at Villanova University. They sold the first keg of home-brewed beer in 2011. Since then the Brewery has grown to many more employees, including brewmaster Jimmy Valm. Each is required to carry a Core Value "Credo Card" in his or her wallet.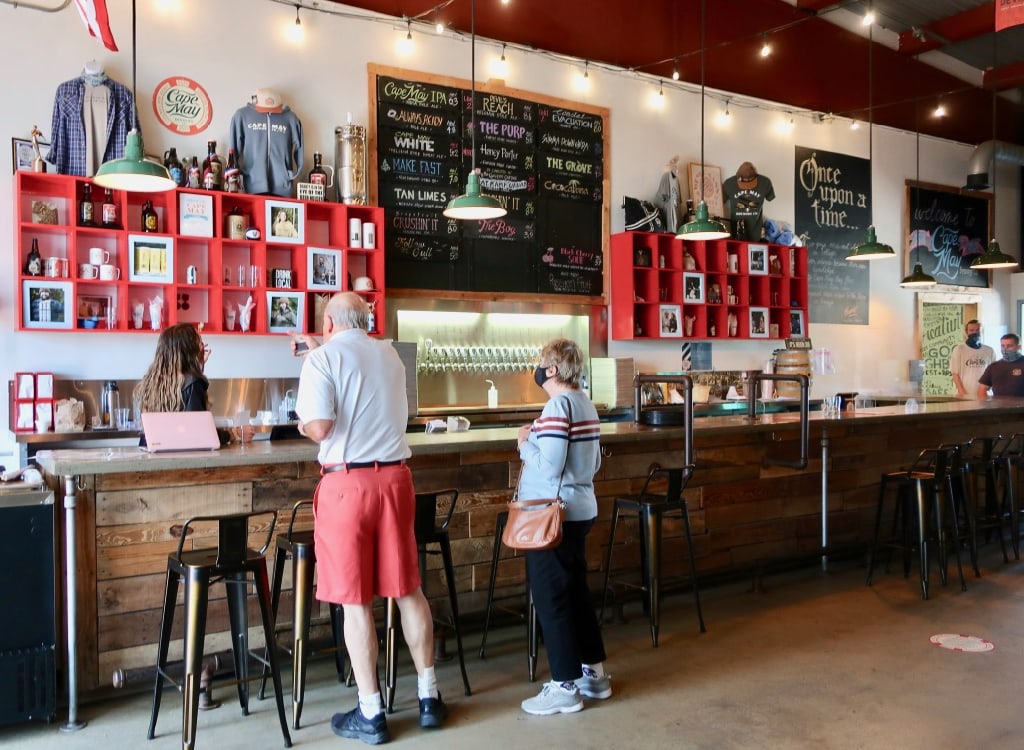 Belly up to the bar, and taste some of the best brews in the region. Made with mostly locally sourced ingredients, you can practically taste New Jersey. Here, at the shore, that's not a bad thing.
Restaurants in Cape May NJ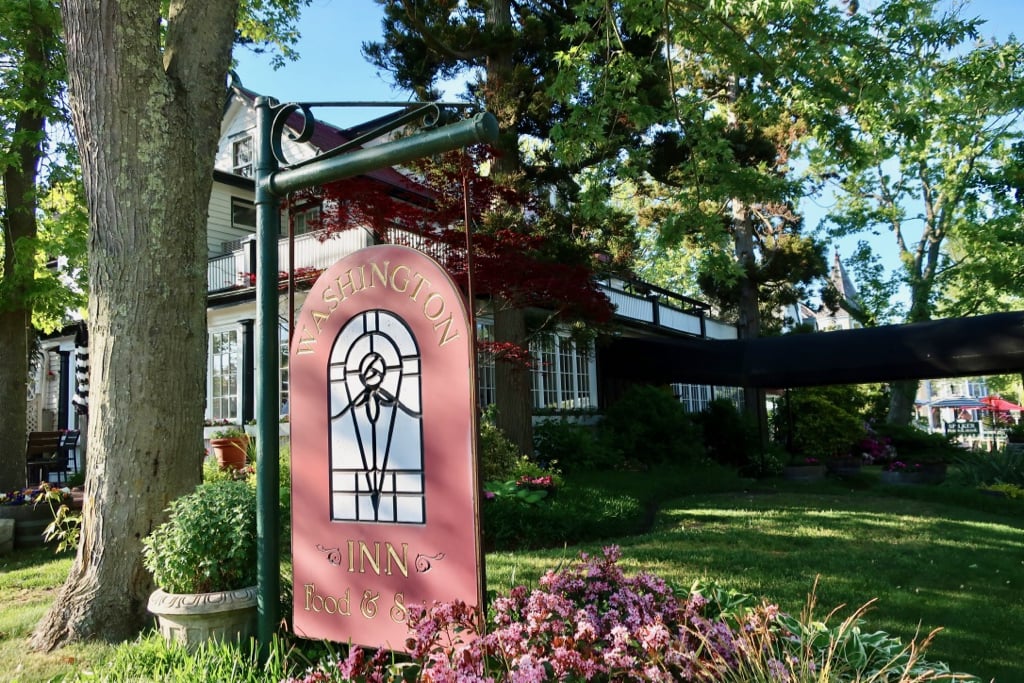 Less than a block from the Boarding House, this dining establishment in an old home, is one of the best in town. I loved the Tuna Poke "Tower," a stack of raw tuna, mashed avocado, sushi rice, and cucumber that together made my mouth happy.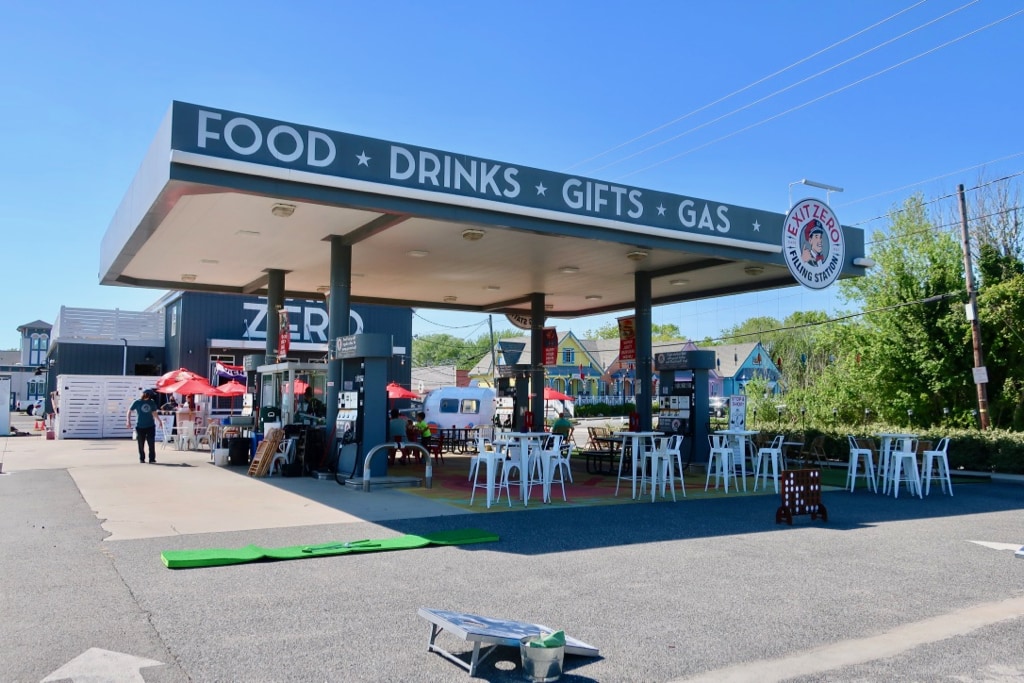 Ever wish you could fill up your body with good, tasty, fresh food while gassing up your car? Well, this smash-hit of a Cape May eatery is the next best thing. Dine on vegan curries, burgers, and sip craft cocktails by the pumps of this former gas station. It's go-to dining on the way to Cape May Point State Park, for sure.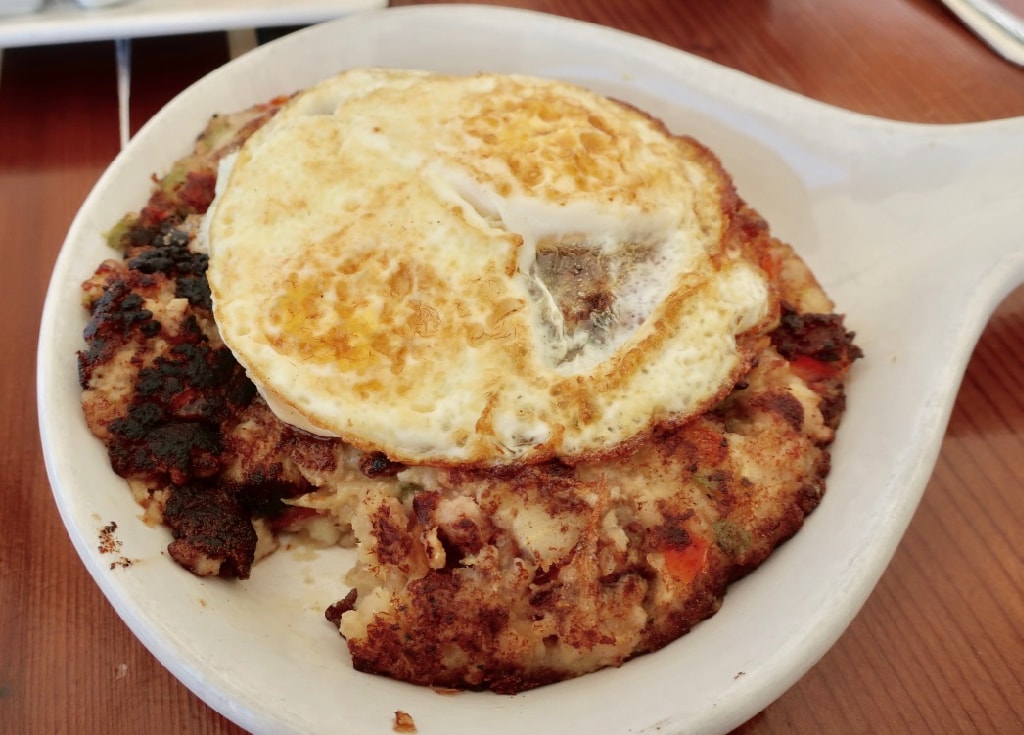 Known for its rooftop with fantastic ocean views, and ten flavors of refreshing Crushes, Harry's also hosts live music every day throughout the season. But, the food is great, too. For dinner, order the mussels – you can choose from several different sauces.
Tot-Cho's is a breakfast favorite (eggs over cheese tater tots), but I went for the signature "Harry's Hash." Too much for one sitting, but I wish I could have downed it all. The Bloody Mary Mix is from scratch fresh, but watch out. It's very spicy.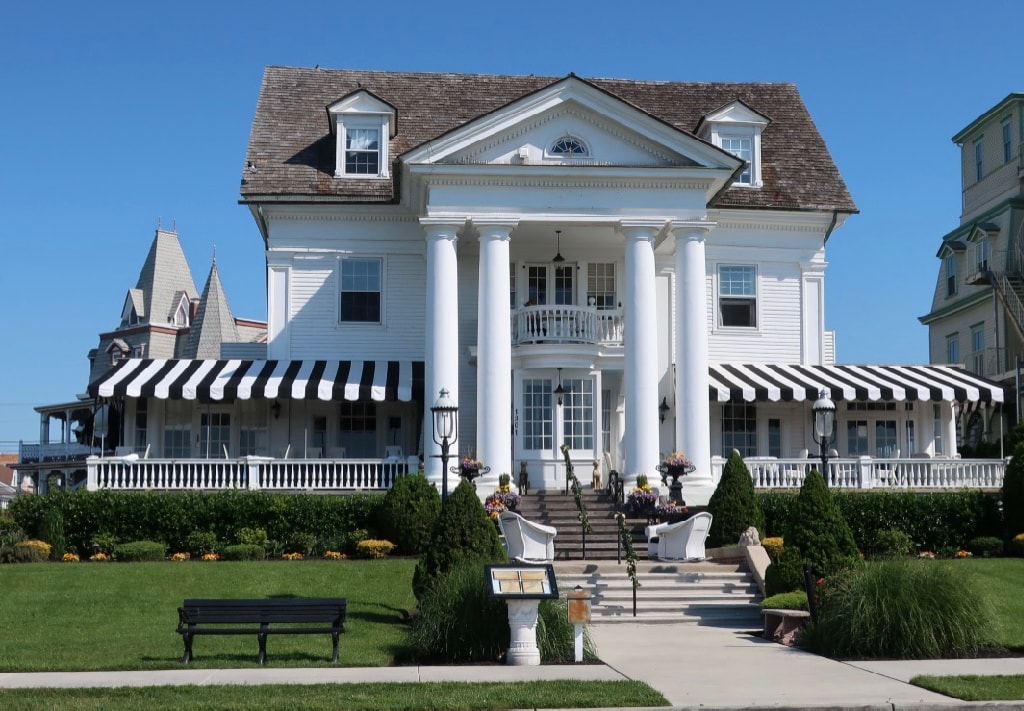 On Beach Rd., east of the Montreal Beach Resort, this stately Inn and Restaurant provides warm comfort on winter nights. Ask for a table by the fireplace, and take advantage of the 3-course $33 prix fixe.
You'll dine on the same ambrosial dishes – like Butternut Bisque with Smoked Trout Salad, Grilled Hangar Steak and signature Warm Date Pudding with Vanilla Ice Cream – that you'd find in season for much more moola.
EAT: Locals Recommend
There are 110 restaurants in Cape May – an inordinate number – so to pin a few down is tough. Most touristy, but has stayed the course  – Mad Batter for breakfast or lunch. Highly recommended by locals – YB (Younger Brother), a cute boutique with few tables, Tisha's for seafood, and The Ebbitt Room for traditional American.
Hotels in Cape May NJ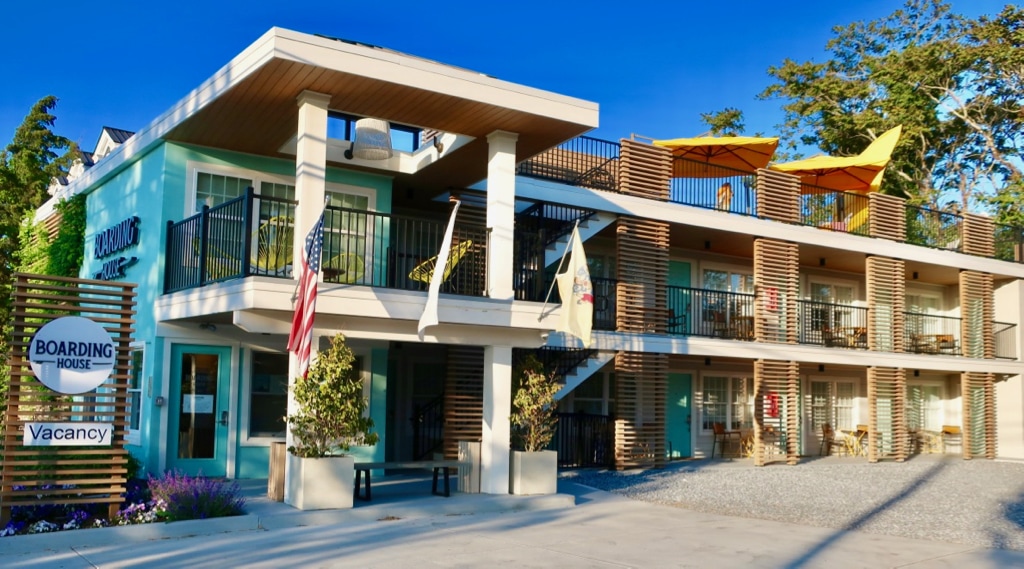 In Cape May, if a hotel is not in town or on the beach, it's got to have something else going for it. And, The Boarding House does. With flair.
Let's just say, Black Labs have a ball here. I'm talking figuratively, though I'm sure when actual balls are tossed, they'd love that, too. Yes, well behaved, non-barking dogs up to 80 lbs are not just welcome here. They are beloved and encouraged.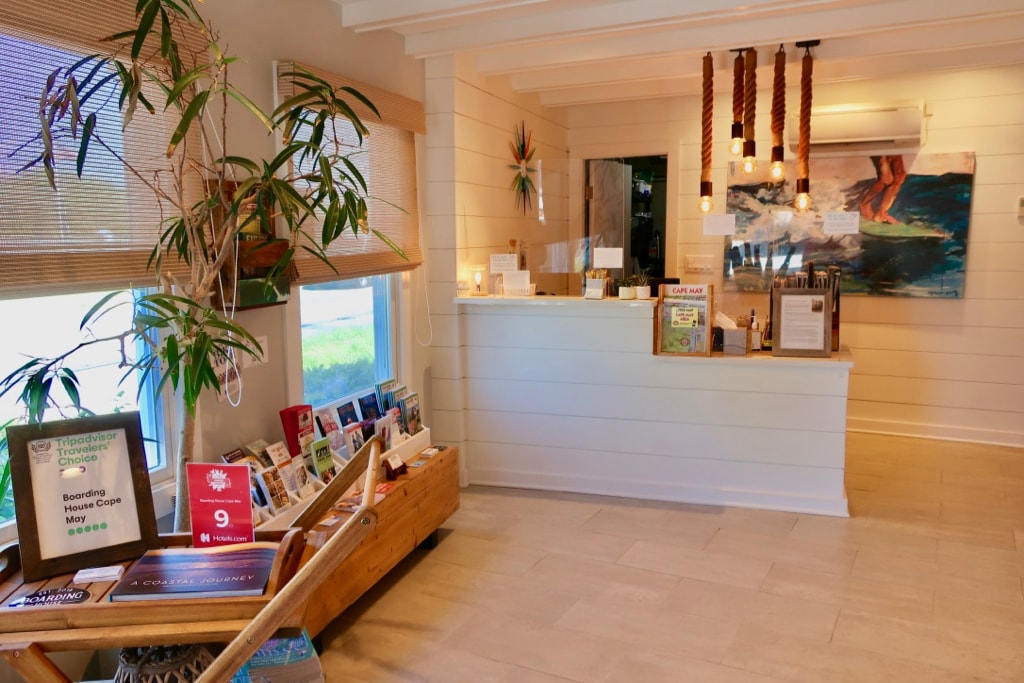 But that's not all. Generally, "pet friendly" hotels are pretty standard – with décor that will stand up to paw-nails and shedding fur. But, the 11-room Boarding House, despite appearing like a roadside motor lodge, offers eye-catching, modern, high-end rooms.
It's a dog-lovers, modernist Yin to sister property, Montreal Beach Resort's (MBR) more traditional beachy Yang. The MBR has, well, the beach across the street.
The Boarding house sits across from a ball field and is half a mile from Cape May's downtown Pedestrian Mall and oceanfront. In other words, no view.
But dogs aren't allowed on Cape May beaches between April and October, anyway. So, you know what they say: "If puppy ain't happy, ain't nobody happy."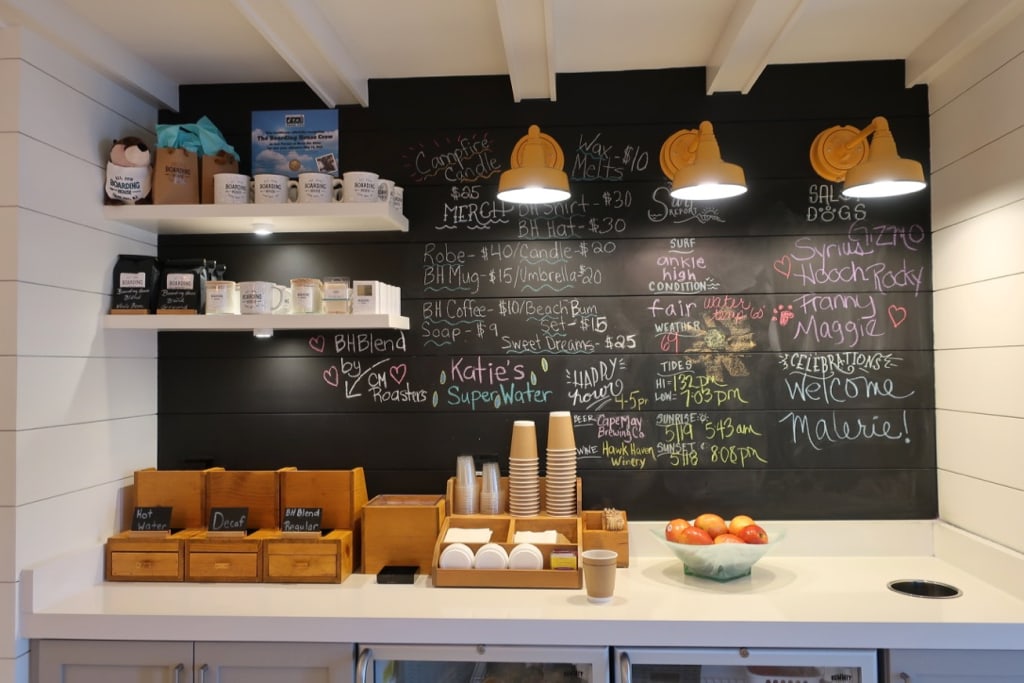 First Impressions of The Boarding House
When I checked in at the small reception office, I noticed my name on the "Welcome Board," along with other guests of the two and four-footed variety. This personal touch moved me.
The board also provides information on locally made items to purchase, as well as the beer and wine to be served during the afternoon's 4-5pm complimentary "Happy Hour" in the lobby office.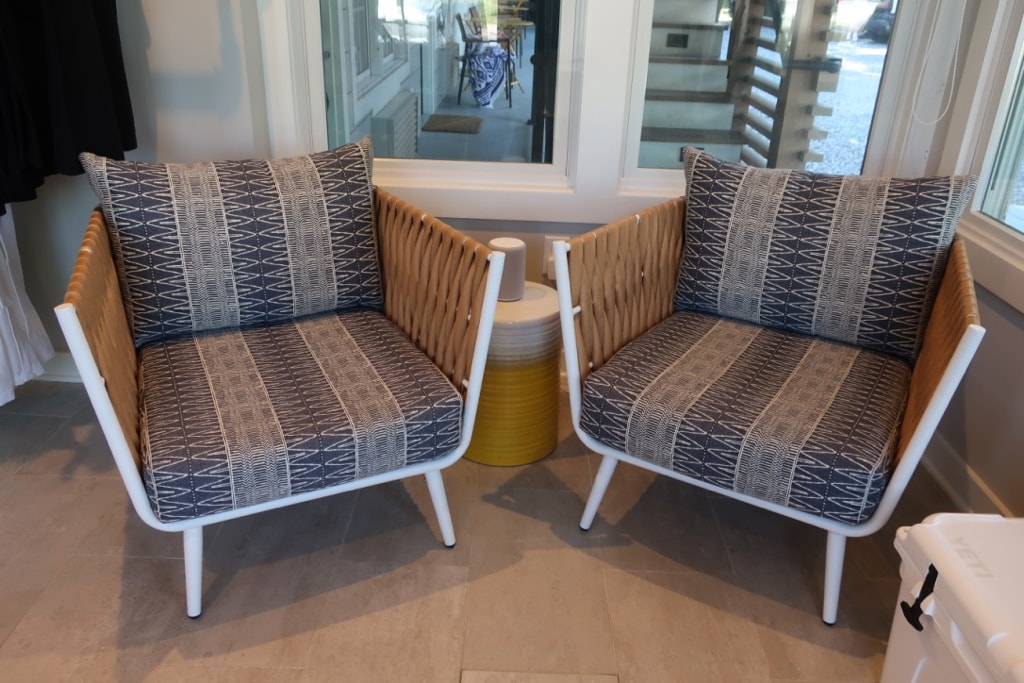 Though the space is small, it's got charm. I commented on two stylish upholstered-woven chairs and was told they were custom fashioned by the architectural firm that designed the hotel.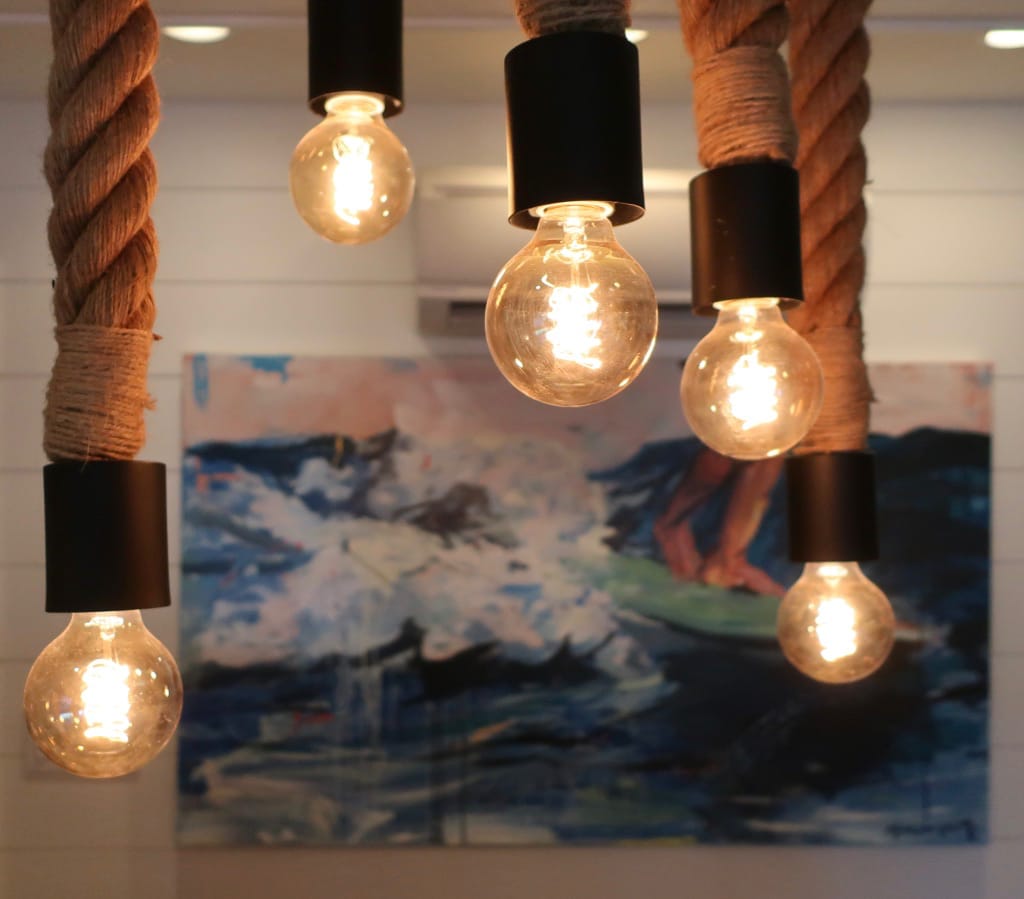 Be sure to climb to the roof-deck seating area, where guests relax with their comped wine and beer, or just enjoy a few minutes of conversation with fellow guests. Social dogs, in particular, seem to love this hang-out time as well.
In the morning, you'll find fresh brewed coffee in the office. But, if you're looking for an excellent breakfast, head to Harry's at MBR.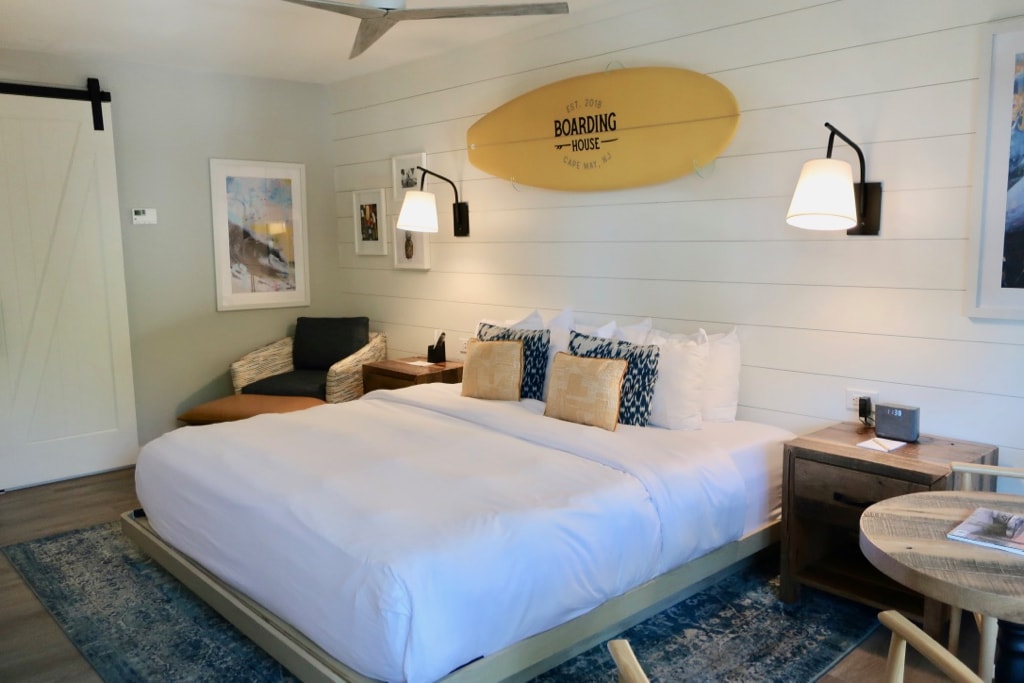 Rooms at Boarding House
The color grey is having a moment – so rooms feel fresh and modern. Contemporary furnishings juxtapose with white shiplap walls, white duvet on ultra-dreamy bed, stealth-blade fan, and surfboard mounted over the headboard. It's shoreline chic to the max.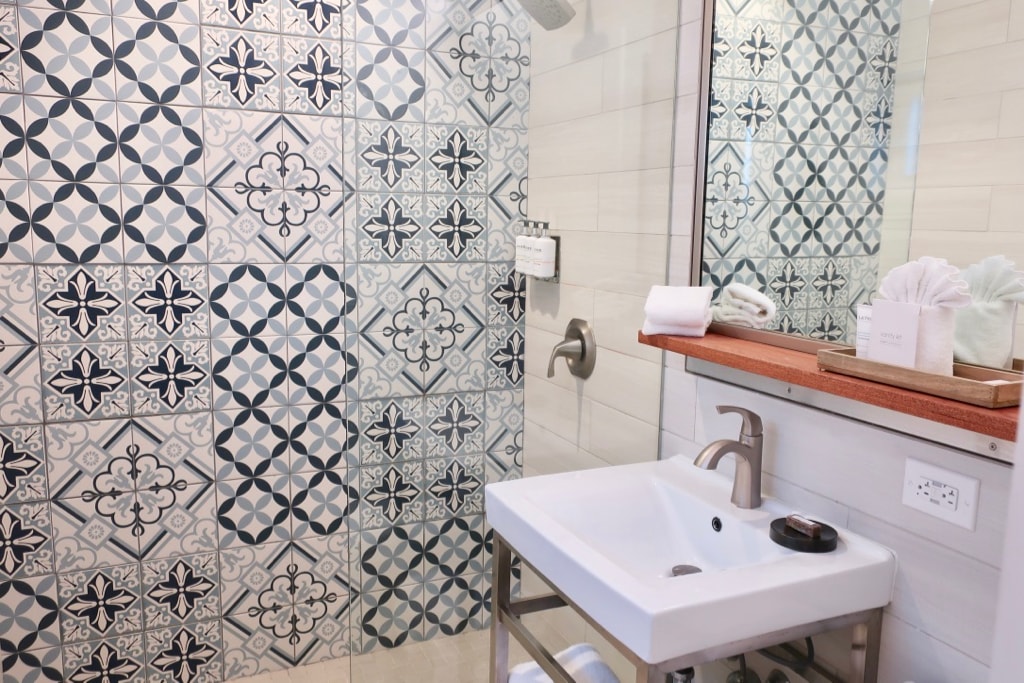 Trendy tiles in the bathroom, in shades of gray, of course, add splash to a small, but bright space. Standing beneath the large rain showerhead in the morning is a pleasure in and of itself.  Rooms From $250 off season, up to $400 in season, access to Montreal Beach Club with two chaise lounges and an umbrella per room, afternoon complimentary wine and beer happy hour, and up to 2 dogs per room ($45 additional per dog.)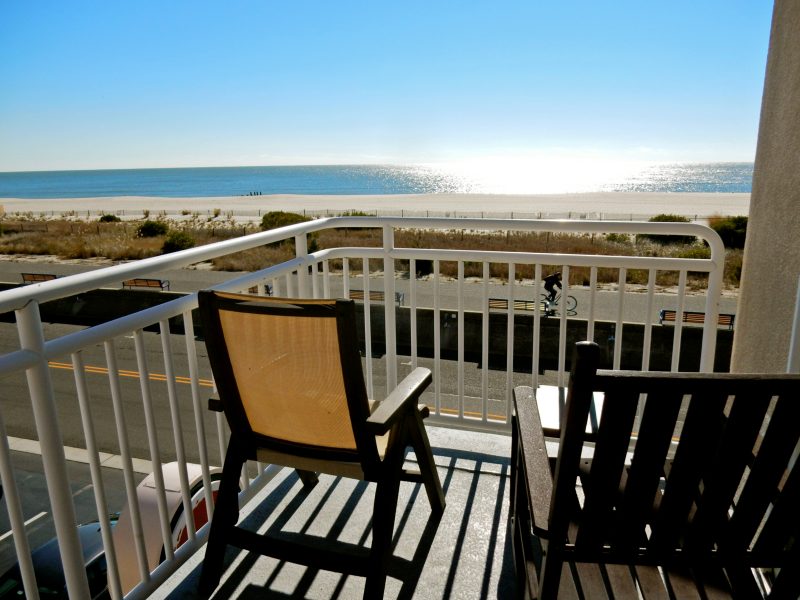 The story of the builder of this beachfront hotel, The Montreal Beach Resort, nowhere near Canada, might give you goosebumps.
Fifty years ago, in 1966, holocaust survivor, Harry Hirsch, had the gumption and foresight to purchase this property in the sleepy residential town of Cape May. He built a 27-room hotel and named it Montreal Beach Inn to attract an influx of Canadians then starting to make their way South to Florida.
"This was the first warm beach they'd hit on the drive down," said Harry's sons, Larry and Joe Hirsch, who now run the upgraded 69-room property with Larry's son, Jonathan.
The Origins of Montreal Beach Resort
Harry, nee Hersik, was born in Poland. During WWII, at the age of 21, he and his twin brother, Joseph, were crammed into a boxcar and sent to Auschwitz Death Camp.
Eight months later, as the Russians advanced to liberate the camp, the Nazis forced prisoners to march in cold and snowy conditions, and then lined them up and murdered them by firing squad.
Somehow Hersik and Joseph survived. Hidden beneath a heap of dead bodies, they dug themselves out and eventually found safety in a Displaced Person's Camp. It was there that Hersik met and fell in love with his wife-to-be, Sofia Gross, who had served in the resistance as an underground partisan.
Upon immigrating to the United States, Hersik and Sofia changed their names to Harry and Sophie Hirsch. In 1951, they moved to Philadelphia before settling in Corbin City NJ as chicken farmers.
After a few years, Harry found it more profitable to buy meat and produce from area farmers. He resold these goods to homes and grocery stores in Wildwood and Cape May under the company name "Harry's Provisions."
Harry and Sophie Take a Gamble
While on one of these sales trips, Harry made contacts that would lead him to an empty residential lot east of downtown Cape May –  on Beach Avenue. Harry and Sophie purchased the lot for $12,200 – a grand sum at the time – and planned to flip it quickly. But when the zoning law was amended to include commercial properties on the site, hotel developers offered the Hirsch's quadruple what they'd paid.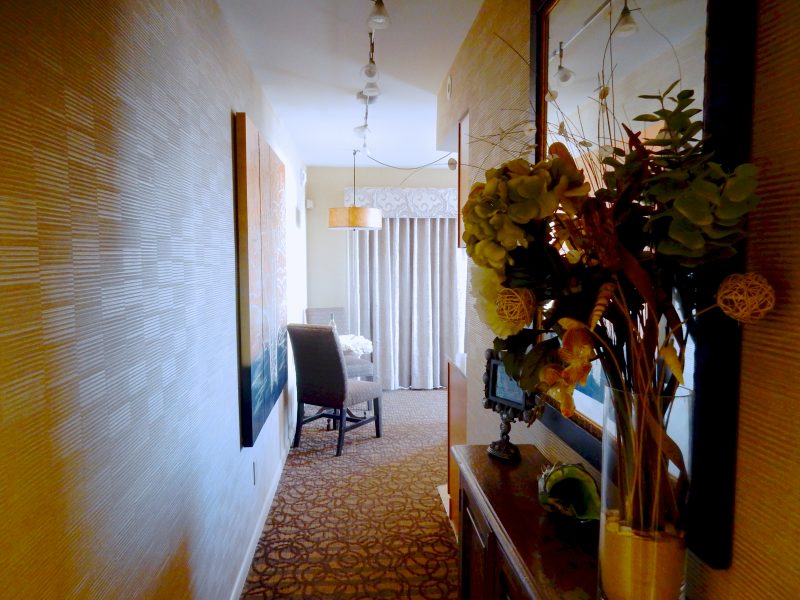 Figuring that these developers foresaw much larger economic gains, Harry and Sophie turned down the big bucks. With no prior hospitality experience, they decided to build their own beachfront hotel instead.
Since then, the Montreal Beach Resort has become a family affair, with the third generation now involved. (Sophie passed away in 1974 of cancer at the age of 49, Harry in 2011 at 88).
First Impressions of Montreal Beach Resort
The lobby is bright, pretty and small, but the welcome is big and warm. This is a family run hotel, after all, and has welcomed multi-generations back time and time again.
Some families have been returning at the same time each year for over 30 years. And it's easy to see why.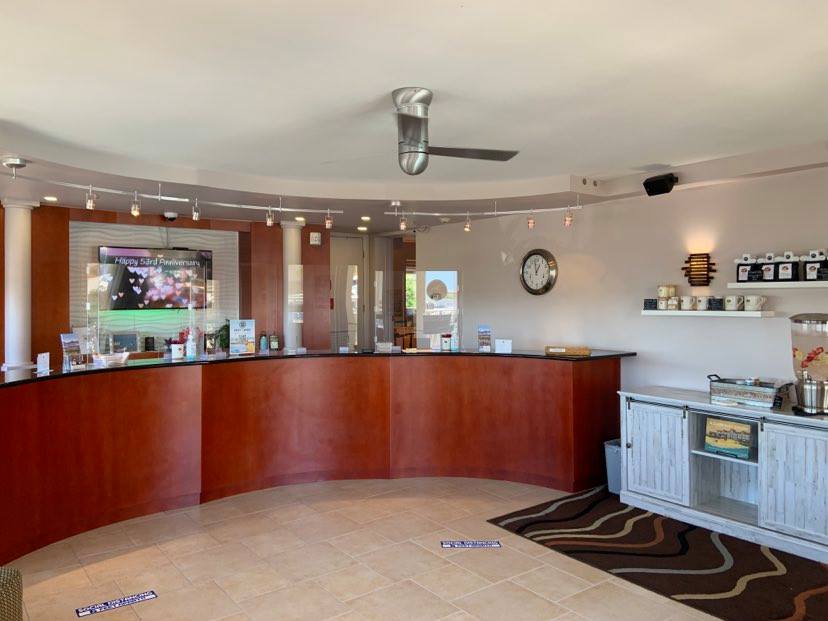 Located in the "quieter" part of Cape May, it's a 10-minute walk along a paved oceanfront promenade to downtown. As it's nearly impossible to find parking in Cape May's busiest section, parking here and walking or biking makes sense.
Rooms at Montreal Beach Resort
Most impeccably clean rooms have oceanfront balconies or private poolside chaise lounges.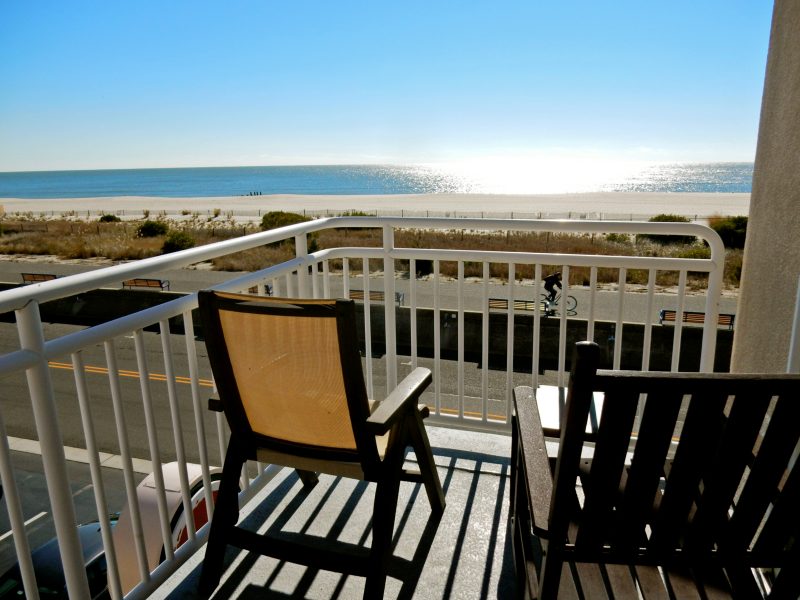 The Meridian Suite features a lovely sitting room, bed facing a bank of oceanfront windows, and large marble rain shower.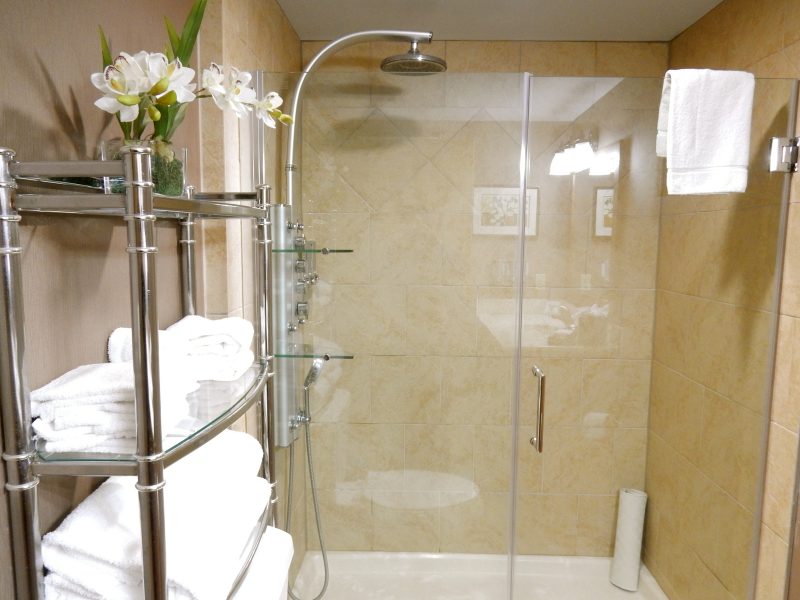 Dining at Montreal Beach Resort – Harry's Oceanfront Grill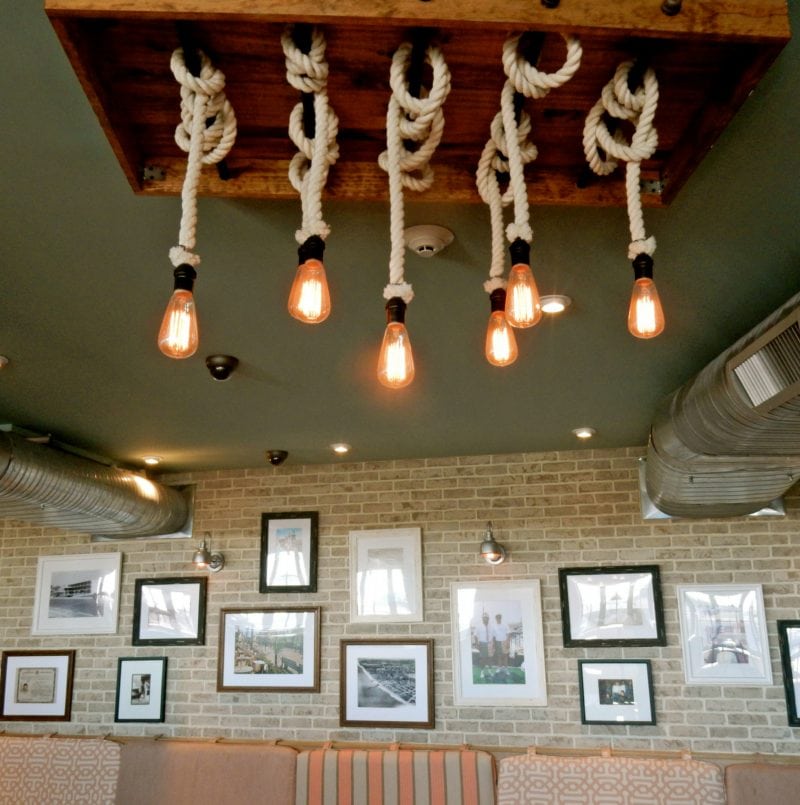 Harry's Ocean Bar and Grill  is named for the hotel's founding father. Harry's features a very popular rooftop bar with extensive ocean views and live entertainment. It's the only open-air rooftop bar in Cape May. (See Where to Eat)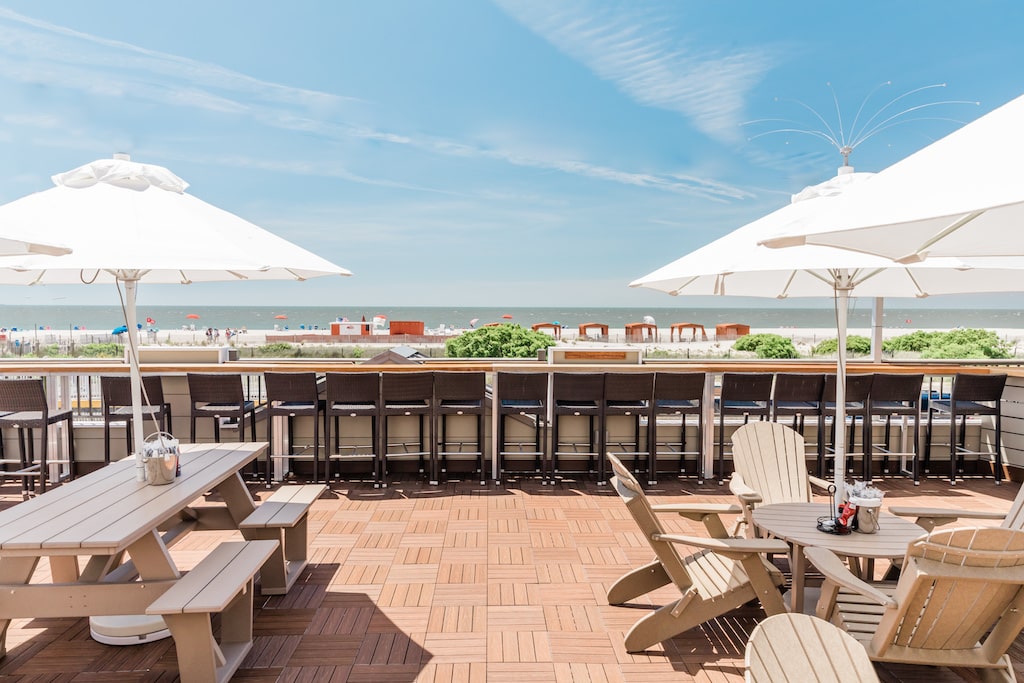 Try an Orange Crush, a regional drink made with fresh-squeezed OJ, Orange Vodka and Lime Soda. Over 15,000 were served here last summer.
Amenities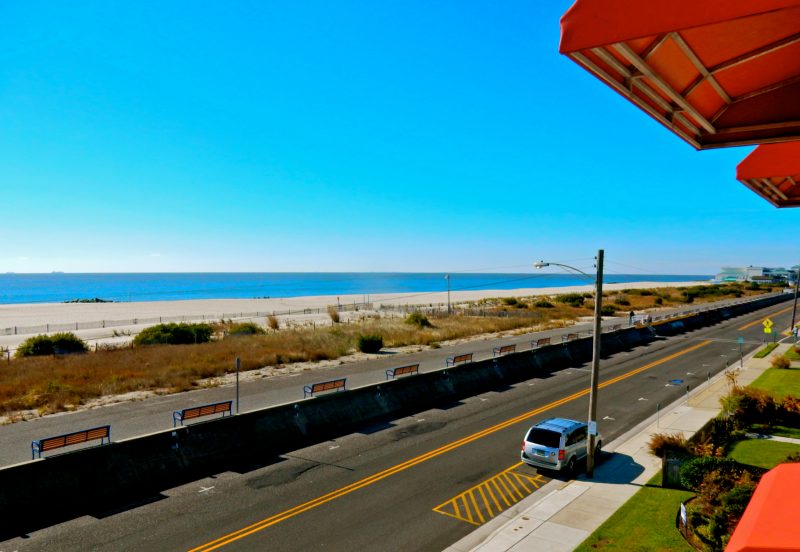 The resort's Atlantic Ocean beach is a few steps (across Beach Ave.) from the front door. Beach tags (regularly $10 per person), chaise lounges and umbrellas are available to hotel guests at no charge. Cabanas can be rented, and food service is offered (soft drinks only).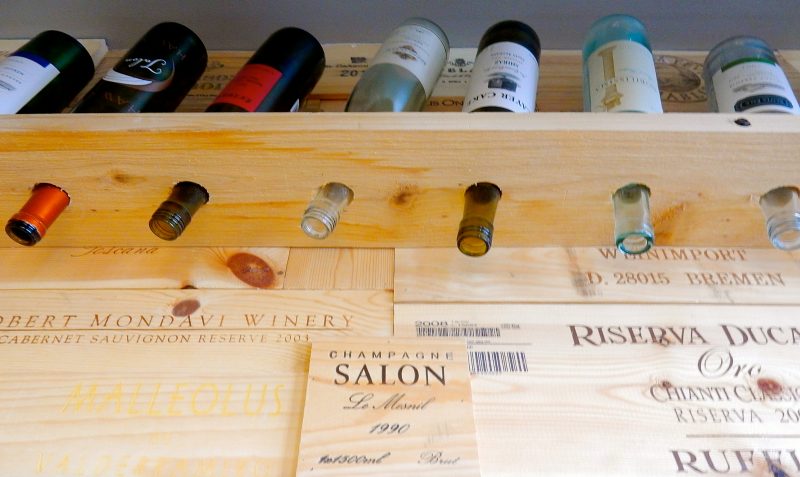 The resort features its own liquor store. This makes it easy for guests to purchase a nice bottle of wine without leaving the premises.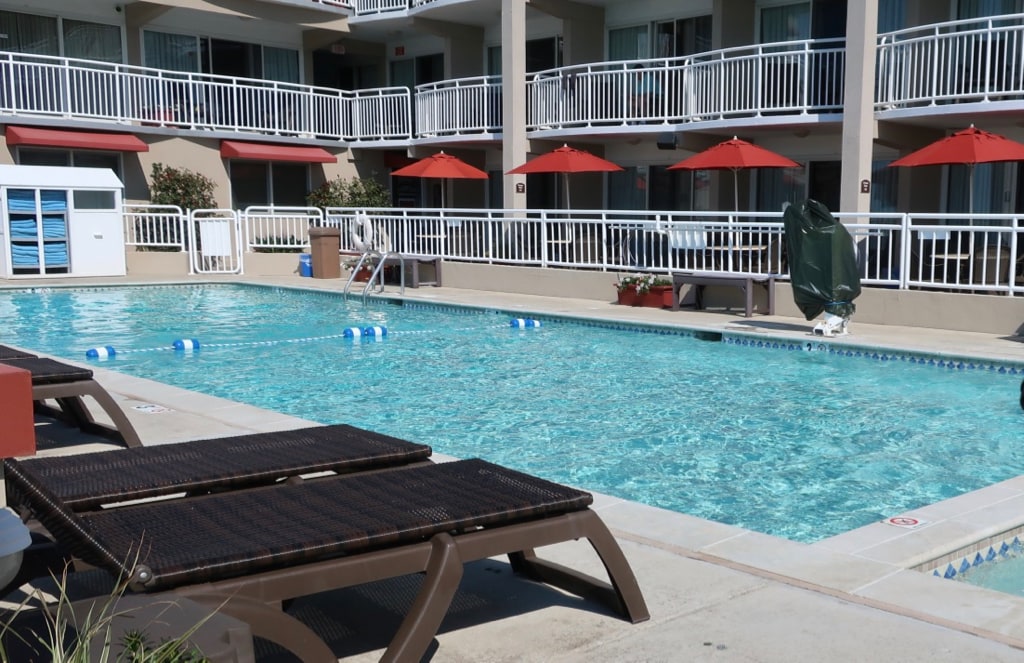 Heated freshwater outdoor pool and baby pool.
Open April – Nov (Harry's Grill open May-Oct) only. Rates from $250 per night off season. From $350 in season. Includes beach tags, chaise lounges and umbrellas on beach, pool, Wi-Fi, and parking.
STAY/VICTORIAN: B&B's
Many visitors come to Cape May for the Victorian experience. So, of course, there are several dozen B&B's that fit the bill. Among the best – the Queen Victoria B&B, just a block from the beach. And The Mainstay Inn – a yellow Victorian has been at the top of many "go" lists for years.