My husband and I have fond memories of a Poconos romantic getaway on our first anniversary. We lived in a New York City studio apartment at the time, so it was a short trip. But we were so grateful to ditch the city for nature trails and a spacious hotel room at one of the resorts in the Poconos with an ensuite pool.
The Mount Airy Resort of our dating days is no longer; it was demolished and replaced by the very modern Mount Airy Casino Resort. Although the new venue has many fun things to do that couples can enjoy, including an indoor-outdoor pool, it's no longer the couples' resort that we remembered.
So when it came time to plan a Poconos winter getaway, we came up with not one, but two romantic getaways in Poconos PA.
Our first itinerary is the classic Winter Getaway, perfect for those of us who never want to grow up. The second–with a giant champagne-glass Jacuzzi and personal ensuite pool–is a very sexy romantic weekend getaway (much like our first anniversary!)
Bonus – Getaway Maven Malerie Yolen-Cohen shares one more Poconos weekend getaway itinerary in this Lake Naomi article. You'll find twenty romantic getaways near in our Pennsylvania list, with even more in this round-up of 150 romantic getaways in the USA.
Itinerary #1: Poconos Winter Ski Getaway
The Pocono Mountains cover 2,394 square miles and four Pennsylvania counties. Within the region, there are several ski resorts and lots of places where you can enjoy winter activities.
We chose Camelback Resort because we could both ski and play.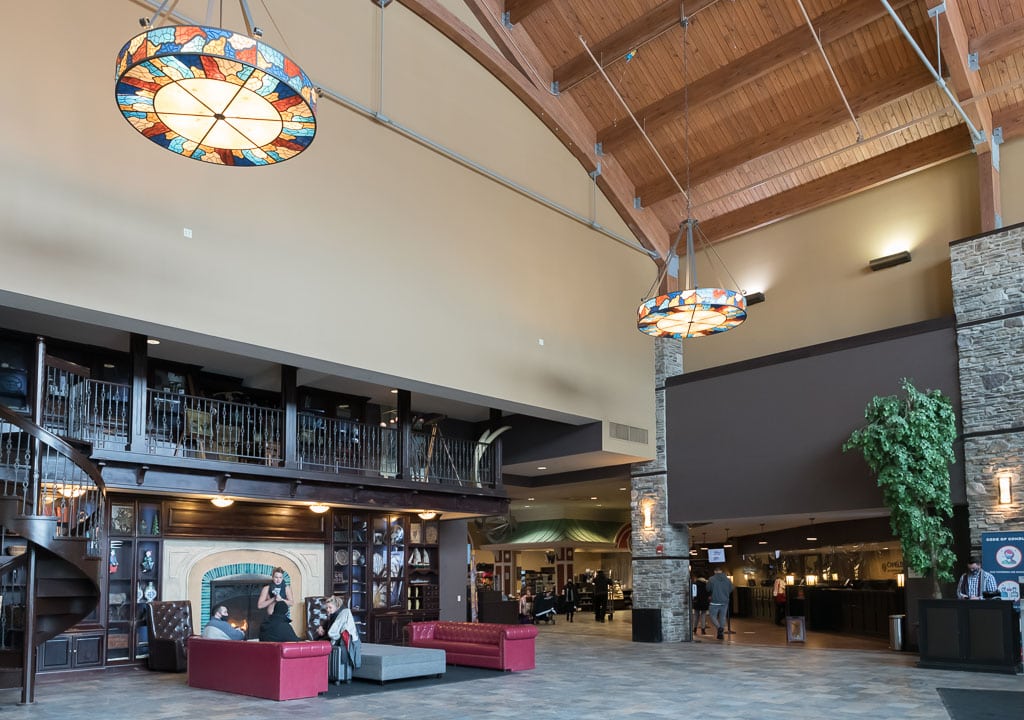 Camelback Resort First Impressions
Camelback Lodge at Camelback Resort is huge, with 453 guest suites and over 20,000 square feet that include conference and meeting space, a fitness center, multiple restaurants, a spa, an arcade, and the immense Aquatopia Indoor Waterpark.
Because it's so big, Camelback can absorb a lot of visitors. So, while check-in was a bit of a mess, with a line snaking out the door, we never saw a crowd inside the hotel after that.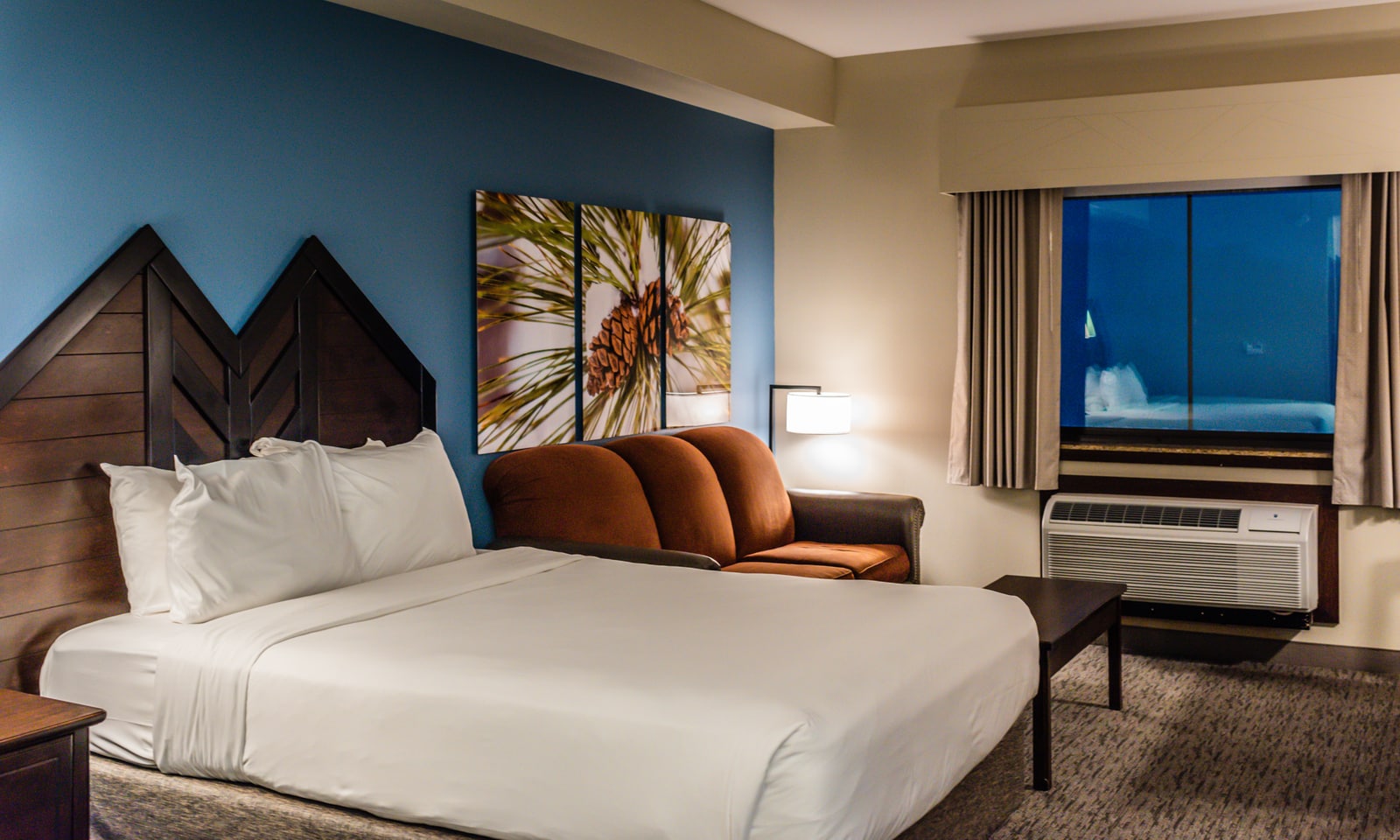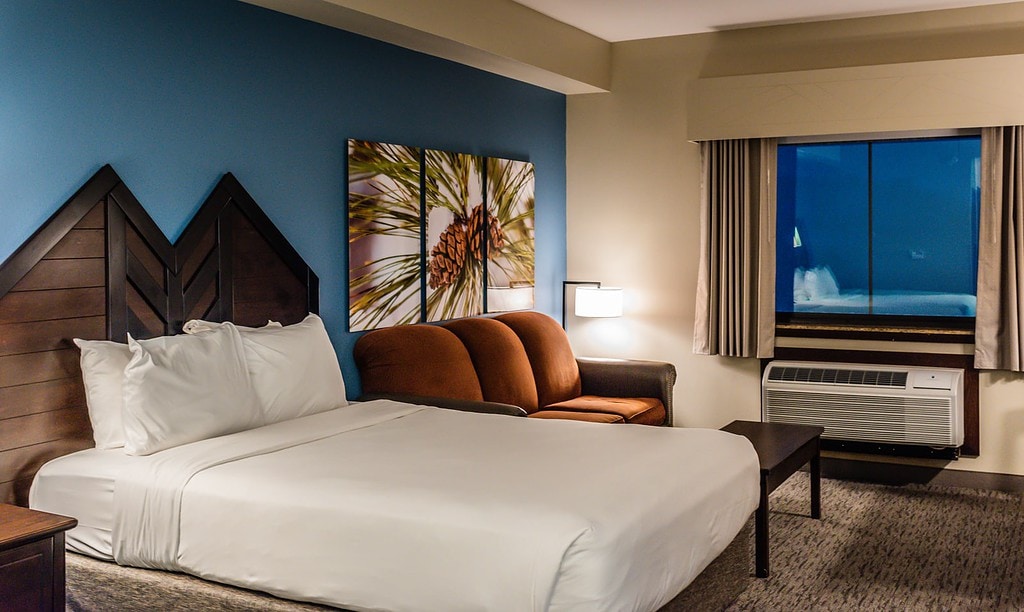 Camelback Resort Guest Room
Camelback guest rooms appear to be designed with families in mind. They're spacious, with indestructible decor. And they feature refrigerators and microwaves, an essential item that guests rolling in coolers are sure to appreciate.
As for couples, a comfy couch, wide-screen TV, and take-out from the resort's Graffiti Pizza may be the perfect way to end an ambitious ski day.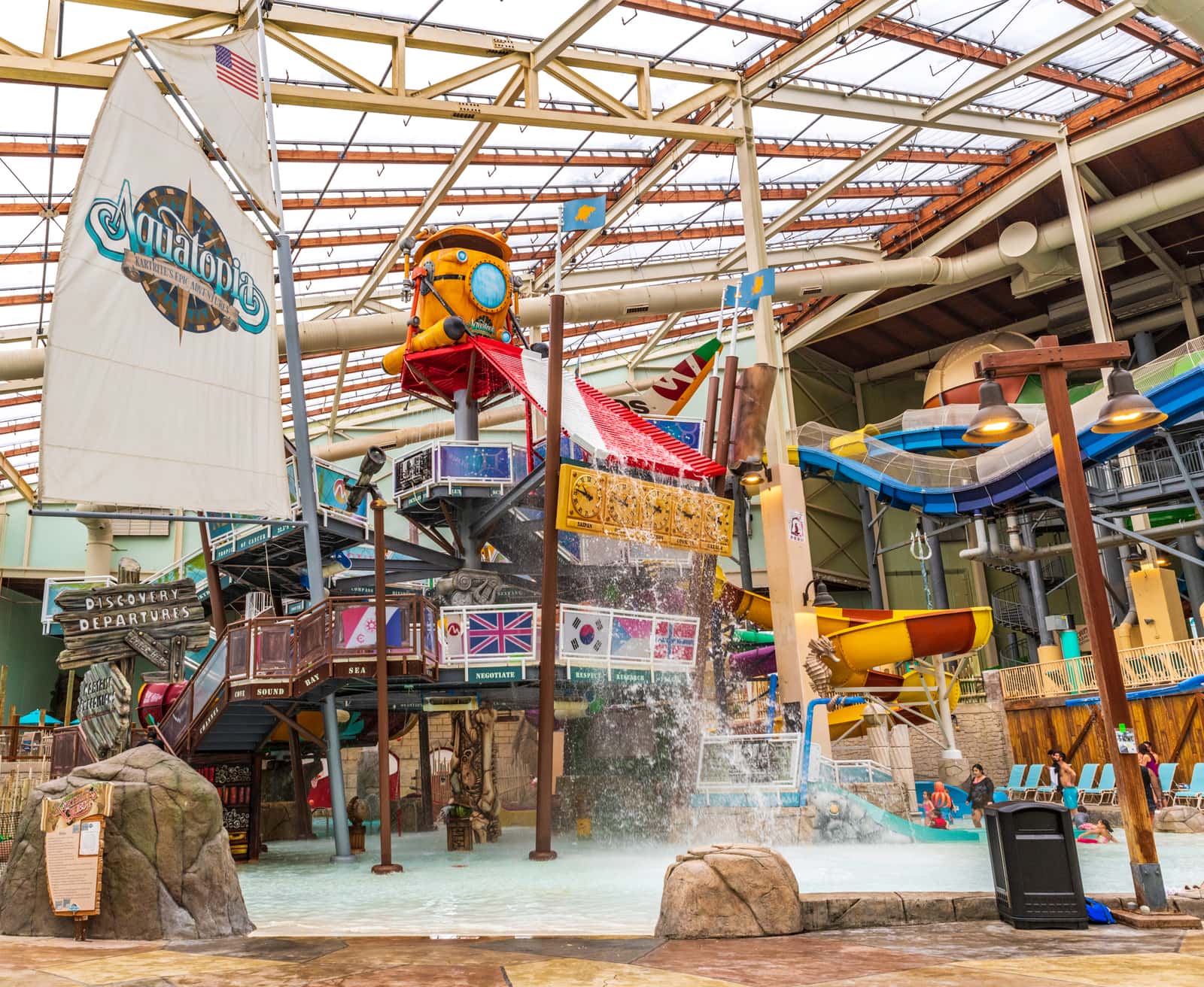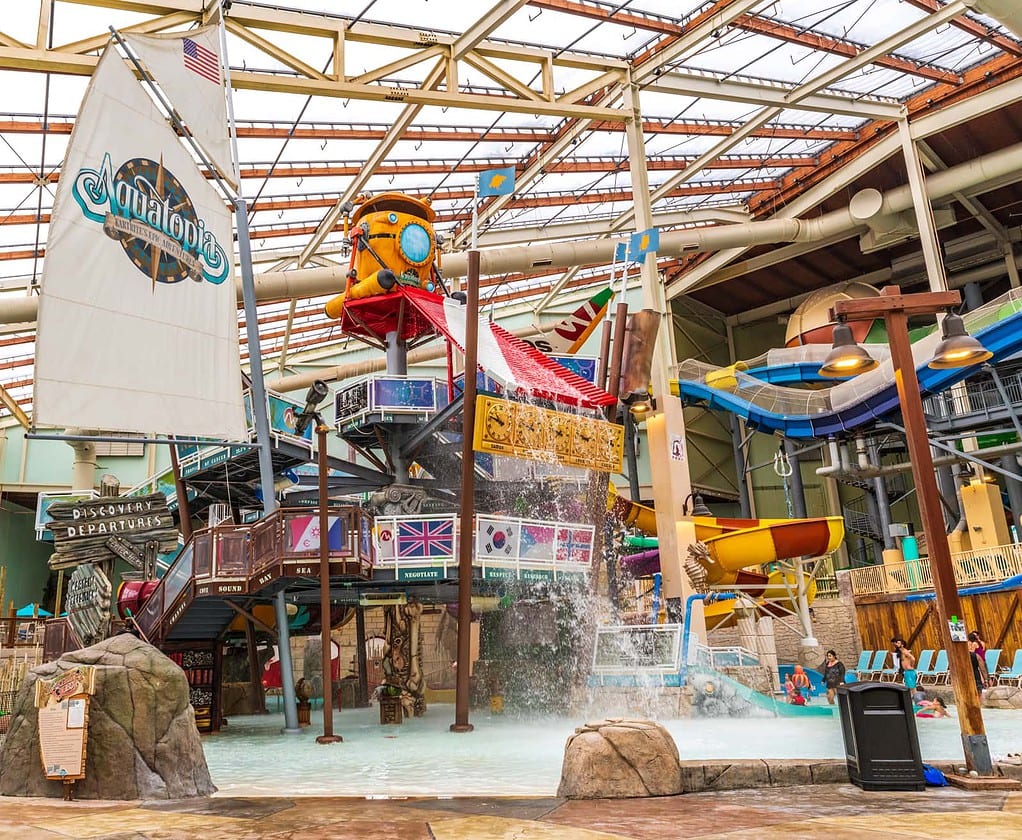 Make A Splash At Camelback Water Park
It's not just the size of the lodge that keeps guests on-site; there's also a ridiculous selection of play spaces. In addition to a huge game arcade, there's Laser Tag, Bumper Cars, an Escape Room, indoor rock climbing and ropes course, and a VR experience.
But you could easily play all day in the waterpark.
Even without the day pass (available for an additional fee,) the huge 125,000 square space – with a skylight roof – is a pleasant spot to soak in the winter sun. But with the day pass, you can alternate between slides, a wave pool, a lazy river, and a swim-up bar.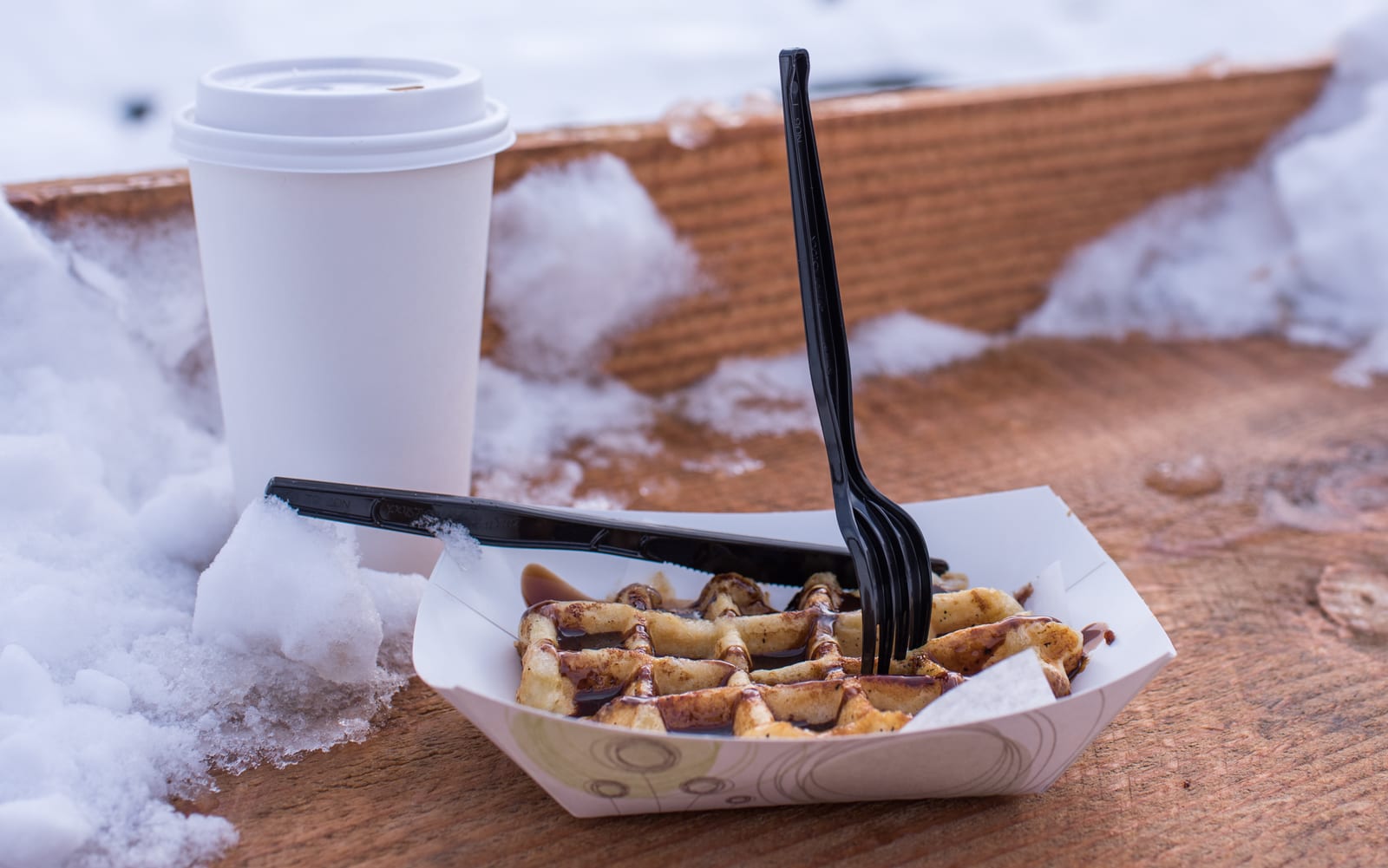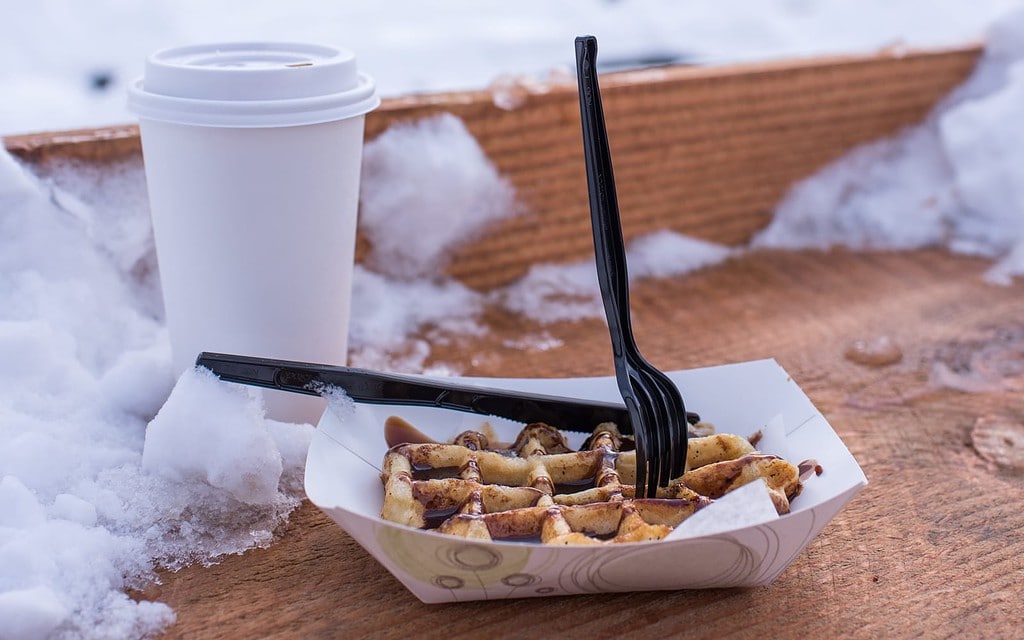 Camelback Resort Dining
And, with 15+ dining venues, many within the lodge itself, there's really no reason to leave the resort. Coffee, pastries, and an excellent selection of truffles tempt you from a coffee shop next to the check-in desk.
Several venues are of the grab-and-go variety, but you won't want to miss Happy Hour at Massino's. Fun and games here include darts, pool, shuffleboard, and axe throwing.
If and when you do check out the outdoor activities, the most irresistible snack can be found at the base of the snow tubing hill–a Waffle Cabin.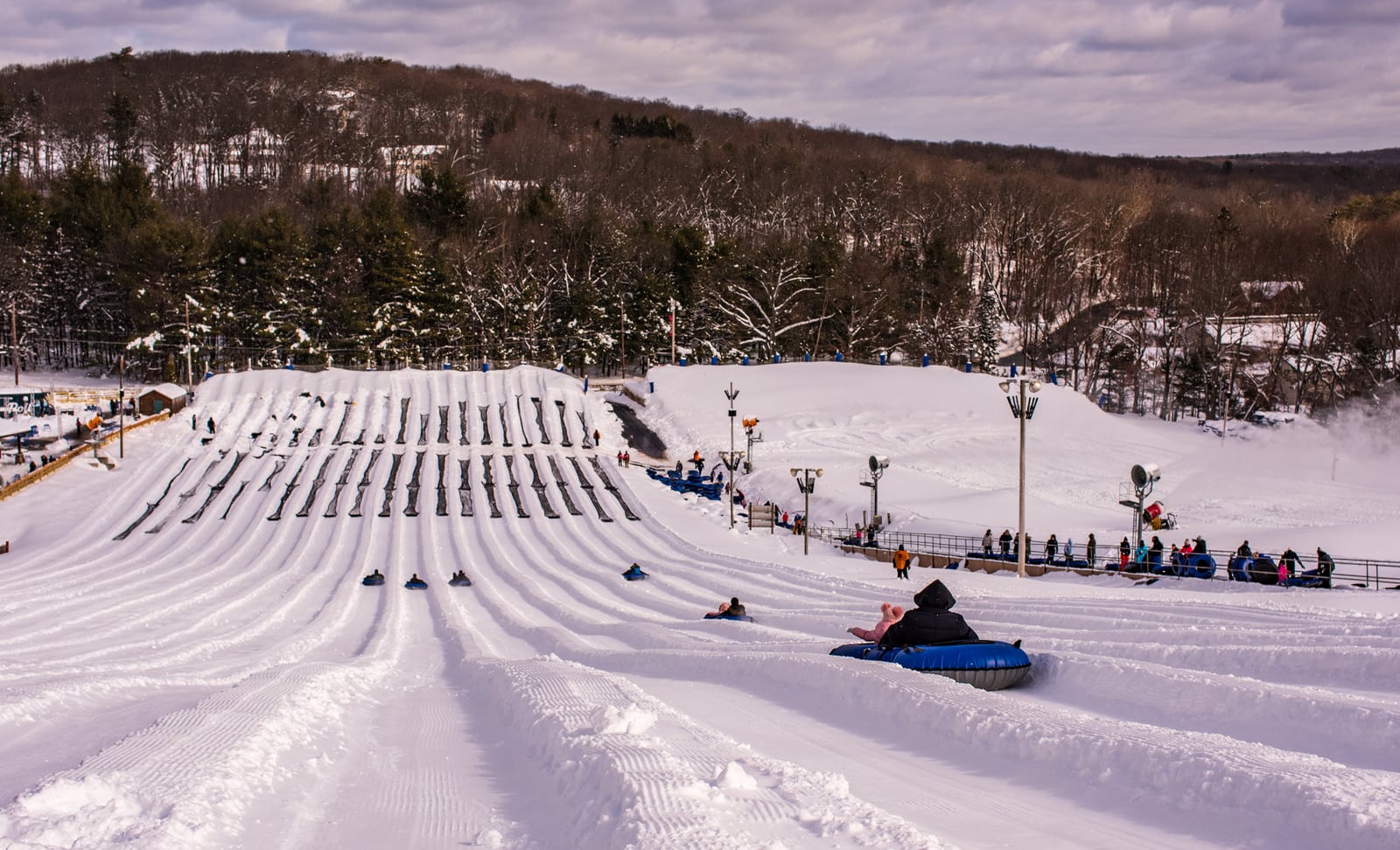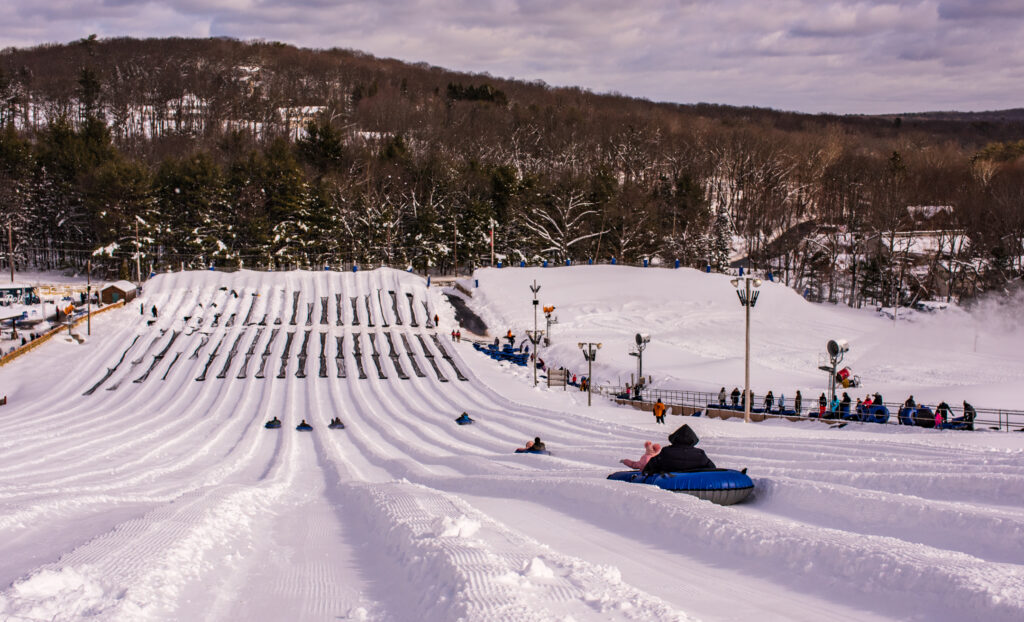 Camelback Snow Tubing Is The Biggest In The US
Size matters, at least when it comes to winter sports. And here, Camelback reigns supreme with the largest snow tubing park in the United States. Because there are 42 tubing lanes, and 2-hour session reservations are required, there's never a wait for an open lane.
The lanes are just long enough, and just steep enough, that when we connected our tubes, we ended up laughing all the way. For an even more tubular experience, sign up for nighttime Galactic snow tubing when colorful LED lights cast a neon glow on the lanes.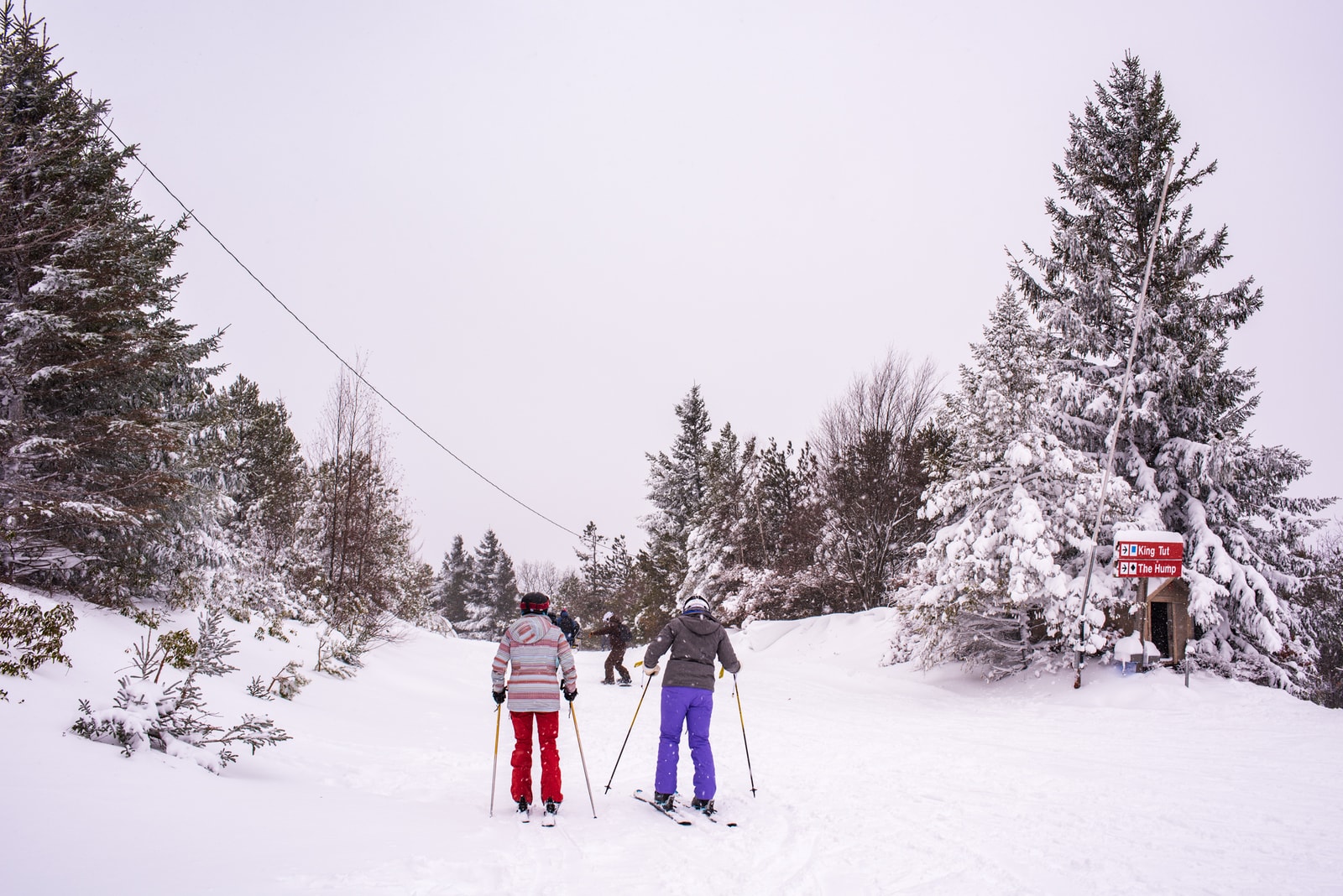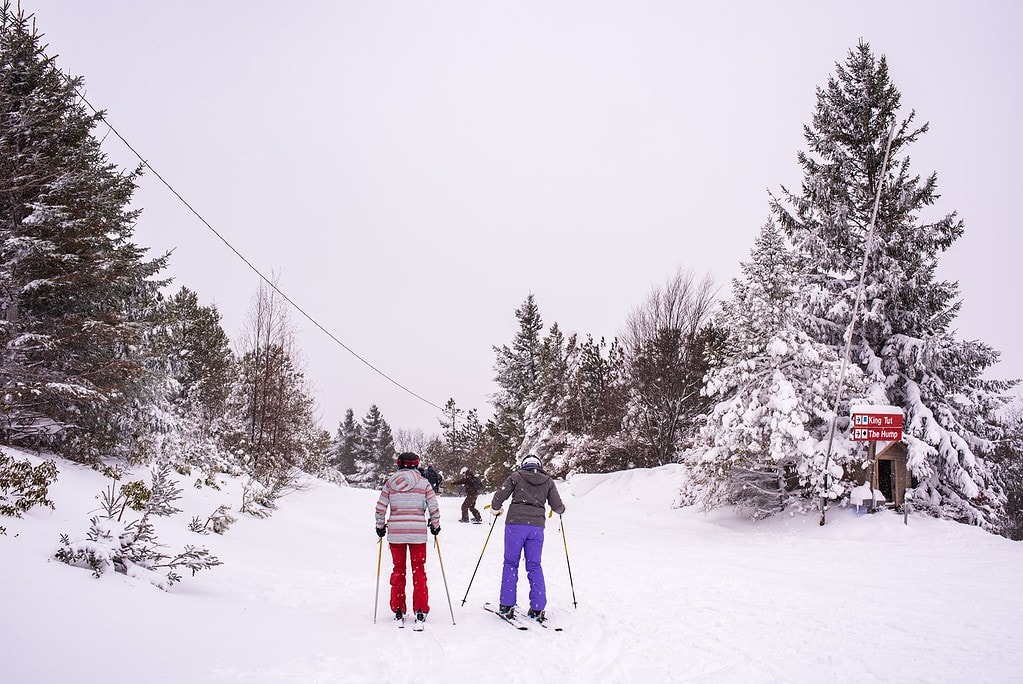 Beginners Welcome At Camelback Ski
Camelback is one of the most popular ski mountains in the Northeast, and one of the closest to the major metropolitan populations of New York City and Philadelphia.
There are 39 ski trails, at all skill levels. Mostly, these are easy-to-intermediate ski slopes that are excellent for beginners, and many families on the East Coast learn to ski here.
Depending on how you look at it, both items can be a draw.
You don't need to stay at Camelback Resort to enjoy skiing here, but it does make it a more pleasant experience. An onsite staffed locker room, with easy access to slopes, makes it a breeze to ski in, ski out.
And it's a welcome respite after slopeside Happy Hour.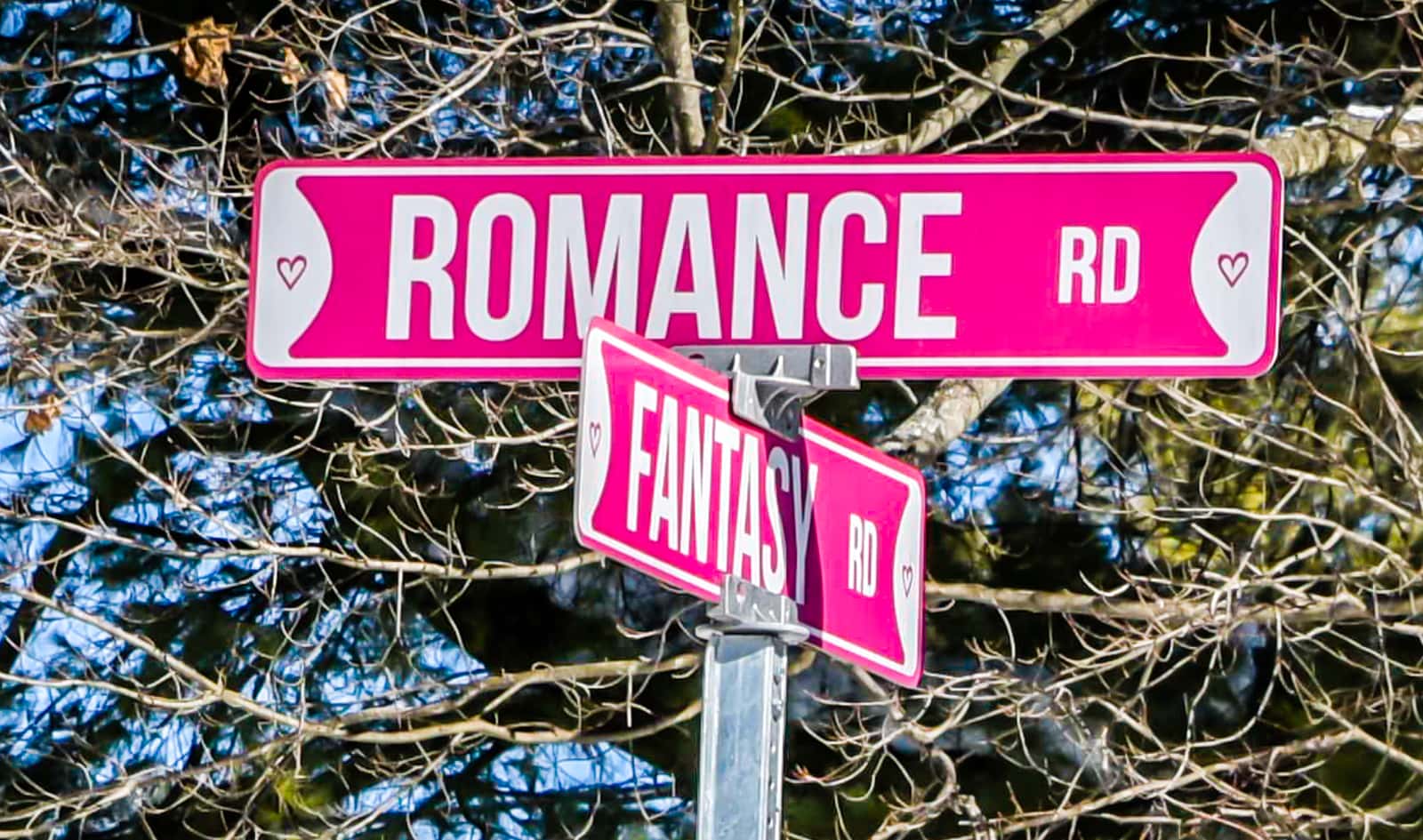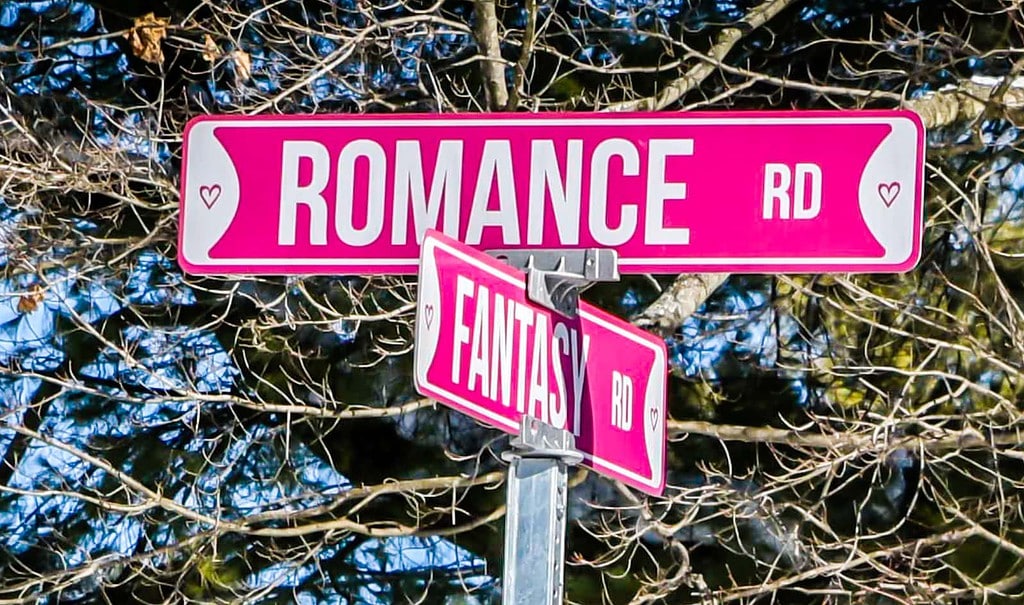 Itinerary #2: Pocono Adults Only Resorts Getaway
Although Mount Airy Resort came to embody the popular jingle where "all you have to bring is your love of everything" it was Cove Haven Resort that in 1963 introduced the "Sweetheart Tub" that helped the Pocono Mountains earn a reputation as a honeymoon destination.
Today, Pocono Palace Resort is one of three Cove Pocono Resorts that also include Cove Haven Resort in Lakeville PA, and Paradise Stream Resort in Mount Pocono PA.
These couples-only all-inclusive getaways include fantasy suites, breakfasts and dinners, indoor and seasonal outdoor activities, and nightly entertainment.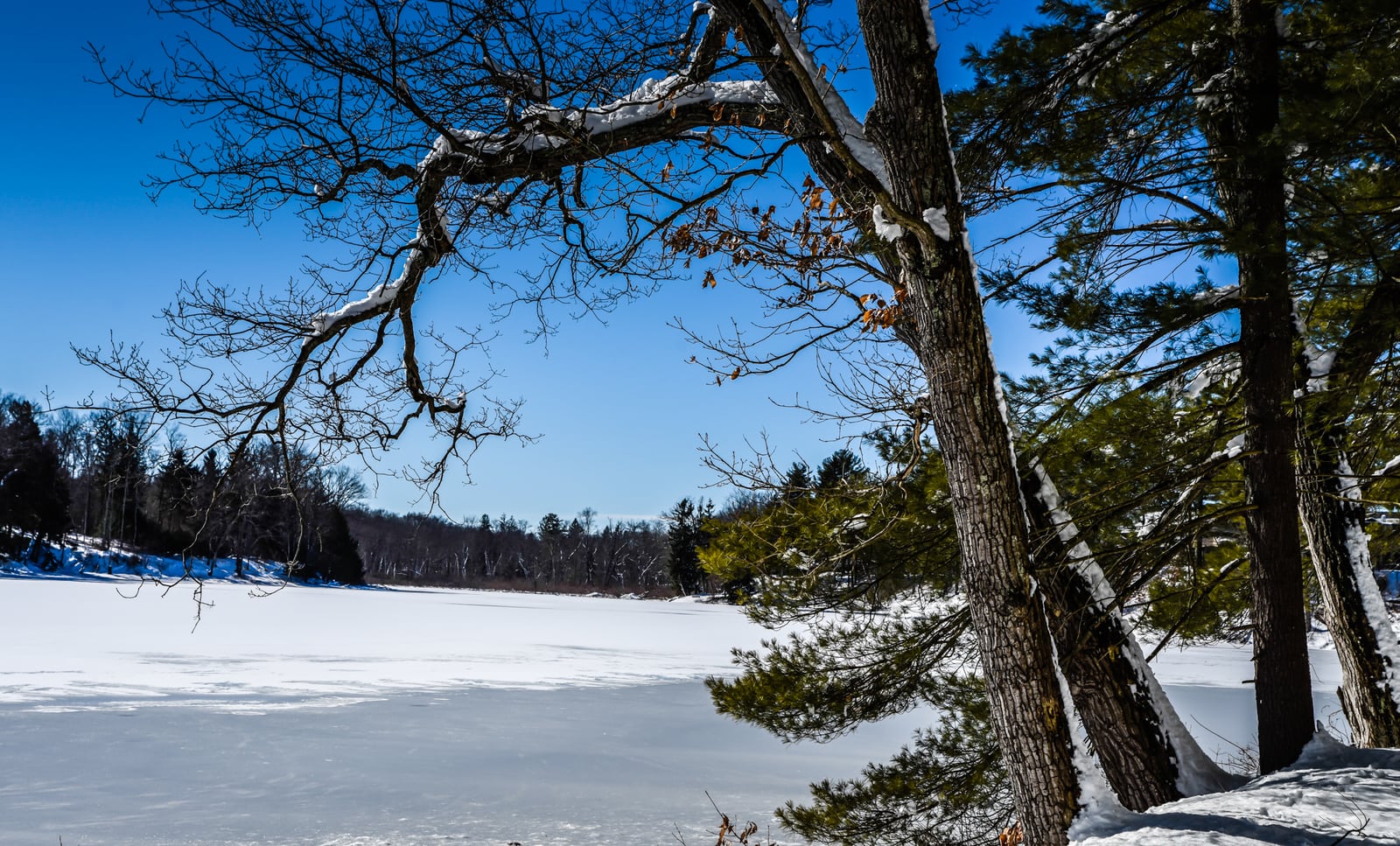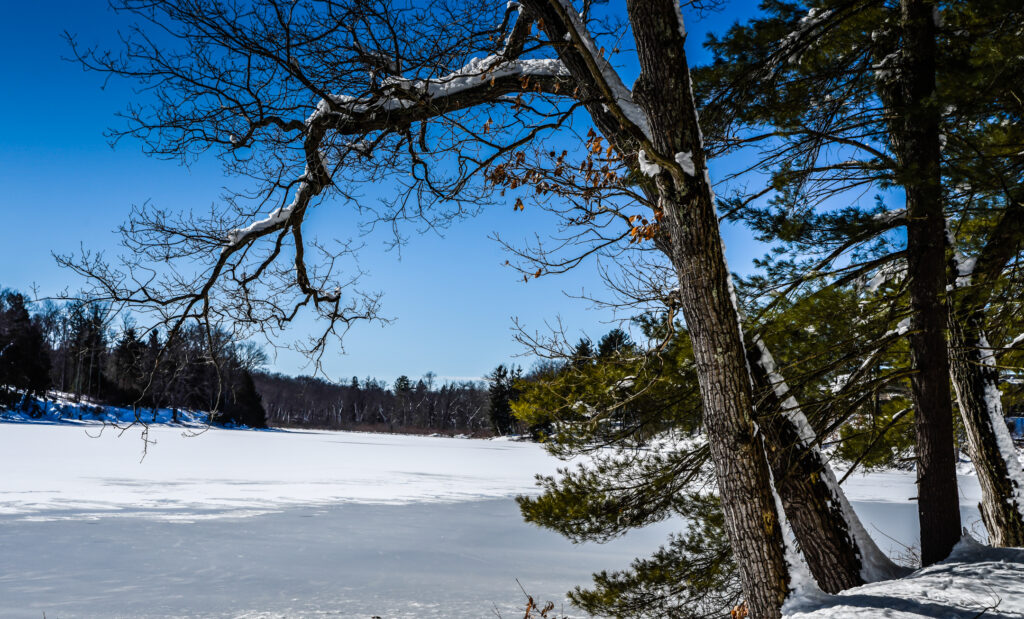 Where Is Cove Haven Pocono Palace?
Located on Fantasy Road along Lake Wallenpaupack (Pennsylvania's 2nd largest lake,) Pocono Palace is about a 30-minute drive from Camelback Resort or an hour and a half from New York City.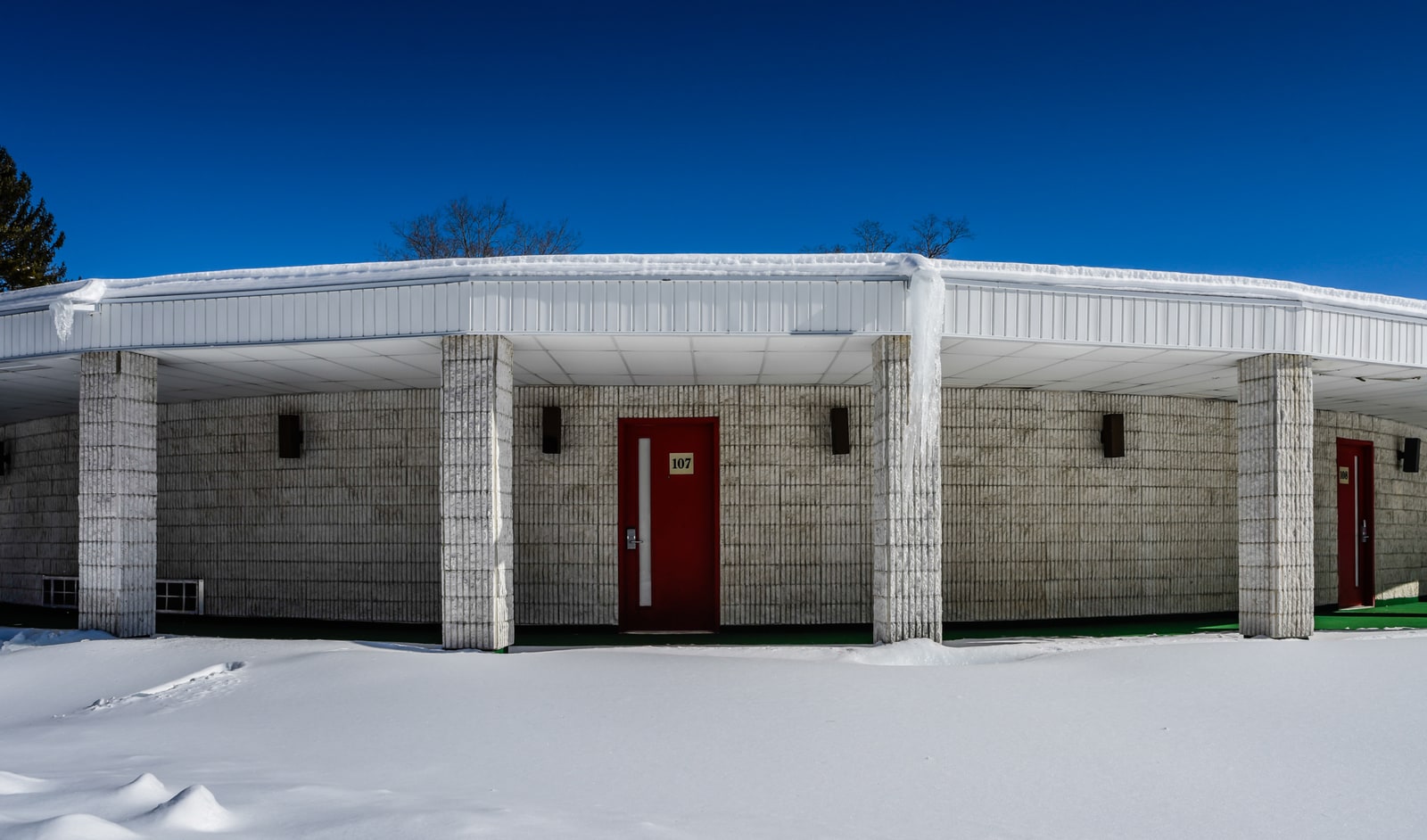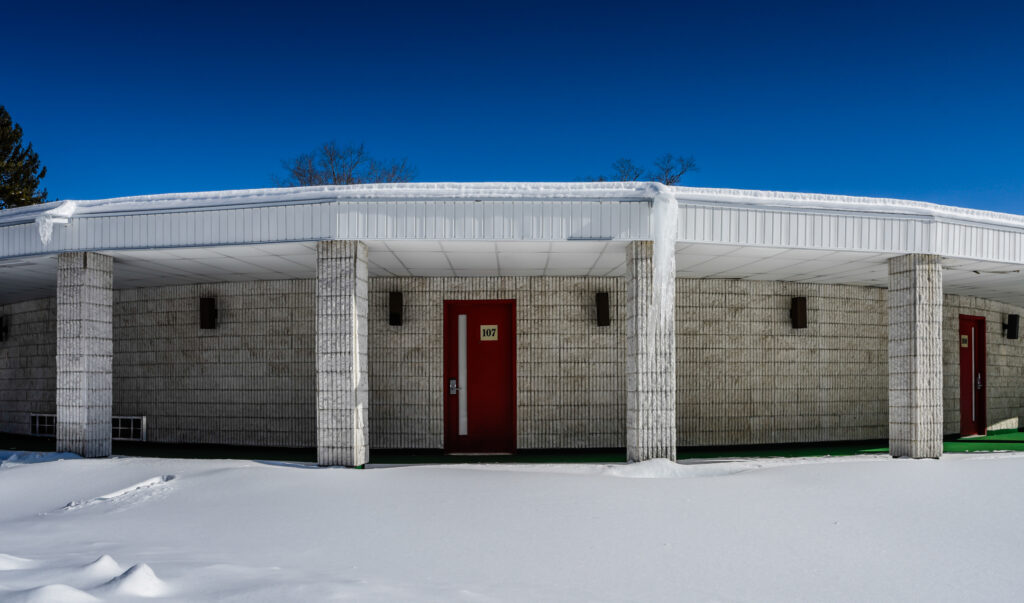 Pocono Palace First Impressions
The resort is comprised of an assortment of buildings ranging in architectural style from 1960s Modernism to current Neo-Eclecticism. Check in is at the Welcome Lodge lobby where you also find a well-stocked Gift Shop, as well as restaurants, a retro-chic nightclub, an indoor pool, and the Indoor Activity Zone.
There are 188 suites, many fantasy-themed, spread out over 400 acres of lakeside woods. Without a doubt, the most over-the-top is the Champagne Tower and Roman Tower Suites where the pièce de résistance is a seven-foot champagne glass whirlpool.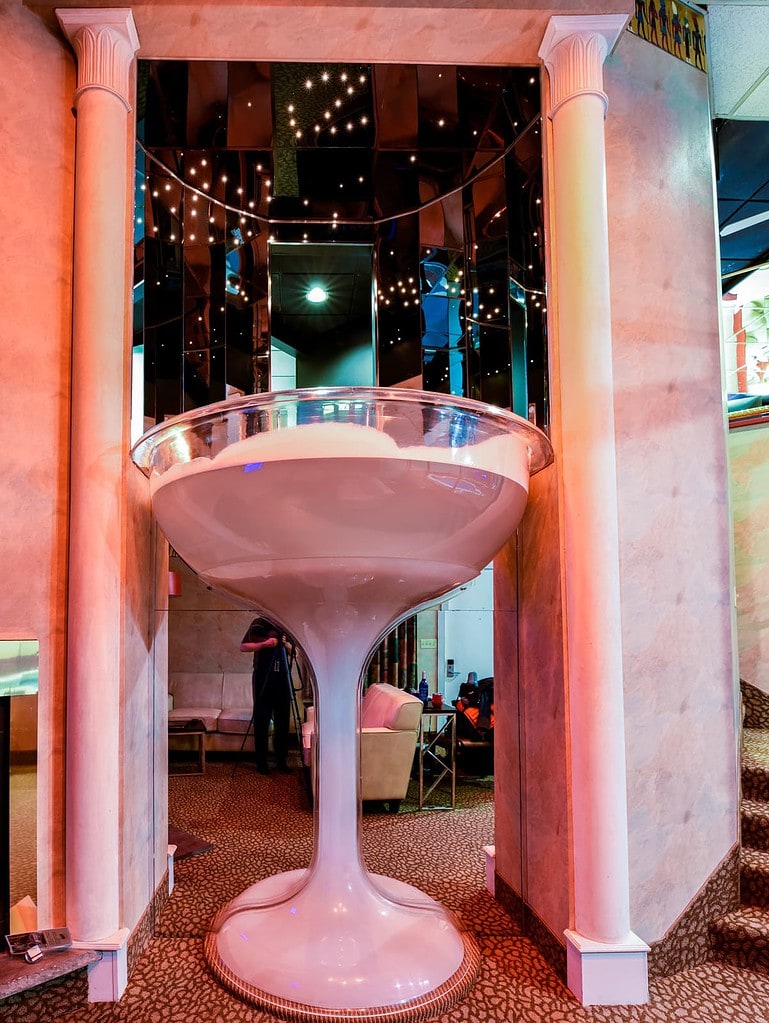 Pocono Palace Guest Room – Champagne Tower Suite
If your motto is Go Big, Or Go Home, then you have to splurge for one of the champagne tower suites. The oversized whirlpool is more than big enough for two, with timed jets, mirrored panels, sparkly lights ceiling, and see-through bottom.
Travel Tip – Be sure to pack your own bubble bath (but it is available to purchase at the gift shop or as a Suite Gifts addon.)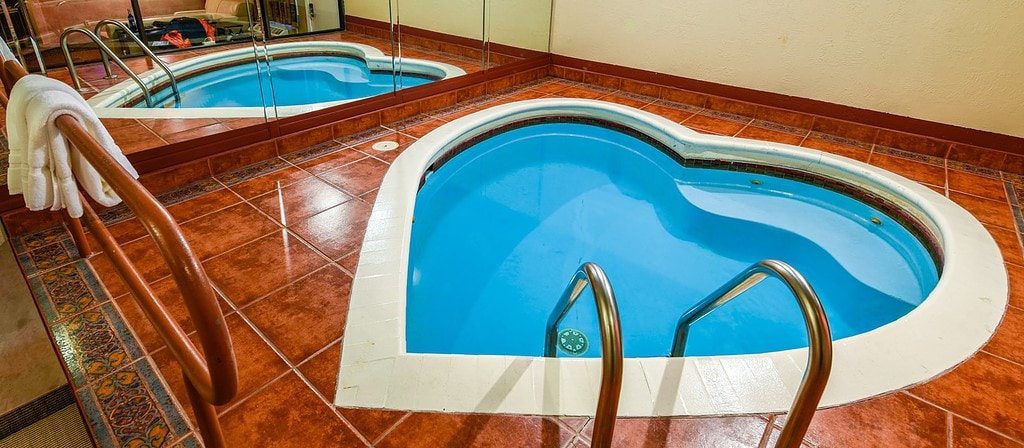 The bubbly bath overlooks the living room where you can watch movies in front of a firelog-burning fireplace. On the ground level, a glass wall separates the living room from the heart-shaped hot tub pool and a sauna/massage bed combo.
That way, although both areas are comfortably warm, it's possible to maintain a higher humidity level in the pool room.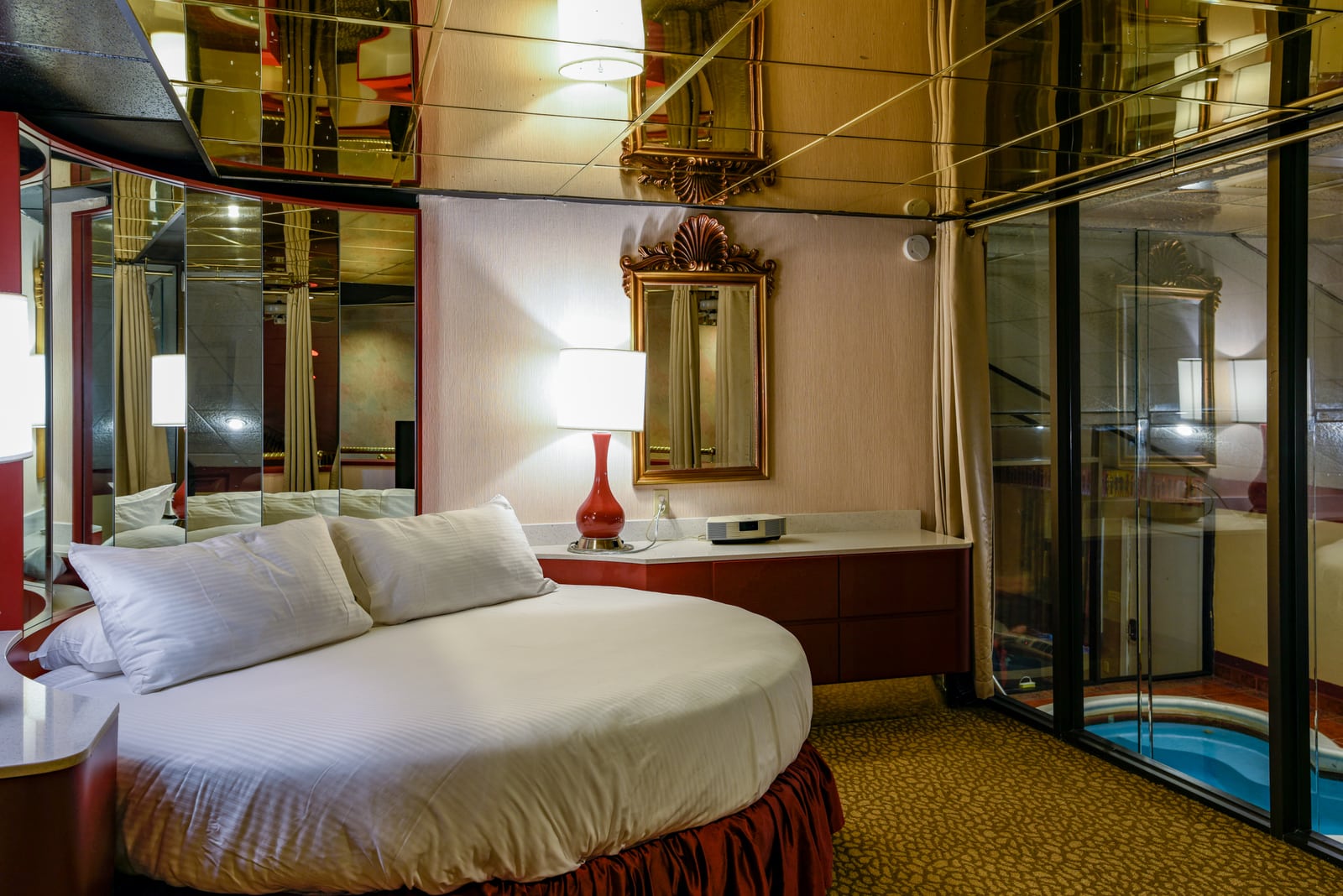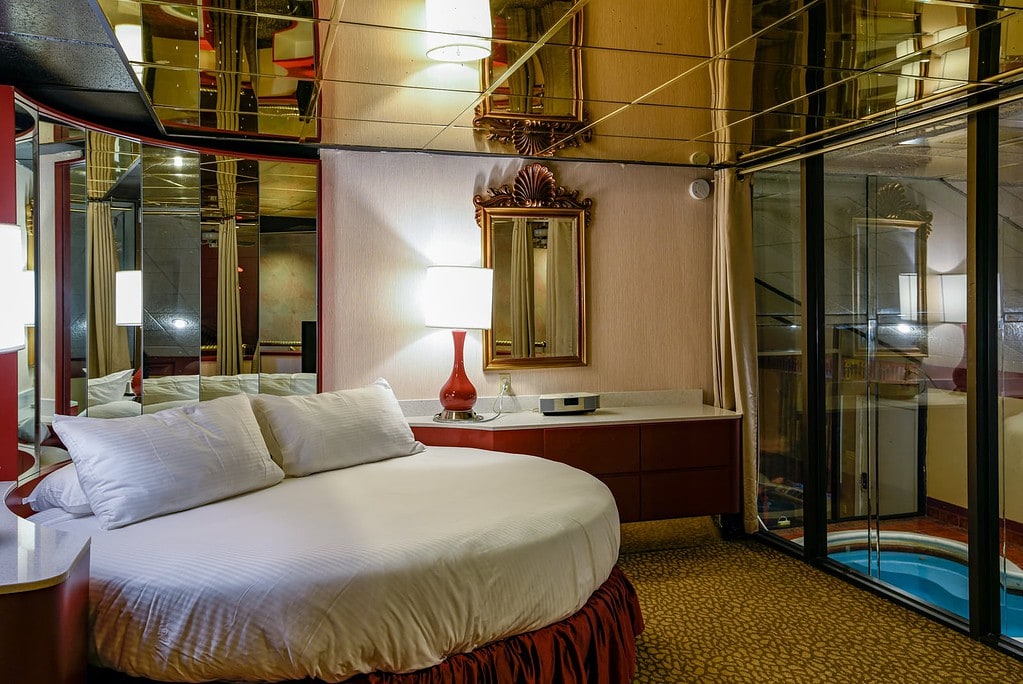 As if a champagne whirlpool and heart-shaped pool weren't enough to set the mood, the bedroom takes it to another level.
Golden mirrors panel the ceiling while even more mirrors round out the backsplash behind a round bed. And while the entire room is perched to look out on the interior heart-shaped pool, black-out curtains ensure complete privacy.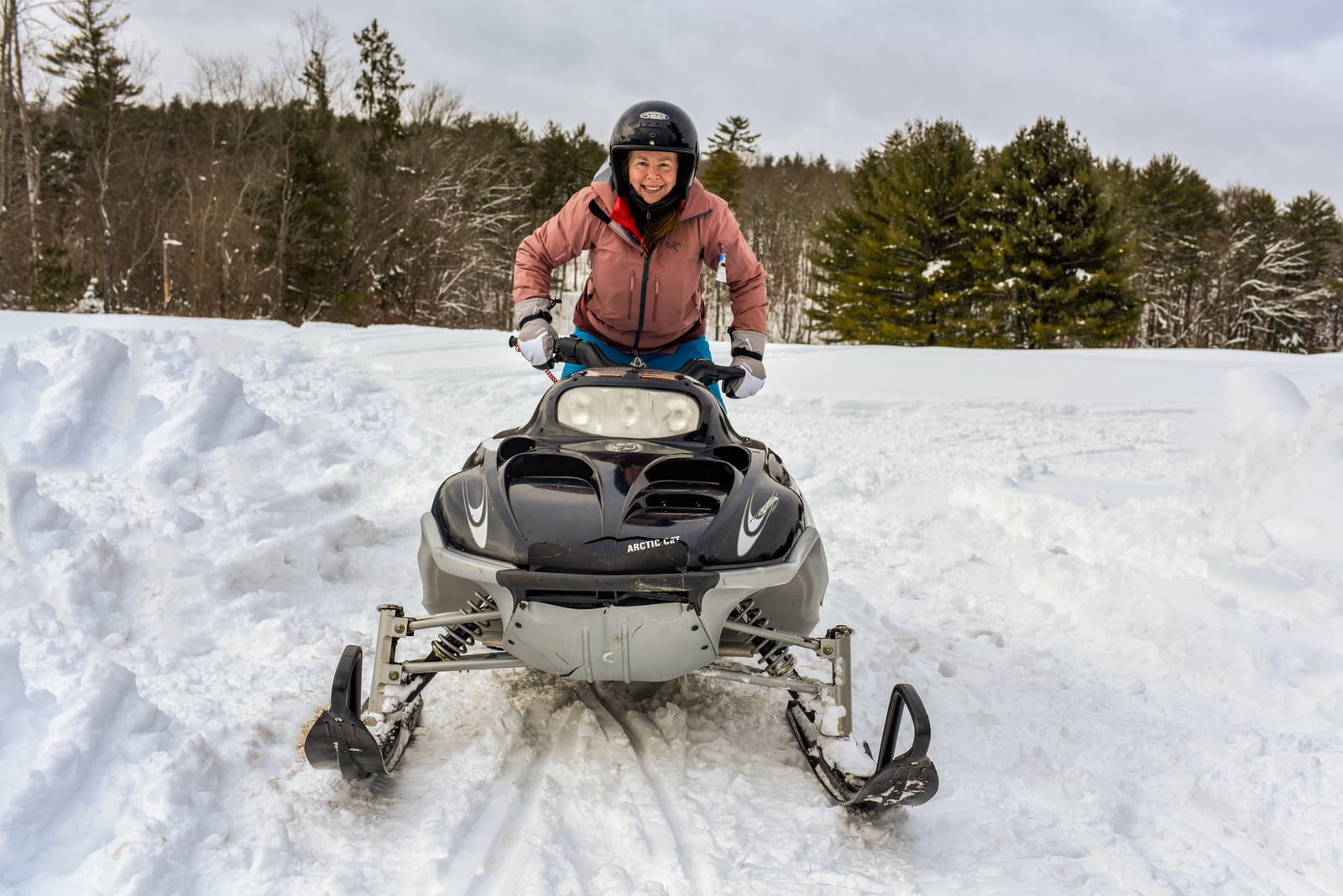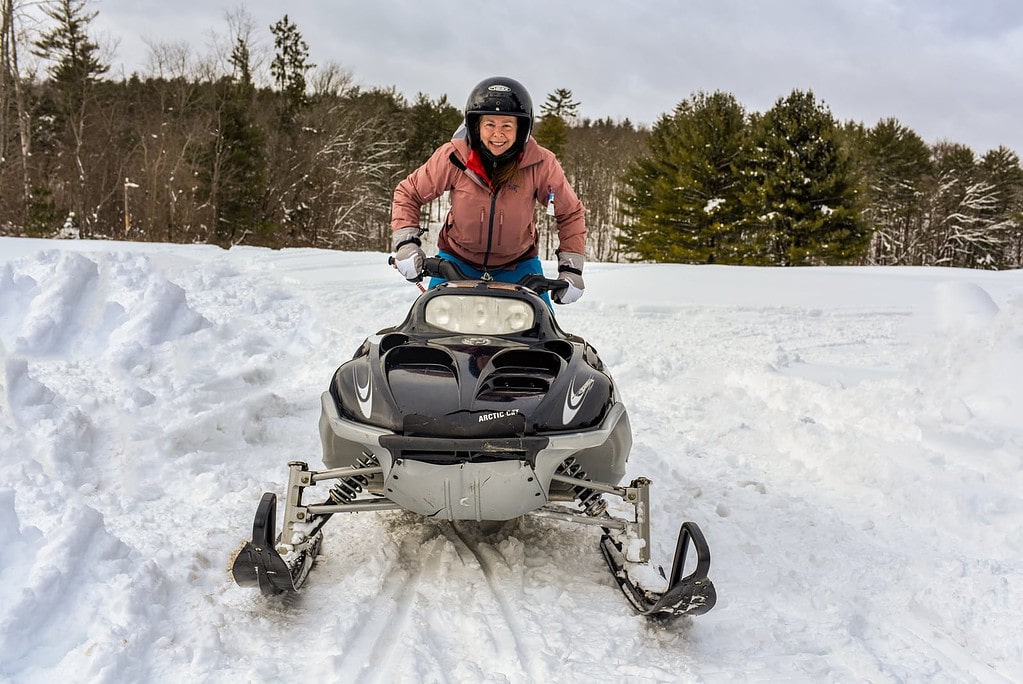 What To Do At Pocono Palace
If you can tear yourself away from the fantasy, there's plenty to do without leaving the resort grounds. In addition to the games at the Indoor Activity Zone (Billiards, Basketball, Bowling, Arcade, Mini Golf, etc,) there's a destination spa and nightly entertainment featuring comics, bands, and specialty acts.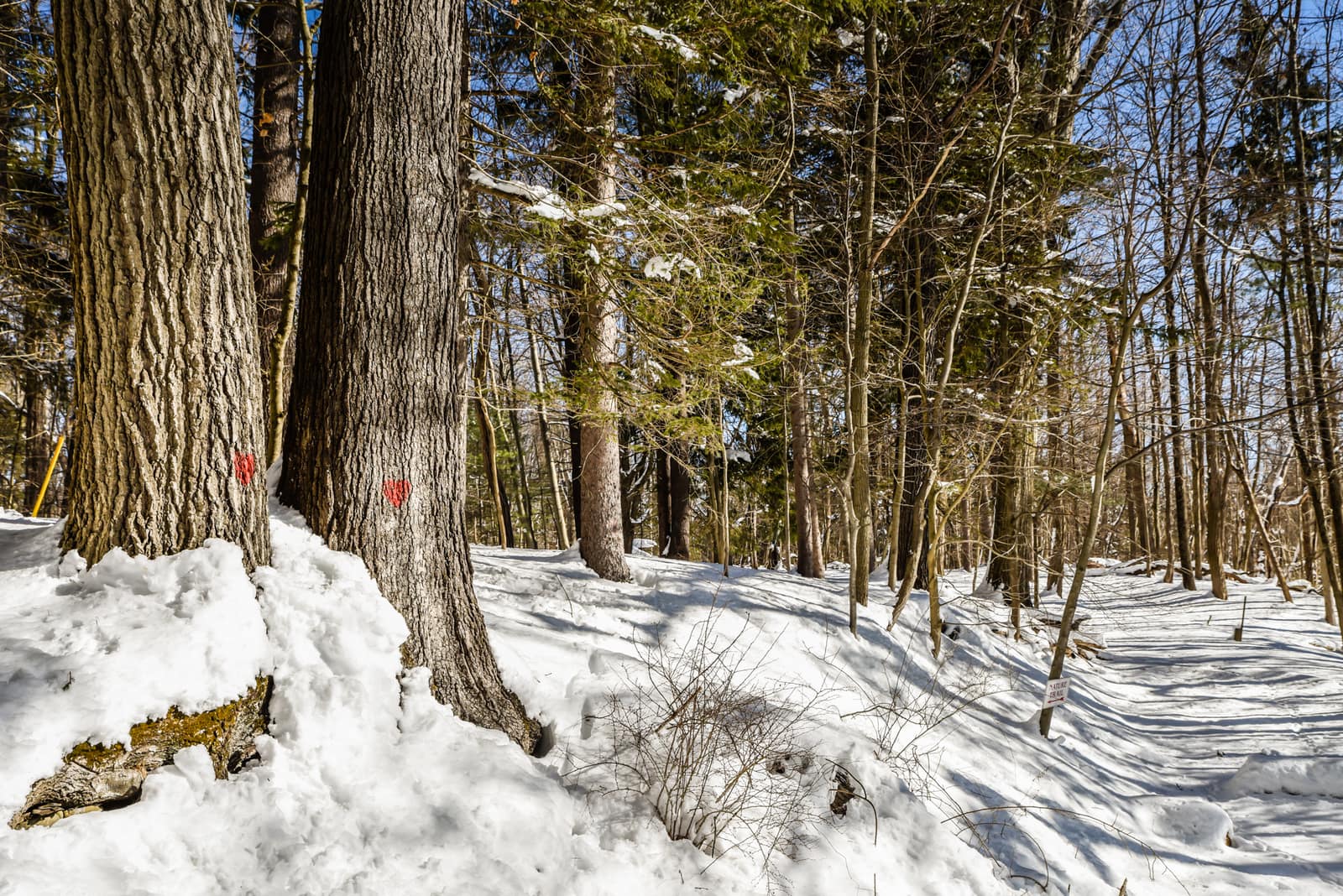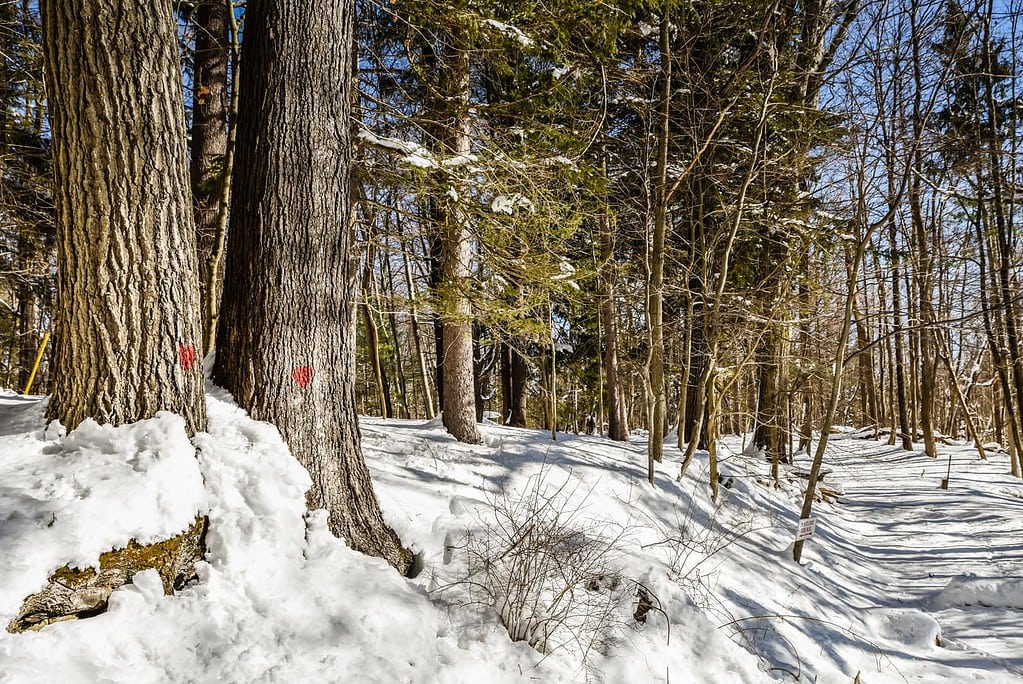 Outdoor activities vary by season. In the summer, there's an outdoor pool and a lakeside beach welcomes kayaks, paddleboards, water skis, and more.
It's quieter in the winter. Still, the resort provides equipment for snowshoeing or cross-country skiing on nature trails, as well as guided snowmobile tours.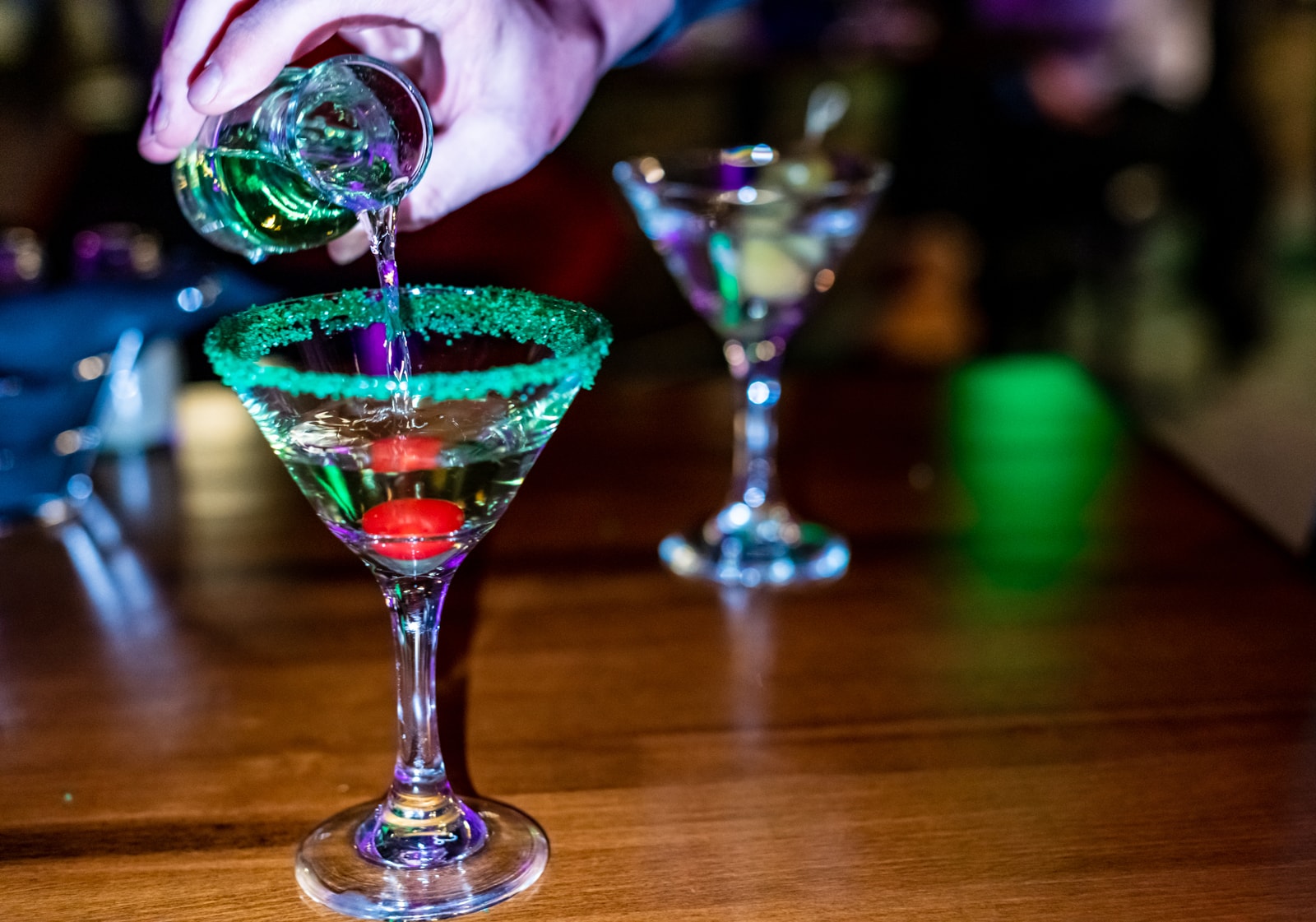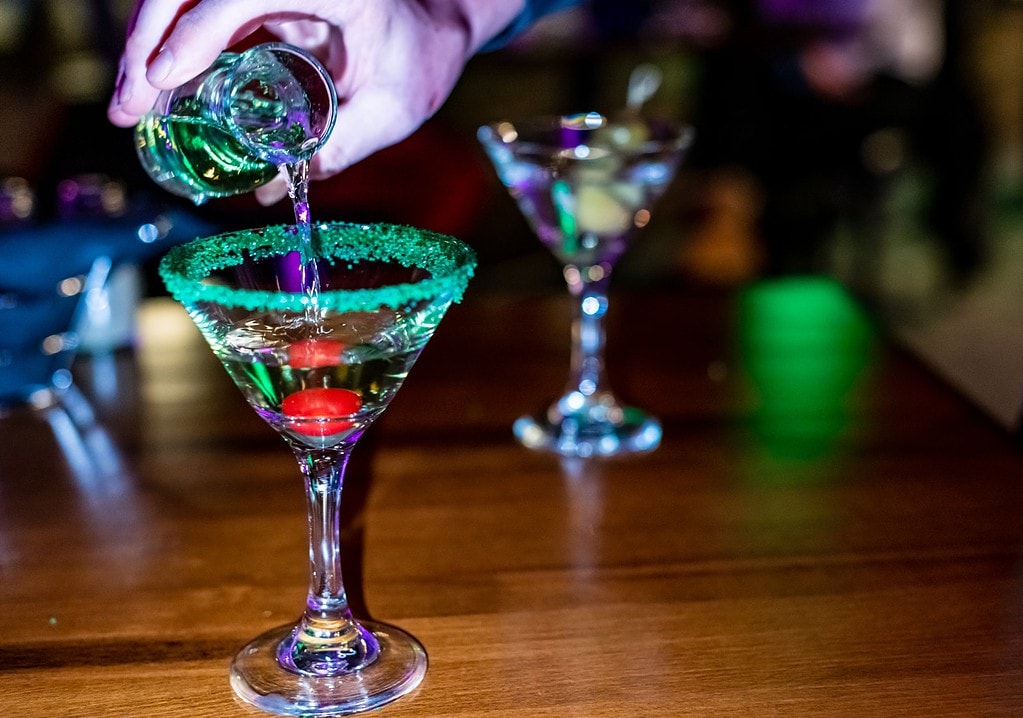 Dining At Pocono Palace
The all-inclusive package covers unlimited breakfast, dinner, and nonalcoholic drinks. Food is surprisingly tasty, although not terribly imaginative, and the menu alternates so that there is variety day to day. On Saturday nights, there's steak and shrimp but stay through Sunday night, and you can try the Chef's Signature Meatloaf.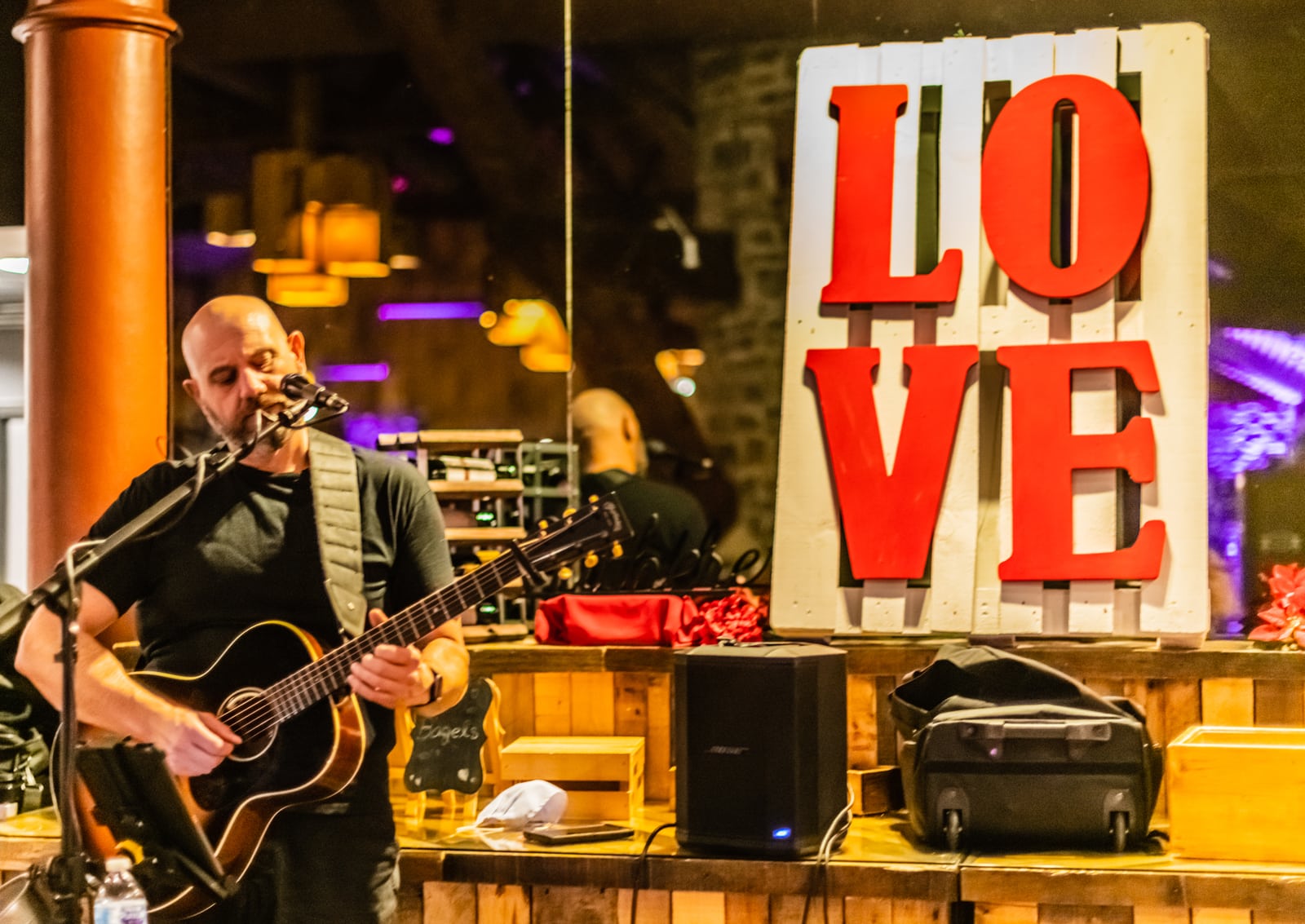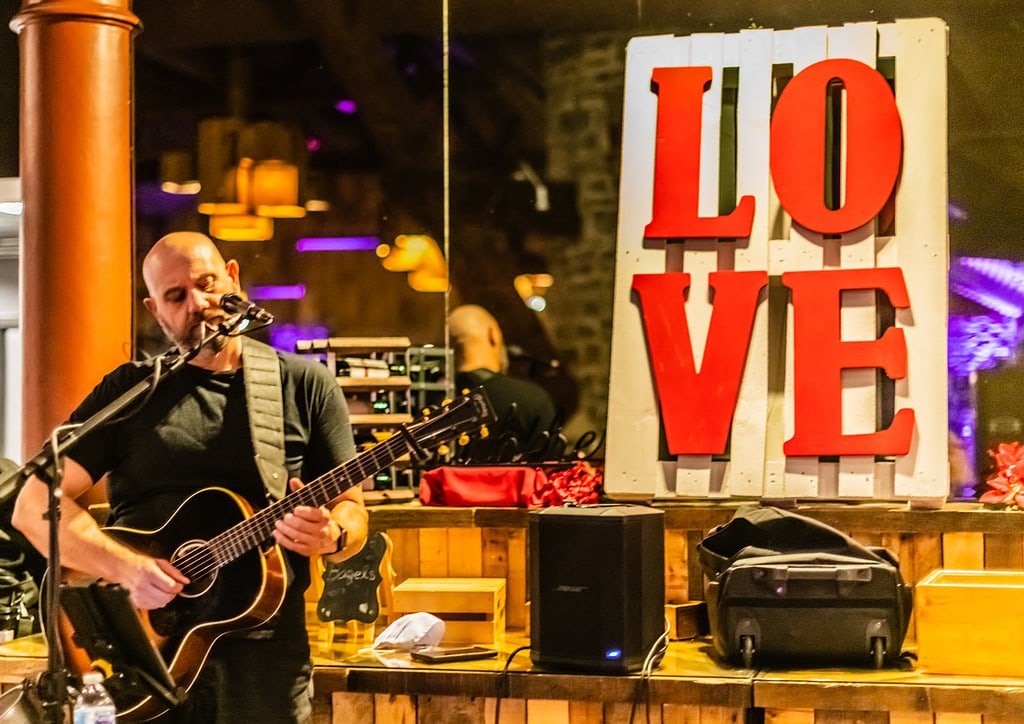 Meanwhile, at dinner, live entertainment is kept at just the right decibel level to add to the romantic ambiance without detracting from dinner conversation.
More Weekend Getaways At Northeast Ski Resorts
We've covered several weekend getaways at Northeast USA destinations that are known for their ski mountains, but these are specifically ski getaways:
More Romantic Getaways In Pennsylvania