The beauty of the natural landscape poses the ultimate challenge to travel photographers on an American Southwest road trip. How to capture the majesty of the region when the bar was set so high by the greatest landscape photographer of them all–Ansel Adams?
"It is all very beautiful and magical here—a quality which cannot be described. You have to live it and breathe it, let the sun bake it into you. The skies and land are so enormous, and the detail so precise and exquisite that wherever you are you are isolated in a glowing world between the macro and the micro, where everything is sidewise under you and over you, and the clocks stopped long ago." Ansel Adams
The right equipment and technical know-how are important, but so is experience. As they say, you don't know what you don't know. That's where a reputable photography workshop is worth its weight in gold. Scroll down to learn about the workshop, as well as our 5-day Southwest road trip itinerary.
And for even more Southwest adventures, check out our epic Havasu Falls trip, Arizona mountain towns, this long list of West Coast National Parks, and an even longer 11-Day Southwest National Parks Road Trip itinerary that includes visiting Bandelier National Monument, among others.
Southwest Photography Workshop
Not too long ago, my traveling companion and I had the opportunity to join a Southwest Photography Travel Workshop run by two instructors, Jeff Sink and David LaNeve, with the California Center for Digital Arts. Drawing on their familiarity with the region, they knew which Southwest destinations to choose, and how to schedule landscape shoots to place us in the right place at the right time.
Before leaving, we were advised on which lenses (all of them!) and accessories (tripods and graduated neutral density filters) to pack. While there, they coached us on settings and techniques such as the use of HDR and bracketing. And by the end of the road trip, we had plenty of material for an editing workshop.
Since participants brought their own knowledge to the photo tour, we learned from them too. So, on the evening when Jeff Sink showed us his next-level editing workflow, we drew on group expertise to select our best images. And even during photo shoots, we gained insight and tips from everyone–not just the group leaders.
"Sometimes I arrive just when God's ready to have someone click the shutter." Ansel Adams
5 Day Southwest Road Trip In November
Photographing the Southwest landscape is breathtaking at any time, but in November you're less likely to find the influx of visitors seen in the summer months. And it's still before temperatures nosedive and winter conditions bring other challenges. Here is our travel photography itinerary.
Southwest Road Trip Day 1: Grand Canyon National Park
Our photography tour was set to begin with a sunset shoot on the Grand Canyon's South Rim. But we wanted to be settled into our hotel room before joining our tour group.
The Grand Canyon's South Rim is about an eight-hour drive from our departure point in Southern California. With an early start, we could've made it there in time to meet up for the sunset photo shoot.
But since we couldn't leave until late afternoon, we broke up the drive with an overnight stay in Kingman, Arizona. Because of this, we reached our hotel early and had time to explore the accommodations.
Grand Canyon Lodging
Yavapai Lodge is conveniently located within Grand Canyon National Park, about a mile from the South Rim. Check-in is at the main building, where the gift shop and dining options are located, but rooms are found a short distance away in the newer 2-story Yavapai Lodge East or motel-style Yavapai Lodge West.
Our room for the night was in the Mid-Century Modern Yavapai West. These older accommodations don't have air conditioners; hardly a drawback in the cooling temperatures of late Autumn.
The decor was more utilitarian than plush, but it offered all we needed for a comfortable night's rest. Plus, the single-story layout made it easy to go back and forth from the truck with our gear.
Sunset at South Rim Photo Spot
Our meeting point on the South Rim Trail was by the Yavapai Museum of Geology. There's a convenient parking lot and restrooms, with easy access to Yavapai Point Overlook. It was still a little early, but we needed plenty of time to set up. (See the National Park Service's Sunrise/Sunset Times and Moon Phases for current times.)
Landscape Photography Tips
Before splitting up, Jeff advised us on general camera settings. He then introduced an advanced method of bracketing shots that produces an ideal range of lighting for merging shots into an HDR (high dynamic range) photo:
Start with a wide-angle lens and tripod.
Use Manual camera setting with the lowest ISO (100 or less) and sweet spot aperture, F11 (or whatever is right for the specific lens.)
Use the histogram in Live View mode to determine shutter speeds. Begin with what the camera considers the best shutter speed, then choose shutter speeds that capture high lights and low lights.
Be sure to use an open and closed fist in front of the camera to remember the beginning and end of the sequence.
And then came the challenge of picking the best spot to set up a tripod. Jeff and David advised us to search out a focal point even within the vastness of the Grand Canyon while considering all the usual compositional tools–rule of thirds, leading lines, etc.
The only problem was that there were many great vantage points along the rim; fortunately, we would have another chance to photograph this landscape at sunrise.
Dining at Yavapai Lodge
Given the captive audience, it's a welcome surprise that dining options at Yavapai Lodge are as good as they are. A coffee shop offers baked goods and sandwiches for quick, on-the-go meals. A fast-moving cafeteria line ensures prompt service and decent meals.
And, at the end of the day, Yavapai Tavern is a welcome retreat serving Arizona craft beers and Elk Burgers, plant-based items, and the usual pub fare.
Southwest Road Trip Day 2: Grand Canyon to Horseshoe Bend
There's no doubt that shooting the sunrise at the Grand Canyon South Rim is one of the most awe-inspiring bucket list experiences. In November, it's also one of the coolest–as in freezing cold temperatures. It pays to dress accordingly in layers, with a hat and gloves.
We returned to Yavapai Lodge for the cafeteria breakfast and to check out before starting the road trip to Page, Arizona, where Horseshoe Bend Canyon is located. It's a little over two hours to drive from Horseshoe Bend, so we had plenty of time to get there before sunset. But we wanted to stop along the way.
Moran Point – Grand Canyon National Park
Heading east, our first stop was at Moran Point for sweeping views of the Colorado River snaking its way along the canyon floor. A quick stop to set up tripods at the vantage point, and then it was back to the car for the next stop along Deseret View Drive.
Deseret View Watchtower
You can't miss the 70-foot-tall Deseret View Watchtower. Designed by Mary Elizabeth Jane Colter, better known as the architect of the southwest, it was inspired by the ancient homes of the Pueblo people.
Inside, a massive Kiva anchors the room, and as you climb steps to the upper floors, walls and ceiling paintings preserve the stories of indigenous tribes.
Navajo Outpost
One last stop just outside the national park at a Navajo souvenir stand–we were hoping to find fry bread but left with buffalo jerky instead–and we were on our way.
Horseshoe Bend
From that souvenir stand, we drove straight to Page, Arizona, to have time to check in at the hotel before going to Horseshoe Bend for sunset photos.
It wasn't my first time in Page, AZ as it's a convenient stop on cross-country road trips. Until recently, parking was free, though limited. Now there is ample parking, but it comes with an entrance fee ($10 for a passenger vehicle.)
And as many times as I've made the short but steep hike to Horseshoe Bend, I never fail to be awed by the sight that awaits. The only difference is that this time, despite another overcast sky, and thanks entirely to onsite instruction, I could capture a landscape photograph that does the place justice.
Southwest Road Trip Day 3: Slot Canyons In Page AZ
Another reason to go to Horseshoe Bend is to see the slot canyons, especially the famous Upper Antelope Canyon. Sadly, one month after our visit, the photography tours were canceled. However, sightseeing tours are now open, and there's a new staircase adding a one-way exit.
The way the Adventurous Antelope Canyon photography tour worked, you would accompany a Navajo guide in a truck that would take you to four canyons: Antelope, Rattlesnake, Owl, and Mountain Sheep.
Because Antelope was so popular–the most expensive photo in the world was shot there–the photography group had to hustle through. It was stressful and difficult to get a good shot.
Meanwhile, the other slot canyons were just as interesting, but trying to see them all on one tour was challenging.
You can still see the slot canyons on one of the regular sightseeing tours, but professional photography is limited because you can't take a tripod.
And in case you're wondering, no, you can't explore any of these slot canyons without a Navajo guide. According to tour guide Presley Ashley, this rule was instituted after a flash flood killed eleven visitors in 1997.
Hotels in Page AZ
Reflecting increased interest in Horshoe Bend and the slot canyons, in addition to proximity to popular tourism destination Lake Powell, and all the epic things to do in Page AZ, new franchise hotels have opened up. We spent two nights at the Hampton Inn & Suites.
It's nothing fancy but clean and comfortable, with a spacious workspace, a good breakfast, an indoor pool, and free parking.
Restaurants in Page AZ
There are a number of restaurants in Page, Arizona. We enjoyed the Navajo Tacos at Steer 89 and the steak dinner at State 48 Tavern. However, the most festive restaurant we frequented was Fiesta Mexicana. The spicy shrimp Aguachile and Molcajete, served in a traditional volcanic rock bowl, are particular favorites.
Southwest Road Trip Day 4: Page AZ to Bryce Canyon National Park
It's less than a three-hour drive from Page, AZ, to Bryce Canyon National Park along US 89, but there are plenty of reasons to linger a little longer.
Glen Canyon National Recreation Area
Lake Powell and Lower Cataract Canyon are part of Glen Canyon National Recreation Area, which covers over a million acres across Arizona and Utah. Beautiful canyon vistas are everywhere, but just as you leave Page, you see the Glen Canyon Dam Overlook that carves out the Lake Powell reservoir from the Colorado River.
And soon after that, there are hiking trails and lake access at Wahweap Recreation Area.
Grand Staircase-Escalante National Monument
As for hiking, there are more trails en route at the Toadstools Trailhead in the Grand Staircase-Escalante National Monument. The hike to the mushroom-like rock formations is 1.6 miles roundtrip, but be sure to pack in plenty of water and be aware that there is limited cell reception.
Best Friends Animal Sanctuary
When we dropped in it happened to be on dog adoption day at the Best Friends Animal Sanctuary. Cute puppies caught and held our attention, but there's also a cafe, shop, and hiking trails. With advance planning, visitors can also plan to volunteer.
The Rock Stop
About an hour from Bryce Canyon along US 89, you can't miss the rock-shaped roadside building housing the Rock Stop. Inside, and out, there's a wide array of rocks, fossils, and collectibles. But it's also a good spot to pick up a snack, coffee, or soft ice cream.
Southwest Road Trip Day 5: Bryce Canyon back to Southern California
One day, including an overnight stay, in Bryce Canyon National Park gave us plenty of time to capture images at several iconic stops. There's both a Sunrise Point and a Sunset Point, as well as Bryce Point and Inspiration Point. And they're all within a few minute's drive from each other, located within a short distance from the parking lot.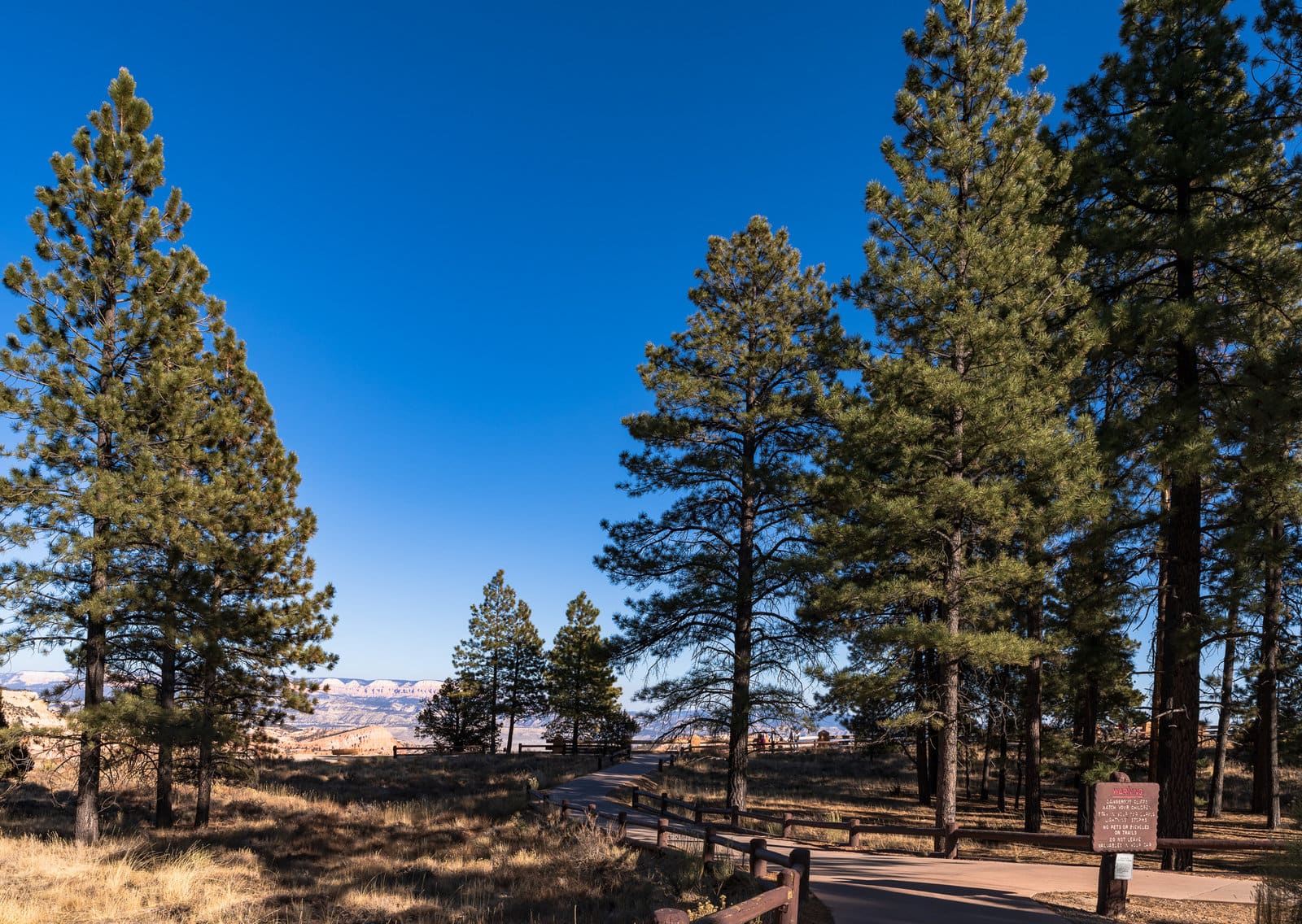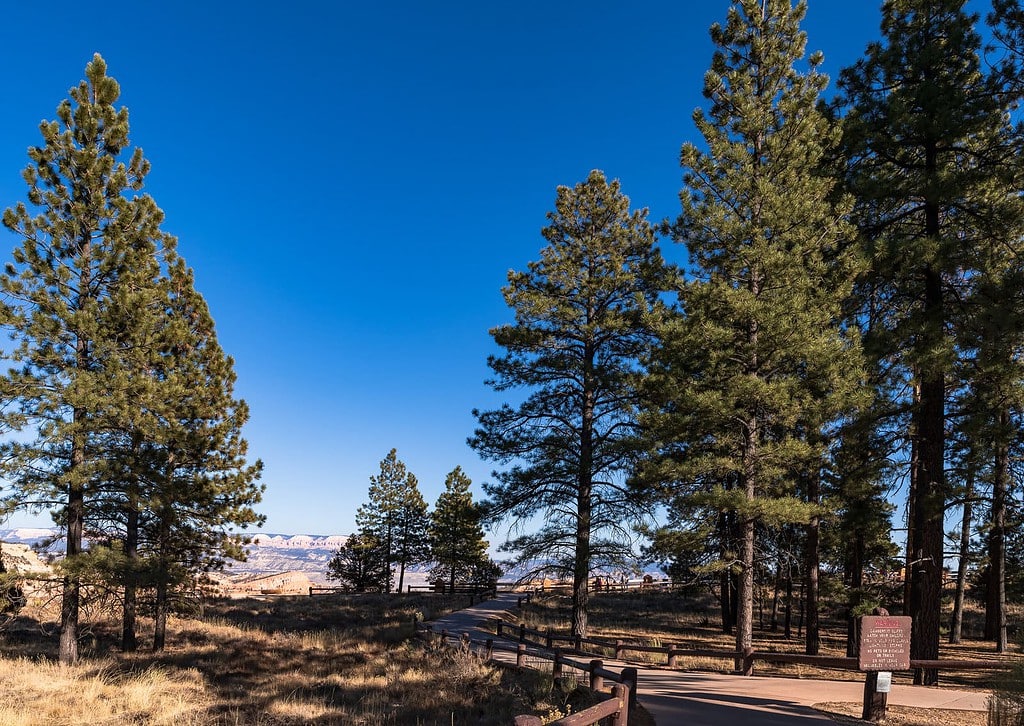 Sunset Point
Our first stop after meeting at our hotel was to check out Sunset Point. This was to get the lay of the land so that we could be well prepared for the dark and chilly start the next morning.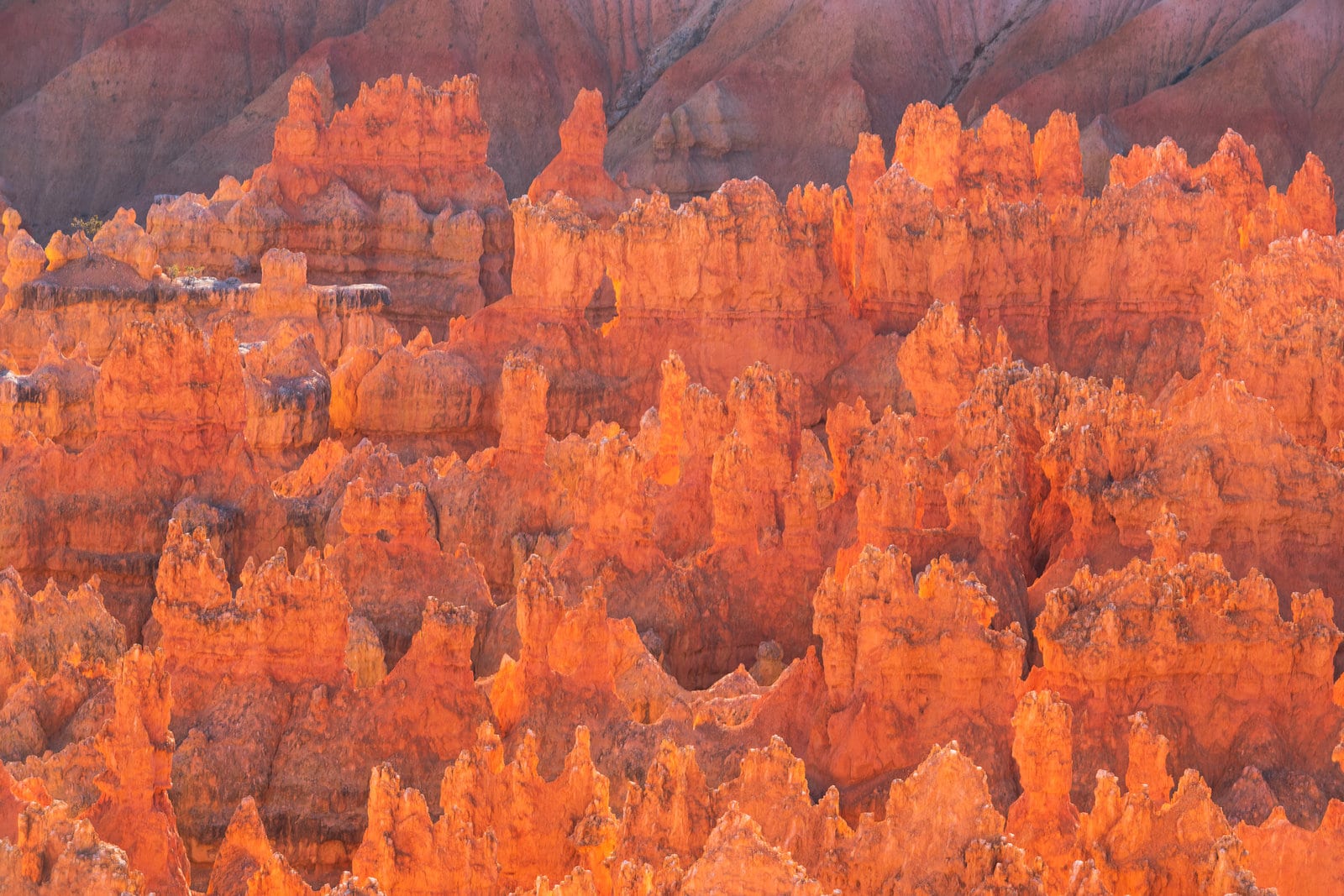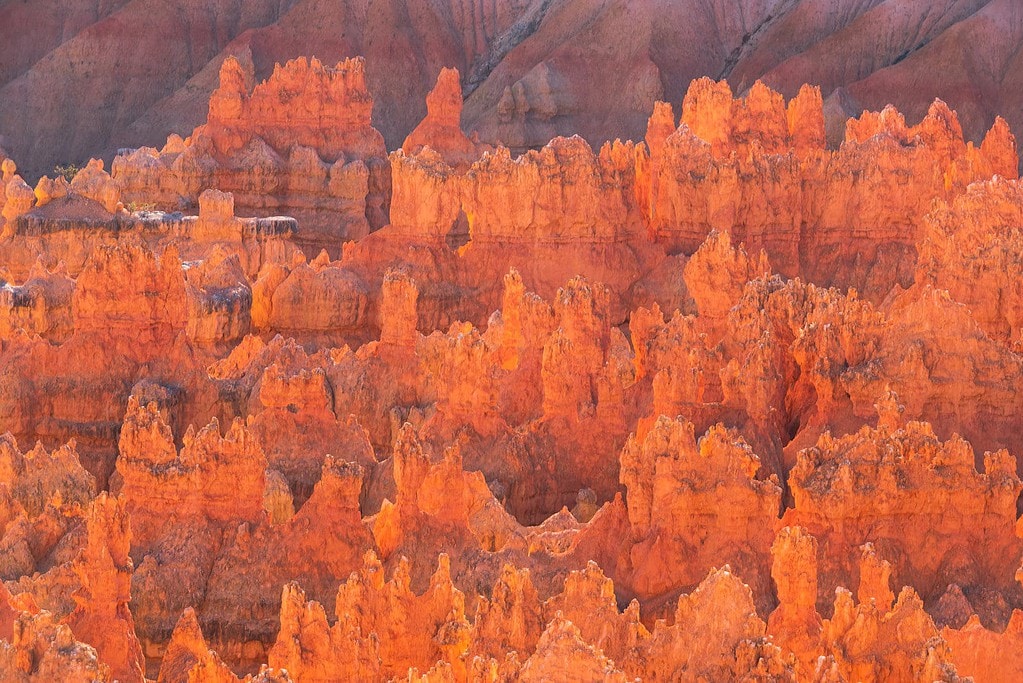 Sunrise Point
My only regret was that we only had one sunrise at Bryce. The hoodoos at Sunrise Point glowed under the incredible morning light, and I would've liked to see how that light would've impacted other rock formations in the park.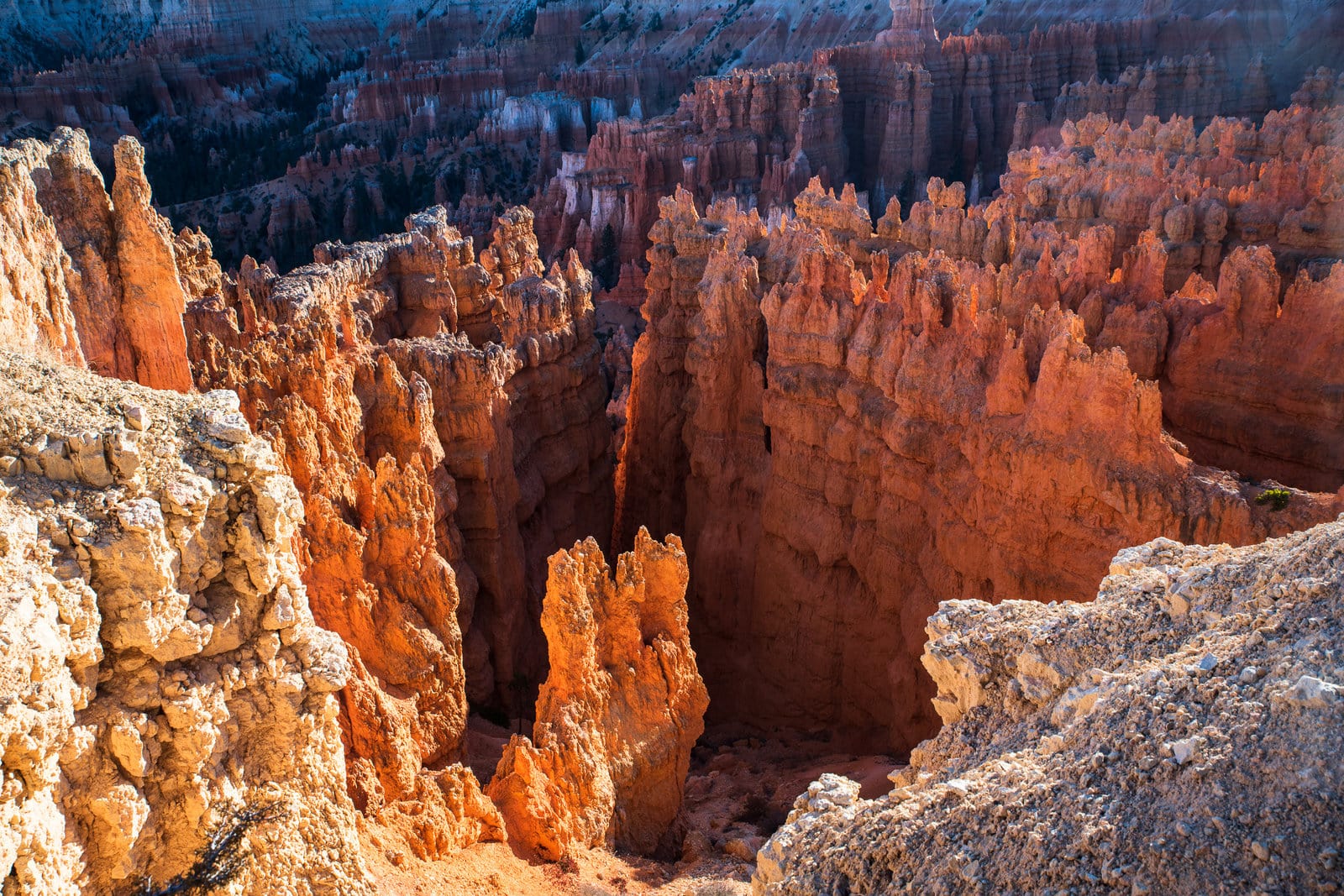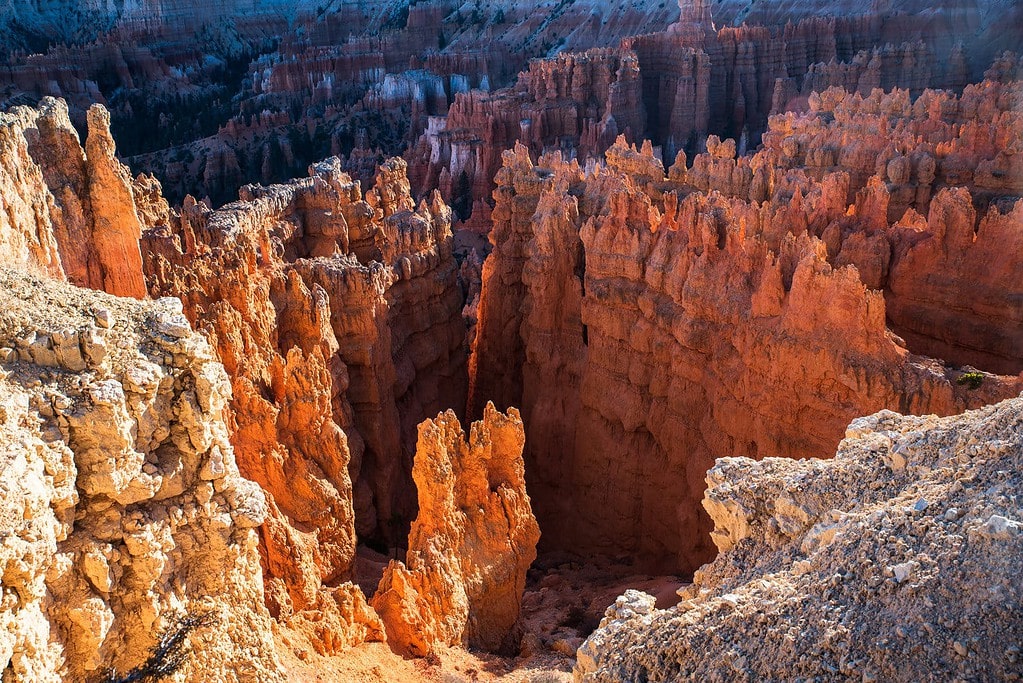 Bryce Point
Fortunately, the beautiful morning light lasted long enough to see it cast upon Bryce Point.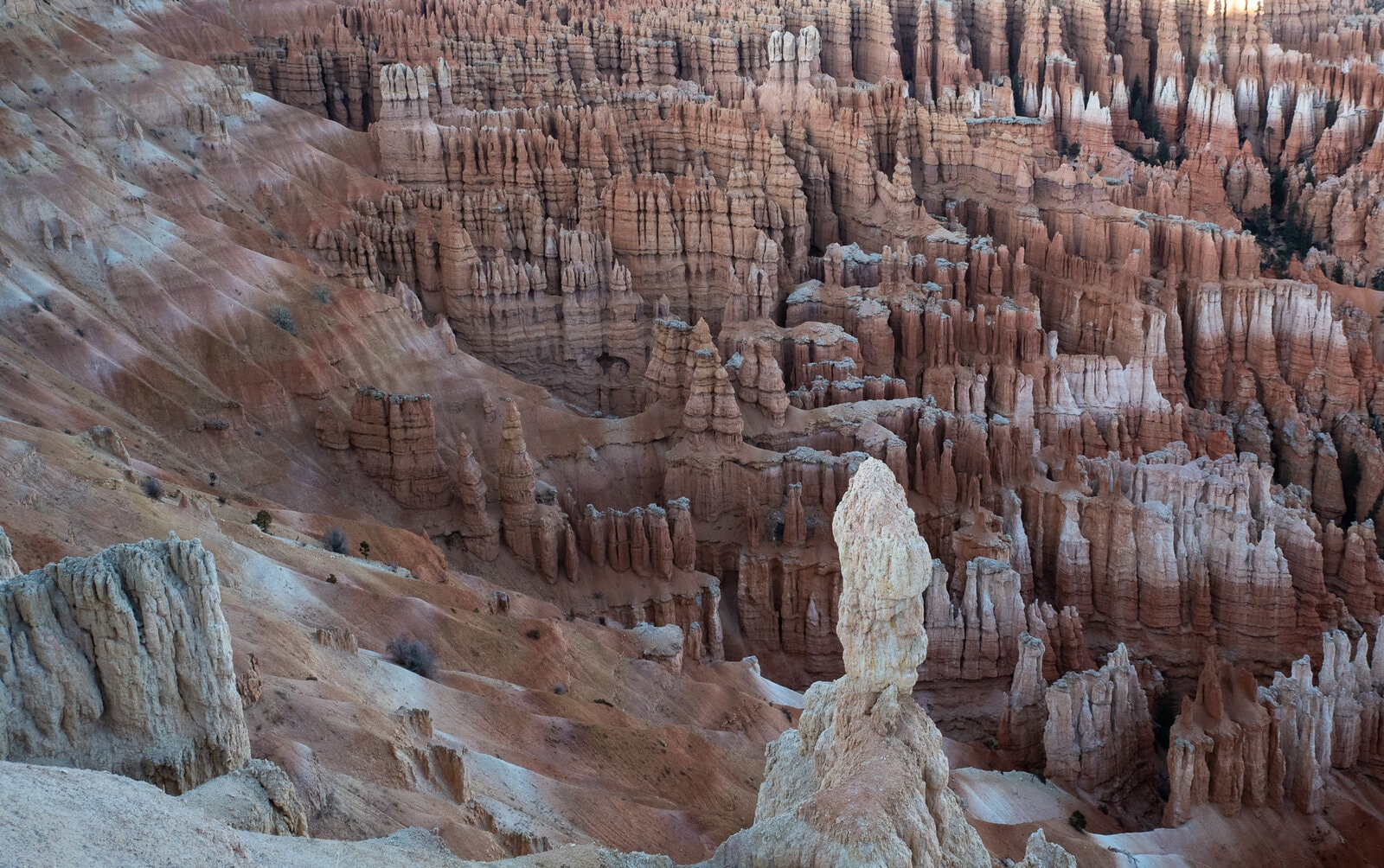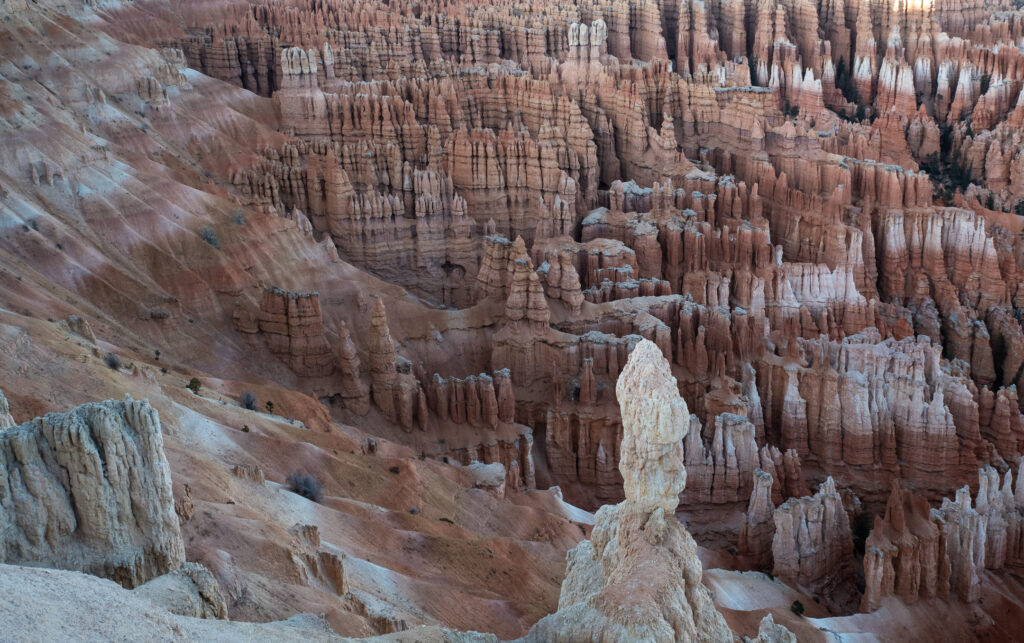 Inspiration Point
By the time we reached Inspiration Point, sunrise lighting didn't seem to matter anymore. Here, soft shadows were kind to the contrasts between the white and red rock.
Hotel At Bryce Canyon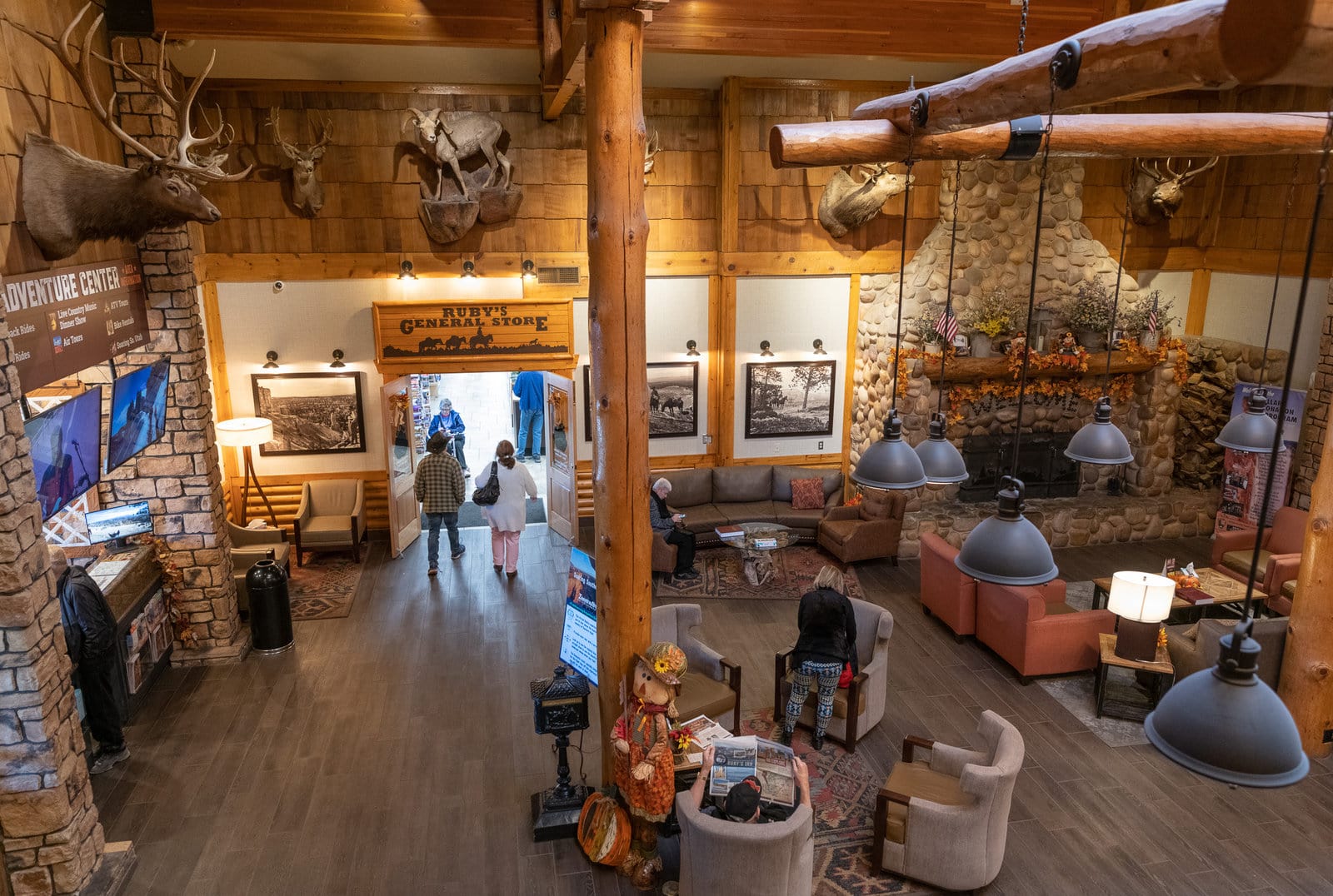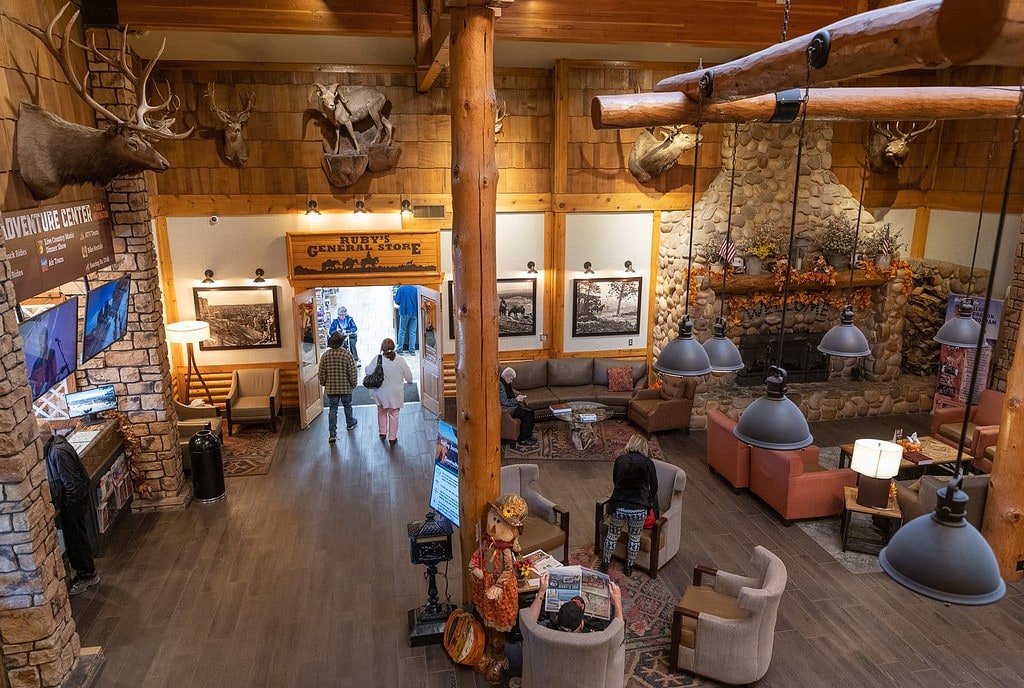 The closest lodging to Bryce Canyon National Park is the one located within park boundaries, the Lodge at Bryce Canyon. But for a usually lower rate and more amenities, you can't beat the Best Western Plus Ruby's Inn. And it's only a mile from Sunrise Point.
Ruby's Inn offers a wide variety of activities from horseback riding, mountain bike rentals, and even a summerlong rodeo.
As for dining, we ate at the hotel's Cowboy's Buffet & Steak Room and picked up lunch snacks onsite at Ruby's General Store. It was convenient and satisfying.
More Romantic Road Trips