Now known as Mount Airy Casino Resort in Mount Pocono PA, people of a certain demographic (Boomers, especially) will recall the earworm of a jingle from its previous life: "All you have to bring is your love of everything…Beautiful Mount Airy Lodge."
In courting newlyweds in the 60's and 70's with lots of gold leaf and heart-shaped tubs, the Lodge symbolized all that was kitschy about the Pocono's.
Then, twelve years ago, the "Beautiful Mount Airy Lodge" of yore was demolished, and in its place stands a structure that draws a more refined clientele, and would fit nicely in the Adirondack woods. Six stories, with earth tone palette, impressive soaring lobby (with waterfall), and stylish rooms; Mount Airy was named Pennsylvania's first AAA-rated 4-Diamond Casino.
In April 2019 the Resort added an additional 20,000 square feet to the already existing 4,000 feet ballroom/events center, and built 100 more luxury guest rooms and suites, bringing the total up to 284.
Yes, Mount Airy has a casino element, but non-gambling guests will find lots to do here. You can frolic in a fetching indoor/outdoor pool, enjoy a massage or other spa treatment, hike woodland trails, ski Camelback Ski Resort (10-minute drive), and/or play rounds of golf on Mt. Airy's unique 18-hole course, where each hole is modeled after the most challenging ones from legendary American Championship golf courses.
First Impressions of Mount Airy Casino Resort
If you're staying overnight, be sure to valet your car – a service free for guests.
Unlike many of its glass-tower counterparts, Mount Airy Casino Resort appears less a gambling hall and more "of the land," at least in height and hue. The hotel lobby is enhanced by massive "flame" frescos, rendered in vibrant red-orange glass, that suffuse contemporary seating areas on both sides of the room in a warm, fiery glow.
Stunning seasonal floral arrangements, unique chandeliers, a waterfall fountain, and prominent signs for the in-house Spa announce a lodging that's less about the casino and more about the hotel amenities. In fact, unless you plan to dine at one of the five restaurants on the second floor, you'd have no reason to enter the Casino at all.
Rooms at Mount Airy Casino Resort
Gone is the tacky décor, and in its place rooms that are modern, handsome, and contemporary in feel. Each guest room in shades of brown, cream, gold, and gray, is a spa-like sanctuary with new carpeting, hardwood floors, and bedding that will send even the most hard-core gambler off to tranquil sleep.
Bathrooms sport dark slate floors and granite sinks, with large slate rain showers, or, in updated suites, a curvaceous soaking tub.
Dining and Nightclubs
Bistecca by Il Mulino
The highest profile of all restaurants here, Il Mulino has top rated sister establishments in New York City, the Hamptons, Florida, and other resorts. Bistecca lives up to its relatives (and up-there price points), with friendly, attentive, but – thank goodness – not overly fawning, service, and excellent food thanks to Chef Matt Smith.
The Chicken Parm Classic ($32) is very good, but steaks (ranging from $45 for 8oz. Angus Filet to $80 for a 24oz Porterhouse) outshine all. If you're too full for desert, the waiters will bring you a surprise. I won't ruin it, but both chocolate and wine are involved.
Guy Fieri's Mt. Pocono Kitchen
for burgers, BBQ, Cheese Steaks, and other "gooey food."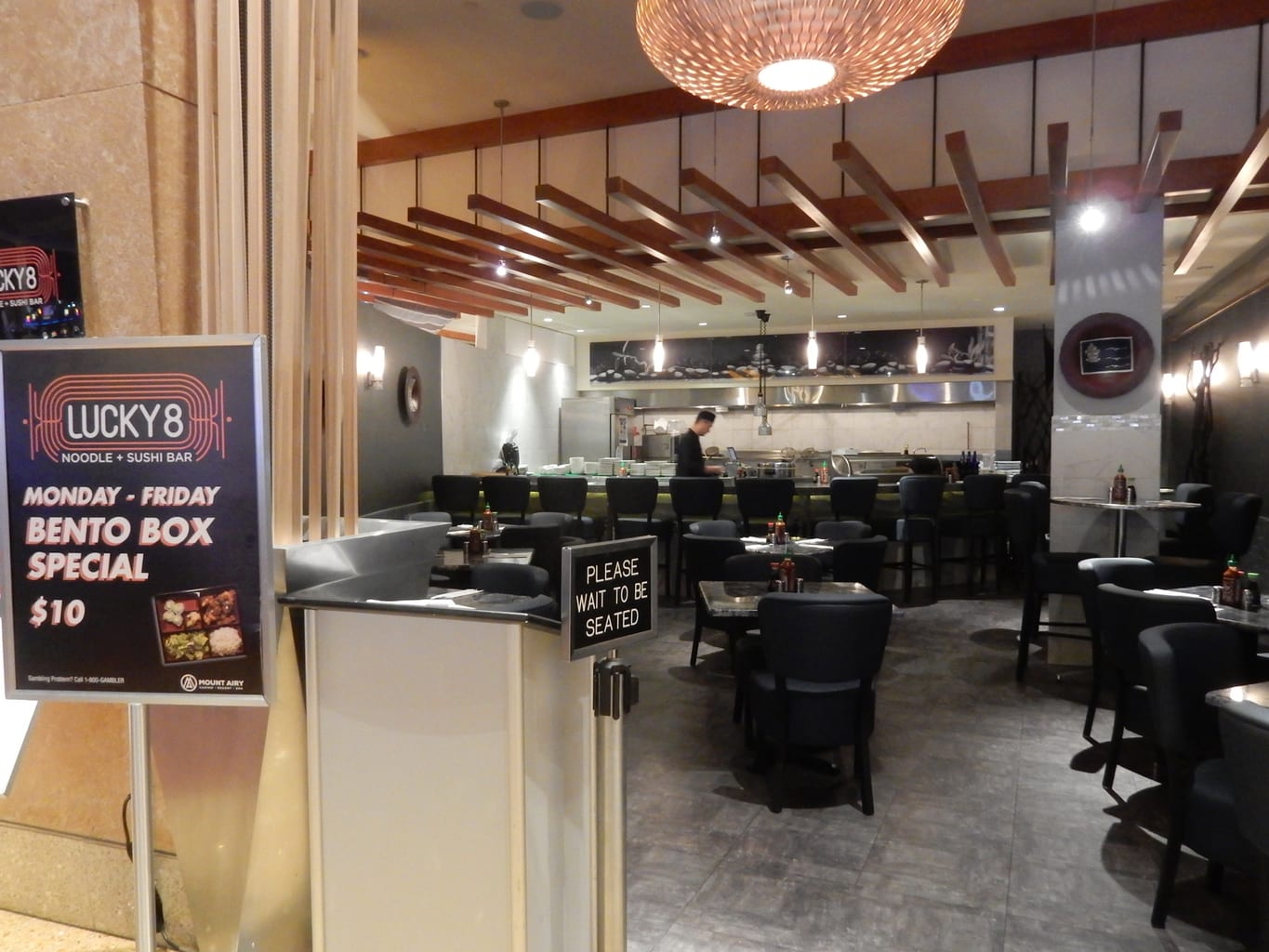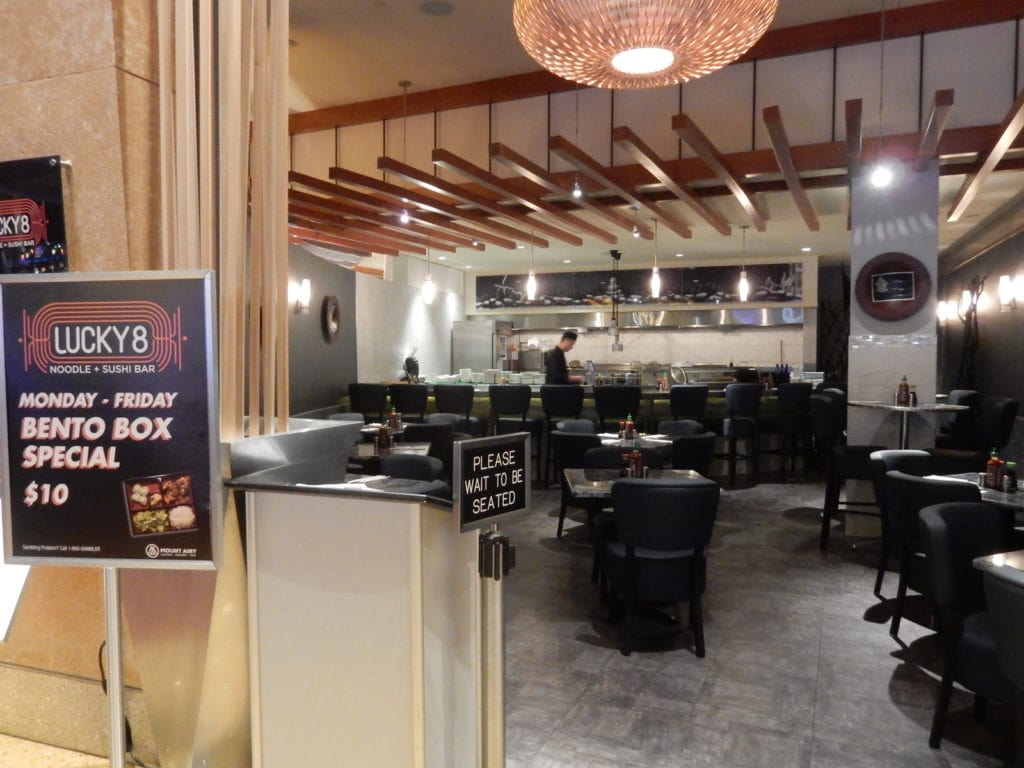 Lucky 8 Noodle and Sushi Bar
This spot is a hit with Asian players and with everyone else who loves noodle bars.
Pizzeria Montagna
For personal pizzas on the go.
The Buffet
At $19.99, the best deal in the house. There's shrimp, soups, salads, carving station, Italian, pastas, meats, seafood, ice-cream bar, and deserts. It may not be gourmet, but it sure is hearty and plentiful.
Pia's Lounge
Formerly the VIP Lounge, this "speakeasy" type place is hidden behind Gypsy's (soon to be a Sports Betting Venue). A more intimate hangout, with a quiet, private vibe, guests can listen to acoustic guitar and other low-decibel tunes.
Gypsy's Nightclub closed and will reopen (Aug. '19) as a Sports Betting and Poker room (name to be announced). The sporting set will get to bet on both professional and college games, among others.
The Spa At Mount Airy Casino Resort
There are ten treatment rooms and a cache of professional massage therapists at the ready in this inviting spa. The waiting room, lined with ergonomic chaise lounges, is low lit, quiet, and, turns out, a lovely place for a catnap. Because I was short on time, my 25 minute massage, targeting the tight muscles in my shoulders and neck, was enough to send me off supple and happy.
"Wet": The Pool Area
The splendid glass-enclosed pool area – aptly called Wet – is one of the resort's best features. It's so enticing in fact, locals buy day passes to take advantage of its glamorous amenities.
There's food service, eight outdoor canvas cabanas, and contemporary couches for out-of-water lazing and conversation. Some evenings from 3-7, the pool area becomes a family friendly party, with D.J. and festivities.
Fire pit tables outside overlook a small pond, gazebo, and golf course across the street.
Golf Course and Gazebo
As stated in the intro, each hole of Mt. Airy's unique 18-hole course was modeled after the most challenging ones from legendary American Championship golf courses. As golfers get the best of all the top courses, Mount Airy is considered one of the Top 50 Golf Courses in the USA.
The clubhouse features a pro-shop, lounge area, and small pub restaurant that serves one very strange dish: a Peanut Butter and Jelly Hot Dog. Sounds weird (and yucky) but oddly, it works. The Clubhouse Restaurant has become known for this multi-textured-and-flavored wiener.
The pond-side Gazebo at the fringes of the Golf Course is a popular setting for wedding pictures, and a serene spot for contemplation.
Casino at Mount Airy
Certainly not the largest casino in the region, there are 70 tables and roughly 1,400 slot machines situated on the 2nd floor, a short escalator ride from the Hotel lobby. Half the room is smoking, half non-smoking. But, thankfully, smoke does not permeate the air. Order drinks while at the slots and tables, and, when hungry, walk two paces for a selection of restaurants. All can be found on the perimeter of the 2nd floor.
Event/Conference Space
Even if you don't intend to see a concert or attend a wedding or conference, check out the new Convention wing for its architectural elements. The nearly room length glass ribbon chandelier is particularly striking. The space can seat 1,200 for a concert or 750 for a sit-down dinner – one of the very few properties (if not the only one) in the region able to host an event that size.
Just the Facts
Rooms at Mount Airy Casino Resort range from $120-$360 depending on season and day of week.