There are a shockingly good number of things to do in Appleton WI for adults only in the very family-friendly Fox Cities region of Wisconsin.
Ironically, Appleton, Wisconsin is both the Big City or the Outdoor Gateway depending on who you ask. It's the hometown of the legendary escape artist Harry Houdini, as well as Lawrence University, one of the first co-ed colleges in the US. And, according to 24/7 Wall St., Appleton is also one of the drunkest cities in America.
Folks from more rural communities in Central Wisconsin and Michigan's Upper Peninsula drive in for the upscale shopping, world-class entertainment, and lively nightlife. In contrast, residents from major metropolitan areas such as Milwaukee and Madison appreciate safe, walkable downtown and outdoor recreation opportunities.
For those of us accustomed to the anonymity of New York City streets, it's surprising just how friendly people are in the Fox Cities. Here, people don't just smile a greeting in passing, they actually stop to offer assistance to confused pedestrians.
And, like in the fictional bar of Cheers fame, it's not long before everyone knows your name at an Appleton bar.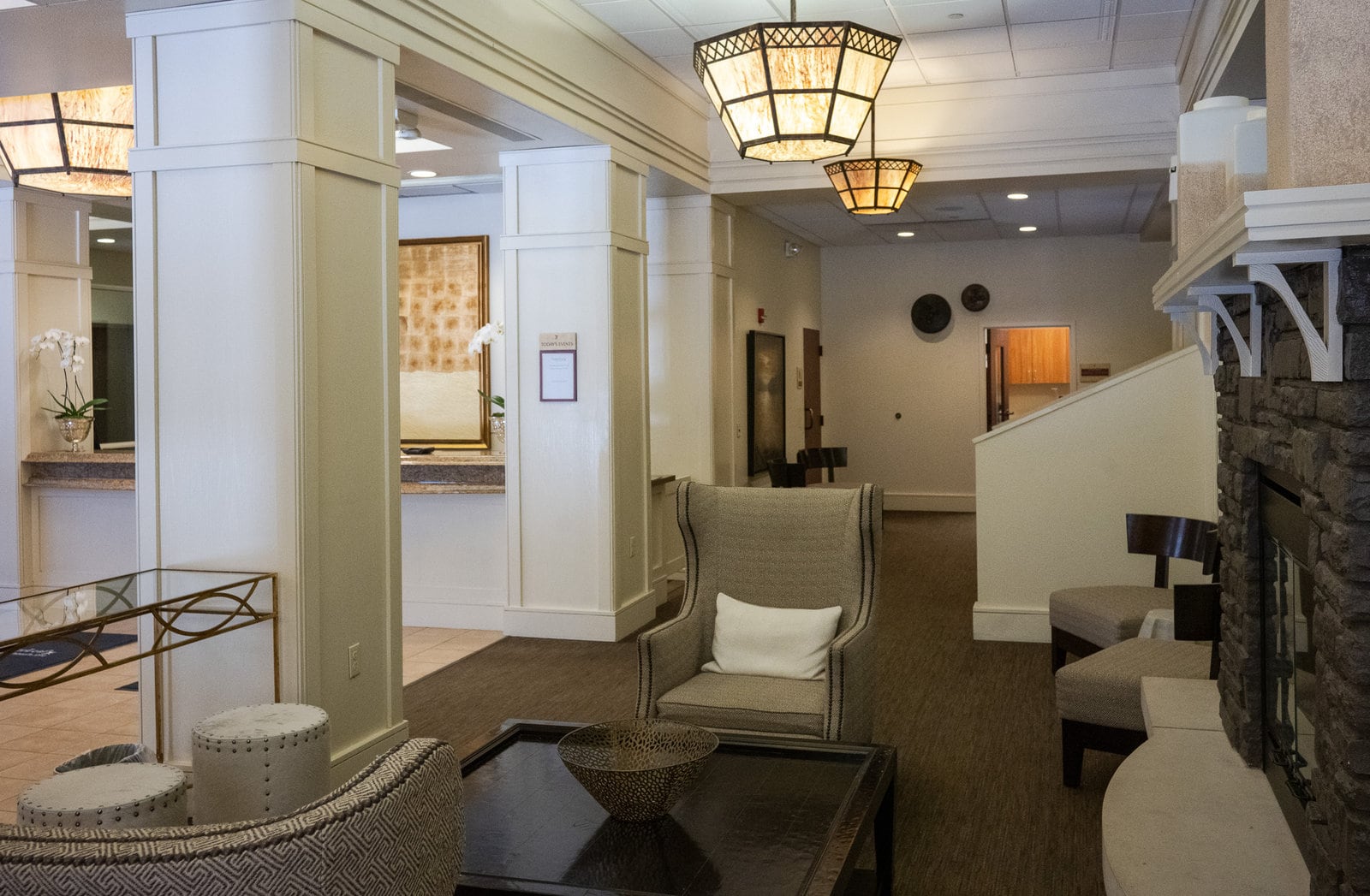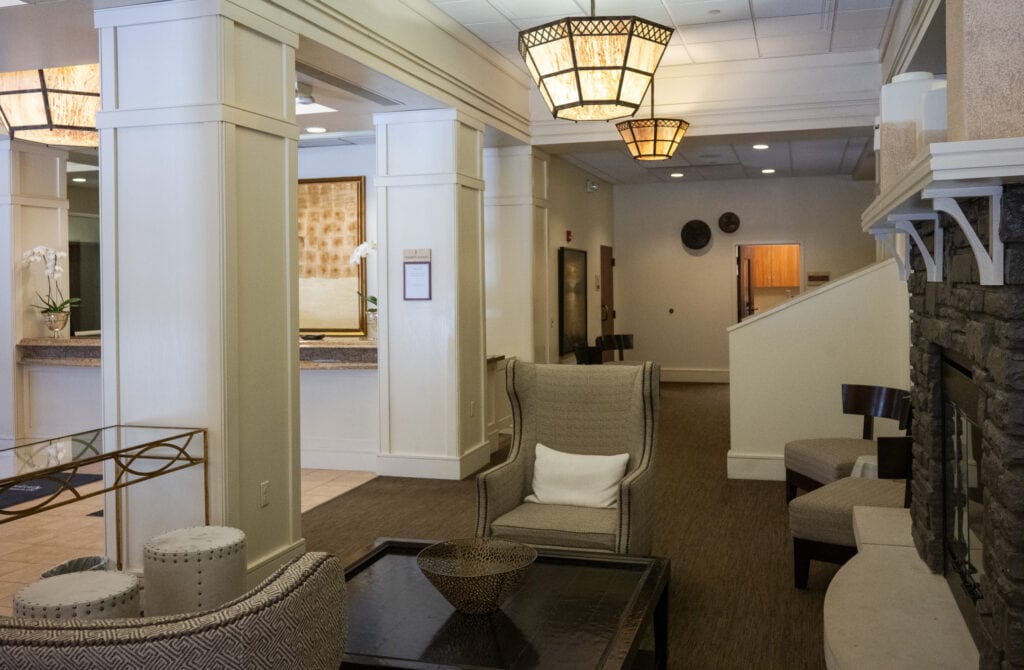 Stay At The Best Hotels In Appleton WI
CopperLeaf Boutique Hotel and Spa
If a convenient location to Appleton's entertainment district were your only criteria, you could choose between the Hilton Appleton Paper Valley or the Copperleaf Boutique Hotel and Spa. They're both right across the street from each other, and just down the block from the Fox Cities Performing Arts Center.
But if what you want is a luxurious romantic retreat, the Copperleaf is the better bet. It's a top-tier Best Western, with all the bells and whistles that are to be expected from a BW Premier Collection property.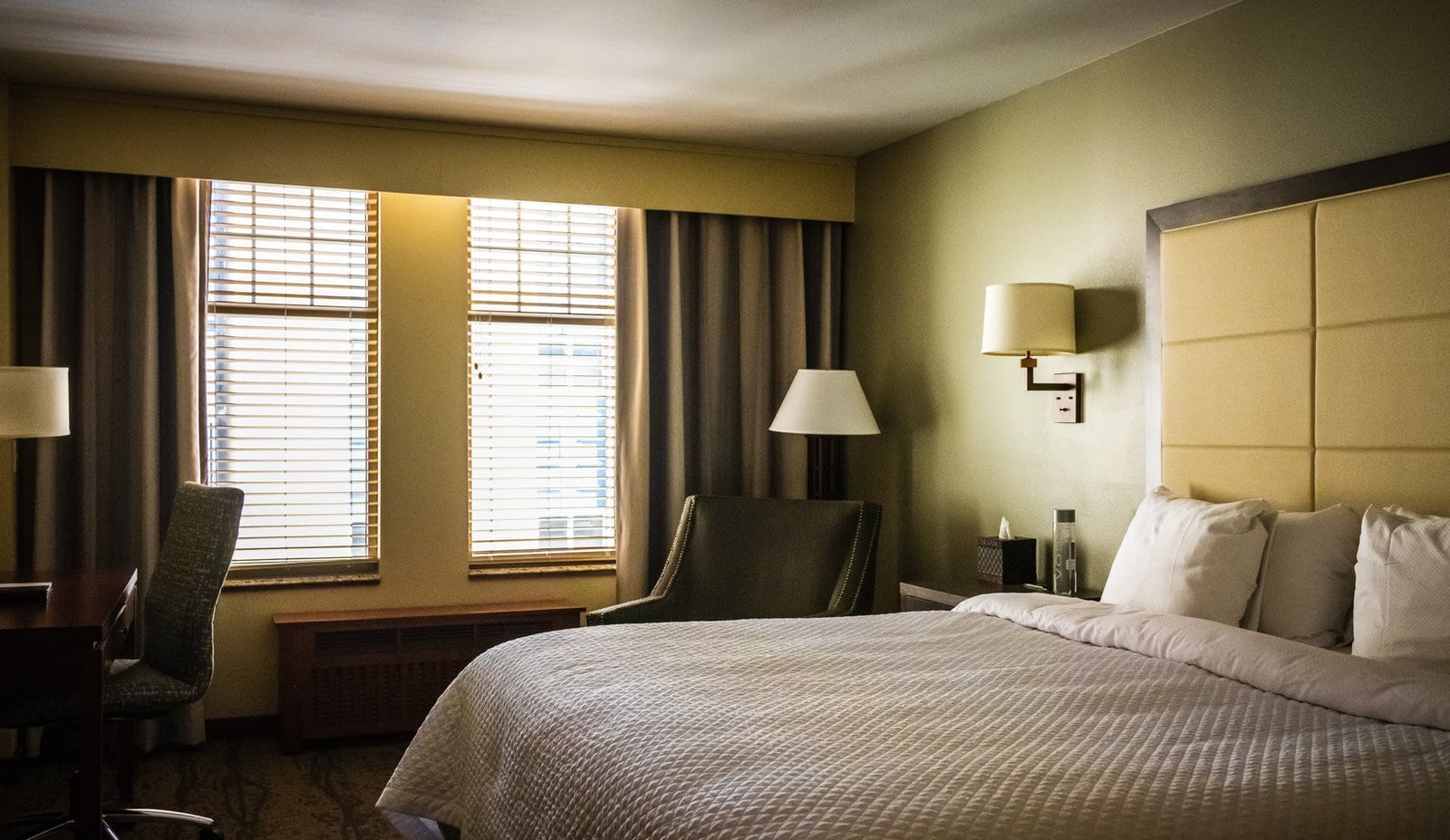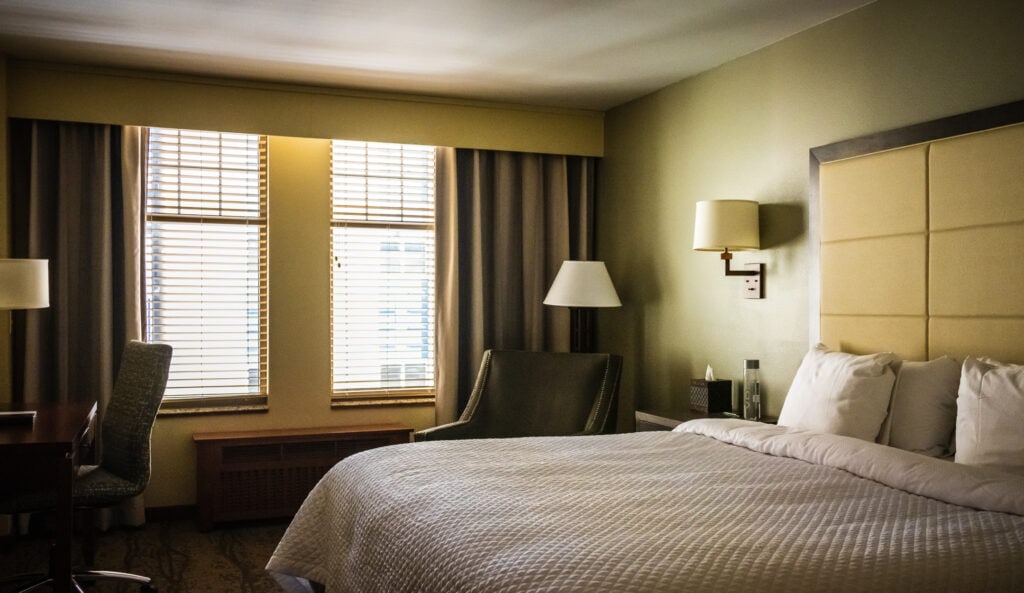 Rooms are comfy, with plush beds and jacuzzi tubs, although the decor is a little nondescript. But we like that they come equipped with a fridge, microwave, robes, and even a yoga mat. Plus, the minibar is well stocked with not just snacks but also wine. Do bear in mind that suites book up months in advance for weekend stays.
Rye, the onsite restaurant, is truly a special occasion restaurant. The decor is warm and inviting, while the fare is rustic, farm-fresh, and beautifully plated.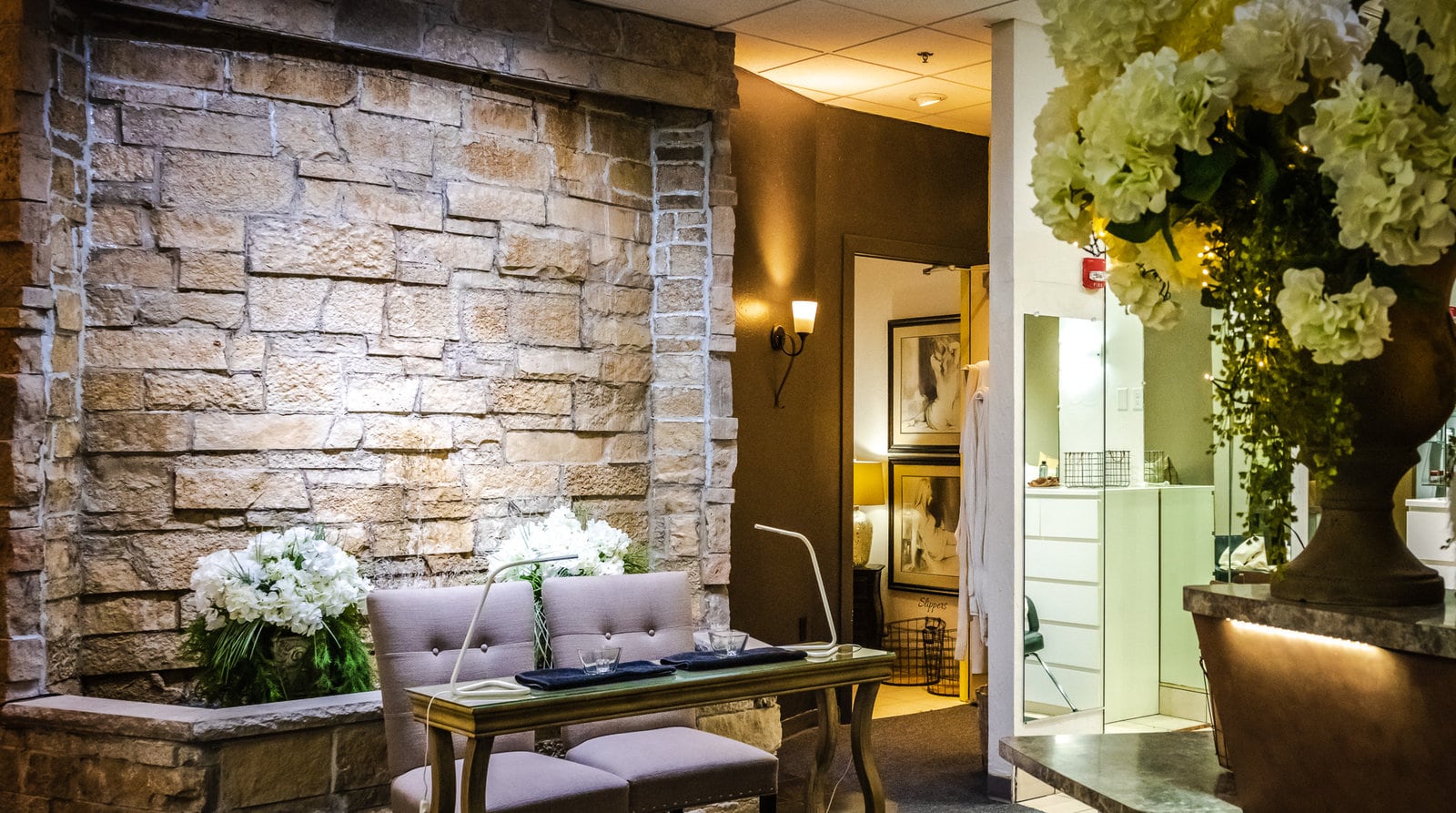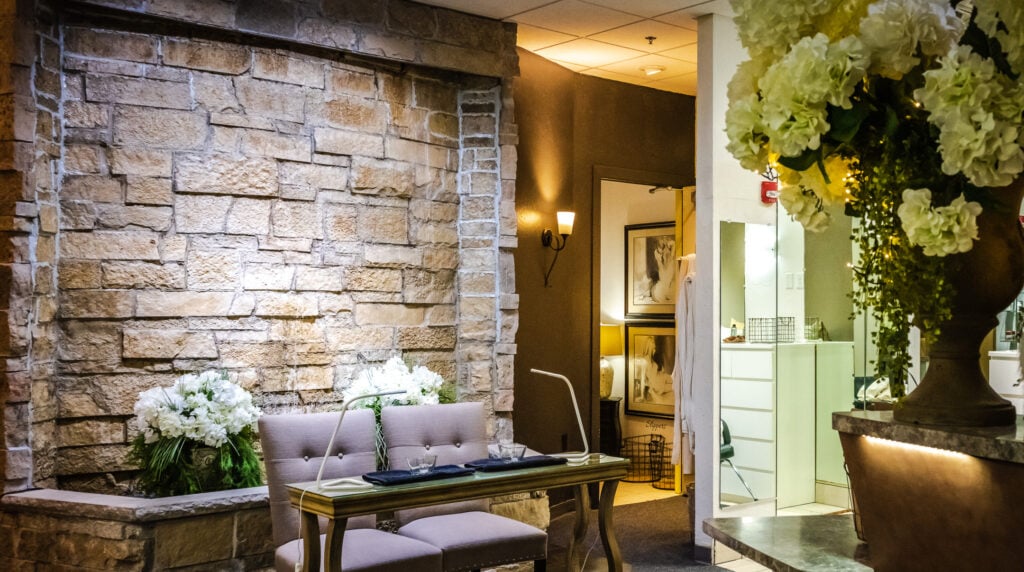 Best of all is the in-house spa, BenMarNicos, which is well set up for bridal parties. They offer a full range of salon services, including couples massage. And because they stay open until 8 pm most nights, couples can make a date night of it, ordering drinks served at the hot tub, either before or after body treatments and massage therapies.
The Roost Bed and Breakfast
Another option is to stay a little further away from Downtown Appleton. If so, guests compliment the breakfast as well as the in-room fireplace and soak tub of the Belle Suite at The Roost B&B.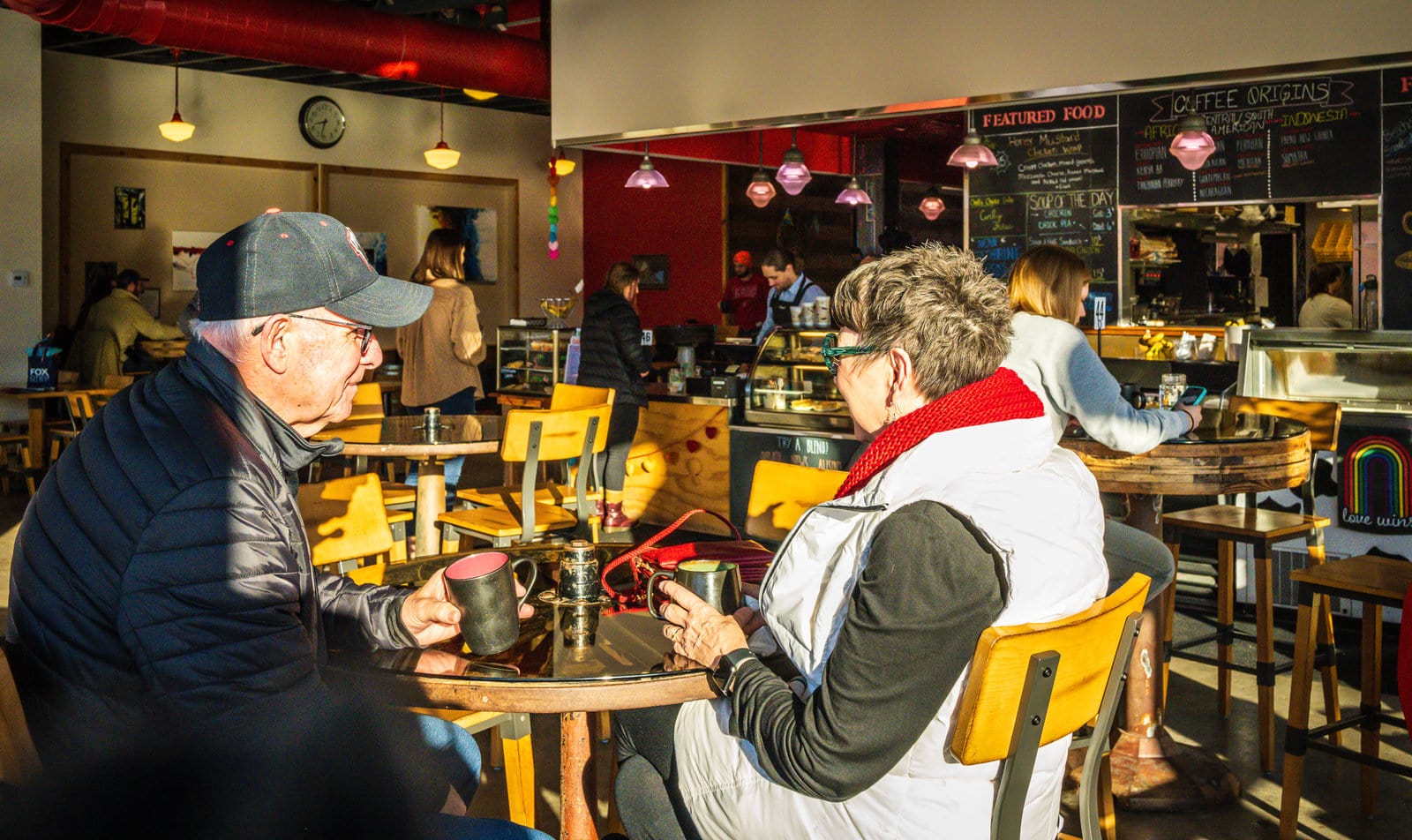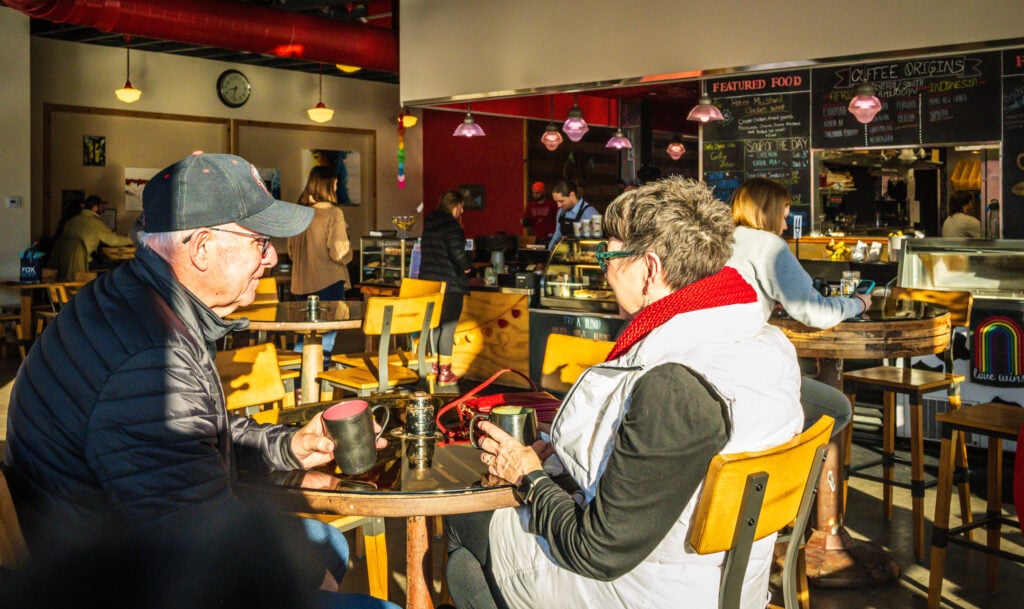 Dine At The Best Restaurants In Appleton WI
There is an astounding number of excellent coffee houses in the Fox Cities; it seemed to us as if there were one on every block of College Avenue. Still, there are a couple that stood out for not just serving a mean roast but doing so in an art-filled setting.
ACOCA, Appleton's longest-running coffee roaster, recently renovated and expanded its site. Now the all-day breakfast menu is as delicious as ever, but there is more room to settle in for a cozy chat.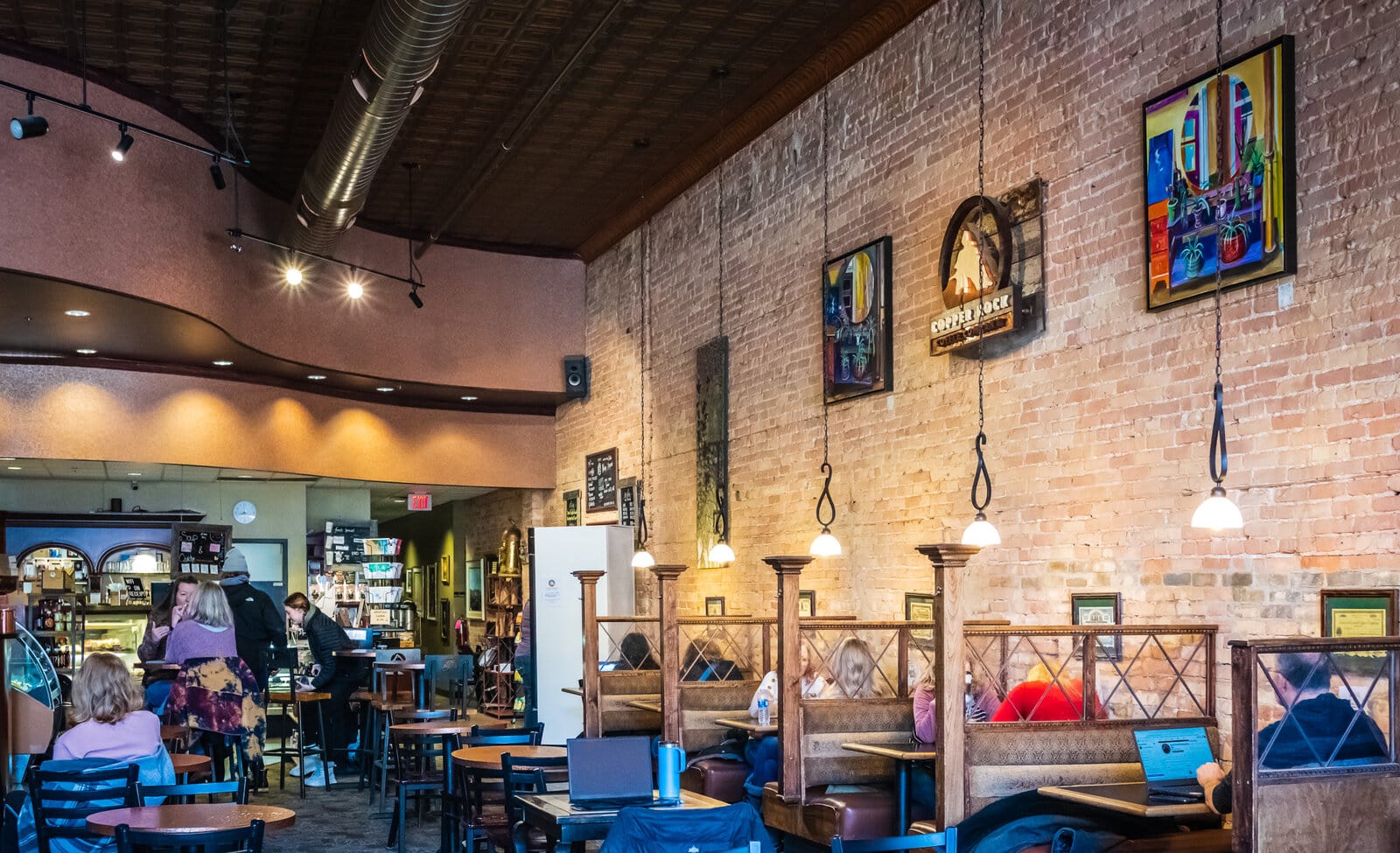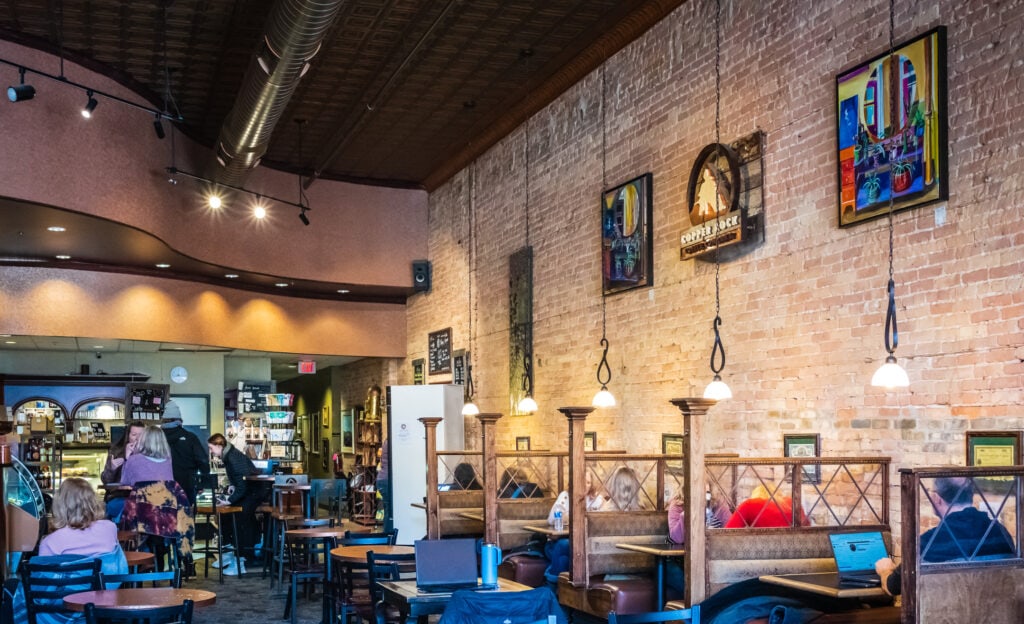 Copper Rock Coffee House has a couple of Fox Cities locations, including a huge brick-walled space with an adjoining gallery room in Downtown Appleton. In addition to the house roast, there's a good selection of sandwiches and desserts. We're especially fond of the raspberry honey mustard on the Houdini Panini and the Chocolate Aphrodisiac Cake.
BRUNCH: SAP
Topping the list of best brunch spots in Appleton WI is SAP; in fact, it's in the full name: SAP -Brunch, Brown Bag, and Bakery. They're known for their bennies and lemon ricotta pancakes, but you really can't go wrong here. Keep in mind though that it's located next to Fox River Mall, and it can be quite busy. Expect to wait a bit on weekend mornings.
We missed our chance to check out the legendary Short Rib Benny at Author's Kitchen + Bar because it turns out that they're closed on weekends. They're only open on weekdays for breakfast/brunch/lunch, but they also serve Friday night dinner. And from our quick glance, they are packed on Friday nights.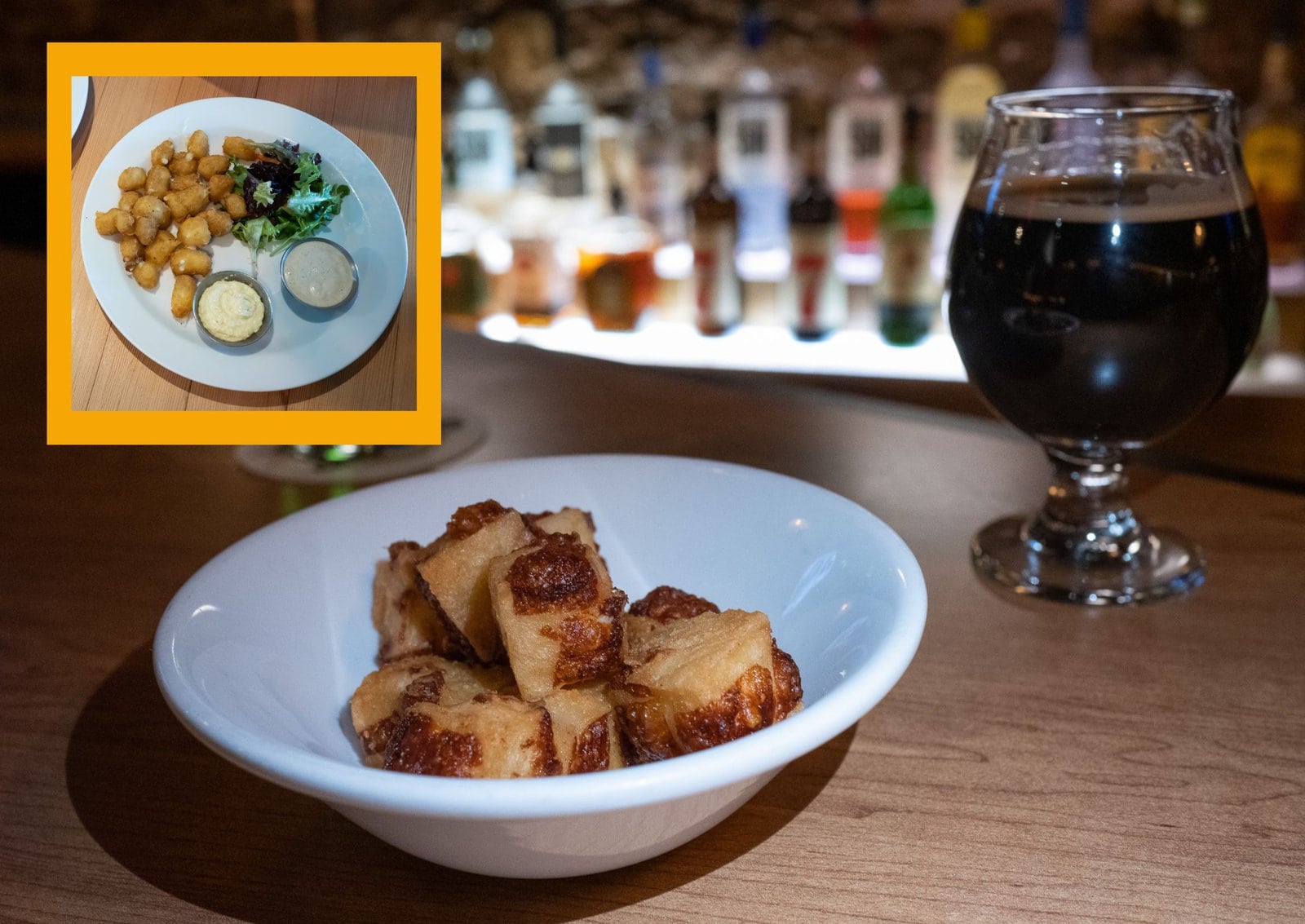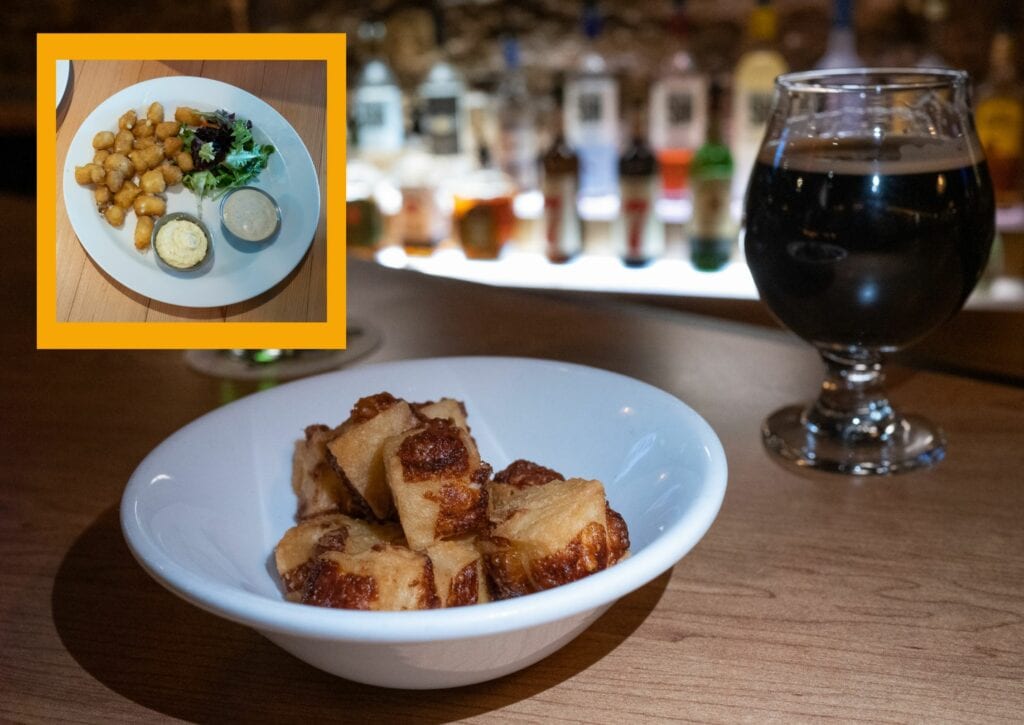 As expected in "America's Dairyland," Wisconsin does dairy well. So it's no surprise that fried cheese curds are a thing in this part of the country. You can get little fried curds at practically every restaurant in the area, but for truly outstanding fried cheese curds, drop by the Stone Arch Brewpub. The Scottish Ale in the batter, plus the huge chunks, make all the difference.
The brewpub is located in the historic Between The Locks building, and in addition to hearty pub fare and an extensive beer menu, they also have an arcade. And, on Tuesday nights, they bring in a great lineup of musicians at their Stonearch Sessions.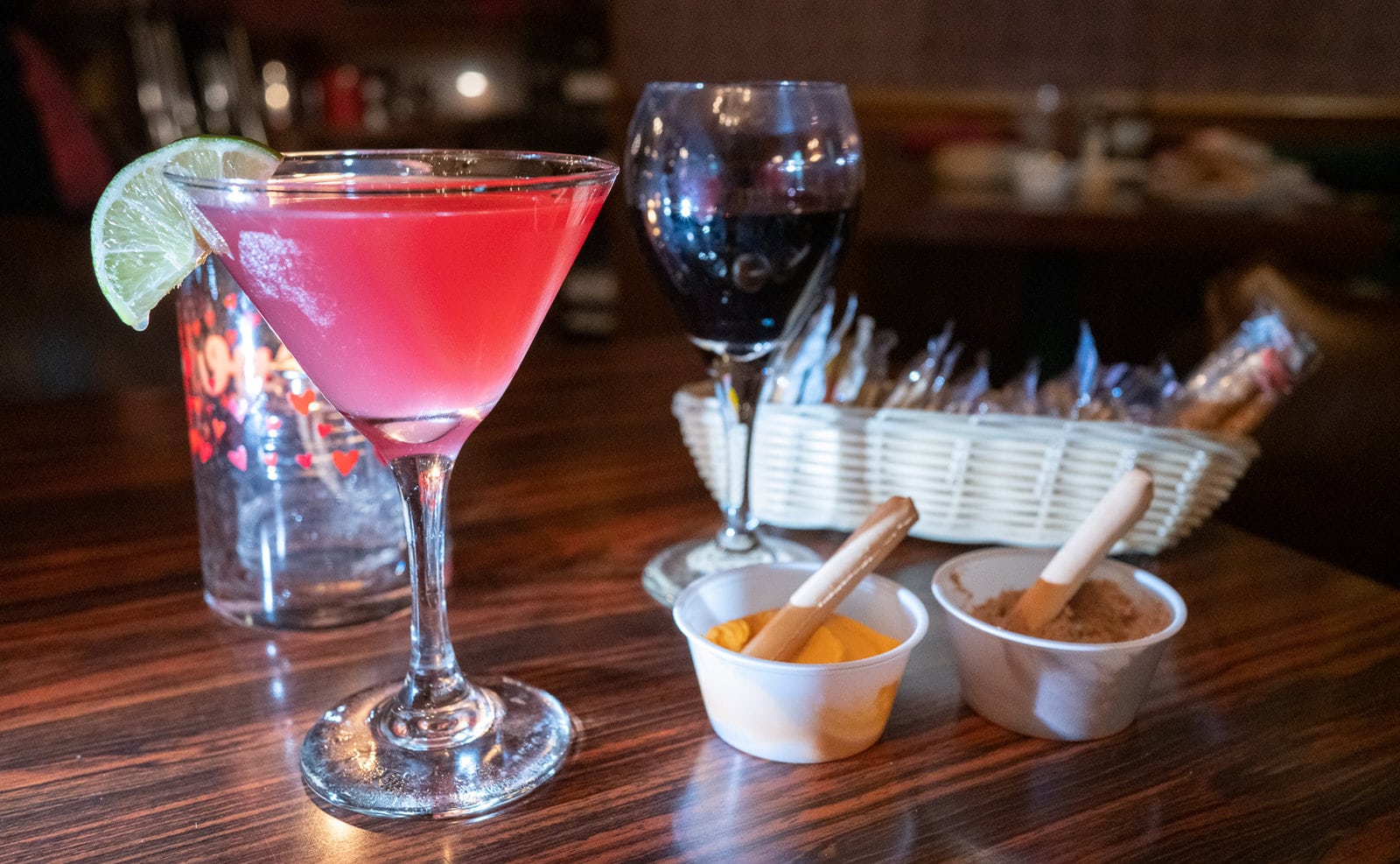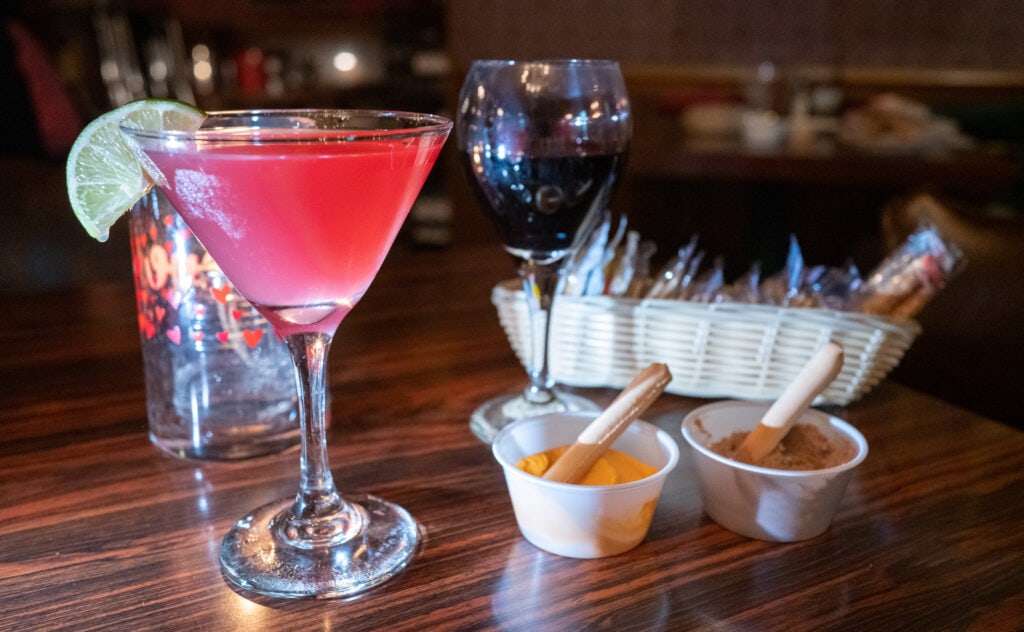 Wisconsin Supper Clubs
Dinner at a Supper Club may just be the quintessential Wisconsin experience. According to local lore, supper clubs arose during the days of Prohibition. Be that as it may, they are a beloved tradition. There are over 260 supper clubs in Wisconsin, each unique and yet similar in that the experience begins with cocktails and cheese and crackers at the bar.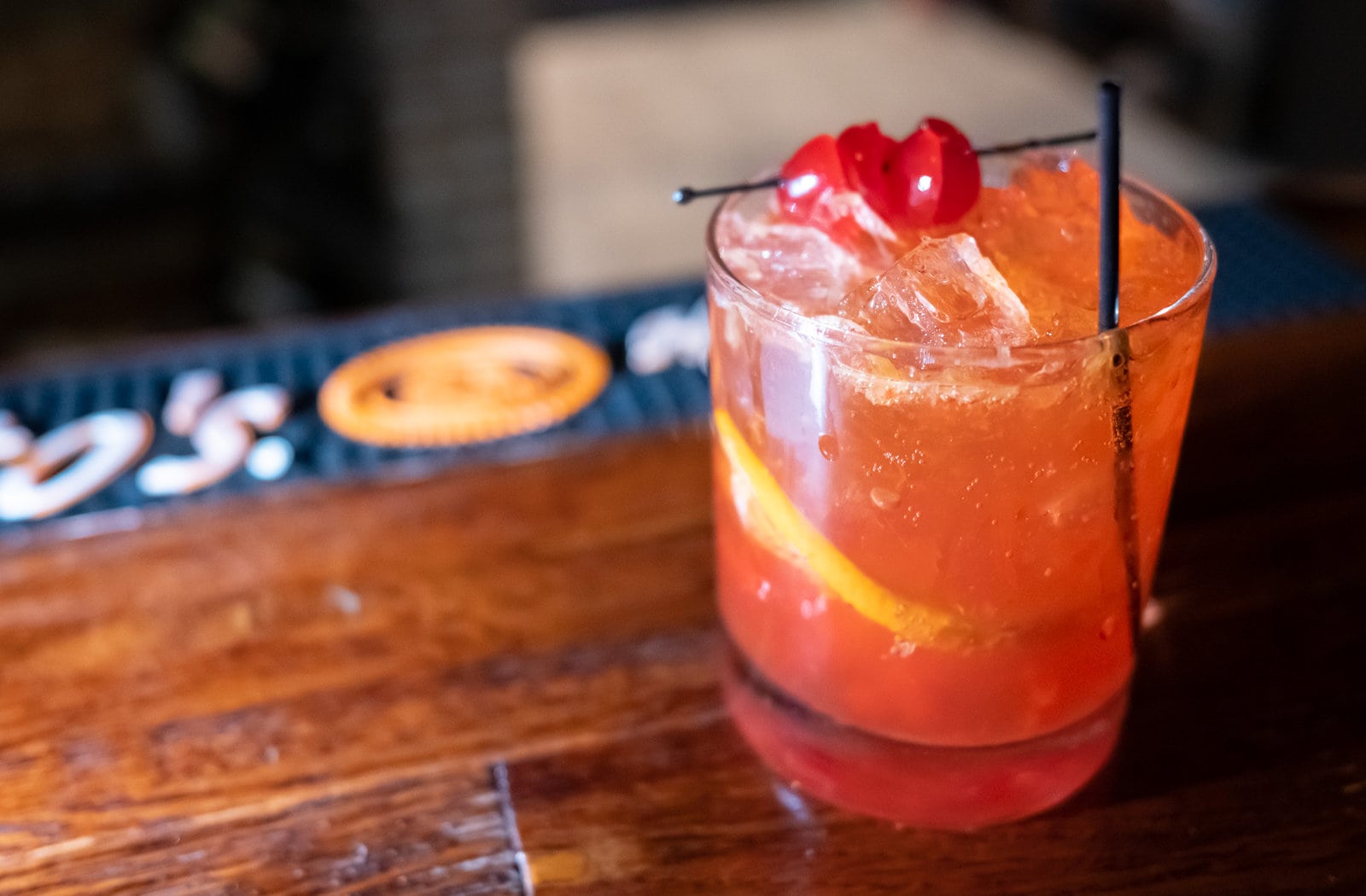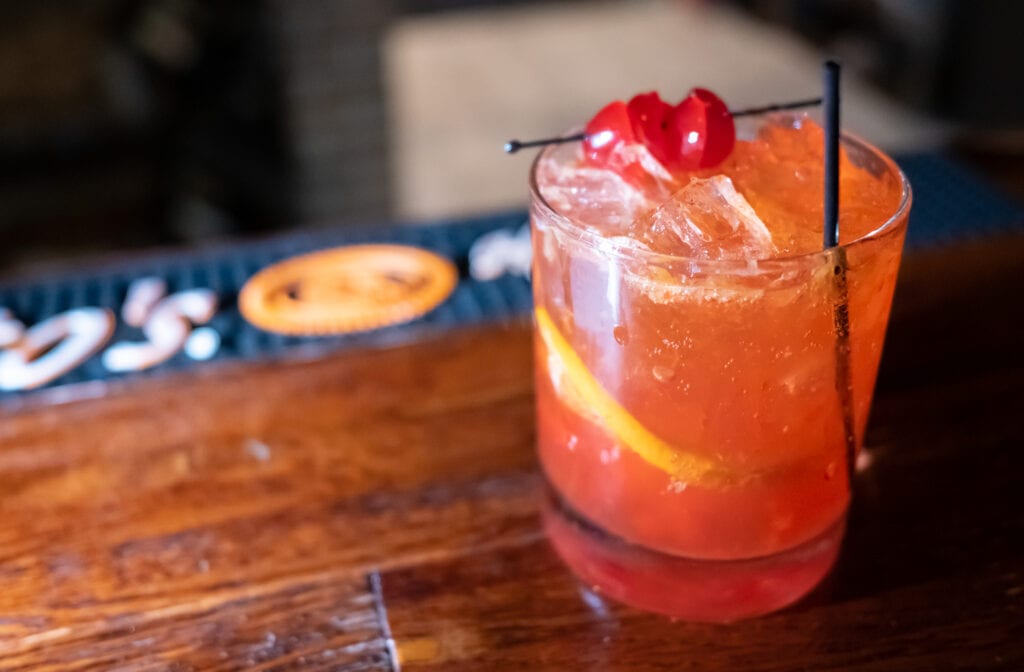 And of course, the cocktail of choice is a Wisconsin Old Fashioned (see recipe.) Somewhat different from the classic drink elsewhere, here it's usually made with brandy and a hearty splash of Sweet (lemon-lime soda,) Sour (grapefruit soda,) Press (1/2 lemon-lime soda/club soda,) or just soda water.
Now you can order whatever you like, as the supper clubs usually offer a full-course menu. But loyal patrons will usually get Fish Fry on Fridays and Prime Rib on Saturdays.
Fish Fry At Mark's East Side
Our first supper club stop was at Mark's East Side, but having never been to a supper club before, we didn't know what to expect. It was jam-packed with diners, and the bar area was standing room only, at 5:30 pm. We definitely would not have been seated that night without reservations.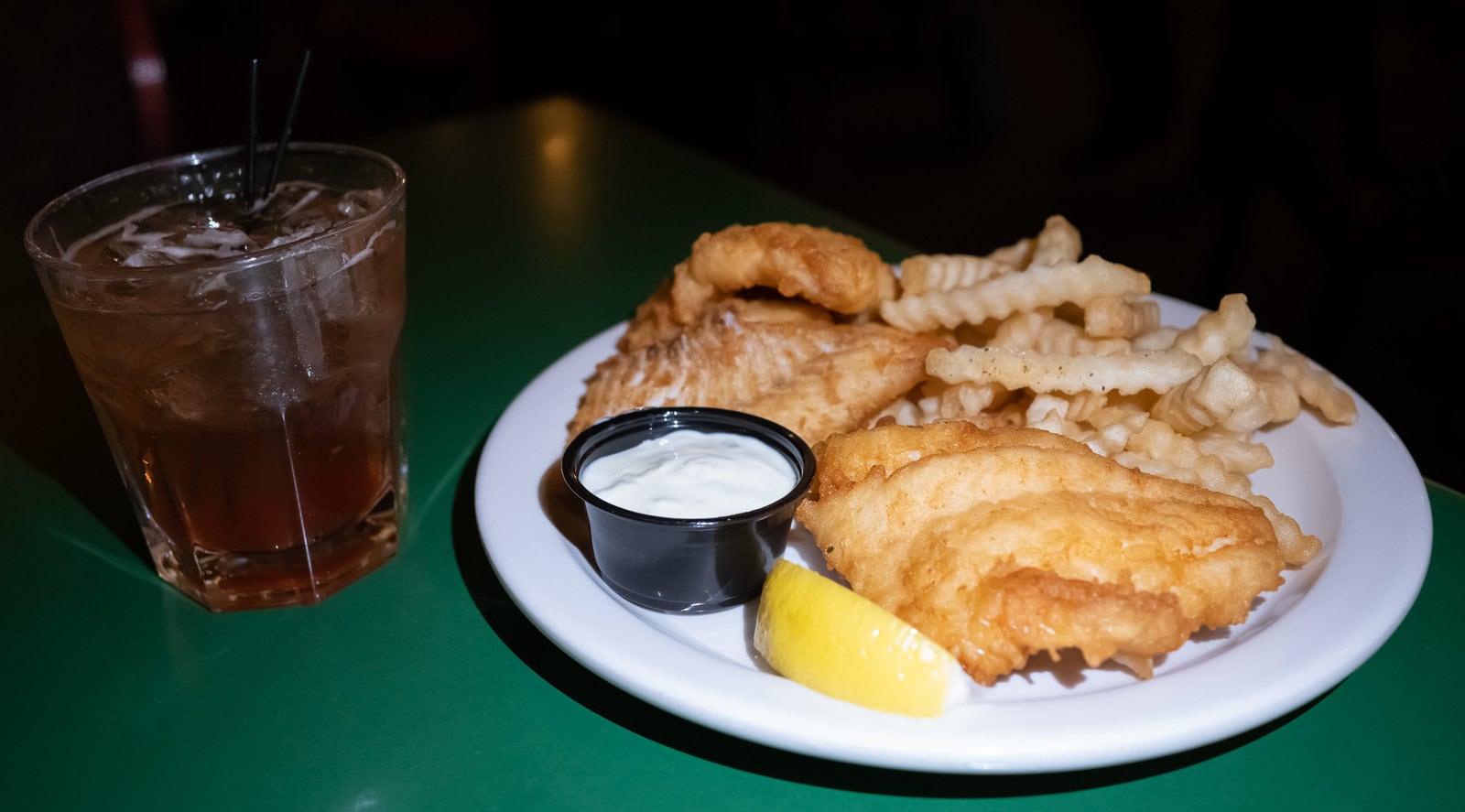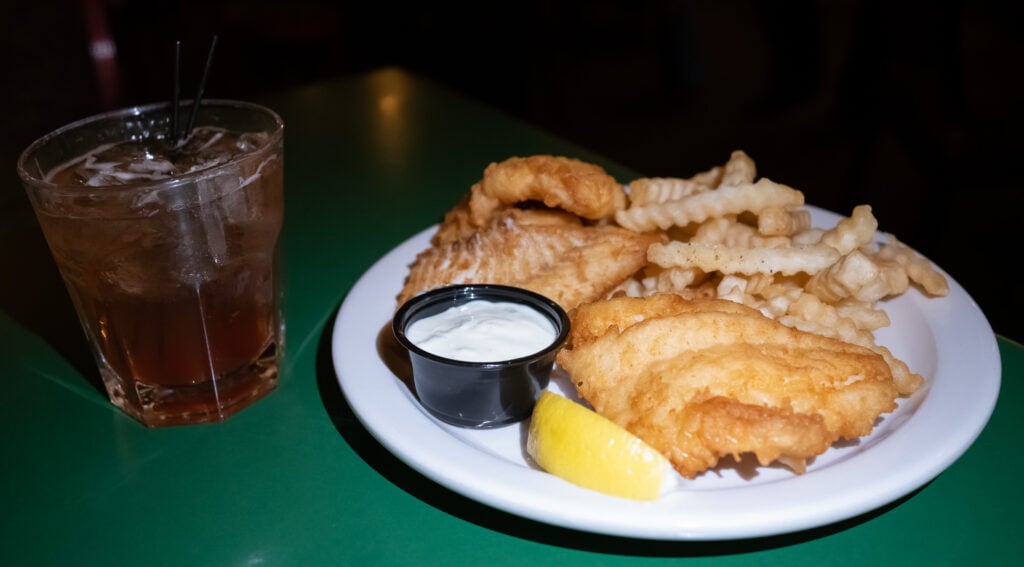 Having heard that Mark's East Side served the best Old Fashioned around, we ordered that as well as the Icelandic Fish Fry. It didn't compare to the just-caught-fresh fish fry in Iceland or even the local fish fry in Albany NY, but it was okay, and it was a fun experience.
Prime Rib At George's Steak House
The next night we dined at George's Steak House, another popular restaurant in Appleton WI. It's so popular in fact, that the only dinner reservation we could get was for 4:30 pm. It wasn't crowded when we arrived, but it certainly was by the time we finished.
Of course, the beef tenderloin and prime rib are choice here. Fortunately, there was a junior tenderloin option as it was still too early to work up much of an appetite, especially after a sweet Grape Martini and the cheese and pate balls served with crackers before the meal.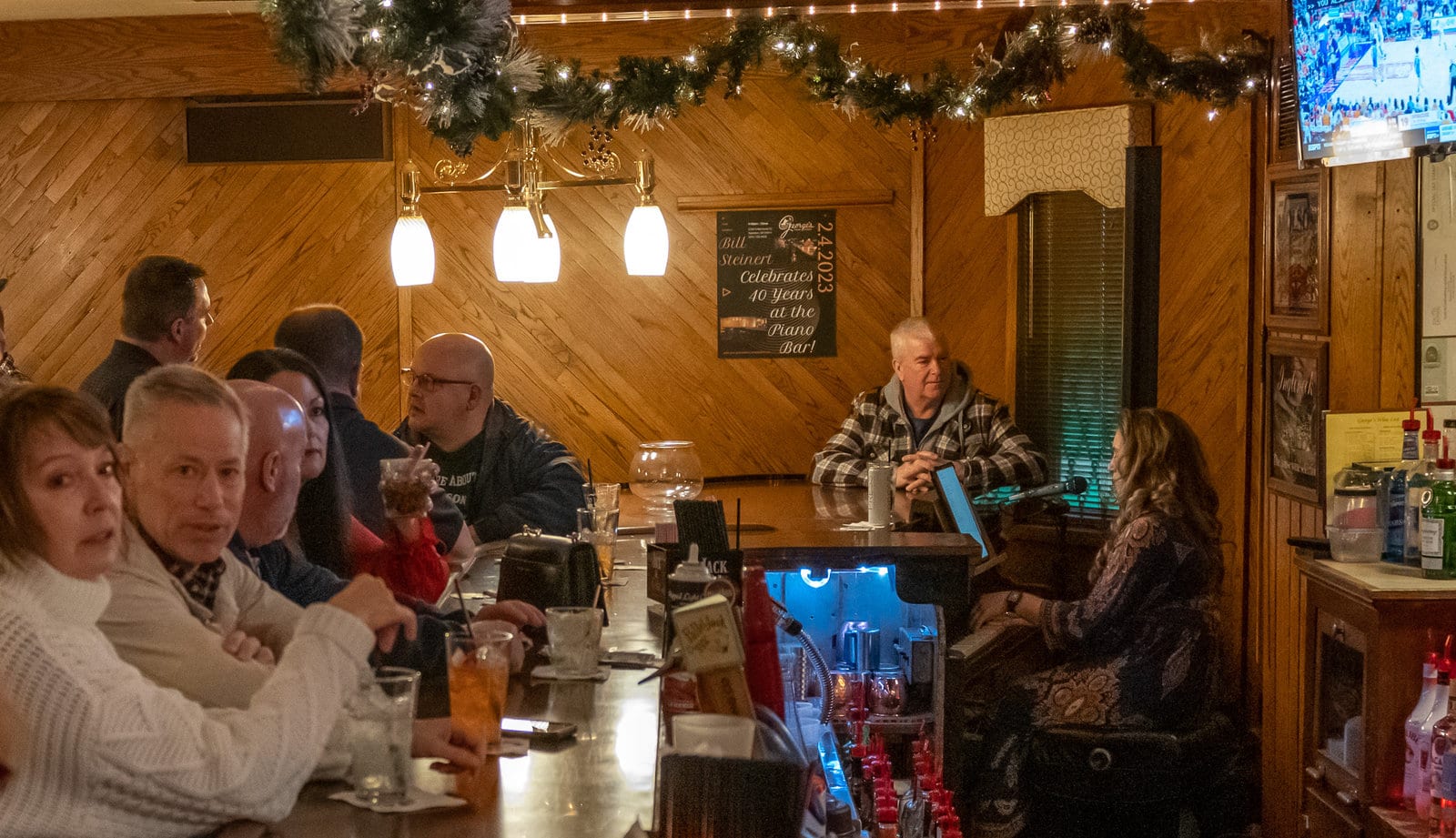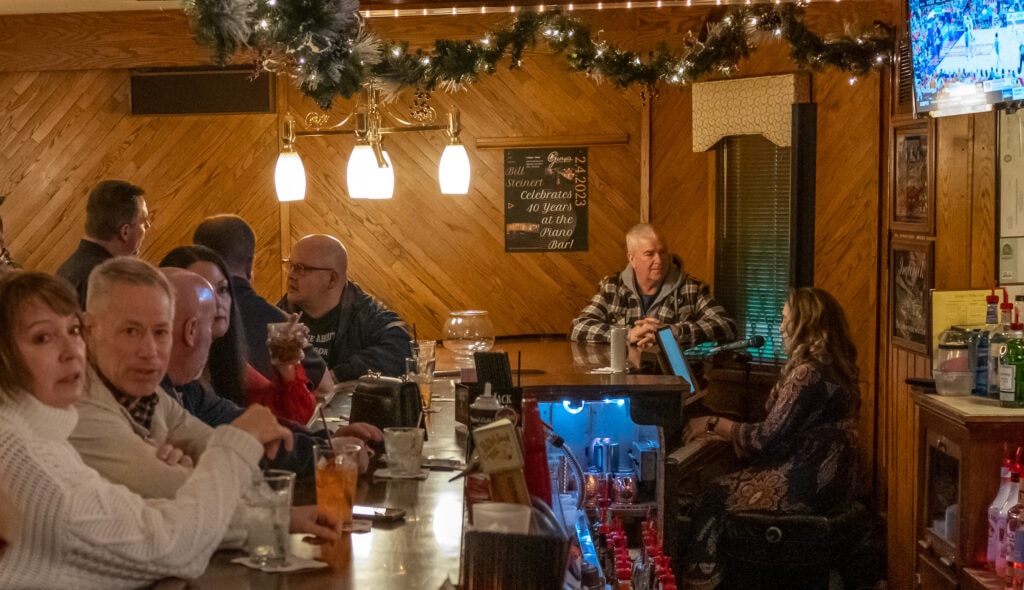 However, the real highlight here is the piano bar. If you can, time your visit between 6-9 pm on Fridays and Saturdays to catch a real live piano man in action.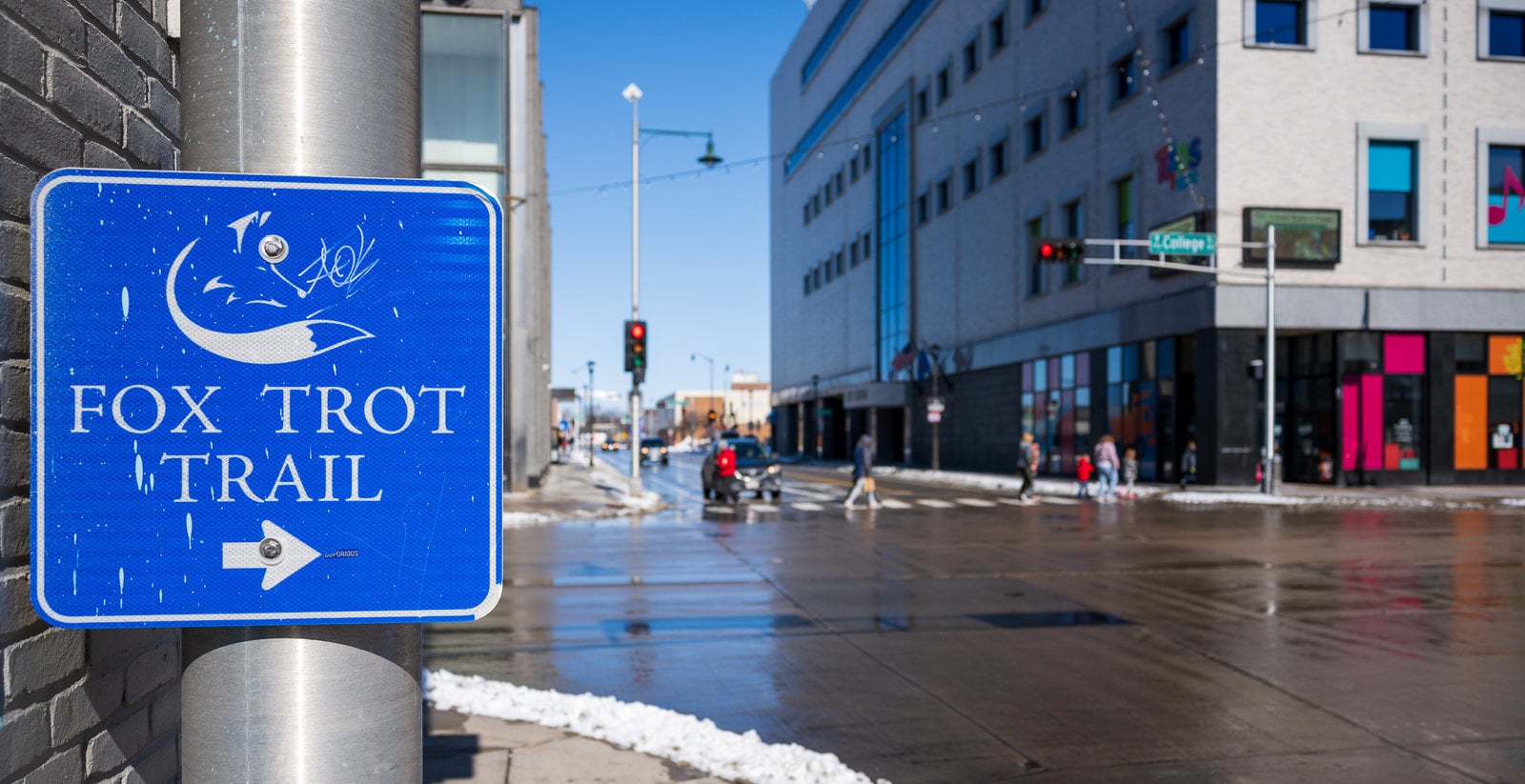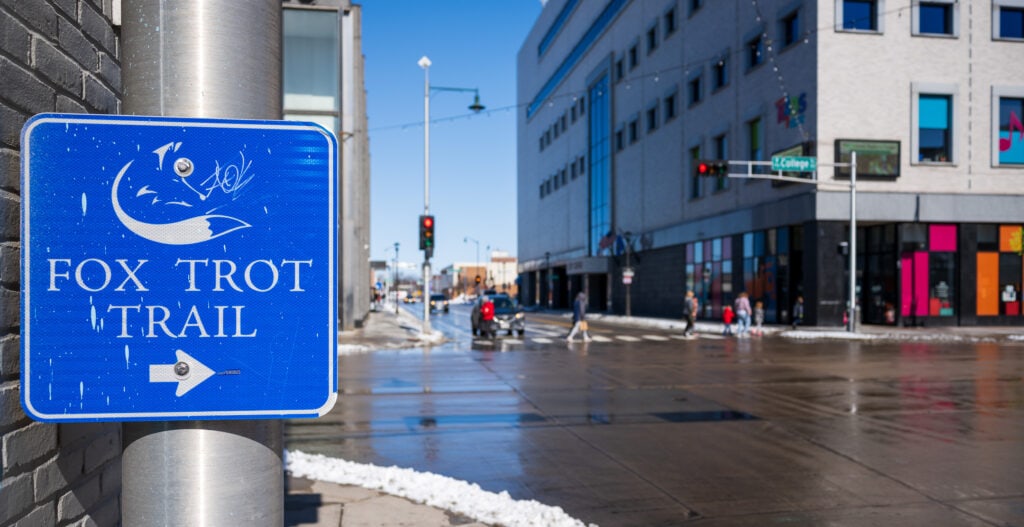 Fun Things To Do In Appleton WI For Adults
Walk The Fox Trot Trail
One of the best ways to get to know Appleton WI is to head out on the 2.2-mile Fox Trot Trail. The historical walk starts out at Harry Houdini Plaza on College Avenue, the main street in Downtown Appleton.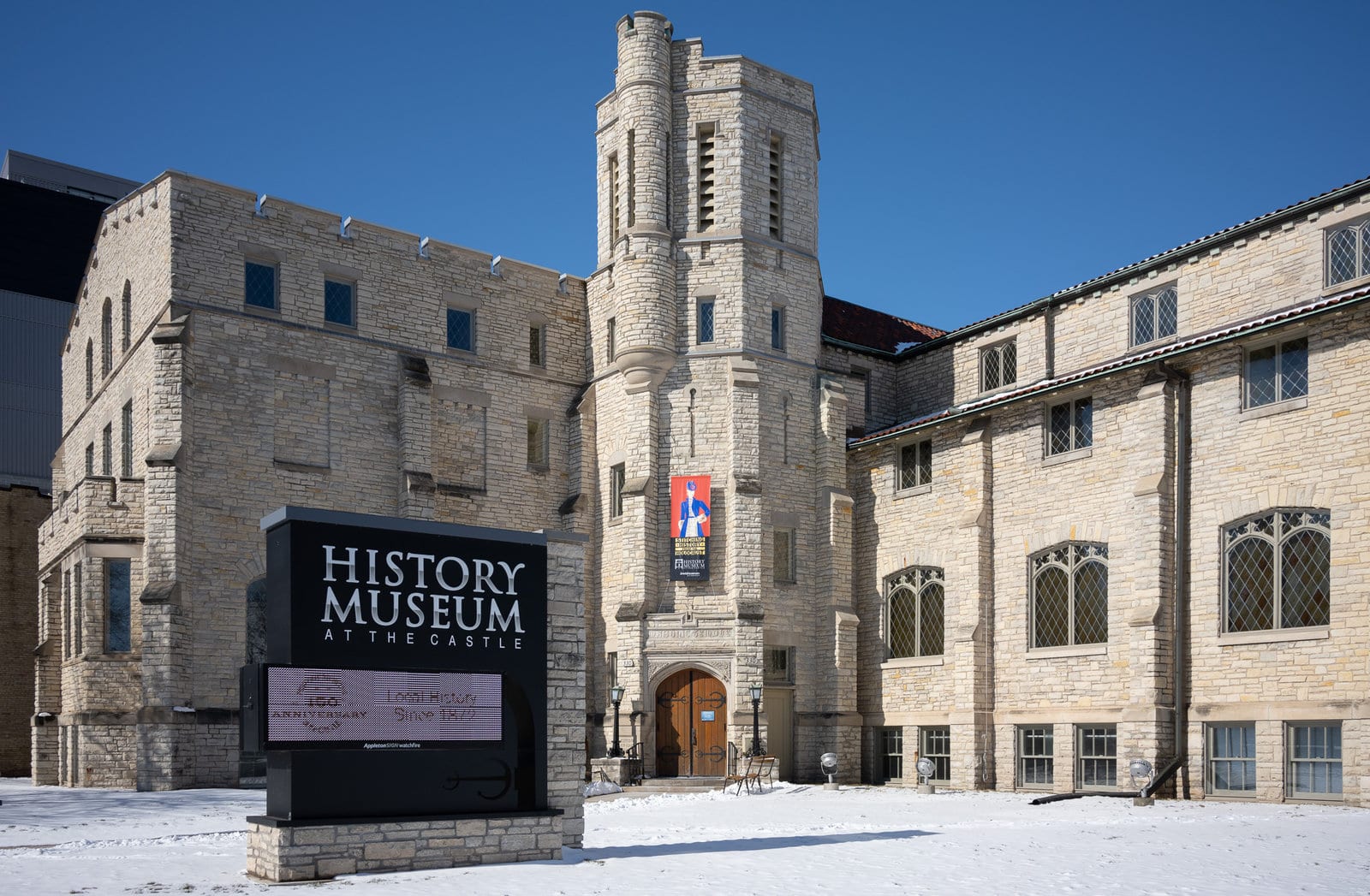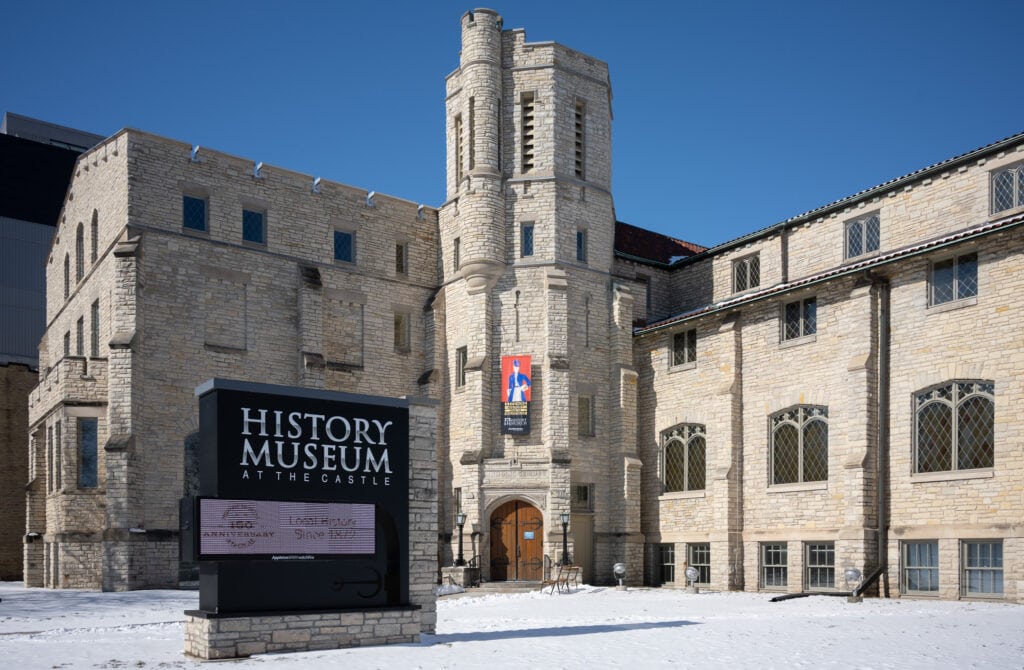 Highlights include the Lawrence University campus and the History Museum at the Castle, where you can find the controversial Harry Houdini exhibit. Apparently, when the exhibit opened in 2004, magicians were up in arms because it exposed the secrets behind some of Houdini's most puzzling escape acts.
A little further on, the liberal arts Lawrence University has a lovely campus dotted with an excellent collection of public sculptures.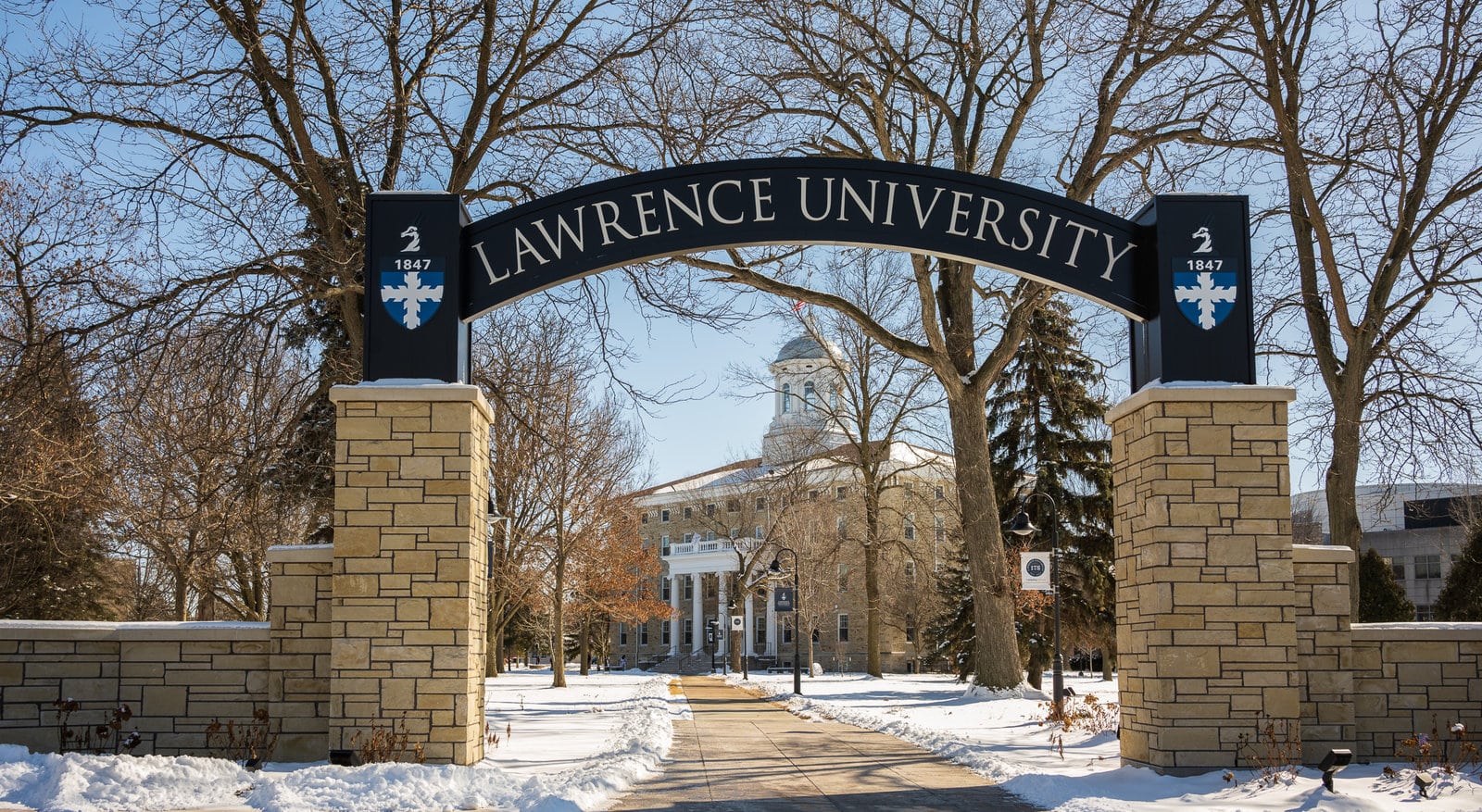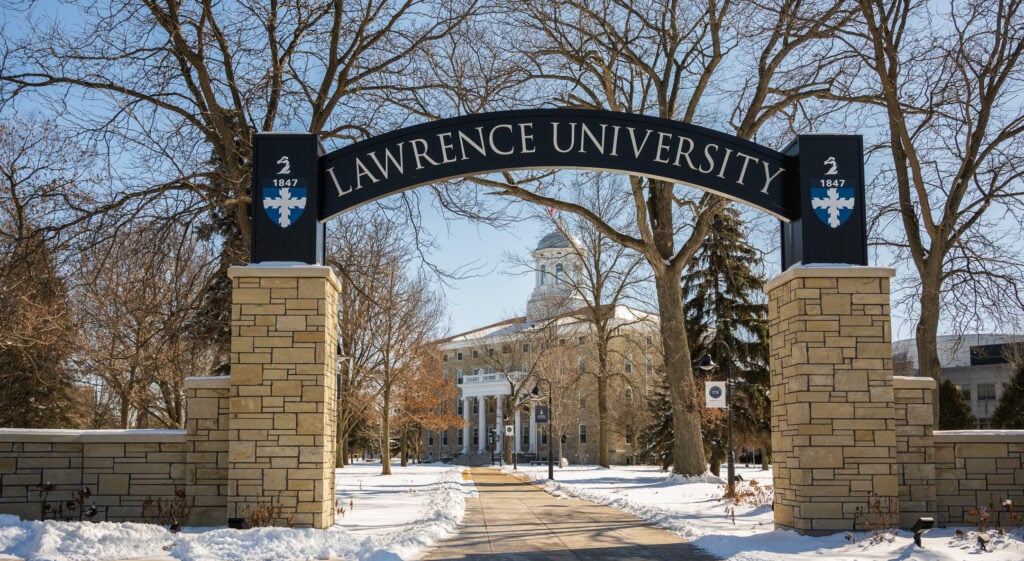 The trail continues to Fox River and the system of locks, but it might be more pleasant to drive to the rest of the recommended stops. That's what we did, choosing to finish at the Between The Locks building. Once the site of Appleton's first brewery, it now houses the Stone Arch Brewery.
Learn About The Paper City At Atlas Science Center
Known as the "Paper Valley" in its heyday, the Fox River once had the highest concentration of paper mills in the world.
Formerly known as the Paper Discovery Center (the sign is still there,) the Atlas Science Center now is committed to exploring more STEM subjects. Still, as it's housed in the former Atlas Paper Mill, one of the original Kimberly-Clark papermaking plants, it's an interesting site to explore the fascinating history of this industry.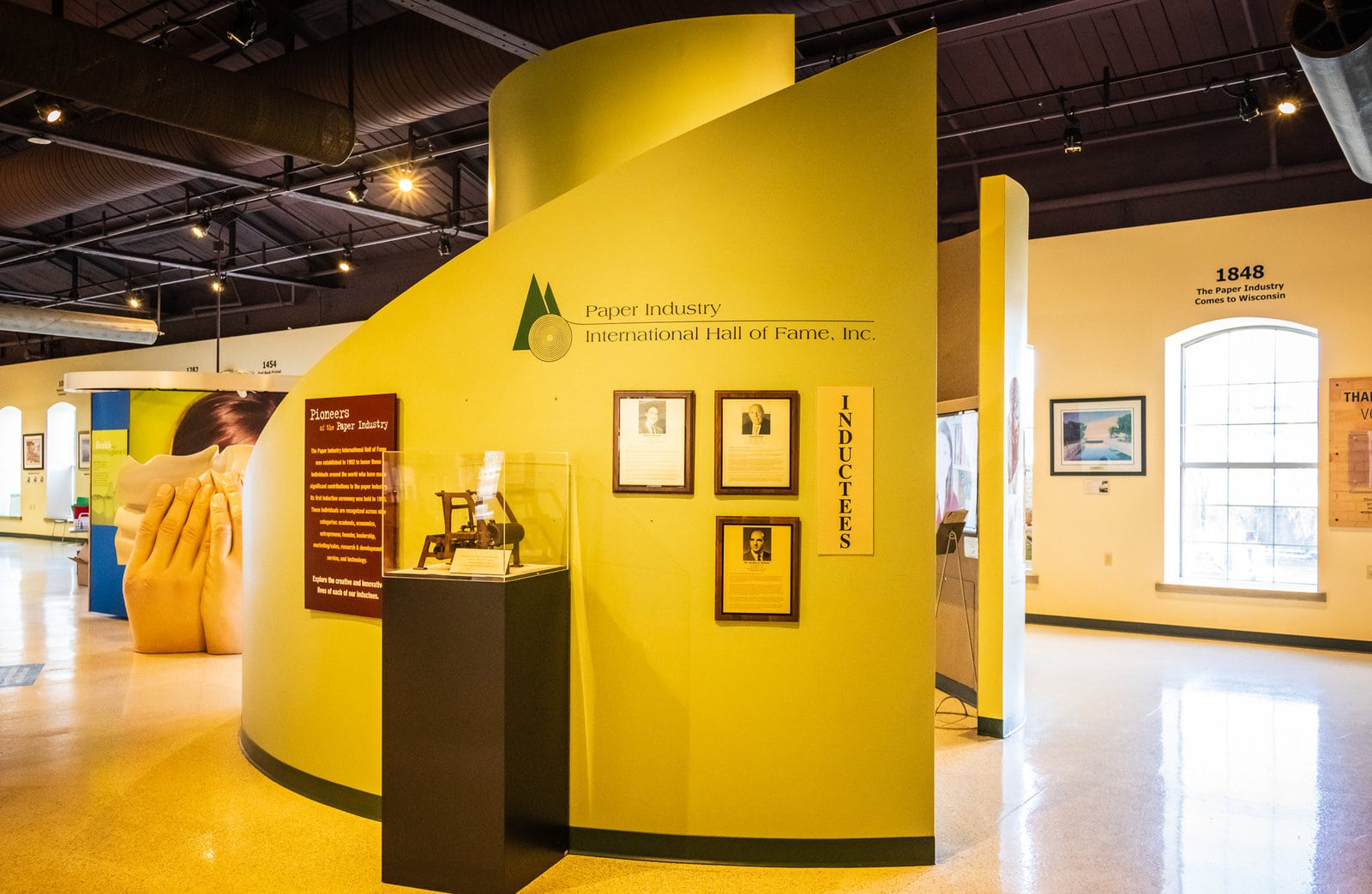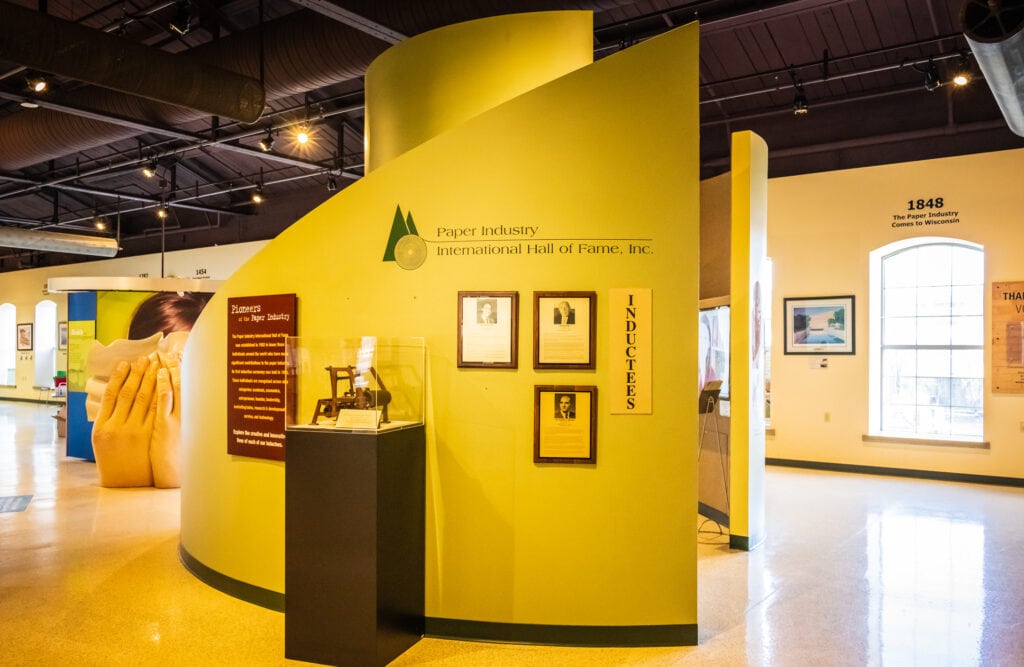 Inside the building, there is a paper-making lab, a collection of industrial machinery, the Paper Industry Hall of Fame, and exhibits highlighting the importance of paper to our history and culture.
Of course, diapers and toilet paper top the essential paper products–do look for the exhibit showing the first toilet paper, a necessary invention to combat disease in New York City in the 1850s.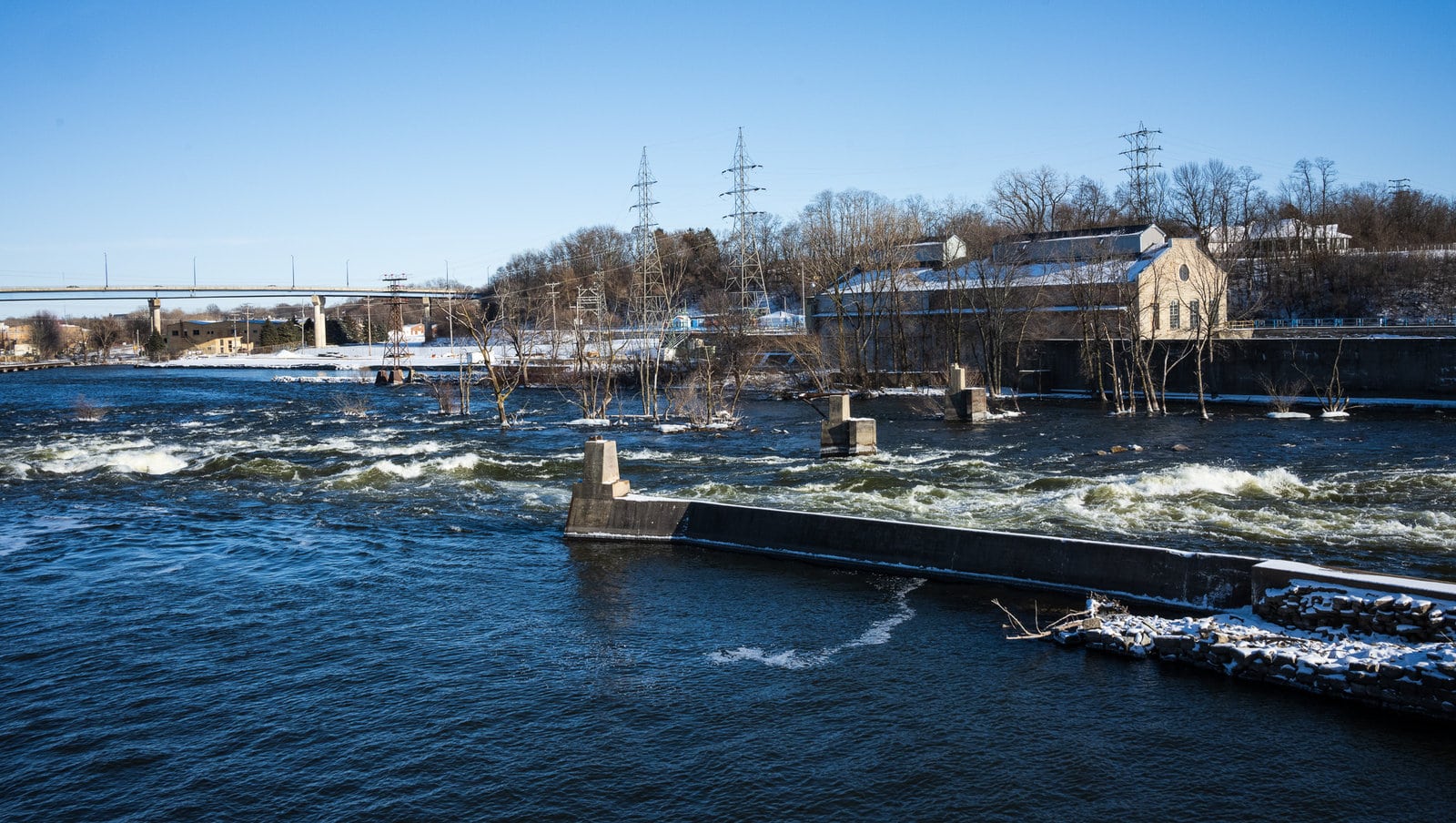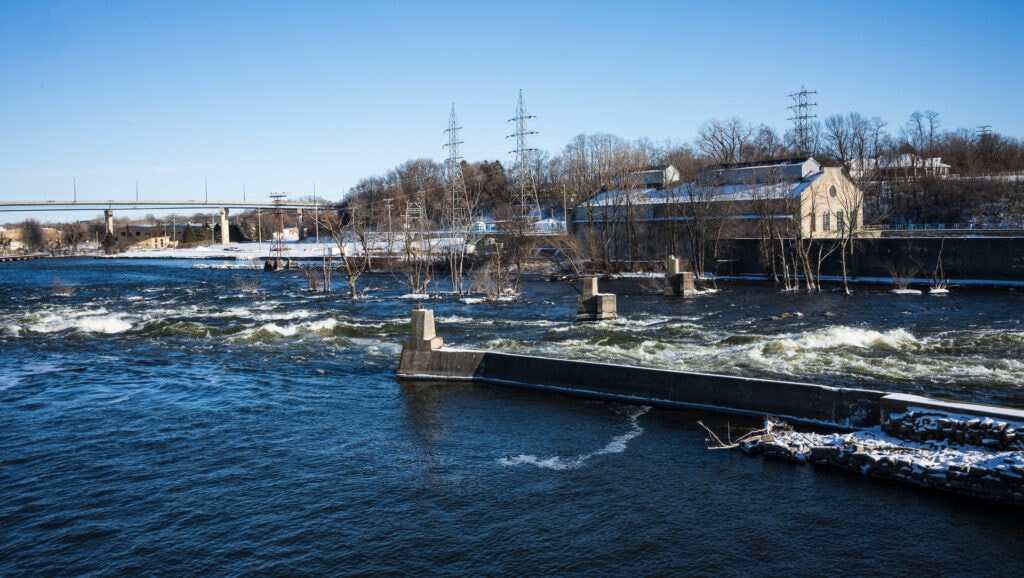 Outdoors, there is a great view of the Fox River and the walkway along the waterfront is dotted with informational signage telling the history of the paper mills along Appleton's riverfront. This is also where you can find Fratellos Riverfront Restaurant, serving Italian cuisine and fine wines, this is a great spot to catch the sunset.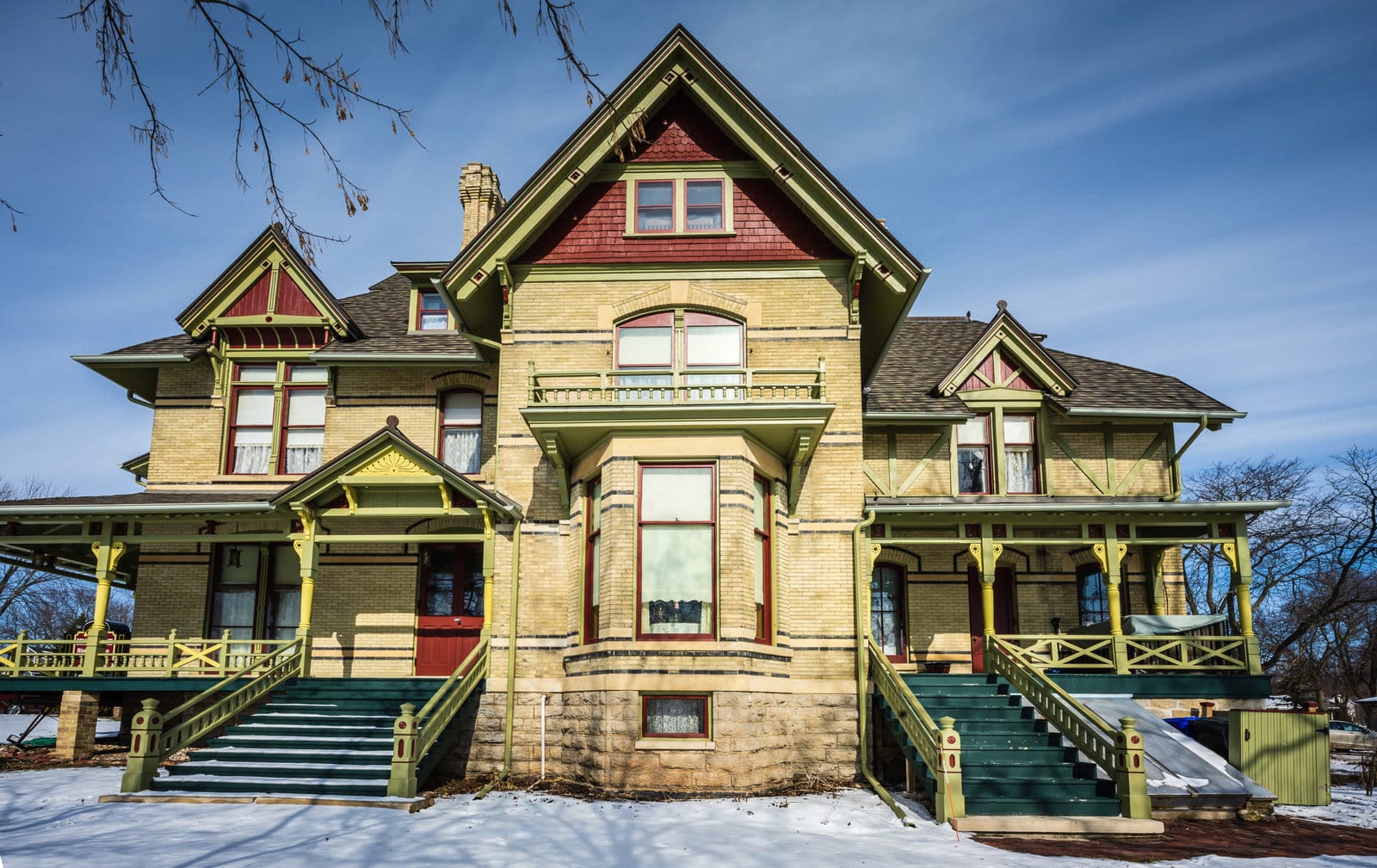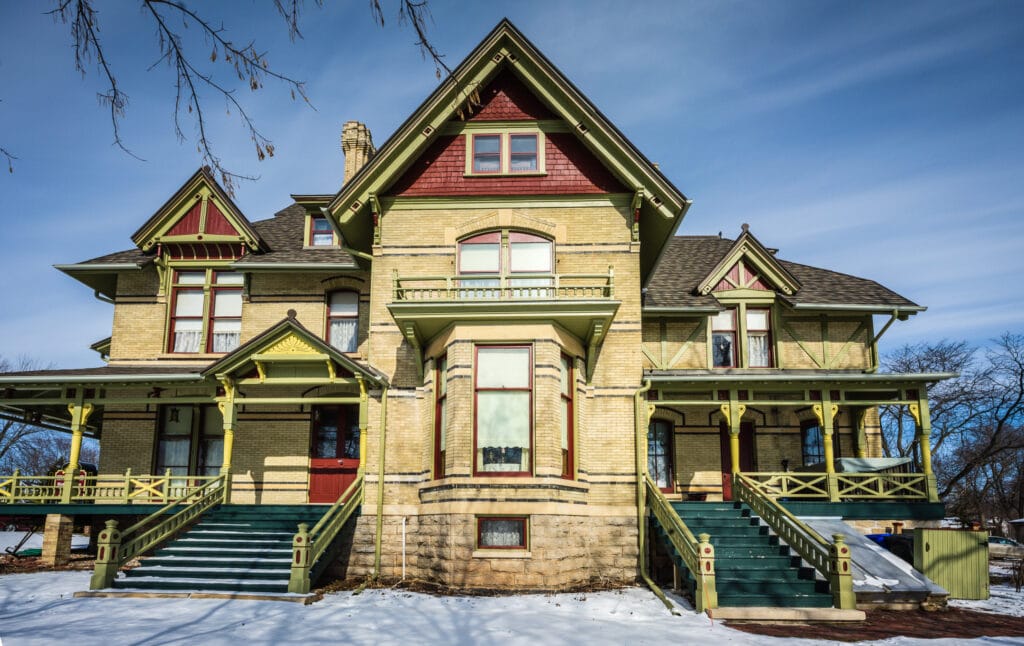 Tour Historical Homes In The Fox Cities
There are many beautiful houses in the Fox Cities, many with a rich history. Start a local tour of historical homes in Appleton, WI at the Hearthstone Historic House Museum. This Queen Anne Style house, designed by architect William Waters, features the splendid work of several local craftsmen, most notably as seen in its nine fireplaces.
But what makes this house a historical landmark is that it was the first residence to be lit by electric light bulbs designed by Thomas Edison and powered by a hydroelectric-based Western Edison Electric Light Company dynamo. In the late 1880s, Appleton was at the forefront of electric energy, claiming more electrically lit buildings than anywhere else.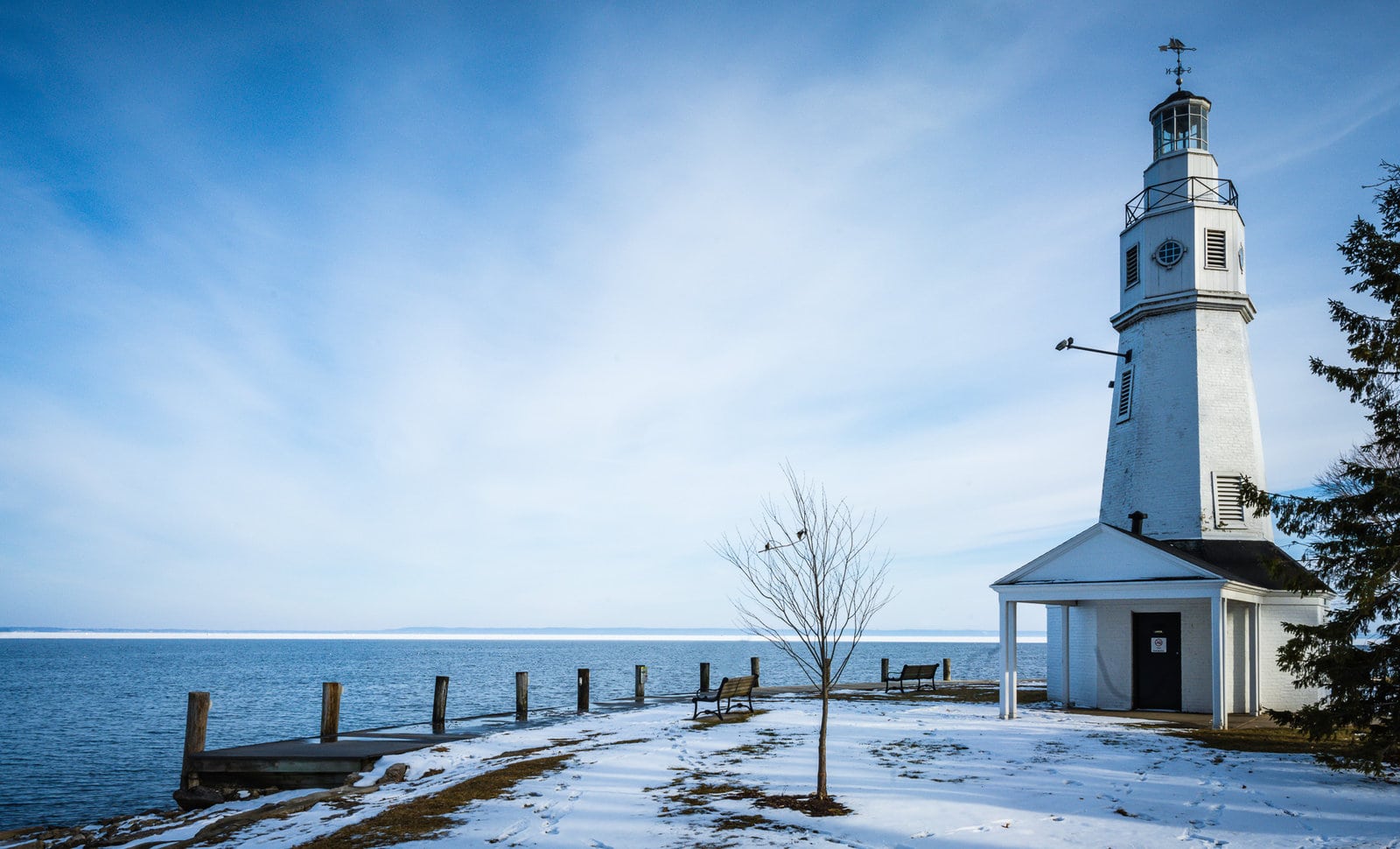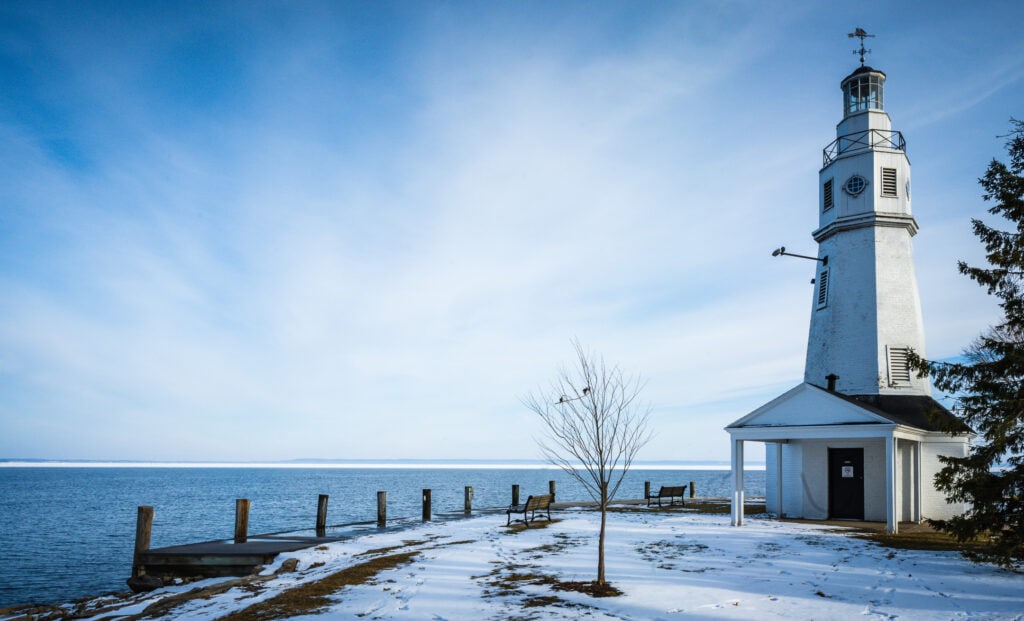 Continue your tour of Fox Cities historical houses in Neenah WI. Download the Historical Tour Map from the City of Neenah for house locations and descriptions, as well as explanations of the architectural styles found in the area. You can see most buildings on a drive-through, but there are several parks such as Kimberly Park (where the lighthouse is located) or Riverside Park where it's well worth stopping by for a pleasant stroll.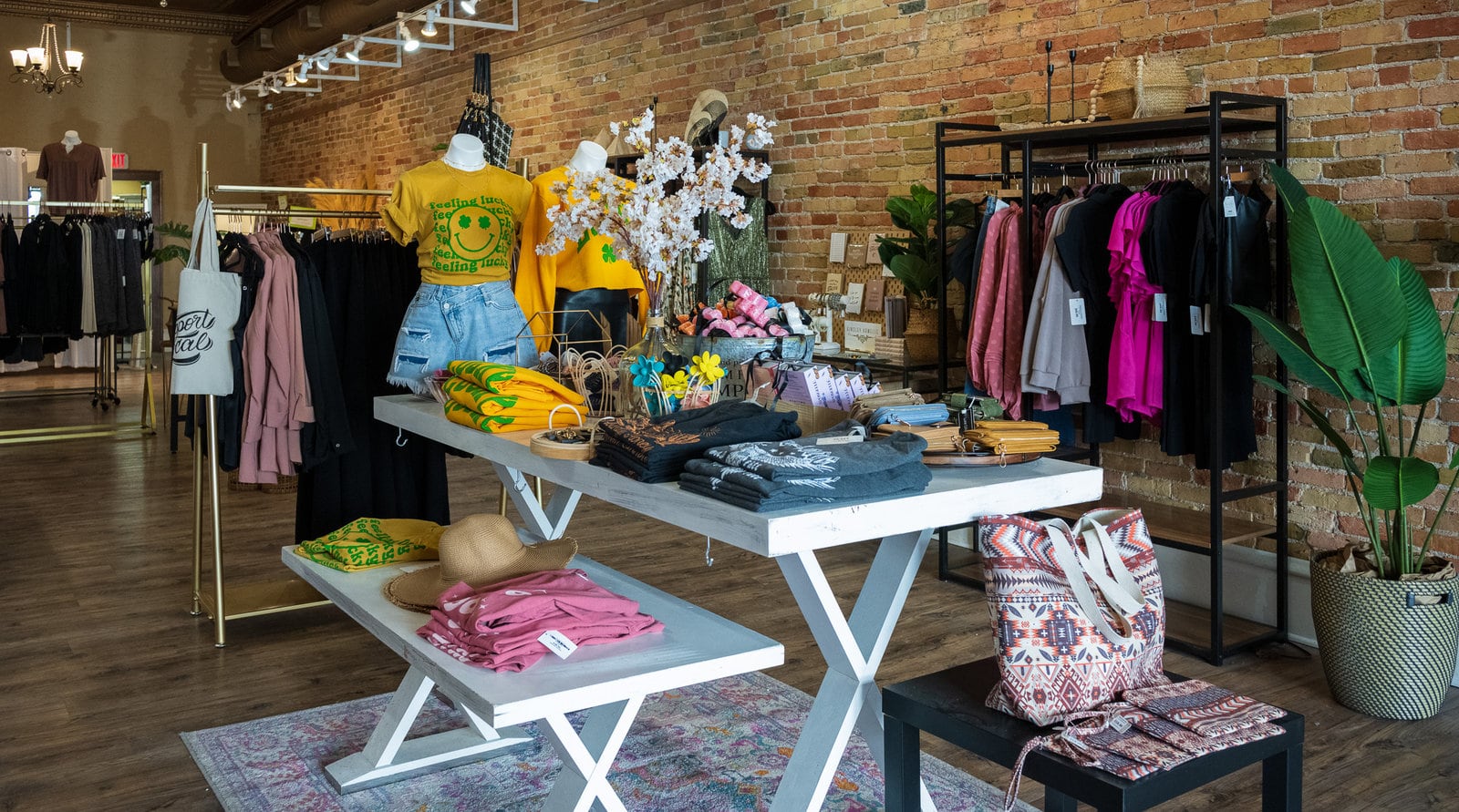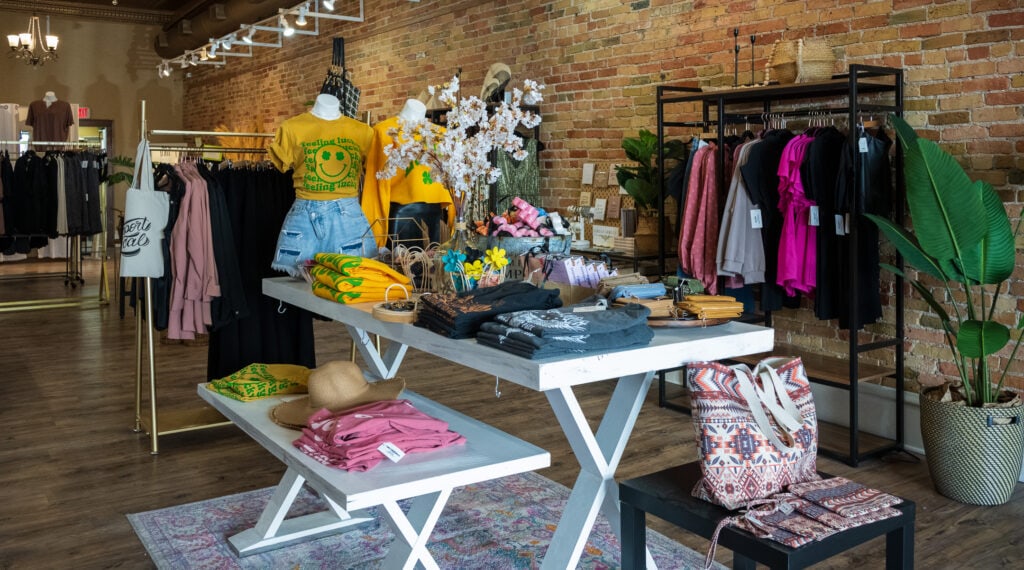 Go Shopping In Appleton WI
Fox River Mall, with its Macy's and Lululemon stores, is a big draw for visitors from surrounding small towns. But we like the independent local shops that are found along College Avenue in Downtown Appleton.
Perhaps due to proximity to Lawrence University, there's an eclectic assortment of thrift shops, trendy boutiques, vinyl record shops, and musical instrument stores. Of course, we couldn't resist checking out the vintage film cameras at the Murray Photo camera store. The shop is a great photography resource, and not just for film cameras.
A couple of our faves include the Olive & Rose Boutique (see image above) and the Blue Moon Emporium.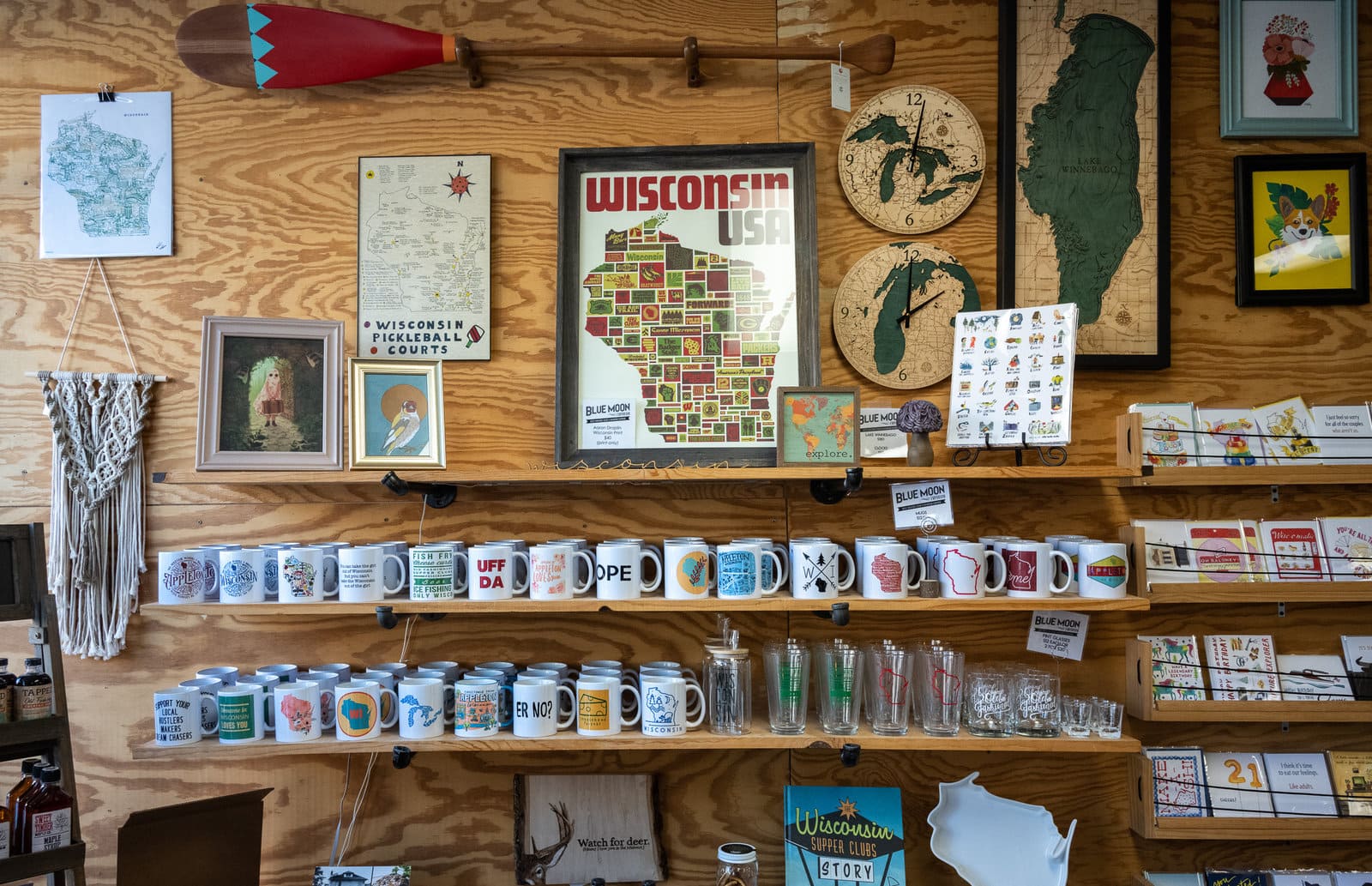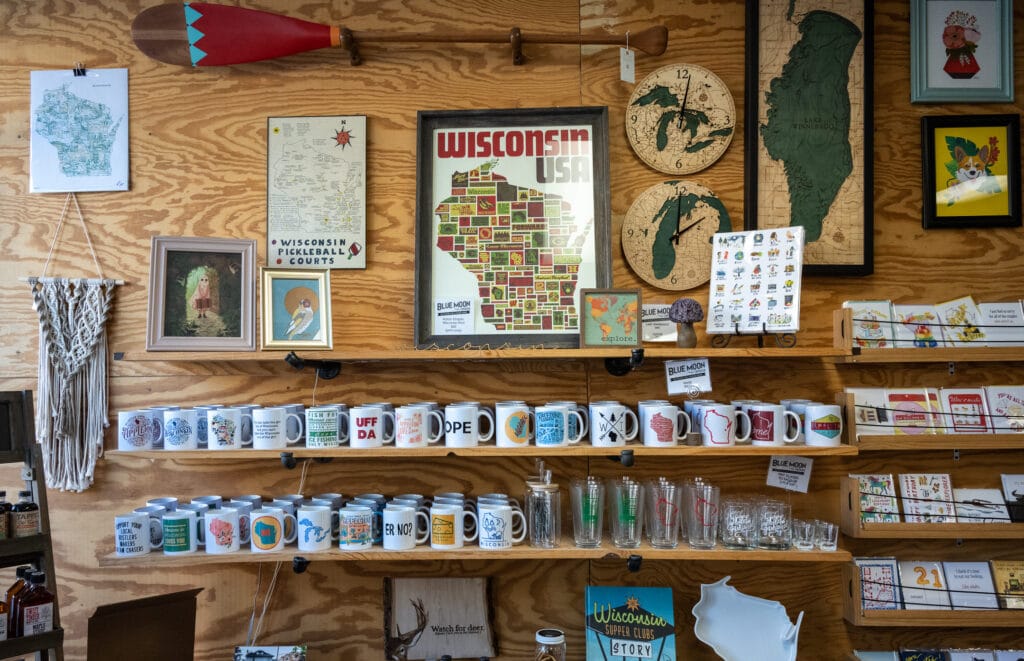 The latter carries all the Wisconsin-related paraphernalia that you can imagine and a lot more you wouldn't even think of. This is where to find Wisconsin souvenirs, including the most in-demand item—hand-drawn maps of all the Wisconsin Supper Clubs by artist Jesse Kennedy (available to order online from the shop.)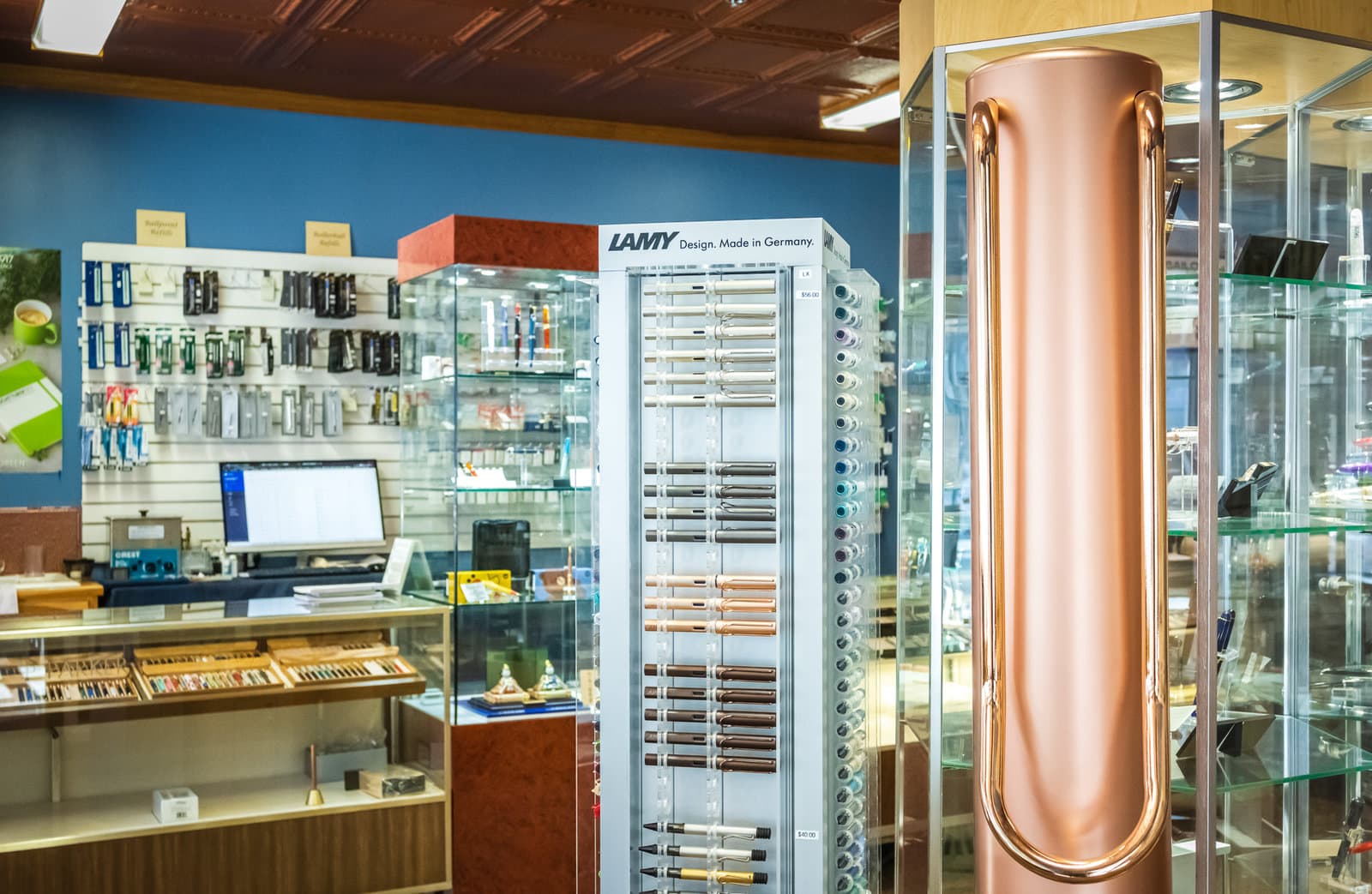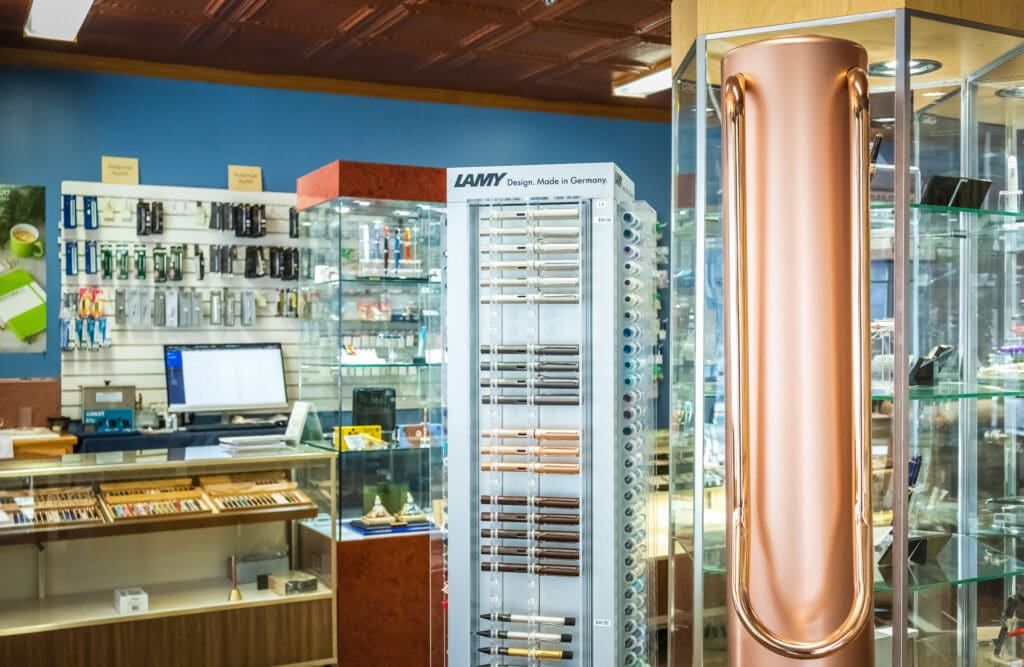 As travel writers, perhaps the most tempting of all Fox Cities shops, was Anderson Pens. They carry an impressive assortment of pens, with top-of-the-line items retailing for over $2000, although most are much more affordable. Plus, you can choose from over a thousand color inks for fountain pens and their notebook collection is pretty nifty too.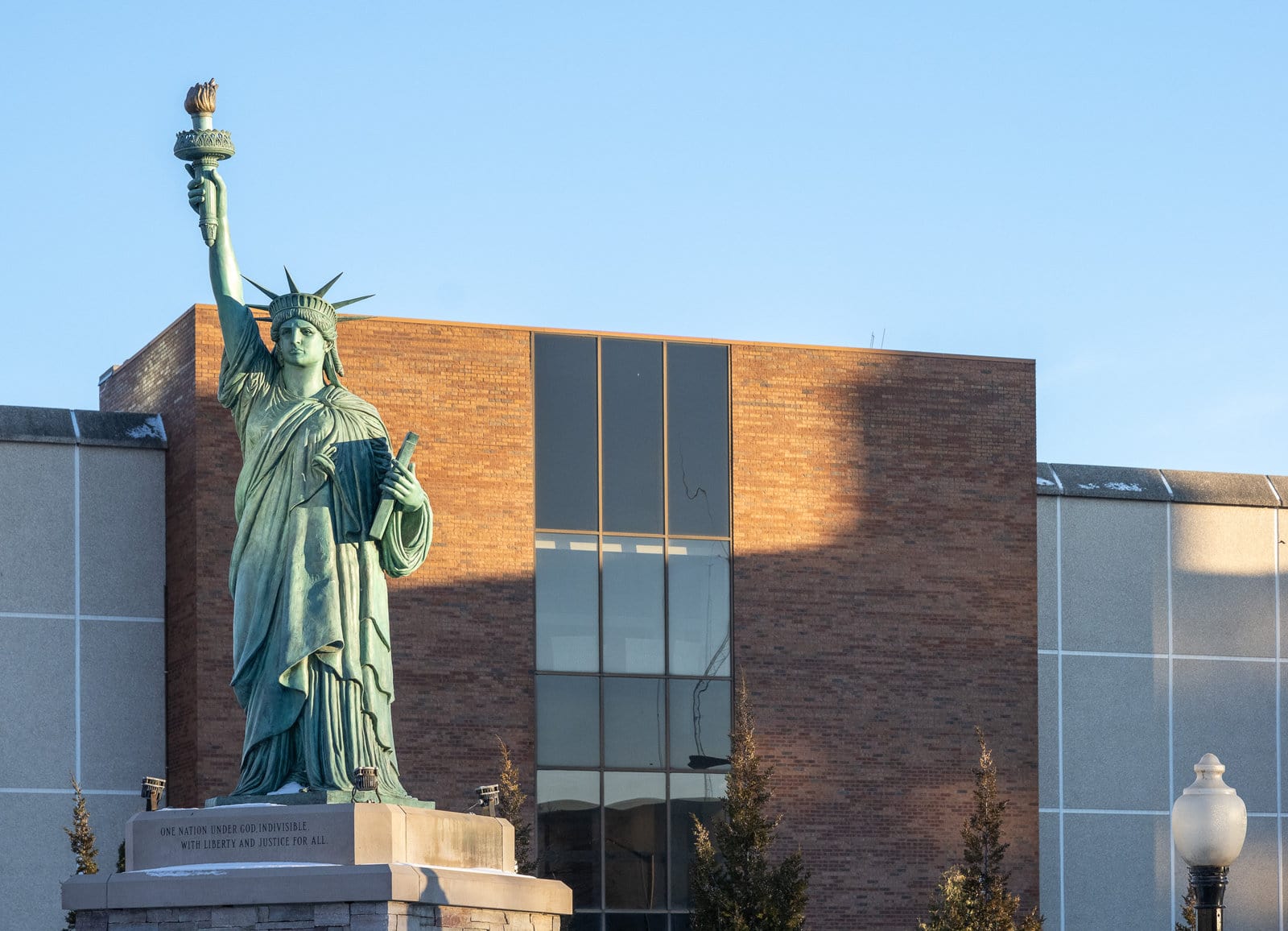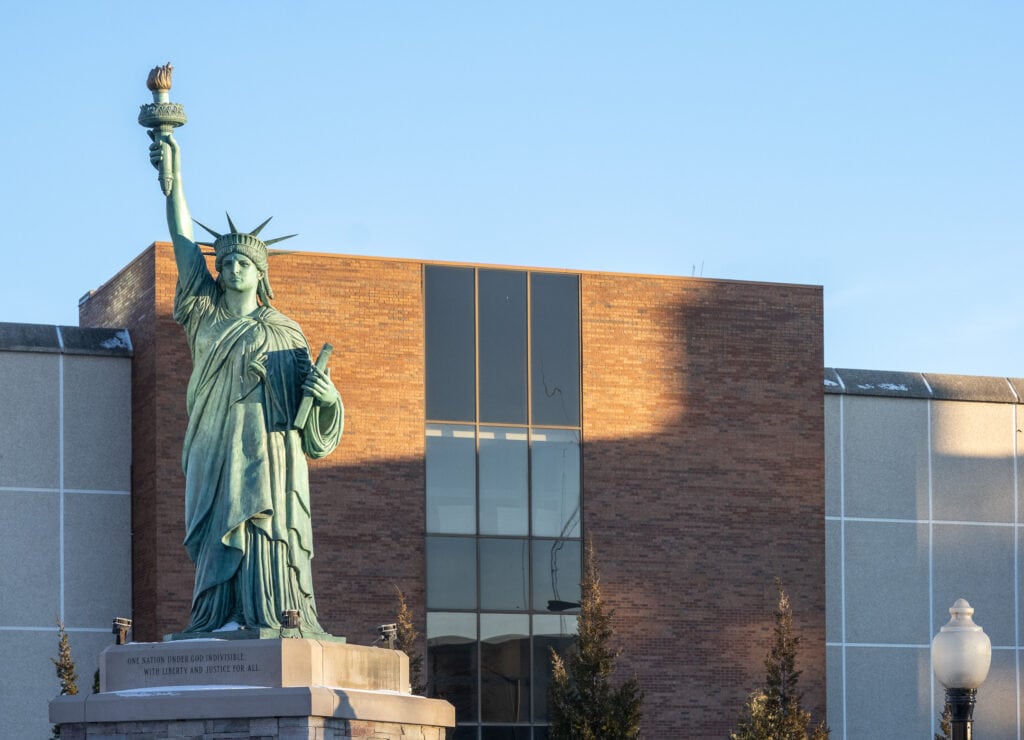 Be Charmed By Downtown Neenah WI
If you scrunch your eyes, you might believe you're in New York City when exploring Neenah, Wisconsin, another of the Fox Cities. On one end of Downtown Neenah, there's a miniature Statue of Liberty. All of 15 feet tall, it's an almost exact replica of Lady Liberty that was given to the city by the employees of Bergstrom Enterprises, a local car dealership.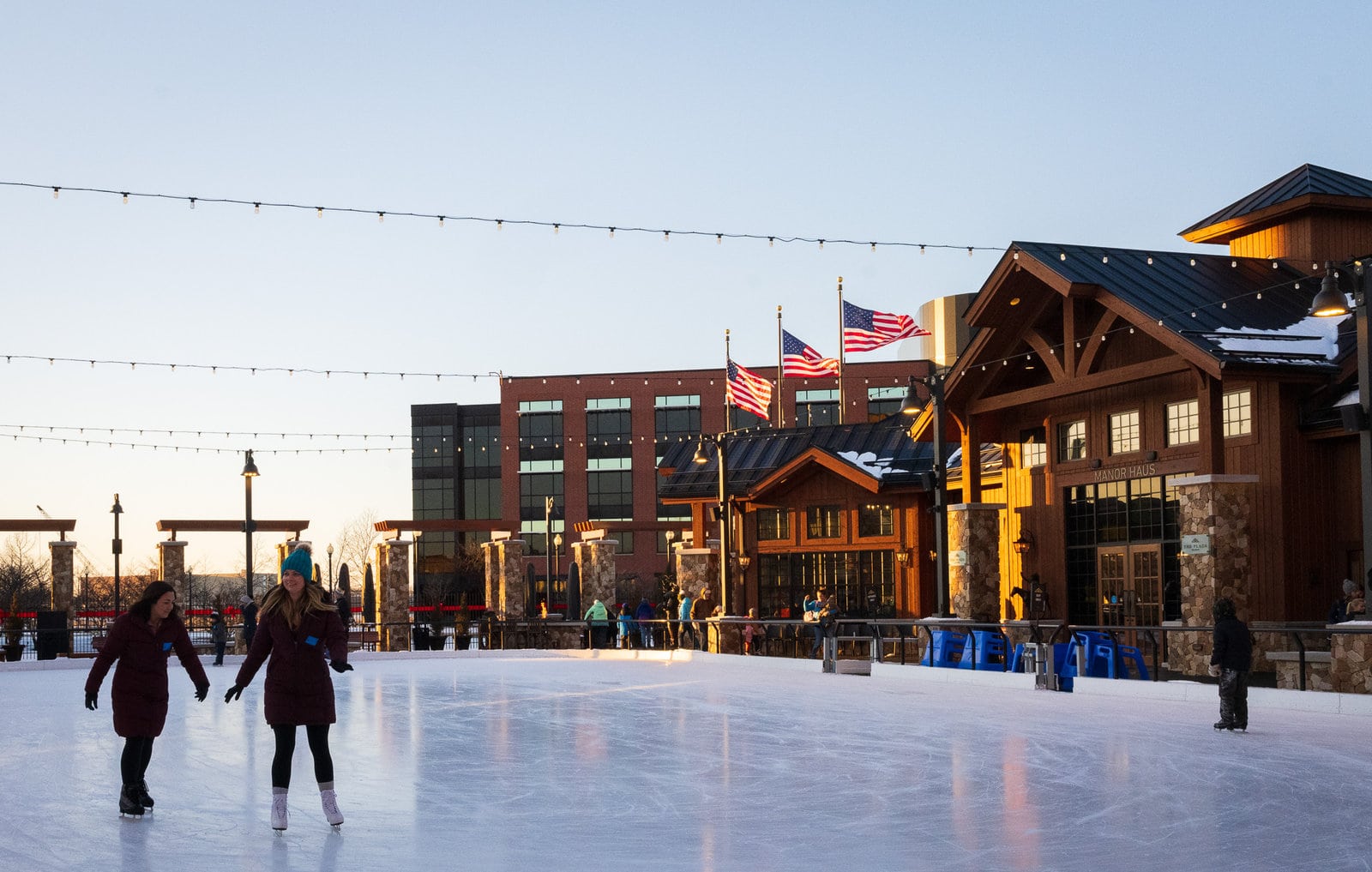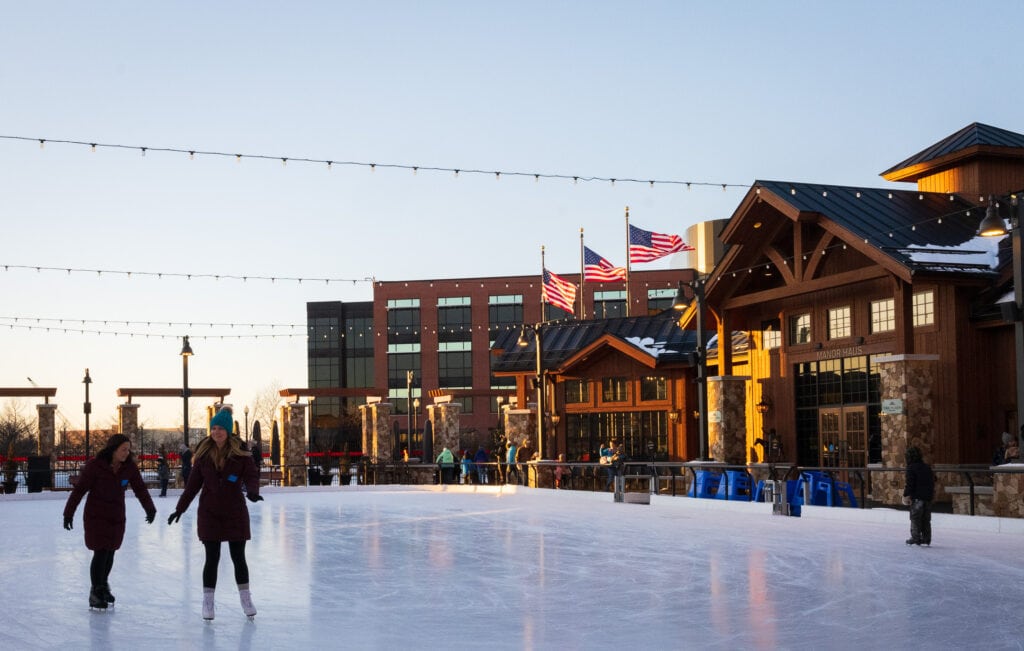 Then, a couple of blocks away, on the other end of town, there's an ice rink supposedly modeled on the one in NYC's Rockefeller Plaza but at The Plaza at Gateway Park. Honestly, it would be a stretch to say that it looks like the ice rink in Manhattan. But it is charming with its twinkling lights, fire pits, and rink-side coffee shop. In fact, Best Life named it one of the 10 'most charming' ice skating rinks in the country.
Between the Statue of Liberty and the ice rink, there are a number of delightful shops. We loved Thomas A. Lyons Fine Books and the nostalgic gifts and toys at Red Door Mercantile. But it's fun browsing through all the shops, and there's a good selection of restaurants too. Locals recommend Town Council Kitchen and Bar or Green's Pour House.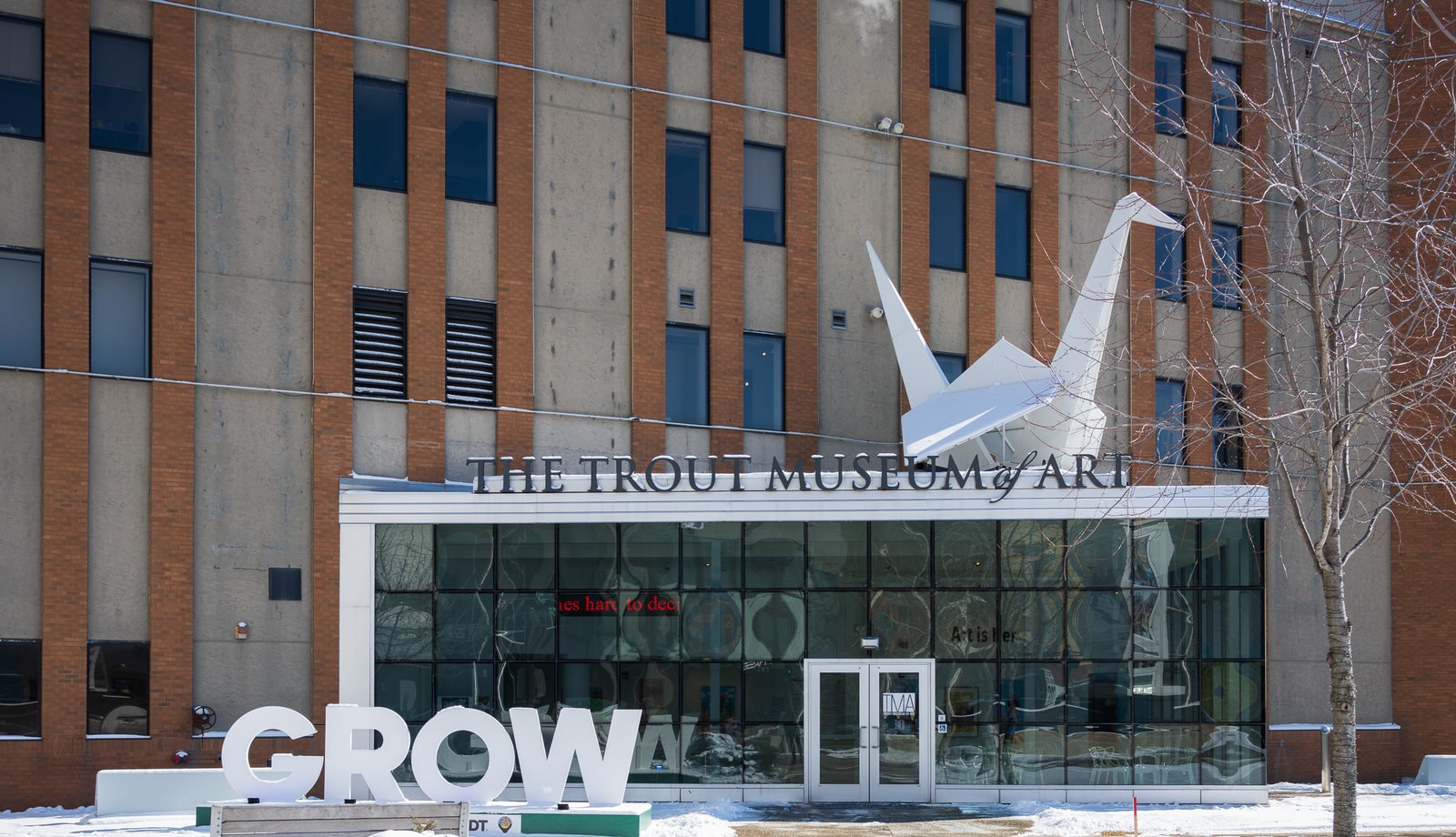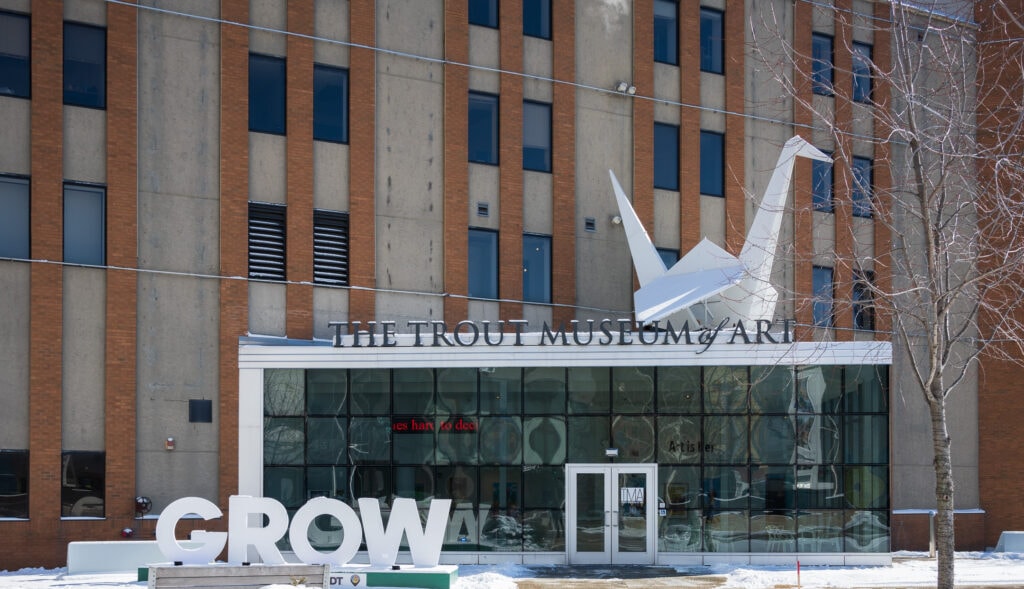 Unleash Your Inner Art Critic
Trout Museum of Art
Located at the Houdini Plaza in Downtown Appleton, the Trout Museum of Art houses diverse traveling exhibits as well as the works of artists-in-residence and items drawn from the personal collection of Dr. Monroe E. and Sandra Trout.
The 150-piece permanent art collection is broad-based, global in scope, and covers over 400 years. Current exhibits are wide-ranging, from a look at artwork created for The Simpsons cartoon to an ongoing Art Is Her series promoting the work of female-identifying artists.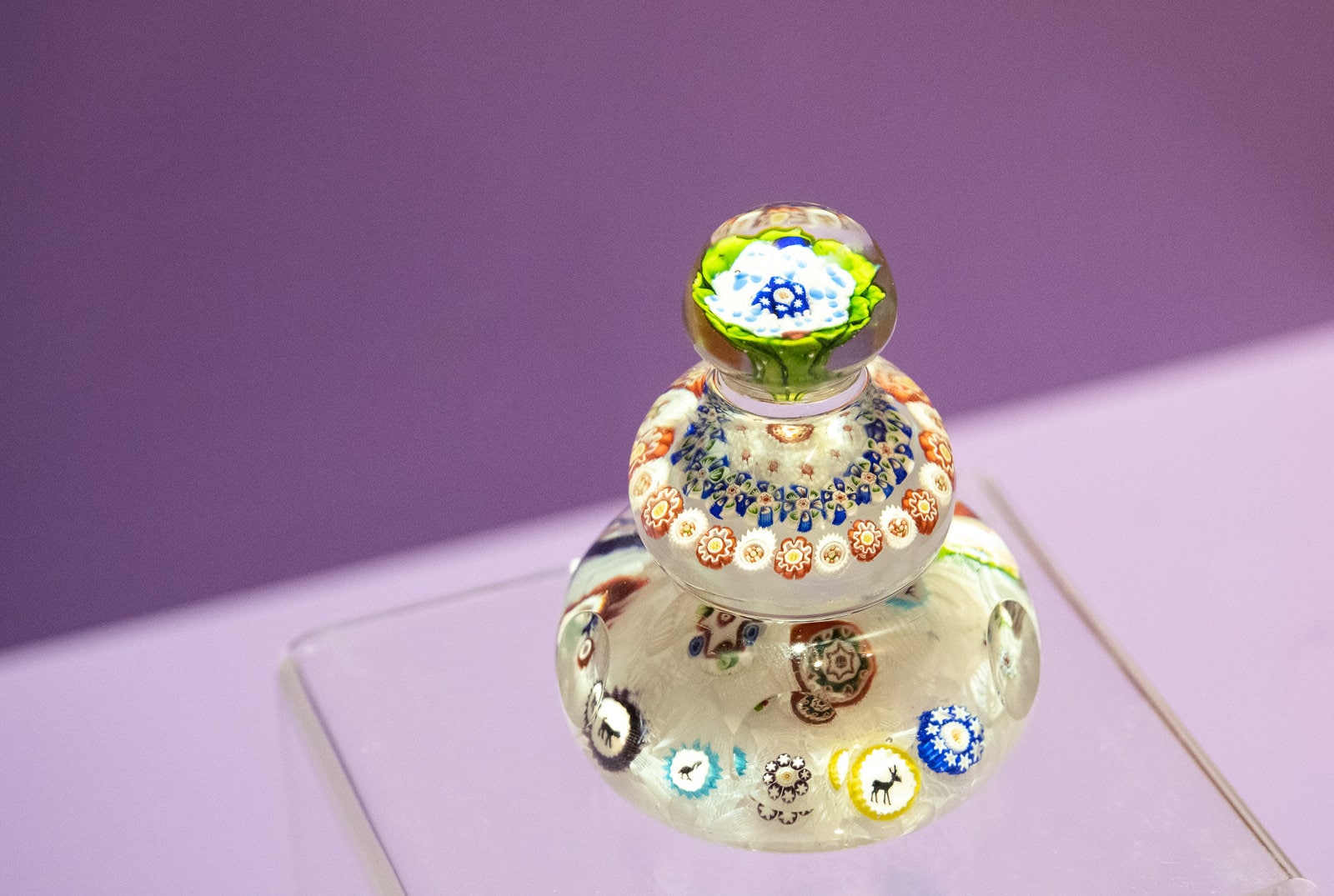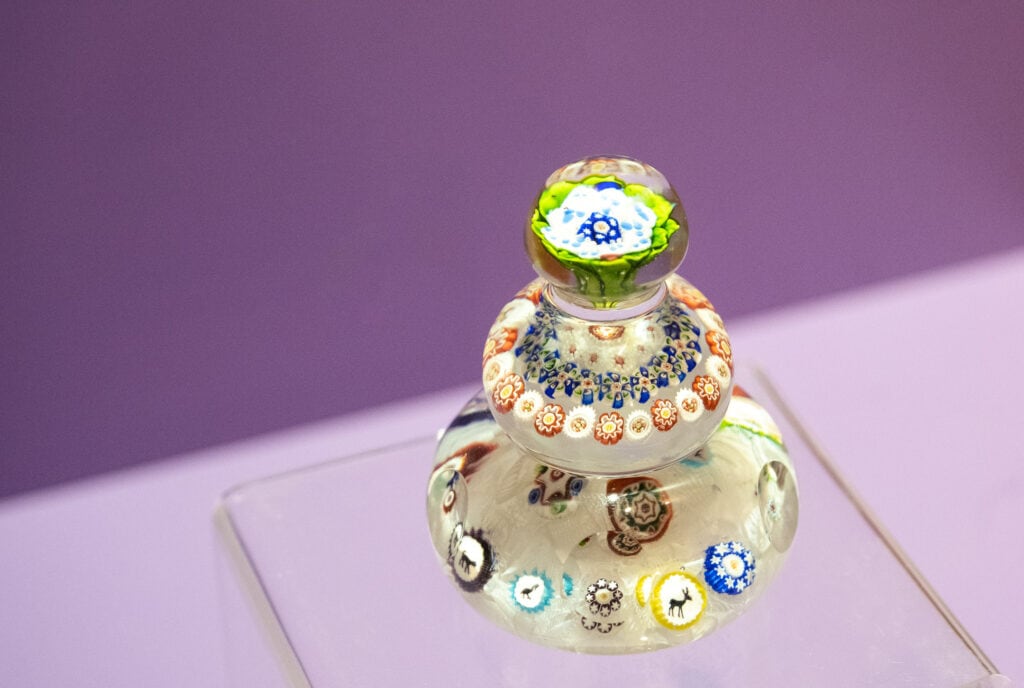 Bergstrom Mahler Museum of Glass
Born in Ithaca, New York, in the heart of the Corning Glass country, Evangeline Bergstrom became fascinated by paperweights. That early interest led to a lifelong passion for collecting antique paperweights, including many by Baccarat and other fine European glasshouses.
From that genesis, the original museum opened in 1953, and over time came to include a notable contemporary glass collection. The permanent collection as well as traveling exhibits are shown in the original Tudor home-turned-museum facing Riverside Park. Admission is free, donations are welcome.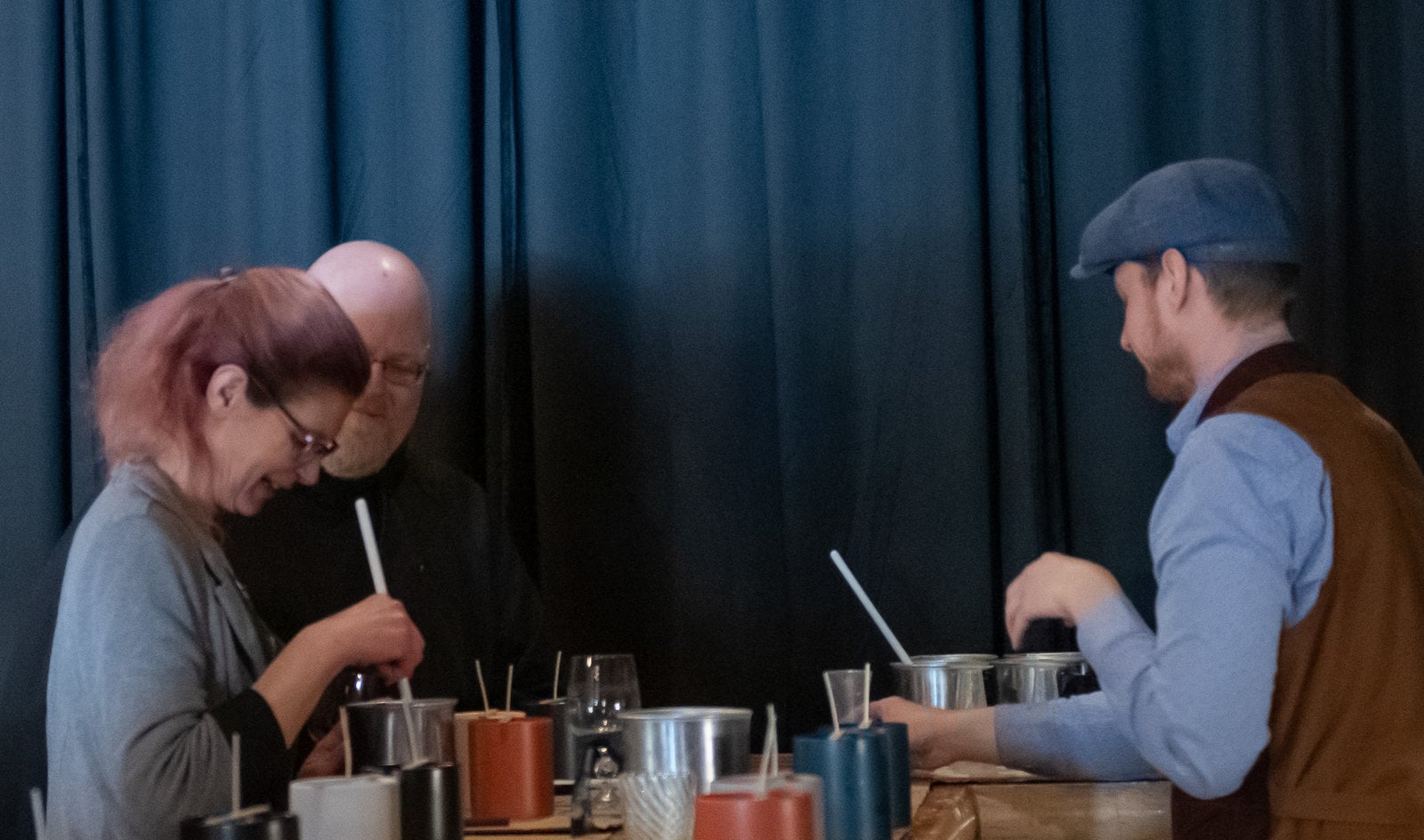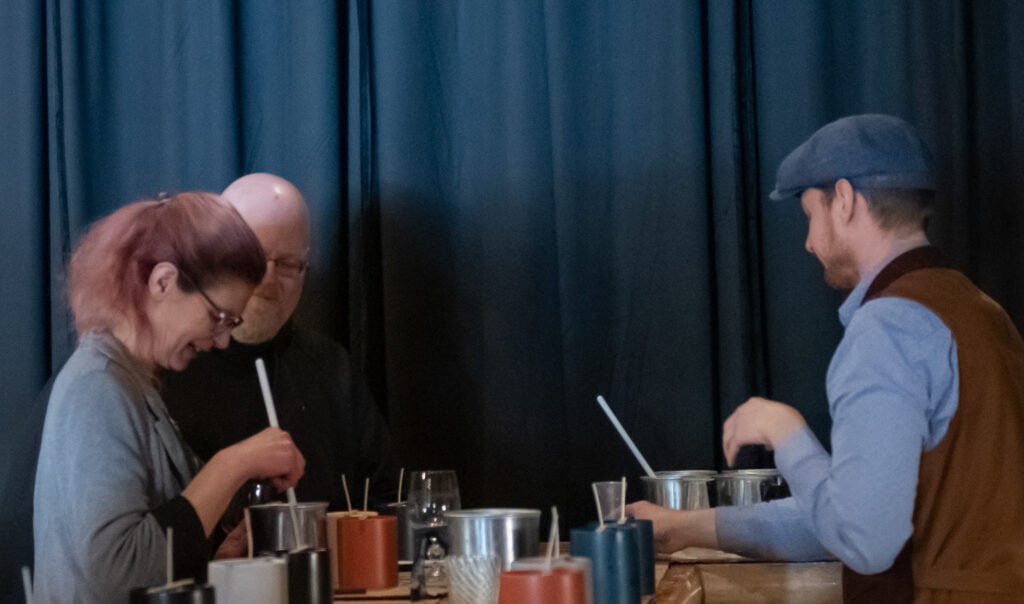 DIY – Make A Memory
Visitors can make their own fragrant candles at the candle bar in Eclectic Candle any time the Downtown Appleton shop is open, or they can plan a private party. The weekend that we visited there was a Candle and Brunch event, catered by the Copper Rock Coffee House, with bottomless Mimosas. Check the site listings for other special events.
Walk-ins are welcome at the workshop in Downtown Appleton where guests can paint pottery or craft mosaics and/or glass-fused keepsakes. Warning – Items may take 10-14 to be available for pick up.
Sip wine or beer while painting a masterpiece. The Appleton location of Pinot's Palette regularly schedules a variety of events from painting your pet to crafting a glow-in-the-dark Black Light psychedelic trip.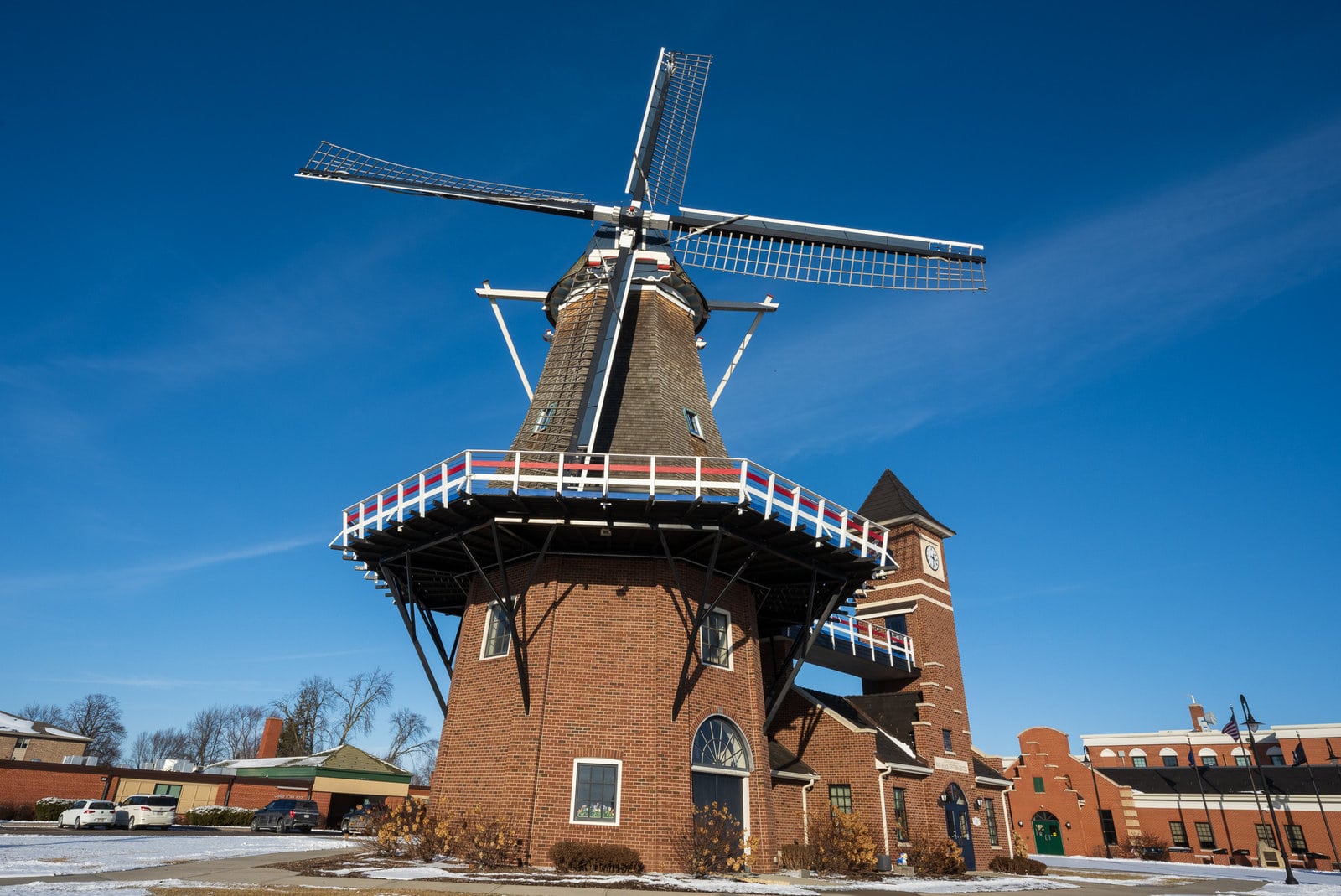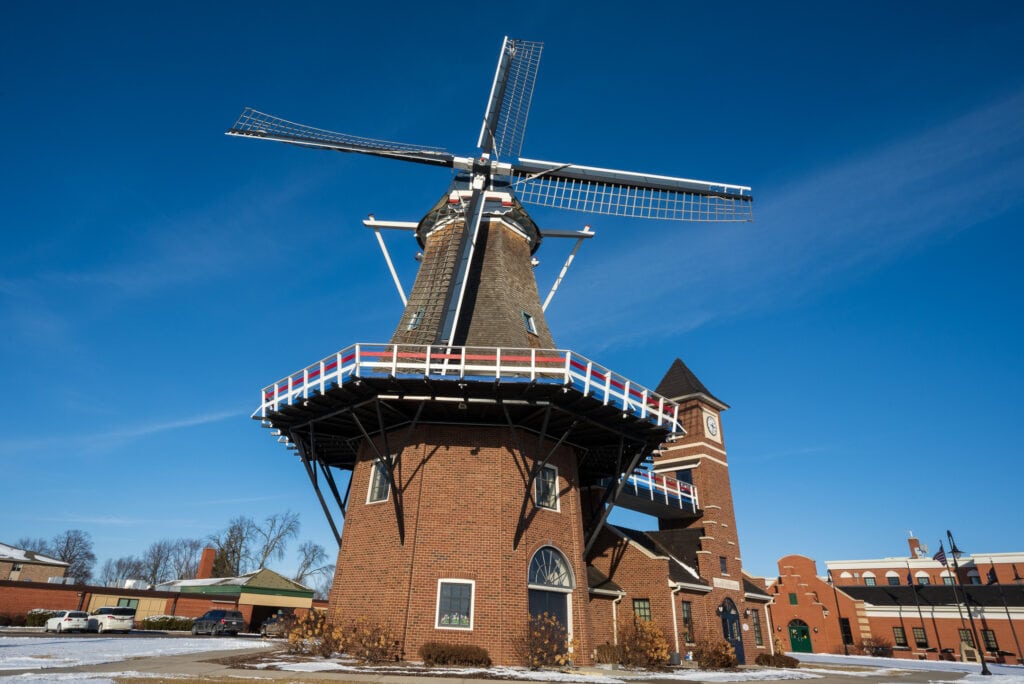 Tour A Roadside Attraction – The Little Chute Windmill
In Little Chute, WI, another of the Fox Cities communities, you can tour the Little Chute Windmill. Originally built in the Netherlands before being disassembled and shipped to Wisconsin, the 100-foot structure is a fully functional Dutch windmill modeled on an 1850s design. Tours are open seasonally from April to October.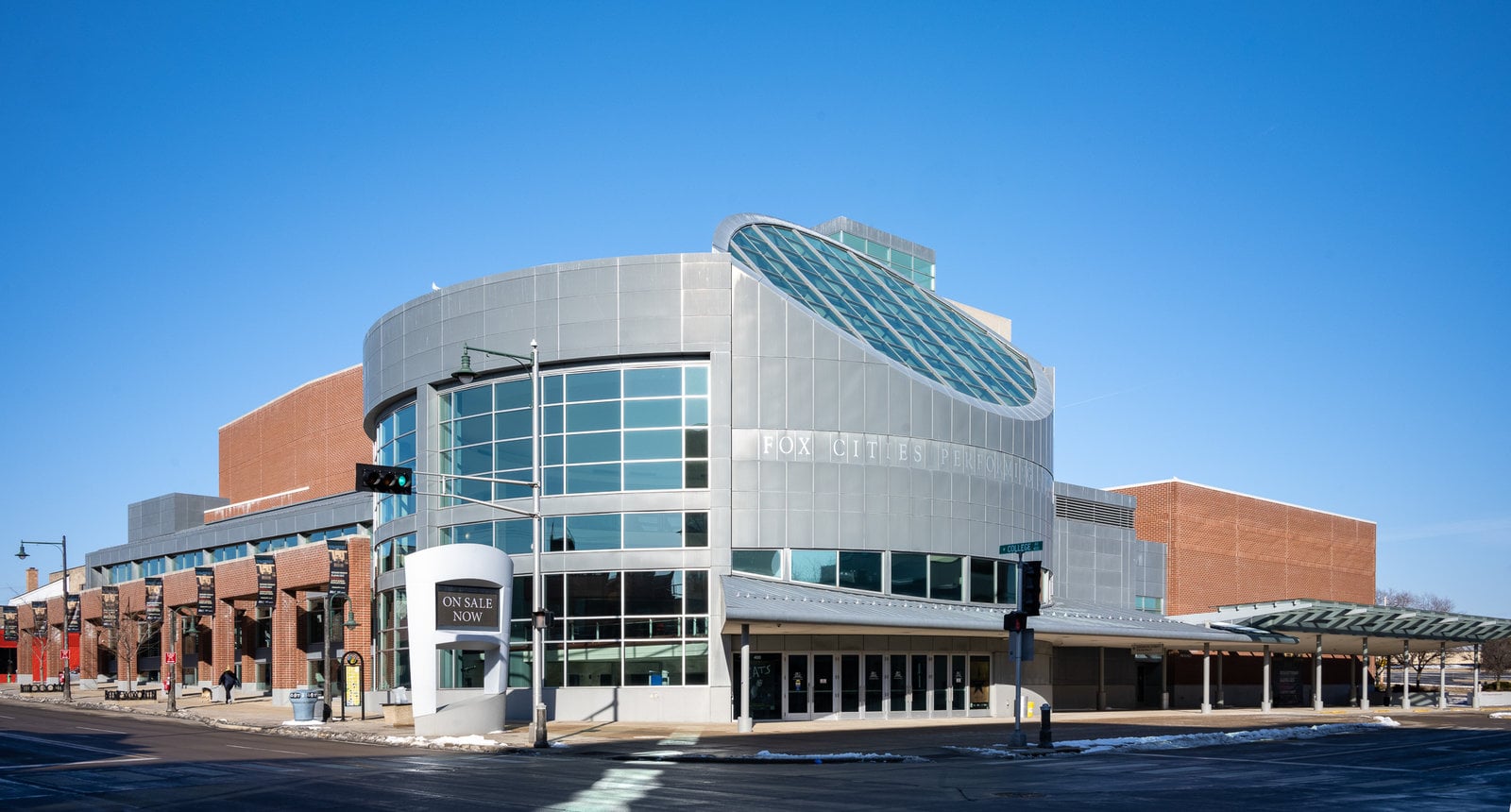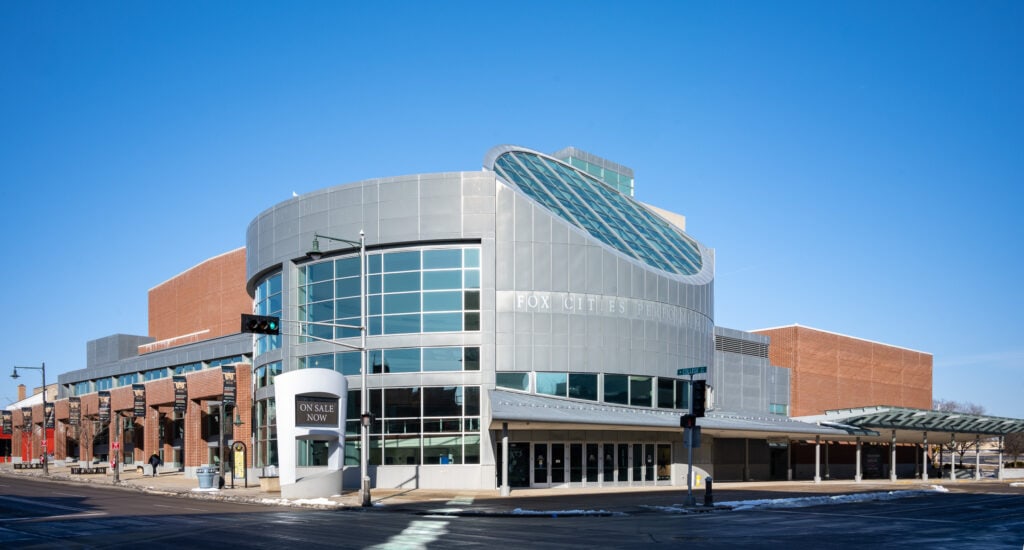 See A Broadway Musical
One of the best places to see a Broadway show isn't on Broadway at all. Because the Fox Cities Performing Arts Center fan base is so passionate about performances, and reliably fills seats, it's able to schedule shows like the upcoming Hamilton or To Kill A Mockingbird long before even other major cities.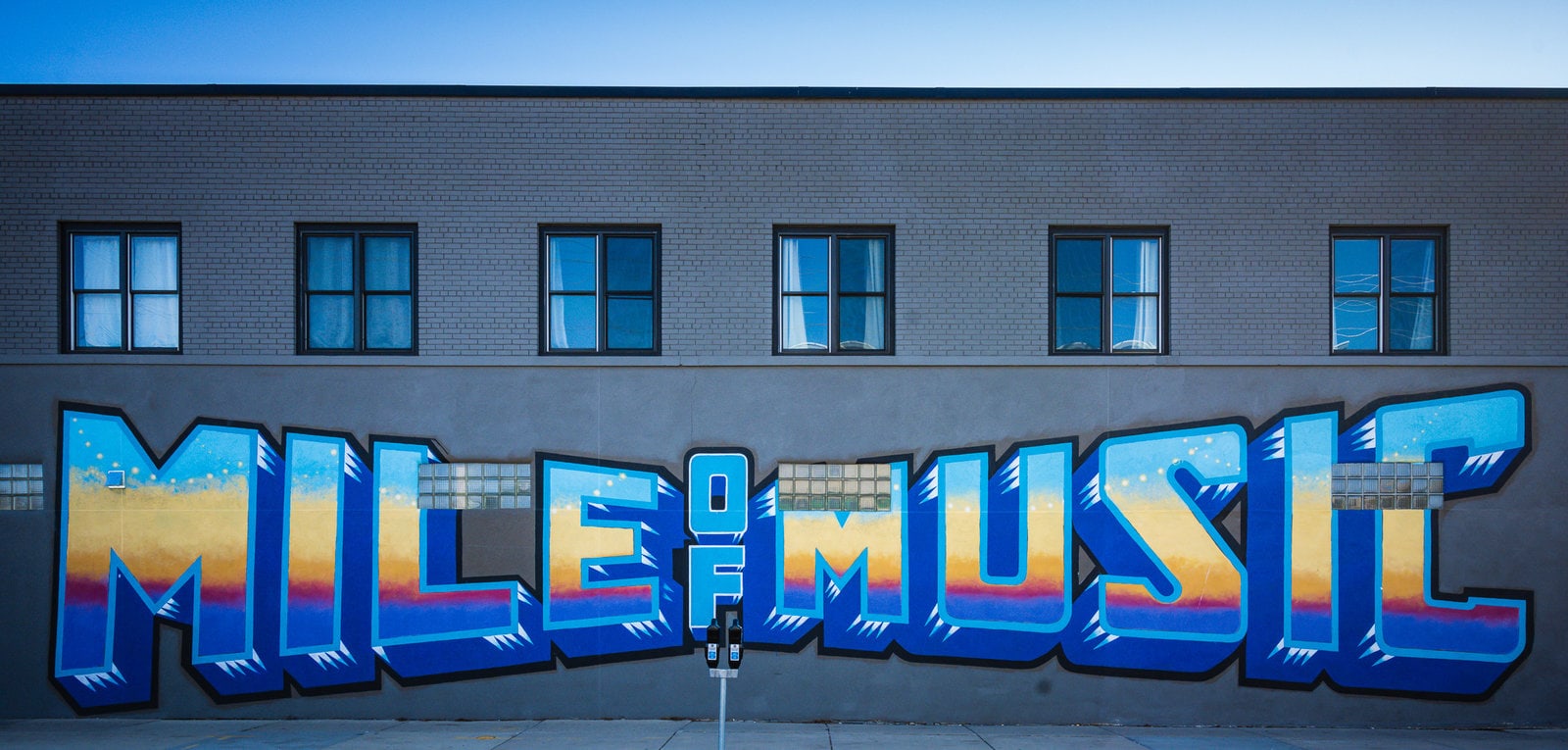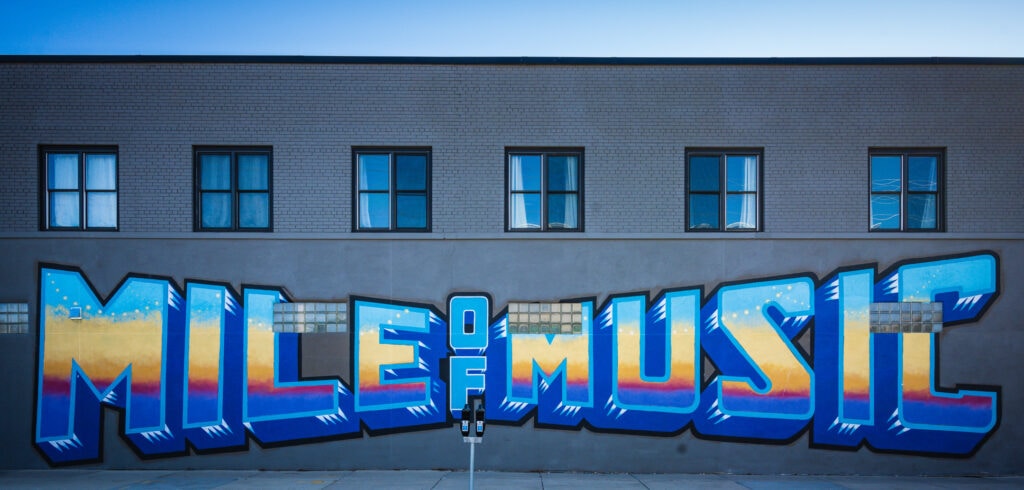 Catch An Indie Music Sensation
When artists love what they do, it shows. And Downtown Appleton knows how to appreciate budding musical talent. For four days in August, the Mile of Music Festival brings hundreds of independent music acts to this 1-mile-long corner of the Fox Cities to perform live, for free, in front of 80,000+ concertgoers.
Bands perform on the street, in bars and coffee houses, and even on a rolling bus.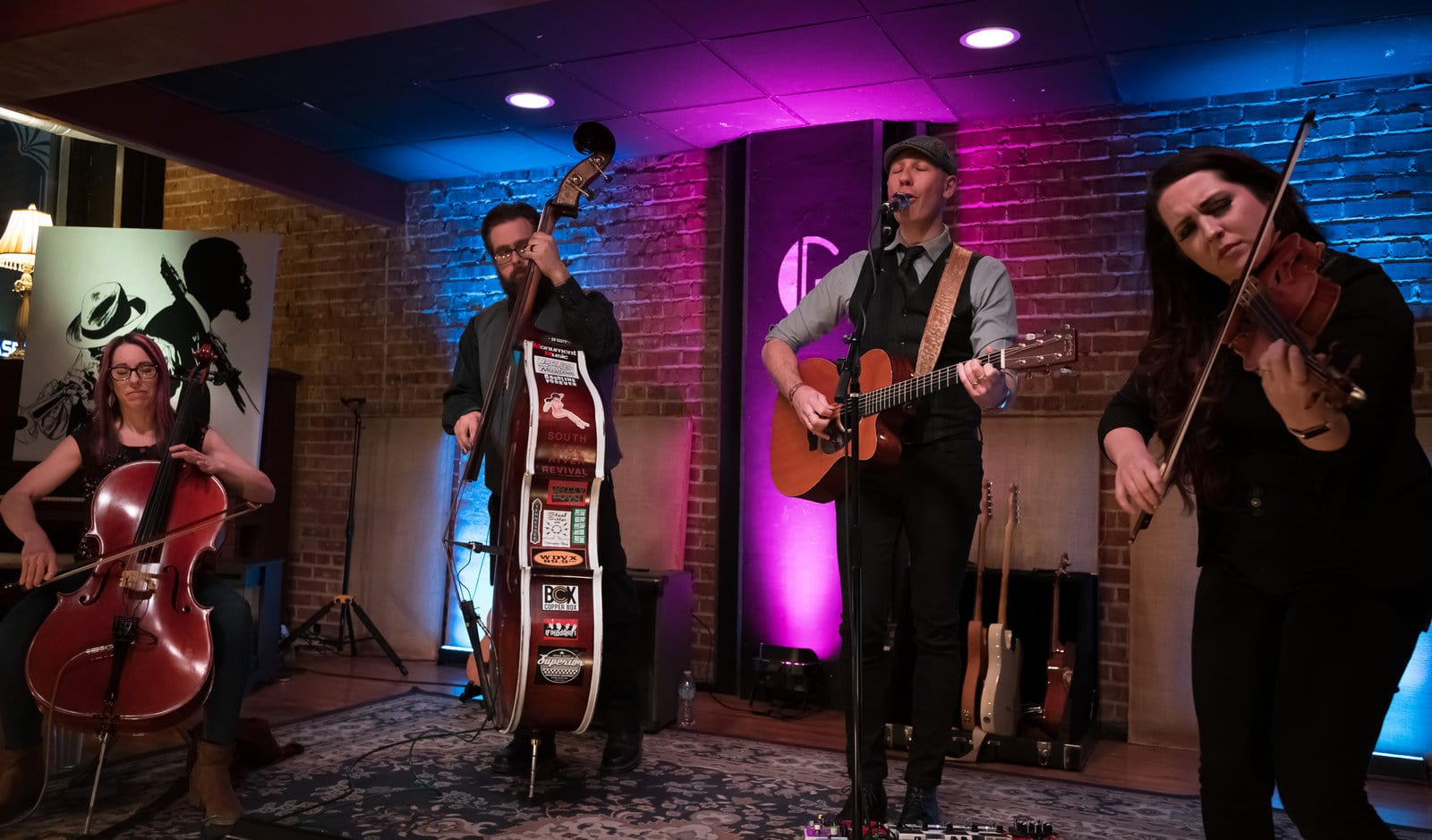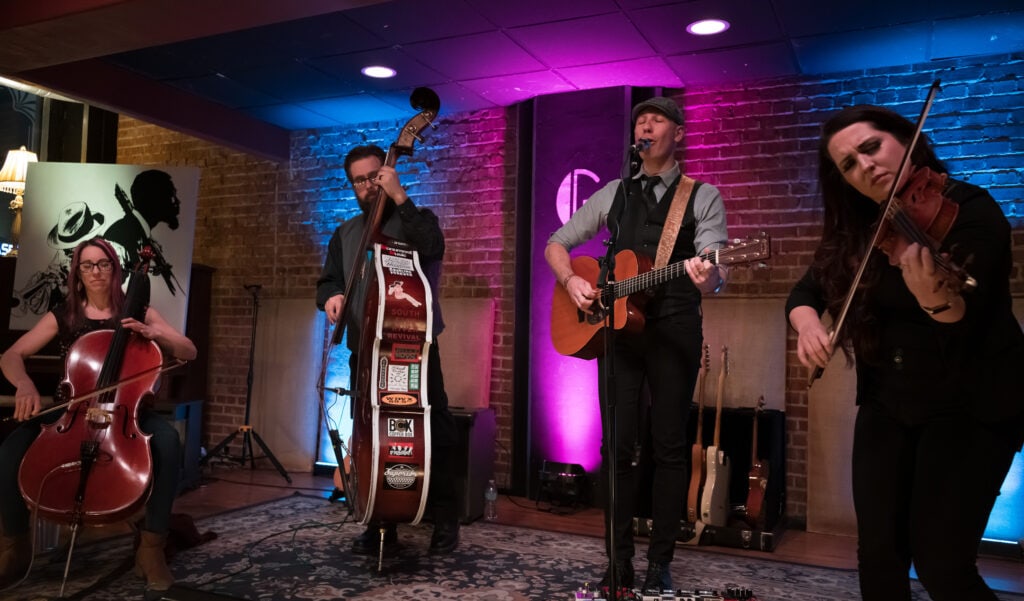 It's truly a love fest, and a labor of love, for the Mile of Music co-founder Dave Willems and his team. And because he believes in this so much, he also took over Gibson Community Music Hall so that there would be a venue to bring indie talent like The Belle Weather indie rock band year-round.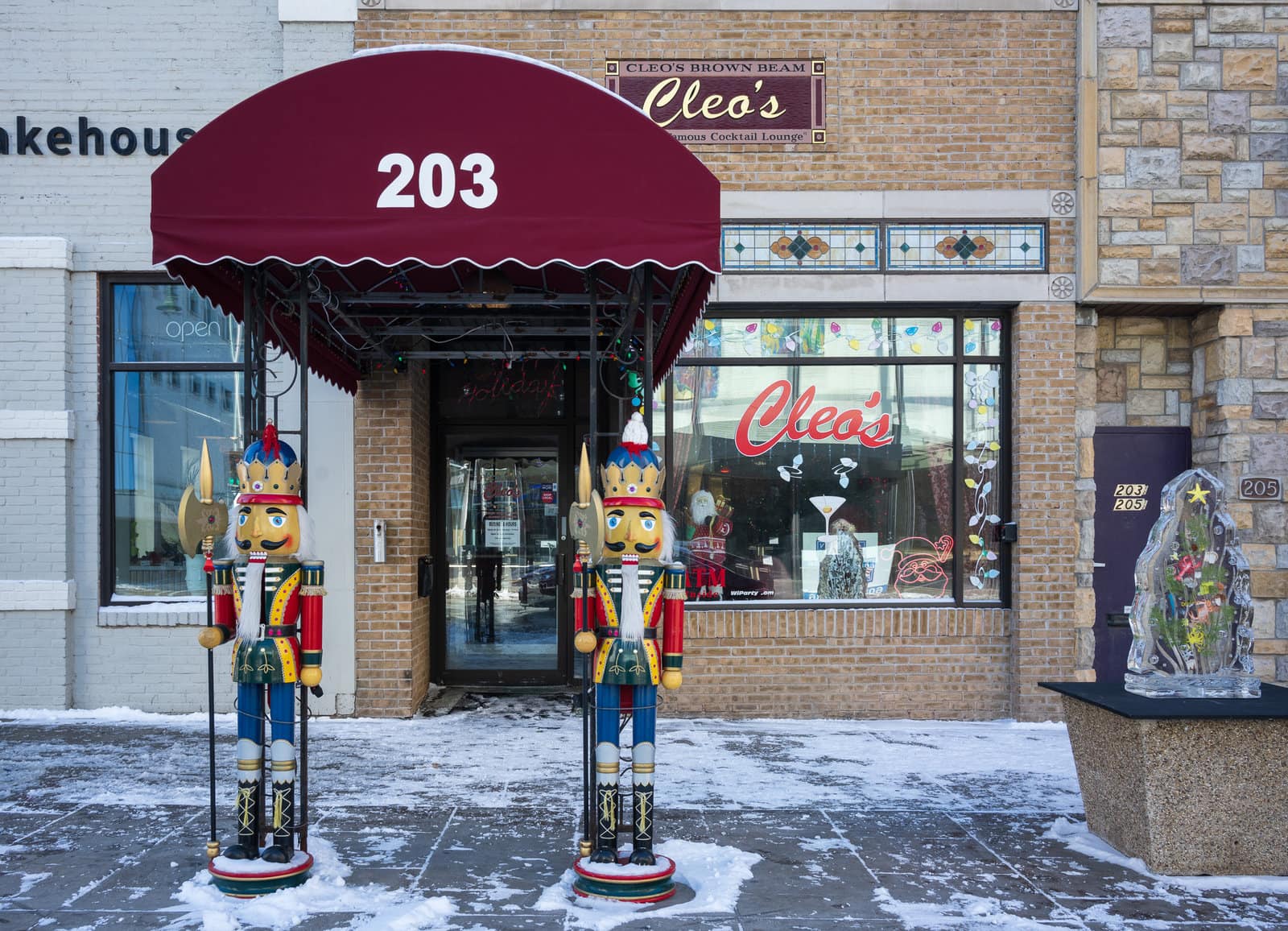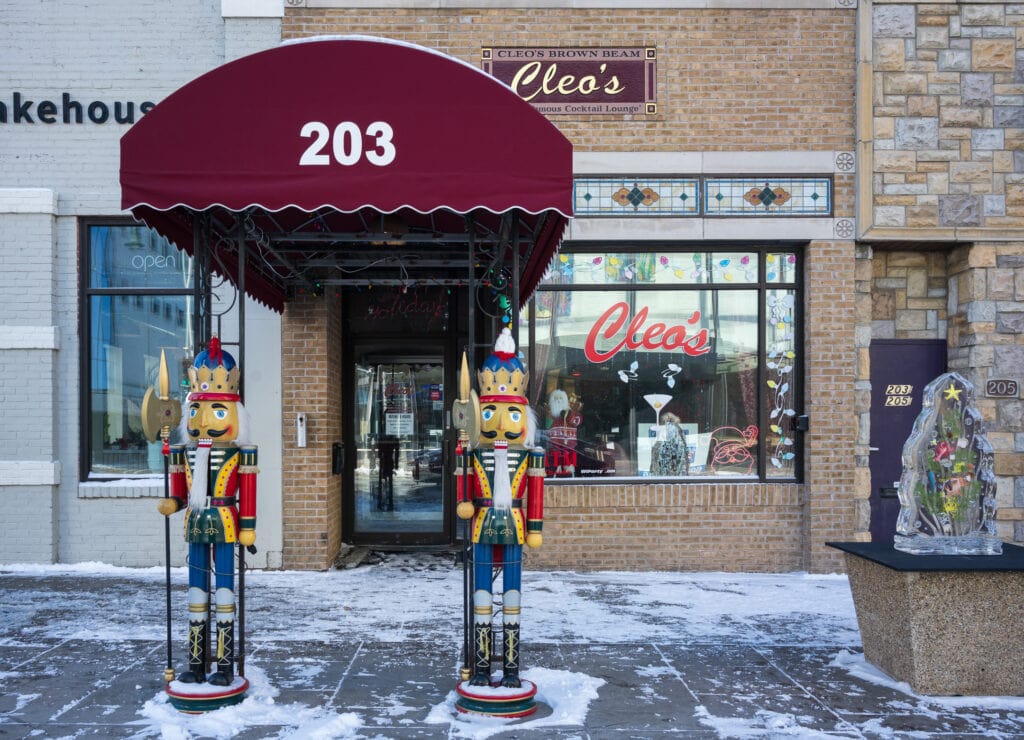 Grab A Drink At Appleton WI Bars
As of 2023, Appleton WI no longer holds 24/7 Wall St.'s title of Drunkest City In America. It's been demoted the Number 3 spot, after Green Bay and Eau Claire, Wisconsin. Still, there is an impressive number of bars concentrated in Downtown Appleton.
A Wedding Tradition
Perhaps because of this concentration, a tradition was born where wedding parties would end the night on a pub crawl after (and sometimes before) the reception.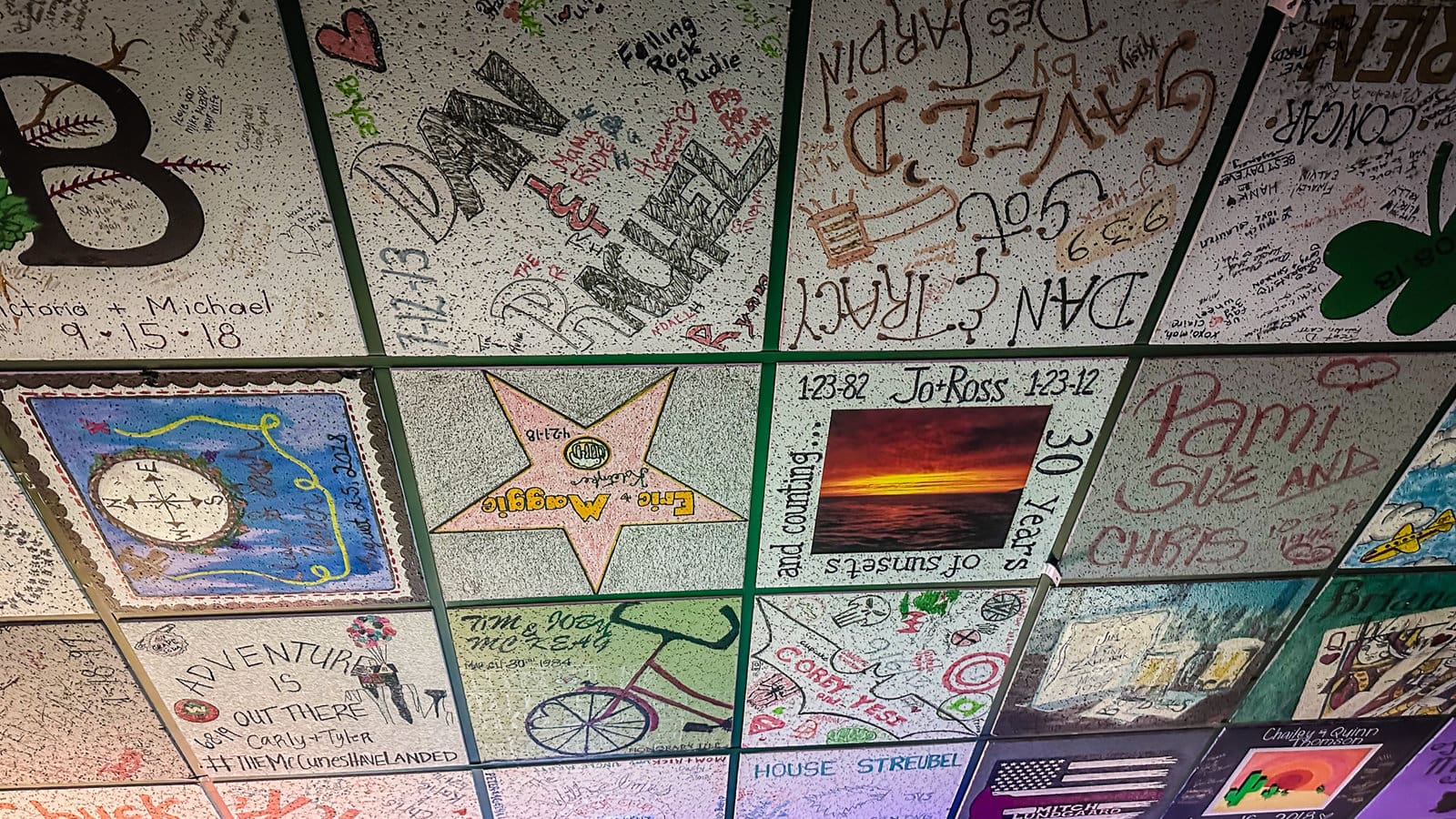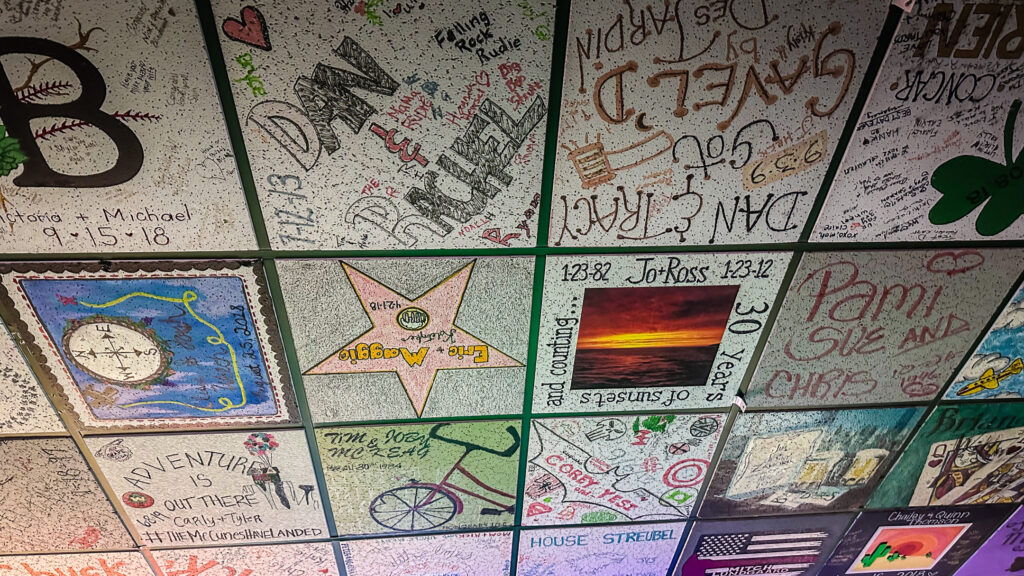 At Basil's Pub, one of the few venues still serving food when other restaurants close for the night, the tradition is immortalized as wedding couples are invited to decorate ceiling tiles.
Wisconsin has a couple of interesting drinking customs. For example, when you order a Bloody Mary at a Wisconsin brunch, you don't just get the garnished drink. You also get a mini beer chaser.
Old Fashioned Passport
And as mentioned above, an Old Fashioned cocktail in Wisconsin is unlike any Old Fashioned elsewhere. To celebrate this, and also find discounted deals on the beverage at 101+ participating locations across the state, you can order the Old Fashioned Passport.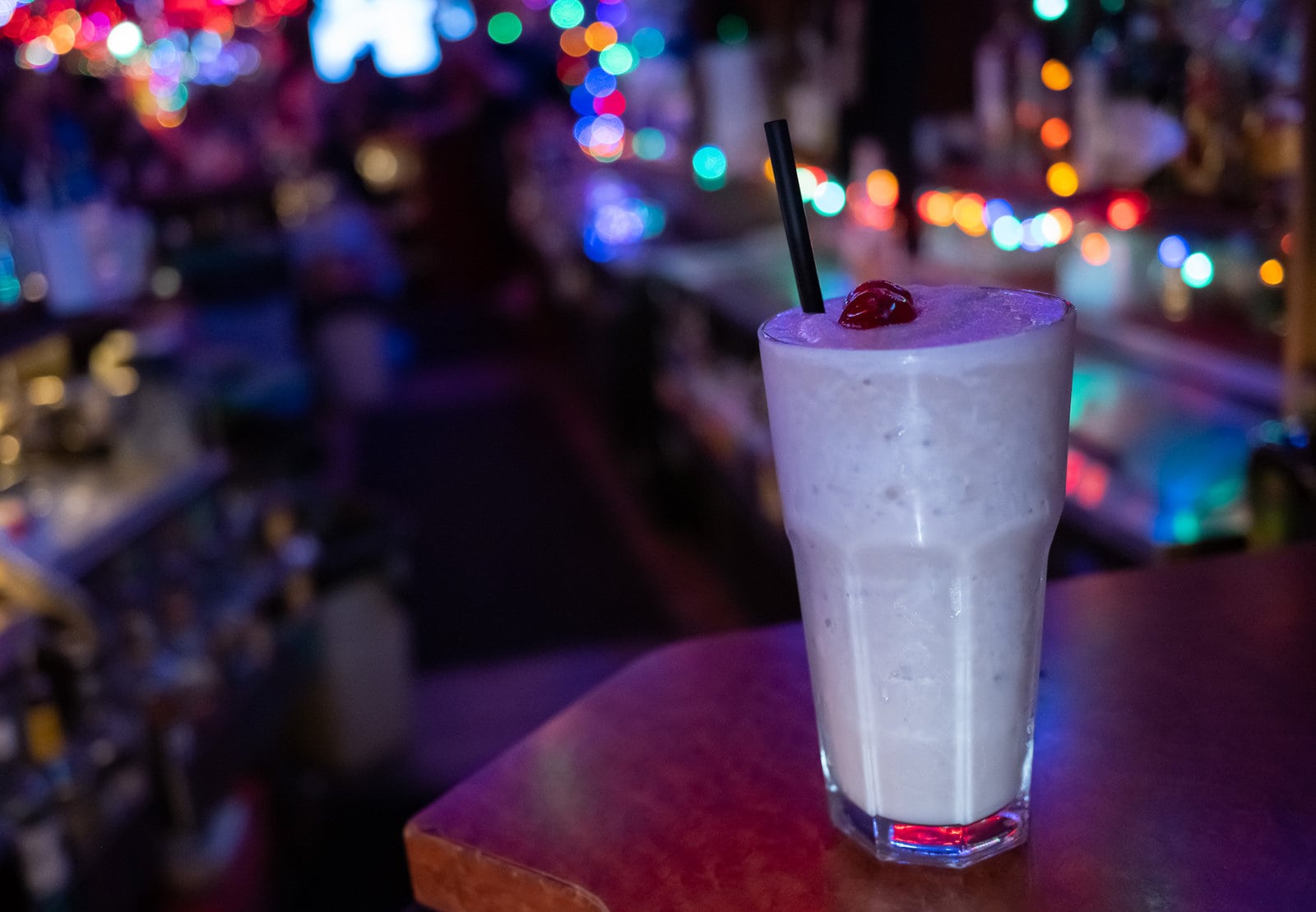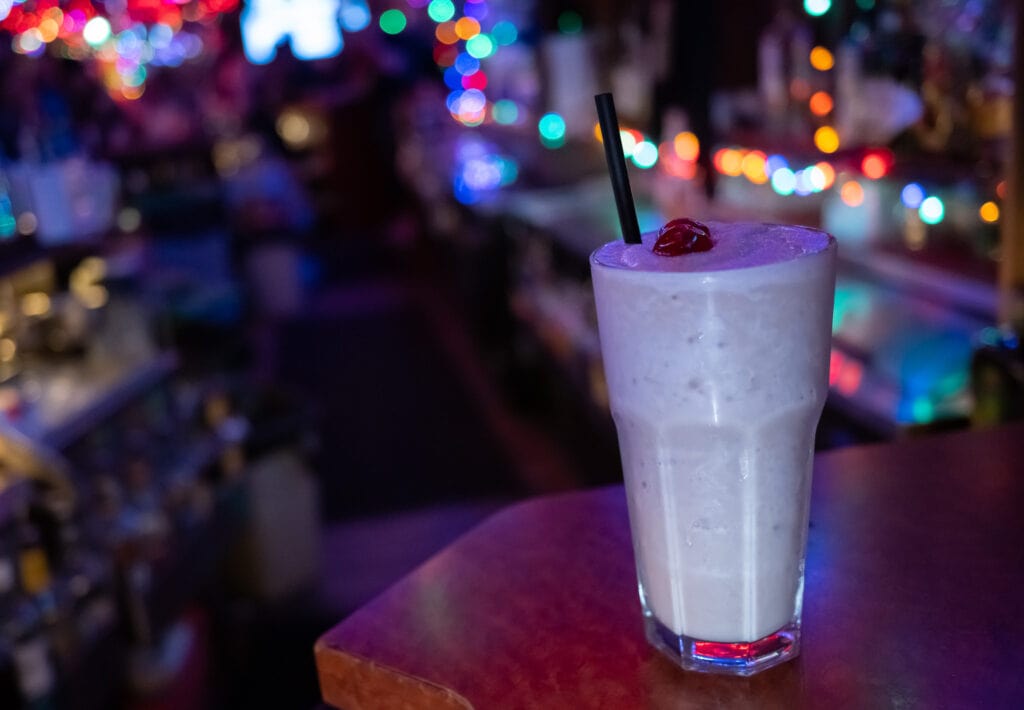 Possibly the most unusual of Appleton venues is Cleo's, a holiday-themed bar. Every square inch is covered with multi-colored lights, sparkly tinsel garlands, and about a zillion Christmas ornaments. The place is guaranteed to put a smile on your face, even before a sip of their signature drink, a White-Russian-inspired Dirty Snowball.
More local-recommended Fox Cities drinking establishments include: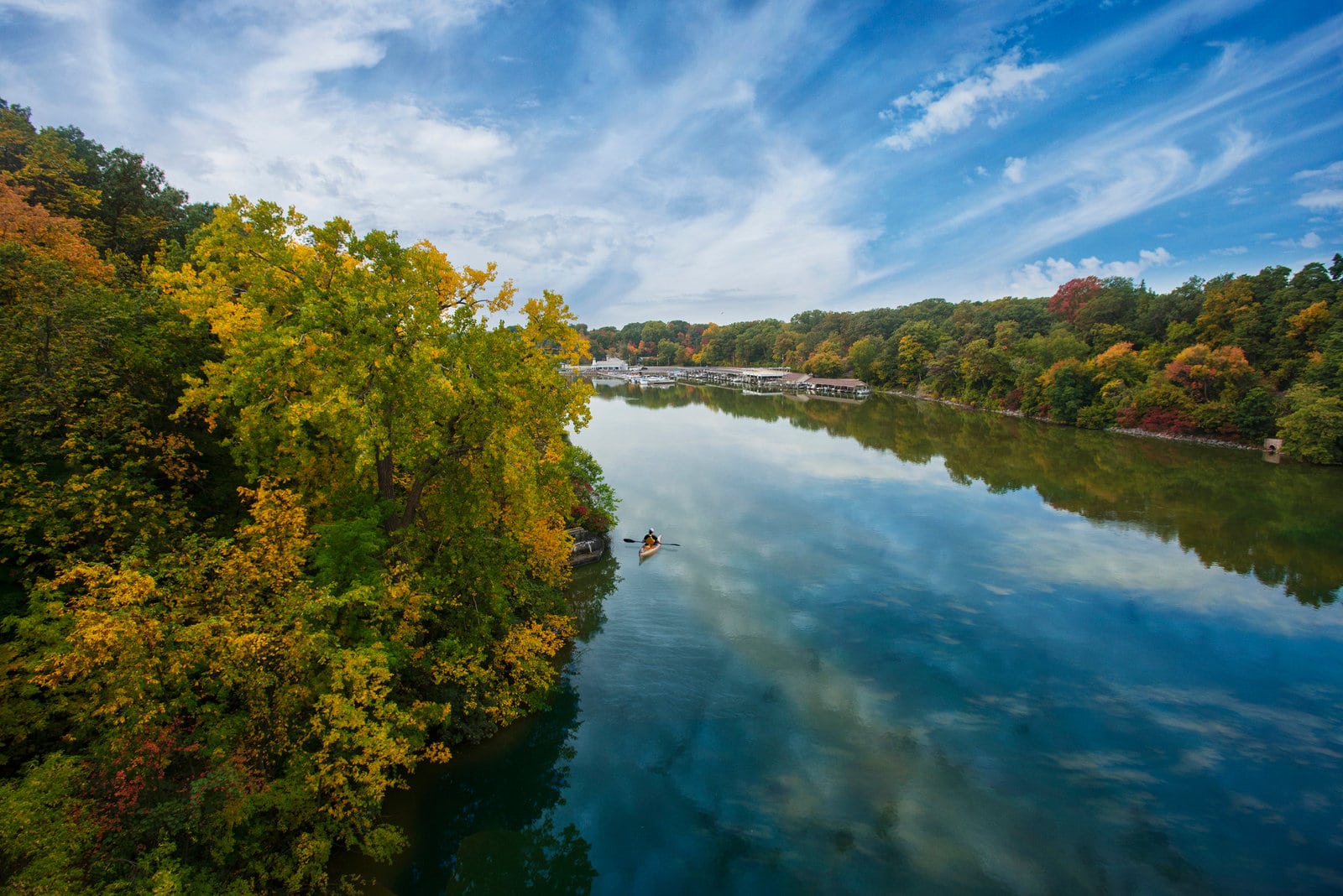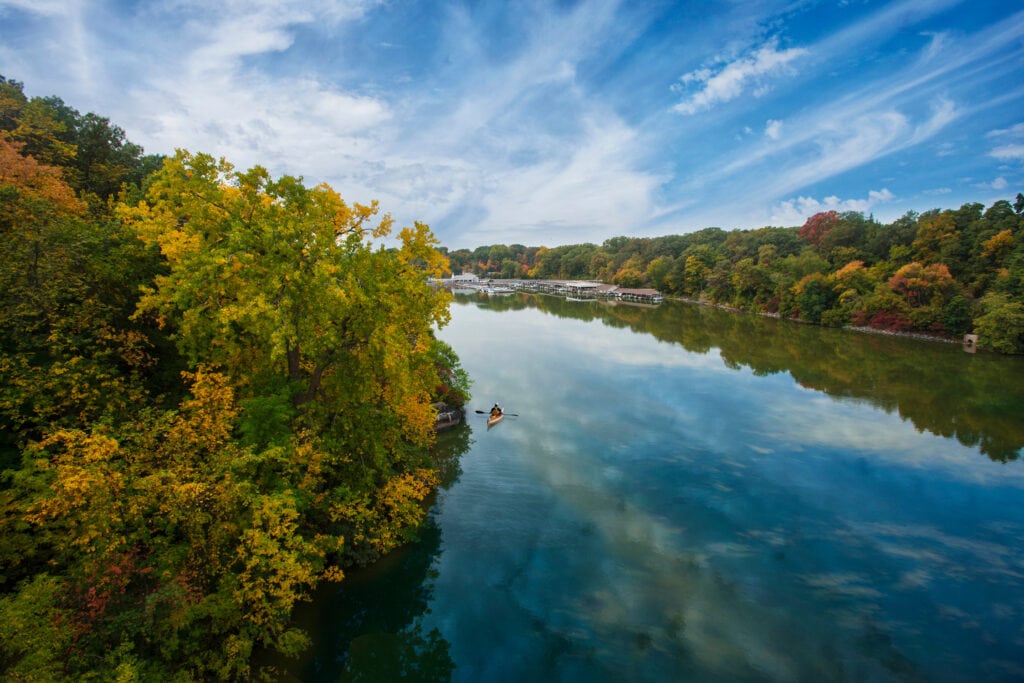 Outdoor Recreation In The Fox Cities
Folks in the Fox Cities have access to great outdoor activities any time of year. In the winter, there are outdoor skating rinks as well as indoor ice rinks like the one at Appleton Memorial Park.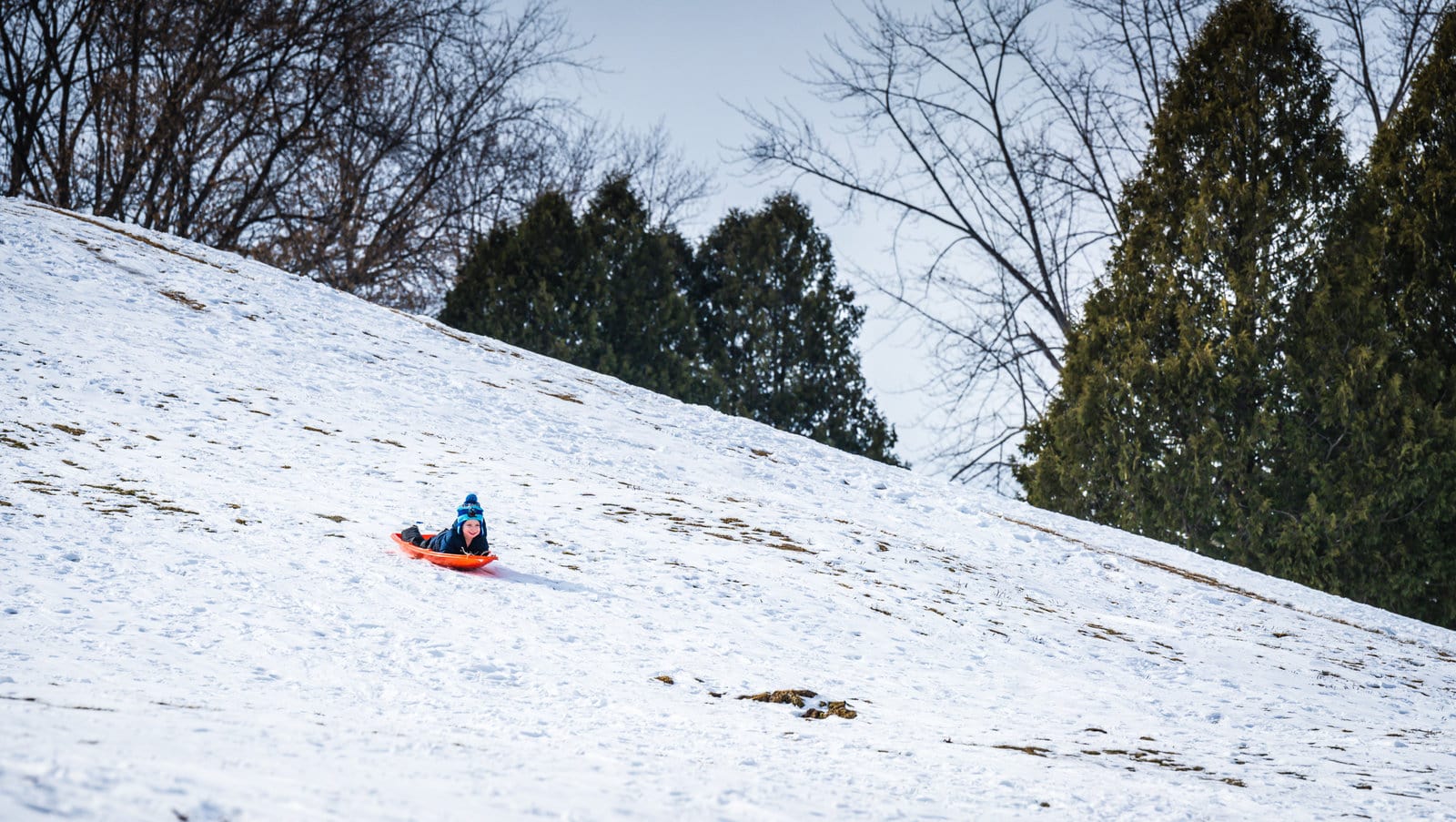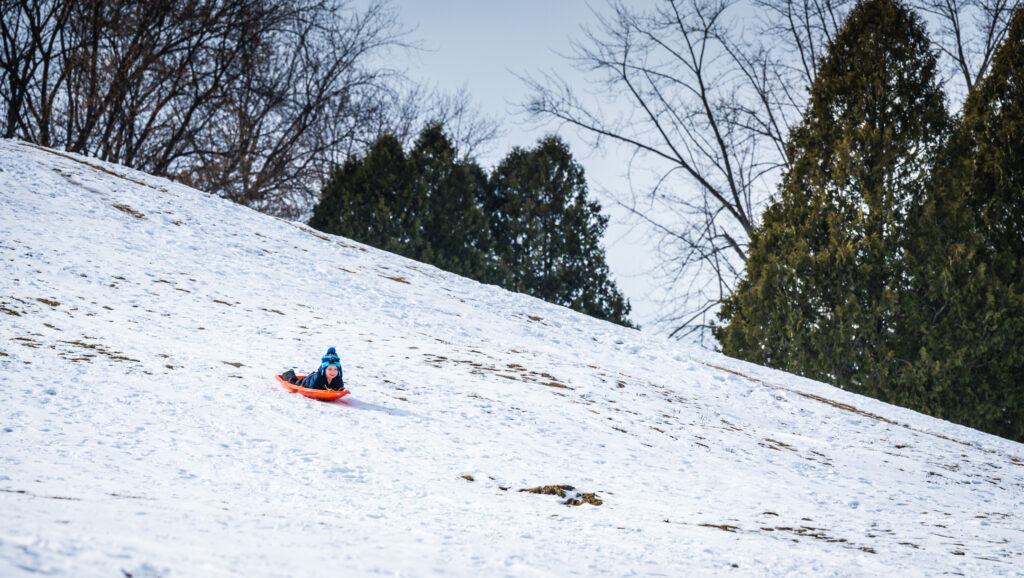 Outdoor Fun In The Snow
Everyone has their own favorite Appleton sledding hill, but we were very impressed by the steep slope at Plamann County Park.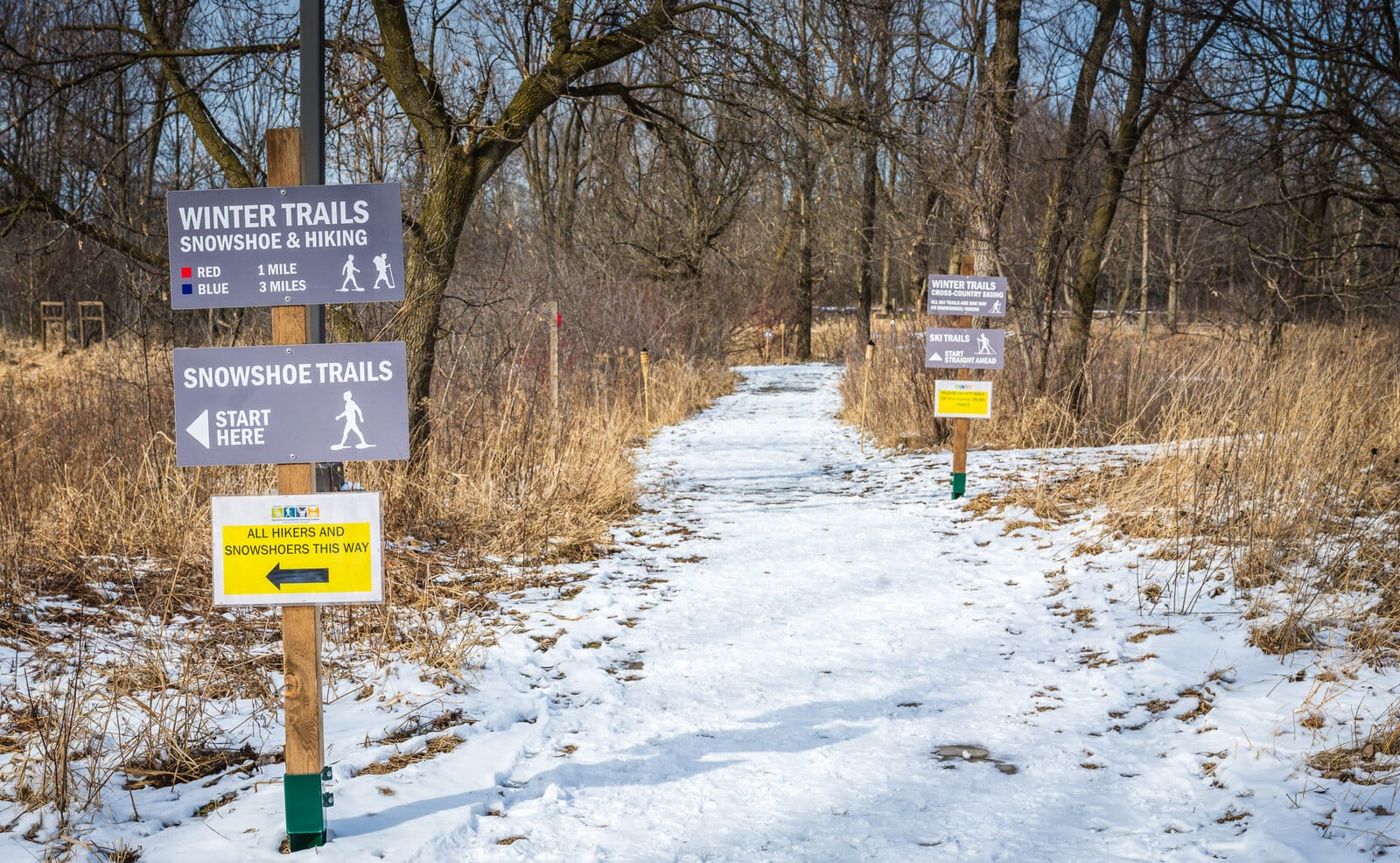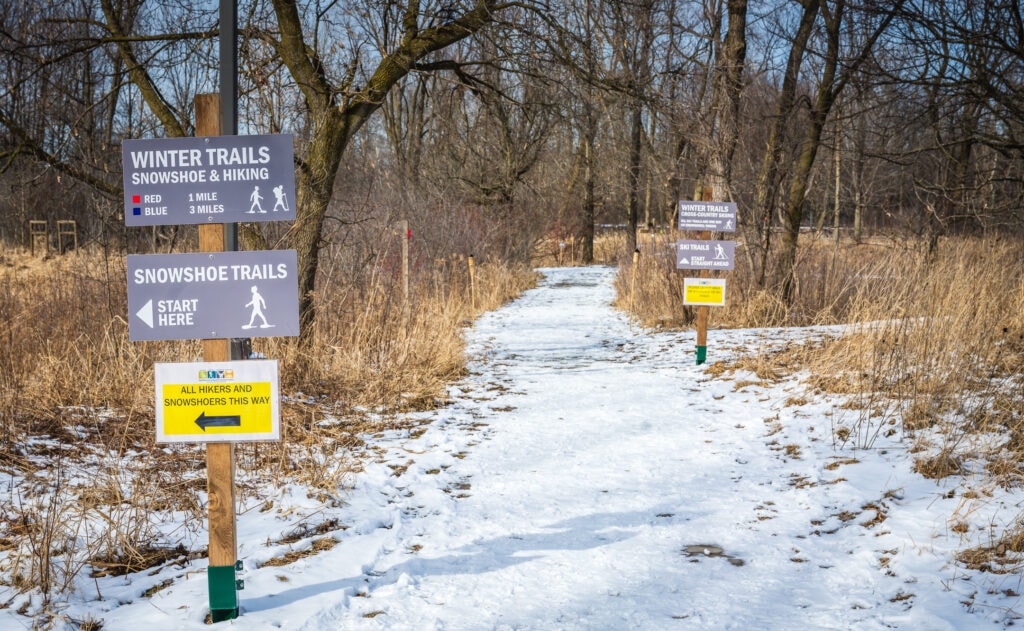 Of course, hiking can be done any time of year, but a base of snow also allows for snowshoeing and cross-country skiing. Some parks such as those at the Gordon Bubolz Nature Preserve or the Heckrodt Wetland Reserve offer trails for all three but it's recommended that you don't hike or snowshoe on the Nordic trails.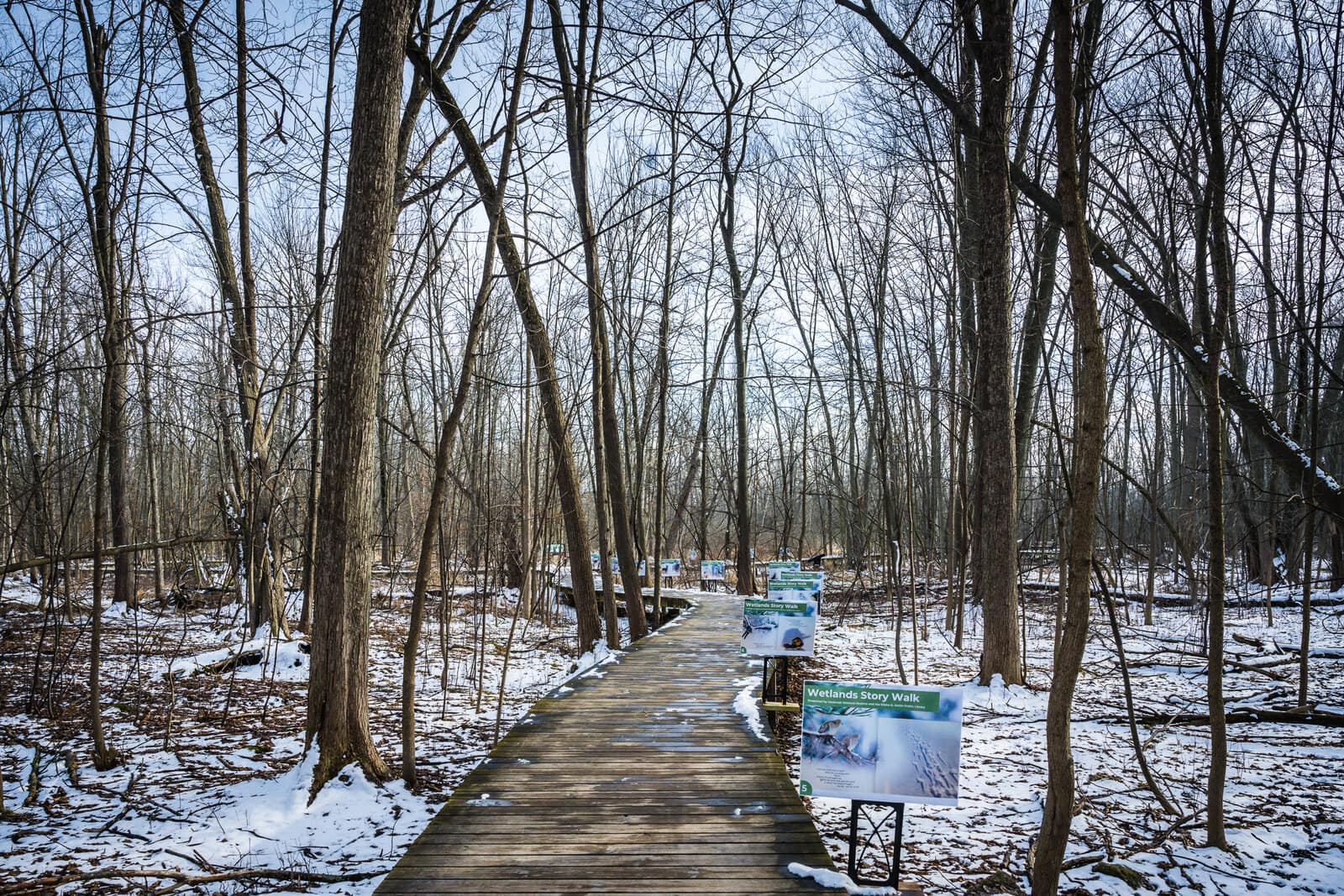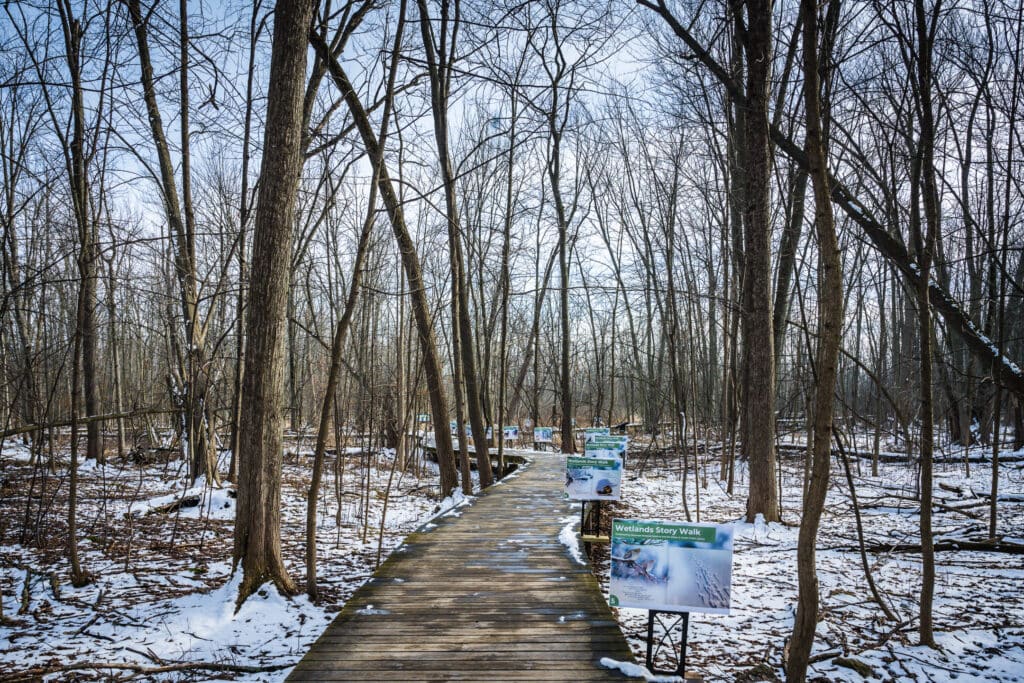 The newly opened Ariens Nordic Center not only offers lighted cross-country trails, but also has a Biathlon Range, snowshoe trails, a tubing hill, and a roller ski loop for year-round fitness.
Fishing, and ice fishing in winter, are serious business on Lake Winnebago or Lake Butte Des Morts.
Warm Weather Recreation
And in the warmer months, boating and kayaking are also popular activities. With three locations, Kayak Wisconsin makes it easy to get started kayaking with an app system that allows you to reserve equipment online, and unlock it on your own.
Do bear in mind that some routes, especially through the Fox River lock system, can be dangerous and for advanced kayakers only. The Fox River Kayaking Company runs guided tours and certification programs.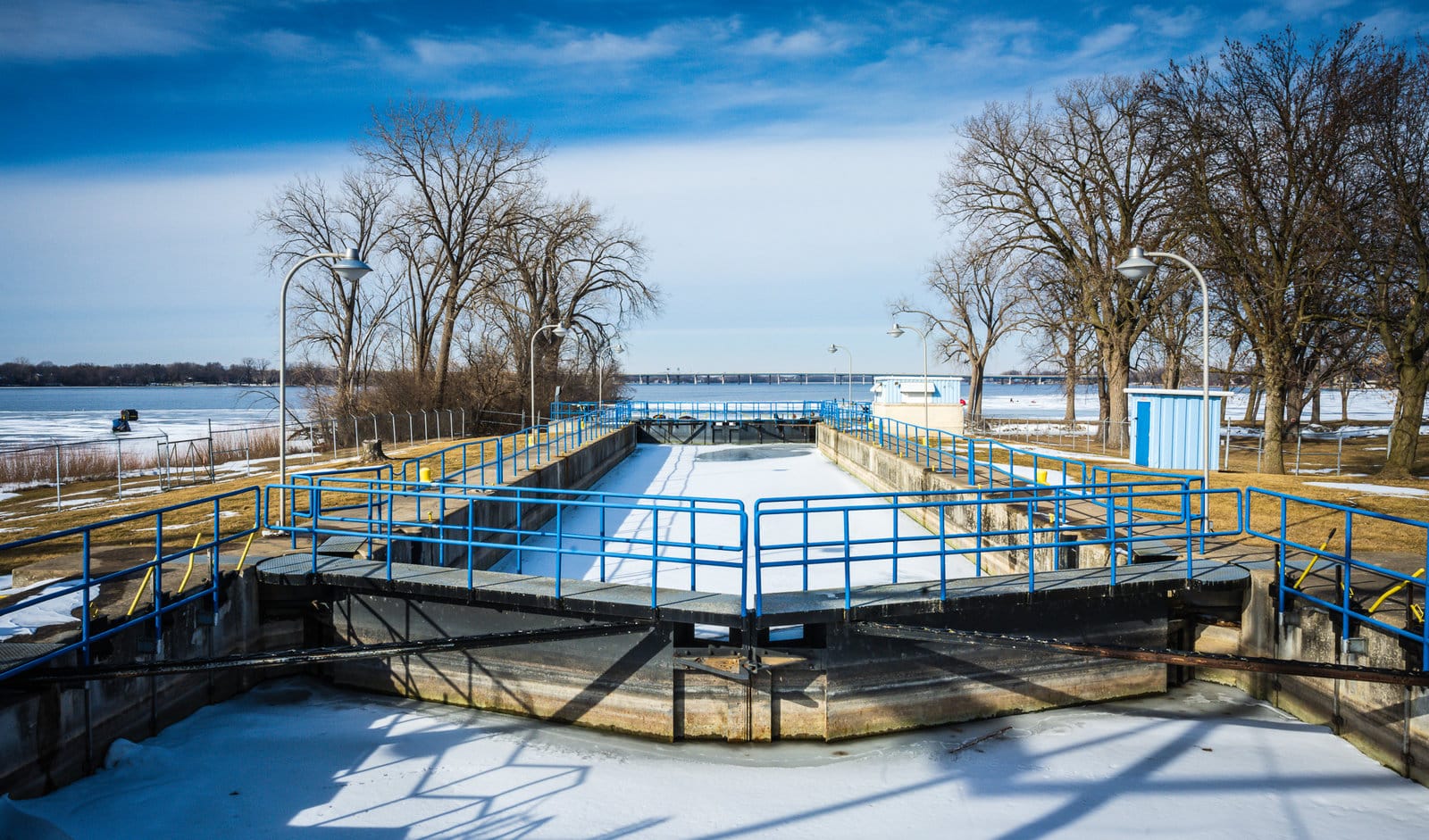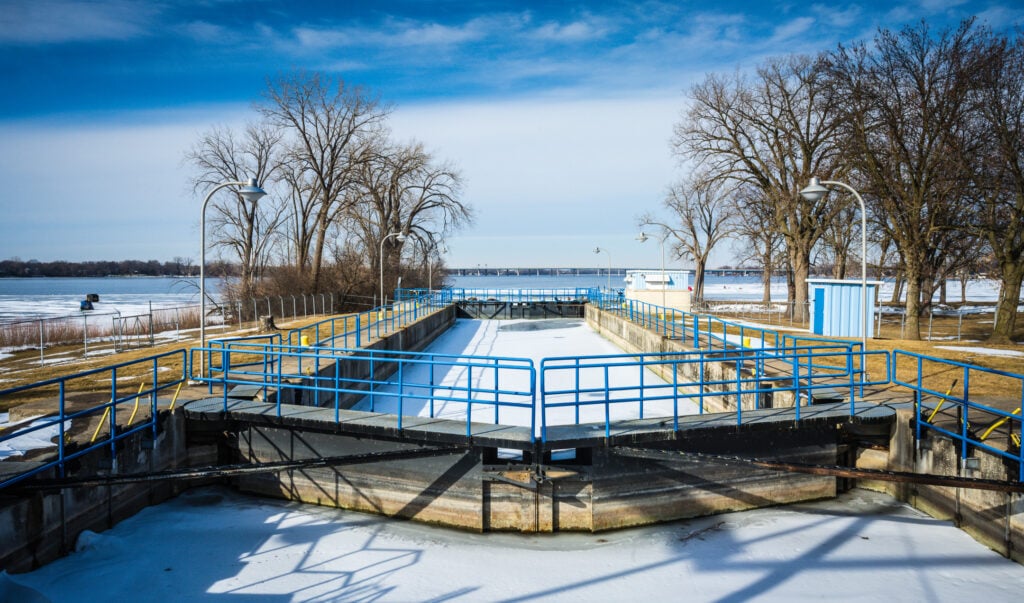 One fun bike trail, that also serves as a great walking trail year-round, is the 3.5-mile Loop The Little Lake Trail. If you begin in Neenah, you can park by the Menasha Lock and start out at the Menasha Trestle Bridge where you can appreciate views of James Island. (See the image at top of this article.)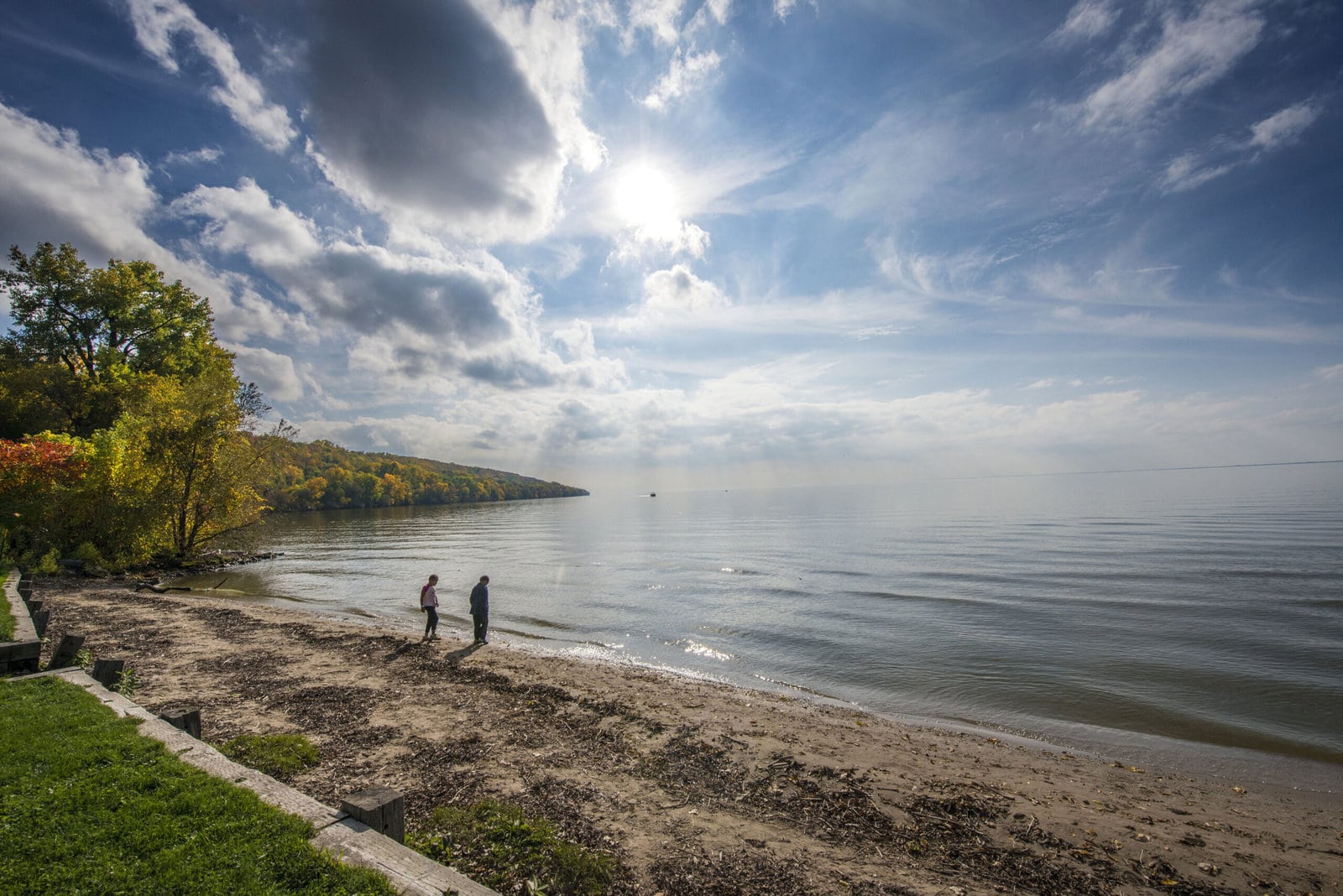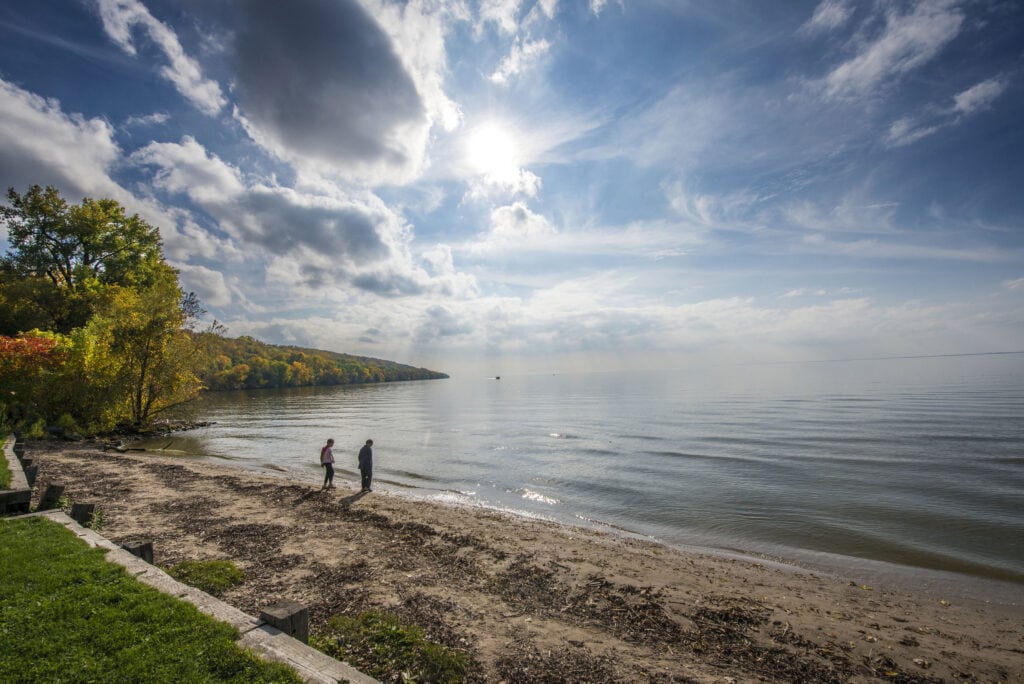 To find all the above, and even more, ways to be active outdoors, head to High Cliff State Park. There, you can find beaches along the shoreline of Lake Winnebago, prairie fields around a Butterfly Pond, and scenic overlooks along the cliffs of the Niagara Escarpment. As for recreation, there are trails for skis, bikes, horses, and even snowmobiles (weather permitting.)
Where Is Appleton, Wisconsin?
Appleton is located in northeastern Wisconsin. It's one of about twenty communities that form the Fox Cities region located along the Fox River and Lake Winnebago. Although served by Appleton International Airport, but most visitors drive in on Interstate 41. It's a 35-minute drive from Appleton to Green Bay, on the shores of Great Lake Michigan.
Heading south, it's about a 1.5-hour drive to Milwaukee or Madison, and 3 hours to reach our romantic getaway in Chicago. Additionally, Minneapolis is just about a 5-hour drive away.