WHY GO: Provincetown MA on the tip of Cape Cod is high energy and gay in all definitions of that word. It's beautiful, fun and free-spirited; perfect for like-minded souls. Once a maritime center, and where the parched Pilgrims on the Mayflower originally landed seeking water, Provincetown began to draw actors and artists when "alternate lifestyles" were best left to edge of earth locales.  Now, it seems, everyone – gay or straight – wants in on the action.  If it's your wish to rub elbows and other body parts with as many people as possible, come "in-season" – end of Spring to early Fall.  Otherwise, enjoy Provincetown's quiet history and world famous dunes when the weather chills.
Things To Do In Provincetown MA
CLIMB: Pilgrim Monument For an overview of Provincetown and much of the Cape, there's no better perspective than from the top of the Pilgrim Monument, the tallest all-granite structure in the United States completed in 1910 to commemorate the Mayflower's 102 passengers who took solace on these shores. After climbing the 252 foot tower (116 steps connecting 60 ramps), spend some time in the "Grandma's attic of P'Town," the adjoining Provincetown Museum, which highlights early Native American life, Pilgrim days, whaling and fishing industries and the influx of artists. A Mayflower replica, Provincetown's first horse-drawn fire engine and mock-ups of both a Captain's home and ship Captain's Quarters take center stage. But allow time to poke around for little gems, like the photograph of a blackface Eugene O'Neil who appeared as a "Negro Sailor" in his play, The Thirst, originally staged in Provincetown. $12 adults, $4 children, Memorial Day to Labor Day 9am-7pm, check website for other times of year.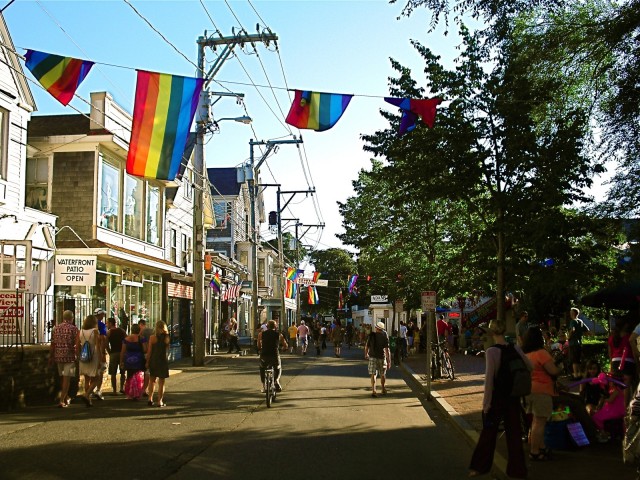 WALK: Commercial St. A one-way thoroughfare not suitable for claustrophobics, this main drag is a parade every day. Commercial St. runs parallel to the beach and is jam packed with tiny (coveted) Cape homes, boutiques, galleries, restaurants and crowds of tourists who move like a herds of cows on a country lane. You could spend a lifetime people-watching here though if you have any qualms about alternative lifestyles, be forewarned.  Divas reign where it's Raining Men: Provincetown was recently listed among the Best Gay Friendly Towns in the USA.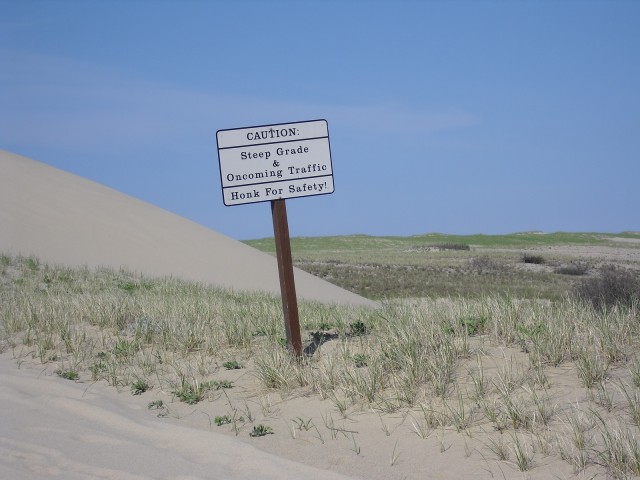 TOUR: Art's Dune Tours. The Cape Cod National Seashore, a National Park established by President John F. Kennedy takes up nearly 75% of the whole of Cape Cod and much of it consists of sand dunes. If you just have one afternoon to spend in Provincetown, take a one-hour off-road tour for a unique perspective of Cape Cod history and landscape. Art's owner, Rob Costa and his guides point out the tenacious plants that cling to life in this punishing environment – the rosehips, beach plums and cranberries that thrive in fresh-water pools found throughout the dunes. You'll discover that Marlon Brando crawled across these sandy hills when he was rehearsing for A Streetcar Named Desire and that poets, painters and writers (Eugene O'Neil, Thoreau, Jackson Pollock, and others) stayed in squatters shacks originally built in the 1850's as temporary shelters for heroic "Surfmen" who risked their lives to save victims of the many shipwrecks right offshore.   In the 1950's, the US Government removed all but 19 of these primitive dwellings – and now a few are available to Artists In Residence willing to live without electricity, fresh water or plumbing (but with one of the most exquisite vistas on the planet) for a few weeks at a time. $27 adults, $18 kids for hour-long tours; check website for other options including a two hour sunset tour ($43). In season, daily beginning at 10am, 5:30 sunset tour.
VISIT: Province Lands Visitors Center, Race Point Lighthouse and Beach; Part of the National Seashore, it's worth it to get a 360 degree view of the dunes and shacks from the new Visitor's Center (open May 1 daily 9-5).  From here, rangers will guide you to the Race Point Lighthouse or customize a day of exploration based on your interests.  Old Harbor Life-Saving Station interprets the role of the Life-Saving Service (precursor to the Coast Guard) in performing rescues off the Outer Cape.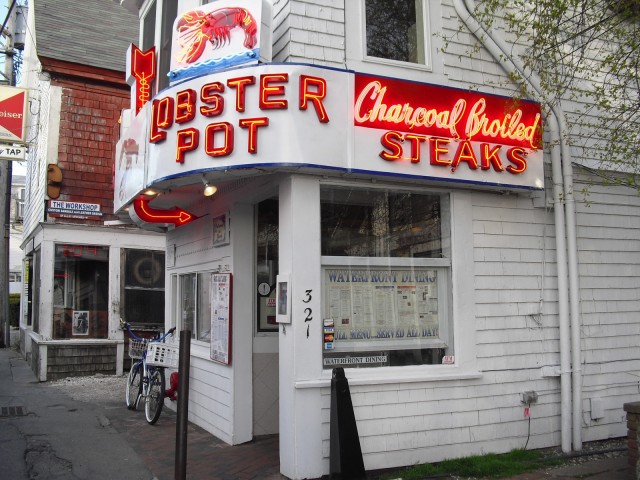 What To Eat In Provincetown MA
EAT: Lobster Pot Restaurant. A Provincetown tradition, lines form early in season for this inconspicuous dive with a foodie bent.  Inching through the long, narrow space, pass by a bustling open kitchen before entering the beach-set dining room where green Formica tables and beat-up bistro chairs belie the succulent food to come.  For starters, in place of shrink-wrapped Melba toast and stale rolls, you'll enjoy fresh pumpkin bread and warm crusty baguettes. The signature 1 ½ lb. "Pan Fried Lobster" (with decadent sherry cream sauce) comes with a baby greens salad (brought to the table with four pots of just-whisked homemade salad dressings) and roasted potato.  Priced to Market – in early May this generally expensive meal is in the $30 range.
SNACK: The Red Shack.  If you like your lobster snuggled inside a hot-dog bun and want to eat standing up, put your order in at the Red Shack counter.  Is it touristy?  What in Provincetown isn't?  But it's jam packed for a reason – and that reason is that all iterations of pizzas and sandwiches dispensed at this authentic salt-air-weathered stand are terrific.
EAT: The Mews (on the beach). For those seeking a meal several steps up and much more sophisticated than lobster rolls on paper plates, locals steer visitors to "the standout"  Mews. Eyes roll (in a good way) over the Lobster Dumplings in Miso ($12) and Shaking Beef –"Vietnamese inspired with chunks of beef tenderloin, wok sauteed with scallions and red onions over watercress. with a lime black pepper dipping sauce" ($29). This place is so beloved and popular, you must make reservations far in advance.
NIGHTLIFE: Crown and Anchor. Clubs in Provincetown run the gamut from extravagant to bewildering.  There are "gender-bending" shows aplenty at the boisterous Crown and Anchor. Afterwards, enjoy Bobby Weatherbee, "an institution unto himself" on piano starting 9:30PM.
CLUB/SHOW: Post Office Cabaret. Take in a titillating cabaret show to get the full flavor of Drag Queen Central.  Smoldering lady boys and brawny, shirtless men sweat and gyrate on stage to the latest pop songs. Do yourself a favor and buy VIP tickets; glitter eye shadow and tons of sequins look so much more sparkly from the front row.
Where To Stay In Provincetown MA
STAY: Crowne Pointe Inn. Though the "E's" at the end of Crown and Point might lead you to believe it's pretentious or hokey, it is anything but. Former NYC Fireman, David Sanford and his partner Thomas Walter, purchased this 1700's whaling captain's home on the hill in 1998, sunk a bunch of bucks and wit into its renovation and, viola – a charming, quiet, welcoming inn just one block off funky Commercial St.  Placid cottage-like rooms encircle a redwood and brick courtyard where rubber duckies and an alligator head float languidly in a small kidney-shaped pool and a stone Buddha graces the lip of the bubbling hot tub. Rooms vary in size – some are small and homey with the latest bedding, venetian blinds, and pleasing pastel walls, others are large and elegantly traditional. A gourmet, made-to-order breakfast free with room is probably the best deal on the Cape and is, in some estimations, worth the price of the room itself.  Rates $99-$650, vary by season and include an extensive wine and cheese hour, unlimited use of the saunas and mineral bath in the on-site world-class Shui Spa, and a savory multi-course, cooked to order gourmet breakfast for two. And FREE parking!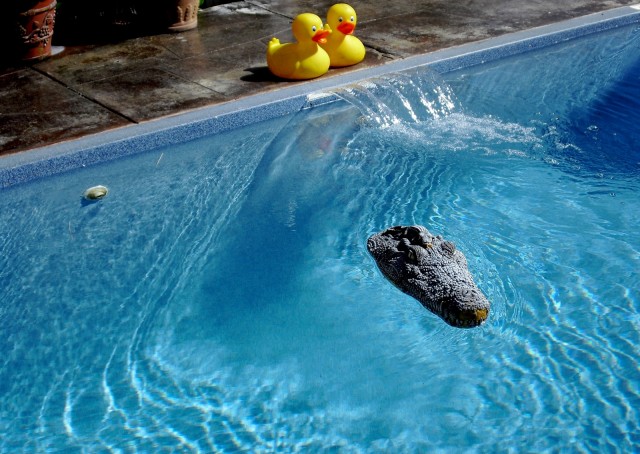 BUDGET STAY: If you are watching your pennies, the Cape Codder Guest House, offers austere, clean, shared-bath rooms for just $45-$85 in season, continental breakfast included.