What Are the Top 25 Romantic Hotels in Northeast US? The Getaway Mavens scour the East Coast of the United States to find the most romantic lodgings in the USA – all perfect for quick honeymoons, spa treatments, anniversary celebrations, and even top spots to pop the question.
Each year, we stay at/experience nearly 100 hotels, inns, and bed and breakfasts. And we definitely have our favorites.
Ranging in price from hefty to astronomical (hey, luxury is costly), the following 25 properties have proven, undeniably, to be the Best of the Best for romantic getaways.
Looking for more romantic destinations? Check out our friend's list of 19 romantic resorts, and our huge list of romantic getaways across the USA.
Top 25 Romantic Hotels in Northeast USA
Starry-eyed twosomes seeking one of the hottest hotels on the East Coast will discover it here. InStyle Magazine called the re-created Cliff House "one of the best spots in the world to get engaged."
And when you drive past lovely shore homes, pull into the long drive, spot the oceanside swimming pool, and at last enter this Oceanside resort perched on rocky Maine cliffs, you'll understand why. It's a dazzler.
After a painstaking and scrupulous five-year renovation, the Adelphi Hotel has made a triumphant return to downtown Saratoga Springs. It has also managed to recapture its original intent: to impress the jaded, to indulge luxury guests, and, most effectively, to please the eye.
On the outskirts of a tiny town in the middle of rural Maryland, it's quite incredible to stumble on a glamorous Civil War-era mansion with butler service, finery, champagne, and a five-star dining room.
Most folks outside of the Mid-Atlantic have never even heard of Antrim, which makes its place on the list of Top Romantic Hotels in the Northeast even more amazing.
Built as an exclusive hunting hideaway by a wealthy oilman, the Relais & Chateaux Lodge at Glendorn is a perfect escape for Upland-Bird hunters, Fly Fishermen/women. And, really, any lovey-dovey duos with an admiration for roaring fires, a game of billiards, and a five-star meal at the end of the day.
If you really want to impress your sweetheart, book a reservation at the shoreline-luxe Ocean House hotel, which has once again freshened up its rooms, yet still conveys a sense of Victorian Age grandeur. Over-the-top service is well worth the pretty penny you'll spend.
The town is both paean to the America's Cup Yacht Race and the conspicuous consumer lifestyle of the Gilded Age, with lots of shopping, great restaurants, the famed Cliff Walk, and the prestigious Castle Hill Inn – an out-of-town hideaway with the most enthralling views overlooking the Atlantic Ocean from almost every balcony or deck.
The 19-room Rabbit Hill Inn, in the minuscule and achingly charming rural Vermont town of Lower Waterford, earned its place among Travel & Leisure's Best Hotels In the World in 2017.
Any country inn can be prettied up: Rabbit Hill is tops due to its owners, Brian and Leslie Mulcahy, who have been here 23 years, and exude the kind of warmth and goodwill that radiates brightly around them.
The Pierre/Taj is located on what is arguably the most photographed slice of New York City, the southeast corner of Central Park, within steps of Central Park Zoo and Wollman Skating Rink.
It's the epitome of "Romantic New York" – quiet, lavish without being showy, and eminently elegant – all with that rare commodity: a friendly, anticipatory human touch.
The Gilded Age Adirondack Camps, where oil and steel barons came to recreate, made rugged chic. Lake Placid Lodge is "rugged-chic" of the highest caliber: Pendleton blankets and birch bark furniture with butler service.
Ask for the Owl's Head Cabin – a hotel room like the Bentley is a car – with a bed you need to pole vault into and unsurpassed views of Lake Placid with Whiteface Mountain as the backdrop.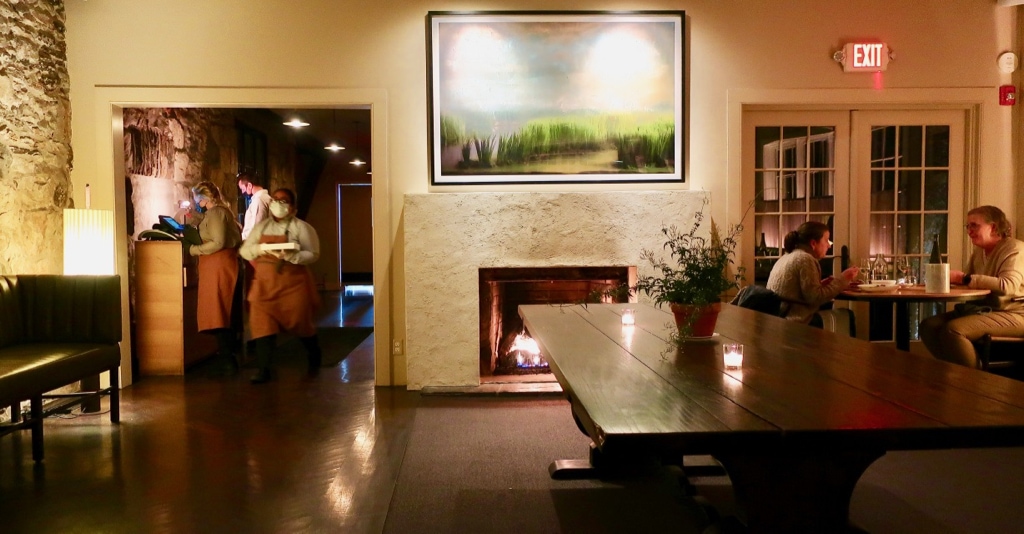 10.) Troutbeck, Amenia NY
For over 250 years, Troutbeck has been a retreat for literary giants, environmentalists, Civil Rights and political leaders. It's now one of the most luxurious hideaways for couples who want to escape the City (just 2 hours from Midtown Manhattan) for some serenity and incredible food.
Guest rooms in soft creams, aquamarines, and grays, each the size of three former patient rooms in total, feature 16ft or 20 ft high ceilings, equally towering windows, cashmere-like throws, and the most comfortable beds in the world.
I've been writing about this environmentally conscious, dog-friendly, 61-room luxury seaside hotel in Cape Elizabeth ME for years, and each time I visit, it just gets better. Grand, but not grandiose, Inn By The Sea keeps both top-notch luxury and eco-friendly practice sacrosanct.
To top it off, it's "big-pet-friendly" to the point where it rescues and puts dogs up for adoption.
With a double-decker rooftop bar (perched far above Late Night With Stephen Colbert Show), an underground arcade-bar for grownups, and a brand new and lighter, more lustrous look, this Dream is one worth staying asleep for. Especially if your loved one is right beside you.
The Knickerbocker Hotel first opened in 1906 and became what would have been a TMZ darling: the place where notables of the day went to be seen in the new Times Square. The hotel was recently renovated with its stunning Beaux-Arts exterior intact.
What's the "Most Romantic New York Moment" every year? Watching the New Years' Eve Times Square Ball drop.
How about from almost directly beneath it?
To secure a space on the Knickerbocker's St. Cloud rooftop lounge, it'll cost you $120,000. But that includes a Sky Pod for you and 12-20 friends, an open Premium Bar, appetizers, and a hotel suite for three nights.
Renovated in 2016, the centrally located Woodstock Inn and Resort, first opened in 1892 on the site of the Eagle Inn, has reason to be proud. Service is exemplary, food is wonderful, and aesthetics are way over par.
Though most amenities – fitness center, golf course, ski resort – are off-site, they are easy to get to. And if it is just your desire to hang out, get a massage, watch snow fall outside while you sweat in a Dry Sauna (yes, there's a window!), or just snuggle with your beloved, this is the place to do it.
What began over 200 years ago as a healing "spring water" retreat has become one of the prettiest golf and spa resorts in the East. A $120 million overhaul in 2007 took the property from drab to fab, and now OBS is the place to book when you want to park once and stay. The Spa is World-Class, as is the Golf Course.
And, for couples in love with US History, the resort – Summer White House for President James Buchanan, and respite for Thomas Jefferson – contains a repository of historical letters, documents, and artifacts from historical figures through the ages.
This 2,000-acre property, 1 ½ hour outside of Pittsburgh, defies description. It's an overnight luxury resort, (choose to stay at Versailles-like Chateau Lafayette, inspired by the Ritz Paris, or in the Frank Lloyd Wright-inspired 5-Diamond Falling Rock, complete with Rolls Royce driving chauffeurs), and also a wildlife sanctuary.
No big surprise that ambitious, adventurous lovebirds, looking for something unique, flock to this Western PA resort.
Built in 1919 by banker, Otto Kahn, on the North Shore of Long Island, NY, this 126-room 109,000 sq. ft. "Castle on the Hill," a representation of the French Chateaux Fontainebleau, was the Downton Abby of its day.
OHEKA is now recognized as one of the most prestigious wedding venues in the world, with rooms fit for royalty, and thus a top pick for our Top Romantic Hotels in Northeast US.
The Rittenhouse is both hotel and a residence, so when you witness the Doorman greeting guests familiarly, it's because they live there. And who wouldn't want to? Room service, luxury, and great views of one of the most beautiful parks in Philadelphia, living here is wish fulfillment for the lucky (and moneyed) few.
But even if you're just here for one night and for the first time, this congeniality combined with anticipatory service continues throughout the hotel– from reception to housekeeping staff – and to the incomparable in-house Lacroix Restaurant, rendering this Philly establishment one of the Top Romantic Hotels in Northeast US.
Devotees of XV Beacon include politicos, celebs, and refined-luxury hounds. Most check in to this 62-room boutique hotel for an Old World Boston Brahmin mansion experience complete with contemporary amenities.
Picture yourself post…..shower; in your Frette bathrobe, sprawled out on a luscious pillow-top contemporary four-poster, reading a delivered-to-your-door New York Times in front of a flick-of-switch gas fireplace. You need to do nothing else to feel swaddled in luxury.
The owner of this estate is an unabashed romantic – eager to make all of your dreams come true. Luxurious and secluded, this farmland-set inn is perfect for a celebrating twosome, or even a twosome-soon-to-be-threesome.
If you are expecting a child and live within a few hours' drive of Buck's County PA, there is no better place to savor your Babymoon.
Established by a top NYC chef in the mid-1800s, this Main St. Milford hotel has drawn hundreds of Bold Faced actors, writers, and US Presidents. As a Relais & Chateaux property, Fauchere excels at personal service.
For certain someone's, what could be more romantic than the tiny mid-Maryland 'burg where the Queen of the Romance Novel, Nora Roberts, has chosen to live and work? In fact, Robert's family-owned Inn Boonsboro, the subject of her Inn Boonsboro Trilogy, is as real as can be.
How did it make the list of Top Romantic Hotels in Northeast USA? Each themed room is a decorative study of a famous fictional couple.
Will you choose Nick and Nora? Jane and Rochester? Titania and Oberon? There's a romantic room just for you.
This rural inn was Mick Jagger's choice for celebrating his 40th birthday. In the decades that followed, Four Columns went through a decline, and then in 2015, a rebirth. It's now considered one of the top inns in the country.
Couples in the groove will find nirvana in this rock n roll motel in the shadow of Fenway Park. A gut renovation of the long-standing Howard Johnson's, The Verb is as close as Boston gets to Southern Cali – by way of Nashville and London. Though not exactly plush, The Verb is sexy as all get out.
Honorable Mention
Twin Farms in Central Vermont in Central Vermont.
More Romantic Hotels In The USA