In winter, the brook that snakes through the 250 acre Troutbeck property in Amenia NY glistens serenely in the setting sun.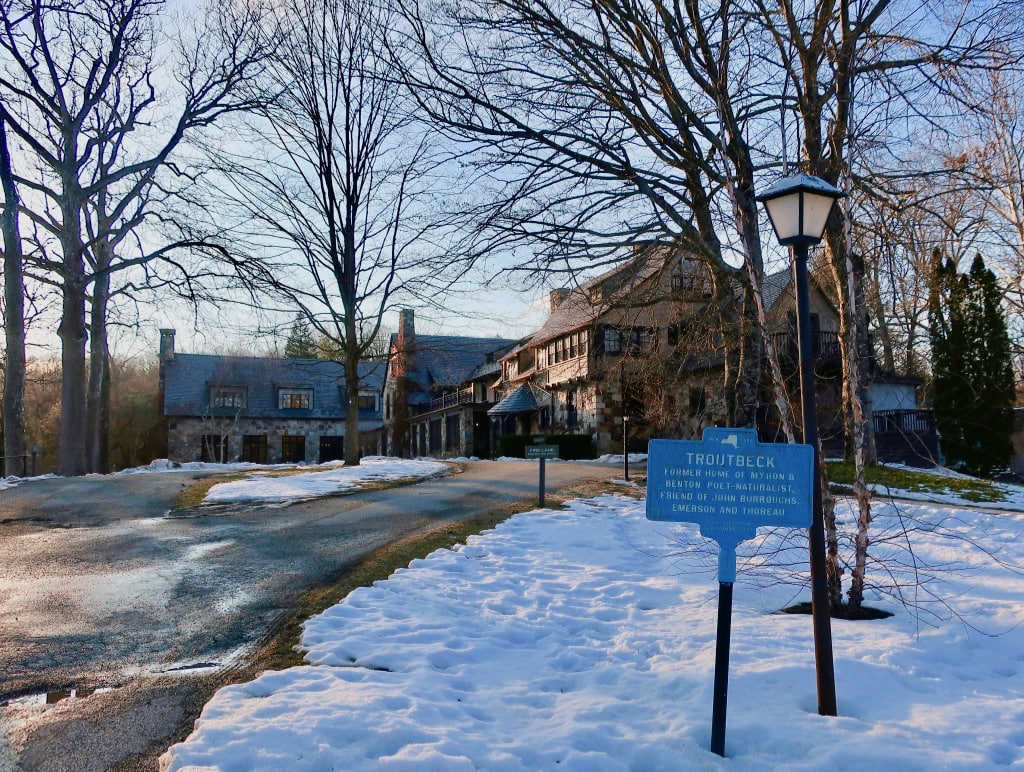 Inside the grand stone English-style manor house, it's cozy and warm. Inside and out, Troutbeck is the optimum safe harbor for pandemic refugees, mostly from New York City, who have discovered this recently renovated luxury inn 1 ½ hours from home.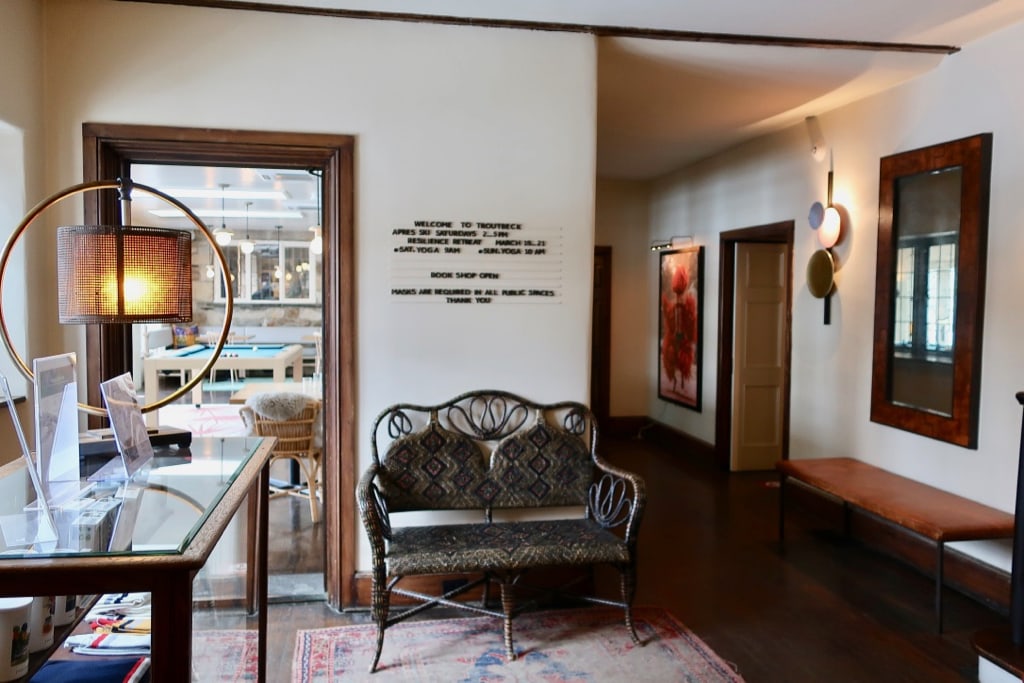 As soon as I walked through the front door, I felt at peace – as if arriving "home." I soon realized why. I was in good company.
For over 250 years, Troutbeck has been a retreat for literary giants, environmentalists, Civil Rights and political leaders.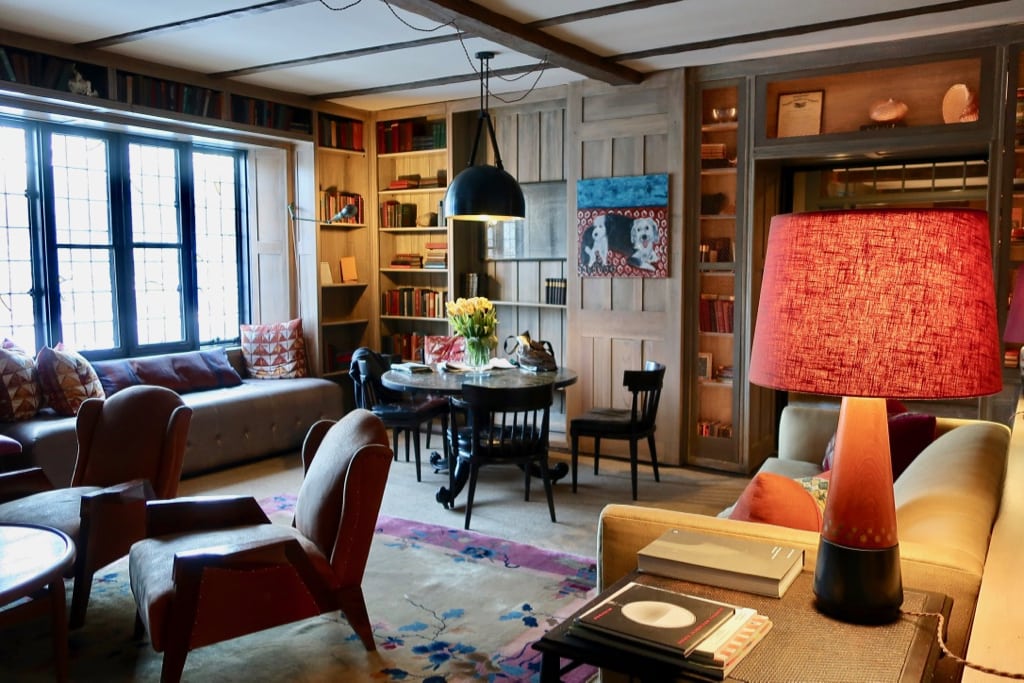 So it's no wonder that plenty of journalists, screenwriters, novelists, and activists of all kinds find their way here.
Troutbeck is so romantic, it made it onto our 20 Best Romantic Hotels Northeast USA 2021 list.
Find Troutbeck on Getaway Mavens 15 Top Romantic Hideaways Northeast US 2022
(Discover more nearby activities and attractions on this Getaway Mavens Northern Dutchess County post).
First established in 1765, with what is now the whitewashed "Century House," Troutbeck was home to poet-naturalist, Myron Benton, who welcomed Henry David Thoreau, Ralph Waldo Emerson, Mark Twain, and other celebrity poets and writers of the day.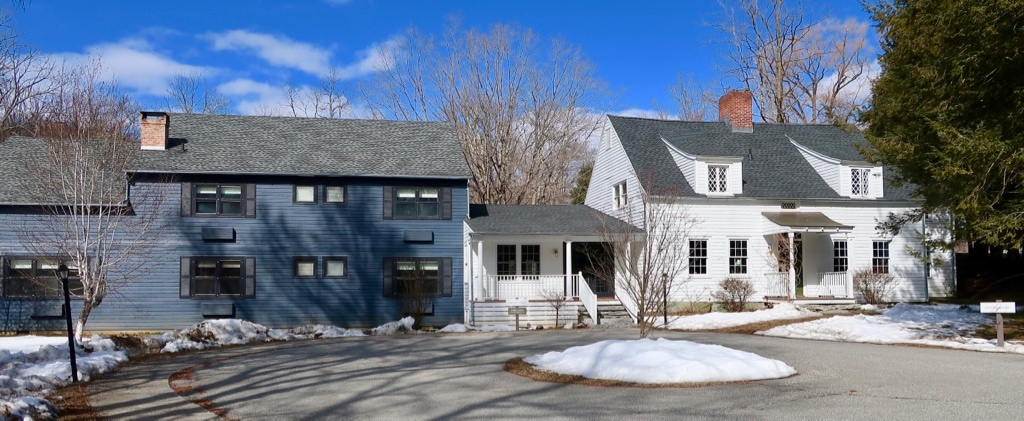 In 1919, Joel Spingarn, co-founder of publishing company, Harcourt, Brace, and Co., built the resort's defining stone mansion as his family's country house. Spingarn was one of the first Jewish Professors at Columbia University and active in what was then the progressive Republican Party. In fact, President Theodore Roosevelt was a frequent Troutbeck visitor.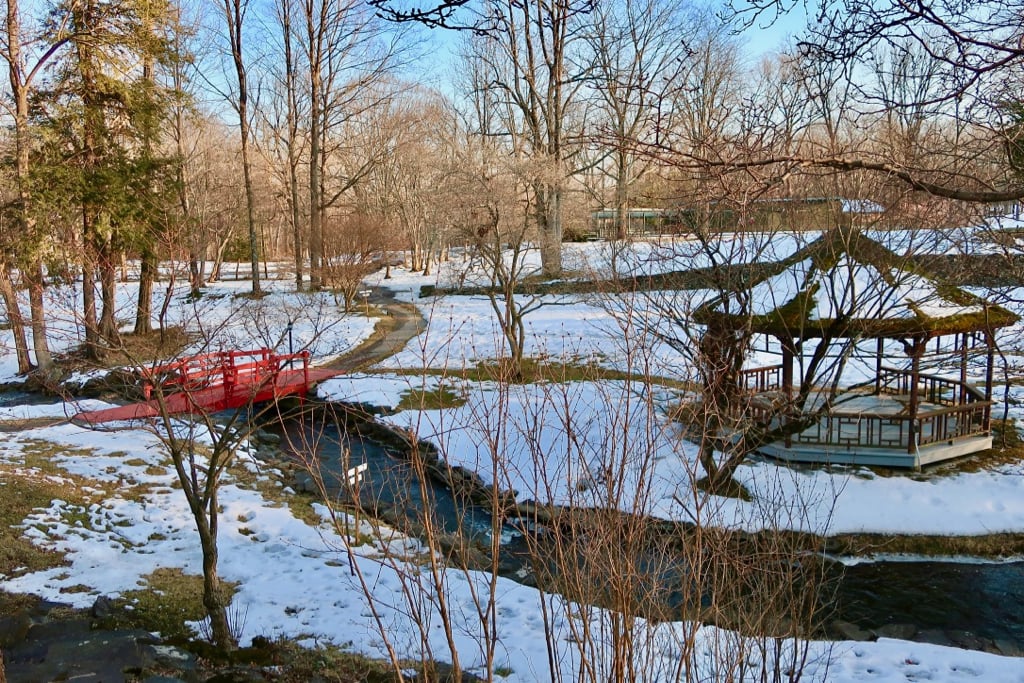 Given his background, it's no surprise that Joel and his wife, Amy were leaders in the Civil Rights movement: they considered the first Black Supreme Court Judge, Thurgood Marshall, a lifelong friend. Spingarn was so involved in the rights of minorities and social justice, he was an early supporter of the NAACP, and served as its Chairman of the Board of Directors from 1913-1919.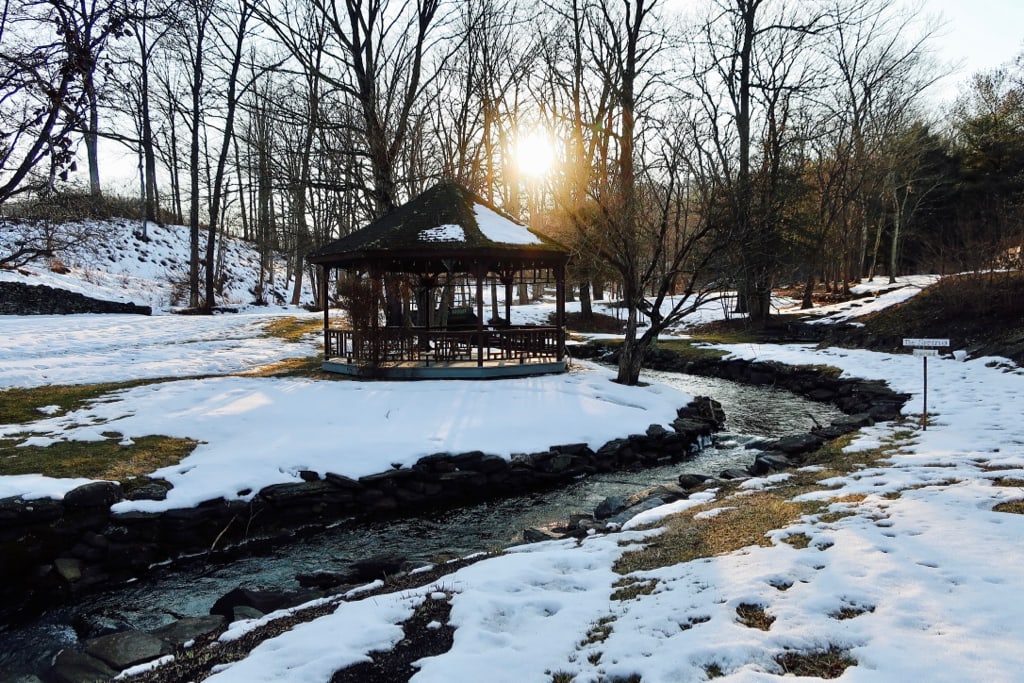 Troutbeck became a conference center in the late 1970's and then lay dormant, abandoned, and, by the early 2000's, left to rot. As luck would have it, in 2017, hotel designers and developers, Anthony and Charlie Champalimaud, took one look at this glum but fantastically historic property and decided to buy it, with the intention to restore it to its former understated glory.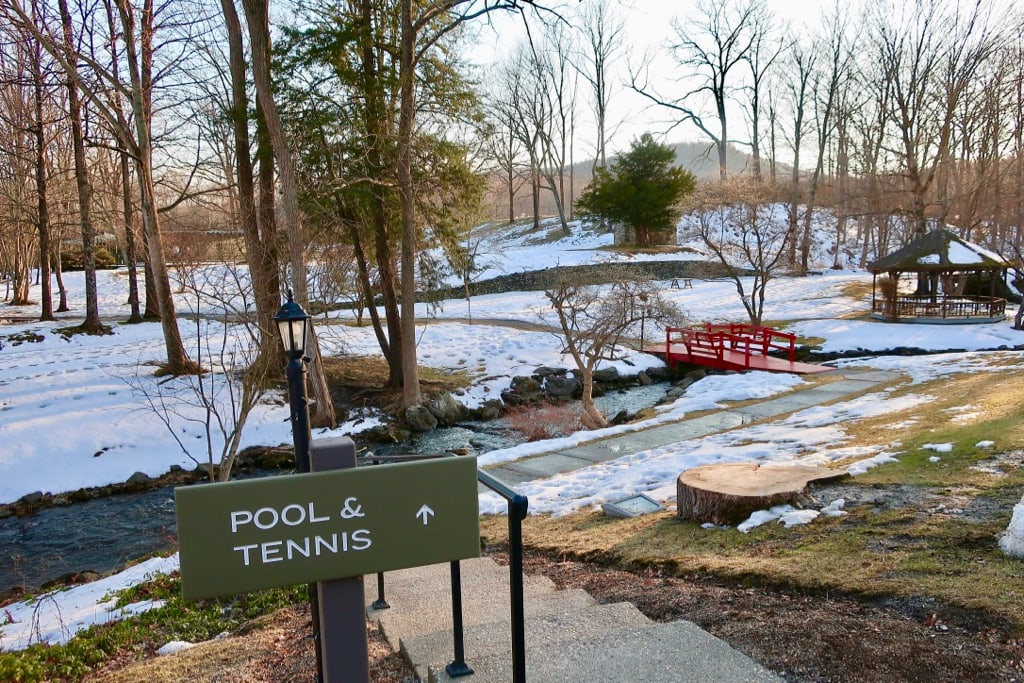 Not only have they reinvigorated this storied place, they've upgraded rooms and restaurant to the highest standards, built additional venues, and created a Shangri-La in the woods of Hudson Valley.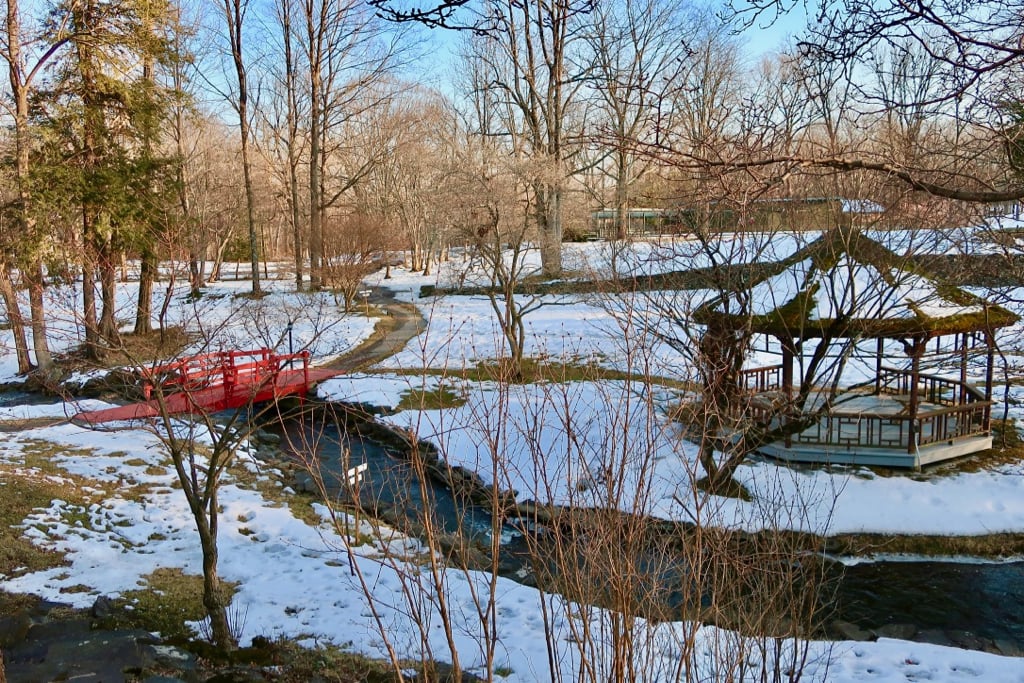 Grounds
A bright red footbridge spans the stream that snakes around the grounds. The bridge, stream, and adjacent gazebo offer a captivating setting for weddings. But, it's also perfect for picnics. Order lunch from your Adirondack chair by the water, and waitstaff will bring it to you.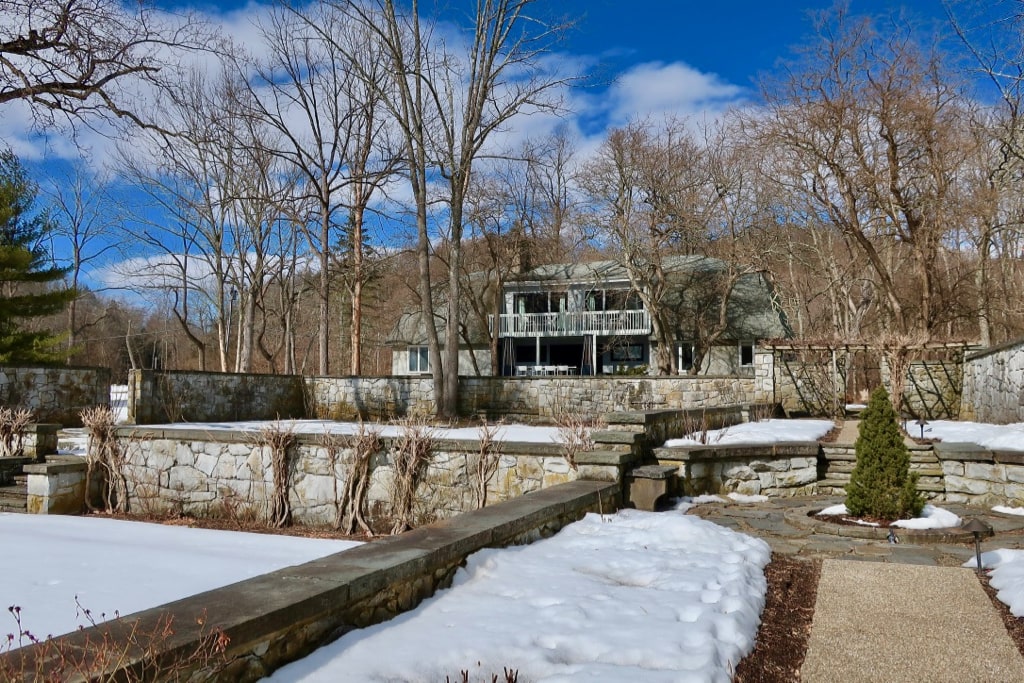 Garden House
In Spring – the landscape bursts into bloom: doubly so inside the walled garden, where you'll find the 4-room Garden House, perfect for private family reunions.
The Barns
Follow the path up to two adjacent barns. The new Tall Barn, with soaring cathedral ceiling, bustles with scheduled events: yoga, Pilates, dance, and weekend programming such as children's arts and crafts, floral design workshops (ultra popular), and falconry.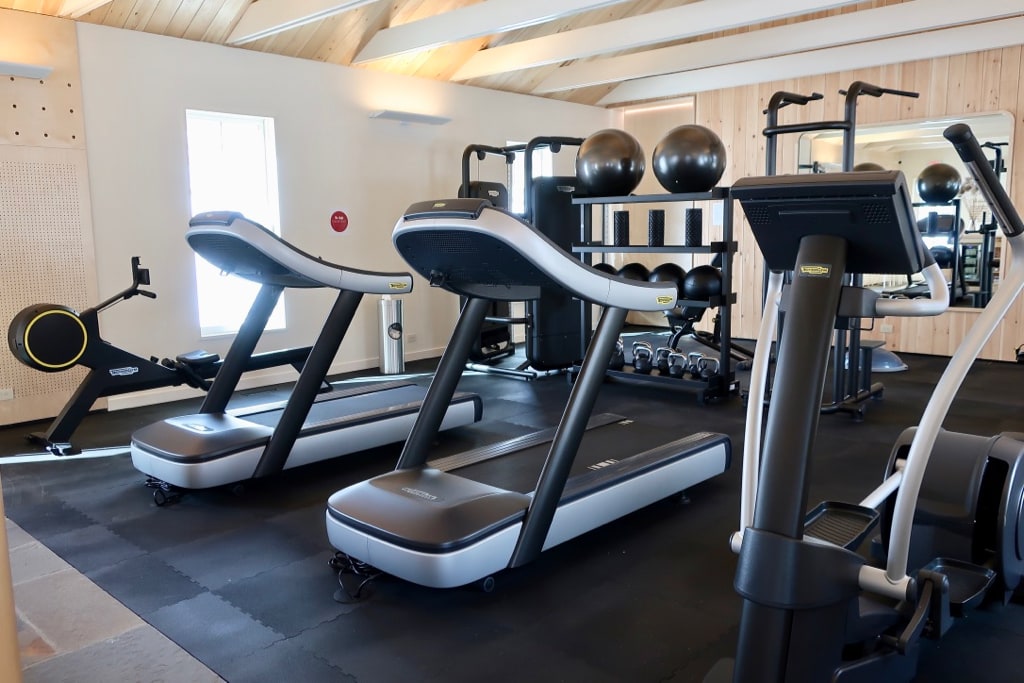 The abutting Long Barn features state of the art TechnoGym machines (during Covid, make rsvp for 45-minute private sessions), both infrared and traditional saunas, and professional body treatments that include acupuncture, facials, and massage.
Troutbeck Common Areas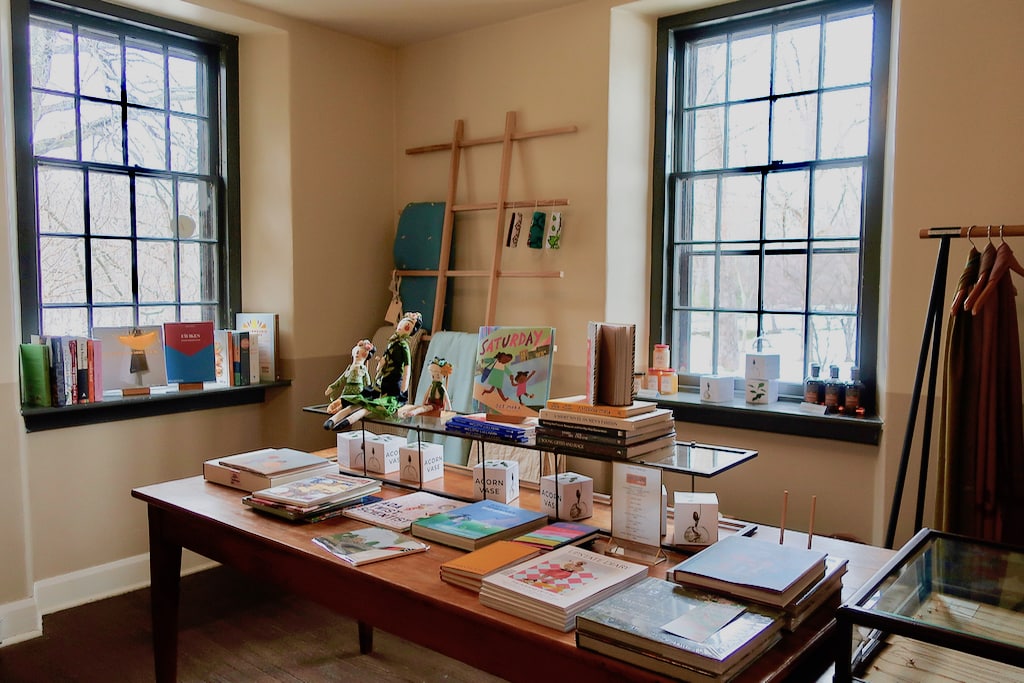 Gift/Book Shop
All of this environmentalist/naturalist/literary/civil rights history comes into play in Troutbeck's small gift shop. The hotel collaborates with a bookstore across the border in Kent CT to stock shelves with books that relate to the retreat's progressive ethic. The shop also sells related items, such as small "Acorn Vases" ($39) you can but to grow your own sapling from acorns that blanket the property in the fall.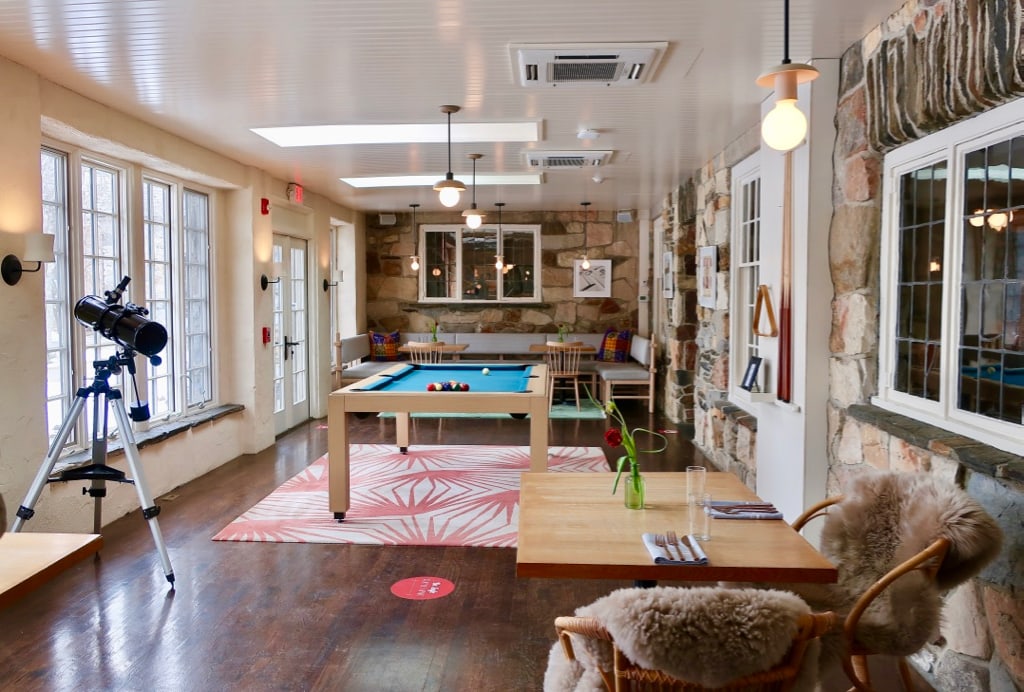 Sunroom
This sundrenched space serves for the moment as both a billiards room and dining room.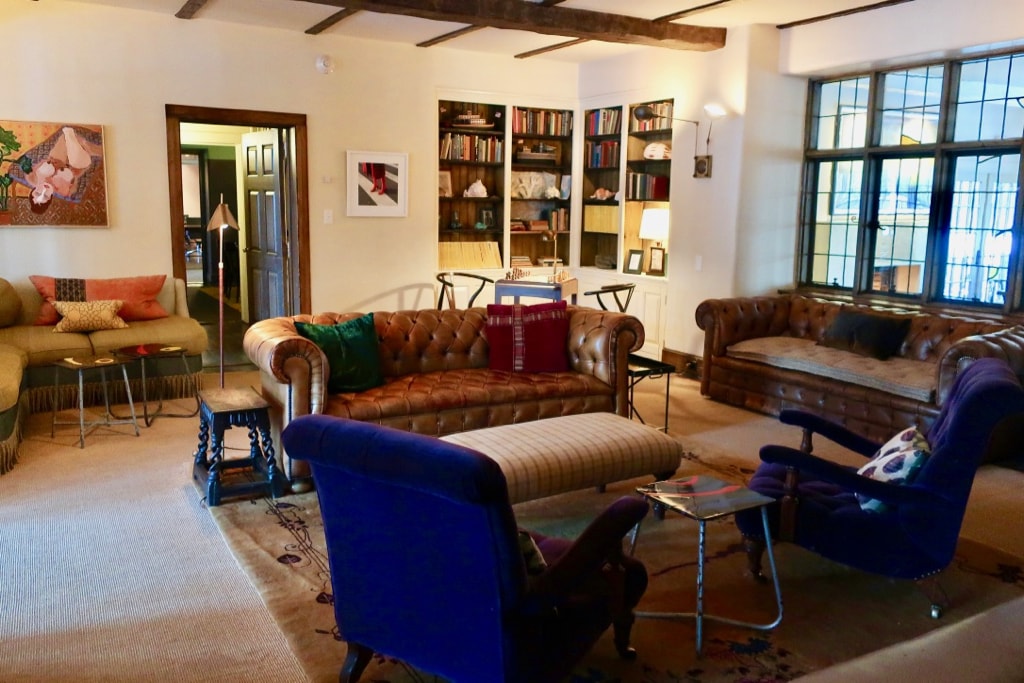 Living Room and Library
Snuggle with a book. Play chess with your partner. Stare at the leaping flames in the fireplace. Feel the ghosts of Hemmingway, Sinclair Lewis, and other literary figures who came to this bucolic retreat.
Both the living room and library offer lots of cushy seating and antique books to thumb through. Recreate your own Queens Gambit at the chess board set up for two.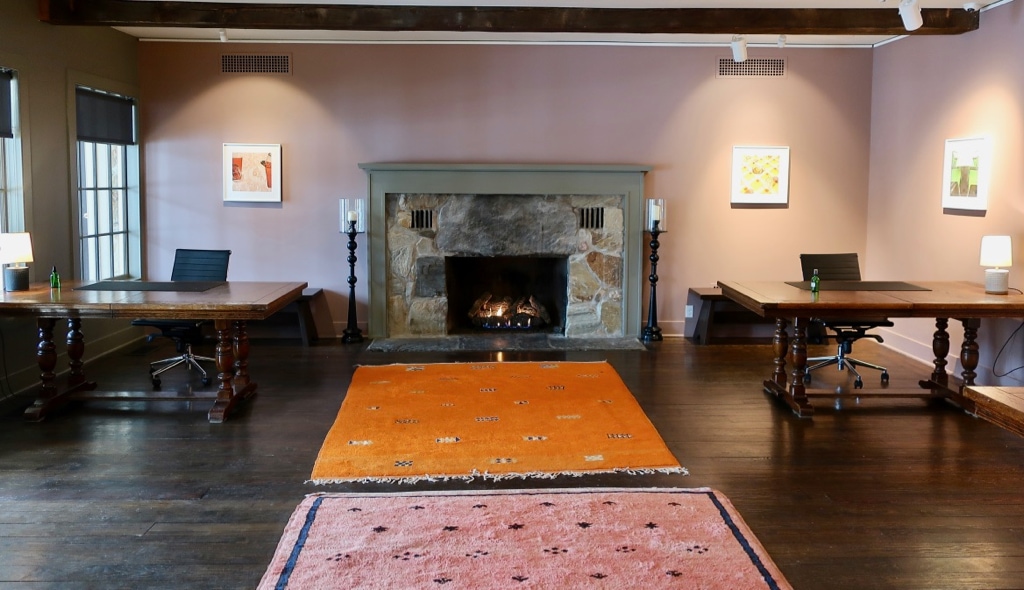 The Gallery
Ostensibly a conference room, the space has been reconfigured during Covid as individual workstations for guests who'd like to stay longer and work remotely from here. There's a fireplace, and rotating art exhibit on the wall.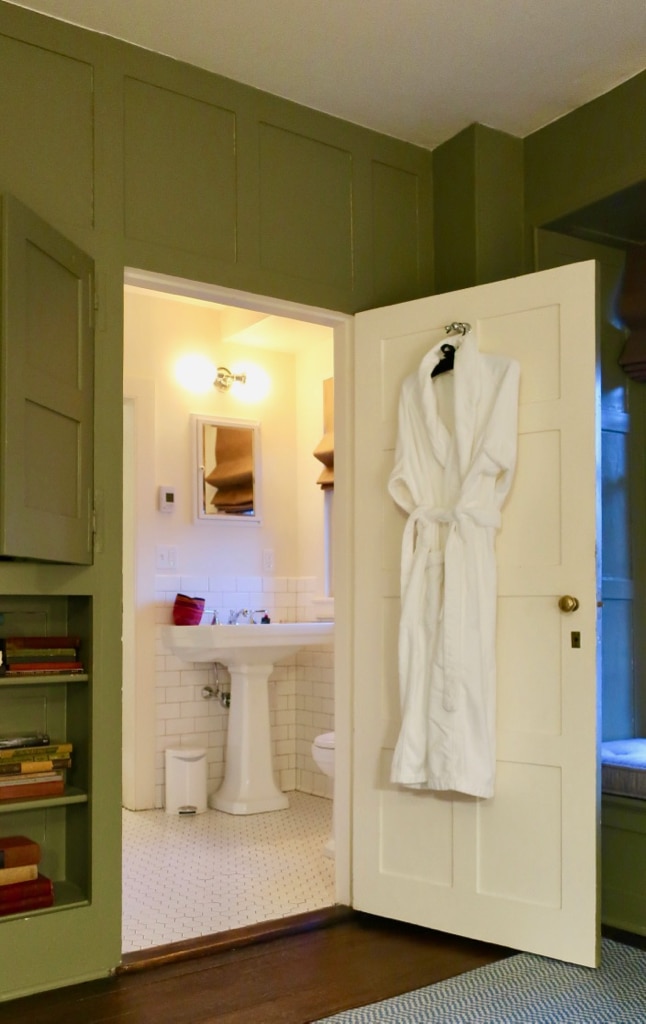 Rooms
After the renovation of "tired" quarters, guest rooms are now dressed in that sweet spot between minimalist and fruufruo. Not ultra modern, not too cutesy, but a eye-pleasing balance of color and form. Plus, books, of course, on built-in shelves.
My suite, No. 8, right upstairs from Reception in the Manor House, is configured as a bedroom and sitting room separated by a small, gleaming white bathroom. Walls and furniture in shades of moss and rust, modern canopy bed, Art Deco furniture: it was a snug and lovely sanctuary for the night.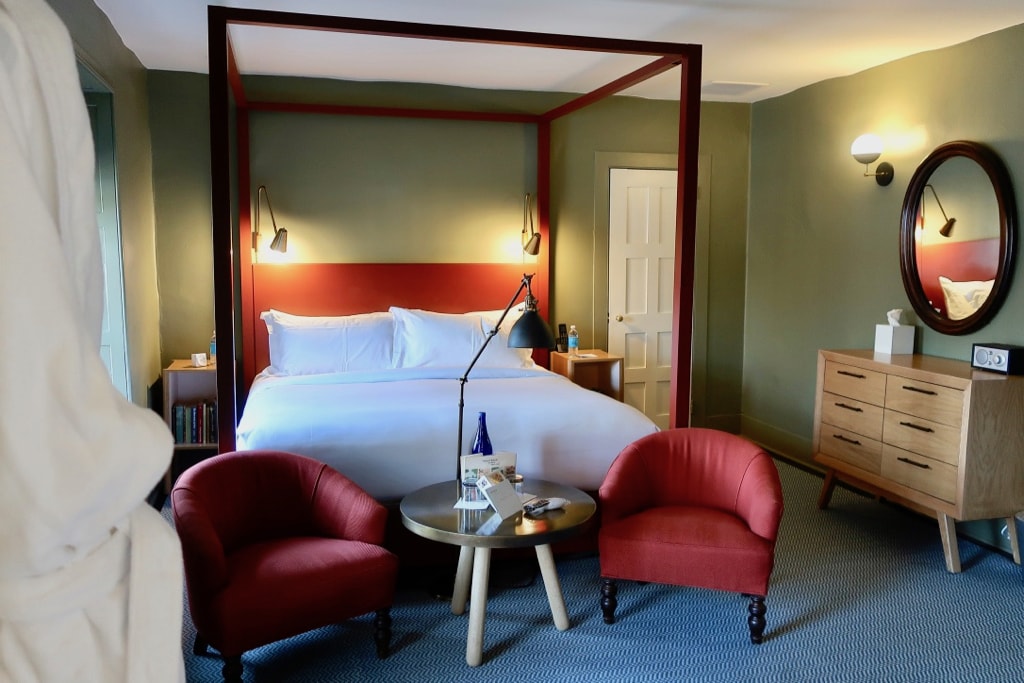 When booking, you have several options. There are 17 rooms in the main manor house, split between the 1919 original stone home and the more recently added West Wing of the Manor House (accessed through an enclosed breezeway).
Other renovated accommodations are spread out between the 250 year old Century House and Anex, and the Garden House.
All guest rooms are tastefully decked out in style – a far cry from the fading conference center rooms that past guests remember from years ago.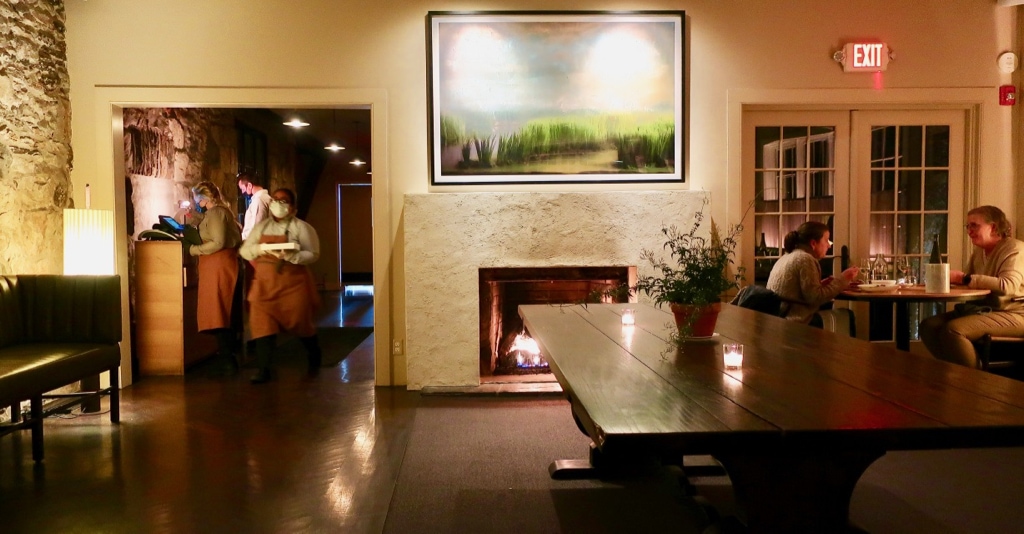 Dining
During Covid, Troutbeck solves the crowded restaurant problem by settling diners at tables in various common rooms. Accordingly, you'll find a pod in the billiards room, another by the fireplace in the library, others in several sections of the restaurant itself, and the more intrepid on the patio by the fire-pit.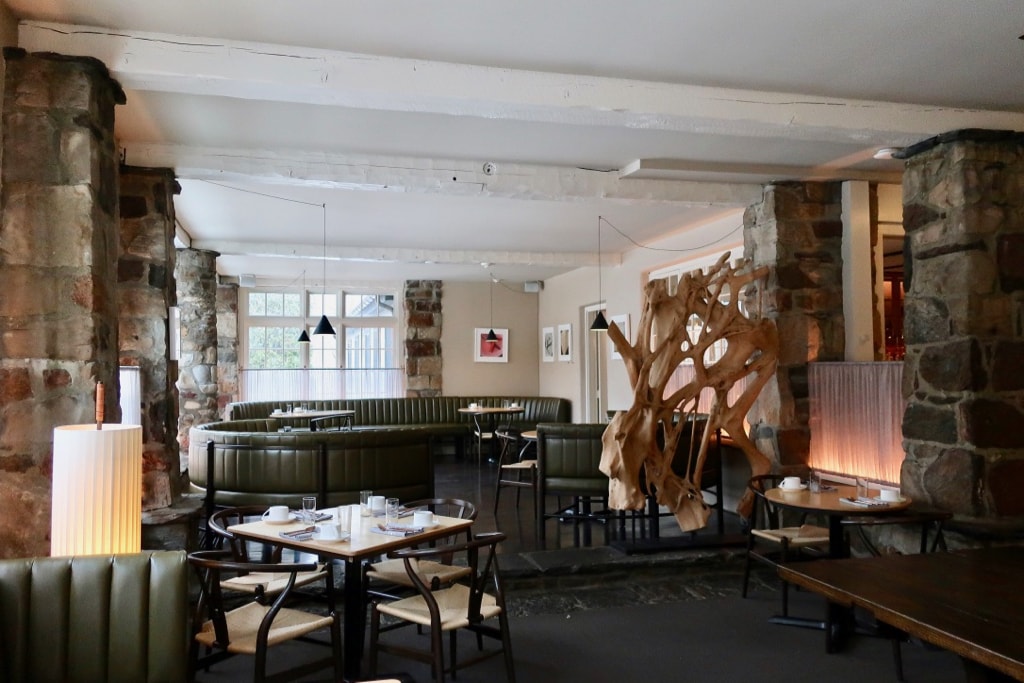 Even in its socially distanced, elemental form, the restaurant, aglow in the light of a fireplace and votive candles, is an enticing, romantic space.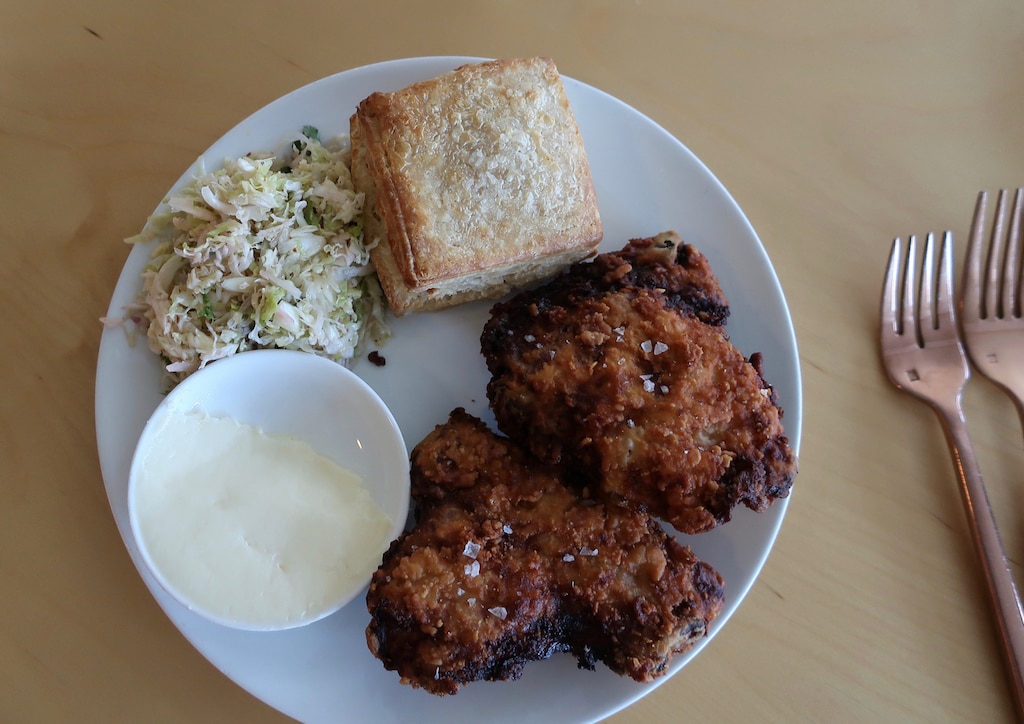 It was busy on a Wednesday night in March. So busy, in fact, common rooms were filled with guests and local "Members" who have access to the restaurant. (For now, only Troutbeck guests and locals who pay a Membership fee can dine here.)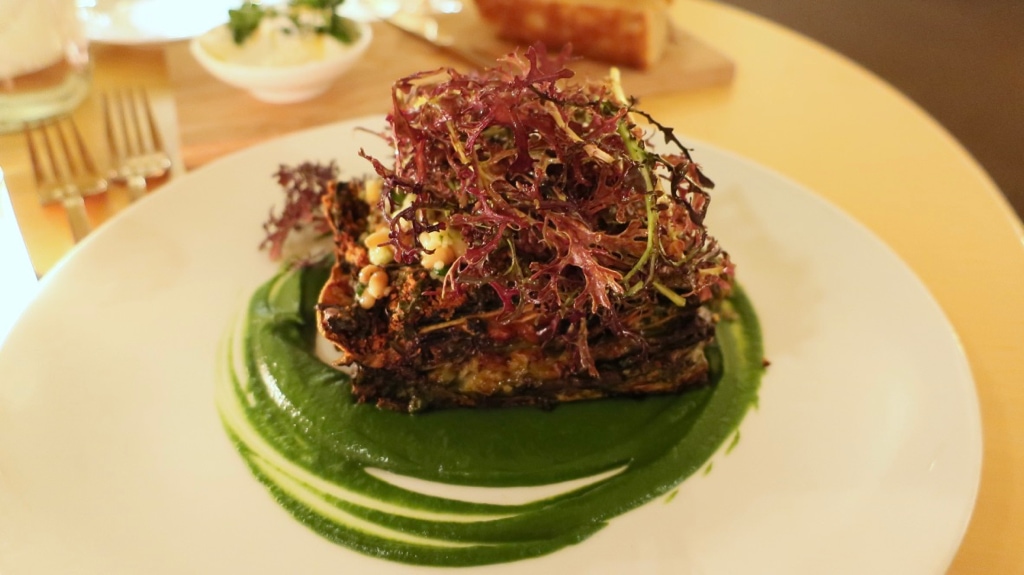 Michelin-starred Chef Gabe McMackin (of the Finch and Blue Hill at Stone Barns) excels at dishes both plant-based and meaty. He makes it a point to source produce and poultry "hyper-locally." So, you'll find menu items like the delicate and nourishing "Cauliflower Soup with Gold Rush Apples, Trout Roe, and Crispy Sunchokes;" vegan-favorite Roasted Mitake Mushrooms with Einkorn and Puree of Green Things ($28); and Swiss Chard Lasagna ($30) topped with frisee lettuce – my choice. Crunchy, creamy, and complex, this unique take on a common pasta meal made my taste buds sing.
I ended my meal with the absurdly awesome Lemon Meringue Tart ($13), a marvel of creamy lemon custard and whipped egg whites. Honestly, I was so swept away with this dessert, I told my waiter that it should remain on the menu forever. And, I asked to meet the pastry chef, and thank her in person.
Breakfast
You gotta love a breakfast menu that states, "We're glad you're here," and includes "Anything Ariel Made" ($5) as its pastry offering. "Ariel" is Ariel Yotive, head baker at Troutbeck, and as I mentioned above, her goods are sublime. The morning I dined, Ariel had made cranberry scones, so of course I ordered one. The crunchy, soft triangle of goodness was, for this food lover, unsurpassed.
Also on the menu – French Toast ($16), Wild Hive Grains ($14), Smoked Trout ($20), and more. Though not included with the room (unless you opt for a package), I'd recommend a cup of coffee and yep, "Anything Ariel Made", to start your day.
Rooms at Troutbeck from $240 per night (plus tax) include parking, wi-fi and use of fitness center. Yes, it's dog-friendly, too! You may bring up to two dogs. (Allowed in Century House and Garden House only, $100 fee).