Last Updated on
The nickname "Knickerbocker" harks back to the mid 1800's when Washington Irving, author of The Legend of Sleepy Hollow and Rip Van Winkle, penned his first blockbuster called Knickerbocker's History of New York, narrated by a fictional Dutch historian named Diedrich Knickerbocker. That nickname, appropriated by the New York Knicks basketball team, was also the name of a turn of 20th Century hotel, The Knickerbocker, built by John Jacob Astor IV (who perished on the Titanic) as a magnificent celebrity hangout.
Now, it lives again.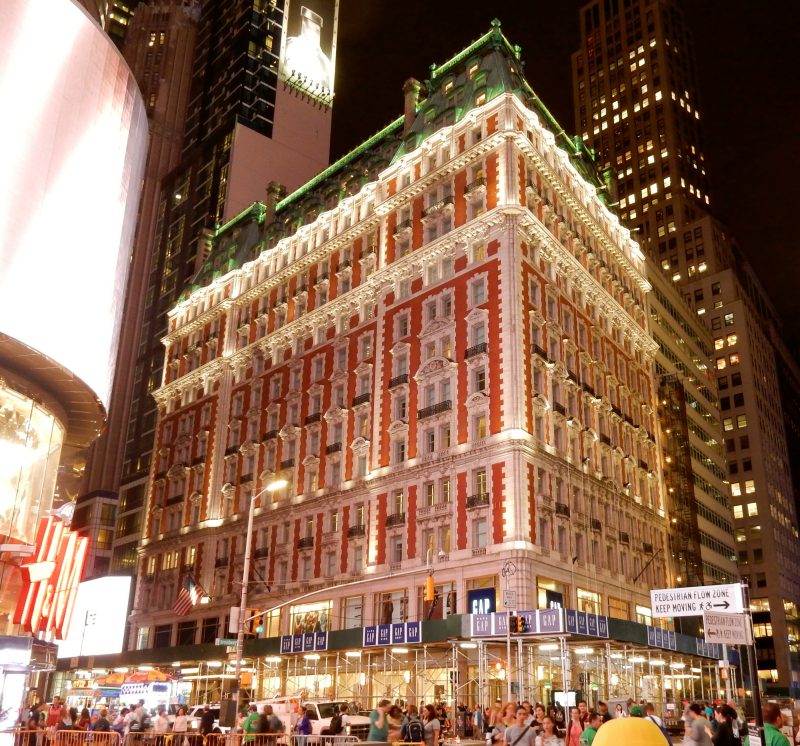 Opened in 1906, The Knickerbocker Hotel became what would have been a TMZ darling, the place where notables of the day went to be seen in the newly developing Times Square (the wedge of Manhattan real estate named for the New York Times Newspaper building, built in 1904). Presidents Teddy Roosevelt and Woodrow Wilson, Carrie Nation, Anna Pavlova, William Randolph Hearst– all stayed here. Enrico Caruso, Mary Pickford and George M. Cohan were residents. The Knickerbocker Bar, with its Maxfield Parrish mural, hosted the A-listers of the day, and the restaurant served some of the best meals in town.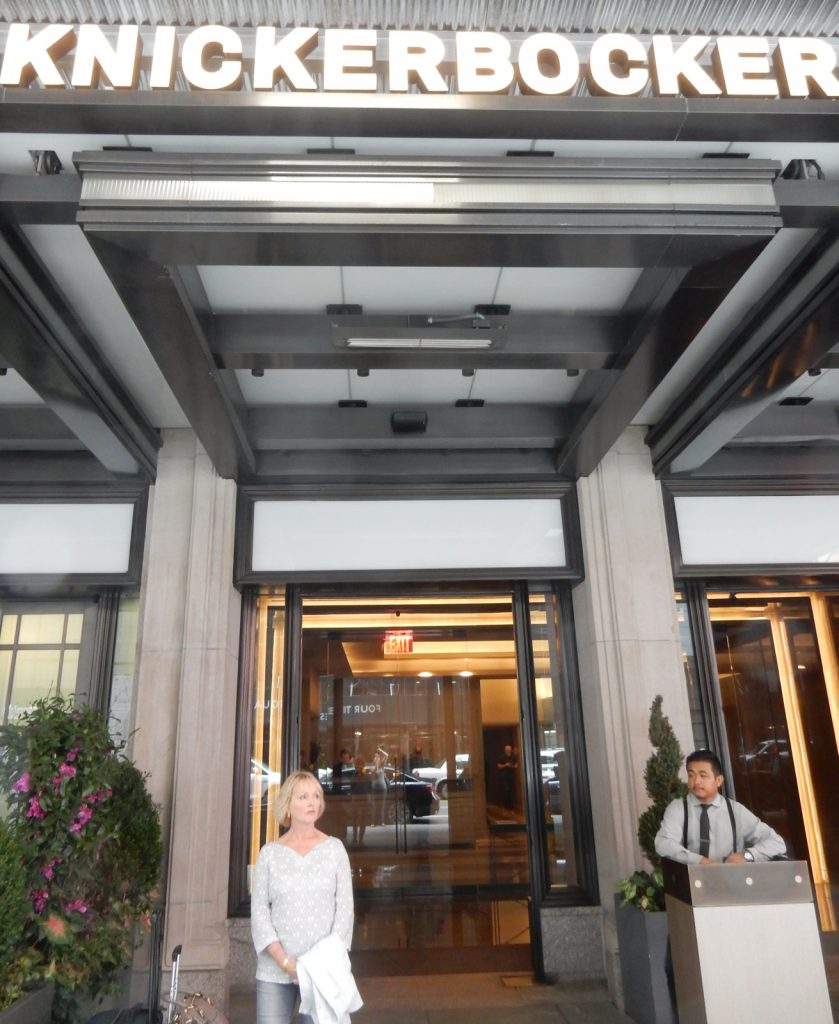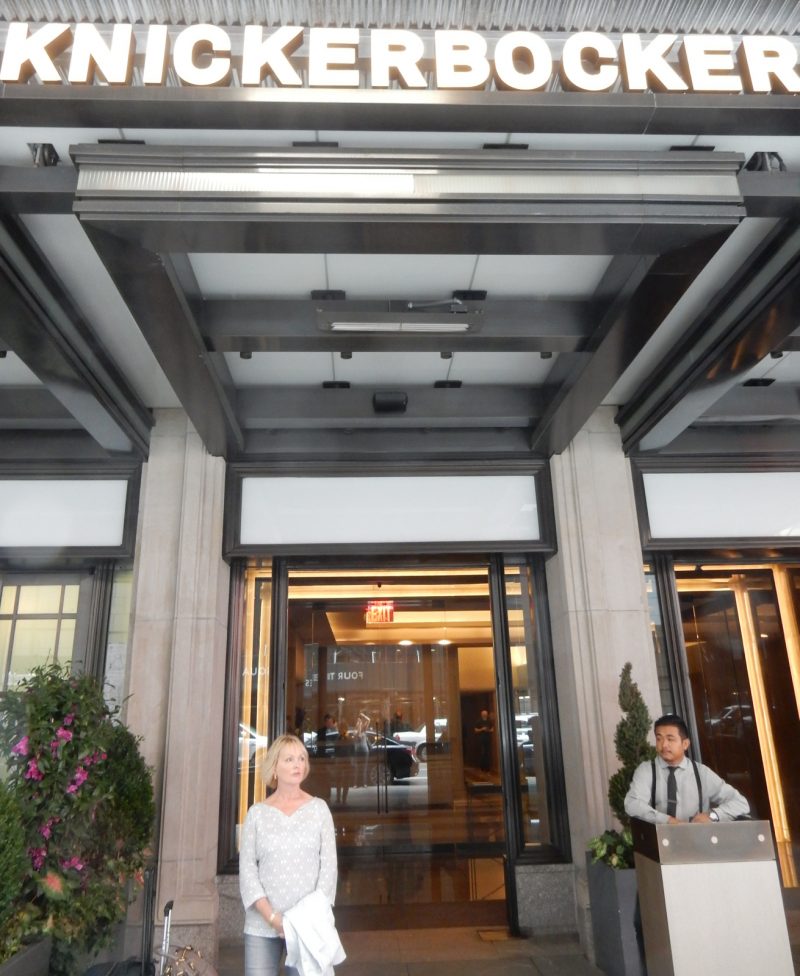 The Knickerbocker closed abruptly in 1920, some claim due to Prohibition and the increasing value of office space in that section of NYC. The Knickerbocker was subsequently used as headquarters for Newsweek from 1940-1959 and then retail space and housing units before being completely renovated a couple of years ago with its stunning Beaux Arts exterior intact. Red brick with terra cotta trim, the building is a standout in Times Square amid the flashing lights of surrounding Jumbotrons and ordinary facades of Big Box stores.
The lobby is spare – a gateway of dark marble with little, if any, adornments. Walk past the concierge desk in the front, down a narrow hall to a low-lit living room like space with two receptionists sitting at small desks.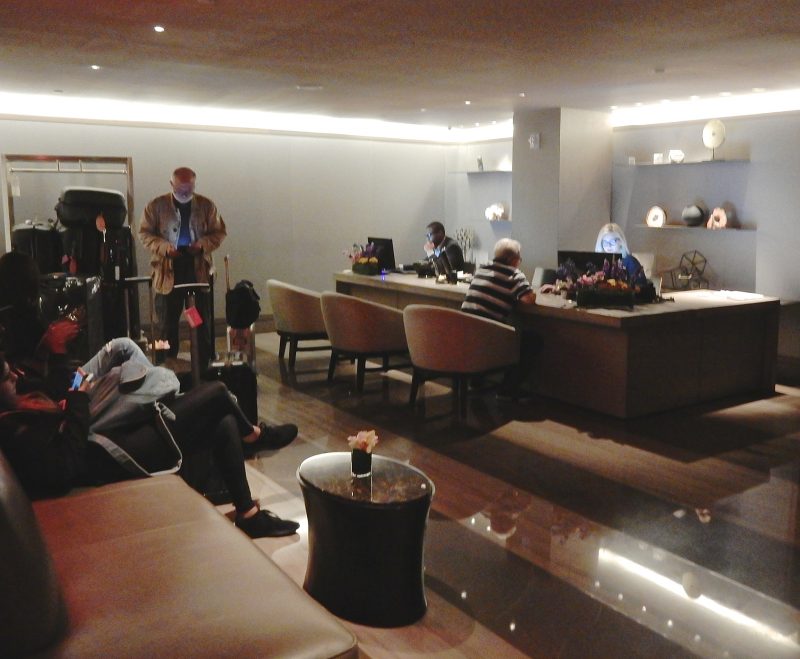 It's a surprisingly intimate, and rather disorienting first few moments in an area of The City generally crawling with tour bus groups waiting in line for room keys.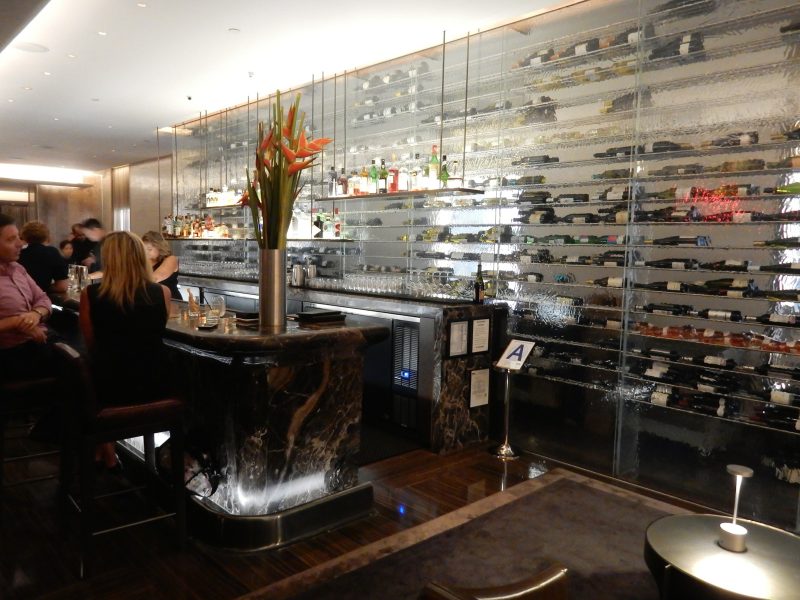 I was immediately put at ease and felt a sense of calm – another surprise – with feng shui-ish décor and one-on-one engagement with a bright and affable employee who let me know when the Rooftop Bar would open, and the fact that in-house restaurant, Charlie Palmer's, was hosting live jazz that night.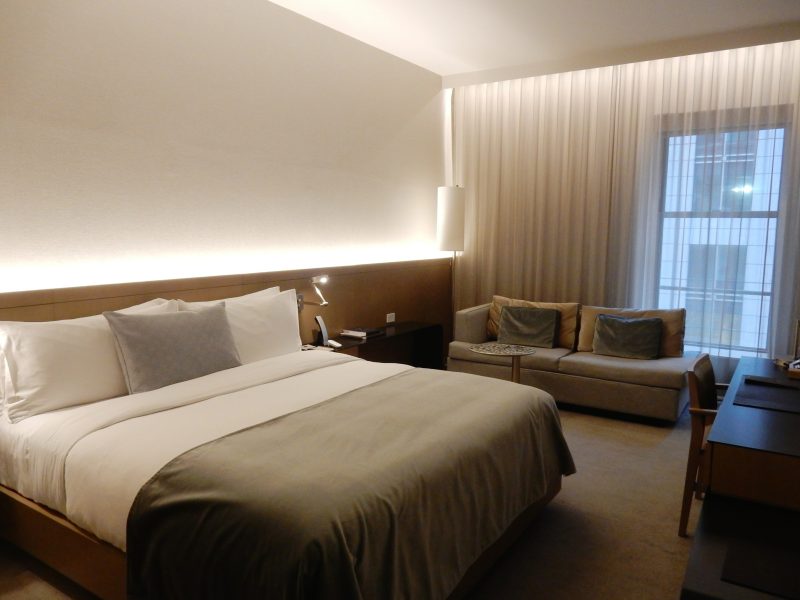 Modern furnishings in shades of cream, camel and mink are not what you'd expect from the Beaux Arts exterior of the building. Rooms, in mellow Asian meets Danish decor, are immaculate and minimalist, devoid of art on walls or any punch of color (there's more than enough right outside the window). Each encompasses blond wood furniture, ultra-comfy platform beds topped with white duvets, thermostats that work extremely quickly (hot to cool in a matter of minutes, shower hot in seconds), and are super-soundproof – a key ingredient in the noisy center of a 24/7 city.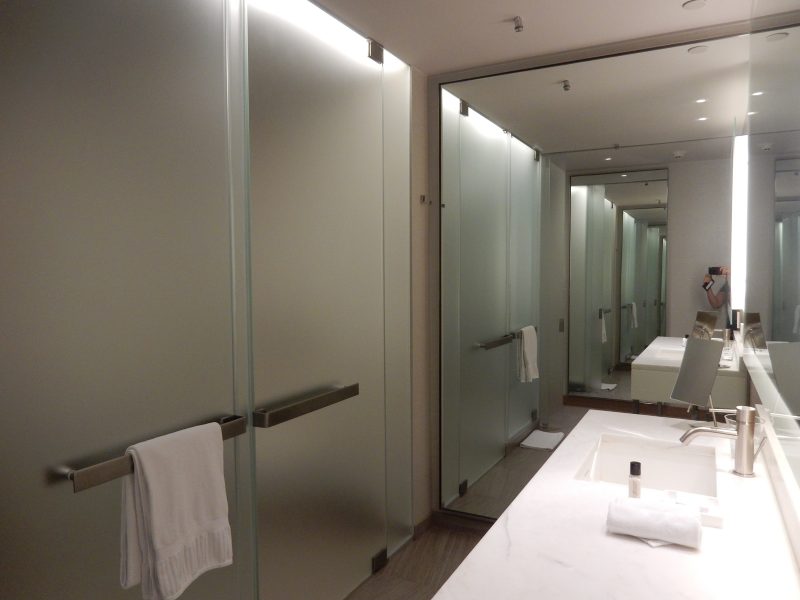 Frosted glass sliding doors separate the bathroom from bedroom. Sleek and modern with large rain-shower, marble-topped sink and huge, well-lit mirrors, European style toilets, granite-like ceramic tile floor, and textural wallpaper, bathrooms are spa-like in their simplicity.
Drinks and Dining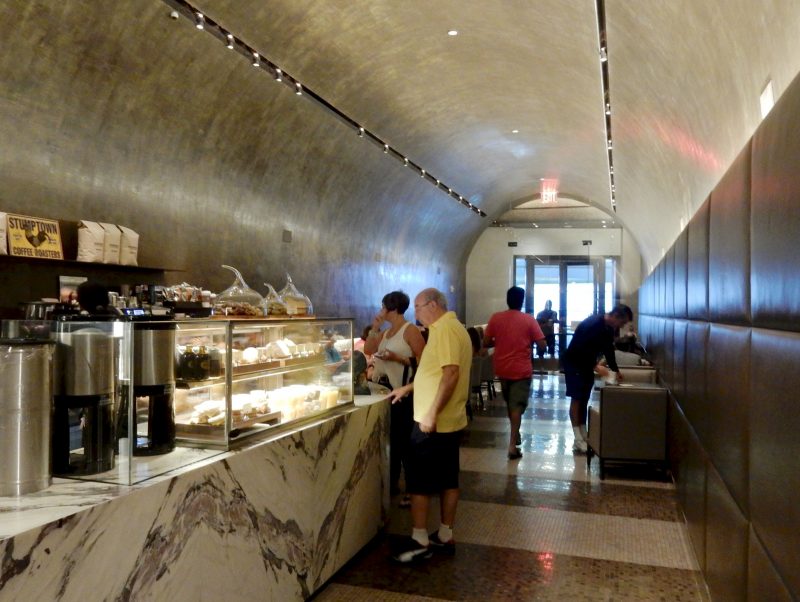 Jake's @ The Knick. Named for J. Jacob Astor, this Stumptown Roaster outpost can be accessed through the hotel lobby. Besides excellent coffee, it sells grab and go croissants, muffins and other baked goods.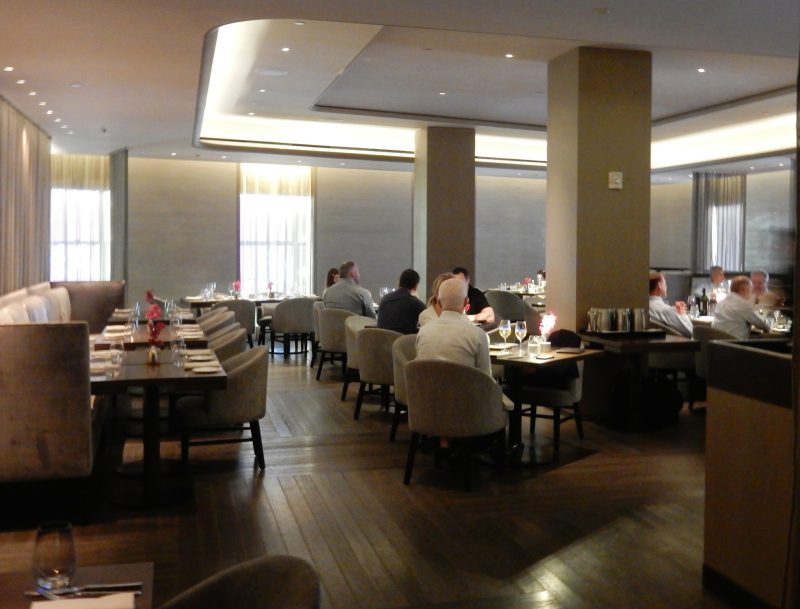 Charlie Palmer at The Knick: On the 4th floor, Charlie Palmer's is quiet, classy and the food, high-class. Though I didn't dine here, the intimate room was busy on a Tuesday night, and live jazz attracted the cocktails-before-dinner set.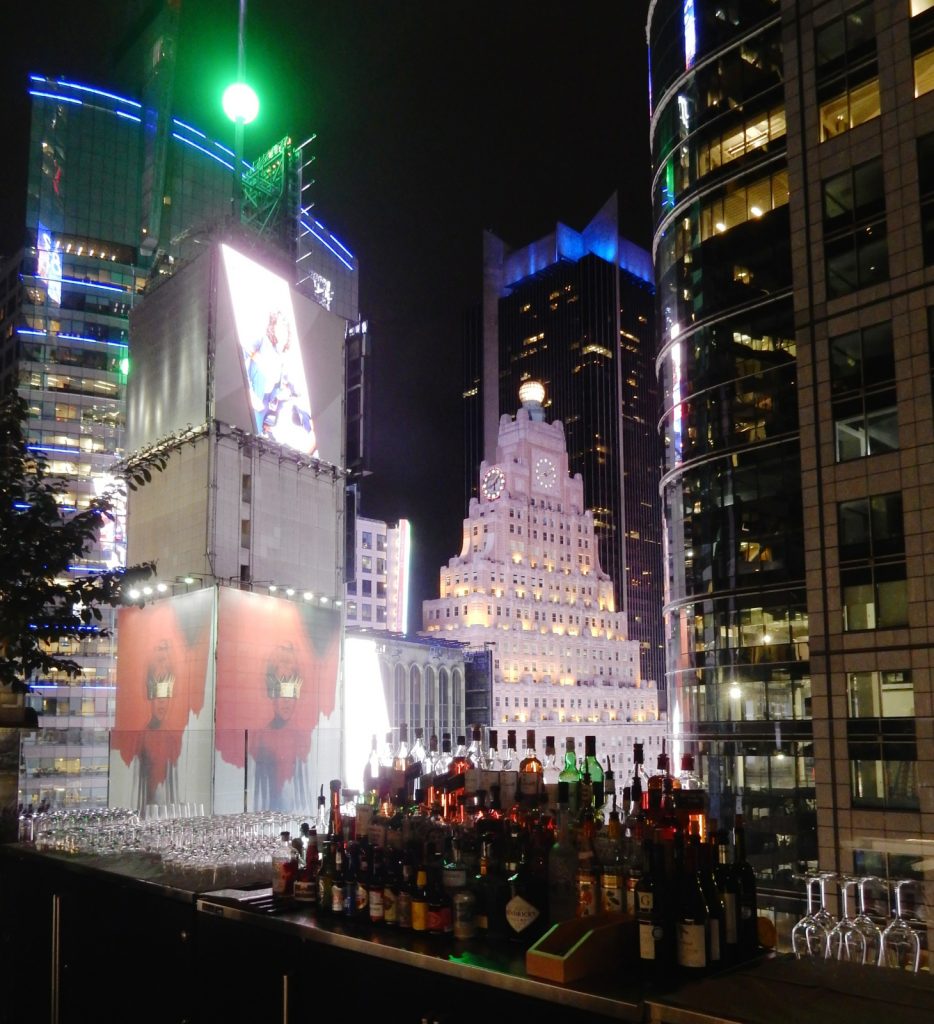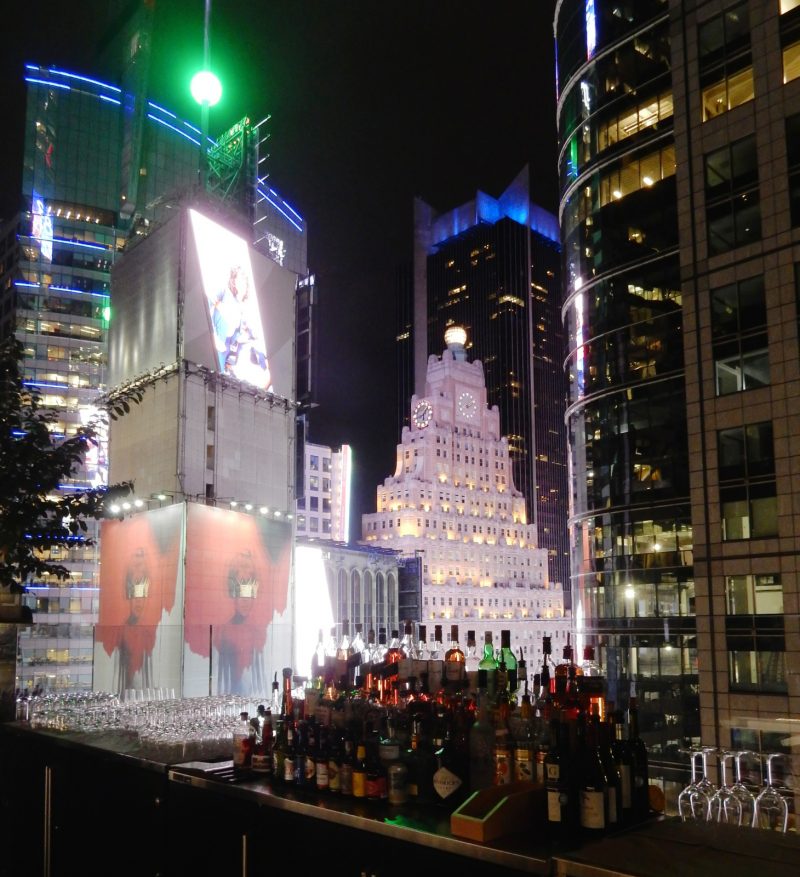 St. Cloud Rooftop Bar and Lounge: I've been to many a roofdeck bar – some even in New York City – but there is none to compare with the St. Cloud at the Knickerbocker. More than 16 stories high, within direct view of the Times Square New Year's Eve ball and the flashing lights of the surrounding mega screens, this quiet spot is a treat and revelation. Even if you are not staying here, having a drink here is a must-do.
Amenities at Knickerbocker Hotel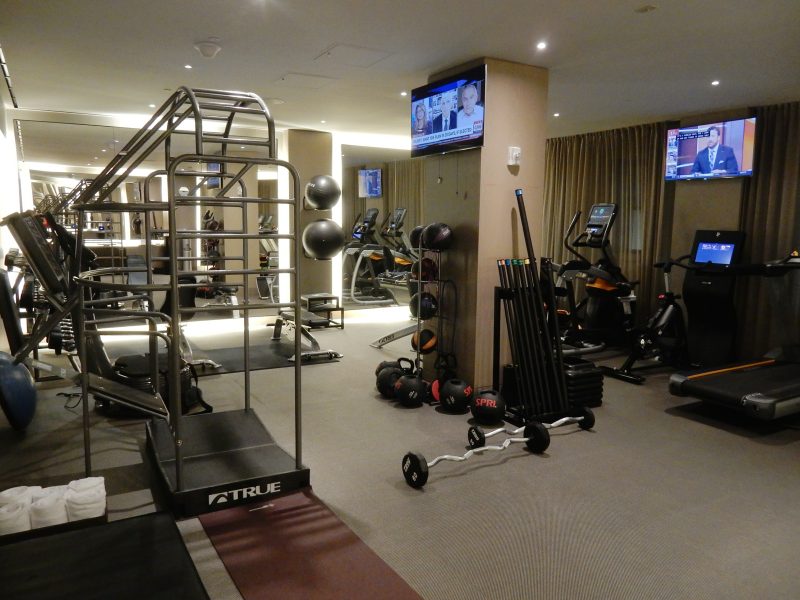 Besides in-house dining and that boffo view from the roof deck, The Knickerbocker also has two fitness rooms – one for cardio and another featuring weight machines and apparatus.
Just the Facts
Rooms rates from $375, suites from $450 per night includes free wi-fi.