Three miles removed from the madness of downtown, the Castle Hill Inn Newport RI (not to be confused with the Castle Hill Resort and Spa in Ludlow VT) sits on headlands overlooking Narragansett Bay three miles from downtown Newport Rhode Island. This location makes it the perfect romantic, splurgy getaway for couples who shy away from crowds, and an excellent vantage point from which to watch boat traffic coming in and out of the harbor.
With rates from $550 off season to over $2,500 per night in season, however, the Castle Hill Inn is pricey for sure. So, is it worth it? We say, yes – for special celebrations: proposals, babymoons, and, listen up Millennials – as a great anniversary gift for your Boomer parents!
Read on for more information.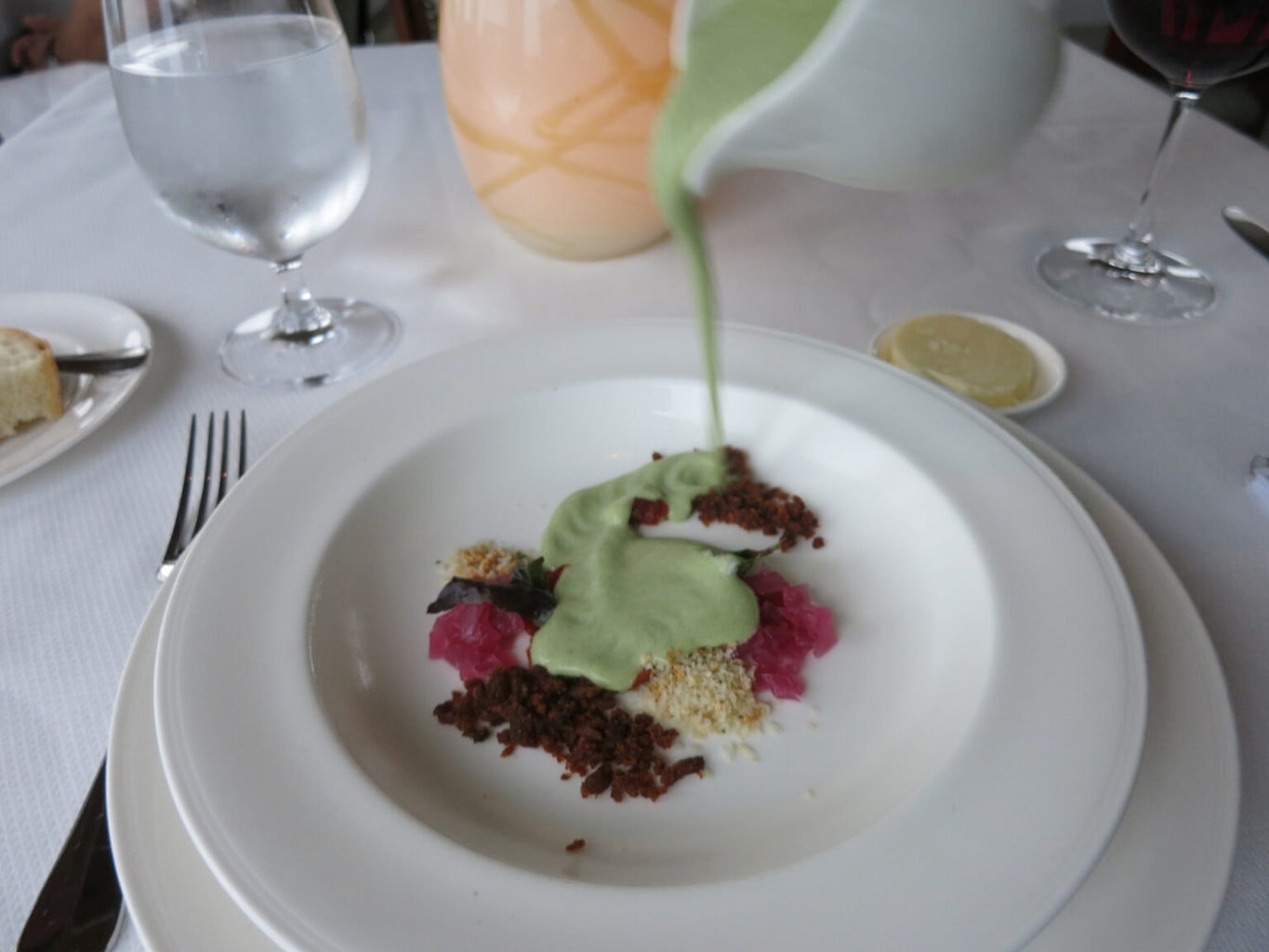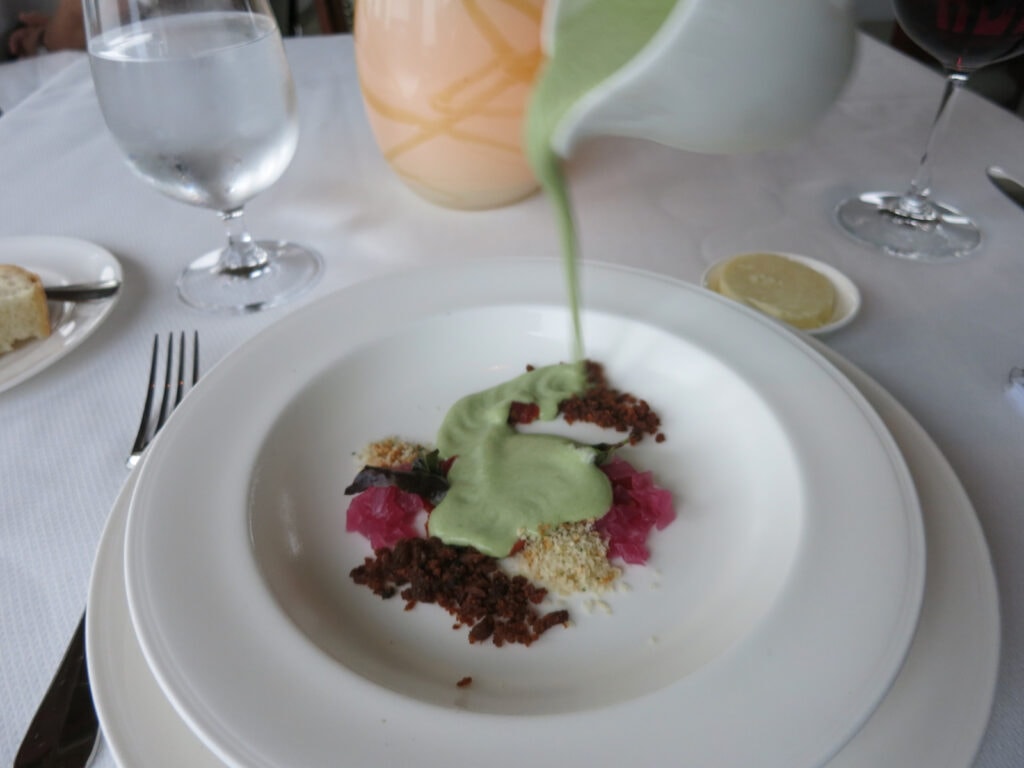 The Castle Hill Inn was originally built as a Marine Laboratory and summer home for Swiss-born copper-mining tycoon, Alexander Agassiz, whose studies formed the basis for the modern science of Marine Biology.
The inn's 40 acres encompasses both Agassiz's chalet-like house, his own lighthouse, and newly built beach cottages. And it is, of course, one of the Getaway Mavens Top Romantic Luxury Hotels in Rhode Island.
First Impressions of Castle Hill Inn Newport RI
The inn offers all one would expect from a Relais and Chateaux property. It is exclusive, highly luxurious, and offers exceptional service.  Plus, it's the only Newport lodging with a private beach.
Check in is casual, friendly, and best of all for these days and times, efficient. Since the Castle Hill Inn is an upscale compound with guest chambers scattered all over the property, bellmen in golf-carts stay very busy.
Rooms, Suites and Cottages at Castle Hill Inn
The Rose Room is but one of seven rooms in the inn's 19th-century mansion: Agassiz's baronial home. History meets romance in quarters featuring detailed hardwood paneling, a gas jet fireplace, and a Jacuzzi tub set in a marble bath.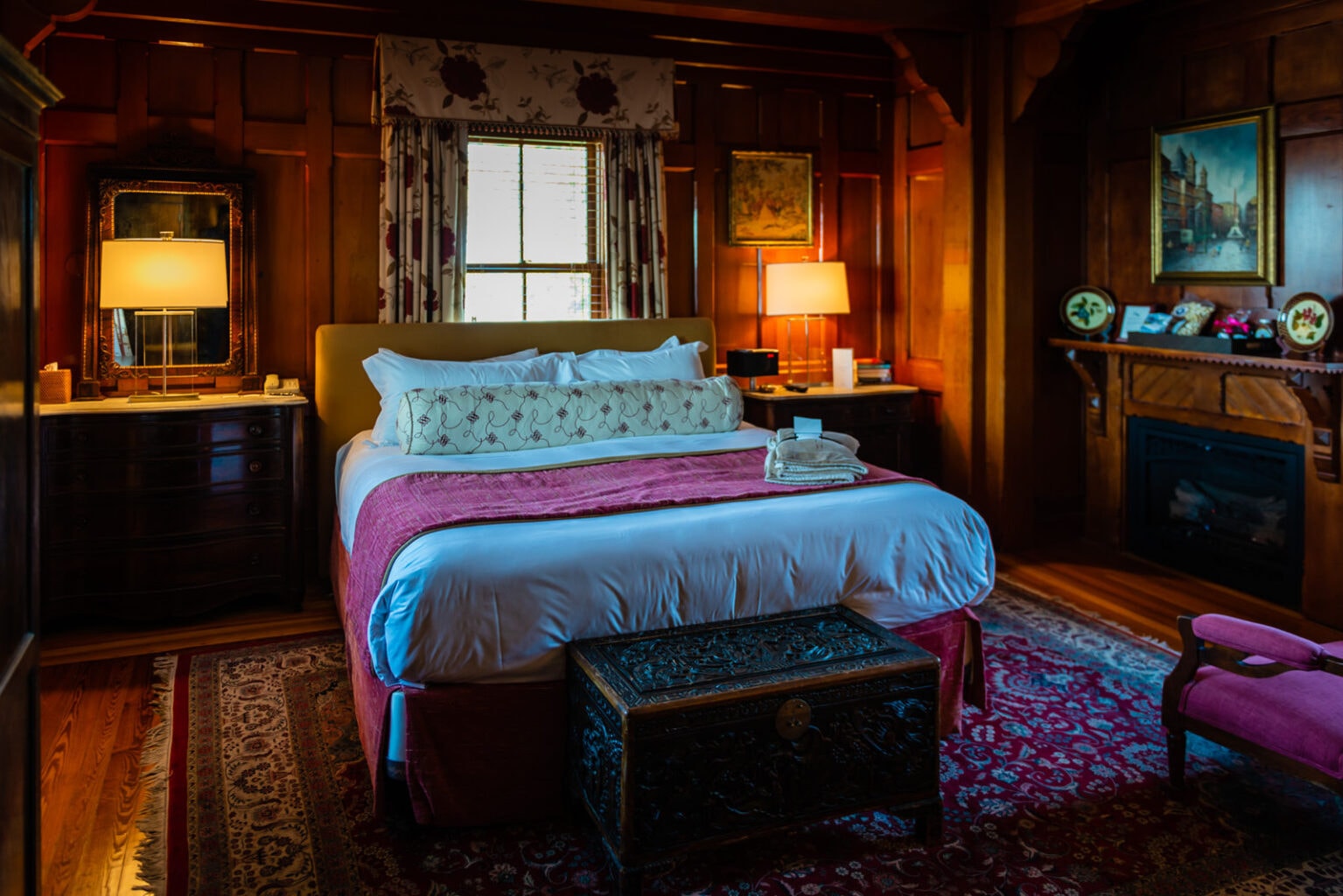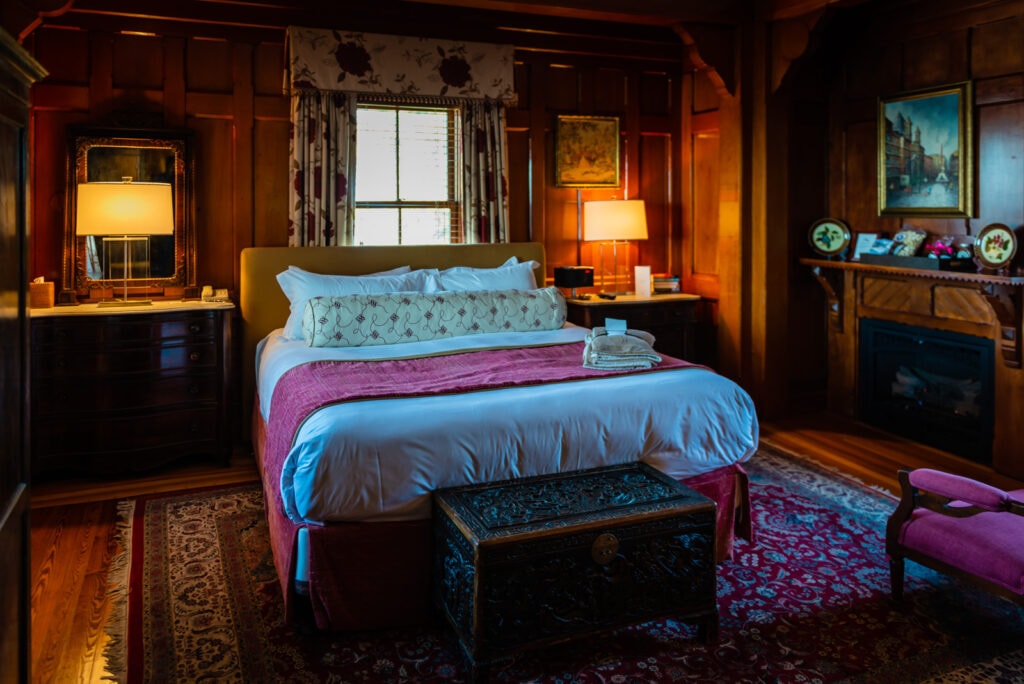 Beyond the main building, there are rooms and suites in the Chalet event space, Harbor House, as well as the beach cottage and beach house rooms. All inn rooms offer high speed internet, which –  while convenient, and, some would say, necessary – seems anachronistic here.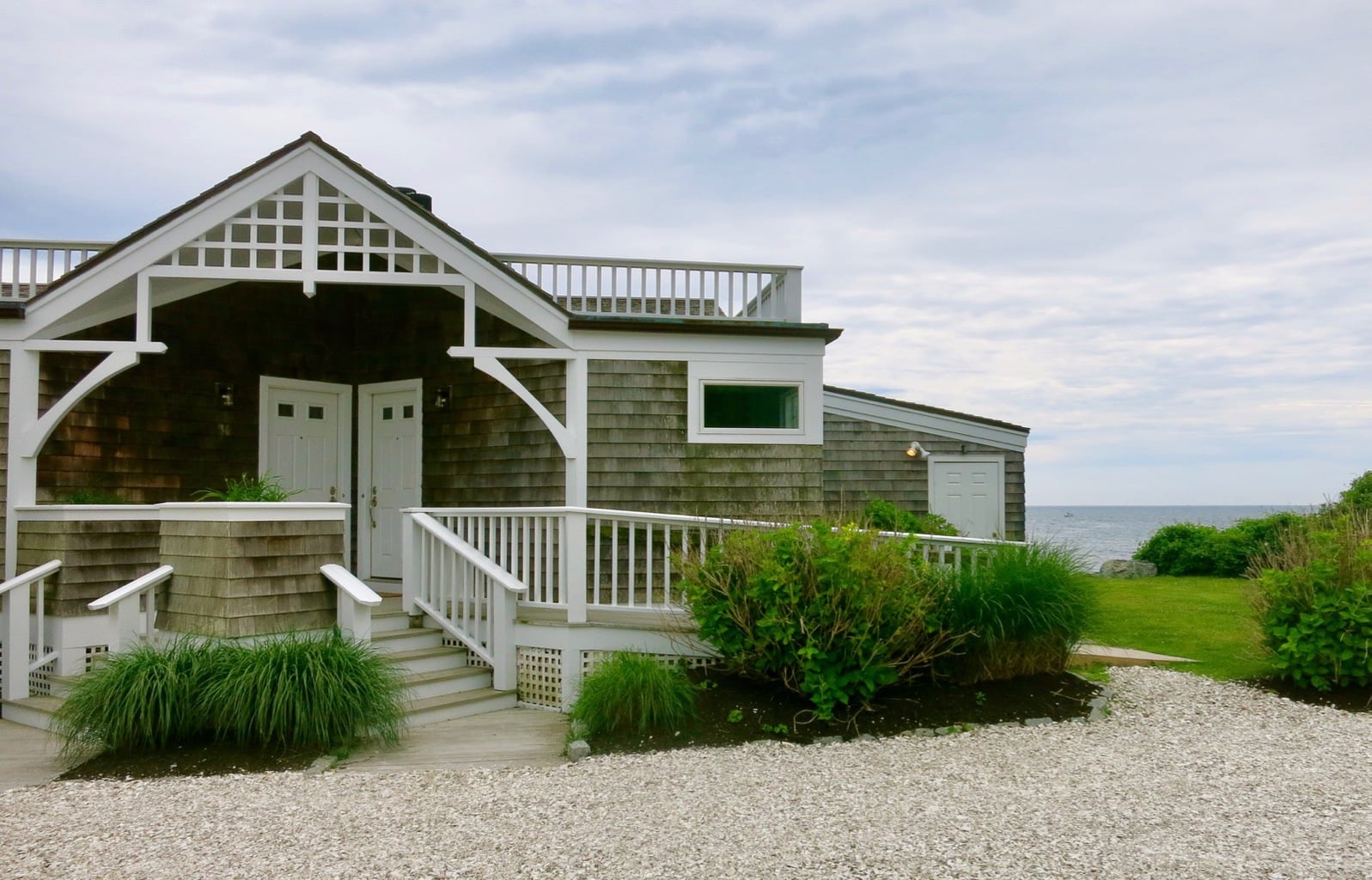 For those who'd like to dip their toes in the water from your own personal back door, book a Cottage or Beach House. The sandy shore, complete with chaise lounges, umbrellas and beach service, is literally right off your balcony.
Each room and suite in both the main house and beachside has its own personality, with its own decor. Of course this is mostly of the elegant-country-shore house variety.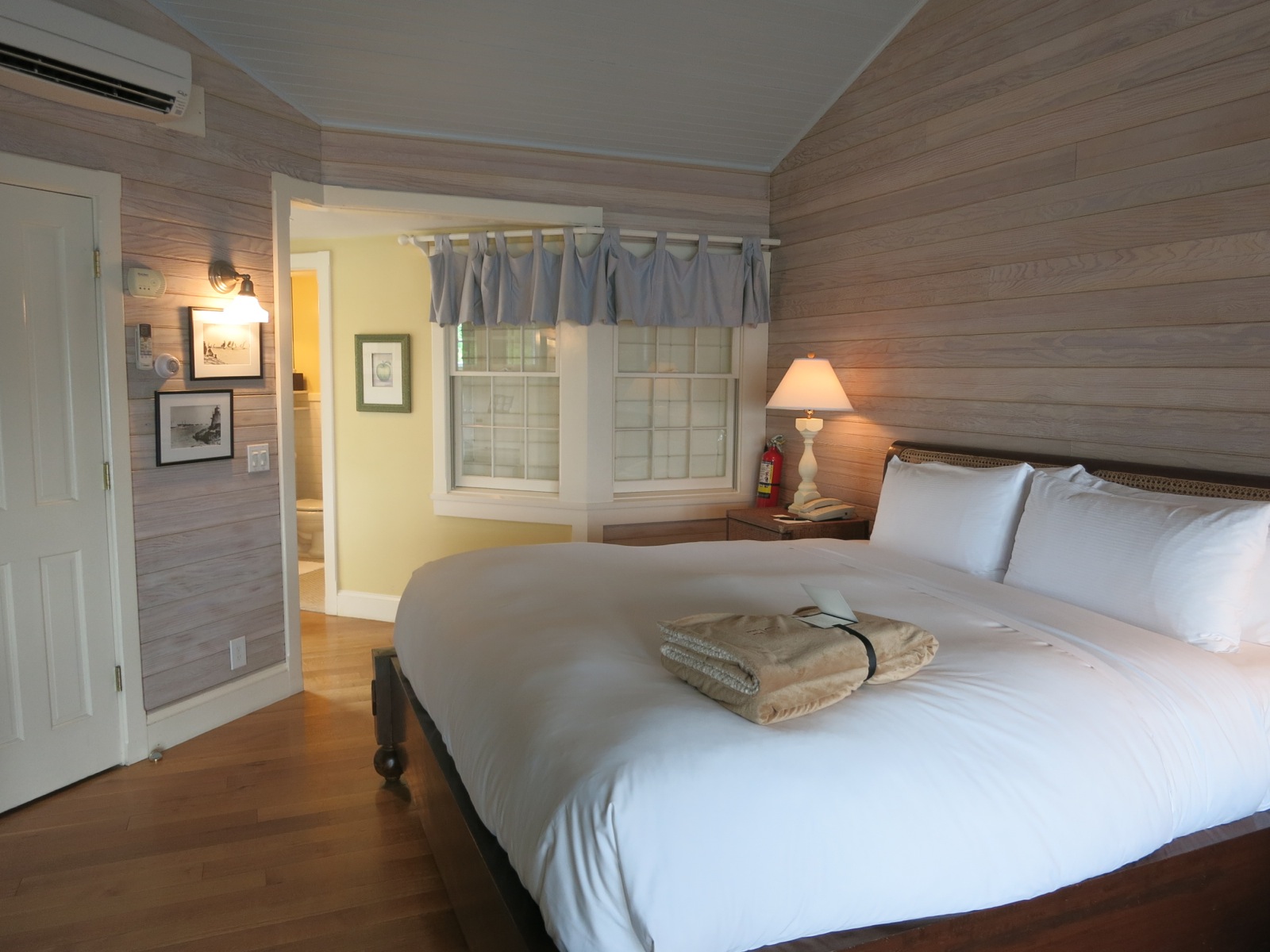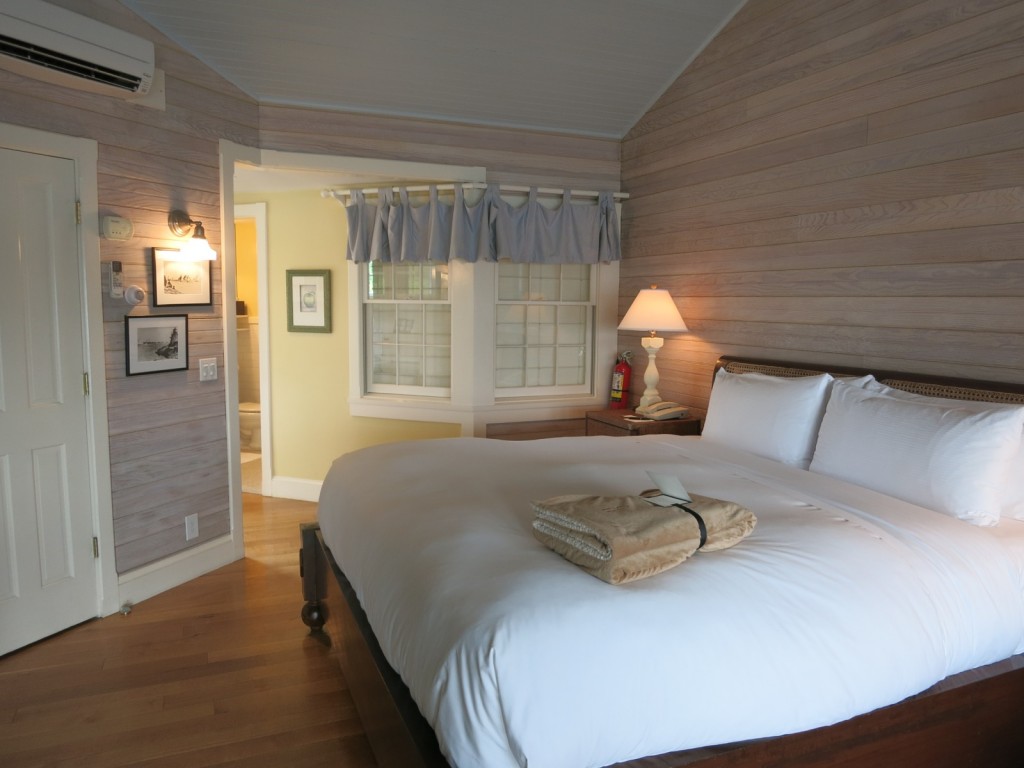 Suites in the weathered-shingled Beach Houses feature bleached hardwood walls, cathedral ceiling, small galley kitchen, large glass shower baths, and a sizable deck overlooking "Grace Kelly Beach." The royal starlet used to escape to these shores when summering in Newport. And now you can, too.
These beach cottages are perfect for those who want a bit of privacy.  Just be sure to get dressed before stepping onto the deck that connects to a row of other suites.
Dining at Castle Hill Inn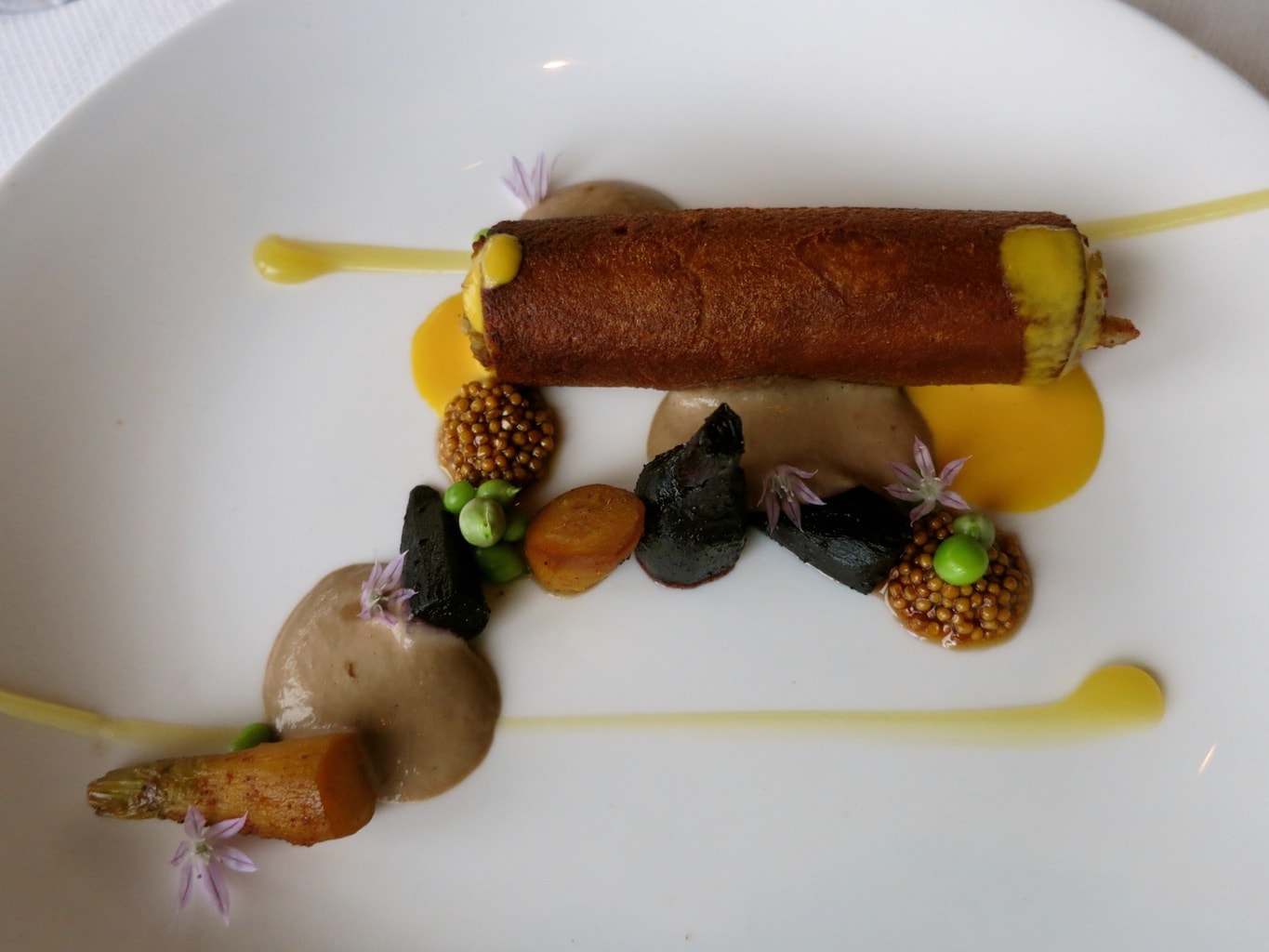 It was pouring when I was seated in the conservatory dining room, with stunning views of Narragansett Bay to equal the food plated like Miro compositions. Despite the weather, the room was full of happy, satisfied patrons who raved about nearly everything on the menu, which changes seasonally.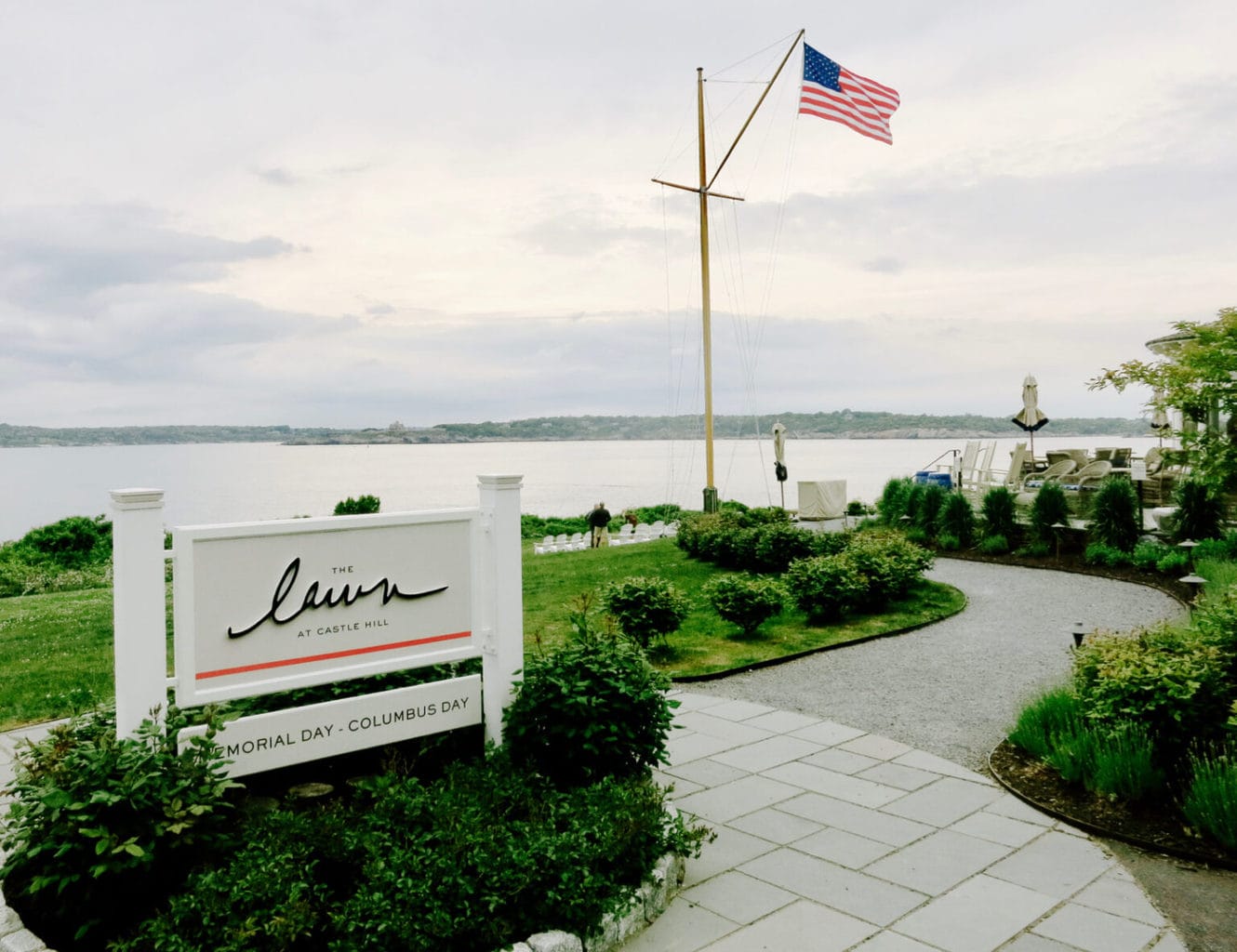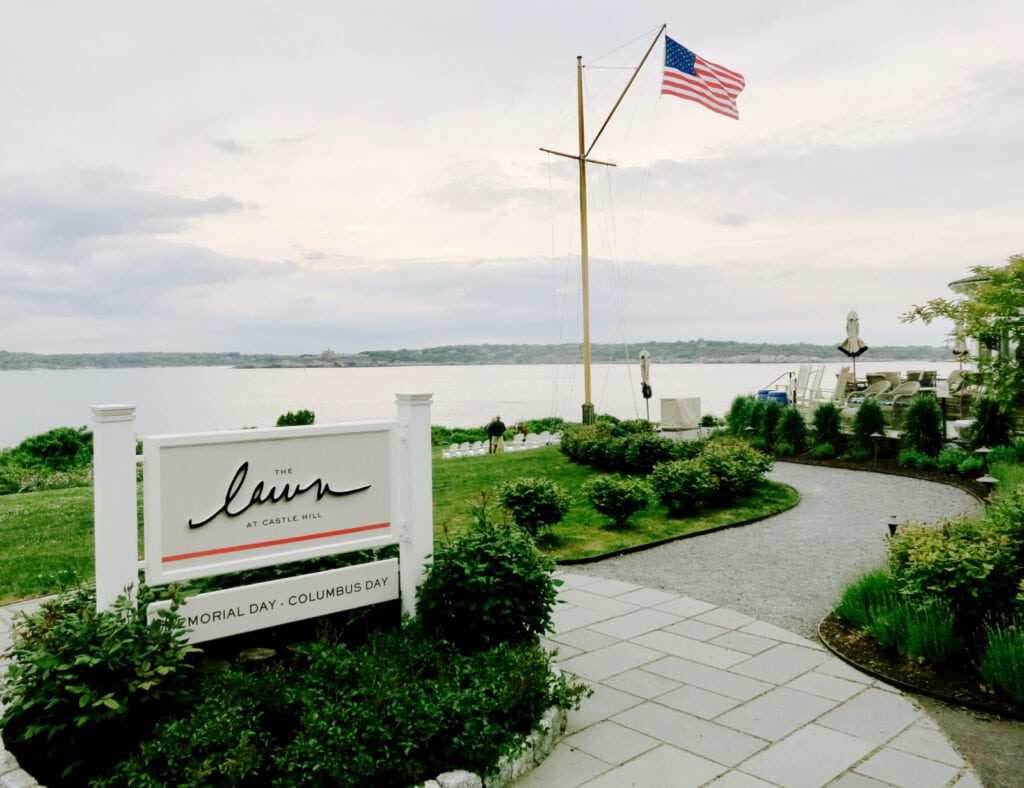 If it wasn't raining, I would have opted to have dinner on "The Lawn."  Peppered with white Adirondack Chairs, and overlooking the water, a good casual, small-plates meal and glass of wine would have satisfied me way into the night, when the lighthouses nearby start blinking like fireflies.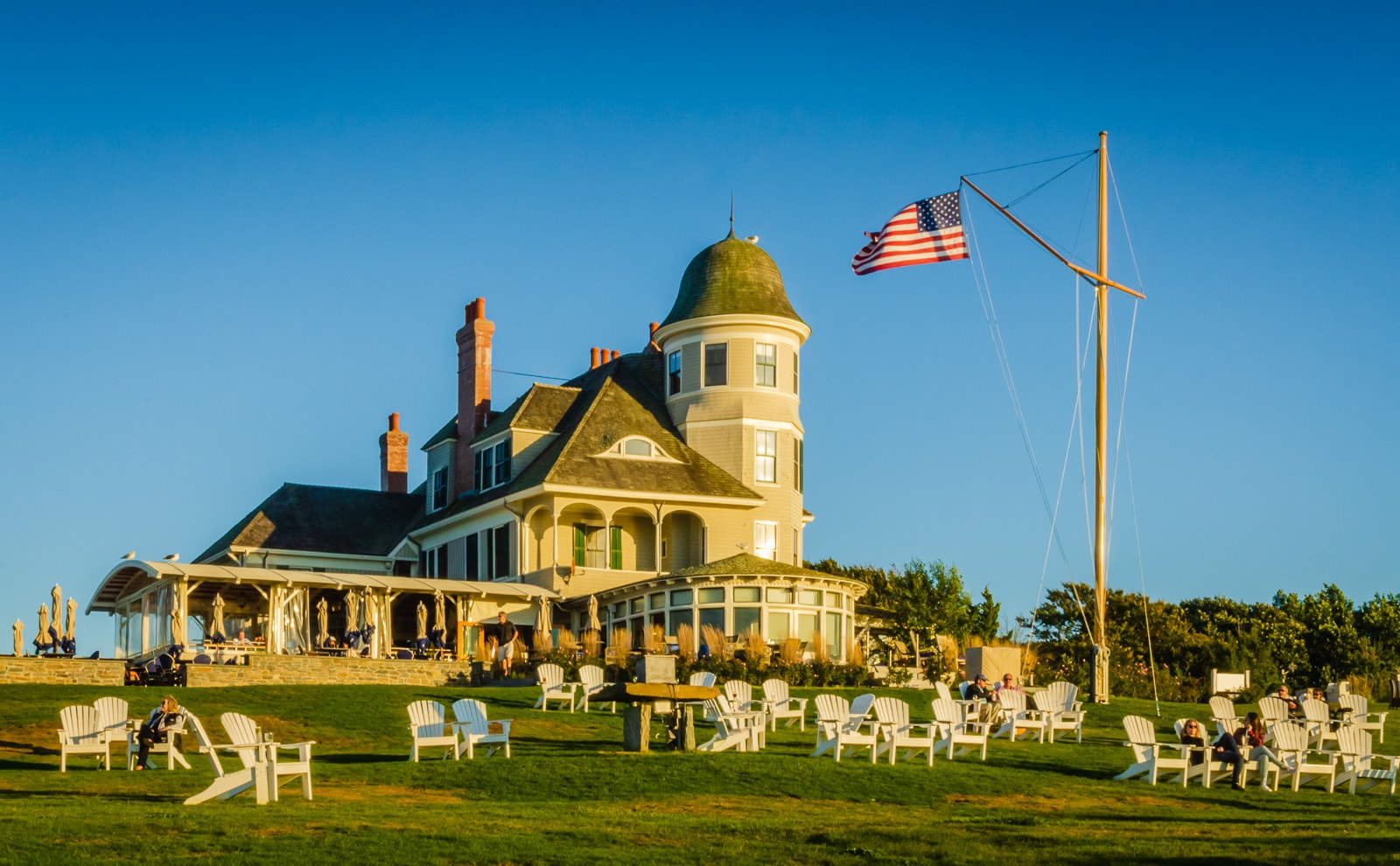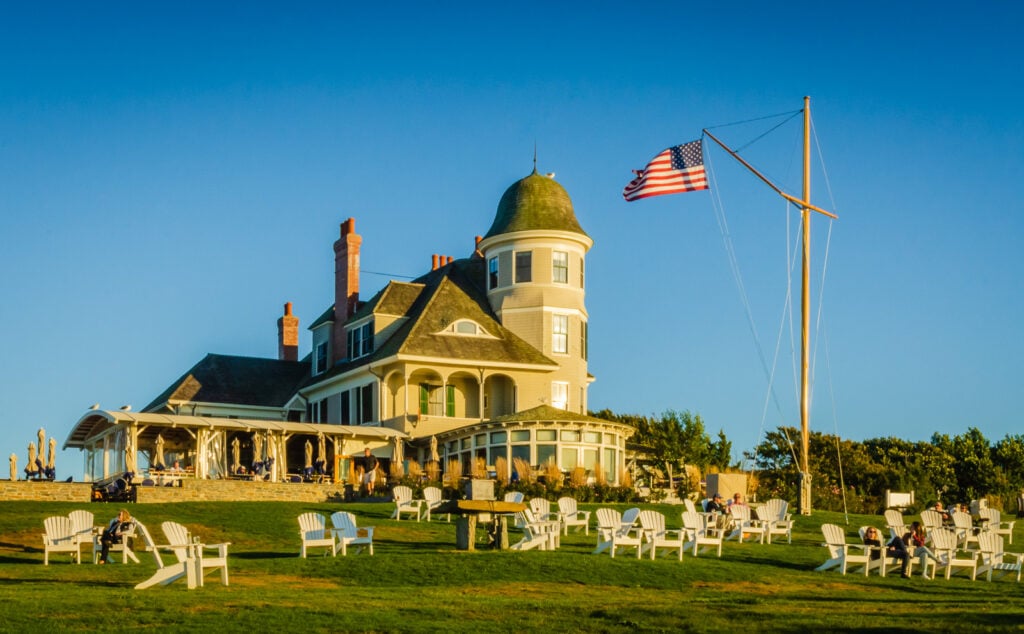 Things To Do At Castle Hill Inn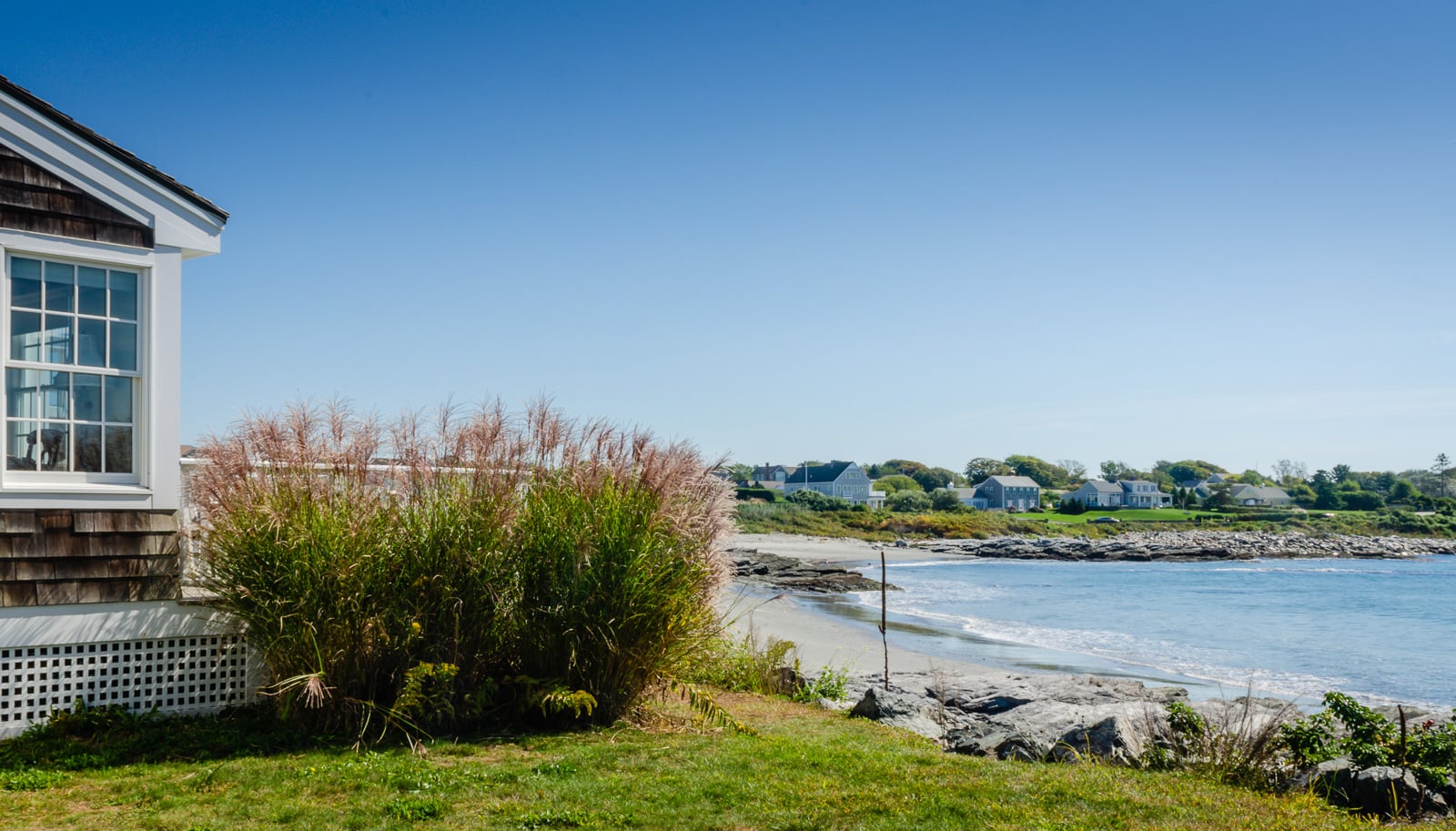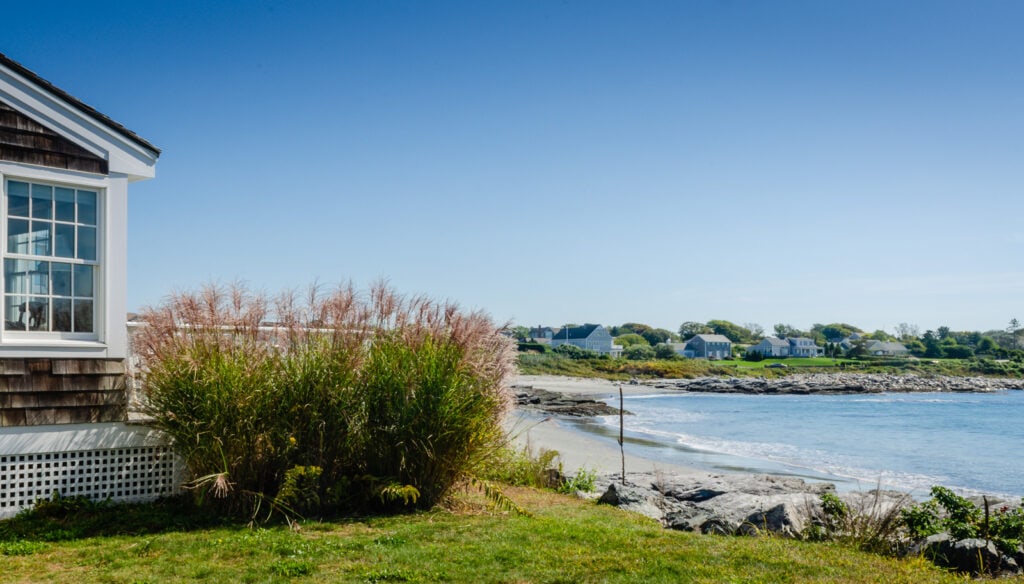 Enjoy the only private resort beach in Rhode Island
Outfitted with chaise lounges, umbrellas, towels and attentive staff, you need not leave resort grounds to work on your tan.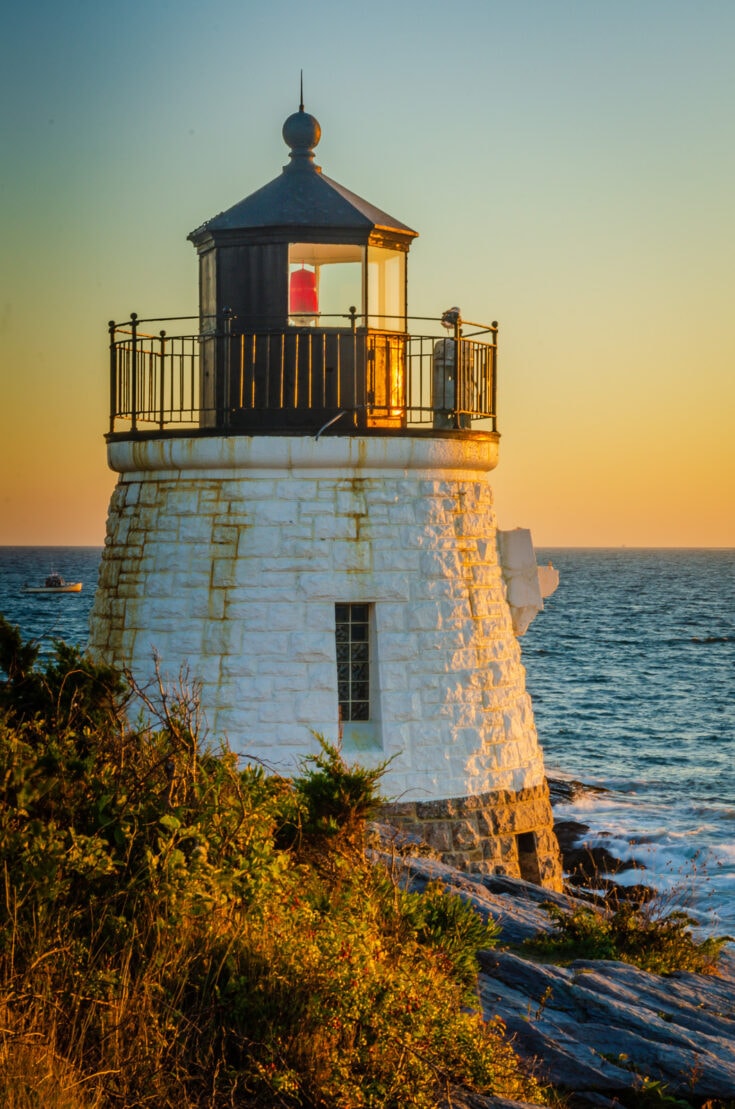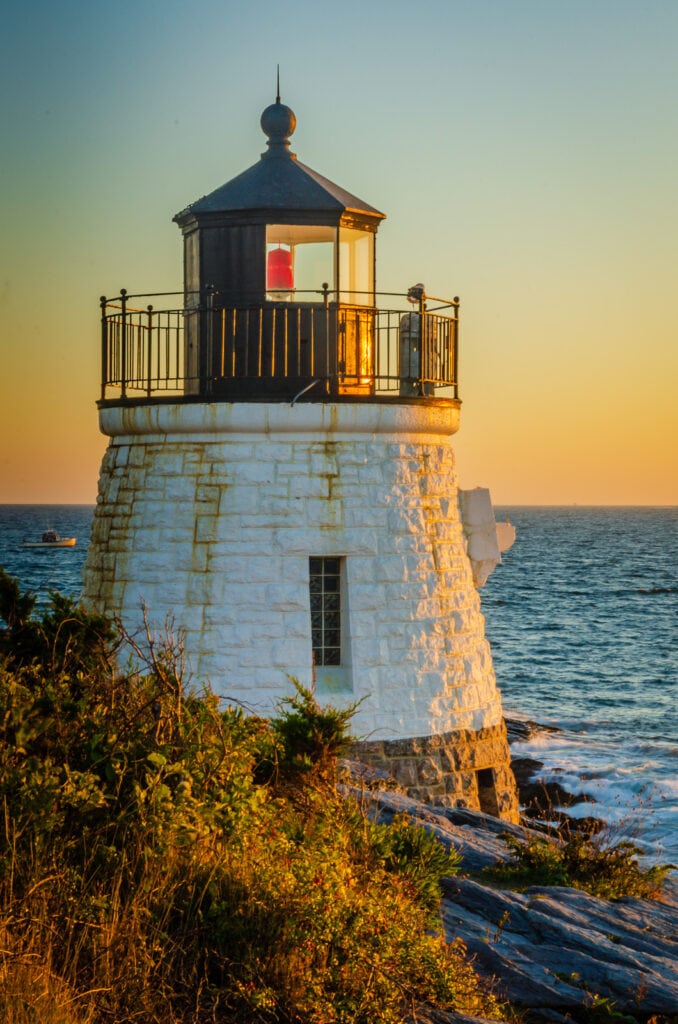 Walk down a small path to Castle Hill's own 34 foot white saltshaker Lighthouse
Built by original owner, Agassiz, to protect ships coming around the bend, the granite lighthouse sits right on the face of a cliff. So, do be careful.
Bike Around Newport
Borrow a bike and peddle into town – 3 miles away. Or, just enjoy views along the shoreline.
Take A Yoga Class
In season, and when weather permits, take a complimentary morning yoga class on the beach.
Afternoon Tea
Every afternoon, join other guests for a proper afternoon tea service.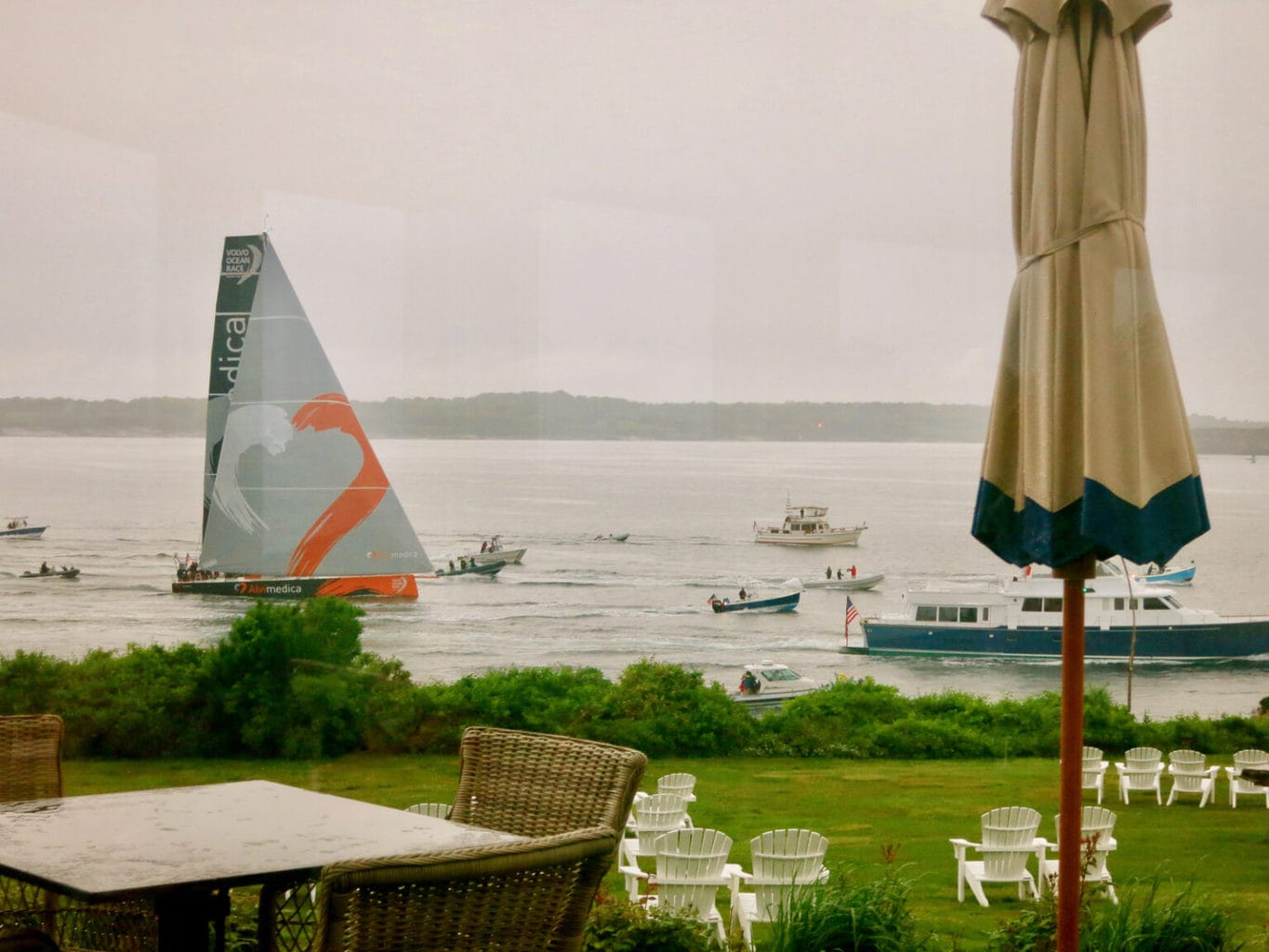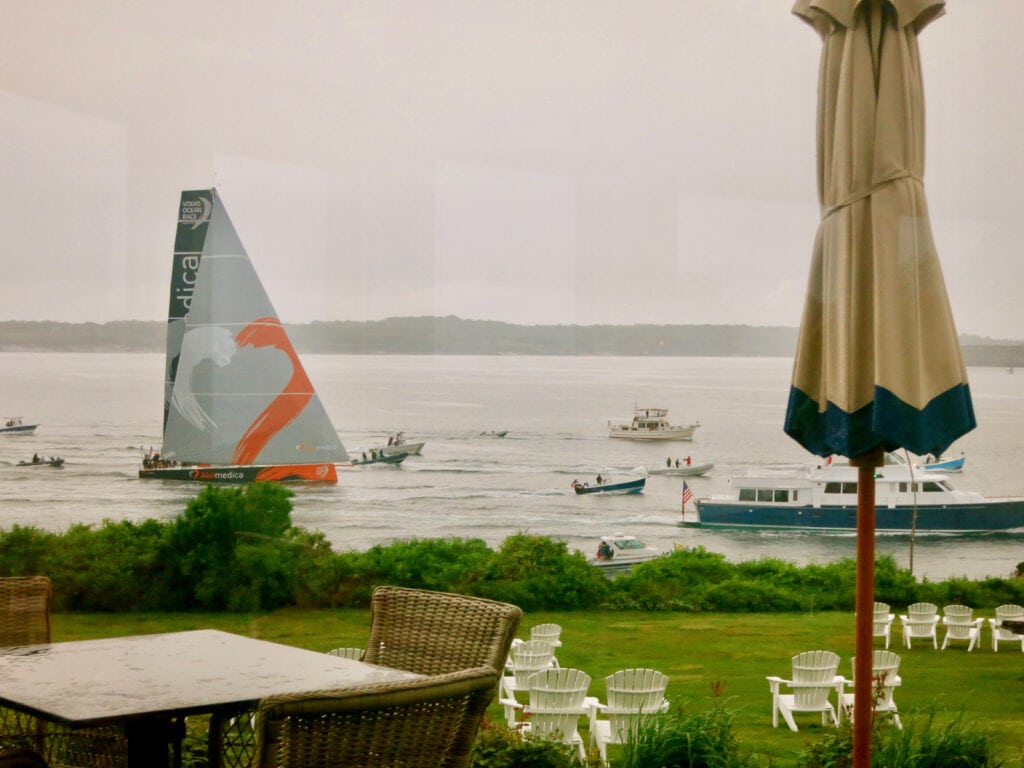 Perhaps Watch Racing Yachts Go By
You're in luck if you happen to be here at the start of the Great Bermuda Race.  Join 2,000 other people on the Yacht Club-like lawn to wave to the sailboats leaving the harbor.
Or – there's nothing more thrilling than catching the muscular, techno yachts participating in the Volvo Ocean Race being escorted into town. Rain or shine, these streamlined vessels come within just yards of the Inn's dining room.
Just the Facts about Castle Hill Inn
Rooms, suites, and cottages from $595 to $2,300 per night (depending on day of week and season). includes on-site activities, the beach, use of bicycles, yoga classes, and a full cook-to-order breakfast, and more.