Last Updated on
For luxury travelers, there really is only one place to stay in Carroll County MD: Antrim 1844. This baronial country inn is actually the reason that many people come here, though it's virtually unknown outside of the Mid-Atlantic.
Arriving at the front door, I felt as if I'd been hiking in the deep dark remote woods and, in a clearing, discovered a Civil War era mansion with butler service, finery, champagne, and five star dining. My first view of the high ceilings, grand portraiture, and floating curved staircase in the entry foyer literally took my breath away.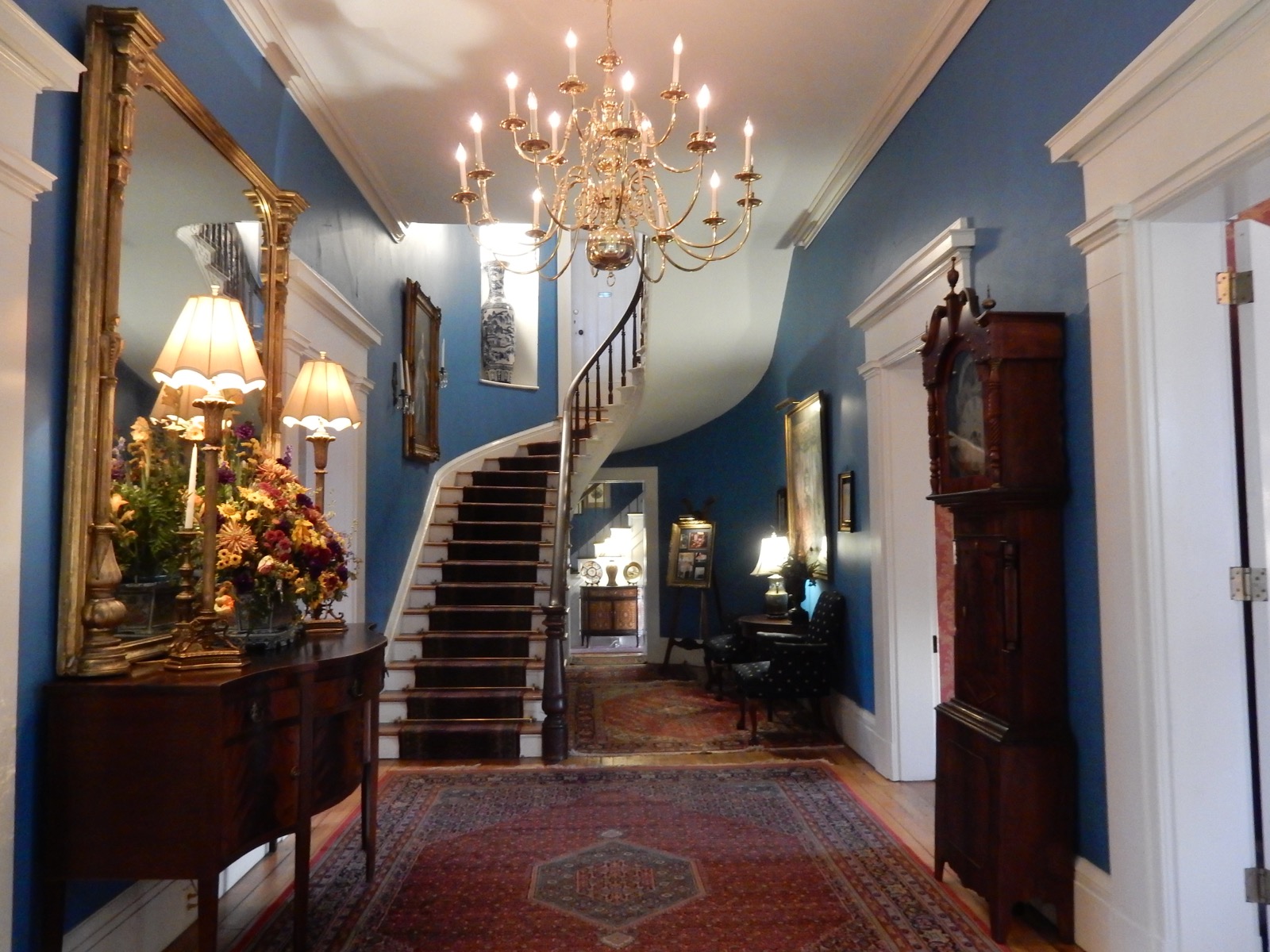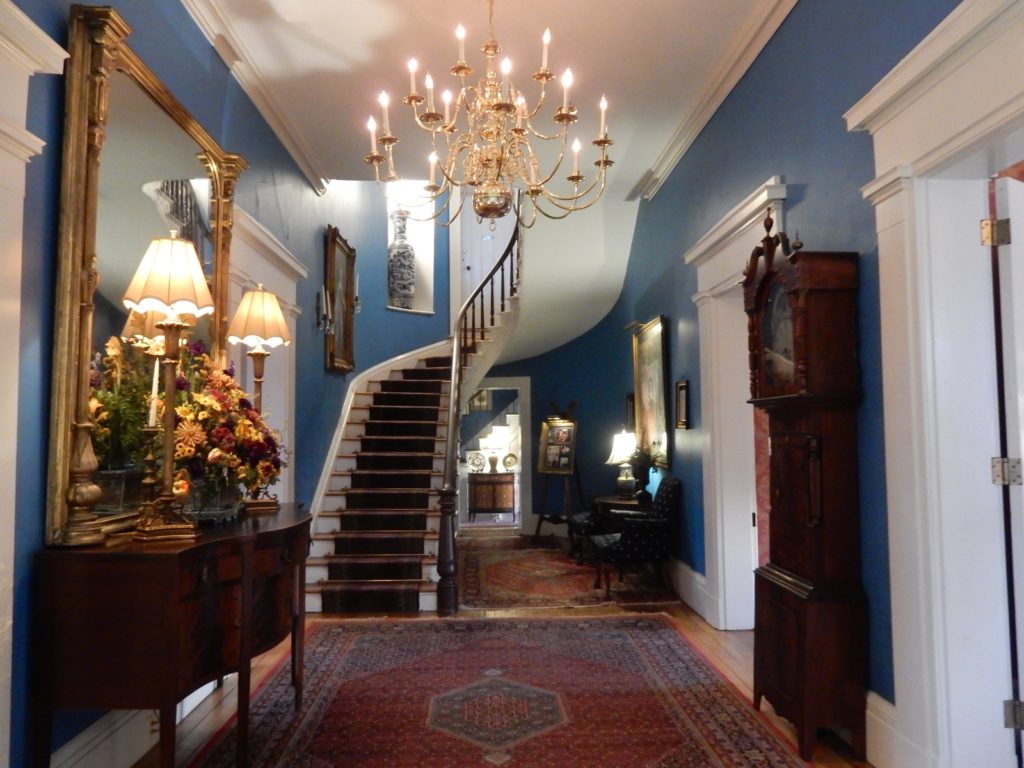 Antrim 1844 encompasses 40 unique guest rooms in several buildings on beautifully landscaped grounds. Wine Spectator Magazine has bestowed its Award of Excellence upon the fine in-house Smokehouse Restaurant – with new chef, Andrew Fontaine, late of Napa County CA – and its 22,000-bottle wine cellar (in the original boiler room), 17 years in a row.
On par with many Relais & Chateaux or Leading Hotels of the World properties, and on the Select Registry and the National Historic Register, this is not a dusty antique inn resting on its laurels. Kept up impeccably, I was surprised to have never heard about Antrim until now.
Built in 1844 by Col. Andrew Ege, and named for his ancestral home, Antrim was a 400-acre farm, and a Confederate encampment during the Civil War. You can still see Gettysburg from the top of the Widow's Walk. By 1987, the home had been sitting vacant for 70 years, but was in good shape due to the vigilance of its neighbors.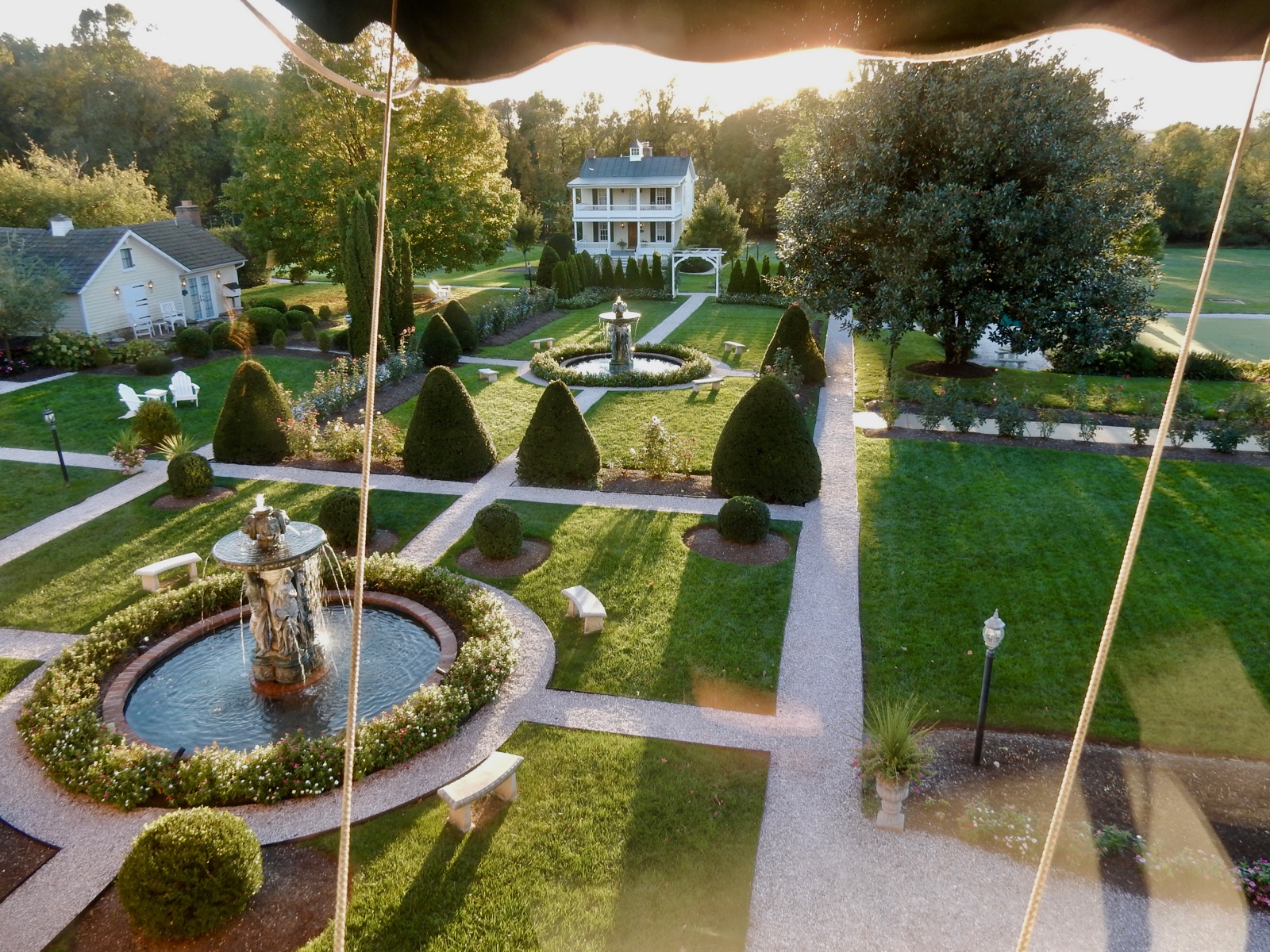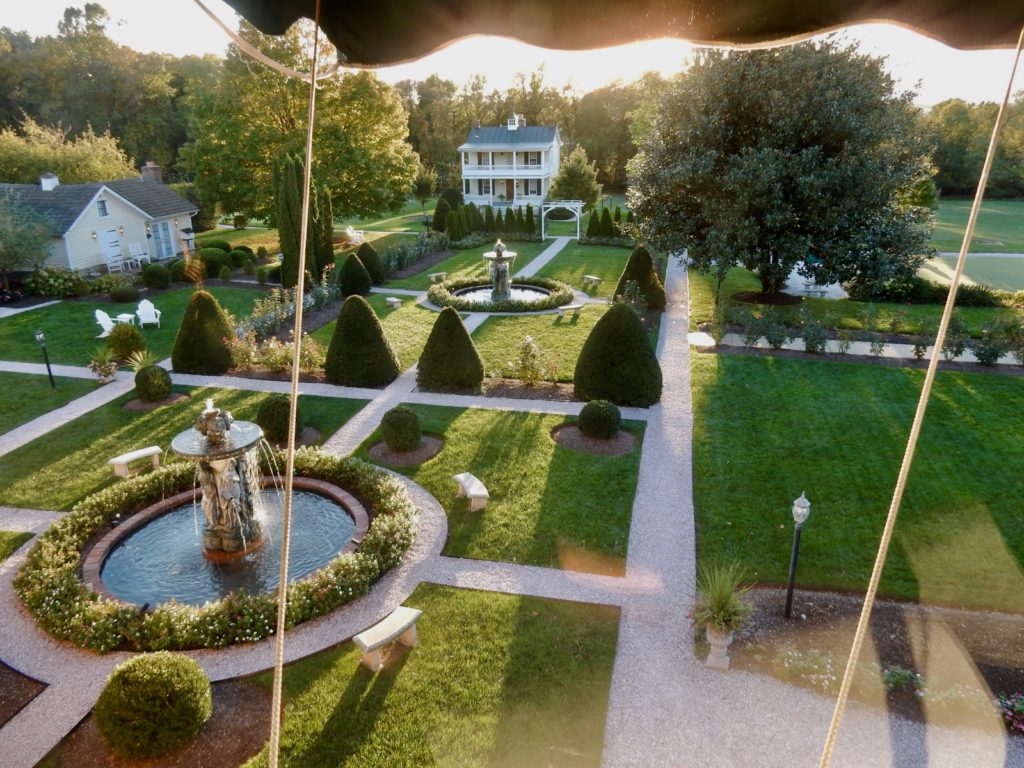 When Richard and Dorothy (Dort) Mollett purchased Antrim, there was no running water or electricity. The couple would shower in Baltimore after taking their kids to school each day. In 1988, Richard and Dort, an Interior Designer, opened four rooms as a B&B, and kept improving and adding to the rooms. Dort did much of the enhancements and decorating herself, which makes this place even more remarkable.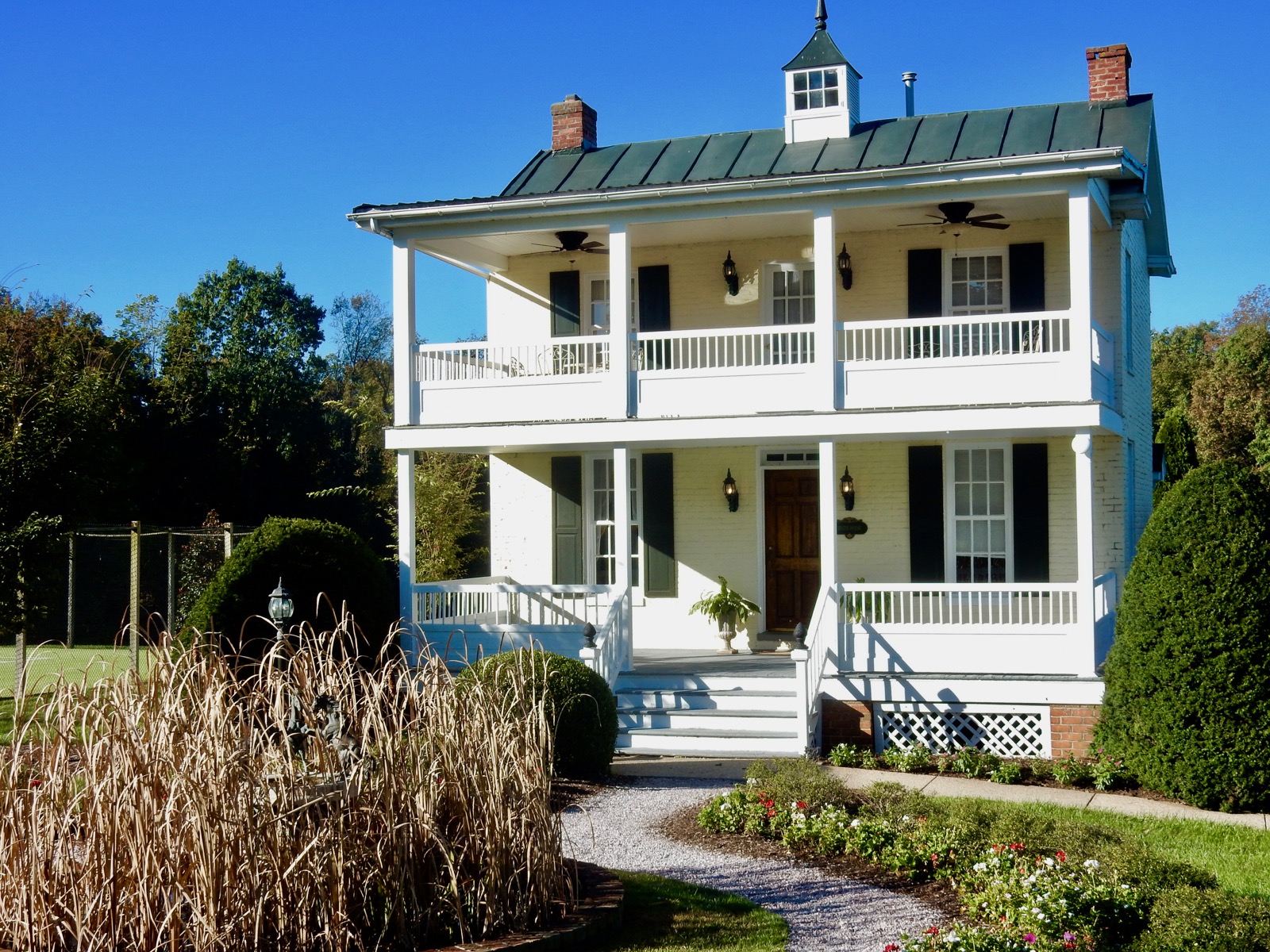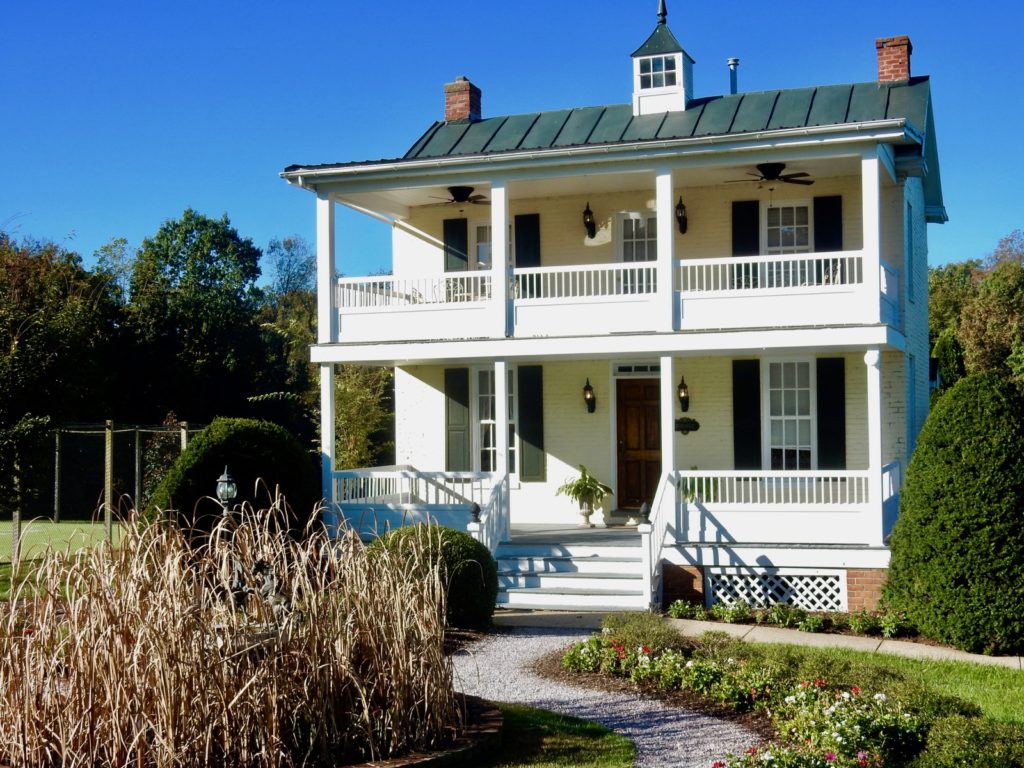 Not only did the Mollett's rescue this home, they did the same for others in town. Smith House – with several rooms on the far side of the garden – was the home of a Taneytown piano teacher. It eventually fell into the hands of the local fire department that used it to set fires for training purposes.
The Mollett's purchased the Smith House for a $200 donation to the Fire Department and spent more money moving it than if they'd built a cottage from scratch on the property.
First Impressions of Antrim 1844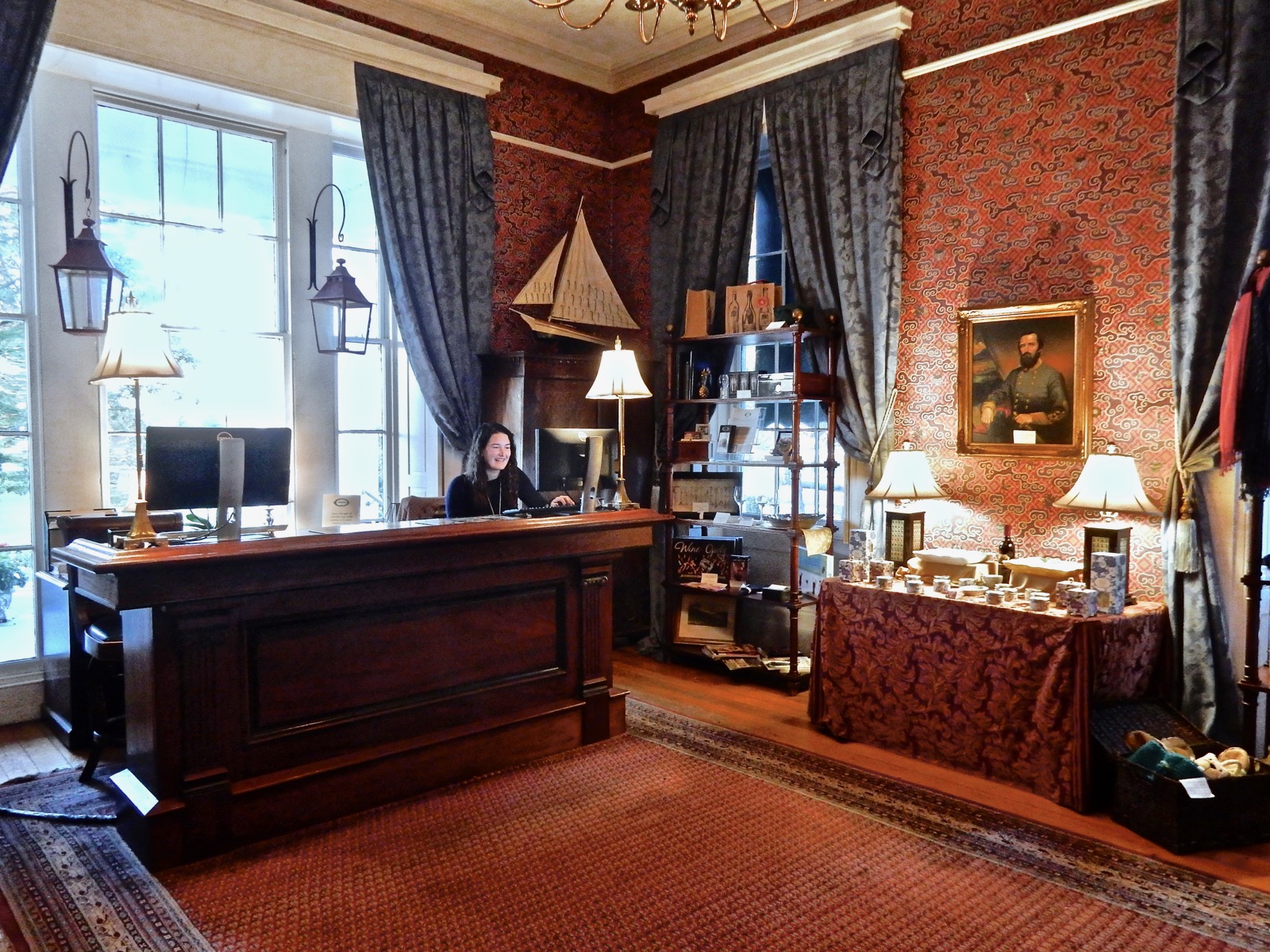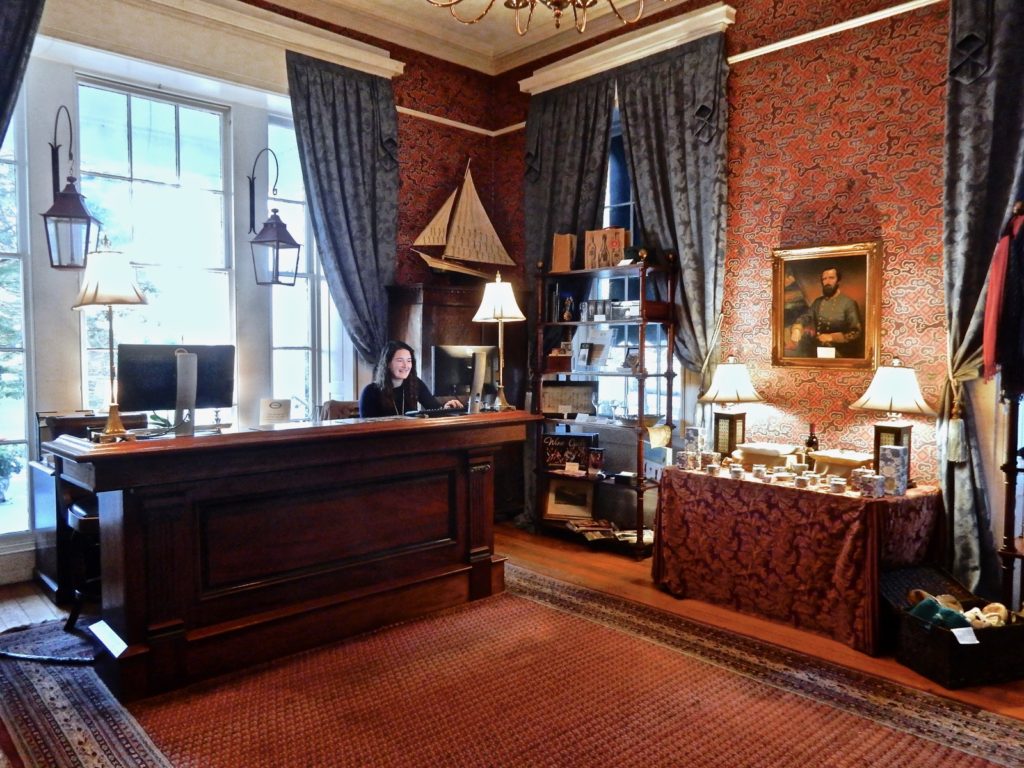 After catching my breath, I walked to the reception desk, in a former parlor room right off the center hallway. Check in is rather laid back and friendly. The lack of pretention in such a place was refreshing.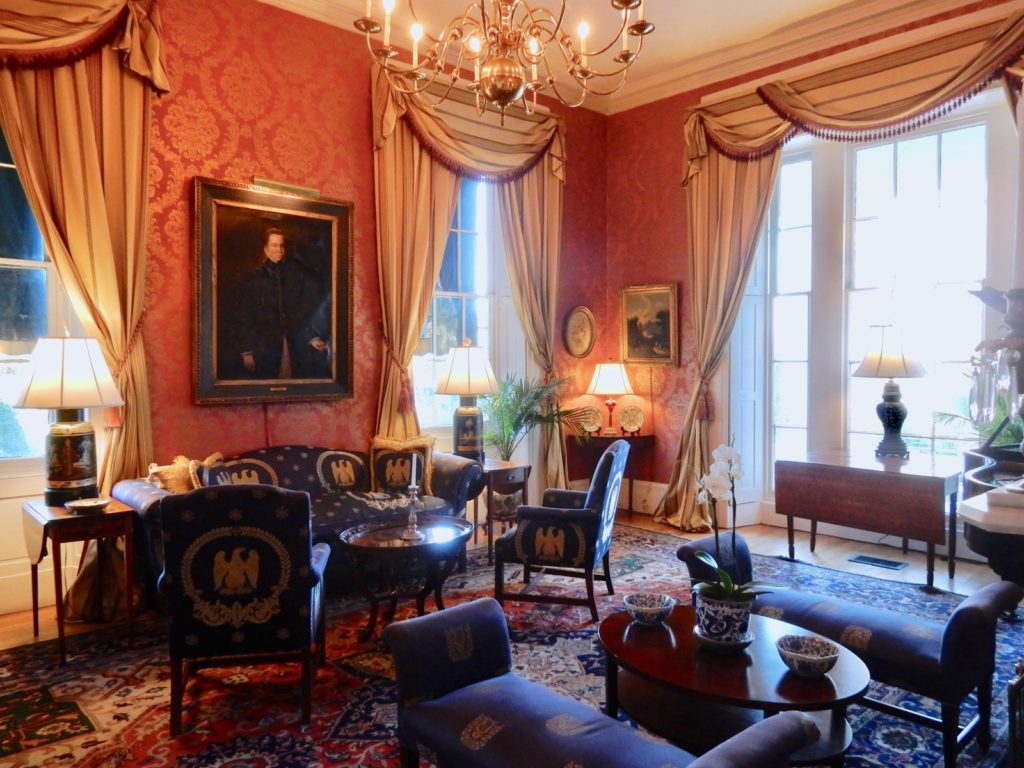 Two grand rooms on the main floor, opulently and impeccably dressed down to the wallpaper that covers and hides electrical cords, impart an era of gentility rarely seen these days. The original horsehair plaster medallions in the ceiling above brass chandlers have been preserved, as the Mollett's were able to snake electrical wiring through existing methane gas tubes originally used for lighting. Wavy glass windows are also original – almost all were intact when the Mollett's purchased the place.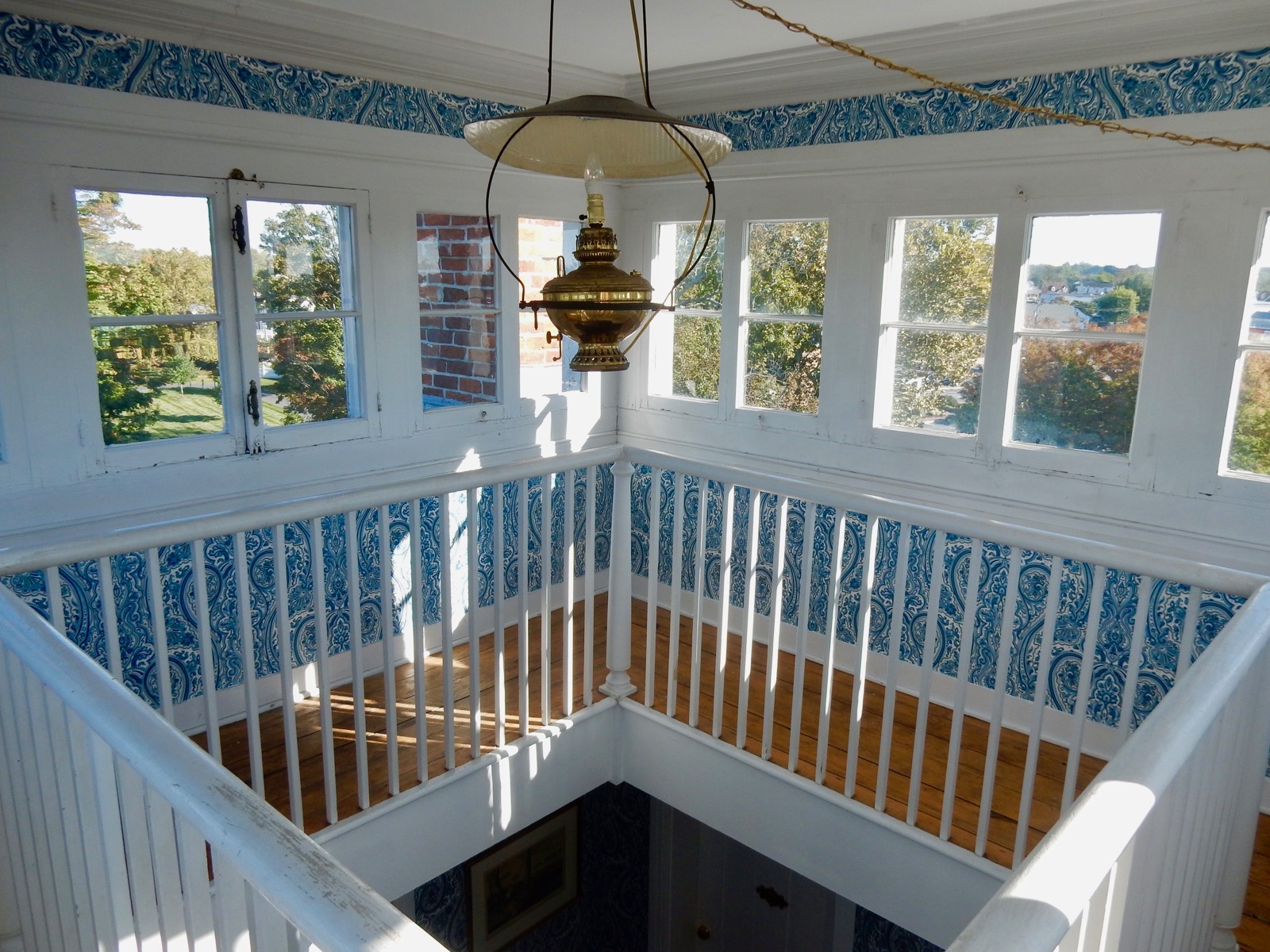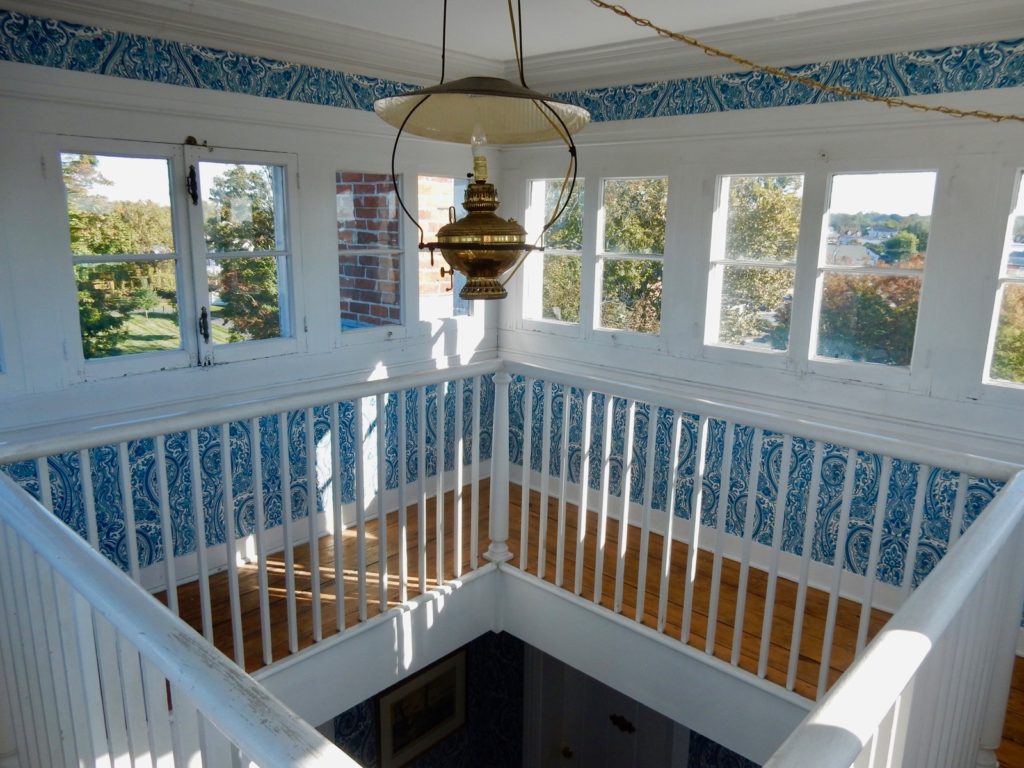 If possible, ask to go up to the Widow's Walk – accessible by ladder from the third floor. The views of the property and the land beyond are lovely.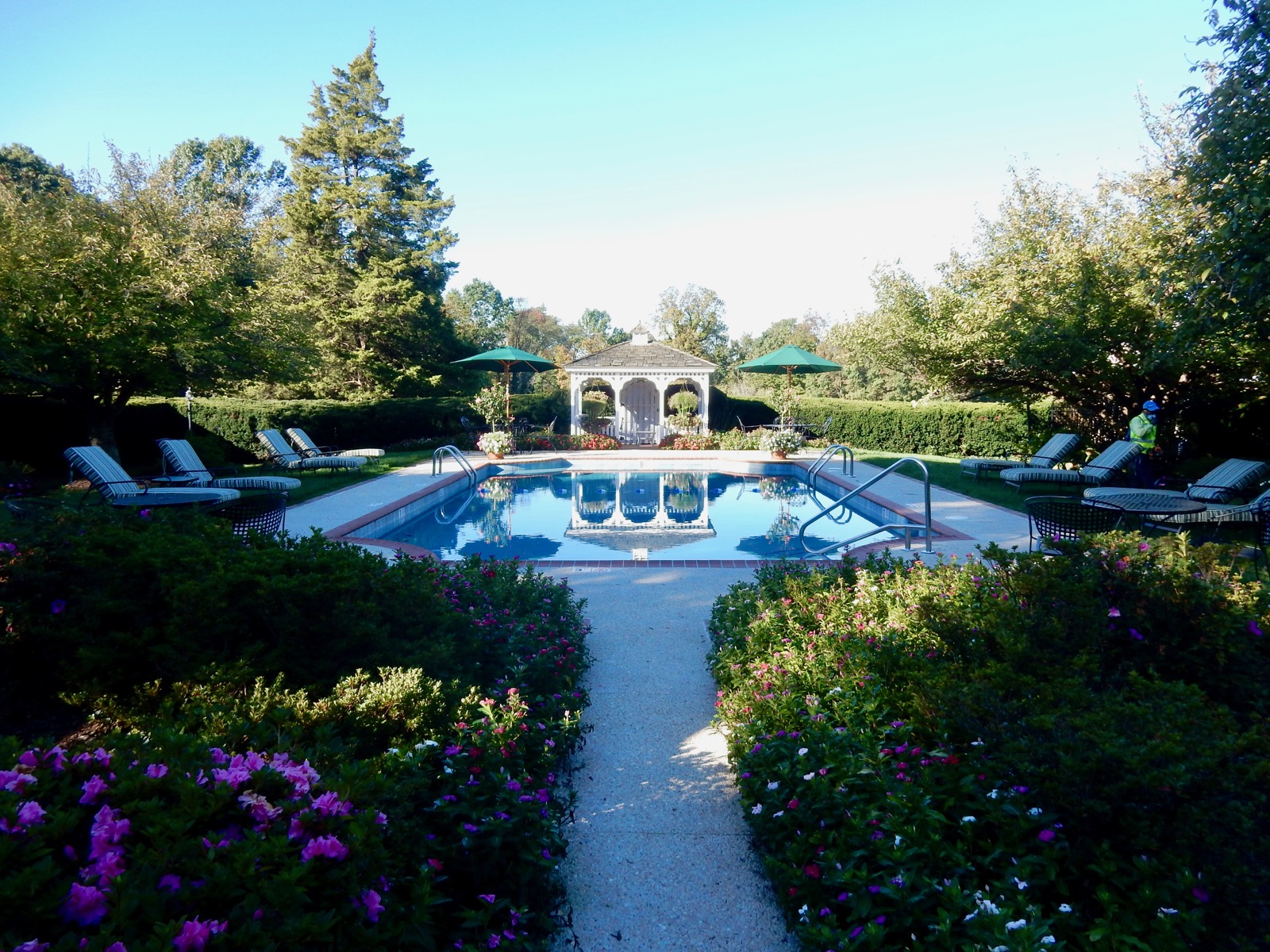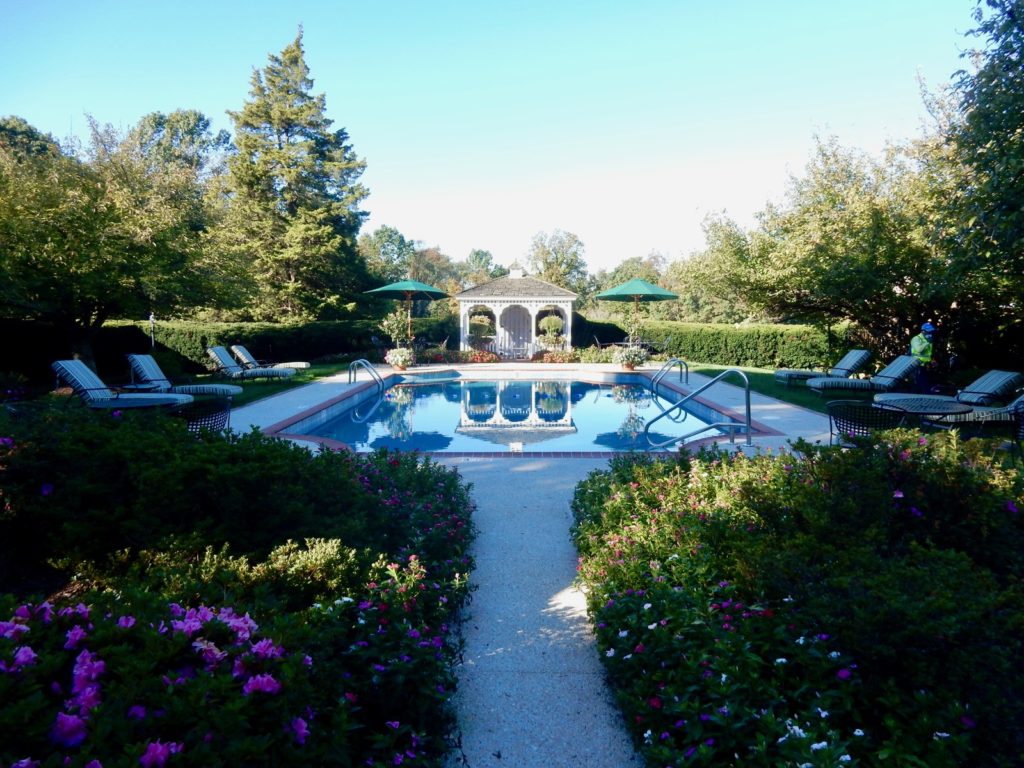 I took some time to wander the grounds – through striking gardens, sculptural fountains, a croquet lawn, tennis courts, and a beautifully landscaped outdoor pool. Though it's rather cold in October, I was not surprised to learn that the pool is the most popular spot on hot summer days.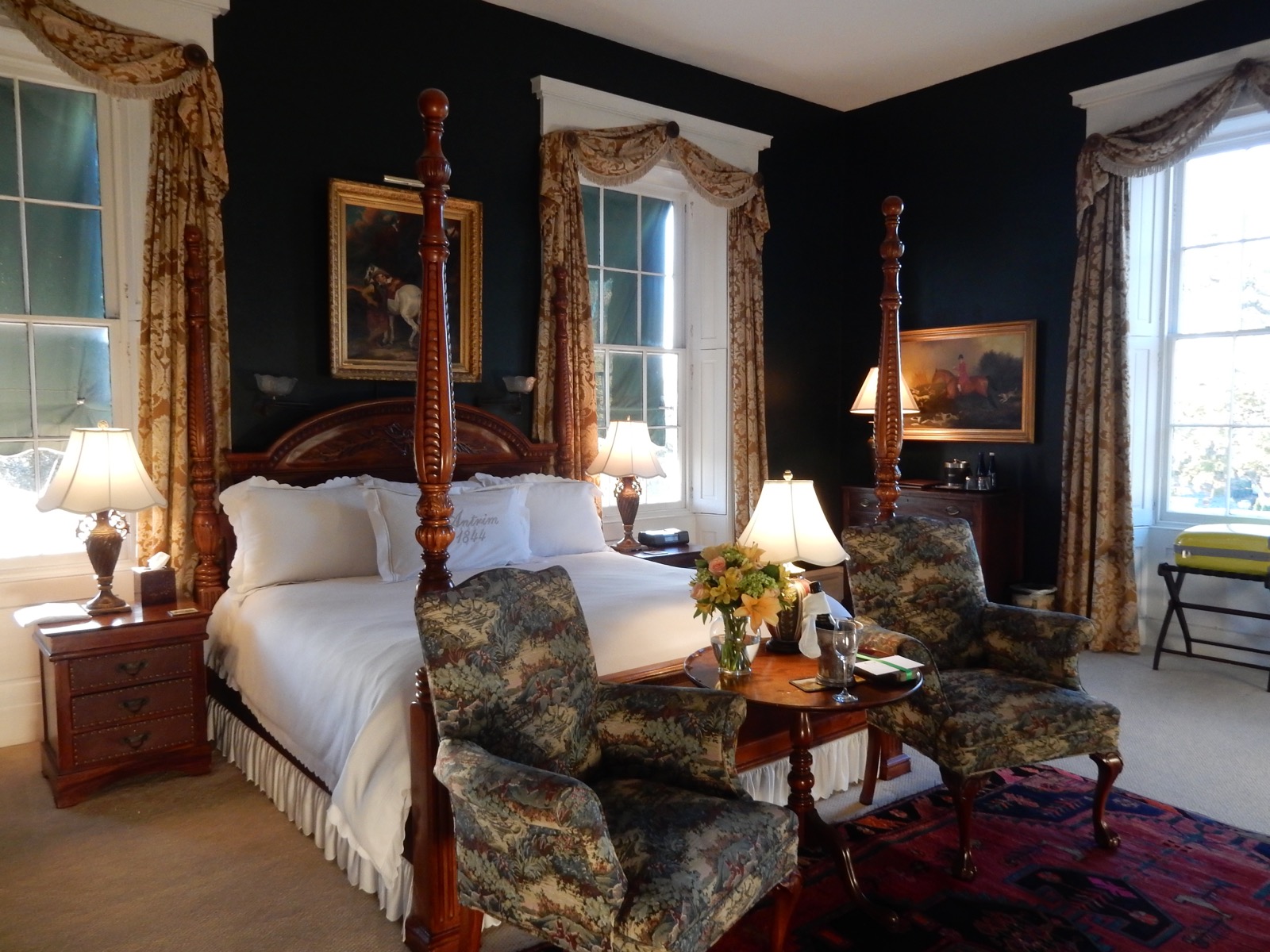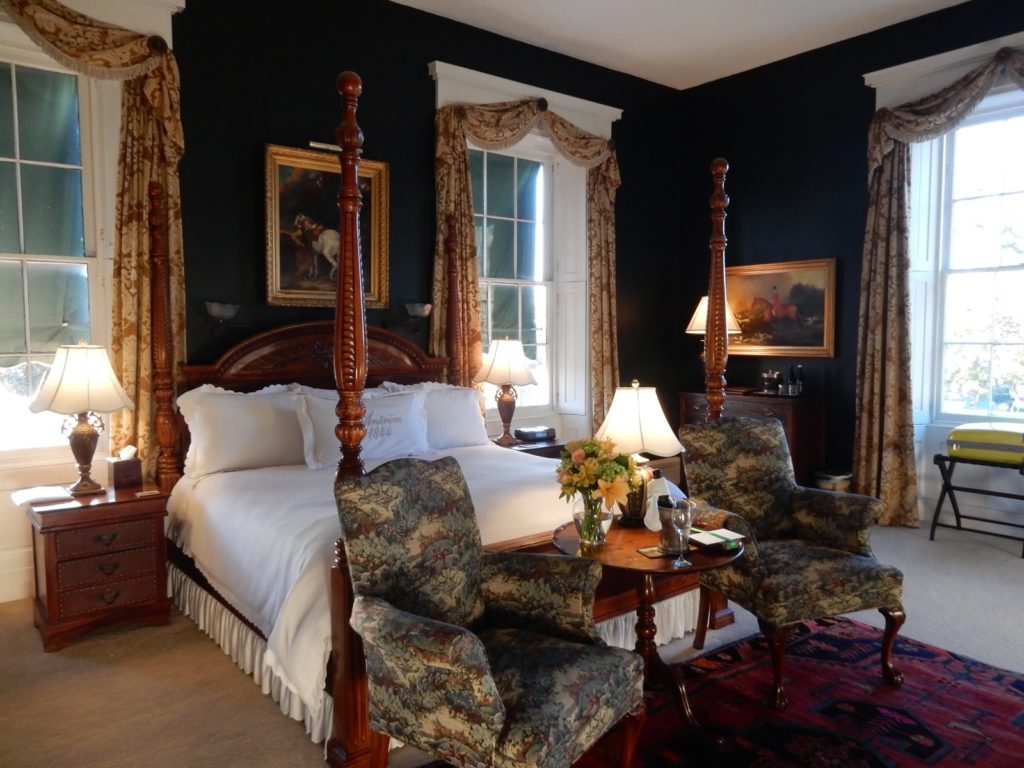 My room, The Clabaugh Room in the Mansion, was a Ralph Lauren-esque envisioning of a swanky horse and hound retreat – complete with horse and hound wallpaper in the Carrera Marble bathroom, horse and hound paintings on deep blue walls, a large fireplace, carved four poster bed, fresh flowers, and other regal appointments.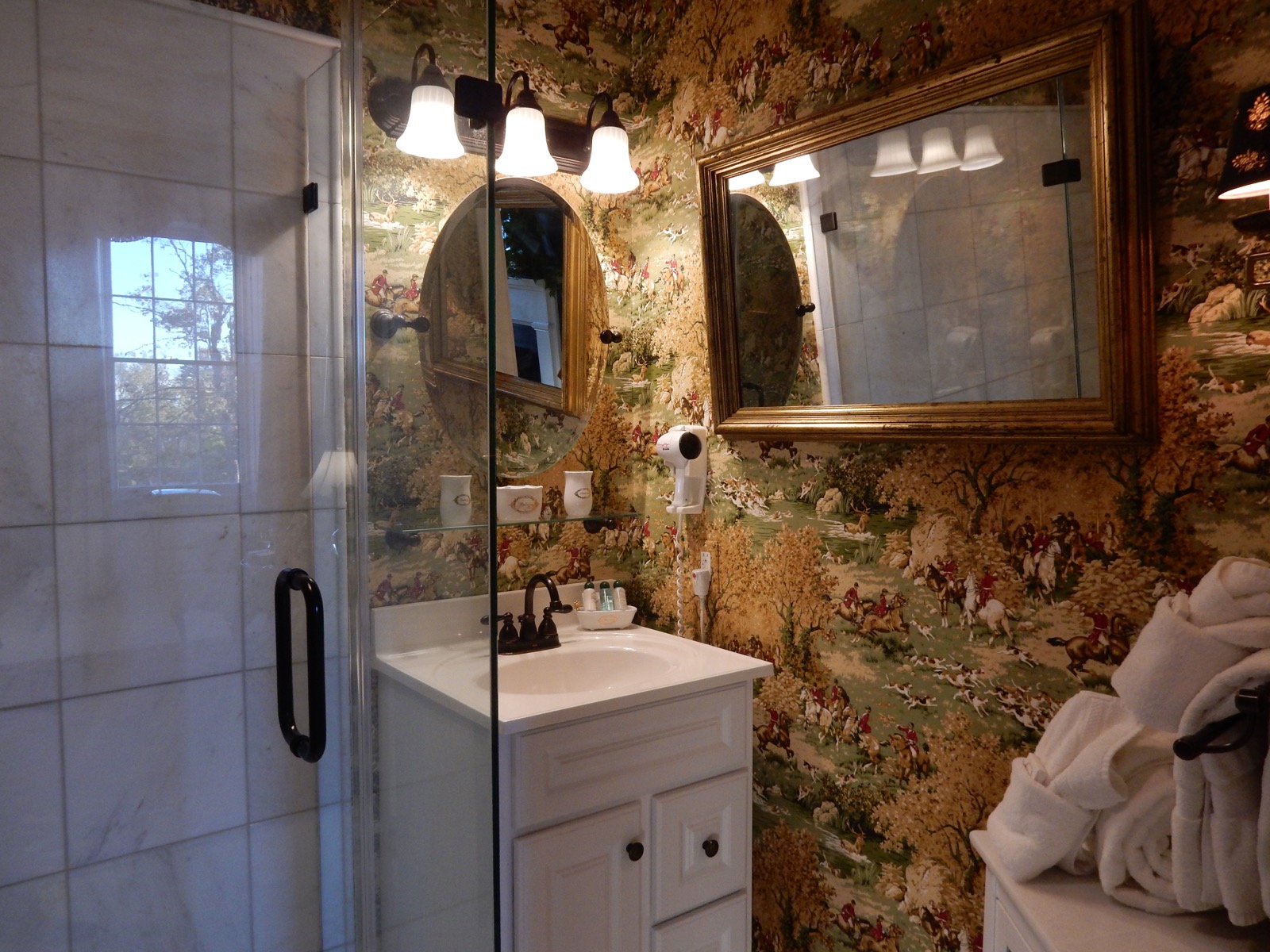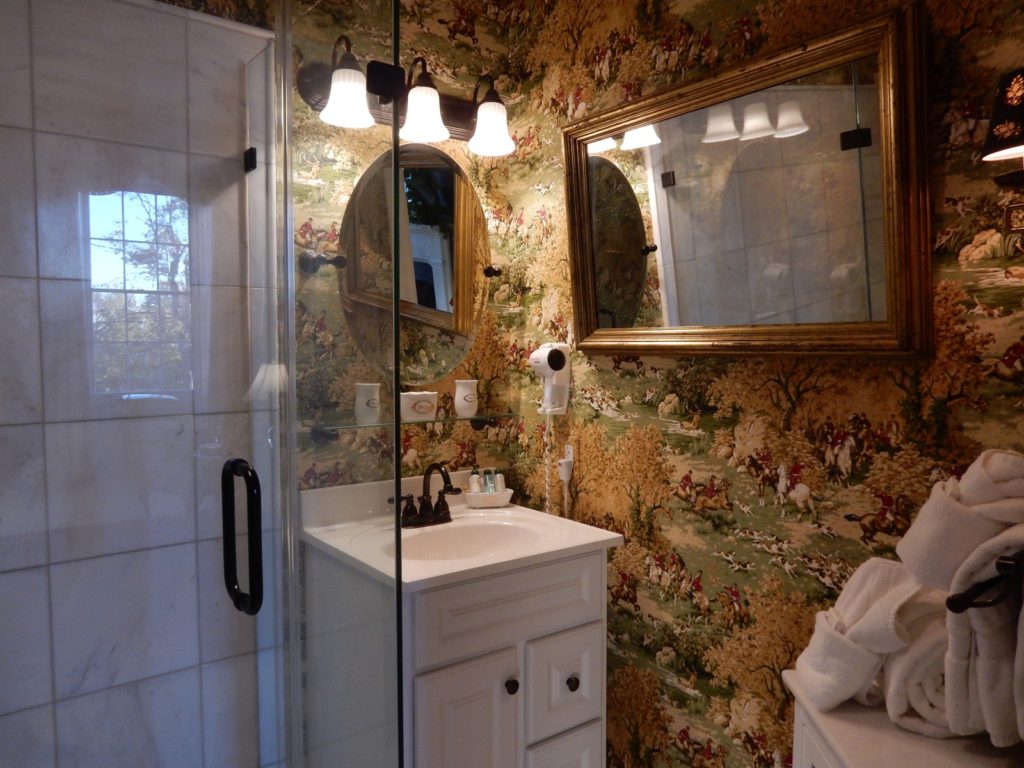 Each of 40 rooms throughout the property, in fact, is distinctly decorated with Dort's keen eye for design.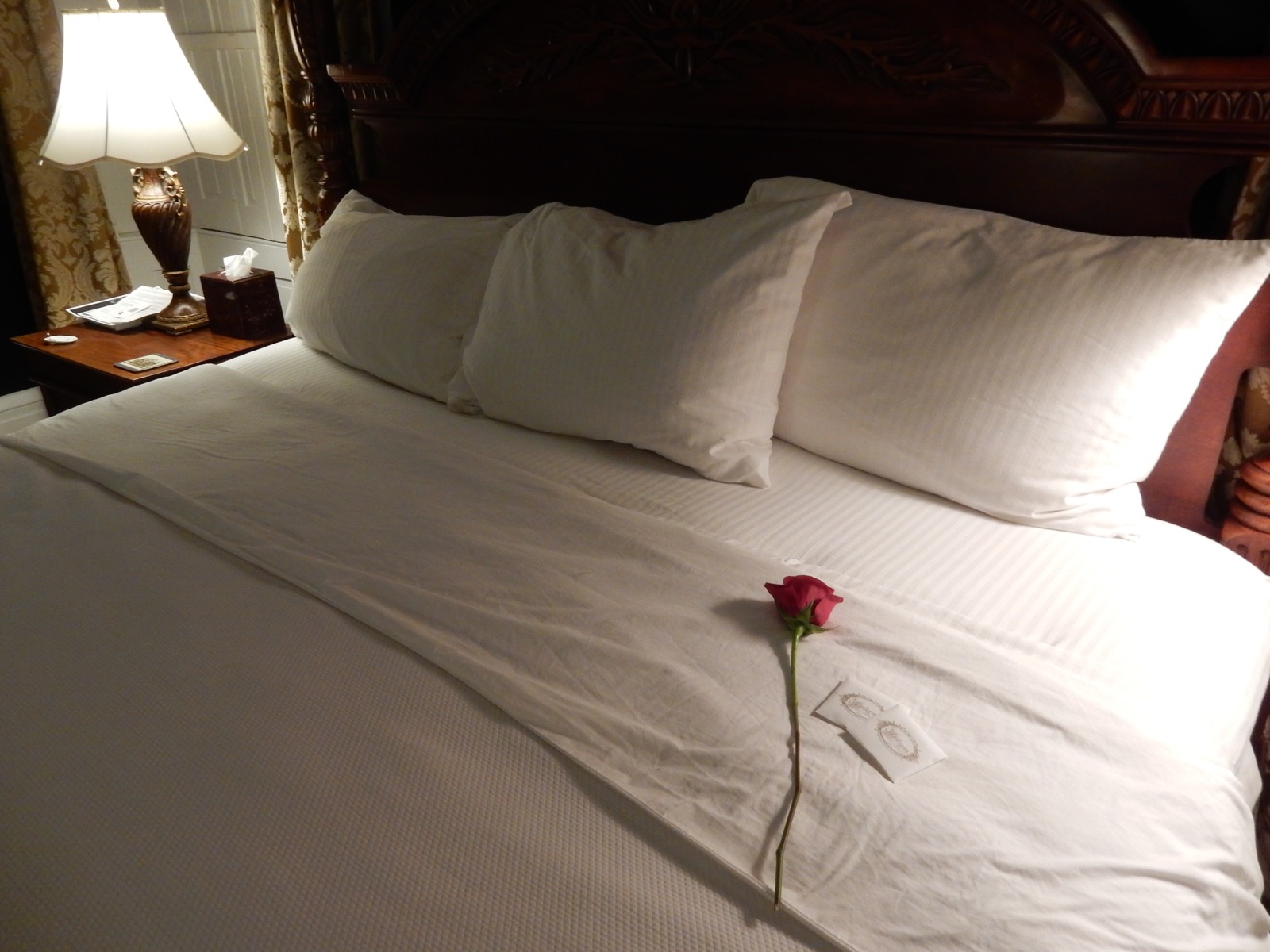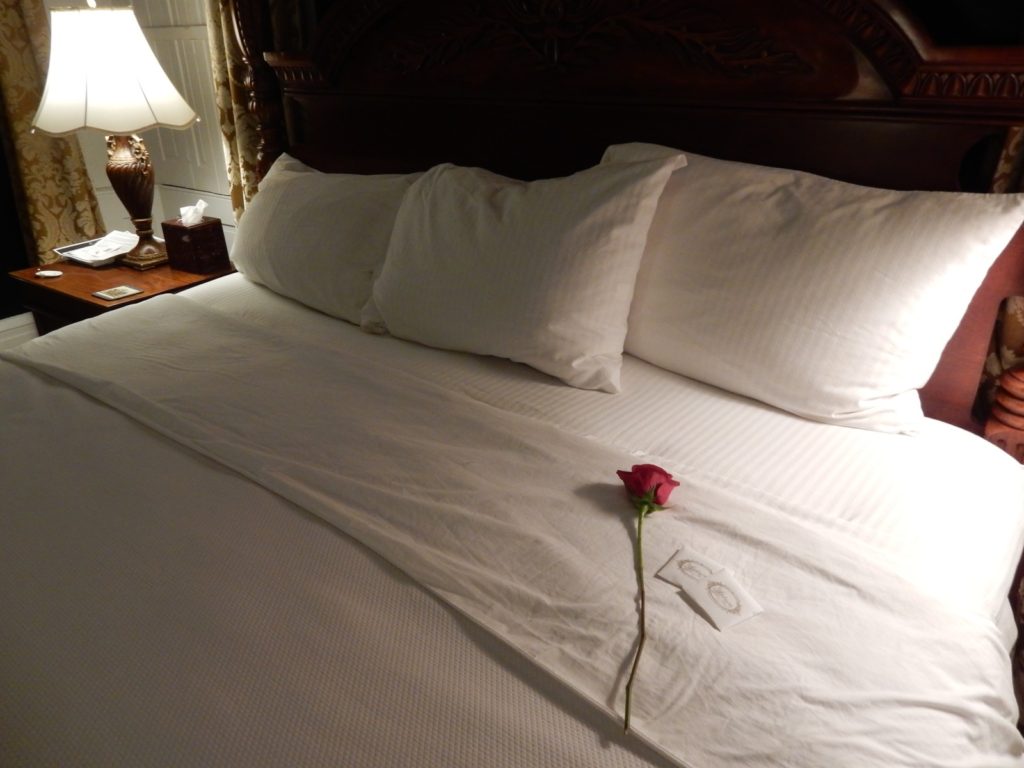 Turndown is elegant simplicity itself: one single red or pink rose on the soft white duvet: both soothing and romantic at the same time.
Food and Drink at Antrim 1844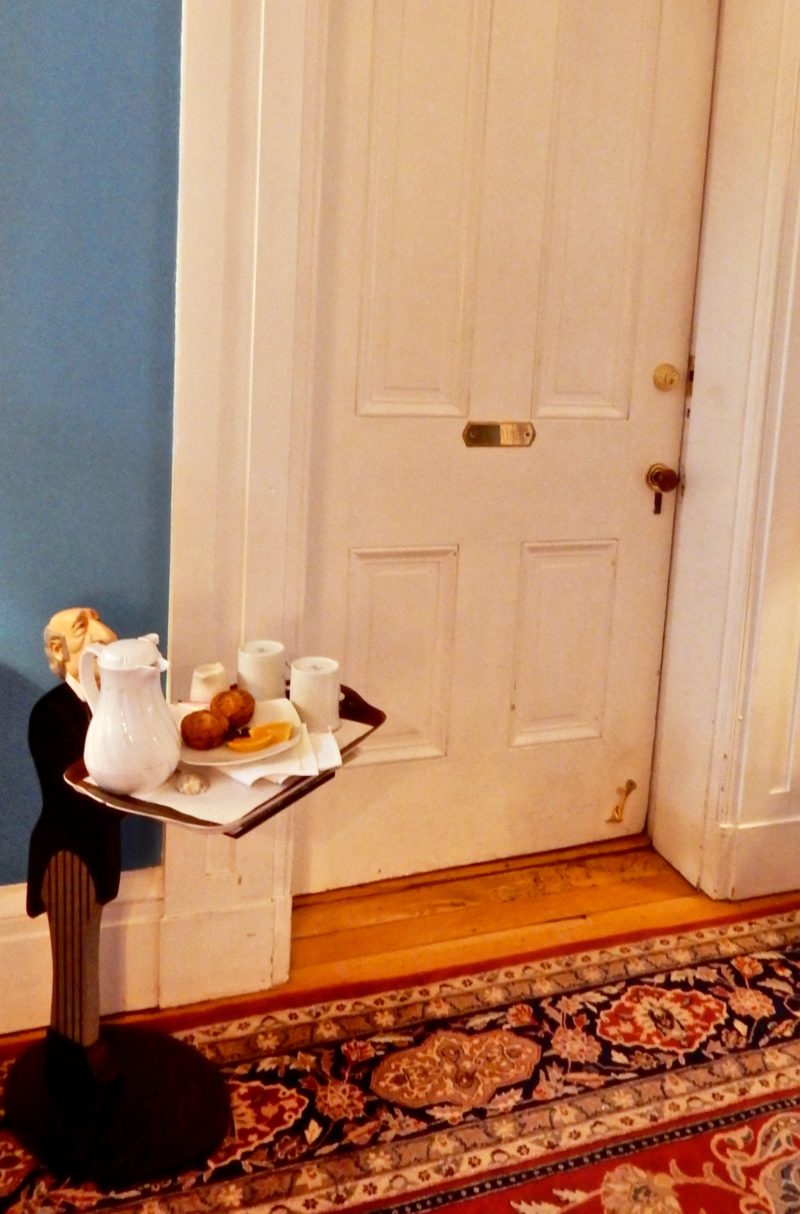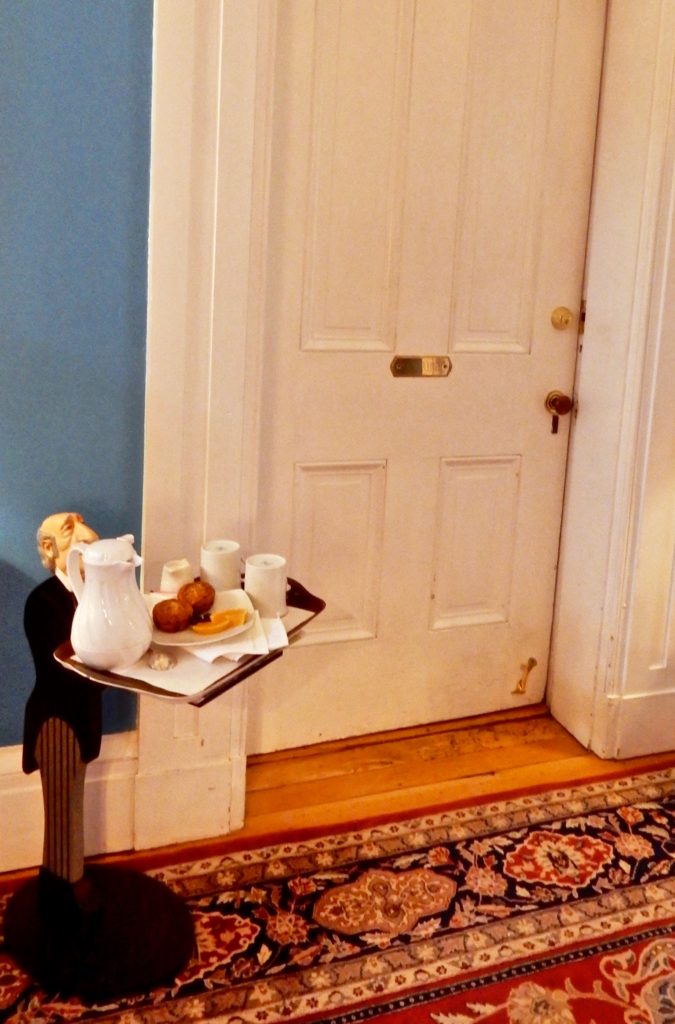 In the morning, breakfast is a two-part affair. Just before 8am, a tray with coffee and scrumptious muffins is presented by a mini-butler at your door. And then, between 8:30 and 10:30 – save room for a full made to order breakfast – frittata, quiche, yogurt, or grains, downstairs in the restaurant.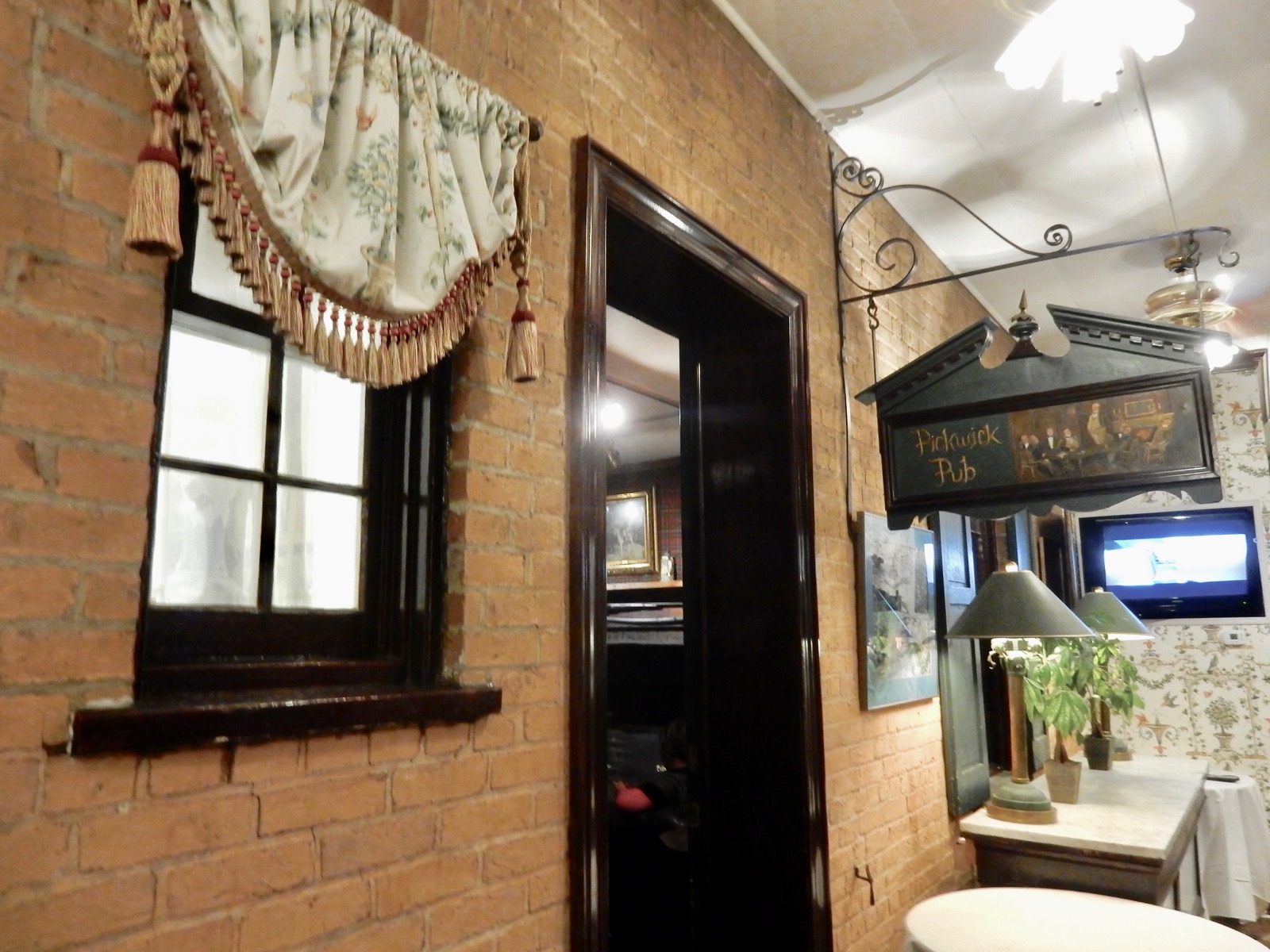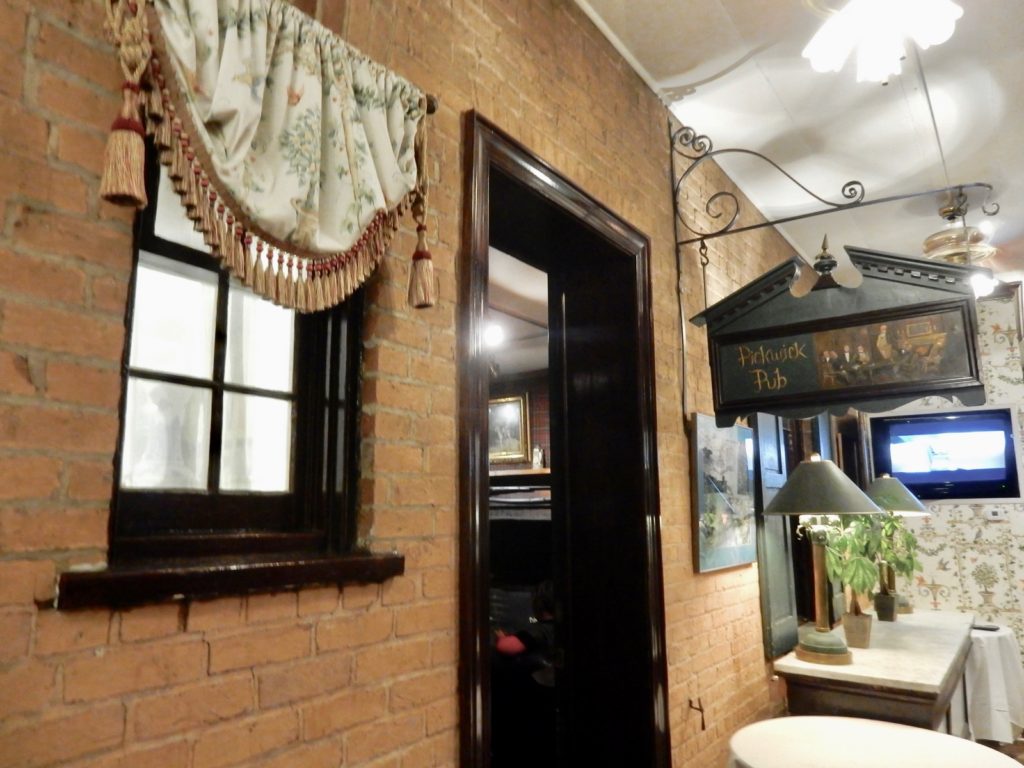 The Pickwick Pub is a great on-site spot to kick back with rare brandies, scotch, bourbons, and lots of local wine and beer.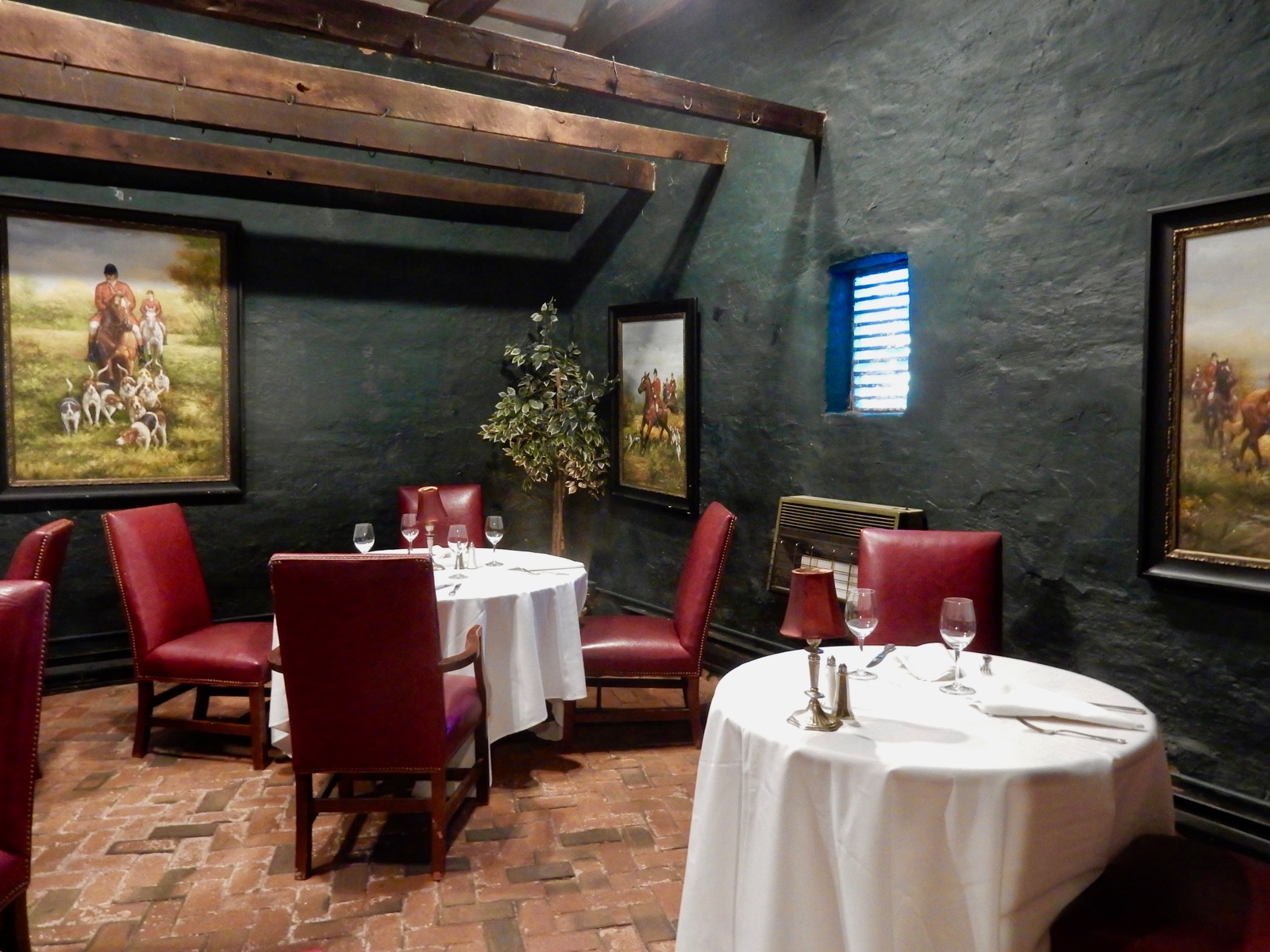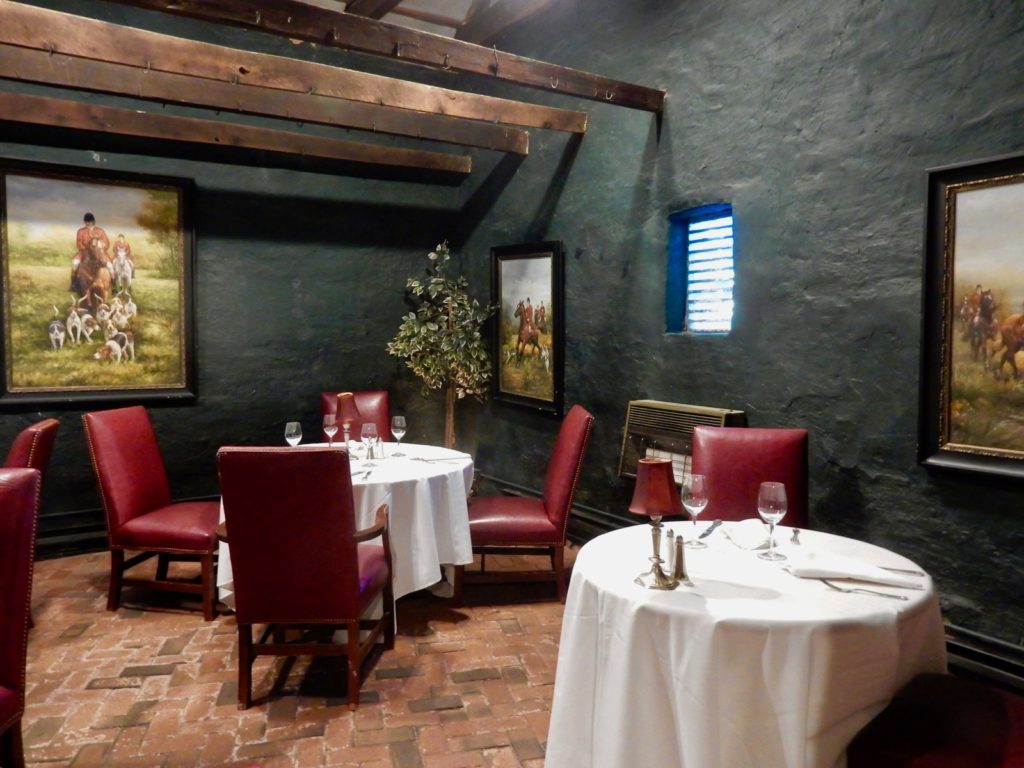 Plan at least one dinner in the Smokehouse Restaurant (situated in the home's brick smokehouse, meat-hooks still hanging from wooden crossbeams). Your meal begins, with drinks, passed appetizers, and some schmoozing, in one of the parlor rooms. Then, it's off to the restaurant – part smokehouse, part summer kitchen – where a cistern drain lying horizontally across the brick floor still courses with water on rainy days.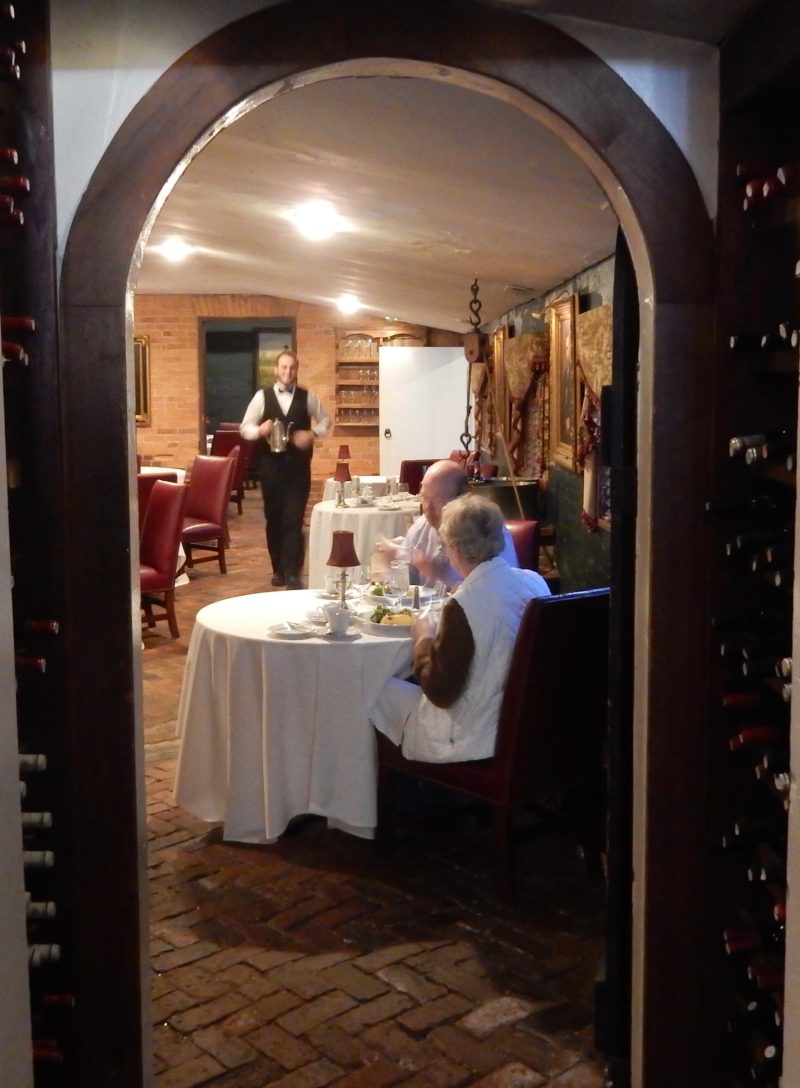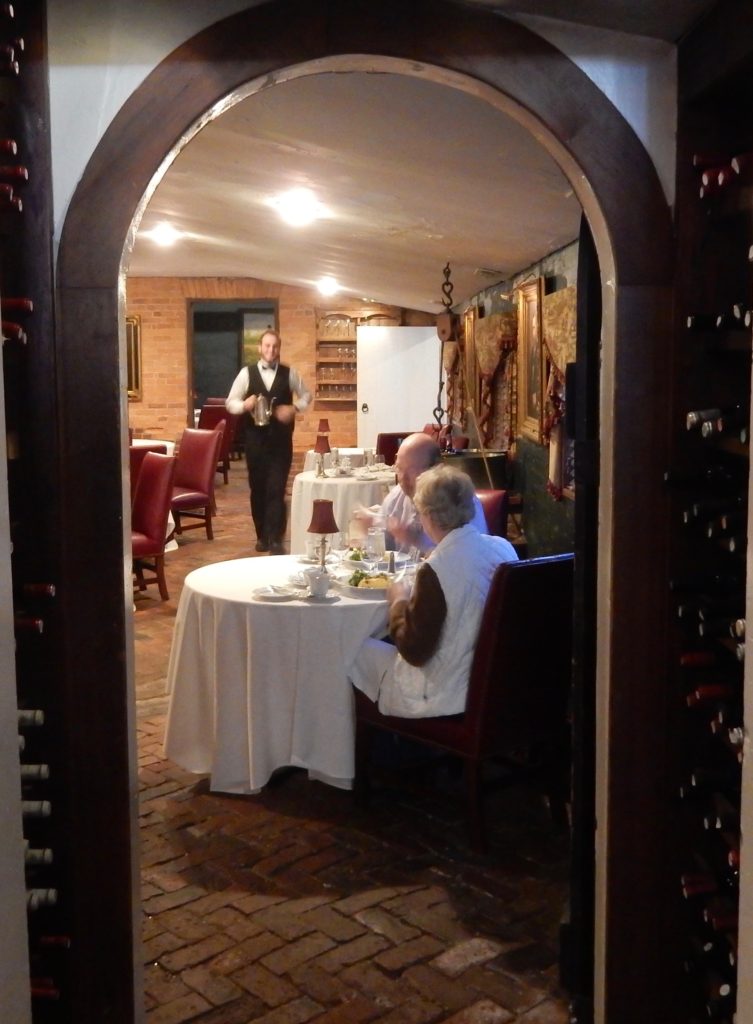 Dishes are excellent, and the menu, based on local farm availability, changes daily. Suffice it to say that the chef knows what he's doing, and the beautifully plated foie gras, soup, salad, and steak or fish you order will be a knockout.
Just the Facts
Rooms from $205-$415 per night (depending on season, room, and day of week) include coffee/muffin delivery to room, made to order breakfast, afternoon tea, wi-fi and parking.
For more ideas on things to do nearby see our write up–Carroll County MD: Zen Peaceful Between Baltimore and Gettysburg.