What are the most romantic hotels in CT? There are so many in this small state.
So, the Getaway Mavens break it down by Connecticut Cities, Shoreline Towns, Waterfront Hotels, and Upstate CT. And when you're ready to book your trip, we've got you covered with all the best things to do in Connecticut.
We broaden out your trip with these Spellbinding Romantic Getaways in CT.
Romantic Hotels in CT Cities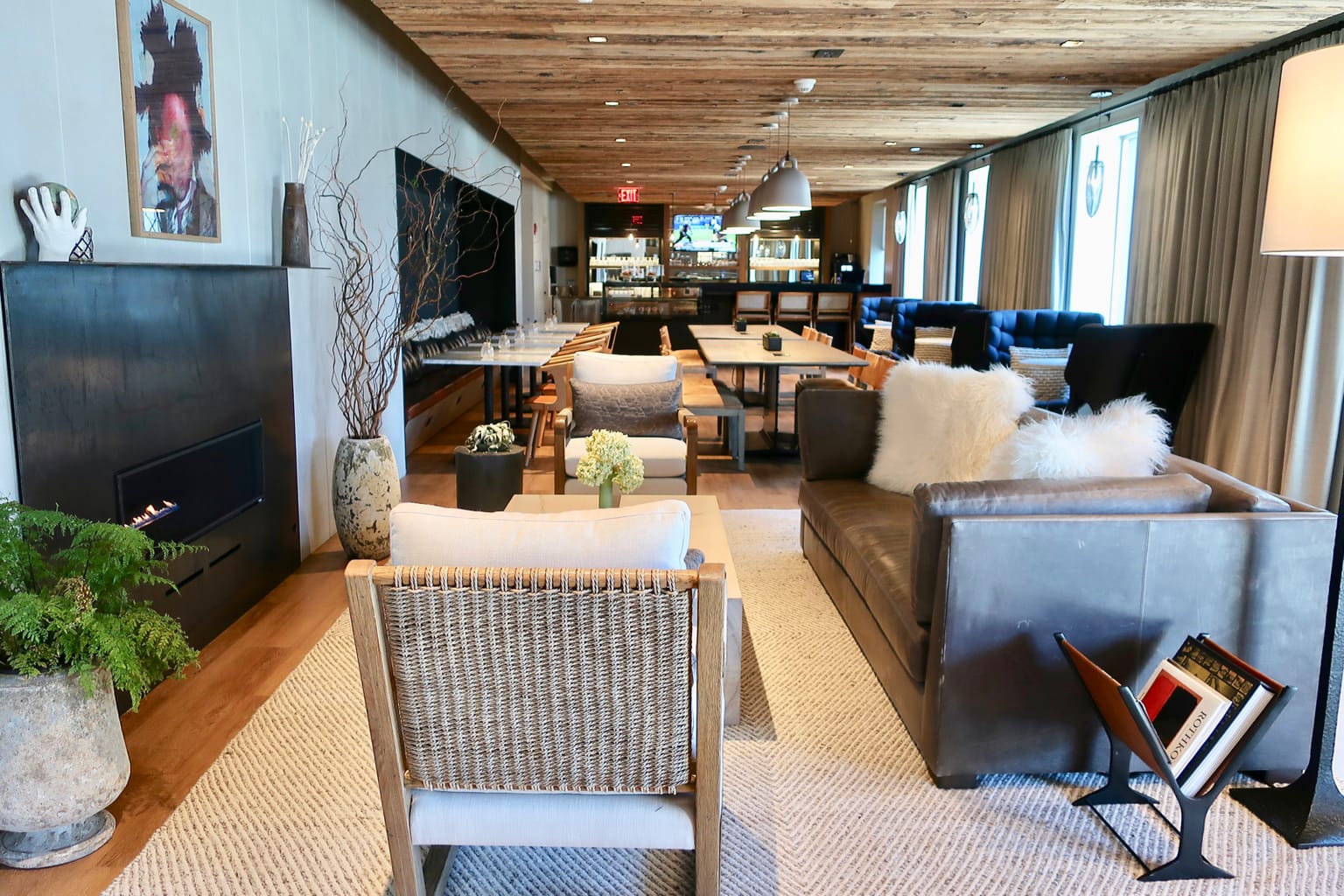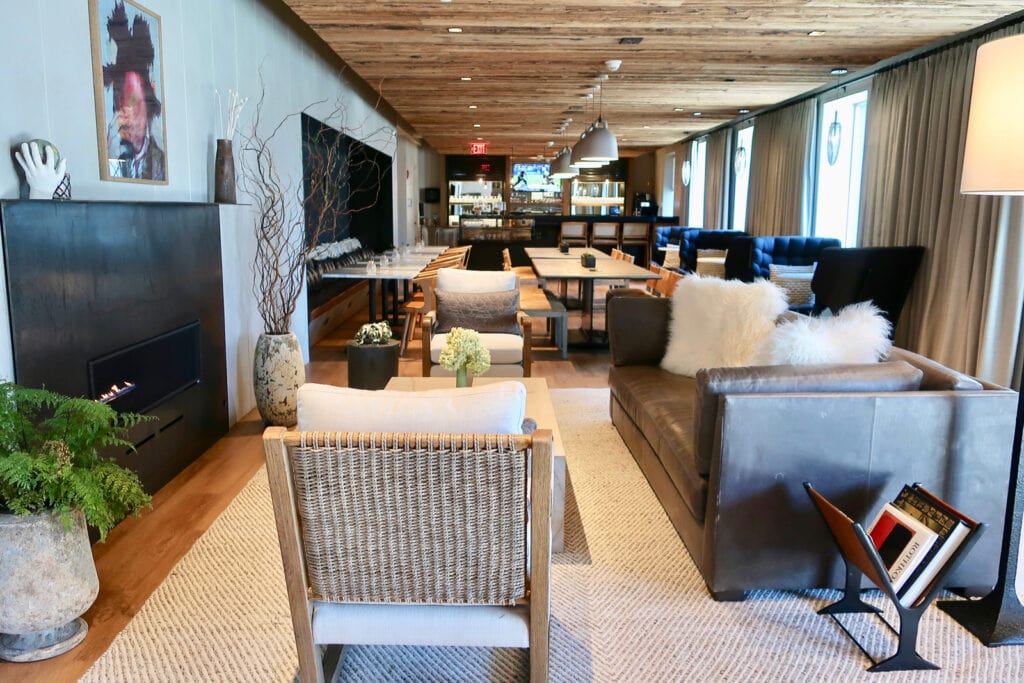 (1) The Lloyd (Tapestry By Hilton), Stamford
Among a universe of franchise hotels, The Lloyd is the only groovy boutique hotel in Stamford, CT.
It's is so cool and inviting, with lobby decked out in soothing woodland colors, West Elm furniture, contemporary art, and a gas fireplace: hot and heavy couples will be glad they've "got a room."
More about Stamford CT and The Lloyd here.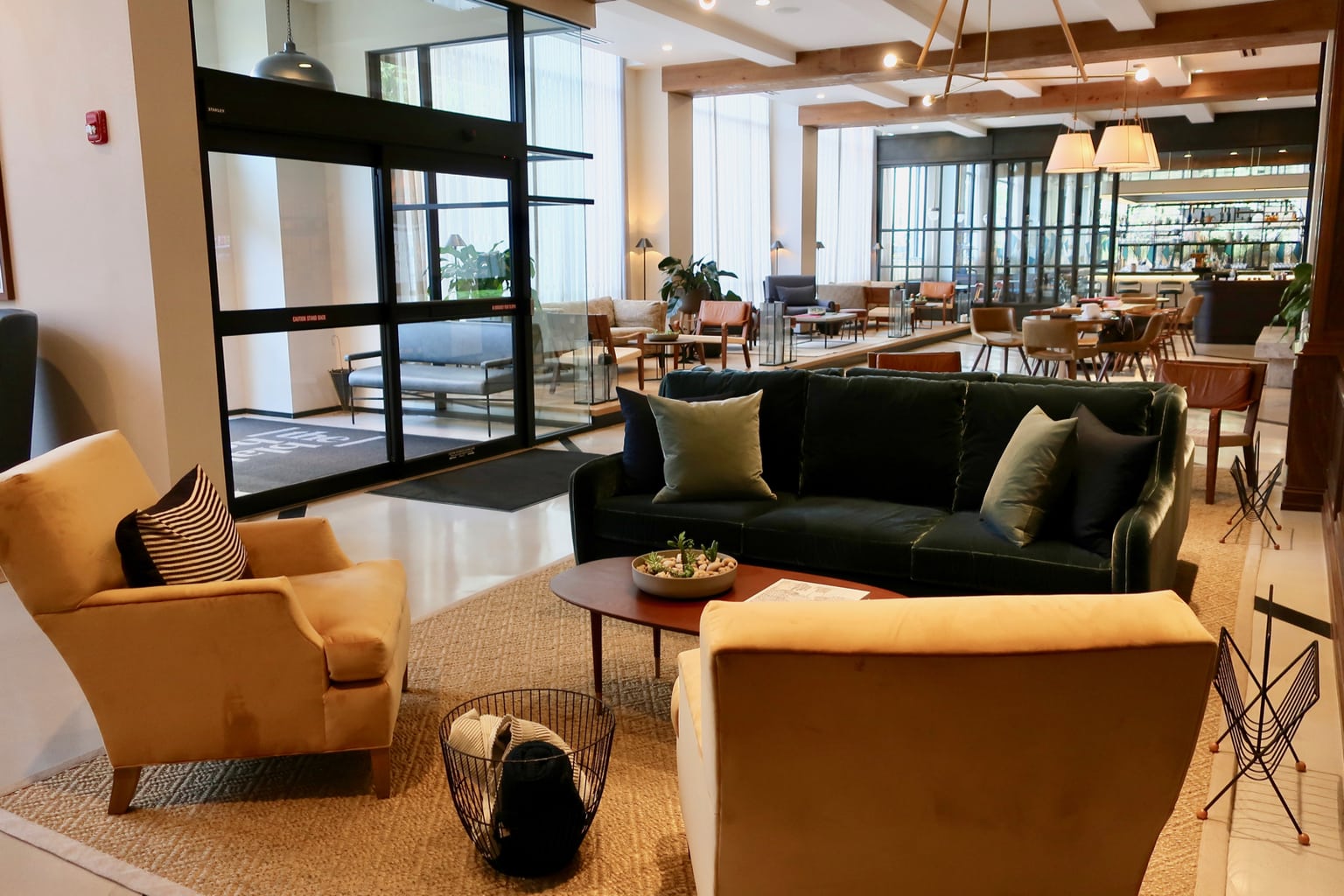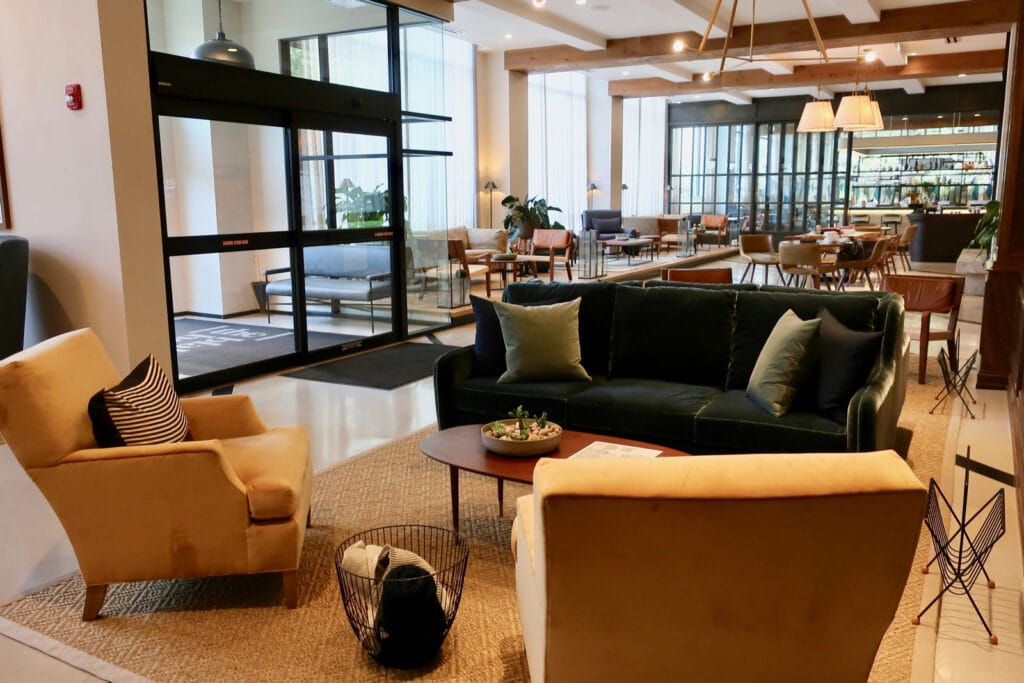 (2) The Blake Hotel – New Haven
The Blake, a high-concept, design-forward boutique hotel, sits in the center of downtown New Haven. What makes it one of the best romantic hotels in CT?
Well, with a trendy rooftop bar/restaurant (High George) and within two blocks of Yale College, two theaters, museums, and great restaurants, The Blake delivers a heap of dreamy opportunities for you and your love.
More about New Haven and The Blake here.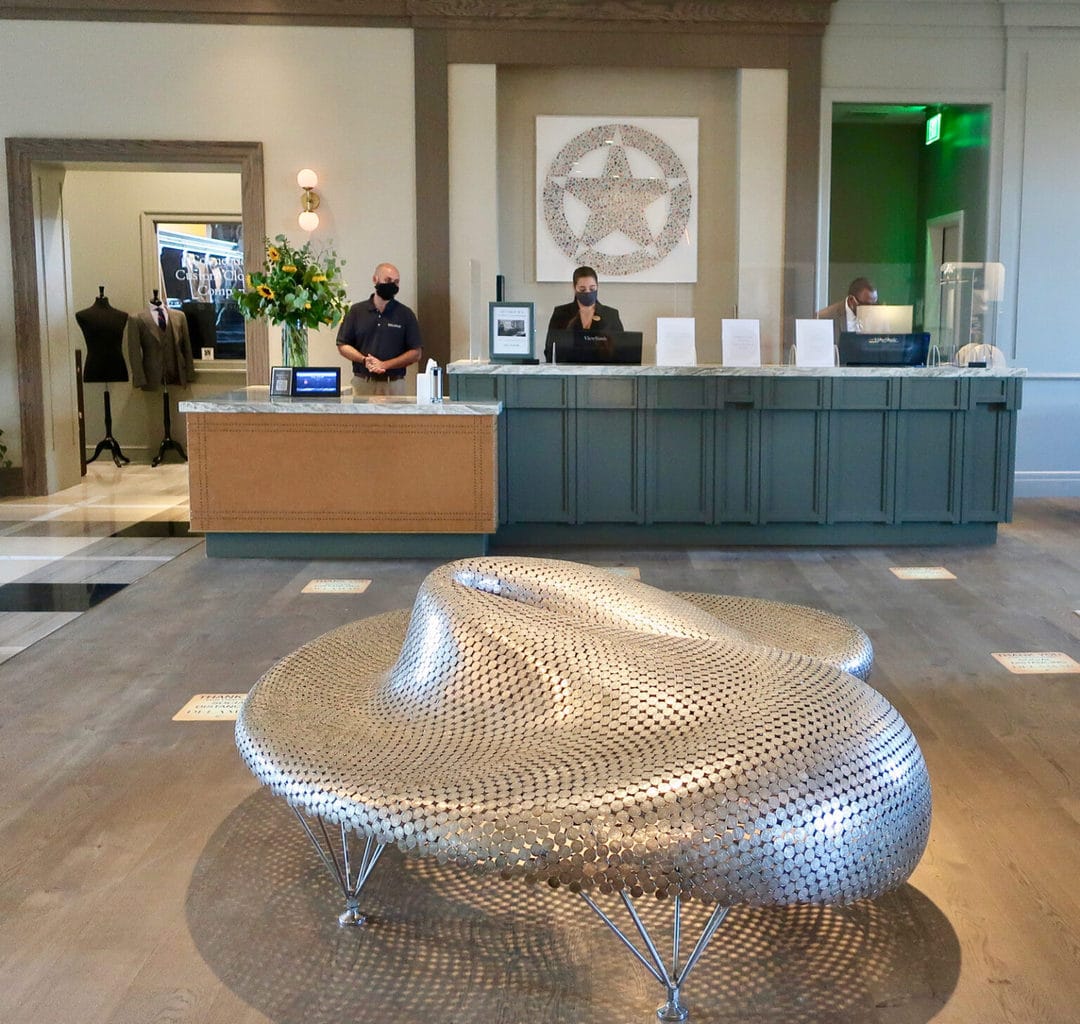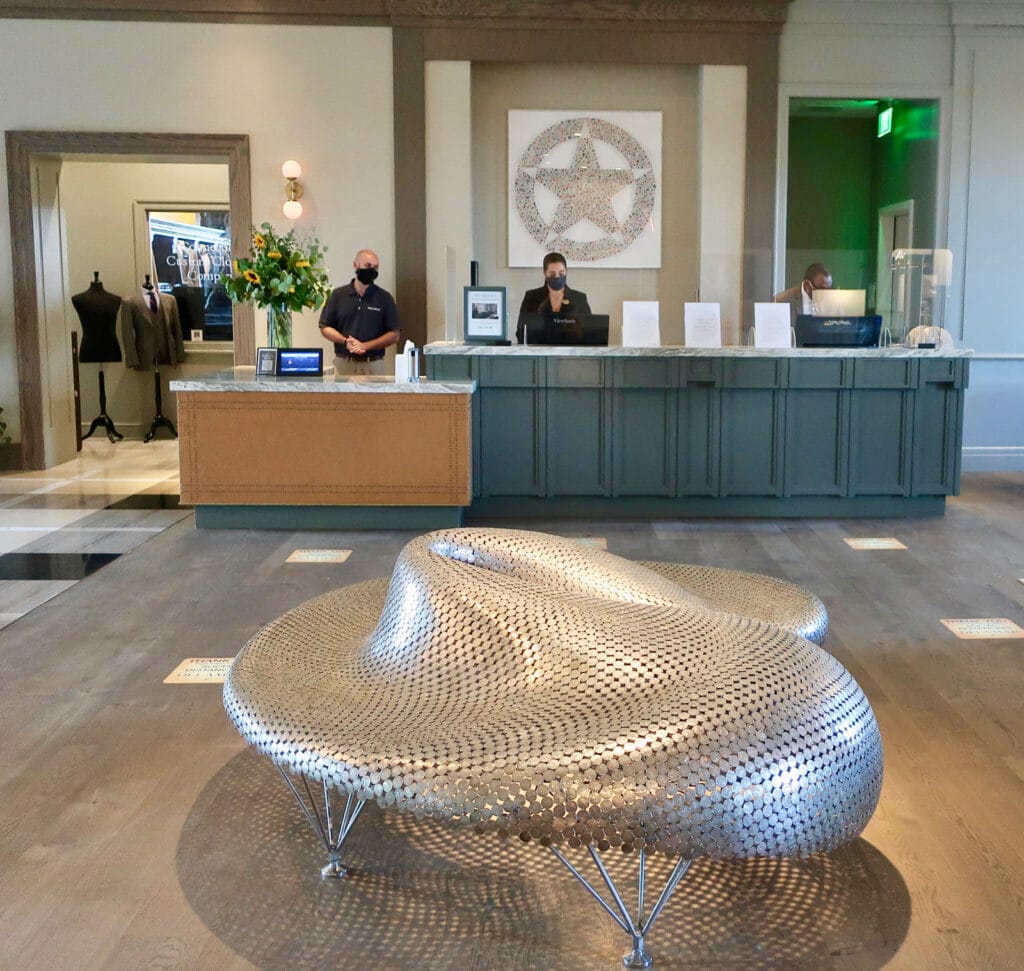 (3) Delamar Hotel, West Hartford
If you're a couple looking to feather your first nest, you'll be extra psyched to book a room at the artsy Delamar West Hartford, smack in the center of a furniture and home goods shopping district.
This Delamar is the newest (out of 4), and it's obvious that the owner loves art. The West Hartford property has partnered with the New Britain Museum of Art, which sends over curated selections of works 2 or 3 times a year.
More about Hartford, West Hartford, the Goodwin and Delamar here.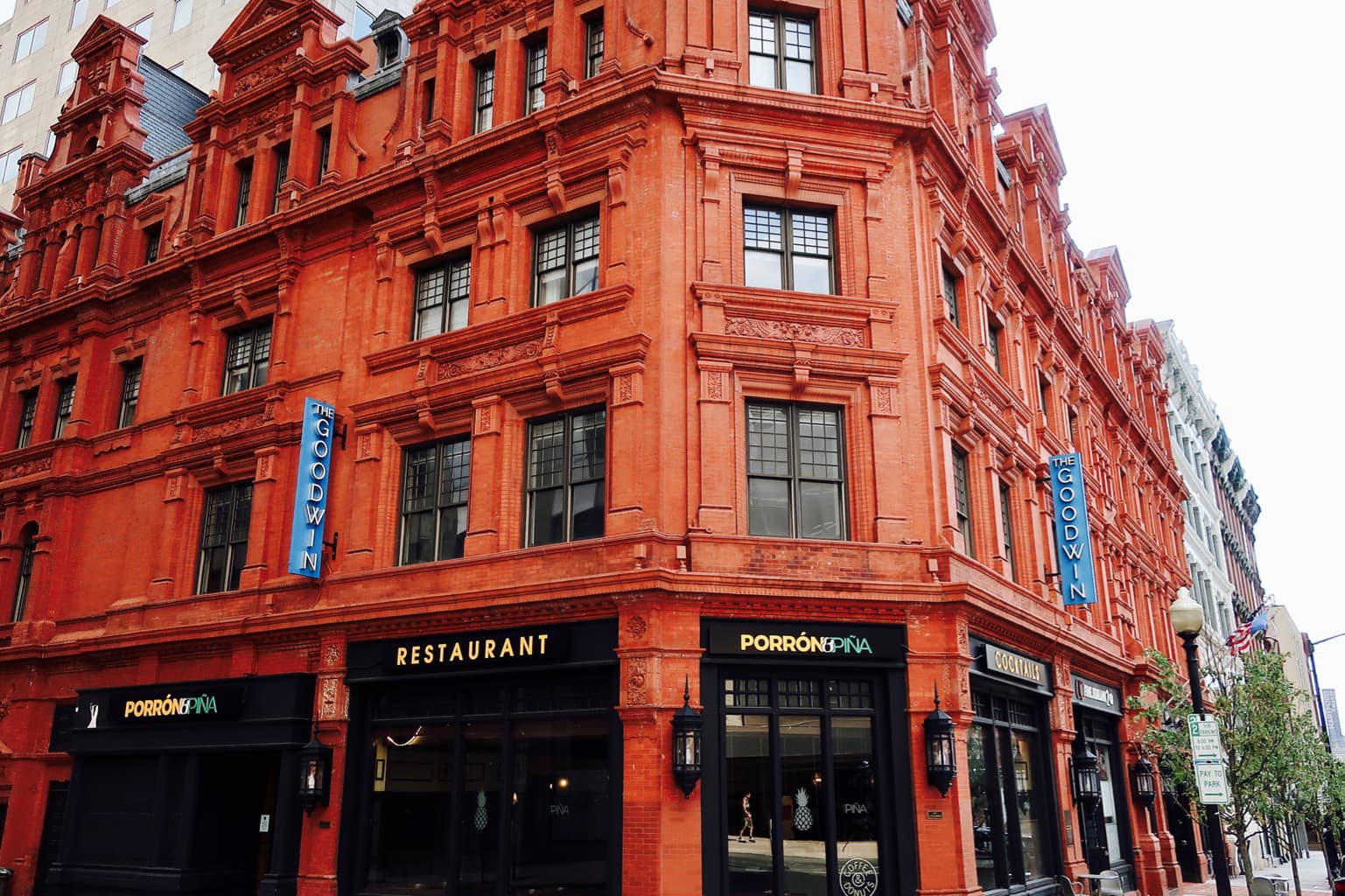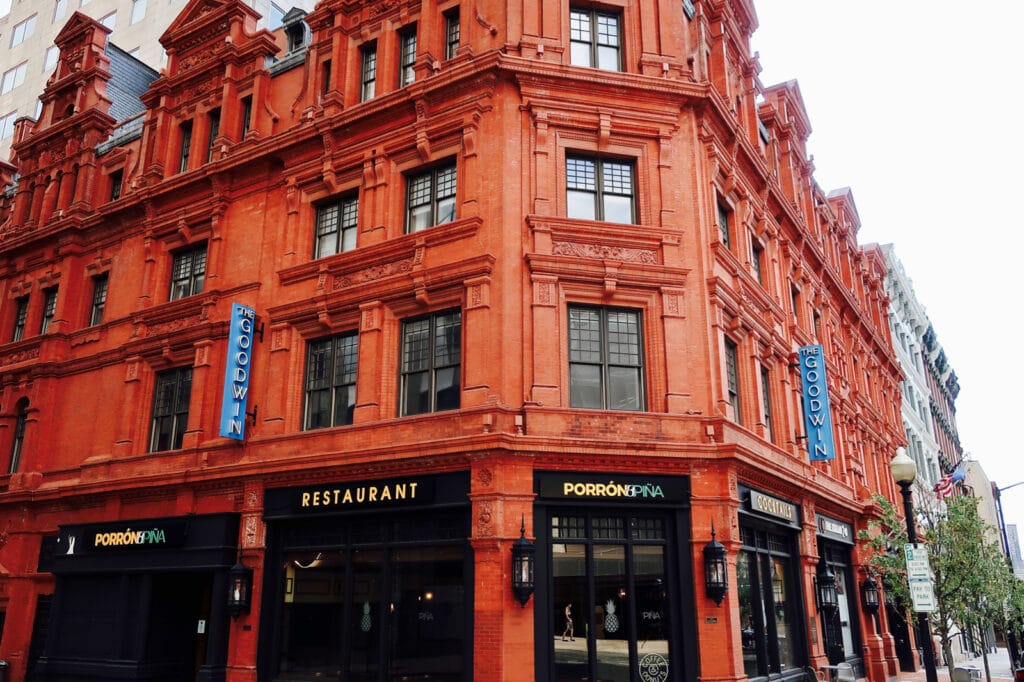 (4) The Goodwin, Hartford
Don't you just adore repurposed, once-glorious, buildings: especially iconic ones made into boutique hotels? The Goodwin, a stunning Beaux-Arts red brick hotel, stands out in the center of otherwise austere downtown Hartford high-rise office buildings.
What's inside is just as unique as the exterior. Some rooms have carved and tiled fireplaces. In shades of gold and blue, they are decorated like high-end urban dwellings, with contemporary art, mid-century modern and Art Deco furniture, and unique architectural features.
Connecticut's Romantic Waterfront Hotels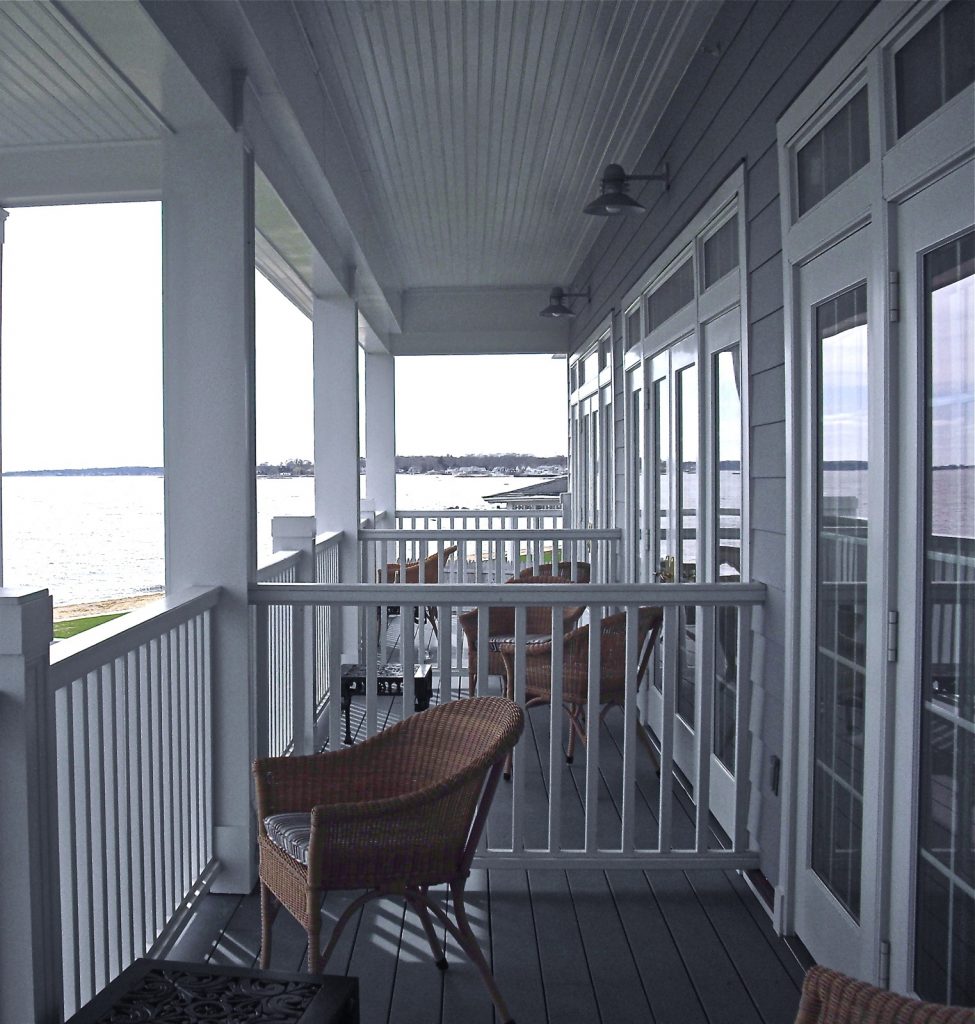 (5) The Madison Beach Hotel, Curio Collection by Hilton, Madison CT
The Madison Beach Hotel is not the kind of beach hotel where guests slather themselves with Coppertone and lay on a sandy lounge chair all day. It's more a toast-the-setting-sun with a glass of wine on your private deck kind of place.
All 33 over-sized rooms face Long Island Sound, with gleaming white plantation shutters that slide open to reveal your own beachfront balcony. It's the perfect spot for a romantic glass of wine at sunset.
More about Madison and Madison Beach Hotel here.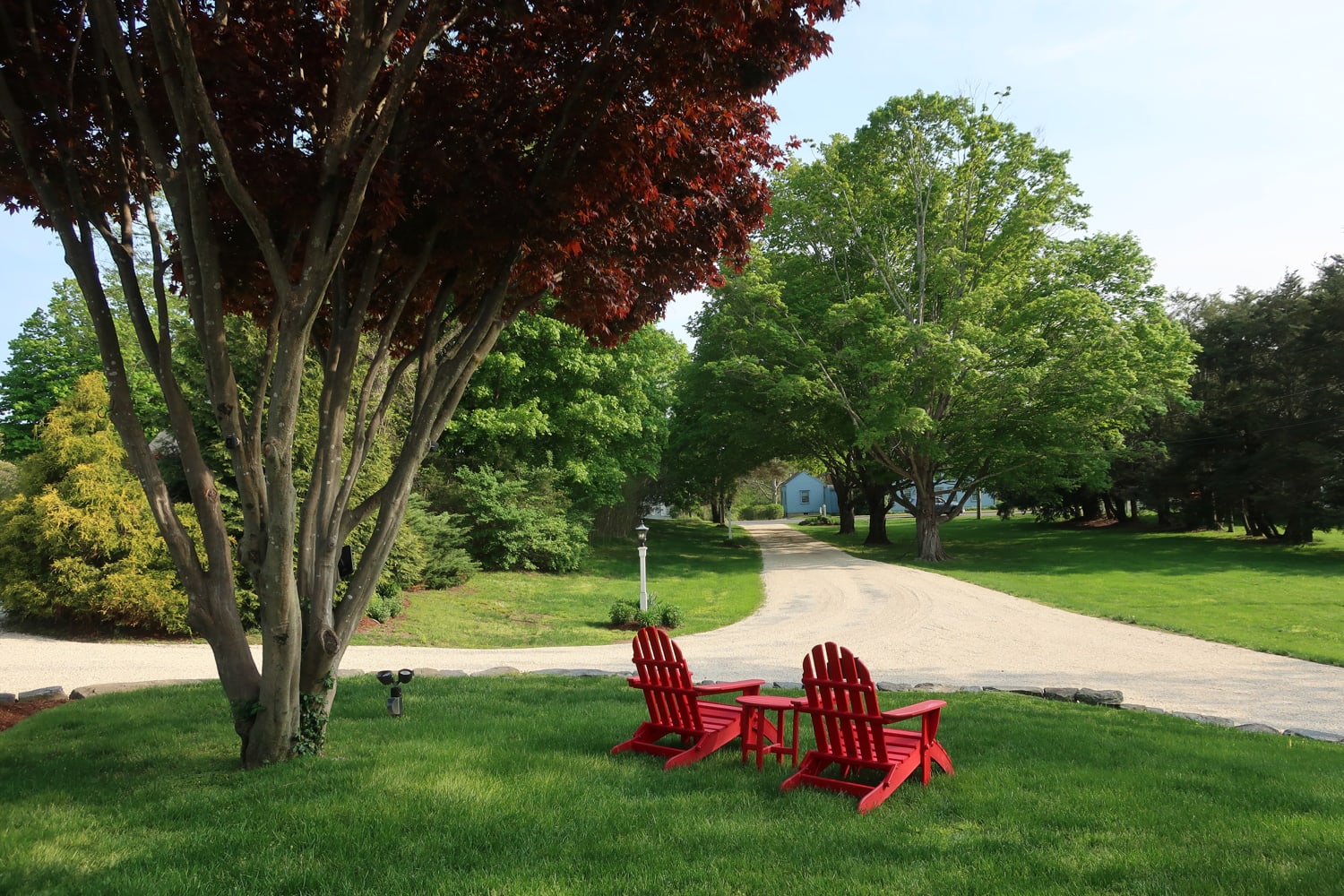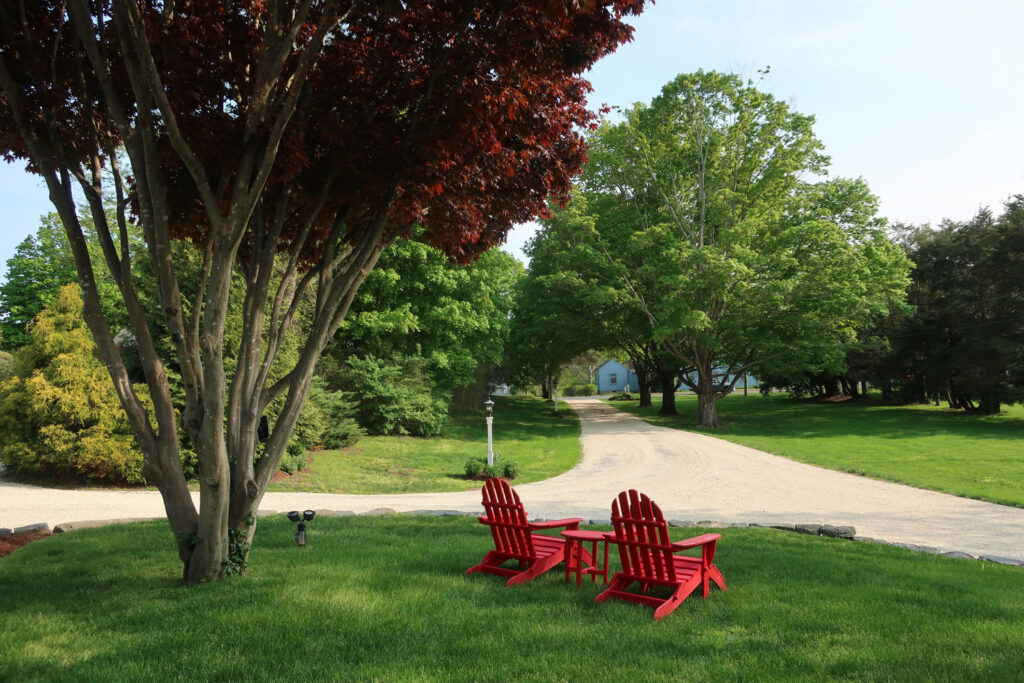 (6) The Homestead Madison
Although not directly on the waterfront, The Homestead, less than a mile from the Madison CT waterfront (and the Madison Beach Hotel), draws couples looking for a quiet, quirky-luxe stay. Bedding is dreamy, shower water is infused with vitamins, and if you're into vinyl records, you're in luck. Each guest room features an old fashioned turntable – with records drawn from your own preferences.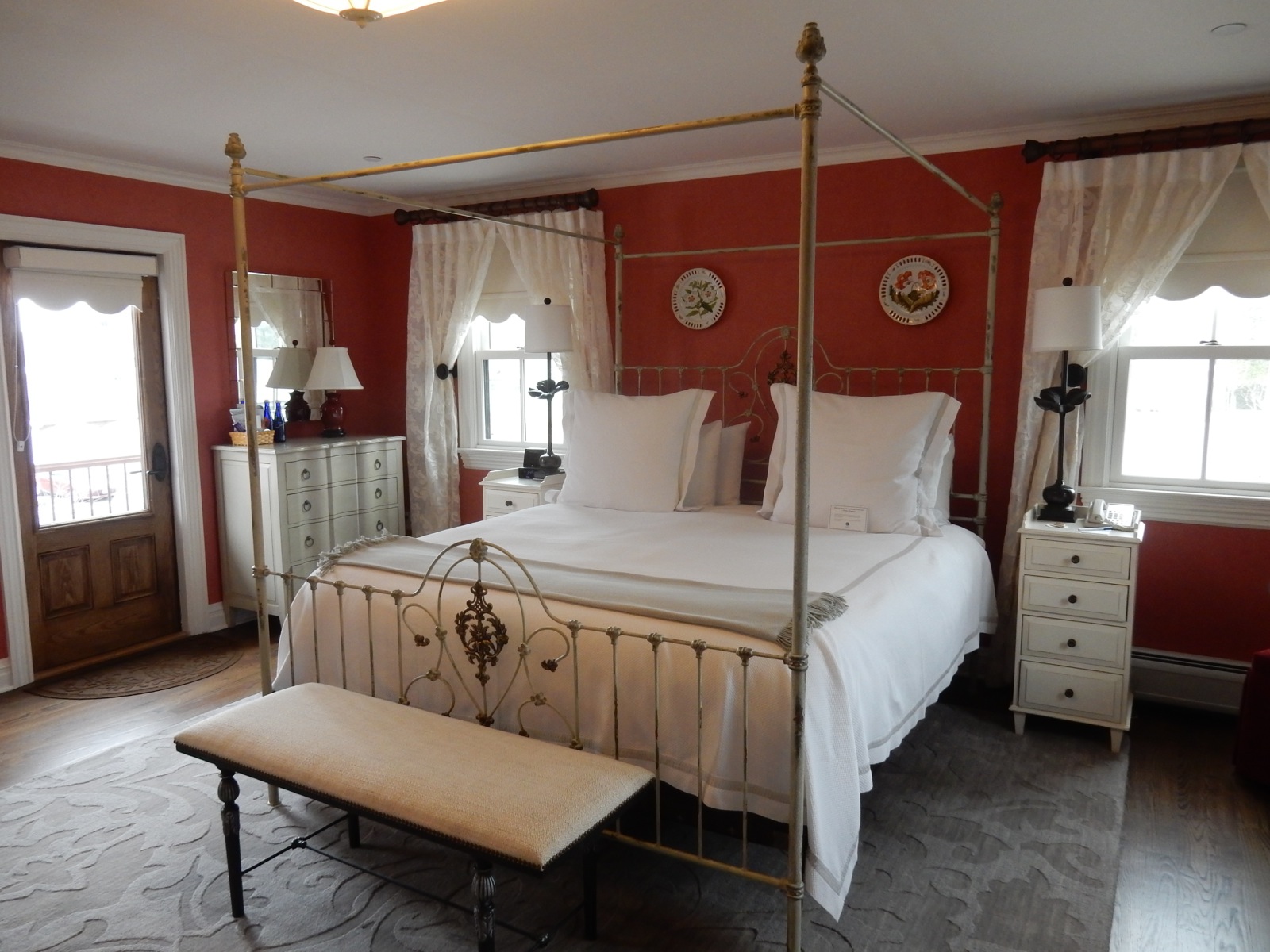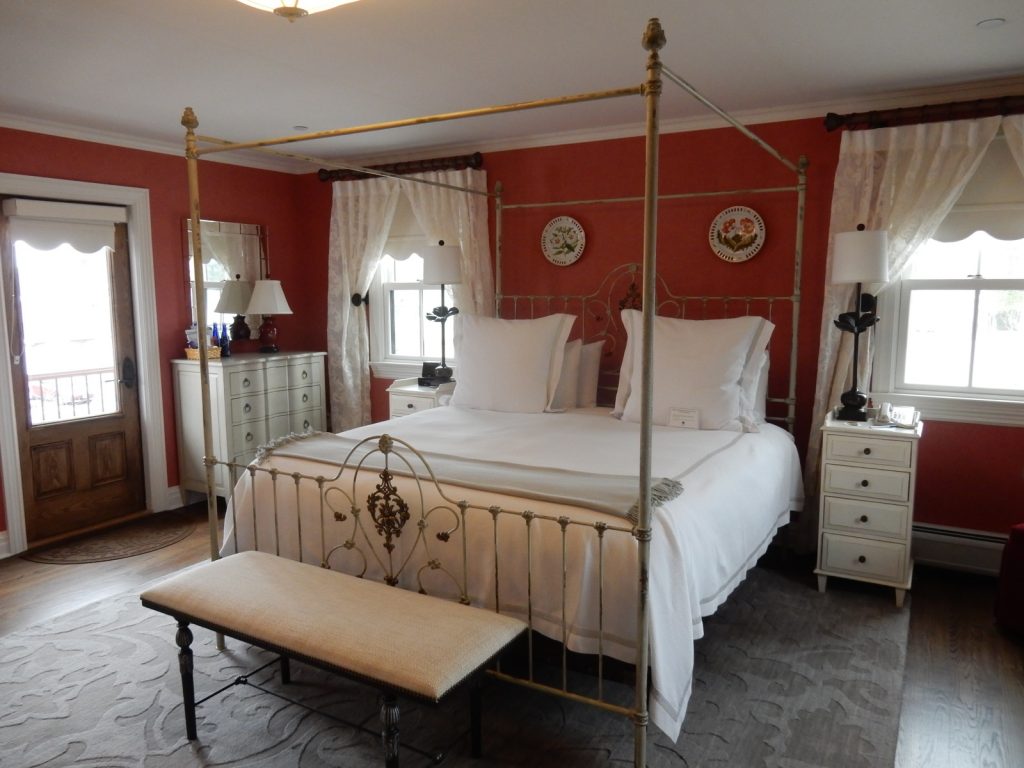 (7) The Saybrook Point Resort and Marina, Old Saybrook
Perched on a Long Island Sound peninsula, The Saybrook Point Resort and Marina encompasses a "green" marina, an outdoor heated, a large indoor pool, an excellent Spa and two unique boutique inns.
Are you and your honey fired up by traditional rooms right on the marina, or more romantic one-of-a-kind theme rooms across the street (but still with water views).
If the later, book a stay in either Three Stories Guesthouse or Tall Tales Guesthouse, which offer elegant and luxurious features like balconies and billiards rooms.
More about Old Saybrook and Saybrook Point Inn here.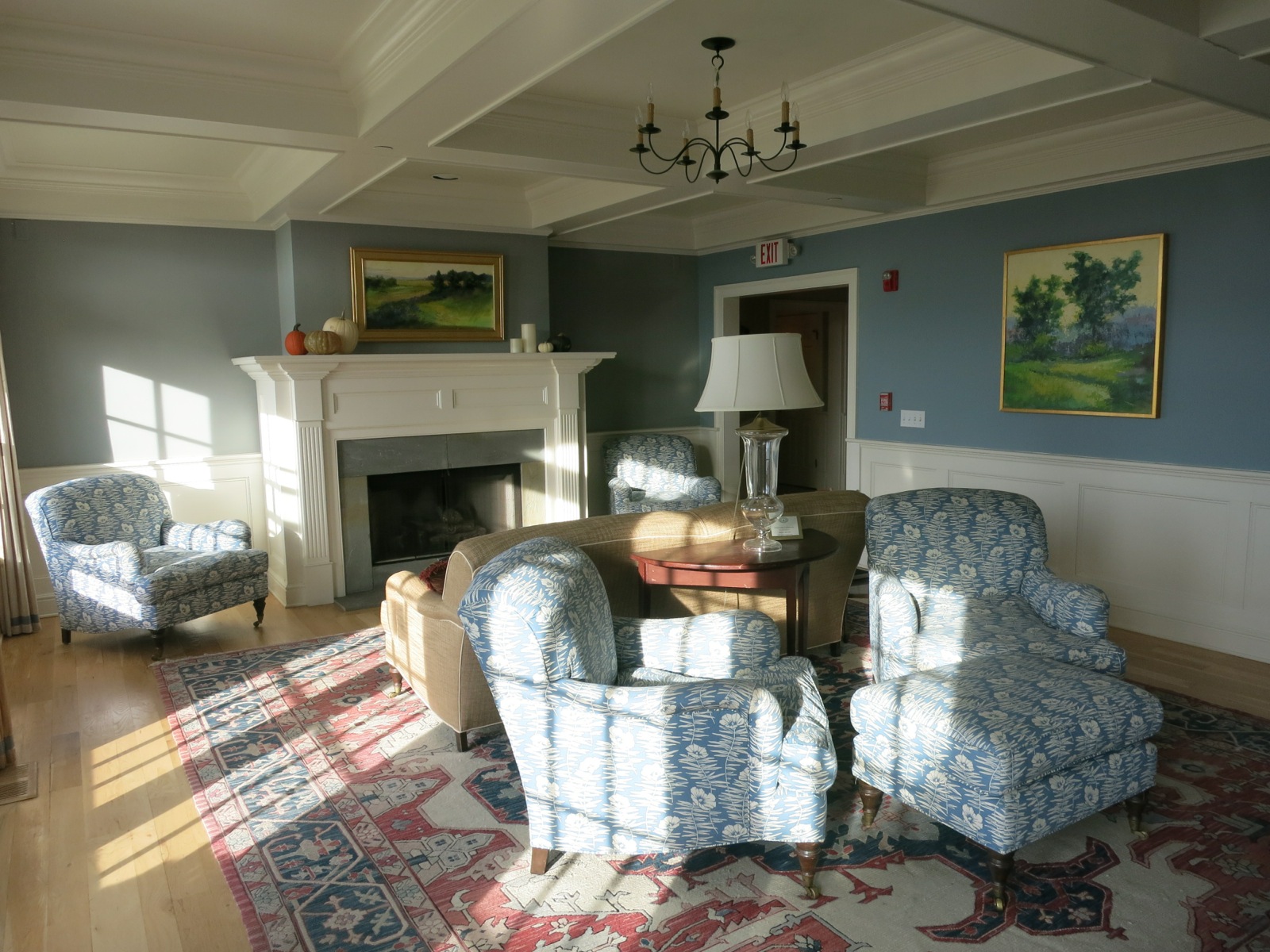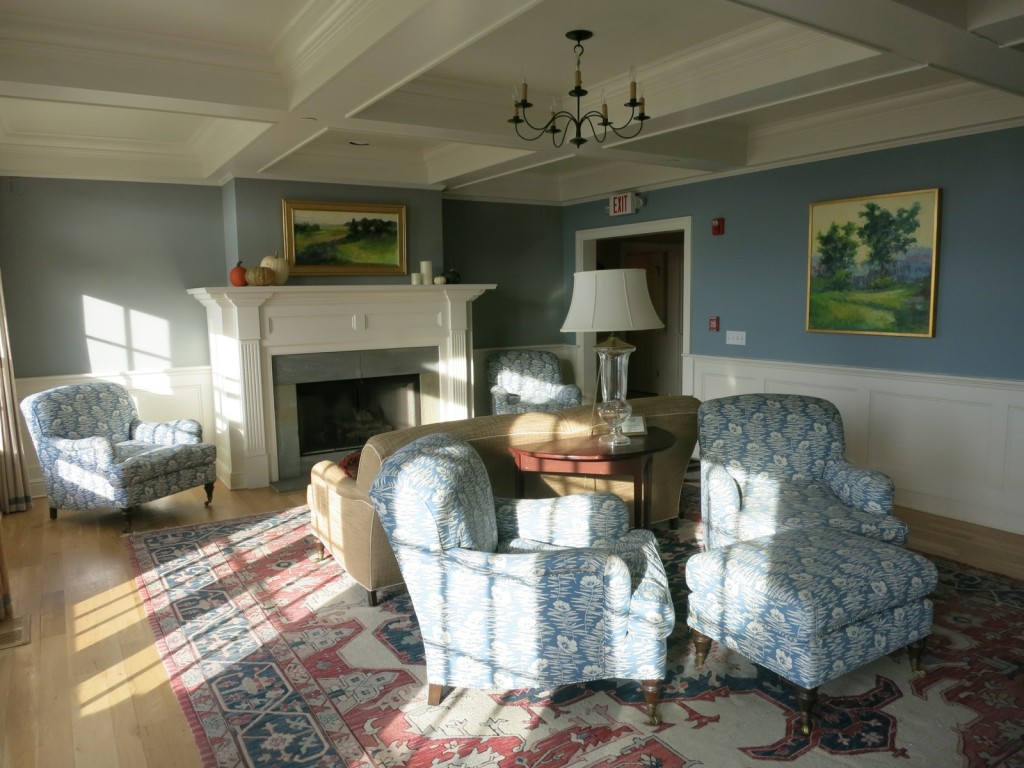 (8) Inn at Stonington Stonington
Ask for one of the rooms at the Inn at Stonington facing bucolic Stonington Harbor. Accommodations are both refined and warm – Frette linens, walls in soothing yellows, blues and creams, dark spindly four-poster beds and private balconies on harbor-front rooms.
More about Stonington and the Inn here.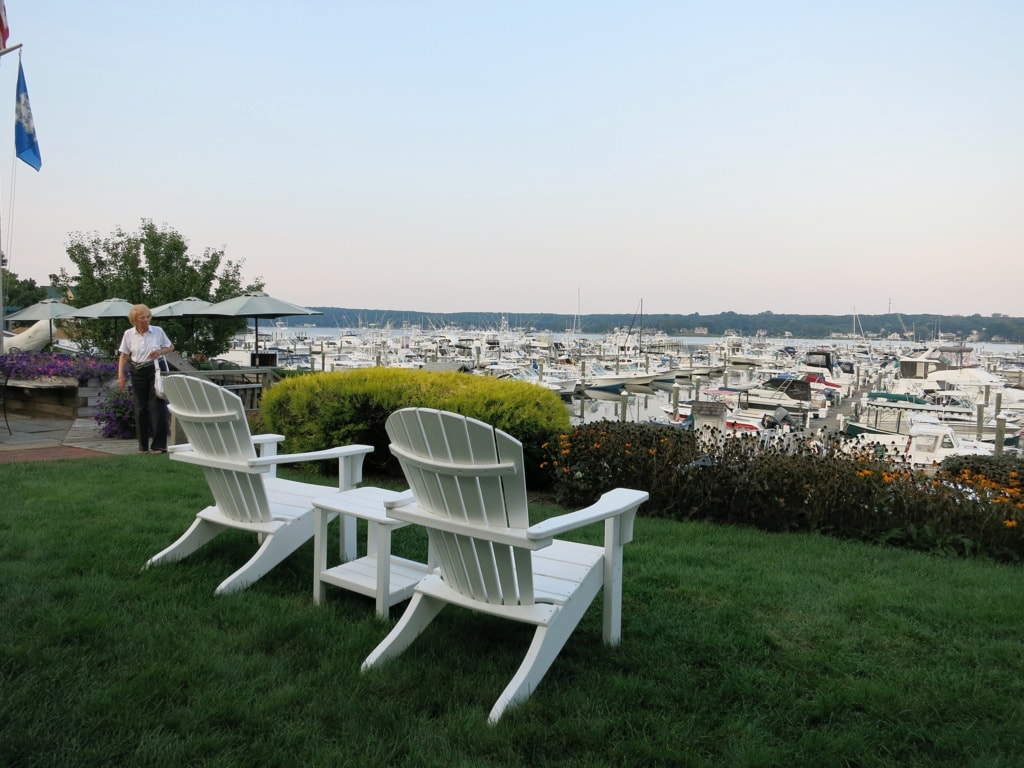 (9) Inn at Harbor Hill Marina, Niantic
Multiple rooms with balconies overlook the lawn and marina at the shoreside Inn At Harbor Hill Marina. At sunset on temperate nights, guest take wine to the Adirondack chairs facing the boats and water, or tote a picnic supper to the Gazebo– an idyllic scene.
More about Niantic and New London here.
Connecticut's Most Romantic Shoreline Town Hotels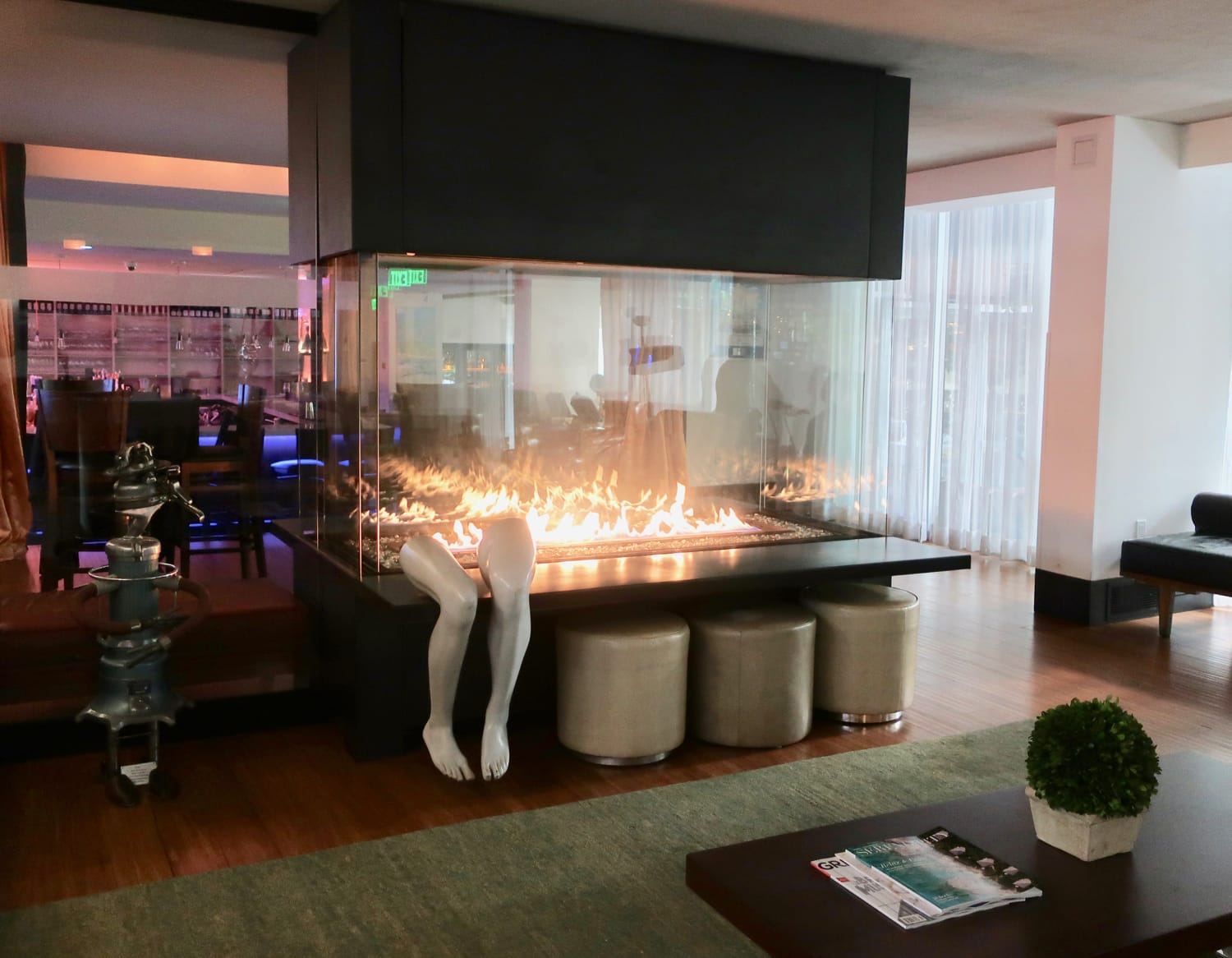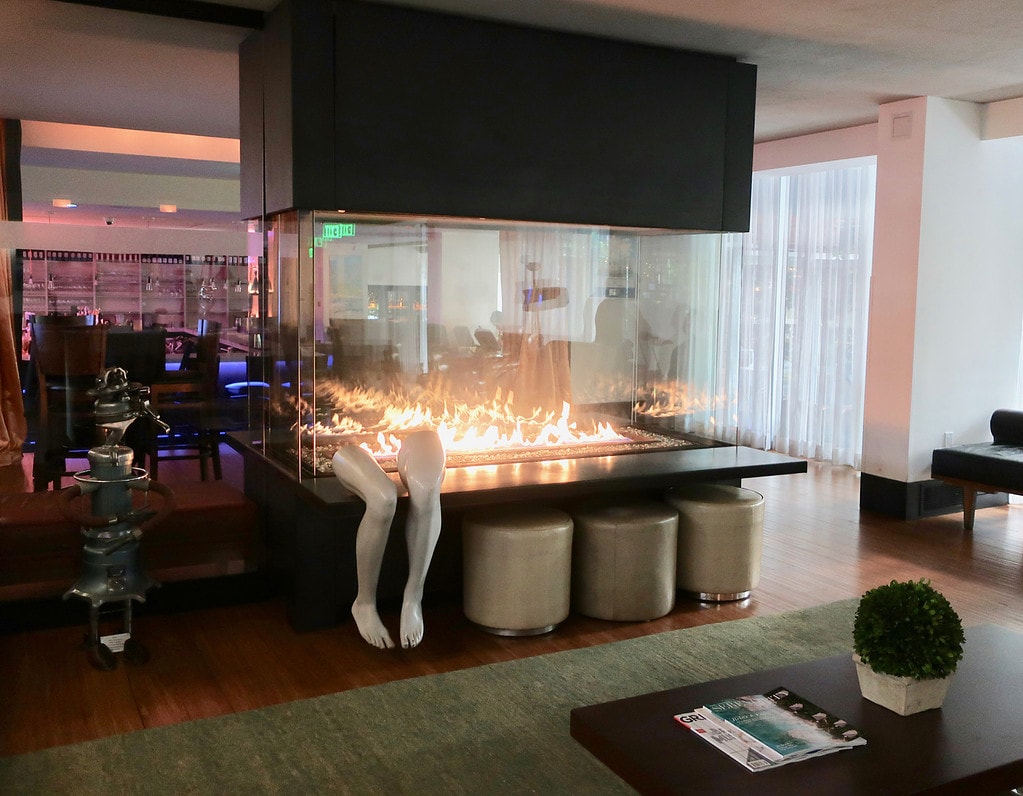 (10) The J-House Greenwich – A Chic Romantic Hotel in CT
Do the two of you get all exuberant about stylish, modern, high-tech rooms in a stunning boutique hotel? The J-House – a converted Howard Johnson's – is arguably one of the sexiest, celeb-magnet hotels in Connecticut. Whimsical arts and crafts are scattered about, and all 85 "automated" high-tech rooms and suites are stylish cocoons of comfort.
More about Greenwich CT and the J-House here.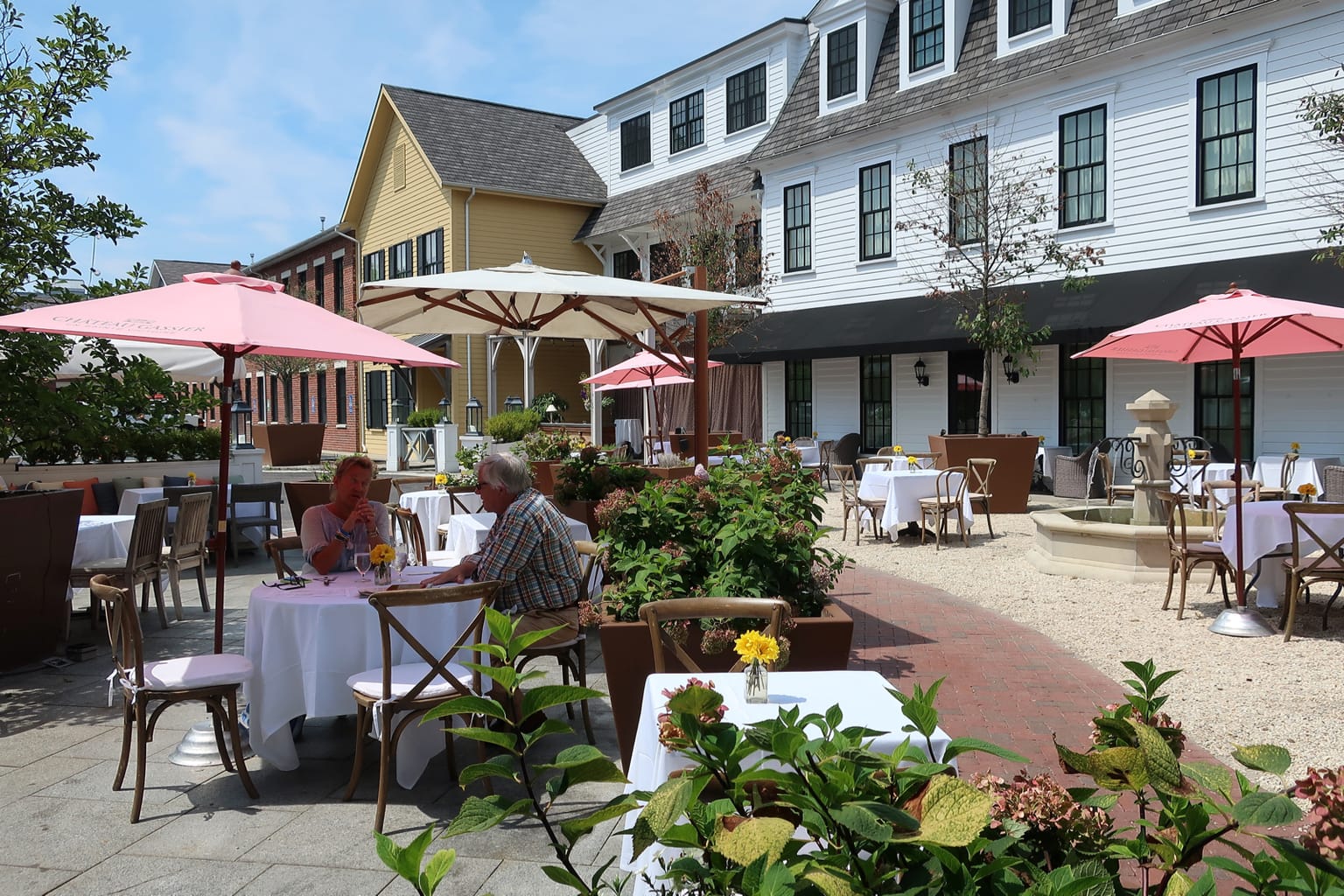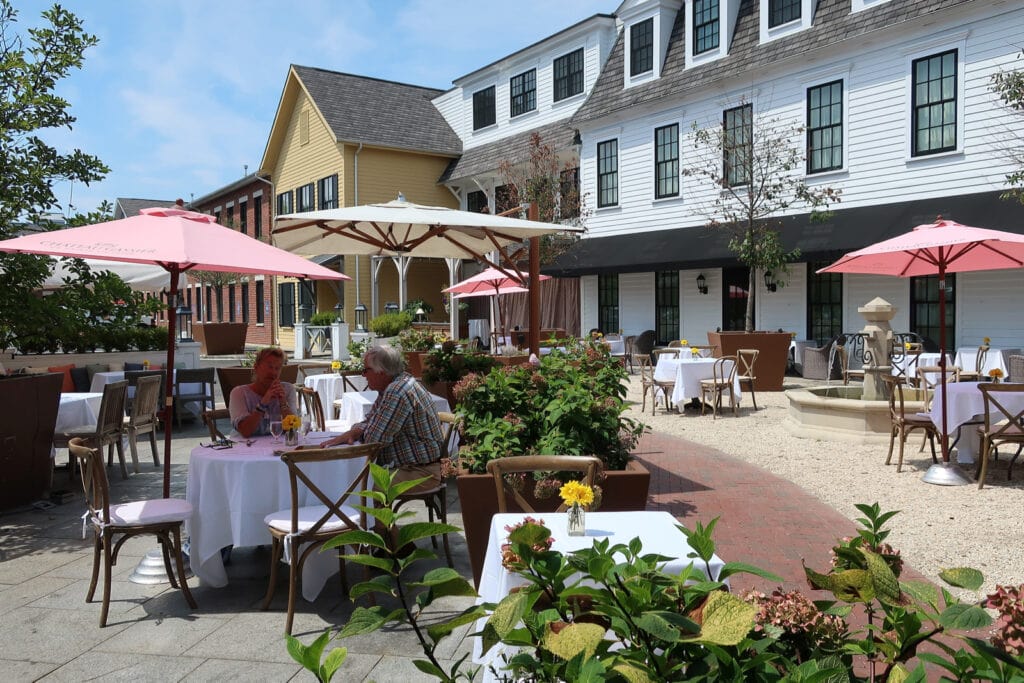 (11) Delamar Southport CT
Escape the tedium of yet another NYC weekend with a foray into New England. More precisely, Connecticut. The Delamar Southport, first conceived as residences built in "New England" style was refashioned as a 43-room, pet-friendly, luxury hotel in 2010.
Though the hotel isn't on the water, it offers passes to three area beaches – a most valuable amenity for New Yorkers escaping the city for a few days.
More about Delamar Southport and Fairfield CT here.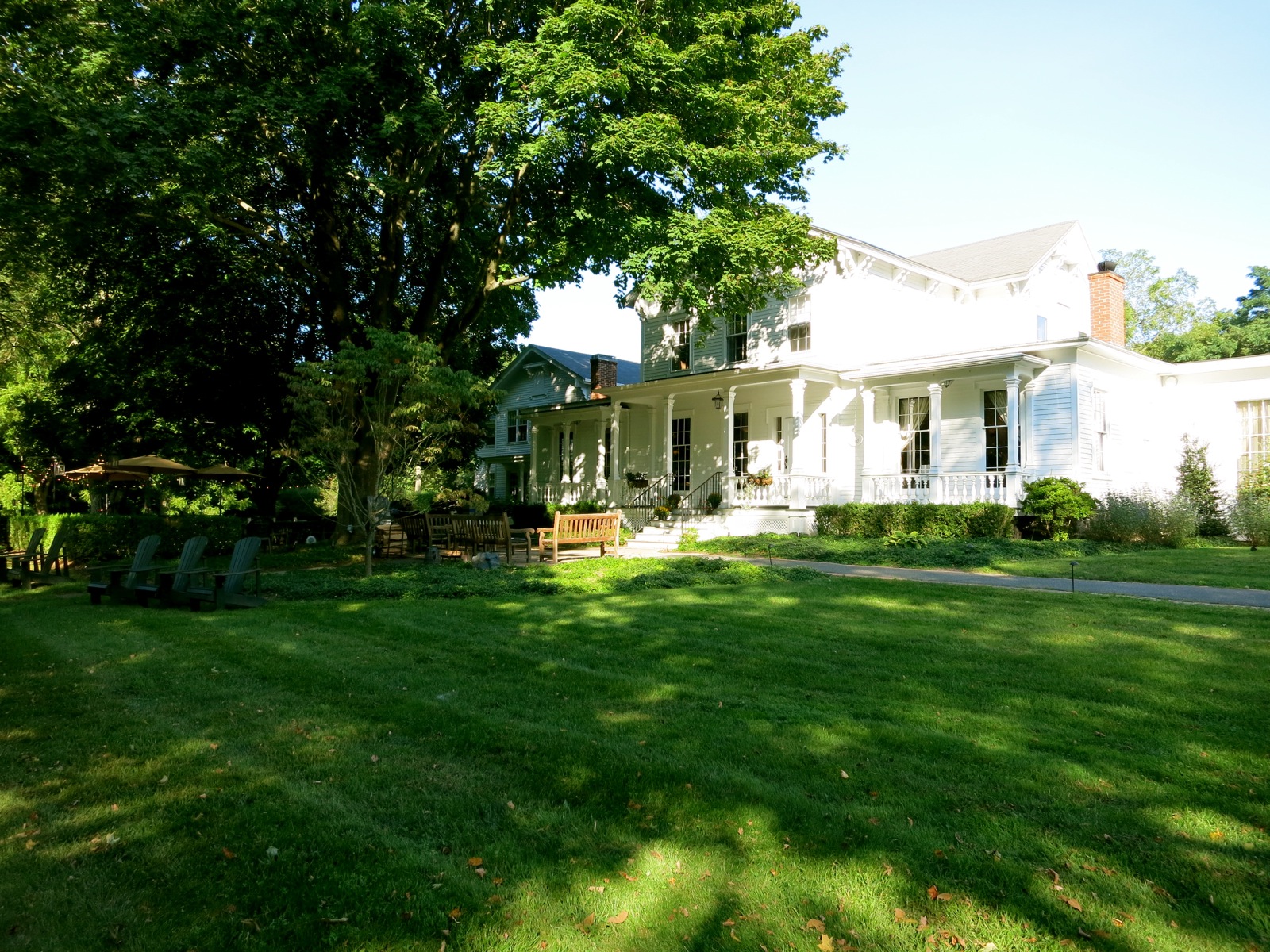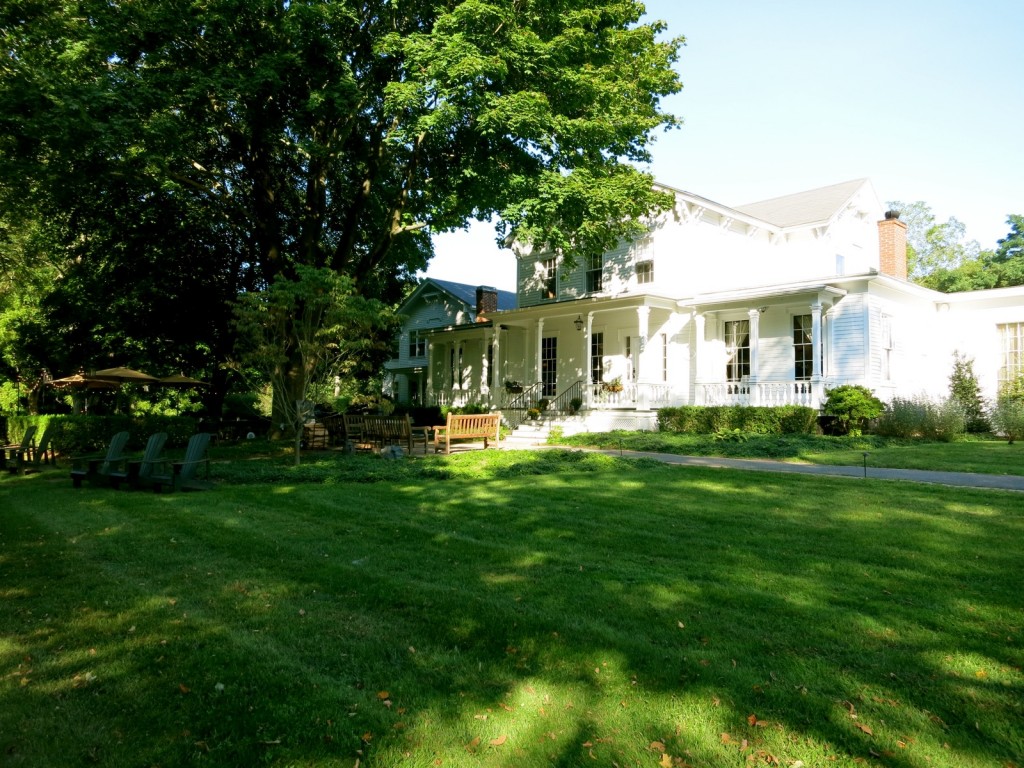 (12) The Old Lyme Inn – Old Lyme
The landscape of Old Lyme CT is just as seductively beautiful as the gauzy American Impressionist paintings that put this river town on the map.
The Old Lyme Inn saw ups and downs, and in 2012 was updated for a new generation. Lovers who find world-class jazz titillating won't have far to go.
The Side Door, an intimate jazz club where you'd hardly expect it, is right downstairs.
More about Old Lyme CT and the Old Lyme Inn here.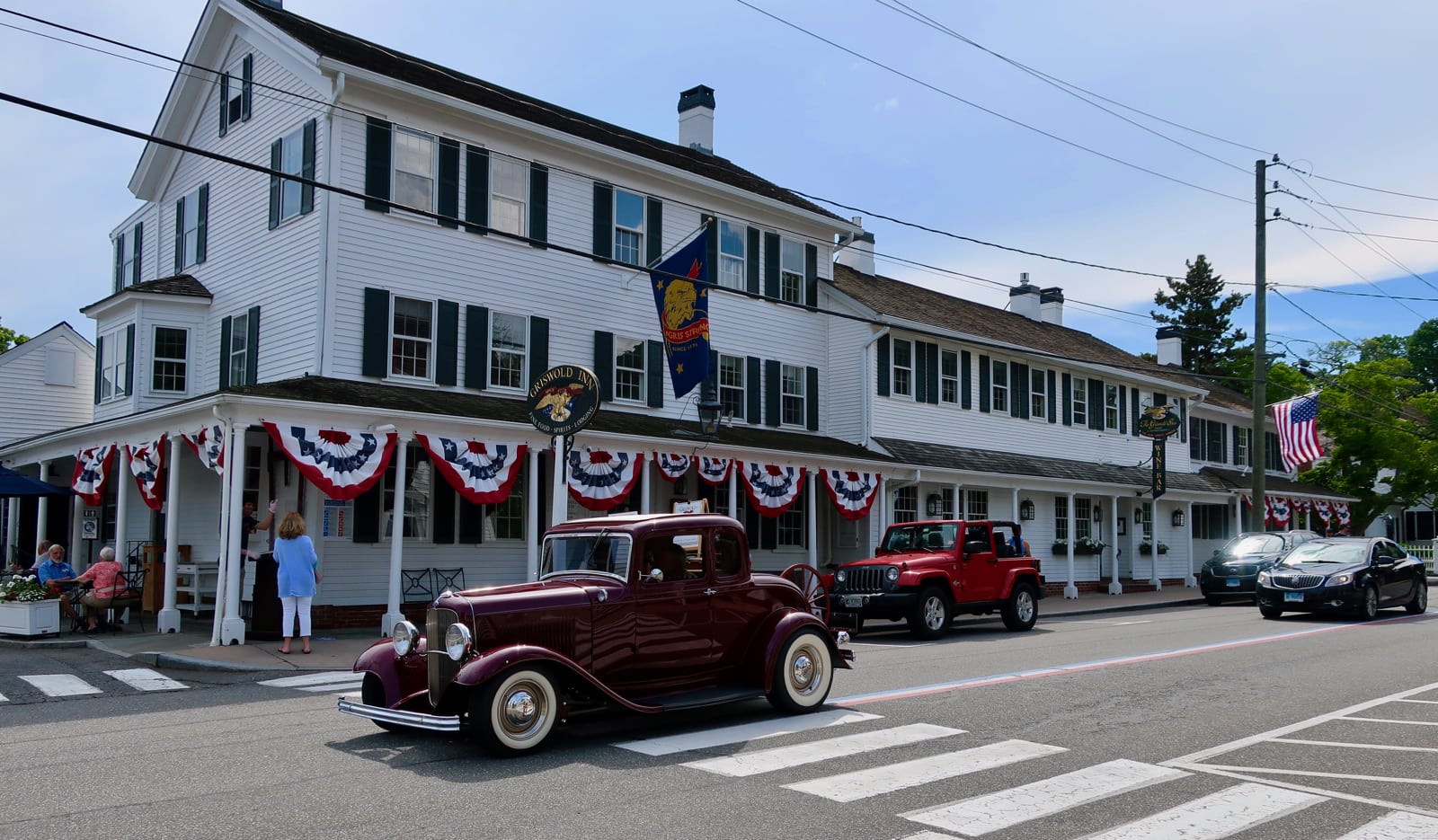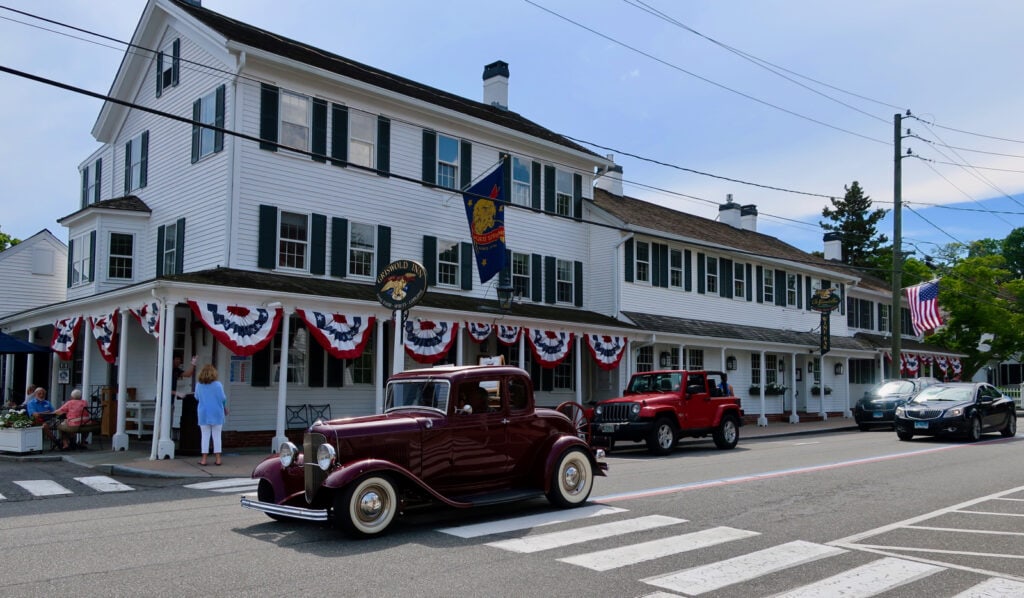 (13) The Griswold Inn – Essex
Before the ink was dry on our Declaration of Independence, and while American's first warship, the Oliver Cromwell was launched down the street in June 1776, the Griswold Inn welcomed its first guest.
But even though "The Gris" is one of the oldest continuously operating inns in the United States, it still gets to rollicking (in non-Covid times) in the historic Tap room – a 1735 schoolhouse installed here in 1801.
Immaculate guest rooms, with burnished wood floors, area rugs, four-poster beds and nautical art, are a quiet retreat after a raucous night downstairs.
More about Essex CT and the Griswold Inn here.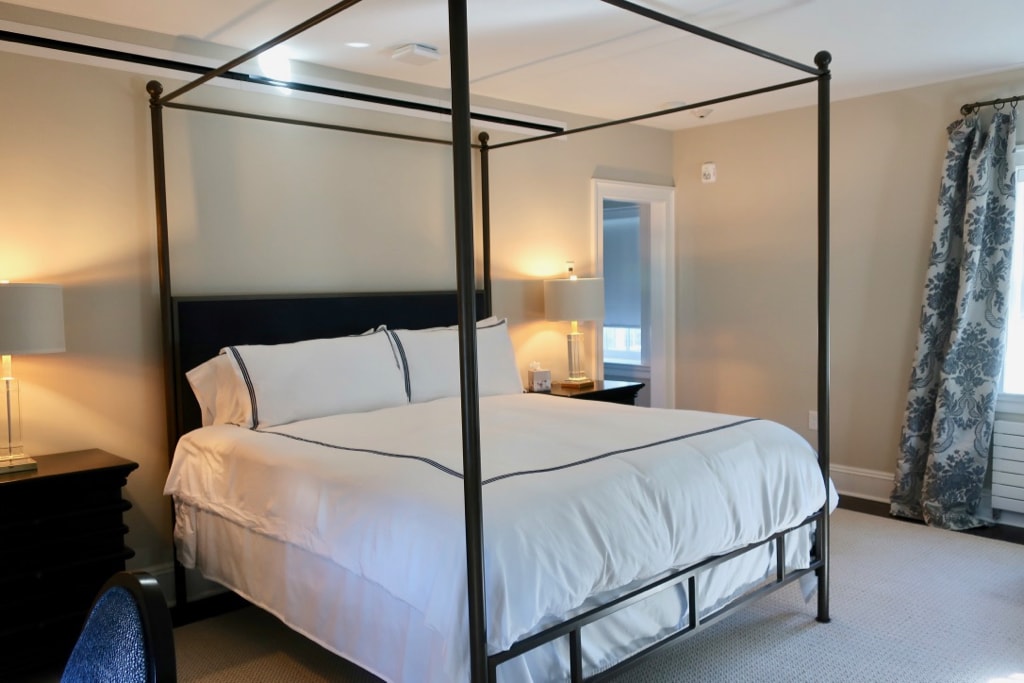 (14) Inn at Ocean Avenue – New London
Are you a glamorous couple seeking a glamorous inn? This is your place on the Connecticut shore! Stylistically, each room at the Inn at Ocean Avenue is a study in 20's glamour. That's 1920's, by the way – with mirrored furniture and subtle shades of white and off-white. Beds are so soft, snuggly, and dreamy, you might just sleep much longer than you expect to. Guests (including me) report an unheard of uninterrupted 8 or 9-hour slumber, unless, um, you have other things in mind.
Read more about New London and Groton CT Here
Most Romantic Hotels in Connecticut Upstate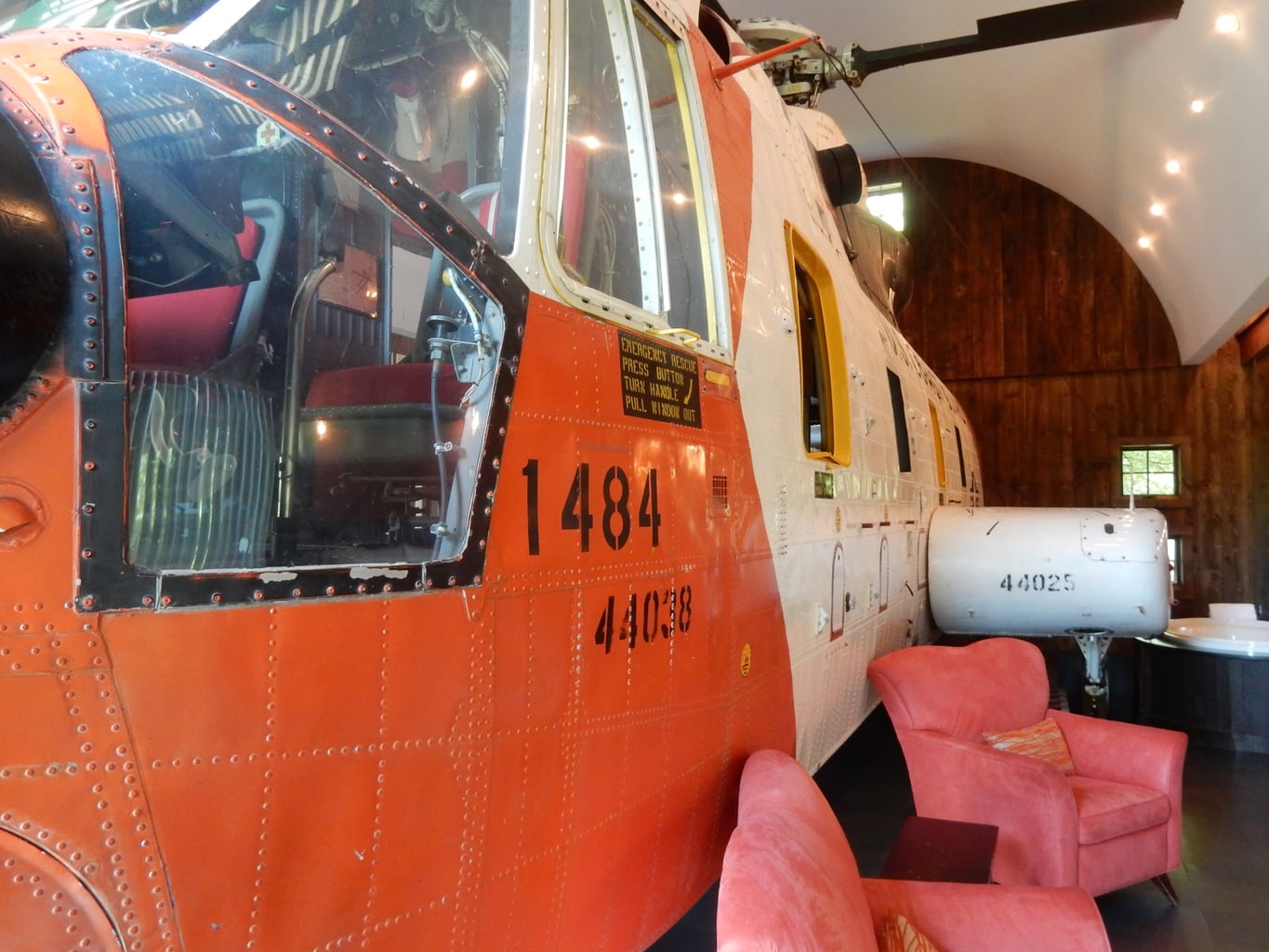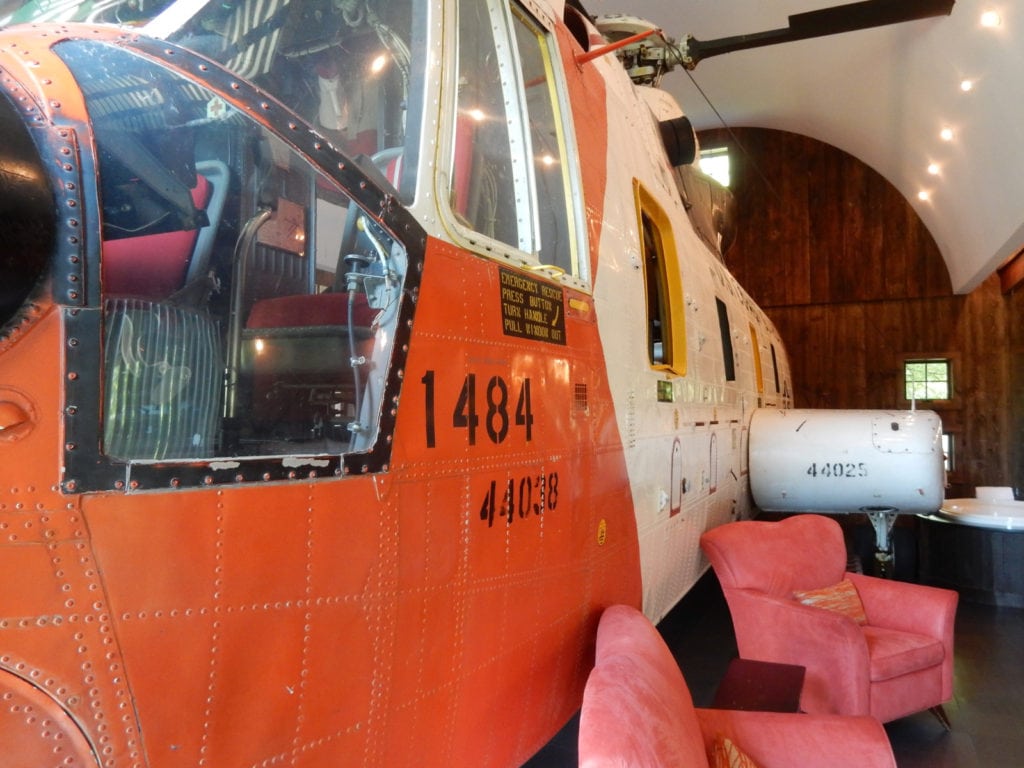 (15) Winvian Farm, Morris
Can things get steamy inside a helicopter? Test out that theory at the funky/luxe Winvian Farm – with 24 themed "cottages" – one of which houses a large Coast Guard "bird."
Winvian is quite possibly the most unique lodging experience of all the world's Relais & Chateaux properties. If a helicopter does not float your boat, perhaps a Treehouse will do?
Here's more about Winvian and the Litchfield Hills.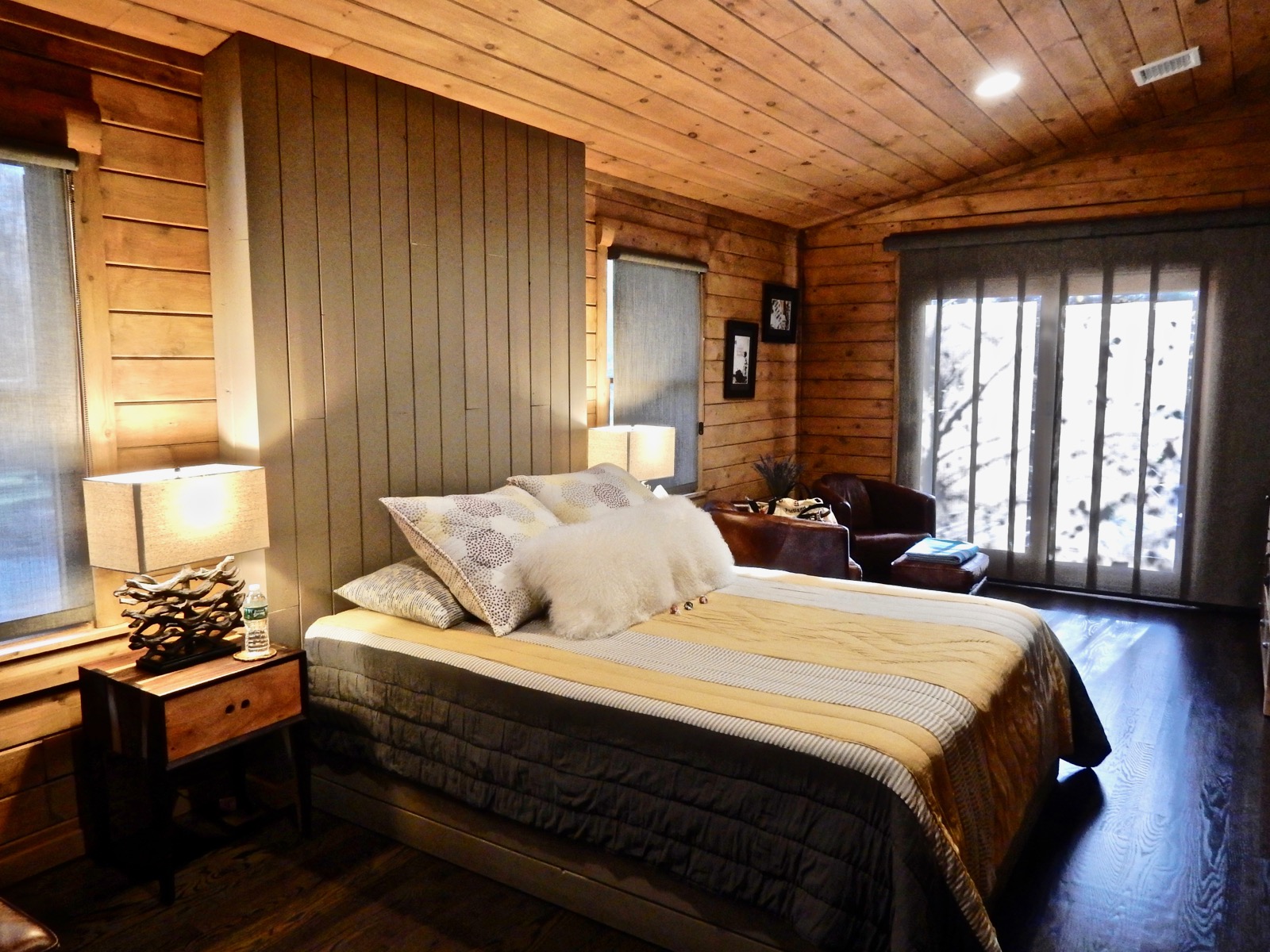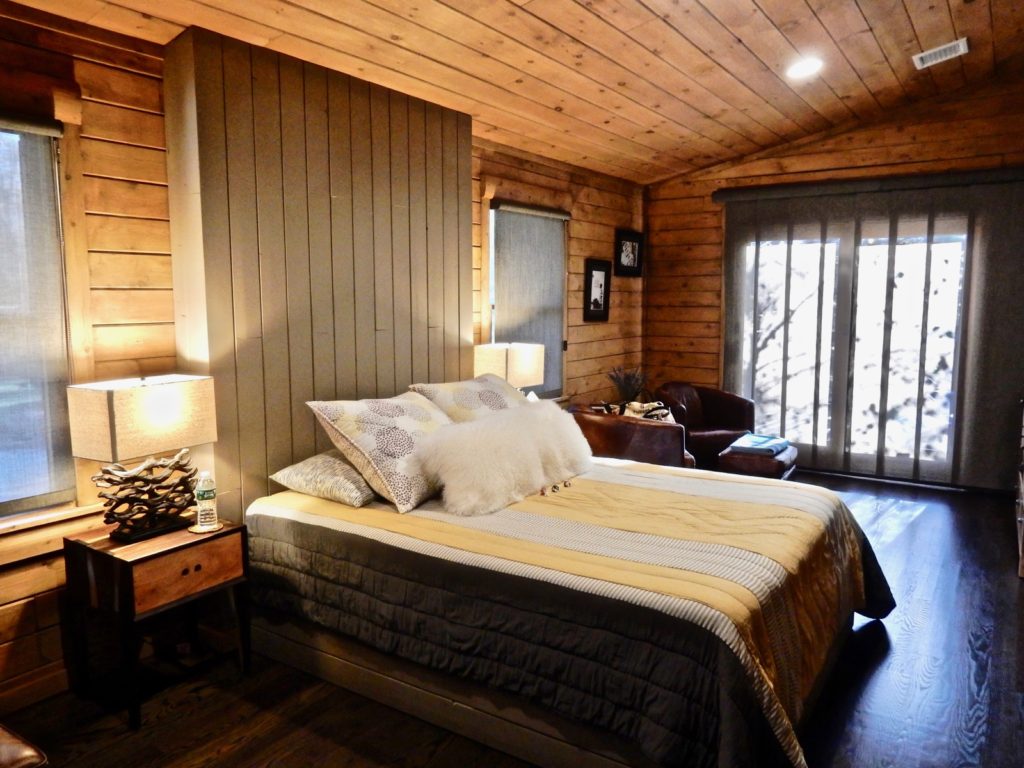 (16) Chatfield Hollow Inn, Killingworth
Set beside a small pond on a farm known for its culinary mushrooms, the Chatfield Hollow Inn experience begins with a warm greeting right outside the front door. And then, into a fragrant, candlelit two-story living room straight out of Dwell Magazine.
The quirky-modern-country Chatfield Hollow Inn is the antithesis to the typical doll & doily chintz B&B. Its aesthetic has been best described as "Mid-Century Modern meets Daniel Boone." The property is strewn with gardens, statuary and animals – quite the retreat where you least expect it.
More about Chatfield Hollow Inn here.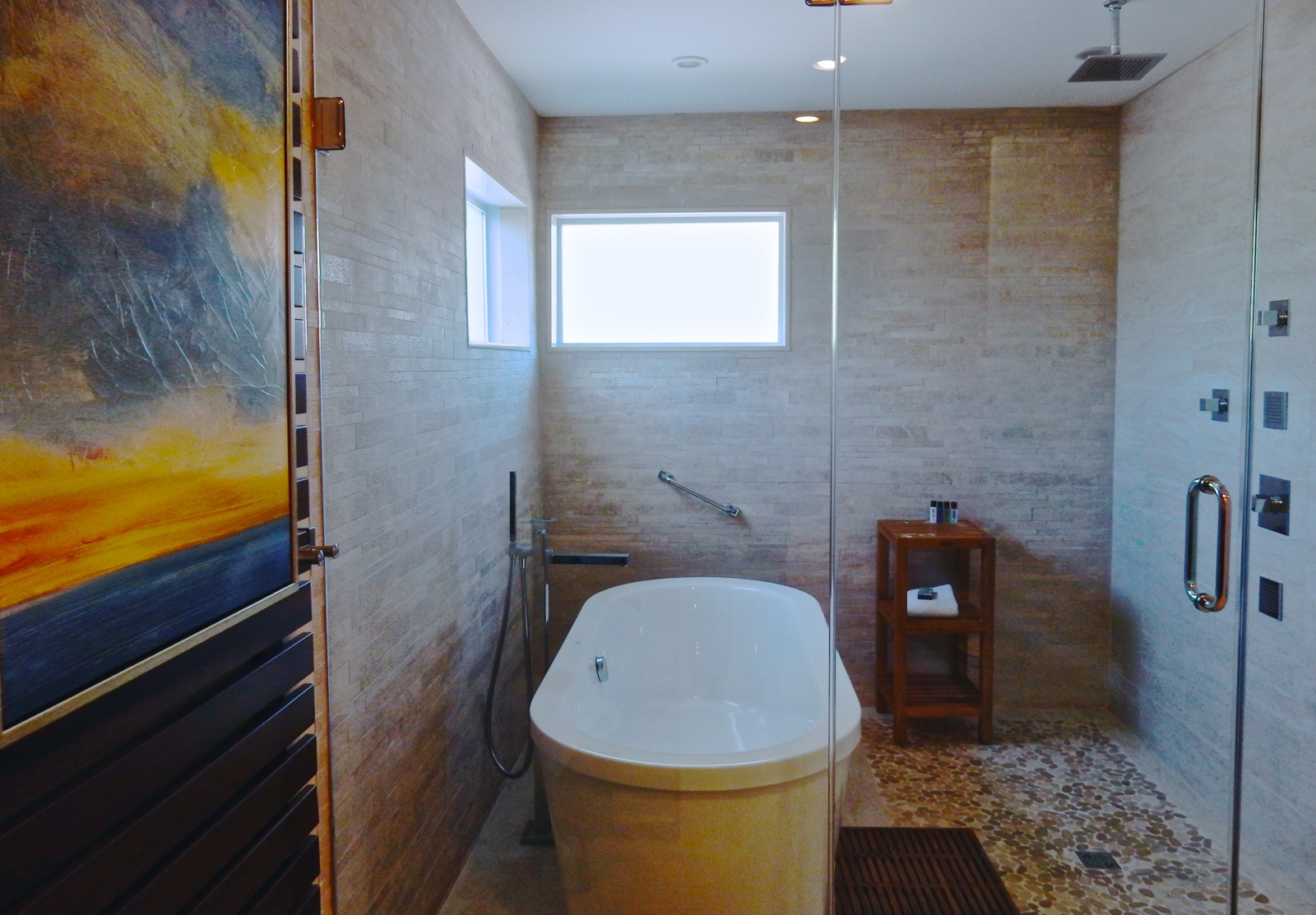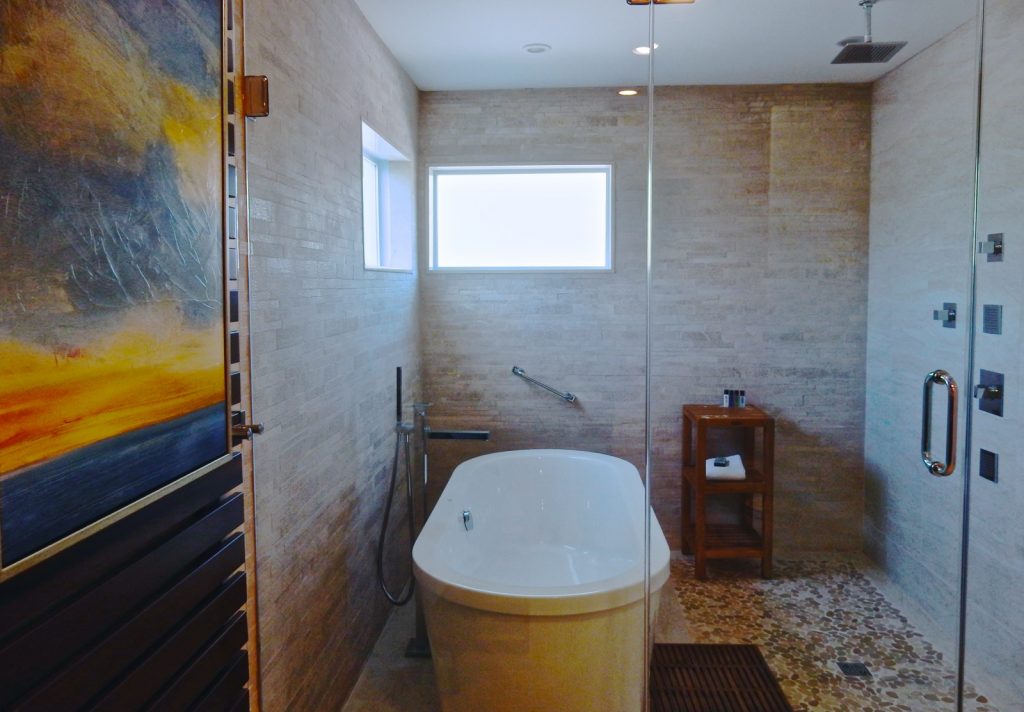 (17) Interlaken Inn, Lakeville
Just 2 miles from Salisbury CT, the Interlaken Inn in Lakeville CT has hosted parents and friends of next-door Hotchkiss School for decades. It's also has proven popular among newlyweds and other romantics.
With expansive property encompassing the Main building (40 rooms and suites of various sizes), several cottages, an outdoor pool, tennis courts, and a separate waterfront beach and dock on Lakeville Lake (aka Lake Wononscopomuc), some guests don't even leave the compound once settled in.
More about Interlaken Inn and Connecticut's Lake District here.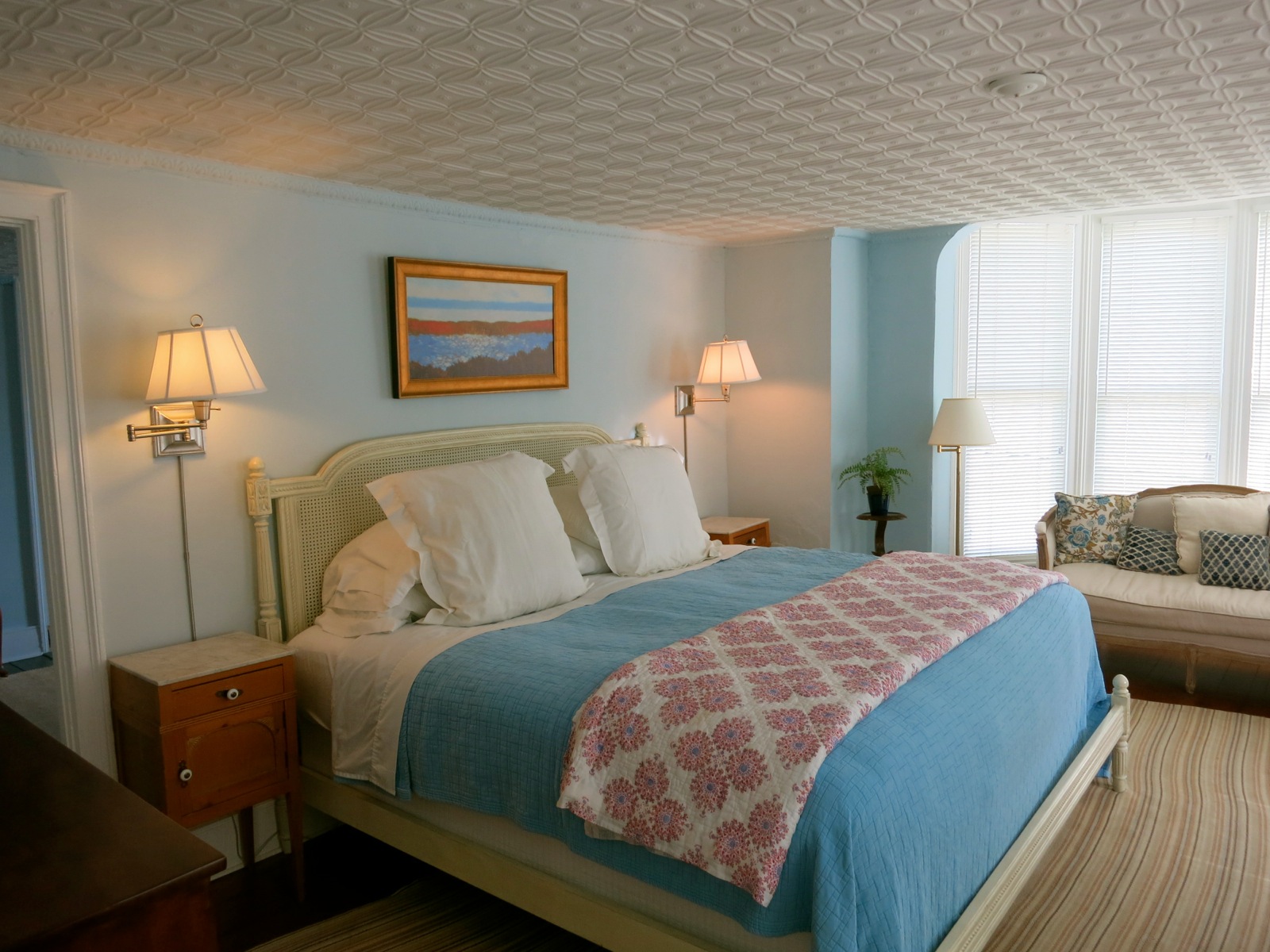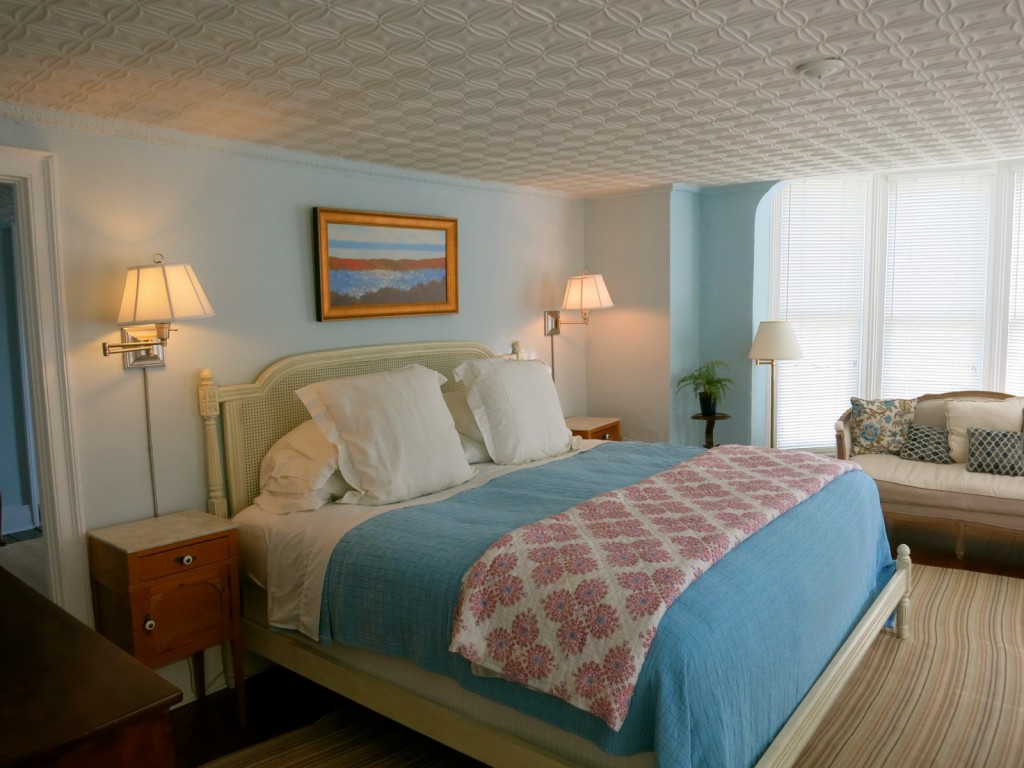 (18) Falls Village Inn, Falls Village
Find your groove at Falls Village Inn, a flop house turned cozy-comfy chic inn in a tiny Connecticut hamlet.
The restaurant is a draw in itself. But rooms are lovingly and beautifully redone with wainscoting, colorful art, fine antiques, soothing pastel colored walls and soft luxe bedding.
It's Ralph Lauren Country with a lighter, more feminine hand. Each room is a perfect retreat after a meal downstairs – and an excellent base for those heading to Lime Rock Park.
More about CT Northwest Border Towns here.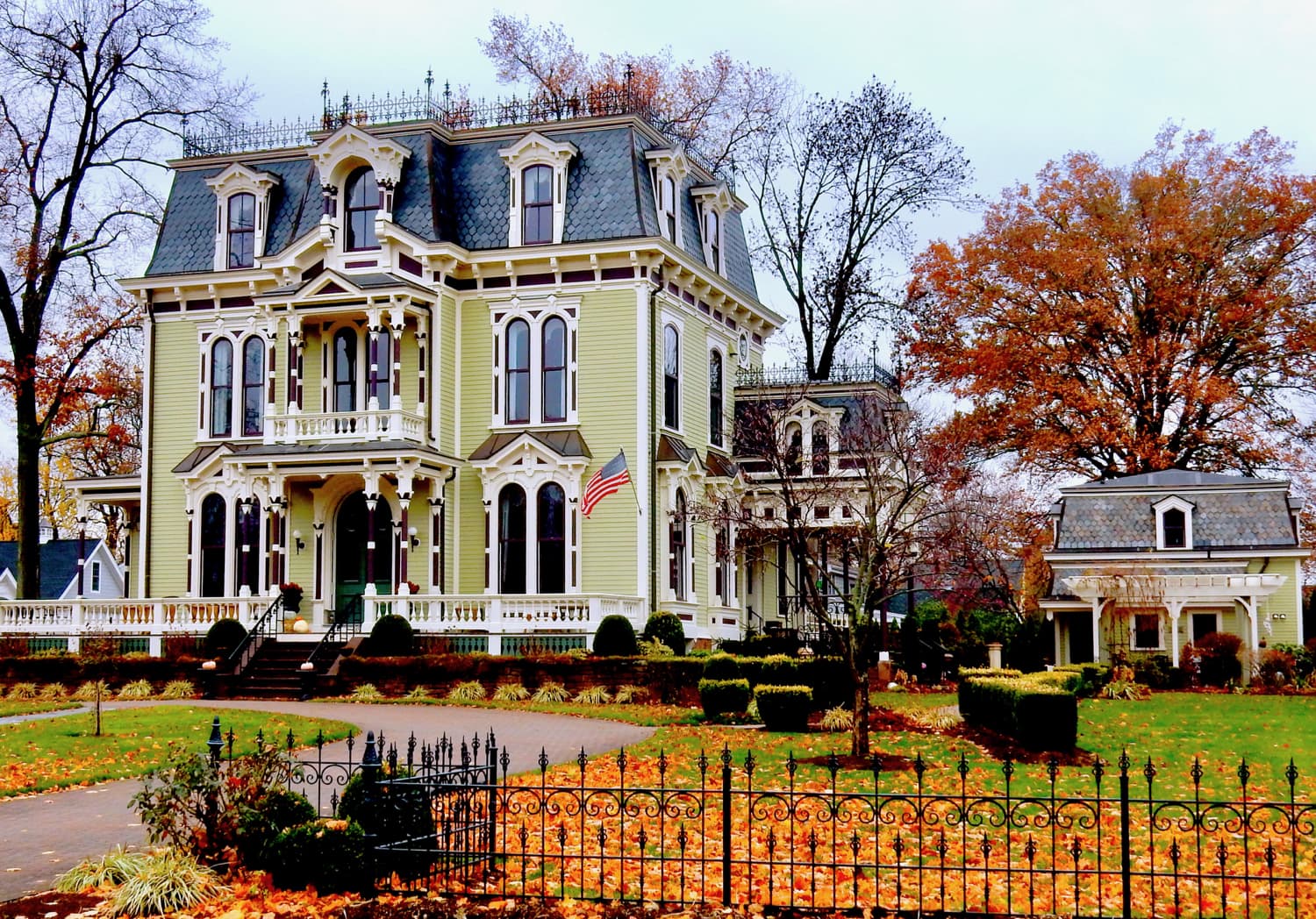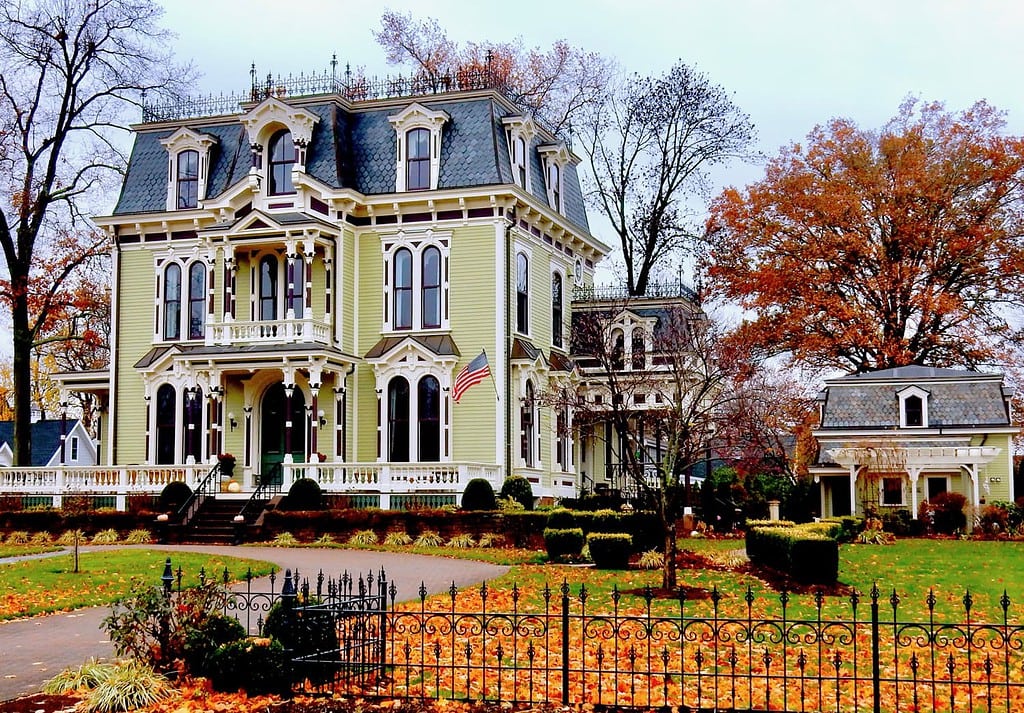 (19) Silas Robbins House, Wethersfield
A "new house in an old shell," the Silas Robbins House, former lawyer's office on the Wethersfield Green opened as a B&B in 2007.
It certainly captures the grandeur of the Victorian era. Rooms and bathrooms are sumptuously appointed, and a lovely gourmet breakfast is served in a formal tearoom.