I've been writing about Inn By The Sea, an environmentally conscious, dog-friendly, 61 room luxury seaside hotel in Cape Elizabeth ME, for years. And each time I visit, it just gets better.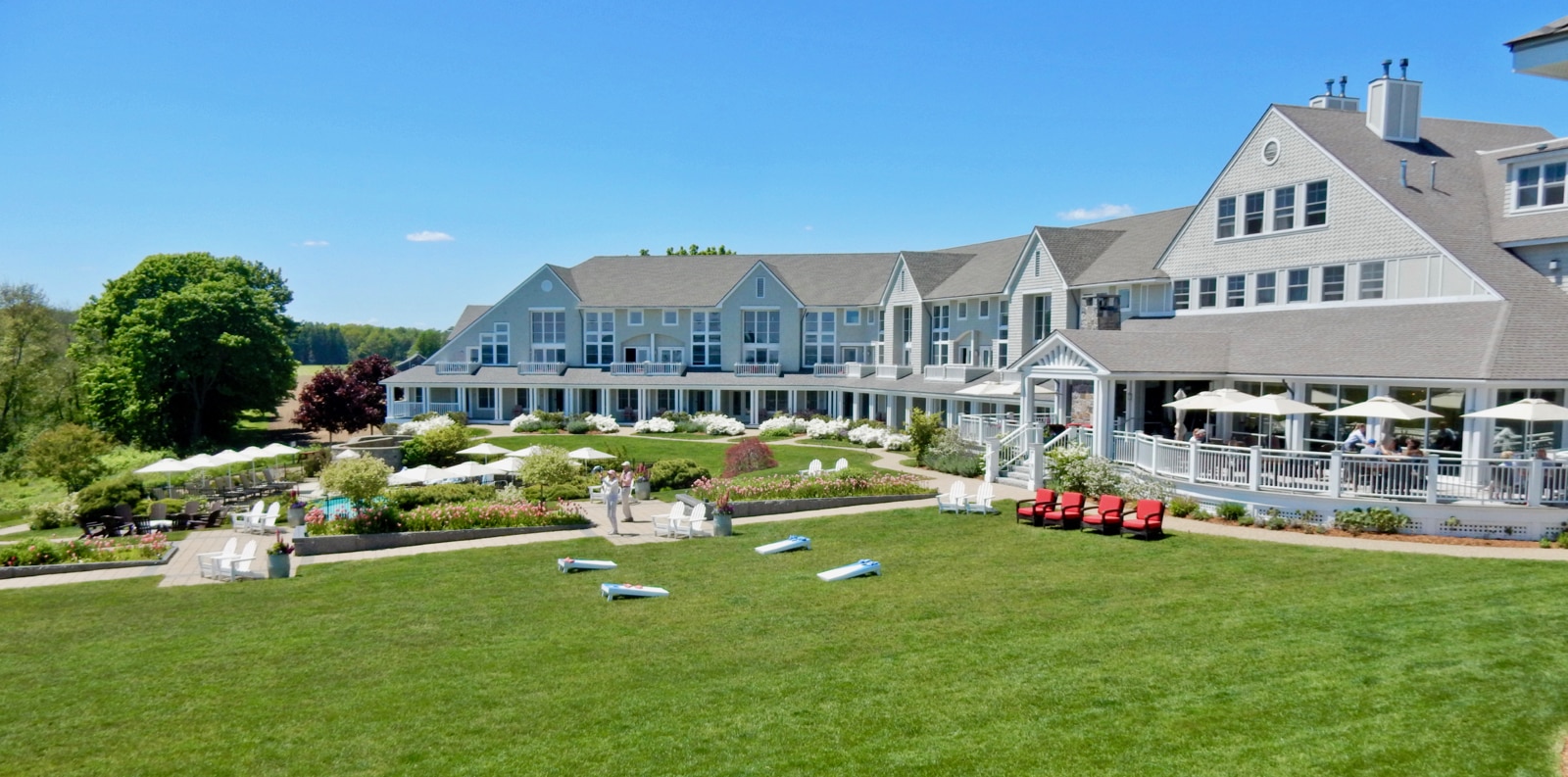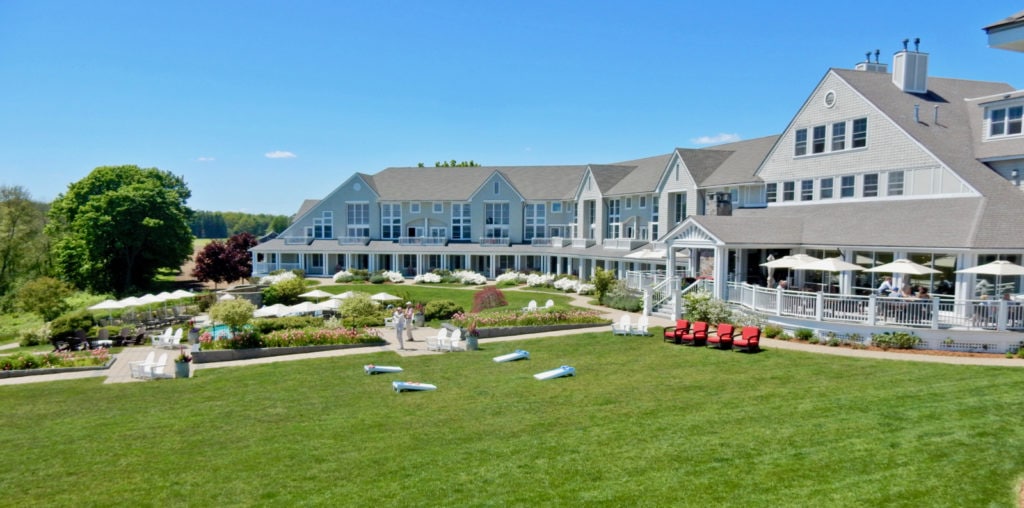 My first review, in 2008 read: Grand, but not grandiose, Inn By The Sea keeps both top-notch luxury and eco-friendly practice sacrosanct. To top it off, it's "big-pet-friendly." Sitting by the fireplace in the bar, you'll hear the clip-clip sound of greyhound, lab, or retriever paw-nails on polished marble; guests and their charges checking in.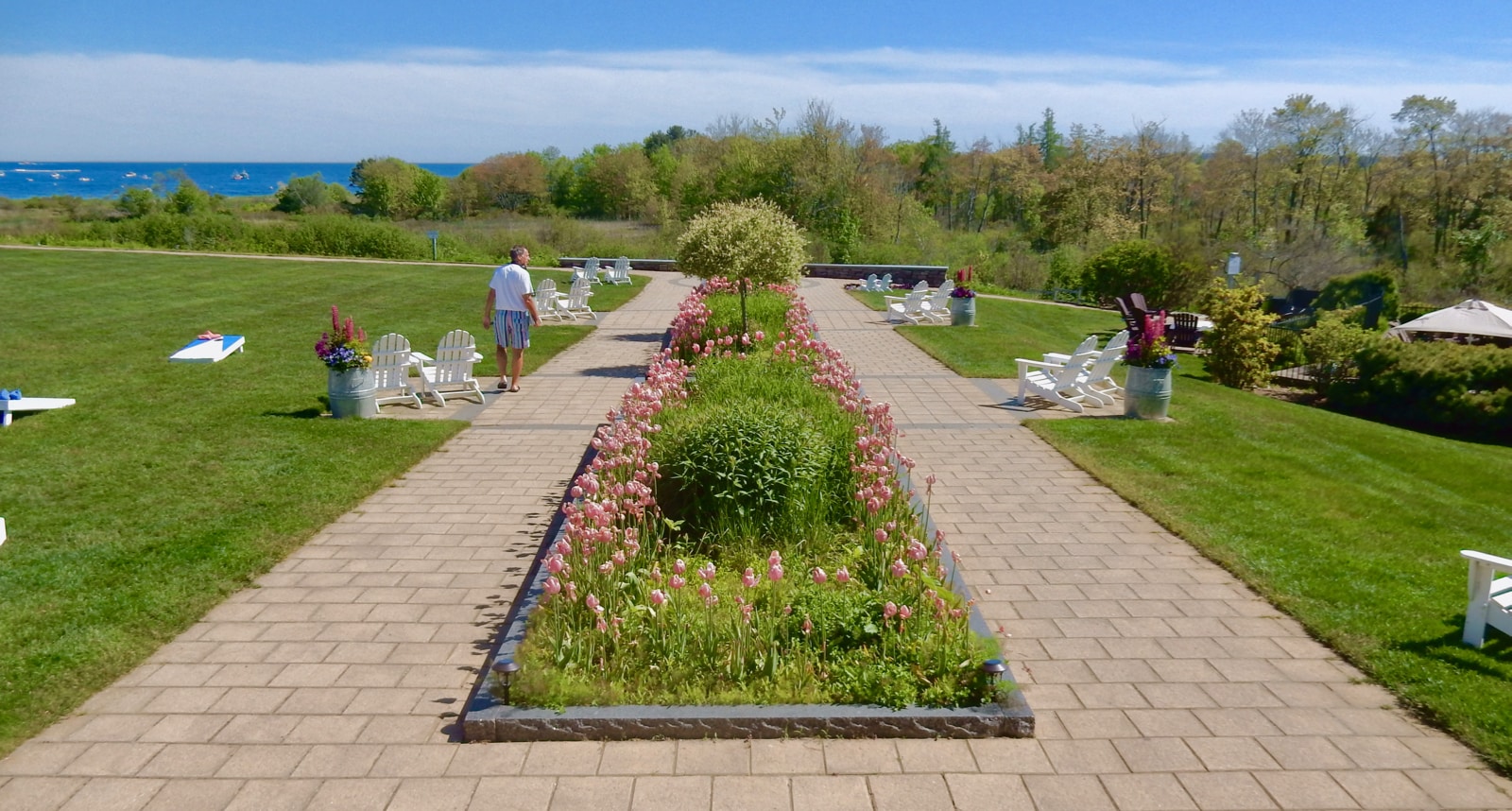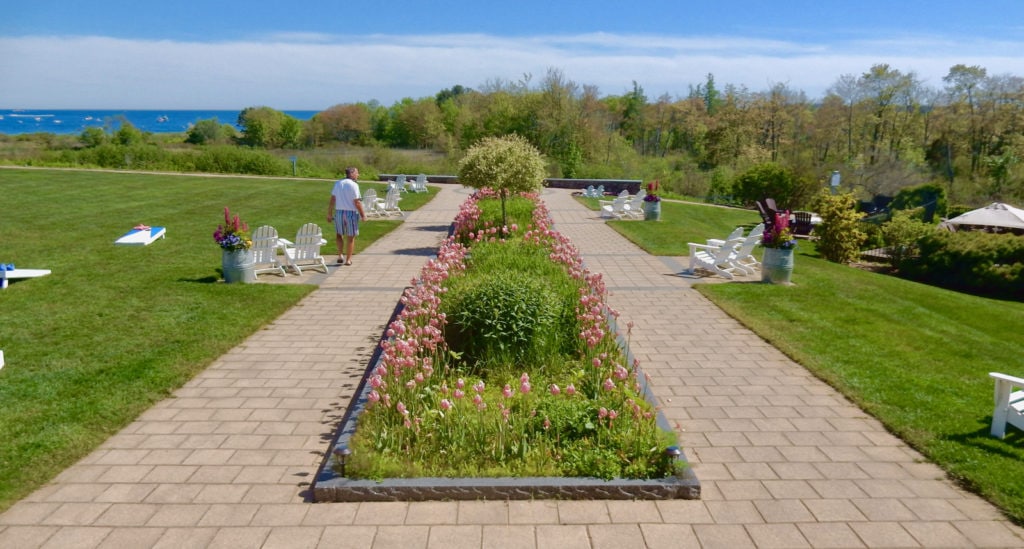 One of Forbes Top Ten Green Hotels that embodies eco-friendliness, the Inn uses biofuel to heat the hotel, solar panels to heat the pool, and indigenous plantings to draw a Hitchcockian number of birds to its lush gardens.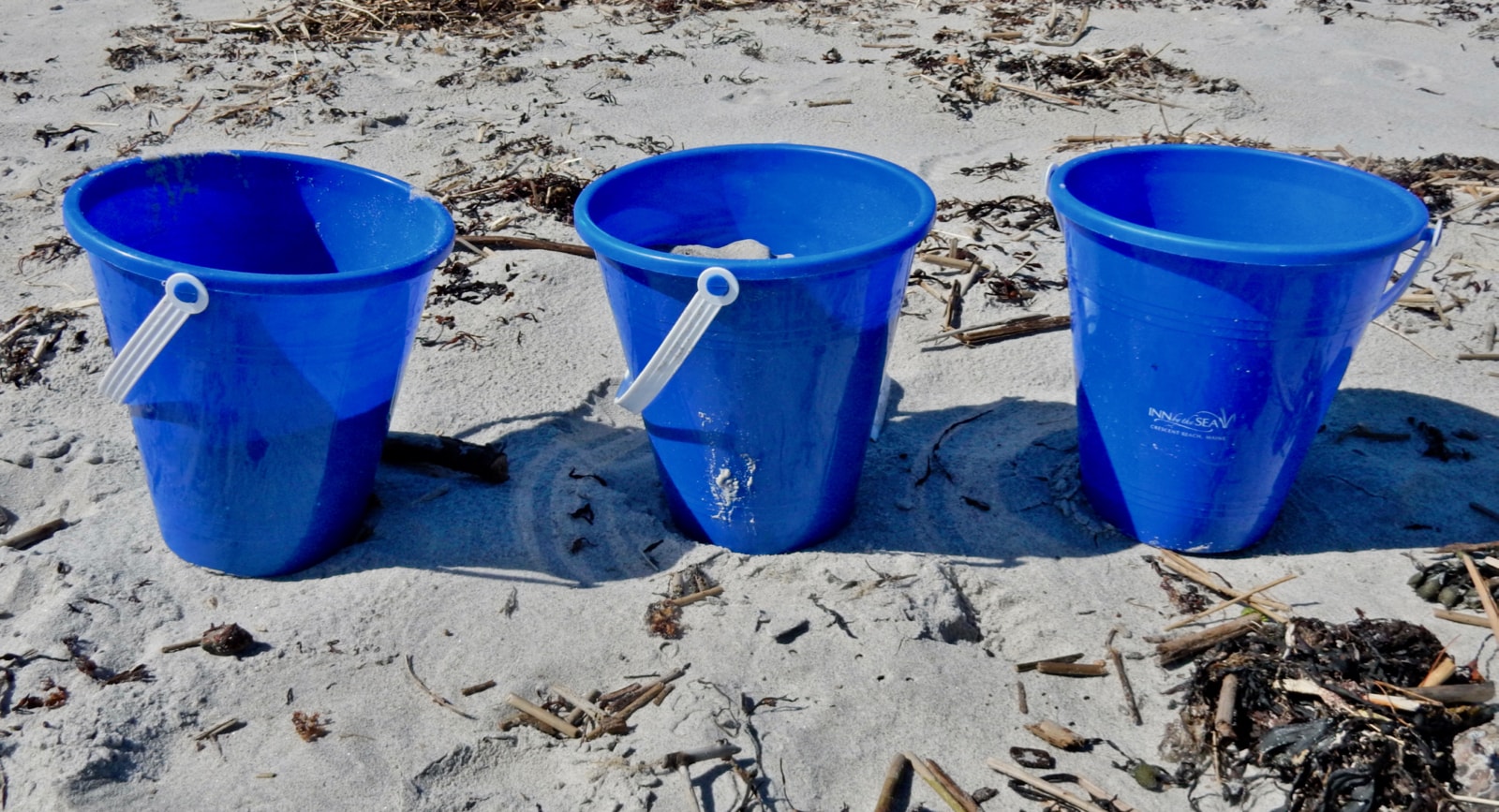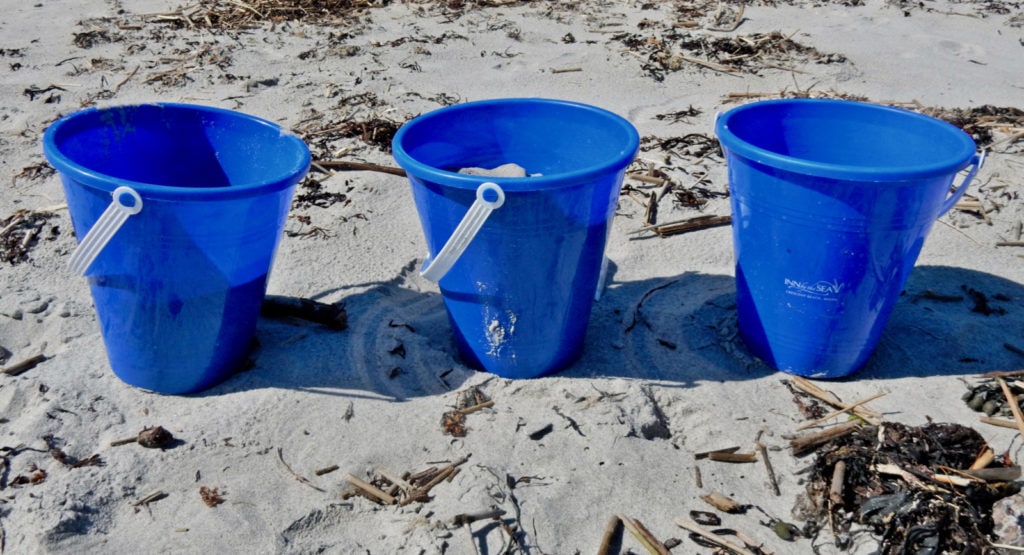 Only seven miles from Portland, a stay at Inn By the Sea provides travelers with the best of two worlds: a rustic, but high-end beach experience. And forays into the foodie paradise of the "other" Portland.
First Impressions of Inn By the Sea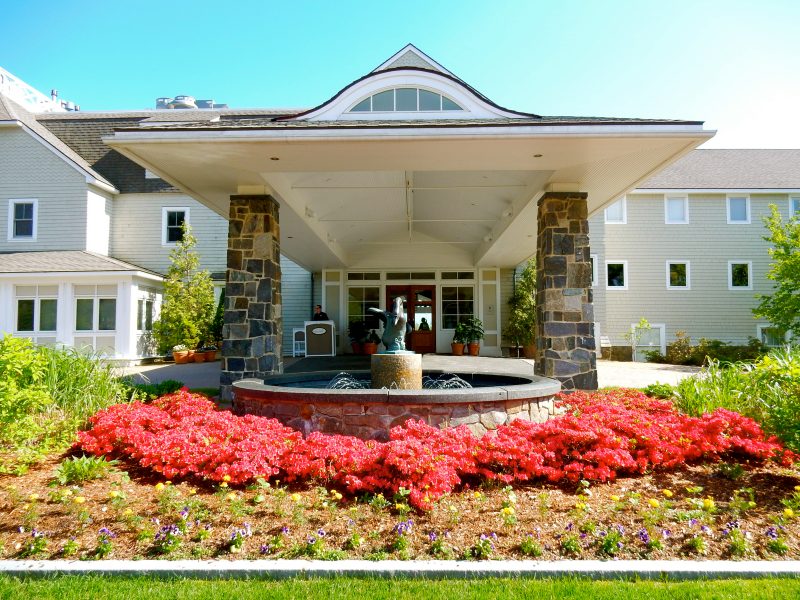 Granted, years ago, my very first impression as I drove up to Inn By The Sea was concern that I was in the right place. The hotel building's exterior is rather nondescript and could pass for an event hall or apartment house. Especially off-season when colorful plantings don't provide pizzazz.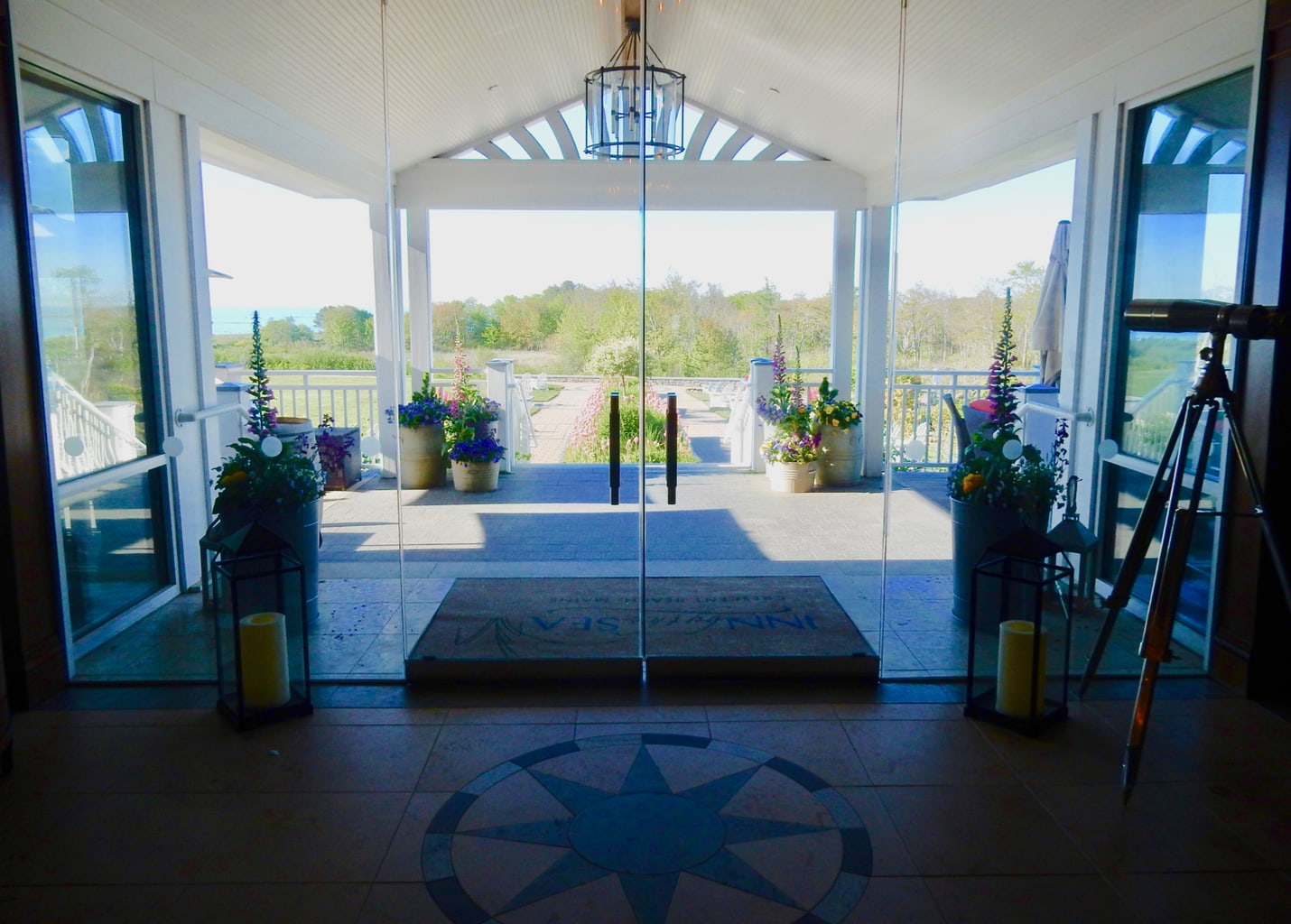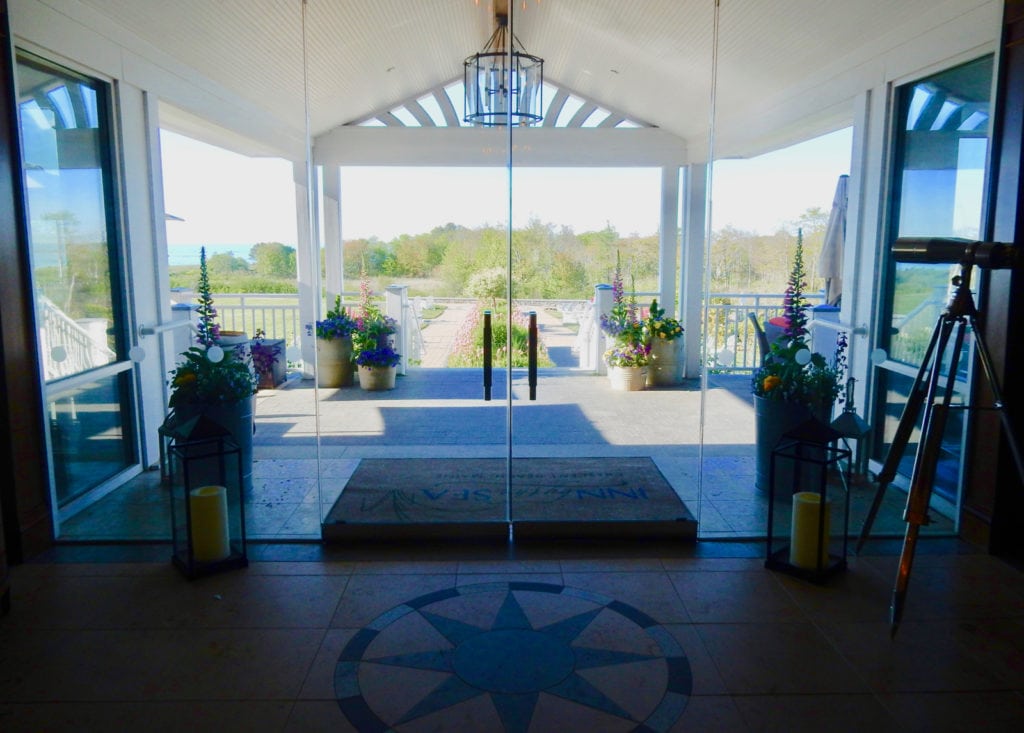 How wrong I was. Walking through the front door revealed an inlay marble floored lobby with far wall made of glass that overlooked a striking, beautifully landscaped lawn, and a peek of ocean. And there were dogs. Happy dogs with happy owners.
Dog Friendly
Inn By the Sea is one of the most luxurious, upscale, Big Dog Accommodating hotels in existence. However, the owner's love for canines goes way beyond allowing Fido on the property. While I was checking in, two humans were in the process of adopting a pup sleeping behind the reception desk.
As an arm of the Animal Refuge League of Greater Portland (Maine), Inn By the Sea fosters and facilitates adoptions of rescued dogs. This was the 54th dog to find a forever home.
"We keep one dog at a time on site, and people come and fall in love with them," said an Inn By the Sea employee. "Old, blind, no teeth; they all get adopted."
Dogs here are just as spoiled as their humans. Inn By the Sea offers Dog Spa Treatments and a special Dog Menu ("Meat Roaff," "K-9 Ice Cream").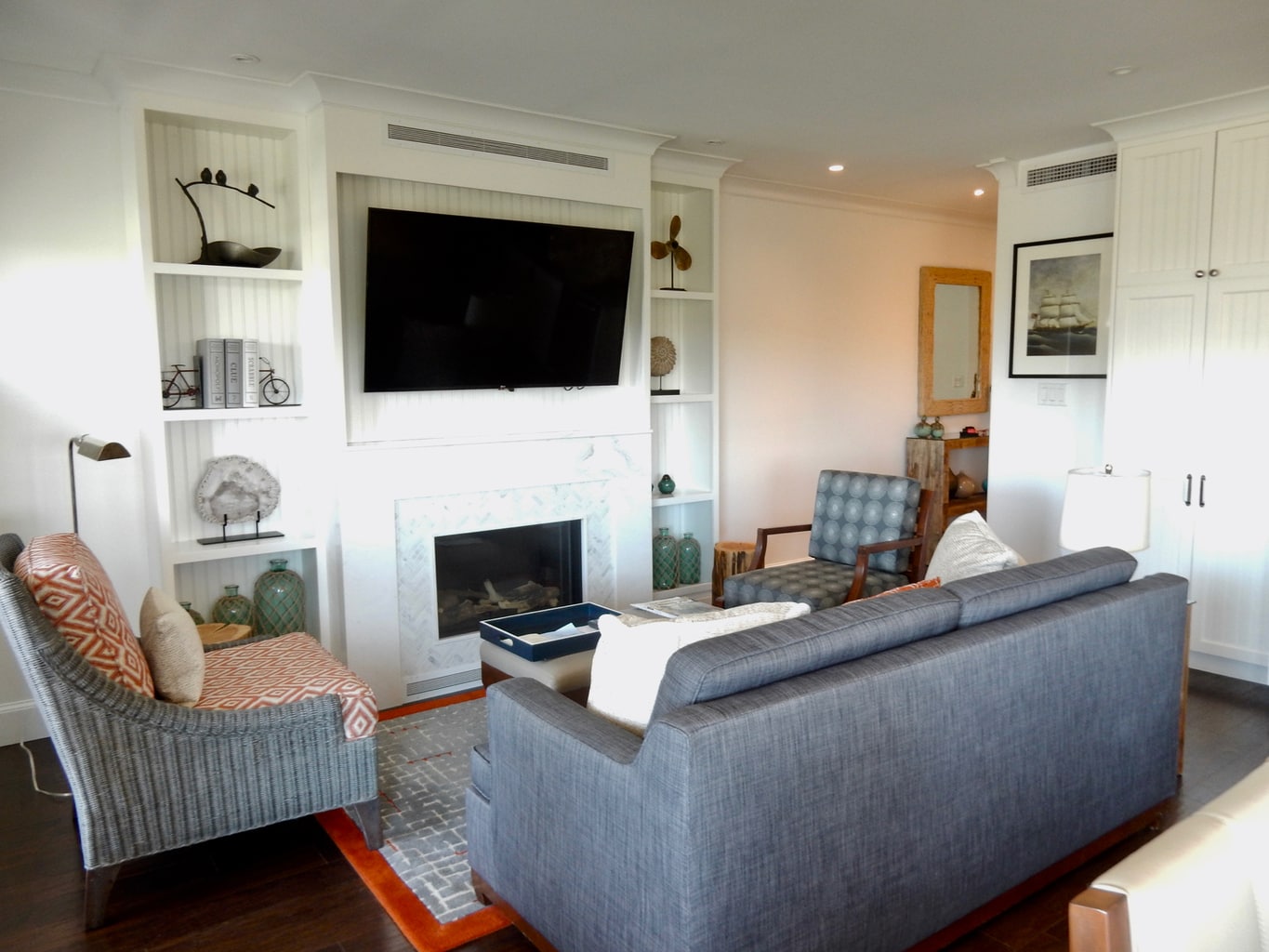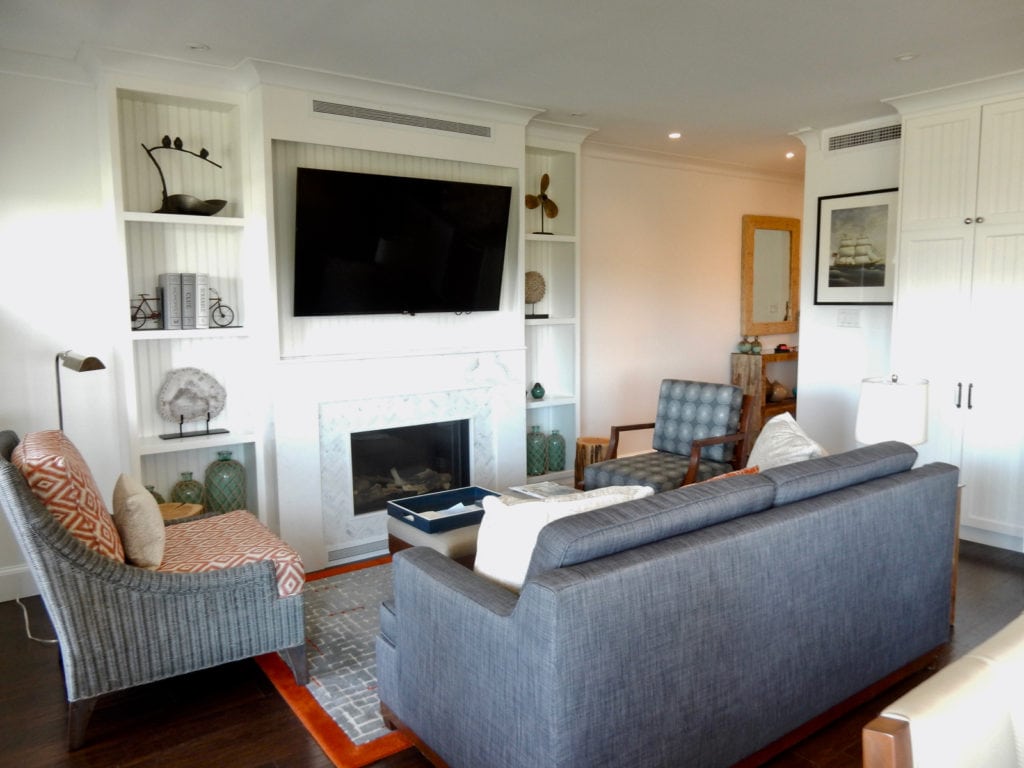 Seaside Suites offer the height of contemporary luxury. Impeccably designed sitting areas and small stocked kitchens include fireplace, flat screen T.V. and a little writing nooks illuminated by porthole windows.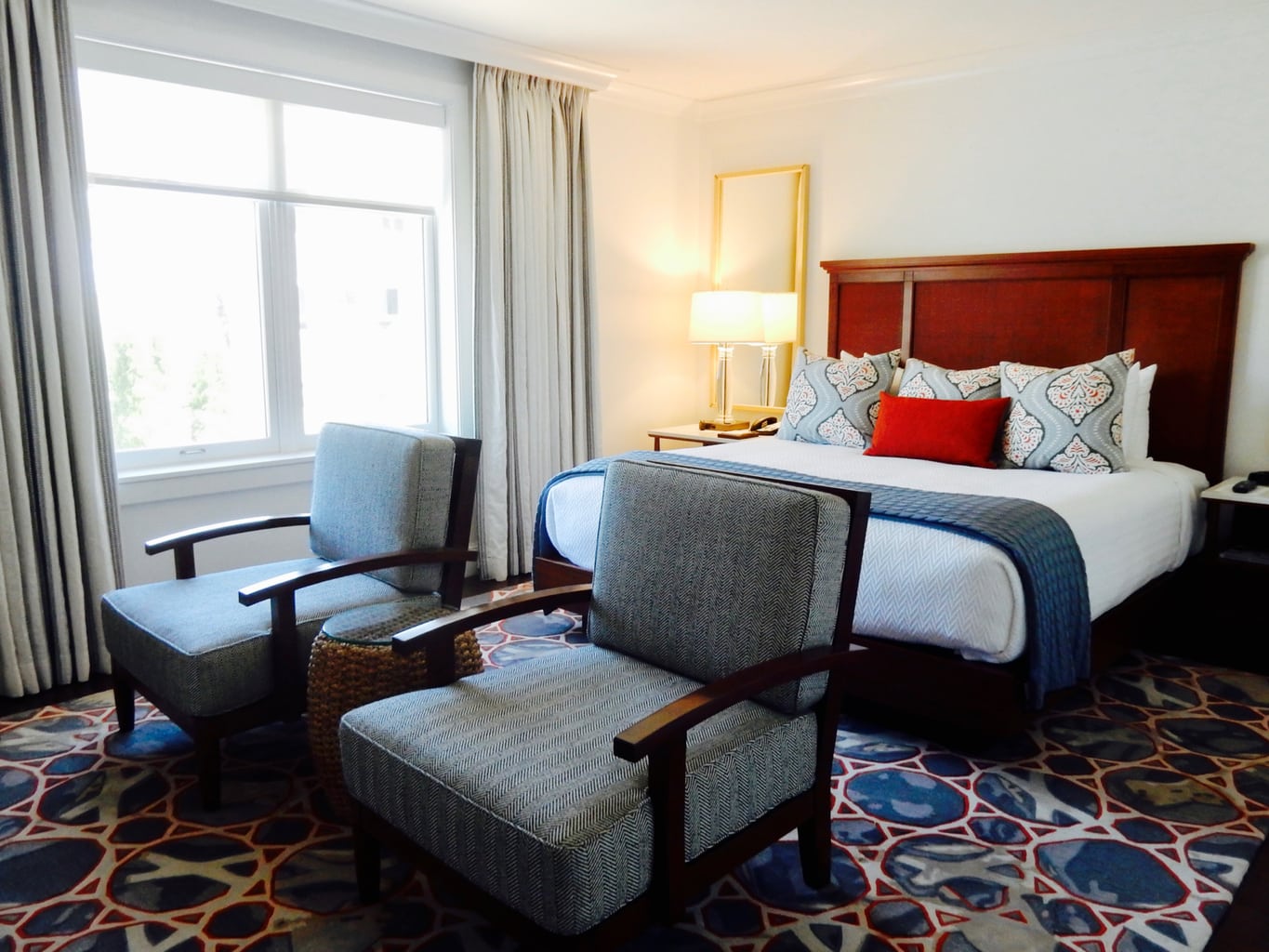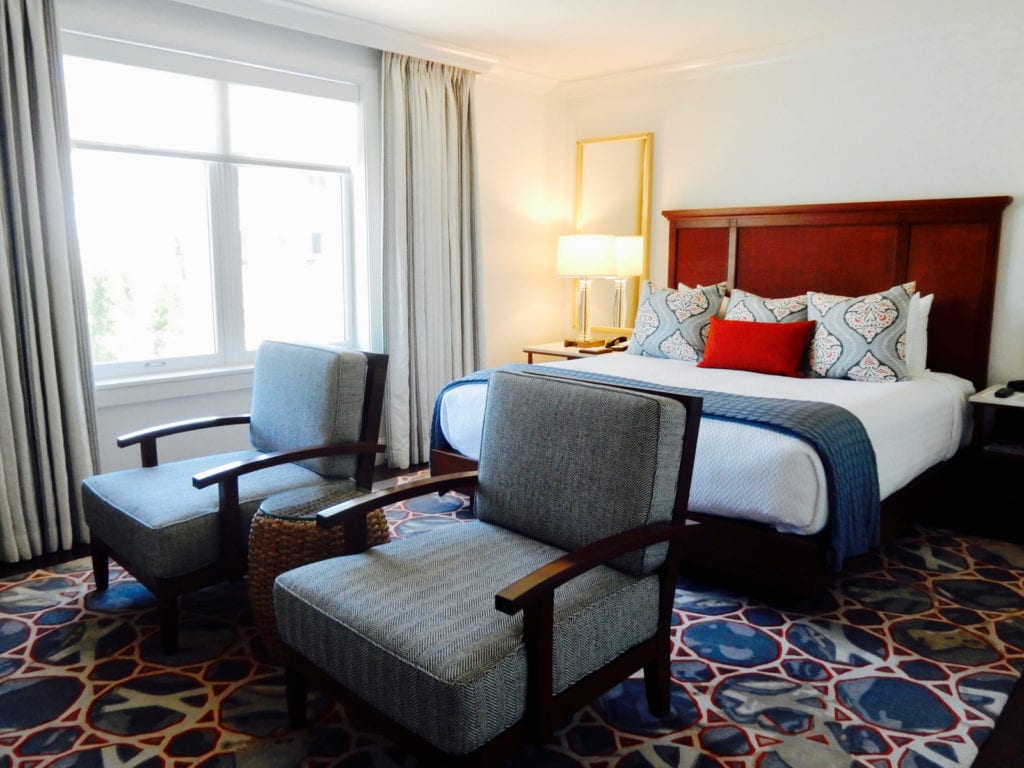 I'm a nut for comfortable beds, and this one, in a ship-shape bedroom, is heavenly. The work of local artists cover bright white walls.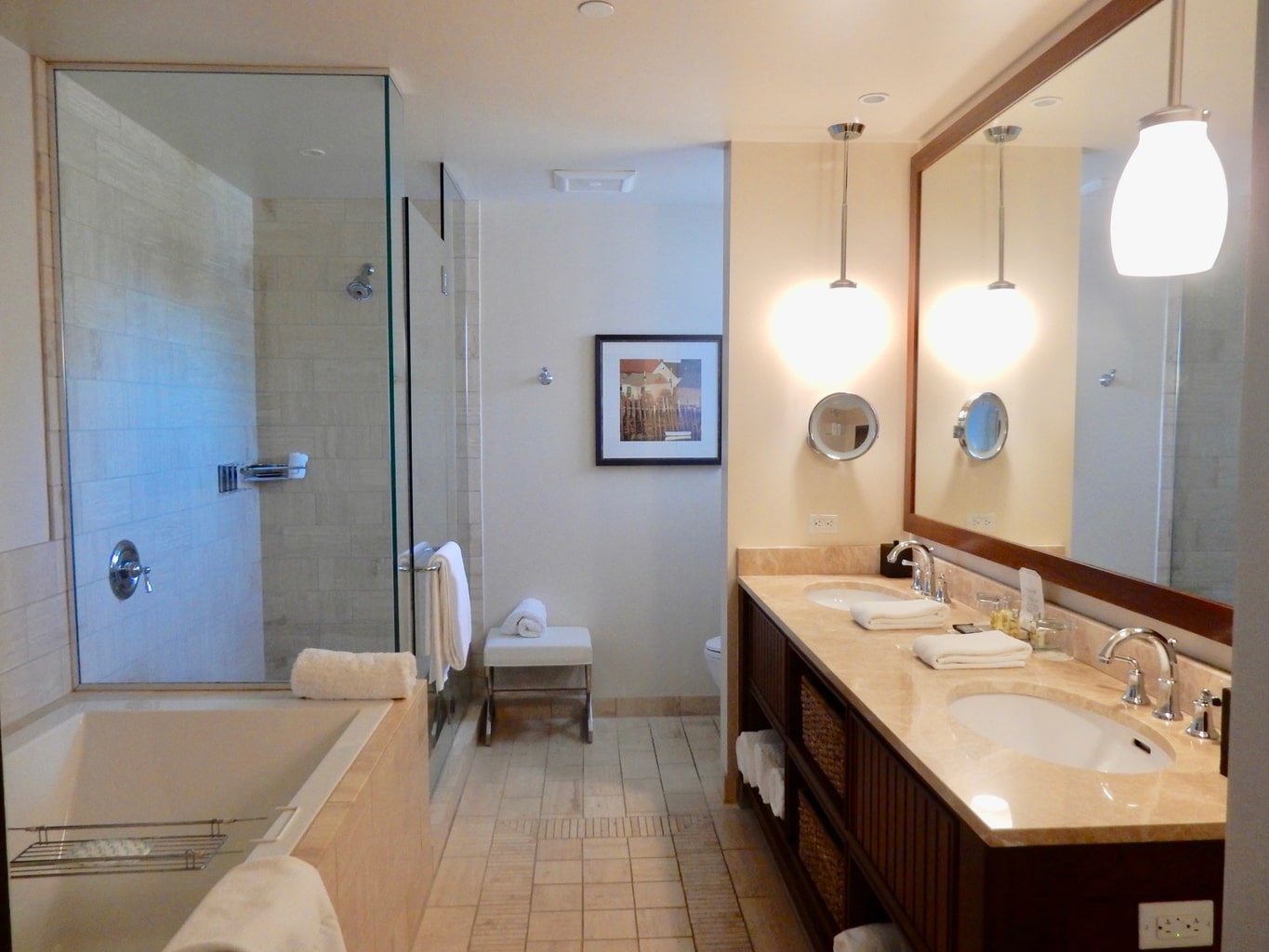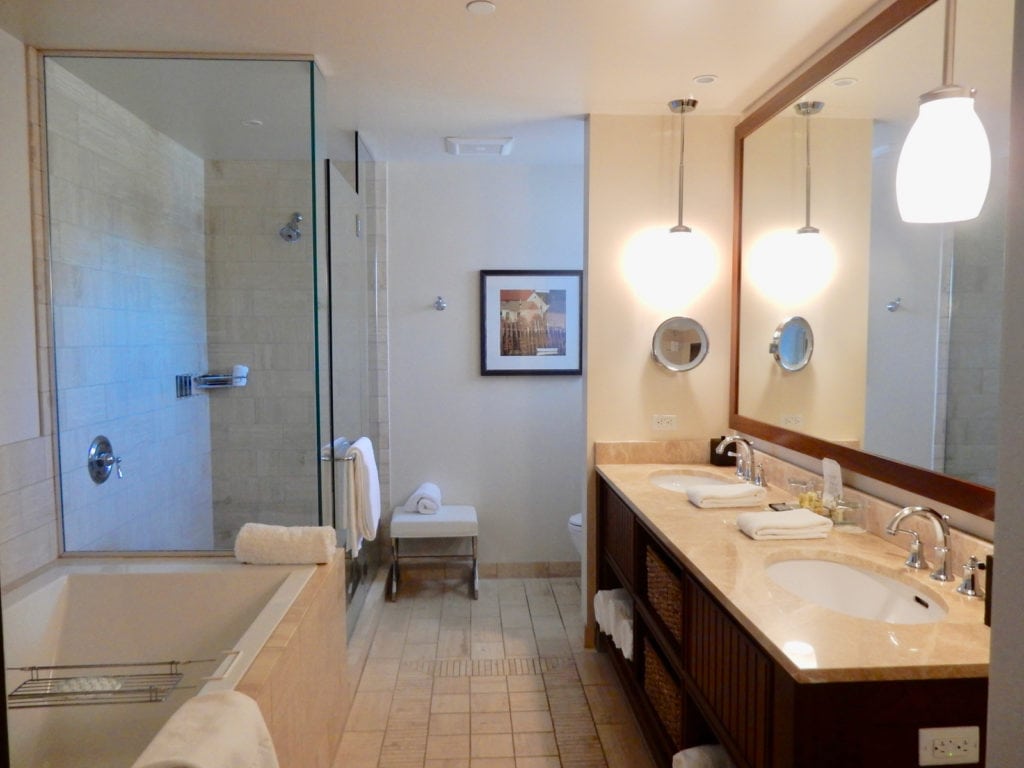 The expansive marble bathroom is as classy and opulent as it gets, with a "couples" size travertine shower and large soaking tub.
But my favorite spot in the Seaside Suite was the private balcony overlooking the grounds, Crescent Beach and ocean. All that I needed to be happy and content was a glass of wine, a good book, and that view. Good thing, I had all three.
Dining at Inn By the Sea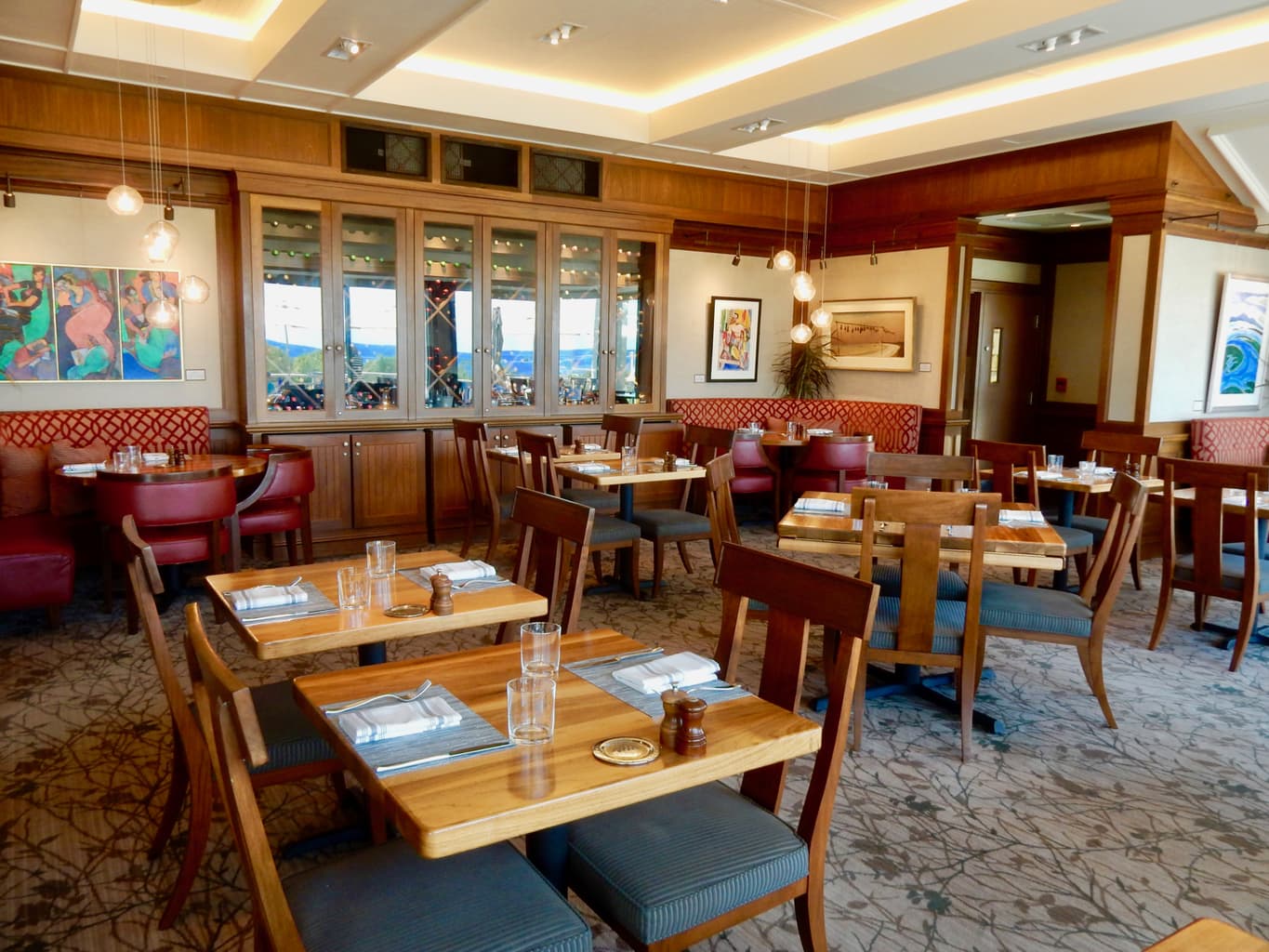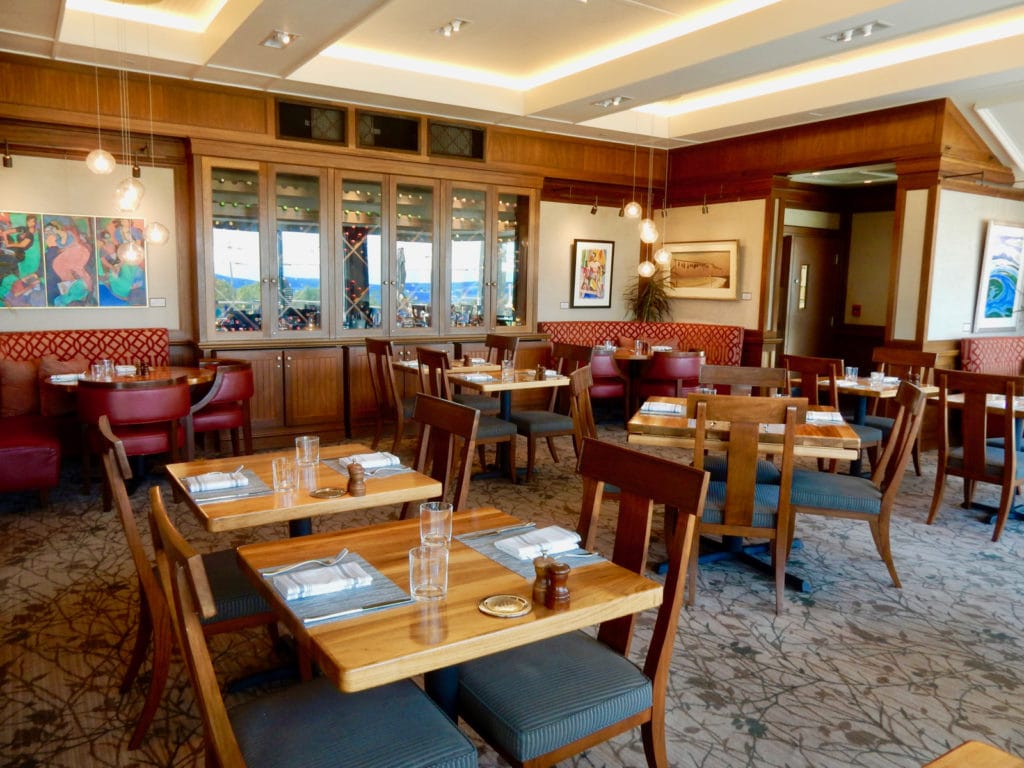 The 44-seat Sea Glass Restaurant is destination dining at its best. Not only is the food excellent – lobster dumplings, smoked corn chowder, seared scallops topped by handpicked micro-greens, etc. – but the wine selection is world class. Views are incredible, both inside the dining room and out on the terrace. Peer at gardens, bogs, salt marsh, and a slice of sea from the cozy dining space. Or study a series of paintings and lithographs, the likes of Chagall and Matisse, on the walls. It's a cultural experience for all the senses.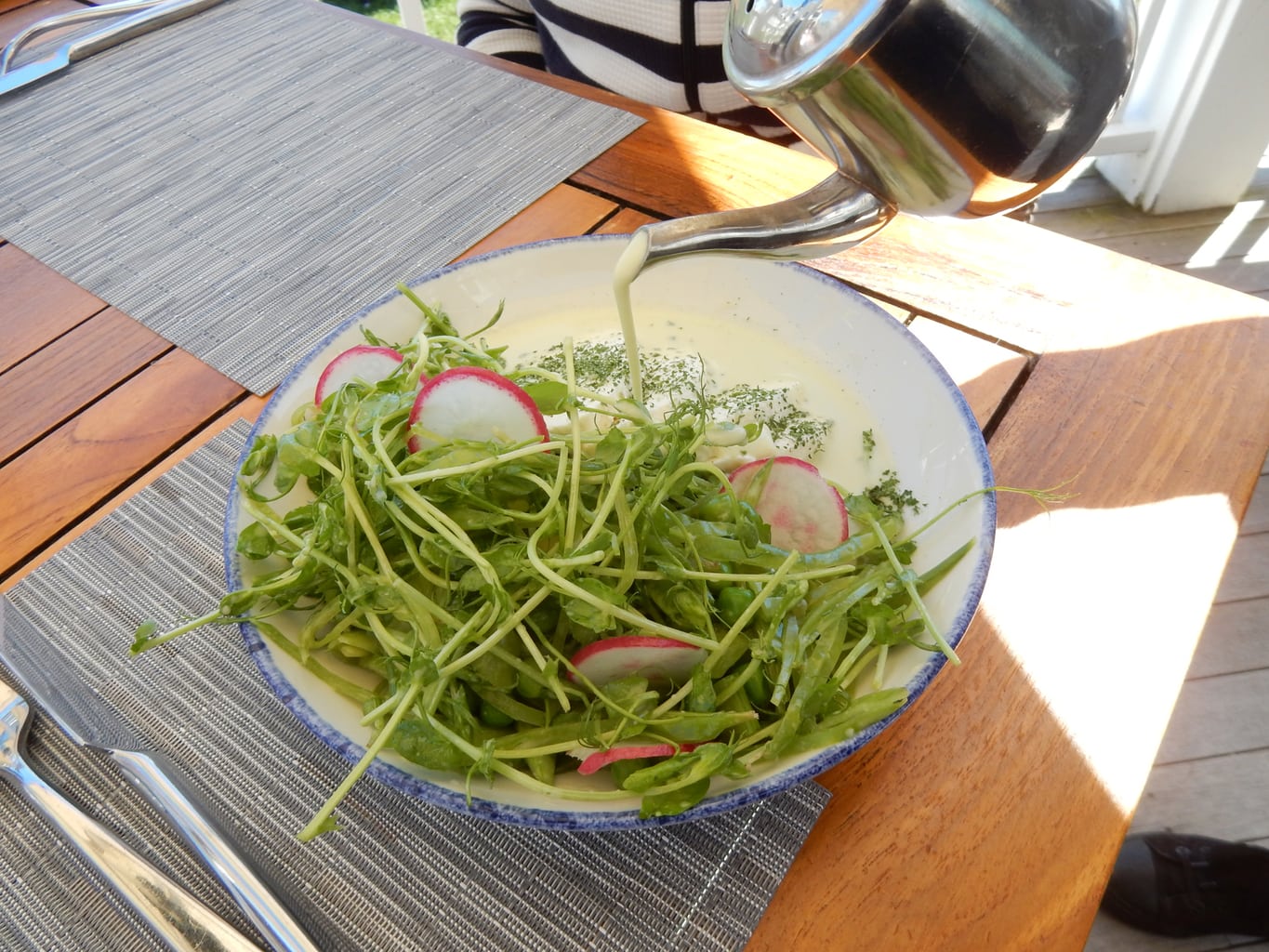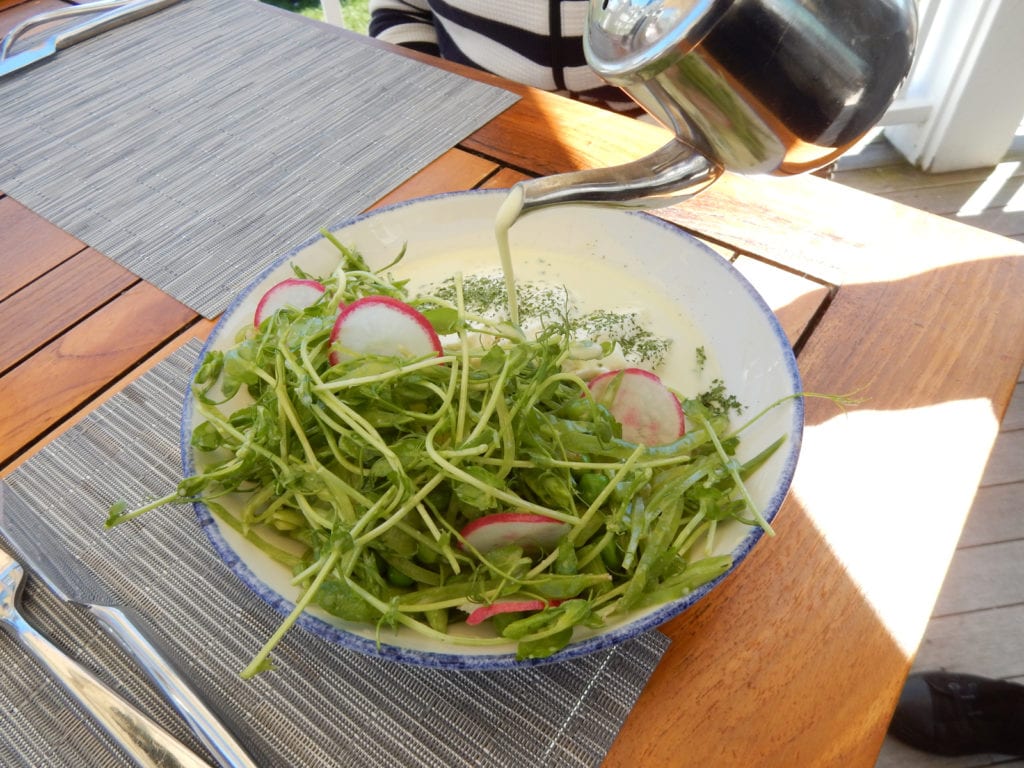 Breakfast inside or out on the patio is also a feast for the eyes, with healthy options like fresh fruit and yogurt parfait.
Amenities at Inn By the Sea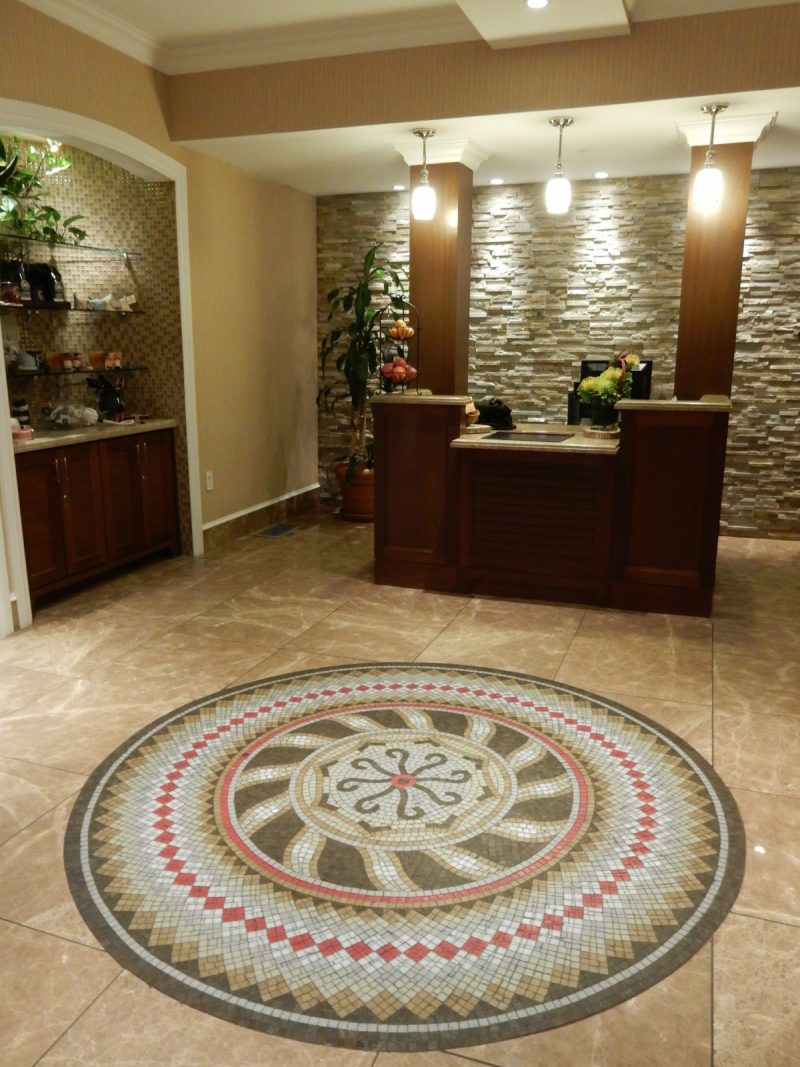 The Spa
The LEED certified in-house Spa offers a menu of treatments in several treatment rooms. My Hot-Stone Massage Therapist professionally kneaded and released some tight muscles that had been plaguing me for weeks ($120/60 minutes).
The Sea Waves Signature Massage ($165/90 Minutes) incorporates aromatic massage oil on a "surround sound" massage table. For guests who can't stand standing around, there's a nicely sized fitness room with up-to-the-minute equipment.
Bikes and S'Mores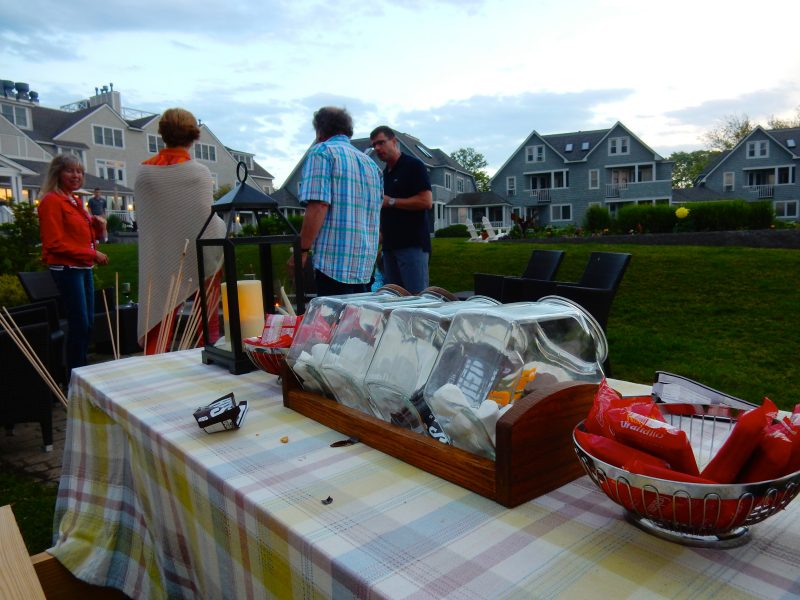 Guest can also borrow a cruising bike and head out to area lighthouses, join Adult Yoga (in season) on the front lawn (daily mid June to early October), and enjoy S'Mores around a firepit a few paces from the sparkling pool.
Family Reunion Hotspot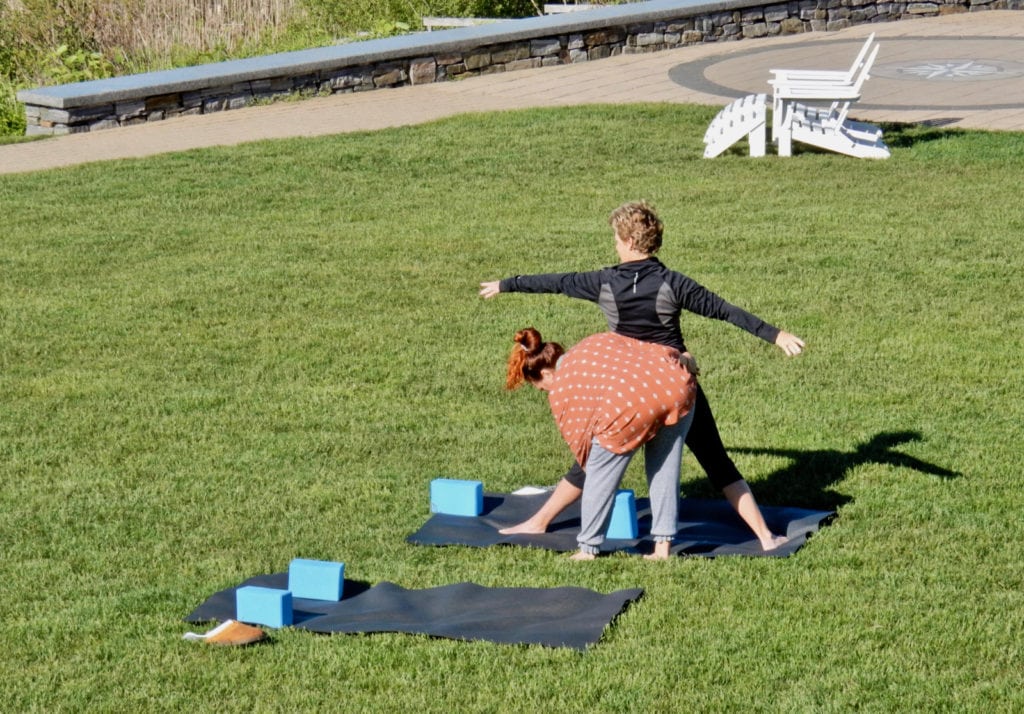 In summertime, when kids are out of school, this place becomes a family reunion hotspot. Scores of children run around, involved in on-site programs that include Juggling 101, Family Yoga, Children's Art, Bug's Life Tour and a slew more.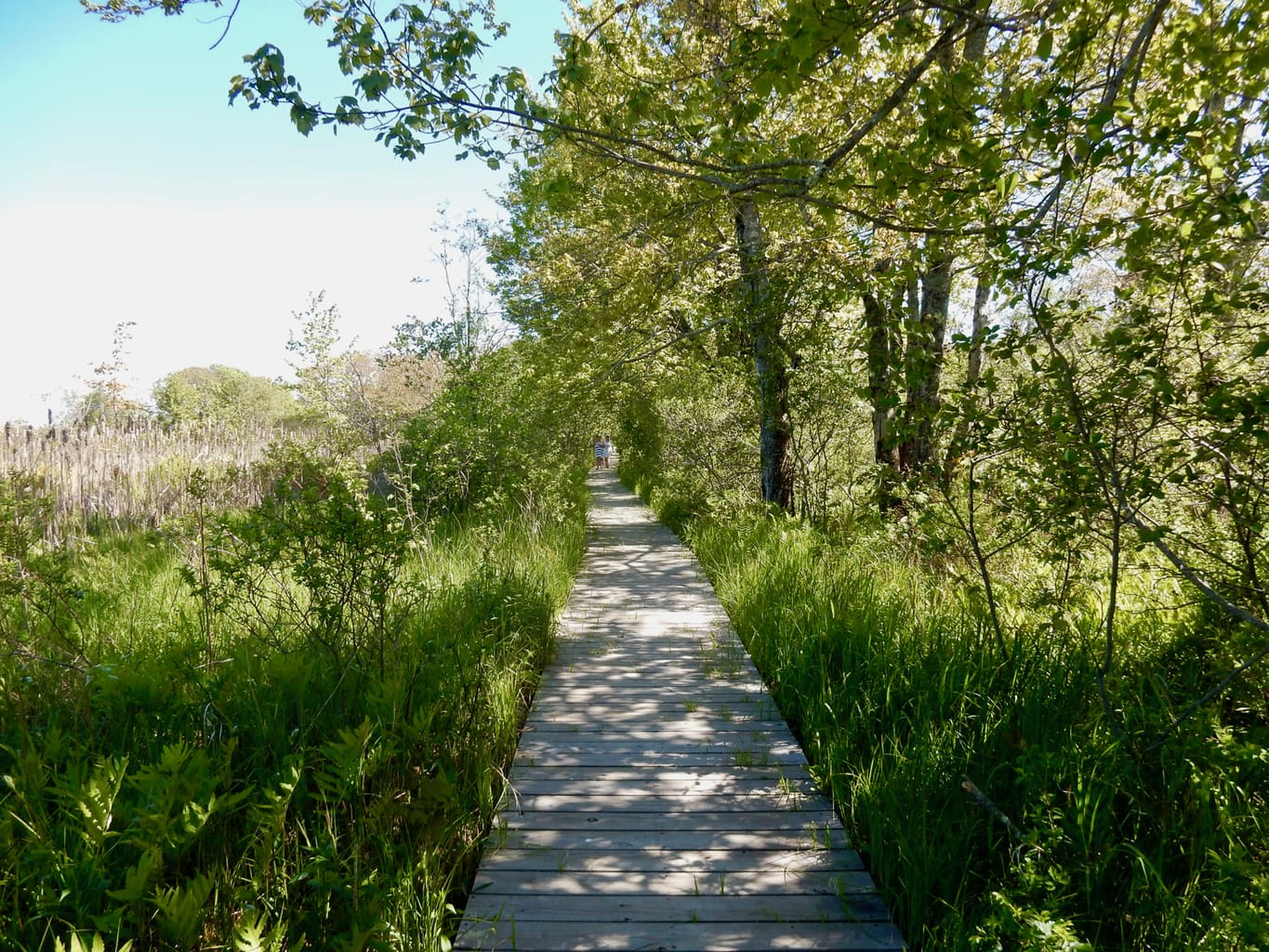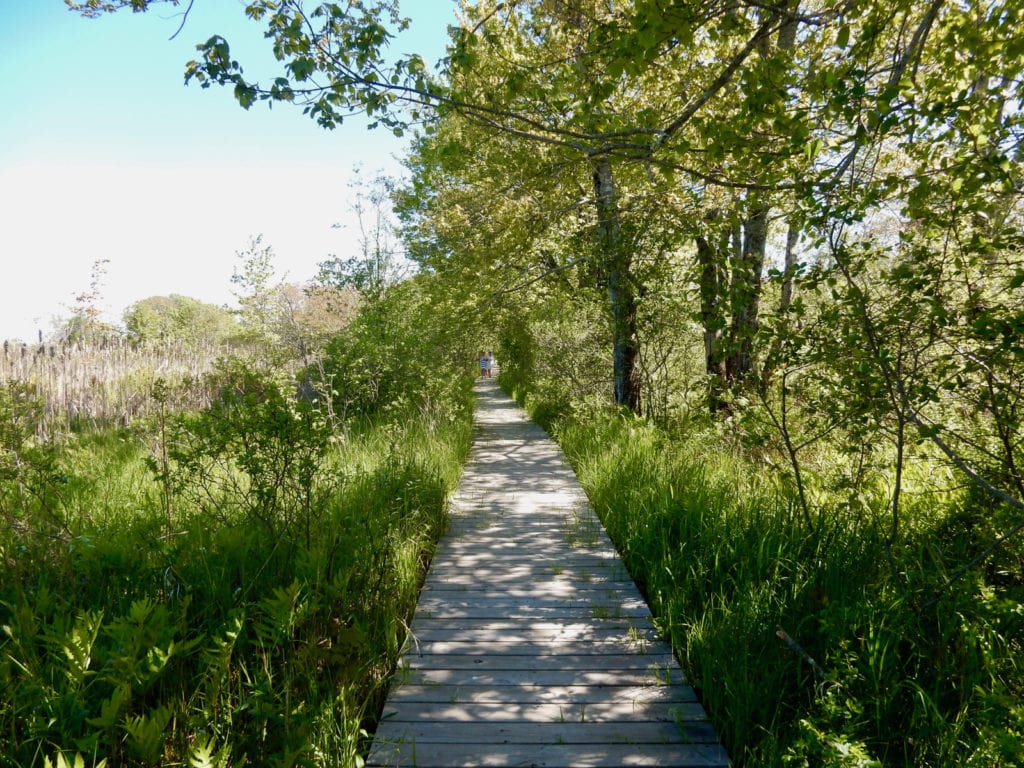 No matter what you choose to do here, though, don't miss the ¼ mile boardwalk stroll through a salt marsh and bog.
Rabitat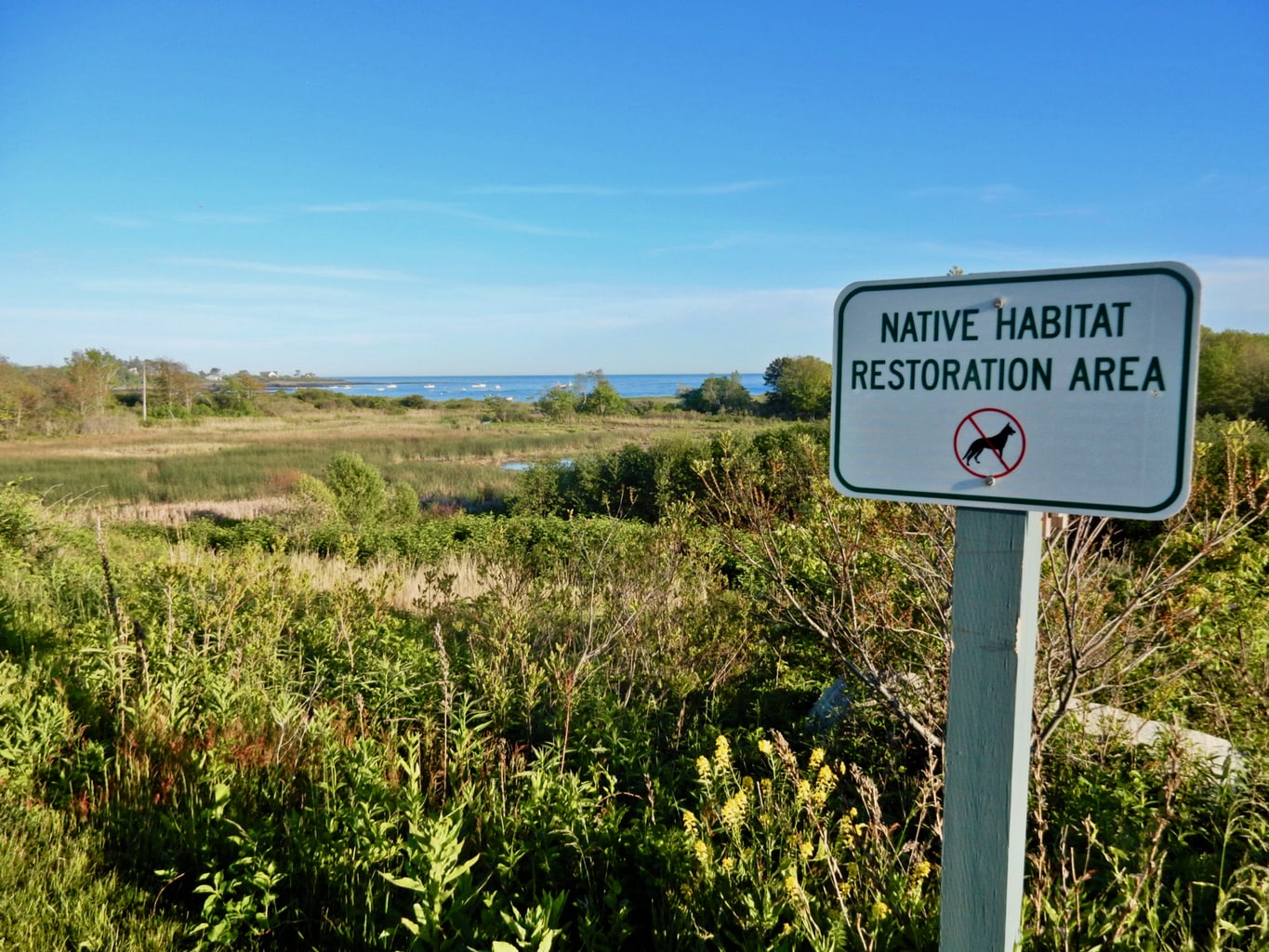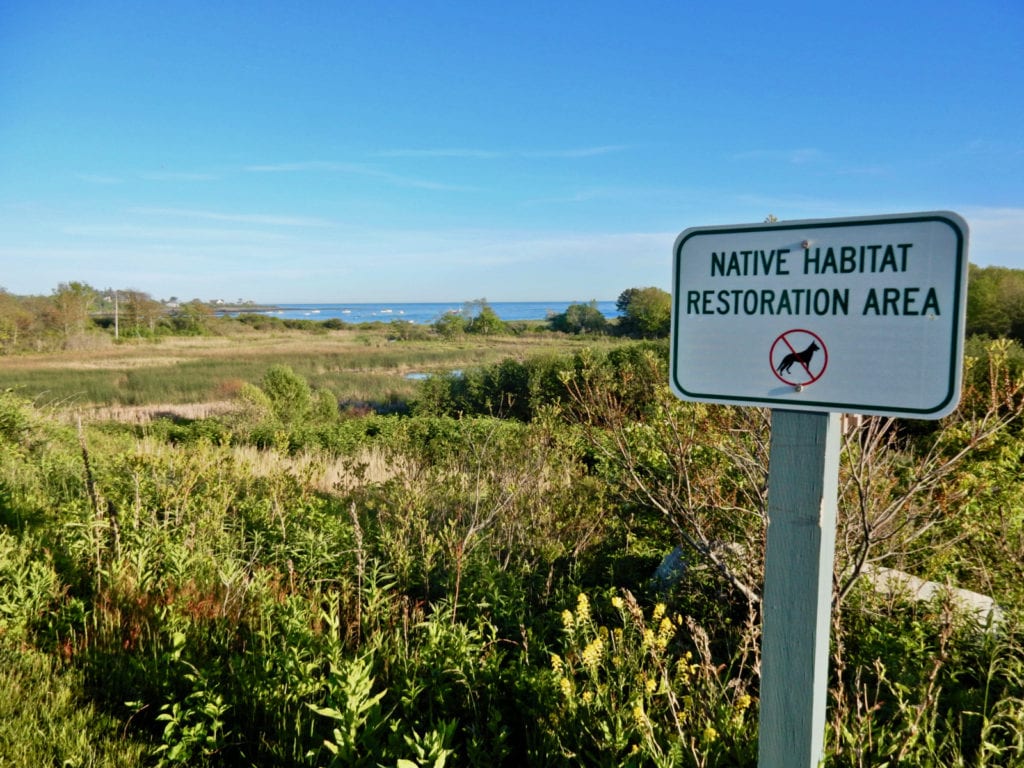 It's here that Inn By the Sea has been attempting to bring back the engendered New England Cottontail in its "Rabitat," an initiative that explains the rabbit paperweight in each room and other bunny paraphernalia around the property.
Crescent Beach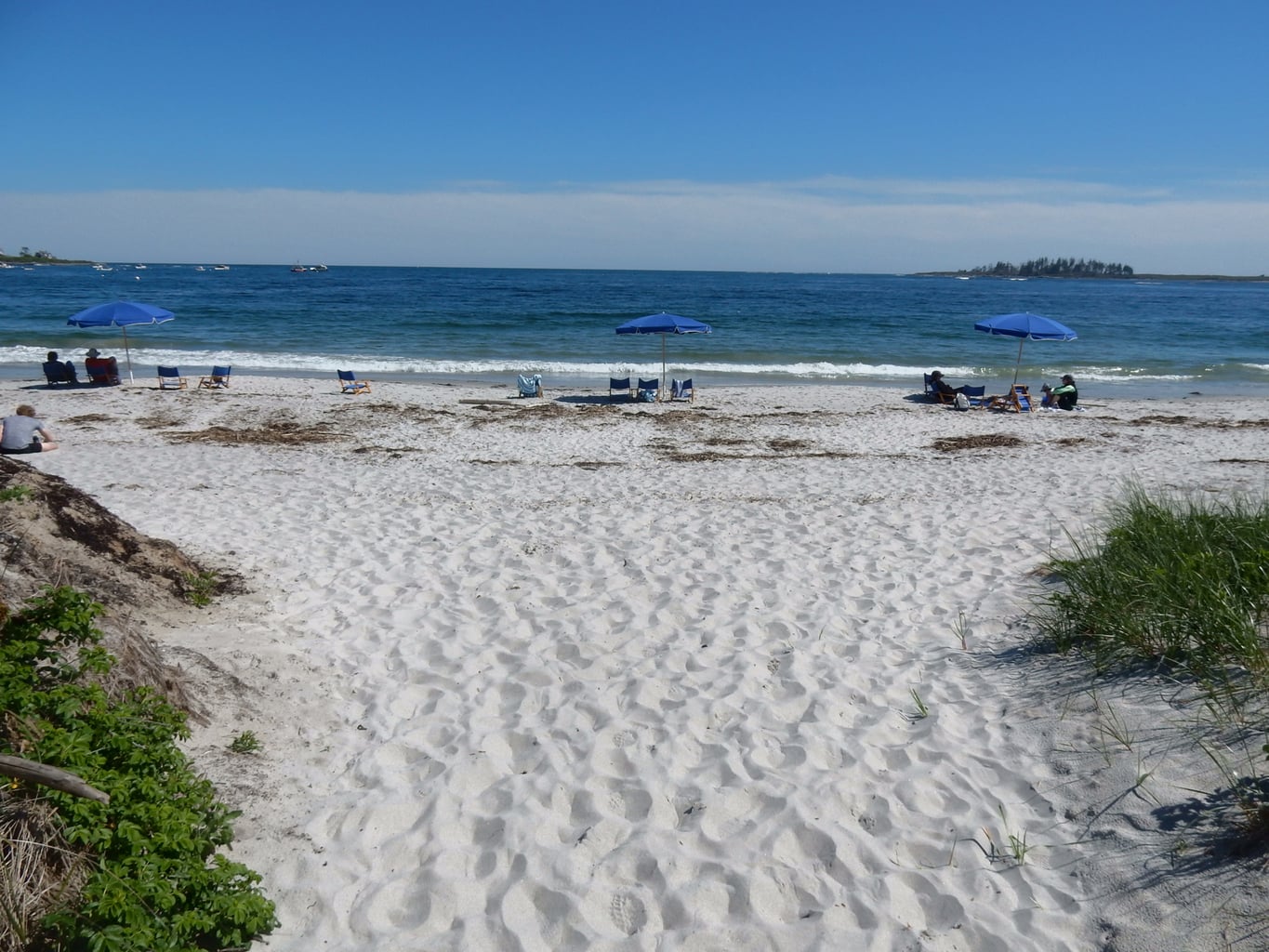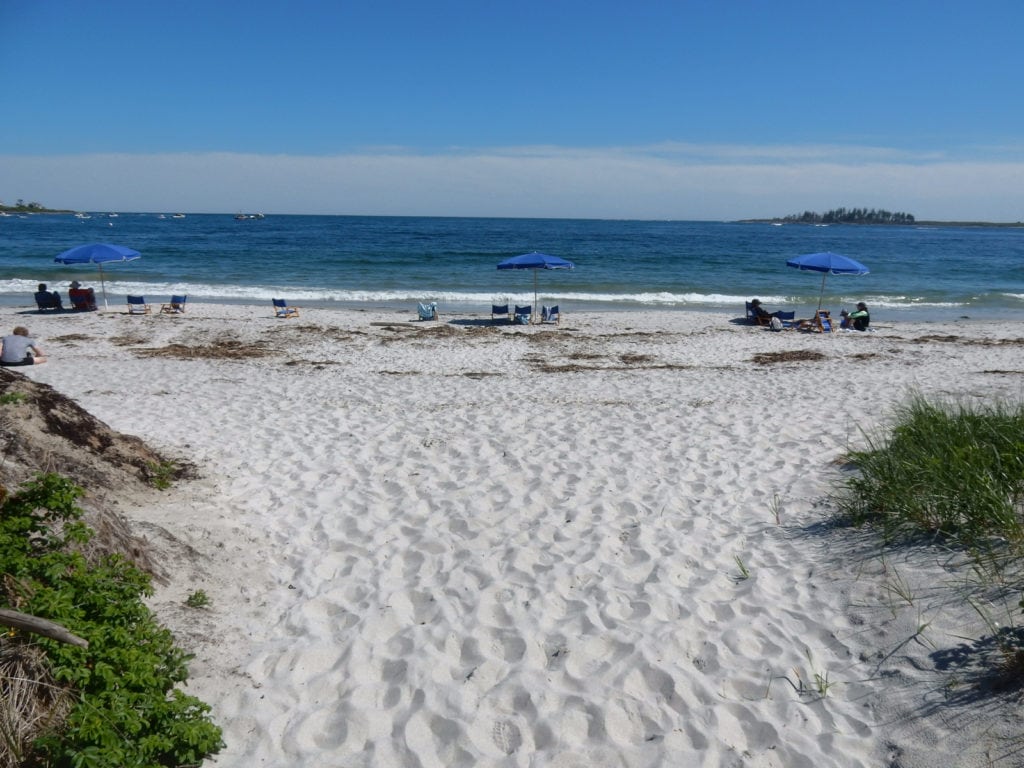 The Boardwalk extends to Crescent Beach, a clean fine-sand beach where you can swim in protected harbor waters. Come out at sunset to see lobster boats swinging at mornings in the cove: a classic Maine scene. This vista and save-the-earth ethos engenders such a feeling of wellbeing, guests come back repeatedly just for that rare sensation.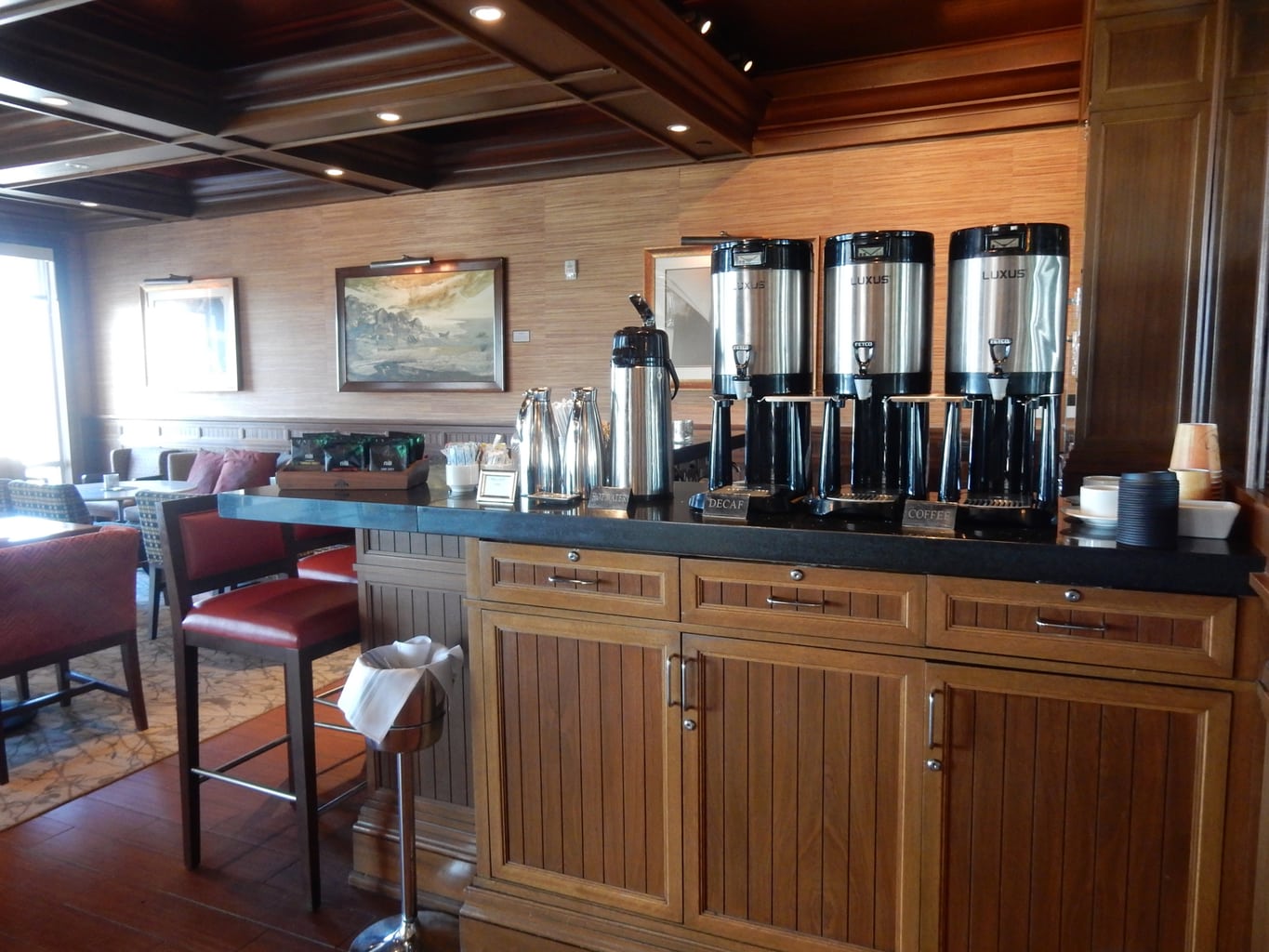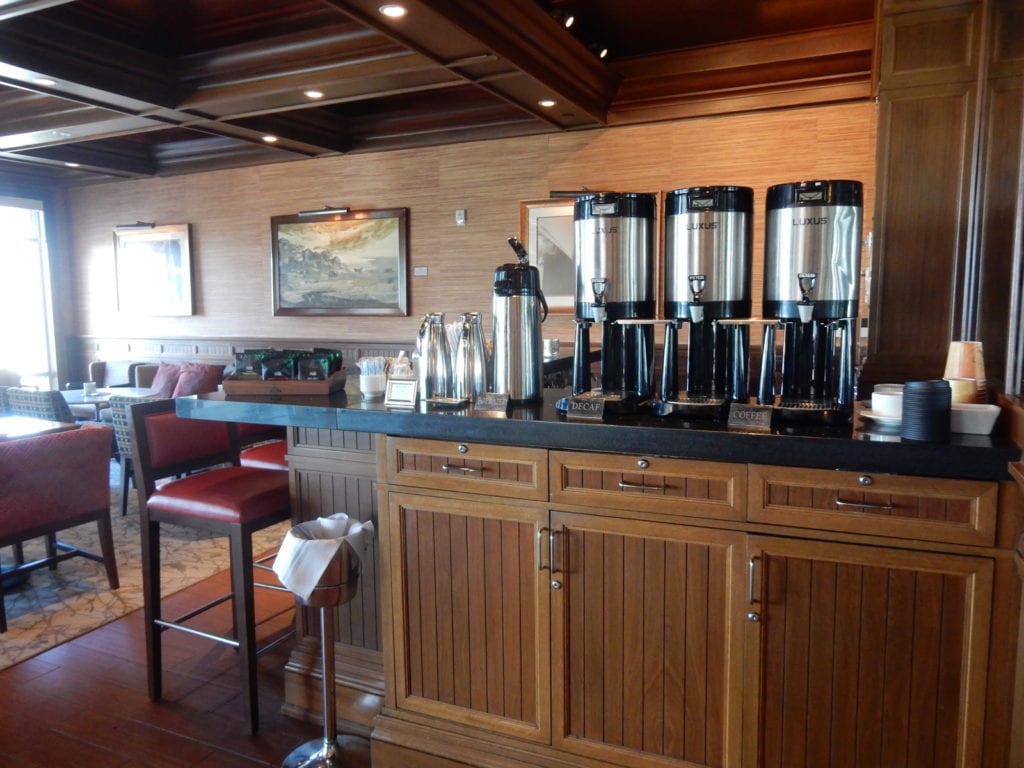 Offseason, room rates start at $211 per night. In summer season, rates start at $575 per night and include morning coffee, bikes, yoga, beach rights. There are plenty of specialized packages (including pet and gardening packages) that add value to each stay.