Where can you find fantastically romantic hotels in New York State? Well, in every corner, of course; from Long Island to the Hudson Valley to the Catskills, Central, and Upstate – and in the Westernmost regions. Oh, yes, and of course in NYC.
Find your passion in a former abbey, in an obsolete yet luxuriously repurposed factory, in a castle. Get cozy together in the woods, at a spa resort, in formerly dilapidated mansions. There's something for everyone on this list.
Find up to the date info on NY'y things to do on this I Love NY website.
Romantic Hotels in Hudson Valley NY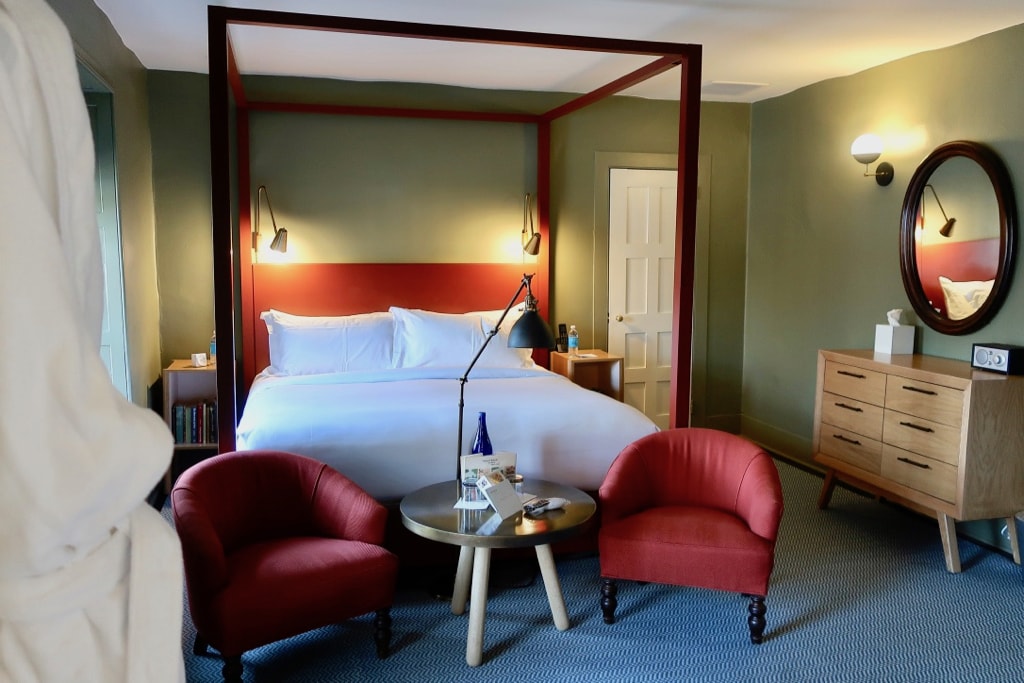 Troutbeck, Amenia
For over 250 years, Troutbeck was a retreat for literary giants, environmentalists, Civil Rights and political leaders. Now, it's a hideaway for passionate duos seeking some splurgy R&R without having to get on a plane.
Snuggle with a book. Play chess with your partner. Stare at the leaping flames in the fireplace. Dine on some of the best farm-sourced fare in NY. Feel the ghosts of Hemmingway, Sinclair Lewis, and other literary figures who came to this bucolic retreat in the woods of northern Duchess County.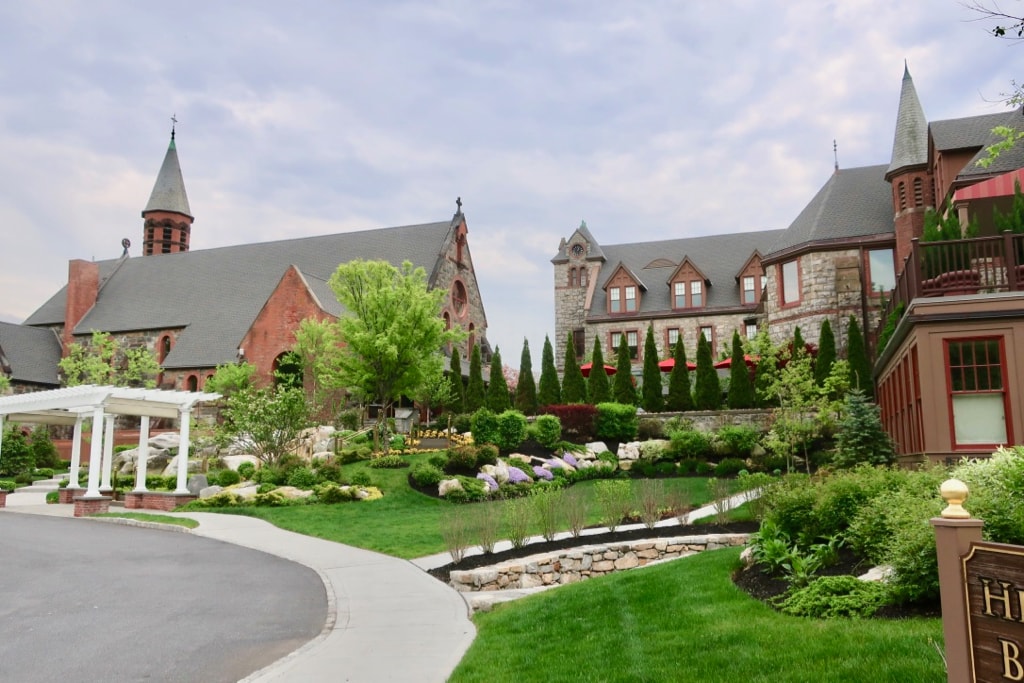 Abbey Inn and Spa, Peekskill
Atop Fort Hill in Peekskill NY, overlooking the fabled Hudson River, the castle-like Abbey Inn and Spa was built in 1902 as a home for women sworn to a life of austerity and service to God.
Repurposed for a very different clientele, this romantic luxury hotel now stands as a worthy addition to this Best Romantic Hotels in NY list.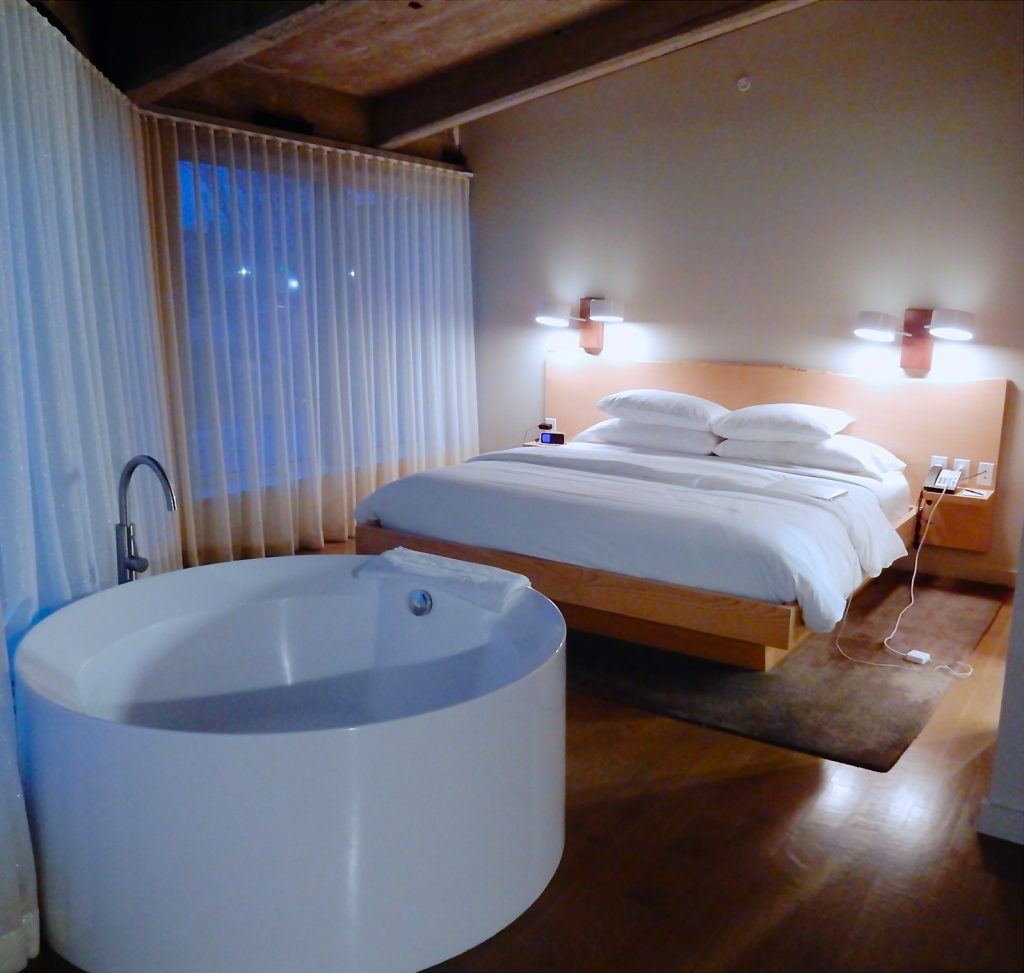 Roundhouse at Beacon Falls, Beacon
Opened in 2012 in a former dye-works (and then lawnmower) factory, The Roundhouse at Beacon Falls brought boutique cred to Beacon NY.
Perched right over cascading waterfalls and boulder-strewn rapids, the Roundhouse's crisp, industrial-luxe design draws urbane guests from NYC, giving them a reason to stay in town after visiting DIA:Beacon.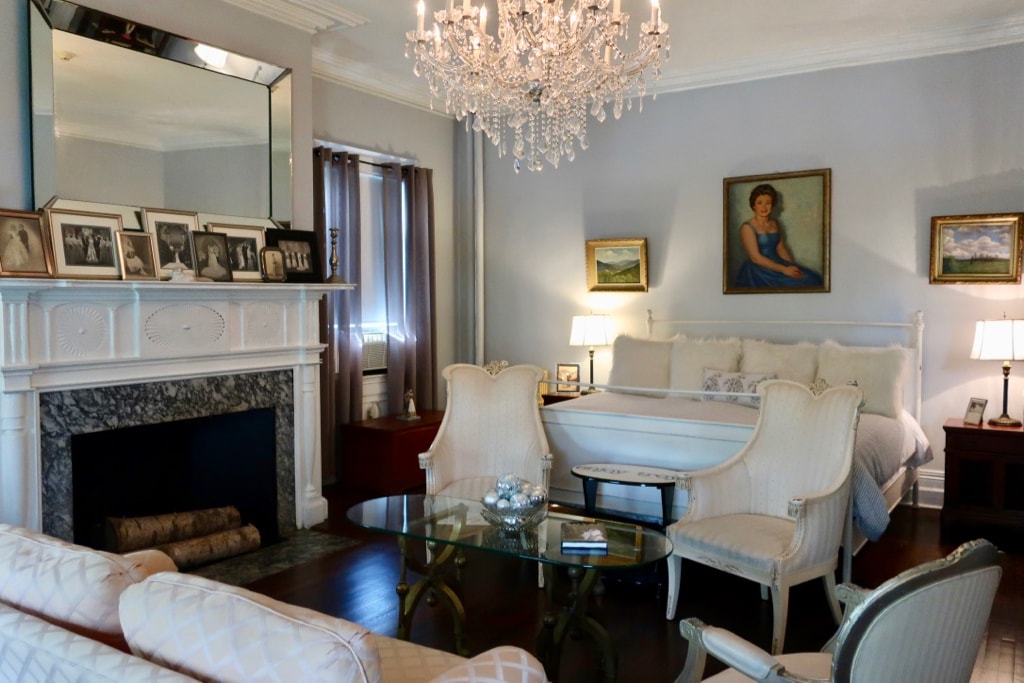 Gardner Farm Inn B&B, Troy
The five-room Gardner Farm Bed and Breakfast, on the fringes of downtown Troy, is quite the surprise. Stay in the Oscar Wilde room, or "with" Mae West, Josephine Baker, Jean Harlow, or John Waters.
If you're into 20's glamour, feathery décor, and crystal chandeliers, book the Jean Harlow room. Saucy pairs will feel right at home with Mae West. Each of these distinct guest rooms, shaped by the personalities of their namesakes, is exquisite, and fun.
To top it off, the breakfast is phenomenal, and yet another reason guests return time and time again.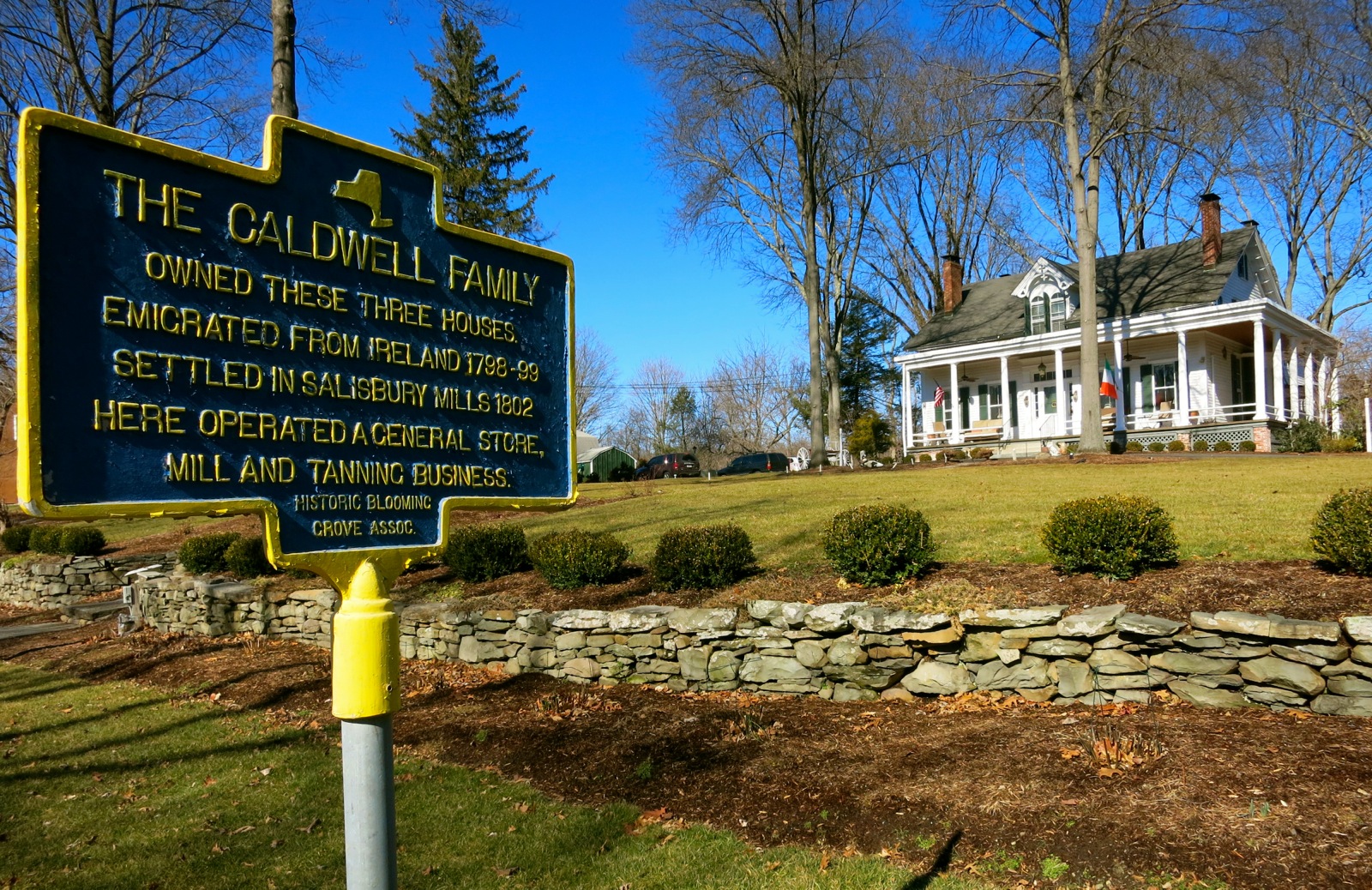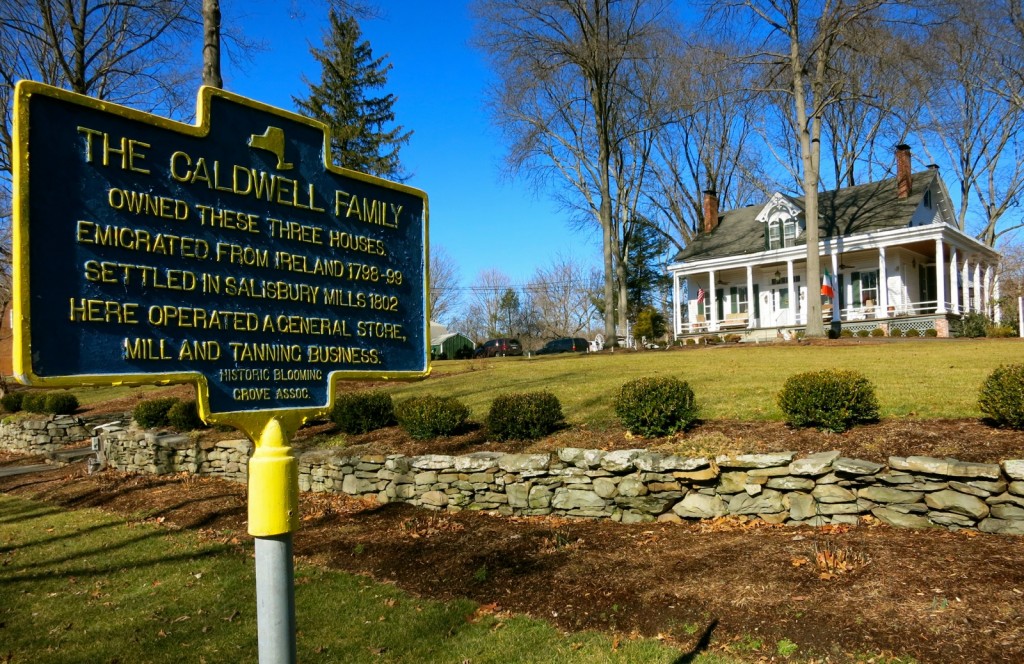 Caldwell House B&B, Salisbury Mills
Caldwell House B&B is a beautiful four-leaf-clover of a Bed and Breakfast in the Hudson River Valley. After a short orientation, congenial owners, Dena and John leave lovebirds to their own devices – until needed.
For the ultimate romantic escape, book the room with a double-sided fireplace – that warms both the bathroom and bedroom. Hot, hot, hot.
Tarrytown House Estate, Tarrytown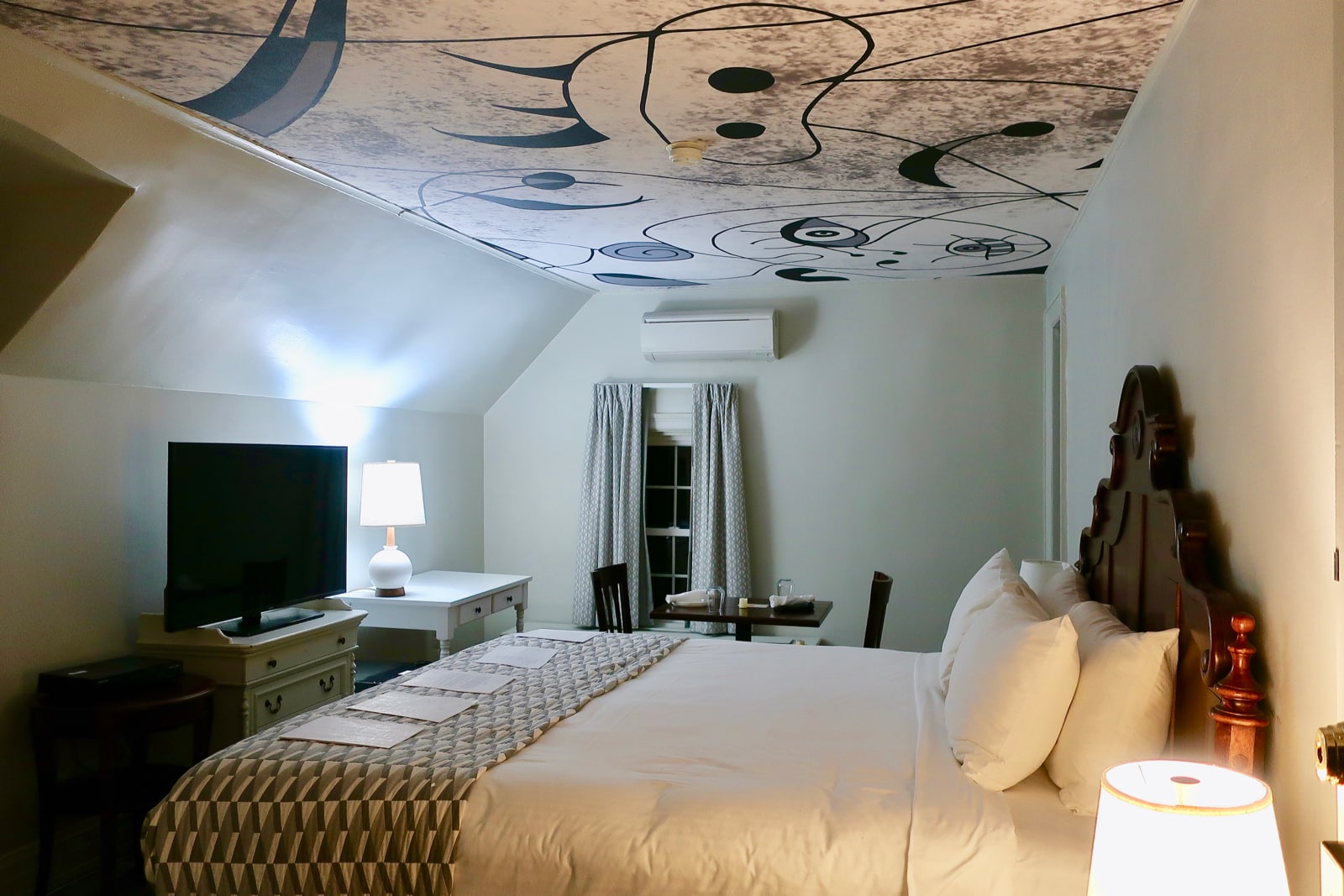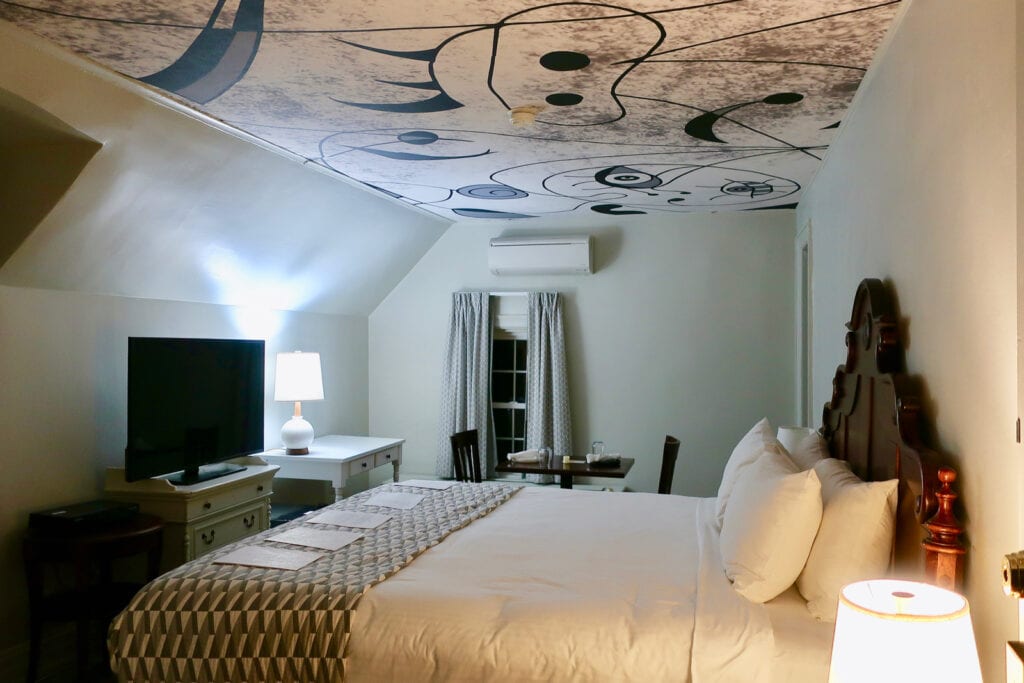 Initially a conference center, the Tarrytown House Estate, which encompasses hotel and meeting rooms in several buildings, is fast becoming a chic lodging option for leisure travelers to Sleepy Hollow, too.
For something really romantic, ask for one of the ten Miro-art embellished chambers upstairs from the trendy Goosefeather Restaurant in the King House, an 1840s white mansion within the complex.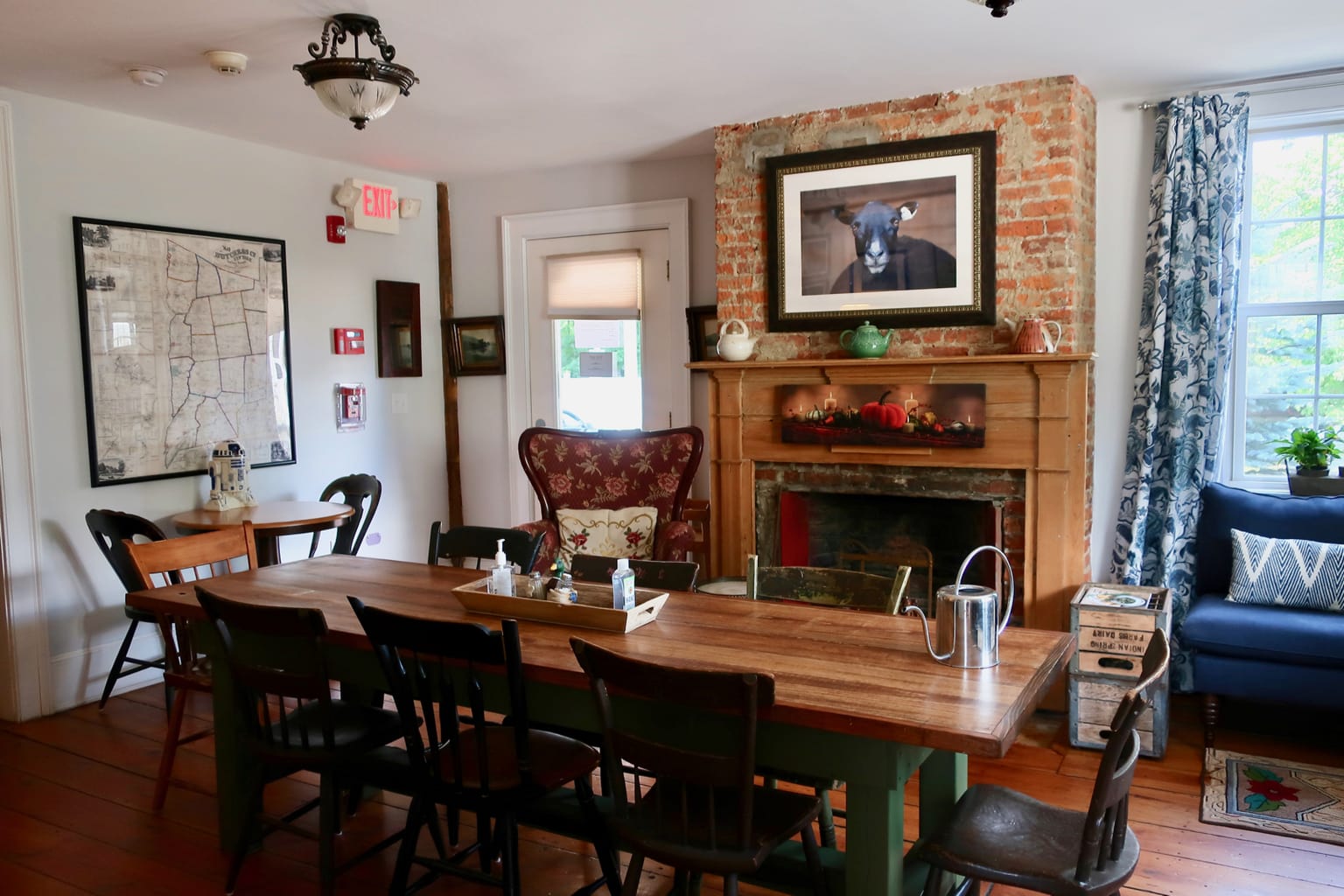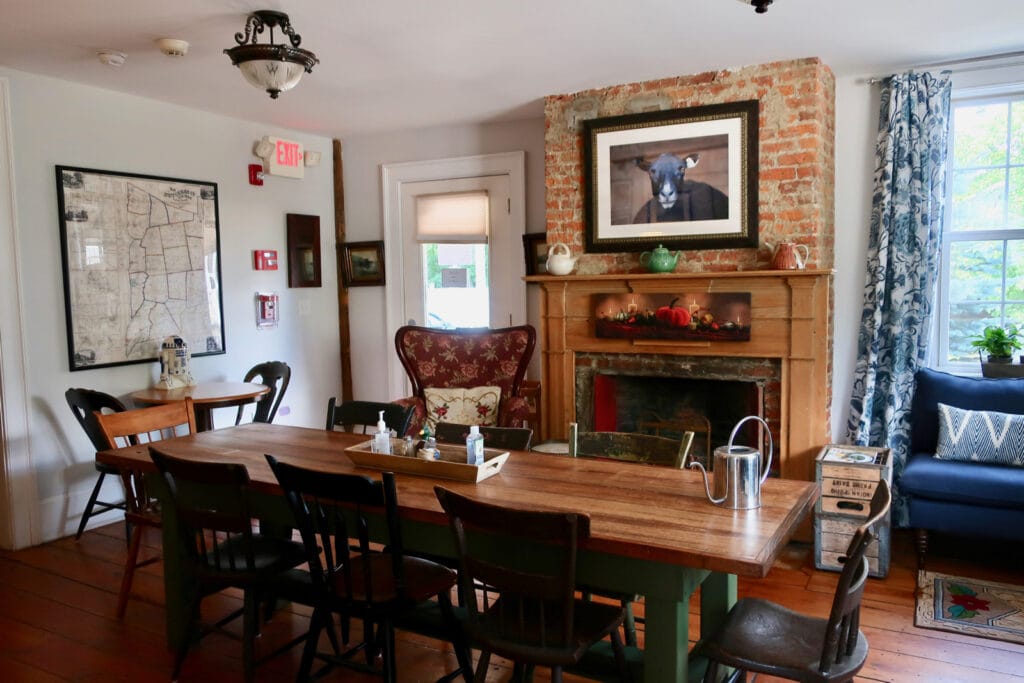 Inn at Pine Plains, Pine Plains
The seven-room Inn at Pine Plains, your basic mid-1800's home stretched and expanded, is as unassuming as it gets. Once inside, though, it's another story.
Signs, posters, art, and doodads, gleaned from antique fairs and special friends, pepper the walls and every inch of shelf space. Instead of feeling cramped, the vibe, far from slapdash, is eclectic and clean. And that extends to the fashionable rooms.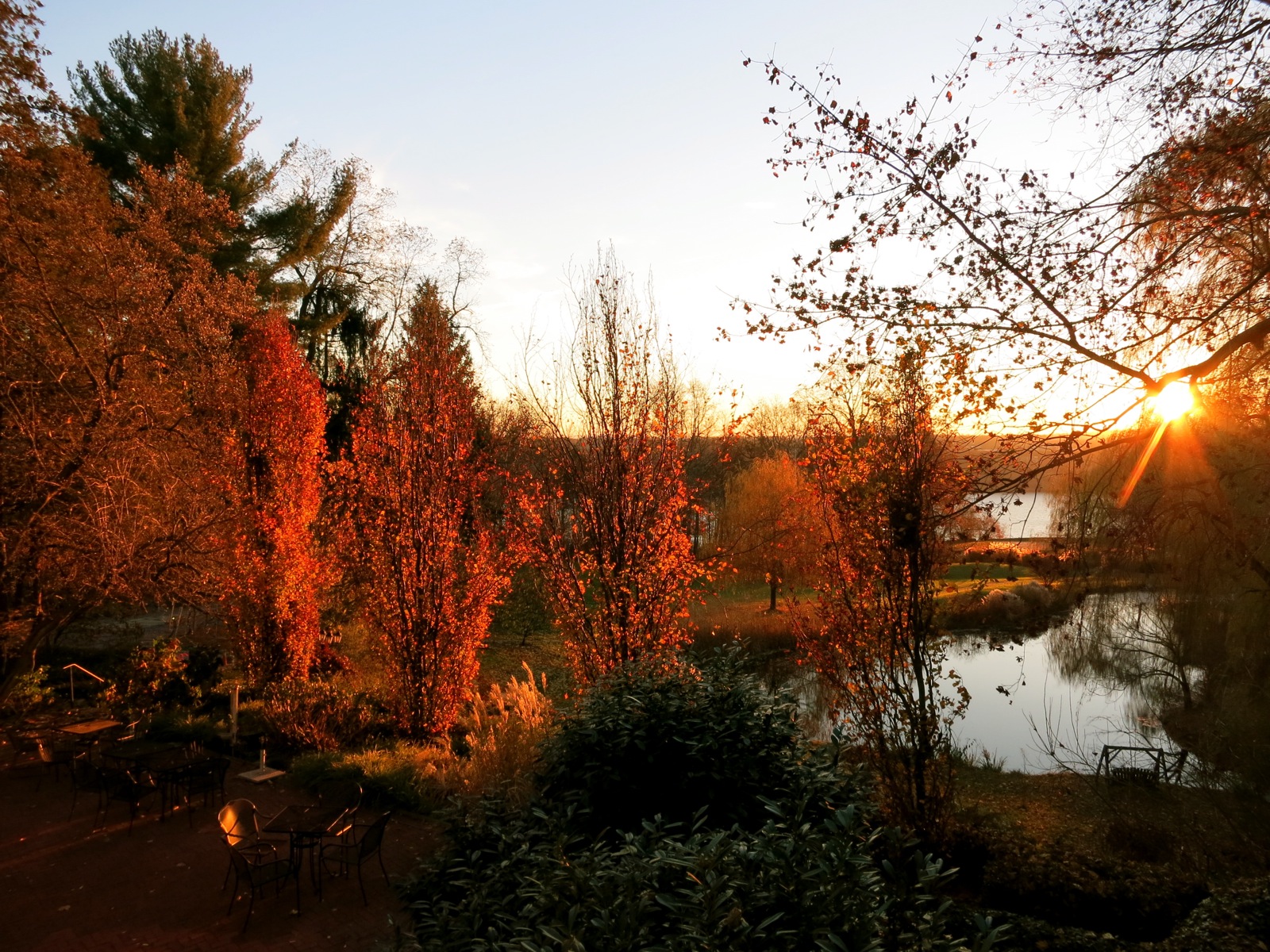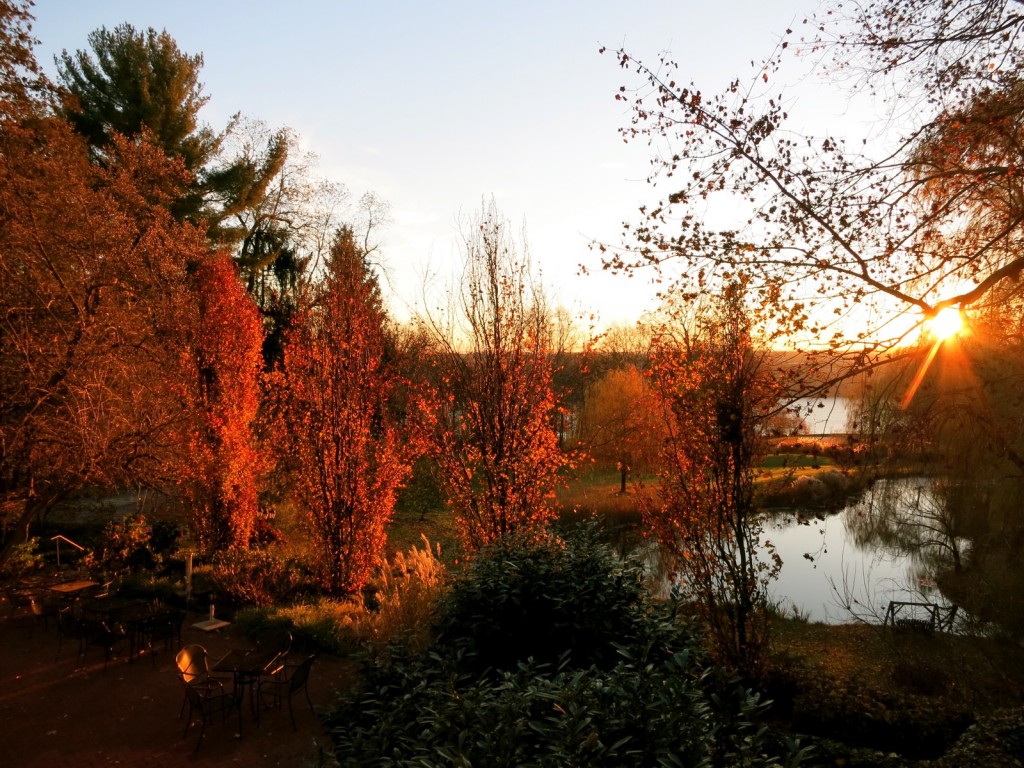 Buttermilk Falls Inn and Spa
Eco-friendly Buttermilk Falls Inn juxtaposes renovated 1700's cottages with abstract contemporary buildings on 75 acres. Less than 90 miles from Manhattan on the west bank of the Hudson, lovers of the bucolic will delight in all aspects of the river and farm.
Walk hand in hand on a stroll (or snowshoe hike) around the property, watching for Angora goats, llamas, Alpacas, and miniature donkeys as well as a bunch of laying hens (fresh eggs in the morning), beehives (creamy honey) and a sizable organic garden on your way.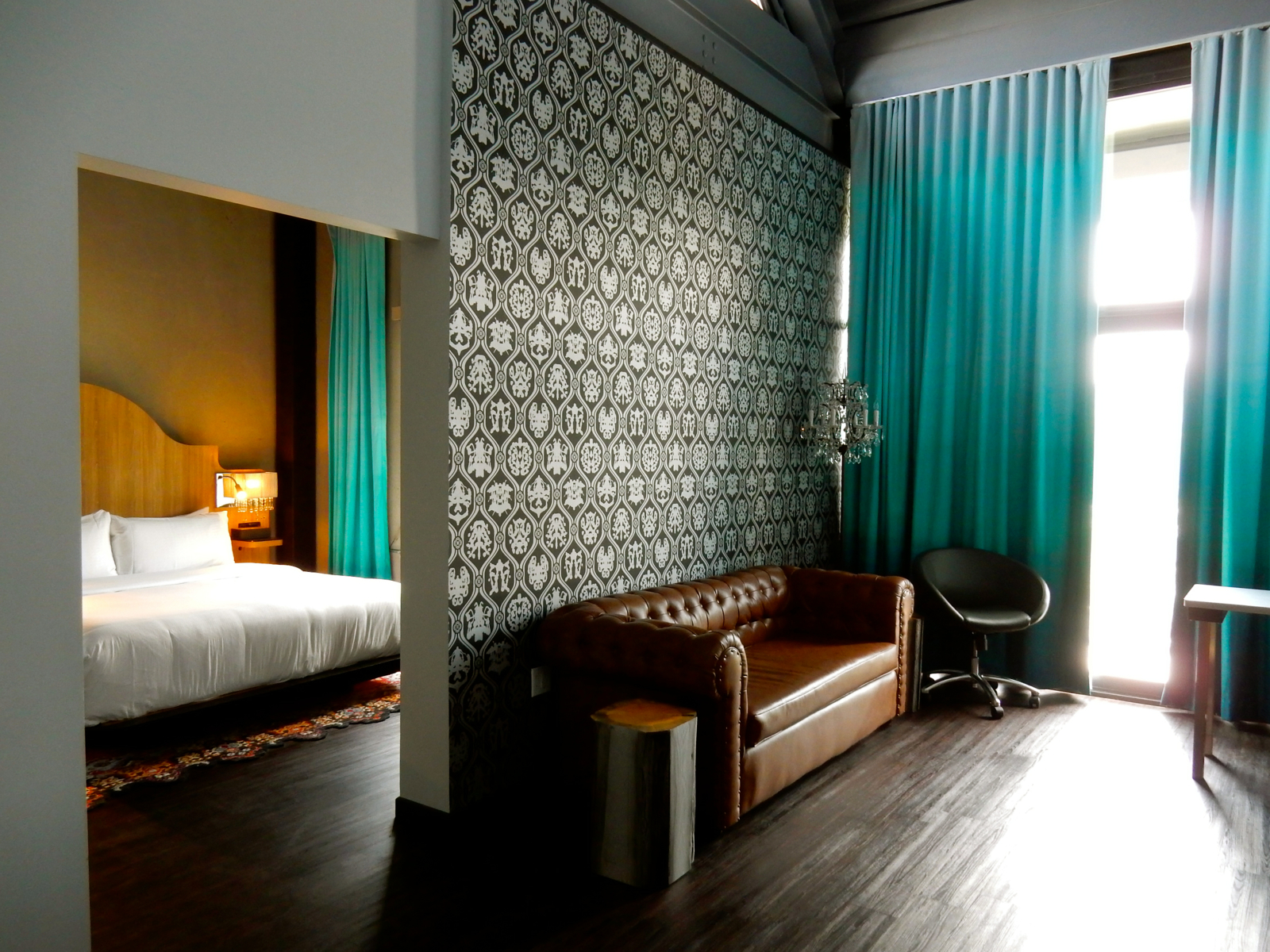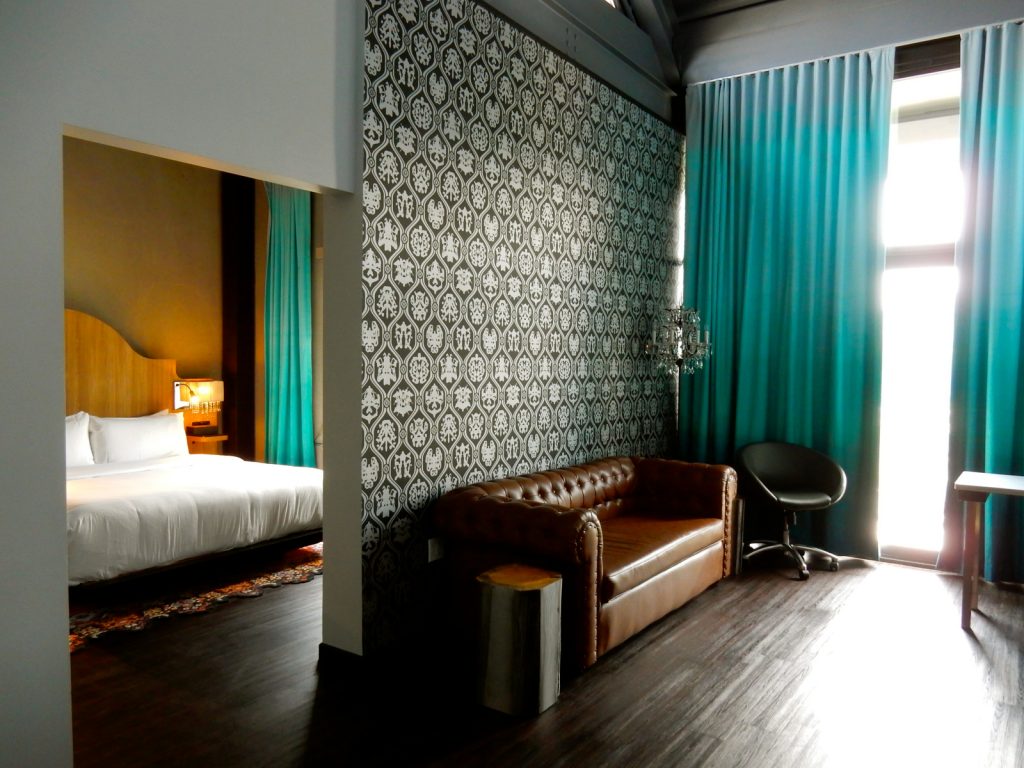 Hotel Nyack, Nyack
A repurposed plastics factory, the Hotel Nyack (Hyatt) turned this artsy but sleepy burg, 20 miles north of Manhattan up the Hudson River, into a "beautiful people" destination.
Apparently, overzealous designers were devoted to an aesthetic that includes ornamental skulls, purposely-unfinished concrete walls, dangly crystal lamps, and interlocking patterns of Rorschach-inkblot wallpaper. Industrial-chic guest rooms pop with emerald green drapes.
Amazingly – it all works thrillingly well and is oh so perfect for some risqué business.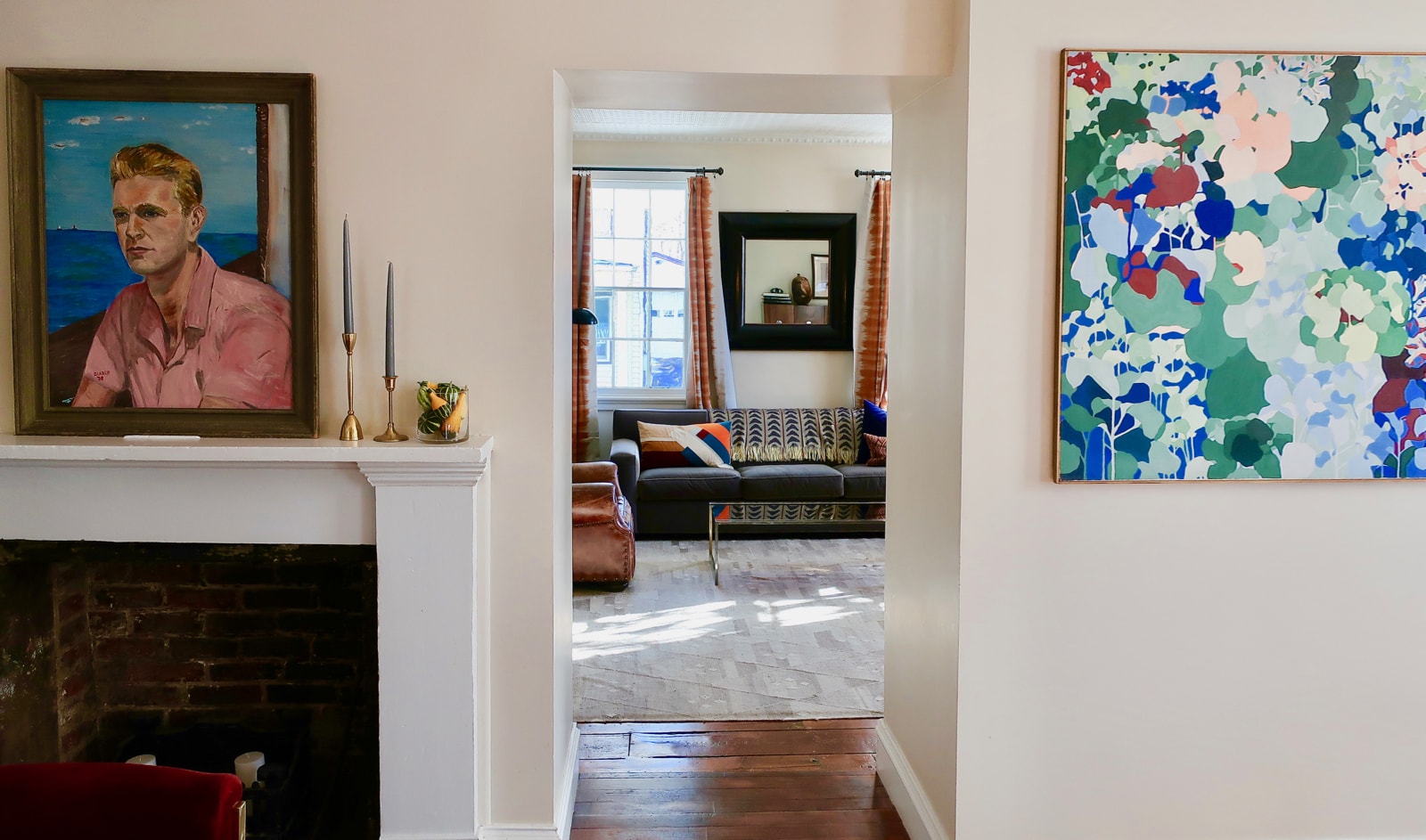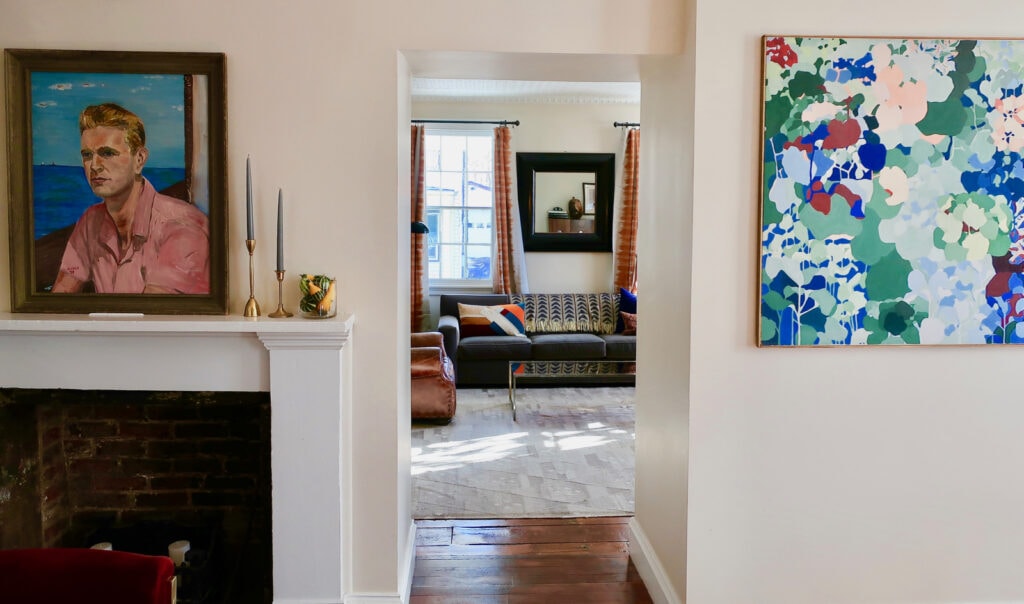 Forsyth B&B, Kingston Rondout
This nondescript row house on a residential street is actually, inside, a photo spread from a lifestyle magazine. The Forsyth B&B features original pitted wood floors and wooden-beamed cathedral ceilings in the guest rooms glammed up with contemporary art and eclectic furniture. Furthermore, the owner's welcome cocktails and resplendent breakfasts draw foodies from near and far.
Romantic Hotels On Long Island NY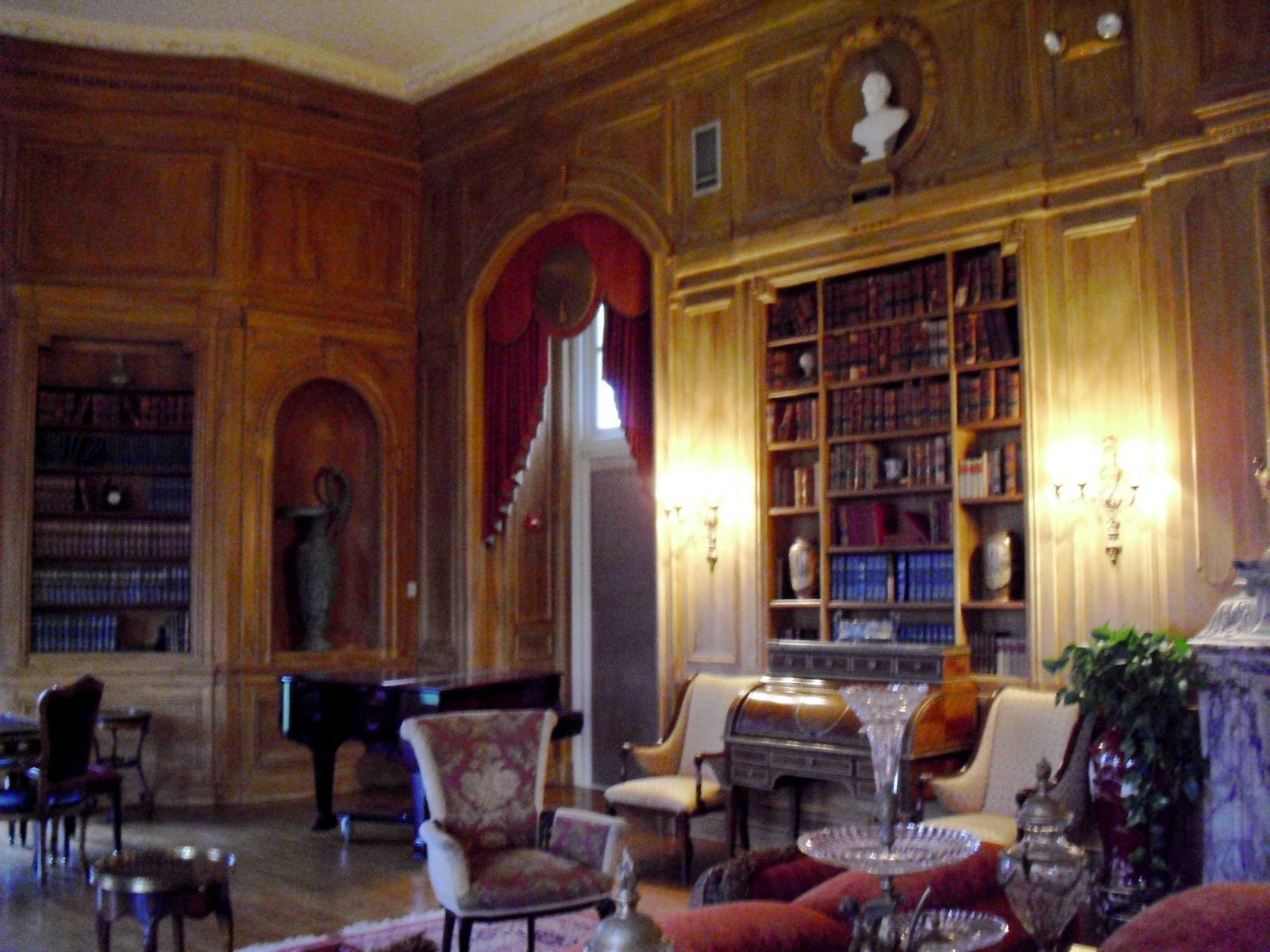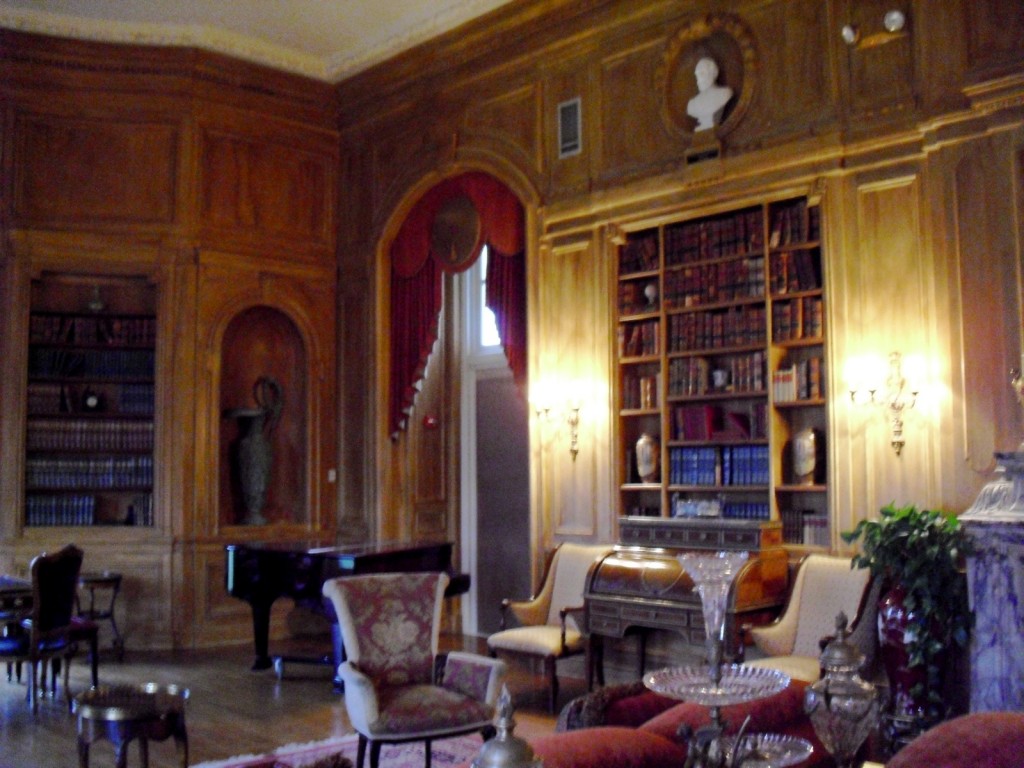 OHEKA Castle, Huntington
The royal treatment begins at the gatehouse of OHEKA, an exclusive luxury castle-like hotel listed on the National Register of Historic in Gatby's Long Island (the "Gold Coast"). Provide your name to a security guard, and when you've been cleared, the massive wrought iron gate swings open onto a long, tree-lined driveway.
Each richly textured suite is fit for a Lord and Lady of the Manor, with crown moldings trimming 12ft ceilings, and claw-foot tubs in large, marble-floor, deeply hued bathrooms. How distinctively opulent is OHEKA?
Well, at the behest of staff, you must leave your car key in the office in case your vehicle has to be moved to accommodate movie and TV film crews.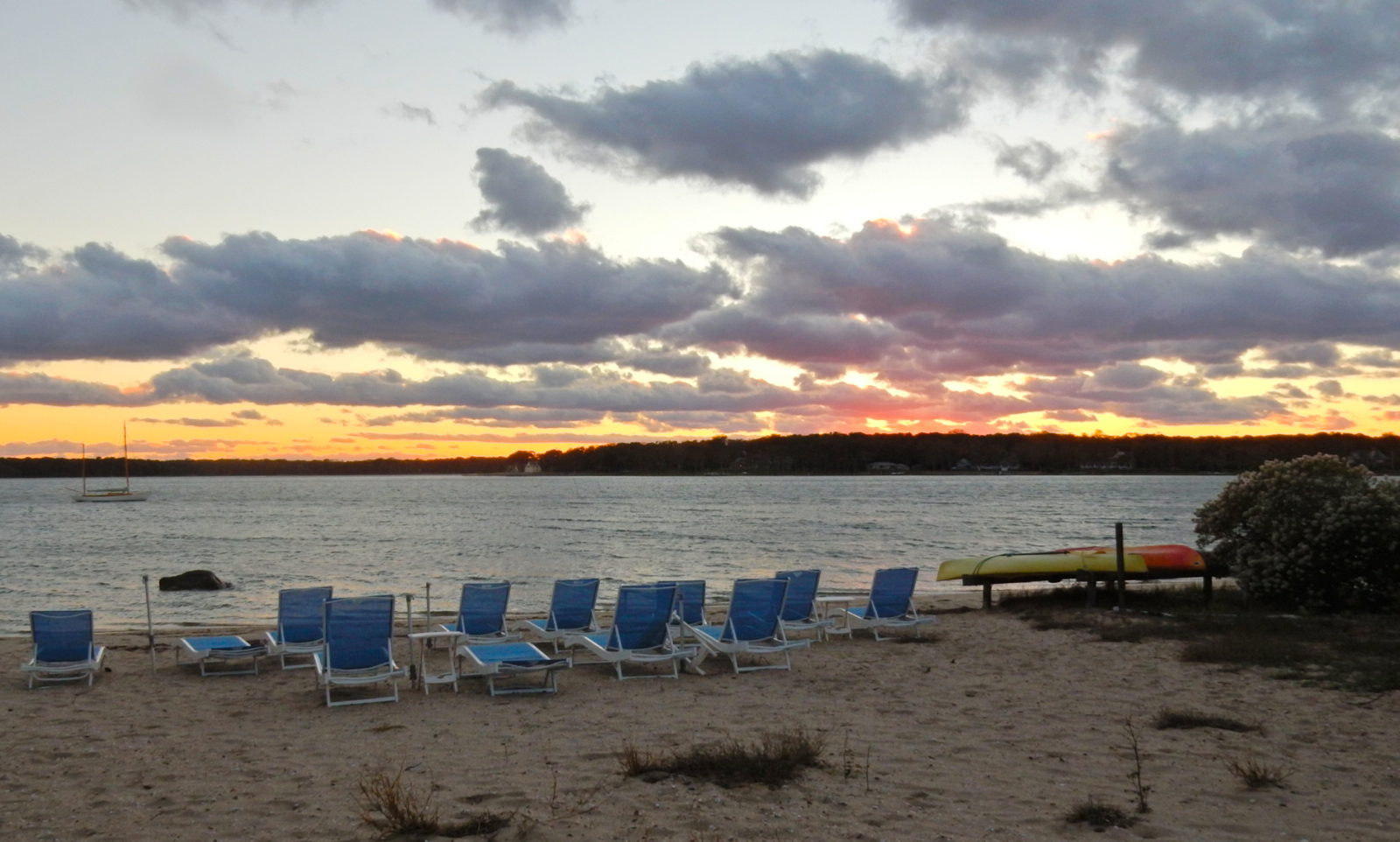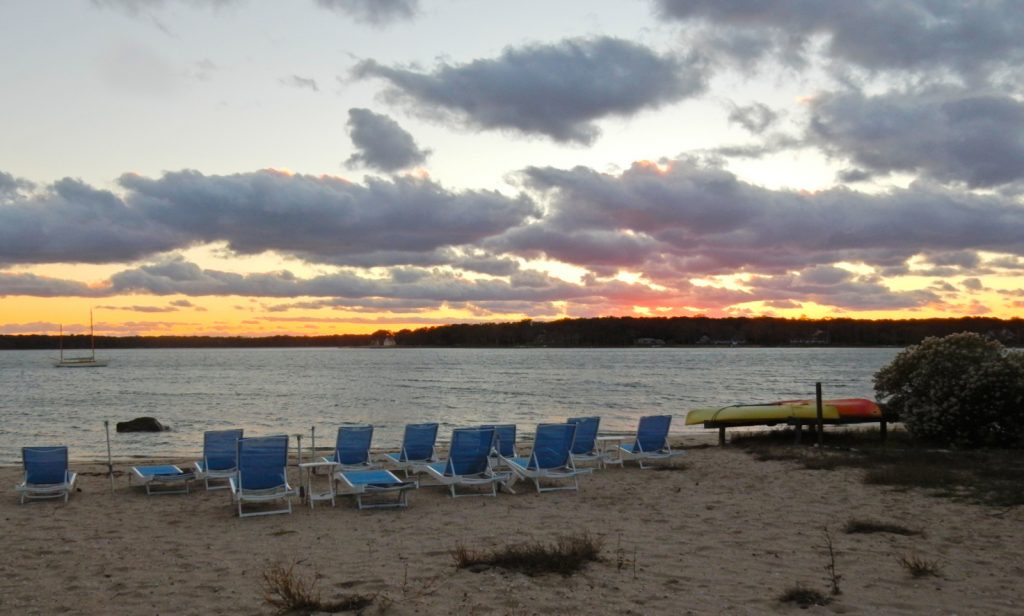 Rams Head Inn, Shelter Island
The Old School cool Ram's Head Inn sits idyllically on a bulb of land separated from the rest of Shelter Island by a couple of narrow causeways.
A rambling, antique resort on an island (Big Ram Island) on an island (Shelter Island) on another island (Long Island), it takes a concerted effort to get to. But the property is so exquisite, you and your bae may not want to leave.
Romantic Hotels in the Catskills NY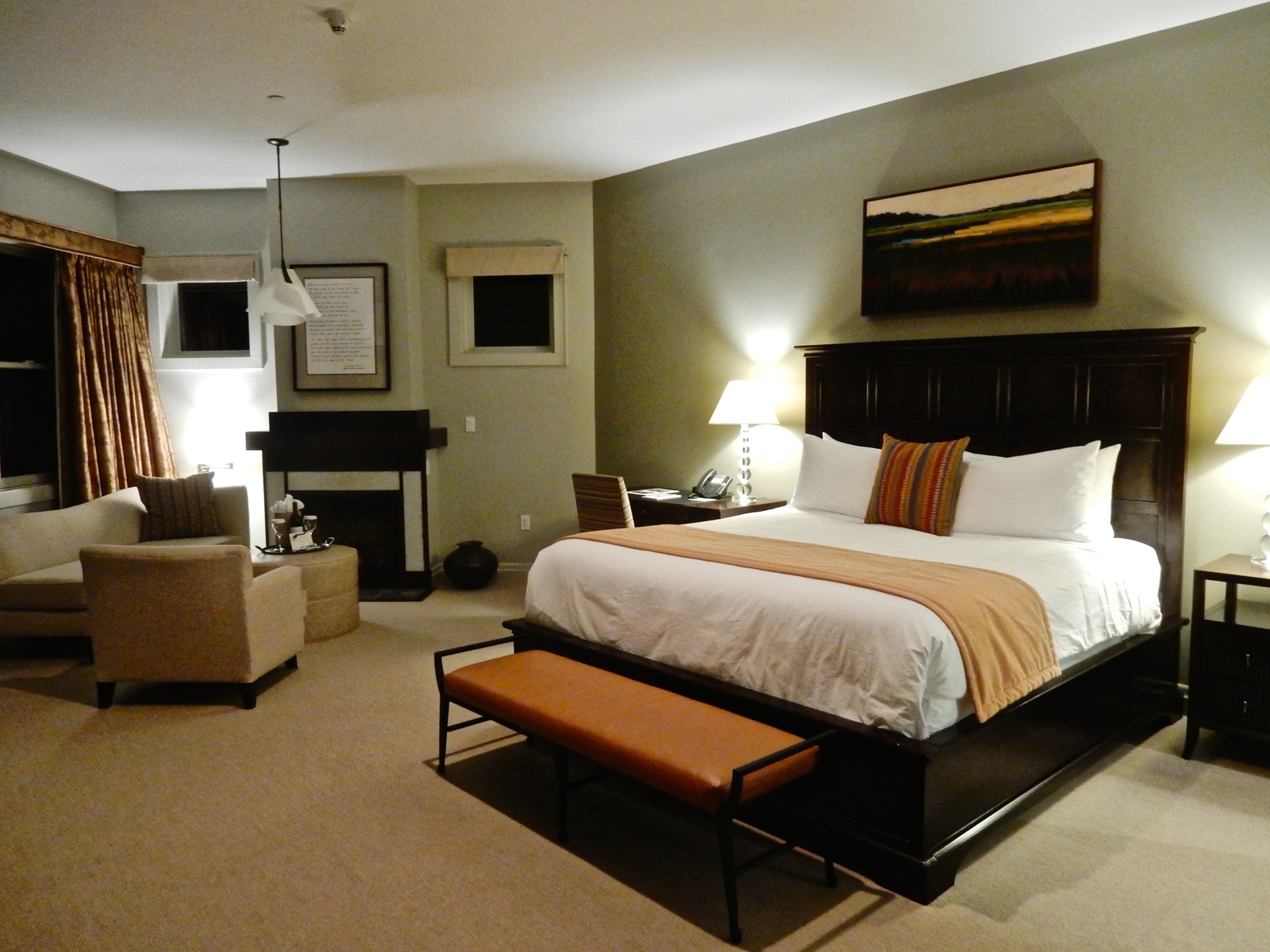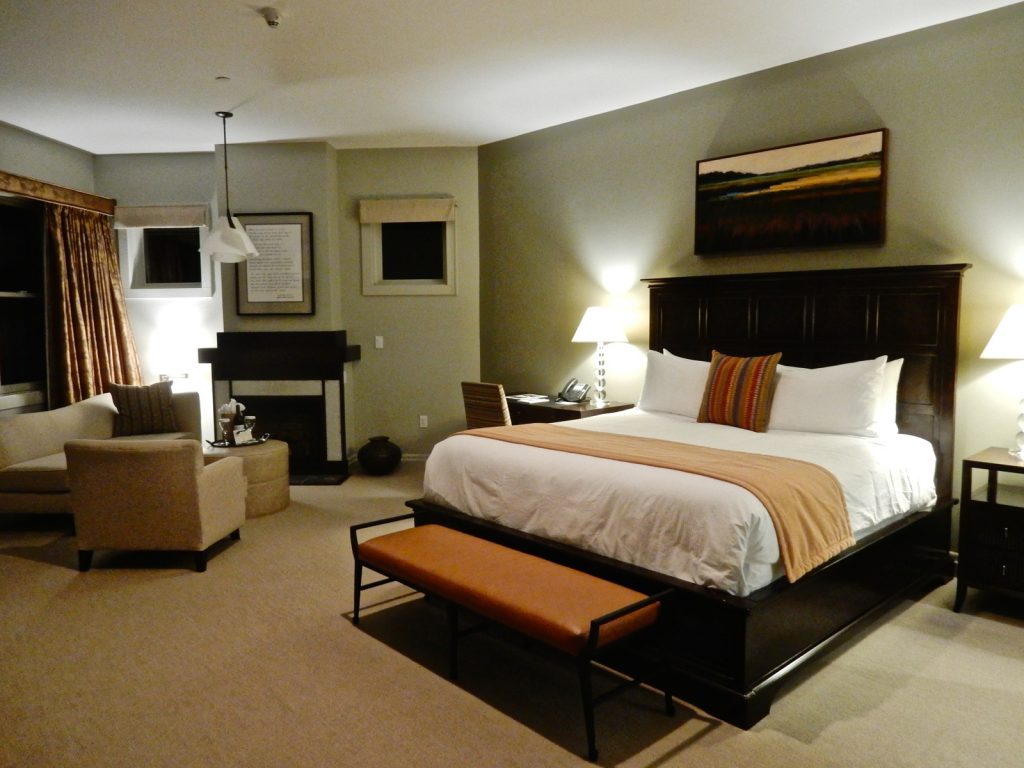 Emerson Resort and Spa, Mt. Treper
Can you get more romantic than a hotel that honors a poet? Emerson Resort and Spa, named after Ralph Waldo Emerson, is both classy and serene. It's ideal for couples in search of a luxurious home base from which to hike, bike, ski and otherwise explore the Catskills.
Or not. With the upscale spa, restaurant, and shopping on site, the Emerson Resort is a self-contained treasure.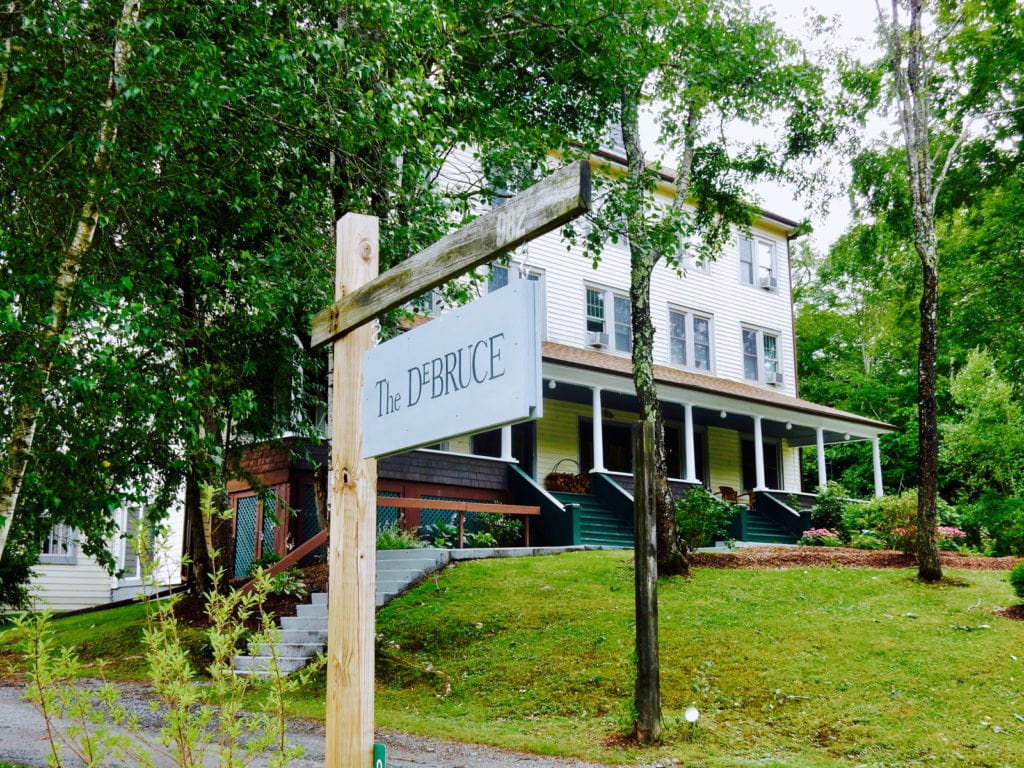 The DeBruce, Livingston Manor
Built in 1880 as an inn, and then a boarding house, The DeBruce in Livingston Manor has not roamed far from its origins – except stylistically.
Now a stylish 14-room boutique hotel, owned by hospitality maestros, Sims and Kirstin Foster, the DeBruce is emblematic of a new kind of Catskill Hotel. Less irritatingly crowded resort, more high-end, mid-century-modern lodge.
While rooms are compact (read, on the small side), they exude a modernist charm and are just the ticket for lounging with your favorite sidekick.
Romantic Hotels in Central and Northern NY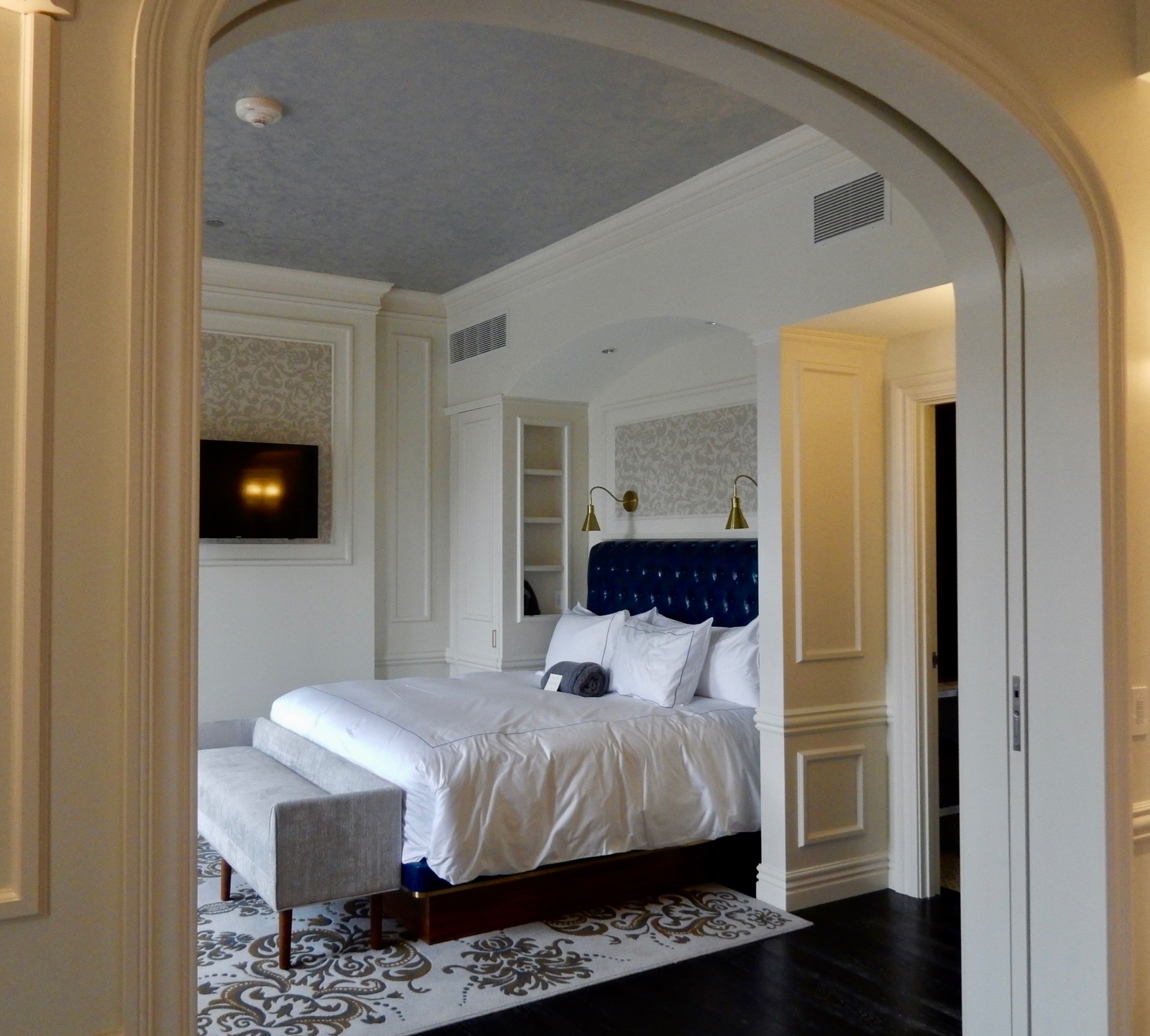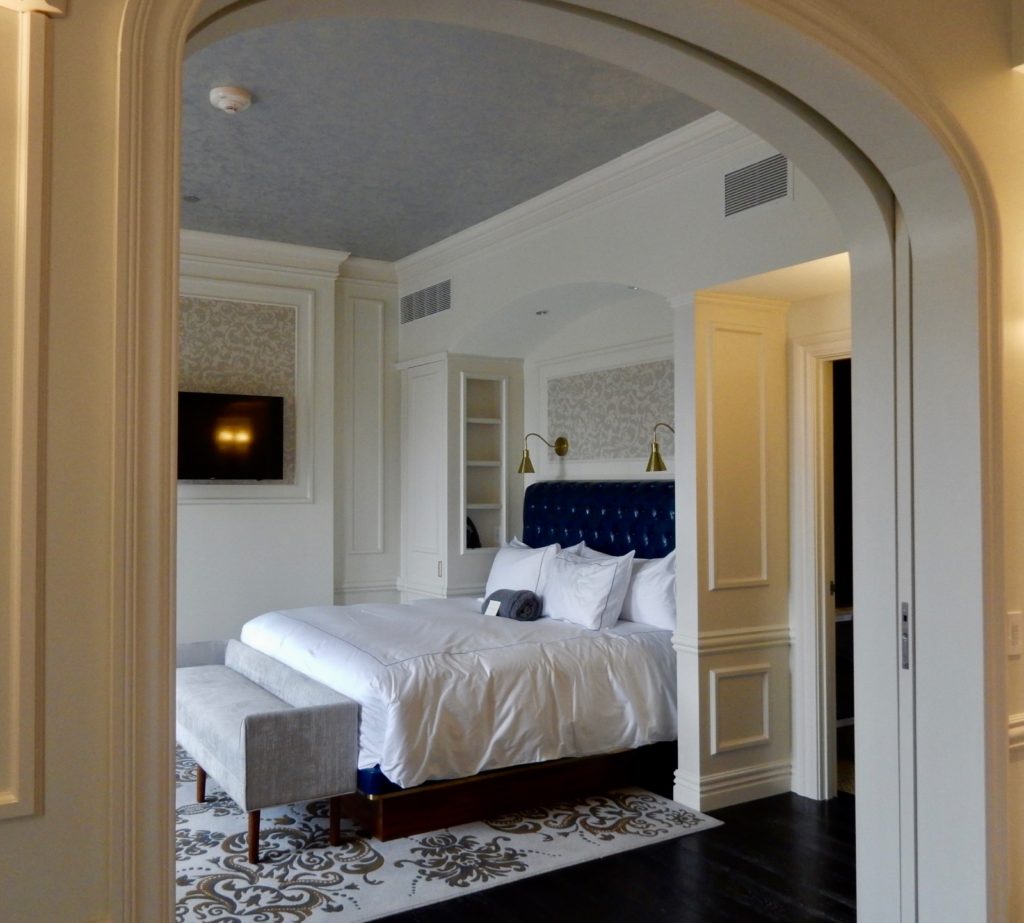 Adelphi Hotel, Saratoga Springs
After a tip-to-toe multi-million dollar renovation, the 32-room Adelphi has managed to recapture its original intent: to impress the jaded, to indulge luxury guests, and, most effectively, to please the eye.
Natural light floods guest rooms in hues of grey, navy, silver, and gold. Attention to detail in each room is beyond stunning, down to the silver-tone sponge-painted ceilings (a softer look than pressed tin).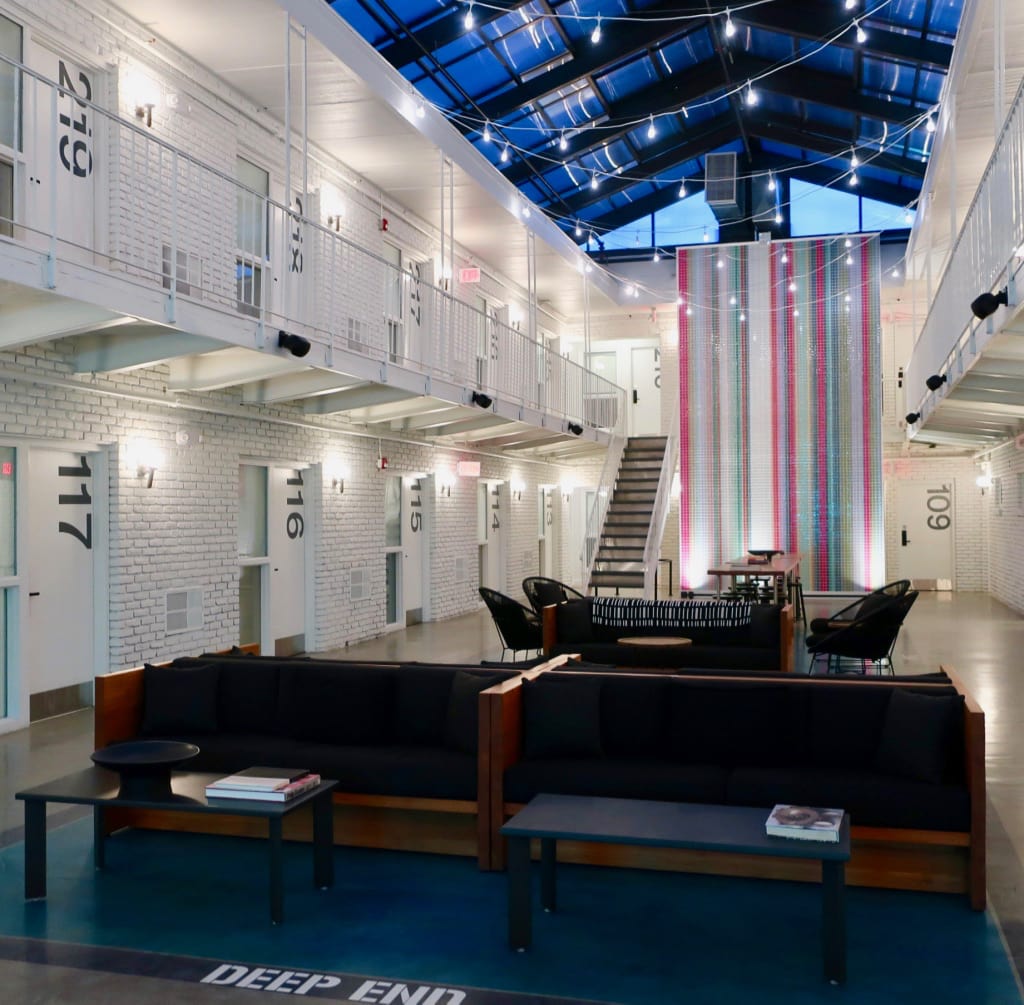 Spa City Motor Lodge, Saratoga Springs
Saratoga Springs tends to be pricey. One relatively wallet-friendly alternative is Spa City Motor Lodge, which gives you a bit of splash for much less cash.
Once a motor lodge, this main street Bluebird by Lark Hotel in Saratoga Springs NY is unexpectedly romantic for certain types of wanderers who are all about industrial-chic style with nitro-coffee on tap (literally) 24/7.
Otesaga Resort Hotel, Cooperstown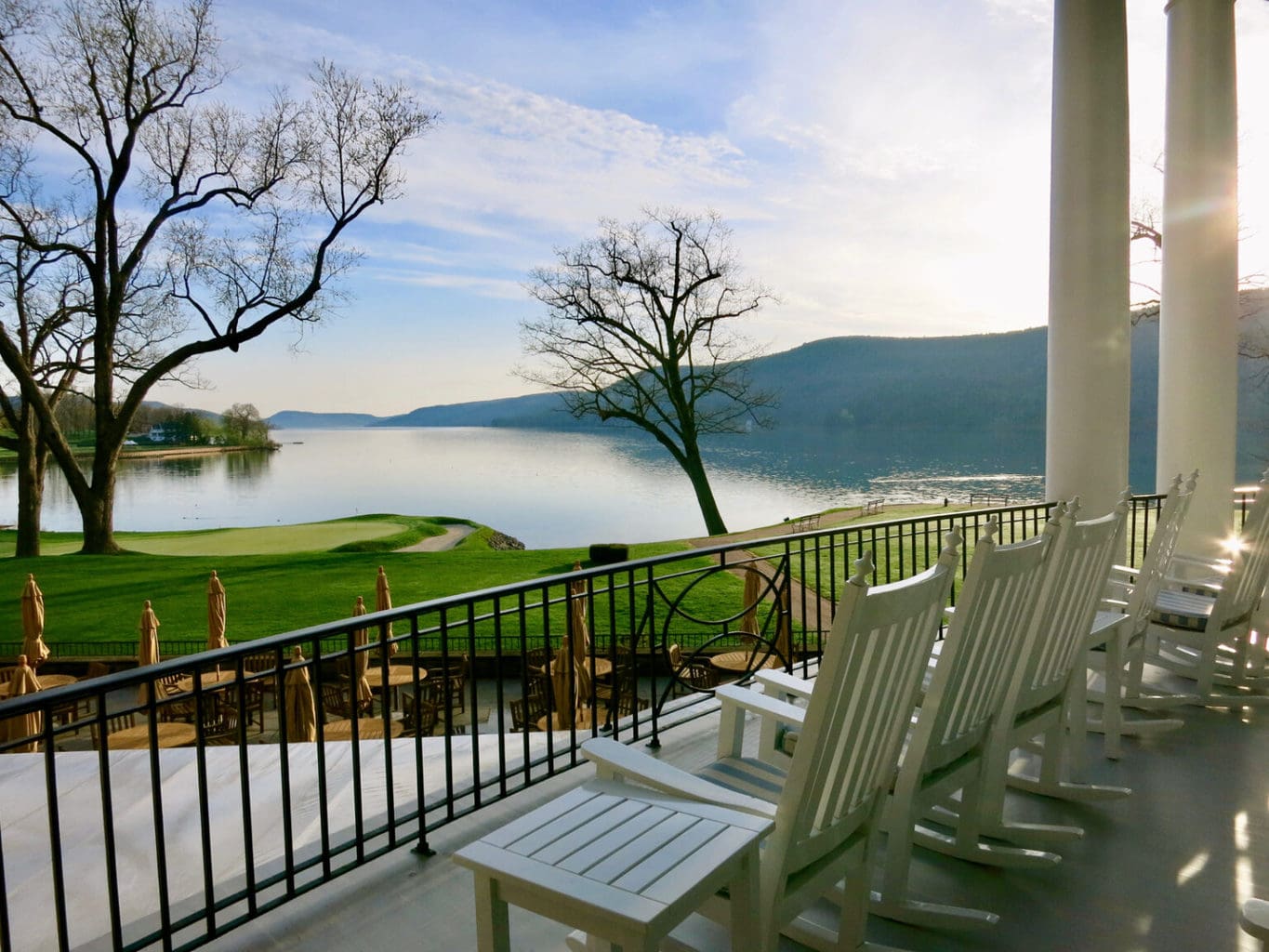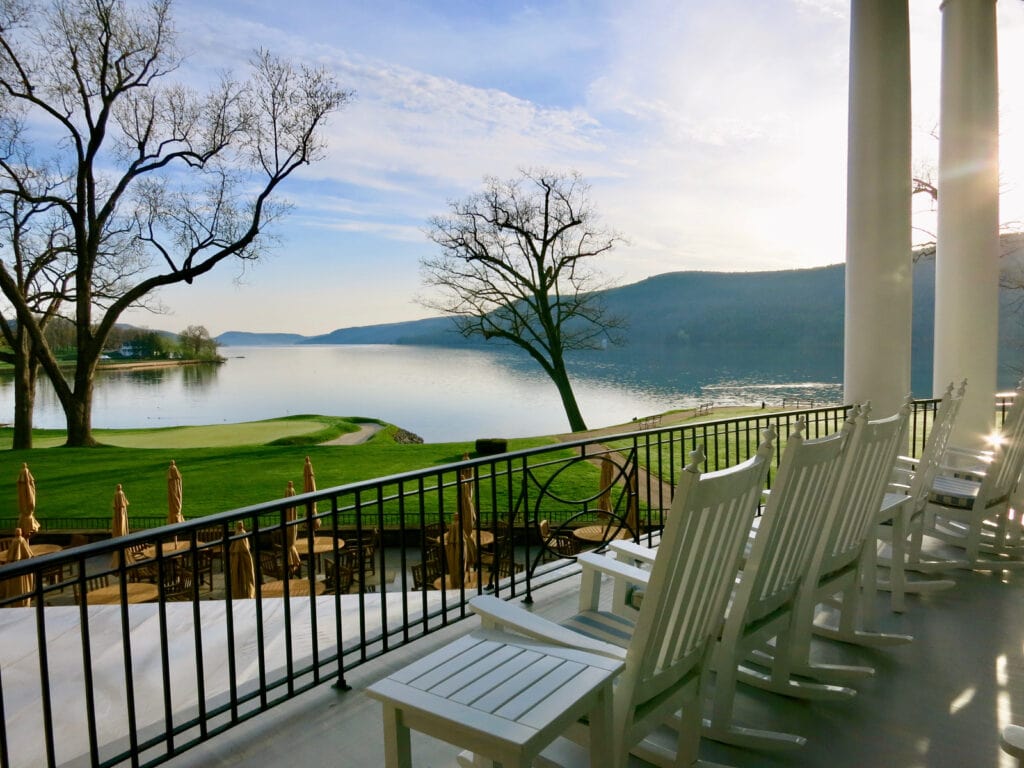 After a $34 million restoration, the Otesaga Resort Hotel in Cooperstown NY is still the Grand Dame on the Lake. The ambiance remains "old-world," with some contemporary updates, like a gigantic fire pit, perfect for outdoor winter gatherings.
On temperate nights, you'll find couples, groups, and solitary guests sipping drinks, reading, and gazing in wonder at the lake and 18th hole of the resort's Leatherstocking Golf Course.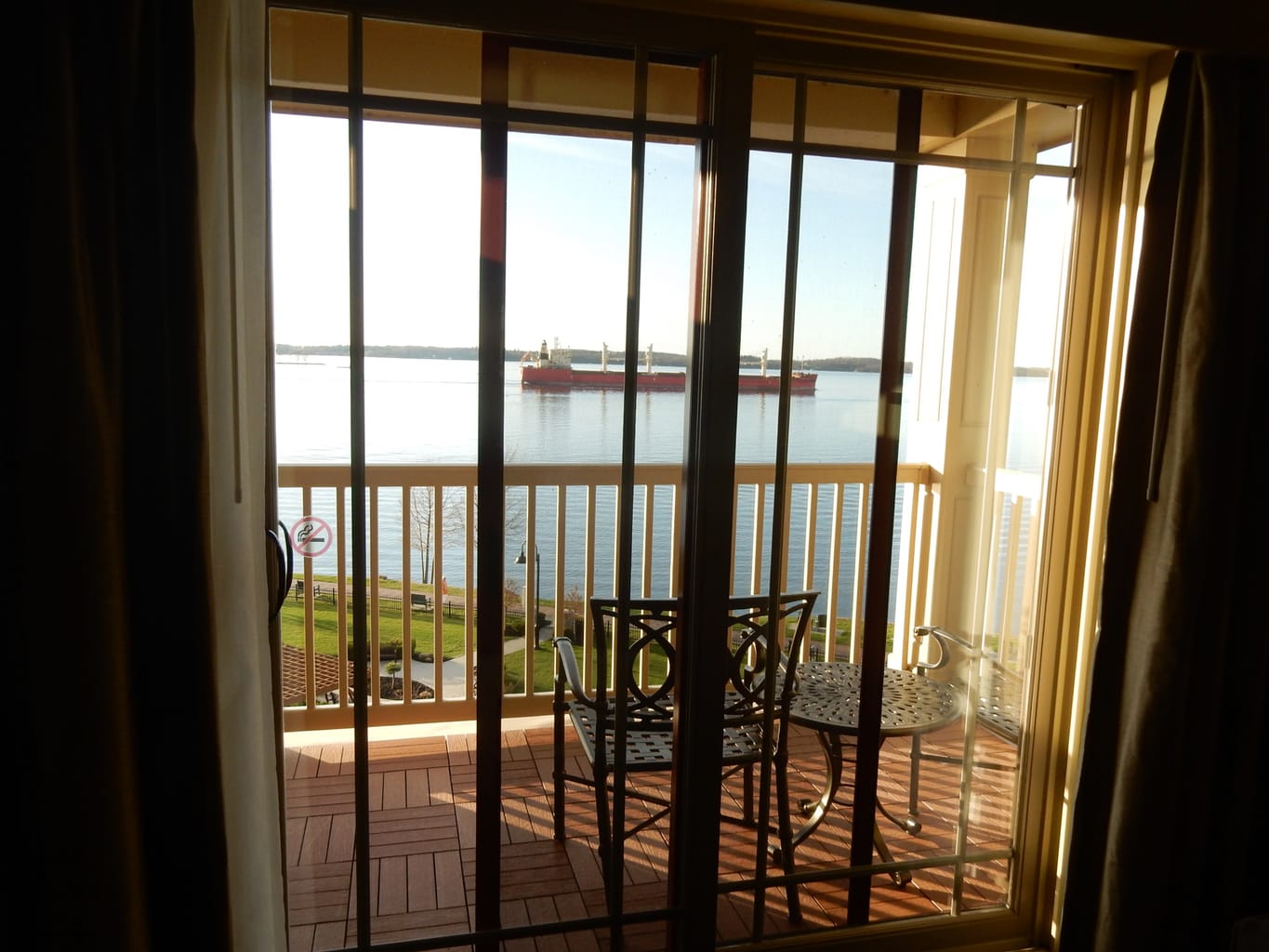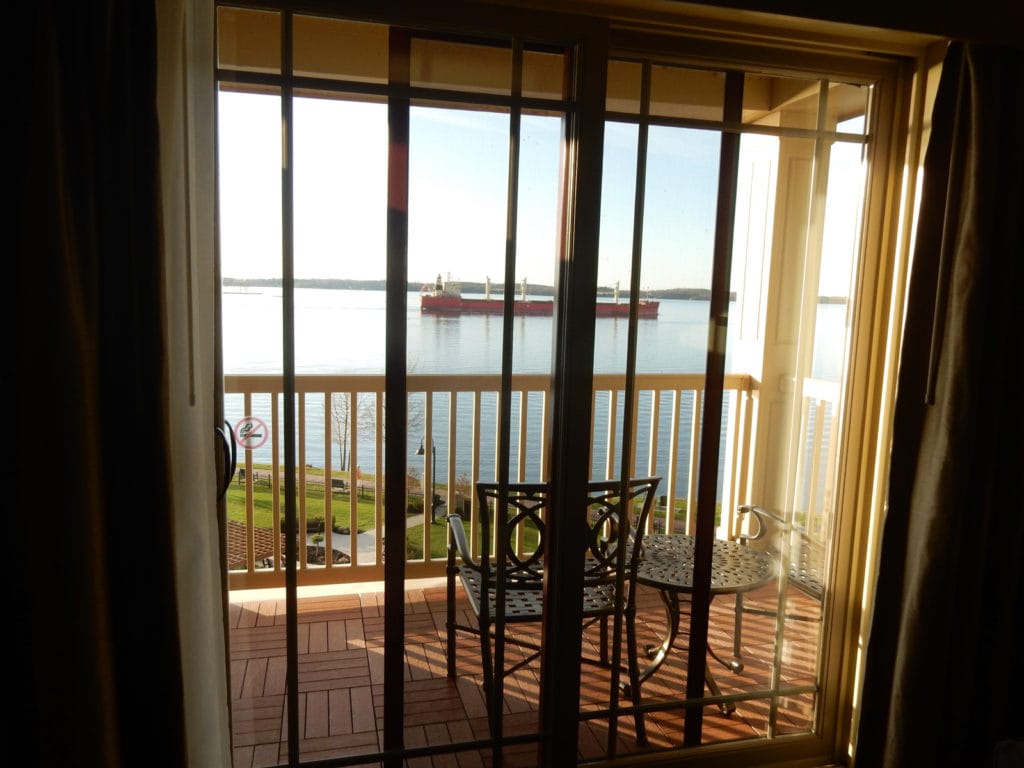 1000 Islands Harbor Hotel, Clayton
Panoramic views from your guest room window at the 1000 Islands Harbor Hotel in Clayton NY change throughout the day. But sunrise and sunset times are particularly rapturous – turning the water to liquid gold and pink.
No need to leave your chambers to watch massive cargo ships glide right past your window, slipping up the St. Lawrence River. The 1000 Islands region is not as far as you think, either. It's less than a six-hour drive from NYC.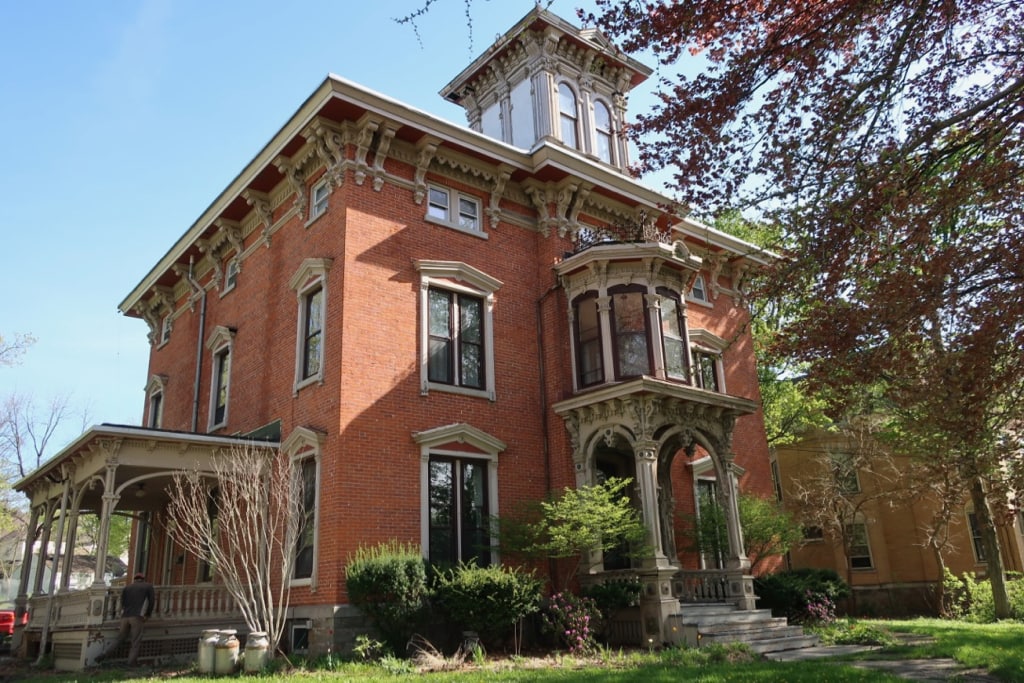 Rosemont, Utica
Close to museums and restaurants, the Rosemont Inn was once a frilly Victorian B&B. Now, rooms skew modern, with gorgeous renovated bathrooms. Bright, rooms feature contemporary bedding and area rugs over painted wood floors.
However clean and comfy the rooms are, the newly renovated high-ceiling bathrooms are the stars here. Each features a pedestal sink, sparkling subway tile glass shower, and floors in black and white mosaic tiles. Innkeeper, Rita, loves food, and loves cooking – and it shows.
Astoundingly good breakfasts will fortify you two lovebirds for the bulk of the day.
Romantic Hotels in the Adirondacks NY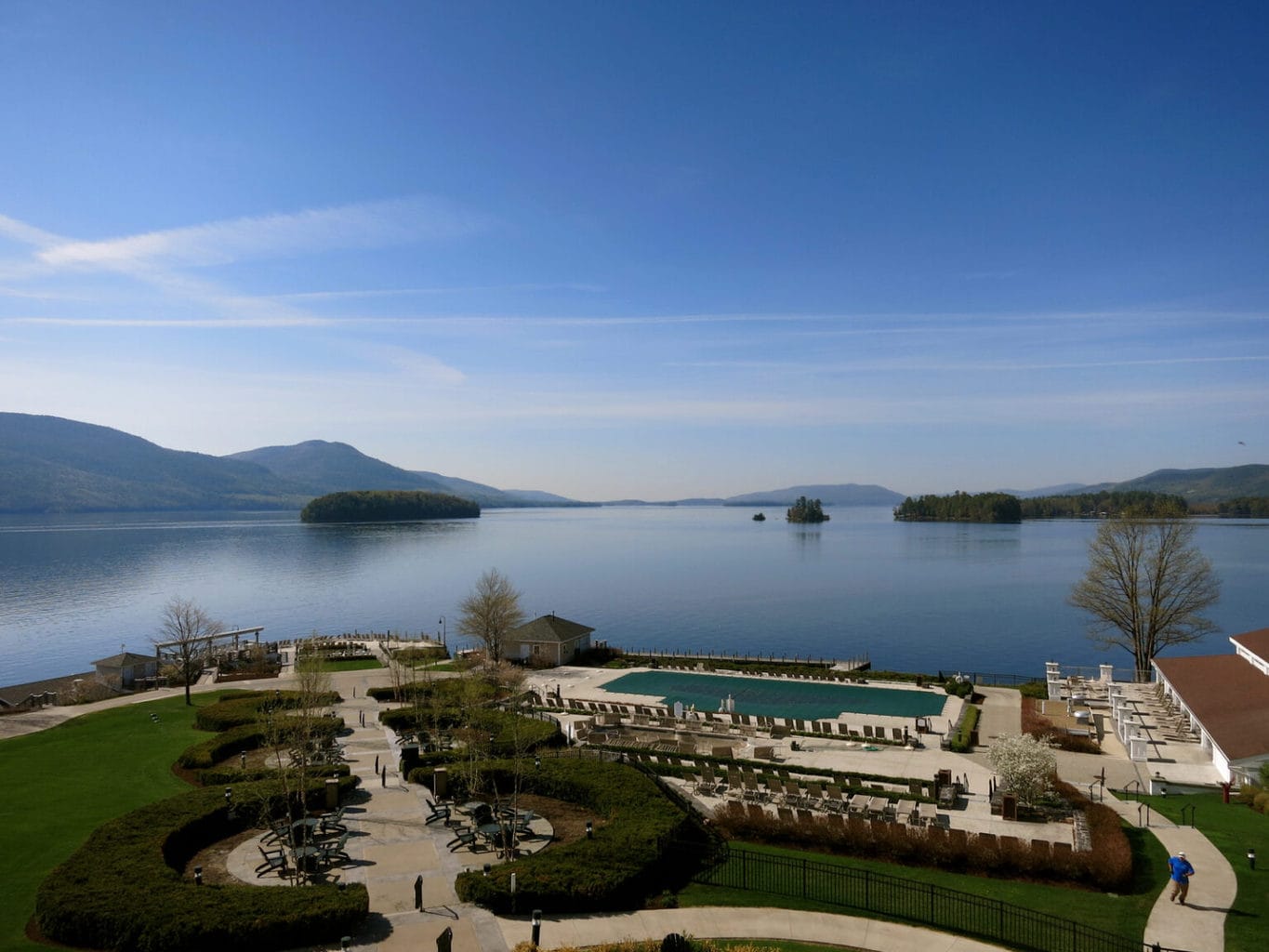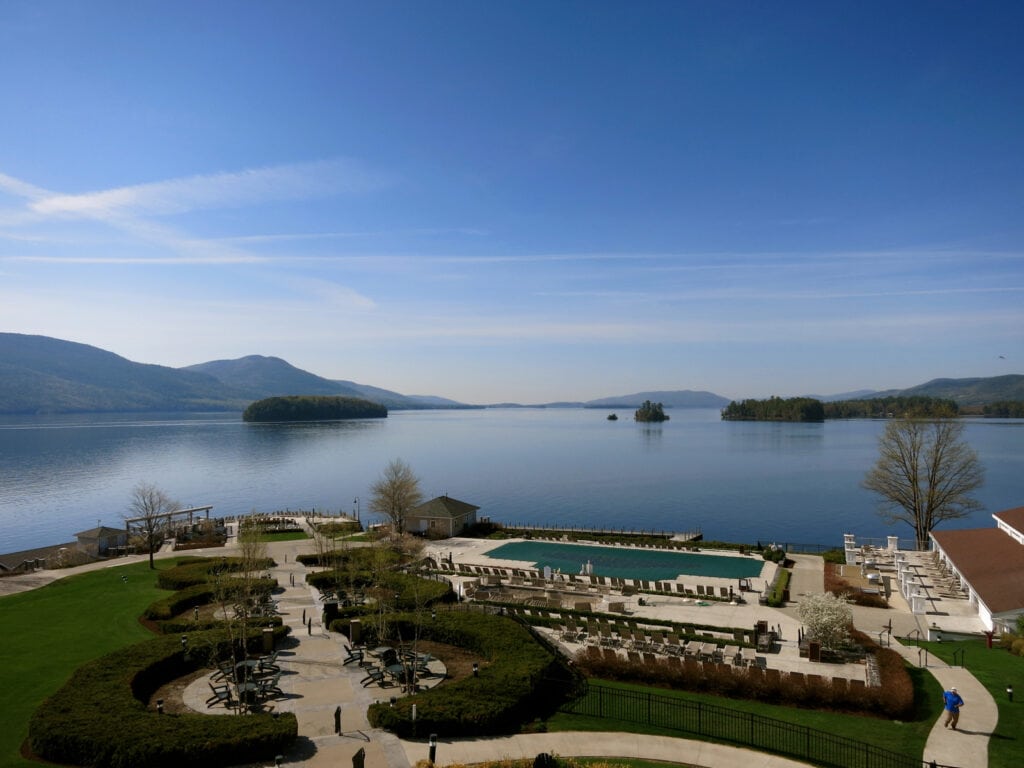 The Sagamore, Lake George
Driving up to the rambling white main building of The Sagamore is like traveling back in time when families spent summers in the Grand Resorts peppered around the mountains, lakes, and shorelines of the Northeast USA.
But the piece-de-resistance, of course, is the absorbing view of Lake George from the back of the main building. Especially in the morning and evening when the sun sets.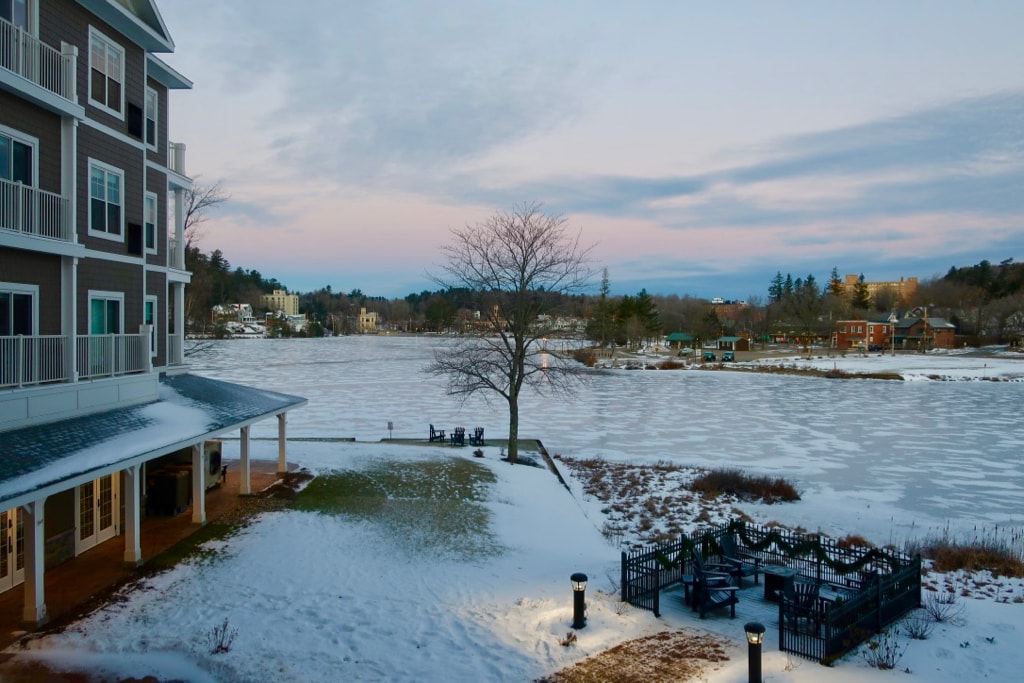 Saranac Waterfront Lodge, Saranac Lake
Opened in mid-2021, the romantic 93-room Saranac Waterfront Lodge is the only hotel right on the Lake and near the center of town. And, no matter the season, this full-service hotel takes full advantage of this location.
If you want to impress, book the 2-bedroom Governor's Suite – perfect for romantic couples who desire lots of space. It's got one hell of a sexy soaking tub overlooking the lake.
In fact, couples adore this feature so much, the suite – the most expensive in the hotel with a kitchen and two balconies from which you can practically swan dive into the water– is booked weekends, months in advance.
Romantic Hotels in the Finger Lakes NY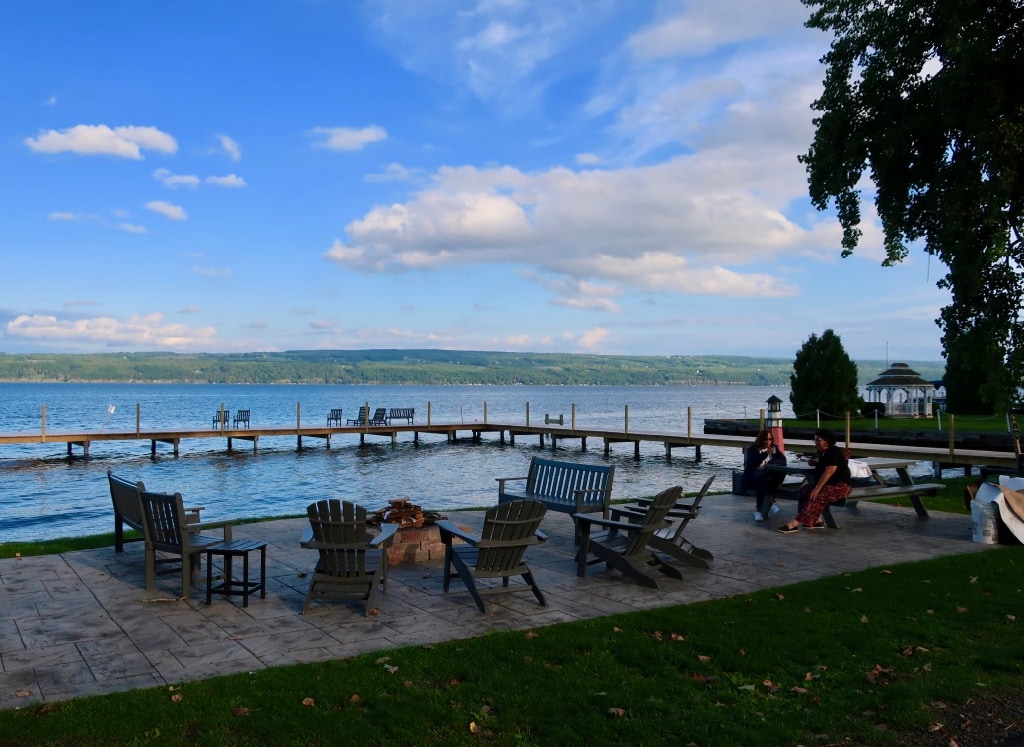 Plum Point Lodge, Himrod NY: Seneca Lake
If you and your honey are fans of sipping wine, dockside, and reveling in inspiring lake views at sunset, book a rustic-chic room at Plum Point Lodge on Seneca Lake.
Happily, you don't have to move from your waterfront spot for fine dining. On-site destination restaurant, Sapalta is one of the best restaurants in the region.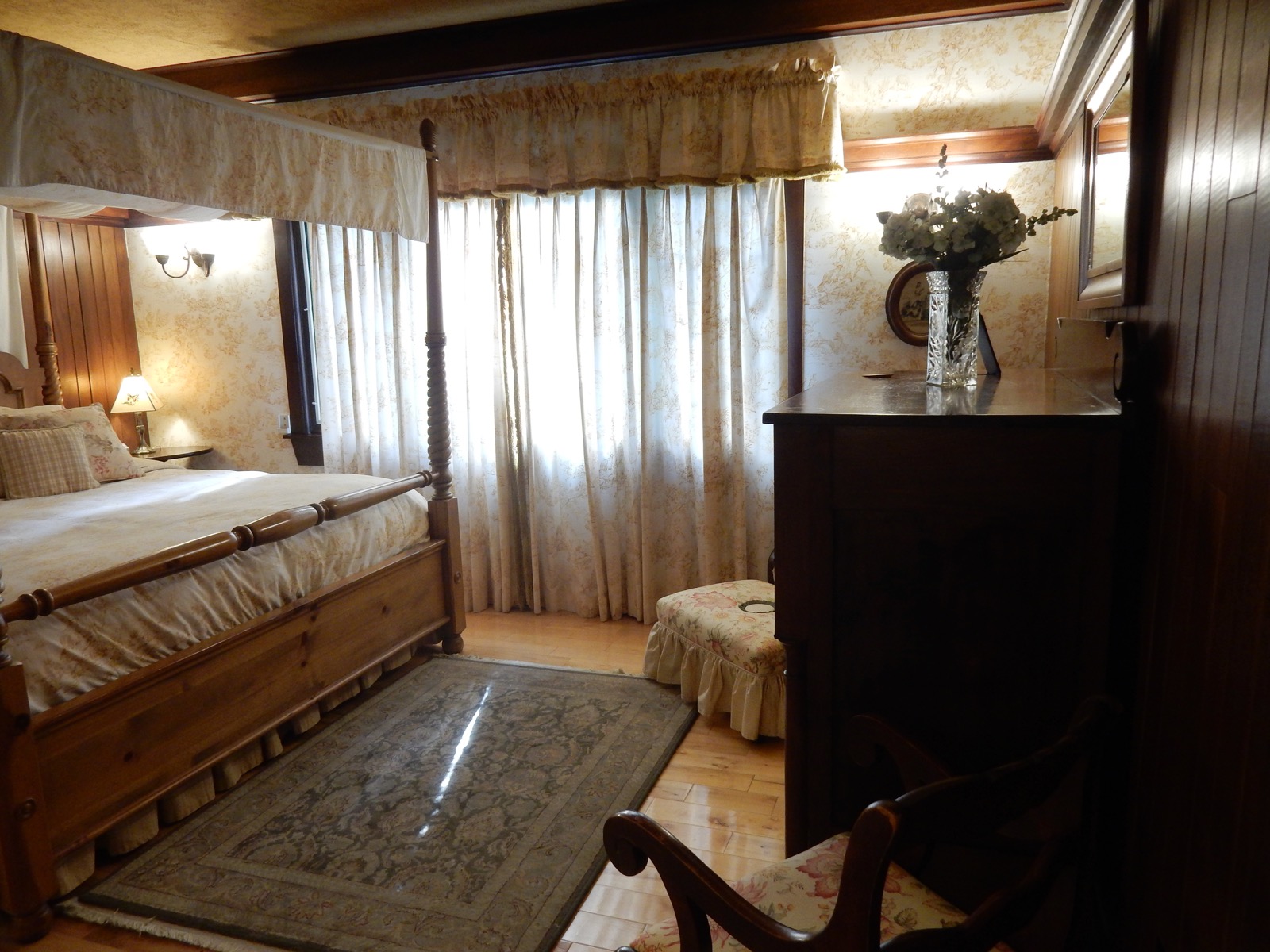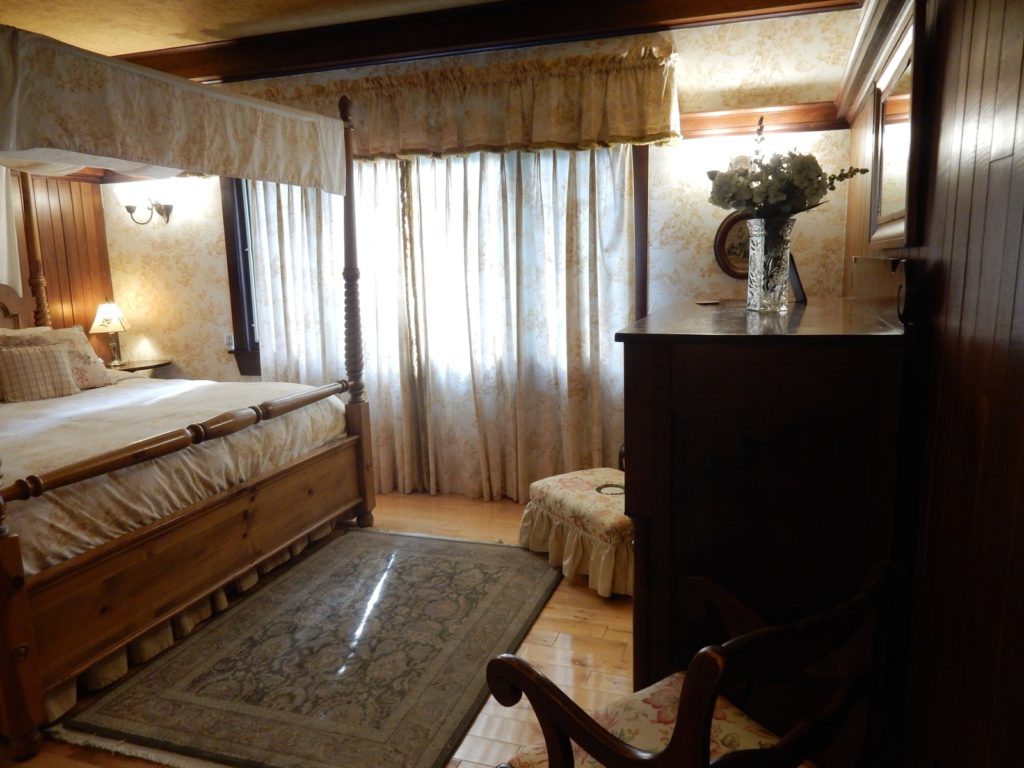 Springside Inn, Auburn
Harriet Tubman once lived just two miles from the ultra historic 7-room Springside Inn, built in 1851 as a boy's boarding school. Set back from the main road across the street from Owasco Lake, the Springside Boarding School For Boys was mentioned in the first biography of Harriet Tubman, written in 1869 – Scenes in the Life of Harriet Tubman.
Rumor has it that Freedom Seekers on the Underground Railroad, fleeing from railcars about ¼ mile away, scrambled, sometimes with Tubman's help, to the thicket behind the inn to hide. All seven immaculate rooms are thoughtfully and individually decorated.
If you are looking for a romantic inn with a hint of historical importance, book a beautiful room here.
Pleasant Valley Inn, Hammondsport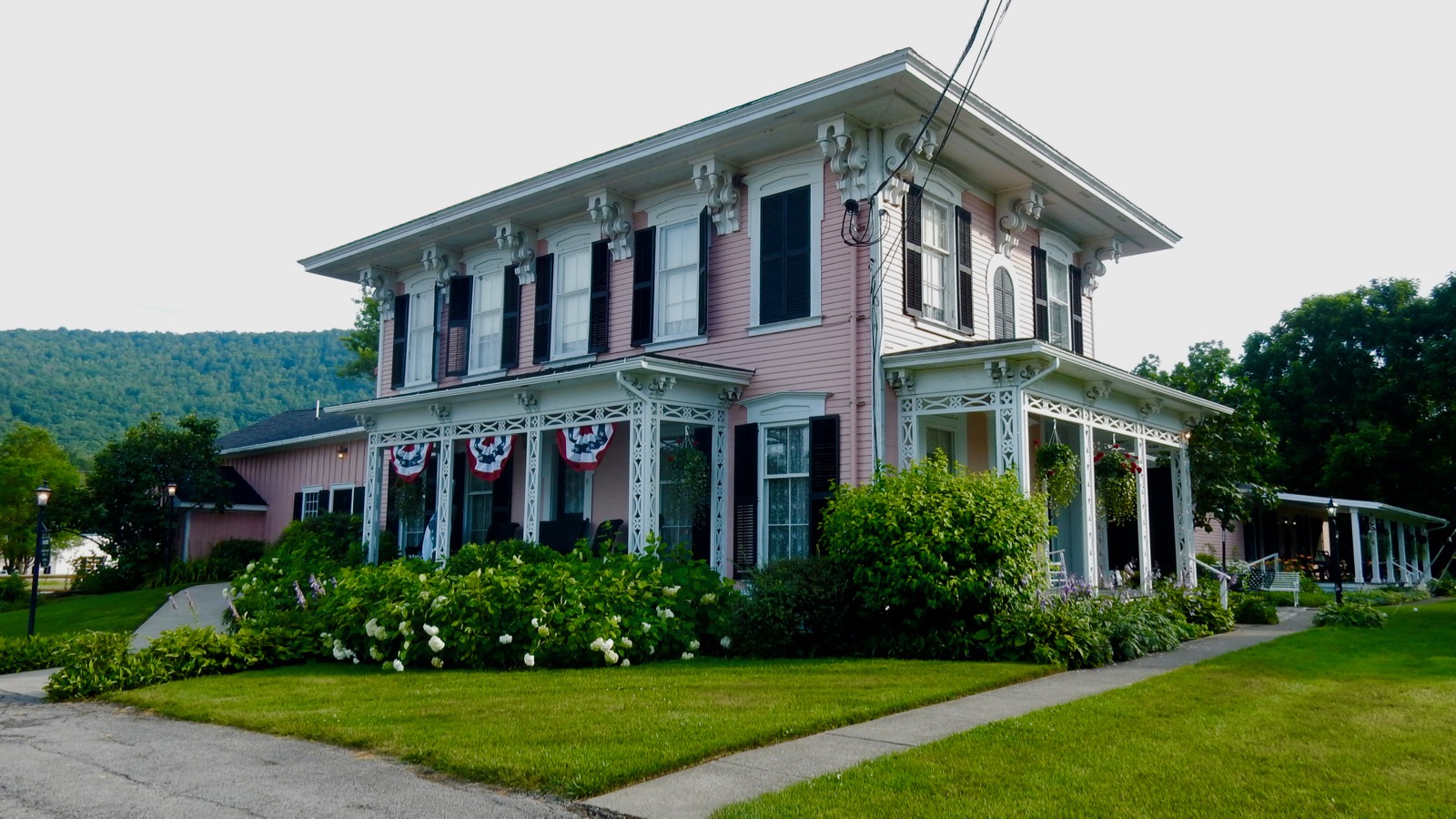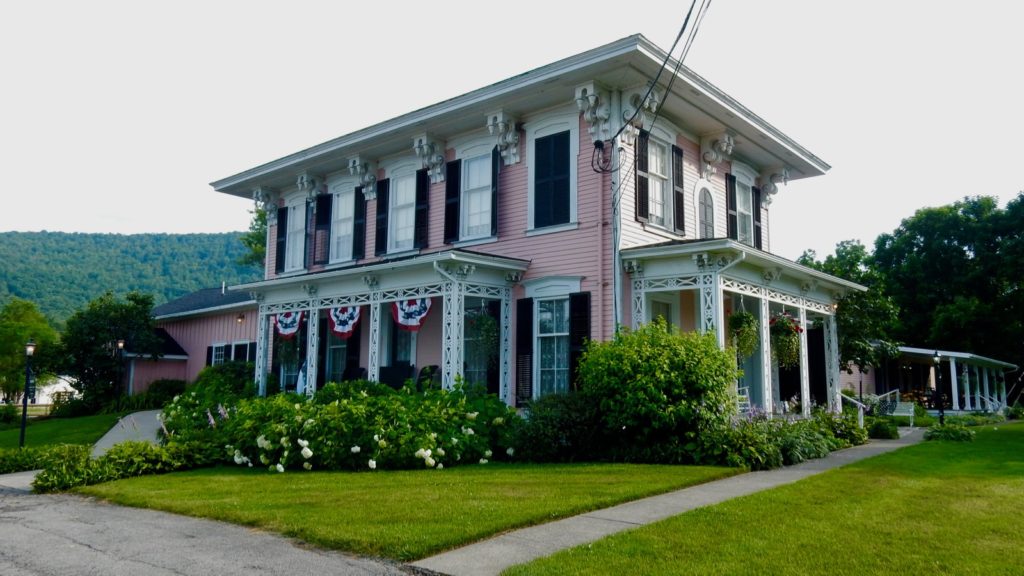 A prime example of a new class of Colonial-era lodging – you know, the roadside tavern with beds upstairs – the Pepto-pink Pleasant Valley Inn is a rather weird entry on our best romantic hotels in New York State list.
At the juncture of two busy streets several miles from the shores of Keuka Lake, it's easy to whiz past this place on your way to the wineries. But that would be a big mistake.
After a change of ownership and renovation of its four rooms in May '16, the chef/owned Pleasant Valley Inn is a gastronome's paradise with four modest but adorably decorated accommodations attached.
Romantic Hotels in Western NY
Ellwanger Estate, Rochester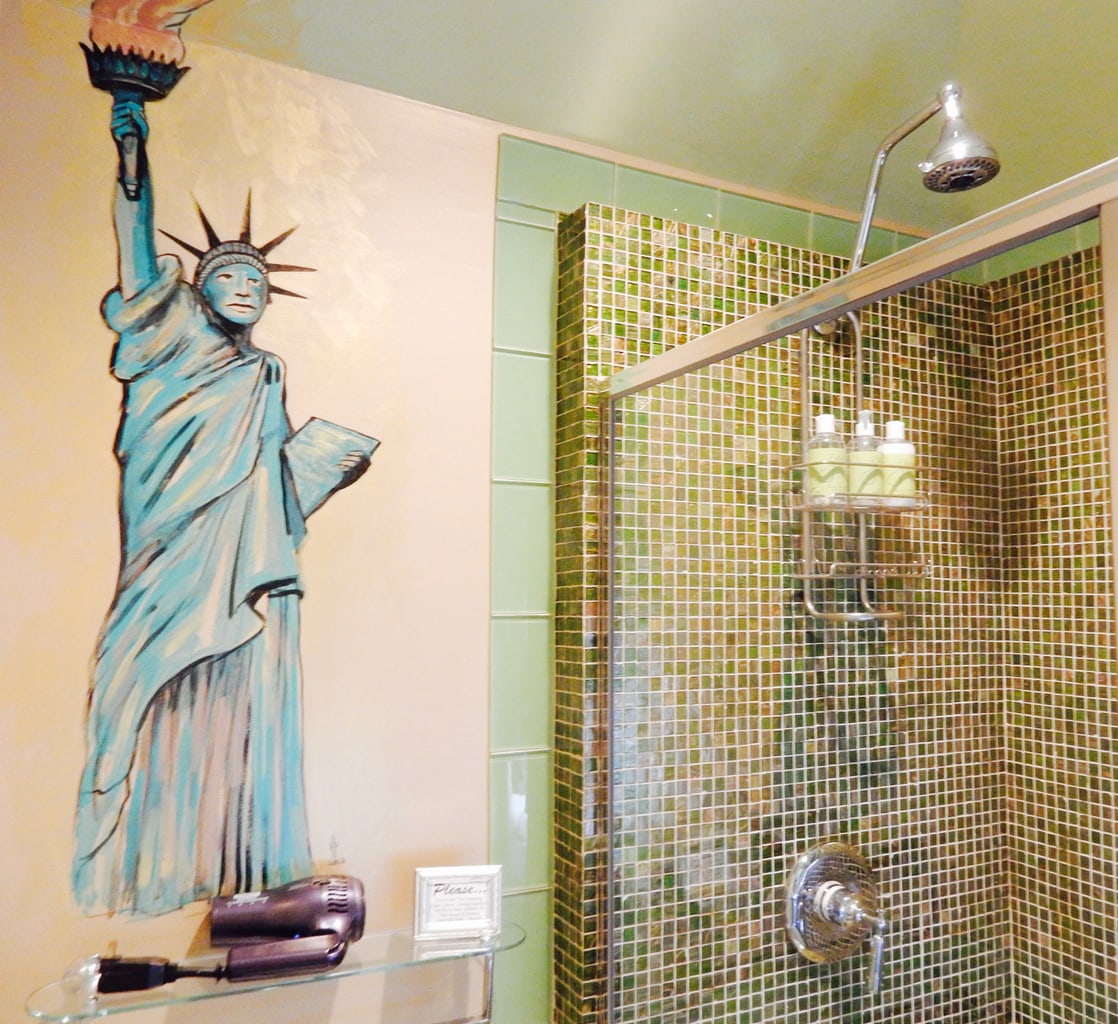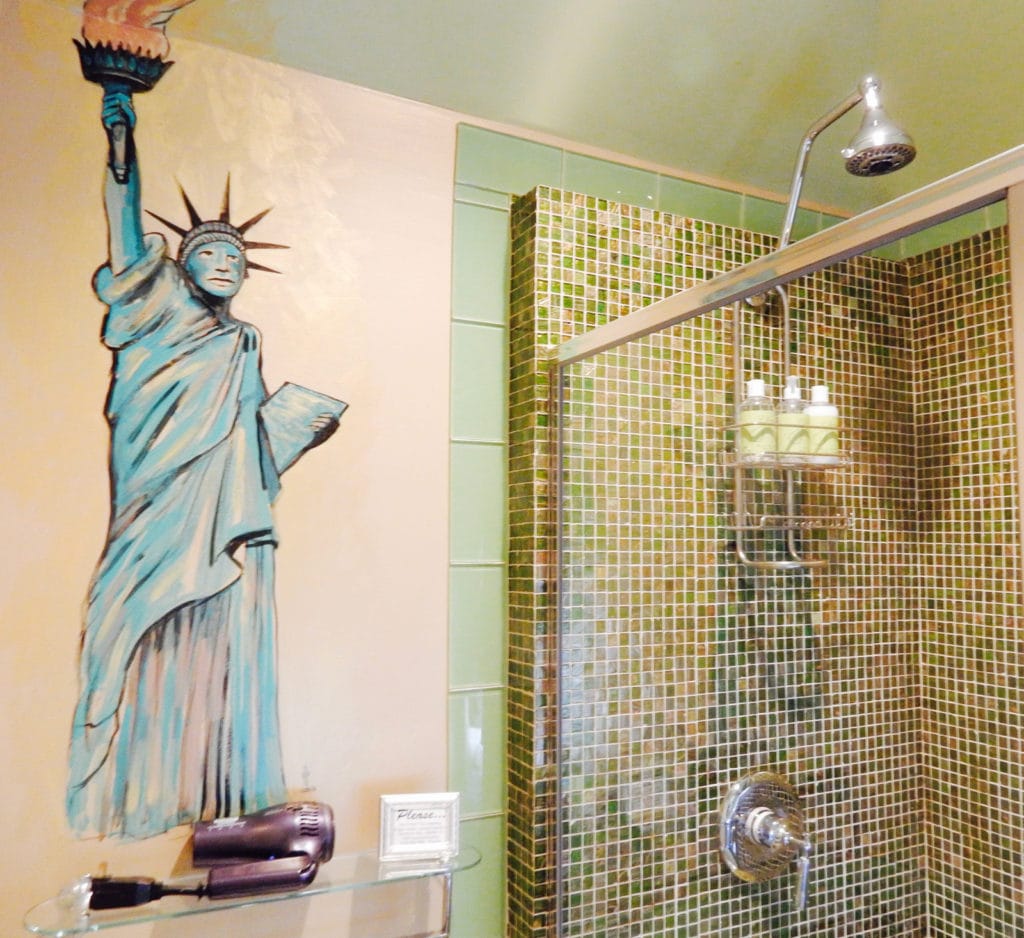 Staying at the Ellwanger Estate is an immersion into the wealthy lifestyle of the Victorian Age. The gardens, planted in the late 1800s by the estate owner, and horticulturist George Ellwanger (co-owner of Ellwanger and Barry Nurseries) are beautiful.
In 2008, as a "Design House" fundraiser for the Rochester Philharmonic Orchestra, guest rooms were used as fresh canvasses for innovative interior designers. So each offers a unique, posh, and sometimes theatrical experience.
A gourmet breakfast served on the screened-in porch overlooking the gardens, is an absolute treat.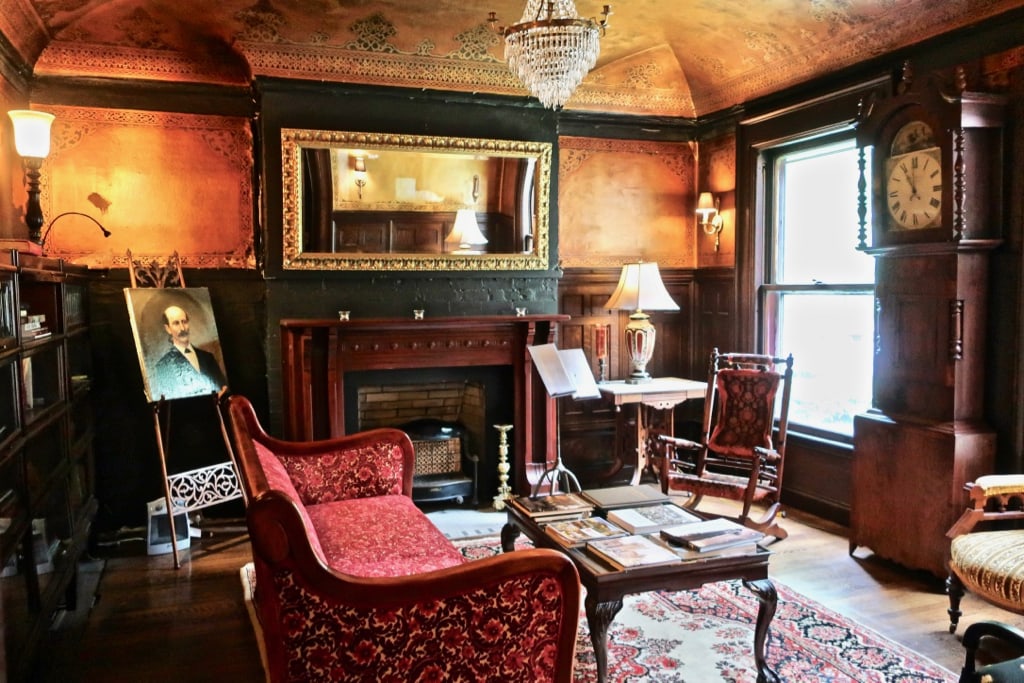 Inn Buffalo, Buffalo
Snuggle with your beloved in any of nine differently decorated suites at InnBuffalo, in, of course, "in Buffalo" NY.
Each room, bearing hallmarks of the Gilded Age, features elements of a bygone era – many untouched for the last 120 years. Some common rooms ooze man-cave charm – so much so , you can almost smell the cigars from days gone by.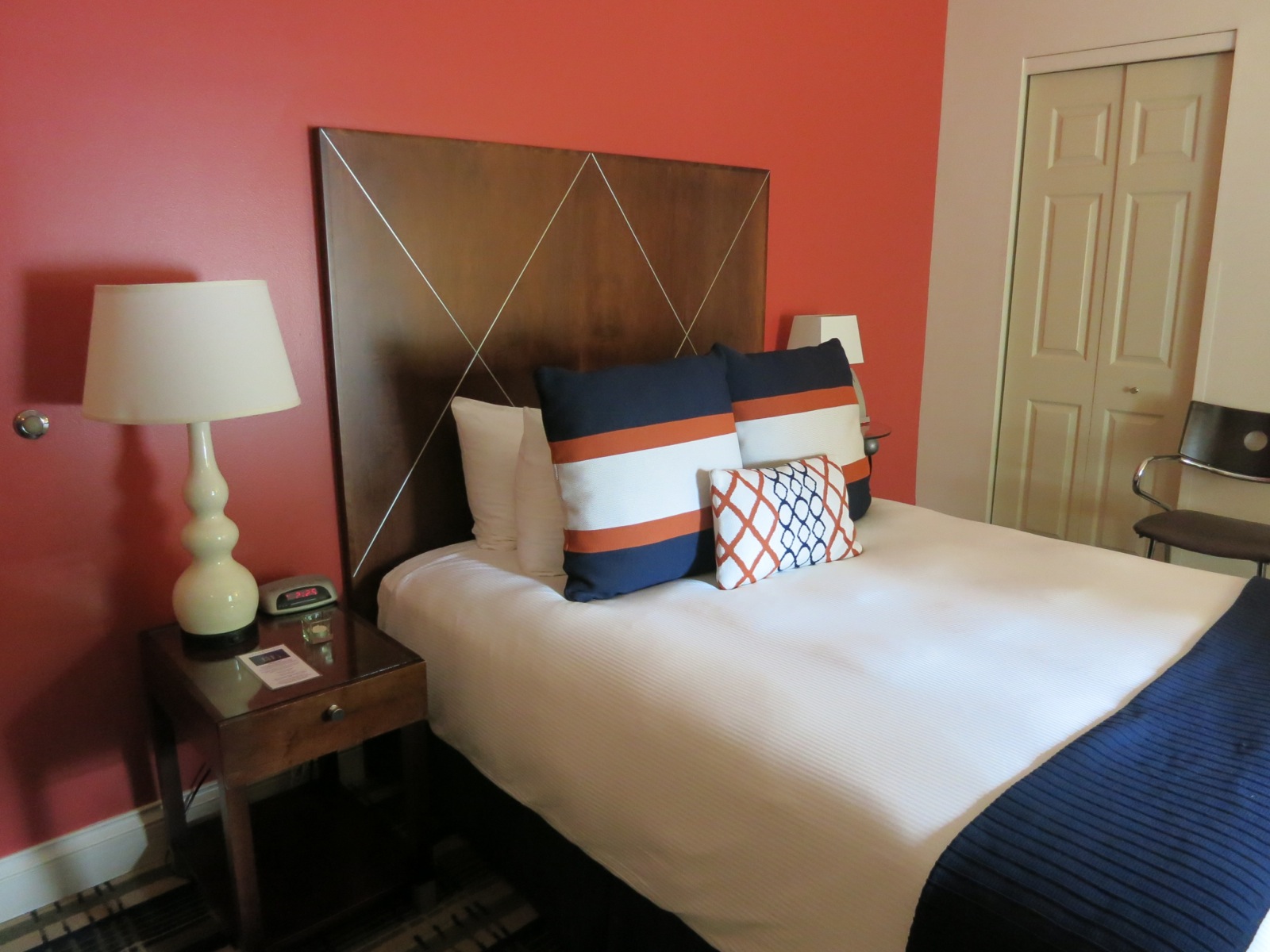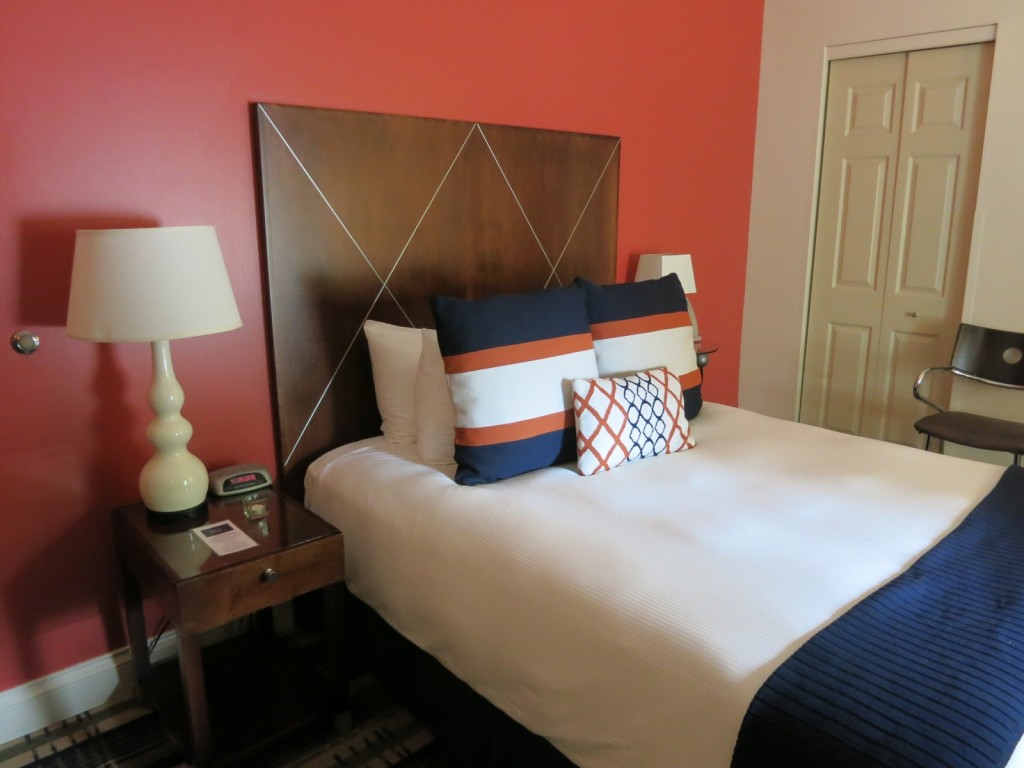 Mansion on Delaware, Buffalo
Built in 1869 as a home for a family of three (with 12 servants), the Mansion sat empty for 30 years before its debut as the 28-room 4 Diamond Mansion on Delaware Hotel in the early 'aughts.
And like that family of three, you'll be spoiled rotten by a bevy of butlers at your beck and call. Décor is stunning – a mash-up of moderns highlighting the original architecture to beautiful effect.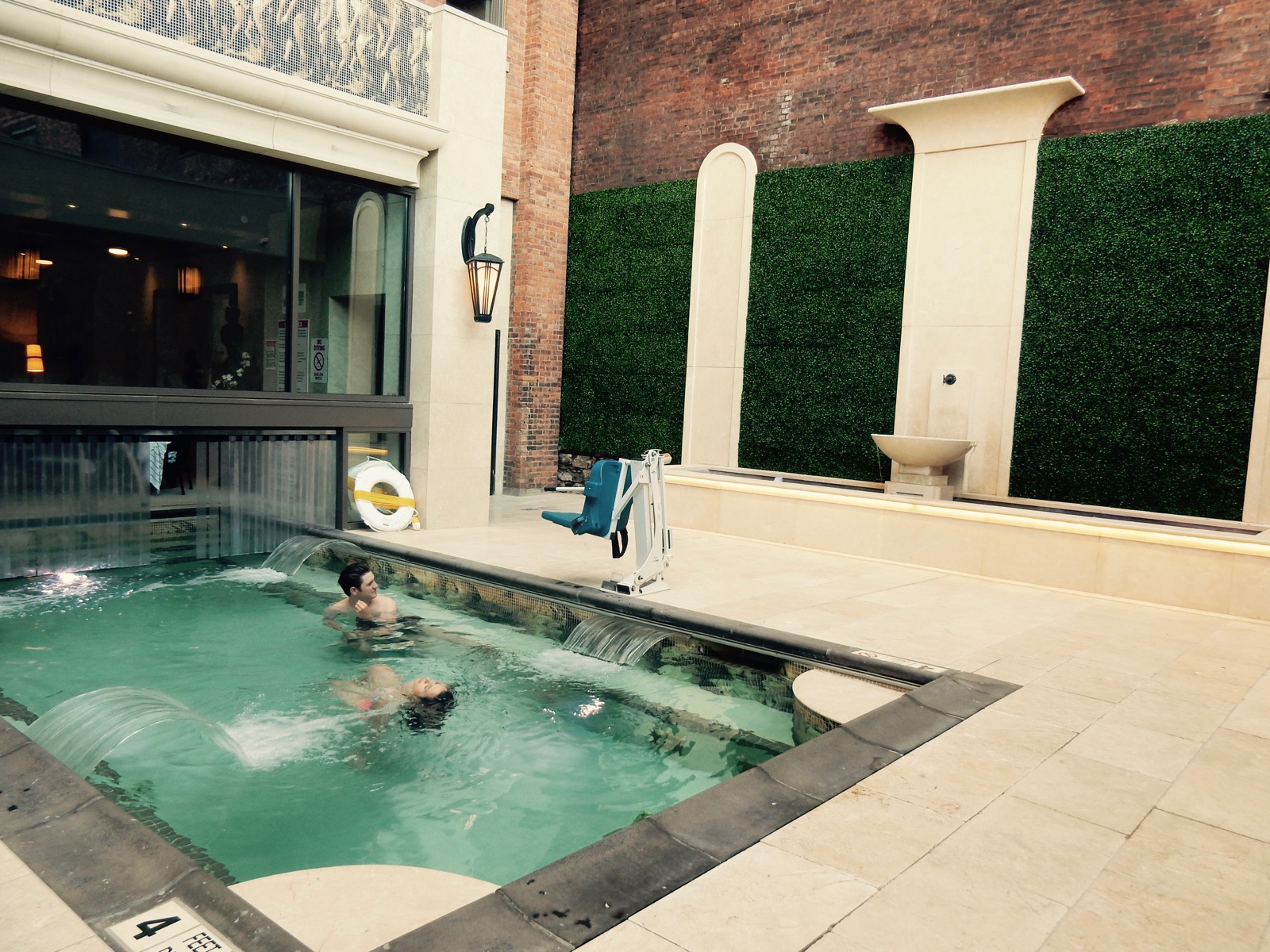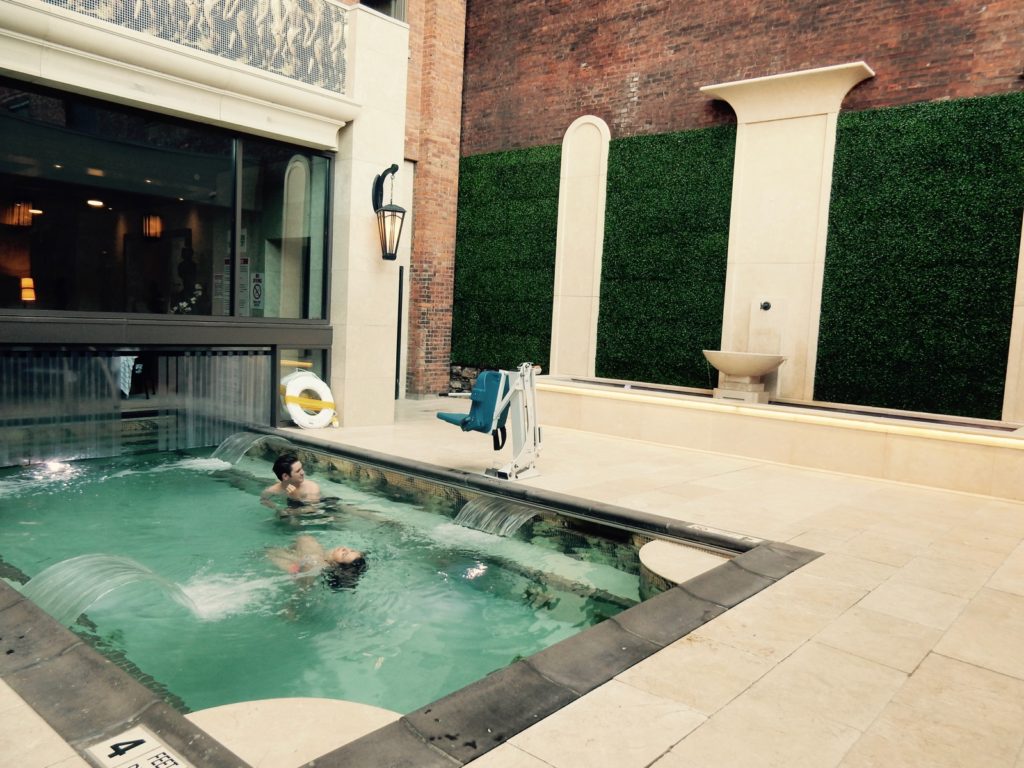 Alternately, book a room at the ultra funky Curtis Hotel. It's the one with a dipping pool right by the front door.
Athenaeum Hotel, Chautauqua Institution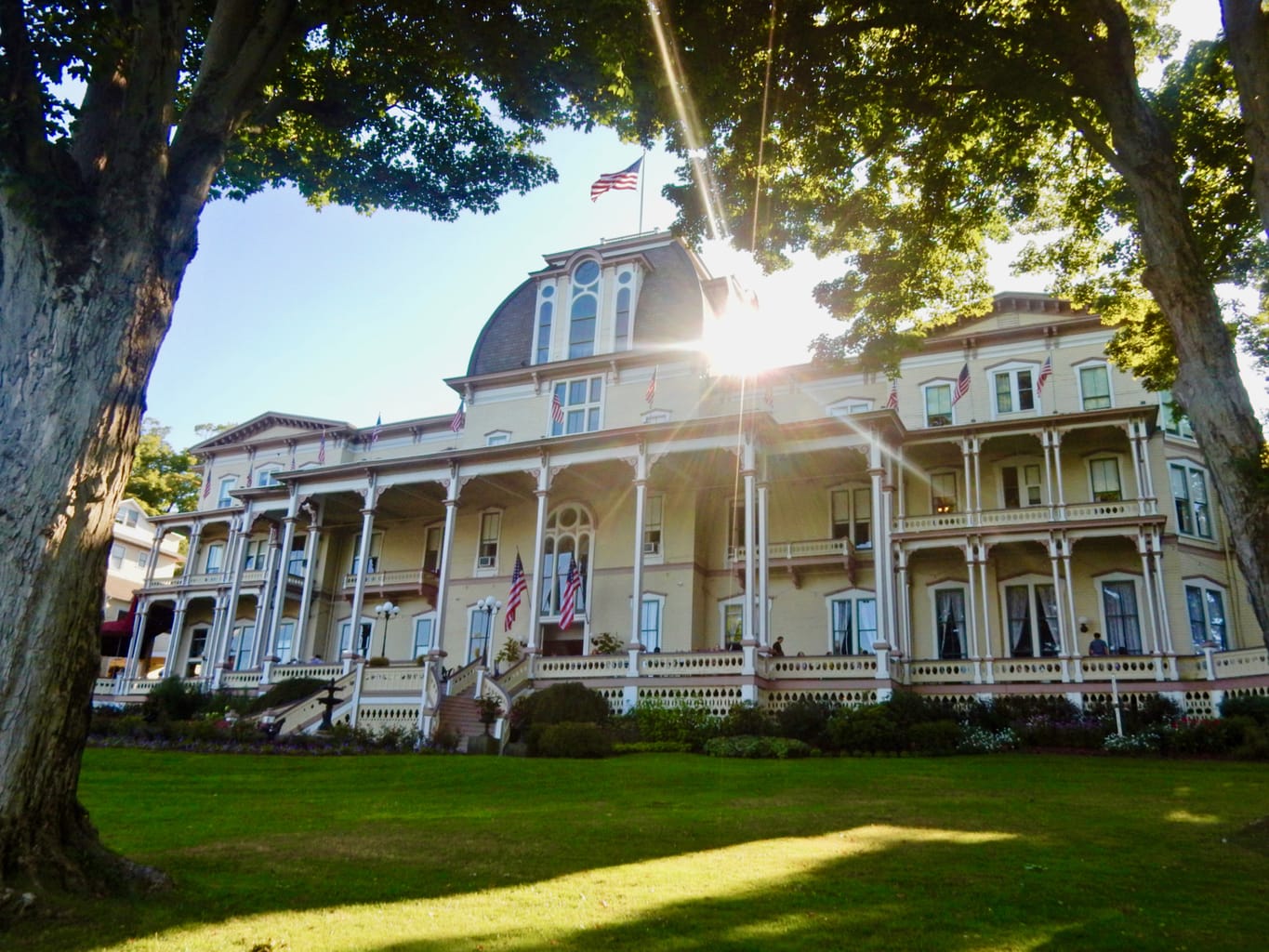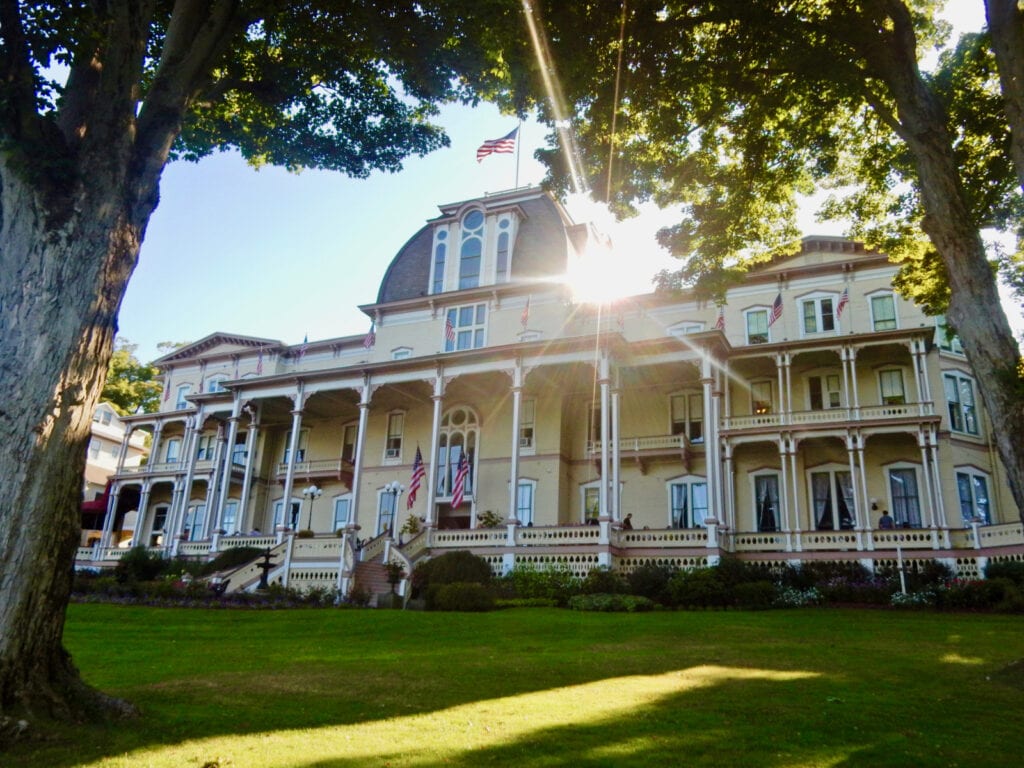 There is nothing artificial or contrived about the Athenaeum Hotel, on the shore of Lake Chautauqua, 1 ½ hours southwest of Buffalo. Although it is not luxe or plush, the Athenaeum, built in 1881, is historic and grand: making it one of the best places to stay on the grounds of the venerable Chautauqua Institution.
This summer camp for the intellectually curious (world events, history, politics, art, music) is romance plus for brainiacs in love.
More Romantic Hotels