Last Updated on March 1, 2023 by Editor
WHY GO: Are there enough things to do in Montclair NJ to round out a two or three day romantic getaway? After all, Montclair, about 12 miles to Manhattan as the crow flies, has been a commuter town since the late 1800's when trains ferried residents from six neighborhood stations to New York City or points west. It's not exactly known as a tourist hotspot.
However, Montclair IS known as the diverse, and welcoming suburban home to Stephen Colbert, Bobbi Brown, and other boldfaced names. So, is Montclair ("Clear Mountain" in French) interesting, fun, and trendy enough for couples to enjoy a few days of great food, boutique hotels, and engaging attractions?
Absolutely, yes! And we let you in on where to go, favorite restaurants, and coolest places to stay (one, celebrity-owned), to throttle up your romantic Montclair NJ getaway.
Curious about where Alexander Hamilton fell in love, and want to extend your trip? Morris County NJ is just half an hour away from Montclair.
For more places to rediscover each other in New Jersey, check out Getaway Mavens Top Romantic Getaways in NJ.
Things to Do in Montclair NJ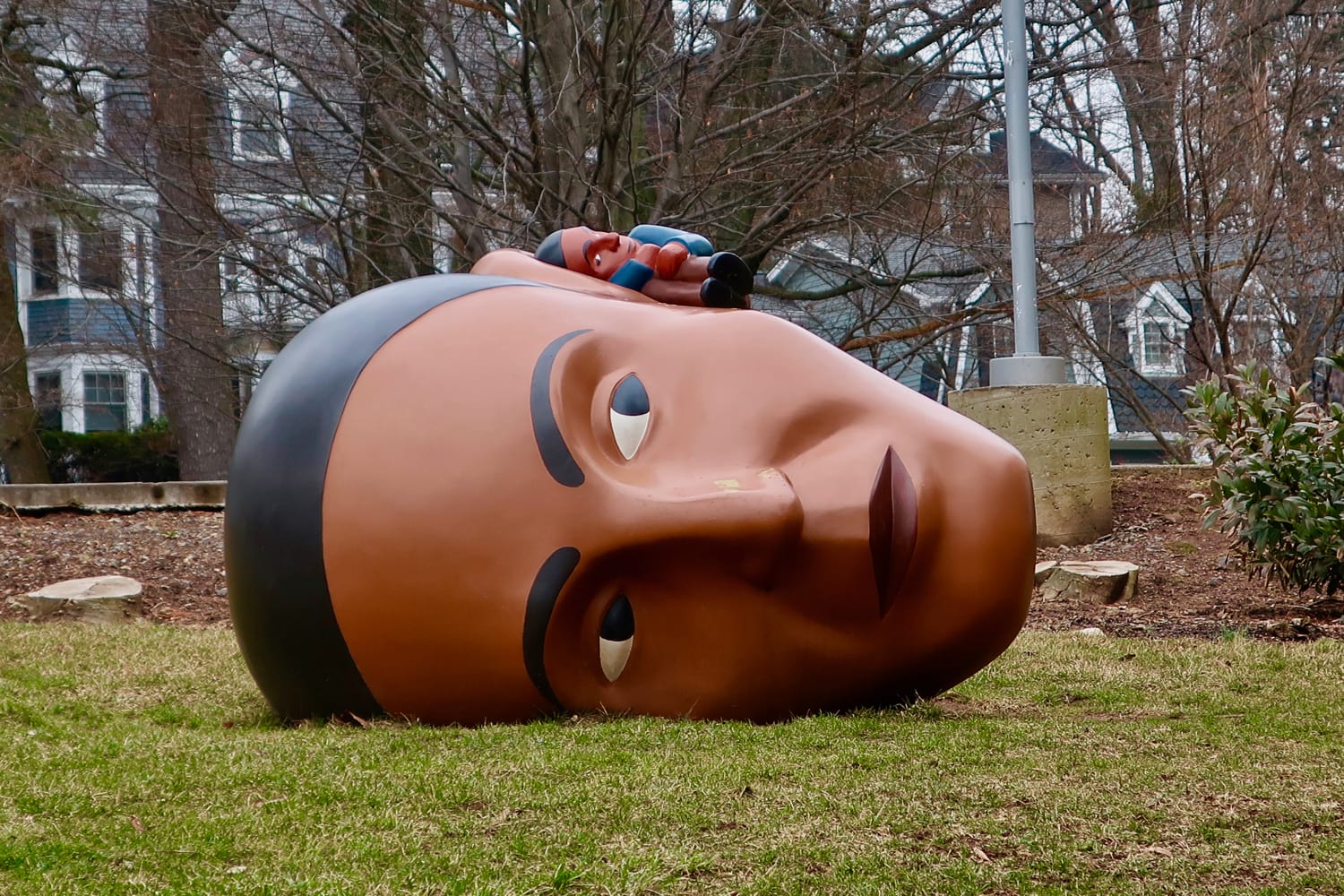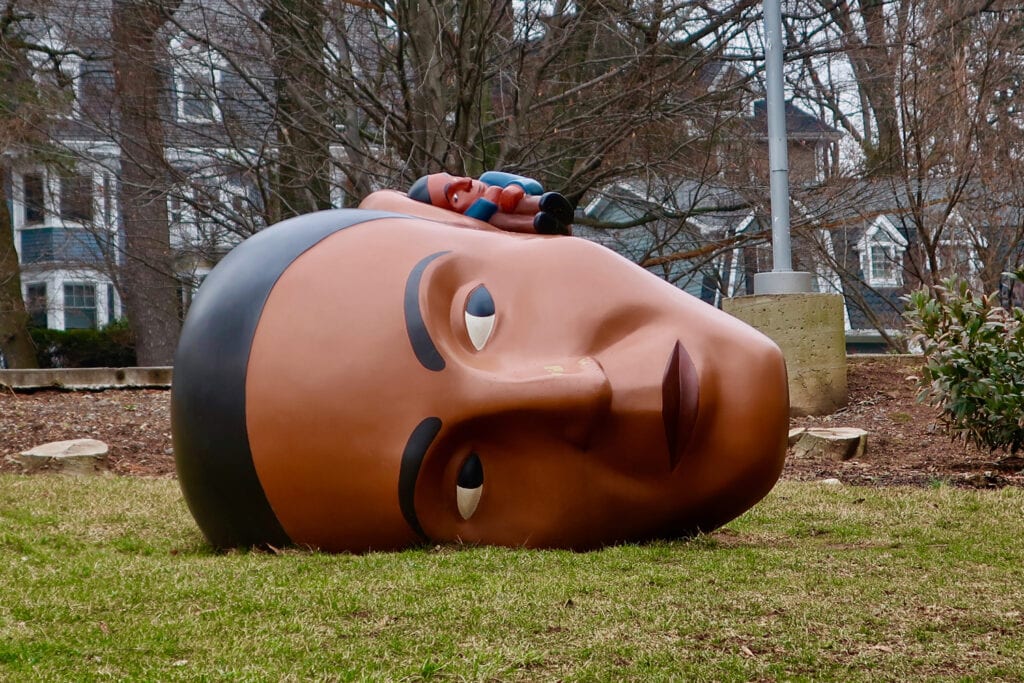 VISIT: Montclair Art Museum (MAM)
The Montclair Art Museum (MAM), a small institution worthy of big attention, takes important and crowd-pleasing risks in both its permanent and rotating exhibitions. Case in point: avant-garde artist, Vanessa German, who creates eye-popping, provocative, and powerful sculptures of the queer Black female activist experience from found objects.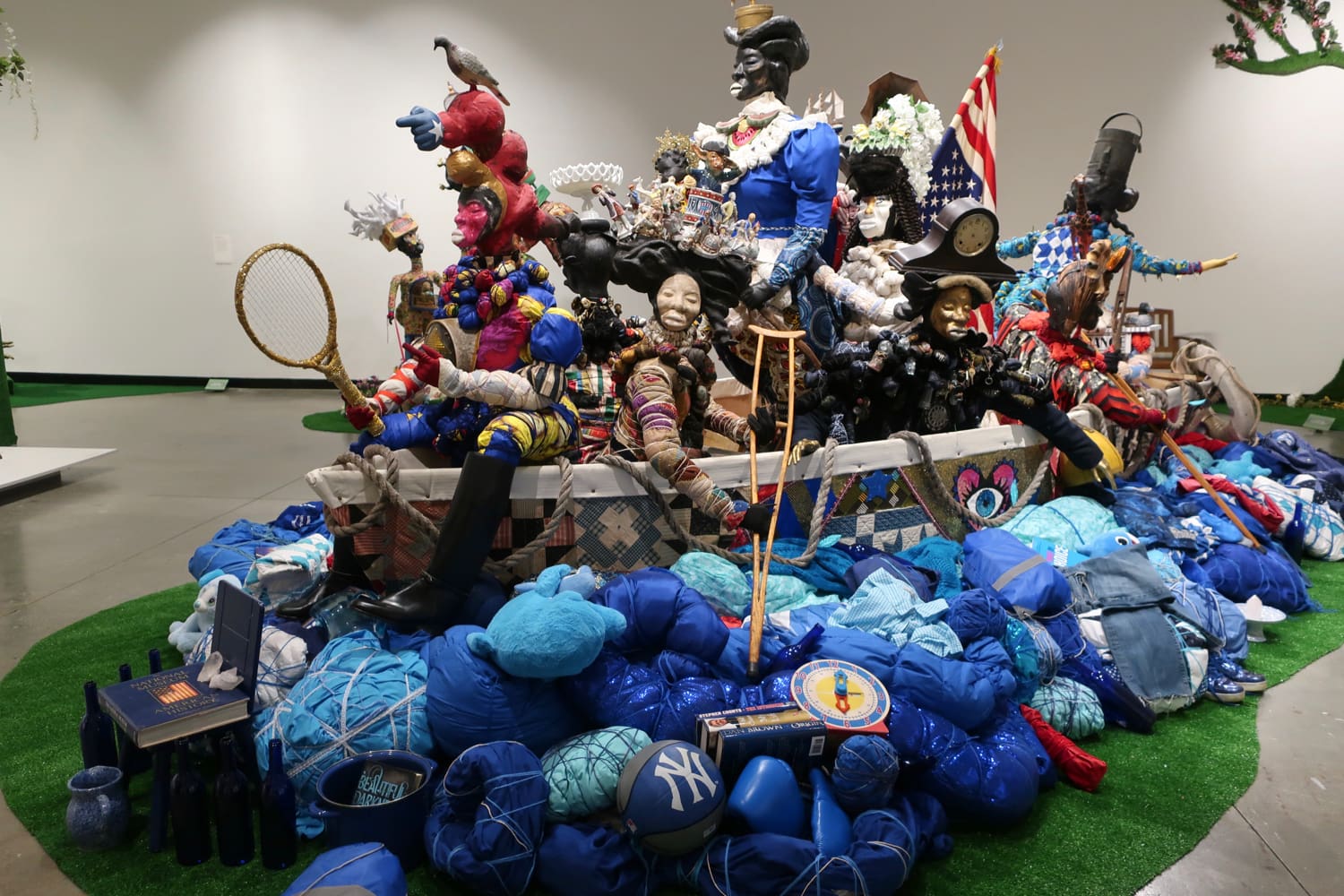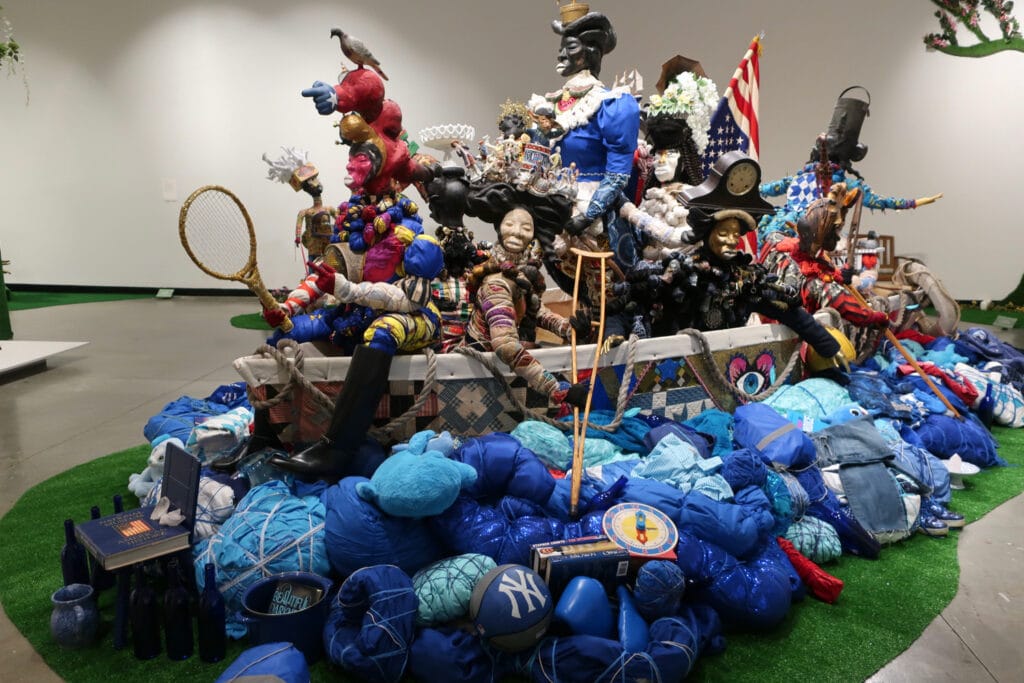 In addition, MAM is significant in the art world, as it houses important American and Native American art, and owns the largest collection of mid 1800's landscapes by Montclair artist George Inness. His dreamy paintings of the wilderness have been described as "Landscapes of the Imagination." In his thinking, Inness was all about the metaphysical side of nature, as he wrote of the dictates of art: "Knowledge must bow to spirit."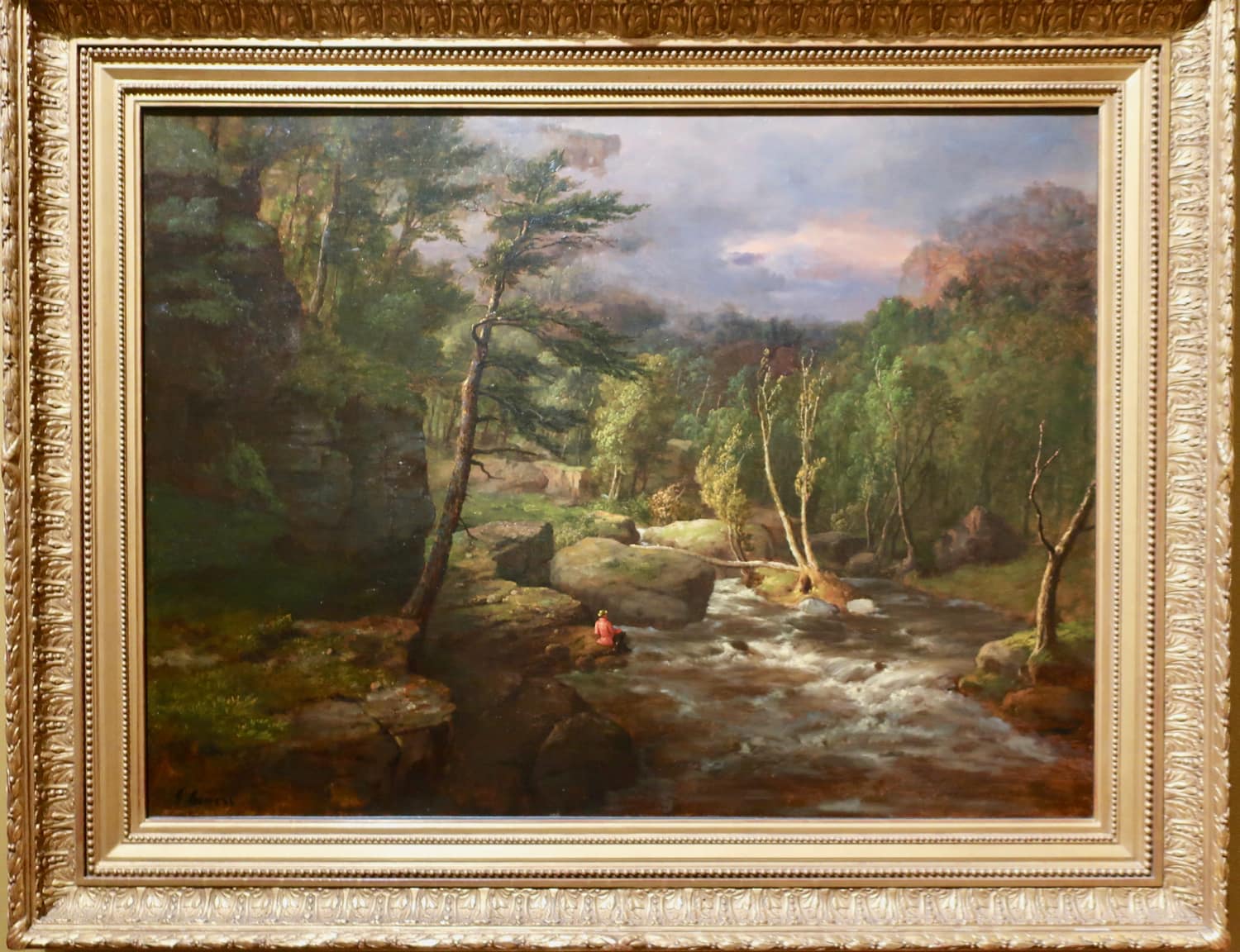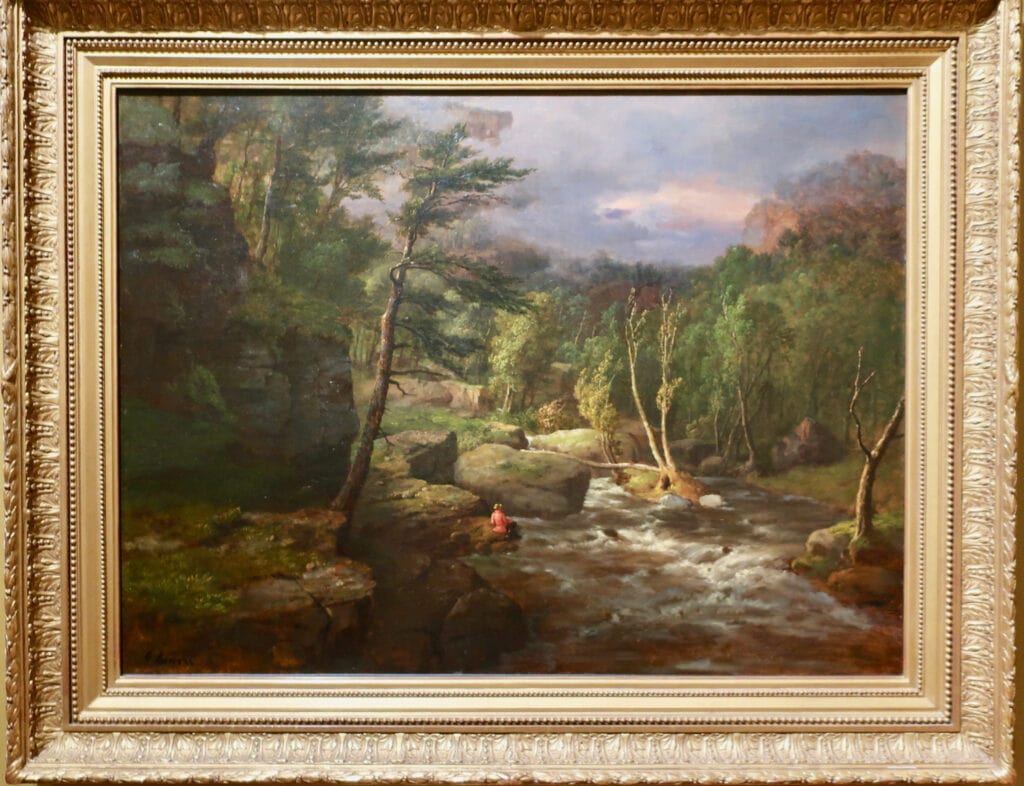 Montclair Art Museum excels in its well-curated permanent exhibit, anchored by a classical marble statue cloaked in a felted polyp-y cape. The site-specific cape and surrounding beaded skeletons are now part of the museum's collection.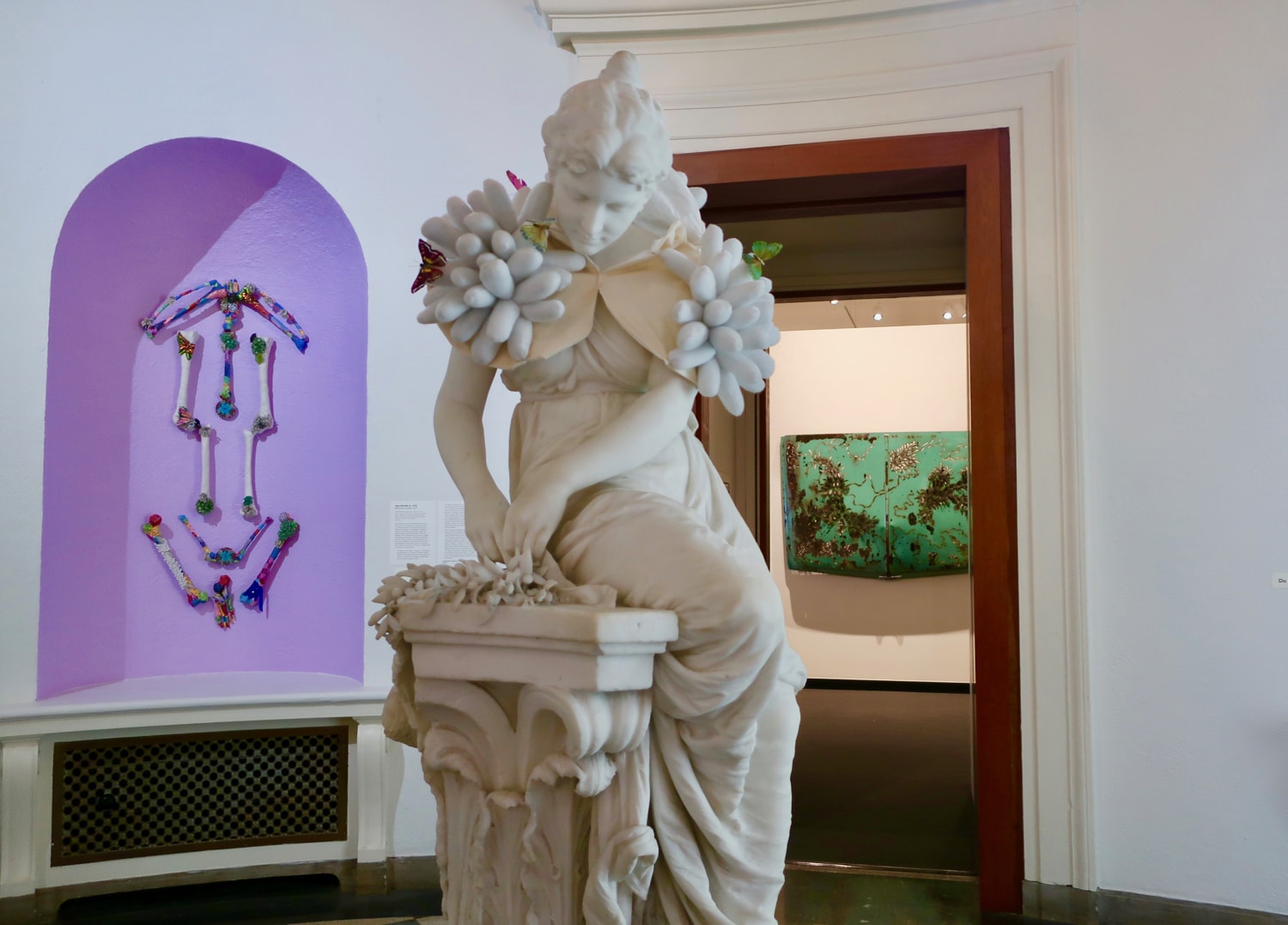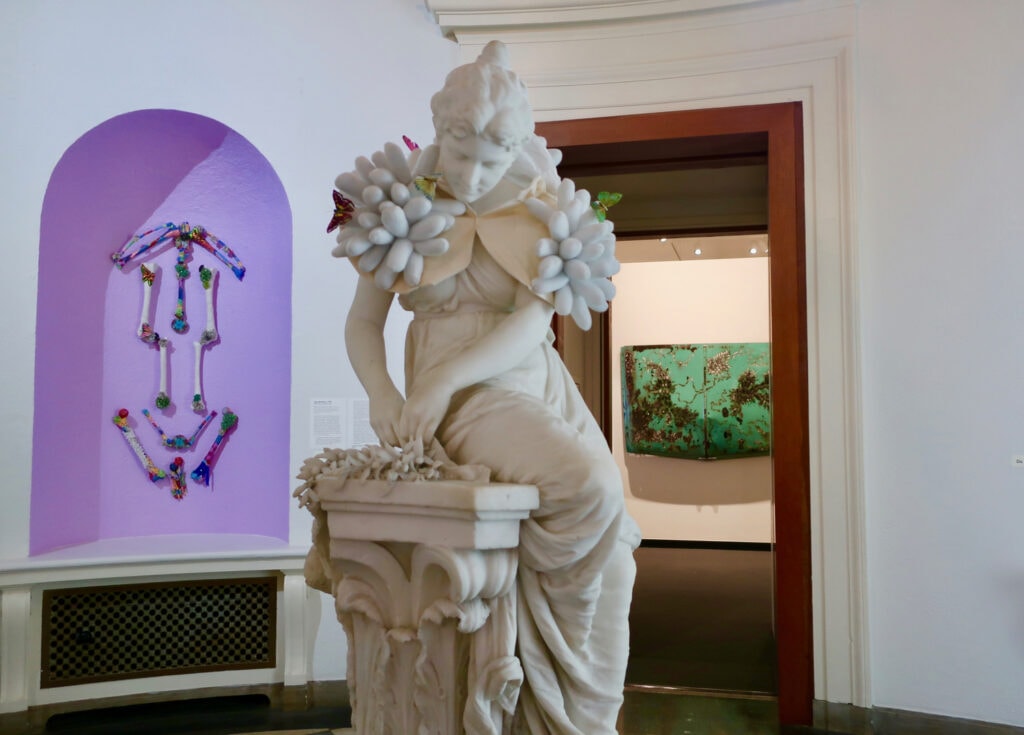 Depending on what's on rotation, you may encounter a black panther wall sculpture made completely of bullets, a print by Andy Warhol, or an enhanced photo self portrait of Ayana Jackson: not a boring dud among them.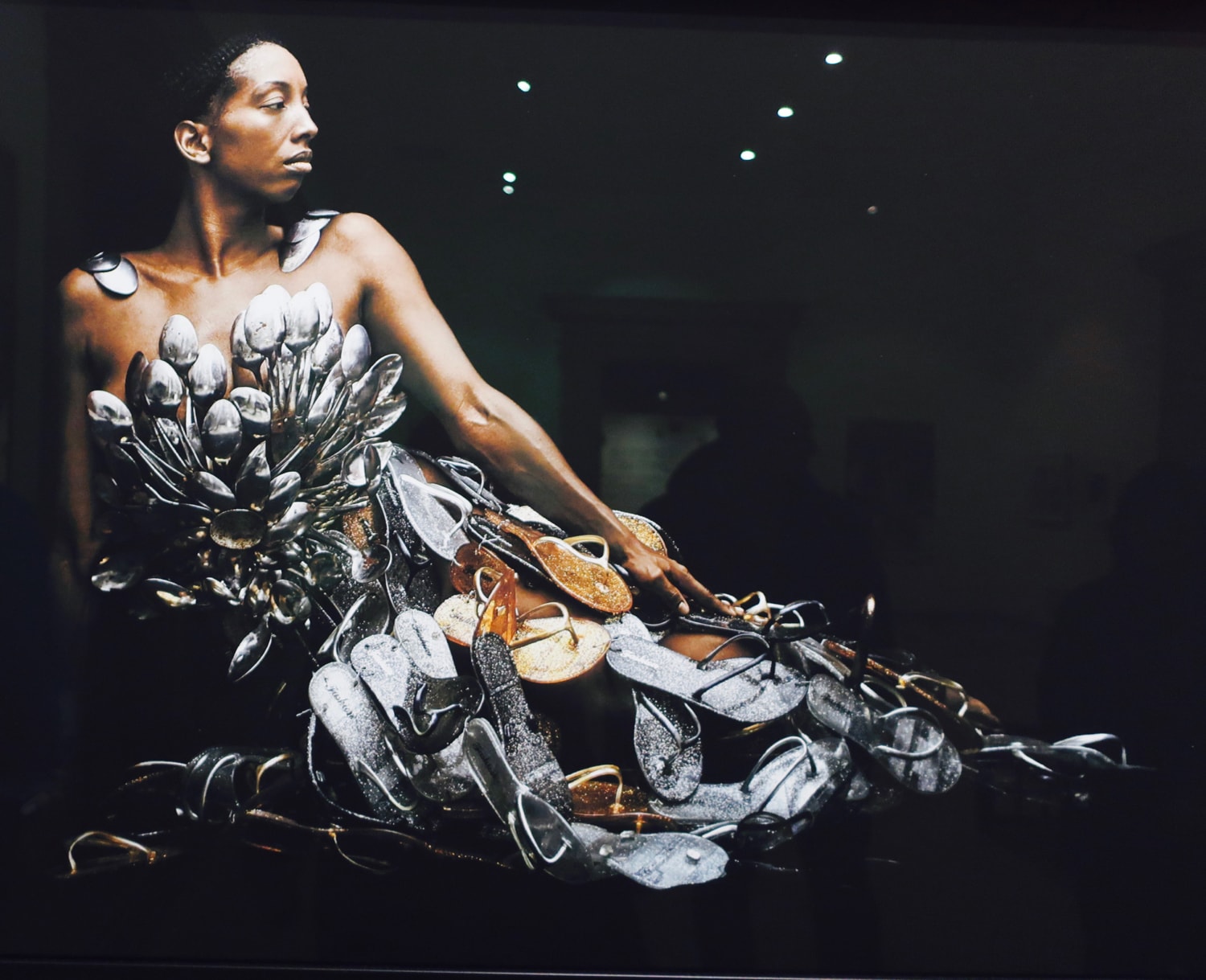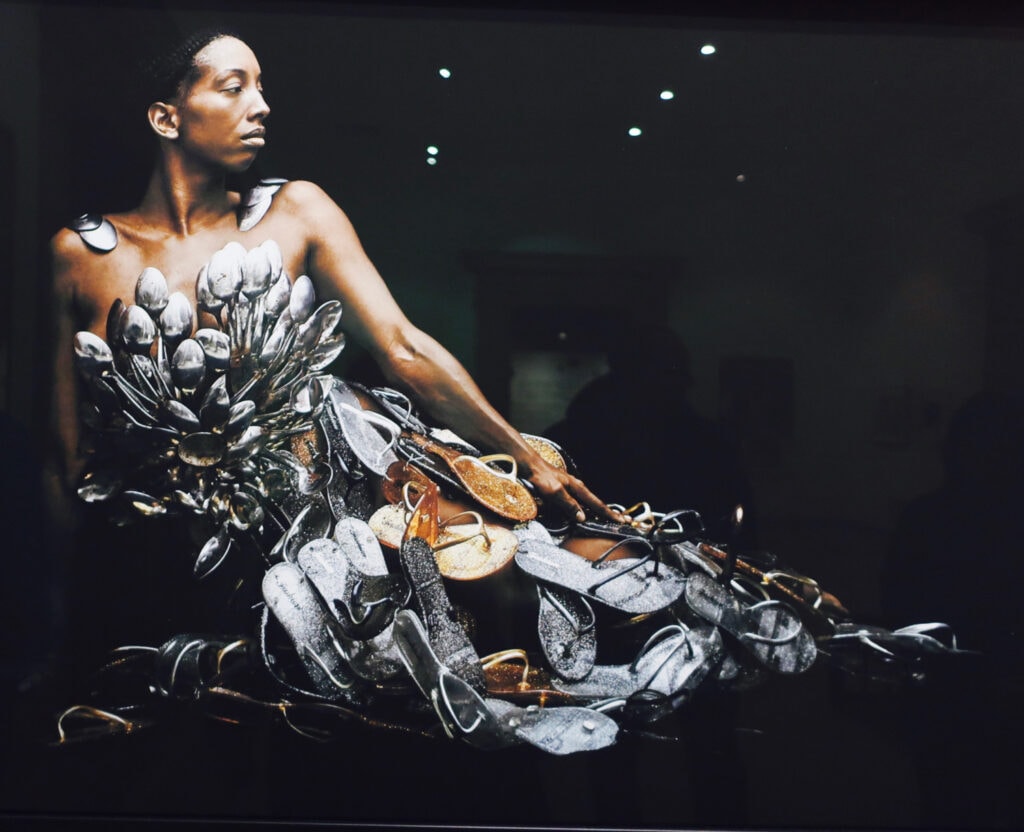 In addition, MAM offers sketching classes in the galleries and a family scavenger hunt (with admission) on Fridays, a third floor drop-in "learning lab," tied to the current temporary exhibit, and free entry on First Thursday of every month. Stay to enjoy a cup of coffee and light lunch at the newly opened Cornerstone Café, just off the lobby.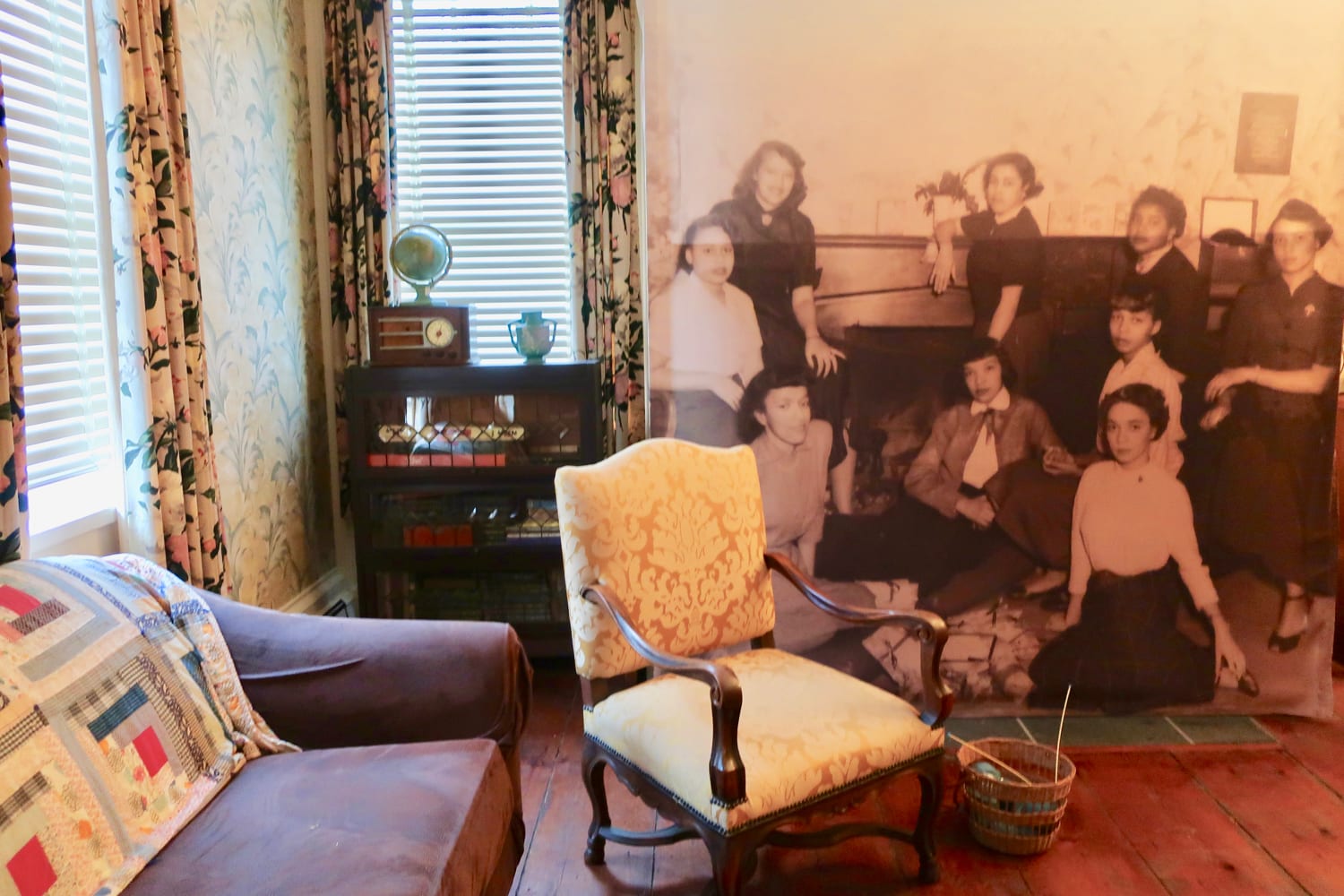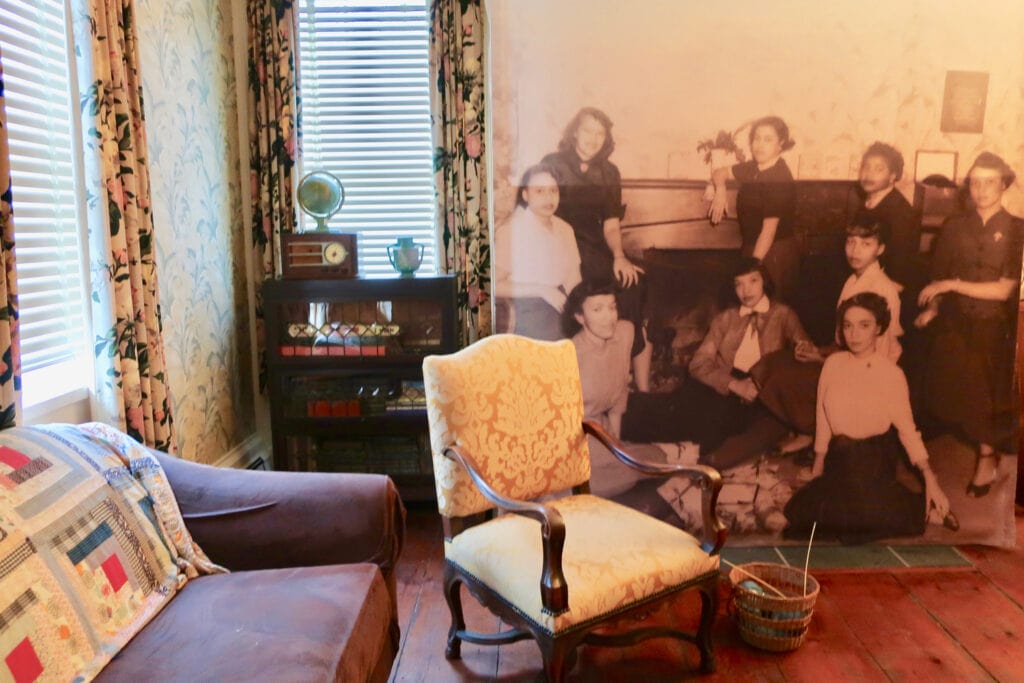 TOUR: Montclair History Center
Be sure to spend some time in the multi-building Montclair History Center and Community Garden. It's quite the niche experience – and proof positive that Montclair NJ was open to a diverse community from early on.
The museum complex is comprised of the Crane House turned YWCA; the Nathanial Crane House, now a gift shop; the 1894 Clark House (archives and offices); and Montclair Community Farm, which raises chickens and grows produce on this site for residents in need of affordable "real food" access.
Tour the Crane House and Historic YWCA
A tour of the Crane House and Historic YWCA chronicles life in Montclair through those who interacted with it through the years. As you move from room to room, each representing a different time period, your understanding of who lived, played, worked, and cared about the legacy of this building grows deeper.
Israel Crane, who gleaned part of his wealth from ownership of private toll roads, built his home in 1796, which remained in the Crane family for over 100 years.
The first room represents the Parlor from 1797-1840 when Israel and his children lived here. Israel Crane increased his wealth using the free labor of enslaved men and women in his household: quite ironic, given that his home eventually became a YWCA, established to improve the lives of African American women and girls.
The dining room reflects the decades of 1840-1900, when "Cranetown," renamed Montclair, underwent a population boom, tied to the building of the railroad. (According to the census, Montclair grew from 5,147 residents in 1880 to 42,017 in 1930). All this post-Civil War, Industrial Age development required a huge workforce. So, newly free Blacks came up from the South. Irish, Italian and other European workers arrived from overseas.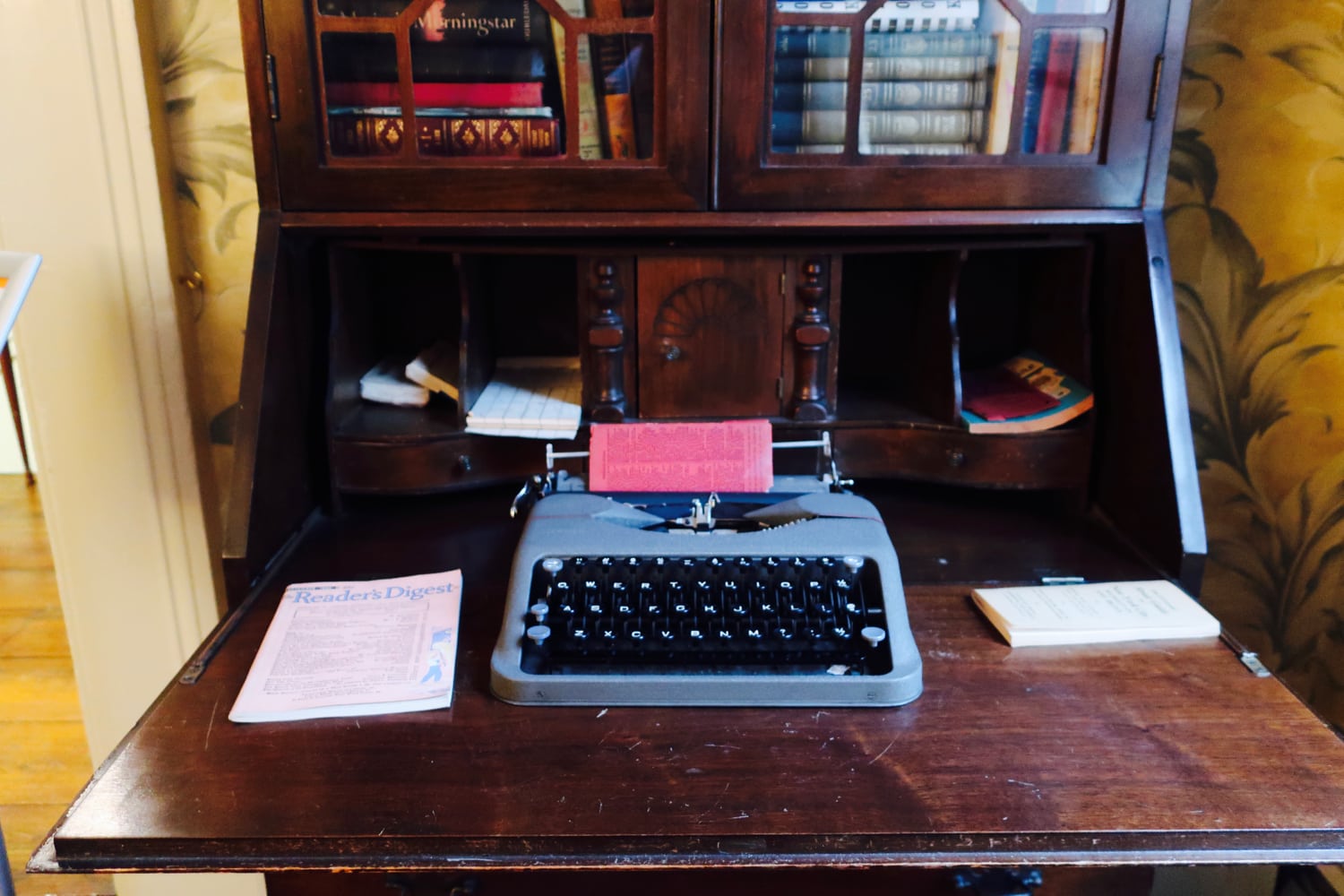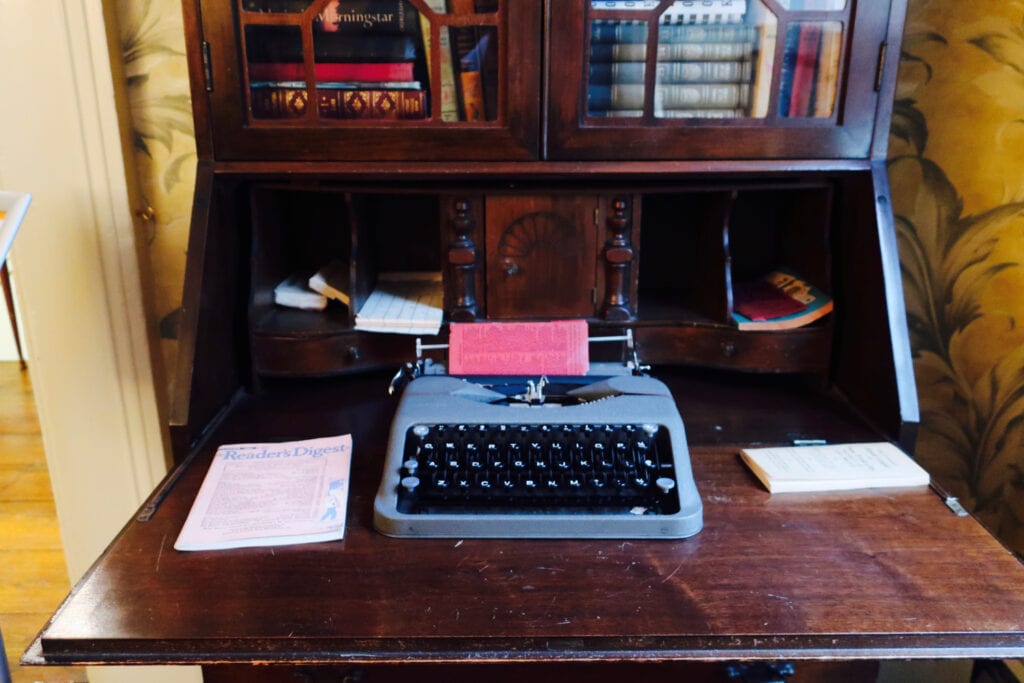 From Home to YWCA
By the early 1900's, the Crane home stood a block from the Lackawanna Railroad Station. It's location made it perfect gathering place for the influx of African American women who came by train to find jobs. So, in 1912, Alice Hoee Foster led a local African American community effort to purchase the building and establish it as headquarters for the local YWCA.
From 1920-1940, the home shifted into the "YWCA Era", when the building saw 10-15 borders at a time. It also served as a lively work training school and Social Club.
You can handle everything in the Club Room – fashioned as a 1940-1965 "hang out" area, with comfy couch, Ebony and Jet Magazines on a cocktail table, and piano. There's a Singer Sewing Machine, and a gizmo that today's computer savvy school children marvel at – and can actually use: a typewriter. The Y eventually donated the home to the newly established Historical Society, and was moved to this location in 1965.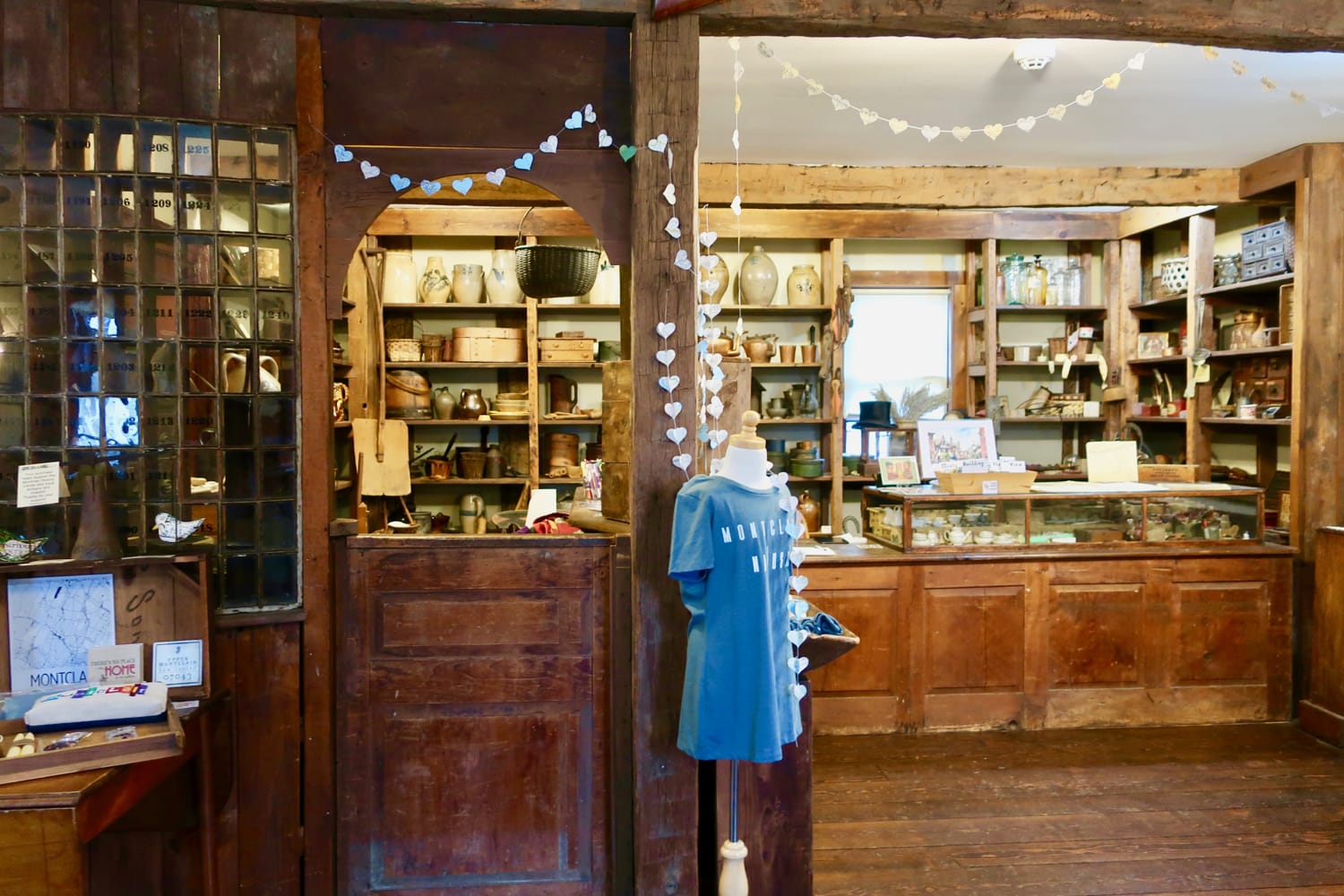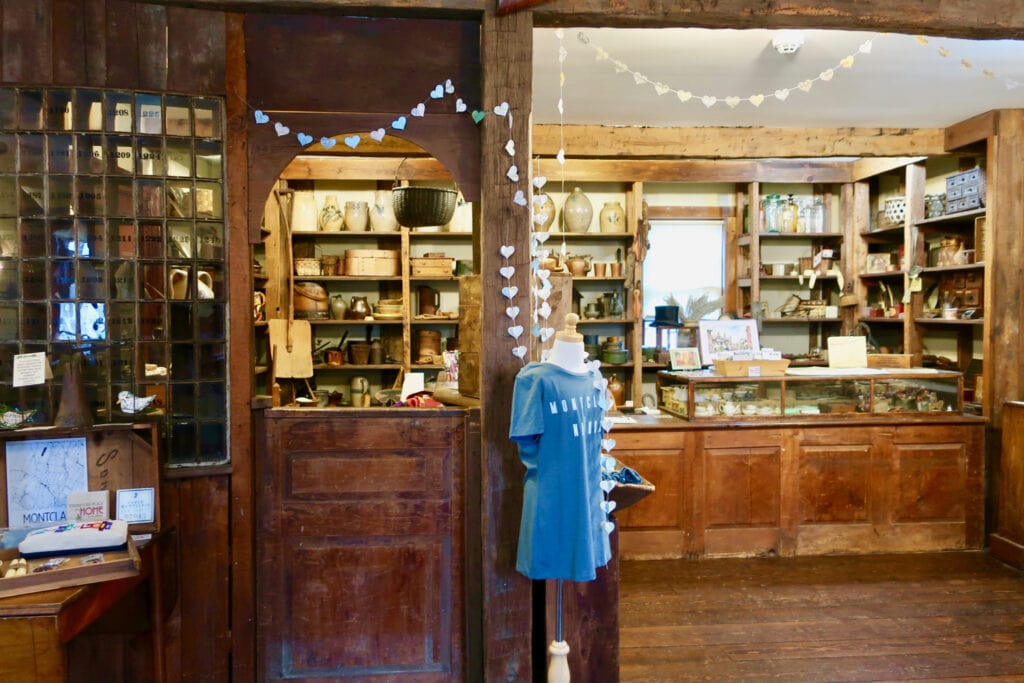 Buy A Cool Local Craft in the Nathaniel Crane House
Before leaving, stop into the 1818 Nathaniel Crane House. It's both a defunct 1800's General Store, and an operating Museum Store, selling cool locally made products and crafts. Find antique Montclair postcards, t-shirts, and honey from bees on the property.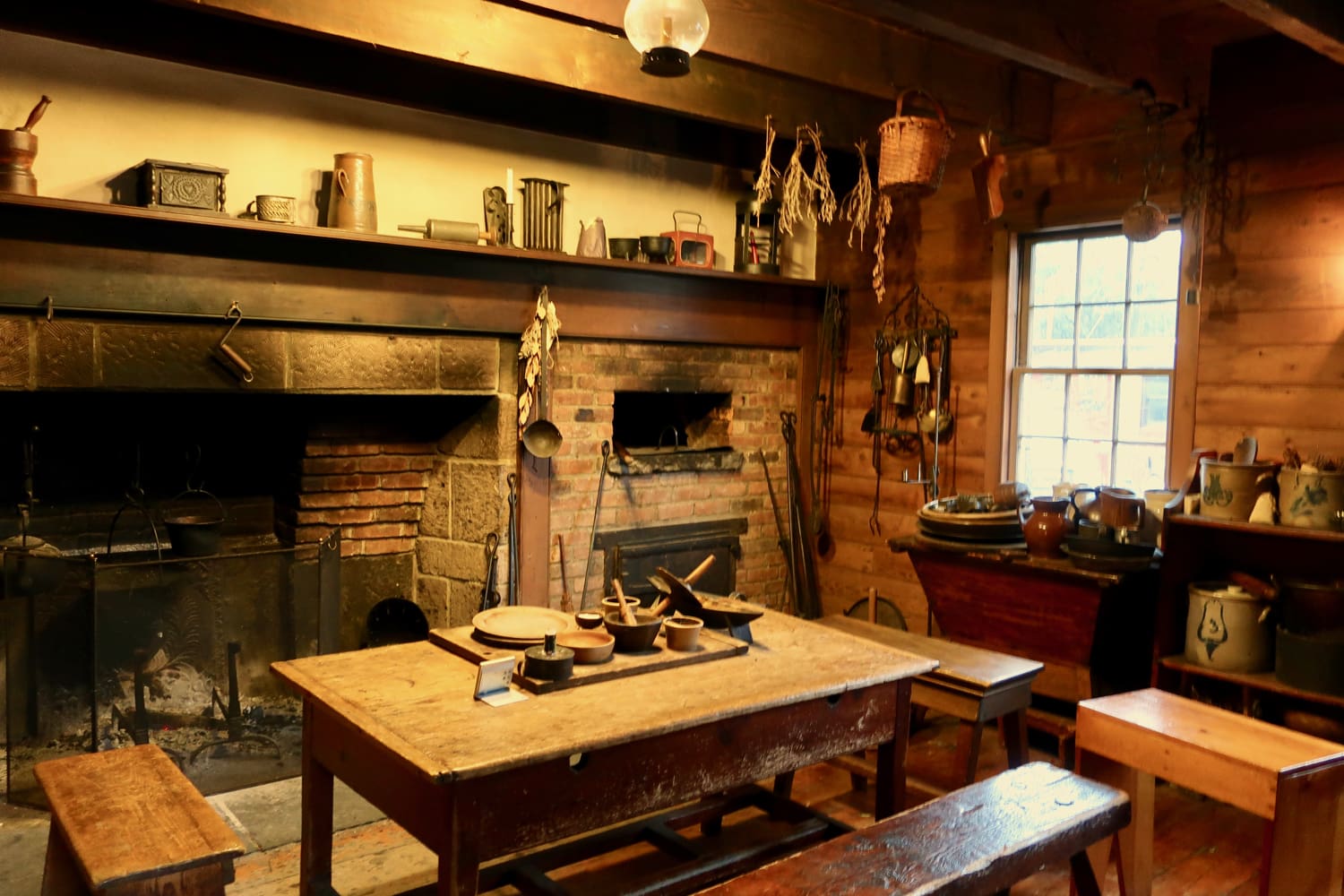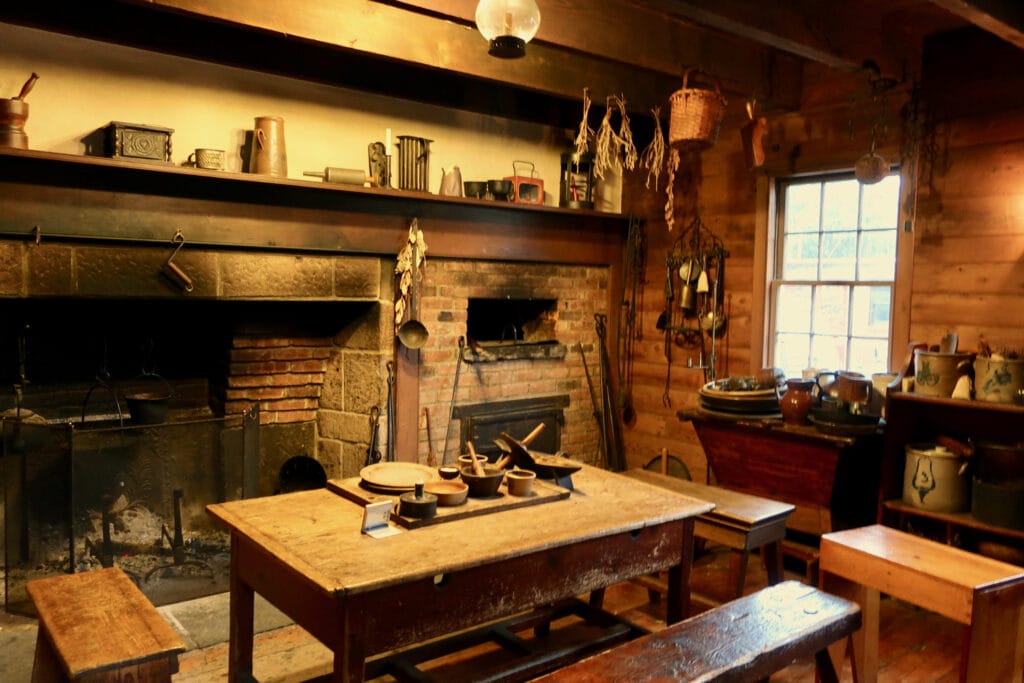 For those looking for a hands on, immersive, stomach pleasing, and rather romantic experience, book a private 3-4 hour cooking class in the Hearth Kitchen ($800 for up to 8 people). Although not original, the hearth kitchen is a recreation of the one in the house before being moved, and does have some original stonework and tools.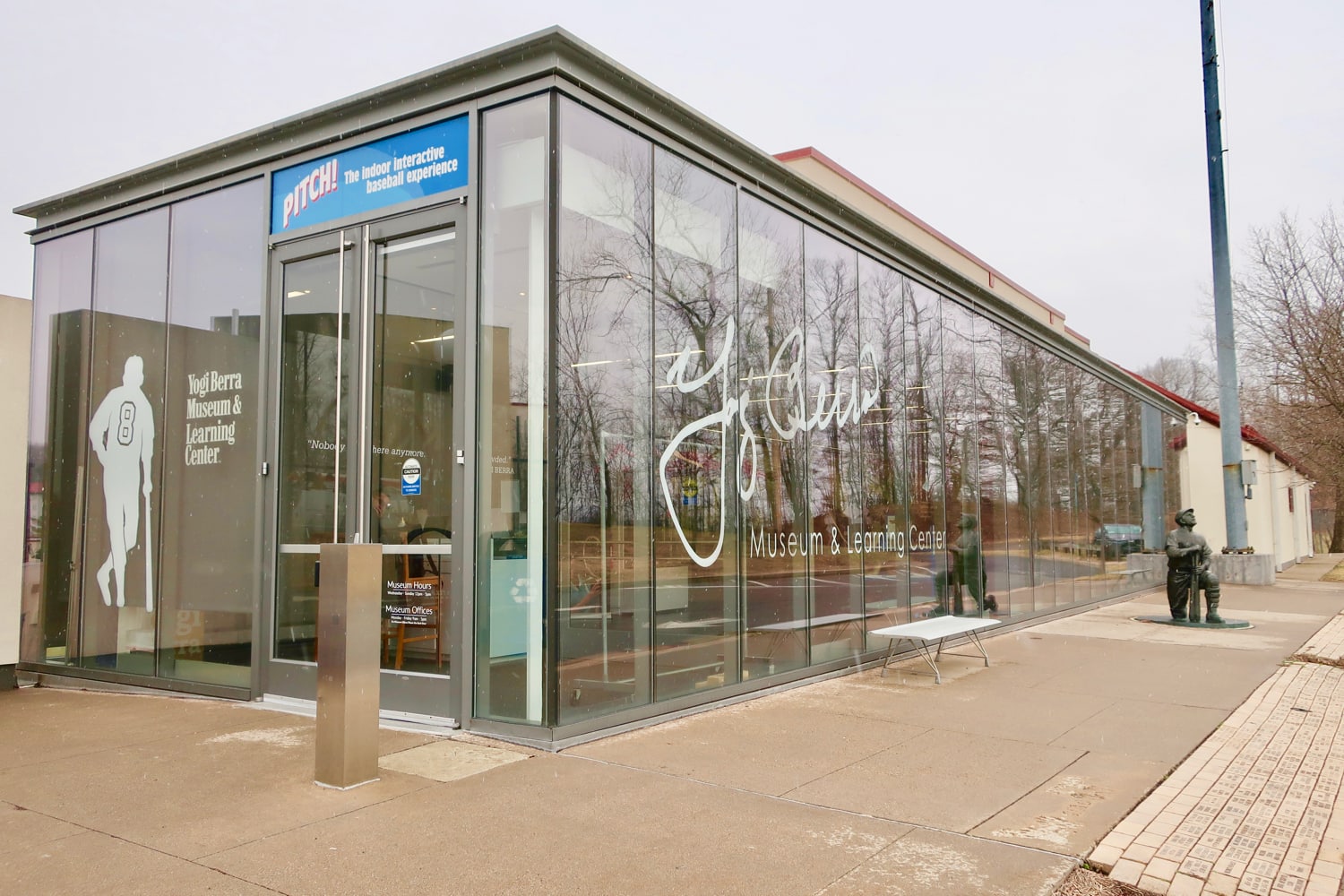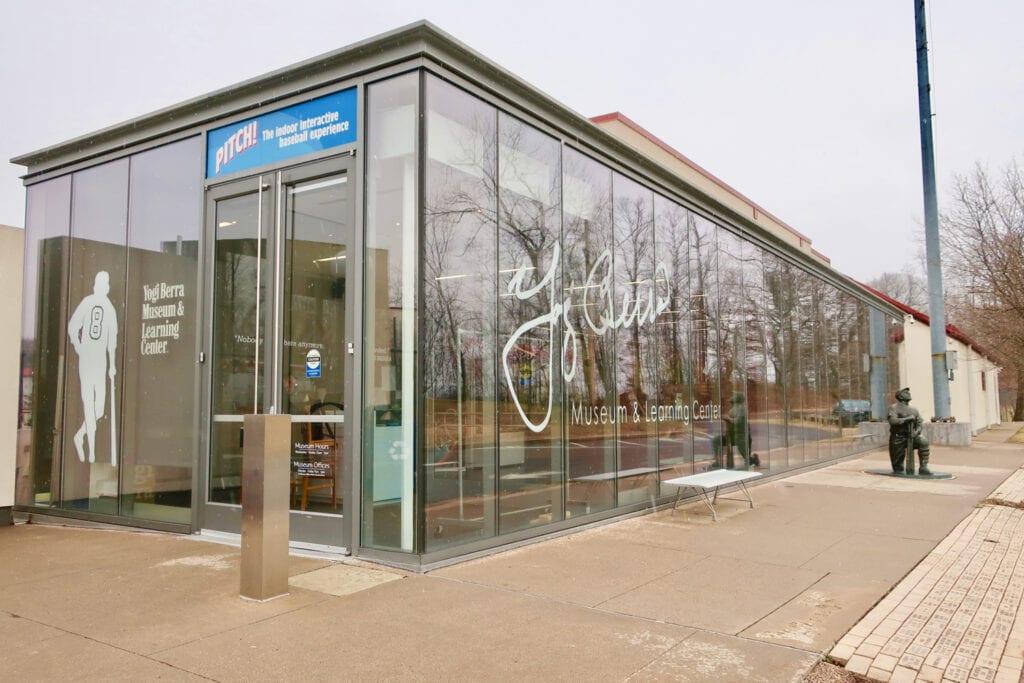 VISIT: Yogi Berra Museum and Learning Center on Montclair State University Campus
This gem of a museum – dedicated to Yogi Berra – is a must-see for anyone interested in baseball – or in immigrant success stories. Best known for his quip, "It ain't over till it's over," Lawrence Peter "Yogi" Berra, was the son of immigrants from Italy.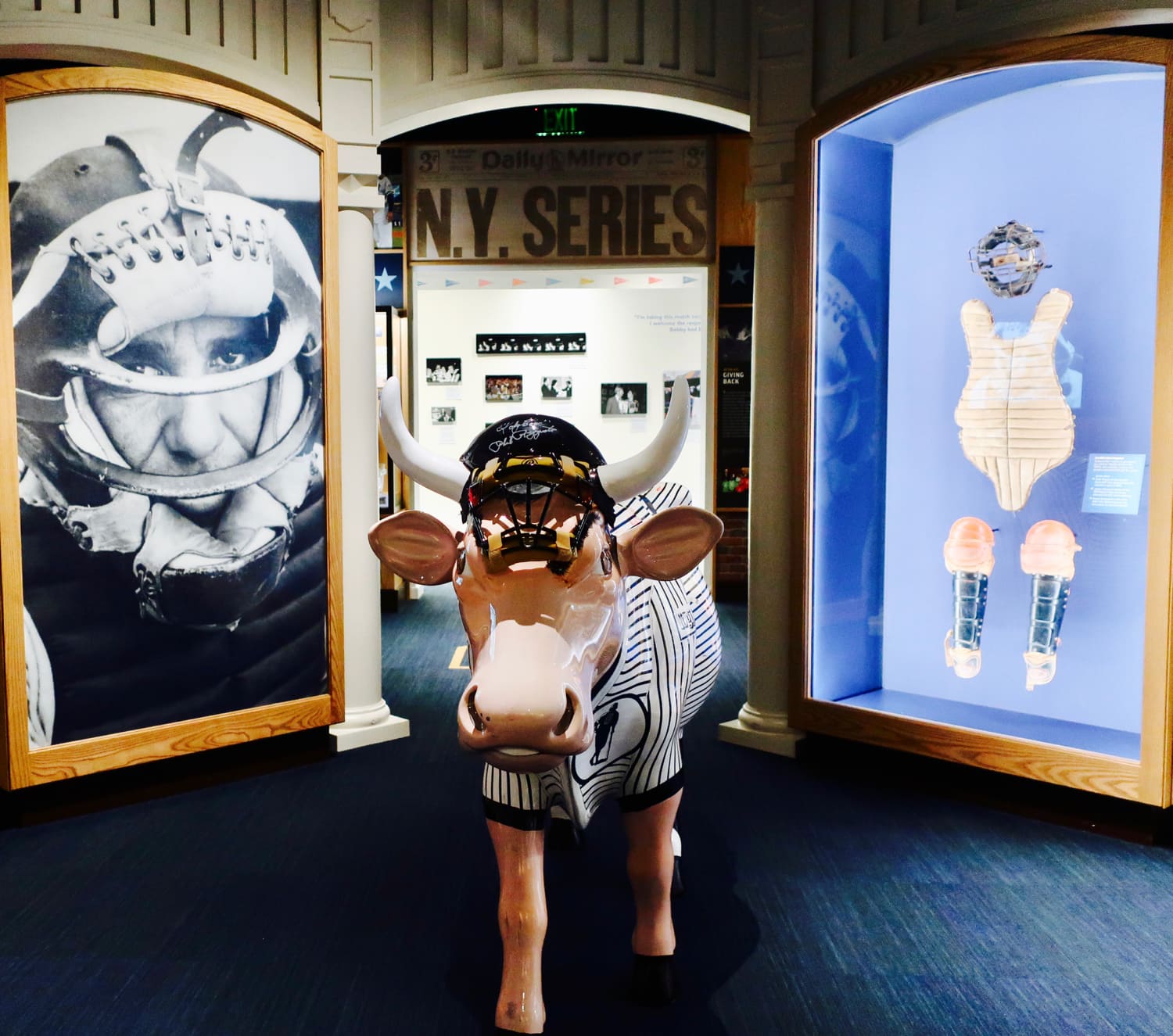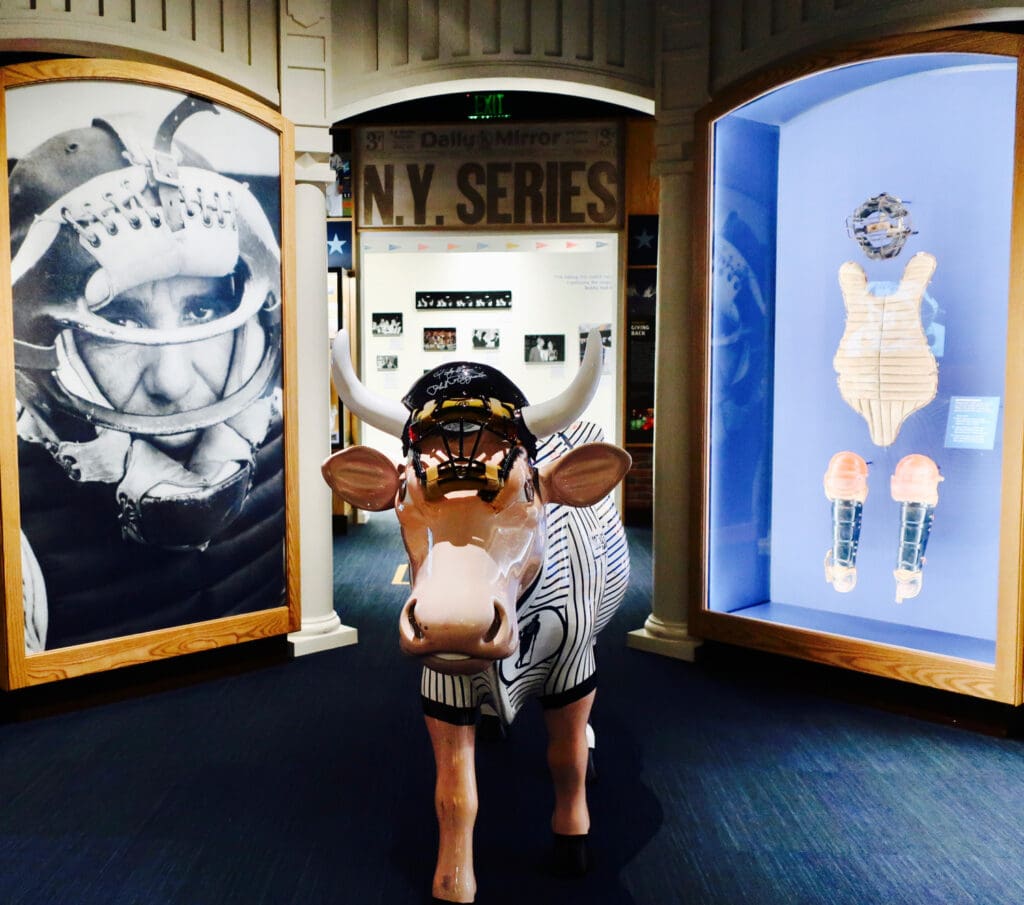 Although he hailed from St. Louis MO, Berra, renowned for his "Yogi-isms," was top player and coach for the Yankees and Mets. For convenience and proximity, he chose Montclair NJ as his home base for years.
Refreshingly humble and self-assured, Berra never let negative comments get him down. When an opposing player called him "ugly," Berra responded, "So what? You don't hit with your face." He was a role model for the ages.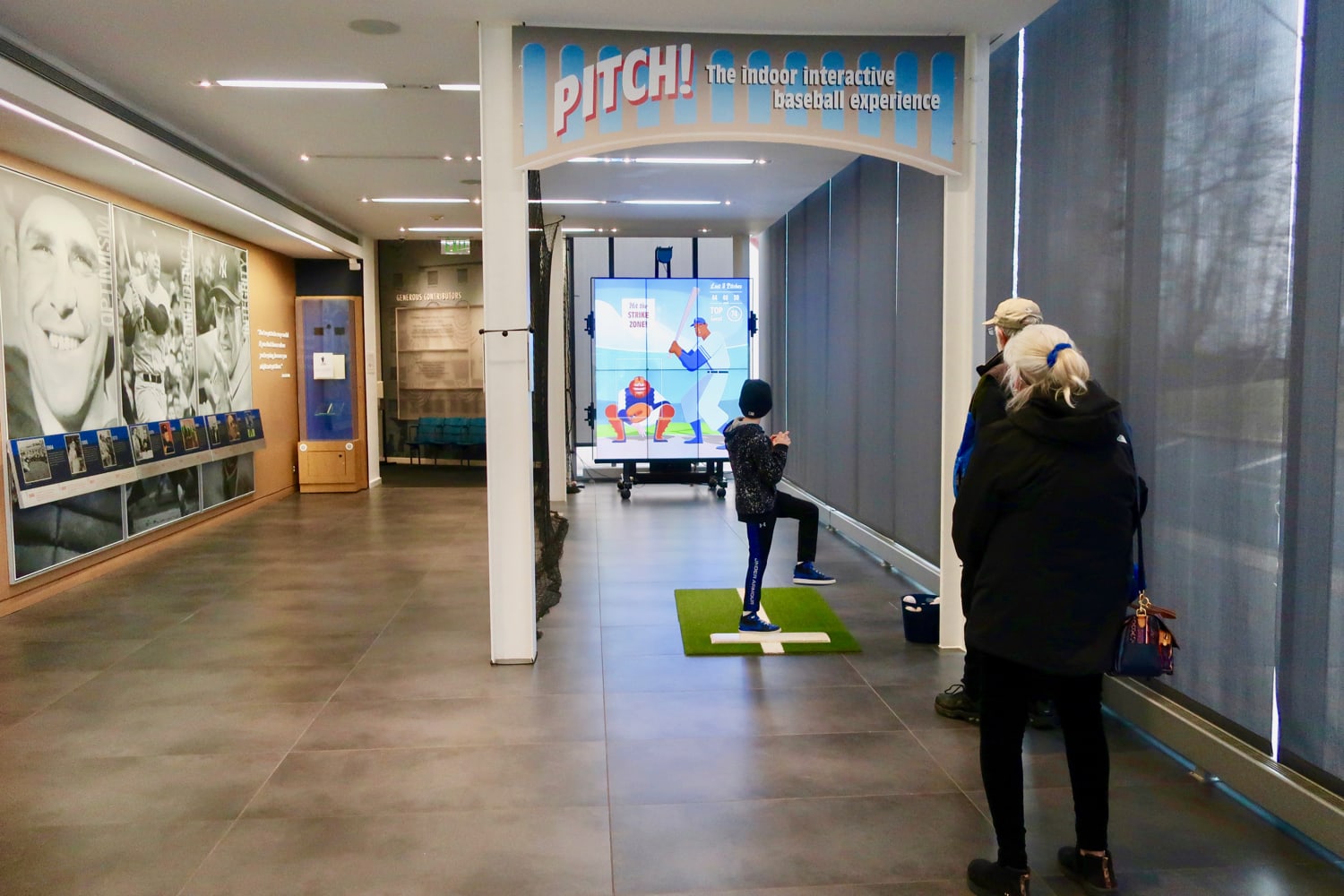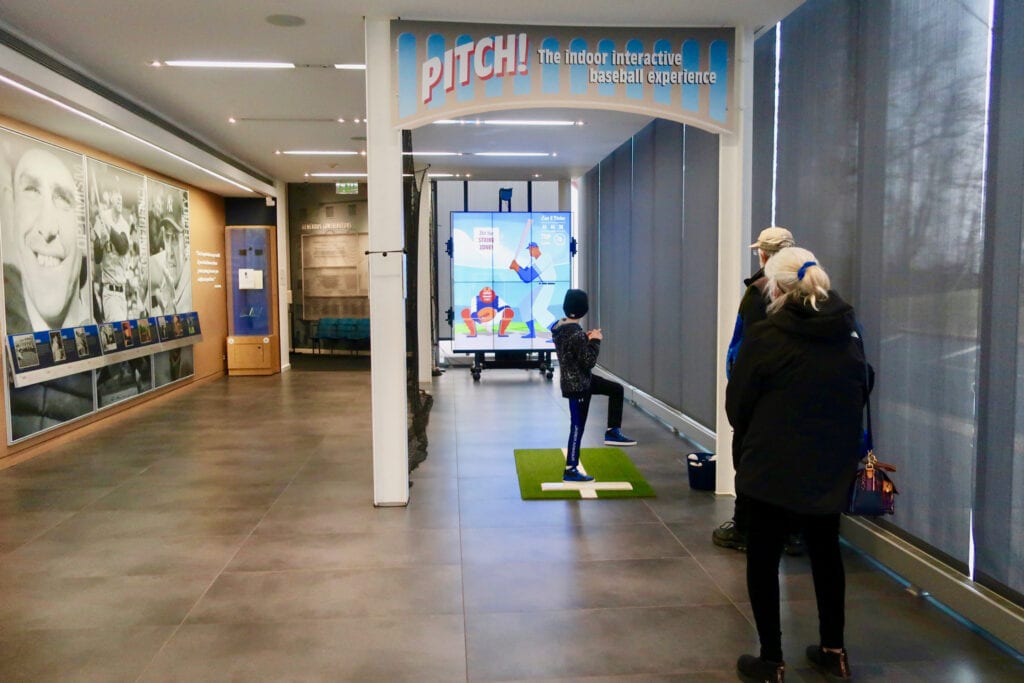 Not only are there exhibits about one of the greatest baseball players and coaches ever, this museum is also interactive. You can try your hand at pitching to a pro, trying on antique catcher's mitts, and grabbing bats used by famous players.
Or, just read the informational signage and feel respect for humanity restored through one of our national heroes who believed in "being true" to himself, and living with the tenets of Honor, Courage, Cooperation, Dependability, and Selflessness.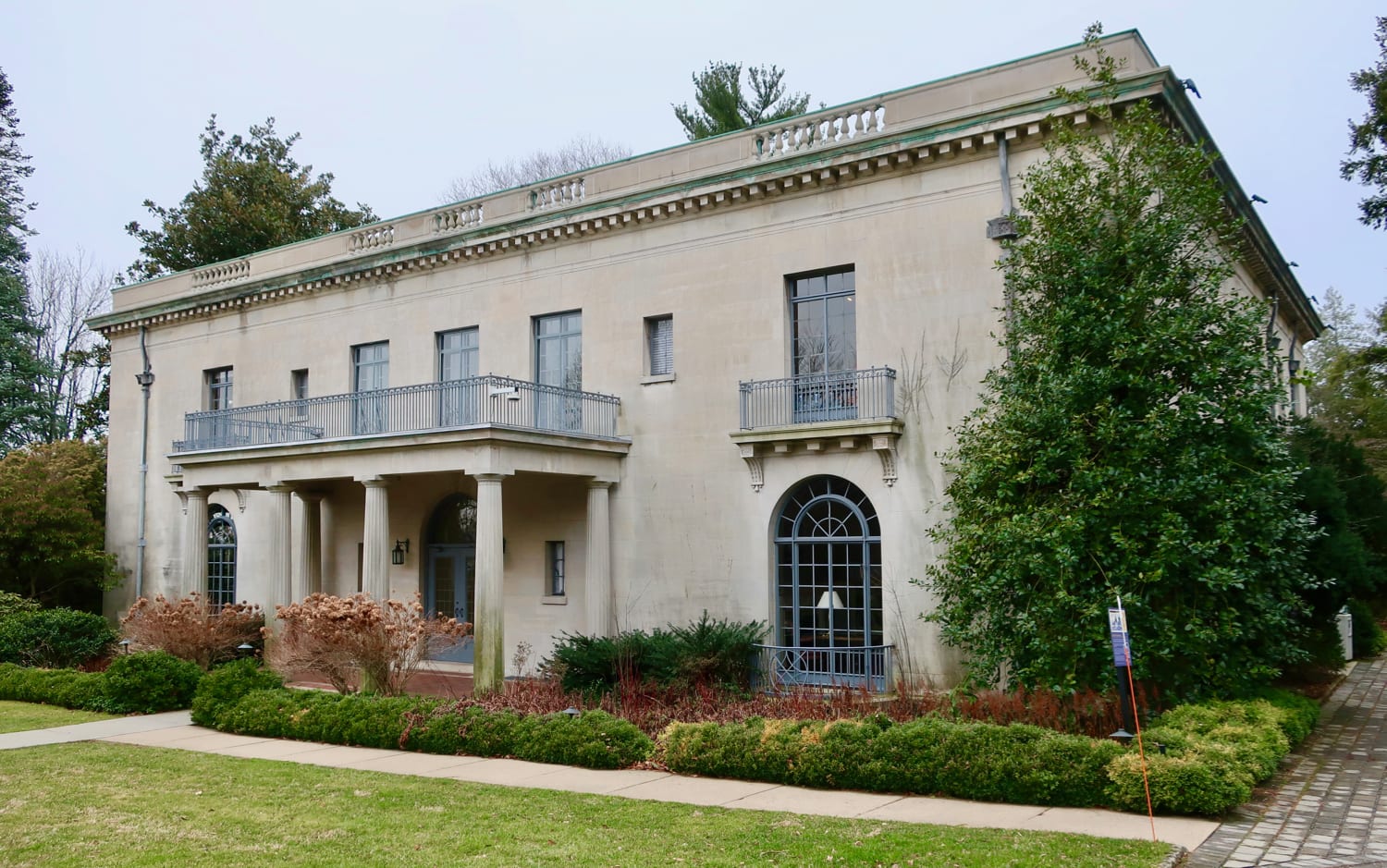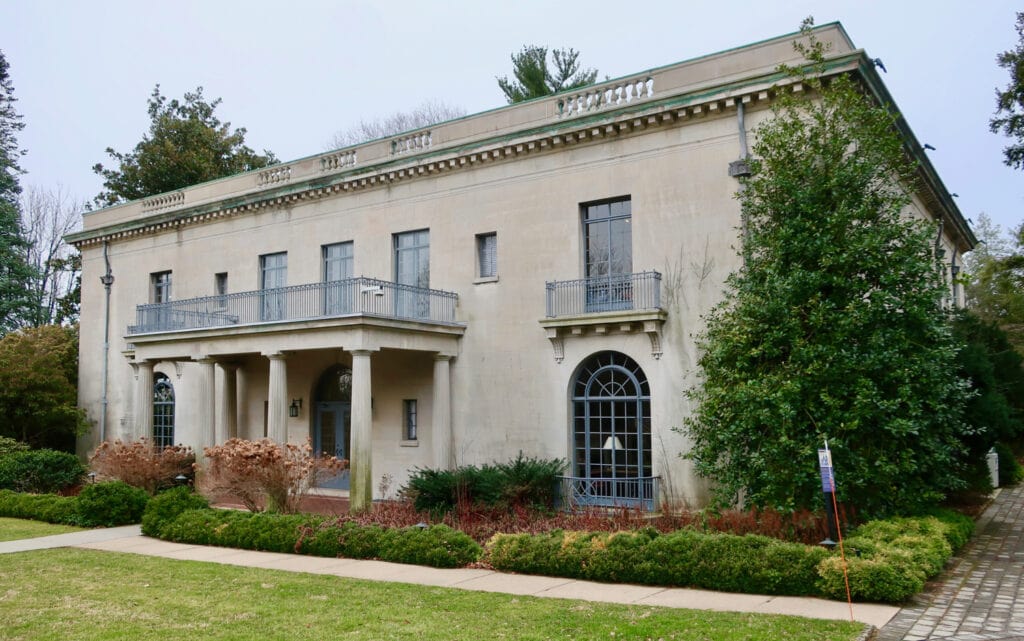 VIST: Van Vleck House and Gardens
The 6-acre Van Vleck House and Gardens is a place of solace and meditation for many Montclair residents and out-of-towners. Howard Von Vleck gifted his ancestral home to the Montclair Foundation after his death in 1992, and it's been a community treasure ever since.
The home itself – an Italian-style villa – shows off best in Spring, when its Wisteria-canopied back porch makes for an Instagram favorite photo setting.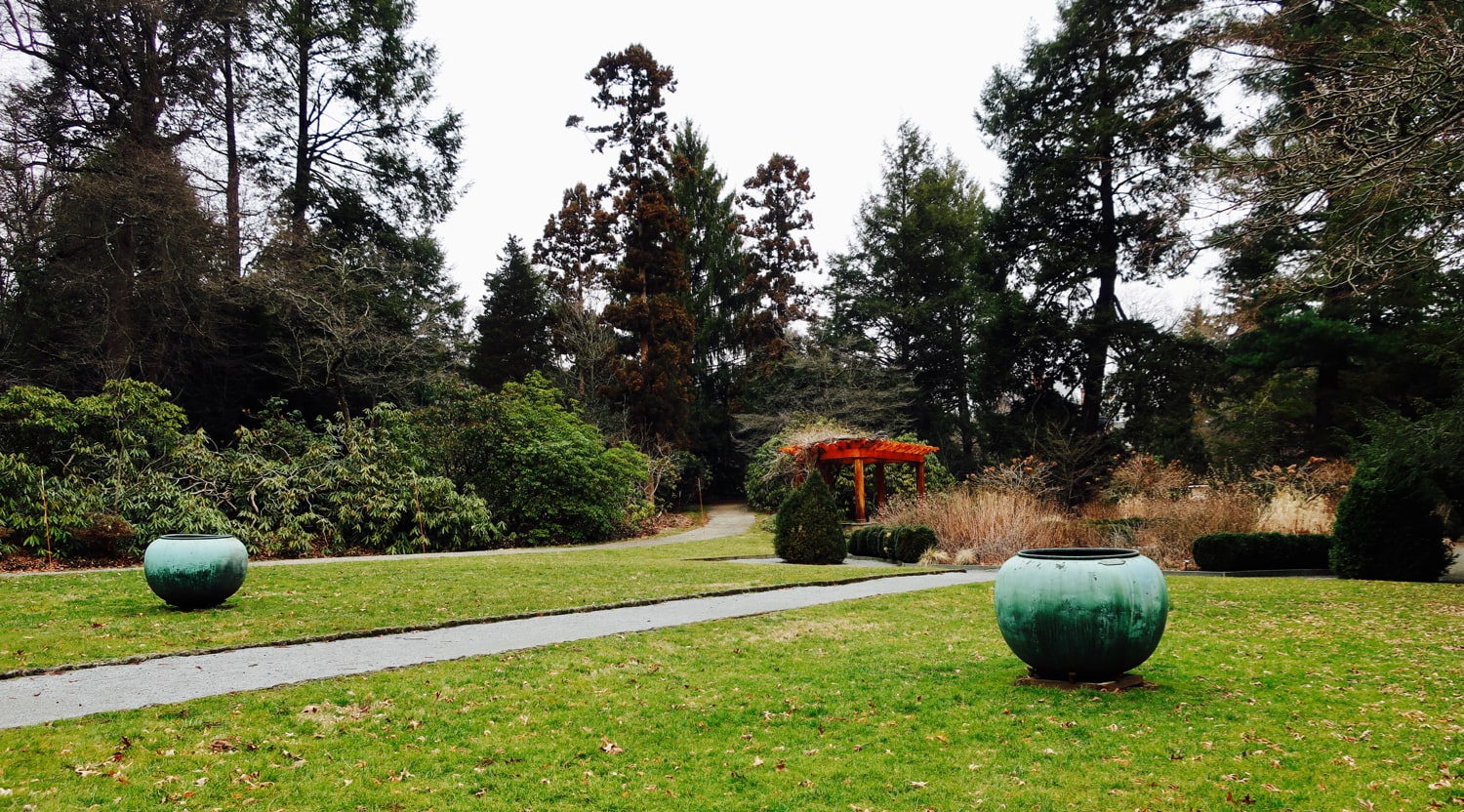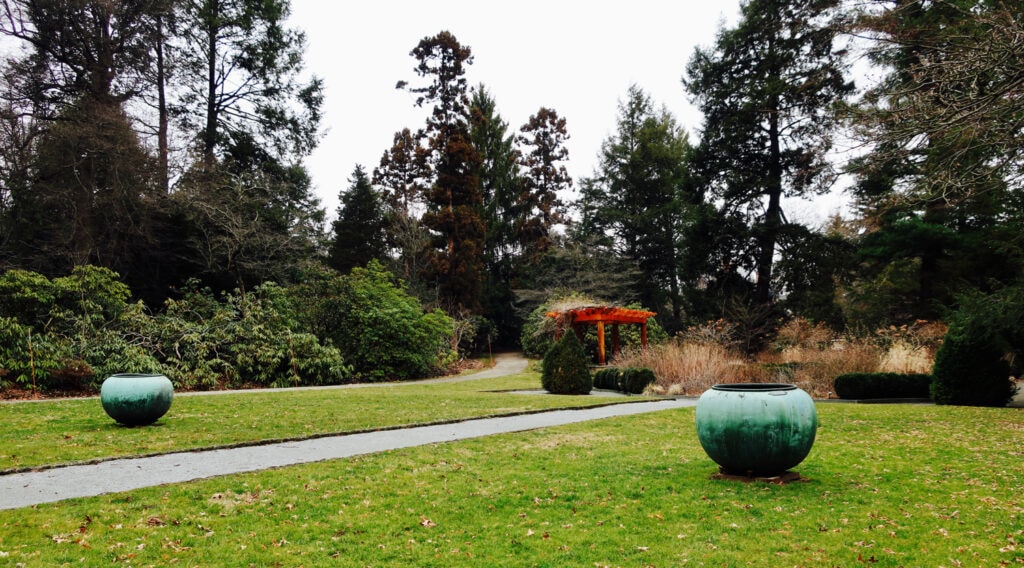 But come anytime during the year. Access the Van Vleck grounds through an automatic gate (just nudge your car up to it, and the gate will open), and park in a small lot.
The Visitor's Center offers various programs throughout the year, including plant sales, maple sugaring, sensory celebrations, and 2nd Sunday Music.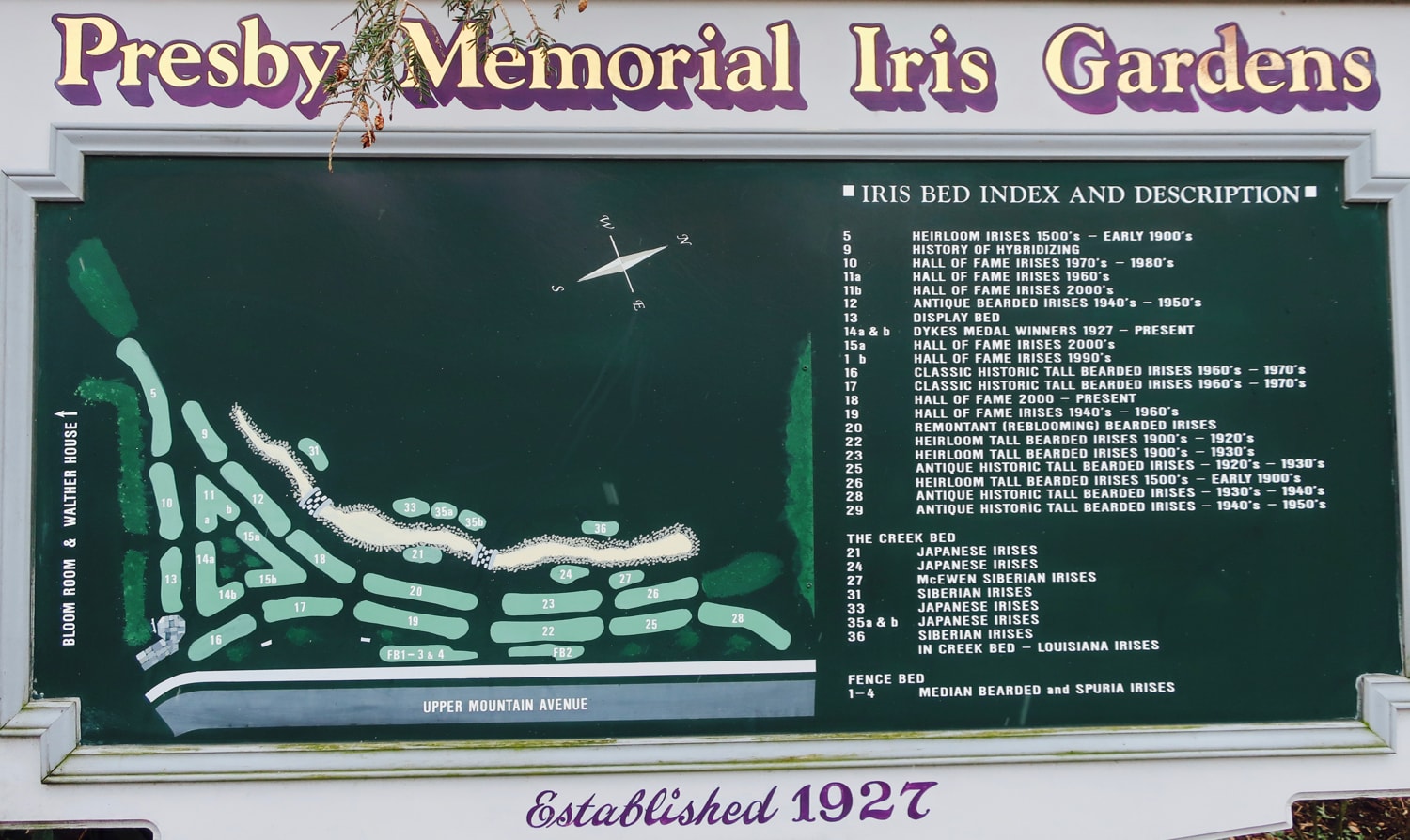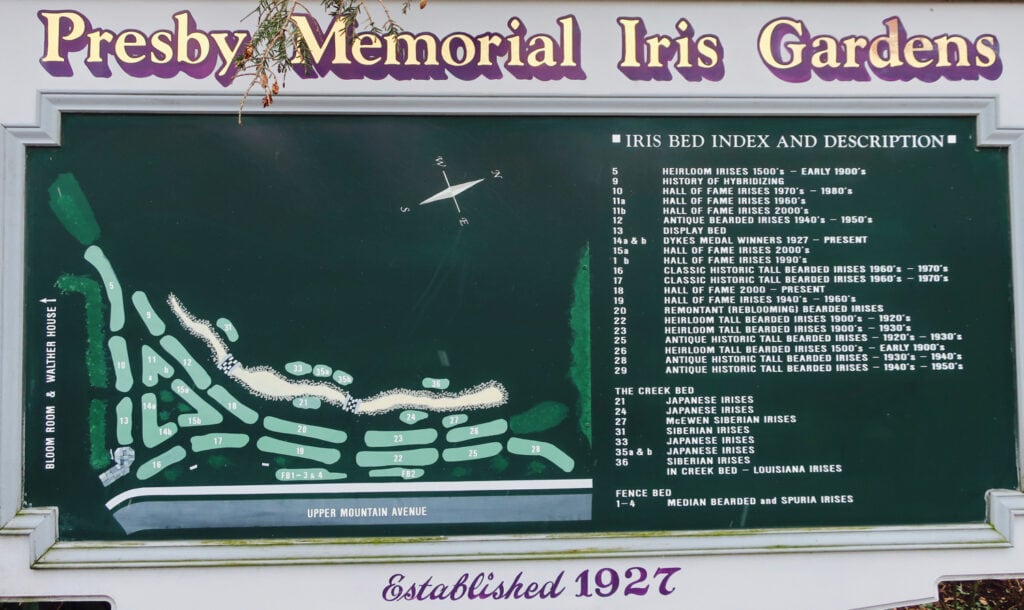 WANDER: Presby Memorial Iris Garden
The Presby Memorial Iris Garden – one of the largest of its kind in the world – has been described as a "Rainbow on the Hill." In Spring, much of its 6.5 acres transforms into a colorful masterpiece as 14,000 irises burst into bloom. Although dormant off-season, the property is still free to wander, so you can muse on how it will look come warm weather.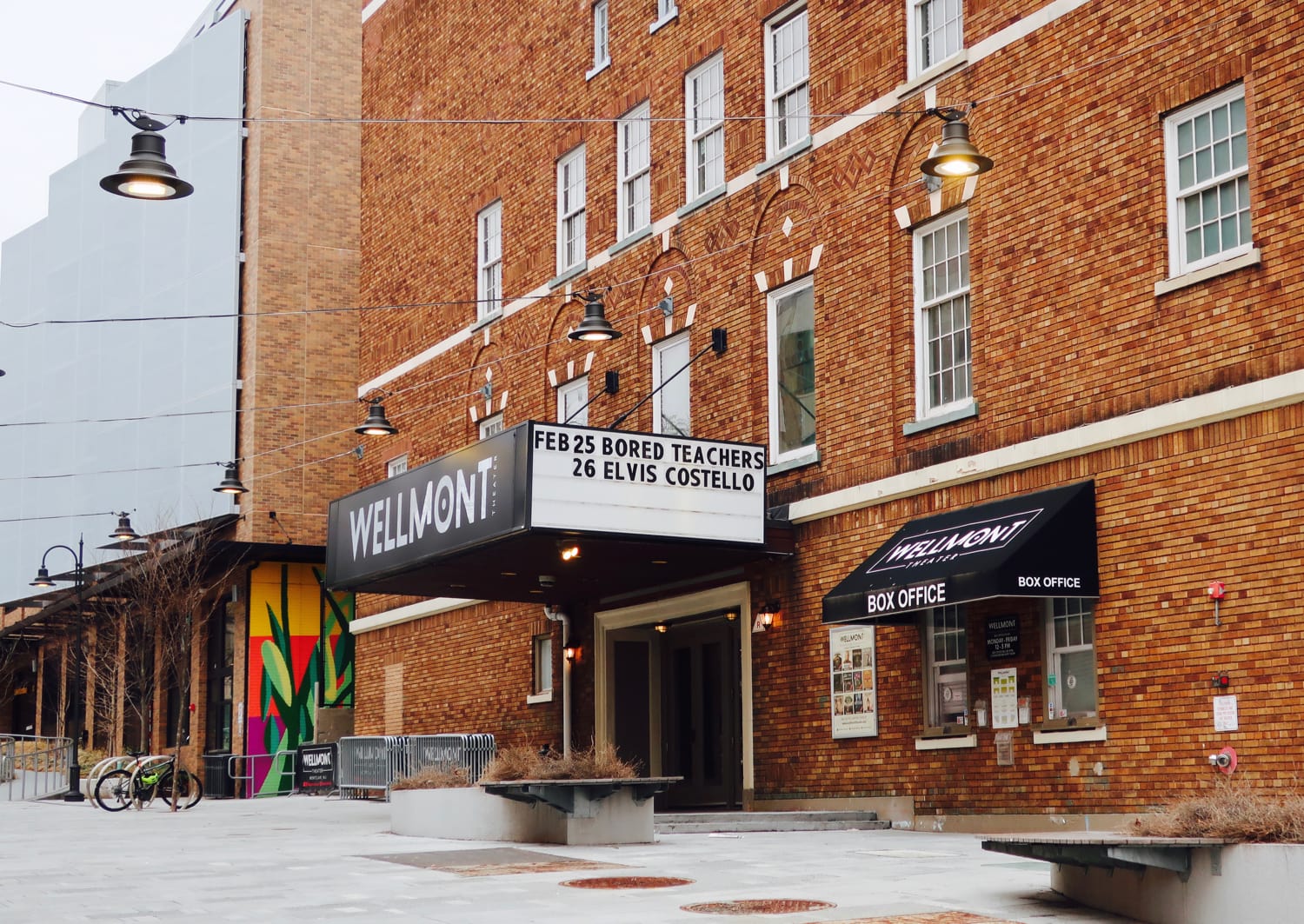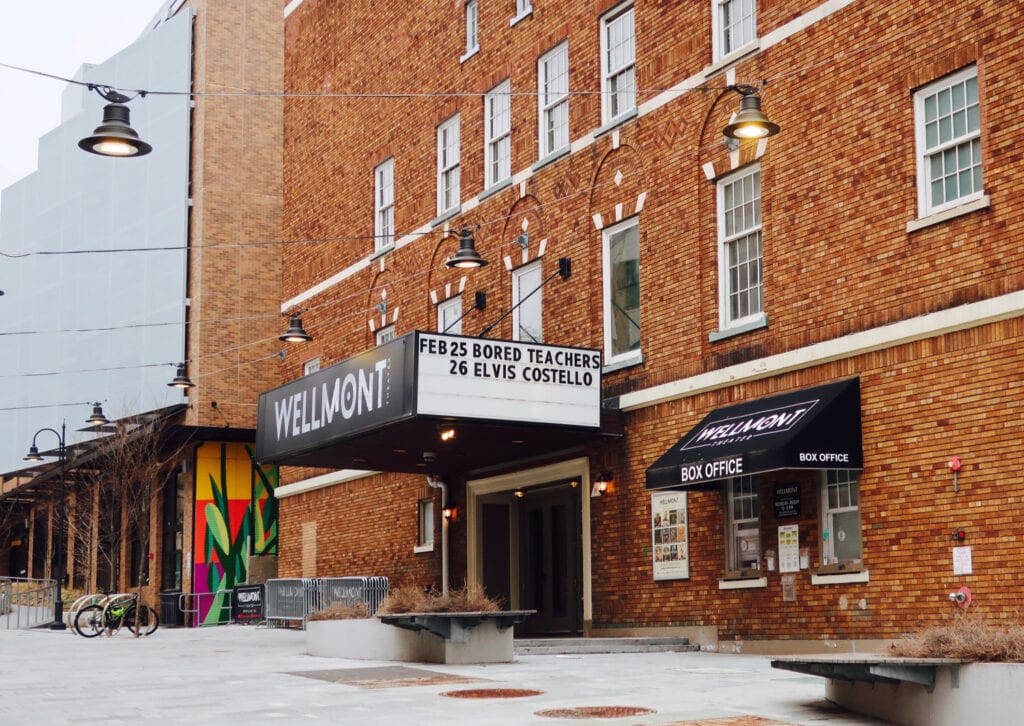 SEE A SHOW: Wellmont Theater
When residents of surrounding communities come to Montclair for "dinner and a show," it's the Wellmont Theater they're aiming for. So close to NYC, it's just a hop, skip, and jump for the likes of Elvis Costello, Craig Ferguson, Margaret Cho, and Sarah Silverman to hit this iconic Montclair stage.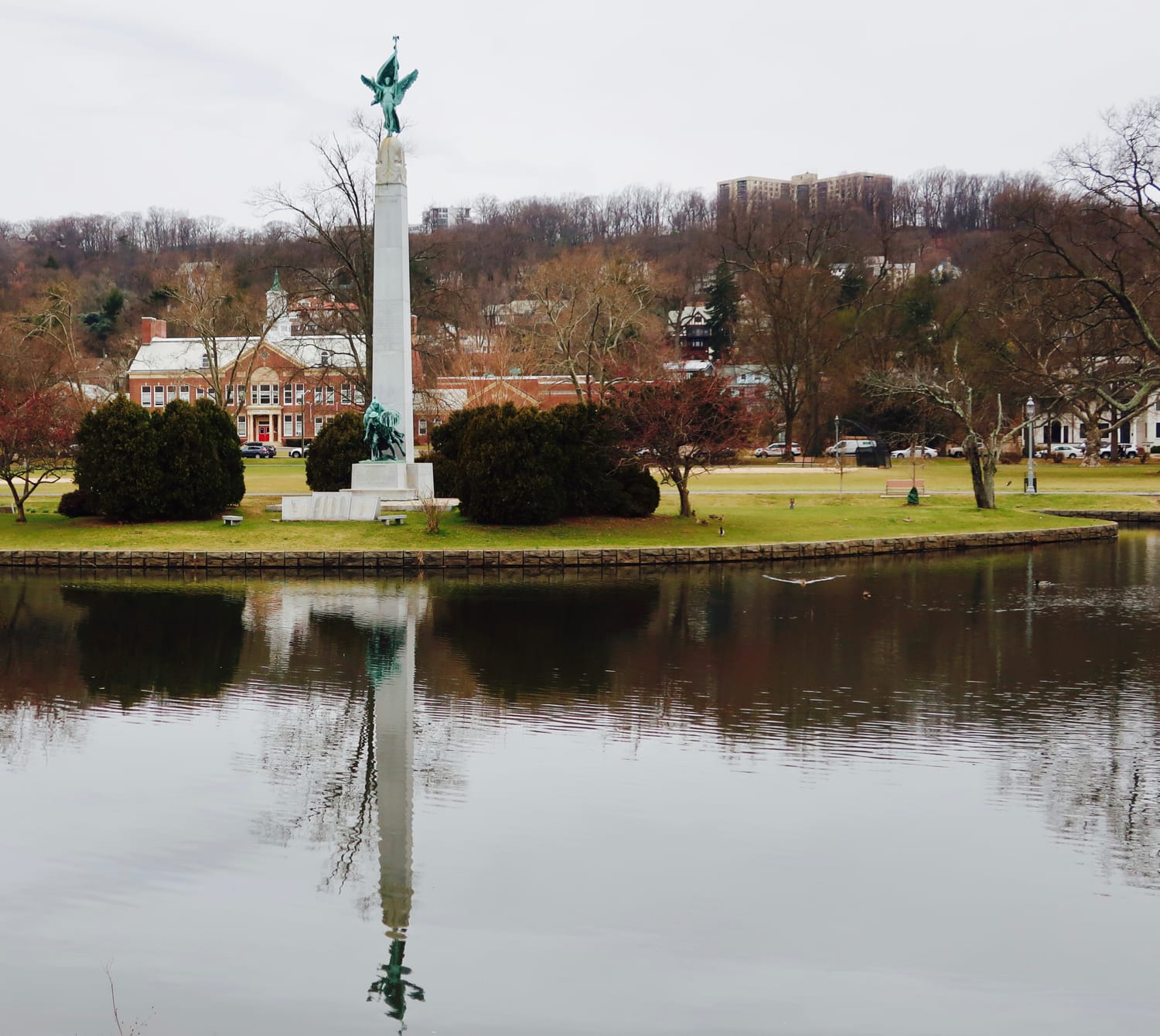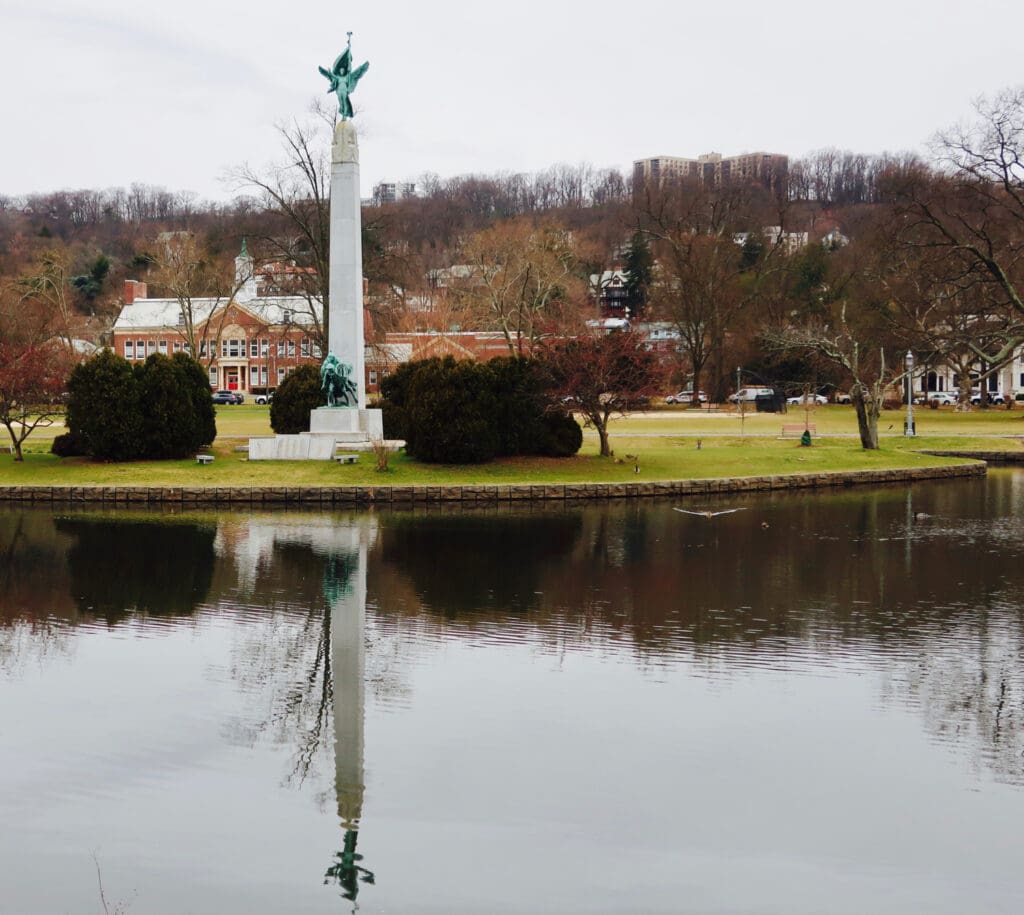 STOP: Edgemont Memorial Park
They don't make monuments to fallen soldiers like they used to. To see how it's done right, visit Edgemont Park, home to the angel-topped obelisk memorial to 69 Montclair men who died in battle during WWI. Reflected in the park's pond, the monument makes for a poignant Instagram shot.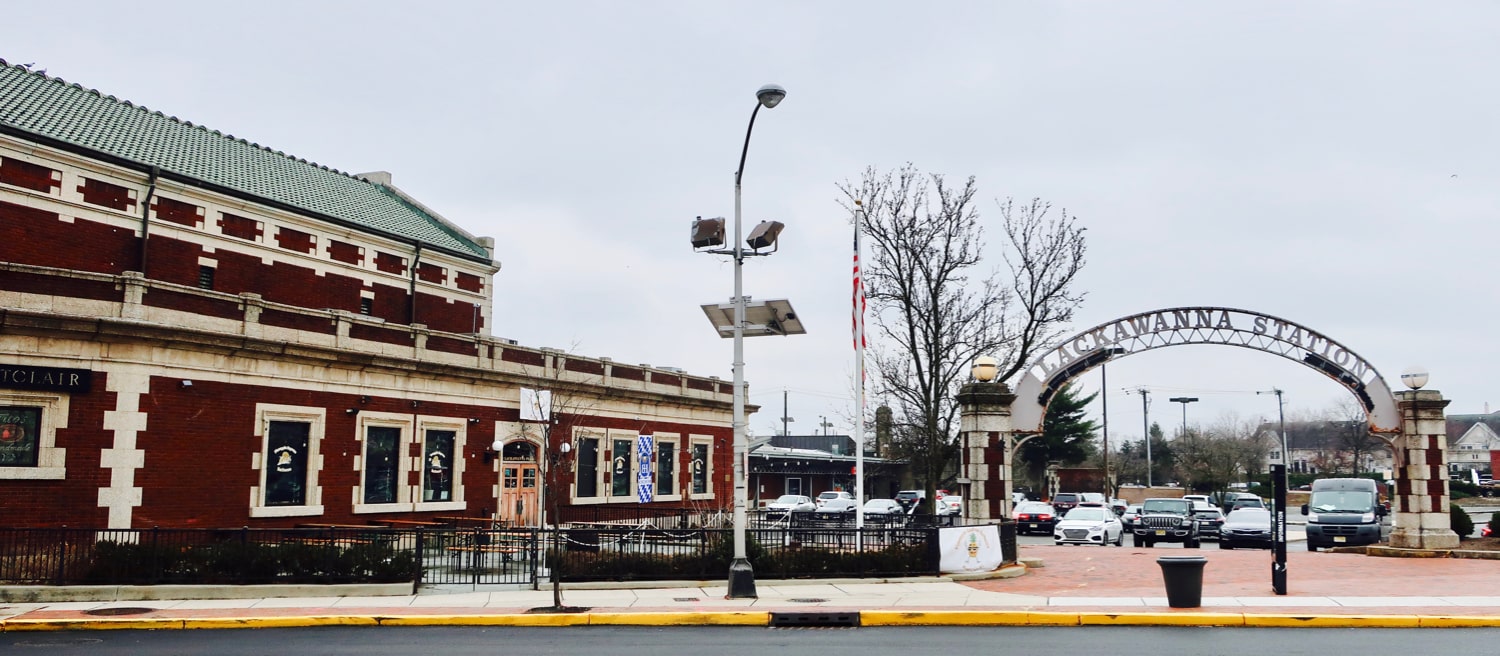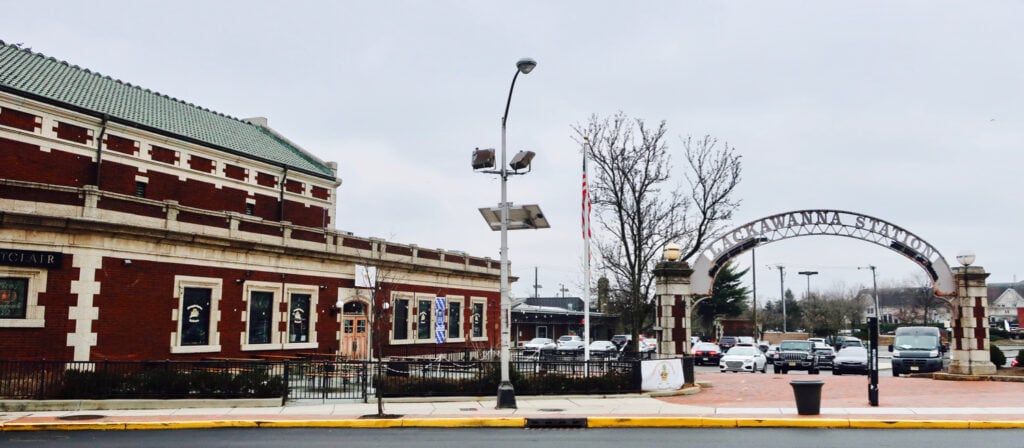 GO: Lackawanna Plaza
This area of Bloomfield Avenue, astride the decommissioned Lackawanna Train Station, becomes a "blooming field" every Spring when 20,000 tulips emerge from planters positioned up and down the street.
Crane Park, a pocket-sized triangle near the station, is basically an experiment in urban conservation and environmentalism. It features a modernist sculpture of a crane, and "pollinator plants" that draw an abundance bright yellow Goldfinches – New Jersey's State Bird.
The old Lackawanna Station is set to undergo a revitalization, complete with an art walk, retail, and residential components. For now, fans of "Open Mic," comedy, trivia night and other crowd pleasers gather at Pineapple Express BBQ inside the station.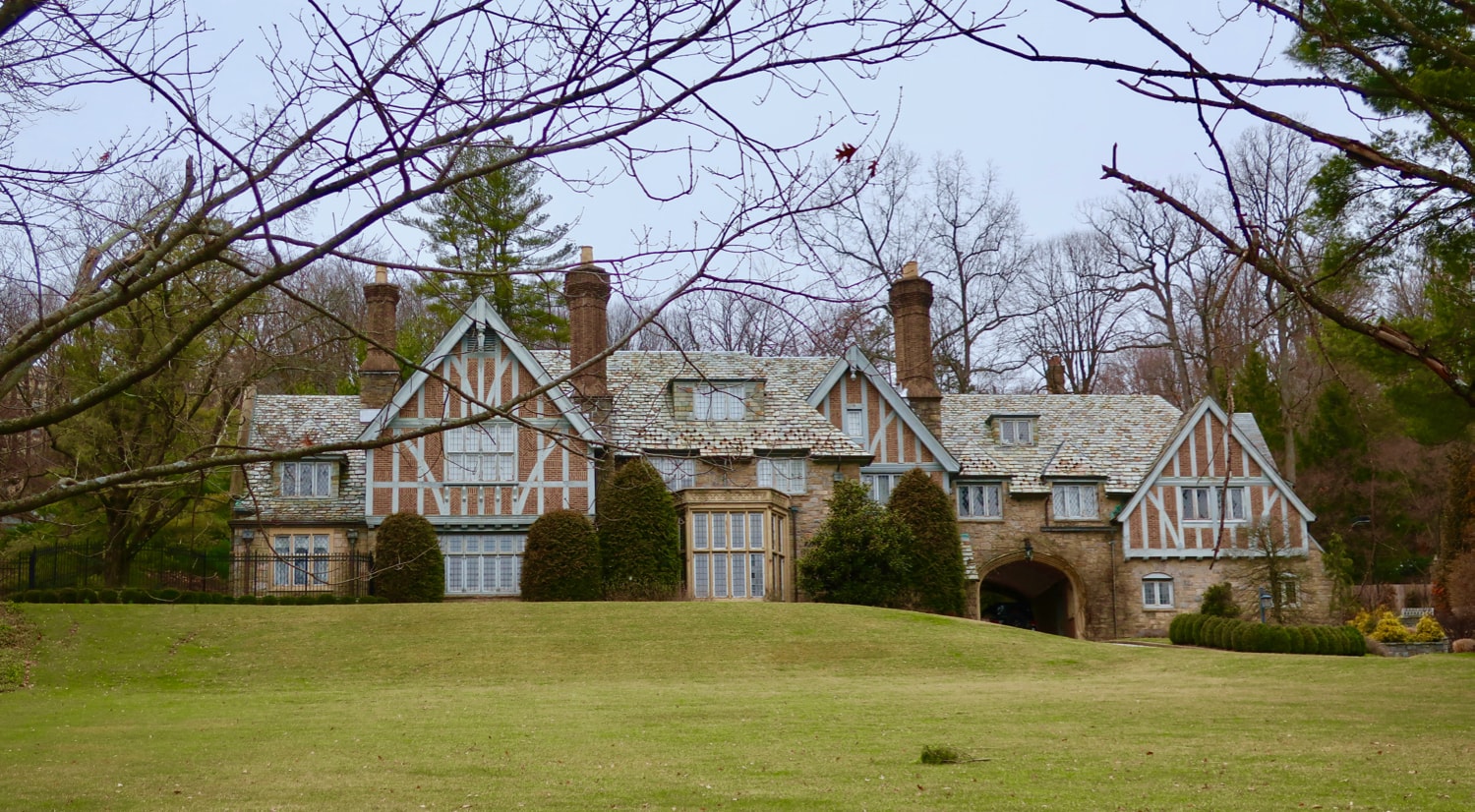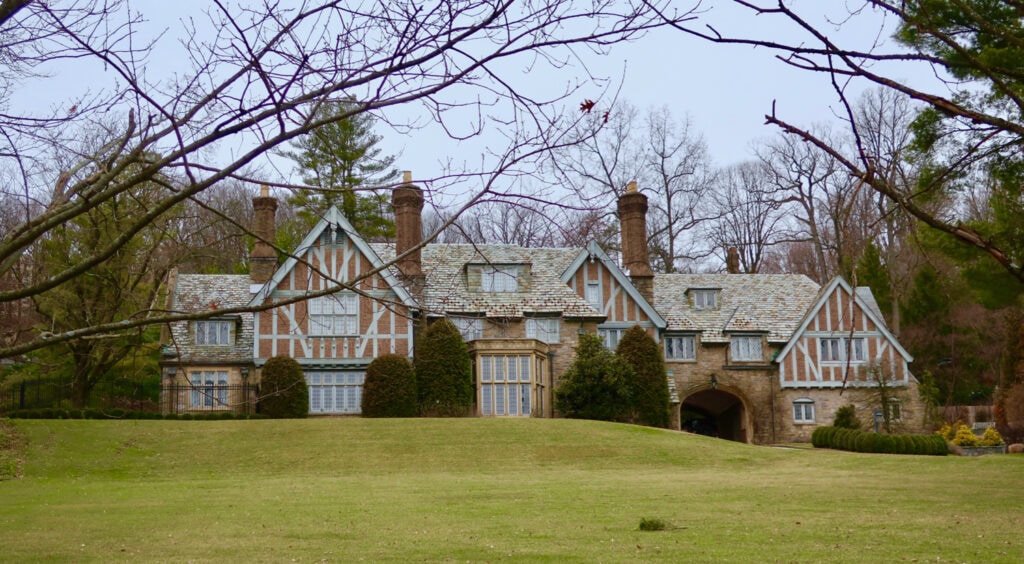 DRIVE: Upper Mountain Avenue
If you're into architecture, be sure to ogle the mansions on Upper Mountain Ave. in Upper Montclair. Like Dune Rd. or Meadow Lane in the Hampton's, Montclair's "I've arrived" street is Upper Mountain Avenue.
Tycoons from the late 19th and early 20th centuries, with names like Benjamin Moore (paint), Merriam (Webster's Dictionary) and Wesson (Oil), built these mansions on former farmland.
Drift along the street to encounter a variety of architectural styles: Tutors, Queen Anne's, Colonial Revival, Spanish Colonial, Neoclassical, Victorians, Mediterranean style villas, Federal, Georgian, Contemporary, Craftsman, and more, viewed through your windshield.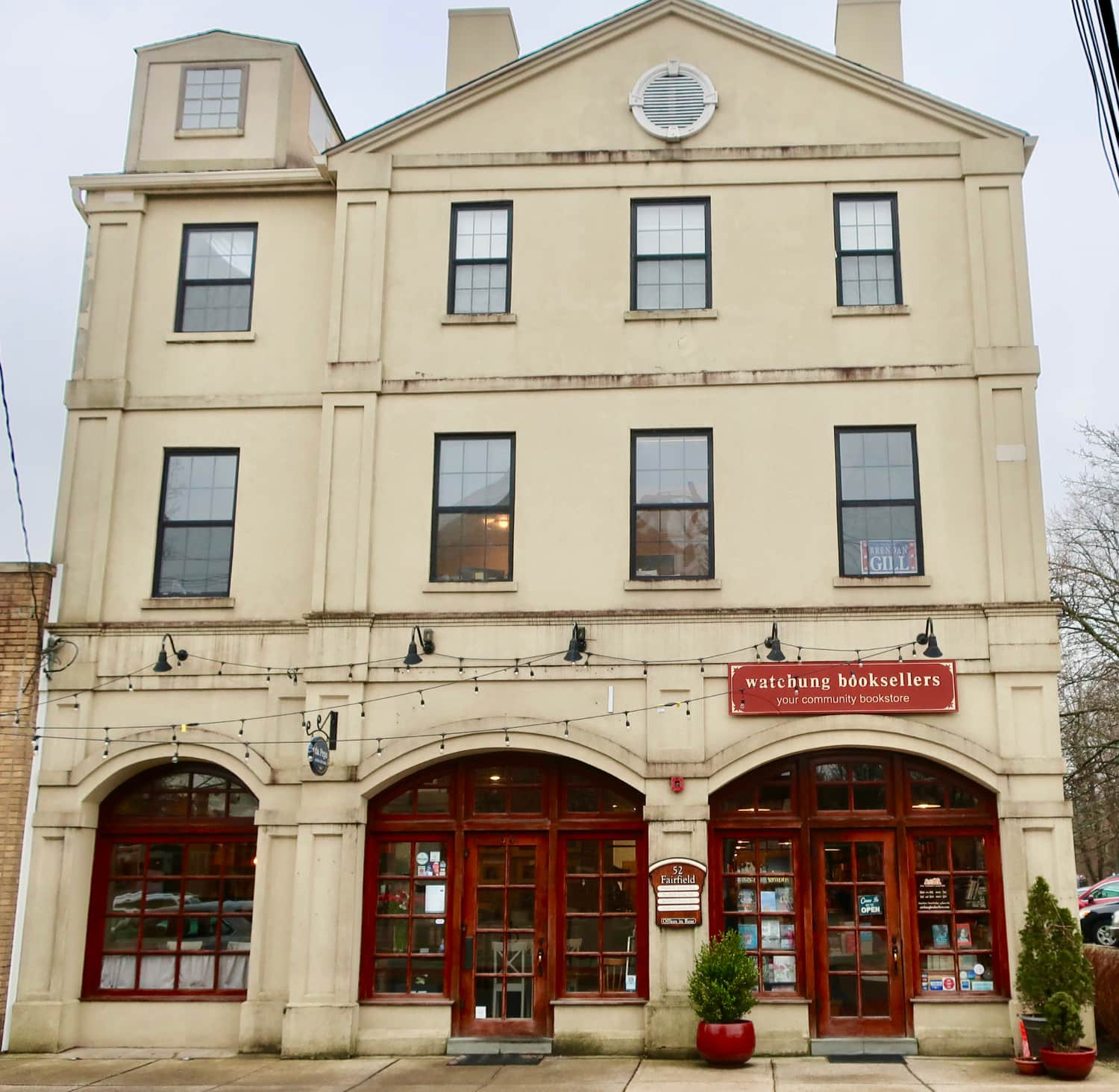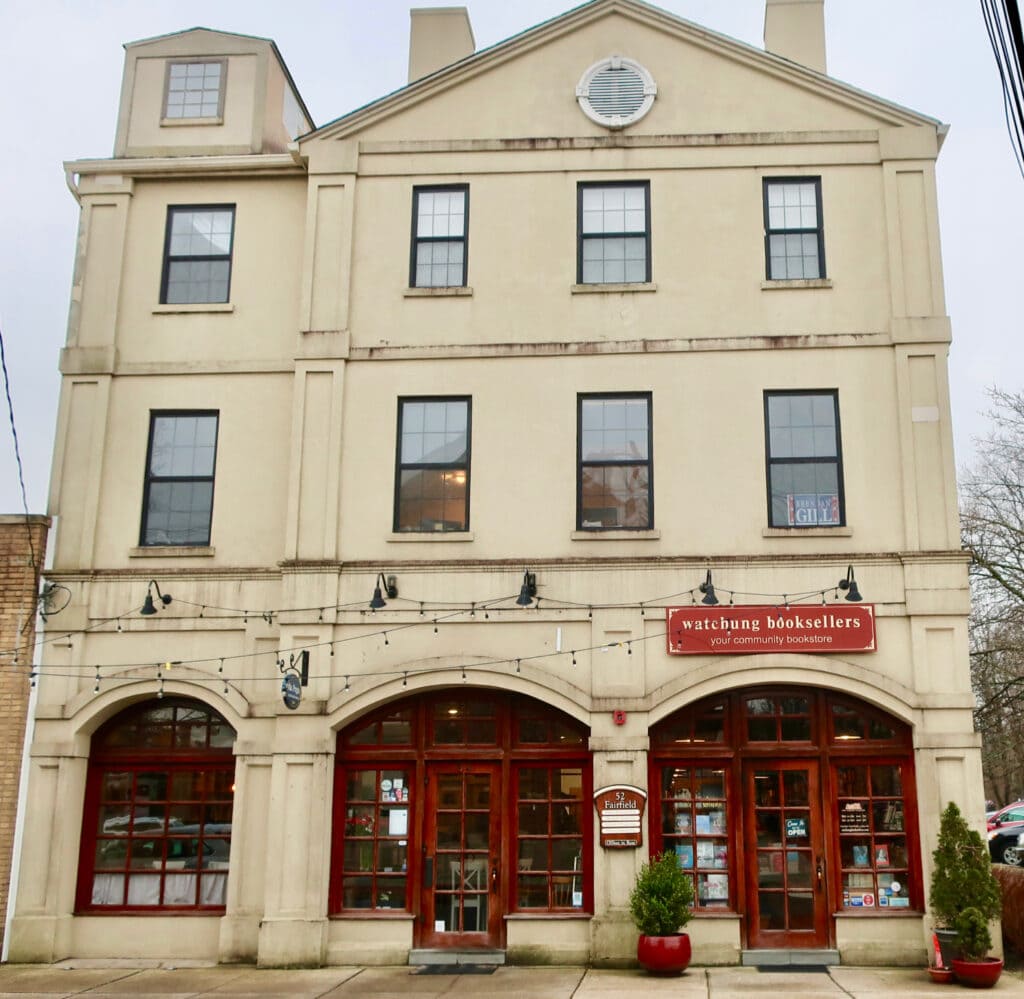 SHOP: Watchung Plaza and Booksellers
Watchung Plaza features a train station, boutiques, an old-fashioned barbershop, and other "everyday services," in the Tudor Revival style of the day (1926), meant to evoke a rural English Village. Standing on its own in an historic building, the Watchung Booksellers is considered a local treasure and tourist attraction.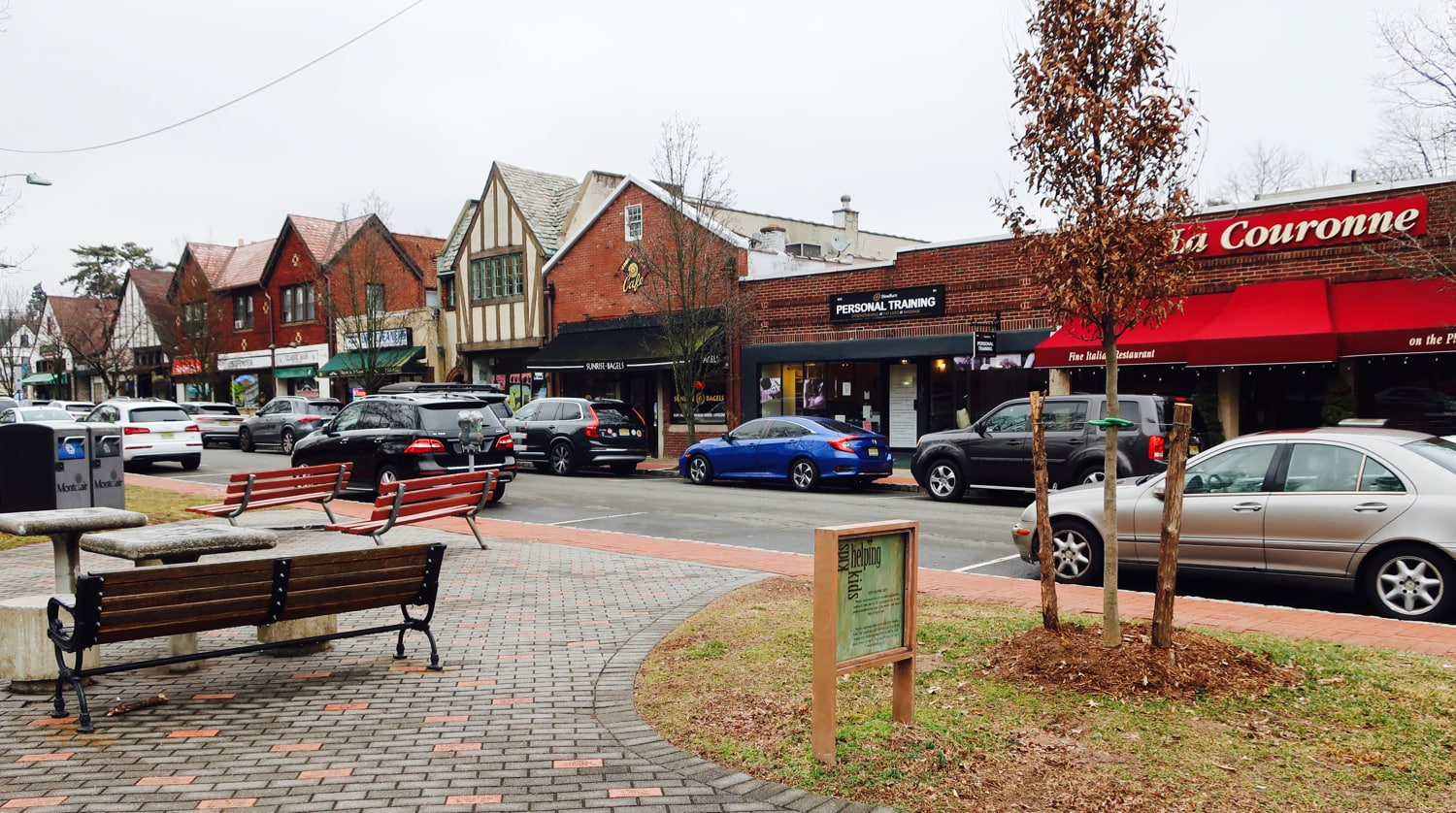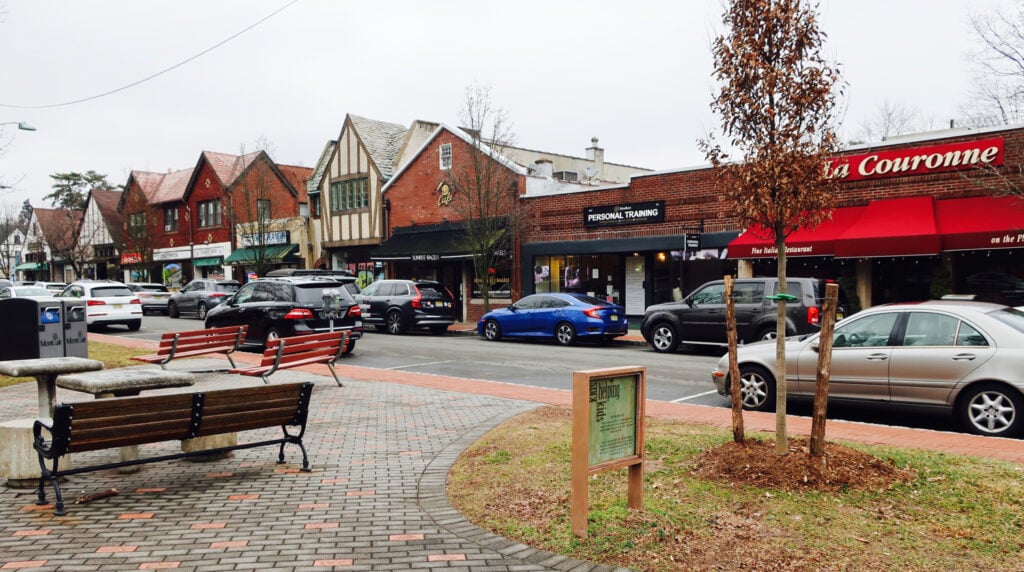 GO: A Montclair Festival
Along with its restaurant scene, Montclair is also known for its festivals. Among others, these include Pride Fest, African American Heritage Fest, Summer Jazz Festival, Hispanic Heritage Festival, Chinese New Year Celebration, and the highly respectable Montclair Film Festival in October.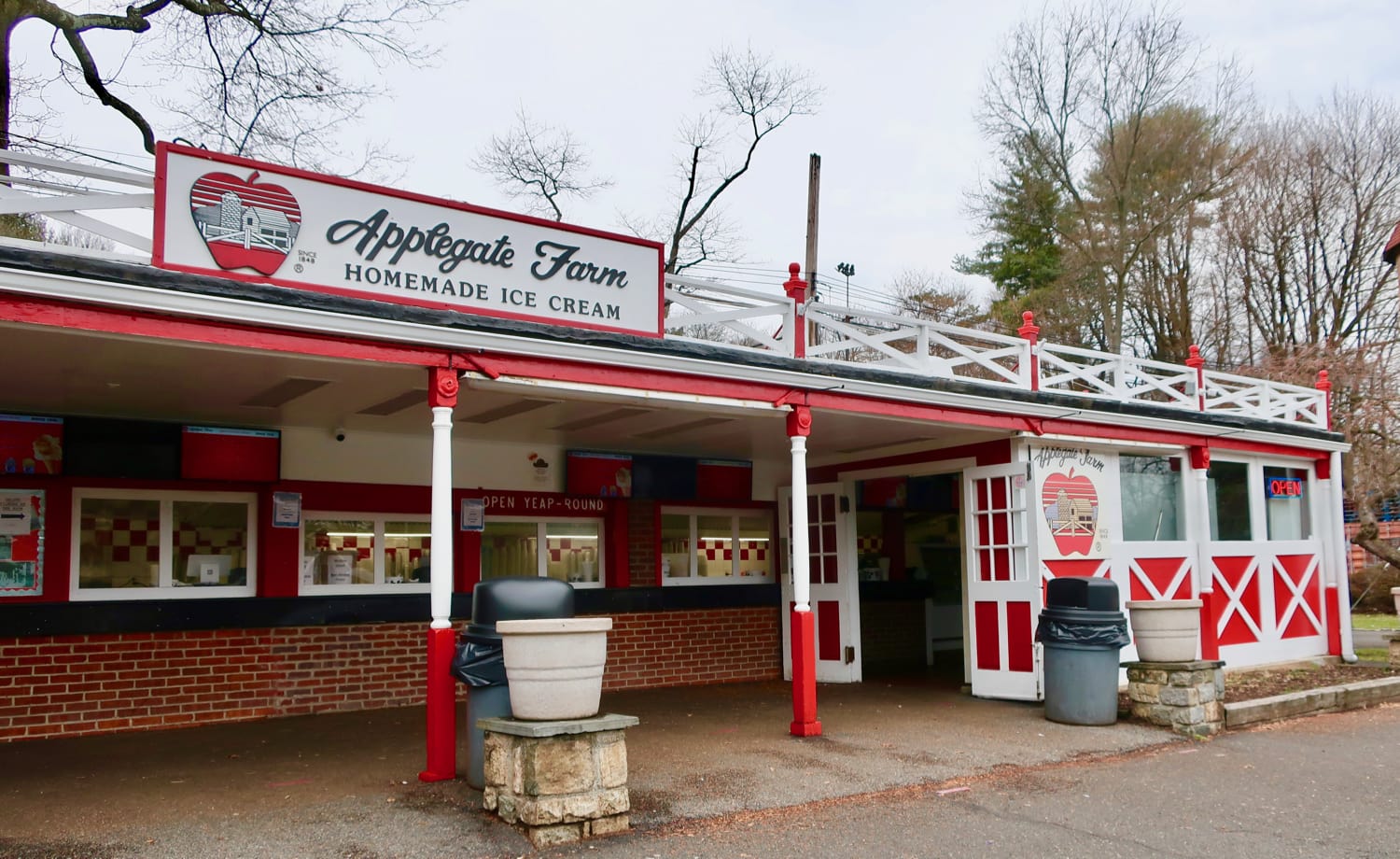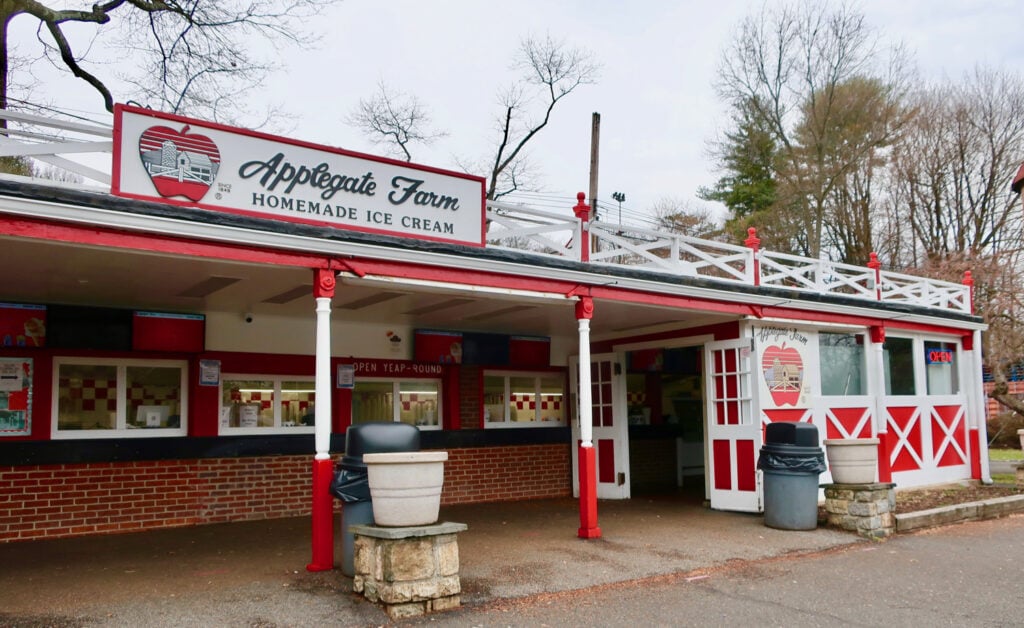 ICE CREAM: Applegate Farms
Although it should be categorized as a place to eat, Applegate Farms is also an unsung town institution. A working dairy farm since 1848, Applegate began selling home-churned old-fashioned ice cream as a sideline in the 1920's. It's been going gangbusters every since. Although locals know about Applegate Farms, visitors are starting to discover it, too. Amazingly, the decadently creamy ice-cream stand is open year round.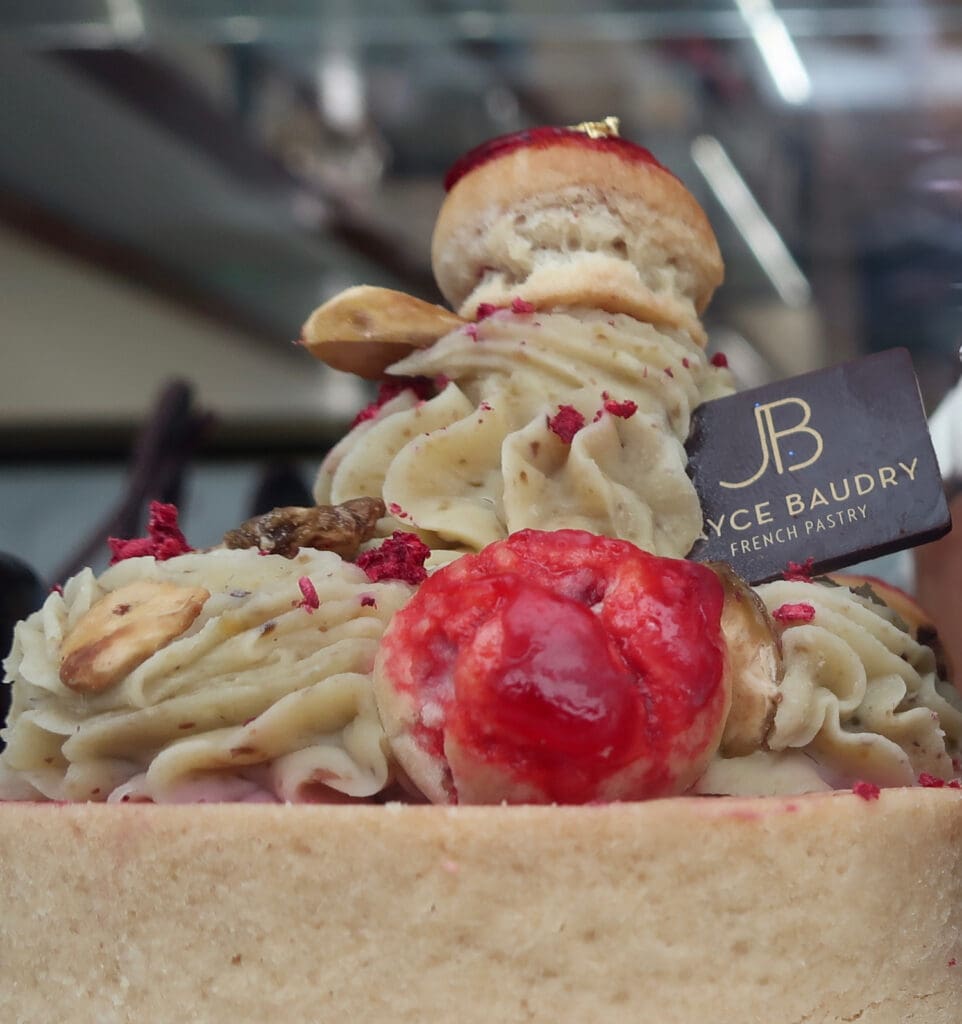 FRENCH BAKERIES: Two of the Best In Montclair
Oooh la la. Montclair NJ ranks up there with the best French bakeries in NYC. Our favorites include Le French Dad Boulangerie – many say it's got the best baguettes in the Tri-State Area – and Jayce Baudry French Bakery. Stop by one or both before you leave to take some Montclair home with you.
Best Restaurants in Montclair NJ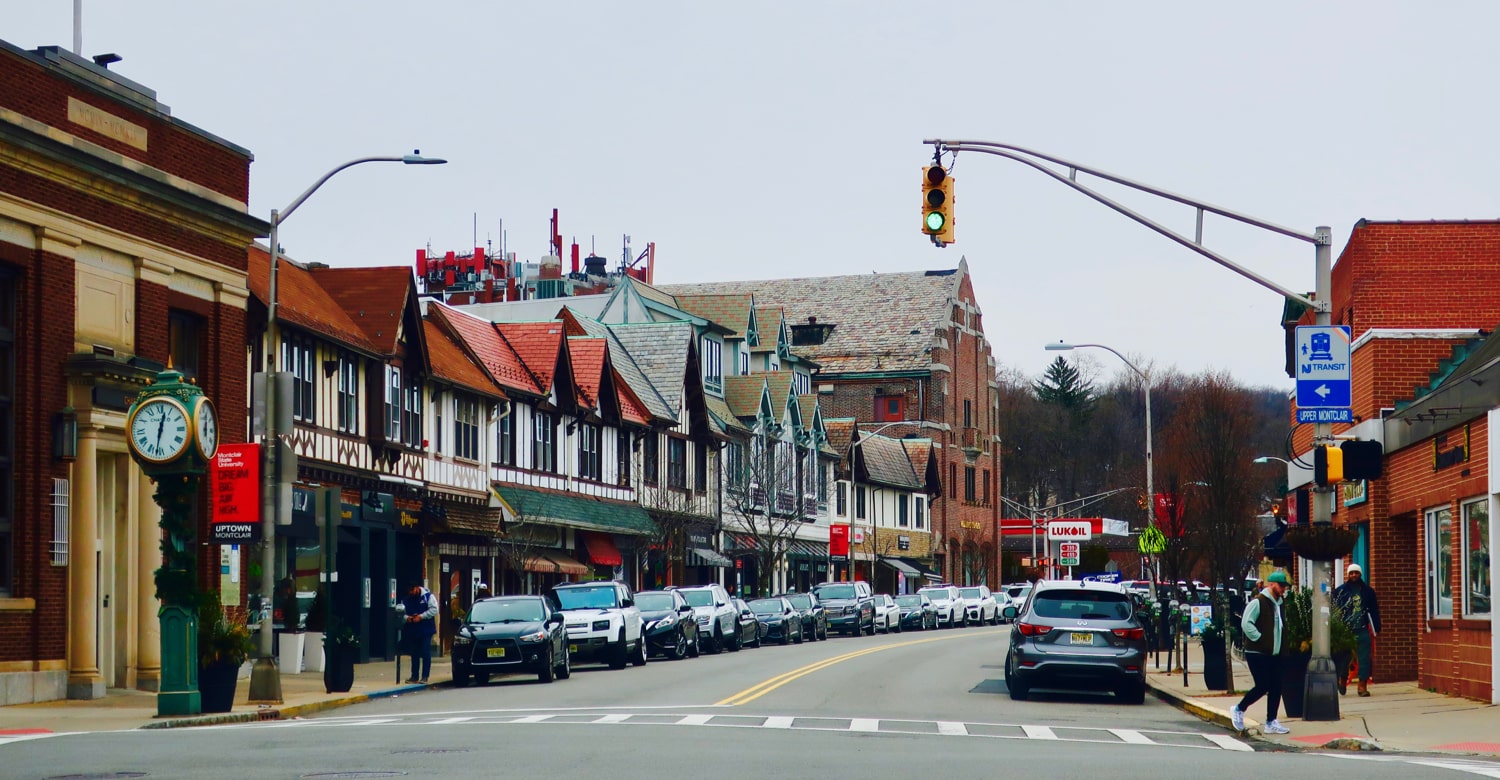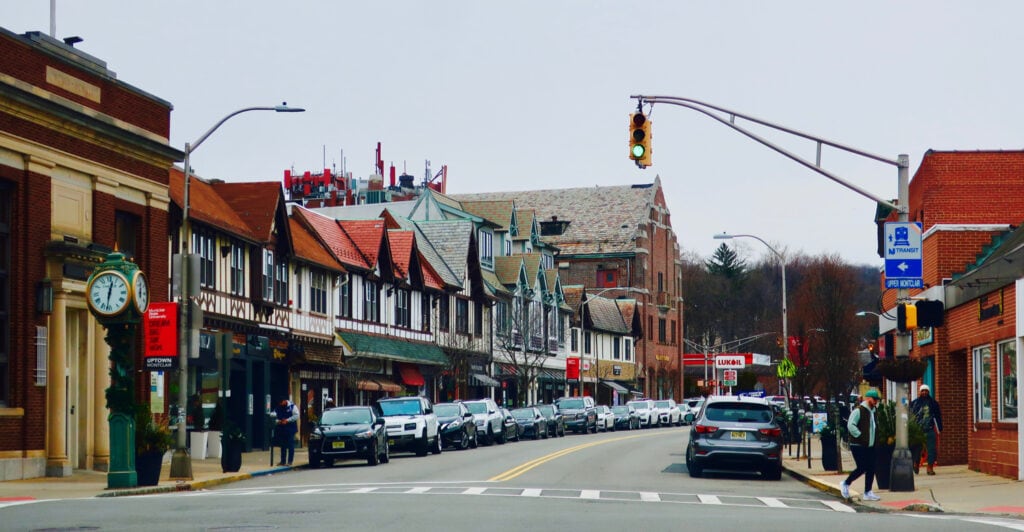 EAT: Foodie Destination
With a population of just 40,000, Montclair certainly has an outsized number of excellent restaurants (over 80) spread out over five commercial districts and neighborhoods. Residents of nearby towns perceive Montclair as a foodie destination, with new restaurants, representing a variety of countries and flavors, opening every week it seems.
Ask locals about their favorites, and many may respond, "depends what I'm in the mood for." Of course, with new eateries coming online, it's tough to pin down the best. Lately (Feb. '23), Faubourg, Laboratorio Kitchen, La Rocca Osteria, Turtle + The Wolf, and Kai Yang have been winning raves, along with the following: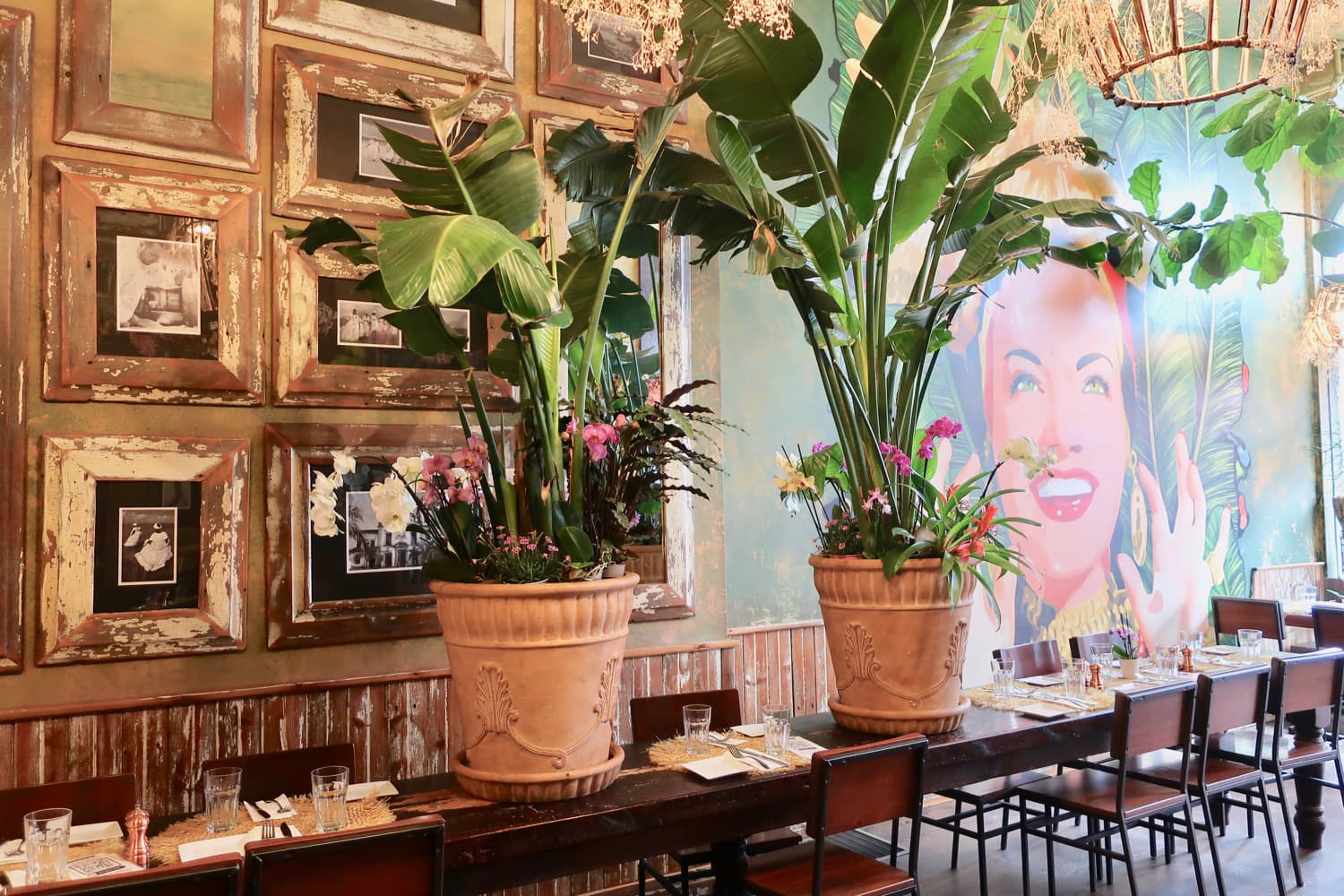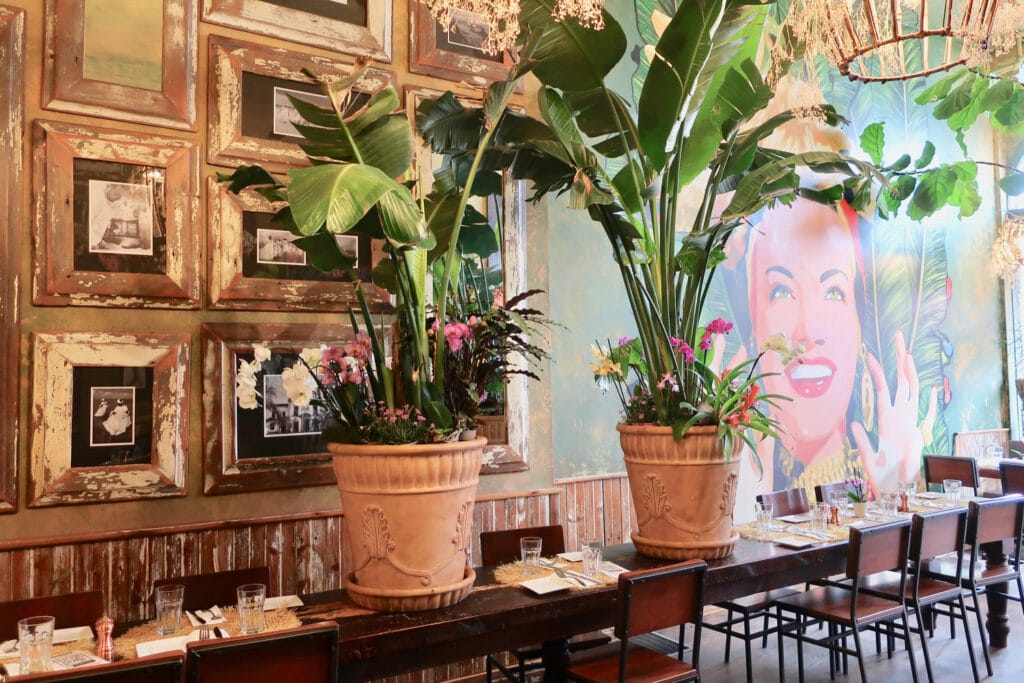 EAT: Samba
The song that Gloria Estefan made famous might earworm through your brain as you "shake your body, baby," through the door of Brazilian restaurant, Samba. The décor is all feathery flowers, palm fronds, tropical colors, string lights, black and white photos of old Brazil covering the walls, and vintage tableware atop straw placemats. It's as charming as the food is good – with an ambience made for love.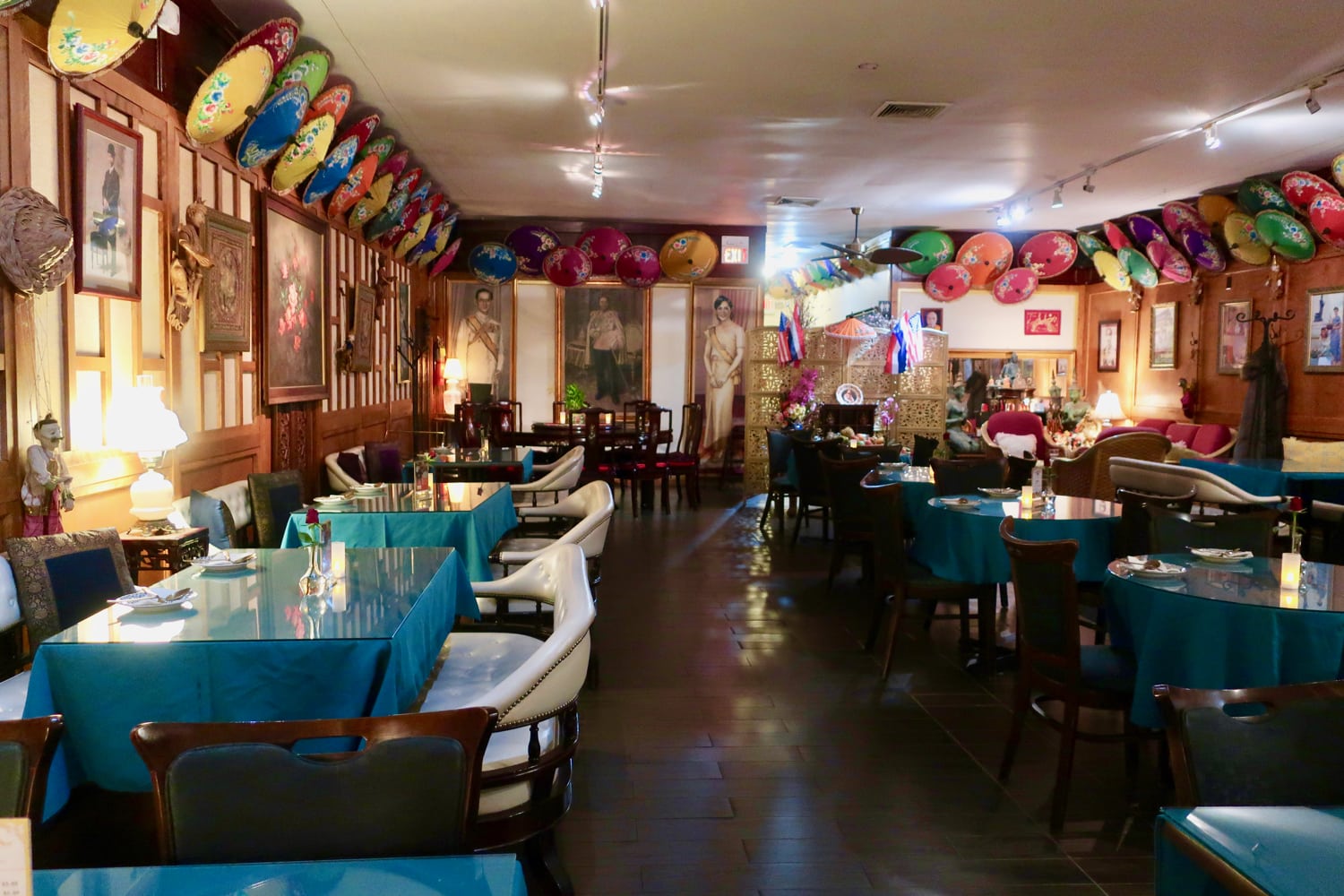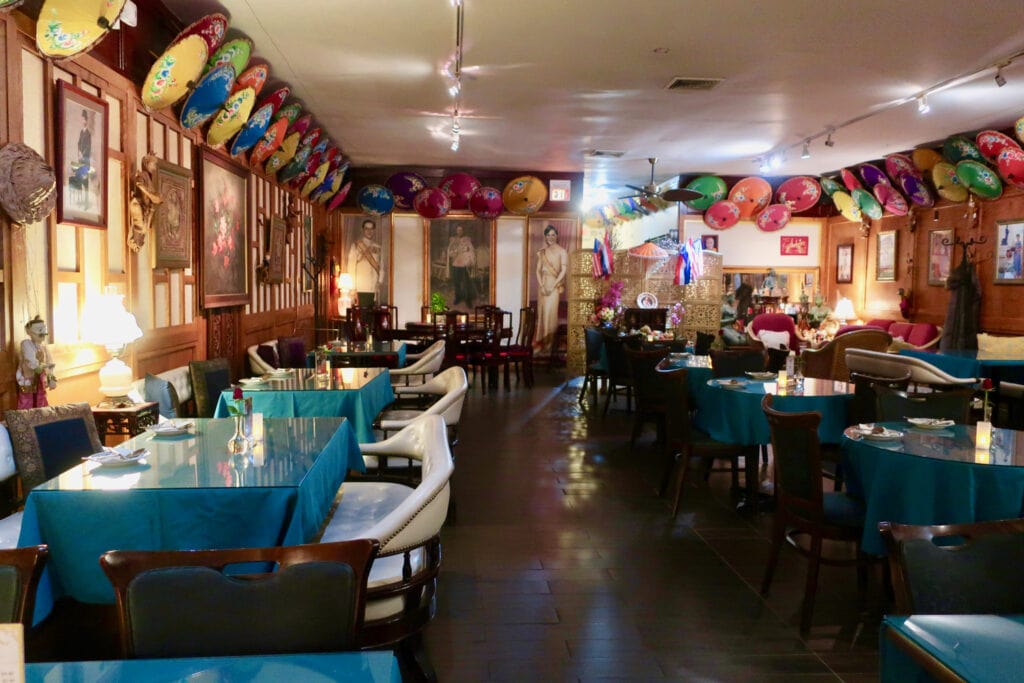 EAT: Charm Thai
In September 2022, Rachid Elgheur, and his Thai wife, Nunchy purchased the Thai restaurant in this space and renamed it Charm Thai. It's been recognized already as one of the best and most authentic Thai restaurants in the area: with dishes like Tom Yum Soup, Duck Salad, and Whole Red Snapper from head to tail.
From Morocco and trained in classical French cuisine, Elgheur spent years working for others in the restaurant business: 20 years at Oceana in NYC. But after the pandemic, he was keen to work for himself. When this restaurant came on the market, he and Nunchy jumped right in to express her Thai heritage through beautiful décor and cuisine.
Try the Chicken Curry Puff appetizer: popular for a very good reason. And, although not all menu items are plant-based, Charm Thai excels in vegan dishes. (e.g. Curries are made without fish sauce). I can attest to the deeply flavorful, yet delicate, Vegetables Delight (Pad Puk). I'd return for that alone.
Best Hotels in Montclair NJ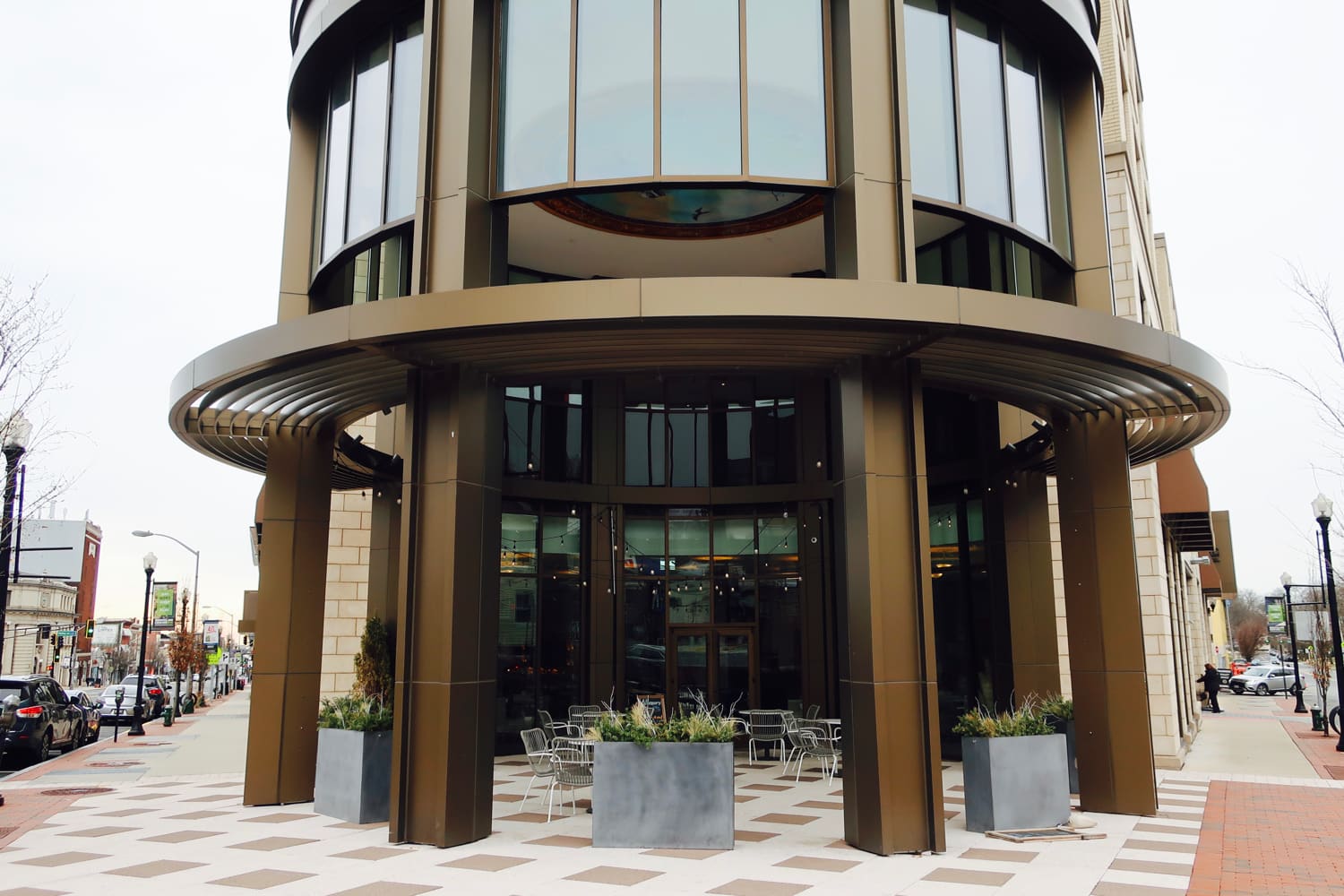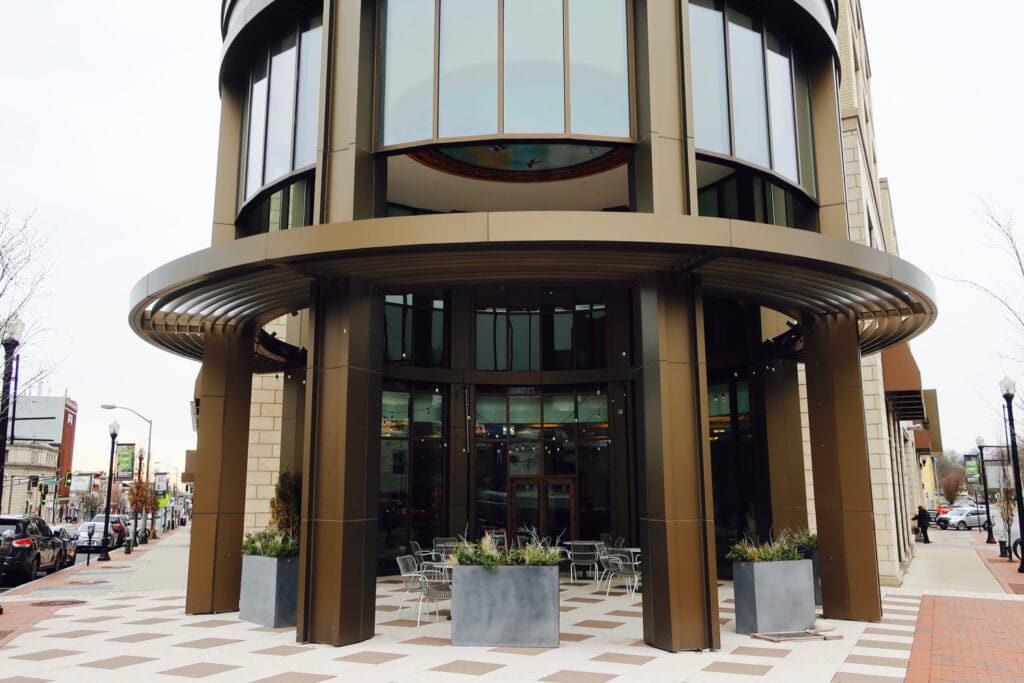 STAY: MC Montclair, an Autograph Collection Hotel
The boutique hotel, MC Montclair, is wedged where the town's main shopping artery, Bloomfield Ave., forks with Orange Rd.
During the week, with Newark Airport a mere 20 minutes away, the MC Montclair caters to the business traveler. But on weekends, theatergoers (Wellmont), art aficionados (Montclair Art Museum), history buffs (Montclair History Museum), sports fans (Giants and Jets MetLife Stadium – 15 minute drive), and romantics looking for a full-service boutique lifestyle hotel, occupy the rooms.
As with most (if not all) Autograph Collection hotels, the décor and vibe of MC Montclair corresponds to the beat of the surrounding community. The hotel's "Director of Lifestyle" integrates local businesses into programming and events wherever possible. In a town teaming with fine and performing artists, that translates into both a wonderful visual experience, and live music many nights.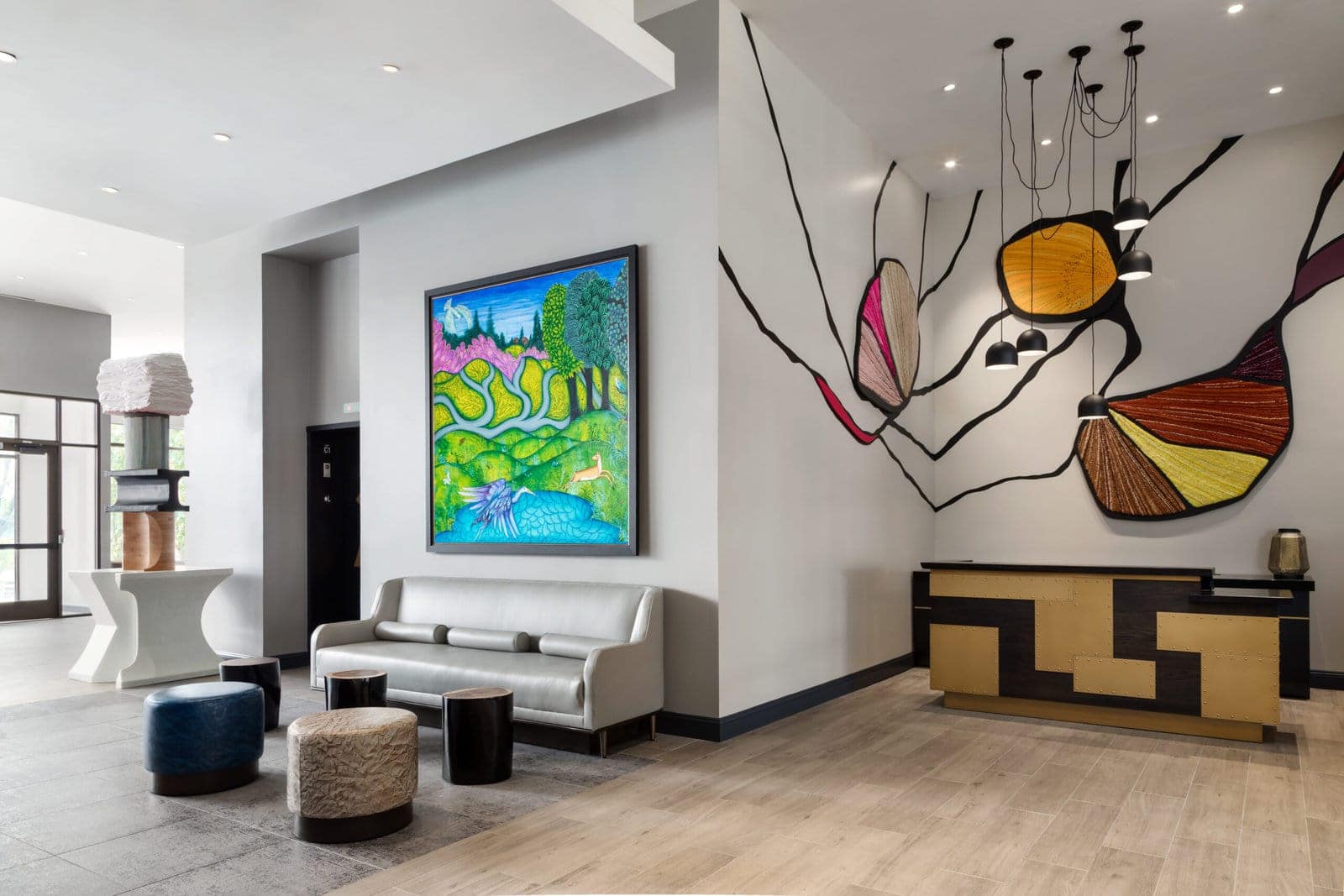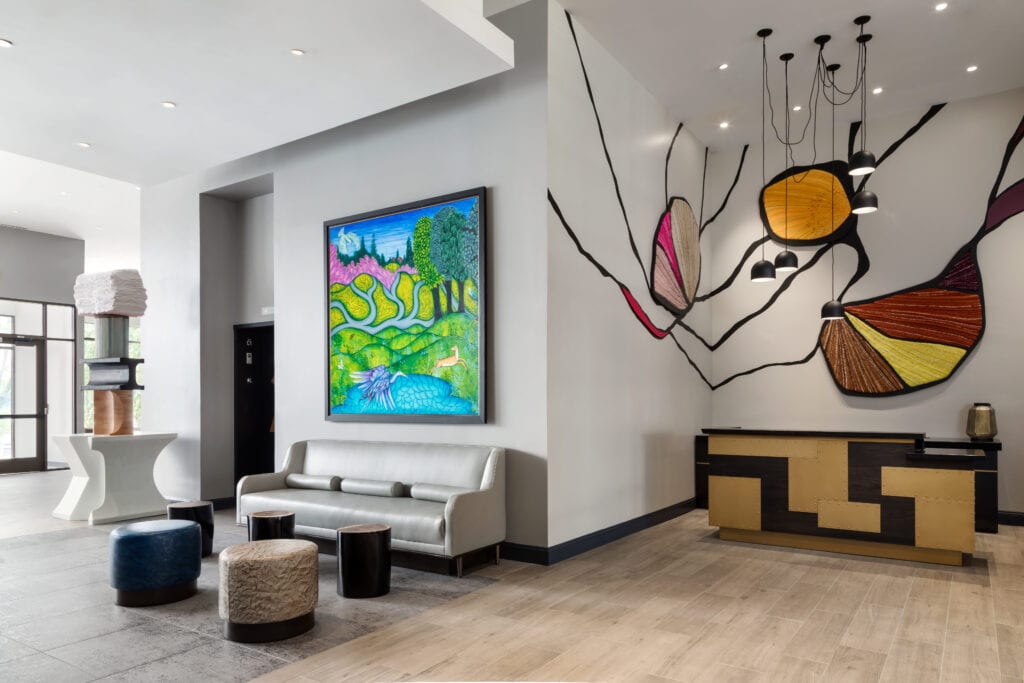 First Impressions
From the outside, the MC Hotel appears like any other newly built office building, (albeit with a UFO-shaped entrance to in-house restaurant, Allegory). But, step inside and it's a different story. An fiber-arts piece organically climbs the wall behind a small 2-person reception desk.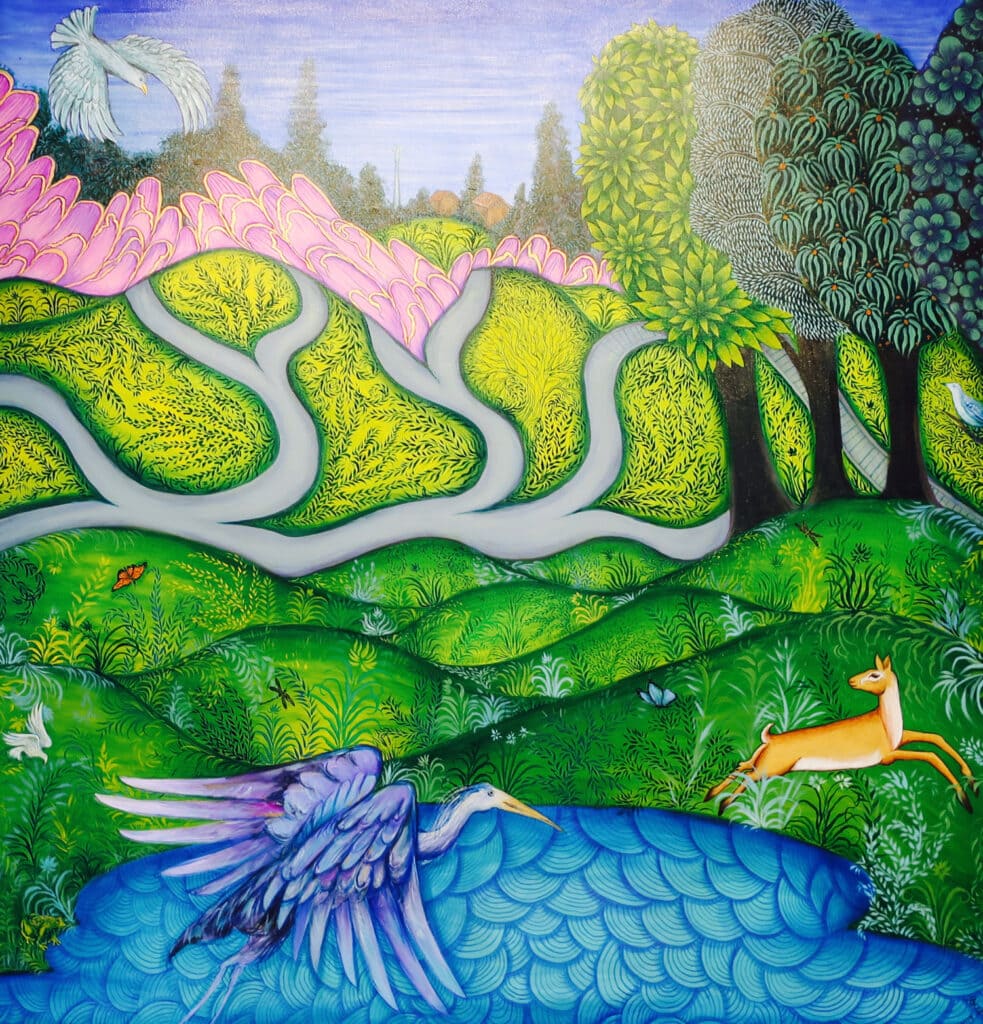 Striking landscape paintings by local artist, Siona Benjamin, make bold and vividly colorful statements in the lobby and elevator landings on every floor.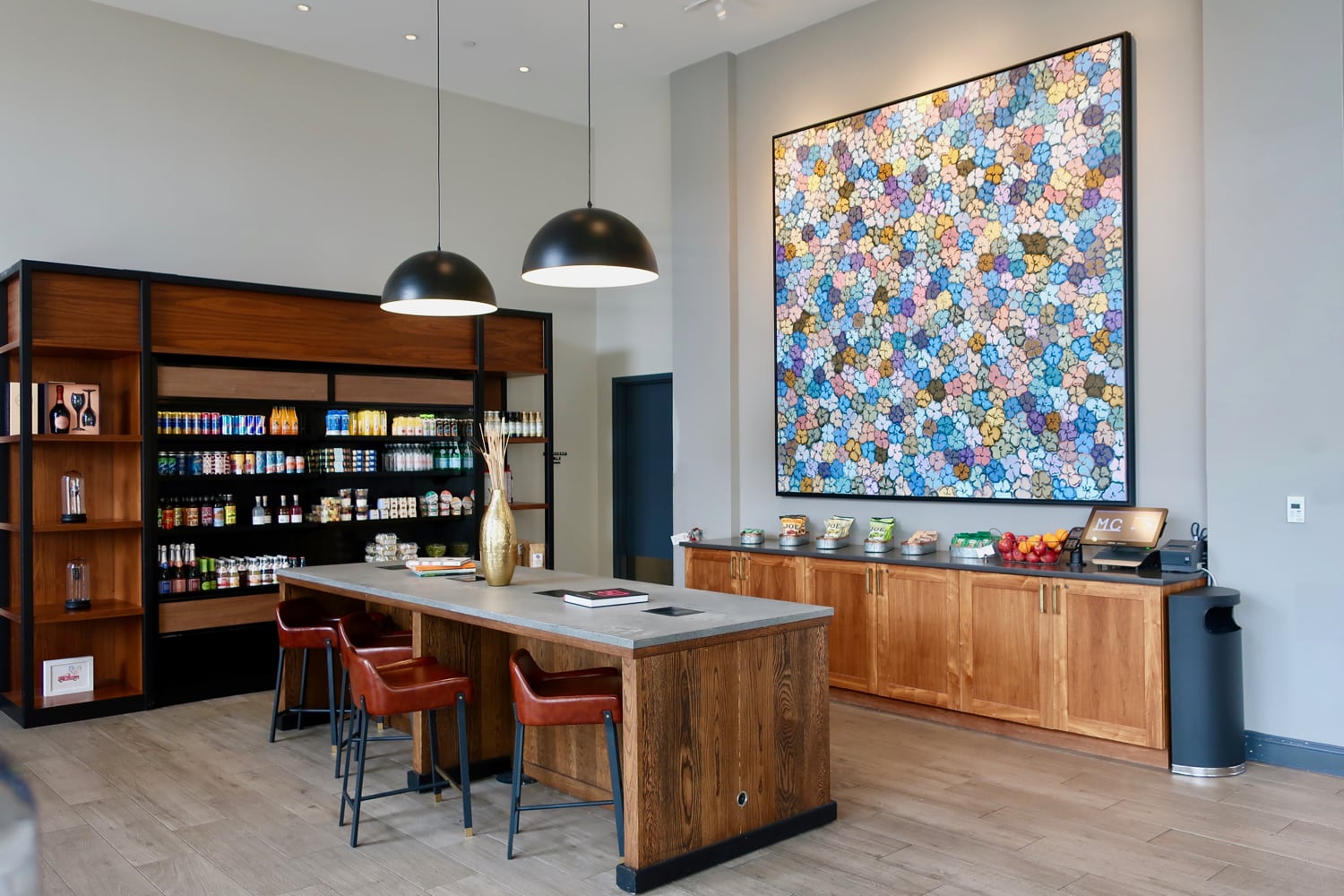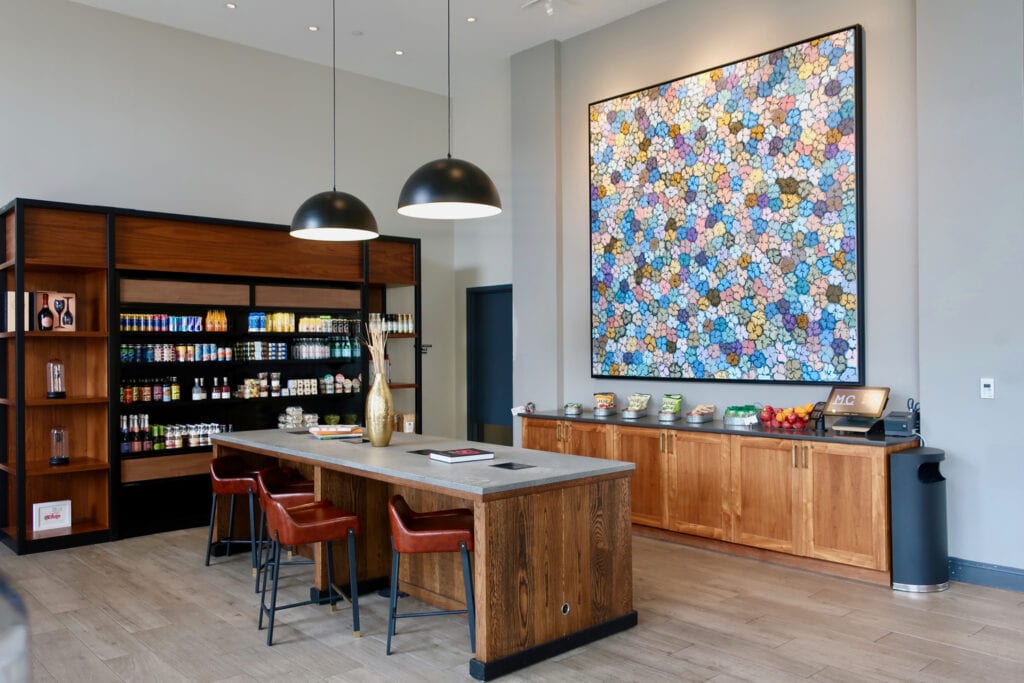 The soaring sunlight-flooded lobby-bar area hums with guests. An eye-catching piece of poppy art tops one of the credenzas in the Grab and Go corner. It all comes together in a massive, soaring room that portends a great stay.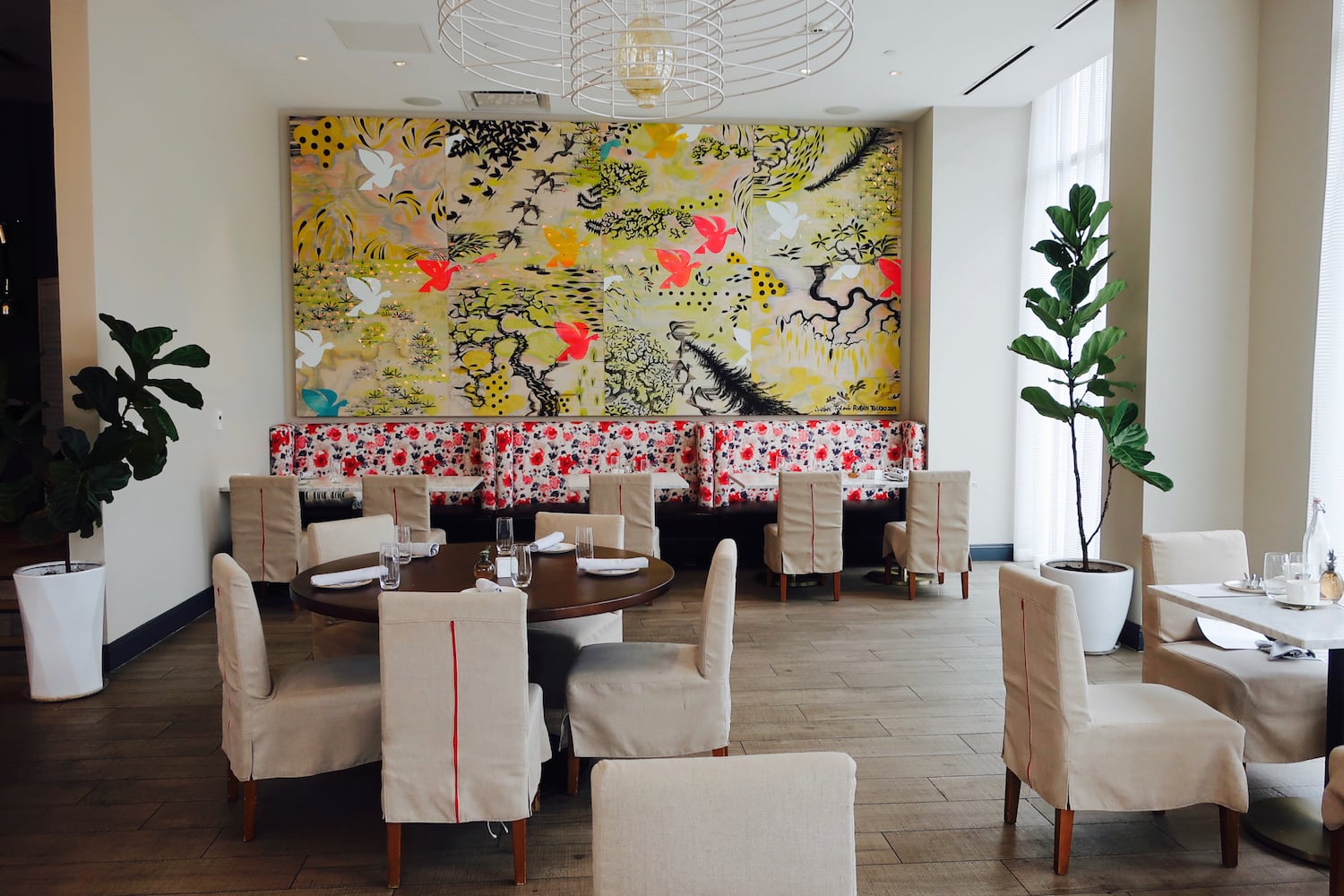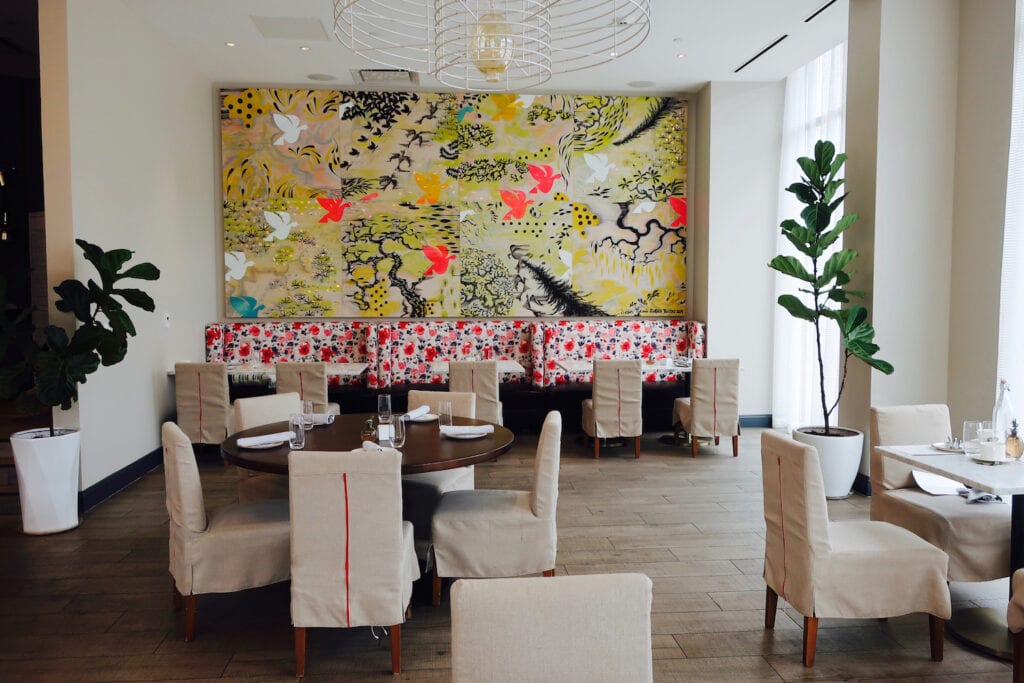 Dining at MC Montclair
Allegory Restaurant and Bar
The Allegory Bar and Restaurant runs the length of the lobby along a wall of floor to ceiling windows veiled with gossamer curtains. During weekdays, the space hums with business deals and meetings.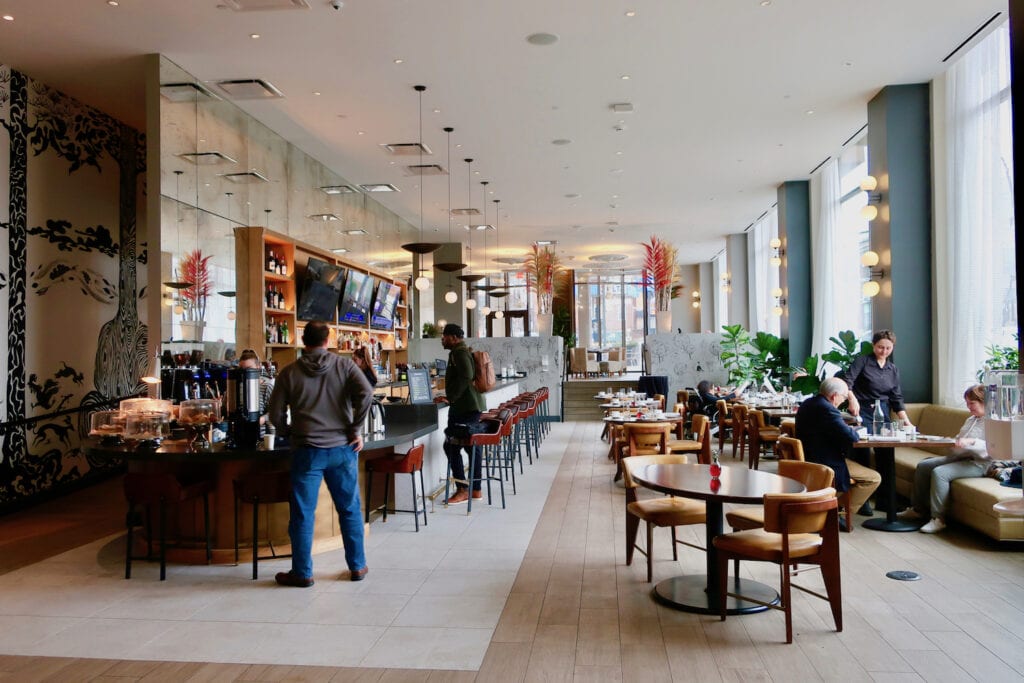 Allegory Restaurant continues up a few steps where the space is more intimate and swanky. "Destination restaurant" excellent, dishes are very fresh, which is no surprise.
Pastas are made in house. Honey comes from rooftop bees. Many veggies – zucchini, peppers, herbs, and edible flowers – are also grown in the hotel's rooftop Urban Garden.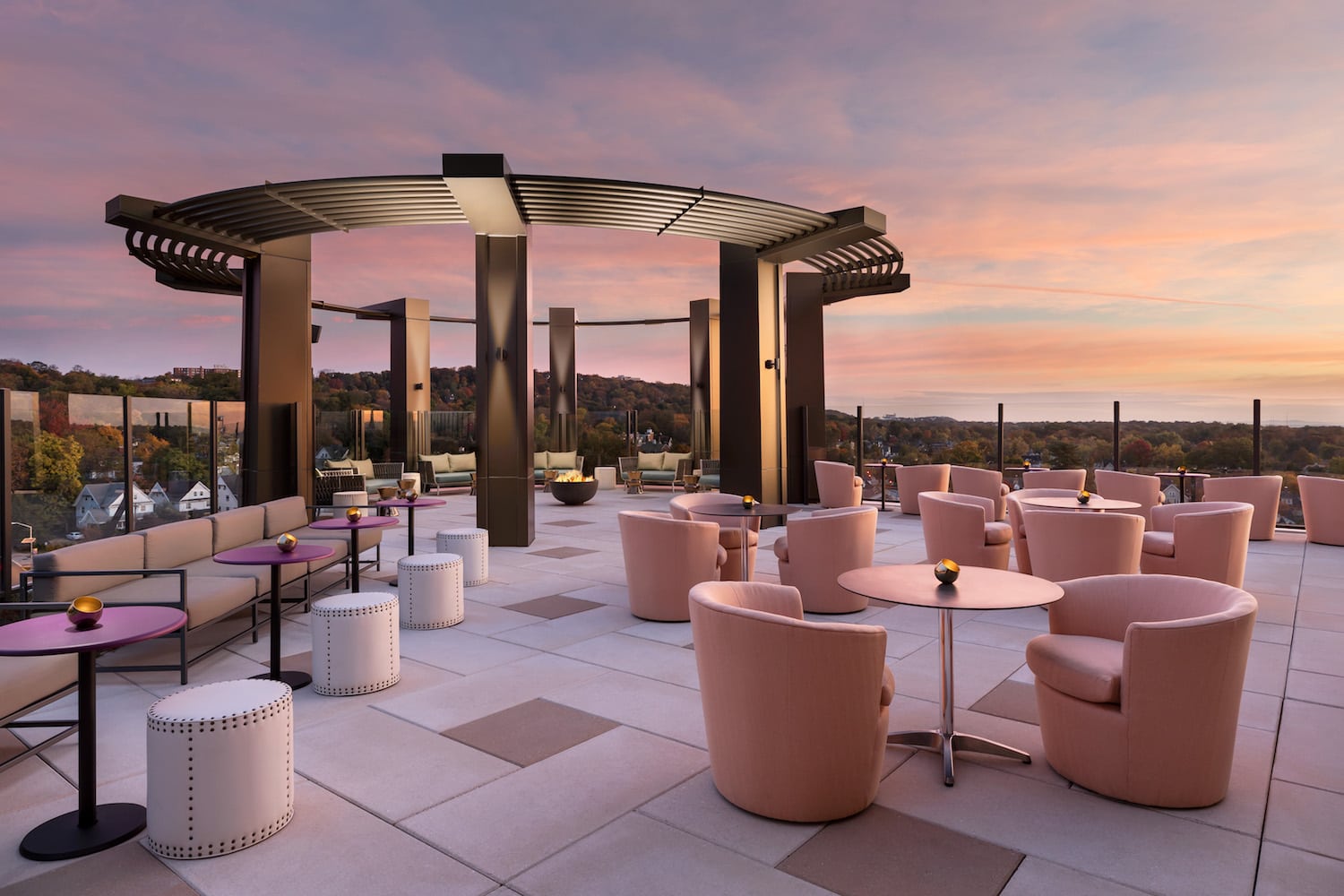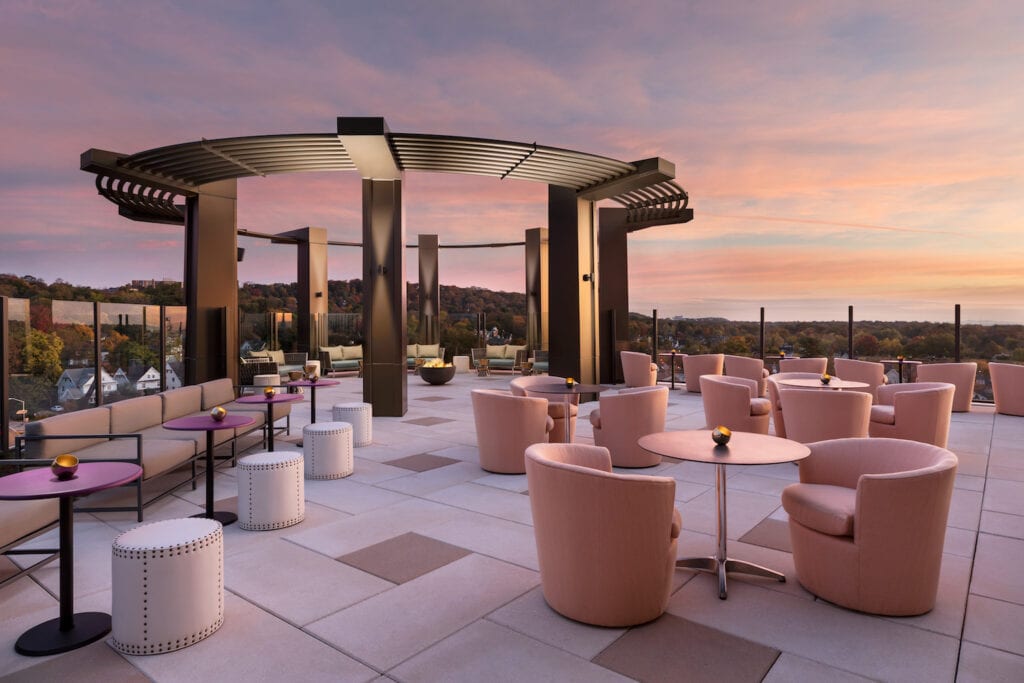 Alto Rooftop Bar
On a clear evening, you'll want to have a cocktail and lite bite at Alto – the 9th floor rooftop bar. From here, catch your breath while taking in the 360-degree view of Montclair, the Watchung Mountains, and most importantly, New York City. At night, Manhattan's twinkling lights feel close enough to touch. Don't miss this exceptionally moving panorama, even if you're not having a drink.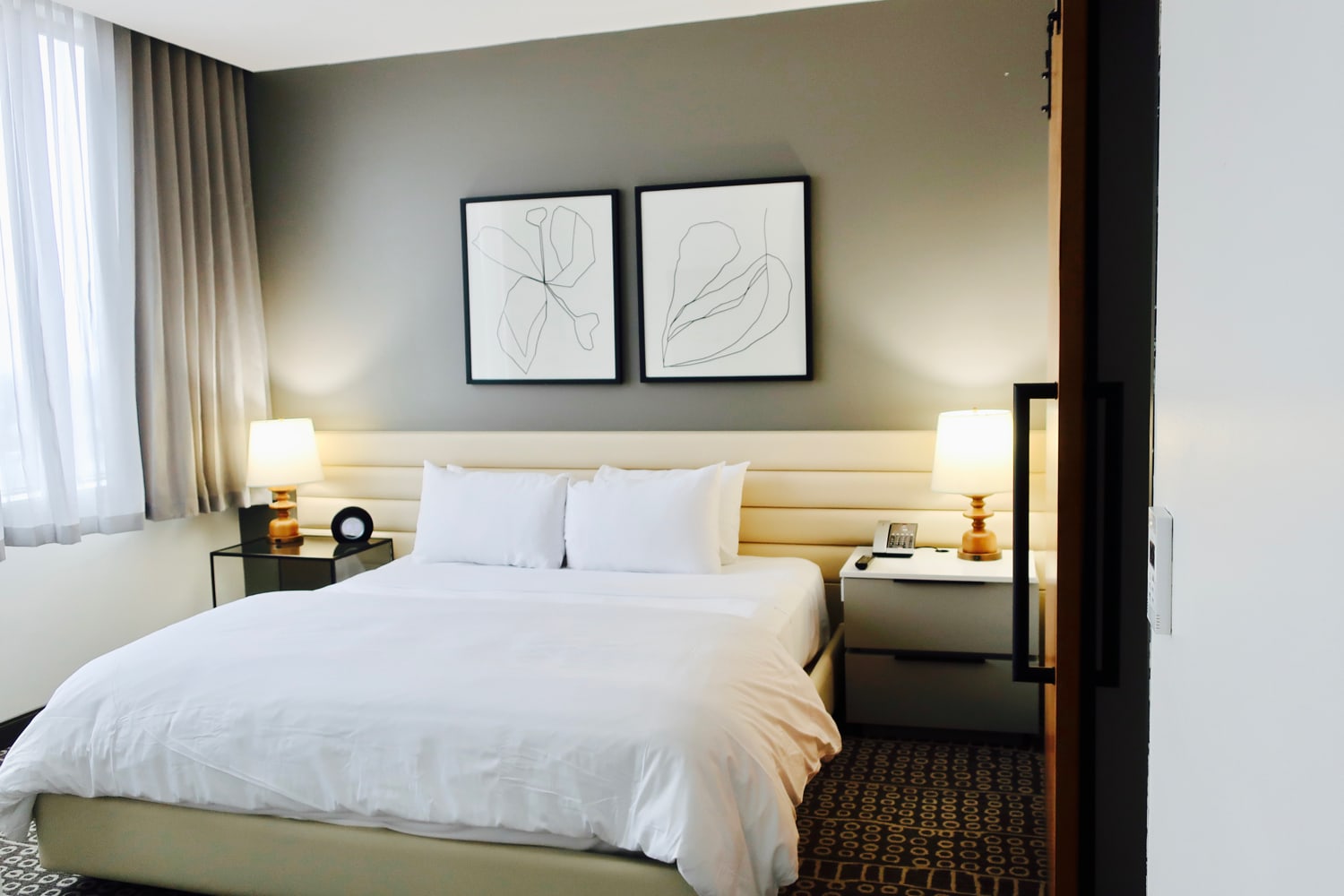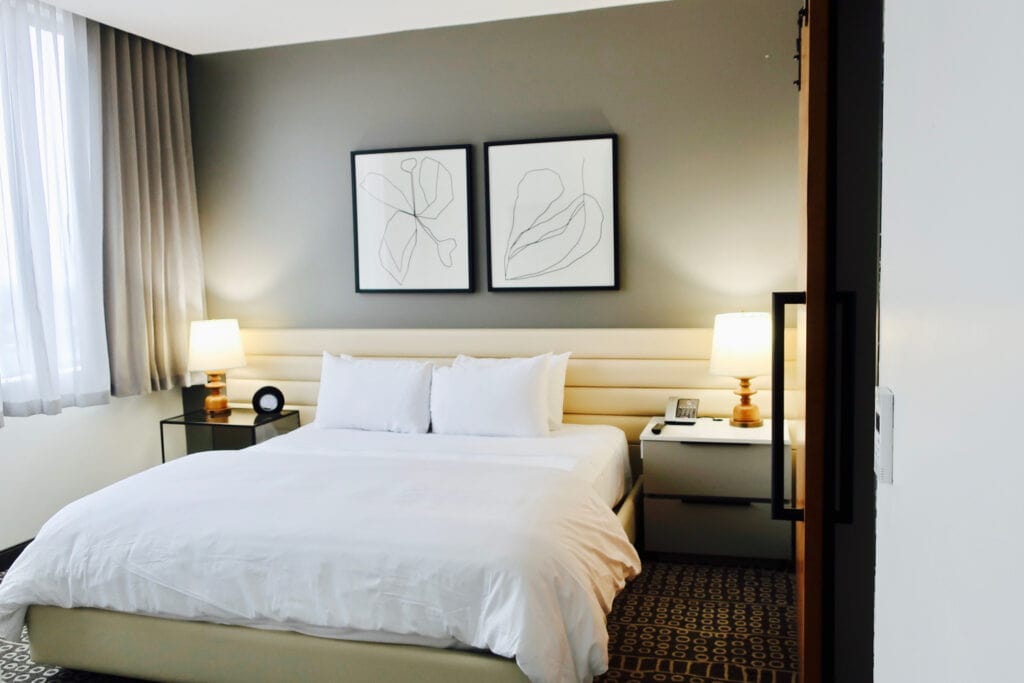 Guest Rooms
Guest rooms showcase the latest in Mother Nature's pallet, with modern furnishings, leather headboards, puffy sink-into bedding, and all the accoutrements of a luxury hotel.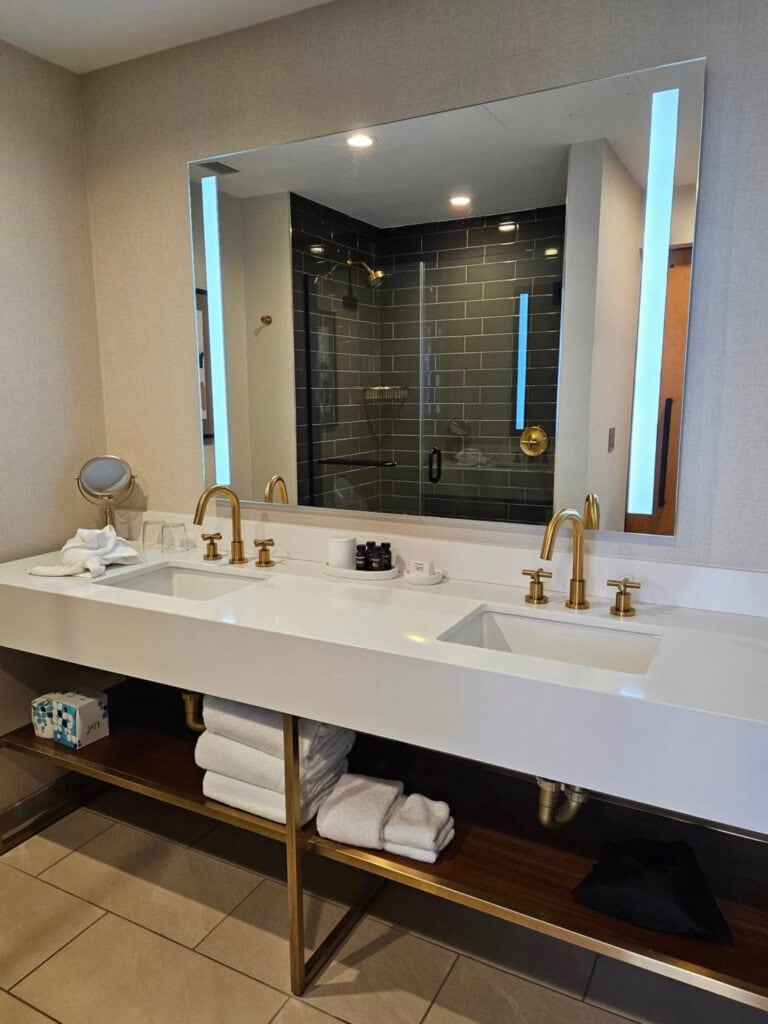 Bathrooms gleam with brass fixtures, charcoal colored shower tile, and double sinks.
Fun and Affordable Events and Meals
MC Montclair not only draws businesspeople and leisure travelers from out of town; it's also a great asset to the community. On Monday and Tuesday nights, guests and locals can grab a burger and beer for just $20. On Wednesdays, there's Happy Hour pricing all day.
Thursdays entice romantics, who come in for a proven aphrodisiac: Oysters & Bubbly (6 oysters and a glass of sparkling wine for $15). Looking for a great proposal site? Take said oysters and bubbly up to Alto on a clear night, and pledge your undying love with the lights of Manhattan winking in the distance.
On certain days, there's Yoga, Spinning, and Boxing sessions on the rooftop. And General Manager, Julian, has already instituted a Wednesday Morning Running Club, and aims to add more programming.
Just the Facts
Rooms and suites from $179 to $1200 for the King Suite include access to the fitness room, morning coffee.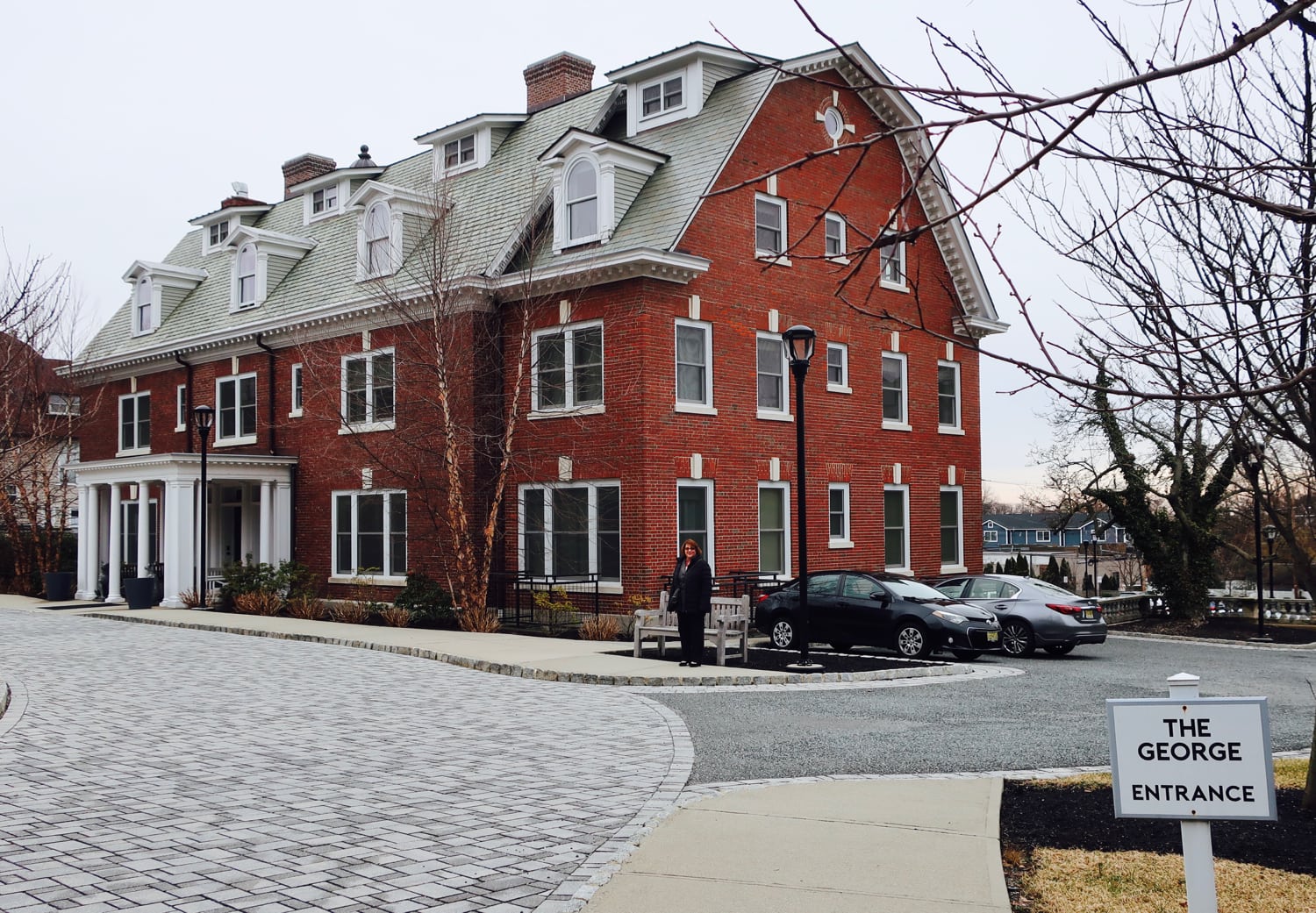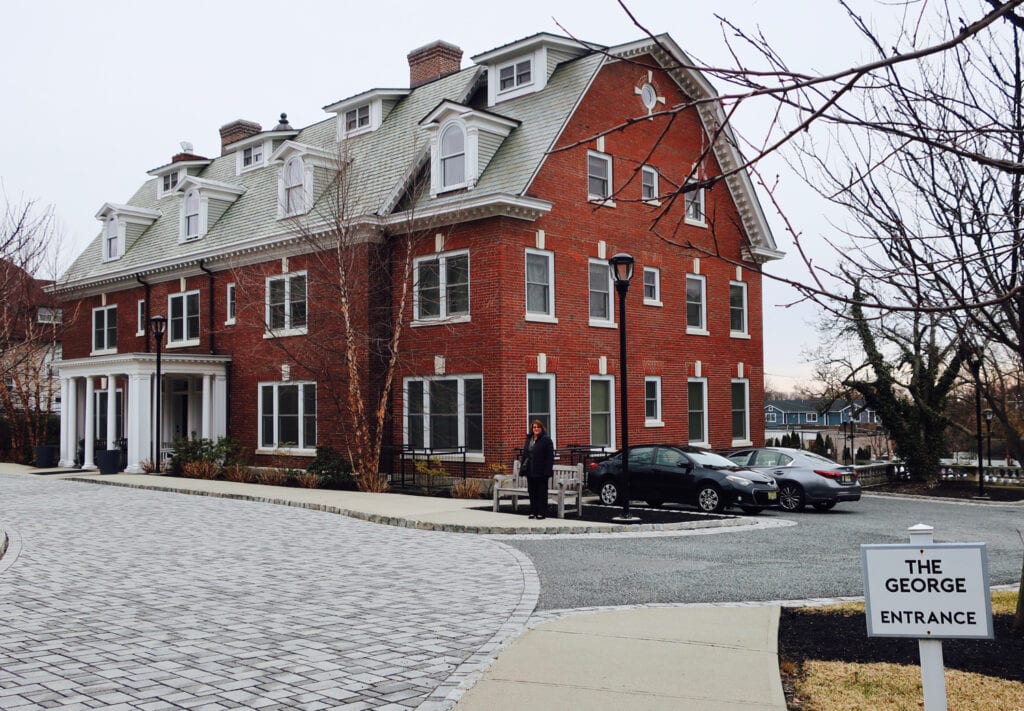 STAY: The George
The George, a 31 room luxury boutique hotel within a renovated grand Georgian mansion, is Bobbi Brown's "love letter" to her town of Montclair NJ.
Brown, with husband Steven Plofker, spent three years renovating and designing the interior of this 1903 beauty, opening it in 2018 to much anticipation. It's been drawing celebrities, trendsetters, and regular folks who appreciate beautifully designed – yet homey – luxury inns, ever since.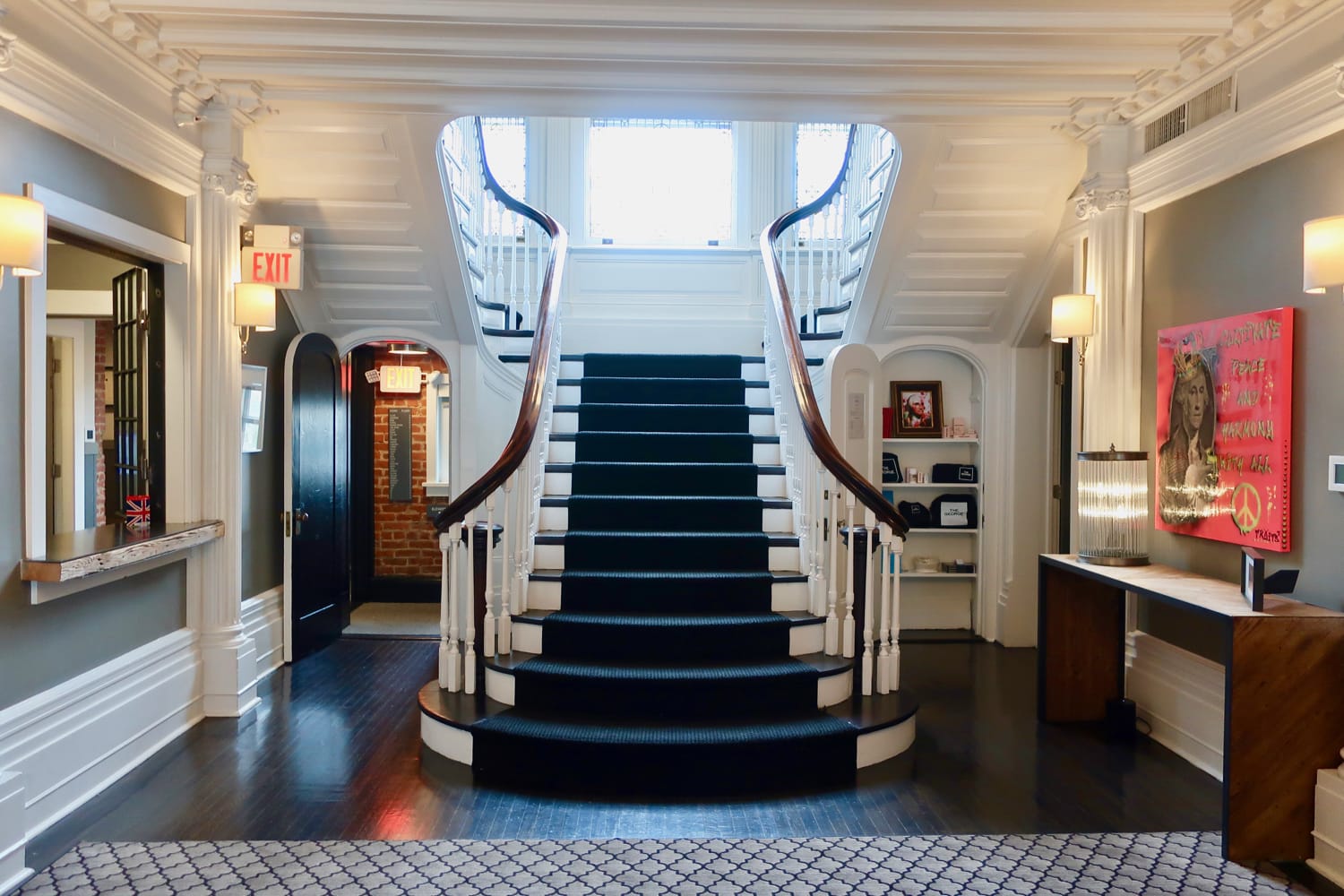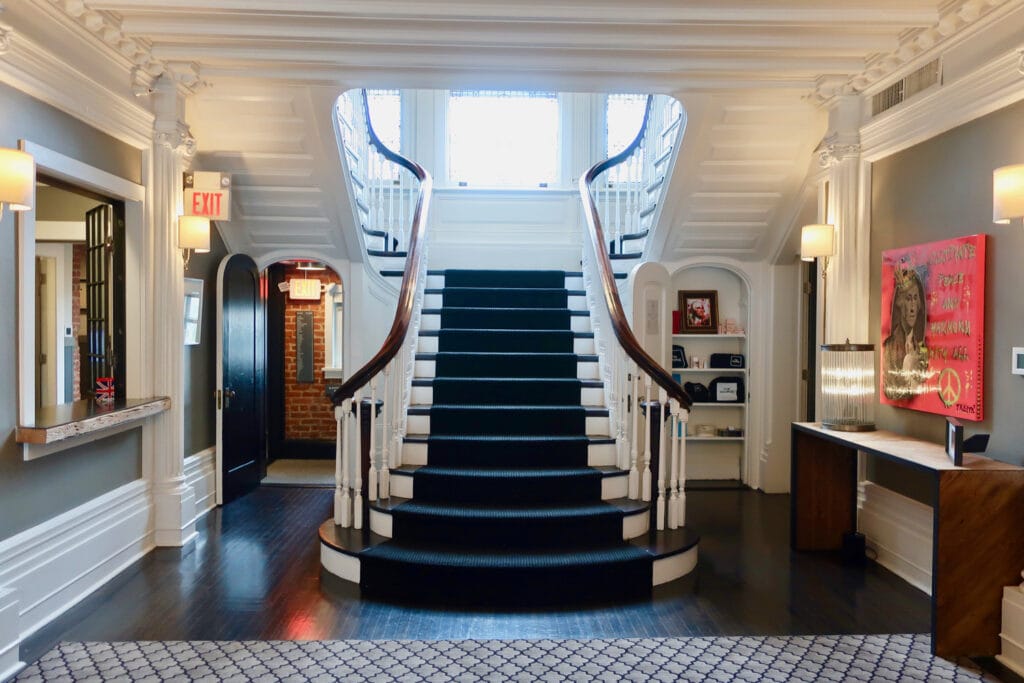 First Impressions of The George
Walk in the front door to a lovely foyer with a double staircase framing a large stained glass window. It's where many a wedding photo has been snapped, and "first looks" occur. Paintings and photos of Georges (Washington, Clooney, etc.) adorn the walls.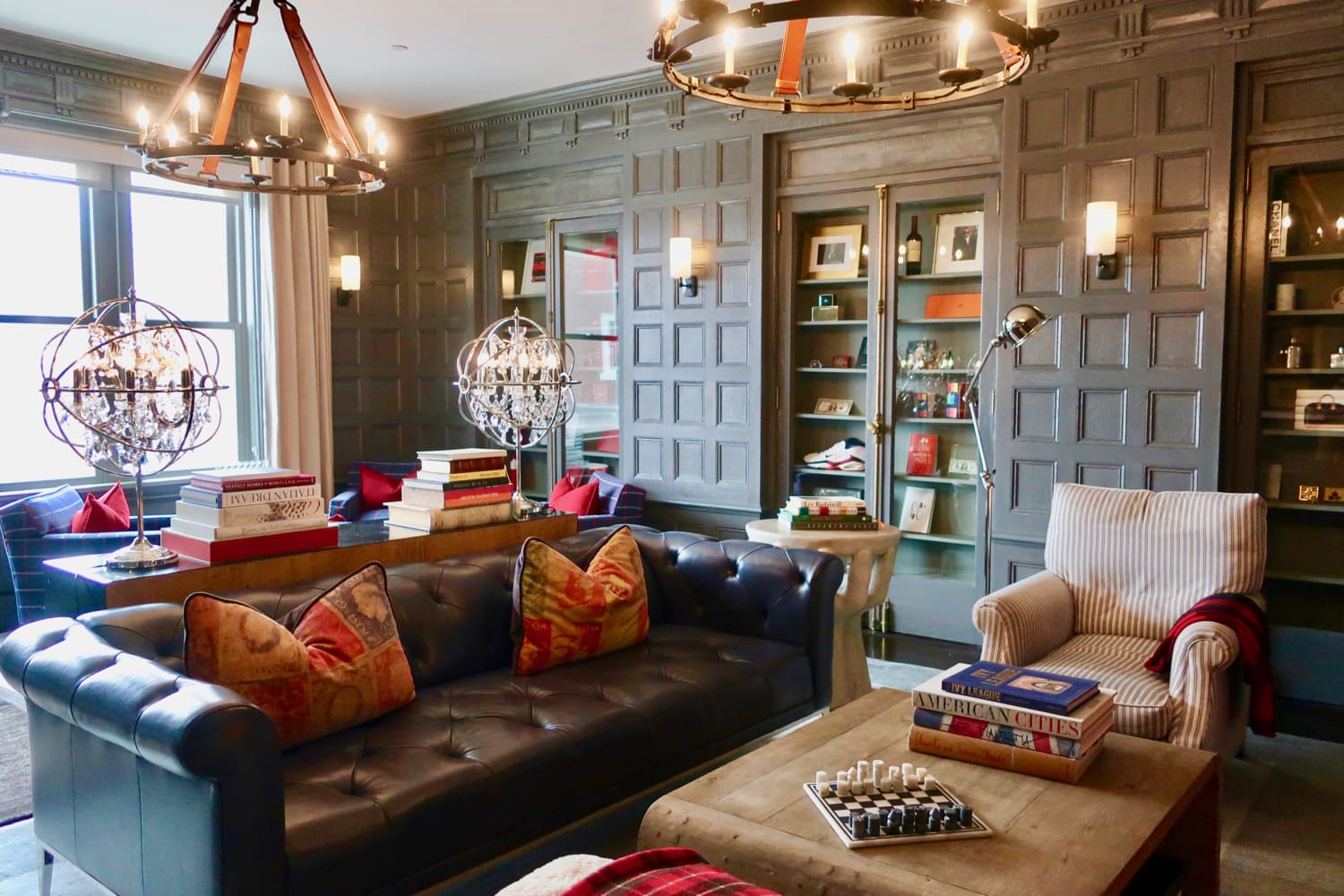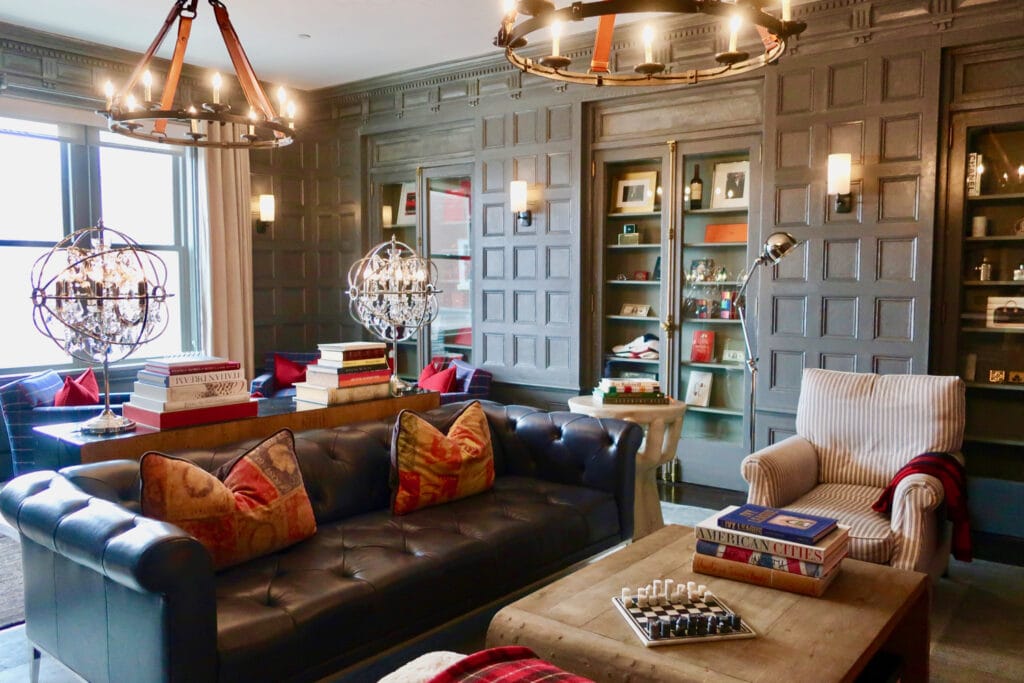 Staff members welcome guests and their pups warmly – "warmly" being the operative word, both physically and emotionally. Every evening from 5-7, those who stay overnight are invited to sip complimentary wine in front of a roaring fireplace in the ravishing library.
It's no surprise that people connect here. Friendships form in such surroundings, where the combination of wine and fire thaw out bones and defenses. On cold or stormy days, guests love to sit on tufted leather couches or cushiony chairs, perhaps a dog at their feet, reading, or playing chess, and raiding the candy closet.
Yep, there's a whole closet dedicated to all of your favorite confections. According to staff, the Candy Closet has become one of the top draws here.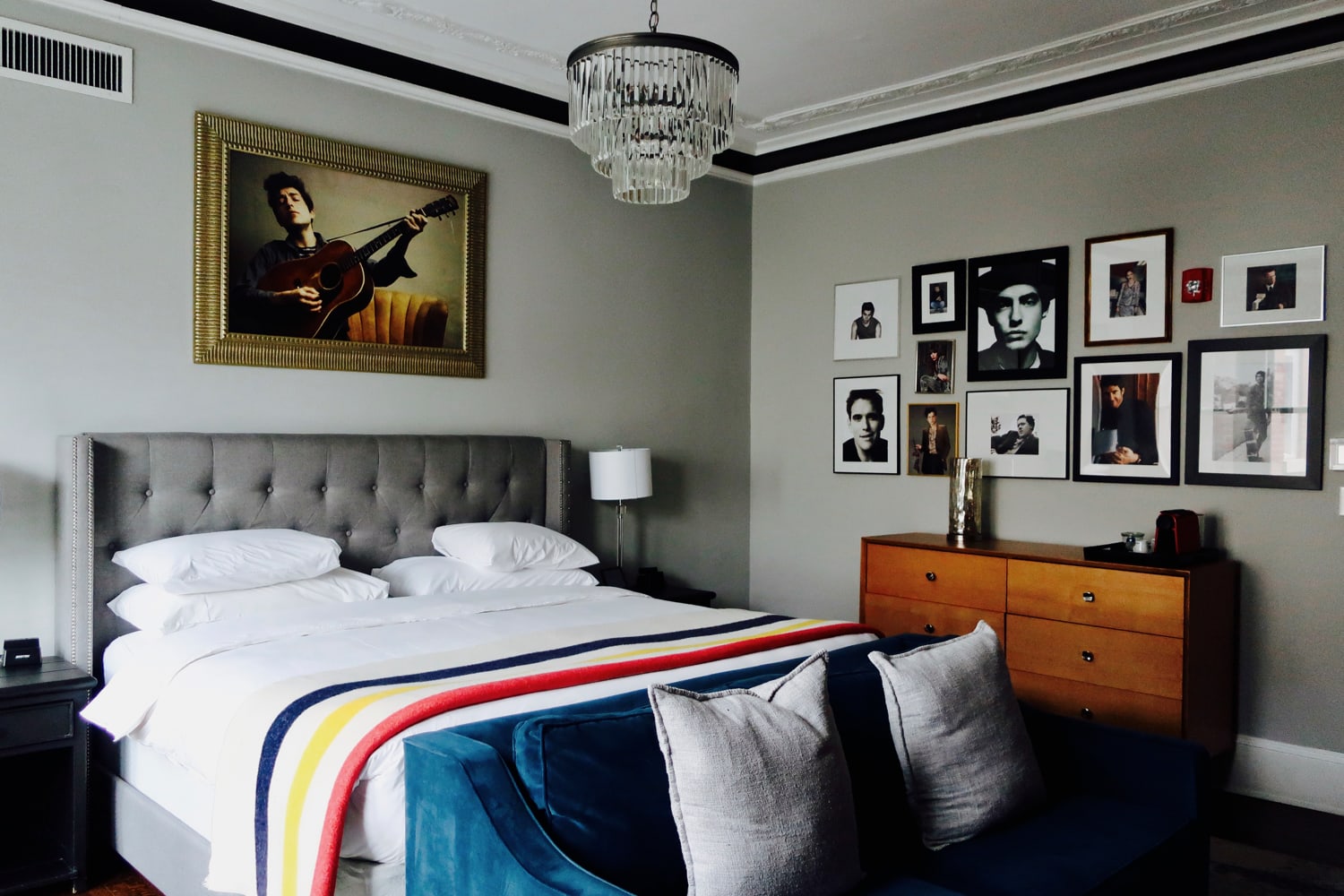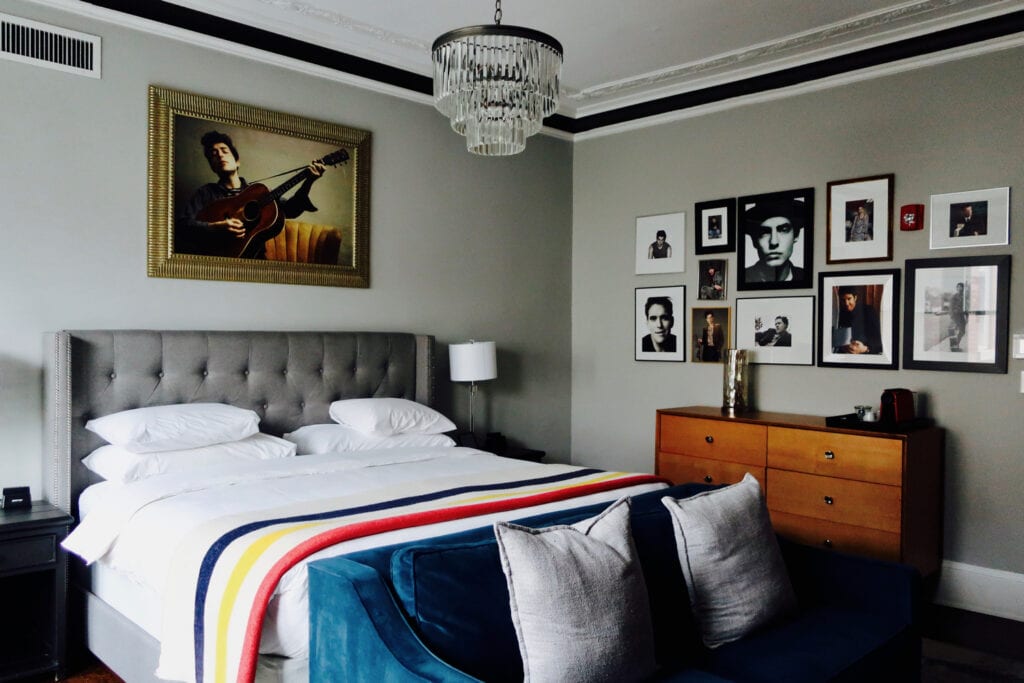 Rooms
In her room designs, Brown has embraced a very personal kind of whimsy. Rather than numbers, rooms and suites are identified by the first names of people important to the Brown- Plofker's: such as their sons, Duke, Dylan and Cody.
All rooms feature Casper beds, Smeg mini fridges and Dyson hair dryers, and for some reason feature subtle UK tweaks, like Union Jack throw pillows and Tartan patterned headboards.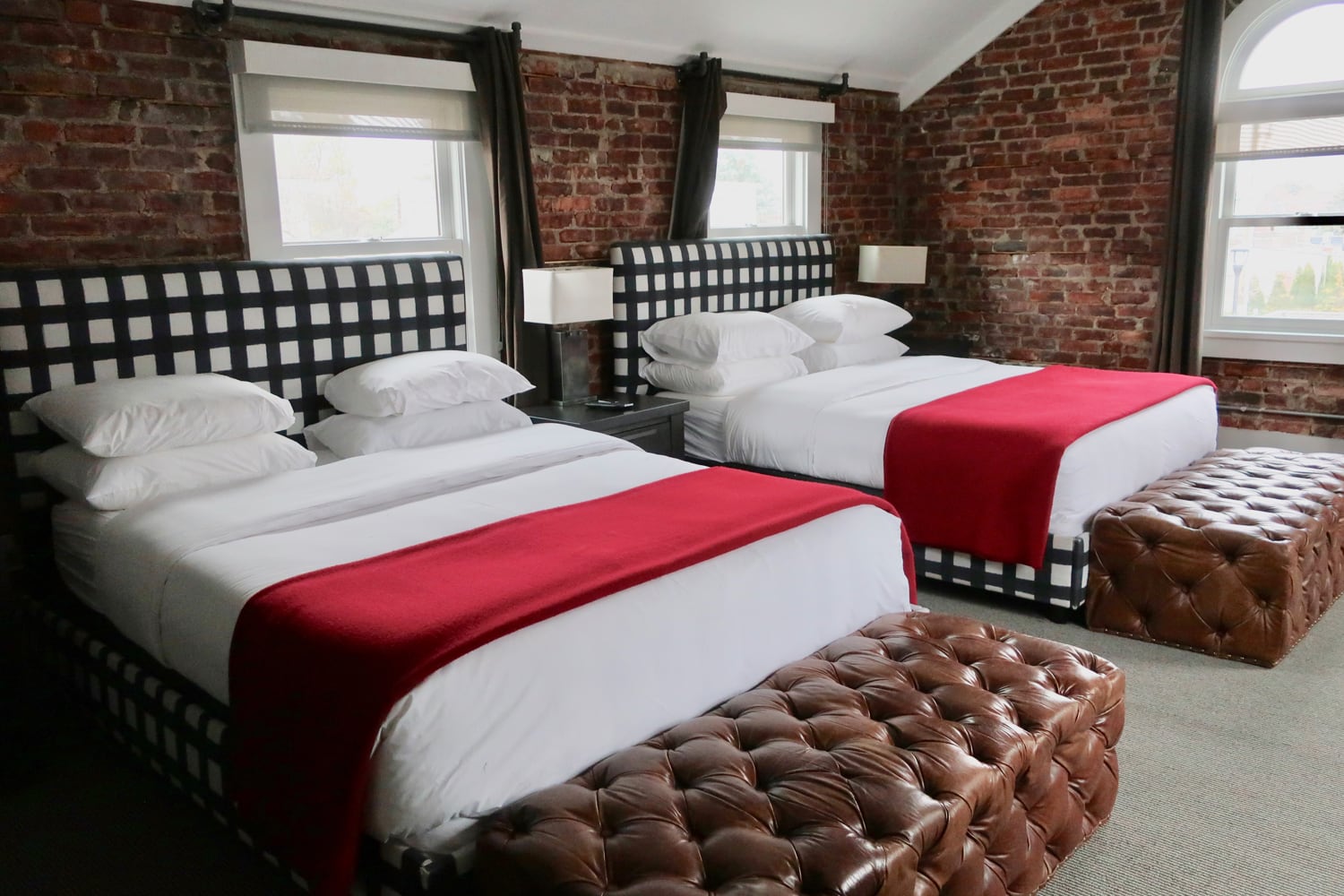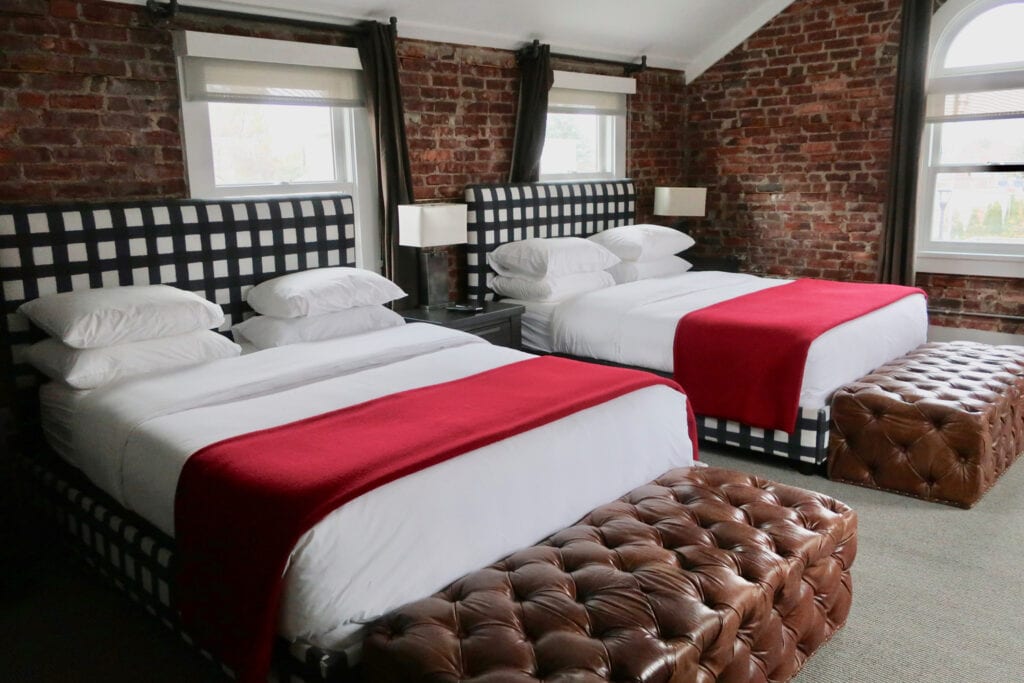 But what also sets these guest rooms apart from other trendy lodgings is that each named room displays photos of famous people who share the name in some way. (In the Ed room, for instance, there are pictures of Sullivan, Sheeran, Murphy, etc.).
Room and suite sizes and shapes vary, but brides seem to prefer the Cody Suite with 2 Queen Beds and plenty of room to get ready for the Big Day.
Breakfast
In the morning, guests head downstairs for an "extended Continental Breakfast" featuring incredible bagels and baguettes from Montclair's Le French Dad Boulangerie: a bakery that would seem right at home in the heart of Paris.
Just the Facts
Rooms and suites from $359-$600 include parking, complimentary wine hour, expanded Continental Breakfast, and access to The Candy Closet.