The Getaway Mavens realize that "romantic" means different things to different people. So, we offer ideas for 16 different romantic hotels in Maine, be they full-service, motels, B&B's, or Guest Houses.
We've got ideas for lovers who only stay in luxury full-service hotels, sweethearts who are wild about the opulence of a former age, dreamers who love spectacular water views, (even if means sharing a bathroom), and true companions thirsting for the latest hot hotel or best, unassuming, in-house restaurants.
Maine – the northernmost state in New England – is best known for its coastline towns, with romantic inns and hotels in abundance. But we've got several ideas in mid and western Maine, also, that are well suited for a passionate getaway. So read on for our list of some well-known, and other surprisingly romantic hotels and lodgings in Maine.
Looking to broadening your search? Maine Tourism has a host of "perfect New England Getaways" as well.
16 Outstanding Romantic Hotels in Maine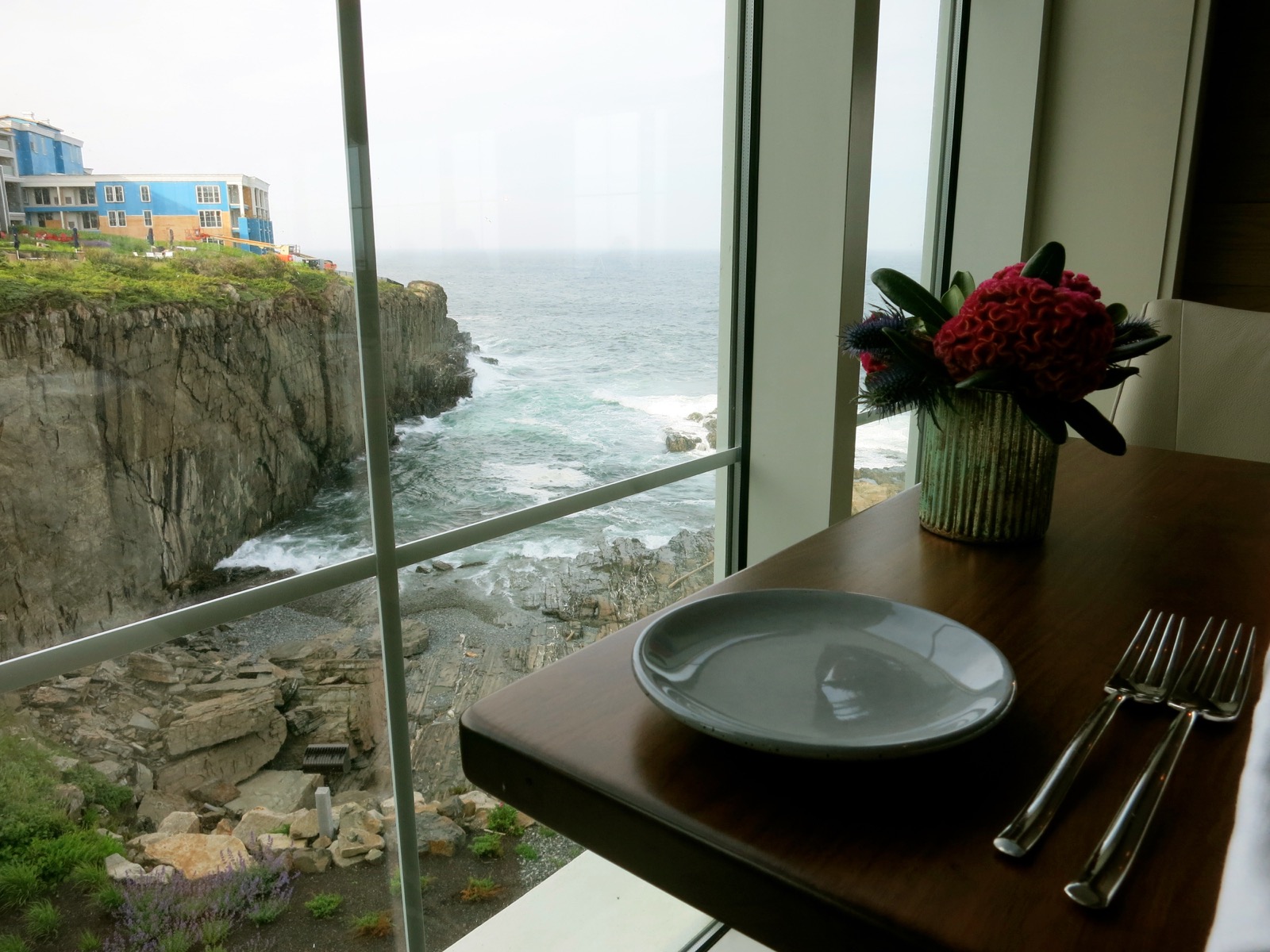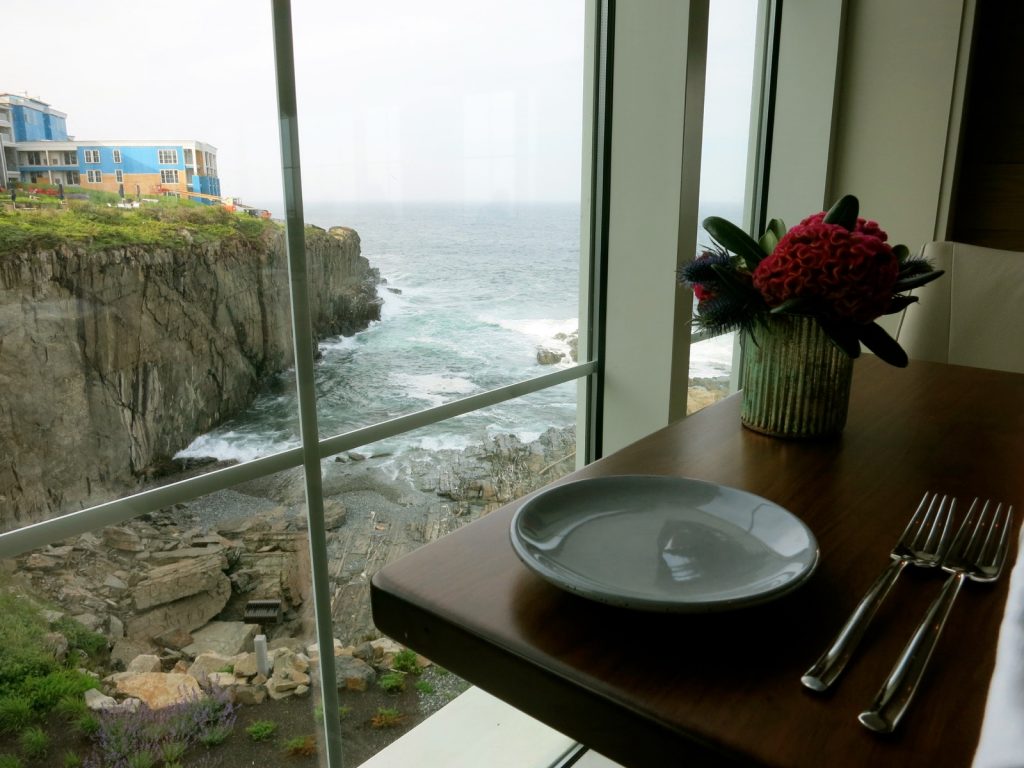 Cliff House, Cape Neddick
InStyle Magazine called the re-imagined Cliff House on the Southern Maine Coast in Cape Neddick one of the best spots in the world to get engaged. And when you drive past lovely shore homes, pull into the long drive, and at last enter this Oceanside resort that conjures up images of Jane Eyre on the moors, you'll understand why. Inside, the dark reclaimed wood floor is as old as the hills, however, the whole blasted place feels as fresh as the breezes that blow over the moody Atlantic Ocean– right outside a soaring wall of windows.
What makes it romantic? The setting; the cliffs; the crashing waves of the Atlantic Ocean.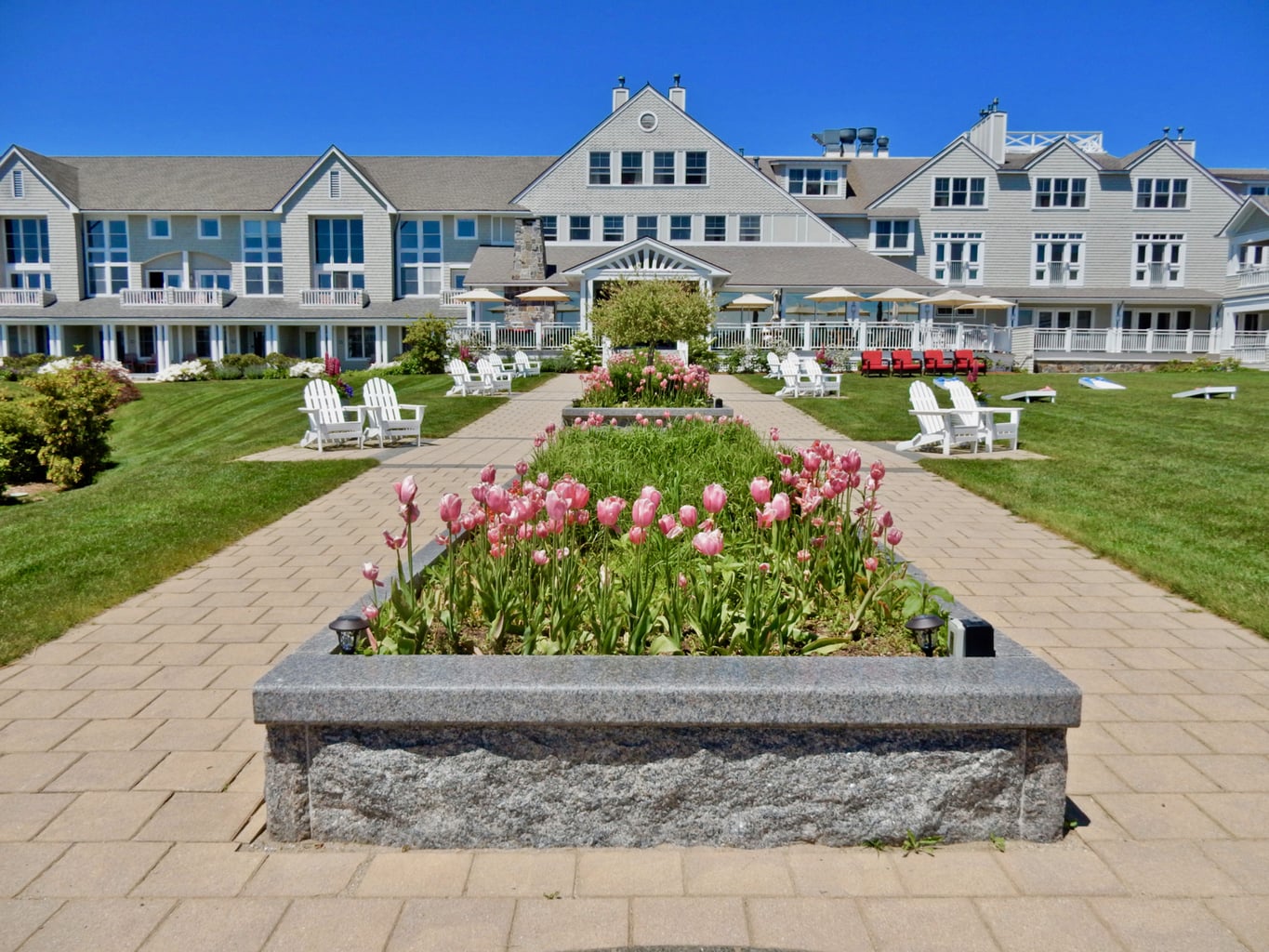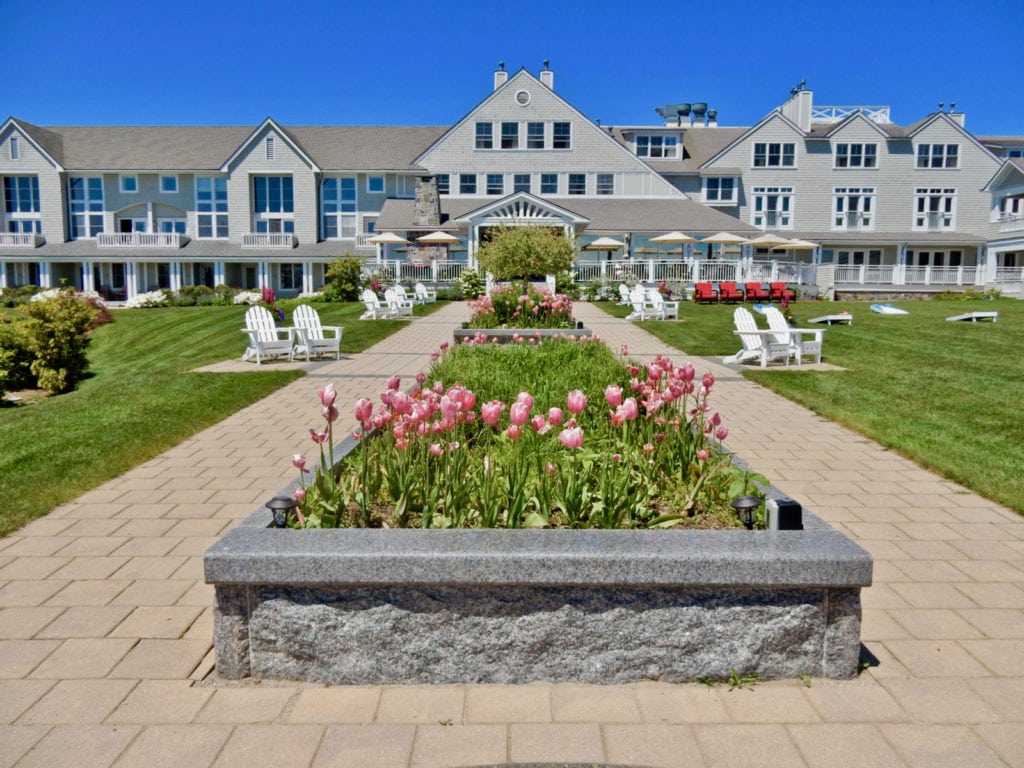 Inn By the Sea, Cape Elizabeth
I've been writing about Inn By The Sea – an environmentally conscious, dog-friendly, 61 room luxury seaside hotel in Cape Elizabeth ME – for years. Only seven miles from Portland, a stay here provides travelers with the best of two worlds: a conservation-oriented high-end beach experience, and the foodie paradise of Maine's largest city. Inn By the Sea is one of the most luxurious, big dog accommodating hotels in existence. Plus, it's affiliated with a dog adoption agency. So you can take your new best friend right home when you leave.
What makes it romantic? Lovers who love their dogs do not have to leave them behind. The rooms and grounds are spectacular. The spa will spoil you (and your pup) to bits. Fantastic on-site restaurant.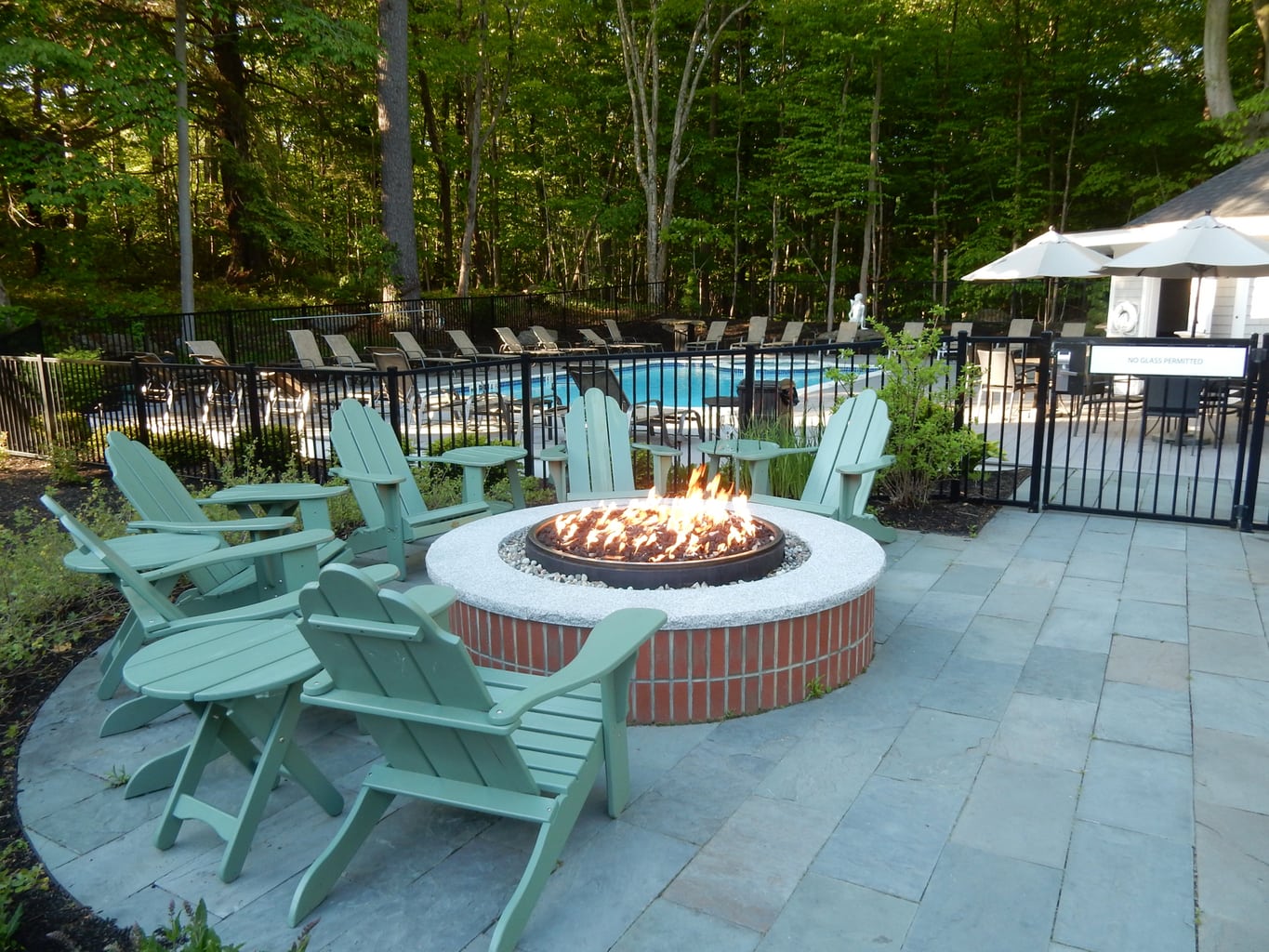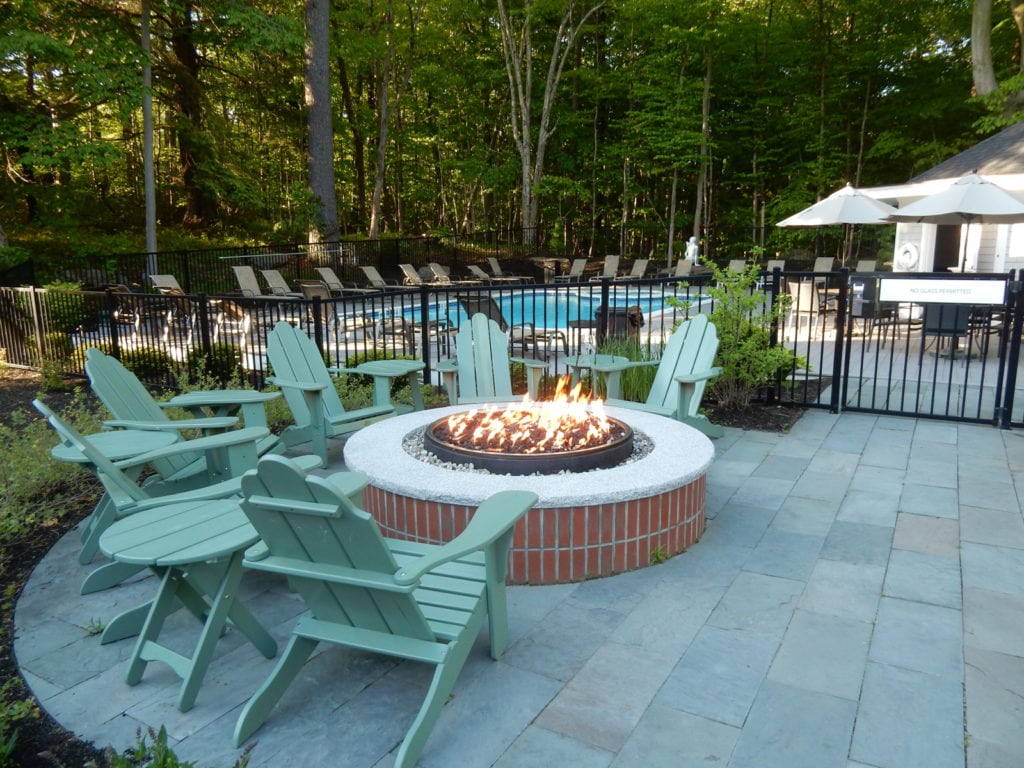 Inn at Diamond Cove, Great Diamond Island Off Of Portland
The Inn at Diamond Cove was, in its first iteration, Fort McKinley, the largest of five military complexes constructed in Portland in the late 19th and early 20th centuries. Owners fashioned the former brick barracks into this intimate, exclusive Historic Hotel of America – leaving historical features like the standard stairway pipe railings and exterior walkways intact. Take the ferry from Portland, and your experience begins with a golf-cart drive to the hotel from the boat landing. Rooms are contemporary and fun, and there's a selection of dining options within a short walk.
What makes it romantic? The luxury inn is on an island in breathtaking Casco Bay, and offers a wide range of amenities. Rooms and suites are contemporary-adorable.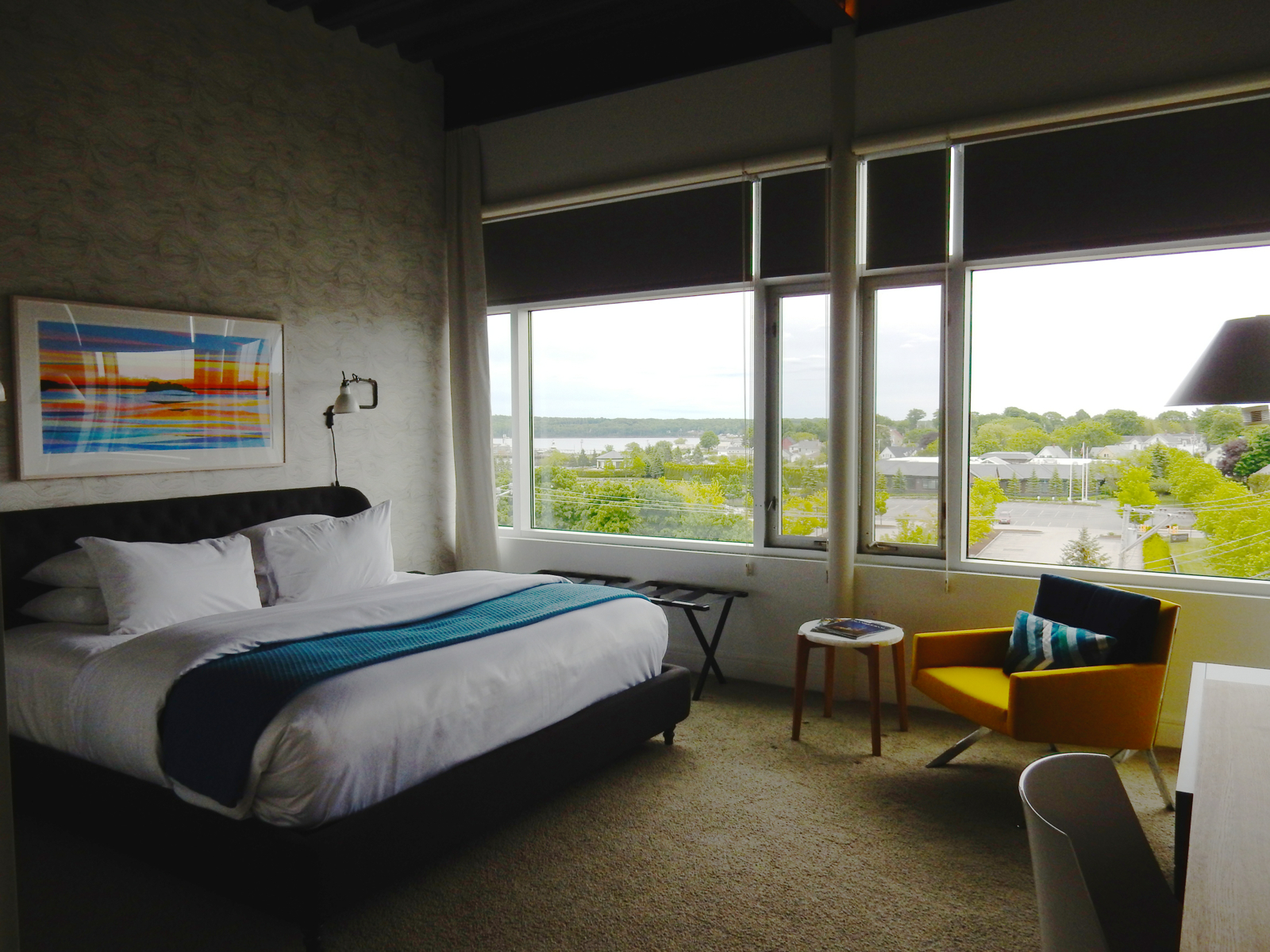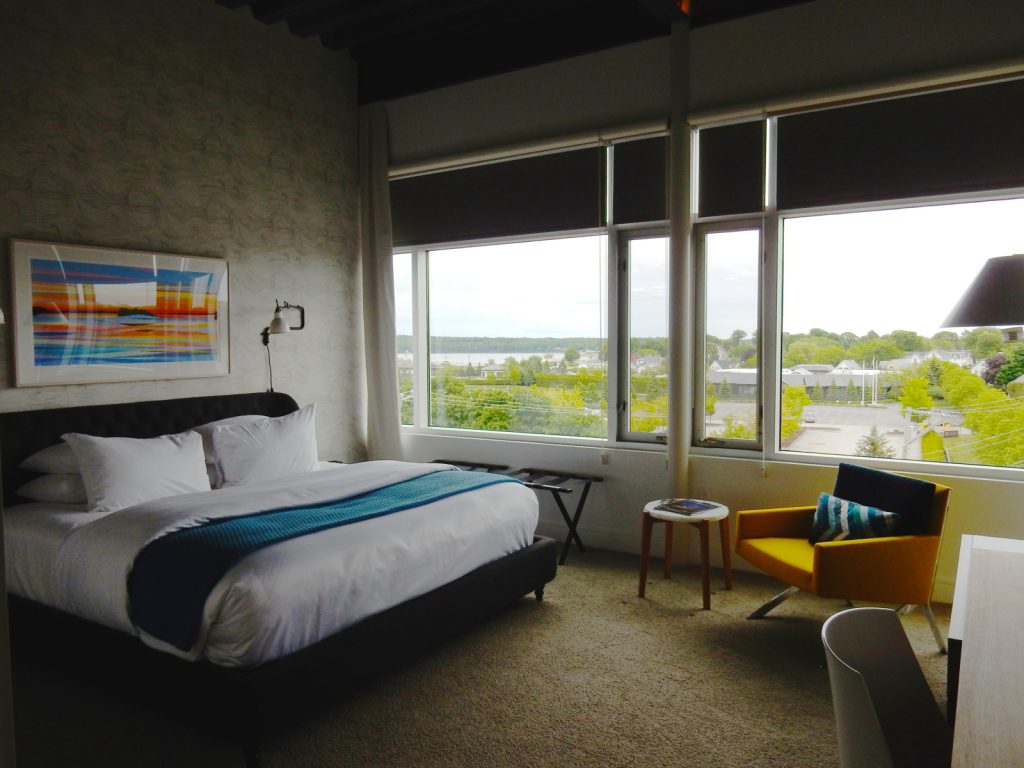 250 Main, Rockland
As an "in-town" hotel, 250 Main has no sweeping lawns or pools. But you won't care when you walk into the cool lobby. Modern, Italian-made seating and locally reclaimed wood tables (sourced from salvaged boats) entice you to sit by the glass fireplace for a glass of wine (offered complimentary after 4pm) and conversation. Rooms, in a word, are stunning. Masterfully decorated, they come in a variety of sizes all with mid-century modern furniture in bold punchy colors.
What makes it romantic? Cool, chic lobby and seating areas. Contemporary art all over. Mid-Century modern furnished rooms.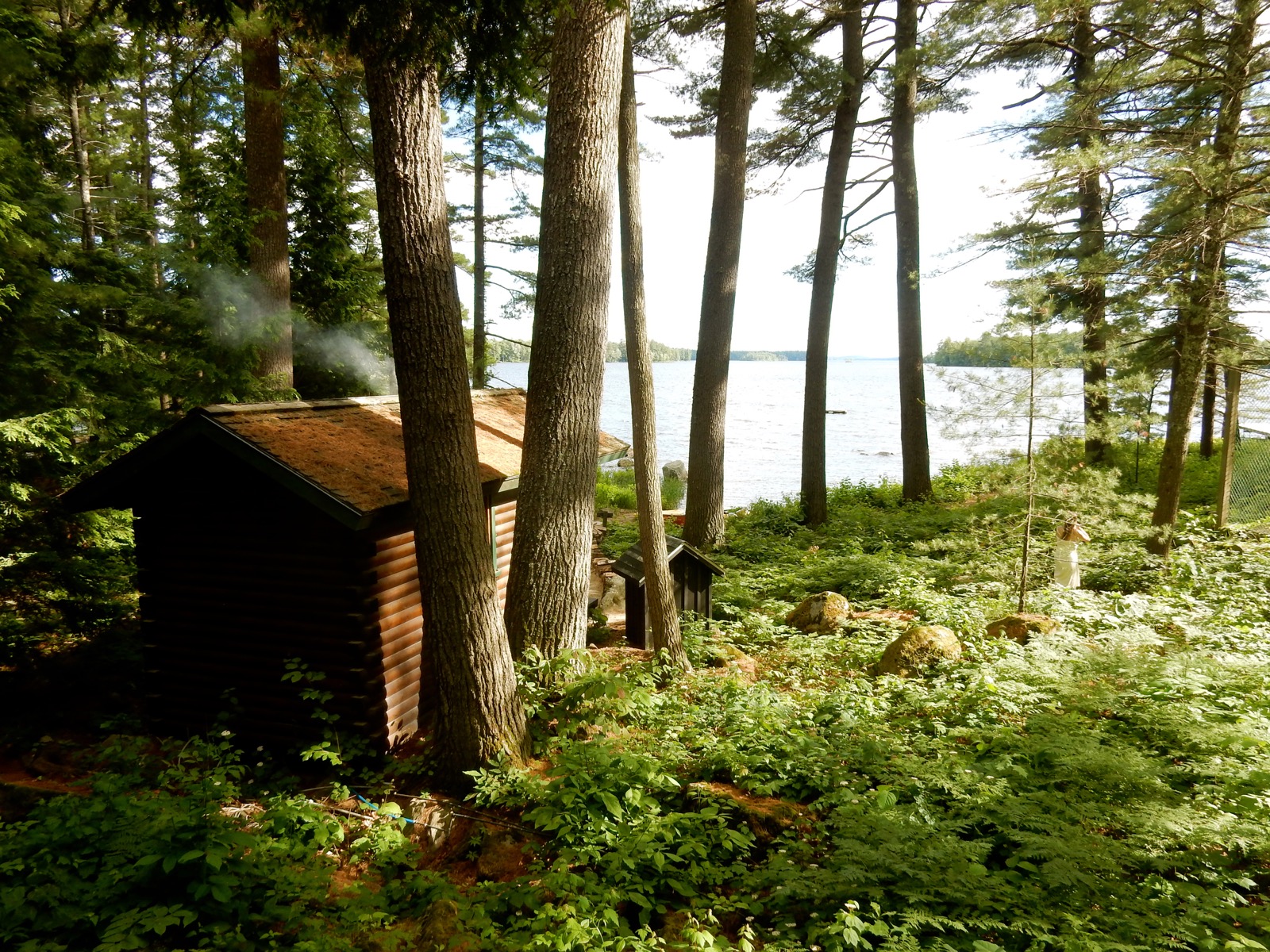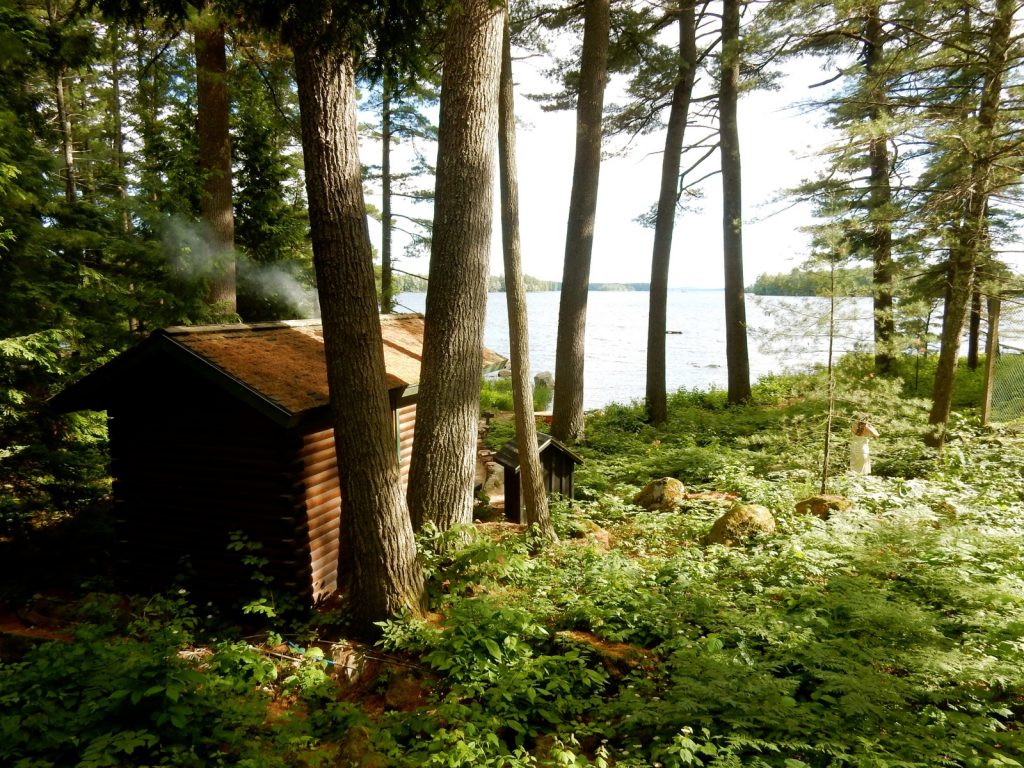 Migis Lodge, Sebago Lake
By day's end, the Sebago Lake chorus reaches its crescendo. Repetitive loon calls, frogs that trill like never-ending car alarms, murmurs of mothers and fathers putting their kids to sleep in nearby cottages all meld into one great Migis Lodge reverie. It's a symphony that singles, couples, and families have been privy to at this upscale but down to earth Maine resort for over 100 years. Sure, parents bring their kids here. But individual cottages ensure that you can celebrate your relationship in privacy.
What makes it romantic? Private rustic-chic cottages with luxury accoutrements; nightly loon calls; cocktails at sunset lakeside. Excellent meals included.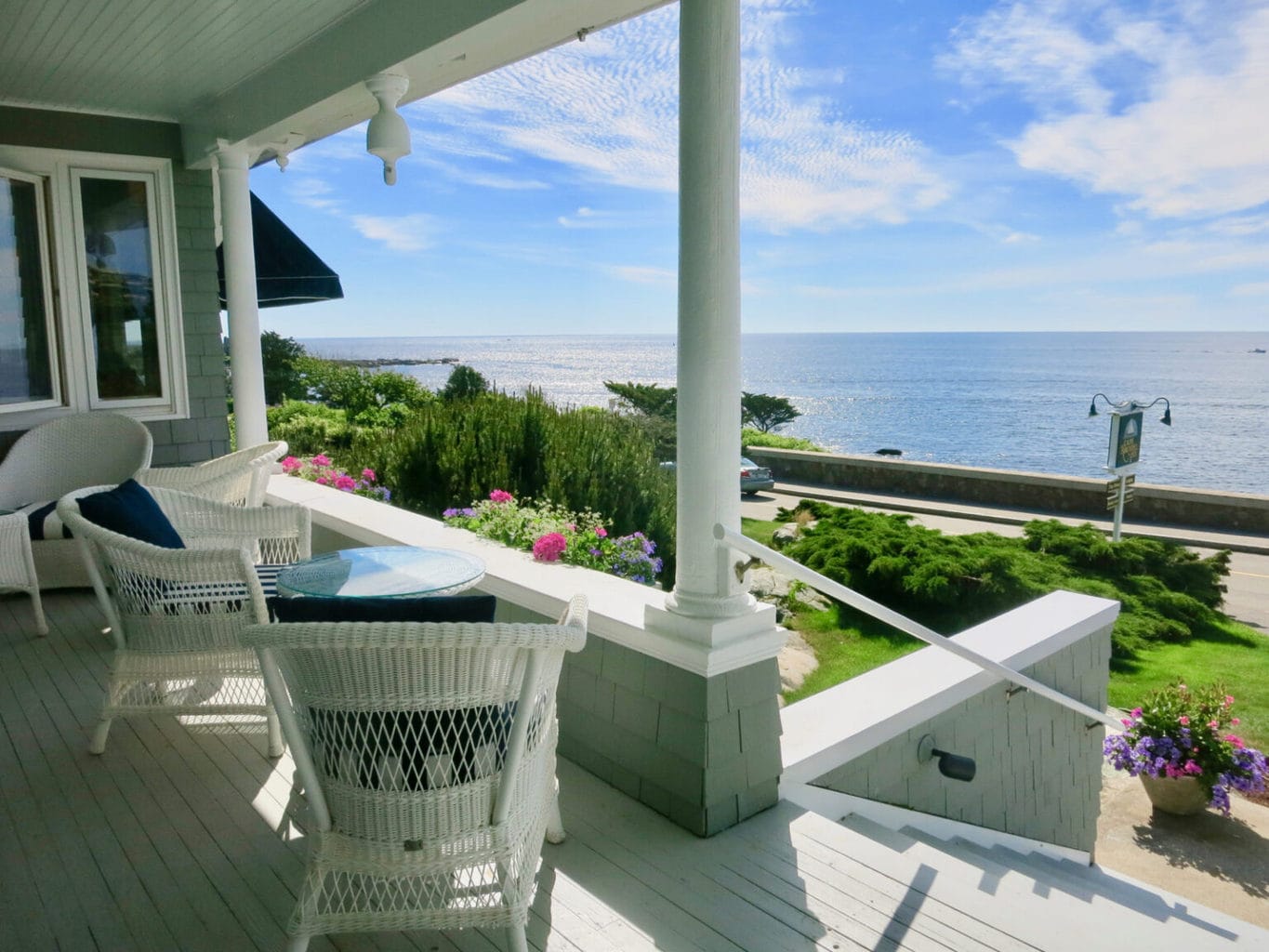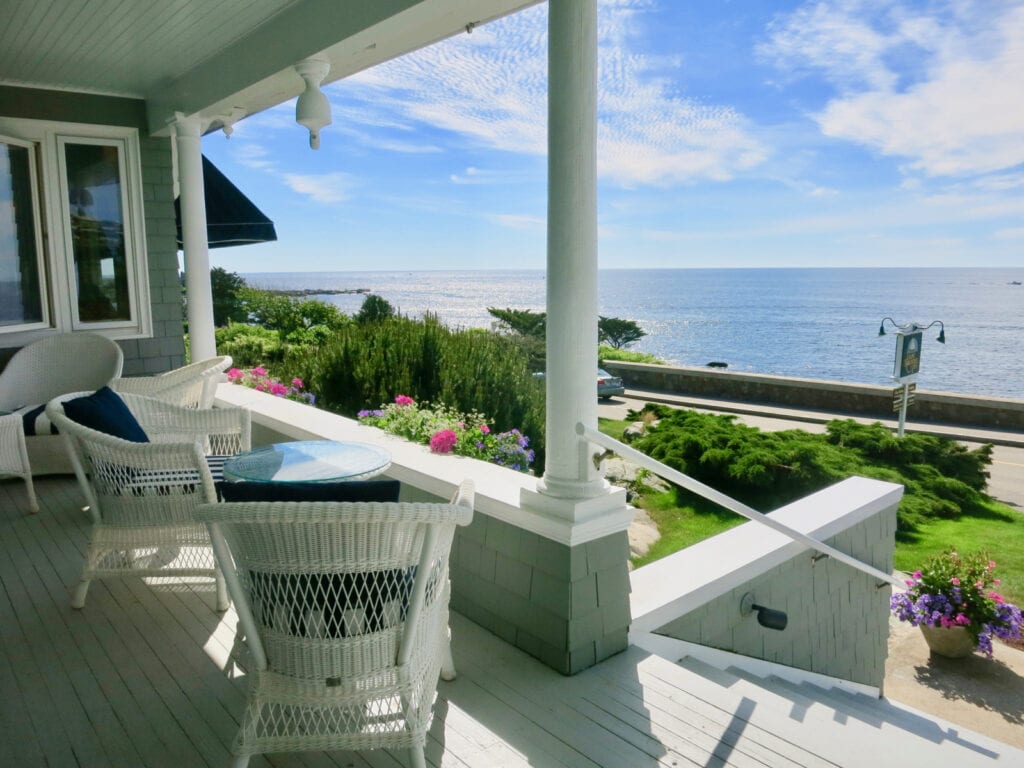 Hotels in the Kennebunks (Kennebunk & Kennebunkport): Some of the Most Romantic Hotels in Maine
The folks at Kennebunkport Resort Collection knew what they were doing when they took old, faded, past-their-prime lodgings and turned them around. It's tough to identify just one stylish romantic hotel in these Maine shoreline resort towns (best known for the Bush Family compound), so we'll suggest several of our favorites.
Want ocean views with rocking chair veranda? Book the Cape Arundel Inn. Certified beach bums? The Tides Beach Club is located ten steps from the sand. Seeking a private luxury hideaway in the woods? The cottages at Hidden Pond will suit your needs. Do the two of you like to be in the middle of the action, in town? The Grand Hotel is right on Main St.
What make these hotels romantic? Meticulously styled rooms, each fit for your kind of romance.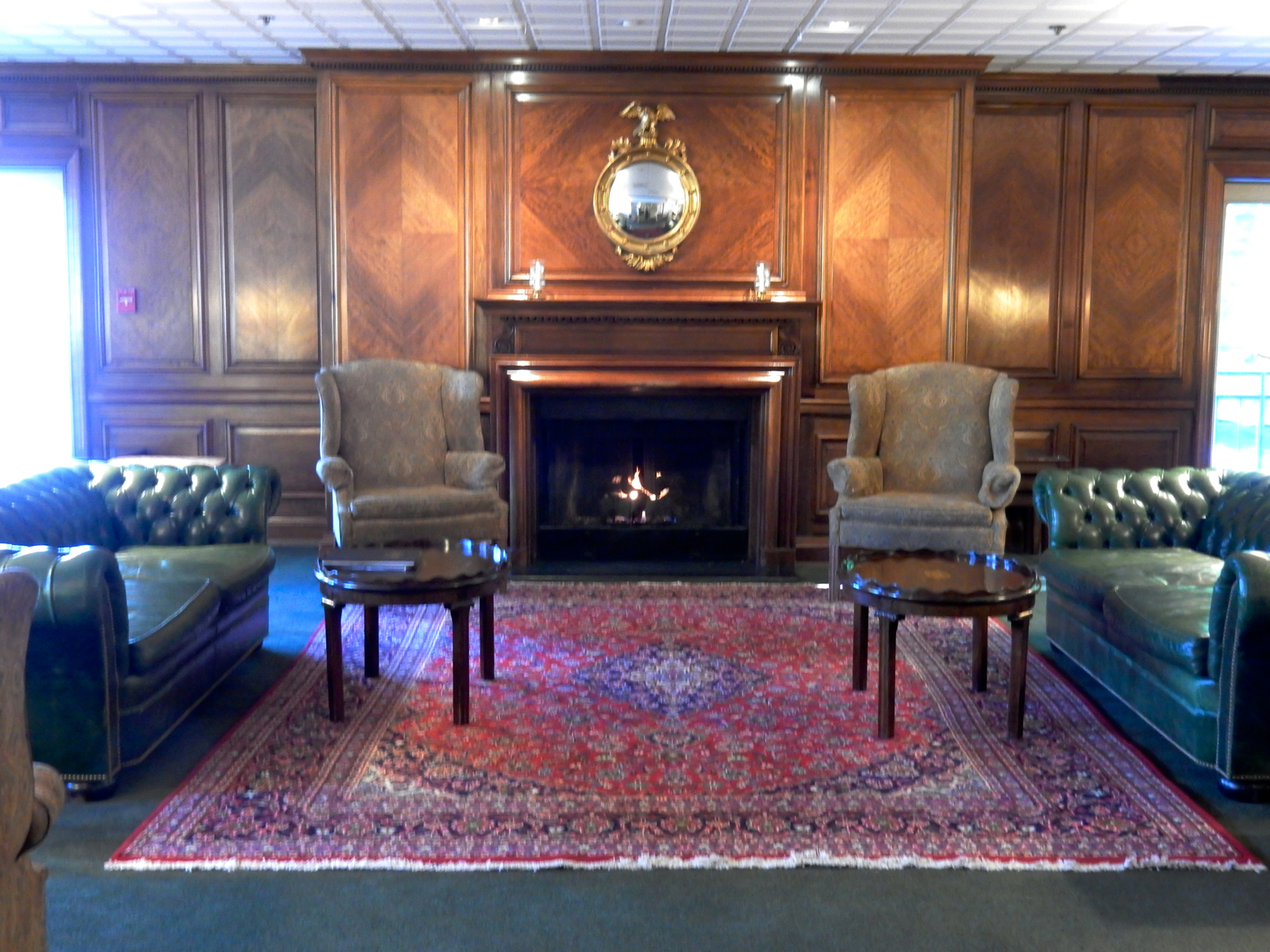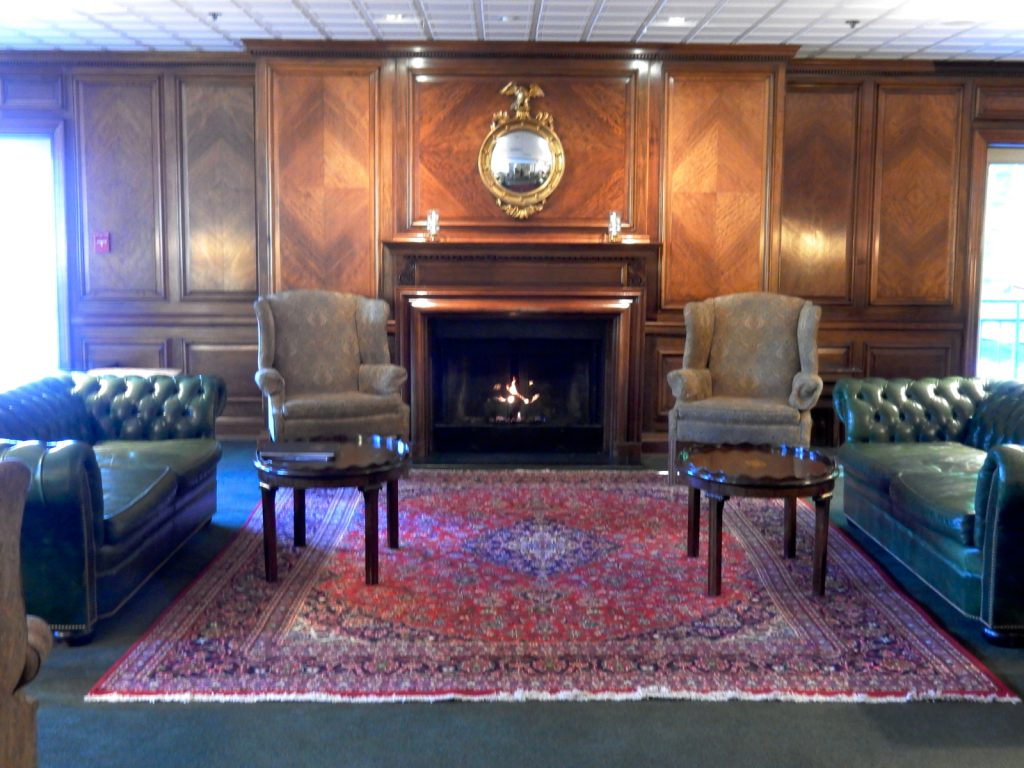 Harraseeket Inn, Freeport
Are you feathering your nest? Do you consider shopping a romantic pastime? Then, you'll love Freeport, home to major outlets, and of course, dominated by LL Bean. The Harraseeket Inn, in the center of town, is not swanky. But it is uber relaxed and comfortable, with an abundance of character. Think upholstered wingback chairs in floral print and a fire glowing in the fireplace. It's the kind of spot people return to every year, and then tell their friends about. Rooms are what you might expect if you stayed at a rich uncle's house in New England. Comfortable, with a hint of panache.
What makes it romantic? Full service hotel with indoor pool, built recently to evoke a dreamier era of travel and service. Plenty of shopping around. Two farm-to-table restaurants in-house.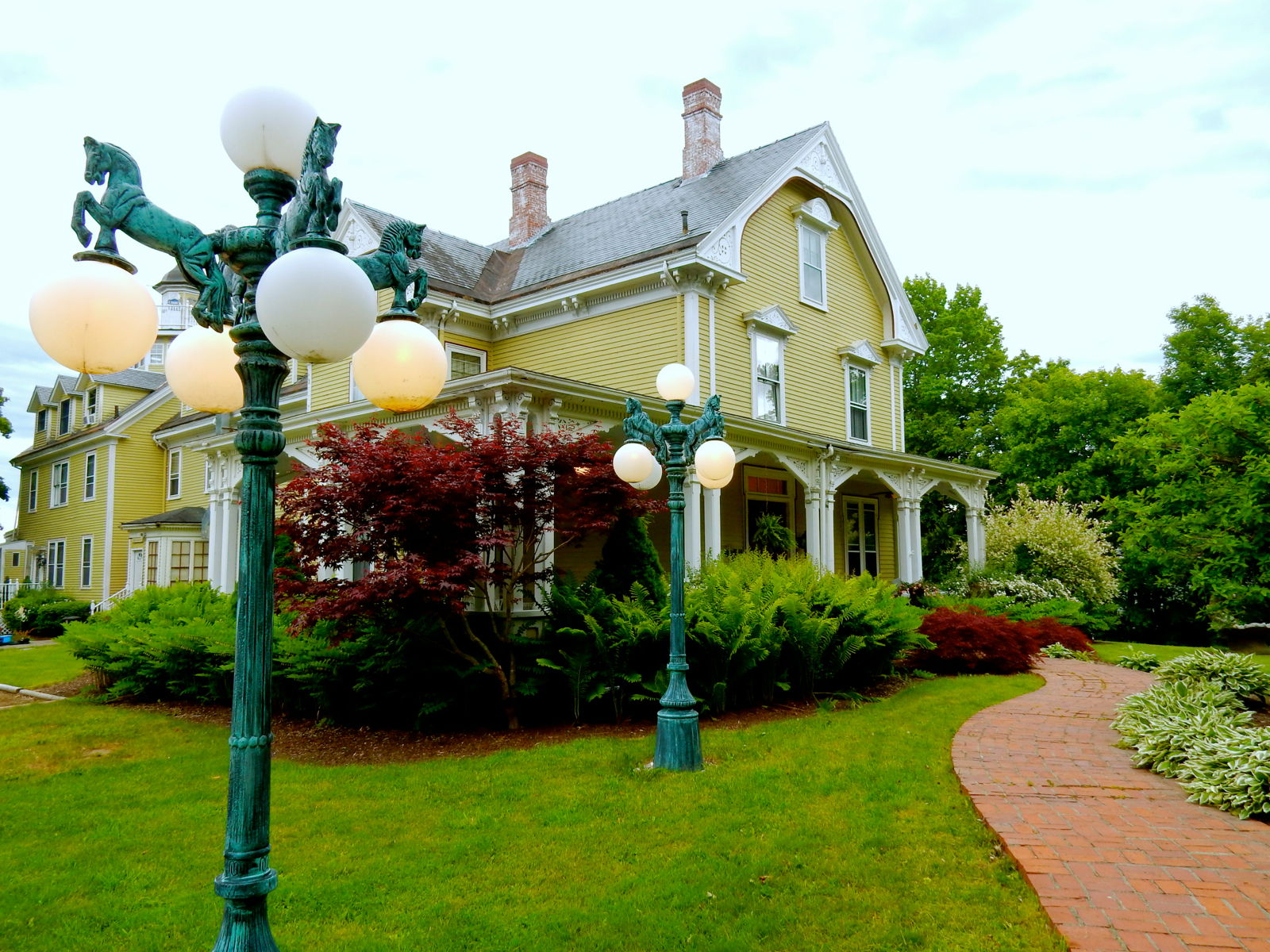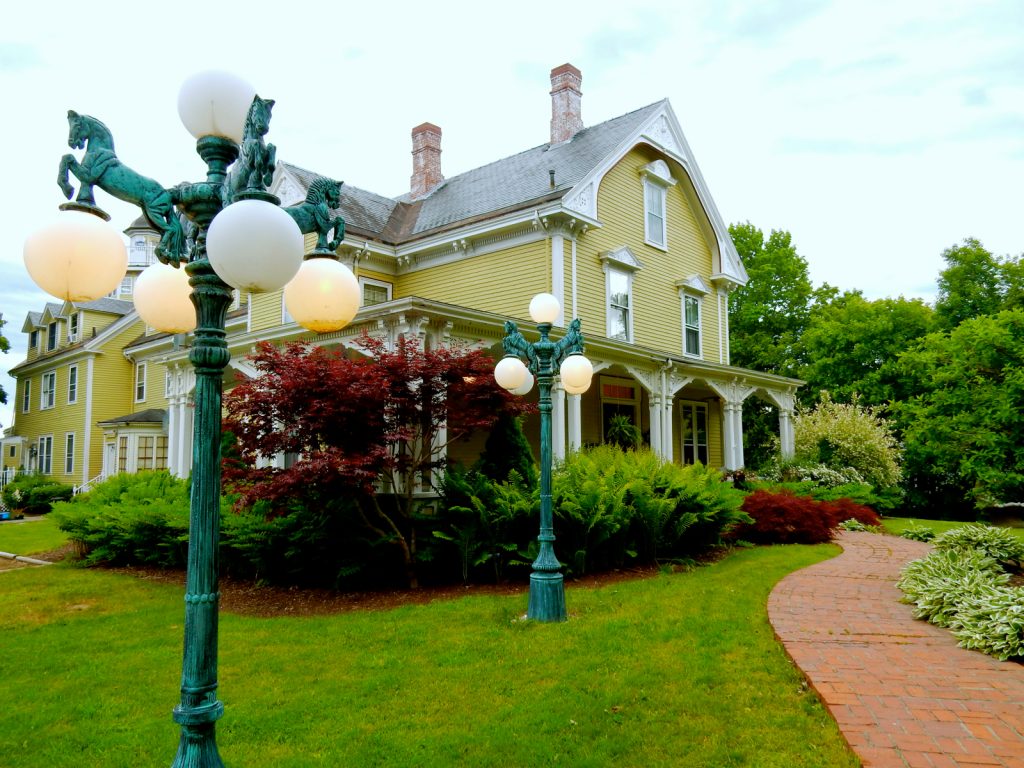 Captain Nickels Inn, Searsport
Tourists rushing to Bar Harbor on Route 1 have do doubt noticed this bright yellow home, the Captain Nickels Inn (on the National Historic Register), on the right while passing through Searsport. The Captain Nickels Inn is a splendid place, with over-the-top rooms and décor. Even if Searsport was not on your original agenda, it's worth adding another night just to stay here. The inn's property extends down to the Penobscot Bay waterfront – where you can just unplug and relax with your honey.
What makes it romantic? Built as an extravagant Sea Captain's home, owners have fine-tuned it into an upscale, yet homey B&B. That it sits right on the Bay is icing on the cake.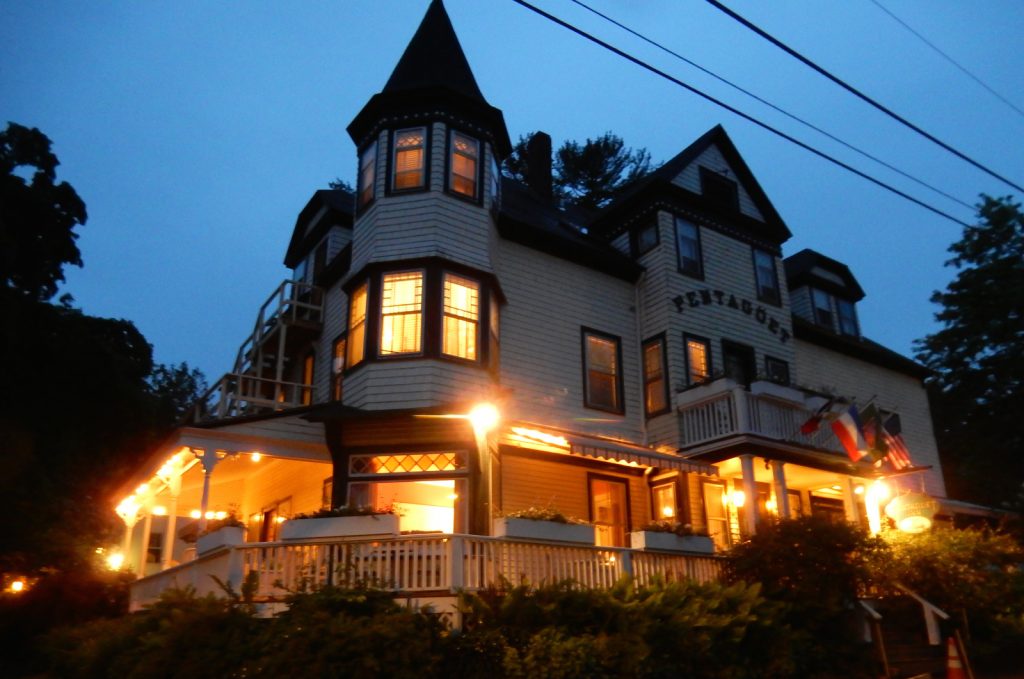 Pentagoet Inn, Castine
Under new ownership, the Pentagoet Inn is the queen on the hill: a lovely Queen Anne style mansion overlooking Penobscot Bay. Yankee Magazine once declared the Pentagoet, "Best Classic Maine Inn." It's easy to see why. Although Castine is known primarily as home to the Maine Maritime Academy, the whole small town reads like New England of the imagination; with whitewashed church and town buildings surrounding a small green, and boats bobbing at docks in the harbor.
What makes it romantic? Bay windows in several rooms; a cozy dimly lit bar; small harbor-town charm.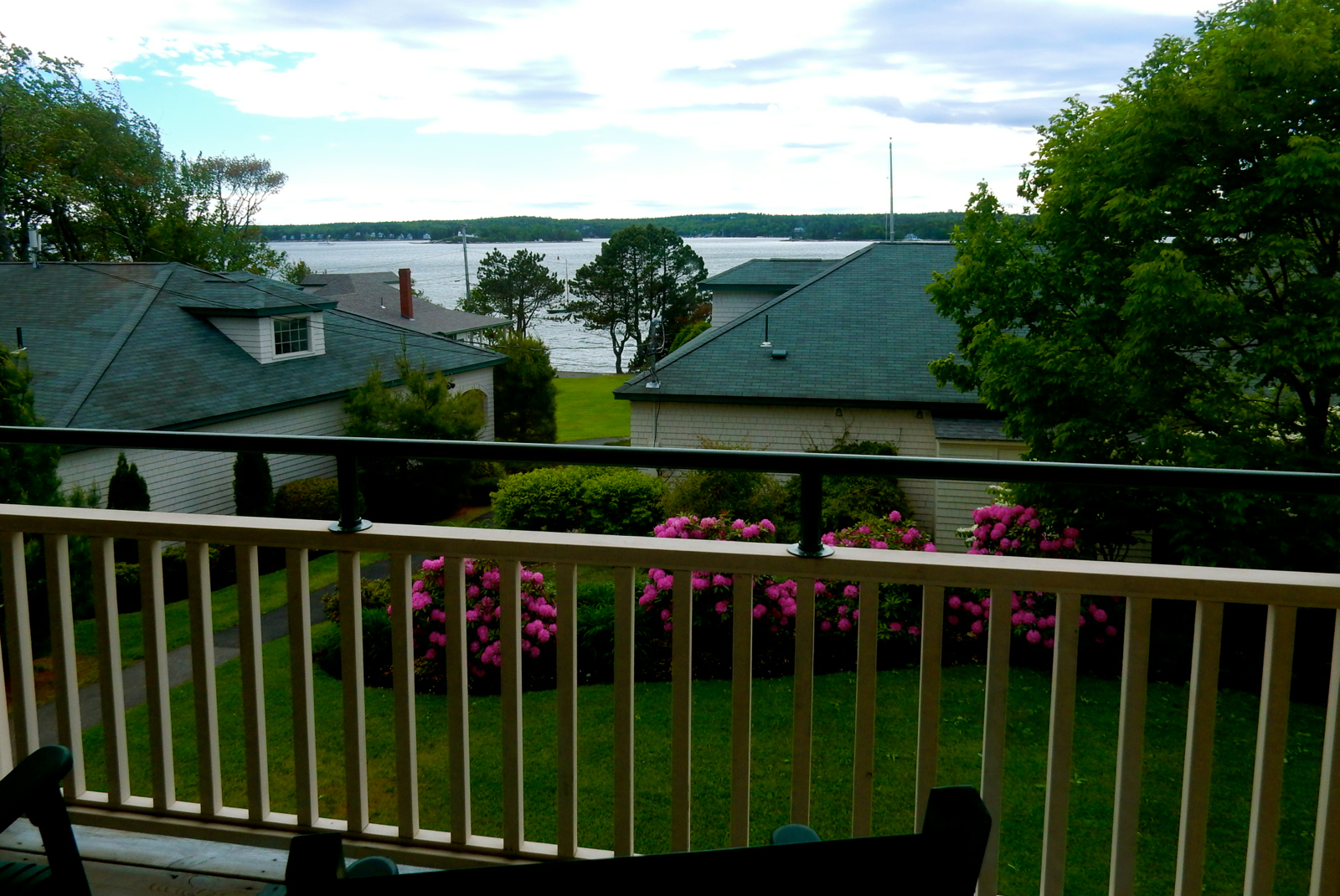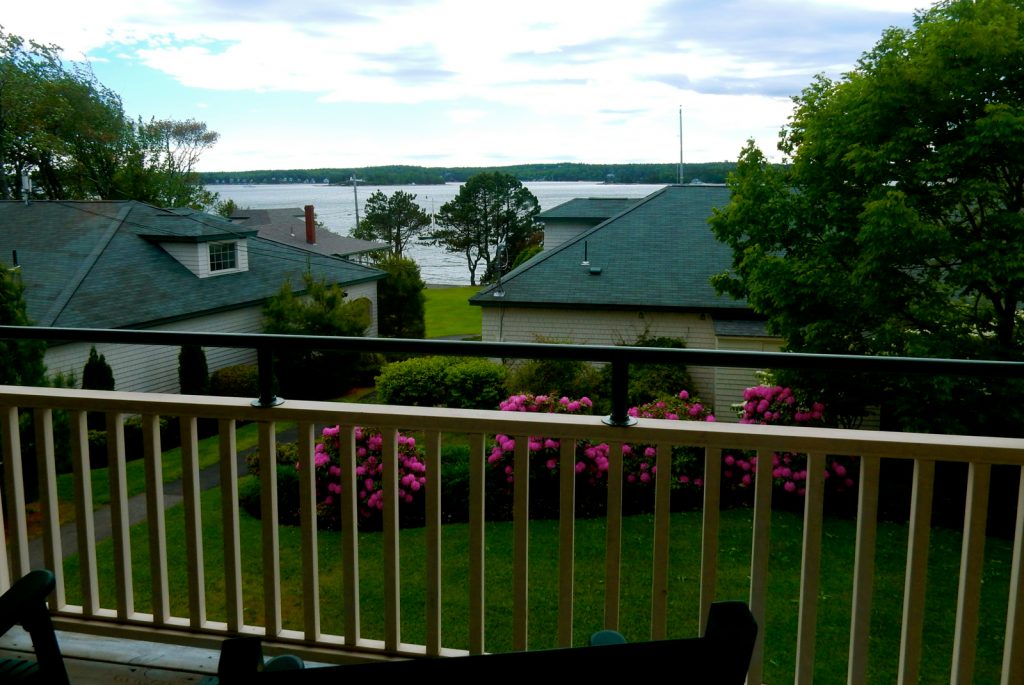 Spruce Point Inn, Boothbay Harbor
The Spruce Point Inn was never a totally laid-back, feet in the dirt, flip-flop kind of casual Maine Family Resort. A favorite of the Kennedy's and Ernest Hemingway, Spruce Point was perennially spruced up for down-staters in search of a certain kind of rustic comfort (read: not glammed up). Arriving at the end of the day, the lovely waterfront grounds start to take on a sunset glow. This is the time that young couples emerge from their rooms to snap Instagrams of the seaside pool, the flowering bushes, and Adirondack chairs lined up on the broad front porch of the main building.
What makes it romantic? The landscaped grounds; waterfront setting; spa massage in a private garden.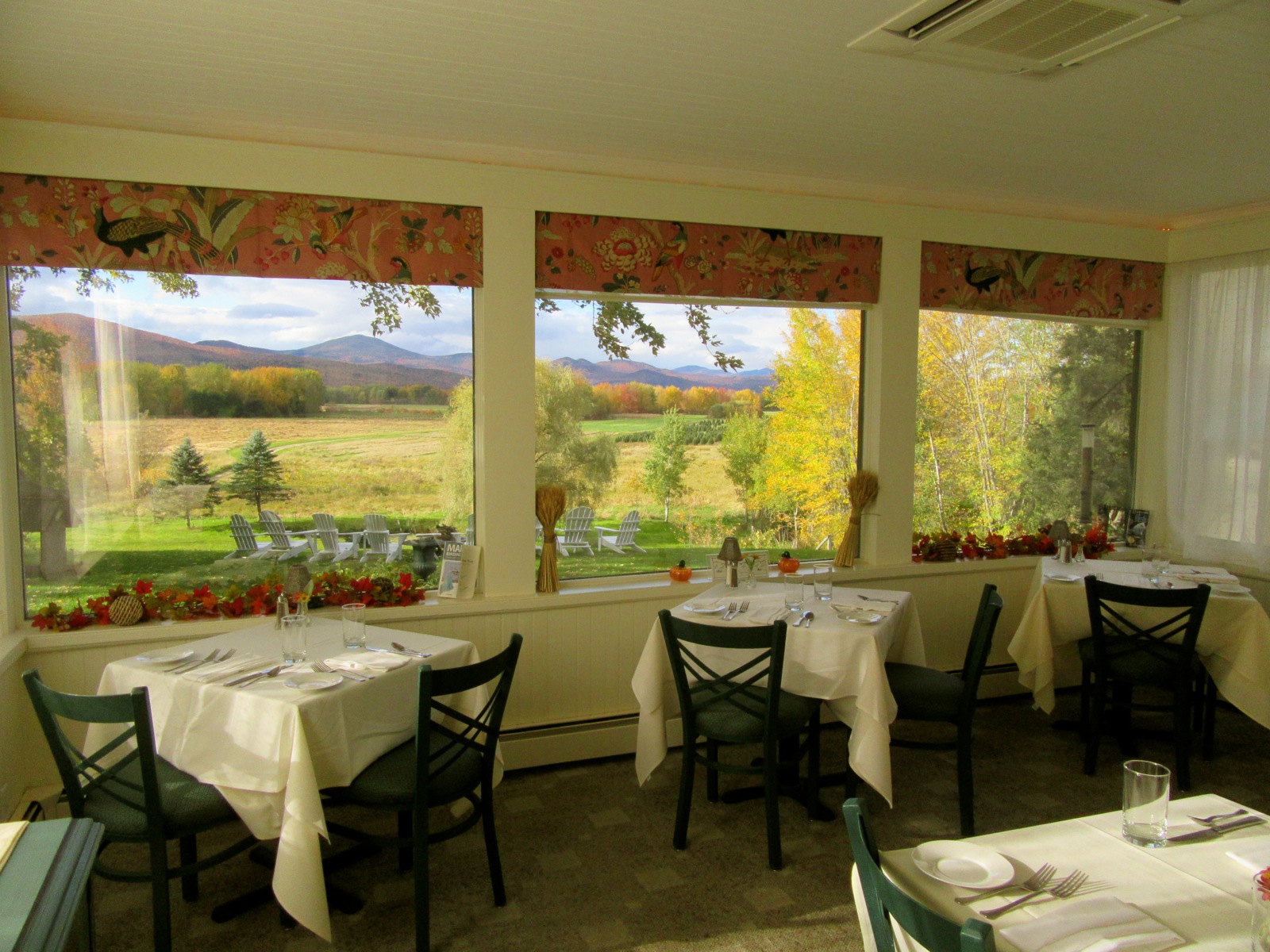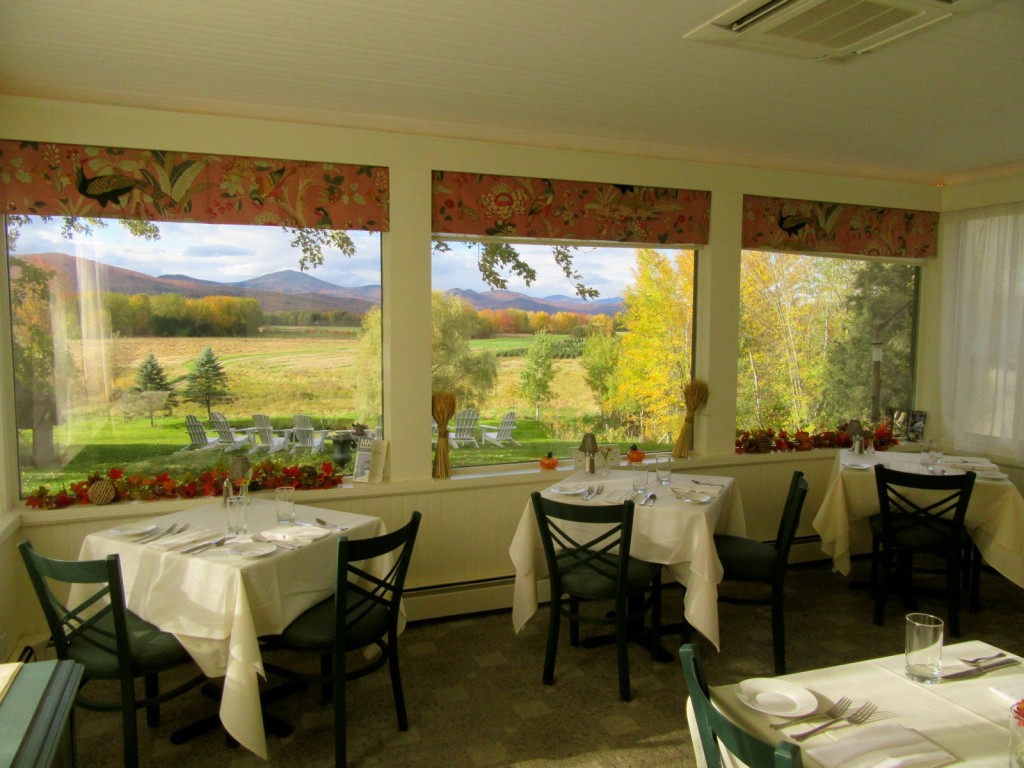 Oxford House Inn, Fryeburg
From the outside, the Oxford House Inn building itself is nice, but nothing to go gaga over. Rambling, old, and sturdy, it's like thousands of other inns across the Northeast USA. But walk through the door and a receptionist treats you like family. Out back, views overlooking farm fields and mountains beyond will take your breath away (especially in the Fall). All four rooms are fashionably dressed – and where you'll want to end up after an astounding meal whipped up by chef/owner Jonathan Spak – a C.I.A. (Culinary Institute of America) grad. Foodies will drive 100+ miles for a meal in this tiny western Maine town far from the coast.
What makes it romantic? The exceptional restaurants. The surrounding fields and mountains that burst with color in autumn. Charming rooms.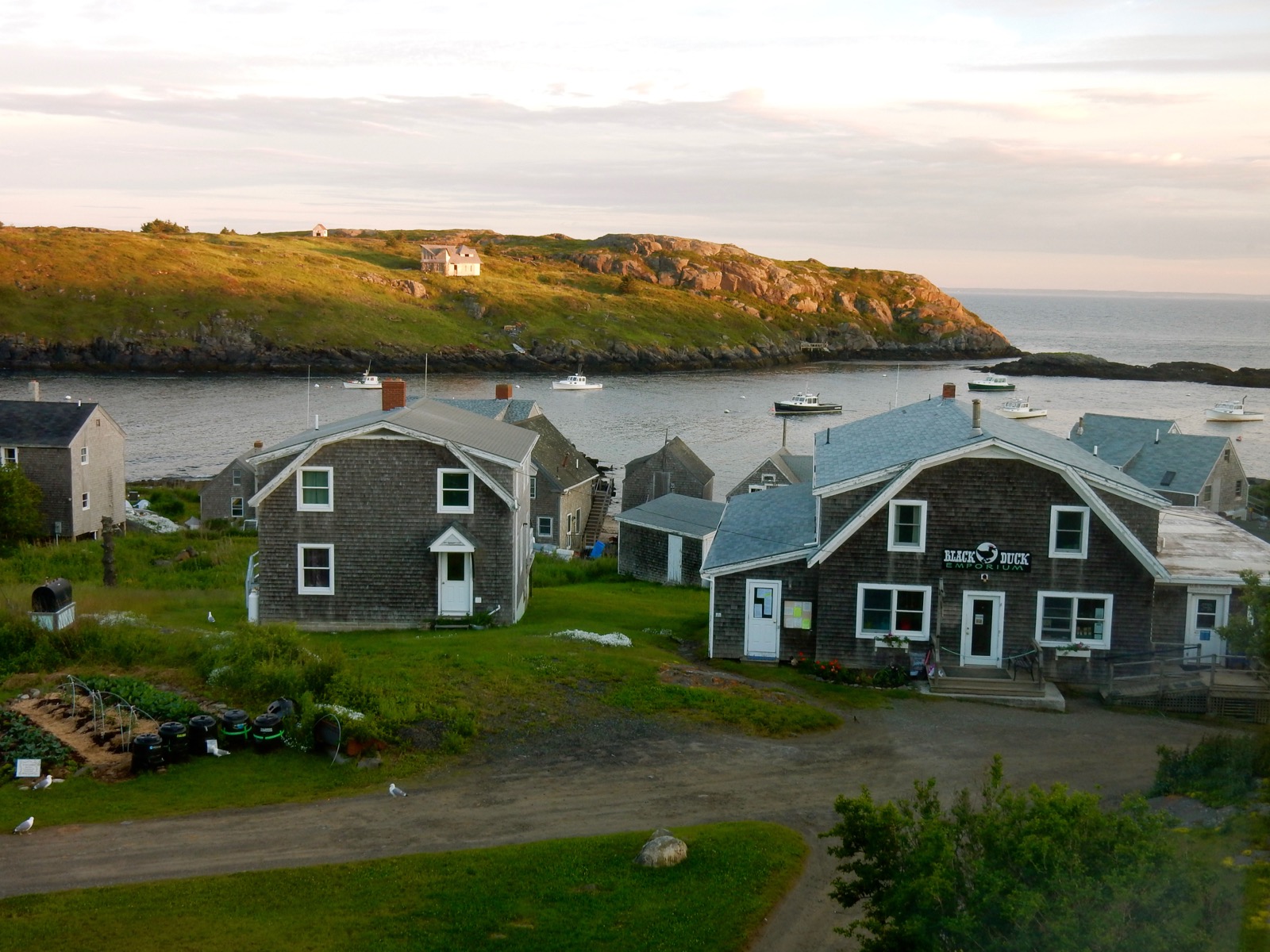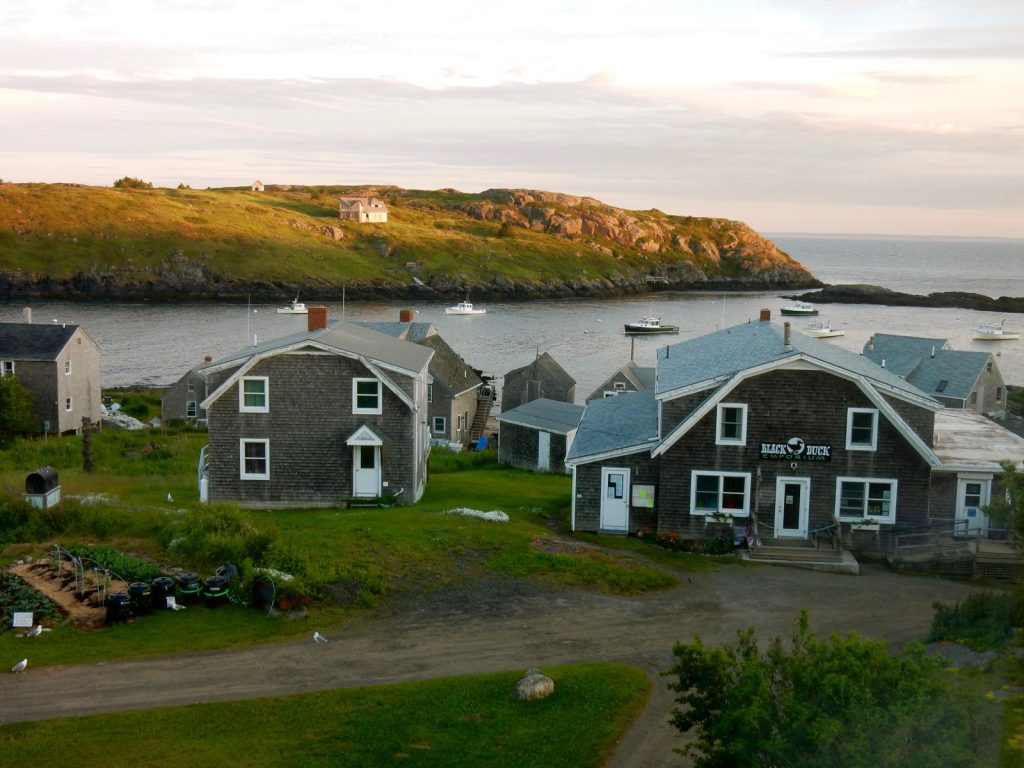 Monhegan House, Monhegan Island
If you don't mind a 4th floor walkup and shared-bath, ocean view rooms at Monhegan House offer some of the dreamiest harbor views on this artist-colony island, located 10 miles off the mainland. Get there by mail-boat, and plan to unplug. Electricity came late to this patch of land – so service is sketchy. But I'll tell you what's not: the food. I'll put breakfast and dinner at Monhegan House up against any top-notch restaurant in Portland and NYC. Ah-maze-ing!
What makes it romantic? Guest House accommodations with breathtaking 5-star water views and excellent restaurant.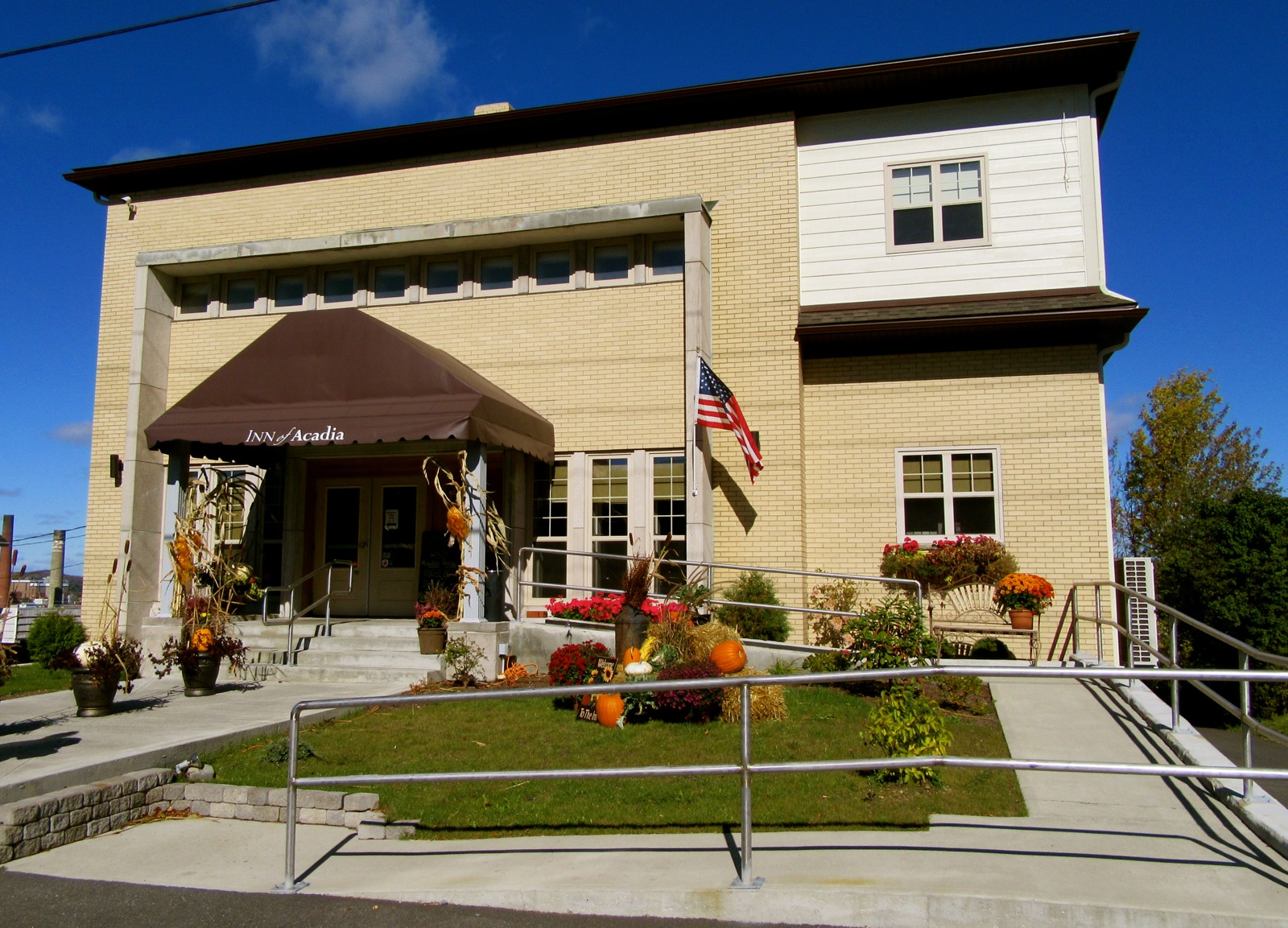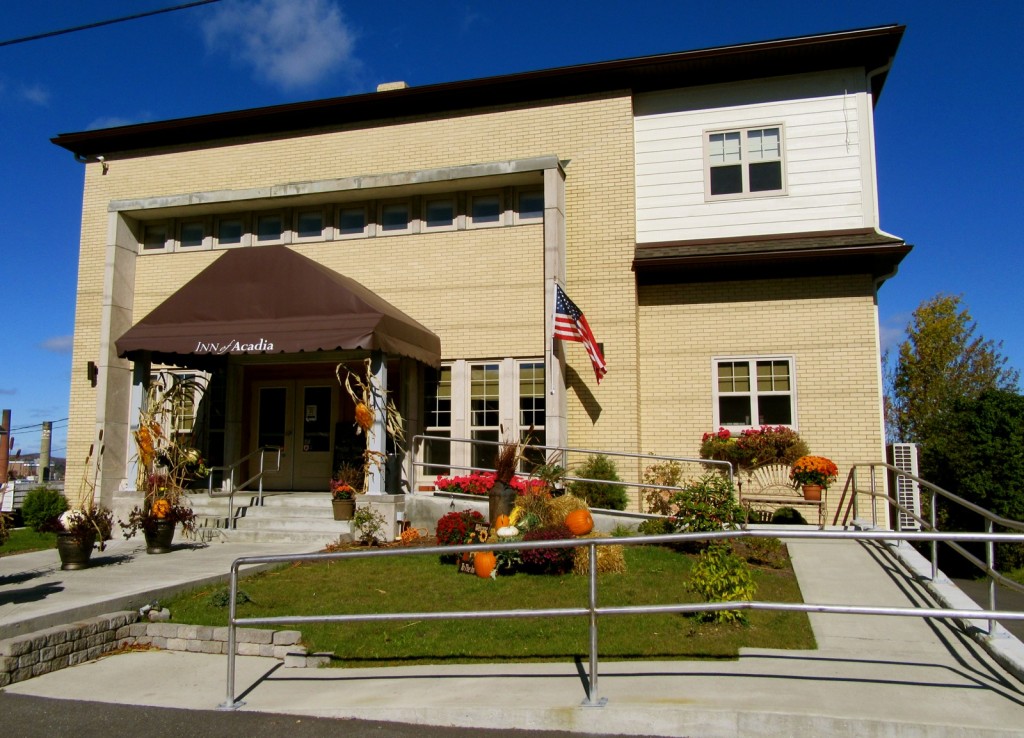 Inn of Acadia, Madawaska
If you call French the language of love, you'll love the US/Canadian border town of Madawaska where radio hosts typically speak in that romantic tongue. Aroostook County's only "Boutique Hotel," the Inn of Acadia – housed in a former convent nursing home – is ultra-friendly, adorable, with great on-site restaurant. Bedding is delightful, ceilings and windows soar, and bathroom showers are enlivened by glass mosaic tile work. There's a tiny lobby, a smile at reception, and relief that you've made it to such a gracious place at the north-northeastern most point in the US.
What makes this one of the most romantic hotels in Maine? High end, friendly lodging where you least expect it. In-house restaurant with live music and lively scene.