The Saratoga Springs NY Adelphi Hotel, meticulously reborn after a 5 year renovation, is a brighter, lighter, more splendiferous version of it's former Victorian self; from lobby to classy, luxurious guest rooms.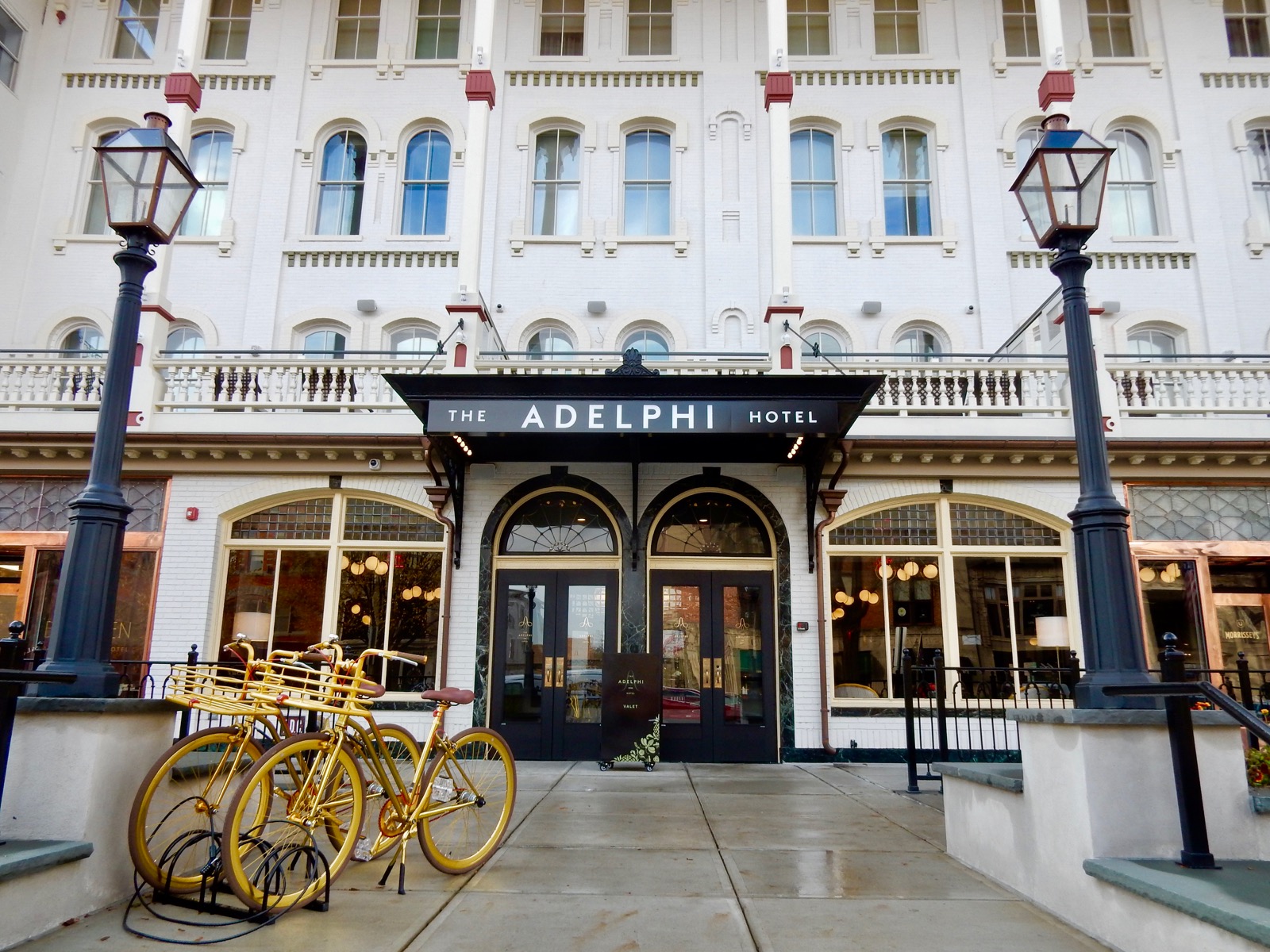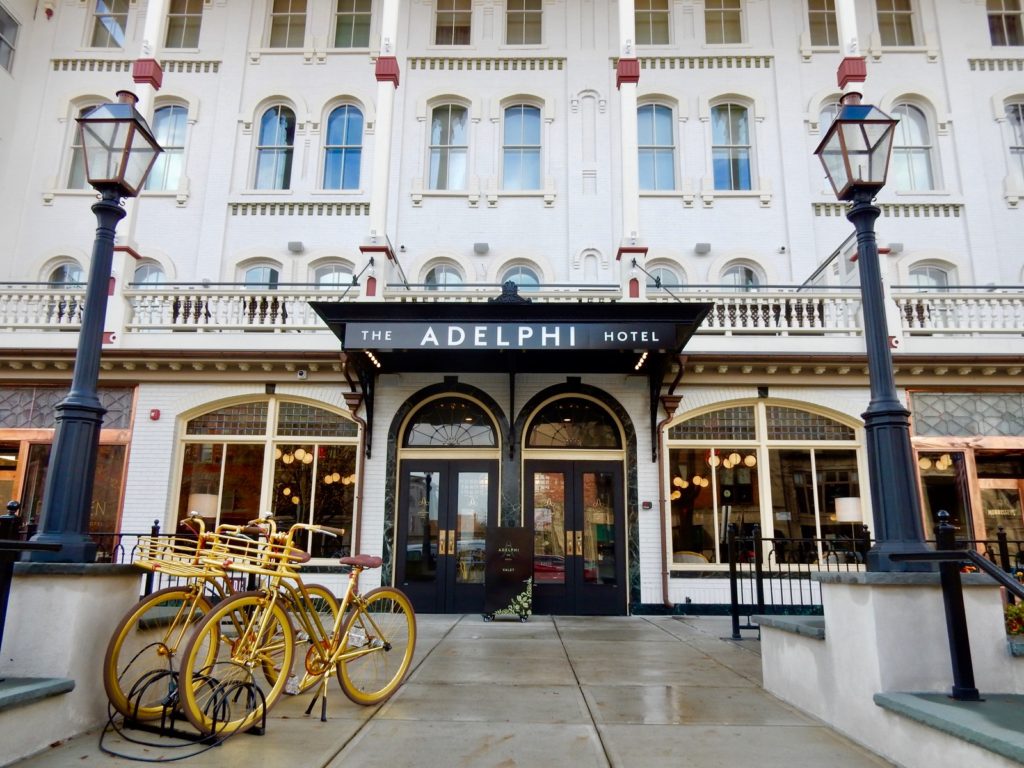 First built in 1877 as a 100-room hotel, the Adelphi was a town landmark in the early days of thoroughbred racing, when the Saratoga Racetrack drew thousands of well-heeled visitors to town.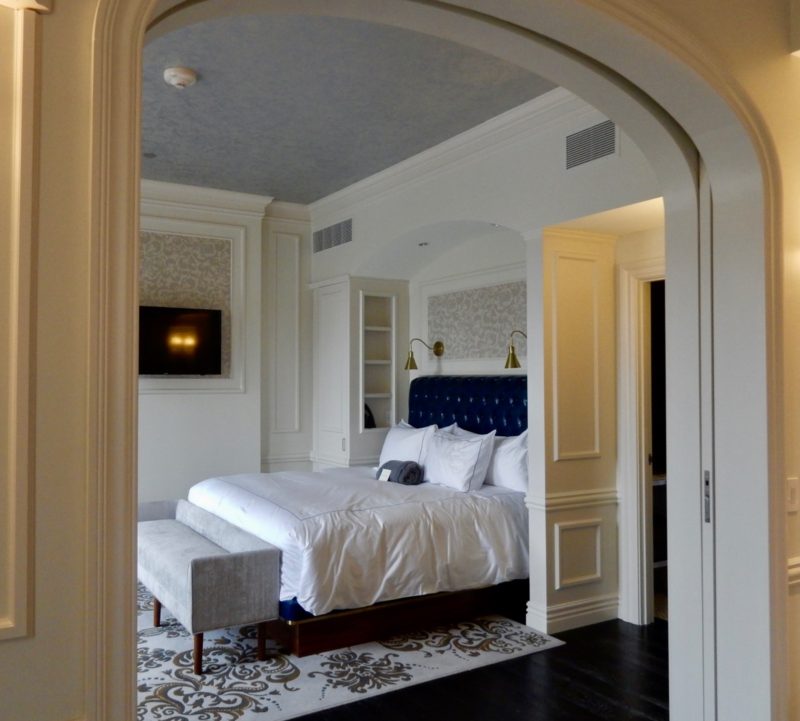 By the early 2000's the Adelphi, with dark, heavily draped Victorian-style lobby, required a complete makeover. Closing in 2012, it reopened in early October 2017 after a head to toe renovation.
What took so long? Once gutted, there were structural issues that needed to be – and were – addressed. Brilliantly, as it turns out. The foundation was buttressed. The facade's columns were reinforced (with steel rods). Hotel rooms were enlarged to include en suit bathrooms. And that gloomy lobby was brightened up and expanded.
Now a 32-room hotel, the Adelphi has managed to recapture its original intent: to impress the jaded, to indulge luxury guests, and, most effectively, to please the eye. (Check out this GM post for Things to Do in Saratoga Springs NY).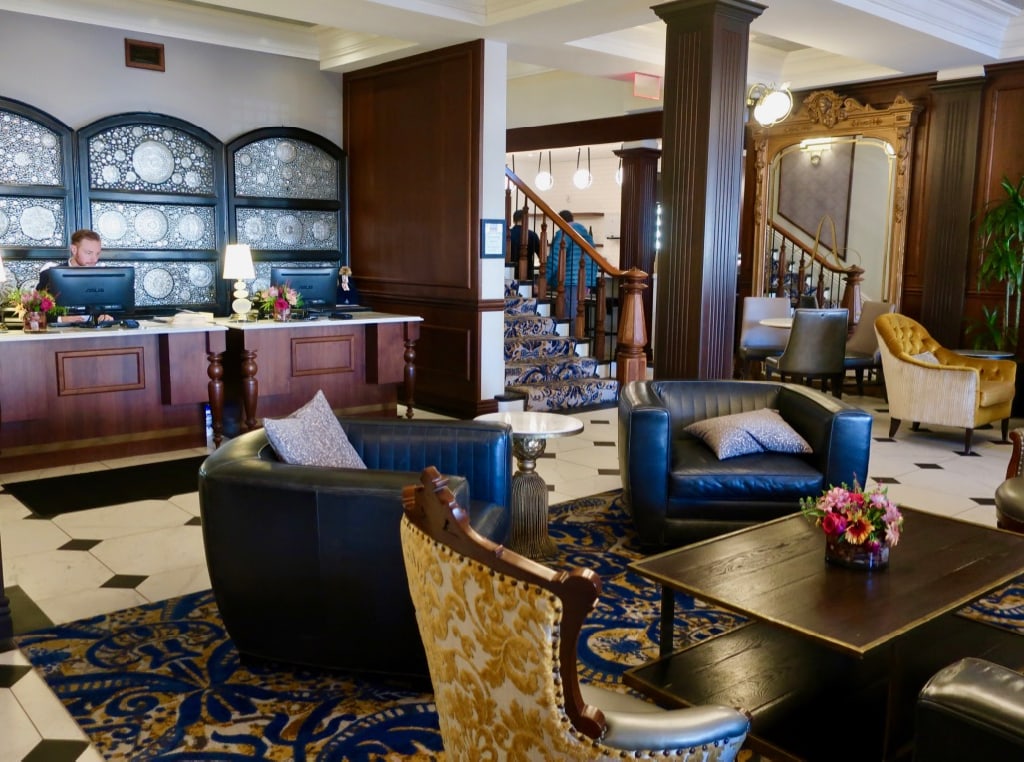 Etched crystal plates from the Adelphi's prior life form a striking montage behind the reception desk. Friendly, accommodating staff welcome guests warmly and personally.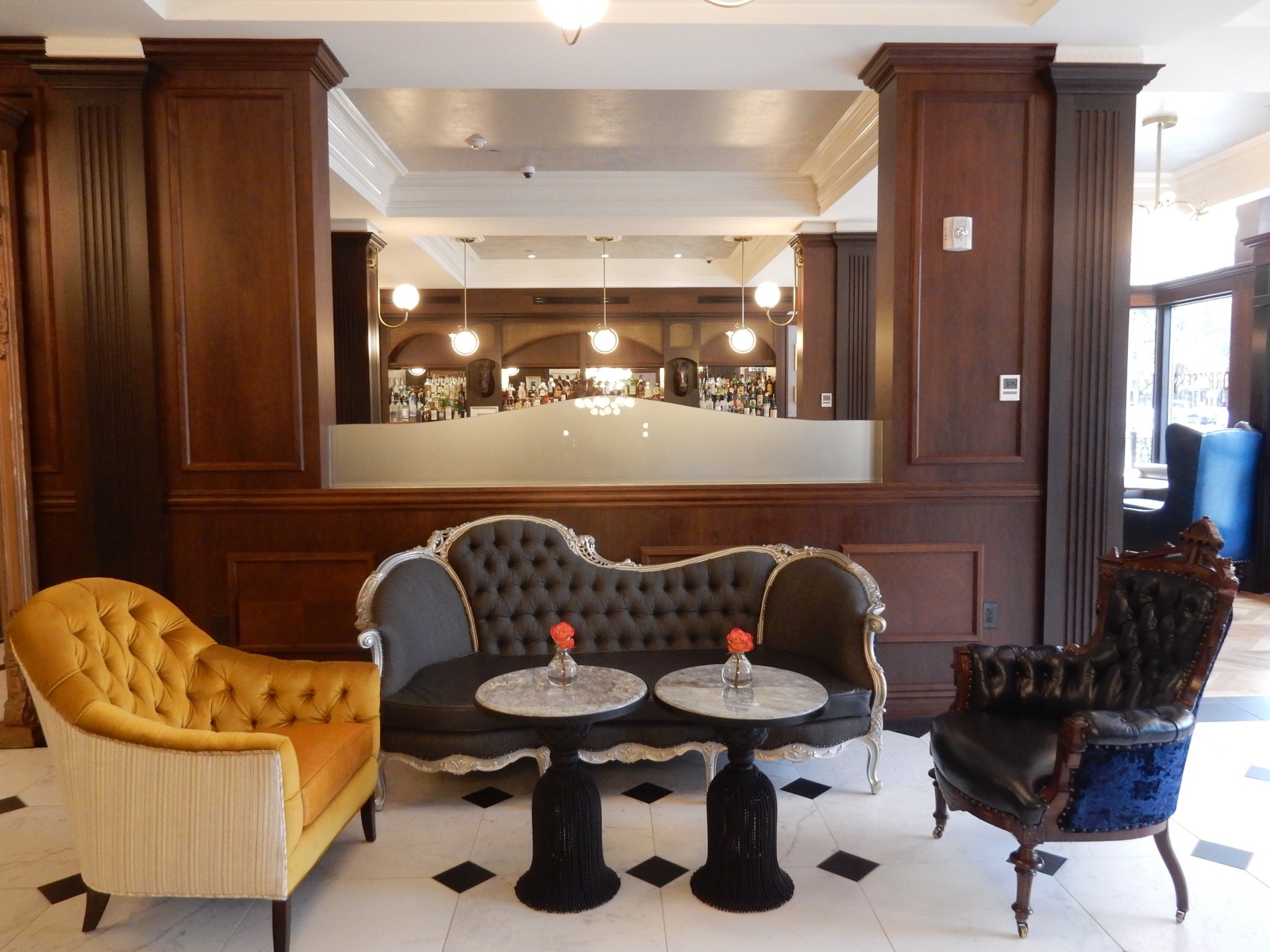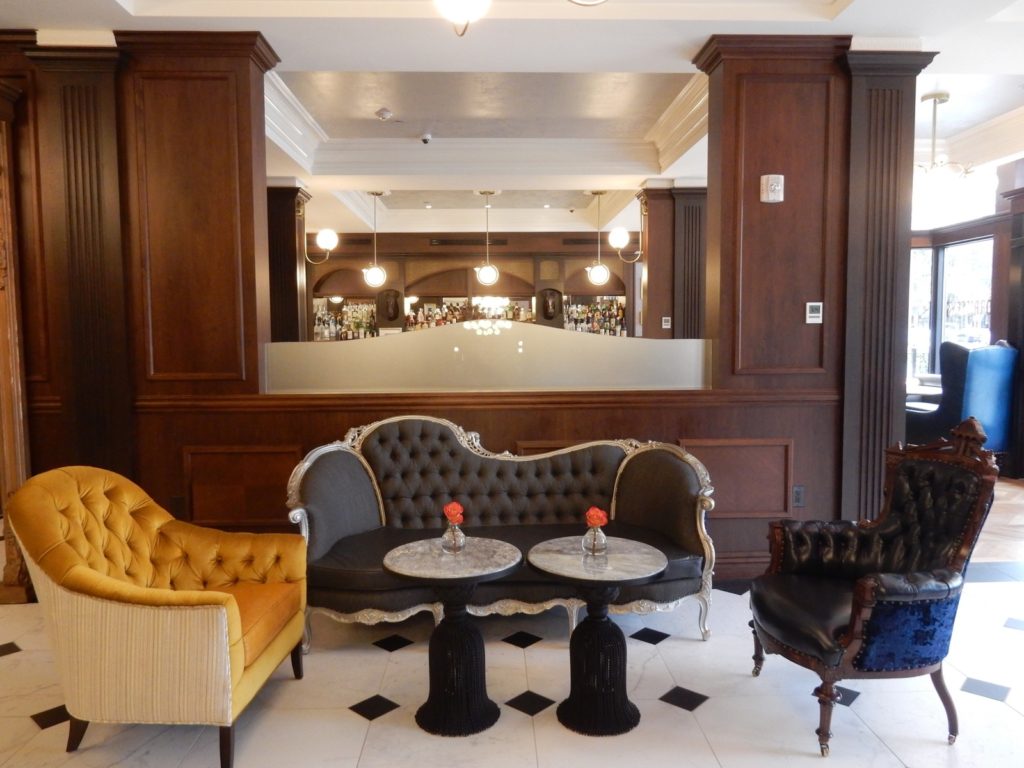 Original furnishings in the lobby have been re-upholstered in trendy metallic leather, bold colors, and silver trim.
The lobby space flows into Morrissey's Bar – named for the colorful Irish-born NY Senator, and founder of the Saratoga Race Track, John Morrissey, who died in the Adelphi Hotel in 1878.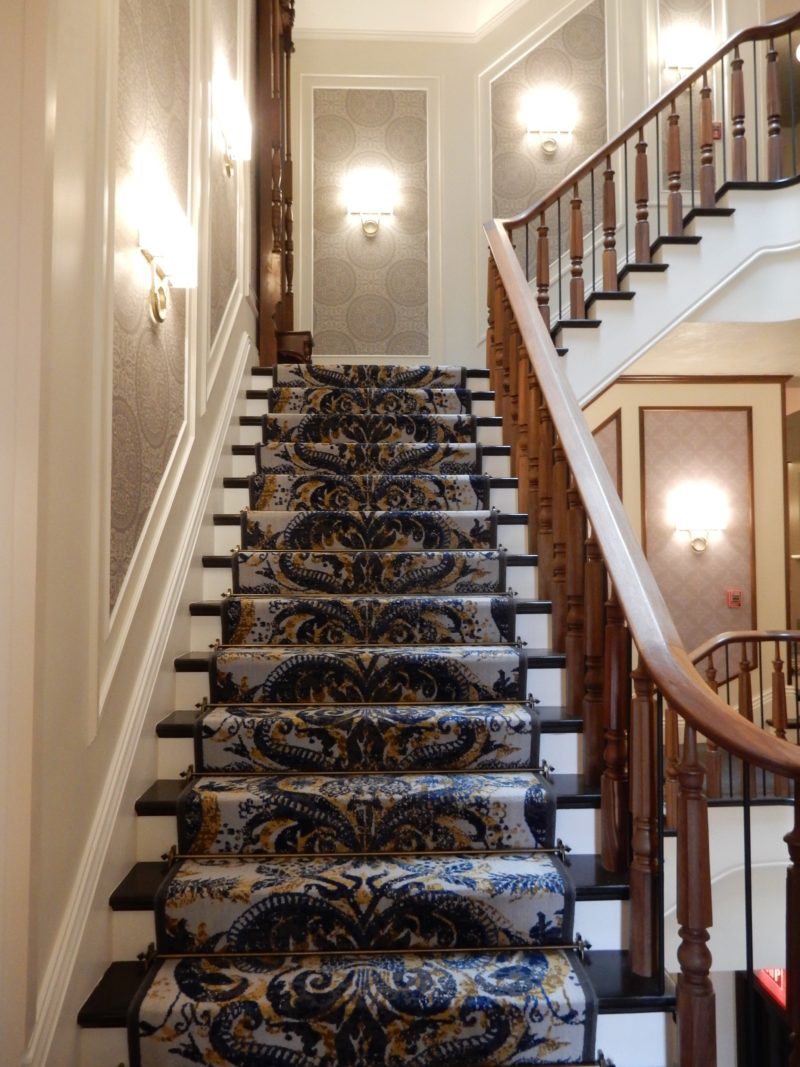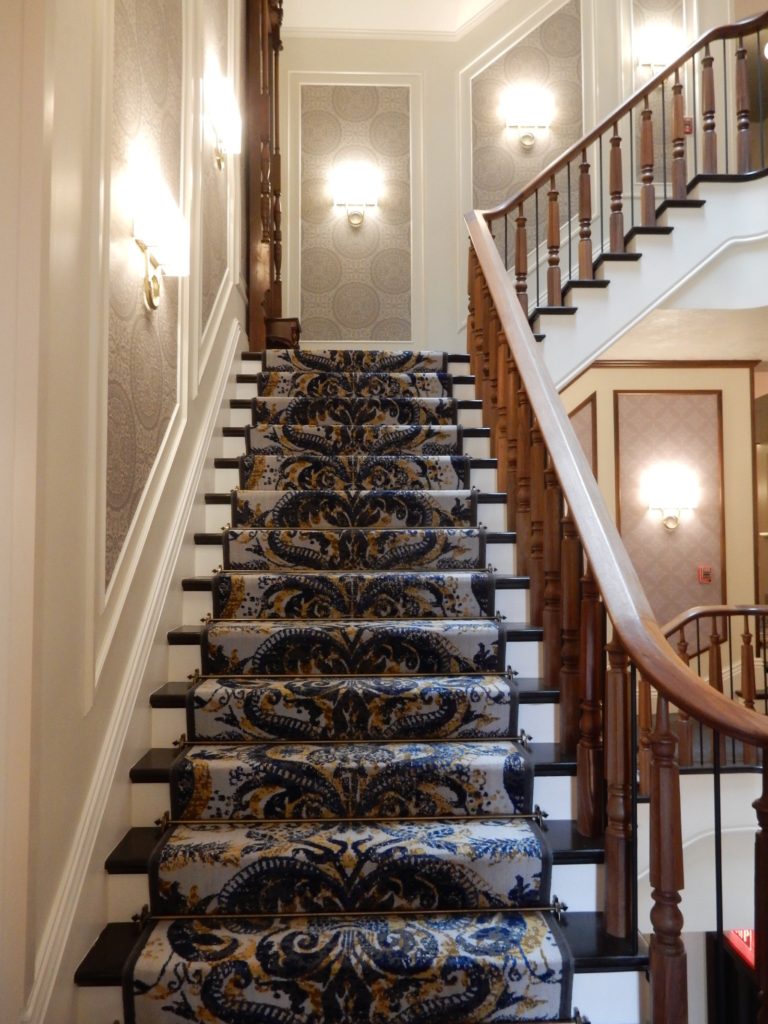 In addition to the lobby furniture, the wooden stairway handrails, and common area mirrors, are original to the building as well.
The Library on the second floor is open for all guests. That is, unless one group rents both bookended suites. In that case, those guests can close it off and use it, as well as the long balcony overlooking Broadway, as a private gathering space. Read: Friends and Family Reunion!
Rooms at Adelphi Hotel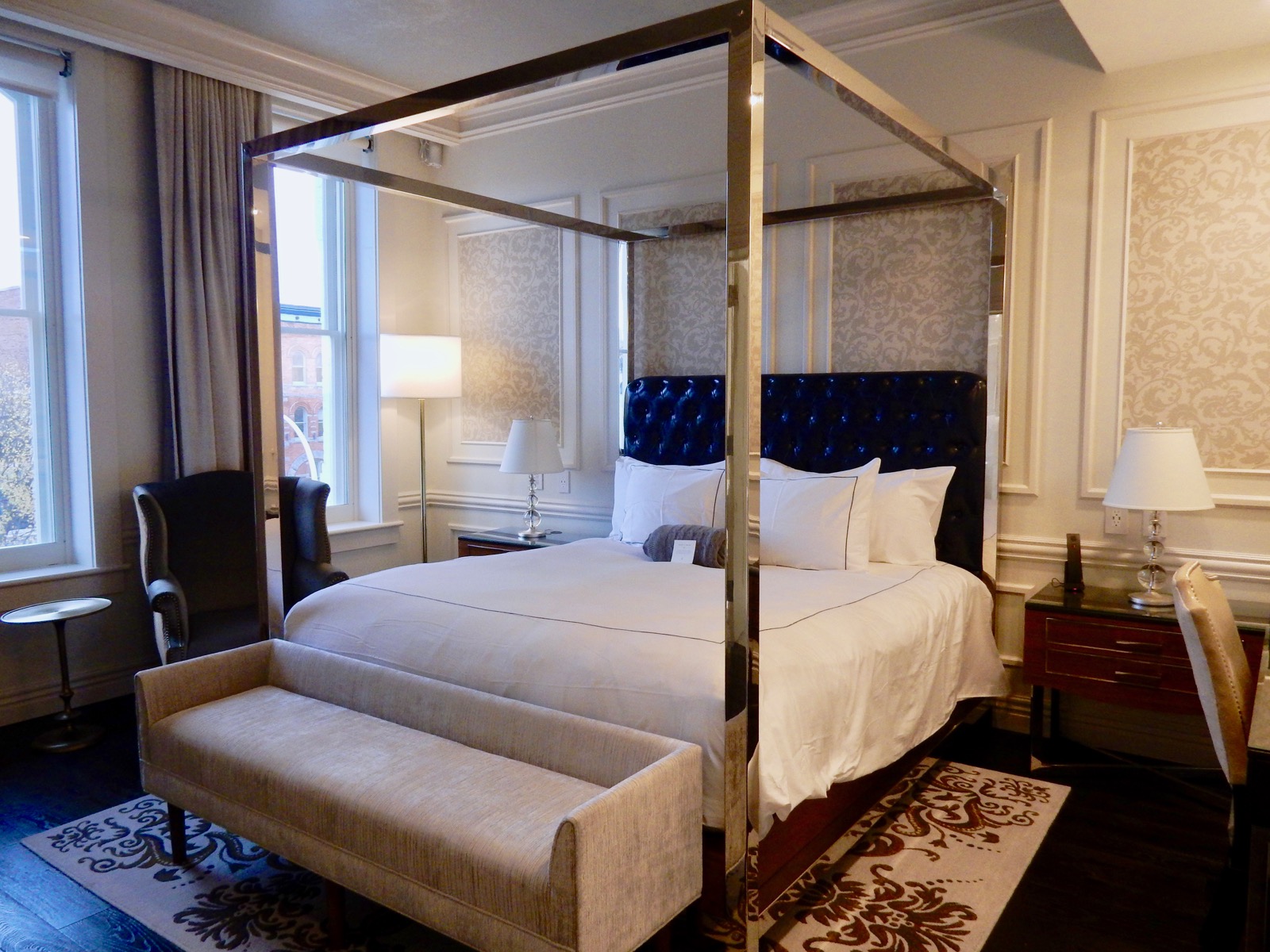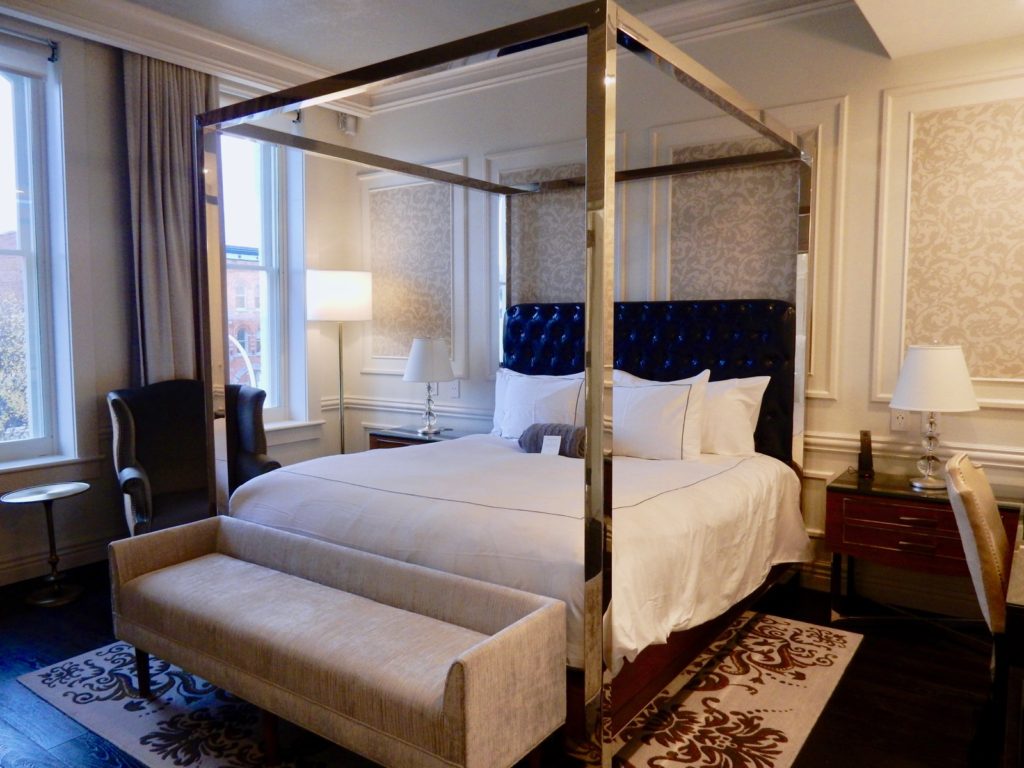 The motorized buzz of blackout shades rising, and drapes swishing to the side, welcomes you as you walk through your guest room door. Natural light floods the grey, navy, silver, and gold chamber.  At night, as well, the touch of a button casts the room in darkness.
Thanks to NYC-based interior designer, Glen Coben & Co., attention to detail in each room is beyond stunning, down to the silver-tone sponge-painted ceilings (a softer look than pressed tin).
Chair-rails, crown molding, and other millwork lend a sculptural element to partially wallpapered walls. Dark stained wood floors juxtapose beautifully with subtle accent rugs beneath tufted navy leather headboard pillow-top beds.
White duvets, with pin-stripe trim, are classic and timeless. The grey knitted throw on each bed is a granny counterpoint to the modern chrome canopy bed frame in Room 303 – a 450 sq ft. "Broadway Premier King."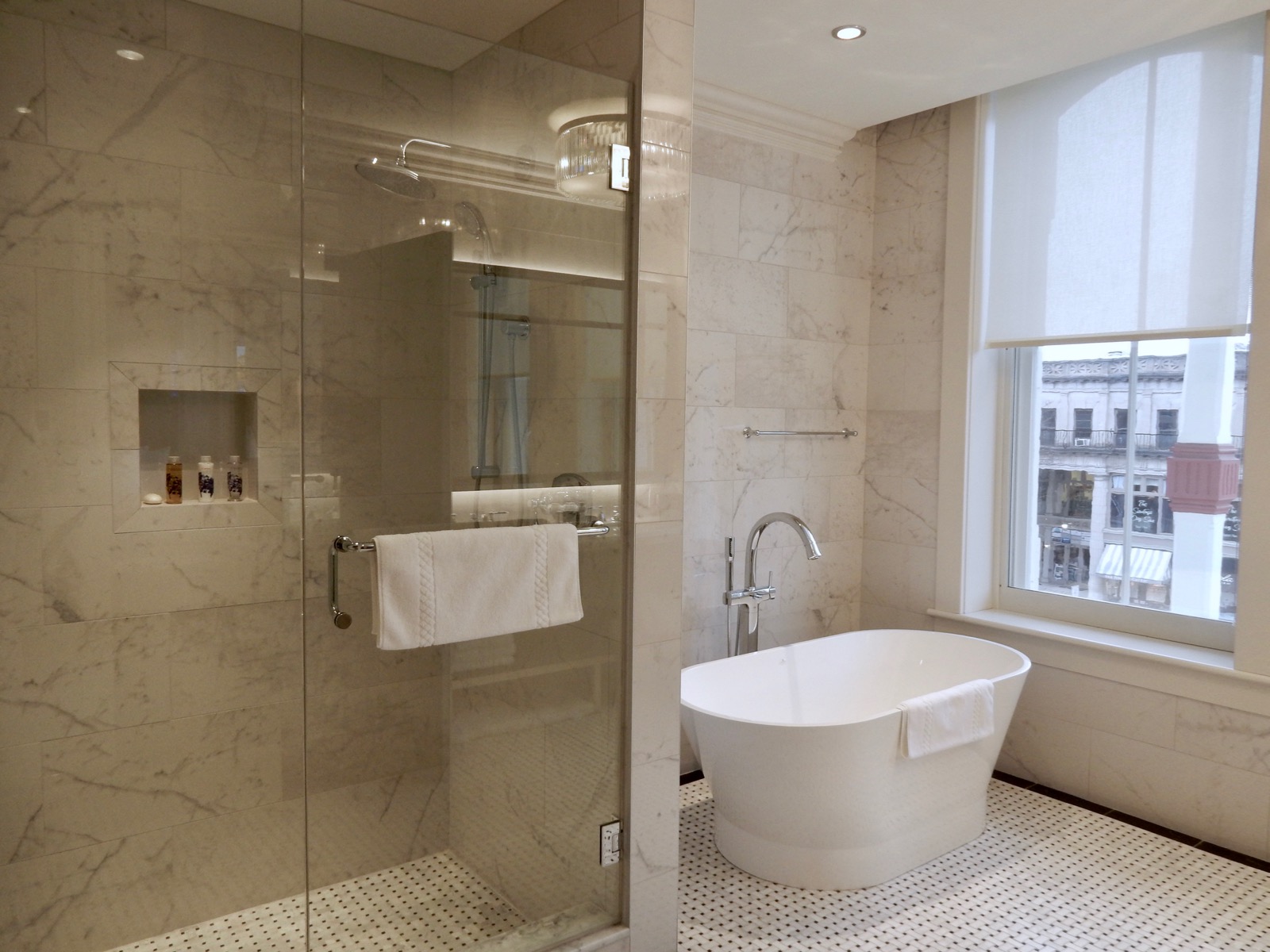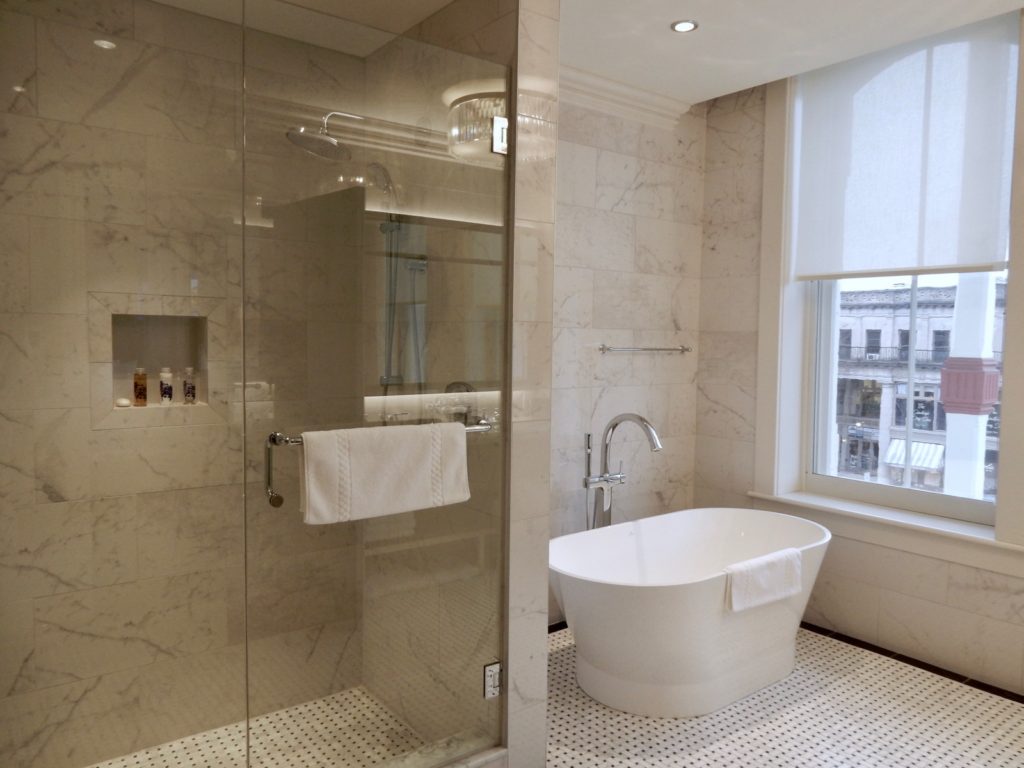 Design-forward-bathroom buffs will adore either room 303 or 403. Both feature a salle de bain the size of a NYC studio apartment. Its Carrera marble walls and sink, gleaming basket-weave mosaic floor, soaking tub, and glass rain-head shower seems right out of a magazine shoot. A futuristic toilet with warmed seat and bidet controls occupies its own cubby room.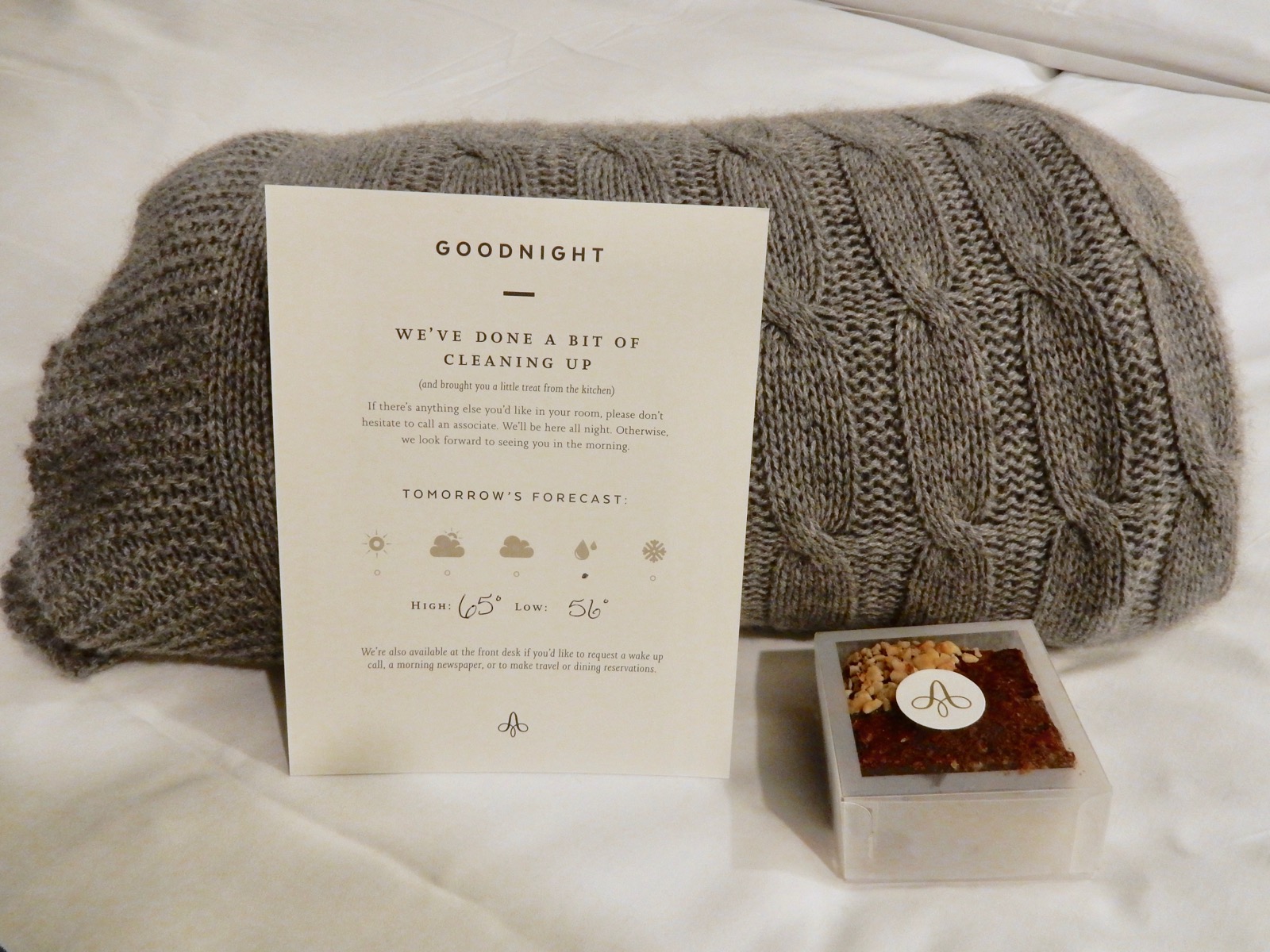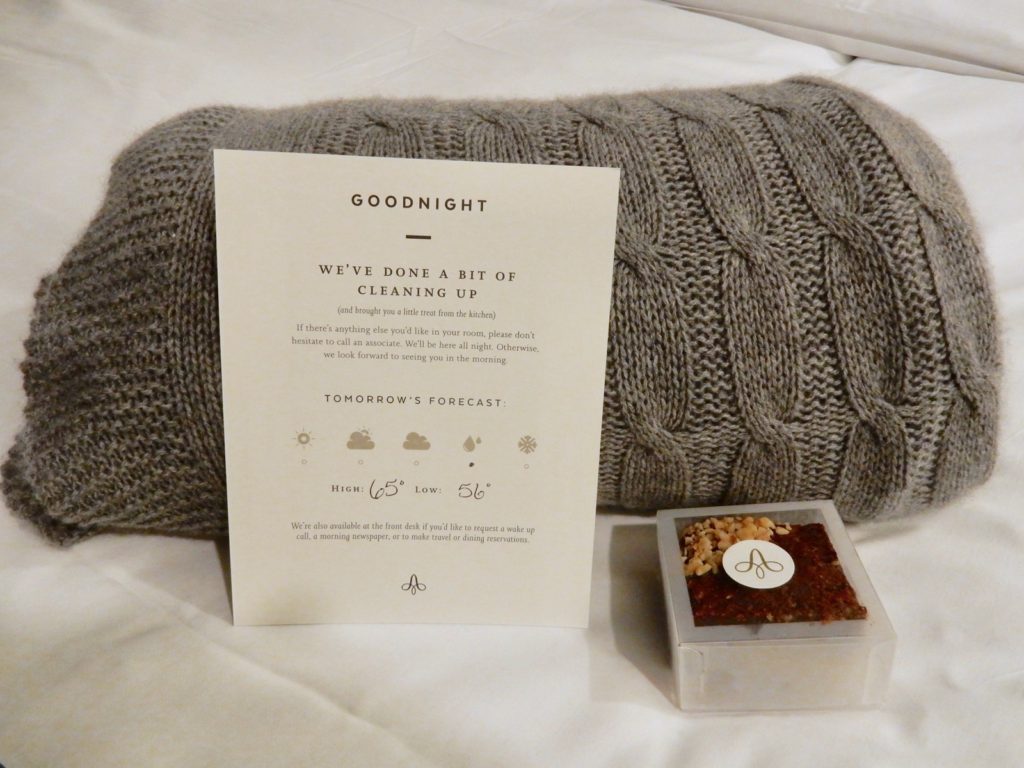 I often measure a hotel's level of luxury by its turndown service. Again, the Adelphi delivers. There's the cursory tidying up and prepping the bed for sleep, of course.
But rather than a nip of chocolate on your pillow, you'll find a nice treat from the kitchen (two brownies or a box of artisanal confections). And, a cute card printed with tomorrow's weather forecast.
Dining
Morrisey's Lounge
Just off the lobby, Morrisey's is not only a bar par excellence, but a "Small Bites" restaurant as well. You can dine casually on Pizza, Flatbreads, Salads and other sharable vittles while sipping your favorite beverage.
Salt & Char: Under the Adelphi umbrella, you must exit the hotel in order to get to this low-lit raved about steakhouse.
Just the Facts
Rooms and suites from $285-$1,000 depending on season and day of week, include wi-fi and parking.