Looking for Romantic Hotels in Washington DC? You might be thinking, "A romantic getaway? In the town known for its no holds barred politicking?"
Well, yep. Because the District of Columbia is also admired for its cultural institutions, free museums, moving monuments, and Michelin-star restaurants. And, of course, Cherry Blossoms.
We've chosen a few of our favorites – for different reasons – along with a couple of iconic hotels that offer top-notch service and specialties of their own.
One, for its "Girl-Power" audacity and touch-of-naughtiness interior. Another, for the American Scandal that spurred the terminology of all American scandals to come.
A third for its location in the midst of foreign embassies right off Dupont Circle. And a couple more for their iconic status and easy access to the most famous House in the country. (Re-opened to the public for tours in 2022).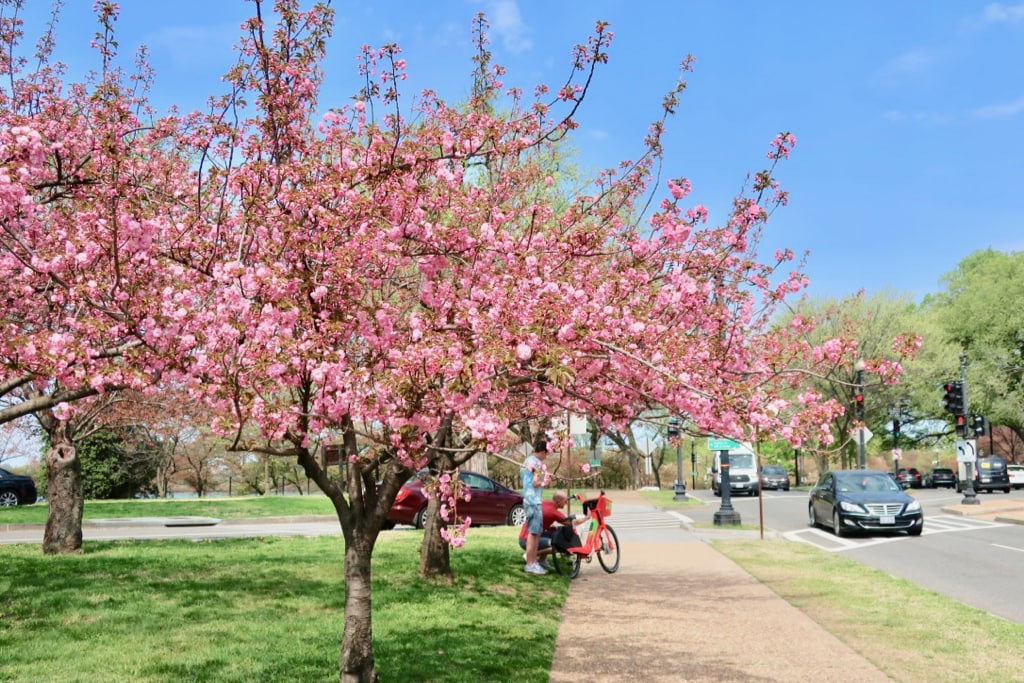 Choose one or plan a stay in all for a week-long exploration of the US Capitol and bordering Montgomery County and College Park MD.
FYI – both Hotel Zena and The Ven made it onto our 20 Best Romantic Hotels Northeast USA 2021 list. (The Watergate was tops in a prior year). And you can find even more inspiration in our list of Top Romantic Hotels In the Northeast USA.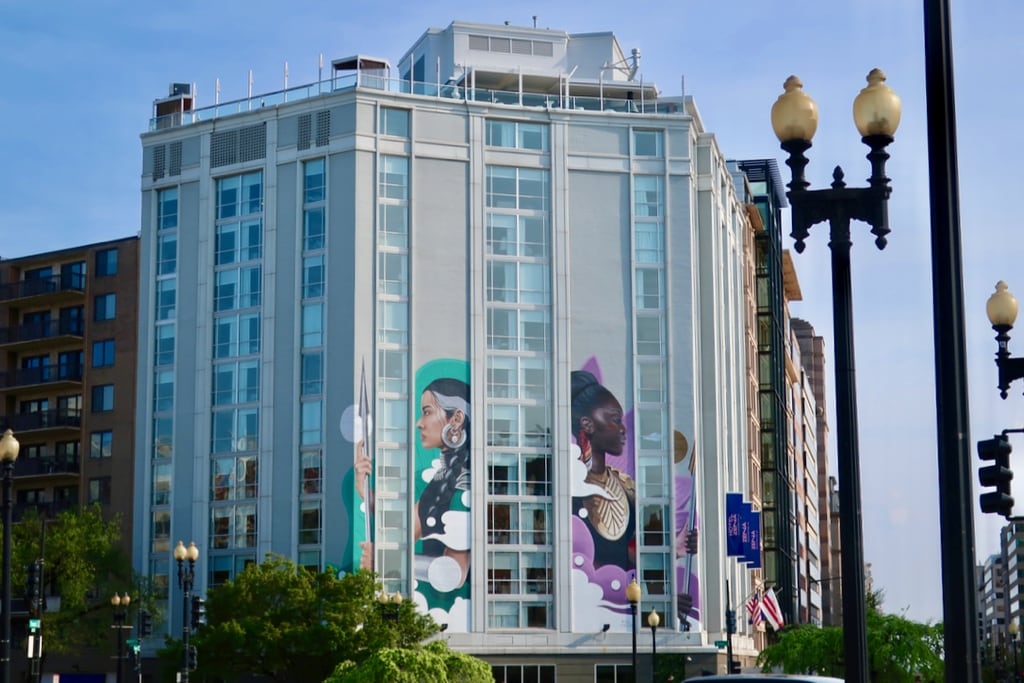 STAY: Hotel Zena, a Viceroy Hotel
Want to see a mural of Ruth Bader Ginsberg made from 20,000 painted tampons? You'll have to book a room at the she-shed of hotels in DC, Hotel Zena. Or – at the very least, walk into the lobby for a drink and gander.
Hotel Zena reverberates with women power, as evidenced, even before you walk in the door, by a four-story mural on its exterior depicting two women warriors. Though clearly feminine, however, this "part hotel- part art gallery" stops just short of being "cutesy."
This is thanks to Andrea Sheehan, Principal of Dawson Design Associates, known for her "mostly dark, sexy spaces."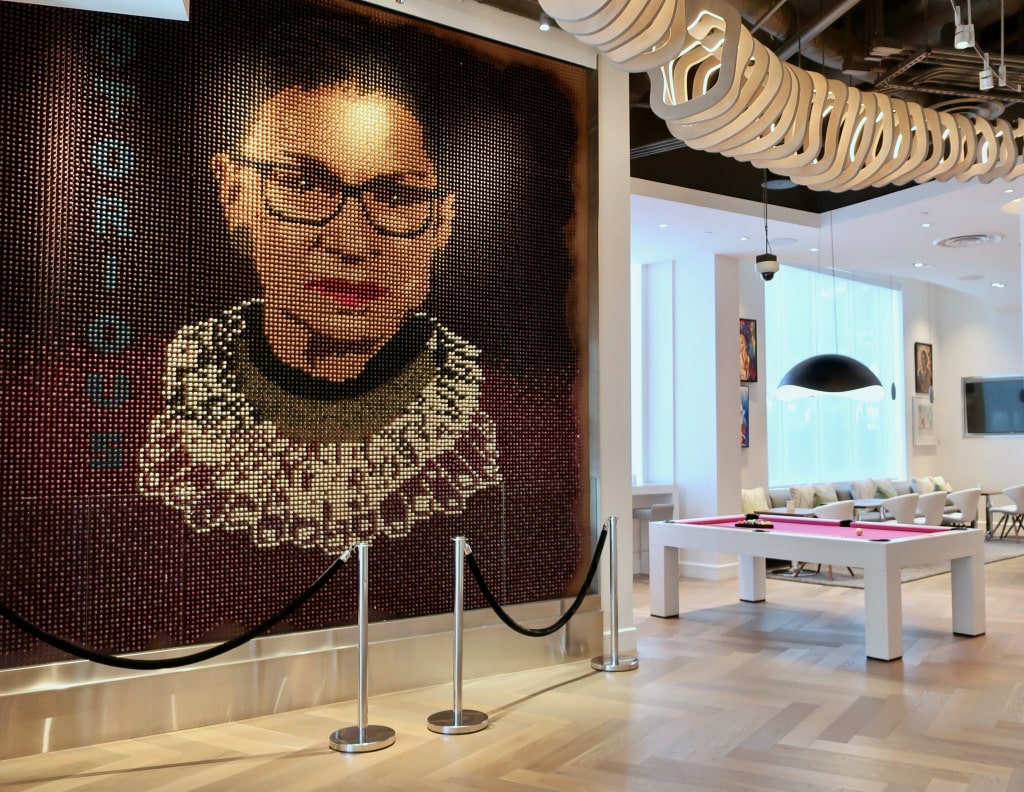 Sheehan asked, "What would a hotel designed for women by a woman look like?" She was given free rein by the "very boutique" Viceroy Hotel Group to realize her vision.
The result is both provocative and fun: a vibrant celebration of feminine power that resonates with guests of both sexes.
First Impressions on Hotel Zena
It was the "art gallery" aspect that struck me first as I walked through the doors. A carved wood "serpent" light sculpture snakes along the ceiling.
The serpent, I was told, represents the one that tempted Eve to eat from the Tree of Knowledge in the Garden of Eden. Hence, the apple mural behind a lobby table, and the name of the bar, Fig Leaf. Both, of course, are nods to "Bad Girl" Eve, whose only crime was disobeying a man because she wanted to know stuff.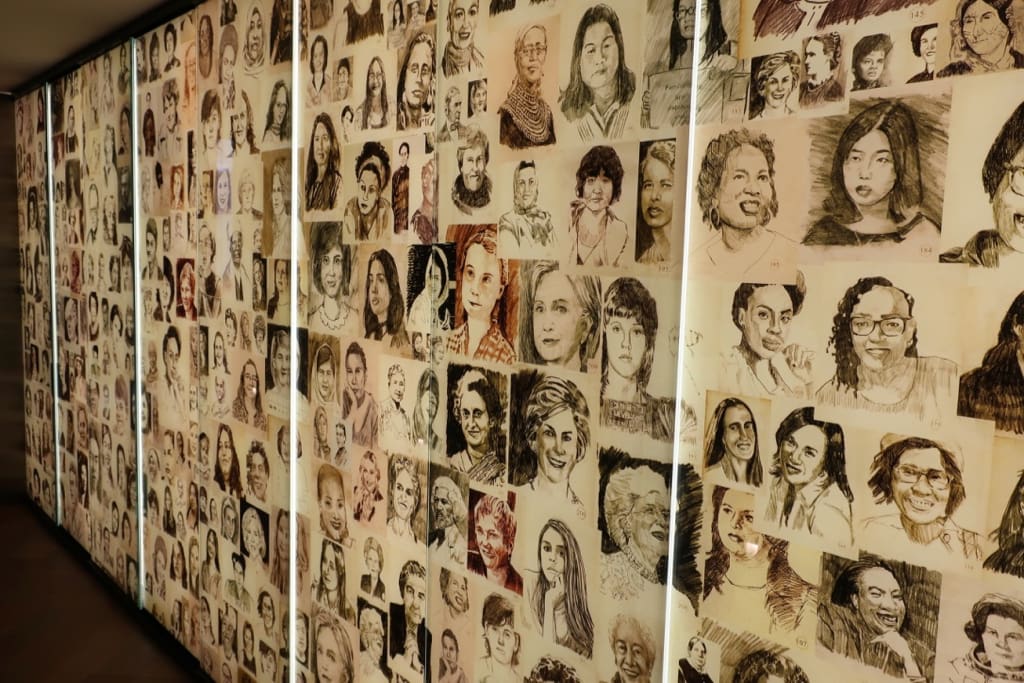 Even the amusements near the enthralling RBG mural are artsy and geared toward women. There's a bright pink billiards table, and an adult-sized Lite Brite mounted on the wall that allows all kinds of jewel-toned creativity.
Two art installations beg for closer scrutiny. One is the "Wall of Honor" depicting an illuminated array of tiny charcoal sketches of notable women from antiquity to the current day. (See how many you can identify).
The other is "Talking Sequins:" an arrangement of 12,000 custom protest buttons pinned onto fabric along two sides of a curved wall. It's meant to evoke a gown and actually feels like a soft dress.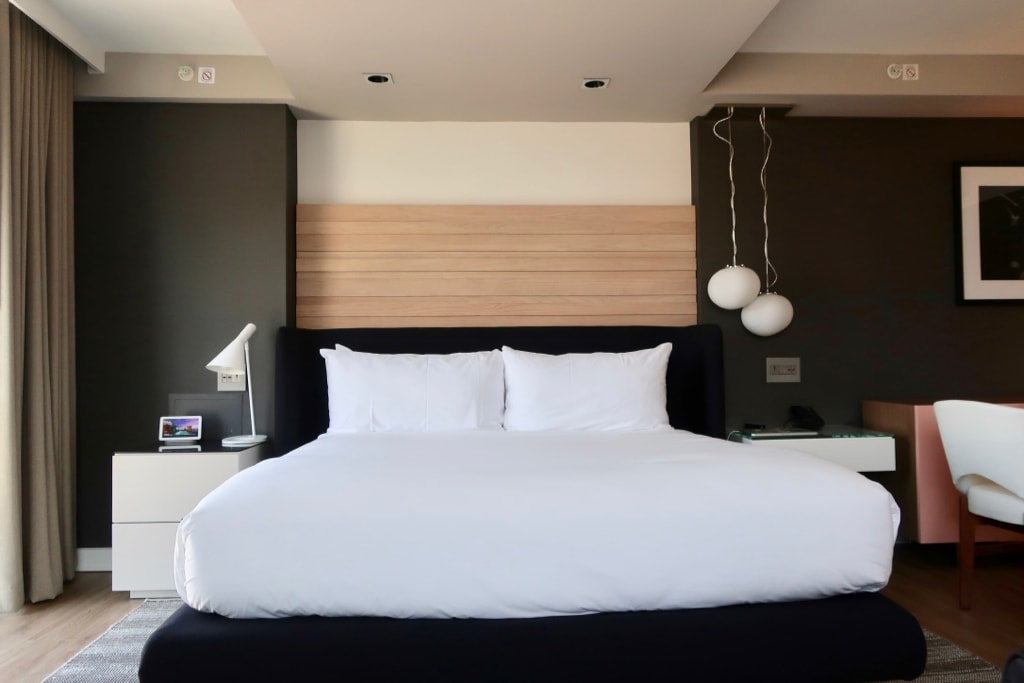 Guest Rooms – Circle View studio King
Hotel Zena is sexy right into its guest rooms, where showers, emblazoned with kick-ass Greek goddesses, spiral inward like nautiluses. Mine, the Circle view studio king offered a stunning view of Thomas Circle and beyond.
The suite is large and gracefully modern. Soft white leather chairs surround a glass table. Hardwood floors, natural shiplap bed backboard, two-toned modern couch, and a mild punch of peach: the color pallet is subdued and unfussy, in shades of black, white, and ecru.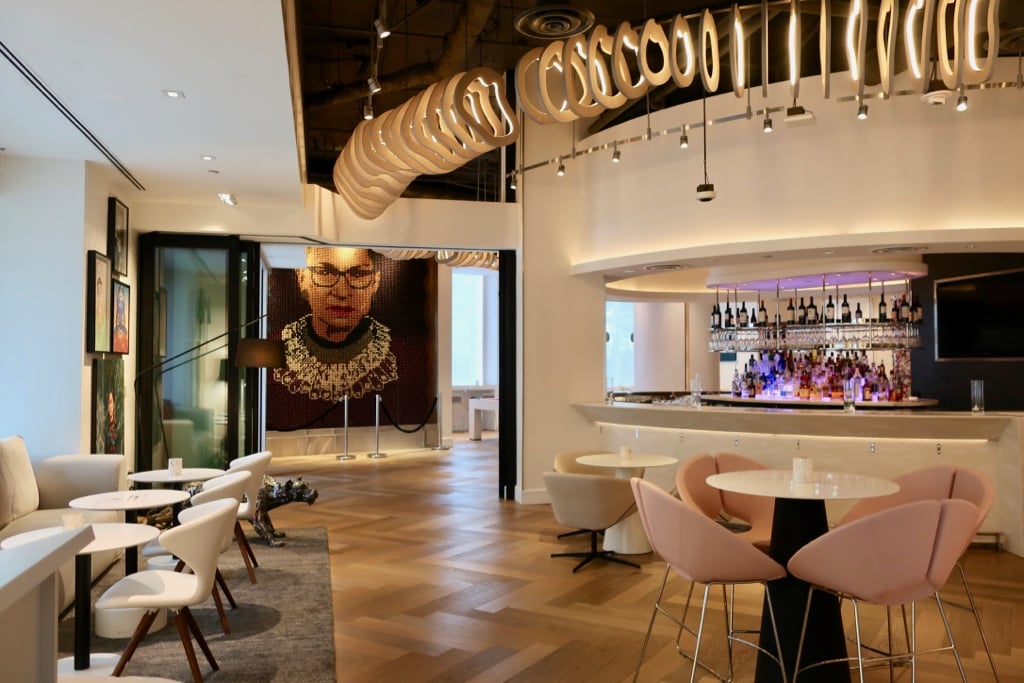 Food and Drink at Hotel Zena
Both Fig and Leaf in the lobby and Hedy's Rooftop Lounge offer craft cocktails and light dinner fare. Resident mixologist, Jasmine Diaz, designs specialty beverages using spirits from women-owned distilleries. She actually concocted a drink in honor of VP Kamala Harris called #IAMSPEAKING.
If meeting friends for a quick drink and a bite before heading out, Fig and Leaf is a perfect choice.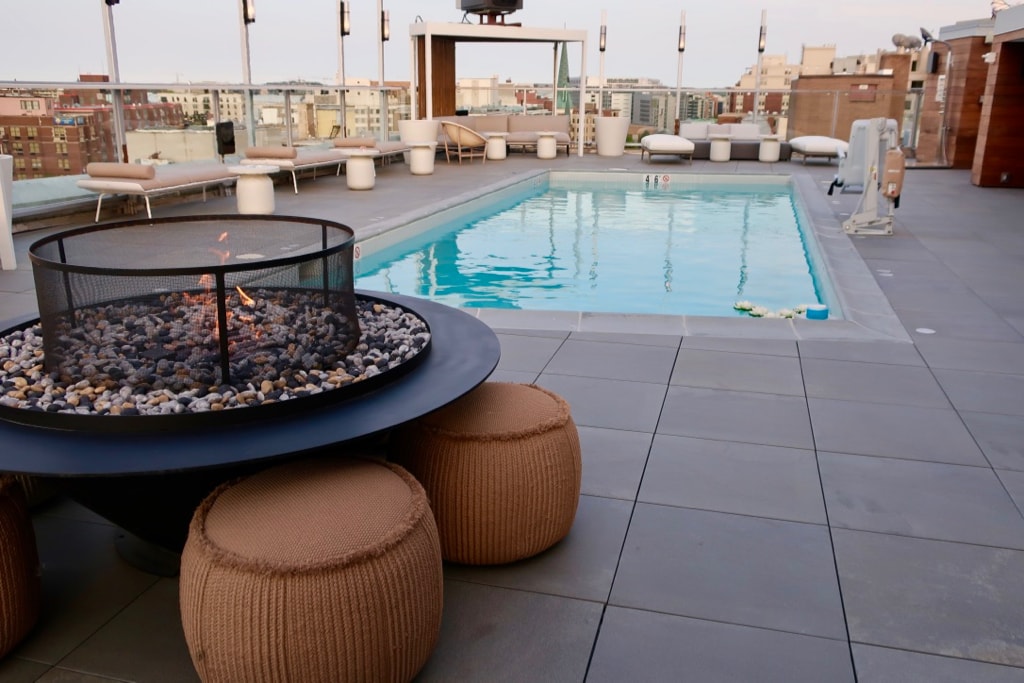 But to make an evening of it – complete with a dip in the rooftop pool – head up to Hedy's where blazing fire pits set the mood.
Sunset is a spectacular time to enjoy some great food and drinks. Salads are Farmer's Market fresh – and OMG – order the Parmesan Truffle Fries.
STAY: Watergate Hotel
There's never been a hotel so fraught with figurative baggage, so memorable in its role in the takedown of an American Presidency, as The Watergate Hotel in Washington DC.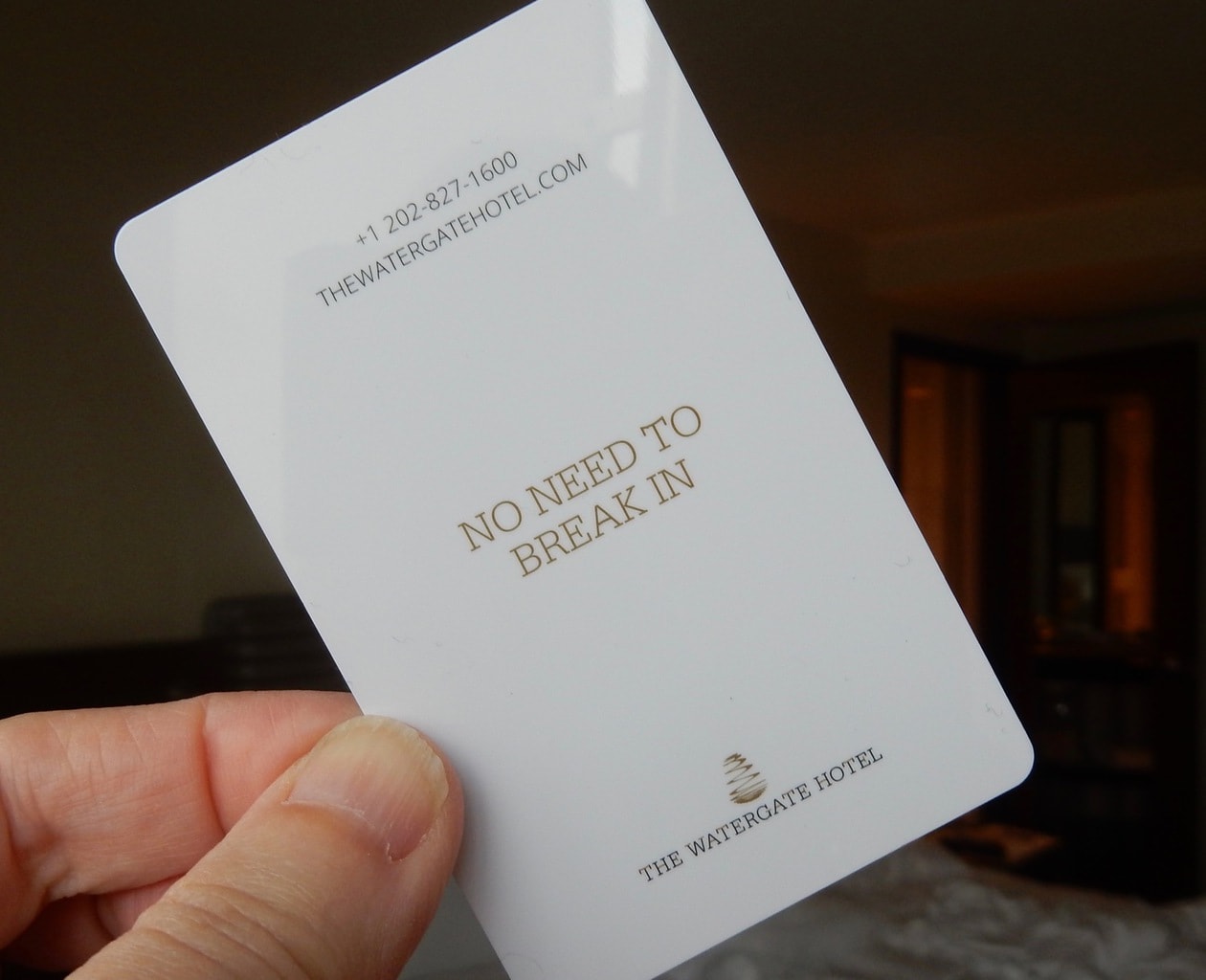 The suffix, "gate," in fact, has applied to every scandal since, traced back to this newly renovated and mod-sexy hotel on the Potomac River.
Yes, Richard Nixon ordered the "hacking" of the office of the Democratic National Committee (DNC) during the 1972 Presidential Campaign; a burglary of hard-copy files that now seems downright quaint in light of current breaches in our nation's cyber security.
Interestingly, the new and improved Watergate, a Washington DC luxury hotel a five-minute walk from the Kennedy Center, does not hide its notorious history: It celebrates it with a sense of humor – and therein lies its vast appeal.
That and the fact that the whole place glistens with groovy 60's architectural elements and stylish rooms. The Watergate is, according to its new tagline, "Unapologetically Luxurious."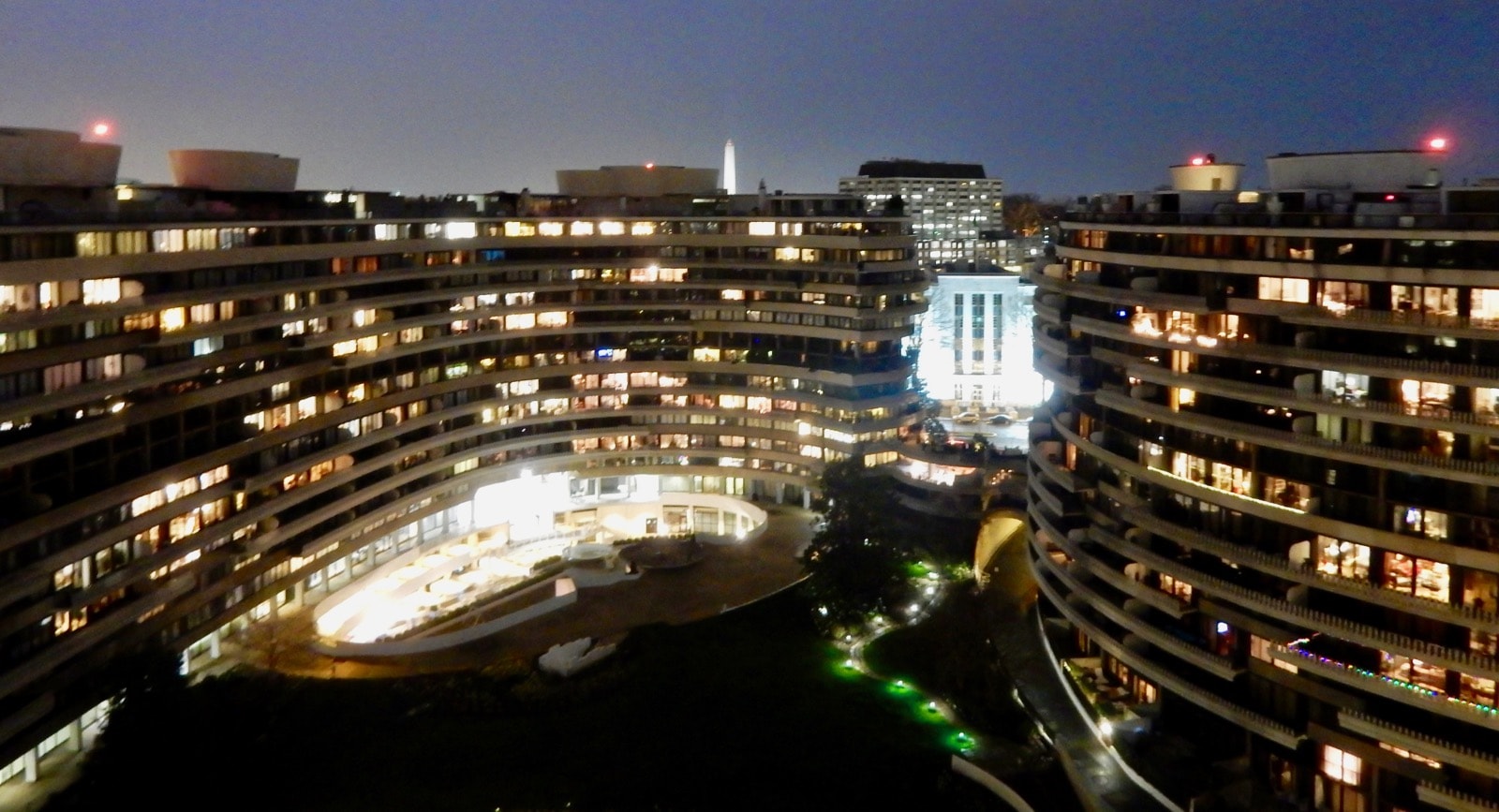 First Impressions of the Watergate Hotel
The Watergate Hotel blends seamlessly into the curvilinear Watergate Complex. This six-building compound in the Foggy Bottom neighborhood of DC was conceived and constructed in the Mad Men 1960s.
Standing in the hotel lobby is akin to being inside a golden Slinky; coils of gold everywhere – as reception desk base, on support columns. It's quite the snazzy décor, mirroring the exterior of the surrounding buildings.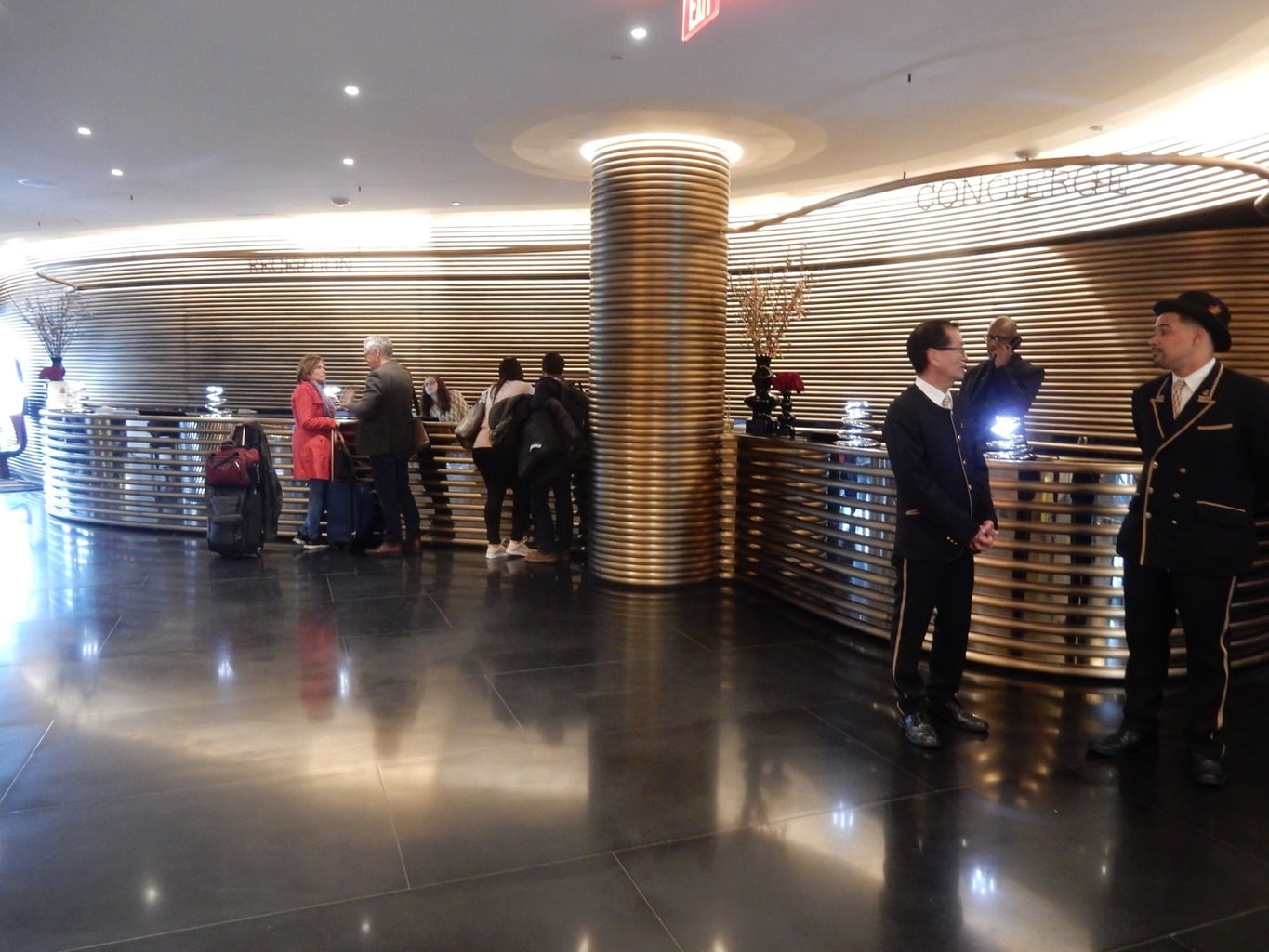 This curvaceous motif continues into the lobby's Next Whisky Bar – separated from incoming guests by a glowing wall of bottles the color of flaxen hair. The Midas Touch abounds.
Employees are on the ball, friendly and efficient – but must move you along quickly. The place crawls with well-heeled guests, no doubt a certain morbid curiosity at play.
But really, there is nothing morbid about the current hotel, a Legend in the Preferred Hotels and Resorts of the World group. It's a stunner.
Rooms at the Watergate Hotel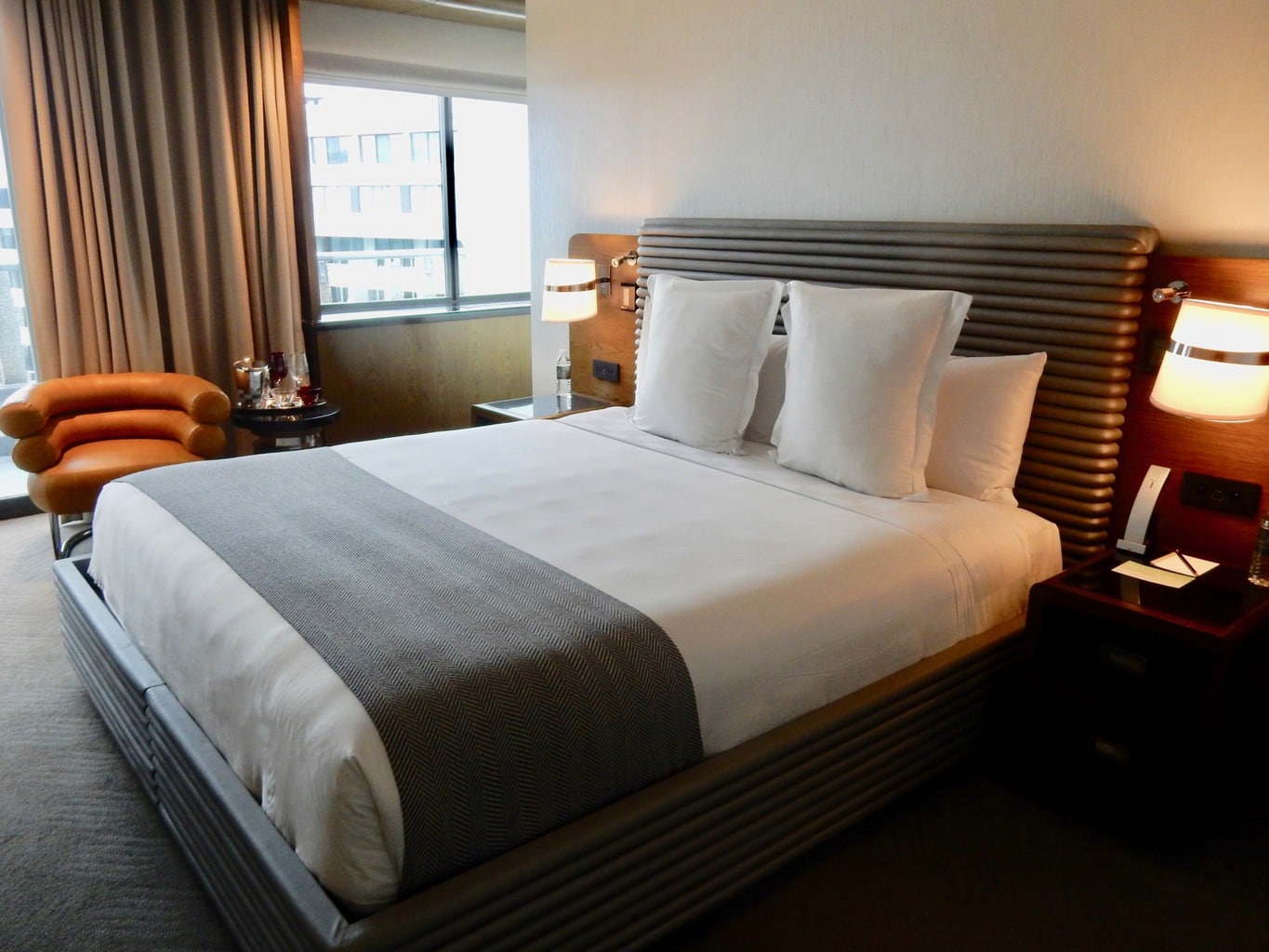 Some guest room dimensions might be on the small side, but the impact is large, especially if you ask for a room with a balcony overlooking the Potomac River.
The coil motif continues into the rooms, on leather bed backboards and 70's leather chairs. Each white duvet is warmed up with a grey houndstooth throw.
Bathrooms are dramatically masculine. They feature huge rain showers, black marble floors and sink, and grey and white striped marble tiled walls.
There's a mod-sexy grouping of cocktail glasses on a side table, a flat-screen TV, and all the modern amenities that a luxury hotel can throw at you.
But, here's the fun part. Bedside tables look like filing cabinets (haha). The complimentary pencils are stamped, I stole this from the Watergate Hotel. And room key cards read, No need to break in.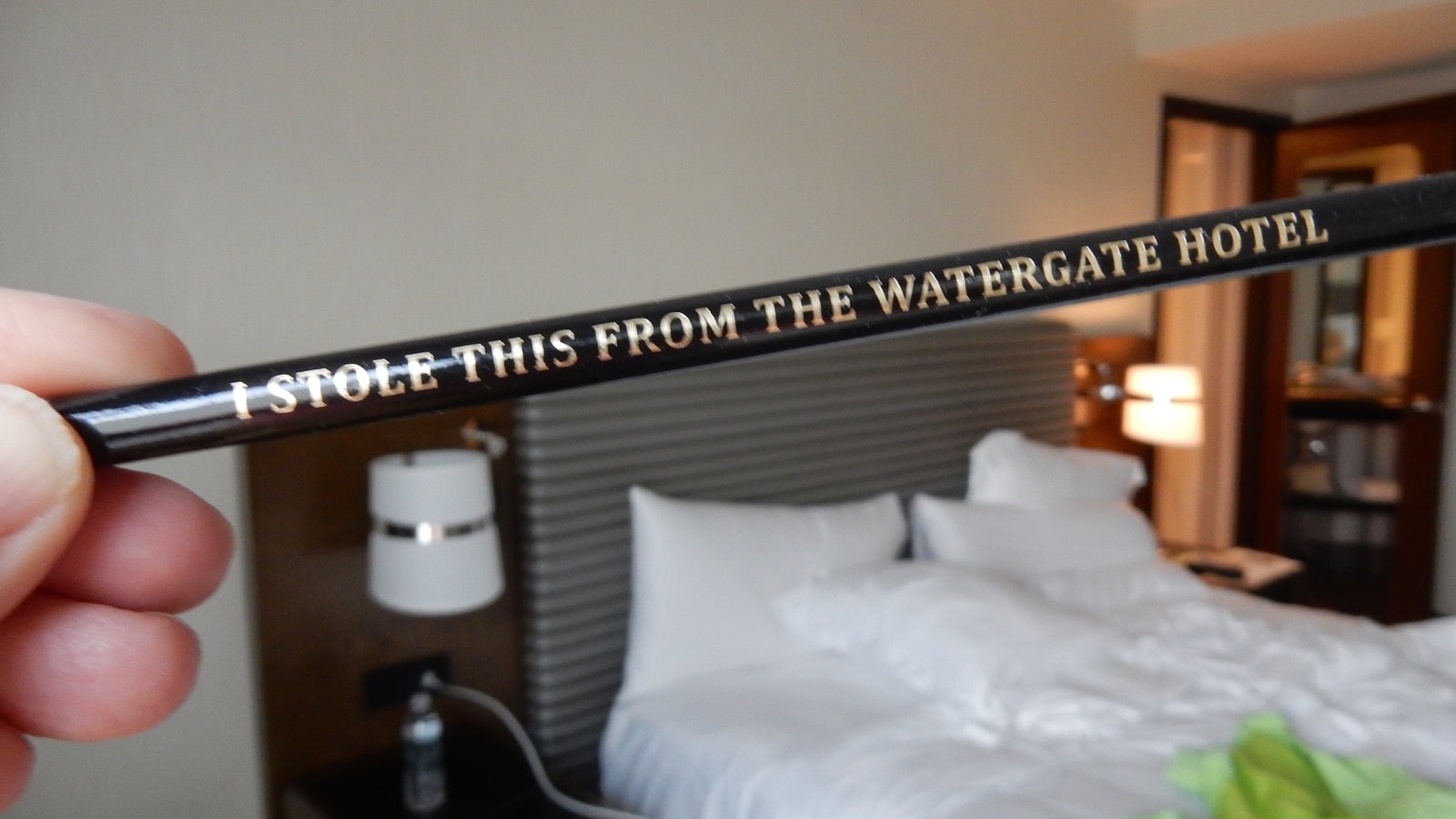 For a once in a lifetime kick – reserve the "Scandal Room 214″: The Sexiest Room at One of the Most Romantic Hotels in DC
According to The Watergate's website:
On June 17, 1972, E. Howard Hunt and G. Gordon Liddy, who helmed The Watergate break-in team, stationed themselves in The Watergate Hotel's room 214. They used the room to monitor the burglary at the Democratic National Committee in the Watergate Complex office building, next to the hotel.
This room has been decorated in collaboration with Lyn Paolo, the costume designer for Scandal, and contains items from the Watergate Scandal period.
A record player with 45 singles, binoculars, a manual typewriter, a reel-to-reel tape recorder, a curated book collection, and several pieces of furniture serves as a throwback to the 1970s. Modern amenities are also included– a 48″ flat-screen TV with episodes of Scandal available for viewing. A spa-like bathroom with La Bottega amenities and two "Cover Up" robes to enjoy during your stay.
Food and Drink at the Watergate Hotel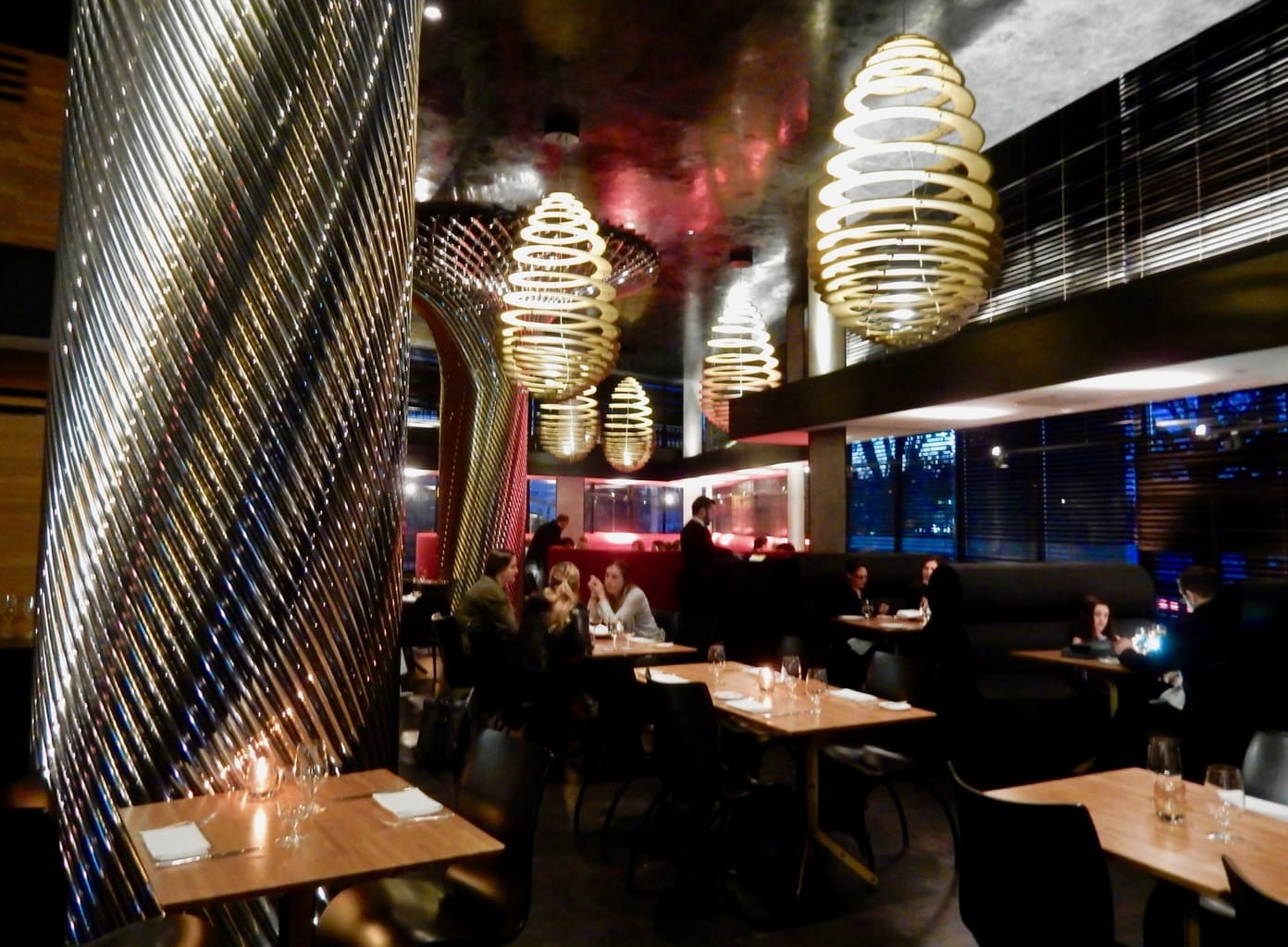 The in-house Next Whisky Bar, Kingbird, and Top of the Gate all offer food and drink. Top of the Gate is the place to be for summer sunsets, affording far-off views of the Washington Monument.
Watergate Hotel Amenities
Fitness Center
The Watergate Hotel fitness center is part of the Argentta Spa (which also includes a large indoor swimming pool and smaller plunge pools).
Argentta Spa
Rooms and suites from $225 per night for the smallest room on summer weekends. Over $3,000 for a Diplomat 2-bedroom family suite. The Scandal Suite from $1,199 per night.
STAY: The Ven at Embassy Row Hotel
What makes The Ven at Embassy Row, (formerly just the Embassy Row Hotel) one of the most romantic hotels in DC? It's the soft colors, curved lines, and location.
The Ven sits on a mansion-lined street, just 84 steps from DuPont Circle in Washington DC, and is surrounded by stately townhomes and foreign embassies. (Hence the name).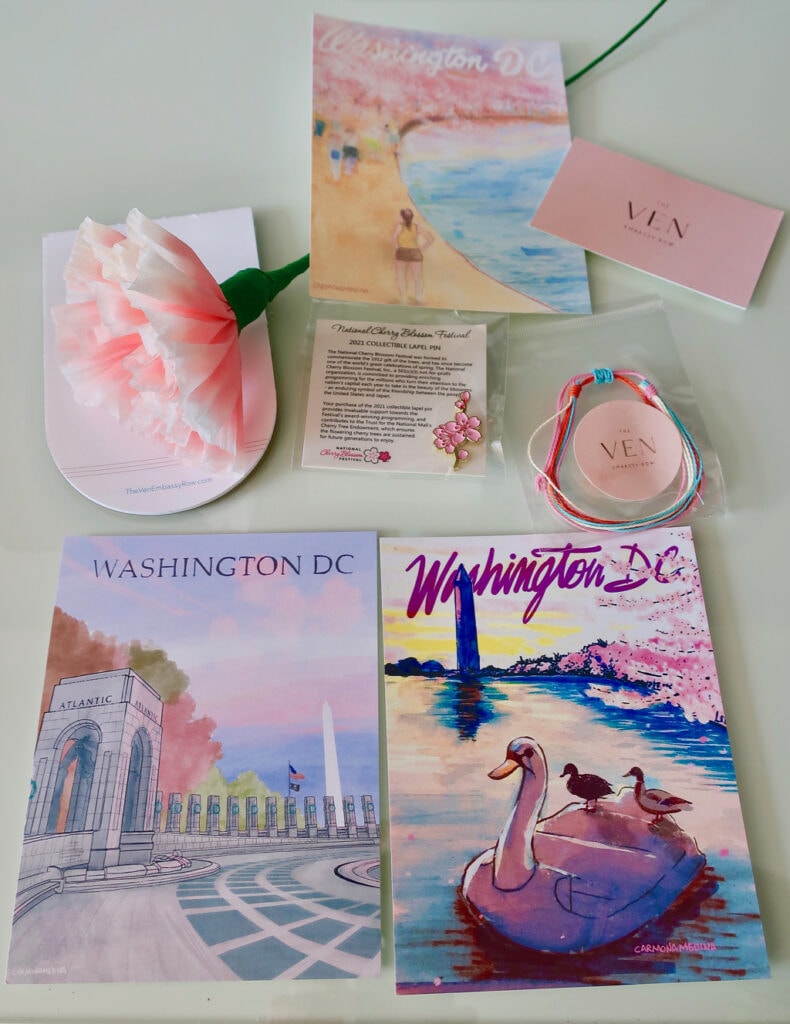 Upgraded even more from its first "boutique" redo in 2014, when it was spiffed up and modernized, The Ven continues to merit its esteemed place in the Washington DC constellation of top hotels.
Check-in at the desk is quick, casual, and friendly – and for now at least, behind plexiglass, per Covid protocols.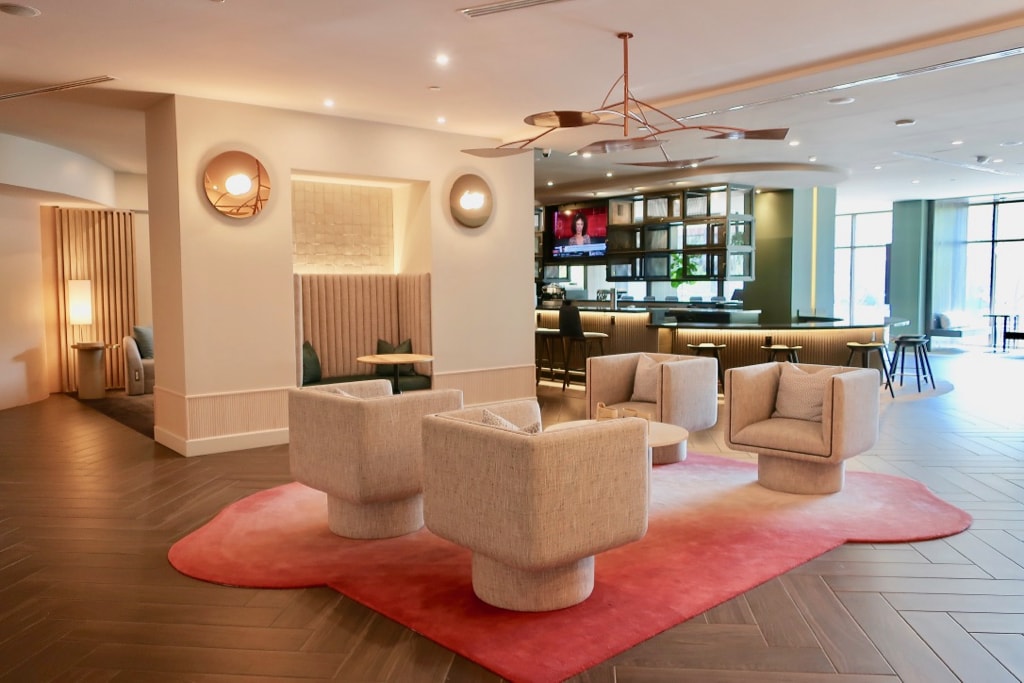 In the lobby, former jewel tones have been "toned down" to muted shades – creating a soothing space encompassing several stylish seating areas and a long, shining oblong bar.
As of April '21, renovations were continuing with two restaurants, the rooftop pool and lounge, and a basement Art Museum coming online shortly.
Guest Rooms At The Ven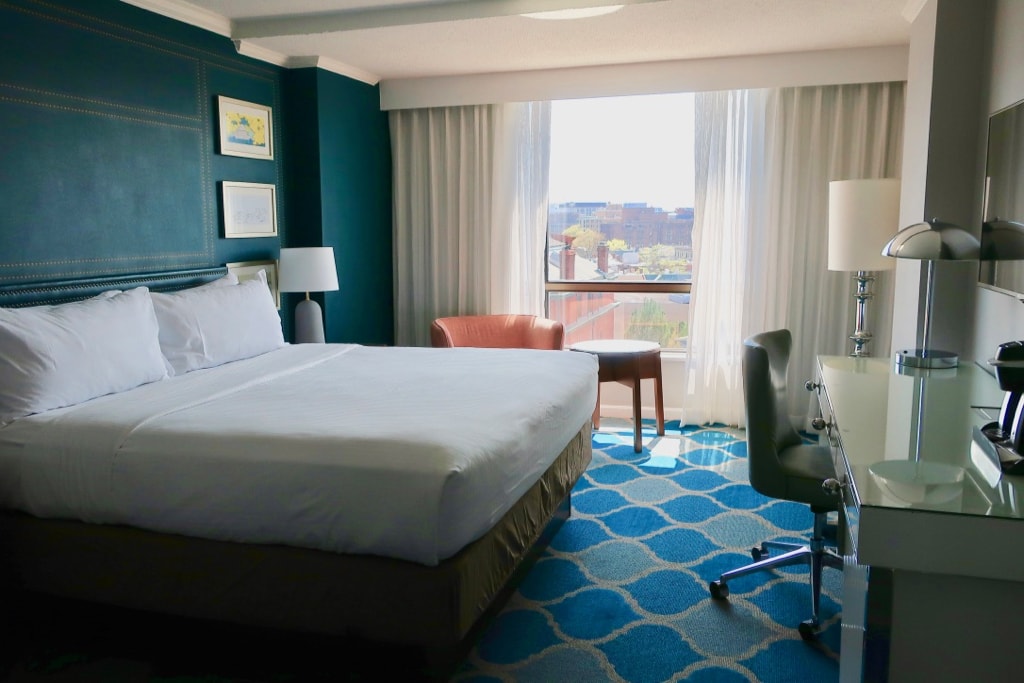 All 231 rooms are stylishly appointed, with nearly floor-to-ceiling windows. In shades of gray and eye-popping teal, the somewhat small space (with even smaller bathrooms) feels much larger than it is.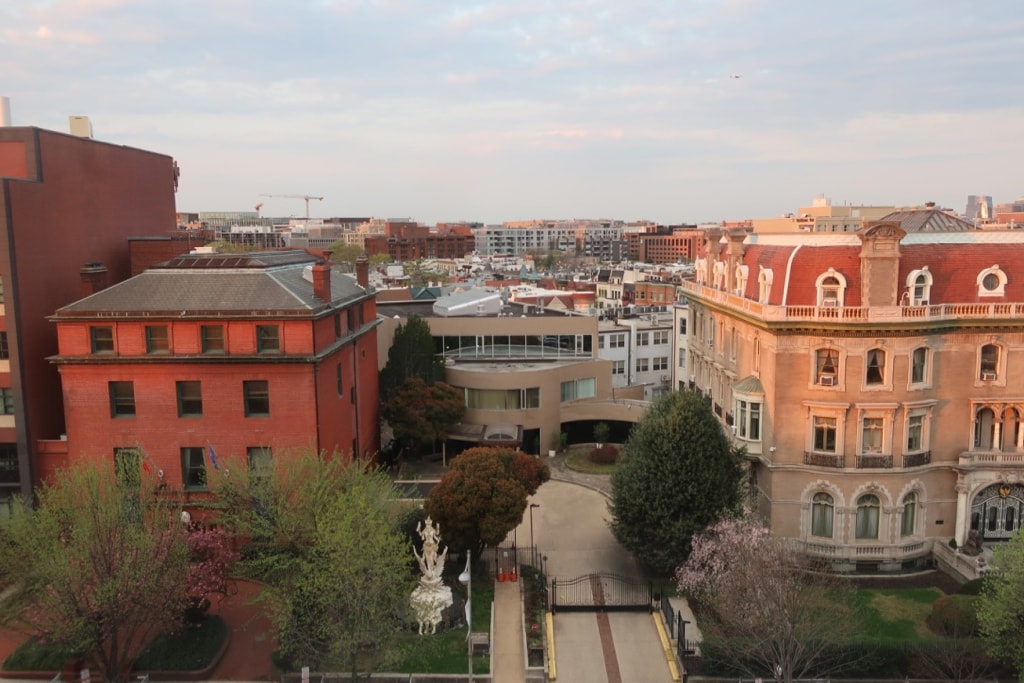 In the morning, watch the sun illuminate the magisterial Indonesian and Portuguese Embassies across the street from a dreamy, don't-want-to-leave-it bed.
Food and Drink At The Ven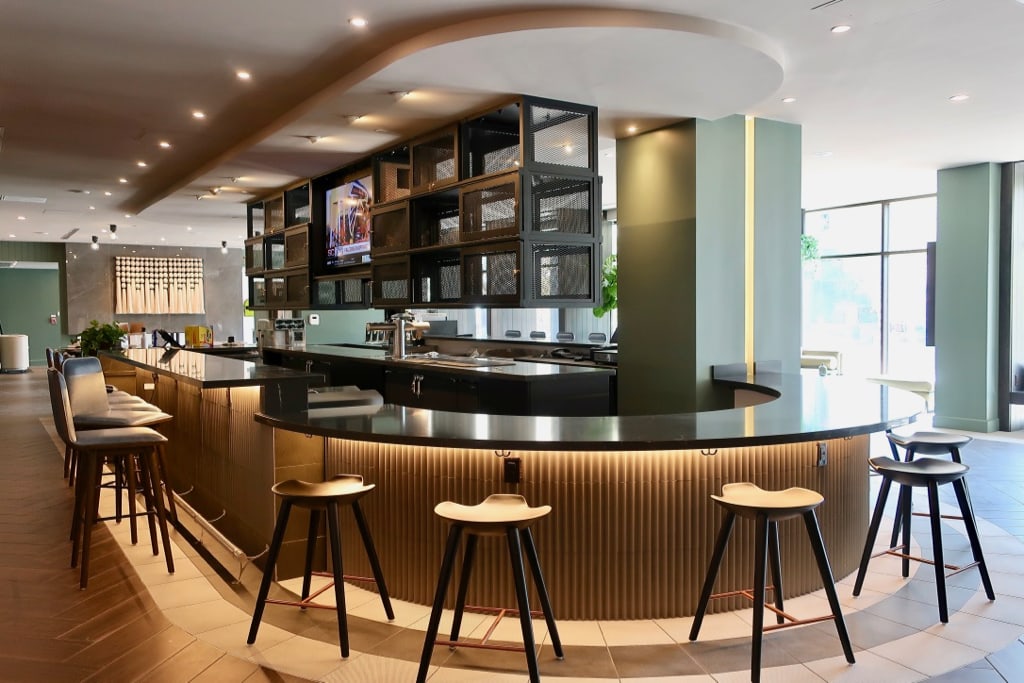 The new central oblong bar is sure to be a hit with guests and friends who'd just as soon not leave the premises after a long day.
Currently, two in-house restaurants, Fred and Stilla, with lobby and rooftop service, and Ven Café, are in the works.
For now, staff help serves coffee and a morning snack in the lobby. It will be grab and go post-Covid.
Amenities at The Ven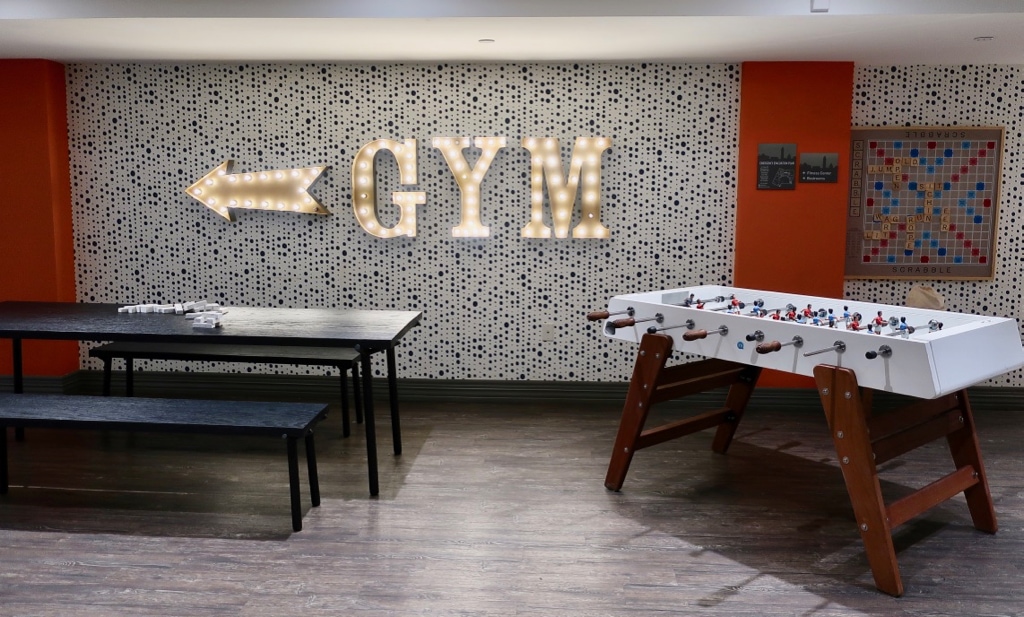 Play Foosball and Scrabble (on a giant wall-hung board) in the Basement.
The large Fitness Center features state-of-the-art machines.
STAY: Hay Adams Hotel
Enjoy views of the White House from your room at the Hay Adams Hotel. This property, across the street from The Casa Blanca, opened in 1928, and, according to Fodor's, is the "Italian Renaissance grande-dame on Lafayette Square."
Rooms soothe in shades of off-white and barely-there pastels. It's traditional old-world elegance in both service and ambiance.
STAY: The Willard InterContinental
The Willard was first constructed a mere 24 years after the White House was built nearby in 1792. Abe Lincoln chose this hotel to overnight prior to his inauguration.
Have you ever wondered about the origins of the term "Lobbyist?" Well, it was coined by Ulysses S. Grant after being pestered by special interest groups in the lobby of the Willard Hotel.
The Willard had its ups and downs, fires, and declines, but was restored to its Beaux-Arts beauty in 1986. Now, it's best known worldwide for its highly romantic Afternoon Tea service.
In fact, the Travel Channel deemed The Willard One of the Best 10 Places to Do Afternoon Tea Like a Royal in North America.
Washington DC Getaway Guides:
Weekend Getaway Near Washington DC:
All articles belong to Getaway Mavens LLC, and all photos belong to us as well, unless otherwise noted. It's all copyrighted. Please don't repost anything elsewhere without asking us first. All rights reserved. This site uses cookies to enhance your experience.
We make no guarantees of any price listed on our site. We're not responsible for content on external websites linked to ours, including linked resources, an external blog post, any partner site, hotel property sites, or affiliate sites. We only write about places we have vetted, but can't guarantee that your experience will be exactly the same.
Posts may contain affiliate links at no cost to you. Several of our trips are also compensated by the respective tourism boards for the city or state we are visiting. This never impacts how we share the destination with you – opinions are always our own and we pride ourselves on that. We do not sell links or accept unsolicited guest posts under any circumstances. Don't even ask.
United States Copyright, Getaway Mavens, LLC