The following short list of Romantic Hotels in NH might not be household names to many outside of New Hampshire. But, of course, we Getaway Maven pride ourselves on finding the rare, obscure, though worthy lodgings throughout New England, the Mid-Atlantic, and beyond.
And, although definitely romantic, we did omit most of the surviving Grand Hotels built in New Hampshire during the Gilded Age.
Although many closed due to fire and finances, several survived, and remain timeless reminders of a bygone age.  However, they are quite different from their 150-year old iterations. The Mount Washington Resort is now an Omni. Wentworth By the Sea is a Marriott Hotel. And, owners of The Balsams are attempting to redevelop the property as an ownership (Condo) resort.  
So, whether you prefer to take a "passion break" in the White Mountains, the Lakes Region, in the rarely visited Southwest Corner, in the Queen City, or on an Ivy League campus, read our recommendations for the best romantic hotels in NH below.
For more up to the date NH information, check out New Hampshire Tourism.
Romantic Hotels in NH White Mountains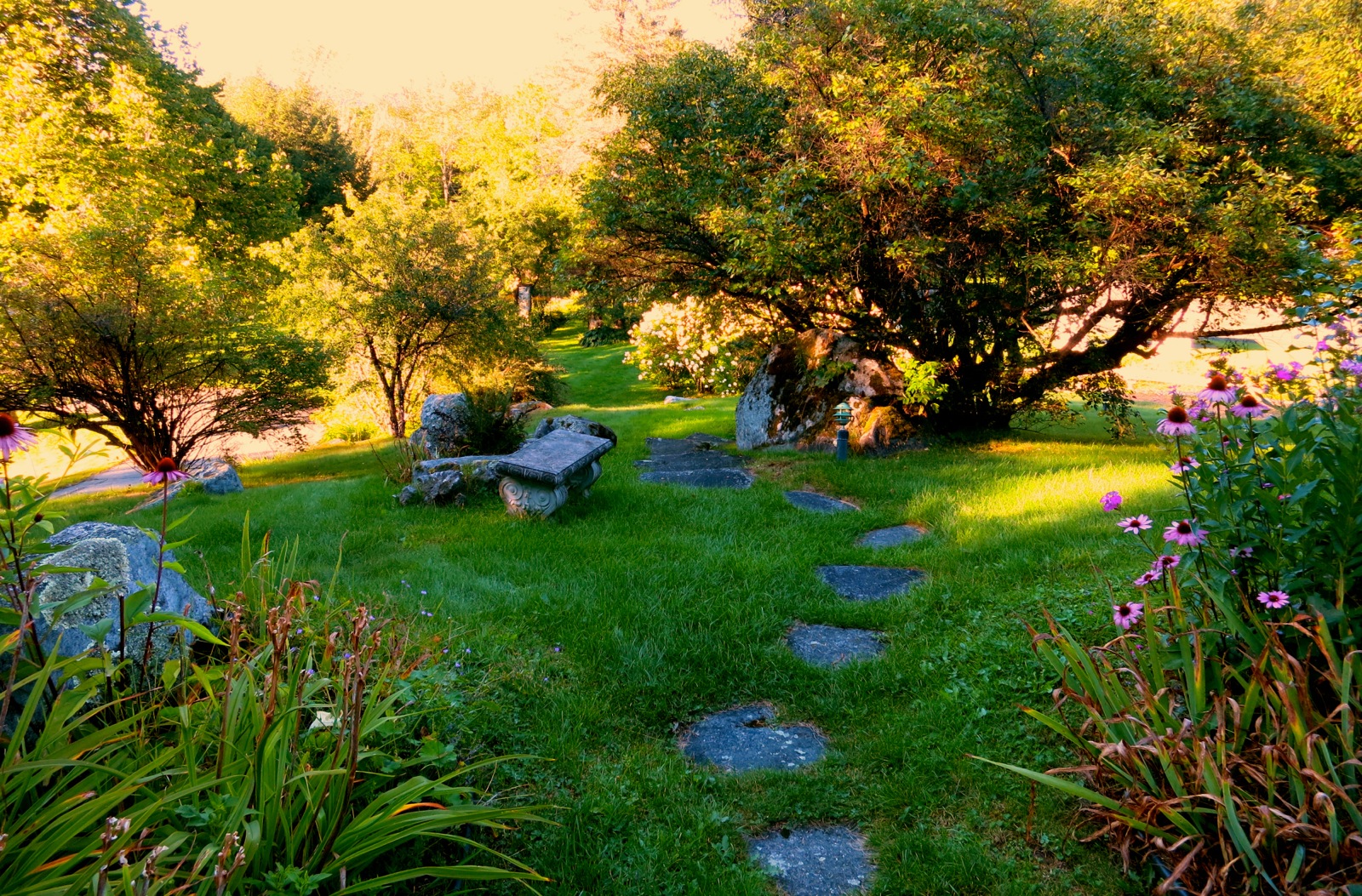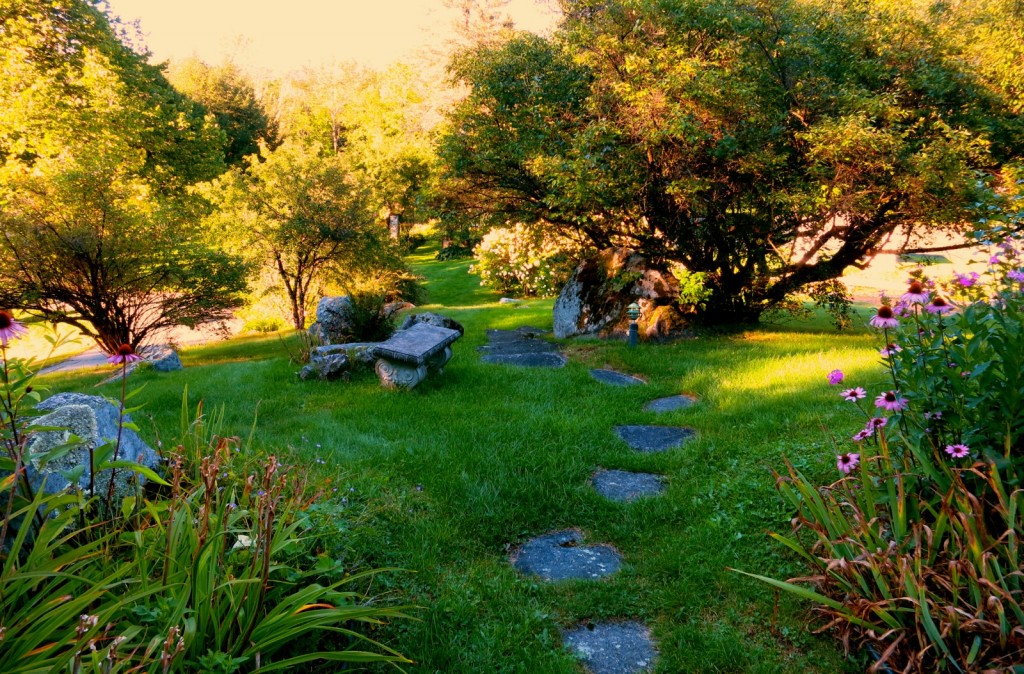 Adair Country Inn, Bethlehem
Perhaps the most glamorous on the list, the Adair Country Inn was home to Dorothy Adair Guilder until her passing in 1991. Dorothy's hats, and her husband's books, including a signed copy of Ulysses S. Grant's Personal Memoirs, were kept as reminders of these former residents.
What makes it romantic? The inn and its 200 acres of landscaped grounds, designed by the sons of Frederick Law Olmstead, are preserved as if time has stood still. Each room features a luxurious billowing featherbed and other stately appointments. Gourmet complimentary breakfast includes Adair's famous popovers.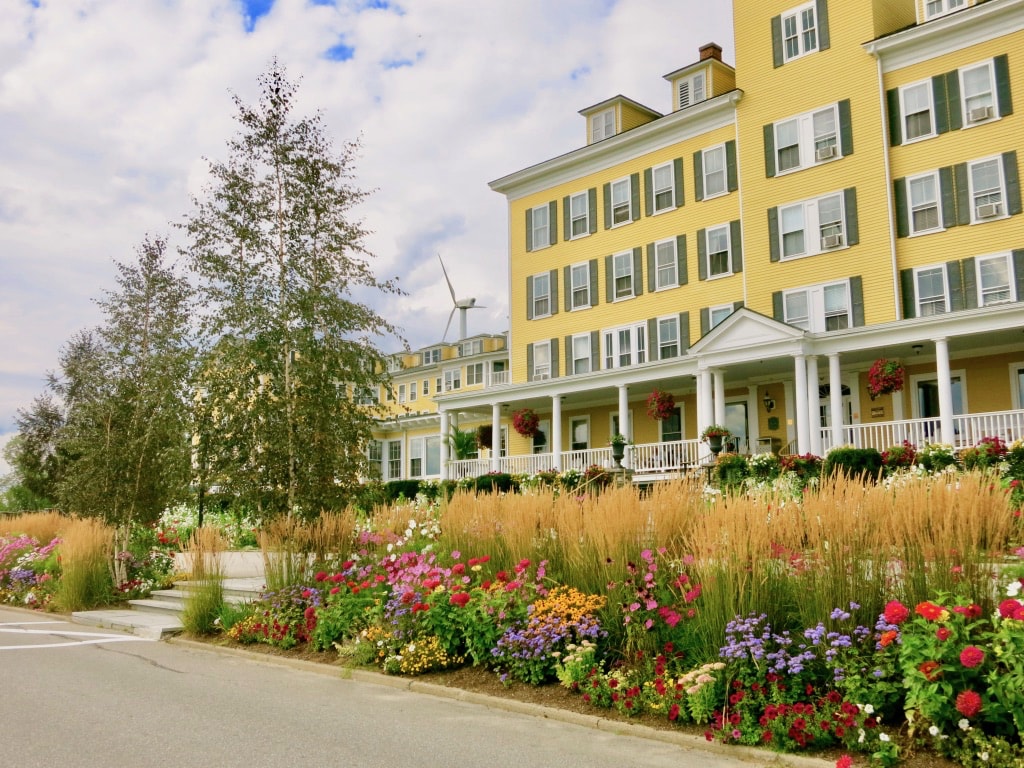 Mountain View Grand, Whitefield
Views of the White Mountains from Mountain View Grand Inn are spectacular. Even if you don't stay here, ask to see the Oldest Operating Elevator in New Hampshire. There's a movie theater, indoor pool, "Meet the Farmer" tours, and plenty for couples to do.
What makes it romantic? As the only one of the mid 1880's Grand Hotels on this list, Mountain View Grand hews most to the time when stagecoaches brought city-sick folk to New Hampshire for the summer.  Staff is helpful and welcoming, the gardens are stunning, and the 1865 Wine Cellar Restaurant has earned a reputation as a popular place to pop the question.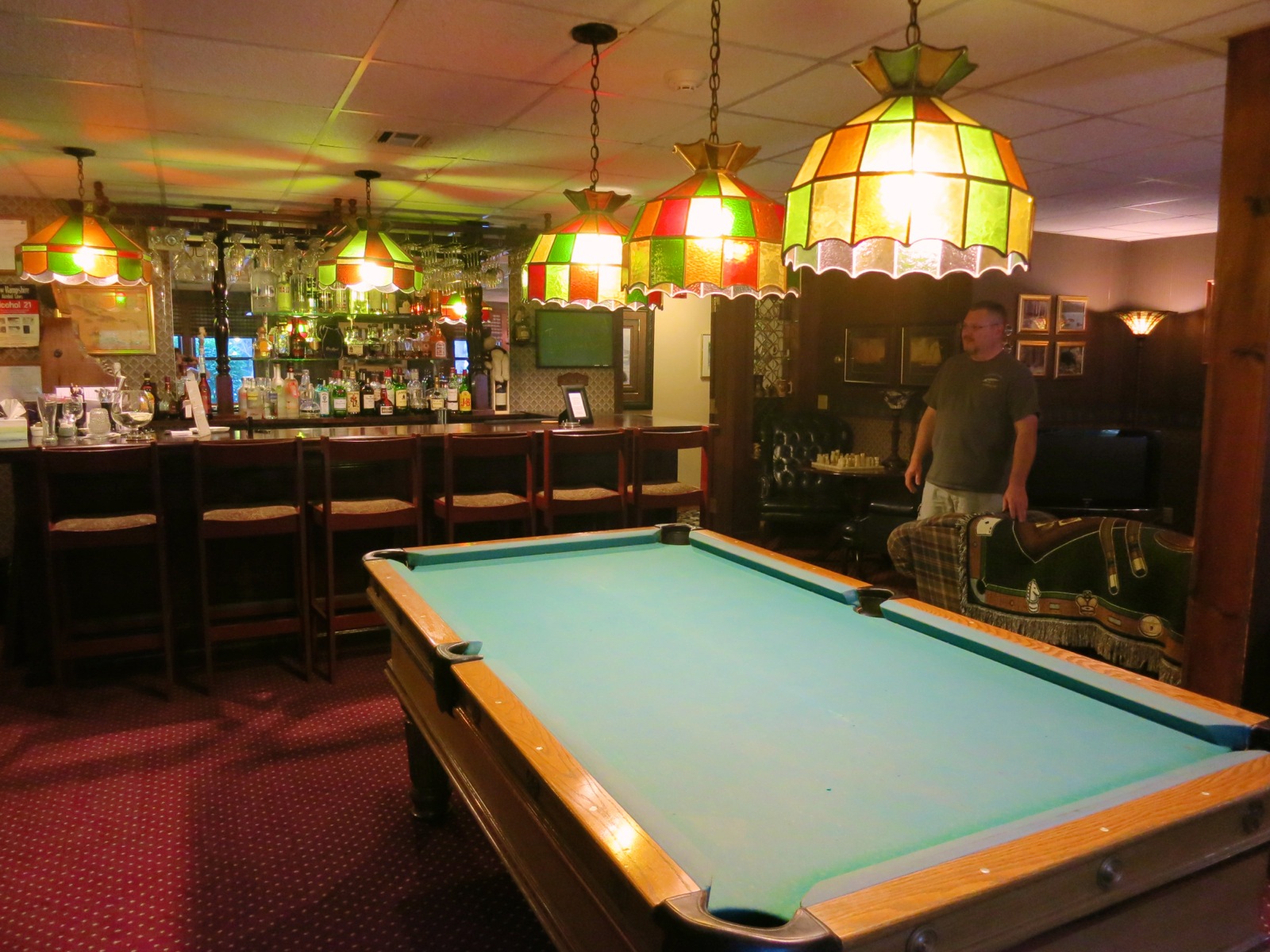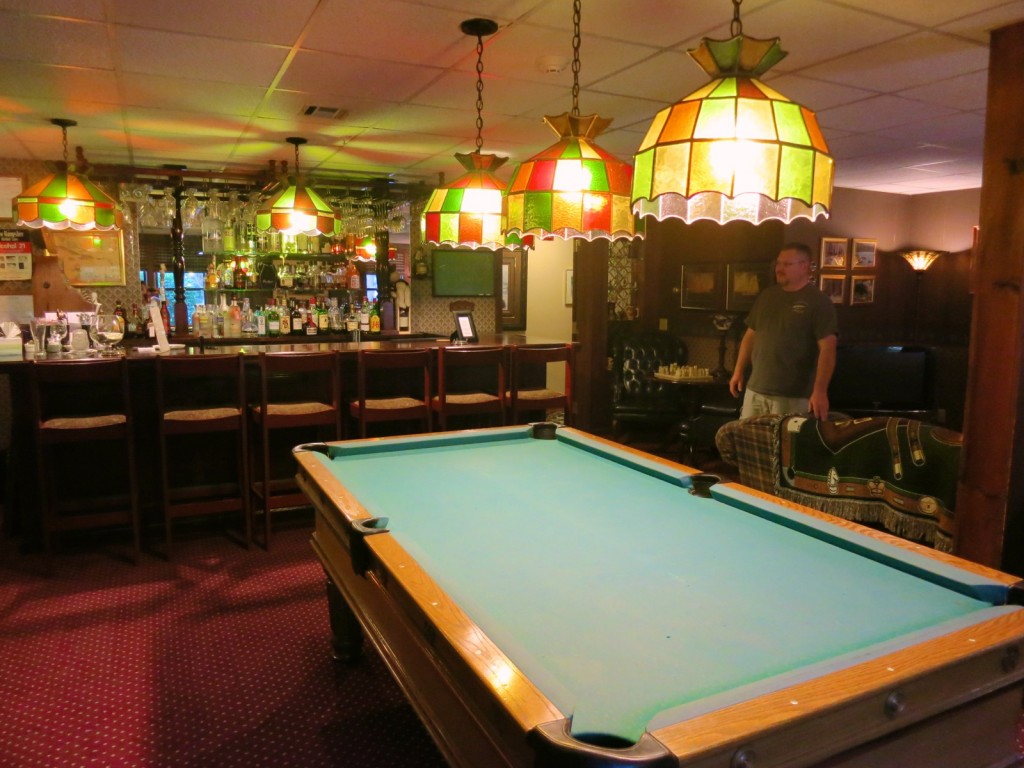 Inn at Ellis River, Jackson
Homey, cozy and country-cute, the Inn at Ellis River in New Hampshire's White Mountains earns raves from guests who keep coming back.
What makes it romantic? Set right on a stone-dappled river, with an inviting swimming pool and billiards room with full bar, the Inn beckons romantics with a love for antique filled rooms and hearty home cooked breakfasts.
Romantic Hotels in Other NH Regions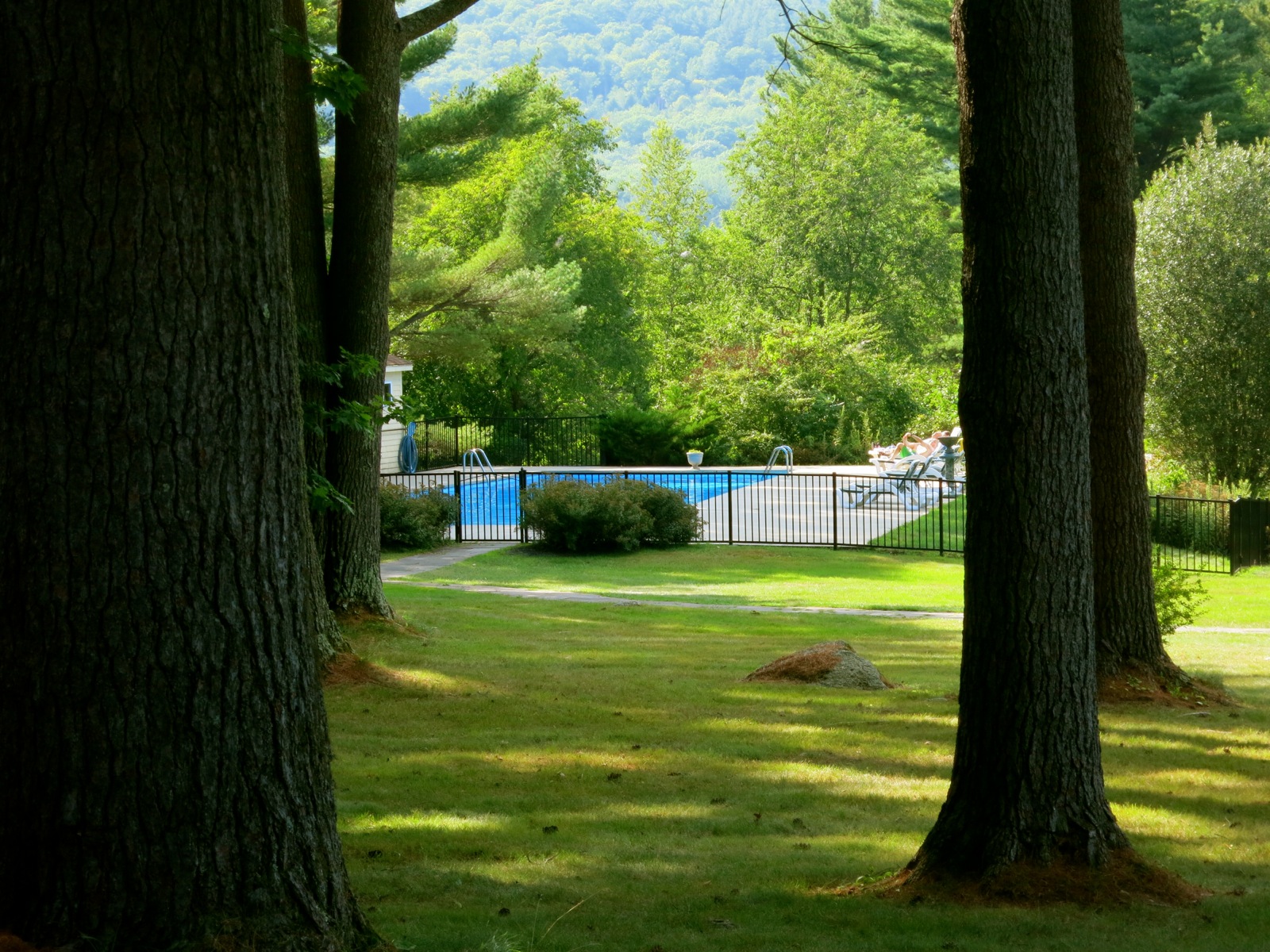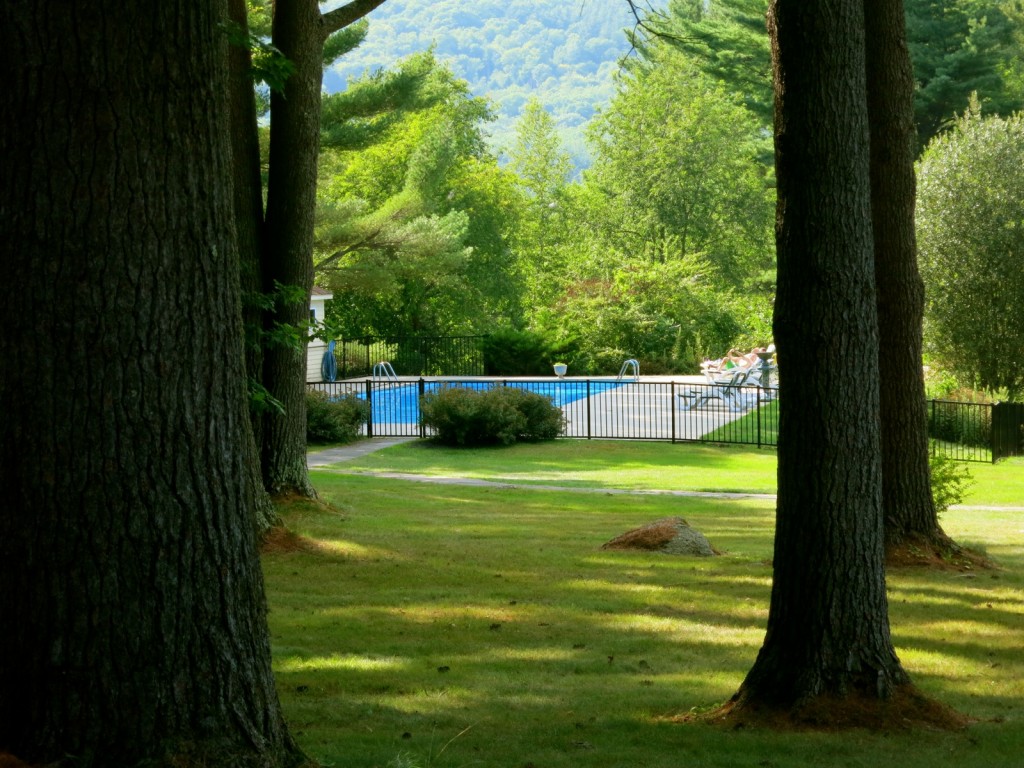 Manor on Golden Pond, Holderness (Lakes Region)
Owners Brian and Mary Ellen Shields greet guests warmly as they enter the lovely Manor On Golden Pond atop a hill overlooking Squam Lake in New Hampshire's Lake Region. After 1980, when the Jane and Henry Fonda flick, On Golden Pond, made this area a sensation, local establishments, including this one, capitalized on the name.
What makes it romantic? From the Manor's circular driveway, you can peer downhill at the lake through trees that abound on the property. The yellow-stucco Manor, built as a private home in 1904, has been revitalized and restored to its turn-of-last-century glory. The rooms have been sweetly updated, there's a landscaped outdoor pool, and evenings and rainy days bring an injection of fun with puzzles and board games in the parlor. In house restaurant, the Van Horn Dining Room, serves up excellent dishes in the former Billiards Room.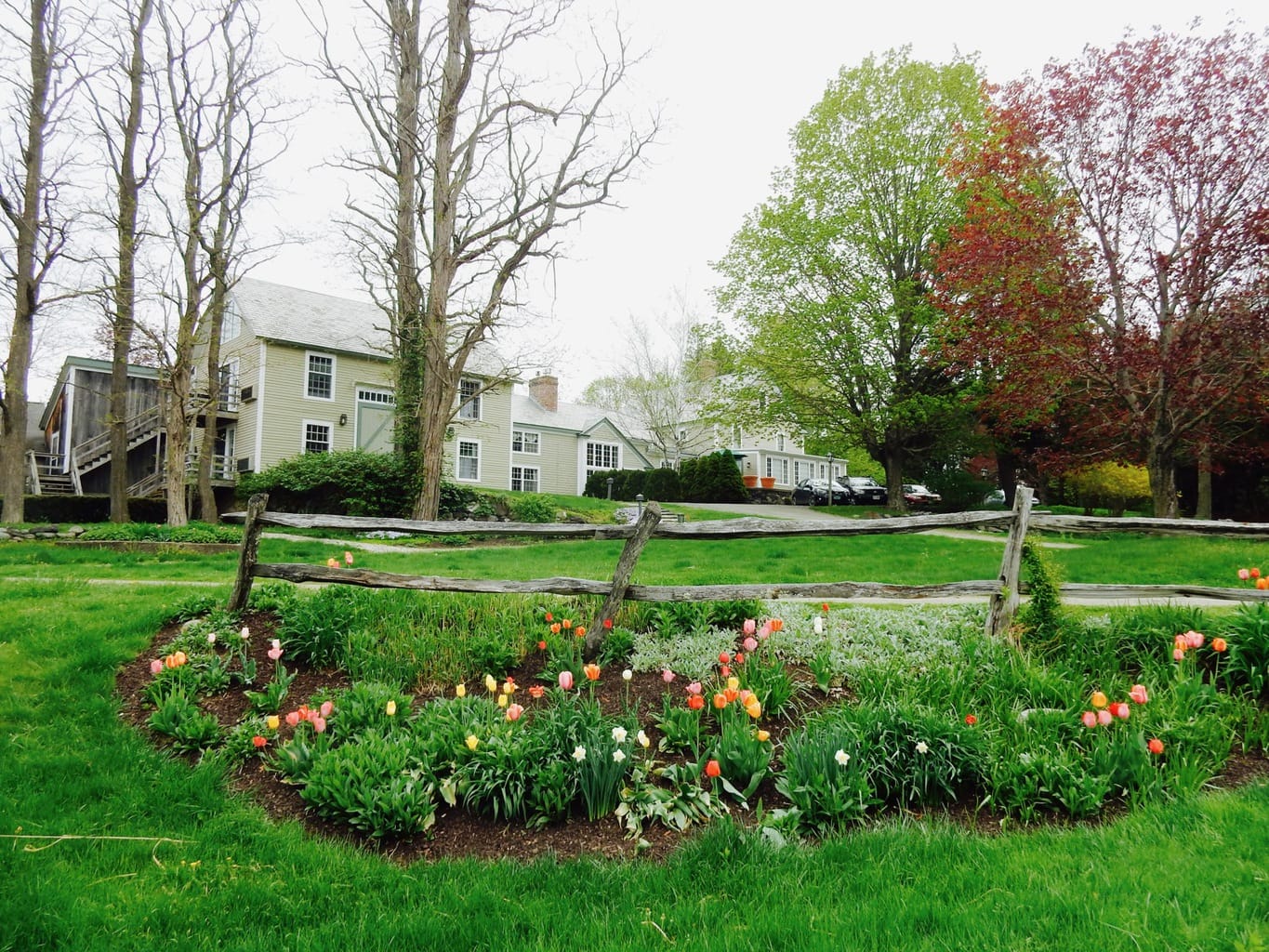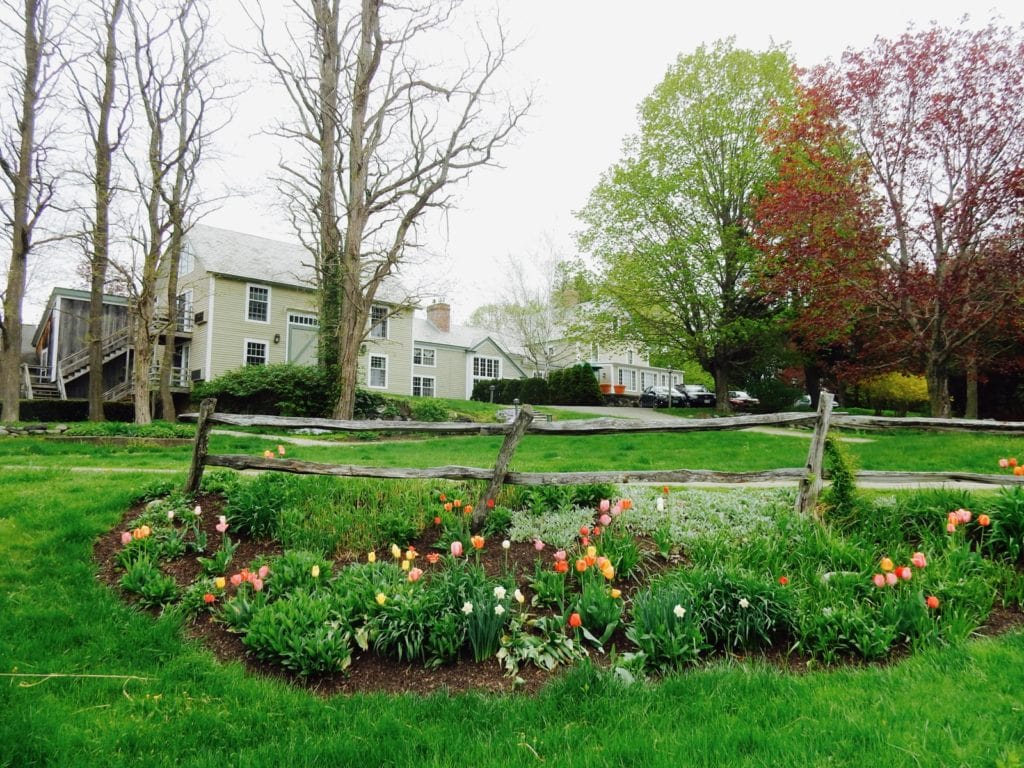 Chesterfield Inn, West Chesterfield (Southwest Corner)
With their Chesterfield Inn, Judy and Phil Hueber have created a Yankee-luxe home away from home for parents of students in Southwest New Hampshire colleges (Keene State, Marlboro, Landmark), girlfriend groups, and of course couples crazy about leaf peeping in autumn.
What makes it romantic? The lush and hilly landscape inspires poetic romance, so it's no surprise that the Chesterfield Inn is a popular small wedding venue, especially for busy couples who want to elope with little fanfare (yes, there's an "Elopement Package!"). You need not leave the grounds for meals, either – as the in-house restaurant is one of the best in the region.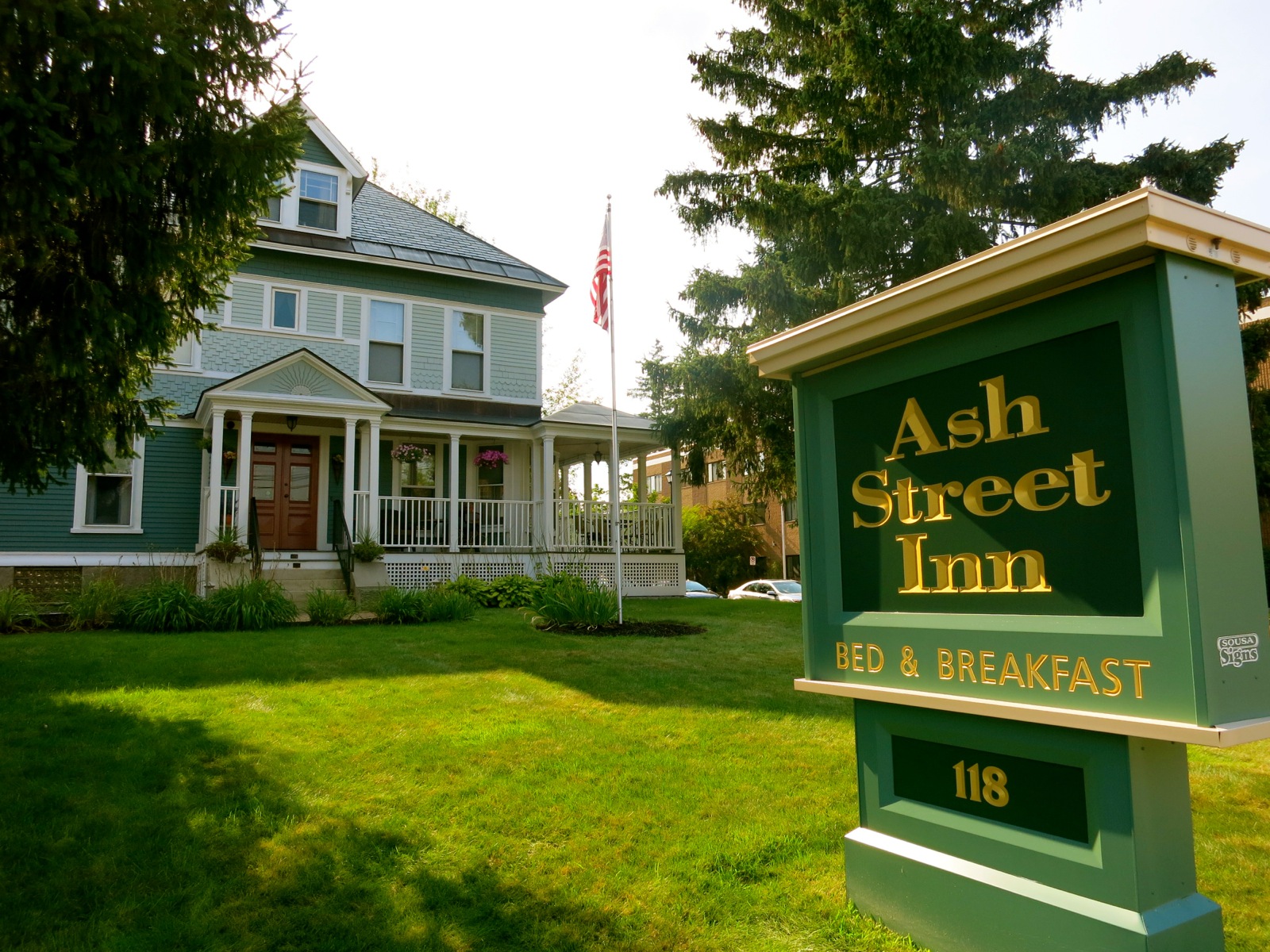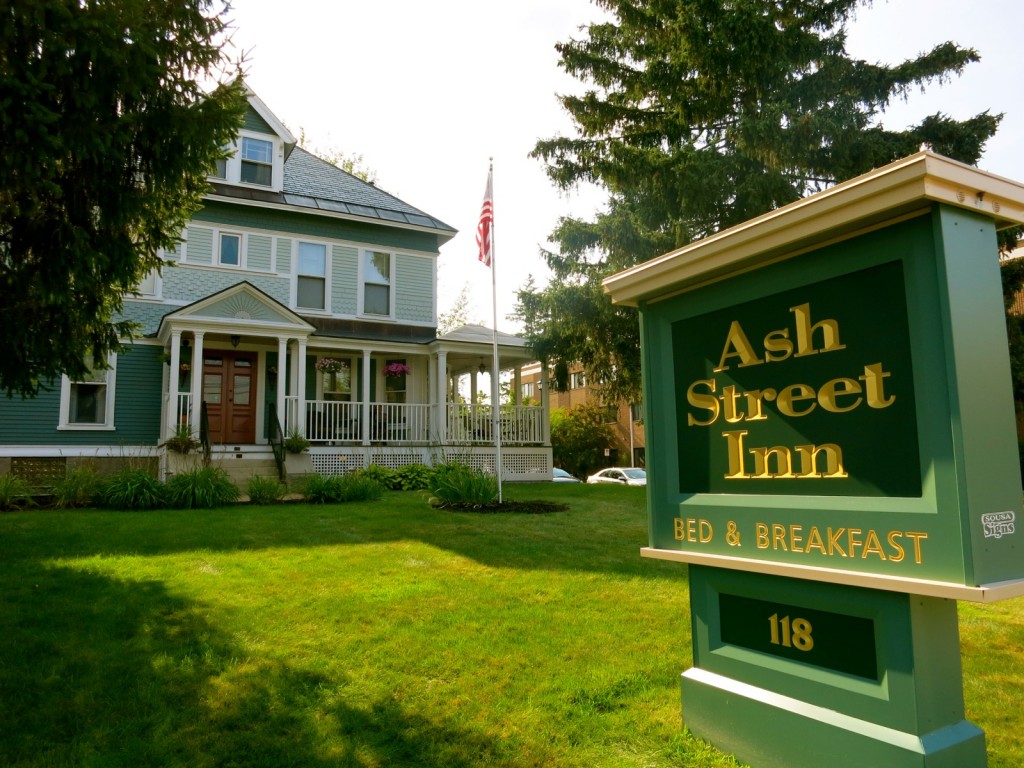 Ash St. Inn, Manchester (Queen City)
Renovated to its early 1900's luster, the Ash St. Inn retains its Victorian charm. Margit, a cell biologist PhD who grew up in a family-run Guest House in Germany, and Rob, a high-tech guy with a degree in Culinary Arts, provide a delicious, anticipatory and appealing guest experience.
What makes it romantic? Ash St. Inn, the only B&B in the city of Manchester, sports original stained glass in many windows. A proper upscale lodging, décor in each room varies, though each one is absolutely lovely. The inn sits just two short blocks from the Currier Museum of Art, from which you can also book a tour of a rare New England Frank Lloyd Wright home. Breakfast, as you can imagine, is fantastic.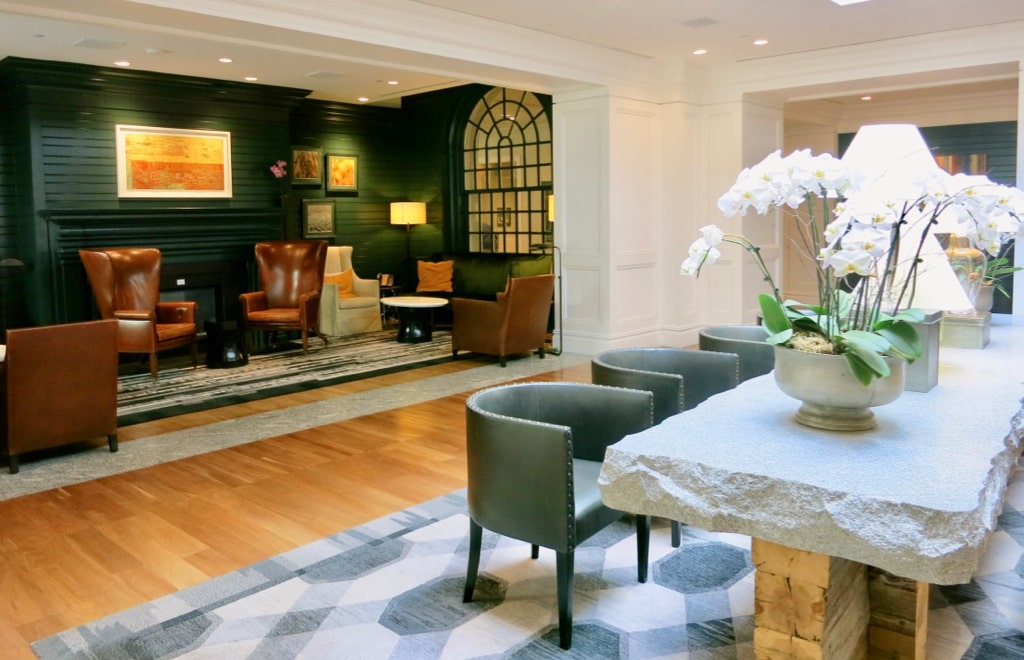 Hanover Inn, Hanover (Dartmouth College Town)
Part of Dartmouth College, the location of the Hanover Inn can't be beat. It sits right on the Dartmouth Green. The Appalachian Trail runs right by the front door. And, to top it off, during inclement weather, you can walk through underground passages right to the Hopkins Center without having to lug an umbrella.
What makes it romantic? Interior designers incorporated the work of New England's best artisans in the hotel's reimagining. It is stunning in that Granite State way that mixes comfort with eye-catching style. The on-site restaurant, Pine, is also trend-forward and phenomenal. So, parents, have you ditched you last kid at Dartmouth? You can spice up empty nesthood for the first time without having to drive back home! It's also fun for couples who met here to finally stay where they couldn't afford to as students.