WHY GO: Millbrook, Millerton, Pine Plains, and Amenia NY might not be as well known as Dutchess County's Rhinebeck and Beacon. But therein lies their charms. These Northern Dutchess burgs in the Hudson River Valley, replete with outdoor adventures, prove that less is more. Especially when it pertains to population. And keeping away from crowds during a pandemic.
Fish, ride horses, hike, shoot clays, bike, or just wander through an exquisite "Cup Garden." There's an Orvis compound, popular summit trails, a welcoming hilltop stable, adorable main streets, Brooklyn-ish shops, luxury boutique inns, and even a drive-in-movie-theater.
You can keep well away from people outside of your COVID bubble, and still have the time of your life on this Dutchess County NY, Hudson Valley getaway.
Things to Do in Northern Dutchess County NY: Millbrook, Millerton, Pine Plains, and Amenia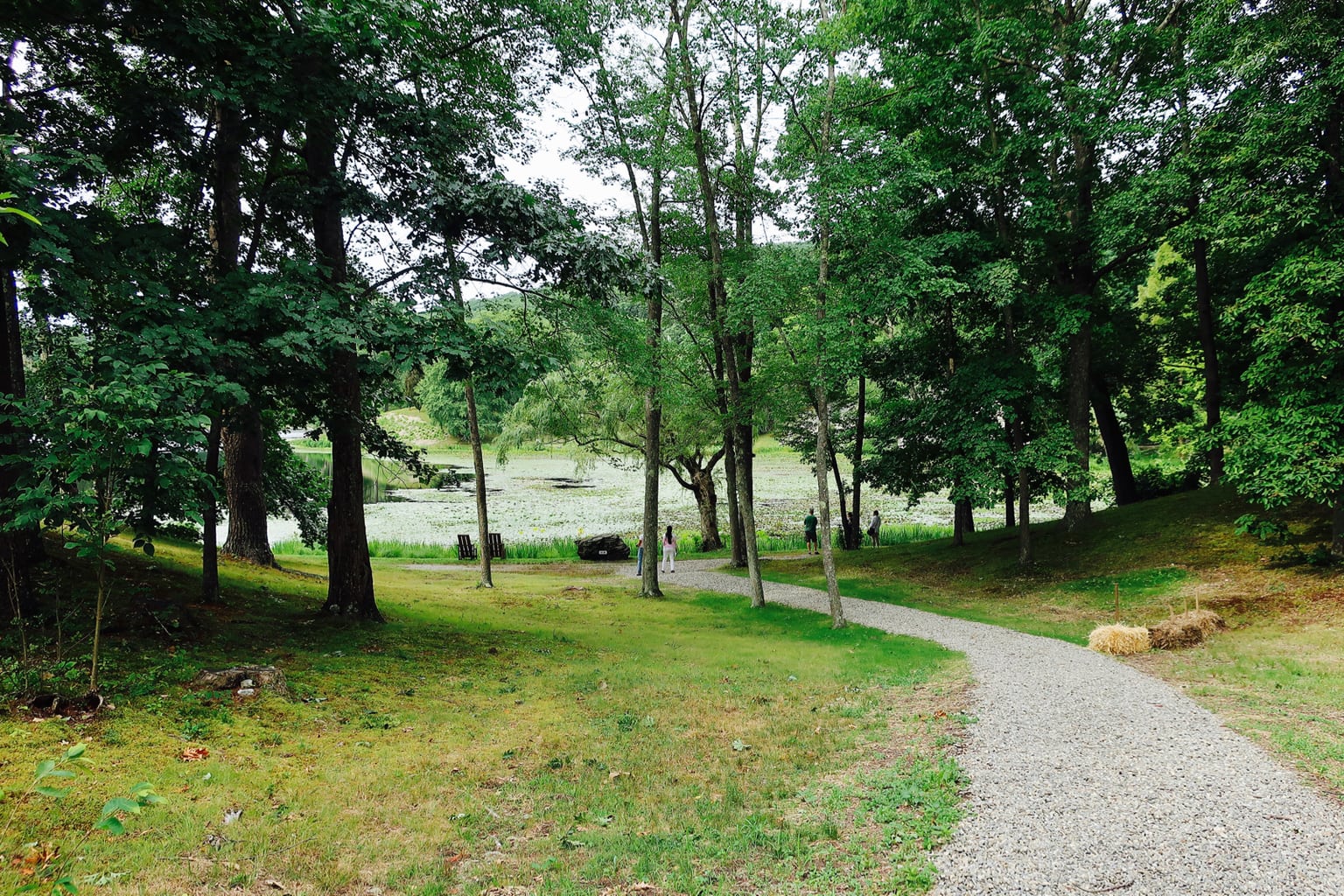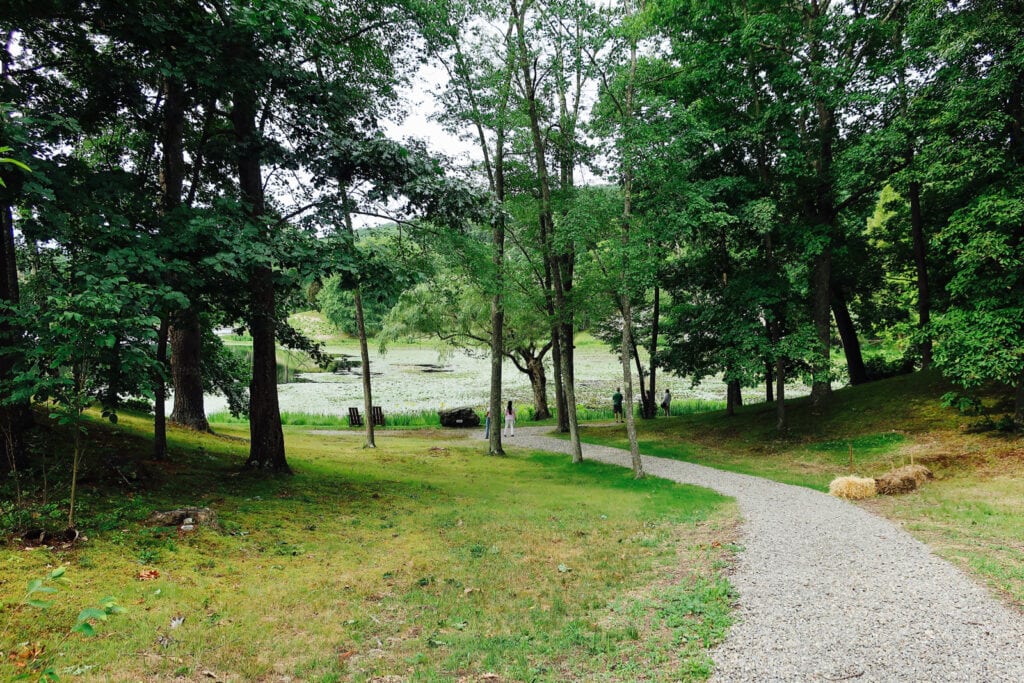 In the 1930's, Walter and Marion Beck hired the innovative landscape architect, Lester Collins, to design this stunning "Cup Garden" around their small lake. Walter died in 1954, $200k in debt. Marion passed away in 1959. Innisfree opened to the public in 1960. In 2019, by virtue of its celebrated landscape designer, Innisfree was listed on the US National Register of Historic Places.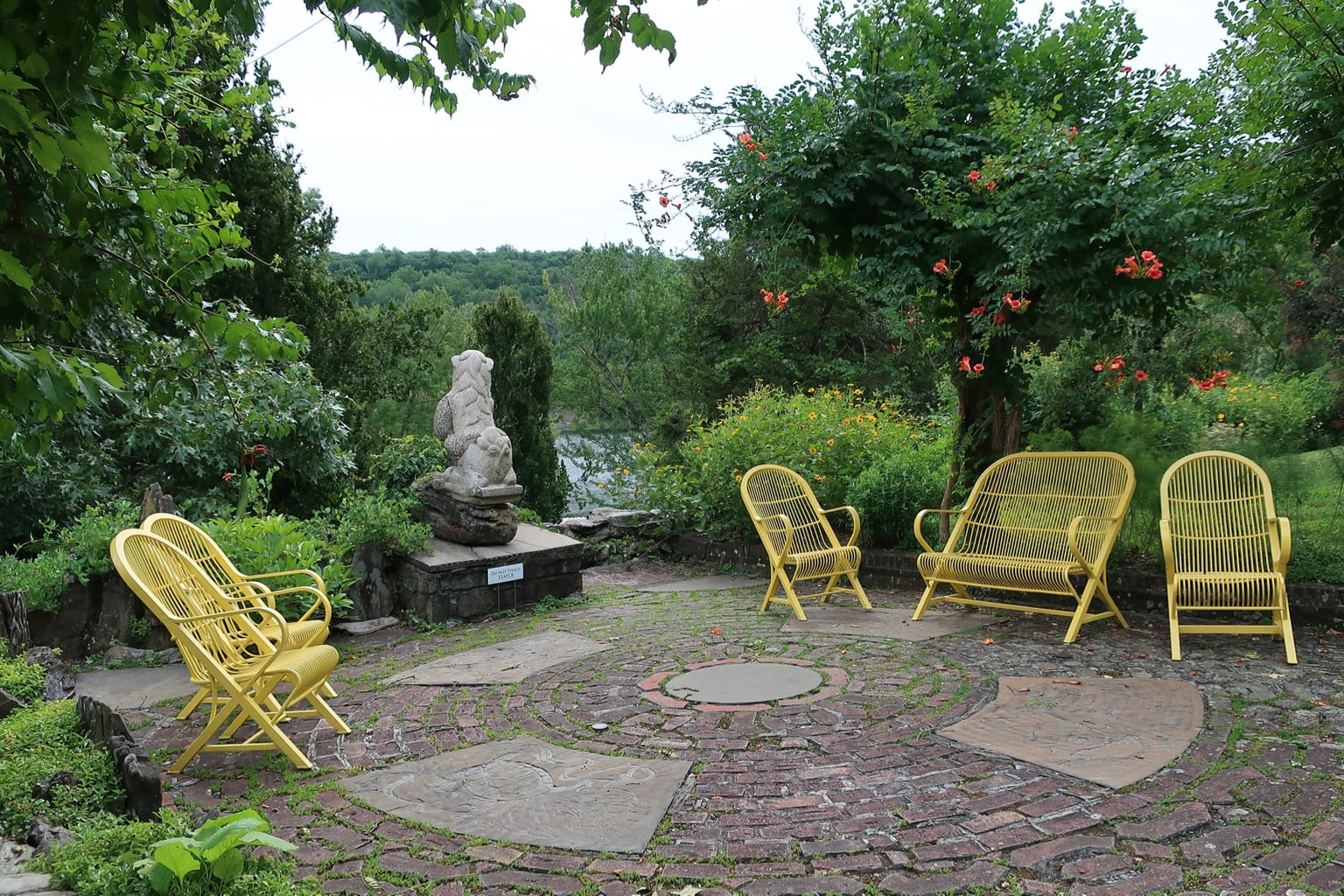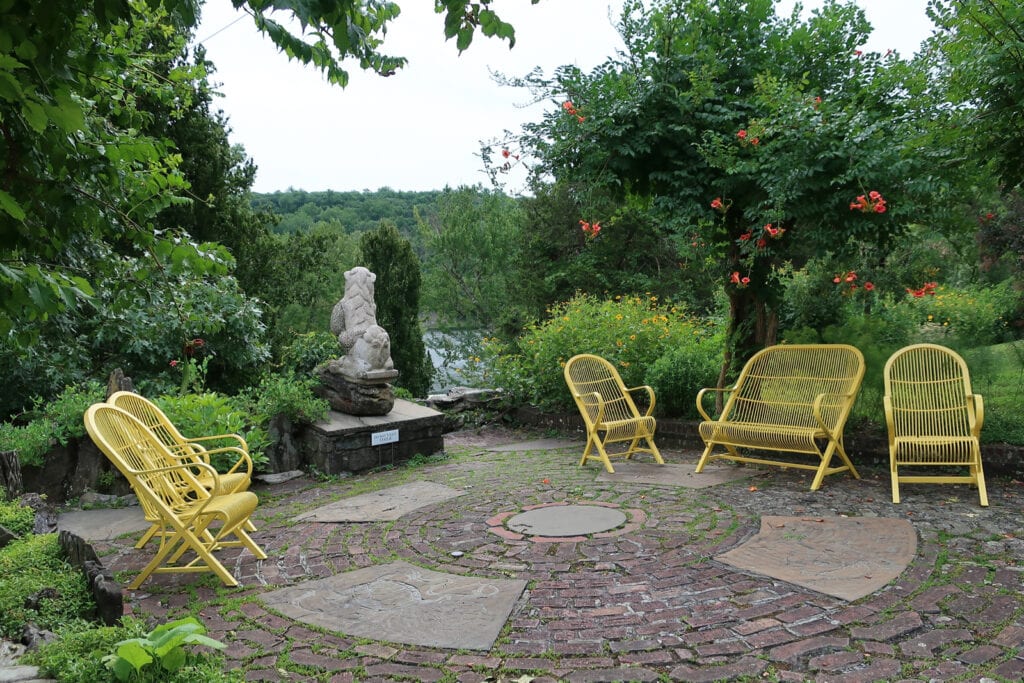 Collins grew up in Morristown NJ on a fruit "Farm of Common Sense." He learned his way around dirt and plants from an early age. Though his projects ranged from the National Zoo in DC to the City of Roanoke VA, after the death of his employers, Collins lived on and off in Millbrook at the lakeside cottage and continued his work at Innisfree until his own death in 1993.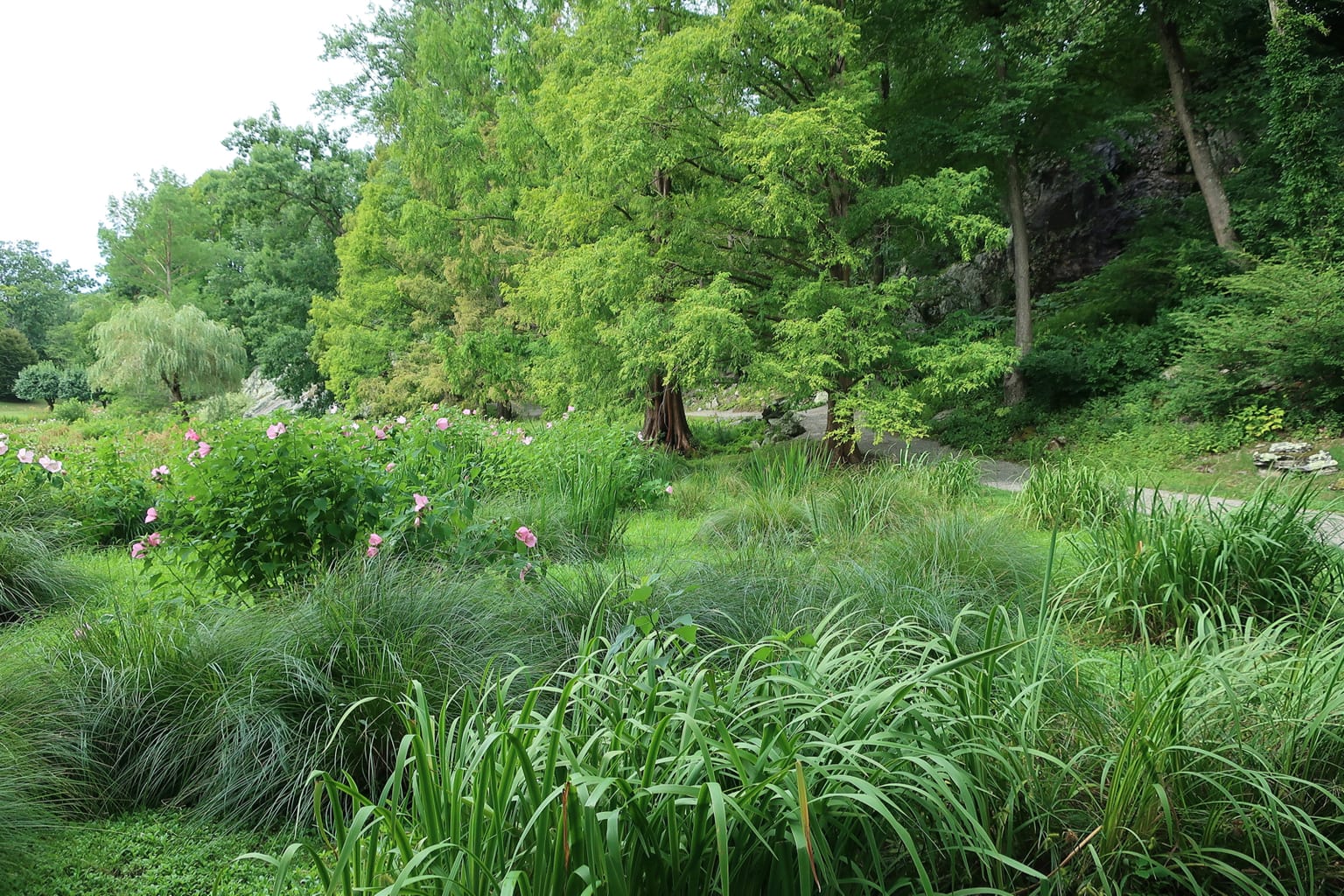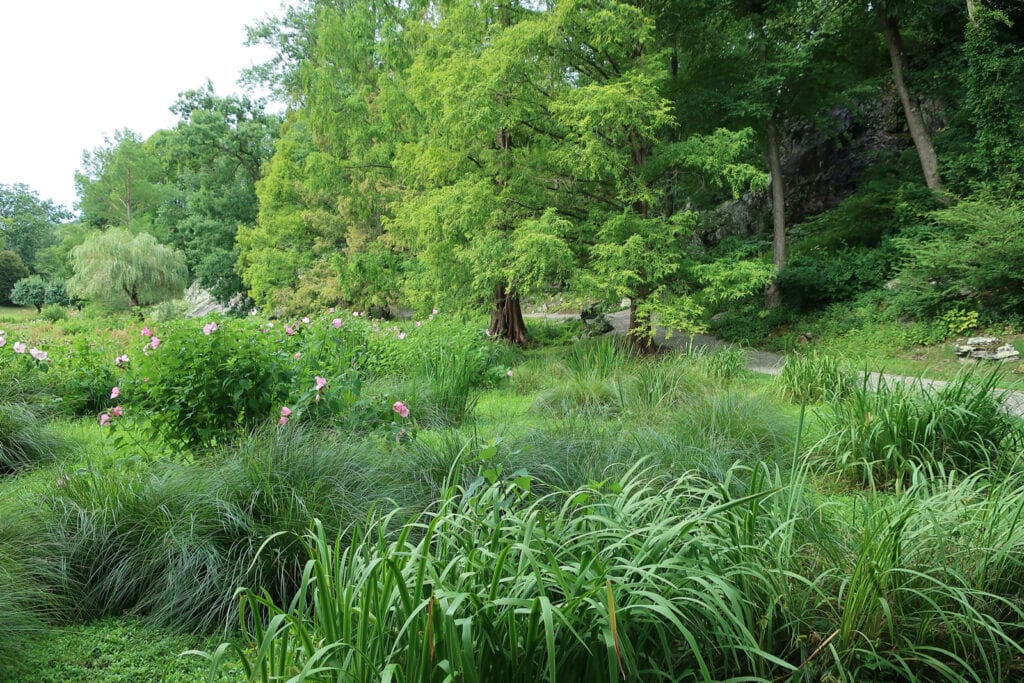 Lester Collins created a variety of gardens in concert with ecosystems long before the current trend of sustainable agriculture. Rather than drawing the home's water from a well, for example, he installed a pump to source it from the "20,000 year old puddle" at the center of the 185-acre property.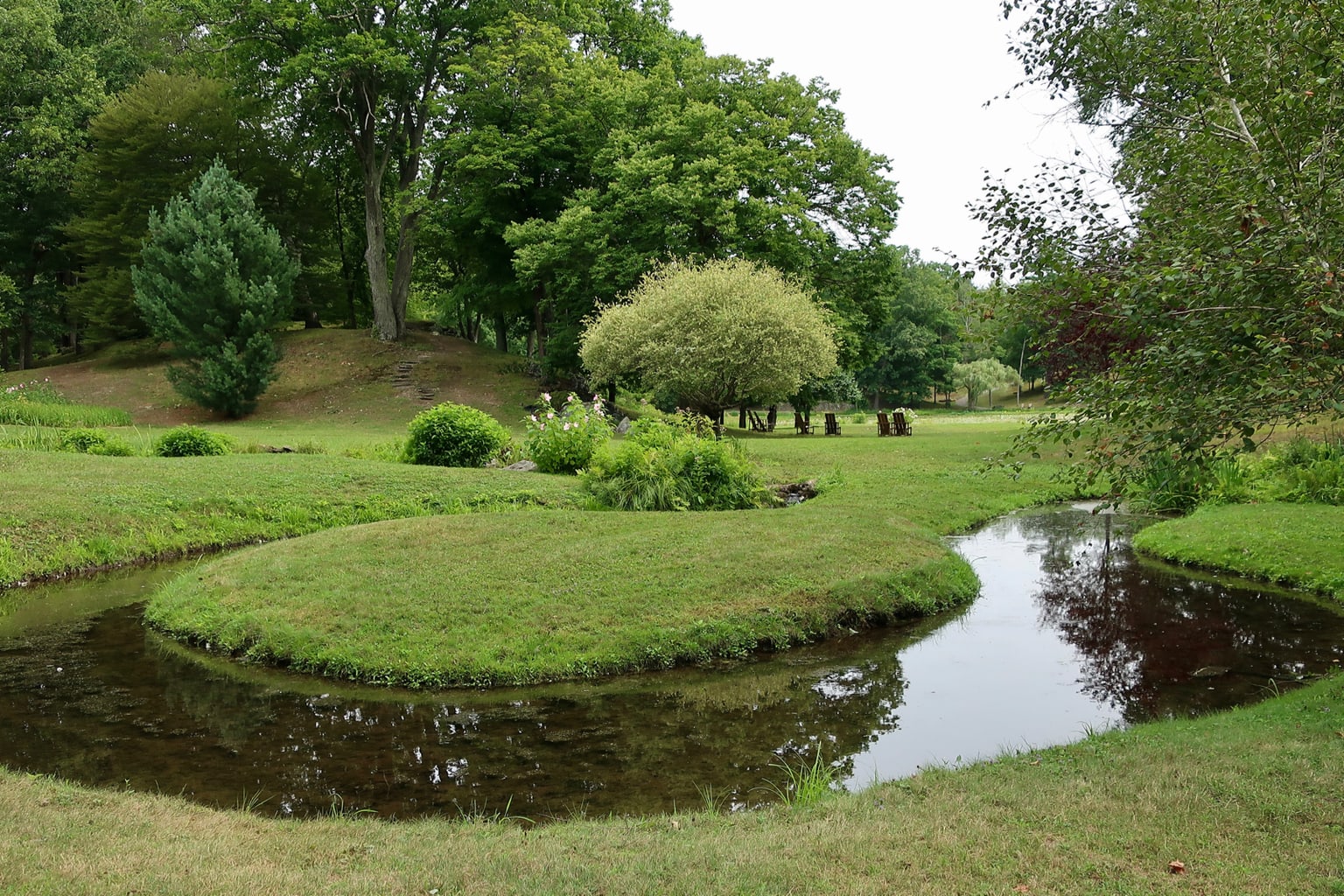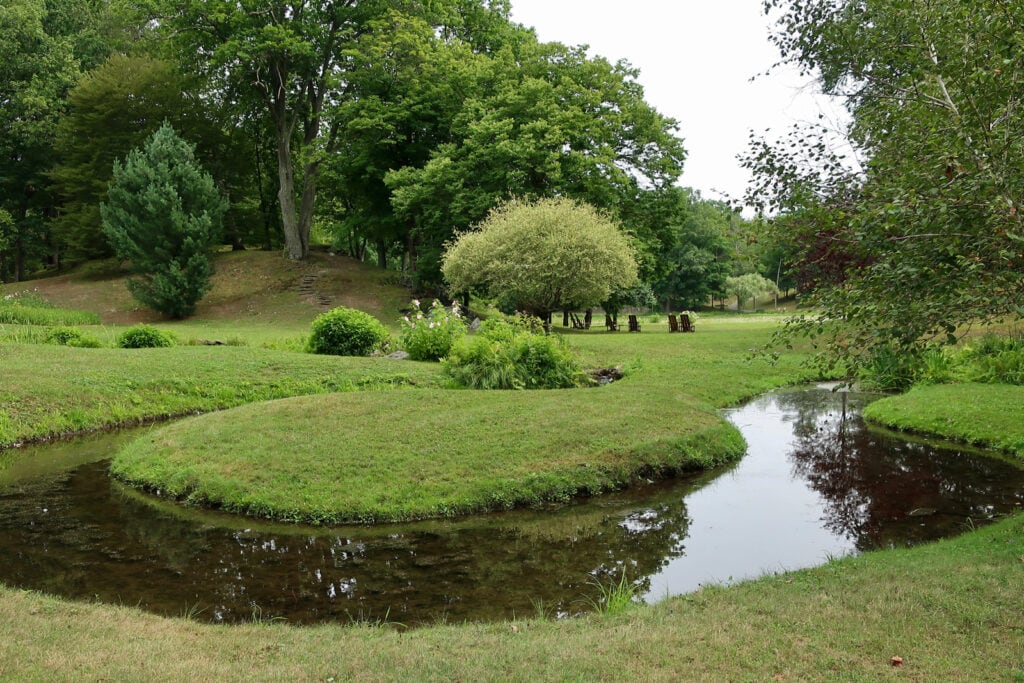 The landscape is both playful and beguiling – with water features and amazements at every turn. Collins used large slabs of rocks he found around as "punctuation marks" and "signposts" on trails and within groves of trees.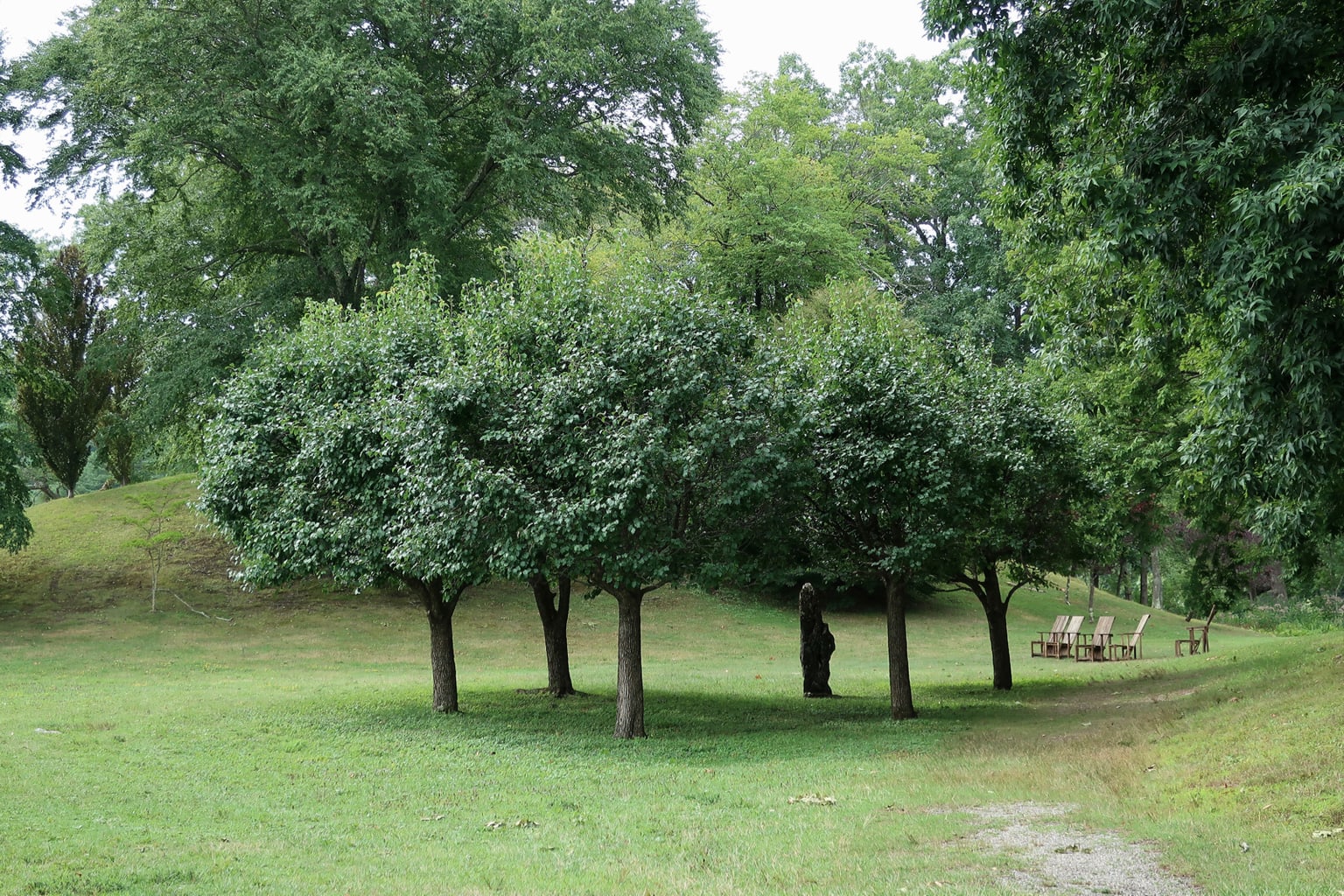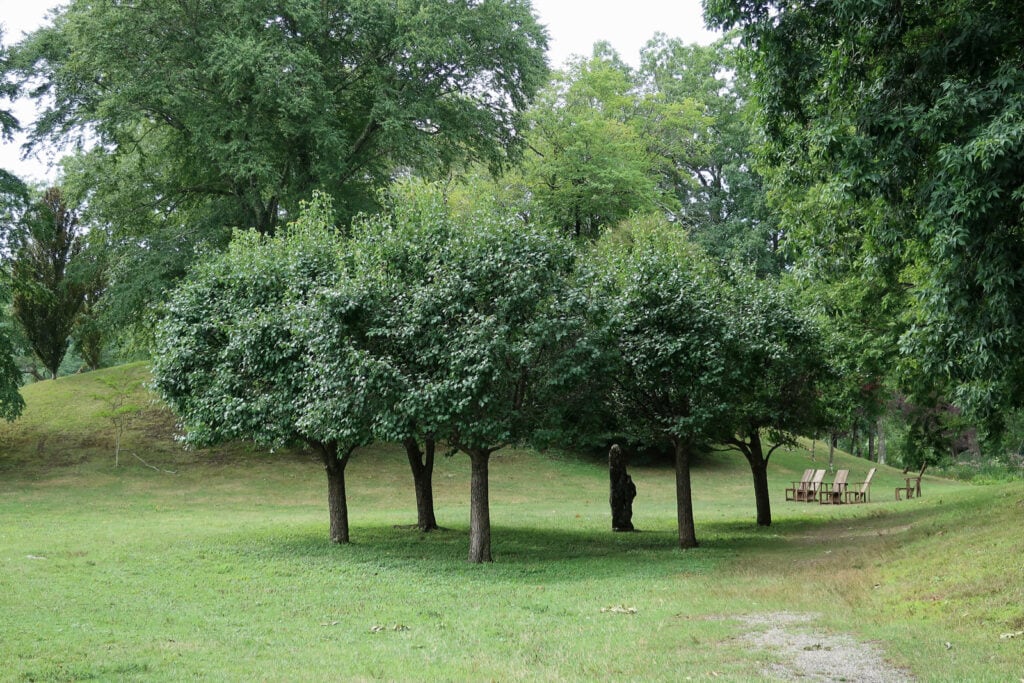 There are winding streams and Lotus pools, grottos and rock gardens. "Kids especially love it here," says current landscape curator, Kate Kerin. "With their tremendous sense of wonder – they just get it."
European and Asians also come in droves. "It's healing, contemplative, with tons of surprises." says Kerin. Waterfalls mist, creating rainbows when the sun hits the spray. There's an abundance of texture and color. Collins created this place to run with minimal resources, with undulating hills and "bog gardens" containing plenty of wild Rose Mallow and American Lotus flowers.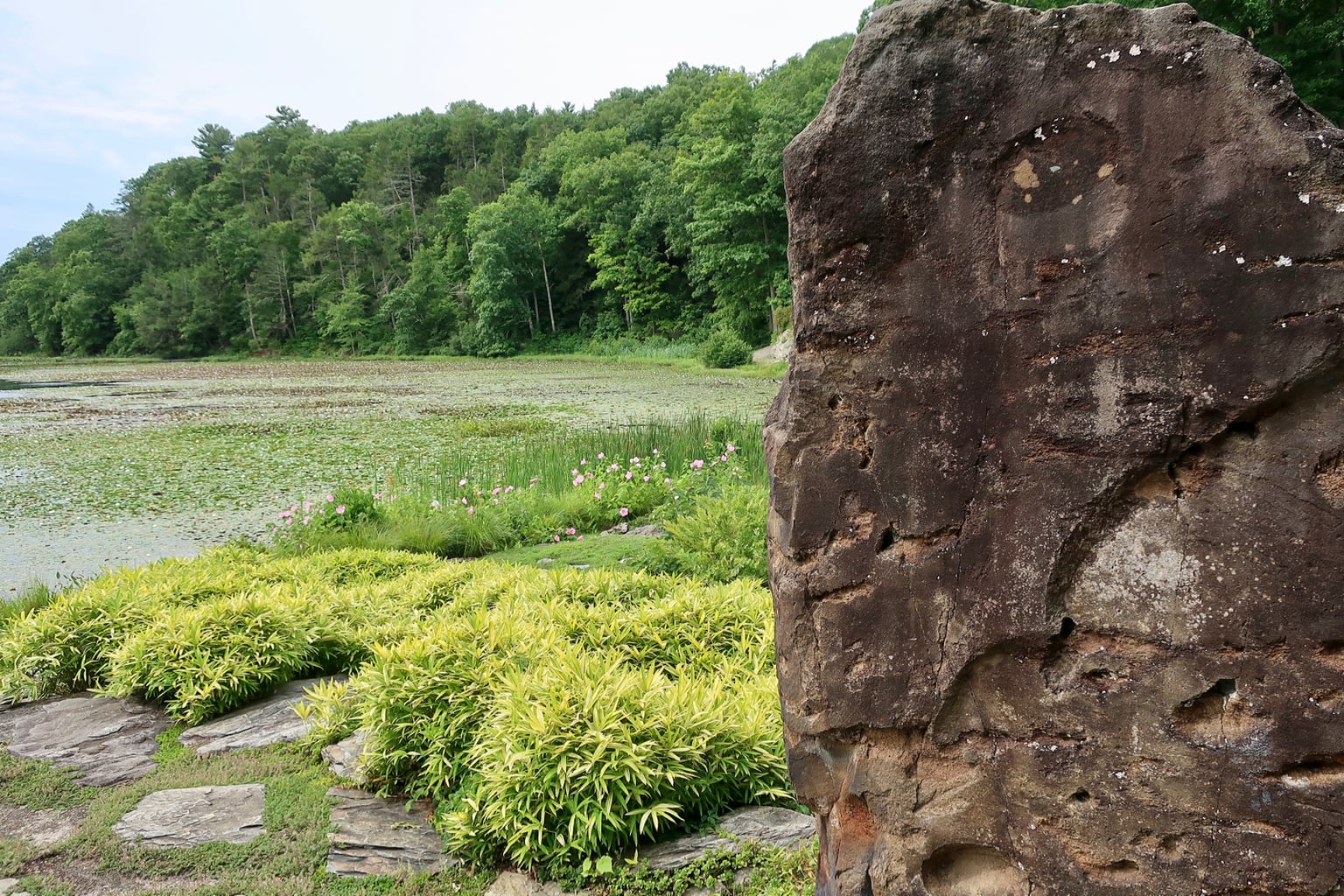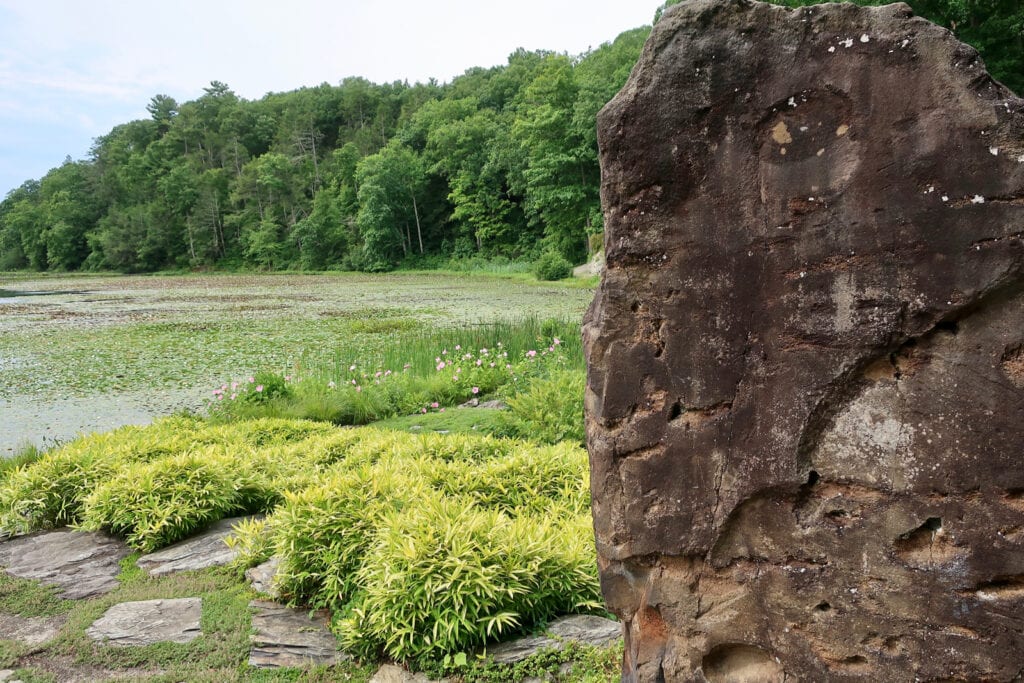 No wonder many visitors return for a full day, with book in hand. "People who come often have their "favorite spot," and will stay for hours. "It's an amazing place to relax and see something totally unexpected." Open Mid April – Early Nov, Wed-Sun 10-5, $10 adults, $5 kids and seniors.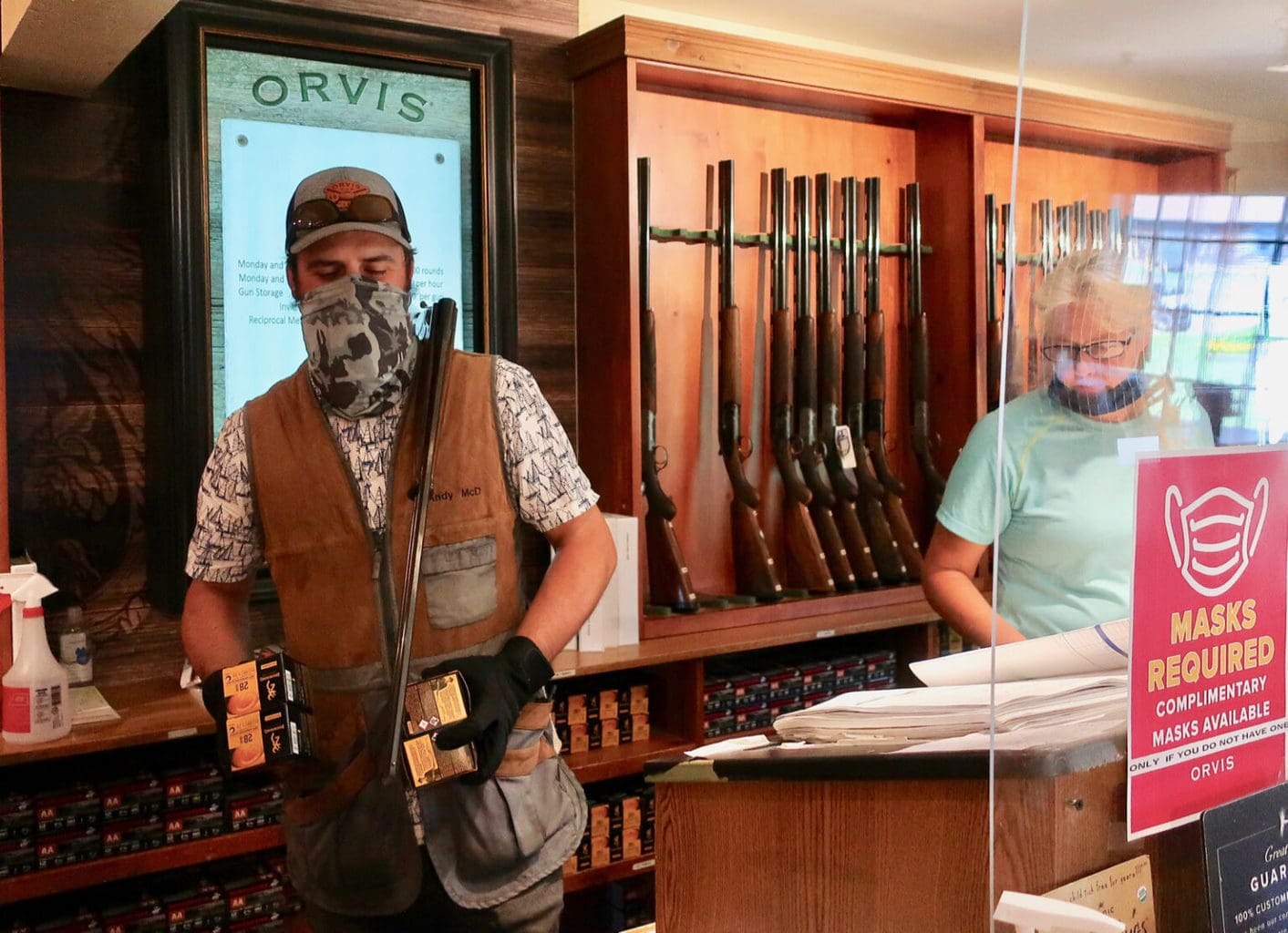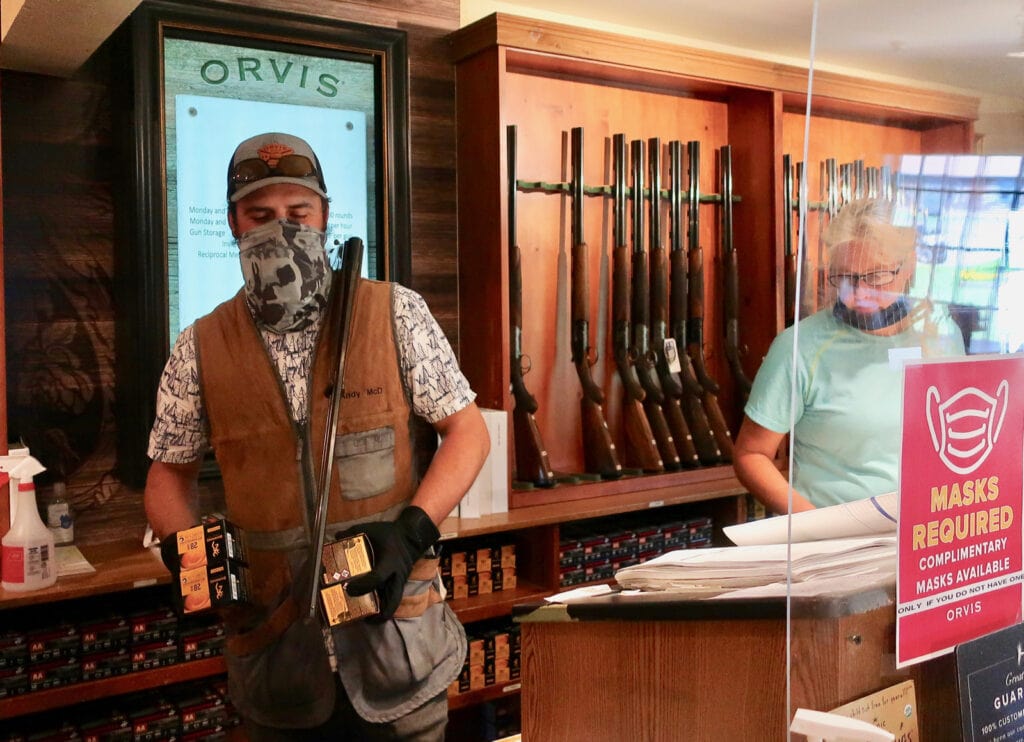 I knew nothing about shooting a shotgun or fly-fishing. But after an hour of instruction in each, thanks to great guides, I gleaned a modicum of knowledge. And you can, too.
Drive up the long dirt driveway on this 500 acre compound, and you'll encounter a few warning signs – like "Slow down – Working Dogs." Yep – you're in the right place.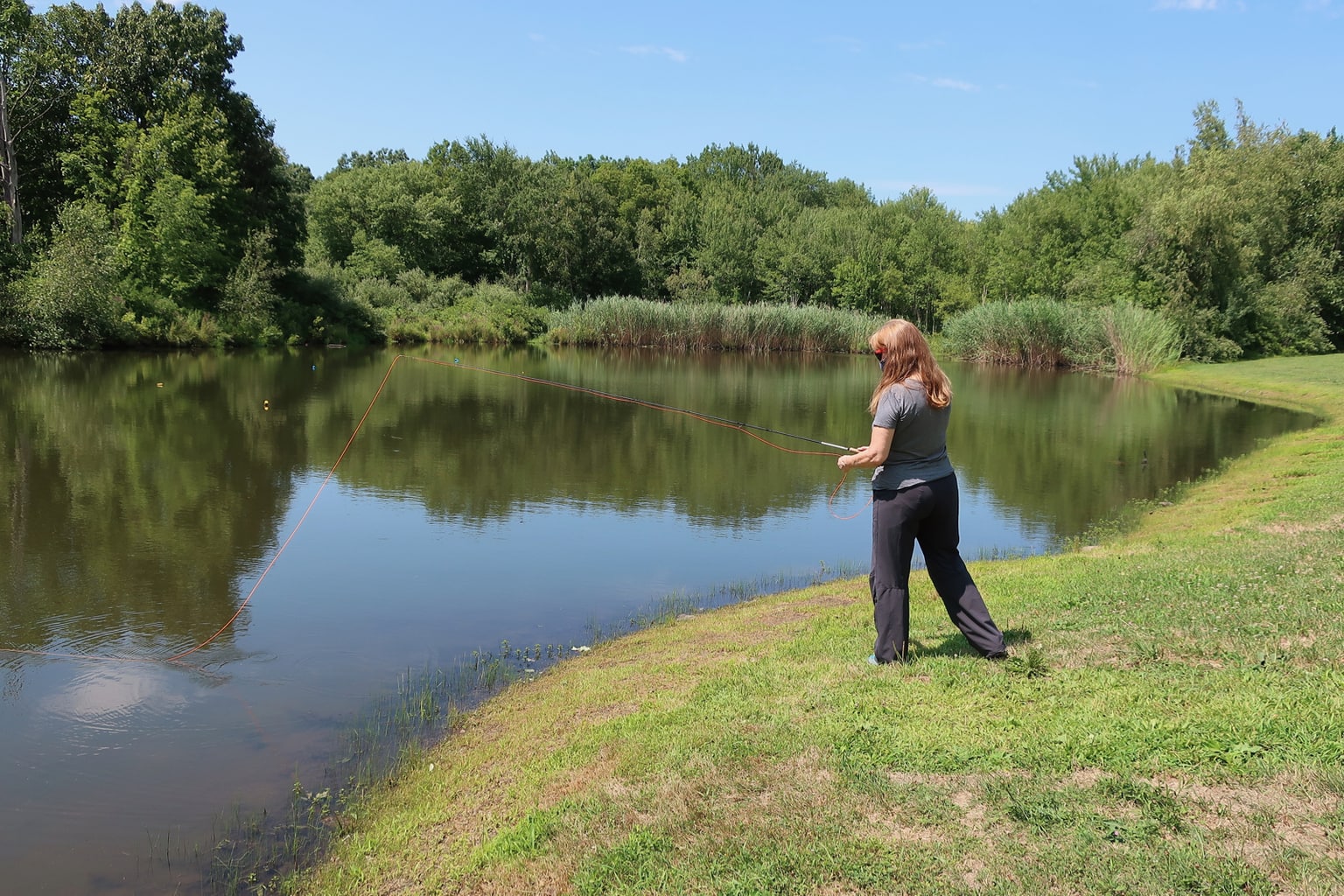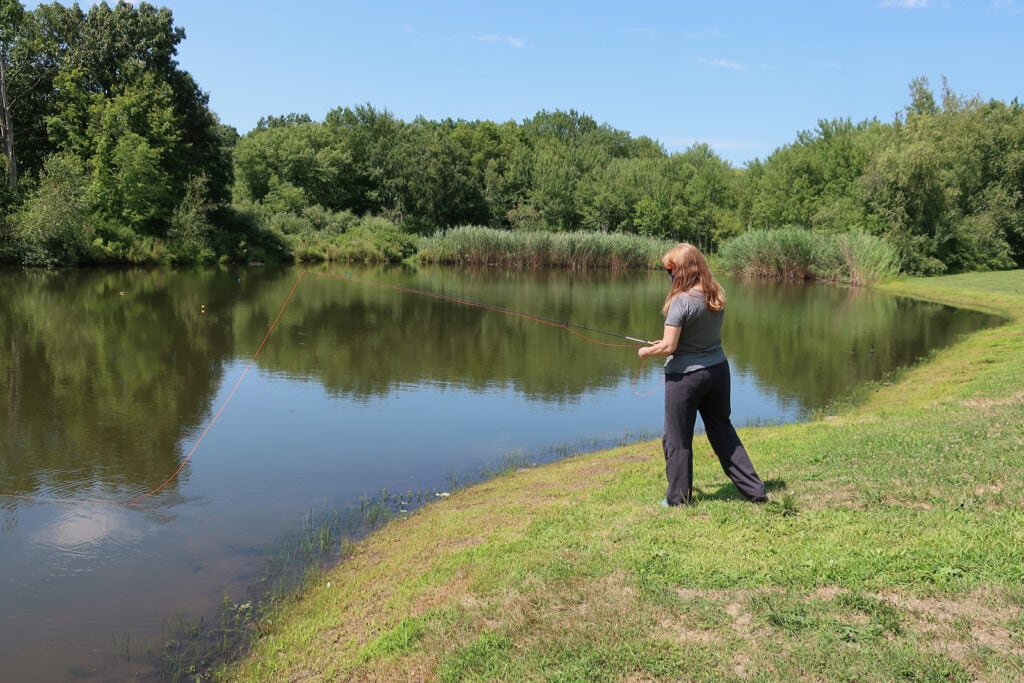 This particular Orvis compound is the oldest licensed shooting preserve in the United States. The club opened during the Jeffersonian era in an old hunting cabin: a cabin that now serves as a swanky Member's Lounge for Orvis Members. The space, a dimly lit "man cave" (though many women belong, too), is stocked with bottles of premium spirits, distressed leather chairs, hunting art, and an air of Jeffersonian-era gentry.
There are two other Orvis shooting grounds in the country: one in PA and the other in Alabama. But this,in Millbrook NY, is the oldest.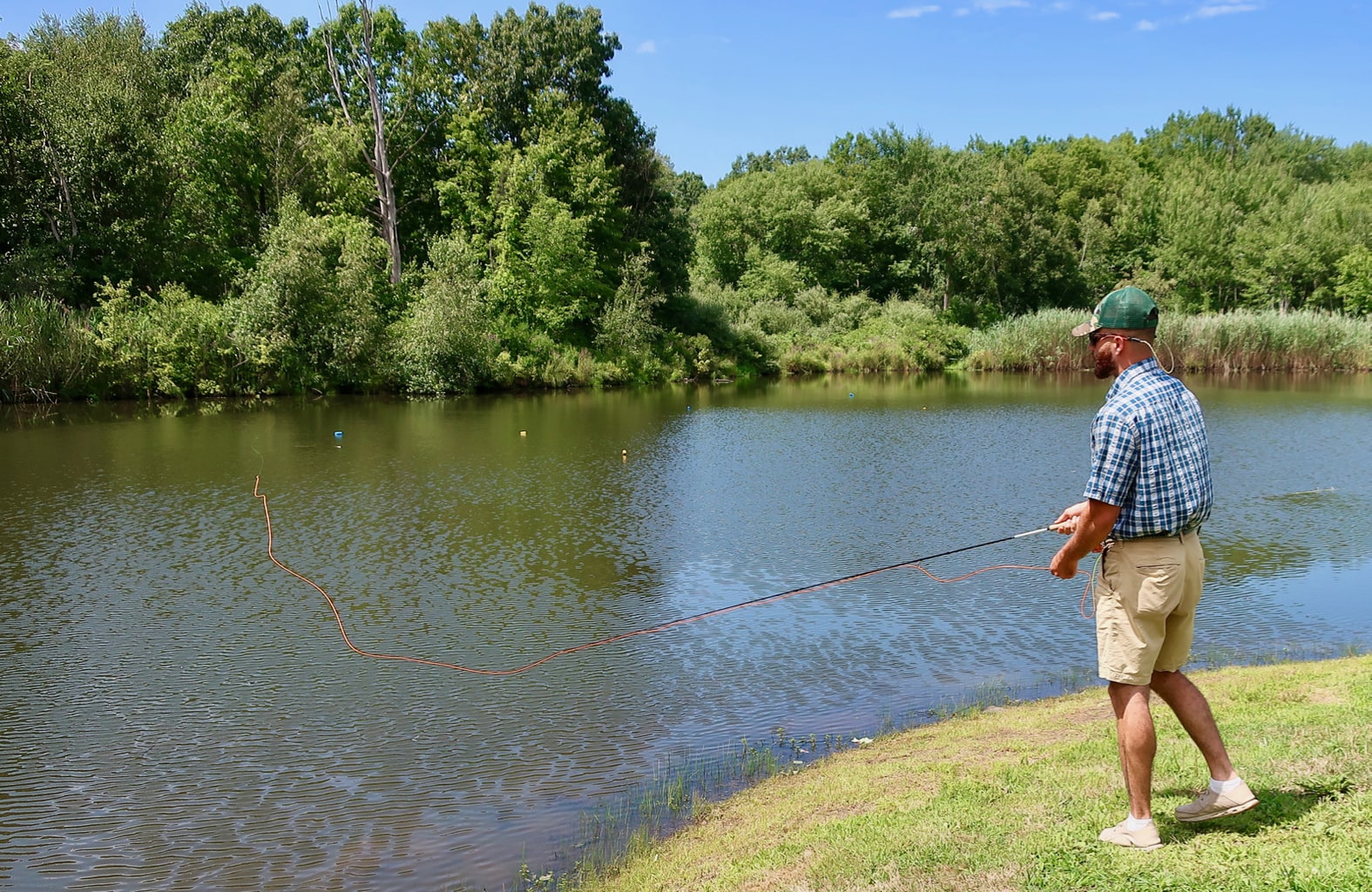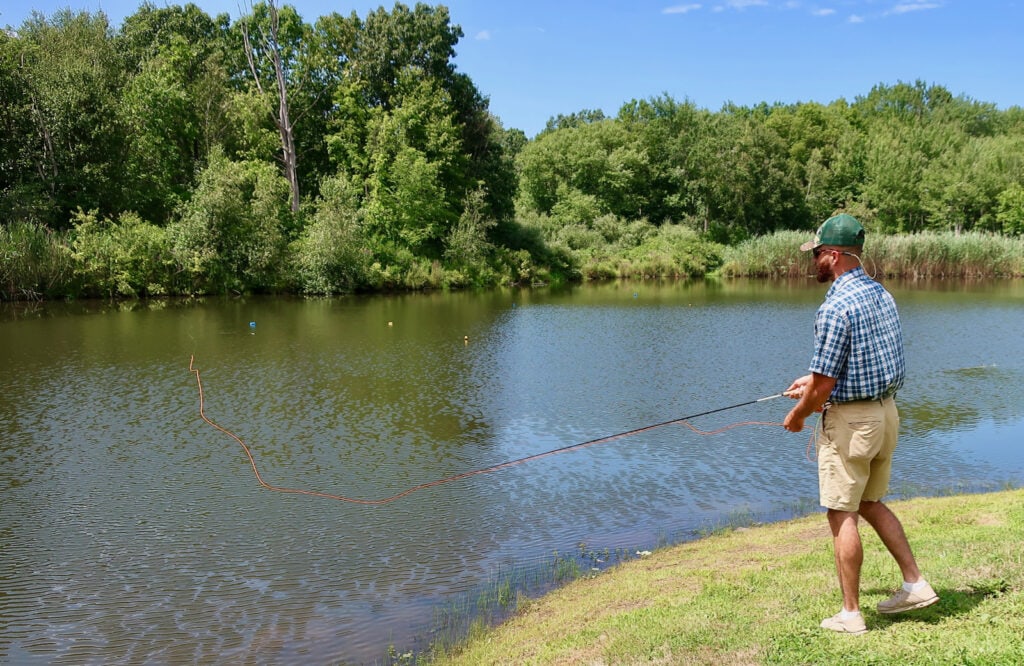 First up – fly fishing with Jeff Kaiser. My introductory one-hour lesson covered the fundamentals: casting and holding the rod. I learned how to "pick up a line" from the water and "lay line down." I learned about "false casting" (people tend to do it too much, says Kaiser), the difference between the line's colors (the transparent leader and orange float line), and the fact that I'd need lots more practice to get good at this sport.
Shooting at an inanimate moving target was a bit tougher, but strangely satisfying. I'd never shot a gun before, so the learning curve was steep.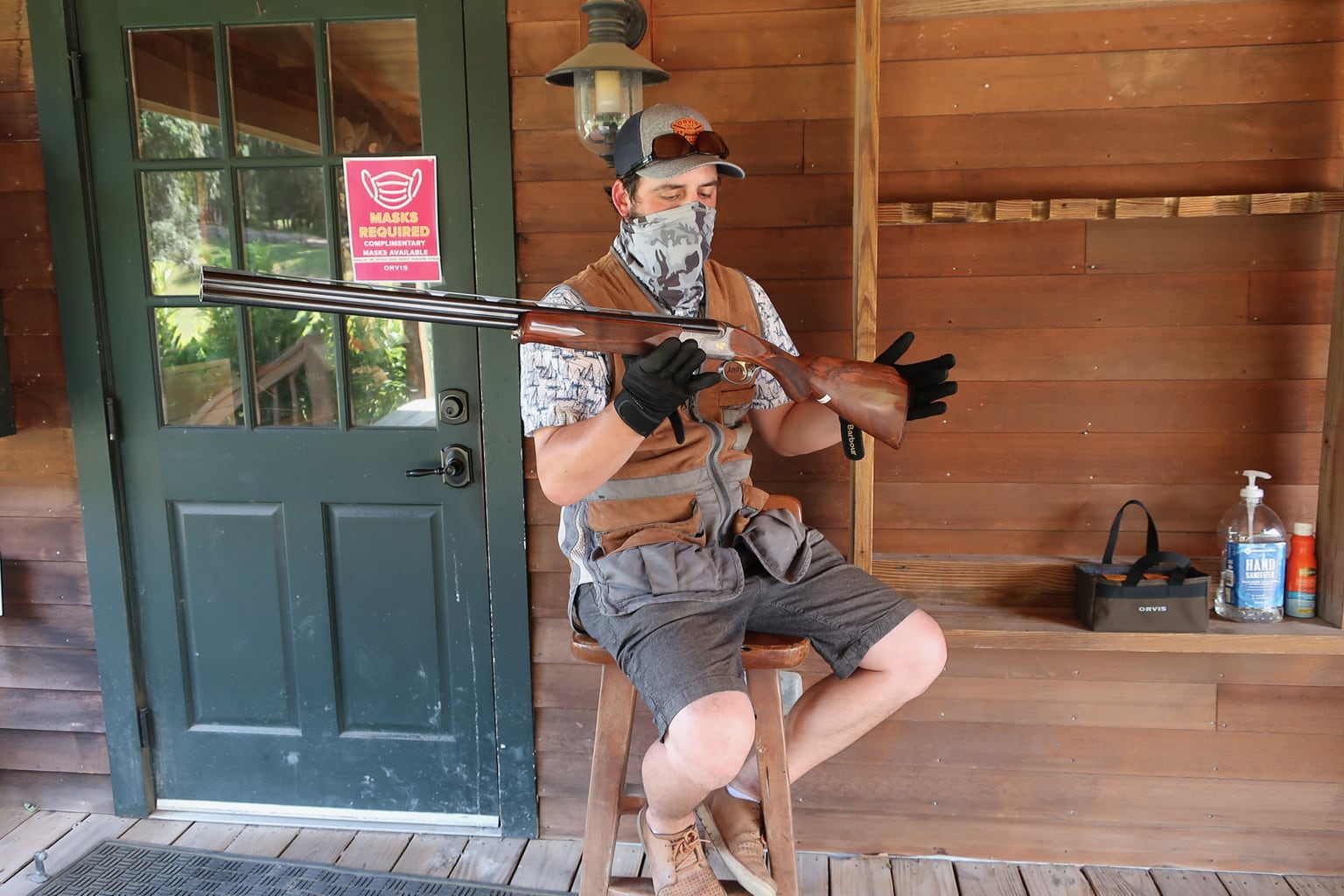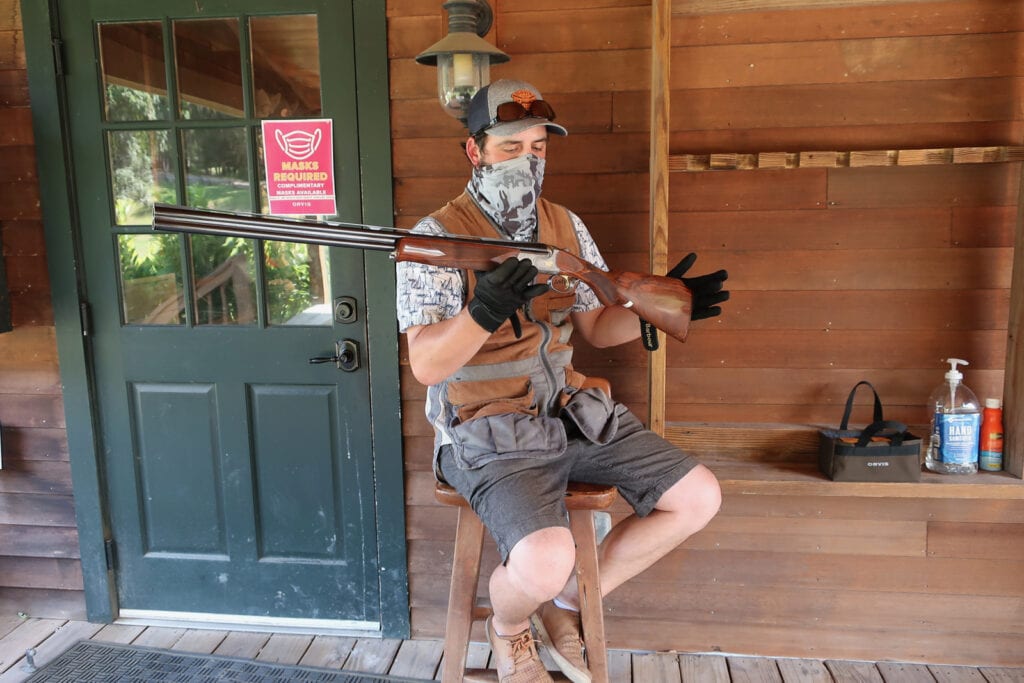 Safety at Orvis is key. Before I even held the shotgun, my instructor, Andy McDermott, made sure I knew how to open and "break it" with barrel pointing "forward and down," and how to always carry it that way. Plus, there are no "bullets" in the world of sporting clays or bird hunting. Just shells and pellets (110 tiny pellets per shell for my purposes).
Andy's mission is to "remove the fear," from this sport. To that end, he teaches his four fundamentals of shooting:
How to Stand.
"Head on Gun, We're Having More Fun."
Flashlight Focus.
Follow Through.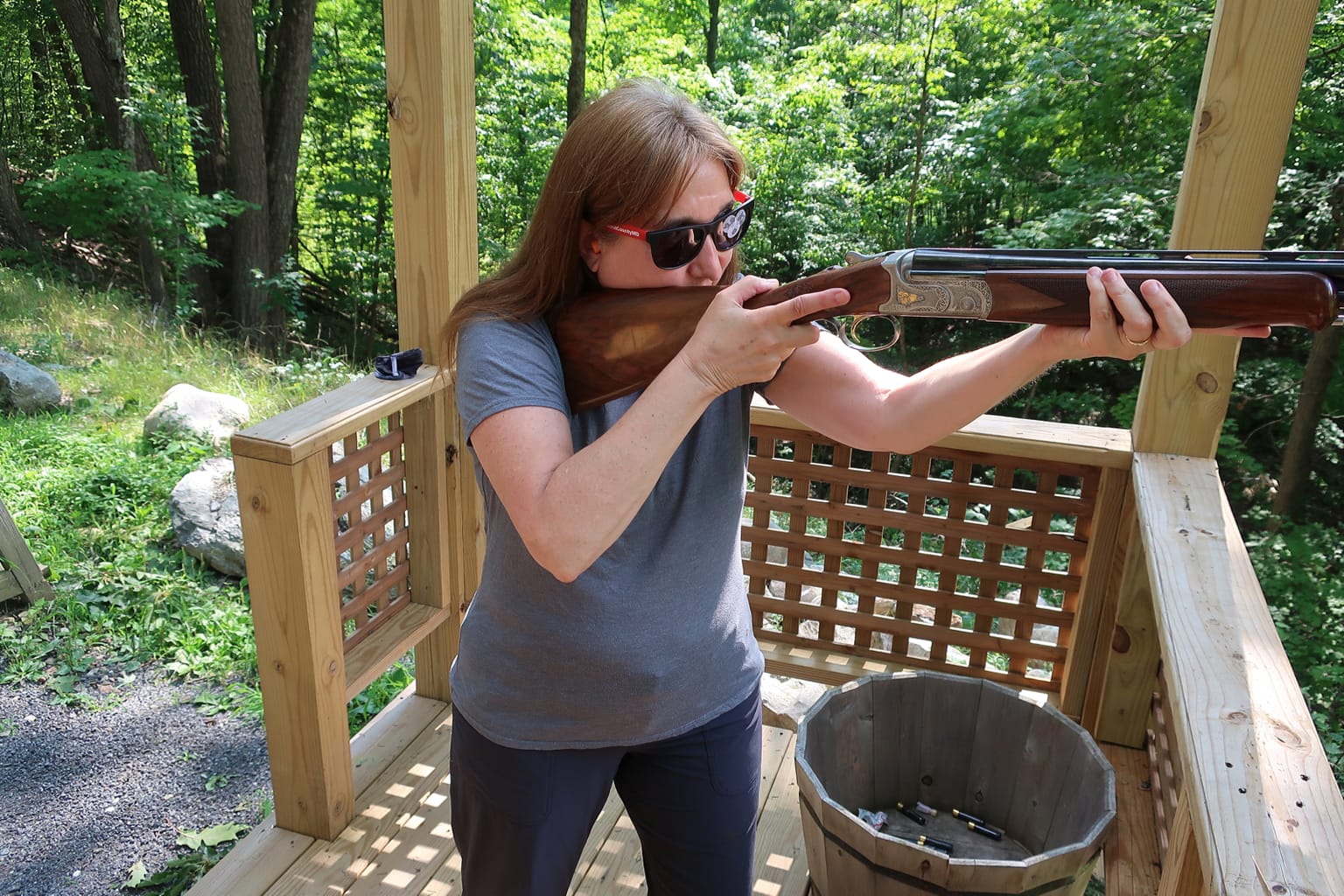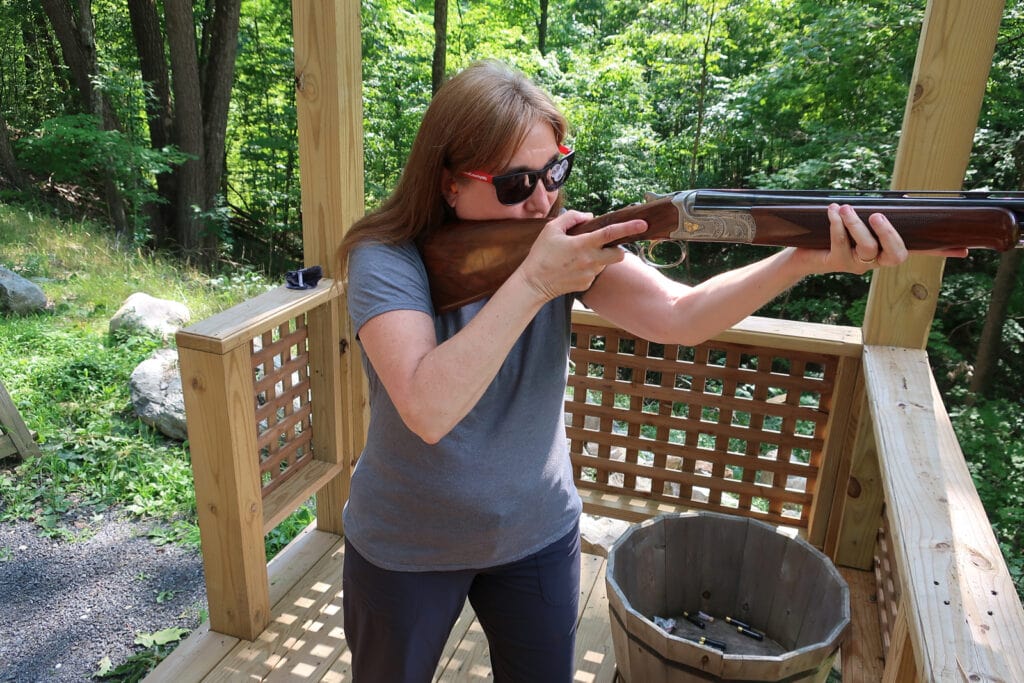 So, thanks to Andy's guidance, I managed to destroy a few clays. And although I had earplugs, the recoil and noise kicked my butt. Despite the soreness, though, I'd like to get better at it.
As Andy says to all of his students: I want you to leave with "ten fingers, ten toes, and a smile." Mission accomplished. Private fly-casting instruction, $75 per hour for one, $155 per hour for 4. One day fly-fishing school April-October, $279pp, two days $489. Private shooting instruction $175 per hour for one, $250 per hour for 4. Sporting Clays Round $85. Shooting School year round $575 one day, $1149 for two days pp.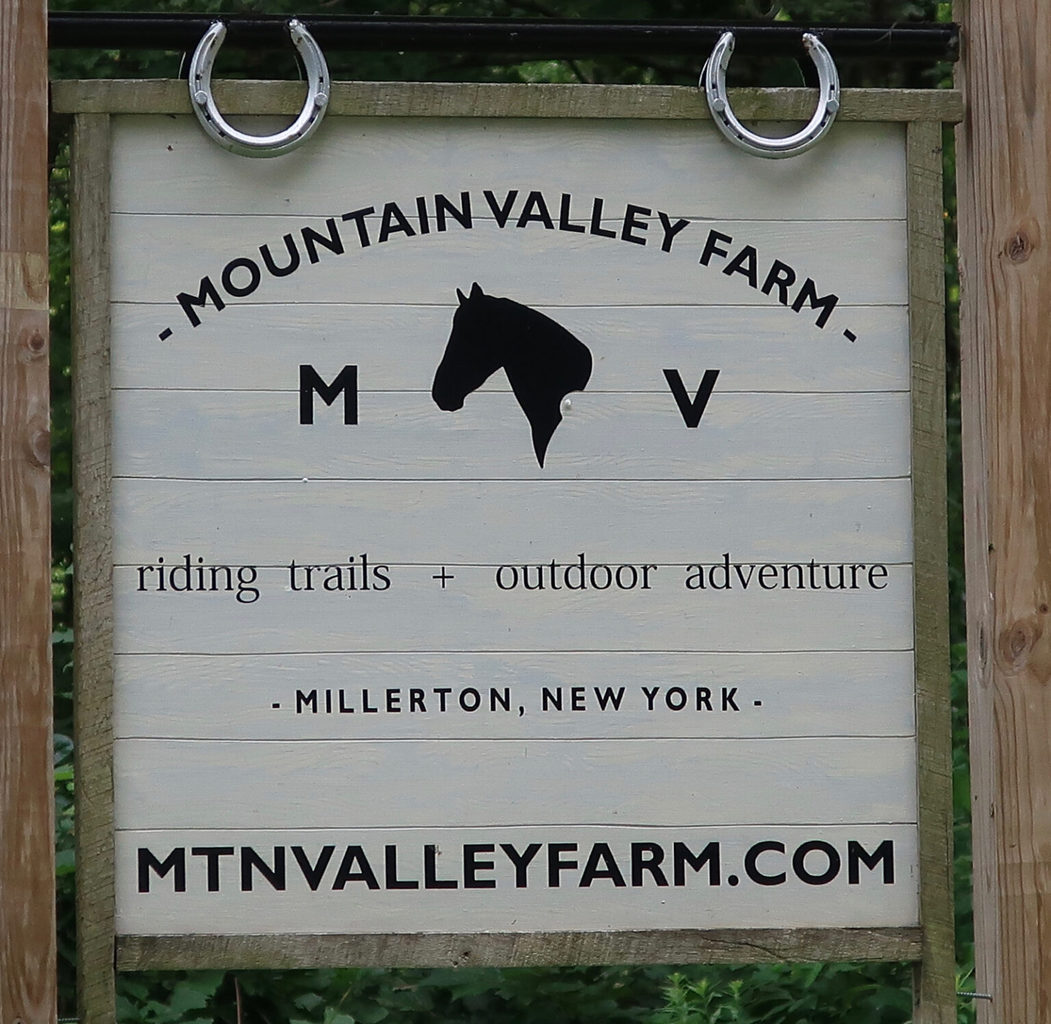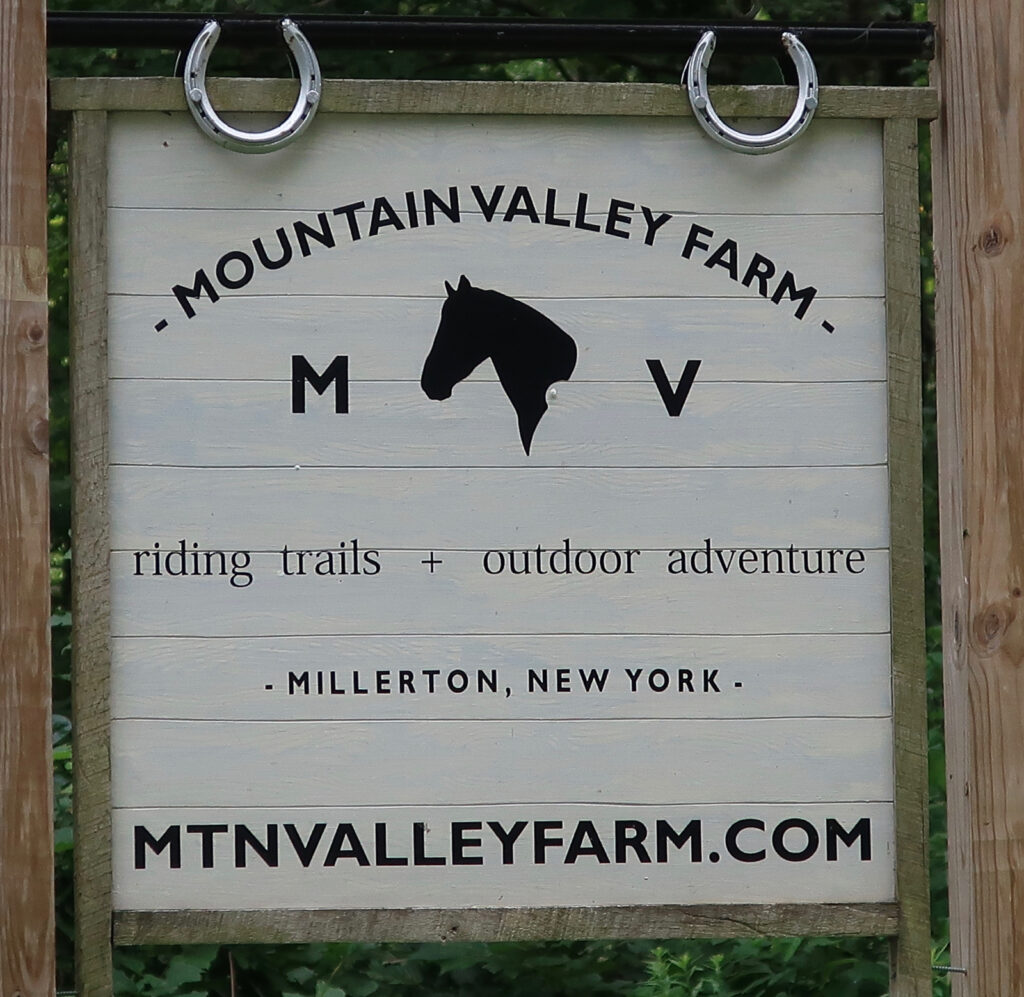 Owners, Tiffany and Mikael Flynn, call their sylvan hilltop, "Where New York meets Montana." Surrounded by rolling green wooded hills, unmarred by high-rise buildings, the landscape is pastoral – in its deepest sense.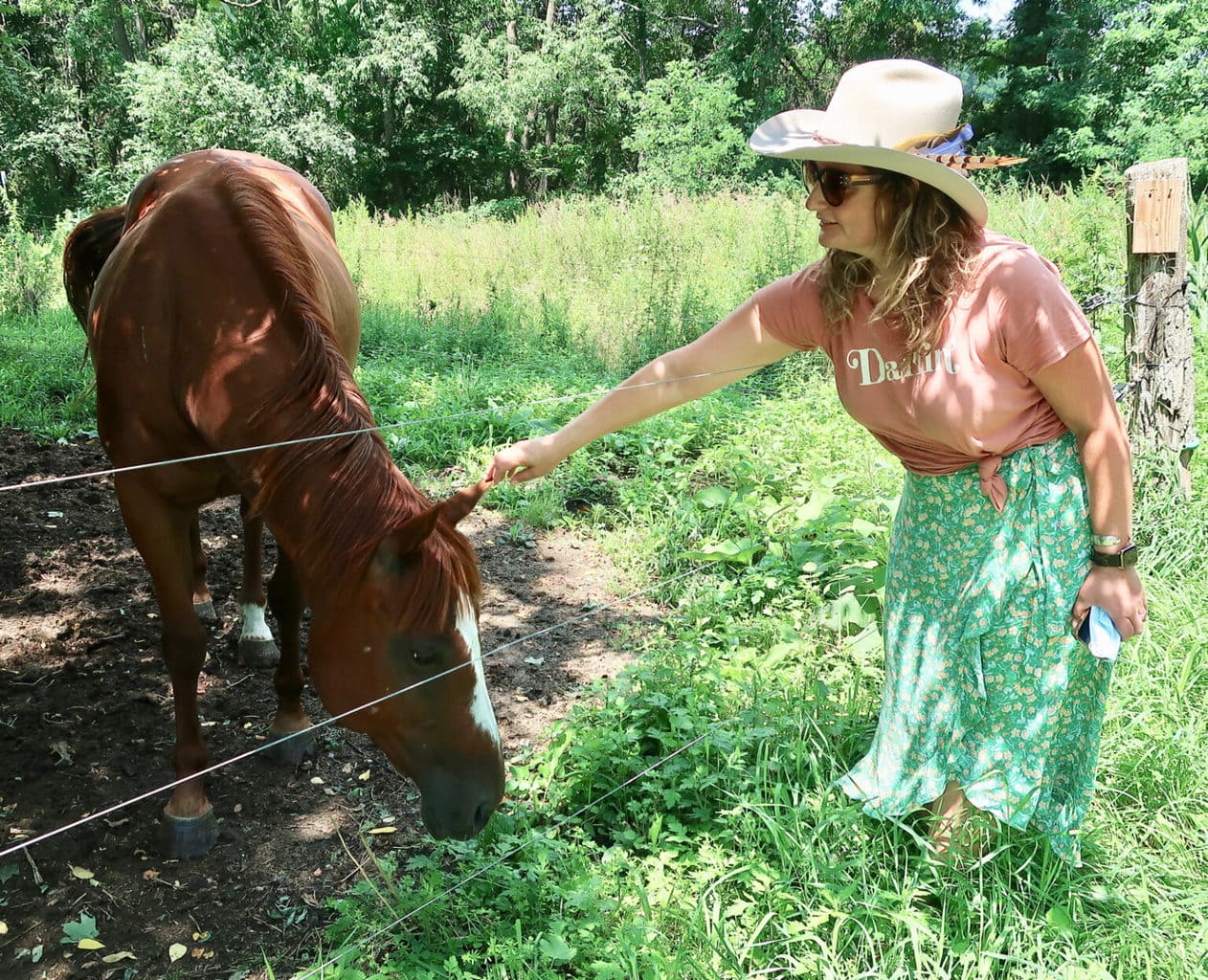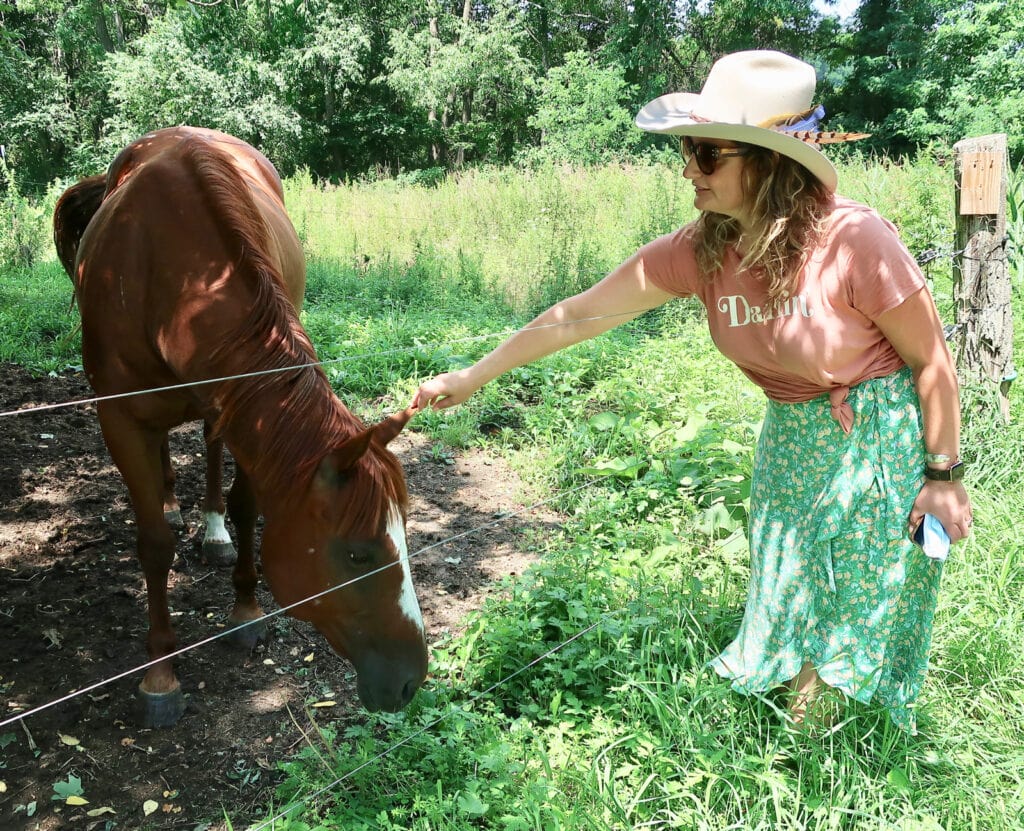 Ever the cowgirl, "Tiff," Stetson atop her head, greeted me warmly when I drove up to the pristine stables. "We're big on a horse being a horse," she said, by way of explaining why the stalls were empty. "We leave them barefoot (trimmed) and up in the pasture."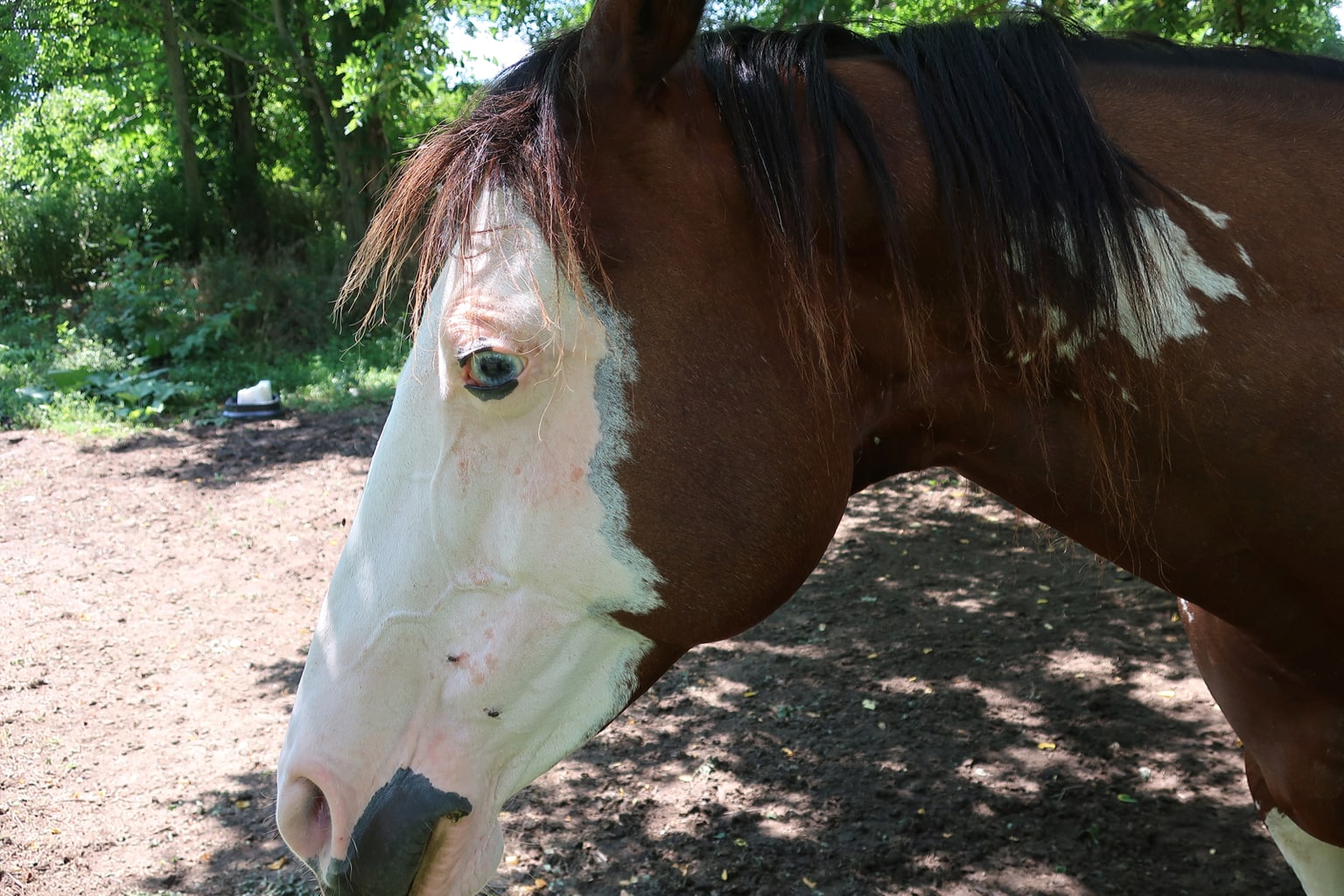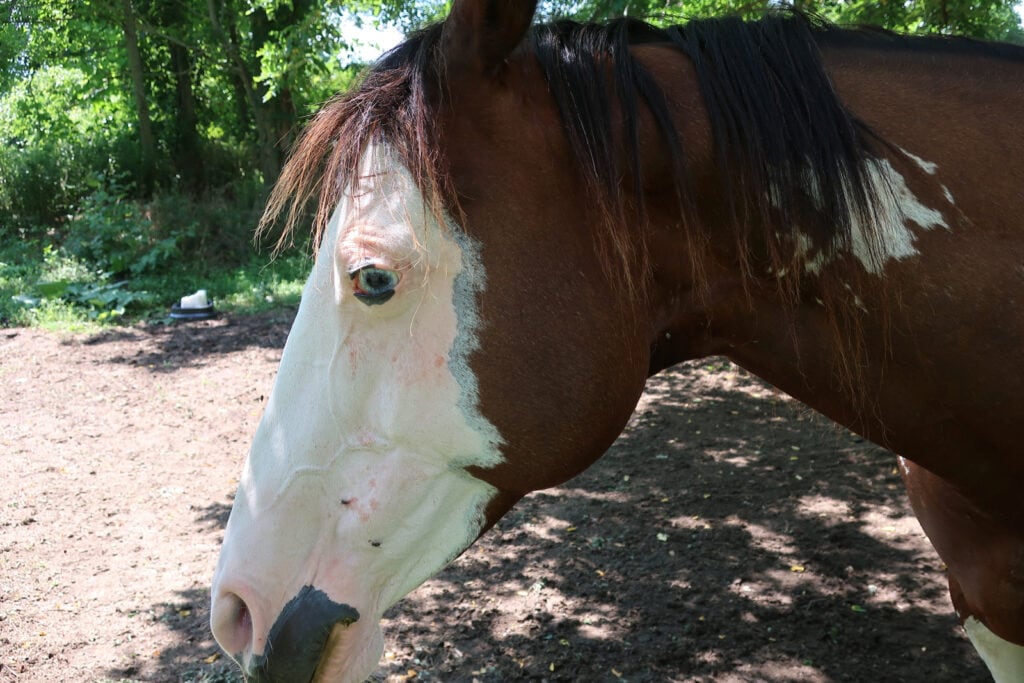 The Flynn's own 18 quarter horses with horsey names like Doc and Montana. "Martha's our supermodel – she's got blue eyes." Some steeds are "painted," others tawny brown. And, of course there's a horse for everyone, from guests with zero know-how to experienced riders.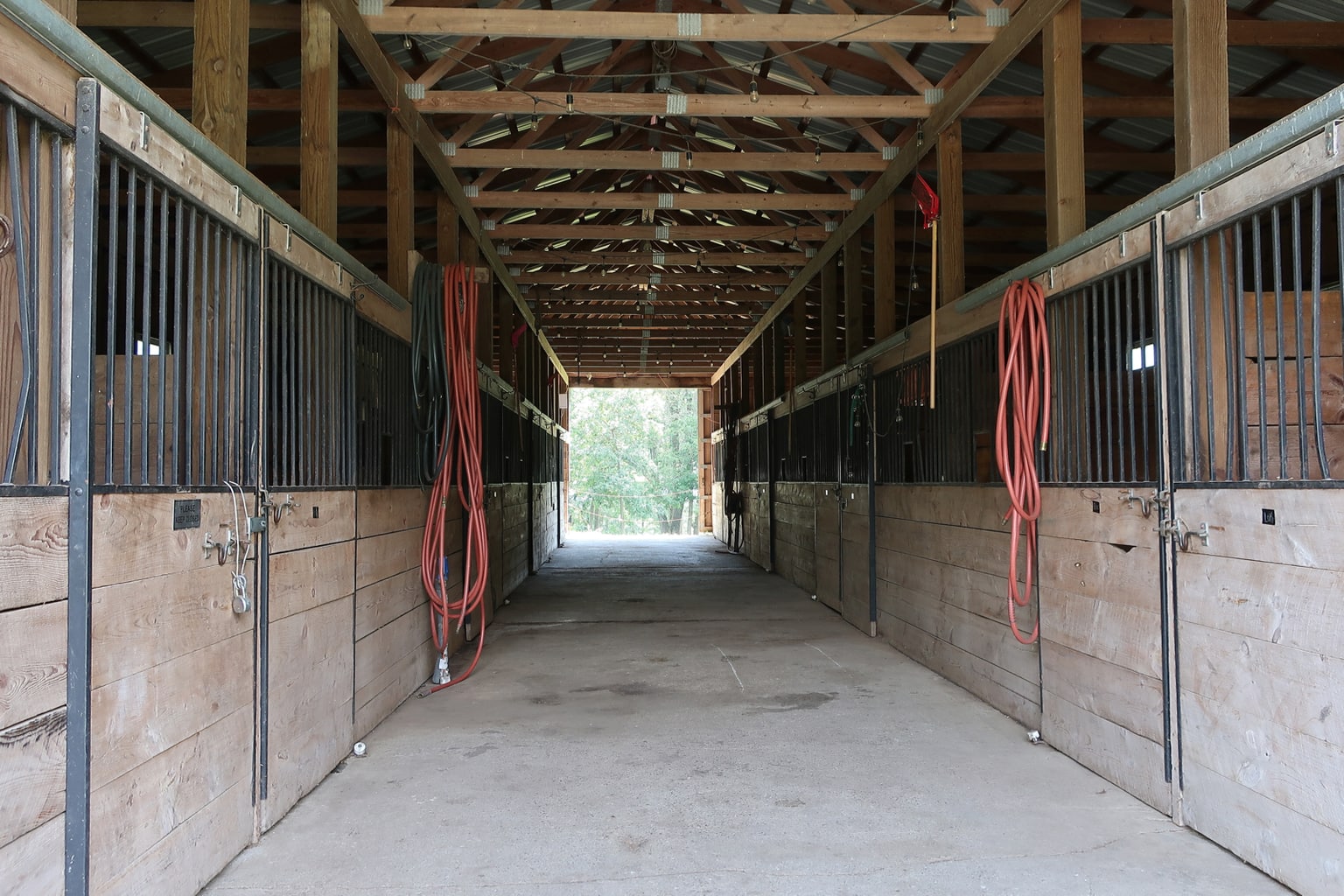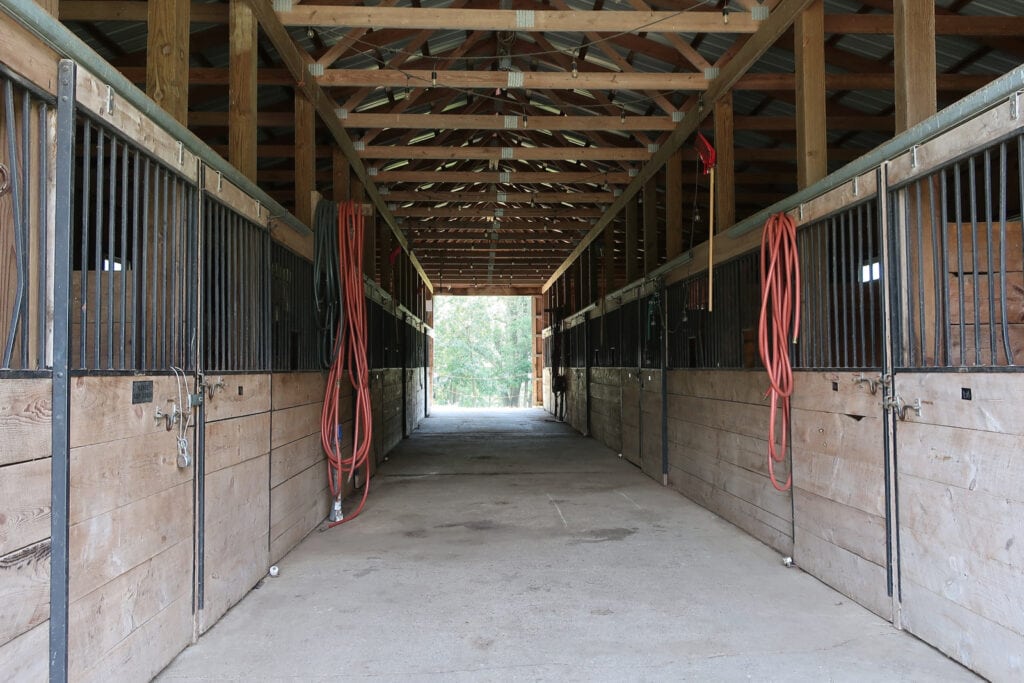 Both the stables and tack room are spotless and organized. Most saddles are Western-style, but the Flynns keep a few for those who ride English. (Mikael plays polo with an English saddle).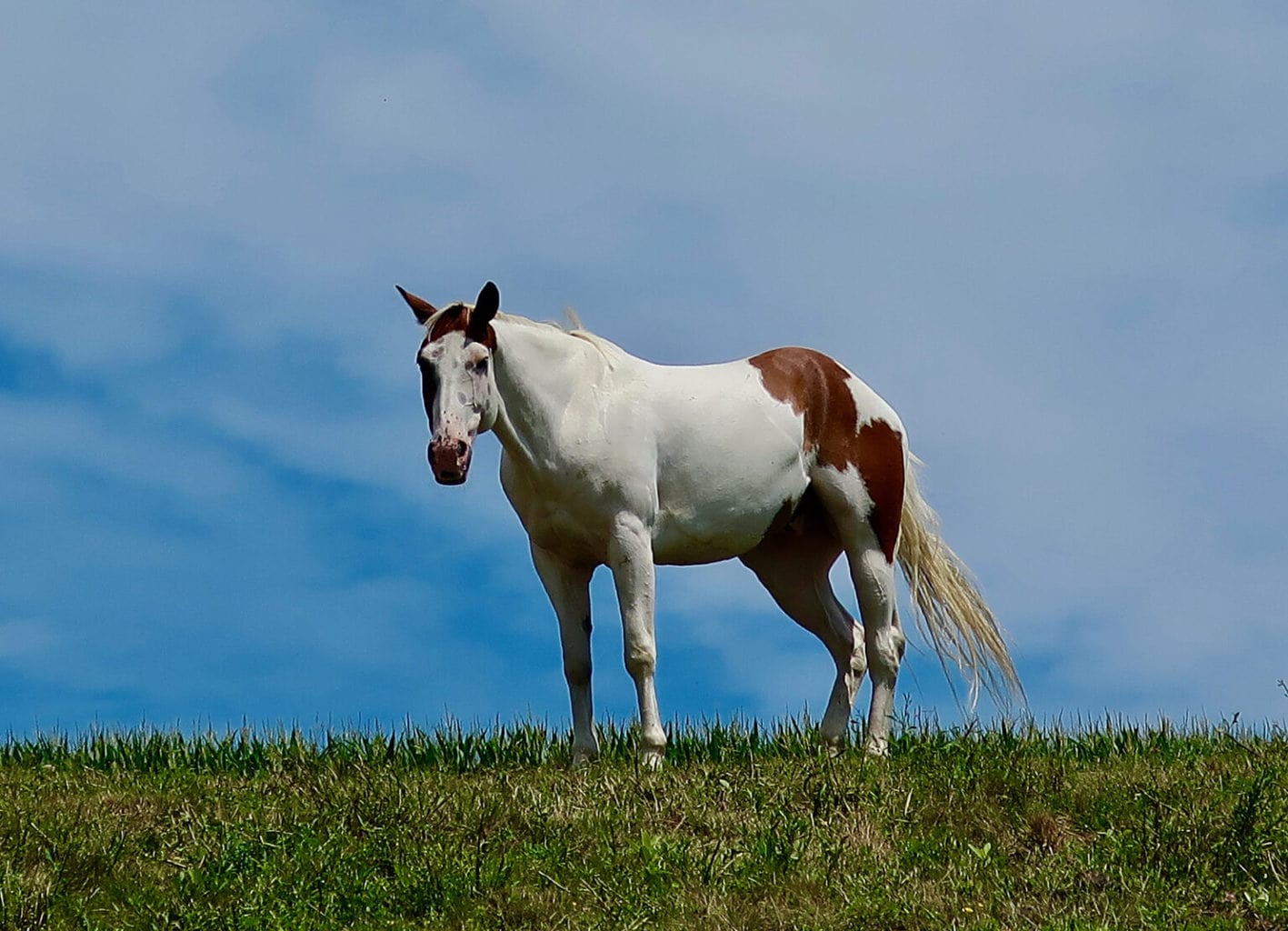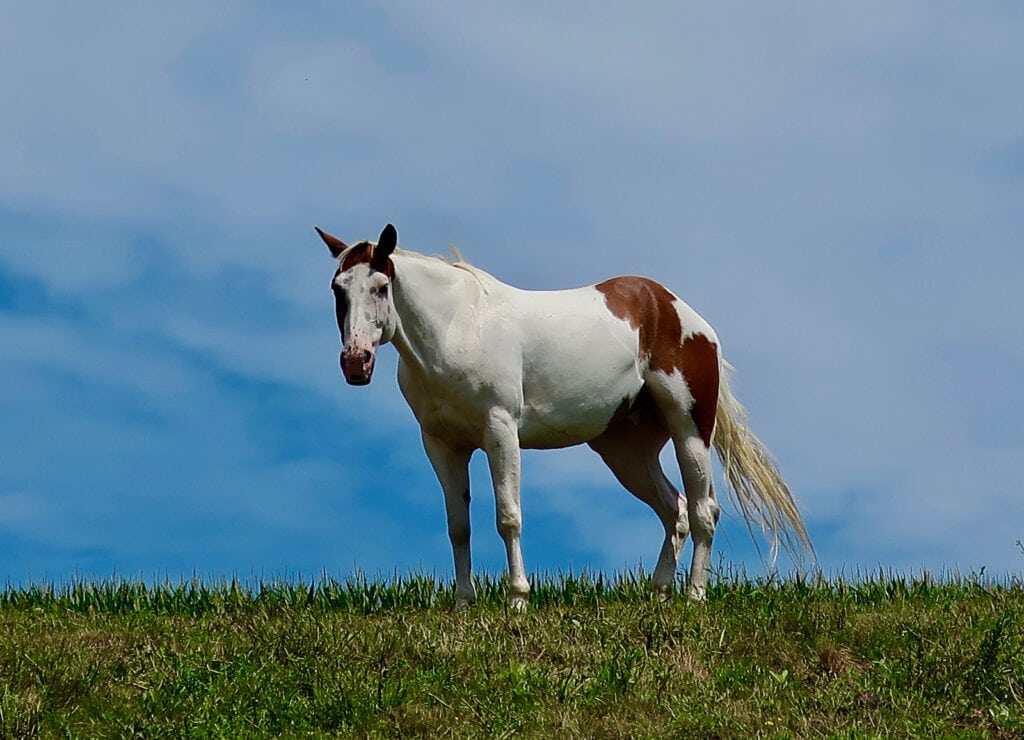 Folks 12 years old and up can take a guided trail ride year round (with hot cocoa and cider in winter). Younger kids can start off in a small outdoor ring.
Weddings are popular here, as are corporate events like Whiskey Tastings, Barn Parties, and team building activities. The stables can accommodate up to 60 people on long tables. "We can make it as rustic or fancy as you like," says Tiff. "From high end to Dinosaur BBQ." Private rides $95 one hour. Group rates $75 pp for one hour, $125pp for two.
SHOP: Millerton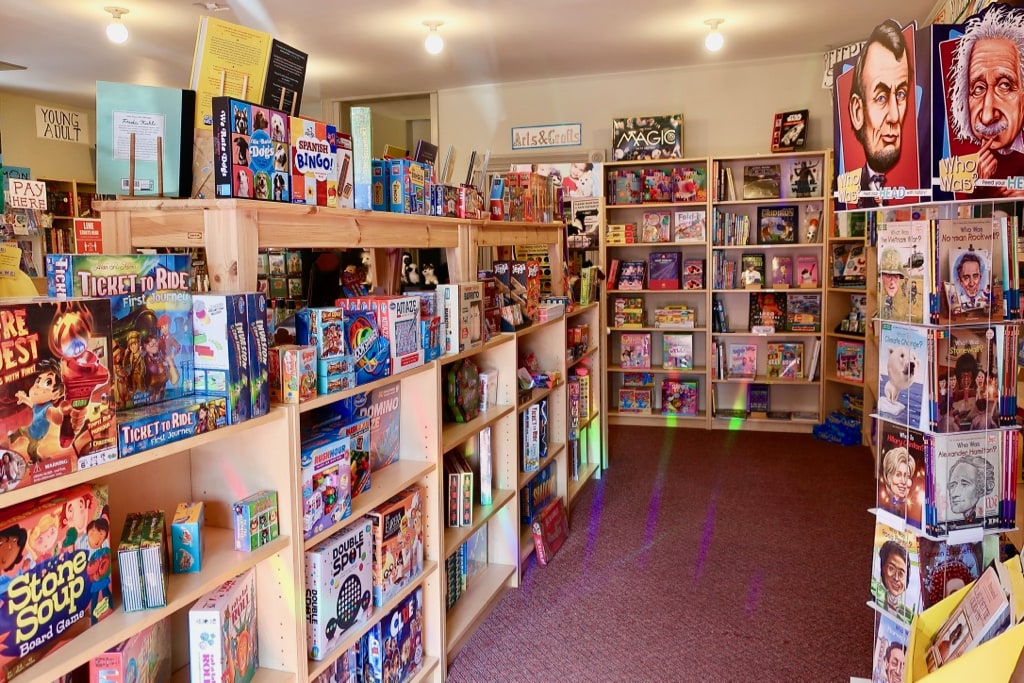 Oblong Bookstore
The Oblong Bookstore stands across the street from the Oakhurst Diner, two legendary institutions in star-is-rising Millerton NY. Our readers know how much we revere independent bookstores, and the long-running Oblong has been a a ray of sunshine in town for decades. Spread out on two floors, find a vast array of children's books and non-electric games on the lower floor, and all the rest up top.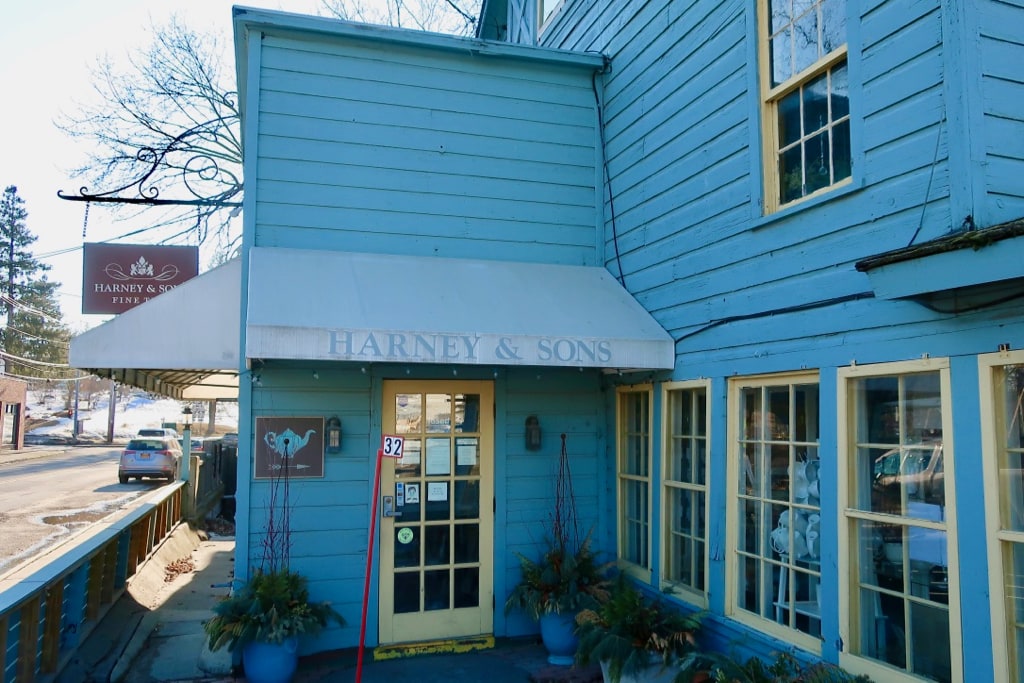 Pick up a tin of Harney and Sons a mile from from this tea-maker's headquarters. Yes, the well known Company is located right here in Millerton NY.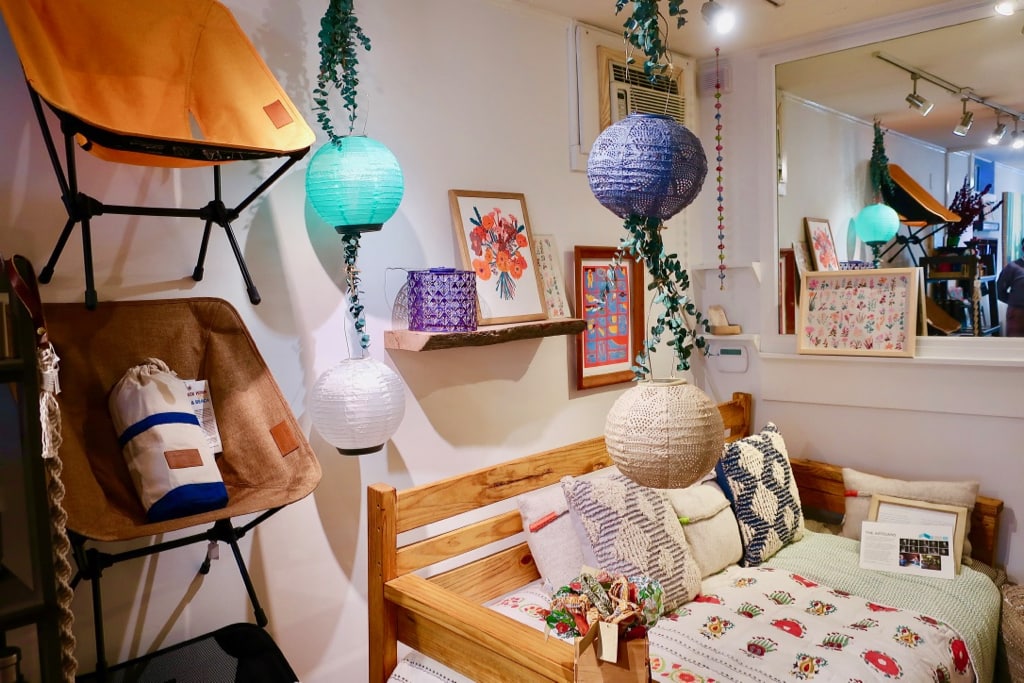 Need a pair of sunglasses made from recycled material? Unusually shaped candlesticks? Throws? Lotions? Art and homegoods? This small shop is packed with great unique gifts.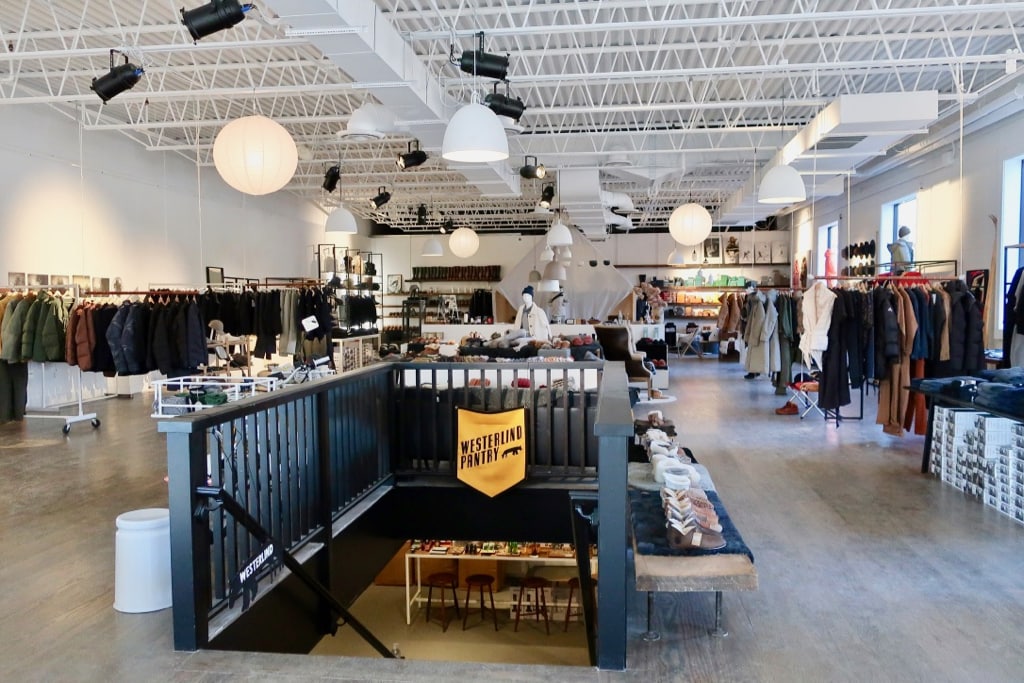 Westerlind and Westerlind Pantry
New to Millerton, it's Upstairs/Downstairs of the coolest kind. You got your fashionable designer outerware up, and "the kind of bodega every food snob dreams about" downstairs. Stock up on woolies, then fresh-baked bread, hot sauce, and canned smoke salmon straight from Alaska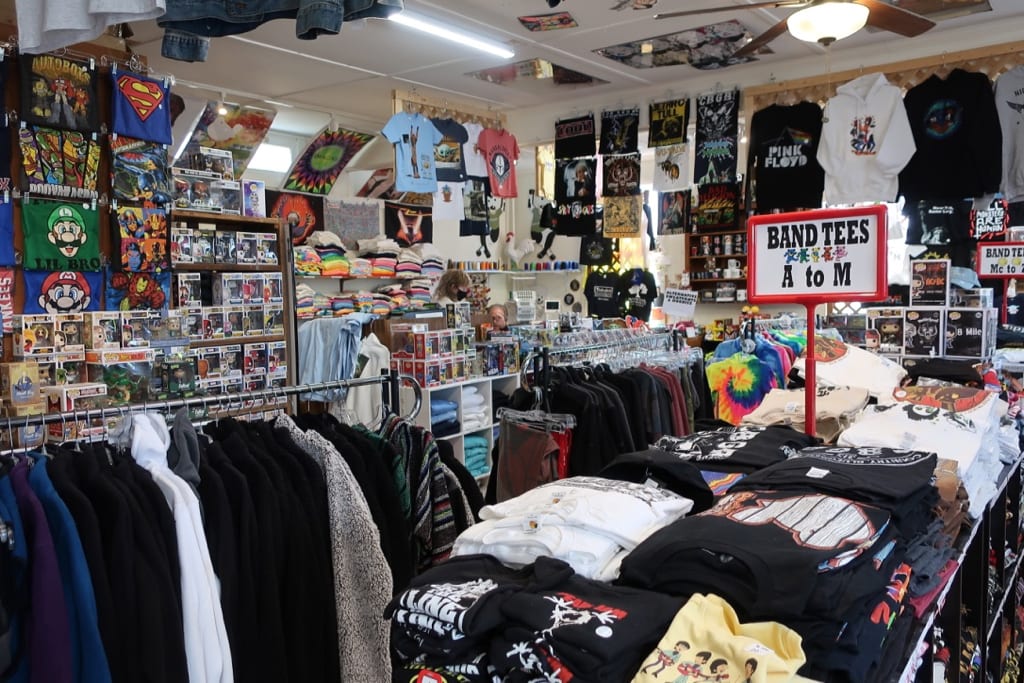 Home of the Black Cow. If you can't find it here, you won't find it anywhere. Actually, if they can't find it, they'll make it.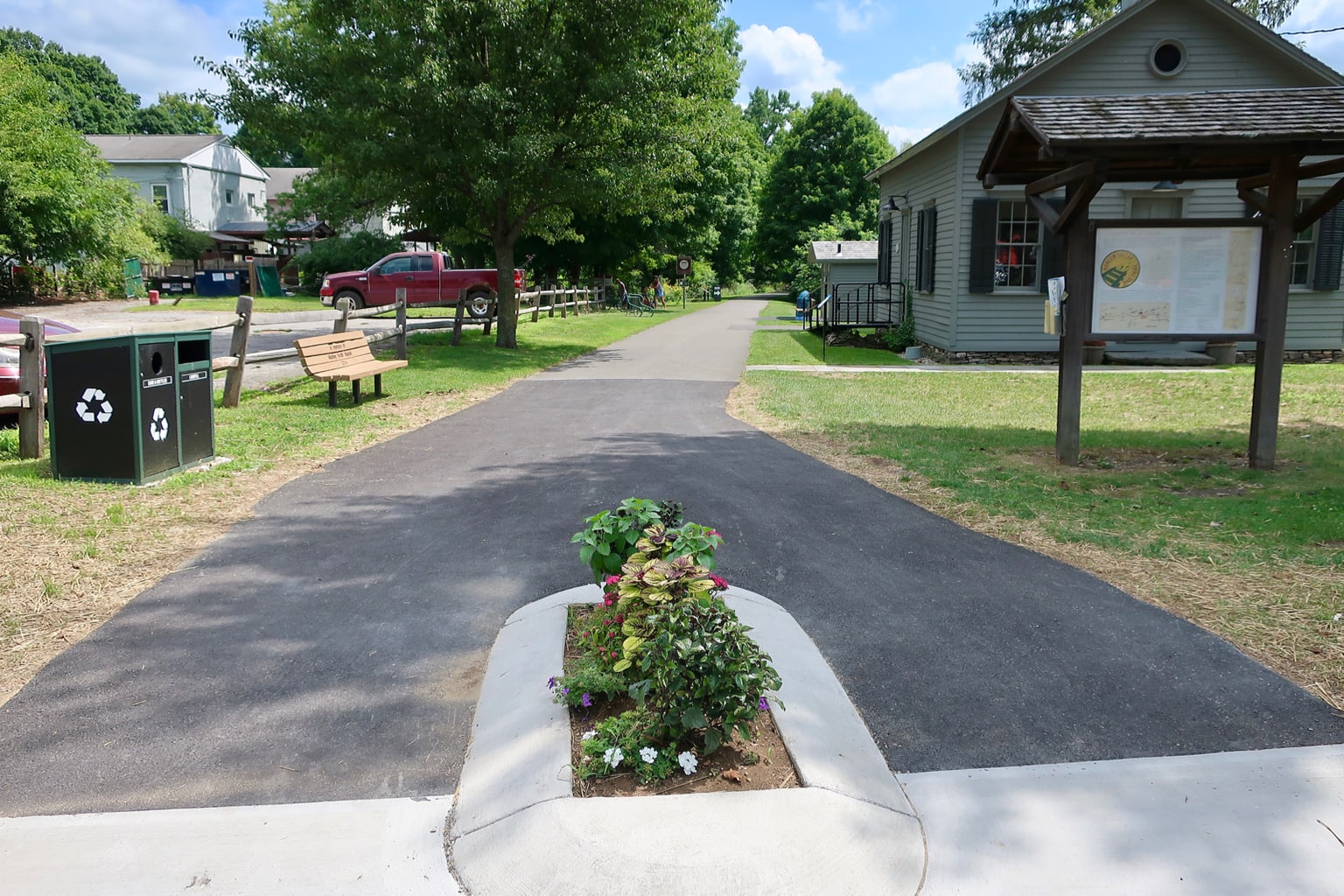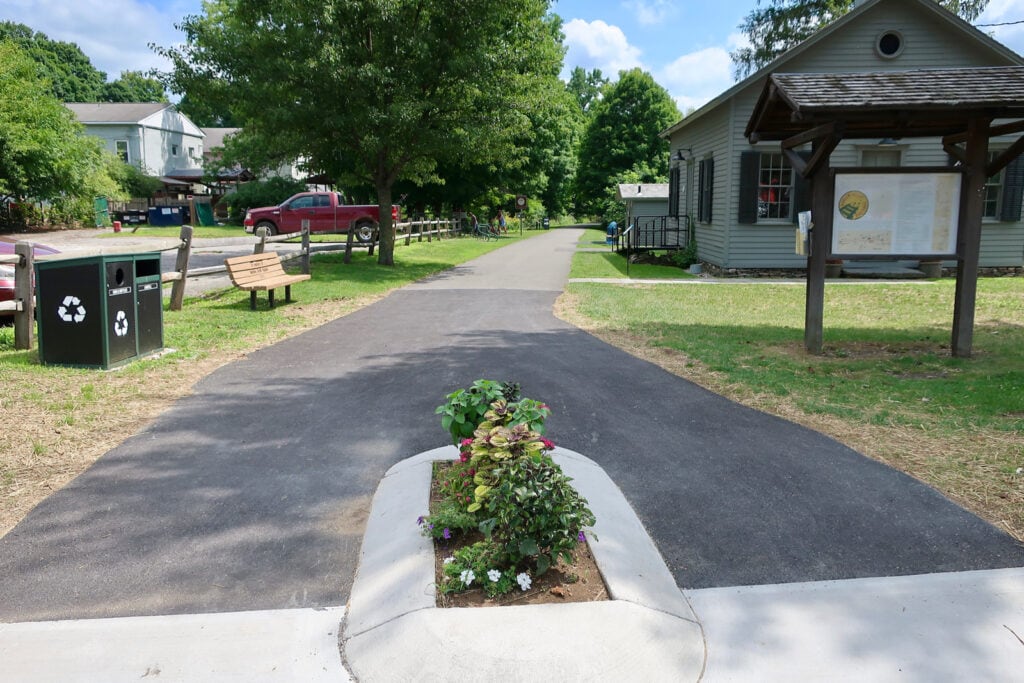 It's 19 miles on a smooth paved path, from Amenia to Millerton – perfect for families, or Boomers who'd like to avoid hills and lots of traffic. This pleasant ride through Dutchess County farm country is a great "social distancing" activity.
WANDER: Downtown Millbrook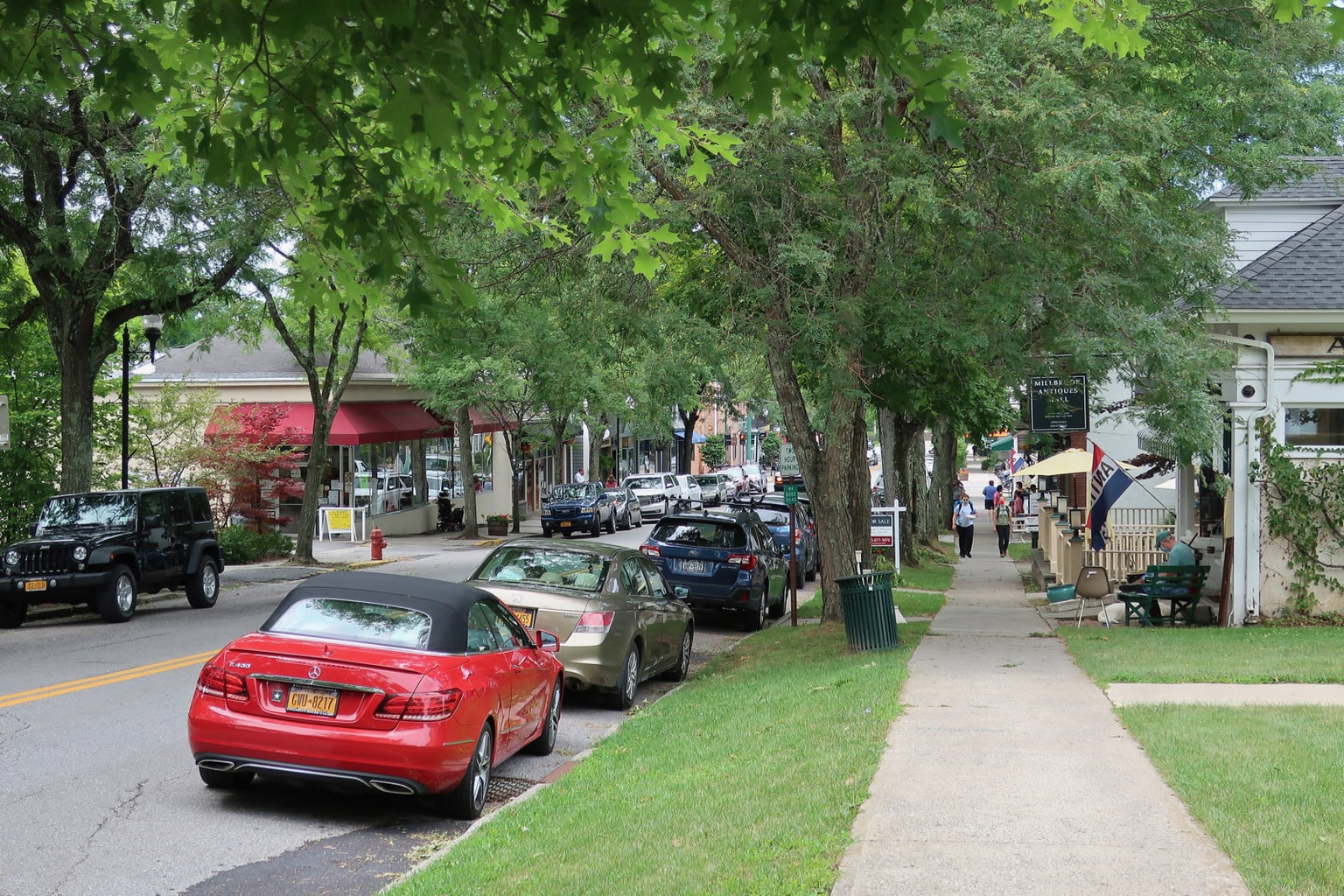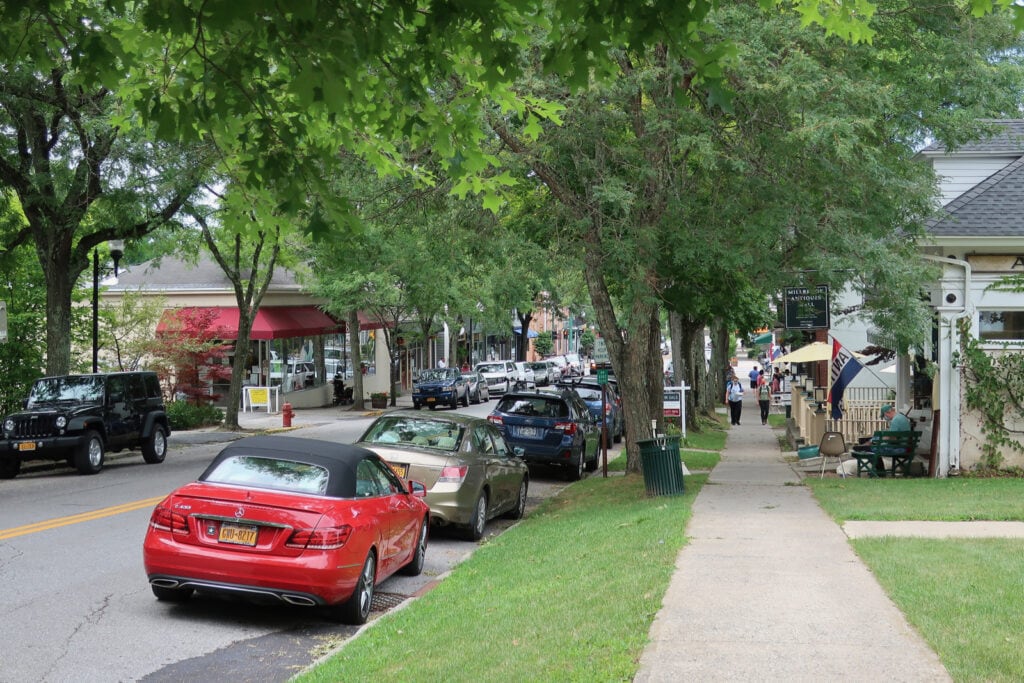 Those who live and work here call Millbrook NY a "Mayberry like place." The vibe is decidedly upscale, with a Houlihan & Lawrence Real Estate office, and preppy clothing shops like J. McLaughlin. But there are a couple of indie stores worth mentioning.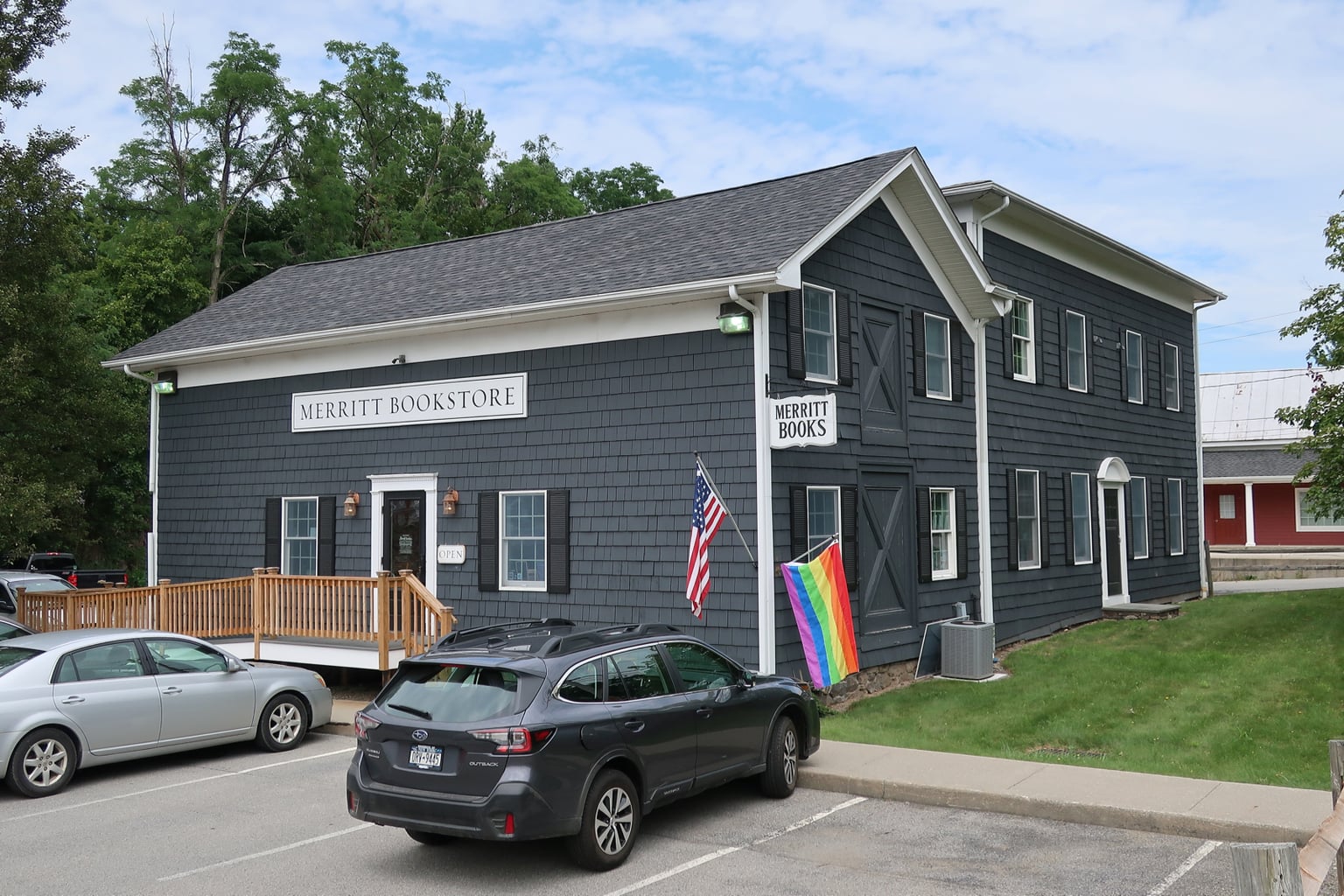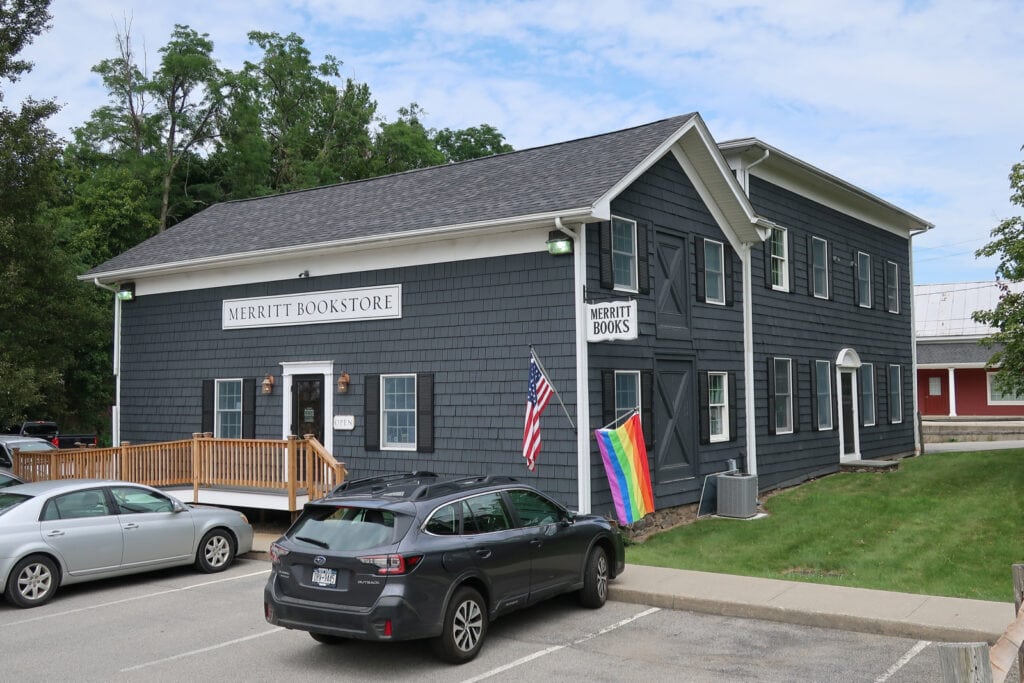 Former New York City English teacher, Kira Wizner, purchased this bookstore, one block from the main street (on Merritt), in 2015. It's stocked with a full spectrum of books – and knowledgeable staff who are happy to steer you to your next favorite novel.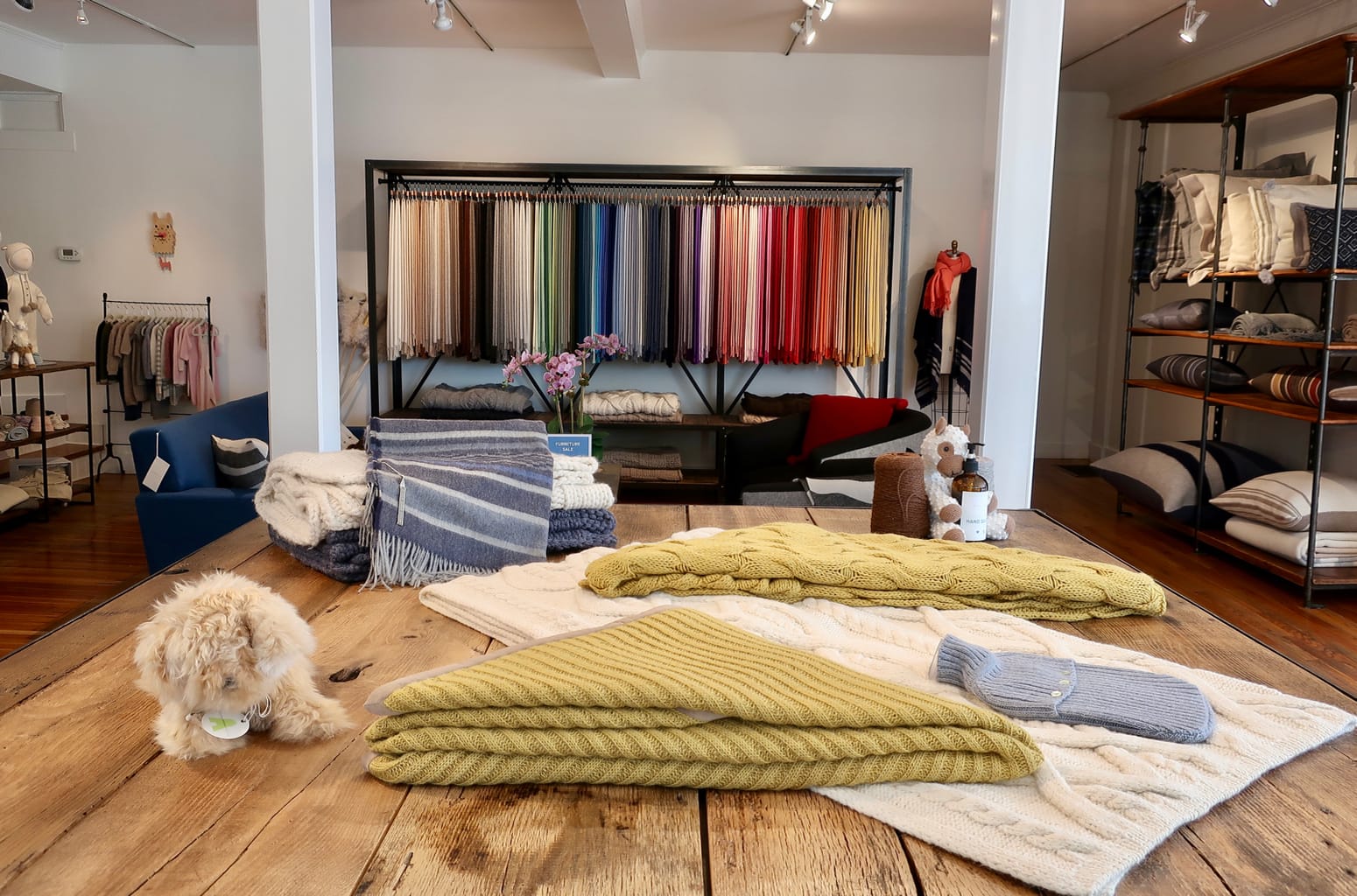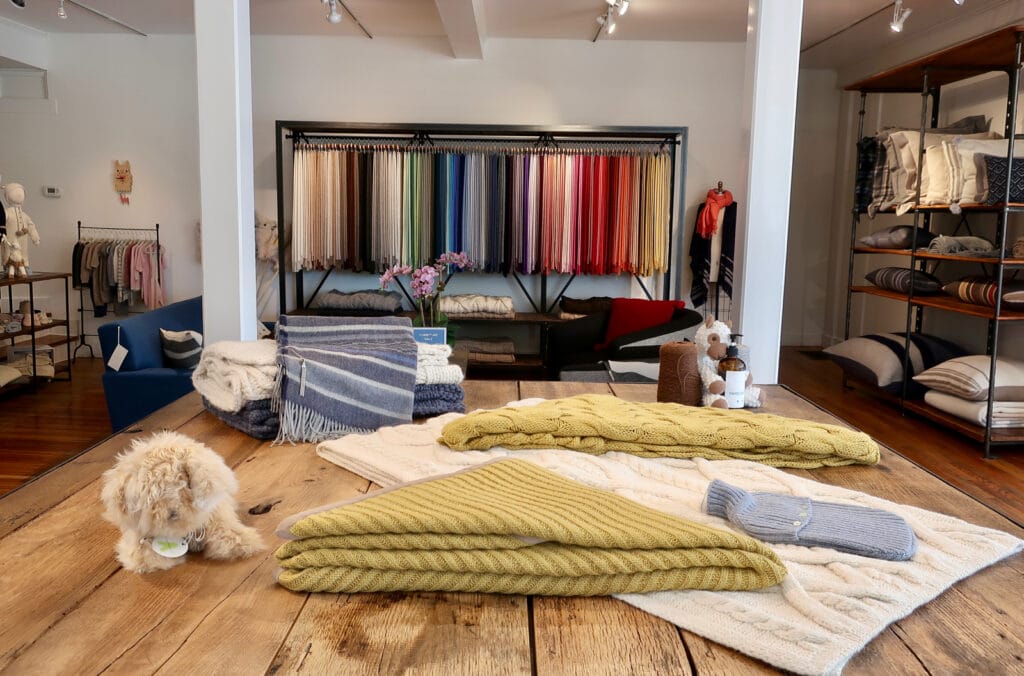 Adams sources her hypoallergenic alpaca wool from both her Hudson Valley Suri Alpaca Farm and the country of Peru. The clothing for adults and children is luxurious, of course. But Alicia Adams is best known for her softer than cashmere throws. They come in 92 colors and cost $445.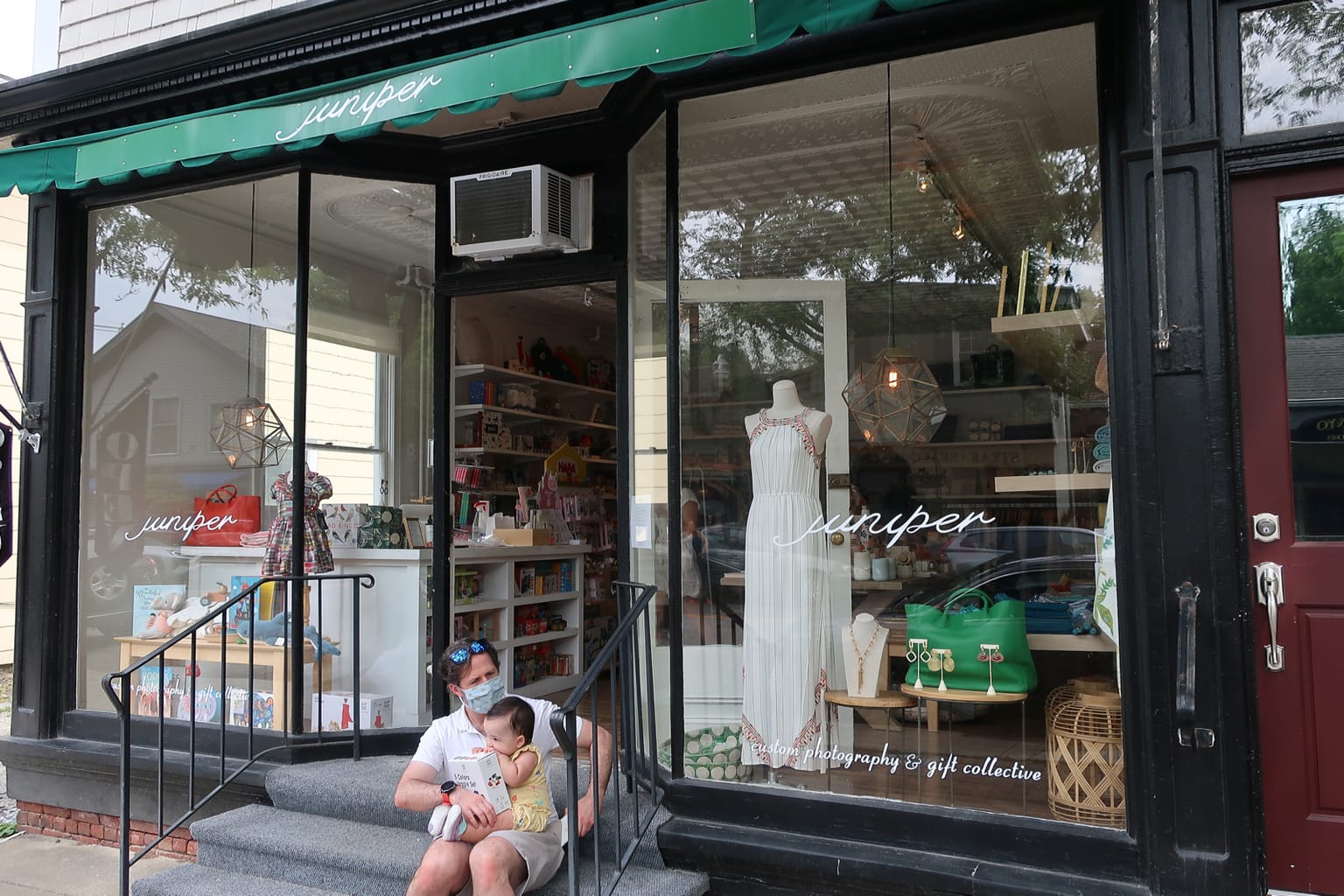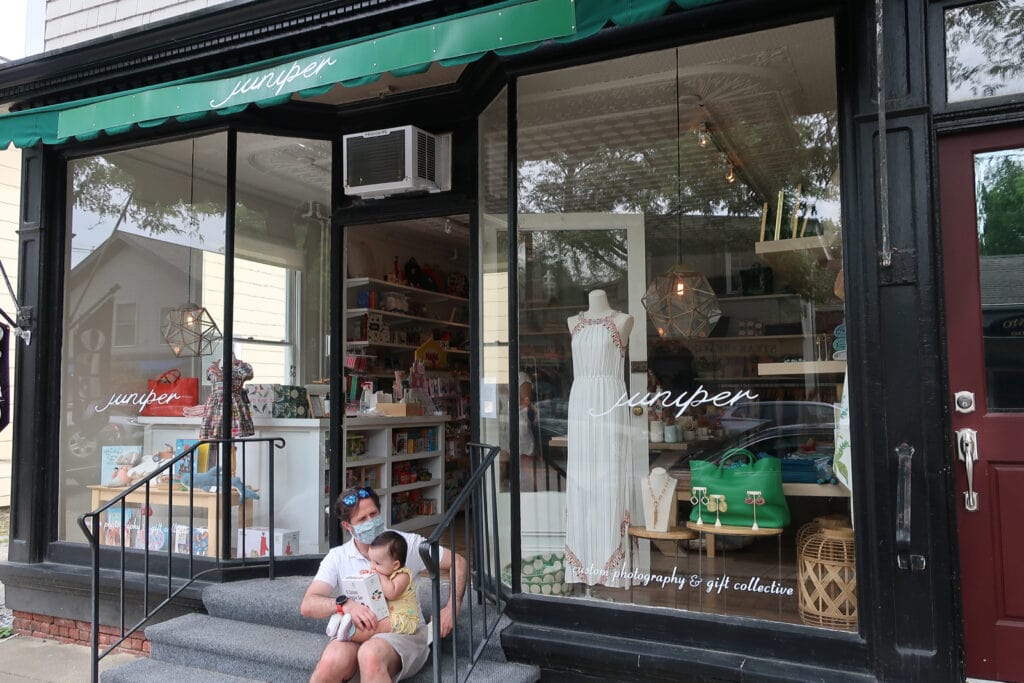 Nice finds for babies and children – plus jewelry, candles and other gifts.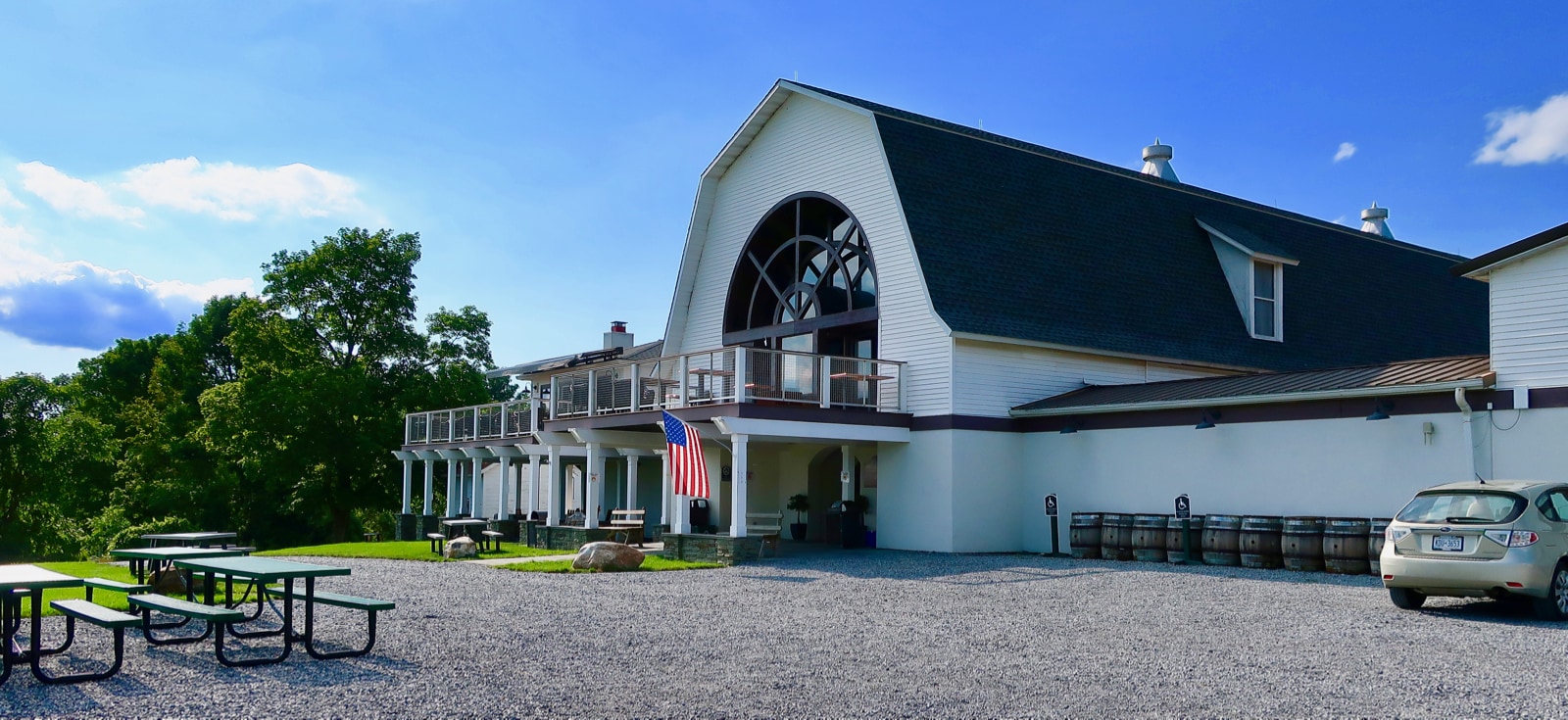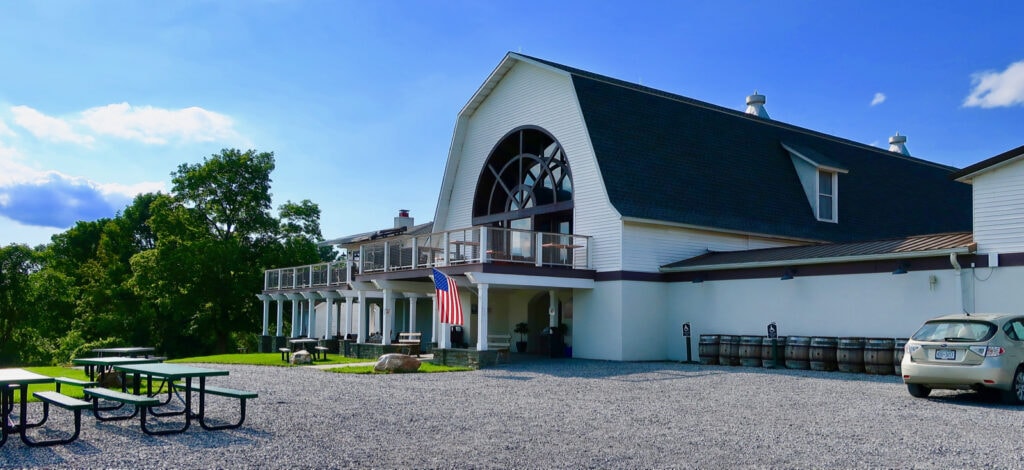 Opened in 1983 on 130 acres of a former dairy farm, Millbrook Winery was the first Hudson Valley winery dedicated solely to vinifera grapes. Driving up to the production and tasting building, you could very well think you're in the French Countryside. Take your glass to the top deck overlooking the vineyards.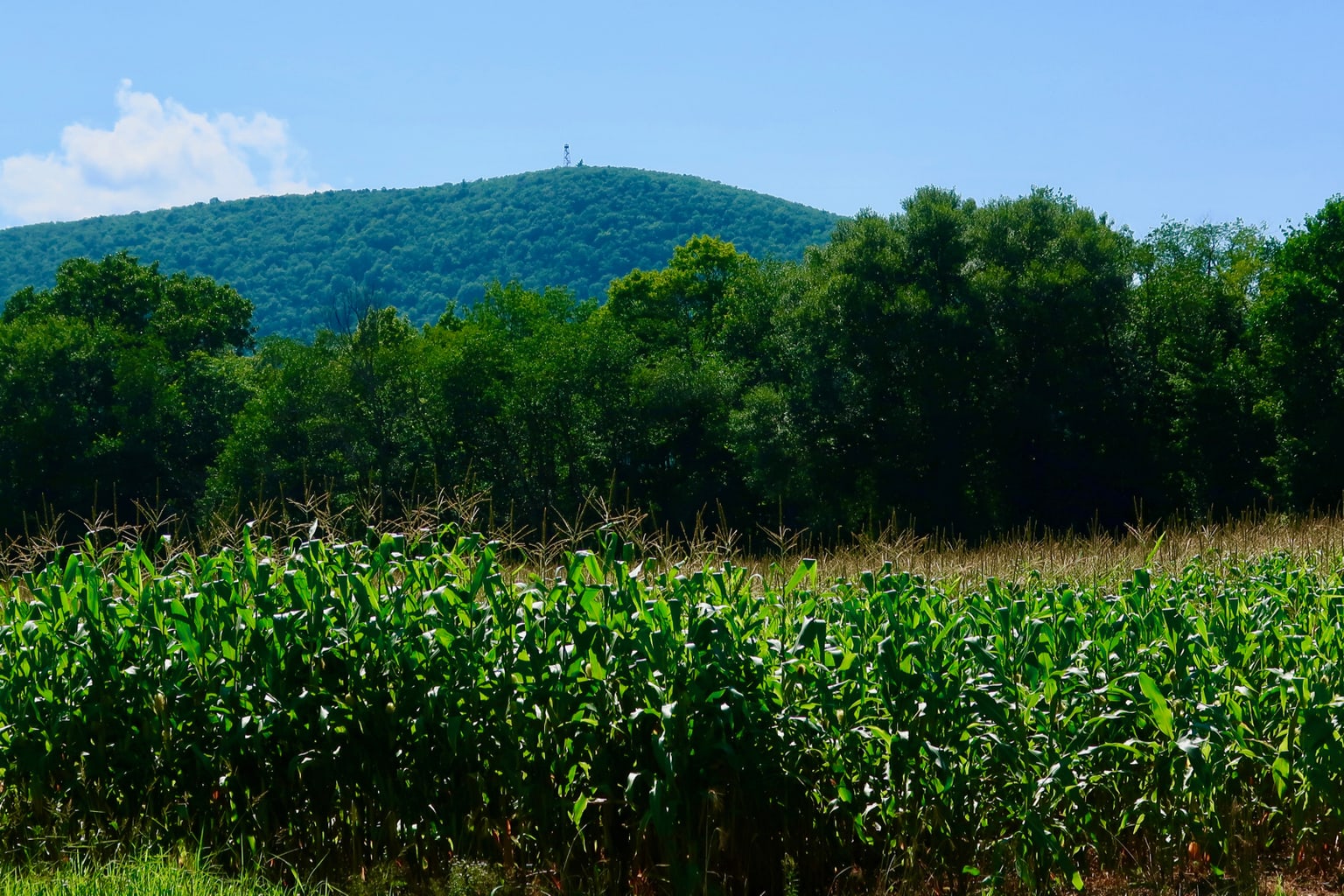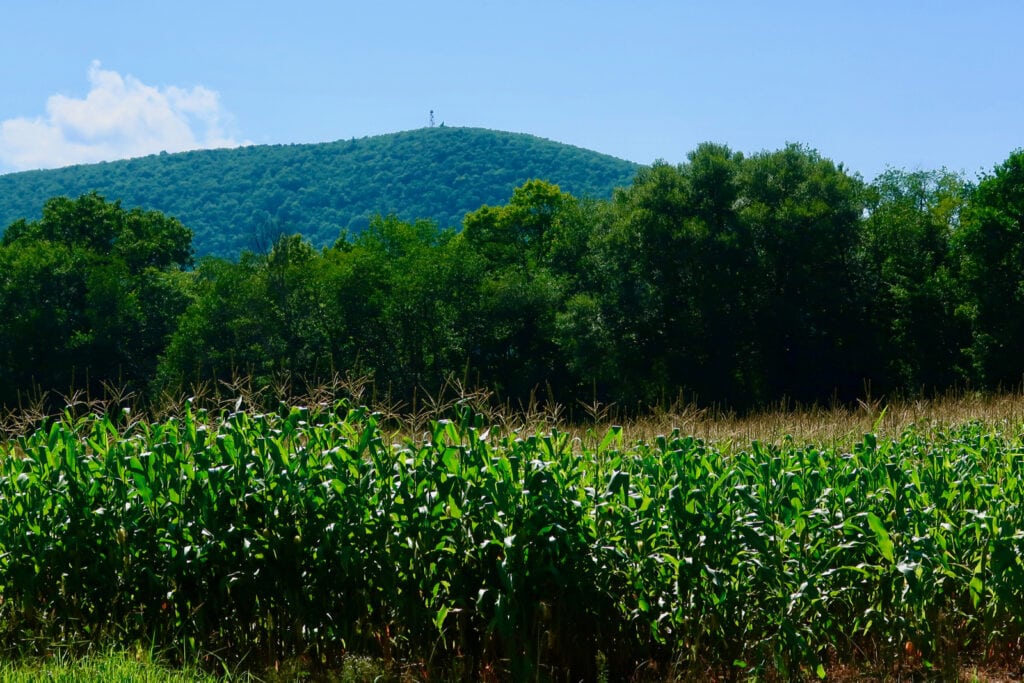 These trails are some of the most popular, "best kept secrets" in Dutchess County NY. Do you want to test out your lungs or meander? If the former, gear up mentally for the Stissing Mountain Fire Tower Trail – basically a mile straight up and back on a 1.8 mile loop trail. The trailhead is tiny. There's a 2 car parking easement on the road. Across the street, a small sign marks the entrance to the trail.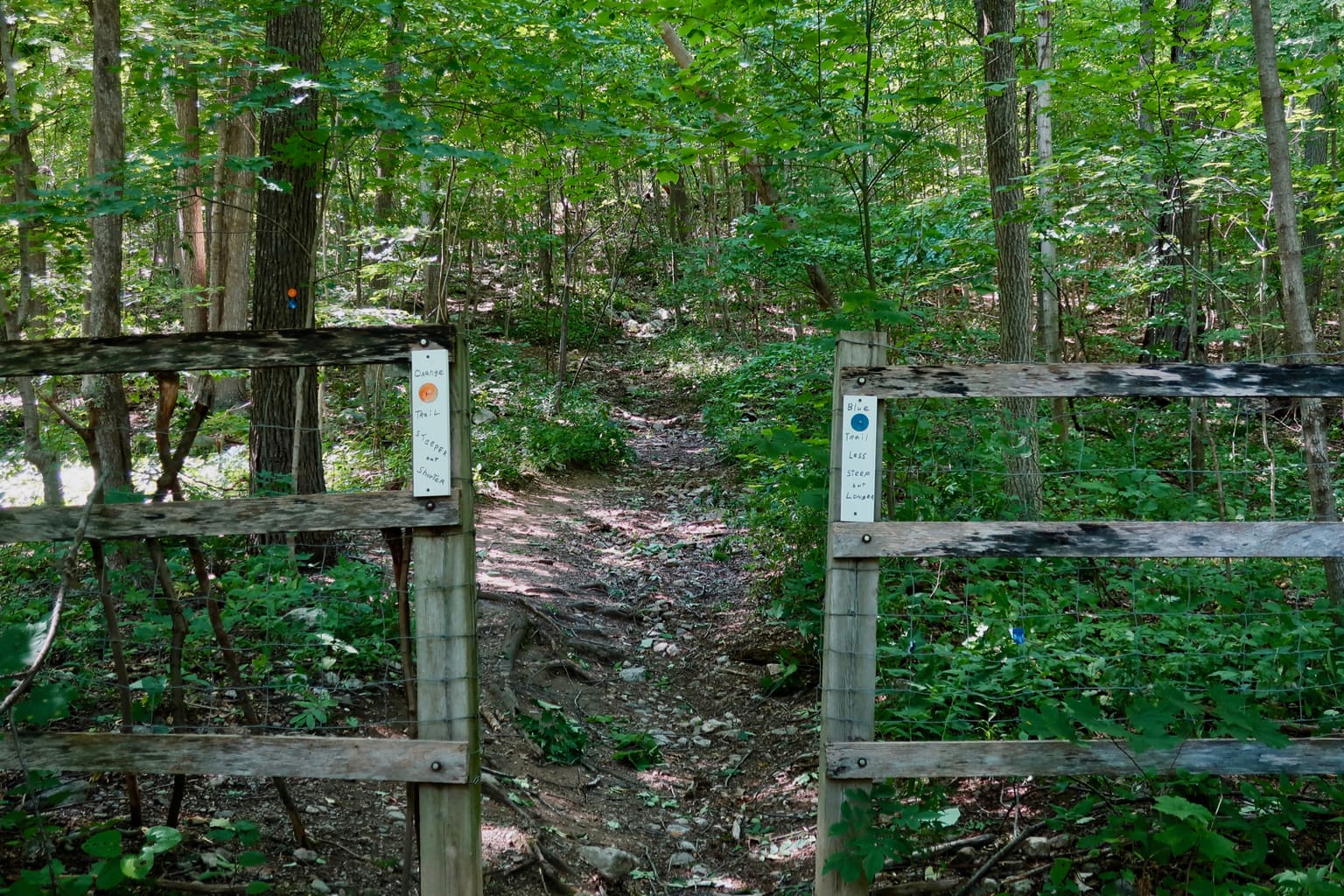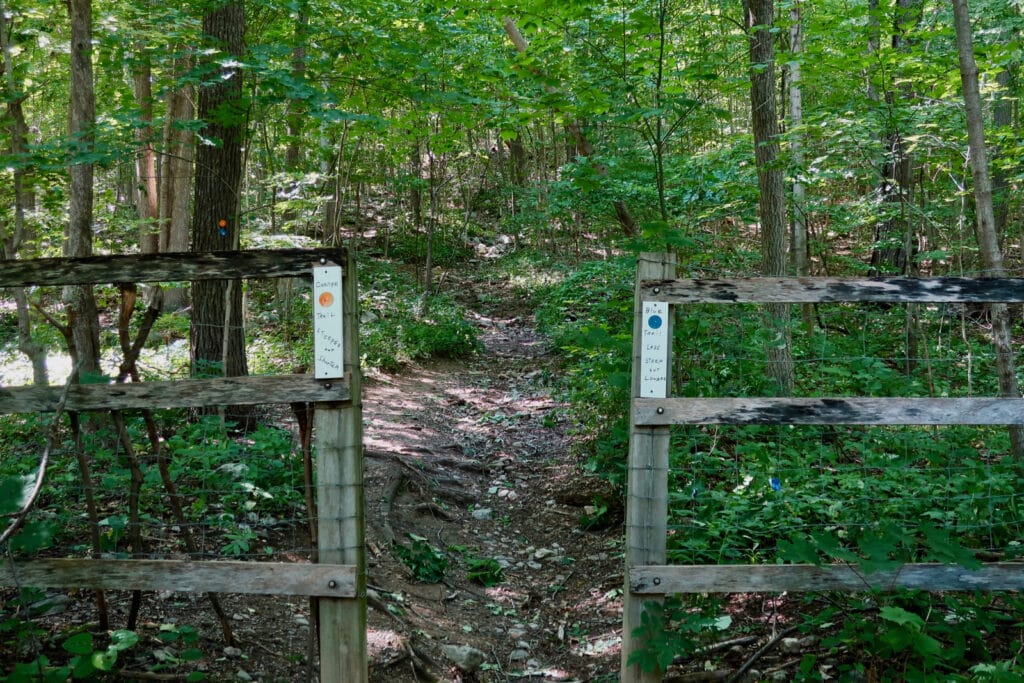 According to a handwritten notice, the Orange Trail is "steep but shorter." The Blue Trail, "less steep but longer." Views from the top of the tower are "worth the climb" say mostly everyone.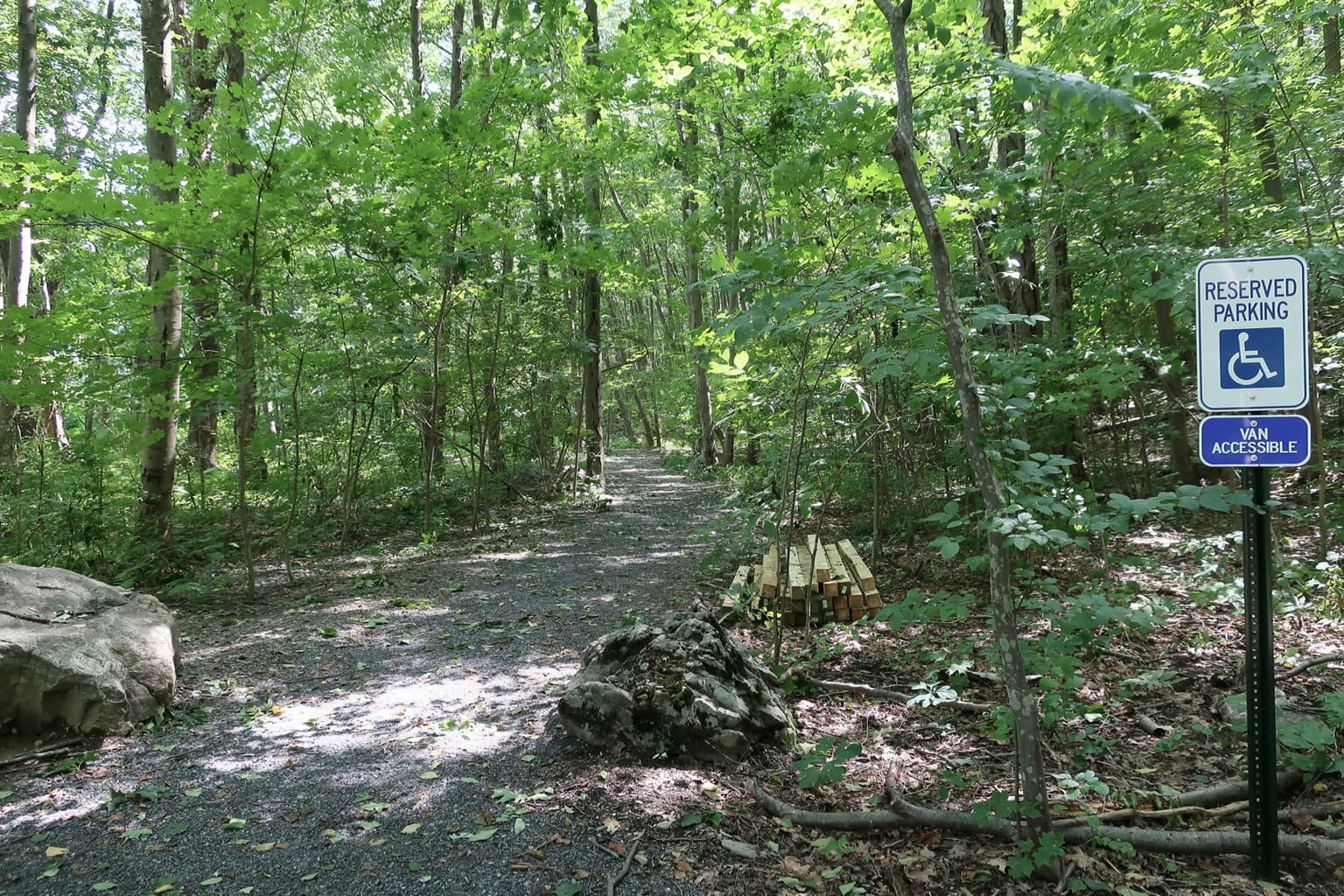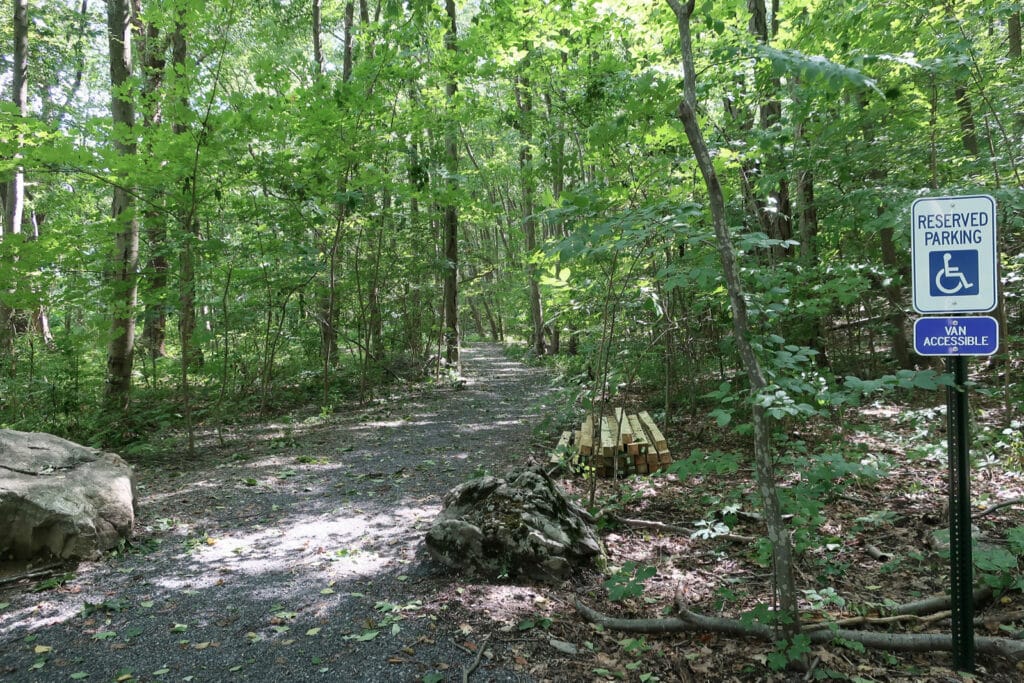 As I was in a meandering mood, I tried out the Thompson Pond Trail. At least the first, half mile graveled part of it. On the National Registry of Natural Landmarks and maintained by the Nature Conservancy, the path runs through dense forest, carpeted with ferns. This section ends at a pond overlook – where parts of the water peek through the foliage.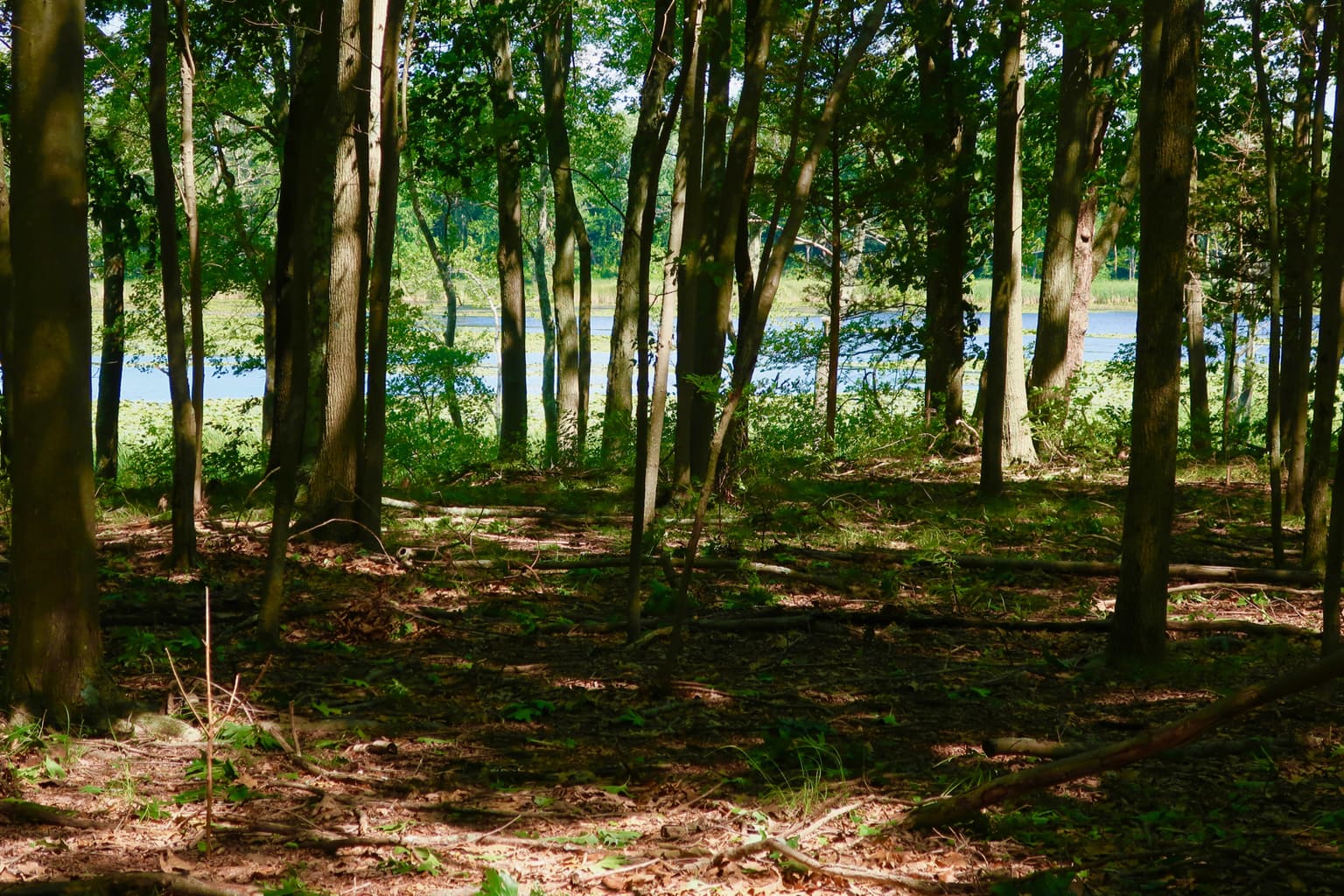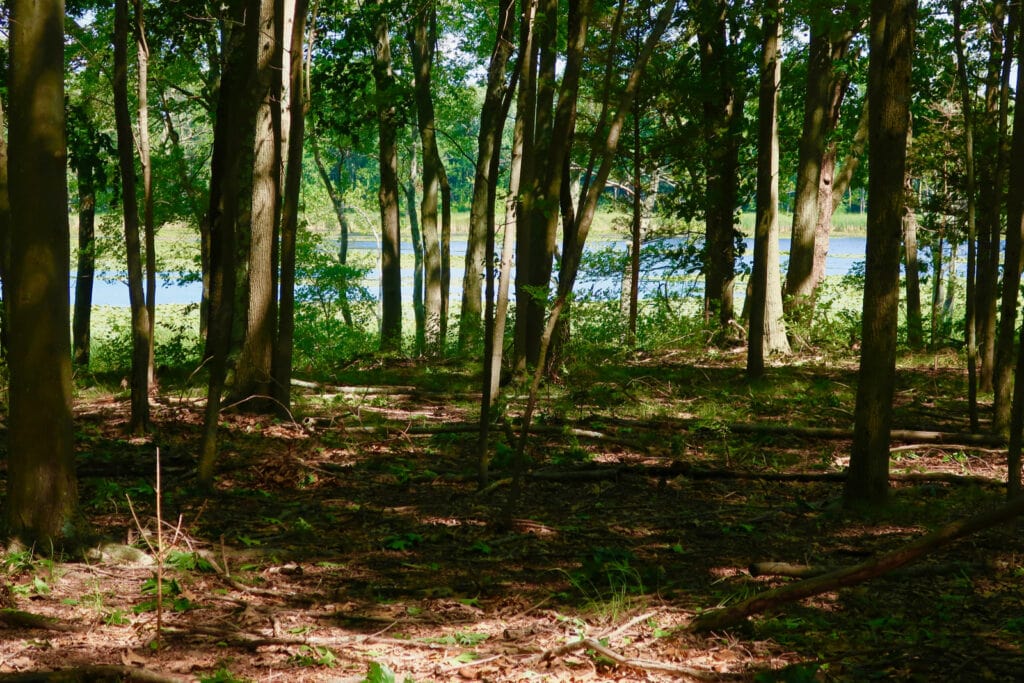 Happily, this section is wheelchair accessible. There's even handicapped parking right at the beginning of the trail. If you're looking for a longer walk, take the Yellow blazed trail 2.7 miles around the pond.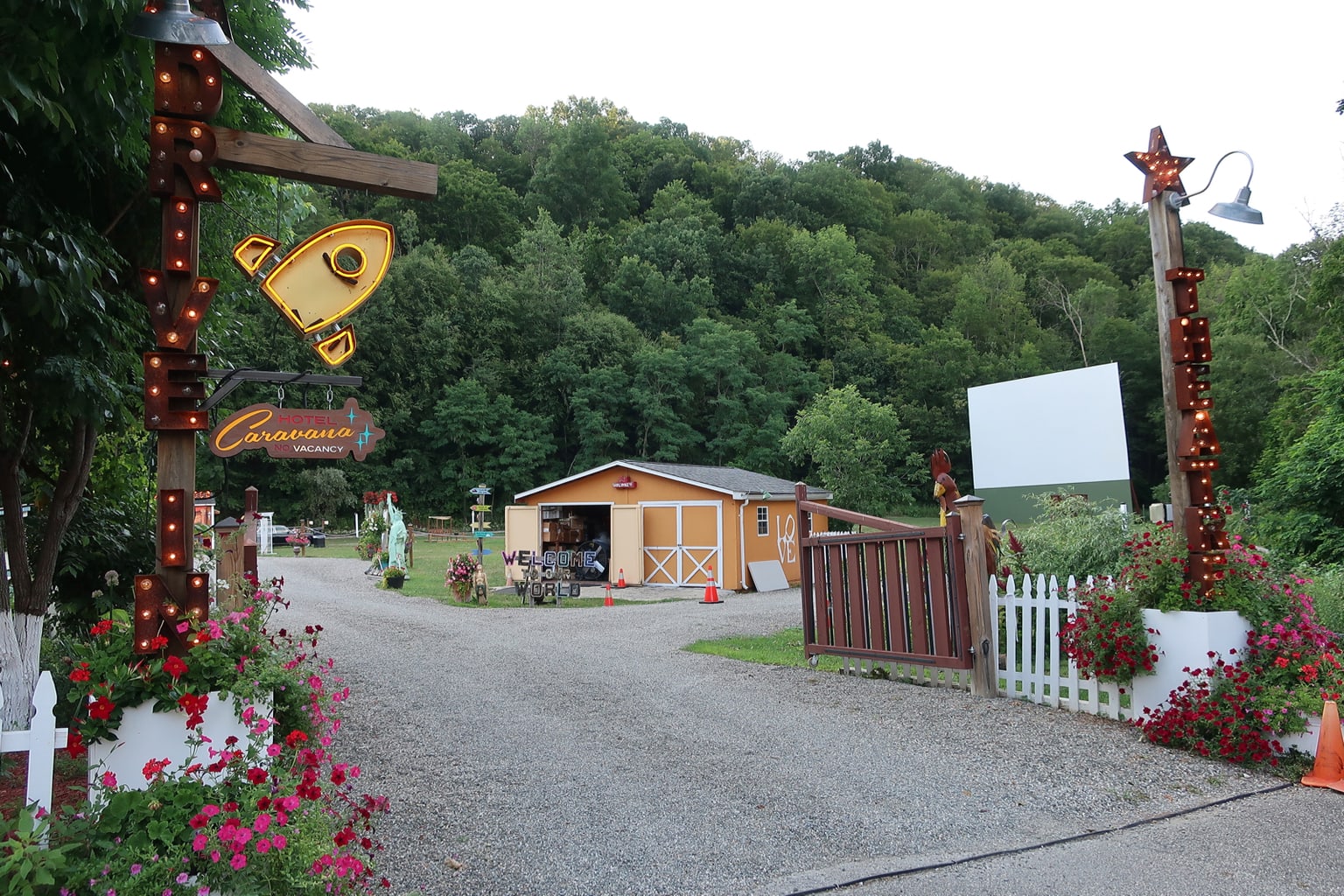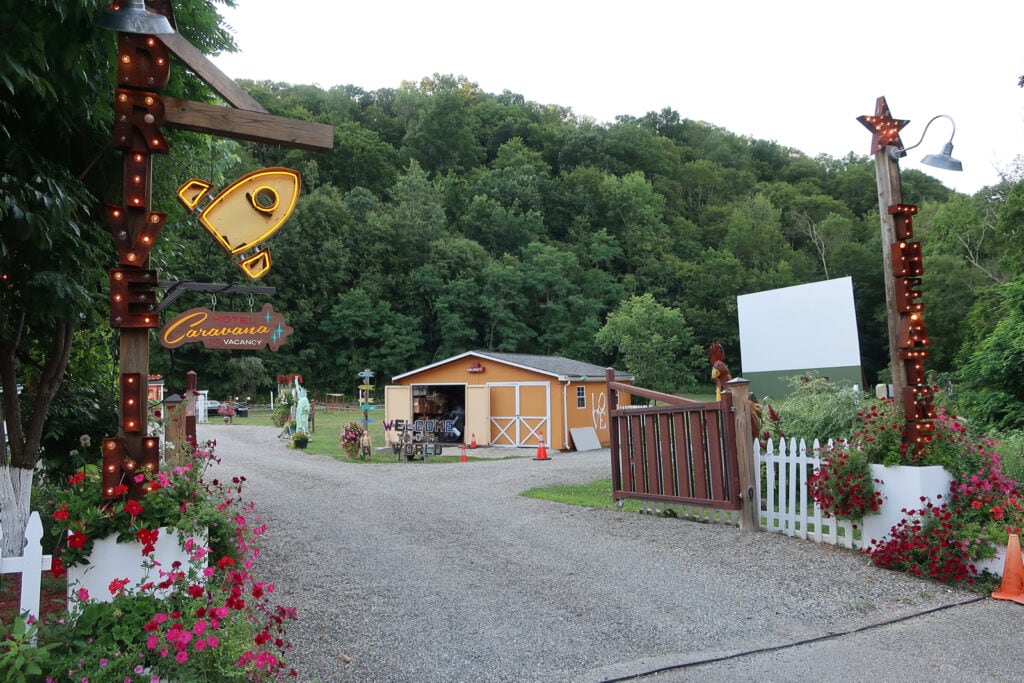 OK – so I wanted to call this section, My Big Fat Greek Drive In Movie Theater. If you visit this soaked in kitsch place, you'll know why.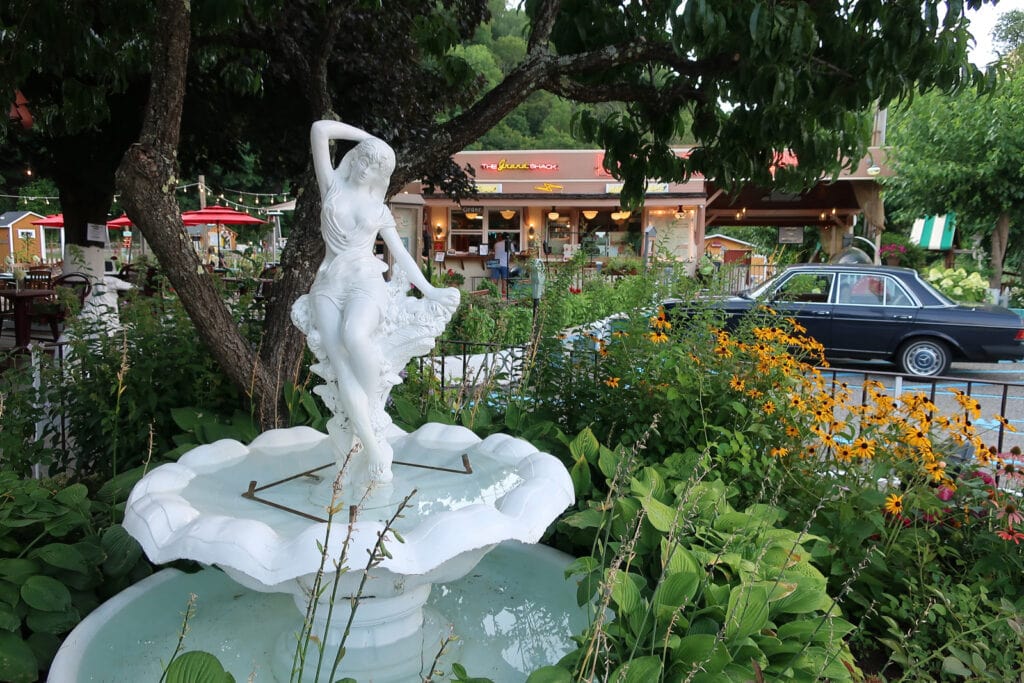 In the early 1970's, four Stefanopoulos brothers immigrated to the US from Greece and established their first restaurant, Brothers Pizza, in nearby CT. They have since opened nine more Four Brothers Pizza Inns in the region. One of these restaurants stands right next to the Drive In, and apparently is also run by the family.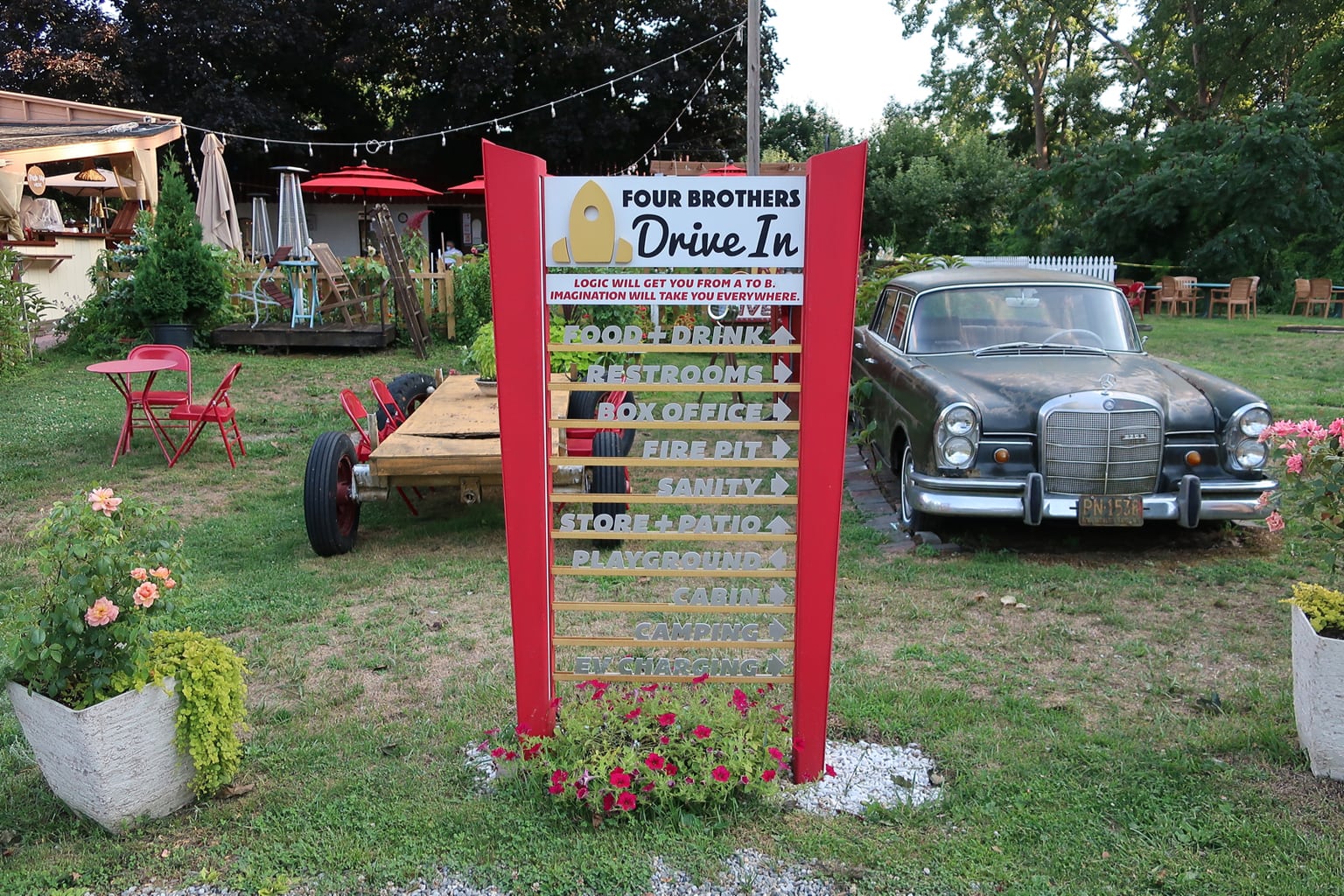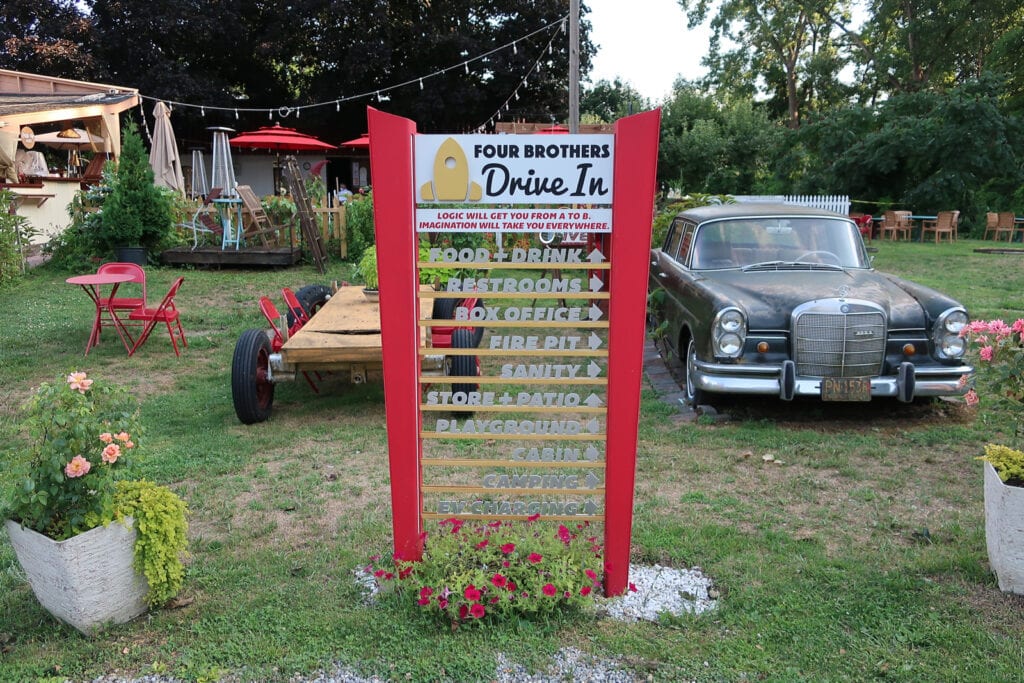 I arrived not only mid-Covid, but just 2 days after the crazy hurricane that took out power throughout much of Connecticut and New York. Not the best time to assess things. But amazingly, the show – via generator – went on.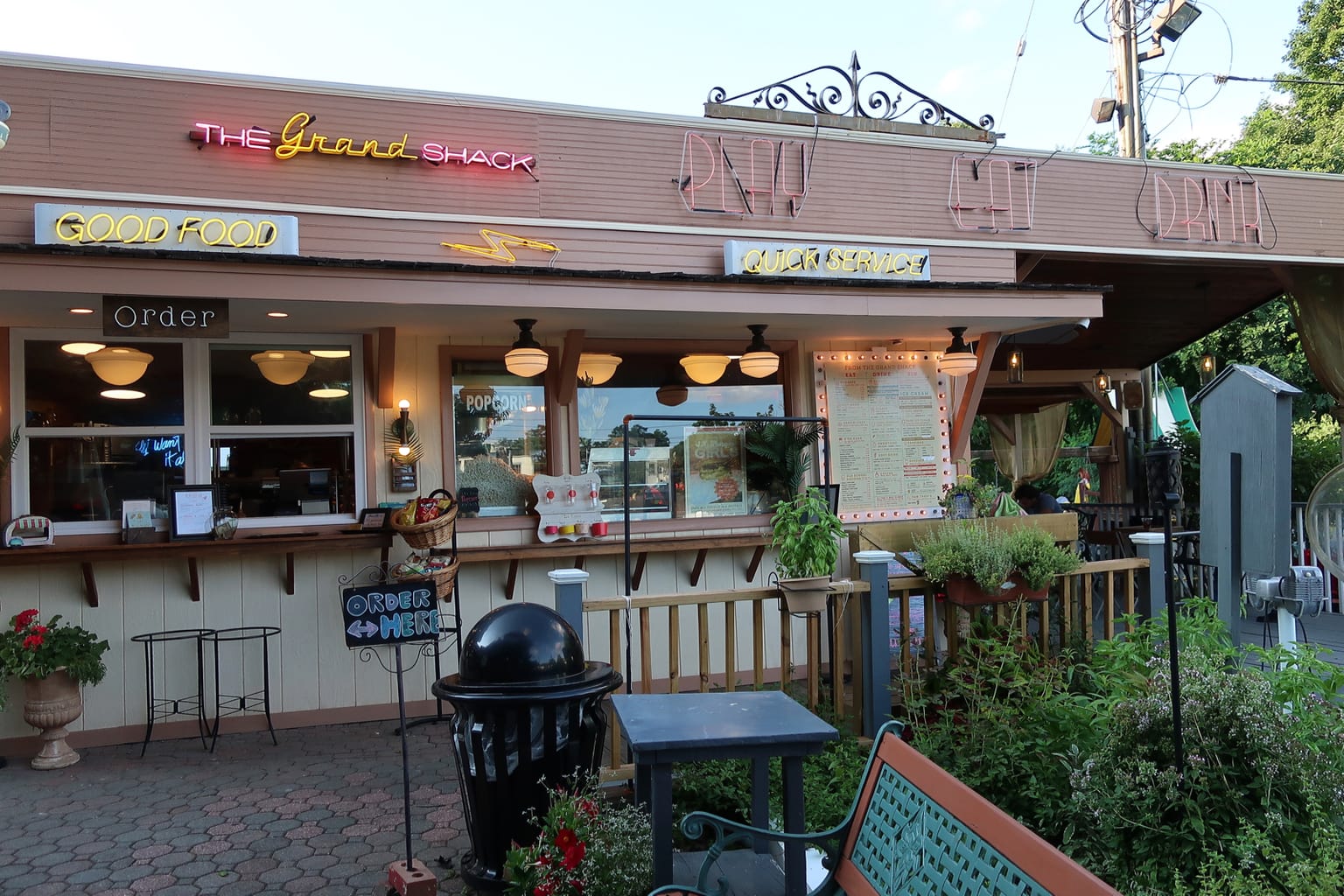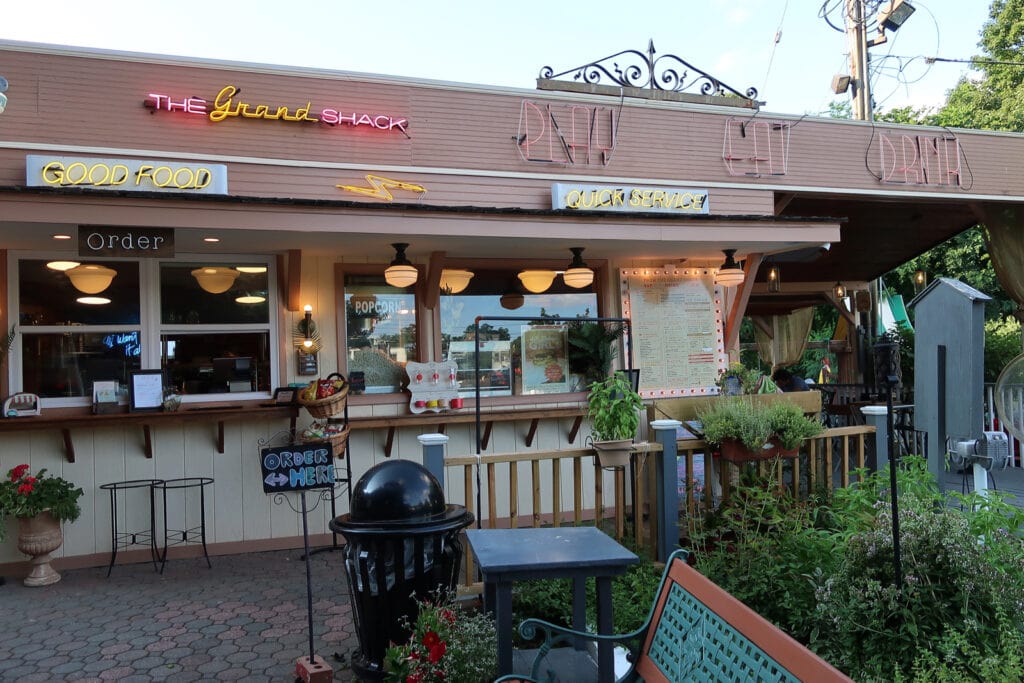 I'd assumed that the outdoor theater was constructed during the pandemic, but it turns out the Stefanopoulos's were prescient. Conceived and built 7 years ago, the theater's parking lot accommodates 150 cars.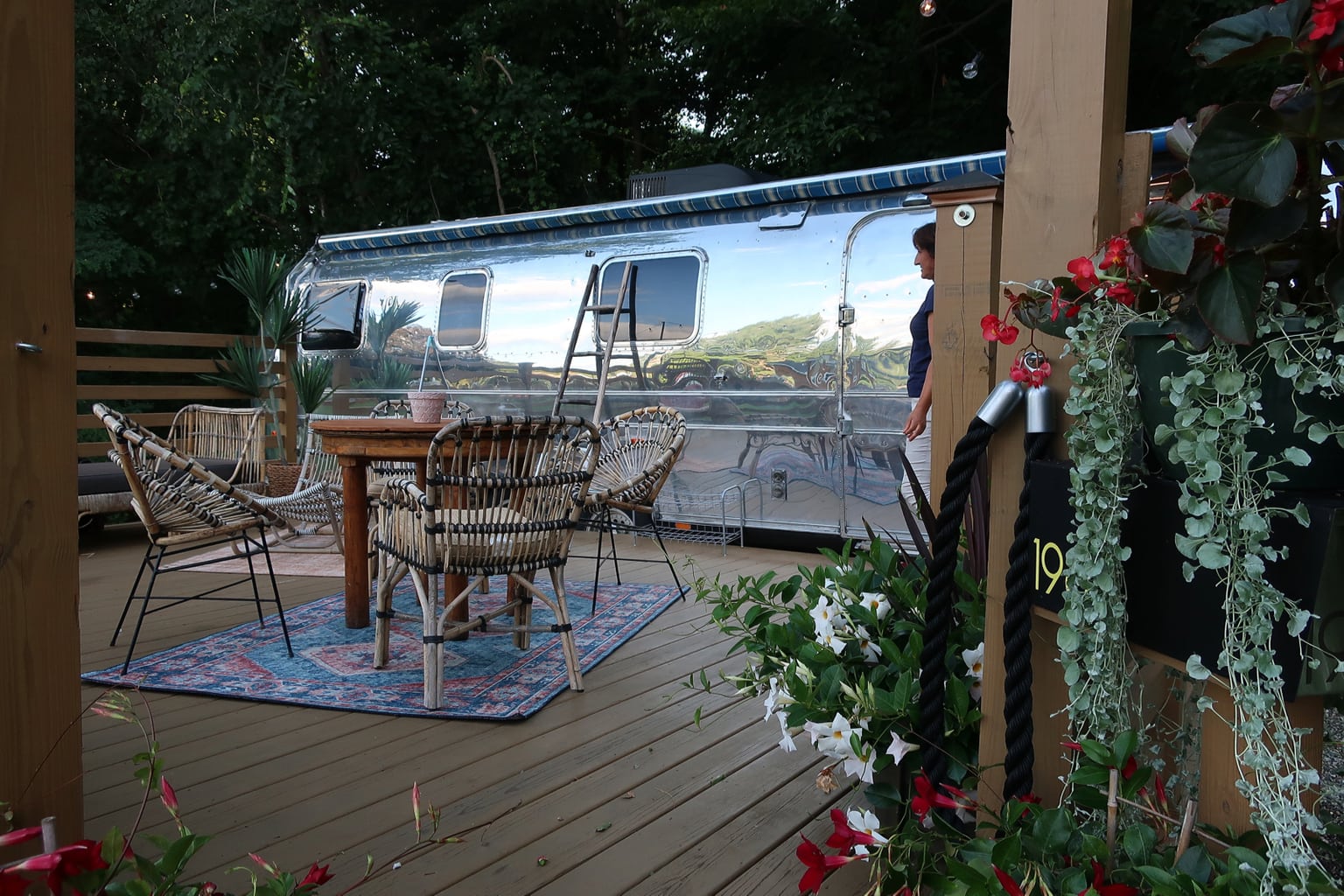 For movie-goers, there's a"diner," known for its "Foot Long" hot dogs, burgers, and incredibly creamy soft-serve ice cream. You'll even find a 4-twin-bed chromium Airstream RV for travelers who want to stay overnight on site.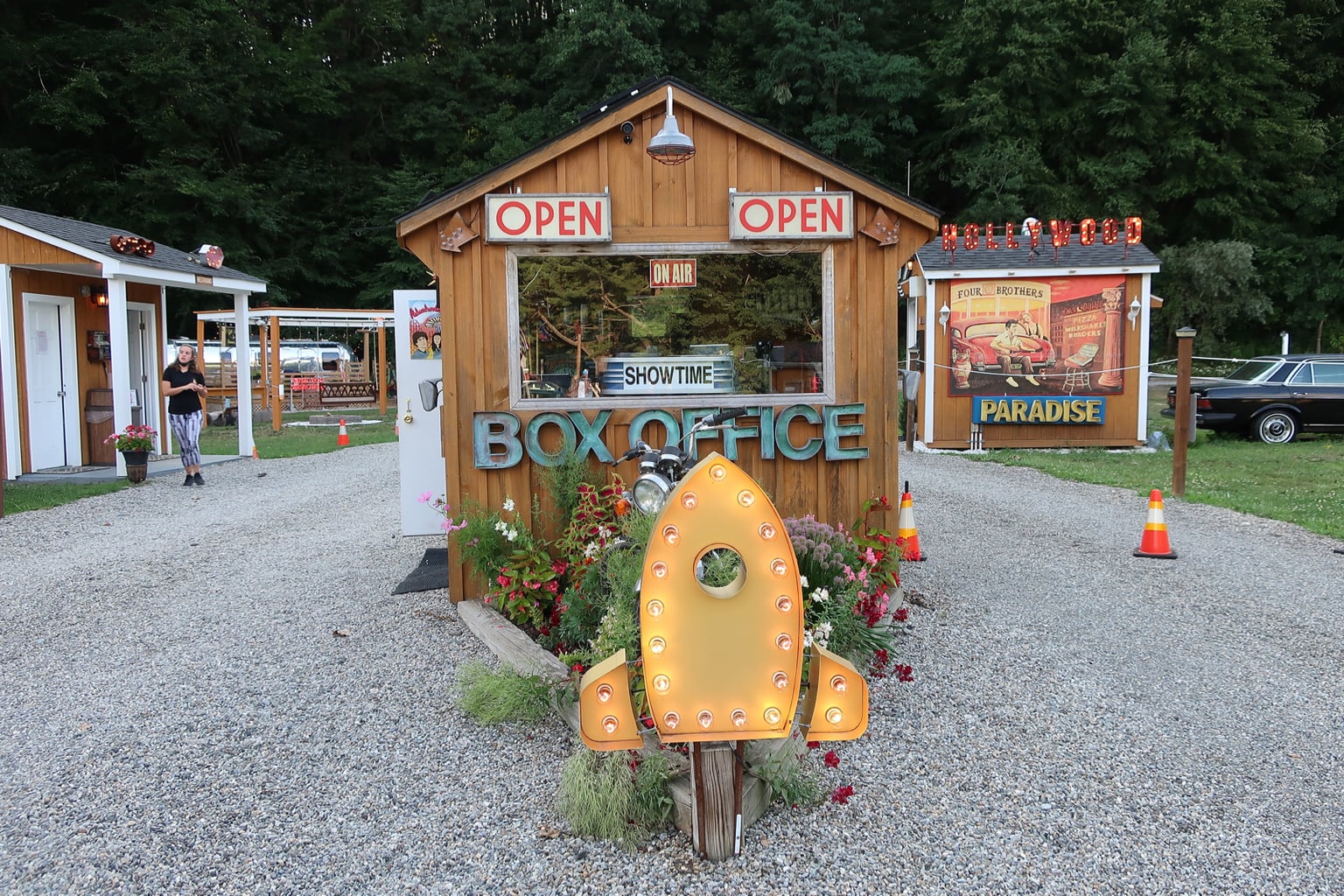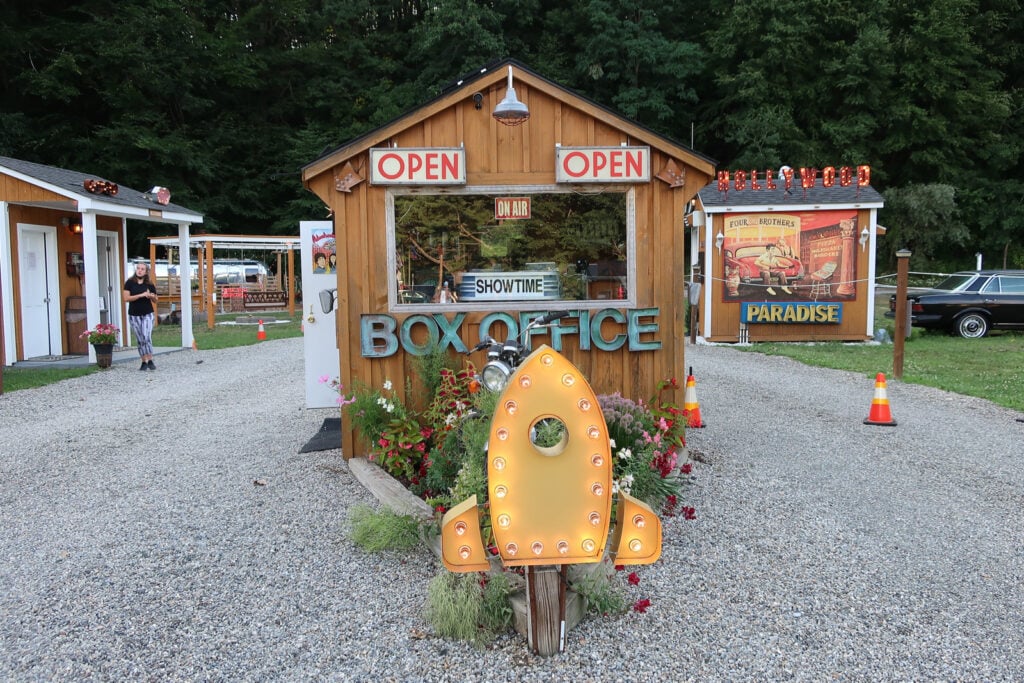 All this in an enclave of kitsch that includes a human-scaled Statue of Liberty, old cars, antique gas pumps, and the kind of statuary you'd find in a Greek home. Hence, My Big Fat Greek Drive In. Whether you want to see a movie or not, it's definitely a great attraction to just check out if you're in Northern Dutchess County NY. $11 per person for the movie. Airstream rental starts at $369 per night – includes movie, and use of 4 bikes.
The Five Brothers Drive In Theater is one of the Getaway Maven's recommended Best Places to Propose in New York State.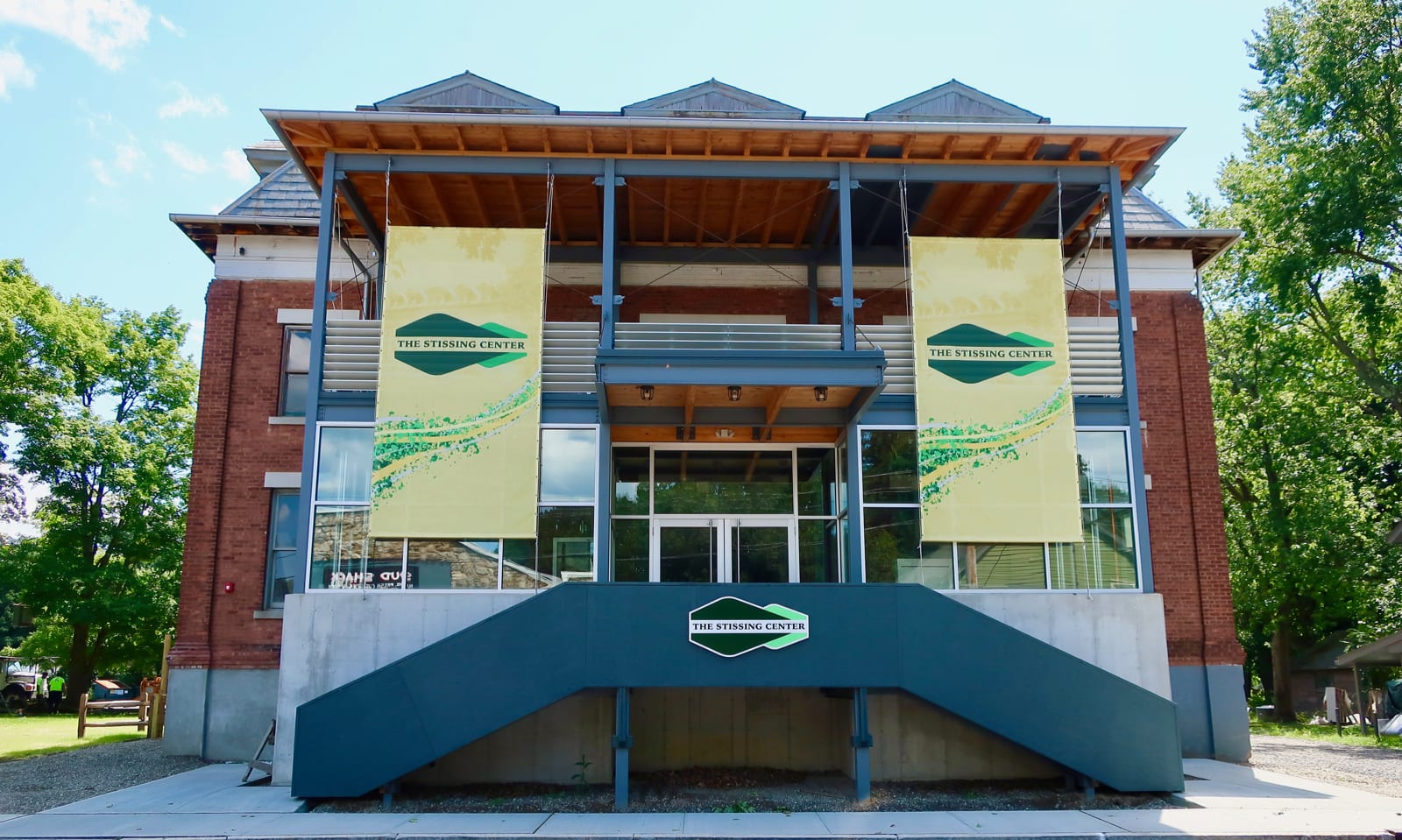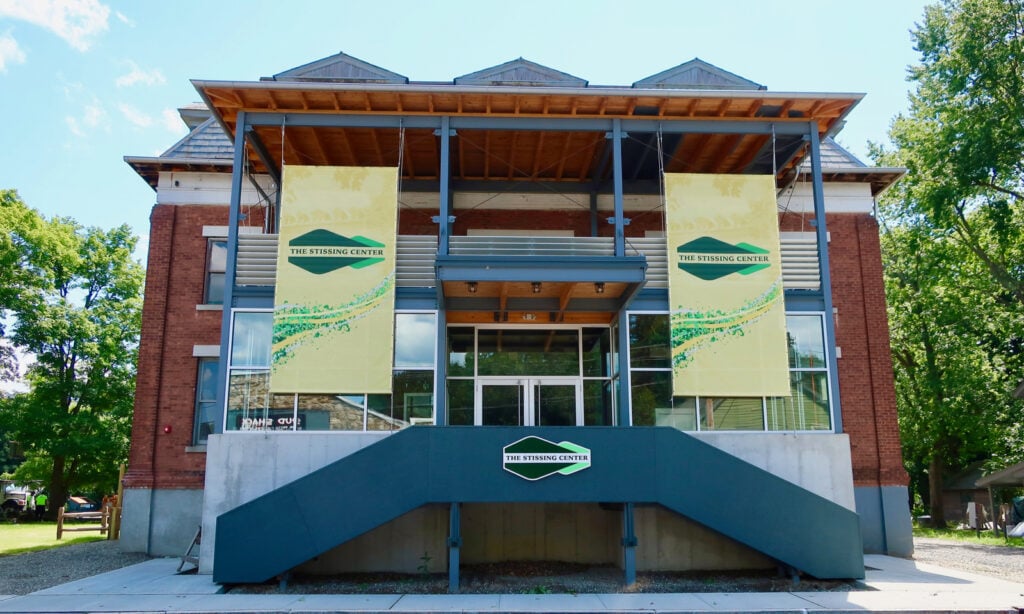 Though a bit pre-mature, I include this renovation in progress Community Center/Performance Space because it will be a huge asset to this minuscule hamlet. Especially once construction is finished and people can congregate again.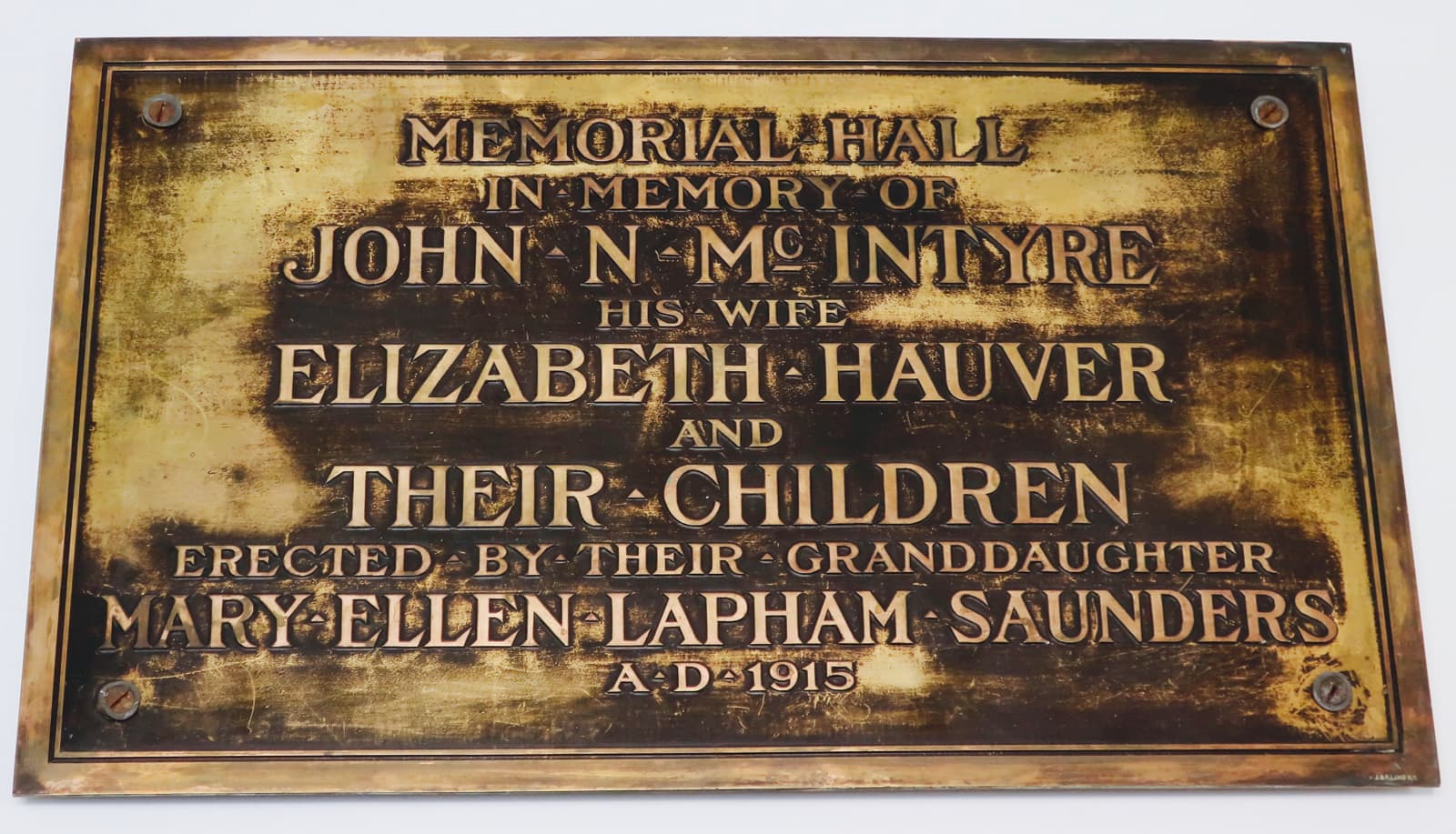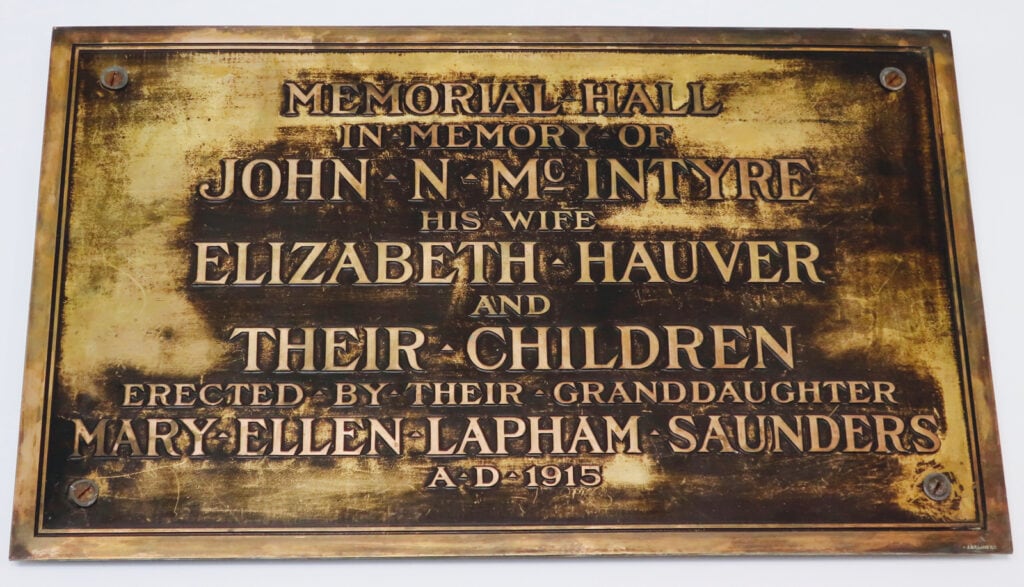 In 1915, Memorial Hall was built in this population-2,400 farming town as a Civic Center. But by the 1980's, the building, as well as the town, had fallen into decline.
Memorial Hall stood empty for over 30 years until several angels came to its rescue, raising even more money for its addition. The elaborate turn of last century interior was revitalized, and a modern glass and steel enclosure now serves as the entrance.
The town itself needed a "shot in the arm." Locals see it as an economic driver for the area. So it's no surprise that subsequent donations have come from patrons who live within 15 miles. It is soon set to open as a concert hall, cabaret space, community kitchen, and more.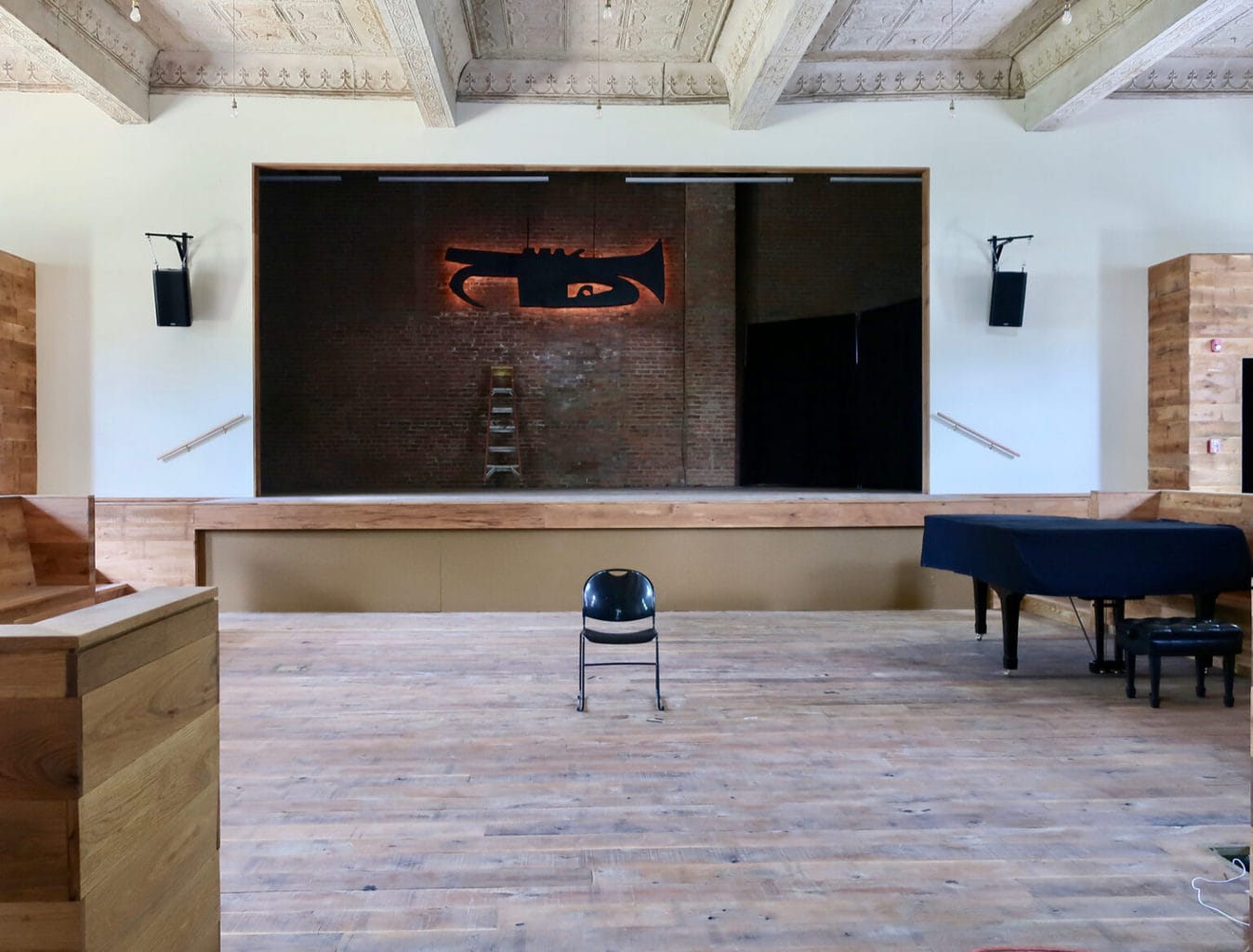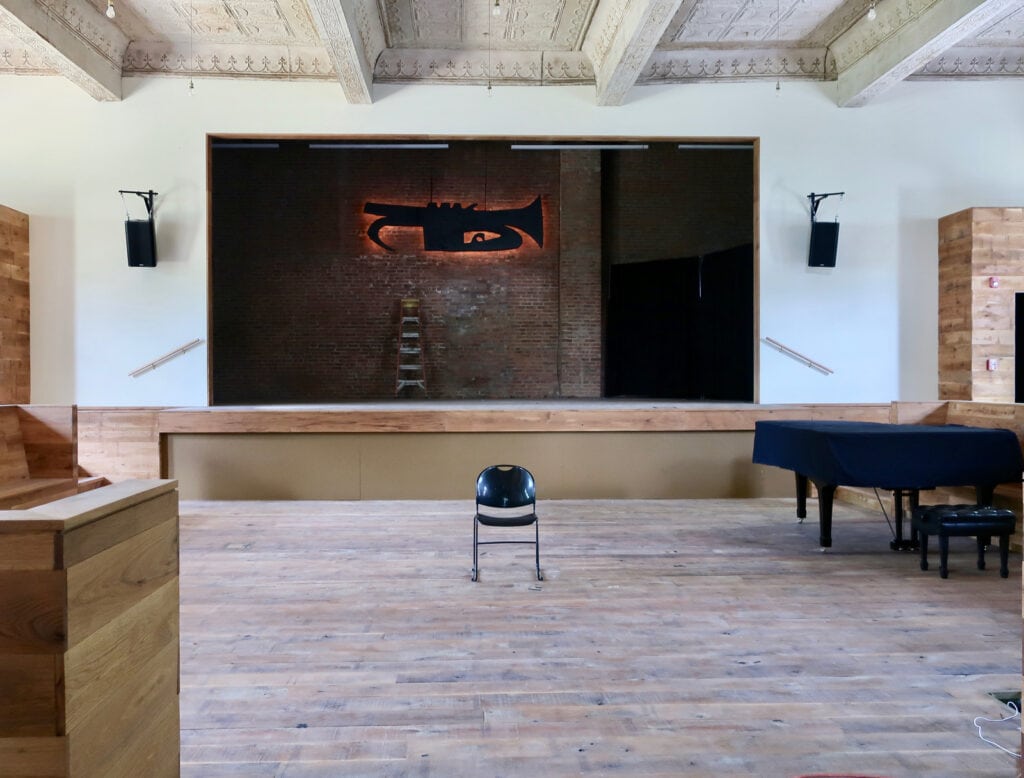 On September 7th, 2019, at the behest of a friend, jazz great, Wynton Marsalis, played the first Stissing Center "Construction Fundraising Concert Series." Other artists from the Hudson River Valley followed.
During Covid, the Stissing Center is running "Single Chair" virtual performances weekly. Both recorded and LIVE! From the Stissing Center, streaming performances get thousands of views. The Center's mission, to embrace a diversity of people, ages, music, styles, and world views, will represent "our shared humanity," according to those involved.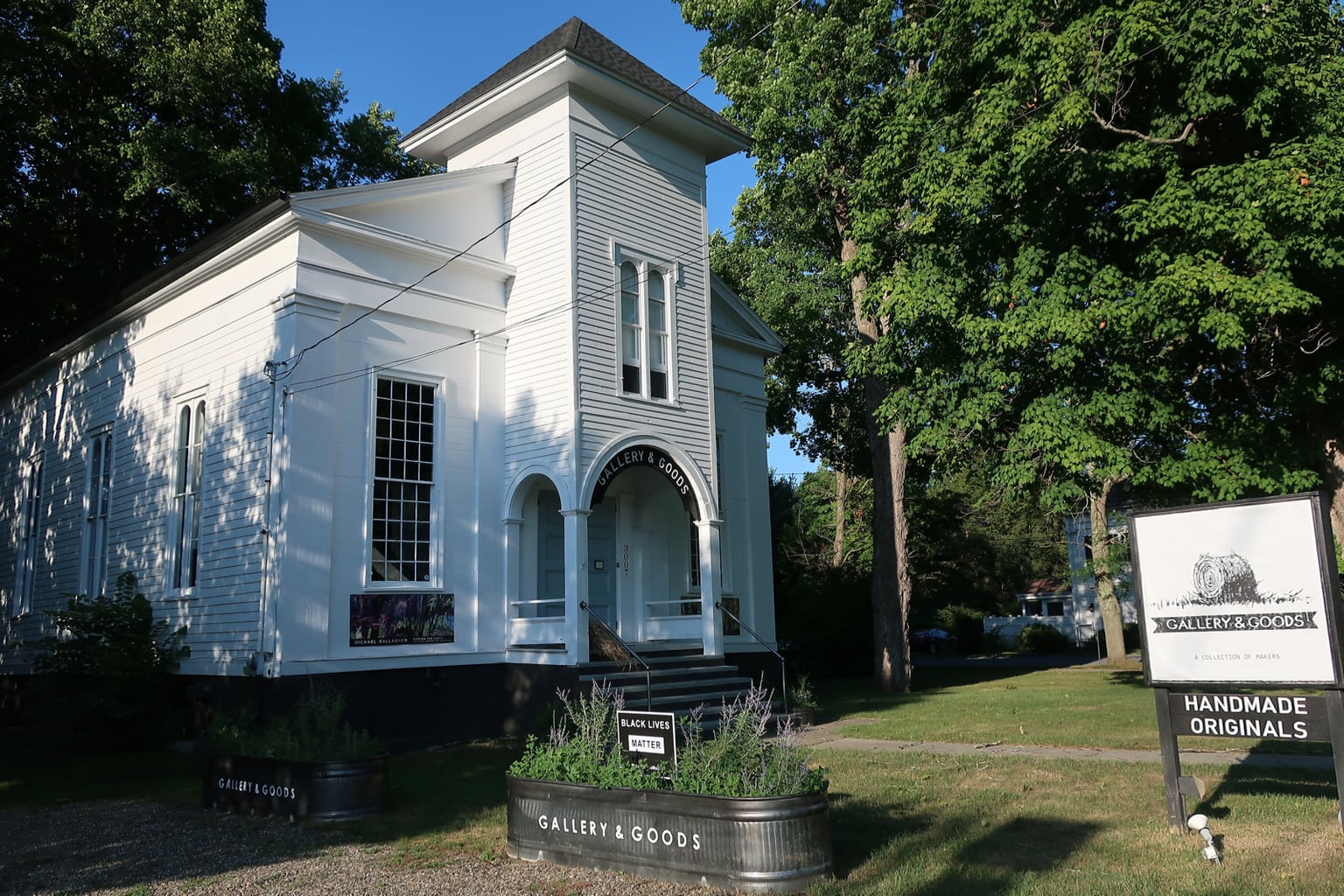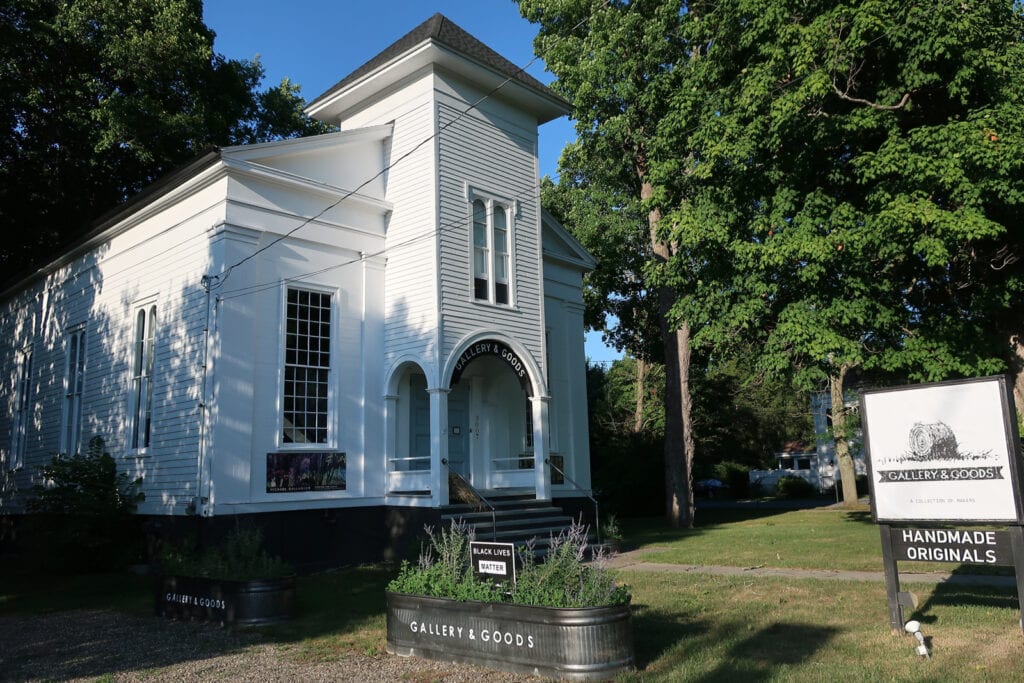 An evolving collection of locally sourced, nature inspired art and handmade home goods, housed in a restored historic community hall built in 1838.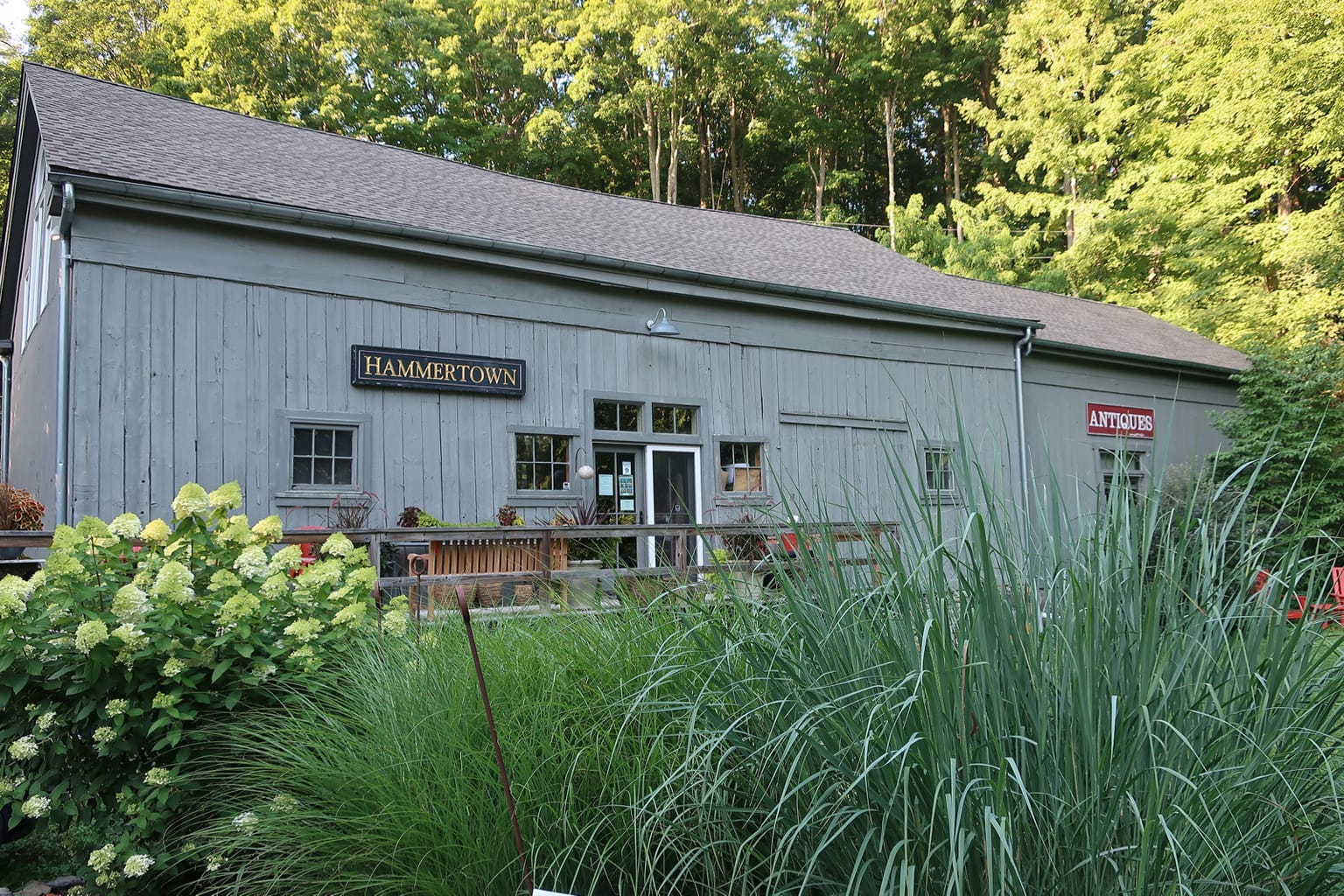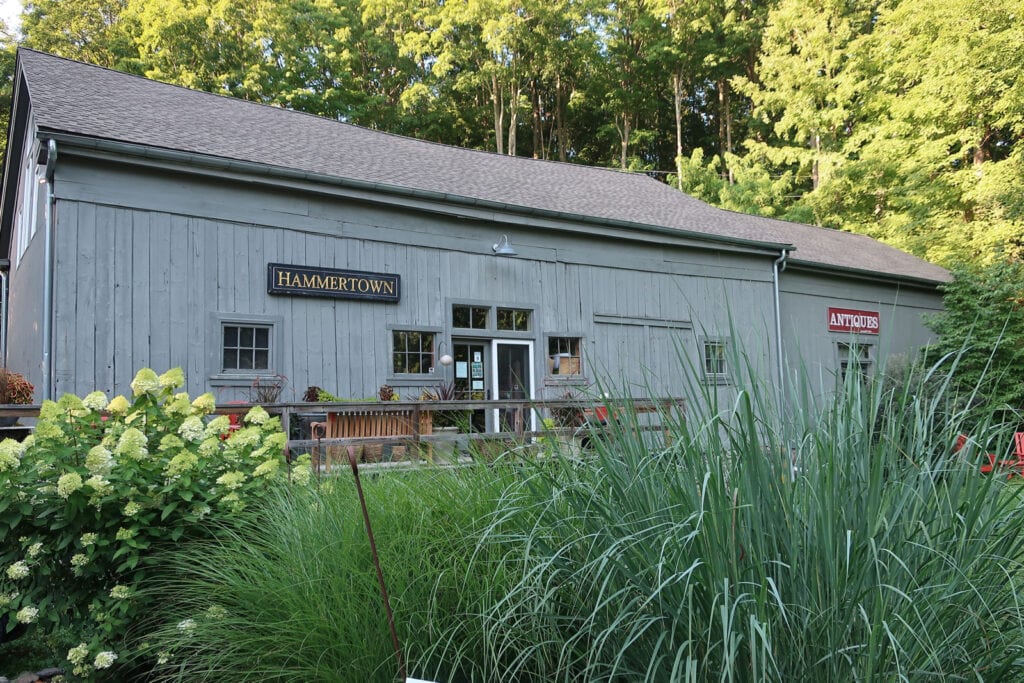 A bit out of town, one of Hammertown Barn's three stores (others in Rhinebeck NY and Great Barrington MA) is also one of the most popular home furnishing shops in the Hudson Valley.
Restaurants in Northern Dutchess County NY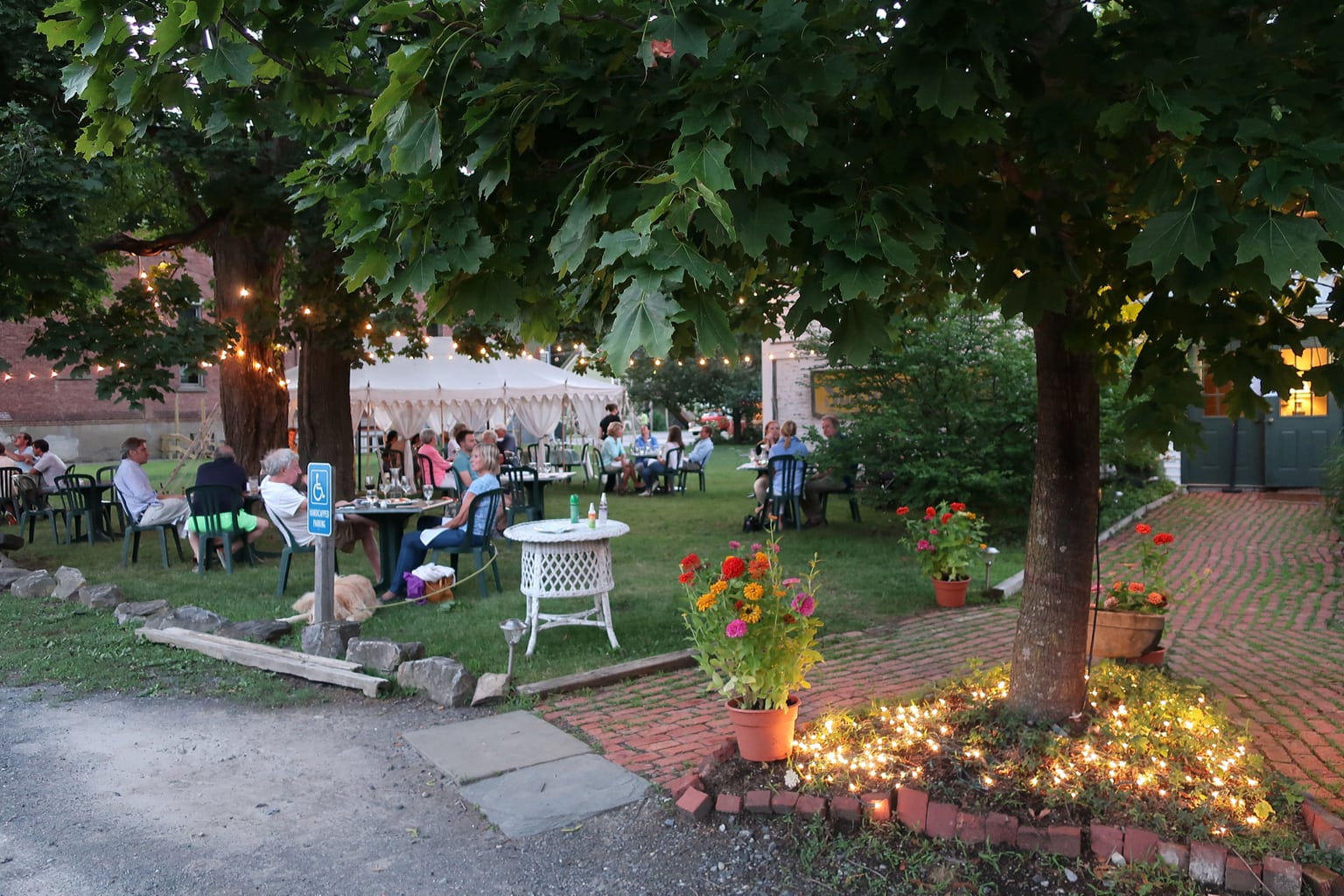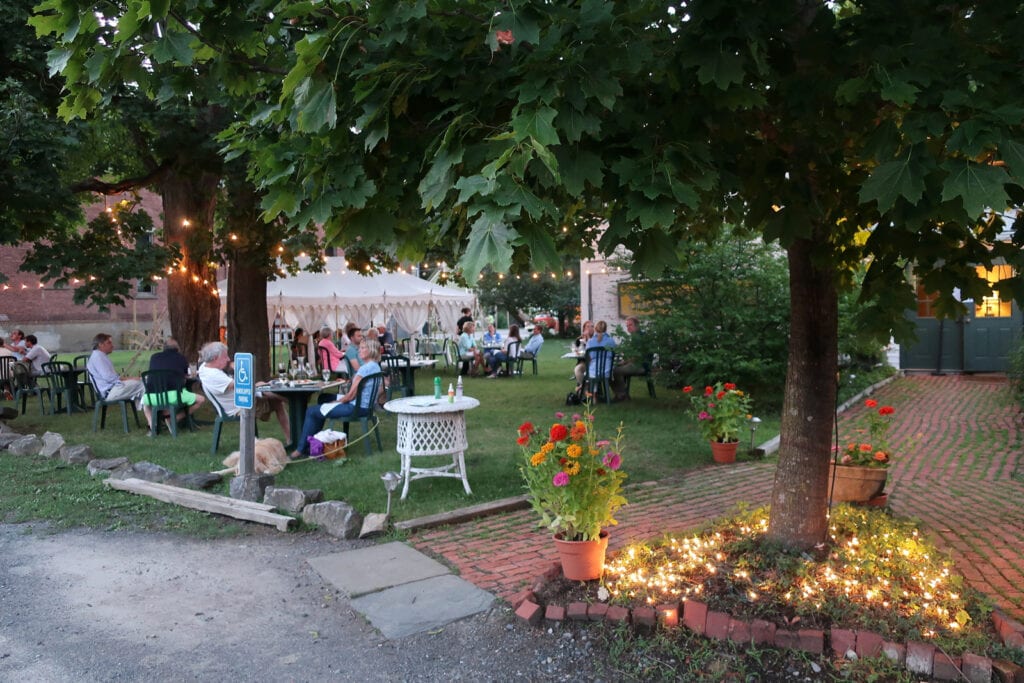 On crossroads between New York and Connecticut, the Stissing House has served travelers since it opened in 1784. It remains one of those places lost in time, drawing patrons from surrounding towns – and even farther away.
Changing of the Guard in March 2022
In March 2022, Chef Clare de Boer, reopened Stissing House after it had closed during the pandemic.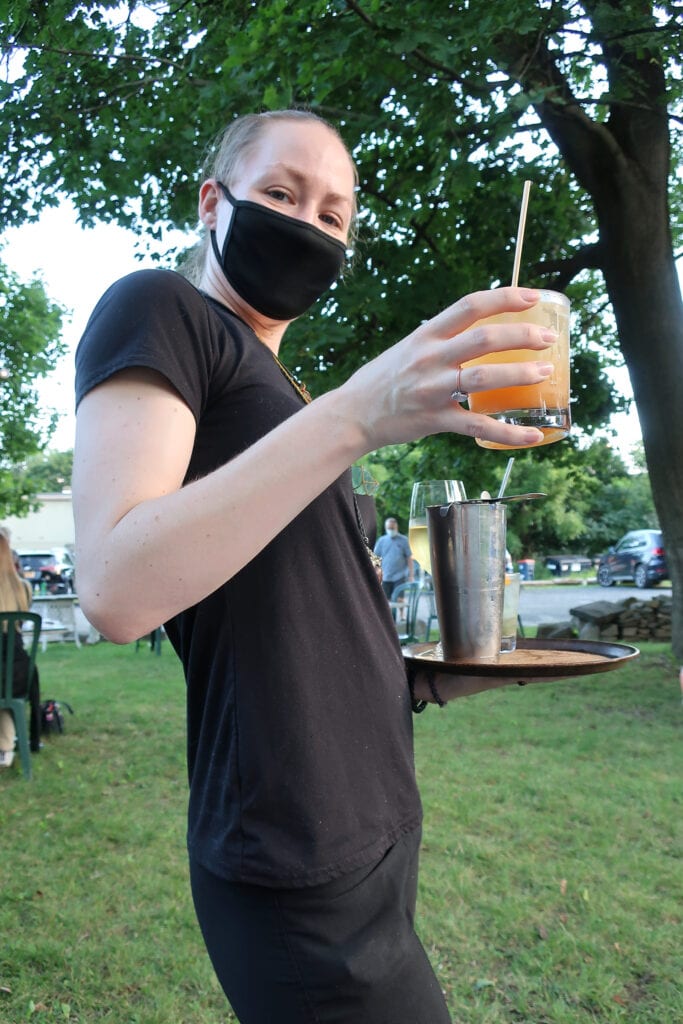 Prior to vaccines, in the summer of '20, pods of diners sat on socially distanced tables outside in an enchanting flowering garden illuminated by strands of lights. Waiters used an outdoor sink and serving stations in Covid-compliance.  Bug spray and hand sanitizer was available for guests.
I'm hoping that some of aspects of the traditional Stissing House experience still hold. Including the customization of craft cocktails.
To whit, Tracy, the bartender, asked for my "flavor profile." "A bit sweet, refreshing, on the rocks. NO tequila!" I said. She totally hooked me up.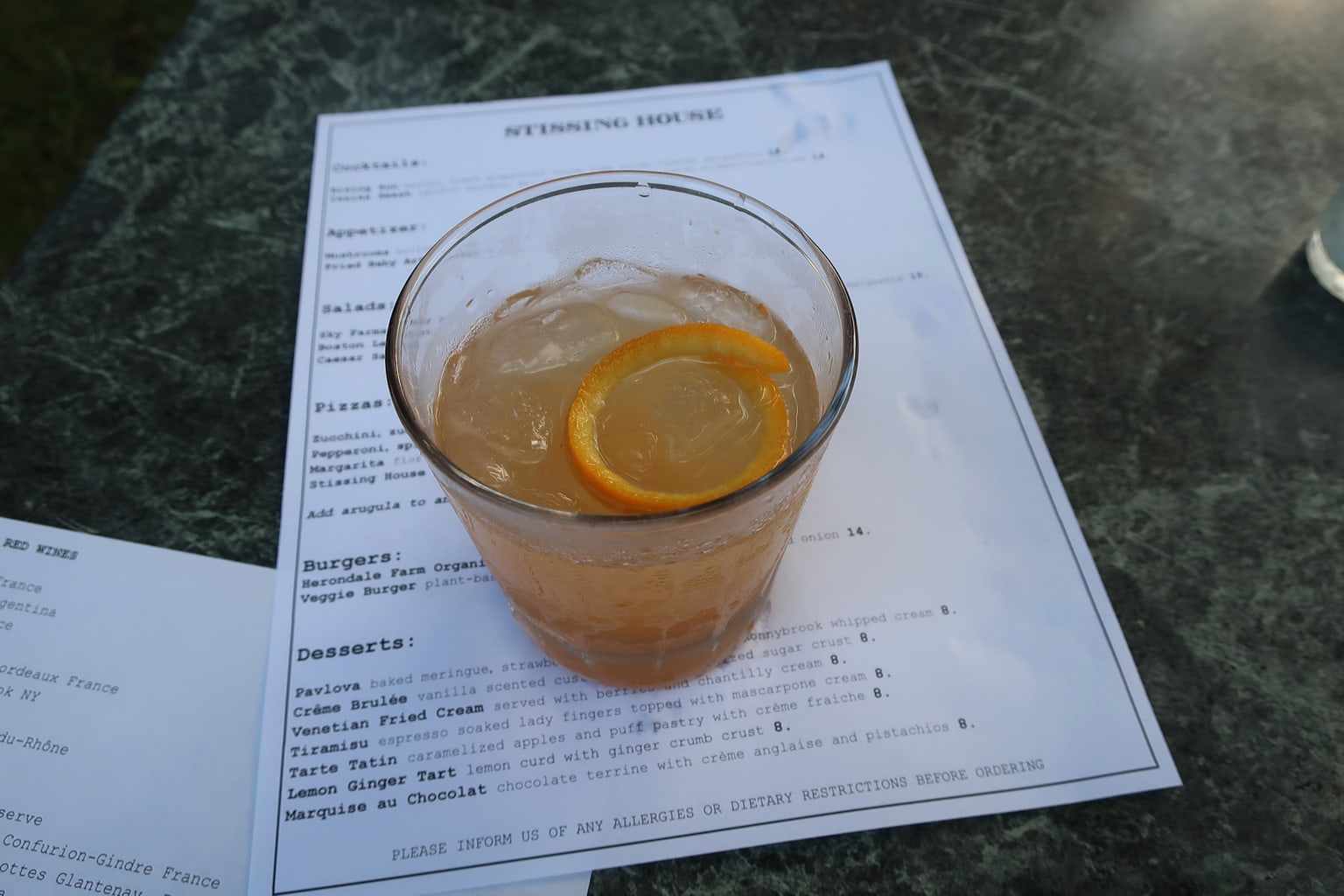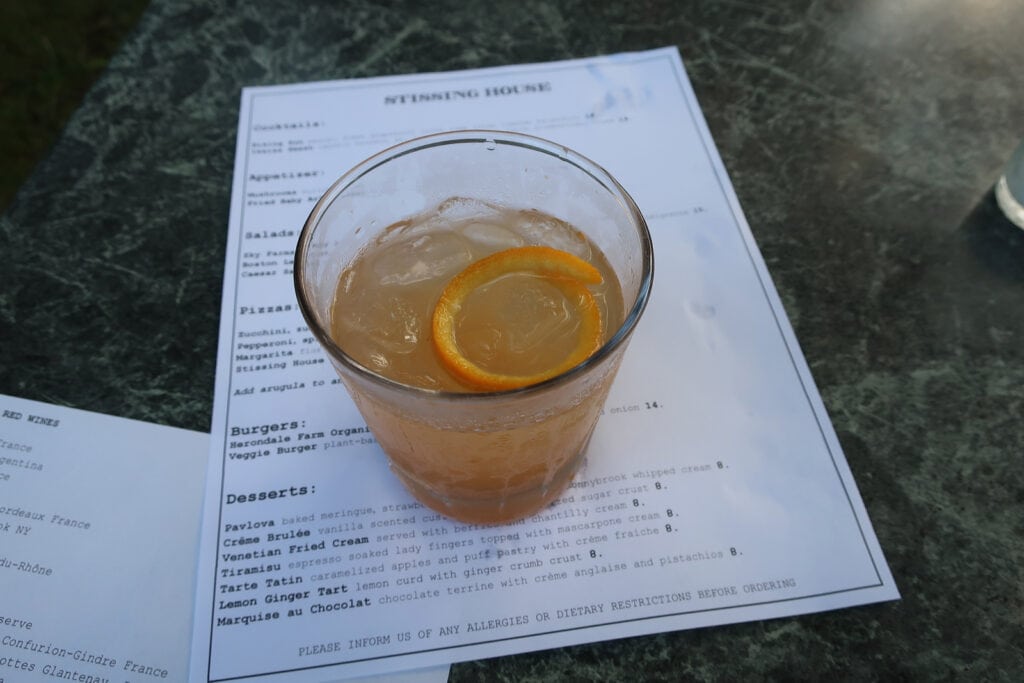 That balmy summer evening called for a Herondale Farm Organic Beef Burger with Frittes ($18), and the signature Flash Fried Bulich Farm Mushrooms ($12) – all excellent. Can't wait to taste what de Boer whips up.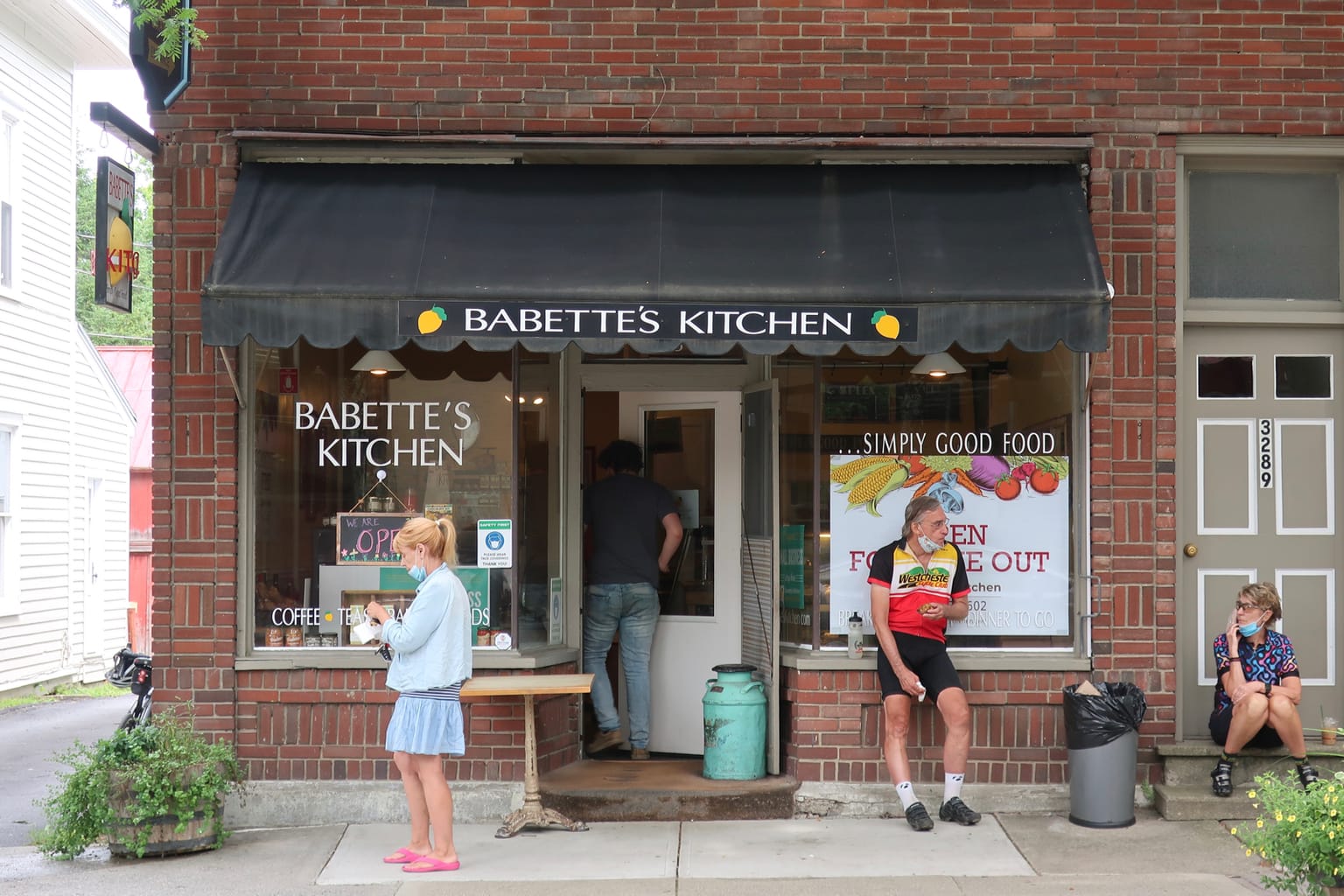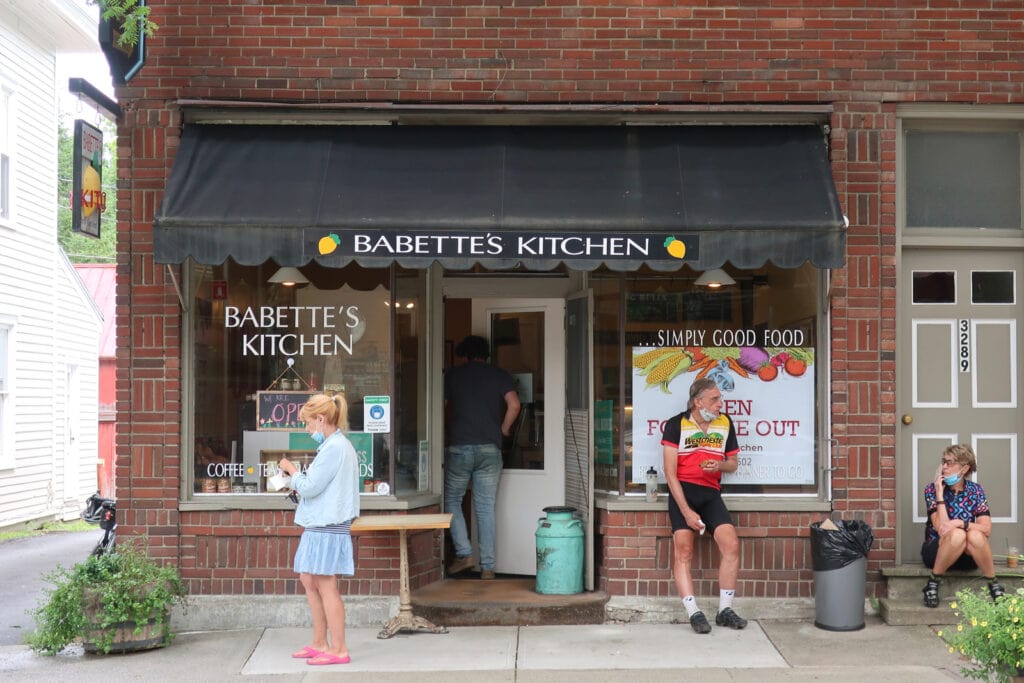 Looking for a knockout of a BLT? Look no farther than this community minded, locally and seasonally sourced "deli." Everything is good and fresh. A local (and Dutchess County) hot spot.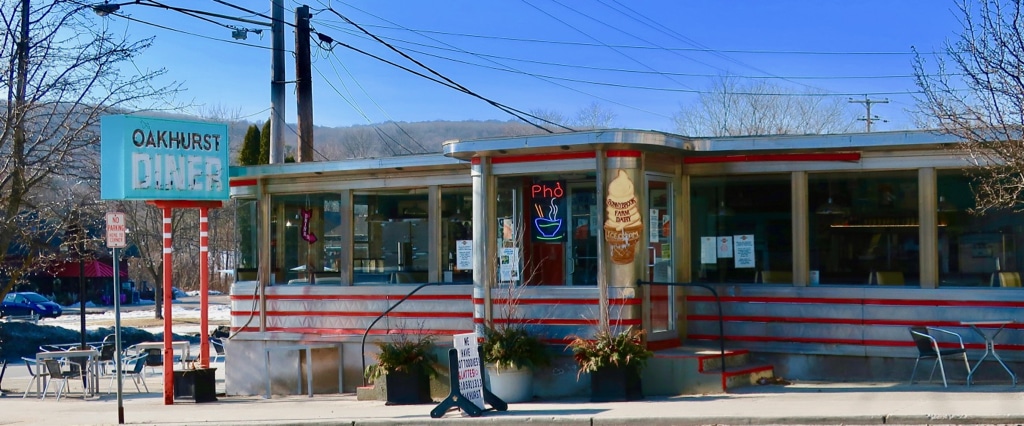 Though it looks old, The Oakhurst Diner opened in 2010, inspired by retro, 50's era eateries. Food runs the gamut of pancakes to burgers, Banh Mi to Quinoa. Not your grandfather's diner, for sure.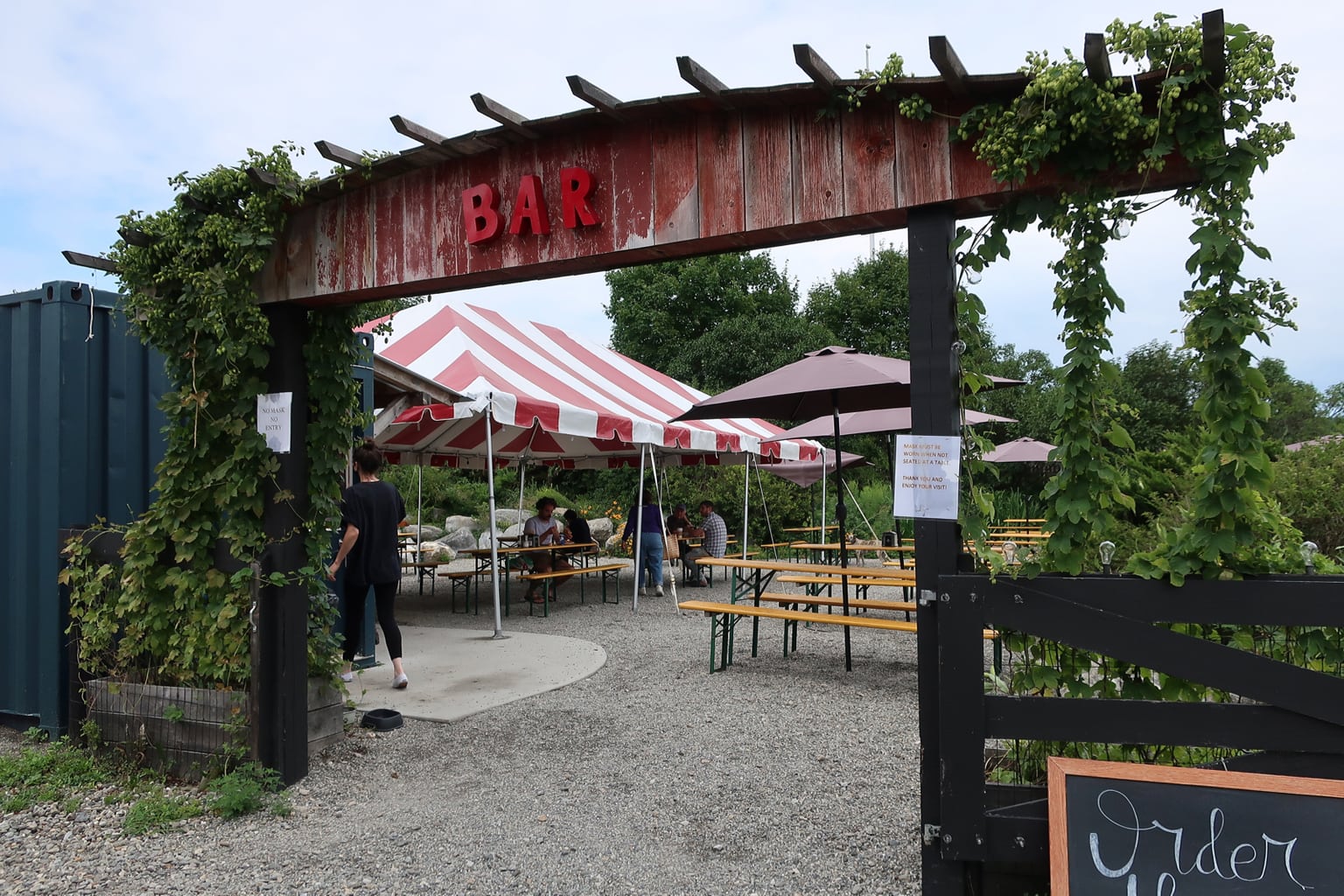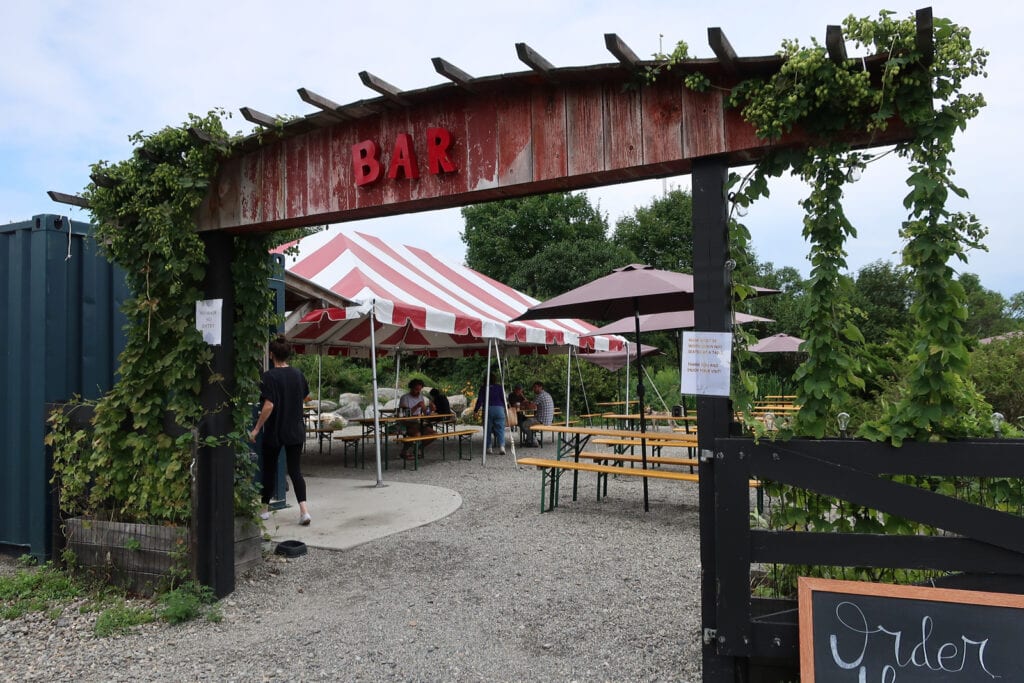 Though they look interconnected, McEnroe Farm and Kings Highway Cider Garden are two separate entities. However, the produce and meats served in this Dutchess County outdoor tented eatery do come from the organic McEnroe Farm next door.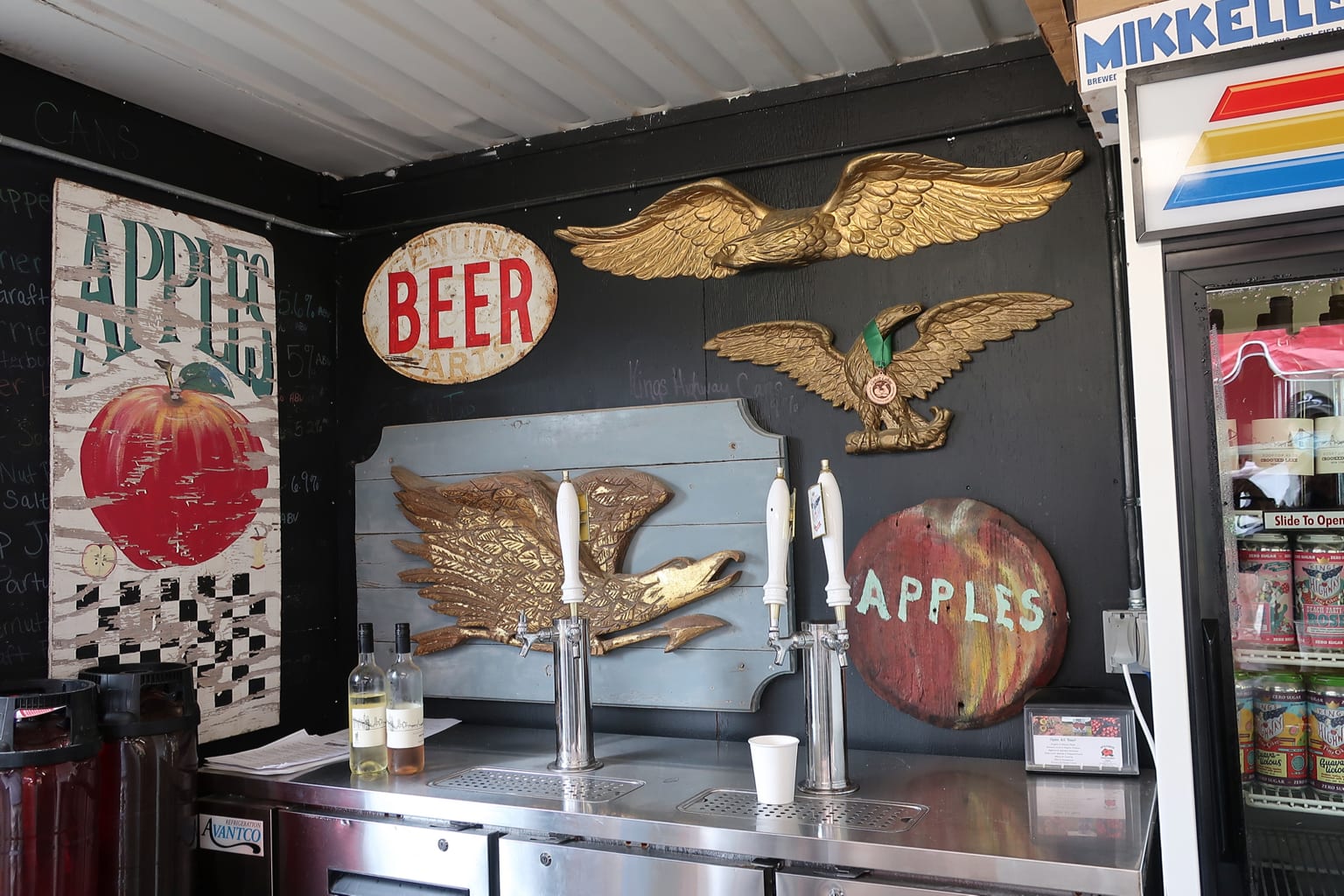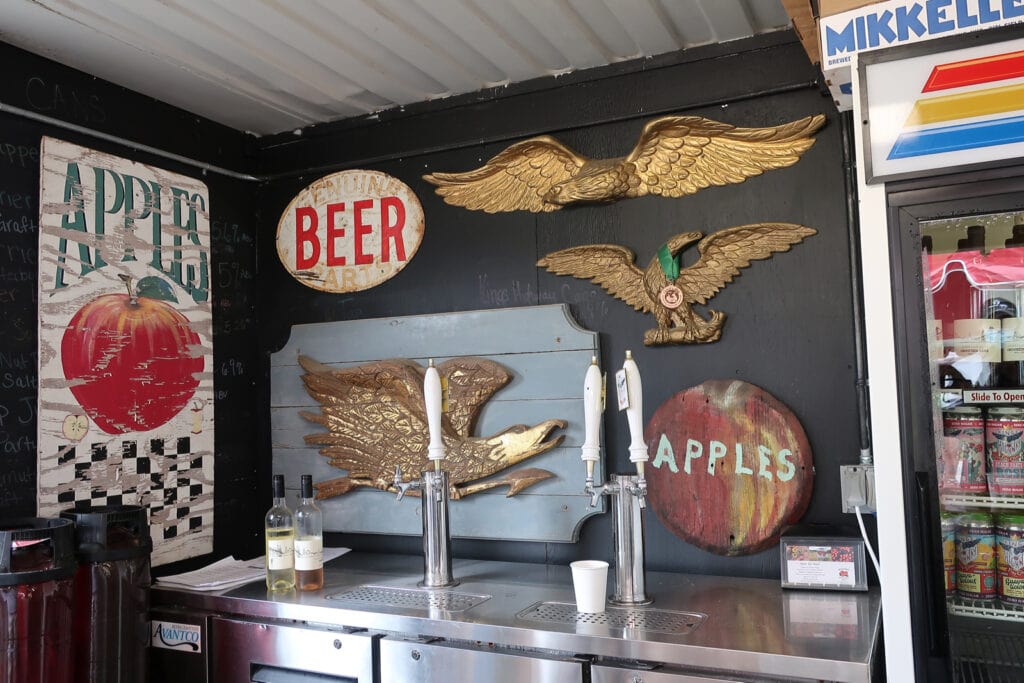 Sip innovative infused hard cider straight from the outdoor tap. And dine on organically raised beef in a space perfect for social distancing. For obvious reasons, Burgers ($16) are most popular, followed, inexplicably, by lobster rolls. Right on Route 22, you can't miss this place. Owners plan to be open all year with space heaters.
Where to Stay in Northern Dutchess County NY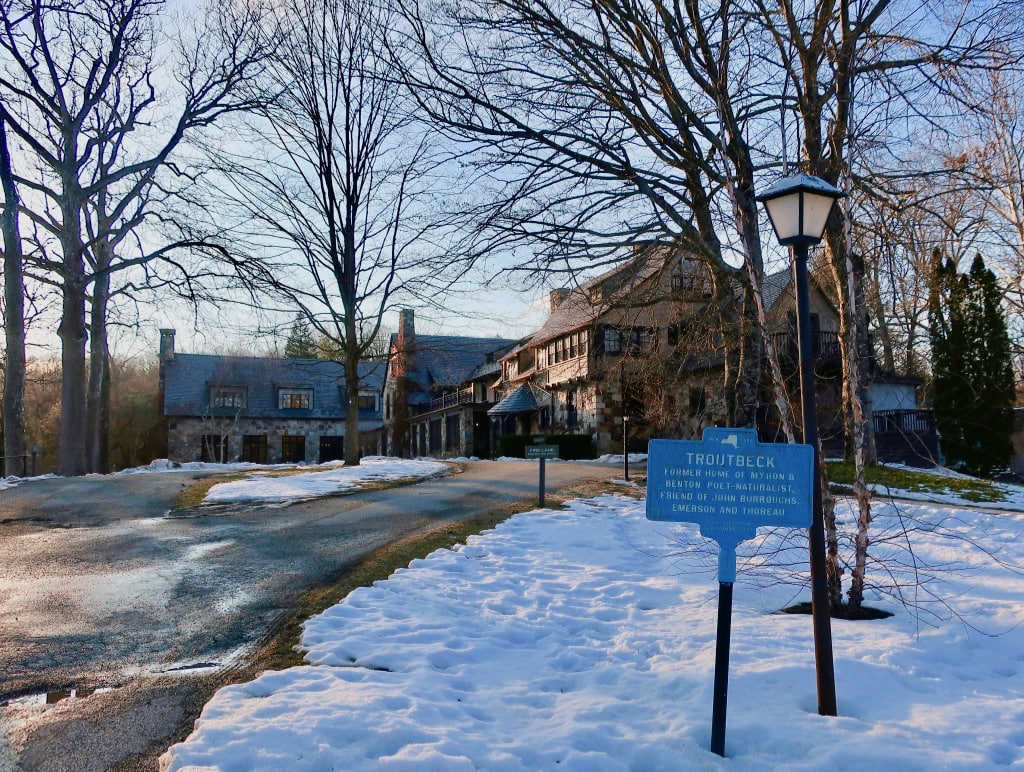 Inside and out, Troutbeck is the optimum safe harbor for pandemic refugees, mostly from New York City, who have discovered this recently renovated luxury inn 1 ½ hours from home. For that reason, it is a Maven Favorite – one that you can discover through our comprehensive review in the link above.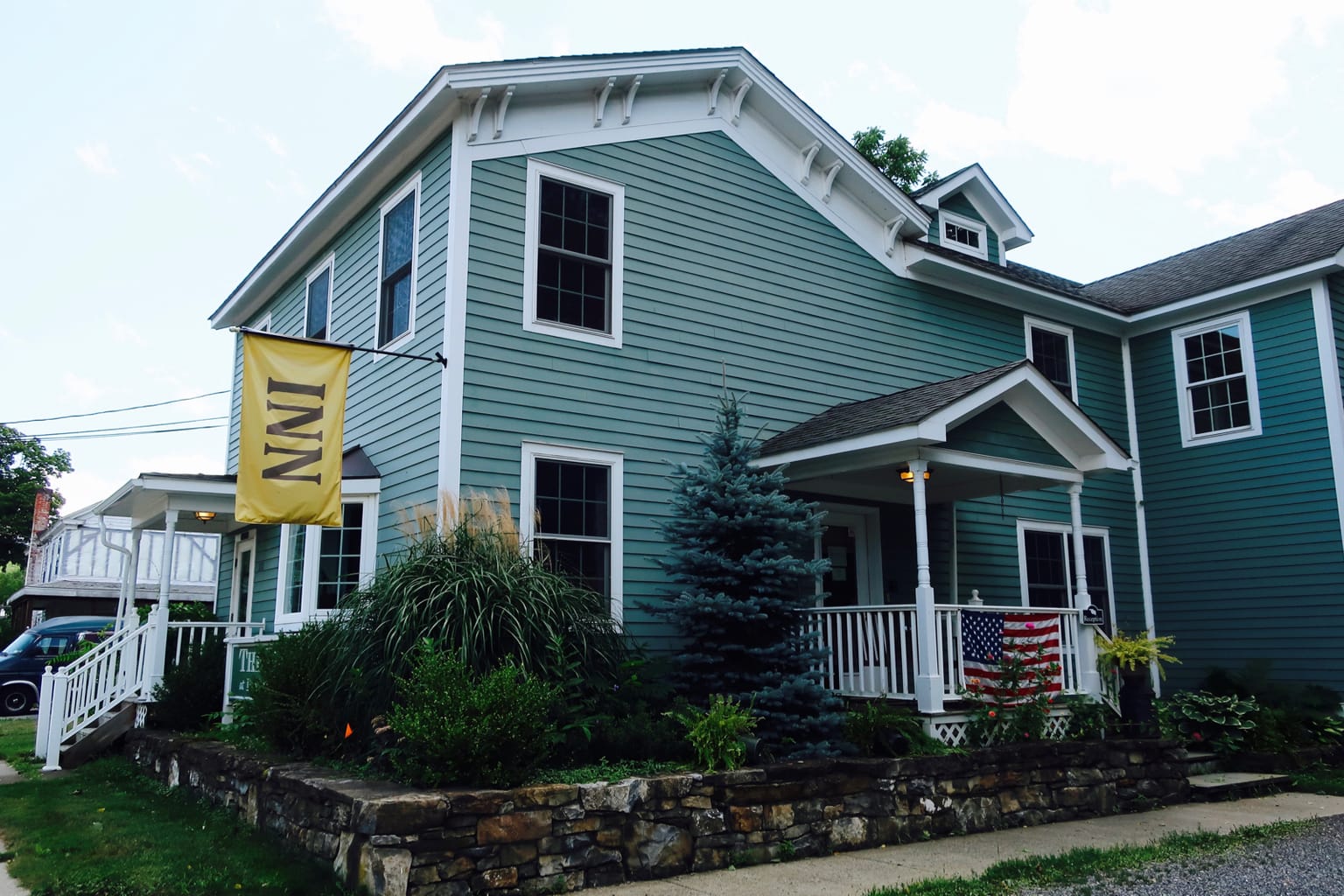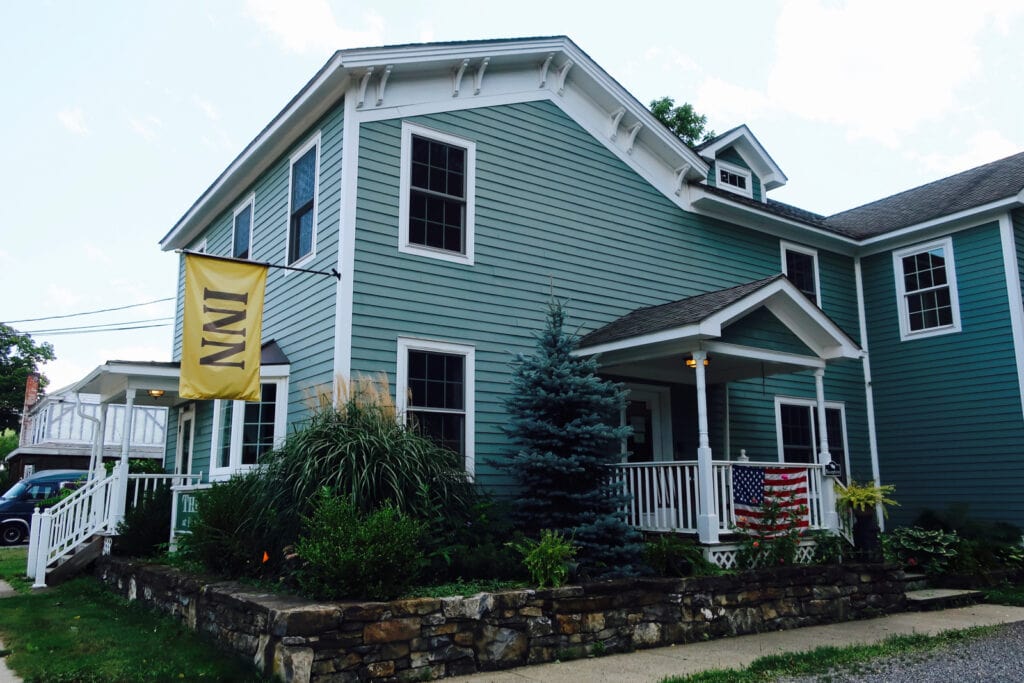 The seven-room Inn at Pine Plains is as unassuming as it gets. Once inside, though, it's another story. This is a true, charming, upscale boutique inn.
It's your basic mid-1800's home stretched and expanded to accommodate more rooms. Built as a private home in 1848, it served as a preschool before being renovated as a lodging in 2015. Though reception is through a door on the street – several other entrances front a for-guests-only gravel parking lot.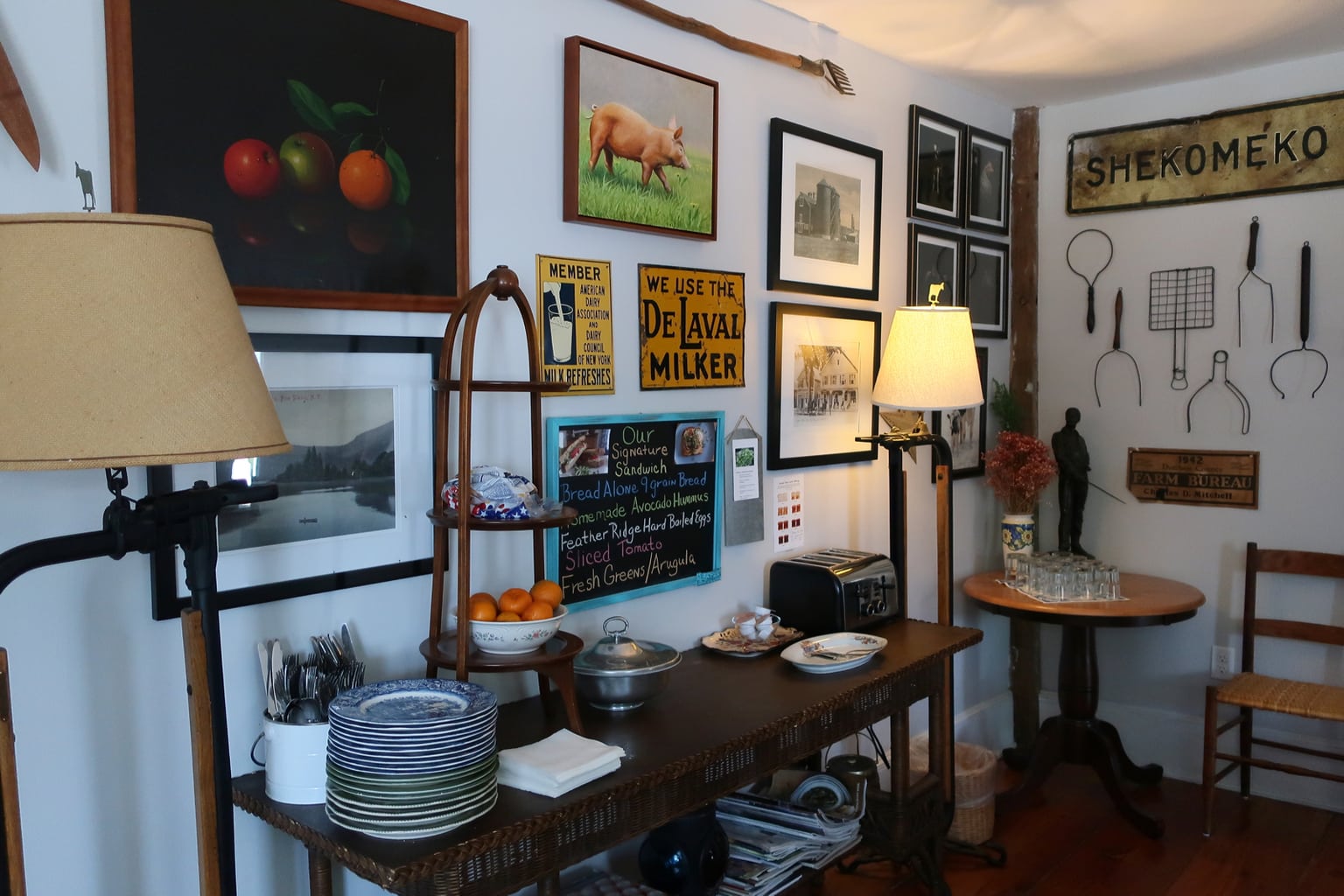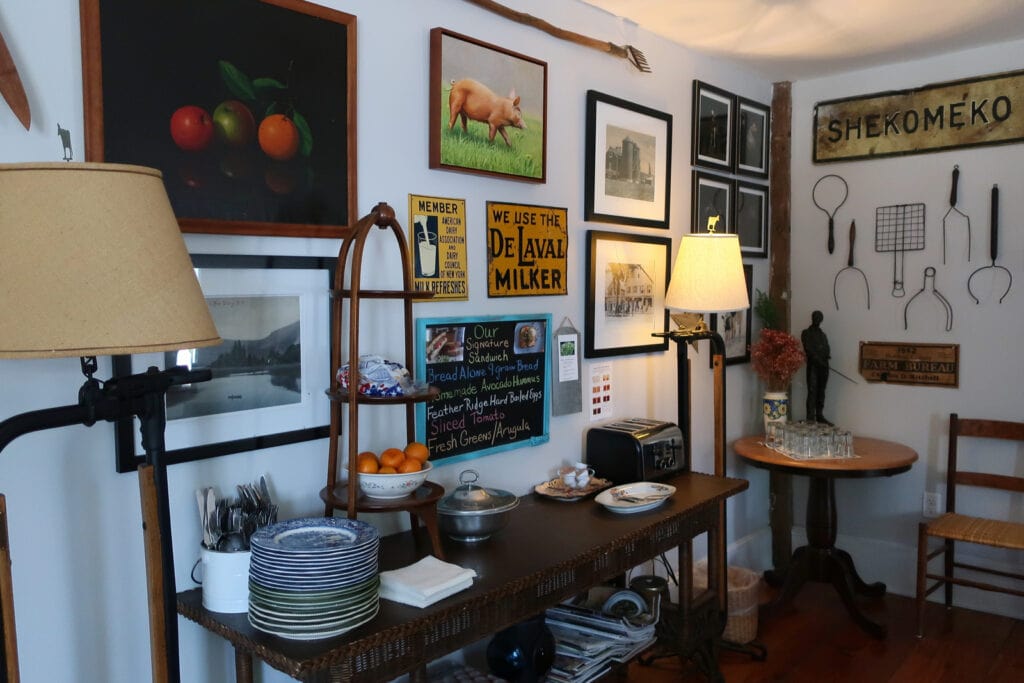 Since it opened, the Inn at Pine Plains has hosted celebs like Tina Louise (Ginger on Gilligan's Island), polo players from South America (polo grounds nearby), wedding guests, tourists, and parents of boarding school students (Hotchkiss and Millbrook are in the area).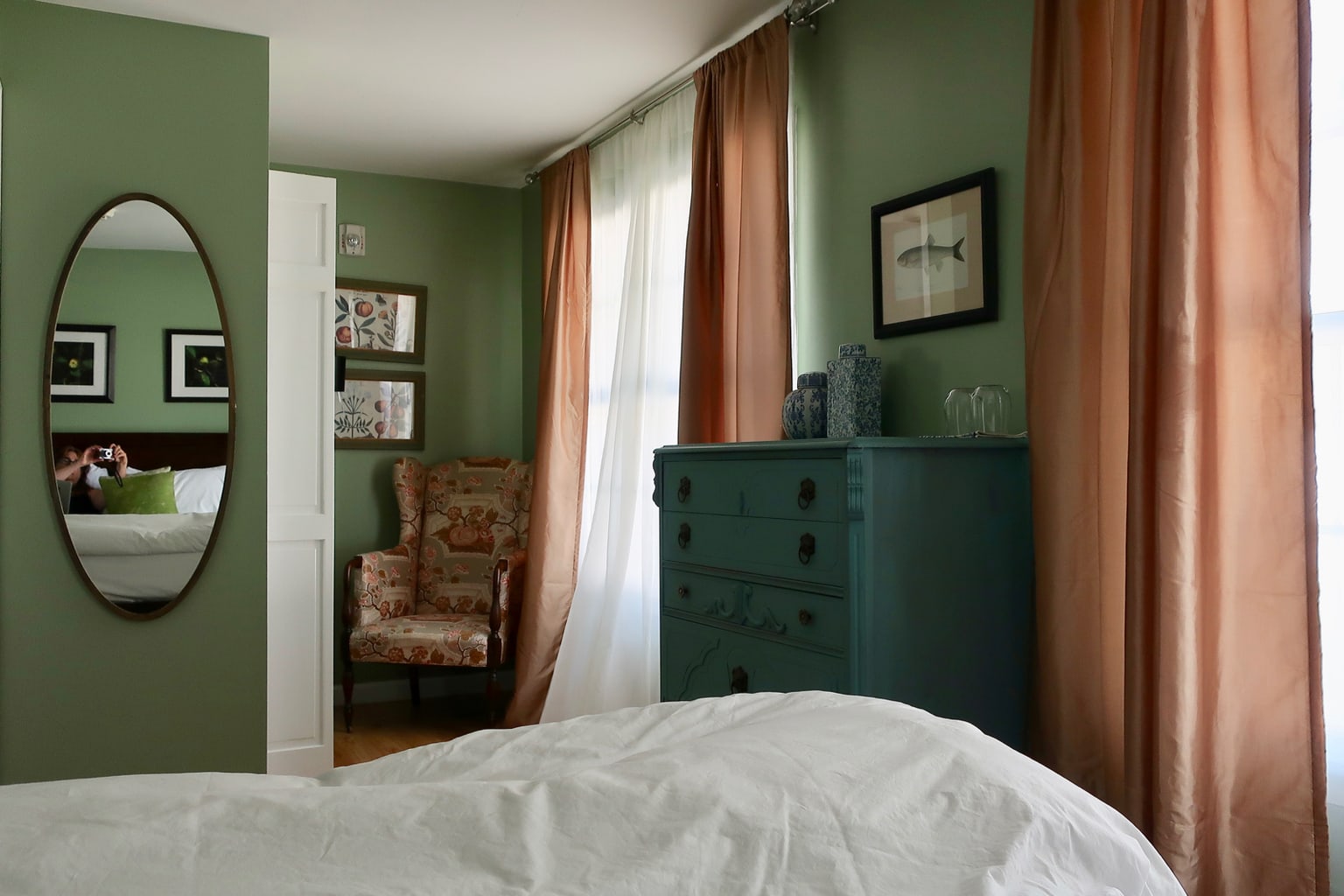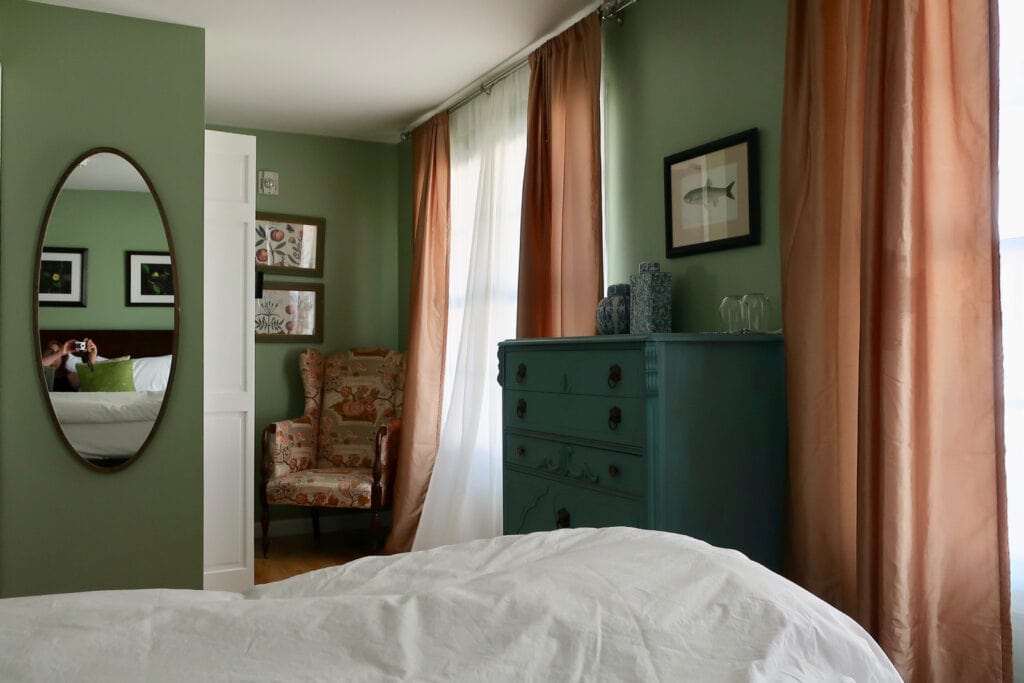 These Dutchess County NY schools draw a good number of Asian students. So you'll find hot pots for noodles and tea in the rooms.
First Impressions of Inn at Pine Plains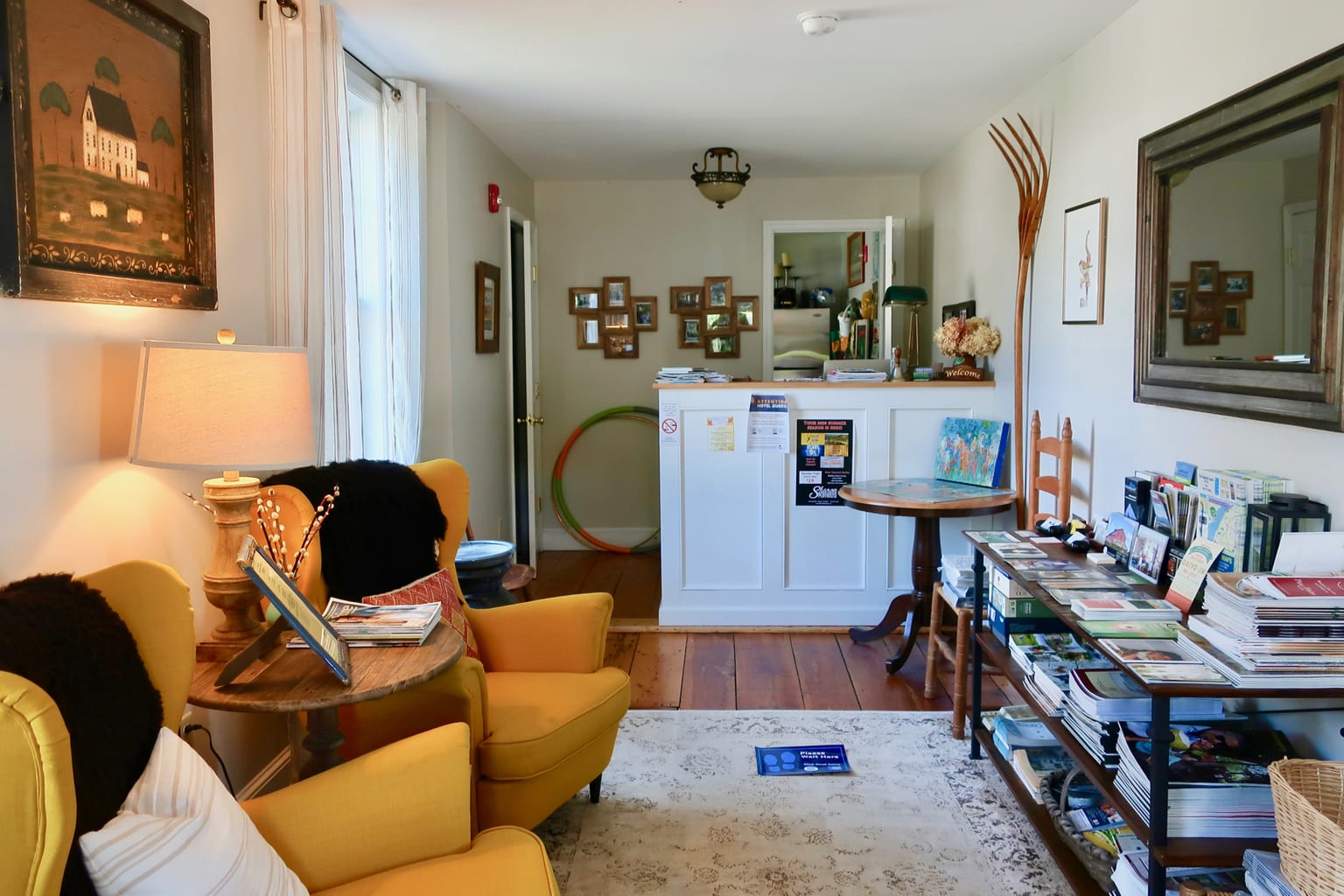 Though the reception area is narrow – furnished with a couple of bright yellow chairs – you get a whole other impression of the place as soon as you walk through the dining room. In non-Covid times, this is where guests gather for Continental breakfast.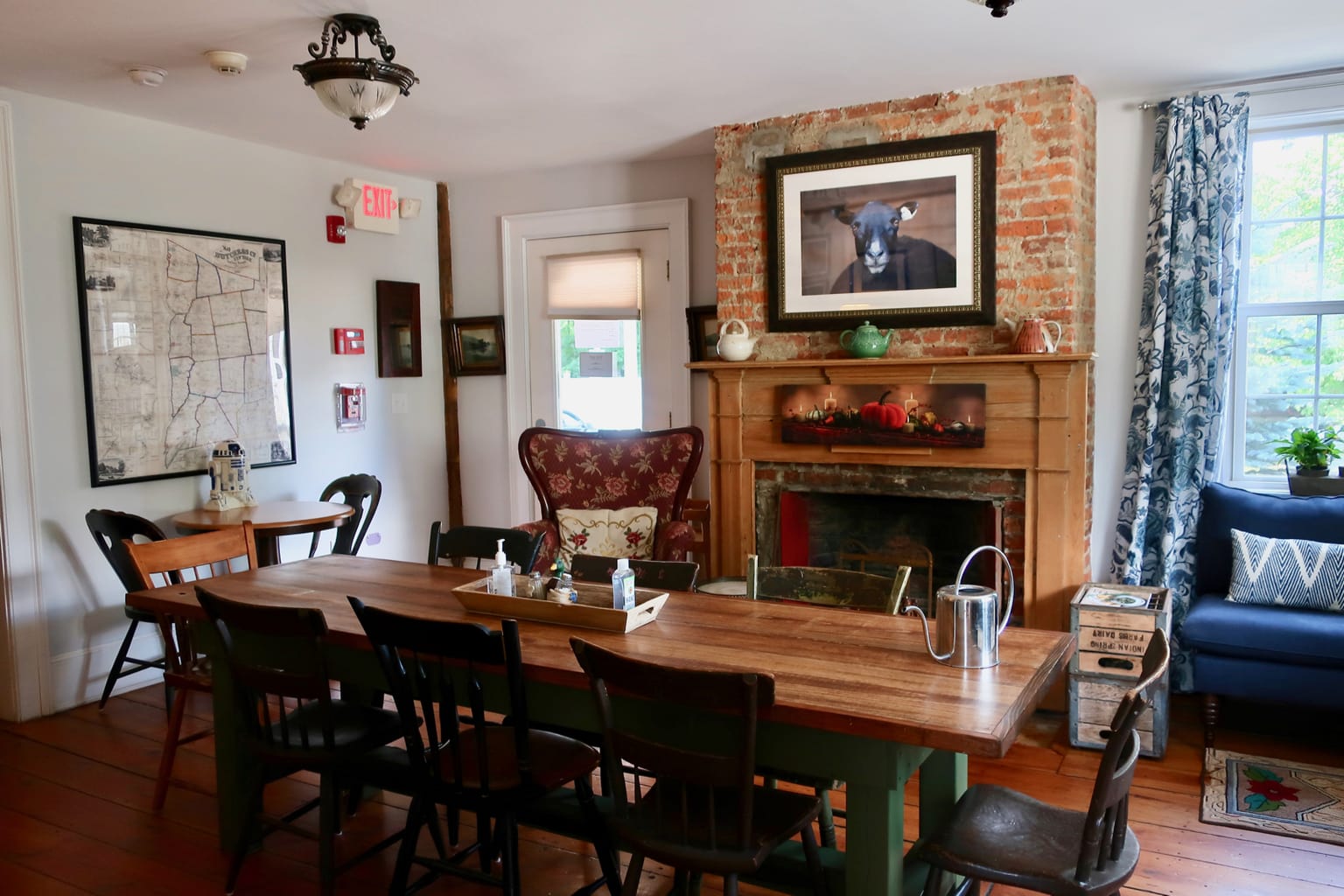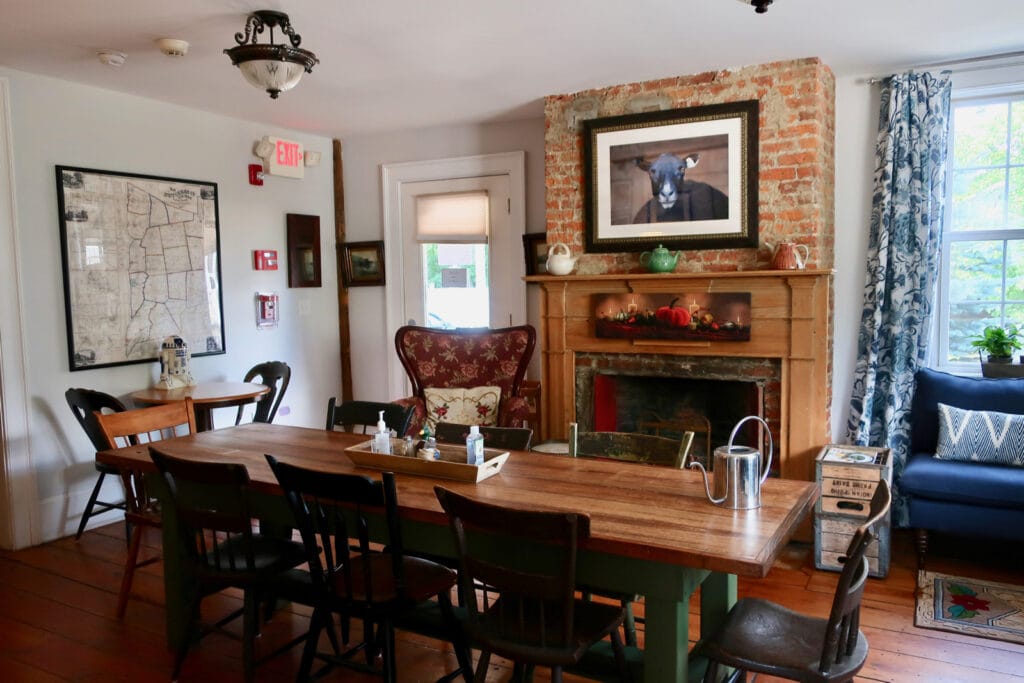 Signs, posters, art, and doodads, gleaned from antique fairs and special friends, pepper the walls and every inch of shelf space. Instead of feeling cramped, as you would if this was Victoriana'd to death, the vibe is eclectic and clean.
Guest Rooms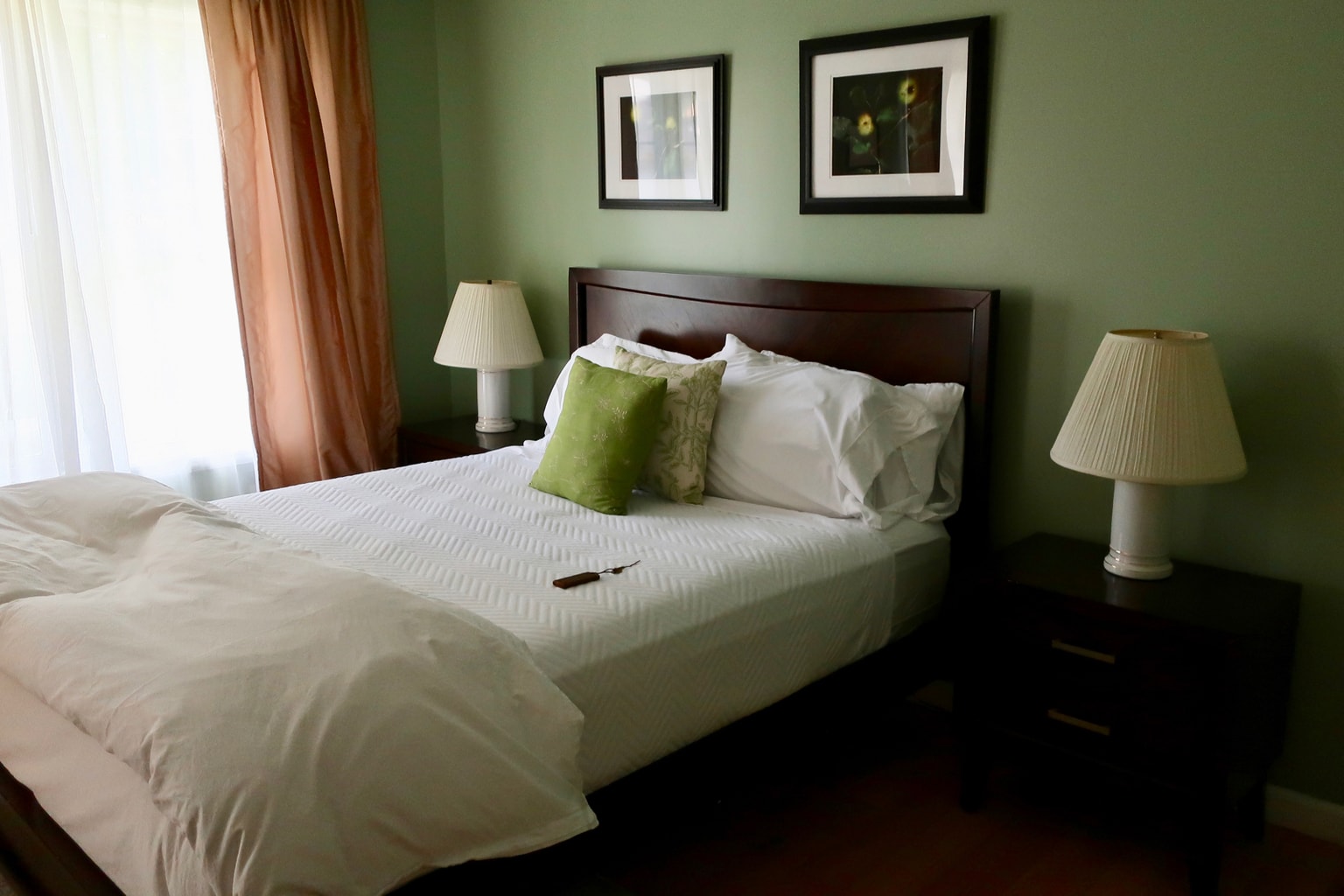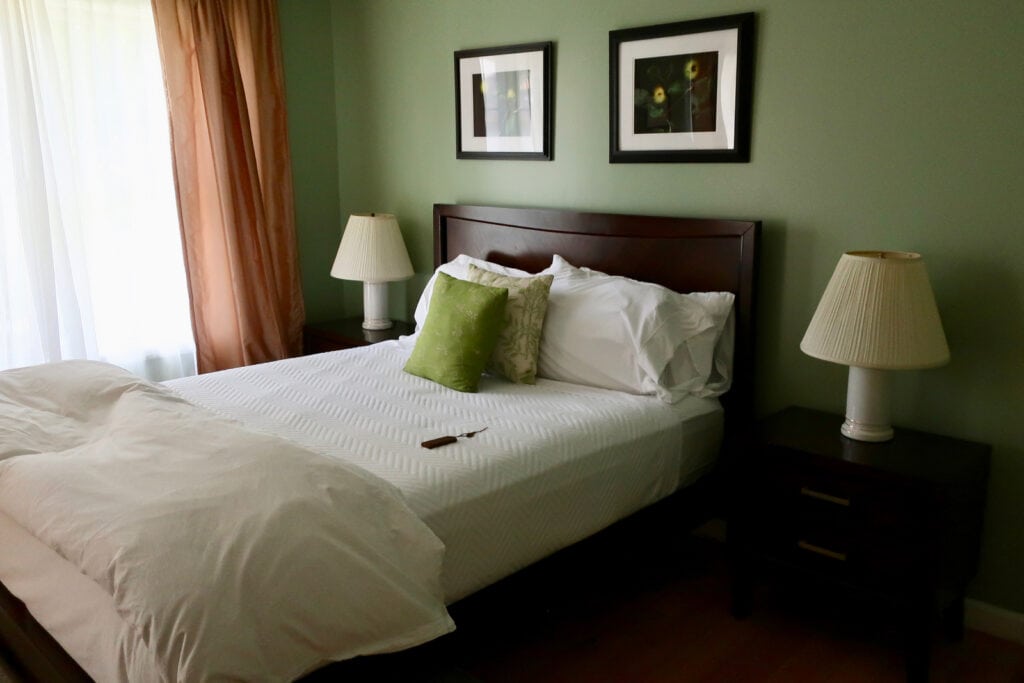 That feeling extends to the immaculate and eye-catching rooms. Each features a lovely color scheme (mine was moss green), with photos and paintings that reflect each hue. Contemporary and antique furniture work well together.
Modern area rugs dress up polished hardwood floors. Silk curtains cover floor to ceiling windows. The whole effect is cheerful and airy. In these Covid-times, we could all use this kind of getaway. Rooms from $140-$240 per night include parking, wifi, complimentary snacks and water in the fridge, and Continental Breakfast.