WHY GO: Though just as physically alluring, both Saranac Lake NY and Tupper Lake NY in New York State's Adirondacks region, get lost in the brouhaha of the better known and nearby Lake Placid.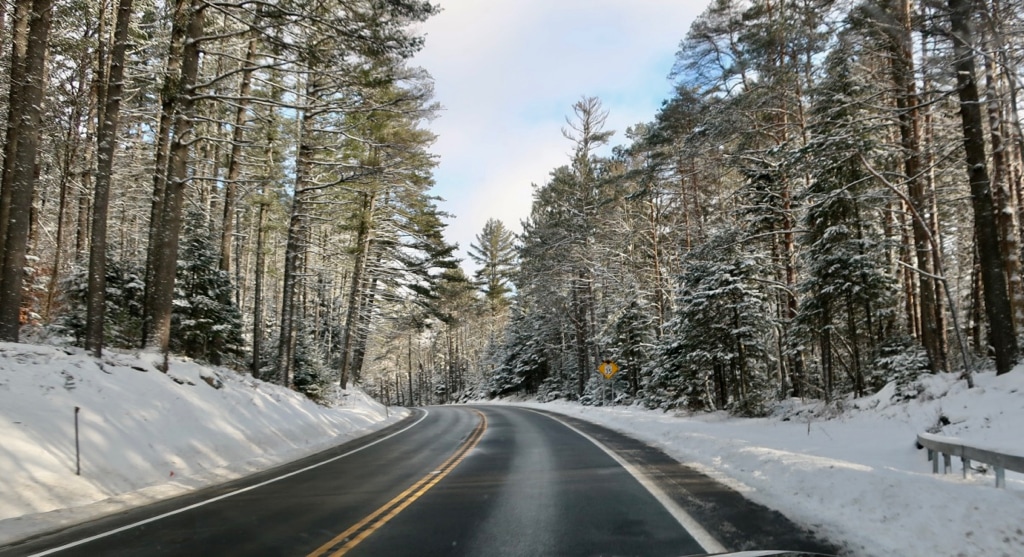 But there are several reasons to make the extra trek. First, you're sure to be transfixed by astonishing views of lakes and mountain passes on the drive up.
Second, the Wild Center in Tupper Lake offers dazzling exhibits, inside and out, reflecting the botanical and wildlife riches of the Adirondacks.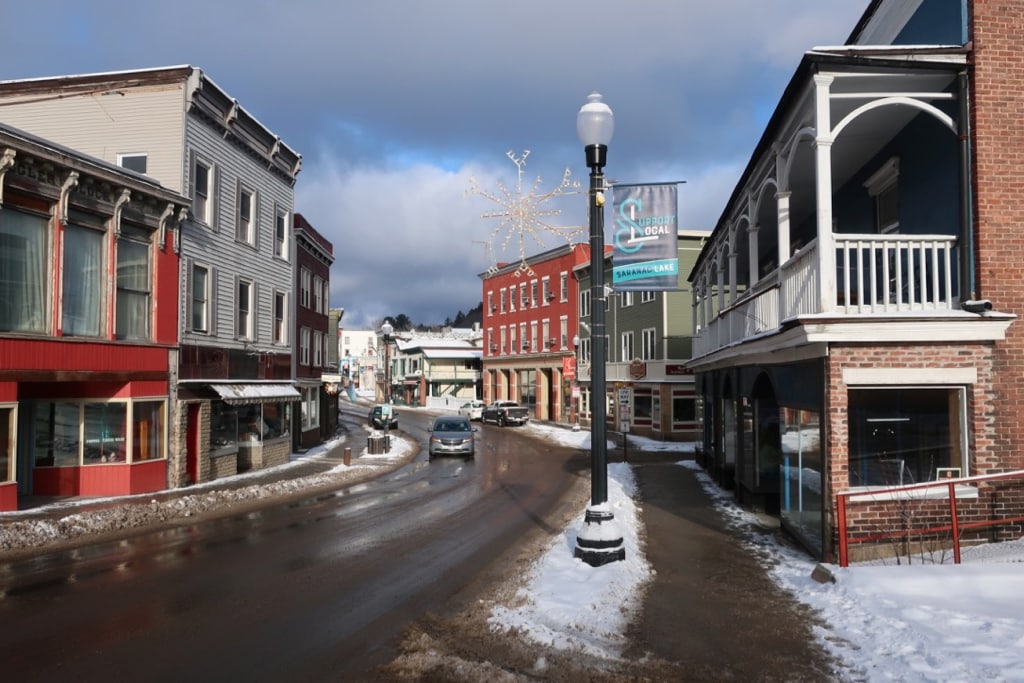 And, third, Saranac Lake is flourishing, with two recently opened luxury hotels, and a vibrant, community-focused and artsy downtown. In fact, you'll hear the phrase "community based" quite a bit, as it seems that while tourism is fine and dandy, those who live here come first.
Plus, the area's got some strange history.
In the late 1800's, the whole town of Saranac Lake became an open-air hospital, thanks to the father of Tuberculosis research, Dr. Edward Trudeau. Patients seeking a cure, or relief at the very least, came here for the pristine Adirondack mountain air. While visiting, don't miss a fascinating look at the very first T.B. lab in the United States.
Saranac/Tupper Lake made it on to the Getaway Mavens Top 20 Romantic Getaways in the US 2021 list.
For a complete Adirondacks escape, pair this Getaway with the following from Getaway Mavens:
Adirondacks Old School: Attractions that have Stood the Test of Time
Lake Placid: Gateway to the Adirondacks
Things to Do in Tupper Lake NY (20 miles from Saranac Lake)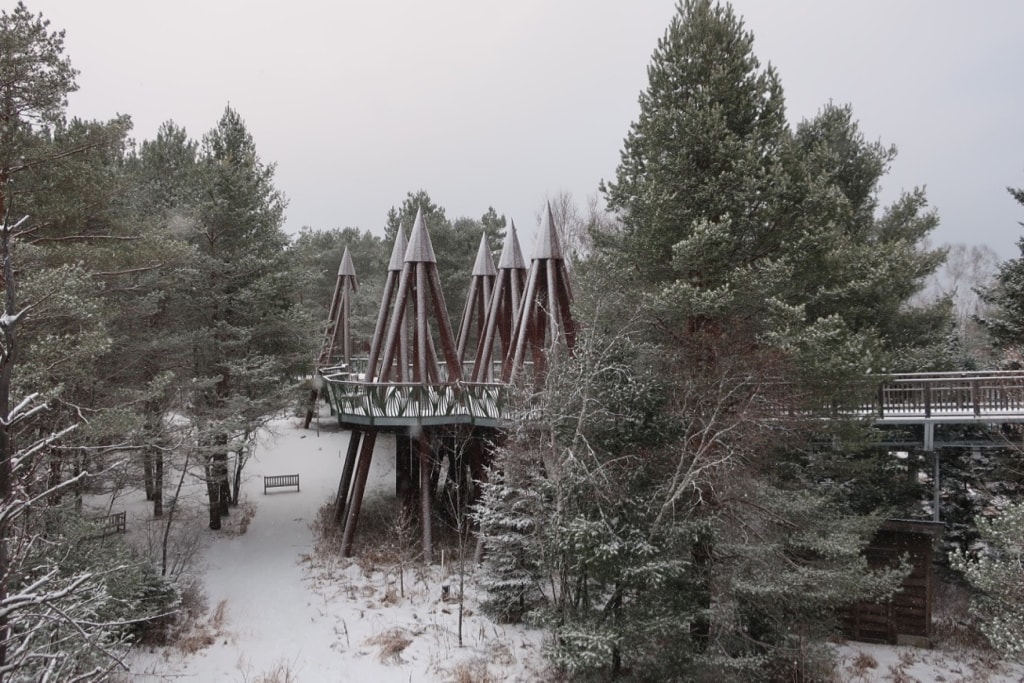 EXPLORE: The Wild Center (Adirondack Natural History Complex)
The 115-acre Wild Center in Tupper Lake NY is hardly obscure. It's been running full-page ads in glossy travel magazines and New York publications since its elevated Wild Walk, modeled on the High Line in Manhattan, was erected in 2015.
But due to its remote location, 30 miles from Lake Placid (which itself is 30 miles from I-87), the Wild Center isn't your average roadside attraction. In fact, there is nothing average about it. In the words of communications director, Nick Gunn, "We try to put a unique spin on our local nature."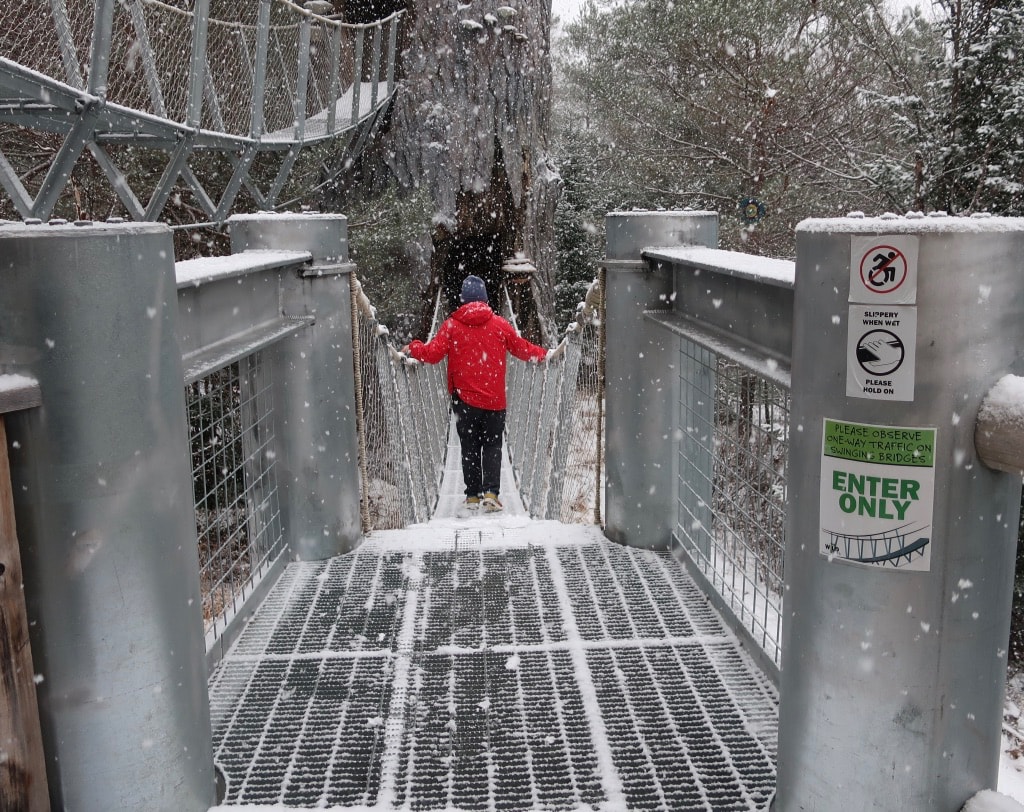 One of the most unique spins is the above-mentioned Wild Walk. Thirty feet off the ground, elevated boardwalks lead visitors inside a (man-made) tree, out to a massive eagle's nest, and onto a giant spider web: all while weaving around steel pilings designed to look like the tops of conifer trees.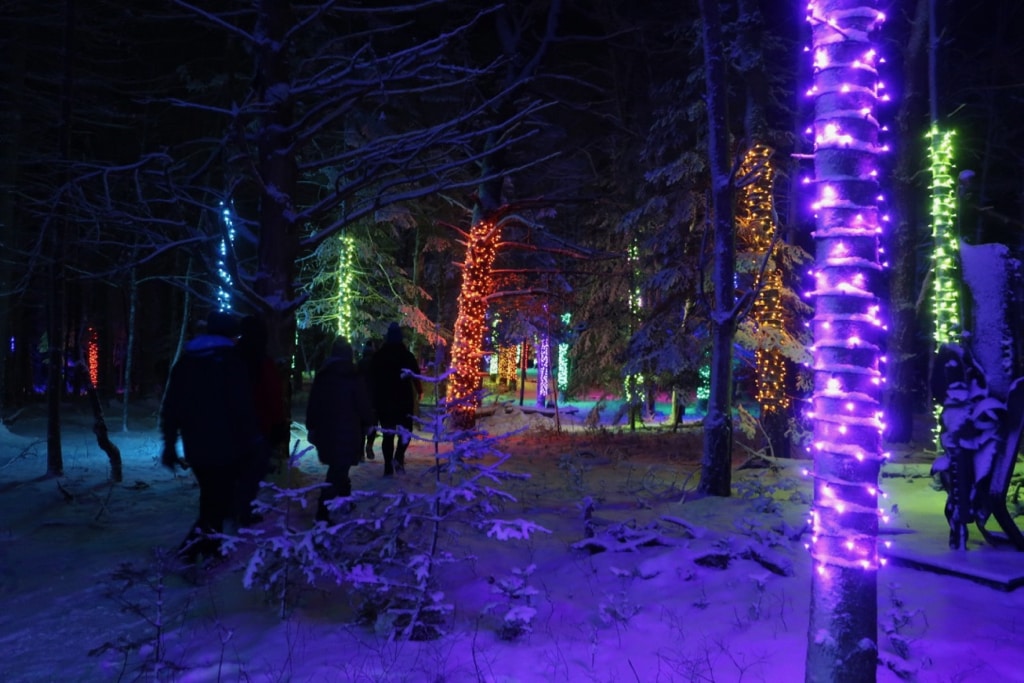 A section of the property, called Forest Music, is also distinctive for its meandering trails and contemplative music piped through 24 speakers hidden in the trees.
The Wild Center property abuts the Raquette River. So, aside from naturalist led trail walks, visitors can sign up in the summer for guided canoe trips – no matter what your level of paddle expertise – and other programs.
"We provide a range of full experiences for guests – fun and educational at the same time," says Gunn. There's a trout-filled pond, maple-sugaring in season, and a natural play area for kids.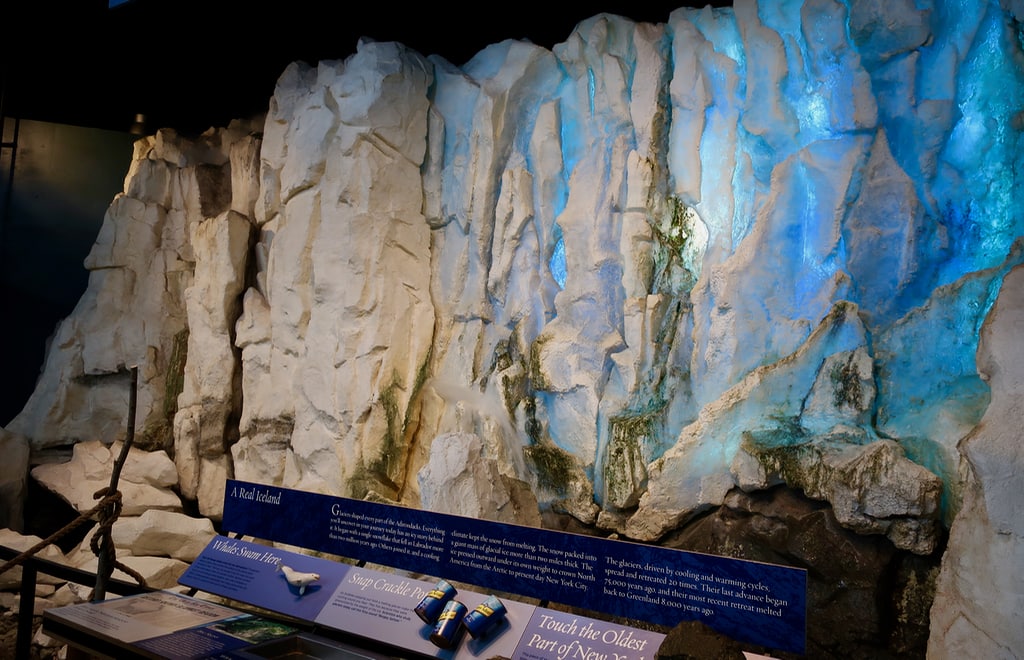 Touch a Cloud and Other Super Hands On Experiences
All year, the Wild Center features groundbreaking "super hands on" exhibits in its 54,000 sq. ft indoor museum. Start at the face of a glacier – represented by a wall of moving, misty "ice," that shaped "every part of the Adirondacks" thousands of years ago.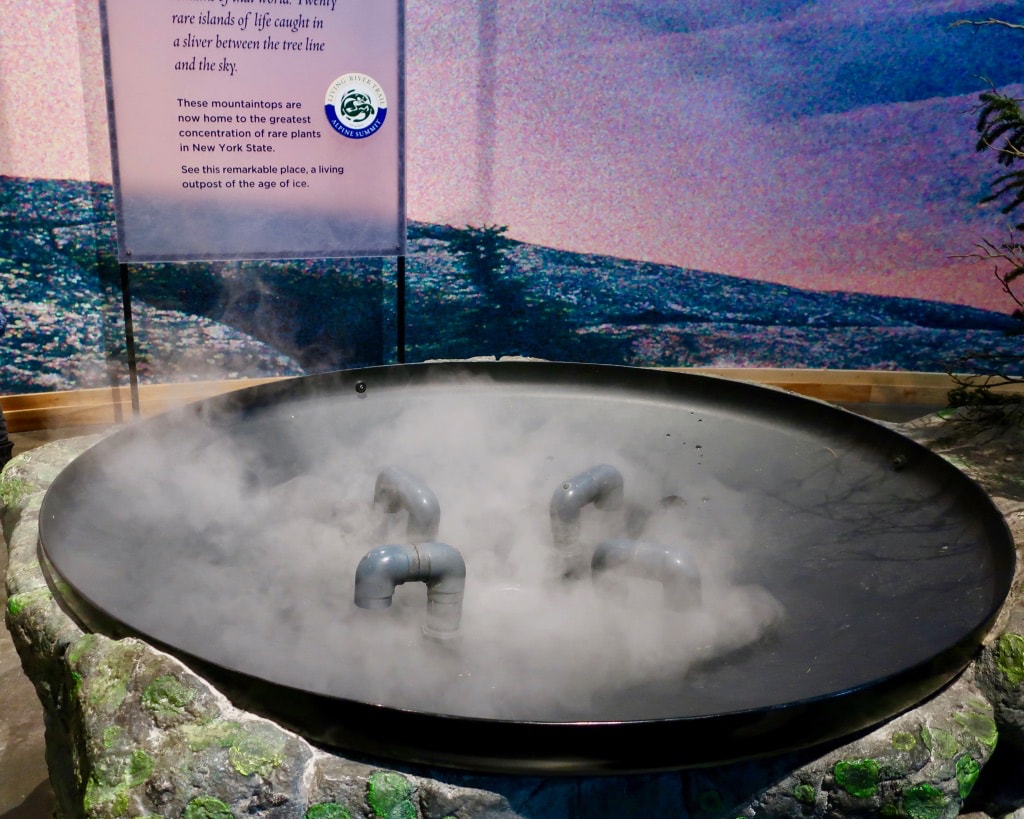 You can "Touch a Cloud," follow the Living River Trail, and marvel at a pair of extremely engaging otters who seem to want nothing more than stare into your eyes.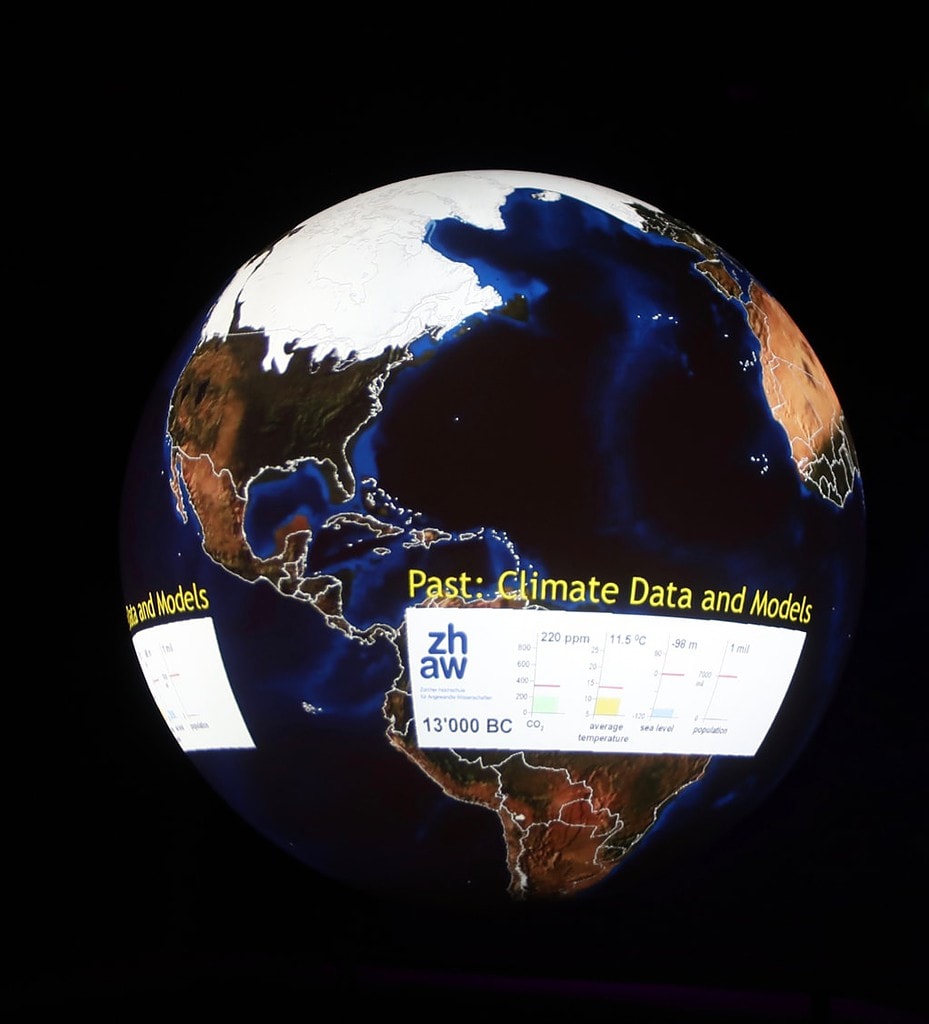 There's a real-time globe of Earth as seen from space, onto which a myriad of elements can be projected. See airplanes taking off and landing, storms in real time, ocean currents, bird migratory routes, and the history and future projection of rising sea levels.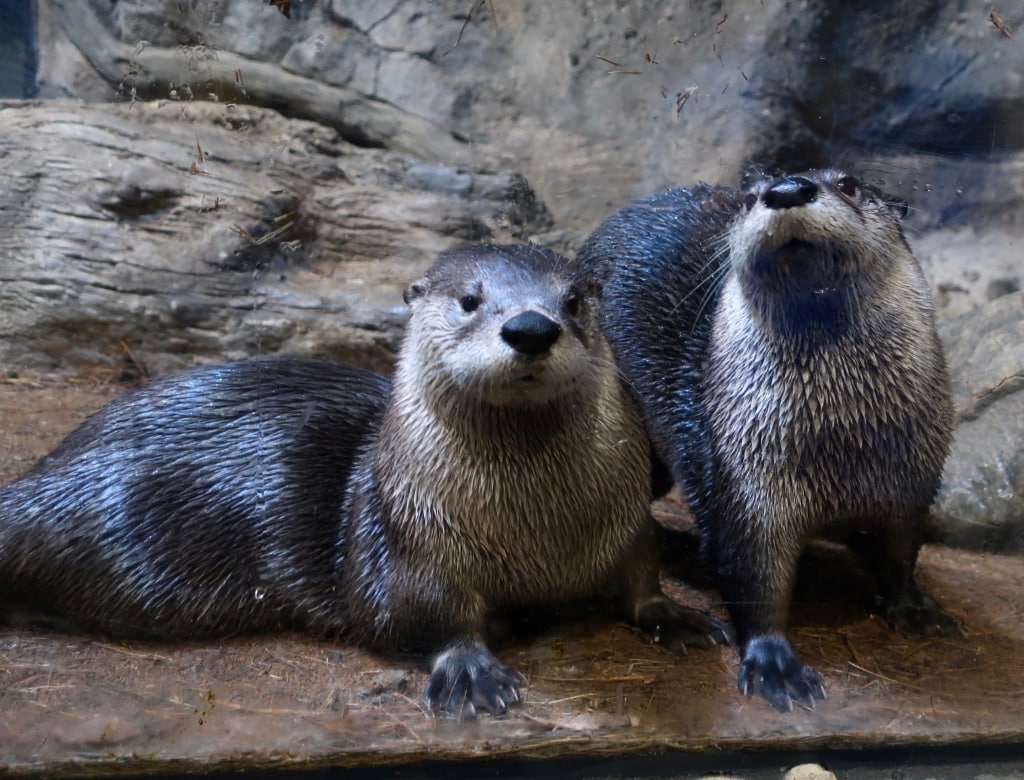 Watch short films (up to 23 minutes) about the Adirondacks – one narrated by summer local, Sigourney Weaver – in a state of the art theater.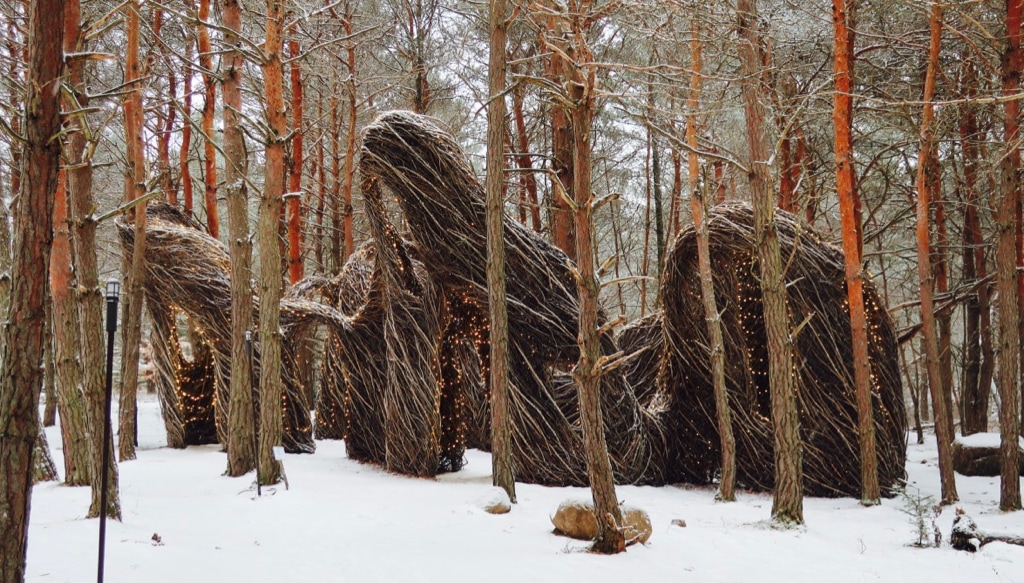 Romantic Wintertime
In wintertime, the Wild Center becomes magical, mystical, and truly romantic. "Wild Lights" by Merrill L. Thomas, Inc (Thanksgiving Weekend through Feb) is drawing a growing number of North Country residents and visitors, young and old, on chilly, sometimes snowy, winter evenings.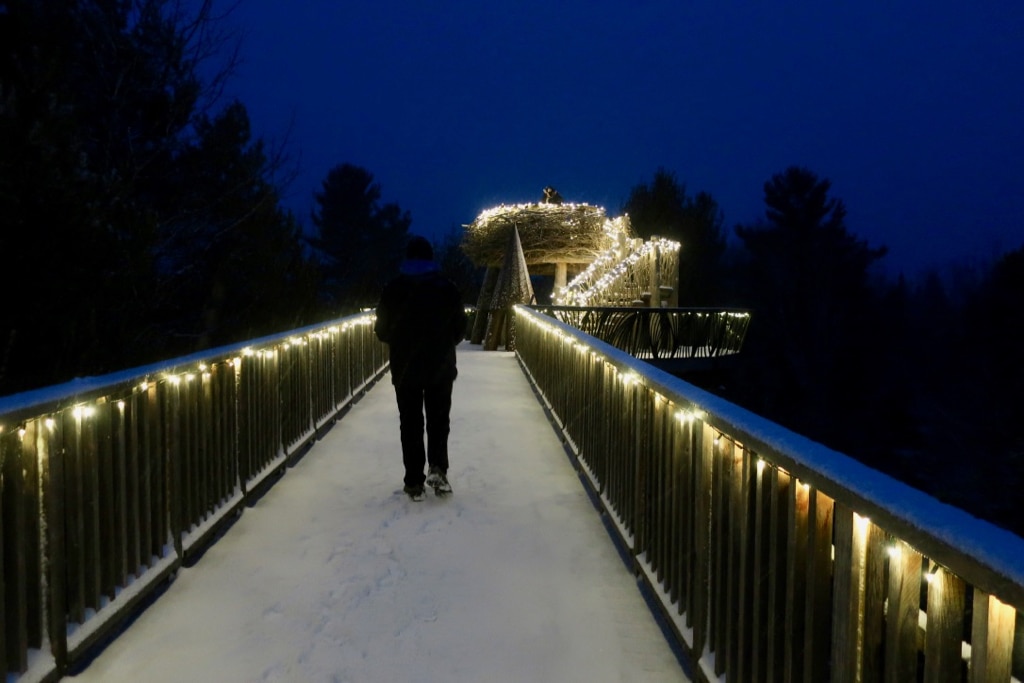 Pathways are illuminated on the Wild Walk, around Hopscotch (an on site stick-work sculpture) and throughout the glowing, kaleidoscopic Forest Music.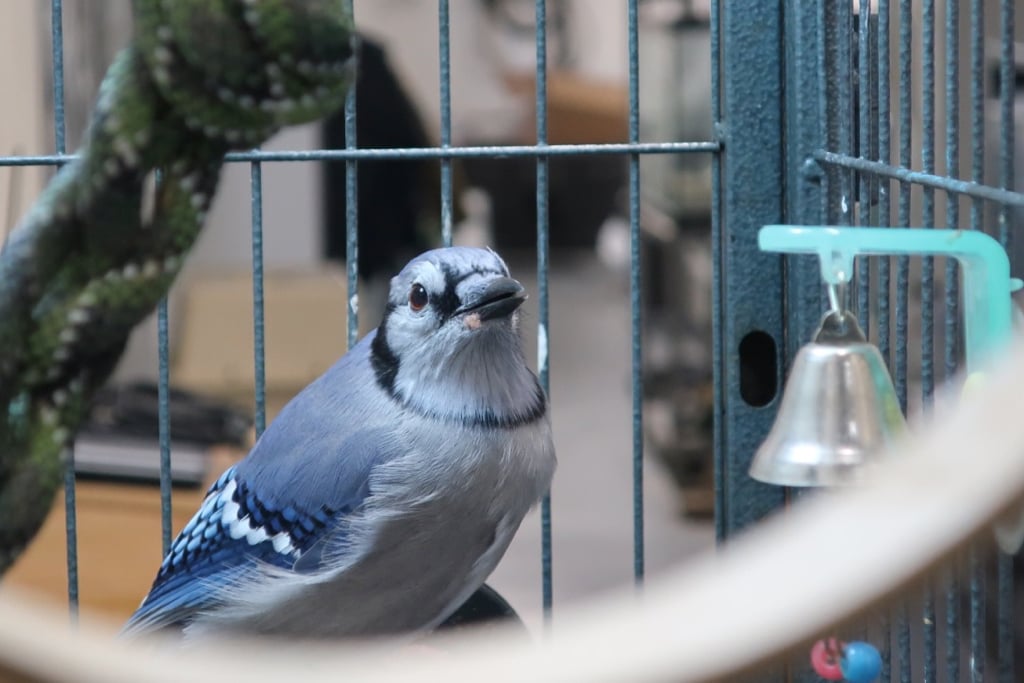 Go the extra mile and book a one-hour Behind the Scenes tour of the Wild Center's animal care facilities. Meet a clutch of caged Kestrels, and a truly social Blue Jay, "Lady J," who was brought in nearly all white due to lack of protein in her diet after an injury. (She has since regained most of her blue pigment with the proper chow).
Admission for adults, $20, kids $10. Behind the scenes tours are an additional $10 adults, $5 kids. Wild Nights run Fridays and Saturdays 5-7pm Thanksgiving week through end of February, every day Christmas and Presidents weeks, included with WILD Center entry fee or $10 adults, $5 kids without.
Wild Lights at the Wild Center is one of the Getaway Maven's recommended Best Places to Propose in New York State.
Things To Do in Saranac Lake NY (7 miles from Lake Placid)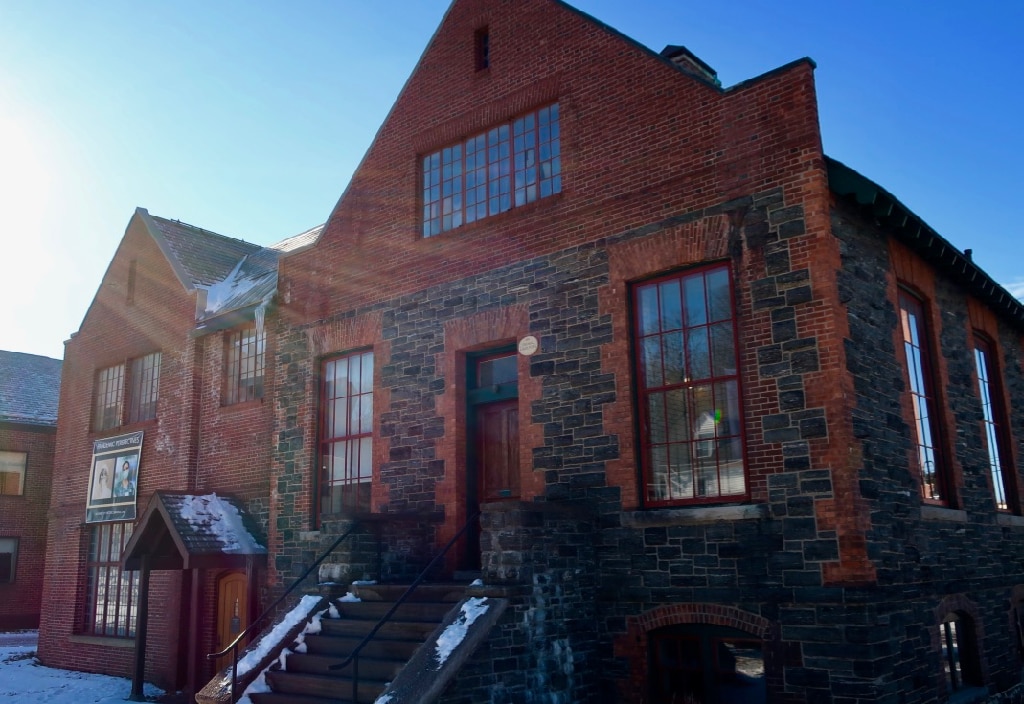 When Dr. Edward Trudeau contracted tuberculosis in 1873, he moved to the brisk-aired mountains of the Adirondacks to die. But strange thing is – he didn't. And, so thinking that he had stumbled onto a cure, Trudeau enticed those with the disease up to Saranac Lake, then a logging town, in 1884.
This first Sanatorium morphed into a town-wide industry. Thousands of young adults (average age 18-35) came for "the cure," staying an average of two years.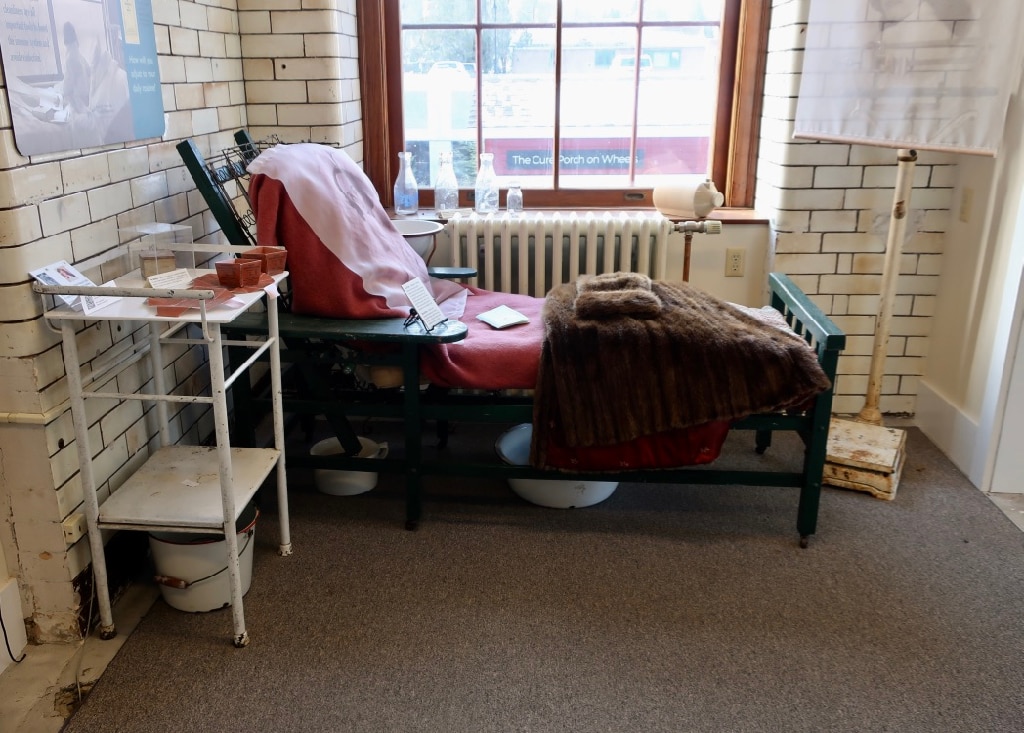 Homes with wide porches cropped up to accommodate specially designed "Cure Chairs" on which those with TB would stay all day and night. In the late 1800's everyone in Saranac Lake either had TB or served those who did.
"Tray boys and girls" – kids from the local schools – brought meals to the ill. Friendships between patients were legion (those that turned romantic were referred to as "cousins").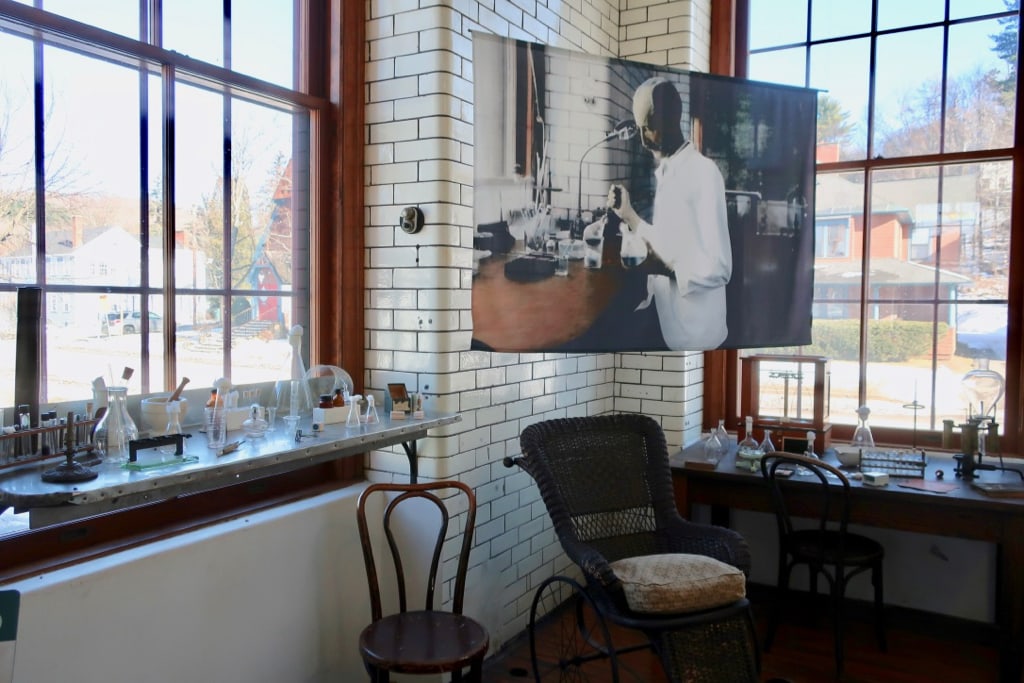 In 1894, Dr. Trudeau established the first Laboratory to study the insidious disease. Although there was no absolute cure until the advent of antibiotics in the late 1940's, Trudeau's "Rest Cure," or "Fresh Air Cure," eased the symptoms of many T.B. sufferers.
Now, with the Covid pandemic showing no signs of abating, there's an increased curiosity about past epidemics and diseases that were once eradicated. Visitors come to Saranac Lake to see Trudeau's original medical lab, meticulously restored to the way it looked at the turn of last century.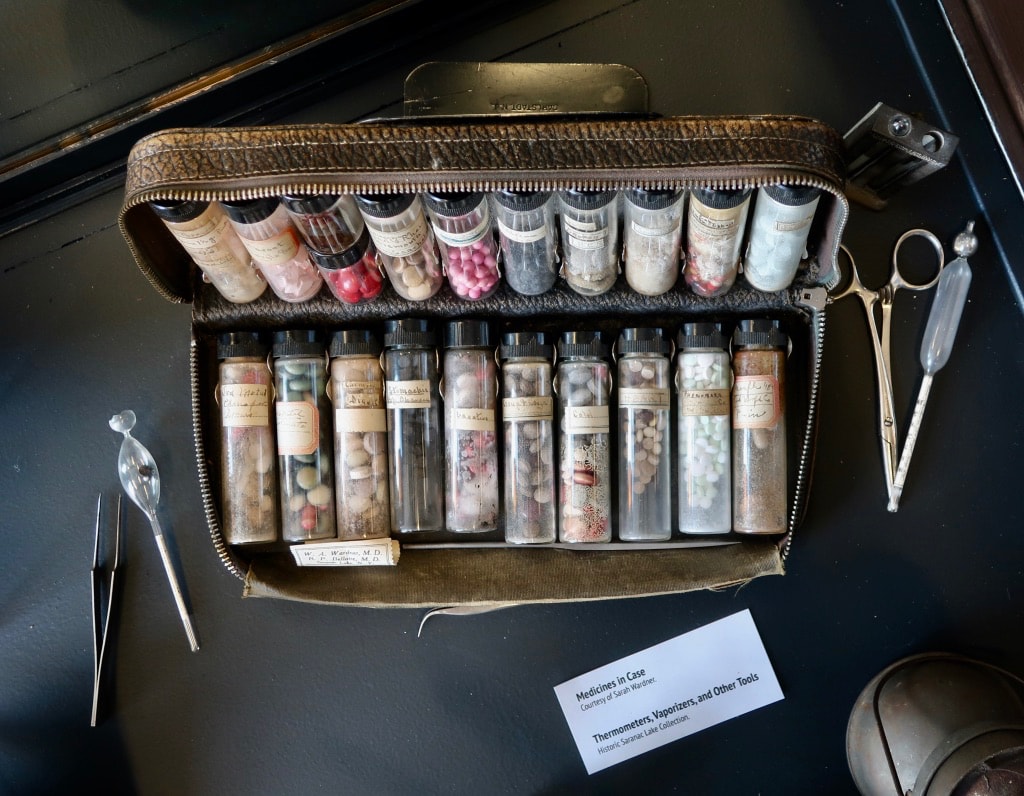 Dr. Trudeau's Original Lab
On exhibit is Trudeau's original lab with his equipment, along with disposable "sputum cups," pills and potions, beds, and reading material to keep spirits high. And, just as now, spurning public health rules had consequences. In Saranac Lake, spitting in the street carried a fine of $50: A hefty fee in the early 1900's.
The Trudeau Institute, (currently located elsewhere in Saranac Lake), continues to break ground in medical research, with a focus on Infectious Diseases. Dr. Edward Trudeau's son and grandson, both doctors, carried on his work in town. His great-grandson, the Doonesbury cartoonist Gary Trudeau, still visits Saranac Lake on occasion. Open year-round Tues-Sat. 10am-5pm. $7 adults, $5 students, under 12 free.
SHOP: Downtown Saranac Lake NY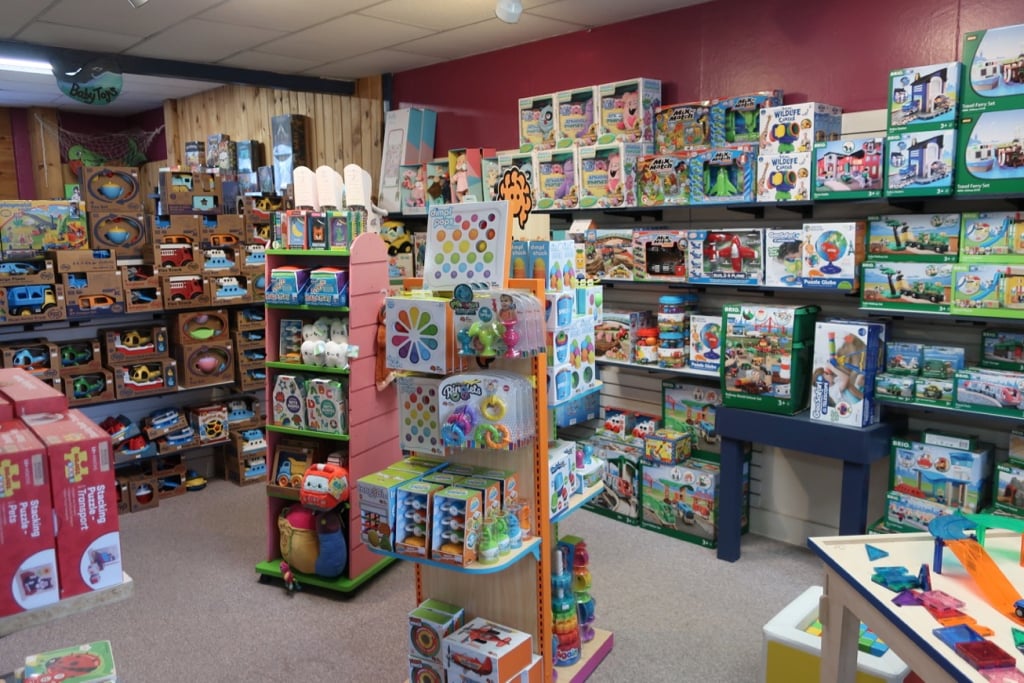 Goody Goody's Game and Toy Store
Dan Sporn opened this three-storefront children's utopia 22 years ago, at a time when downtown Saranac Lake was still a bit forlorn. His gambit paid off and Goody Goody's is the area's go-to shop for toys. But why should kids have all the fun? Sporn stocks the most popular adult games as well – and he'll show you how to play if not too busy.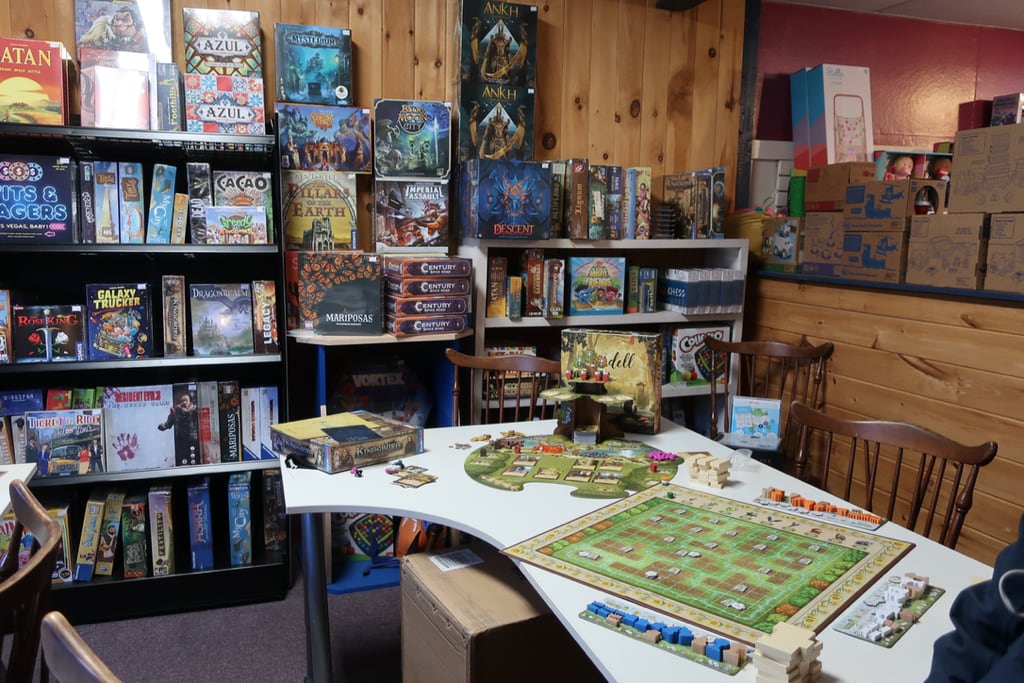 You can find almost every non-electronic toy and game in existence. The place is inundated with customers prior to the Holidays, but afterwards, the shop quiets down. "That's when I host Game Nights and play with friends," says Sporn.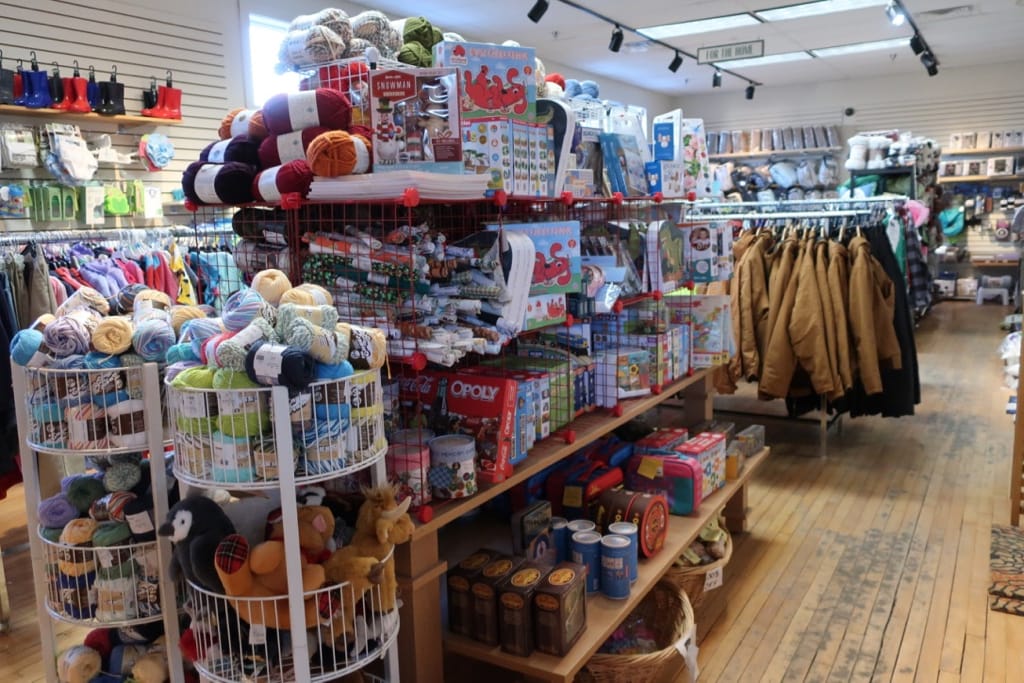 Village Mercantile
If you want to know how "collective" the Saranac Lake community is, look no farther than the Village Mercantile – the only community-owned "anything but General Store" still in existence in the US, with 750 members.
The Mercantile opened as a socks and underwear store, and then branched out into nearly everything. So, you can find knitting and craft items, kitchen tools, children's toys, puzzles, bedding and so much more, for prices that hark back several decades.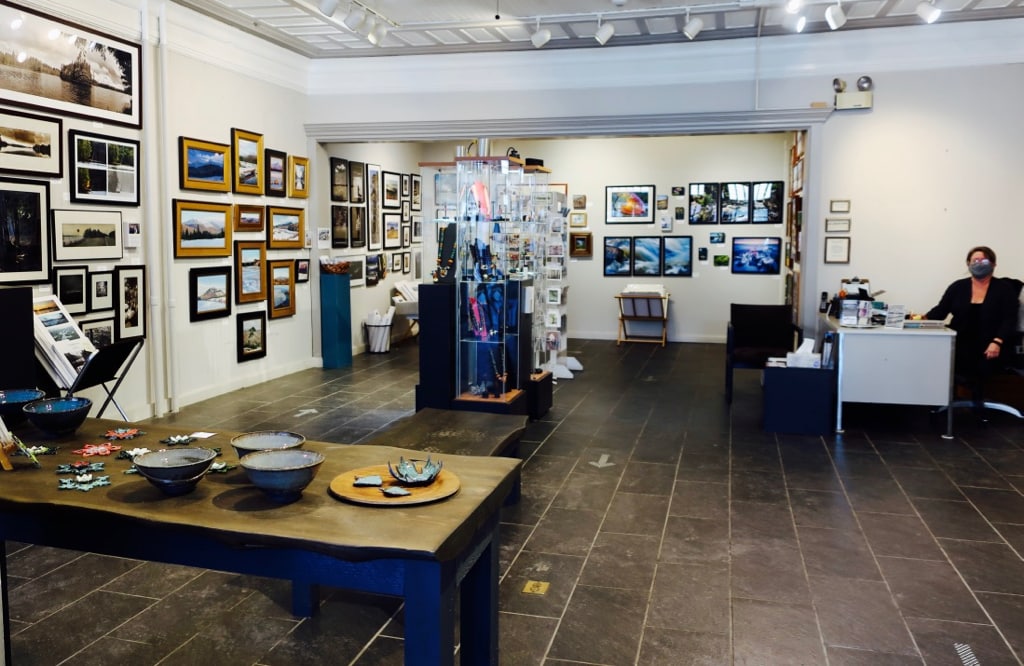 Fifteen very talented local painters, jewelry-makers, and ceramic/clay artists have banded together to manage this art collective. Their work runs the gamut from traditional to experimental, realist to expressionist. Most at affordable prices.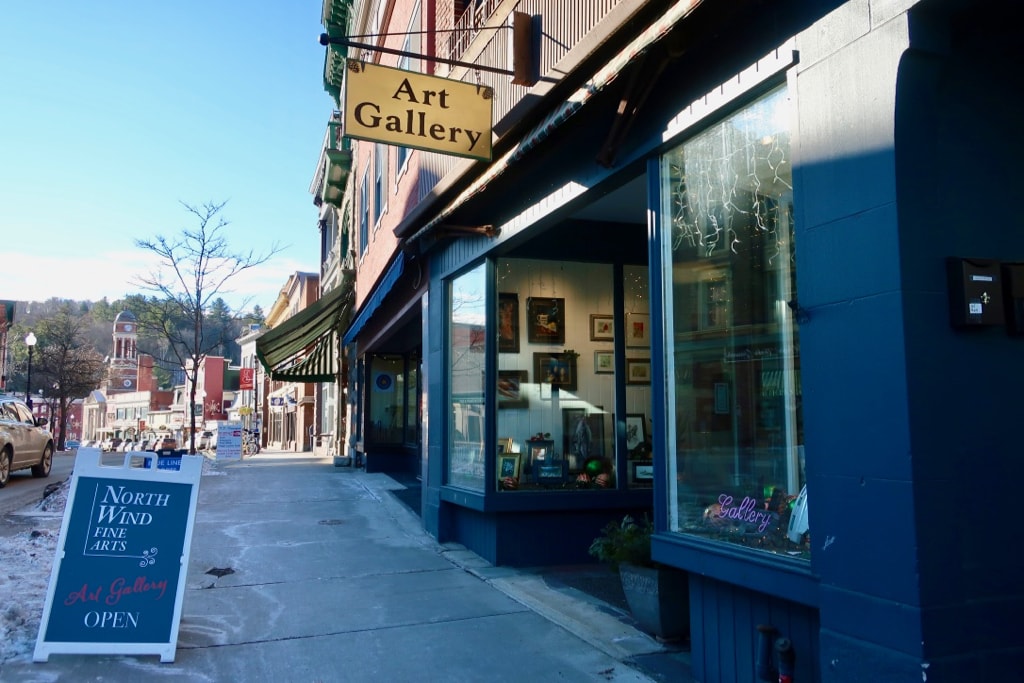 Further proof that Saranac Lake is serious about art and artists, this gallery promotes a variety of topnotch work from yet another talented group of Adirondack artists.
Breweries in Saranac Lake and Tupper Lake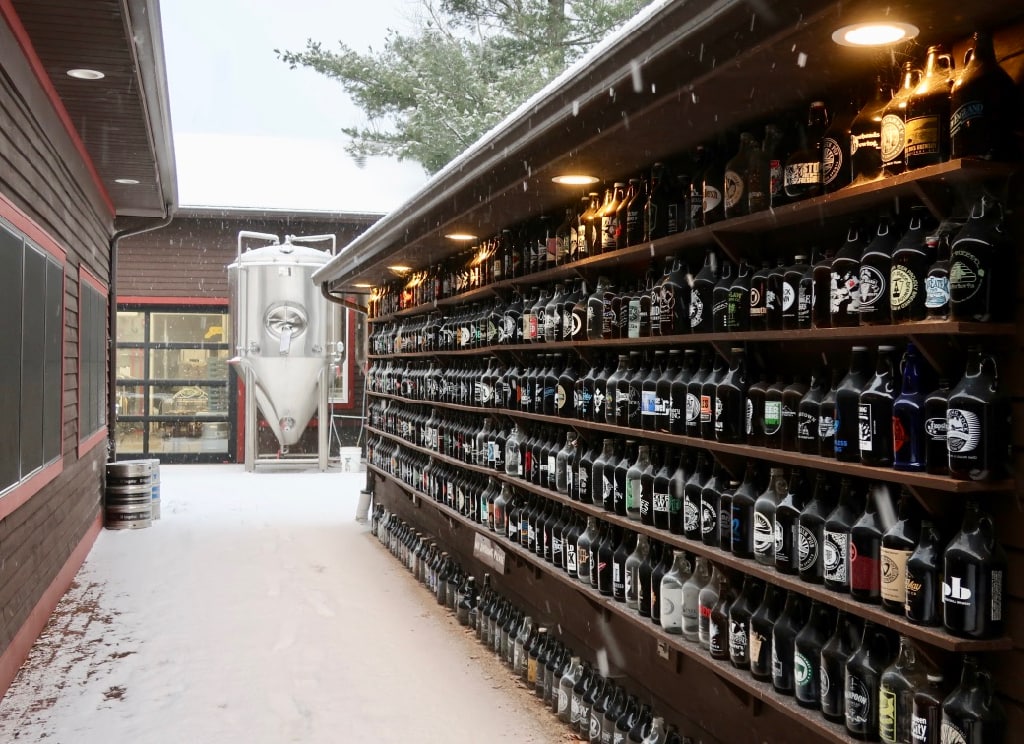 Brewery: Raquette River Brewing, Tupper Lake
Raquette River Brewing is the king of small batch specialty brews in the Adirondacks. Its large railroad-depot-ish space promotes lively and happy gatherings. Experts and casual beer drinkers alike praise RRB's experimental and innovative IPAs, porters, ales, and sours – all tasty and unique.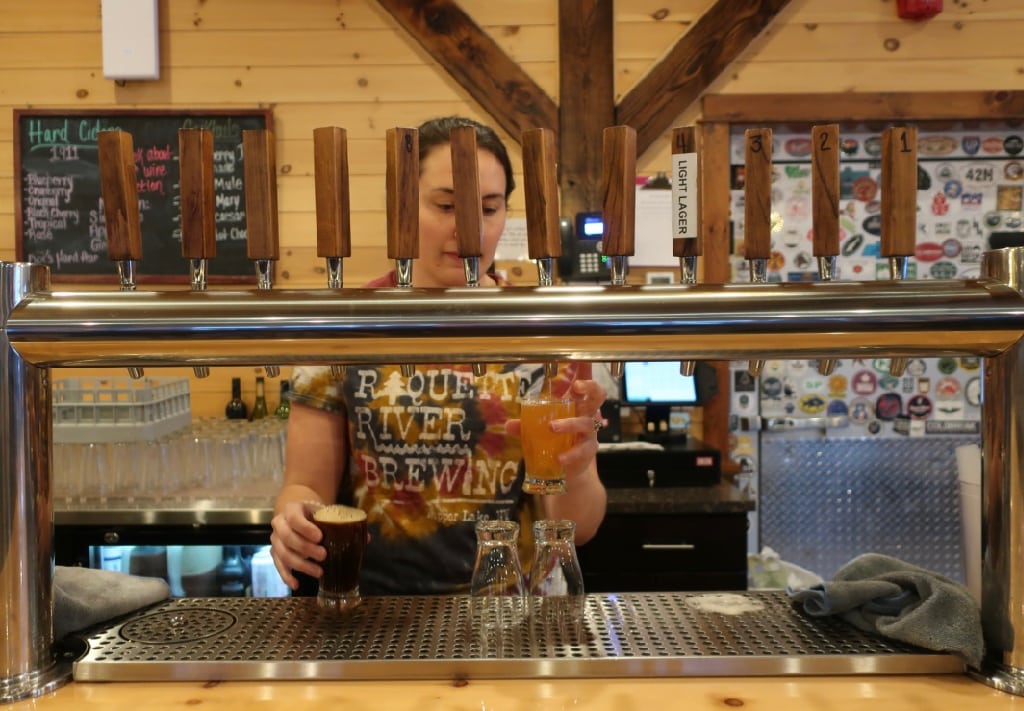 At the moment, this craft brewery is famous for its best-selling Mango Wheat Ale and Maple Cream Porter. But sour lovers will be ecstatic with Fruit Salad Sour and Strawberry Banana Sour, and whatever others the brew makers come up with by the time you read this.
Although Raquatte River doesn't serve food there's bevy of food trucks outside, so you can spend the evening with decent vittles and a brewski to wash it all down.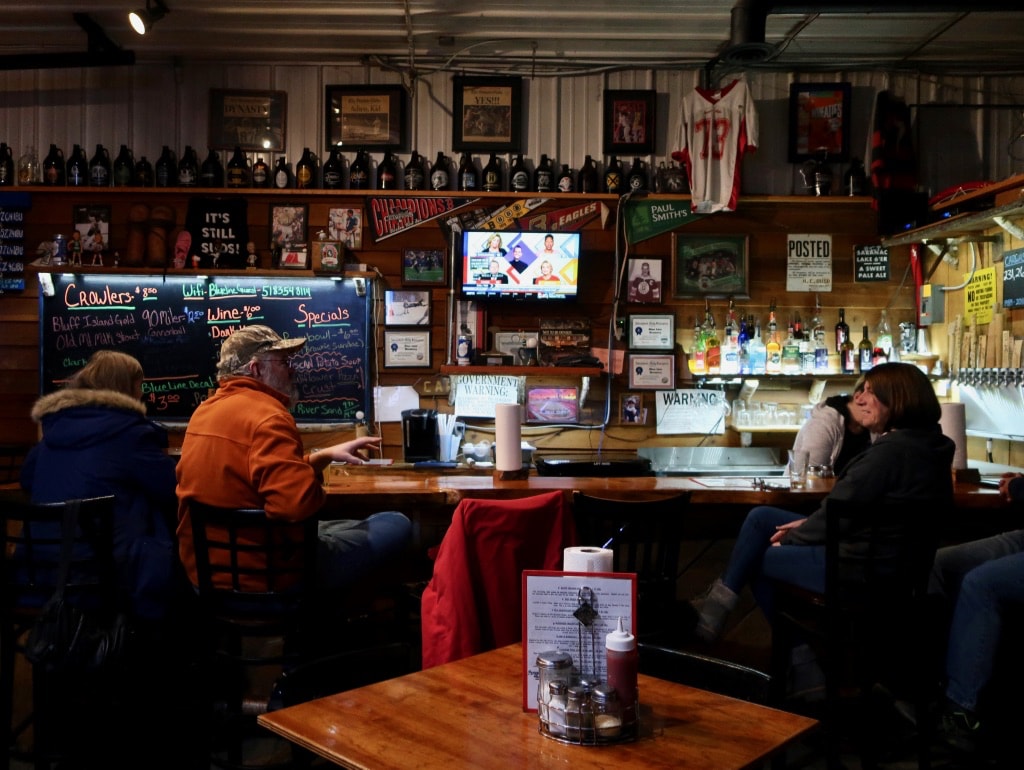 BREWERY: Blue Line Brewery, Saranac Lake
Blue Line Brewery is unassuming (next door to McDonalds), and a bit divy, but it's a true community spot for its home brews, pizza, wings, and other pub grub. Beers are named after local climbs (Big Spike), guides (Old Mountain Milk Stout named for Old Mountain Phelps), trees (Leaning Pine), and bothersome insects (Black Fly BIPA). Flights are $10 – not bad for generous pours of six. Definitely worth a stop.
Best Restaurants in Saranac Lake and Tupper Lake NY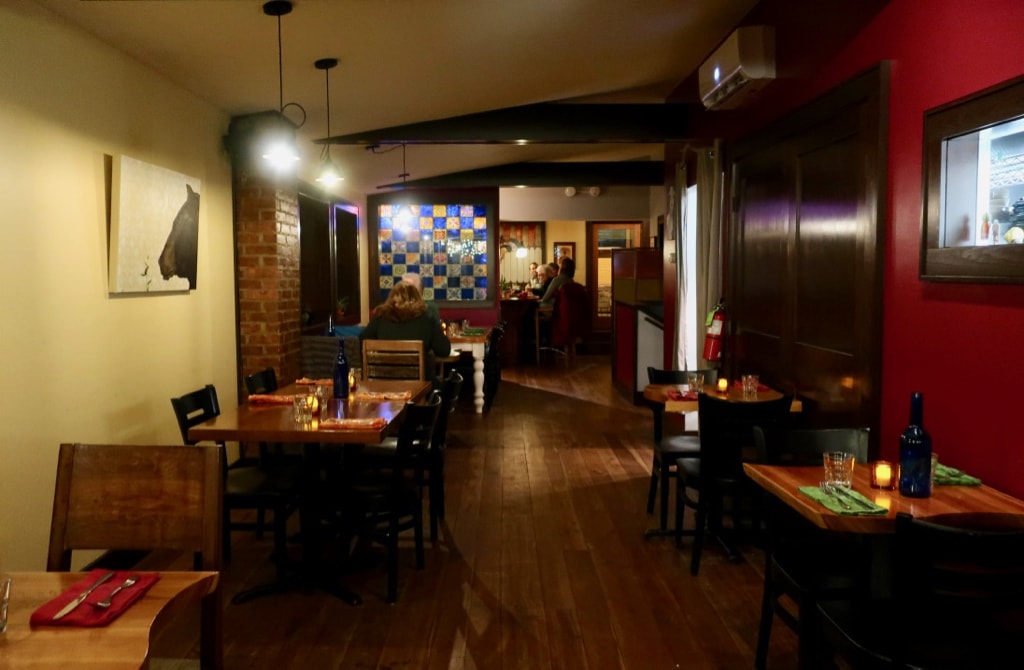 EAT: Fiddlehead Bistro, Saranac Lake
A few years ago, when the unpretentious Shamim Allen-Bailey, and Chef/husband, Craig, opened Fiddlehead Bisto, this hippy-dippy meets Top Chef restaurant was an anomaly.
Adirondack cuisine tends to be either, a) high-end traditional steak and seafood for the tony luxury lodge crowd, or, b) pub-fare for everyone else. Fiddlehead Bistro, bordering the Saranac River on Main St., is neither. (Although prices do reflect the excellence of meals here: in other words, expensive).
Food here is tough to define. Dishes manage to be hearty and inventive at the same time. Tough to pull off, but if anyone can do it, Chef Craig can. He loves to tweak the classics, and his menu changes daily – the mark of a true innovator.
For example, "Tempura Hake" appeared on my plate as chunks of fresh fish cloaked dramatically in black batter, thanks to "a few drops of squid ink." It was excellent.
Equally indefinable is the cool décor, which can best be described as "tables, tableware, and art crafted by friends and family." Shamim, full of cheerful vim and vigor, serves as Fiddlehead's gracious host. But, she also fabricated some of the curvy hard wood dining tables as well. Shamim points out others, etched and inlayed with chips of colored stone, designed by a friend.
My server's Mom fashioned most of the eye-catching clay tableware. Art on the wall, tiles on the building's exterior – all made by friends. It's as if this folksy, sophisticated, groovy spot, beloved by foodies near and far, is a community effort or something. How fitting for Saranac Lake.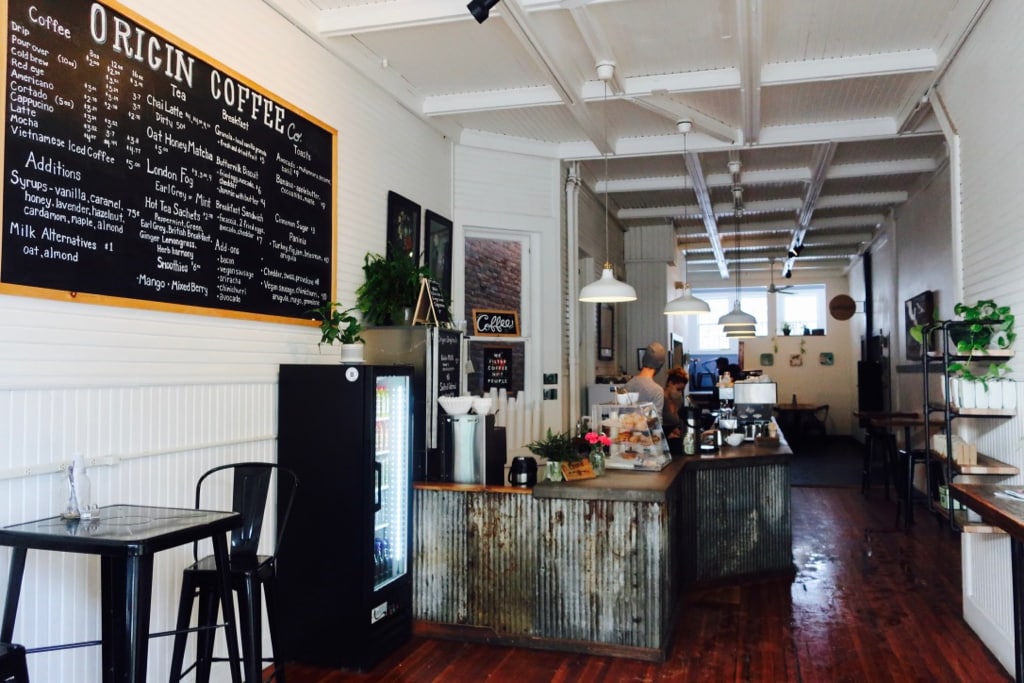 COFFEE/BREAKFAST: Origin, Saranac Lake
Origin, an indie coffee shop, has all the hallmarks of an anti-Starbucks, community-focused establishment. Organic blends, alt-milk options, hardwood floor, avocado toast: people of all ages stop into this Main St. favorite. It's a morning "Cheers" with java.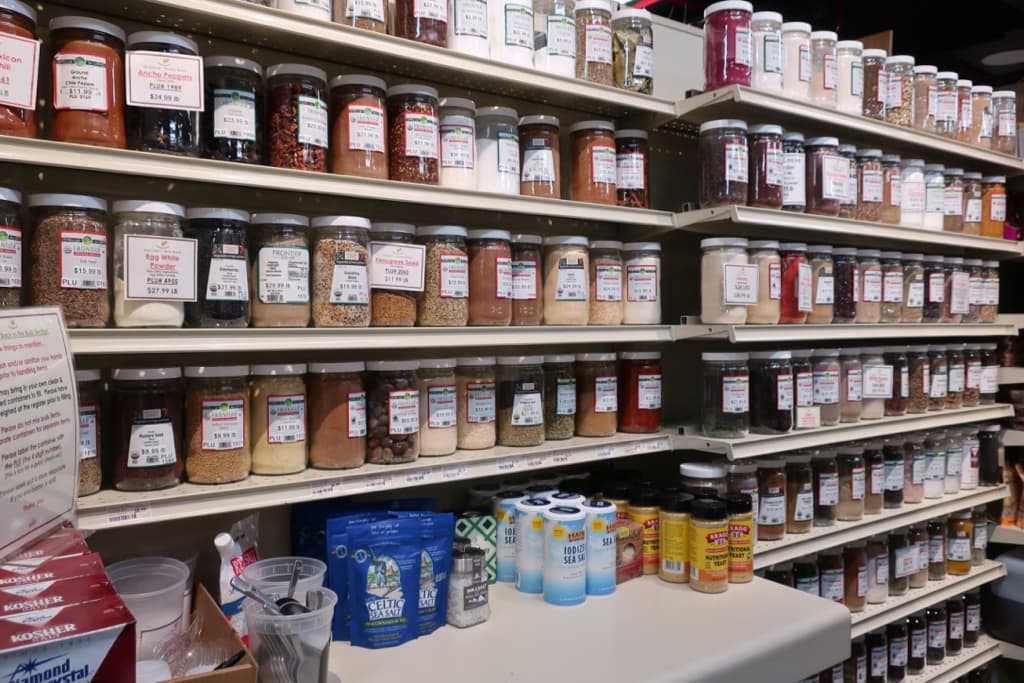 SMOOTHIES/COFFEE: Nori's Health Food Market, Saranac Lake
Nori's, carved out of a former Auto Body shop, has been selling organic, prepared, and bulk "health food" to locals for years. The market area is, in this near-New Yorker's view, large and impressive. Should you require raw nuts, vegan bars, fresh organic produce, snacks, or, say, a bag of dried beans, for sure, shop here.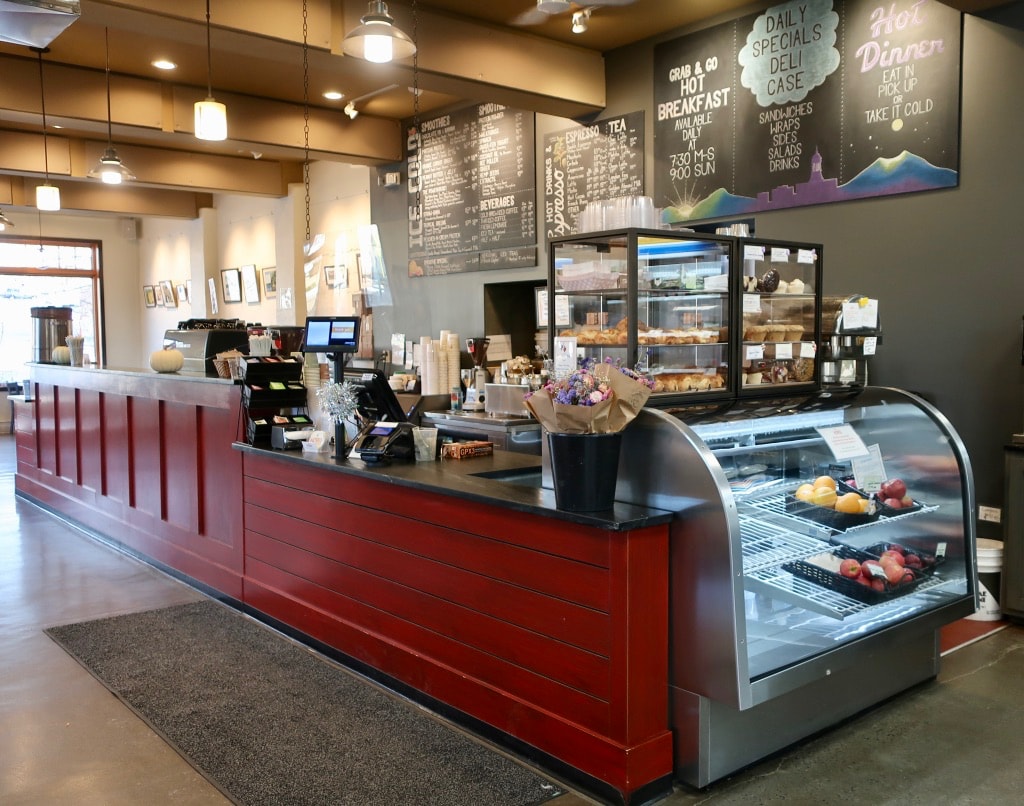 But Nori's opened a café a few years ago, so you can now get coffee drinks and smoothies (like the toothsome Chocolate PB & Banana mix) early in the morning (7am most days).
While sipping your Strawberry-Banana or Tropical Greens concoctions, peruse the local art on the walls. It's all for sale, and the artists take home a hundred percent. Nori's does not take any commission. "Community-based," indeed.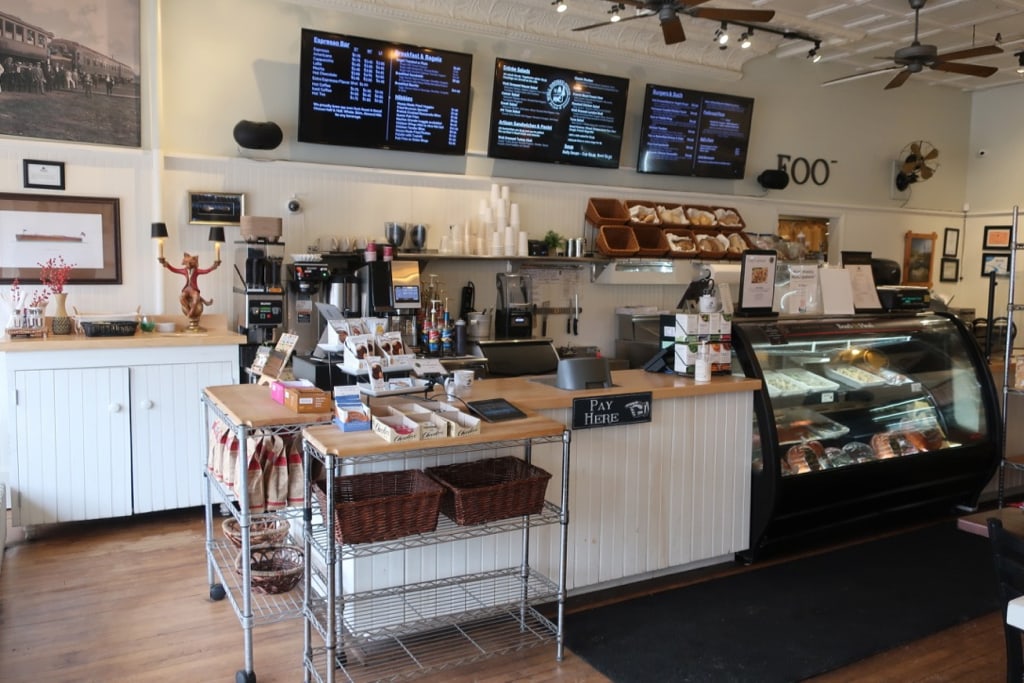 EAT/LUNCH: Well Dressed Food, Tupper Lake
Well Dressed Food is a restaurant, deli, espresso bar, and specialty food market, offering house-made soups, salads and artisan sandwiches by day, and a wine and beer bar by night. Sandwiches are fantastic – most likely because the bread is baked fresh in-house.
EAT: Locals Also Recommend
Saranac Lake: Bitters & Bones for burgers and the like, Red Fox Restaurant for traditional Italian, and Blue Moon Café for breakfast.
Tupper Lake: Amado, The Hub, and Lumberjack Inn – all mostly traditional American fare.
Where to Stay in Saranac Lake NY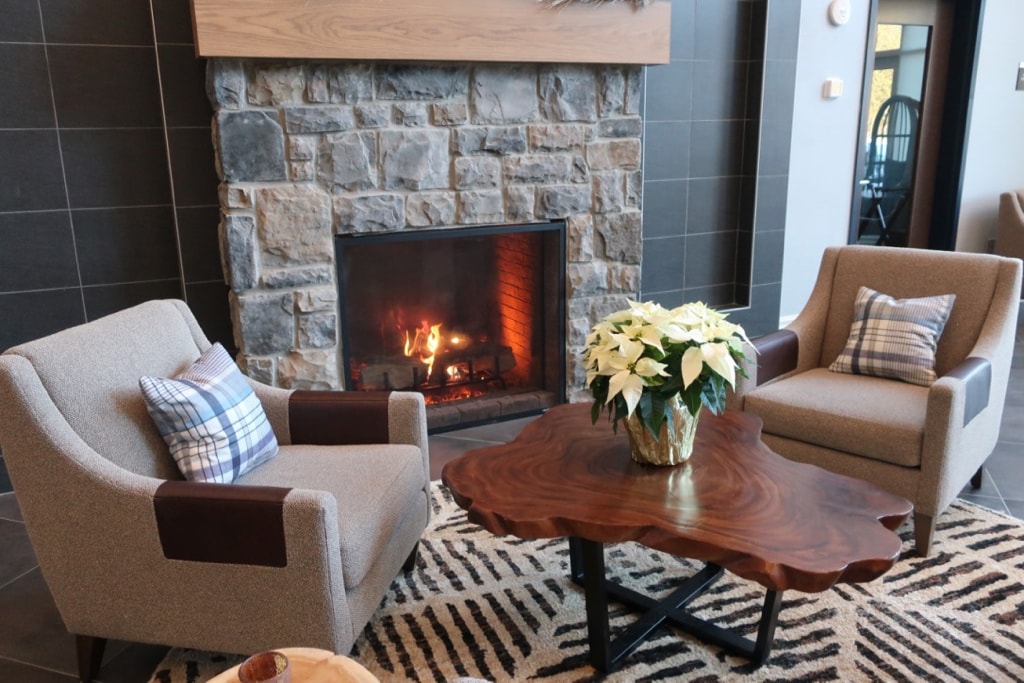 STAY: Saranac Waterfront Lodge
Opened in mid-2021, the romantic 93-room Saranac Waterfront Lodge is the only hotel right on the Lake and near the center of town. And, no matter the season, this full-service hotel takes full advantage of this location.
*The Saranac Waterfront Lodge is so romantic, it made it onto our 20 Best Romantic Hotels Northeast USA 2021 list.
In the summer, guests wielding wine or cocktails (ordered inside at the Boathouse Restaurant) commandeer Adirondack chairs, picnic tables, or the various lawn games set out on the waterfront.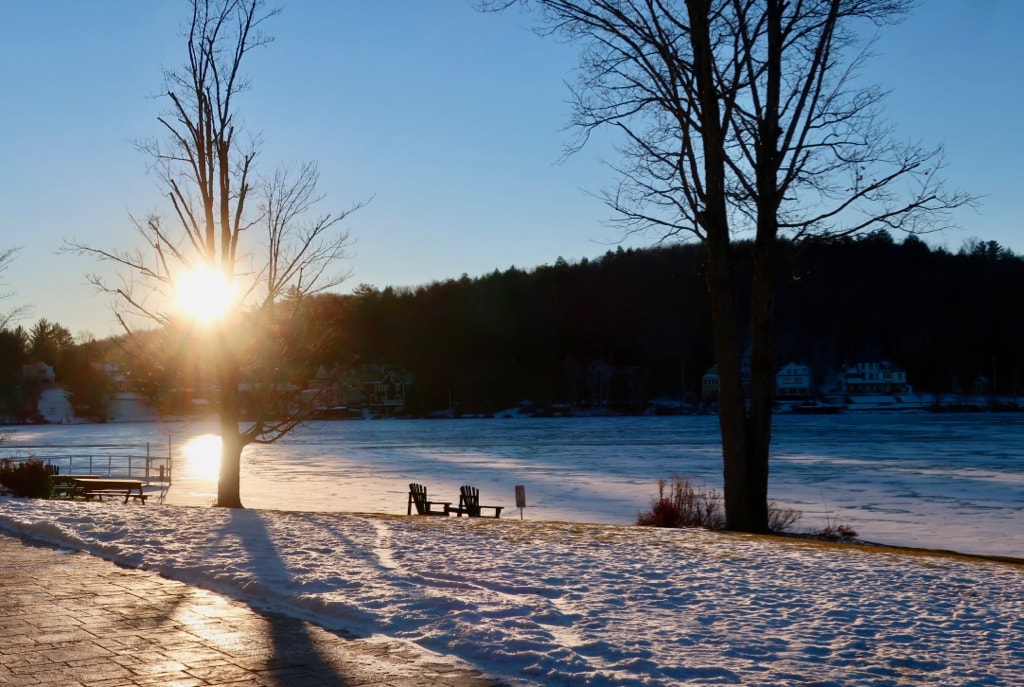 On chilly winter nights, friends gather on the "Observation Deck," just a few feet from the water's edge, to keep warm around the fire pit. From here, or through windows in the soaring lobby, you can get a dead on view of the town fireworks on New Years Eve.
The Lodge is also prime location for Saranac's Winter Carnival, held in early February every year. Hotel staff create a short path from the hotel to the premier attraction, the iconic carnival Ice Palace.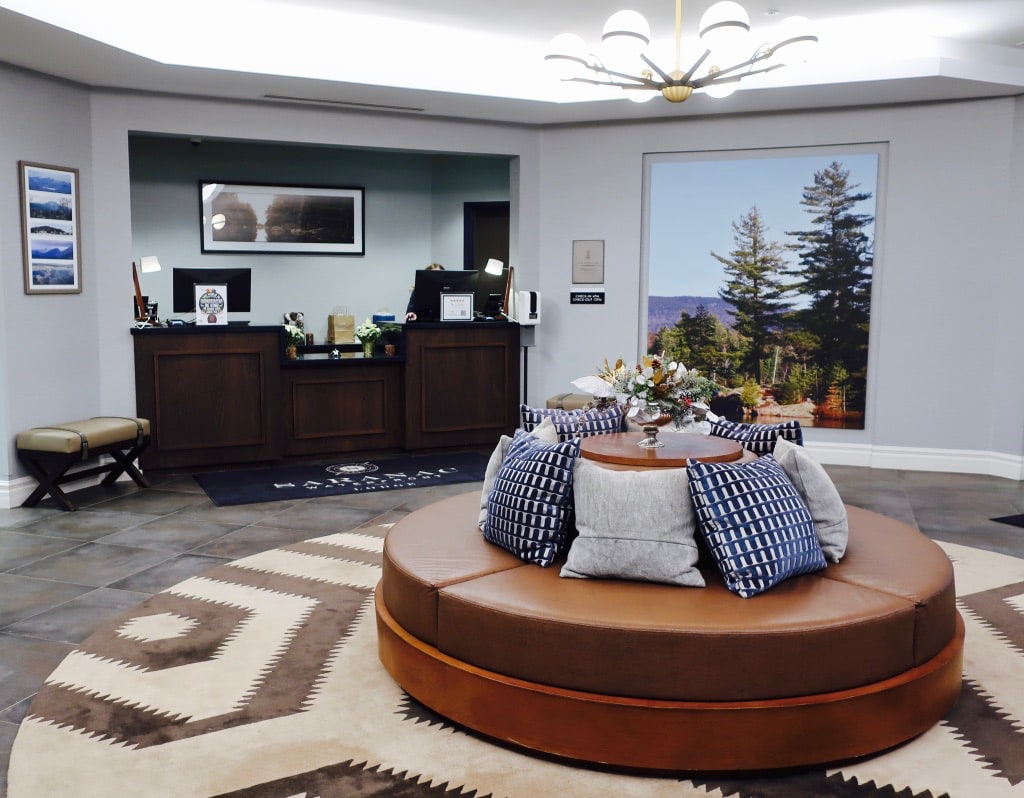 First Impressions of Saranac Waterfront Lodge
Check-in is friendly and very chill. A small reception area leads into the lobby, aka the "Navigator's Lounge" where floor to ceiling windows overlook the lake, and guests sip coffee or wine in front of a cozy gas fireplace.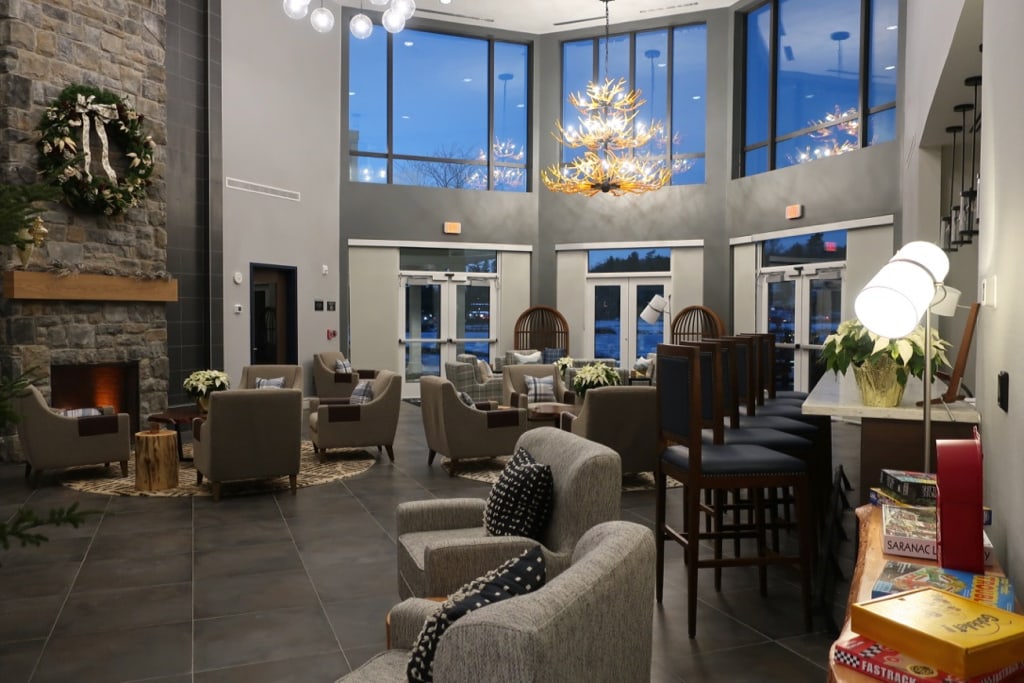 Couples or families also linger over board games: a perfect social activity for a stormy winter's eve.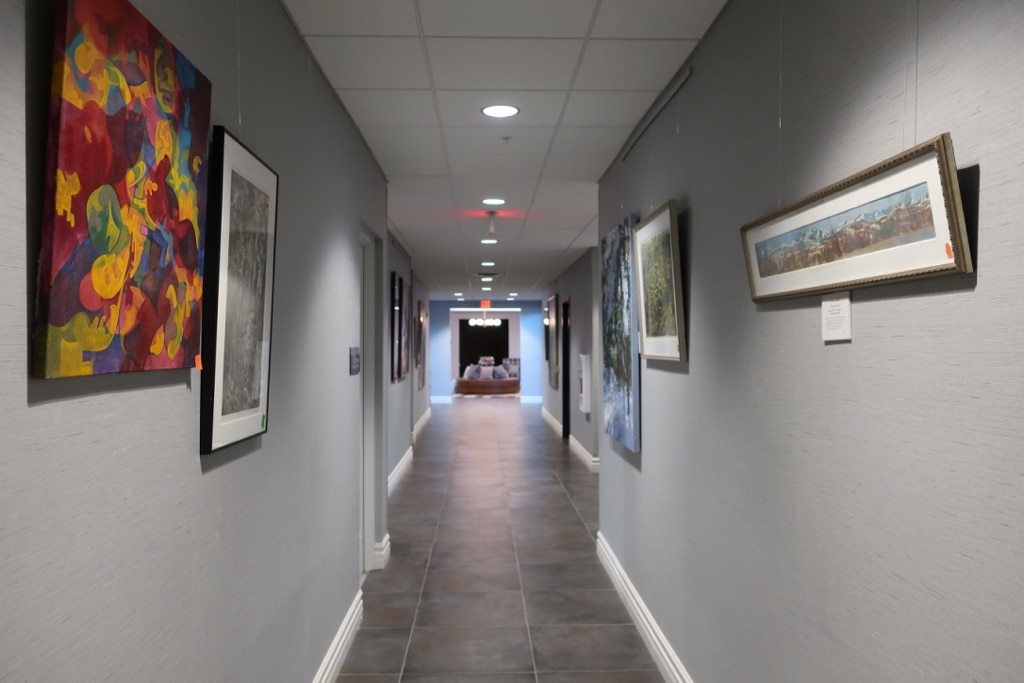 Hallways on the first floor serve as galleries for local art: a win-win for both the hotel and the artists.
Dining at Saranac Waterfront Lodge: The Boathouse
The Boathouse, connected inside the hotel through the ballroom, is open seven days a week year round. The large space is furnished in "Modern Adirondack" style – less birch-barky and more trim than the accouterments in Teddy Roosevelt's day.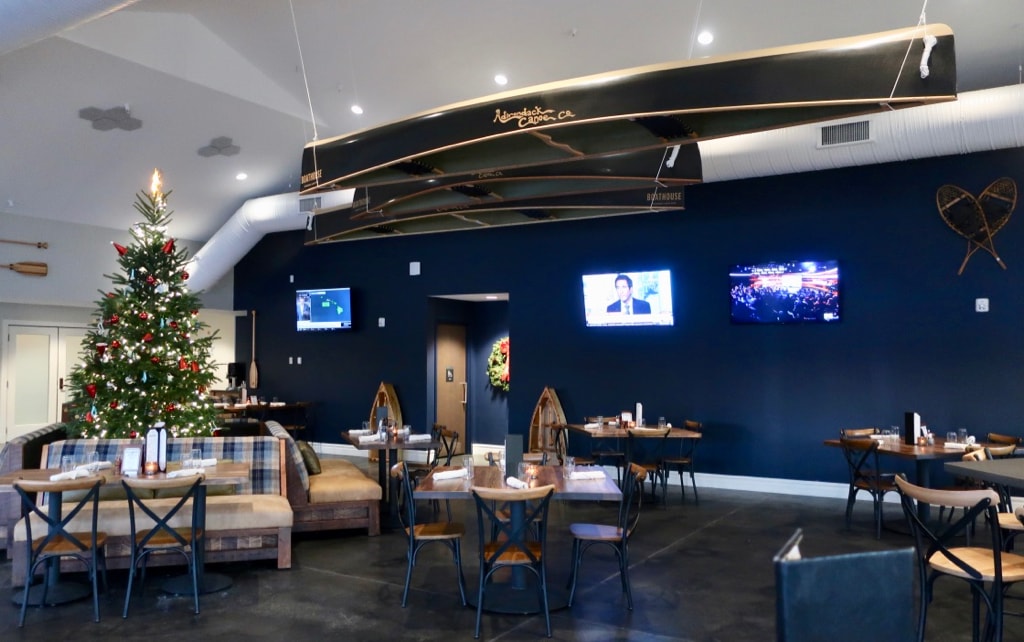 In the summer, glass door open onto a terrace overlooking the water. It's a hotspot for water sports enthusiasts to stop for a drink right off the lake. There are no other waterfront bars or restaurants in town, and this one hits the mark between casual and fine dining.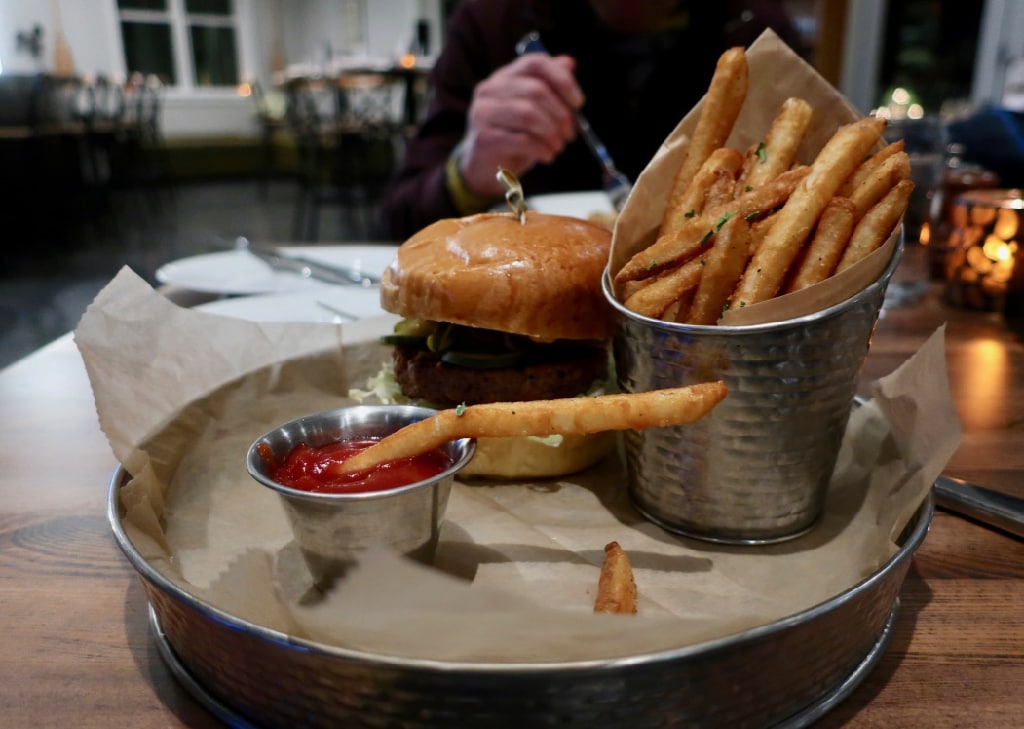 The food is good and fresh. My vegan husband was happy with his dish of root veggies, although he could have selected from 8 other vegan dishes on the menu – something I've never seen before at a hotel restaurant.
I was thrilled with my burger, made just the way I liked it. But, oh, the fries. If nothing else, order a cocktail and a side of those crispy, double-fried, flavorful morsels. Some of the best I've ever had.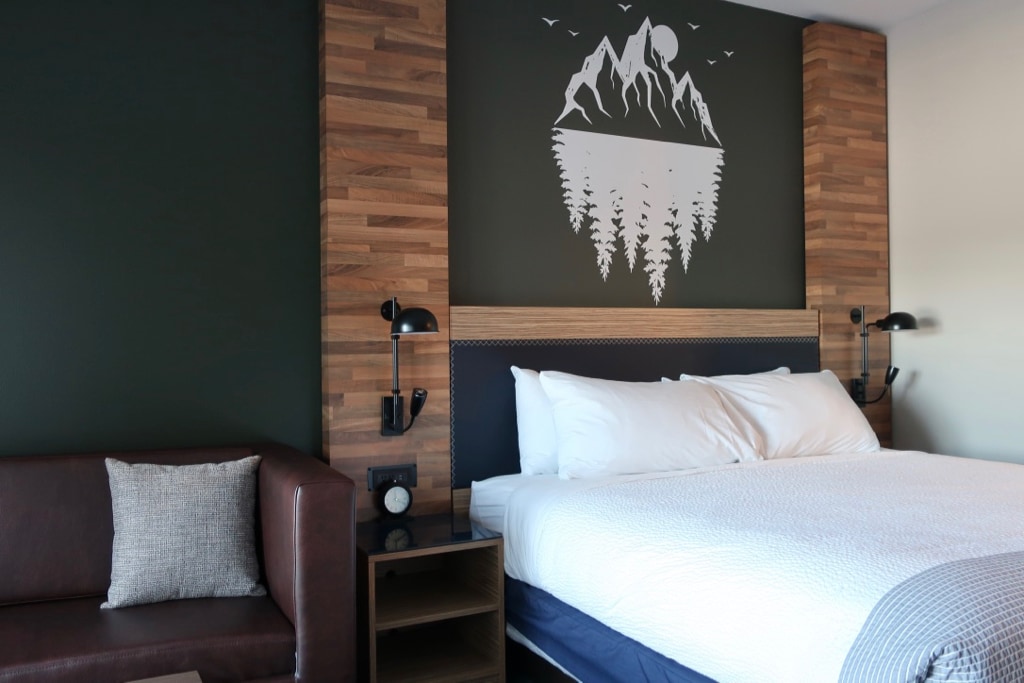 Rooms at the Saranac Waterfront Lodge
Although not lavish, guest rooms, in colors of earth, fir trees, and lumber, convey a less-is-more type of luxury. Adirondack minimalist, so to speak. Book a lake-view room and the panorama from your window, especially during the sunrise and sunset hours, surpasses anything made by man.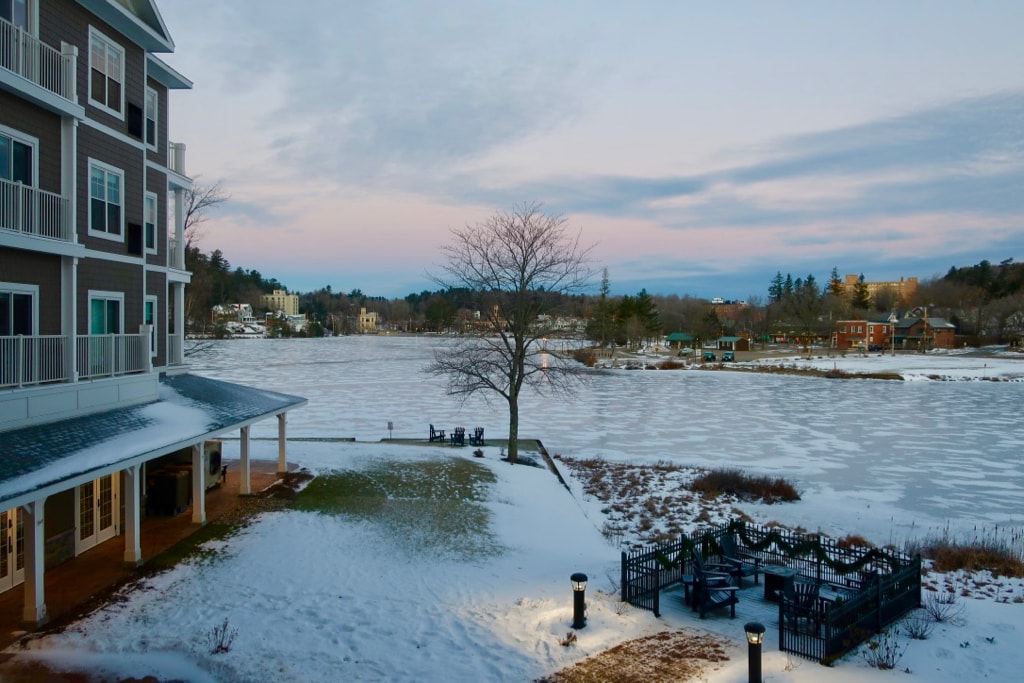 Beds are amazingly comfortable and sharp looking. Fortified hardwood floors, of course, can withstand hiking boots, dripping bathing suits, and melting snow. This is the North Woods, after all.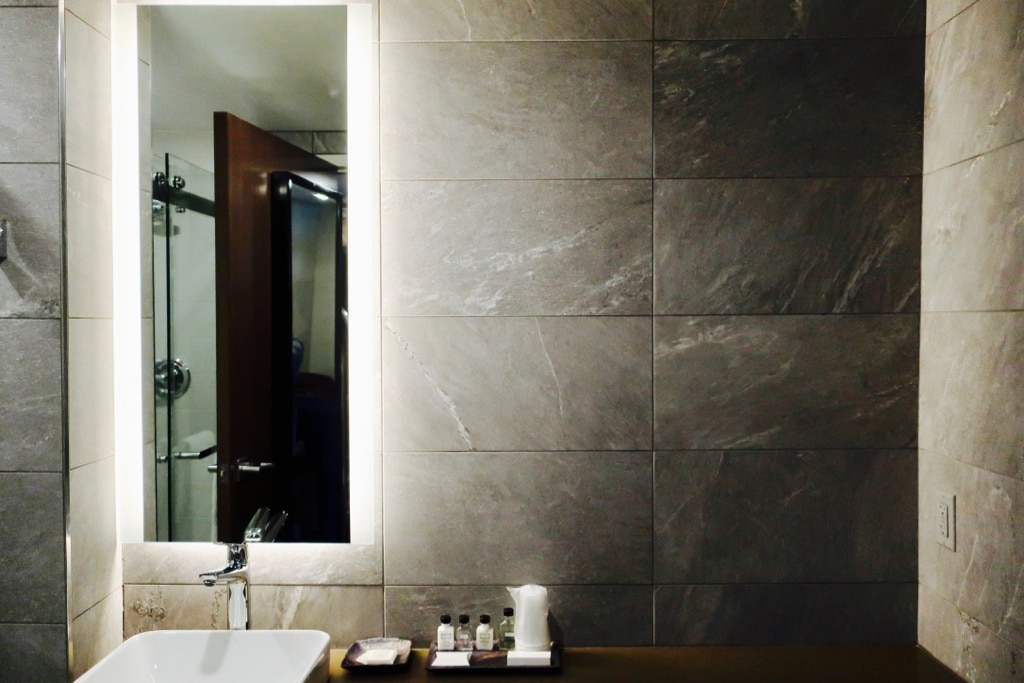 Bathrooms, clad in stone-like tiles, are pretty, new, bright, and most importantly, immaculate.
Room types run from Queen Town View to the 2 bedroom Governor's Suite: the latter perfect for bridal parties or romantic couples who desire lots of space, and one hell of a sexy soaking tub overlooking the lake.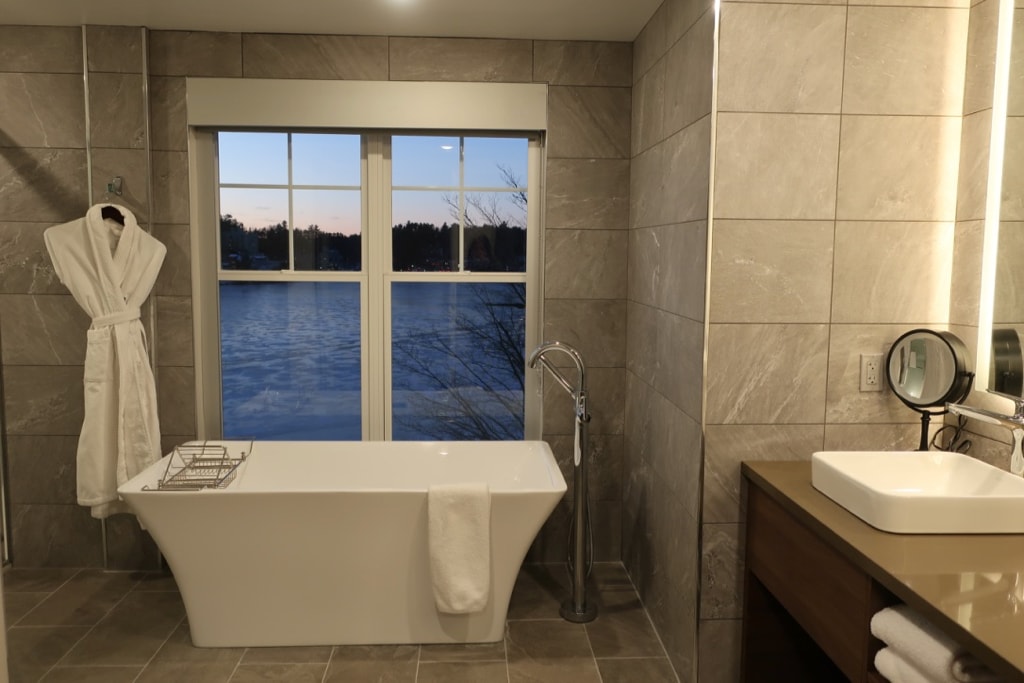 In fact, lovebirds adore this feature so much; the suite – the most expensive in the hotel with a kitchen and two balconies from which you can practically swan dive into the water– is booked weekends, months in advance.
Amenities
In season, you can rent a kayak, canoe, SUP, or pontoon boat at docks right from the back door. Though this body of water is really pond-sized, it's connected to the Saranac Chain of Lakes. "You can easily spend a full day exploring on the water," says a local.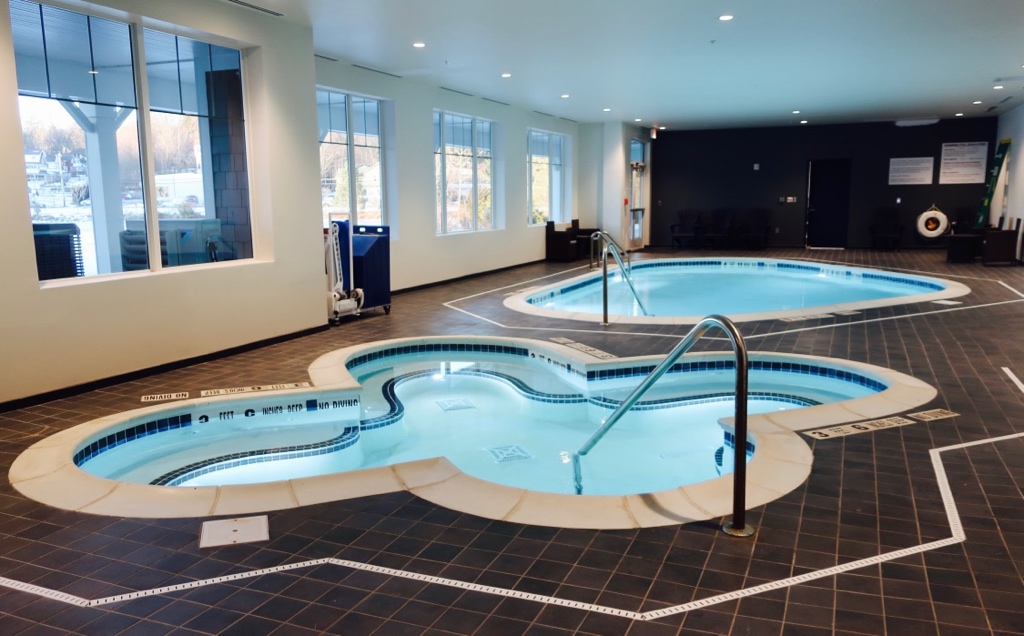 Families flock to the indoor pool and large hot tub that share a room right off the lobby. Though the pool is small, the hot tub is large – guests don't have to sit on top of each other.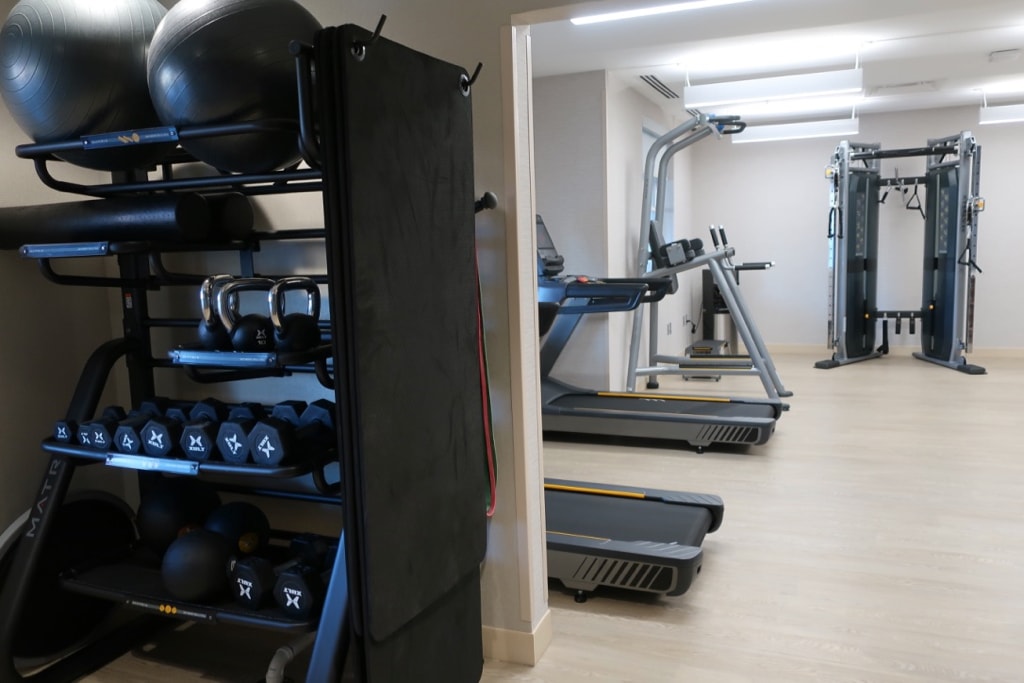 A well-stocked fitness room, right across from the pool, has everything you need for a great workout, including new machines, balls, and weights.
Rates
Rooms start at $155 per night and can head upwards of $750, and higher during special events. Make it more special with the Romance Package that includes a bottle of Rose, chocolate truffles, macaroons, and a $40 daily breakfast credit.
Find Saranac Waterfront Lodge on Getaway Mavens 15 Top Romantic Hideaways Northeast US 2022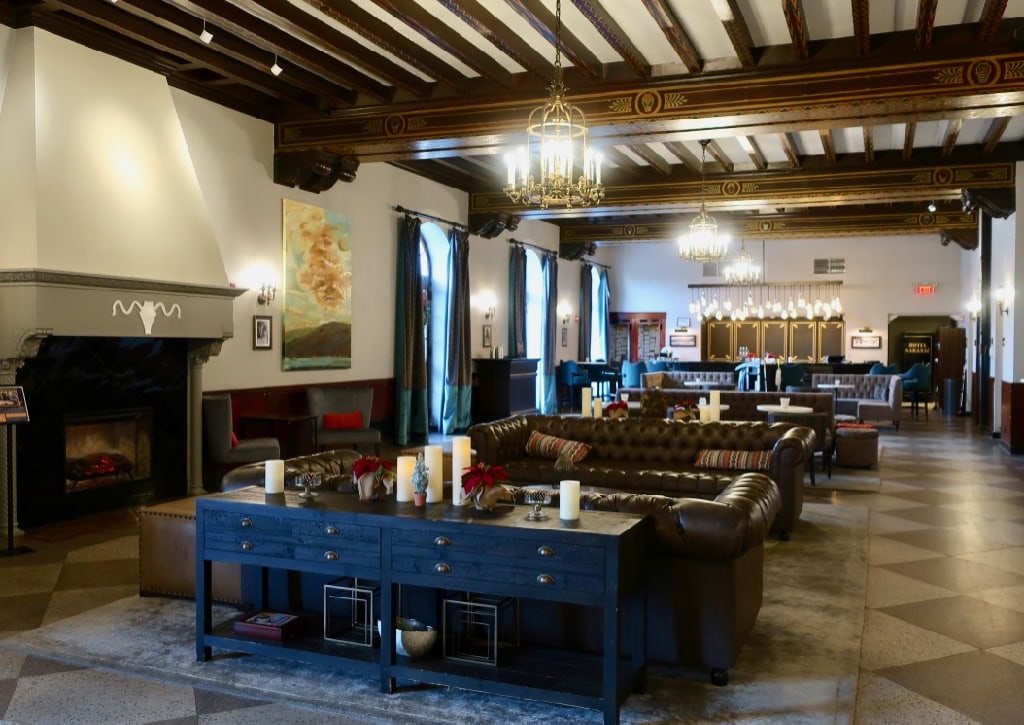 STAY: Hotel Saranac
The luxury Hotel Saranac (Curio by Hilton) is often confused with the Waterfront Lodge, but, unlike the Lodge, it is not directly on the water. (To add to the confusion, there's also a place nearby called Saranac Inn, which is not an inn, but a tiny town created when the actual inn burned down in the mid-1900's).
The more formal Hotel Saranac, which first opened in 1927, fell on hard times (read: The Depression), and was gut renovated in 2018 into the high-end hotel it is today, stands on a high point in town on Main St. The large and castle-like Great Hall hosts community events, and is the hotel's defining feature. Rooms from $175 per night.