WHY GO: Troy NY, formerly ratty, now considerably hip, has been undergoing a slow renaissance for a couple of decades. Troy is the "Official Home of Uncle Sam," as the War of 1812 beef purveyor, Sam Wilson, lived here. But it's also known as "The Collar City," for the detachable collar invented in 1825 by a woman, Hanna Montague, who hated cleaning her husband's whole shirt when only the collar got filthy.
Since 1824, Rensselaer Polytechnic Institute (RPI) has endowed Troy with some pretty significant nerd cred. While earning his degree in Civil Engineering in the 1870's, George Washington Ferris studied a Troy based industrial water wheel that inspired the amusement park ride that bears his name.
Troy was a wealthy Hudson River textile mill and iron works town and then, in the latter-1900's, it went to seed. And became a place no one even dared go.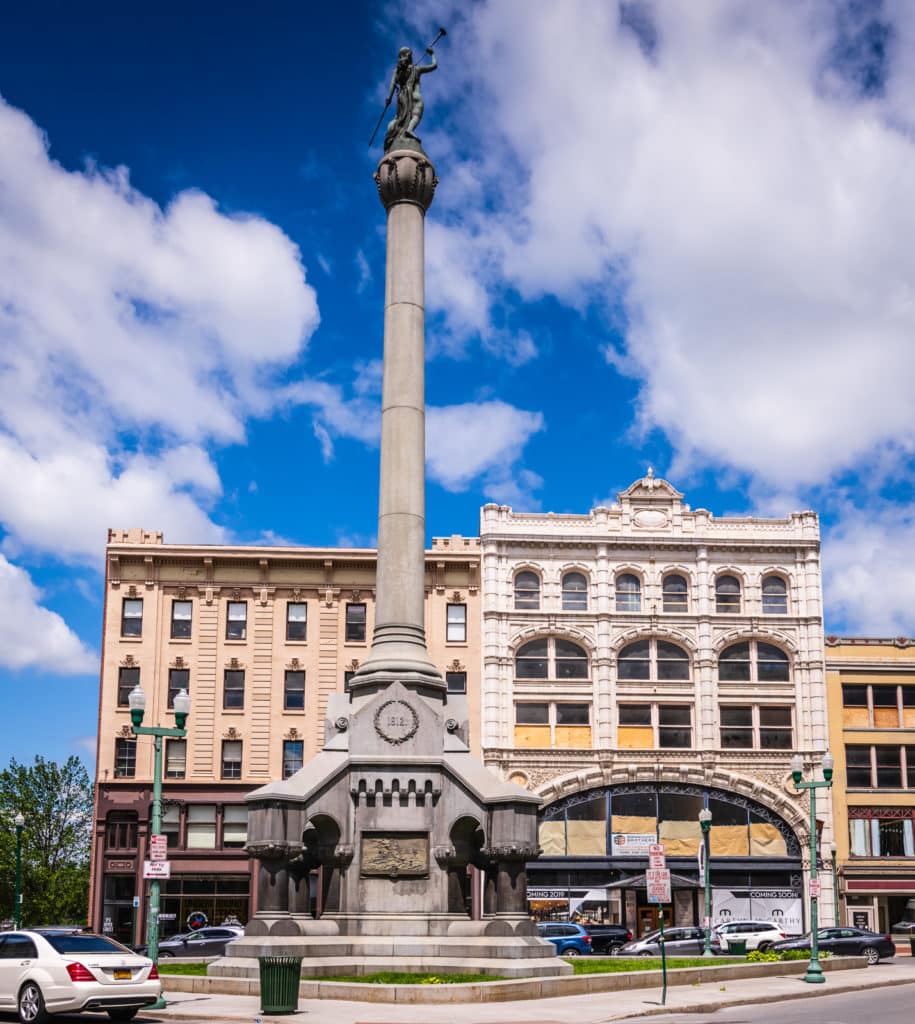 Now, eye-catching brick industrial and commercial buildings have been repurposed into chic boutiques, restaurants and galleries. An independent bookstore occupies a significant corner of downtown, and above it, Warner Brothers Games NY just moved in. Artisanal bakeries and ethnic shops and restaurants (African, Moroccan) are cropping up. The annual winter "Victorian Stroll," considered the largest free outdoor holiday festival in the country, draws thousands of people to this small city.
Downtown streets parallel and lead to the Hudson River – a transportation artery that a century ago moved manufactured goods from this once-industrial town, and now brings tour boats from Canada, New York City, and Chicago. Private yachts from Europe stop here on their way to the Erie Canal.
With a walkable town, great public transportation, and affordable homes, there's increased interest in Troy, especially among artsy types who have been priced out of NYC and other metropolitan areas. This, of course, is a boon to visitors, who will find incredible shopping, eats, and the quirky attractions that the Getaway Mavens love to tout. Read on….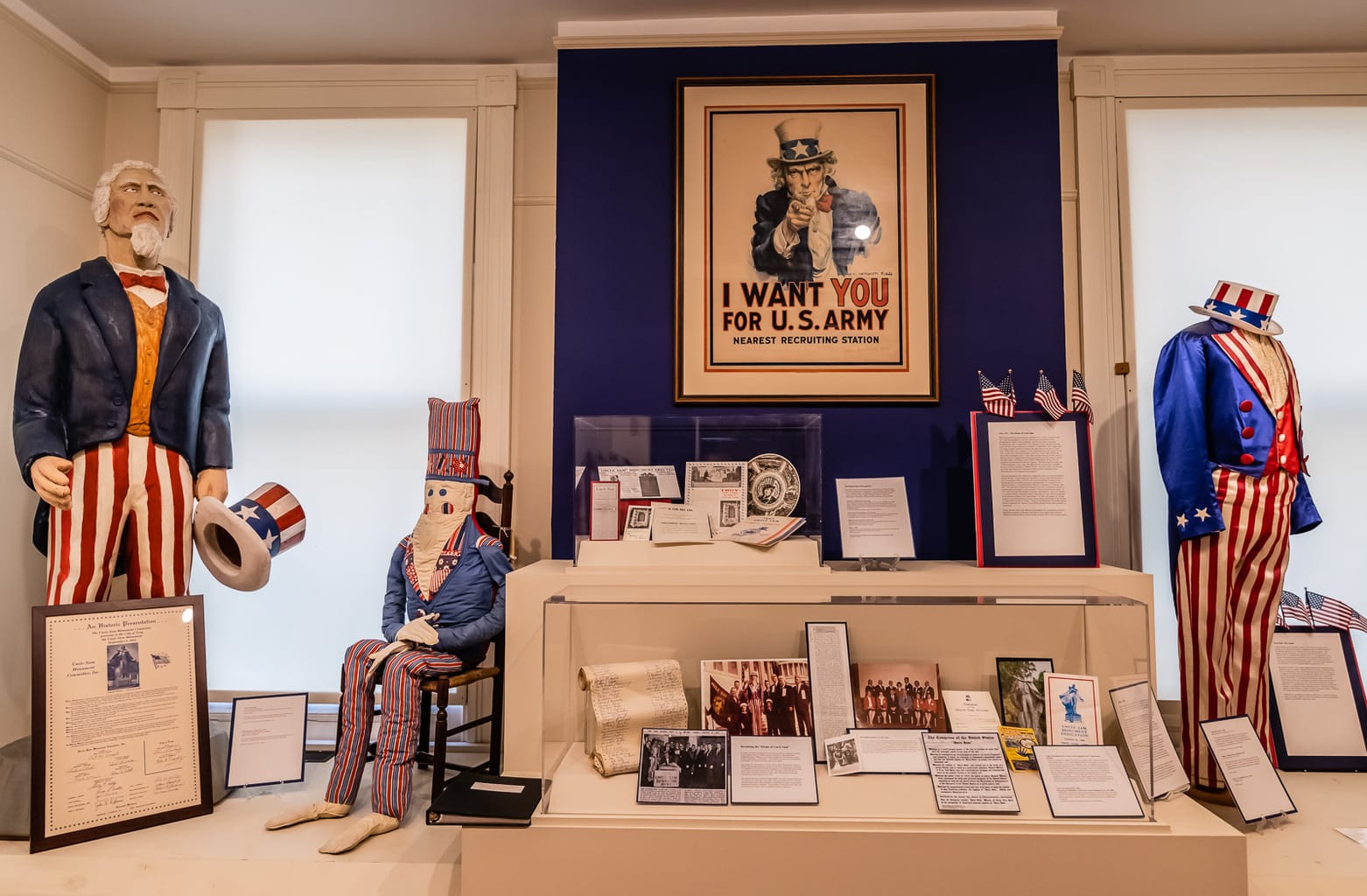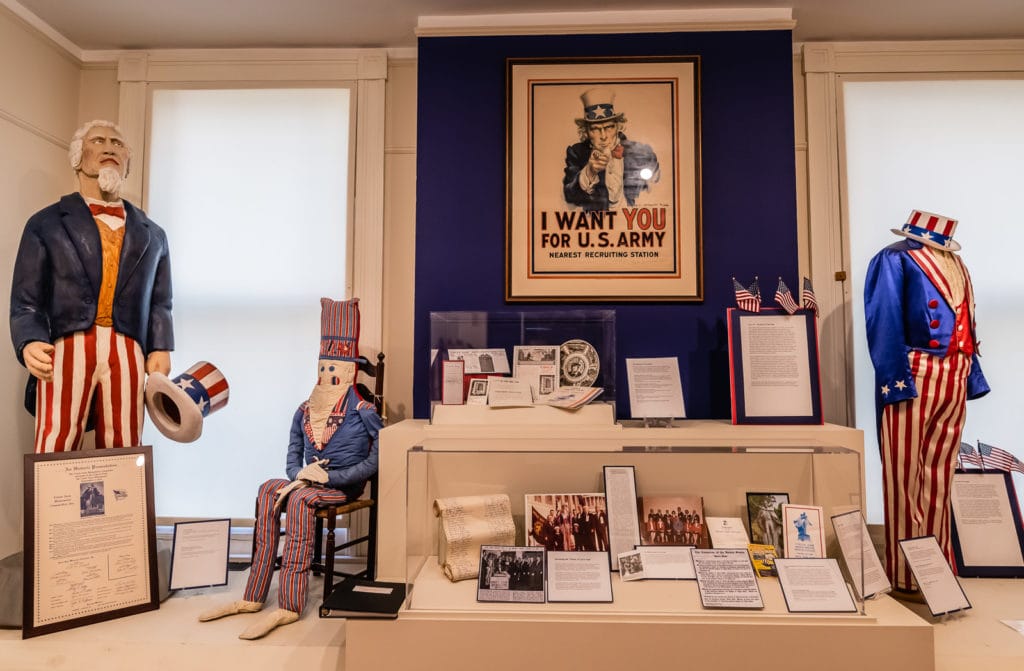 Things to Do in Troy NY
TOUR: Hart Cluett Museum. I love what some people might consider musty history museums, precisely for the surprising things to be found if you dig deep enough (and ask). This Historical Society does not disappoint. There's a whole room devoted to "Uncle Sam" Wilson, with personal effects that include his very own chamber pot.
The museum is much larger than it looks from the town-home street entrance. One whole back room – the original carriage house – houses an original un-restored 1830 Curtain Quarter Coach and the large red blazing neon "South End Tavern – Ladies Entrance" sign.
There are exhibits about the Civil War era horseshoe industry (Troy was also called the "Horseshoe Capital" as it supplied all of the horseshoes for the Union Army), and ornate iron stoves made in the foundries scattered throughout the county.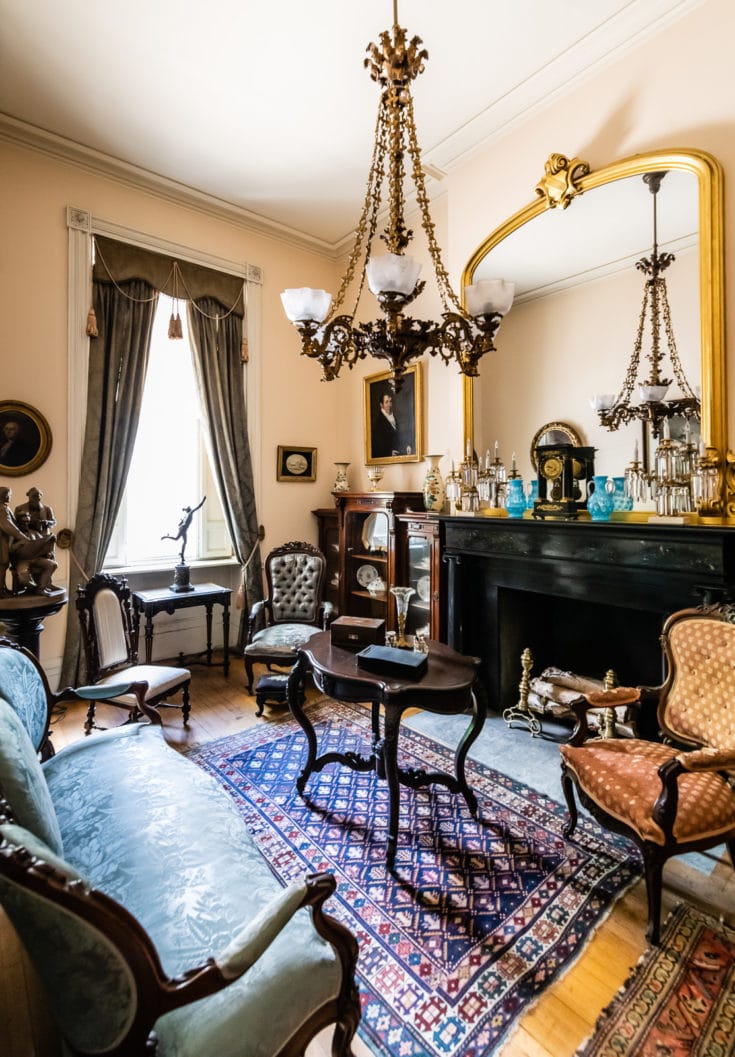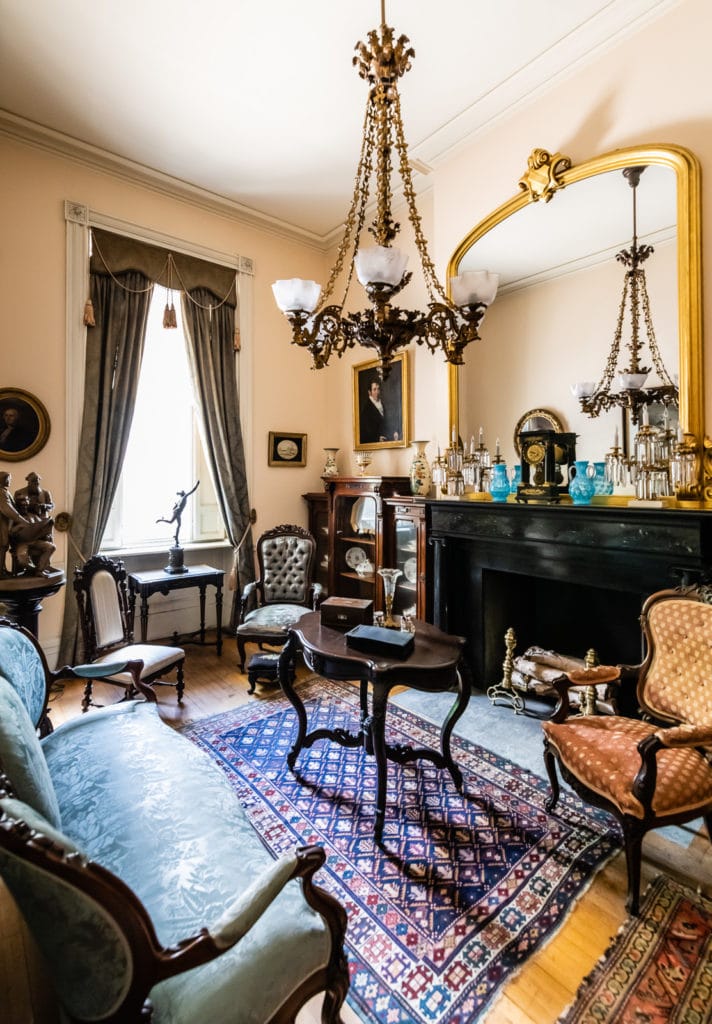 But if you time it right, you'll want to gawk at each of the ten or so 18 ft high rooms at the Hart-Cluett House, on the National Historic Register, next door and accessed from inside the museum. With hand-painted French wallpaper, exquisite furniture, and impressive décor; interior designers come here for ideas. Tours available Second Saturdays during warmer months.
Refreshingly (and unusual for a historic home) the whole museum is fully accessible – with small elevators to second other floors – making it a perfect stop for those in wheelchairs. Open Feb – mid Dec., Thurs-Sat 12-5, adults $8, kids $5. Hart Cluett House open 2nd Sat. March-Nov, $15 adults.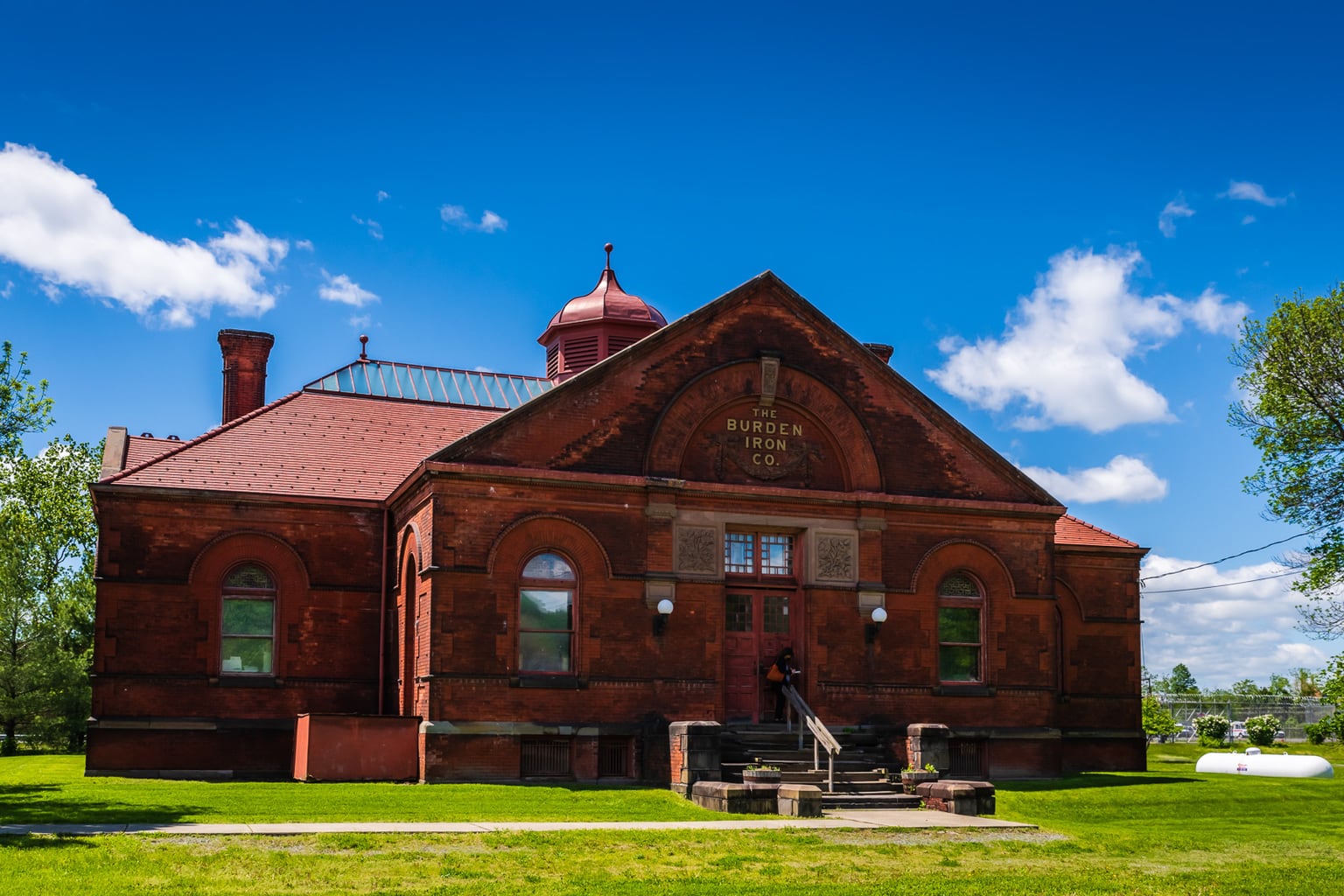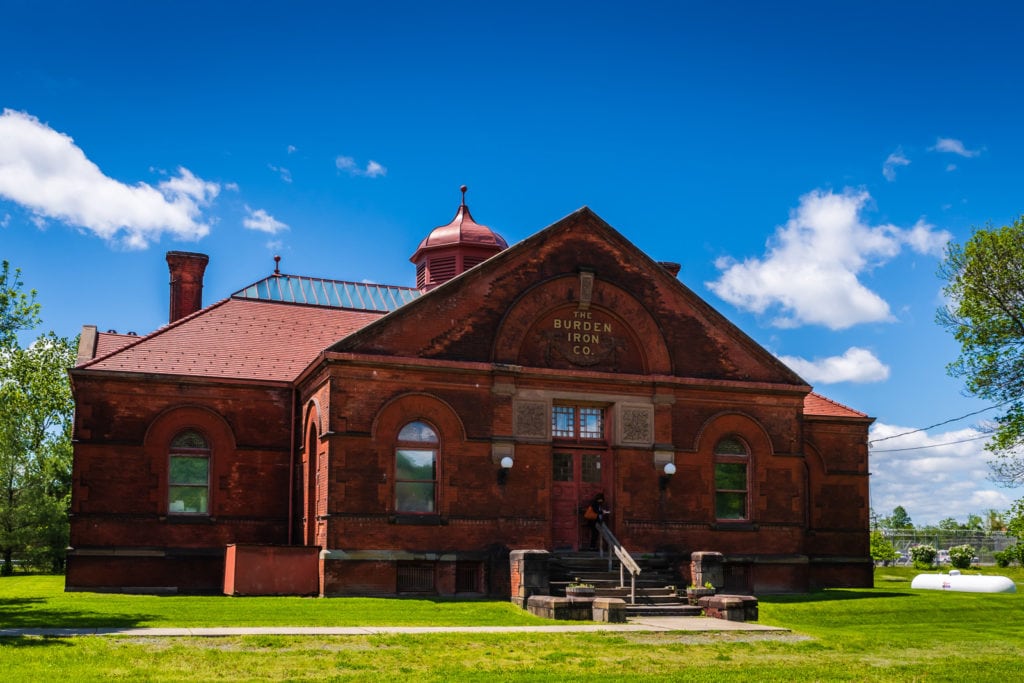 TOUR: Burden Iron Works Museum. This tough to find museum outside of town in an industrial area is well worth your time. Executive Director, Michael Barrett, presides over what first appears to be a jumble of iron, glass cases, posters and architectural renderings, but on closer inspection are significant pieces of history that emerged from Burden Ironworks. And Barrett has a dramatic story for each and every one.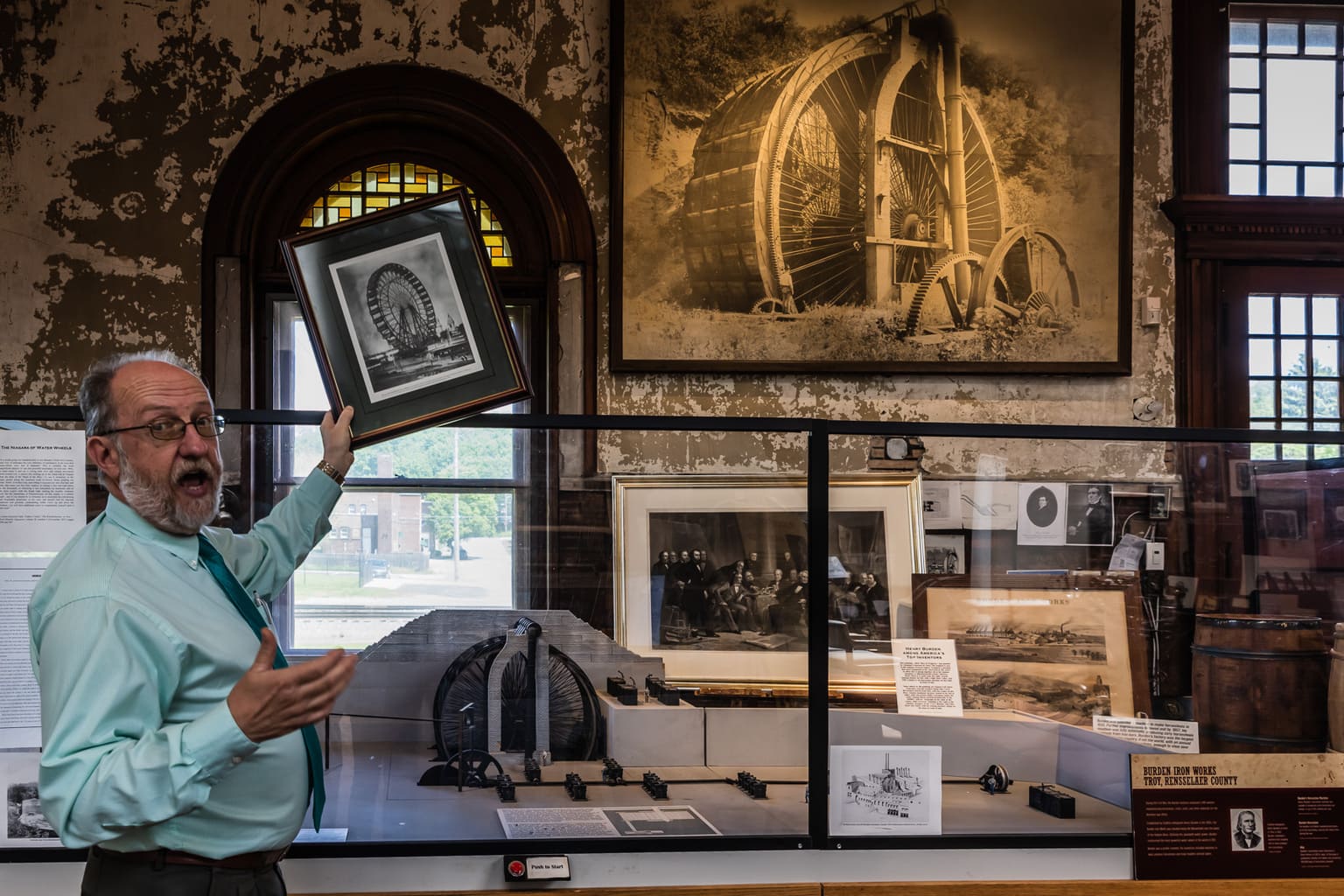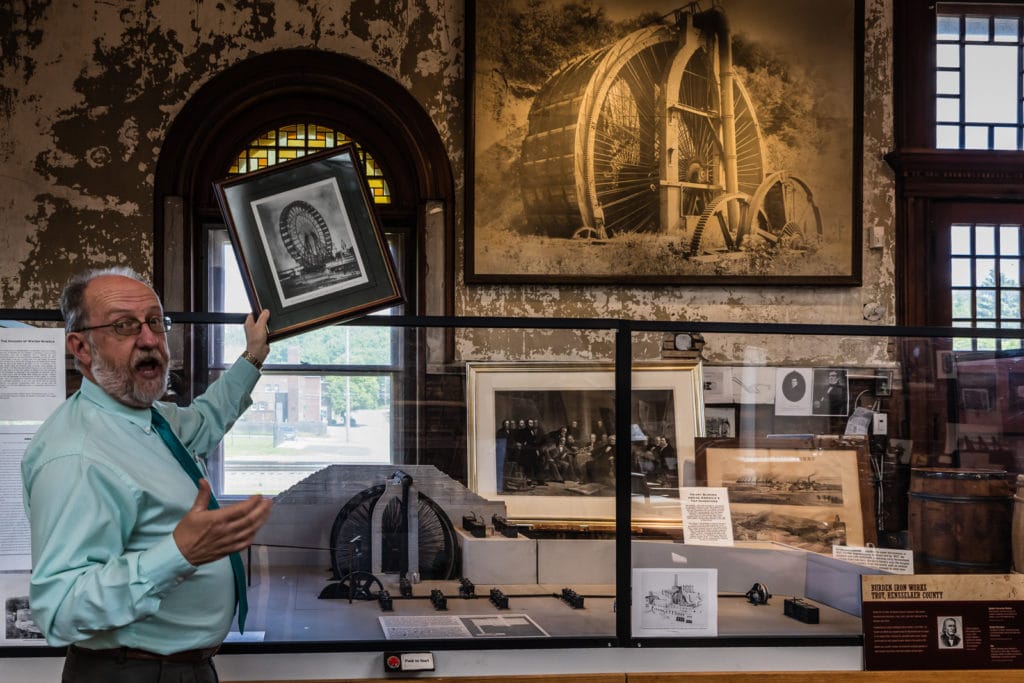 The iron industry began in this region in 1807. Advantaged by flat-water for transportation (Hudson River) and falling water to power water wheels (Wyantskill River), Troy became an industrial and shipping hub.
In 1852, Scottish immigrant, Henry Burden, built a 62 ft. diameter spoked iron water wheel, known to be the most powerful energy source in the world at that time. The Burden Water Wheel was the Instagram darling of its day: visitors to Troy would take "selfies" while standing in miniscule proportion to the famous "Niagara of Water Wheels."
When George Washington Ferris attended Rensselaer Polytechnic Institute in the late 1870's, he studied this famous invention, and lo and behold, in 1893, created the Ferris Wheel for the World Expo. At this point in the tour, Barrett holds up a photo of the Ferris Wheel next to one of the Burden Water Wheel to illustrate the similarities between them.
Was this the inspiration for Ferris's claim to fame? Both have the same number of spokes. The industrial Wheel has 36 water buckets; the Ferris wheel has 36 people buckets. So you tell me.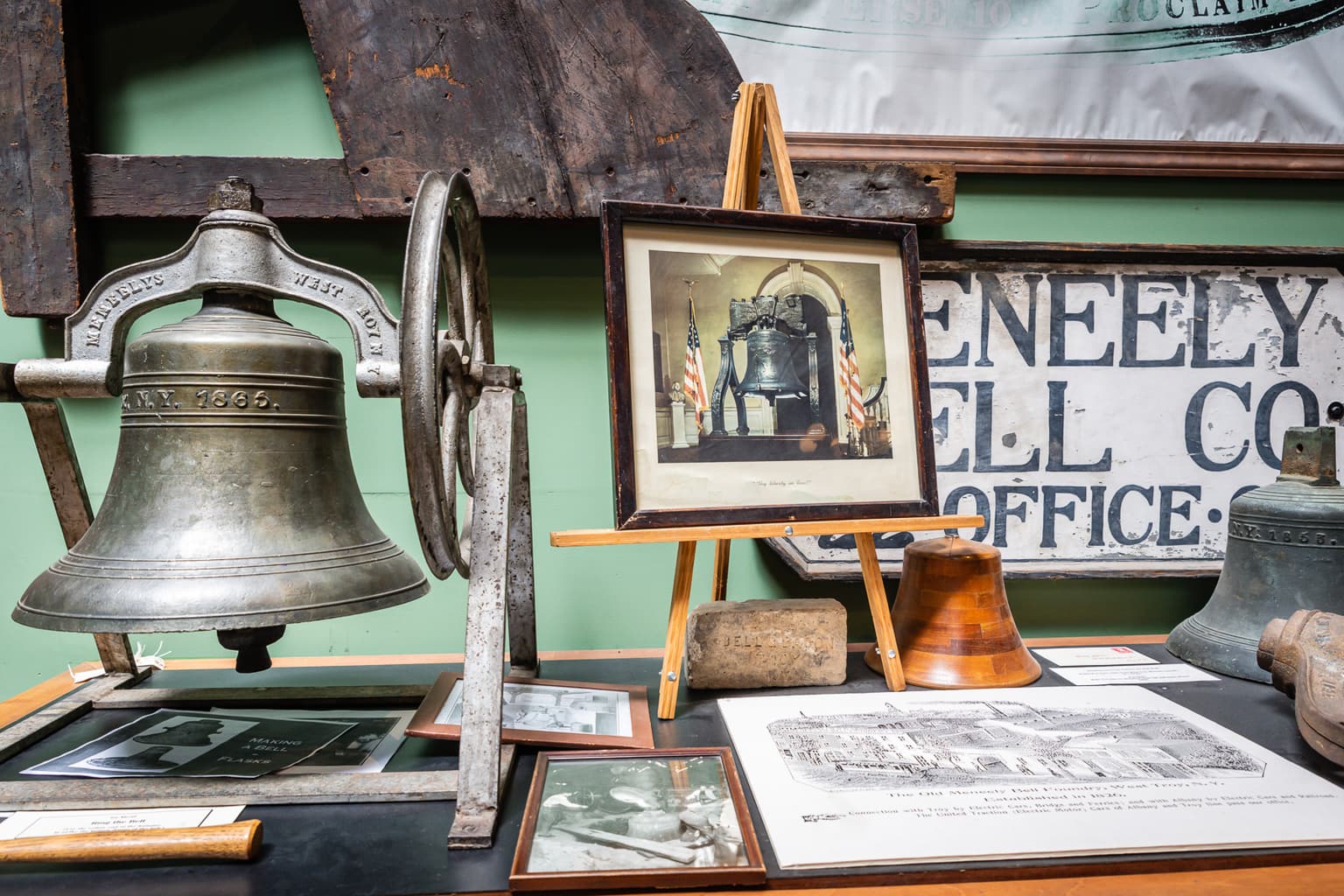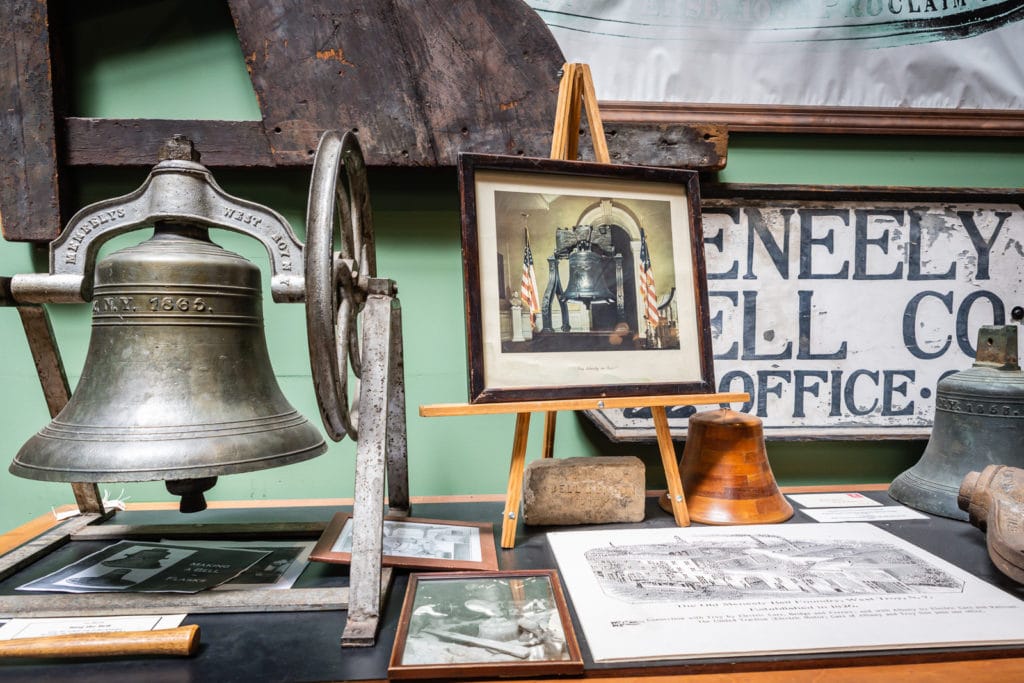 Burden Ironworks was among the four largest bell-making concerns in the world. In fact, the 2,000 lb 1876 Centennial Bell that tolls every hour from Independence Hall in Philadelphia was forged in this very spot. In the early 1900's Burden Ironworks manufactured the Women's Liberty Bell that suffragists took on tour to raise funds for the Women's Vote. Its clapper was soldered to the wall so it wouldn't ring, emphasizing the fact that "women had no voice."
But here at the Burden Ironworks Museum, you are encouraged to ring bells large and small – their sound pure, rich, and joyful. Be prepared to stay an hour or more, as Barrett's tantalizing take on Troy history leaves you wanting more. Mostly open Mon-Fri 10-6, but call first. Or, take a chance and go to the back door and ring the doorbell during those hours. $10 suggested donation.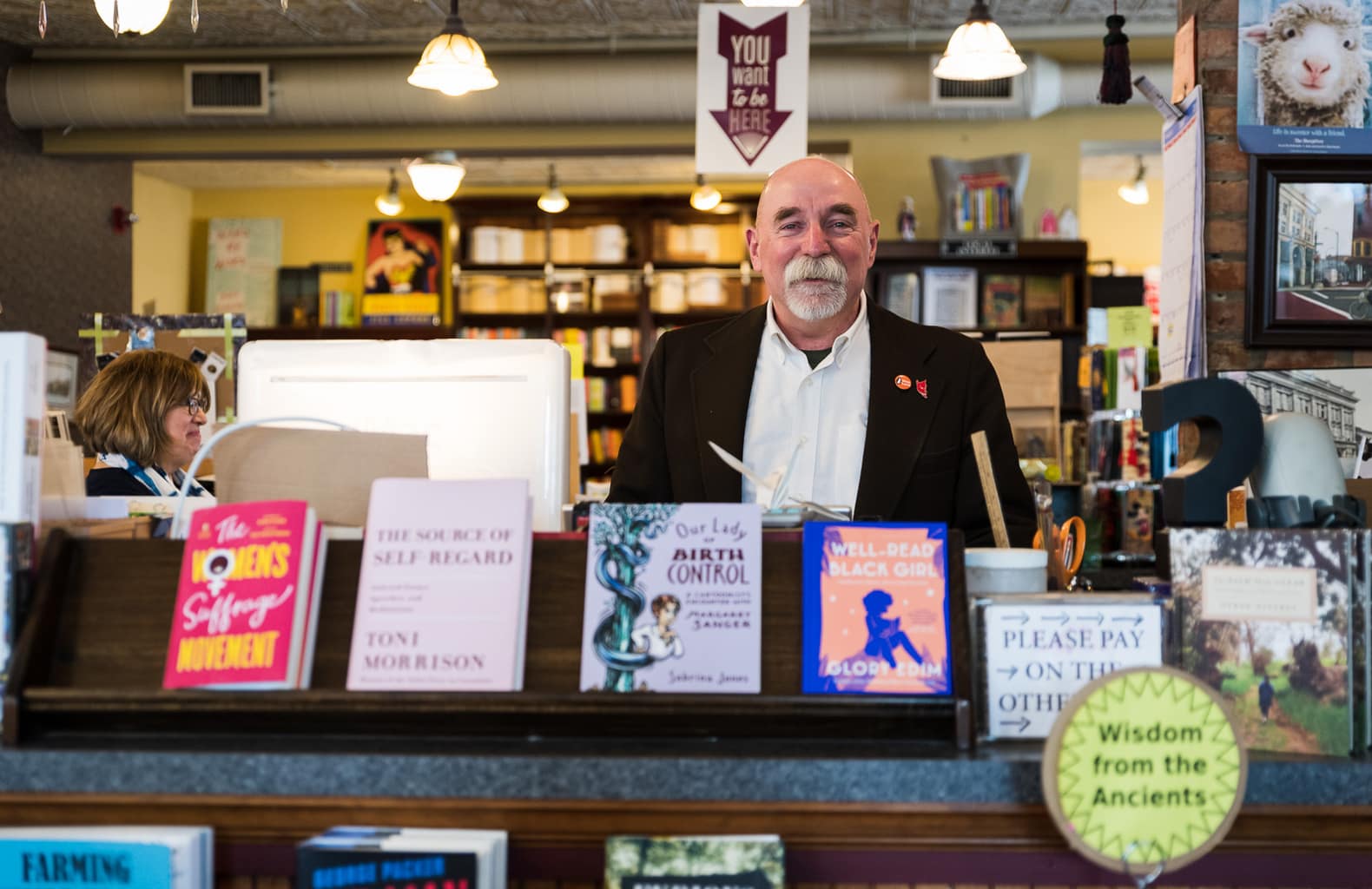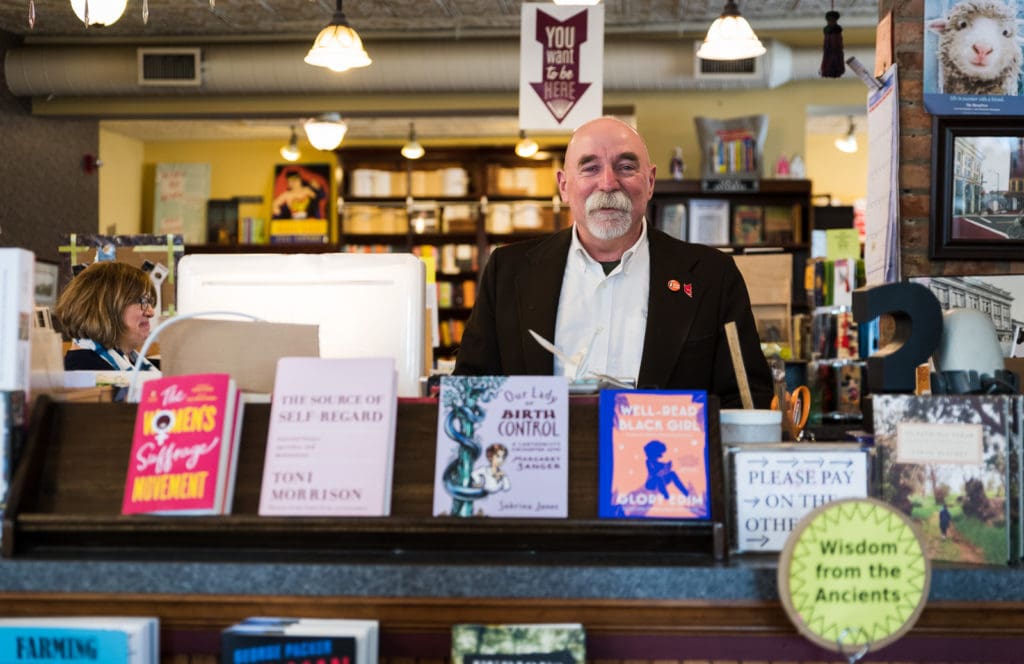 SHOP: Market Block Books. When owner Stanley Hadsell opened this indie bookstore in Troy in 2004, he was a pioneer, albeit a bit nuts he'd be the first to admit. The first to rent in this abandoned 1844 building; there were no other shops on the entire street.
The Troy Library offered Hadsell a beautiful mahogany bookcase, and other going-out-of-business establishments offloaded handsome shelves and furniture before they moved out – providing Market Block Books with a rich-looking Victorian-era ambiance for a song. A college town, the bookstore has a large millennial clientele. Most books are sold online, but the interior of this well-positioned store is so fine, you'll want to come in and take a look.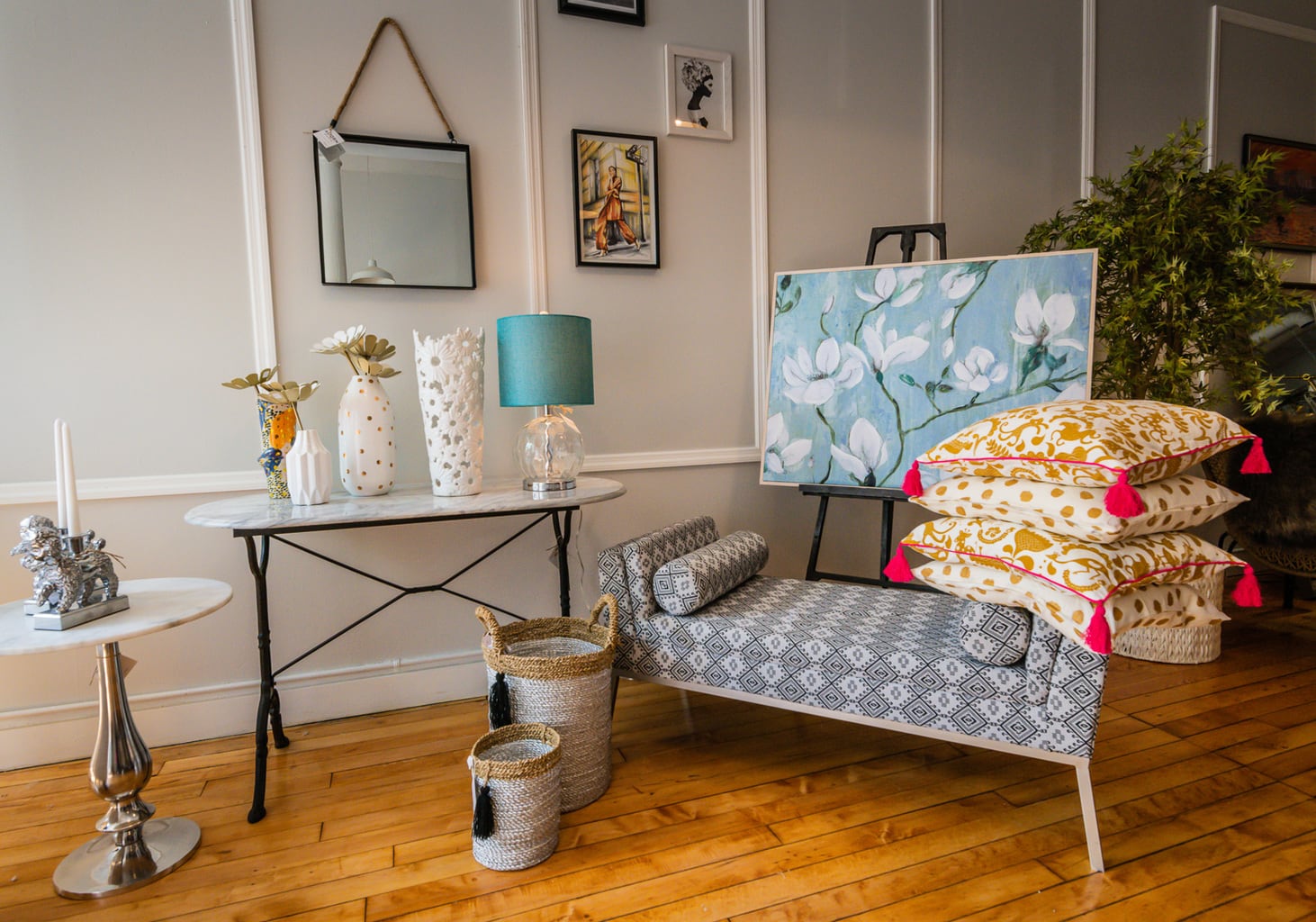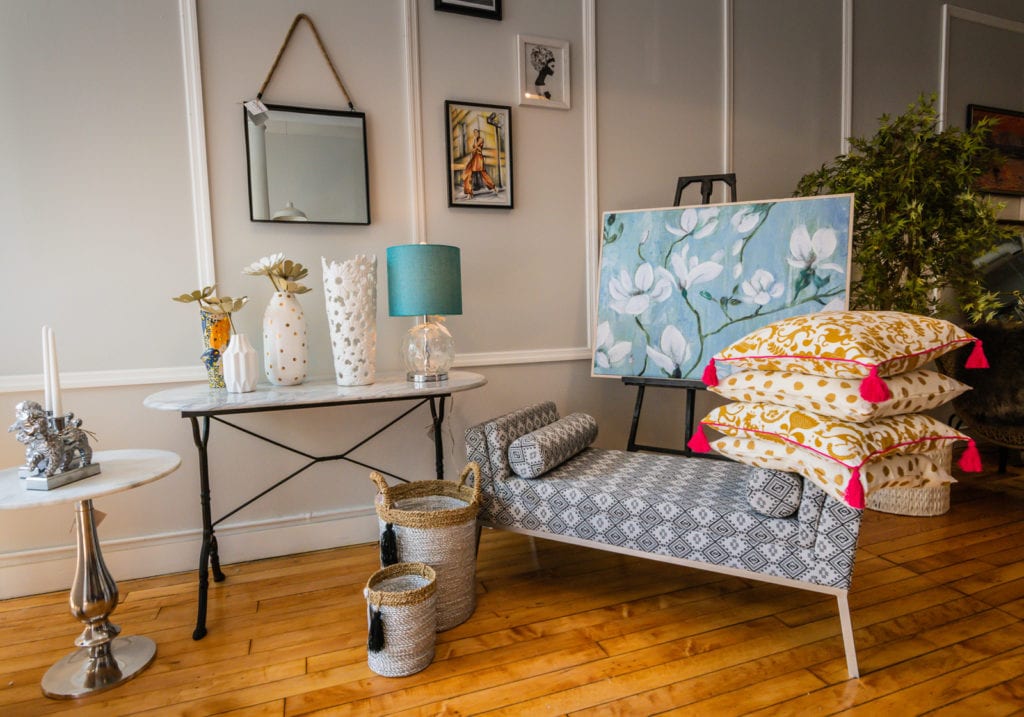 SHOP: Adorn. Representative of the merchants moving in, Valerie Mamone refurbishes vintage furniture and sells pieces, along with home decor priced just above wholesale, at such affordable rates I was tempted to redo a room or two sourcing just from her. Adorn is sure to be a hit with hipsters looking to feather their coolly styled nests.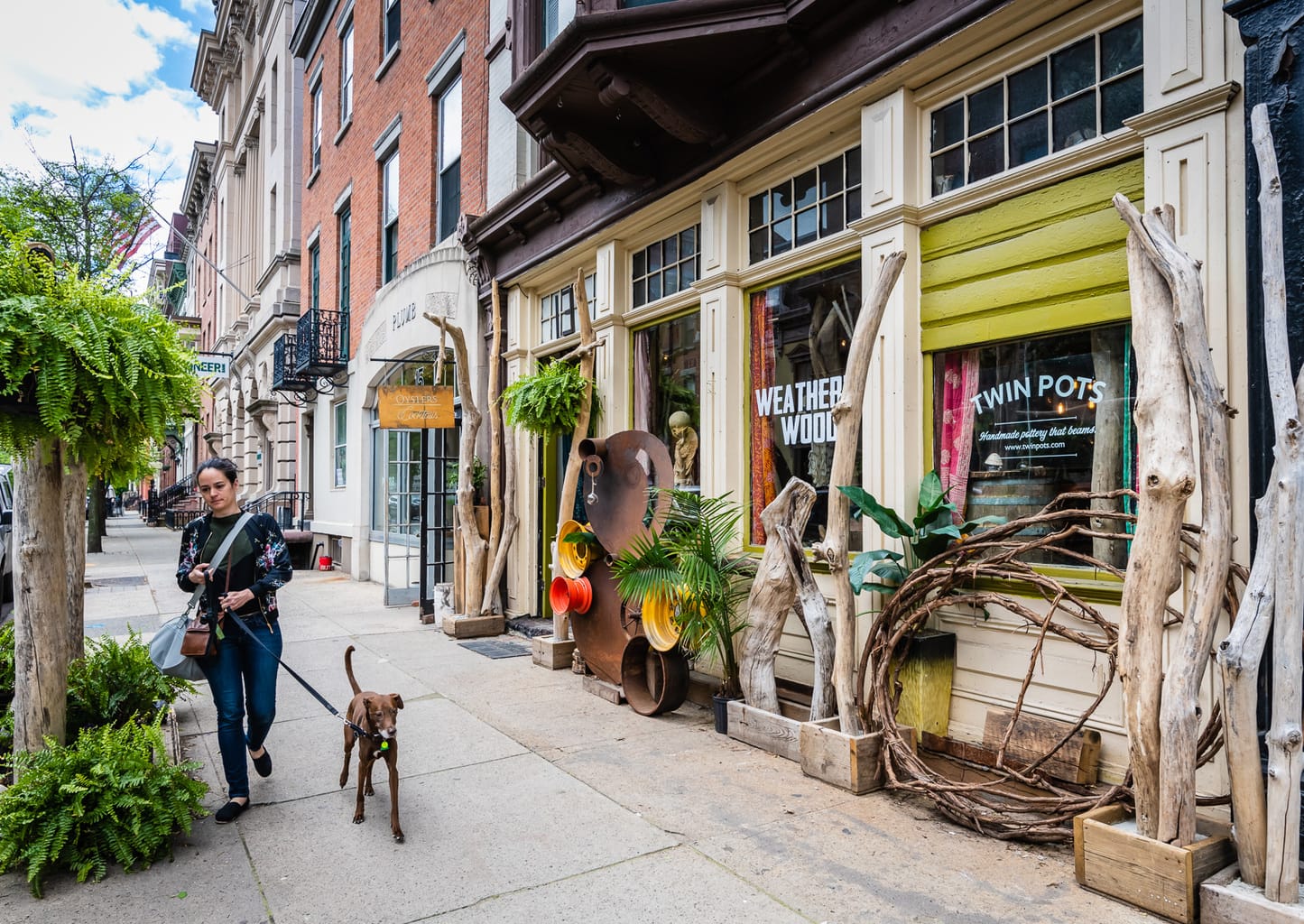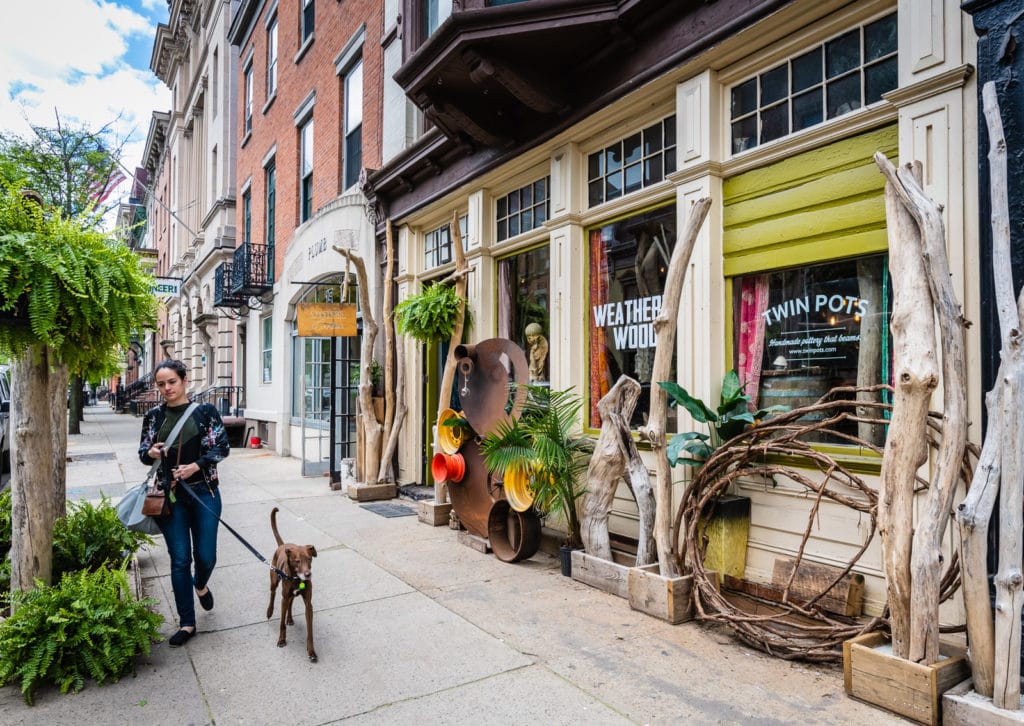 SHOP: Weathered Wood. You can't miss this place – it's got a couple of 7 ft. tall driftwood horses ($1000 each) on display out front. Made by Weathered Wood co-owner, Danny Killion with driftwood handpicked from the Mohawk and Hudson Rivers, these pieces of art (Trojan horses?), as well as furniture made with reclaimed wood, set this gallery apart from others in Troy.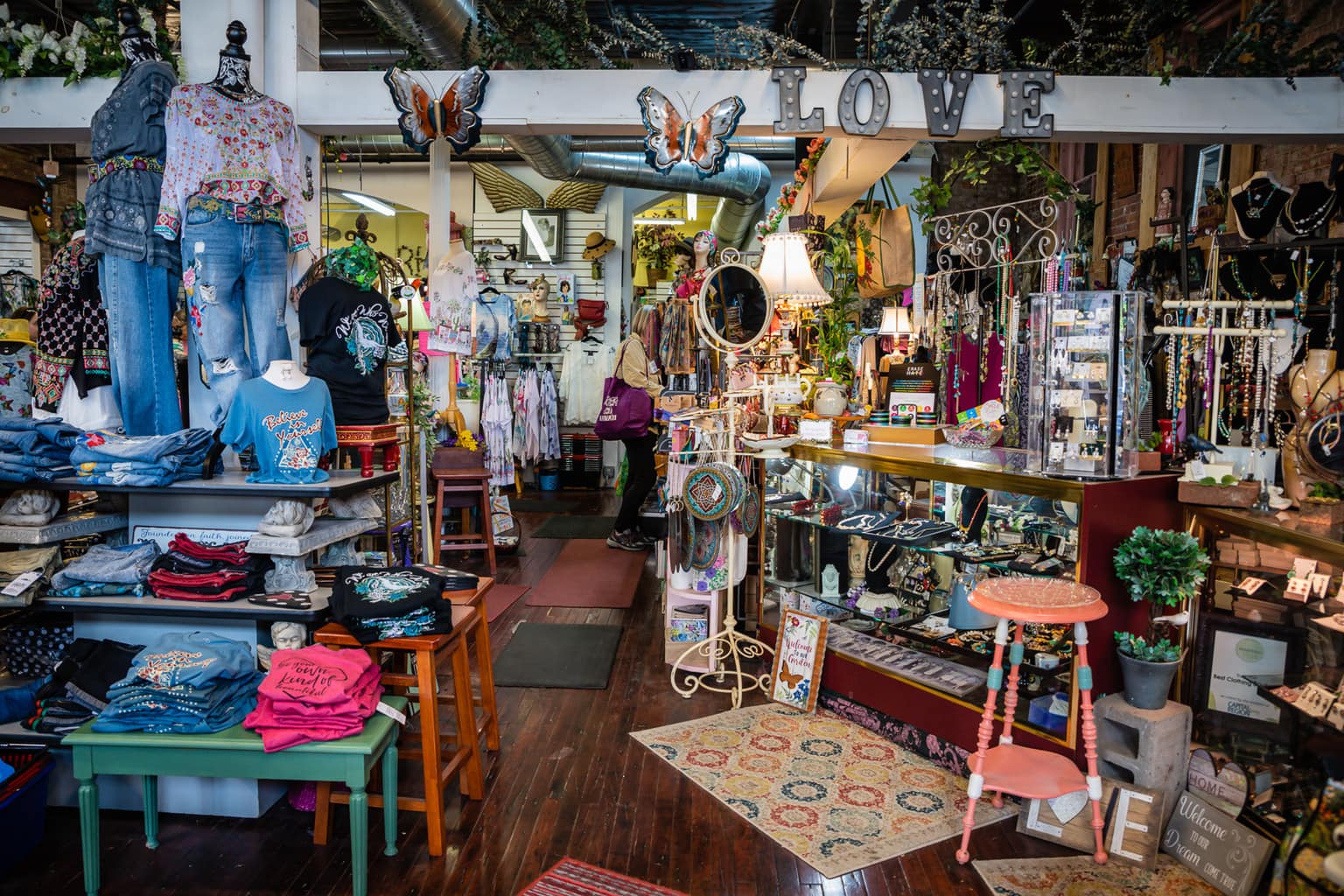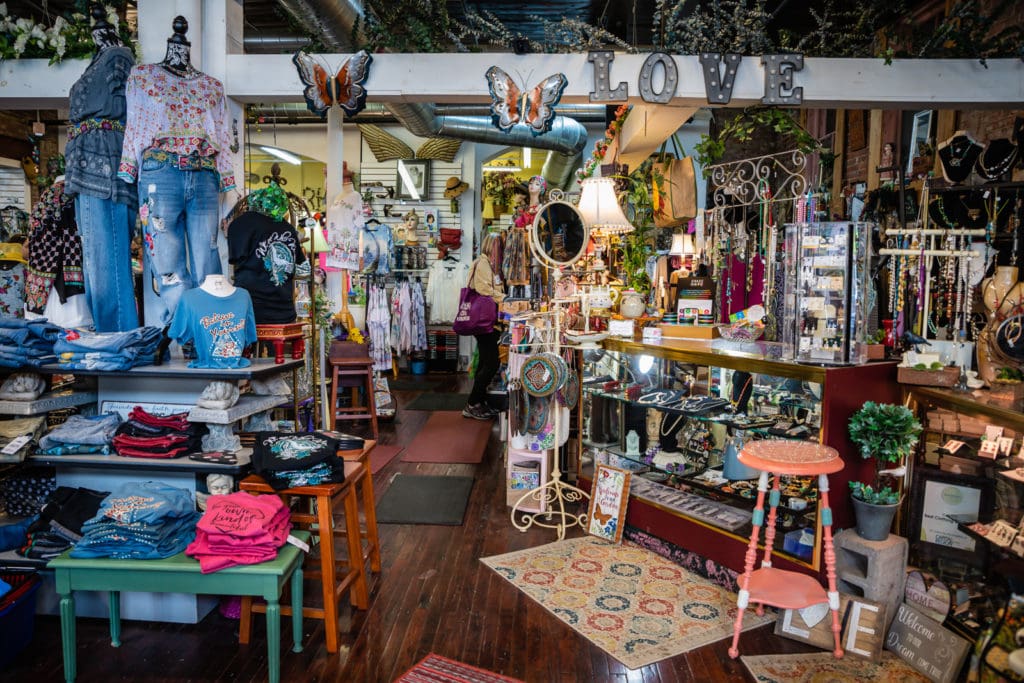 SHOP: Truly Rhe. Comfy clothes and accessories for travel. More hippie than hipster, and also perfect for stylish women of a certain age.
MORE SHOPS: Anchor #5 sells nautically themed T-Shirts, bags, jewelry and note cards. You'll find both ceramic items and ceramic classes at The Broken Mold. And for "natural" wine aficionados, stop in to 22 2nd St Wine Co. – the only store in the Capital Region that exclusively sells farmed organic or bio-dynamic wines made with native yeast fermentation and little to no sulfites.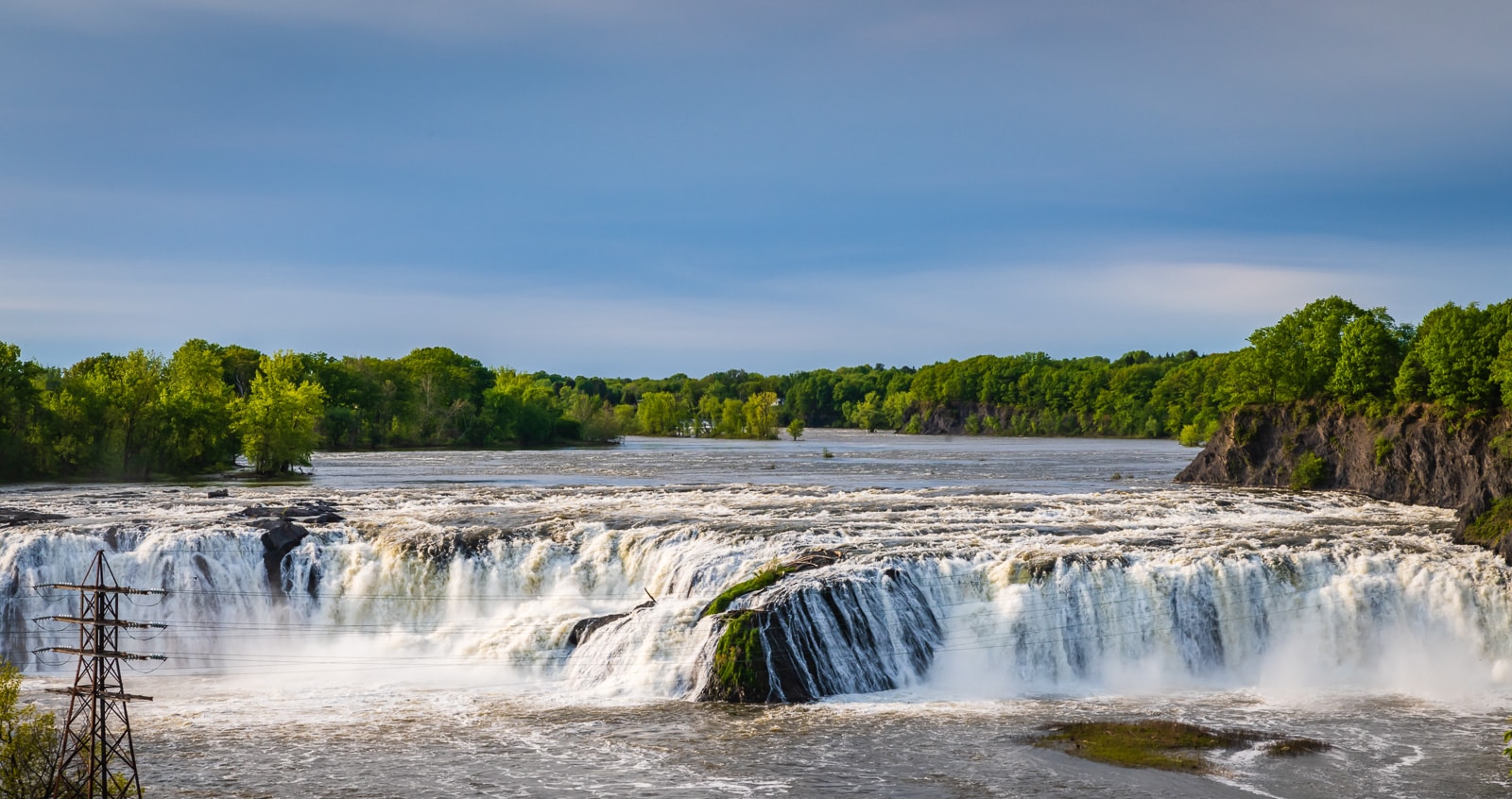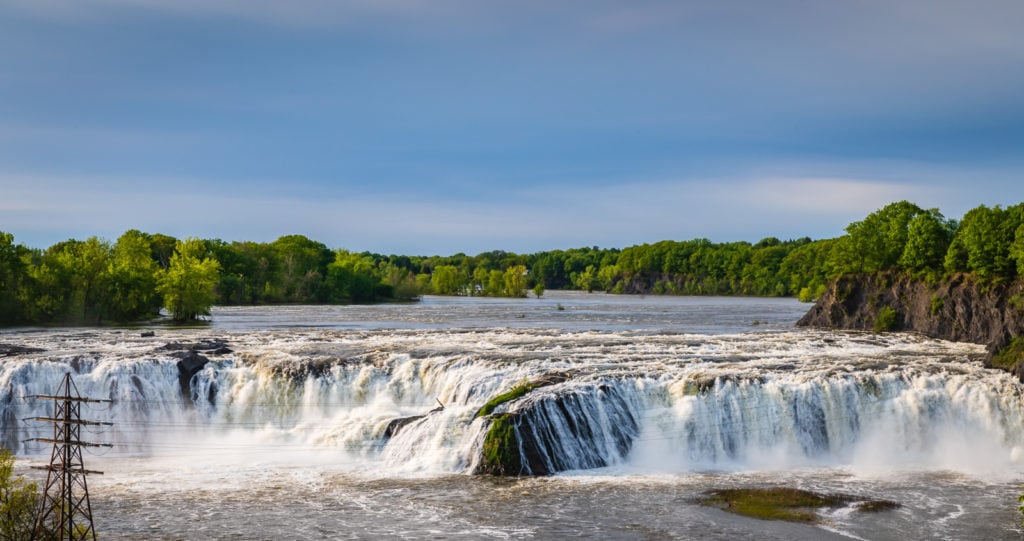 PHOTO OP: Cohoes Falls, Cohoes, 4 miles from Troy. Blink and you'll miss the entrance to this waterfall overlook in the center of tiny Cohoes, identified by an iron archway into Fall Views Park. These dramatic whitewater spills generate 190,000-megawatt hours annually (powering 26,000 homes) through five turbine generator units in the adjacent Hydroelectric Power Plant. An engineering marvel of 1915, it's still going strong.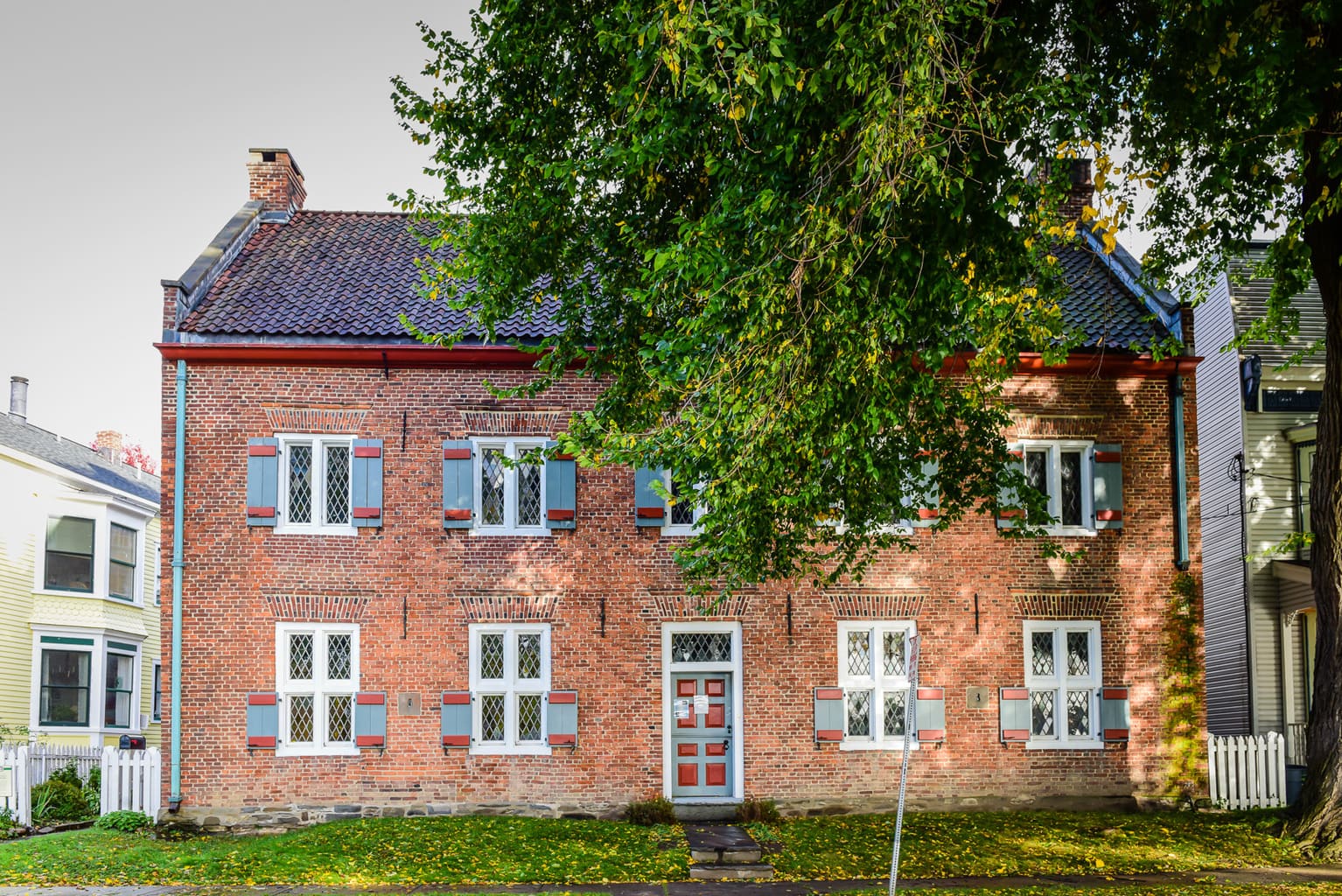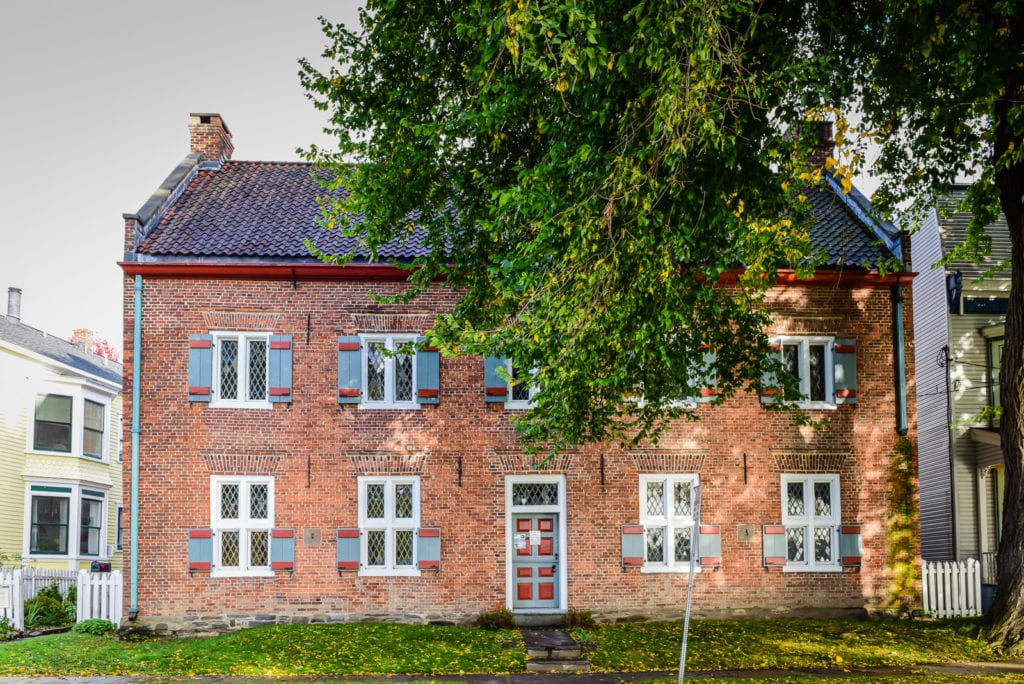 GO: Crailo State Historic Site. Tour one of America's oldest buildings, where Dr. Richard Shuckburgh, a British army physician, coined Yankee Doodle to describe less than dapper Connecticut troops. Museum exhibits illustrate Dutch colonial history in the Hudson Valley.
GO: Captain JP III Cruises. A summertime favorite, specialty cruises run several times a week, ranging from the Sunday Brunch to the Prime Rib Dinner Dance. Prices range $35-45 for a 2.5-3hour cruise.
DO: Troy Savings Bank Music Hall. Renowned for its outstanding acoustics even though it opened in 1875, long before modern sound architecture, the Music Hall hosts the Albany Symphony Orchestra, chorale ensembles, and music legends such as Art Garfunkel.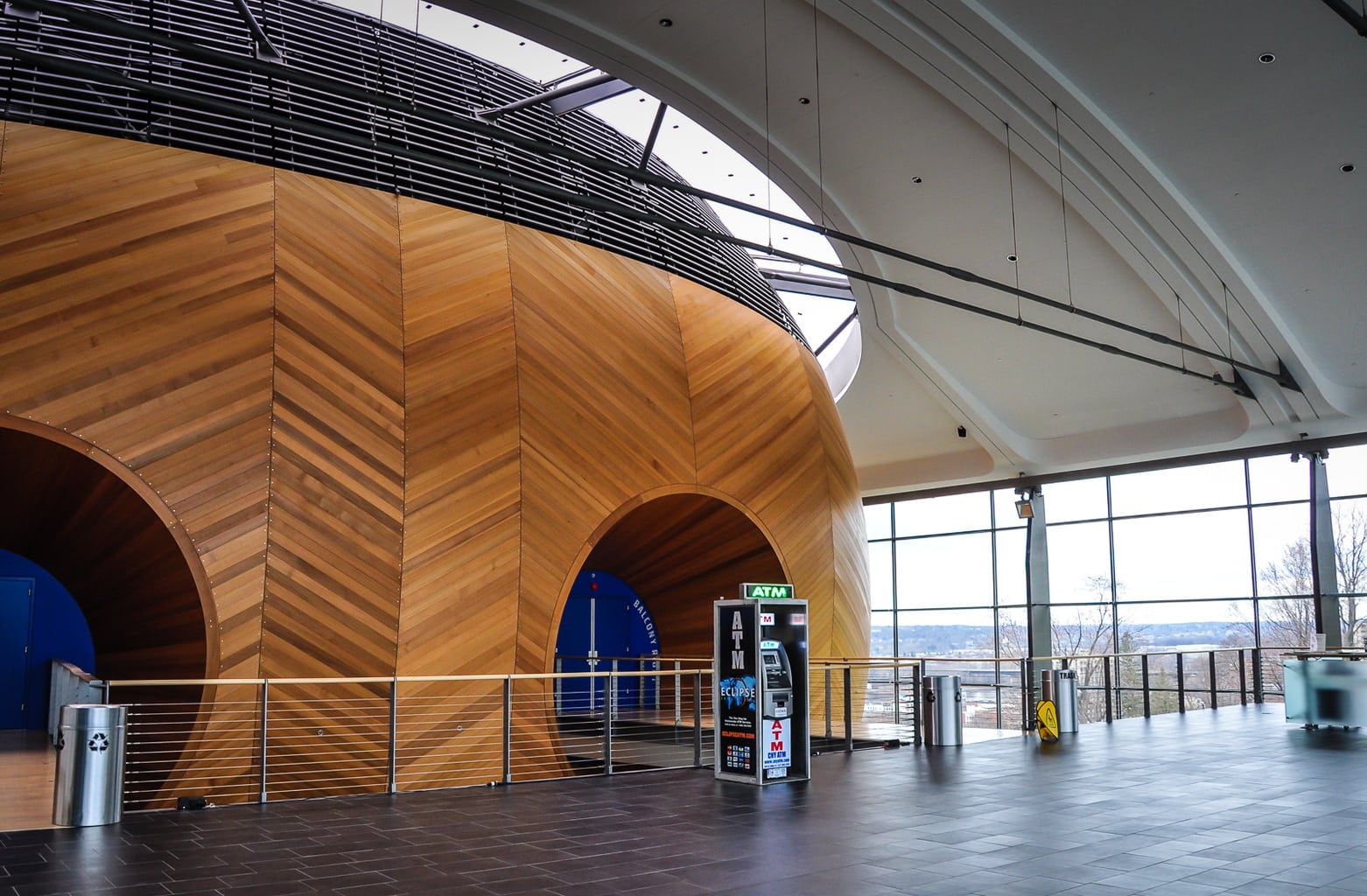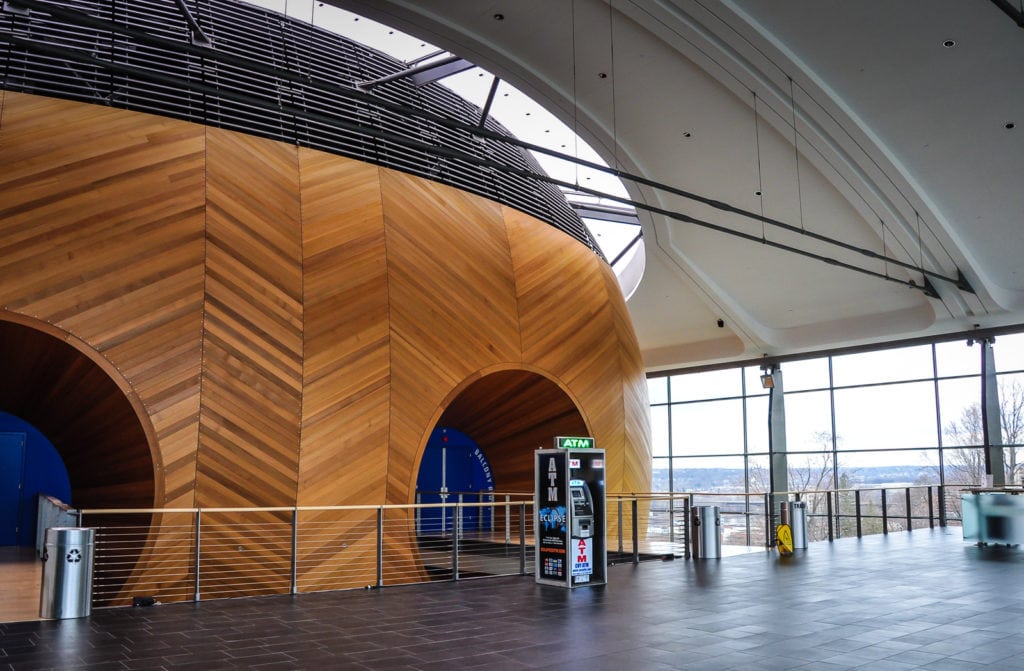 SEE: EMPAC. You don't so much see as you experience a show at EMPAC, the Curtis R. Priem Experimental Media and Performing Arts Center at Rensselaer Polytechnic Institute (RPI.) Year round calendar draws heavily on media created at hosted residencies and workshops, performances push the boundaries between arts, science, and technology.
Looking for more things to do nearby? Check out these great weekend getaway ideas in New York's Capital District:
For even more travel inspiration, look for our New York Getaway Guides.
Where to Eat in Troy NY
COFFEE/PASTRY: The Placid Baker. Fans show deep appreciation for The Placid Baker's breads and croissants, the latter deemed, "Best in the World" by repeat customers. Watch baked goods emerge from the ovens in a room behind the counter, and order something warm and flaky. You'll think you've been beamed to Paris.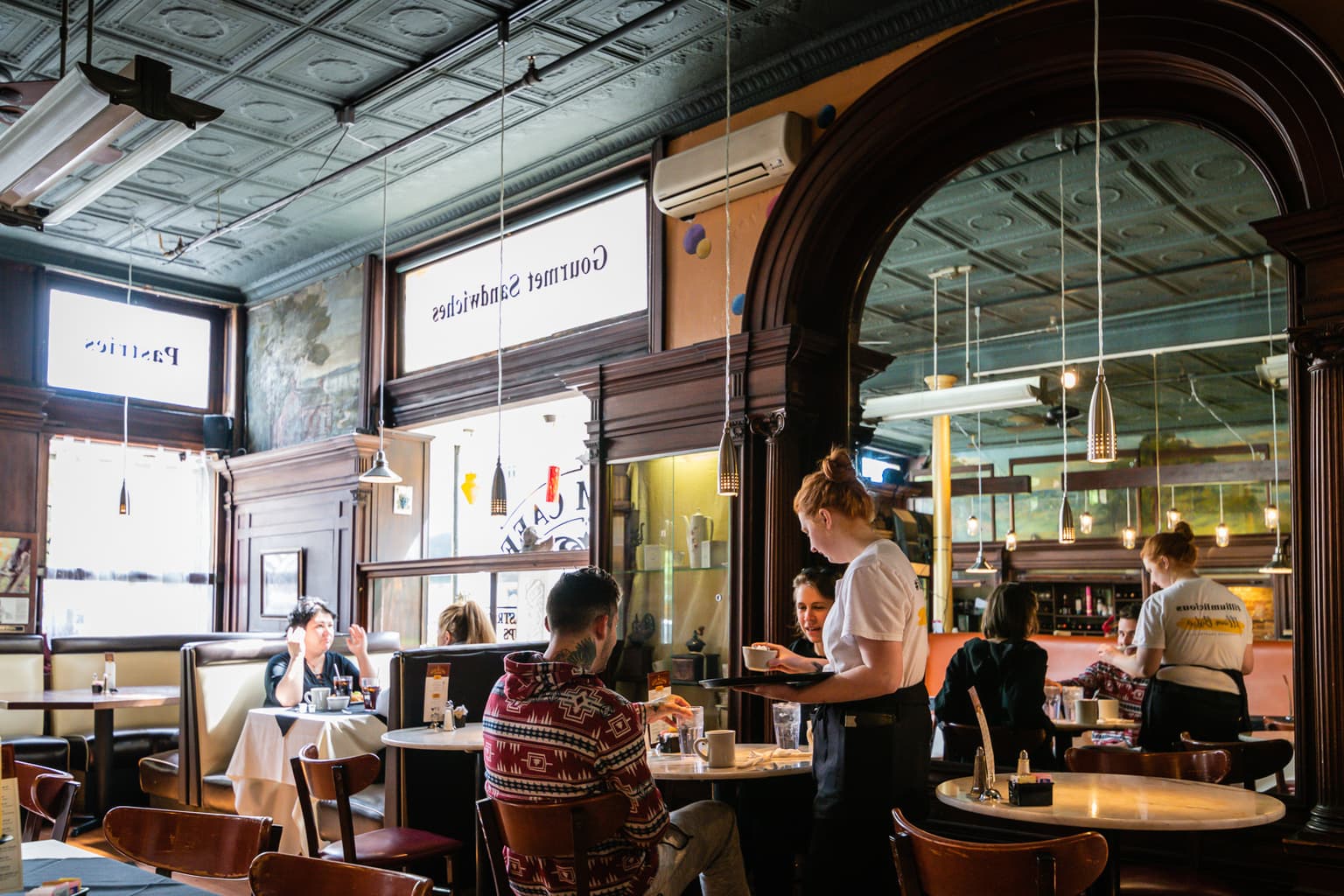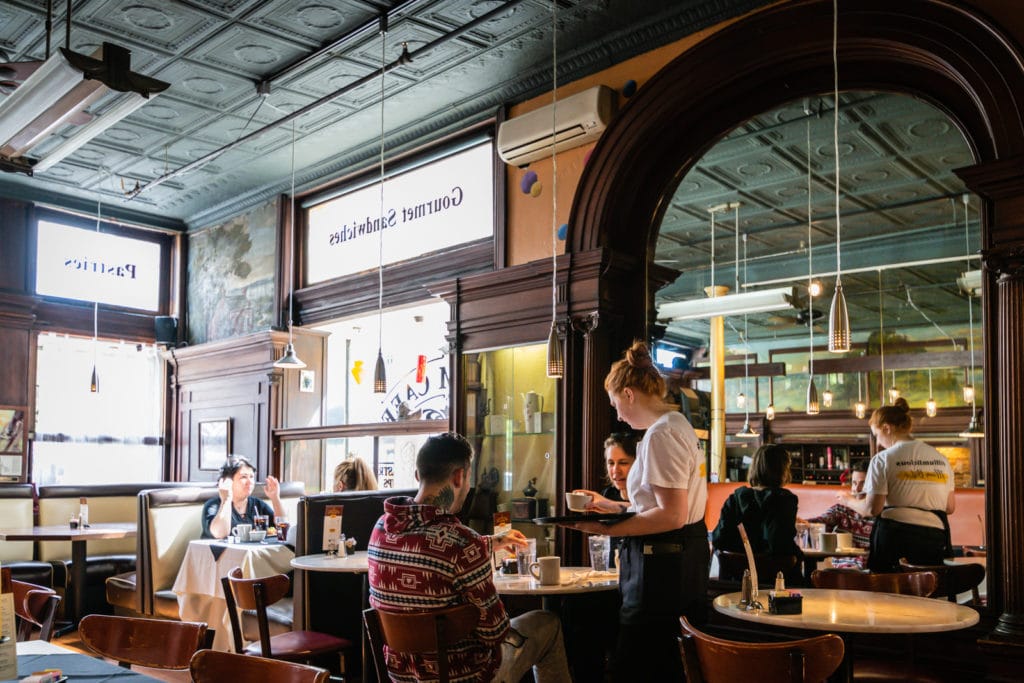 EAT/BRUNCH: Illium Café Bistro. Murals, remnants of the Sim Peirson's Jewelry Store that once occupied this space, and painted by the interestingly named Mrs. Lusty – a Sims Family relative – cover the walls of this café/bar. Dine on Cannoli Cream Stuffed Waffles ($10.95) in the morning and salads, sandwiches and soup for lunch and dinner.
EAT: According to locals, there's been a "surge of great restaurants." Among those recommended: Sunhee's Farm and Kitchen and K-Plate for Korean farm-to-table, Sushi King for Ramen, Plumb Oyster Bar, the chef-incubator Troy Kitchen for innovative food, Tara Kitchen for great Moroccan food, and Whistling Kettle for brunch.
Where to Stay in Troy NY
This 5 room B&B, just a few minutes drive from downtown, is elegantly hip – to fit the Troy vibe. And a bit wild: as in Oscar Wilde – the name of one chandelier'd guest room. You can also stay in the Mae West, Josephine Baker, Jean Harlow, or John Waters suite – all exquisitely dressed, as you'd expect from their namesakes. The breakfast, we've heard (in a rare case of our not experiencing this inn first hand), is phenomenal, and a reason people return. Rooms and suites from $150.
STAY: Franchise
Troy has a couple of convenient franchise hotels including a brand spanking new one with a Hudson River view, the recently opened Courtyard Albany/Troy Waterfront and the Hilton Garden Inn Troy.
And, just across the river, there's a lovely historic hotel, Morgan State House, located next to Washington Park. Read the Maven's review in Things To Do In Albany NY.