Situated in the heart of New York's Capital District, Troy is a vibrant city packed with history, culture, and activities for everyone. With its unique blend of old-world charm and modern revitalization, it's an exciting destination for a day trip or a weekend getaway. Here's our guide to some of the best things to do in Troy NY.
Why Visit Troy NY – History
Troy is the "Official Home of Uncle Sam," as the War of 1812 beef purveyor, Sam Wilson, lived here. But it's also known as "The Collar City," for the detachable collar invented in 1825 by a woman, Hanna Montague, who hated cleaning her husband's whole shirt when only the collar got filthy.
Since 1824, Rensselaer Polytechnic Institute (RPI) has endowed Troy with some pretty significant nerd cred. While earning his degree in Civil Engineering in the 1870s, George Washington Ferris studied a Troy-based industrial water wheel that inspired the amusement park ride that bears his name.
Troy was a wealthy Hudson River textile mill and iron works town and then, in the latter-1900's, it went to seed. And became a place no one even dared go.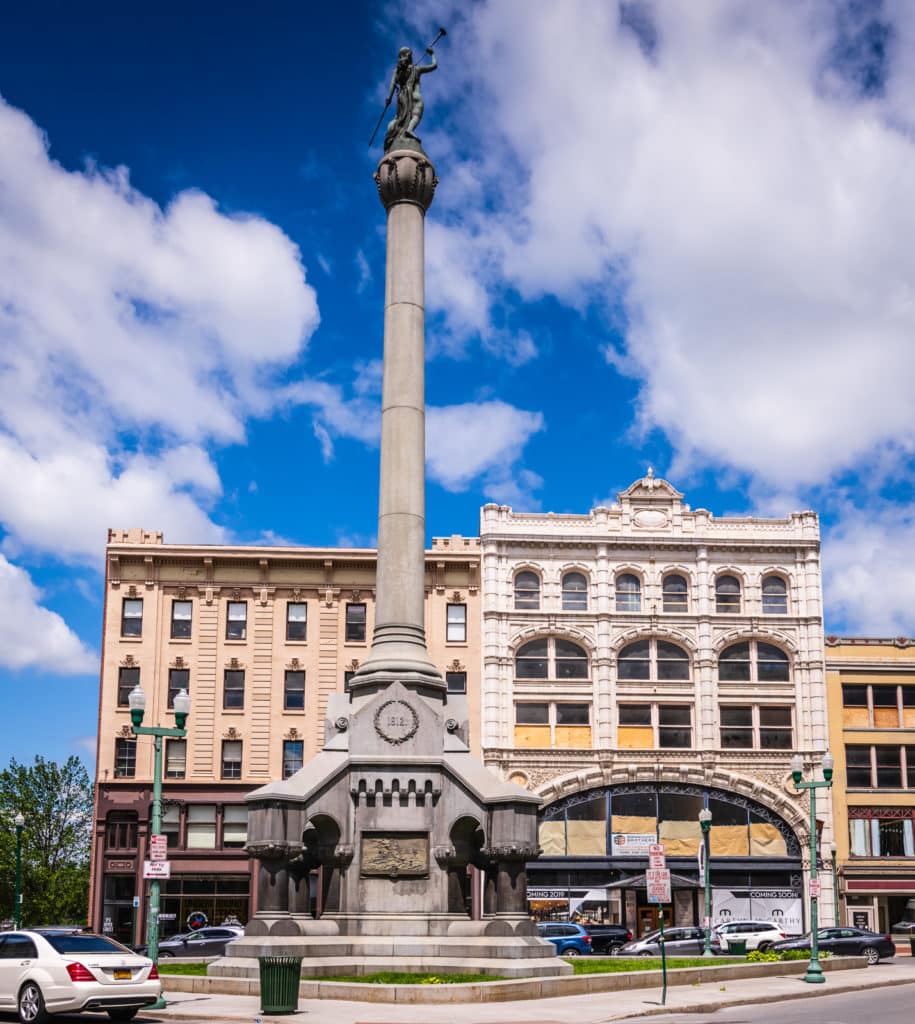 Now, eye-catching brick industrial and commercial buildings have been repurposed into chic boutiques, restaurants, and galleries. Yes, Troy NY is modernizing, but still retains its Victorian glow: so much so that HBO is filming the series, "The Gilded Age," right downtown.
An independent bookstore occupies a significant corner of downtown, and above it, Warner Brothers Games NY just moved in. Artisanal bakeries and ethnic shops and restaurants (African, Moroccan) are cropping up. The annual winter "Victorian Stroll," considered the largest free outdoor holiday festival in the country, draws thousands of people to this small city.
Downtown streets parallel and lead to the Hudson River – a transportation artery that a century ago moved manufactured goods from this once-industrial town, and now brings tour boats from Canada, New York City, and Chicago. Private yachts from Europe stop here on their way to the Erie Canal.
With a walkable town, great public transportation, and affordable homes, there's increased interest in Troy, especially among artsy types who have been priced out of NYC and other metropolitan areas. This, of course, is a boon to visitors, who will find incredible shopping, eats, and the quirky attractions that the Getaway Mavens love to tout.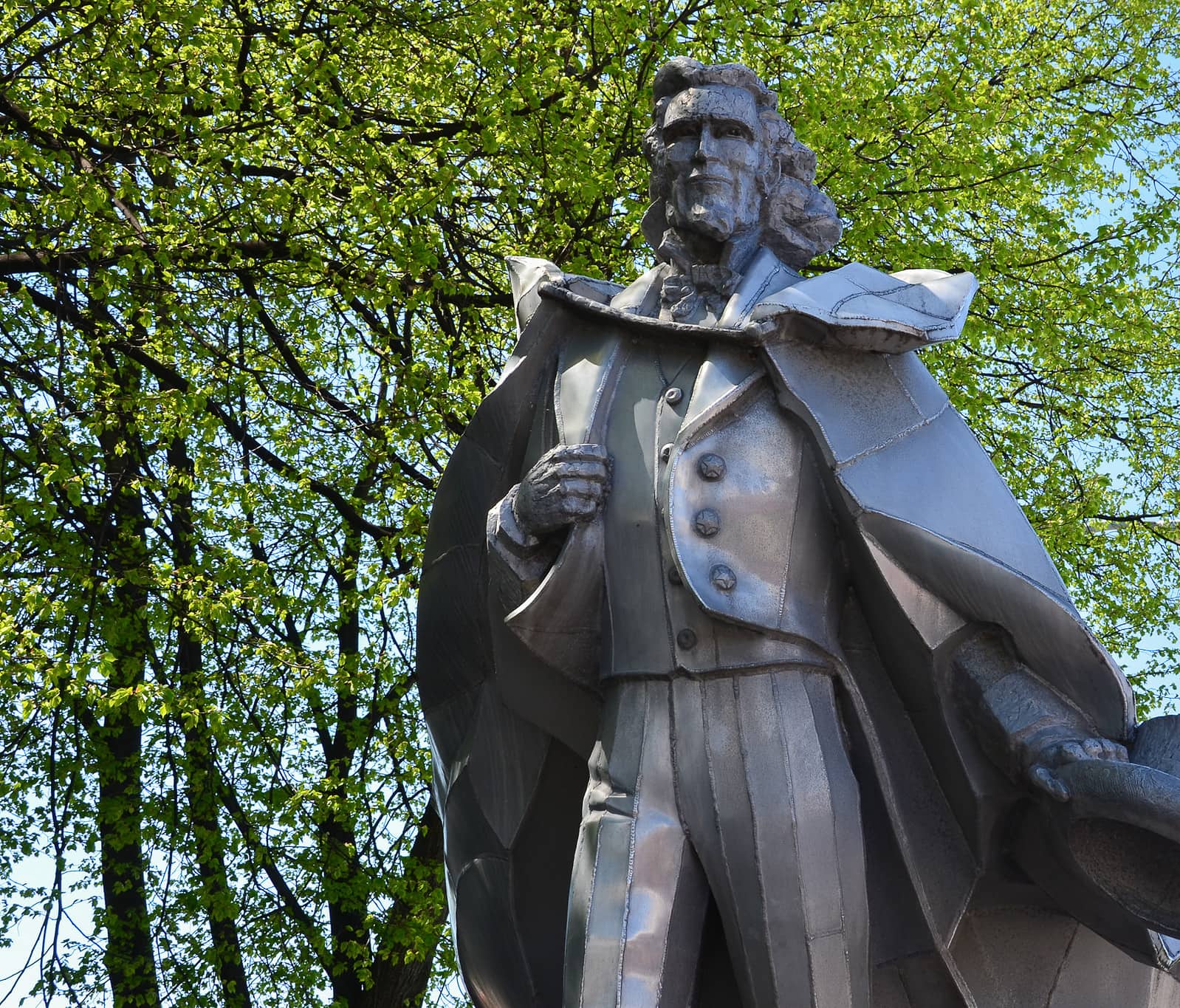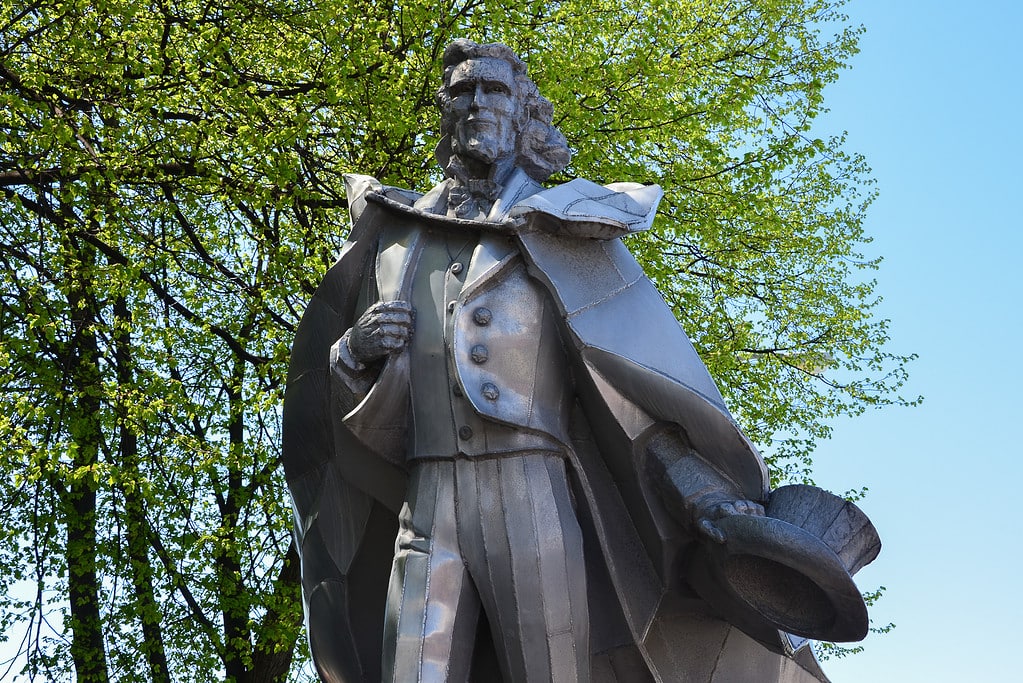 Where Is Troy NY?
Troy is a medium-sized city in Upstate New York and the county seat of Rensselaer County. It's located in the eastern part of the state, near the junction of the Hudson and Mohawk Rivers. This positions Troy approximately 150 miles north of New York City and just a few miles north of Albany, the state capital. Known for its rich industrial history, Troy forms a part of the Albany-Schenectady-Troy Metropolitan Statistical Area, which represents New York's Capital District.
How To Get To Troy NY
Reaching Troy, New York, is straightforward regardless of your starting point. If you're flying in, the closest airport is Albany International Airport, which is approximately 10 miles from Troy and offers numerous domestic flights. If you prefer to travel by train, you can take an Amtrak to Albany-Rensselaer Station, then take a short taxi or rideshare journey to Troy.
For those driving, Troy is conveniently located near several major highways including Interstate 87 and Interstate 90, making it easily accessible from many locations in the Northeast. Additionally, several bus services such as Greyhound and Megabus stop in the area, offering another travel option.
Looking for more romantic getaways nearby? Check out our list of Romantic Getaways In New York.
Fun Things to Do in Troy NY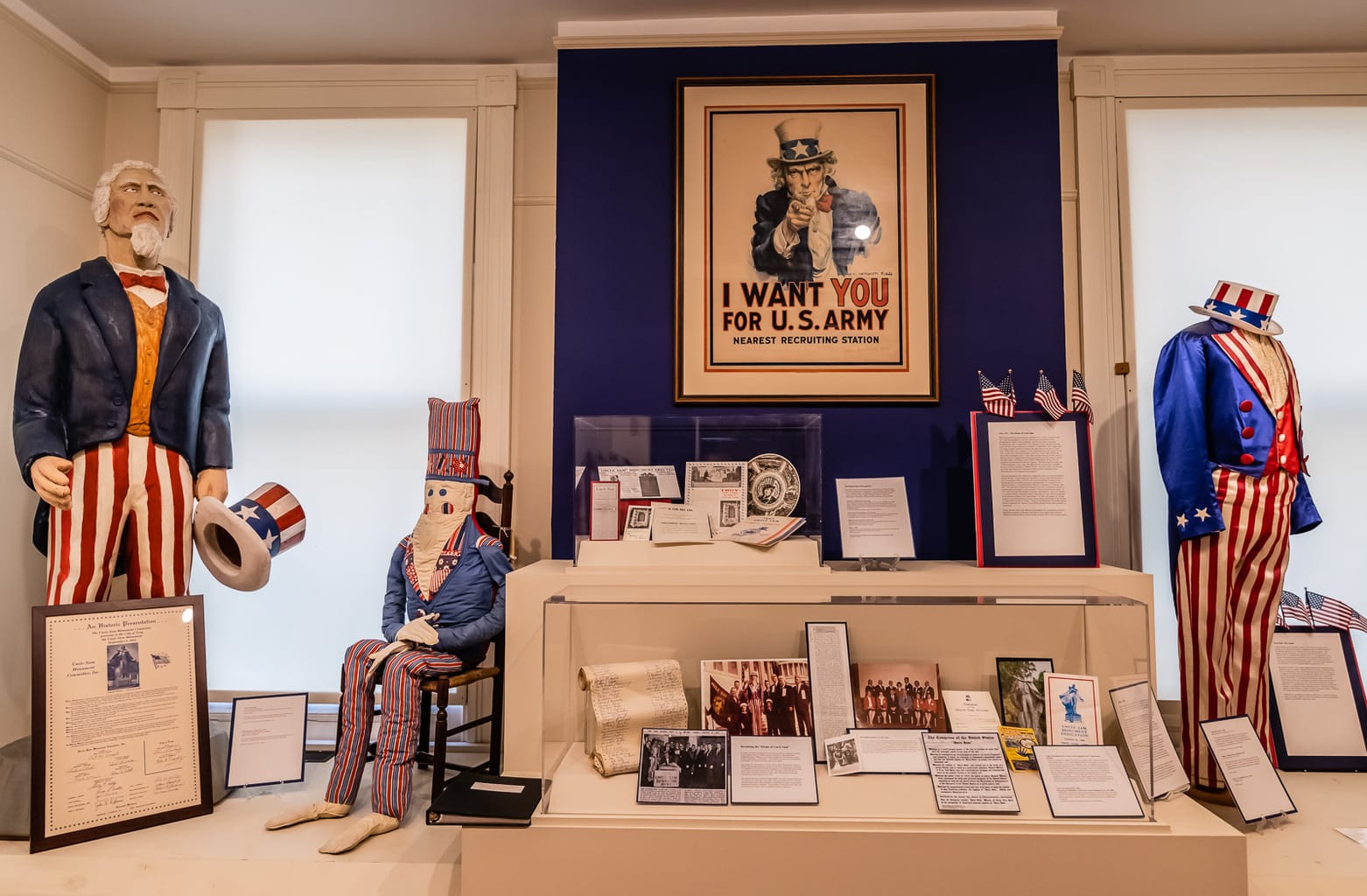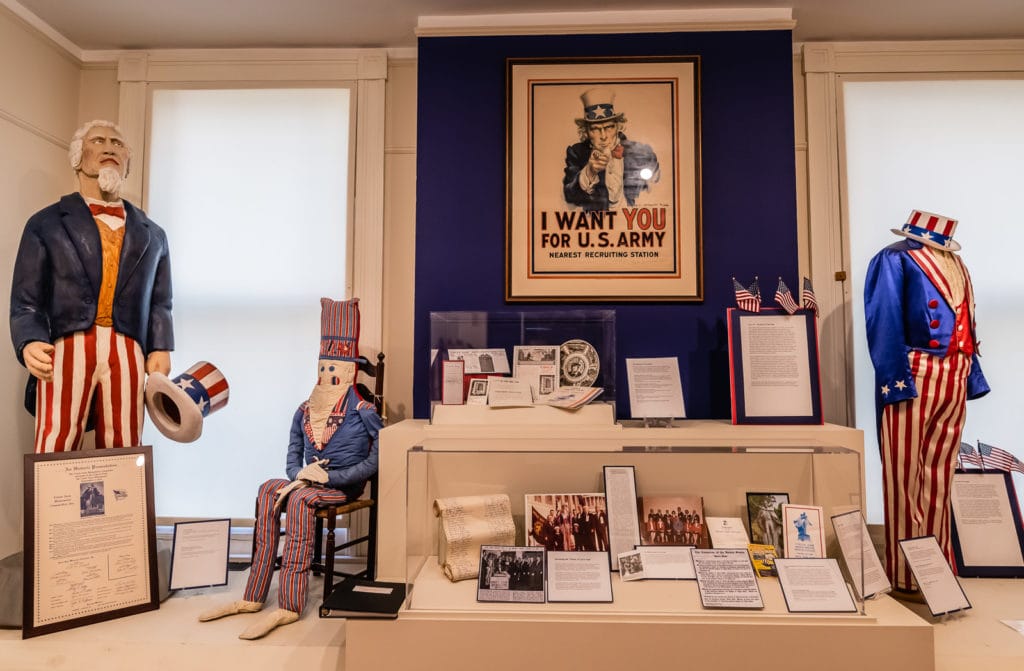 TOUR: Hart Cluett Museum
I love what some people might consider musty history museums, precisely for the surprising things to be found if you dig deep enough (and ask). This Historical Society's Hart Cluett Museum does not disappoint. There's a whole room devoted to "Uncle Sam" Wilson, with personal effects that include his very own chamber pot.
The museum is much larger than it looks from the town-home street entrance. One whole back room – the original carriage house – houses an original un-restored 1830 Curtain Quarter Coach and the large red blazing neon "South End Tavern – Ladies Entrance" sign.
There are exhibits about the Civil War era horseshoe industry (Troy was also called the "Horseshoe Capital" as it supplied all of the horseshoes for the Union Army), and ornate iron stoves made in the foundries scattered throughout the county.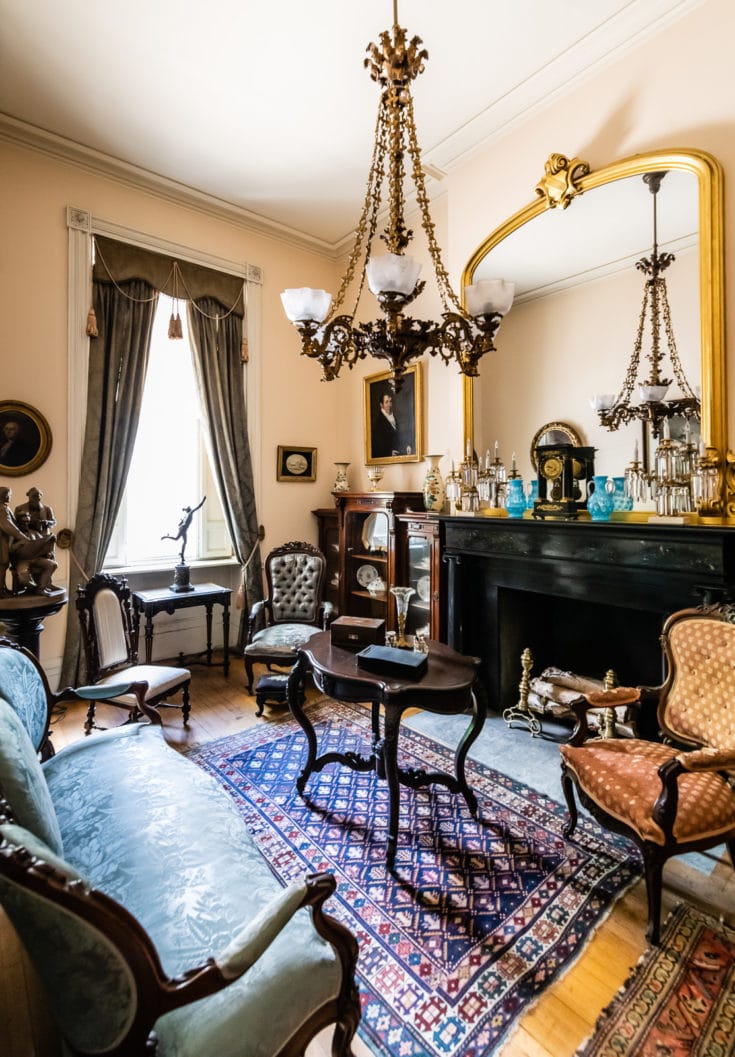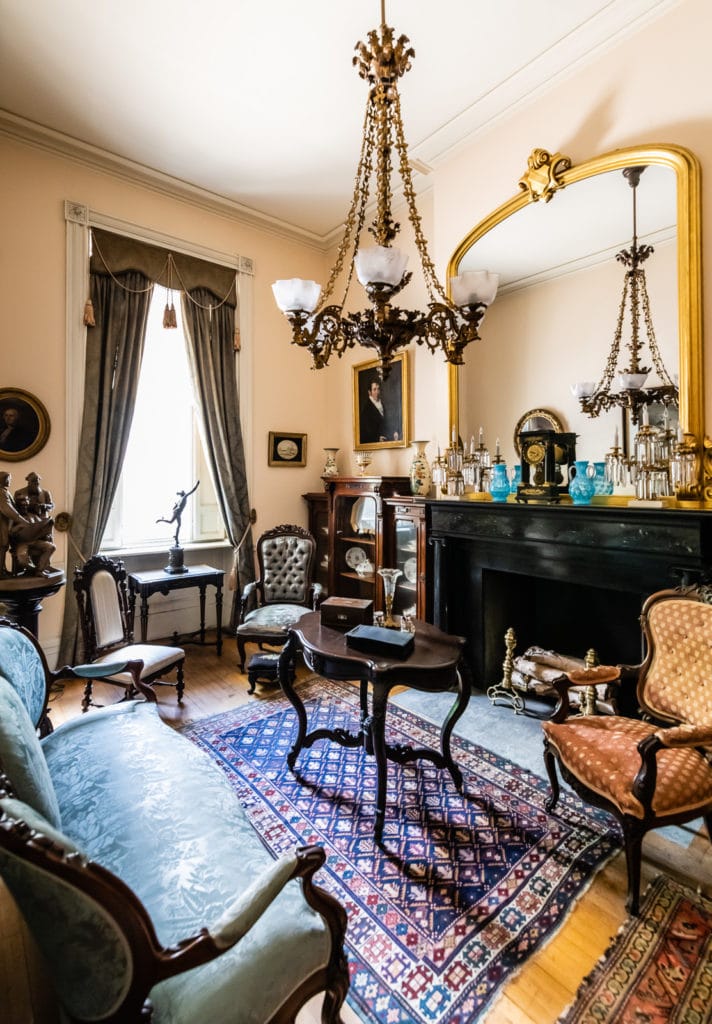 But if you time it right, you'll want to gawk at each of the ten or so 18 ft high rooms at the Hart-Cluett House, on the National Historic Register, next door and accessed from inside the museum. With hand-painted French wallpaper, exquisite furniture, and impressive décor; interior designers come here for ideas. Tours are available on select Saturdays from May through November.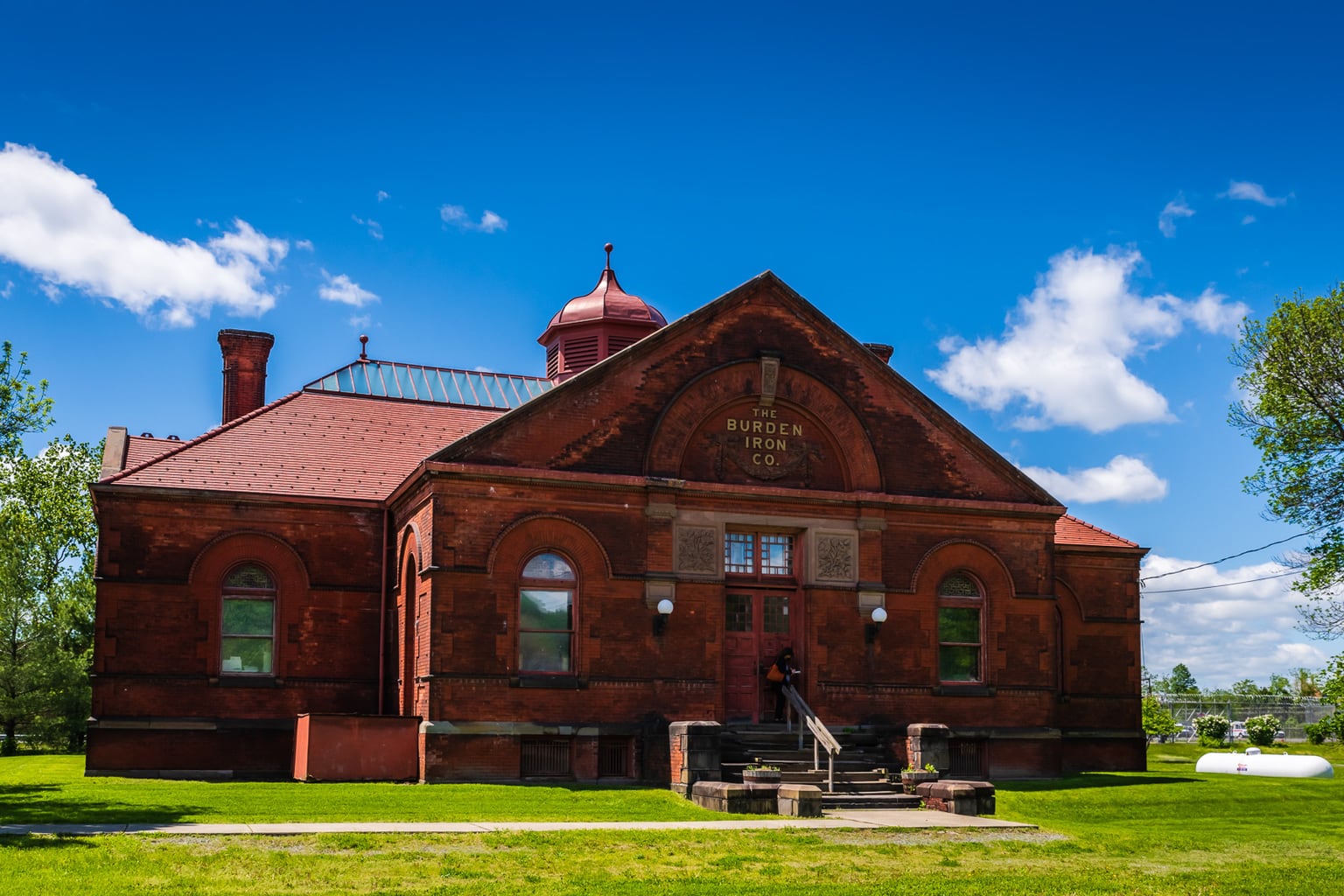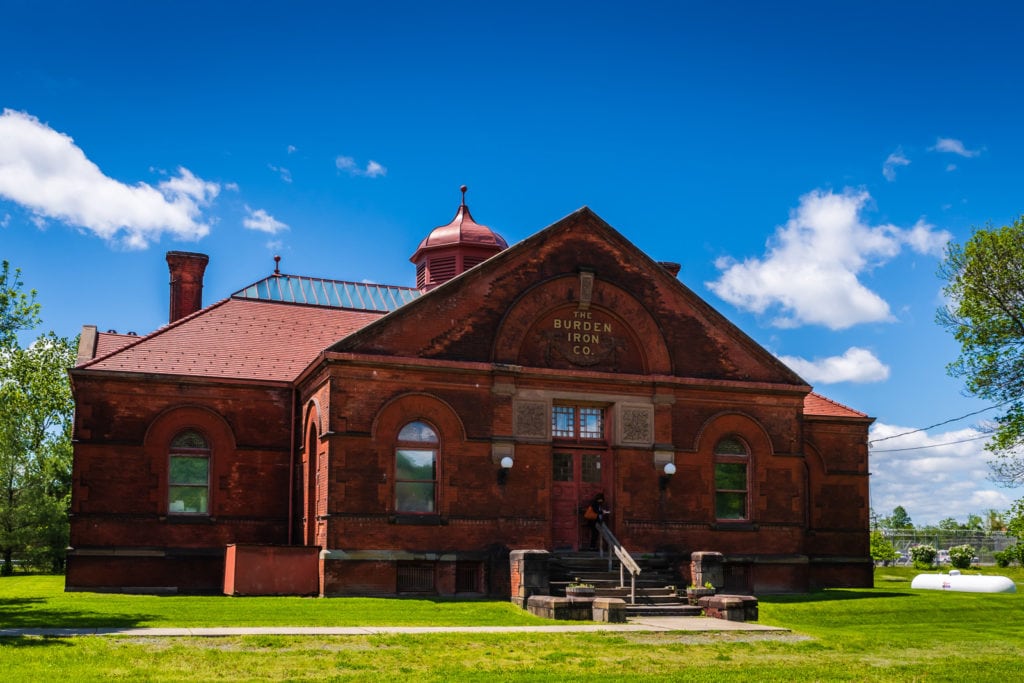 TOUR: Burden Iron Works Museum
This tough-to-find museum outside of town in an industrial area is well worth your time. Executive Director, Michael Barrett, presides over what first appears to be a jumble of iron, glass cases, posters and architectural renderings, but on closer inspection are significant pieces of history that emerged from Burden Ironworks. And Barrett has a dramatic story for each and every one.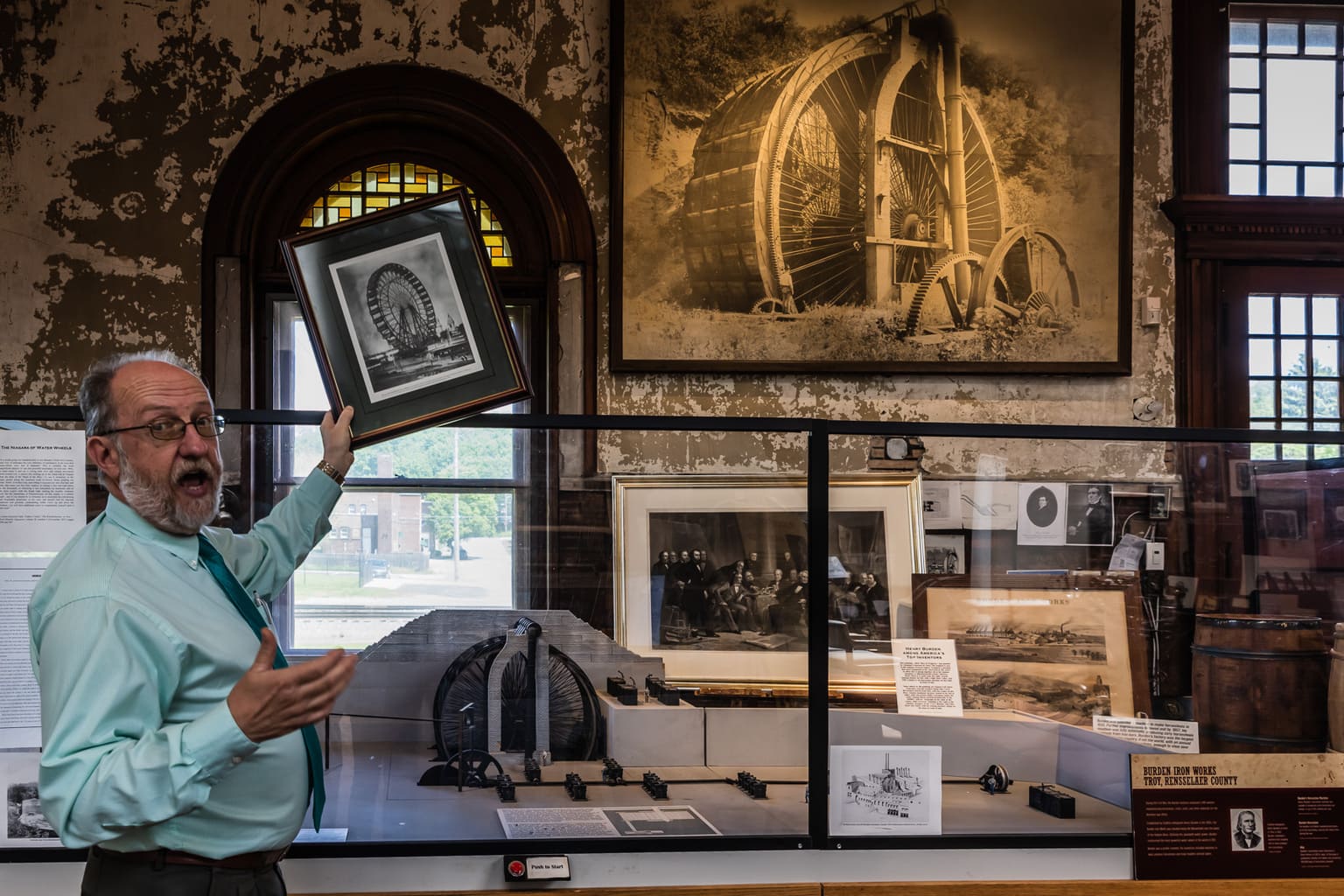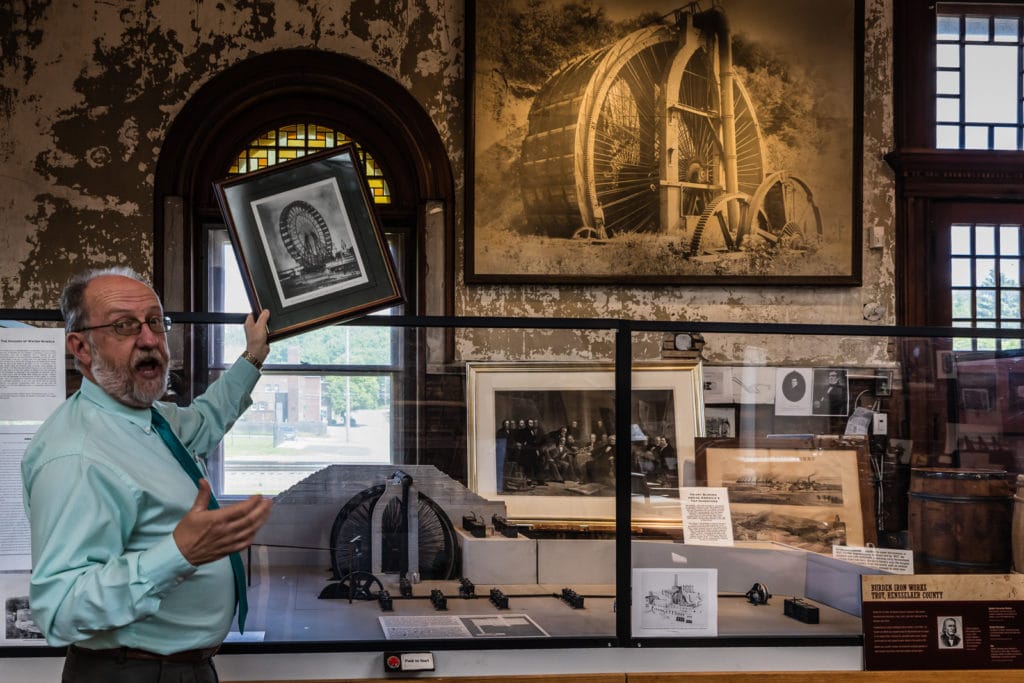 The iron industry began in this region in 1807. Advantaged by flat-water for transportation (Hudson River) and falling water to power water wheels (Wyantskill River), Troy became an industrial and shipping hub.
In 1852, Scottish immigrant, Henry Burden, built a 62 ft. diameter spoked iron water wheel, known to be the most powerful energy source in the world at that time. The Burden Water Wheel was the Instagram darling of its day: visitors to Troy would take "selfies" while standing in miniscule proportion to the famous "Niagara of Water Wheels."
When George Washington Ferris attended Rensselaer Polytechnic Institute in the late 1870's, he studied this famous invention, and lo and behold, in 1893, created the Ferris Wheel for the World Expo. At this point in the tour, Barrett holds up a photo of the Ferris Wheel next to one of the Burden Water Wheel to illustrate the similarities between them.
Was this the inspiration for Ferris's claim to fame? Both have the same number of spokes. The industrial Wheel has 36 water buckets; the Ferris wheel has 36 people buckets. So you tell me.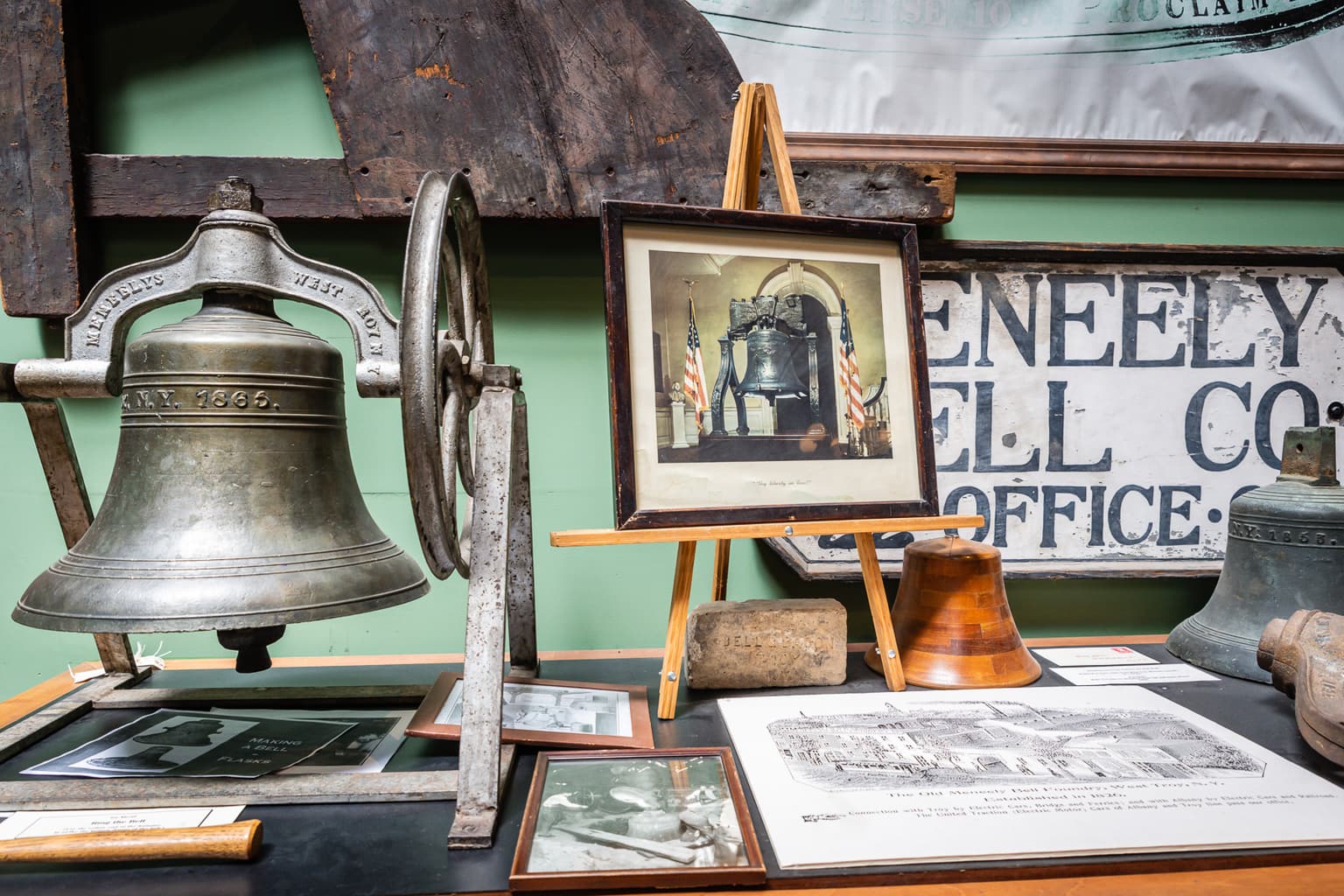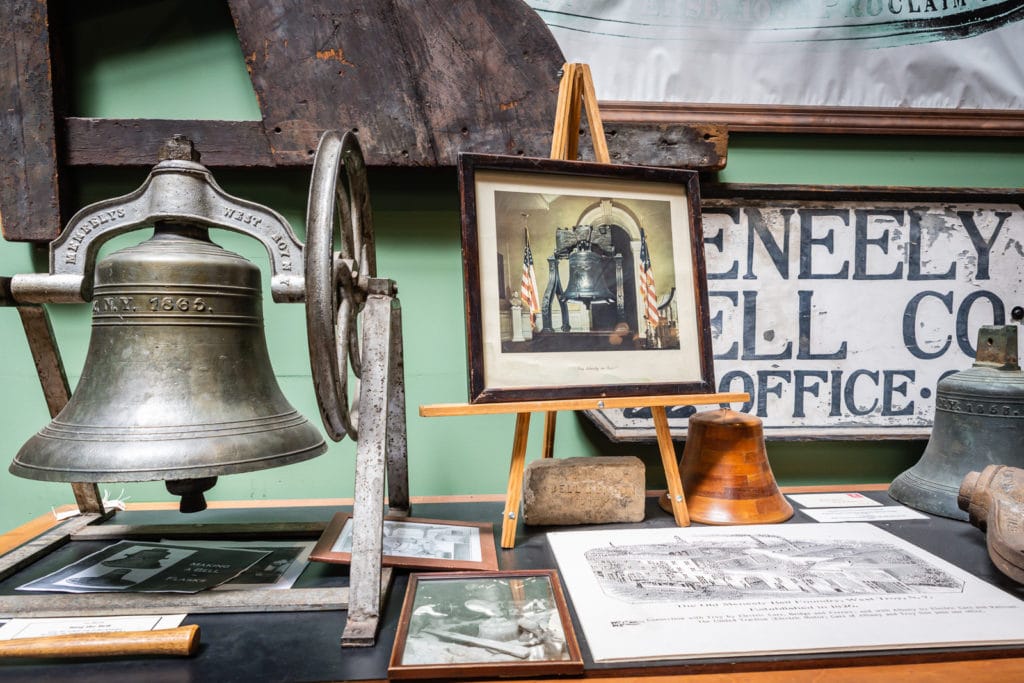 Burden Ironworks was among the four largest bell-making concerns in the world. In fact, the 2,000 lb 1876 Centennial Bell that tolls every hour from Independence Hall in Philadelphia was forged in this very spot. In the early 1900s, Burden Ironworks manufactured the Women's Liberty Bell that suffragists took on tour to raise funds for the Women's Vote. Its clapper was soldered to the wall so it wouldn't ring, emphasizing the fact that "women had no voice."
But here at the Burden Iron Works Museum, you are encouraged to ring bells large and small – their sound pure, rich, and joyful. Be prepared to stay an hour or more, as Barrett's tantalizing take on Troy history leaves you wanting more.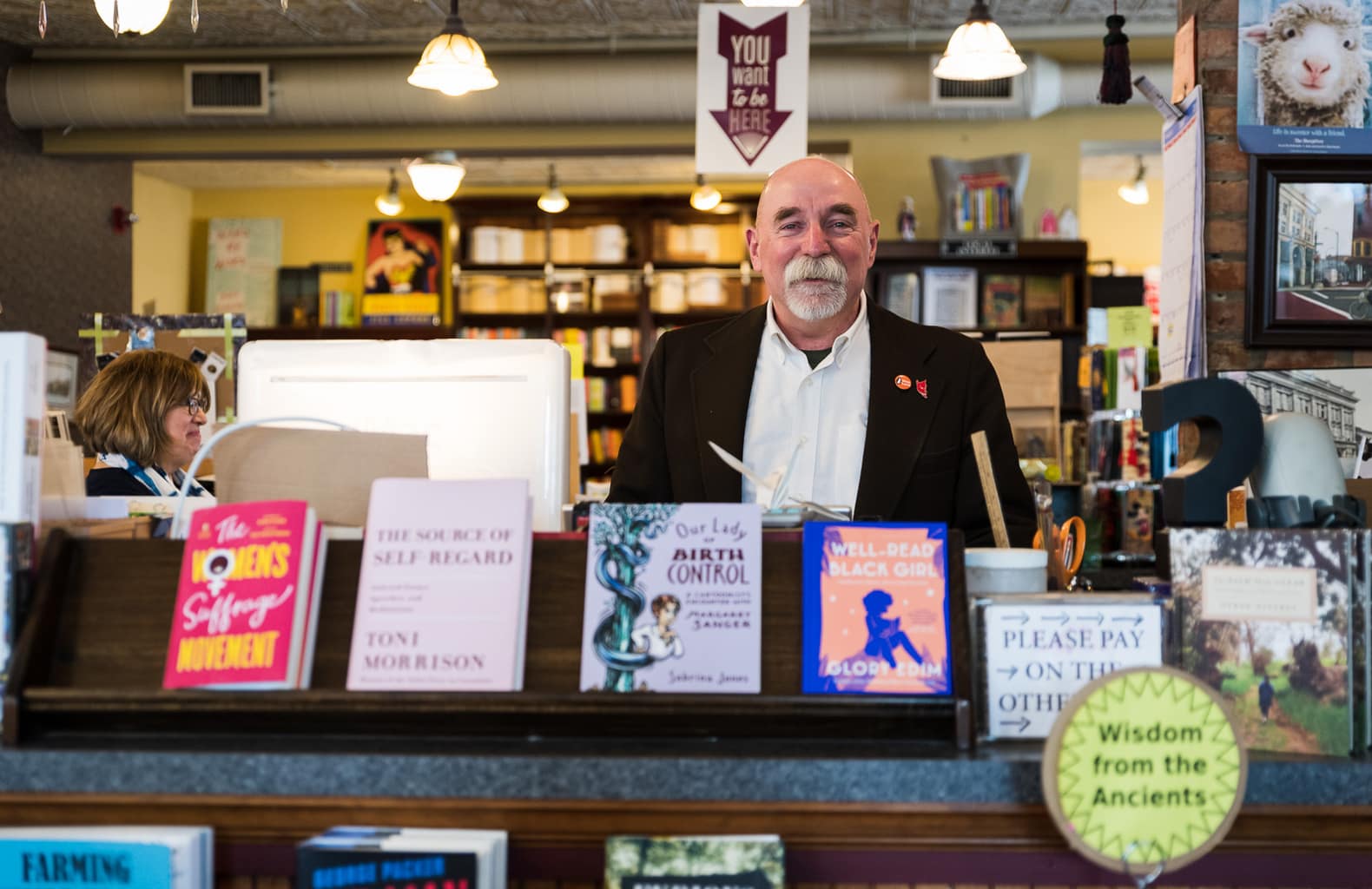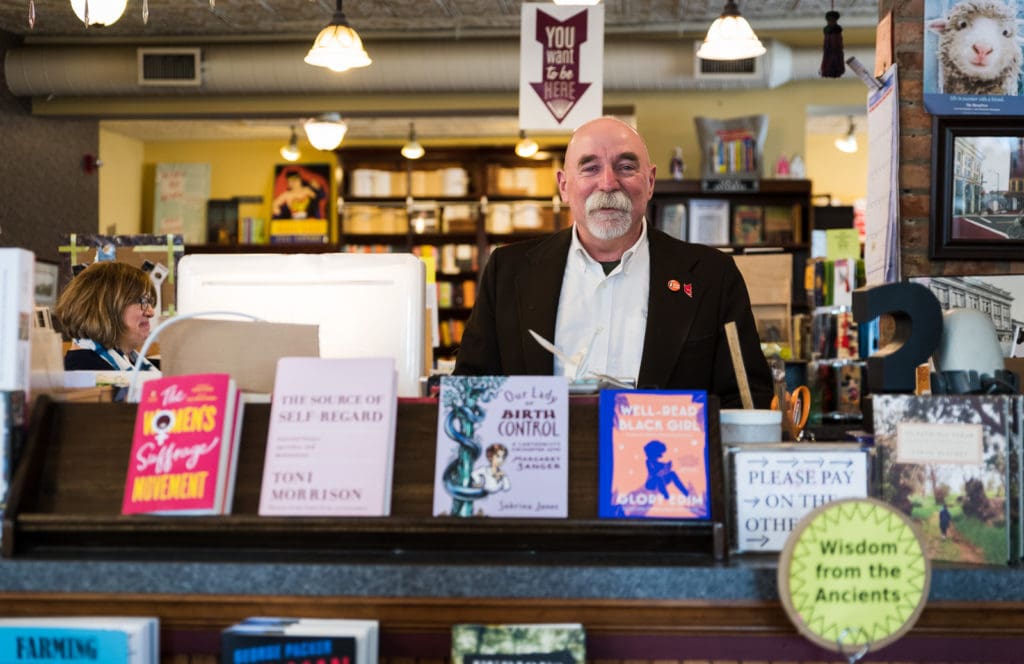 SHOP: Market Block Books
When owner Stanley Hadsell opened this indie bookstore, Market Block Books, in 2004, he was a pioneer, albeit a bit nuts he'd be the first to admit. The first to rent in this abandoned 1844 building; there were no other shops on the entire street.
The Troy Library offered Hadsell a beautiful mahogany bookcase, and other going-out-of-business establishments offloaded handsome shelves and furniture before they moved out – providing Market Block Books with a rich-looking Victorian-era ambiance for a song. A college town, the bookstore has a large millennial clientele. Most books are sold online, but the interior of this well-positioned store is so fine, you'll want to come in and take a look.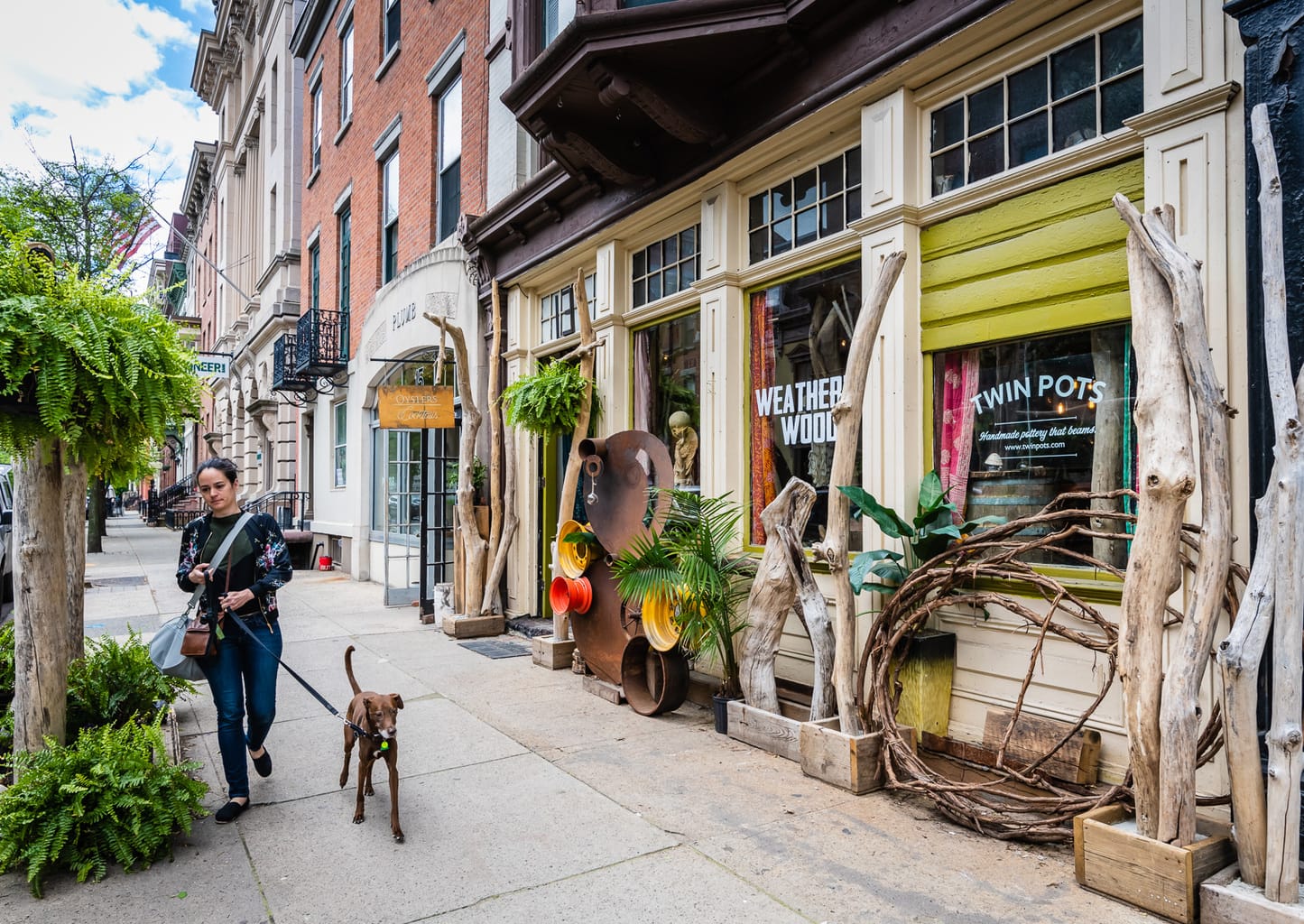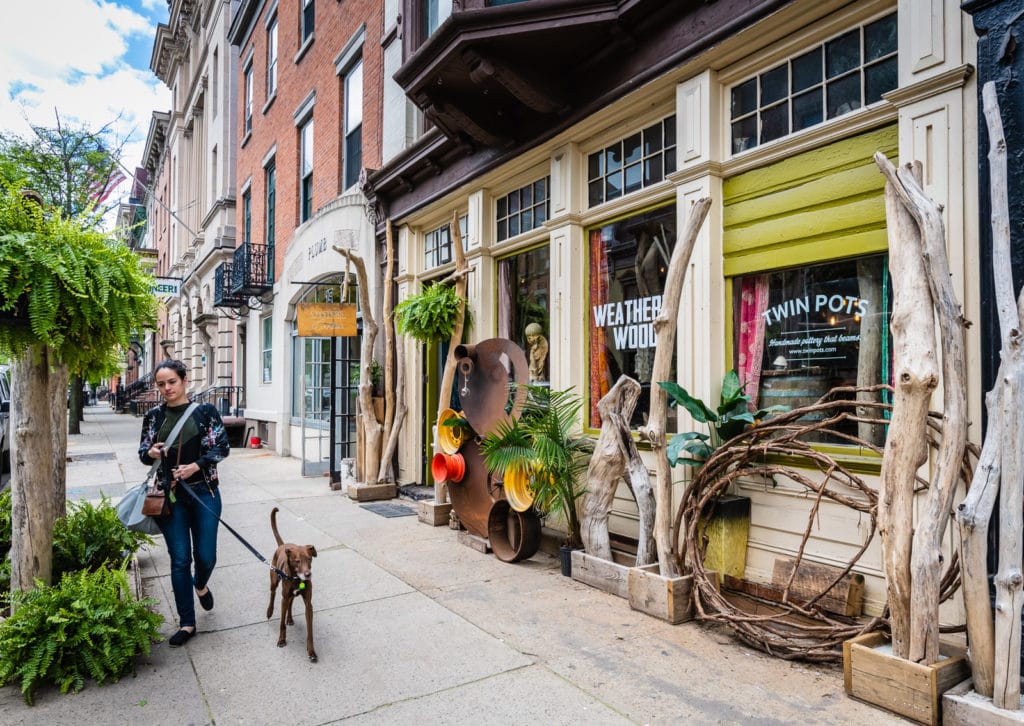 SHOP: Weathered Wood
You can't miss this place, Weathered Wood has a couple of 7 ft. tall driftwood horses on display out front. Made by Weathered Wood co-owner, Danny Killion with driftwood handpicked from the Mohawk and Hudson Rivers, these pieces of art, as well as furniture made with reclaimed wood, set this gallery apart from others.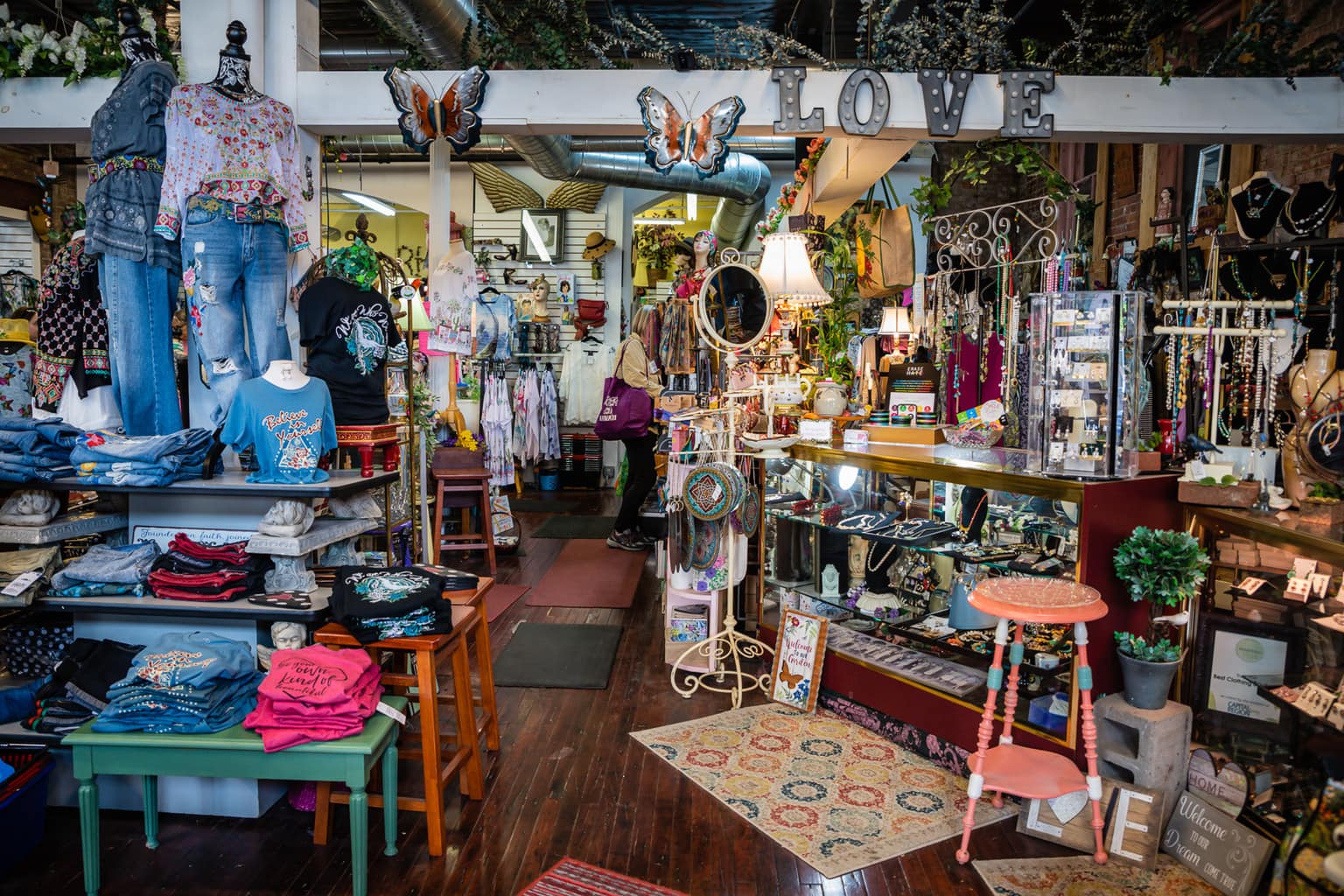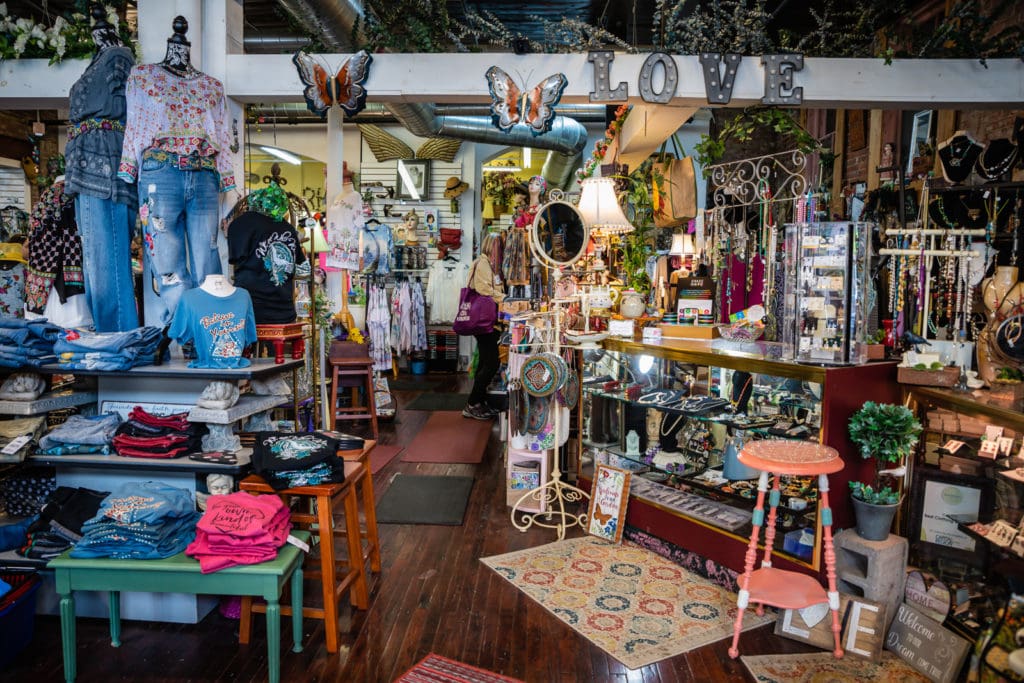 SHOP: Truly Rhe
Shop at Truly Rhe in Downtown Troy for comfy clothes and travel accessories. More hippie than hipster, and also perfect for stylish women of a certain age.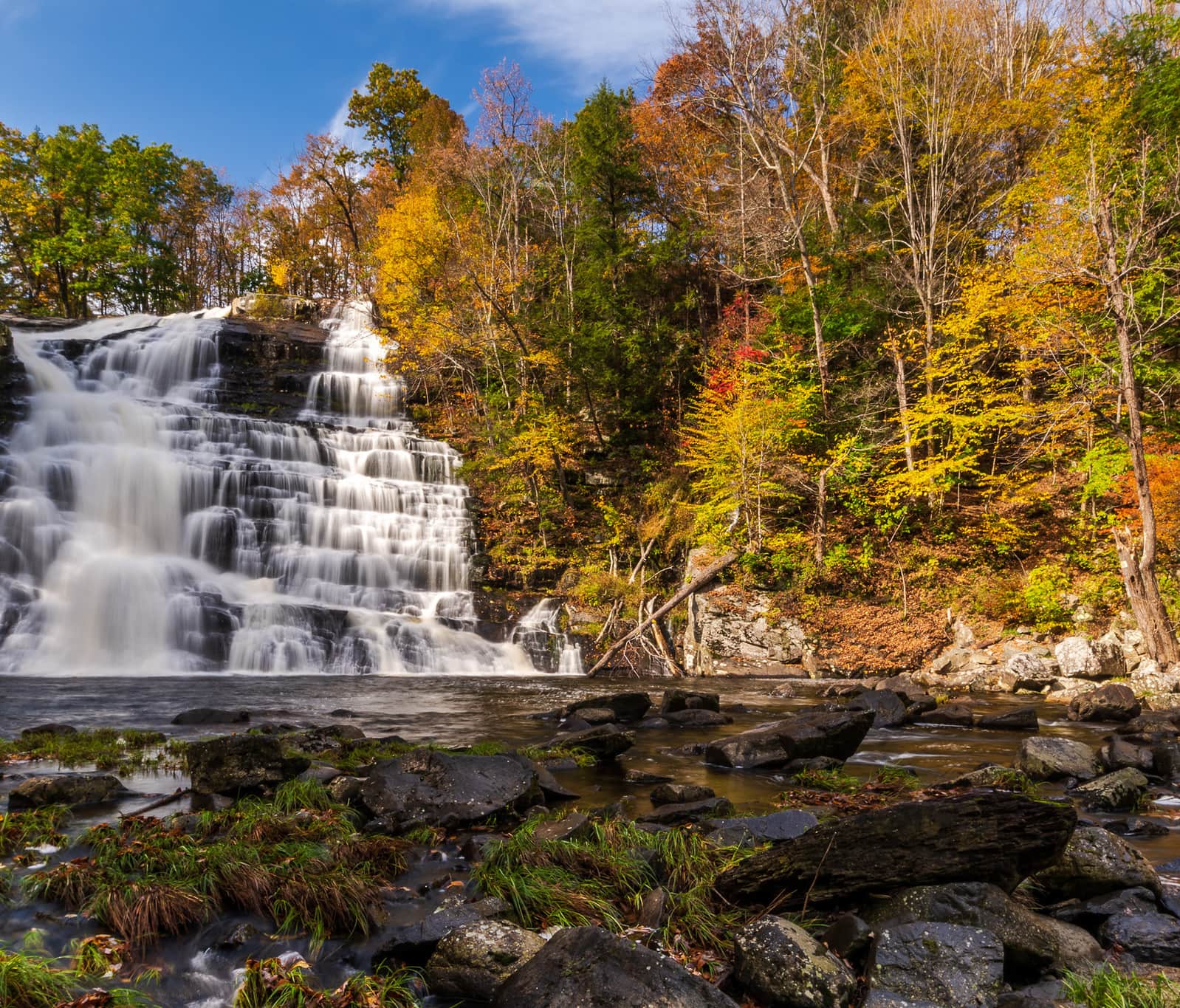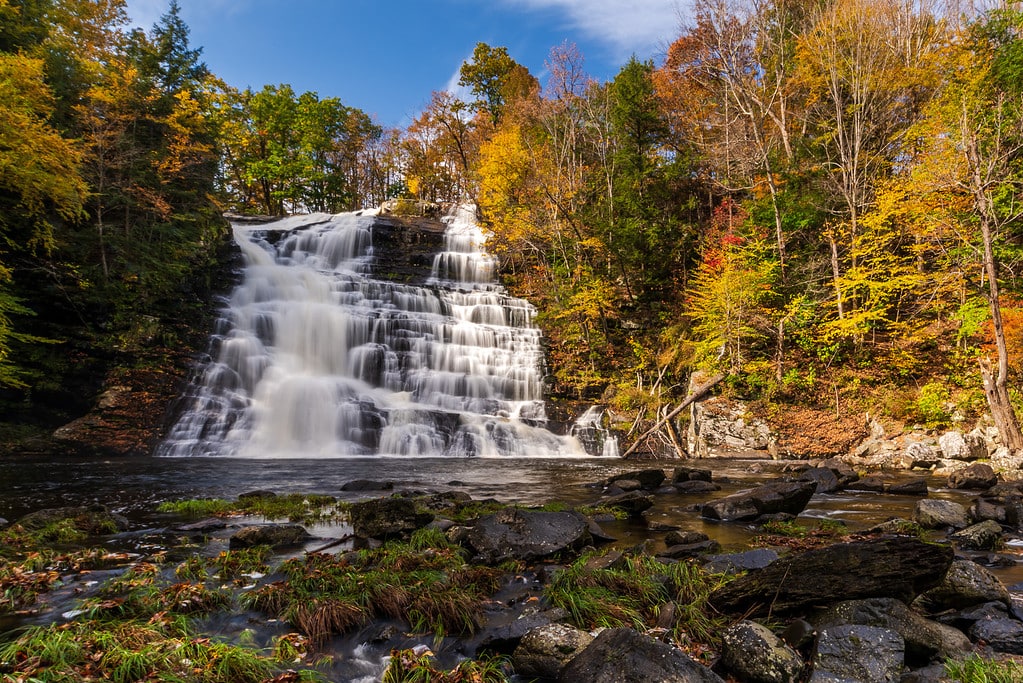 Hike The Trails Around Barberville Falls
Barberville Falls is a hidden natural treasure just east of Troy. This impressive waterfall cascades nearly 100 feet over a rock ledge into a picturesque, serene pool below. The surrounding landscape, part of the Nature Conservancy's Barberville Falls Preserve, features three trails: the Creek Trail, the Falls Trail that takes you to the base of the waterfall, and a .75-mile Ridge Trail.
GO: Captain JP III Cruises
A summertime favorite, specialty Captain JP Cruises run several times a week, ranging from the Sunday Brunch to the Prime Rib Dinner Dance.
STROLL: Oakwood Cemetery
With breathtaking views of the Hudson River and the Adirondack Mountains, Oakwood Cemetery is far more than your ordinary resting place. Spread over 282 acres, Oakwood Cemetery is among the nation's larger rural cemeteries, with trails spread across rolling hills and past beautifully sculpted memorials and monuments, including the grand Gothic Revival-styled Earl Chapel, which is a national historic landmark.
The cemetery also serves as the final resting place for a number of significant figures from Troy's history. These include Uncle Sam Wilson, the progenitor of America's national symbol, Uncle Sam, and Russell Sage, the railroad tycoon and financier, who was one of the richest men in America during his time. Their graves offer a peek into the history that shaped Troy and America as a whole.
Fascinating guided tours provide a wealth of information about the notable individuals buried here and their contributions to Troy's history. Check the Oakwood Cemetery Events Calendar for upcoming events such as Twilight Tours, Summer Concerts, or Famous Breweries and Distillers.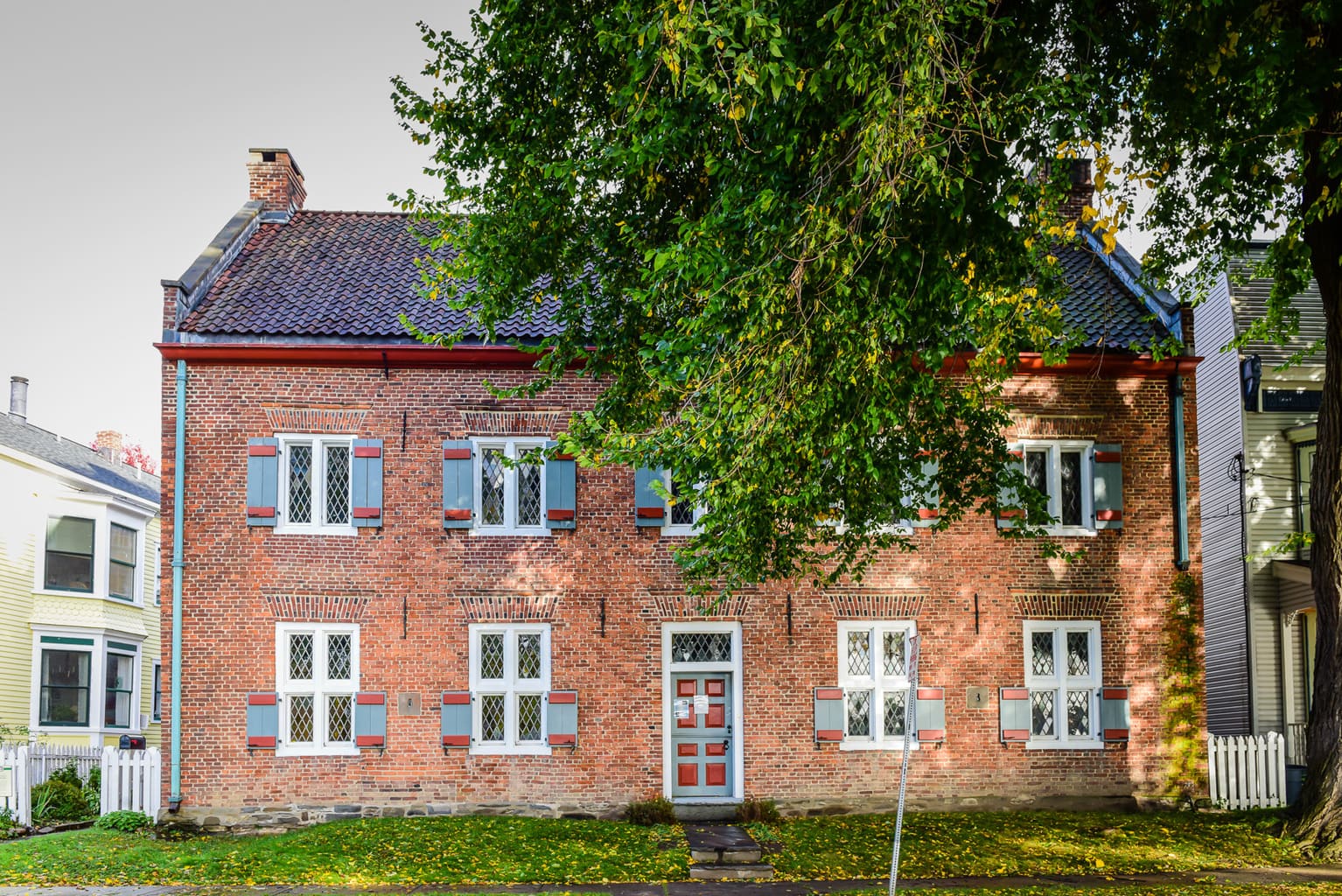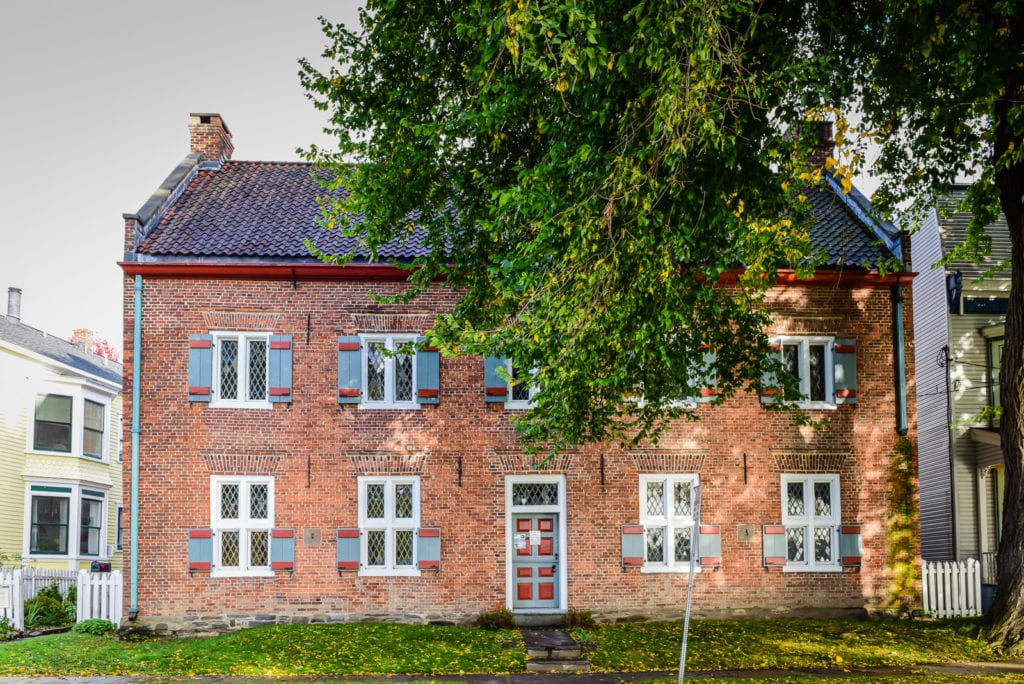 TOUR: Crailo State Historic Site
Visit one of America's oldest buildings, where Dr. Richard Shuckburgh, a British army physician, coined Yankee Doodle to describe less-than-dapper Connecticut troops. Museum exhibits at the Crailo State Historic Site illustrate Dutch colonial history in the Hudson Valley.
DO: Troy Savings Bank Music Hall
Renowned for its outstanding acoustics even though it opened in 1875, long before modern sound architecture, the Troy Savings Bank Music Hall hosts the Albany Symphony Orchestra, chorale ensembles, and music legends such as Art Garfunkel.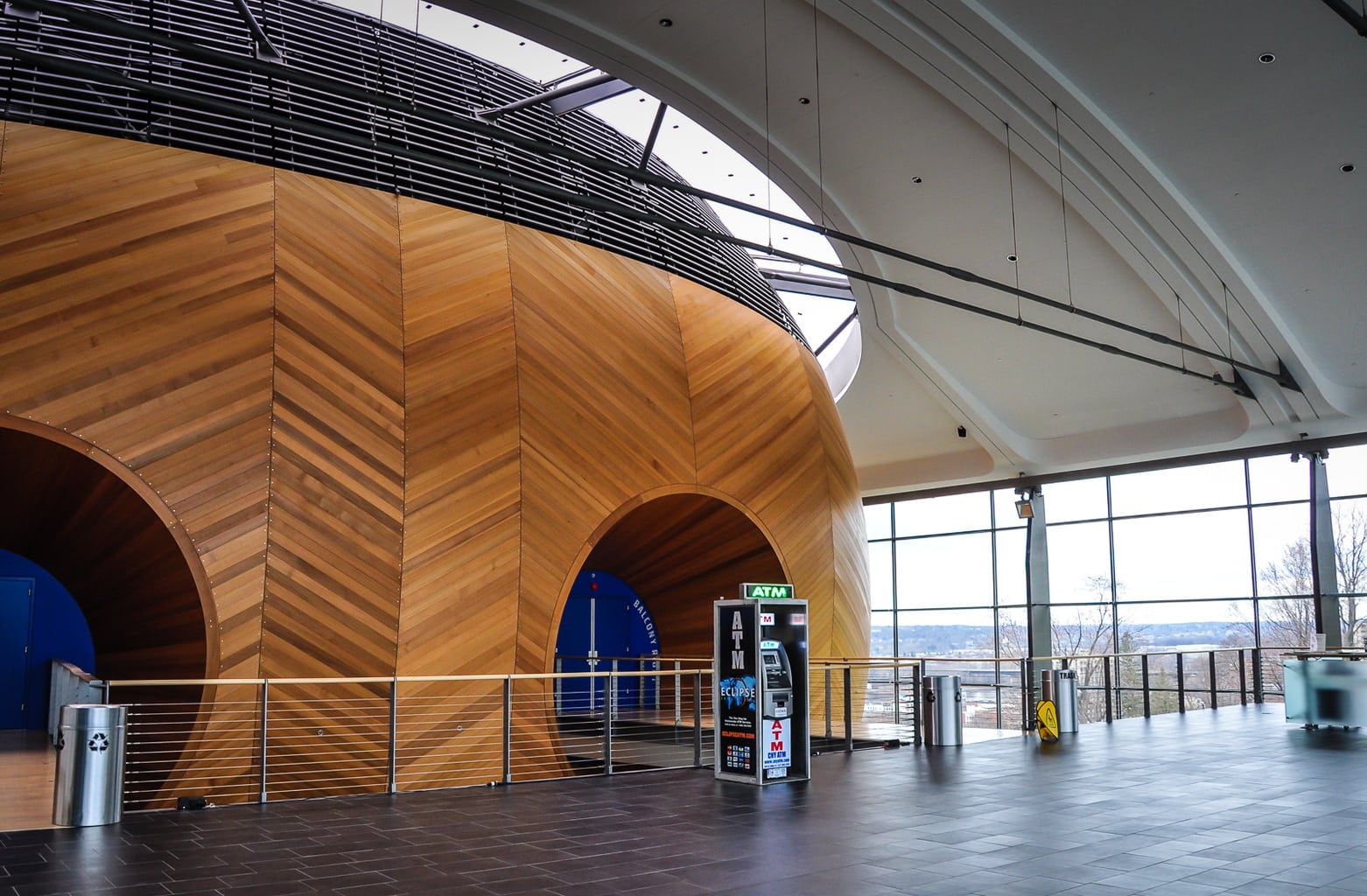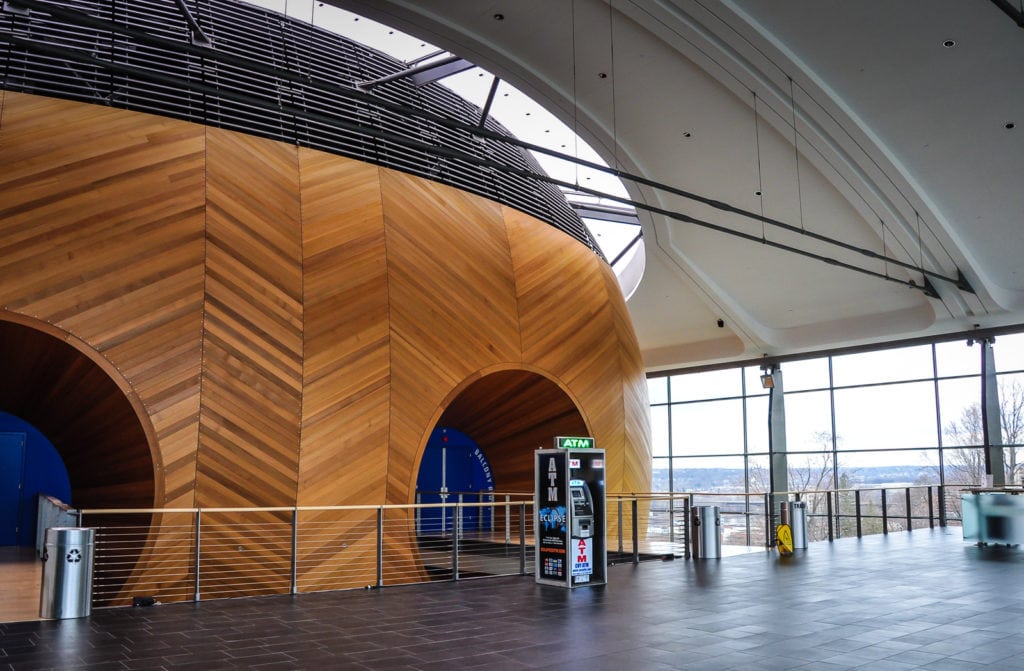 SEE: EMPAC
You don't so much see as you experience a show at EMPAC, the Curtis R. Priem Experimental Media and Performing Arts Center at Rensselaer Polytechnic Institute (RPI.) Year-round calendar draws heavily on media created at hosted residencies and workshops, performances push the boundaries between arts, science, and technology.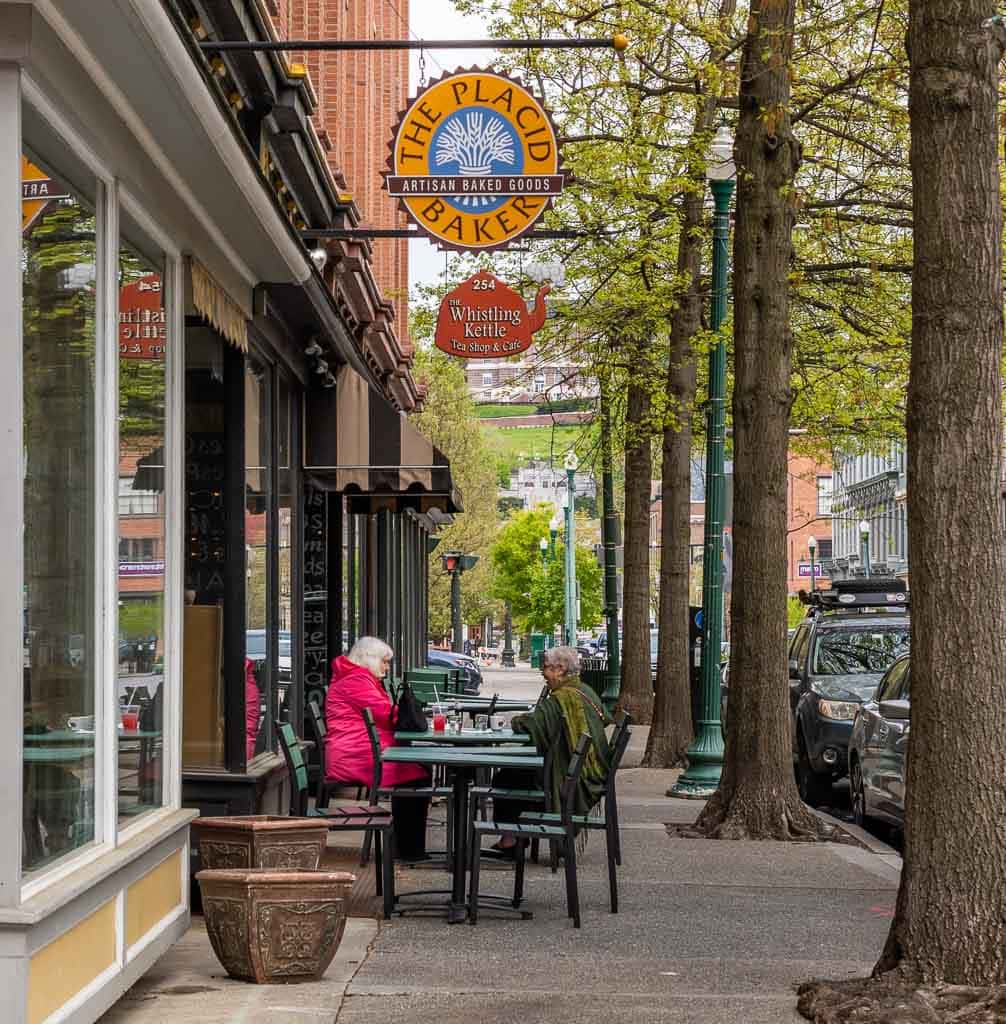 Troy NY Restaurants
SATURDAY MORNING: Troy Waterfront Farmers Market
On summer Saturday mornings, the place to see and be seen is the Troy Waterfront Farmers Market. Open year-round, the Farmers Market is especially vibrant when it heads outdoors from May to October. Then, over 80 local, producer-only vendors, turn Downtown Troy into a bustling marketplace, buzzing with the enticing scents of freshly baked bread, seasonal fruits, farm-fresh veggies, and the aromatic brew of local coffee.
From organic honey to handmade soaps, and exotic spices to locally brewed beverages, the market is a cornucopia of the region's finest offerings. But it's not just about shopping; it's an experience. The friendly chatter of vendors sharing recipes, the local musicians providing the perfect shopping soundtrack, and the infectious energy of the crowd makes a visit to the Troy Waterfront Farmers Market an unforgettable part of the Troy experience.
LUNCH / WEEKEND BRUNCH: The Whistling Kettle
The Whistling Kettle has three locations, but the bright and airy dining spot in Downtown Troy is especially popular with the weekend brunch set. They also serve lunch and an afternoon tea service daily, while offering a robust selection of premium teas (also available online through their Tea of the Month Club.)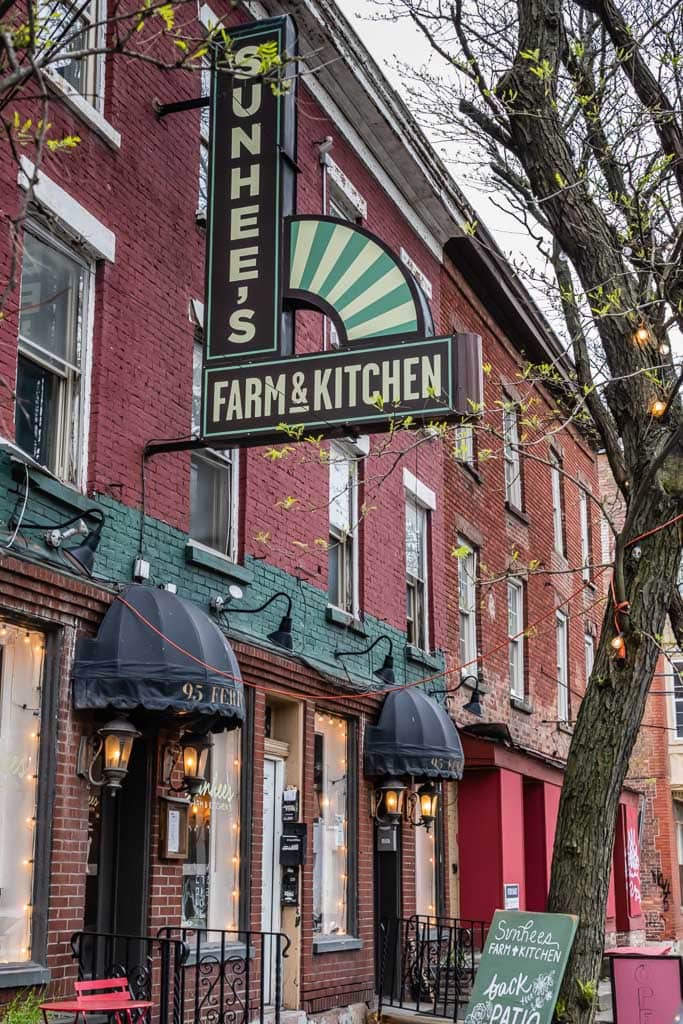 KOREAN: Sunhee's Farm and Kitchen
You can't get more authentic Korean food – or fresher – than Sunhee's Farm & Kitchen. They've got their own farm nearby.
LUNCH / BAKERY: The Placid Baker
Fans show deep appreciation for The Placid Baker's breads and croissants, the latter deemed, "Best in the World" by repeat customers. Watch baked goods emerge from the ovens in a room behind the counter, and order something warm and flaky. You'll think you've been beamed to Paris.
EAT: Locals Love
There's been a "surge of great restaurants." Among those recommended: Jacob Alenandro, Nighthawk, Ali Baba, Donna's Italian, Tara Kitchen, and Brown's Brewing Company.
Hotels In Troy NY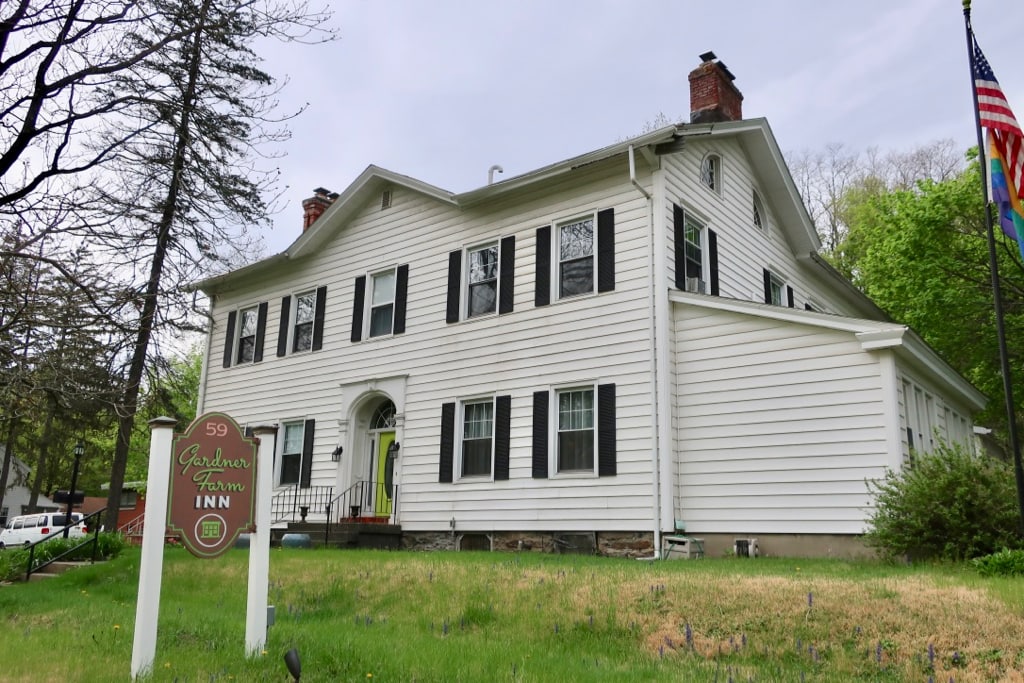 This 5 room Bed and Breakfast, owned by John Hughes, and just a few minutes drive from downtown, is elegantly hip – to fit the Troy vibe. And a bit wild: as in Oscar Wilde – the name of one chandelier'd guest room.
You can also stay in the Mae West, Josephine Baker, Jean Harlow, or John Waters suite – all exquisitely dressed, as you'd expect from their namesakes. To top it off, the breakfast is phenomenal, and yet another reason guests return time and time again.
Once upon a time Troy, and its surrounding landscape, was rife with farms. In 1790, the Gardner family built the original house on 300 acres.
Then, in 1870, a wealthy hardware store magnate, John Sampson, doubled the home's size. Deemed "the handsomest house" in Troy at the time, it stayed in private hands until 1985, when it was turned over to ARC of Rensselaer County as a group home.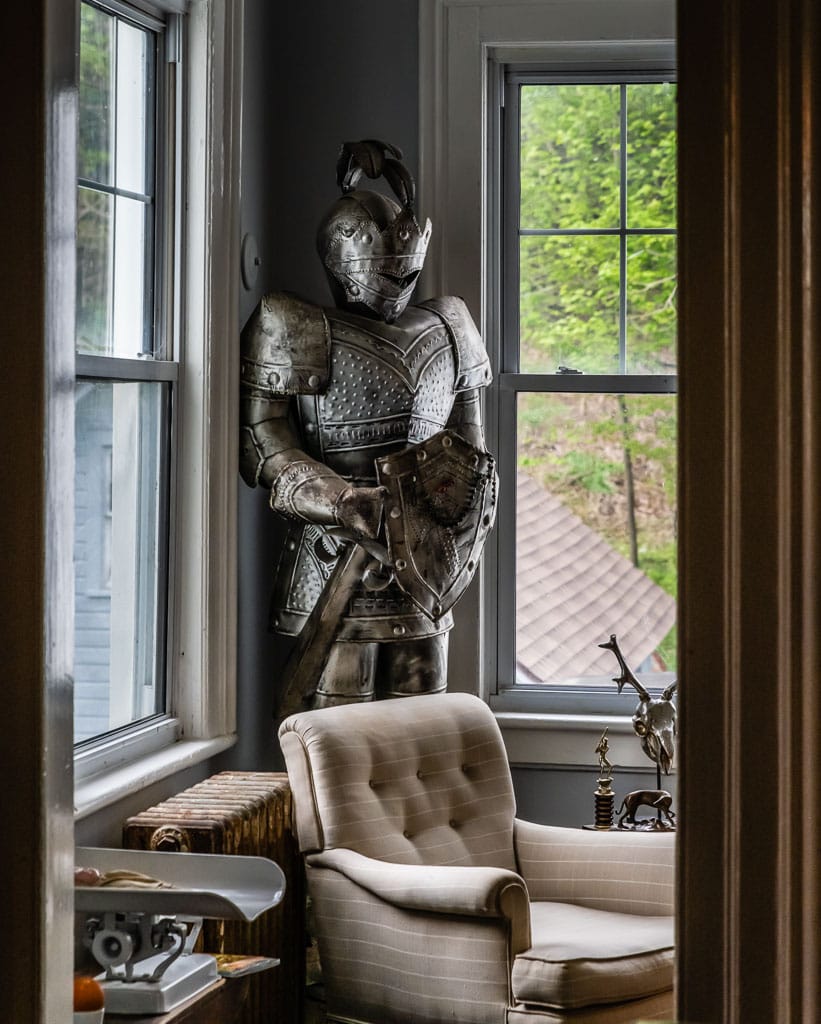 By the time John Hughes purchased it in 2015, most of the land had been sold off, and the structure required a complete overhaul. Hughes has achieved the nearly impossible: creating a high-end, glamorous inn from the bones of an unassuming house just outside an up and coming city.
First Impressions of Gardner Farm Inn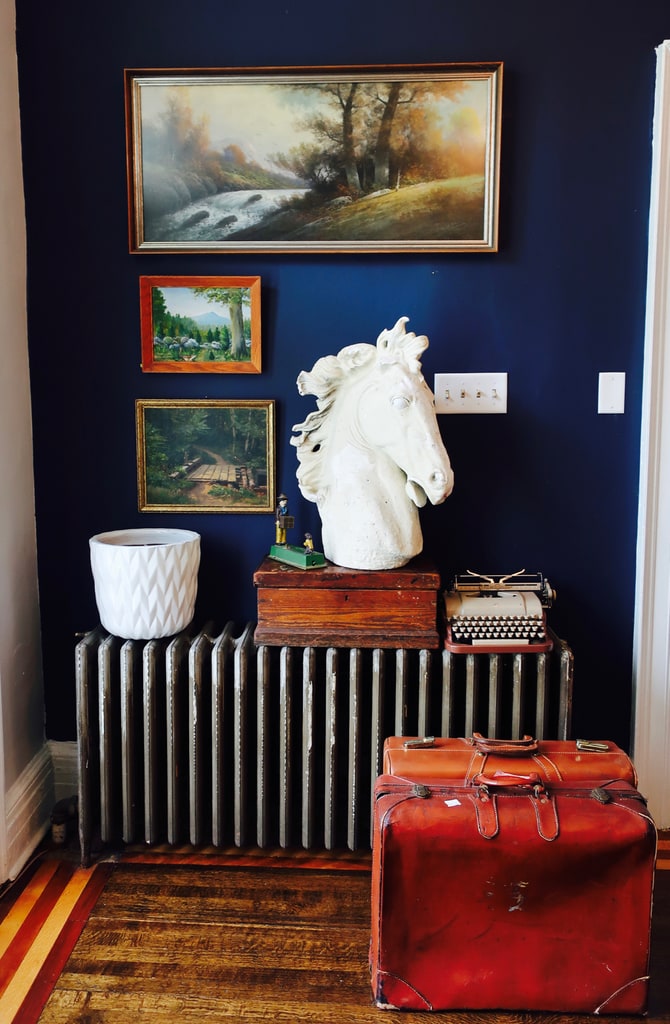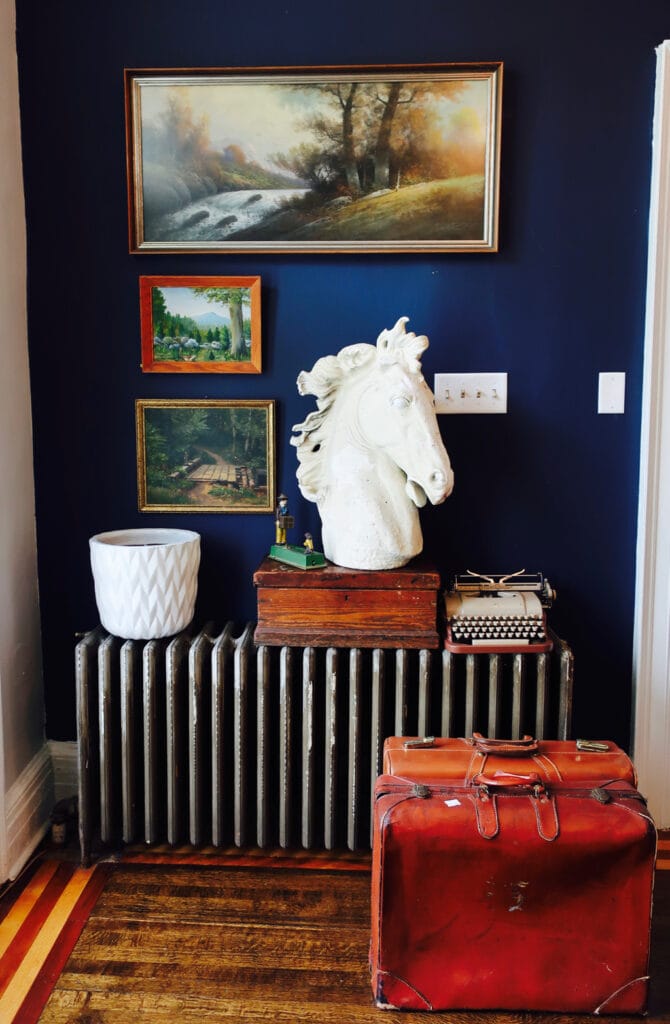 At first glance, the inn is your average unassuming antique farmhouse. But walk inside and whoa: an intriguing assemblage of artifacts in the bold navy colored foyer. It's just the first thing you see in what is essentially a museum of curiosities – juxtaposed in eye-catching and clever ways.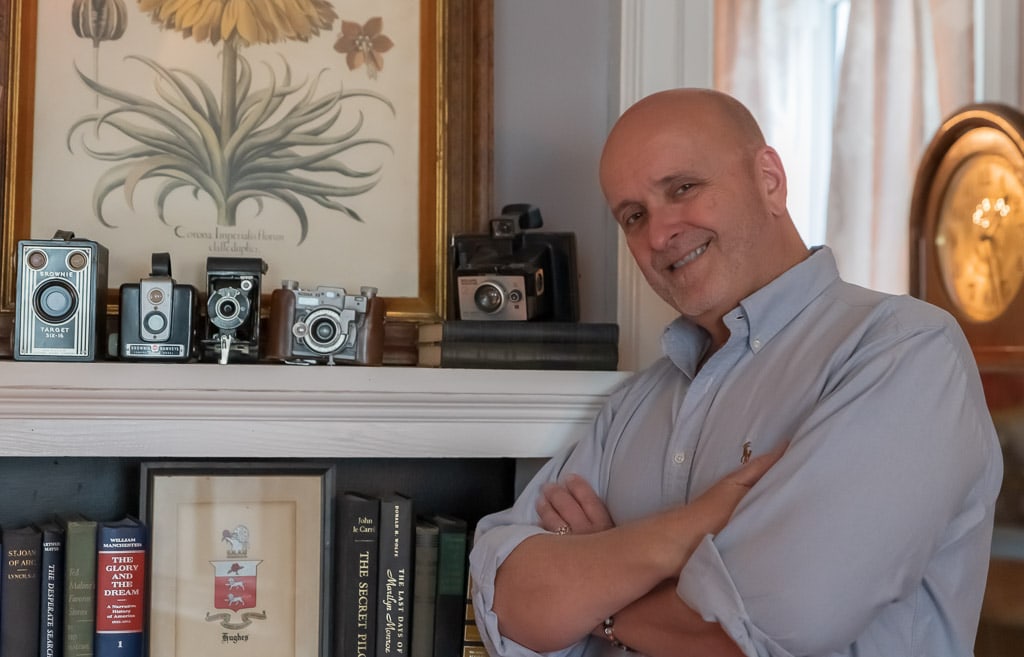 Hughes is a self-admitted tag sale and antiques junkie – a pastime clearly evident in his amusing and sometimes provocative collections. But rather than feeling over-busy, rooms fuse modern and antique in an appealing, uncluttered way. He's got a bunch of old cameras, an authentic Knight's shining armor, cut glassware, books, candlesticks, and so much more.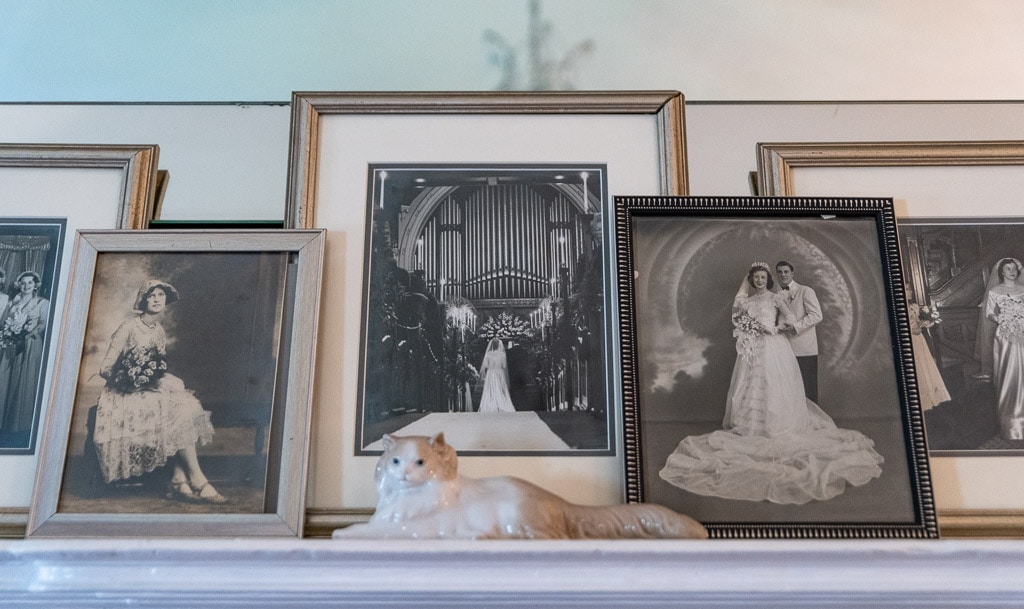 As a nod to his Catholic upbringing – Hughes keeps figurines of Saints scattered about. Yet, as an irreverent painting of the Pope as a French Bulldog ("Le Cupcake of Prague" by Crudo) attests, he doesn't take religious icons too seriously.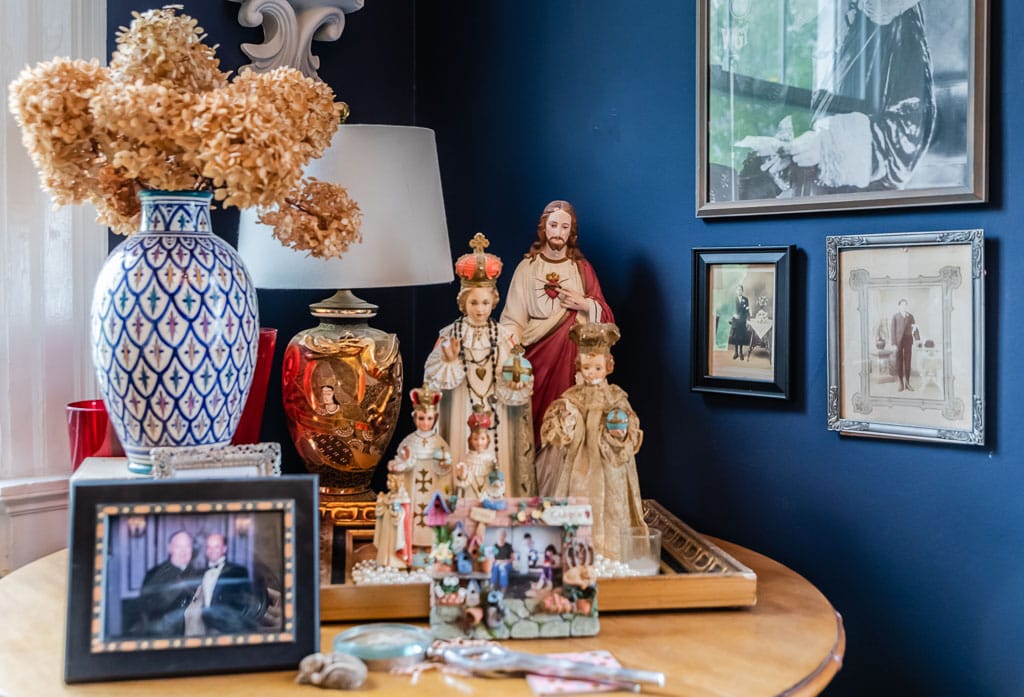 In fact, the amiable innkeeper, formerly a Director of Fundraising for Non-Profits, is the opposite of intense. His sense of humor shows up in various ways. e.g.: All guest rooms, each with its own identity, are painted in soothing grays. What's the shade in the Oscar Wilde room? You guessed it….Dorian Gray!
Hughes loves people, loves his guests, and loves nothing more than to get to know them over a glass or two of wine (complimentary) with them as a nightcap.
Oh, and did I mention that he rescues Greyhounds? You'll most likely meet two of them – Margaret and Nigel while checking in.
Guest Rooms at Gardner Farm Inn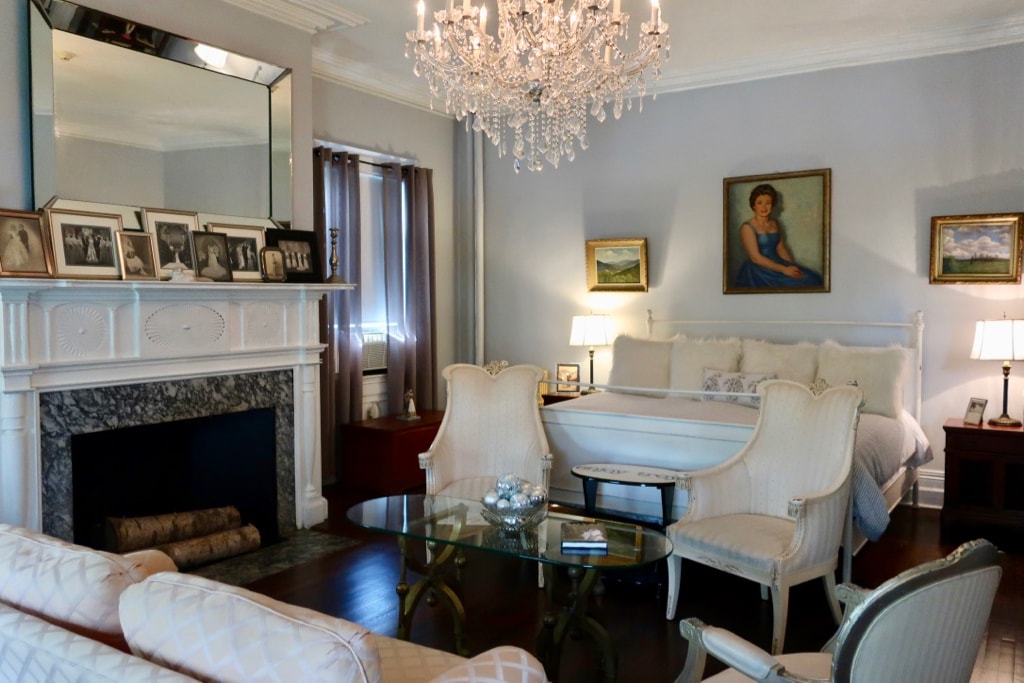 Jean Harlow Room
Want to be surrounded by the glitz and glamour of 20's/30's Hollywood? Stay in this cloud nine of a guest room. White Flokati pillows, crystal chandelier, white upholstered throne chairs, fireplace, hardwood floors: it's as all out romantic as it gets. No big surprise that it's favored by brides.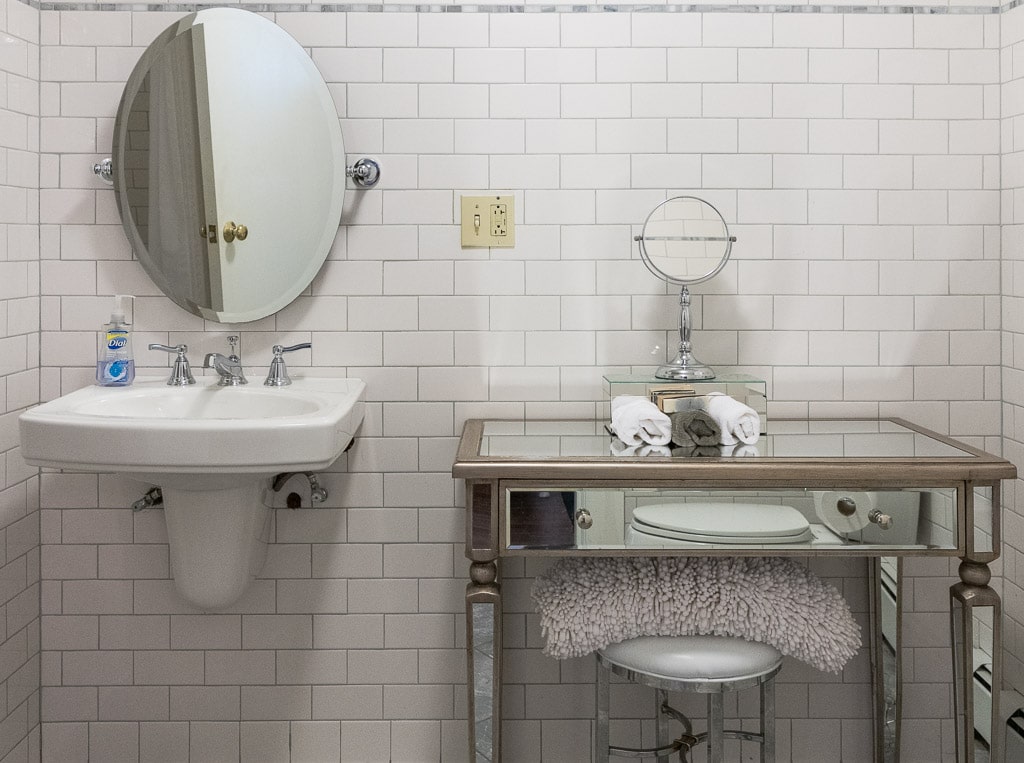 The bathroom is a study in 20's luxury: with a glass and mirror table at which Harlow herself might have powdered her nose.
Oscar Wilde Room
As stated earlier, the handsome room, with one brick accent wall, and two twin beds, is cast in Benjamin Moore's Dorian Grey.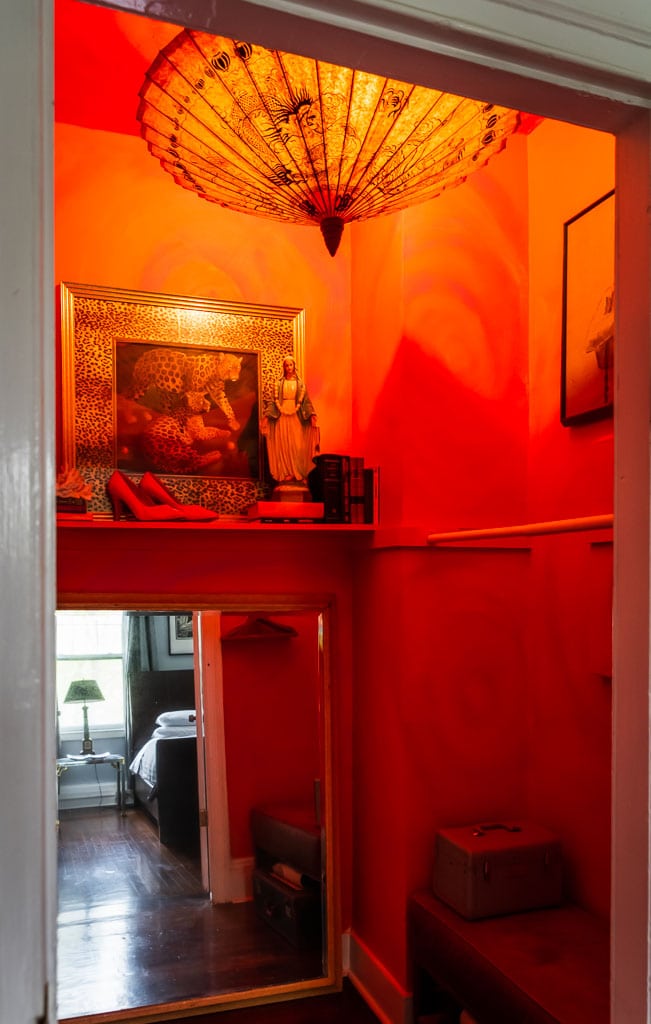 John Waters Room
Interestingly, the one room devoted to a living legend is rather staid, which is odd for Waters, known for his crazy, color-saturated movies (Pink Flamingo's, Hairspray). I said as much, at which point, Hughes opened the closet. There it is.
Mae West and Josephine Baker Rooms
All rooms are gorgeous, but the bathrooms are knockouts.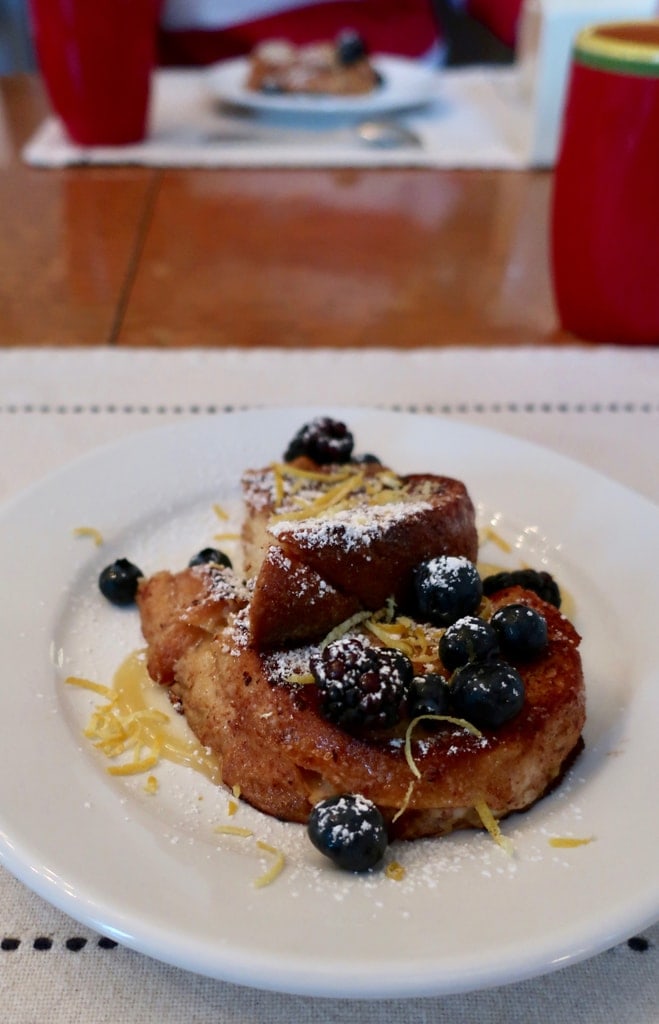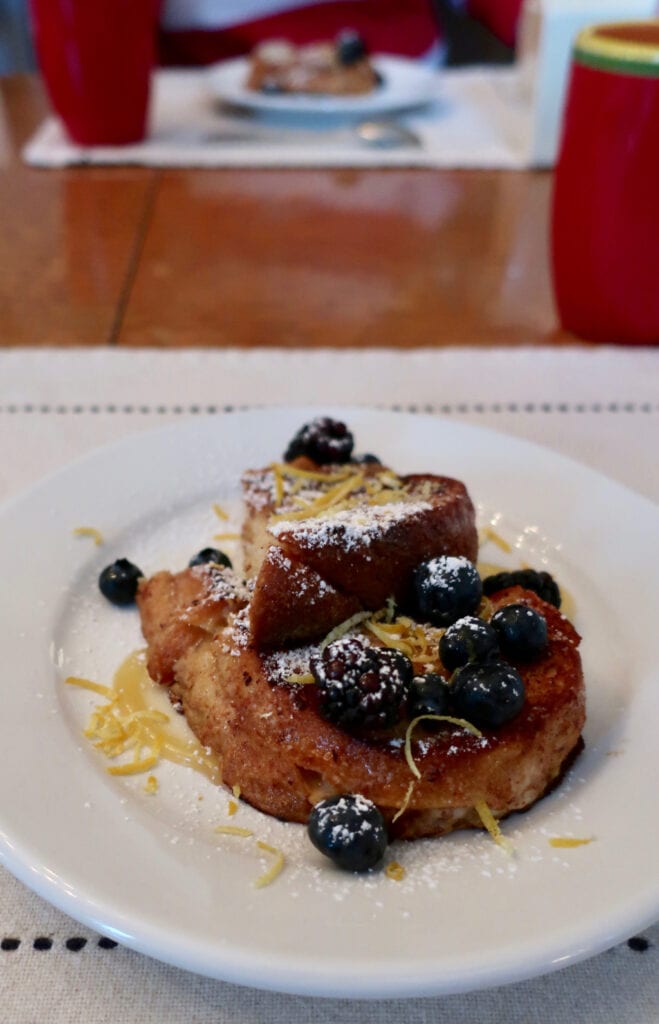 Breakfast at Gardner Inn
Be prepared for a beautifully presented, three-course gourmet breakfast. If John is serving his famous Lemon Curd French Toast, you're in luck. It's divine. But anything he whips up in his kitchen is as far from basic as it gets. Mine began with fresh berries and yogurt, followed by an Heirloom Tomato-Bacon-Mushroom-Swiss-Cheese crustless quiche.
Find Gardner Farm Inn on Getaway Mavens 15 Top Romantic Hideaways Northeast US 2022
STAY: Franchise
Troy has a couple of convenient franchise hotels including a brand spanking new one with a Hudson River view, the recently opened Courtyard Albany/Troy Waterfront and the Hilton Garden Inn Troy.
And, just across the river, there's a lovely historic hotel, Morgan State House, located next to Washington Park. Read the Maven's review in Things To Do In Albany NY.
More Weekend Getaways Ideas In The Capital Region
All articles belong to Getaway Mavens LLC, and all photos belong to us as well, unless otherwise noted. It's all copyrighted. Please don't repost anything elsewhere without asking us first. All rights reserved. This site uses cookies to enhance your experience.
We make no guarantees of any price listed on our site. We're not responsible for content on external websites linked to ours, including linked resources, an external blog post, any partner site, hotel property sites, or affiliate sites. We only write about places we have vetted, but can't guarantee that your experience will be exactly the same.
Posts may contain affiliate links at no cost to you. Several of our trips are also compensated by the respective tourism boards for the city or state we are visiting. This never impacts how we share the destination with you – opinions are always our own and we pride ourselves on that. We do not sell links or accept unsolicited guest posts under any circumstances. Don't even ask.
United States Copyright, Getaway Mavens, LLC