WHY GO: Why getaway to the Finger Lakes? For the increasingly serious wines so fine and drinkable, the best Wine-Spectator-acclaimed restaurants in New York City are taking note. Why Seneca Lake? For reasons outlined below.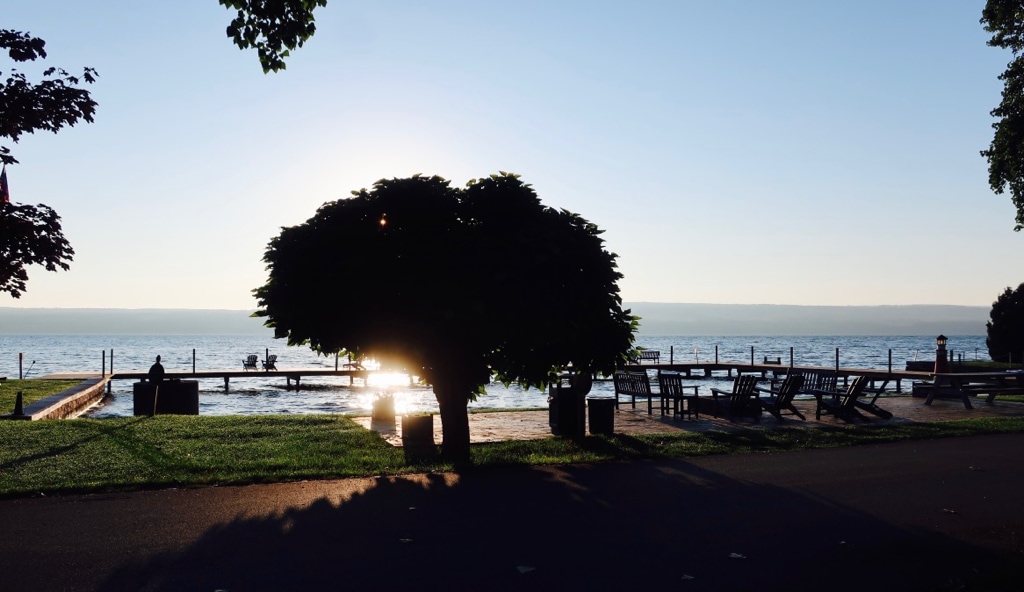 Seneca Lake is one of the largest of the eleven Finger Lakes, and at 625 feet, the deepest. With hilly terrain sloped to the water, winemakers talk about land perfectly suited for "air drainage," a necessary component of cold-climate grape growing.
Though novelty spots like Pompous Ass and Red Neck Wineries sell lots of t-shirts, serious vintners focus on perfecting their craft. With over 100 wineries in the entire Finger Lakes Region, a couple of dozen are on Seneca Lake alone. True oenophiles have already discovered it.
But wine is only one of many reasons to visit Seneca Lake. The scenery is outstanding. Mother Nature has blessed this part of New York with so many waterfalls, they can be found beside small town main streets, and in one of the most dramatic and awe-inspiring State Parks – Watkins Glen – you will ever have the pleasure to hike in.
Plus, the quiet lake itself is perfect for a short afternoon sail, a speedboat tour of waterfalls, or backdrop for a sunset glass of local vino.
This Maven has finally found the perfect place to relax, hike through tiers of racing water, discuss winemaking with some of the most knowledgable grape-growers in the country, and eat the best, smoky hot-dogs in the world. Though by no means an exhaustive list, here are some ideas to get you started, including a new one as of 2022: Cow Cuddling! Read on.
Combine this getaway with one to Cayuga Lake, Ithaca, Keuka Lake, and Corning NY for the perfect Finger Lakes vacation.
Things to Do on Seneca Lake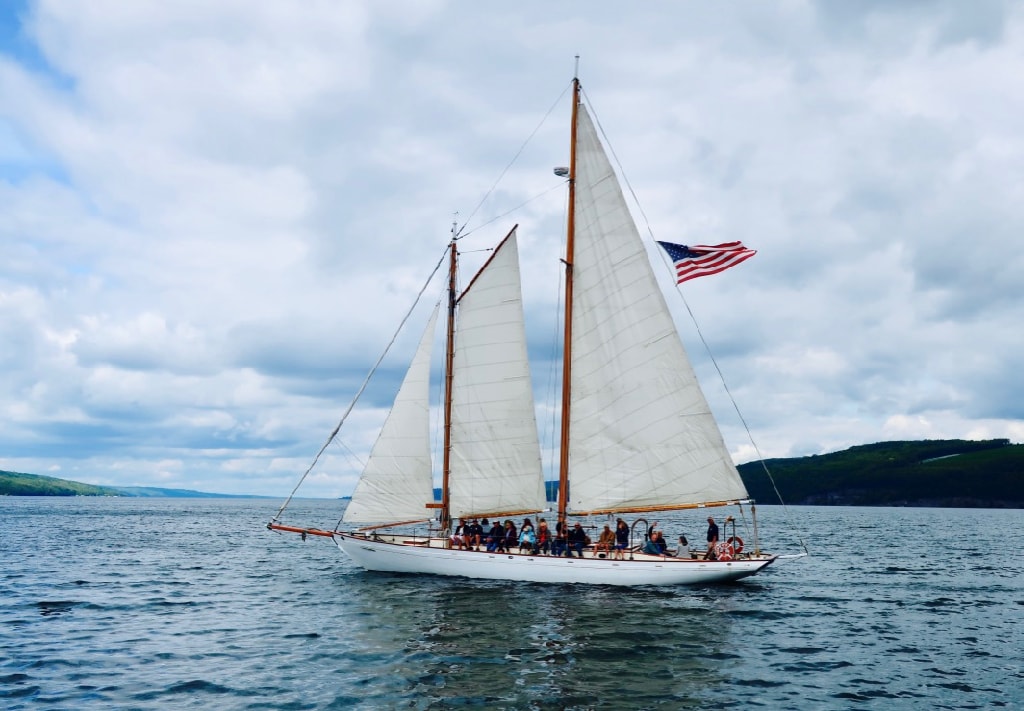 SAIL: Afternoon Sail on the Schooner True Love, Watkins Glen
Plan a relaxing 2 hour sail on southern Seneca Lake on the Schooner True Love. This stunning racing yacht had her Hollywood debut in the 1956 movie, High Society, starring Bing Crosby and Grace Kelly.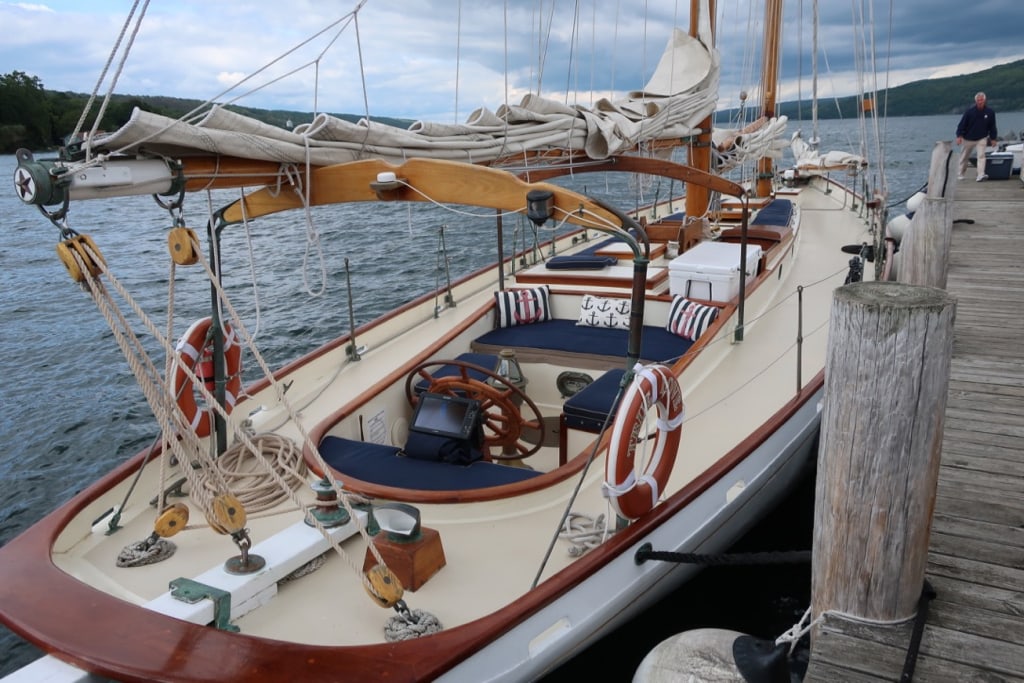 In fact, Crosby crooned to Kelly in the cockpit of this very boat, and, if so inclined, romantics can replicate the scene set against the backdrop of one of the most well known of the Finger Lakes. (Of course, unless you book a private sailing, you'll have an audience, as this is a very popular excursion).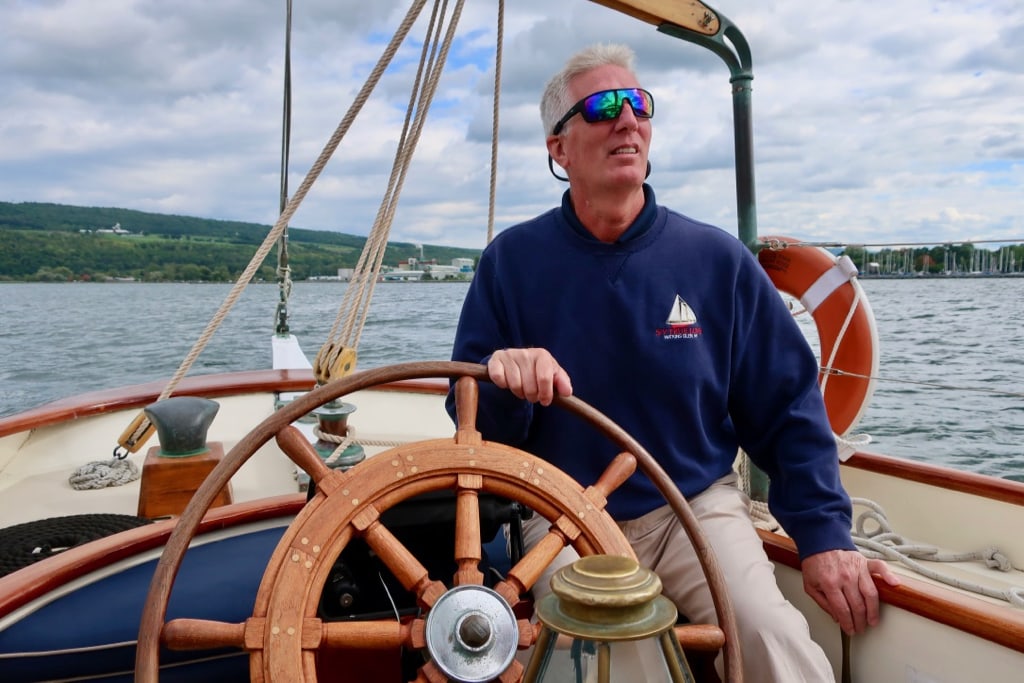 Soft drinks are free. And wine, beer, and cocktails are moderately priced. Oh, and there's rum, of course. This being a wine region, by the way, the crew, which includes co-first mates, Josh (son and grandson of Captains of the dining cruise boat, Seneca Spirit, and smaller Legacy), and Megan, are knowledgeable about the local spirits! Sailings four times per day. $69pp includes soft drinks, sunset sails $79pp, includes small bites.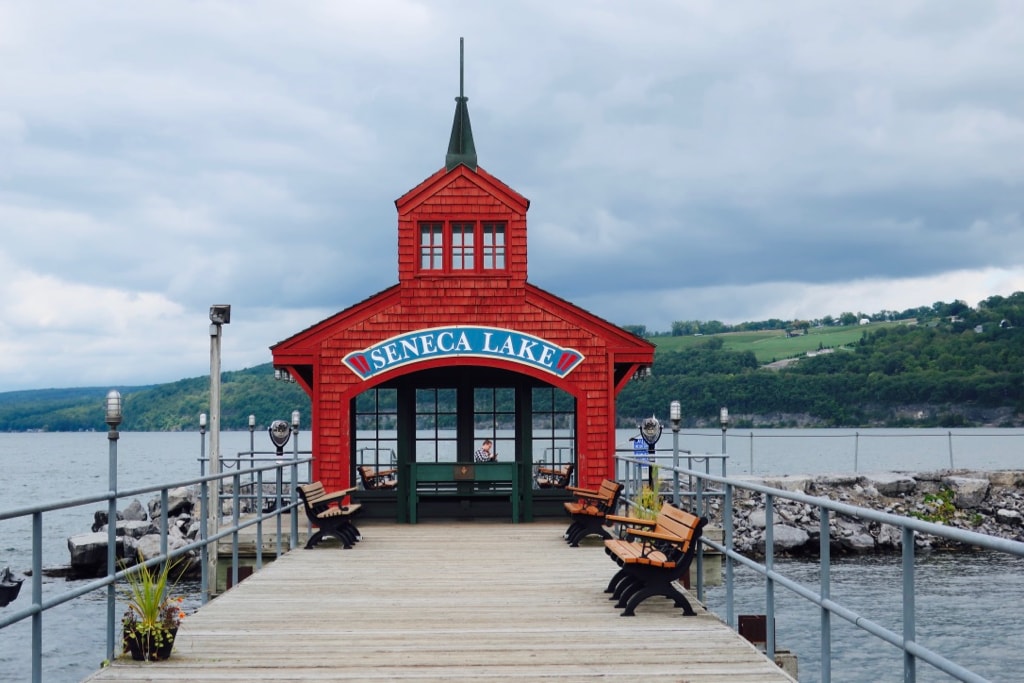 WALK: Seneca Pier and Harbor Walk, Watkins Glen
The 35 mile long Seneca Lake tapers to its narrowest point at its southern end, so the view north seems endless. Take some time to walk out to the end of Seneca Lake Pier (you can't miss it – it's emblazoned with the Seneca Lake sign) for a few meditative moments. Watching the graceful Schooner True Love sailing back to dock is pure Zen.
Sayre Fulkerson is the 6th generation owner of this vineyard farm, in the family since 1805 when ancestor Caleb Fulkerson bought a few hundred acres in what was then a lakeside wilderness. You can see Caleb's gravestone in a family cemetery amid native and hybrid grape vines, and learn about winemaking in the Finger Lakes from one of its pioneers.
Grapes have been cultivated in this region since the 1830's. In fact, basement winemaking has been a local tradition for nearly two centuries. In this vein, in 1979, Fulkerson started selling just the juice of his grapes, along with wine-making kits, through his Juice Plant, which is still is a significant part of his business. (30,000 gallons sold per year).
He cultivates Delaware grapes – an old Native variety – along with European, or Vinifera, grapes. Taste a selection of dry to sweet Rieslings, a variety that grows well in this cold climate. Or sip a great Gruner Veltliner Estate, and a smooth Zweigelt, an easy-to-drink Austrian white.
Fulkerson's fun signature Dirigible Series come from the sweet native Catawba and Niagara grapes that puts one in mind of a nice sangria. Readers of romance novelist, Kristan Higgins, might recognize Fulkerson and his Winery from her stories set in the fictional town of "Manningsport, NY." Open daily all year 10-5, tours on weekends.
In 1977, this was the first winery on Seneca Lake. Of course, it's now the most developed in terms of amenities and production (60,000 cases/year). There's lodging, a well-regarded restaurant (Veraisons) and a beautiful tasting room with panoramic views.
In warmer months, you can take an outdoor tour. And in the winter months, the Cellar Tour introduces you to a unique "concrete egg" – a European fermenting container gaining popularity in the US.
Glenora's Wine and Chocolate Tasting experience has evolved into one of the most mouthwatering and popular experiences in the region. Seahorse-shaped Guylian Belgian Chocolates, served on a silver platter, pair with four award-winning wines in an intimate, private room.
Or opt for the wine and cheese pairings to try other palate pleasers. Guided tours June-October 11-5. Cellar Tours every hour $10. "Staves and Steel Wine Tour includes tasting from barrels and tanks, $12.
Take a Tour and Tasting, and get schooled in how the geography and climate of the Finger Lakes makes for top Rieslings and Chardonnays. Owner Scott Osborn got into the "wine-making biz" in California, but loves being out here, making cold climate wines.
The Finger Lakes were once underwater, so the soil is both sandy and loamy. Fox Run has been experimenting with and researching the effects of this particular "terroir" on grape-growth by comparing Rieslings grown in sandy vs. sandy loam soil.
There are 19 waterfalls on a 2 ½ mile loop trail up and down through the gorges. It's a fun, wondrous place that's been thrilling generations of visitors. And if you park in town and walk in, it's free. $8 parking fee.
DO: Falling Waters Boat Tours
This intimate Falling Waters Boat Tour (maximum 6 guests) takes you up close to dramatic cliffs of Seneca Lake, and to the imposing, multi-tiered 250' Hector Waterfalls. On the 2.5 hour tour, get off the boat and onto the owner's private patio for a drink toasting the closest you can get to these tumbling falls. 1.5 hour public tour, $65pp. Private tours, $290 for minimum 2 people, up to 6 people, $450 for 2.5 hour tour.
DO: Cow Cuddling at Sunset View Creamery
Although Sunset View Creamery is seven miles south of Watkins Glen and Seneca Lake (15 minute drive), we include it here because….you can cuddle with cows! Yes, sit with these gentle bovines, learn about them, hug them, and then revel in tasting "flights" of cheese or ice cream. $15 per 30 minute cuddle session.
Think all mushrooms are grown in darkness on a bed of poop? Then you don't know Shitake. Find out how these toadstools are cultivated on sustainably harvested hardwood logs on a one hour walking tour of this woodland farm. May – Sept. – $10 per person.
DRIVE: Around
Part of the joy in experiencing the Finger Lakes comes from just stumbling on something like the massive waterfall at the T-end of Montour Falls Main St. The Finger Lakes abound in waterfalls and gorges, many of which you don't even need to get out of your car to see.
GO: Watkins Glen International Speedway
This famous racetrack is in the middle of farmland. As such, it truly is the Woodstock of NACSAR, Grand Prix, and Vintage Racing.
Seneca Lake Restaurants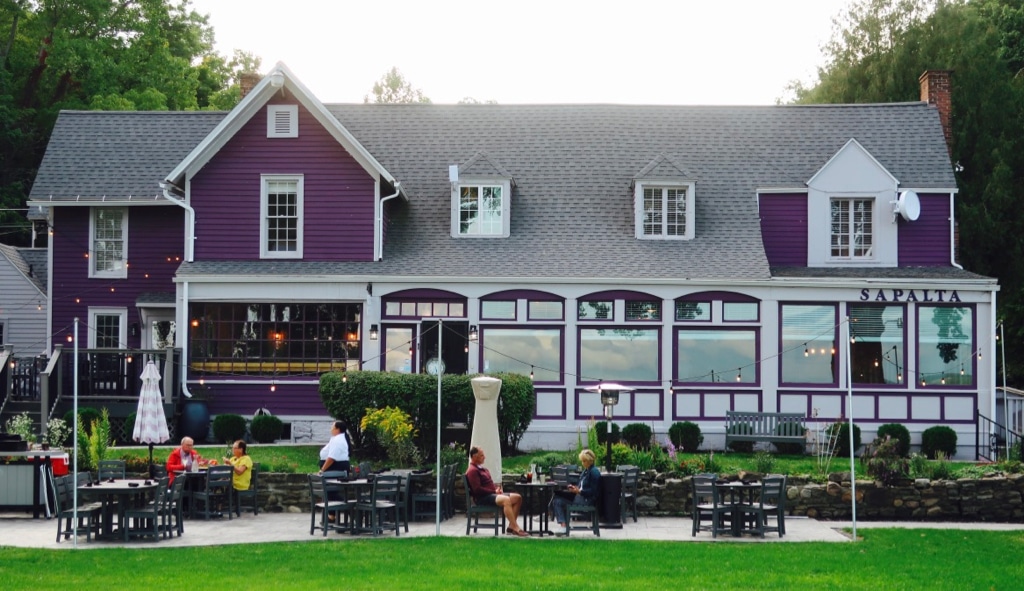 EAT: Sapalta at Plum Point Lodge, Himrod
See Sapalta under Where to Stay below.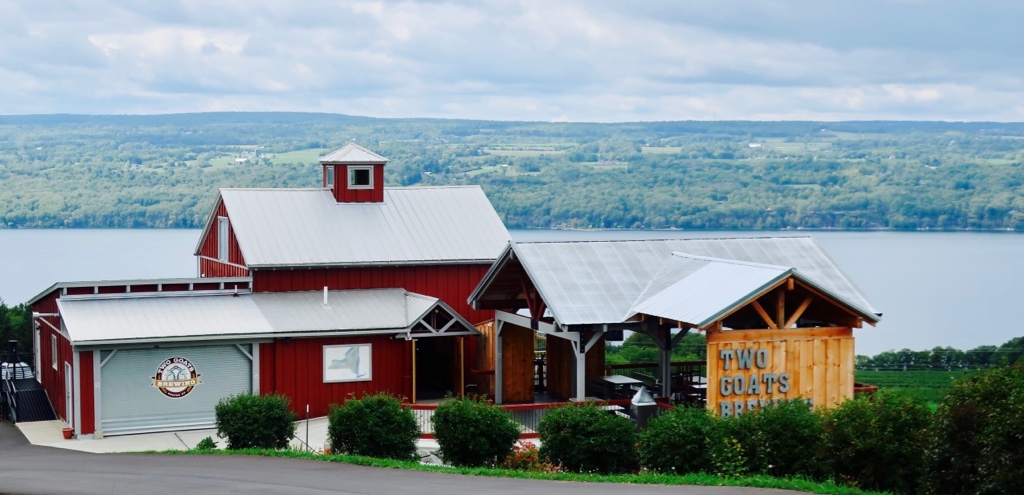 LUNCH/BEER: Two Goats Brewing (East side of Seneca Lake)
Two Goats Brewing is locally known for its scratch-bun Beef-on-Weck sandwich, great beer, and one of the most alluring views of Seneca Lake. Good thing most of the seating is on several outdoor decks. The beer is forthright and satisfying – especially if you love ales and IPA's. But what about that beef-on-weck – a Buffalo NY staple that was famous there way before chicken wings? This version, on a house-made rye-seed bun, is amazingly toothsome.
Prior to opening this modest hot-doggery, Chris Bates and his wife Isabel Bogadtke worked at several Relais & Chateaux properties. Chris, a Master Sommelier, still teaches at the International Culinary Center (formerly French Culinary Institute) in NYC.
But they wanted to open restaurants where Chris grew up.
This little hot dog place was on the market, and so they purchased it, and started growing various hops and herbs in square barrels that encircle an outdoor patio.
House made pickles, kimchee, gourmet soups, salads, and meats sourced from down the road; this is arguably the only "hot dog stand" in the world that sells from scratch bratwurst, Italian chorizo, Lamb Pate and Crisp Port Belly.
For a perfect comfort food lunch, order a Shirks smoked dog topped with outrageously toothsome pickles, smoked fries or exceptionally crispy onion rings. Then, finish with either a Nutella or Bacon-Maple Milkshake, both of which should be against the law, they are so decadent.
Soon after it opened, The Wienery quickly became the go-to Finger Lakes restaurant for serious foodies and food journalists. Still, "all the winemakers come in and powwow here." No surprise. The food is tops.
EAT: Local Recommend
Other recommendations around Seneca Lake. Dano's for great schnitzel and sausages. The Stone Cat Cafe– a local hangout. Graft Wine and Cider Bar, Nichols Pit BBQ – great variety, Gerlando's Italian for fine dining and pizza, Elf & Oak, quick bites and fun pairings, Halsey's in an old remodeled firehouse with great wood-fired pizzas. And Ports Café which offers a great local wine list.
Seneca Lake Hotels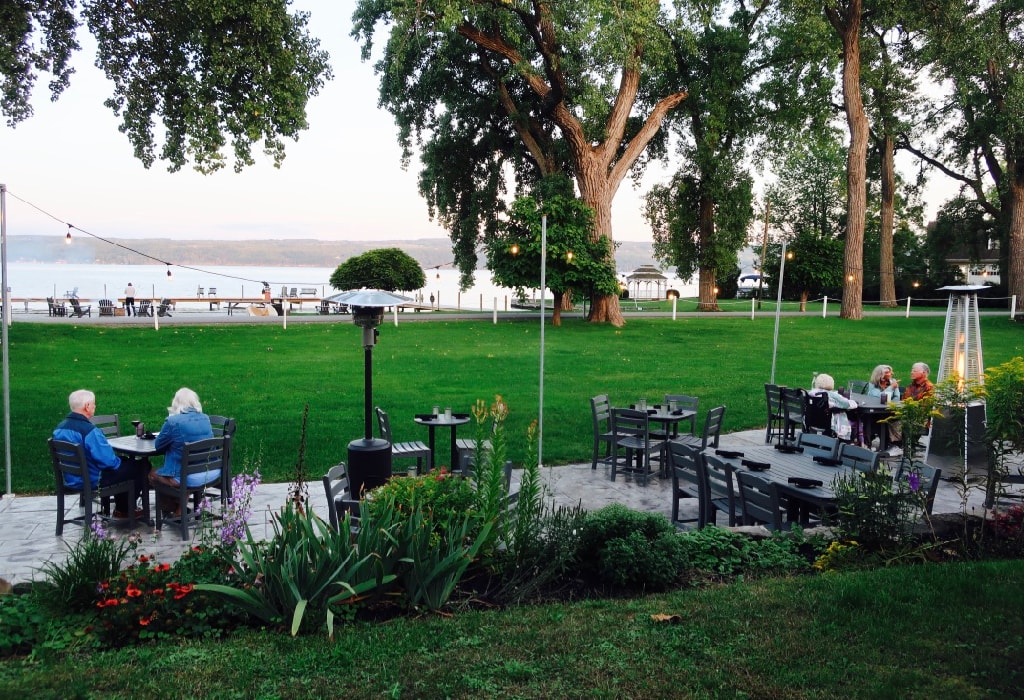 STAY: Plum Point Lodge, Himrod NY on Seneca Lake
Seneca Lake is front and center at the lakefront Plum Point Lodge. The Lodge is a mix of motel and hotel rooms with lake views, and "glamping" Yurts out back, but very chic as far as canvas goes. I mean, where else can you find new, stylish bathrooms in a tent?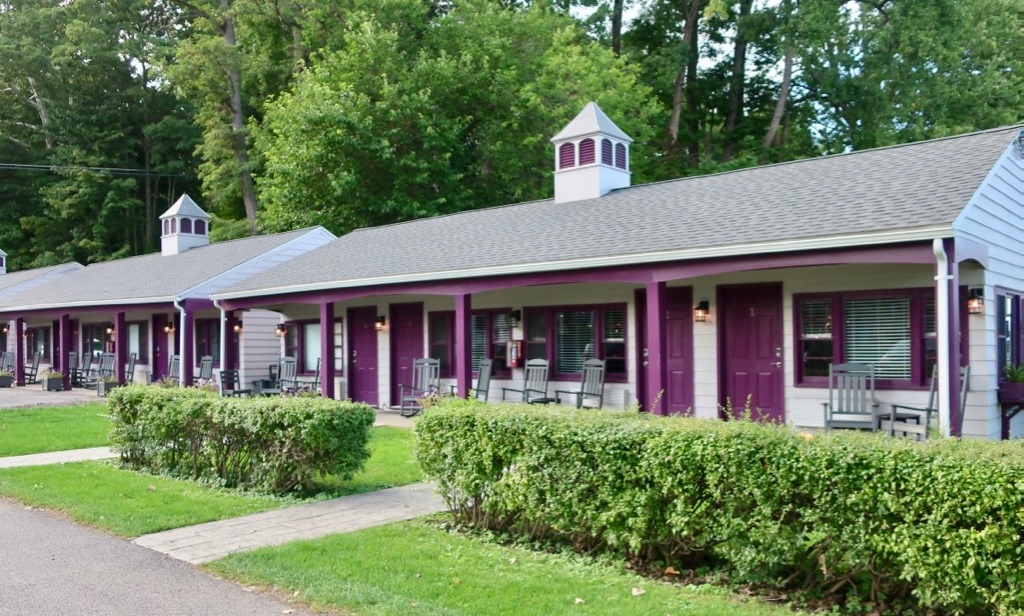 Although all rooms are small and snuggy, they are high-end, with ship-lap walls, cool art, large flat-screen TV's, and pristine modern bathrooms. But the stars of a stay here, are the both the Lake and on-site destination restaurant, Sapalta.
I stayed on a Tuesday night mid-September, and the place was hopping, with both Lodge guests and locals here just to drink and eat. Pre-dinner, many patrons took their cocktails and wine out to Adirondack chairs on the hotel dock – speechlessly euphoric over the evening sunset.
Thankfully, for Plum Point Lodge guests, Sapalta is one of the best restaurants on Seneca Lake – so, no need to drive 15 miles from Watkins Glen to dine here. Everything from vegan to steak is prepared so excellent, locals consider this a "celebration restaurant."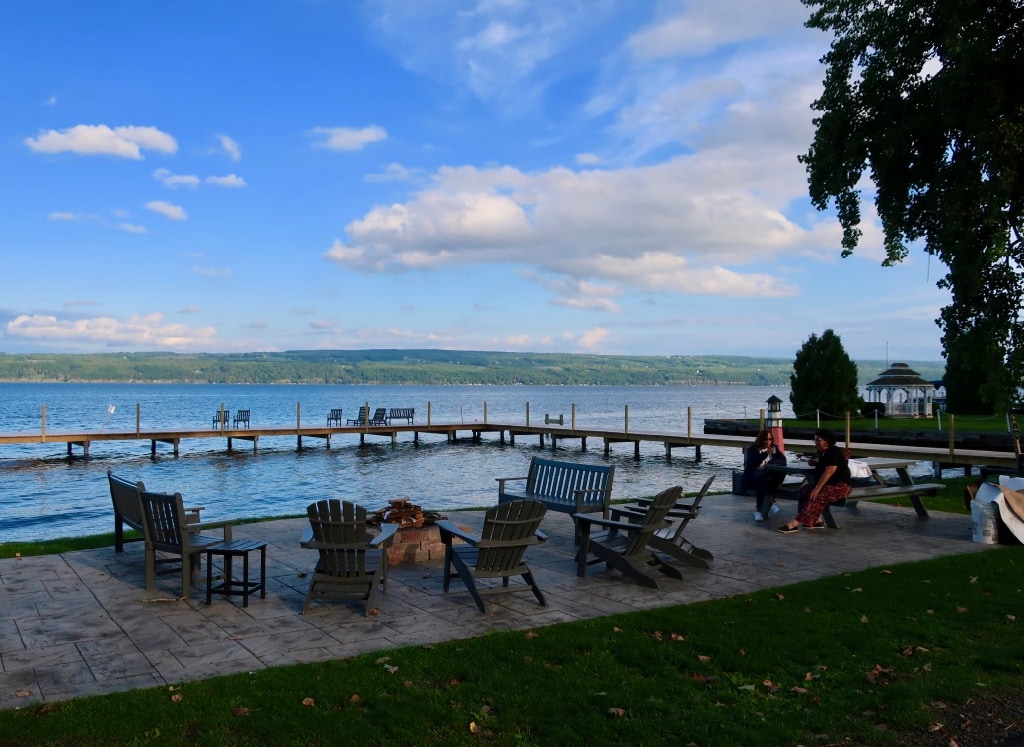 In fact, many of my fellow diners were repeat guests. I savored my creamy tomato soup special and fresh baked breads, paired, naturally, with a local Cab Sav. It was the perfect way to salute the sunset over Seneca Lake. Open April – Oct, weekends in November. Rooms from $175 per night, Yurts from $165.
(Plum Point Lodge was included on Getaway Mavens Best Romantic Hotels in the Northeast US 2022 list.)
Thirty traditional, comfy rooms overlook Seneca Lake. Some with private balconies. $119-$269 depending on room size and season.
The only Four Diamond property on Seneca Lake, The Harbor Hotel is best for those who want to stay in a full-service luxury hotel.
More Romantic Getaways In The Finger Lakes Region