Last Updated on
WHY GO: Why Finger Lakes? For the increasingly serious vintages emerging from region – so fine and drinkable, the best Wine-Spectator-acclaimed restaurants in New York City are taking note. Why Seneca Lake? For the reasons outlined below.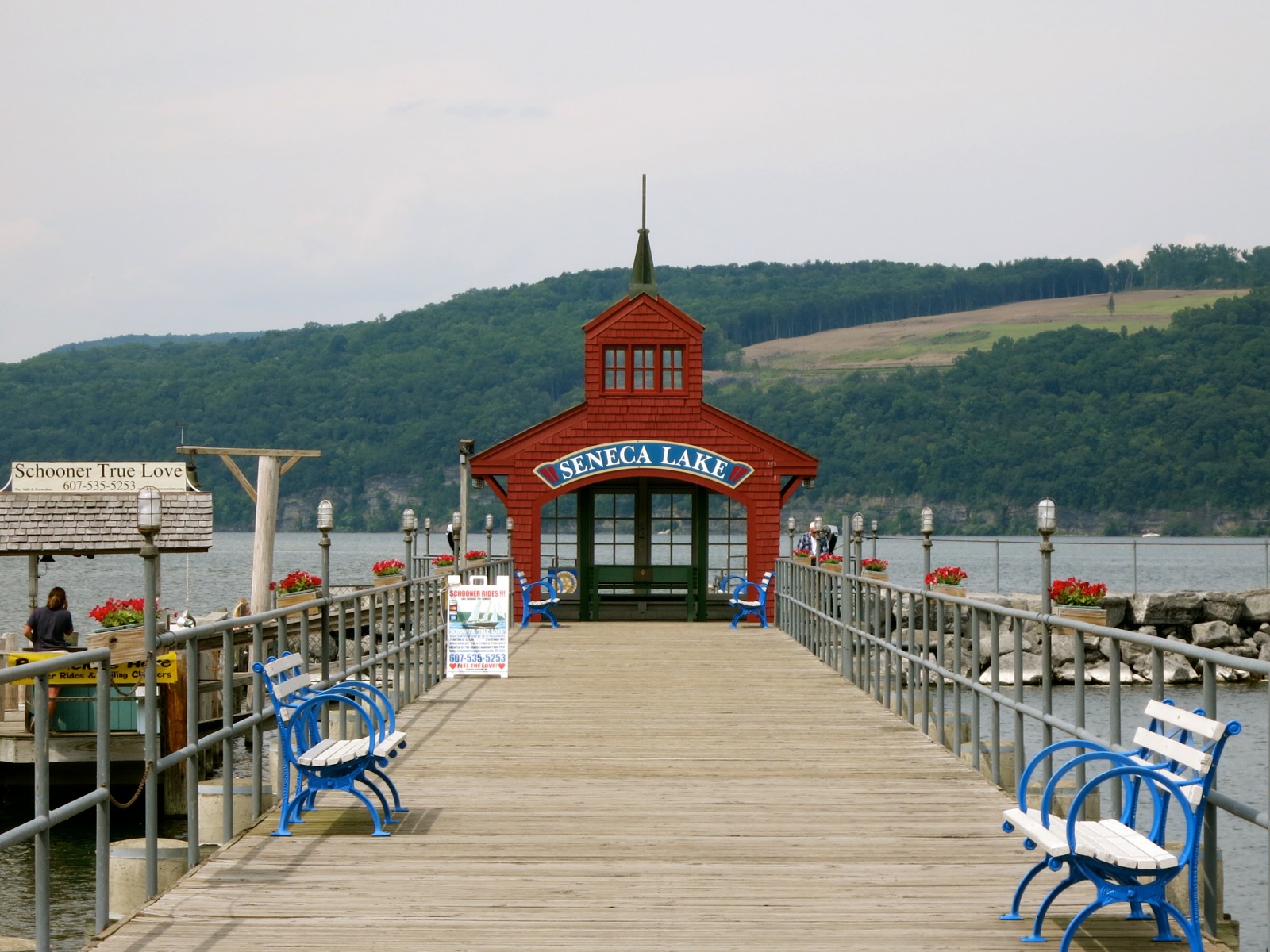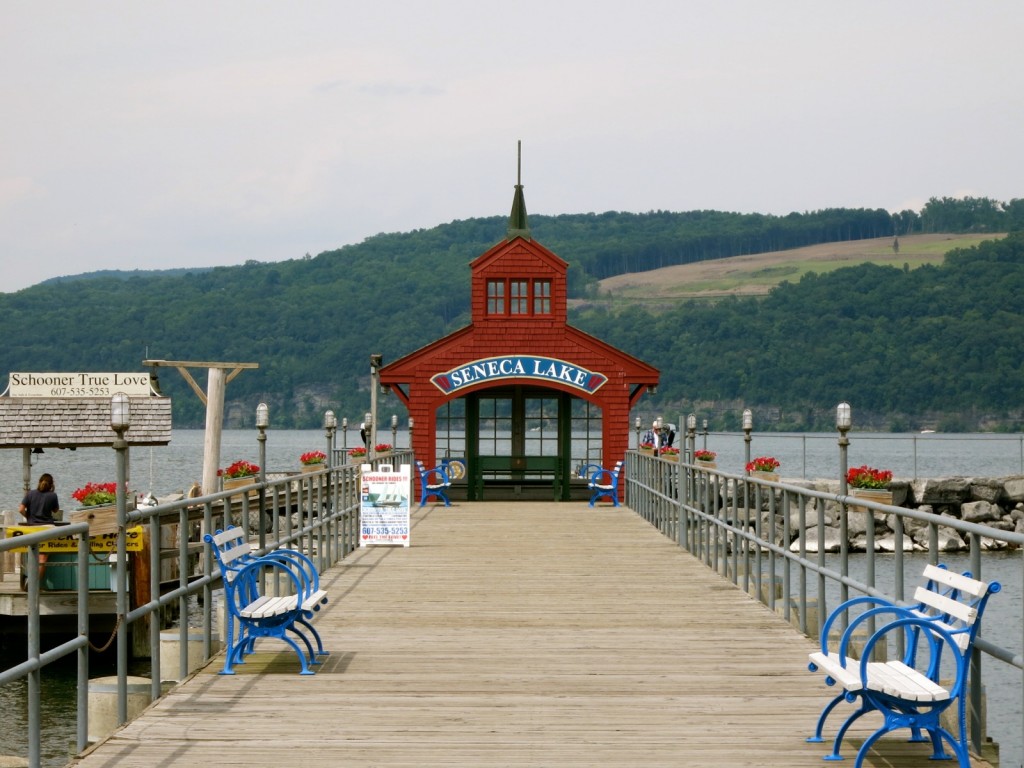 Seneca Lake is one of the largest of the eleven Finger Lakes, and at 625 feet, the deepest. With hilly terrain sloped to the water, winemakers talk about land perfectly suited for "air drainage," a necessary component of cold-climate grape growing.
Though novelty spots like Pompous Ass and Red Neck Wineries have been setting up shop and selling lots of t-shirts, serious growers focus on perfecting their craft. With over 100 wineries in the entire Finger Lakes Region, a couple of dozen are on Seneca Lake alone – and true oenophiles are just beginning to discover it.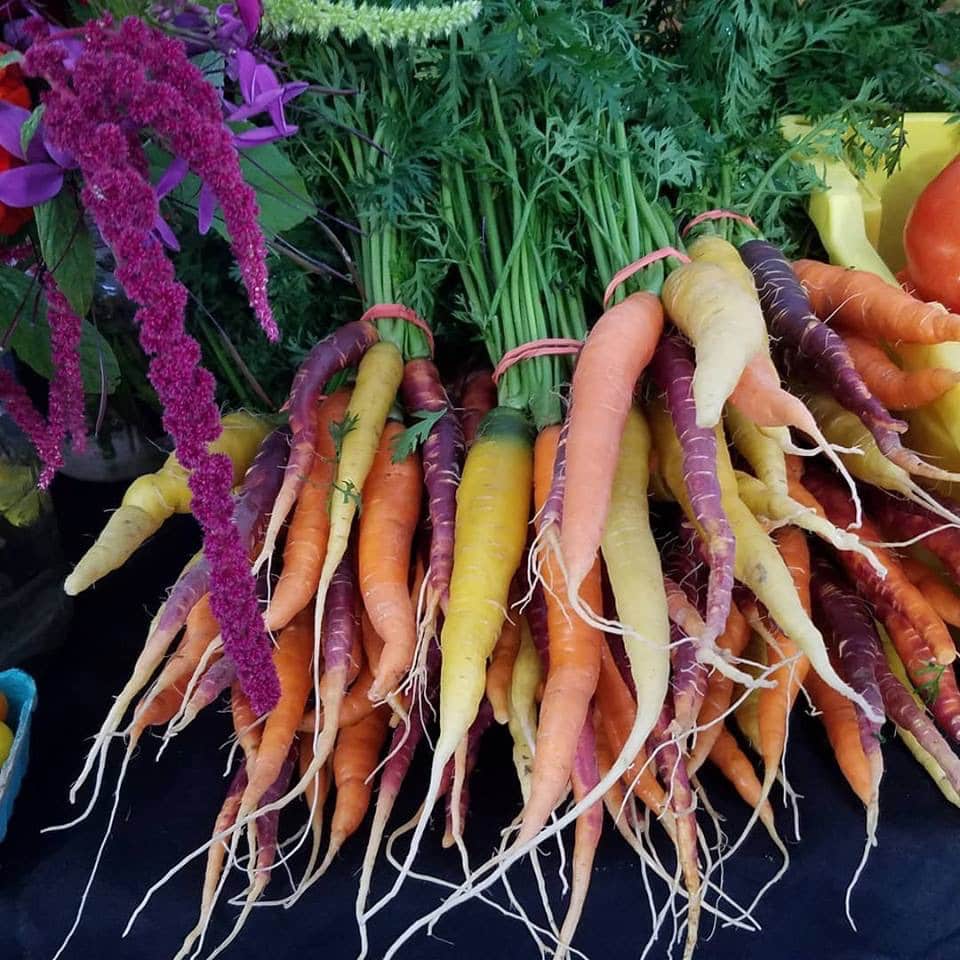 But wine is only one of many reasons to visit Seneca Lake. The scenery is outstanding – Mother Nature has blessed this part of New York with so many waterfalls, they can be found beside small town main streets. And the quiet lake itself is perfect for a short afternoon sail or backdrop for a sunset glass of local vino.
This Maven has finally found the perfect place to relax, hike through tiers of racing water, discuss winemaking with some of the most knowledgable grape-growers in the country, and eat the best, smoky hot-dogs in the world. Though by no means an exhaustive list, here are some ideas to get you started. (Combine this getaway with one to Keuka Lake and Corning NY for a fantastic Finger Lakes vacation).
Things to Do on Seneca Lake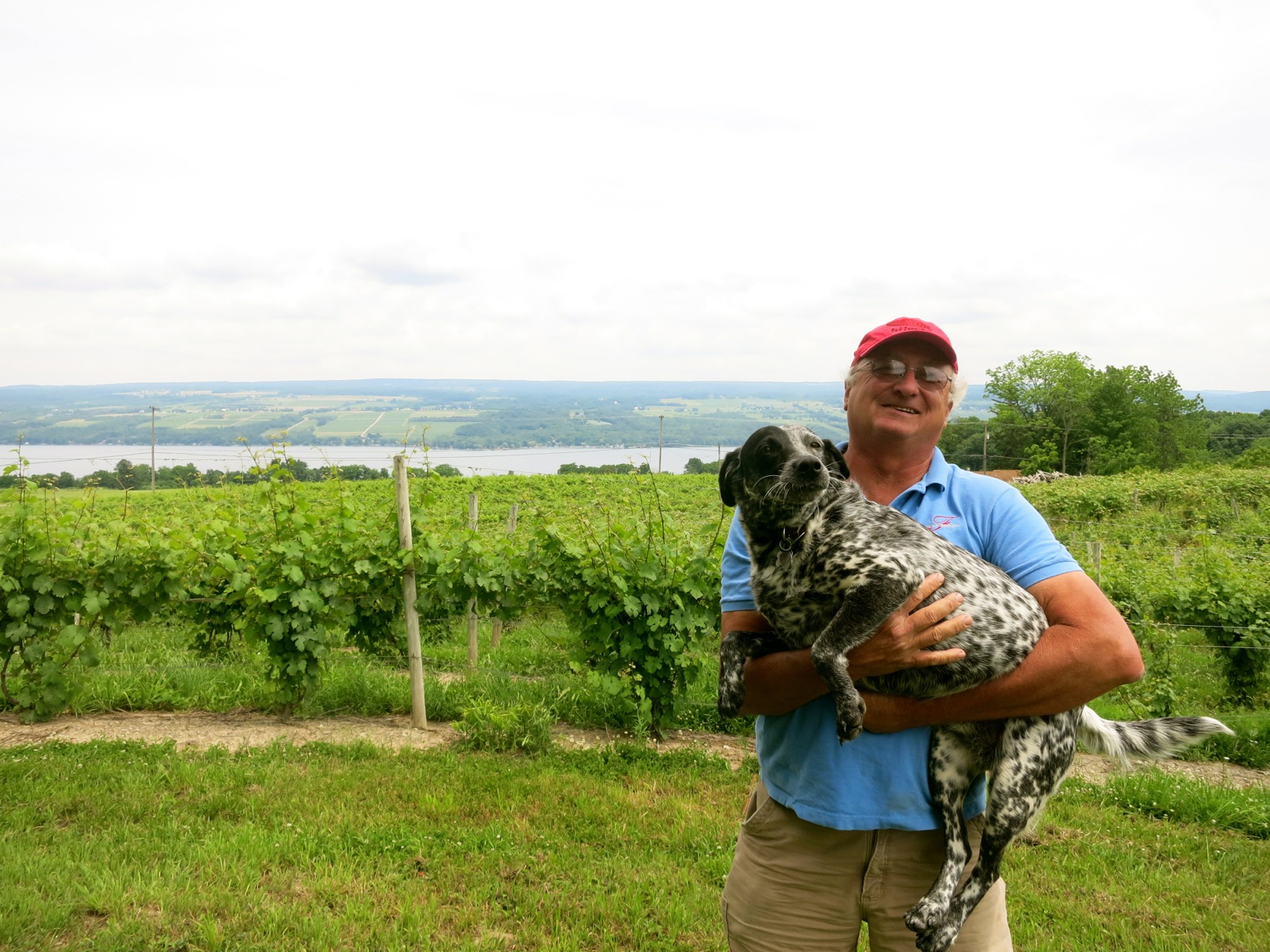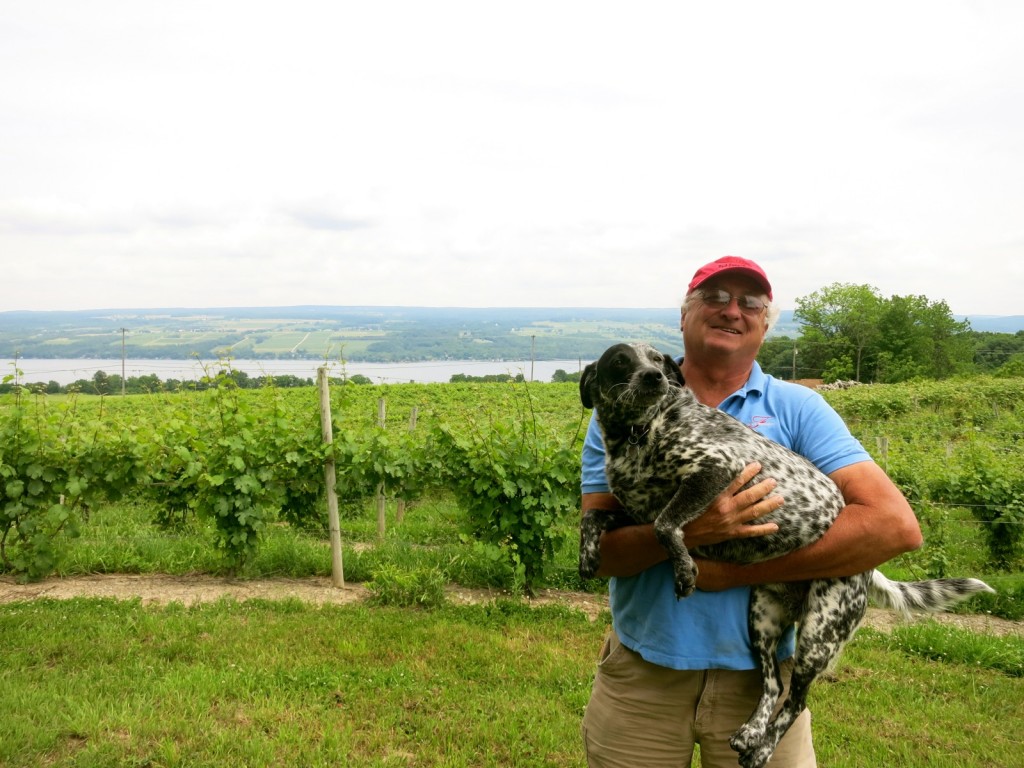 Sayre Fulkerson is the 6th generation owner of this vineyard farm, in the family since 1805 when ancestor Caleb Fulkerson bought a few hundred acres in what was then a lakeside wilderness. You can see Caleb's gravestone in a family cemetery amid native and hybrid grape vines, and learn about winemaking in the Finger Lakes from one of its pioneers.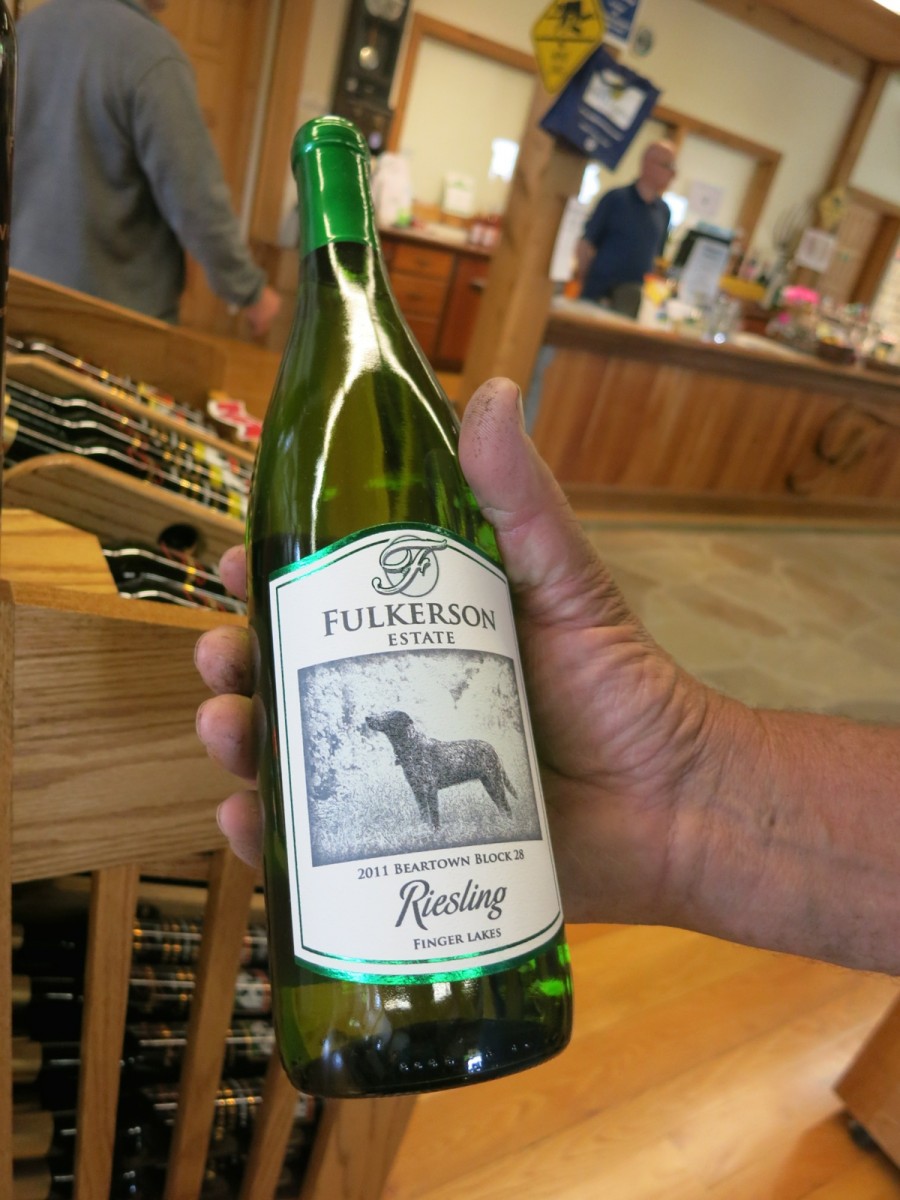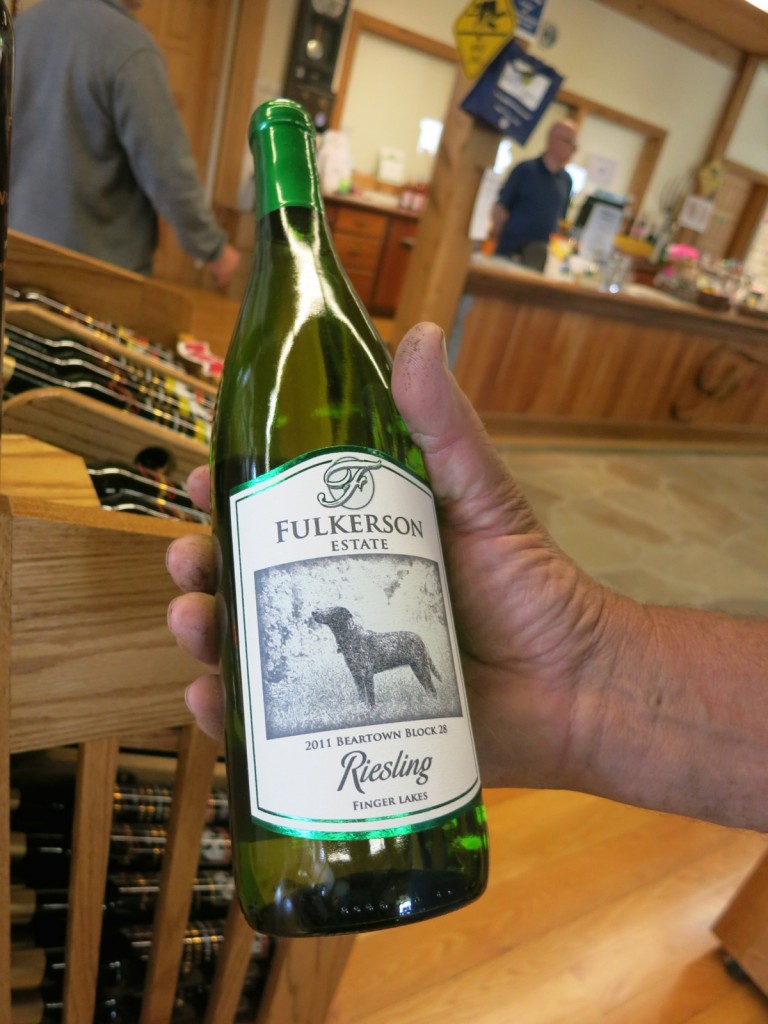 Grapes have been cultivated in this region since the 1830's: basement winemaking has been a local tradition for nearly two centuries. Fulkerson actually started selling grape-juice by grape variety along with wine-making kits in 1979 through his Juice Plant, which is still is a significant part of his business (30,000 gallons sold per year).
He cultivates Delaware grapes – an old Native variety – along with European, or Vinifera grapes. Taste a selection of dry to sweet Rieslings (William Vigne Dry Riesling '11 – $13.99)– a variety that grows well in this cold climate, a great Gruner Veltliner Estate, and a smooth Zweigelt, an easy-to-drink Austrian white.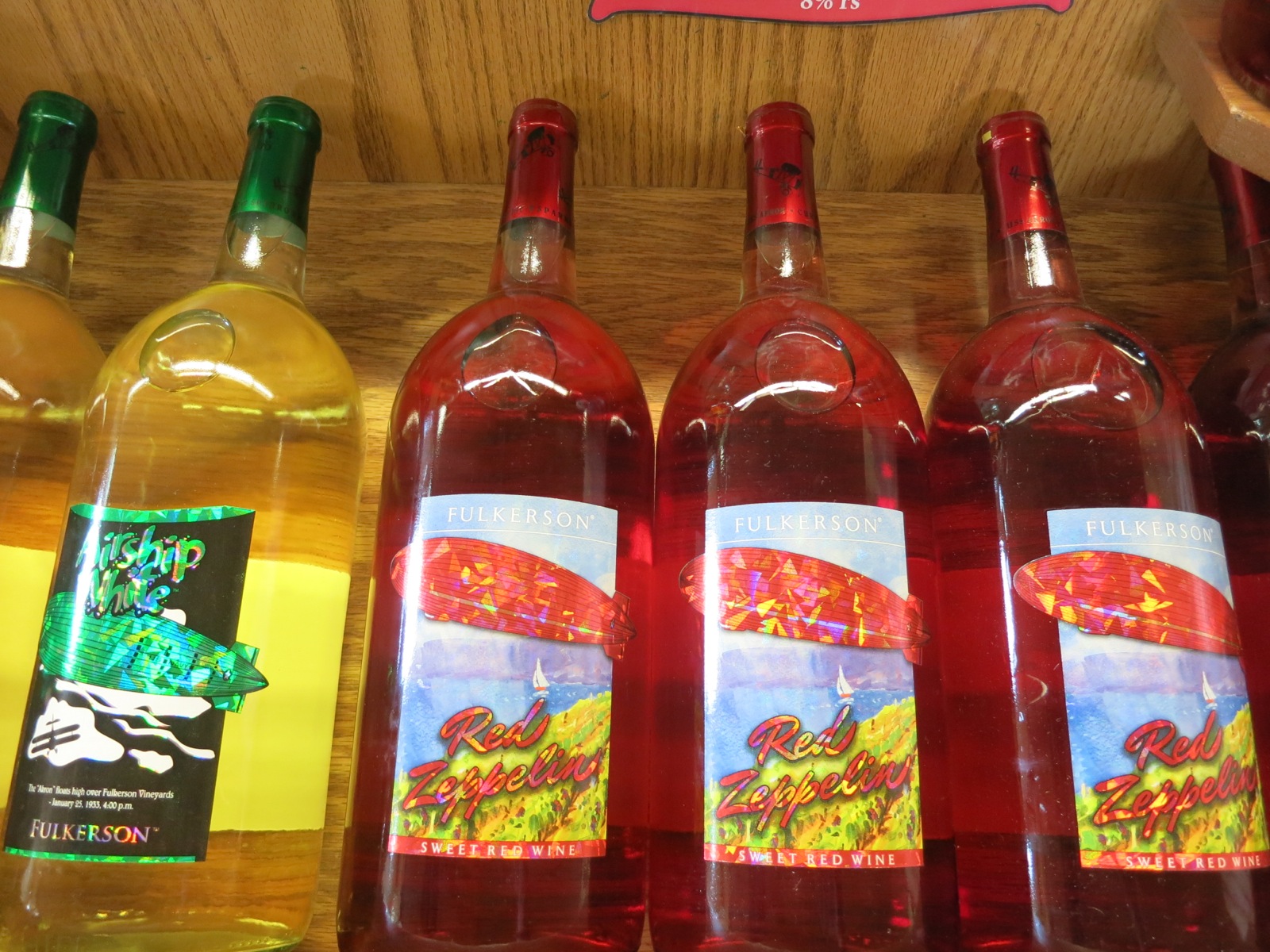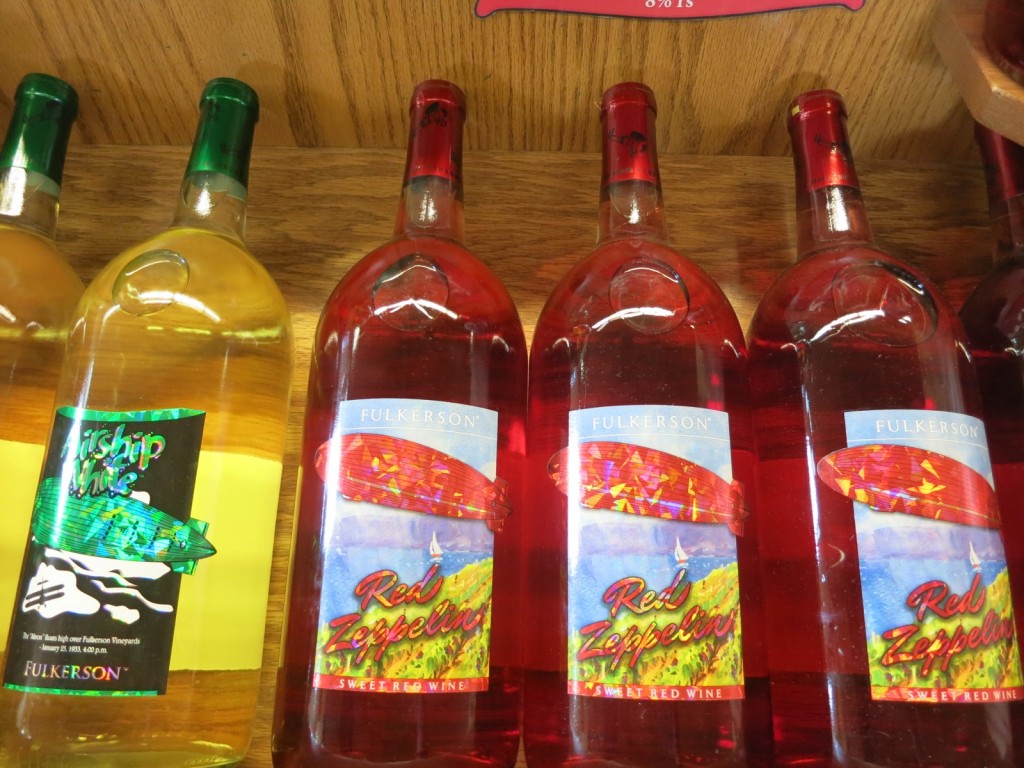 Fulkerson's fun signature Dirigible Series come from the sweet native Catawba and Niagara grapes that puts one in mind of a nice sangria. Readers of romance novelist, Kristan Higgins, might recognize Fulkerson and his Winery from her stories set in the fictional town of "Manningsport, NY." Open daily all year 10-5. Free winemaking class on Saturdays during harvest at 2pm, tours on weekends.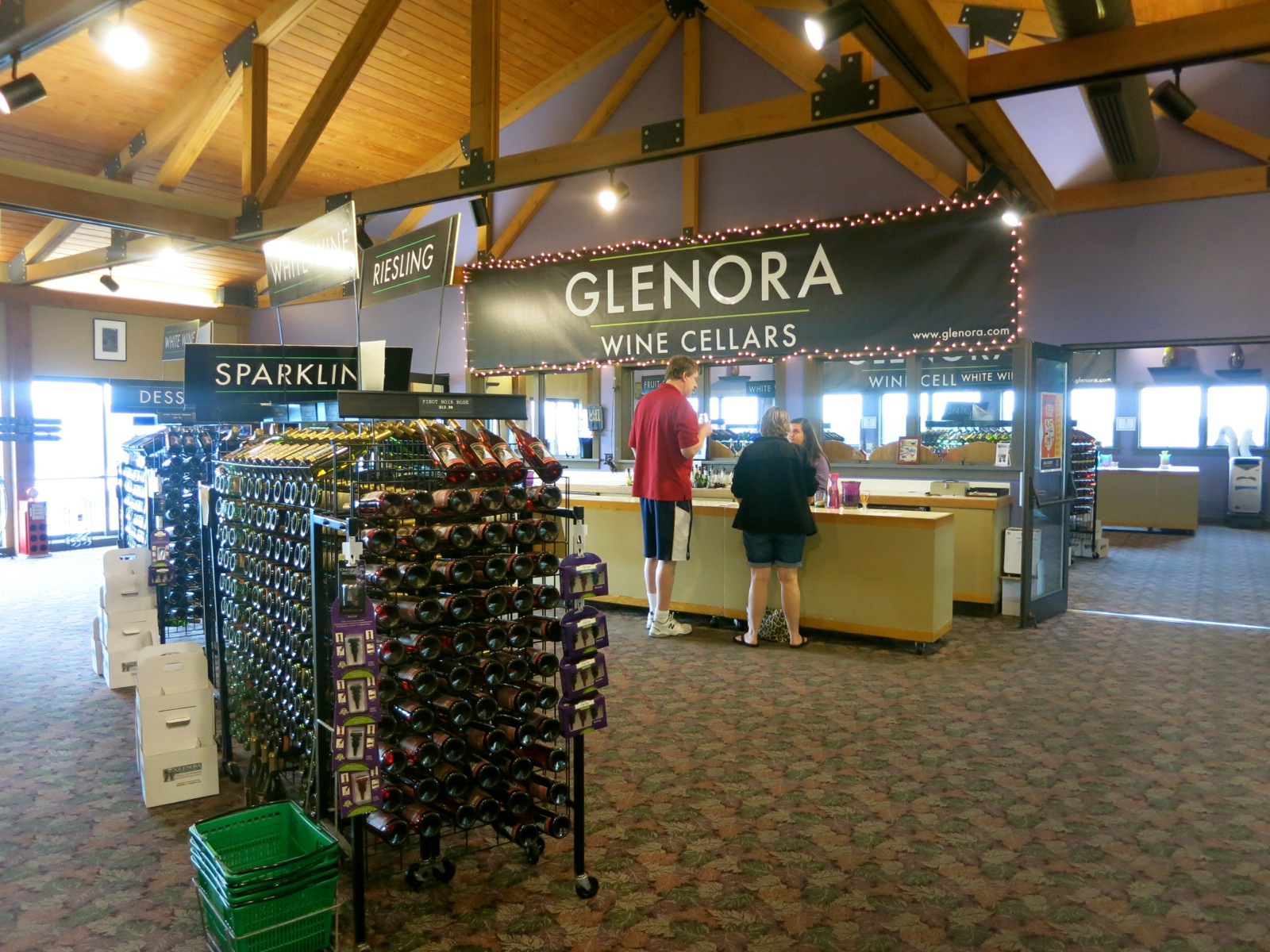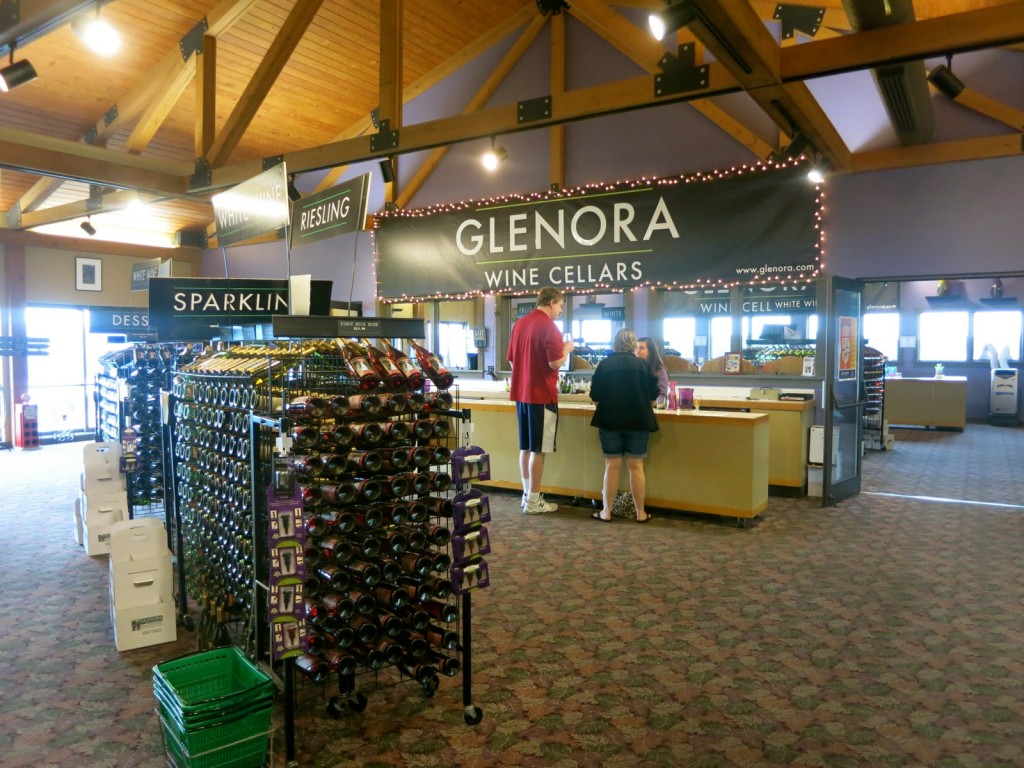 In 1977, this was the first winery on Seneca Lake, and now the most developed in terms of amenities and production (60,000 cases/year). It's got lodging, a restaurant (Veraison) and a beautiful tasting room with panoramic views. In warmer months, you can take an outdoor tour, and in the winter months, a Cellar Tour to see your typical barrels and stainless steel vats as well as a unique "concrete egg" – a European fermenting container gaining popularity in the US.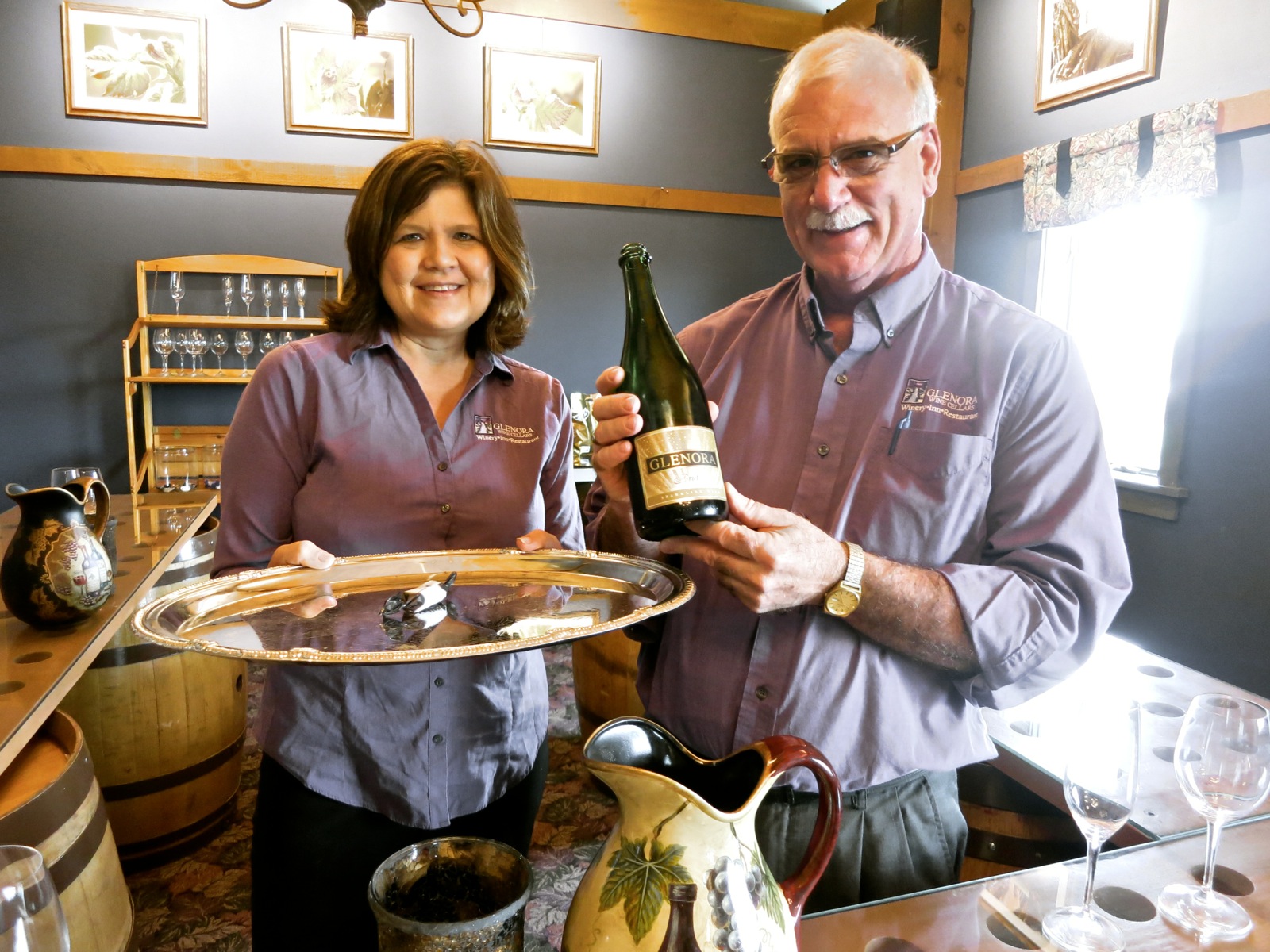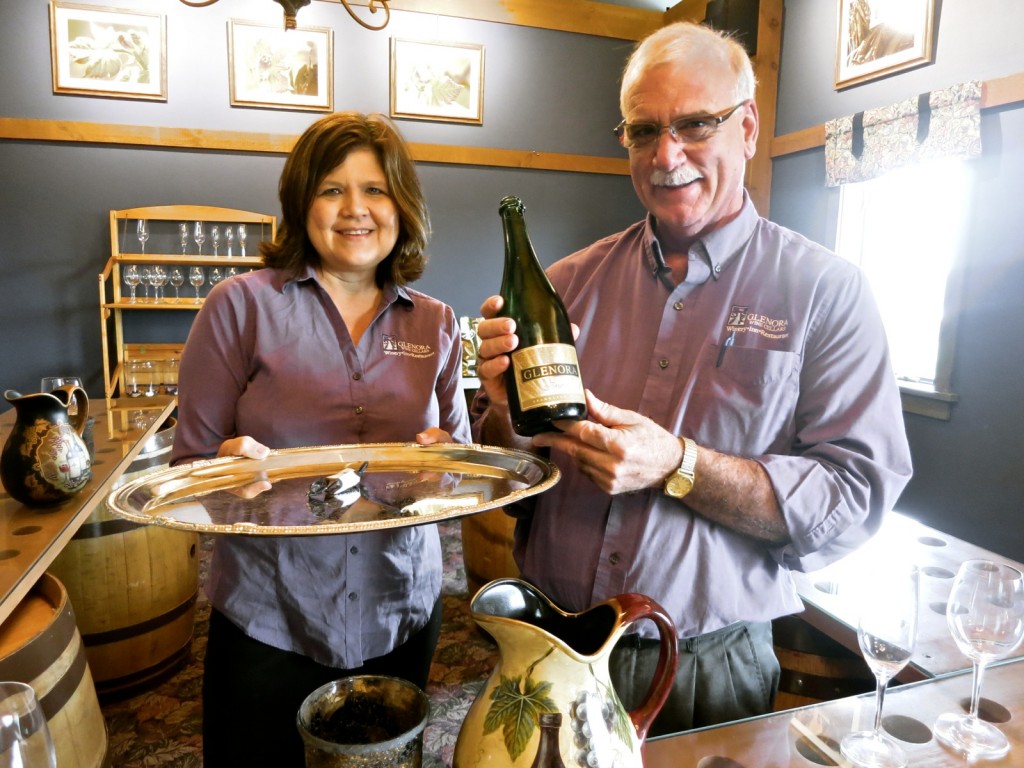 Glenora's Wine and Chocolate Tasting experience has evolved into one of the most mouthwatering and popular experiences in the region. Seahorse-shaped Guylian Belgian Chocolates, served on a silver platter, are paired with four award-winning wines in an intimate, private room ($8!).
Or opt for the wine and cheese pairings for just $3 and try the International Eastern Wine Competition winner, Pinot Noir Rose, with Strawberry Chardonnay Cheese and other palate pleasers. Guided tours June-October 11-5. Cellar Tours every hour $10. "Staves and Steel Wine Tour includes tasting from barrels and tanks, $12.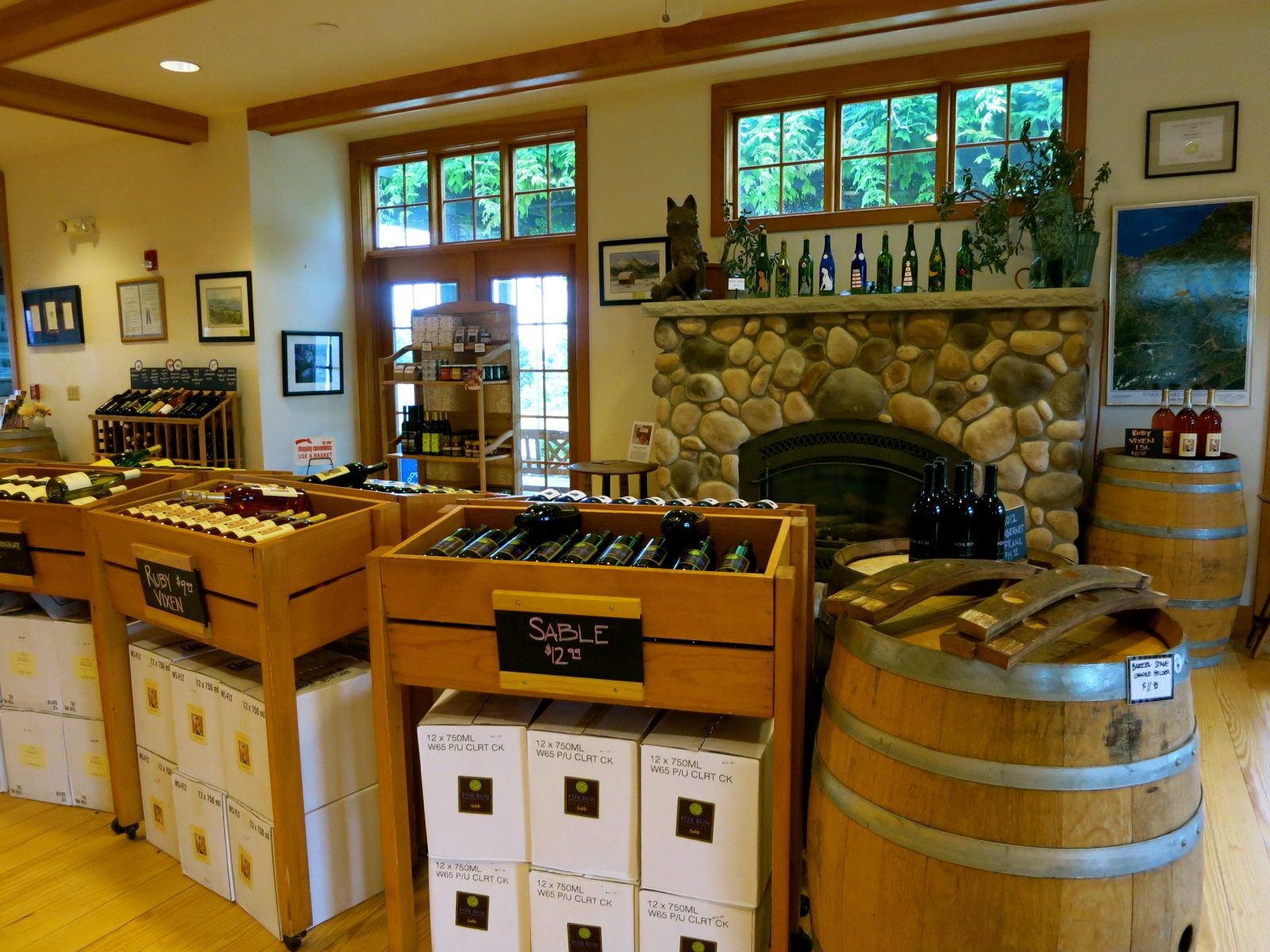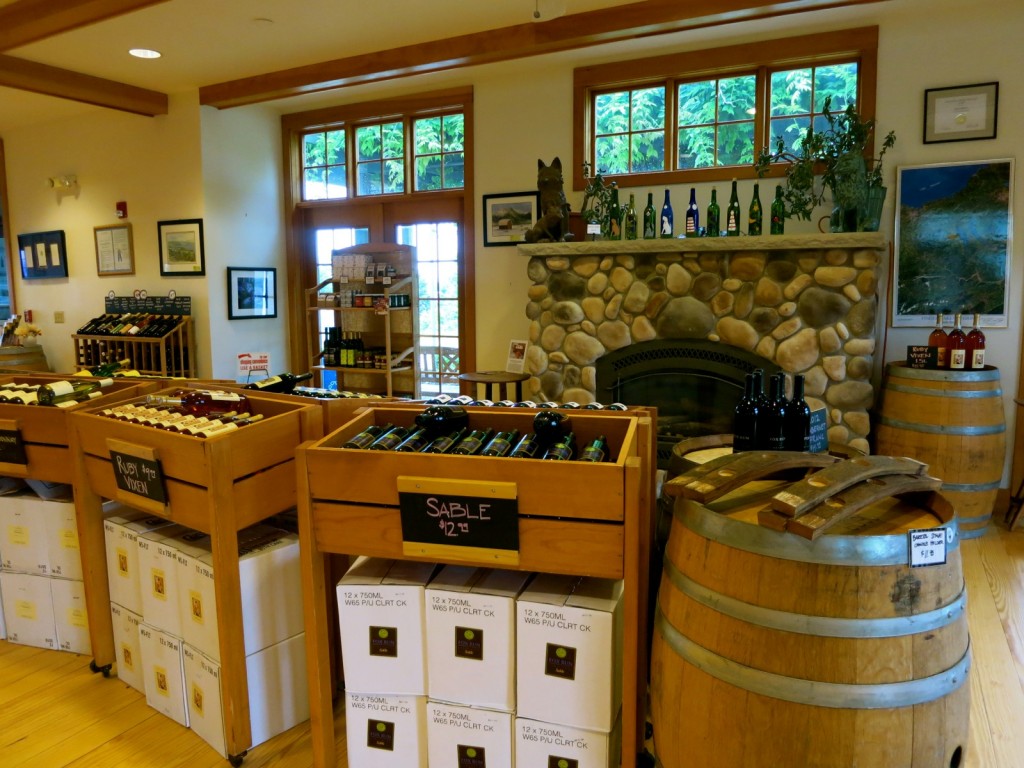 Take the $8 Tour and Tasting, and get schooled in how the geography and climate of the Finger Lakes makes for top Rieslings and Chardonnays. Owner Scott Osborn got into the "wine-making biz" in California, but loves being out here making cold climate wines.
The Finger Lakes were once underwater, so the soil is both sandy and loamy and Fox Run has been experimenting with and researching the effects of this particular "terroir" on grape-growth by comparing Rieslings grown in sandy vs. sandy loam soil.
On Fridays in season, sign up for the Food and Wine Experience at 11am. Incorporating a light lunch, a flight of 7 wines plus a tour, it's a bargain at $35.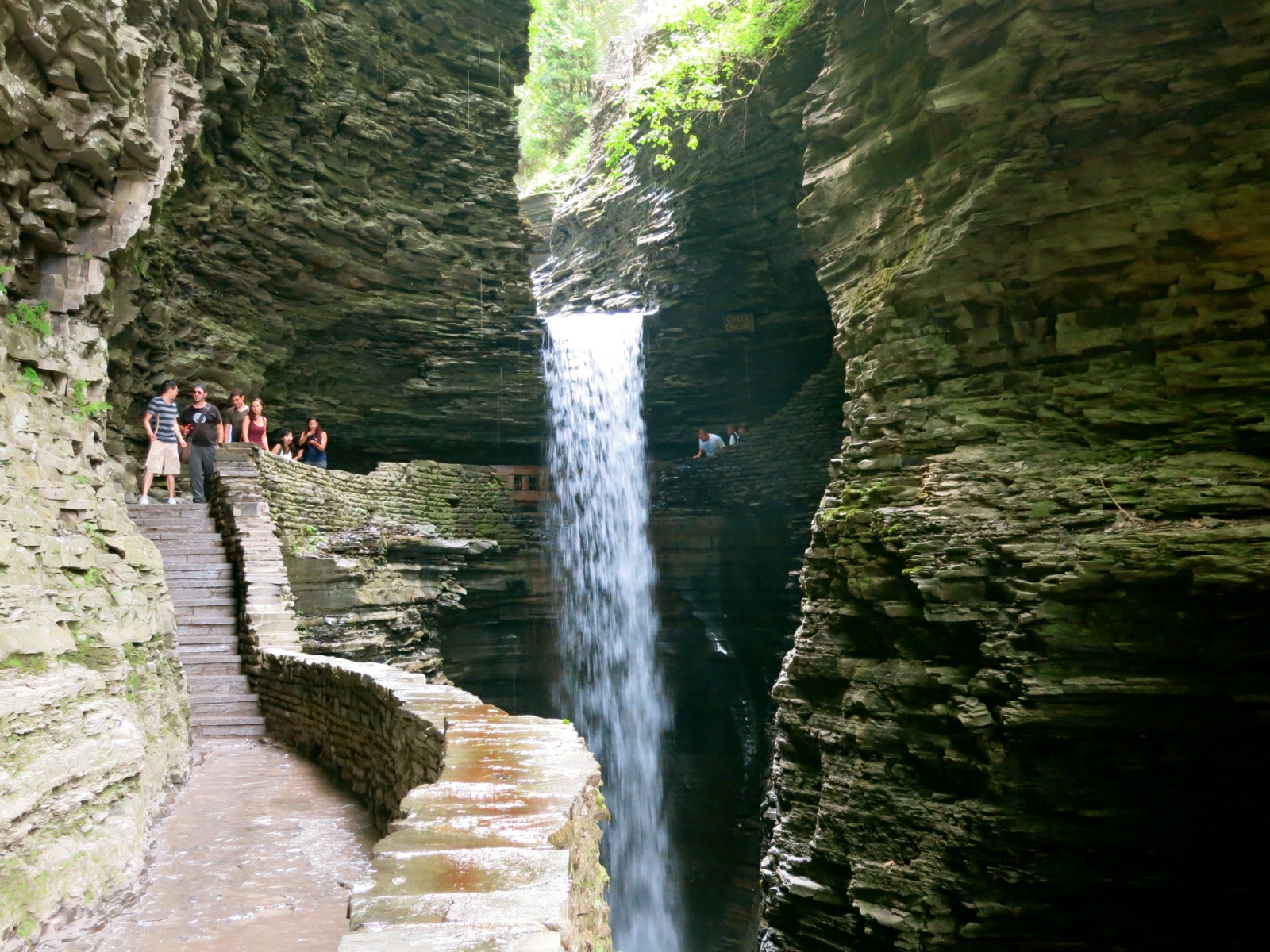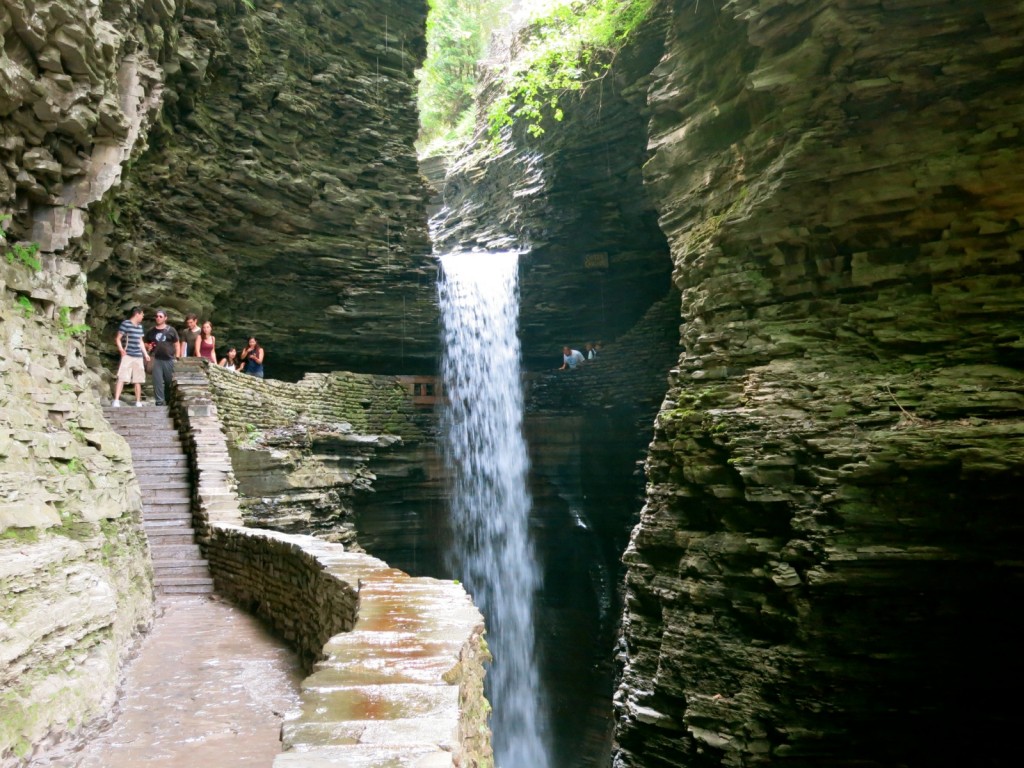 There are 19 waterfalls on a 2 ½ mile loop trail up and down through the gorges. It's a fun, wondrous place that's been thrilling generations of visitors. And if you park in town and walk in, it's free. $8 parking fee.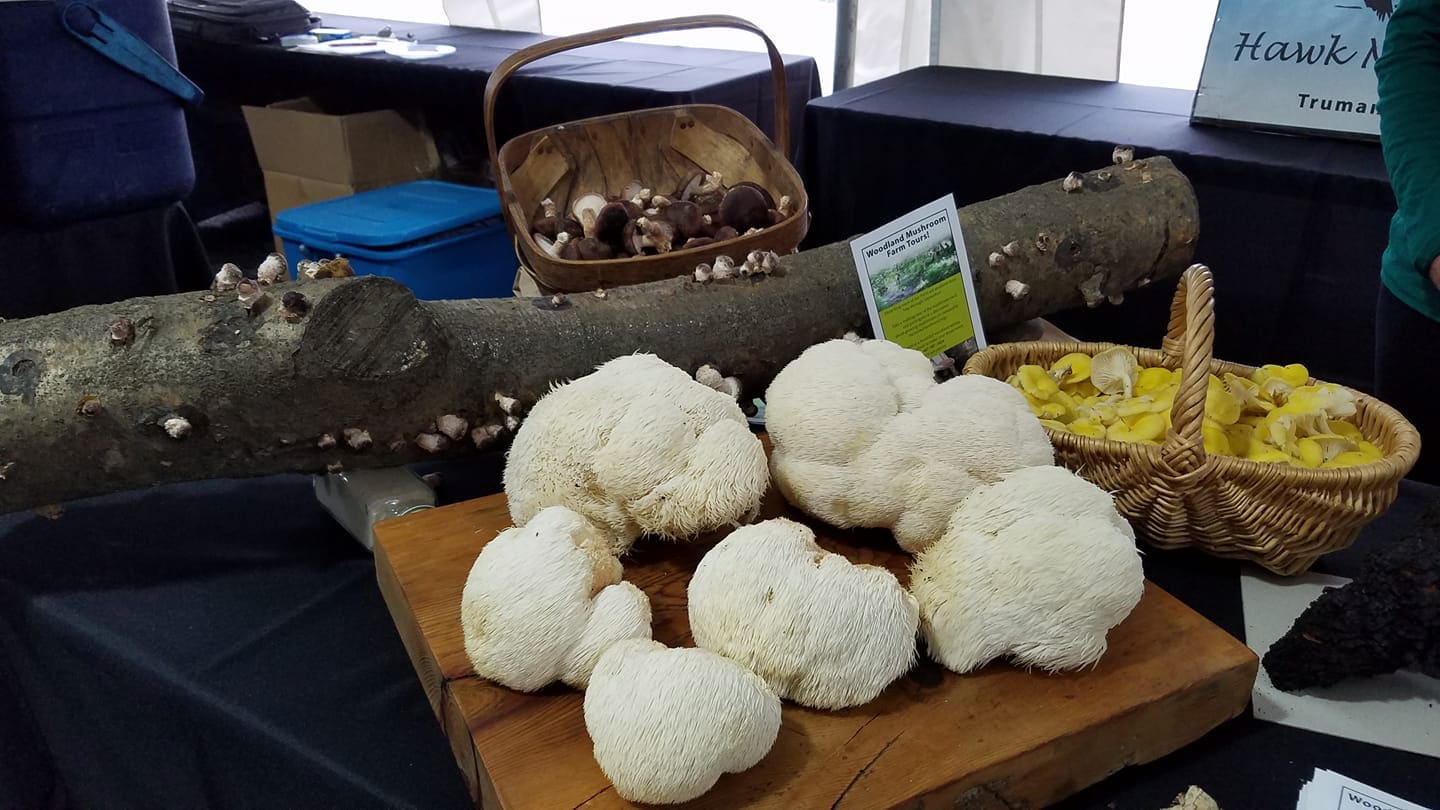 Think all mushrooms are grown in darkness on a bed of poop? Then you don't know Shitake. Find out how these toadstools are cultivated on sustainably harvested hardwood logs on a one hour walking tour of this woodland farm. May – Sept. – $10 per person.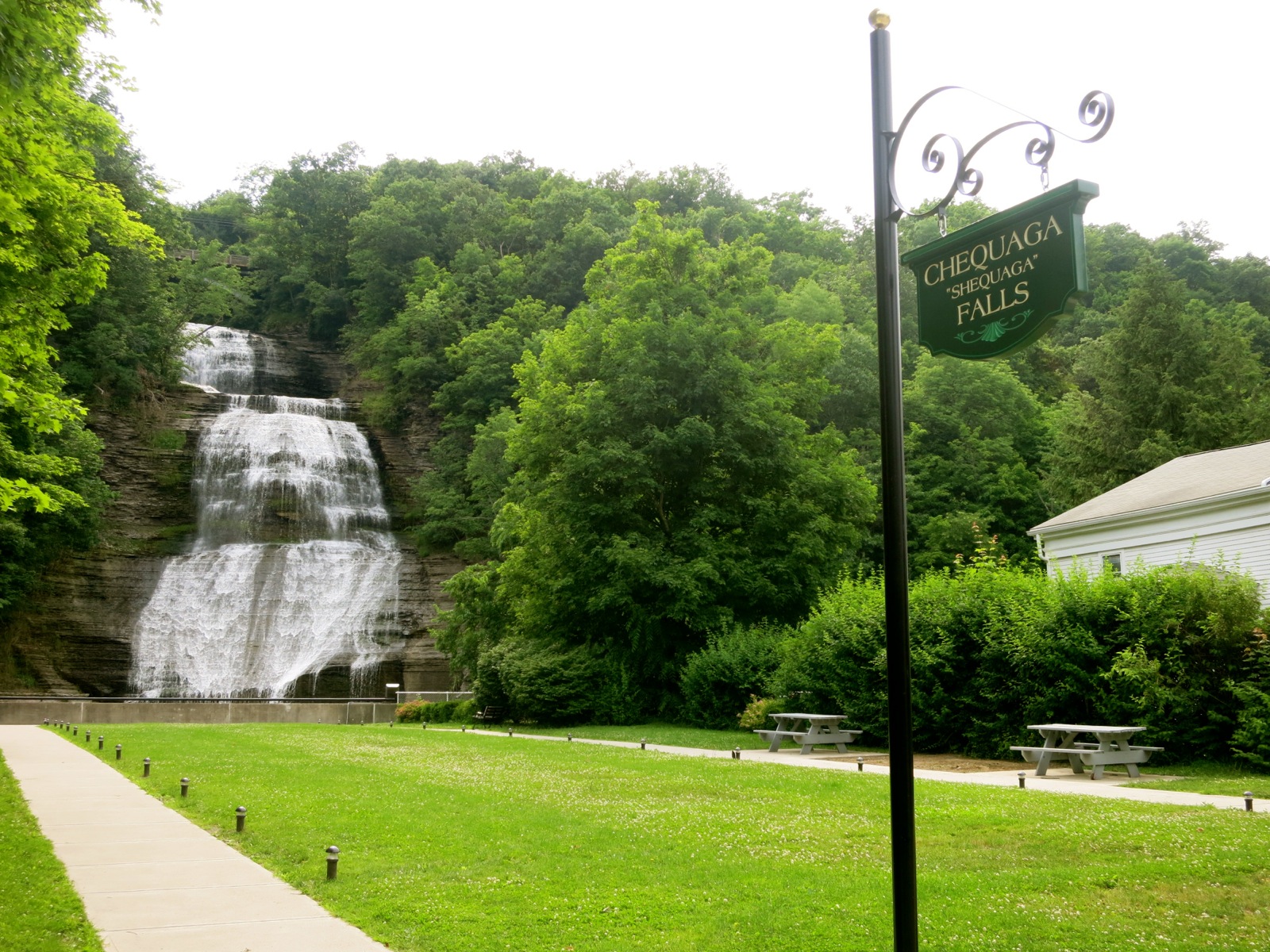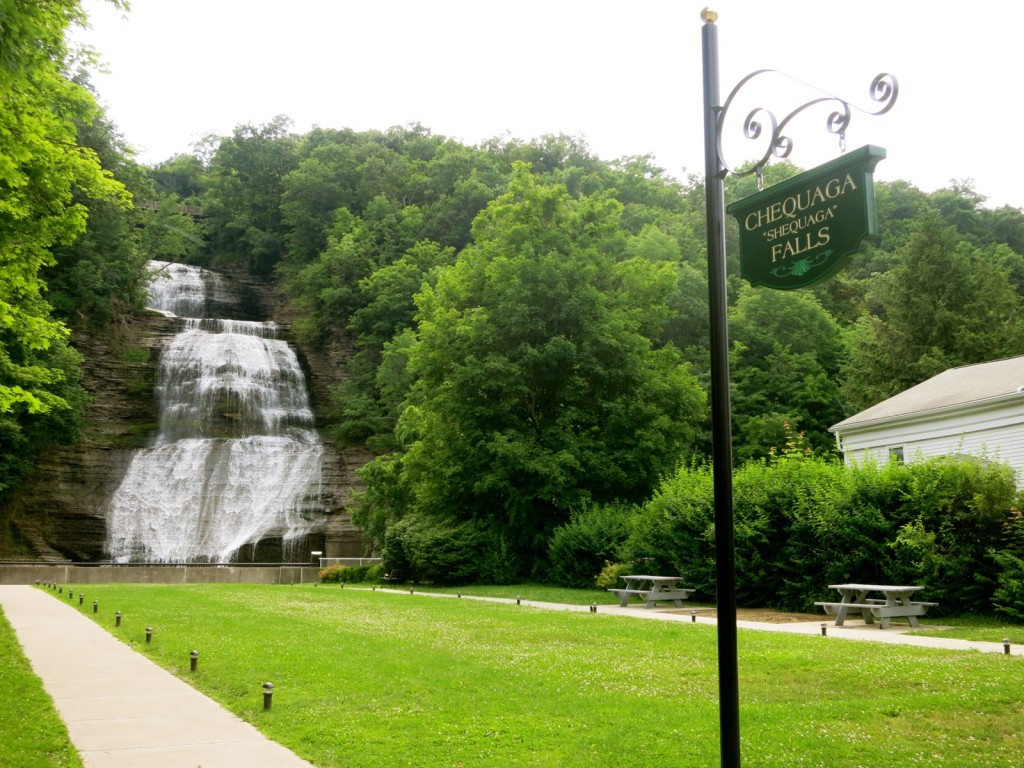 DRIVE: Around.
Part of the joy in experiencing the Finger Lakes comes from just stumbling on something like the massive waterfall at the T-end of Montour Falls Main St. The Finger Lakes abound in waterfalls and gorges, many of which you don't even need to get out of your car to see.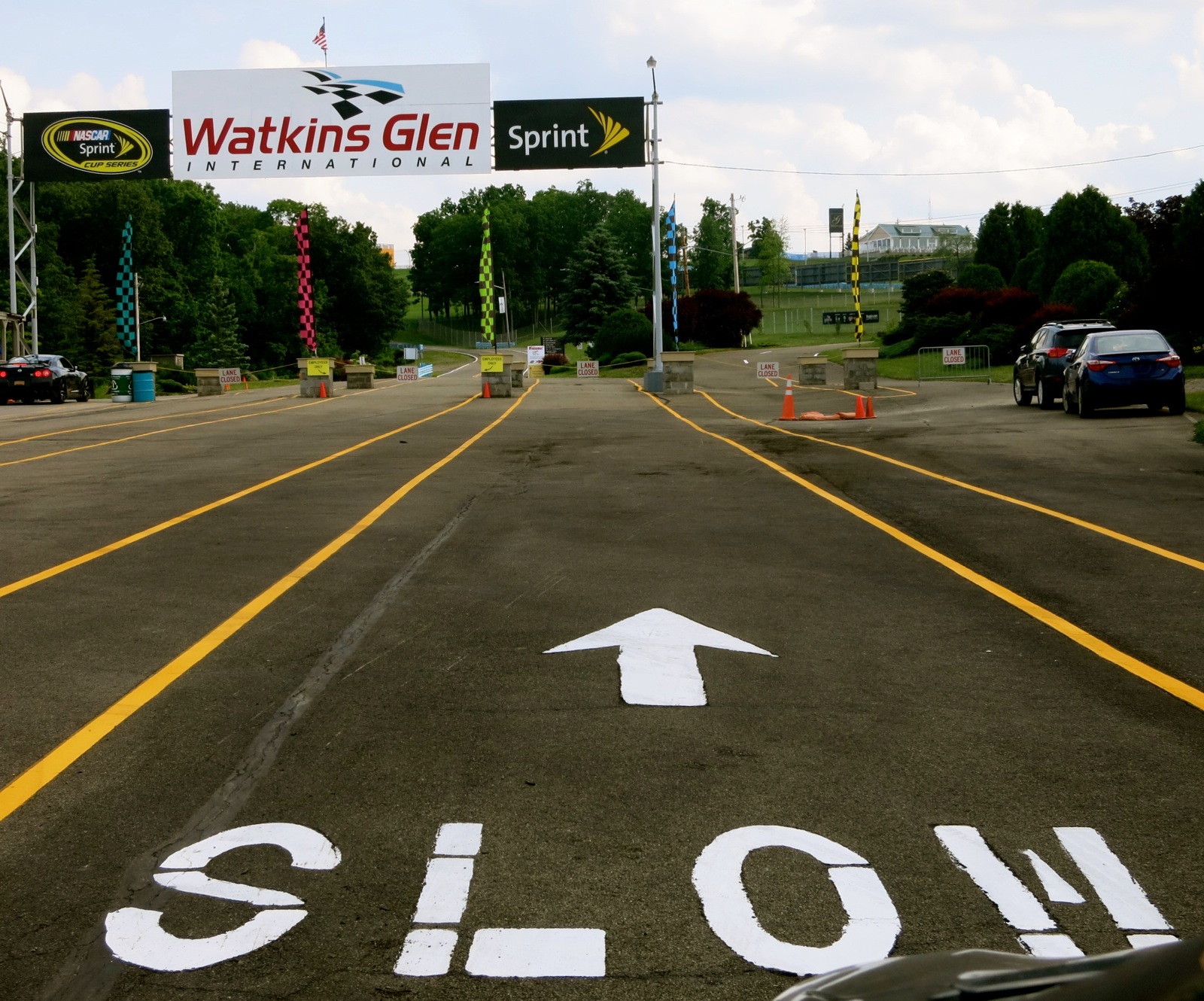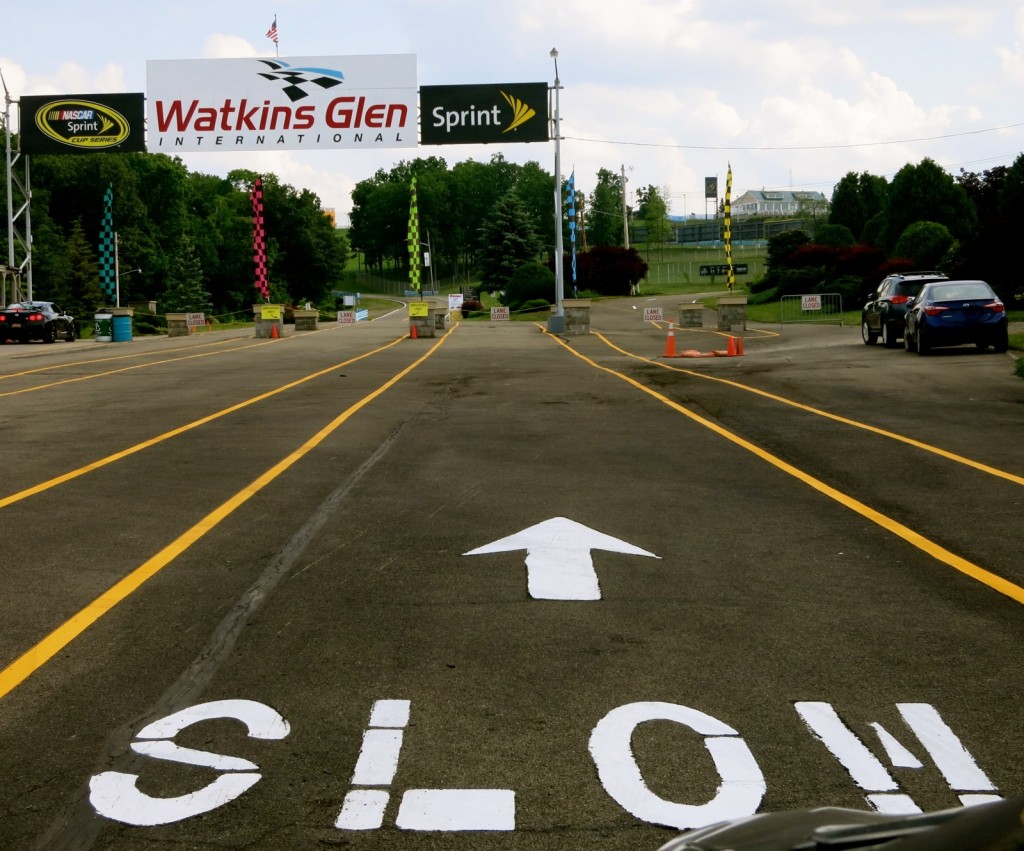 This famous racetrack is in the middle of farmland – and is truly the Woodstock of NACSAR, Grand Prix and Vintage Racing.
Seneca Lake Restaurants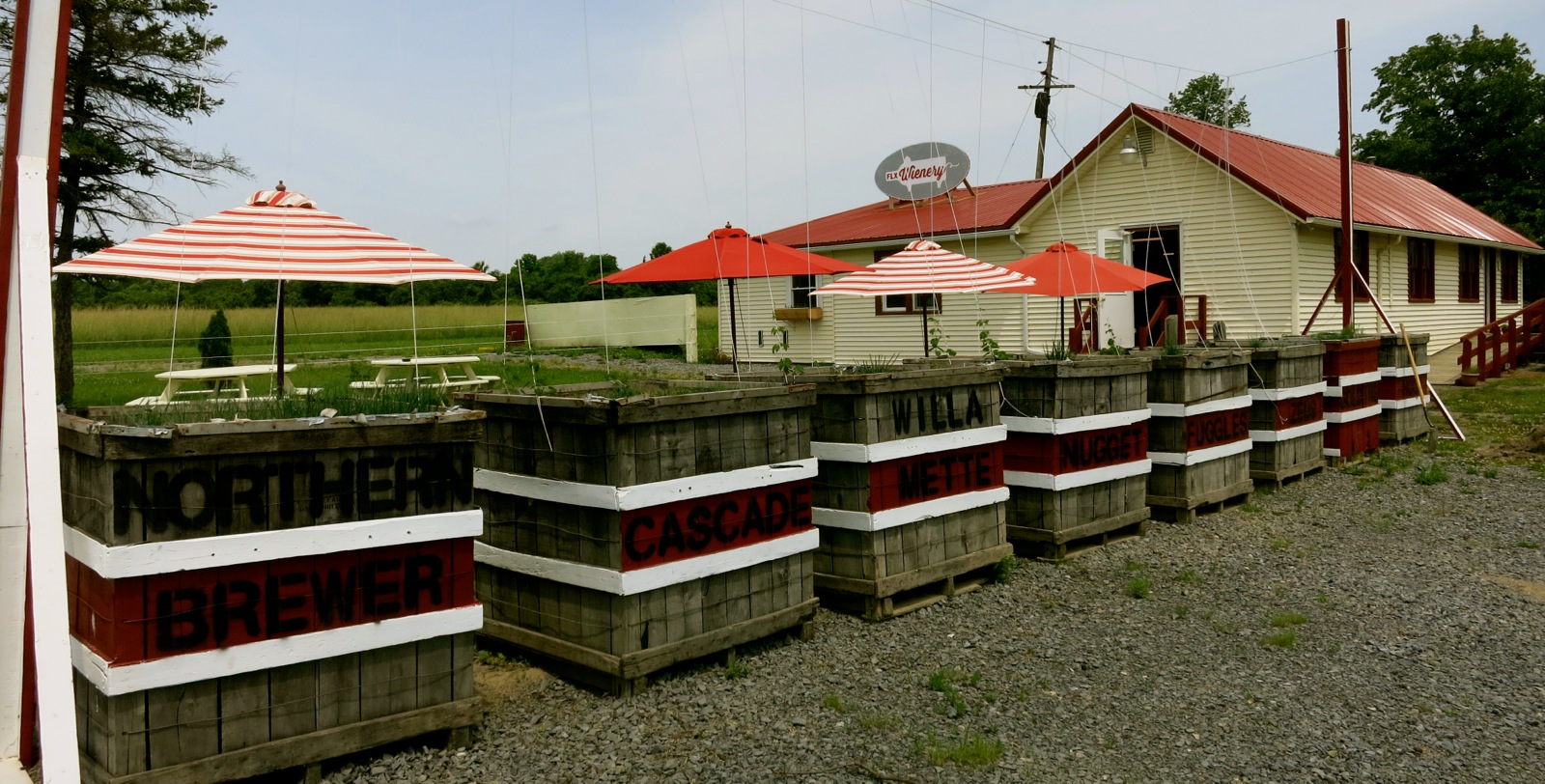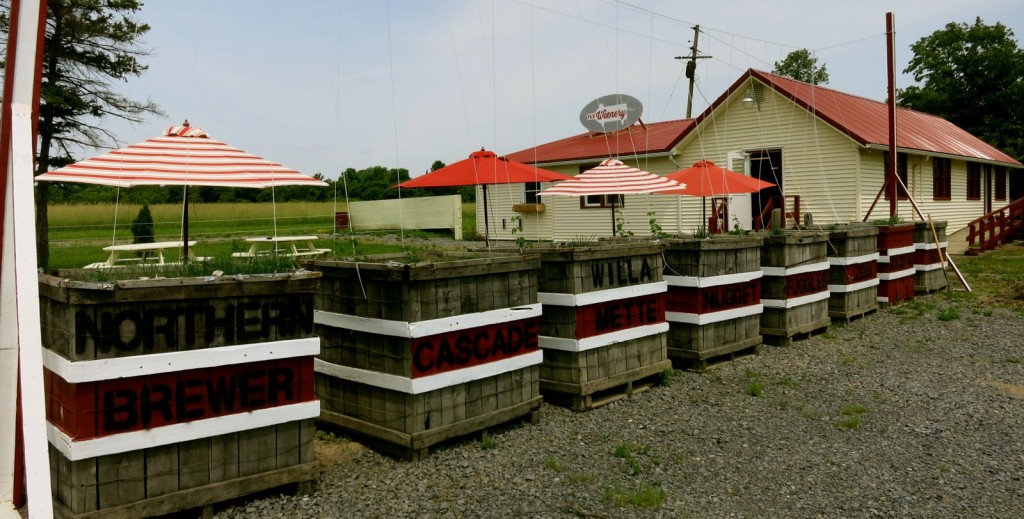 Prior to opening this modest hot-doggery, Chris Bates and his wife Isabel Bogadtke worked at several Relais & Chateaux properties, and Chris, a Master Sommelier, still teaches at the International Culinary Center (formerly French Culinary Institute) in NYC. But they wanted to open restaurants where Chris grew up.
This little hot dog place was on the market, and so they purchased it, and started growing various hops and herbs in square barrels that encircle an outdoor patio.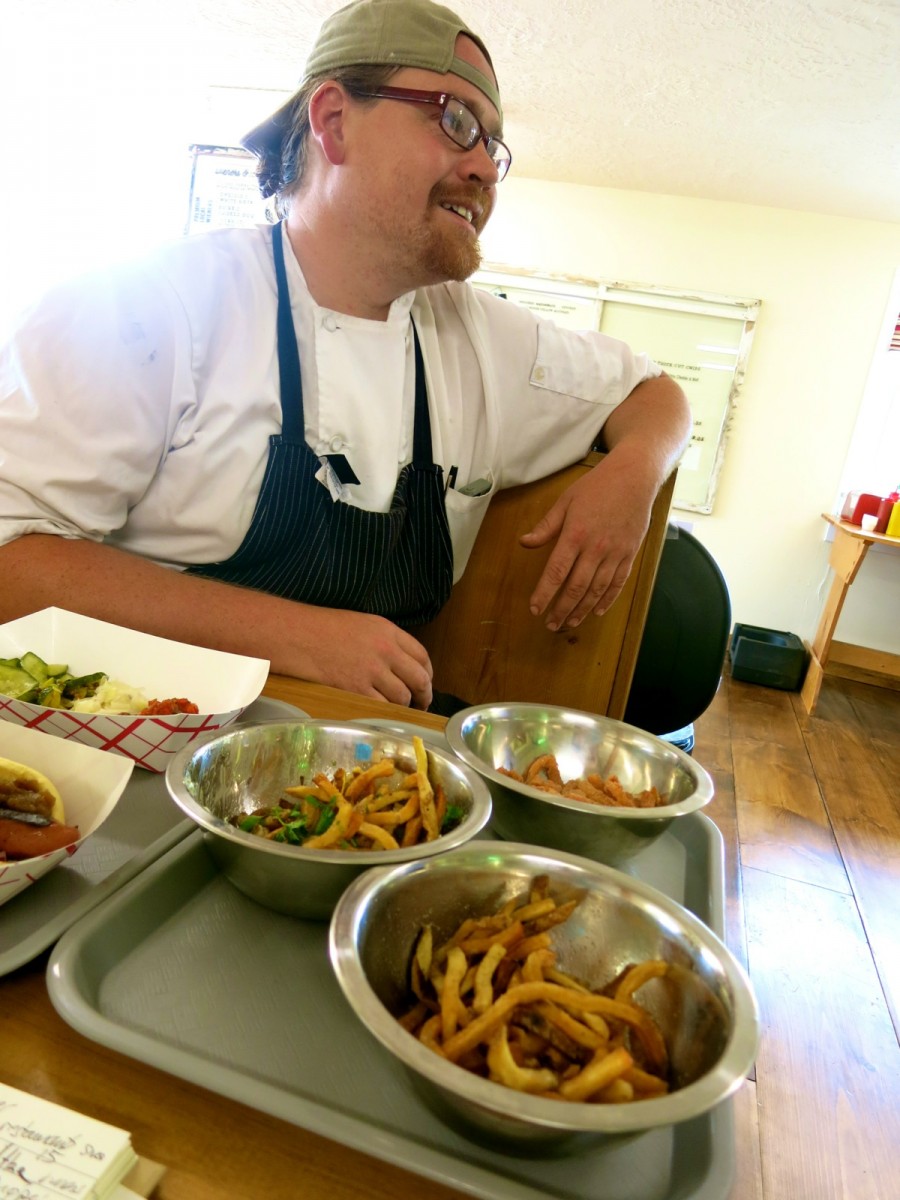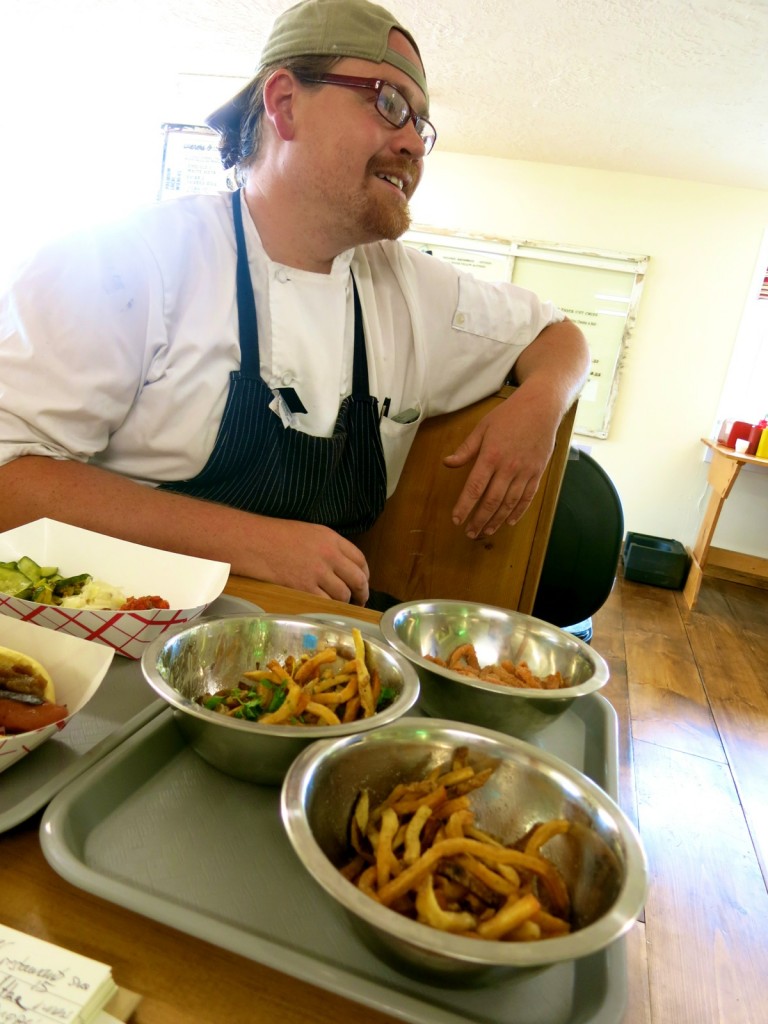 House made pickles, kimchee, gourmet soups, salads, and meats sourced from down the road; this is arguably the only "hot dog stand" in the world that sells from scratch bratwurst, Italian chorizo, Lamb Pate and Crisp Port Belly.
For a perfect comfort food lunch, order a Shirks smoked dog ($2.95) topped with outrageously toothsome pickles, smoked fries or exceptionally crispy onion rings, and finish with either a Nutella or Bacon-Maple Milkshake, both of which should be against the law. The Wienery is fast becoming a local hangout. "
All the winemakers come in and powwow here." No surprise. The food is tops.
Local Recommend These Seneca Lake Restaurants
Other recommendations around Lake Seneca from locals: Dano's for great schnitzel and sausages, The Stone Cat Cafe– a local hangout, Two Goats Brewing "for one of the best views in the FLX." In Geneva – Red Dove for decent bar food, Halsey's in an old remodeled firehouse with great wood-fired pizzas, and Ports Café which offers a great local wine list.
Seneca Lake Hotels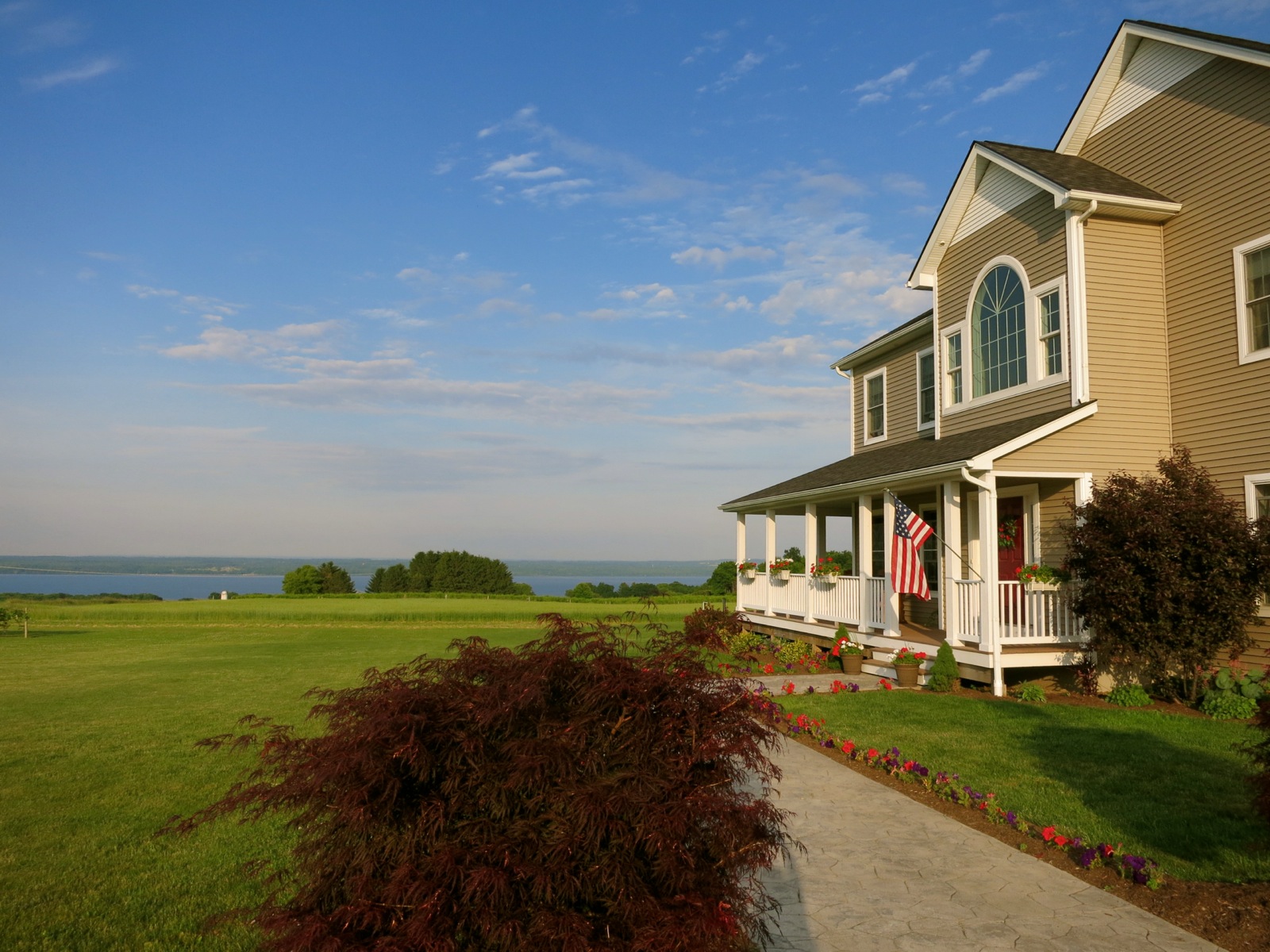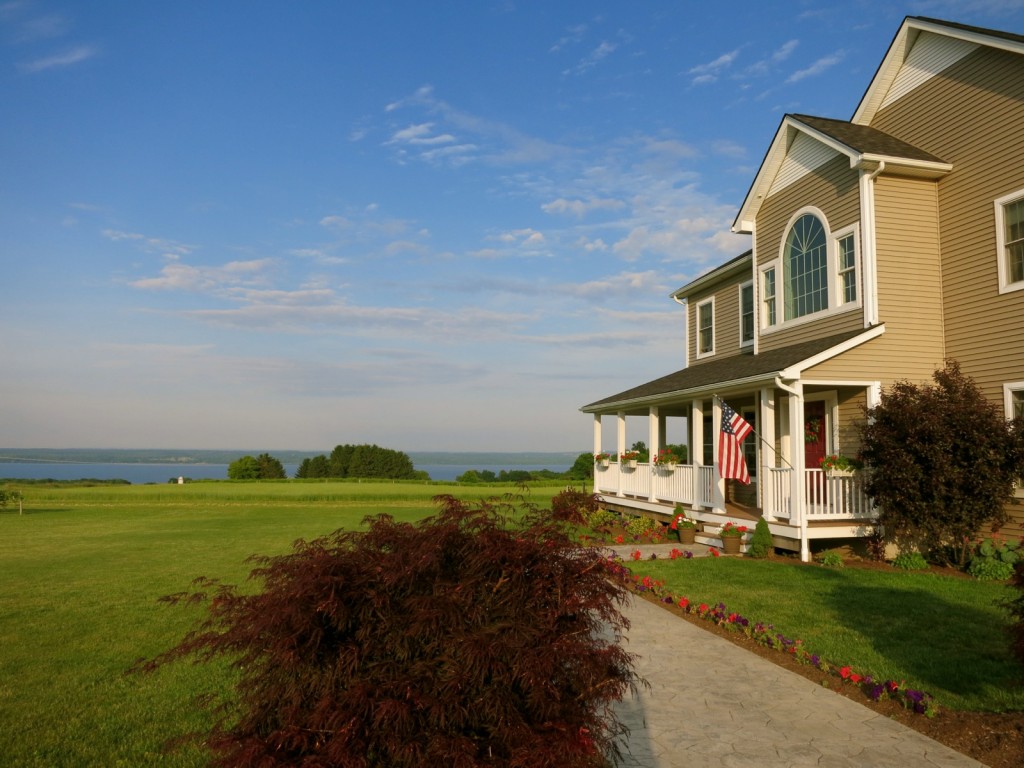 Though New Vines has a Penn Yan address, this excellent B&B – a newly constructed home owned by genial couple Todd and Dani Eichas – actually overlooks Seneca Lake. Surrounded by farms, fields and vineyards, it's far from any "downtown," but this is what makes New Vines so alluring.
That and the fact that the friendly owners also make wine from their own vineyard. Ask for a corner room with lots of light and lake views. While décor is of a neutral, traditional style, your eyes will be drawn to the vineyards, lake and farmland just outside. Absolutely stunning.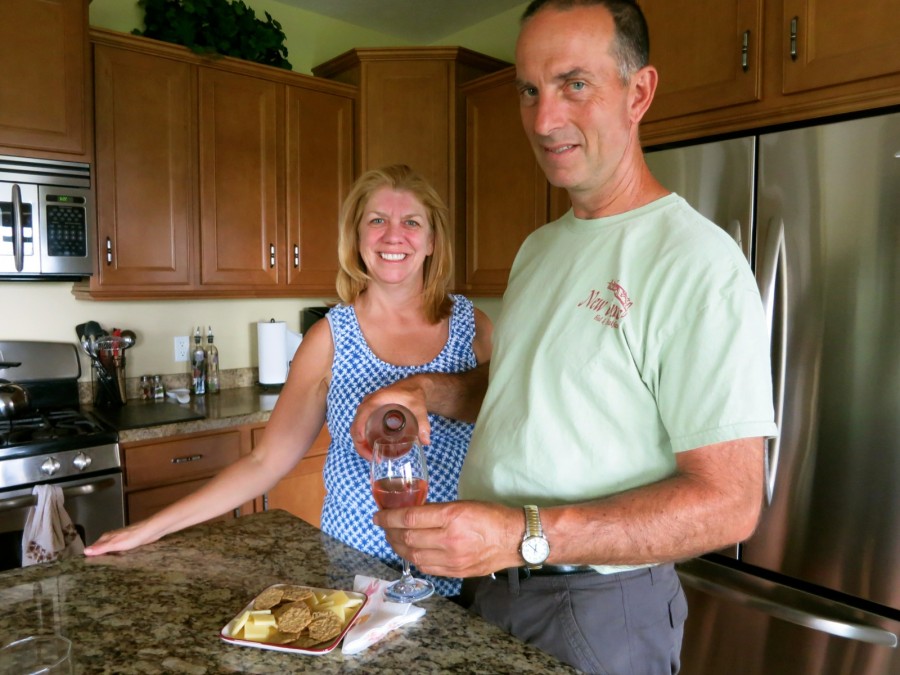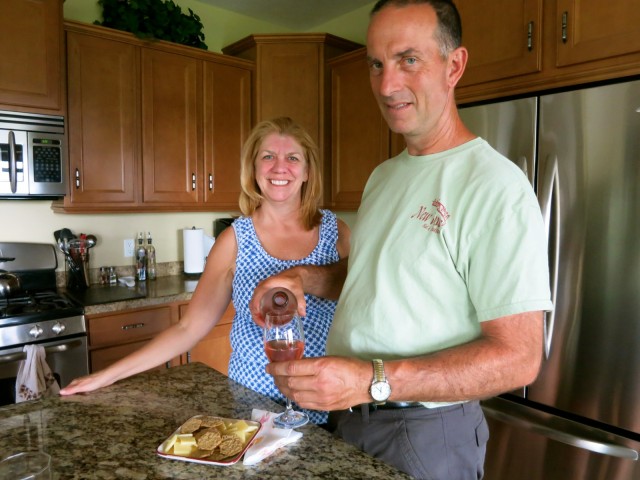 Each afternoon, the Eichas's serve house-made "New Vines" label wine, with local cheese, on the porch facing the lake. If available, ask for their supurb Dry Rose: "We don't make enough of it to sell, and we love drinking it."
At dusk in summer, the front porch is the best "room" in the house, and the wine hour a way for all guests to get to know each other before convening for breakfast the next day.
In the morning, Dani makes a delicious country breakfast from asparagus, broccoli, potatoes and strawberries fresh from her garden and other ingredients from farms down the road. Rates $120-$160 per night include afternoon wine and cheese and a full country breakfast.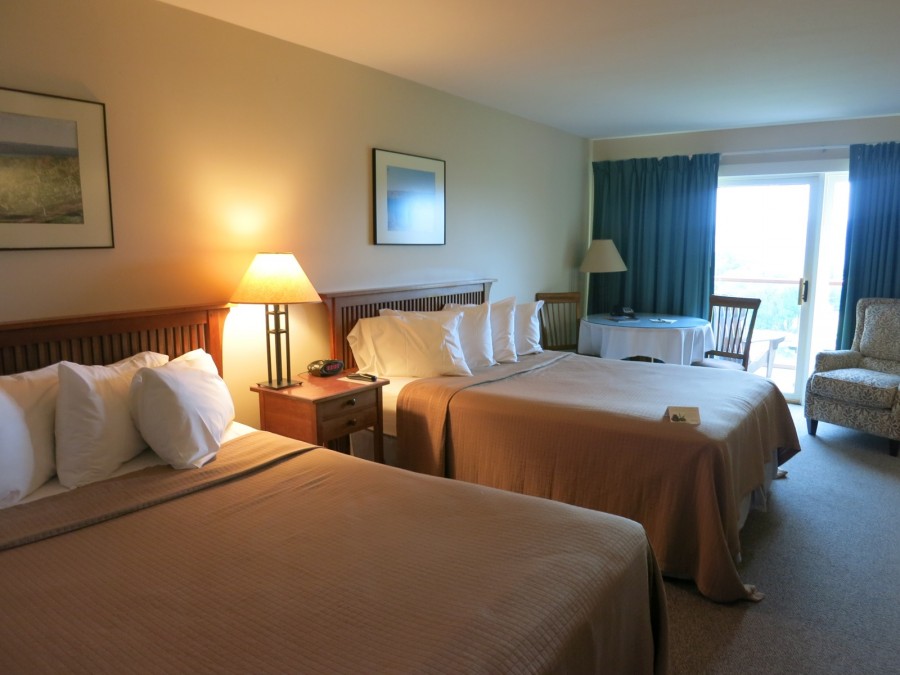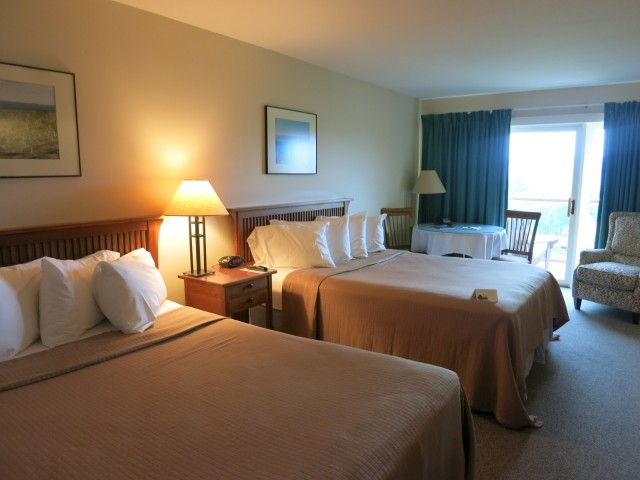 It has 30 traditional, comfy rooms overlooking Seneca Lake with private balconies. $119-$269 depending on room size and season.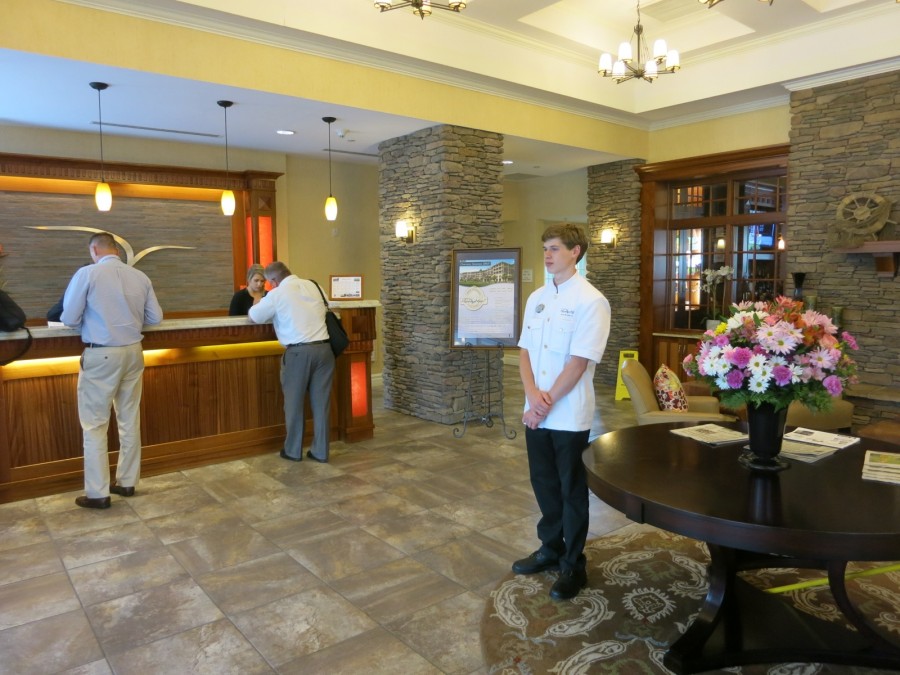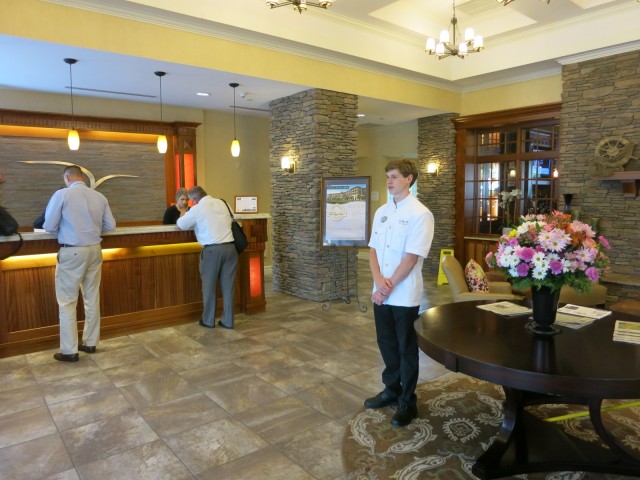 The only Four Diamond property on Seneca Lake, The Harbor Hotel is best for those who want to stay in a luxury full-service hotel.