Last Updated on November 20, 2022 by Editor
The Abbey Inn & Spa
Atop Fort Hill in Peekskill NY, overlooking the fabled Hudson River, the castle-like Abbey Inn and Spa was built in 1902. For nuns. Yes, these glorious structures belonged to a religious order – the Episcopalian Sisters of St. Mary – housing habited women sworn to a life of austerity and service to God.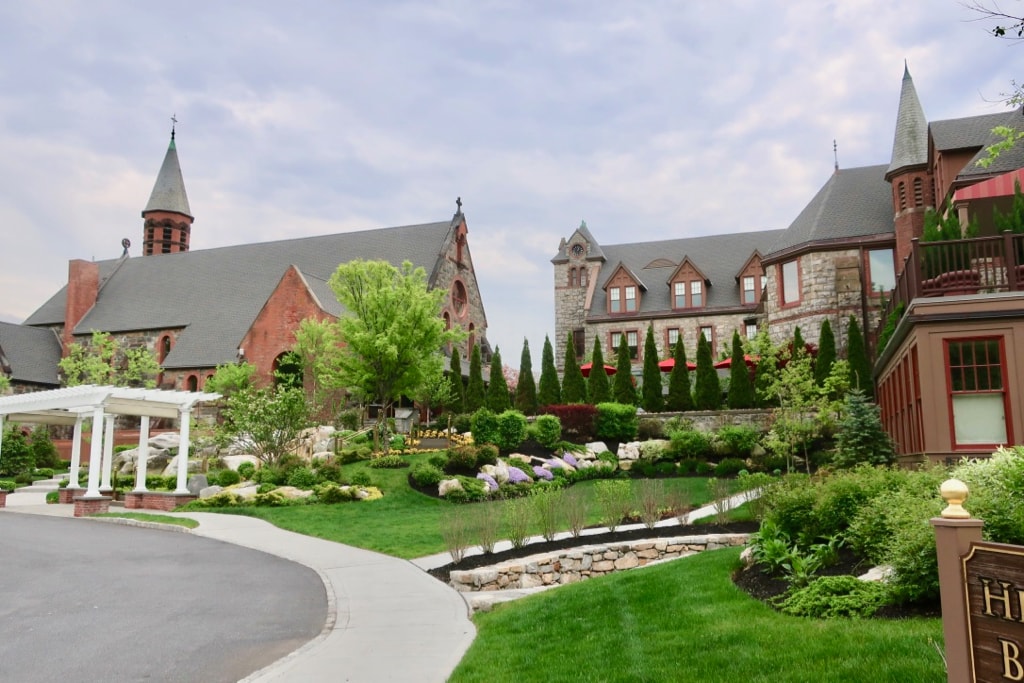 By 2003, the abbey was closed and new owner, Martin Ginsburg, spent over a decade repurposing the compound into something for a very different clientele: romantic luxury hotel guests and wedding parties.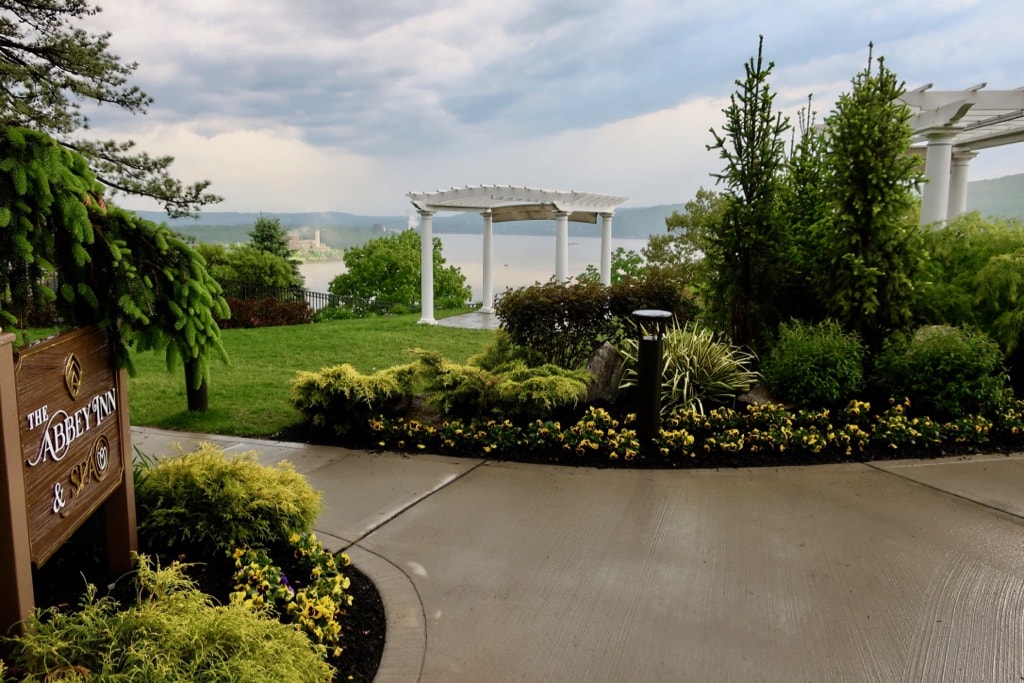 Opened in March of 2020 (phew, a very tough time), The Abbey Inn & Spa caters to the affluent traveler (or to those who save up for a splurge). It has obviously strayed from its austere origins, with expansive rooms sporting upscale furnishings, modern amenities, and an in-house spa. (Among the demands of a convent, it's doubtful the Sisters were rewarded with whirlpool baths, saunas, massages, facials, and dermabrasion treatments).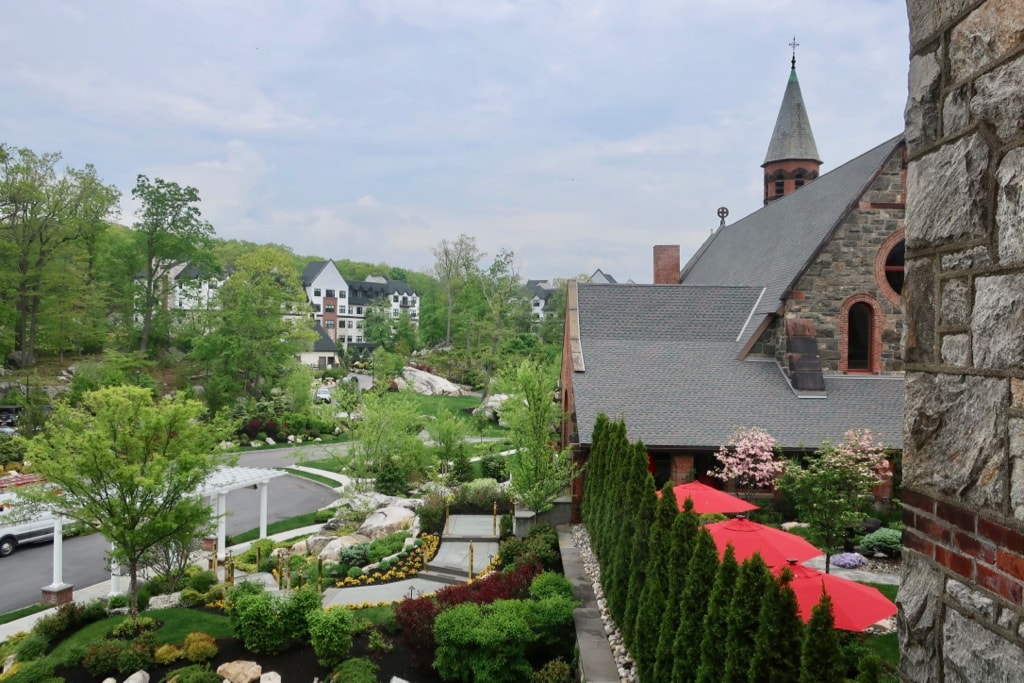 With Hudson River views, exclusive hilltop locale, and stunning rooms, it's no wonder that The Abbey Inn & Spa has quickly become the place for weddings and other soirees.
Want to explore the area? Croton-On-Hudson is a mere 10 minute drive south, and West Point and Bear Mountain are close by to the north.
The Abbey Inn is one of the Getaway Maven's recommended Best Places to Propose in New York State.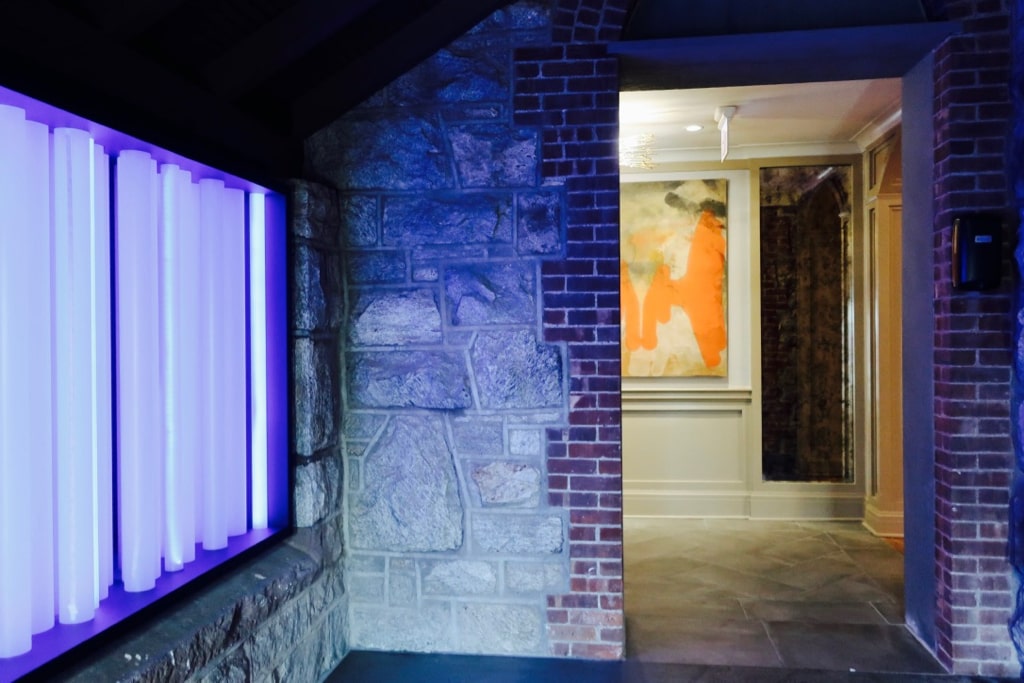 First Impressions of The Abbey Inn & Spa
Open the door to the Inn and the décor is quite a jolt. In a good way. A total contrast to the church-like exterior, guests are faced with contemporary artwork – one, an eye-popping blue glowing neon piece in a small vestibule leading to the reception area. In fact, modern art, sculptures, and photos are scattered throughout the inn.
Check-in is intimate and friendly. The small desk is located in a stone walled room, with more art, comfy seating – and a glass case filled with items unearthed during the abbey's renovation.
Some relics date back to the Revolutionary War. Fort Hill was a key American lookout post during our War of Independence, as it was a high promontory overlooking the River in the Hudson Highlands.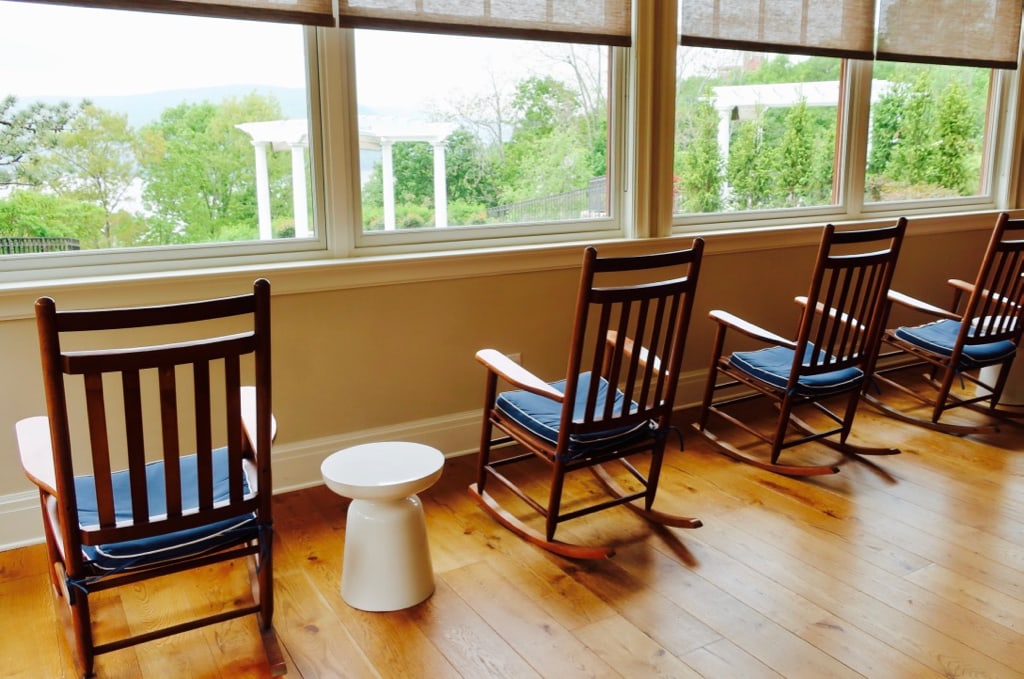 Even before walking in, you'll have a good sense of this mesmerizing view from the circular drive outside the front door of the hotel. But, to take it all in, sit in one of the rocking chairs lined up along windows in the enclosed Sunset Porch, right off the reception room.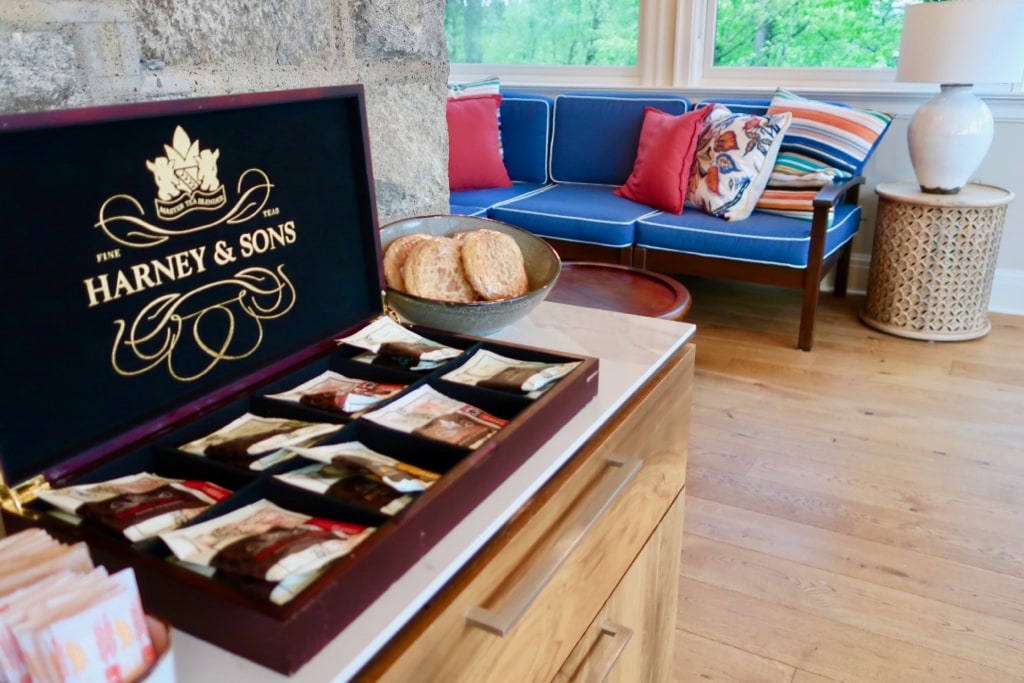 From 4-6pm you'll find tea and cookies, and coffee in the morning, each day. Those are prime times for just sitting, sipping, and watching the action along the Hudson River.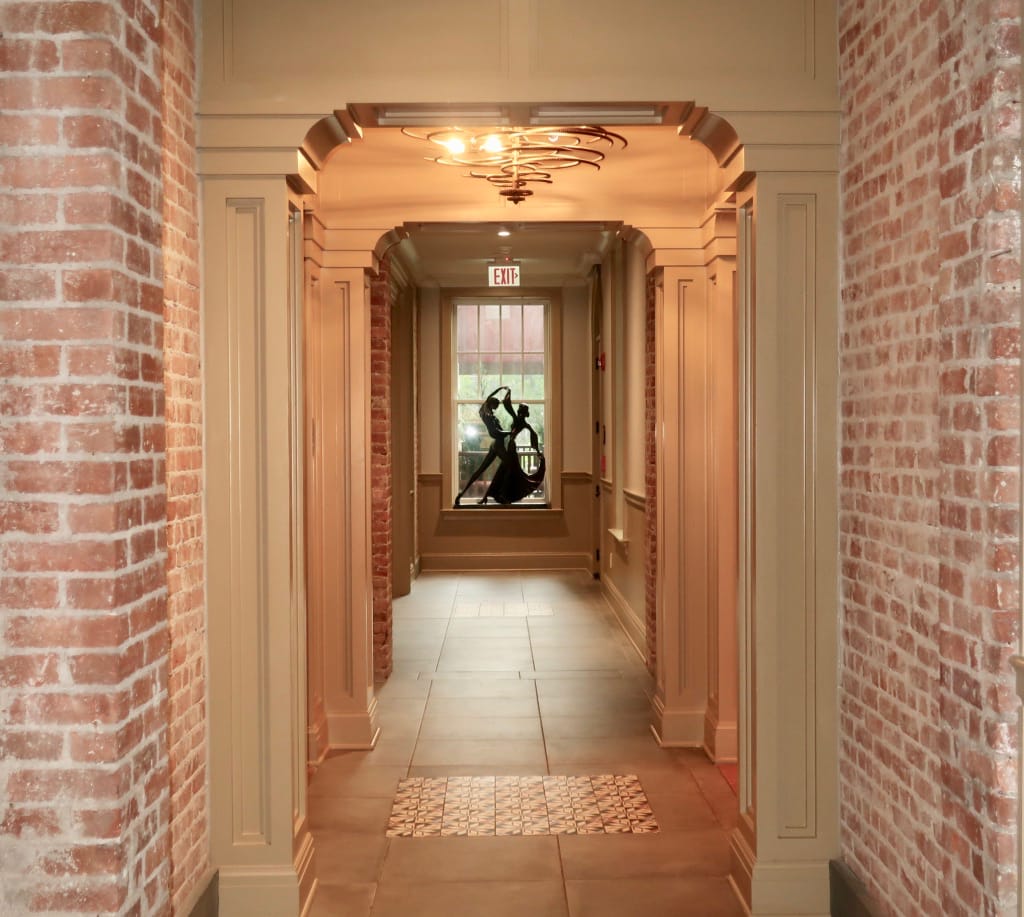 The vibe throughout the property seems timeless and contemporary at the same time – tough to pull off, but "apropos" for this lodging.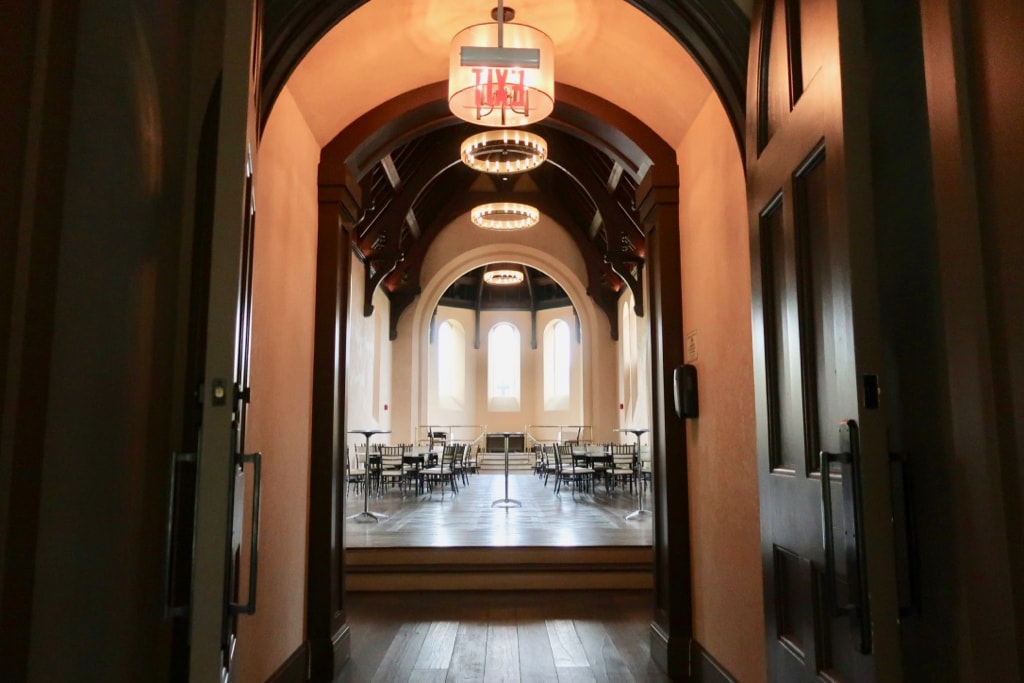 Common Rooms and Gardens
Guest rooms are vast improvements on the originals. In other cases, such as the Cornerstone Room, Ginsburg reverently kept the integrity of the abbey intact.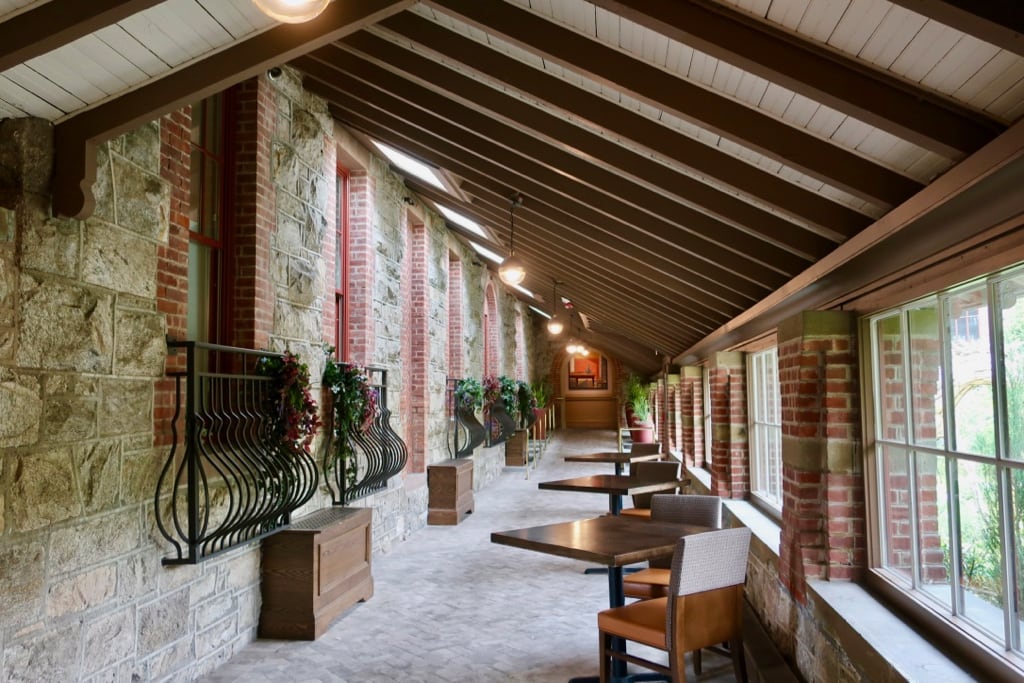 Meander from the hotel building to the massive chapel/event ballroom through an enclosed glass and stone walkway, with views into a small English Garden.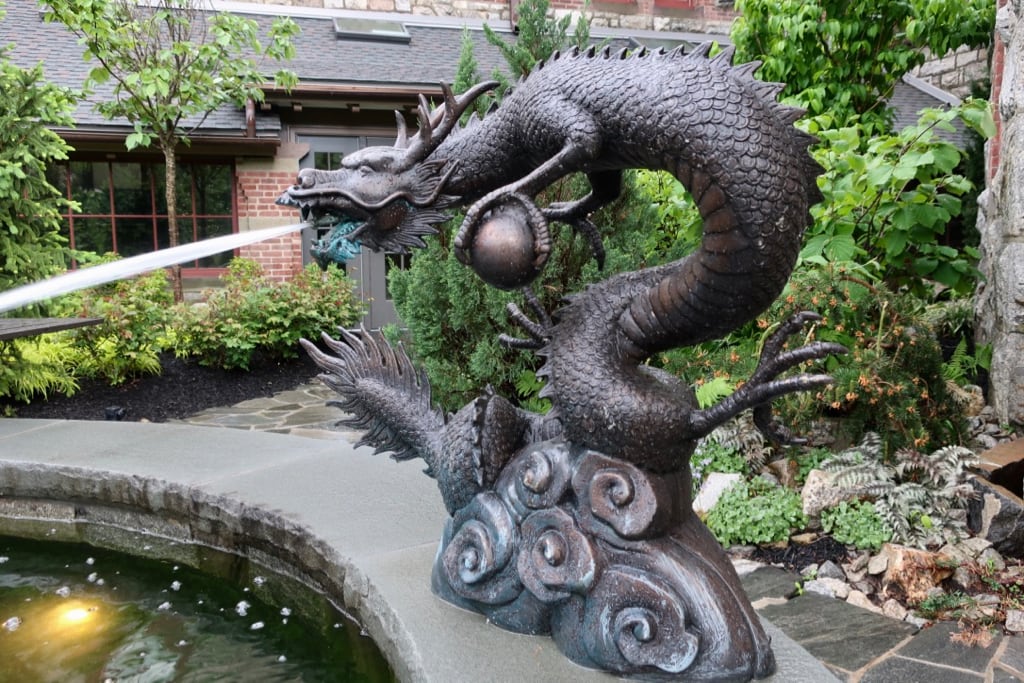 The Garden feels snug and cozy in relation to the grand structures. It's made even more interesting with unique fountain and other sculptures.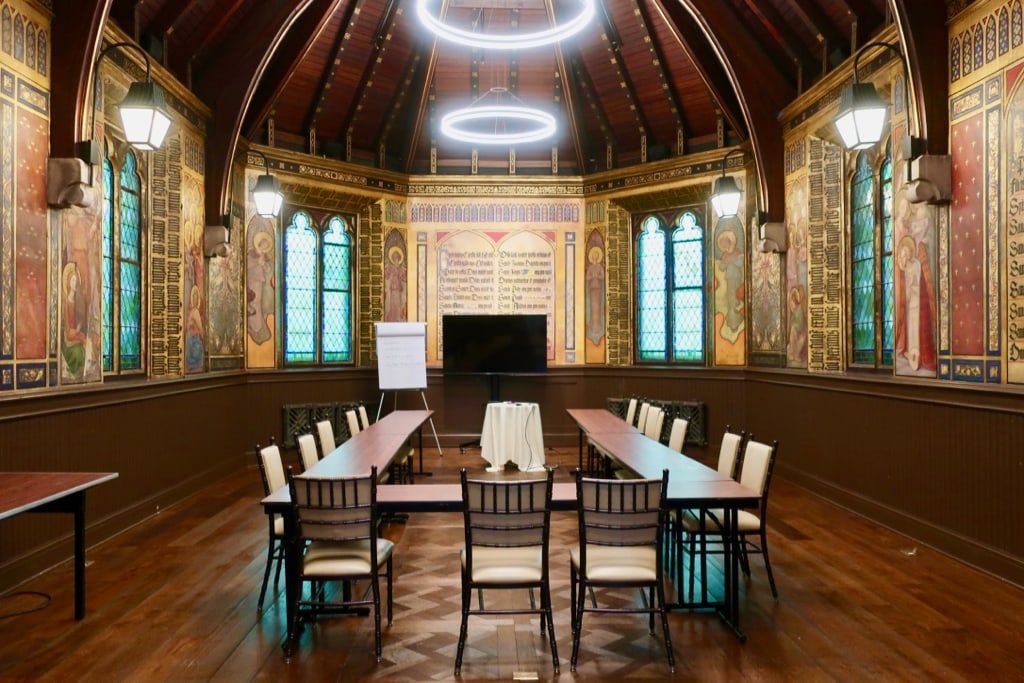 But whatever you do, don't miss a peak into the 2nd floor Cornerstone Room in the hotel building: once the nun's private chapel. One astoundingly talented Nun, Sister Mary Veronica, hand painted the religious artwork on all walls and ceiling. These beautiful panels have been conserved (some restored) in testament to those who once lived and worshiped here.
Apropos Restaurant
As a destination restaurant, Apropos ratchets up the dining level in Peekskill and the surrounding area. The Hudson River Valley is known for its indie farms, and chefs take full advantage of the region's bounty.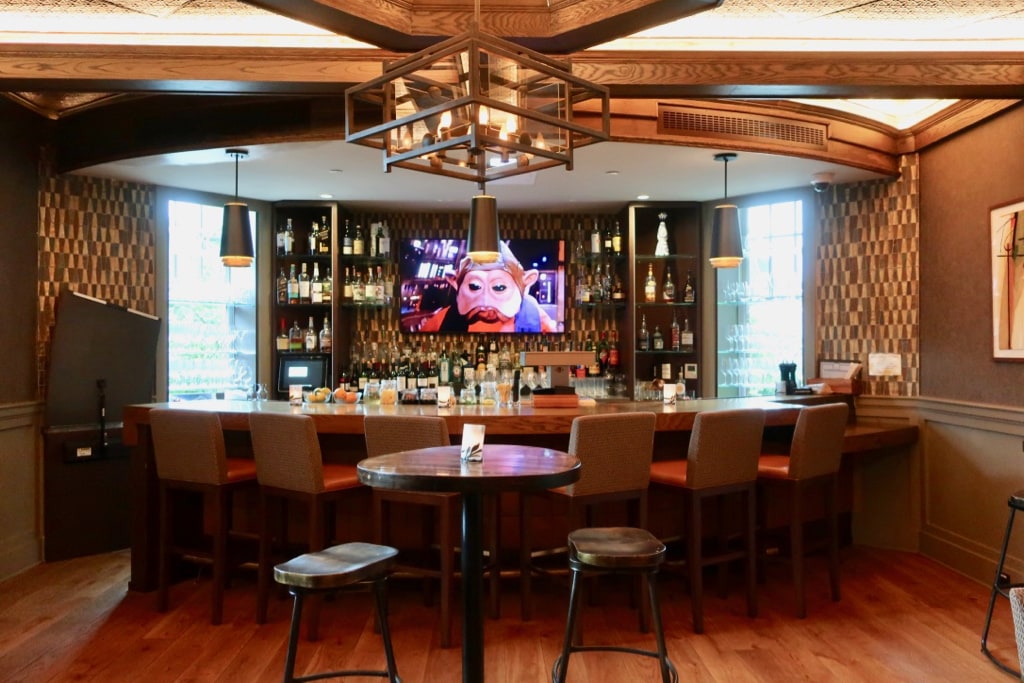 You can choose to dine in a light, windowed room (of course, overlooking the Hudson), in a darker, clubby space mostly desired in the wintertime, or at the lovely bar, where you can watch bartenders concoct signature craft cocktails.
In all cases, the food is mighty good: especially the pasta dishes, which seem to come directly from the hands and hearts of Italian Nonnas.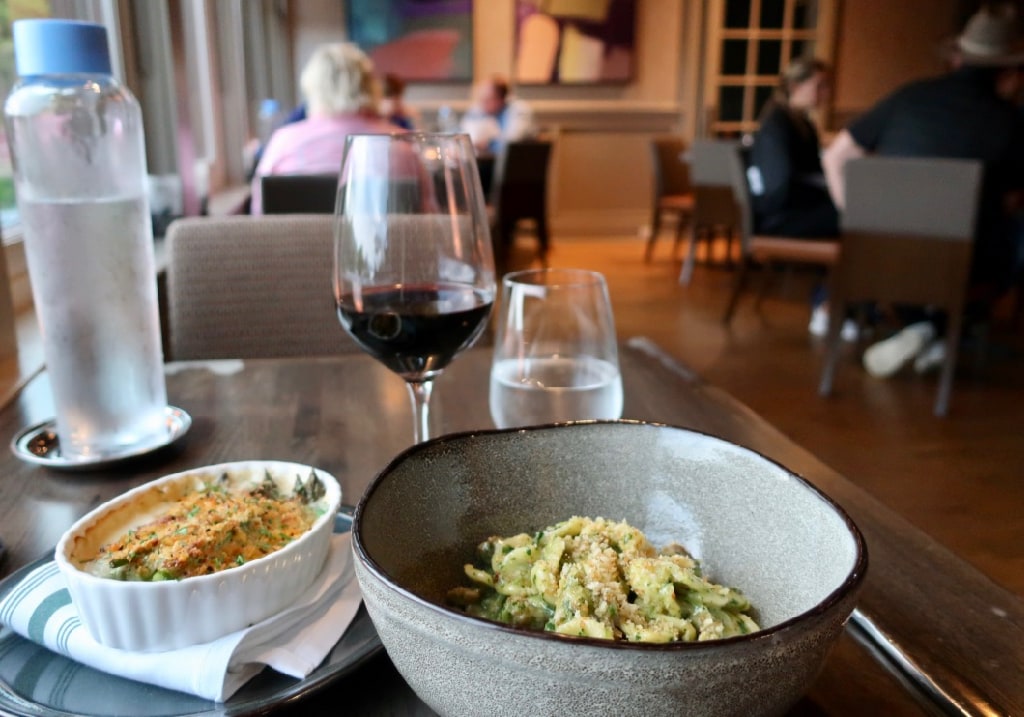 Although most menu items are seasonal, the Orecchiette with Fennel Sausage, Broccoli Rabe, and Pesto ($24), is a permanent home run. Portions are Goldilocks perfect – not too small, not too big, so as not to waste a precious drop. I also wolfed down the incredibly toothsome white asparagus appetizer, this time made Au Gratin ($14). Bathed in melted Morbier Cheese and Sherry, it was a definite reminder of Spring.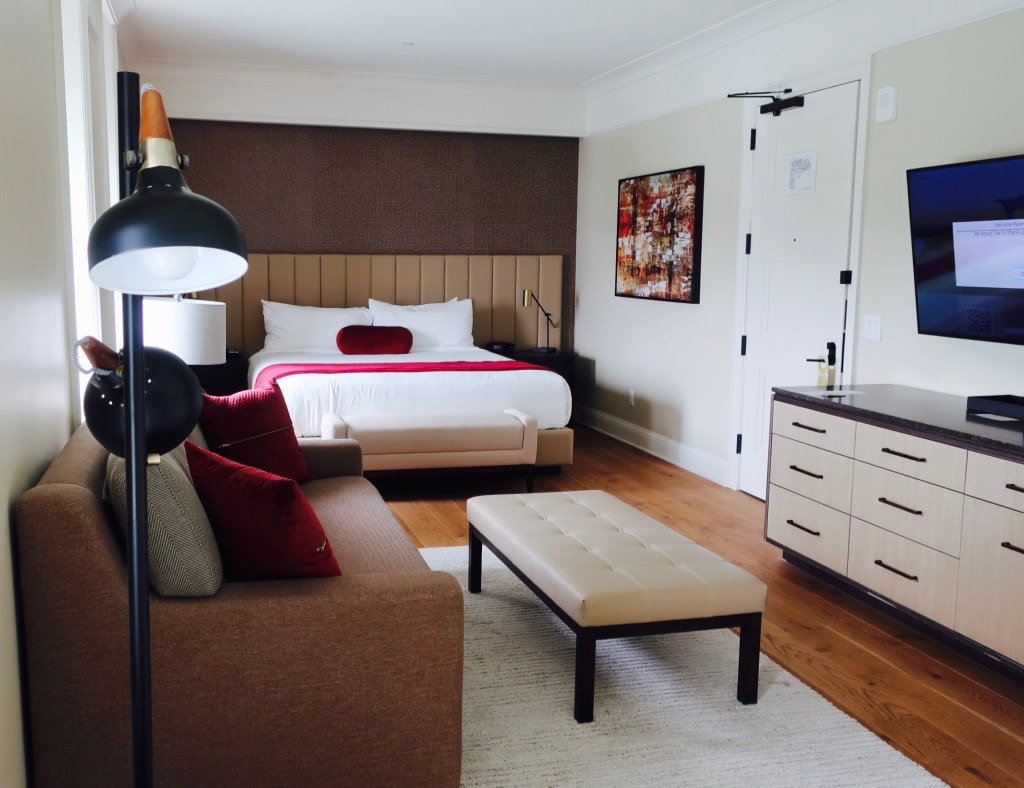 Guest Rooms
Guest rooms are soothing and bright, in shades of sand and putty. Contemporary-handsome furnishings feature touches of leather (ottoman table, bed backboard) and soft textiles (seating). With hardwood floors in the bedrooms, and decorative tiled floors in the bathroom, the effect isn't extravagant so much as elegantly, but not harshly, modern.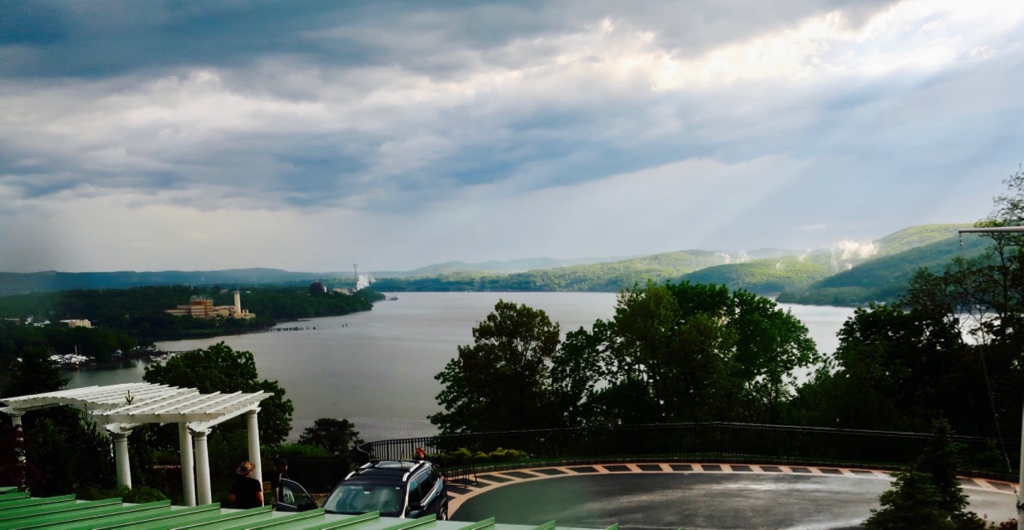 Ask for a room with Hudson River views. Even in dreary weather, it's a treat to look out over the dreamlike hills and waterway captured in early American art (the Hudson River School of Art), and books (Rip Van Winkle, The Legend of Sleepy Hollow).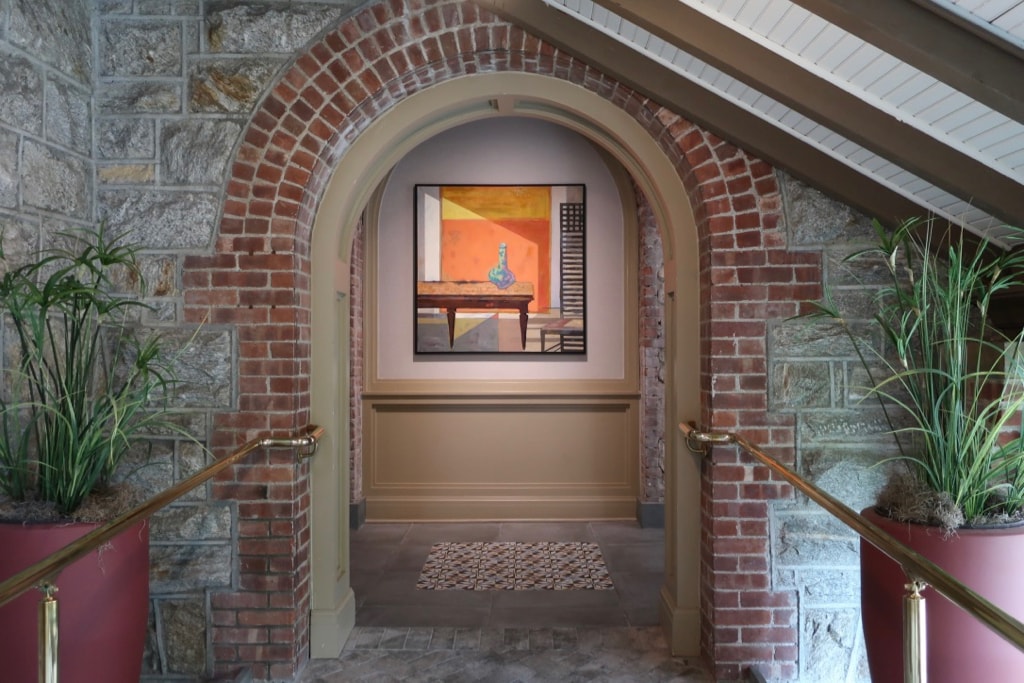 Just the Facts
Guest rooms start at $429 per night include parking, 2 bottles of water, use of fire-pit, fitness center, whirlpool, dry sauna, wifi, afternoon tea and cookies, morning coffee. Romantic Getaway Package includes overnight stay, bottle of champagne and chocolate-dipped strawberries on arrival, and breakfast for two in Apropos. From $542 per night.
(The Abbey Inn & Spa was included on Getaway Mavens Best Romantic Hotels in the Northeast US 2022 list.)