WHY GO: Once the terminus of the Erie Canal, Buffalo NY had more millionaires than any other city at the turn of last century. Two US Presidents, Millard Fillmore and Grover Cleveland, spent time here. And one, William McKinley, was assassinated here.
Frederick Law Olmsted designed parks and roadways, industry flourished. The "Amazon.com" of its day – the Larkin Company – employed thousands. Frank Lloyd Wright was hired to design homes, office buildings and even a gas station. And the Pan American Exposition was held here in 1901, though the celebration was marred by the assassination of President McKinley.
Then came the Depression and this industrial city was hit hard. It never really recovered in the 60's and 70's, when other wealthier areas of the country demolished grand old buildings to make way for the ugliness of "Urban Renewal." In the long run, this was to Buffalo's advantage.
Now, exceptional architecture, a burgeoning medical research and development sector, waterfront development and repurposing of these iconic buildings is attracting a growing number of history buffs and epicurean–minded visitors to New York State's westernmost city.
Buffalo continues to add fantastic restaurants and innovate by creating public spaces from once-decaying factories and institutions. The focus in 2022 is the waterfront: with a heritage boat-building initiative and historic carousel at Canalside; reliving Buffalo's grain-port past on a Buffalo River History Tour; and cool goings-on (and a Bar) at the once abandoned Silo City, and so much more.
Buffalo NY is on such an upward swing, in fact, it's inspired the exceedingly popular website BuffaloRising.com, which says it all. Read on for the current best of the best to do in this energized city.
Things To Do In Buffalo NY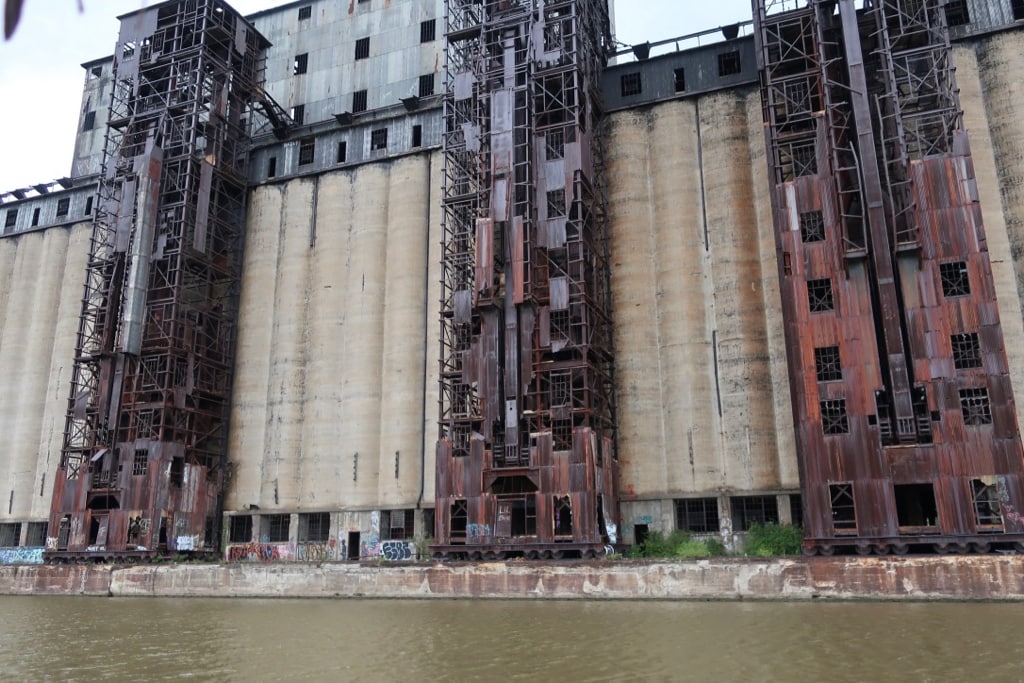 TOUR: Buffalo River History Tour
To get an immersive sense of what Buffalo was like 100 years ago, book this fantastic 90-minute narrated Buffalo River History Boat Tour. Hear the story of the Erie Canal and Buffalo's history as the largest grain port in the world (from 1850-1959) as you glide on the manmade river that snakes between the nation's largest collection of standing grain elevators.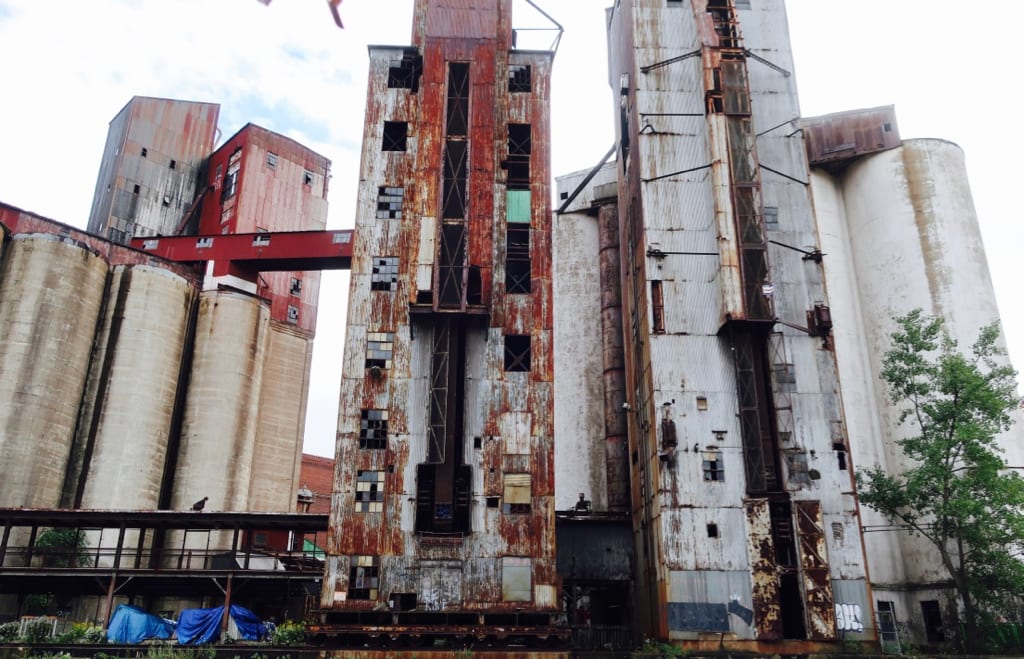 It's surprisingly thrilling to squeeze through canyons of concrete cylinders, once holding millions of bushels of grain, and hear stories of Buffalo's scoopers — residents and immigrants alike — who worked the docks and mills, feeding the nation.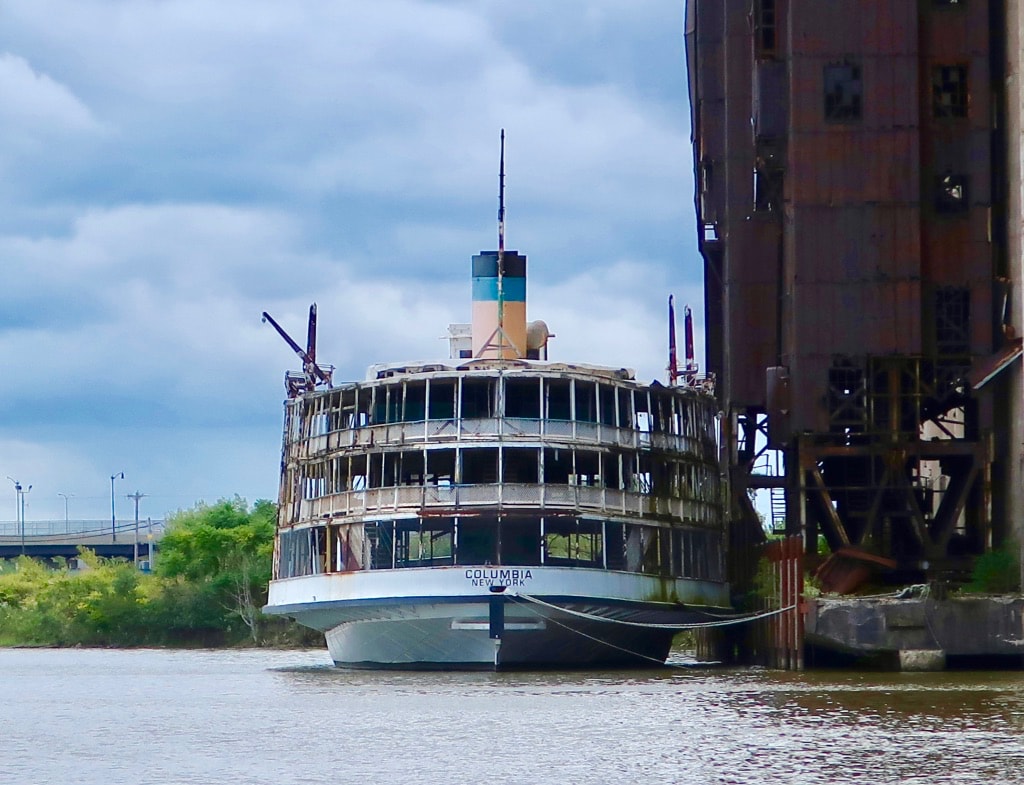 You'll hear about Buffalo River restoration projects, and pass the old, seen-better-days Steamer Ship Columbia, which was known for having the "largest ballroom and dancing hall on the Great Lakes." This now seemingly unseaworthy ship is supposedly heading to Kingston NY for restoration.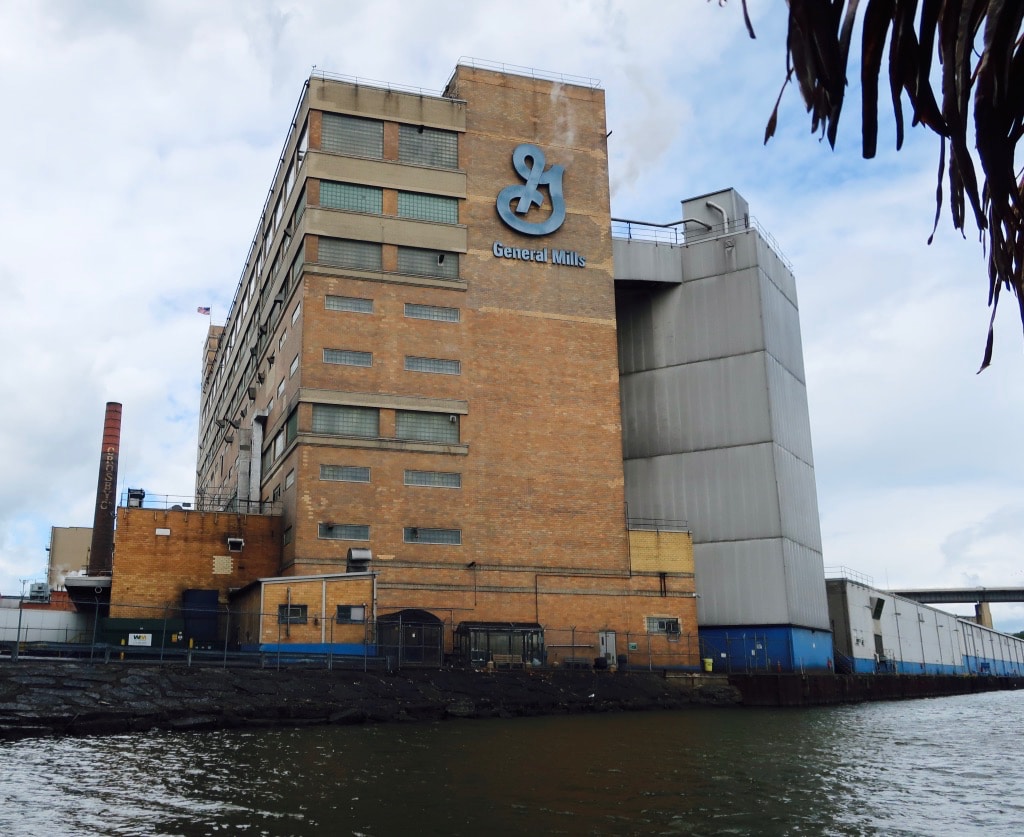 As you wind around Silo City and Elevator Alley, you'll learn about past disasters and the fact that the last canal barge delivered its load of grain in 1930. (From then on, grain arrived by rail).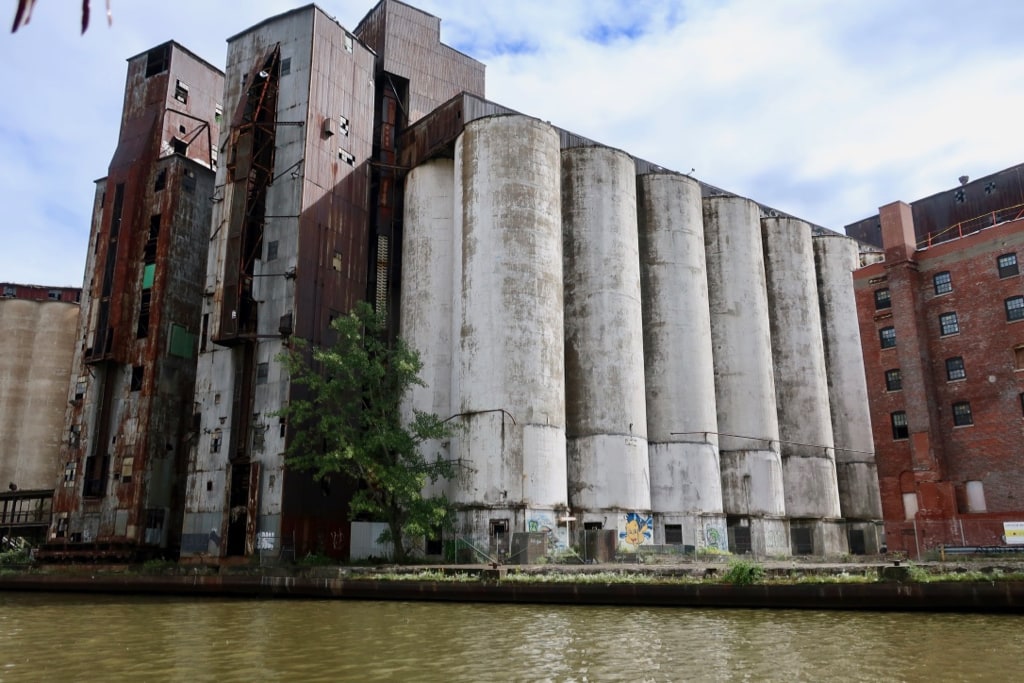 The 268-silo "Concrete Central," which collectively held 4.5 million bushels of grain, was, like most others on the river, abandoned by 1960. Now, only one company – General Mills – remains, and you can sniff the air to determine if it's a plain Cheerio's or Honey Nut Cheerio's day. May-September, $25 adults, $13 kids.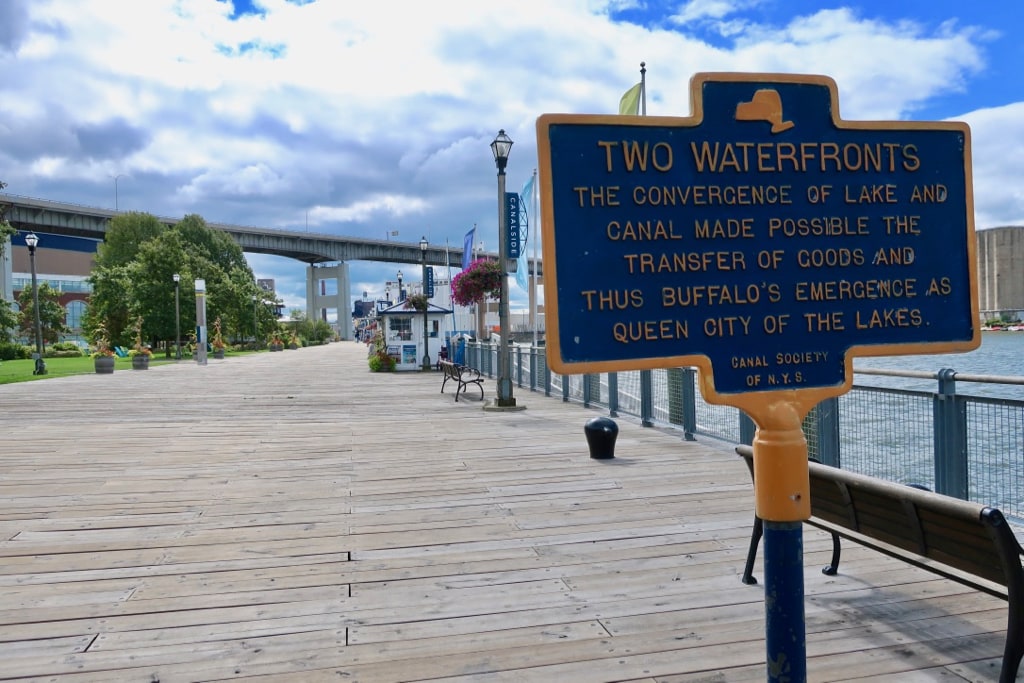 DISCOVER: Canalside's Longshed, Carousel, Commercial Slip
While Shark Girl is still an Instagram darling, American History fans will prefer Canalside's Commercial Slip – the Western Temininus of the Erie Canal – and gateway to the upper Great Lakes from 1825-1918.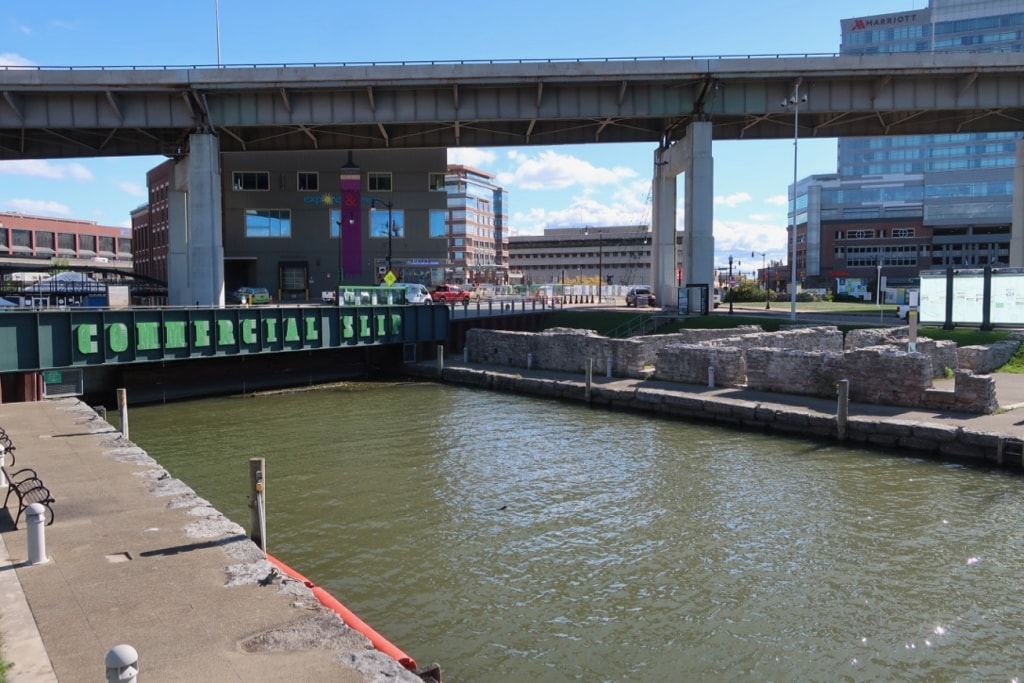 These days, there's been lots of development along the Canal, both residential and commercial – with buildings appearing like they did during the heyday of the Erie Canal's importance.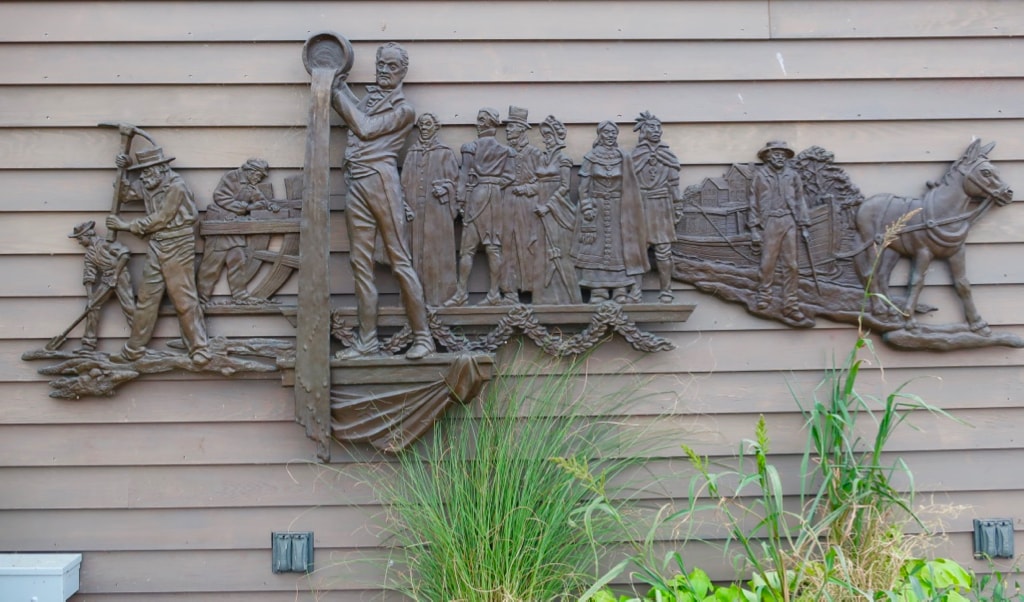 That includes The Longshed, where you can witness a canal boat being built in the place where the Erie Canal opened in 1825. A sculptural plaque depicts the "Wedding of the Waters:" when a bucket of water from the Hudson River was dumped here (and visa-versa).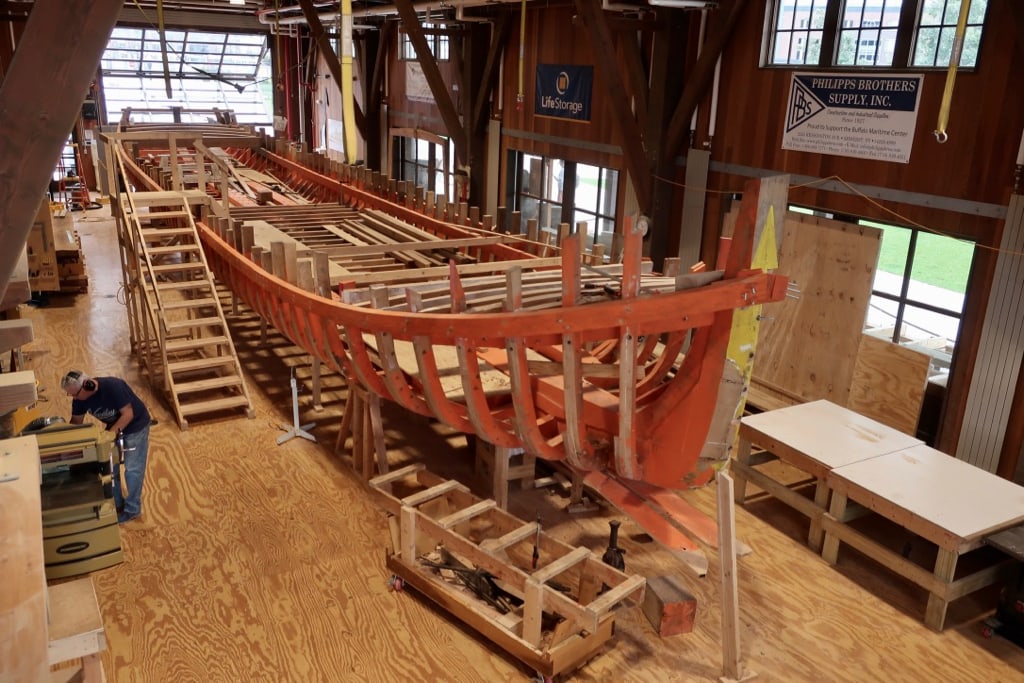 The Longshed
Boat builders at the Buffalo Maritime Center in the Longshed are constructing a traditional, full-sized reproduction of the Erie Canal Boat, "Seneca Chief," to commemorate the Bicentennial of the Erie Canal, which will take place in 2025. The boat is being built "from scratch" by volunteers in full public view, and you can watch the action from both ground level and a viewing platform above.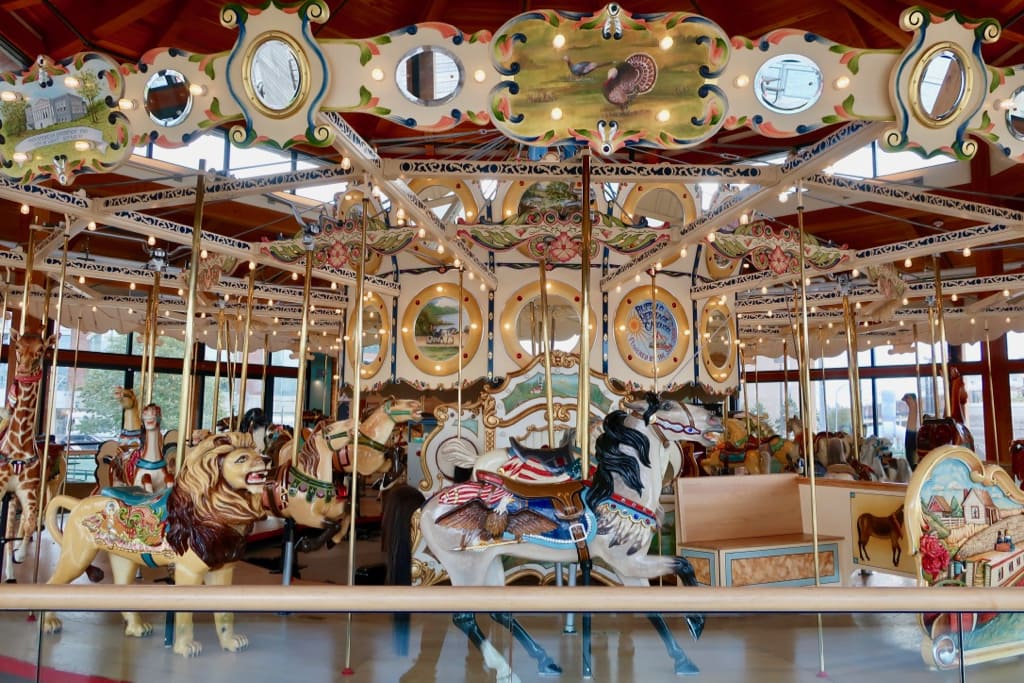 Buffalo Heritage Carousel
The fully restored Buffalo Heritage Carousel, a vintage, park-style, menagerie carousel, custom designed and manufactured in 1924 by Spillman Engineering in North Tonawanda for Massachusetts carnival owner, Domenick De Angelis, has returned to Buffalo.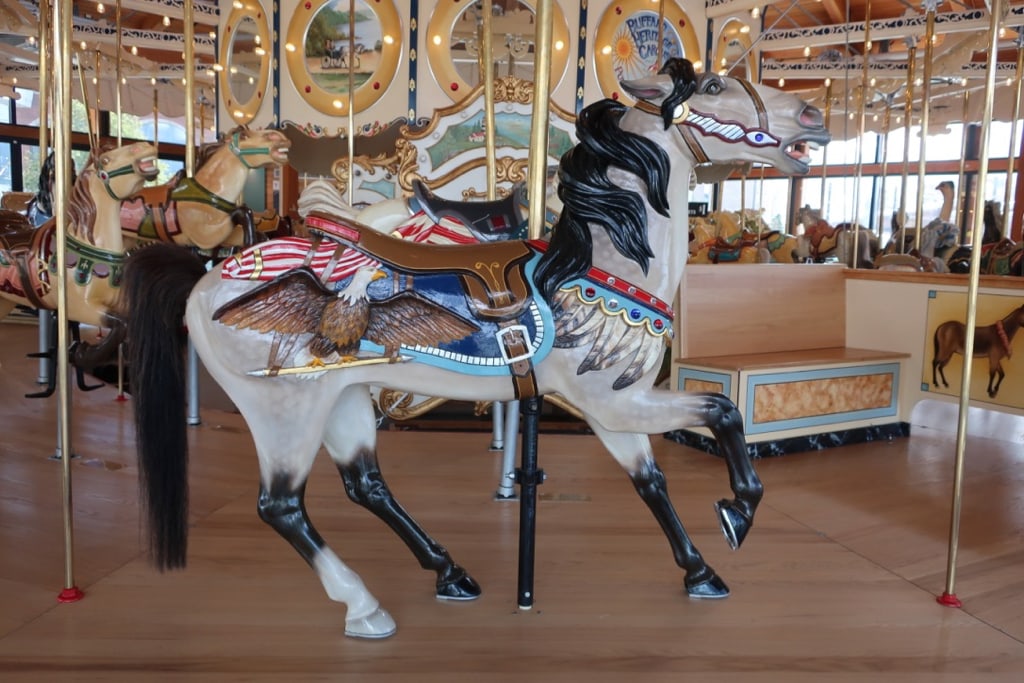 From 1915 – 1925, carousels were the "it" amusement park ride, with Spillman Engineering pumping out partially molded, partially hand-carved merry-go-round animals at the rate of one carousel a day. This one, solar powered and enclosed in a landmark building, has one of the only ADA compliant sections (for a wheelchair and up to three attendants/family members) in the country.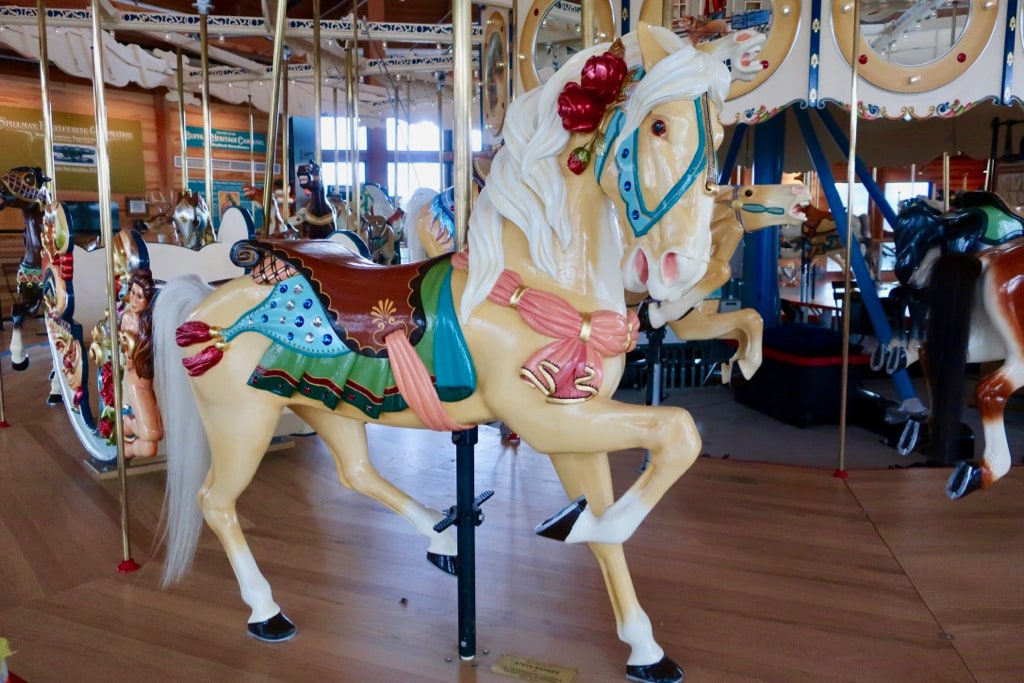 Choose to ride a high-gloss ostrich, sea dragon, or even Rosie – Domenick's wife's horse – identified by two pretty pink roses on her mane. It's only $1 per ride!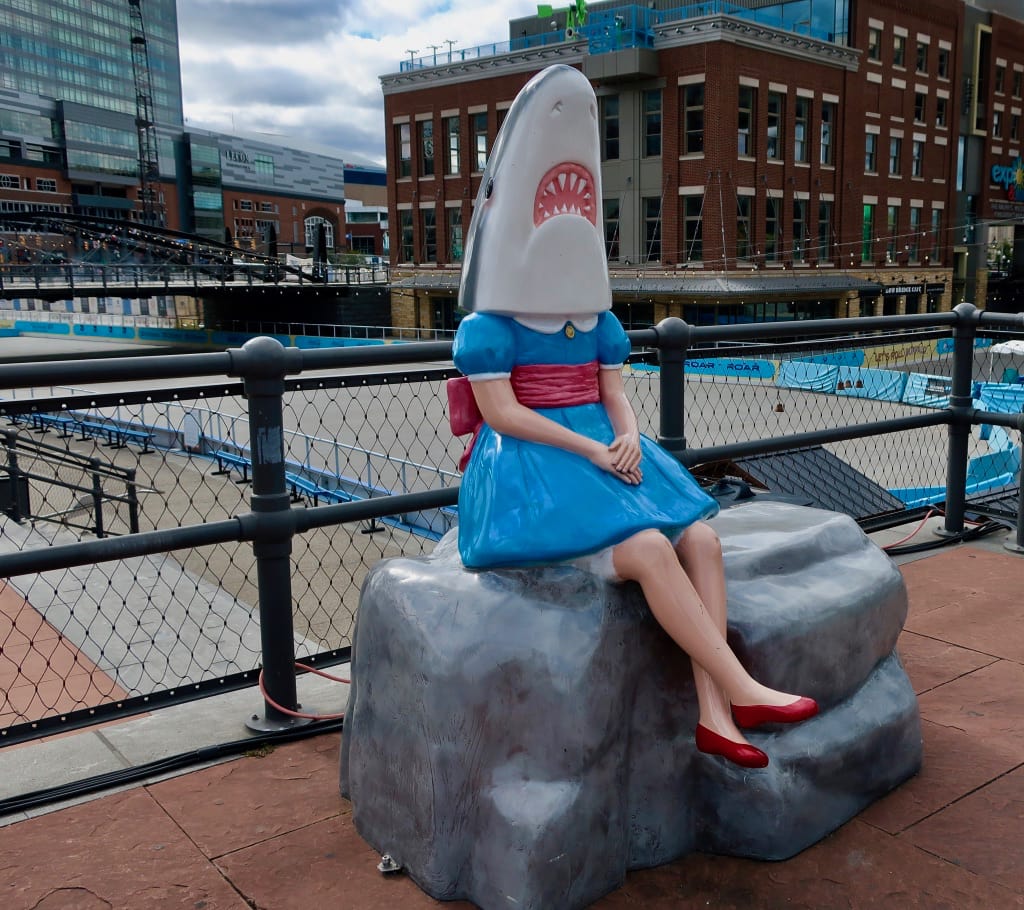 More at Canalside
Yep – there's still Shark Girl! In fact – Shark Girl is one of the Getaway Maven's recommended Best Places to Propose in New York State.
Thanks to General Mills, the smell of Cheerios lingers in the Buffalo air, particularly by the industrial waterfront. Day or night, by foot or boat, this formerly shabby, now revitalized Niagara River/Lake Erie area sparkles with life, history and participatory events.
You might stumble upon a vibrant Zumba class. Or kids learning to hoola hoop. On Saturday mornings, the Artisan Market brings shoppers to the esplanade. Rent a kayak from Buffalo Harbor Kayak ($15 hourly) and you can paddle right up to factory buildings, like the Archer/Daniels Midland Grain Elevators, cement plants and General Mills Cheerio facility.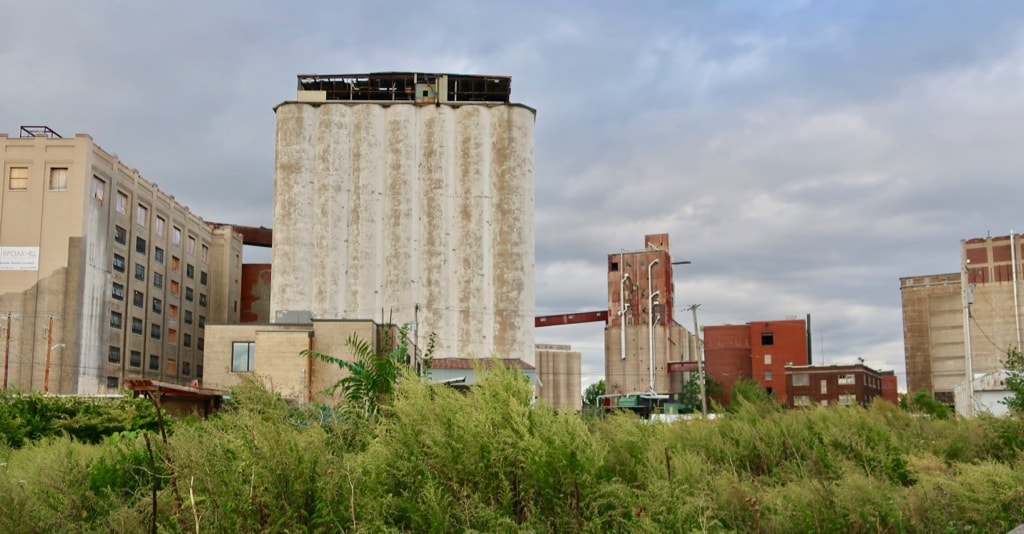 EVENTS/MUSIC/DRINKS: Silo City
There are several ways that Buffalo visionaries transform former industrial zones into livable, play-oriented, districts. One is by carving out a recreational space, with zip lines, climbing walls, skating rinks, and a beer garden. E.g., RiverWorks.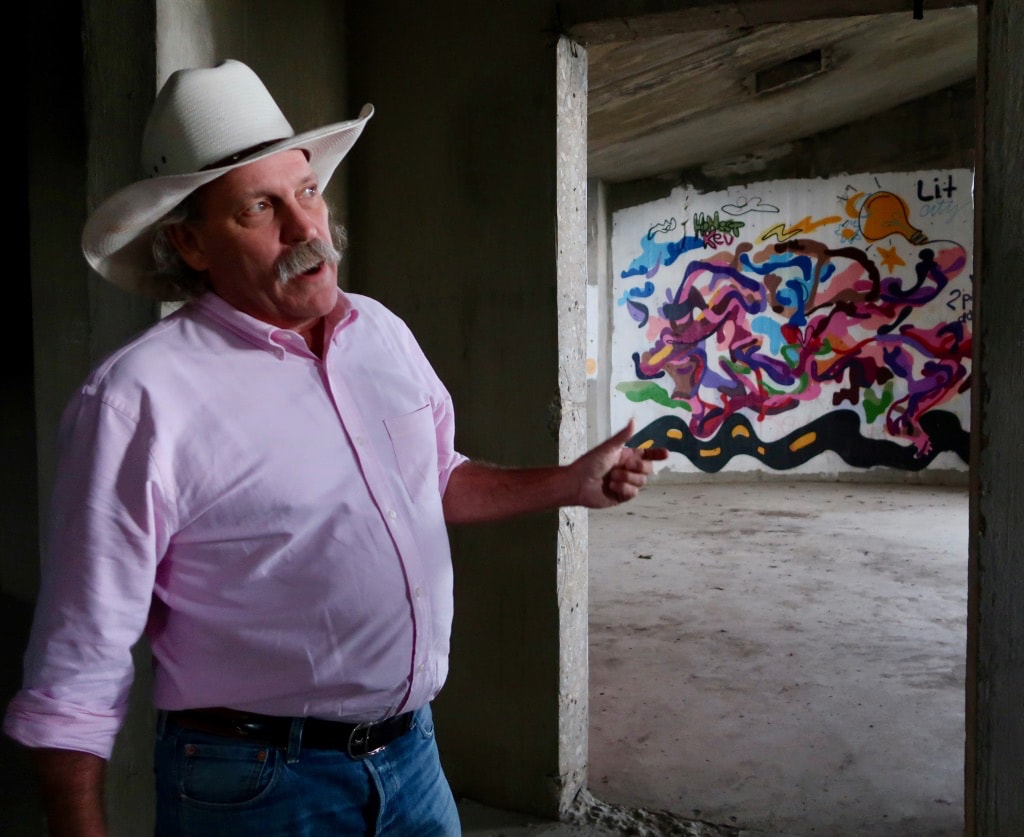 Another way is to preserve the past: in this case Buffalo's grain port history, by creating performance, reading, and art installation spaces inside silos left derelict – and then building apartments, retail and gallery space, and a local "Cheers" watering hole, (with live music) in and around these industrial ruins. This is what local businessman, Rick Smith, the Stetson-hatted owner of Ridgidized Metals Co., envisioned – and is actually accomplishing.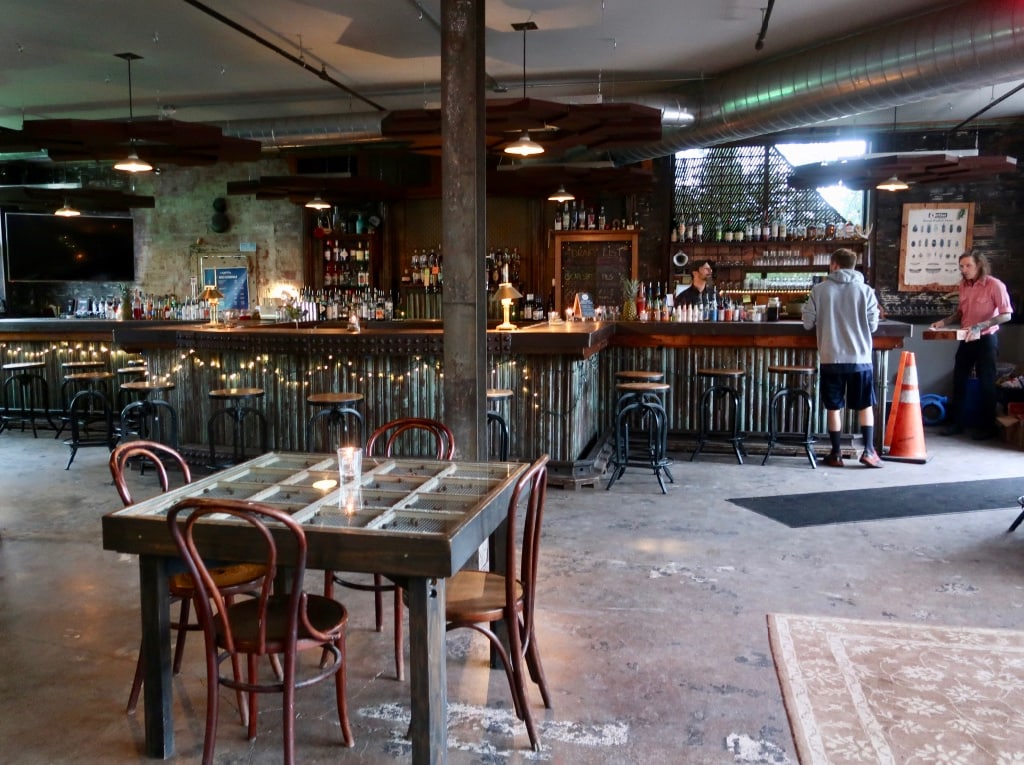 Smith purchased the empty Silo City in 2006 – spending his own funds to stabilize the ruins – and, in 2012, started letting people "use it" for grass roots theater, music, spoken word performance. He and his team found relics onsite to fashion furniture and decor at the funky Duende Bar and Restaurant, which he opened in 2018 as a Silo City gathering place, with live music throughout the summer.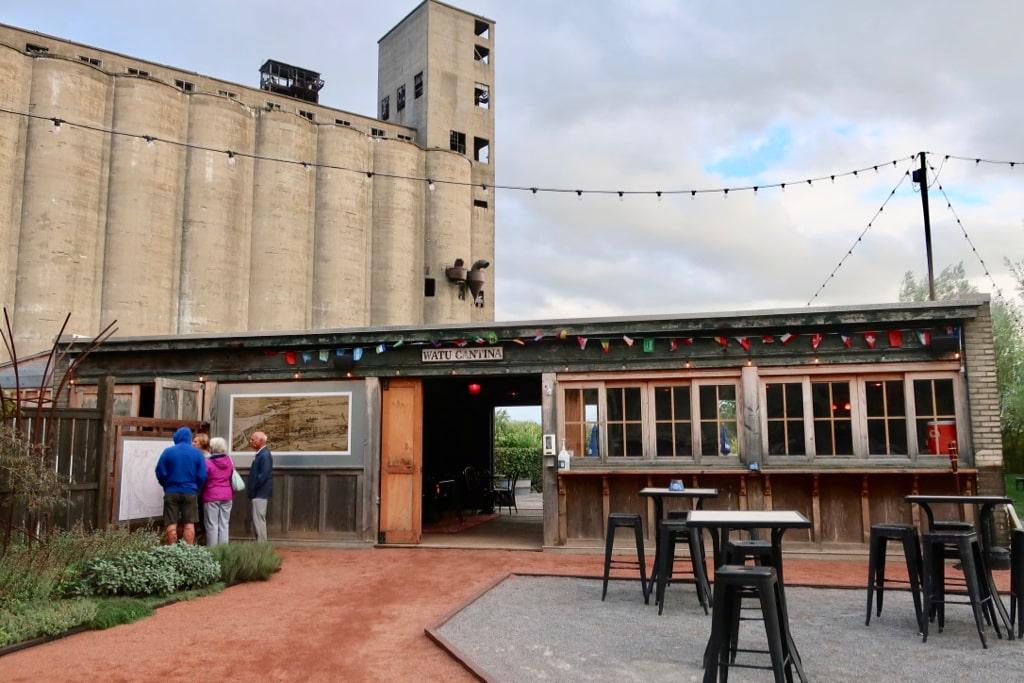 Smith has now handed most of the building reins over to Generation Development, which is creating reasonably priced living space for artists, and adventurous pioneers.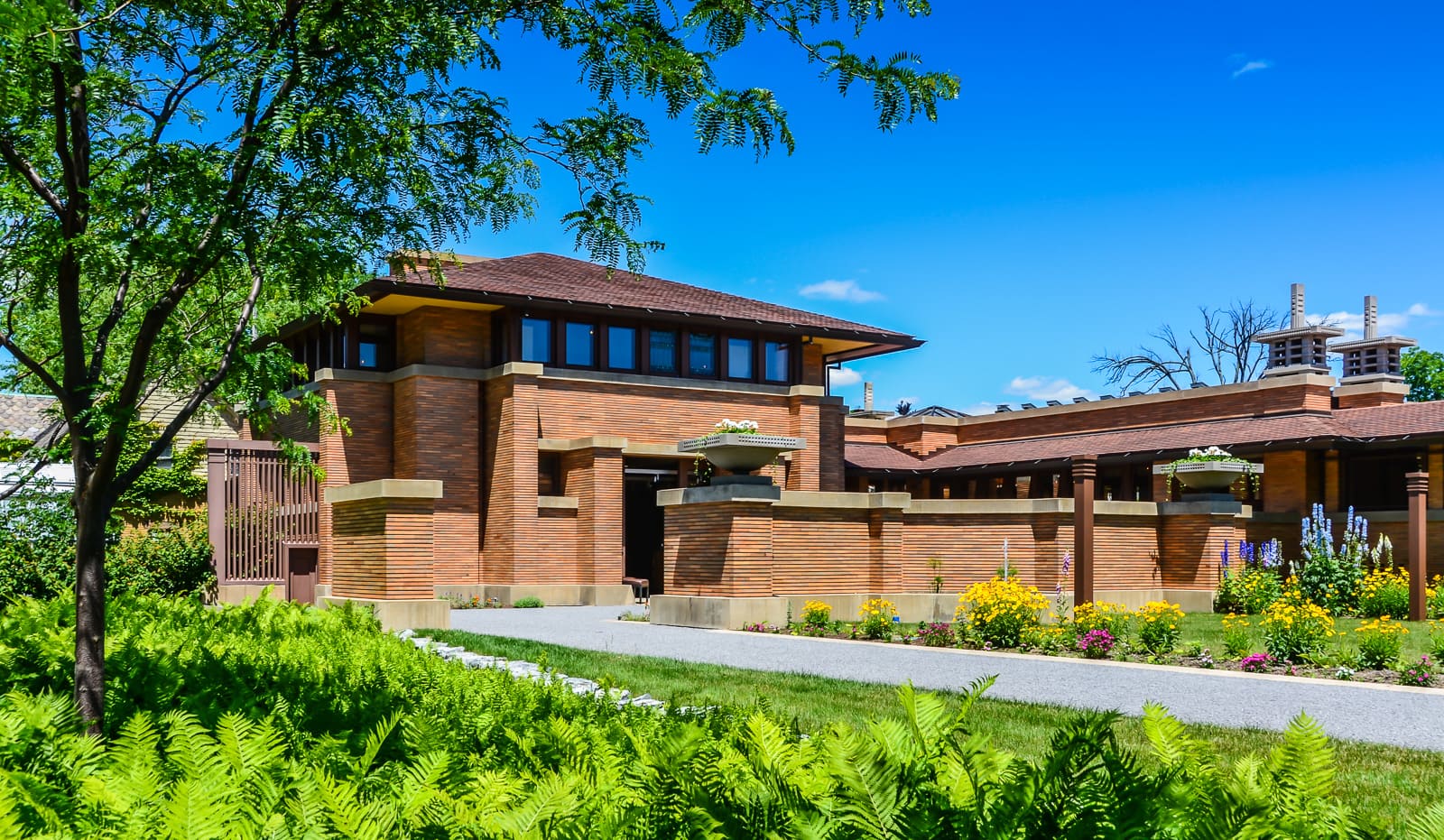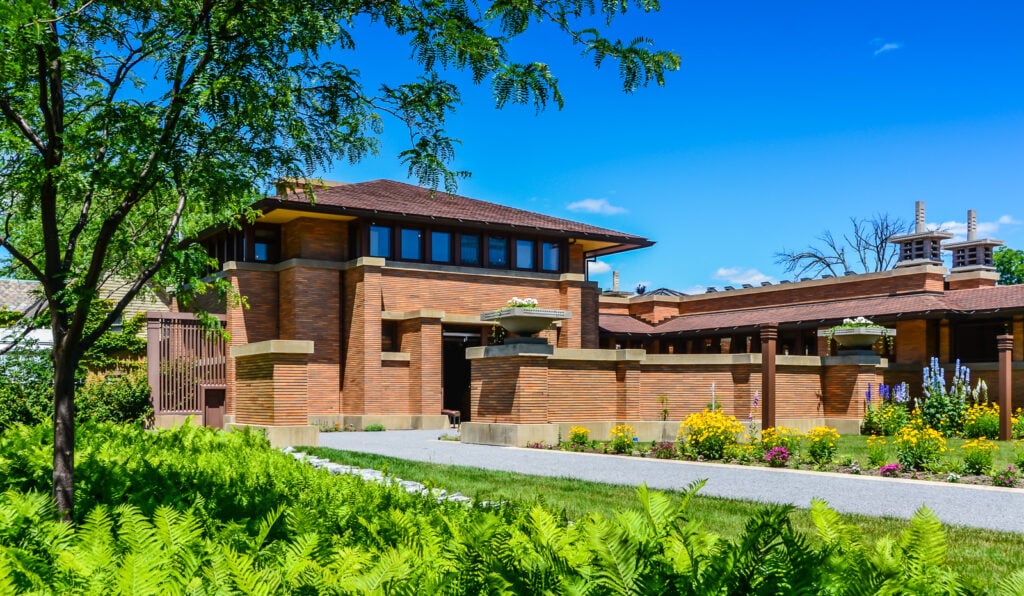 The Martin House was built at a time when Buffalo was the 8th largest city in the USA, and one of the first to be completely wired for electricity. Consisting of five structures built 1903-1905, this complex was one of Frank Lloyd Wright's largest commissions.
By the 1990's three of the original structures had been demolished. Restoring them necessitated a painstaking restoration that began in 1997 and continues to this day.
LLoyd Wright's Dynamic Views
Like all Wright designs, the main house consists of natural materials, with a dynamic view the minute you walk through the front door. A 175-foot pergola connects the main house to the statue of Winged Victory in a plant-filled conservatory.
Wright urged the "Soul to Soar" through architecture. His spaces were compressed, but his designs were light-filled for those Victorian times.
Most homes of the day were finished in mahogany, but Wright favored the lighter fine-grained rift-sawn White American Oak. His iconic art-glass windows with iridescent gold-leaf rectangles filtered light into the interior generating green and golden hues.
Wright abhorred clutter, hiding books in innovative cabinets and heating grates behind art glass doors that once again have been meticulously restored by the best craftsmen today. Mon, Wed, Fri. Sat – one-hour tours begin on the hour from 10am (11am Jan-April) till 4pm, Sundays from noon – 3:30, $17 for one hour tour, $35 two-hour tour. Not wheelchair accessible. Must reserve tickets in advance.
Built on a cliff of gray limestone (hence the name) overlooking Lake Erie, Graycliff was constructed for Darwin Martin's wife, Isabelle, as a "country house" to replace her beloved summer place in the Adirondacks.
By the early 1920's Isabel's eyesight was so bad, she consulted with Frank Lloyd Wright to design this getaway, 15 miles from Buffalo. Its walls of glass allowed views through to the lake, and plenty of natural light.
After Isabelle passed away in 1945, the Piarist Fathers purchased the property (in 1951). The priests covered up many of the fine features with additional buildings and lean-tos. In the 1990's, when the Order vacated the property, it was slated to be torn down. That is, until a small, passionate group formed the "Graycliff Conservancy" and raised an initial $20,000 to stave off demolition.
Grassroots Restoration
Since then, funds have been rolling in to support the restoration, rendering the Graycliff Conservancy one of the most successful grassroots efforts in the region to rescue one home. Before one wall or floor could be restored, tens of thousands of dollars were spent on structural issues. Tons of dirt had to be removed from the basement, and cement chipped from flowerbeds.
A state of the art "misting" system was installed to prevent damage from either fire or too much water. Next, an asphalt roof installed by the Fathers was removed. It was replaced with 25,000 hand-stained cedar shingles, as Wright had designed. Exterior walls were re-stuccoed, using sand from the beach below.
Wright was a nut for nature – bringing gardens and patios inside whenever he could. The Fern Room features flower boxes and unique corner windows that open. Touring Graycliff provides a rare chance to witness a work-in-progress restoration of one of Frank Lloyd Wright's most unusual designs.
Tours various times through the year, so consult website. Open daily in summer and early fall, closed Wed otherwise. Most tours 10:30, 11 and 2 M-F, more on weekends. $16 adults, $10 kids. Do not wear high heels!

VISIT: Niagara Falls
Chances are you've been here. But if you haven't, see one of the natural wonders of the world from several vantage points. It's a short 20 minute drive from downtown Buffalo, so plan to stay in the city, and make the Falls a day trip. (Or make it a Winter Weekend Getaway).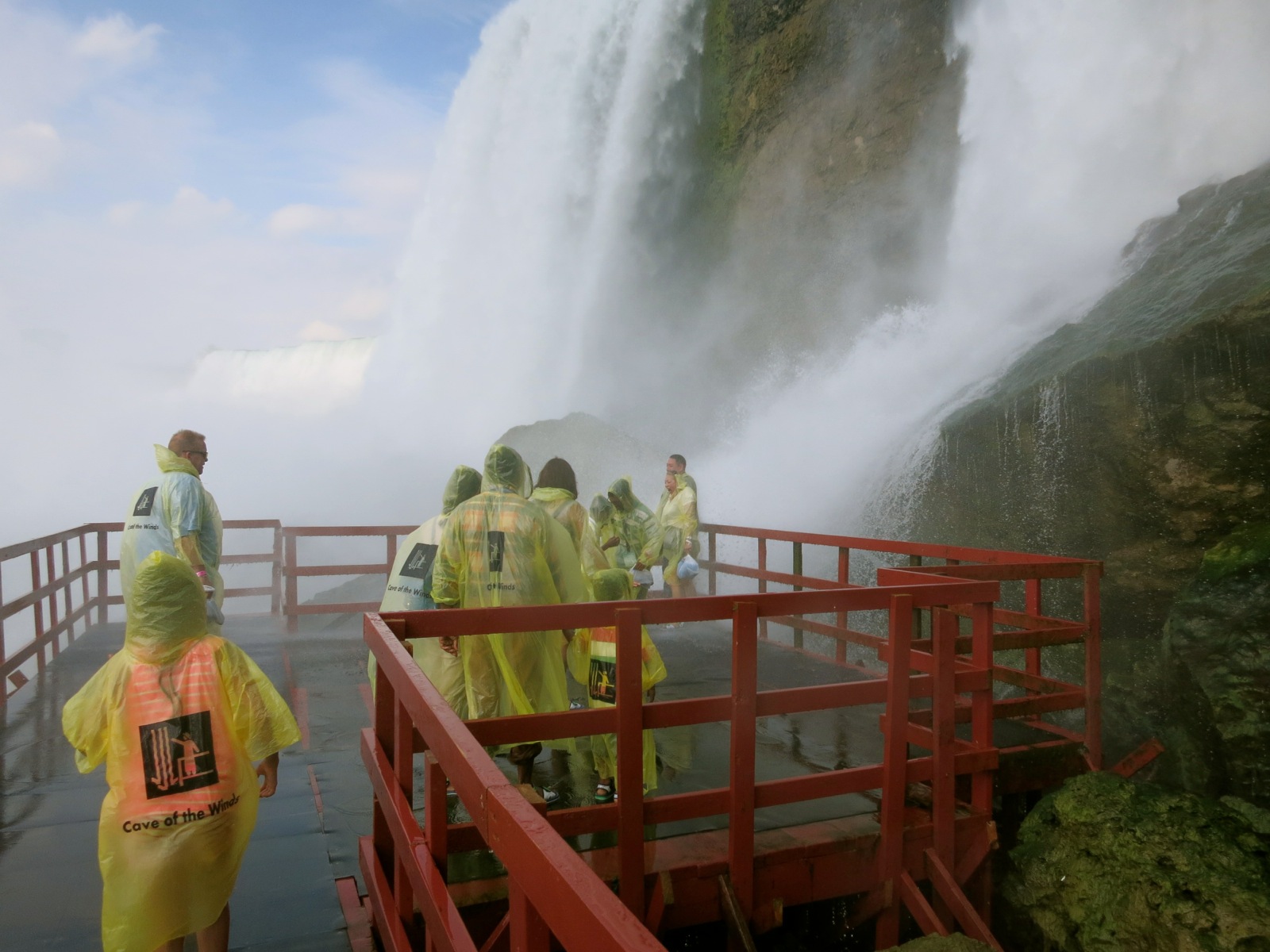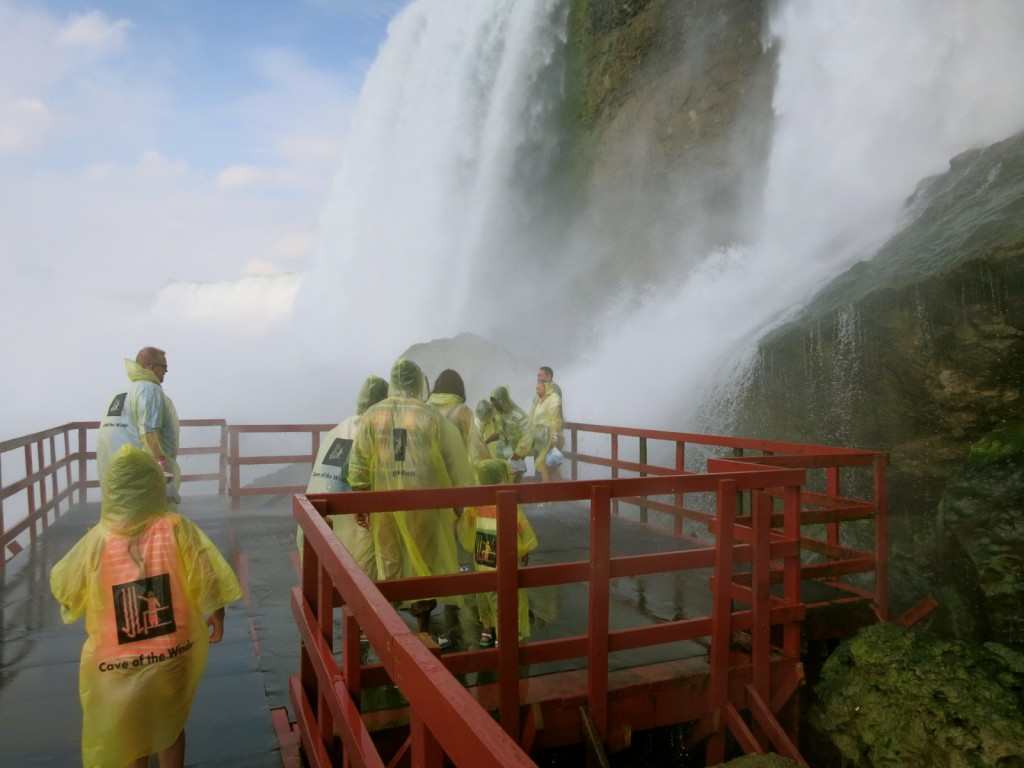 Cave of the Winds at Niagara Falls, NY
Experience Maid of the Mist – the US boat that takes you right into the thundering roar of Canada's Horseshoe Falls, grinding the engine in the pummeling whitewater for several dramatic minutes. Then walk in the splash of the American Falls through the Cave of the Winds.
For both, you'll be issued flimsy ponchos. (You will get wet, guaranteed). And, at the entrance of the Cave of the Winds, you'll receive a complimentary sturdy water-sandal souvenir in your size. Open May – mid-October. Maid of the Mist, $25.25, Cave of the Winds, $19.
Since 1862, the Albright-Knox has been collecting "paintings while still wet." The 1905 Beaux Arts building boasts the second-most number of columns in the country. The first is the U.S. Capitol Building. A contemporary wing was added in 1962.
The Albright-Knox takes the long view of Modernism, with its strongest holdings in Post War American Abstraction.
After a world-tour, one of the most thrilling installations is back – Lucas Samara's Mirrored Room. It's joined by famous works by world-renowned artists. Permanent galleries feature works of Picasso, Renoir, O'Keefe, Warhol. Don't miss the fantastic Sol LeWitt stairwell installation, created from millions of graphite scribbles. It looks from afar like steel. $12 adults, $5 kids, Tues-Sun 10-5.
Though he was the first artist chosen for a solo exhibition at the Museum of Modern Art in NYC in 1930, most people have never heard of Charles Burchfield. But a visit to this 2008 LEDE-Certified museum, moved from Buffalo State College across the street, will change all that.
Burchfield began his career designing wallpaper. Among the 30,000 objects of his here, you might just be mesmerized by Burchfield's bizarre take on nature – a mashup of Munch, Van Gough, and Audubon on hallucinogens. Look for eyes in trees, stormy skies, Lucy in the Sky With Diamond colors. Tuesday-Saturday from 10am-5pm, Thursday from 10am-9pm and Sunday from 1-5pm. Admission is $10 (adult), $8 (senior), $5 (student).
What was just until lately the vanity project of an antique-car collector is now the home to never-built-in-his-lifetime but now realized Frank Lloyd Wright Filing Station. But first, the museum itself.
Because Buffalo was the terminus of the Erie Canal, it was an engine of industry and manufacturing. Buffalo-based Pierce Arrow employed over twelve thousand people during its heyday. It turned out more trucks during WWI than any other car manufacturer in the country.
The high-class Pierce-Arrow Motorcar, the "Rolls Royce of America," was the official White House vehicle from Taft to FDR. You can see several meticulously restored versions among a warehouse of other notable autos, including the "Playboy" – a white convertible brand put out of business by General Motors – and a cherry red Chevy Impala 409 of "she's real fine, my 409" fame. The 1902 Buffalo Electric Car, designed primarily for women, didn't require cranking.
Frank Lloyd Wright Gas Station
The pièce de résistance of this museum, though, is a Frank Lloyd Wright gas station that was never built. Until now. In 1927, having just completed Graycliff, Wright was broke, and in the midst of a nasty divorce and scandalous relationship with an underage foreigner.
Scorned and under a microscope, he was nevertheless hired by TYDOL to design a state-of-the-art gas station at a time when these pit stops were literally a pump and a shack.
Wright imagined a copper-roof filing station that would spoil travelers with fireplaces, deluxe restrooms, and an ingenious gravity-flow rooftop gas dispensing system.
The final design was much too expensive to build, and so it never was. Now, you can see it exactly how Wright had envisioned it – gleaming copper roof and all. Thurs-Sun 11-4, $10 adults, $5 kids.
TOUR: Architectural Tour
Start at the imposing 1932 City Hall and take the elevator to the 25th floor observation deck for a bird's eye view of Buffalo and Lake Erie. (FYI, you'll have to climb an additional 2 floors to get to it). It's also a nice camera angle to capture the top of the Liberty Bank Building and its two 30-foot bronze replicas of the Statues of Liberty facing east and west. Take a free one-hour tour of City Hall Monday – Saturday at noon.
Hotel Lafayette
Next, the Hotel Lafayette, is notable for its creator, Louise Bethune, America's first female architect. Built in 1905 with hot and cold running water and phones in every room, it was among the most technologically advanced hotel of its day. After a recent renovation, the Lafayette is back in vogue as a boutique hotel.
Ellicott Square Bldg
Next – hailed as the largest commercial building when constructed, the Ellicott Square Bldg. features an incredible interior with mosaic floor, wrought iron railings, double-staircases, and spectacular glass ceiling. Bonus: you can get your Beef On Weck at Charlie The Butcher's Express here for the ultimate Buffalo experience.
Louis Sullivan Guaranty Building
Stop at the Louis Sullivan Guaranty Building, built in 1895 for Prudential Insurance. Sullivan, called "The Father of the Modern Skyscraper," covered exterior surfaces with spectacular terra-cotta ornamentation.
Buffalo Architecture tours through "Explore Buffalo." This organization provides multiple tours per day on a double-decker bus for optimal viewing. Other tours by "foot, bike, bus, and kayak."
AMAZING FIND: Handwritten Huck Finn Manuscript at the Buffalo Public Library
Stand within inches of a portion of Twain's handwritten Huck Finn story, discovered in 1990 in an old trunk that hadn't been open since before the owner's death in the 1960's.
Twain had donated the other half to the library in 1885, when manuscripts weren't worth much. It's here, in Twain's own handwriting, cross-outs and all. Several pages plus the title page of The Adventures of Huckleberry Finn on on display. Unbelievable.
The Buffalo History Museum is housed in the only building remaining from the 1901 Pan American Expo, now within site of the Albright-Knox Art Museum and Burchfield-Penny.
Like Lyndon Johnson on Air Force One, Teddy Roosevelt was hastily sworn into office at his friend's home, following the assassination of President McKinley at the Pan American Exposition in 1901.
The Wilcox home is now a National Historic Site. Find videos and exhibits about the man who used the "Bully Pulpit" to push through anti-trust legislation, champion the conservation movement and increase consumer protections. Guided tour only, $12. Mon.- Fri hourly from 9:30-5, Sat/Sun noon-5. Last tour 3:30.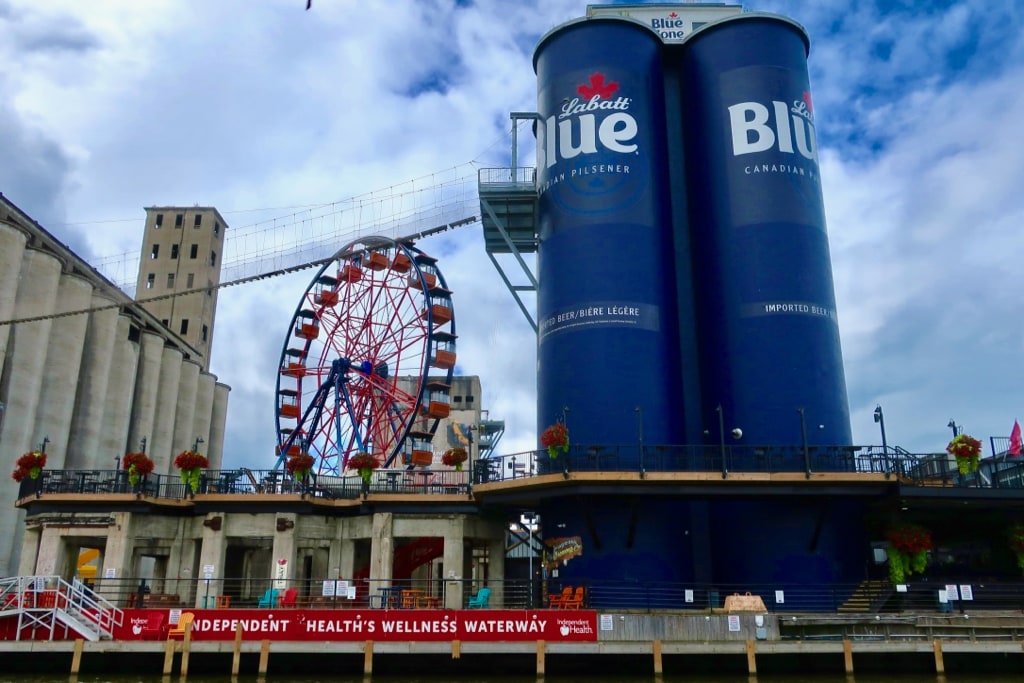 This multi-purpose space on the industrial riverfront has evolved rather organically from the ruins of humungous Wheeler-GLF grain silos painted to look like beer cans. Yep, there's lots going on here, so hold on to your hats. (Especially if you take the party Cycle Boat or floating Tiki Bar on a quick jaunt).
Riverworks is home to the world's first brewery inside a grain silo. The "Beer Garden" is dressed up with pretty floral landscaping in and around the concrete rubble. It's just one place to enjoy your drink or bite ordered from a massive indoor bar overlooking the Queen City Roller Girls roller rink. (I said there's a lot going on).
You can also rent kayaks, hydro-bikes, or rock-climb on the exterior or interior of silos. Ride the new Ferris Wheel and then zip above the crowds on a Zip Line from the top of one of the silos.($35 weekdays, $45 weekends).
Howard Zemsky and his wife, Leslie – the "Director of Fun: Larkin Square" – took an abandoned manufacturing complex and turned the city around. Or at least this part of it. The Larkin Co. was "the Amazon of its day," starting with soap making and then kitchen craft, fashion, home goods and furniture. All goods were sold by catalog, or by women who earned furniture rather than an income. Larkin was one of the largest companies in America, but went out of business by the 1940's.
The community-minded Zemsky's saw opportunity in these abandoned buildings and repurposed them into new office space. But they didn't stop there.
They carved out a public park – like a quad on a college campus – where people can gather, eat, sit in lounge chairs and play games for free.
Though nearly 2,000 people work here, many more come for "Food Truck Tuesdays," "Live at Larkin Wednesdays," and "Outdoor Urban Market Thursdays." The renovated 1930's Filling Station is now a locally sourced café, and across the street is the great pub, Hydraulic Hearth. Come on any given summer's eve and the place is hopping.
Combine the pleasures of a great food or history tour with the health benefits of peddling your own bike on a Buffalo Bike Tour. Yes, of course they offer a "Wing Tour" – a 9.5 mile, three hour "journey into Buffalo's most fabled and famous dish." Samples galore. $55 if you use your own bike, $75 including a Buffalo Bike rental.
BIKE: Reddy Bikes
Red bikes are ready for use (haha) as Buffalo's new bike share. Just grab one from a rack situated around town and go.
Jazz musicians have been playing at the Colored Musician's Club, after their other Buffalo gigs, since 1917. Davis, Coltrane, Gillespie – all the jazz greats have jammed here after hours. When reopened, musicians are invited to join in on Sunday night jam sessions. It's an intimate way to listen to live jazz, and you never know who's going to show up. Colored Musicians Club going through expansion and renovation, with reopening TBD. Incorporated in 1935, it's the country's only continuously running Black-owned club in the United States.
SHOP/EAT/DRINK: Elmwood Ave.
A bit over two miles long, this street has boutiques, restaurants and – up until recently Bubble Man. Although he passed away, we honor the guy who for years blew bubbles from his second story window on the corner of Allen and Elmwood.
BUFFALO FOOD
Buffalo Wings
The now ubiquitous bar food wasn't always. Invented on the fly at the Anchor Bar in 1964, Theresa Bellisimo needed to satisfy a hungry hoard of college kids with the scraps she had on hand. The deep fried, hot sauce snack, as we now say, went viral.
"Beef On Weck"
It's rare roast beef on a salt and caraway seed kimmelweck bun. Get one quick at Charlie The Butcher's Express while ogling the interior of a Buffalo icon – the Ellicott Square Building.
Sponge Candy
This chocolate covered crunchy confection looks just like a wild sponge. It's a Buffalo thang.
Find them at Watson's or Fowler's or Parkside Candy, an old-fashioned ice cream parlor (open since 1927!) that some folks argue serves the best sponge candy.
Where to Eat in Buffalo NY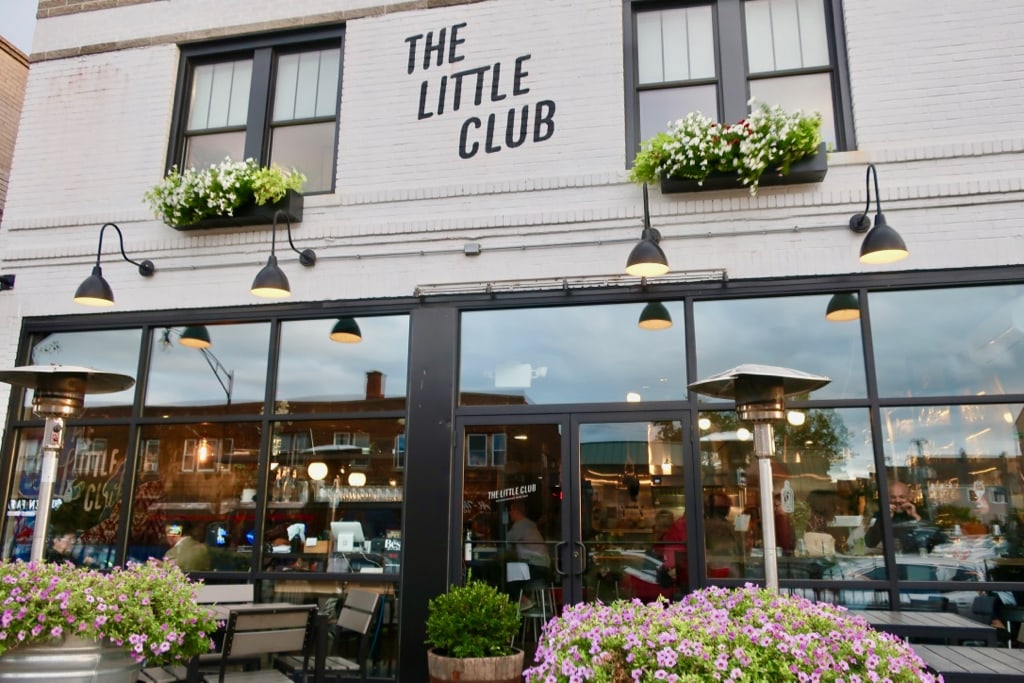 EAT: Little Club Restaurant and Wine Bar
The Little Club, on North Buffalo's upswinging Hertel Ave., might be small in size, but it's large on excellence. Small bites and large plate ingredients come from local farms, and wine from independent producers. Owned by the Lombardo family – of Restorante Lombardo across the street – this iteration is light on heavy Italian dishes and heavy on veggies and modern cuisine.
EAT/DRINK/MUSIC: Duende at Silo City
You'll require a sense of adventure to venture out to hidden-in-plain-site Silo City. But, once there, you'll be happy to settle in at Duende – perhaps at a table made from grain sifters – for great, elevated pub food and wickedly wonderful drinks.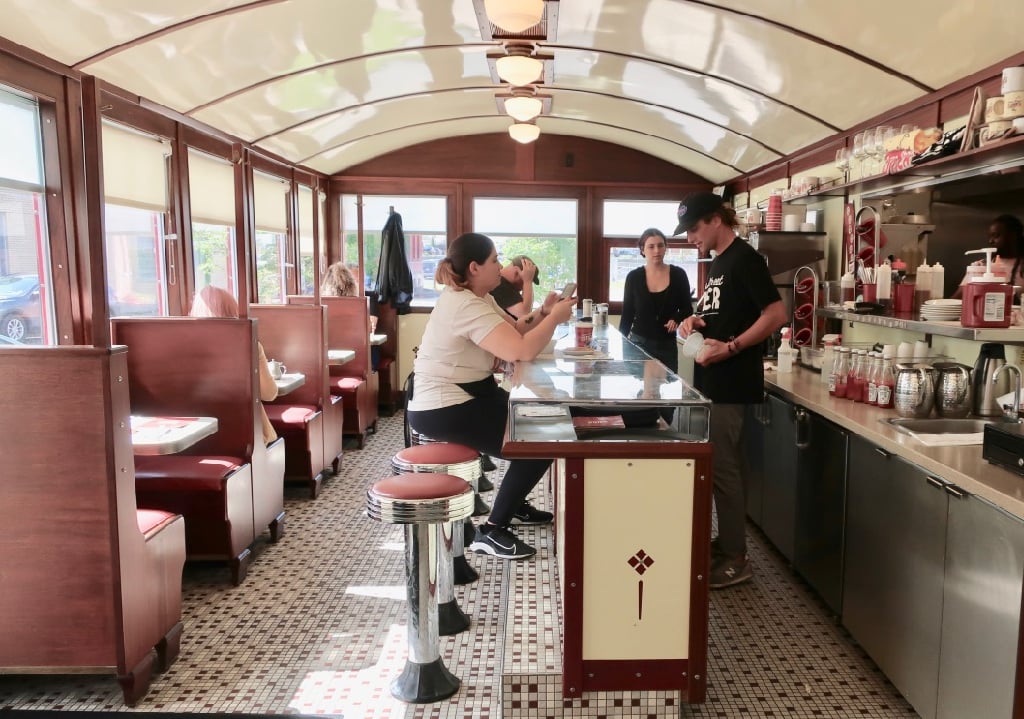 EAT/LUNCH: Swan Street Diner
This authentic Swan Street Diner, built in 1937, was moved to Larkinville and opened in October 2017. Also called Sterling Diner No. 397, it fills a breakfast/lunch niche in such an adorable way, serving up diner staples like pancakes and BLT's – and also more, ahem, modern fare for vegans, such as the Tempeh Sandwich.
Named for the fish camp Chef/owner James Robert's granddaddy owned in his native Louisiana, Toutant is a revelation. And Roberts is a culinary genius.
Every Creole dish that emerges from the kitchen is a brilliant – and brilliantly plated – twist on the traditional. From Shrimp and Grits ($24) to Buttermilk Fried Chicken ($20) to the in-house smoked Jambalaya Smoked Chicken ($19), you can't go wrong.
Some greens in the just picked salad have been flash fried, lending a salty crunch to the dish. Everything is OMG great. But don't pass up desert. You'll want to try the Ooey Gooey Cake topped with Brown Butter Ice Cream. Go ahead – I dare you to stop at just one bite.
It's a "Toast Café!" Order the toasted bread of your choosing. (It's a bakery, after all). It comes with sides either sweet or savory. This place goes way, way beyond Avocado Toast.
EAT: Tempo
You'll find one of Buffalo's top fine restaurants, Tempo, on Millionaire's Row – Delaware Ave – in a stone townhome modeled after a Tuscan villa. Food is excellent. The low-lit atmosphere is appropriate for family pow-wows or an intimate tete a tete. The classy, knowledgeable waitstaff are attentive, but not overly so. Hand-rolled Gnocchi ($26) with gooey mozzarella is sinfully good, as is the light as air Chicken Milanese ($34) – delicately breaded cutlet topped with arugula salad.
EAT: Locals Love
There is no end to the growing food scene in Buffalo. Consequently, the "Best Chicken Wings" debate extends into fine and casual dining as well. Consensus for best include Left Bank for Modern American. Hutch's for Seafood. Lombardo's – another fine Italian. Allen Burger Venture – for innovative, quirky burgers. Buffalo Proper – a posh cocktail bar. Ballyhoo near the GM plant – a cool new cocktail bar in the former workmen's watering hole that was Malamute. And Rue's Pierogi – the best of Grandma's pierogi dough recipe with a modern twist.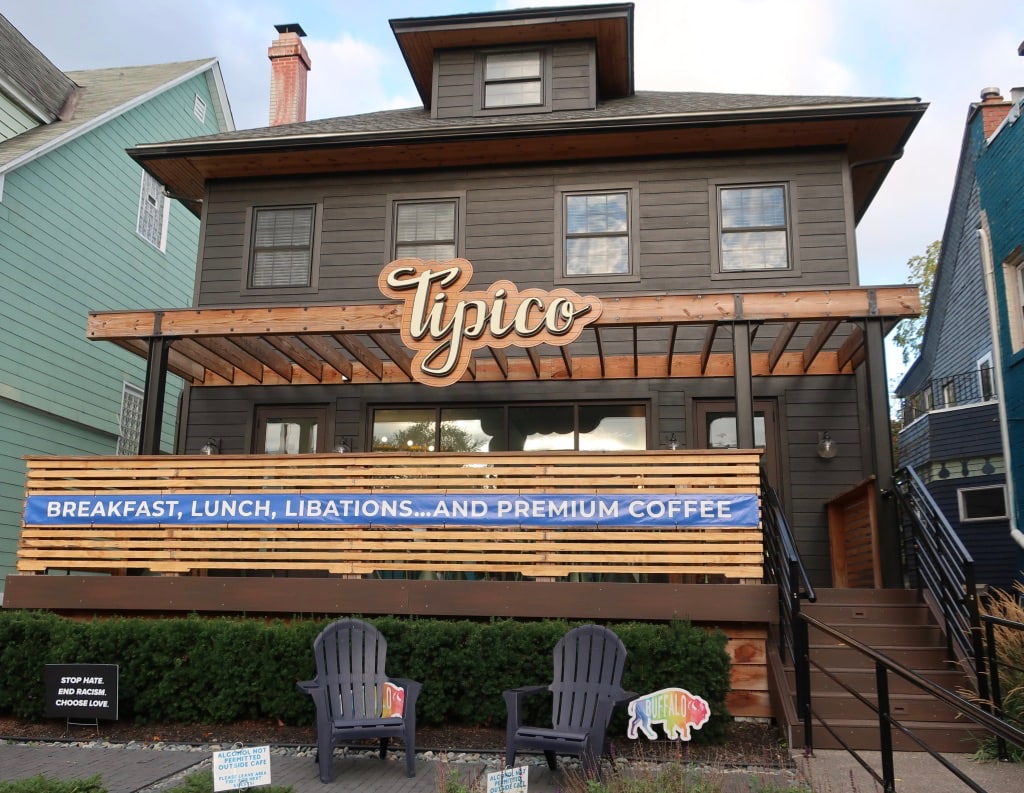 COFFEE: Tipico on Elmwood
Indicative of the indie-foodie scene in Buffalo, Tipico is but one of many charming non-Starbucks coffee shops in Buffalo. Fans love its Elmwood Village vibe, great coffee, and excellent food as well.
Locals love this quirky place. Trivia Nights and free nachos make this friendly neighborhood pub an international favorite.
One of a bundle of craft breweries in town, Resurgence makes a "Sponge Candy Stout," allowing you to both sample the beer and Buffalo's signature confection at the same time. Resurgence also features a Beer Garden where you can munch on burritos and meat pies while enjoying your brews.
Thin Man Brewing Co. is named for the Crash Test Dummy, invented in Buffalo NY. Fans are keen on Thin Man's preponderance of sours.
Where to Stay in Buffalo NY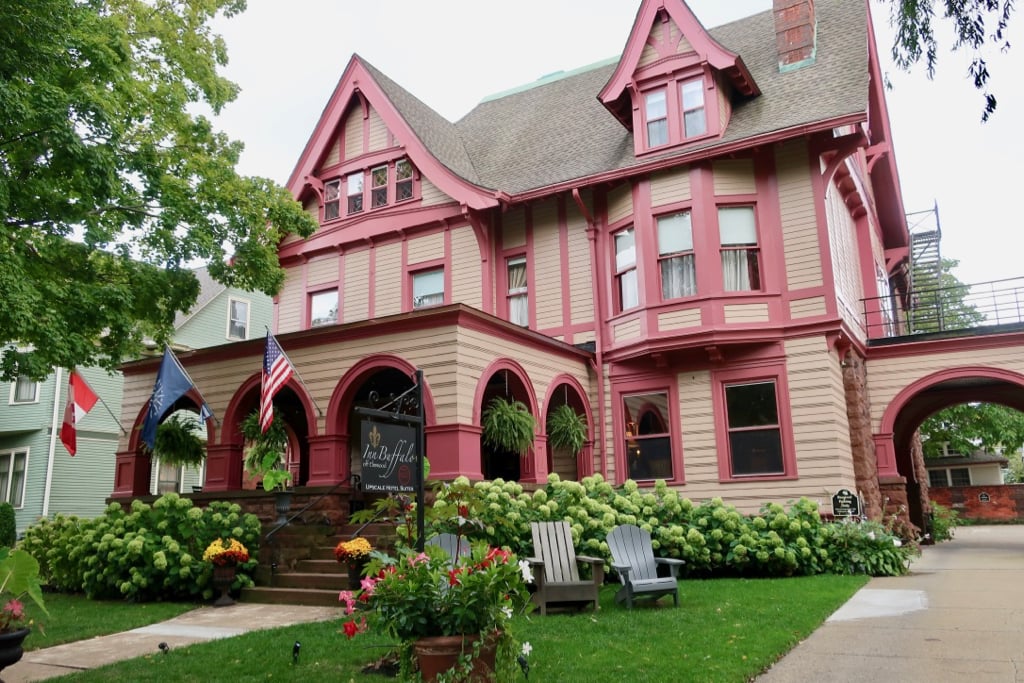 STAY: InnBuffalo
The 1898 Hewitt Mansion, on a quiet street in the heart of hopping Elmwood Village, is now the elegantly urban "old world" InnBuffalo. This nine-suite B&B has all the hallmarks of the glitz of the Gilded Age – stunning varnished woodwork, stained glass windows, gold leaf ceilings – mixed, of course, with modern luxuries like large flat-screen TV's and gleaming bathrooms that feature heated marble floors.
(InnBuffalo was included on Getaway Mavens Best Romantic Hotels in the Northeast US 2022 list.)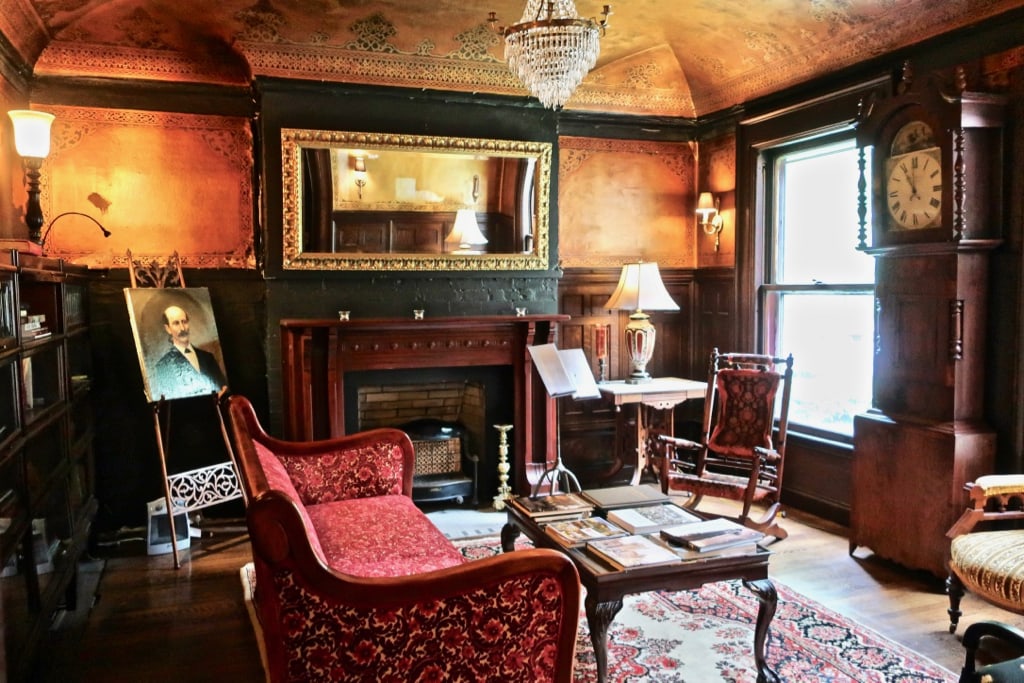 First Impressions
Owners Joe and Ellen greet guests warmly, plying them with information about the house and with drinks, snacks, and candy. (Amazingly, some of my favorites were offered: Smart Pop popcorn, and York Peppermint Patties, for instance).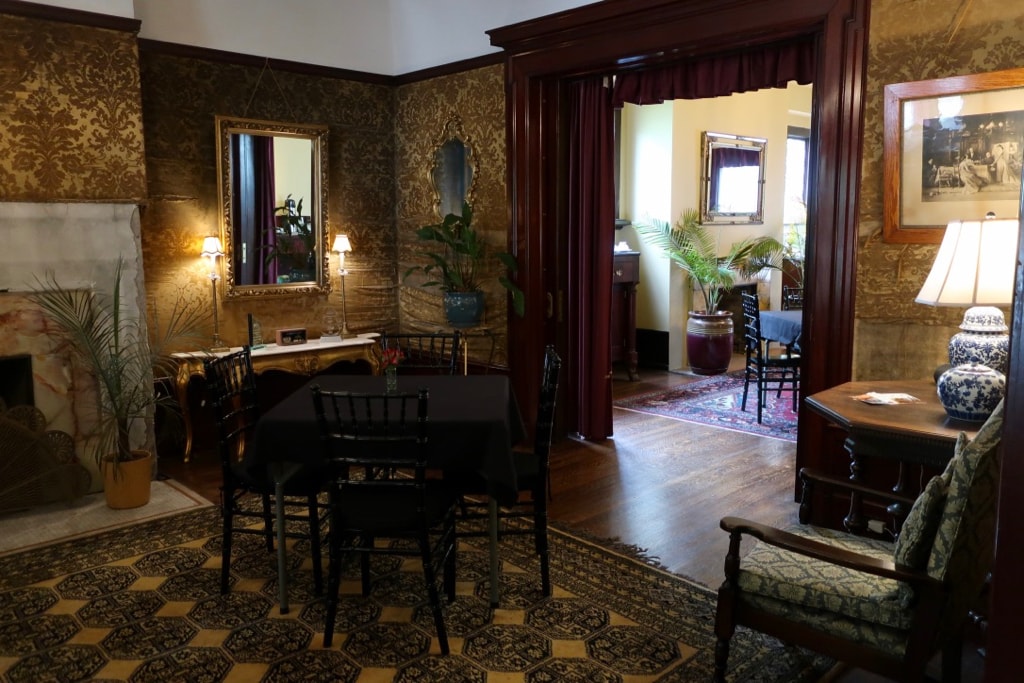 Each room in this grand home features fascinating elements – many untouched for the last 120 years. Most common rooms ooze man-cave charm. Dim, but beautifully appointed, you can almost smell the cigars from days gone by. One – capped with a vaulted gold-leafed ceiling, is particularly stunning.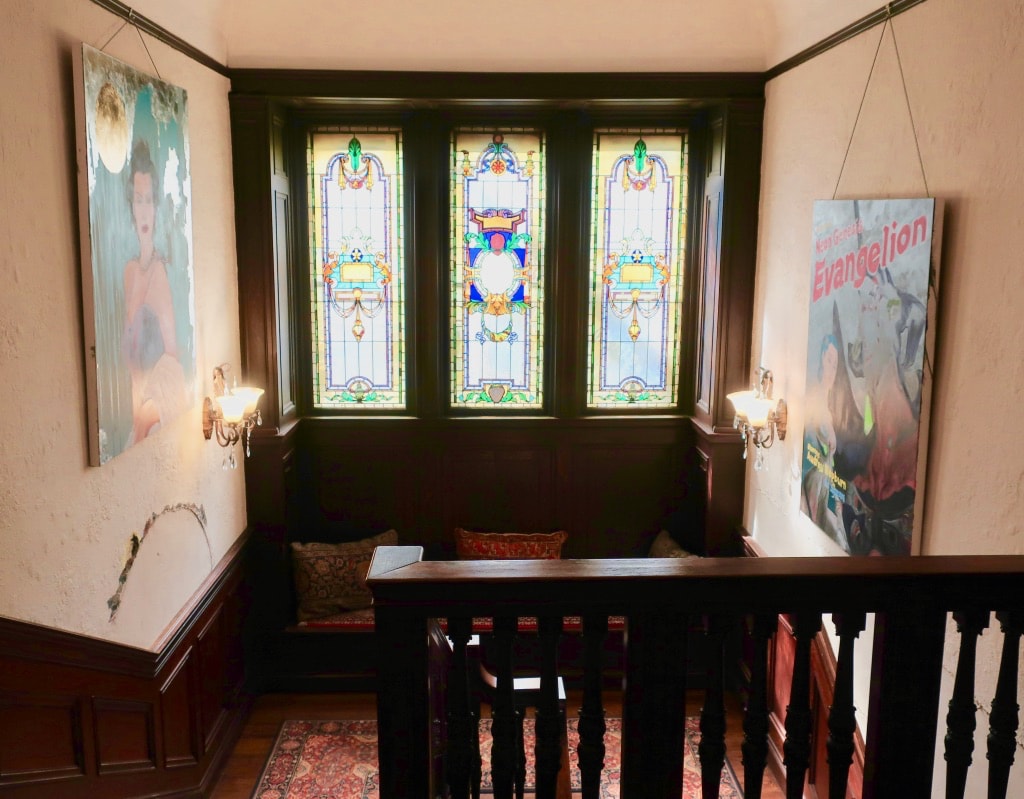 Besides the gilded ceiling, other architectural elements have been undisturbed since the home was first built, including hand painted stencil work, silk damask, and century-old tapestries.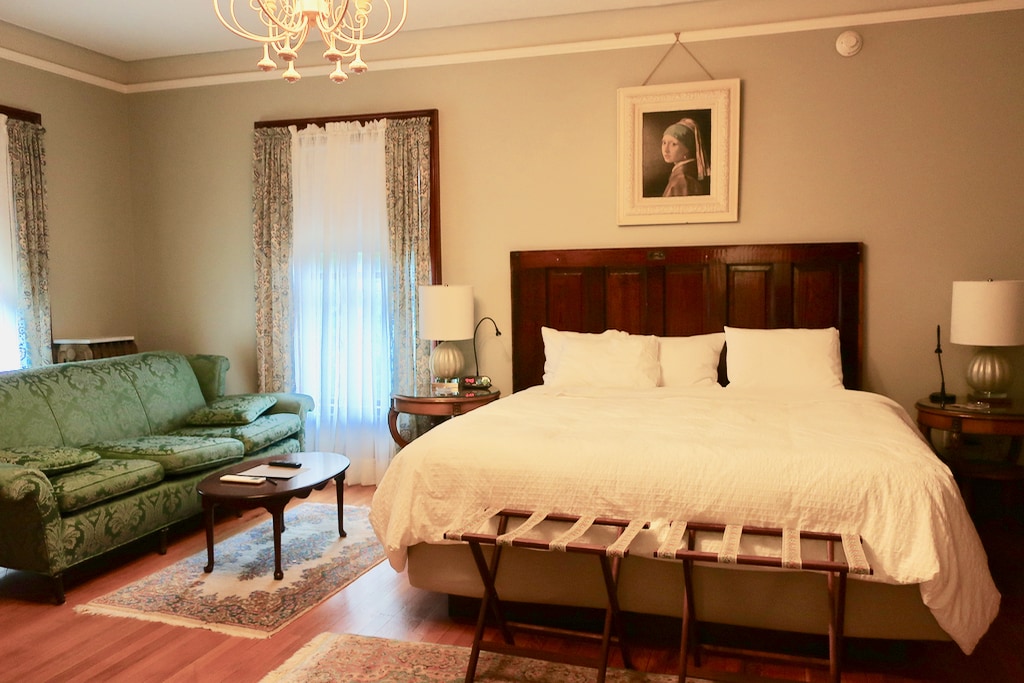 Guest Rooms at Inn Buffalo
Once disheveled rooms have been transformed into tranquil retreats, with oriental rugs on hardwood floors, antiques, mirrored wardrobes, some with fireplaces, and of course, the best in bedding for undisturbed sleep.
But all is not seriously Victorian. A copy of the Girl with the Pearl Earring, from Ellen's childhood room, hangs over the King Bed in the Millard Fillmore Suite, lending a sense of whimsy to an otherwise stately chamber.
Sparkling bathrooms feature heated mosaic marble tiled floors, subway tile showers and curved pedestal sinks.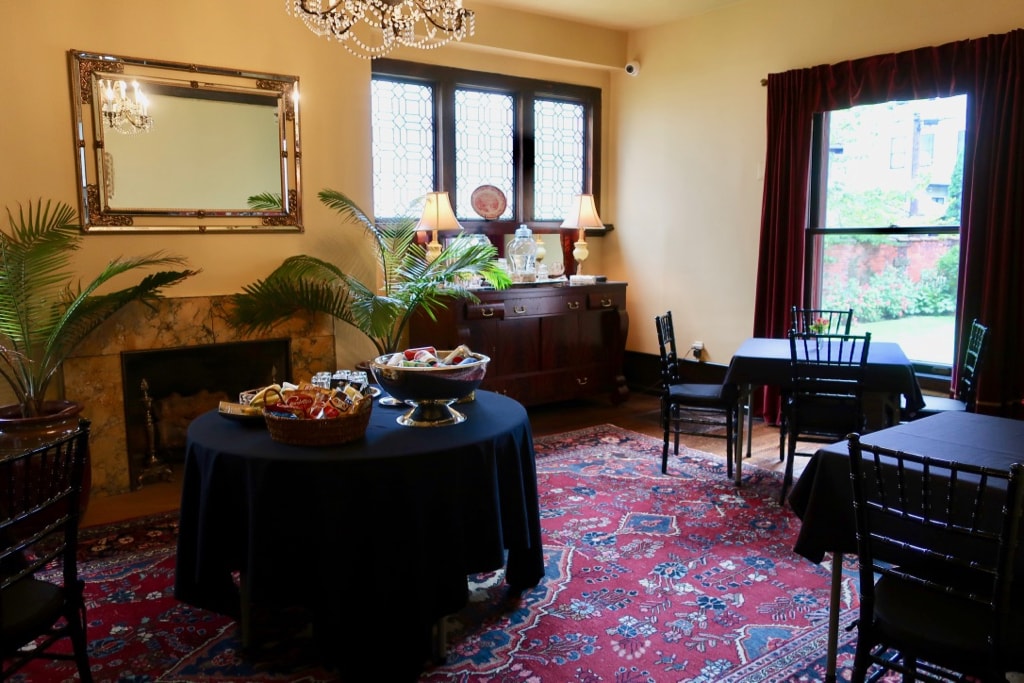 Breakfast
Ellen and Joe make sure there are plenty of snacks available at all times.
Each morning, the star of the complimentary home-cooked multi-course breakfast is the "scone of the day." These baked morsels emerge hot from the oven, and then right onto your plate, followed by homemade granola, berry parfaits, and a sweet or savory main dish.
Just the Facts
Rooms from $169-$269 per night include unlimited snacks and soft-drinks and hot breakfast for two.
Hotel Henry
**Hotel Henry closed mid-2021 due to Covid, but is slated to reopen as The Richardson in a date TBD.
This write-up is for historical reasons only.
Built in 1869 as a home for a family of three (with 12 servants), the Mansion sat empty for 30 years before its debut as a 28-room 4 Diamond hotel in the early 'aughts. And like that family of three, you'll be spoiled rotten by a bevy of butlers at your beck and call.
Décor is stunning. It's Marimekko meets Art Deco with bones and woodwork intact – a mash-up of moderns highlighting the original architecture to beautiful effect. Even the smallest of rooms exude charm, with graphic-design pillows in rust and black, patterned carpet in hues of green, glass desk, and contemporary accessories.
But what makes this stay so unique are the "Butlers" on call 24/7. Need your shirt and pants pressed? Call. Just call. First two items are complementary. Require ice? "Please don't do it yourself, ask us." Require a ride to a great restaurant? The house Land Rover will shuttle you within three miles.
Between 5 and 7pm, join other guests in the boldly decorated billiards room and salons while enjoying complementary wine and cocktails. (Two per person before honor-bar kicks in).
Memories are made of the "European" breakfast that includes cheese and smoked salmon and the most decadent, cream-centered chocolate croissants. Ever. Rooms $190-$450 include free wi-fi, parking, afternoon cocktails or wine, European breakfast, clothes pressing, shuttle service, butler service.
Opened within a few months of Hotel Henry, Curtiss is South Beach wild to Henry's New York cool.
Even before you walk through the front door, you can peek into the hotel's "all weather urban hot springs." This very public, but small, heated indoor outdoor pool claims space in a partially enclosed patio.
The interior swirls with Rococo-crazy moldings and designs. Buffalo's old revolving bar, Chez Ami, was recreated here. And yes, it revolves. Roofdeck lounge, Vue, features patio "views" of the city skyline, Lake Erie, and Canada. $169-$799.
The first woman to be admitted into the American Institute of Architects, Louise Blanchard, designed this building in 1904. It's now a trendy, contemporary boutique hotel. Rooms $170-$210 per night.
DO: "The Great Wright Road Trip"
A consortium of Frank Lloyd Wright sites located in Western Pennsylvania and Western New York – just a four hour drive from each other, have joined forces, launching a road trip that illustrates the epic arc and grandeur of the legendary architect's career.
Beginning with his groundbreaking Prairie Style of the early 1900s through his visionary development of organic architecture in the 1930s at Fallingwater, just recently inscribed on the UNESCO World Heritage List, and concluding with one of his most breathtaking Usonian houses of the late 1950s, the Great Wright Road Trip gathers together one of the most representative and inspiring collections of his work in the United States.
Visitors can also experience the working environment where Wright created many of his late-career designs — the architect's San Francisco office has been reassembled and installed as a permanent exhibit at the Erie County Historical Society-Hagen History Center in Erie, Pennsylvania.
The partnering sites include:
Pennsylvania Laurel Highlands
Fallingwater (UNESCO World Heritage Site), Mill Run, PA
Kentuck Knob, Chalk Hill, PA
Polymath Park, Acme, PA
Hagen History Center, Erie, PA
New York
Blue Sky Mausoleum, Buffalo, NY
The Filling Station at the Pierce Arrow Museum, Buffalo, NY
Fontana Rowing Boathouse, Buffalo, NY
Graycliff, Derby, NY
Martin House, Buffalo, NY