WHY GO: Utica NY in Oneida County, is a self-proclaimed "City of Refugees:" a safe haven for the tired, poor, huddled masses yearning to breathe free. On the Erie Canal, via Oneida Lake, Utica was perfectly positioned during the Industrial Revolution (17th through early 19th centuries) to be a manufacturing and transport hub. Italians, Irish, and Polish immigrants came to work in factories.
But when industry declined, so did the city.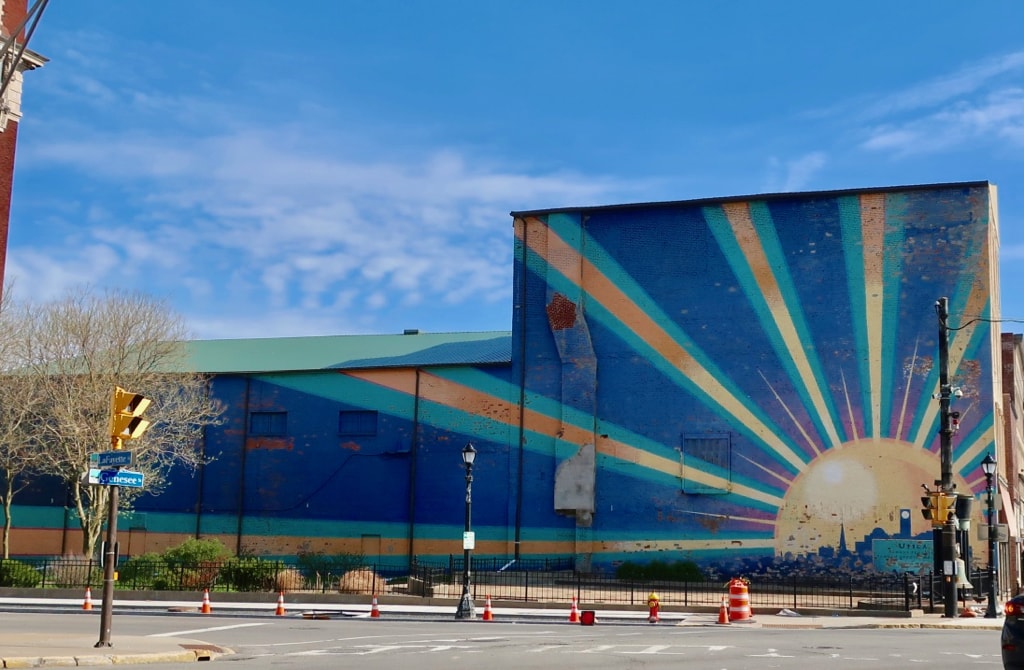 Now, however, Utica is experiencing quite the revival. The new multi-billion dollar Marcy Nanotech Center on the SUNY Poly campus (in last stages of completion) promises to bring numerous high tech jobs (plus training and collaboration) to this easy to get to town- right off of I-90.
Recent Lebanese and Bosnian refugees have also been instrumental in Utica's reemergence. Seeking a better life, these strivers are typically hard working and entrepreneurial.
Perhaps the most famous is Chobani Yogurt founder, Hamdi Ulukaya. Facing persecution in Turkey, the Kurdish Ulukaya fled to the US in the early 2000's. He purchased a failing yogurt business in upstate NY – turning it into a global powerhouse.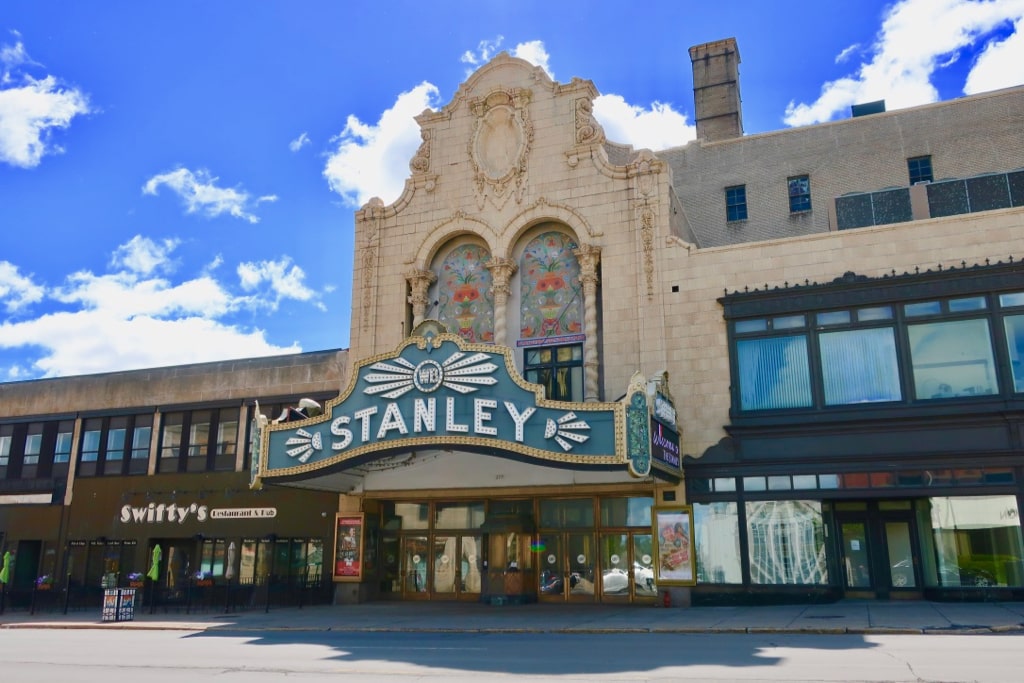 But Ulukaya's is not the only successful immigrant story here. There are many – in Utica NY itself and in the surrounding small towns and farmland.
For visitors, Greater Utica's got surprises galore. The colorful Stanley Theater shines once again; there's an art museum designed by one of the most famous American architects of the modern age; the train station is so stunning, it's become an Instagram darling; and a popular city park features a ski resort – complete with four trails and chair lift.
Farmland has turned to markets, wineries, lavender fields, and golf ranges. Foodies love the indie coffee shops and restaurant scene. And romantics just love to wander back roads and stumble on nature's bounty.
What you find here, and in nearby towns of Clinton and Westmoreland, might just amaze you.
(Also amazing, our recommended Rosemont Inn B&B made it onto our 20 Best Romantic Hotels Northeast USA 2021 list.)
Those on a "College Tour" can combine this trip (Hamilton, Utica) with this getaway to Syracuse NY. In either case, drop the kids off for a Romantic Getaway of your own!
Things To Do in Greater Utica NY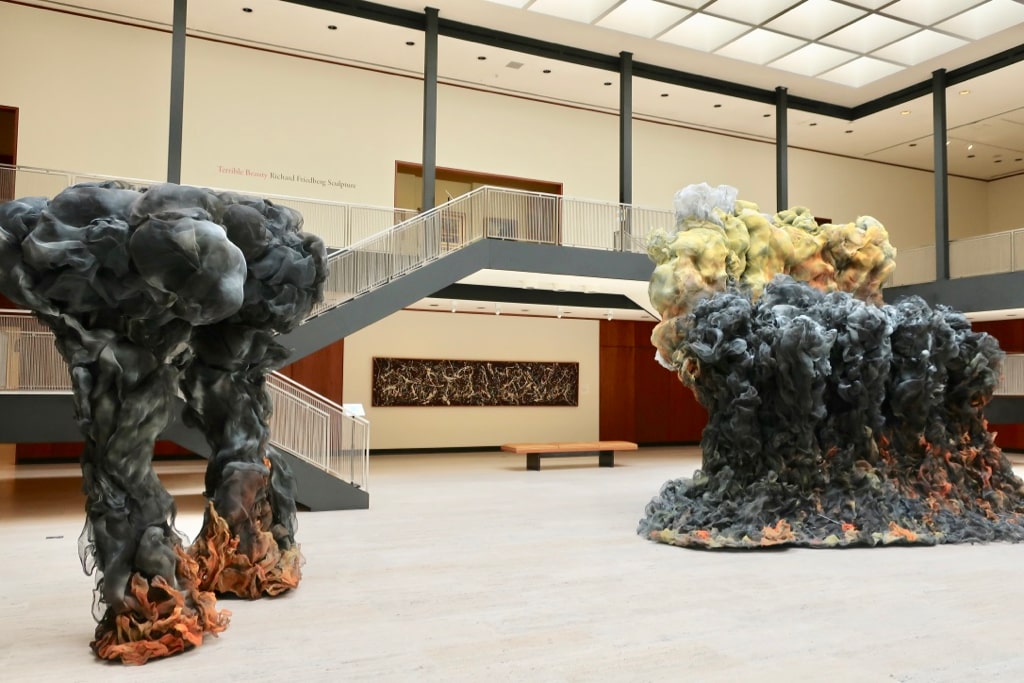 Designed by celebrity architect, Philip Johnson, the modern art Munson Williams Proctor Arts Institute, amazingly, is free to the public. Why such an esteemed project in Utica, you ask?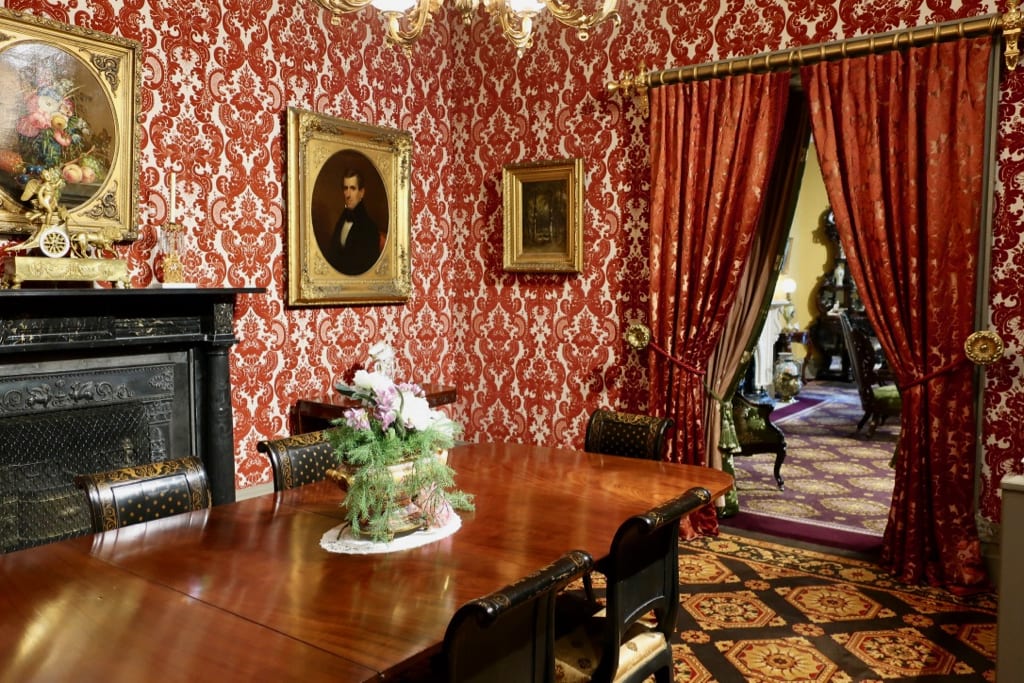 Well, during the late 1800's and turn of last century, Utica's cotton and knitting mills made many a family wealthy. The MWPAI was named for three generations of one such monied Utica family, whose riches derived from both textiles and transportation.
The last surviving family member, Maria Proctor, endowed the new institution after her death in 1935. In the ensuing few decades, Institute activities were housed in various 19th century buildings on Genesee St. That is, until Philip Johnson was chosen to design a new museum building in 1955. The new MWPAI opened, with much fanfare, in 1960.
The Granite Fortress on Genesee St.
Johnson positioned hefty stone blocks atop a bank of glass windows (with steel support) for a floating effect. Walk through the front door into an airy Sculpture Court flooded with natural light, thanks to unique deep box skylights.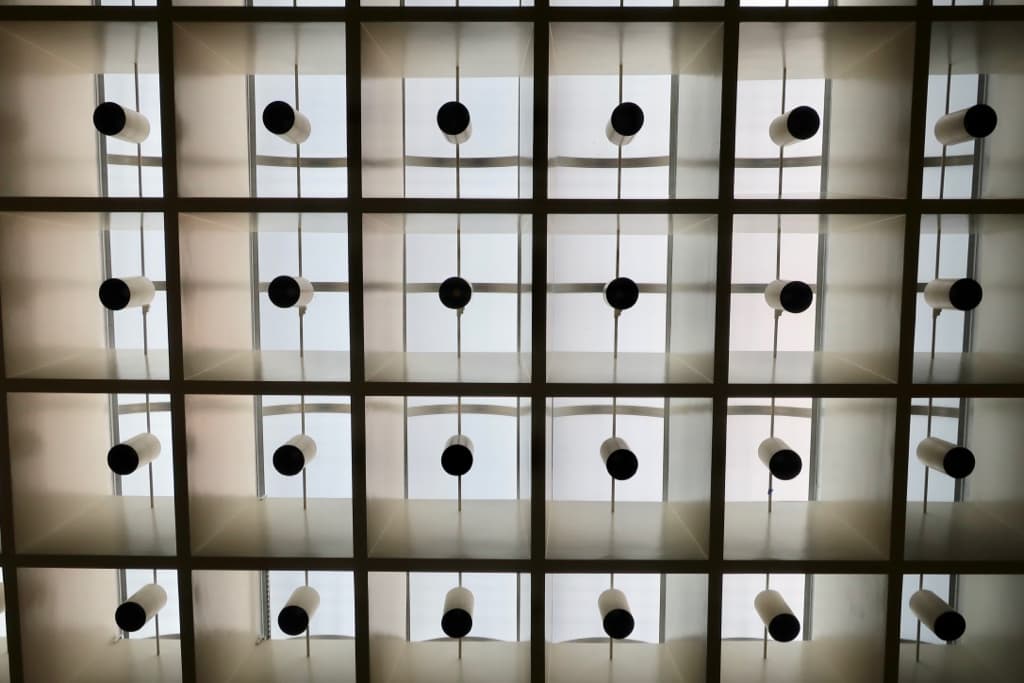 Large-scale temporary exhibitions are scattered about, and these can be incredibly dramatic. You can't miss the Jackson Pollock #2 painting that hangs on the back wall behind two symmetrical floating staircases (that merge together on the second floor).
The MWPAI centers on American Art from the 1700's to the present, highlighting Abstract Expressionists, and renderings of the nearby Adirondacks and Hudson River.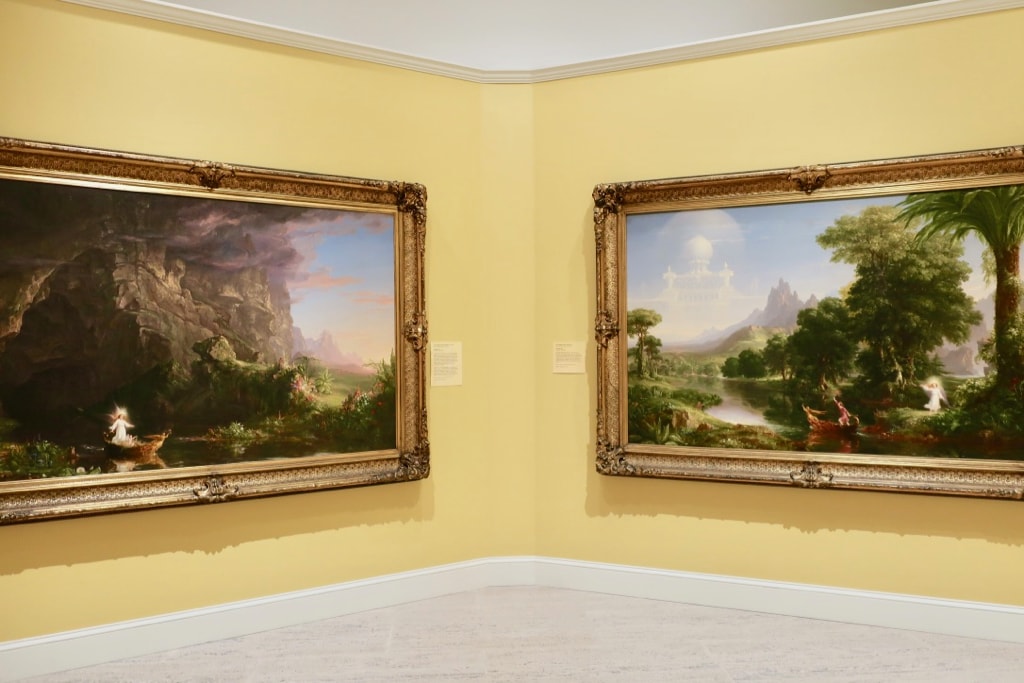 Important paintings of icons of the Hudson River School of Art, Frederick Church and Thomas Cole, are prominently displayed. Cole's four-piece "Voyages of Life," hang in their own gallery nook. (The second "quartet" is housed in DC's National Gallery).
The MWPAI also delivers on Abstract Expressionism. Find Pollock, Picasso, Dali, Mondrian, Rothko, DeKooning, Warhol, and more, among others in galleries on three floors.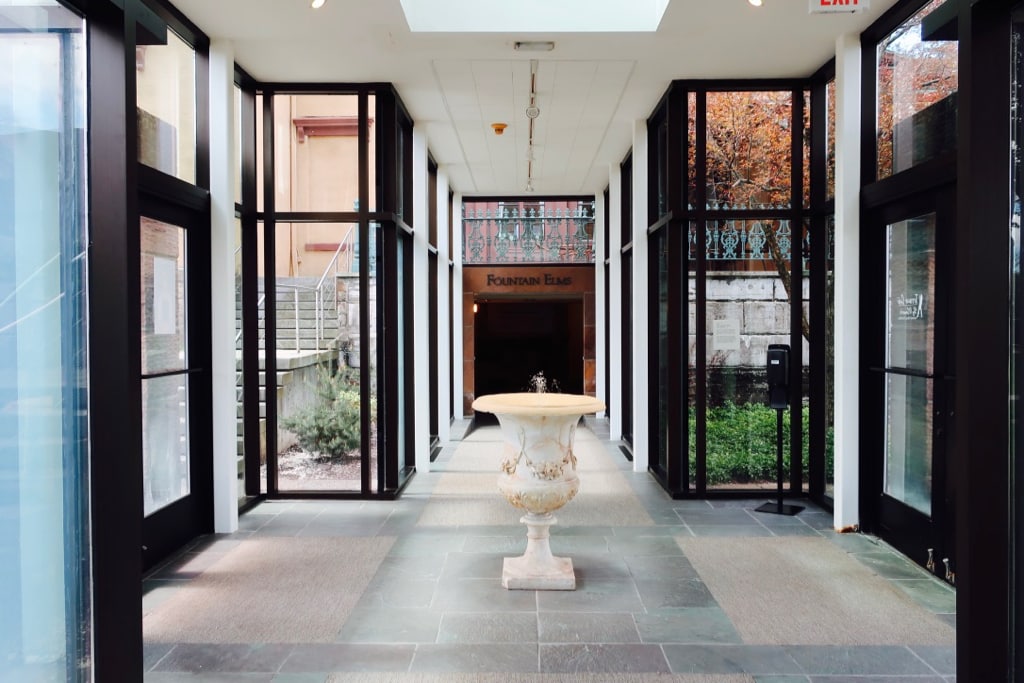 The Williams family home, Fountain Elms, is attached to the main building by a recently constructed all-weather glass corridor. Fountain Elms is definitely worth visiting, if only to check out some wild Victorian patterns and colors in restored parlors and bedrooms. And/or, to enjoy a great soup, salad, and sandwich at the white linen'd, Terrace Café. Open Tues-Sat 10-5, Sun. 1-5, free admission.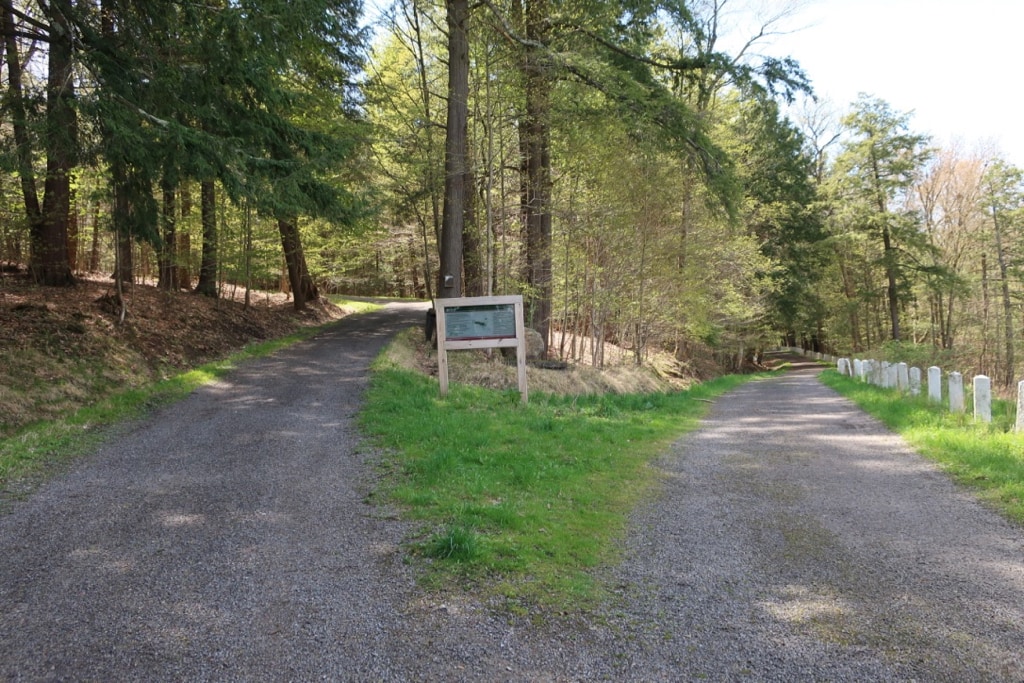 Roscoe Conkling Park is the Griffith Park of Oneida County NY. Like its "counterpark" in L.A., it's got hiking trails, a zoo, a golf course, tennis courts, a recreation center, wonderful vistas, and an adjacent cemetery – here called Forest Hill (there, Forest Lawn).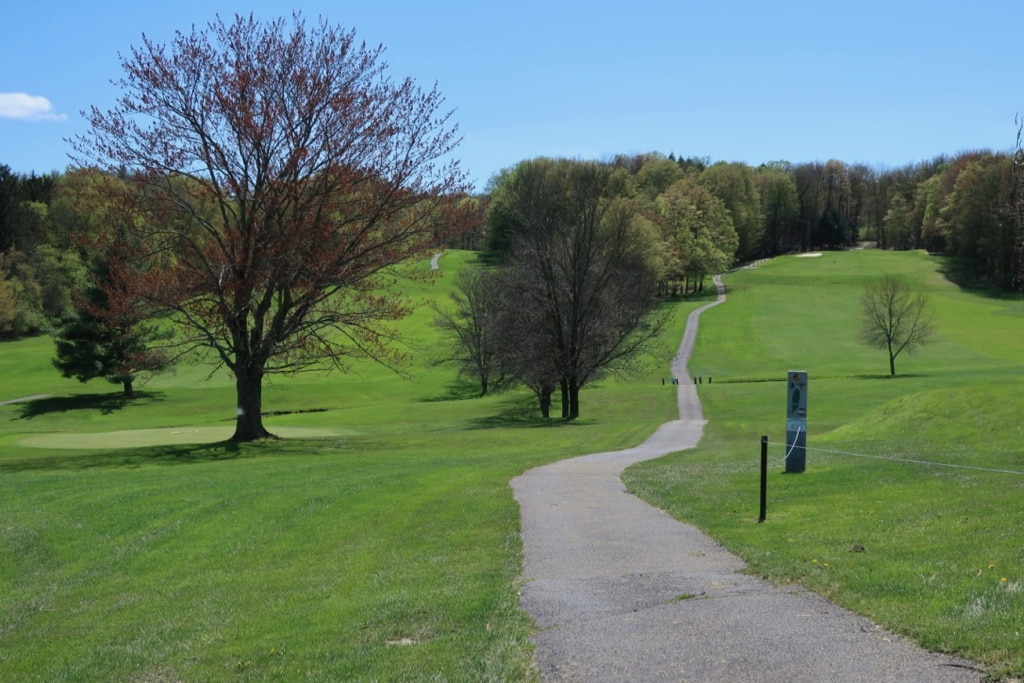 What this central Utica Park does have, that Los Angeles does not, is a ski hill, called Val Bialis, complete with a chair lift. Yep, in the middle of the city.(Currently closed – reopening in question at the moment).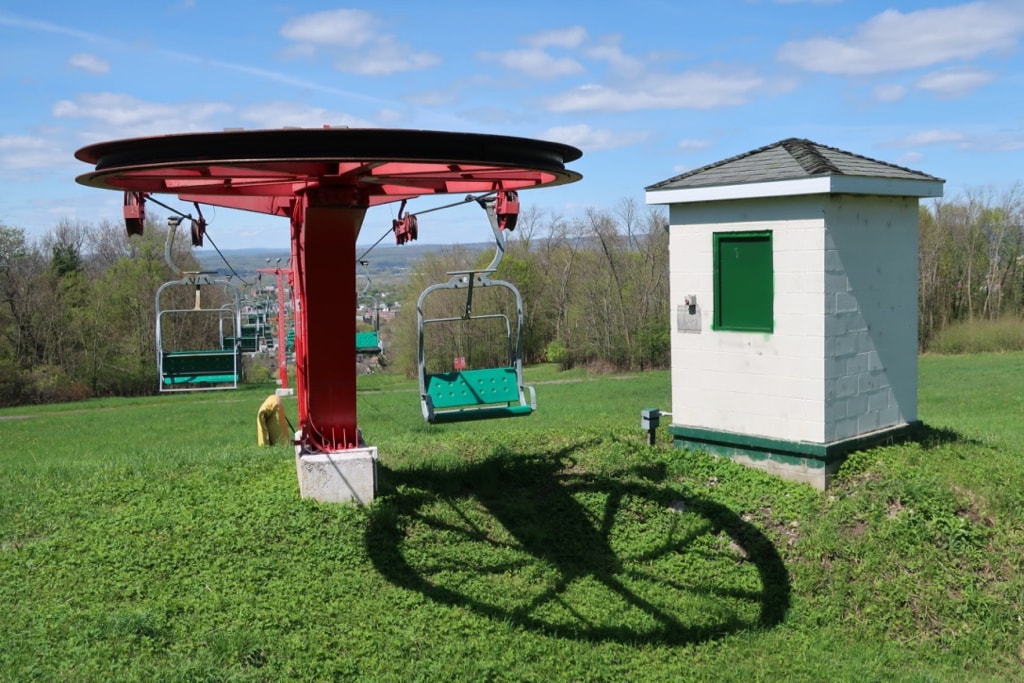 Take the time to drive around the park, up to the circle at the Eagle Statue, where you can park and take in city vistas. You can spend a whole weekend exploring and taking advantage of Park attractions, including the following: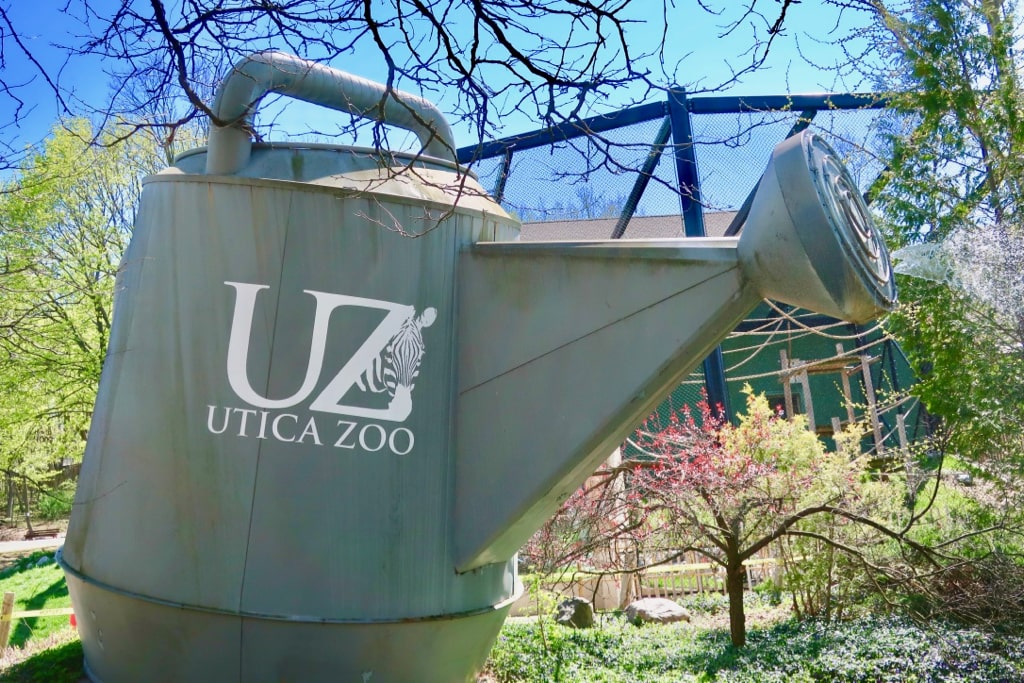 Participate in a "Red Panda Encounter" (aka, chill with a panda), attend a "Wine in the Wilderness" and other fun events, or just walk around and commune with over 200 animals at this well known regional zoo. For some hokey reason ("to inspire and encourage growing a more beautiful city"), this is where you'll find the "World's Largest Watering Can." Open daily 10-4:30, $8.
Challenge yourself on this public slope-side course.
South Woods Switchbacks
Hiking groups love this lung-buster of an uphill climb, with great views of the golf course from the top.
NY Energy Zone – NY Power Authority Visitors Center
This highly interactive, futuristic attraction was slated to open in May 2021. Watch the website for opening date and hours.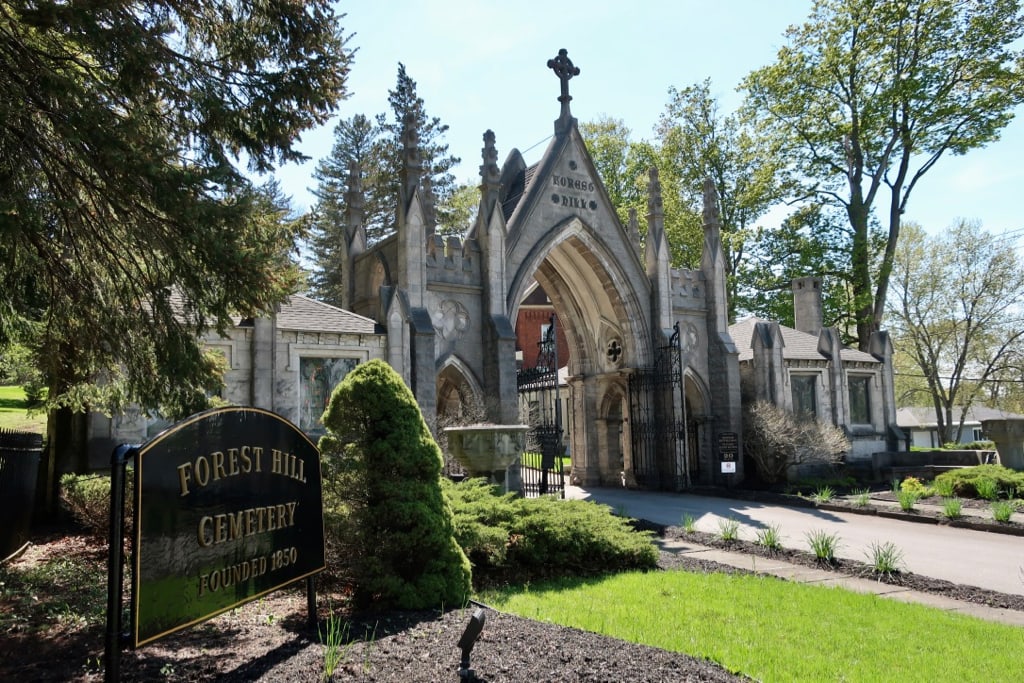 Forest Hill Cemetery
This parklike cemetery is a serene place to walk.
Designed by the Olmstead Brothers (sons of Frederick Law Olmstead), these two city parks allow for some well-deserved downtime. Smell the roses, forest-bathe, and feel the healing power of Mother Nature tweaked by some of the most revered landscape architects of their day.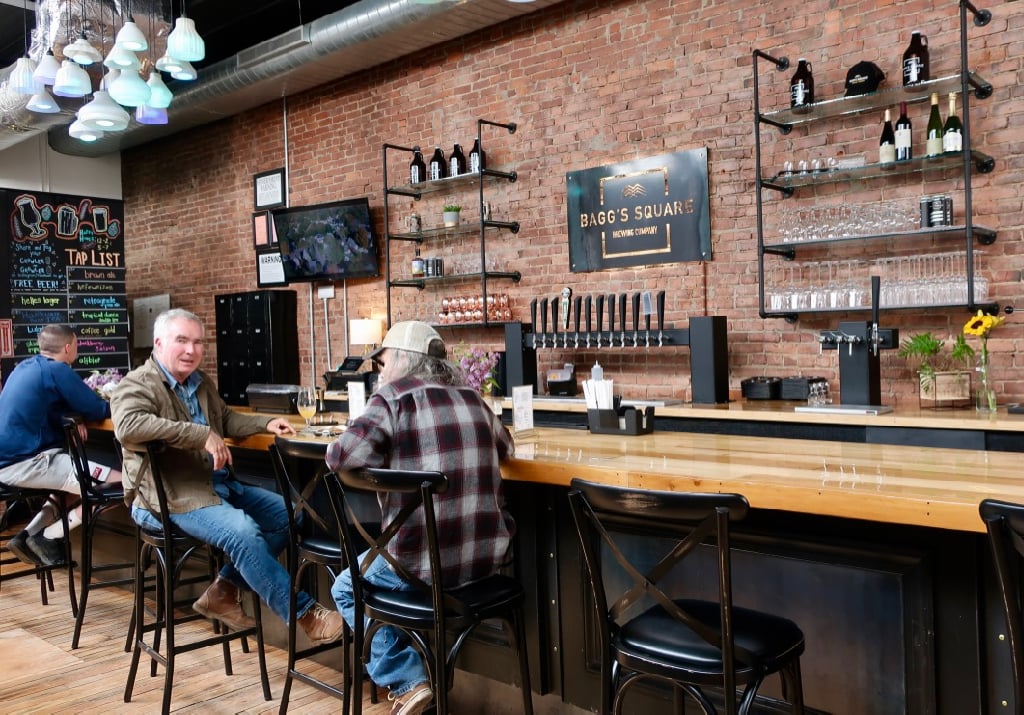 Jennifer Earl opened Baggs Square Brewing smack dab in the midst of the Covid pandemic – June 2020. Six years ago, Earl visited Dusseldorf, German and became smitten with the beer culture there. So, she took it home.
Located right across the street from Union Station in gentrifying Baggs Square, the Brewing Co. was bustling from the get go. The construction crew working on the nearby Nano Center occupies all 56 urban-style loft apartments that just went up next door. "Everyone started coming in for a beer, a frankfurter," said Earl. "We were busy right away and it hasn't let up.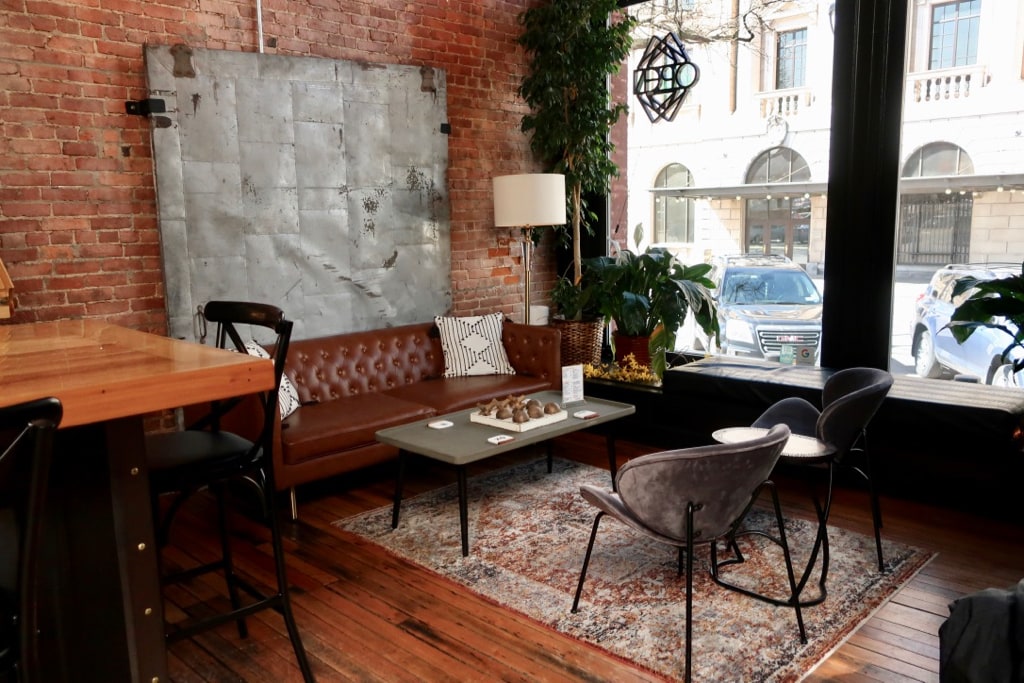 "At the end of the day, we make people happy with classic, clean, session beer, and German food like Schnitzel and Bavarian Pretzels." Not to mention live music every Friday and Saturday that "wakes up Bagg's Square."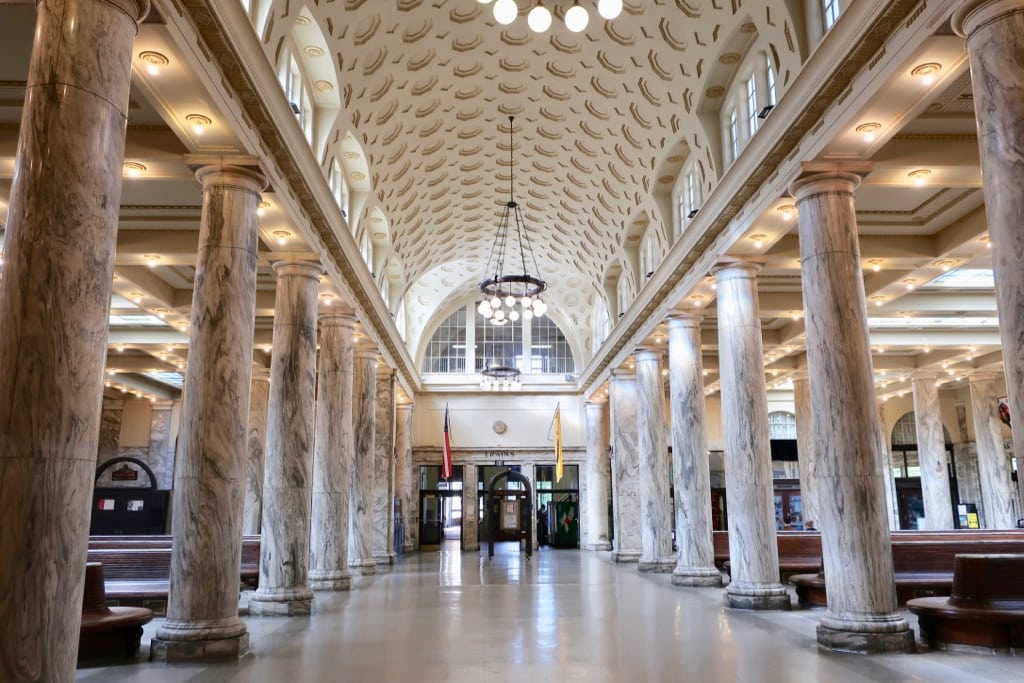 PHOTO OP: Union Station, Utica
Columns of marble turn this ordinary train station, designed by Allen H. Stem, the same architect who assisted in the design of Grand Central Terminal in NYC, into a Temple of Transportation. Pop in for a look, and a photo. Everyone does.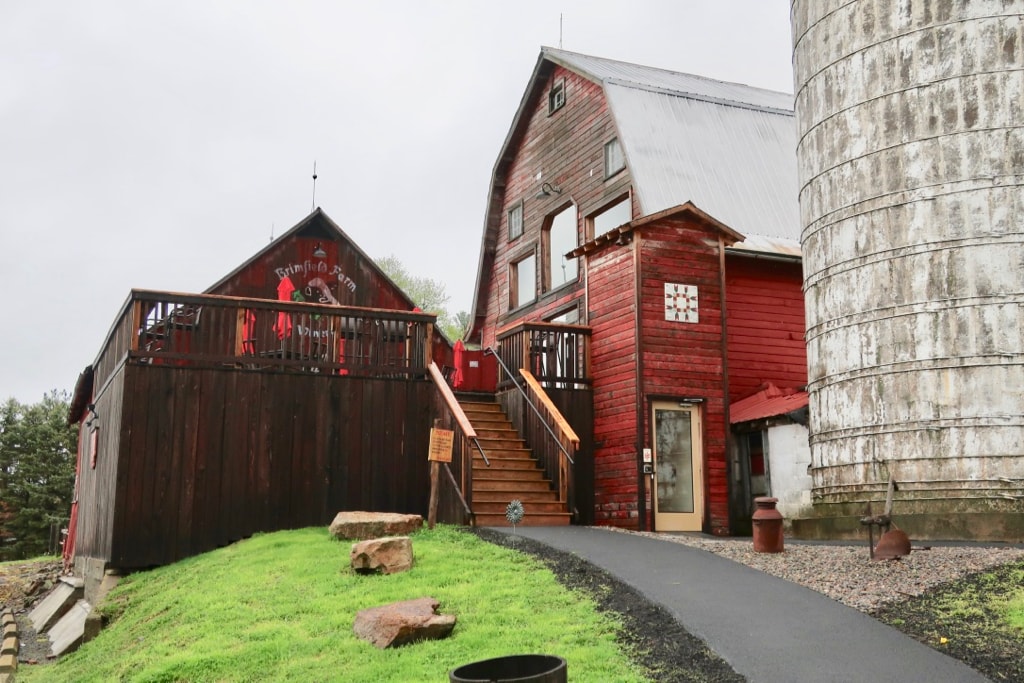 Brimfield Farm is deep in John Hughes' blood. His grandfather built the barn in 1918 and purchased the adjacent one room schoolhouse, "District 10," in the 1930's for $75. (John is happy to point out a childhood photo of his father and other students outside the school).
For 90 years, Brimfield Farm's dairy cows munched happily on an expanse of grassland in back of their livestock barn. Then, in 2008, the family sold the herd and opened a golf business, effectively morphing from Home on the Range to Driving Range overnight. But that was not all.
What to do with the old cow barn? Turn it into a wine tasting room, of course! On a visit to the Finger Lakes, Hughes became infatuated with winemaking, but had "limited knowledge about business." He entered into a "Custom Crush Agreement" with Finger Lakes Wineries, and has, over the last decade, started making his own wines, including apple wine with fruit from a local orchard.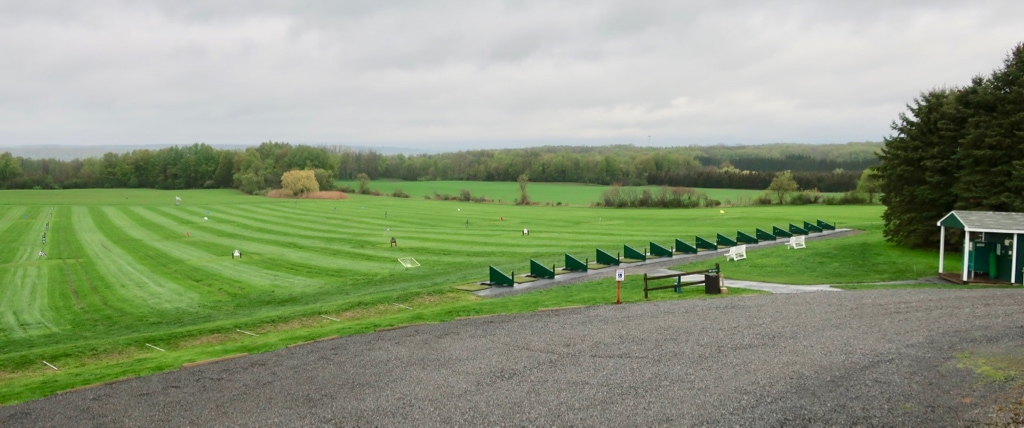 Now, gobs of people come to sit and sip Seyval Blanc "District 10," "Schoolhouse Red" blend, and other drinkable wines on a large outdoor deck watching and waiting for their turn at the driving range. "People come here to practice their golf swing, for the beautiful views, to taste our wines, and for our really popular wine slushies," says Hughes.
The real lucky ones get to stay. Hughes turned the Schoolhouse into a 2 bedroom, one bath rental. "It's a happy place." Driving Range open daily 9am-dusk, $5 for 50 balls, $10 for 100. Wine tasting, $5 for 5 1 oz pours, $7 if you want to keep the glass.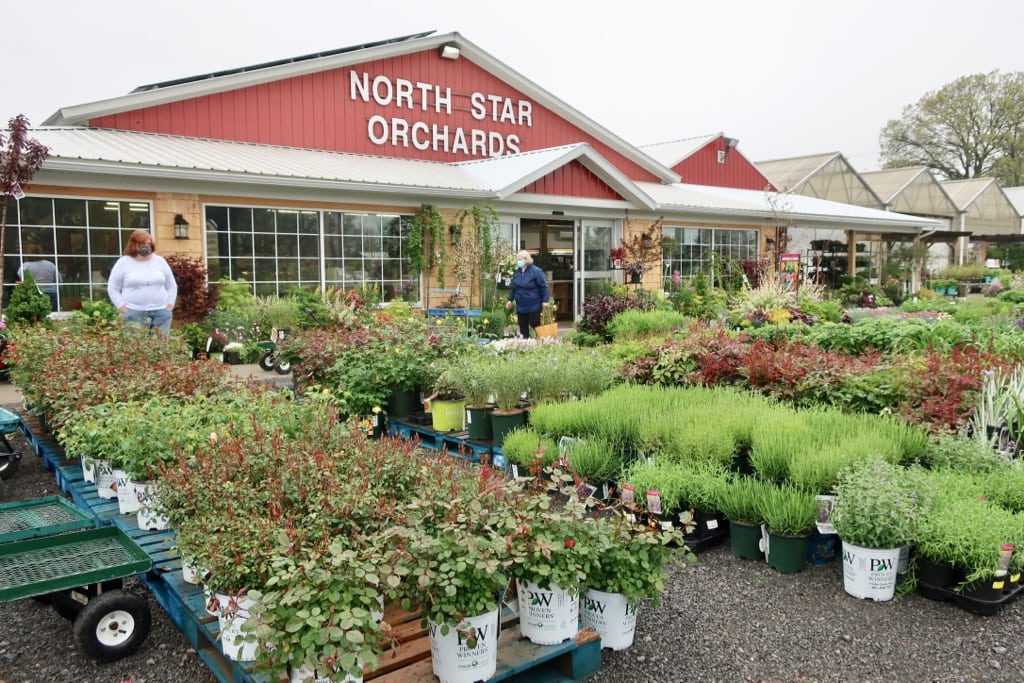 This fantastic establishment, near Hamilton and Colgate Colleges, is so much more than merely an apple orchard.
But, like most successful enterprises, this one had very humble beginnings, with owners willing to work hard. In 1984, George and Elaine Joseph purchased this property and built a simple roadside produce stand.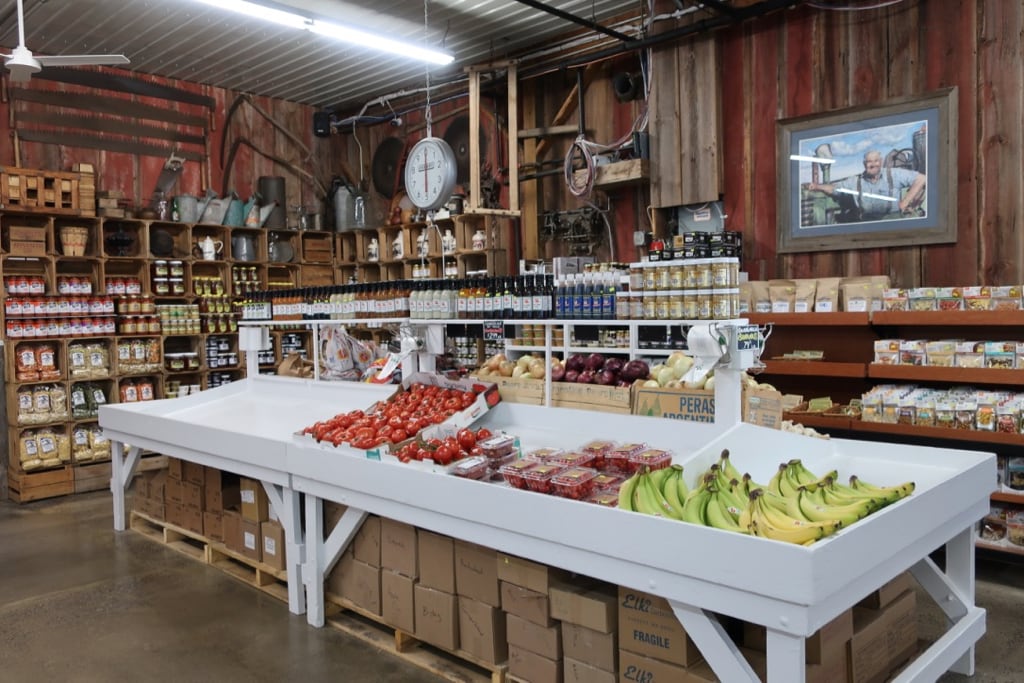 Over the decades, North Star has morphed into a tourist destination that bustles with locals and visitors from 8am-6pm daily. Customers come for the signature Apple Cider Cake, pies, and cookies from the bakery; for some of the 20,000 lbs of aged Sharp Cheddar cheese made here per year; for produce grown on property without chemicals; Christmas Trees in season; "Pick-Your-Own" apples, blueberries, and tulips; and special events throughout the year from April thru Christmas Eve.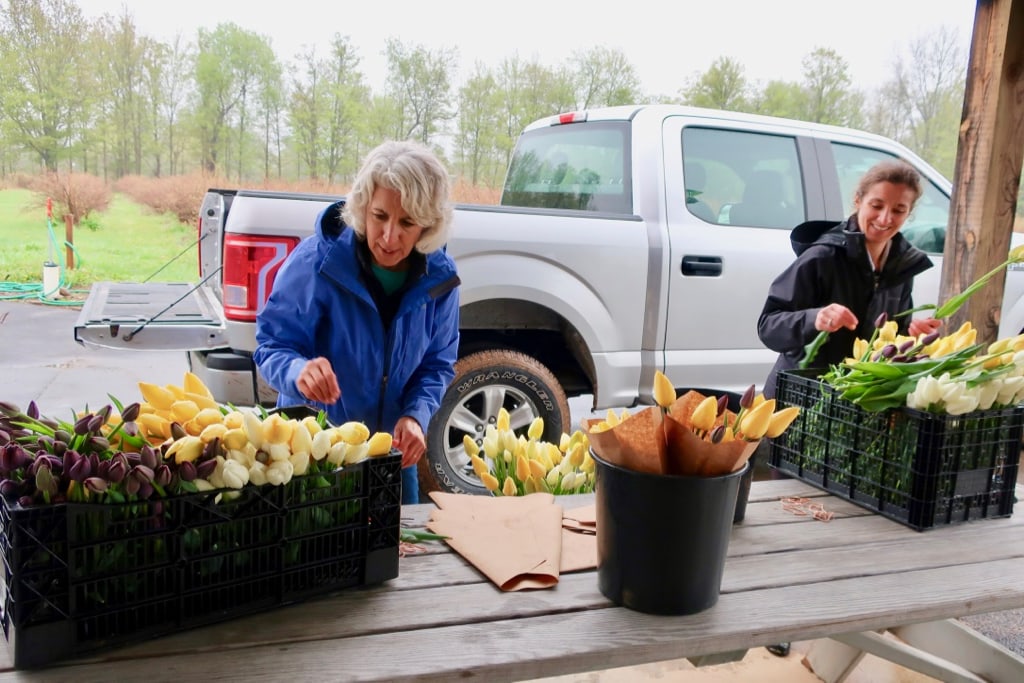 Three of four of the Joseph kids – daughters Rebecca Ford and Katie Warfel, and son, Jonathan – are in the business. George and Elaine live on these 200 acres crisscrossed with fields of pick-your-own flowers, trees, cow pastures, and, most recently, Concord grapes. To what does George attribute his success? "A good work ethic, keeping prices low, free wagon rides to orchards and fields, and doing what no one else here is doing." Open daily 8-6.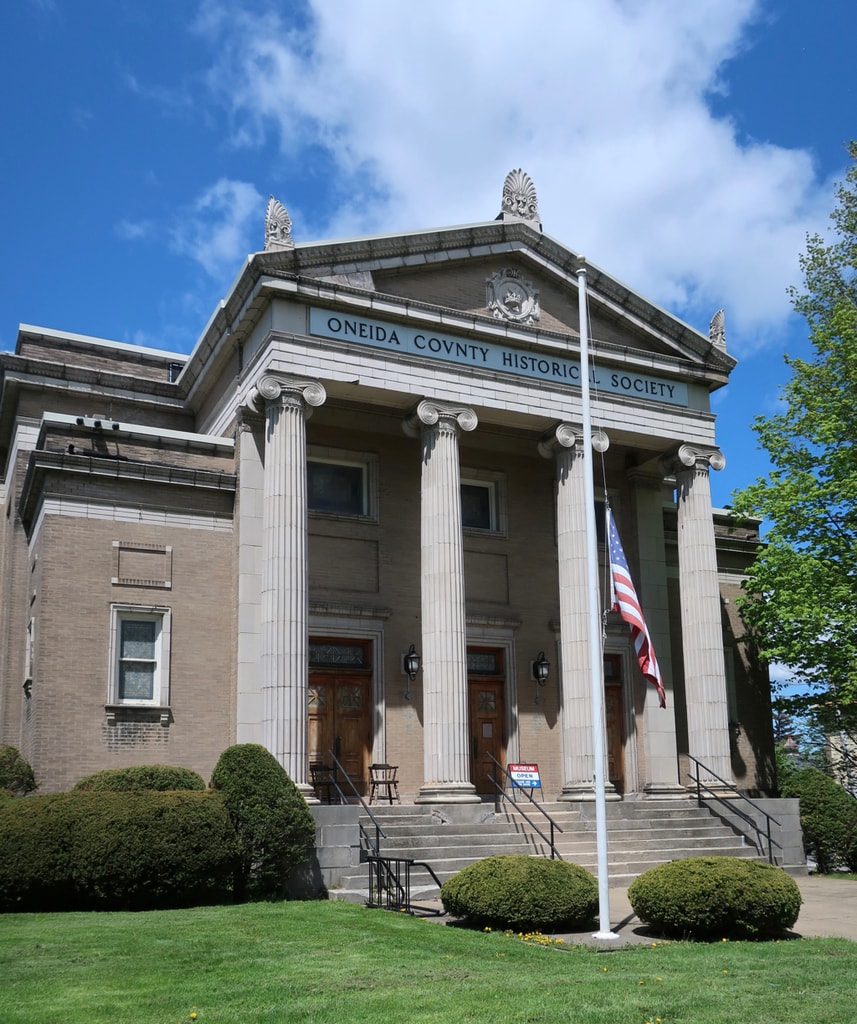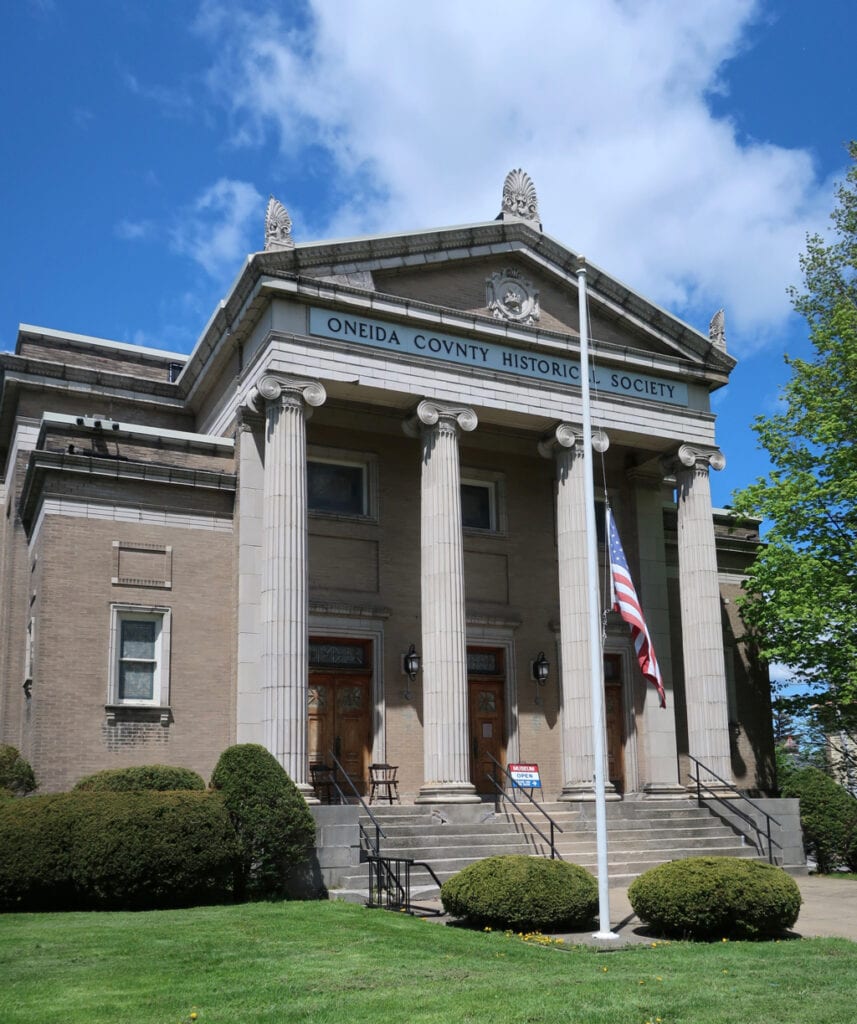 If you've been following Getaway Mavens for any length of time, you know that we just adore obscure little Historical Society museums. Mostly for the strange, weird, or "that happened here?" trivia to be discovered in sometimes dusty glass cases.
Which is so true here. This rather haphazard museum is located inside the 1915 First Church of Christ, Science. (Currently the Christian Science Church and Reading Room).
Here, you'll discover the real story behind the "Utica Riot," perpetrated by an angry, pro-slavery mob during the city's risky Abolitionist Convention of 1835. Attendee, Garrit Smith, was so moved by the local townspeople who ran the mob out of town, it spurred him to take a stand. Smith became one of the most influential abolitionists of his time, financing Frederick Douglas in his lectures around the country.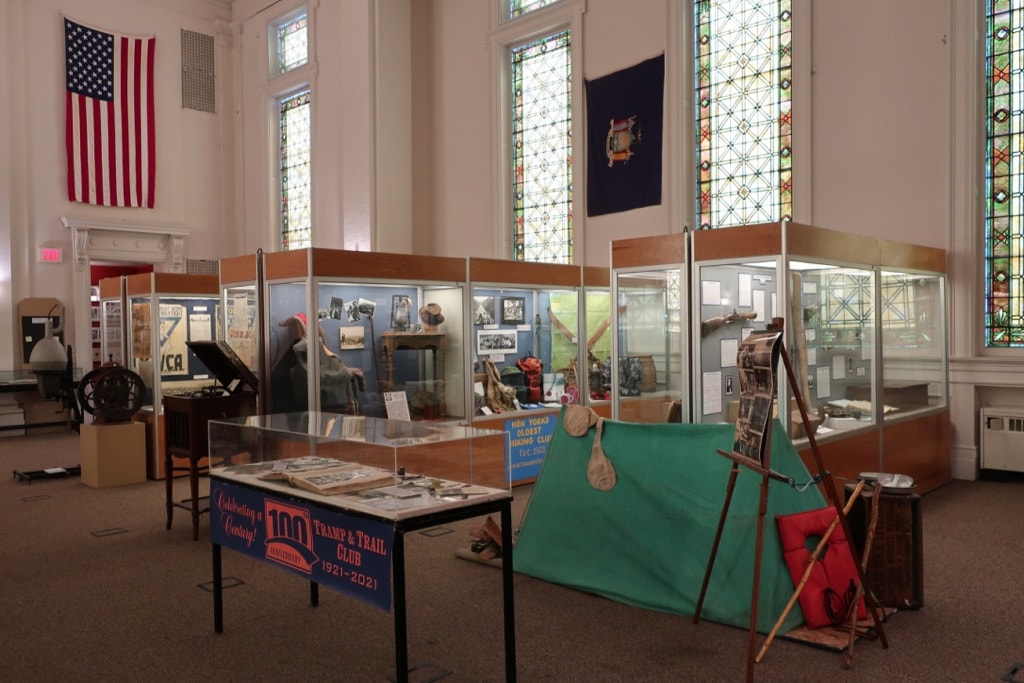 Utica is also home to: the First Hiking Club (Tramp & Trail – over 100 years old); the first national newspaper to print color (Saturday Globe – in the early 1900s); and the airline that hired the first Black stewardess (now defunct Mohawk Airlines – hired Ruth Carol Taylor in 1957).
Learn, also, what makes Utica so successful with newcomers. The Mohawk Valley Resource Center for Refugees is one of the most organized groups of its kind in the country. It provides first-90-day assistance to immigrants, hooking them up to multiple organizations. Historical Society open Tues-Fri 10-4, free. Research Library by appointment.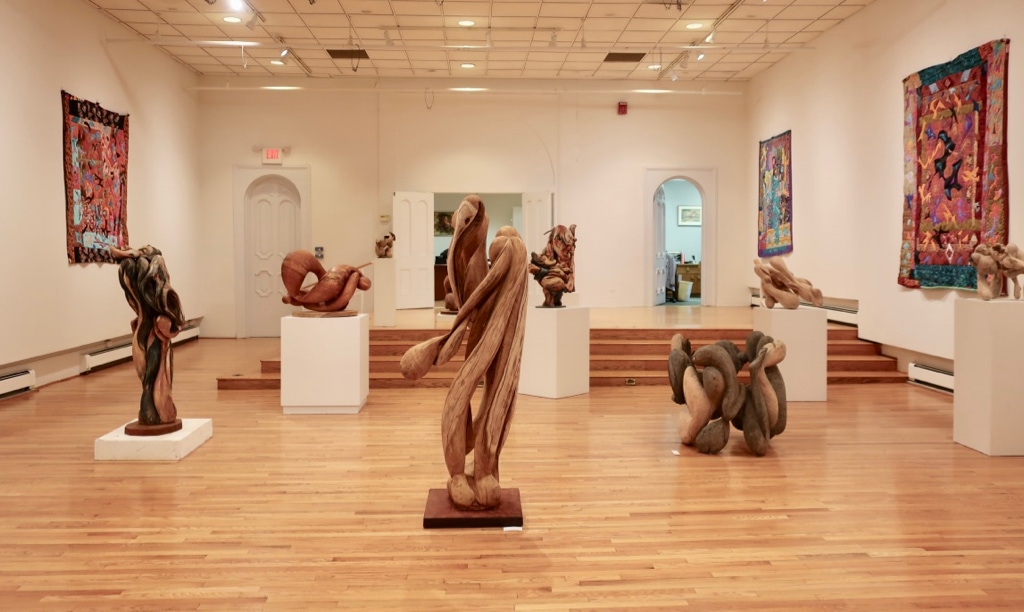 For 60 years, Kirkland Arts Center has served as Art Gallery for regional artists, a live performance venue, and center for art, pottery, jewelry-making, weaving, aerobics, ballet classes, and kids camp. Kirkland draws some of the best in folk music: Arlo Guthrie and Joan Biez have played here. So, check the calendar while in town and catch a concert or performance. Gallery open Tues, Thurs. 10-2, Sat. 1-4, free.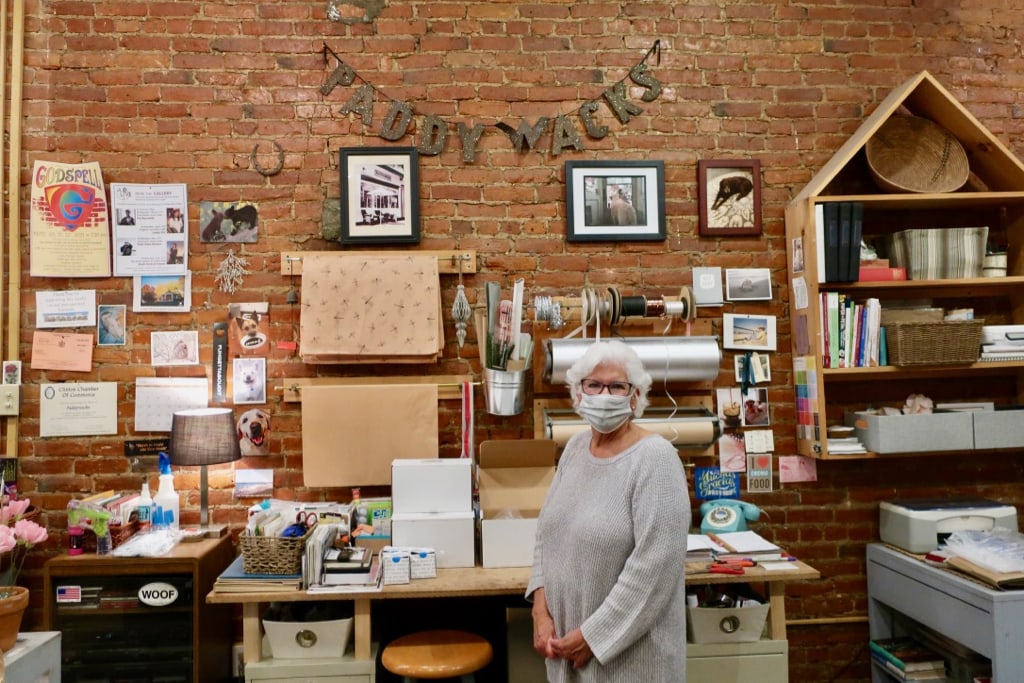 SHOP: Paddywacks, Clinton on the Green
Joanne Roselli has owned and operated this "Celebration Store" for 30 years, retaining its unique identity. Paddywacks specializes in nostalgic toys, custom party favors, cards, soaps, and paper. A nod to simpler, more service oriented times, Roselli takes time to wrap each gift beautifully.
SHOP: Almost Local, Clinton on the Green
Looking for "guy gifts?" This camping-outdoors shop sells "Take A Hike" t-shirts and camping stuff, along with jewelry, candles, and other cool gifts.
Restaurants in Greater Utica NY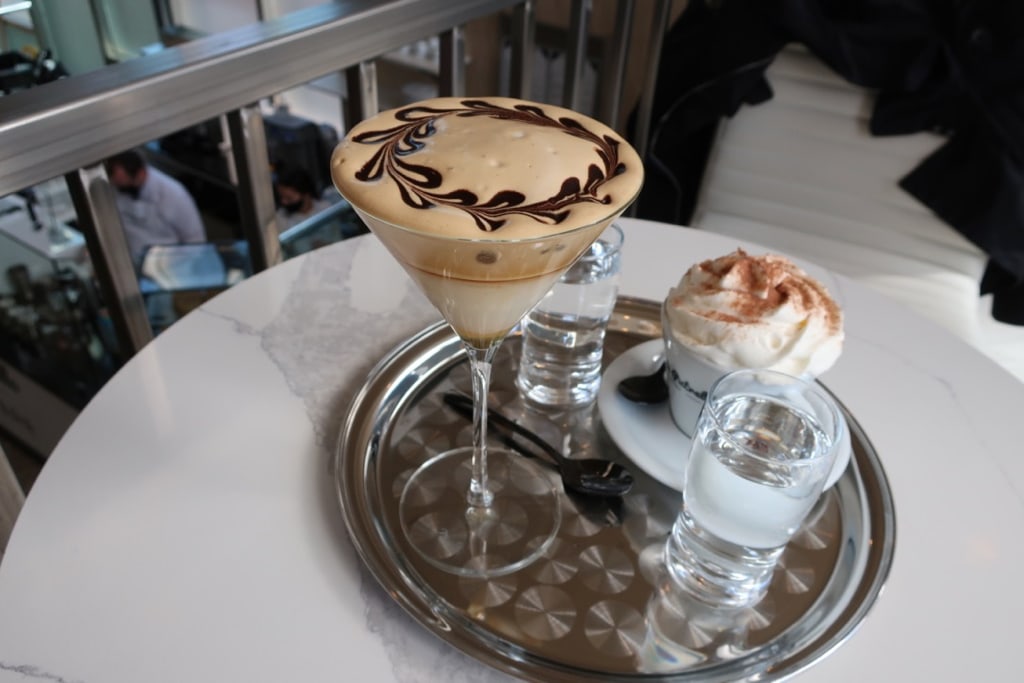 I haven't seen a coffee shop like this since my trips through Europe – and even there, they don't do the morning brew as stylishly as Joseph Putrello. A minimalist glass box, this coffee shop is all about the delectable potion that emerges from frothing espresso machines.
"The Velvet Duo," poured into a martini glass with curly-cue embellishments, is a work of art. But, as we all know, looks can be deceiving. Not in this case. The coffee, in all of its permutations, is as delicious as it appears.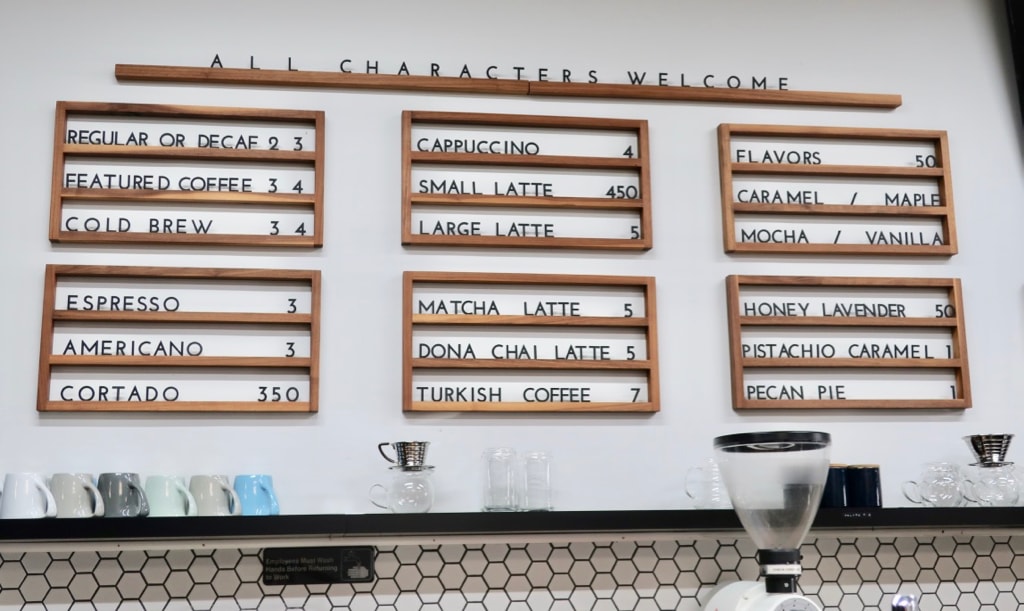 Though not as fancy as Putrello's– the java at Character Coffee proves that Utica is serious about its morning wake-up drink. And at low prices, yet.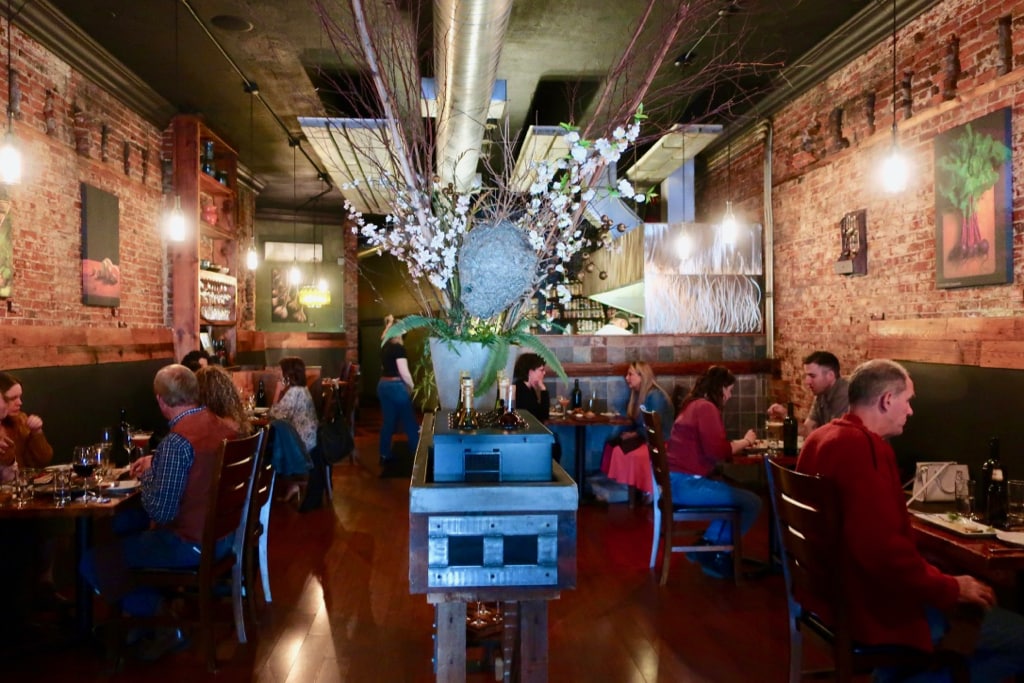 Big things come in small packages. That goes double for this "Small Bites," locally sourced, farm-or-forage-to-fork restaurant in the Bagg's Square section of Utica. The ambiance is brick-wall chic, with polished butcher-block tables, bold art, and romantically dim lighting.
Spring brings an abundance of ramps – so that's what's on the menu. The Chickpea Dumplings are ramped up, as is Ramp Falafel ($13). The light and flaky Vegetable Strudel ($13) is stuffed with squash, parsnip, carrots, walnut and greens: a healthy and toothsome melding of tastes.
In that regard, you'll find food combinations you've never considered – depending on the season. Hopefully, though, the outstanding Buttermilk Panna Cotta will remain on the menu throughout the year. Dusted with "peanut butter powder," and sitting on a smear of chocolate, it's unbelievably good.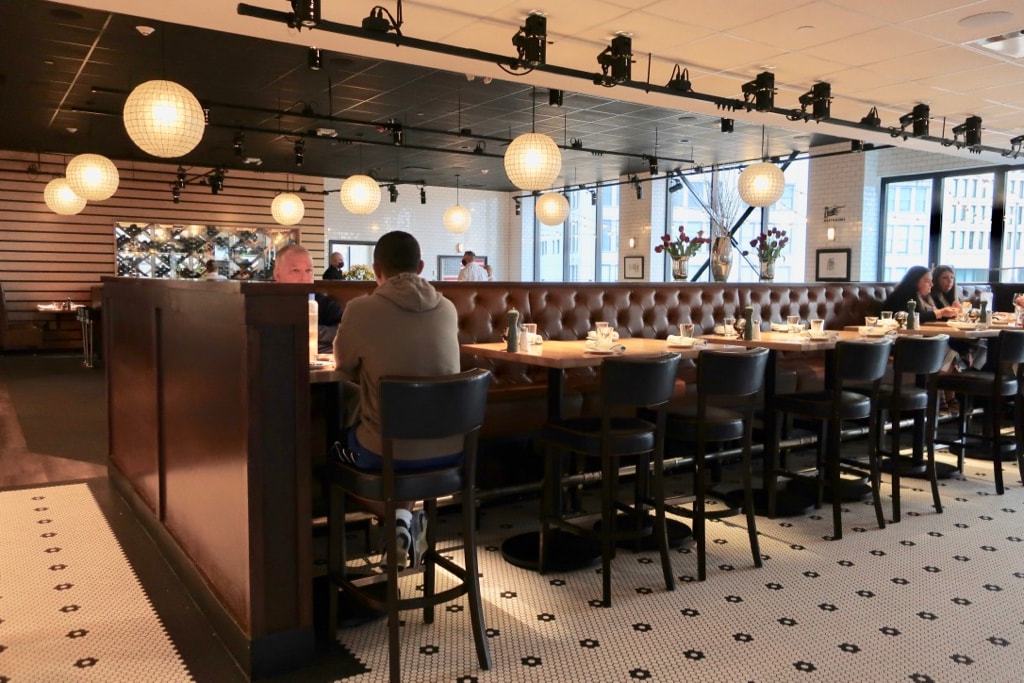 This urban, open-kitchen, modern city eatery atop downtown's Landmarc Building shells out some fantastic seafood, steaks, and other trendy foodstuffs. Diners devour menu items with names like "chop-chop," Bang Bang, and "Loaded," as in the "Loaded Kennebec Fries" topped with steak, cheese and bacon ($19) – a heart-stopping (literally) hit.
I opted for the great slightly fried Calamari (watch out for those cherry peppers), a perfectly turned out Ahi Tuna Burger, and UNloaded Kennebec fries, which provided optimal flavor and crunch, with nary a slice of meat or melt of cheese to distract from excellence.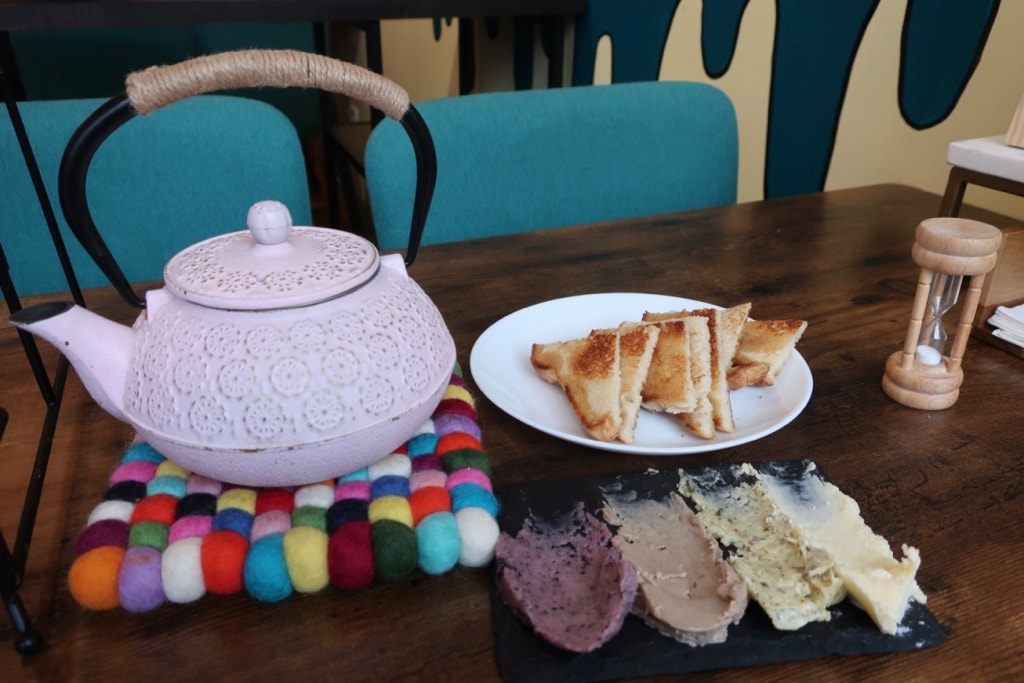 EAT: The Compound, Clinton NY Green
Have you ever had freshly made butter? Or ambrosial "compounds" mixed with truffles and berries? If not, your life will be forever changed, simply by coming in and pulling an assortment from the "Butter Fridge" at The Compound – a tiny 16-seat restaurant on the Clinton NY Green, owned by young couple, Anna and Sharrone Sofer.
Or, come in for The Compound's signature ooey-gooey grilled cheese sandwiches, a popular pick-up lunch.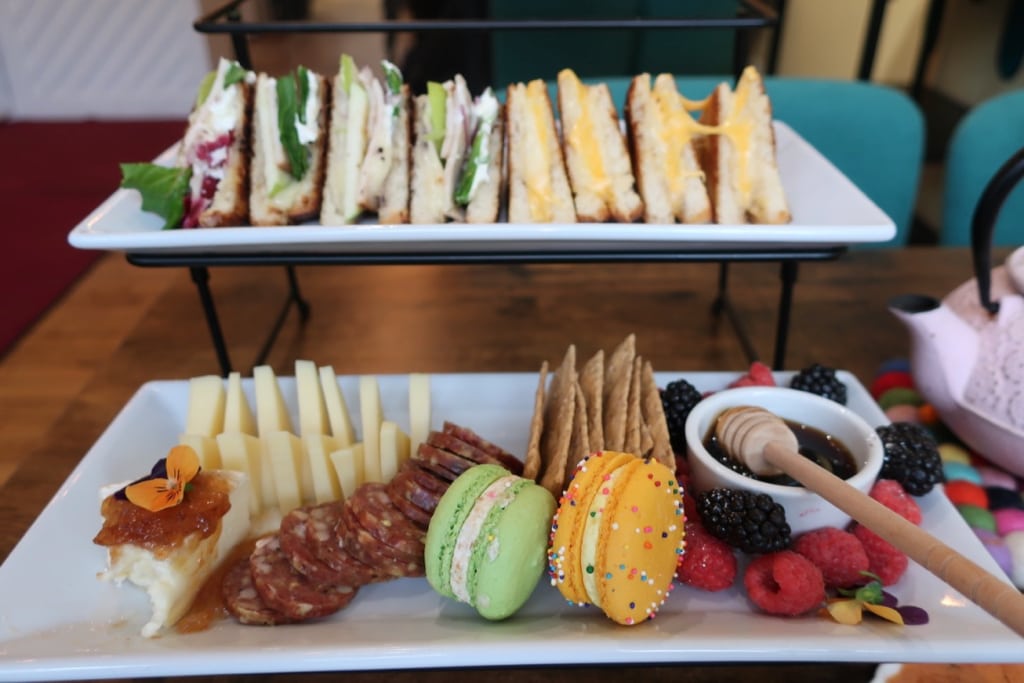 Best yet, book the tough-ticket "All You Can Eat" High Tea experience ($25 pp) offered here Tuesdays through Saturdays at 6pm. (For now, only 4 tables, with 4 max per table). Choose your tea, and start with a pot, plus toast and smears of four different butters. But don't fill up.
Next, "Tier #1," a charcuterie course, colorfully plated, with meats, cheeses, and French macarons.
Then, Tier #2, a variety of Grilled Cheese sandwiches.
Finally, Tier 3, a lineup of absurdly decadent smore's-ish desserts: Nutella Mousse and marshmallows on toast. A perfect Date Night.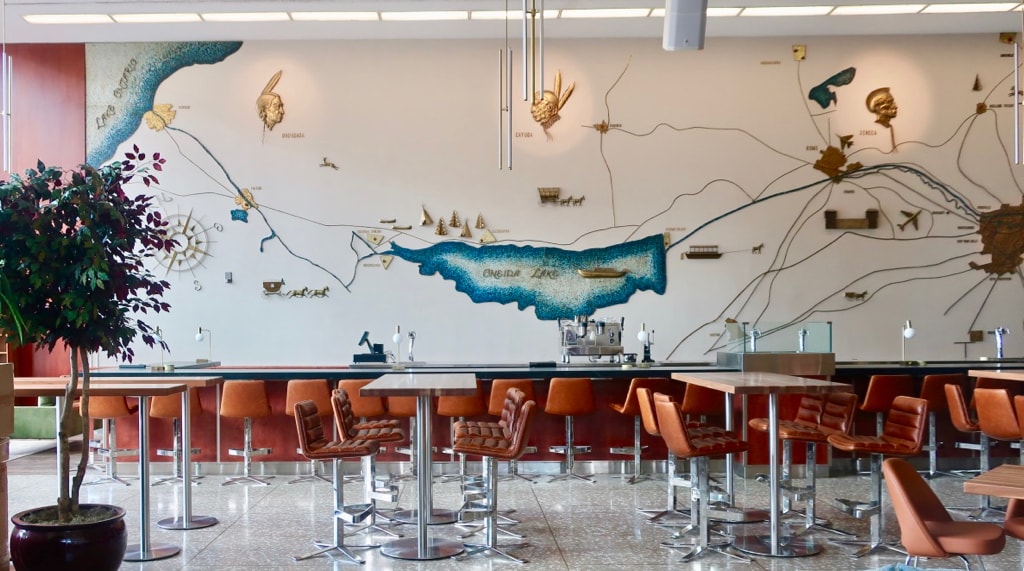 EAT: Coming Up
There's quite a bit of pent up anticipation for Nostro Restobar + Lounge, part of the Ocean Blue group.
EAT: Utica's Best
The influx of Italian, Polish, Lebanese, Bosnian, and other cultures over the years has given rise to an alphabet of cuisines. Oneida County Tourism is currently running an "A-Z Food Tour," asking residents to vote for their favorite dishes from area restaurants. (e.g. O is for Original Hot Ham Sandwich at Eddie's 1934).
Locals take pride in their heritage foods and recipes. Have you tried Tomato Pie? Chicken Riggies (rigatoni pasta with mix-ins)? Utica Greens (a baked escarole dish)? To do a true cultural-cuisine tour of Oneida County, you've got to taste these.
Where to Stay in Utica NY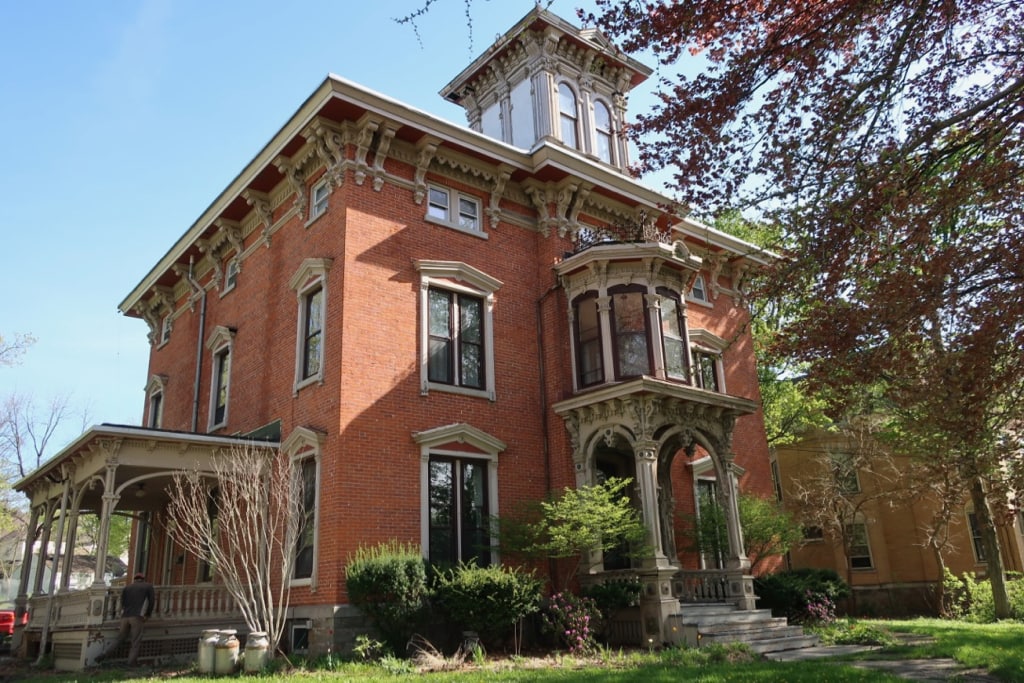 Owners Rita and Bob Sleys updated this in-town 1800's mansion in 2019, and continue to make improvements. Close to museums and restaurants, the Rosemont Inn was once a frilly Victorian B&B. Now, rooms skew modern, with gorgeous renovated bathrooms.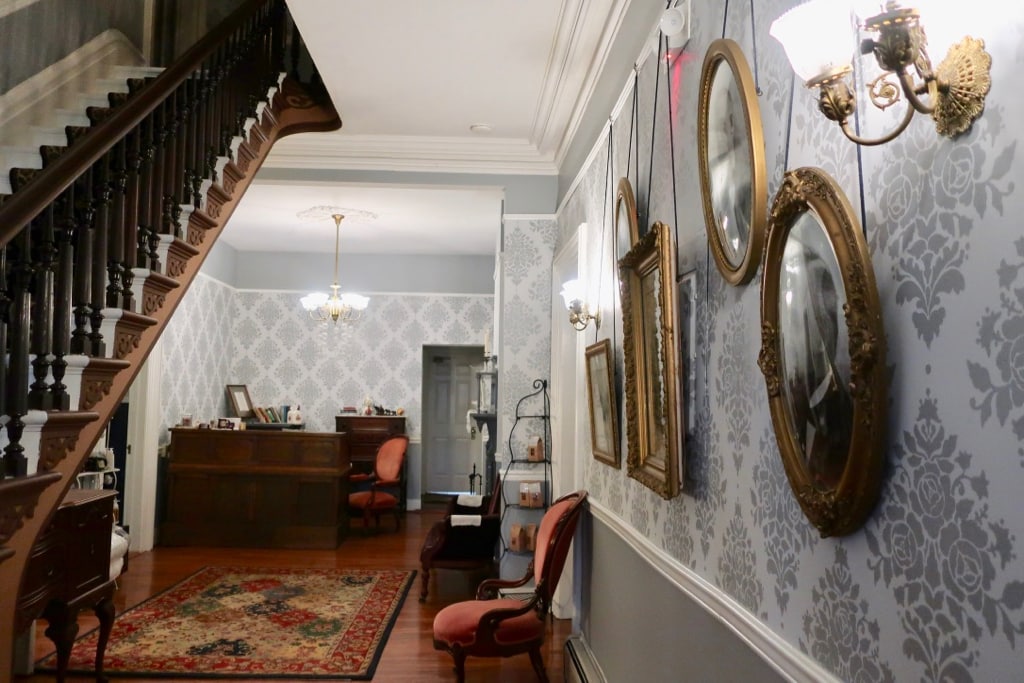 The ambiance and food Rita serves each morning reflects her values as a member of this special refugee community. She's concerned about workers conditions, and quality.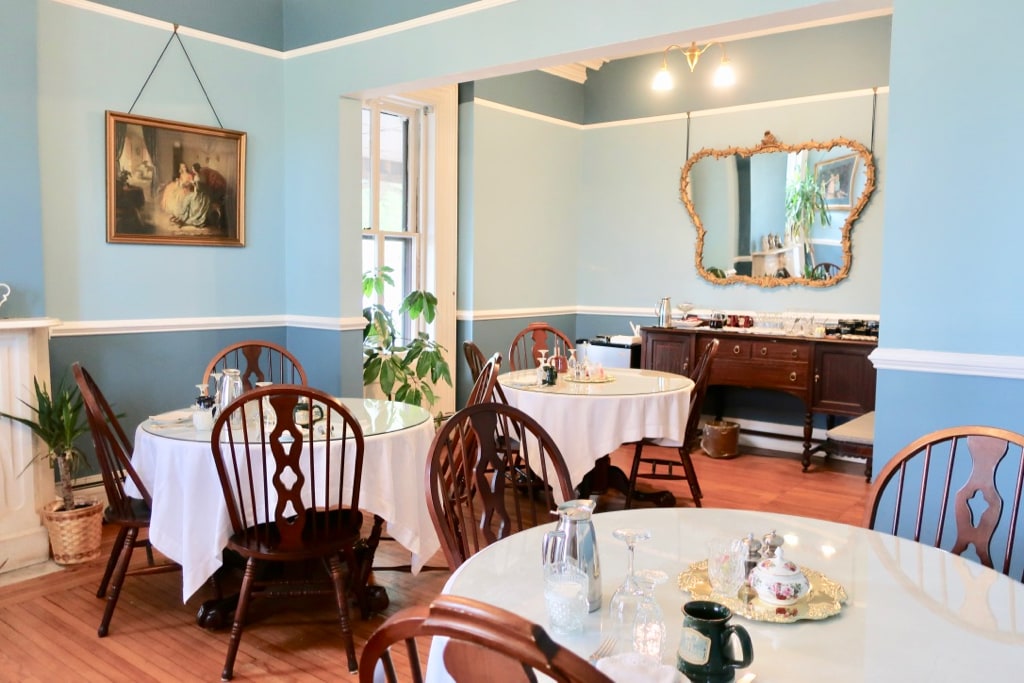 So, Rita purchases her foodstuffs from locals, like Fojo Beans, a local coffee roaster that has a relationship with coffee growers all over the world.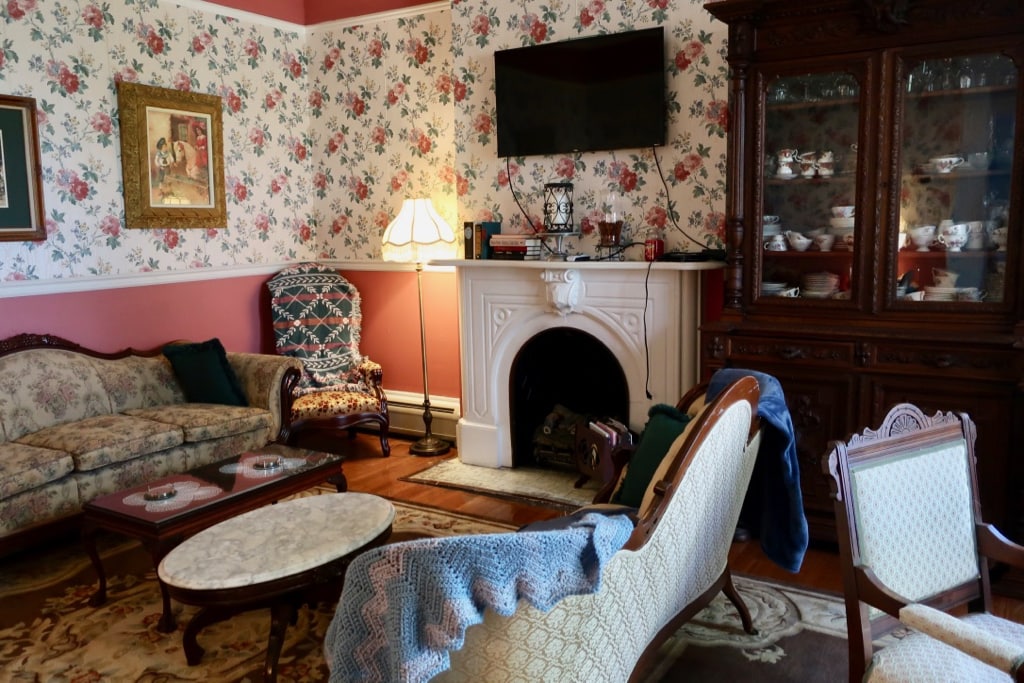 On top of her community activism, Rita loves food, loves cooking – and it shows. Breakfasts here bring guests back again and again.
Rooms at Rosemont Inn
The flocked and floral wallpapers, and cumbersome furniture in the entryway and parlor (for now), might give the impression that guest rooms are equally Victorian. But, that is not the case.
Modern and bright, with some antiques, rooms feature contemporary bedding and area rugs over painted wood floors. The effect is contempo-country chic.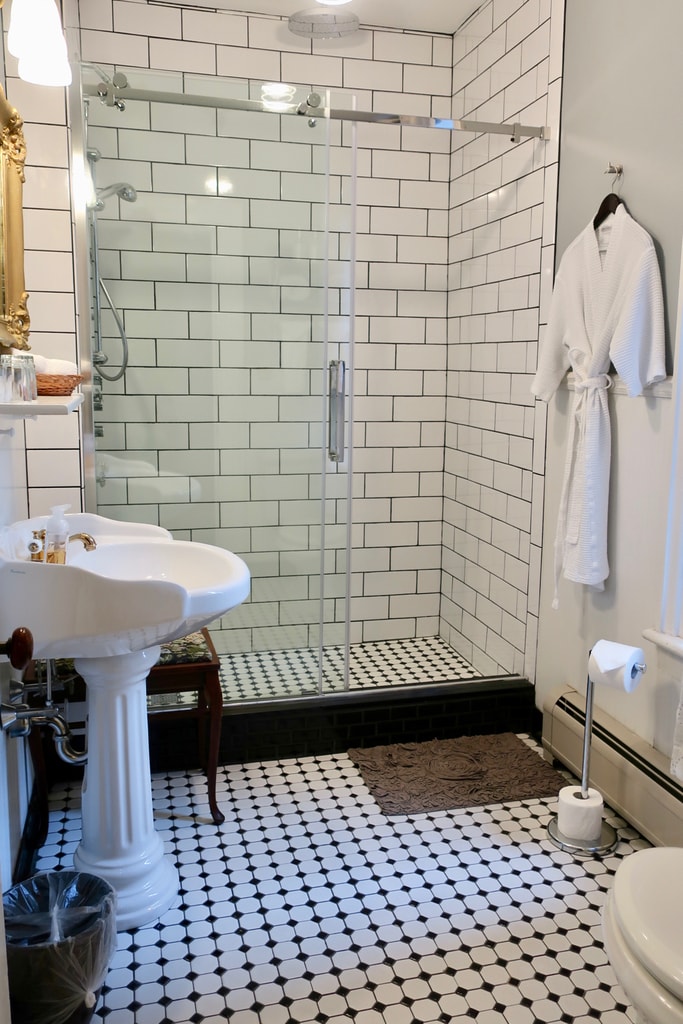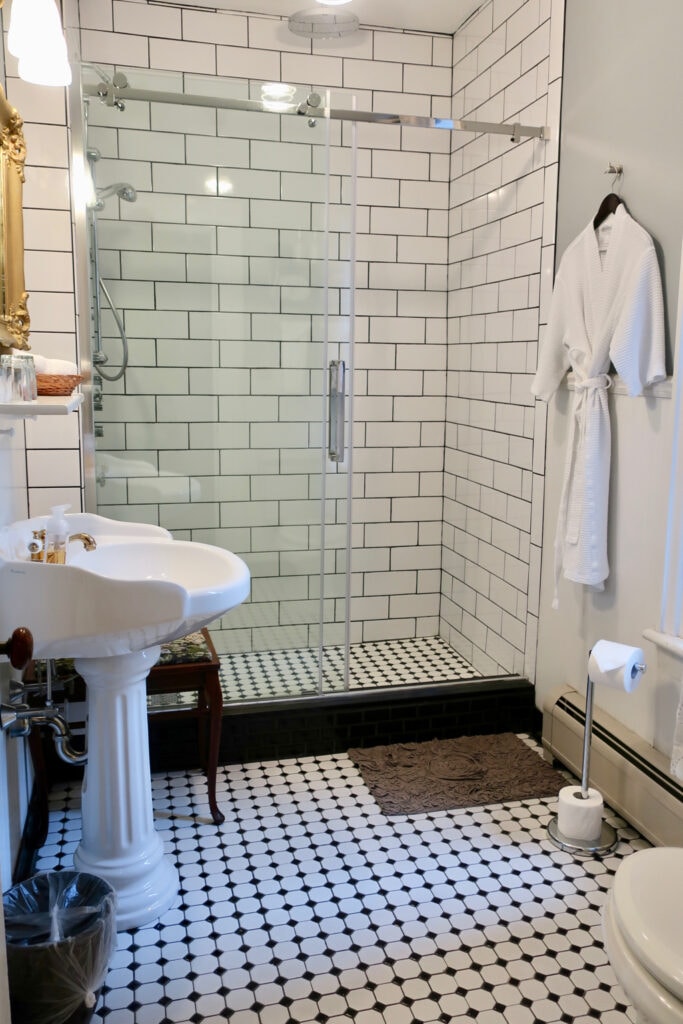 However clean and comfy the rooms, the newly renovated high-ceiling bathrooms are the stars here. Each features a pedestal sink, sparkling subway tile glass shower, and floors in black and white mosaic tiles. Luxurious and stunning.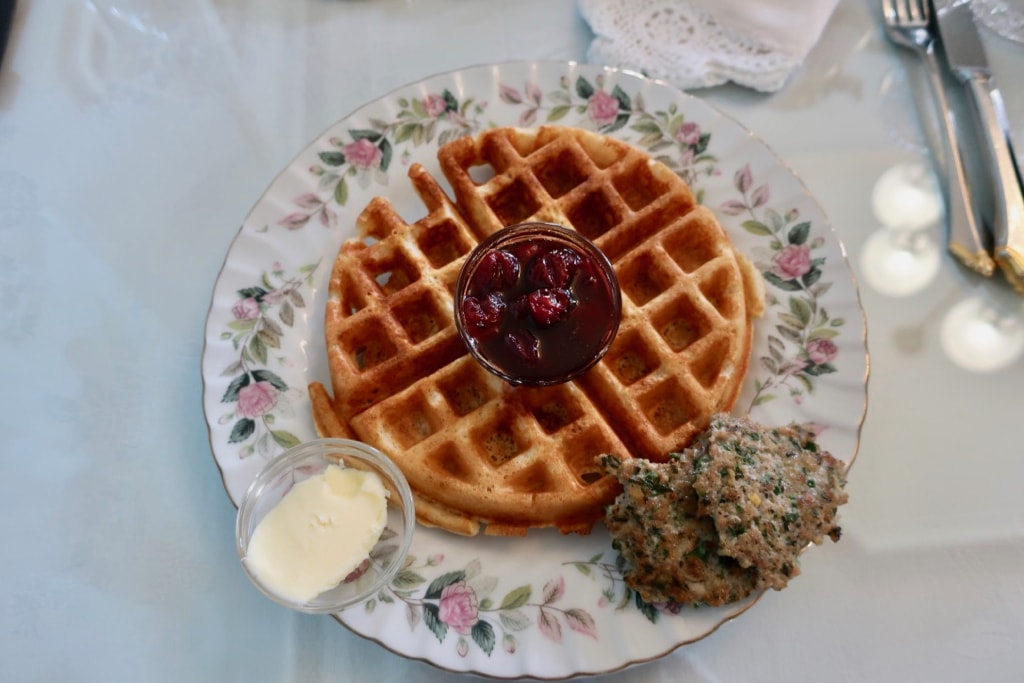 The B in B&B
Every nourishing gourmet breakfast at Rosemont Inn leans heavily on locally sourced ingredients. So, the raspberries in the Maple Walnut Granola muffins were picked nearby. And the eggs in the Kale and Onion Frittata are fresh from a local chicken farm. Rita makes her own healthier-than-pork Chicken Sausage from scratch. She's also happy to customize for any dietary restrictions.
Love the muffins? (Most guests do). You can make them at home! The signature Rosemont Whole Wheat Muffin Mix ($8), which bakes up 12 dome-topped, perfect muffins, is available for purchase.
A Unique Amenity
Rita's daughter, who currently lives in-house, is a massage therapist. Book a massage, and you don't have to go anywhere to de-stress. "Bikers, especially, love it," says Rita. Rooms from $120 include gourmet breakfast, snacks, soft beverages, 24/7 coffee, parking, and wifi.