Last Updated on March 13, 2023 by Editor
WHY GO: There's a reason that Gilded Age millionaires built castles, and hid out, on the 1,800 large and small islands that dot the St. Lawrence River in the Thousand Islands NY. It is exquisite here. And closer than you might think. You can drive to Clayton NY, one of the larger waterfront towns, in just over five hours from New York City.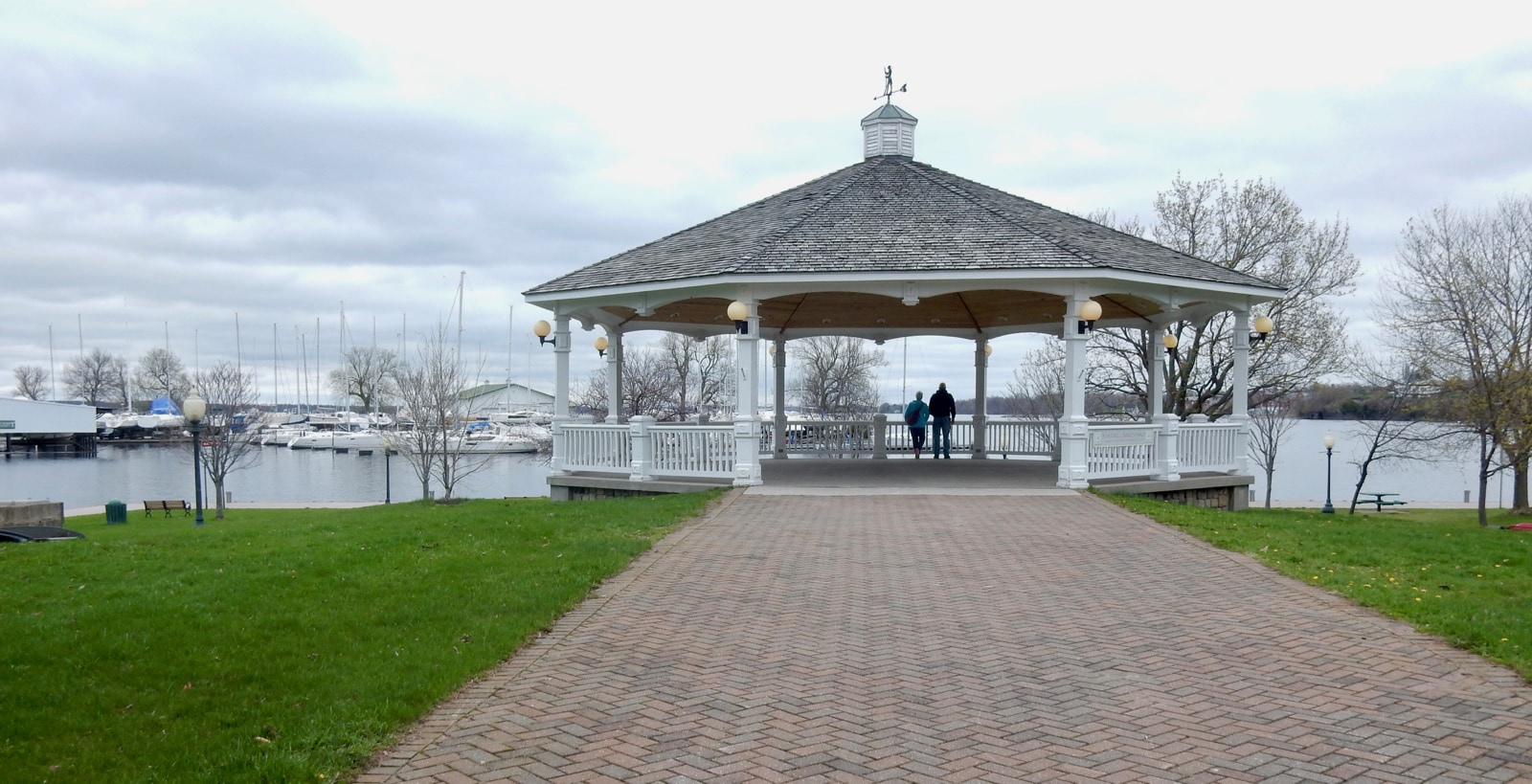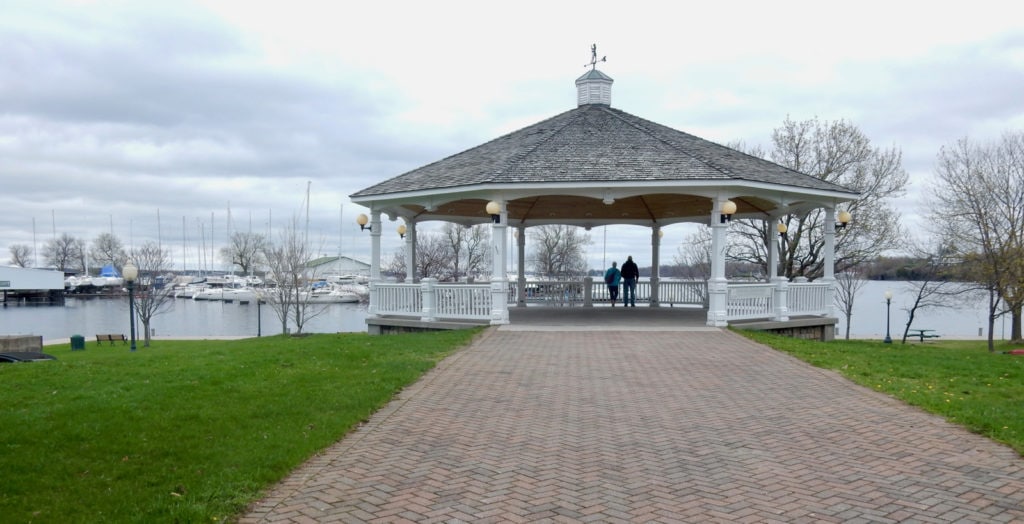 The Thousand Islands Region encompasses Lake Ontario, various Bays, and the St. Lawrence River – collectively, the St. Lawrence Seaway – linking the Atlantic Ocean to the Great Lakes. It's home to Army Training Camp, Fort Drum, the city of Watertown, and the waterfront towns of Clayton, Cape Vincent, Alexandria Bay, and Sackets Harbor, among other smaller inland hamlets.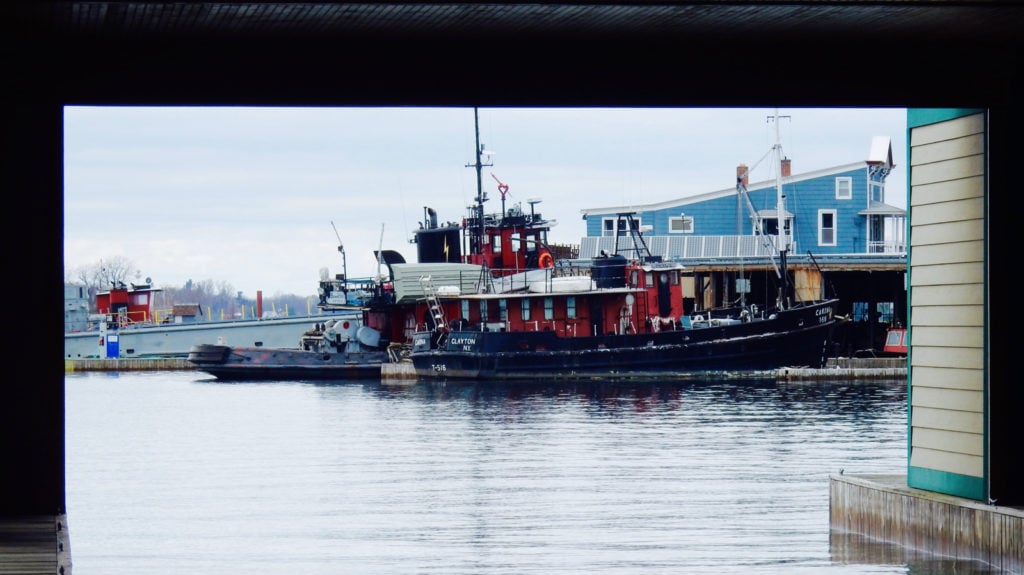 The St. Lawrence River is the world's longest fresh water Seaway. Flowing North to Montreal, it closes down, due to ice, from the end of December until the end of March when icebreakers clear the way for myriad cargo ships moving back and forth from the Atlantic to the Great Lakes.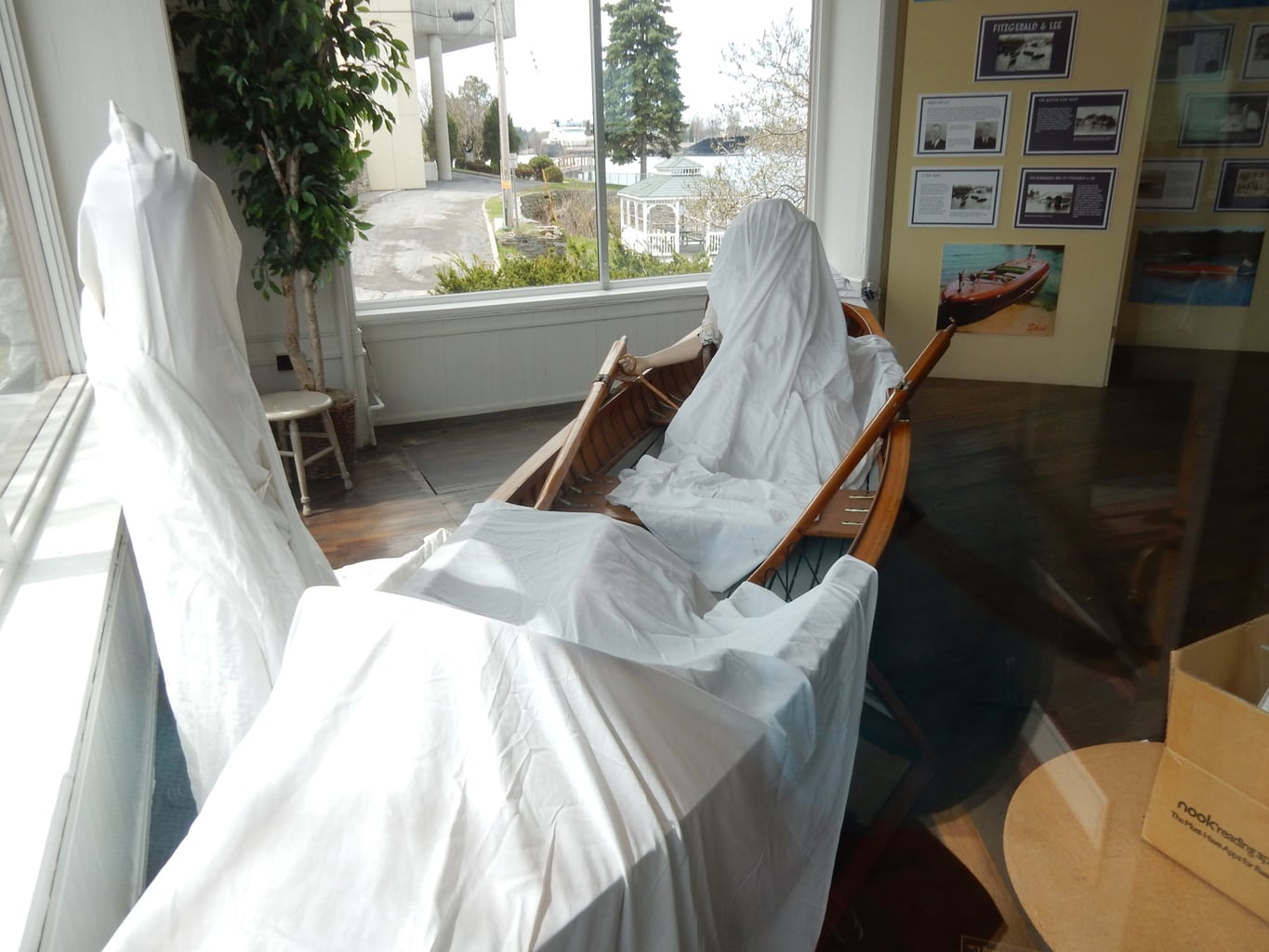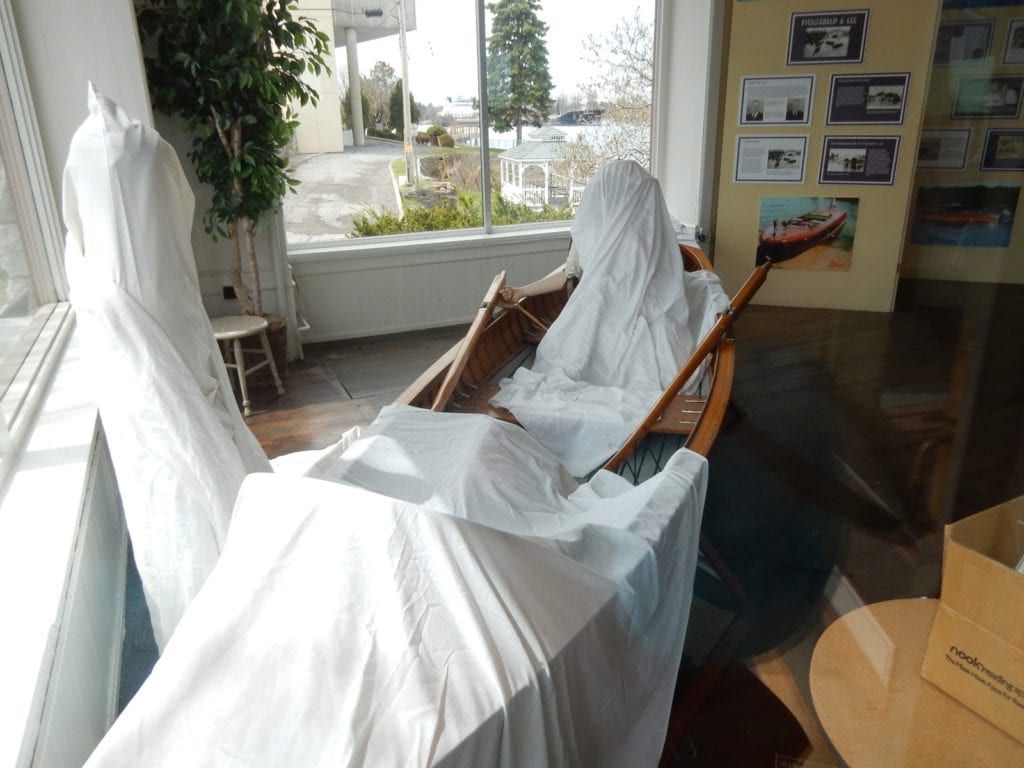 Yes, this is where Thousand Islands Dressing was invented. But that is not the beginning and end of the area's culinary charms. Stick with us and follow along. Though you can spend over a week investigating the myriad Preserves throughout the region alone, for this travel guide, the Getaway Mavens clue you in on the best things to do in three days/two nights in what is commonly called "The North Country."
Day One: Drive to Thousand Islands NY from Points South – Greenhouses, Breweries, Lighthouses.
Get an early start to the day, and plan to get to Sackets Harbor by around noon.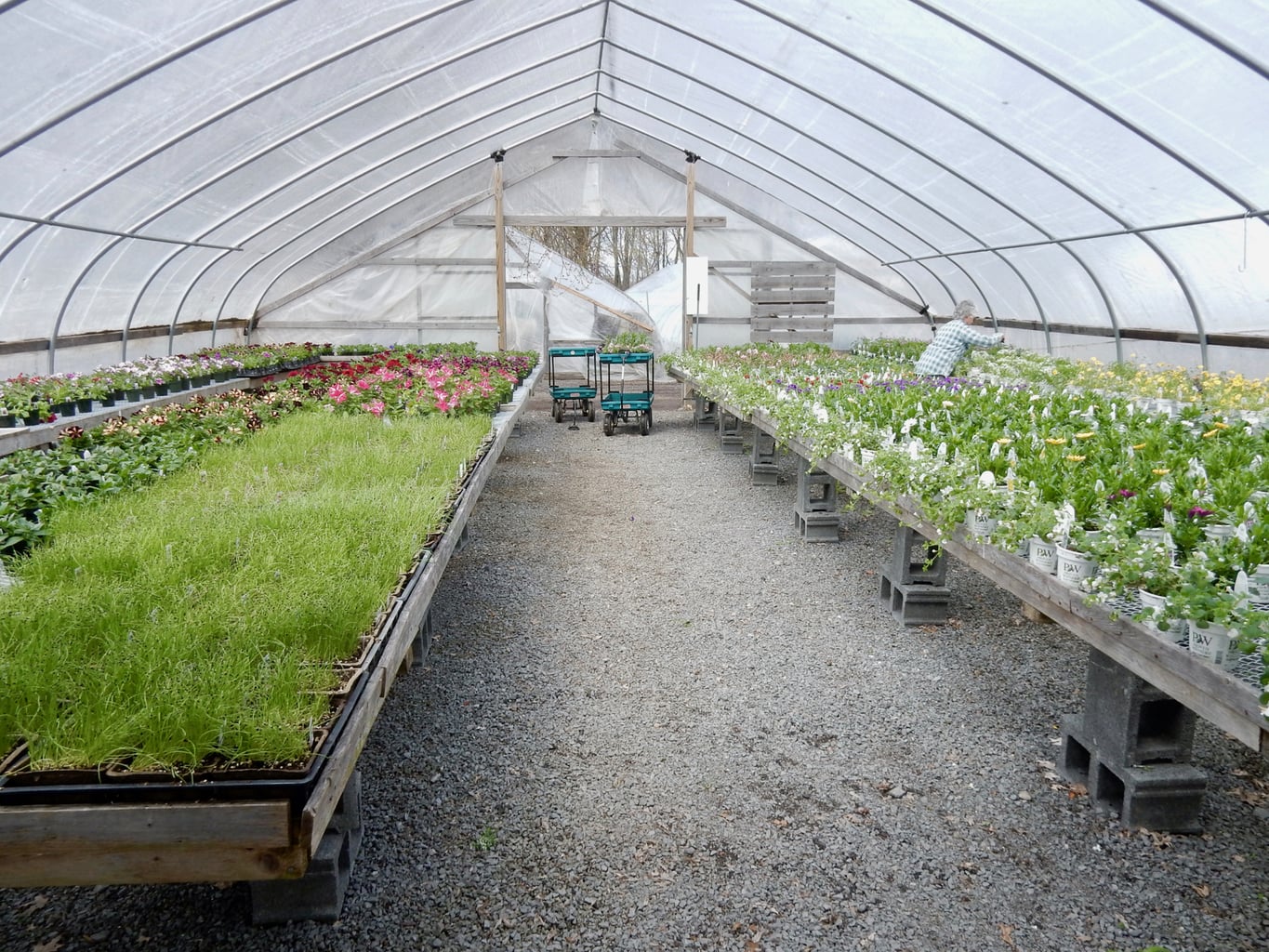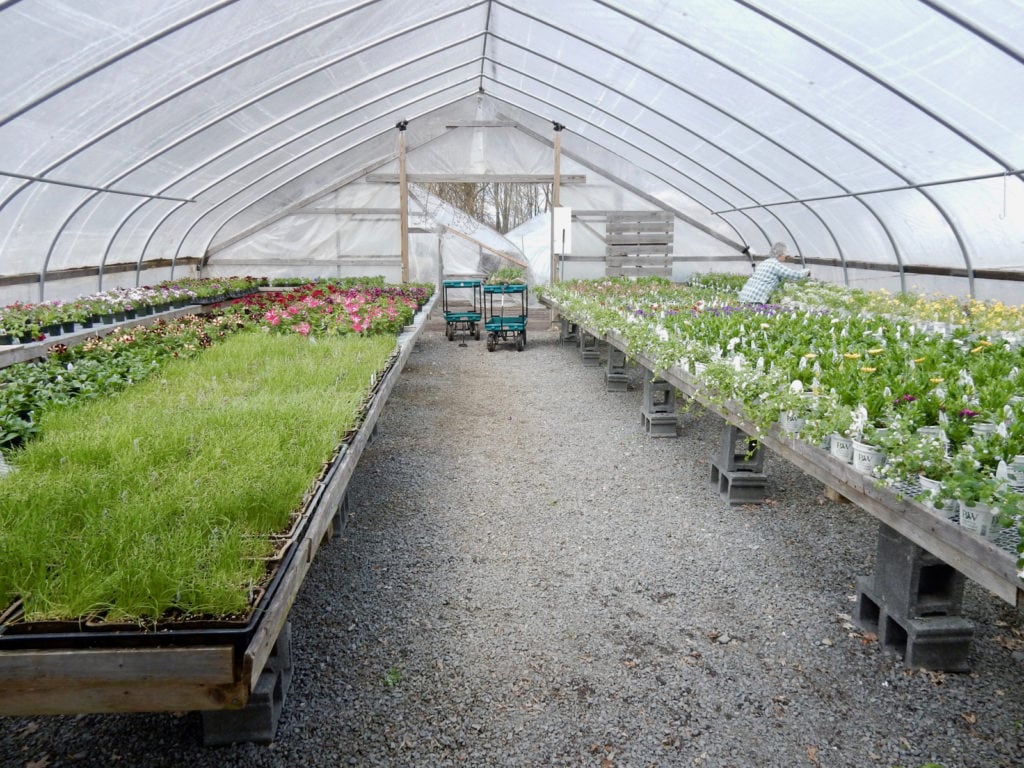 It's a delight to drive the back roads in the Thousand Island Region, more evocative of Midwest farmland than Eastern Seaboard salt marsh, with grain silos and endless fields of growing things. Rhodes is the "largest flower grower in Upstate NY," with over a dozen greenhouses to wander through. It's great in early spring, when you might be in need of some color – each greenhouse bursts with containers of blooms.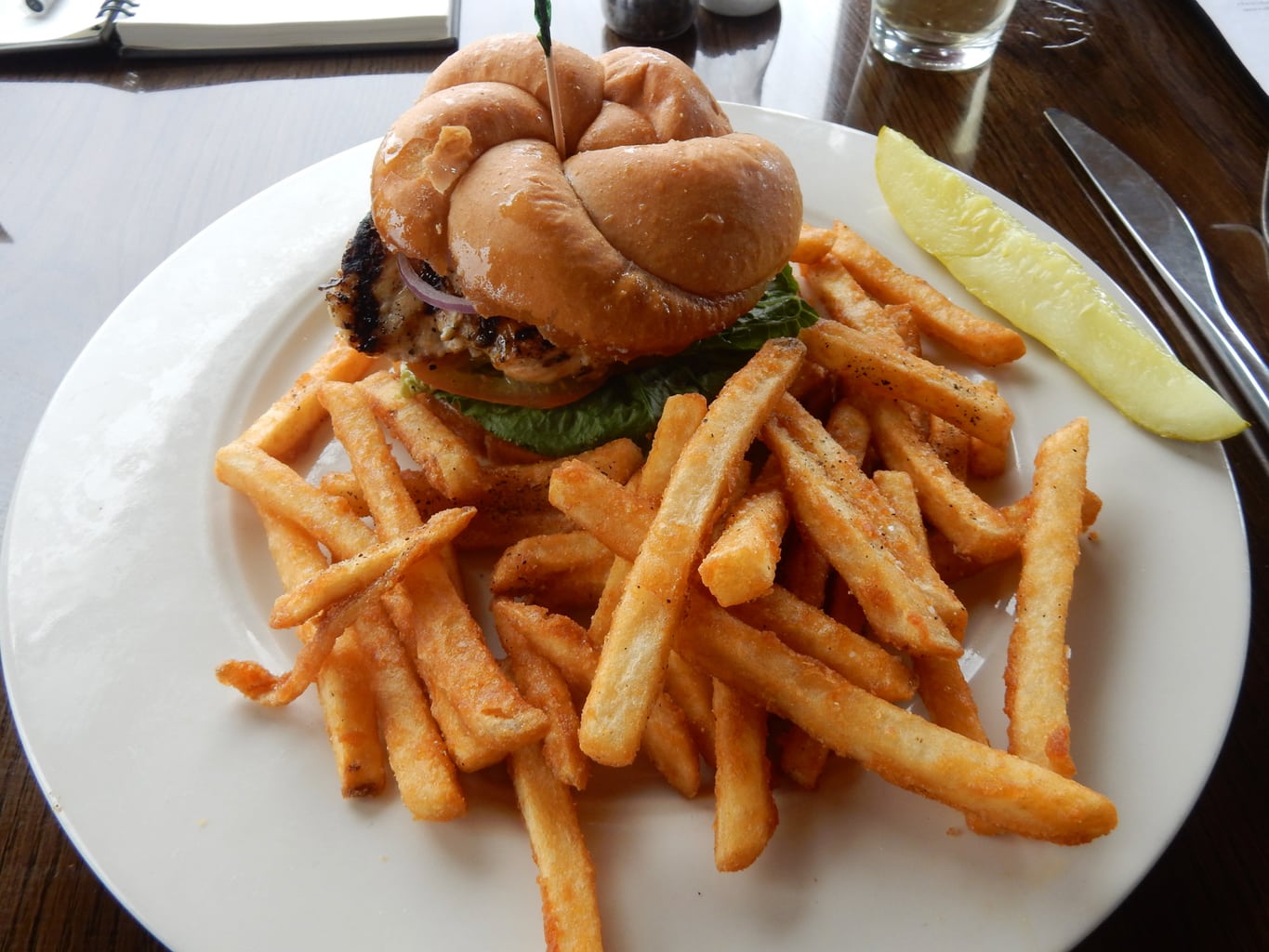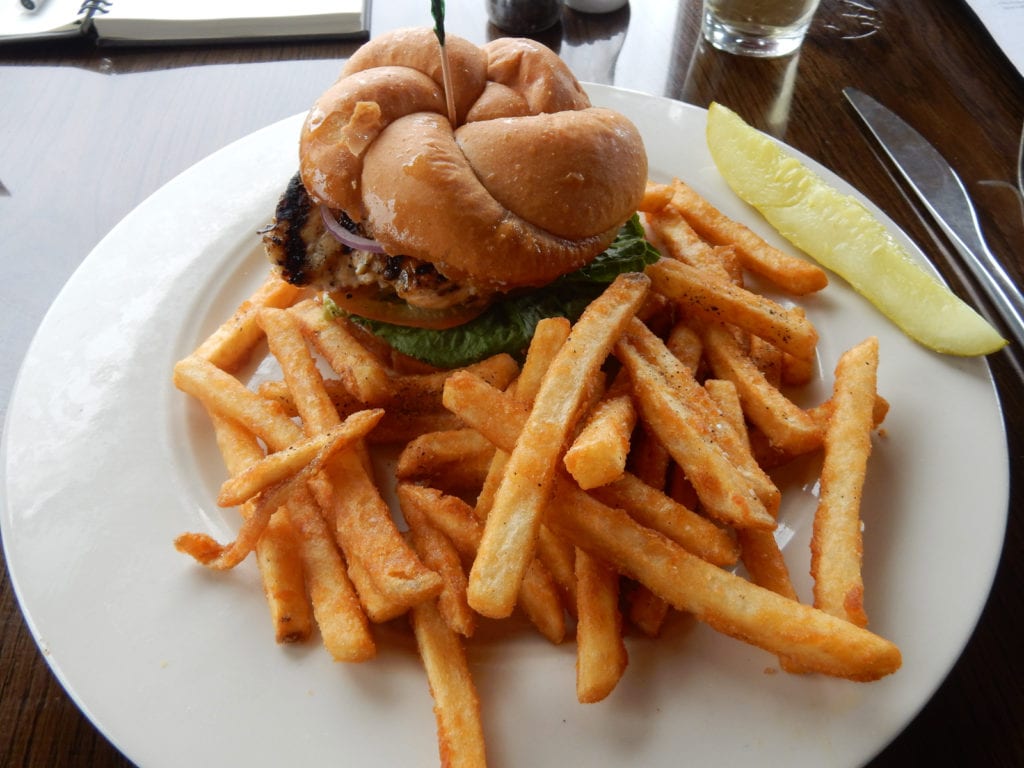 Your first glimpse of the water comes with craft beer on tap! Sip on War of 1812 Amber Ale, Thousand Islands Pale Ale, etc. along with very good upscale pub-ish food (a fantastic marinated chicken sandwich) in the dark, nautical bar or while staring out a window – or sitting on a deck – overlooking the boats at a Lake Ontario Marina. Be sure to order a side of fries – extra-crispy and totally yum.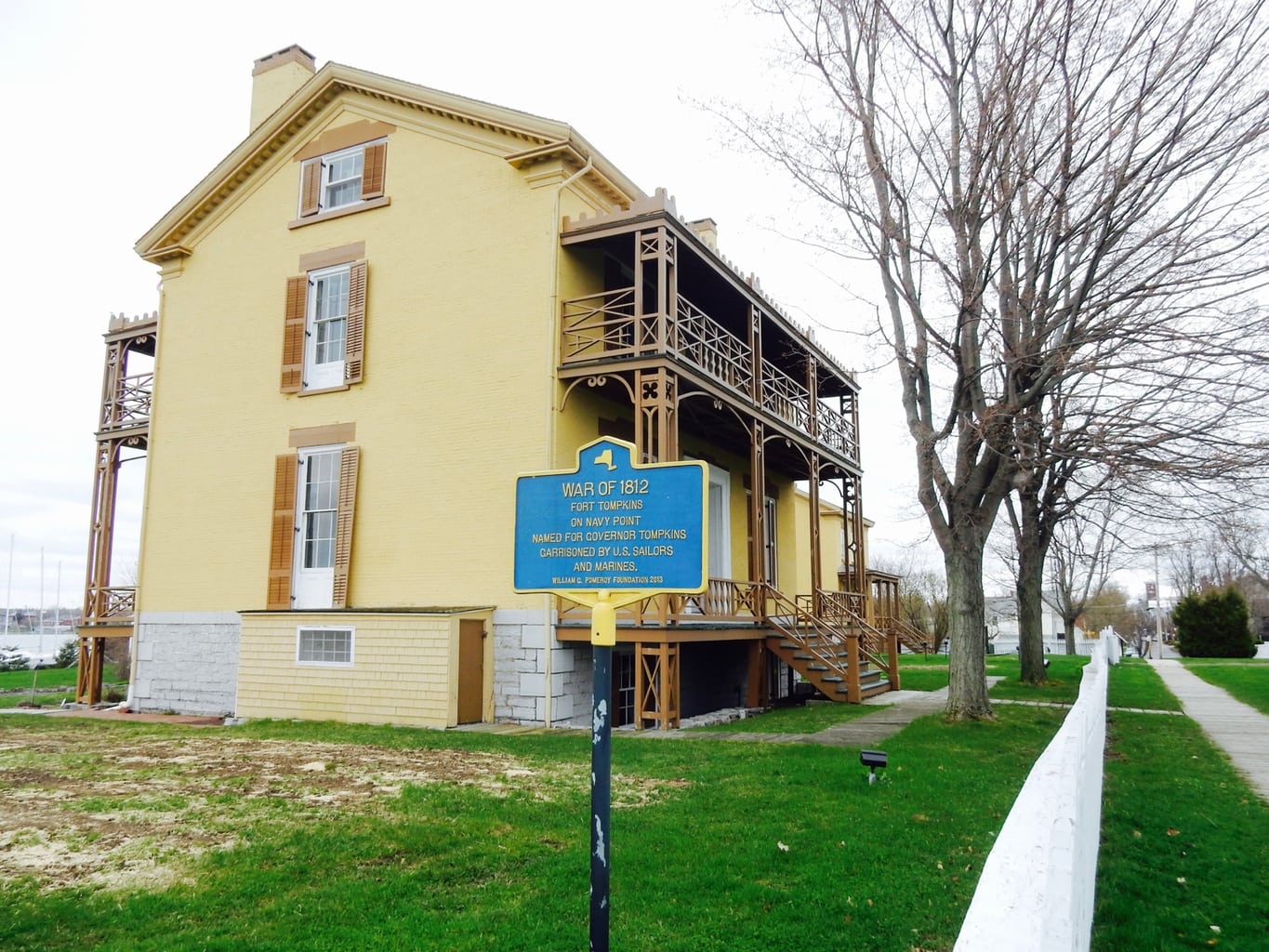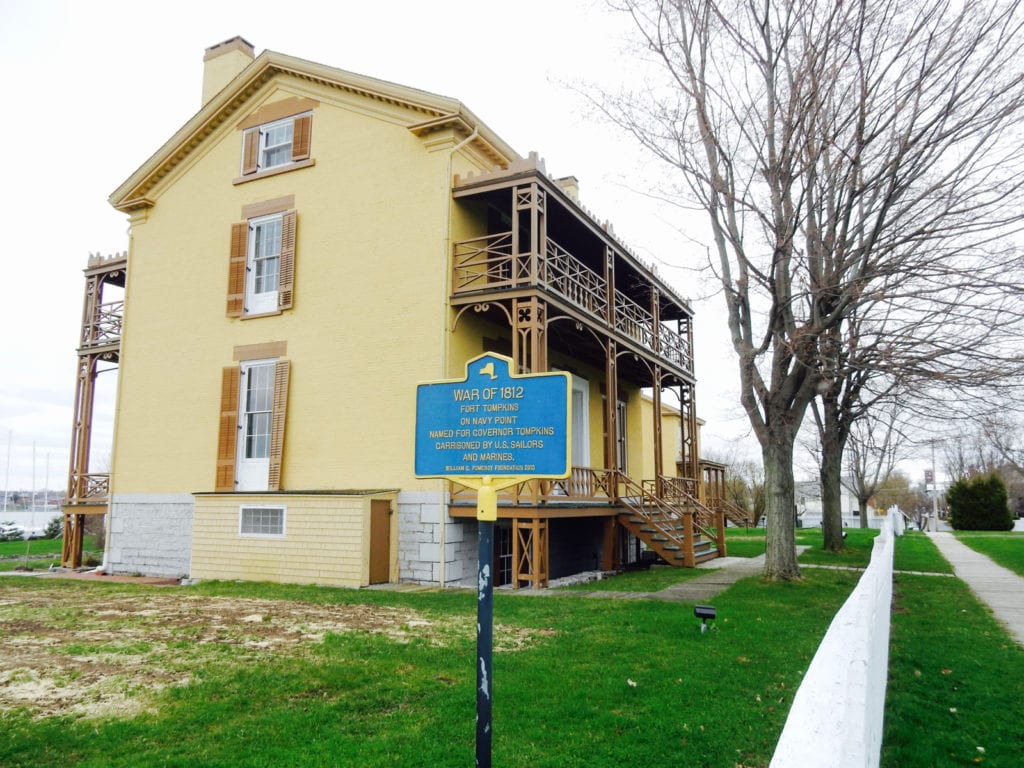 It's a very small downtown, but if you are into the early wars of our Republic, check out a few shops up the hill, and then wander down to the charming Visitor's Center and the 1812 Battlefield Historic Park at the dead end of the street, right at the waterfront. Even if the historic buildings are closed, it's a great park for a leg stretcher and for vast Lake Ontario views.
DRIVE TO: Chaumont (pronounced "sheh-moe")
Frenchman, Jacques-Donatien Le Ray de Chaumont purchased this land in 1802 as a safe haven for deposed French Royalty after the Revolution (though they never settled here). The nearby Cape Vincent is named for Le Ray de Chaumont's son, and the town of Theresa for his daughter. Situated on one of the "Finger Bays" that connect Lake Ontario to the St. Lawrence River, this part of the waterway has been deemed the "Golden Crescent" for its abundance of fish.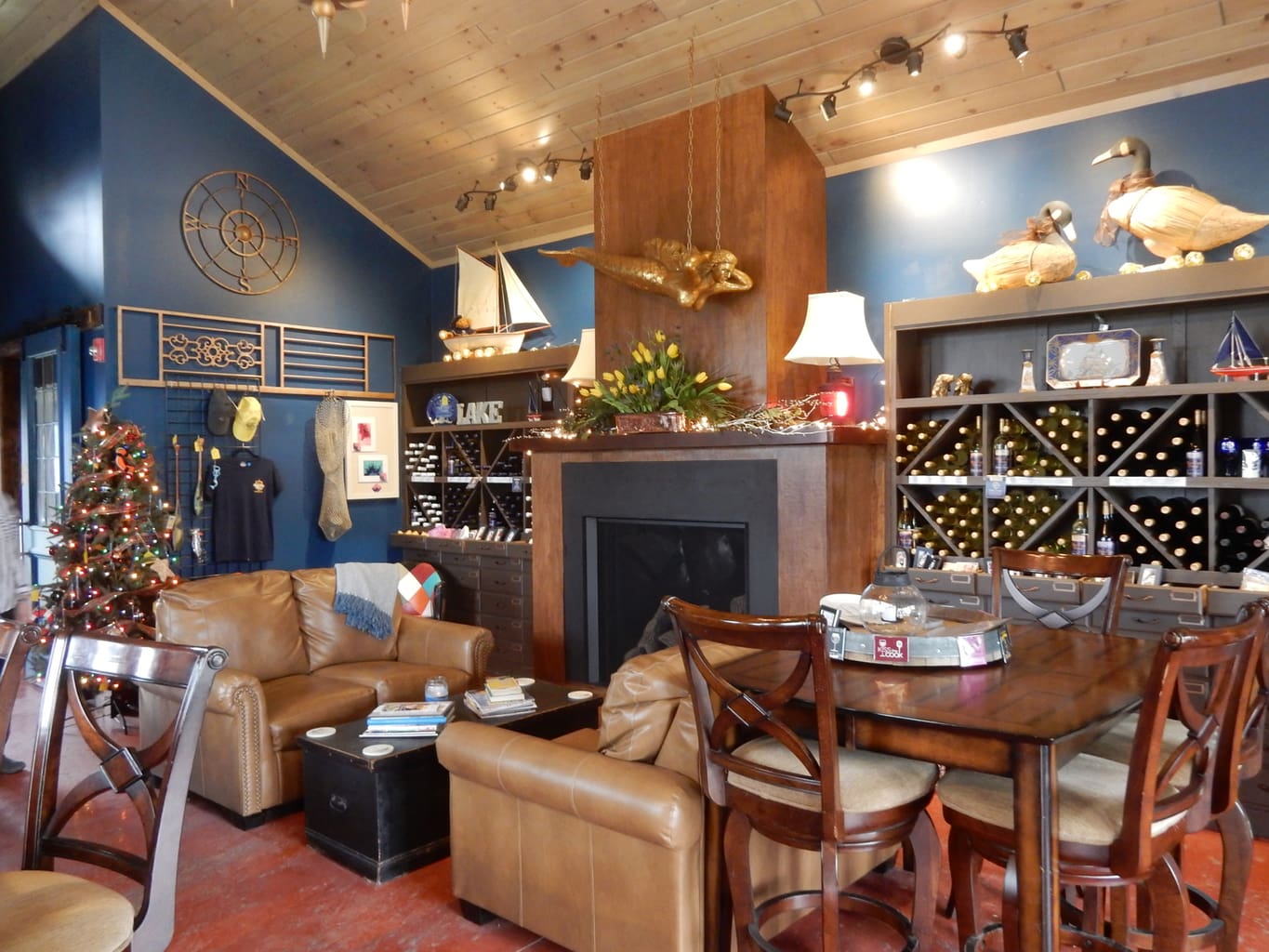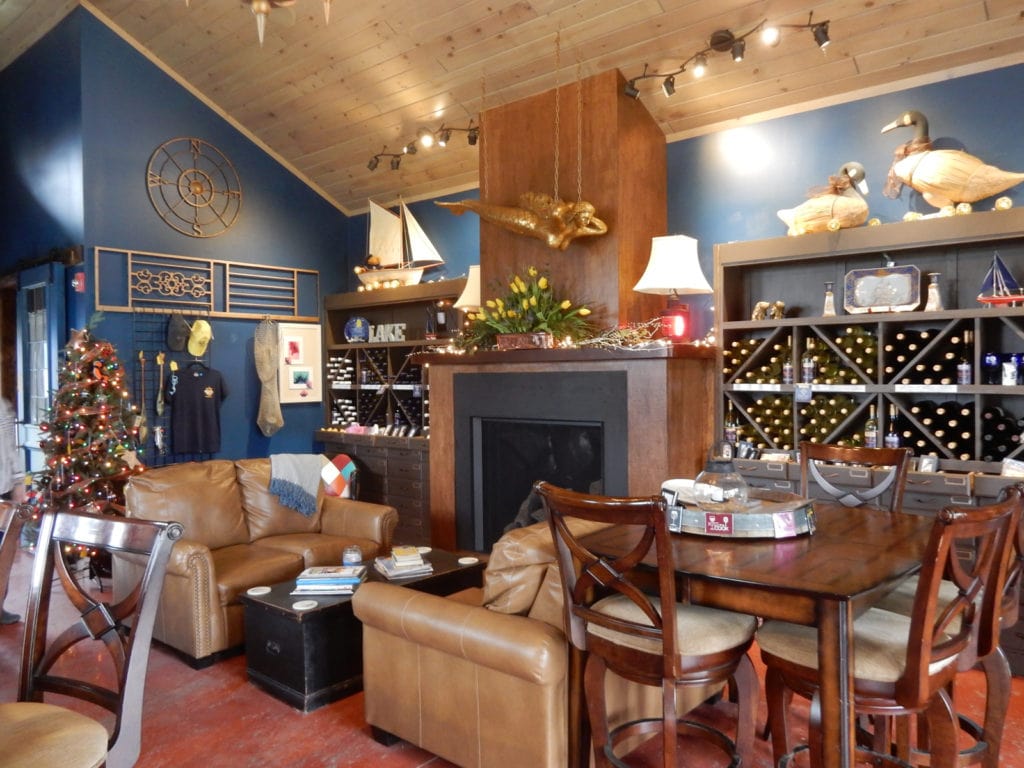 Owned by Gail Miller, this off the beaten path 178-acre farm has been in the Warner-Miller family since 1838 – purchased directly from the family of Jacques Chaumont. Miller is as passionate about farm-animal rescue as she is about her wines. Her first acquisition was Clarissa, a Jersey Cow bound for slaughter. She then took in a mixed breed horse, miniature ponies, and donkeys; seeing that their years left are happy ones.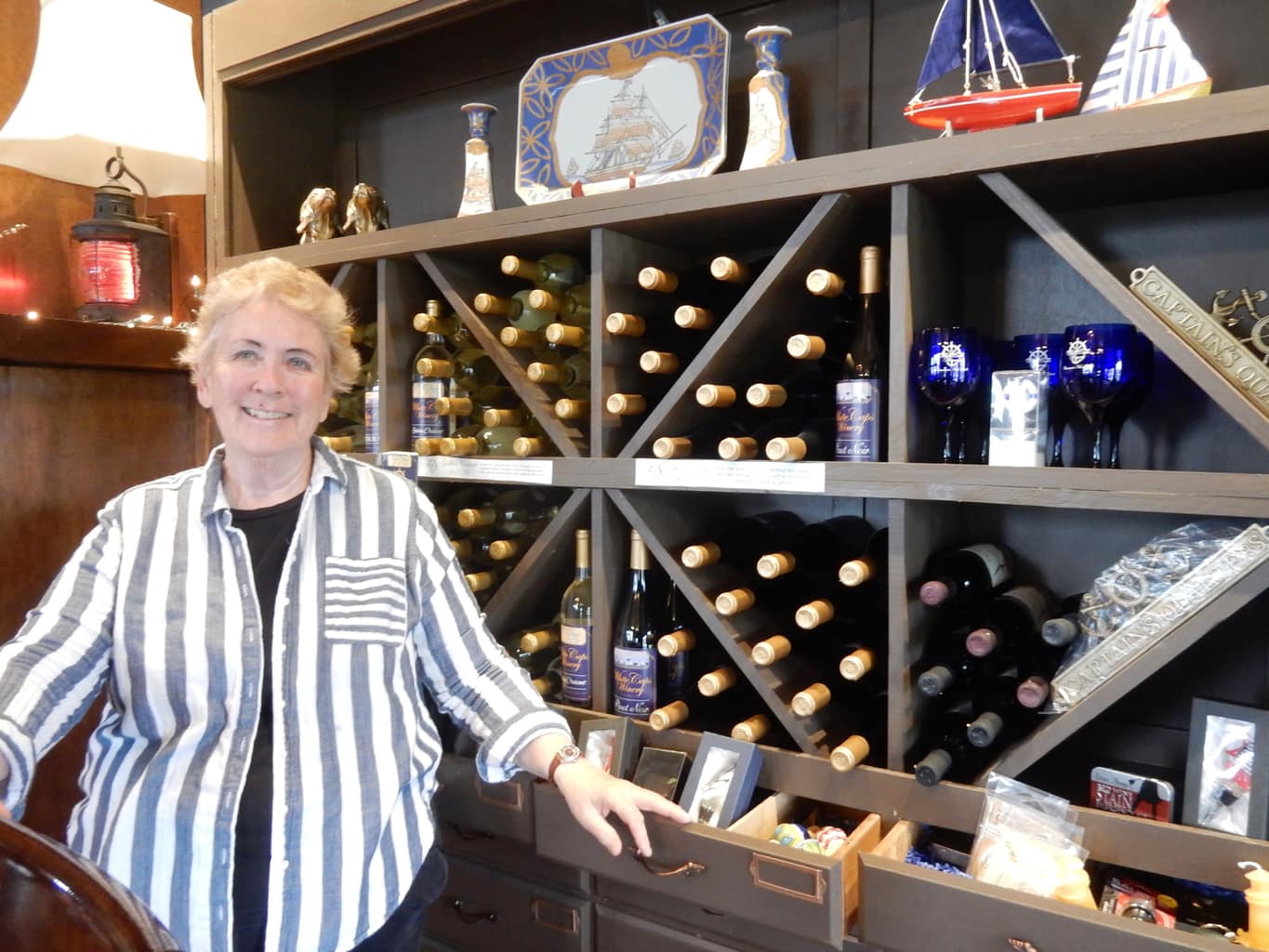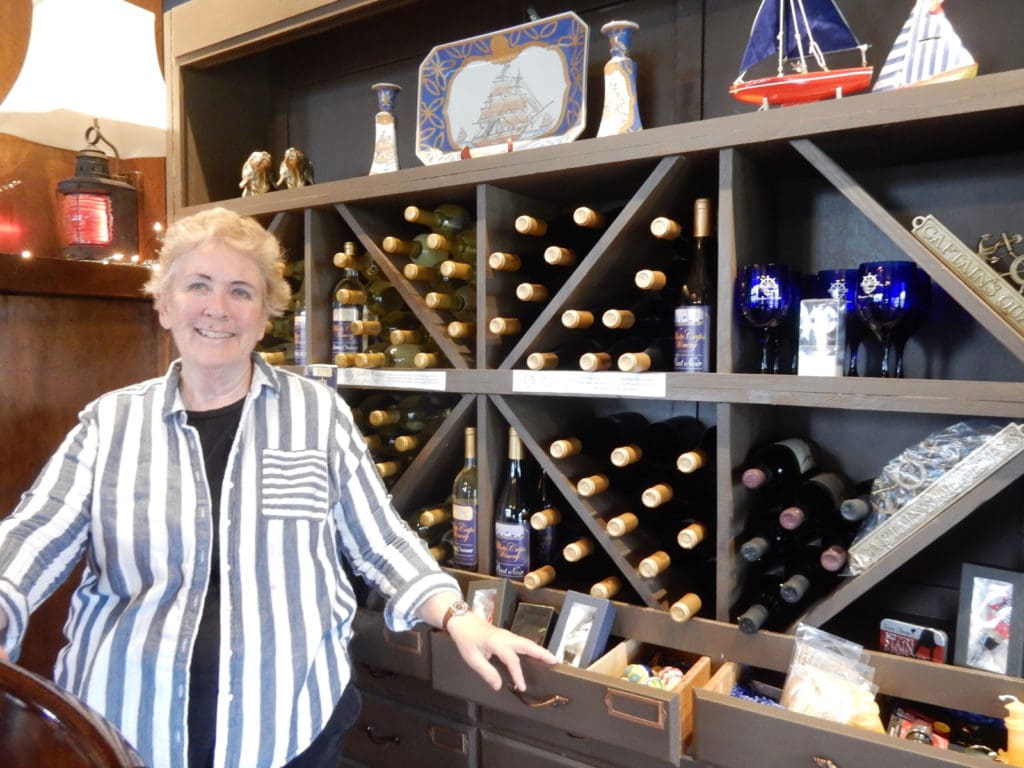 Come into White Caps' cozy, welcoming living room to try out the semi-sweet fruity Sunset White, sweeter Golden Crescent White, Sunset Red and other wines, and then walk the grounds to see the animals and vines.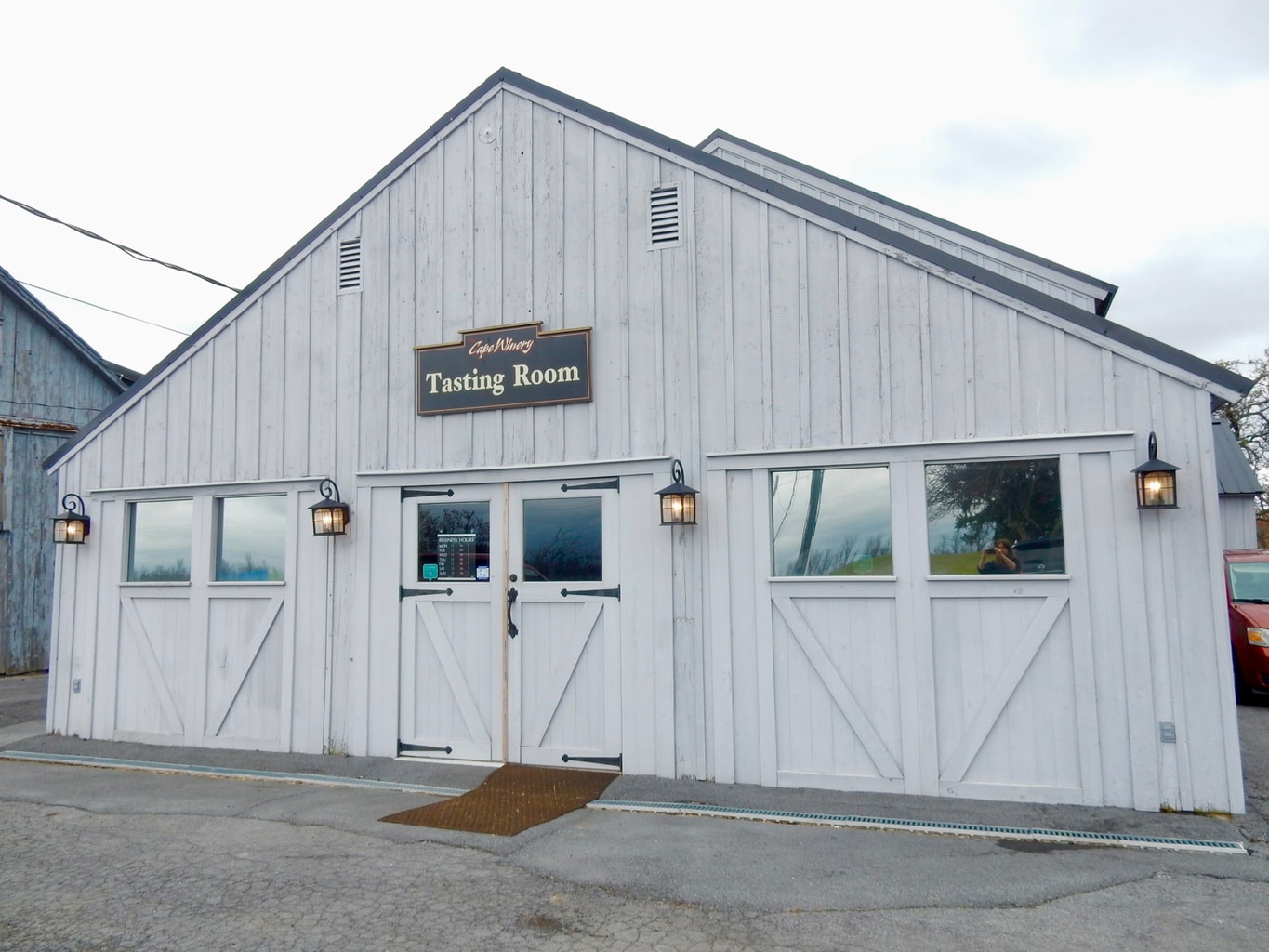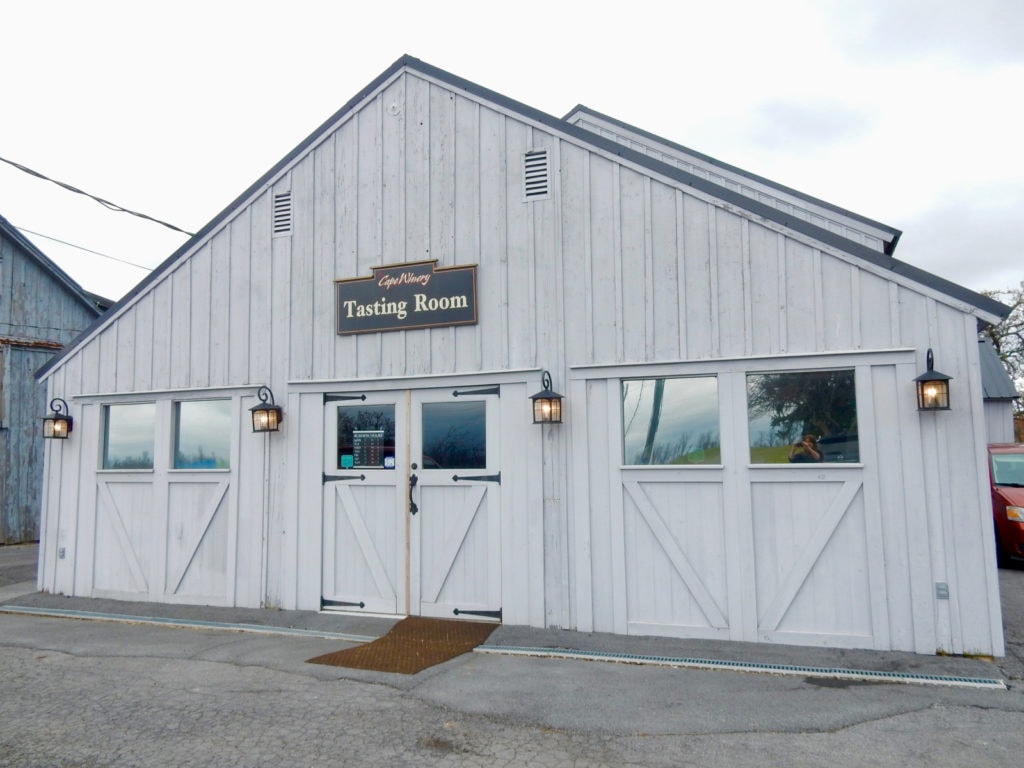 Don't let the tiny carriage house fool you: Cape Winery is known for its good quality dry wines. For many this will be your first introduction to "Cold Hardy" Marquette and Frontenac grapes – from vines that can withstand the sub-zero degree winters up here. The flavors – variations of toasted marshmallow and pepper – are unlike any you've had elsewhere, with a growing following. For a tiny place, The Cape Winery hosts some outsized scheduled events, including Gourmet Pizza party, Greek Night, Mexican Night, and Harvest Dinner.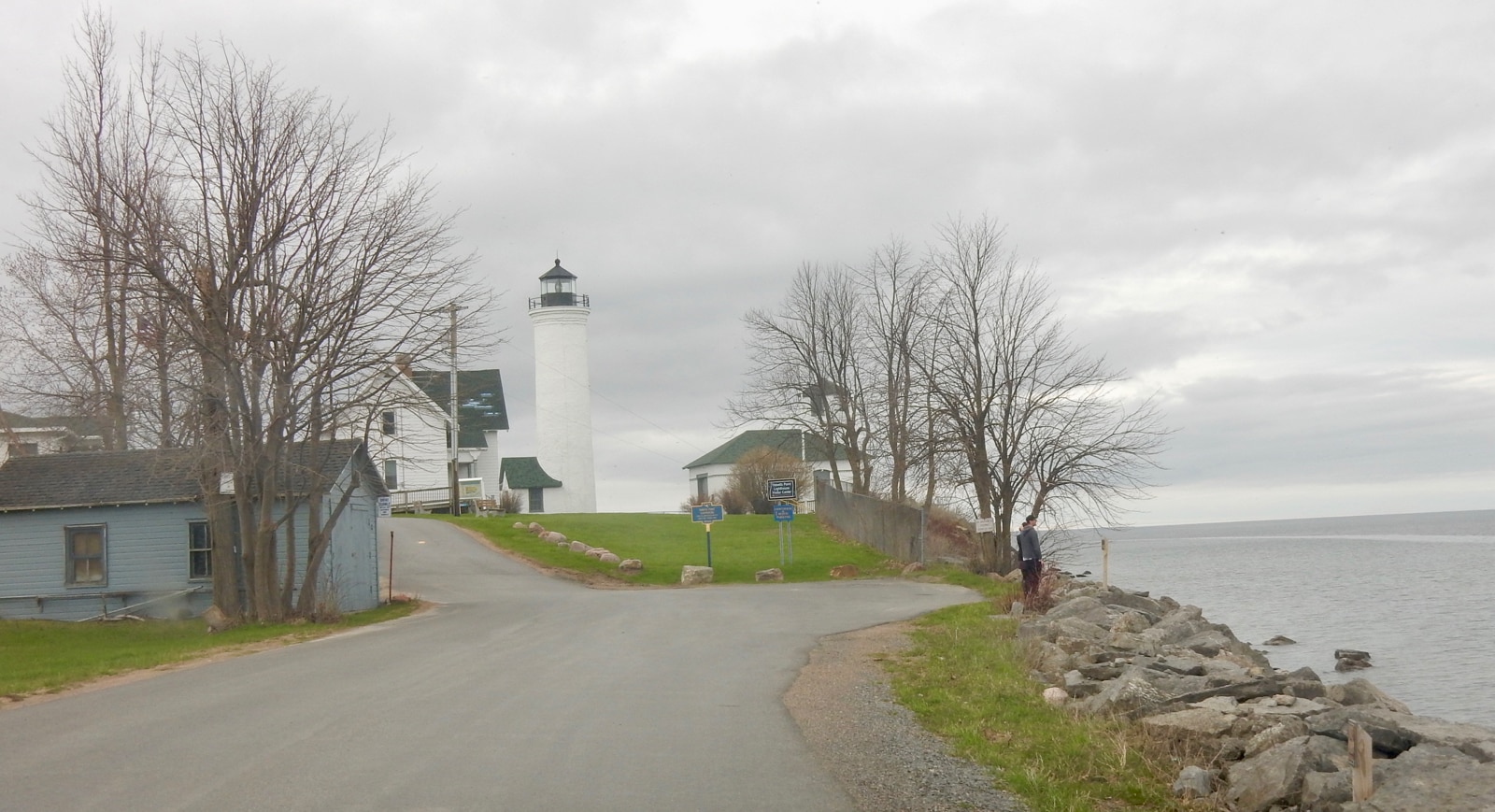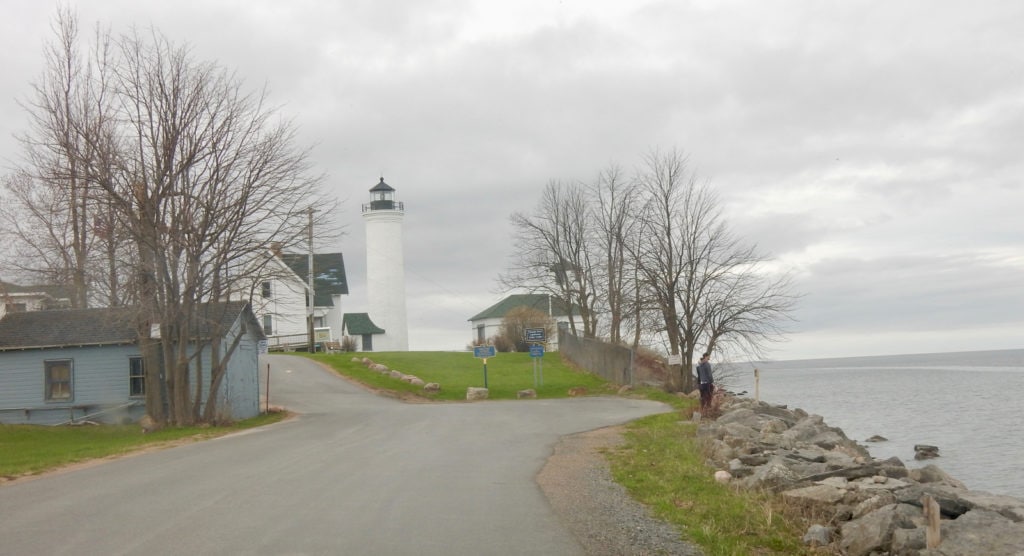 DRIVE: Tibbetts Point Lighthouse, where Lake Ontario and the St. Lawrence River meet
Drive on the windy 2.5-mile roadway, running from downtown Cape Vincent to the Tibbetts Point Lighthouse. Bounded on one side by the Lake and the other by modest homes, the experience is transcendent, especially late in the day. The street ends at the tall white tower that still serves as an aid to navigation on the St. Lawrence Seaway – the only Lighthouse on Lake Ontario with its original Fresnel lens.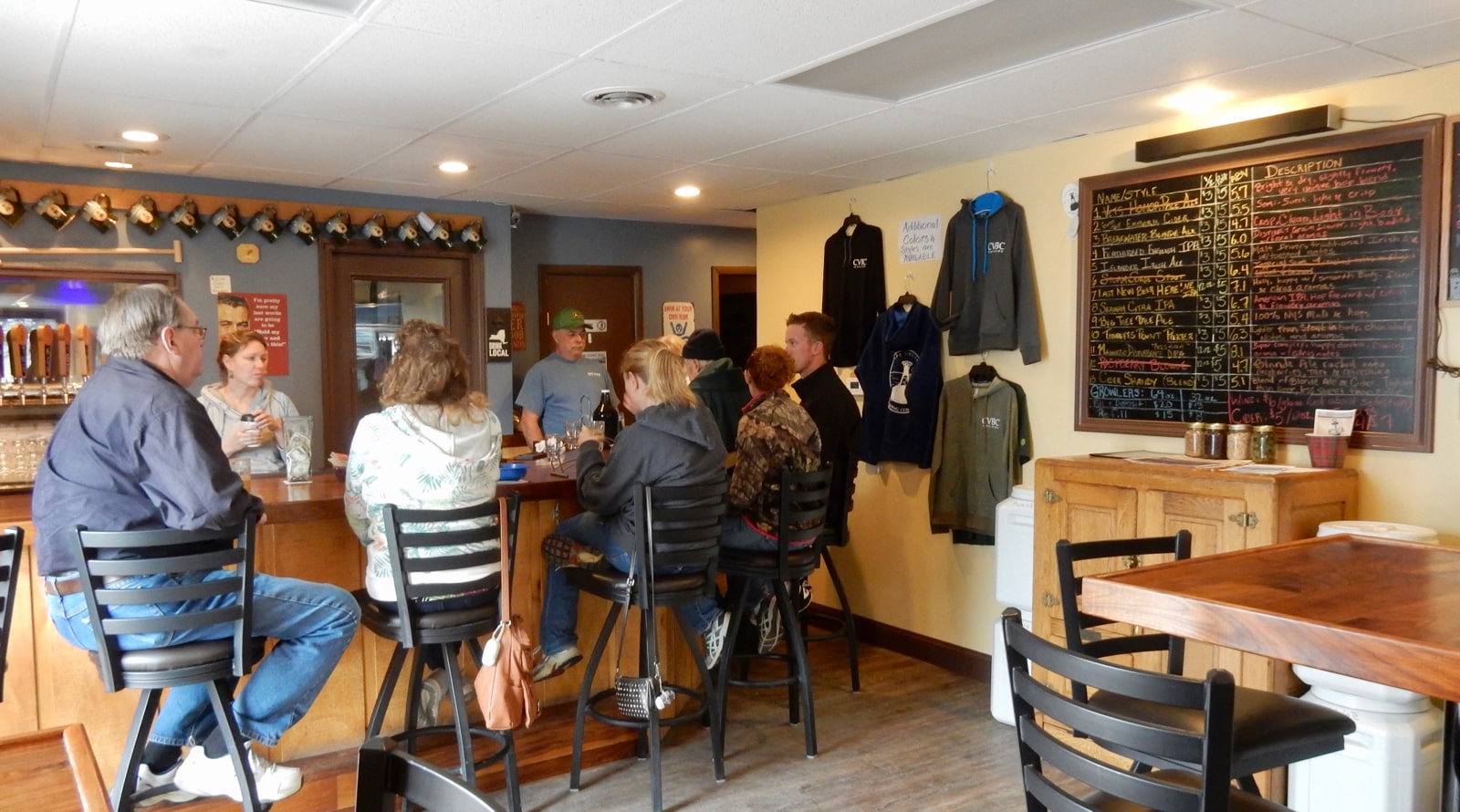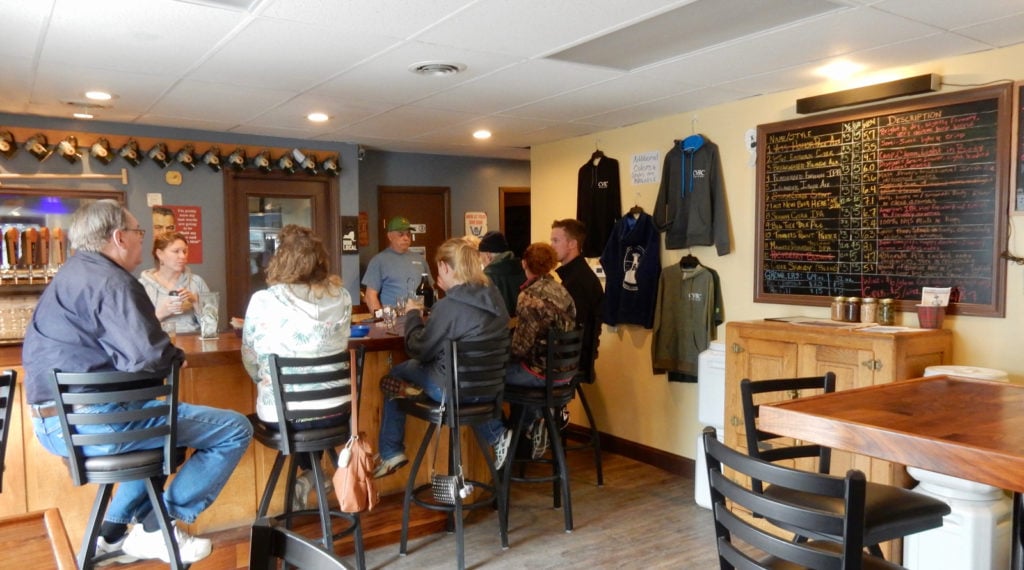 STOP: Cape Vincent Brewing Company
In small downtown Cape Vincent, this small brewery has a maritime vibe. In fact, it seems as if this is the place for local boaters to congregate for Breakwater Blonde Ale and other fresh craft brews. On a cold rainy early May Saturday afternoon, the place was packed.
Clayton NY – Your Base for Two Nights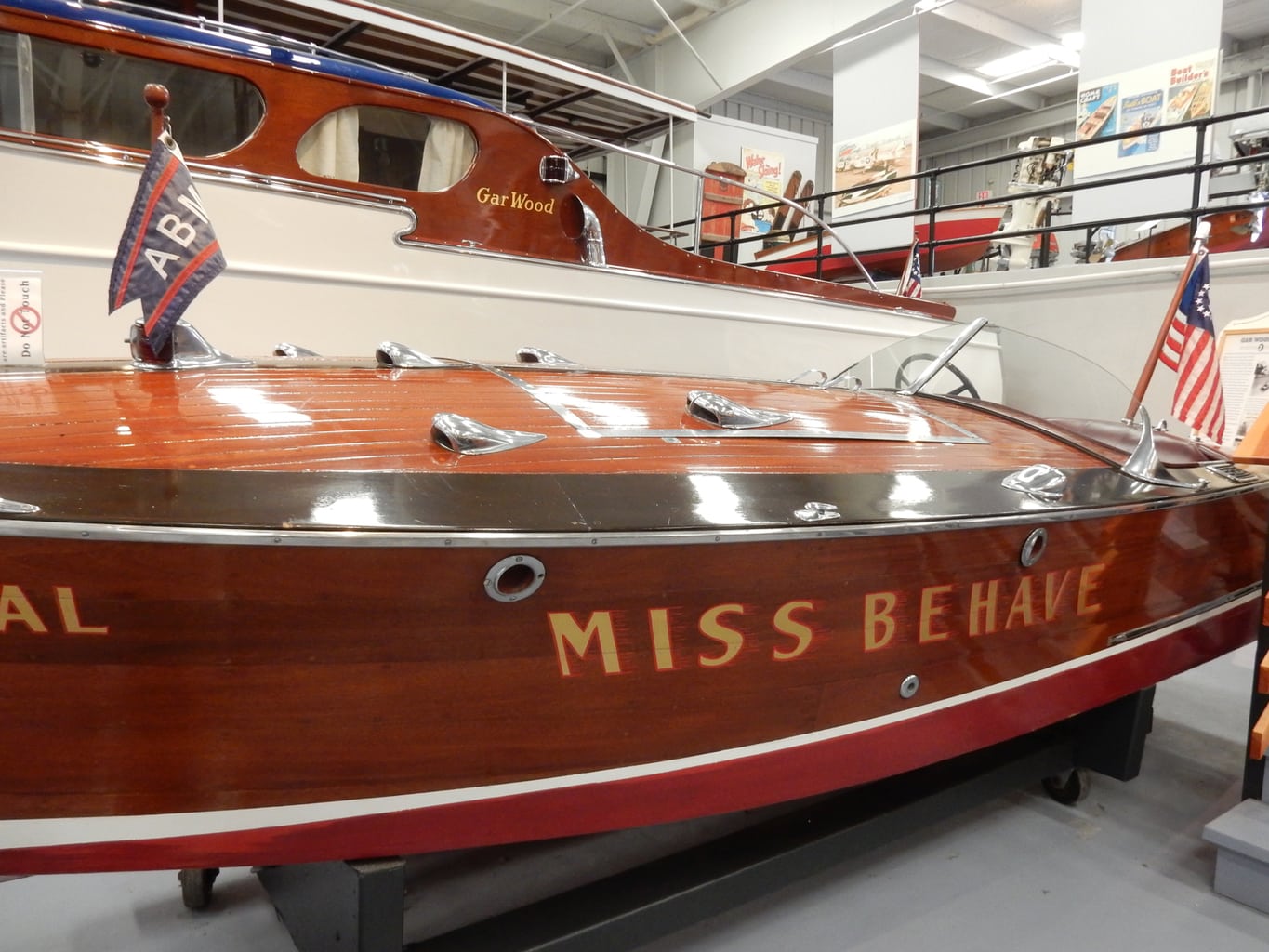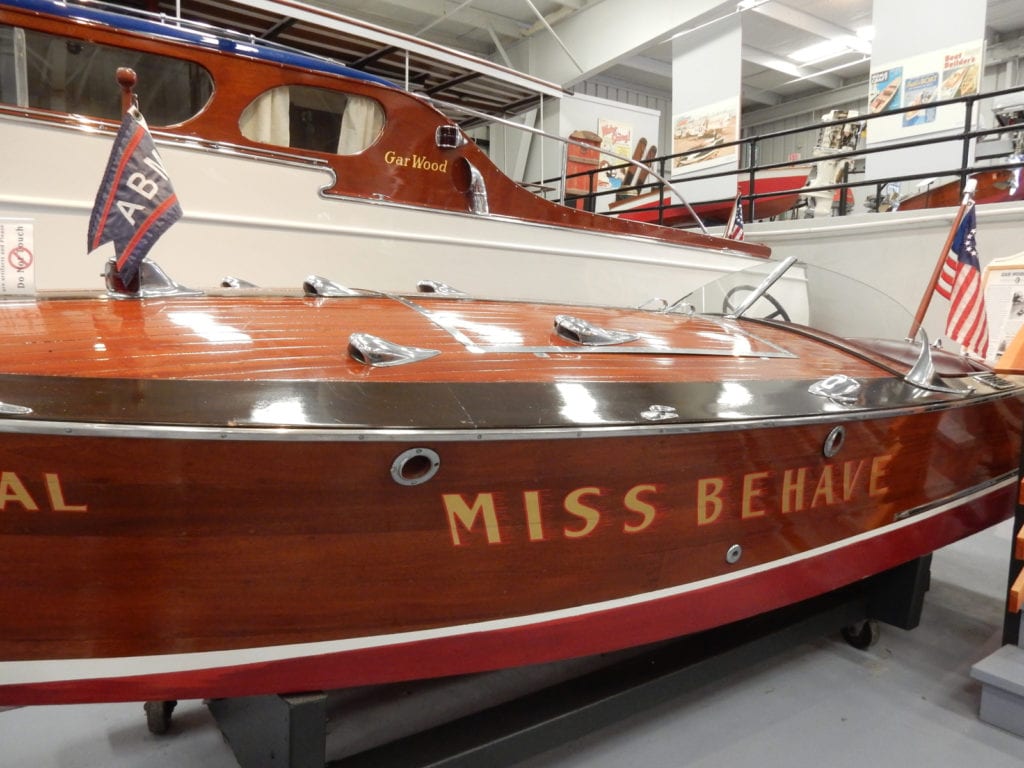 Did you know that Guy Lombardo was the "World's Fastest Bandleader?" He won a speedboat marathon from Atlantic City to Cape May in 1942. And have you ever heard of Betty Cook, who should be as famous as Amelia Earhart? The slight 110 lb MIT-grad grandma started racing offshore powerboats in 1974 at age 52, won two World Championships, and retired with 17 wins just 8 years later in 1982.
You'll hear these stories and more at this absolute must-see museum. Plan to explore the several buildings on a waterfront campus that make up this premier attraction in Clayton, and if there's time, go for a ride on the river.
Thousand Islands during the Gilded Age
Start with an 8-minute introductory video about the Thousand Islands during the "Gilded Age," when wealthy industrialists built island "cottages" (surrounded by the ultimate in moats), that required personal watercraft for access. These "mahogany beauties," many now on display here, were used and maintained as "living objects".
From 1870-1920's, trains from the City transported the well-heeled to Clayton docks and from there steam boats carried them to opulent island hotels (now gone). But the ultra-rich, like industrialist George Bolt, had his or her own castles and rides. Bolt's cruise-line-sized three story tall houseboat, La Duchesse, is at dock at the Museum, and it can be boarded for an extra fee.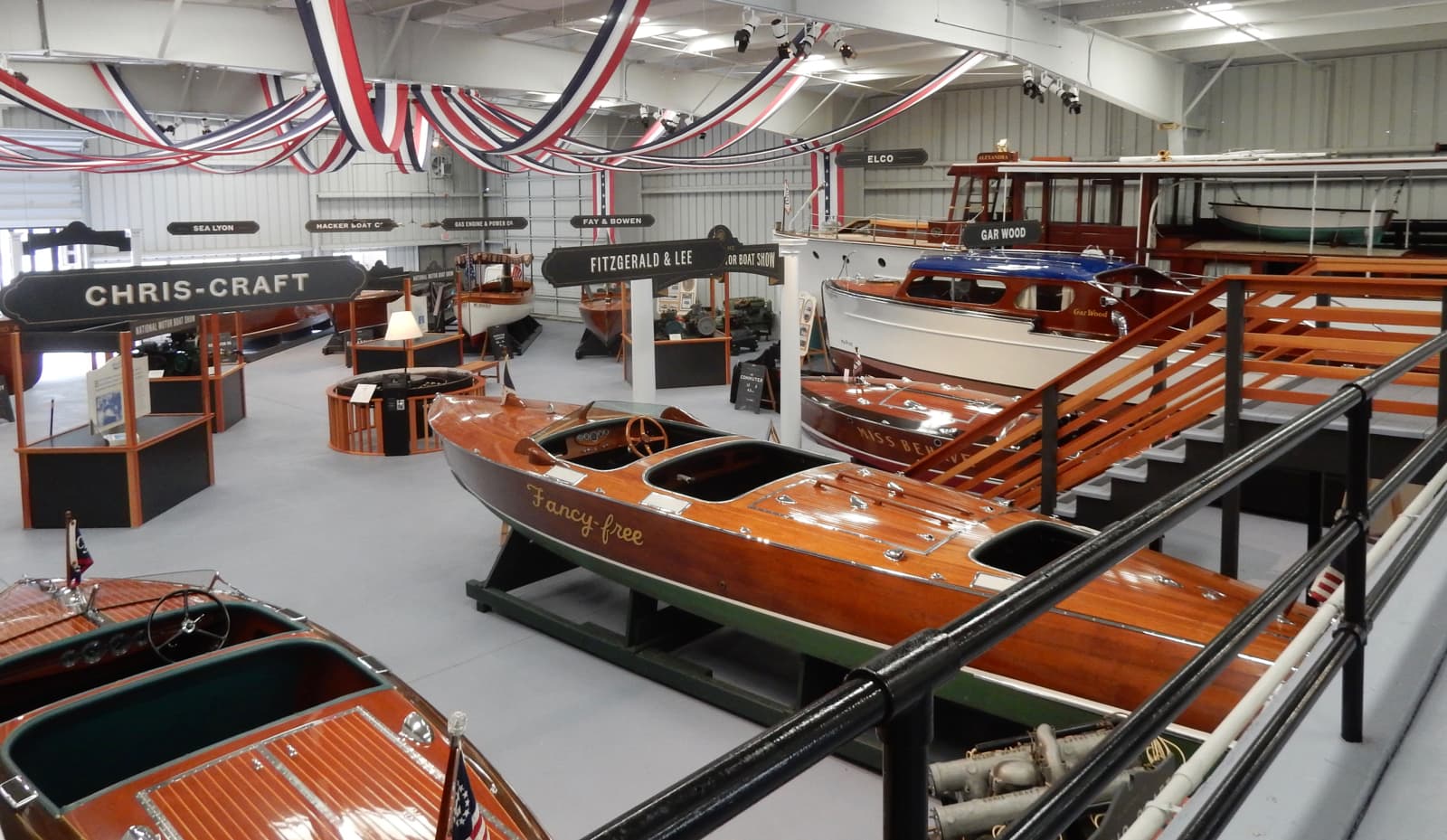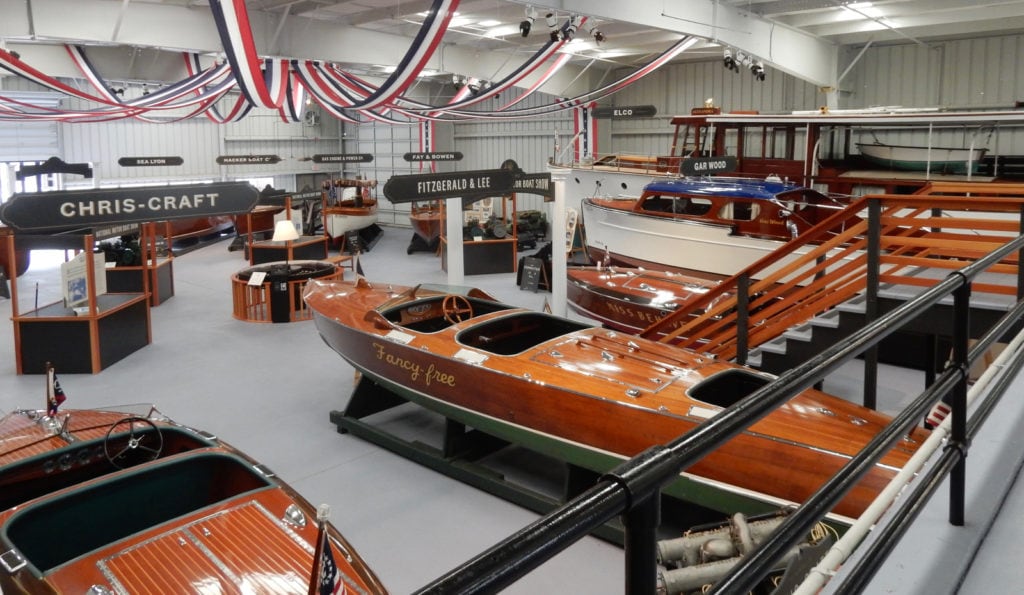 See canoes and skiffs in the Small Craft Building, and row a skiff for free with admission. Interact with staff as they restore and build boats in the E.J. Noble Historic Stone Building. Board two cruisers and be surrounded by runabouts, launches and outboard motors in the Cleveland E. Dodge Memorial Launch Building.
Offshore Racing Powerboats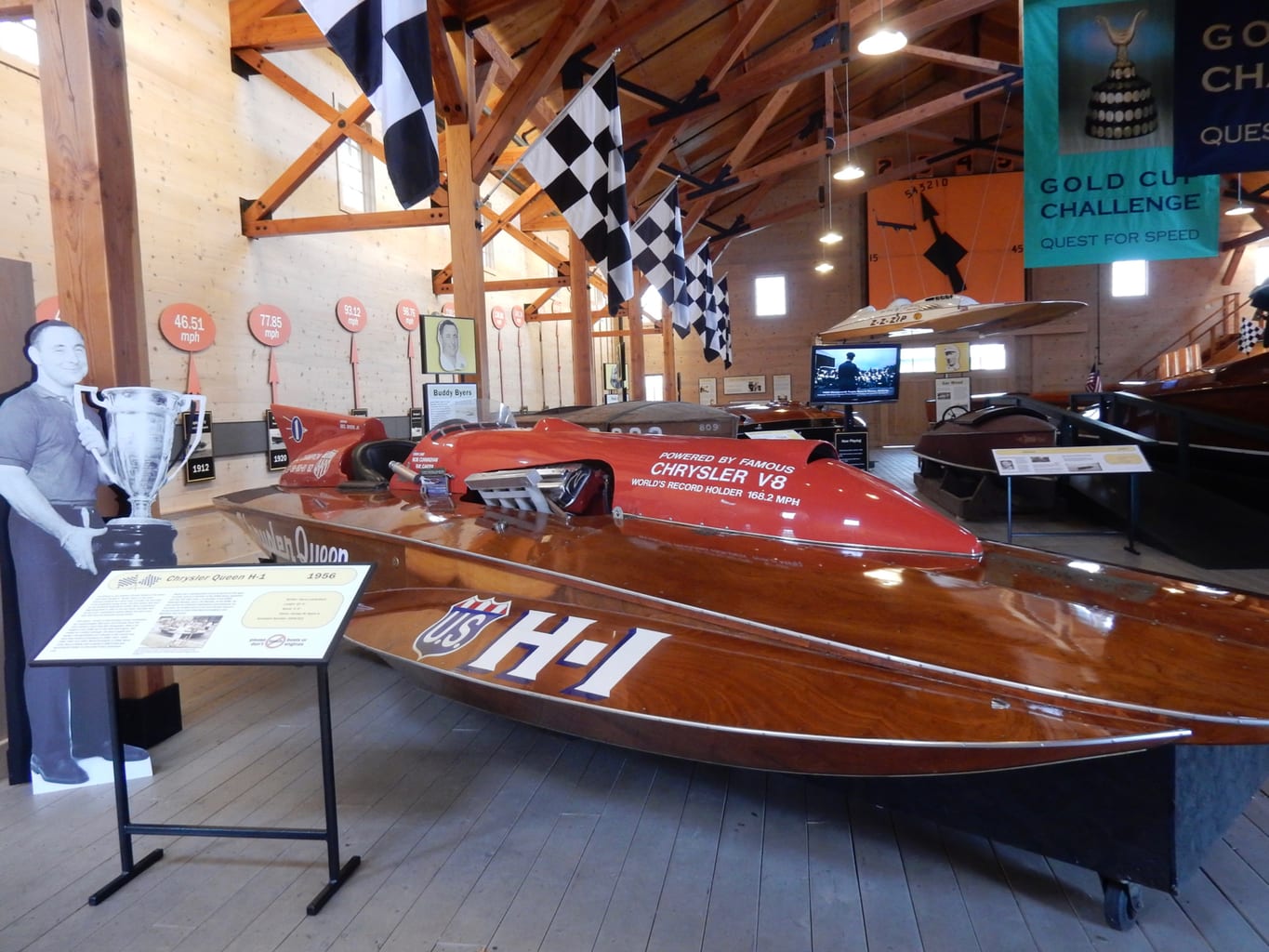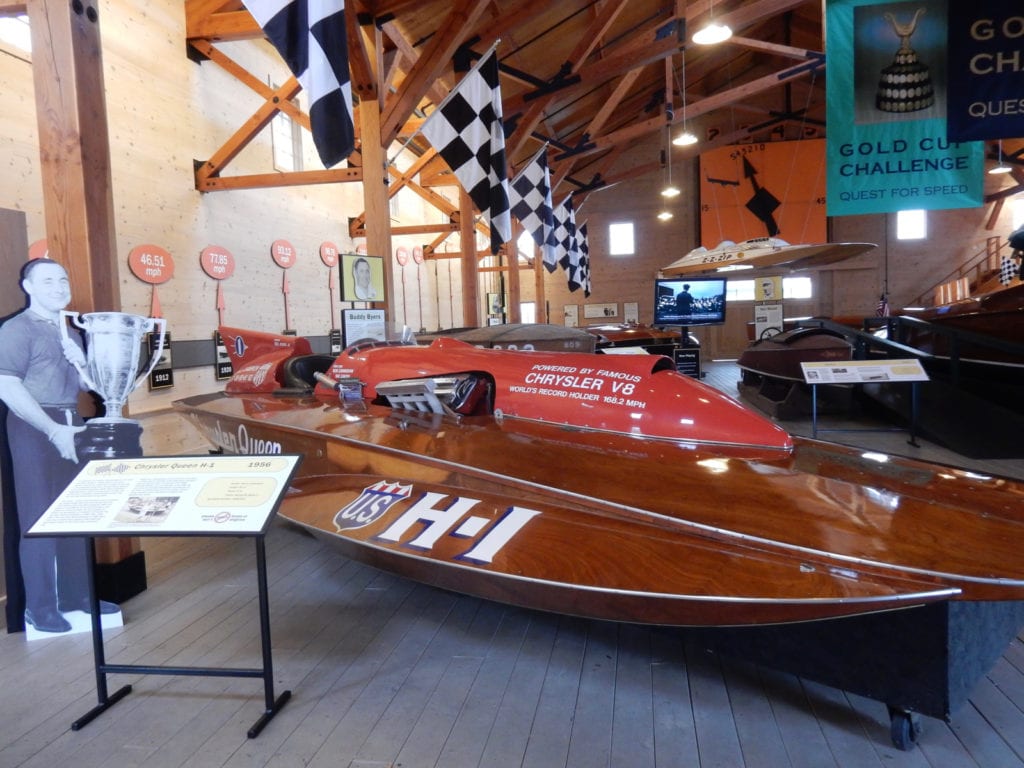 In my opinion, though, the most thrilling vessels can be found in the Morgan Building, across the street, housing the hot rods of the sea. These Offshore Racing Powerboats require derring-do and nerves of steel. Run your eyes over a room crammed with these beauties, from the sleek mahogany 1933 "Pardon Me" to some of the latest rocket-powered versions, with speeds creeping ever higher (now over 200 MPH) each year.
Boating is part of the culture in the Thousand Islands. Nearly every resident owns at least one. One of the highlights of the Museum is a 45 minute "Ride the River" experience. Open daily May to October 9-5, $38 includes the ride, La Duchesse Houseboat tour, and entrance to the museum. Tuesday evenings in July and August after 5:30, go sailing with a museum instructor for free with admission.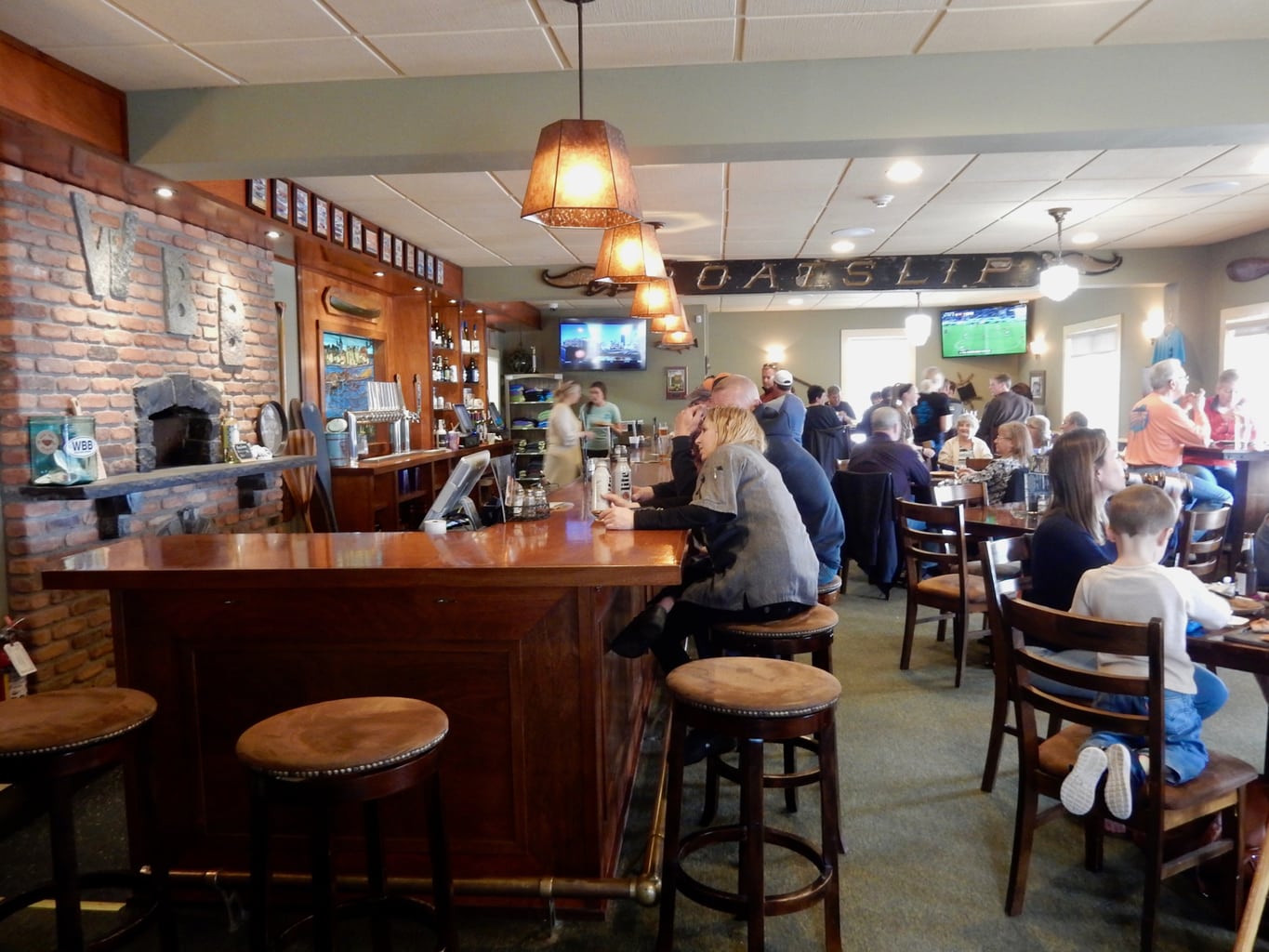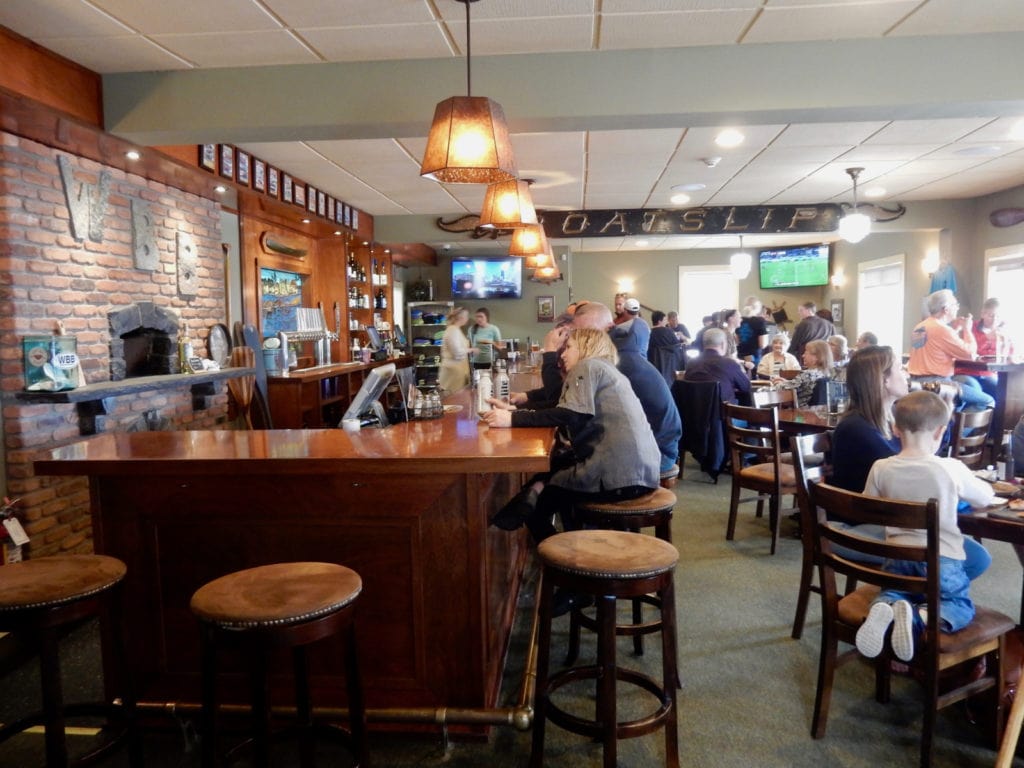 Pizzas come out of the wood-fire oven crusty and piping hot. Not only does this popular brewery make great craft beer, it's one of Clayton's best restaurants. Located right across the street from the Antique Boat Museum – it's a great place to just revel in a pint or two.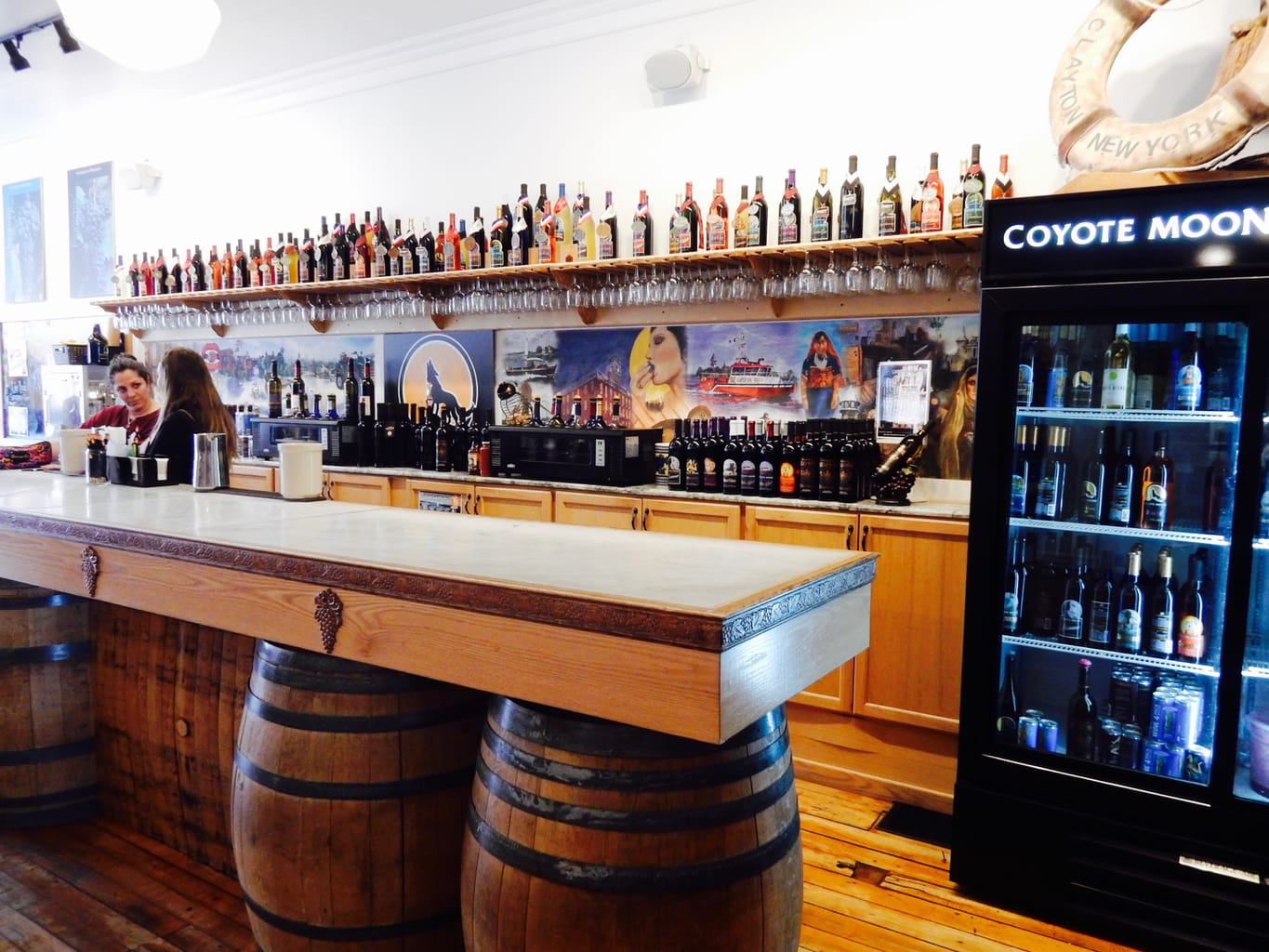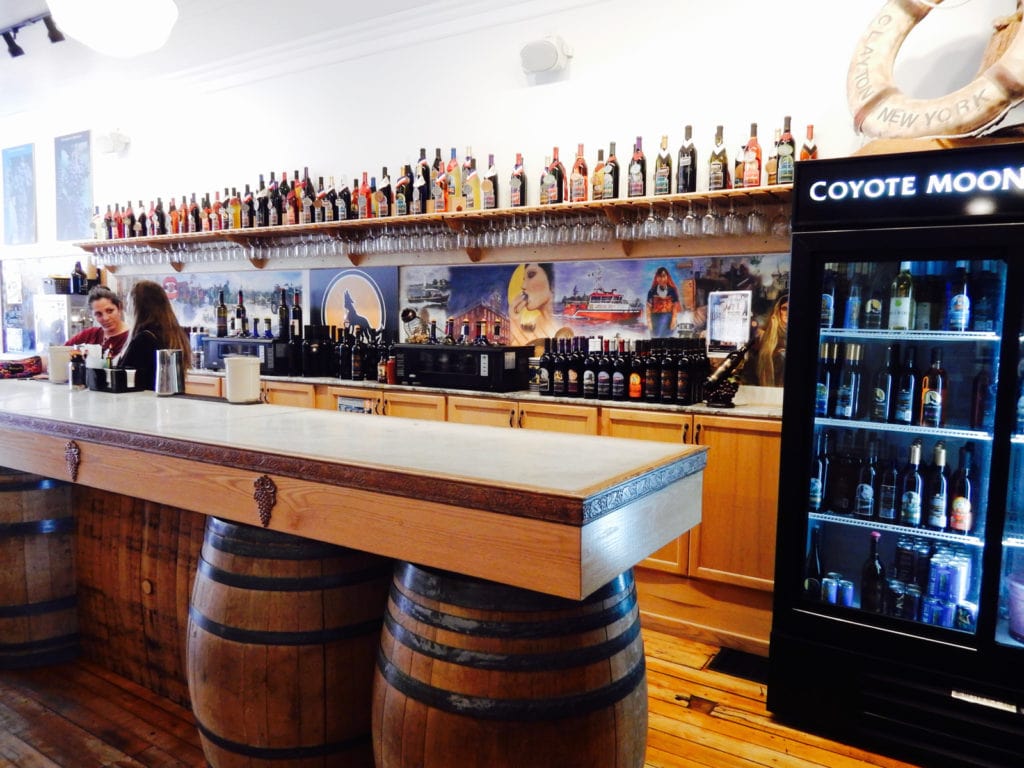 Every artsy label, created by the late Mary Randazzo, tells a story at this "Mom and Pop turned family empire" winery, owned by Phil Randazzo. One of three tasting rooms, this one in downtown Clayton is charming, and apparently draws happy groups of friends who chow down on Charcuterie Boards and other aps while drinking Marquette Zenda Red ($5 per bottle goes to the Zenda Farm – a Thousand Islands Land Trust), Frontenac aged in American Oak, the semi-sparkling Moscato, and other drinkable varietals.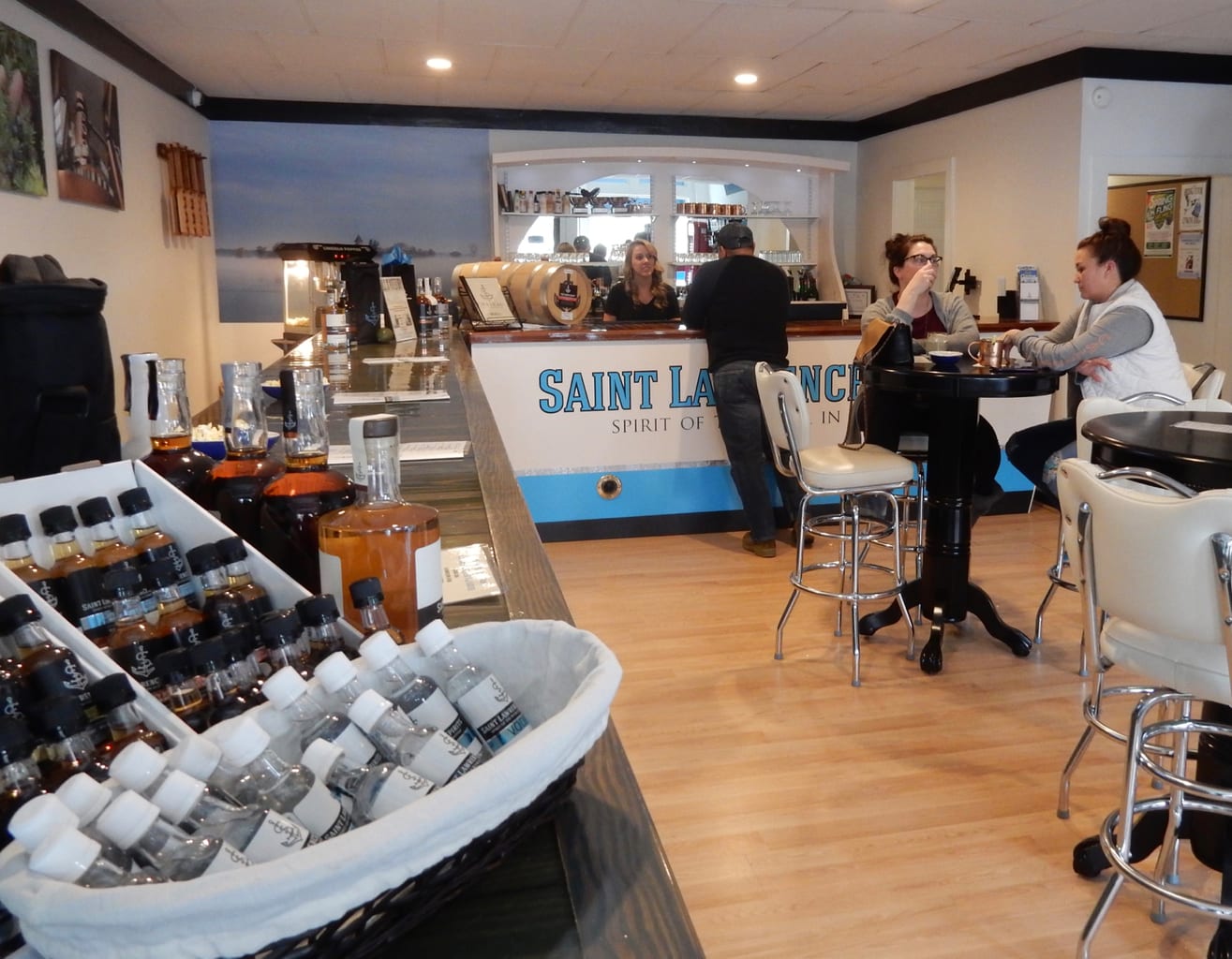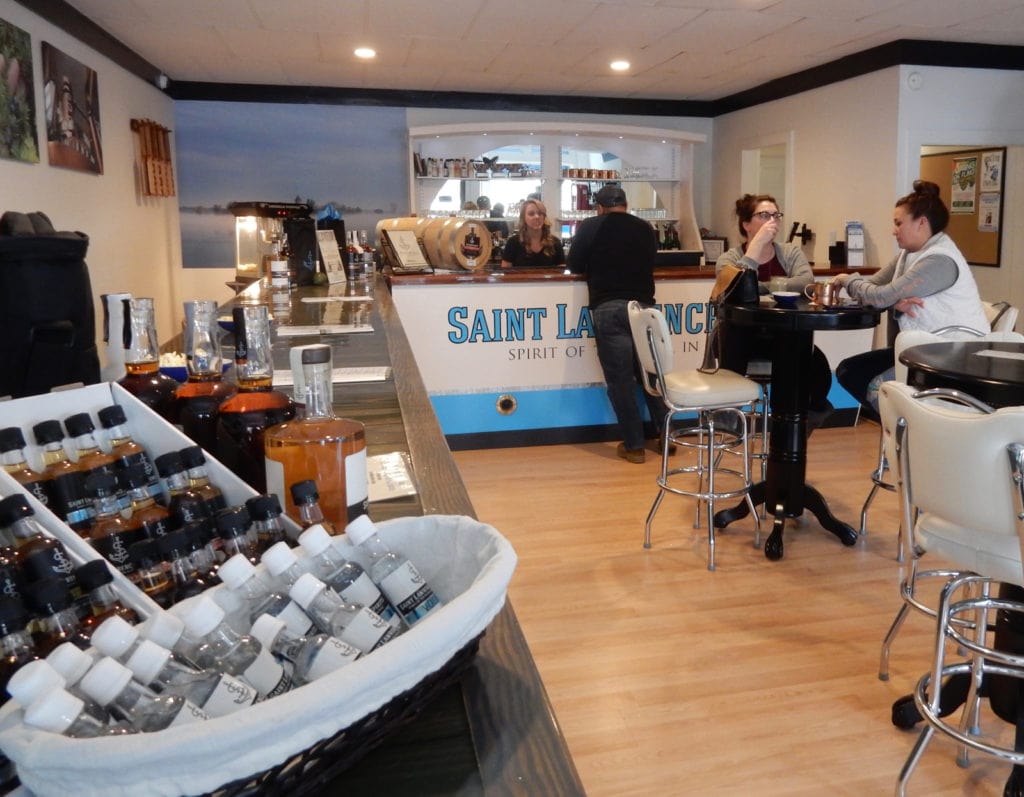 TASTE SPIRITS: St. Lawrence Distillery Tasting Room
The only distillery in the world to use pristine St. Lawrence River Water and which sources most ingredients from its own 2,000 acre farm (Lucky Star Ranch), St. Lawrence Distillery operates both a contemporary-cool downtown Clayton tasting room (the bar looks like the stern of a boat), and a restaurant – The Chateau – swiftly gaining fans from all over the Northeast. It's also one of three distilleries in New York State that produces absinthe.
Pick up some original Thousand Islands Dressing, and Squeaky Cheese Curds made fresh every Monday and Thursday.


EAT DINNER/CLAYTON: St. Lawrence Spirits Chateau
You won't find more a sublime view of the St. Lawrence River than from this excellent farm to table restaurant. In a private 1937 stone home that became a summer retreat for an order of nuns before the current owners purchased it and opened the restaurant in 2016, the Chateau achieves the perfect combination of dazzling views and inspiring meals.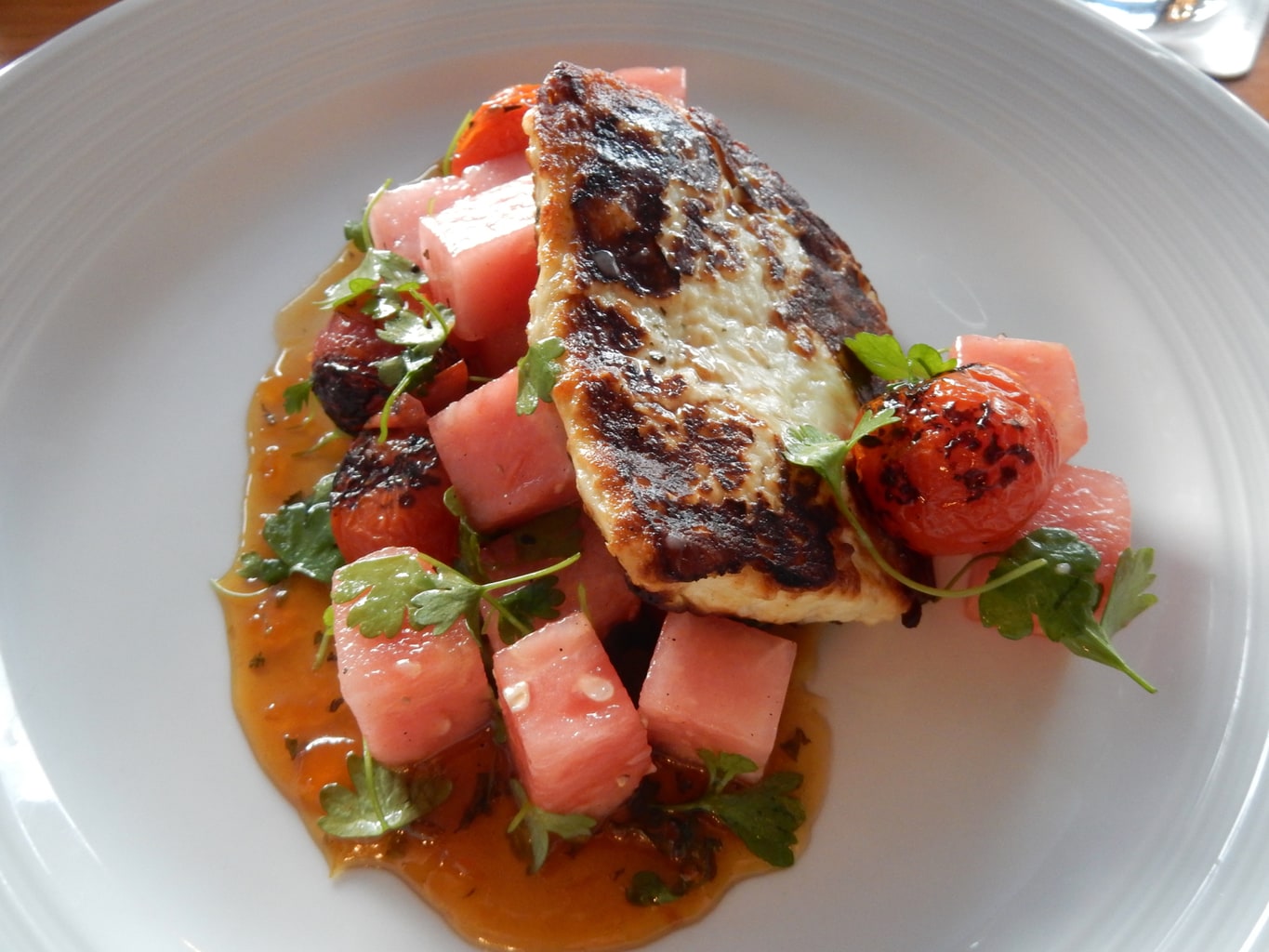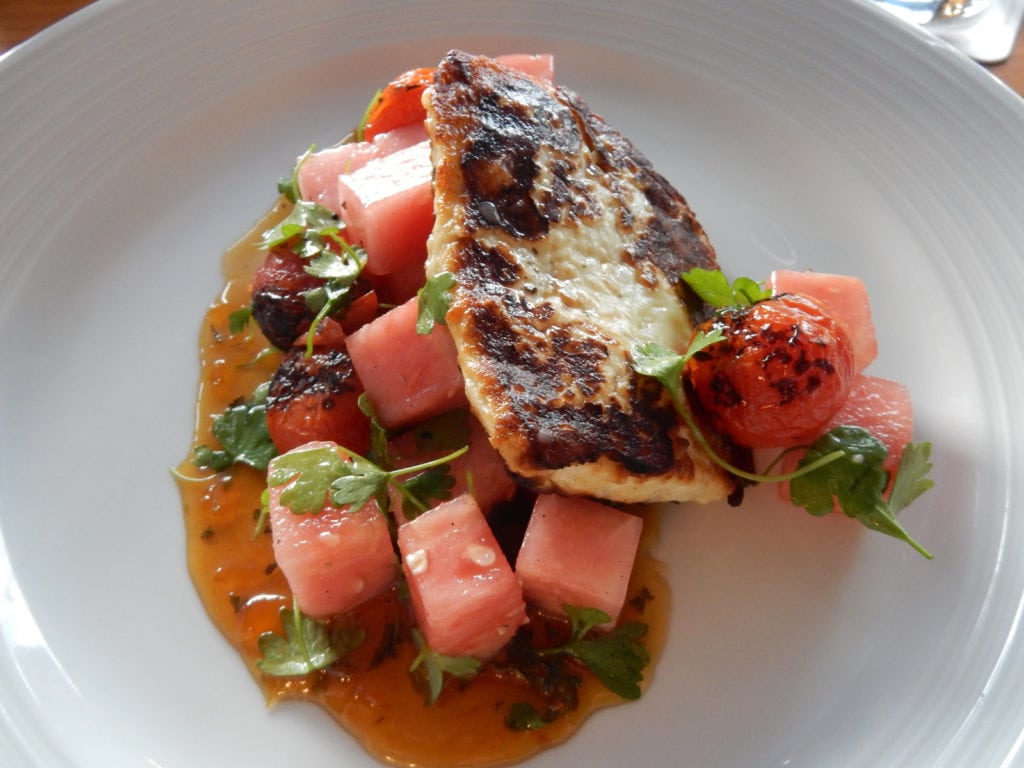 For a premium experience, sit at the bar at sunset. Backed by a wall of windows, you can watch freighters glide by on the St. Lawrence River while dining on Cold Water Oysters (6 for $12), Grilled Halloumi Cheese with Watermelon Salad ($16- please keep this on the menu – it is divine), Yellowfin Bib Wrap ($18), Bourbon Brown Butter Waygu ($57), Local Red Stag ($58), or other masterpieces from the kitchen.
Day Two: Wellesley Island, Alexandra Bay, A Two Nation Boat Tour, and Backroad Villages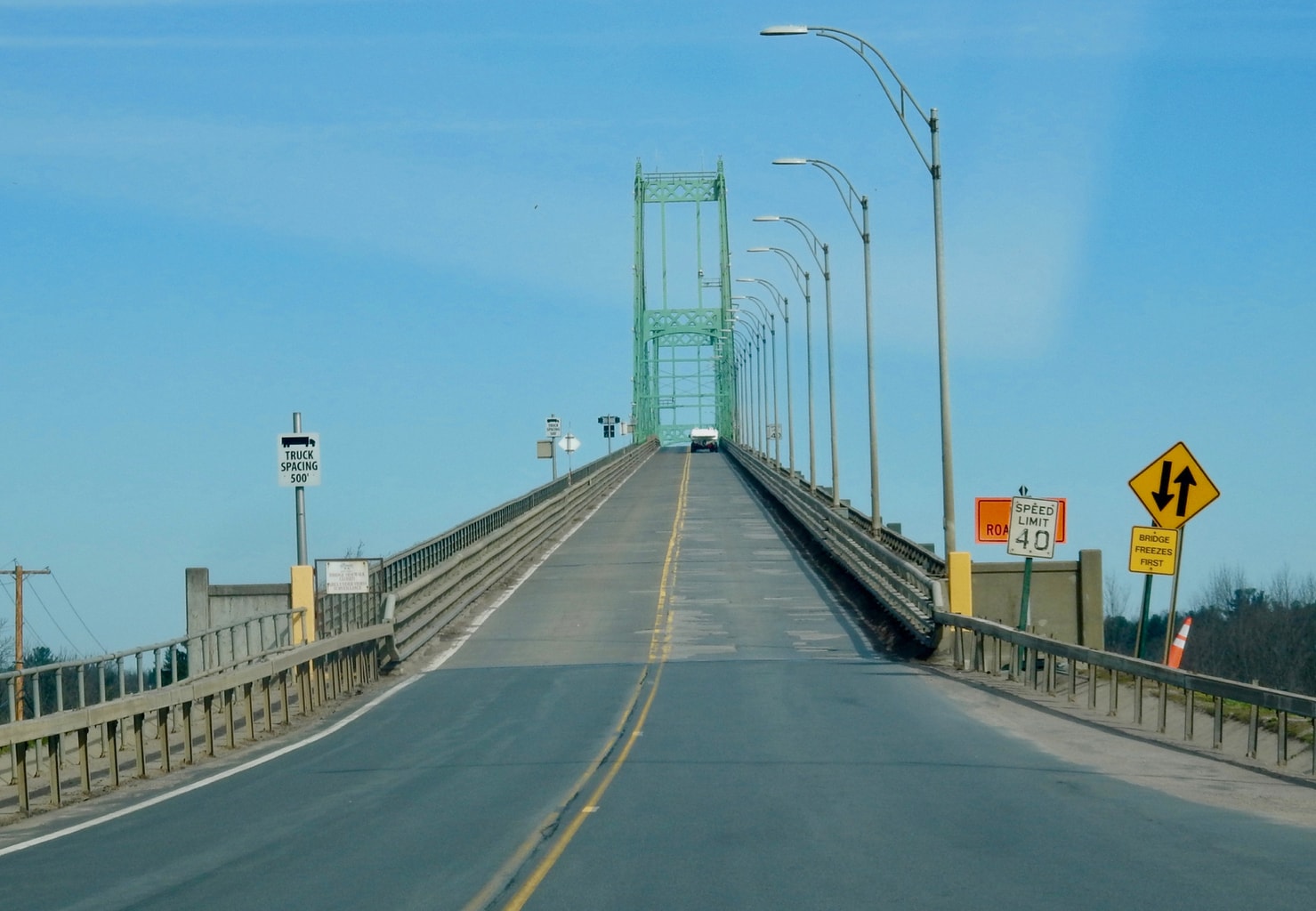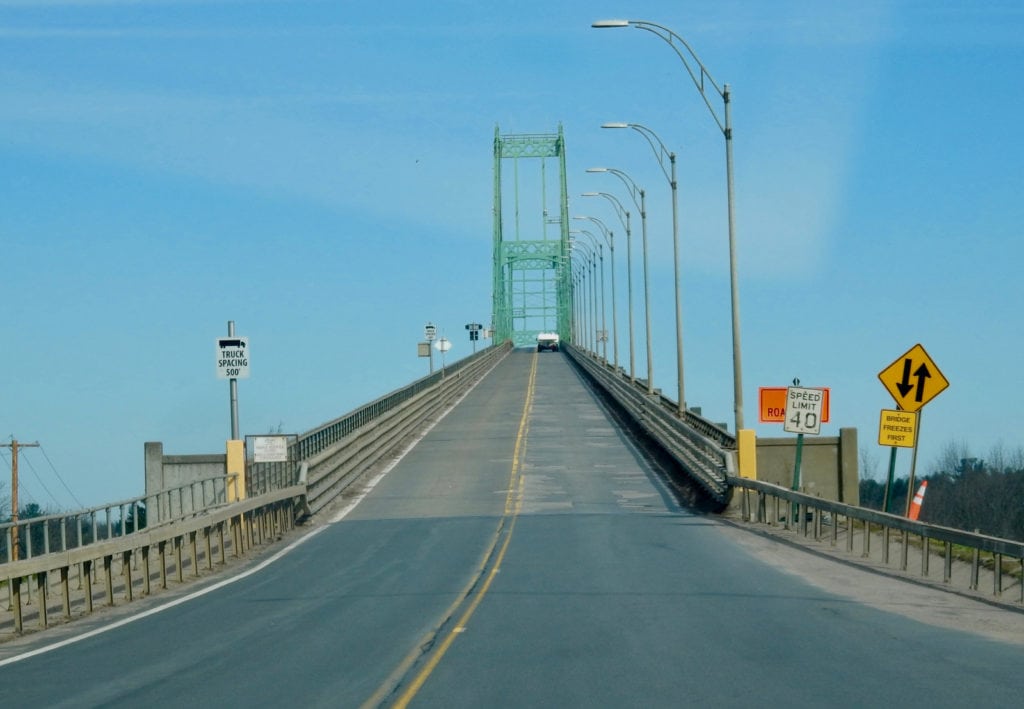 Most people miss this idyllic spot on the large island situated between the US Mainland and Canada, but shouldn't. First of all, the State Park itself is utopia for fishermen (who show up before 7am), hikers, birders, and campers who rsvp months in advance for a million dollar campsite or cabin view. (Probably the best deal around are the "Full Service" cabins stocked with linens and kitchen ware and cost just $100 per night or $700 per week for a two bedroom, $125/night or $800 week for 3 bedrooms).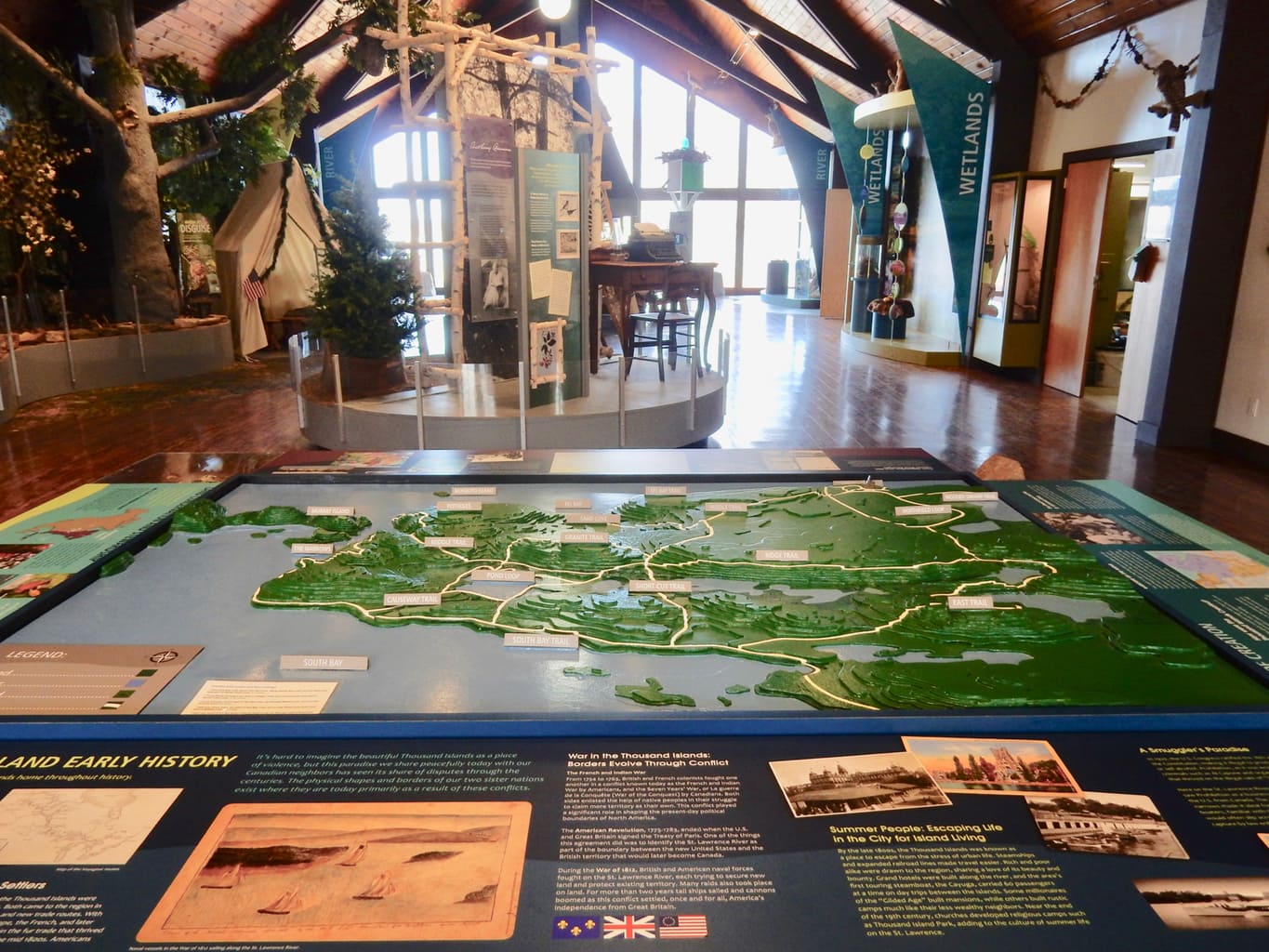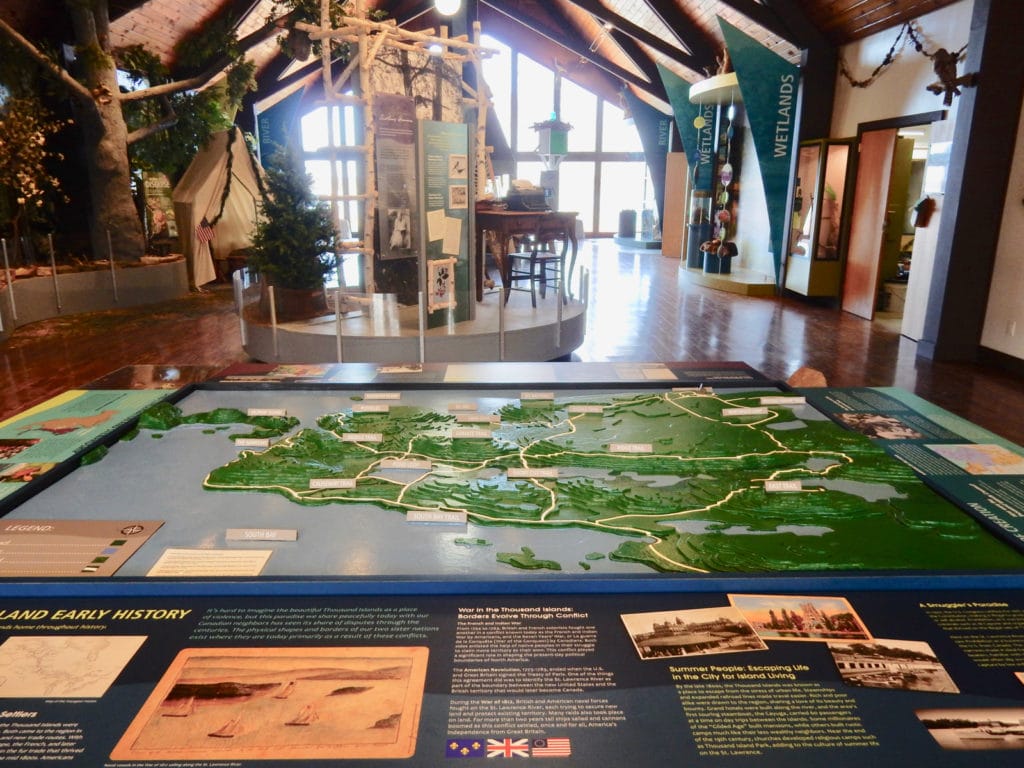 But the 600-acre Minna Anthony Nature Center itself is a gem, with nine miles of hiking trails through diverse ecosystems, activity rentals and programming galore. Celebrating its 50th year in 2019, the Center is open every day of the year (yes, even on Christmas), and you can rent canoe and kayaks in summer and snowshoes in winter for use on its woodland and waterfront paths. There are fire-pits in colder months, a Butterfly Enclosure in warmer months, and a ¼ mile long Handicap Accessible Trail.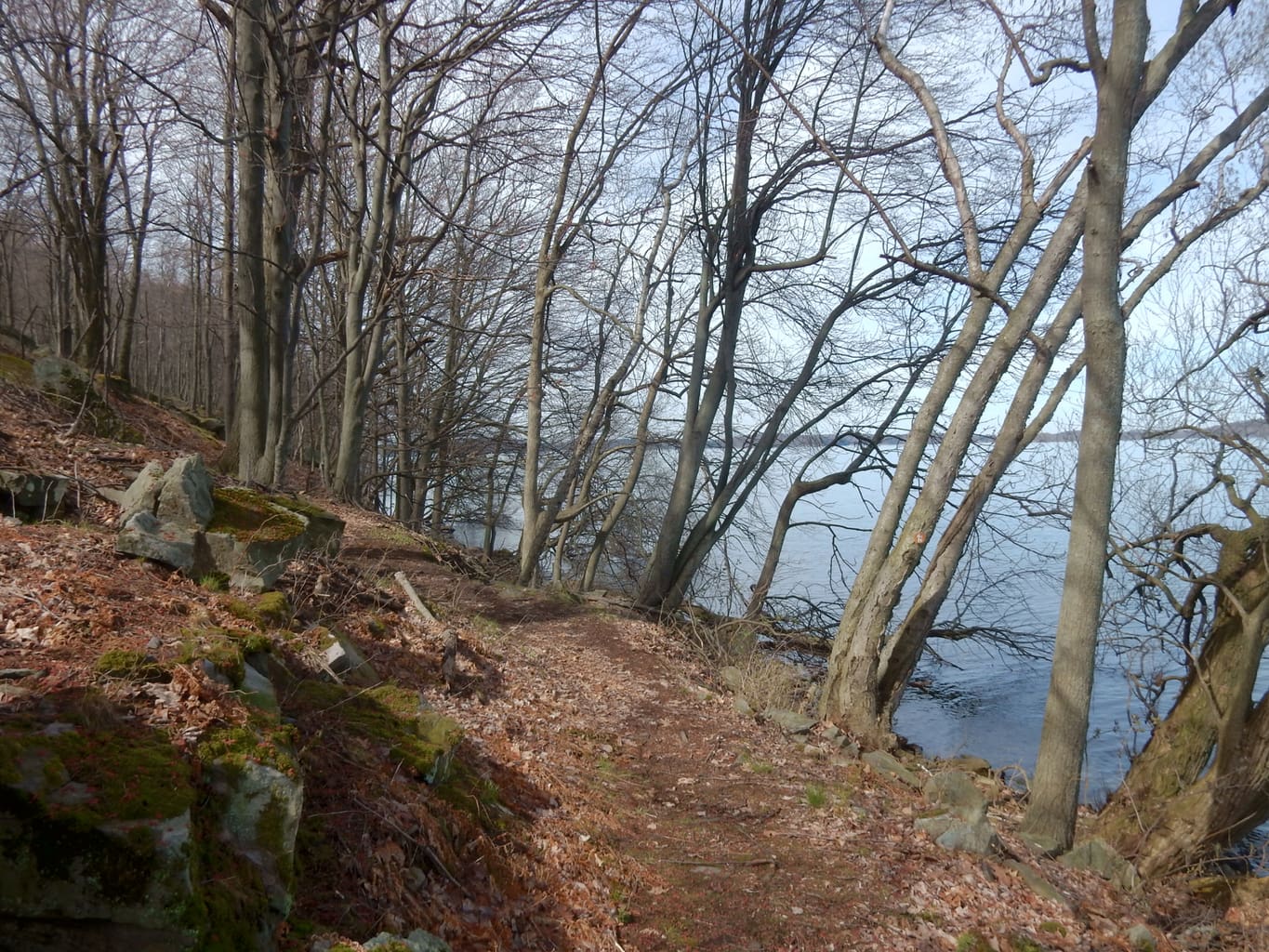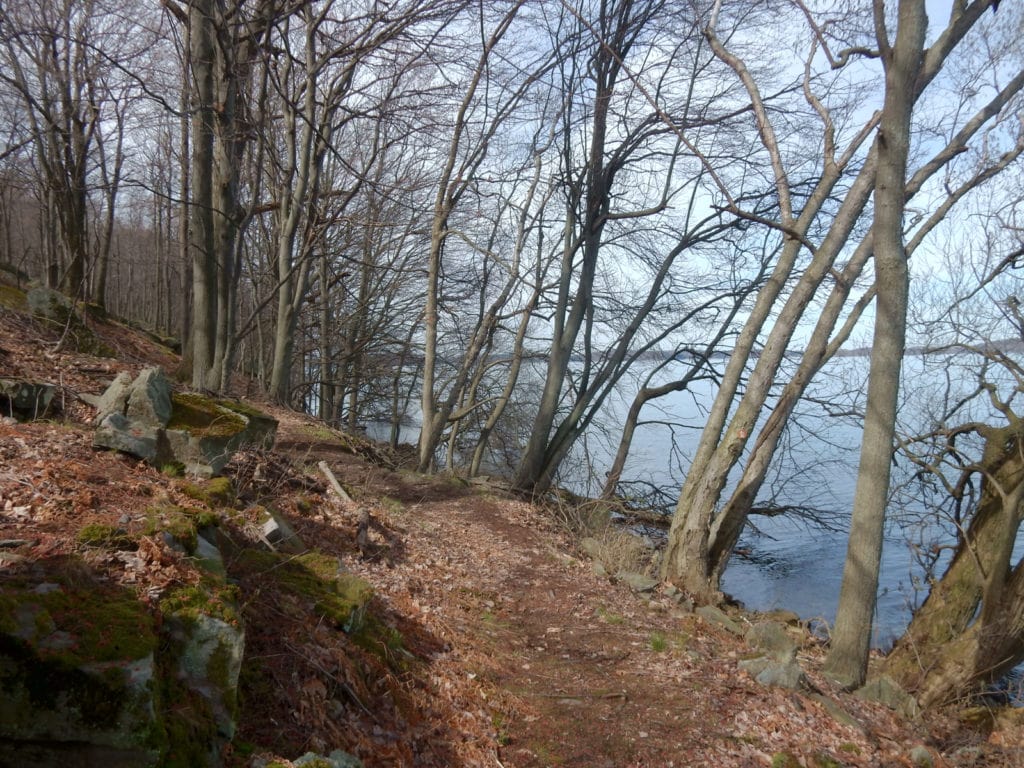 Inside the Nature Center Museum, find well-designed exhibits on various habitats, and a rescued chipmunk, named Scrappers, who is very engaging (behind glass) and has a growing Instagram following. Just FYI – the two-lane toll bridge to Wellesley Island costs $3 (no EZ Pass), and it arches quite steeply over the water making for a tense crossing. Park Entrance is $6. Nature Center open daily year round 8-4, free.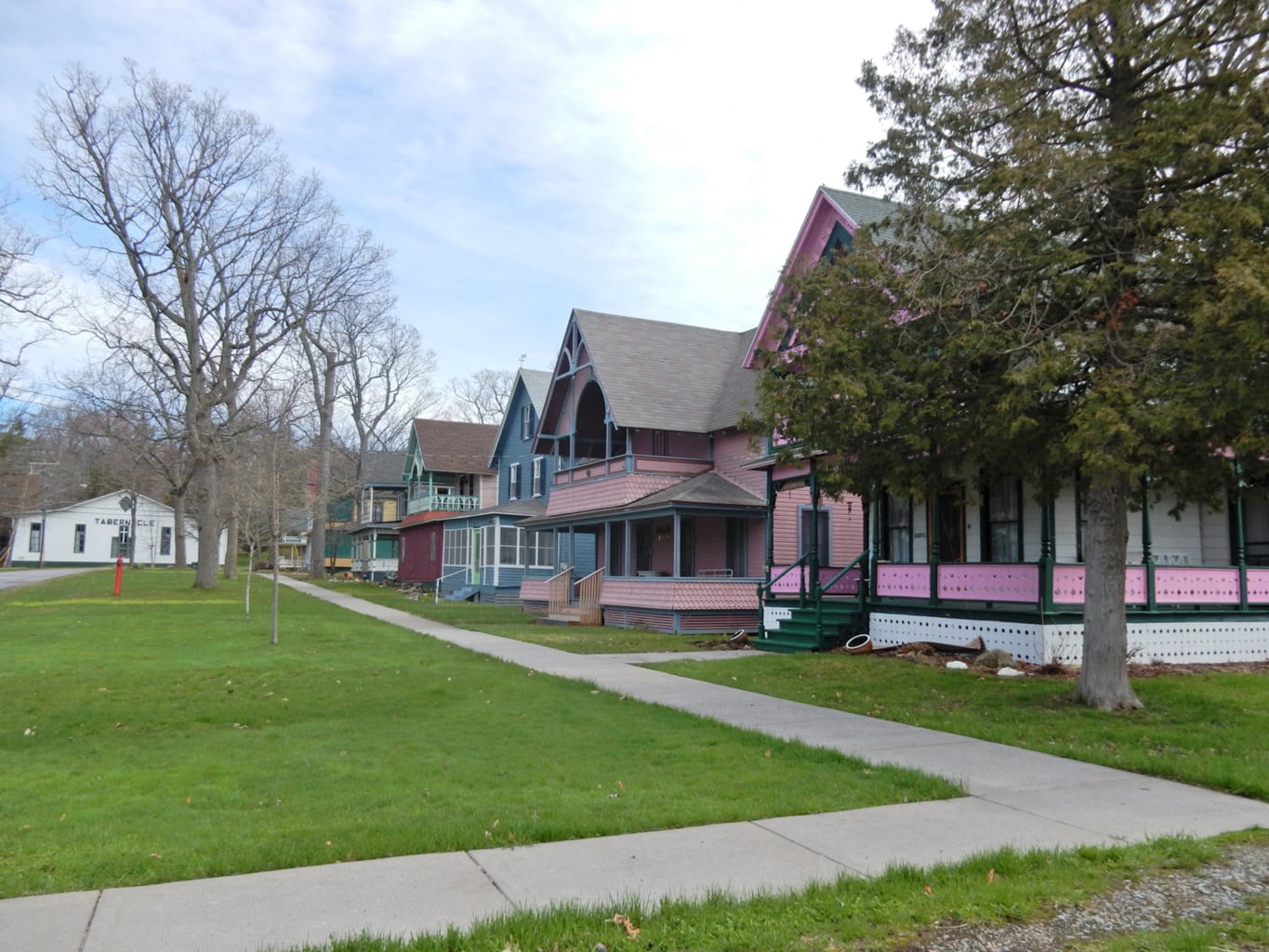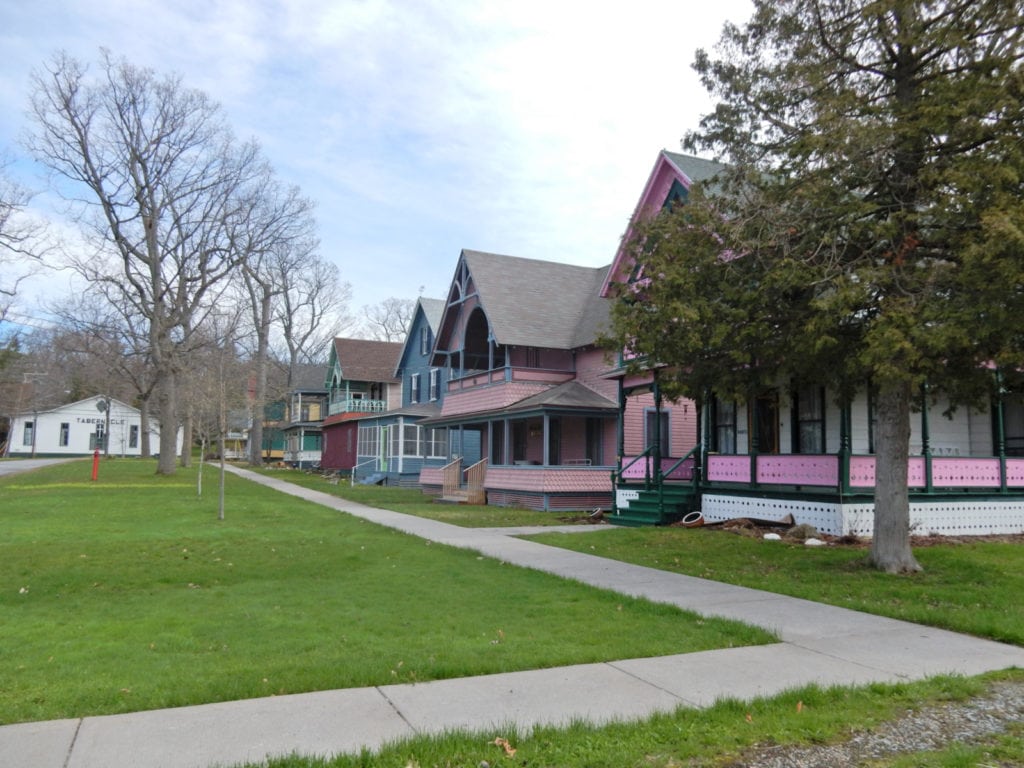 If you are a fan of Victorian Gingerbread homes, like the Summer Methodist Camp found in Oak Bluffs, Martha's Vineyard, take a right turn out of the State Park and keep driving a few miles. There's a gazebo near the docks, and row and after row of these painted ladies.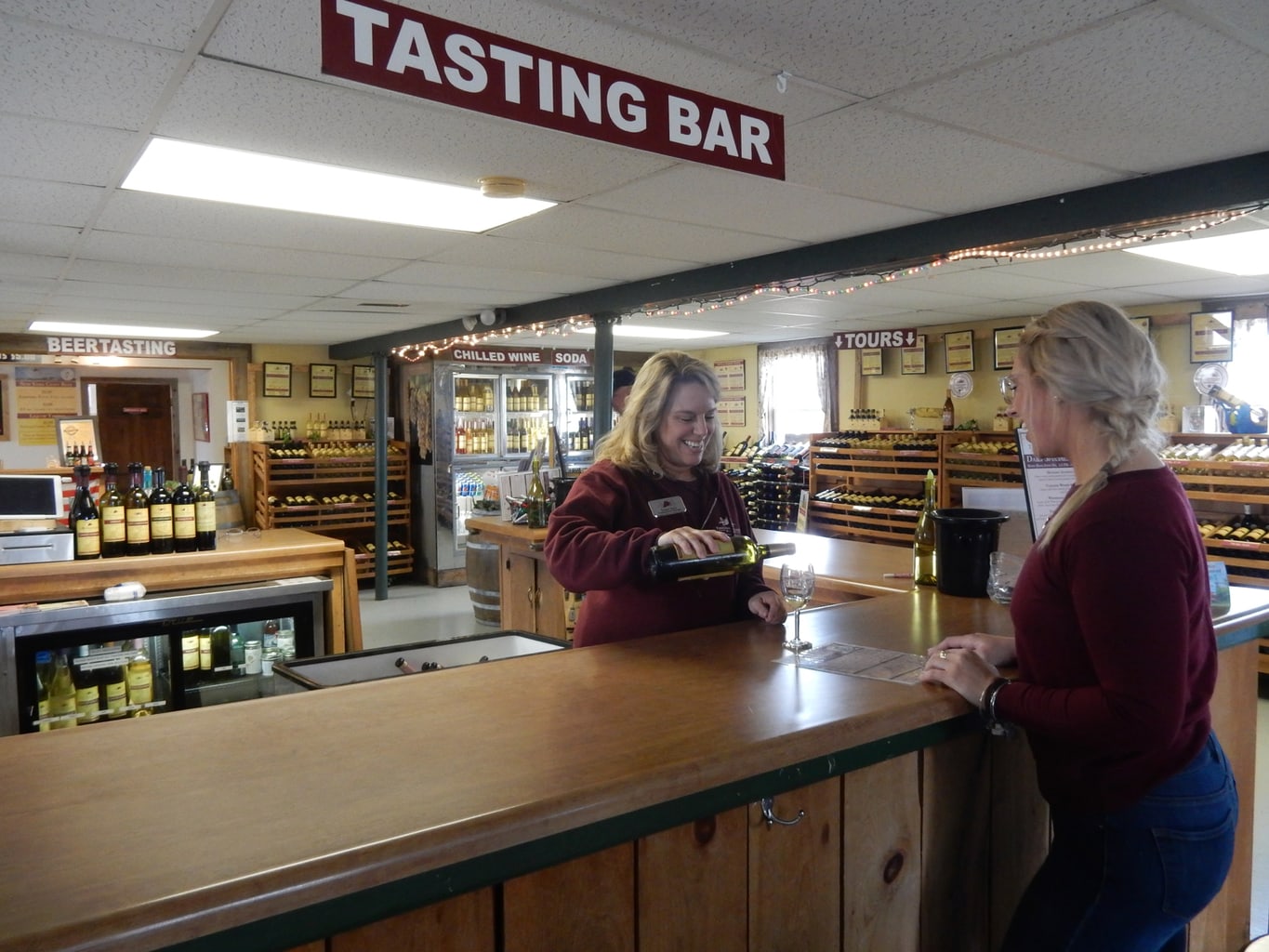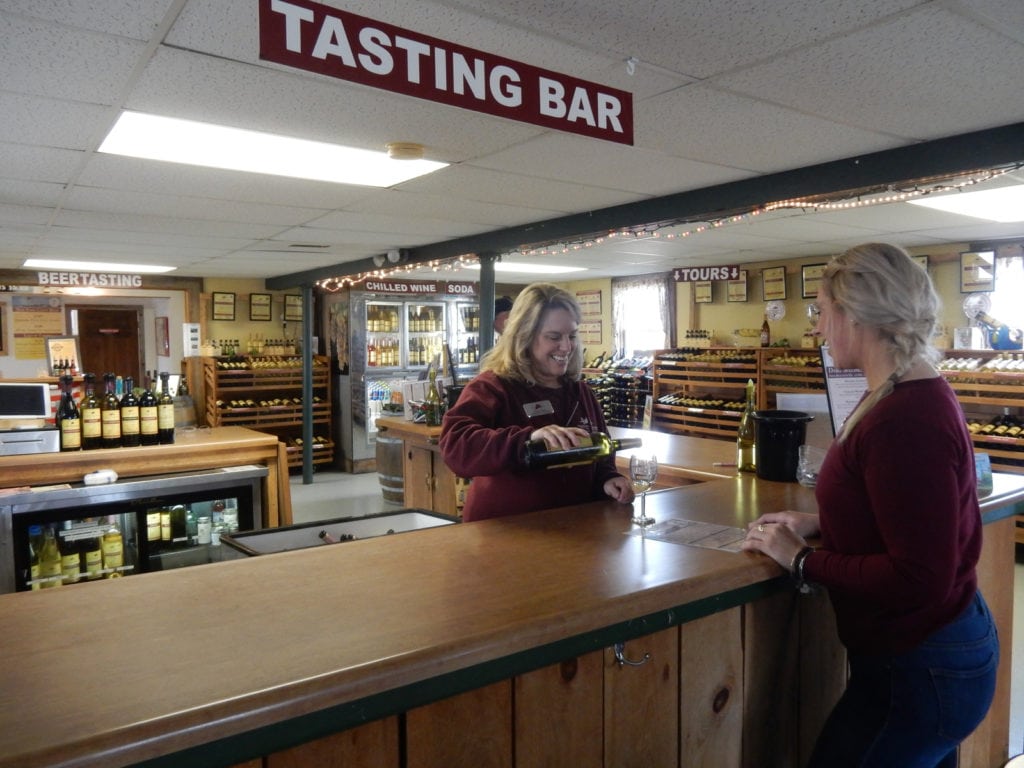 This well-known and well-trafficked tasting room is pretty much at the base of the Wellesley Island Bridge as you come back to the mainland. Owned by Steve Conaway, a retired U.S. Army Captain stationed at nearby Fort Drum, and his wife, Erica, Thousand Islands opened in 2003 as the first winery in Upstate NY.
Conaway was among the first vineyard owners to study Cold Hardy grapes at University of Michigan (which knows from cold), and came up with five wines. Later on as other wineries began to open, Conaway initiated the Seaway Wine Trail. The tasting room doubles as a local souvenir shop, and you can taste and buy both dry and sweet wines. My personal favorite is the smooth and slightly peppery Frontenac, served chilled. I loved it so much, I bought two bottles.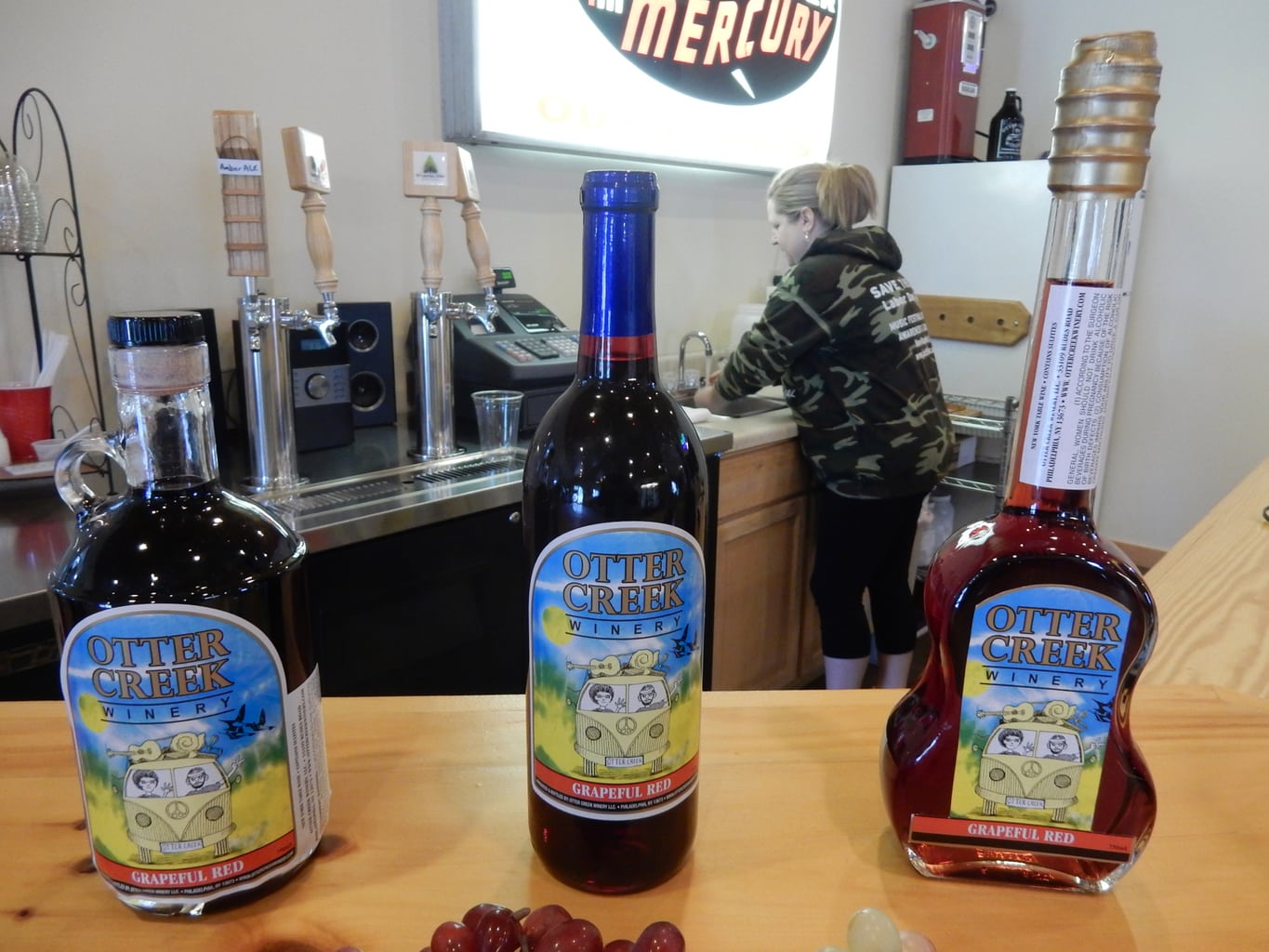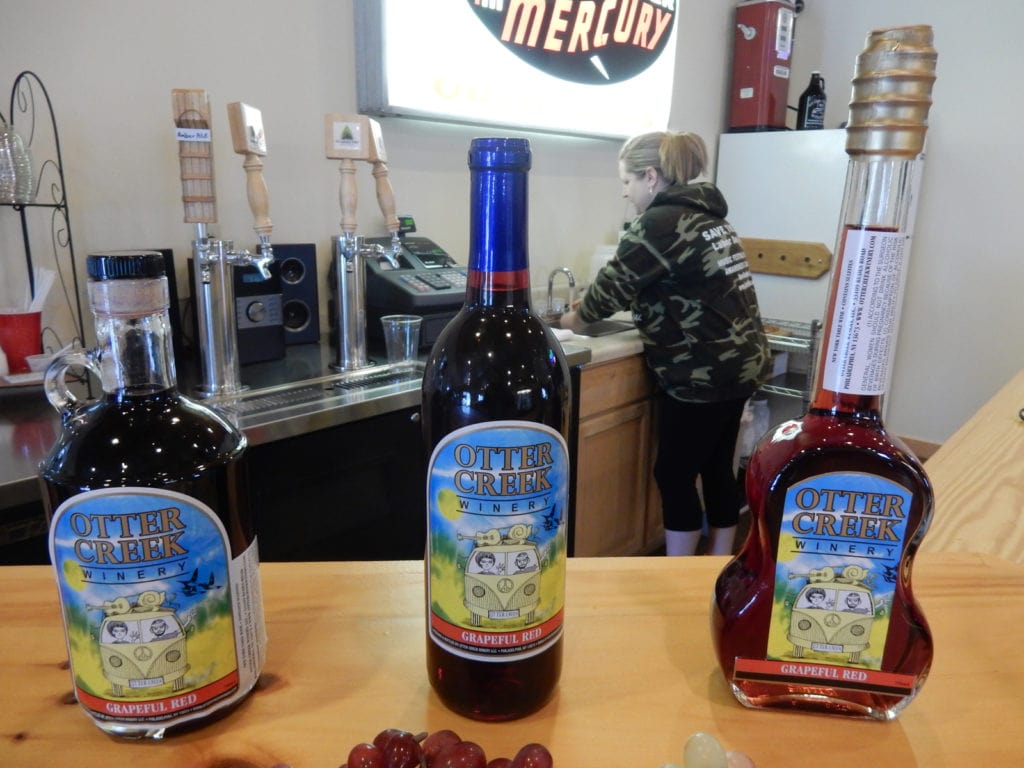 Though the vineyard itself is miles away in Philadelphia NY, stop in to this town tasting room for the far out, chewy-sweet Grapeful Red, "grape juice with a kick." Yes, a play on the hippy dippy tie-dyed band. Even if sweet wines are not your thing (think Manischewitz Concord Wine), the guitar-shaped wine bottles are a conversation piece.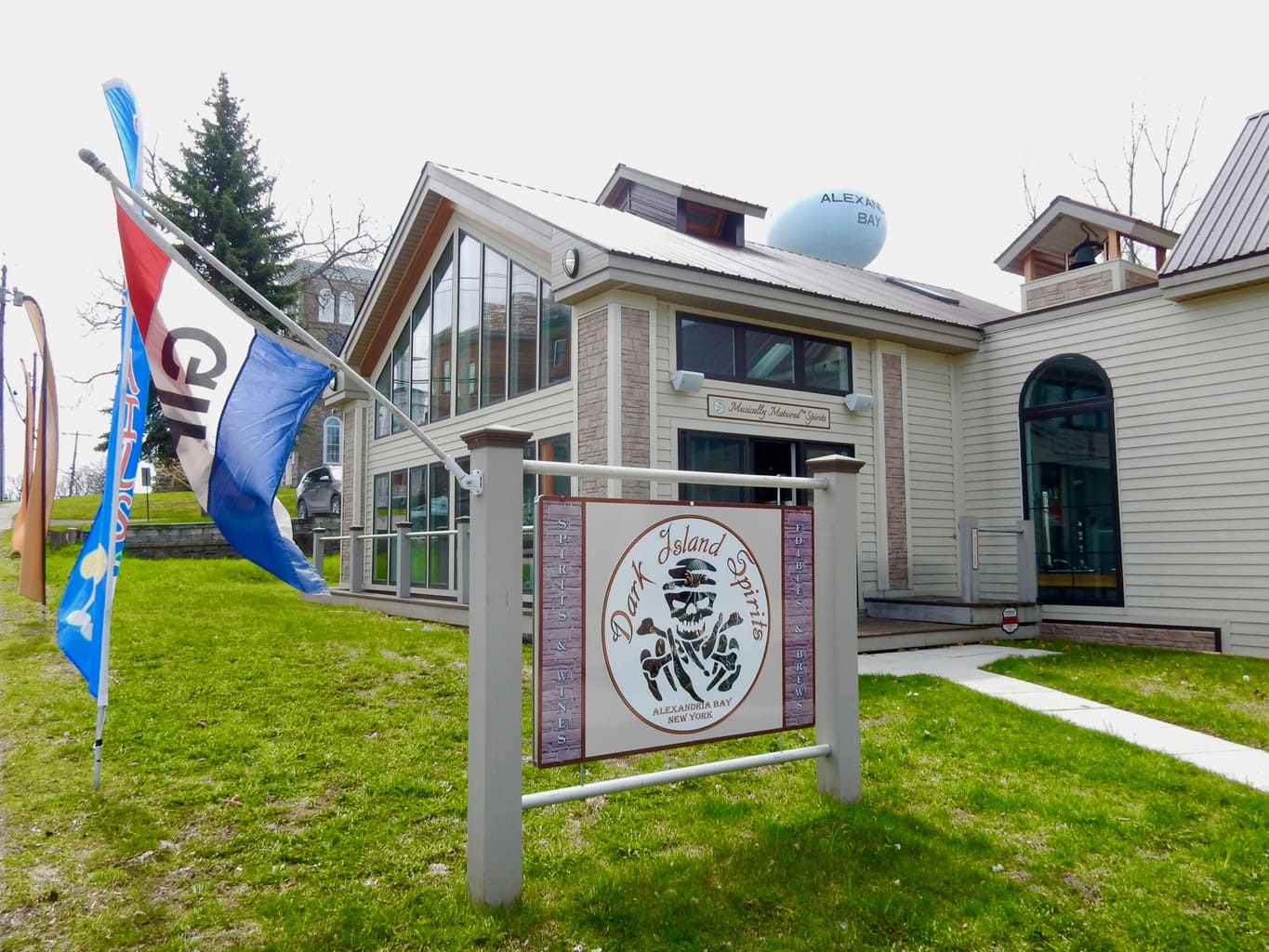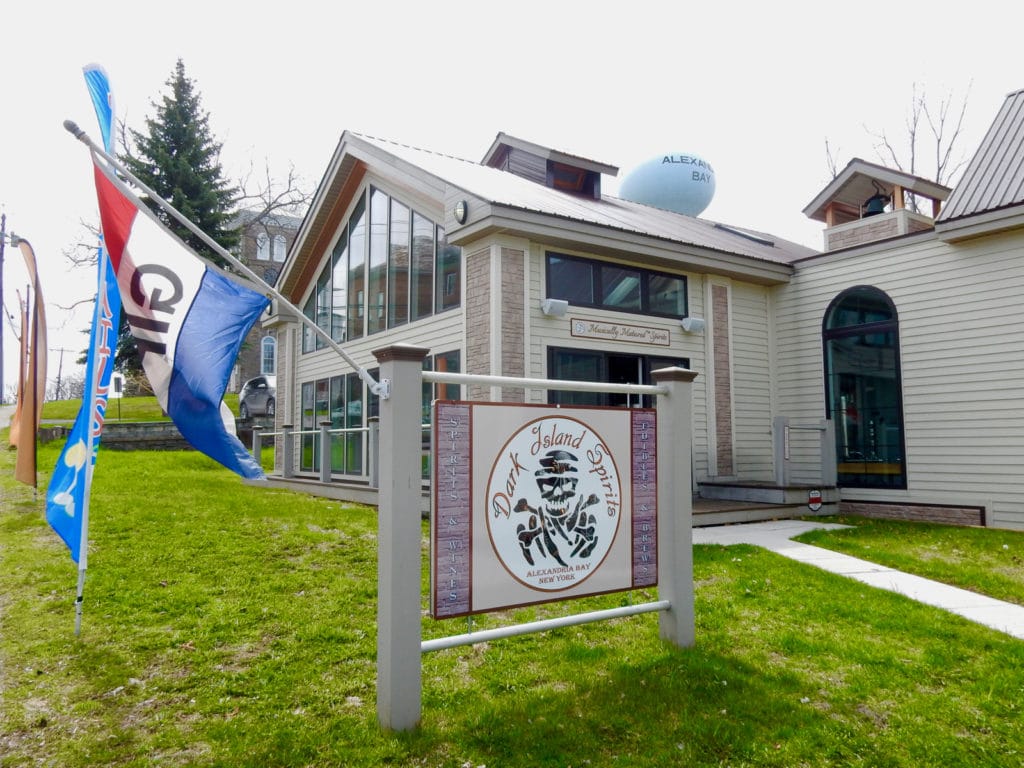 Named for the island in Chippewa Bay upon which Singer Castle sits; the rums, bourbons, and single malt whiskeys that emerge from Dark Island Spirits kegs seem to be a deeper color and have a deeper flavor than others of their ilk. That's because, say owners Mike, Roger, and Will, every spirit is "musically matured." In fact, they the only spirit-makers in the world whoo place speakers inside each keg!
What does rum like that bourbon doesn't? Well, says Mike, the 90 proof wheated style straight bourbon "listens to" Rhythm and Blues. Rum jams to Reggae, and the Single Malt Whiskey is partial to Jane Espie, the "Phantom Piper" from Ireland. Though it sounds like a marketing gimmick, using music to mature alcoholic beverage does have a basis in physics.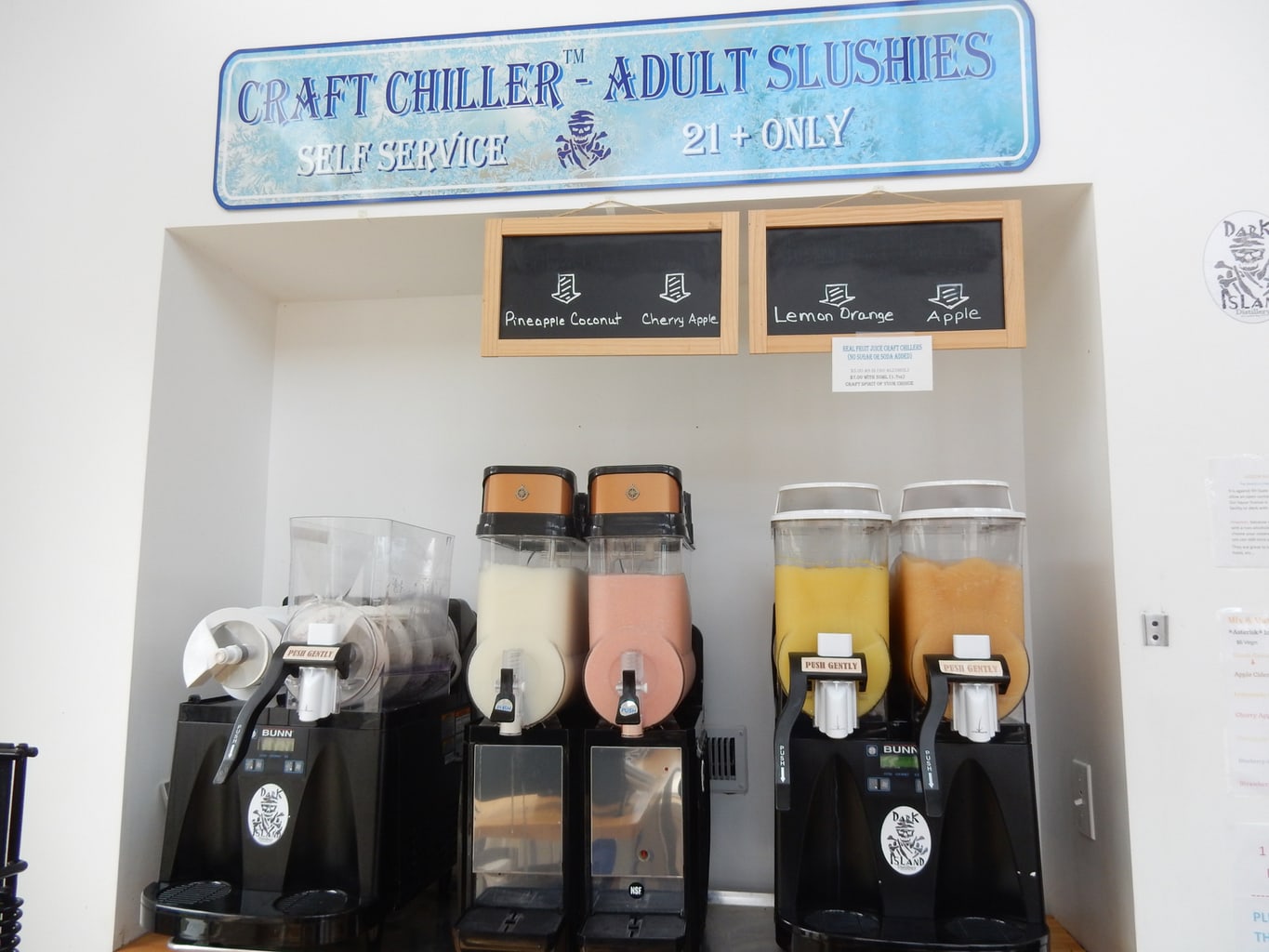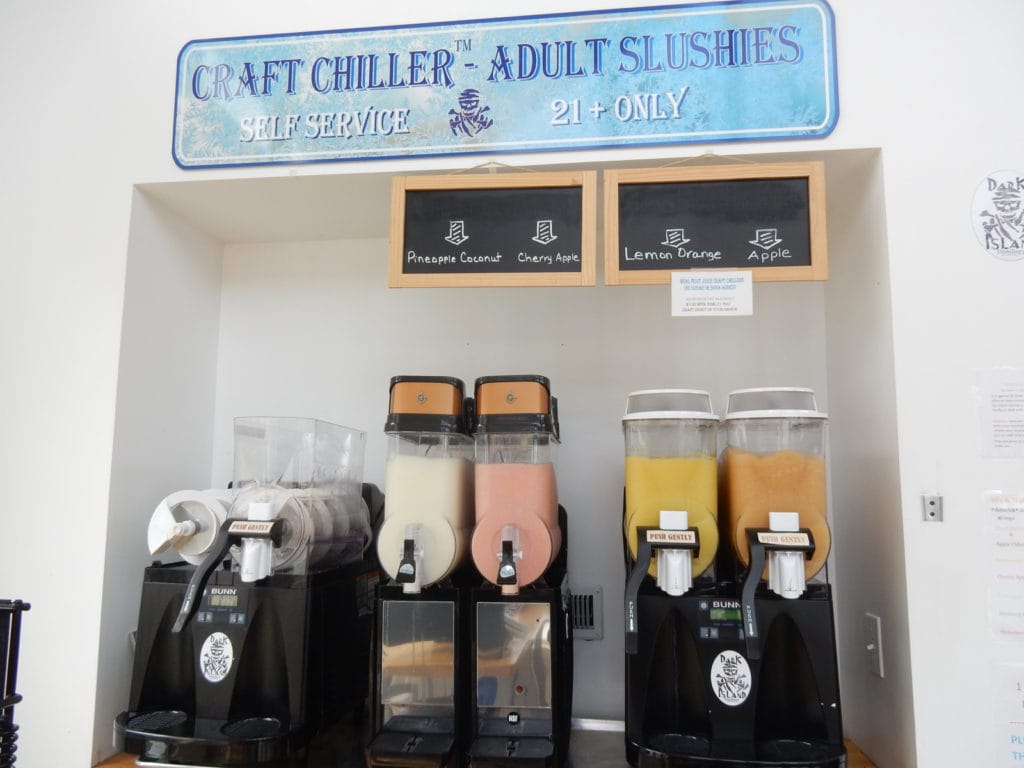 The deeper color and flavor comes from musical vibrations that cause the liquid to interact with the wood. "If you think about it," says Mike, "back in the old days, spirits made on the East Coast were transported West for weeks in wagons and trains and shipped to Europe, with the contents sloshing around inside constantly, making for some of the best results. Come in for a taste (it is that good) and for a Spirit Slushie (for over 21 only). Choose your flavor from the slushy machine up front and then bring it to the counter for a shot of whatever pleases you.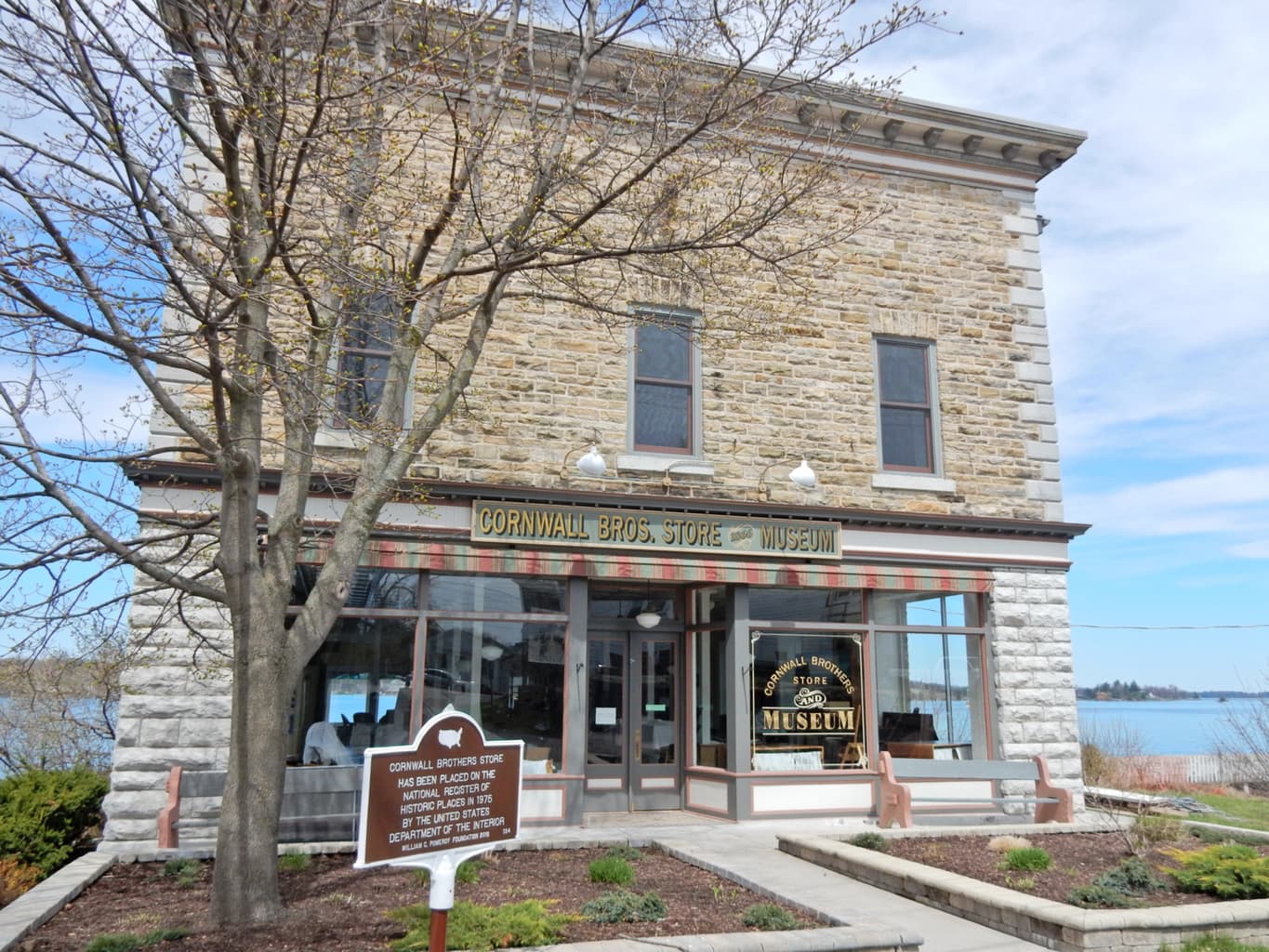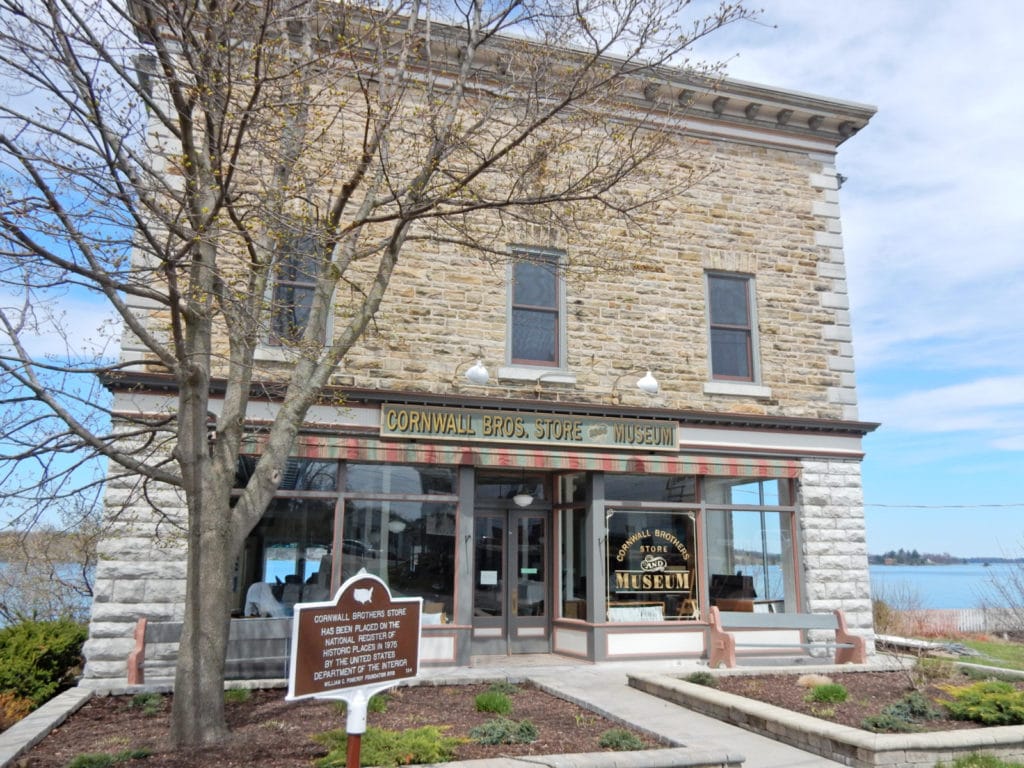 Notable for its location (right on the water) and its eye-catching restoration, this former General Store, built in 1866, is the oldest surviving waterfront building in Alexandria Bay.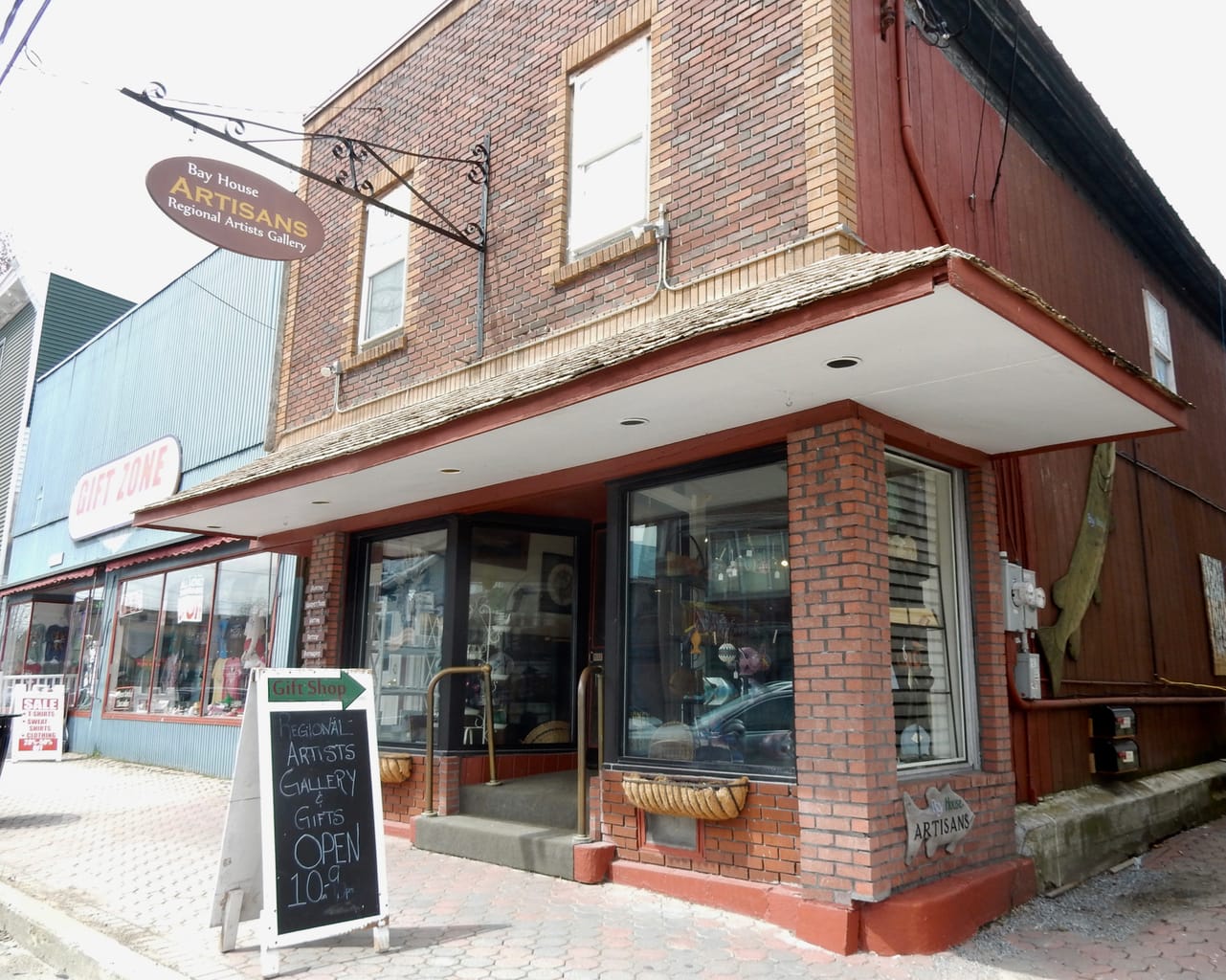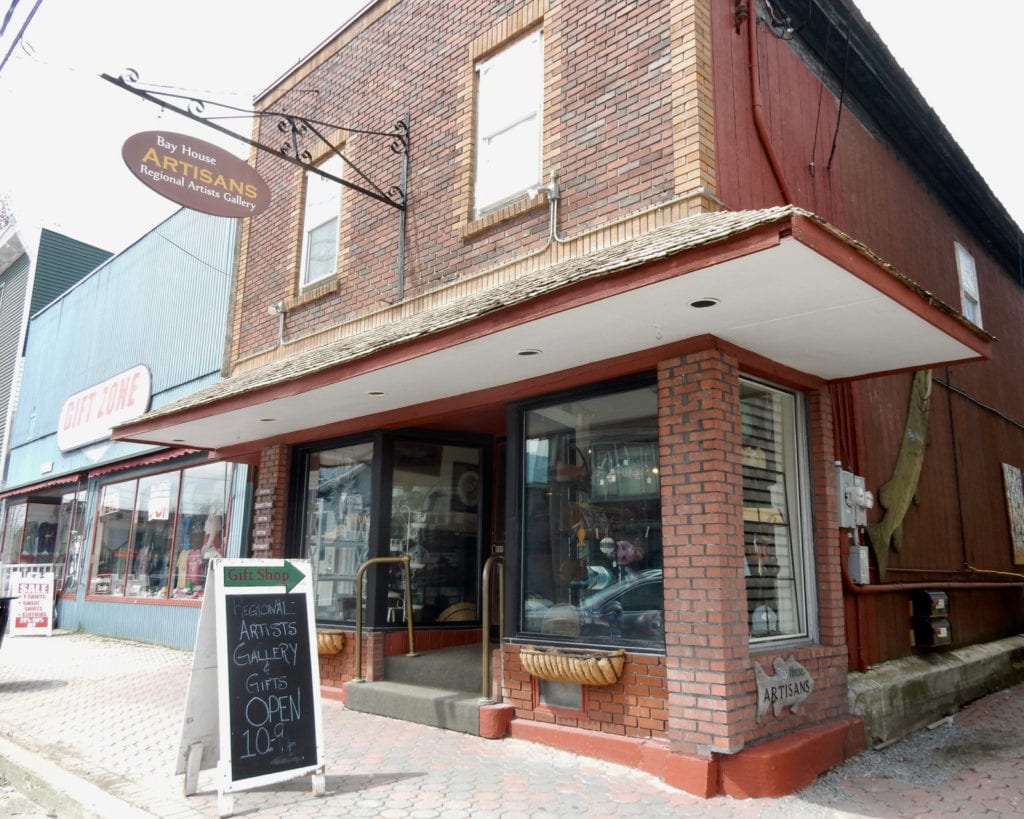 This collective is unique in that all 35 or so artists had previous careers and came to arts and crafts in retirement (affectionately called "post-employment artists"). Some of these painters, ceramicists, jewelry makers, weavers, furniture makers, glassblowers, and carvers have created marvelous and reasonably priced crafts. Open all year, in cold months the place turns into a Coffee Bar on Friday and Saturday nights.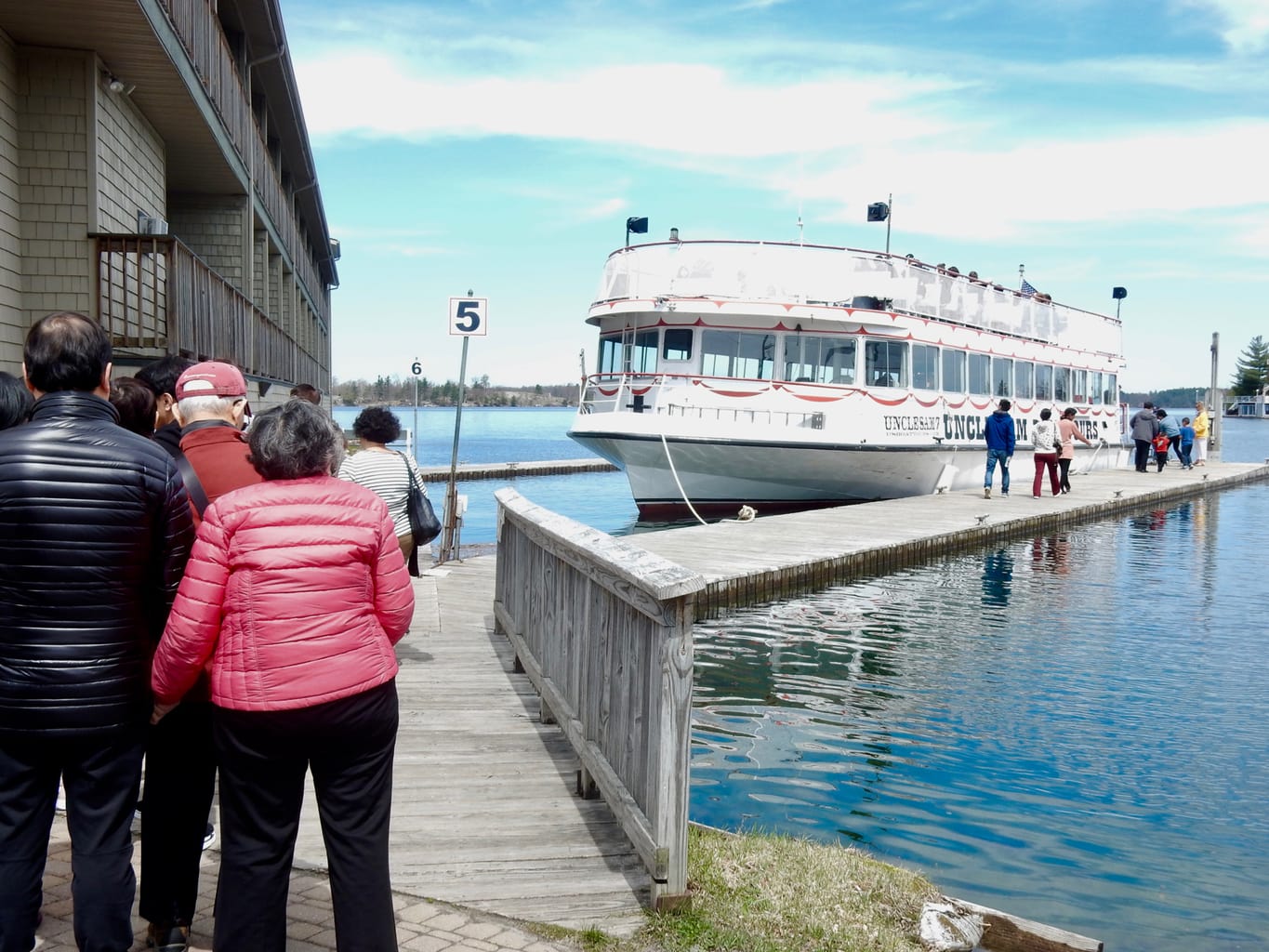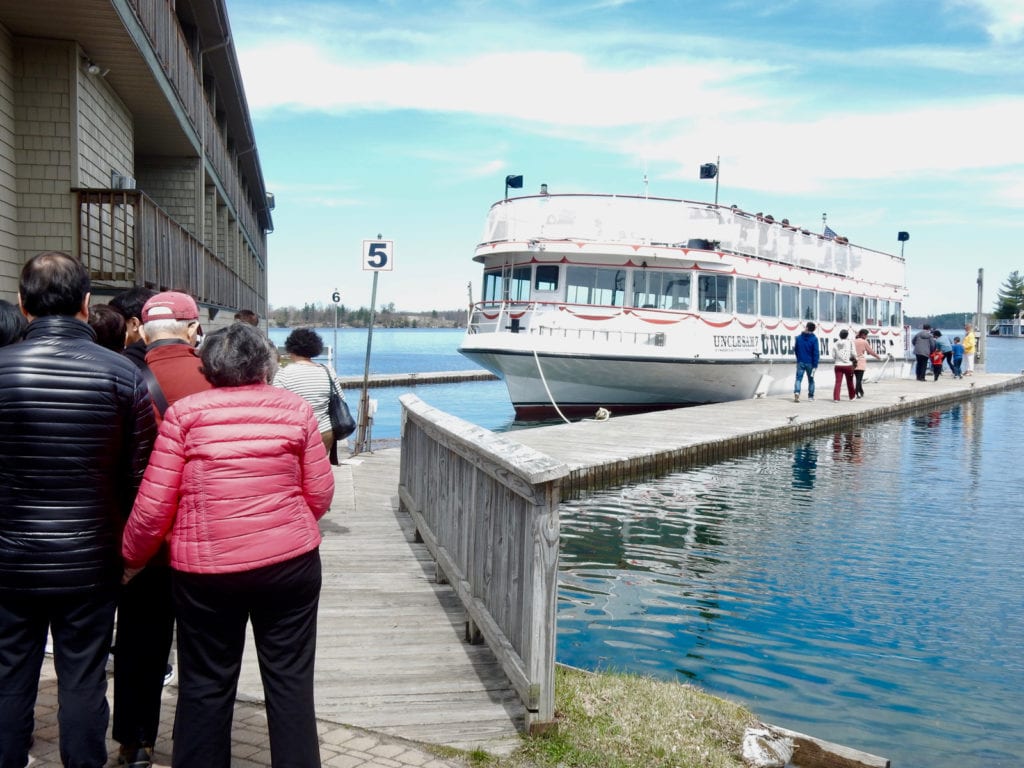 This two hour narrated cruise offers constant punny commentary on the characters who once lived or currently live on many of the Thousand Islands as it glides through American and Canadian waters. From the mid 1800's until the mid 1920's, millionaires built massive homes on waterfront mainland and on the islands. After the stock market crash, many of these "castles" were more valuable burned to the ground.
Boldt Castle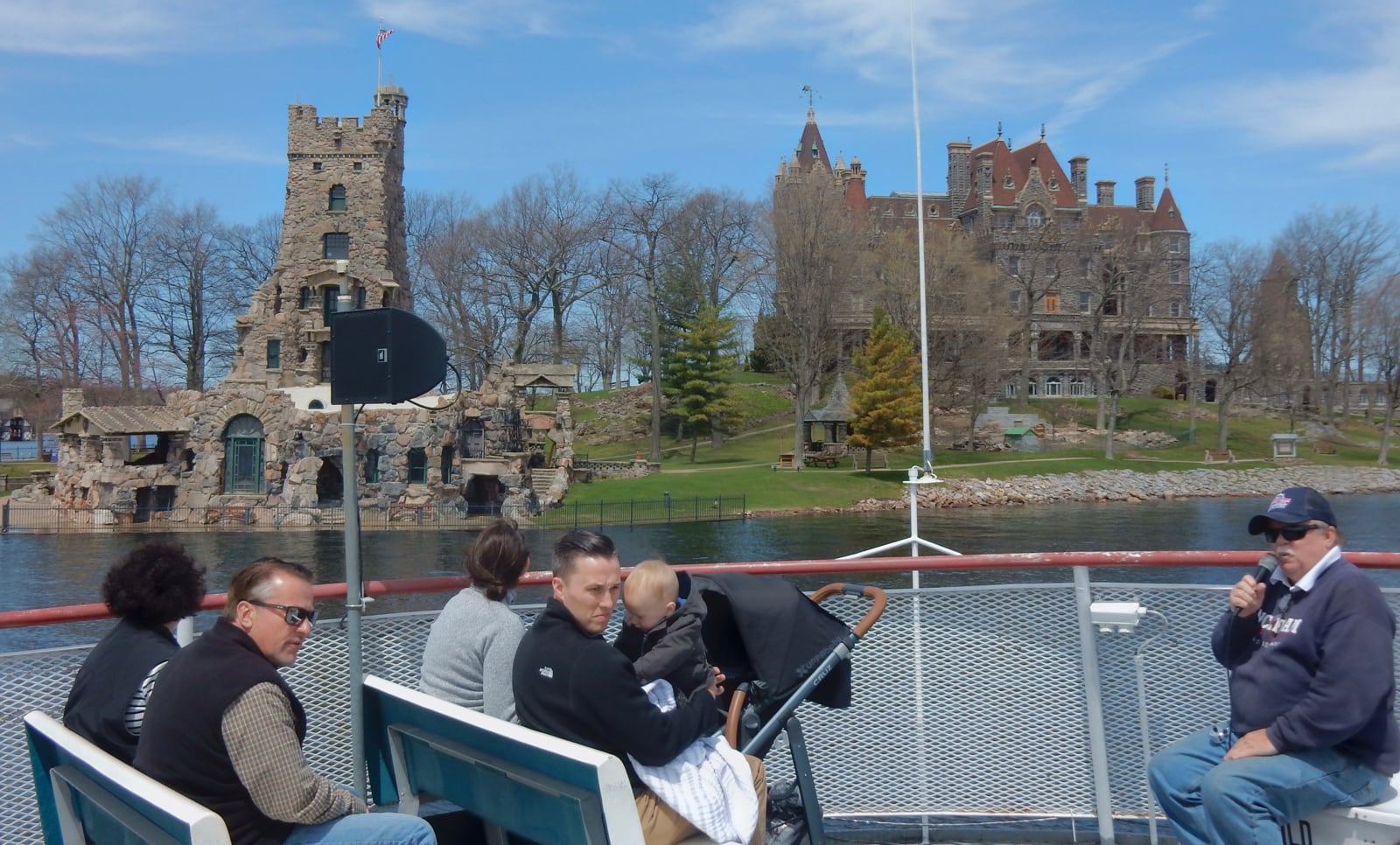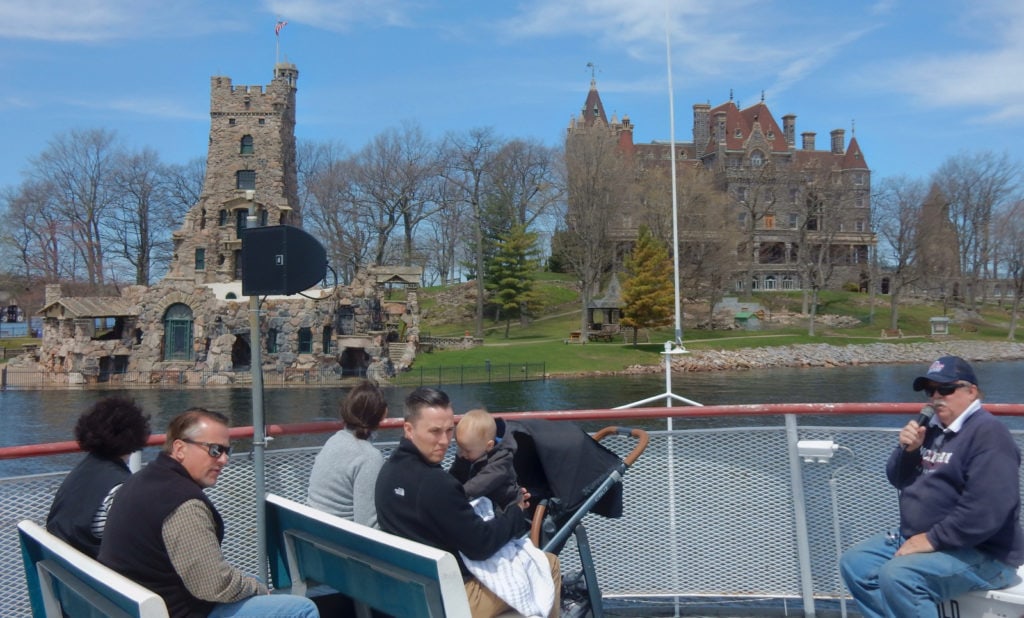 The most photographed structure in the Thousand Islands region, Boldt Castle, is a sad story of love and grief. George Boldt, proprietor of the Waldorf Astoria Hotel in NYC, wanted to build a castle-like home for his wife, Louise, on Heart Island. Construction began in 1900, and, in 1904, when Louise died suddenly of heart failure at 41 years old, George ordered all work to stop. In his grief, he never set foot on the island again.
The main house has six floors, 120 rooms, and 365 windows (one for each day of the year). For 73 years, the structures on the island stood vacant. Purchased in 1977 by NY State for $1, over $45 million has been spent to stabilize and preserve it. It's open for tours in season, and has become an uber-popular wedding venue.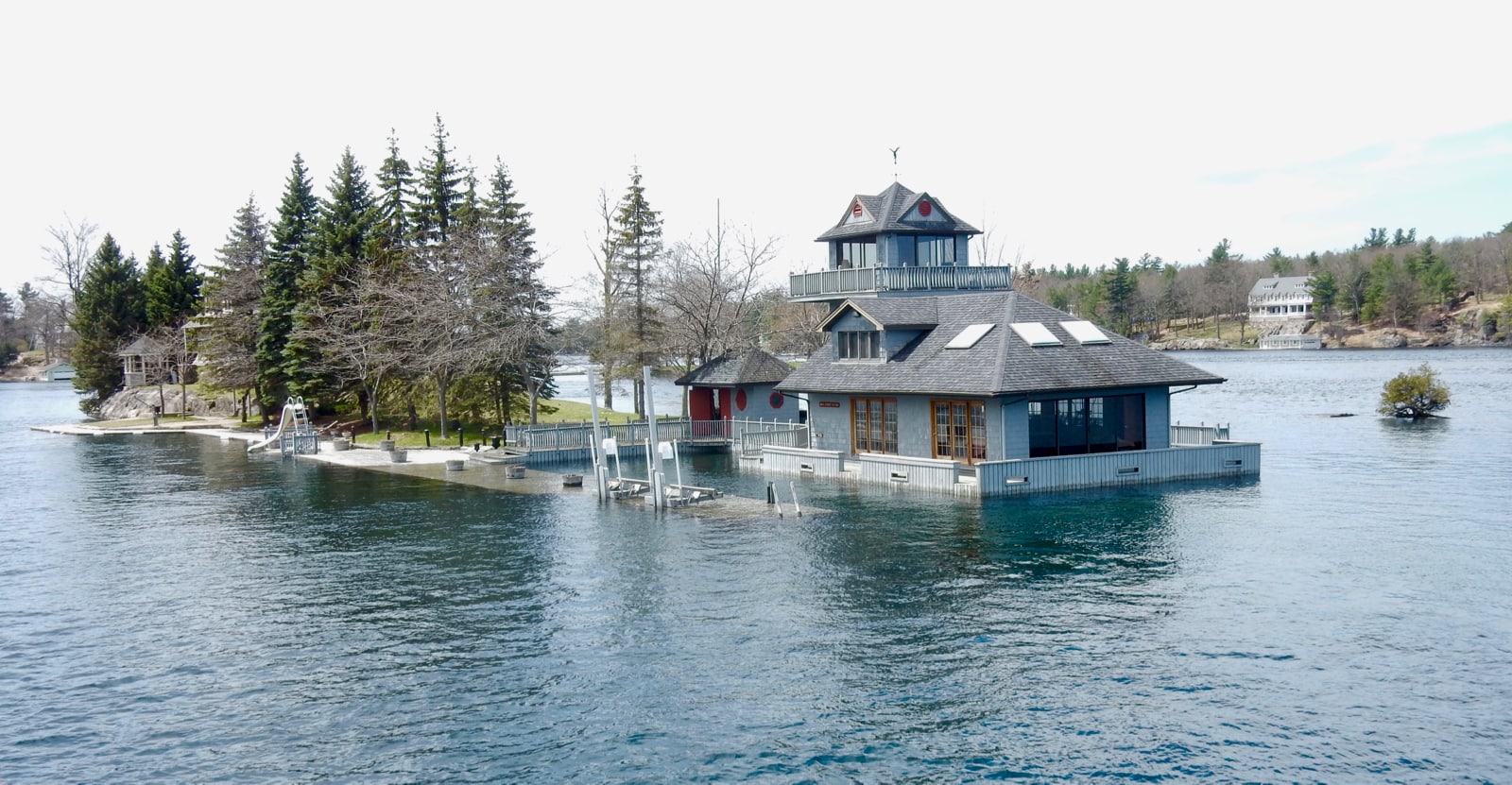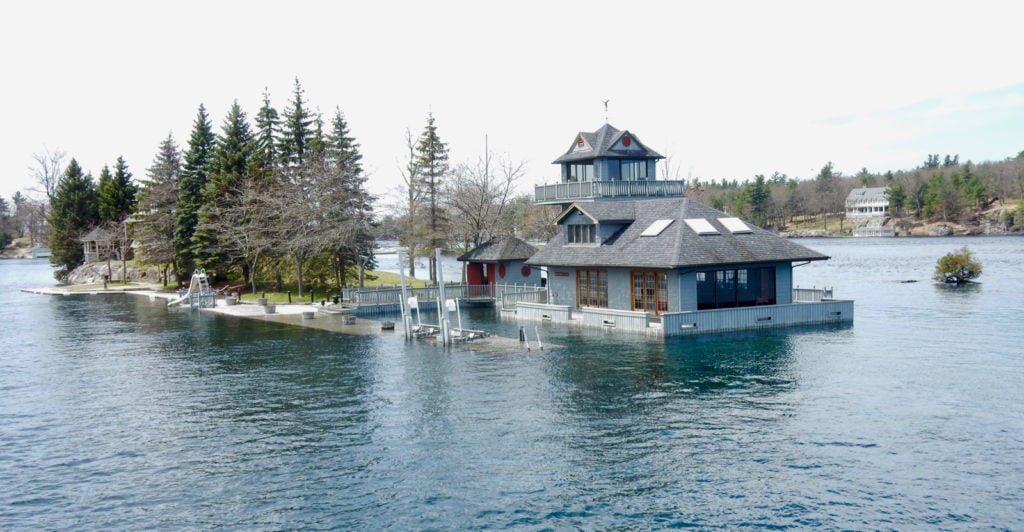 Narration continues with stories about entrepreneurs and others who fell into fortunes: lumber baron, Andrew Cornwall, who owned three islands; Emma Hagen, whose husband invented the coin operated washing machine and established the first Laundromat; childhood buddies Abraham Abraham and Nathan Straus (owners of Abraham & Straus – A&S), who had homes next to each other on Cherry Island.
The Pullman Factor
George Pullman, owner of the Pullman (train car) Company, inadvertently caused a tourist boom in 1872 when his guest, Ulysses S. Grant, purportedly fell overboard during a boat outing. Though most likely a tall tale, Grant's visit did happen to coincide with a conference of 200 newspaper journalists in Watertown (25 miles away), and Pullman was eager for publicity. Coincidence?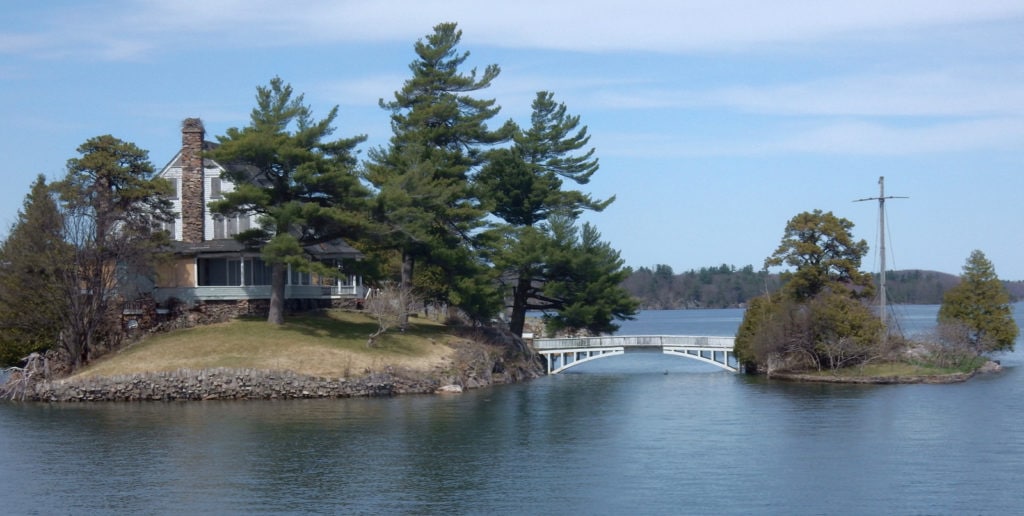 If you're lucky, you'll see Bald Eagles chasing Blue Herons from their treetop nests, which is exactly what happened the moment our guide mentioned it – a rare occurrence to be so perfectly timed. You'll pass by the "Shortest International Footbridge in the World" at 42 ft. – on an island cut in two where one side is the USA and the other Canada.
Skull and Bones Society
Perhaps the island most shrouded in mystery is Deer Island, a summer retreat for the Yale University based Skull and Bones Society. Except for a waterfront lodge, there's not much known about this private island, though tour boat guides love to talk about it as they pass. Daily May-Oct, $23.50 adults, $11.75 kids. Check website for times.
**If you have an extra day, TOUR: Boldt Castle, Open Mid May-M-Oct, daily 10-6:30, TOUR: Singer Castle, Chippewa Bay. Heirs to the Singer Sewing Machine Company built this 28 room mansion as an island retreat, and you can take a 45 minute tour, or stay overnight in the Royal Suite.
** Other Tourist Cruises include Clayton Island Tours (Glass Bottom Boat), Classic Island Cruises, and 1000 Islands Water Taxi Scenic Tours from Alexandria Bay.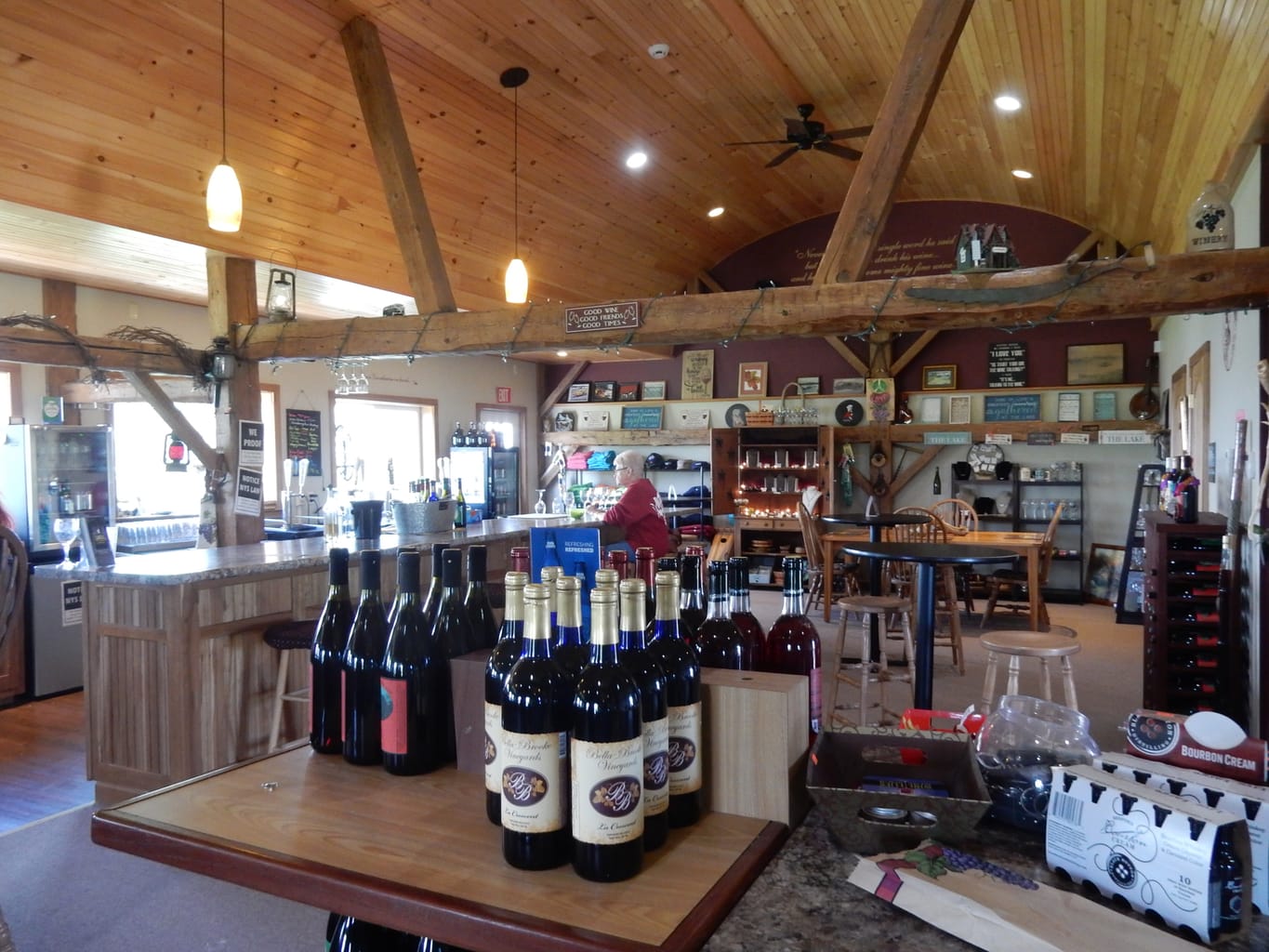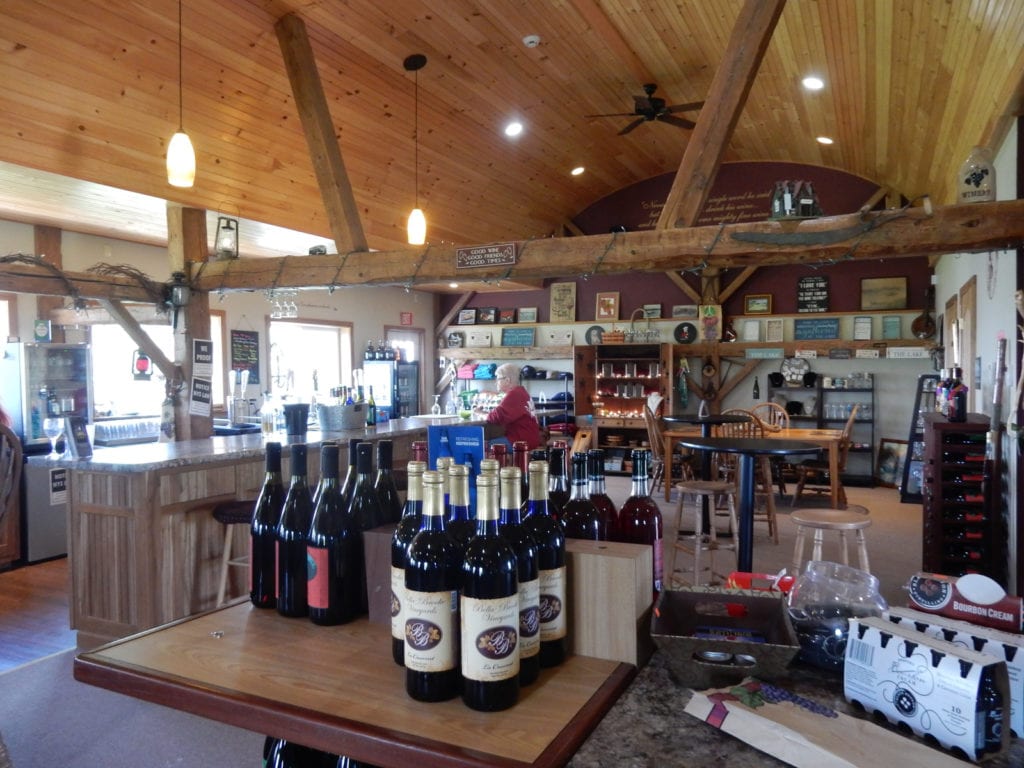 After the boat tour, drive about 25 minutes to this very casual, uniquely located winery. For about 5 miles from the center of Hammond, you'll pass run down fishermen's shacks and camps and wonder if you're on the right road. Fear not, you are. Bella is the cocker spaniel that belongs to Gary and Carol Davis who co-own the place with Larry and Jodi Hollister (whose daughter is Brooke).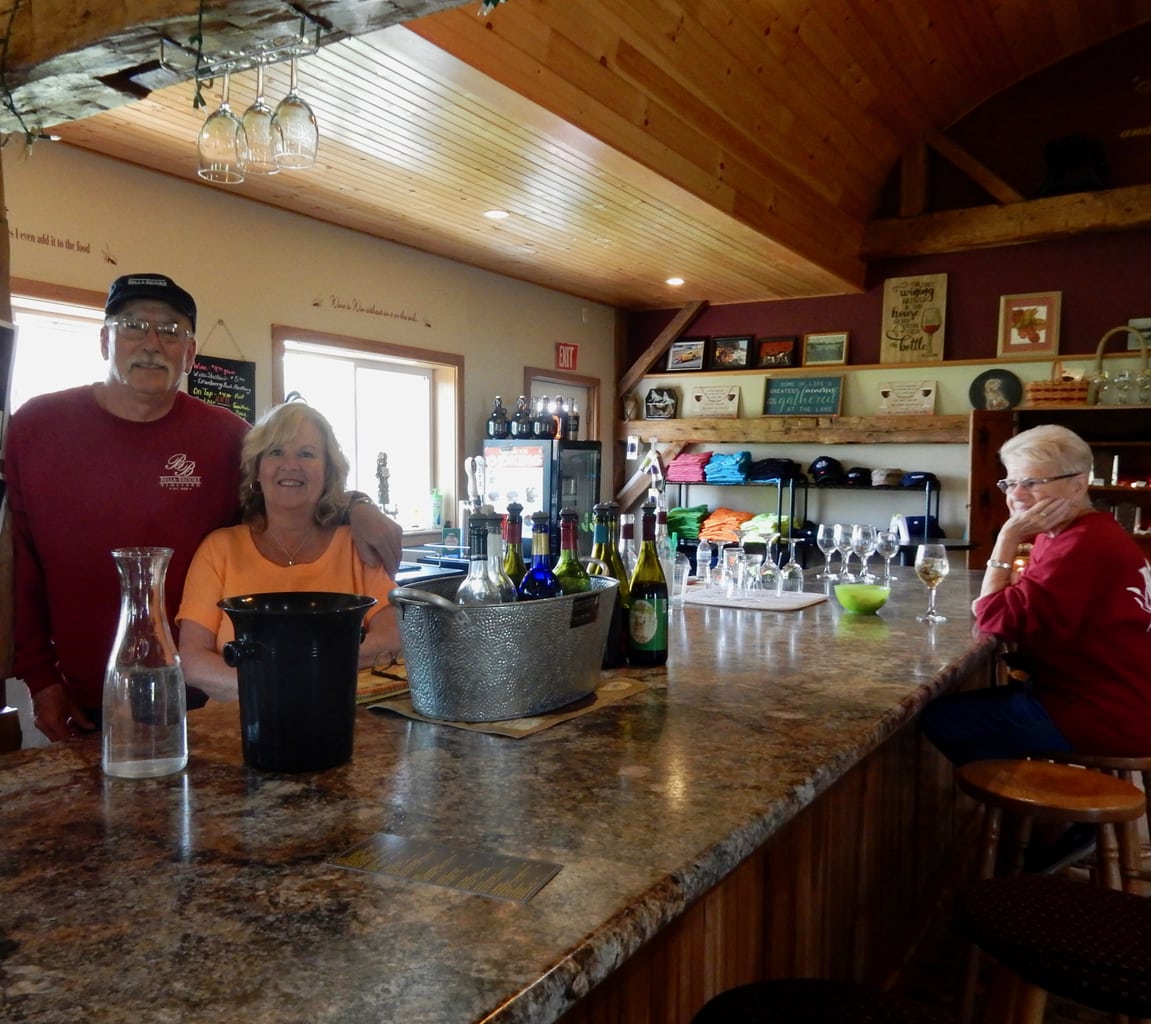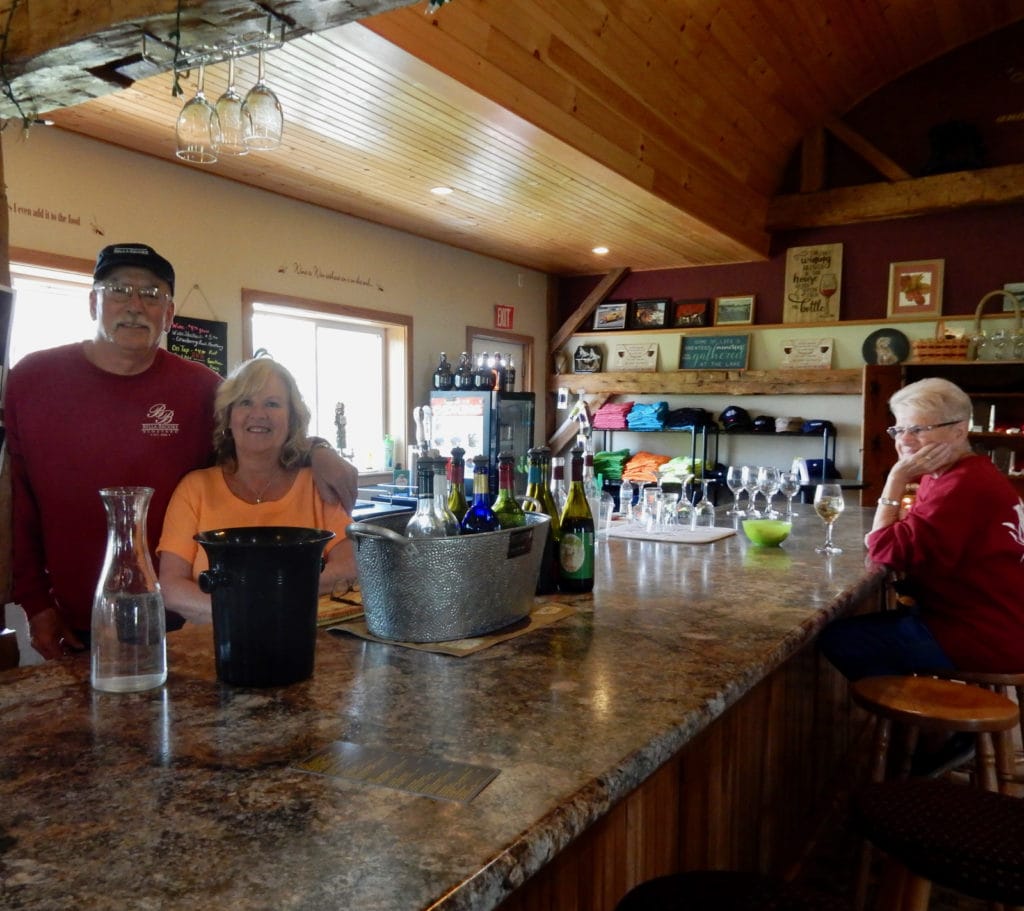 Gary was a carpenter, and his skills served him well in converting an 1800's dairy barn haymow into a lovely tasting room. The soaring burnished wood ceiling evokes the hull of a ship, beneath which visitors sip glasses of sweet Concord and Crescent wines – the two best sellers.
There's live music every Wed, Fri. and Sat. in summer, a big hit with the men and women who spend time fishing and just want to relax after a day on the Lake. The antithesis of snobby, Bella-Brooke is as unpretentious as it gets. "The River is Rich Man's Paradise. Black Lake is Working Man's Paradise," says Gary. Bring your pooch, Bella loves company. "All well behaved dogs welcome."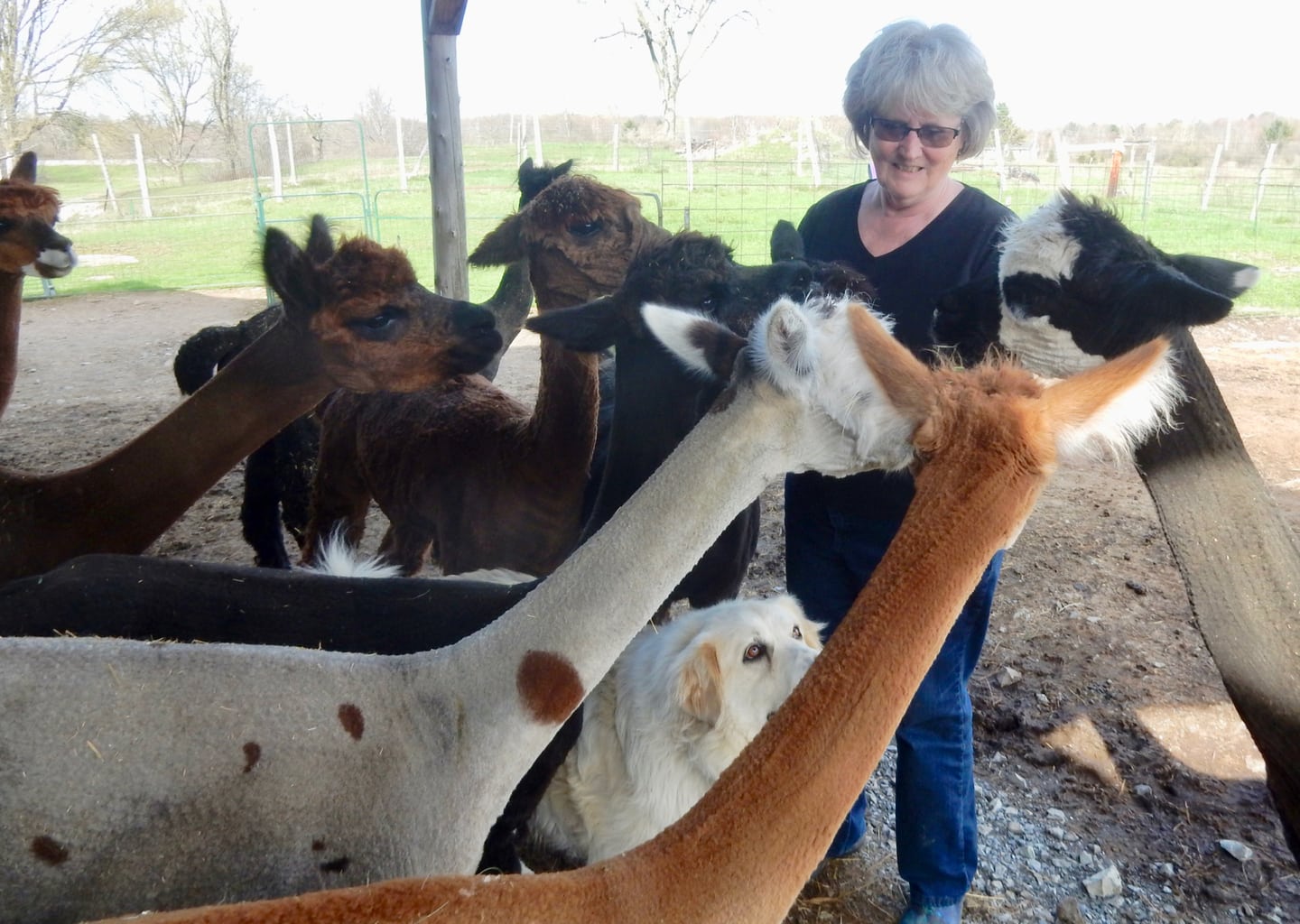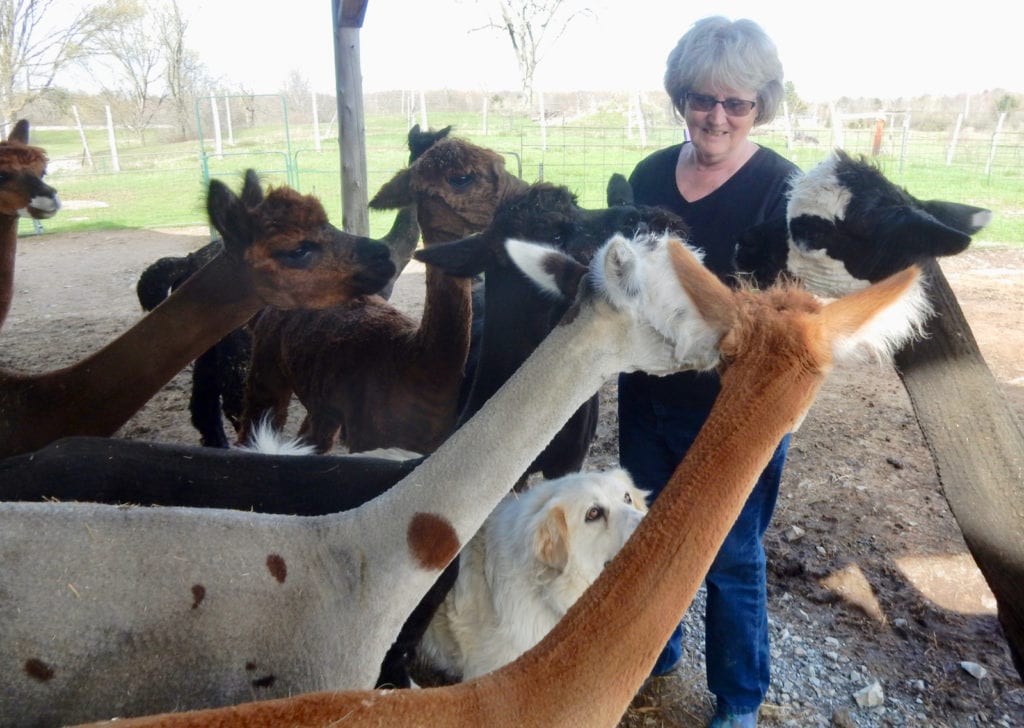 If you have time, you enjoy driving through bucolic farmland, and can't get enough of alpacas – arguably, the cutest creatures on earth – stop at Home Again Farm. Sixth generation farmer and first to "breed to sell" alpacas, Gail Marsh is proud of the 13 "girls" and 10 "boys" she keeps separated in two barns.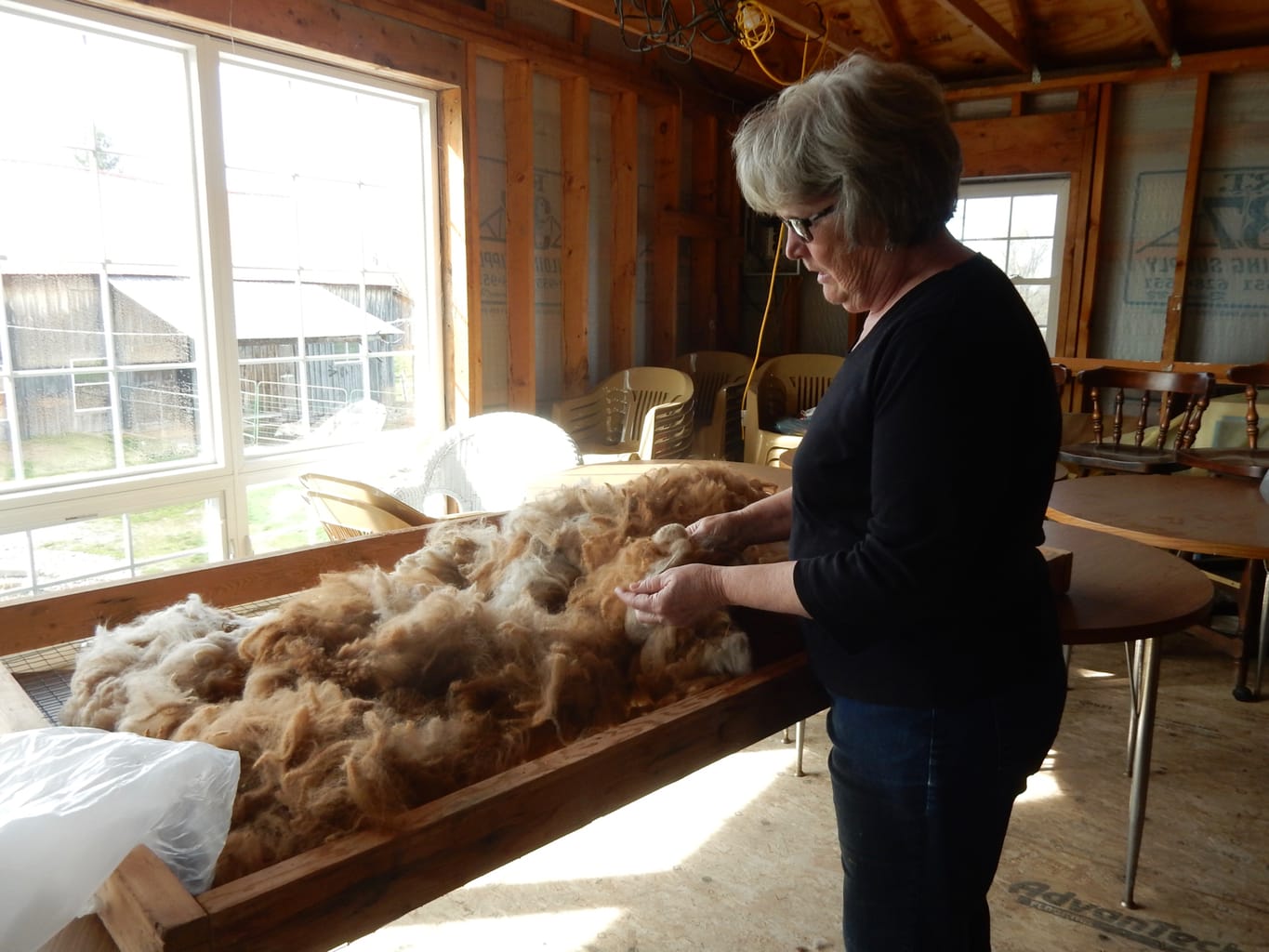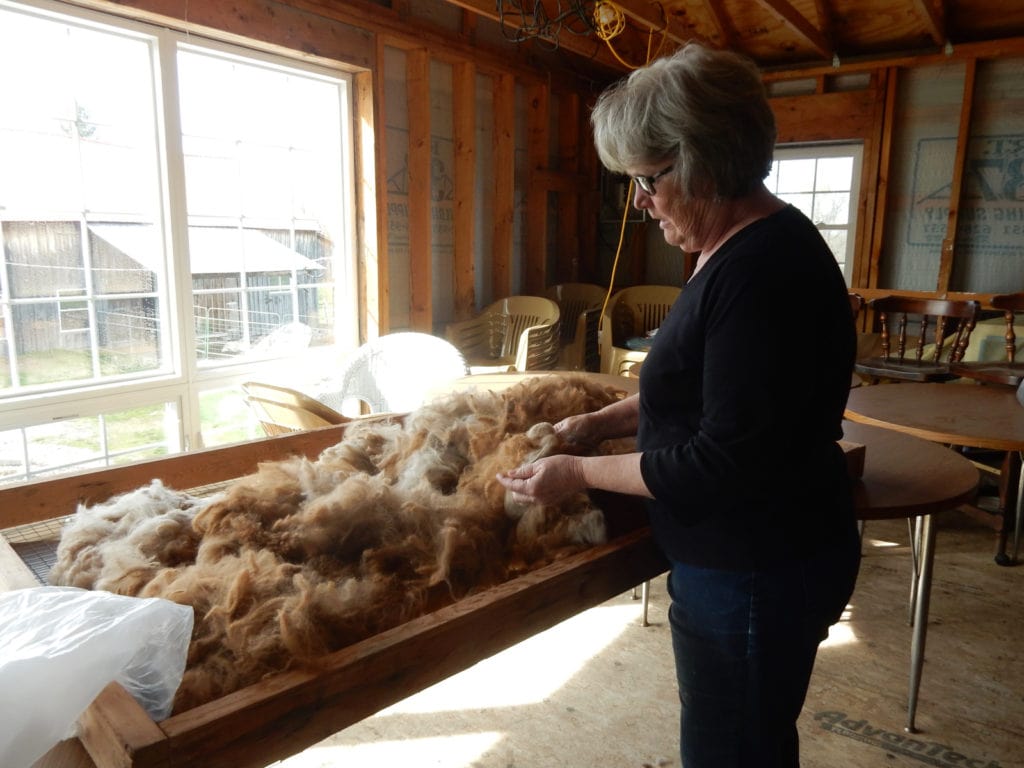 These dreamy animals are friendly, curious, and crave snacks from whoever doles them out. "Don't go to them, they'll come to you when they're ready," instructs Gail. Soon, the calmer, more inquisitive females surround you, craning their just-sheared stalk-like necks for a carrot ("the males are more boisterous, like their human counterparts").
Gail keeps the shorn hair from each alpaca in individual bags identified by the alpaca's name. She let me feel the hair from several and there was a significant difference between them. "Lucy's is the softest." The on-site store has clothing and other items made from her own alpaca's fiber, as well as from Peru.
Day 3: Clayton and Watertown NY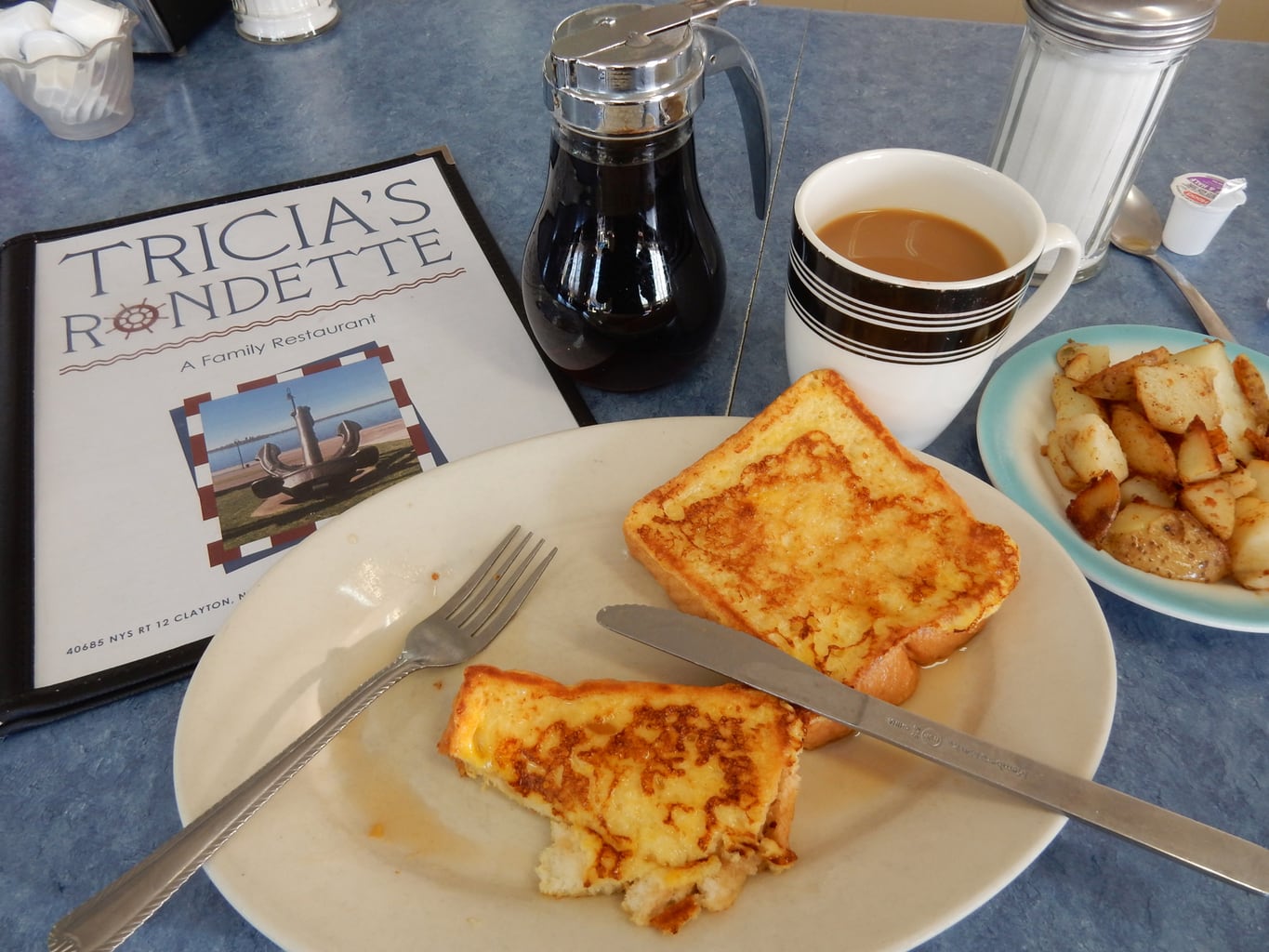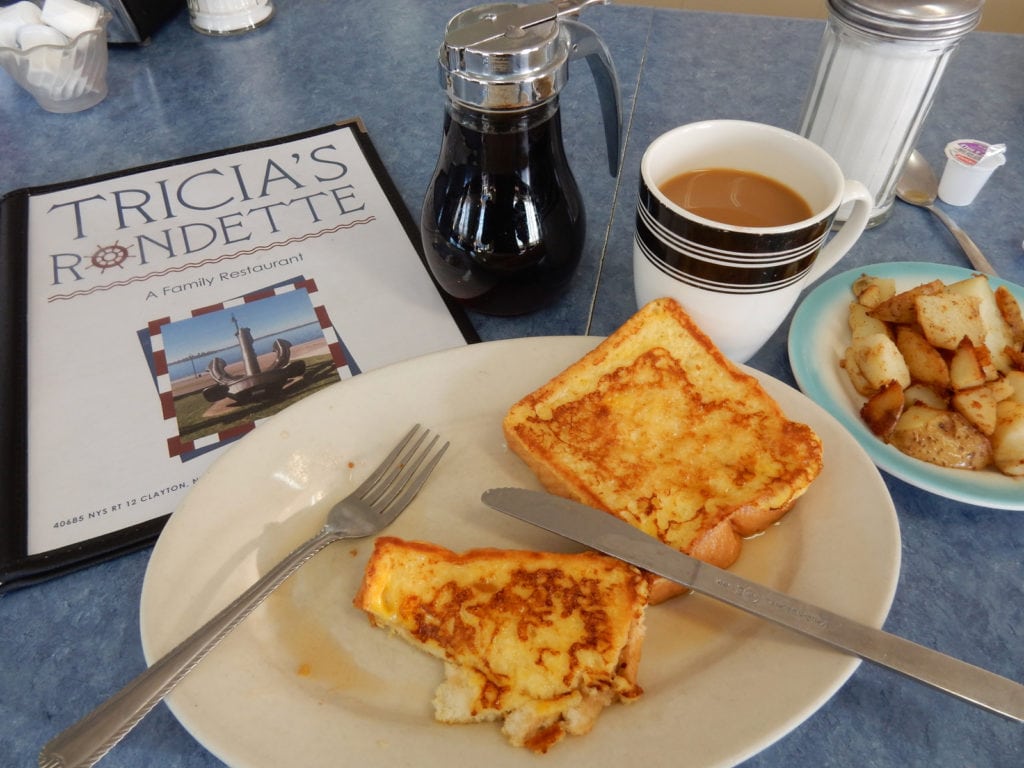 It's the Cheers of the breakfast set. If you want to know where locals go, come to this spot about 3 miles from downtown Clayton (towards Alexandria Bay) on Route 12. It's nothing fancy, but according to a couple who have been coming here for 30 years – first as summer visitors from New Jersey and then as full time residents – "no one does griddle food faster and better."
Order the "Famous Pancakes" or the straightforward light and fluffy French Toast – or anything really. It's all perfectly fine. If you want to meet and talk to friendly locals, start your morning here.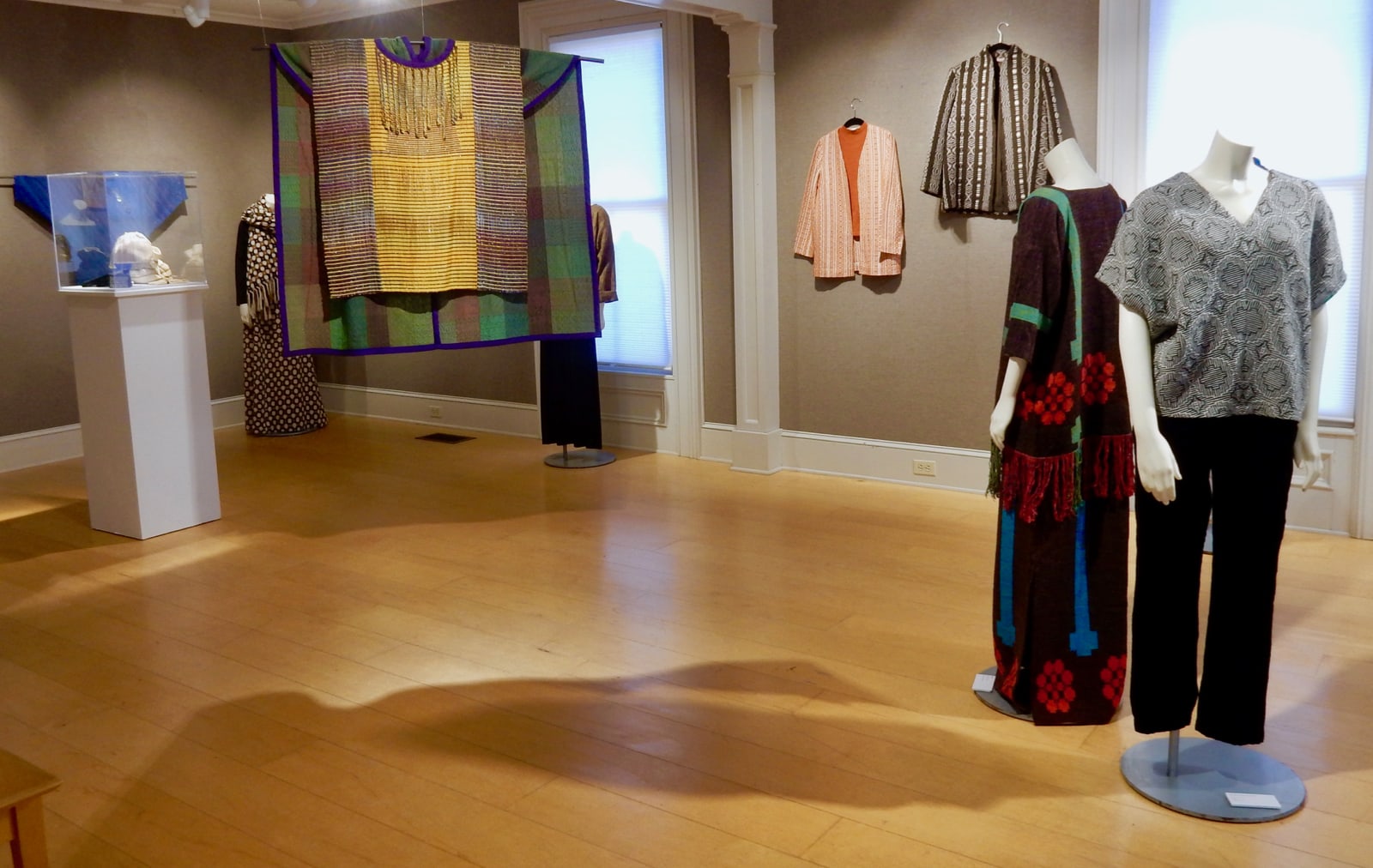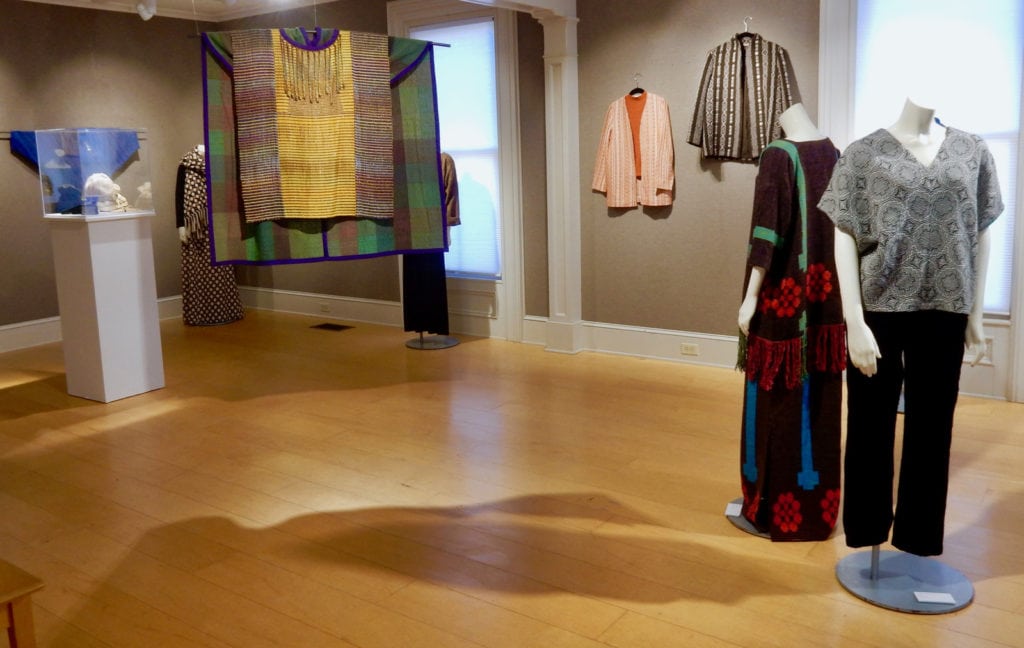 This under the radar museum gets lost in the hoopla of the waterfront and the venerable Antique Boat Museum. But anyone with an interest in weaving, fiber arts, or just happy colorful art exhibits in general will want to step into several bright galleries at the 1000 Island Art Center's Handweaving Museum. This is the only American Hand Weaving Museum in the world. Plus, it features the most comprehensive weaving library.
Back in the 60's, weaver Emily Post (not THAT Emily Post) was an active member of the 1000 Islands Museum in Clayton. She established a school for weaving in 1966. At that point, the 1000 Islands Museum broke off into two entities: "weaving for women, boats for guys." (The "boats" became the Antique Boat Museum).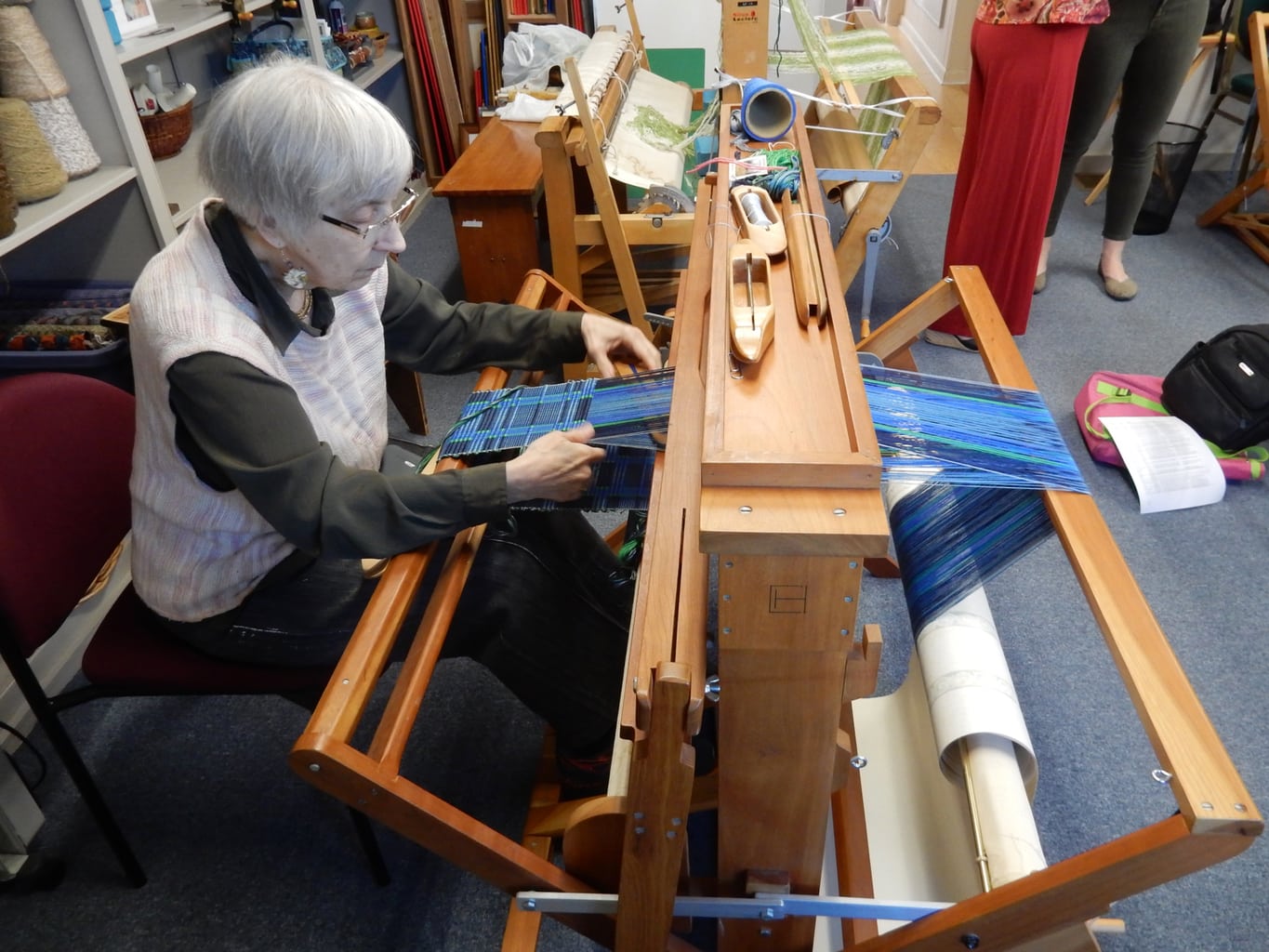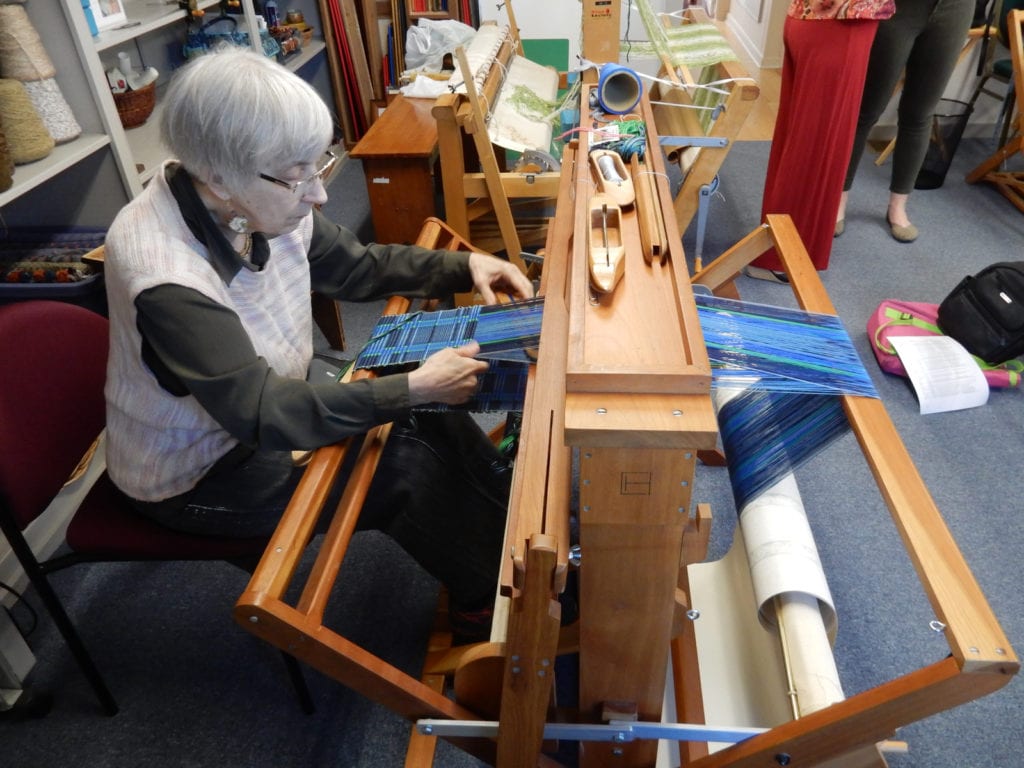 Why handweaving? It took up far less space than sculpture or even painting, and Post knew plenty of weavers in the area. In fact, those early artisans donated the foundational collection, which now amounts to over 5,000 pieces.
Peruse these cheerful items in a couple of galleries, and then pop into the weaving room, where, generally on Wednesdays, you'll see time-honored weavers like Harriet Burris at work. Open Mon-Fri 9-5 (Sat 10-4 in summer only). Check website and sign up for one-day workshops in basketry, photography drawing and painting, card, jewelry and soap making, and of course, weaving.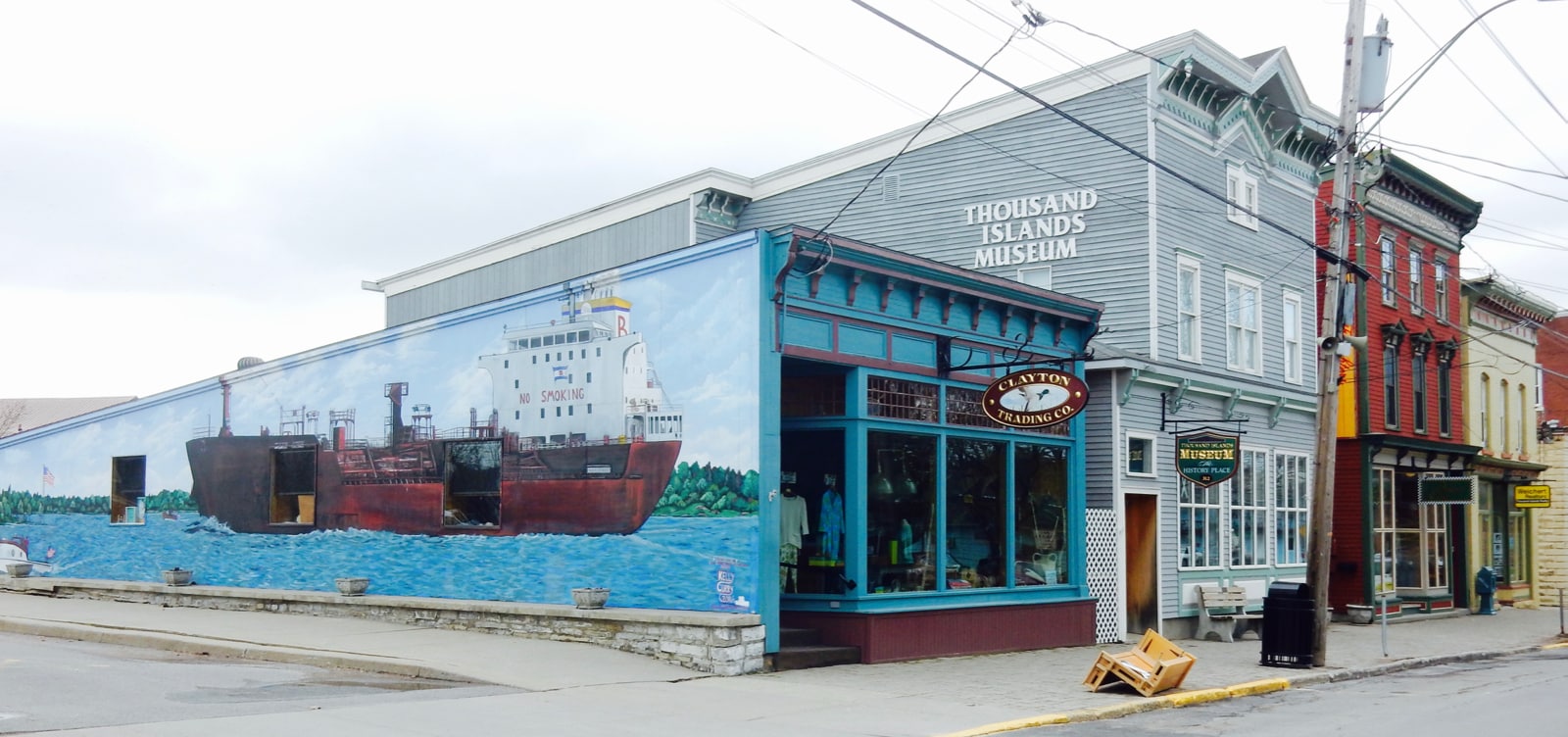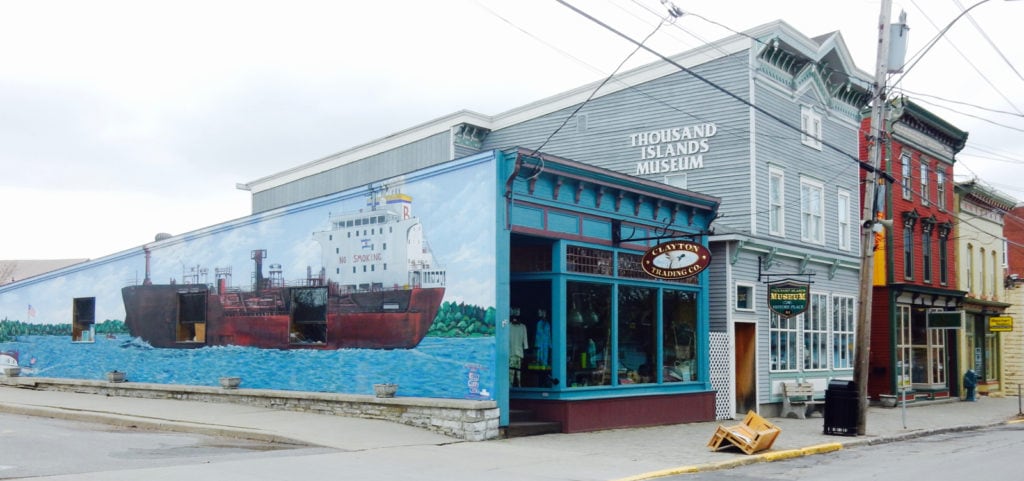 If there's time, pop into this small in-town museum for local lore and history. Open Tues-Fri. 10-4, free.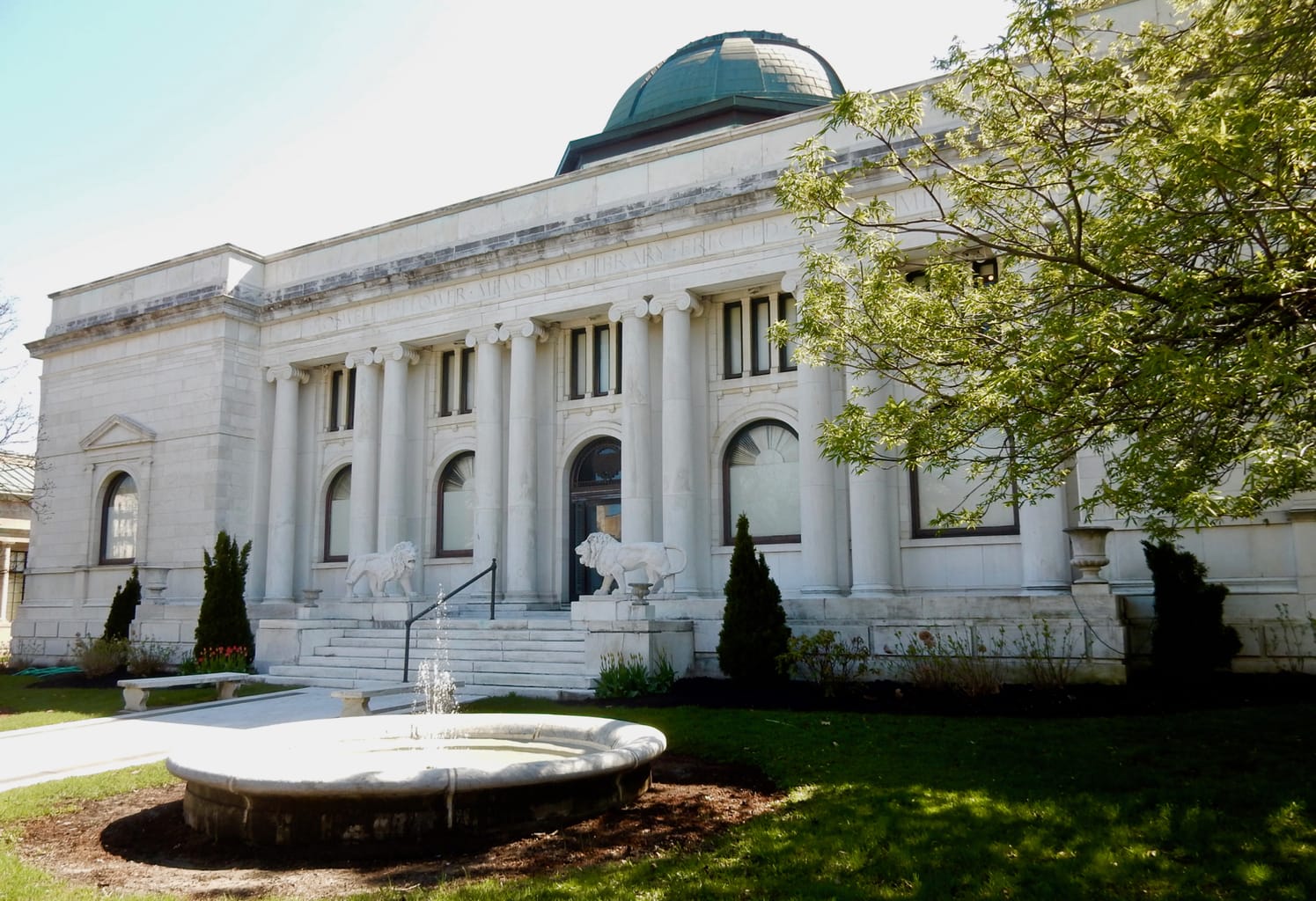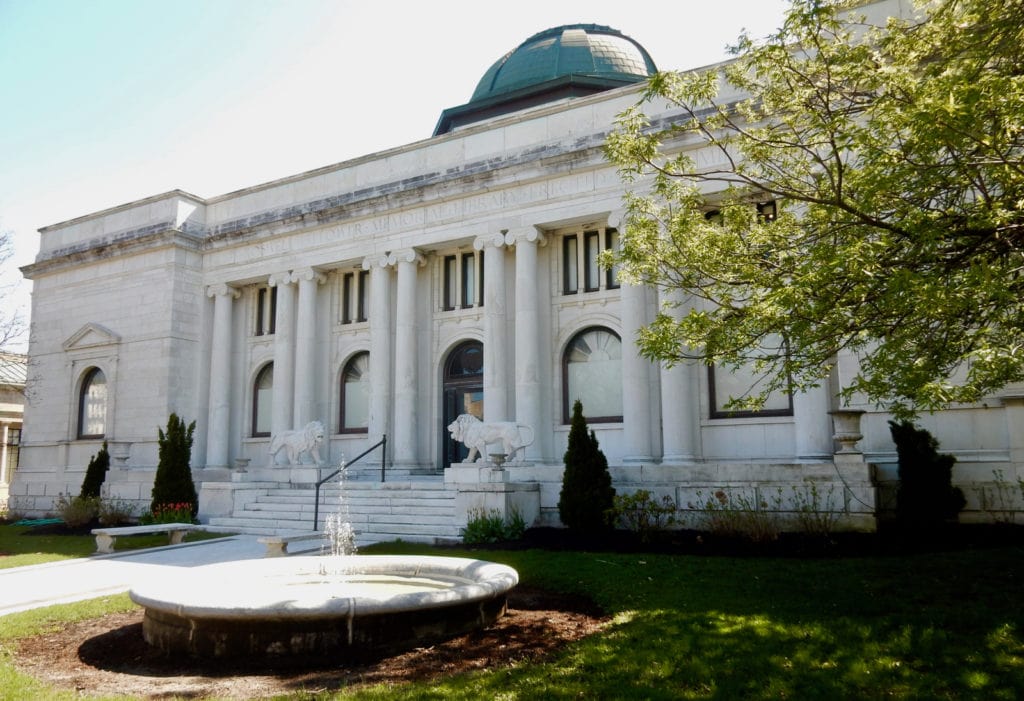 Watertown is 25 minutes from Clayton, right off of I-81. If you do nothing else on your way out of the 1000 Islands Region, stop in the city of Watertown, at least to see this exceptional library.
This glorious institution reminds us of a time when knowledge and learning were esteemed values – valuable enough to build monumental book repositories with handsome study rooms.
Twin marble lions guard the entrance to the gleaming white building once called "The most beautiful small library in the United States" when it was first dedicated in 1904. A stained glass oculus dome, painted with the signs of the zodiac, caps the stunning inlayed-marble floor rotunda.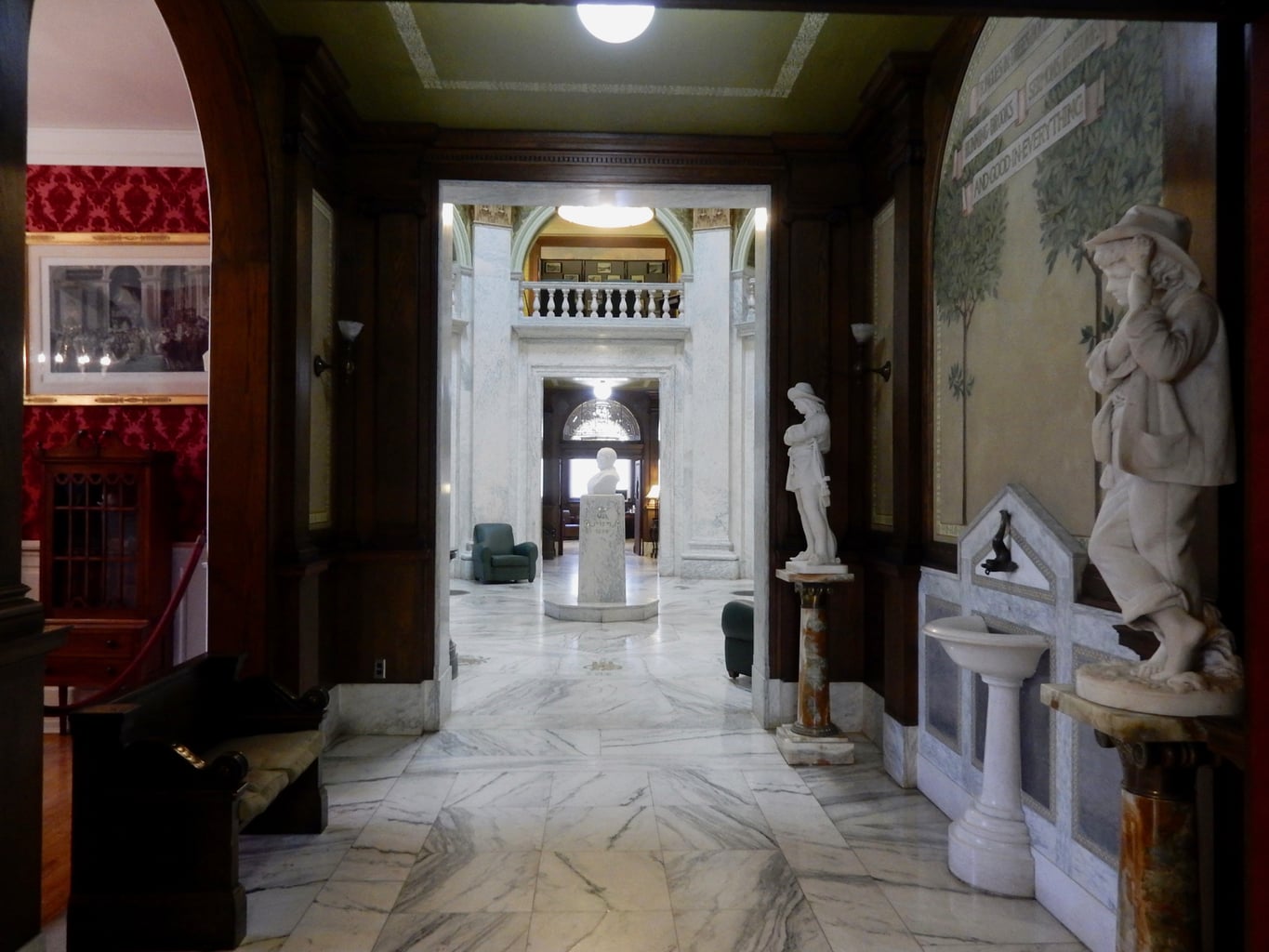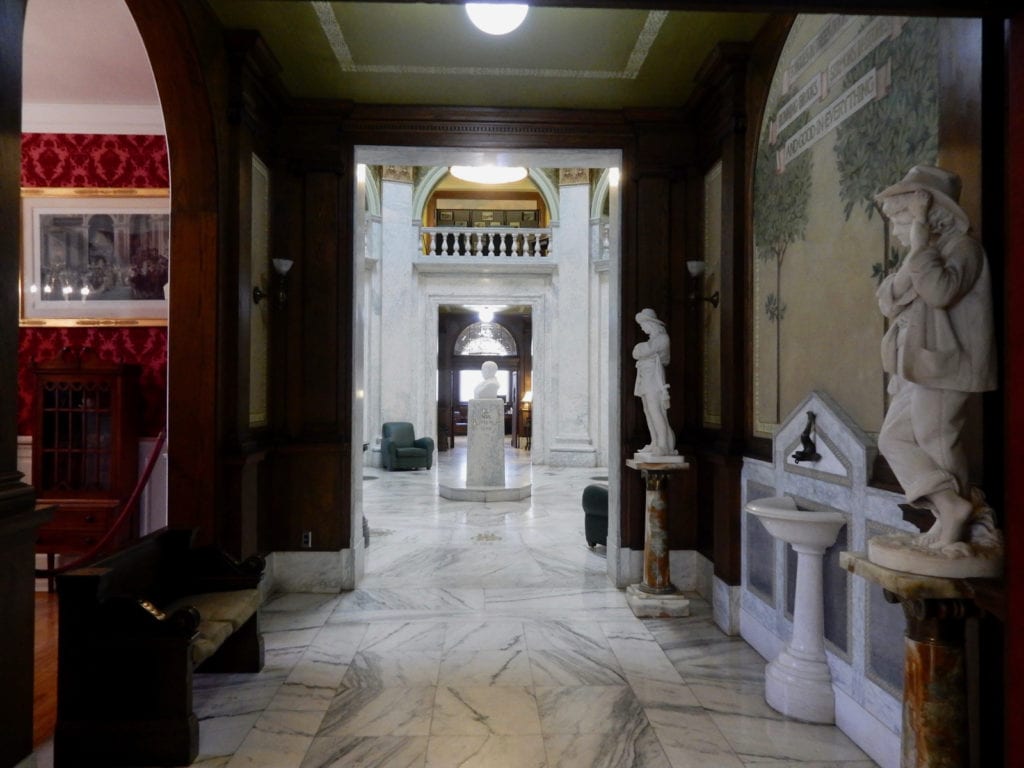 Other rooms feature murals, carved wood paneling, and mosaic work embellished with words of wisdom. Pick up a Library Tour Guide at the desk by the entrance in the new wing. This is definitely an inspiring place worth your while.
Where to Stay in the Thousand Islands NY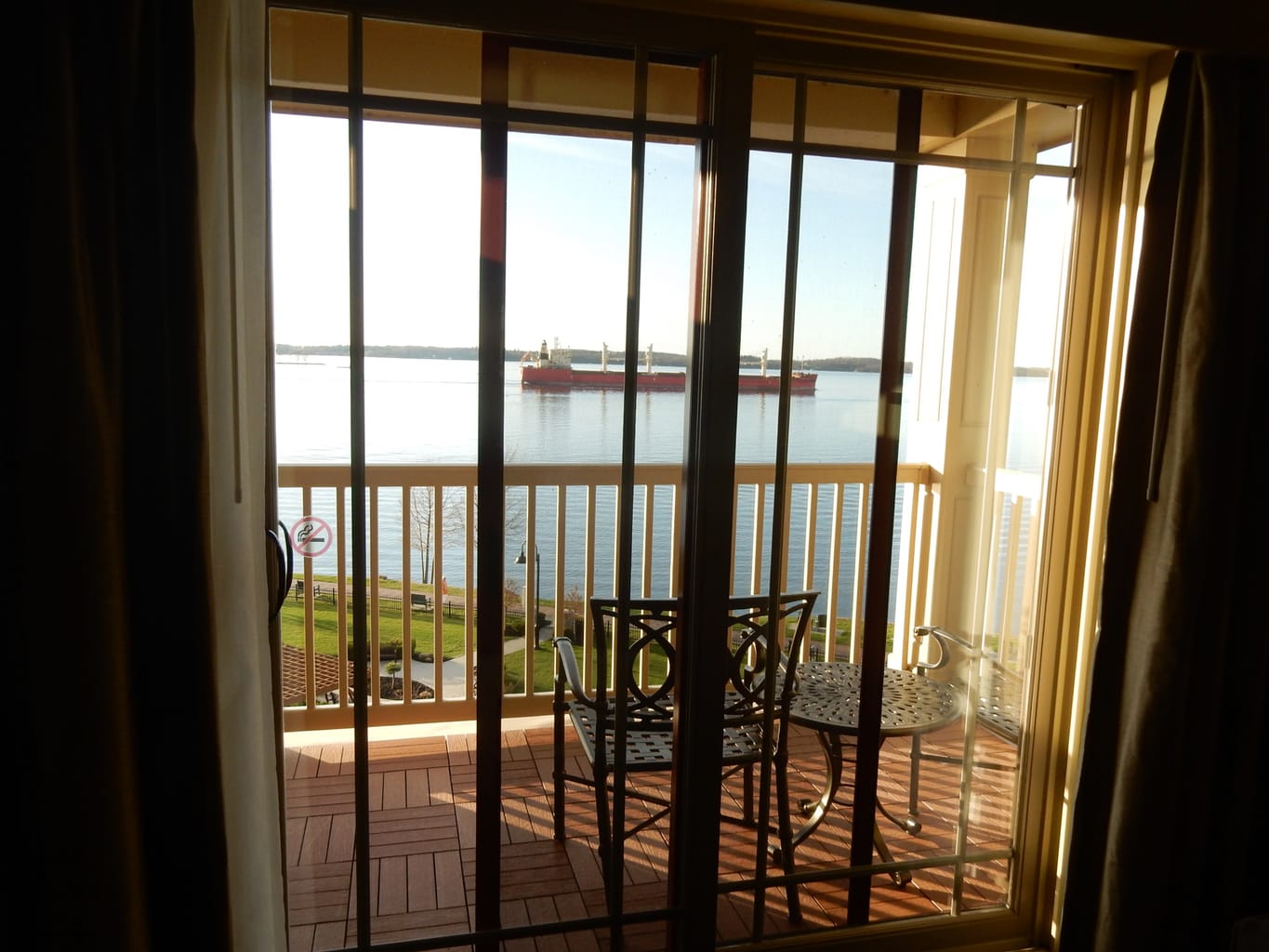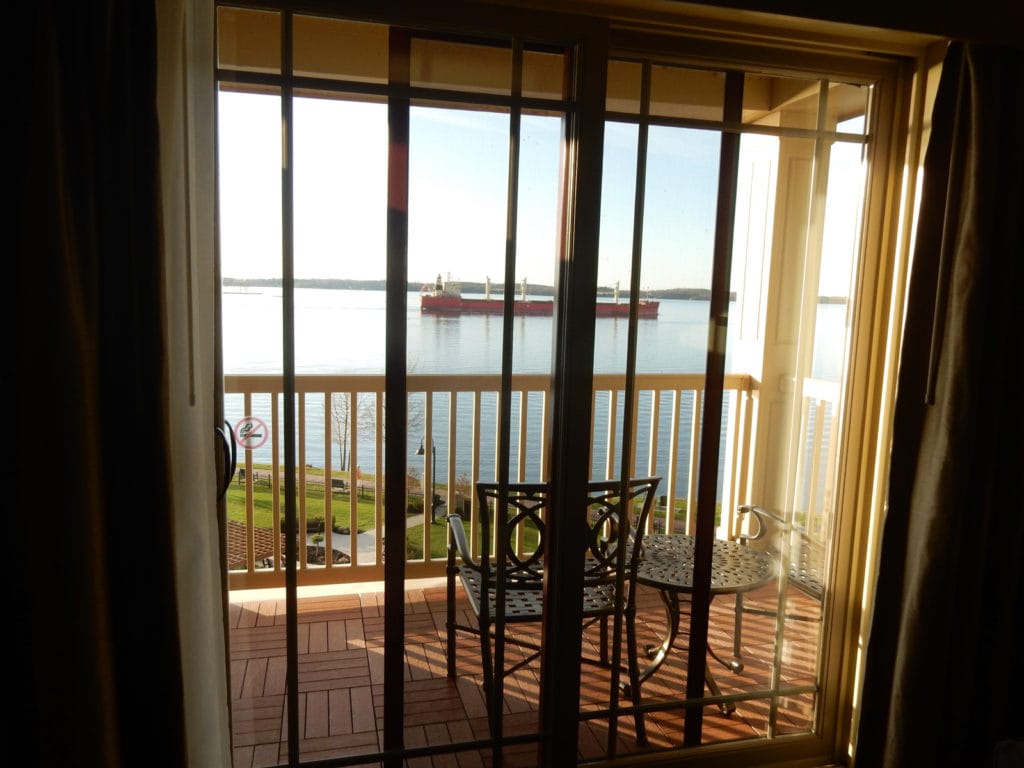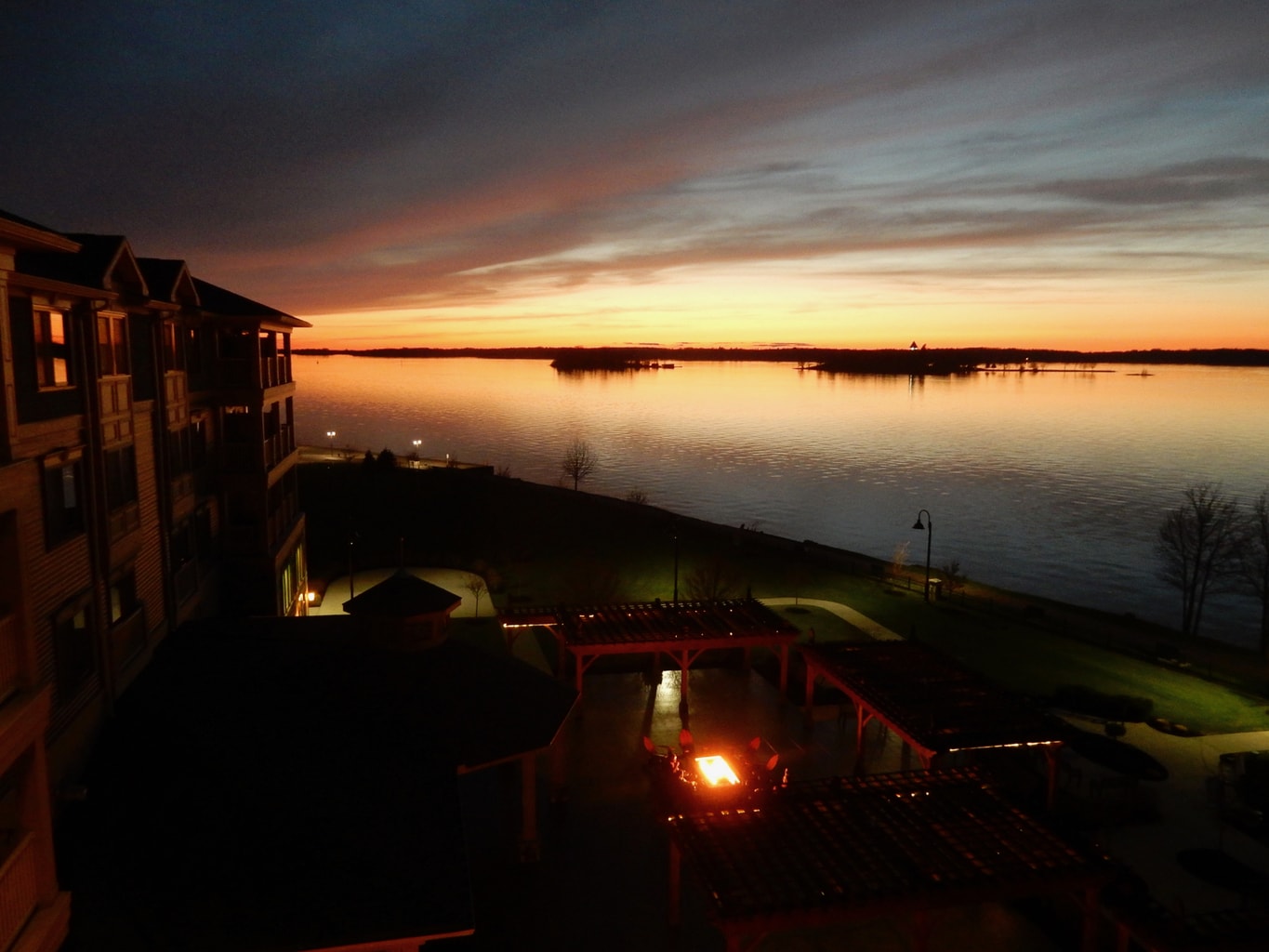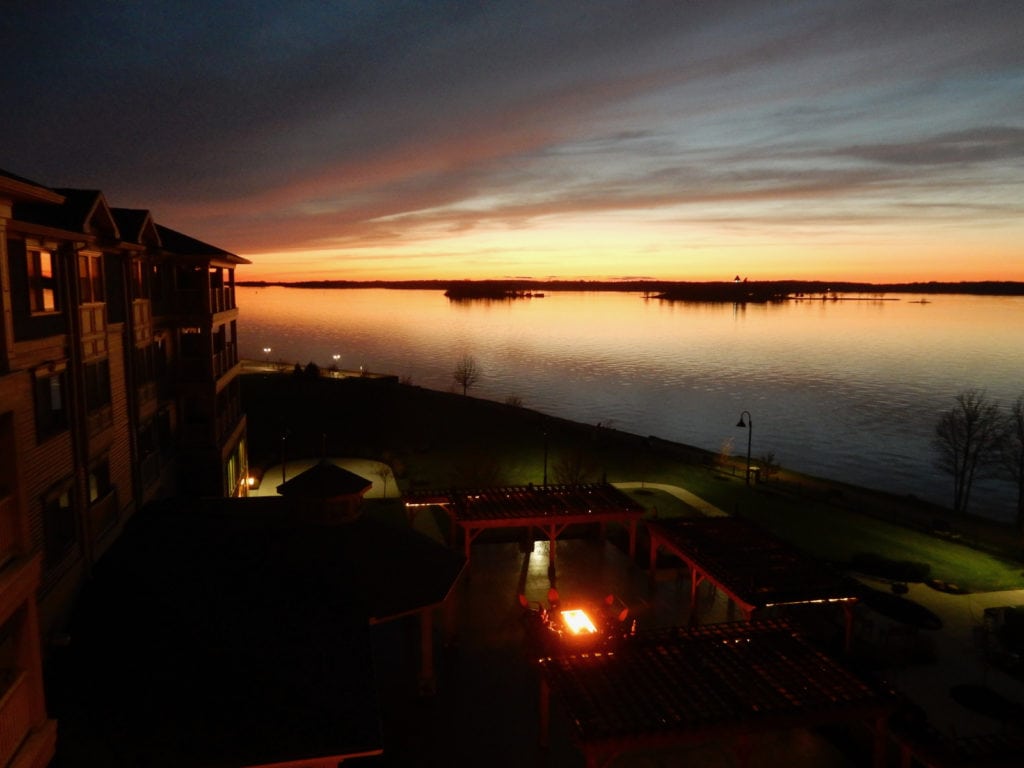 The show outside your guest room window changes throughout the day. But sunrise and sunset times are particularly alluring – turning the water to liquid gold and pink. No need to leave your chambers, either, to watch massive cargo ships, slipping up the St. Lawrence River, glide right past your window. Believe me, it's worth the added expense.
First Impressions of the 1000 Islands Harbor Hotel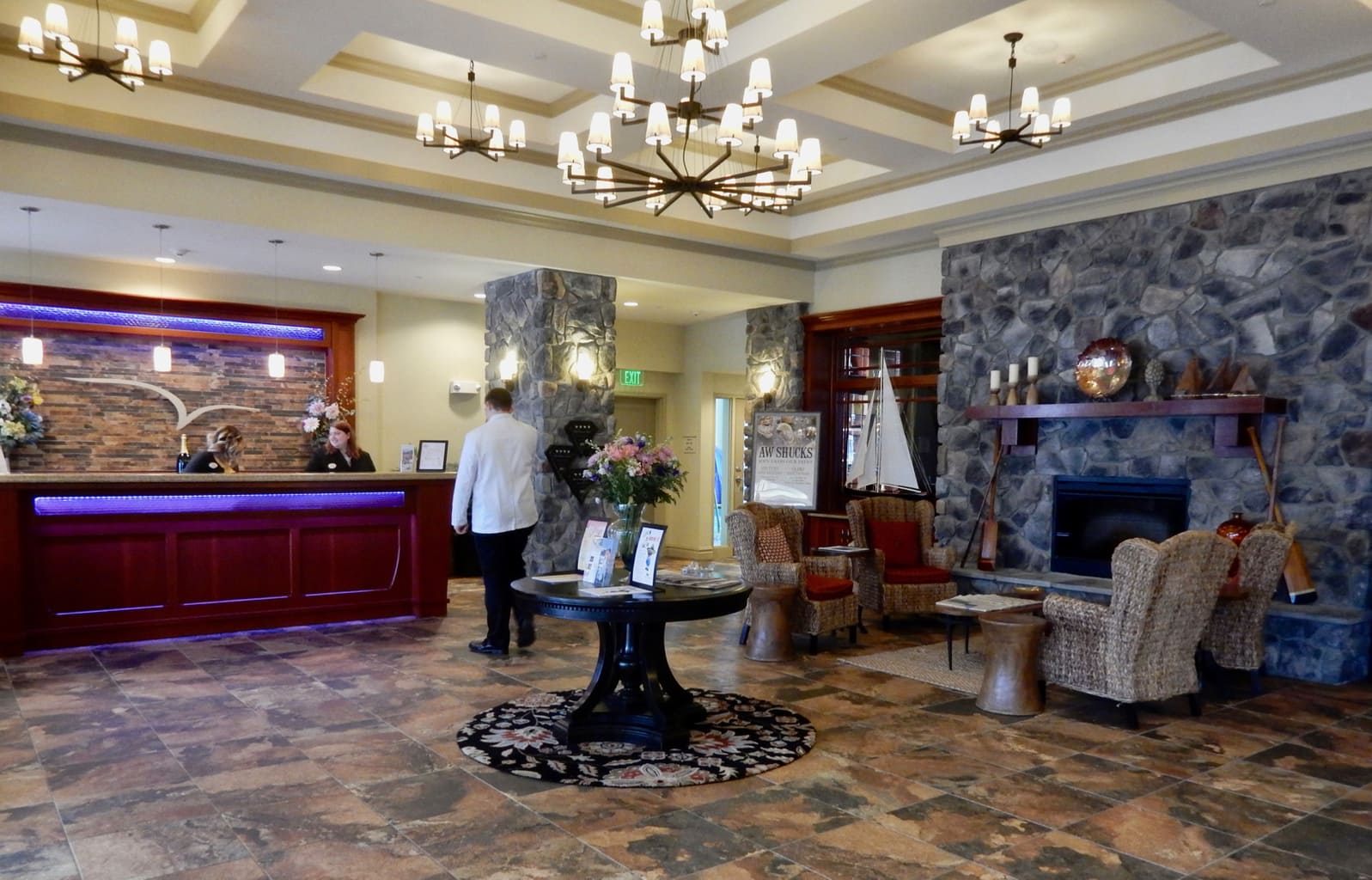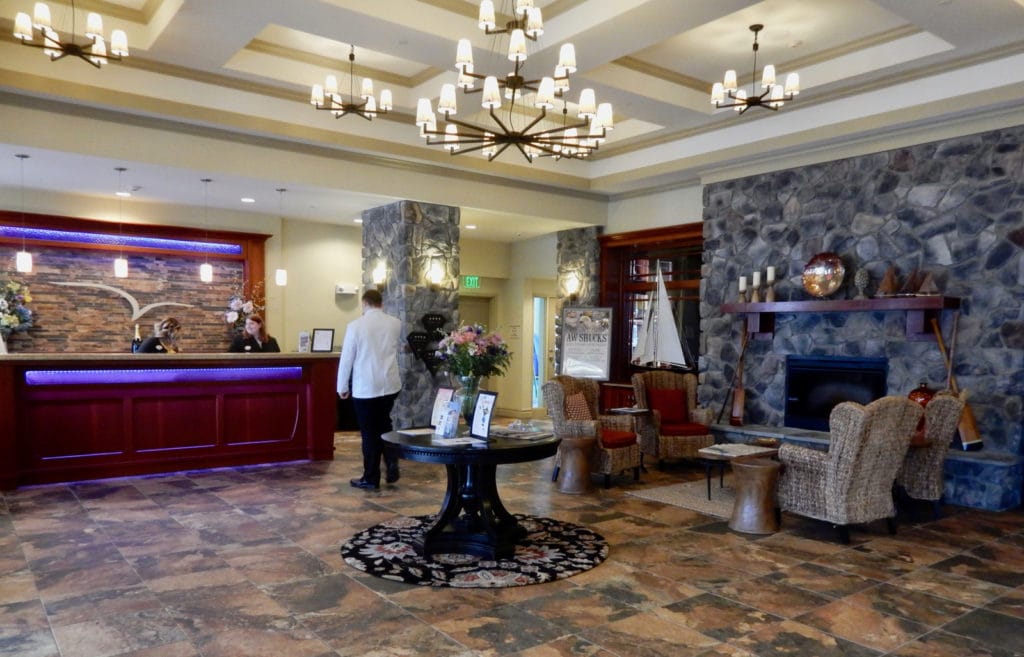 Driving in directly from Route 12, I didn't realize how close the hotel is from the water until I picked up a printout of the estimated times that cargo ships are due to pass by that day. "I can see these from my room?" I asked the friendly reception staff in a rustic country-stone lobby with no windows or sight-lines to the water. "Definitely!" they stated. Which is when I understood that the Harbor Hotel is mere yards from the St. Lawrence Seaway.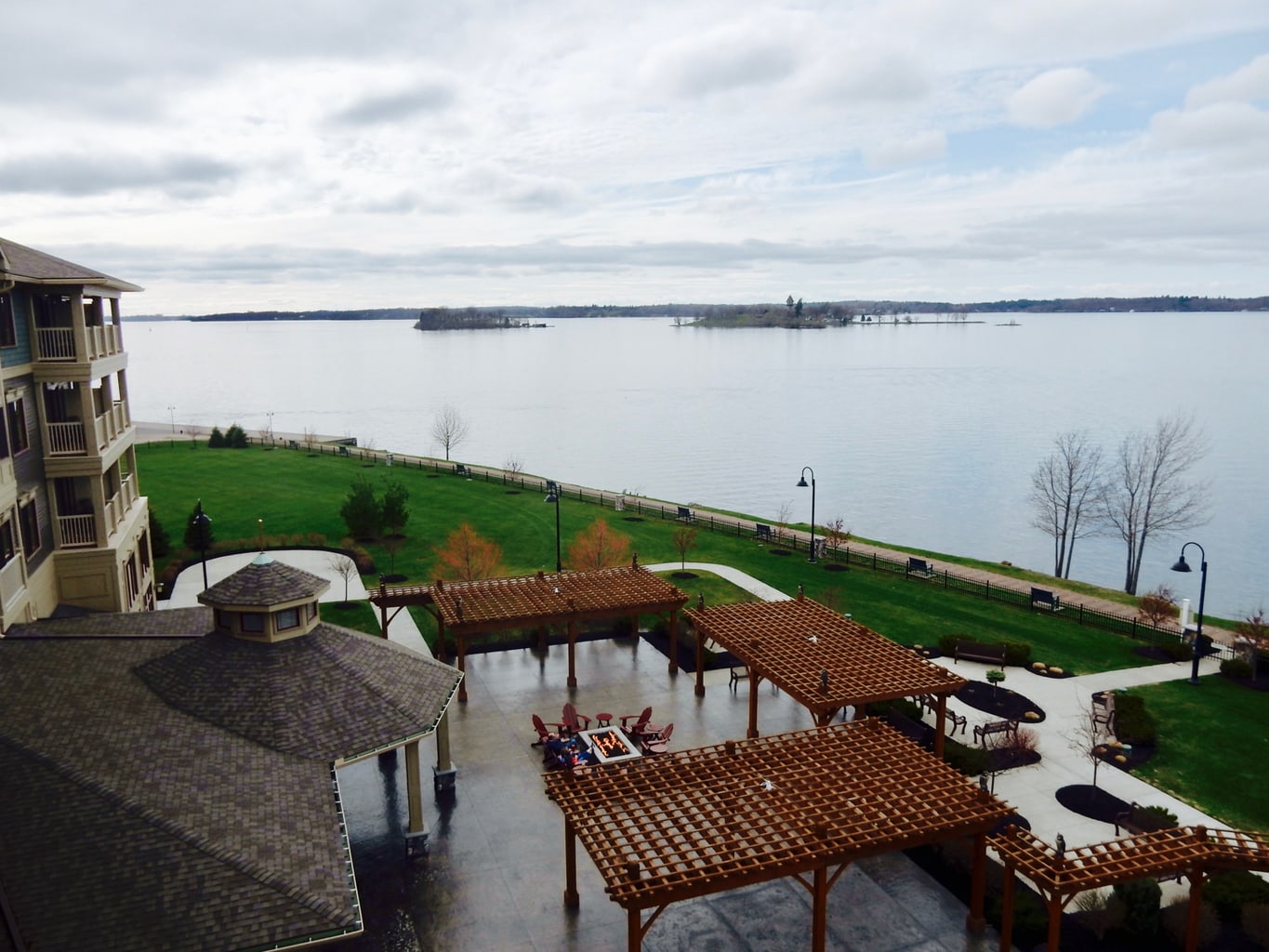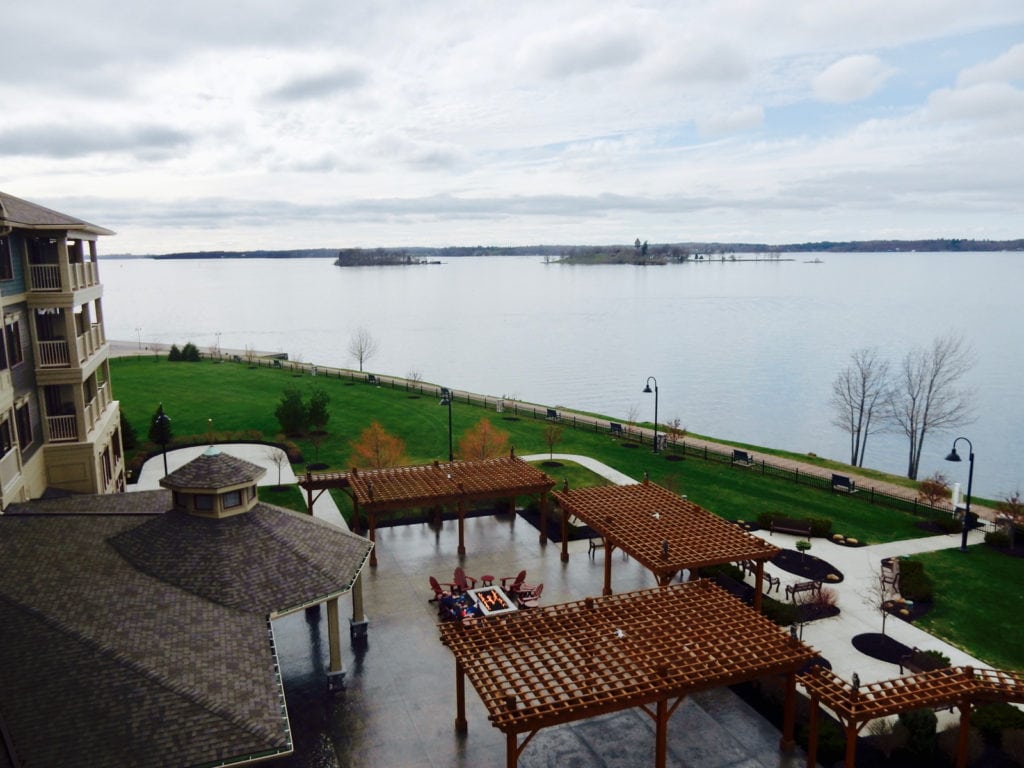 Out back, I was tempted to join guests around fire pits. Or, to stretch my legs along with folks walking along the Clayton Riverwalk that hugs the St. Lawrence River from town to the outskirts. But once I got to my room, I wished no more than to sit on a balcony chair with a glass of wine and watch the river traffic and changing colors of late afternoon into evening.
Rooms at 1000 Islands Harbor Hotel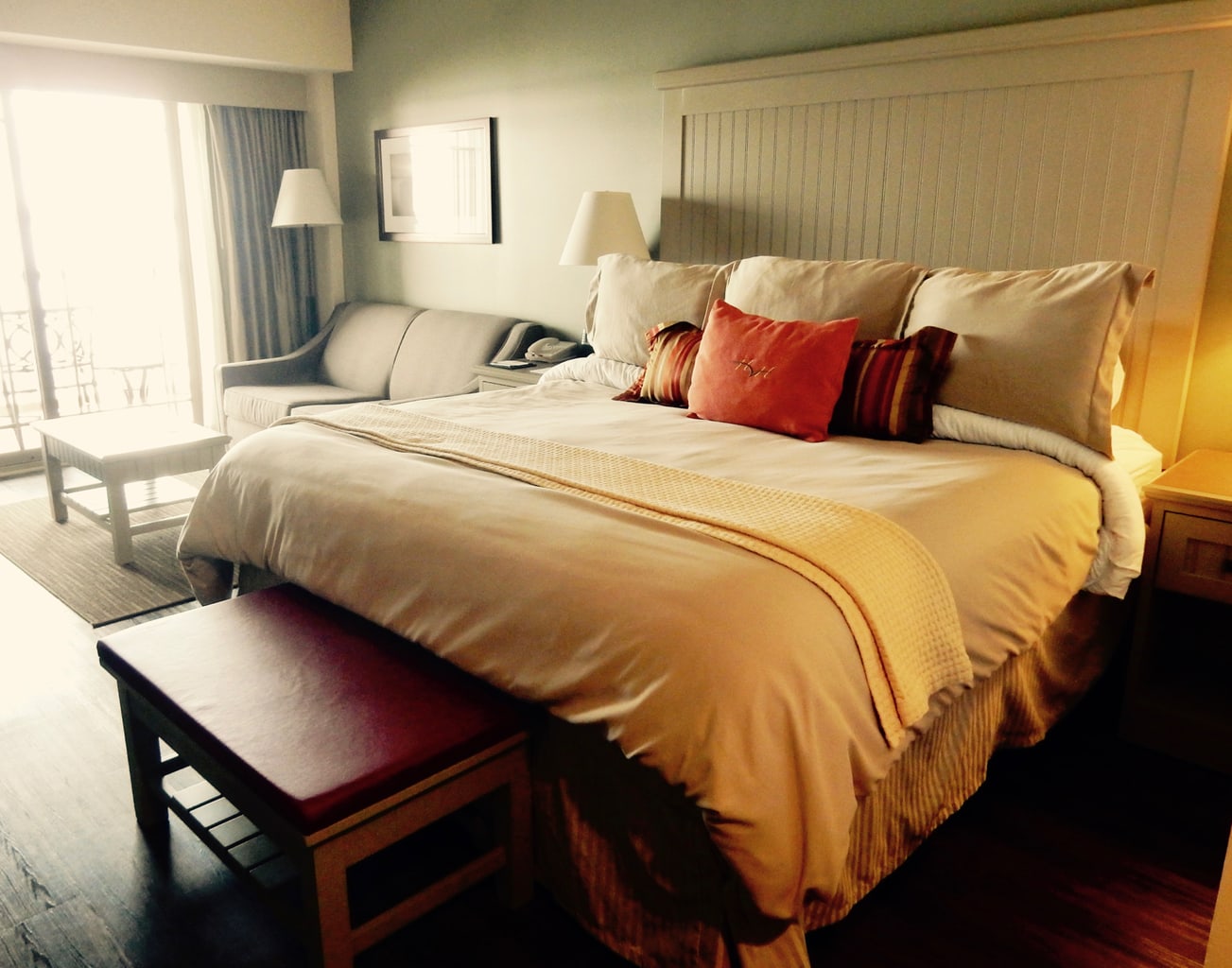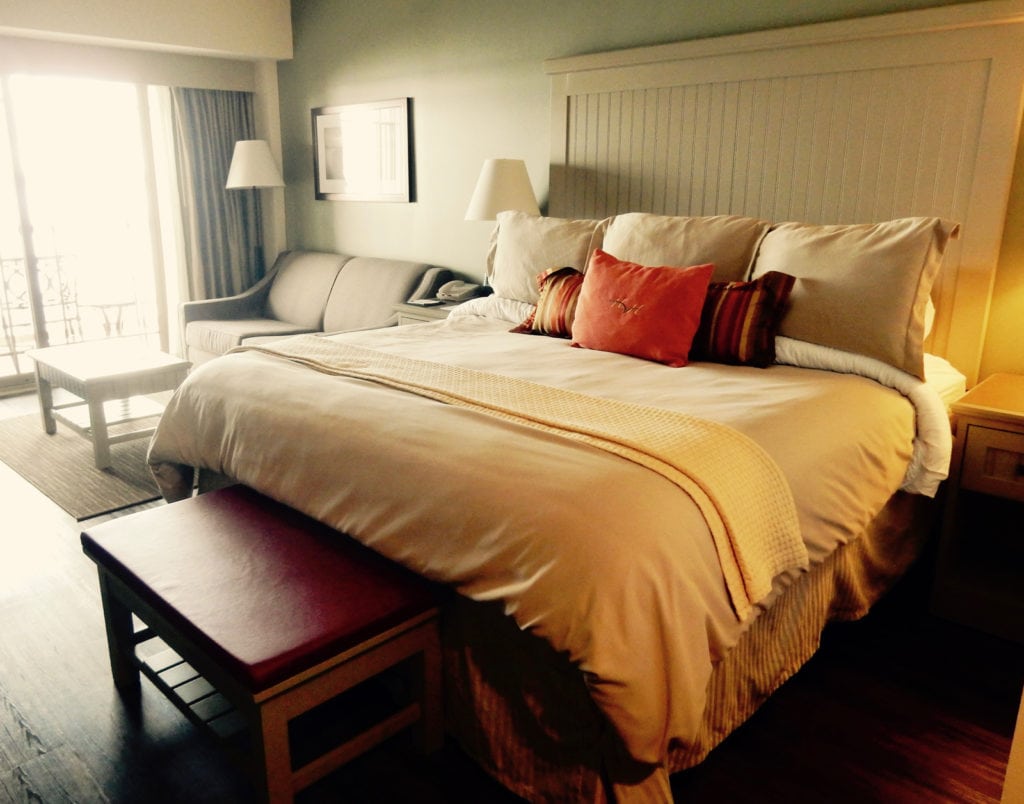 All 105 deluxe guest rooms and suites are dressed in neutral khaki colors, with handsome wainscoted furniture that includes the bed backboard.
Thankfully, there are a couple of outlets within reach on both nightstands – a design element I hugely appreciate in this electronic age. Beds are cloudlike and comfy, with the type of bedding that cocooned me into a deep sleep.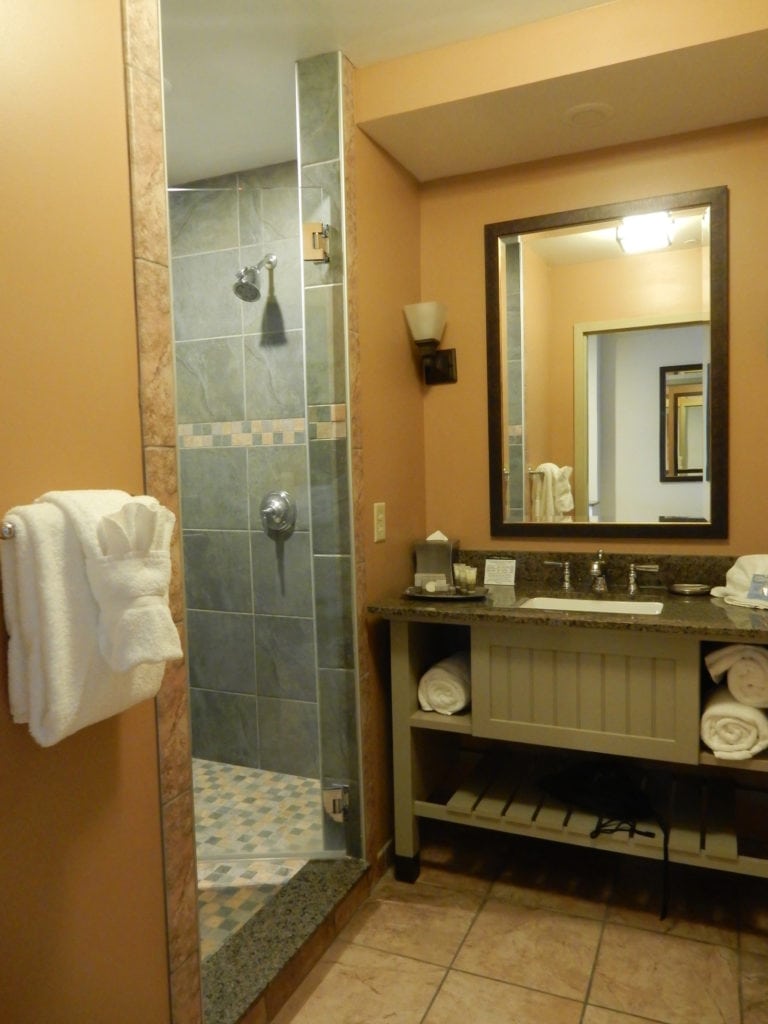 Deep ochre painted bathrooms feature plenty of light, an abundance of towels, and large stone tile showers far from the white fiberglass versions I often find in establishments with less attention to detail.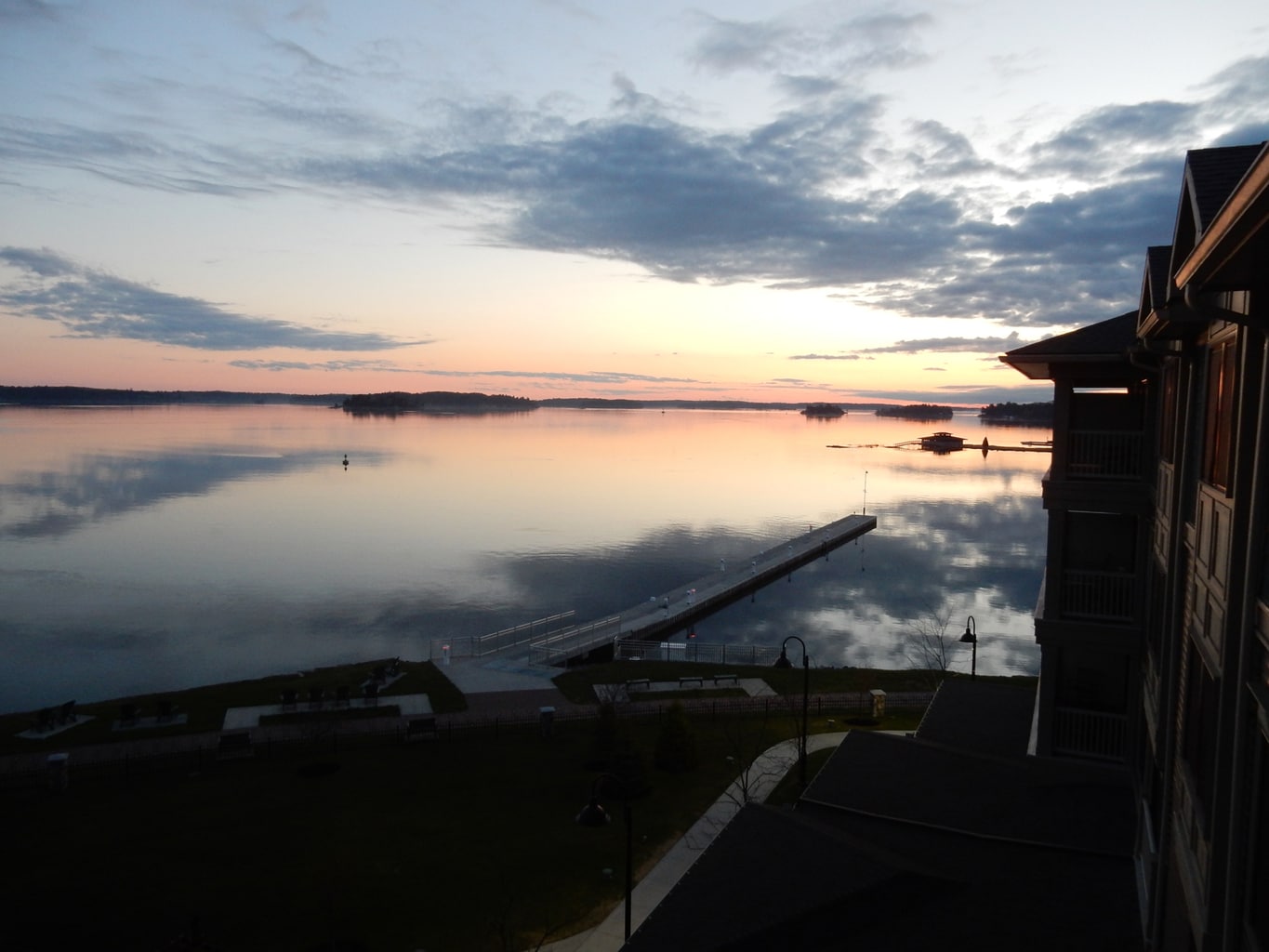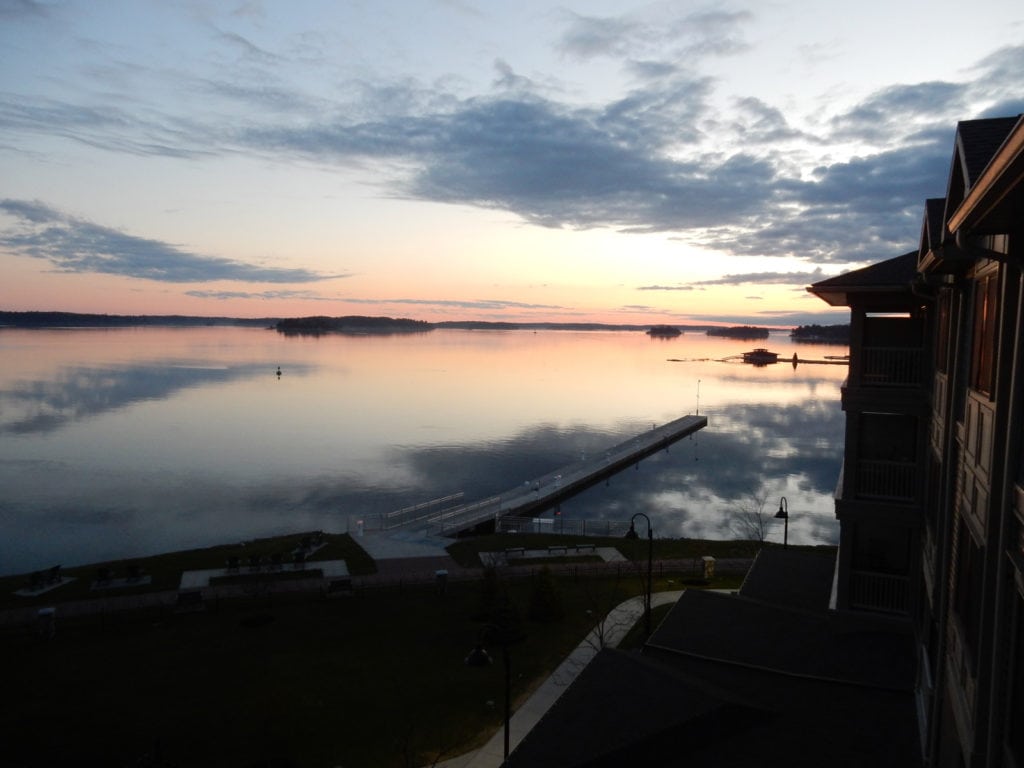 But of course, the highlight is what's happening right outside the window: boat traffic on the river, the play of light from sunrise to sunset, and the glimpse of walkers and runners on the town's waterfront esplanade.
Dining and Other Amenities at 1000 Islands Harbor Hotel
The 1000 Islands Bar is a happening place every evening – and extends to the waterfront patio outside.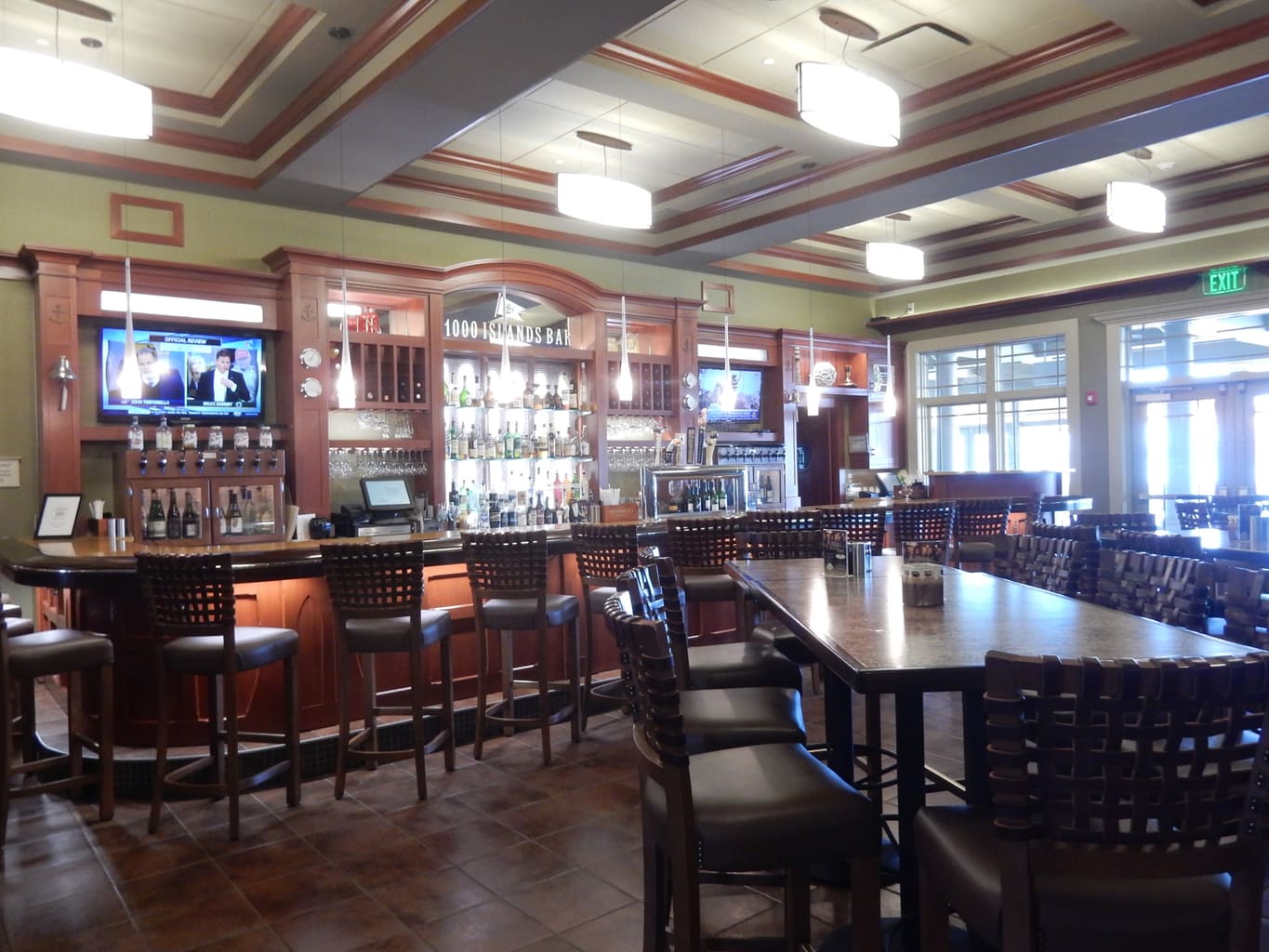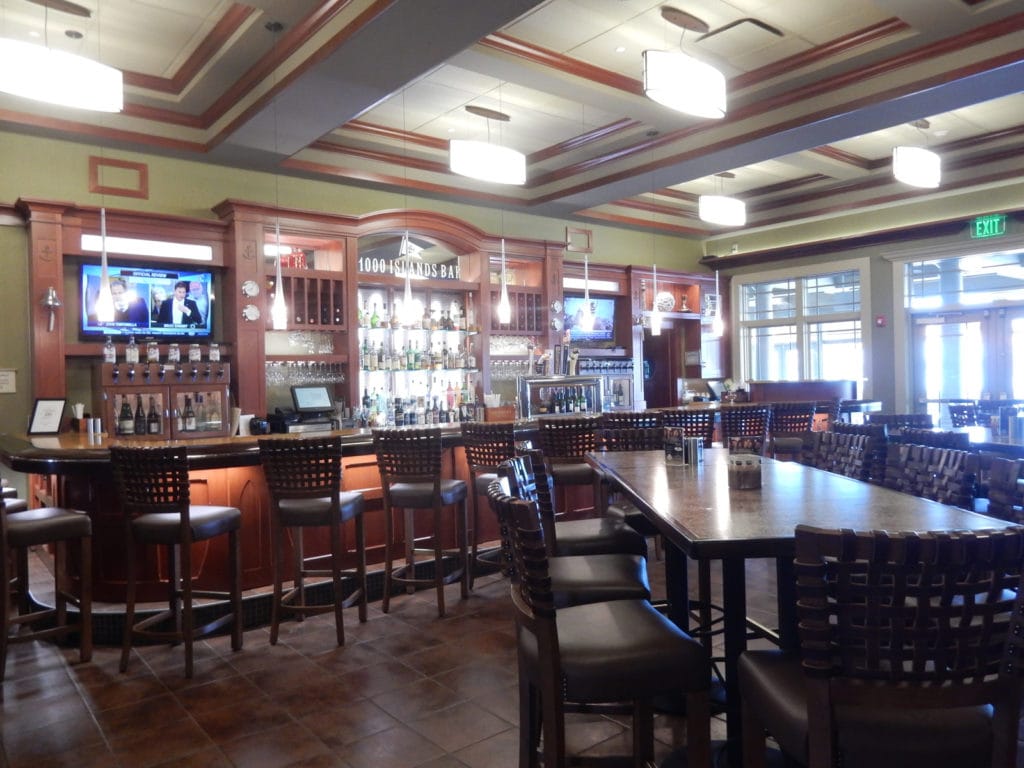 The Seaway Grille serves Breakfast, Lunch, and Dinner daily.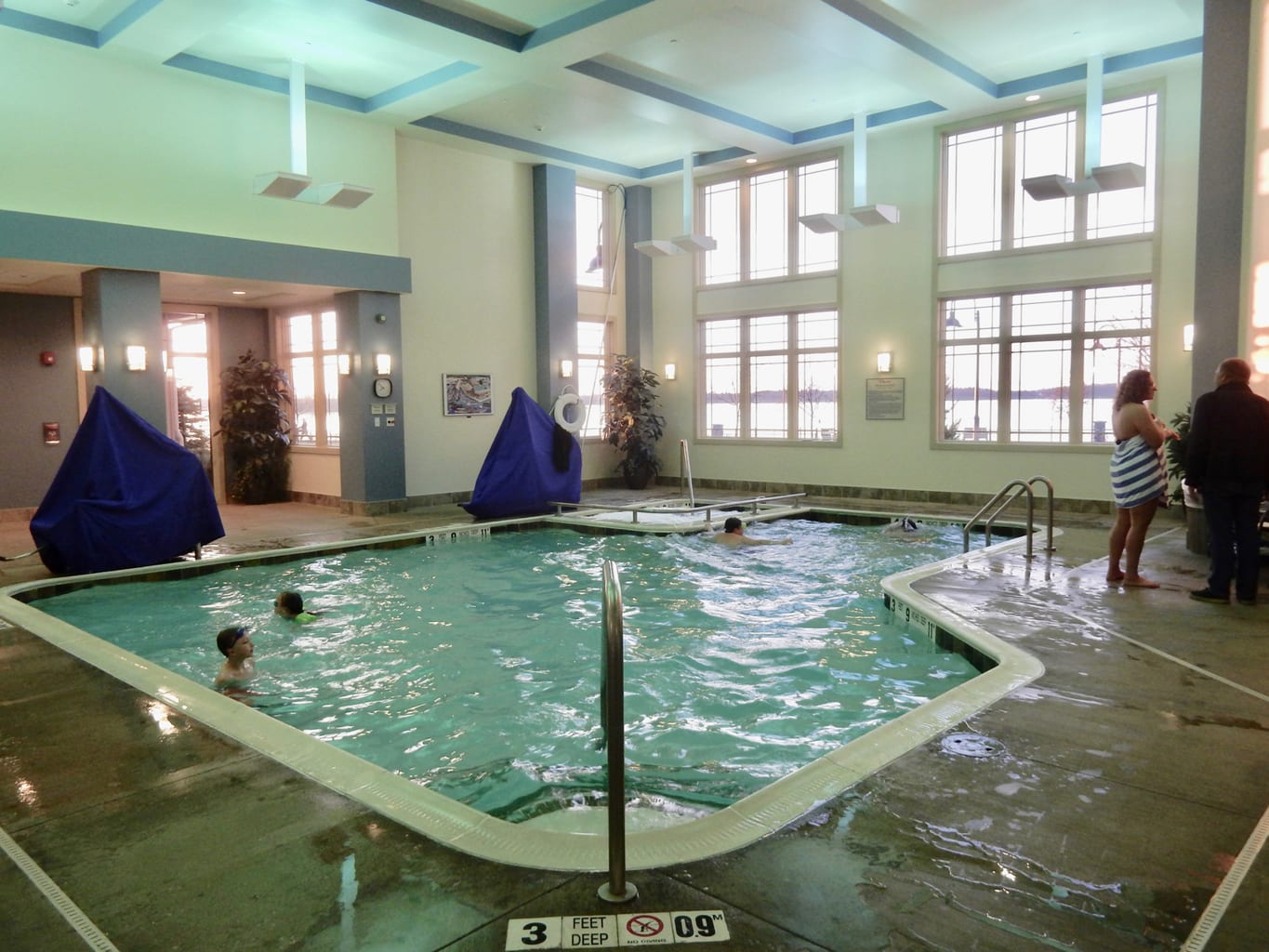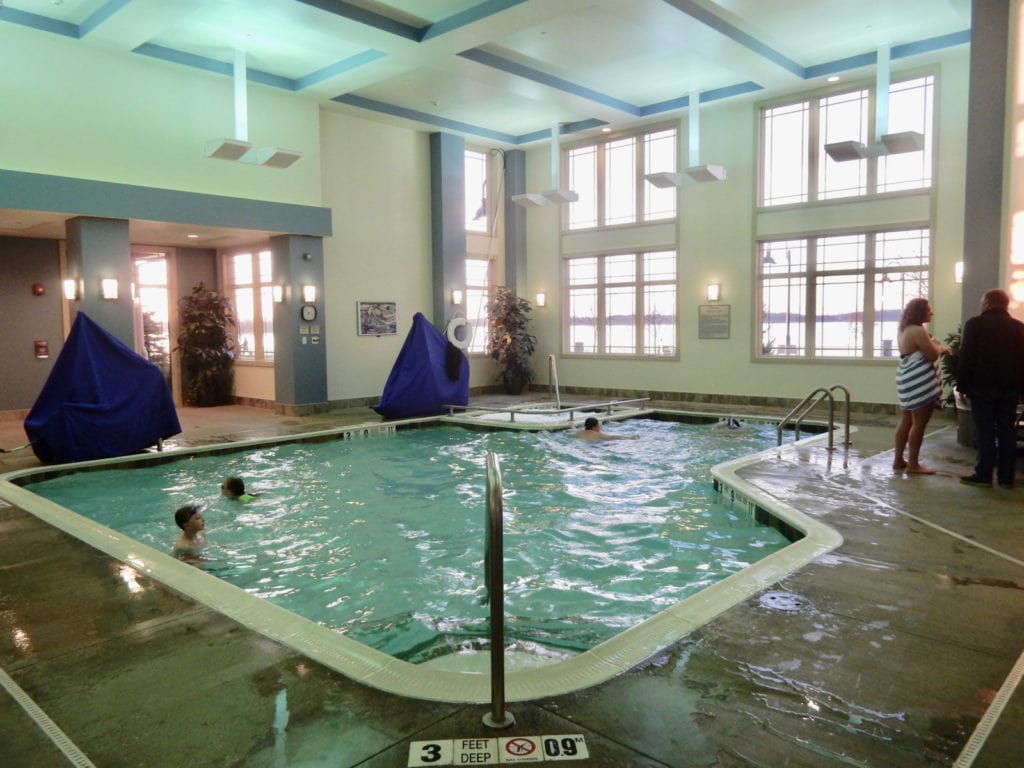 A mid-sized Indoor Swimming Pool, right off the lobby, is popular with families. Especially during cold or inclement weather outside.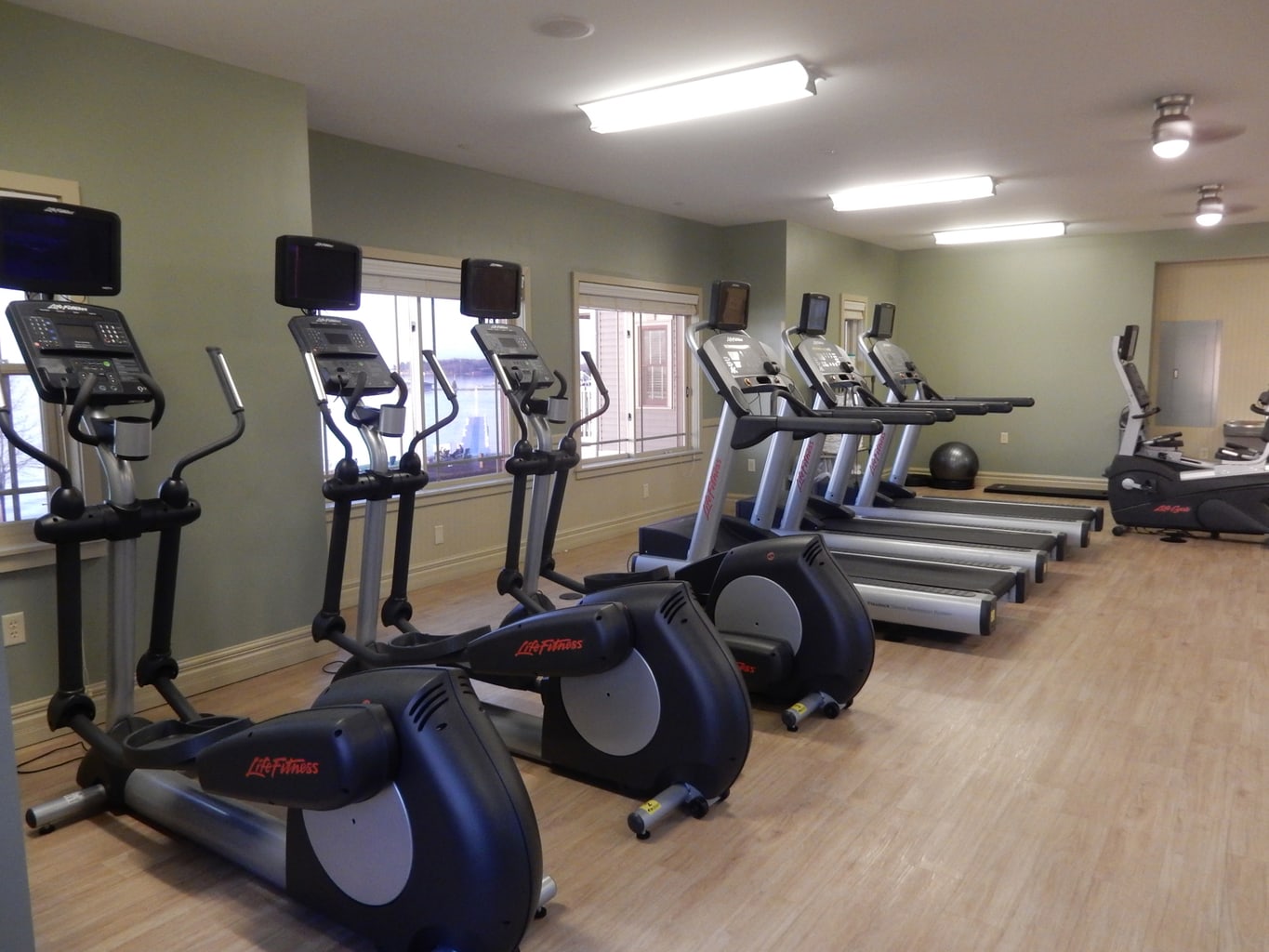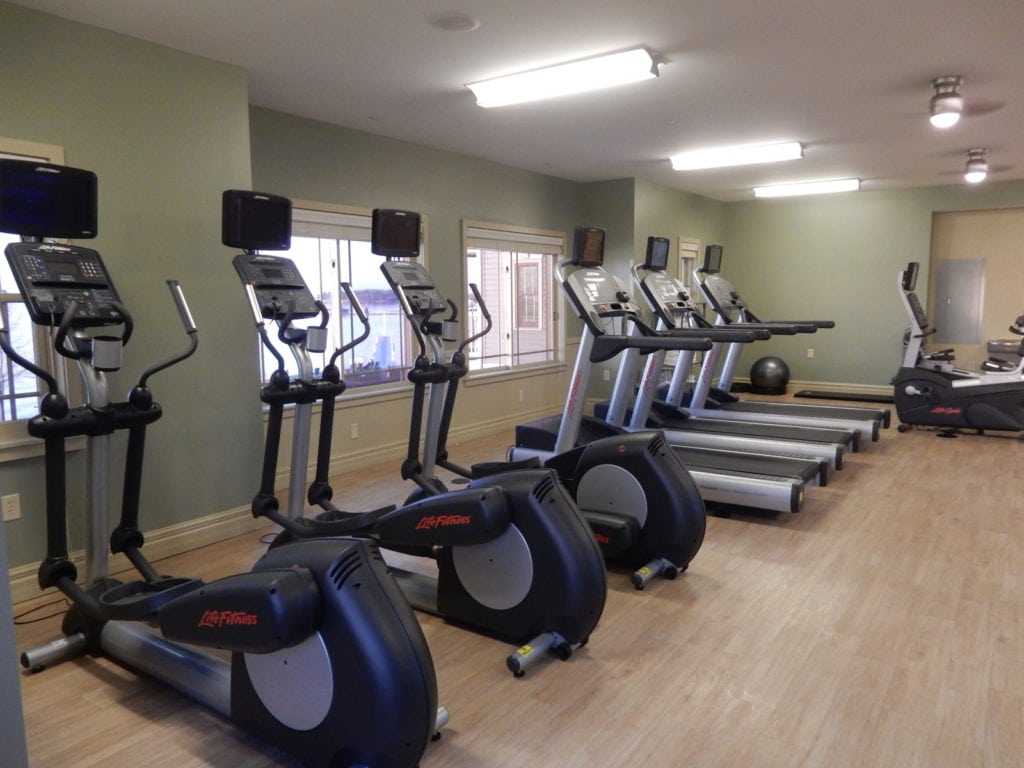 State of the art fitness machines in the Fitness Center overlook the water.
Rooms from $119 off-season to $350 in season per night. During high-profile events, rates are higher.