Last Updated on February 24, 2021 by Editor
WHY GO: A misty darkness spreads over Sleepy Hollow NY as the Headless Horseman gallops through an open field and up to a stone wall. Looking menacing in his black cape, the Hessian soldier whose head, it was rumored, had been blown off by an enemy cannonball, leans forward on his steed and silently takes a Red Sox baseball cap from an onlooker. He places it on his severed neck: a perfect photo op.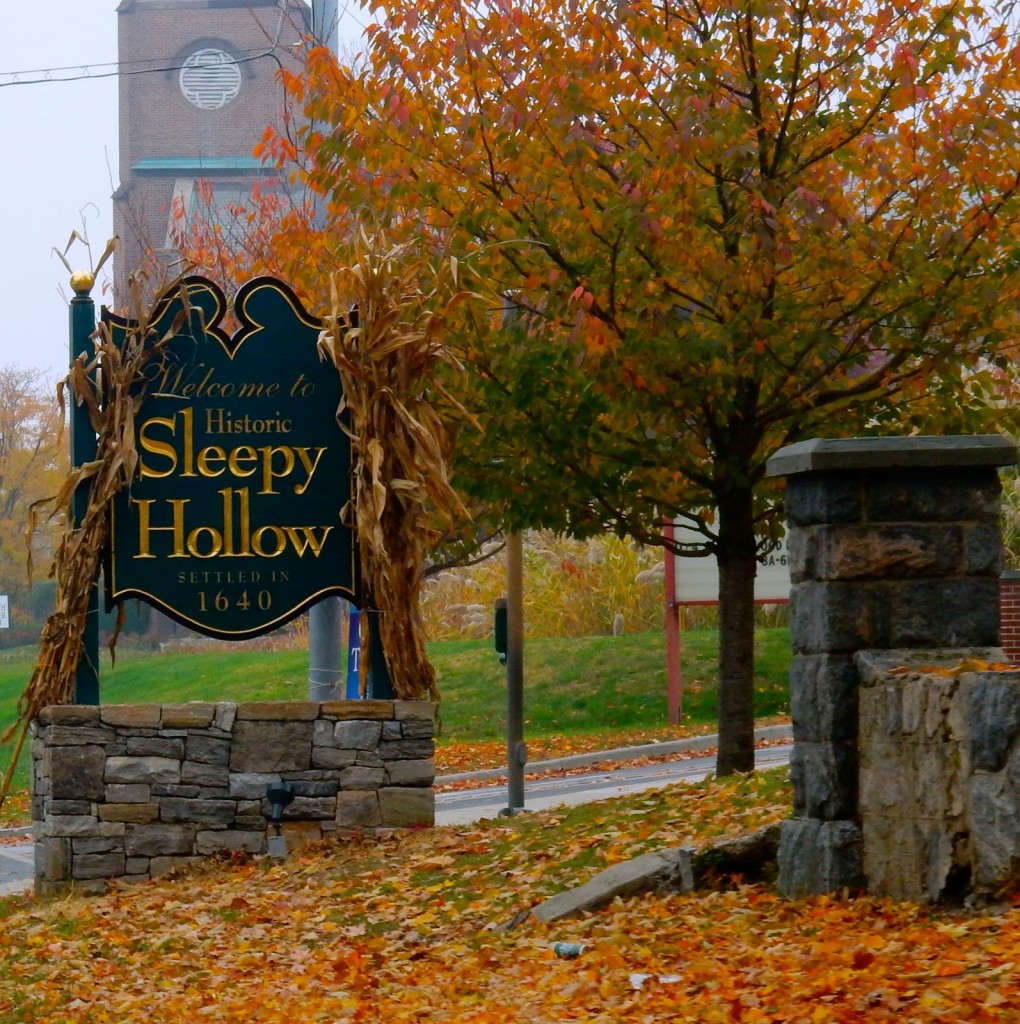 So, this is what it's come to in North Tarrytown, New York –a Hudson Valley town renamed Sleepy Hollow in 1996 for tourism sake; the boiling down of local legends for fame, fortune and sightseers.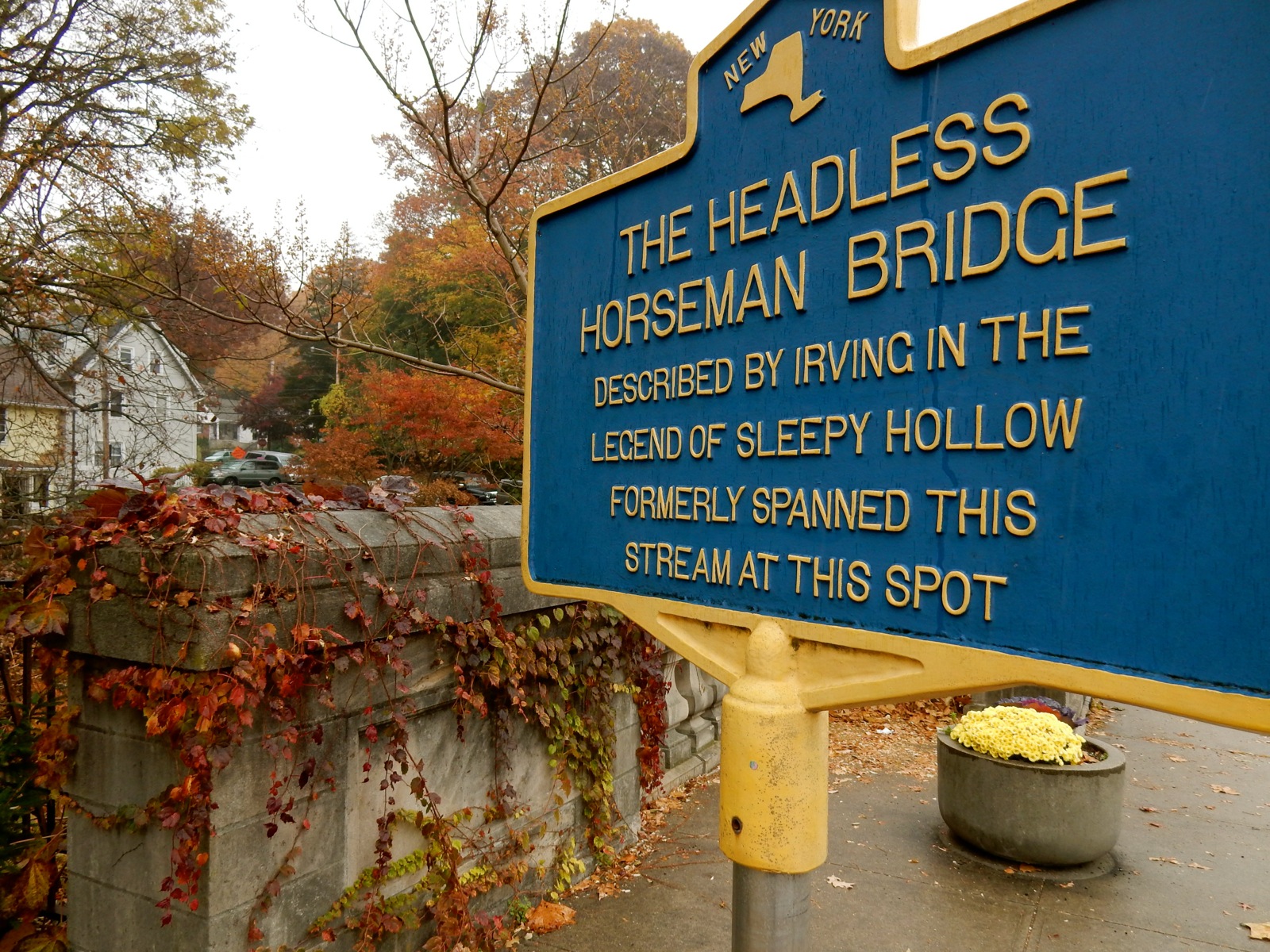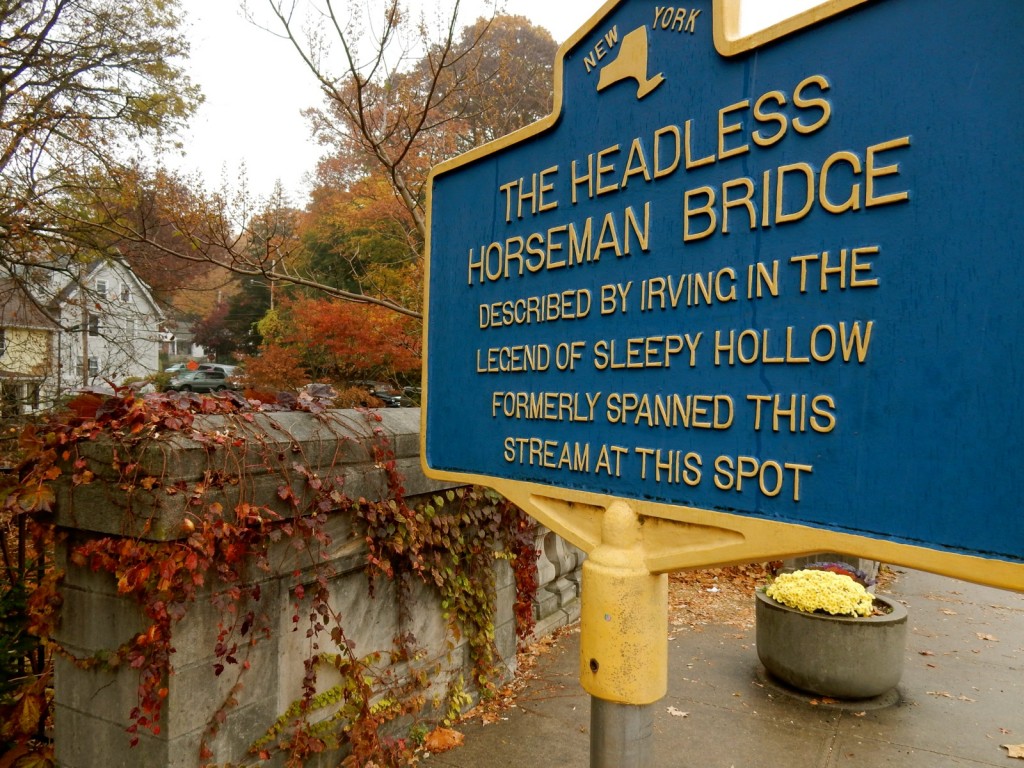 Washington Irving, America's "First Man of Letters", and author of The Legend of Sleepy Hollow, Rip Van Winkle and dozens of other popular stories, must have turned over in his grave not a few hundred yards from where the Headless Sox Fan pranced around on a recent Halloween weekend. Or perhaps he was thrilled that his famous ghost story, set right around the grounds of his final resting-place, has grown in popularity over the years.
Legend of Sleepy Hollow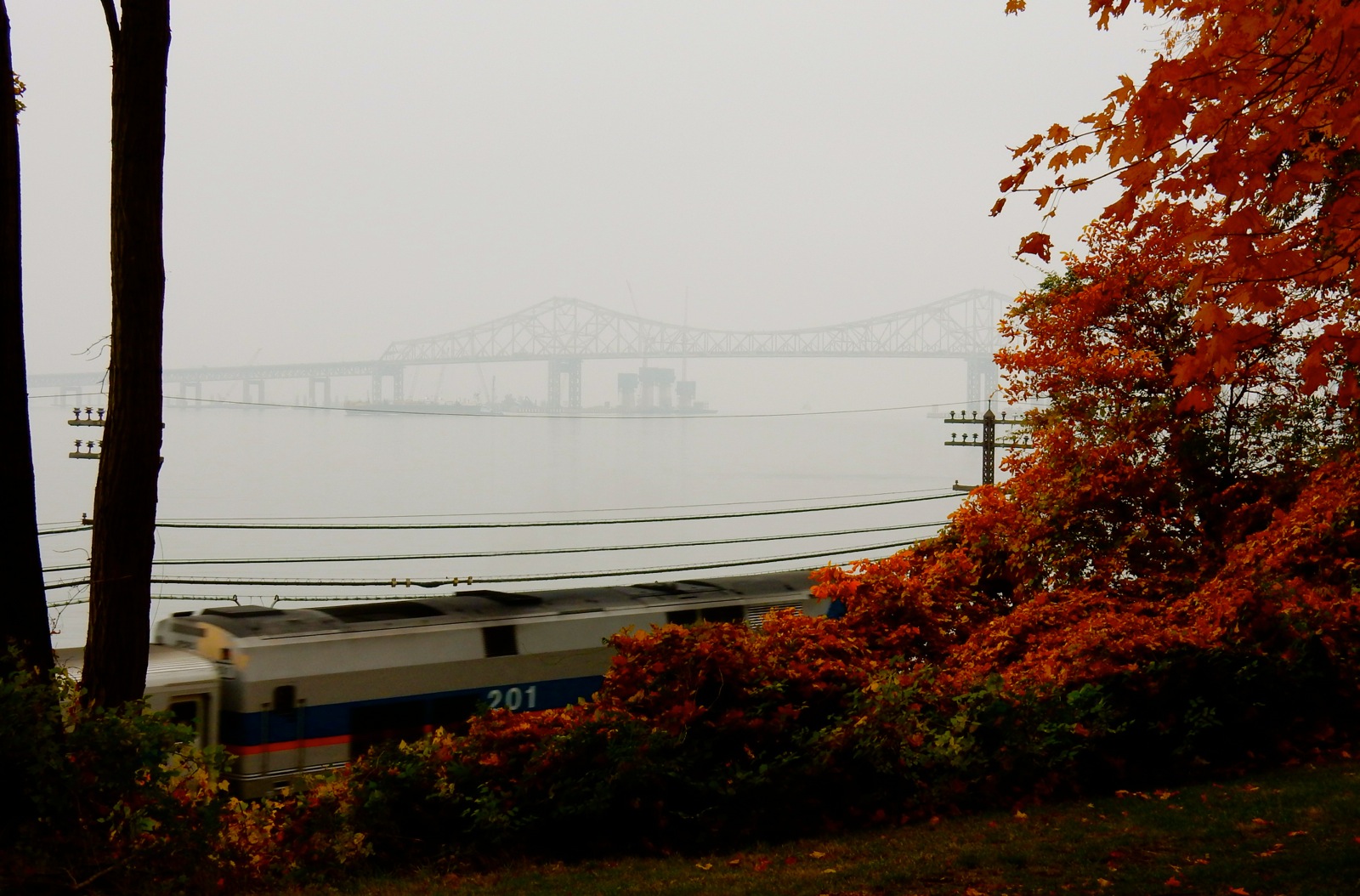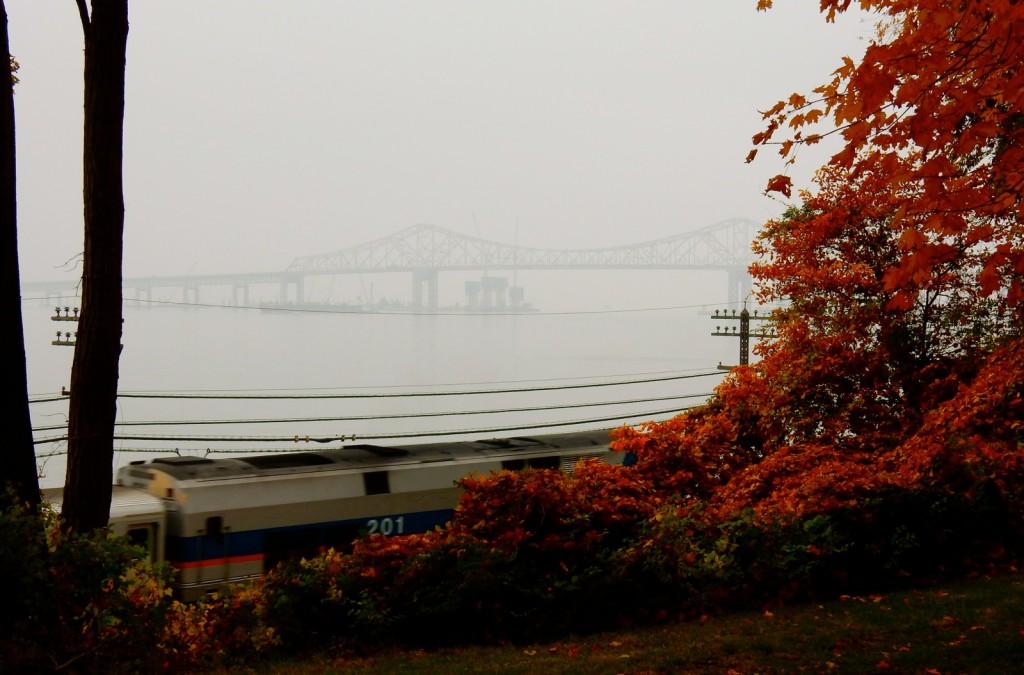 Irving wrote The Legend of Sleepy Hollow in 1819 while living abroad, but you can tell where his heart lay from the details that opened the story:
In the bosom of one of those spacious coves which indent the eastern shore of the Hudson, at that broad expansion of the river denominated by the ancient Dutch navigators the Tappaan Zee, there lies a small market town known by the name of Tarry Town"
thus setting the stage for the strange sights and events to which poor Ichabod Crane would be subject. Irving continued,
…the place still under the sway of some witching power that holds a spell over the minds of good people, given to all kinds of marvelous beliefs and who frequently see strange sights and hear music and voices in the air.
Irving was so enamored of the Hudson River, in fact, that he decided to retire along its banks in the mid 1800's. Irving's home, Sunnyside, is open to the public, as are a number of historic restorations, including John D. Rockefeller's estate, Kykuit, and other sites of significance.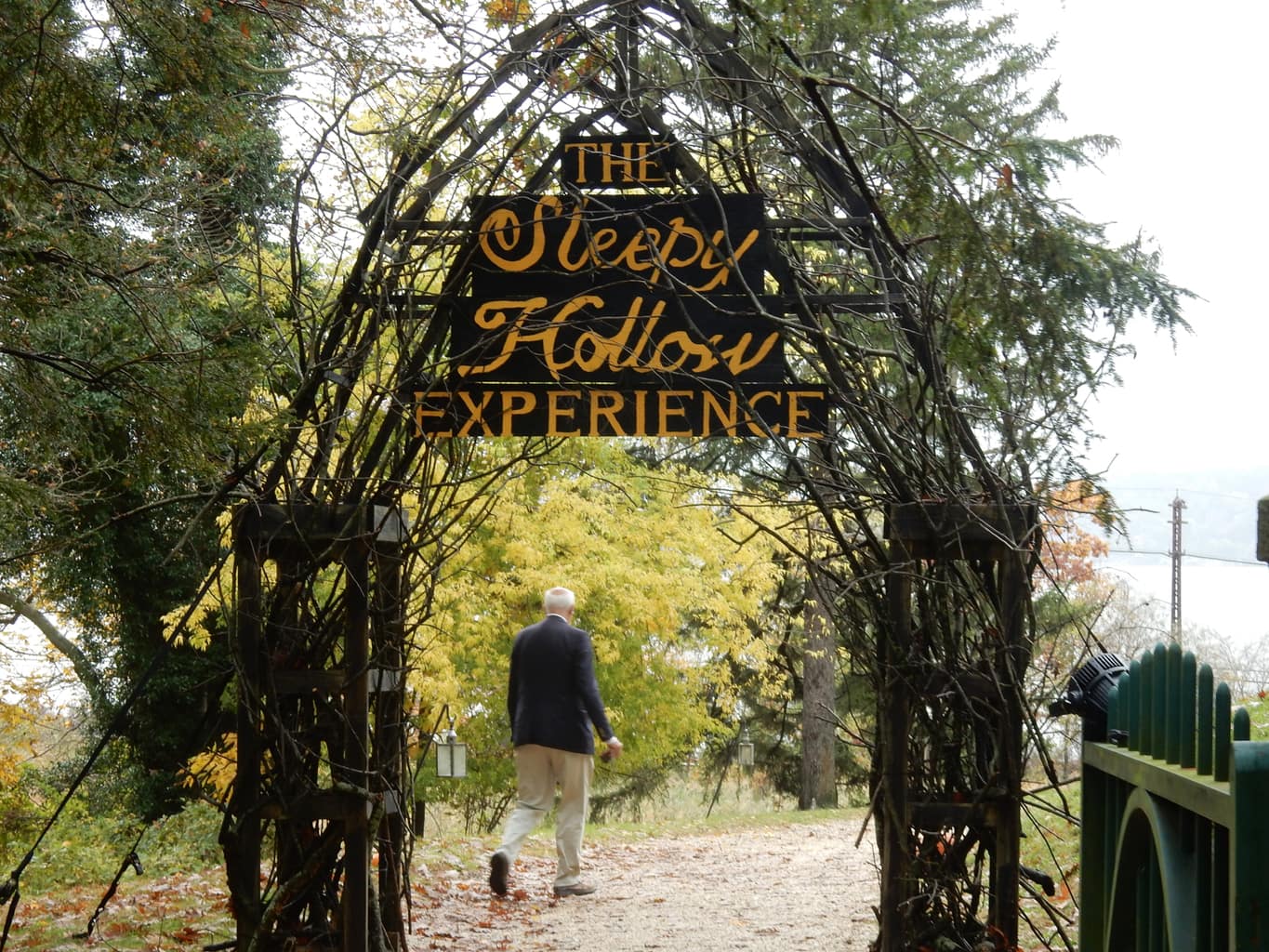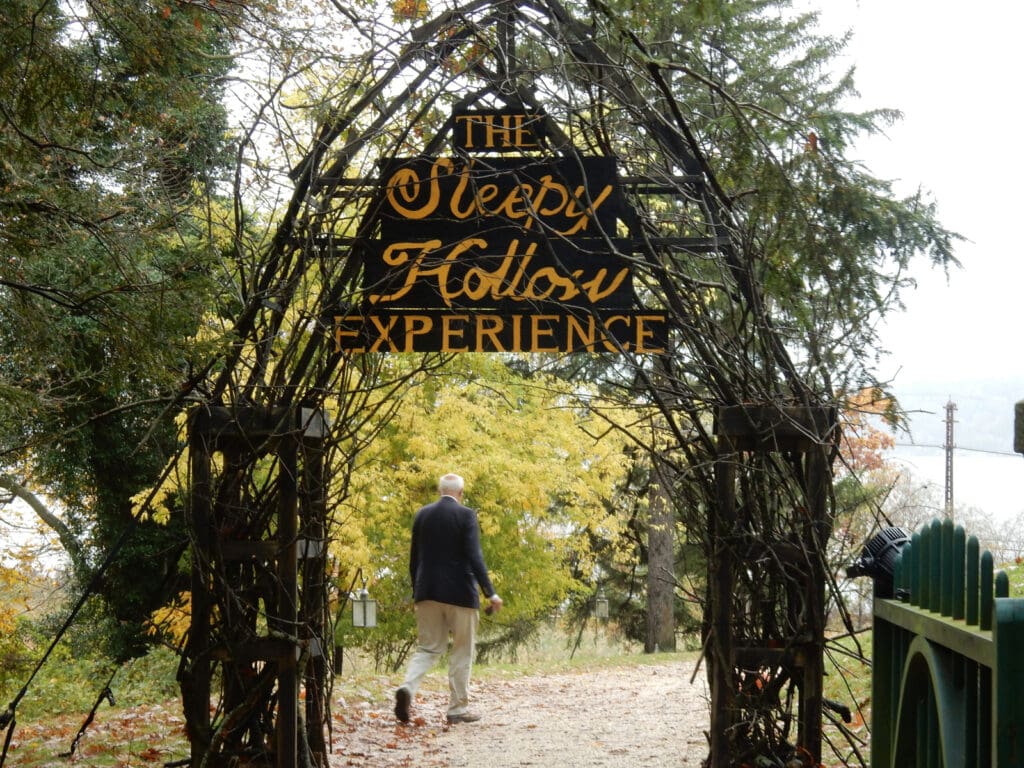 To package all that is available to do and see here into a mere weekend is almost too much to ask. You can spend a good several hours at each of the many attractions and homes, explore the excellent shops on Main Street and take in major celebrity shows at the Tarrytown Music Hall.
Sleepy Hollow is sleepy no more.
Start with a Walking Tour of Sleepy Hollow Cemetery
Pay your respects to Washington Irving and the locals who inspired his writings at The Sleepy Hollow Cemetery (where Irving is buried) and adjacent Old Dutch Church and Old Dutch Burying Grounds, which was originally constructed by Frederick Philipse for his employees.
Daytime and evening guided tours are available, for a fee, by prior registration. Walk ins are welcome (Monday-Friday, 8:30-4:30) and free maps point out the most famous (or infamous) of residents, among them: Washington Irving, Andrew Carnegie, William Rockefeller, Elizabeth Arden, and Harry and Leona Helmsley.
Self Guided Tour
Pick up free maps from the chapel building just inside the main gate, and then choose your direction. It's possible to circumnavigate both cemeteries in one big walking loop, or if pressed for time, drive to one end or the other to explore those areas.
If you go straight in you can walk or drive across the Headless Horseman Bridge.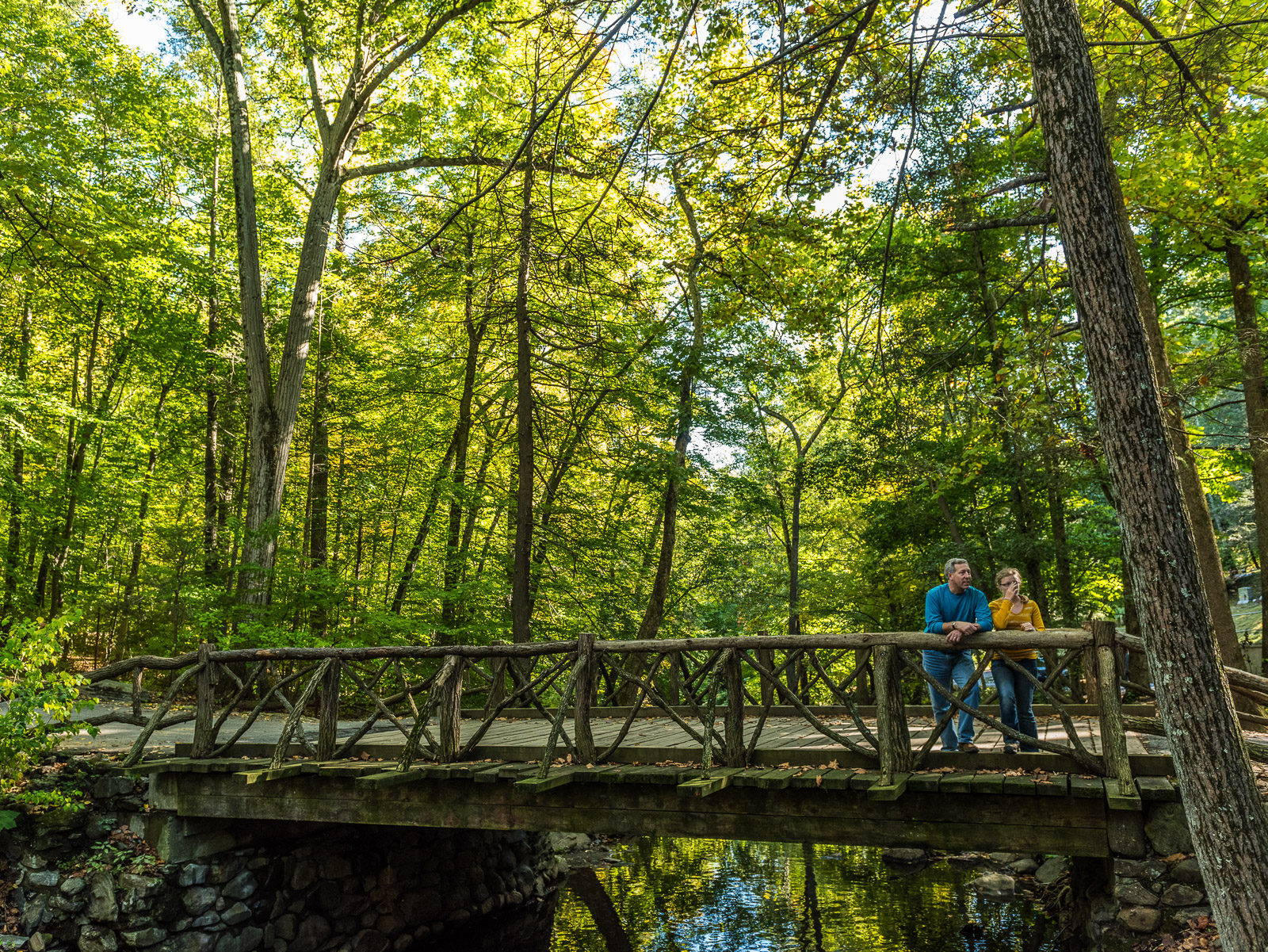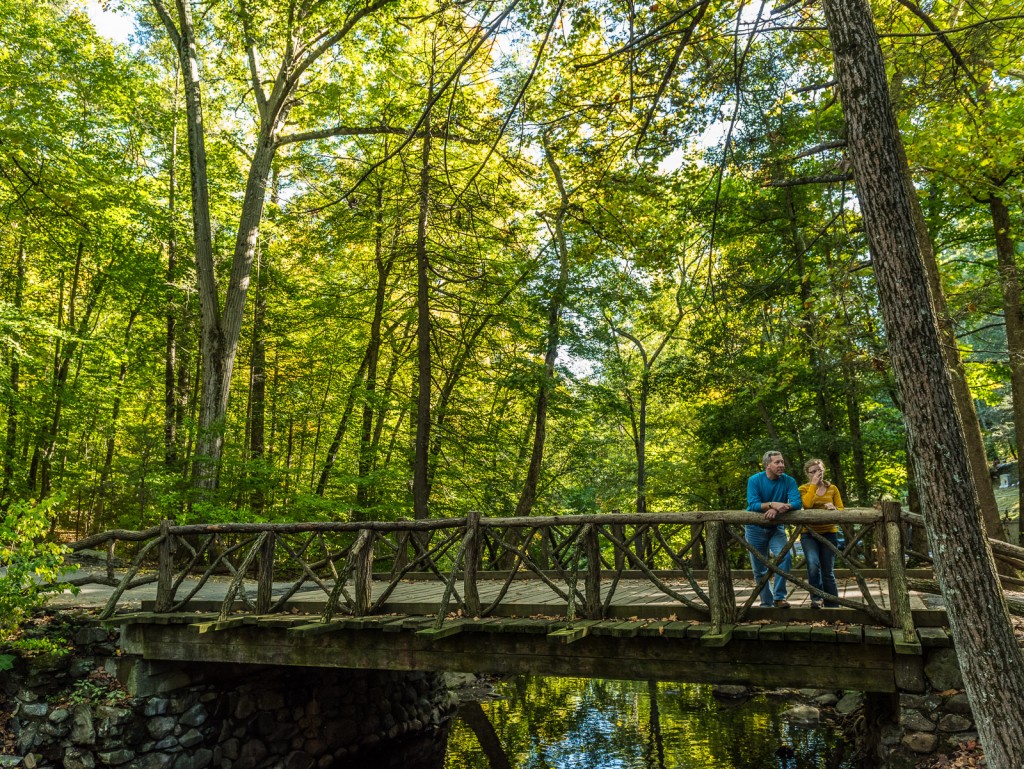 Alternatively, a right turn takes you toward the South Gate and the oldest parts of the cemetery. Along the way, you pass the Civil War Monument on the exterior perimeter.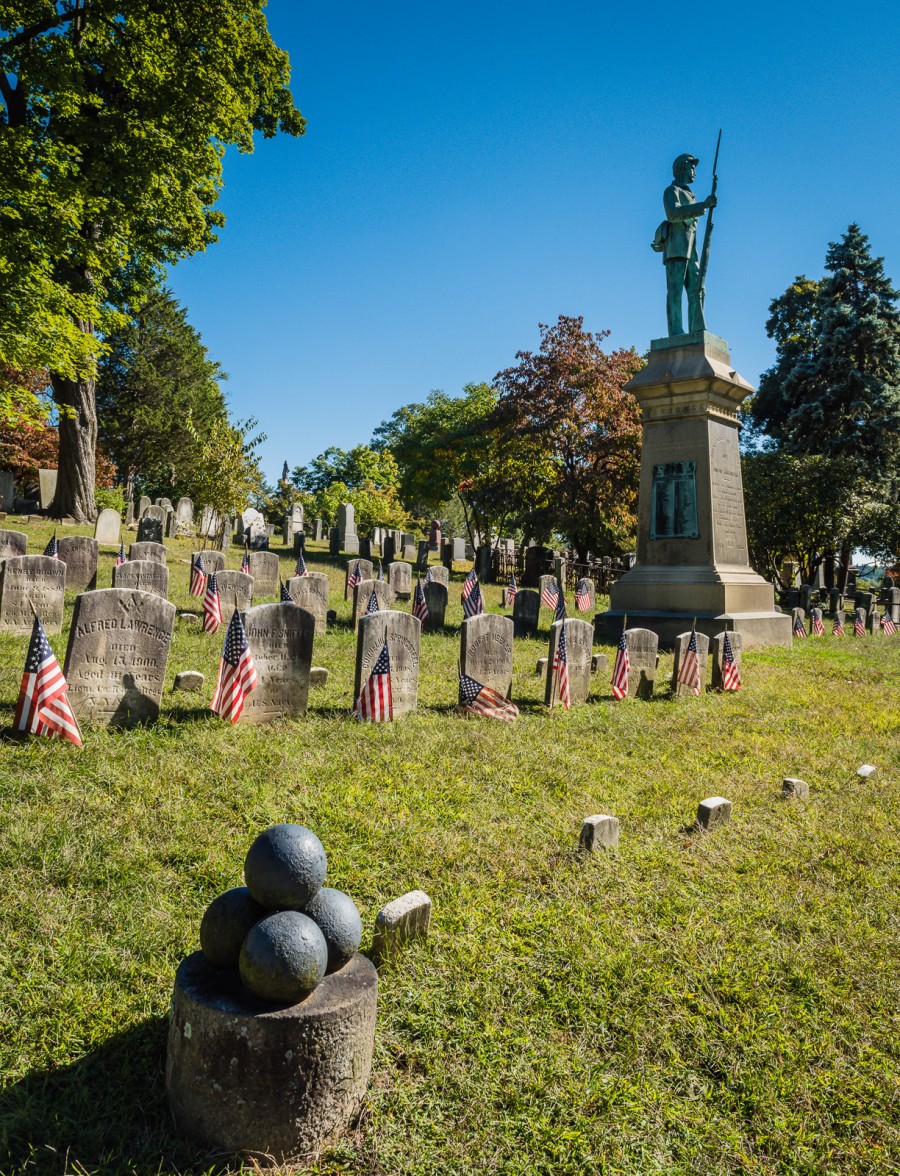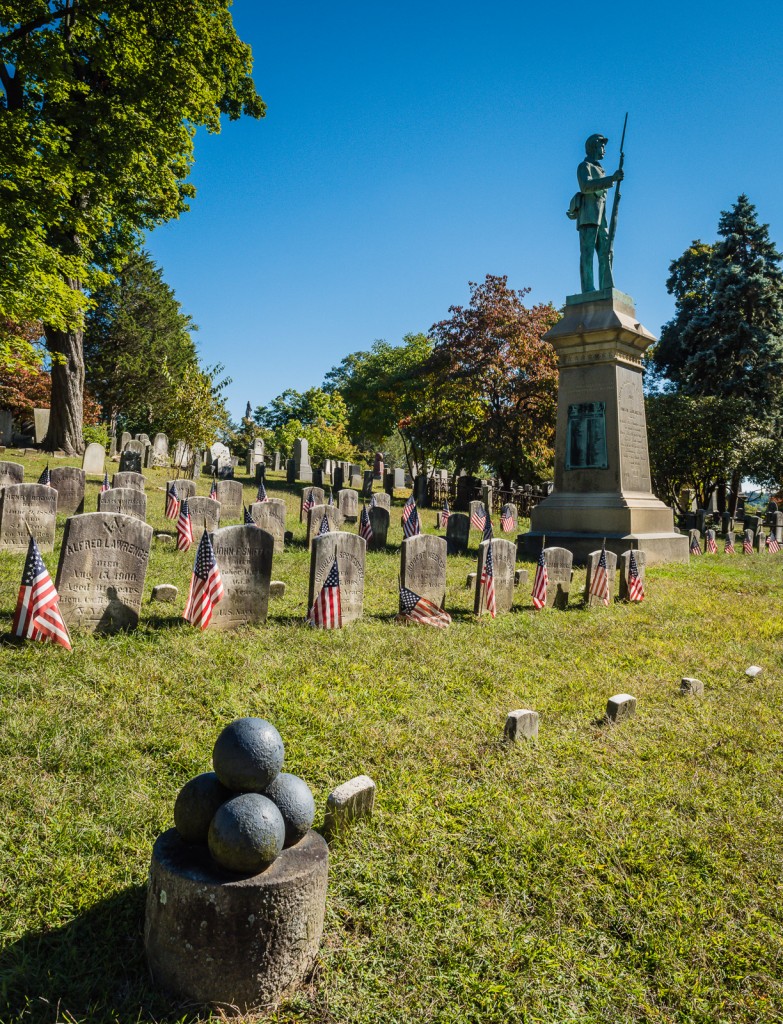 Just a little further on, detour into the interior of the cemetery to see the gated area holding America's first best-selling writer, Washington Irving.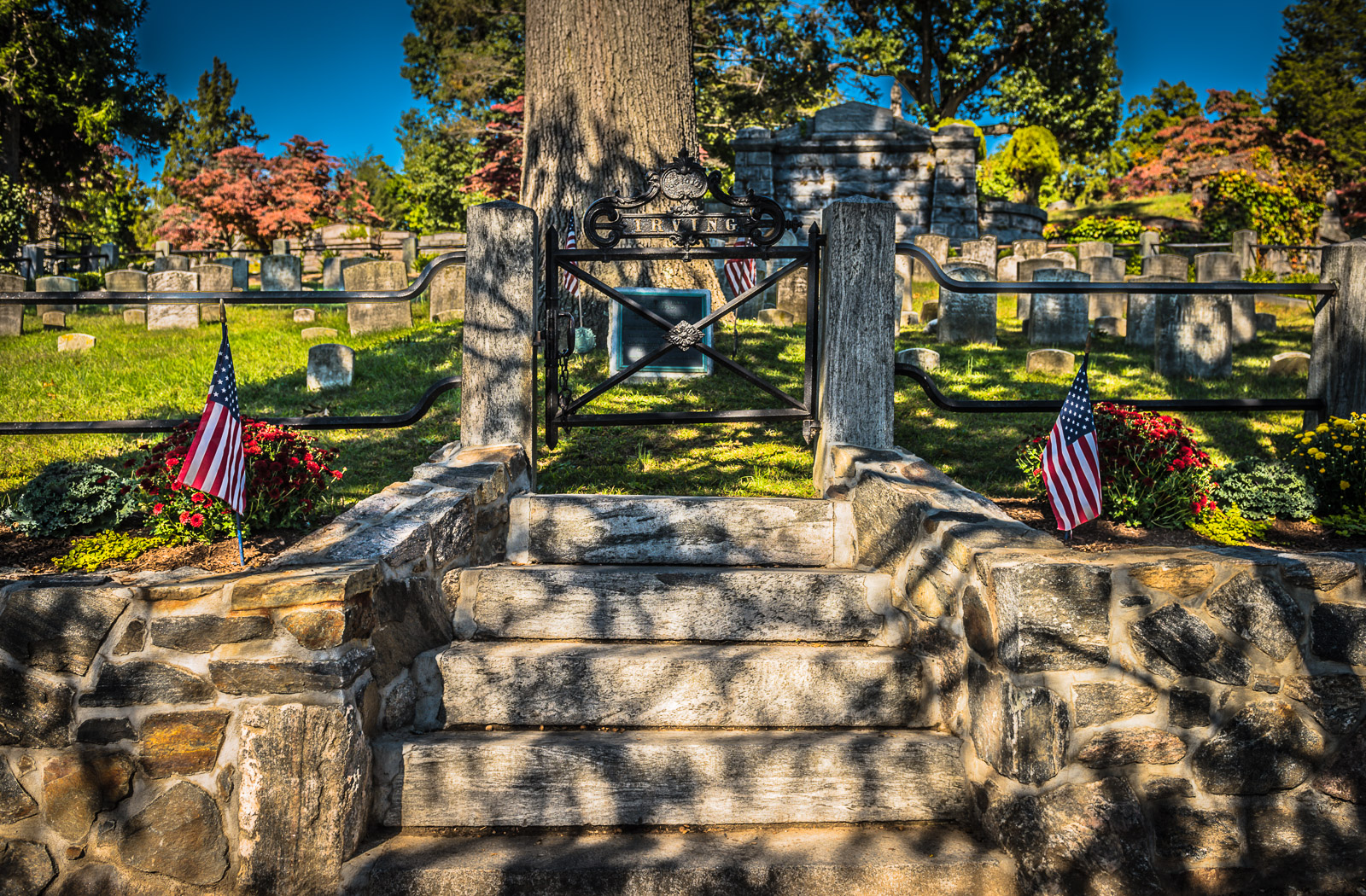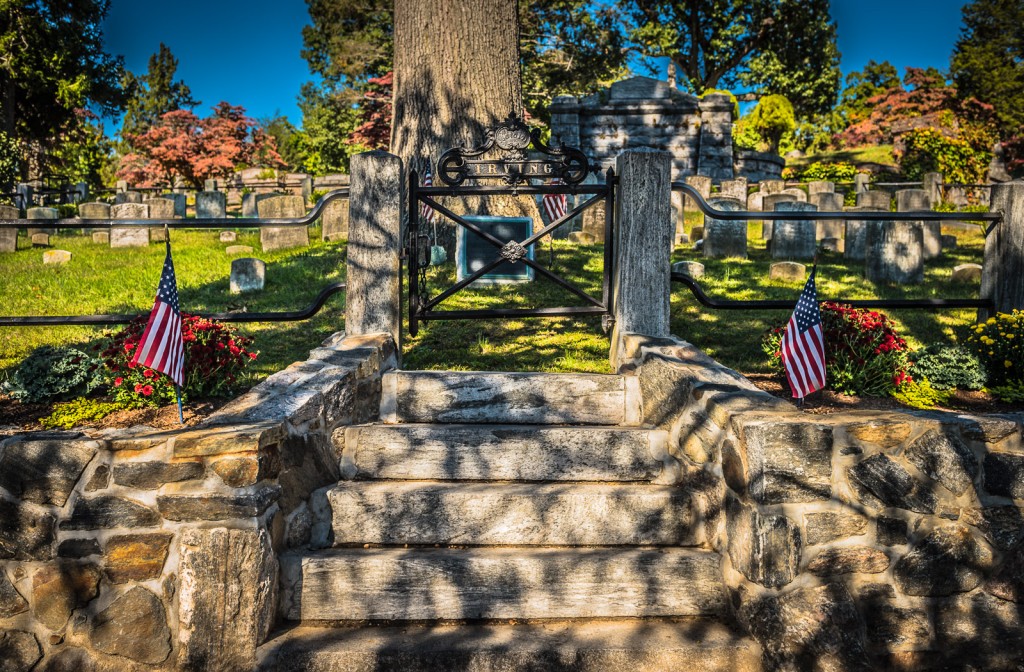 Peer over the gate to see Washington Irving's headstone.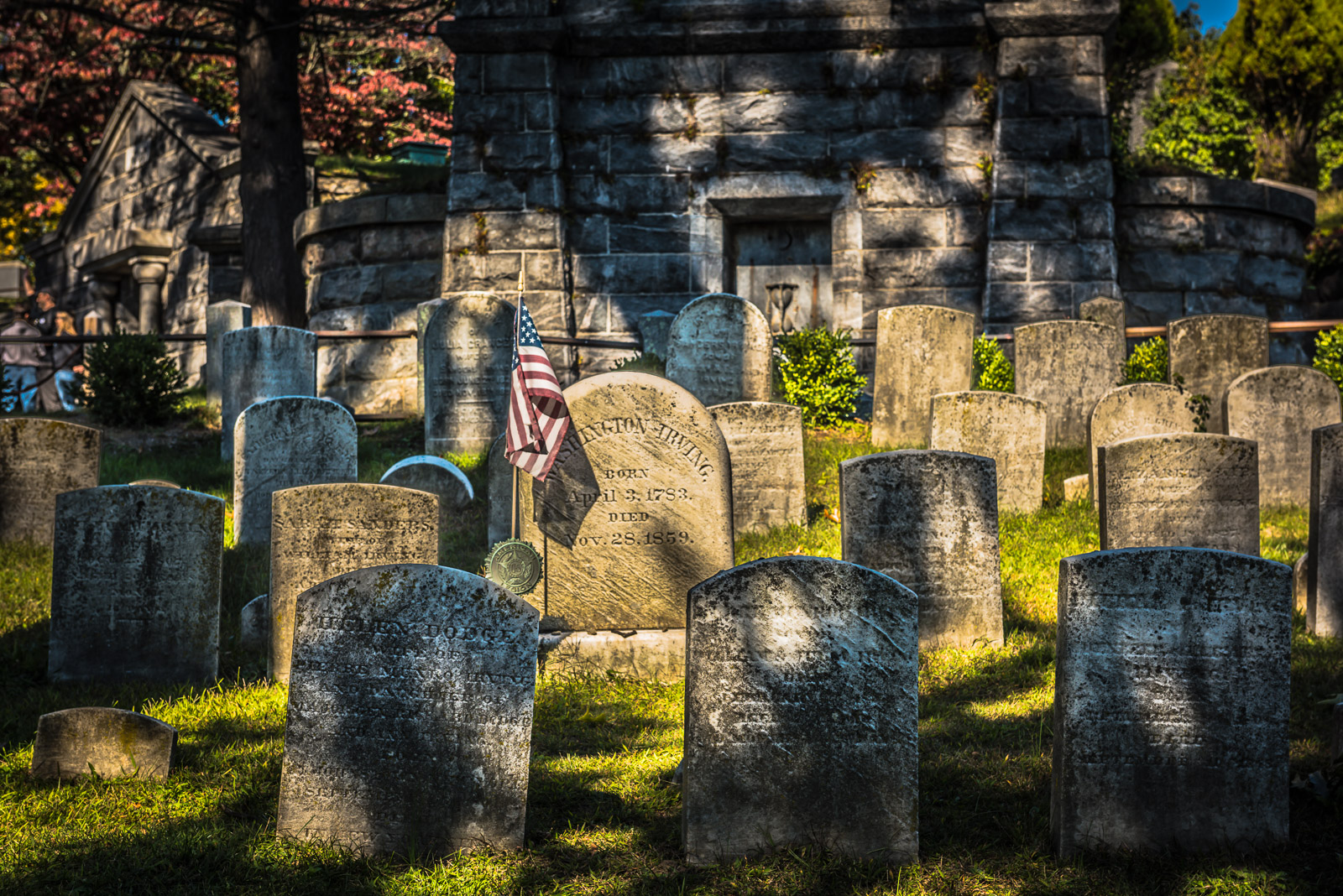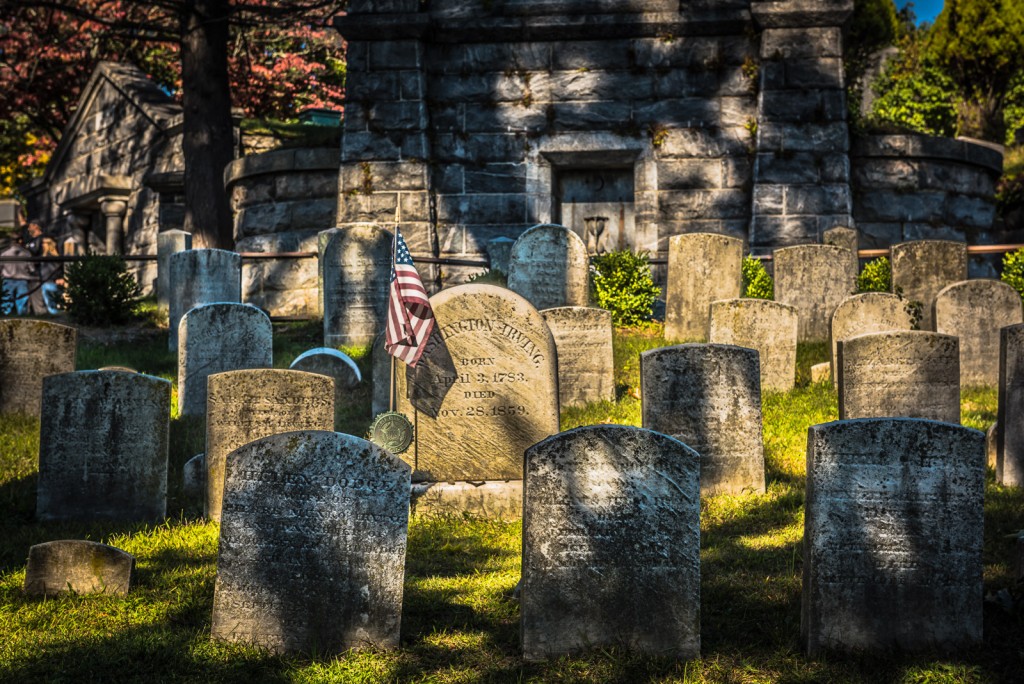 But you might need a telephoto lens to get a good look at the gravestone.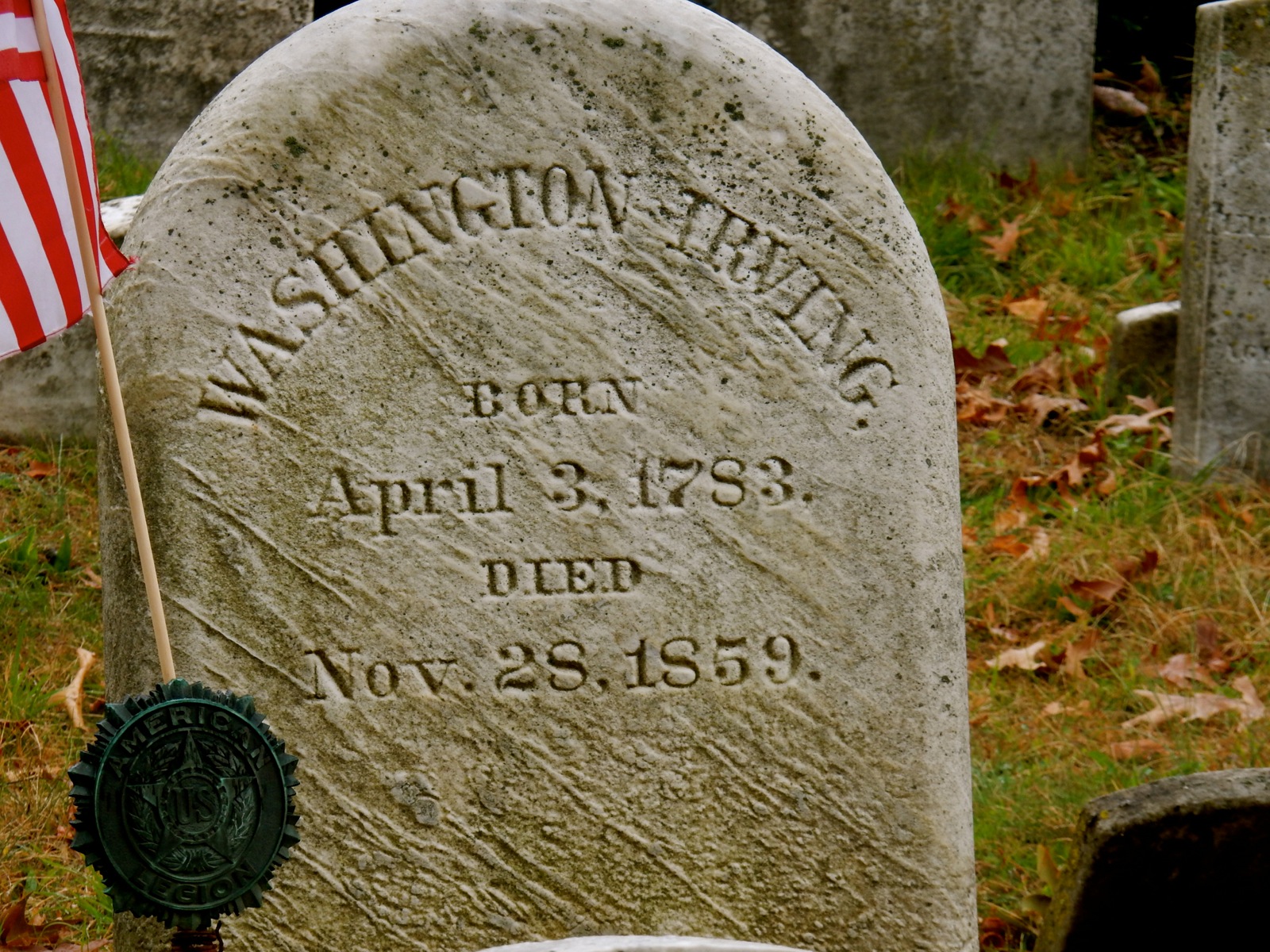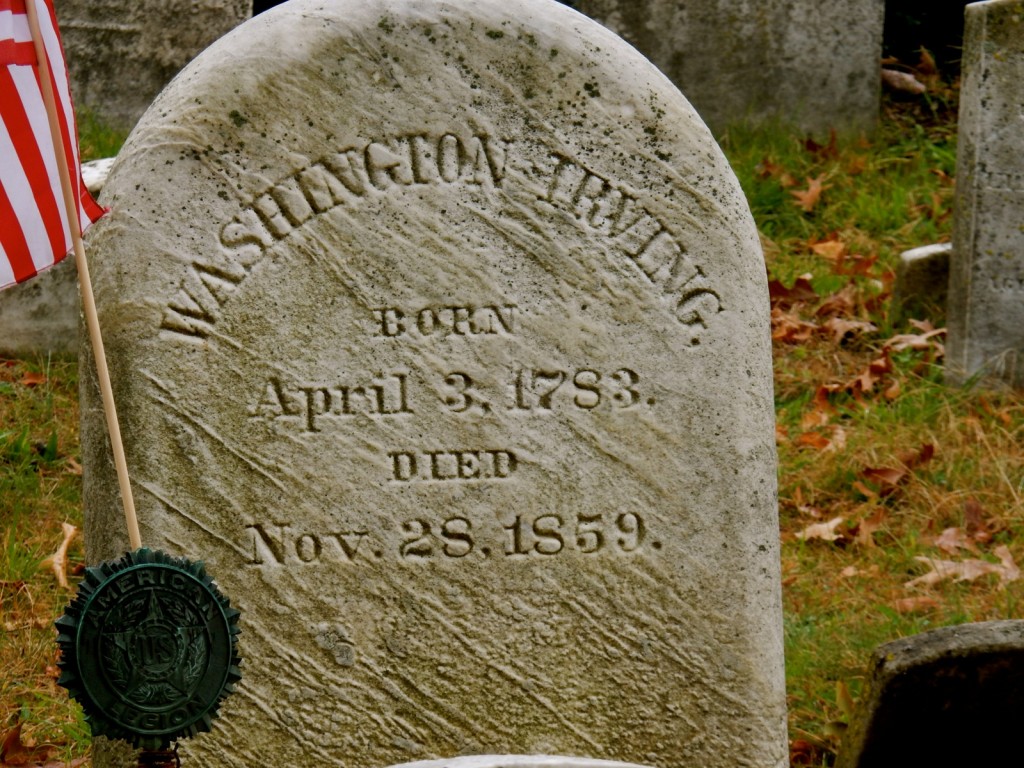 If you turn around and squint a little you can almost imagine how this fairytale land might have had a "witching effect" on the Rip Van Winkle author.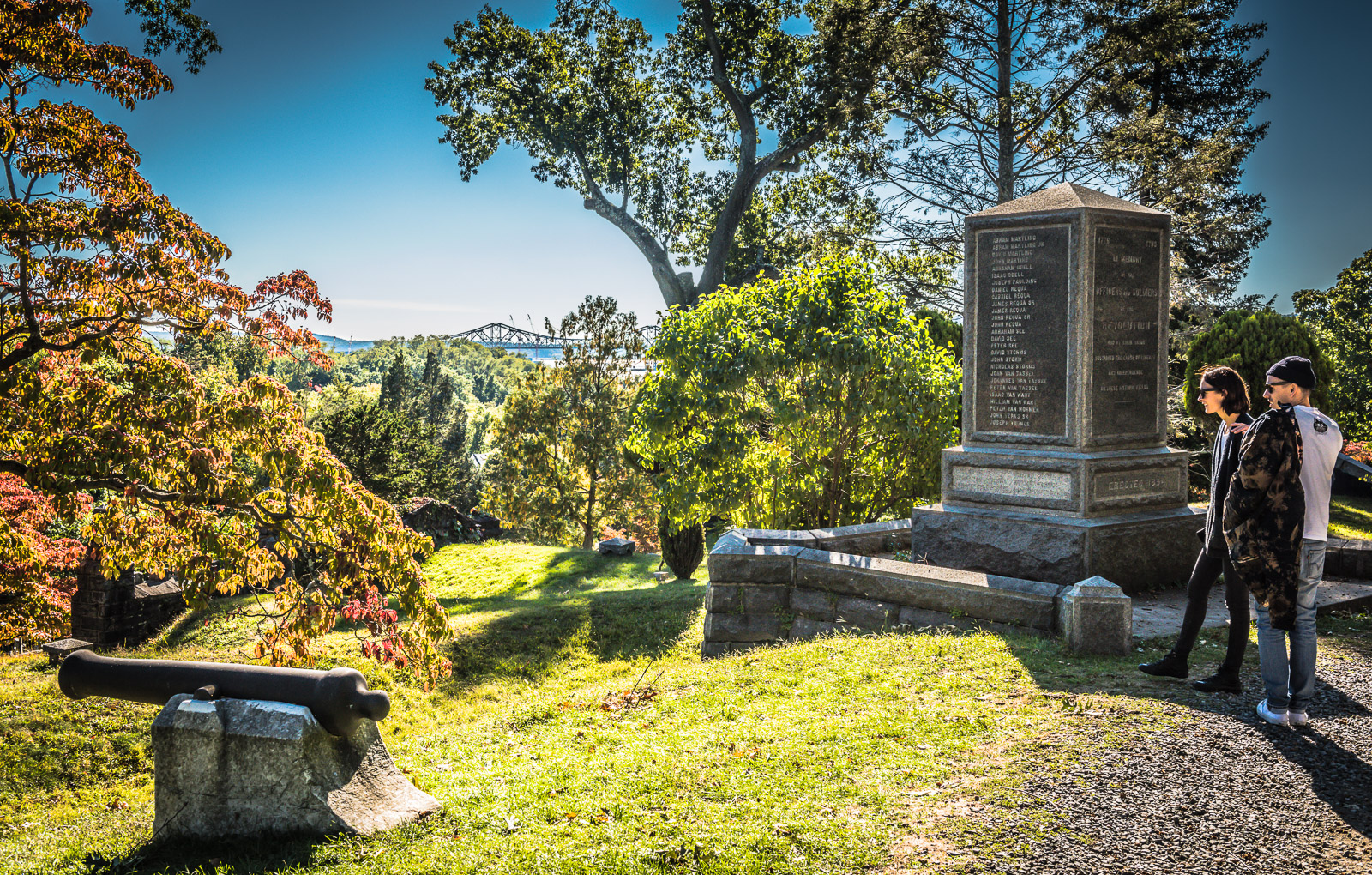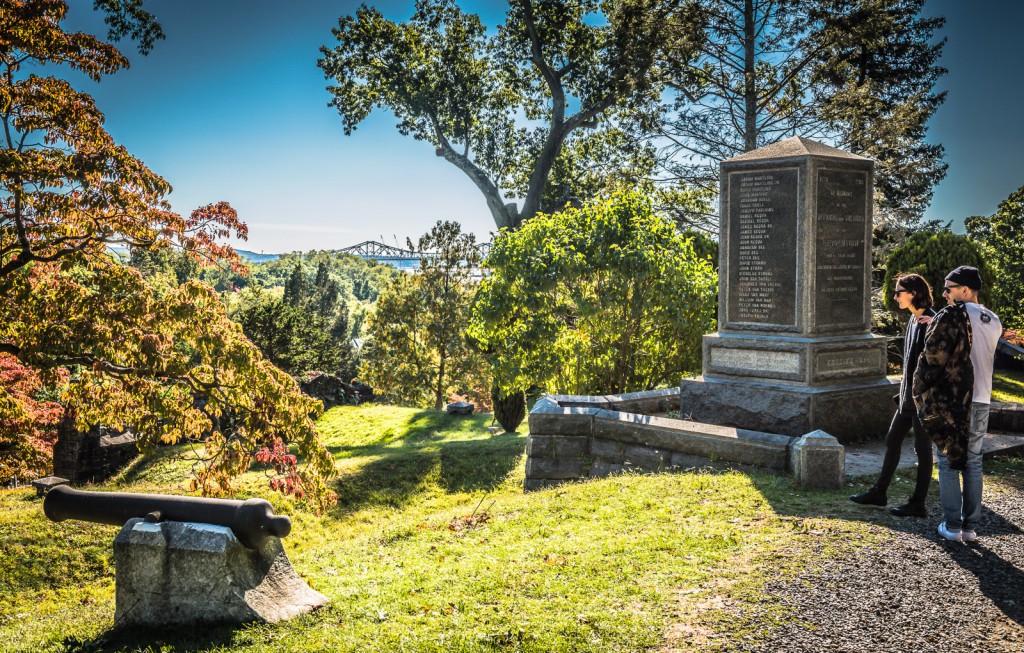 Down a small hill, between the Revolutionary War Monument and the South Gate, lies New York's oldest standing church, the Old Dutch Church and Burying Ground. Old Dutch Church is a National Historic Landmark, and also a functioning house of worship.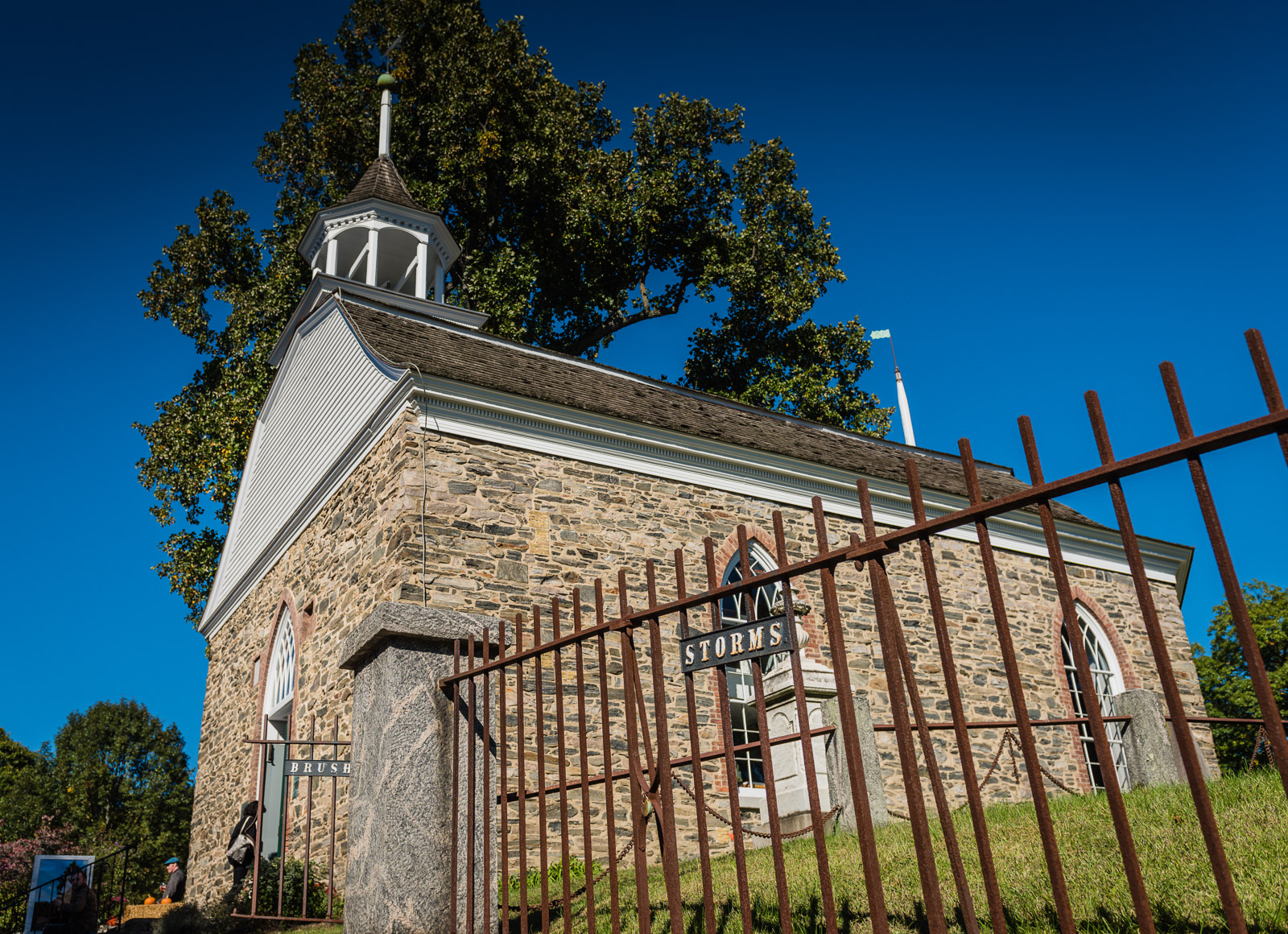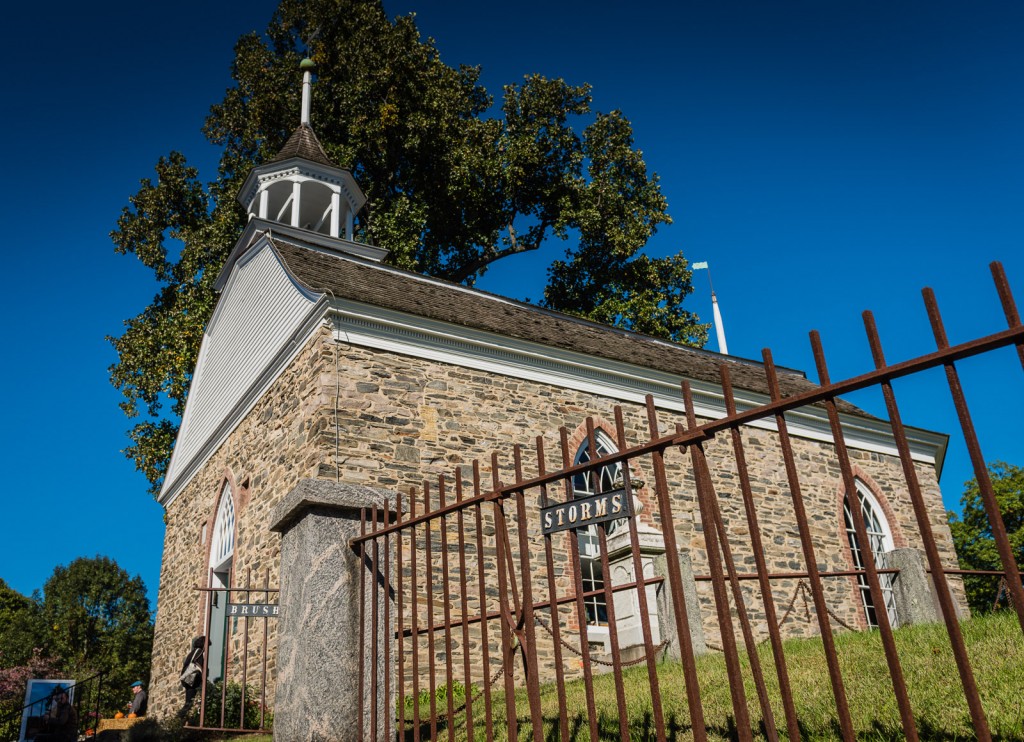 Surrounding the church are some of the oldest gravestones, and some of the earliest examples of American folk art.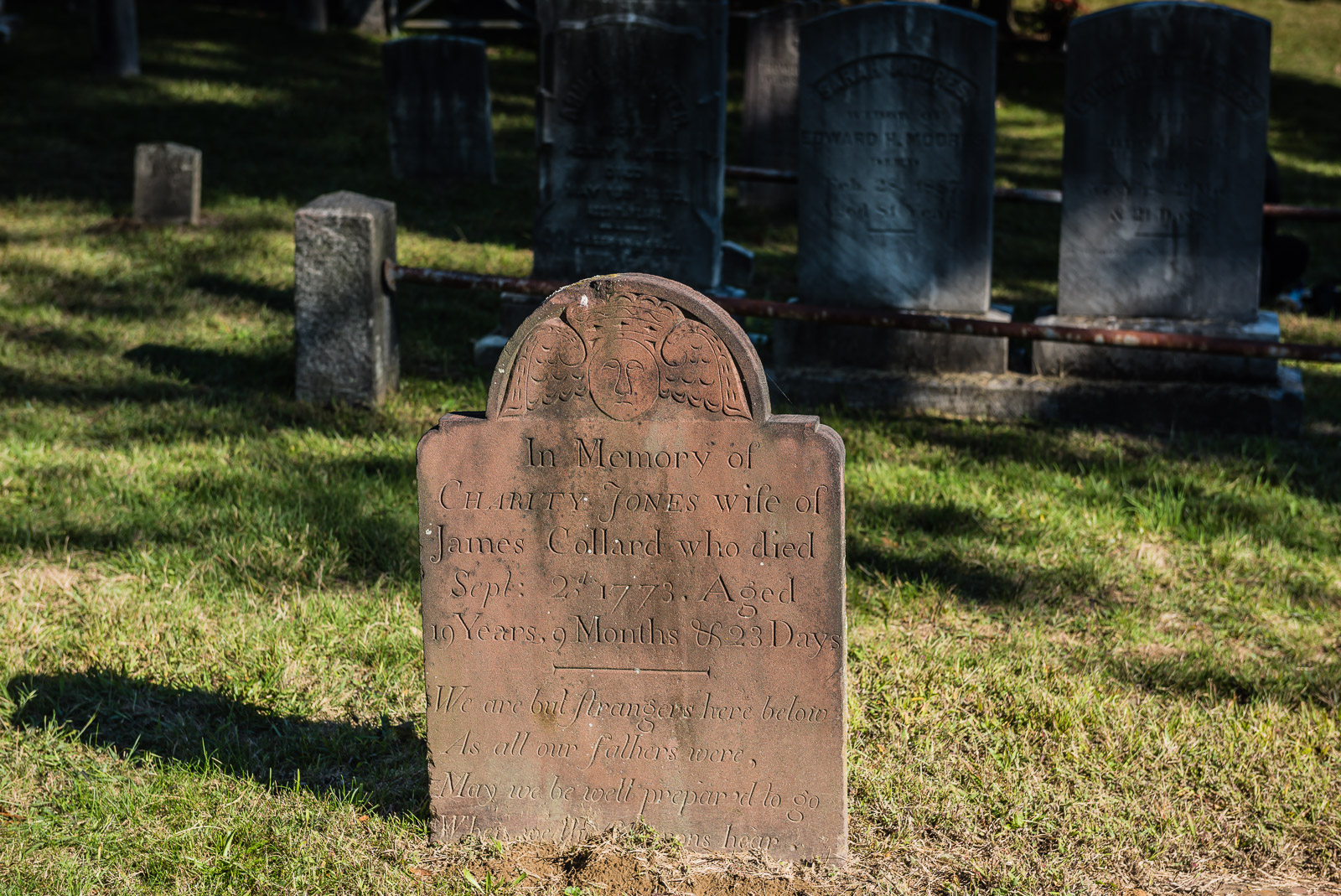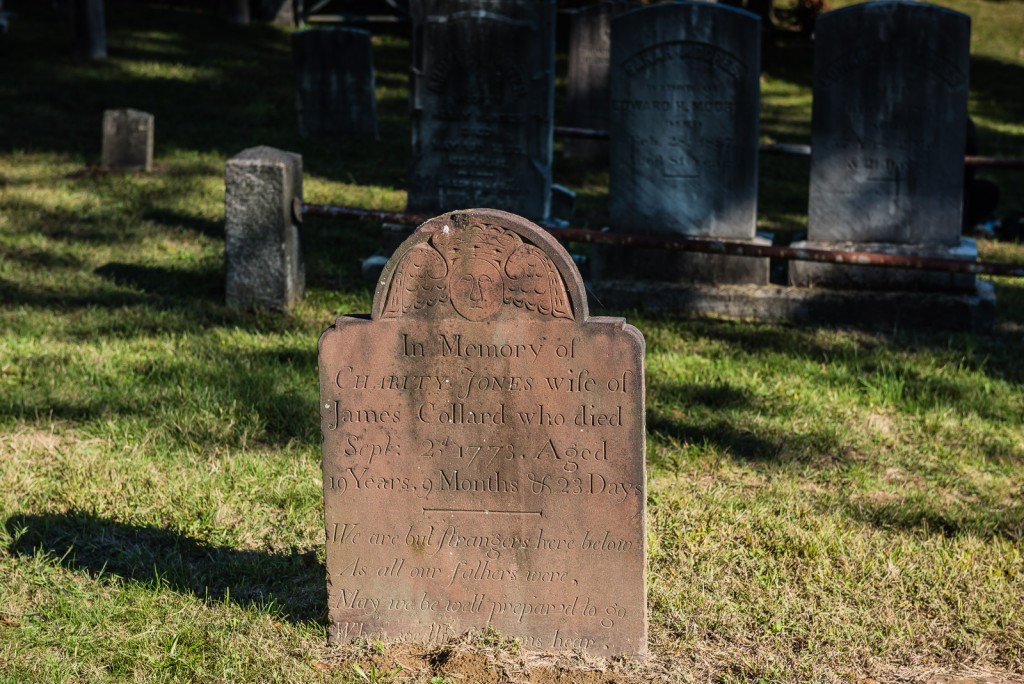 Sleepy Hollow Cemetery covers 85 acres, not including the Old Dutch Church & Burying Ground section. Interesting possibilities for meandering walking tours abound.
Things to Do In And Around Sleepy Hollow NY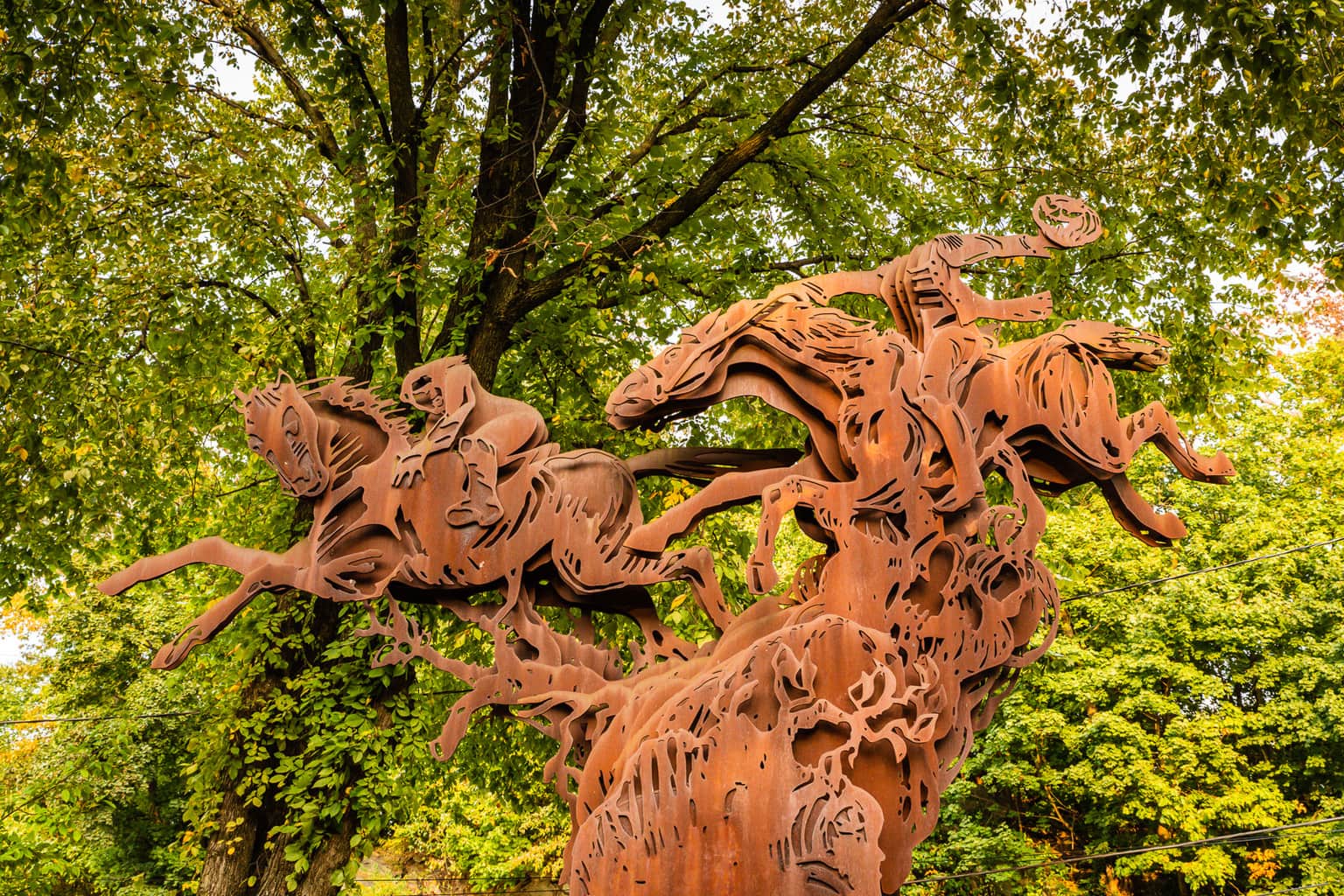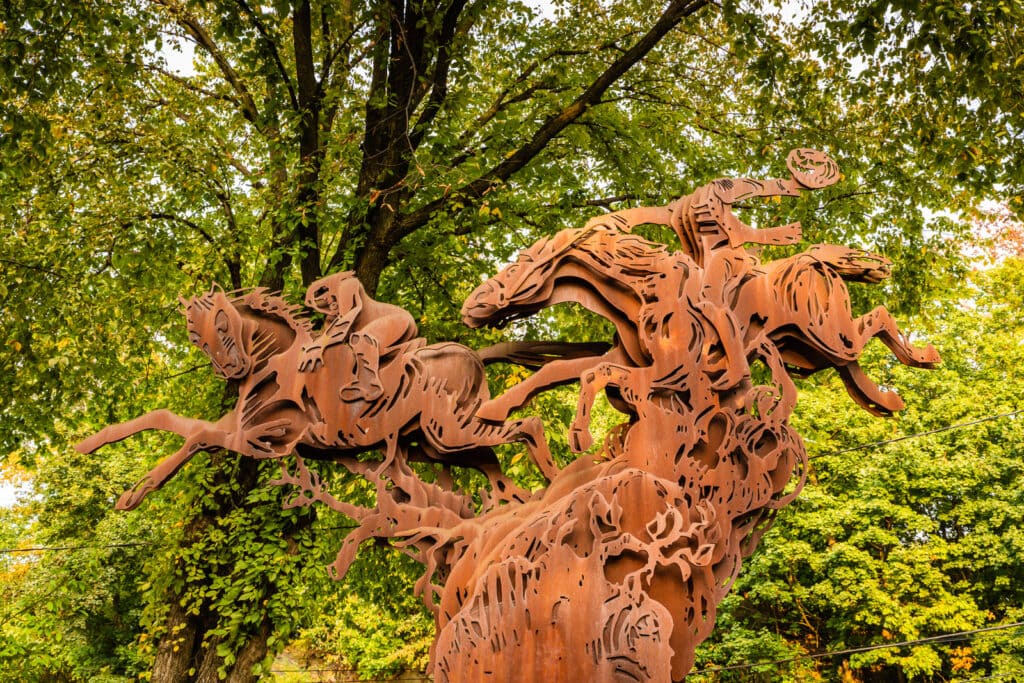 The Village of Sleepy Hollow fully embraced its Headless Horseman legend, even erecting an 18′ high rusty metal sculpture in 2006 that is now one of the areas' most popular roadside attraction.
Located in front of a gas station along Route 9, there is limited parking, but it's just across the street from the Visitor Center where you can also pick up tickets to Ghost Tours, historic home tours, dramatic performances such Horseman's Hollow, Irving's Legend, The Unsilent Picture, and highly anticipated Halloween events such as The Great Jack O' Lantern Blaze.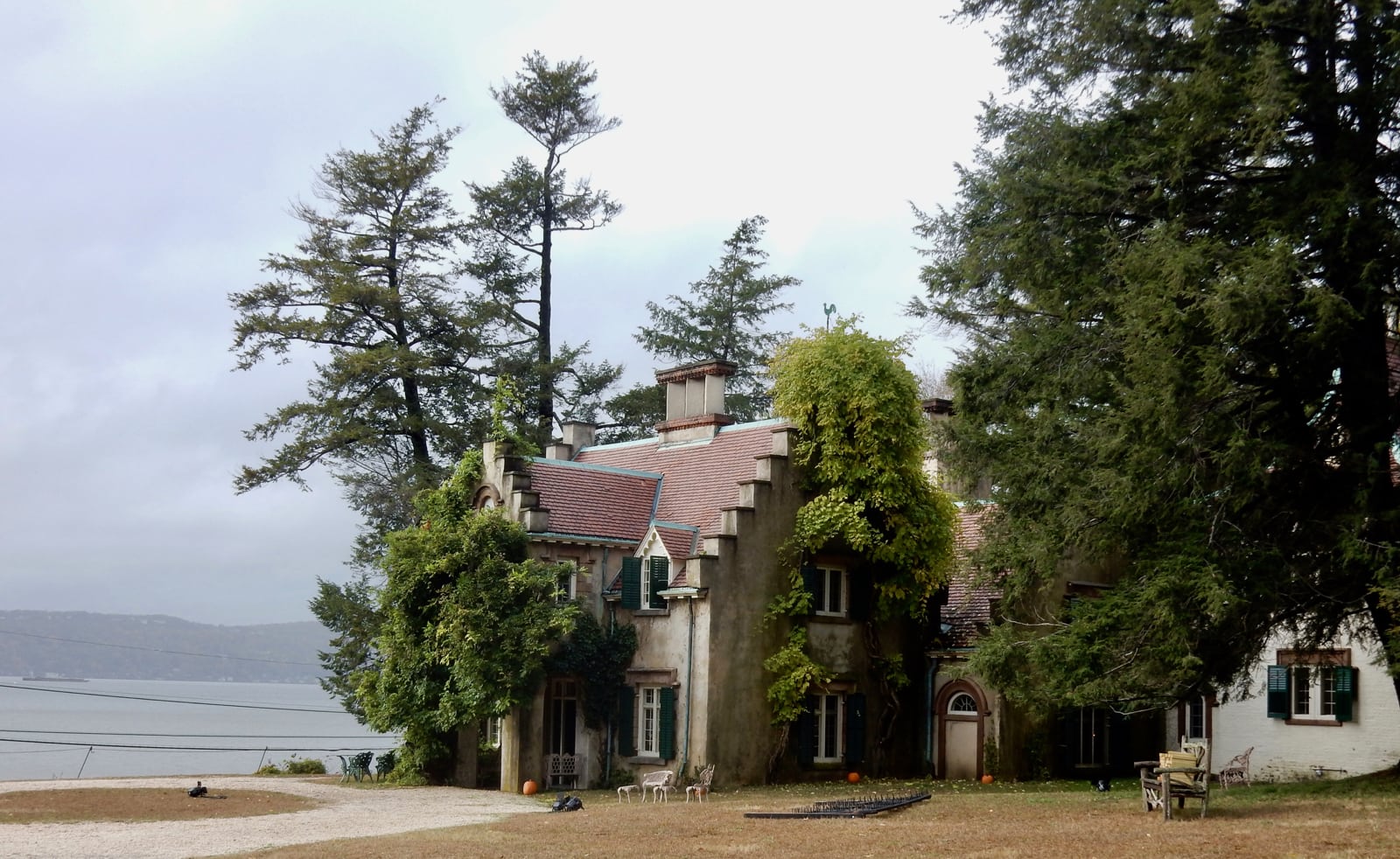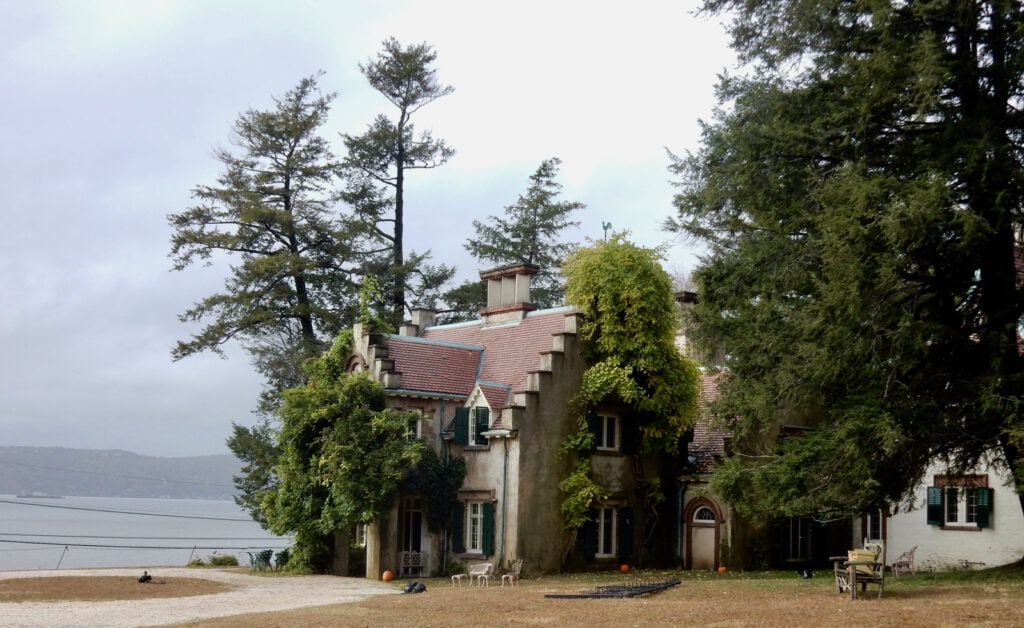 With its ivy-wreathed portico and gingerbread hued exterior, "The Snuggery," as Irving called it, puts one in mind of a fairy-tale cottage. Costumed docents lead you through the home and property where Irving lived out the last years of his life. Washington Irving, named after our nation's first president, was born in New York City and lived in England as a young man.
He was the first American writer "celebrity," and the first to make a living completely from his books. Built in 1835 in a mishmash of European styles – Dutch, Roman, English, Mediterranean – with thick vines added to create an antiquated appearance, Sunnyside was the only home that the author, then in his mid-40's, ever owned. The public ate it up. Called "America's Cottage" by the press, the house became almost as famous as Irving was.
The "Snuggery"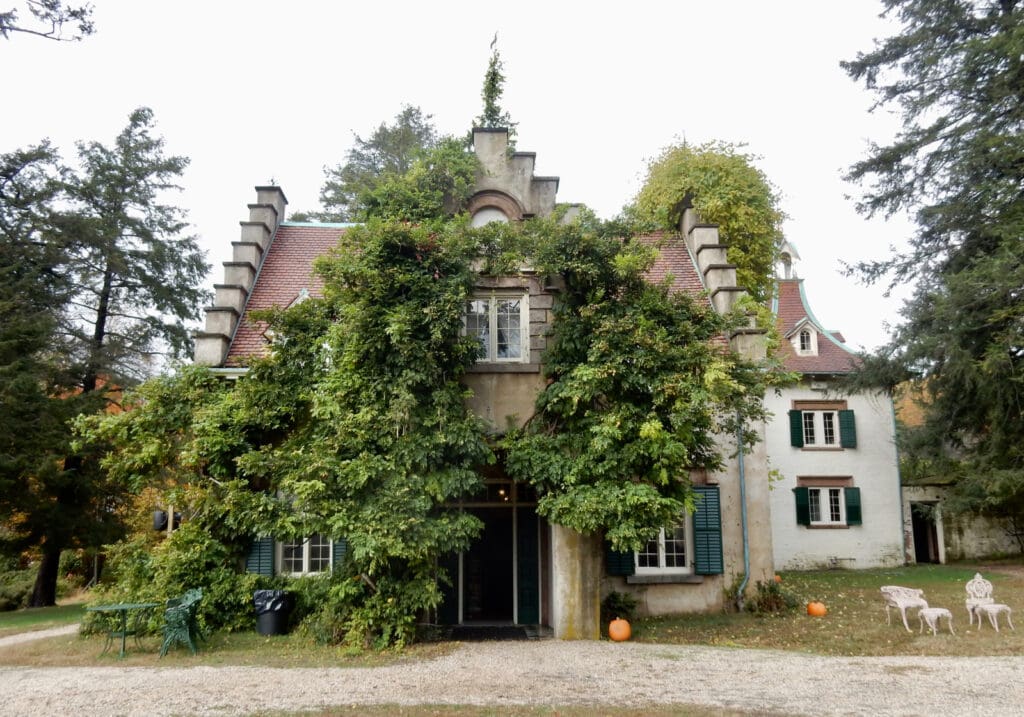 I've made secret plans to move into Sunnyside ever since I first set eyes on it as a young girl. I could toil happily in the cozy study (filled with Irving's original furniture and leather-bound books) just off the front door before retiring to the plush green parlor where French doors open up to a river-view patio.


From here, a perfect Hudson vista is marred by utility poles and train tracks laid in 1849. Until then, Irving and his friends would travel to and from New York City by boat and disembark at his small private dock. As one of the country's first NIMBY's, Irving fought the railroad and lost.
He did manage, however, to eek one concession out of the deal – his own private rail station, which gave Washington Irving the distinction of being the first suburban commuter into New York City – just 1-½ hours away back then (vs. almost 3 hours by boat). Irving lived with trains passing a few dozen yards from his home for ten years until his death in 1859. Open May – early Nov., Wed-Sun, one hour tours from 10:30-3:30, $12.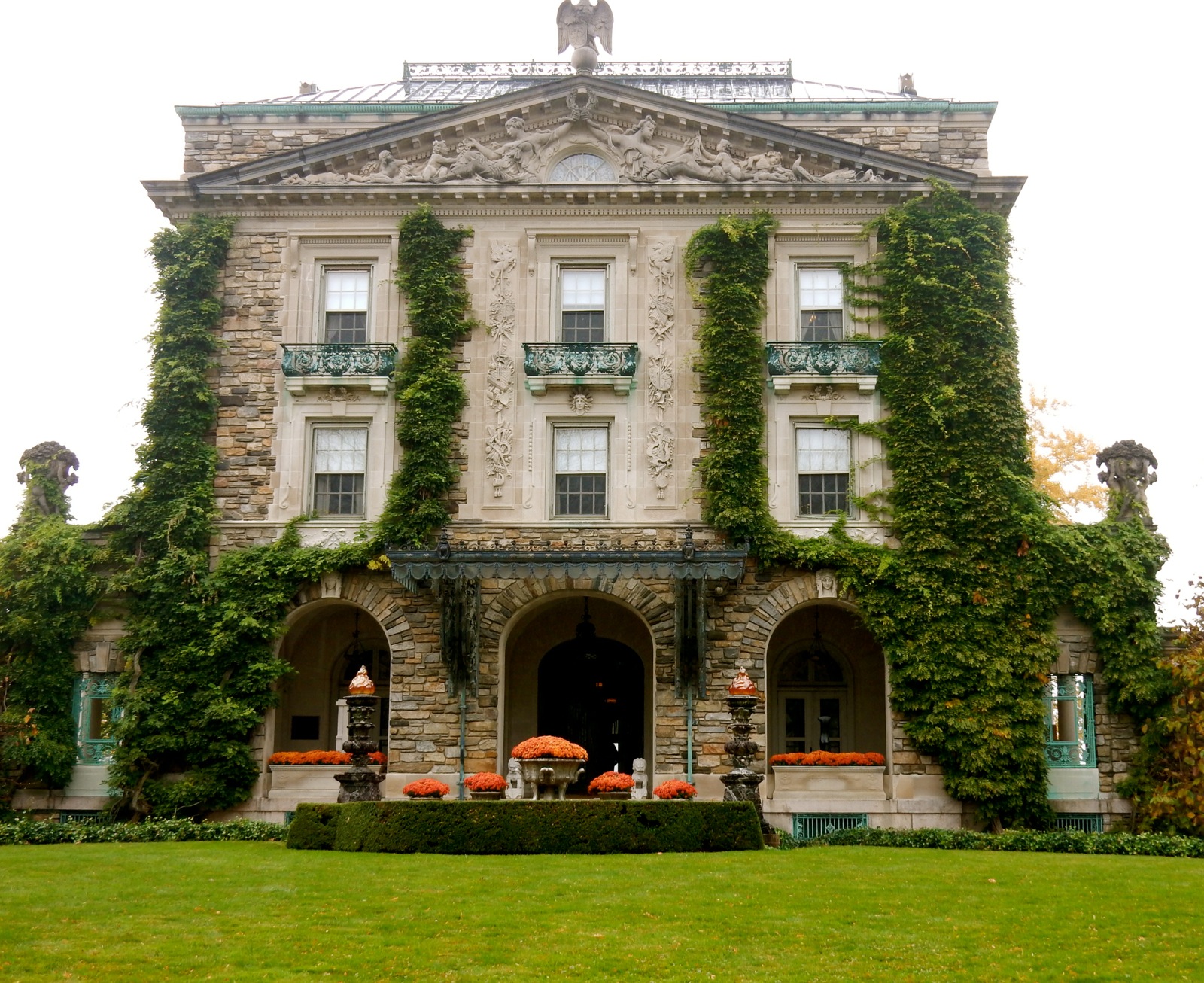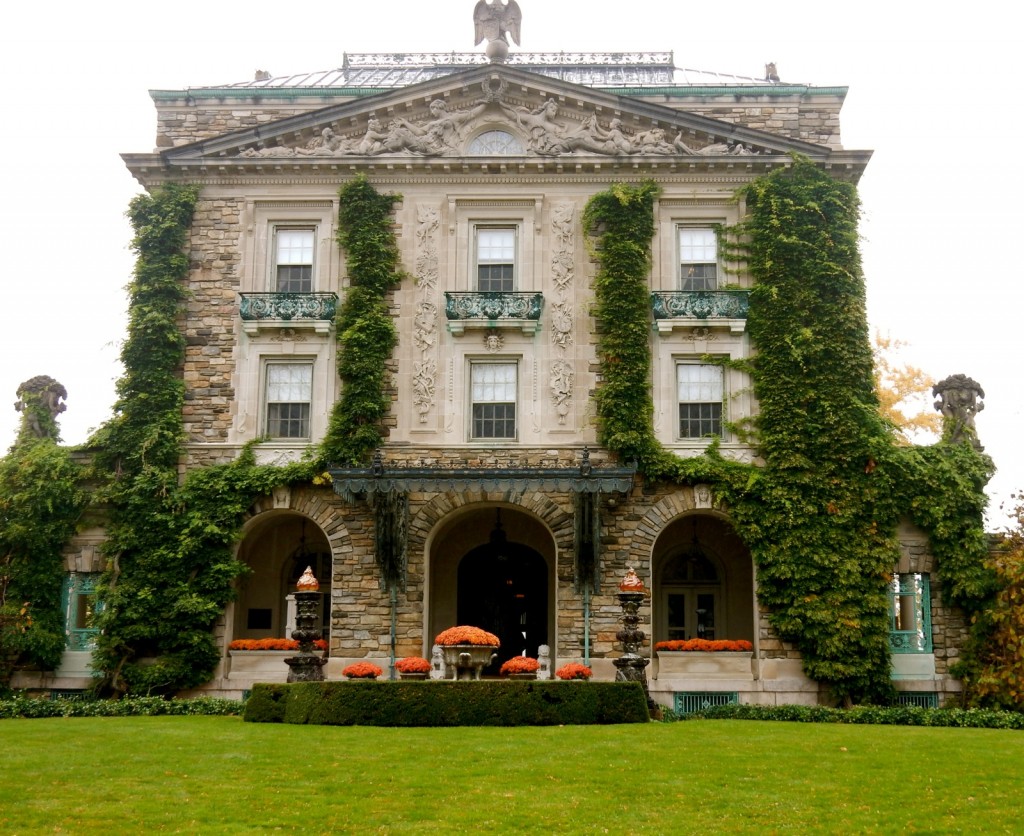 As the estate that housed four generations of Rockefellers, Kykuit is a prime example of a beloved family home generously transferred over to the public, and one of the most popular attractions in Tarrytown. John D., founder of Standard Oil Co., built Kykuit in 1906, and throughout the years, it's interesting to note how each generation put its own stamp on the home and gardens.
John D. Sr, a strict Baptist, did not see the need for a grand ballroom or staircase, as this was to be his family's country home and not a place to entertain. His portrait, done by famous artist John Singer Sargent, hangs in the dining room.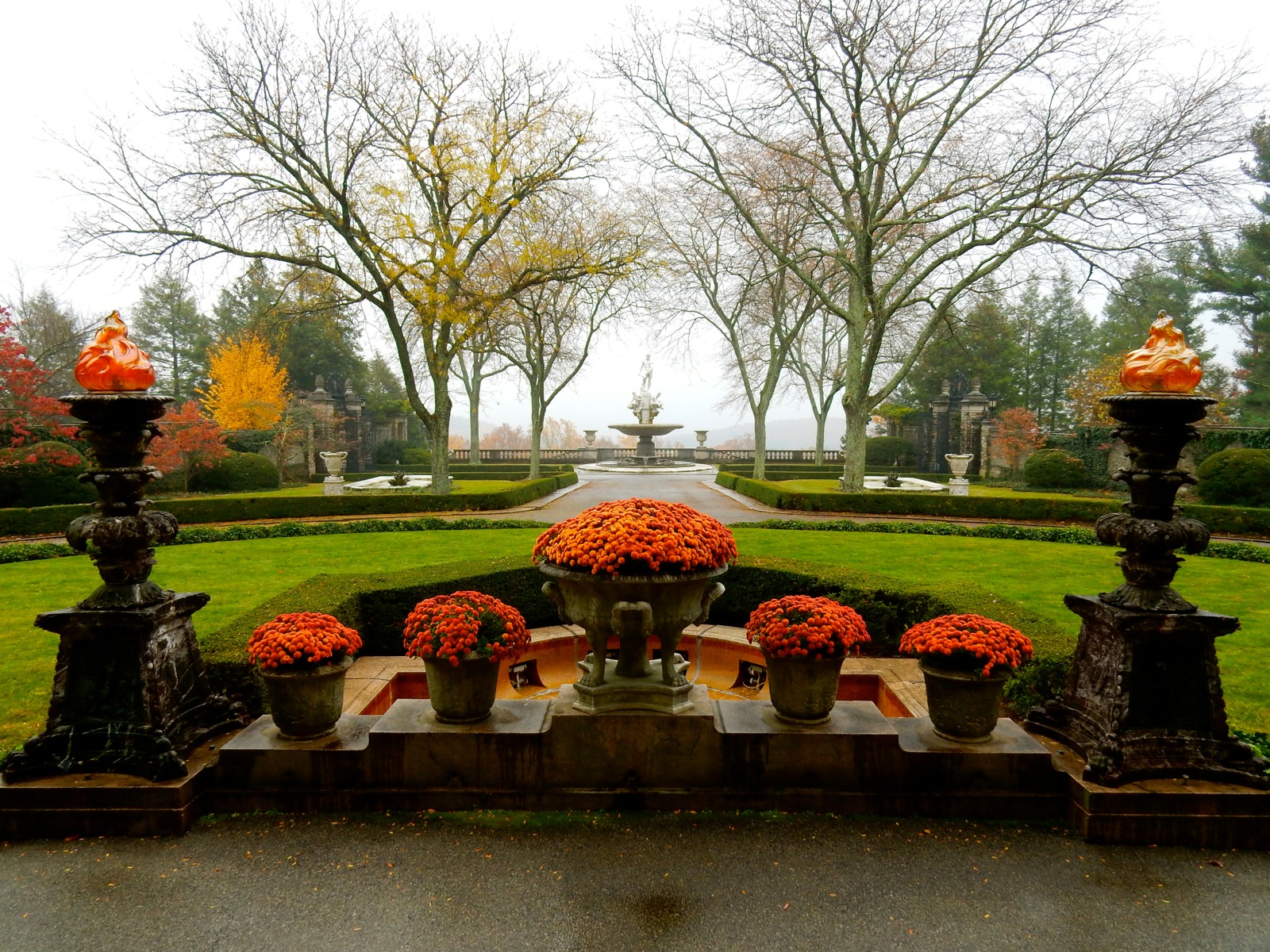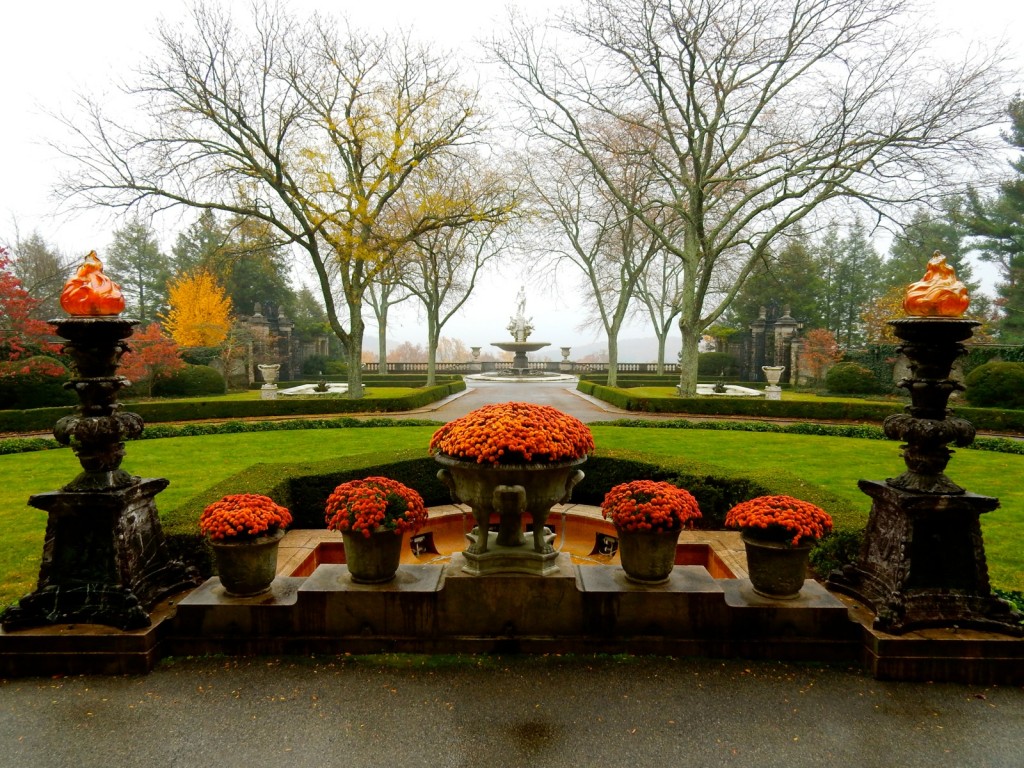 Unlike his grandfather, Nelson Rockefeller, Governor of NY and Vice President of the United States under Gerald Ford, loved to entertain, and added a significant amount to his family's art collection.
Kykuit as Art Museum
He created an ersatz Museum of Modern Art in Kykuit's basement, and filled it with Calders, Motherwells, and 30 Picassos, including 11 rare Picasso tapestries. (Nelson's father, John D Jr., had grown up with the medieval Unicorn Tapestries, which he had donated to the Cloisters in NY City.
Jr. loved the medium so much, he called on Picasso himself to create the pieces). Nelson installed switches in the living room that would illuminate and rotate a statue of Aphrodite in the inner garden – seen through the room's picture window.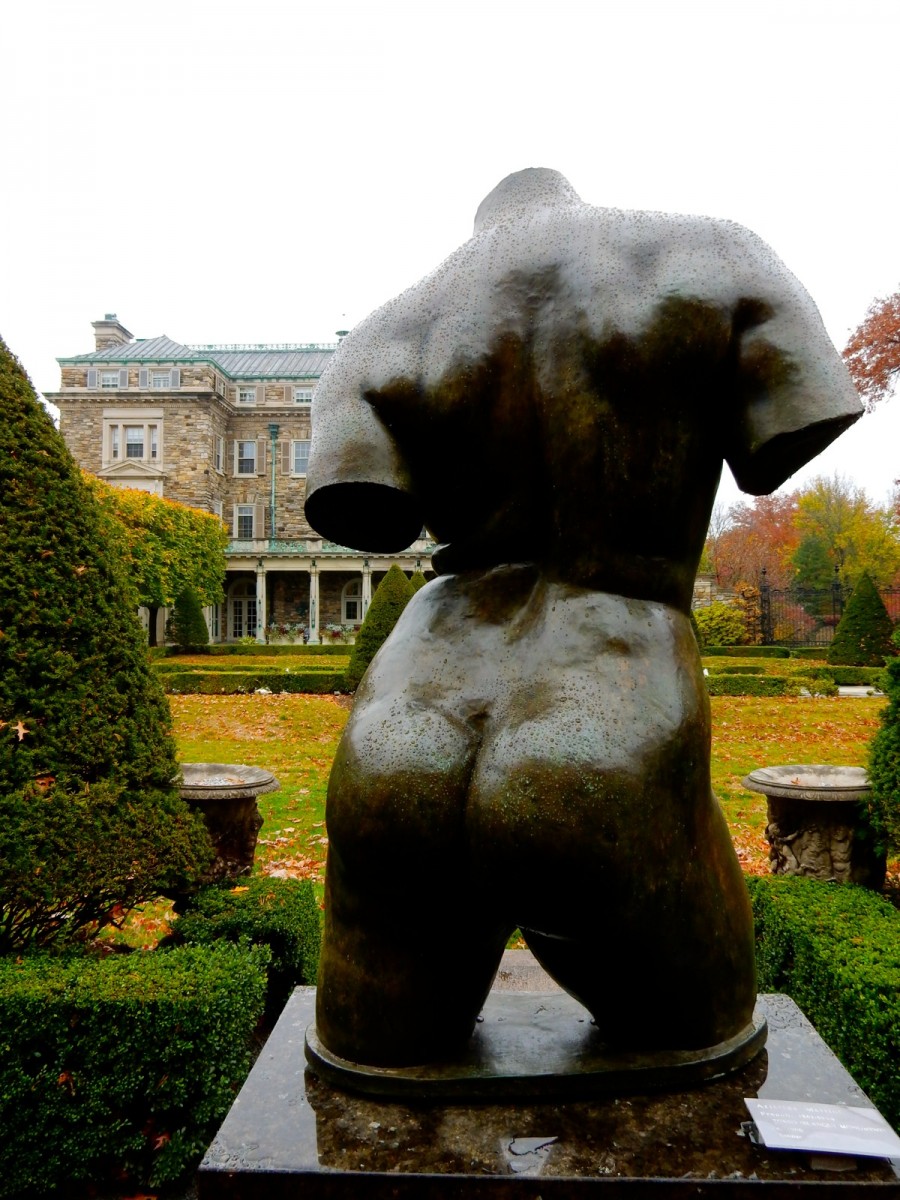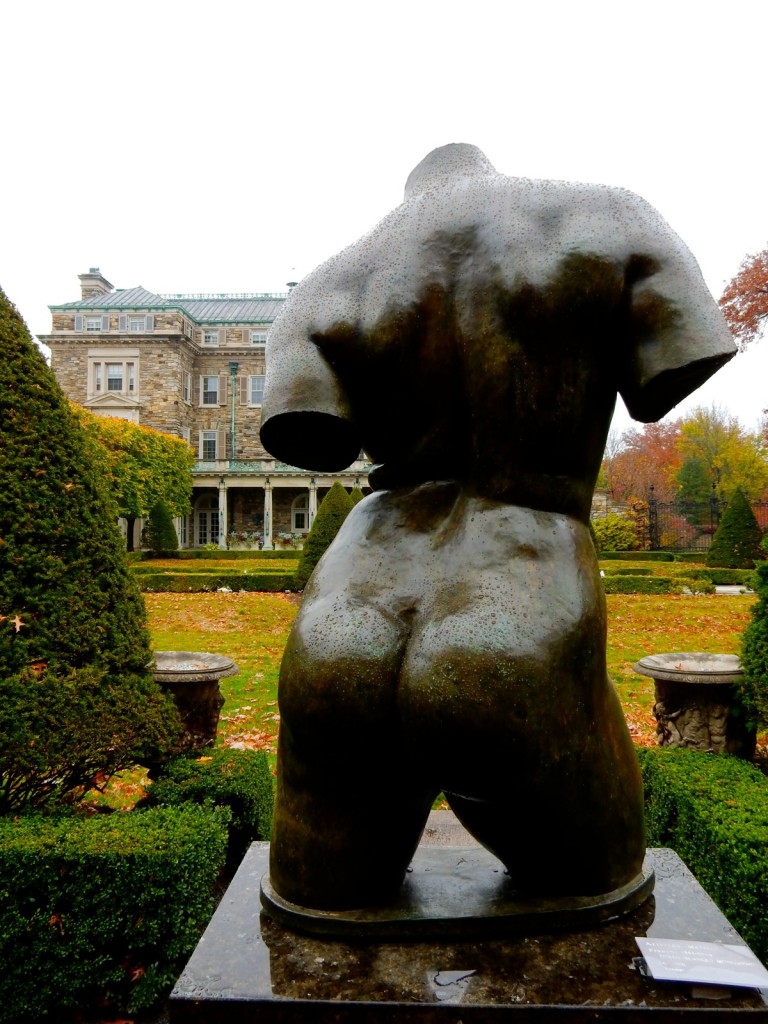 Kykuit's gardens were designed by William Welles Bosworth – the acclaimed landscape architect of the day. Enriched by 19th and 20th century sculpture from artists like Henri Moore, Degas and Rodin, the grounds of the 87-acre estate are terraced – one leads to another to another – and what appears to be a vast romantic landscape is really laddered acreage that blocks the view of downtown Tarrytown below.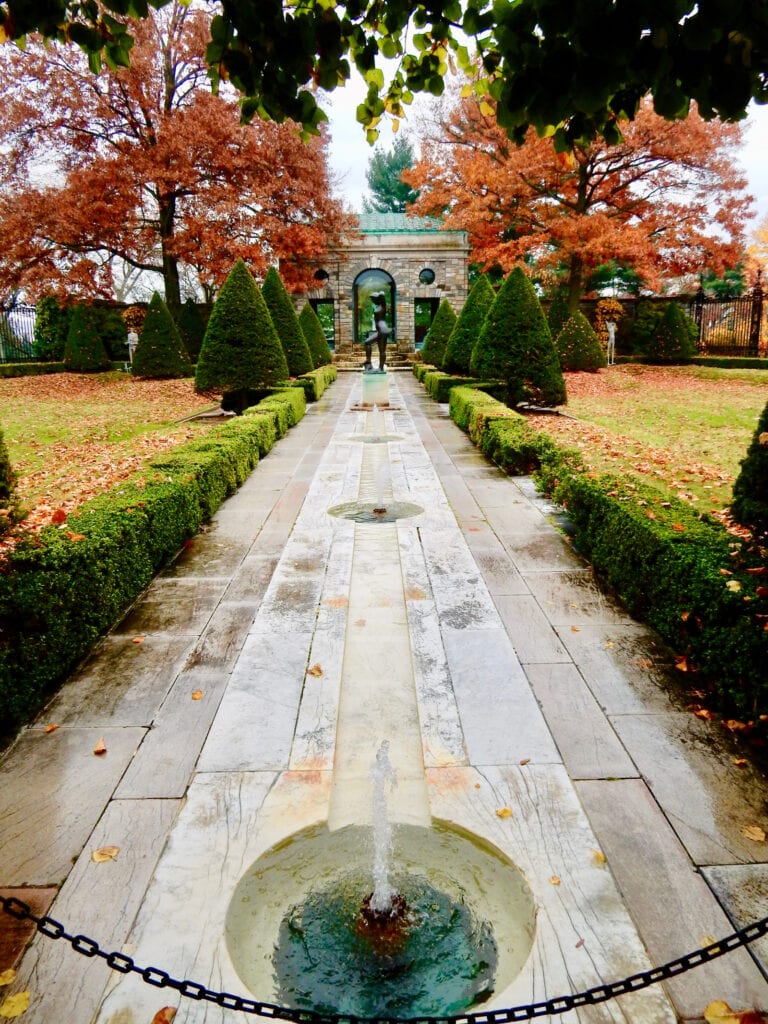 This illusion of grandeur was Bosworth's calling card, and is what most visitors come to see. Open May-early Nov. Thus-Sun, Timed tours only start at 9:45, $40 for 3 hour Grand Tour, $25 for 2 ¼ hour Tour.
In 1693, William and Mary of England granted 52,000 acres of land along the Hudson to a carpenter named Frederick Philipse – who built his Manor home in Tarrytown and set up a milling/farming/trading complex managed for the most part by industrious and intelligent slaves.
Little did Mr. Philipse know that a hundred years down the line, his property would become famous as the stomping ground for Washington Irving's Headless Horseman, and that the Old Dutch Church, which he constructed for his workers, would be the final resting place for Irving and the many local residents who inspired his stories.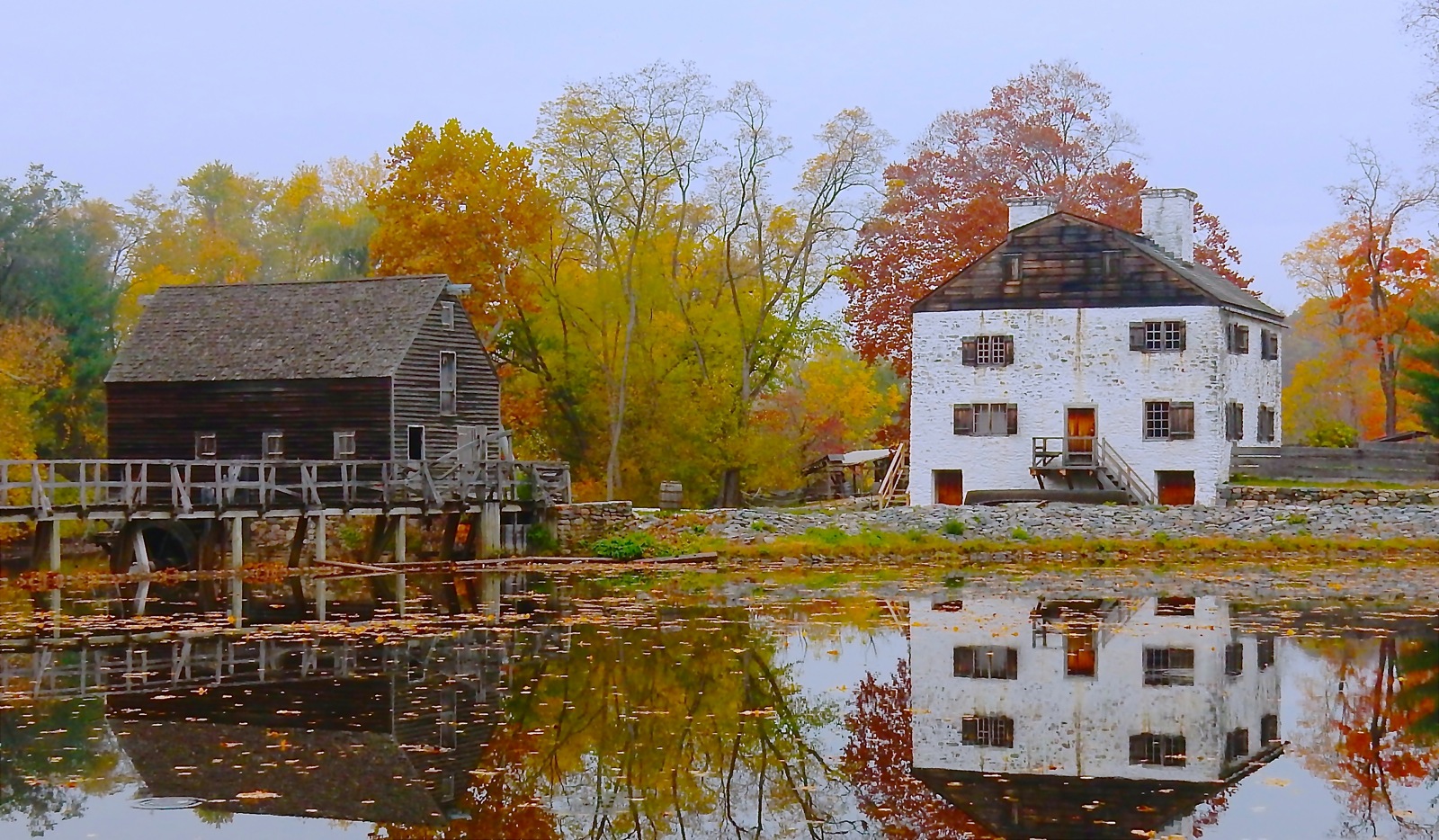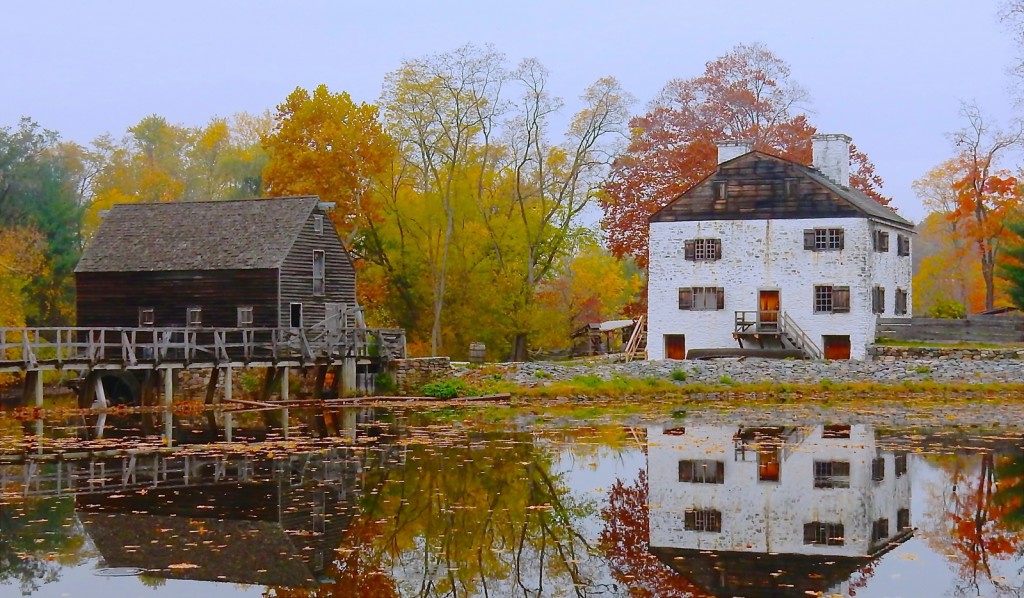 The manor and its grounds have been restored to give visitors a feel for 18th century farm life – and does an admirable job – letting kids thrash then winnow wheat and turn a heavy grinding mill among many other interactive exhibits. Open May – early Nov., Wed-Sun. $20, adults.
You don't have to go to France (Notre Dame Cathedral of Reims) or Israel (Hadassah Hospital in Jerusalem) to see stained glass windows designed by Marc Chagall. All you have to do is drive to this small 75-family church a few miles from Tarrytown NY, pay $7 for a tour, and walk in the door. Commissioned by John D. Rockefeller Jr. in the 1940's, the nine windows (four on each side of the sanctuary, and a larger one on the rear wall) were installed, with some degree of controversy, in the '60's.
"Not everyone was onboard with modern art in a church," says a docent. Chagall, a French Jew who came to the United States in the 1940's to escape the Nazi's, created emotional portraits of six Hebrew prophets – Joel, Isaiah, Elijah, Jeremiah, Ezekiel, and Daniel – though I have to admit that the Prophet Elijah looks very Christ-like.
The Rose Window over the alter was created by another notable artist, Henri Matisse. Plan on at least 30 minutes here and take the tour. It's a wonder more people don't know about this place. Be aware, this is an active Church so Church events take precedent. Open April – Dec. Wed-Mon, 11-5, Sat 10-5, Sun 3-5, $7.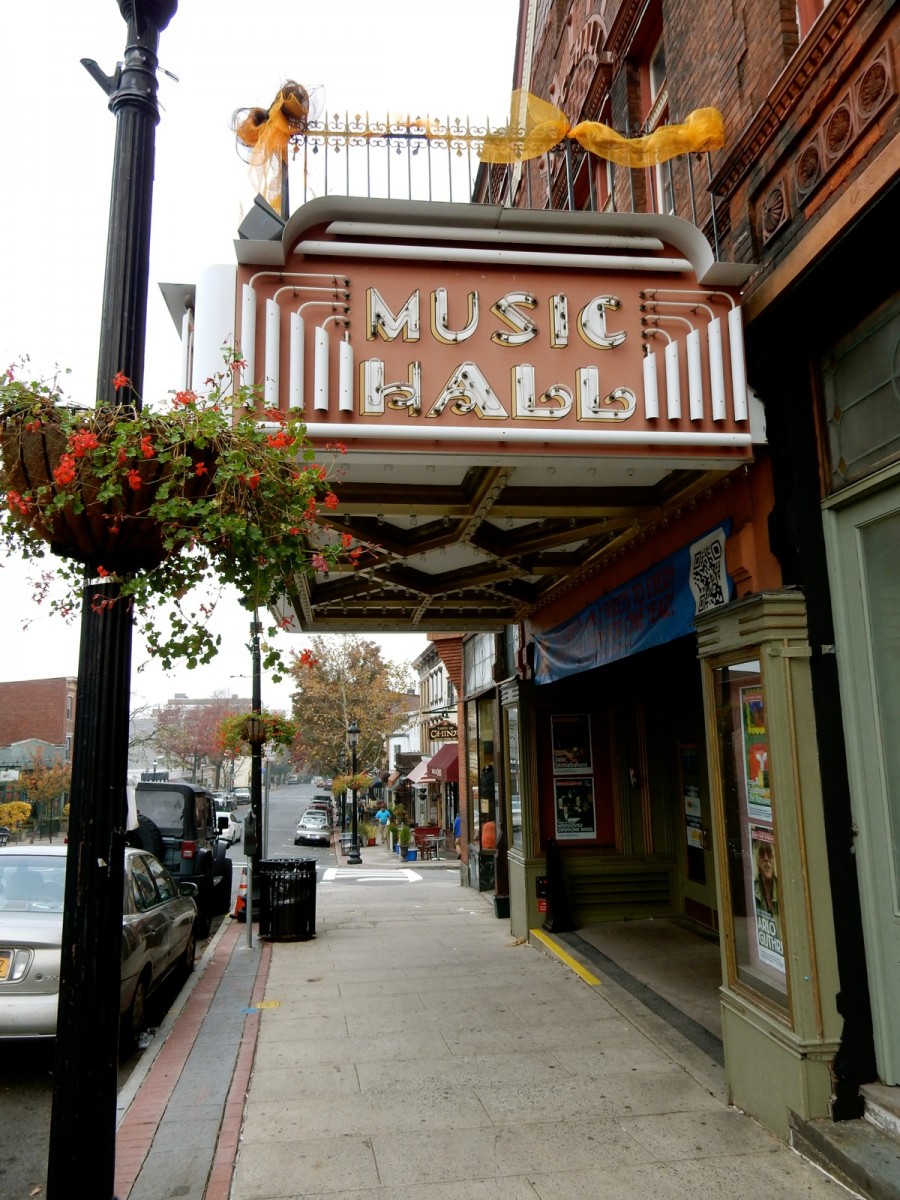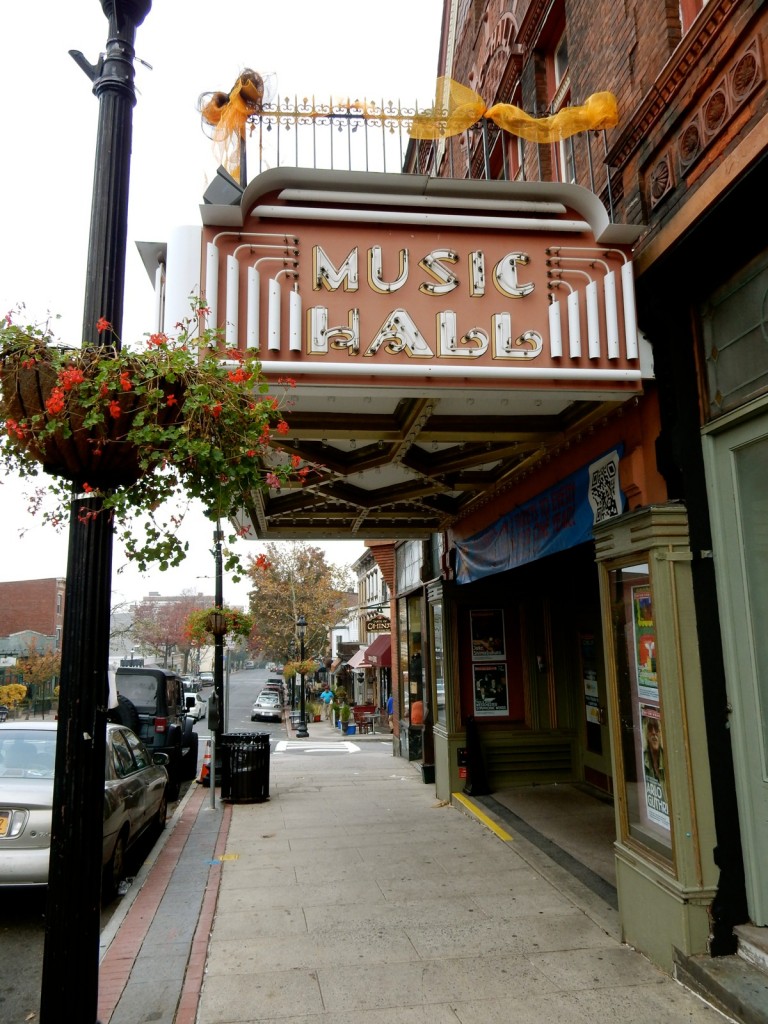 The best of the best play here, be they musicians – Squeeze, Loretta Lynn, Marshall Tucker Band – or comedians – Jackie Mason just to name a few. Right on Main Street, within steps of great restaurants, this venue has been growing in popularity over the last few years.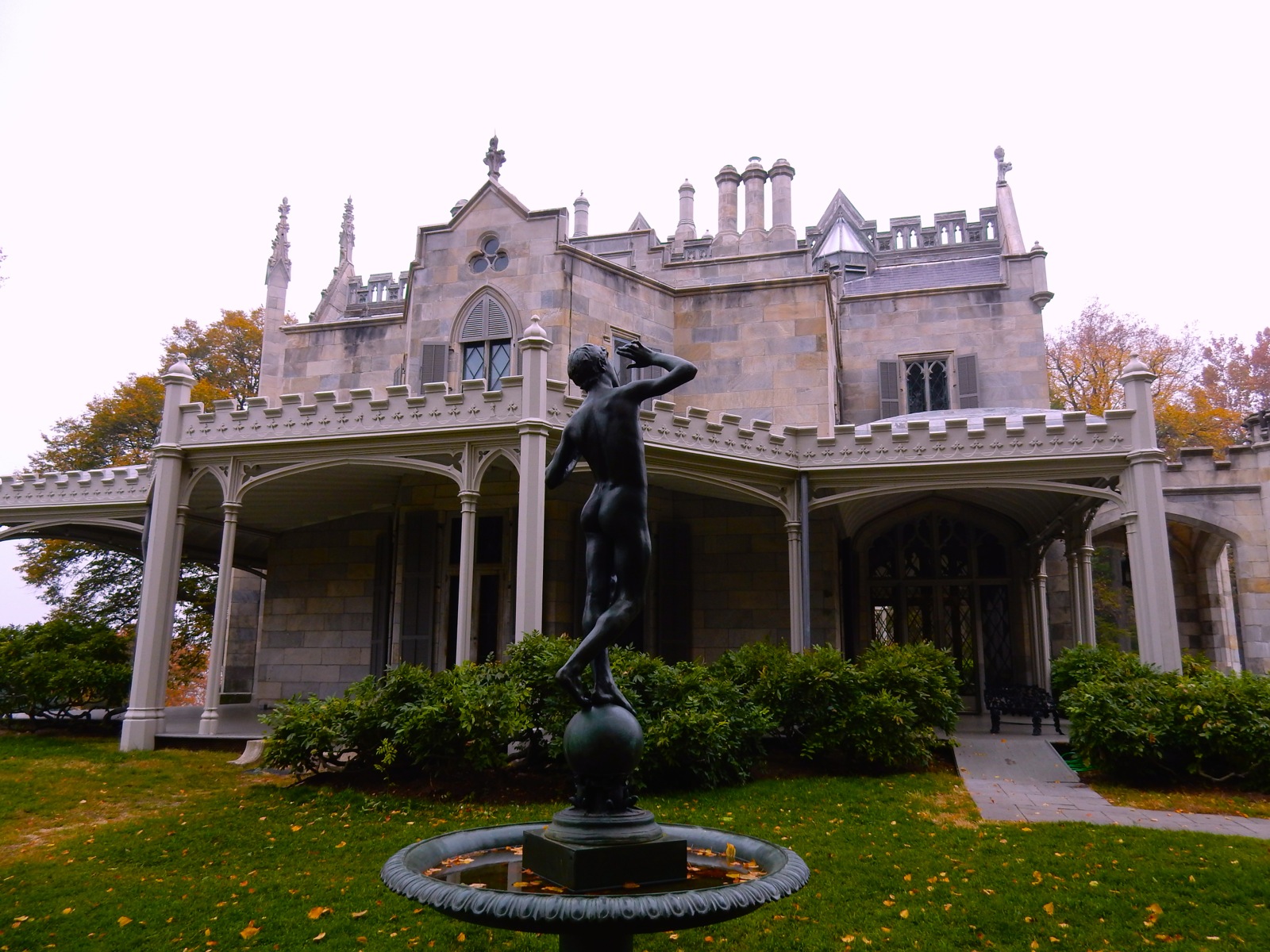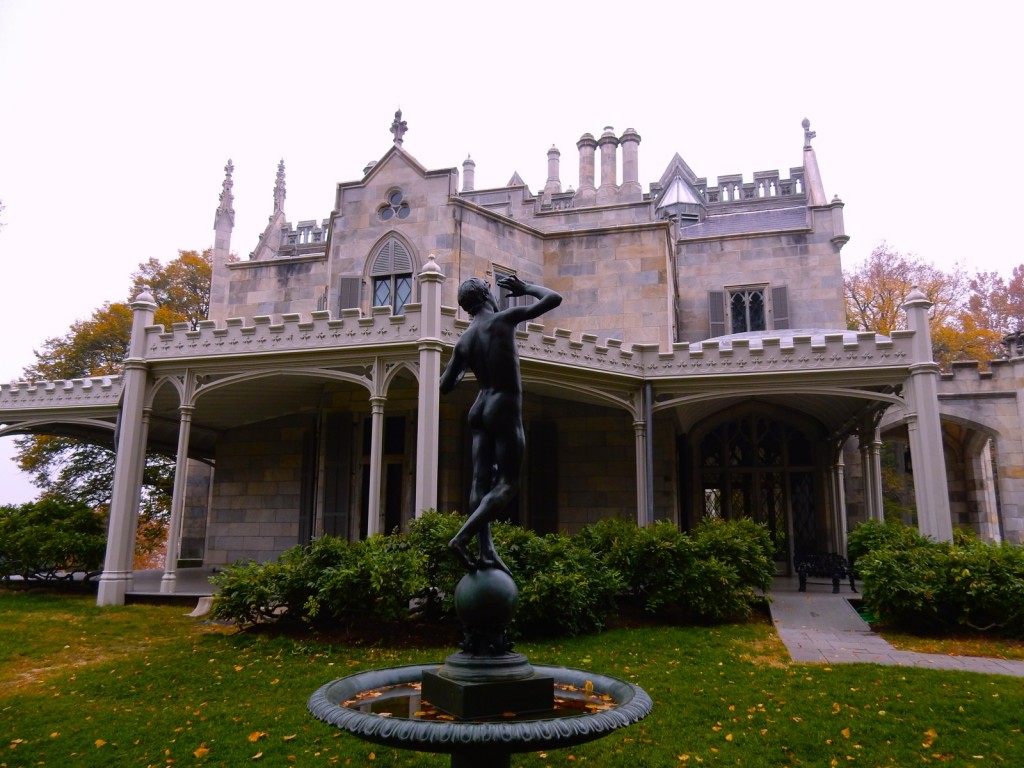 Occupied by empire-builder, Jay Gould in the late 1800's, this Gothic Revival mansion is separated from the Hudson by forest laced with hiking trails and provides great views of the brand spankin' new Tappan Zee Bridge. Tours May-Dec, Fri-Sun 10-4, $18.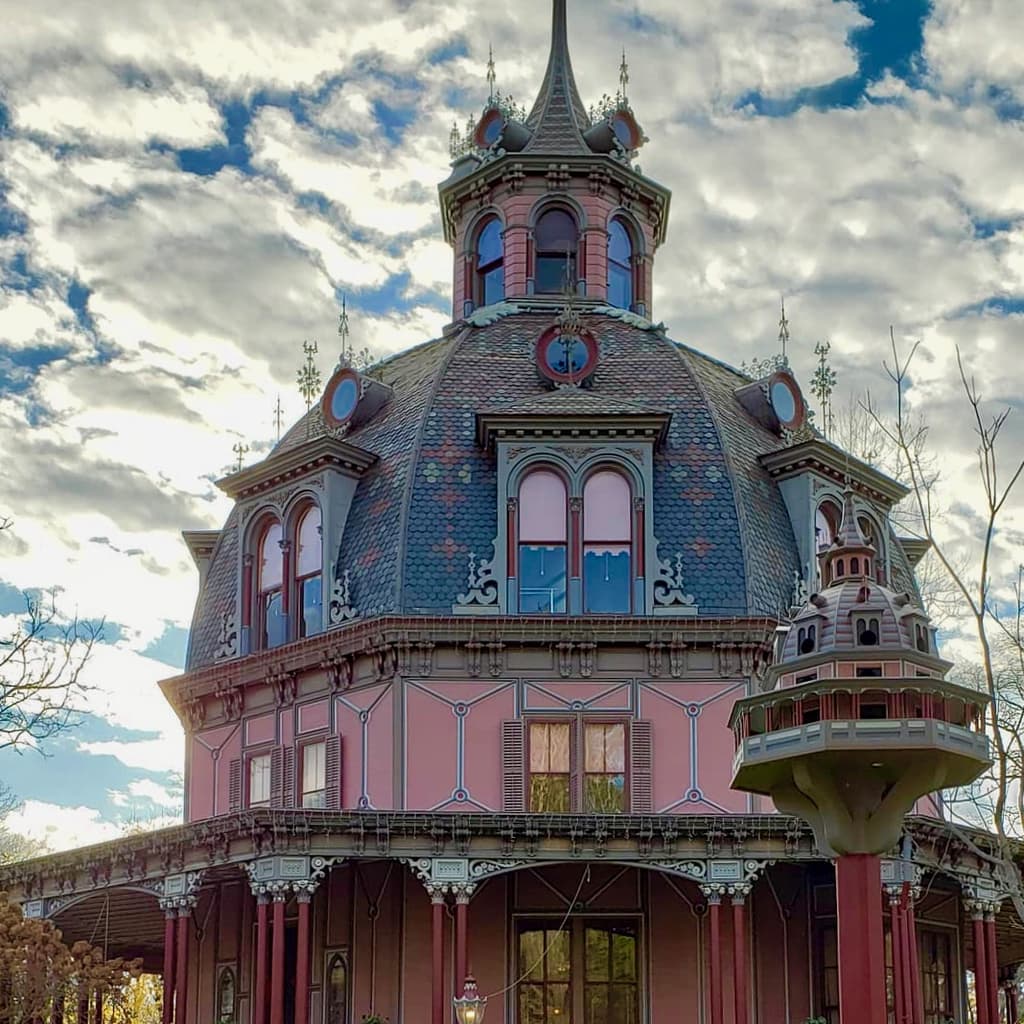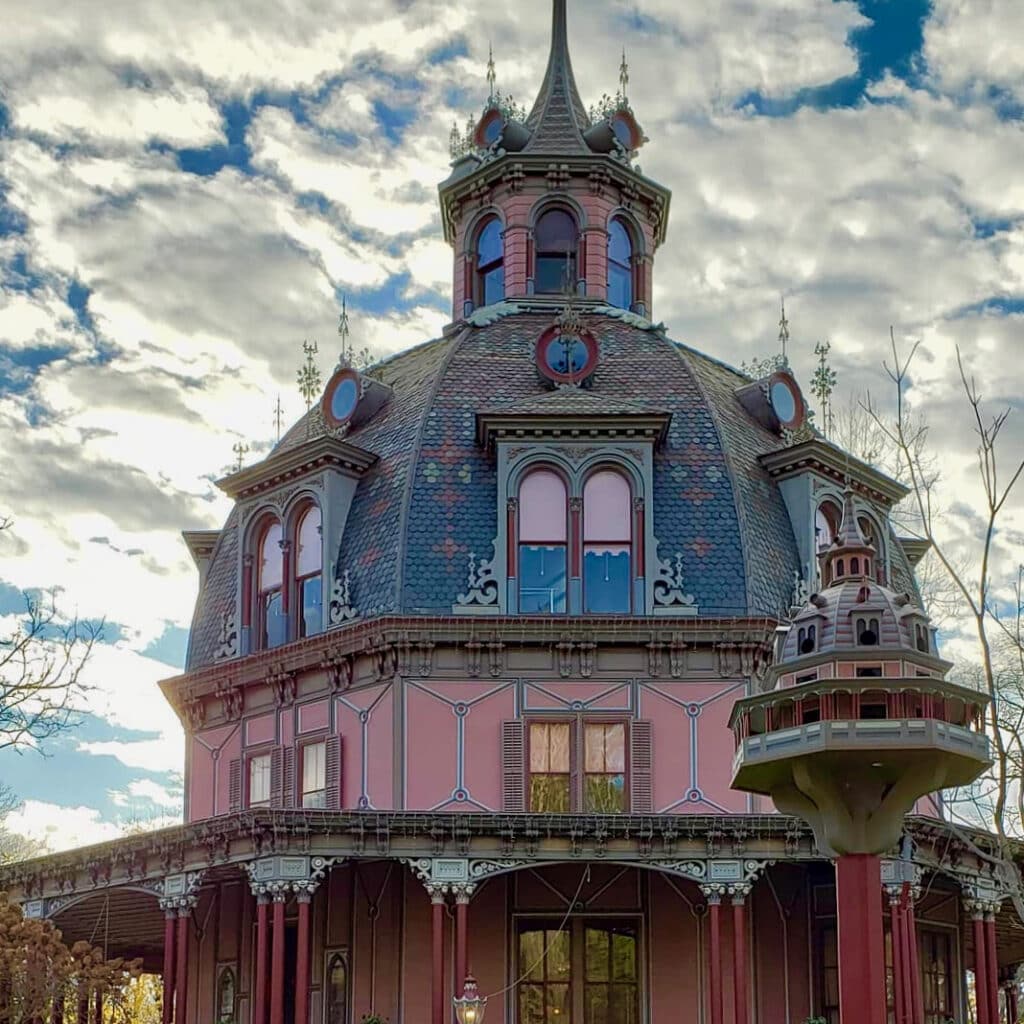 First built in 1872 in the form of a Roman temple, The Octagon House has been expanded over the years. In 1978, preservation architect, Joseph Pell Lombardi, purchased the home, and has restored the grounds and home to its original appearance. Though the home is full of Victorian-era treasures, visiting the interior of the dome itself if worth the price of entry. Though in private hands, the Octagon House, just a few miles from Sleepy Hollow, is open to the public periodically for small-group tours.  Check website for tour times and cost.
Restaurants in Tarrytown, Sleepy Hollow And Environs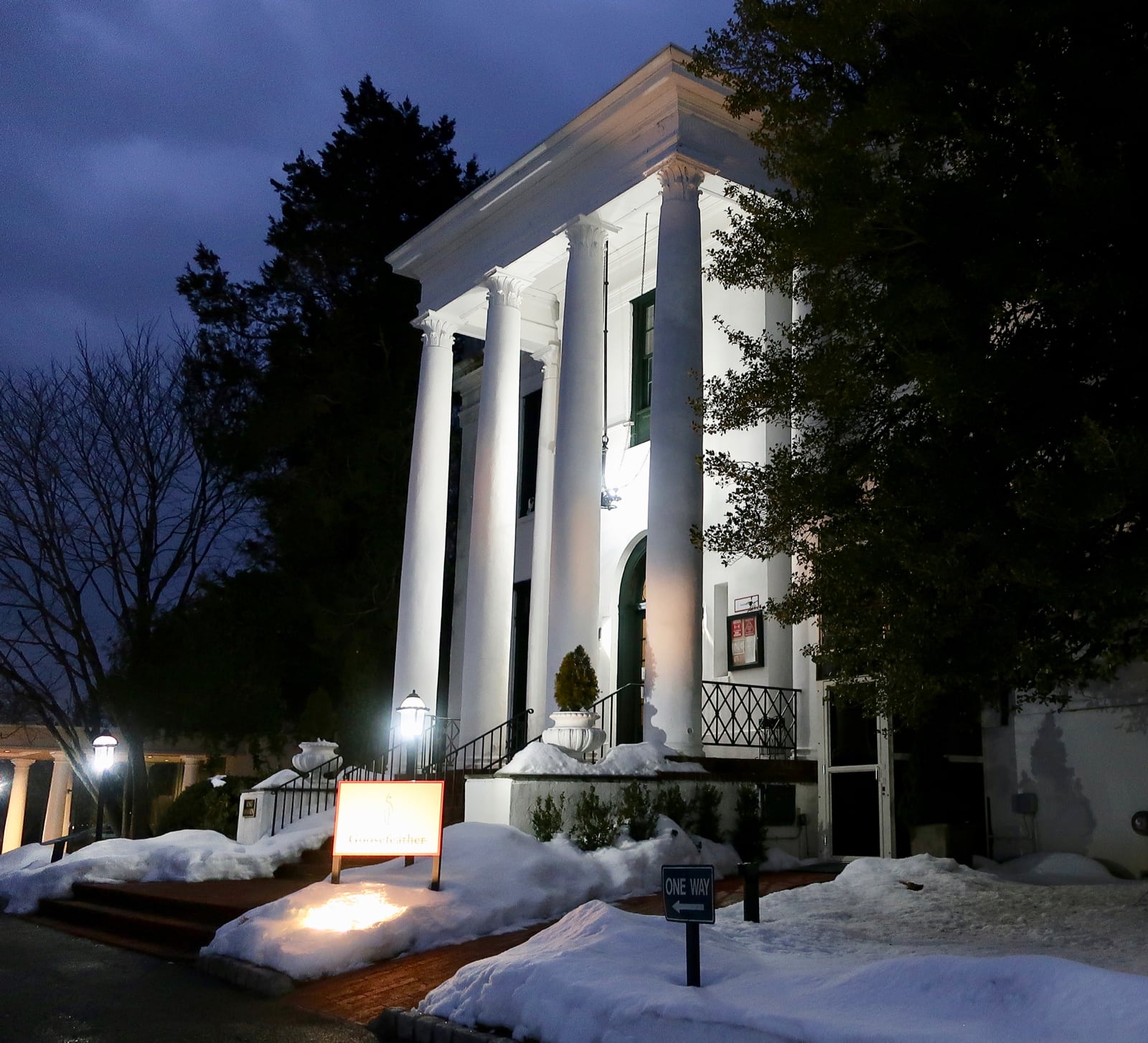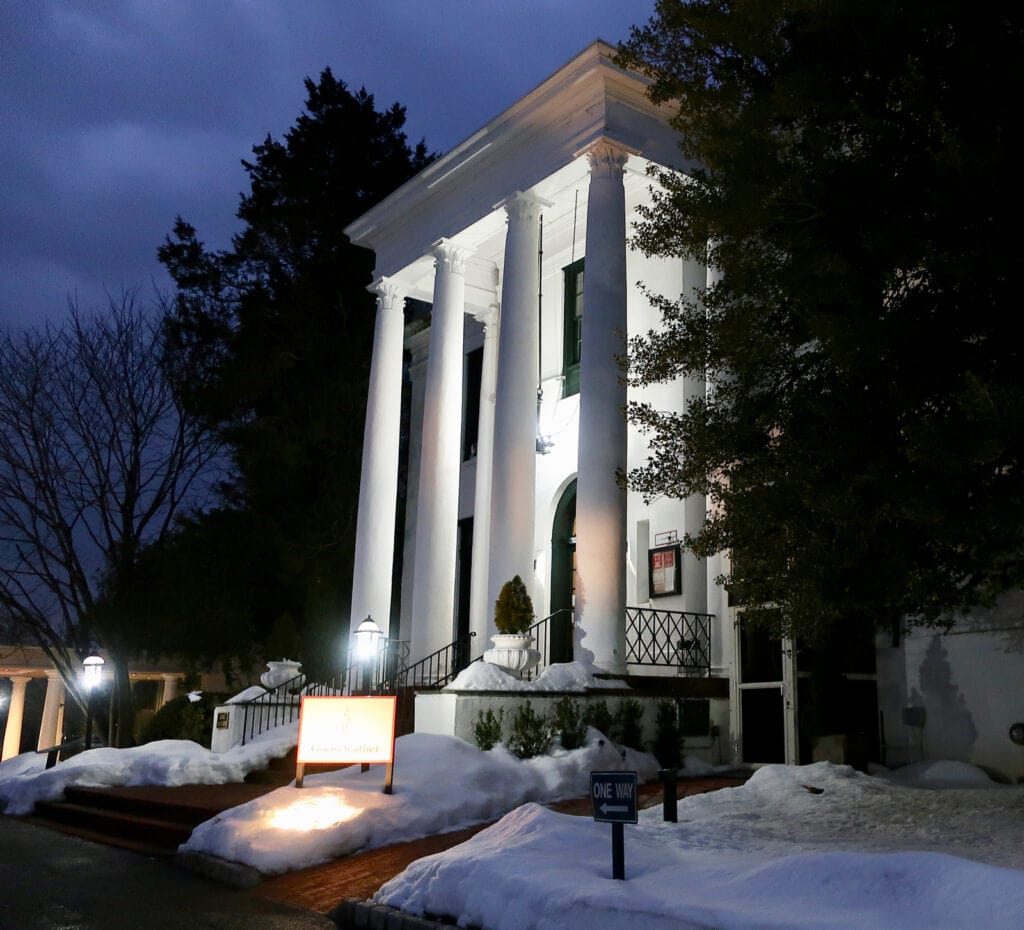 Celebrity Chef, Dale Talde, knows his way around drunken noodles and other Cantonese dishes – as evidenced by the excellent Hudson-Valley-Asian-fusion cuisine at his latest restaurant, Goosefeather. Situated in the King Mansion of the Tarrytown House Estate in Tarrytown NY, Goosefeather brings a bit of cool flash and whimsy to this Hudson River town.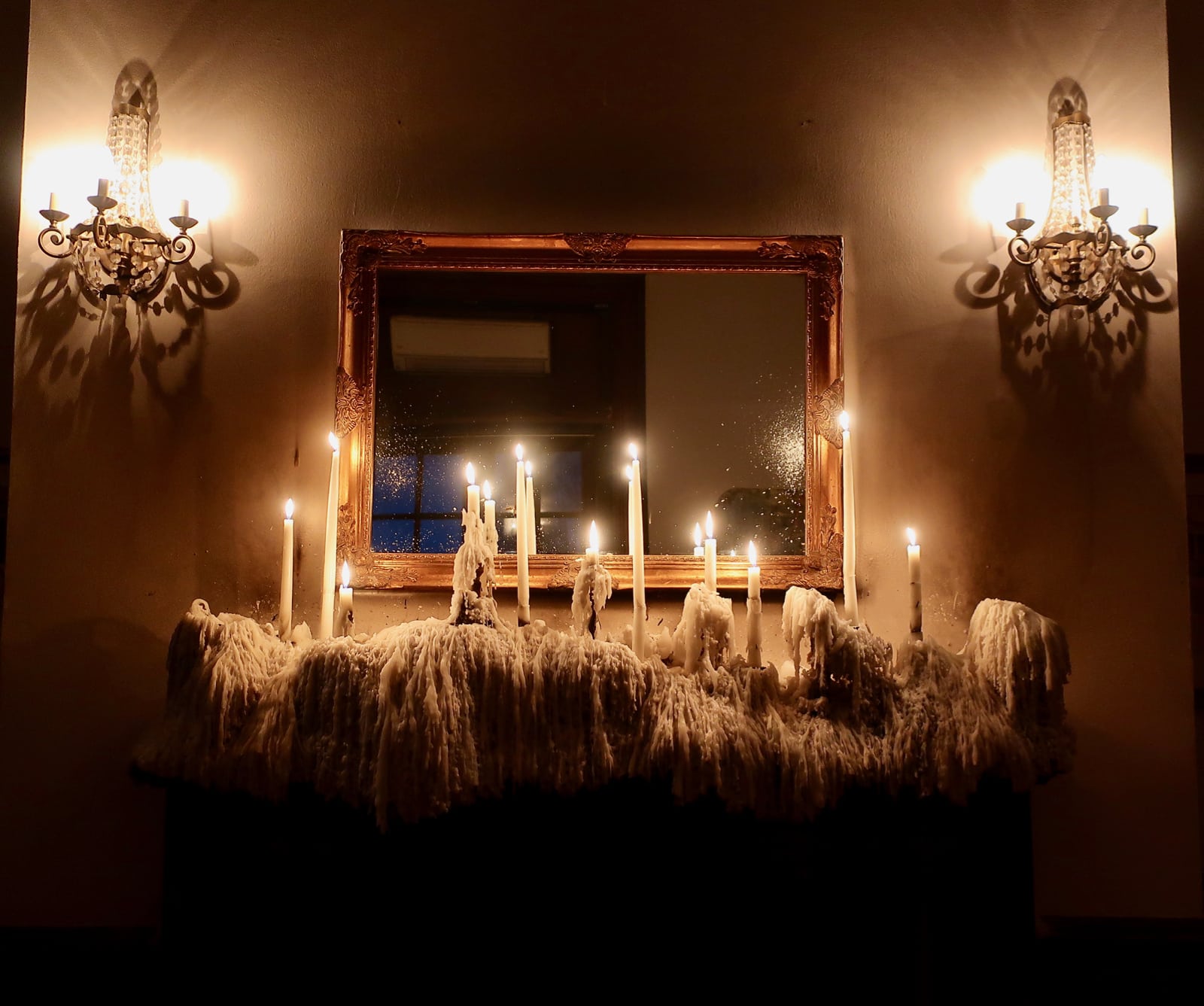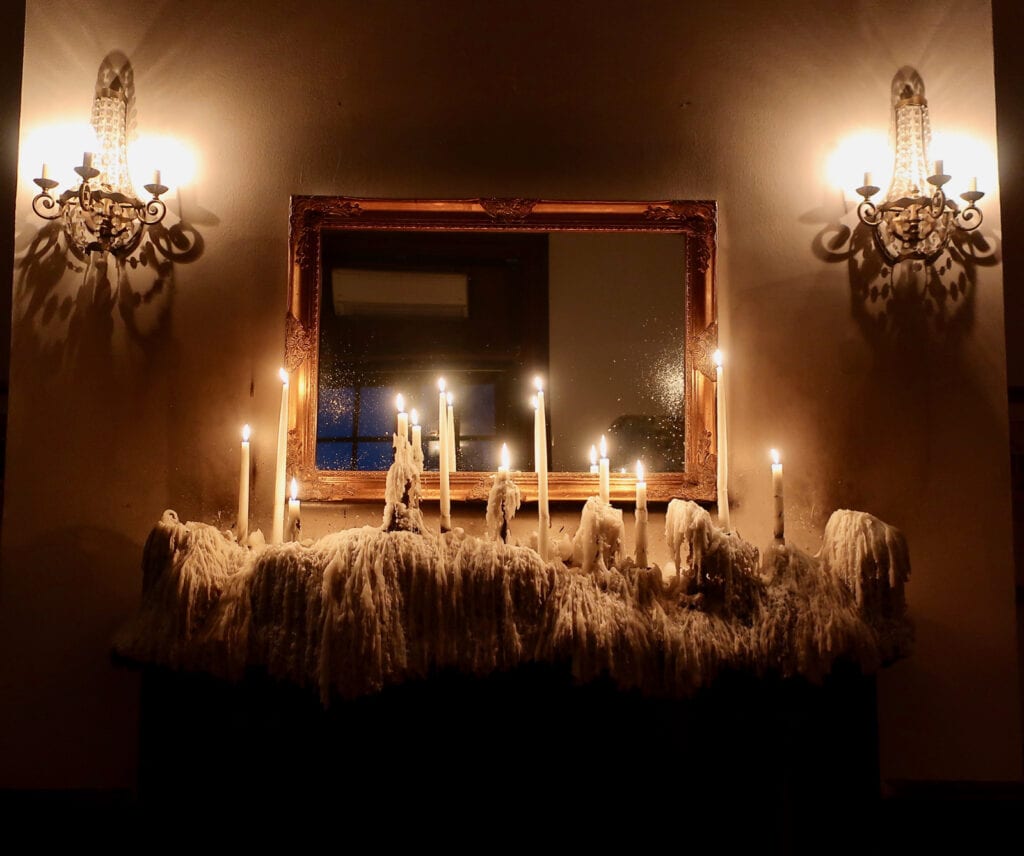 Why Chinese? "Have you seen how many Italian places and bistros there are here?" says Talde, who made his name on Top Chef and other cooking contest shows before opening his seminal restaurant, Talde, in Brooklyn in 2012. "There was nothing like this kind of unconventional, upscale Chinese – it was all take-out."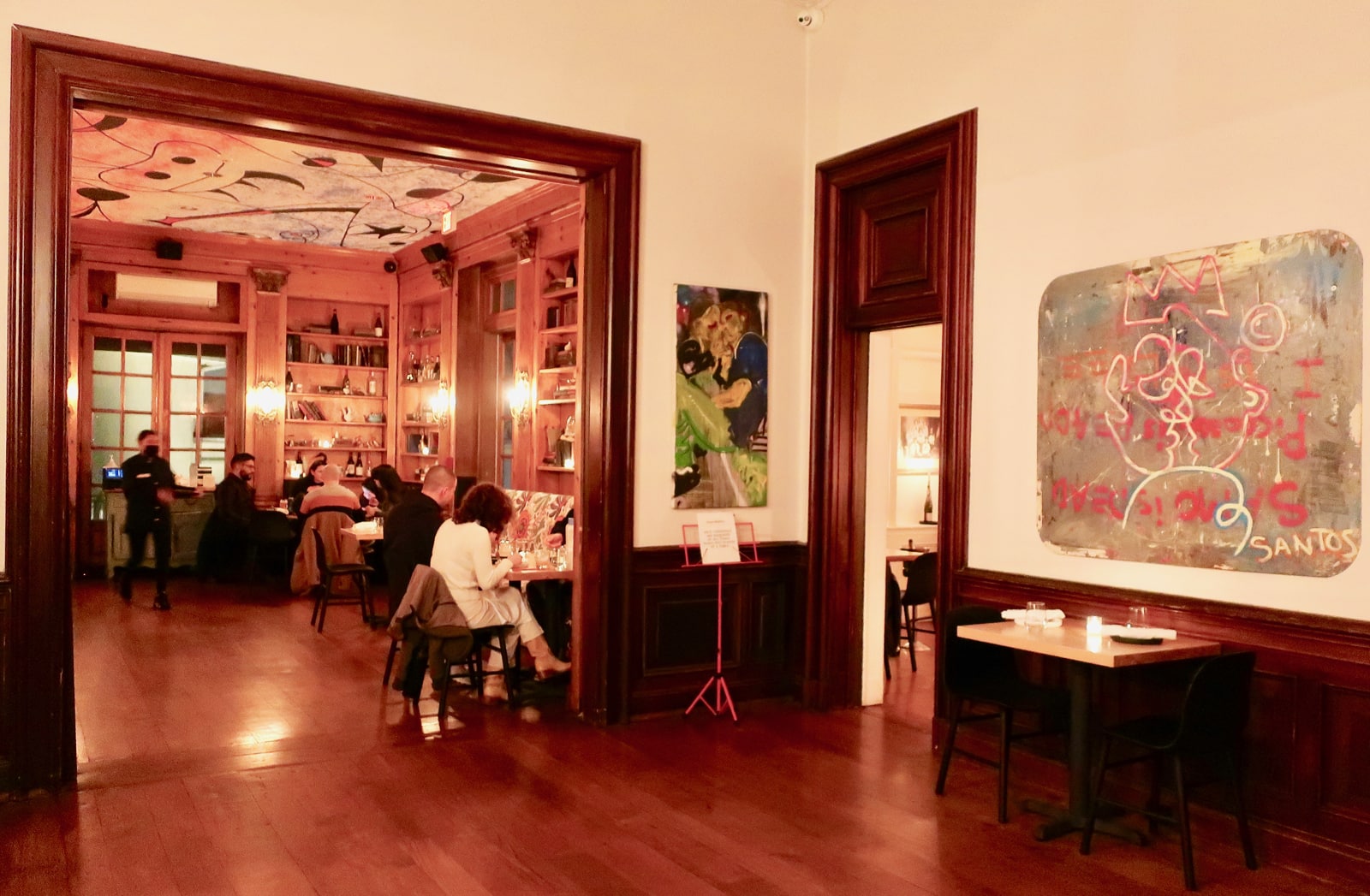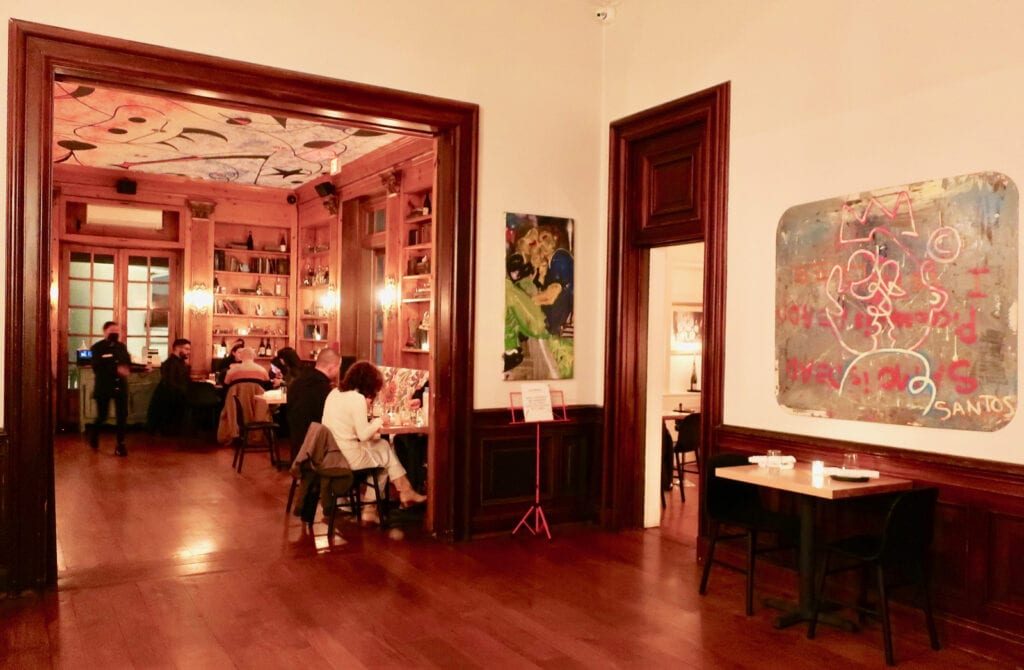 The 1840 King Mansion served as private home, and then the boutique inn within Tarrytown House, before Talde got a hold of it and turned four rooms on the main floor into an Art Nouveau-Antebellum-esque restaurant space.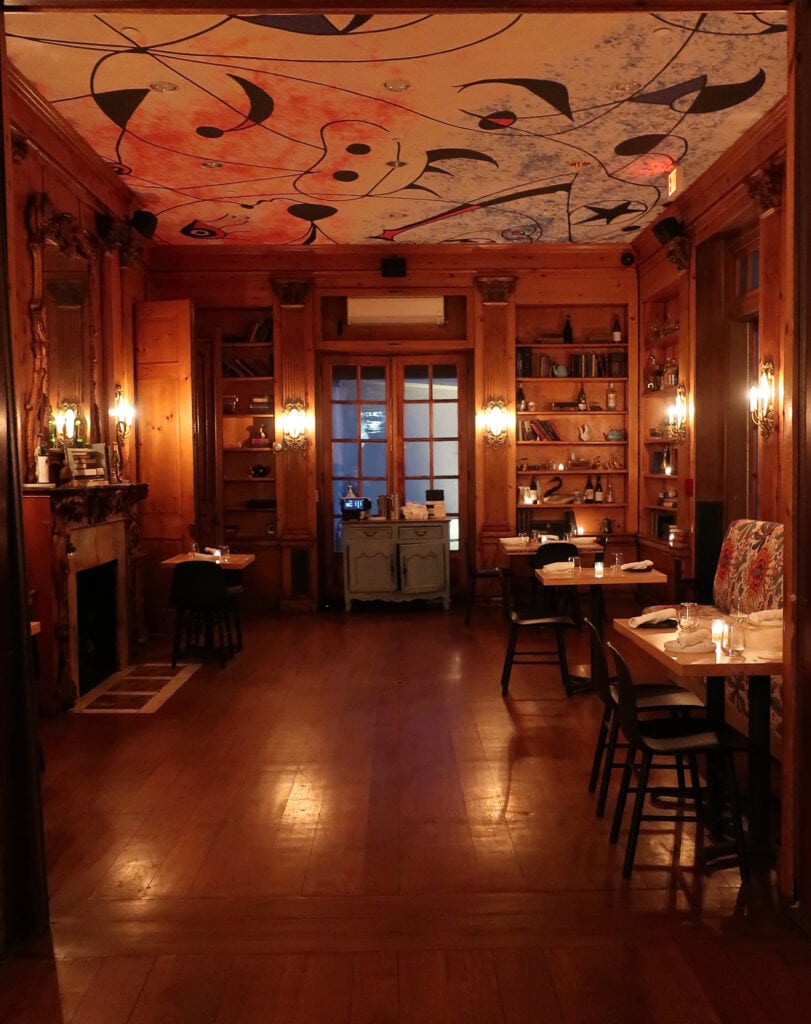 Dine beneath Miro-art ceilings in the glow of dozens of candles – dripping together like wax sandcastles – and the meal become an experience to savor. And, savor I did. The popular dim sum, Dry Aged Beef Pot Stickers ($16), dipped in spicy horseradish mustard, was out of this world.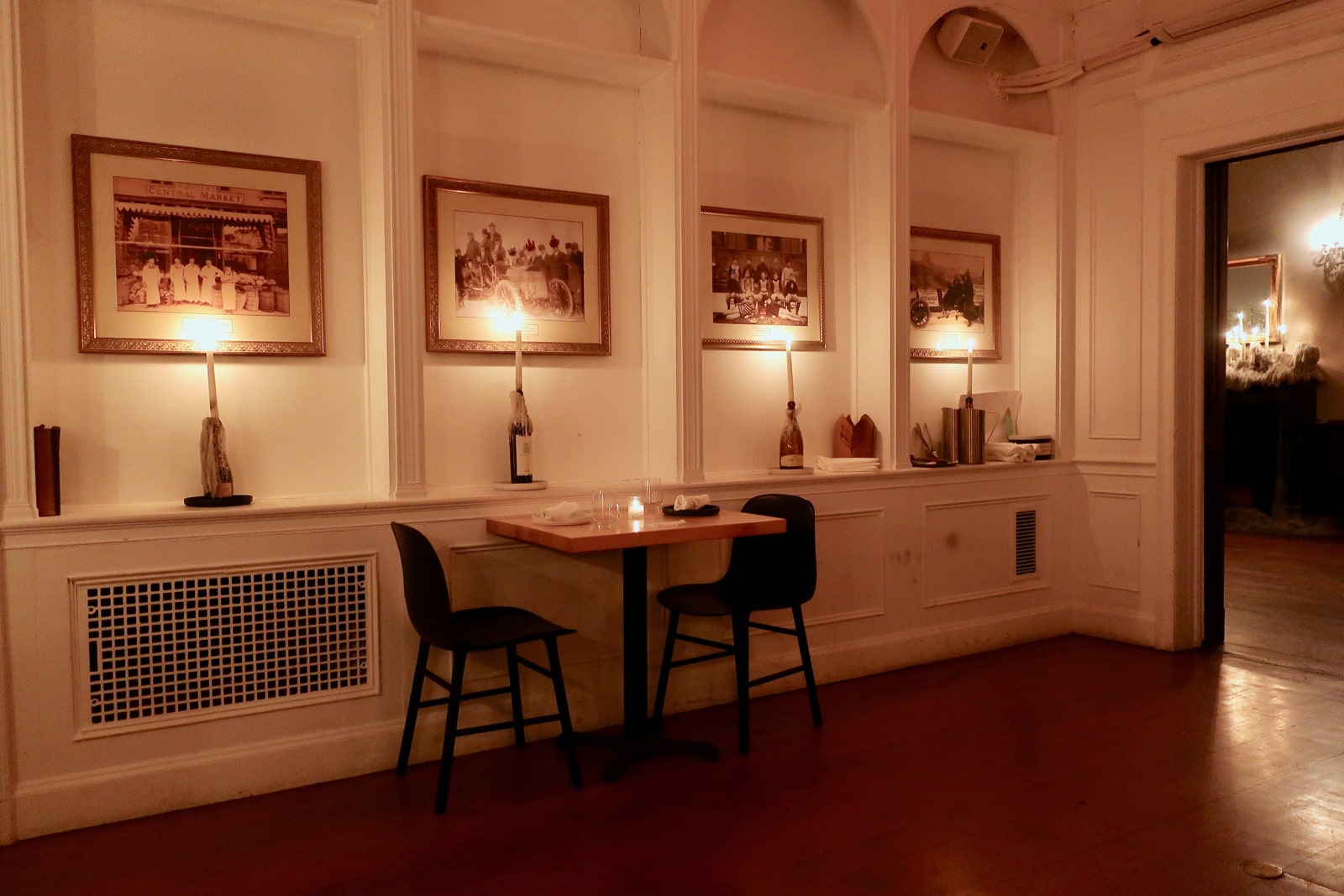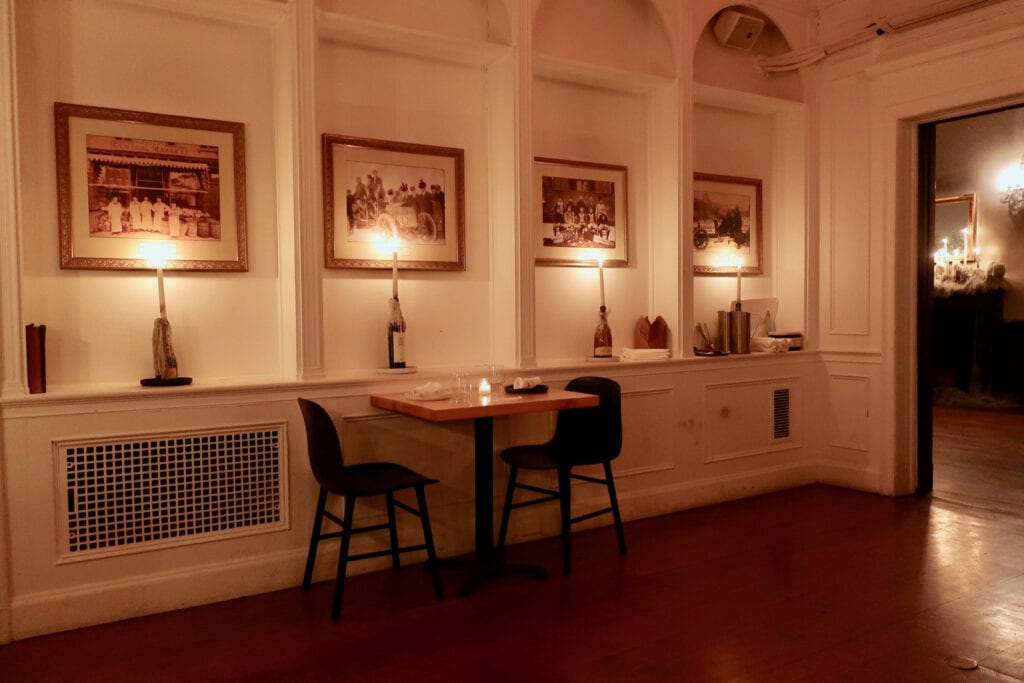 And, I couldn't get enough of one signature – Black Pepper Beef ($30): succulent cubes of crunchy-tender meat lacquered with a hosin/basil sauce. Other dishes also hit a high mark for my vegan husband: Wild Mushroom Slippery Noodle ($25), and the vegetarian version of the ordinarily surf and turf Supreme Rice ($25).
As for desserts, one Italian staple, Tiramisu, has infiltrated the menu. Talde, of course, made it his own – with Green Tea mocha, Passion Fruit mascarpone, and diced sweet citrus. I'm not generally a Tiramisu fan, but I lapped this version up like I'd never be able to get it again. But of course I will. The next time I visit – with friends.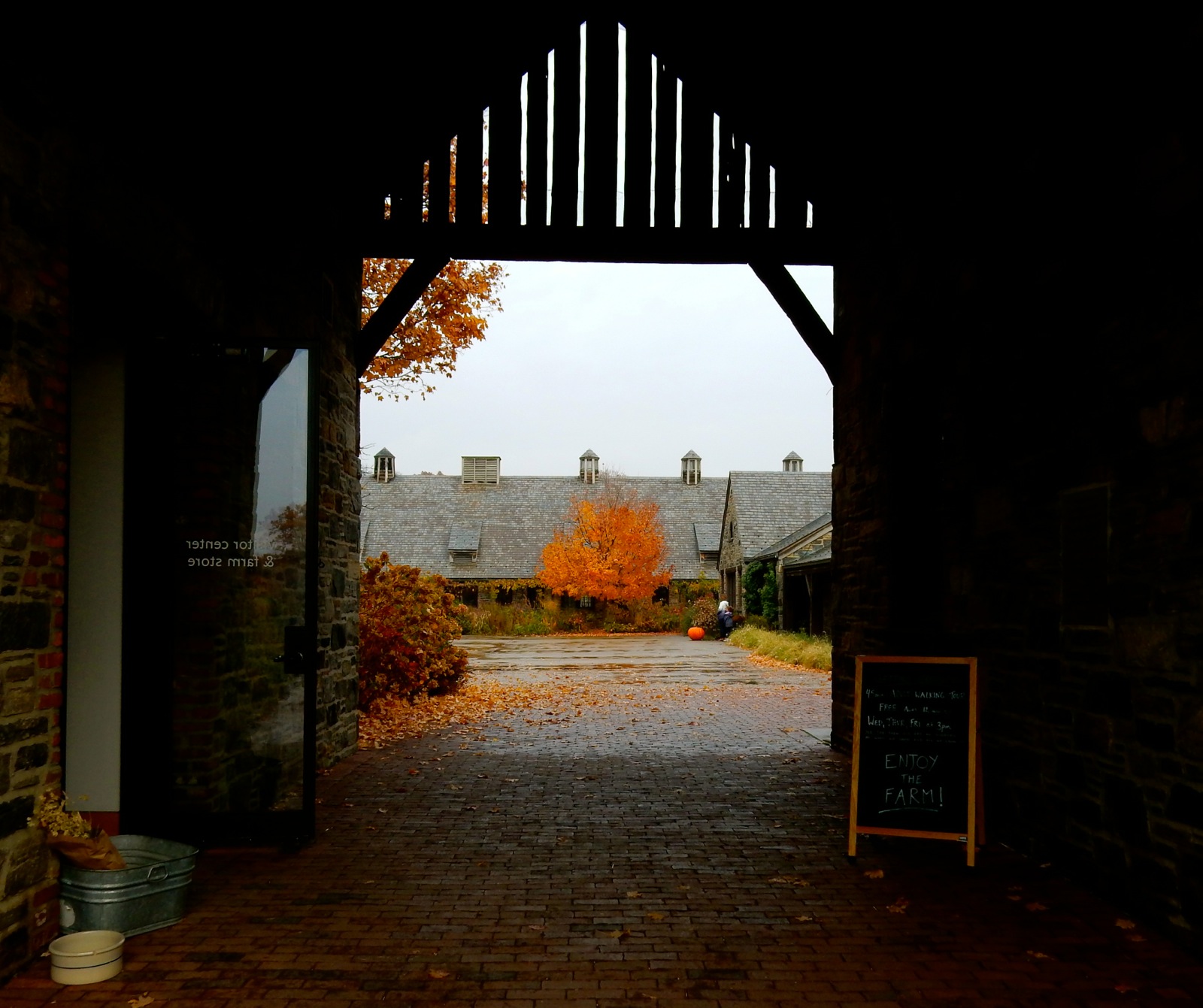 "An exhibit, a classroom, a laboratory and a garden," Blue Hill at Stone Barns in Pocantico Hills incorporates a working farm and acclaimed restaurant (rsvp's necessary) where "fast food" means from farm or garden to plate with no travel time. The farm and casual Blue Hill Café are open to the public W-Sun. 10:30 to 4:30.
Shout "OPA" at the popular Lefteris Greek Restaurant; where the salad dressing is so popular, they bottle it for purchase.
Places to Stay in Sleepy Hollow NY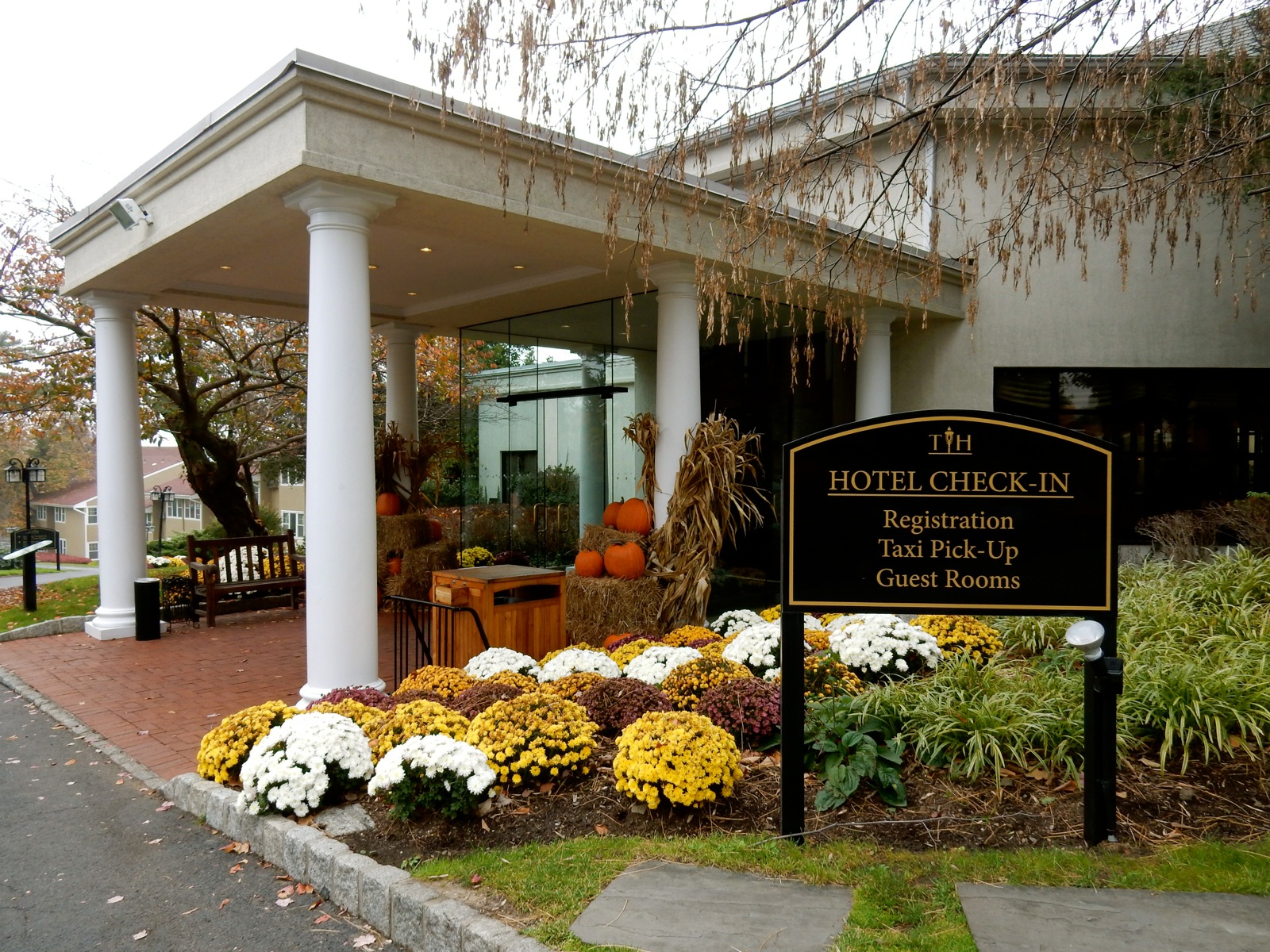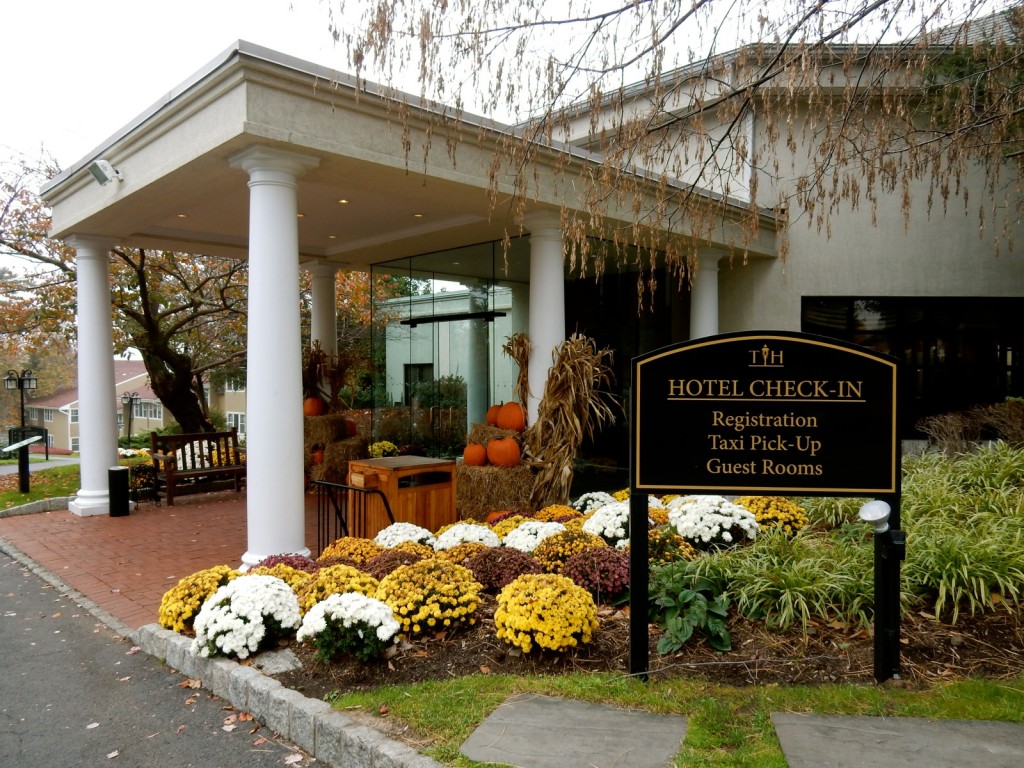 Established as a conference center, the Tarrytown House Estate, which encompasses hotel and meeting rooms in several buildings, is fast becoming a chic lodging option for leisure travelers, too, in no small part due to Goosefeather. (See Best Restaurants above).
Across Route 9 and a few hundred yards up the road from Sunnyside (Washington Irving's home), rooms in the main building of this beautifully landscaped complex have been updated in a handsome grey palette.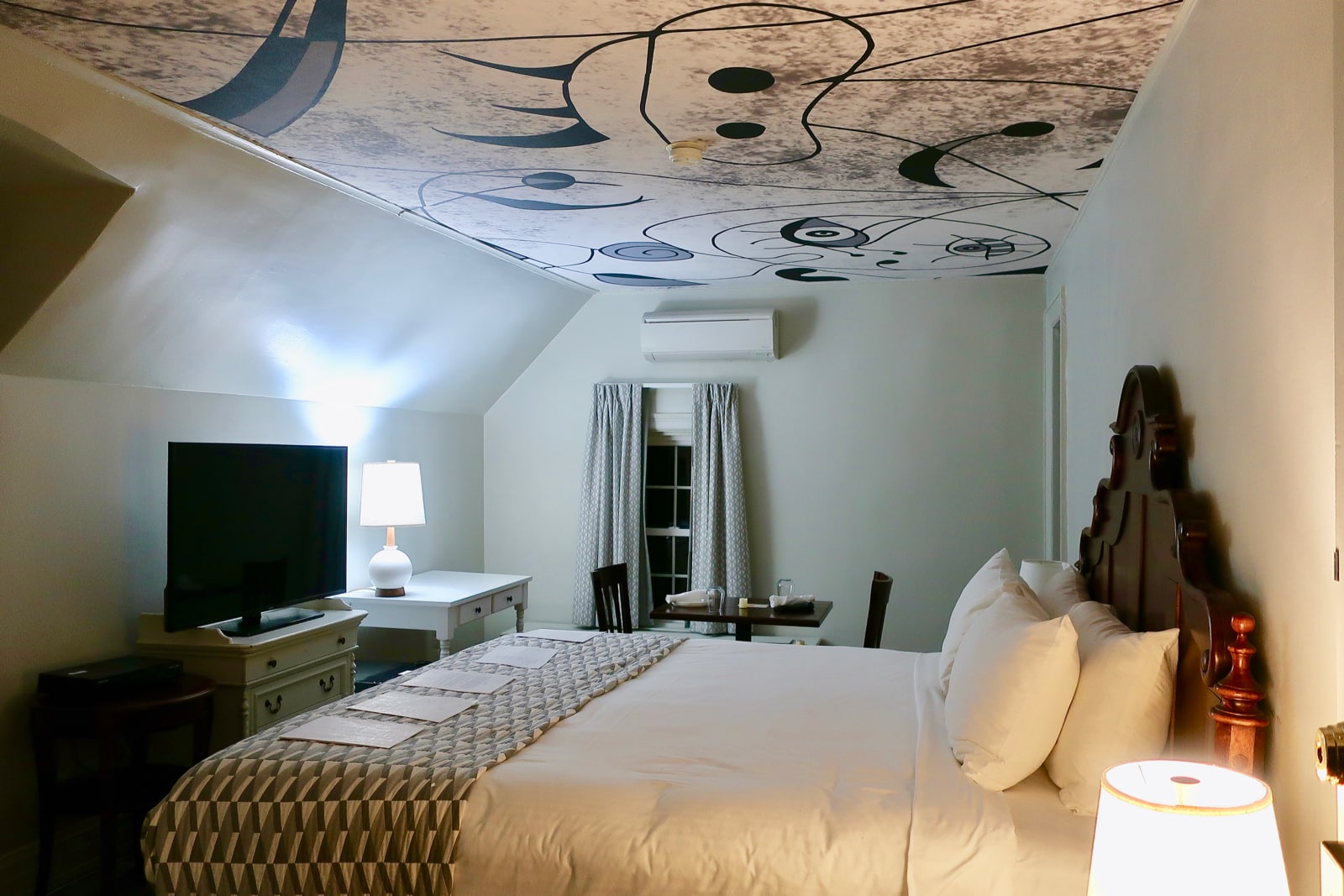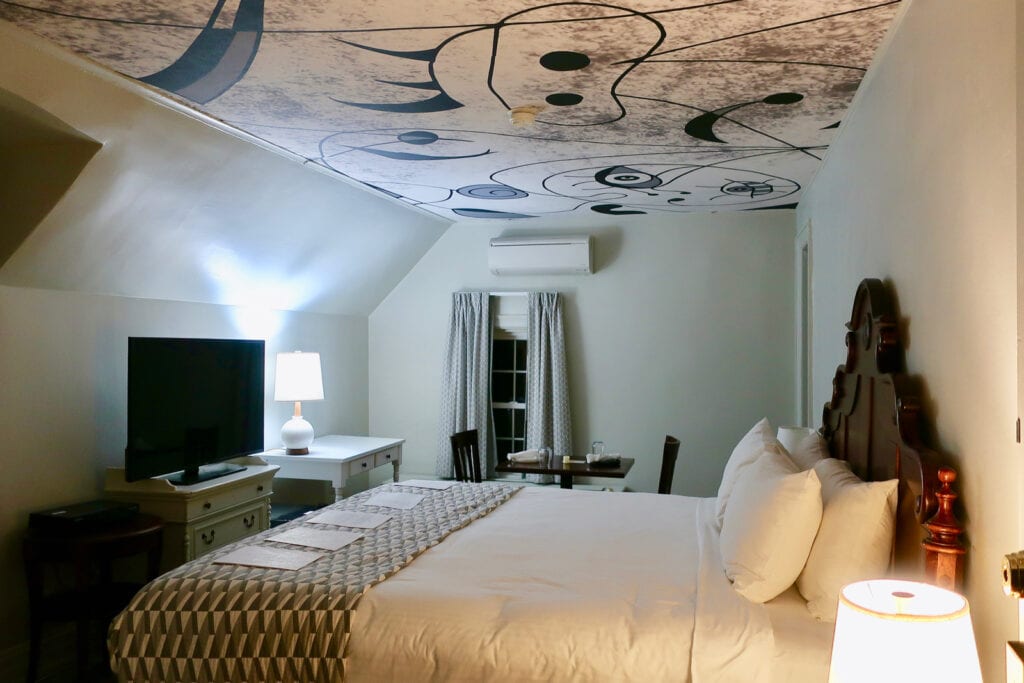 For something more romantic, ask for one of the ten Miro-art embellished chambers upstairs from Goosefeather Restaurant in the King House, an1840's white mansion within the complex.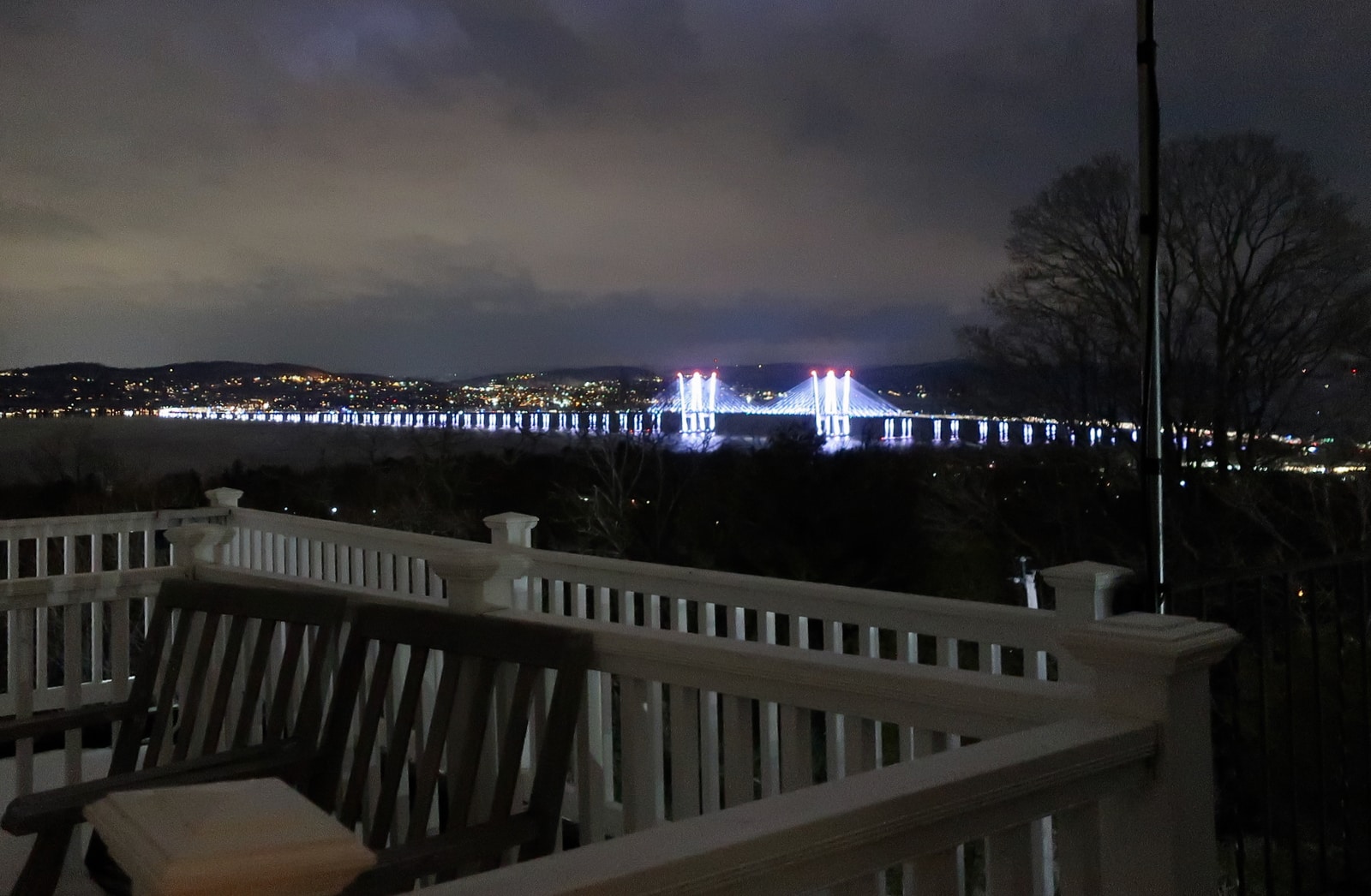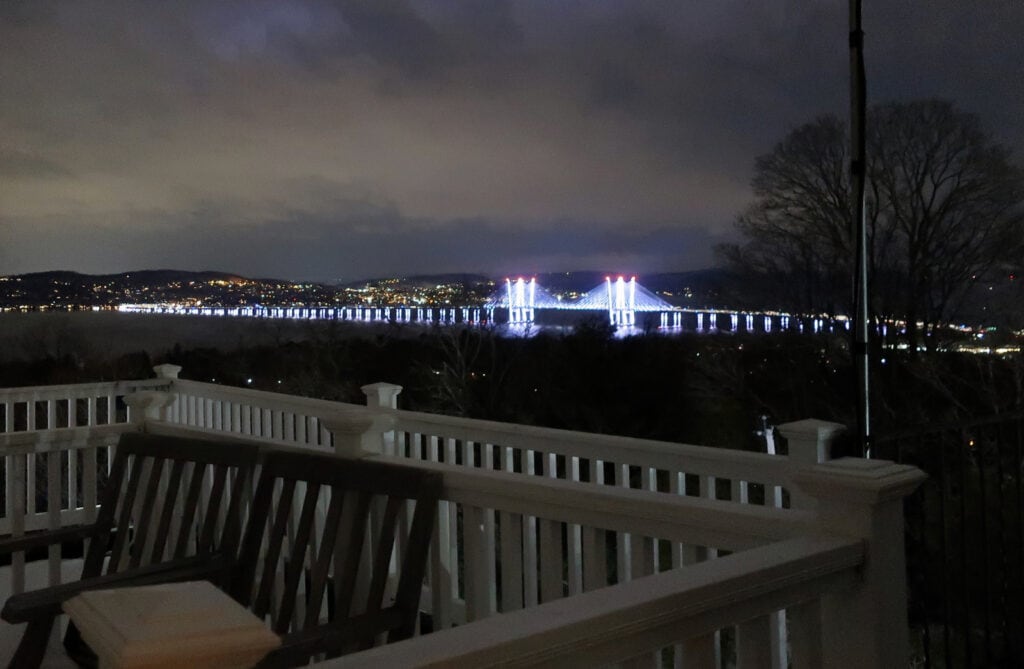 Twelve-foot ceilings, hardwood floors, four-poster beds, and renovated bathrooms add to the deluxe experience. Book one of the coveted four corner rooms, which are a bit larger and allow balcony access through French doors. From your perch, you get unobstructed views of the Mario Cuomo Bridge (formerly Tappan Zee), and Manhattan in the distance.  Rooms in the main building from$135 per night, in the King Mansion from $199 per night.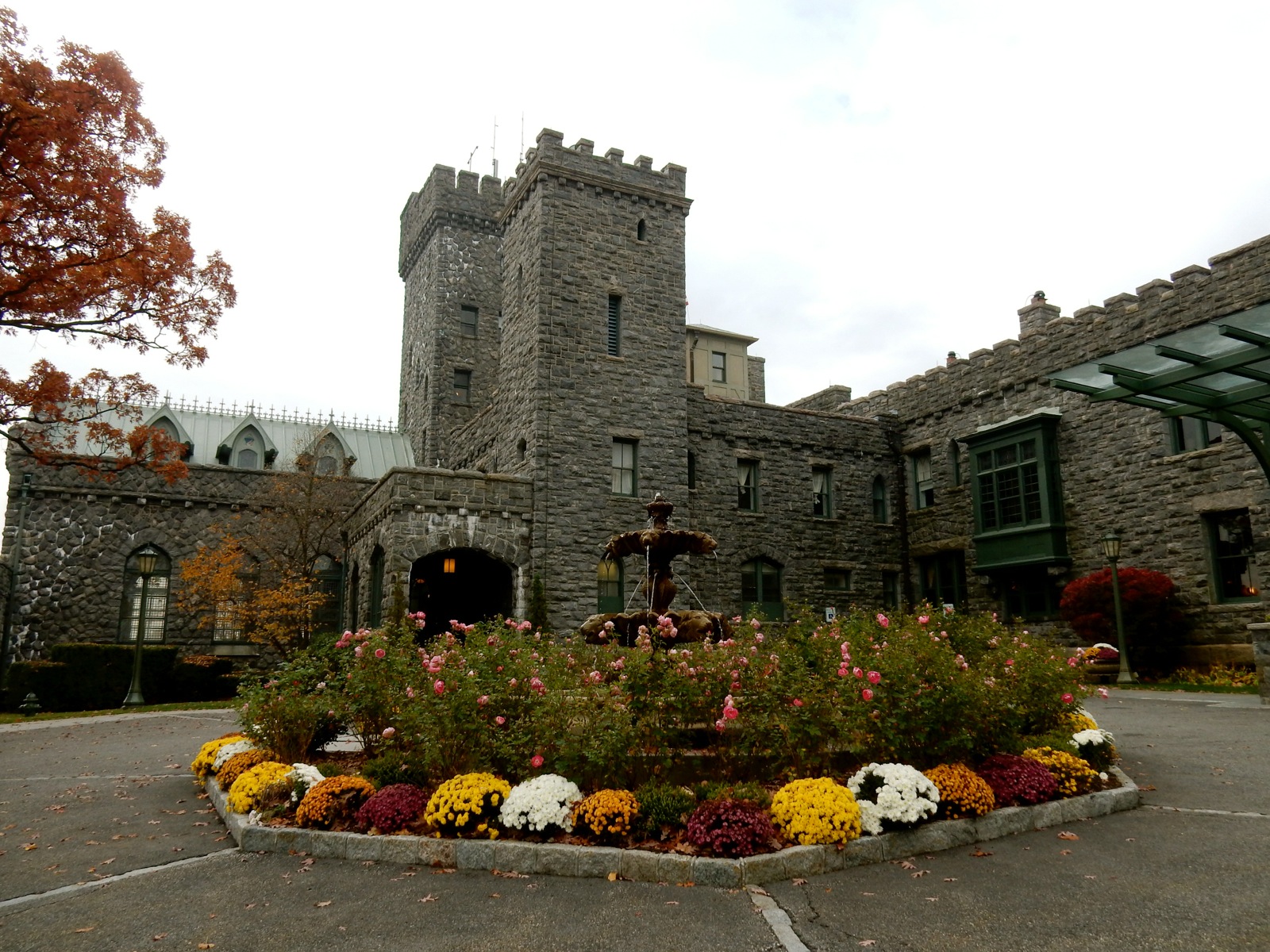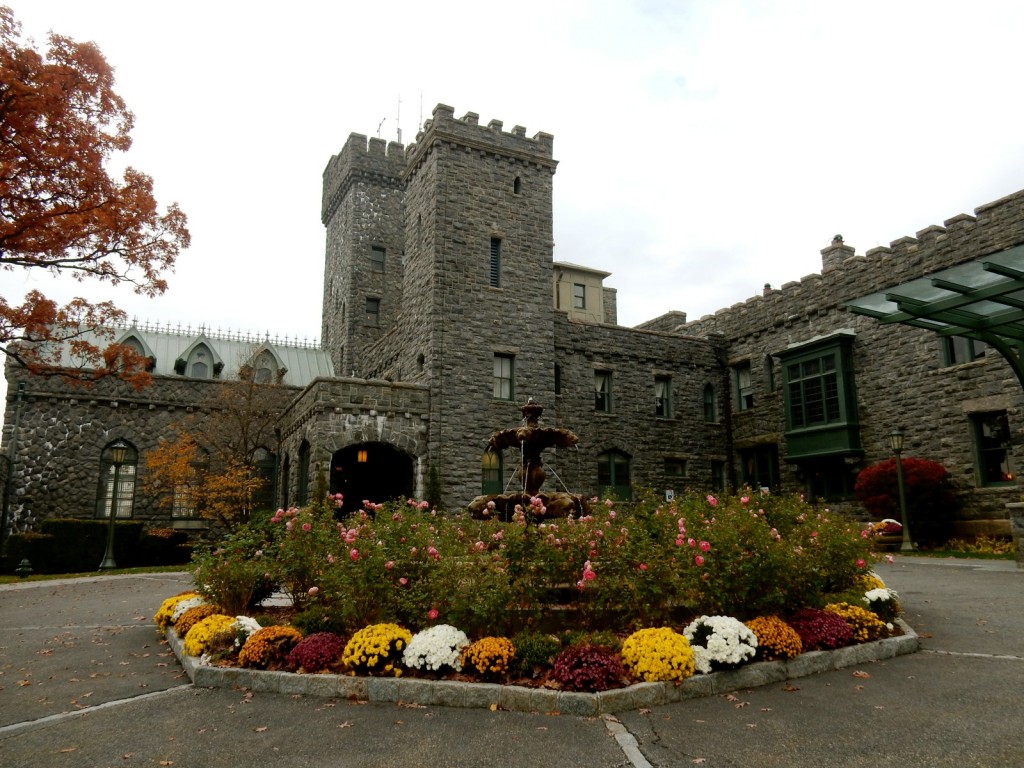 If you wish to splurge on overnight accommodations, revel in the refined luxury of The Castle Hotel. With its stone tower and cool hewn granite walls offset by cozy brocade furniture and dark wood beams, you half expect King Arthur to saunter through the door. Rates start at $309.
More Hudson Valley Weekend Getaways Near New York City: