Last Updated on July 25, 2022 by Editor
WHY GO: There's something divine about sunrise in the Mid-Hudson River Valley, over the Hudson River. Even more so from my private balcony at the Buttermilk Falls Inn and Spa.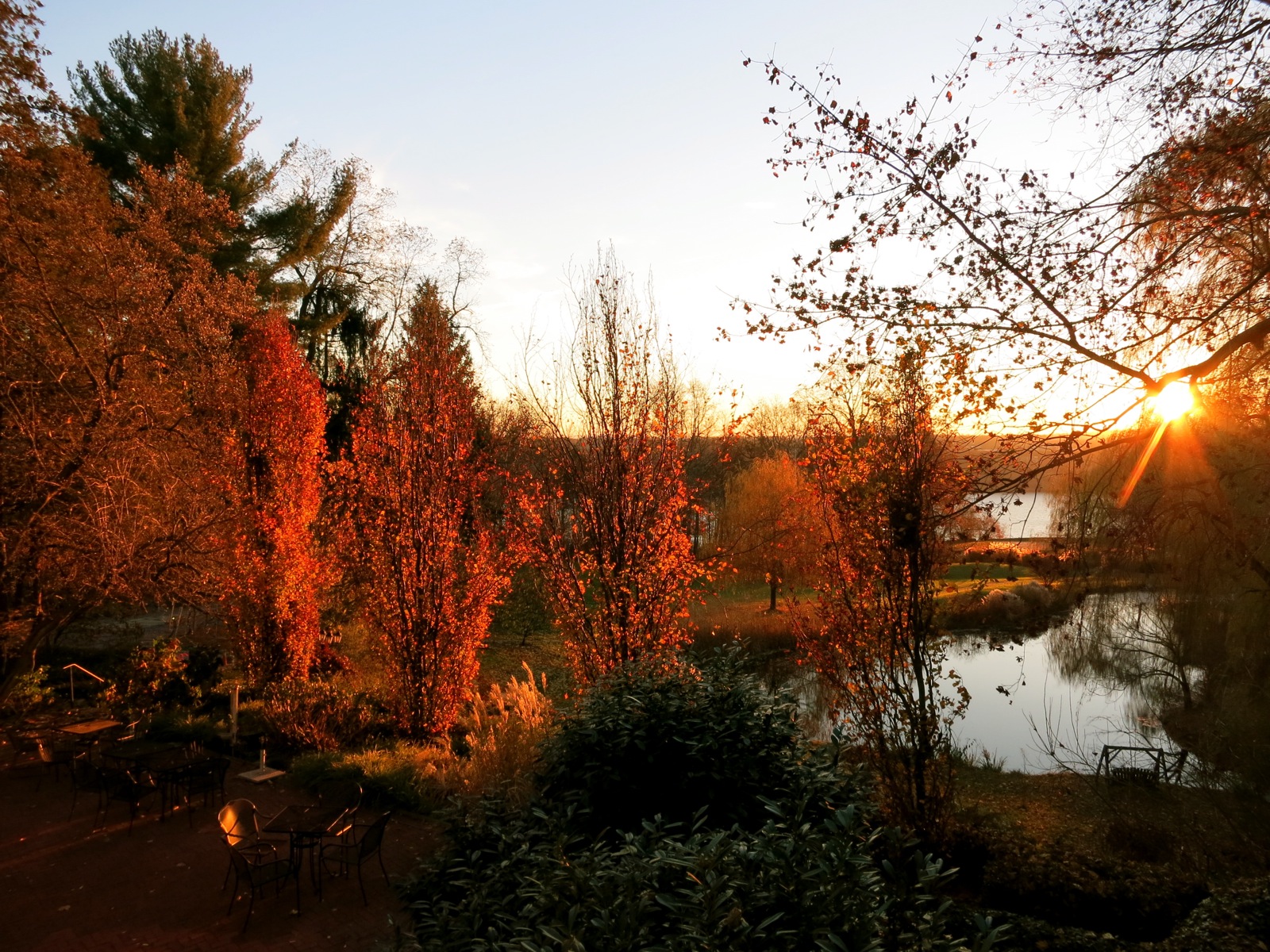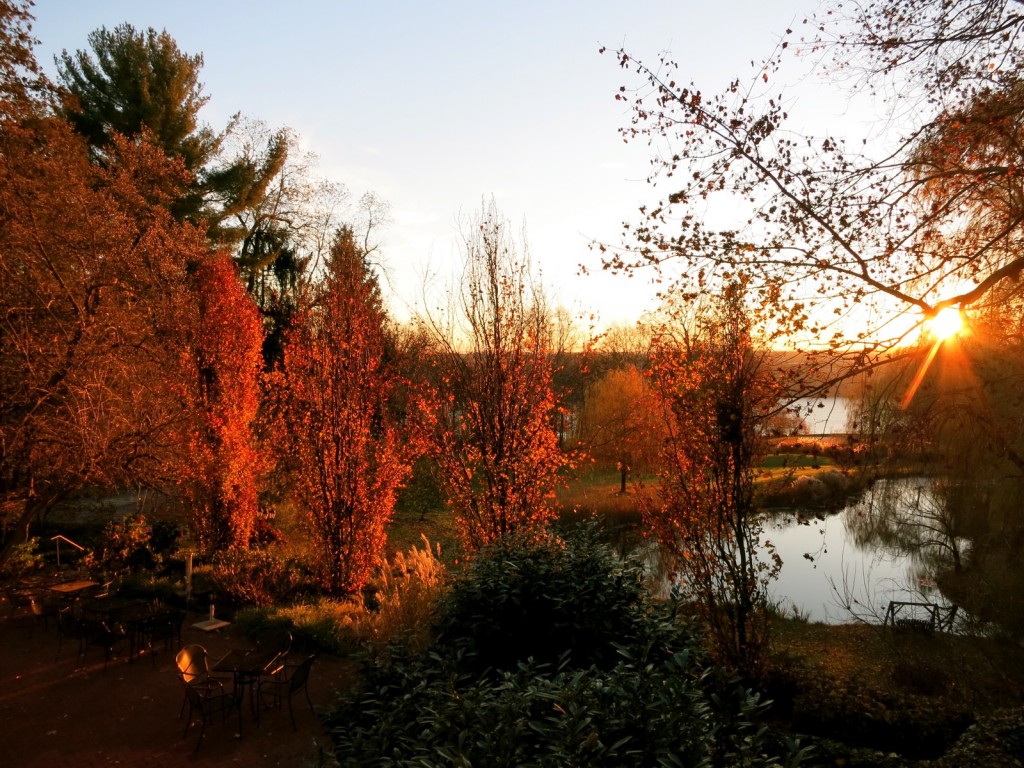 It takes just 1 1/2 hours to get here from New York City by train or car. And then, to bask in Mid-Hudson River Valley luxury and serenity. This Getaway is rare in that it is focused almost exclusively on one Hudson Valley Inn.
Yes, there are a few reasons to venture "off-campus," and we'll tell you why. But for the most part, bring a book and an appreciation for farm animals, leisurely strolls, and the simple life. Keep Calm and Carry On up to Mid-Hudson River Valley.
Things to Do In Mid-Hudson River Valley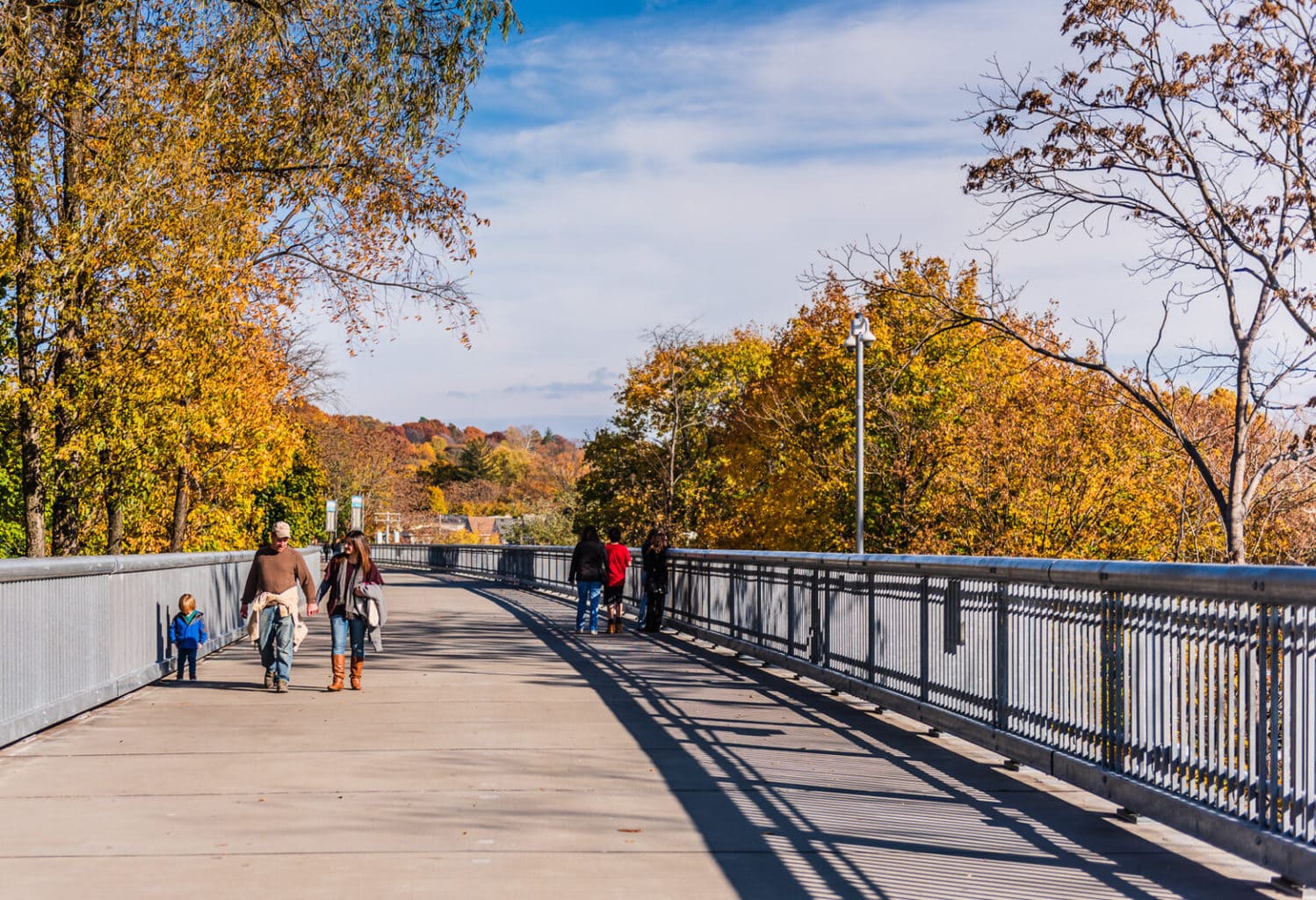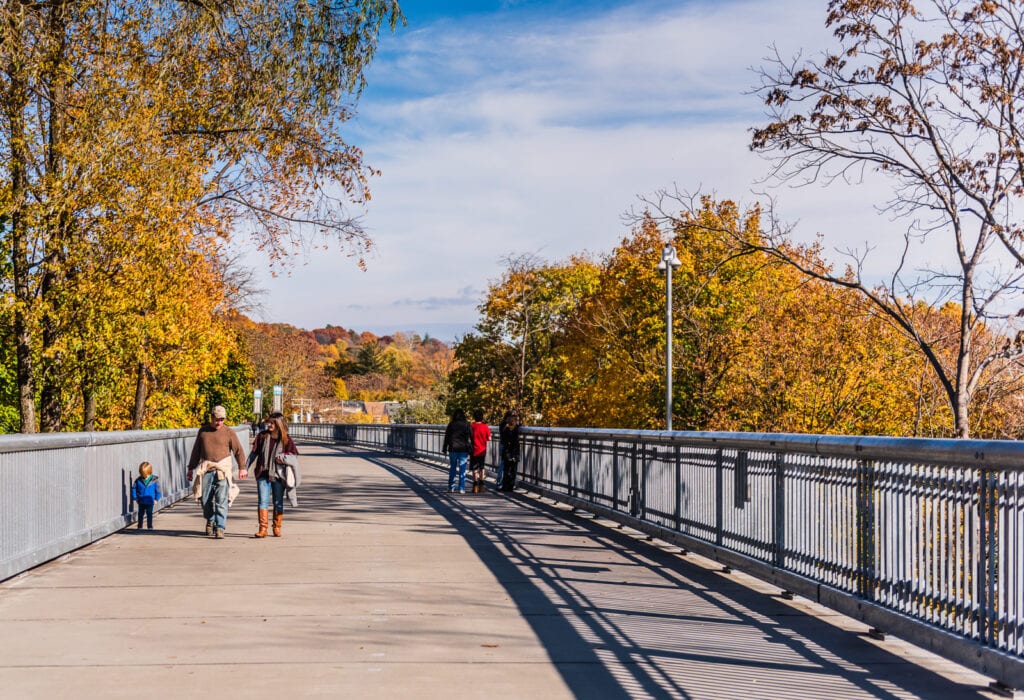 Drive a few miles north to the parking lot of this terrific linear park spanning the Hudson River. The 1.28 mile Walkway Over the Hudson State Historic Park – the longest elevated pedestrian park in the world – was once the steel Poughkeepsie-Highland Railroad Bridge that from 1888 to 1974 bore the weight of up to 3,500 freight cars a day.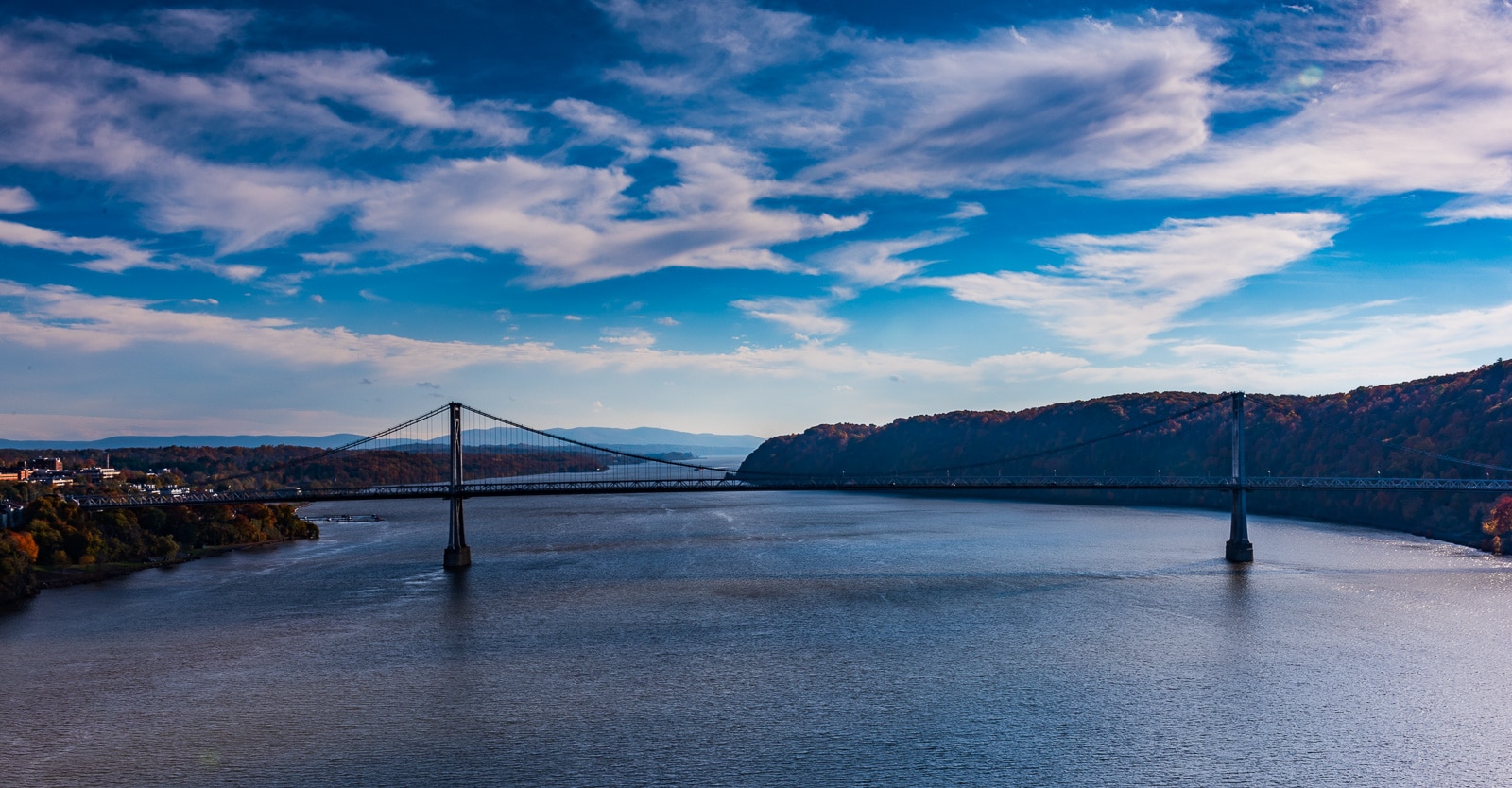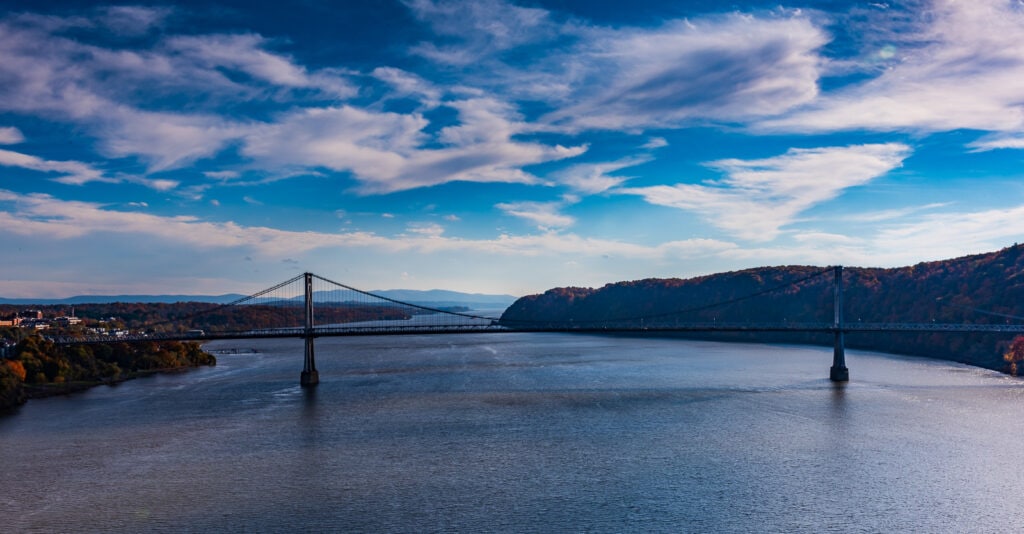 A dominant force in transporting western raw materials to eastern industrial centers, the bridge fell into decline after a fire nearly destroyed it in 1974. Transformed into a public park in Fall 2009, the bridge hovers 212 feet above the Hudson River and draws thousands of hikers, dog-walkers, new parents pushing strollers, and tourists each year.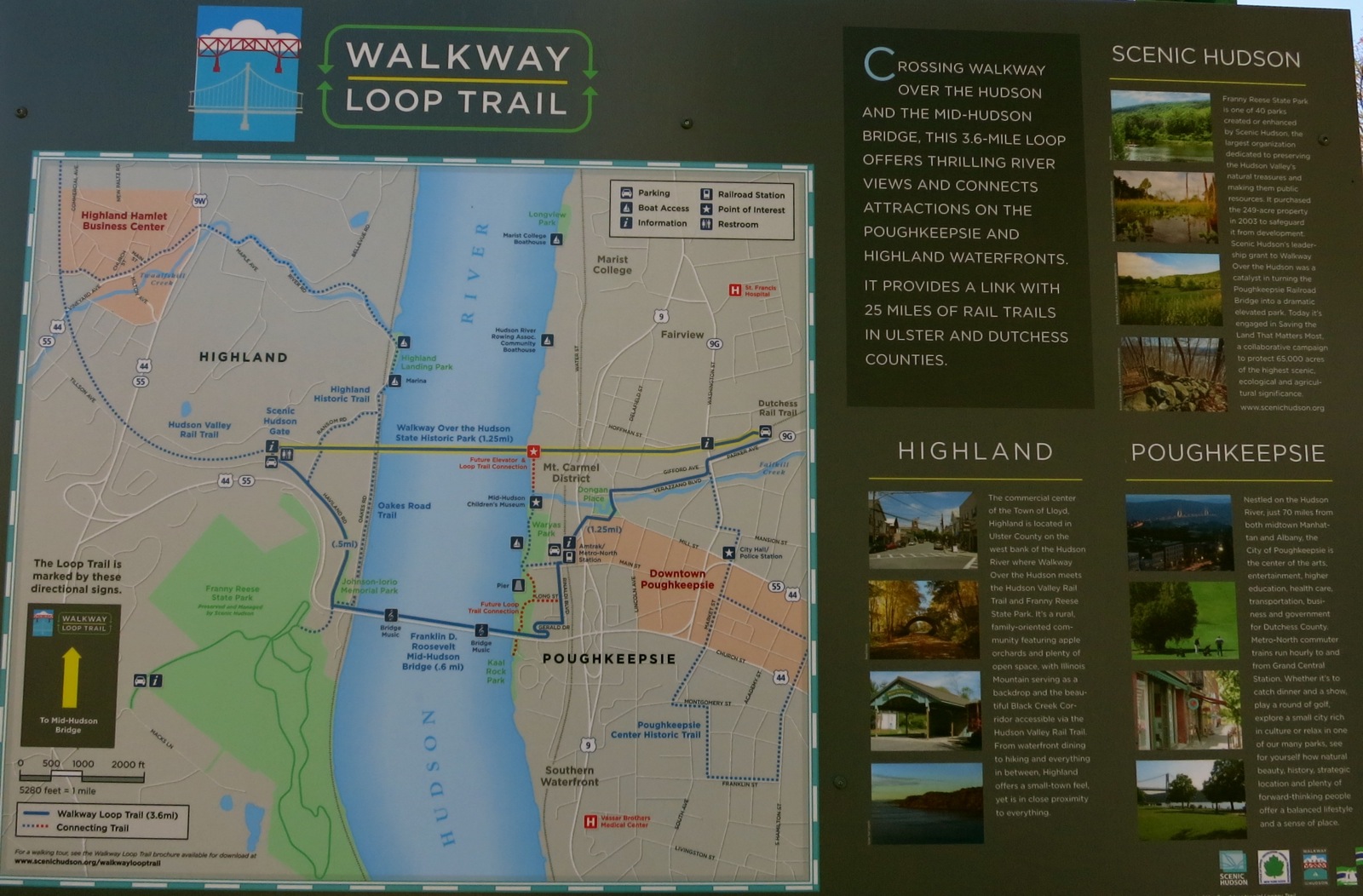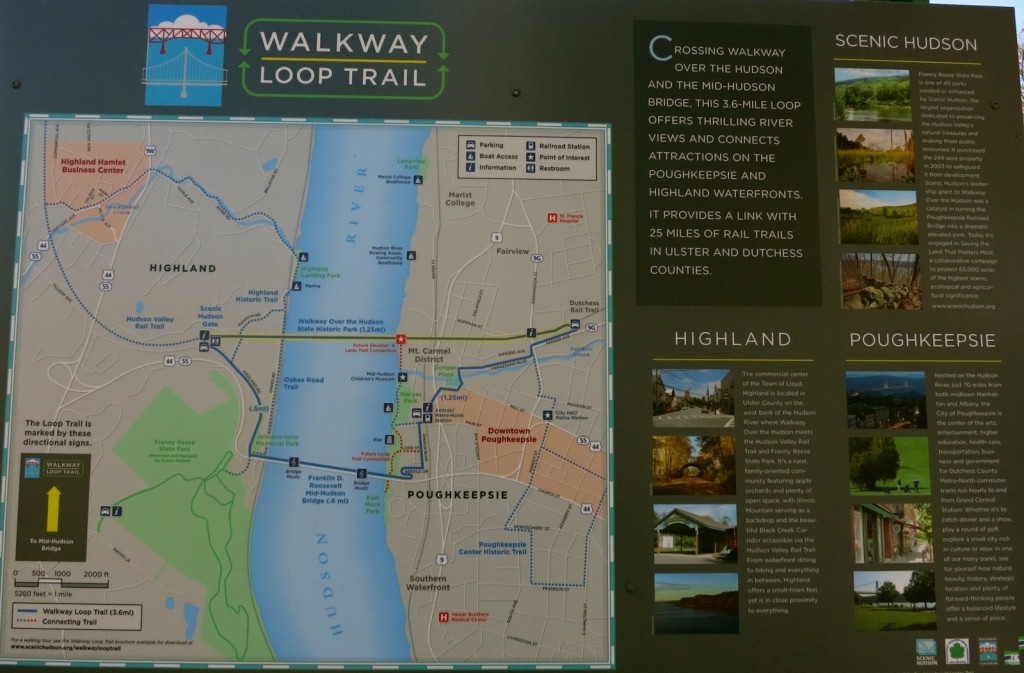 For a VERY cool, unusual experience, plan to walk the complete 3.6 mile Loop Trail that takes you over the Mid-Hudson Bridge as well.
There, you'll find "listening stations" for the amazing and unusual Bridge Music, created by symphony composer, Joseph Bertolozzi. This creative musician used mallets and hammers on various parts of the bridge, assigned "notes" to each sound, and then arranged incredibly mesmerizing percussive movements.
This experimental music was so positively received, Bertolozzi was asked to repeat this project at the Eiffel Tower! If by chance you miss listening to the music at its source, you can hear Bertolozzi's music, as well as purchase it here.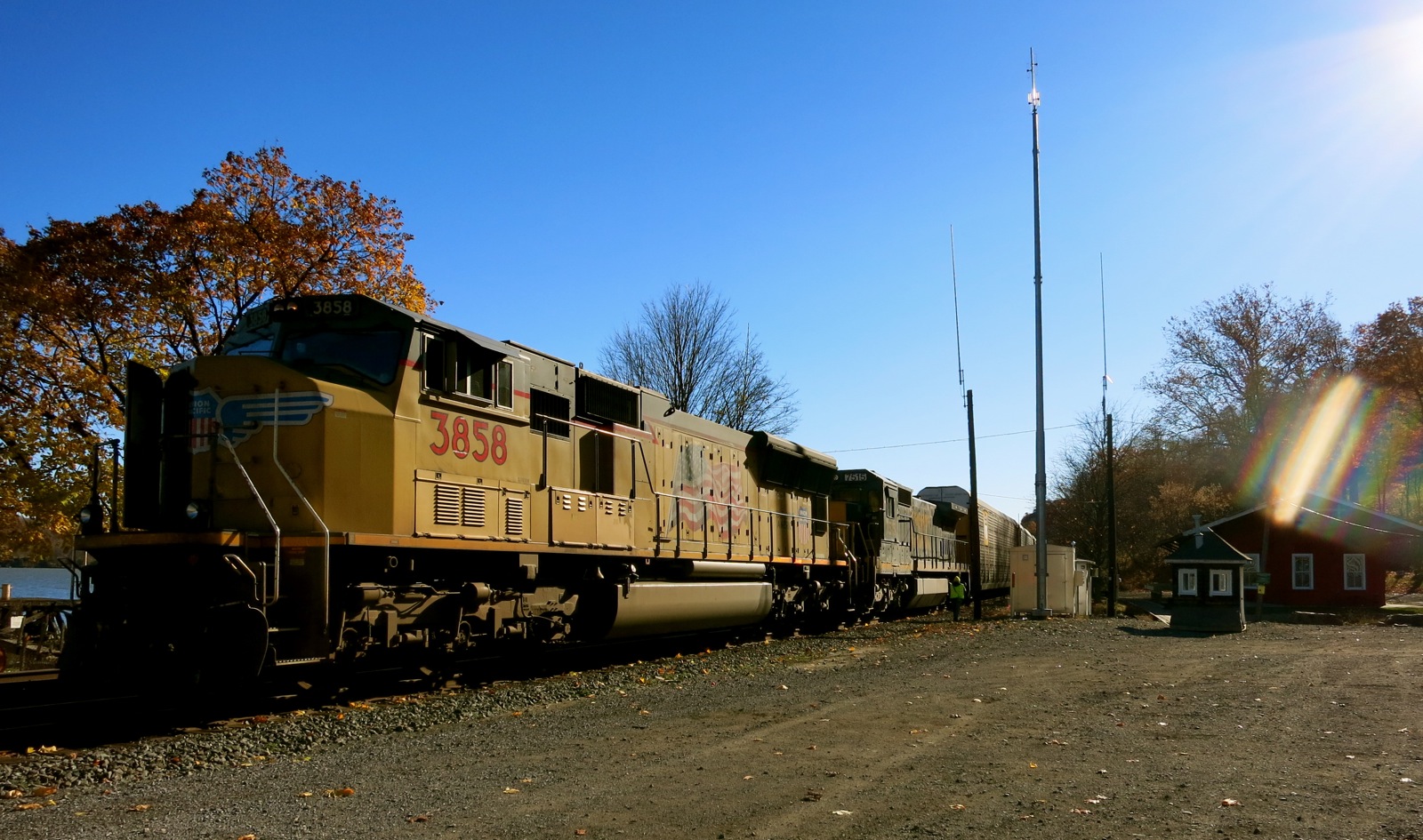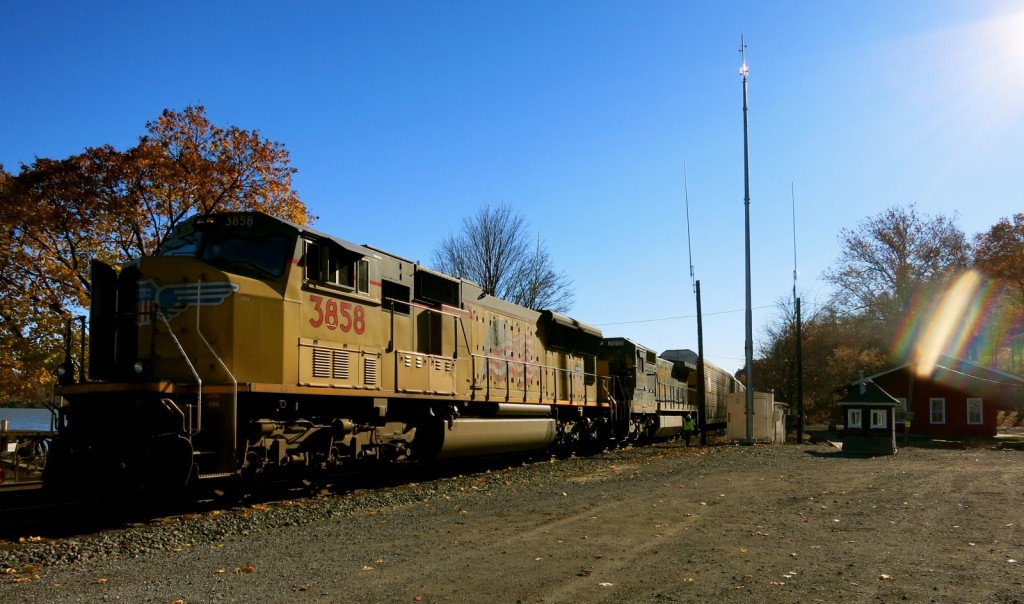 DRIVE: Rural Mid-Hudson River Valley Backroads
Buttermilk Falls is just outside of the tiny hamlet of Milton, NY. Take the back-roads to Milton's tiny red train station, now on the Historic Register. You just might be lucky enough to see a Union Pacific Freight train idling there, "re-crewing."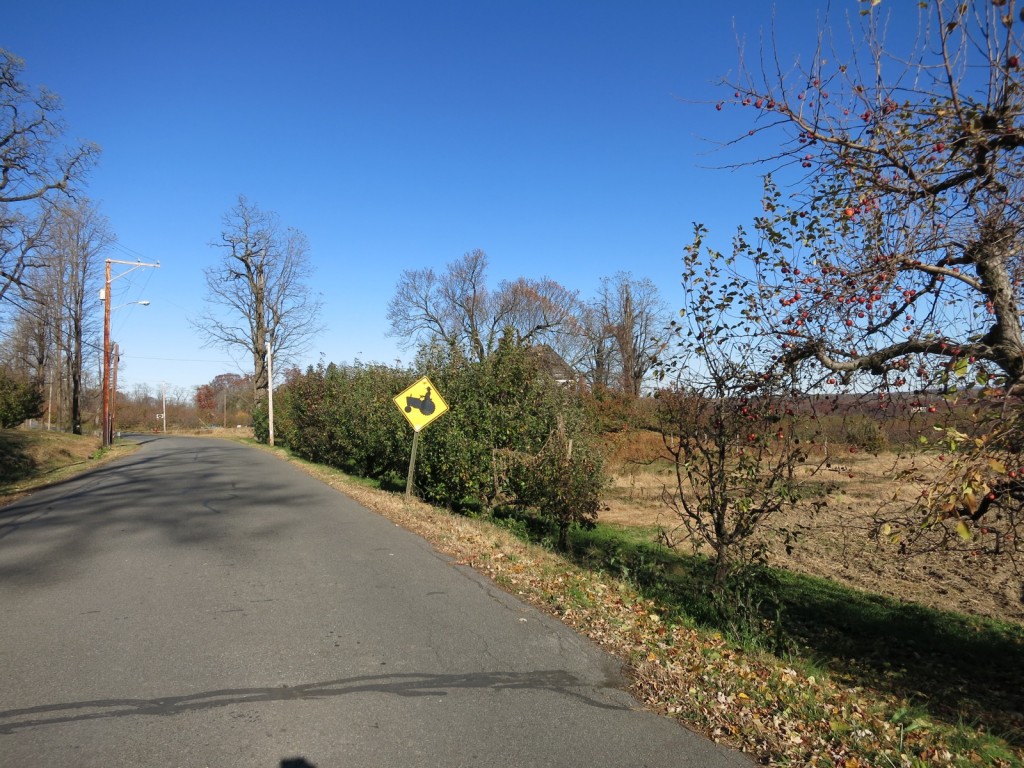 On your way, you'll probably get stuck behind a tractor or two. But take joy. This rich farmland is the source for most celebrity kitchens and chefs in New York City and environs.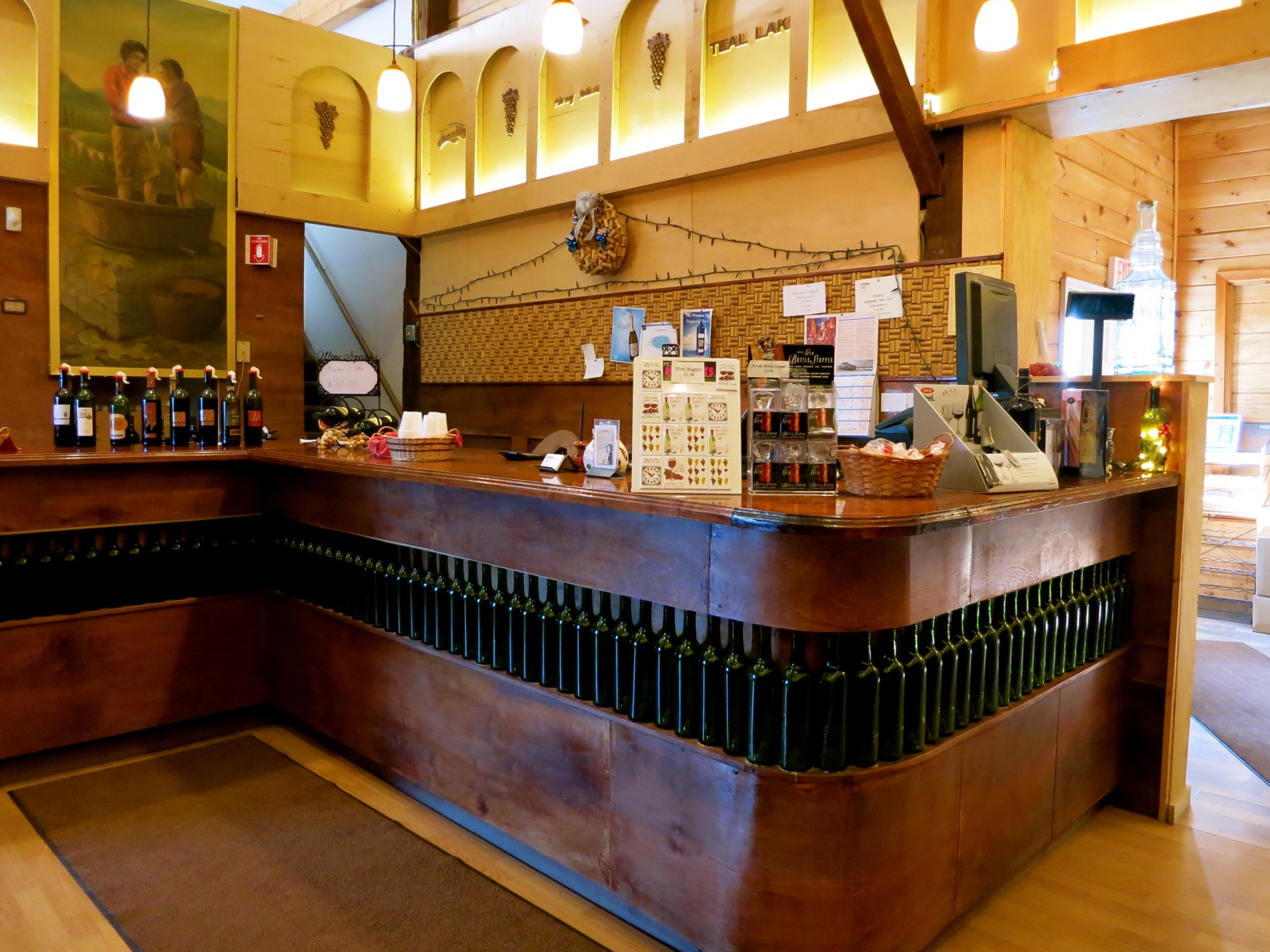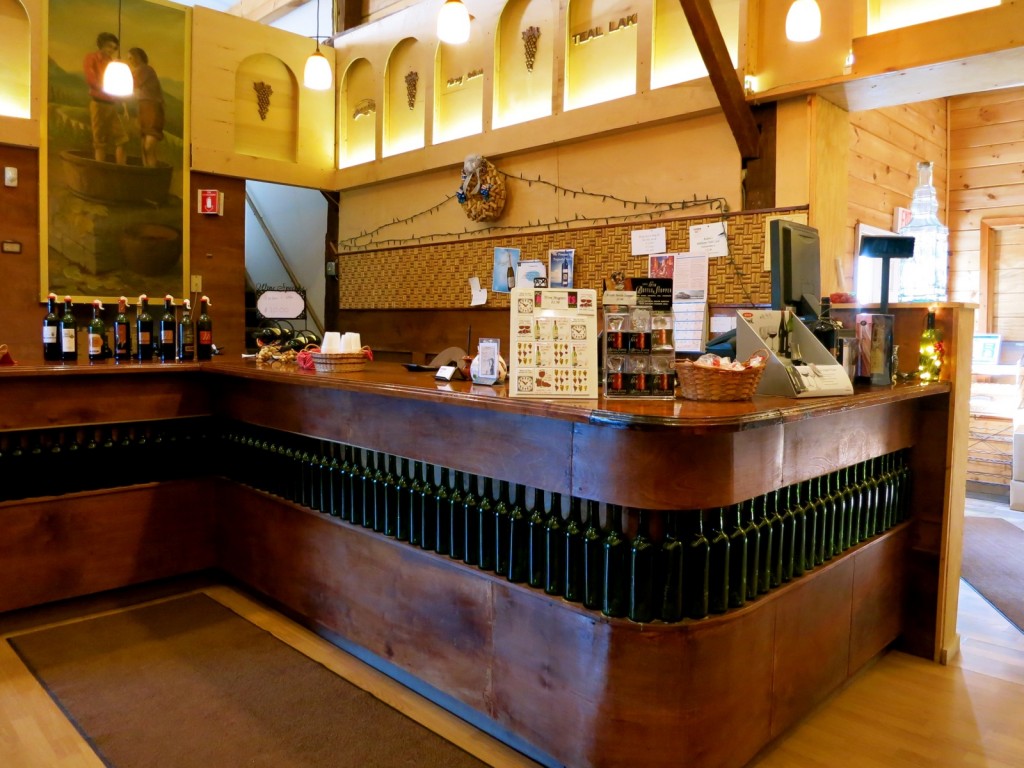 VISIT: Kedem Winery Tasting Room, Marlboro NY
Originally owned by Joseph Herzog, brother Michael Herzog still owns this maker and purveyor of Kosher wines – the main competitor of Manischewitz-sweet grape-juice for the holidays. Kedem's Tasting Room also serves as a shop for all makes of Kosher wines from Alfasi to Carmel and others. It's the perfect place to stock up for the High Holidays and Passover.
Purchased by Jewish merchant, Luis Gomez, in 1714, this proud stone and brick home is "The Oldest Jewish Dwelling in North America." Learn the history of the man whose family fled from the Spanish Inquisition and who purchased 6,000 acres of land on the Hudson River as a trading post. Open April 6- Nov. 9th, Wed-Sun. Tours 10:30, 1:15, 2:45, $8 adults, $3 kids.
Best Restaurants In and Near Buttermilk Falls Inn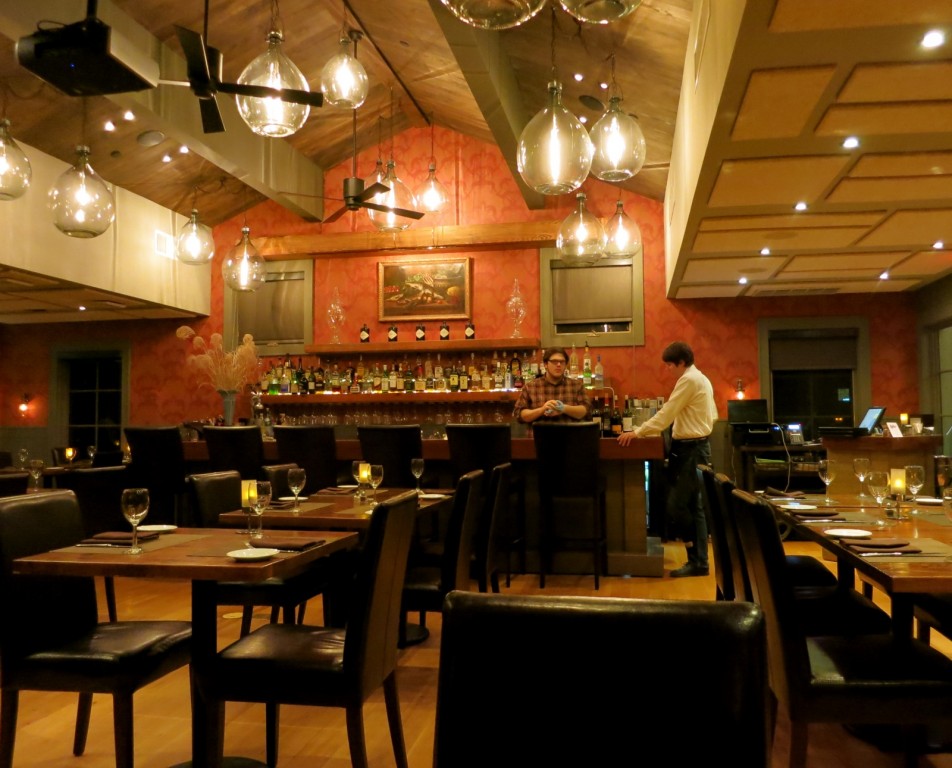 Steps from Buttermilk Falls Inn's front door and named after the owner's son, this is true garden-out-back-to-table dining. Or at least hyper-locally sourced. Chances are you'll see at least a portion of your meal poking from the ground on your walk around the property.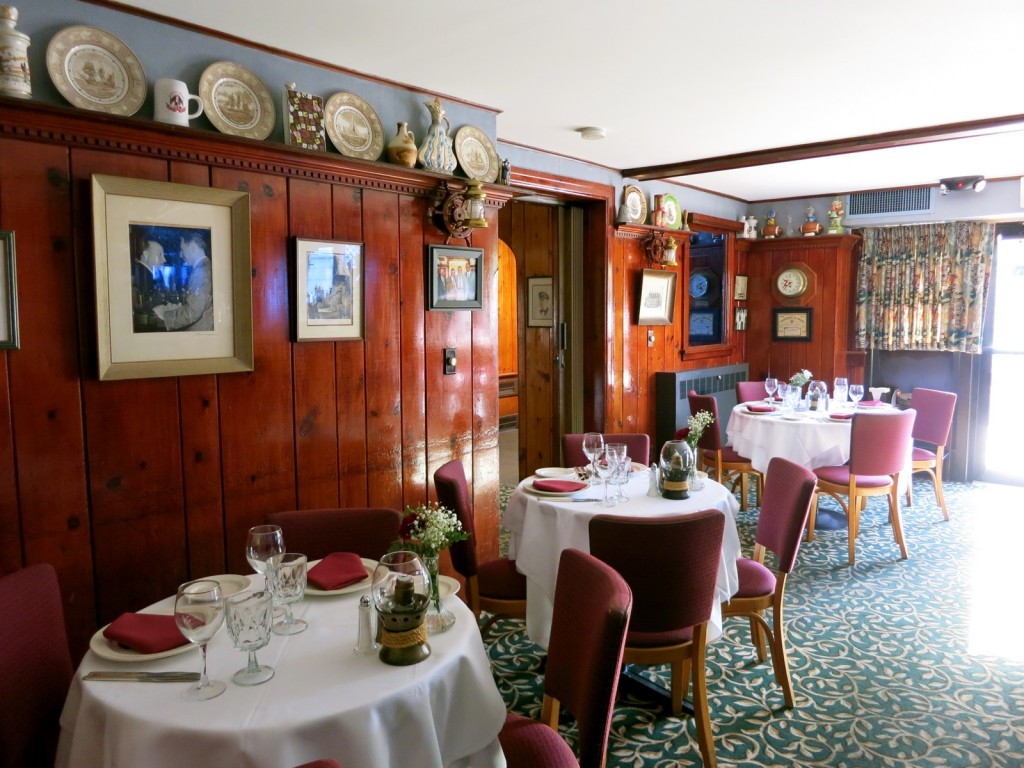 Massive glass globes hang like hot air balloons from barn rafters. Candlelit tables are rustic-chic. And waitstaff are attentive and helpful. Try a toothsome cocktail – like Sex on the Farm ($13). It combines moonshine, liqueurs, and juice for a refreshing buzz.
The iconic Ship Lantern Inn occupies a building that dates to the Revolutionary War. But that's just one of its charms. Known as one of the best very fine dining restaurants in the Mid-Hudson River Valley, Ship Lantern was established in 1925 by John Foglia – one of four founders of Chef BoyArDee. His grandson, A. Michael Foglia, now presides over a menu rich in local meats and produce.
Try innovative dishes like Graham Crack Crusted Calamari with Serrano chile scented apple jelly and Hudson Valley Breast of Chicken Scarpariello roasted with Wild Boar Sausage. This restaurant may look touristy and dated from the outside. But inside, cuisine is a revelation.
Buttermilk Falls Inn, Milton NY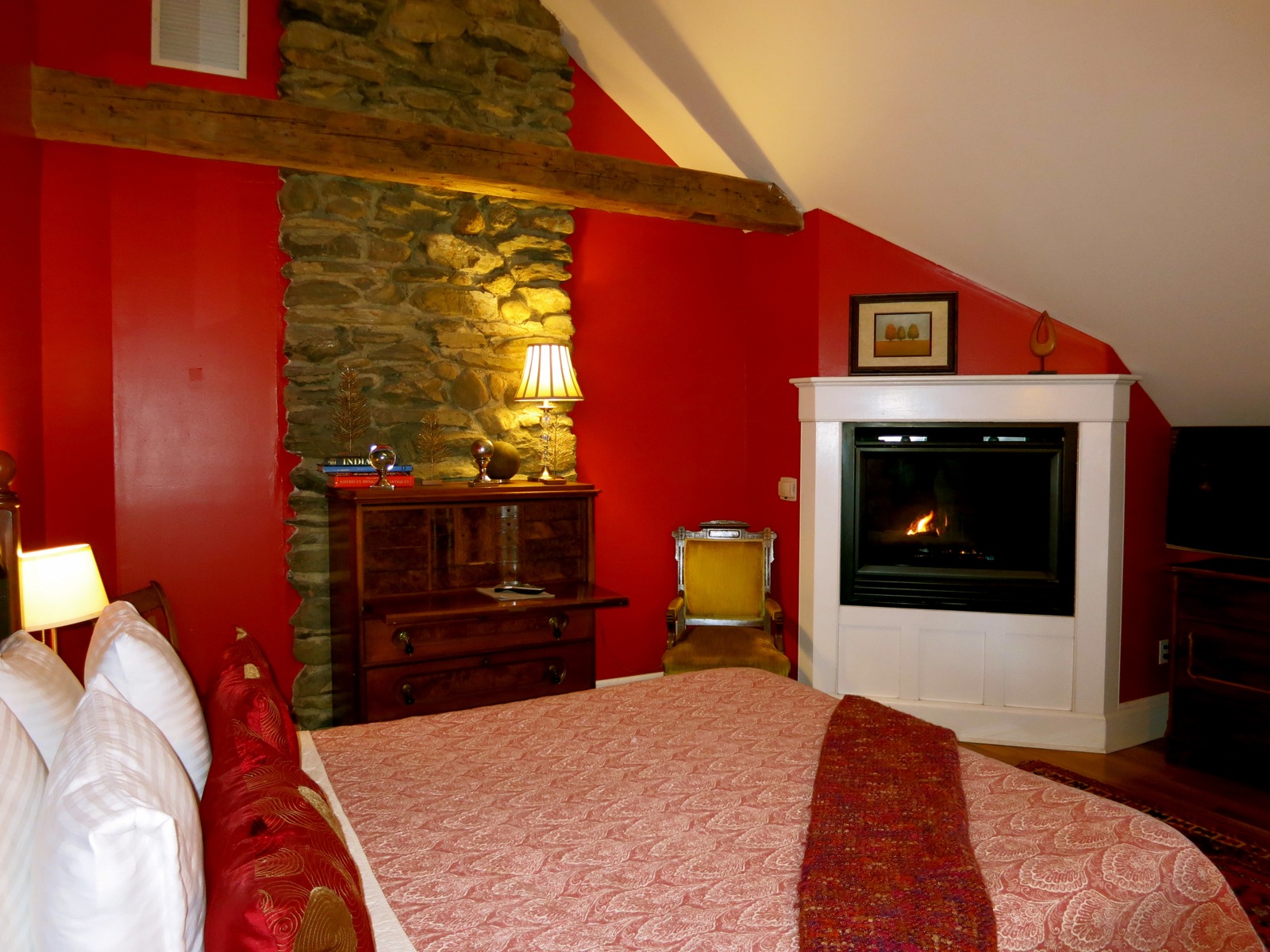 Featured on the National Geographic "Stay" list, the eco-friendly Buttermilk Falls Inn, which juxtaposes renovated 1700's cottages with abstract contemporary buildings on 75 acres, is no longer that "secret" hideaway 90 miles from Manhattan on the west bank of Hudson River.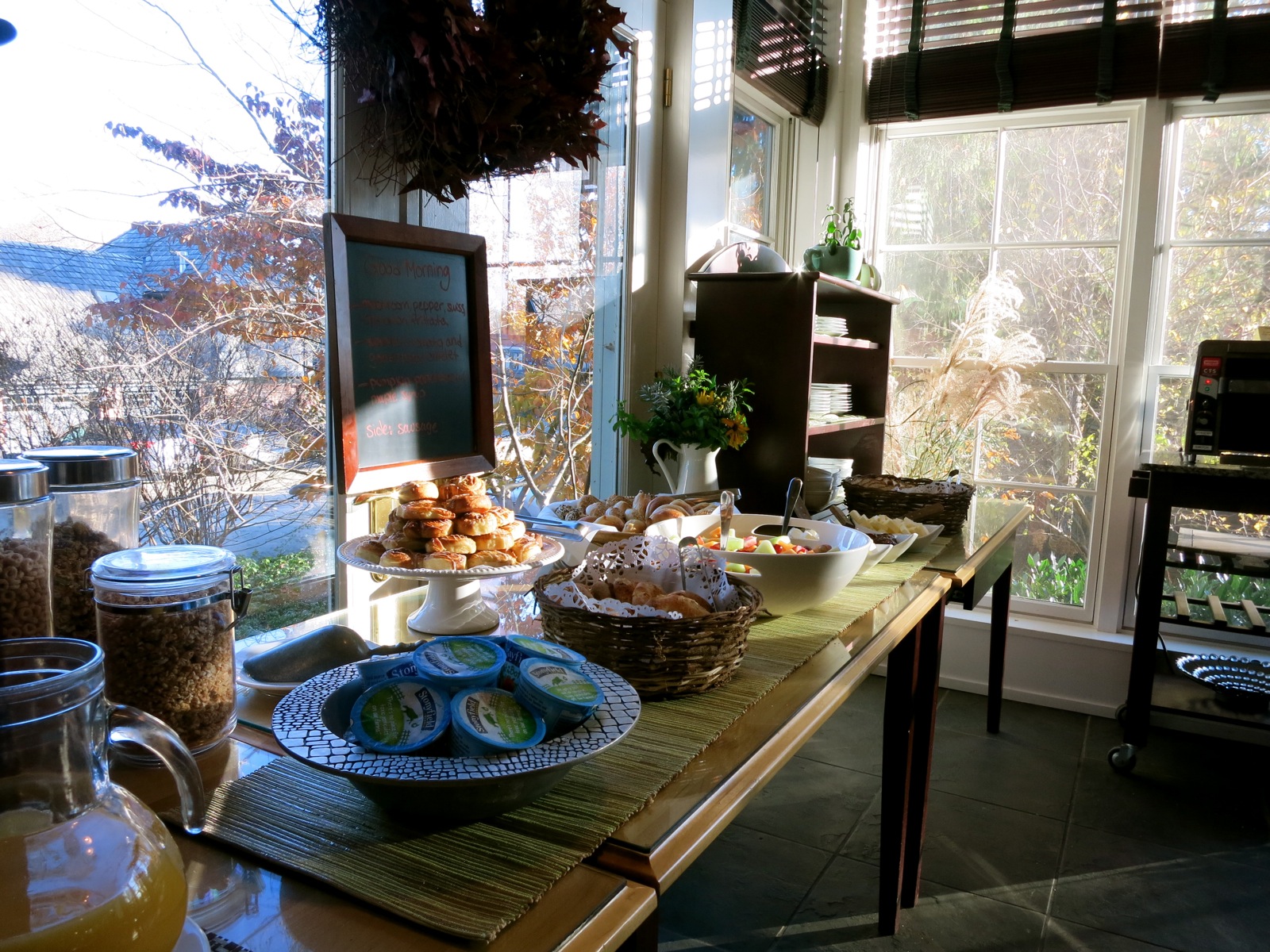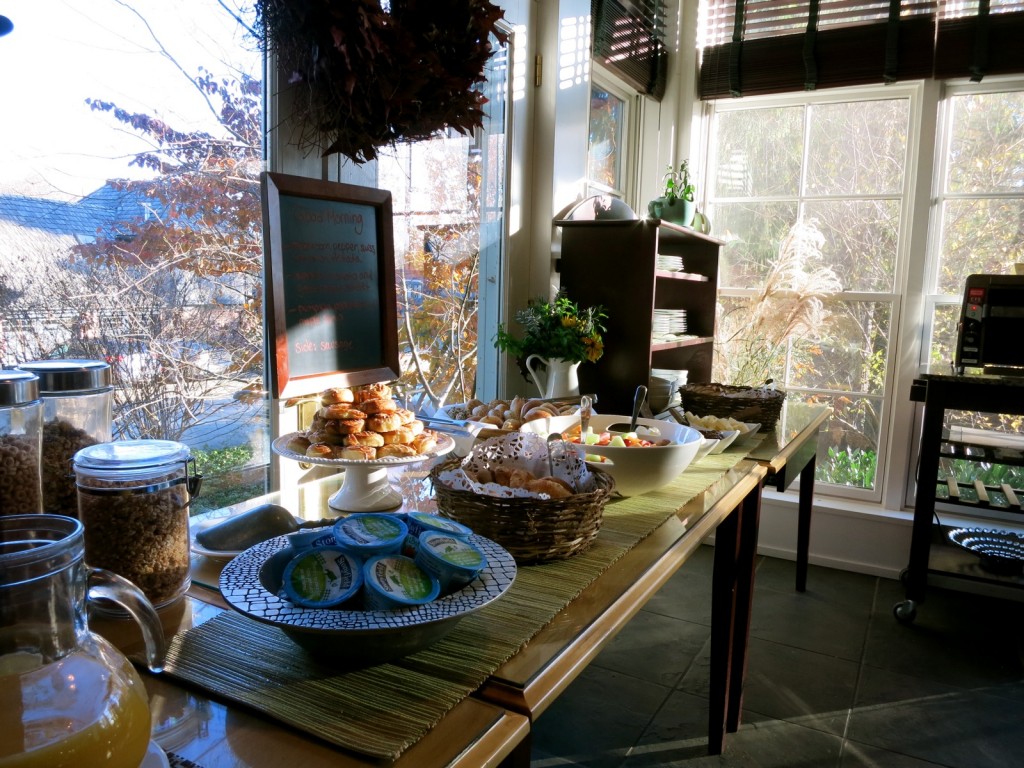 In the 40's and 50's, what's now Buttermilk Falls belonged to famed Black soprano and education activist Dorothy Maynor, and her husband, Reverend Shelby Rooks (two suites are named after them). In 2004, real estate developer Robert Pollock purchased the farm and turned into an 11 room inn.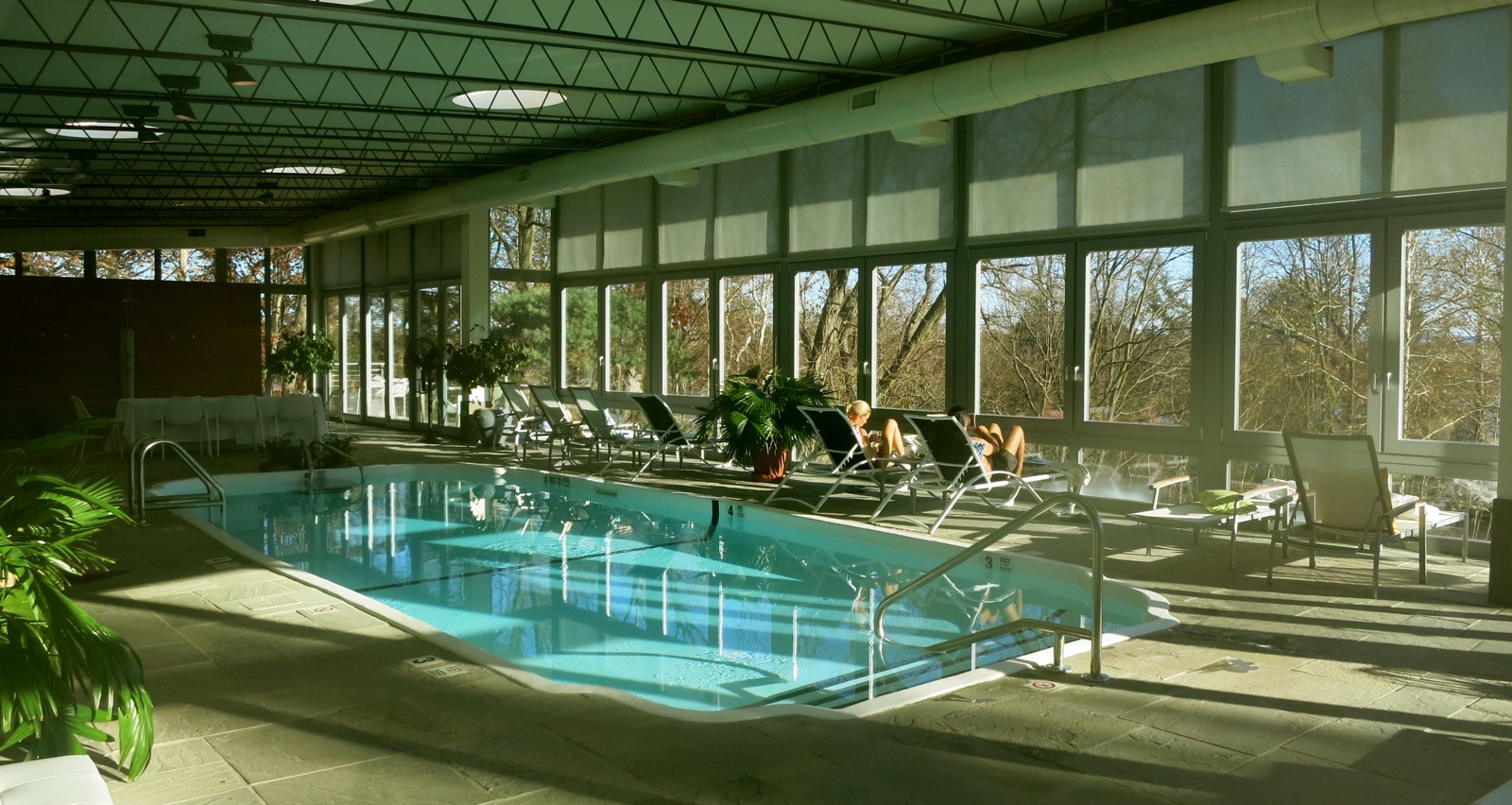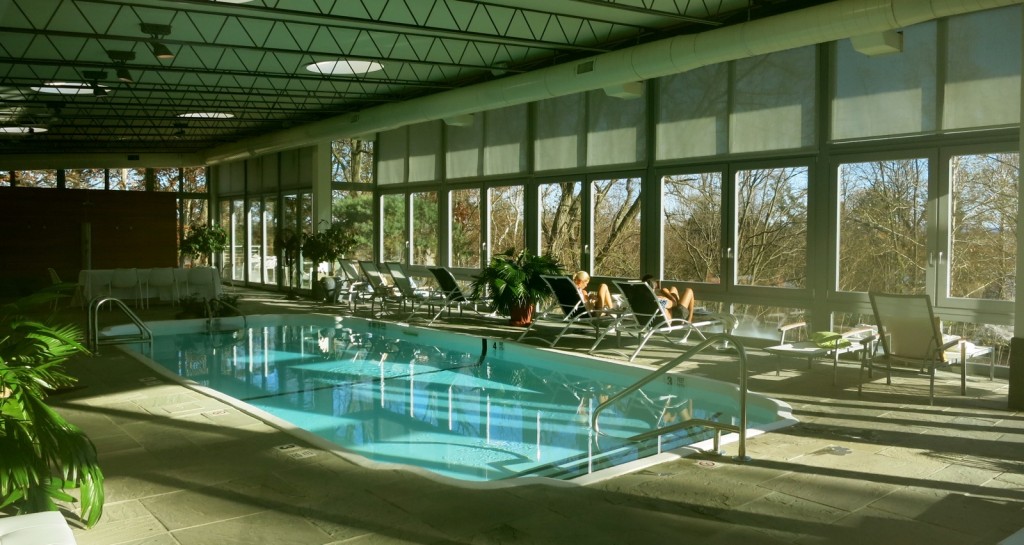 Get a Spa Treatment, Swim, or Read By the Indoor Pool
** Be aware that as of Spring 2022, the Spa Building and Pool are closed for renovations. Opening TBD.
The full-service spa is housed in a modern glass and steel structure steps from the main house.
Sure, you can exert yourself in the "endless current" indoor pool, but plenty of guests bring along a book or pile of neglected newspapers. They camp out in one of the poolside lounge-chairs to just chill out and remember what enjoying life was all about. $35 Day Pass per person, $50 Per Couple, includes pool, sauna, steam room, use of robes, access to grounds.
Stroll the Grounds
An invigorating stroll (or snowshoe hike) around the Buttermilk Falls Inn property rewards you with the pleasures of river and farm. Watch for friendly Angora goats, voguing llamas, Alpacas and cuddly miniature donkeys as well as a bunch of laying hens (fresh eggs in the morning), beehives (creamy honey) and sizable organic garden on your way.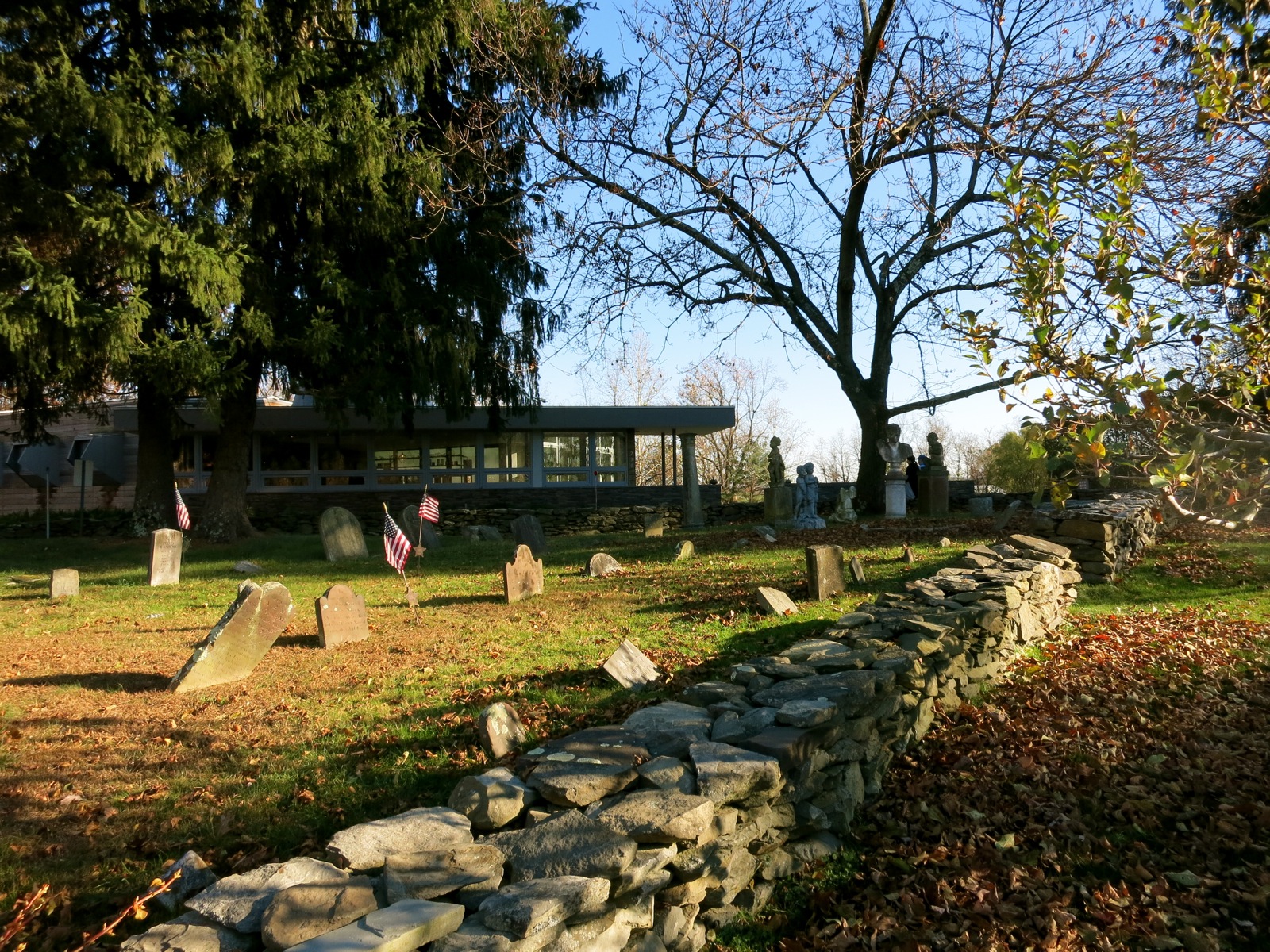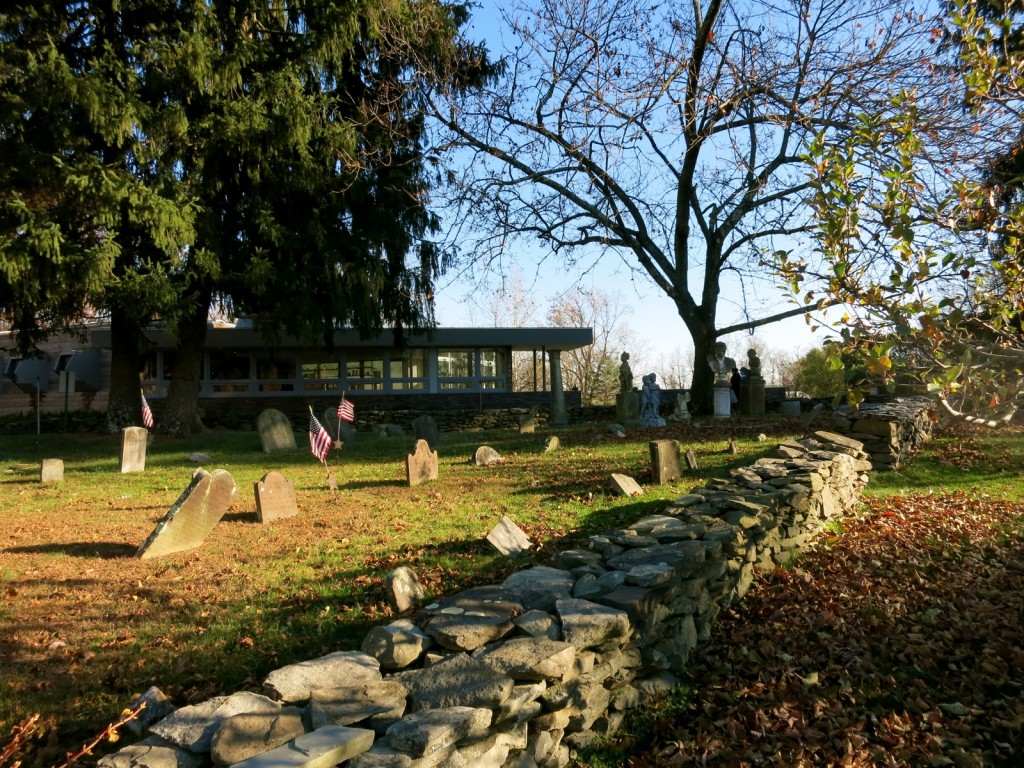 Gravestone Rubbing
There's a small, historic Cemetery on Buttermilk Falls grounds, adjacent to the spa. This final resting place harks back to the time when Leonard Smith owned the property in the mid 1700's. One headstone marks a couple born in 1709 in "Plymouth Colony," buried here in 1800.
You can stay in a cushy room in the main house for $250- $400 per night. (Depending on season). Or, rent a hidden two bedroom stone cottage perched right over the water $750-$1,000/night. Rates include a two-hour afternoon tea with small bites, and a hearty gourmet farm breakfast.