Last Updated on
The Getaway Mavens take pride in finding the most obscure, insider'y, behind the scenes places in the Northeast USA, and this year was a bonanza! Herewith find 50 Under the Radar Attractions in the Mid-Atlantic.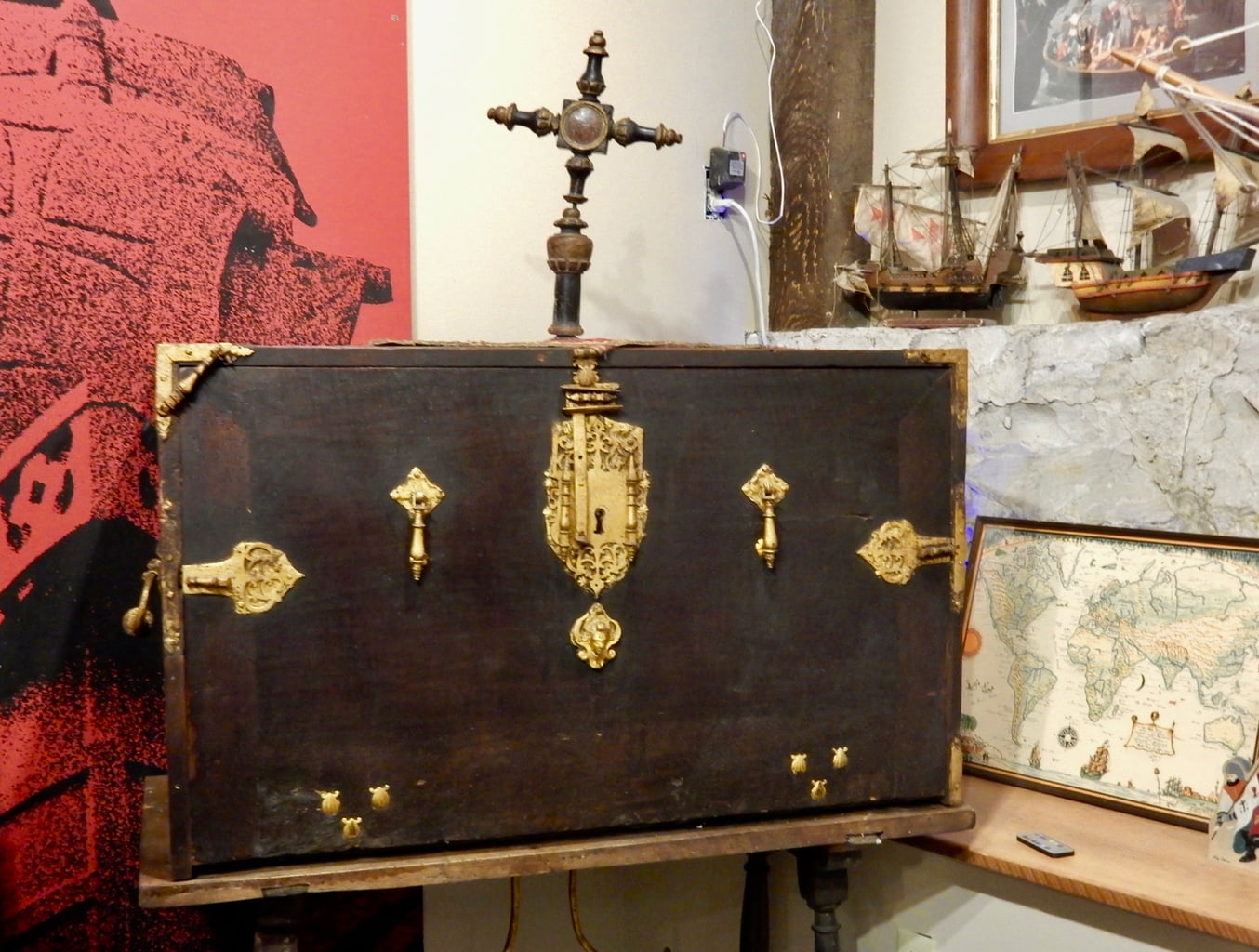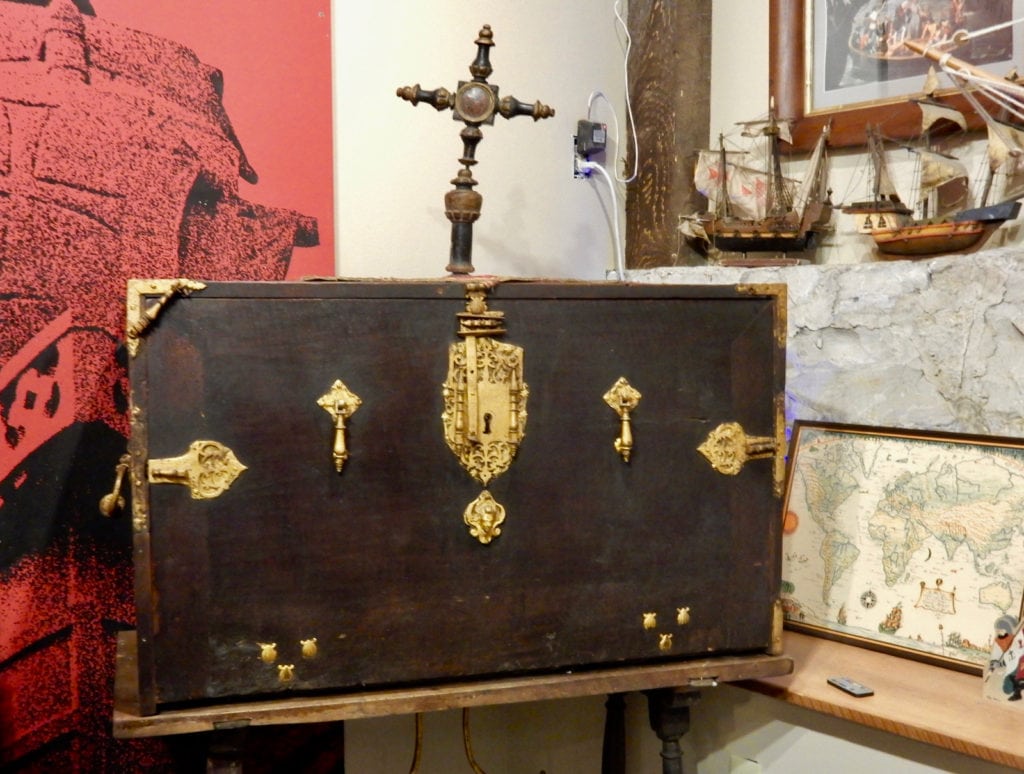 See Harleys being made, gape at the travel desk and land-claim cross that belonged to Christopher Columbus, learn about our country's first anti-government rebellion (hint; in 1794), discover some real Brigadoons, peer at George Washington's actual dentures, enjoy high tea in a mansion while a classical quartet plays, dance the night away in the famed Spanish Ballroom, and so much more. If the following list is not enough, check out former roundups in this Huffington Post piece, and this one from last year.
PENNSYLVANIA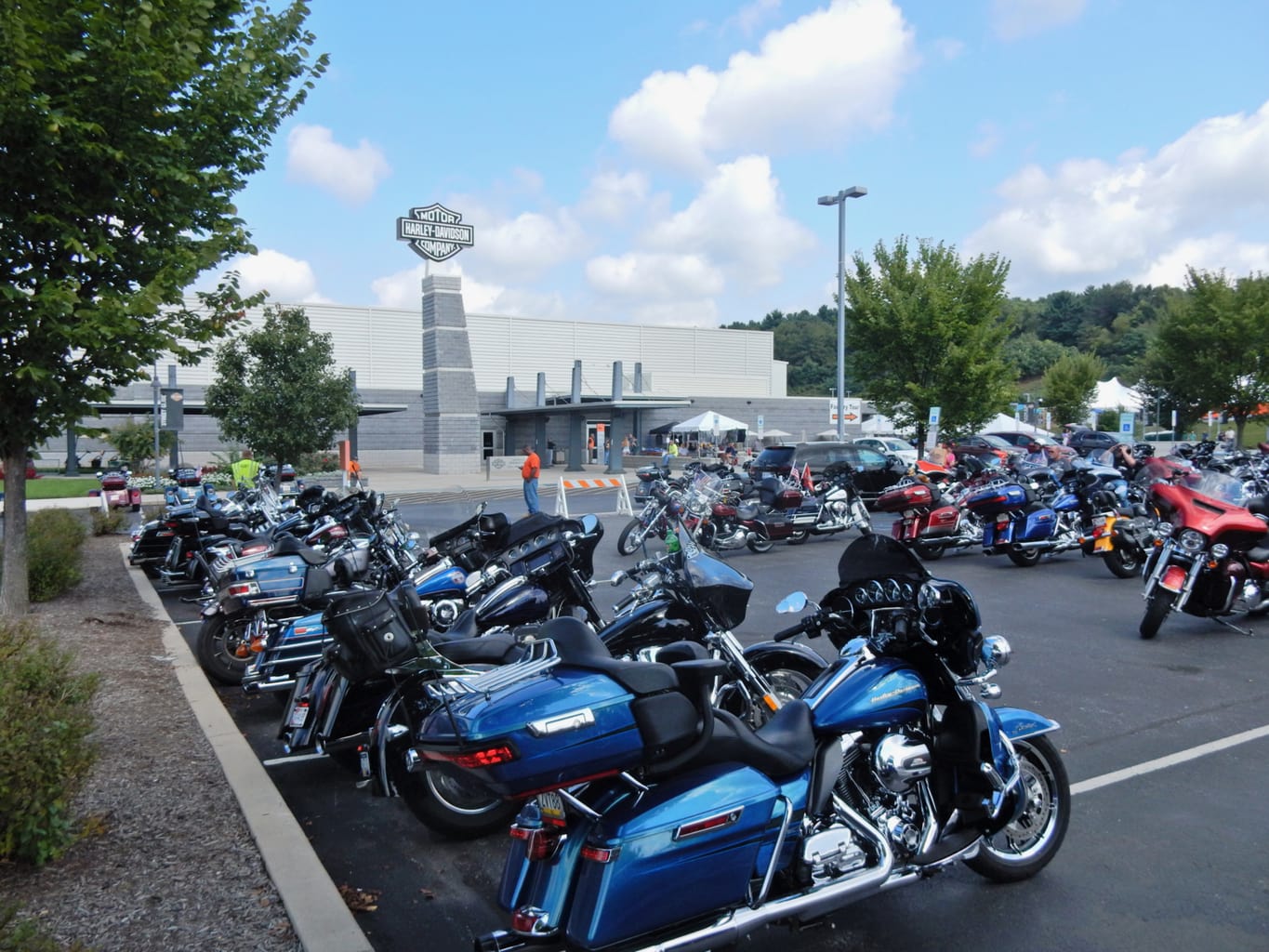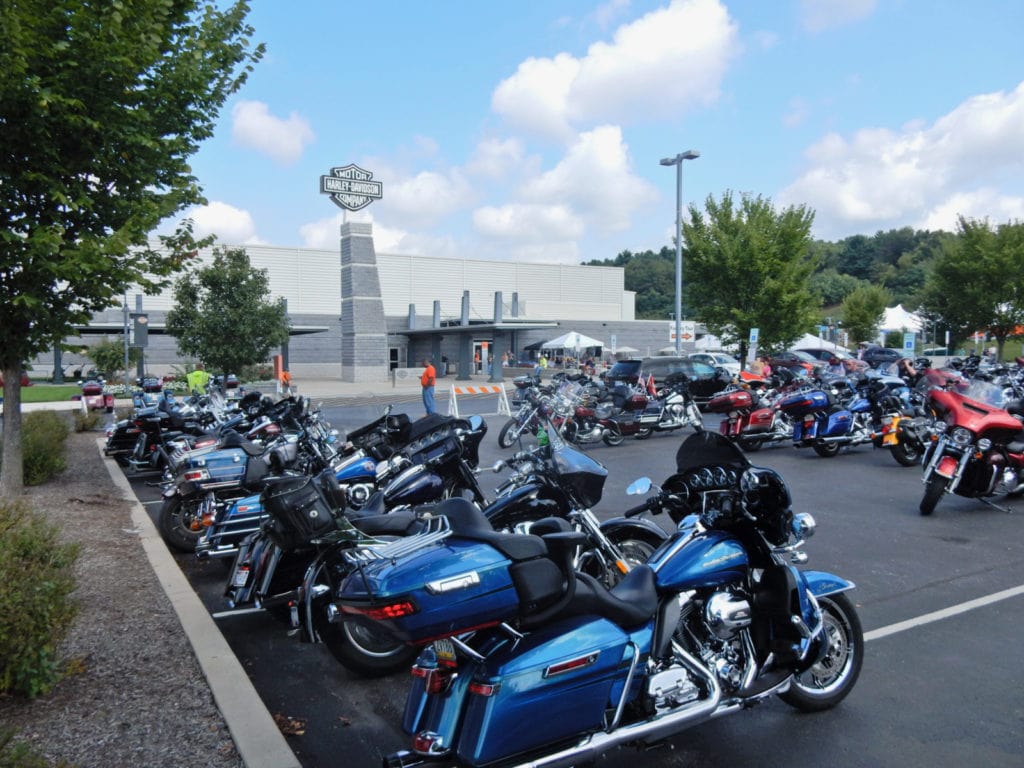 Plan to tour the Harley Davidson Plant (Touring, CVO's and Trike motorcycles). Even if you're not into motorcycles, it's thrilling to witness large-scale robots working in concert with humans to create distinctive icons of the American road.
A free one hour self-guided tour through the buzzing, beeping factory gets you up close to literal fender-benders, welders, self-driving AGC's (Automatically Guided Carts), and assembly stations where, piece by piece, each bike is formed into a recognized whole.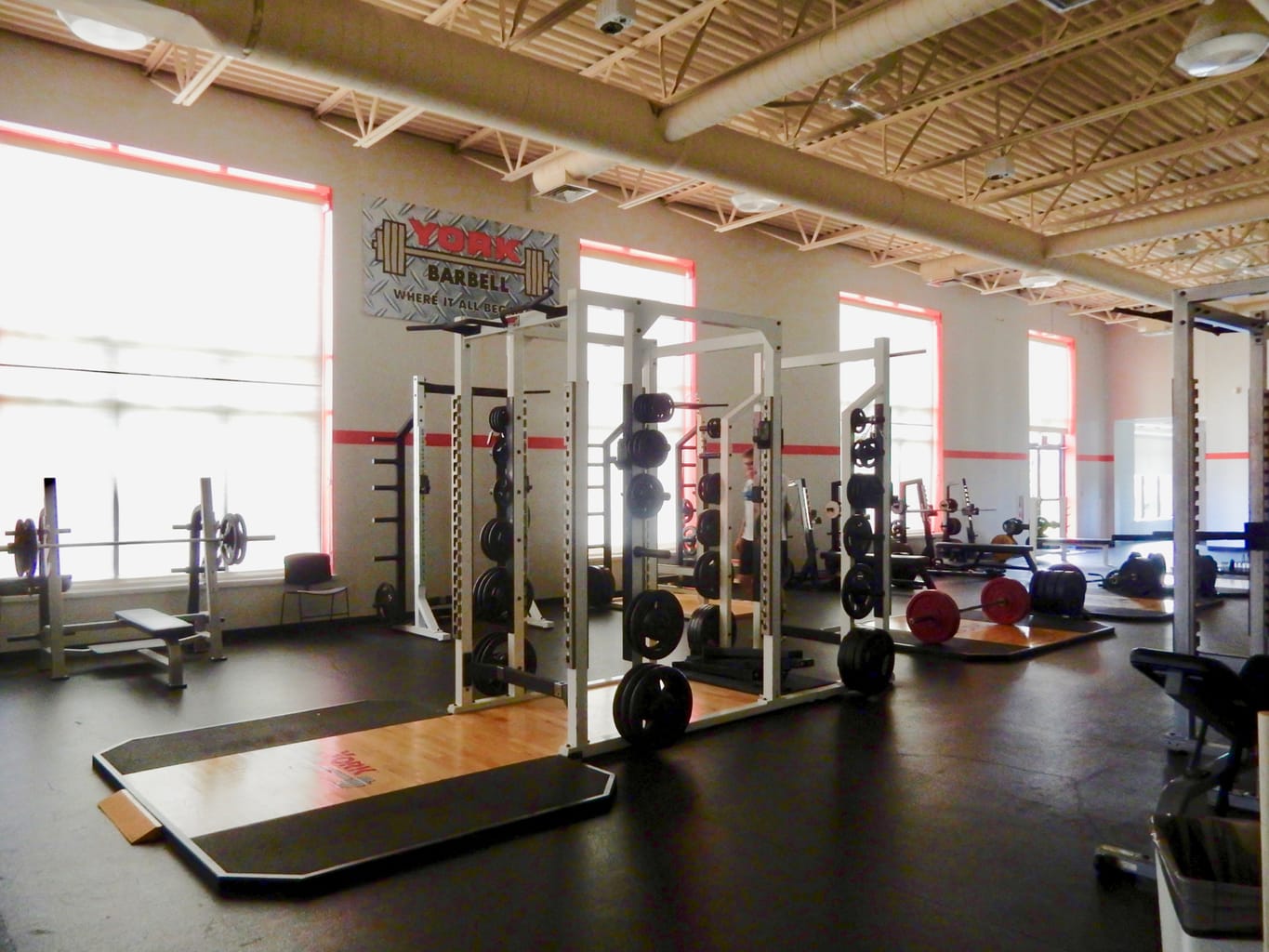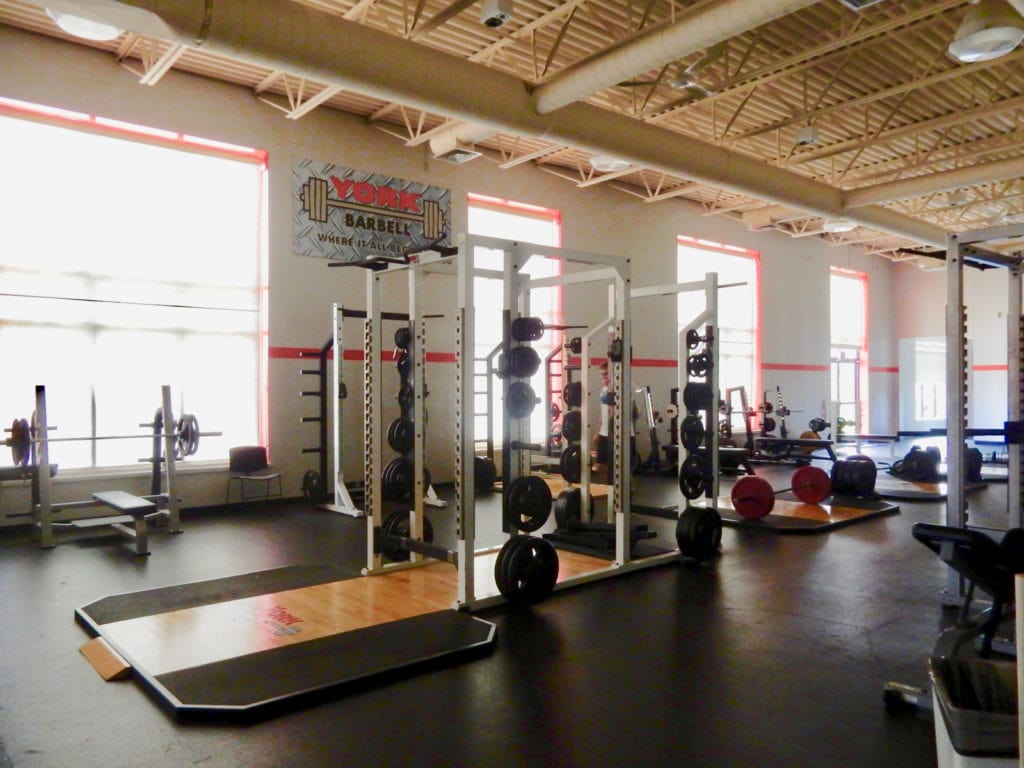 Into bodybuilding or weight lifting? Industrial machines? Colonial taverns? There's a museum for you in York! Considered the "Father of World Weightlifting" – which includes both power lifting (as pertains to weight) and body-building (sculpting the muscles) –Bob Hoffman started a trend that was popularized by Arnold Schwarzenegger in the 1970's and still continues to this day, and you can delve right in at the Weightlifting Hall of Fame @ York Barbells.
A history buff? Find out how people got their news during in the 1700's by touring the Colonial Complex in York PA, which includes The 1741 Golden Plough Tavern, the adjoining 1755 General Horatio Gates House, and the 1812 Barnett Bobb Log House, which was moved here in the 1960's.
The Tavern belonged to a family of German heritage who lived and worked here. On the first floor, the tavern room was as close as it got to network news, as travelers would eat, drink, and share gossip of the day. Learn about our industrial heritage at the Agricultural And Industrial Museum where large scale printing presses, overhead crane rails, a 1916 trolley car from downtown York, a working gristmill water wheel, and artifacts from many York factories can all be found. It's a wonderland for both kids and adults.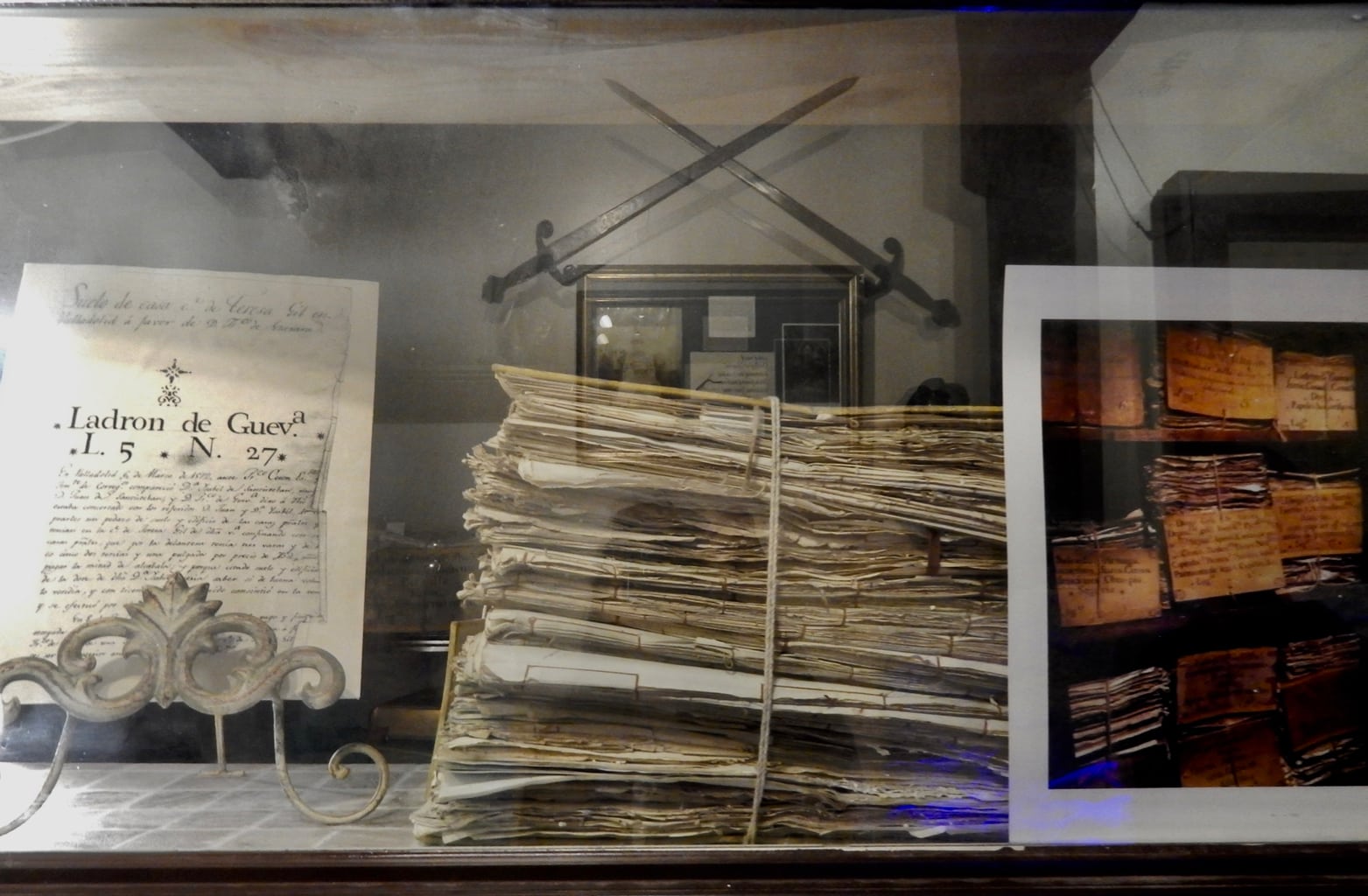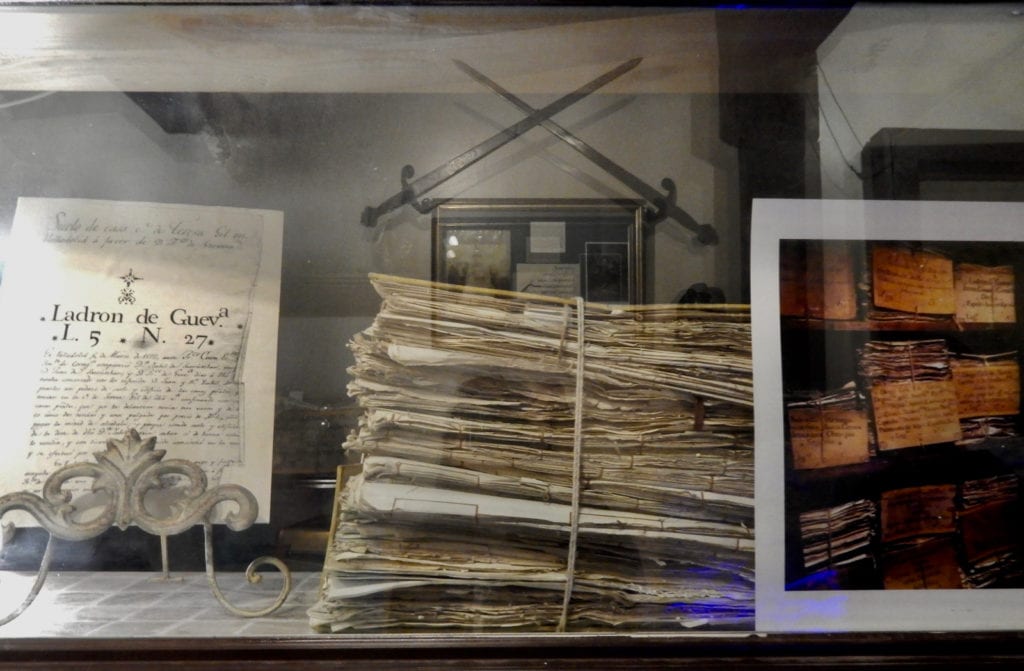 Boalsburg: Christopher Columbus artifacts from the time he Sailed the Ocean Blue in 1492 are kept in a vault in little ole Boalsburg PA? Amazingly, yes- at Boal Mansion, Vault, and Columbus Chapel (20 minutes from State College). It almost seems too suspect to be true: the cross that Christopher Columbus used to claim unexplored land and his circa 1400's Admiral's Desk in a vault in this tiny mid-PA town? And, slivers of the True Cross of Jesus, too? Well, at least one of those has been authenticated, the other taken on faith, but both artifacts and much more have ended up in this small town location, the home of 8 generations of the Boal family. Find out how this came to be on a tour of the Boal Mansion, Vault, and Chapel (all within steps of each other) for a story that will blow you away.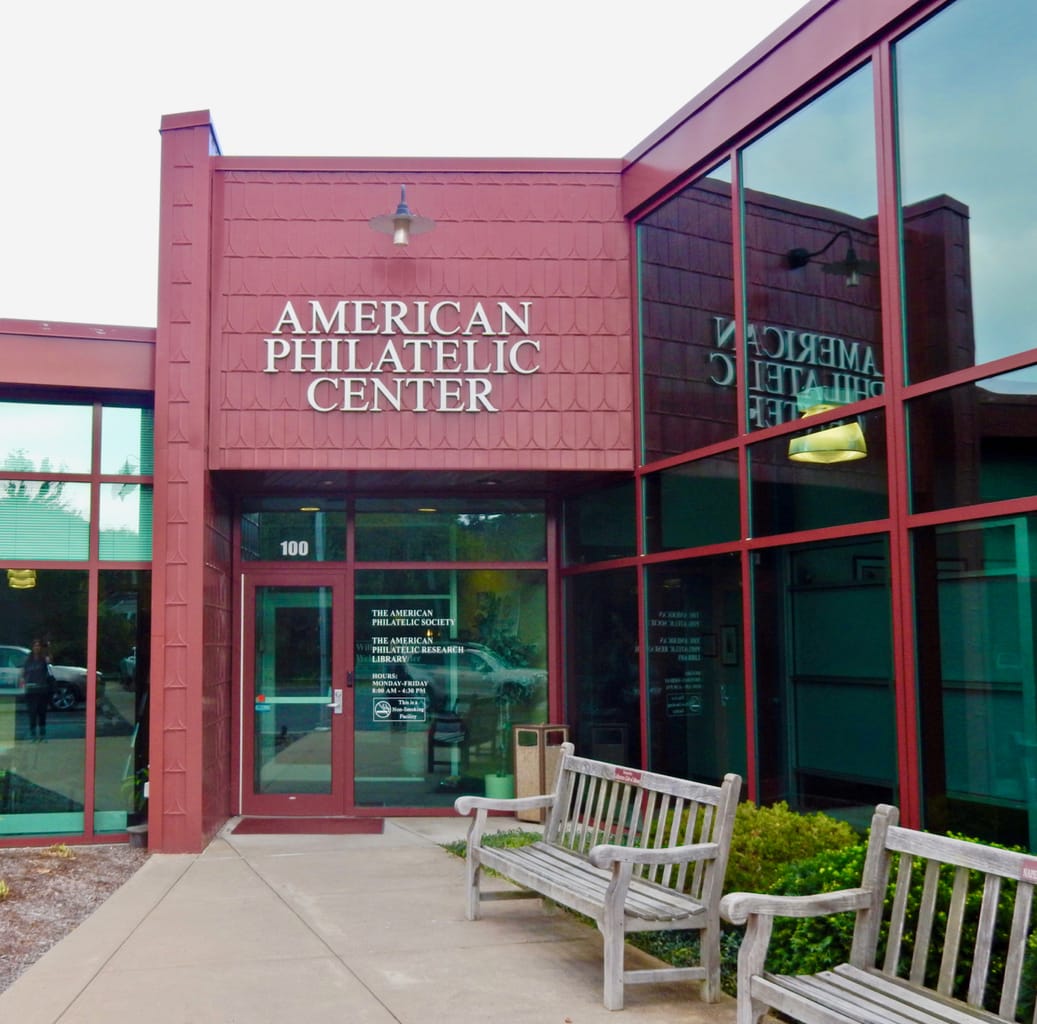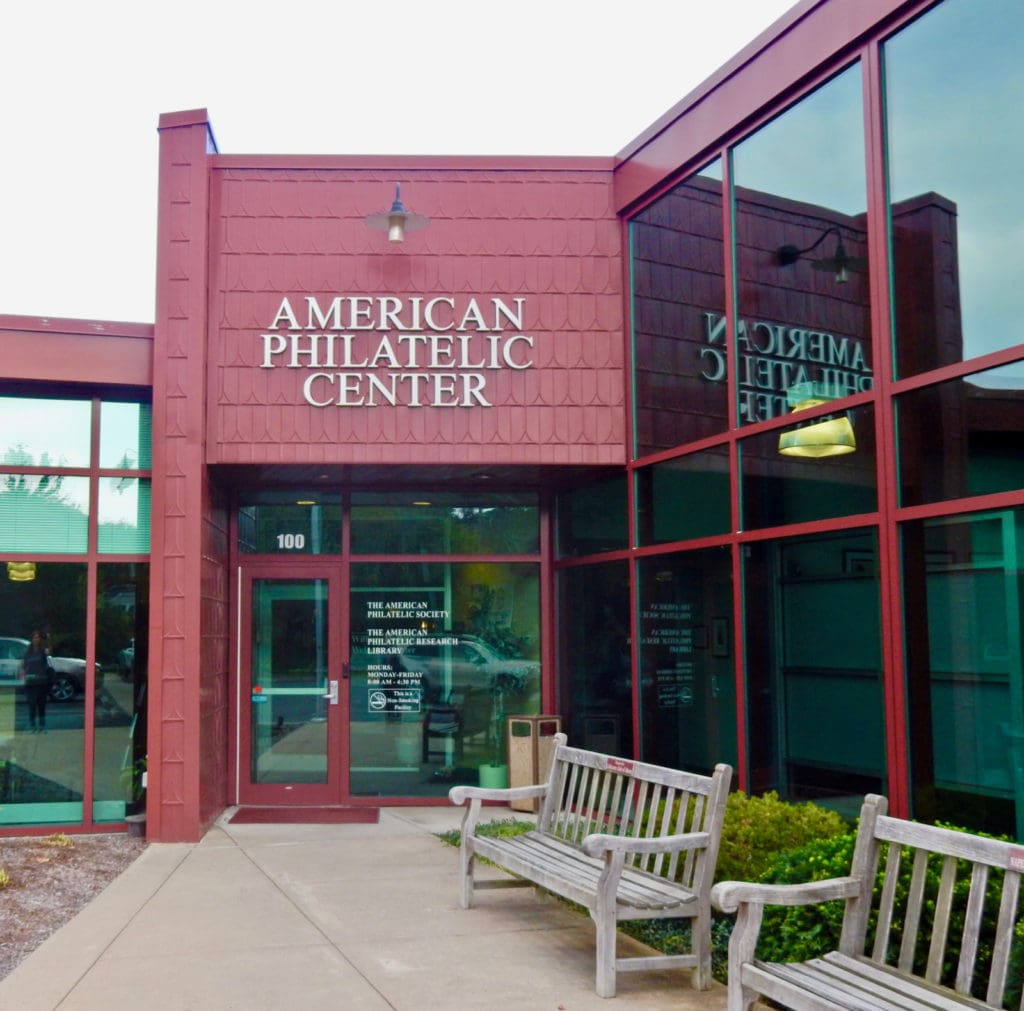 Bellefonte: The center of everything stamps and stamp collecting is also within a 20 minute drive of State College PA at the American Philatelic Society Headquarters at the Match Factory in Bellefonte, a lovely "river runs through it" kind of town and center of the universe for all things philatelic. "Philatelic" may be a mouthful of a word, but in essence it concerns stamp collecting and postal history – with an emphasis on academic research. Who knew that the hobby some of us pursued as kids could be so exciting? The museum and research library are top notch.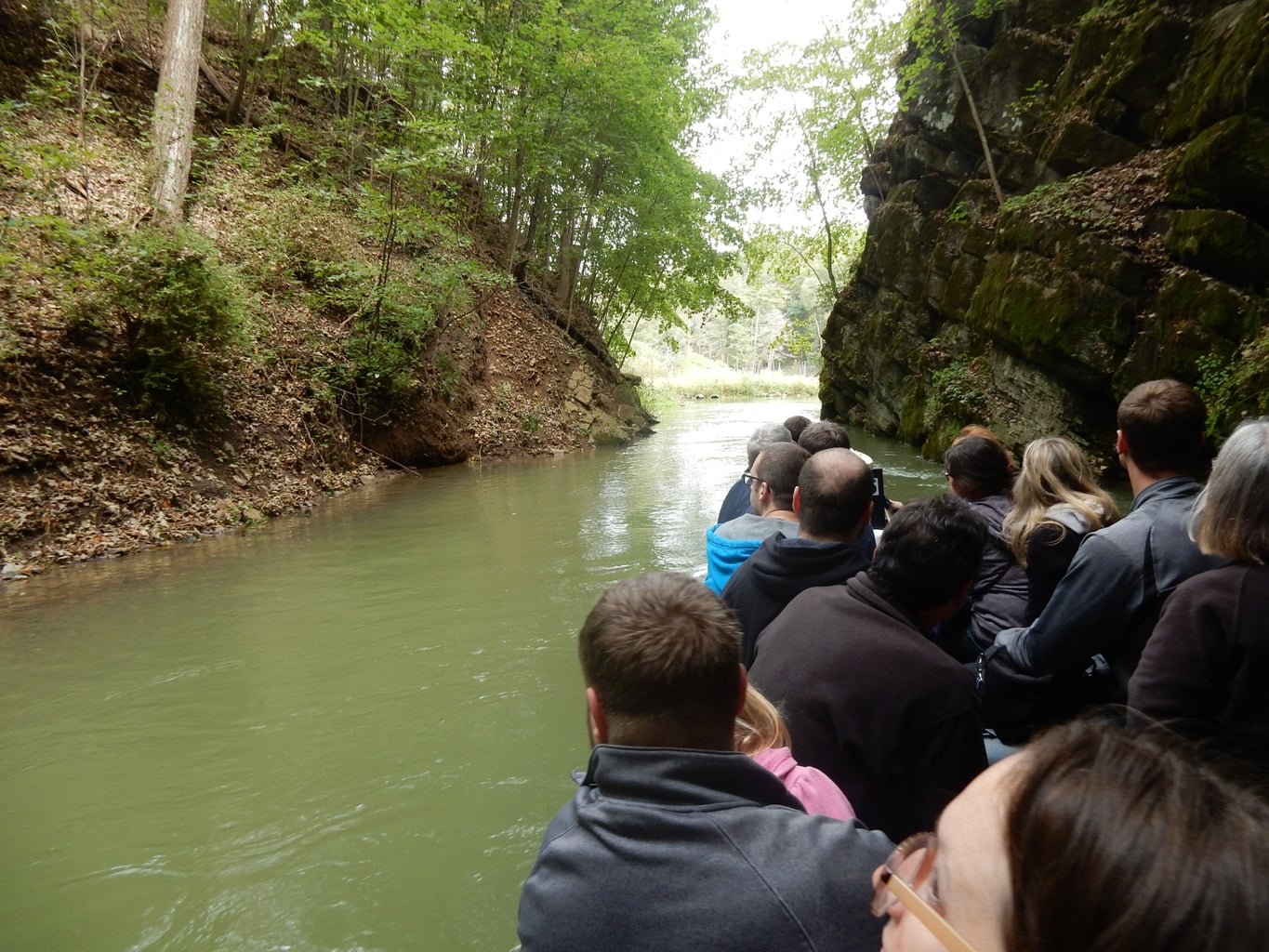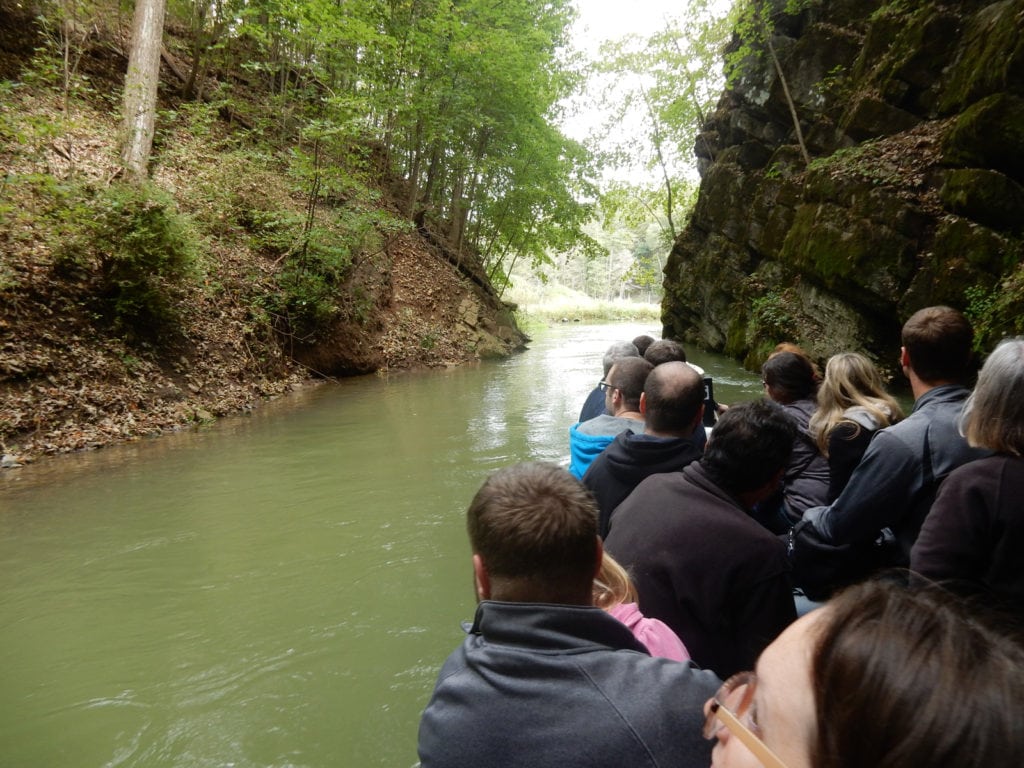 Spring Mills: Penn's Cave and Wildlife Park is one of the only caves in the USA you tour completely by boat. You can't miss ads and billboards for this attraction about a 25 minute drive from Penn State. Touted as the "Only all-water Cavern AND Wildlife Park" in America: See It By Boat!" this show cave has been delighting tourists for 133 years. Though there's a Wildlife Park Safari on the premises (combo tickets available), those short on time should opt for the mainstay: a half mile boat ride though the otherworldly cavern of dripping stalactites and unusual formations, mostly in darkness, and then out into the river/spring that feeds the cave.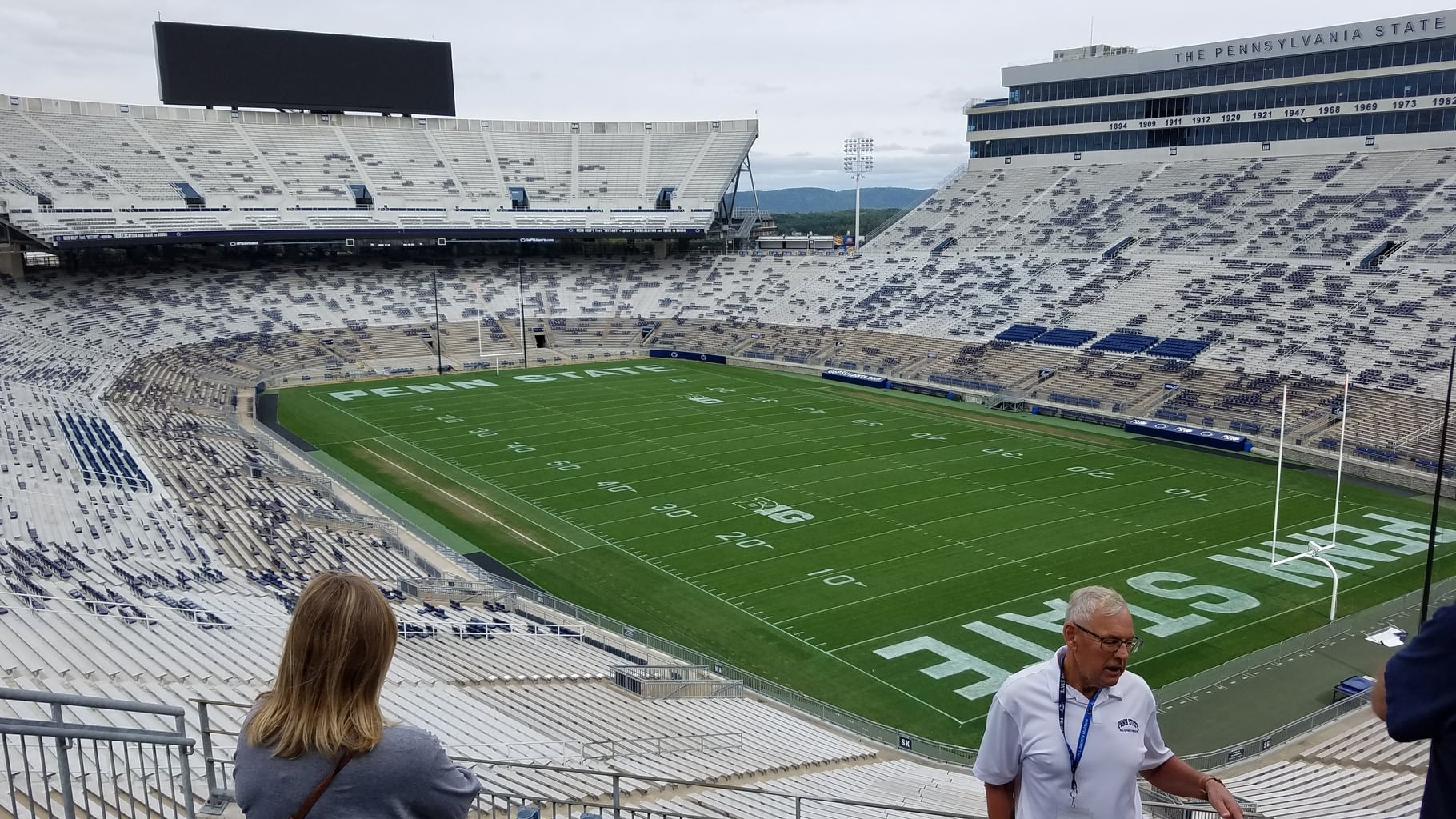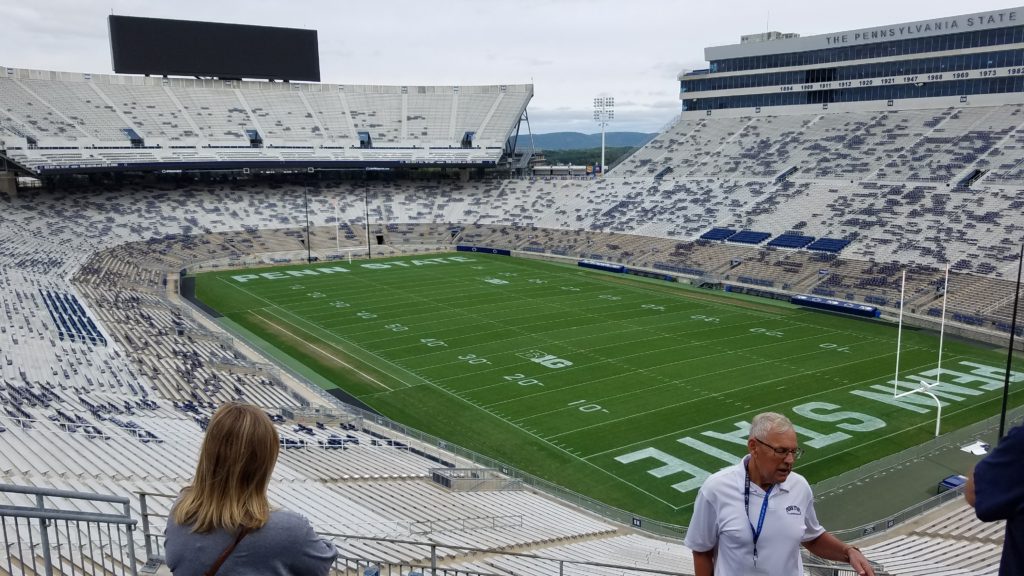 State College: The All Sports Museum at Beaver Stadium, at Penn State will impress even those who dislike sports. I didn't go to Penn State, and I don't have much interest in sports. But, I gamely went to Beaver Stadium, home of the Nittany Lions, and the second largest college stadium in the country (at 106,500 seats, second only to U of Michigan, with 109,000 seats), to check out the All Sports Museum. I'm glad I did. The stadium itself is imposing, but the museum swept me up in the fierce devotion, positive striving, and competitive spirit of the "Blue and White." Also on campus, wander among the blooms and sculptures at the Arboretum at Penn State: H.O. Smith Botanic Gardens. A copse of evergreen trees pierces the sky, and colorful sculptures and flowers beguile throughout this serene arboretum. No wonder it's one of the most popular attractions on campus.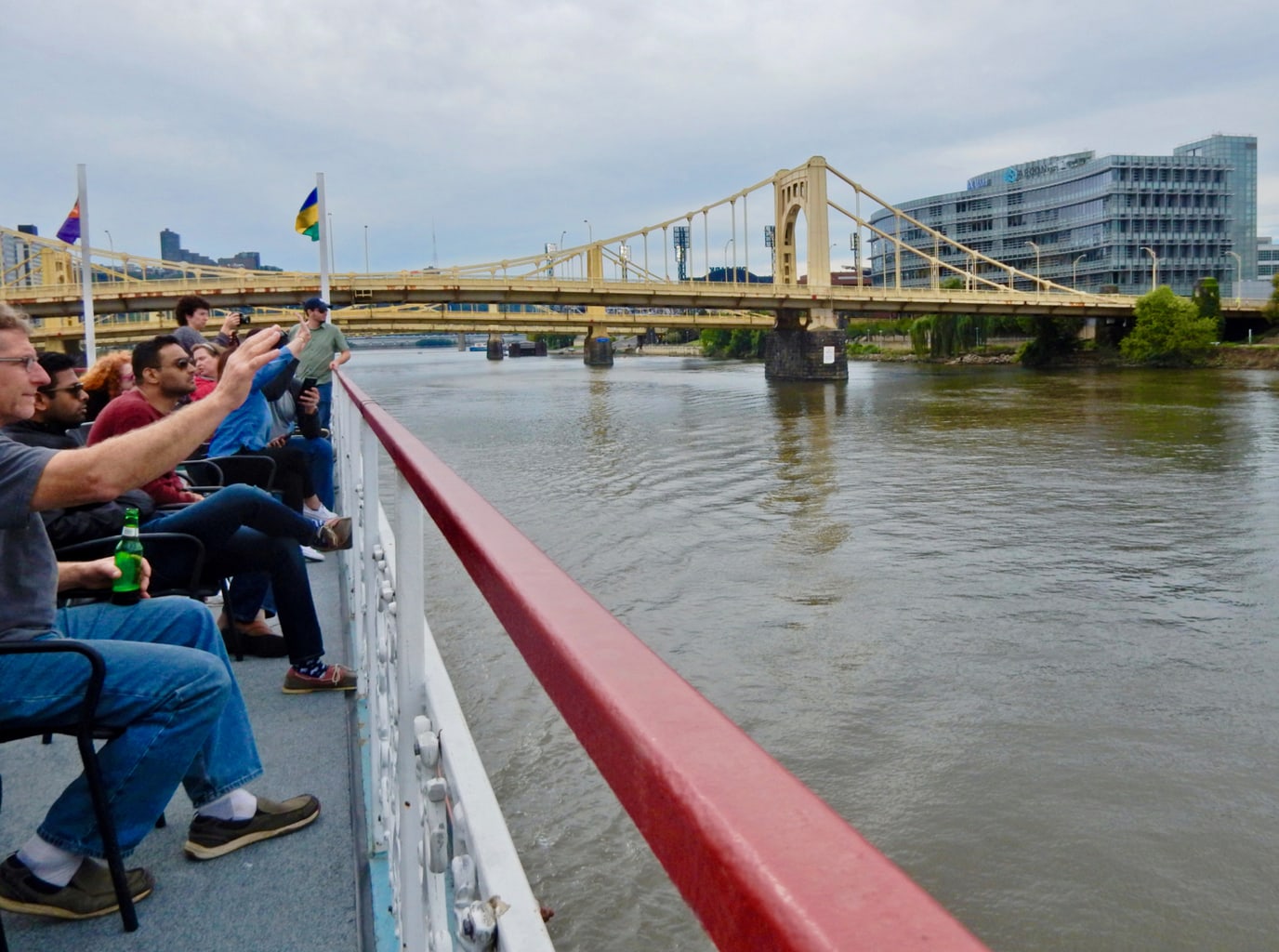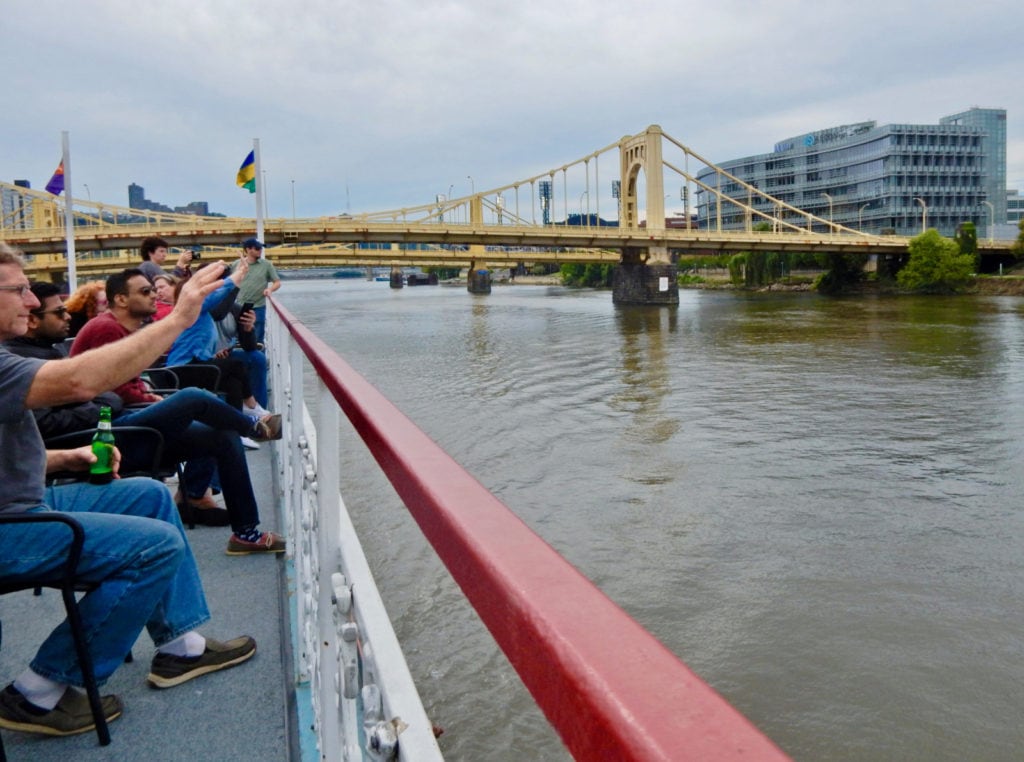 Pittsburgh: Learn about the heroes and legends of America's first government rebellion – post Independence on a boat tour through Pittsburgh's Gateway Clipper Fleet. Book an hour sight-seeing cruise on one of the several paddlewheel boats in the Gateway Clipper Fleet for an overview of Pittsburgh history, with a crash course on the Whiskey Rebellion – the first "Tea-Party" like insurgence against our own new government in 1794 when it attempted to tax farmer-distillers. While plying the three rivers that run through Pittsburgh, a historian narrates the area's history from 1681, when King Charles II granted 45,000 square miles of land to William Penn to modern times.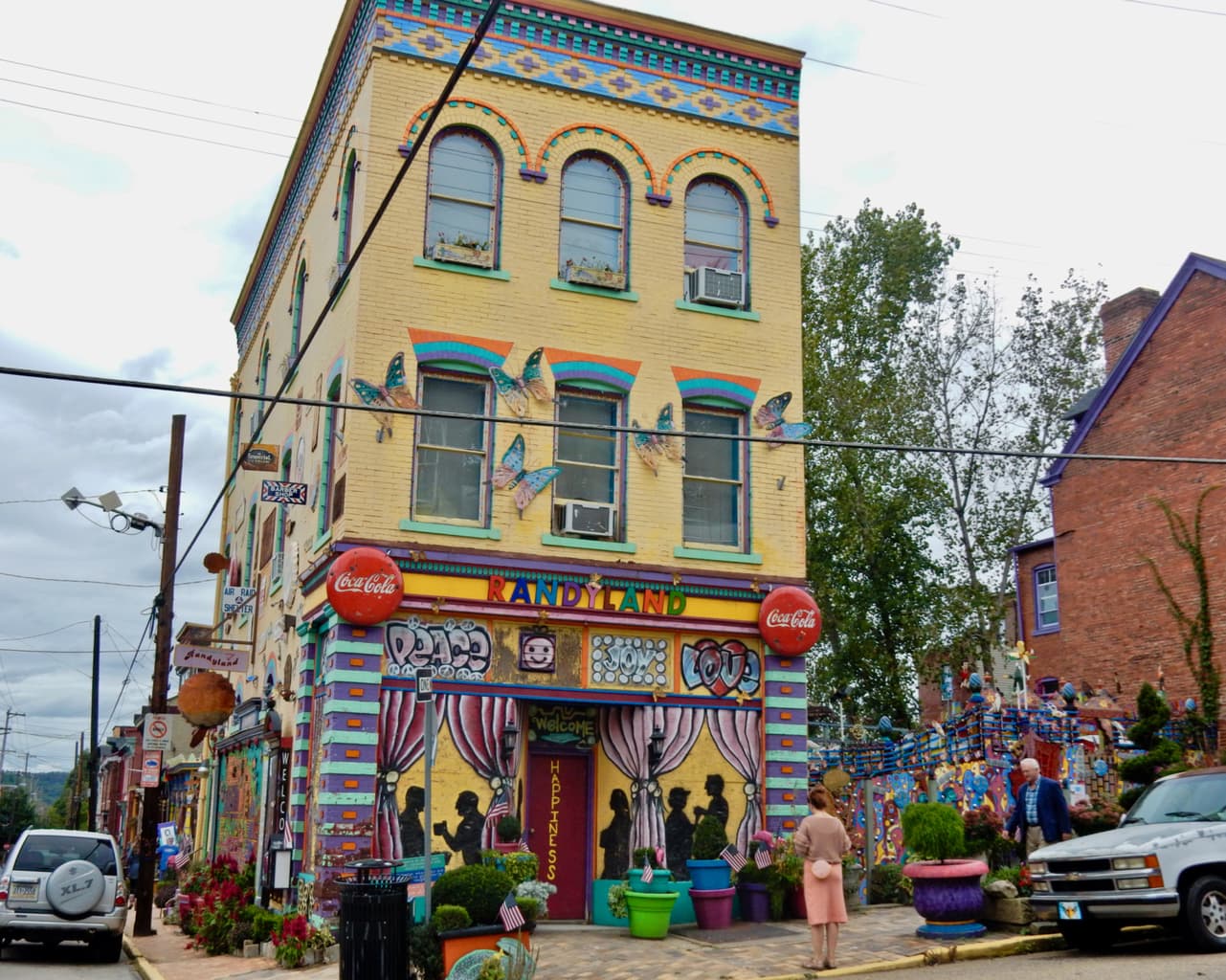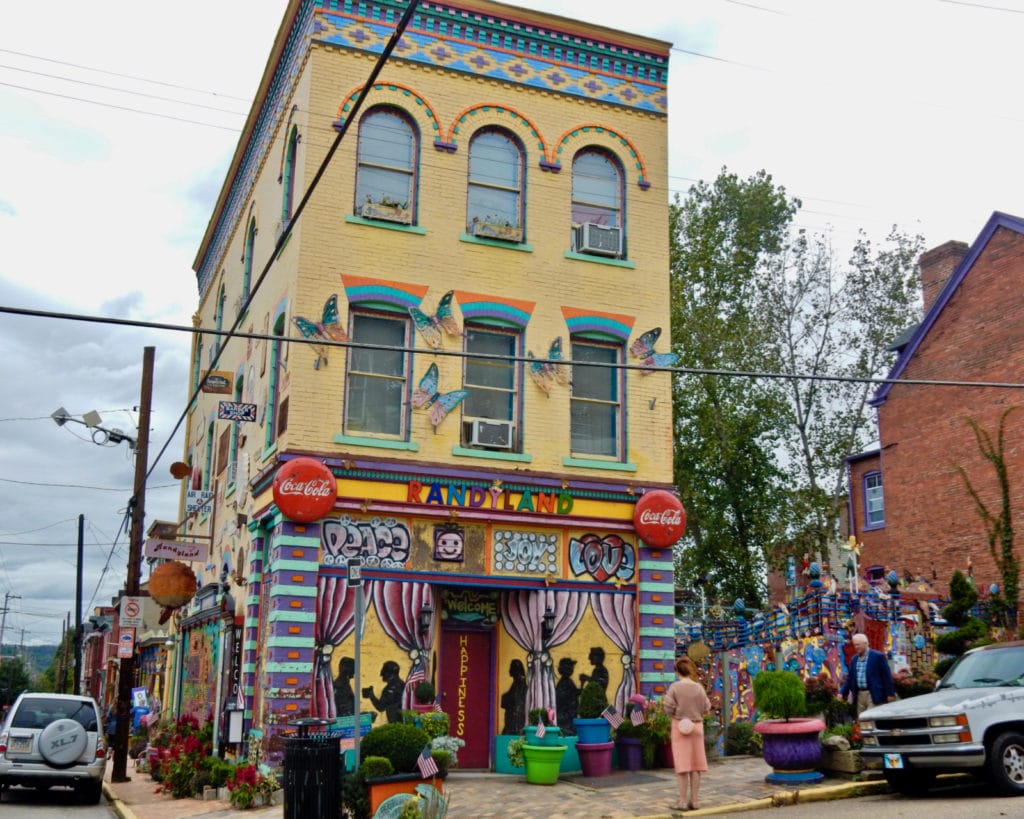 Pittsburgh: You'll be sure to stare in wild-eyed wonder at this fantasia of a back, front, and side yard – Randyland. On the same street and steps from The Mattress Factory, Randyland – the wildly colorful brainchild of Randy Gibson, whose goal was "to bring happiness to his neighborhood" – is such an ecstatic, iridescent, geometric, disjointed, engrossing, eclectically decorated home and property, it's become a media darling.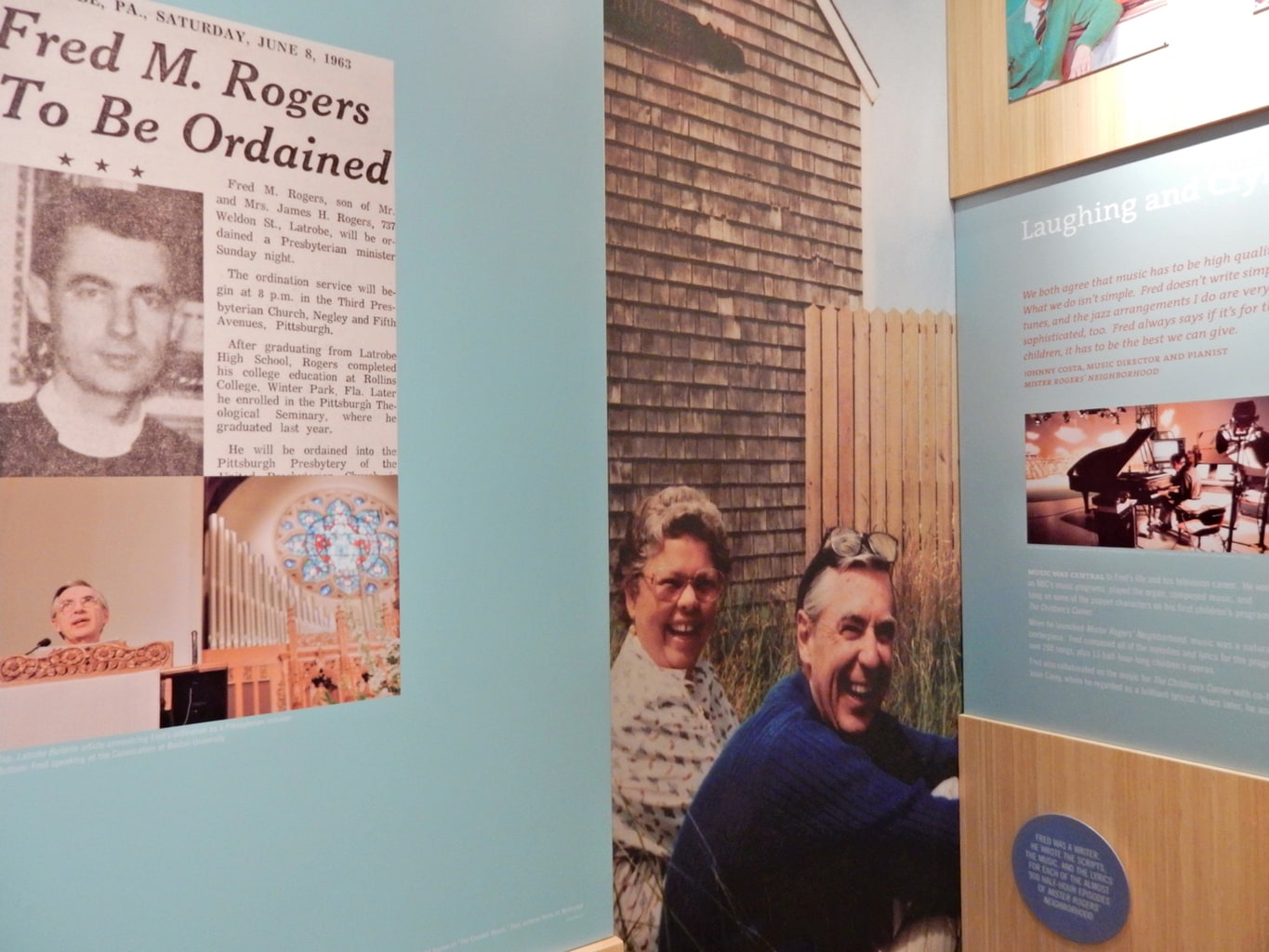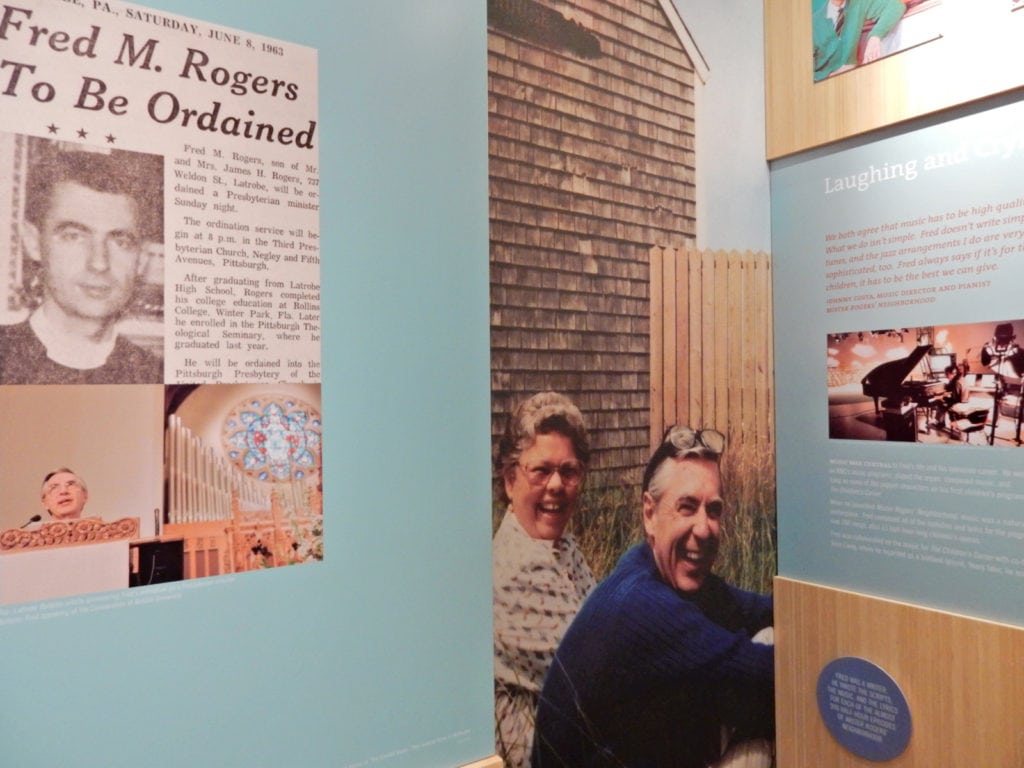 Latrobe: "Mr." Fred Rodgers grew up about 1 ½ hours from Pittsburgh in this small town. Visit the museum devoted to him – Fred Rogers Center, on the campus of Saint Vincent College. An ordained minister, Fred Rogers considered his television show to be his ministry, leading one reviewer to write, "Mr. Rogers Neighborhood makes us feel safe, cared for, and valued. Wherever Mr. Rogers is, so is sanctuary." The Fred Rogers Center was the prime resource for both the Documentary, and the in-production Biopic (yes, Tom Hanks spent time here doing research). It also features a small time-line and artifacts museum that displays Rogers' four different colored sweaters – knitted by his mother (that he alternated every day and couldn't differentiate due to his red-green color blindness), puppets used on the show, plenty of photos, and quotes by Rogers and others about him. Fred Rogers died in 2003. He was, as many said, "an island of peace." We sure could use him now.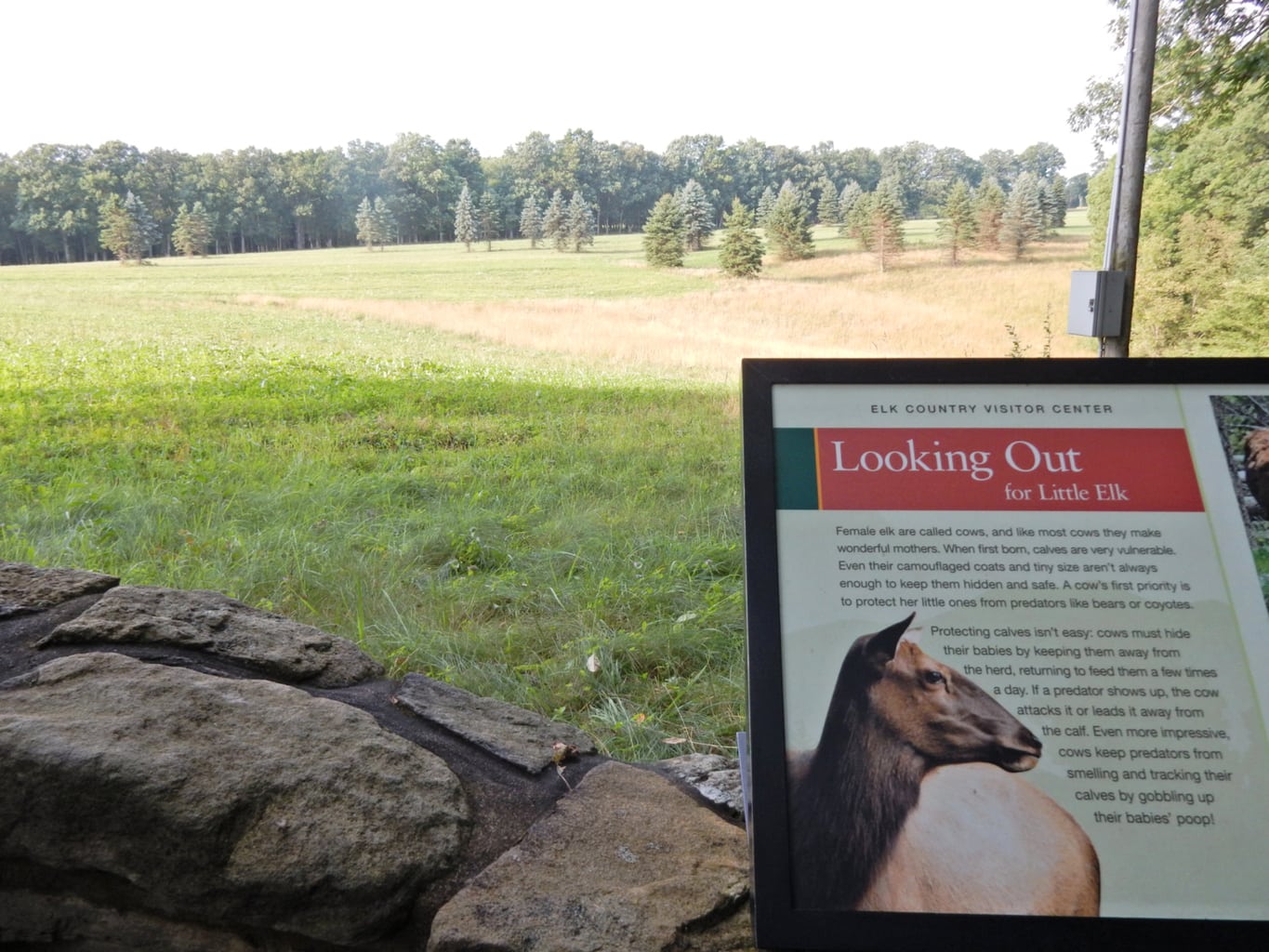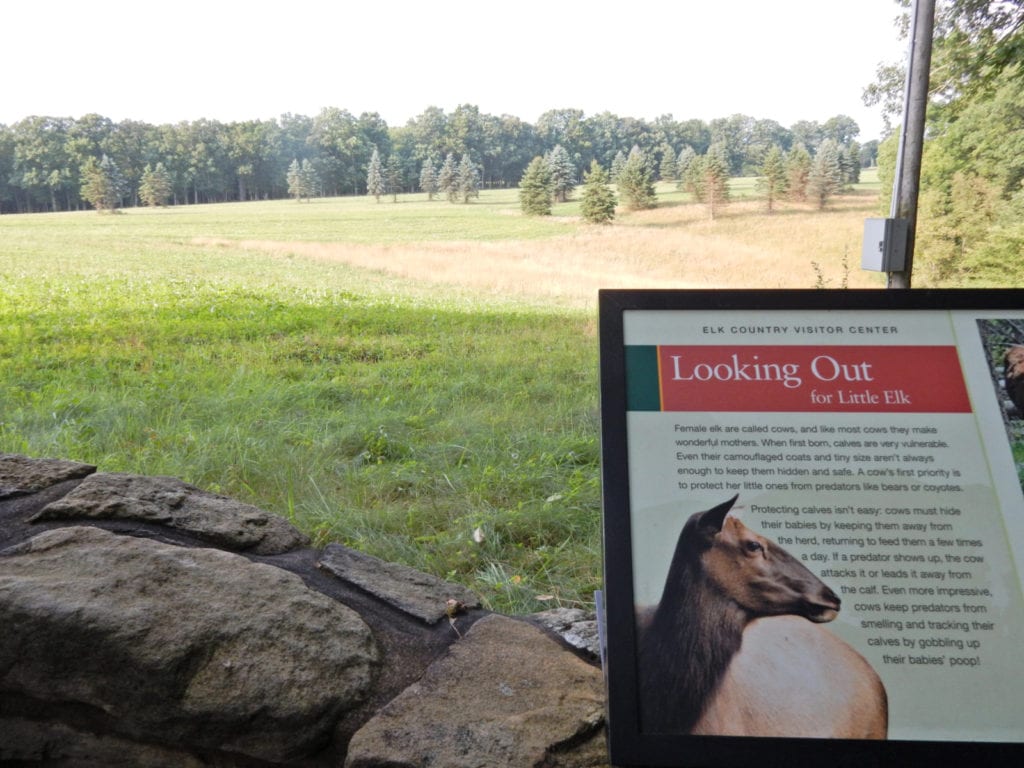 Benezette: Get a glimpse of majestic creatures in the (protected) wild at the Elk County Visitor's Center. The best time to see these moose/deer mashups is at dusk and dawn. And, the best place to see them is through the Elk County Visitor's Center's picture windows or walking the trails around open fields.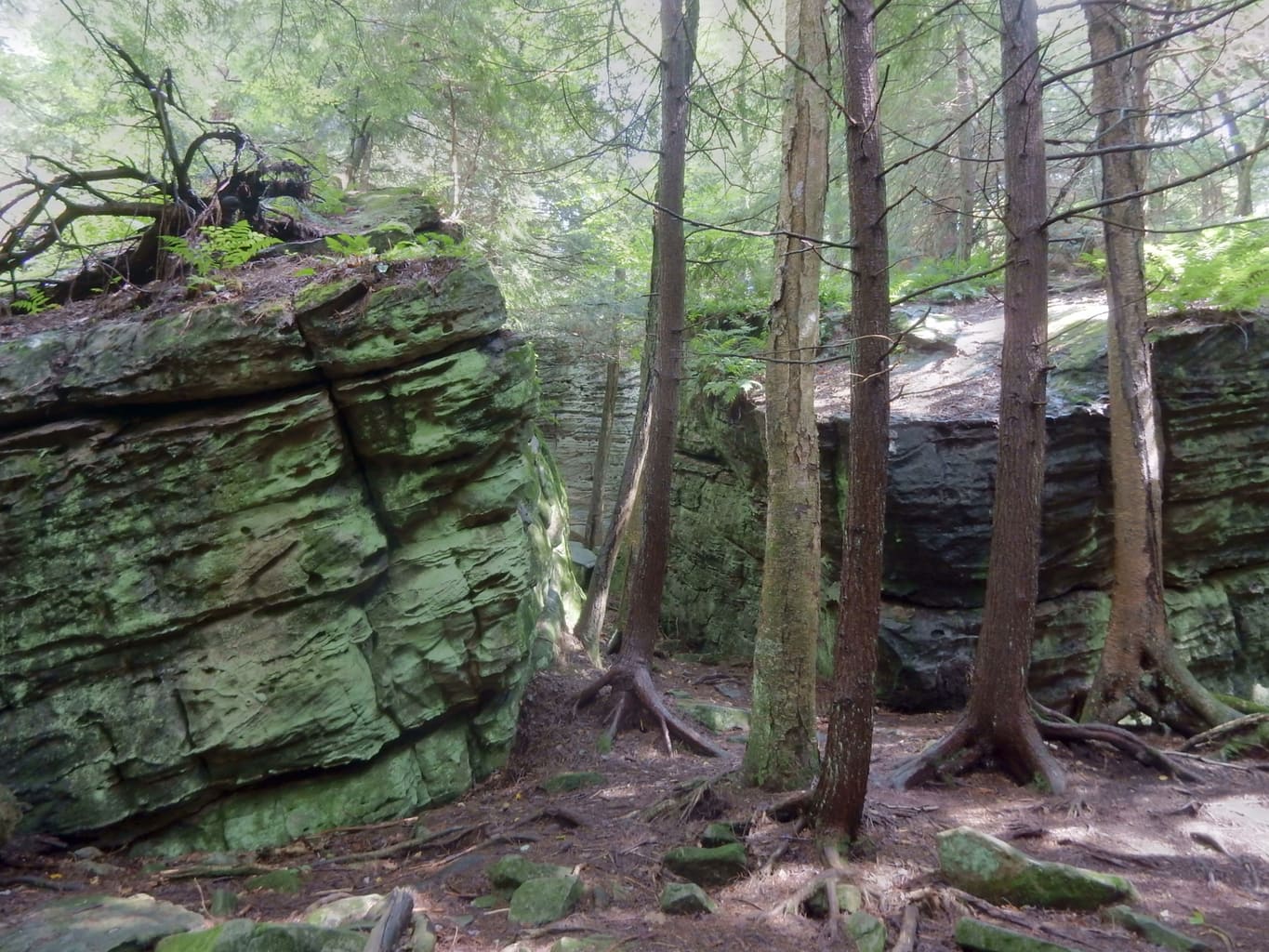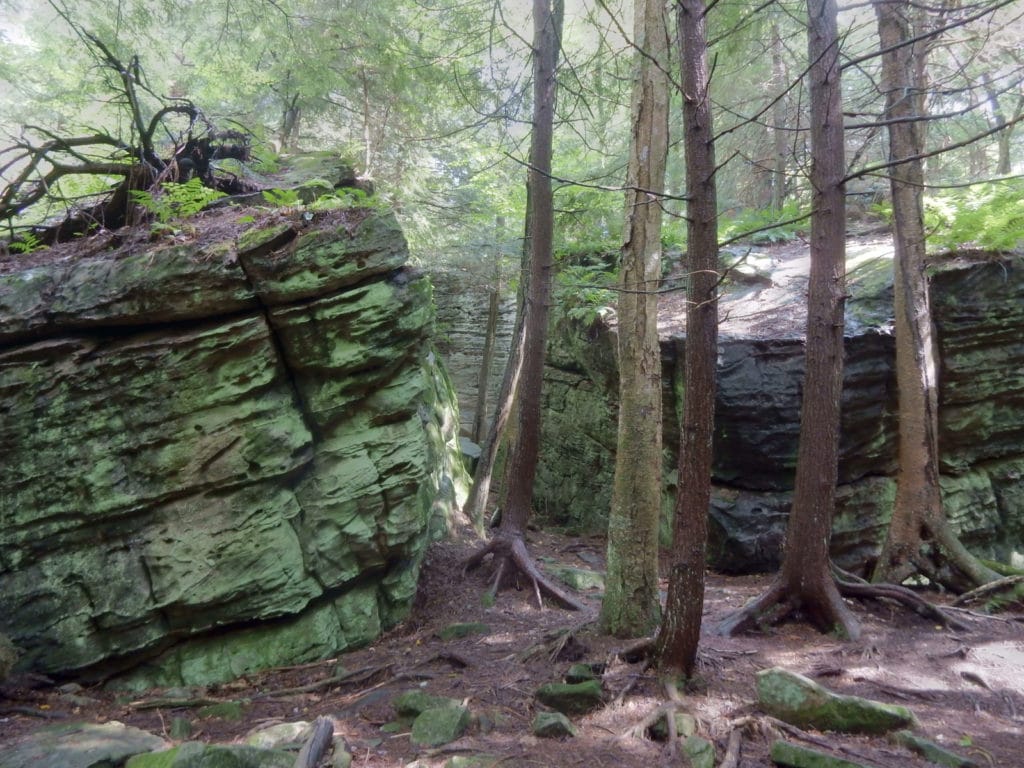 Grampian: Stumbling on Bilger's Rocks, a 20-acre natural wonder, is akin to discovering Angkor Wat Temple in the midst of a Cambodian jungle. Roots and trees shoot out from rock outcroppings, some overtaking them entirely. This geological phenomenon was caused by "frost wedging" – where angular boulders broke off from the surrounding mountainside, creating narrow stone passageways, caves, and moss-covered stone chunks – some as high as a 5 story building and perfect for climbing.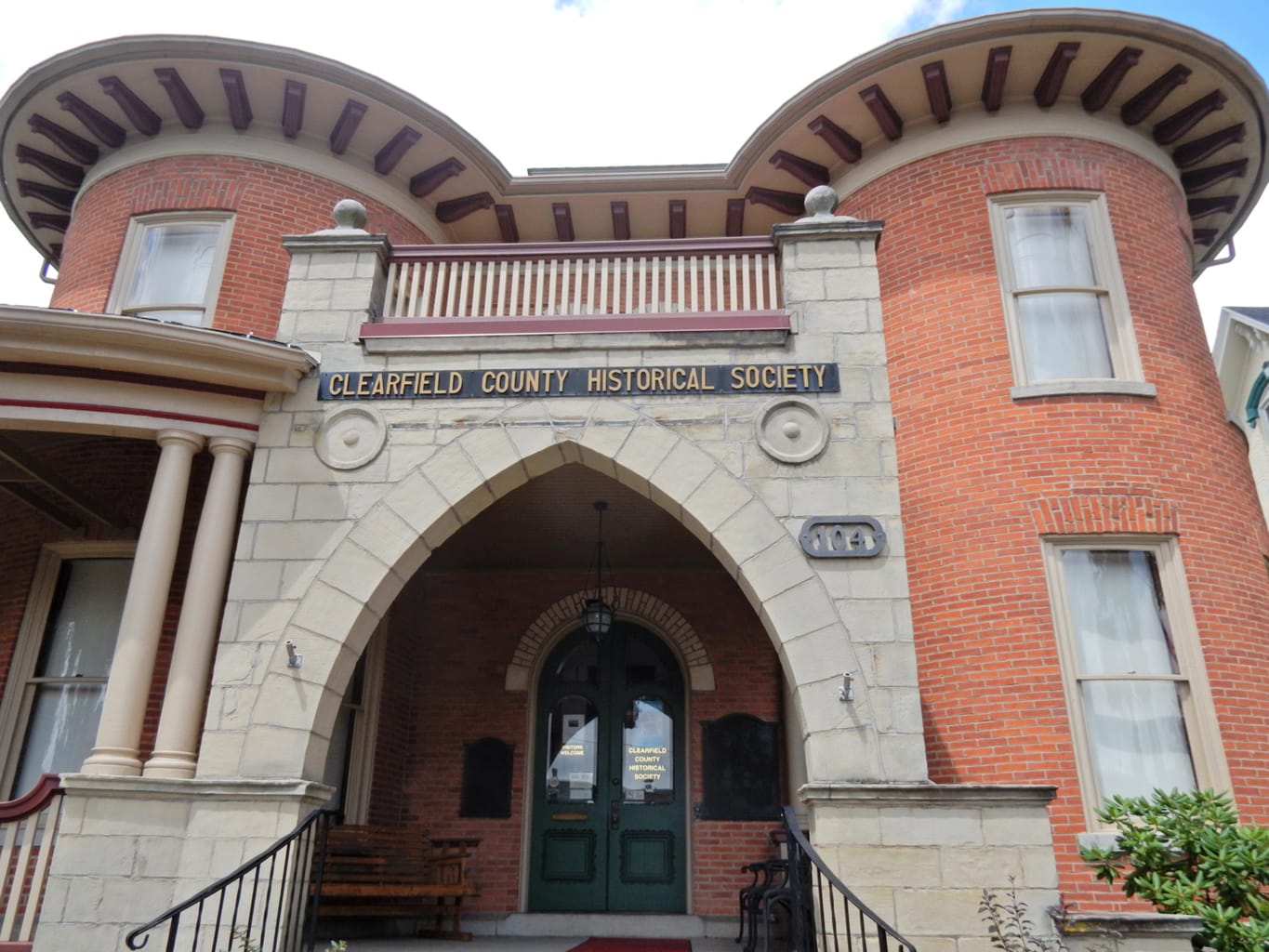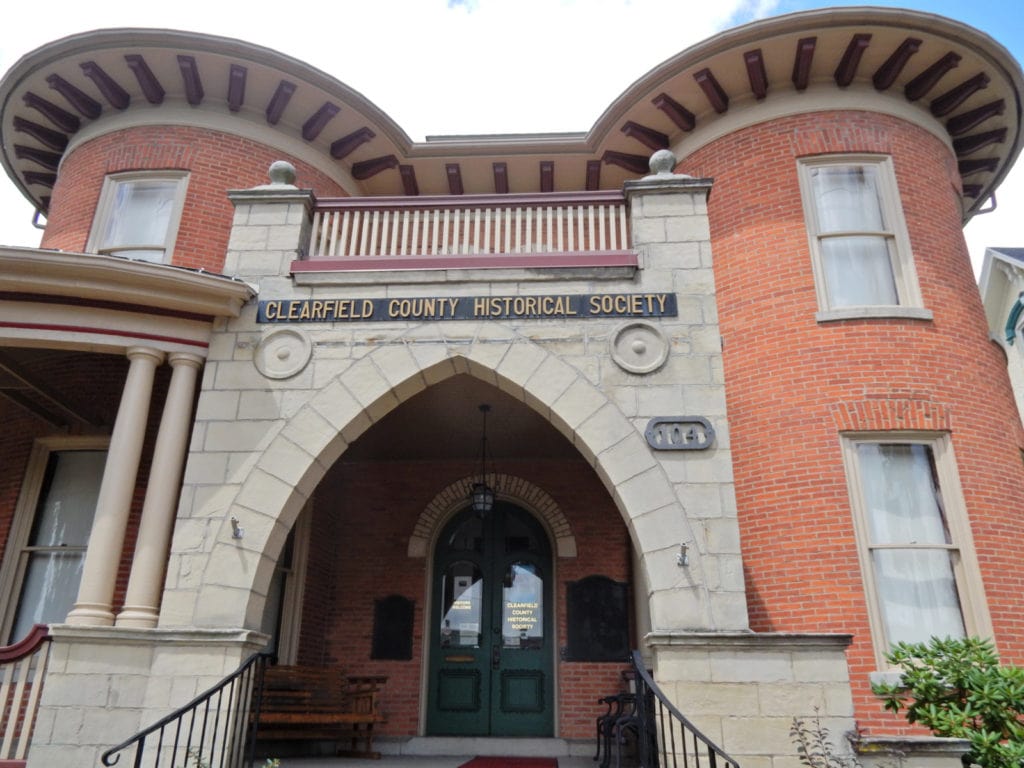 Clearfield: With "Forest Management" in the news of late, we can learn a lot about it from the original Americans who knew how to do it right. Visit the Clearfield County Historical Society in Clearfield PA for an overview. Timber and logging were central to the wealth of Clearfield County, as this 1880 "One-Percenter" brick home, overlooking the Susquehanna River, attests. The home now showcases 10,000 years of Clearfield history that begins with the Native Lanape tribe (good at forest management) right into the era of the "Alien Invasion" – White European immigration. These foreigners (bad at forest management) allowed pine trees to overtake the forests – leading to a timber industry that made many a non-native man wealthy, but impoverished the landscape in the process. White pine grew quickly and floated well on the river, so the logging company owner who owned this home could watch his product float – and his money grow – from the front porch.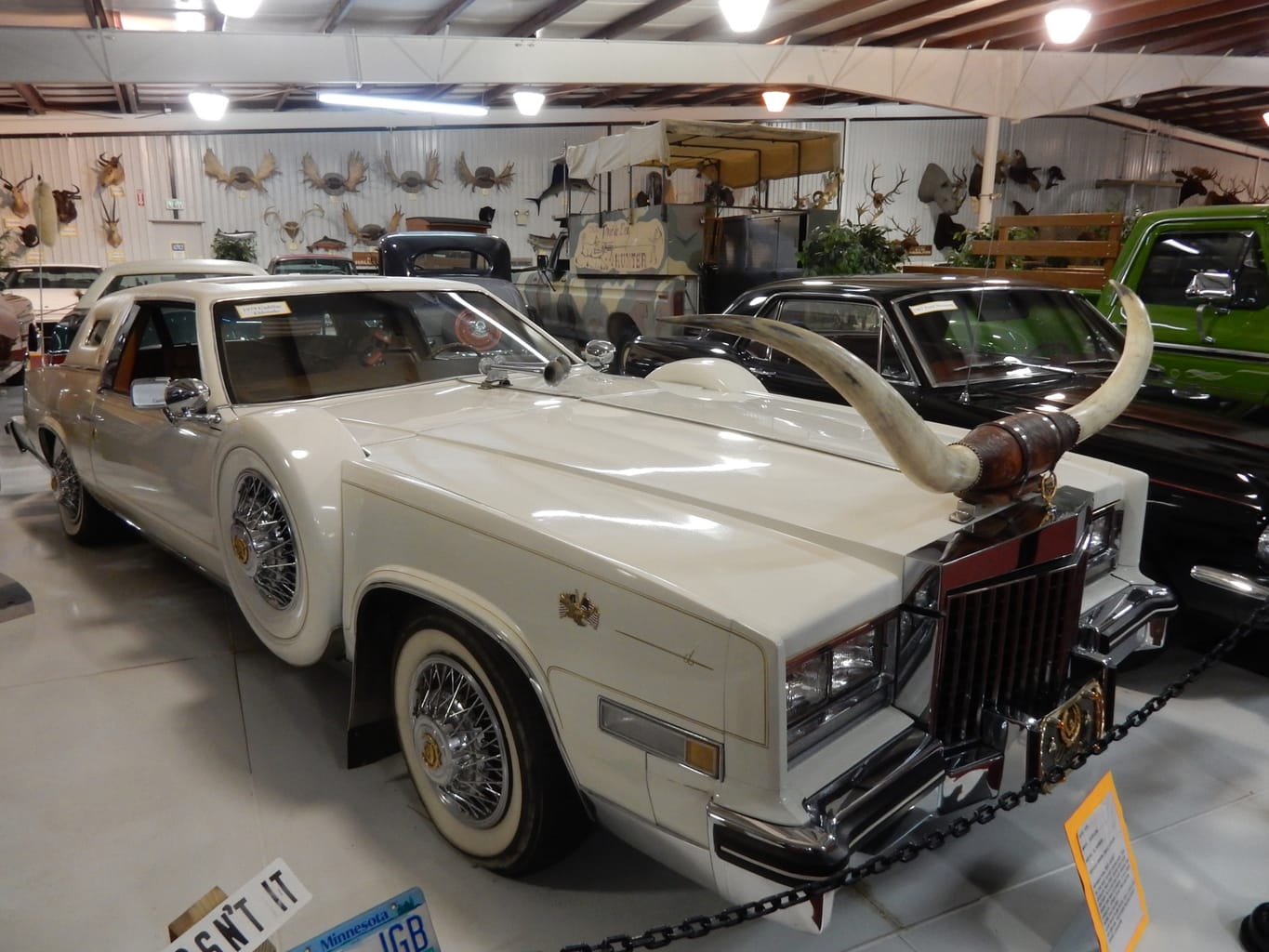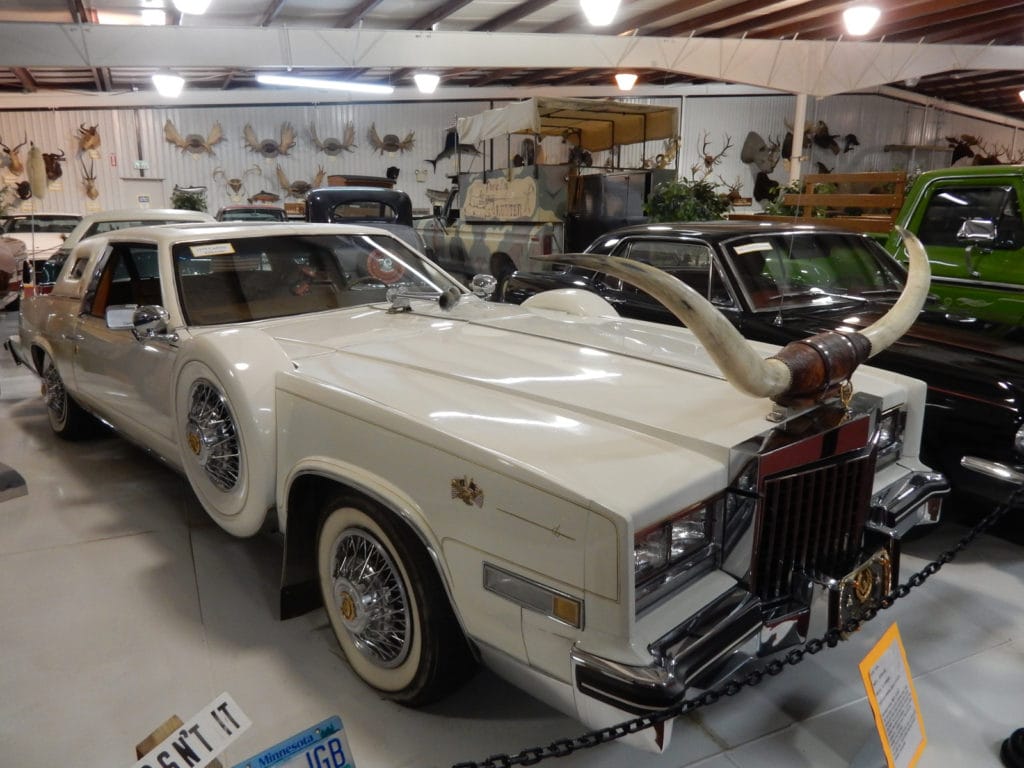 Clearfield: See taxidermied animals juxtaposed with antique cars at Grice Clearfield Community Museum, Clearfield. Lynn "Scoot" Grice is very into ammo and autos. And animal mounts. After serving overseas in WWII, he got into firearms, opening up his own gun store in Clearfield PA – the largest in the state – which provided him with the funds to start collecting his favorite automobiles. Now, those with the same fascinations can see over 70 antique and classic cars with over 800 taxidermied animals mounted on walls and scattered around the collection.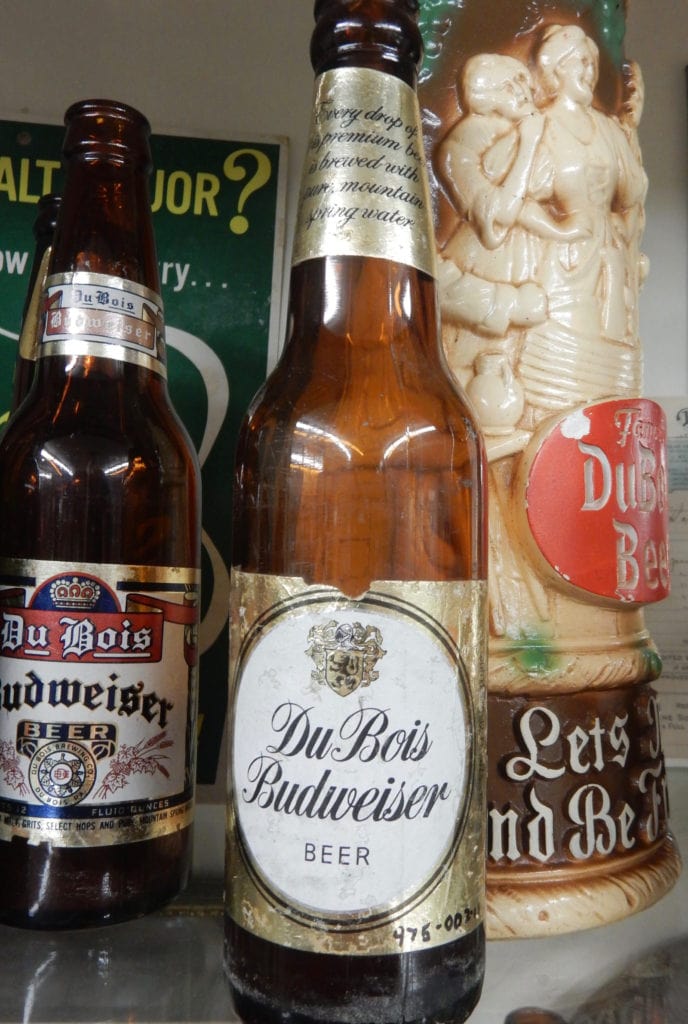 Dubois (pronounced – do-boys): See the very first version of Budweiser Beer at Dubois Historical Society. Tom Mix, Hollywood's first "Western Star" (he made 279 movies in the early 1900's) was born and raised in Dubois PA, but came home to see his Ma on occasion. There's also a whole exhibit about Dubois Brewing Co.'s Budweiser Beer – the original Budweiser until Anheuser Busch purchased the name from this historic PA brewery.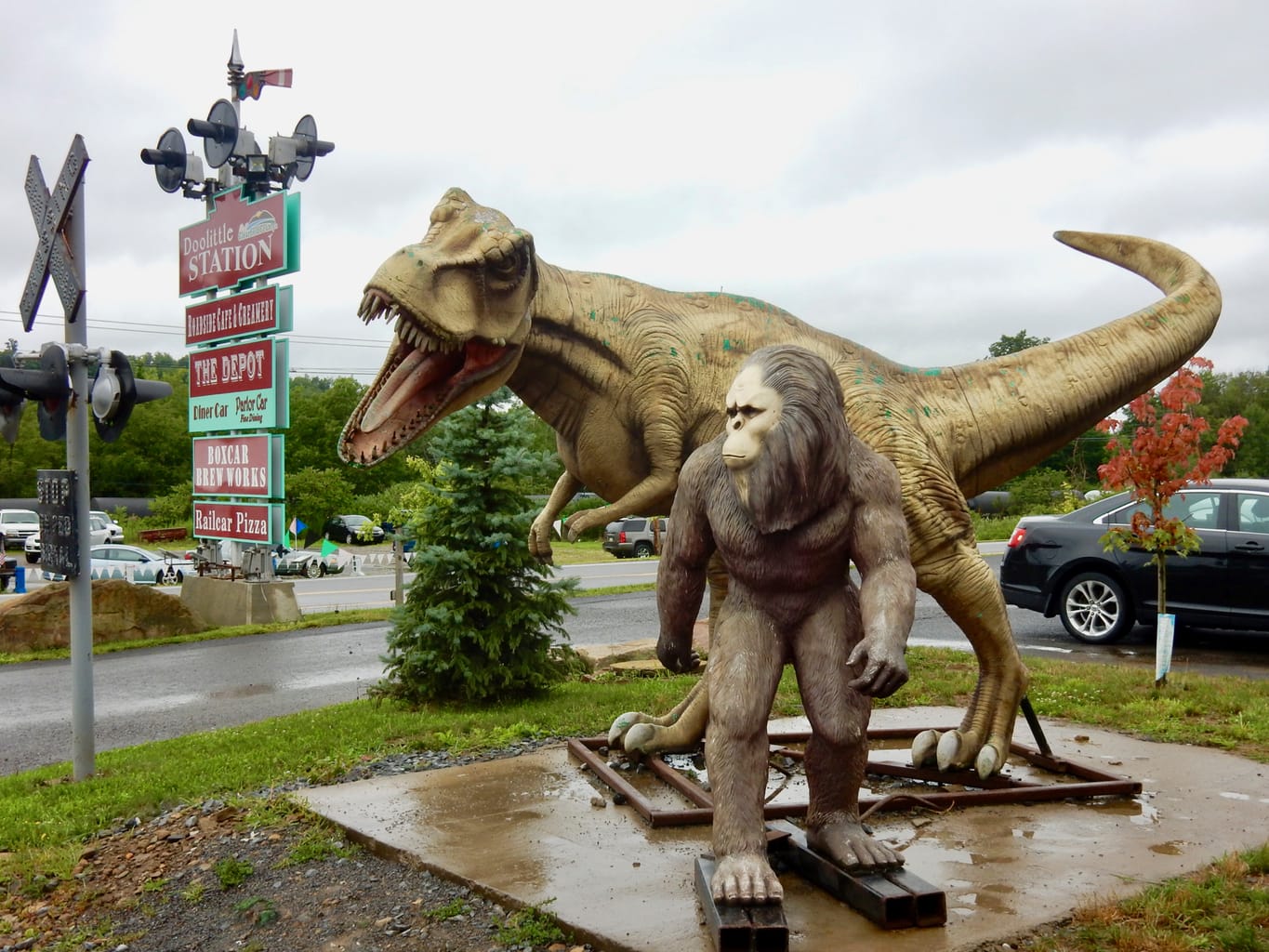 Dubois: Plan a day, and perhaps a night at Doolittle Station. This compound of old train cars has been pulling travelers off I-80 in greater and greater numbers lately. That's because, a) owner and visionary, Dr. Rice has been collecting singularly iconic train cars (e.g., Teddy Roosevelt's travel Pullman, the Ringmaster's and grunts' cars from Barnum and Bailey Circus), repurposing them as hotel rooms, restaurants including a fire-oven pizza parlor, a brewery, ice-creamery, with lots more planned. And b) a culinary-school trained chef, Tara Tyger, who spent four months in Italy and four months in NYC, runs all of the restaurants, which are better and more interesting than most other roadside attraction eateries in the country.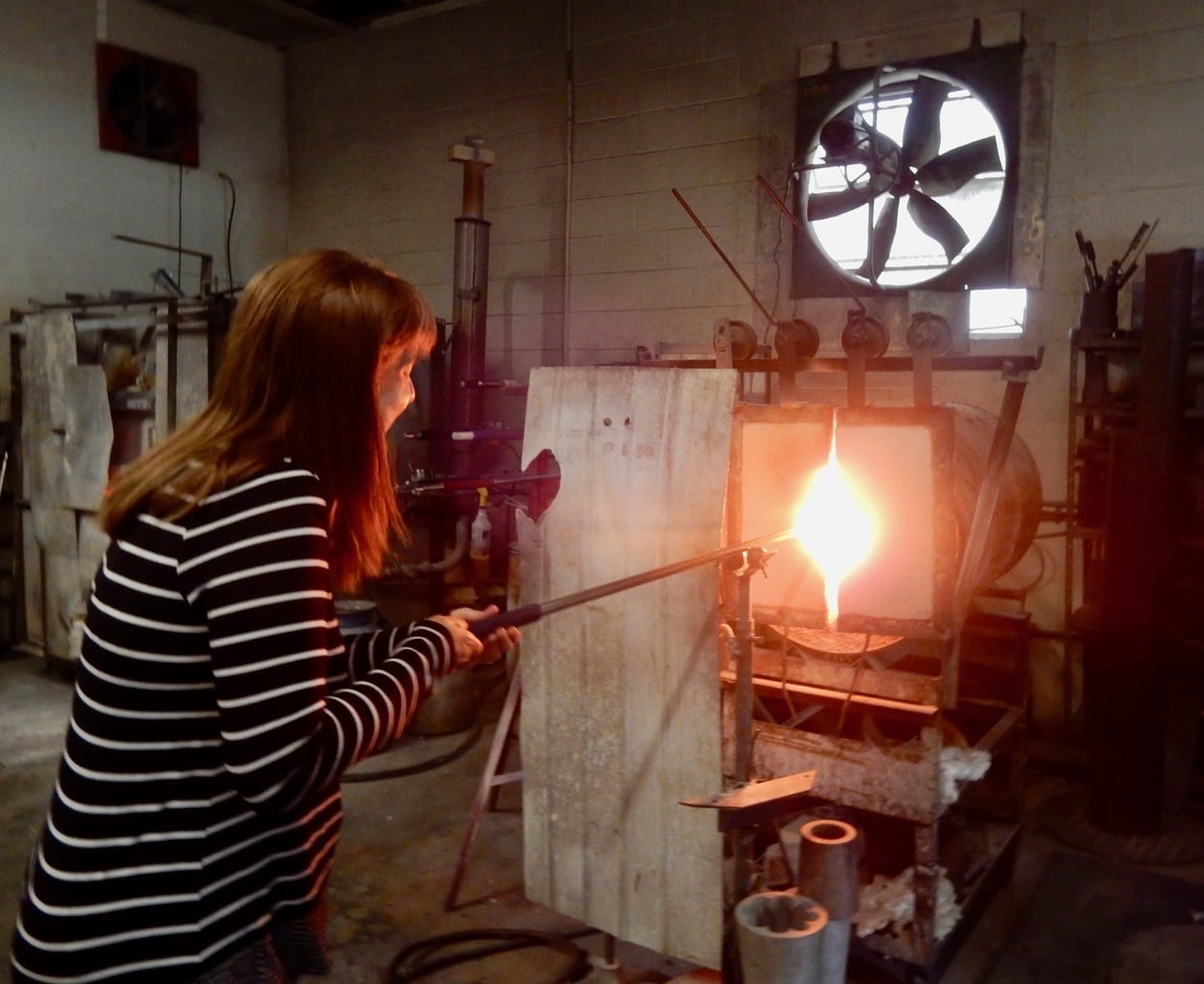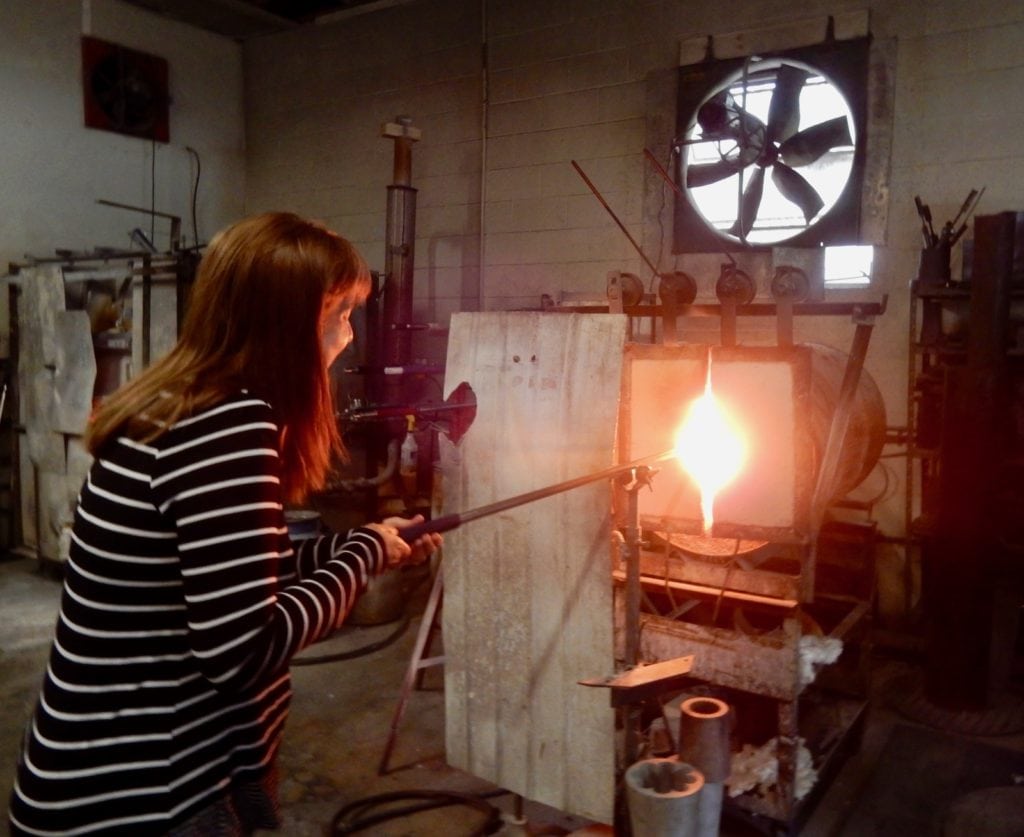 St. Peters Village: Explore this nearly hidden village and blow your own glass bowl at Glasslight Studio (about a 40 minute drive from West Chester). Having had experience with half a dozen drop-in glassblowing classes in other studios around the country, I can honestly say that the full-day make-and-take class at Glasslight is the most hands-on, immersive experience you will ever have as a novice. Up the street, the hidden burg of St. Peter's Village is not gussied up for the tourist trade. But seekers of off the beaten track will find much to love here – especially the rocky, tree-studded French Creek that both rages and meanders over and through boulders behind Main St.: such a stunning scene that those who know how to find St. Peter's compare it to Brigadoon.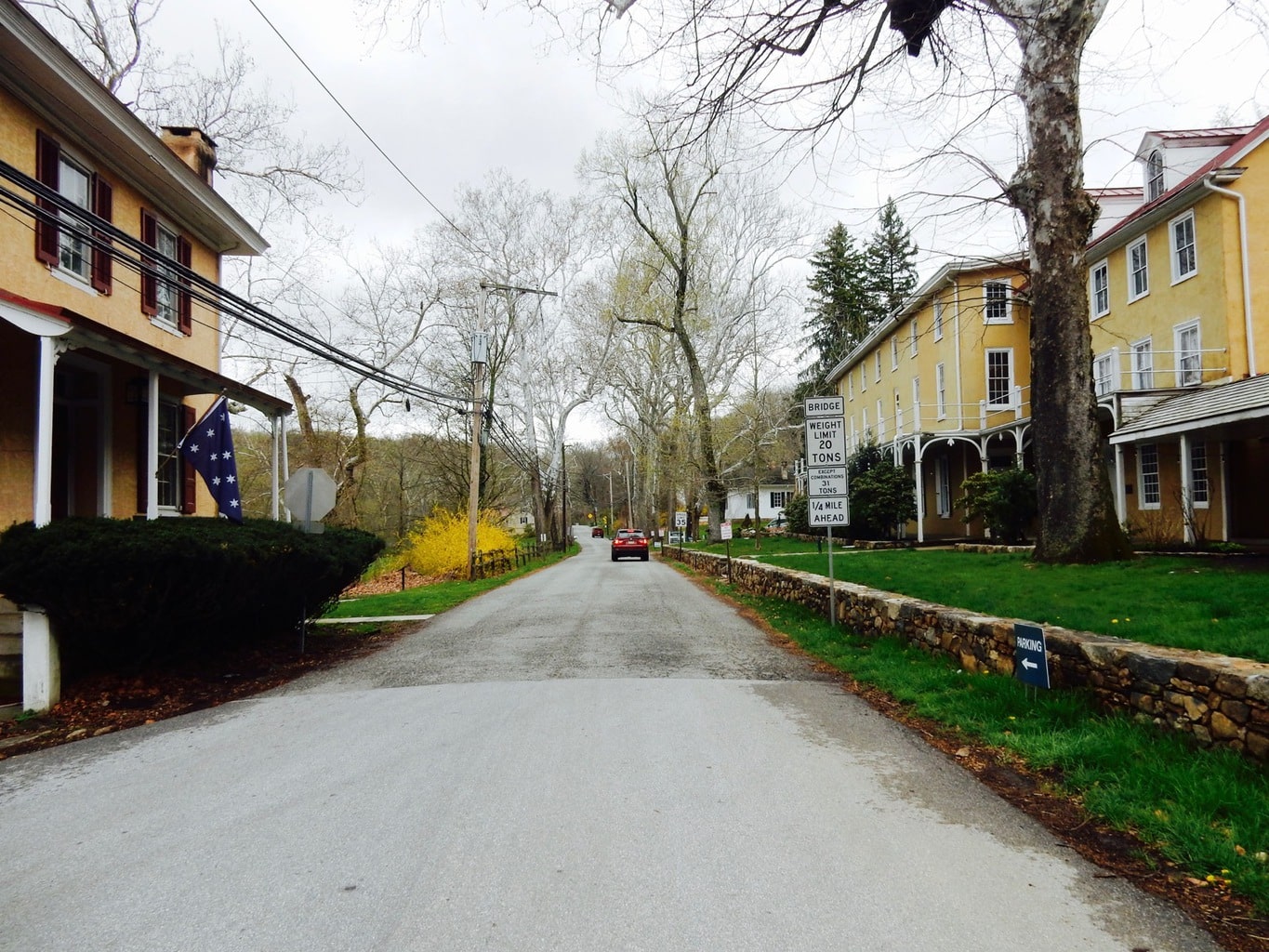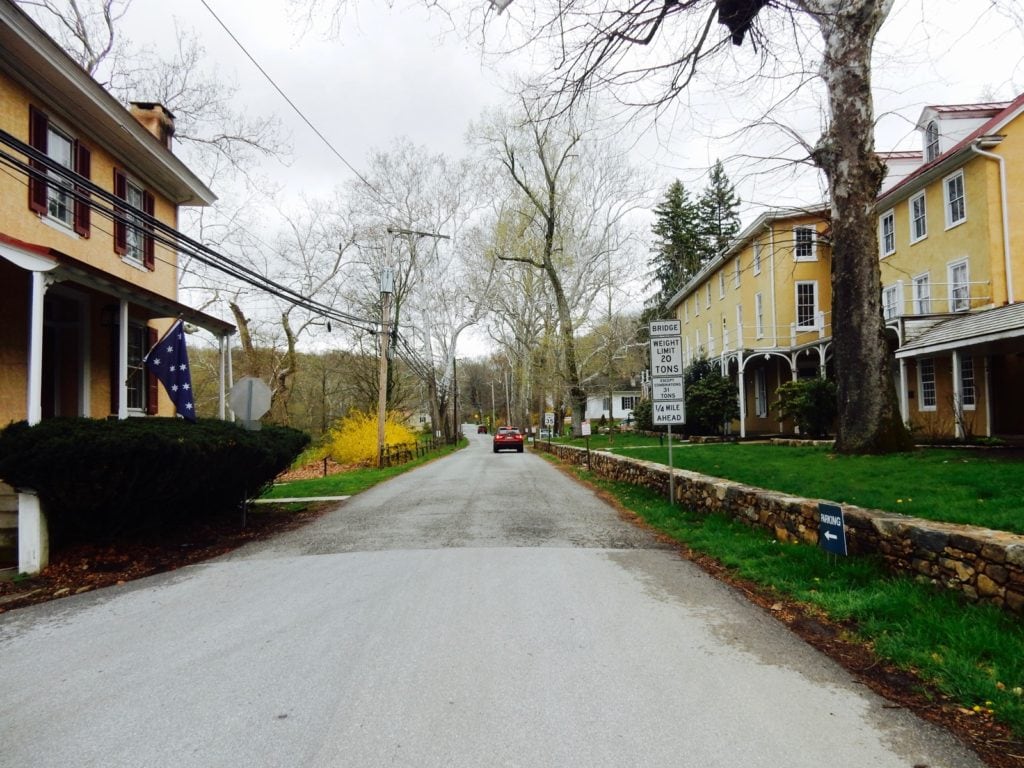 Yellow Springs: Into tiny little art villages? You'll adore Yellow Springs, which has both Civil War, Medical Hospital, and resort history, and is now strictly an arts enclave. Dedicated to the visual arts, environment, and the village's 300 year history, Historic Yellow Springs now hosts one of the largest Annual Art Shows in the region, showcasing the work of 209 artists over a 2-week period every spring.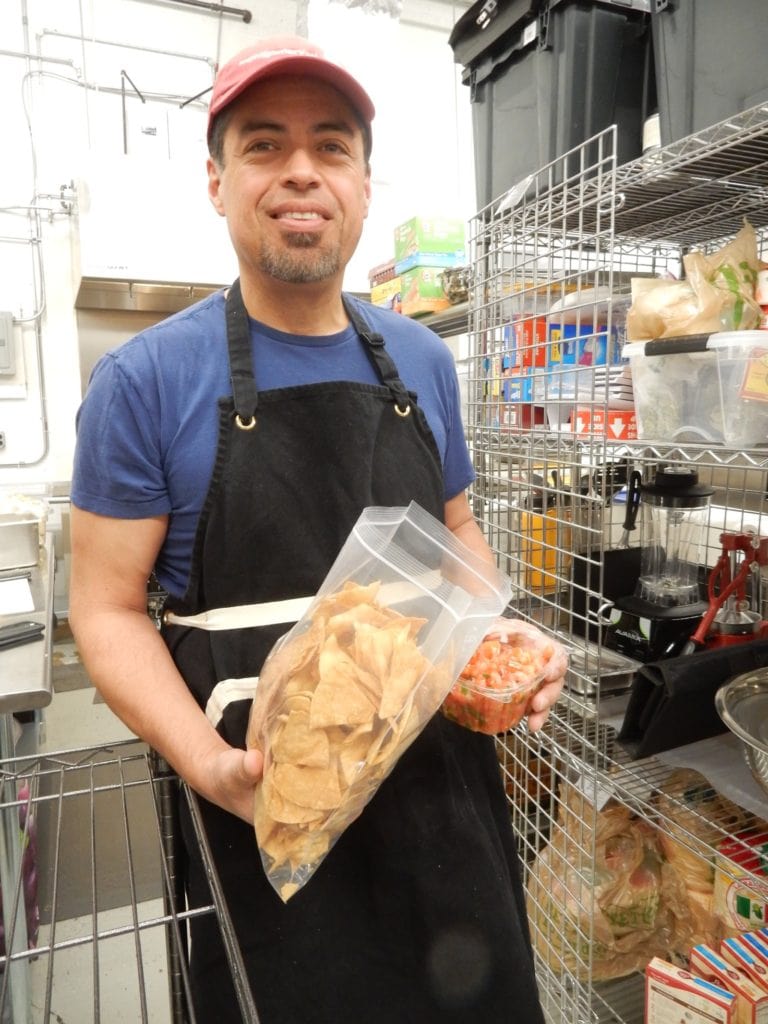 West Chester: Purchase real food from real chefs at the Artisan Exchange at Matlack Industrial Center. Have your friends told you that you should be selling your sublime gluten-free cheesecake to the masses? Are people constantly gushing about your version of the cake that your great-grandfather's baked for Irish royalty? Corporate types with a passion for something other than office work – a product, an heirloom recipe – can build a business at the Artisan Exchange without risking their retirement nest egg. And fans of home-made, artisanal foodstuffs will find nirvana here. There are currently 54 vendors who sell directly to the public every Saturday from 10-2. It's a great way to meet the person who made your food.
WASHINGTON DC Under the Radar Attractions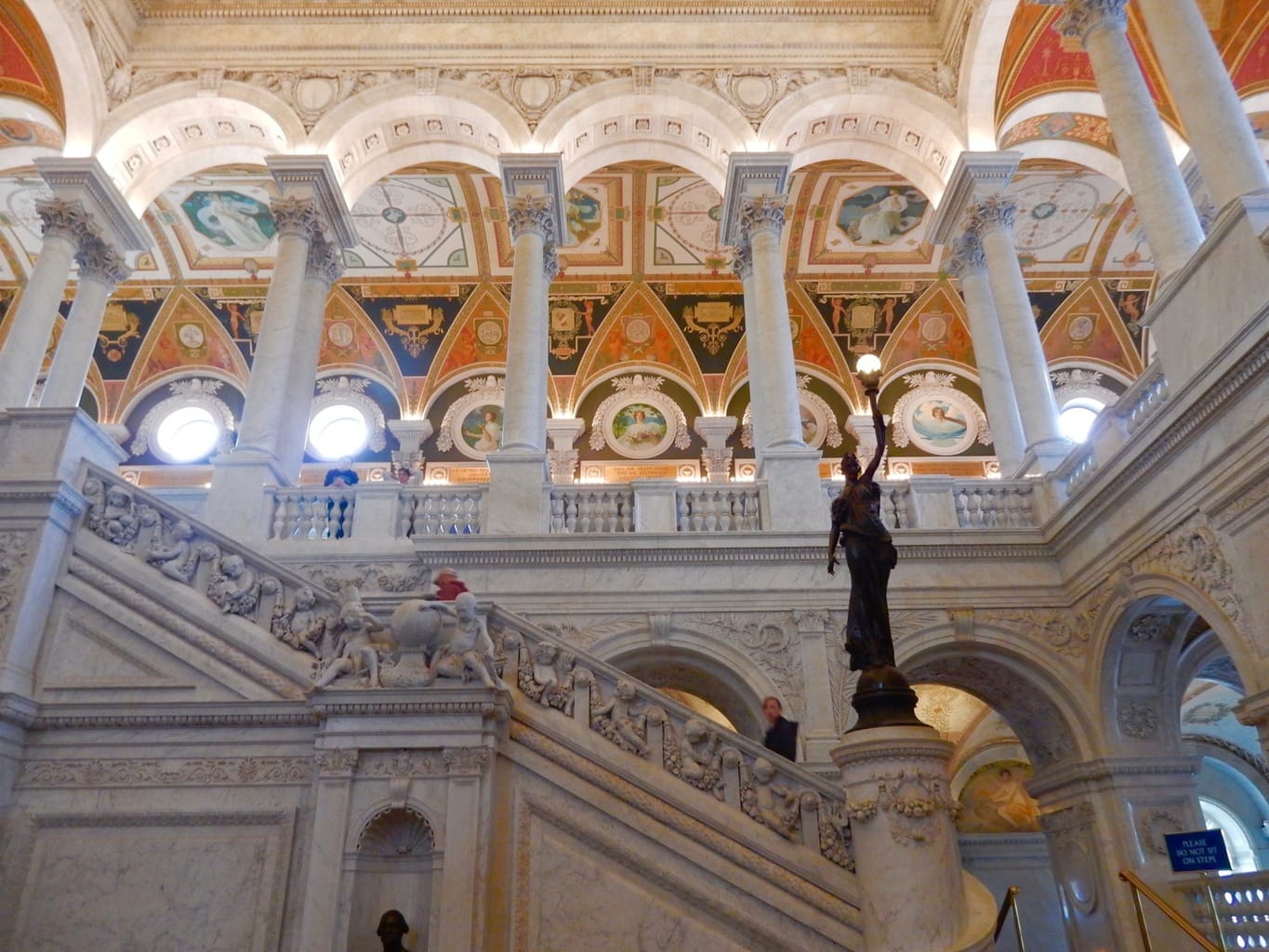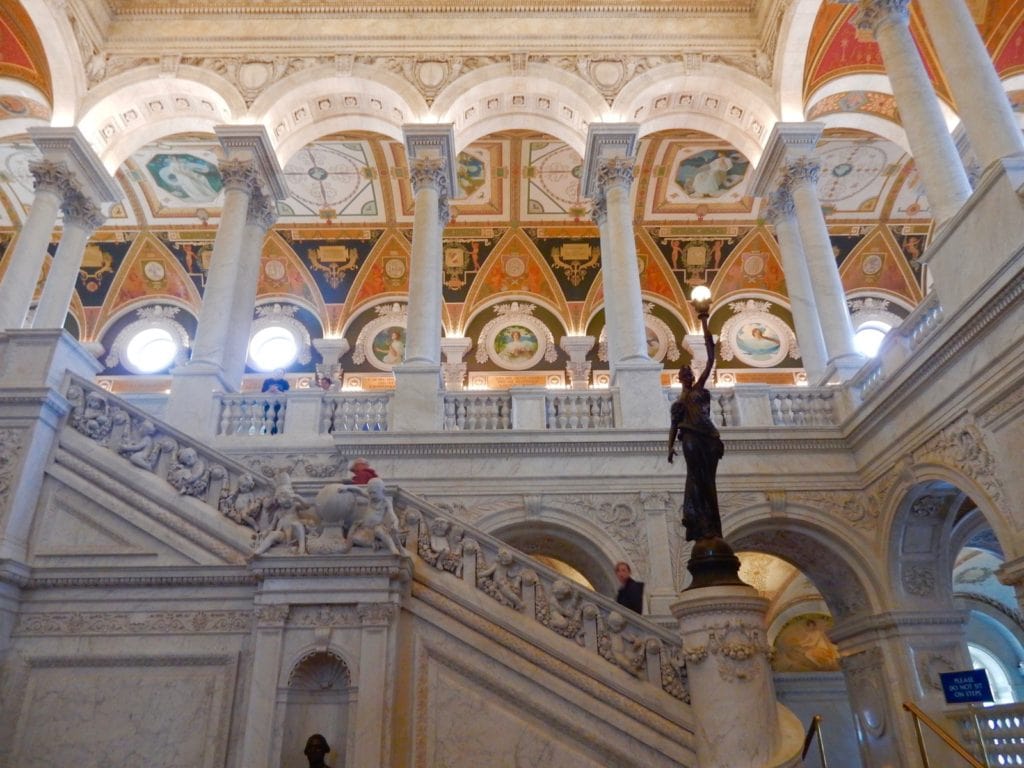 Take the free one hour tour of The Library of Congress Jefferson Building. Those who relish books and iconic artifacts will not want to miss a free hour-long tour of the Library of Congress. The oldest cultural institution of the US Government, and home of the U.S. Copyright Office, I guarantee that you will be inspired and entranced by the our Nation's Library, which holds billions of words and more literary treasures than any other library in the world. Those include the 1502 "Book of Privileges" by Christopher Columbus, the 1632 book written by Galileo that led to his condemnation by the Church, the oldest Koran in existence, one of 4 maps, wrinkled with use, carried by Lewis and Clark on their American expedition, a first printing of the Declaration of Independence, the first video of a football game in 1903 – Yale vs. Princeton – and a $5 Confederate bill found in Abraham Lincoln's pocket on the eve of his assassination. The Library of Congress has in its archives over 167 million items, with 12,000 added per day.
Ponder the news, real and fake at Newseum. This riveting museum does a bang-up job in promoting, explaining and defending the Five Freedoms of the Constitution's First Amendment: Freedom of Religion, Freedom of Speech, Freedom of the Press, Freedom to Peaceably Assemble, and Freedom to Petition the Government for a redress of grievances. You can spend the good part of the day being immersed in the history of, and the current state of journalism and other forms of media. One of the best museums in DC, in our estimation.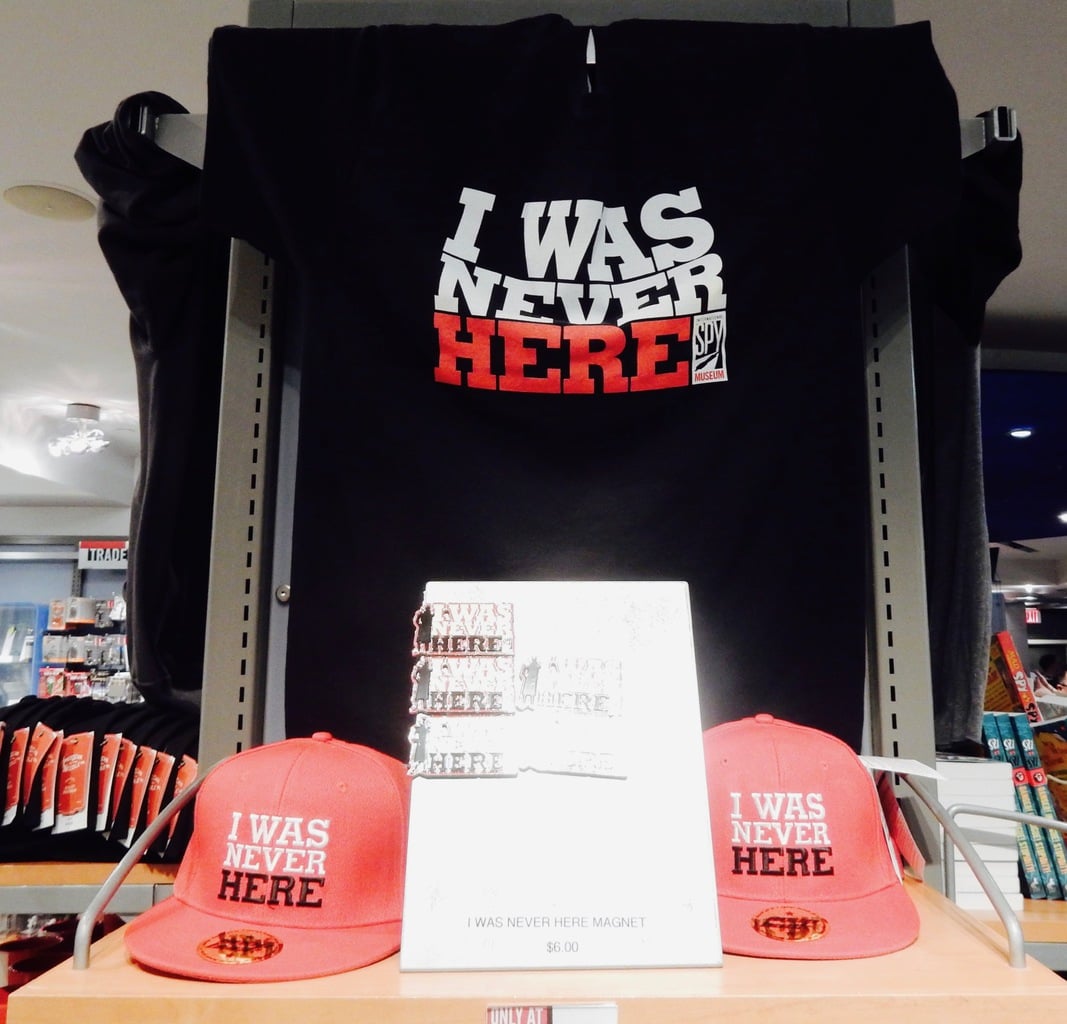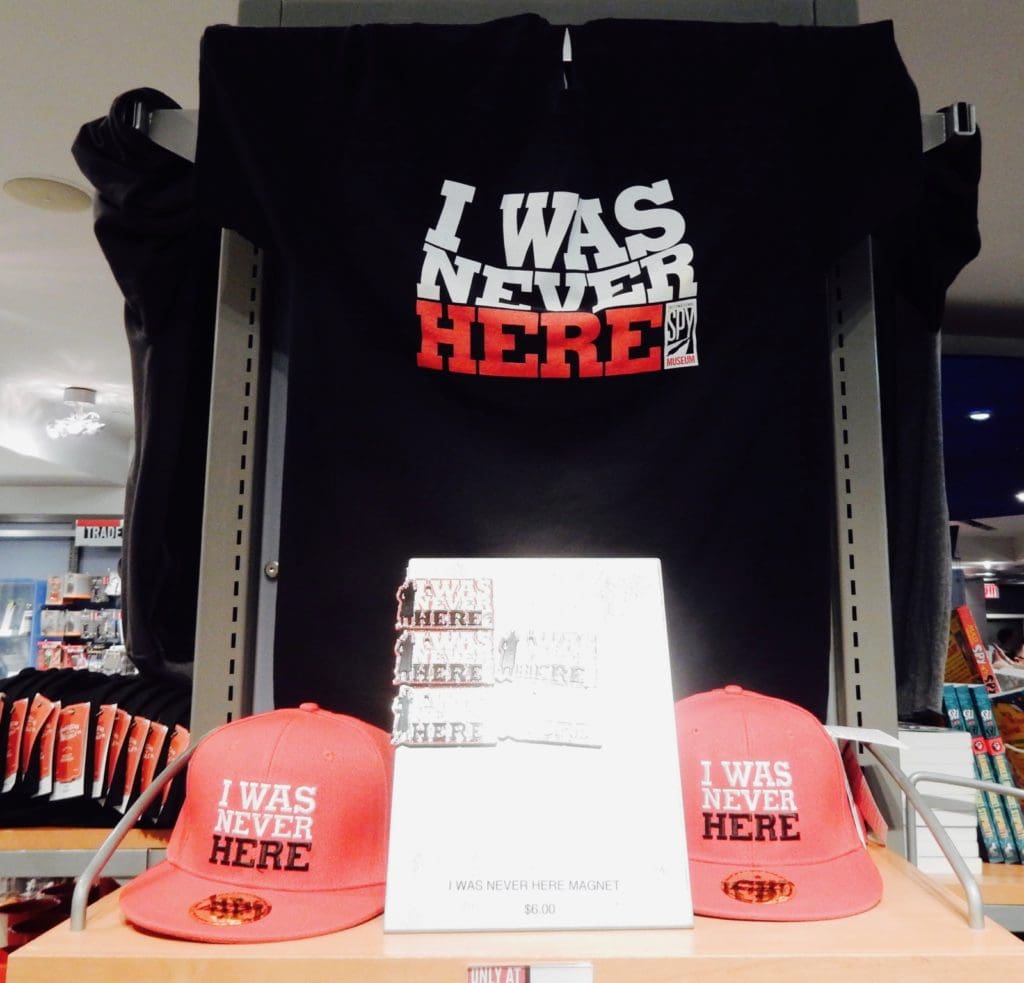 Learn the fine art of spy-craft at The International Spy Museum. It could be hokey. It could be cartoonish. And yes, it has some elements of both. But you may leave the International Spy Museum trusting no one, due to some revealing and shocking declassified information, including the Russian use of nerve gas (hidden in cylinder wrapped in a newspaper) to eliminate double agents, from the 1950's!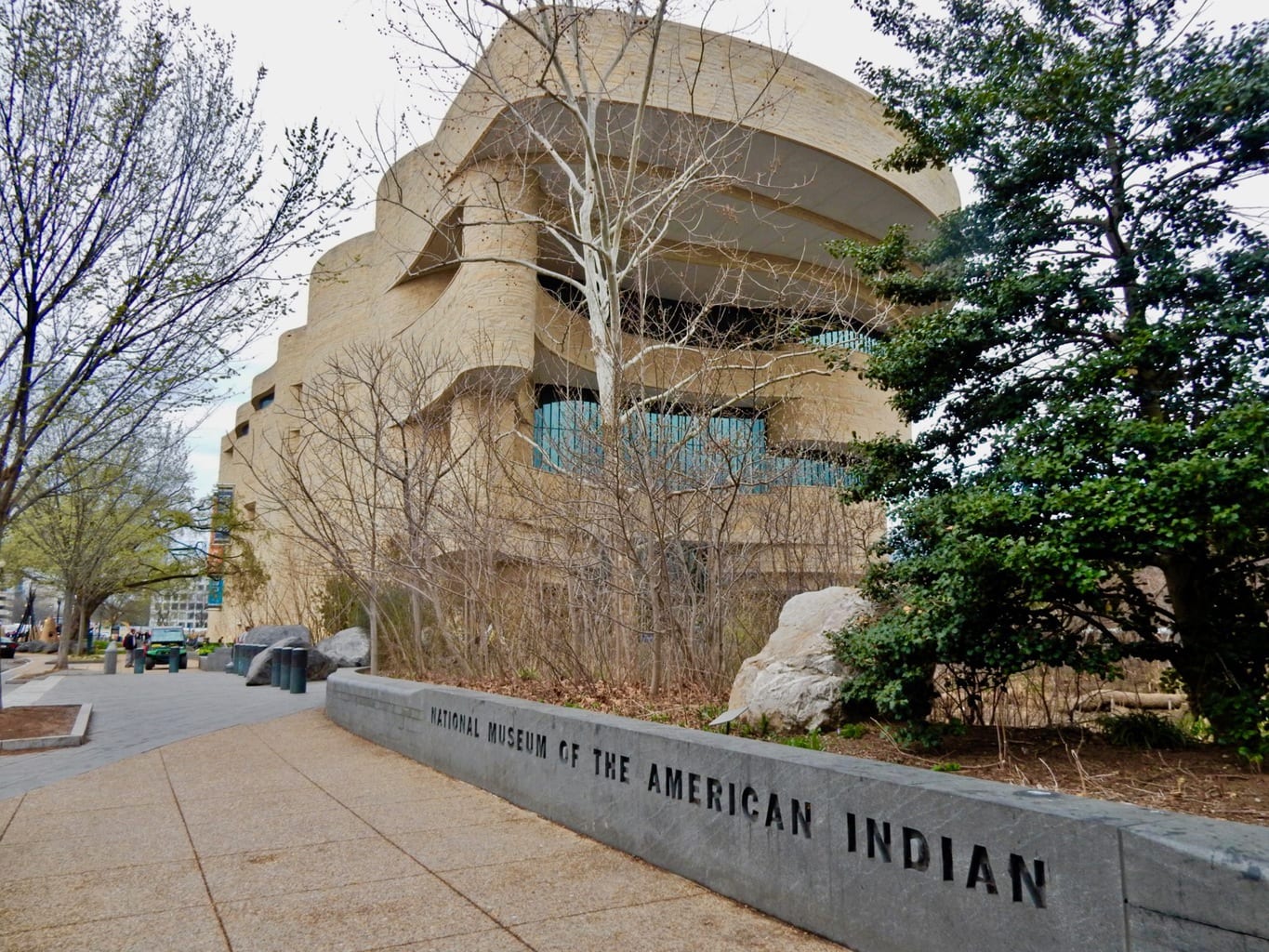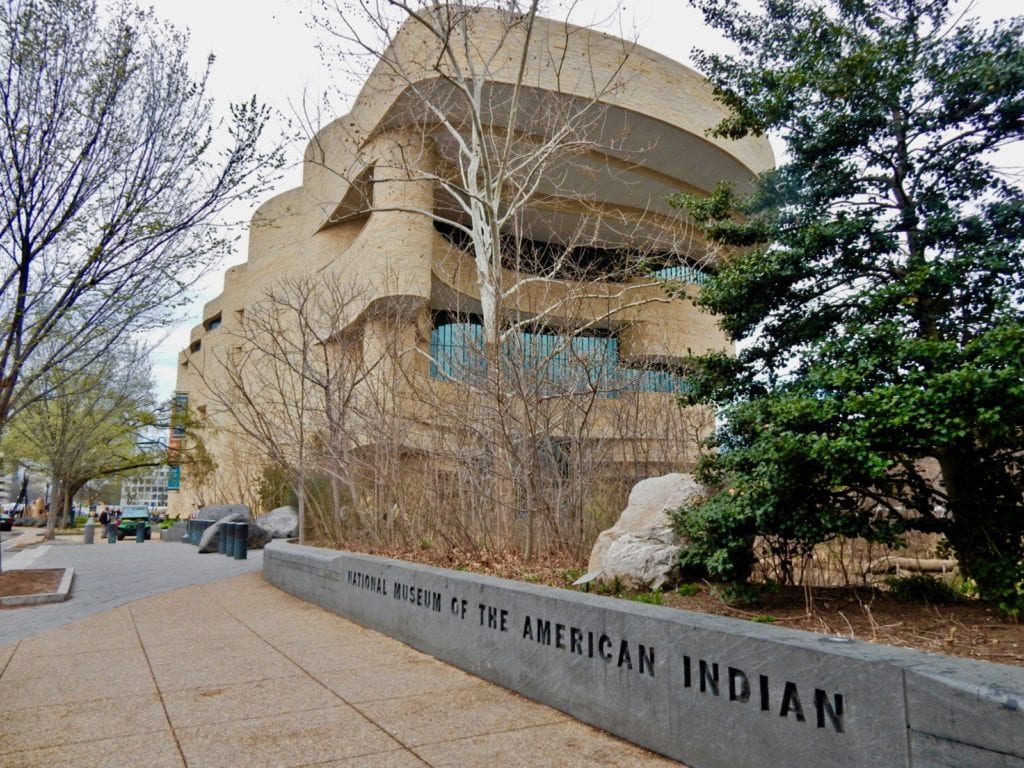 There's no sugar-coating our abysmal history with Native Americans at the National Museum of the American Indian. Our initial contact with Native Americans was promising, represented by the "Two Row Wampum Belt" that embodied insight on how different Nations could co-exist. In 1790, George Washington offered the Seneca Nation "security" for their lands, but a mere 40 years later, in 1830, "bloody, bloody" Andrew Jackson signed the Indian Removal Act, justifying the violent removal of over 67,000 American Indians from their land. Still, today, Native Americans are attempting to return to the ideals of the Wampum Belt. Be sure to have lunch in Mitsitam– the Native Foods Café on the main floor – featuring representative dishes from a variety of regions in the USA. It's one of the best meals in town.
MARYLAND Under the Radar Attractions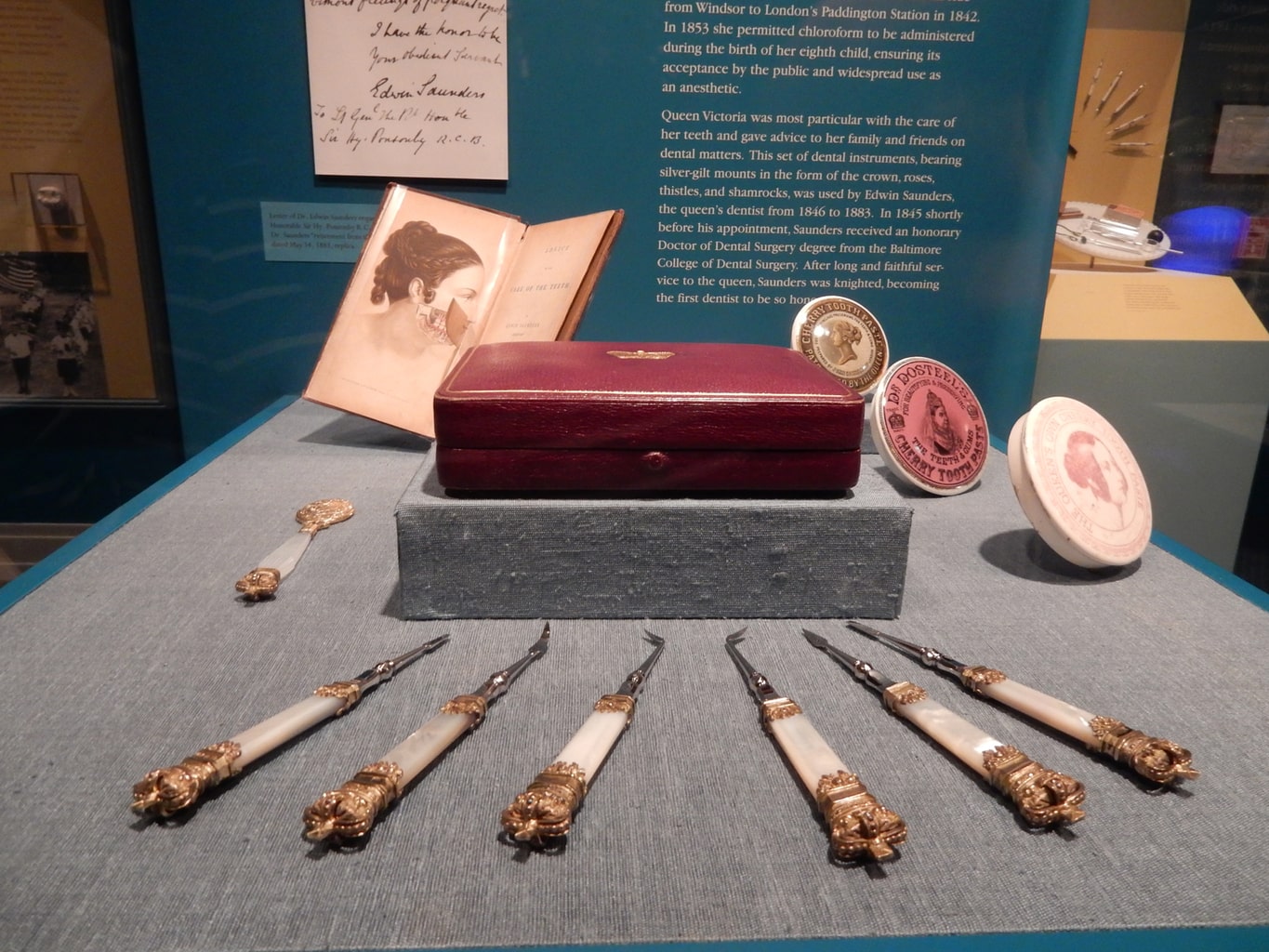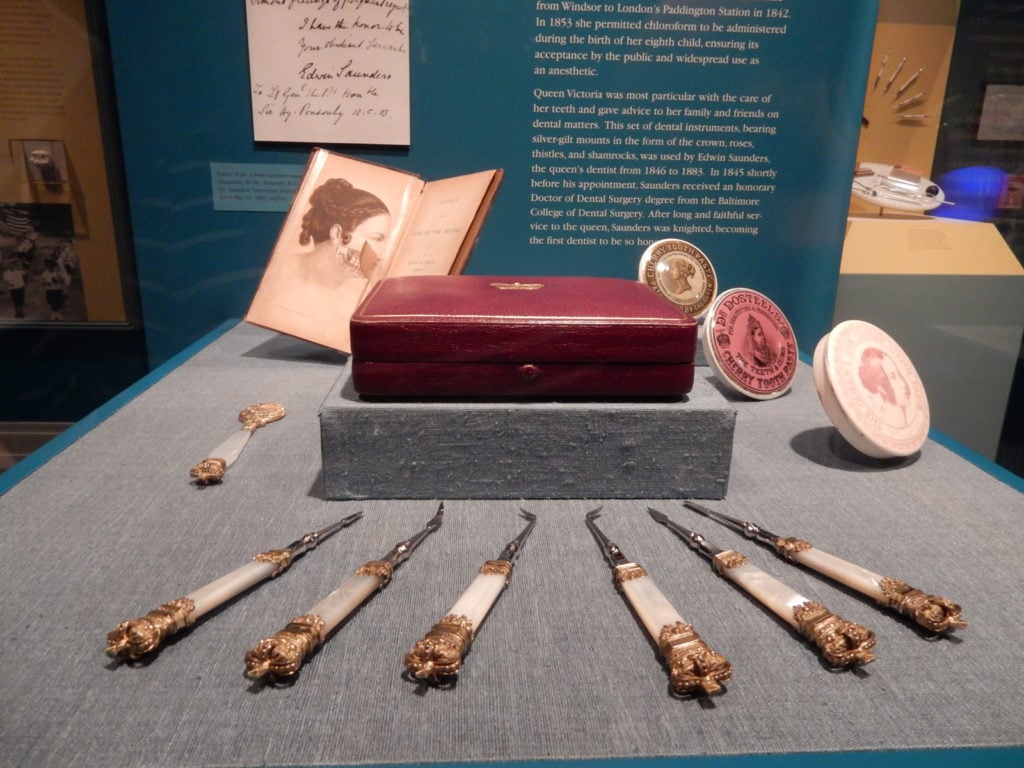 Baltimore: Samuel Harris National Museum of Dentistry. There may be other Dentistry Museums (who knew?), but this one, opened in 1996 on the University of Maryland campus, is the largest in the country most likely because the world's first dental school, Baltimore College of Dental Surgery, debuted here in 1840. At first, you may think a museum dedicated to a dreaded medical procedure would be blah, boring, or even trigger-stressful, but I ended up staying much longer than the 20 minutes I'd allotted because it is so fascinating. The most prominent – and myth-busting – artifact here is an actual set of George Washington's dentures. And they are not made out of wood, as countless teachers have taught us. Made of sculpted bone and hinged wire, they were so uncomfortable, Washington had to have new ones made often.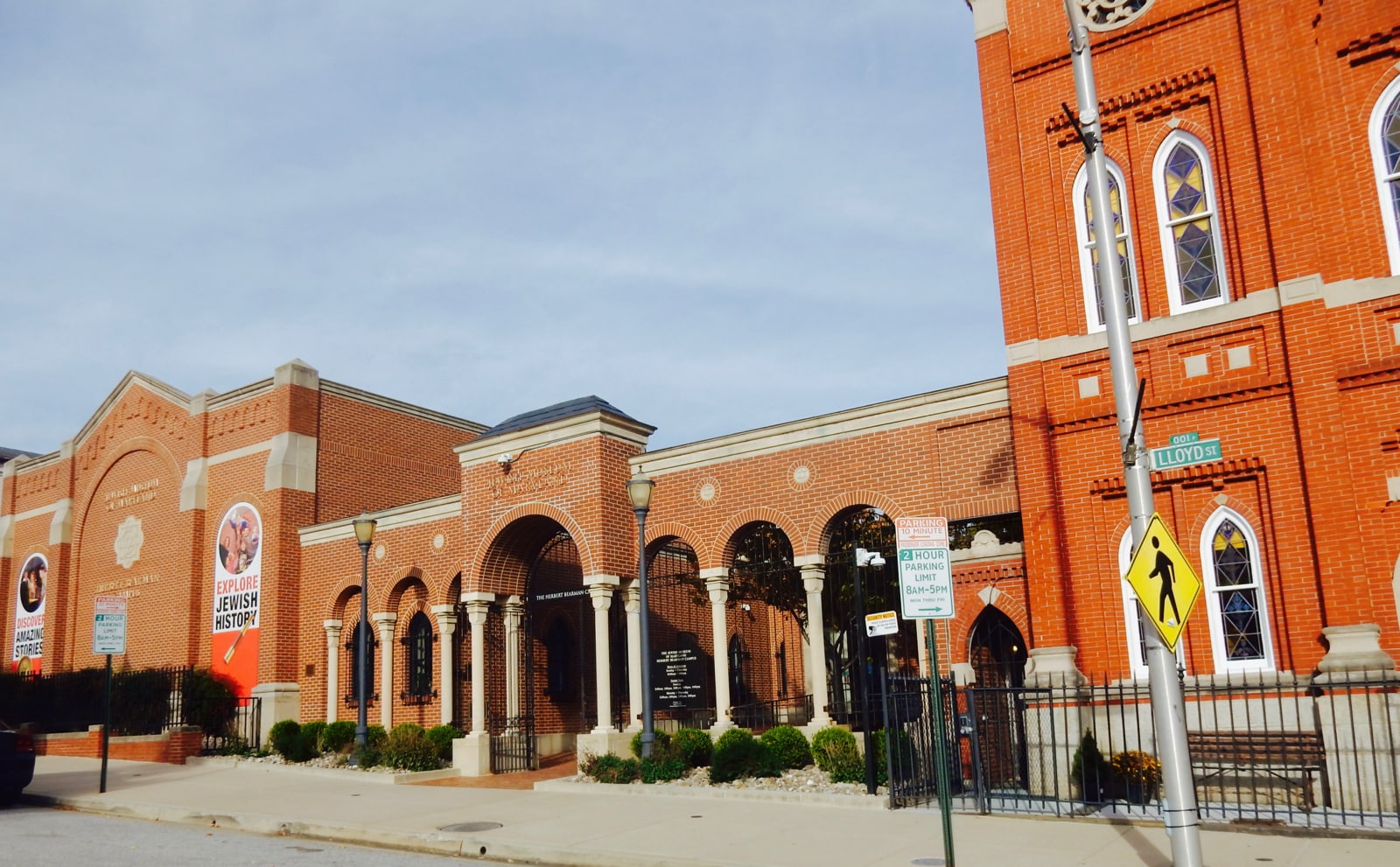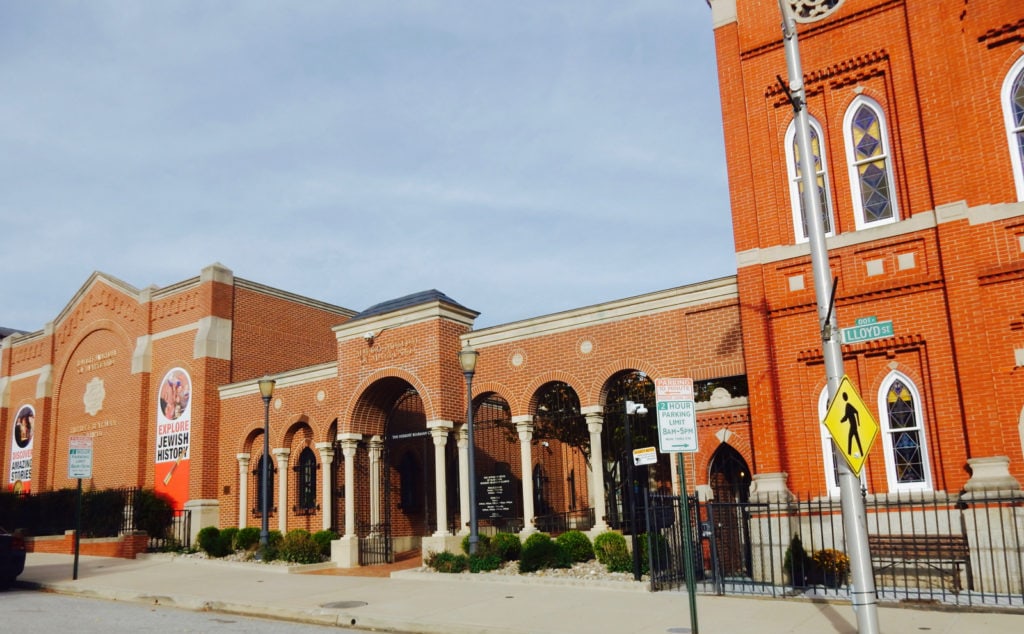 Baltimore: Jewish Museum of Maryland. In 1960, the Maryland Jewish Historical Society was formed to save the Lloyd Street Synagogue, the first built in Baltimore in 1845, to house the Orthodox Baltimore Hebrew Association. The Synagogue is now part of the Jewish Museum of Maryland with its poignant permanent exhibit, "Voices of Lombard St." Stories are told through poster-sized photographs, text quotes and objects. Though specific to Jewish life in Baltimore, the exhibit speaks to a more universal immigrant experience, where newcomers are totally out of their element and ethnic groups must help each other.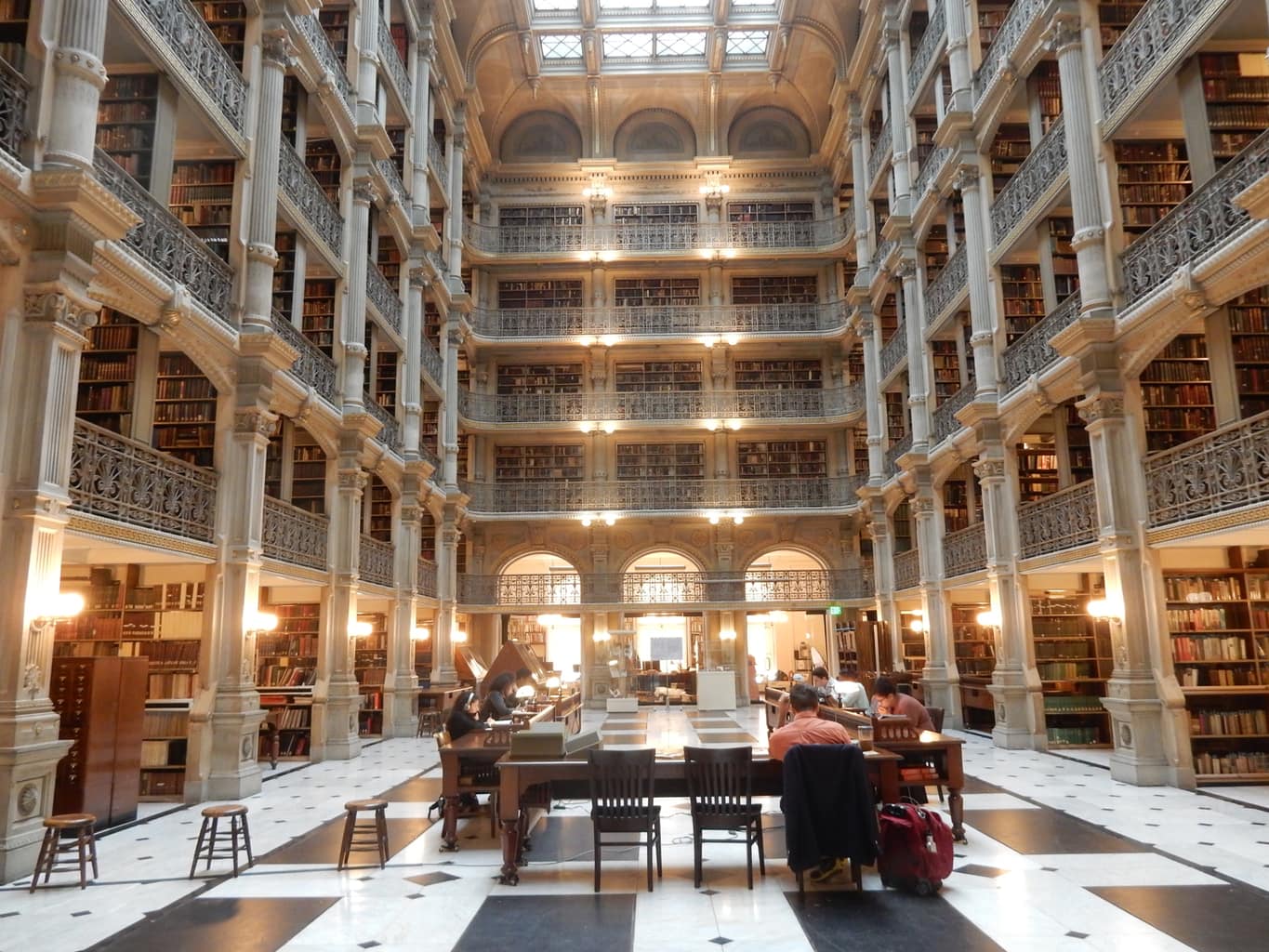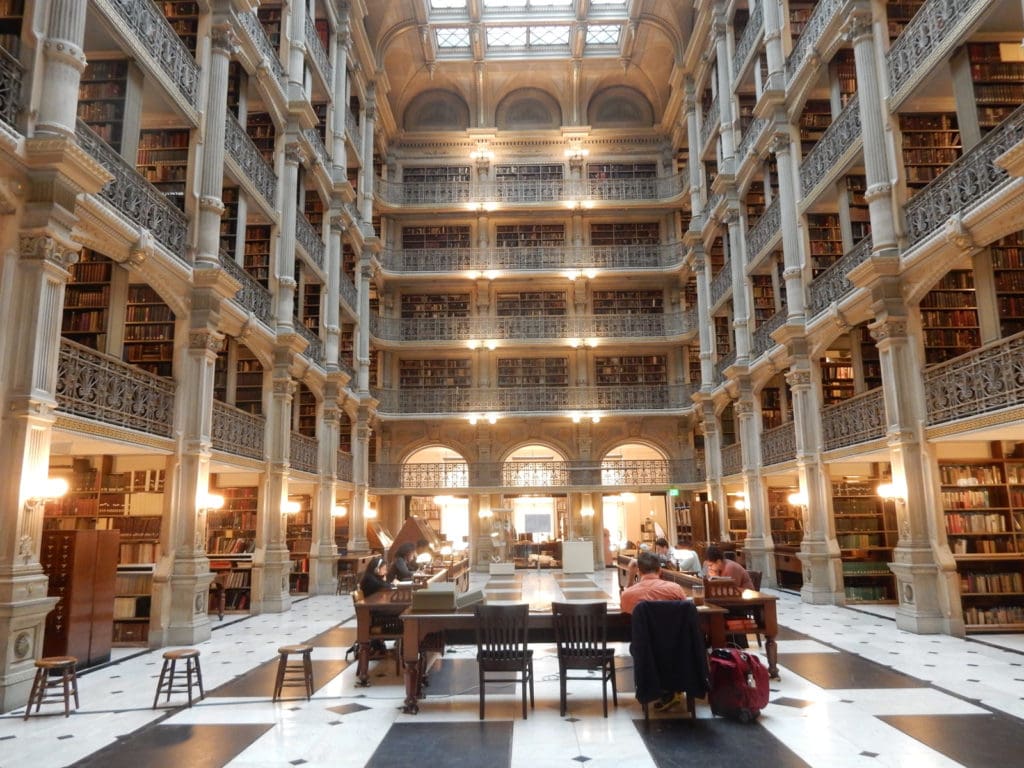 Baltimore: George Peabody Library, at Johns Hopkins University. You'll find this impressive place steps from the Washington Monument in the Mount Vernon District. With a Visitor's Center that features rotating exhibits, from rare books to ancient maps (when I stopped in, there was an original copy of the 1845 Narrative of the Life of Frederick Douglas, An American Slave, a 1533 Math Manual, among others), the main event is the gorgeous library room itself. Step across the threshold, breath it in, take a snap, and shhhhh. Let the students work.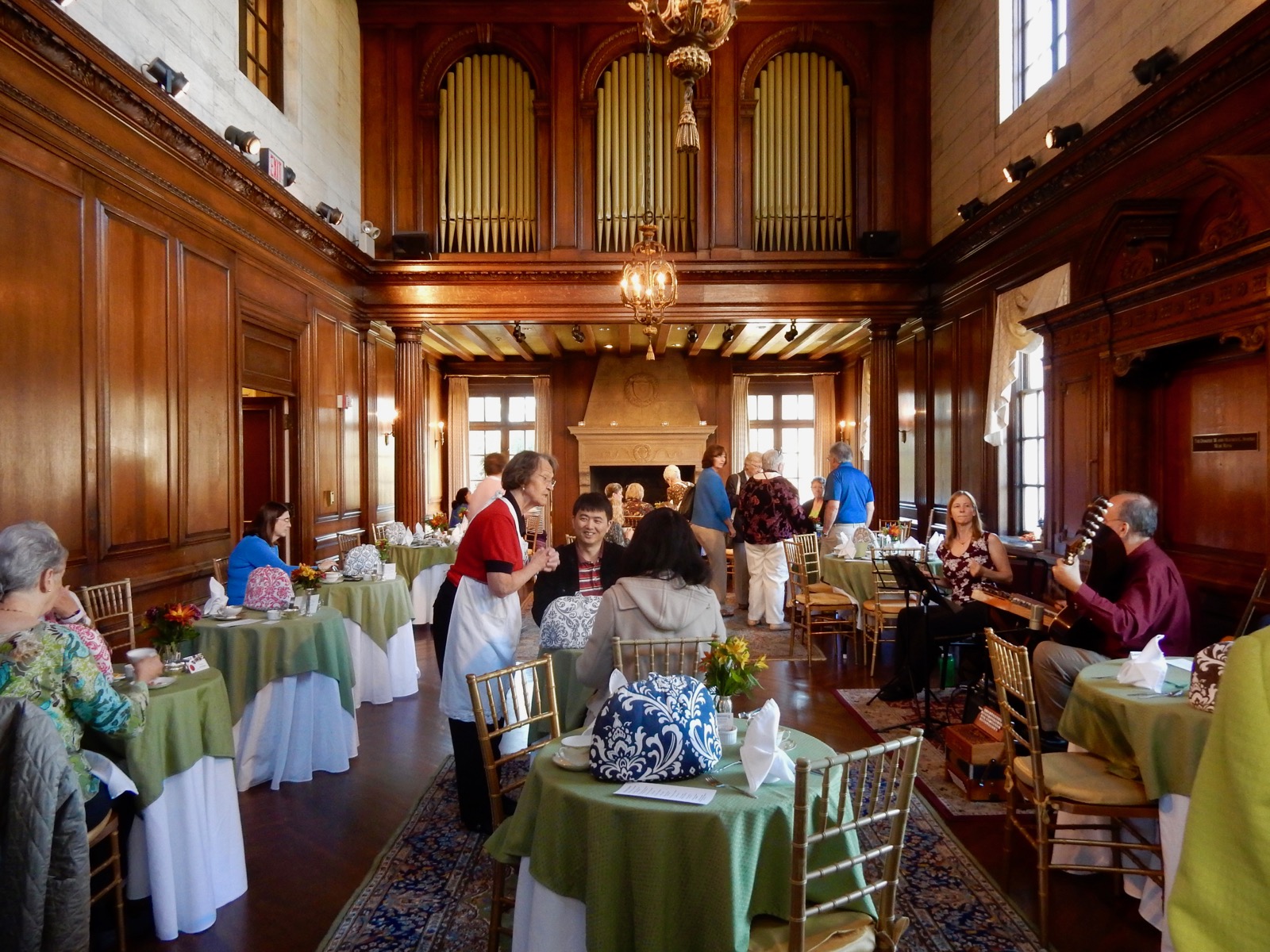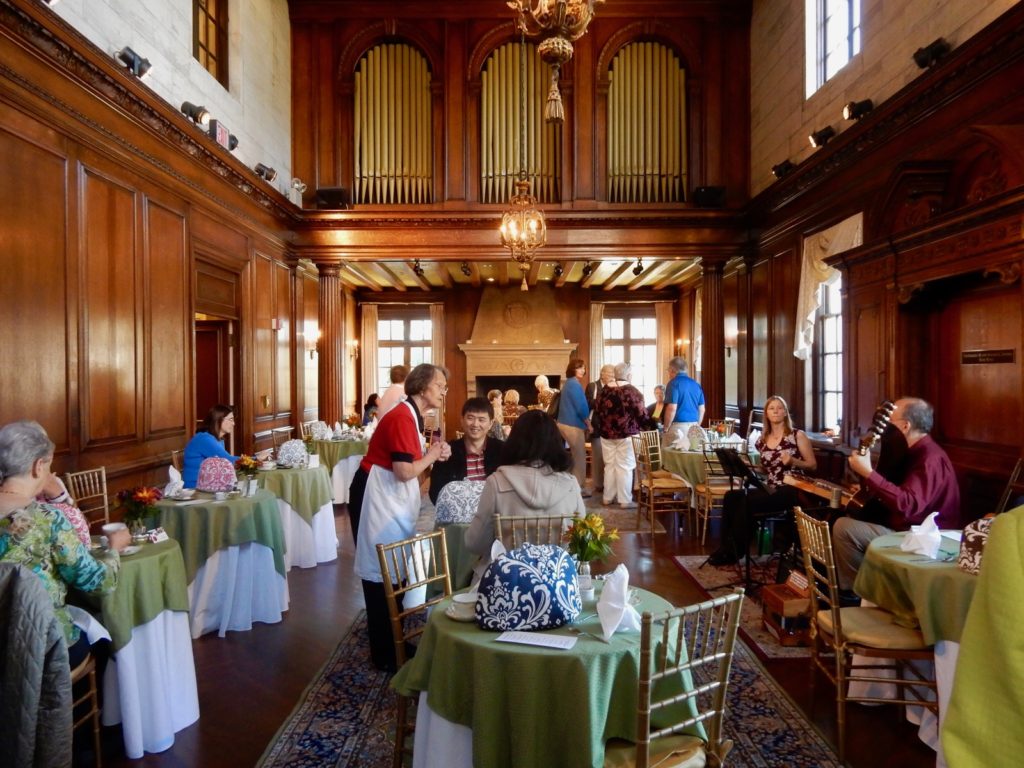 N. Bethesda: Tea With Chamber Music at Strathmore Mansion. There are two buildings on the Strathmore campus, and it is impossible to confuse them. One is the contemporary 2,000-seat modern glass concert hall that would not look out of place among the theaters at, say, Lincoln Center in NYC. The other is the 1899 Georgian Mansion, "one of the handsomest summer homes near Washington," according to the Washington Evening Star in 1903. The latter is where you want to be for an indulgence rarely seen anymore: high tea in a soaring wood paneled room while classical musicians play. Dining on scones with clotted cream, crustless cucumber sandwiches, and an abundance of sweets in the middle of the day is the ultimate guilty pleasure. And at just $25 per person, a great way to show your honey how cultured you are.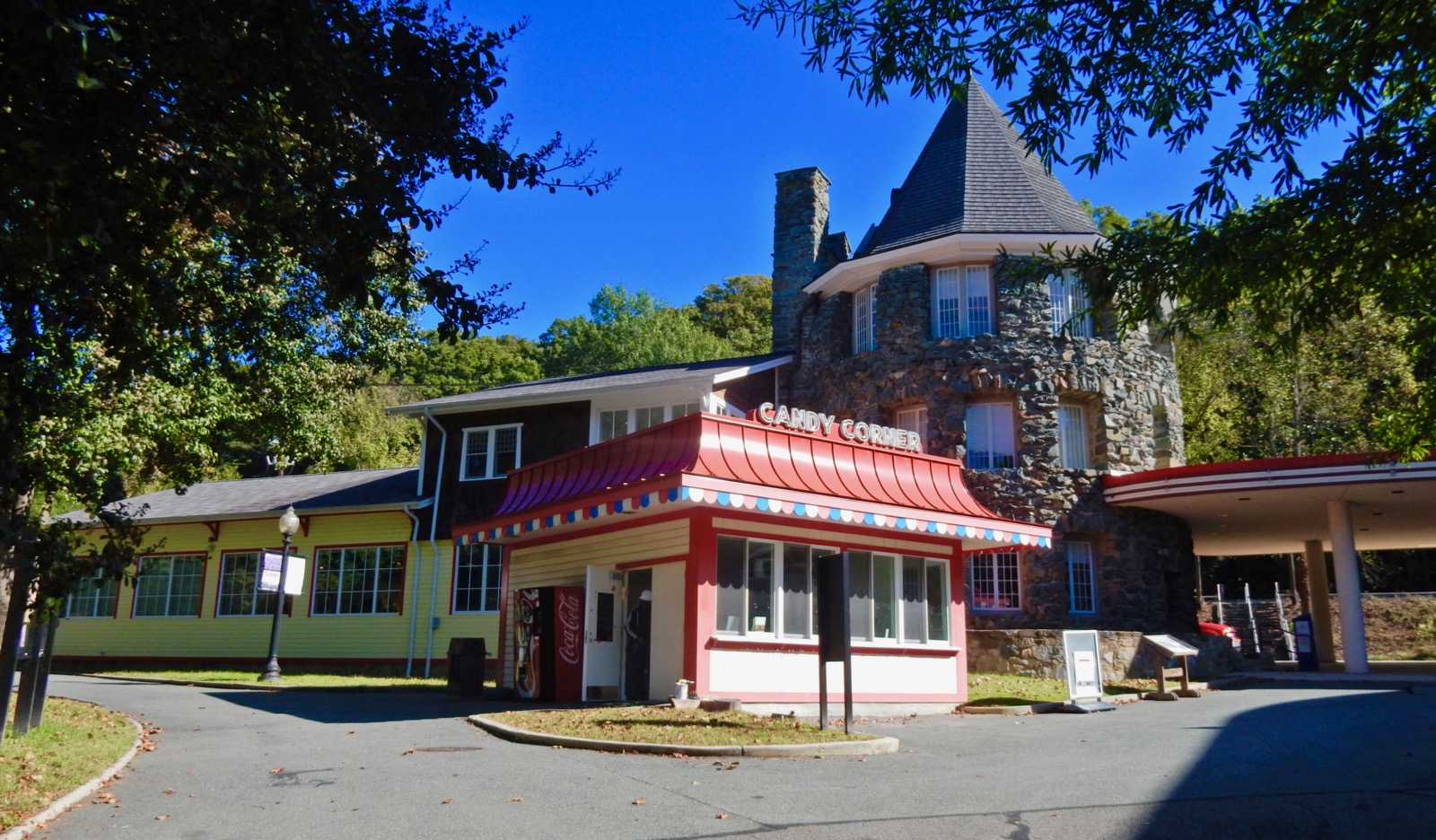 Glen Echo: Take an art, music, or dance class at Glen Echo Park – formerly an amusement park. In 2009, a $23 million renovation brought facades and interiors of buildings back to their original boldly colorful, geometric Art Deco grandeur. Following an expensive face-lift, the 1921 Dentzel Carousel spins once again, and is the only ride left over from Glen Echo's Amusement Park days. You can learn the art of wheel throwing and hand clay building in yurts run by Glen Echo Pottery. The former Crystal Pool is now a glassworks studio. The entry towers, Candy Corner Concession, and other former ride offices have been turned into art galleries, studios, and drop-in-arts for kids. The famous Spanish Ballroom, opened in 1933 with 7,500 square feet of dance space to accommodate 1,800 foxtrotters, still attracts thousands of people a week from all over the country. There's Thursday Night Blues Dancing, Friday and Sunday Contra Dance, and every Saturday night – Swing. Amazingly, $18pp buys you an hour Swing lesson and three hours of dance time to a live band – one of the cheapest date nights ever.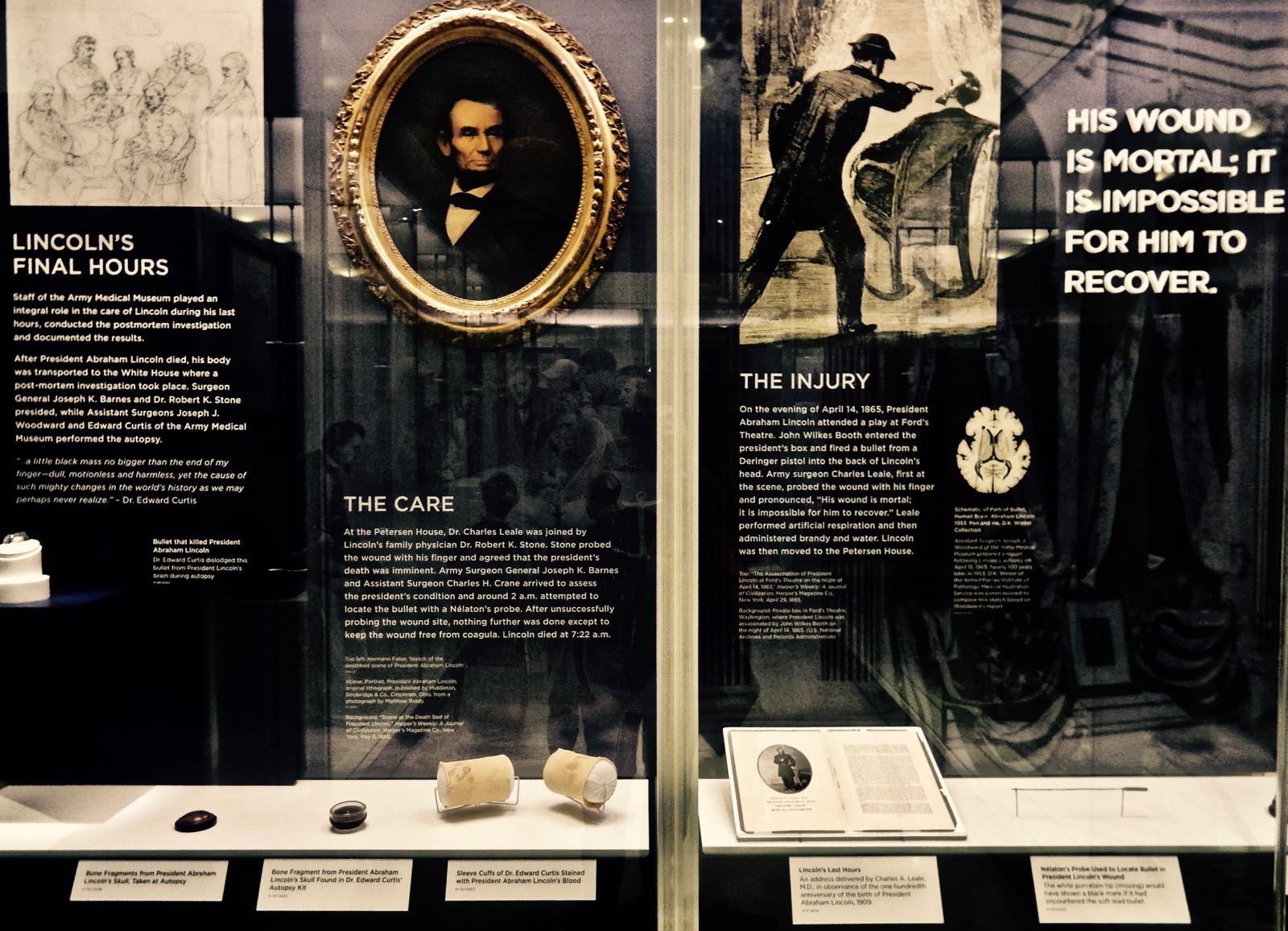 Silver Spring: Gaze upon the bullet that ended President Abe Lincoln's life at the National Museum of Health and Medicine. Founded by Surgeon General William A. Hammond in 1862, this institution highlighted the "Medical and surgical history of the War of the Rebellion." Now, the Department of Defense's National Museum of Health and Medicine is tucked away in a modern building behind the U.S. Army Forest Glen Anex. An array of glass cases hold a multitude of specimens: bone fragments with gunshot wounds, diseased appendages, medical tools, shrapnel, innovations in medical technology, and some pretty significant relics, including the bullet that killed Lincoln and several pieces of his skull removed during the autopsy.
Colesville: Delve into more than just the mile-long trolley ride at the National Capital Trolley Museum. Most people come to this museum for the mile-long streetcar ride – the hallmark of this institution – and then leave. But there is much more to this small trolley museum than the "primary interpretive object outside," according to the Museum's Director, Ken Rucker, who chafes when parents come through the door making a "choo-choo" sound. "It should be 'ding-ding' or 'clang-clang.'"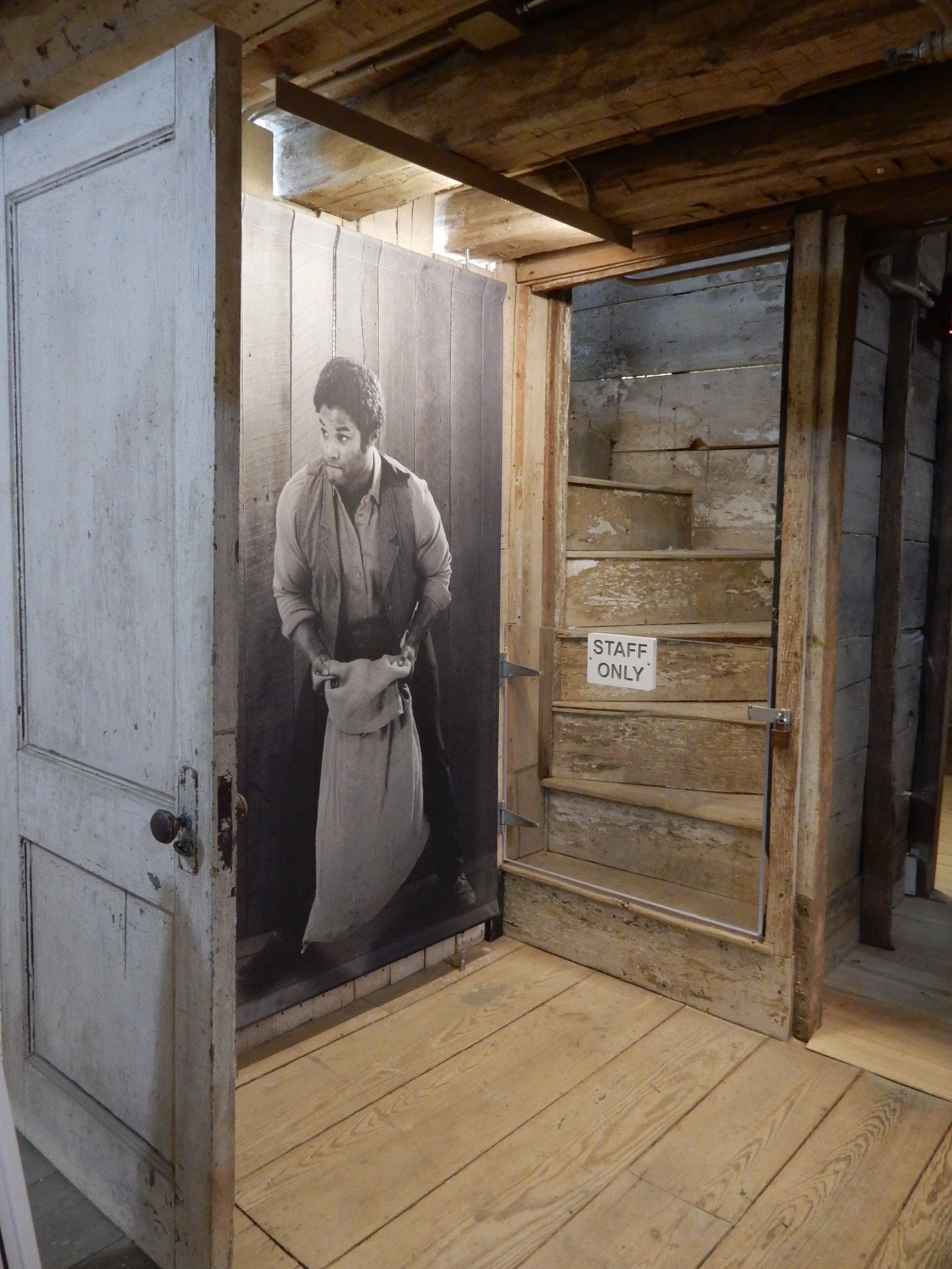 Sandy Spring: The walls literally talk at Woodlawn Manor Cultural Park. After a major renovation in 2016, the 1832 Stone Barn on this farm managed by the Montgomery Park System offers one of the most engaging ways to learn about slavery and the difficult decisions encountered by both the enslaved (to run or stay) and the slave owners (to free them or not). Interactive exhibits highlight the area's agricultural landscape, the Underground Railroad and the Quaker experience in Montgomery County, revealed through the lives of the Woodlawn's residents – the Palmer family and enslaved laborers.
VIRGINIA Under the Radar Attractions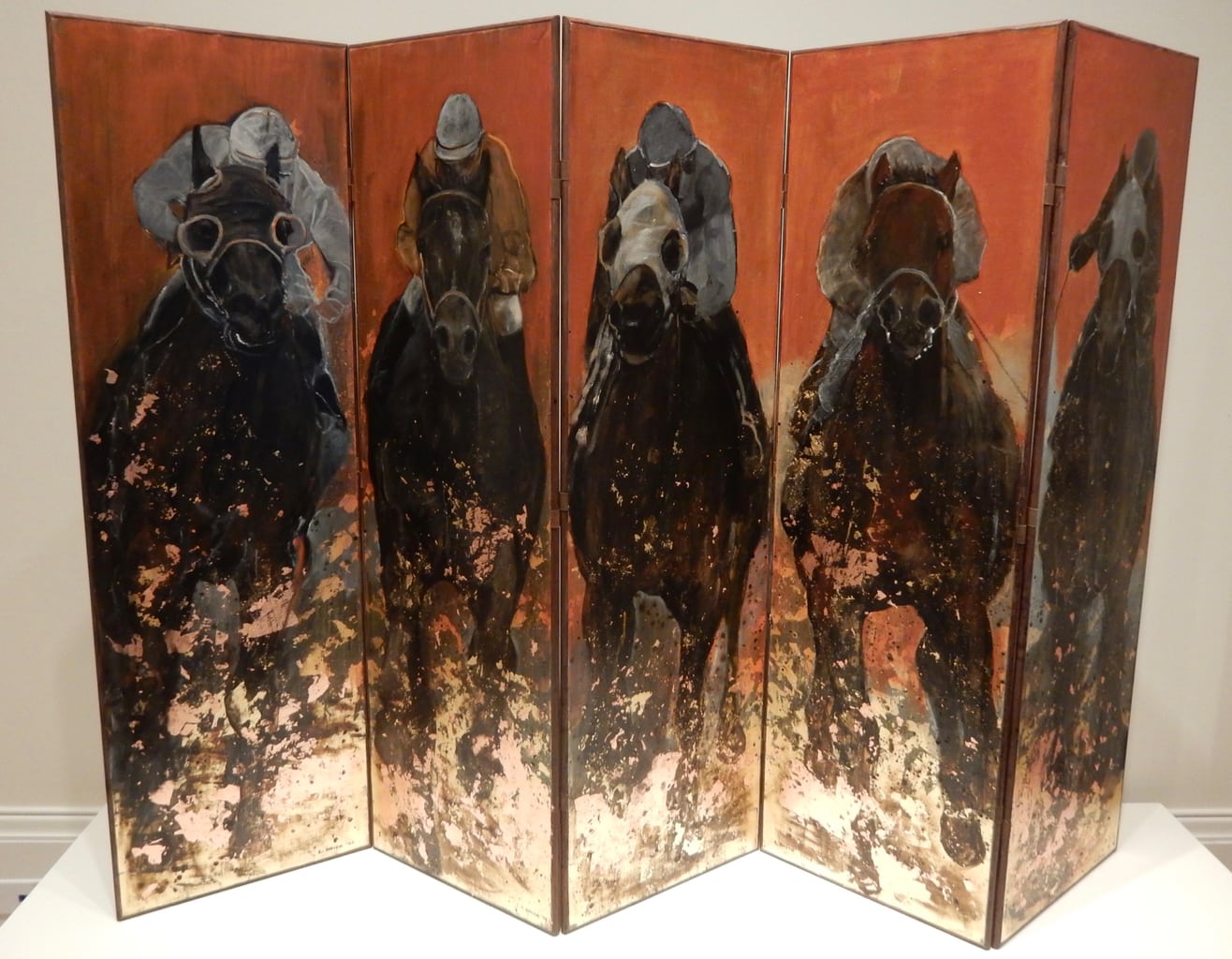 Middleburg: Discover the genteel world of country sports at The National Sporting Library and Museum. What exactly is "Sporting" and how is it different from, say, Basketball, Baseball, and Football? Well, explains one docent, this museum is all about "old country sports. If they did it in a Jane Austin novel, they've got exhibits about it here." Most exciting are the rare books and documents in the Rare Book Library such as Teddy Roosevelt's handwritten essay (not a copy) defending Fox Hunting as an American Sport, with all its cross-outs, substitutions, and notations that allow the viewer a glimpse into the President's working mind.
Richmond: River City Food Tours, Carytown Tour. "Over the last 8 to 10 years, Richmond has turned into a 'food powerhouse,'" says Brian Beard, the bearded owner/guide of River City Food Tours, and on this tour, guests sample the goods from six restaurants and cafes. Though the amiable Beard and his guides run several tours, funky Carytown is a good first choice, and ever changing. "With our tours, we want you to feel that you have a friend in the neighborhood. We want you to feel like an insider."
Richmond: Explore the depths of humanity at the Virginia Holocaust Museum. Warning – this is a tough hour for anyone who walks though the door of this excellent, compelling, somber, and oft-times horrifying museum, with a no holds barred examination of an incomprehensible era in recent history. Exhibits include graphic photos from Death Camps, Displacement Camps, and a recreation of parts of the Nuremberg Trials with dioramas and audio recordings. A recent study showed that Americans are "forgetting about the Holocaust," with a fifth of Millennials not even sure what it is. That is terrifying – and a reason that more people should visit.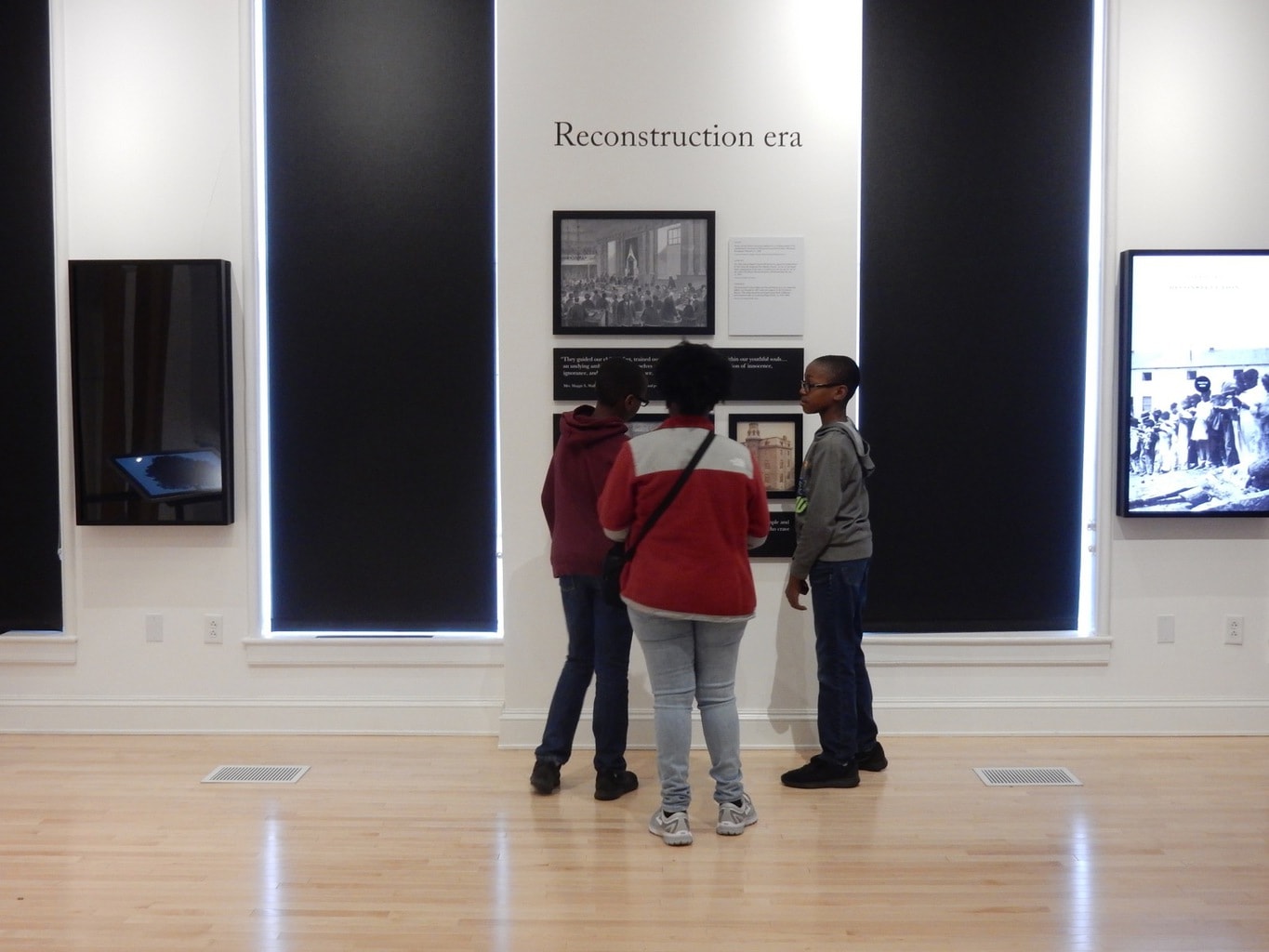 Richmond: Virginia Museum of History & Culture. Right next door to the Virginia Museum of Fine Arts (in fact, they share a parking garage) the VMHC is chock full of local history curated for maximum impact, don't miss "The Story of Virginia: An American Experience" in the Edmund Randolph Williams Gallery, illuminating those pivotal points in Virginia History that made the USA what is it today. And don't miss the Black History Museum and Cultural Center of Virginia, a small, minimalistic, two story museum that is the polar opposite of the venerable one in Washington DC. Moved to the renovated Armory (built in 1895 for African American Militia) turned school turned recreation center, turned museum in 2016, this welcoming and thought-provoking place highlights Slavery, Emancipation, Reconstruction, Jim Crow, Brown Vs. Board of Ed, Civil Rights Era, and Black notables, in several spare rooms – utilizing enlarged photos, quotations, and interactive boards to minimize clutter.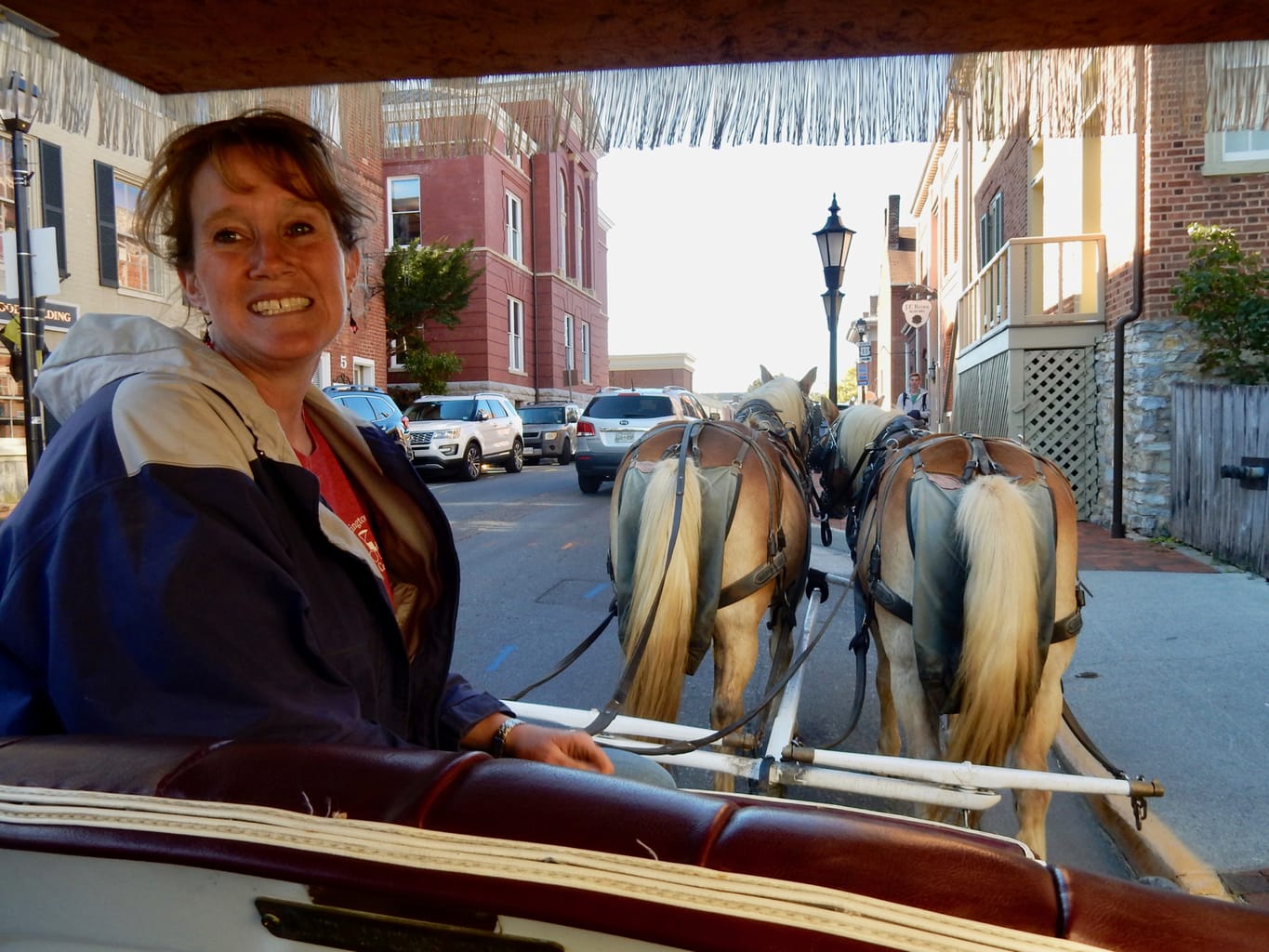 Lexington: Lexington Carriage Tour. There's no better way to tour a hilly historic town than by a fancy carriage pulled by draft horses. Sure, you'll see some sights and learn something about the history of Lexington on your 45 minute excursion, but you'll also fall in love with the hard working equines, each with his or her own distinct personality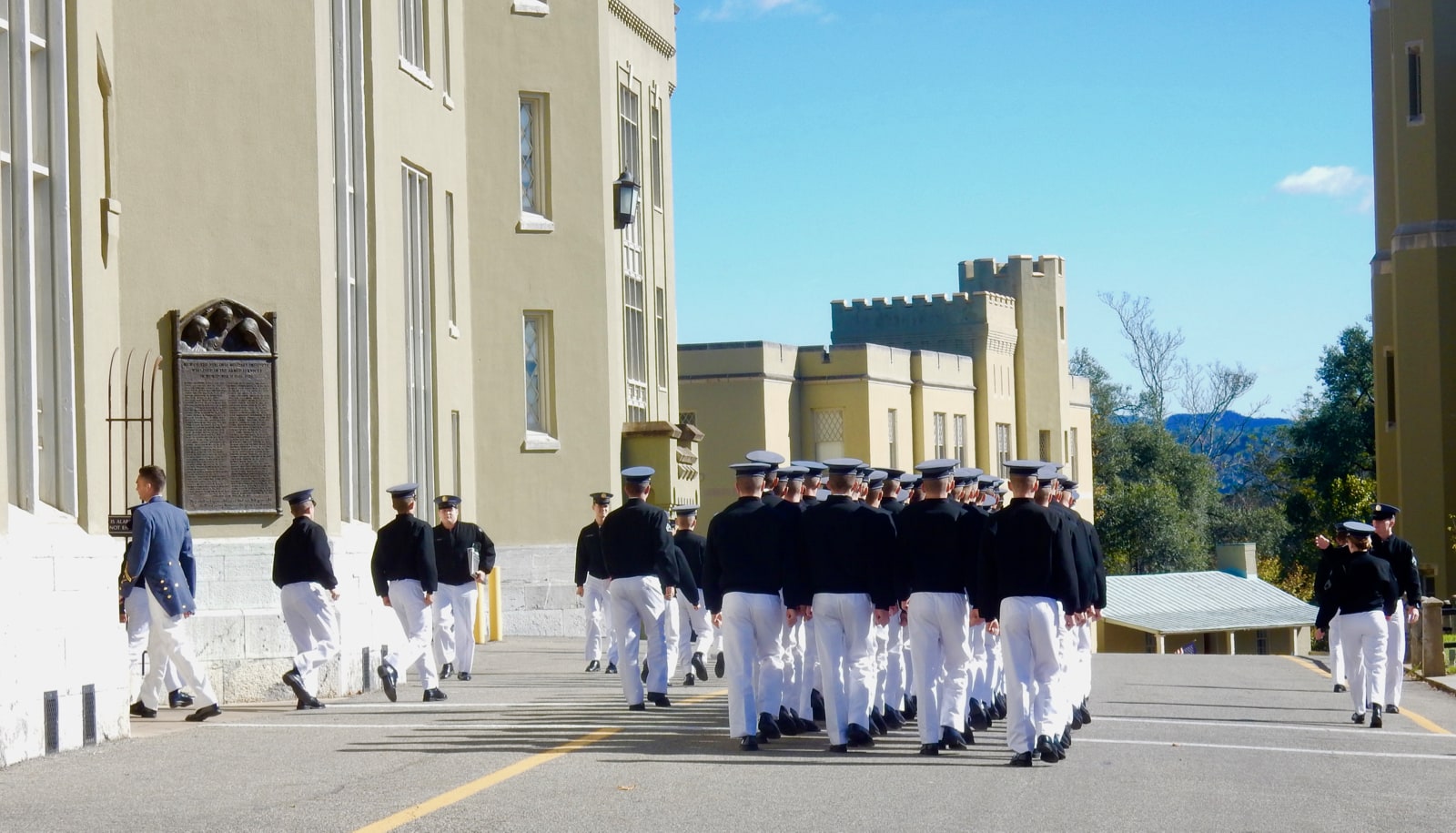 Lexington. Tour two iconic colleges – first, the Virginia Military Institute, a four-year undergraduate college that combines a full curriculum within a framework of military discipline emphasizing honor, integrity, and responsibility. Walk on original Lexington Brick sidewalks to the VMI Museum/Chapel which provides visitors with a view of the Civil War from the South's perspective. It begins with the history of Stonewall Jackson, who taught artillery tactics and physics as Professor of Natural and Experimental Philosophy, with artifacts that include his horse, Little Sorrel, taxidermied for all eternity, and the bullet-ridden raincoat he was wearing when shot in the arm. (His arm had to be amputated and was, strangely, buried elsewhere). And then stroll through the gated stone wall that divides VMI and Washington & Lee University to experience the school first established as Augusta Academy in 1749 by Scotts-Irish pioneers and then Liberty Academy by 1796 when George Washington endowed enough stock to keep the struggling school afloat. In gratitude, the board of Liberty Academy renamed the college after its benefactor, and it remained Washington University until "Lee" – for Robert E. Lee, who served as school President from 1865 until his death in 1870 – was added. Be sure to take a tour of Robert E. Lee's final resting place, the Lee Chapel, a National Historic Site first built as an assembly hall for students, and now a tomb for the Lee Family and museum for the rest of us.
Lexington. Listen to the best roots music on Wednesday Mornings (8am-9am) at Blue Phoenix Café and Market. If you are in Lexington on Wednesday morning, you MUST plan to come to the Blue Phoenix Café for what I can only describe as "unplugged free-range Bluegrass." Best of all, this freewheeling jam session is free.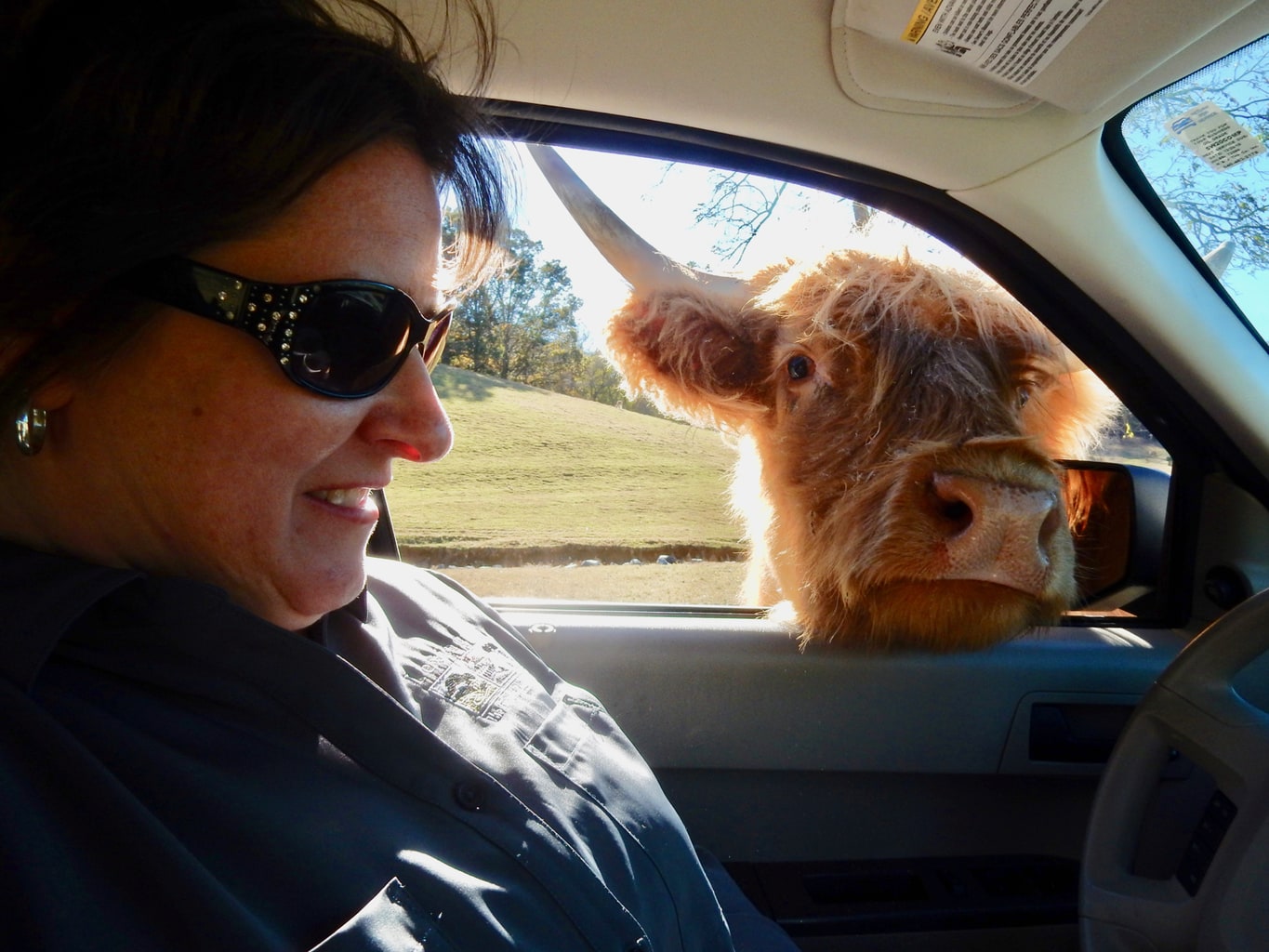 Natural Bridge: Open your car windows and feed the wildlife at Virginia Safari Park. I don't usually write about such touristy places, but some are just too good to pass up. You can't miss Virginia Safari Park from I-81, and it's not cheap to enter. But it is so worth it (and they're not every paying me to say this!) On 180 acres, you can drive through on the 3 mile loop road as many times as you'd like. For this particular "Safari Park" (and against all common sense), leave your car windows open, because you'll be feeding the bison, elk, lama, deer, ostriches, and other animals that beg and stick their heads right into your car for buckets of feed purchased at the gate. They slobber, they spray food pellets all over the place, and you'll never laugh so hard. At least, I didn't.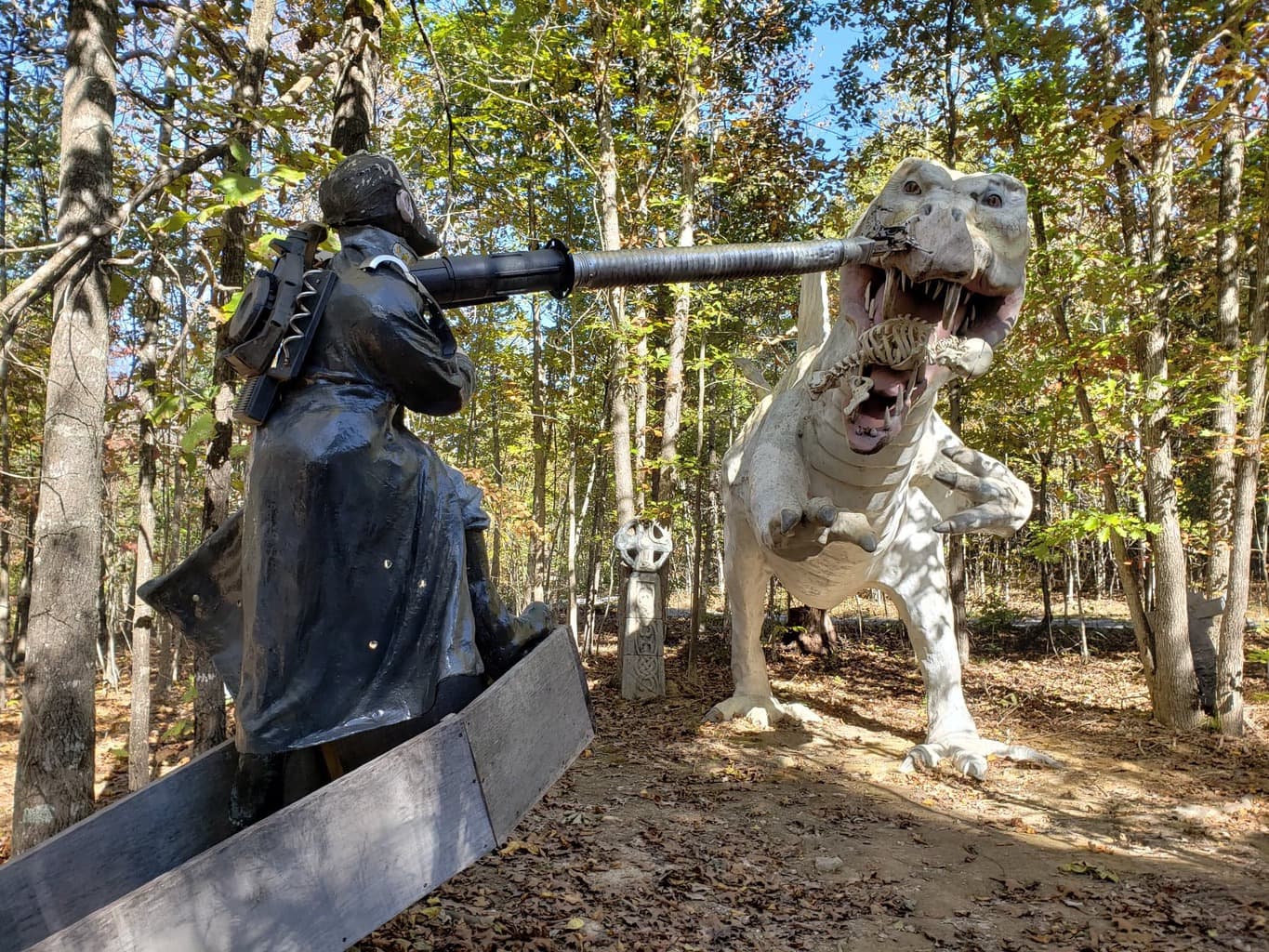 Natural Bridge: Hear tell about the Union's "secret weapon" at Dinosaur Kingdom II (Back From Extinction). This strange, but weirdly fun and compelling walk-through theme park, drawn from the unbound mind of Mark Cline, re-imagines the Civil War as if the Union side used various dinosaurs as weapons of mass destruction against the South.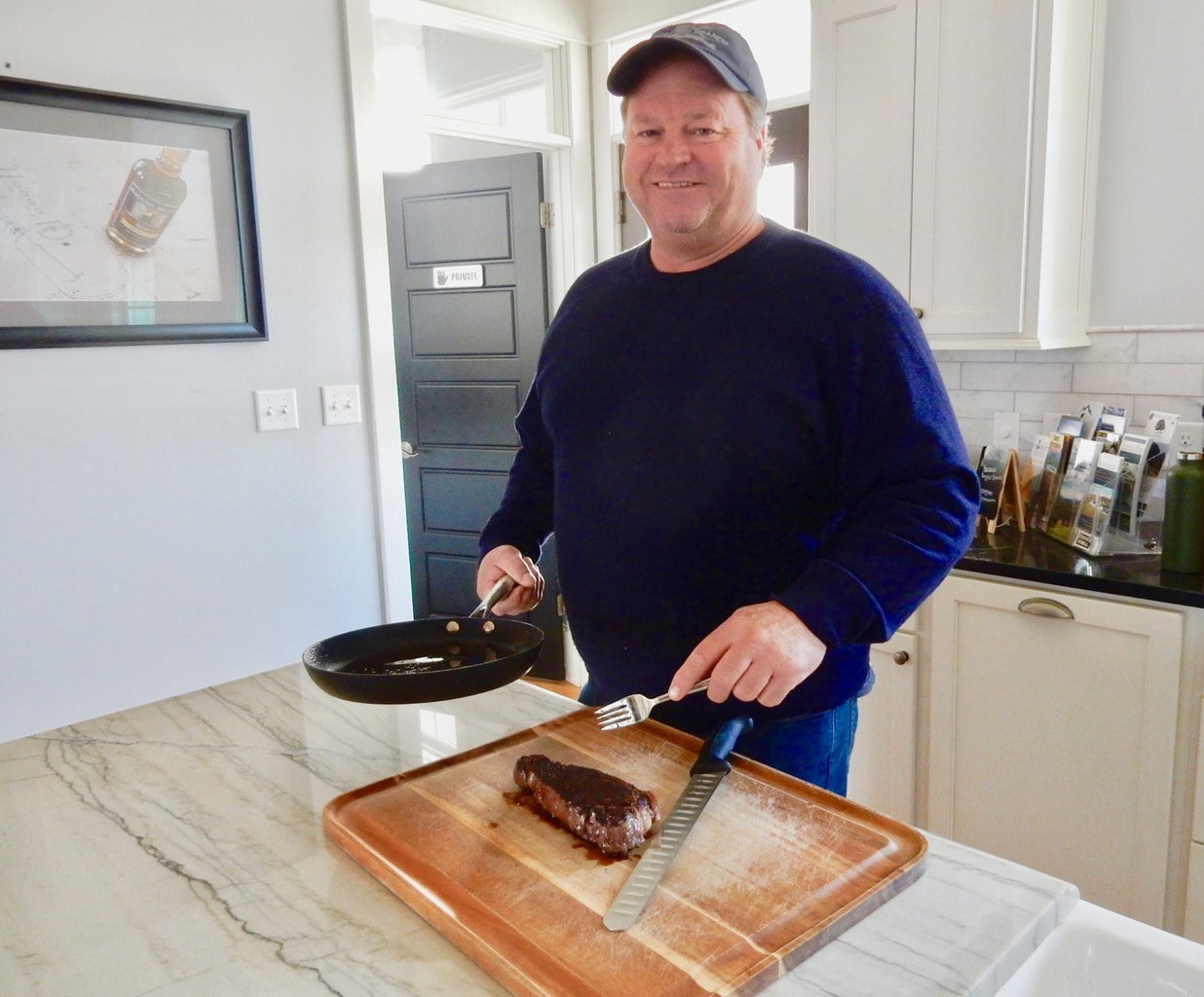 Charlottesville: Sip barrel aged Virginia bourbon and scarf up fantastic burgers made with mash-fed beef at Ragged Branch Distillery. Here's an interesting closed system for you to chew on: raise cows, open Virginia Straight Bourbon distillery, feed cows spent mash, discover that mash-fed cow beef is better than grass-fed beef, gain attention for both excellent bourbon and beef, invite public to enjoy both, raise more cows, make more bourbon, repeat. Focusing on barrel-aged Wheated and Rye Bourbons, Ragged Branch turns out 300 bottles a day, and was initially required by law to get rid of the spent mash in an ecological manner. Owner Alex Toomy found that his herd of cows loved the fermented grains, thus serving as the best "mash disposal system" he could ask for. After selling these happy cows to local restaurants, chefs were amazed at the taste, tenderness, and quality of the beef. And you'll be too. If sake is more to your liking, plan an evening at North American Sake Brewery in IX Art Park, – the only brewery devoted solely to sake in the state of Virginia. I'd always assumed that Sake was distilled even though it's called Japanese Rice Wine. But surprise, surprise, sake is actually brewed like beer. And, for those who are firm in their belief that sake is served warm, you'll be in for a surprise. According to North American Sake Brewery owner, Andrew Centofante, "sake is traditionally served chilled."