Many visitors believe that touring the Harley Davidson Manufacturing Plant is the best thing to do in York PA. What they don't know is that it's the 10th largest city in Pennsylvania and not only that, it was almost the nation's capital.
York, Pennsylvania is a city of firsts that has made significant contributions to American history and culture. From being the birthplace of the York Peppermint Patty to hosting the first-ever state fair, York State Fair, York has an undeniable charm that sets it apart from other cities in Pennsylvania.
But this region could also be labeled the Snack Capital of the USA, with a number of factories in surrounding York County producing the snack foods favored by teens and Superbowl fans.
This travel guide covers all the fun attractions in Downtown York, as well as outdoorsy trails and factory tours in the countryside. And, because this is the ideal romantic destination for some couples, we include all the best restaurants and hotels, including one of the quirkiest places to stay in the USA.
Looking for more romantic getaways? We've got you covered with all the top romantic getaways in Pennsylvania, plus more Northeast getaways.
Things to Do In York PA
TOUR: York County History Center
The York County History Center Colonial Complex consists of five museums, and a library/archive. The entry ticket enables you to visit the Colonial Complex, the Agricultural & Industrial Museum, the Historical Society Museum, the Bonham House, and the 1903 Fire Museum of York County. Tip – do check the website for availability as some have limited open hours.
Begin at the Colonial Complex, which includes The 1741 Golden Plough Tavern, the adjoining 1755 General Horatio Gates House, and the 1812 Barnett Bobb Log House, which was moved here in the 1960s. The Tavern belonged to a family of German heritage who lived and worked there.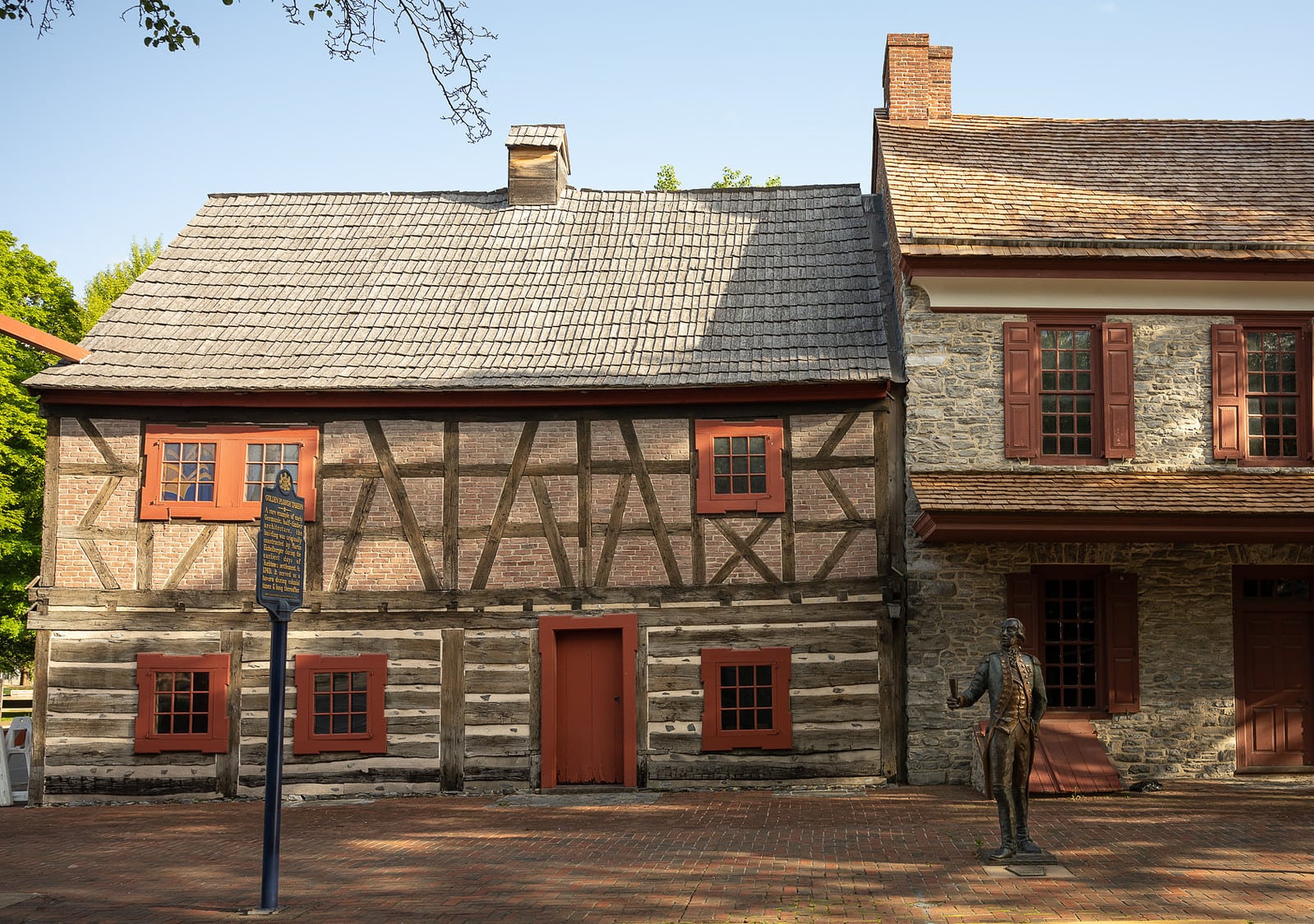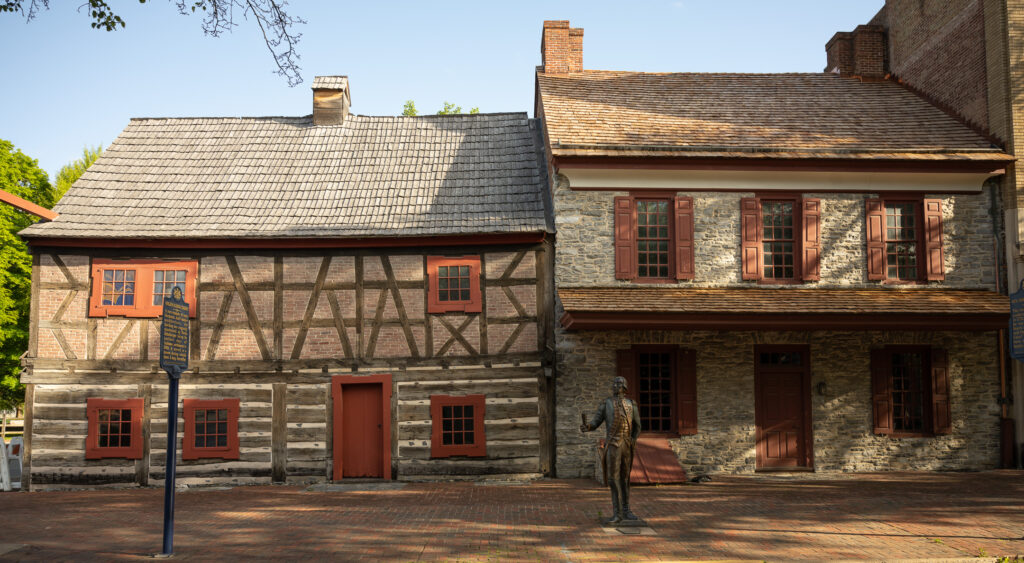 A "half-timber framework," the Golden Plough is a rare, intact example of this architectural style. You'll see evidence of this construction through Lucite-covered cutaways in one original wall packed with twigs and mud for insulation.
On the first floor, the tavern room was as close as it got to network news, as travelers would eat, drink, and share gossip of the day. Upstairs, travelers snored together on paper-thin floor mats in a common sleeping room. Not exactly the Ritz.
General Gates House
The General Gates House is a step up in status. A Commander of US Troops in the Revolutionary War, General Horatio Gates lived here temporarily, and the home is decorated as if he'll walk through the door any minute. A table is set with imported dinnerware and an expensive beeswax candle (in the shape of a beehive), indicating the upper-class standing of the home's owners.
Cross the street (watching out for freight trains that very occasionally ride on tracks embedded in the road) to the 1976 replica of the Colonial era Courthouse, (the original was demolished in 1841), accurate to size and location.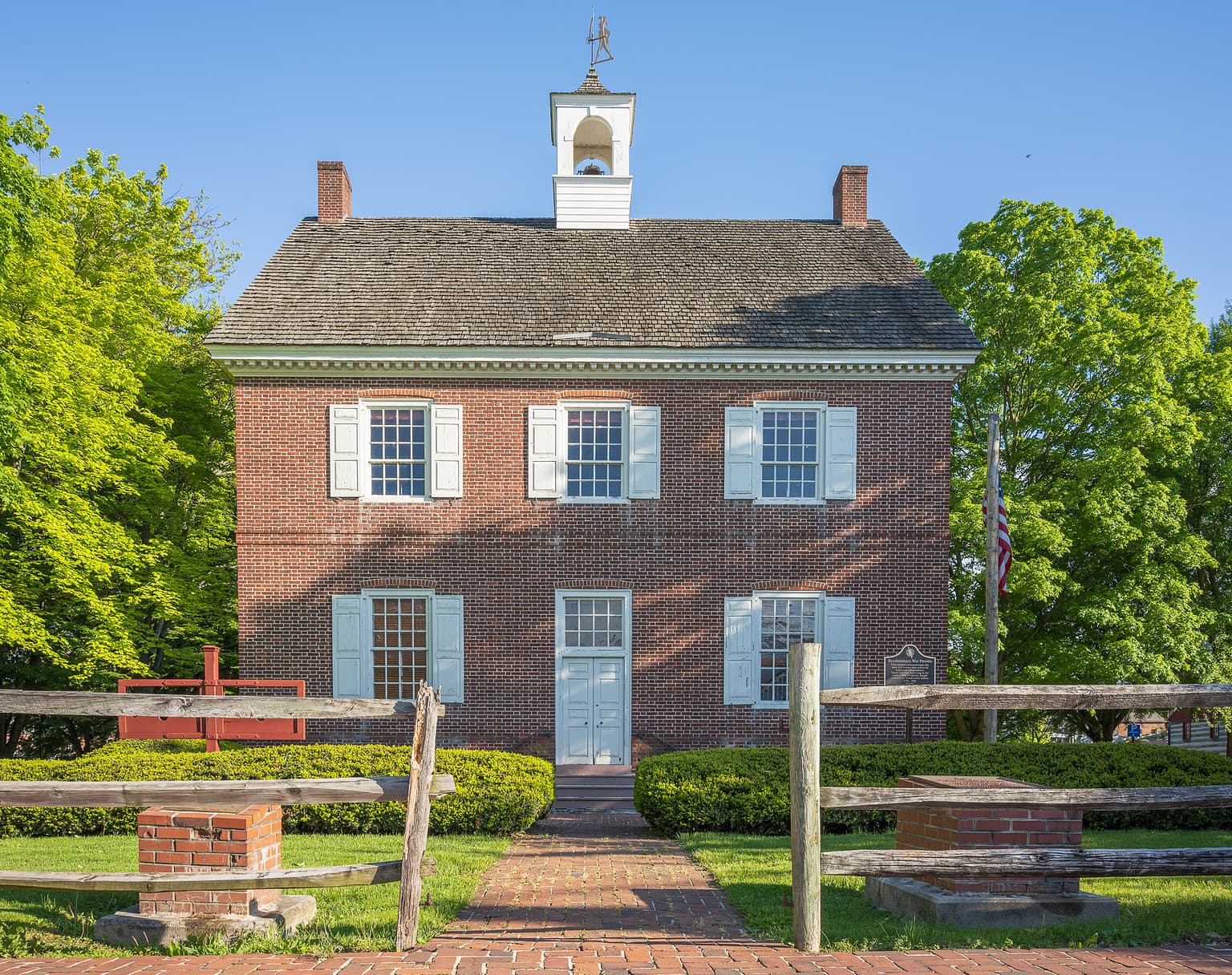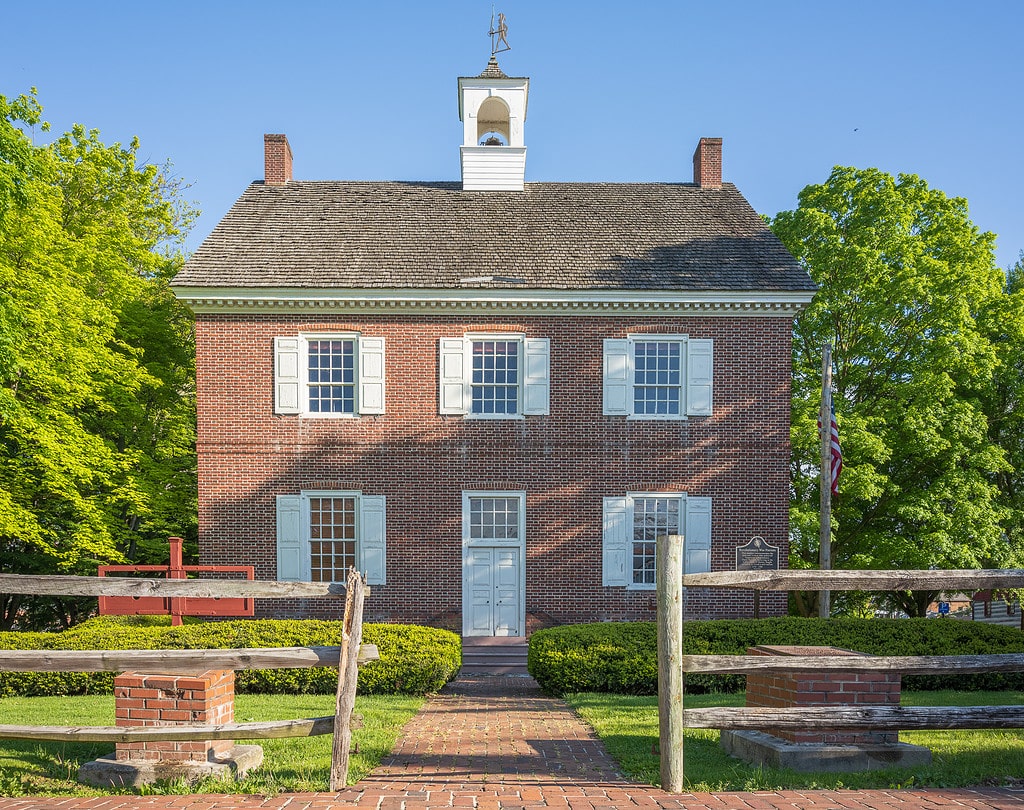 It was here, in November 1777, that the Second Continental Congress met to adopt the Articles of Confederation in an effort to unite the 13 colonies. Then, the first National Day of Thanksgiving was proclaimed on November 1, 1777, after the Battle of Saratoga, and celebrated on Thursday, December 18. This all occurred during the nine months that York, PA remained the Capital of the United States.
Agricultural And Industrial Museum
Located in a repurposed factory complex, this museum is built to impress. Large-scale printing presses manufactured by George F. Motter's Sons, overhead crane rails, a 1916 trolley car from downtown York, a working gristmill water wheel, and artifacts from many York factories can all be found in this massive institution.
The museum highlights York County's many local industries.
Look for the photo and model of the first turbine windmill, built in 1941 by S. Morgan Smith Co – a hydroelectric dam blade manufacturer. Installed as a test product for a Central Vermont utility, it quickly failed when the blade snapped off.
There's an early Linotype Machine, a complex contraption used to print newspapers. And a large industrial center phone system, complete with hands-on rotary phones, that has become a big hit with kids who have never seen such things.
Of course, there are exhibits on local notables. Stauffer Biscuit Co., maker of Animal Crackers (yes, those toddler favorites are still made in York PA.) York Barbells and York Wallcoverings are also all manufactured here.
The Hall of Giants packs a big punch, so don't miss this soaring space on the other side of the lobby. In it, there's a humongous, partially working A-Frame ammonia compressor, built in 1904 to make ice for a meatpacking plant, before the advent of Freon. My favorite, though, is the sky-high Reddy Kilowatt; the iconic advertisement for home electricity in the 1930s.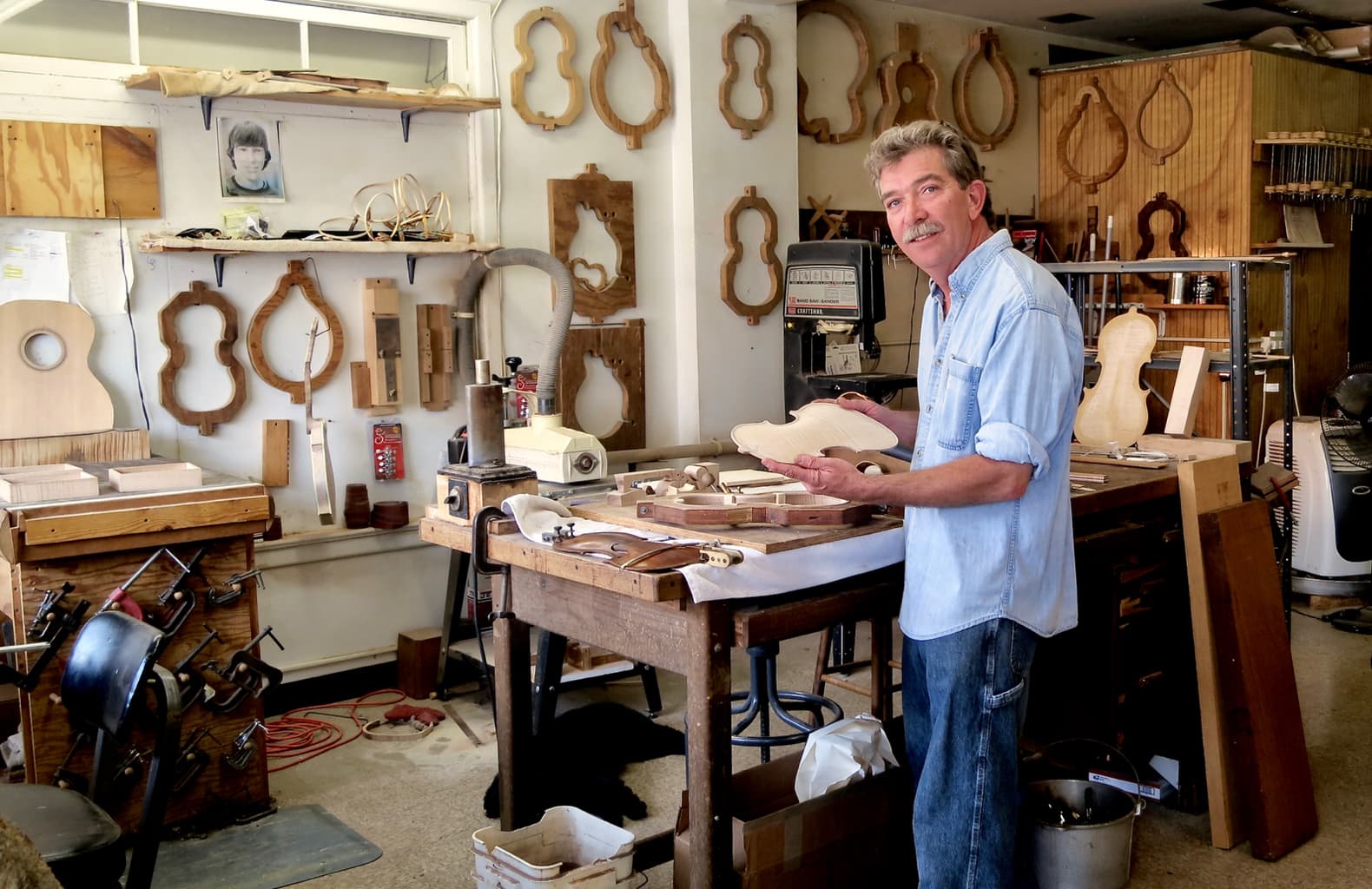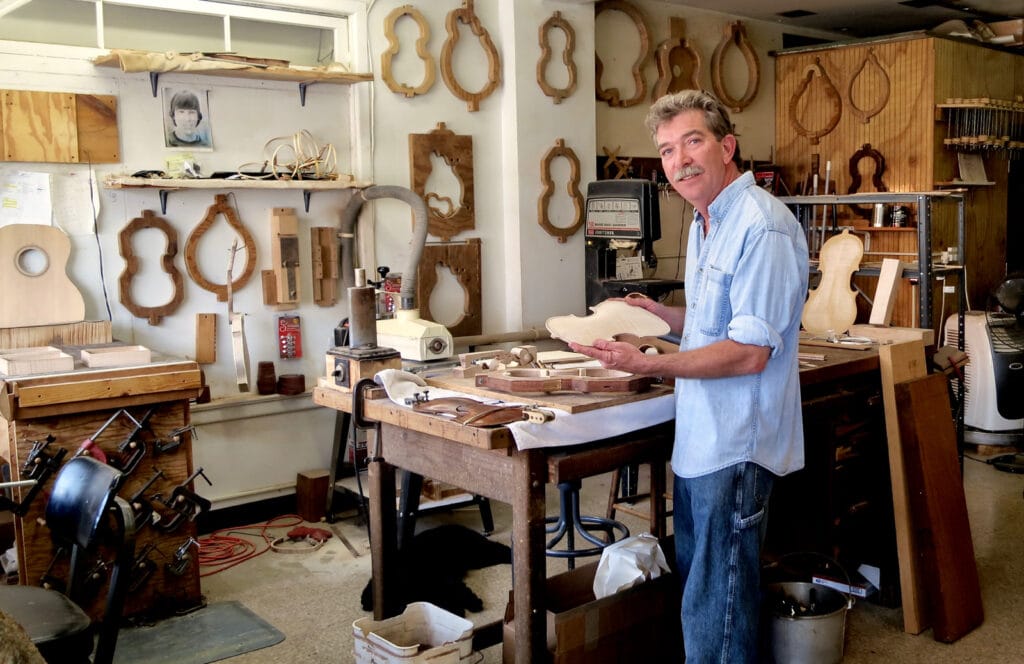 VISIT: Bluett Brothers Violins
It does not have the reputation of Stradivarius – yet. But Bluett Violins and other Bluett stringed instruments have garnered quite a following.
You may be surprised to discover that all these instruments are made by hand in one little workshop by one luthier, Mark Bluett, who crafts stable wood (air-dried since 1967) into beautiful works of art favored by top world symphonies, virtuosos, and country music star, Ricky Skaggs.
Come in for a look-over-his-shoulder experience, and you may very well see Mark restoring a 1706 Carlo Tononi Violin or other rare antique violins (restoration is a good part of his business).
Take lessons or try out various instruments in the back room. You can order your own custom Bluett Violin for a very reasonable $6,000, which sure beats the millions a Stradivarius will set you back. Tours by appointment.
TOUR: Harley Davidson Plant
Even if you're not into motorcycles, you and your partner will enjoy the Harley Davidson Factory Tour. It's thrilling to witness large-scale robots working in concert with humans to create distinctive icons of the American road. A free one-hour self-guided tour through the buzzing, beeping factory gets you up close to literal fender-benders, welders, self-driving AGC's (Automatically Guided Carts), and assembly stations where, piece by piece, each bike is formed into a recognized whole.
Stroll past 10,000 lb. cylinders of cold-rolled steel. Stop to watch sheets of said steel pressure cooked into "half-shells" via the force of 500-ton molding machines. And then see the shells welded together by both humans and robots to form gas tanks. Next up, is the ever-moving Frame Paint line where all frames are painted black and baked to a glossy shine.
You'll start to see more human workers in the Assembly area of the factory, where the whole operation takes on a Disneyesque quality as AGC's, conveying assembled parts from station to station, roll all around you. The whole operation is organized and pristine. No big surprise that each employee exudes great pride in his or her product.
Perhaps the most coveted job is that of the dozen or so examiners who have 4 minutes to test – on rollers in small bays – each of the roughly 800 Harleys that leave the plant each day. To prove that robots haven't taken over factories completely, humans can override computer analytics when it comes to authorizing the final product.
Naturally, you'll exit through the gift shop. You can purchase every Harley Davidson product imaginable.
Please note that the Harley Davidson Factory Tour is currently closed. The plant had suspended operations but resumed production in June 2022. It is unknown when factory tours will resume.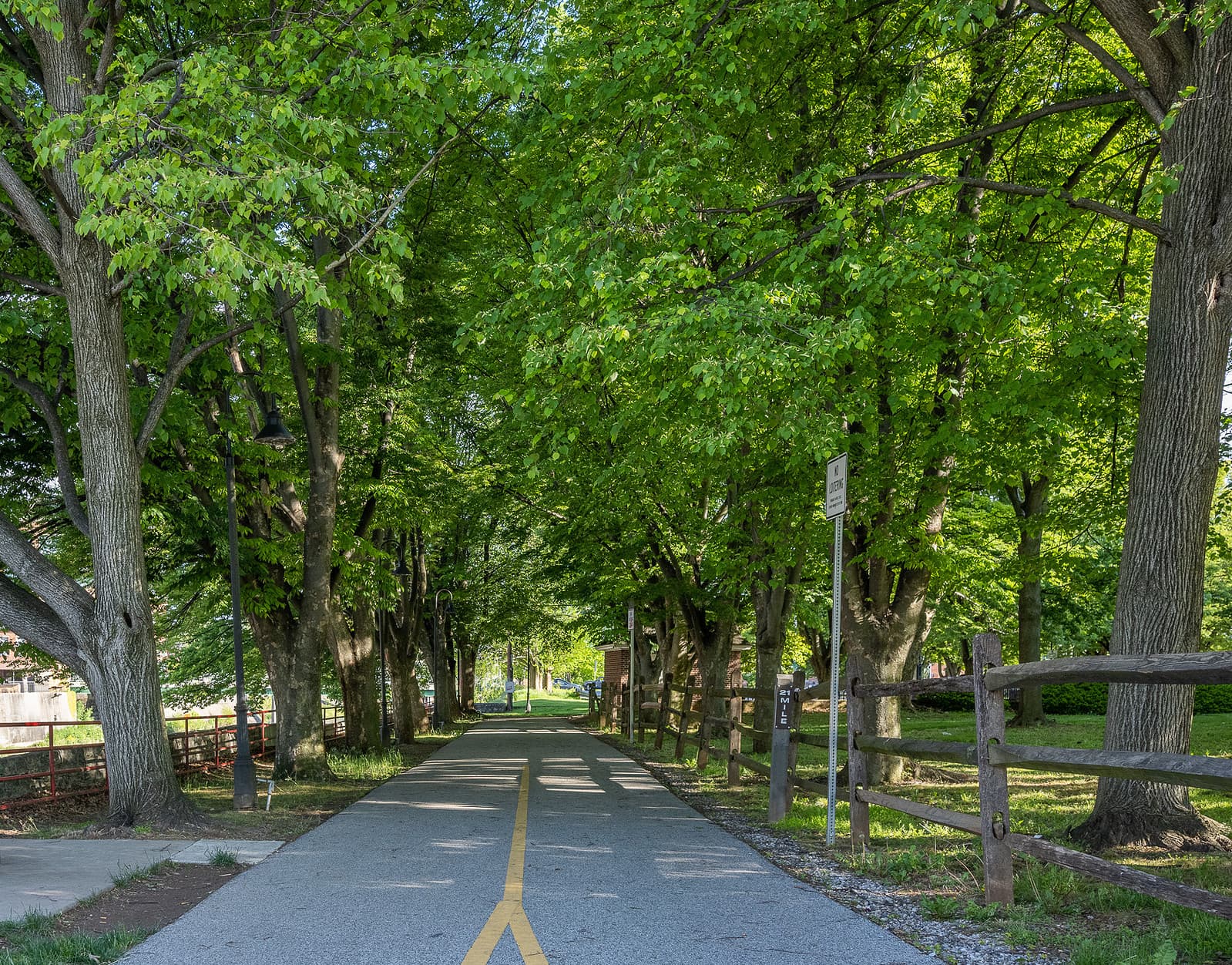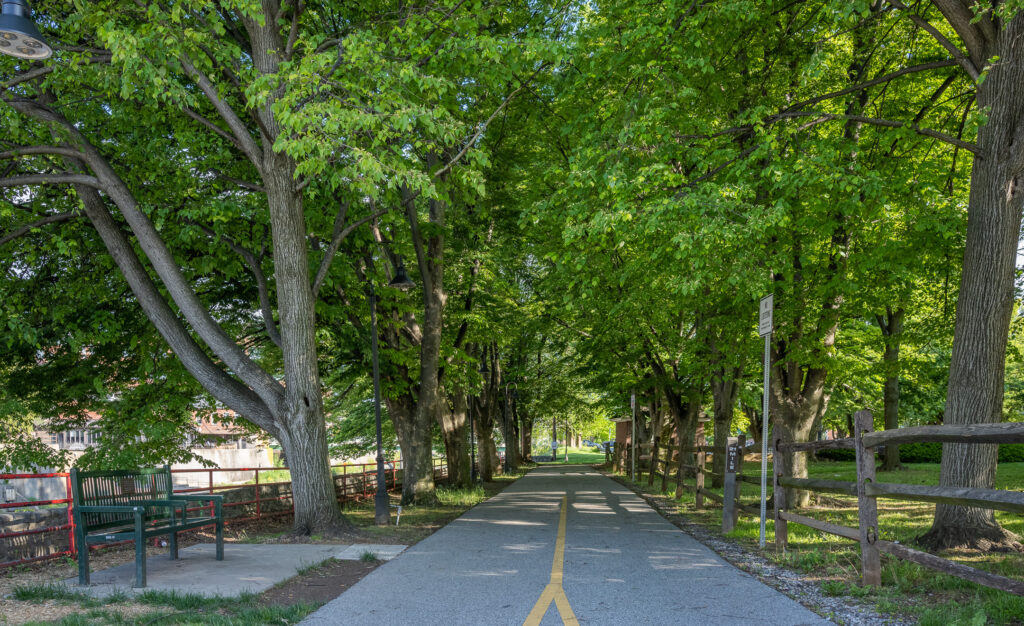 BIKE/HIKE: Heritage Rail Trail Park
The 21-mile Heritage Rail Trail runs from York PA through scenic southern York County, but it also connects to the Mason Dixon Trail system which connects to the Appalachian Trail and south to Havre De Grace MD. So, for example, on a recent morning, we ran into a couple who biked in from Northern Baltimore and spent the night in downtown York. They were doing the bike tour as a short getaway, but adventurous couples can turn this into a longer vacation.
And it's not just for biking. The 10-foot wide Heritage Rail Trail was specially designed to be good for hiking, running, and horseback riding, as well as cross-country skiing and snow-shoeing in the winter.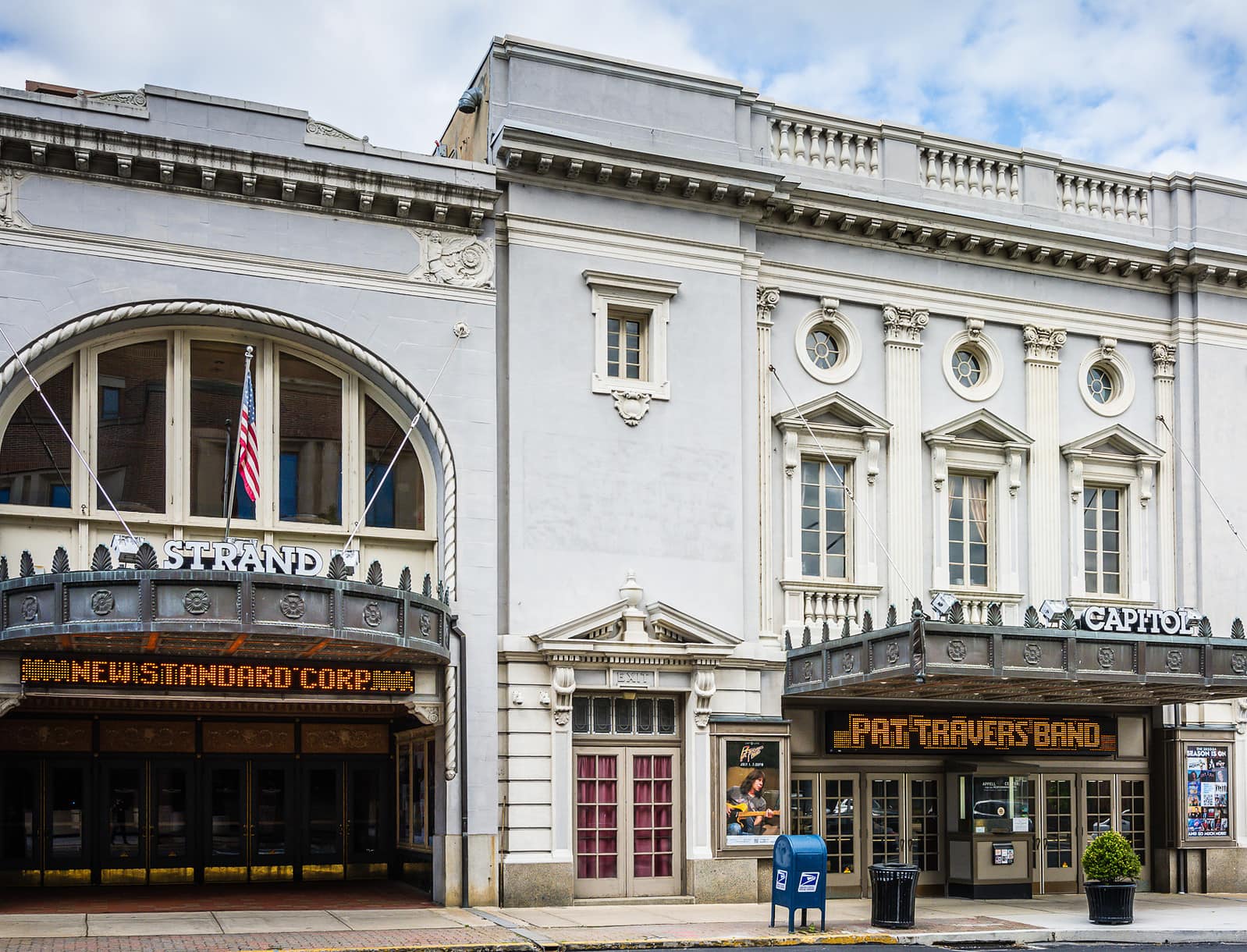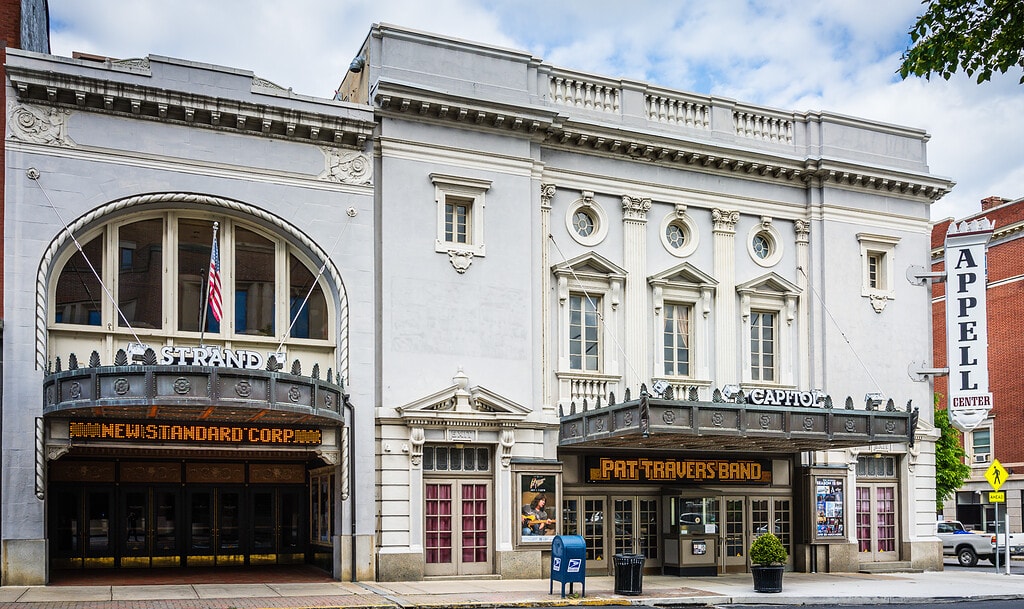 SEE A SHOW: Appell Center For The Performing Arts
The Appell Center For The Performing Arts is housed in two adjacent buildings that date back to the early 20th century, each with its own unique architectural style. The Strand Theatre, which opened in 1925, features a stunning Art Deco facade and a grand lobby adorned with ornate details and gold accents. The Capitol Theatre, which opened in 1906, has a more traditional design with classical columns and a beautiful marble staircase.
Inside the Appell Center, guests can experience a wide range of performances, including theater productions, live music concerts, dance performances, and film screenings. The center has several performance spaces, including the 1,262-seat Strand Theatre, the 450-seat Capitol Theatre, and the more intimate 100-seat Studio Theatre. Each venue offers a unique experience, with excellent acoustics, comfortable seating, and state-of-the-art lighting and sound systems.
More Things To Do In York County PA
TOUR: Utz Factory Tour
Do you know that intoxicating aroma of a just-opened bag of fresh potato chips? That's the scent that hits your nostrils when you open the door to Utz's Factory observation gallery.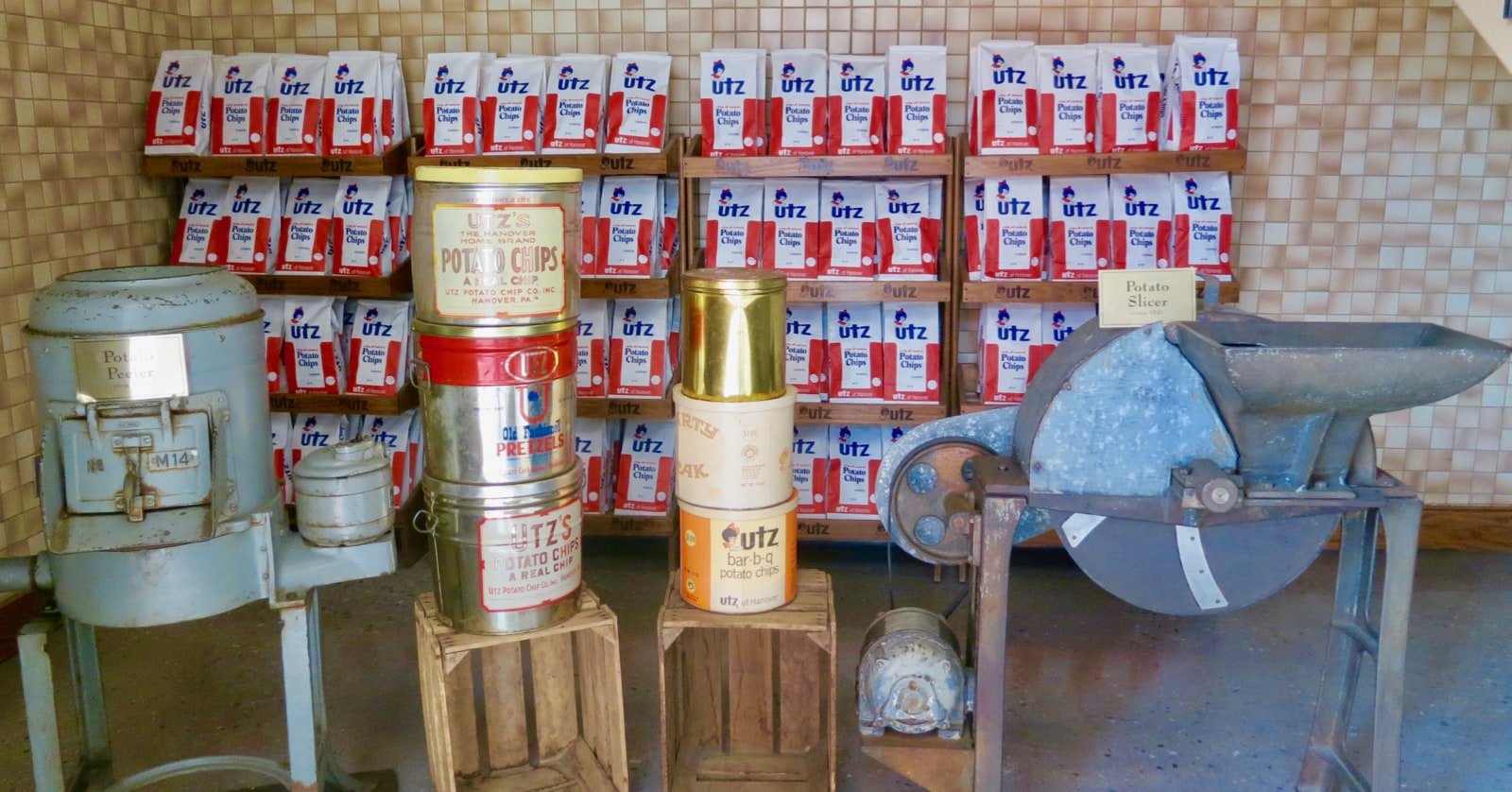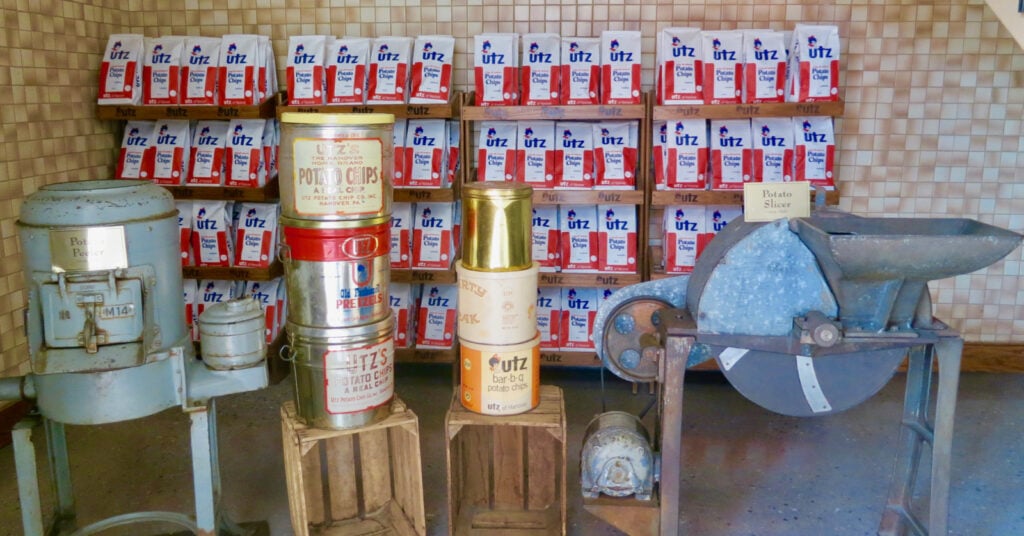 On the self-guided "Chip Trip," you'll see how forty tractor-trailer trucks packed with raw potatoes (per day) morph from raw to peeled to sliced, are submerged in cottonseed oil for 2 ½ minutes, then salted, packaged, and end up ready to ship.
Naturally, there's a sample bag at the end of the tour. Free self-guided tour, call ahead to confirm production and allow 30-45 minutes to listen to all push-button narrations.
While Utz keeps you upstairs behind glass, Martin's takes you down on the production floor. But you have to make reservations and come on Tuesday mornings only. (Call ahead at 1-800-272-4477 to book a tour.)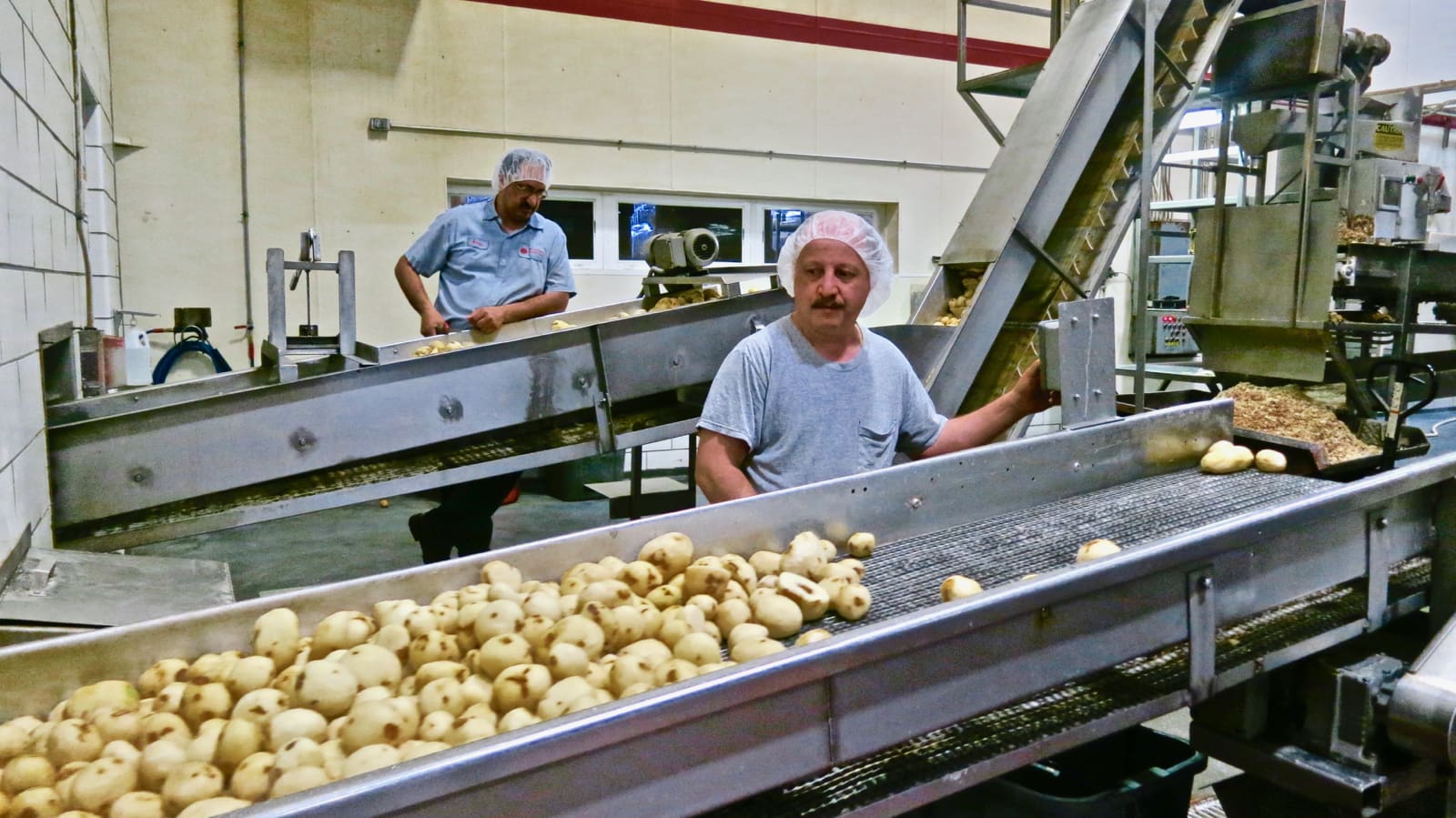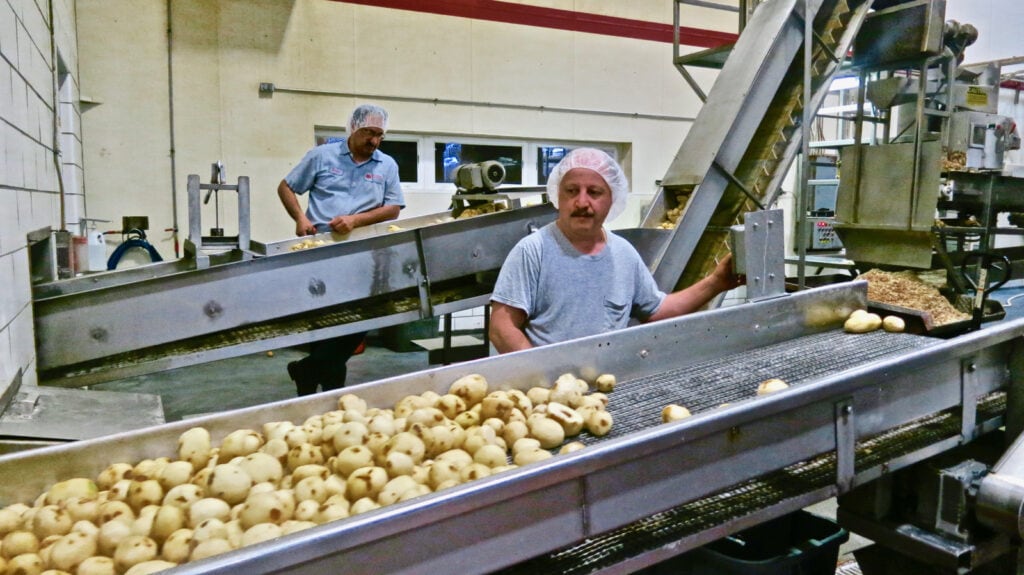 Experience the cacophony of thousands of potatoes dropping into stainless steel washing bins, see them travel into booming sanding drums that serve as quick peelers, watch them sliced and crisped in vats of oil, then carried to the salting machines.
You'll feel the heat, inhale raw and cooked potato smells and – this is the best part – taste just deep-fried and salted chips right off the conveyor belt. Bill Clinton loved Martin's Chips so much, he asked to have bagfuls stocked on Air Force One.
Obama is also a fan, and so these regional chips (you'll find them only in a 300-mile radius of the factory) have made it into the White House as well.
TOUR: Revonah Pretzel Bakery
Opened in 1938, Revonah (Hanover spelled backwards) is the oldest operating handmade pretzel bakery in the country, and, by virtue of its small size and the fact that it is basically automation-free, the anti-Snyders. Owner Kevin Bidelspach takes visitors on a back-room tour of the tiny place.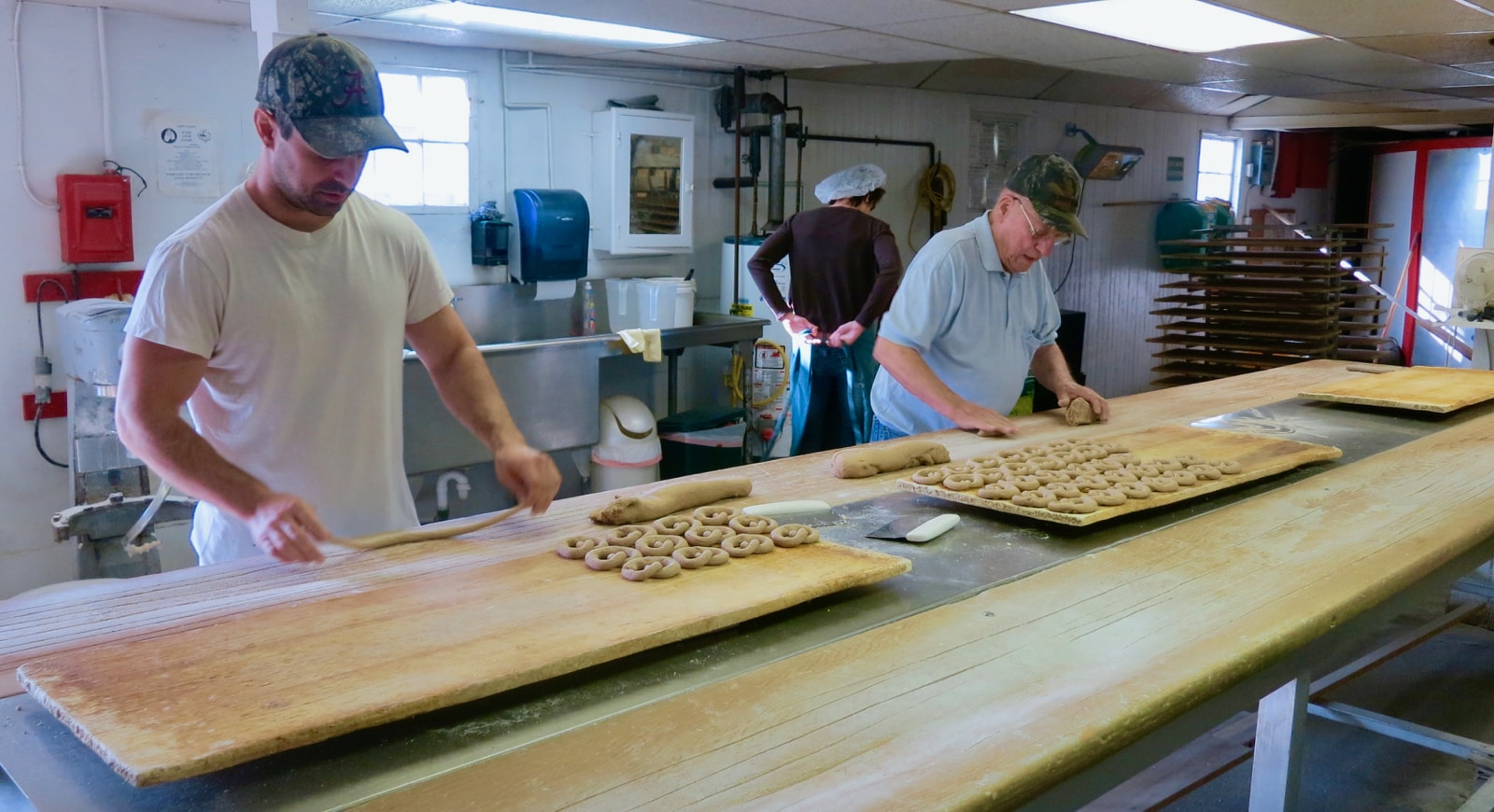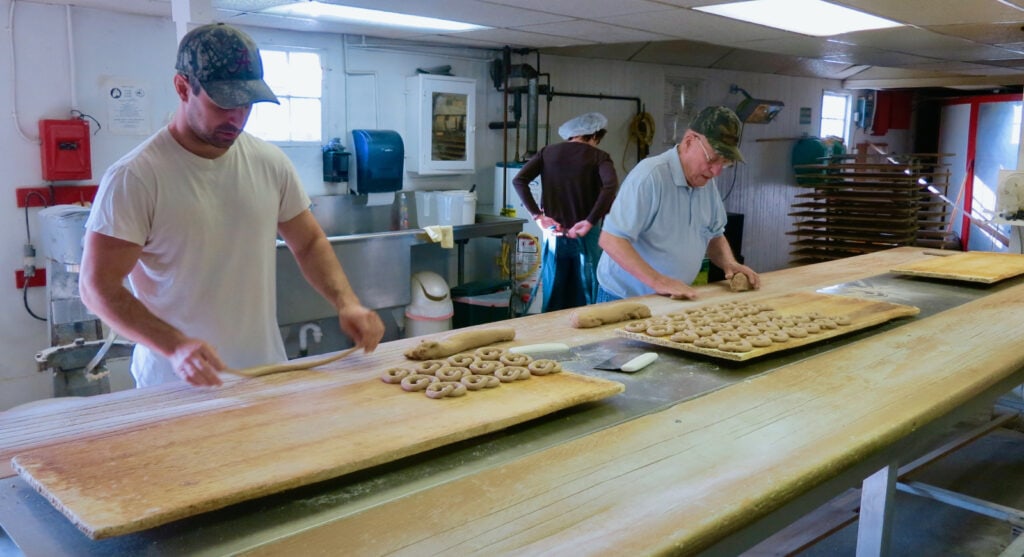 You'll see employees roll, pinch and twist the dough into recognizable pretzel shapes, place the raw dough into brick ovens on huge paddles, then transfer just-baked pretzels into an oven-hot kiln. Step into the kiln for one minute, and you'll get a very rare treat; a "greenie" – the freshest, crunchy-warm pretzel you will ever taste.
The "factory store" – a hole in the wall, really, sells more "Revonah Brokes" – broken hard pretzels – than anything else and ships them all over the country.
Call ahead at 717-630-2883 to confirm tour availability.
VISIT: Weightlifting Hall of Fame @ York Barbells
York Oil Burner Company founder, Bob Hoffman, opened an Athletic Club for his workers in the 1930s. He found that the gym equipment used, mostly the barbells, was a hot commodity. So, Hoffman decided to expand his business into making and selling them.
Eventually, York Barbells became his primary business. Hoffman considered the "Father of World Weightlifting," including both powerlifting and bodybuilding, started a trend that was popularized by Arnold Schwarzenegger in the 1970s and still continues to this day.
Anyone who is at all interested in either of these sports will find much to enjoy at the Weightlifting Hall of Fame, from the display of exceptional physiques that were part of the theatrics of 1800s showmen to photos and stats of male and female Olympic World Weightlifting Champions throughout the years. You can try out equipment in a couple of large gyms on-site, and then make purchases in the store at favorable prices.
VISIT/WALK: Richard M. Nixon Park and Nature Center
Richard Nixon never lived in York, and never even visited here, but York Barbell owner, Bob Hoffman, was a huge fan. He donated the Richard Nixon Park to the fine people of this county on the eve of the 1968 Presidential election, in Nixon's honor.
There's a big portrait of the former President in the reception area. And you'll also find helpful docents who provide an overview of the multi-faceted 187-acre park, with six miles of trails and a cool Nature Center.
The Nature Center is far better than I expected. It features both live animals and artful dioramas showcasing a bevy of taxidermied animals from Africa, the Arctic, the Northwest US, and East Coast, along with cases of mounted birds, collections of eggs, and more on two floors.
Bikes are not allowed on the trails – a visit here is meant to be quiet and contemplative. That's just one of the reasons the place is so popular with "Hike It Baby" groups.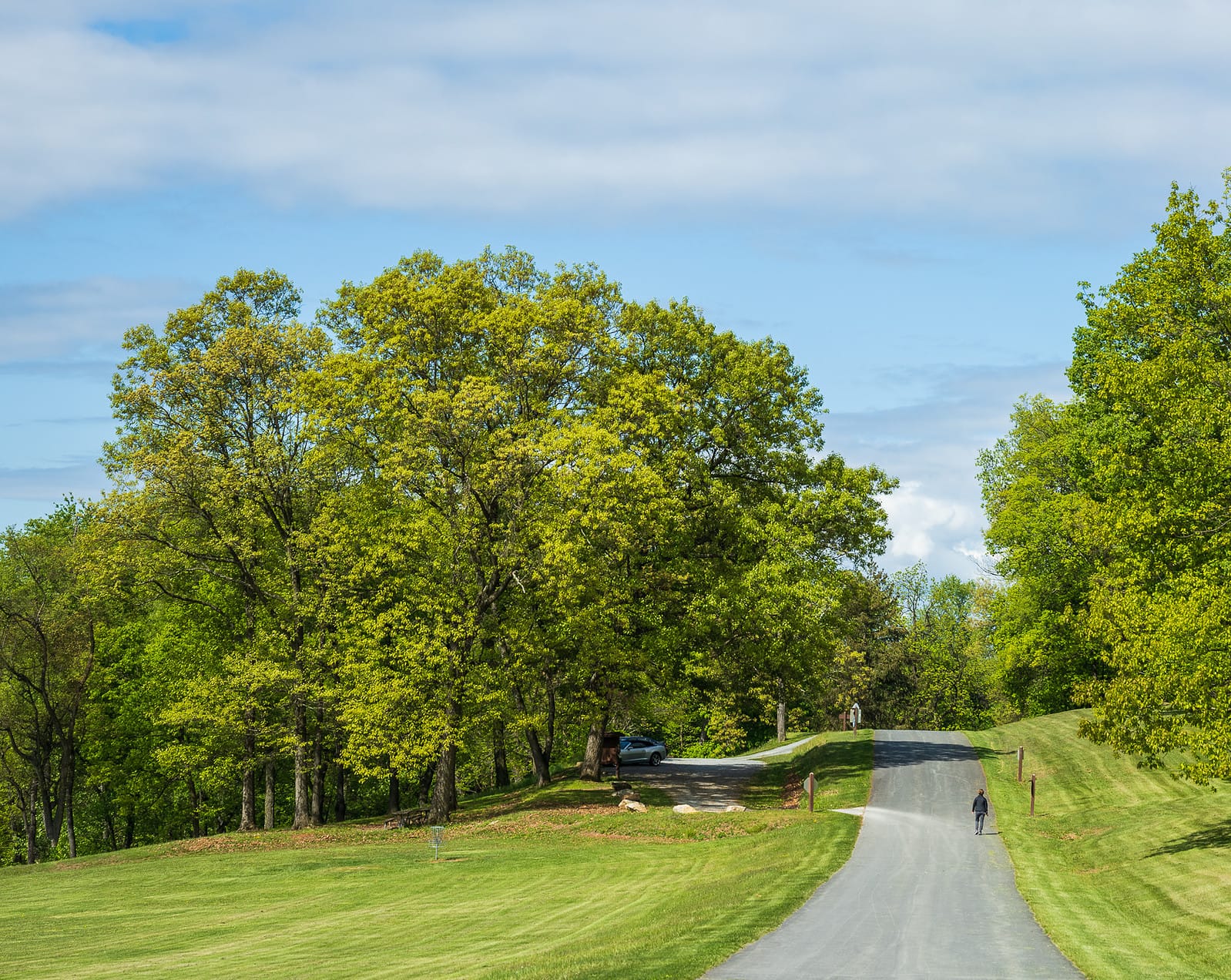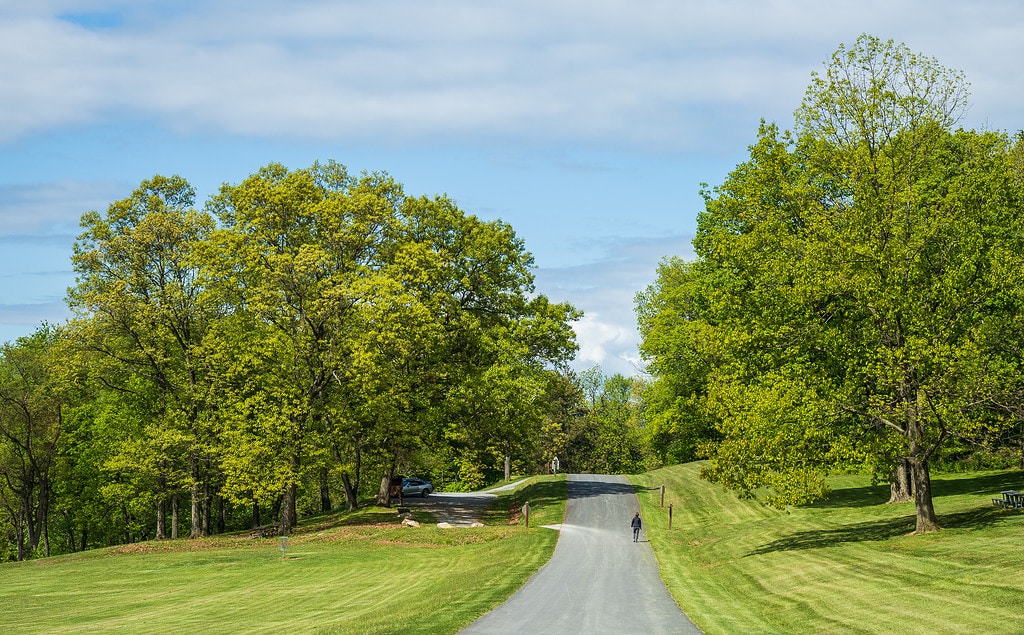 EXPLORE: Samuel S. Lewis State Park
Encompassing 85 acres of rolling hills, wooded areas, and open fields, Samuel S. Lewis State Park provides visitors with a variety of recreational opportunities and stunning views of the surrounding landscape.
One of the highlights of Samuel S. Lewis State Park is the park's extensive trail system. The park has several hiking trails that wind through the wooded areas and offer stunning views of the surrounding countryside. The trails range in difficulty from easy to moderate, making them accessible to hikers of all skill levels. The park also has a nature trail, which provides visitors with information about the local flora and fauna.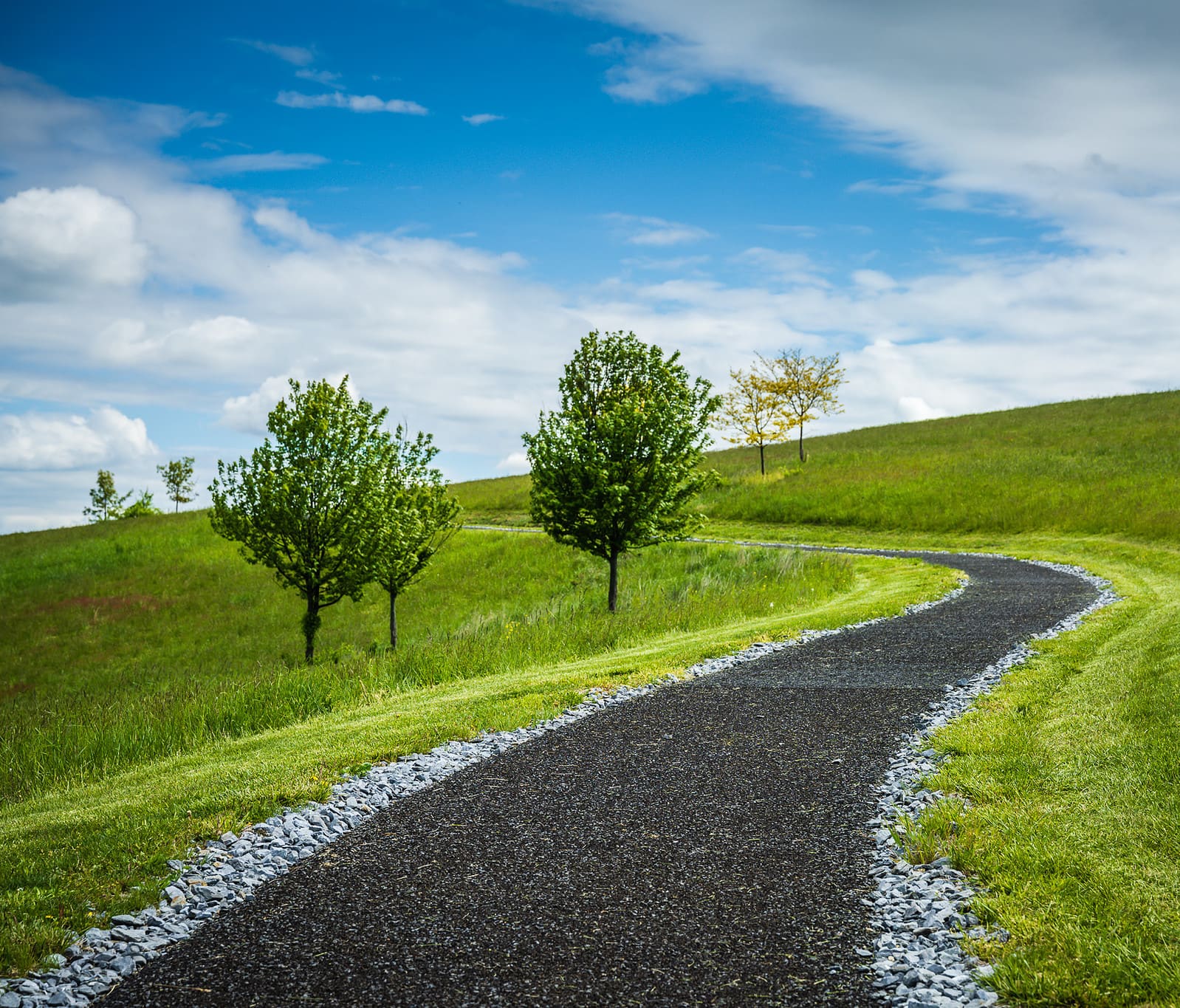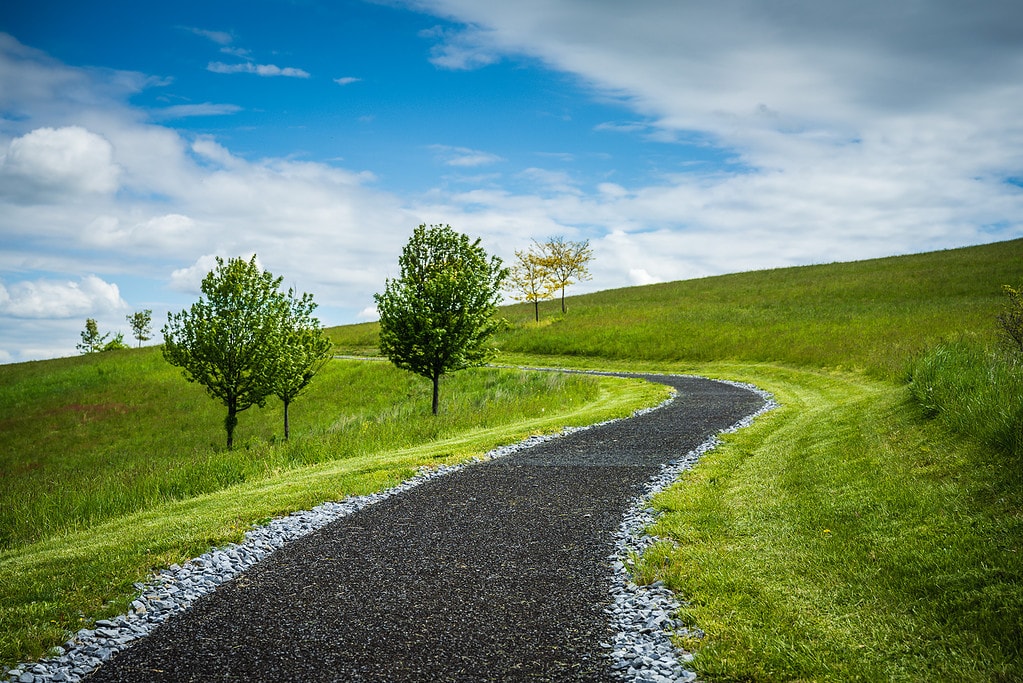 HIKE/WALK: Highpoint Scenic Vista & Recreation Area
Located near Samuel S. Lewis State Park, Highpoint Scenic Vista & Recreation Area offers a winding trail to a scenic overlook with a panoramic view of the surrounding landscape, including the Pocono Mountains, the Delaware Water Gap, and the Lehigh Valley. The area covers 235 acres and is a wonderful spot for picnicking, fishing, and birdwatching.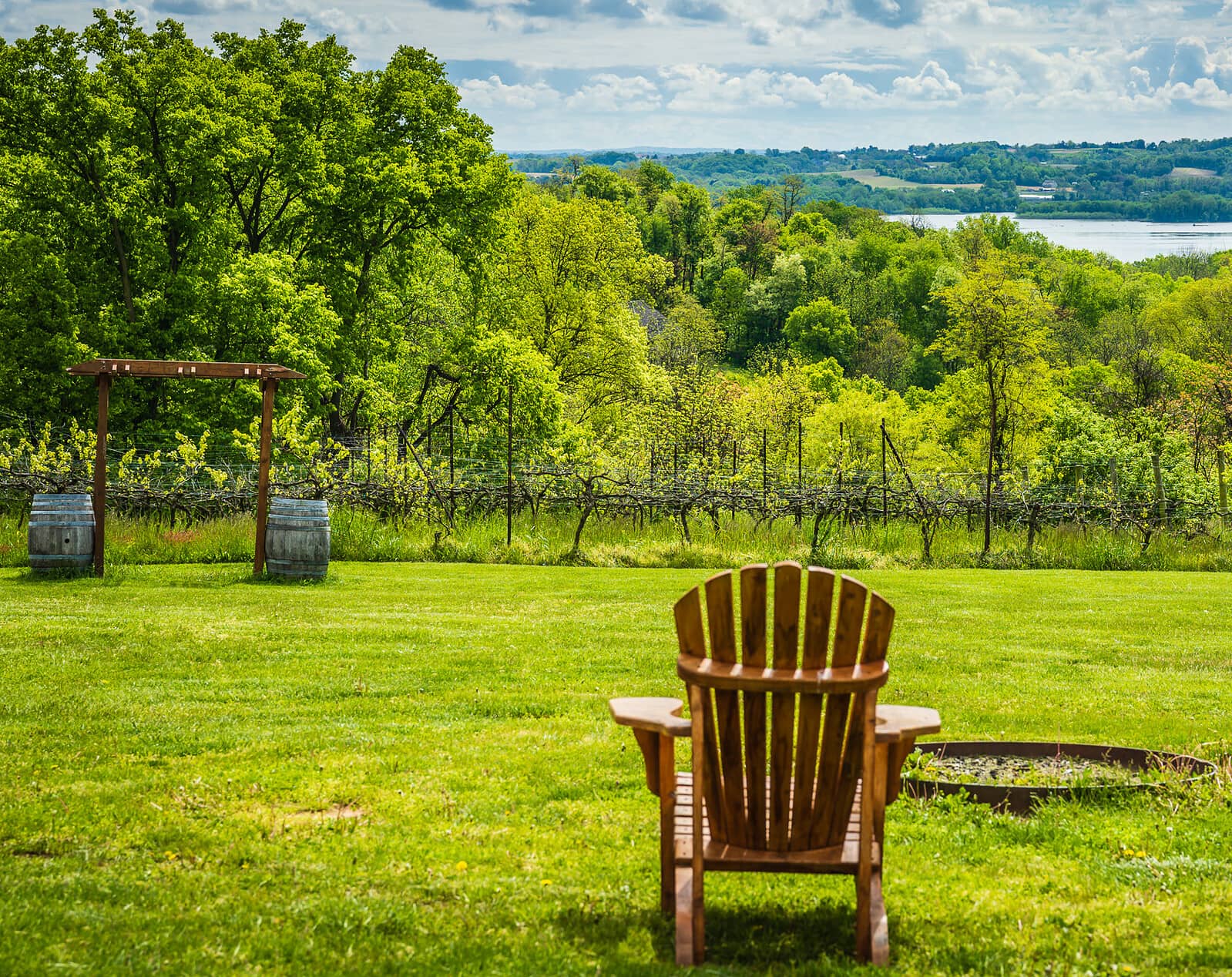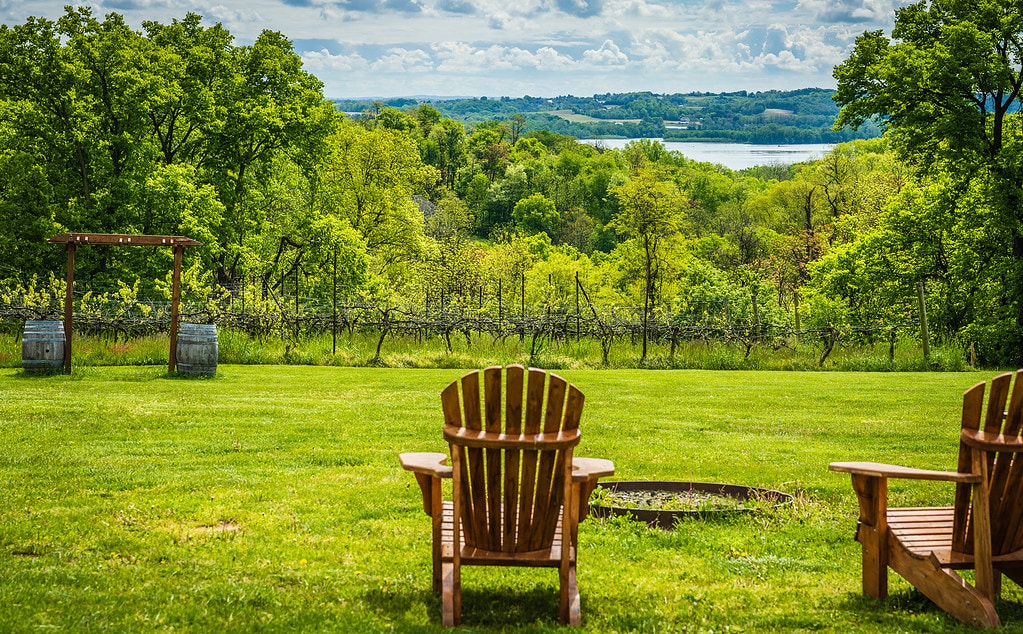 VISIT: Moon Dancer Vineyards & Winery
Located near the Highpoint Scenic Vista, Moon Dancer Winery is situated on a beautiful hillside overlooking the Susquehanna River, providing visitors with stunning views of the surrounding landscape.
The winery offers a variety of handcrafted wines made from locally grown grapes, including Chardonnay, Pinot Grigio, Cabernet Franc, and Pinot Noir. The tasting room is warm and welcoming, with a cozy fireplace, comfortable seating, and a beautiful bar made from reclaimed wood.
In addition to wine tastings, Moon Dancer Vineyards & Winery also hosts a variety of events throughout the year, including live music performances, food and wine pairings, and special holiday events. The winery has several outdoor seating areas, including a covered patio and a spacious lawn with picnic tables and a fire pit, making it a great spot for a picnic or a relaxing afternoon with friends.
TASTE: Old Republic Distillery
Owned by Denise Mathias and her brother, Bill, the Old Republic Distillery is a super-small batch, artisanal distillery that serves specialized cocktails made with its very own hooch. With the bar and tasting area aglow in blue light, and mixologists pouring drinks at a funky bar, Old Republic could be a hot spot in a much larger city.
But here we are in York PA. And this where the excellent Battlefield Vodka (using non-GMO white corn), Blackberry Battlefield (80 proof), Golden Plough Tavern Rum (100 proof, great for Dark and Stormy's), Love Potion Moonshine (great with lemonade for "Lovenade"), Apple Pie Moonshine (like drinking apple pie, including the crust), and Blueberry Apple Pie Moonshine – is made.
Restaurants In York PA
BREAKFAST/BRUNCH: Roost Uncommon Kitchen
Roost Uncommon Kitchen features a modern take on country breakfast, and it's oh-so kitsch, and oh-so fun. A sign at the door playfully demands that you "Have a gosh-darn seat already!"
Throw your cholesterol cautions to the wind and order one of the specials: The Garbage Biscuit – smoked pulled pork, bacon, sausage, gravy, hash browns, apricot butter, and scratch biscuit, or Roost Special with Fried Chicken and Sausage.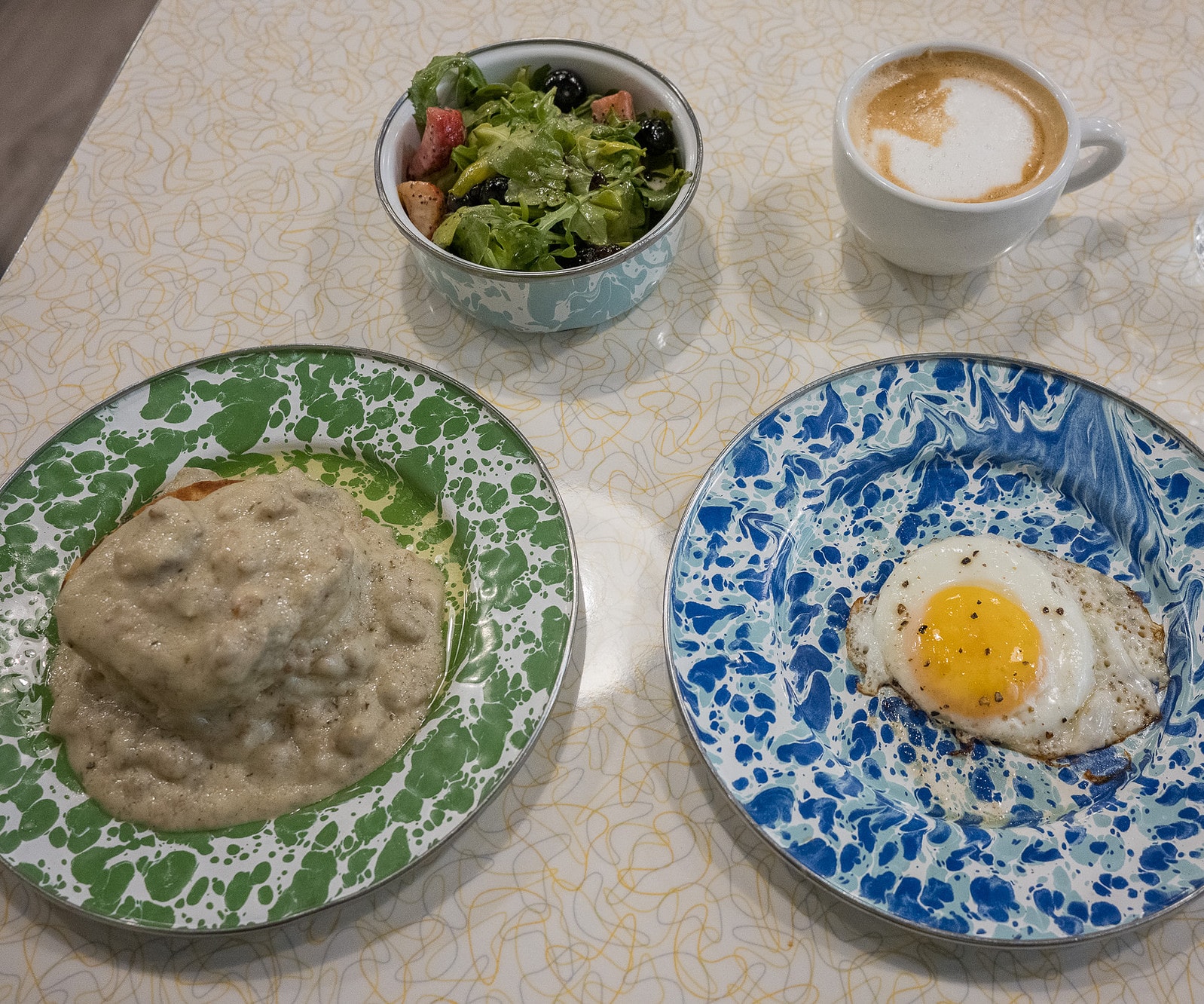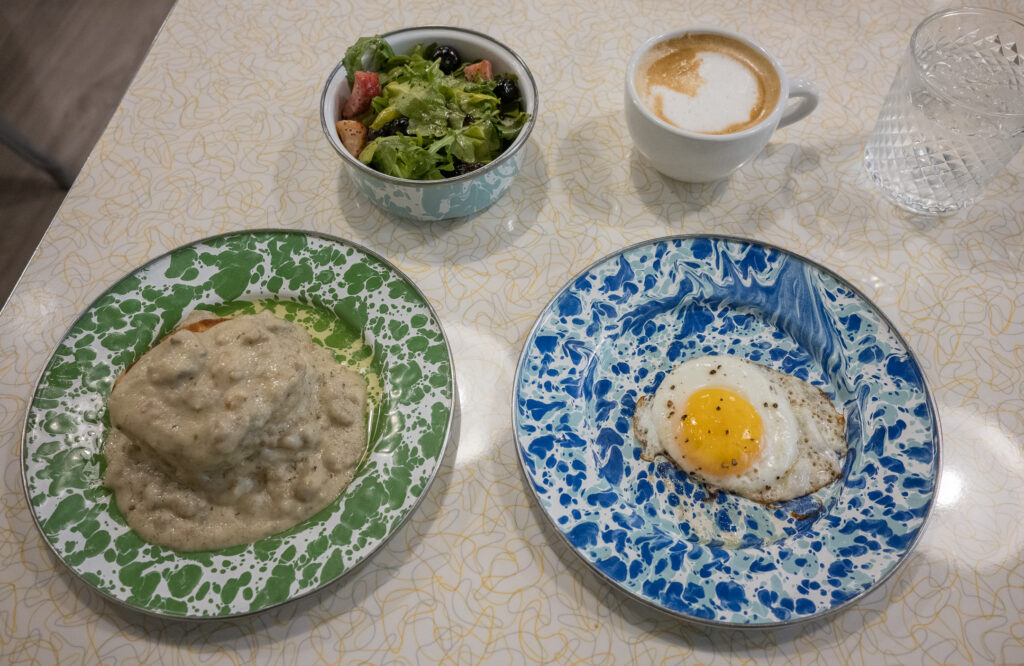 Other options include Huevos Rancheros, all kinds of omelets, and more. Formica tables, brightly-colored chairs, bird prints, and a mixed bag of wallpaper blanket the walls (perhaps a nod to York's artist wallcoverings?) It's a joyful way to start your day.
Return later for cocktails and Lunch/Dinner at Archetype Pizza, attached next door. And on the third Tuesday of the month, drop in for York Story Slam.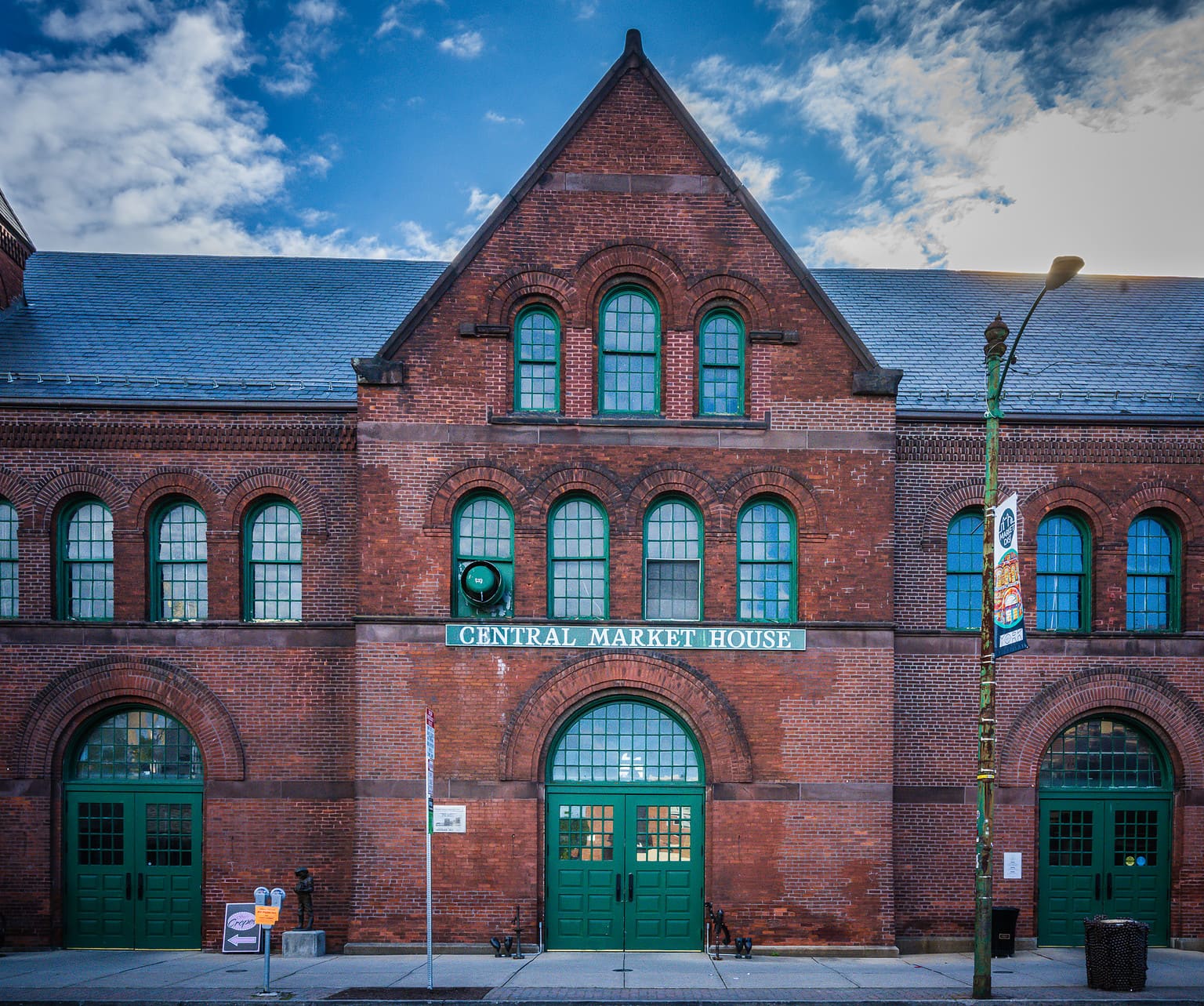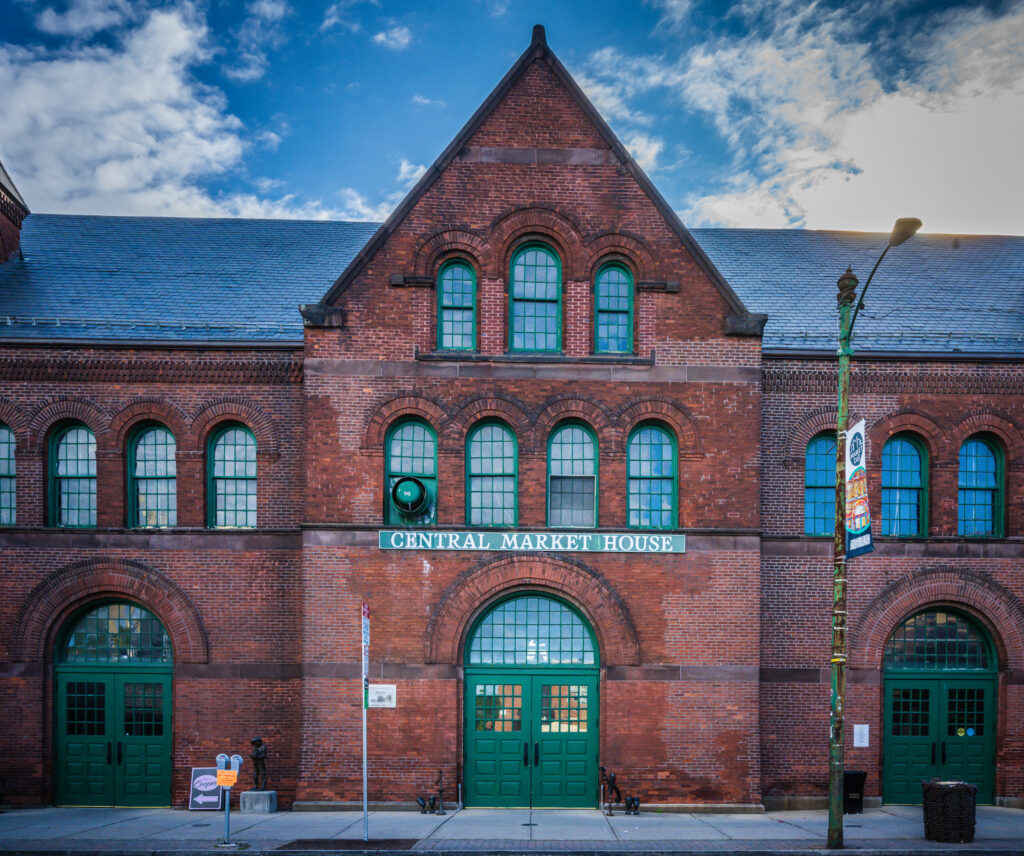 EAT/BREAKFAST/LUNCH: York Central Market House
In the mid-1800s, York farmers loaded up their carts and sold their goods outside in the town square, because, well, there were no grocery stores around.
The carts turned into shacks. And, over time, these shacks became a town nuisance. So, in 1888, a benefactor funded this beautiful structure that provided a weatherproof enclosure for these farmers and their customers.
A hundred thirty years later, York Central Market includes a great mix of nearly 70 restaurants, farm stands, butchers, and artisans. You can shop for fresh ingredients and also take your pick of world cuisine for a quick lunch.
Sushi (Joony), Italian, Mexican (Roburrito's Food Truck), Greek, Korean (BBQ Cup), American BBQ (Three Hogs), creative salads (Busy Bee), and house-made sodas (Fizzy Bee) are all popular. There's a demo performance kitchen and an incubator kitchen where new chefs can prep for a pop-up restaurant, as well.
EAT/DINNER: Tutoni's
Tutoni's Restaurant owners Tony (man) and Toni (woman) Calderone are so serious about good Italian food, they took their kitchen staff to Italy for a couple of weeks to bone up on their Italian mama chops. Reinvigorated, they returned to this old refurbished brick-walled, candle-lit space, with its stunning modern-meets-wine-cellar interior, to cook for local and visiting patrons. Plates of stuffed Squash Blossoms, Chicken Gemelli, Atlantic Cod, and more evoke memories of long ago, authentic Italian meals.
EAT: Victor's of York
Order classic Italian dishes in an upscale repurposed church. Victor's Italian Restaurant won "Best of York County Fine Dining," and you'll find everything from comfort food like Eggplant Parm to Hot Sausage D'Angelo and Spring Vegetable Lasagna. End with a slice of Providence Spott's Bakery Chocolate Espresso Cake, an incredibly decadent meal in itself.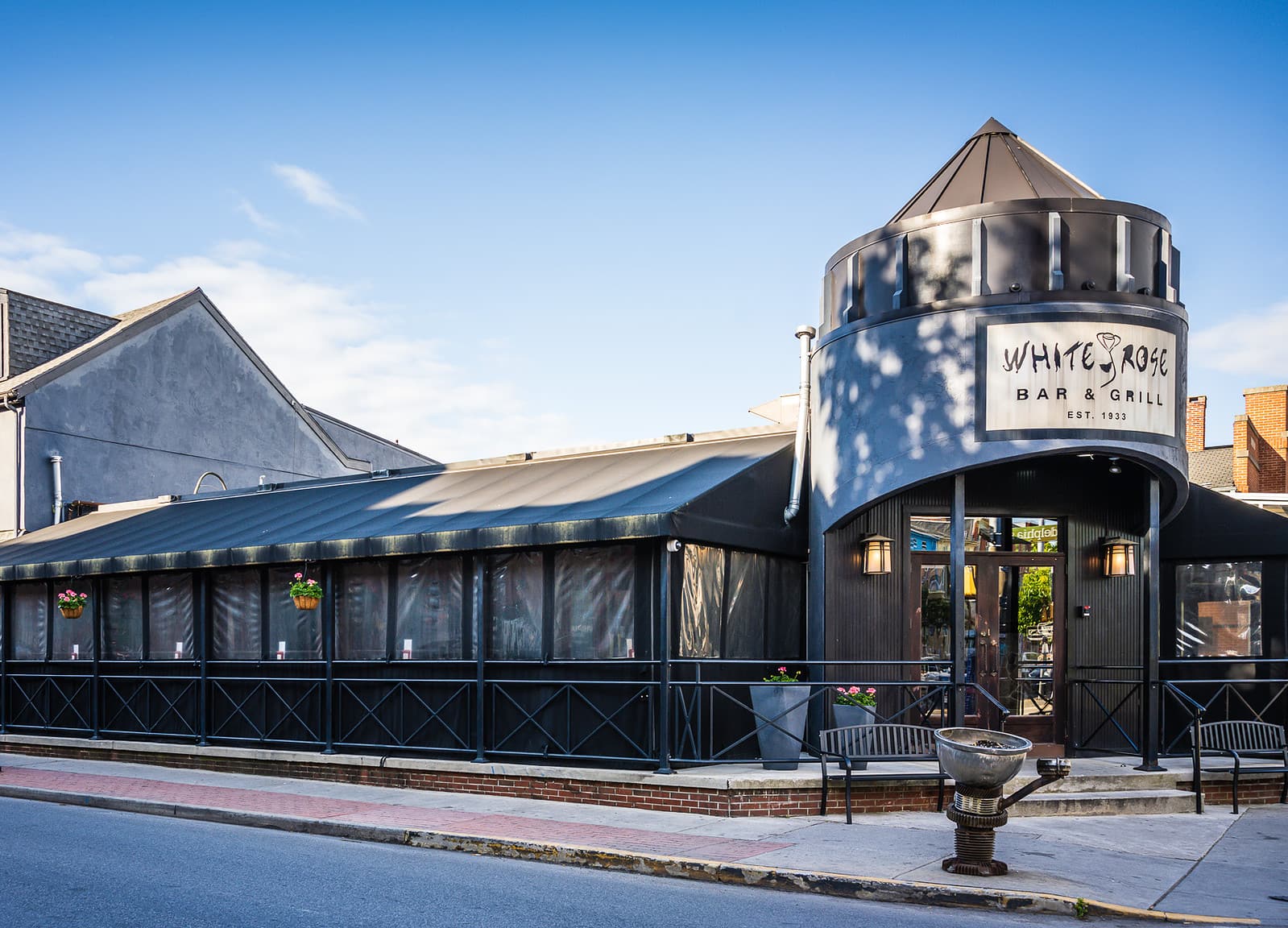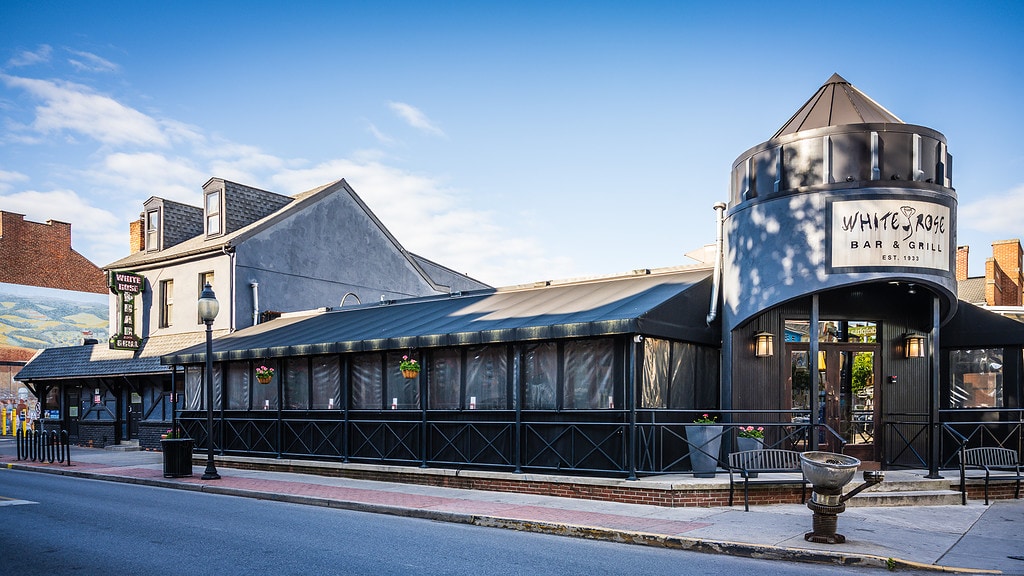 BREAKFAST/LUNCH/DINNER: White Rose Bar & Grill
Family-owned and operated for nearly 100 years, the White Rose Bar & Grill is a popular venue in Downtown York. Guests rave about the Short Ribs and Crab Pretzels.
Interestingly, the name derives from York's historic relationship with its sister city, Lancaster PA. Like the British namesakes, York is the White Rose City to its counterpart across the Susquehanna River which was known as the Red Rose City.
Restaurants In York County PA
EAT: Wyndridge Farms (Dallastown, PA)
Just a 20-minute drive from downtown York, the farm-fresh food at Wyndridge Farms is good and straightforward – Soups, Salads, Cobb, Brick Fired Pizzas, Pasta Prima Vera, and Burgers. However, it's the landscape outside that wows. No wonder brides-to-be insist on having their weddings here. Undulating lawns, and verdant hills as backdrop: this Craft Brewery/Restaurant/Wedding Venue is spectacular.
EAT: Altland House (Abbottstown, PA)
While living several miles away, President Dwight "Ike" Eisenhower frequented Altland House for its famous "Chicken Waffles," on the menu since the early 1900s.
You can still order that dish, along with the original (and real, not mock) Turtle Soup, in addition to a relatively all-American selection of salads, burgers, and steaks.
The food is fine, but you'll experience snack food nirvana with what precedes your meal; house-made potato chips sprinkled with balsamic glaze and parmesan cheese.
Created out of necessity, Altland House owner, Mike Haugh, could not play potato-chip favorites; Utz, Martin's, and Snyder's executives routinely dine there, so the chef had to come up with his own. They are truly incredible.
EAT/ICE-CREAM: Perrydell Farm and Dairy
When your ice cream comes straight from the cow, it couldn't get any fresher. But that's not the only appeal at Perrydell Farm. You can take a self-guided tour to watch cows being milked, learn the dairy process, and even pet some baby calves.
Hotels In York PA
STAY: Yorktowne Hotel (Downtown York)
Built in 1925 and completely overhauled by 2022, the Yorktowne Hotel reopened to great acclaim in 2023. Now under the Hilton umbrella in the luxury Tapestry Collection, the renewed hotel features all the special amenities–including high-speed WiFi connection, room service, and plush bedding–that make these properties a comfortable stay.
Located around the corner from Central Market and just a 5-minute walk from all the attractions and restaurants that draw visitors, the hotel couldn't be more convenient. And there's a huge parking garage just across the street.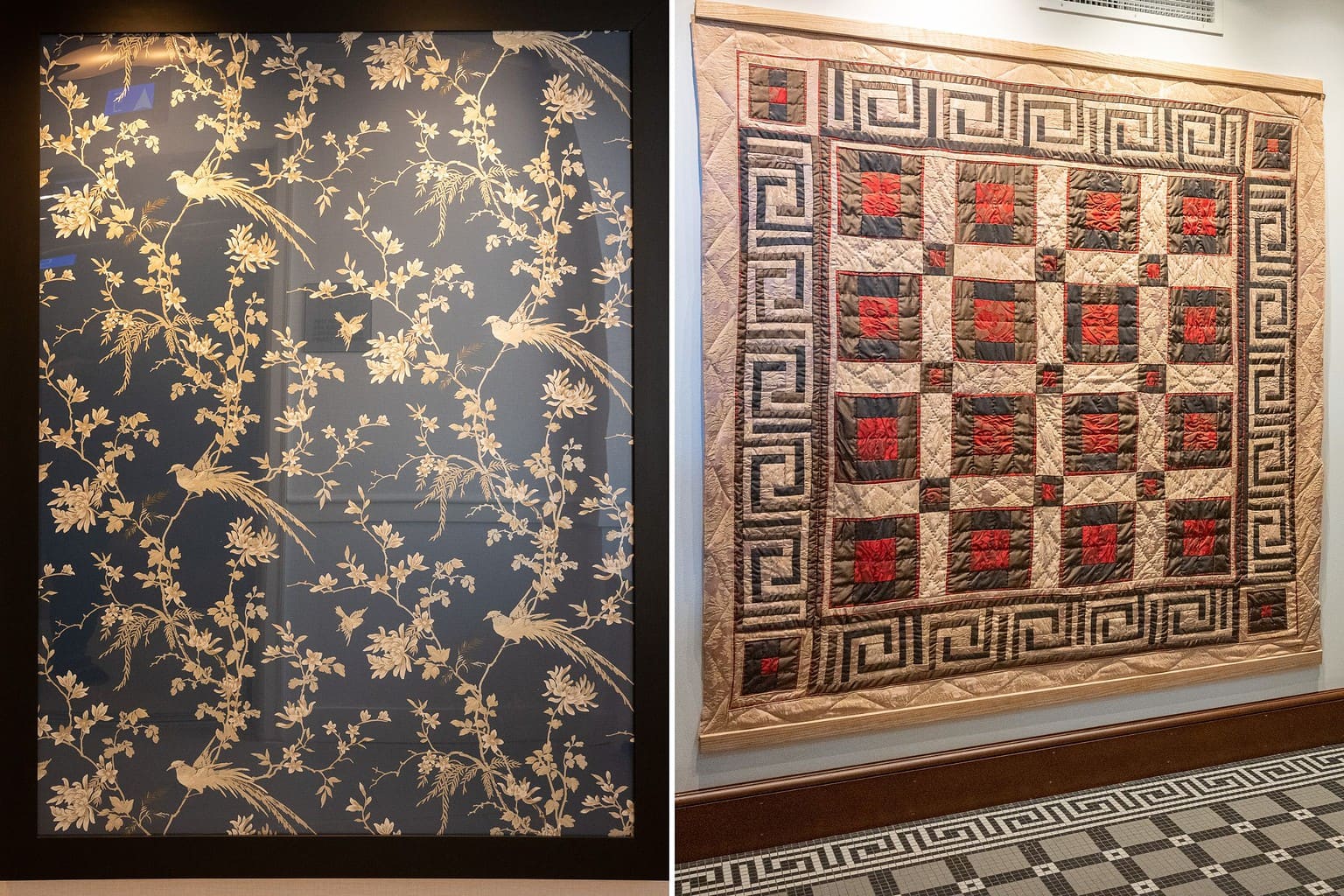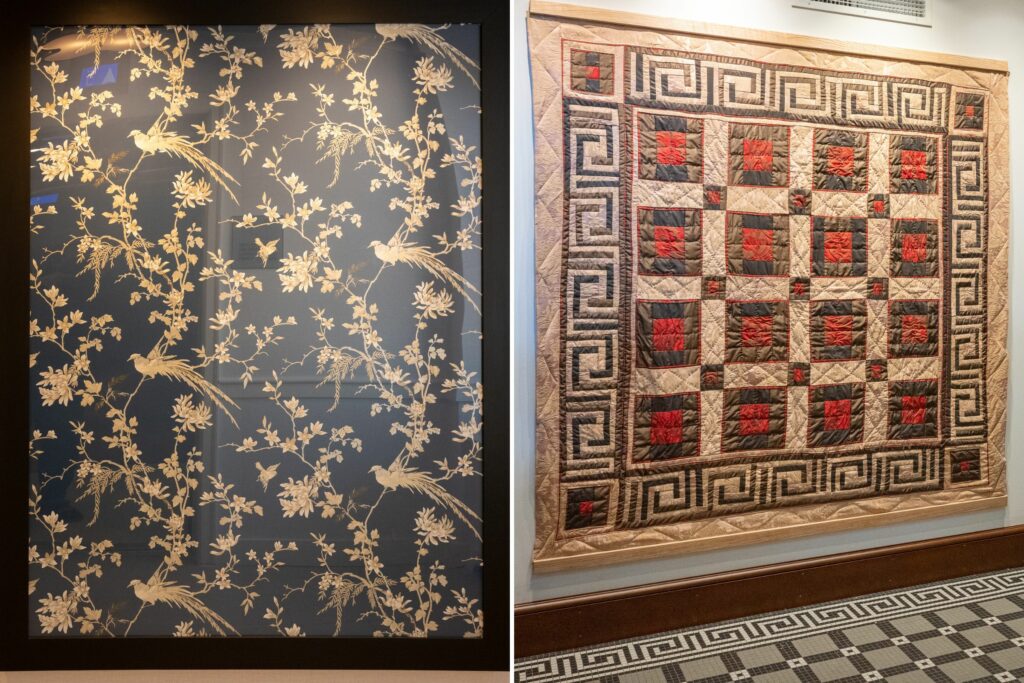 But what we love about Yorketown Hotel is that it's a gorgeous place to meet up with friends, or a lover.
First of all, they've done an incredible job with the renovations. In addition to the newly rediscovered Cornelius Hicks mural behind the front desk, great attention has been paid to design details. Of course, locally-produced York Wallcoverings are on the walls, including an original framed segment.
And at the Market Street entrance hangs a quilt, "Bringing The Pieces Together Again," that's inspired by the original tile floor. Interestingly, artist Gale Jamieson used fabric from the original hotel lobby and ballroom drapery.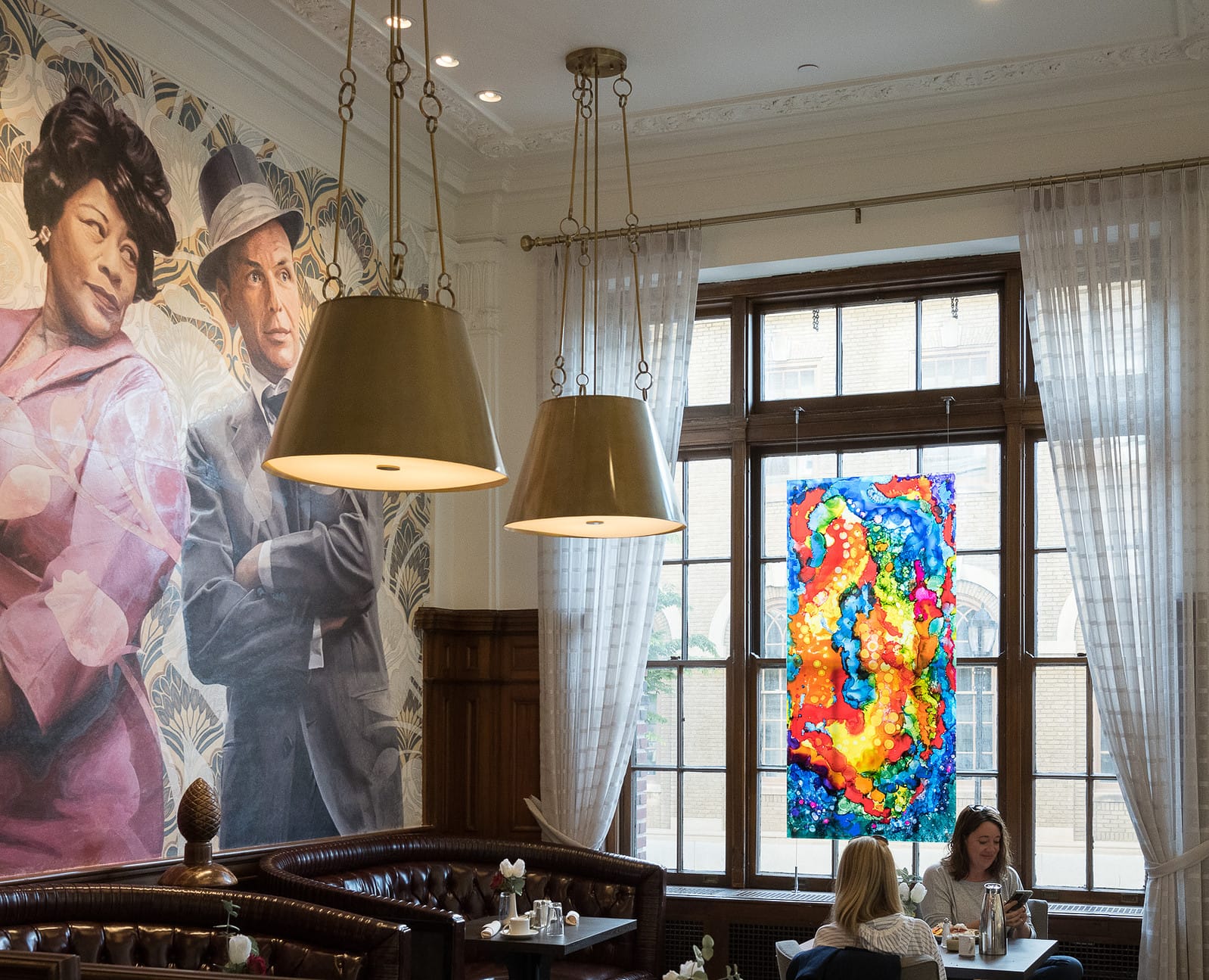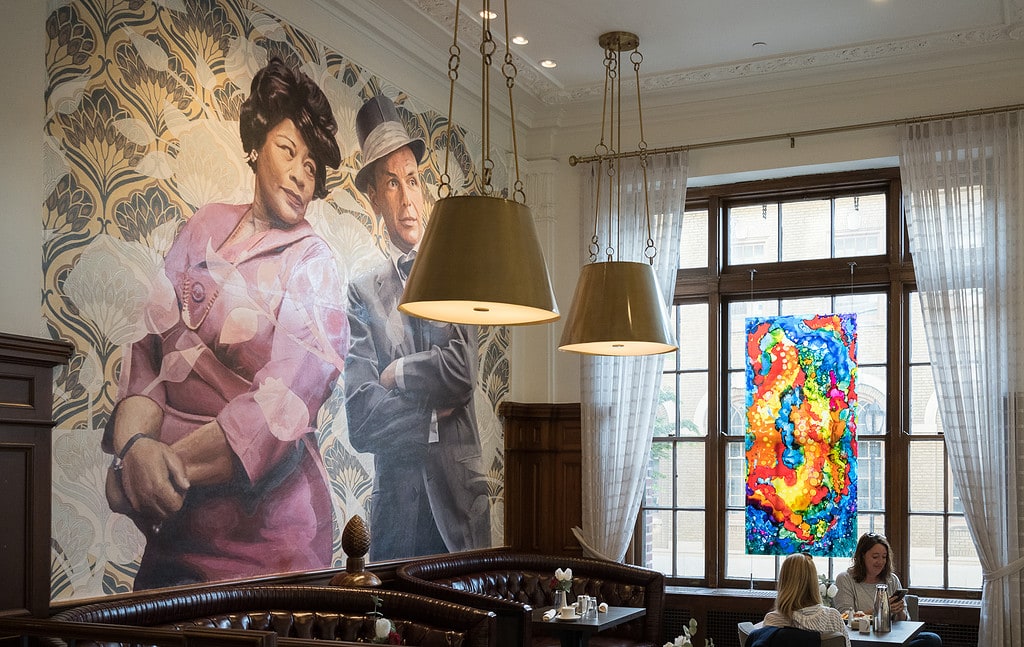 An inviting bar and restaurant grace the Davidson Lobby, and the Graham Rooftop Lounge offers great views of Downtown York, as well as inventive cocktails.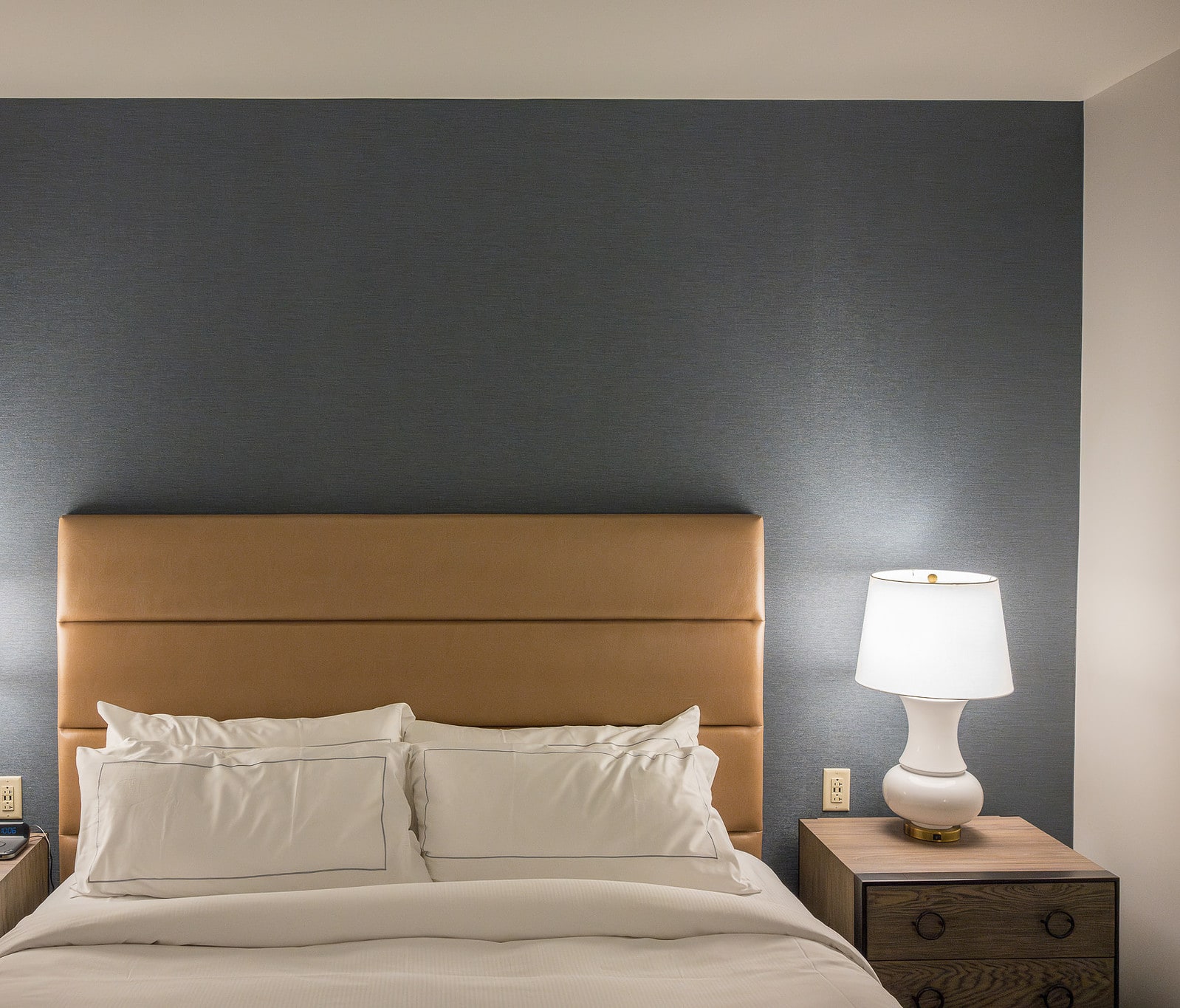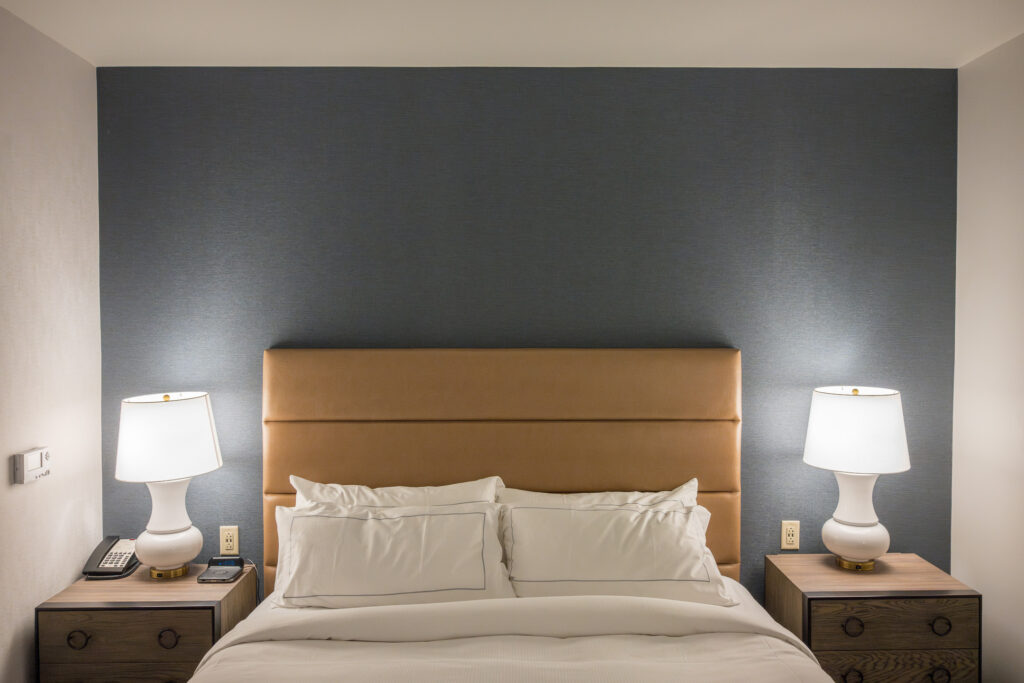 Best of all, the guest rooms are plush cocoons that are ideal for nesting. A walk-in shower and brass fixtures make for an upscale bathroom experience, but the rooms are simply decorated. Although well fitted with all the useful amenities–fridge, safe, coffee maker–they're tucked away so there are no distractions from a restful slumber.
STAY: Heritage Hills Hotel and Golf Resort
Heritage Hills Resort is fine, comfortable, and updated with great bedding, a granite bathroom, and nice amenities. It's a good choice for those who want a touch of resort standard while avoiding a chain brand.
Do you love to golf? Bring your clubs and hit some balls right outside your window. Heritage Hills is a popular driving range and a resident 18-hole course. Come in winter, and the driving range turns into a snow-tubing hill.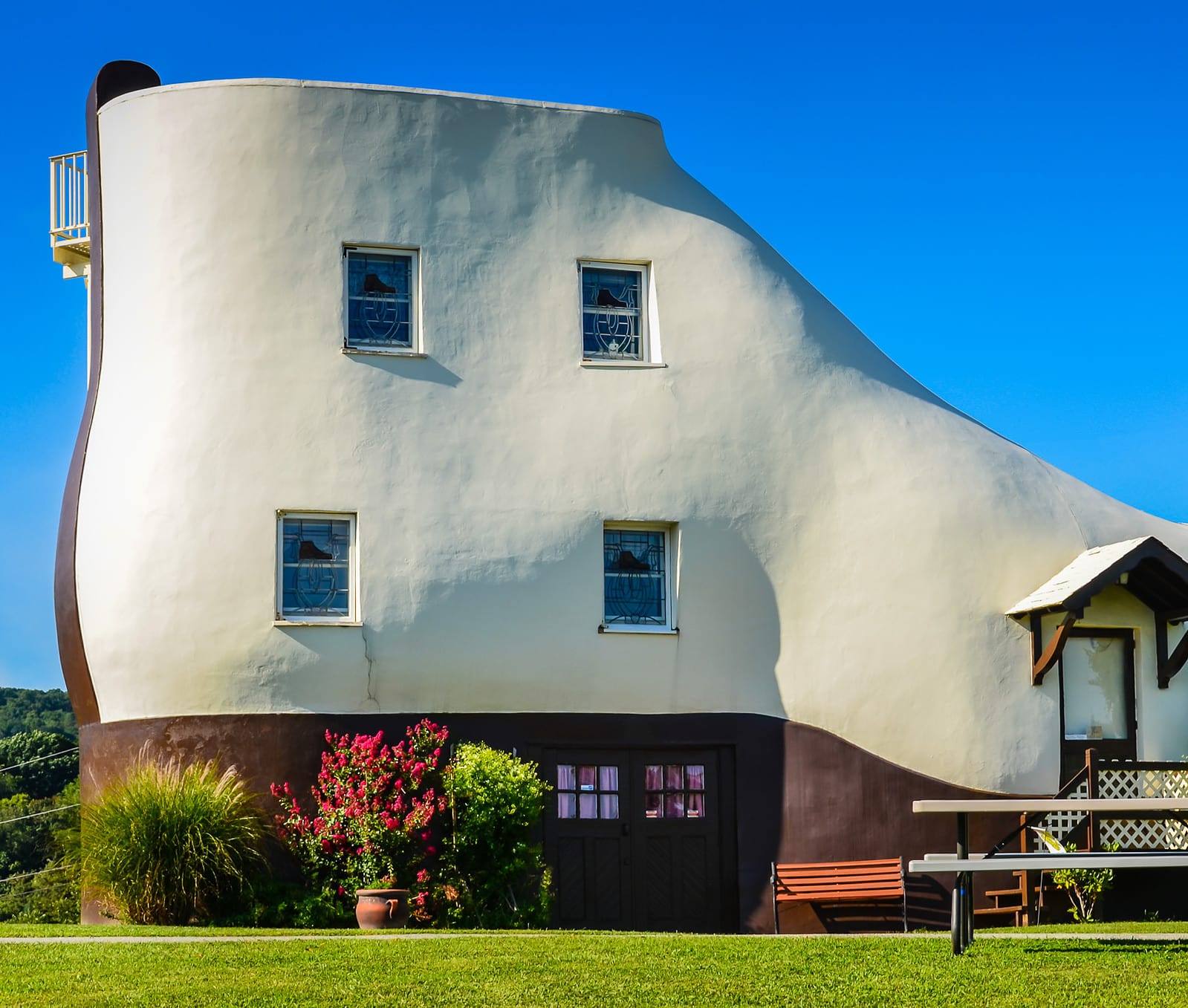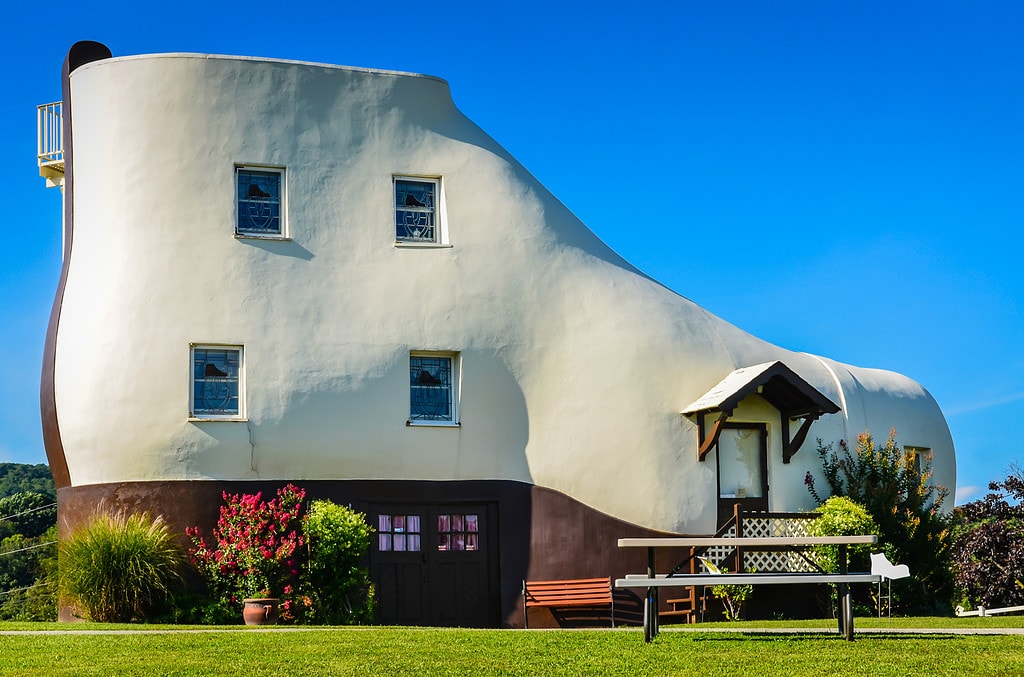 VRBO: The Haines Shoe House
One of the quirkiest places to stay, the Haines Shoe House was built in 1950 by a Shoe Retailer. Now the 3-bedroom home sports retro features including a vinyl record player, rec room mini bar, original tile work, and built-ins.
It's located on an acre of land, on a quiet road, and offers a hot tub, picnic table, and fire ring.
Map Of Things To Do In York PA
More Weekend Getaways In Pennsylvania
All articles belong to Getaway Mavens LLC, and all photos belong to us as well, unless otherwise noted. It's all copyrighted. Please don't repost anything elsewhere without asking us first. All rights reserved. This site uses cookies to enhance your experience.
We make no guarantees of any price listed on our site. We're not responsible for content on external websites linked to ours, including linked resources, an external blog post, any partner site, hotel property sites, or affiliate sites. We only write about places we have vetted, but can't guarantee that your experience will be exactly the same.
Posts may contain affiliate links at no cost to you. Several of our trips are also compensated by the respective tourism boards for the city or state we are visiting. This never impacts how we share the destination with you – opinions are always our own and we pride ourselves on that. We do not sell links or accept unsolicited guest posts under any circumstances. Don't even ask.
United States Copyright, Getaway Mavens, LLC