WHY GO: Montgomery County MD is fast becoming a draw for tourists, with a top-tier indoor-outdoor private art museum that is absolutely free to enter, a famous still-swinging Dance Palace, a former amusement park turned Arts Center, a medical museum displaying the bullet that killed Abraham Lincoln, F. Scott Fitzgerald's Grave, an under-the-radar trolley museum, and so much more. It's time to revisit this "bedroom community," so close to home.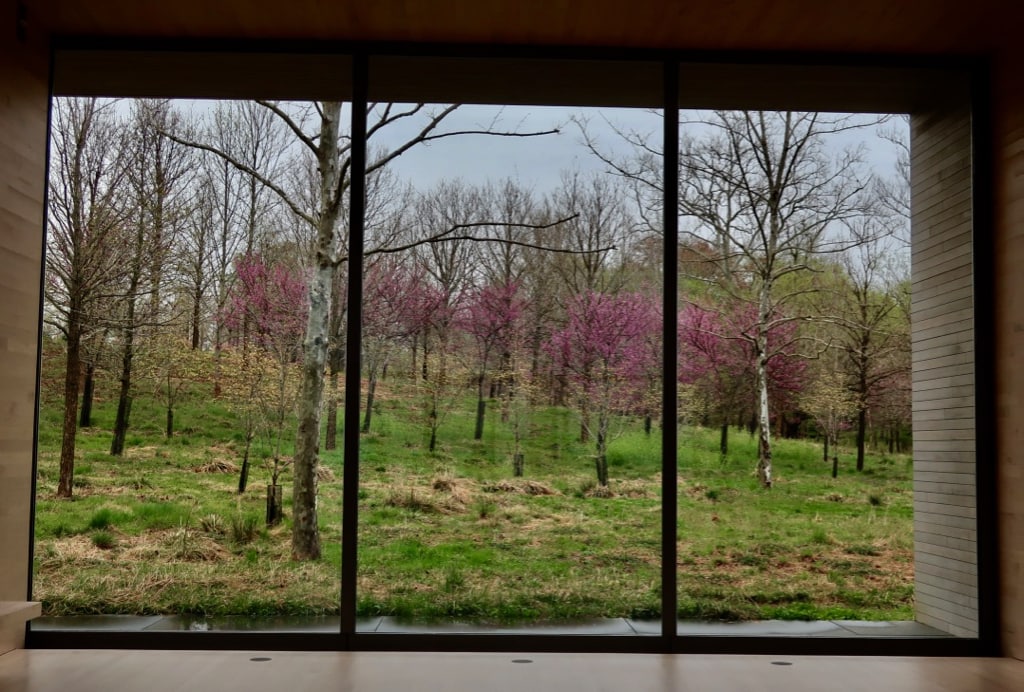 Montgomery County is on our list of 17 Best Romantic Getaways in Maryland. Check it out for more adventures with your loved one.
Where is Montgomery County MD?
On the northwest border of Washington DC, you'll probably recognize names of the towns that make up Montgomery County MD: Rockville, Silver Spring, Bethesda, N. Bethesda (Rockville), Chevy Chase and Potomac. Once considered the "Land of Malls," this Maryland county is transitioning into attractive "Town Centers" with phenomenal attractions – just 8 miles from downtown DC.
Montgomery County is growing so fast, in fact, we had to create a separate Bethesda and N. Bethesda (Pike & Rose) post of its own.
Things to Do in Montgomery County MD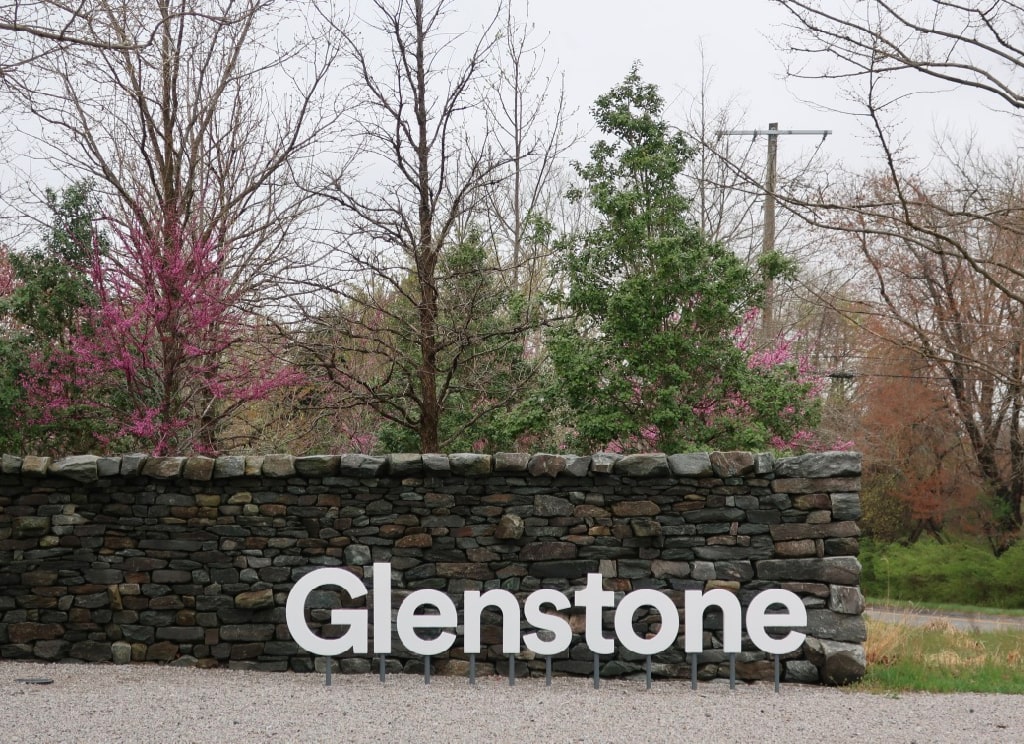 Glenstone, a "Contemporary Art, Architecture, and Landscape" public institution, opened its new compound in 2018. Funded by billionaire Mitchell Rales, and his wife, the art curator, Emily Wei Rales, Glenstone is the largest privately owned museum in the country.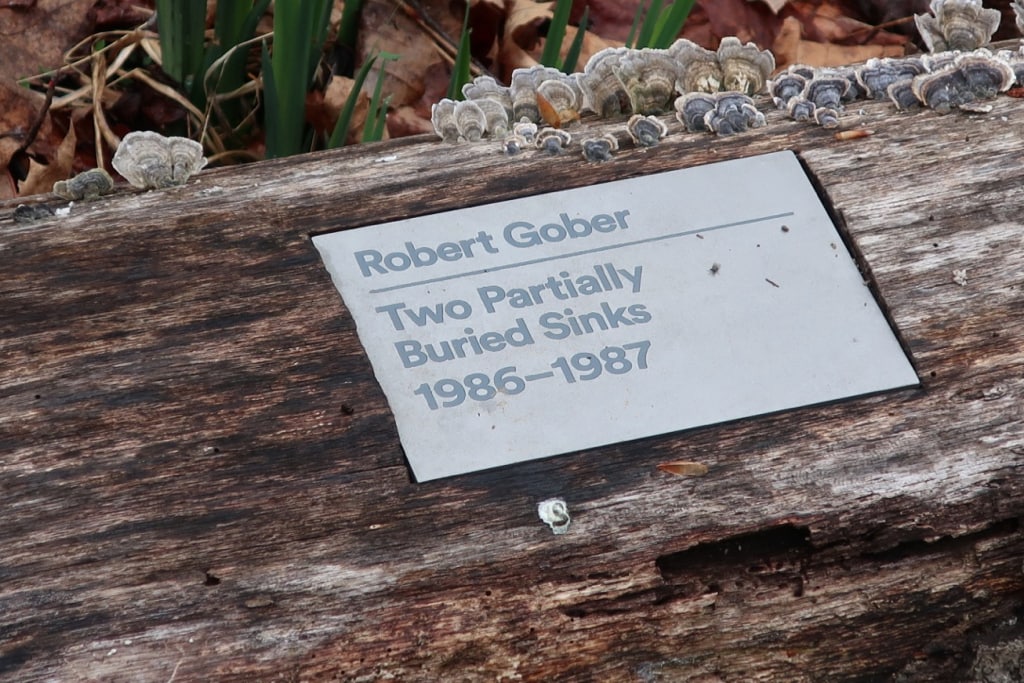 Amazingly, it costs nothing to enter. Zip. Zero. It's free for anyone at least 12 years old. (Though for now, tickets must be reserved in advance online).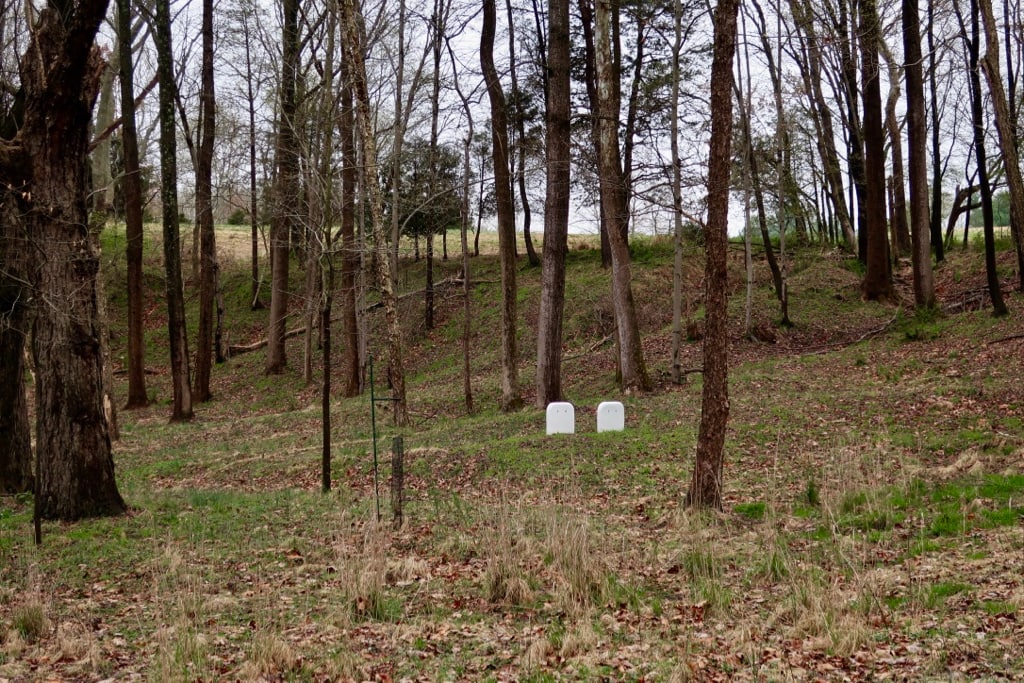 Visitors can meander paths through stunning expansive lawns and through forests on this 310-acre property, encompassing walking trails, and a succession of modern concrete buildings that incorporate exhibit spaces, bookstore, two cafes and a Visitor's Center.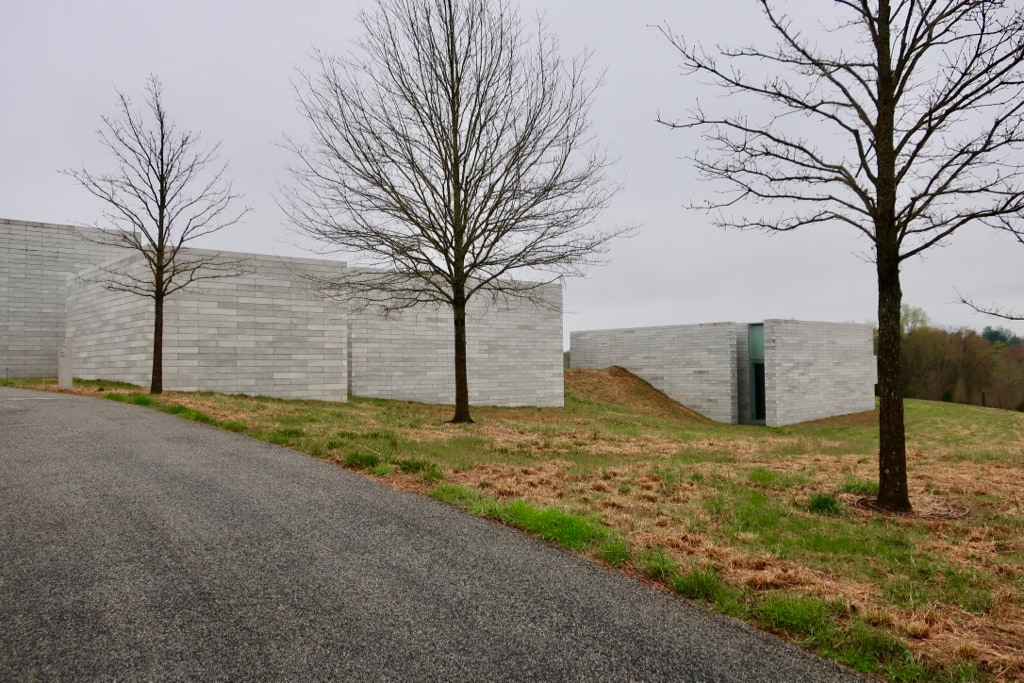 The Pavilions, a series of square and rectangular structures built with 26,000 concrete blocks, is a work of art in itself. Housing the likes of Warhol and Pollock, visitors enter through a top floor, and descend down to more galleries surrounding a lily-pad-pool courtyard.
Outstanding Docents At the Ready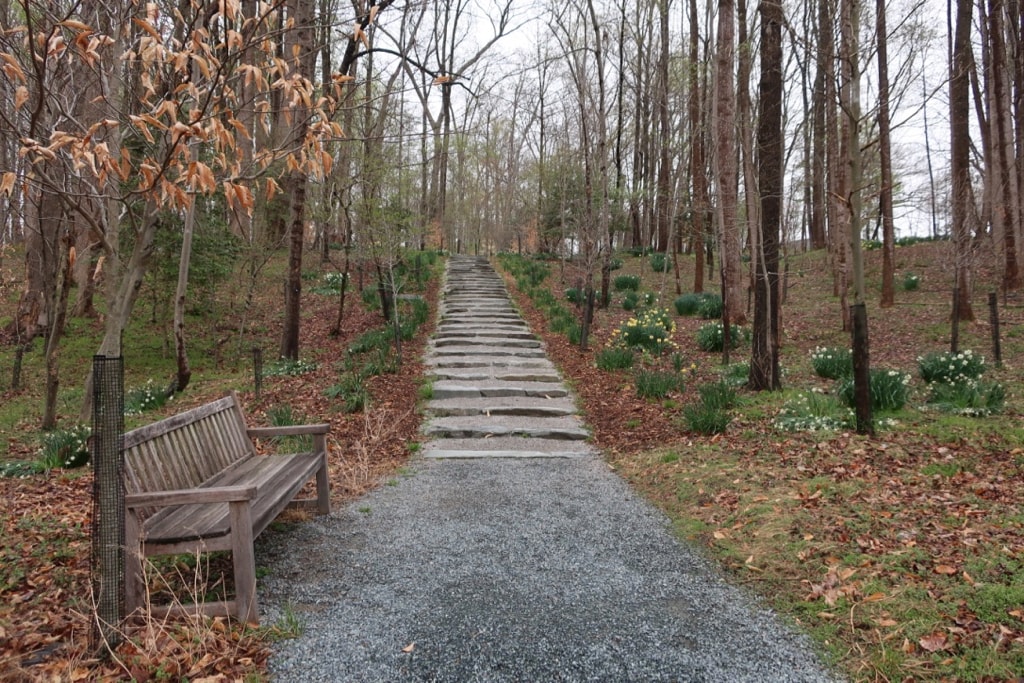 Cheerful and knowledgeable docents stand at the ready near outdoor sculptures and inside galleries to provide as much or little information you'd like about the art before you. And about Glenstone in general.
The lack of signage, apps, or audio guides is intentional, encouraging visitors to come up with their own interpretations.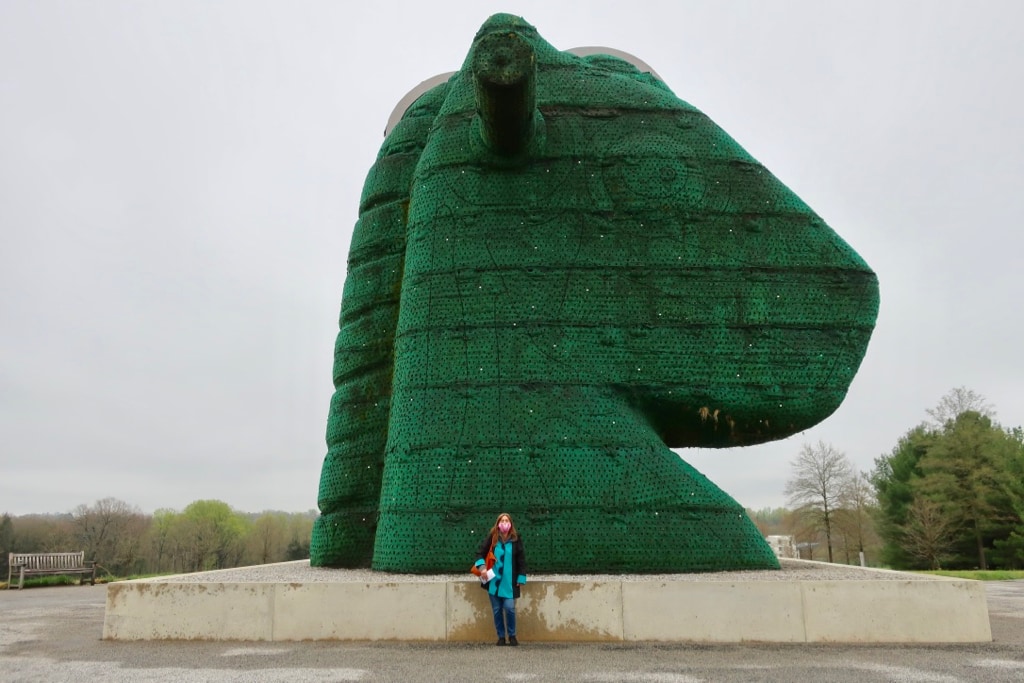 The most well known sculpture is Jeff Koon's "Spilt Rocker;" a 37-foot tall horse-head on the hill that blooms with 24,000 annual flowers in warmer months.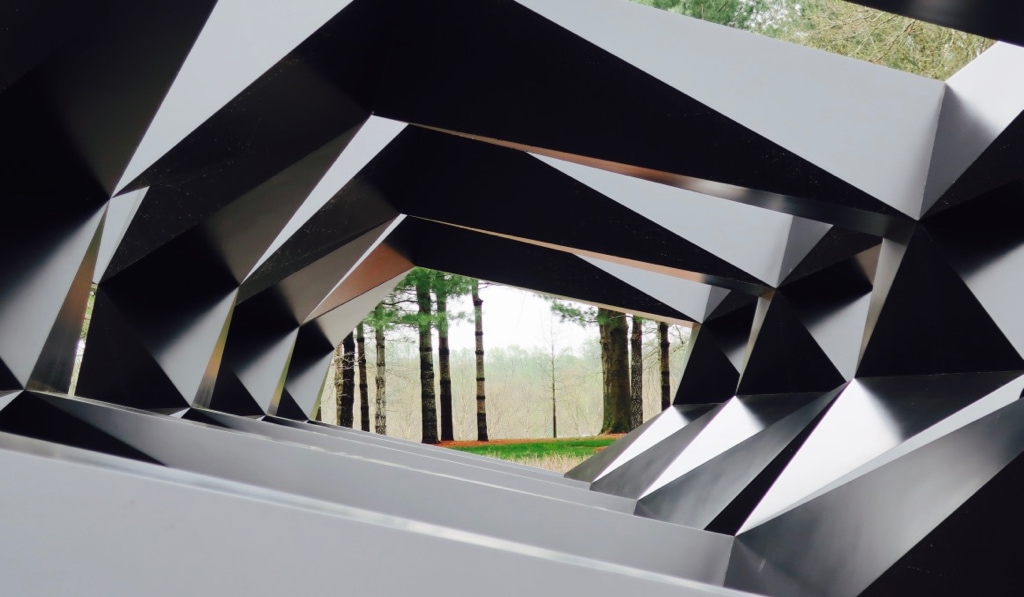 Down the hill, enter Richard Serra's Nautilus for a disorienting walk to its center. Other works are less interactive, but just as compelling.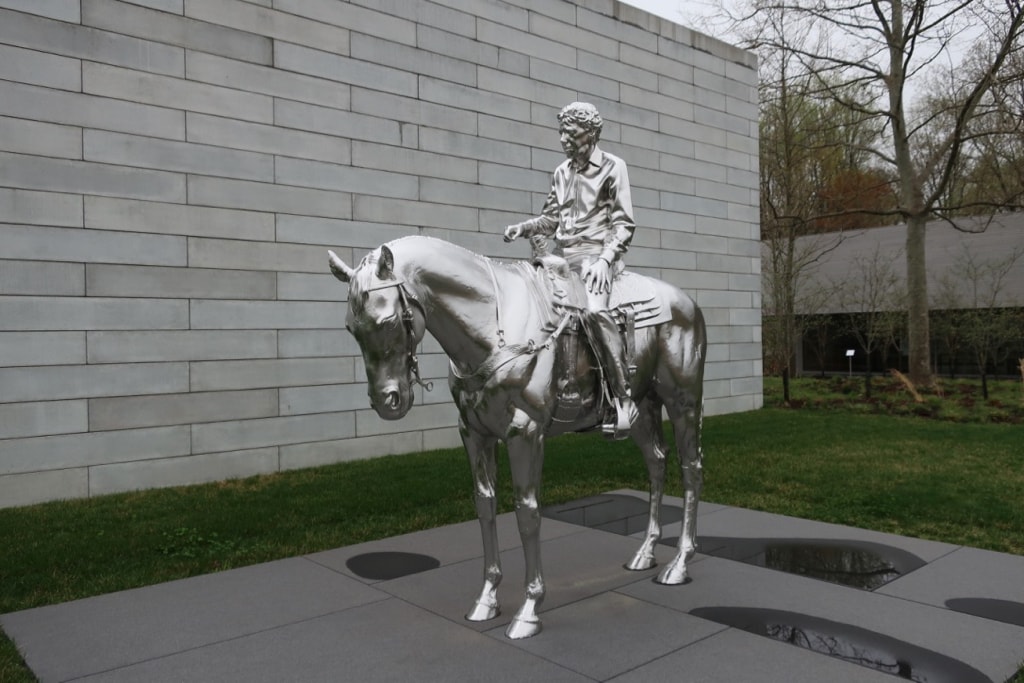 Charles Ray used his own image as the rider in his shimmering stainless steel "Horse and Rider." Ray, a Professor Emeritus at UCLA, has been known to engage in spontaneous interactions with visitors.
This happens on occasion, say docents. You'll never know who you'll bump into in this most fascinating place. Open Thurs-Sun 10-5. Tickets are tough to get, and are first come first served for now. Though free, you must reserve a time online.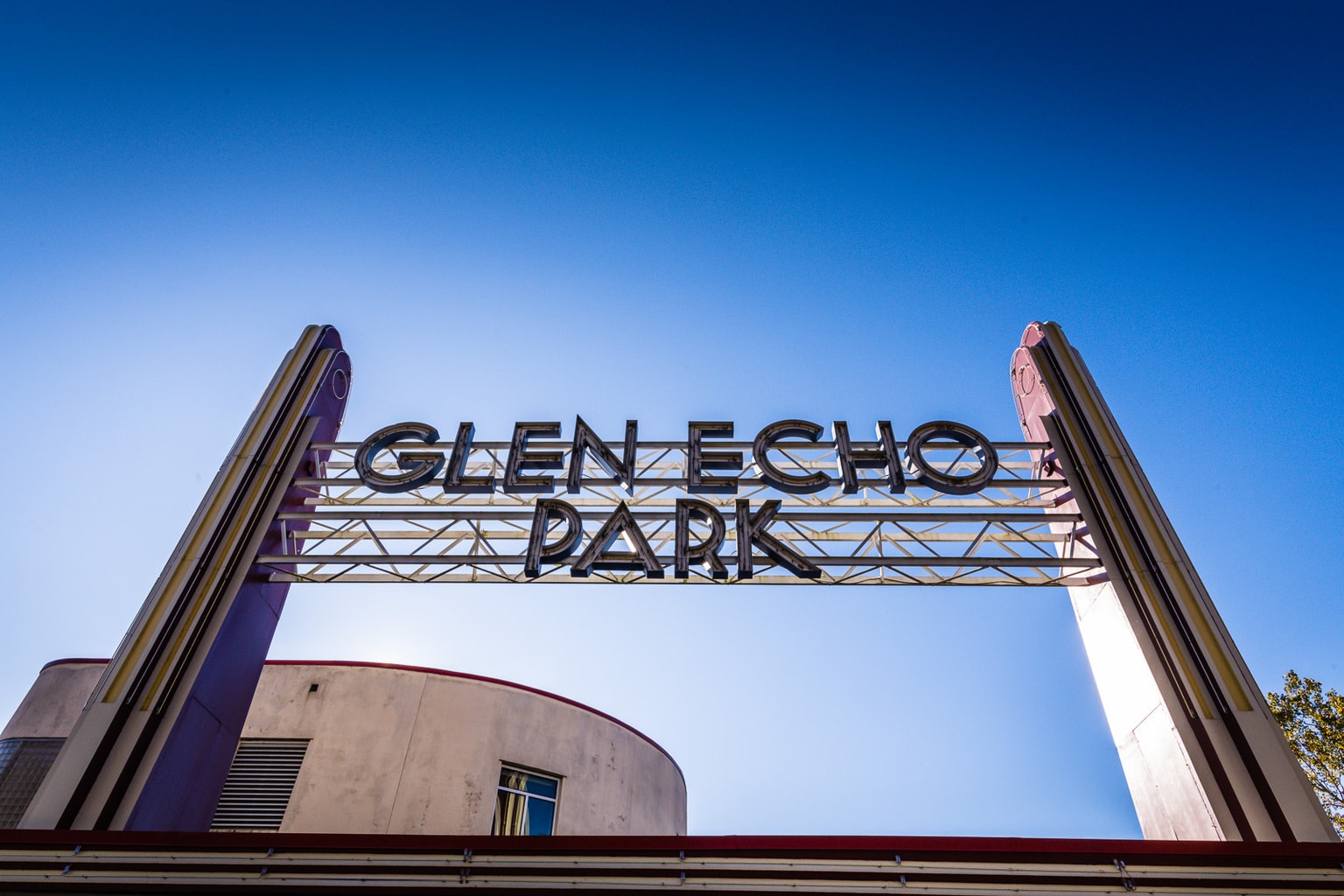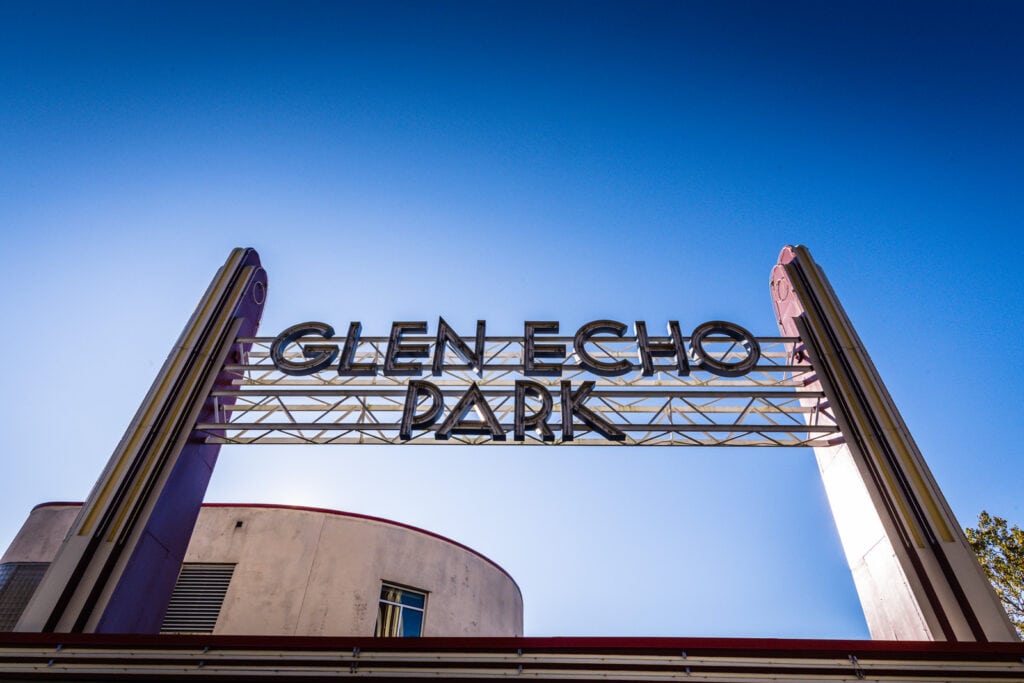 Unleash your creativity (or put on your dancing shoes) at this former amusement park turned Performing and Fine Arts Center. Here, budding photographers, painters, silversmiths, jewelry-makers, sculptors, writers, musicians, actors, glass and clay artists, and ballroom dancers can learn from the best.
Find over 1,000 classes to choose from – from short drop-ins to multi-month long series – for adults, kids, and teens. However,  just walking around the leafy acreage on a fine fall or spring day brings joy.
Glen Echo Park History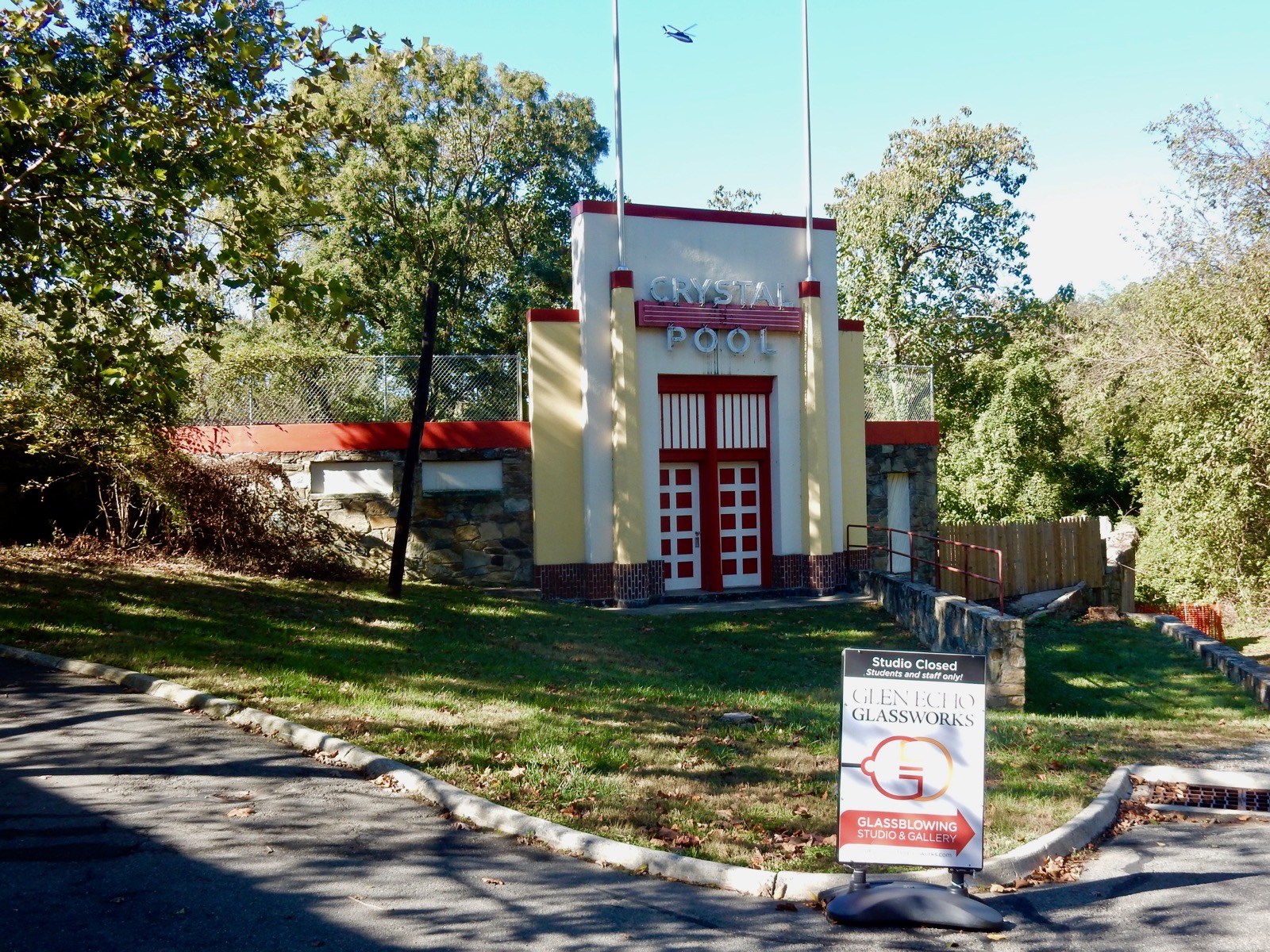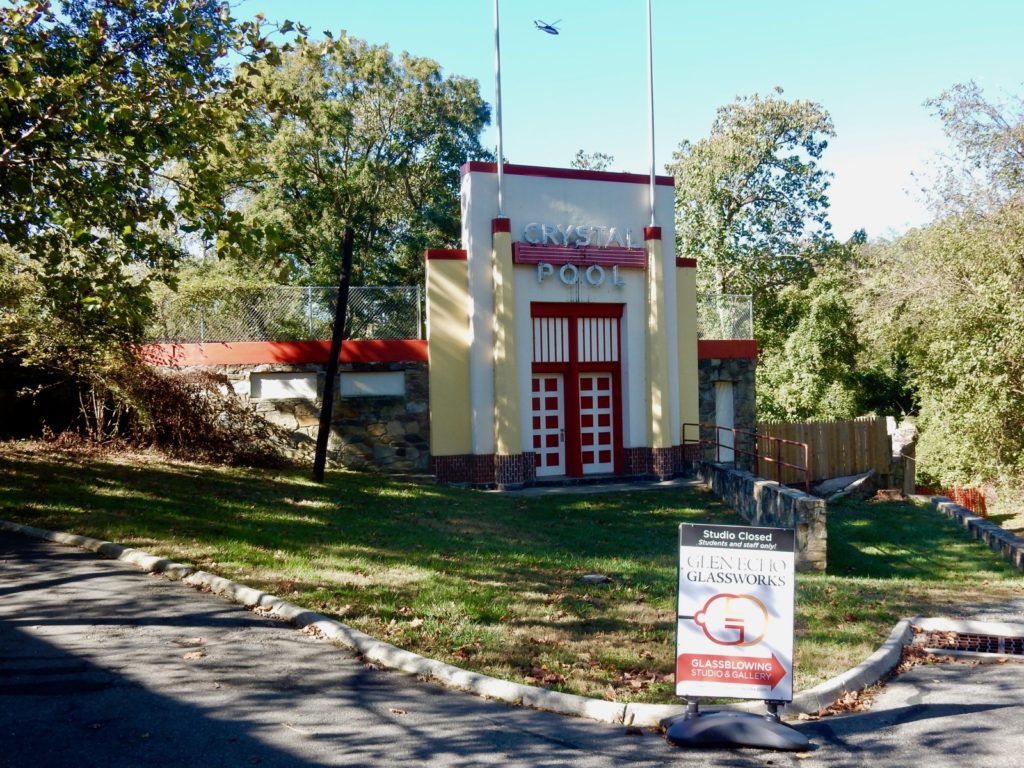 In 1891, what became Glen Echo Park was built as the Chautauqua Assembly – an educational summer camp. But by the late 1890's it had transitioned into an amusement park.
The trolley line came right up to the stone-tower entrance, and through much of the 20th century, Glen Echo was one of the premium amusement parks in the DC area.
In 1960, students from Howard University protested the park's segregation policy. By 1968, it closed down (some blamed those protests for the Park's demise). In 1971, Glen Echo was turned over to the U.S. Park Service and effectively abandoned.
Opportunity for Artists
But starving artists saw an opportunity. Early on, some began to set up shop in the decaying buildings. Adventure Theatre and Academy moved to Glen Echo in 1971. The Puppet Co. moved here in 1983. Other fine artists followed.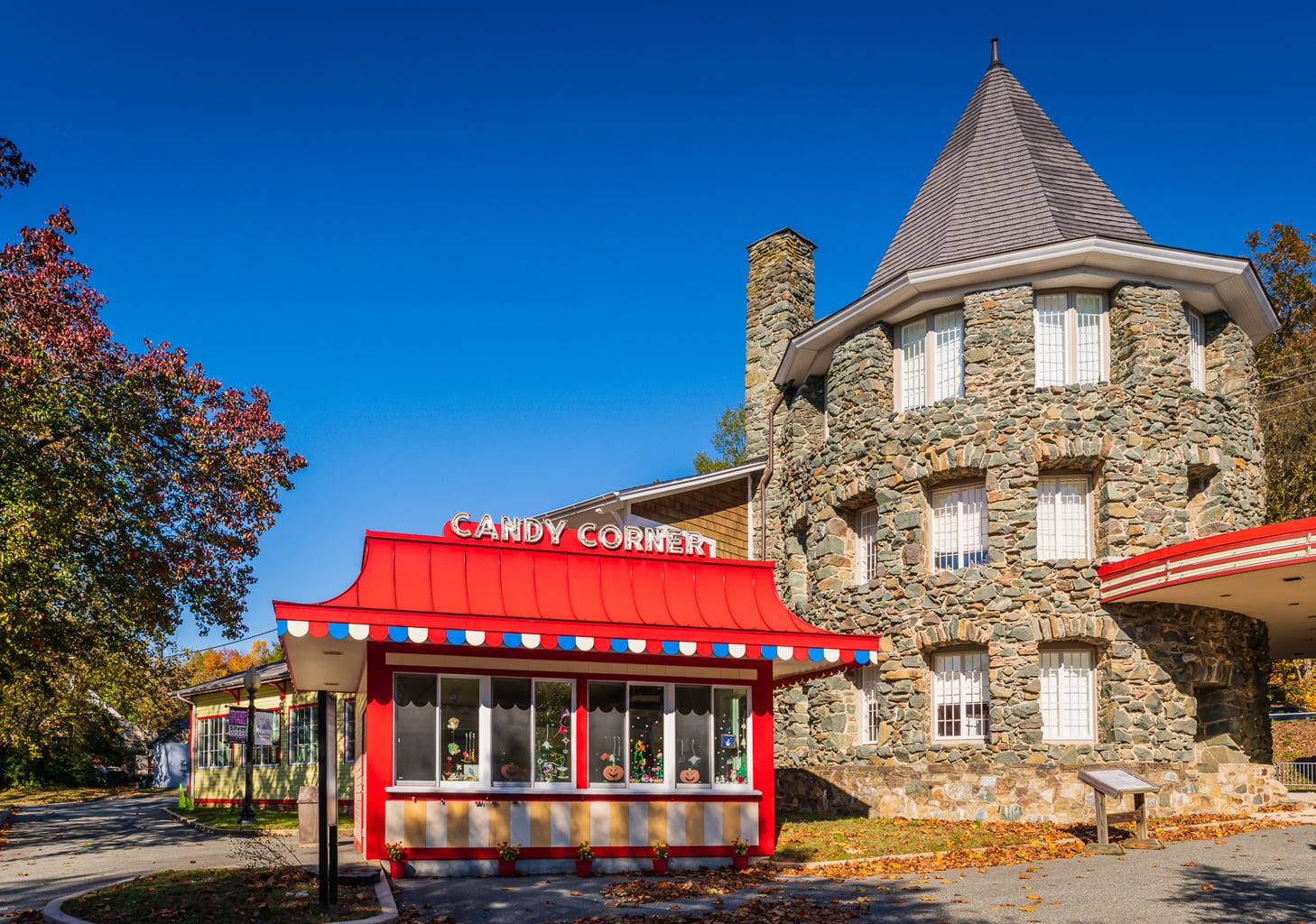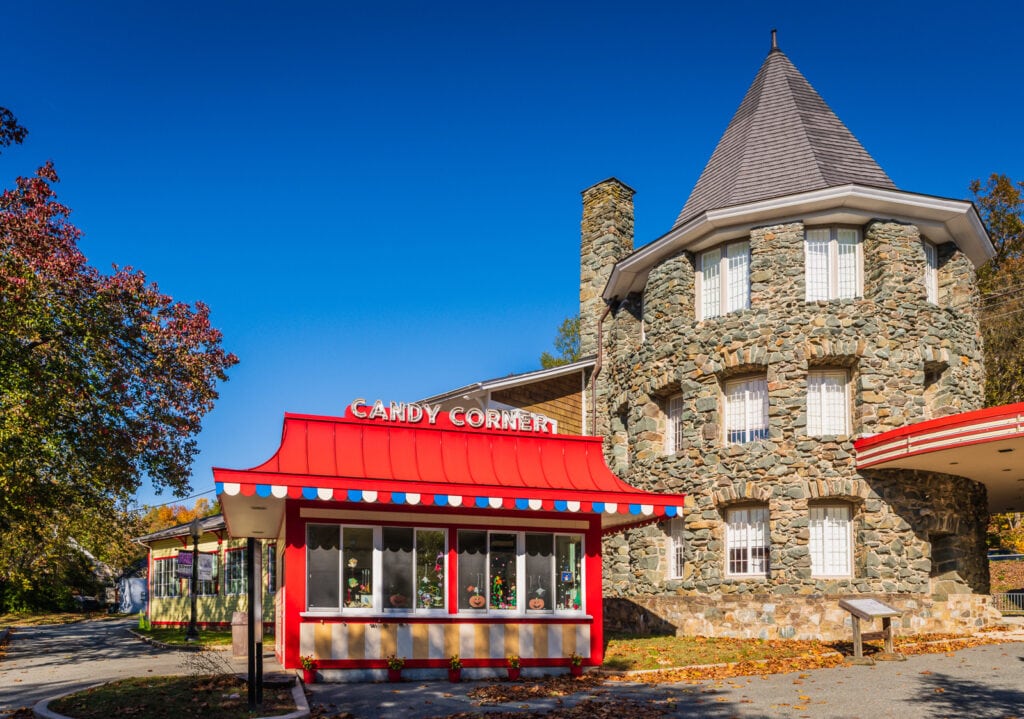 Glen Echo is now part of the George Washington National Memorial Parkway, one of the few National Parks that is arts-oriented. It is currently managed by Montgomery County's Glen Echo Park Partnership for Arts and Culture.
A $23 million renovation in 2009 brought facades and interiors of buildings back to their original boldly colorful, geometric, Art Deco grandeur.
Following an expensive face-lift, the 1921 Dentzel Carousel spins once again. In fact, it's the only ride left over from Glen Echo's Amusement Park days.
Classes at Glen Echo Park
You can learn the art of wheel throwing and hand clay building in yurts run by Glen Echo Pottery. The former Crystal Pool- is now a glassworks studio. The entry towers, Candy Corner Concession, and other former ride offices have morphed into art galleries, studios, and drop-in-arts for kids.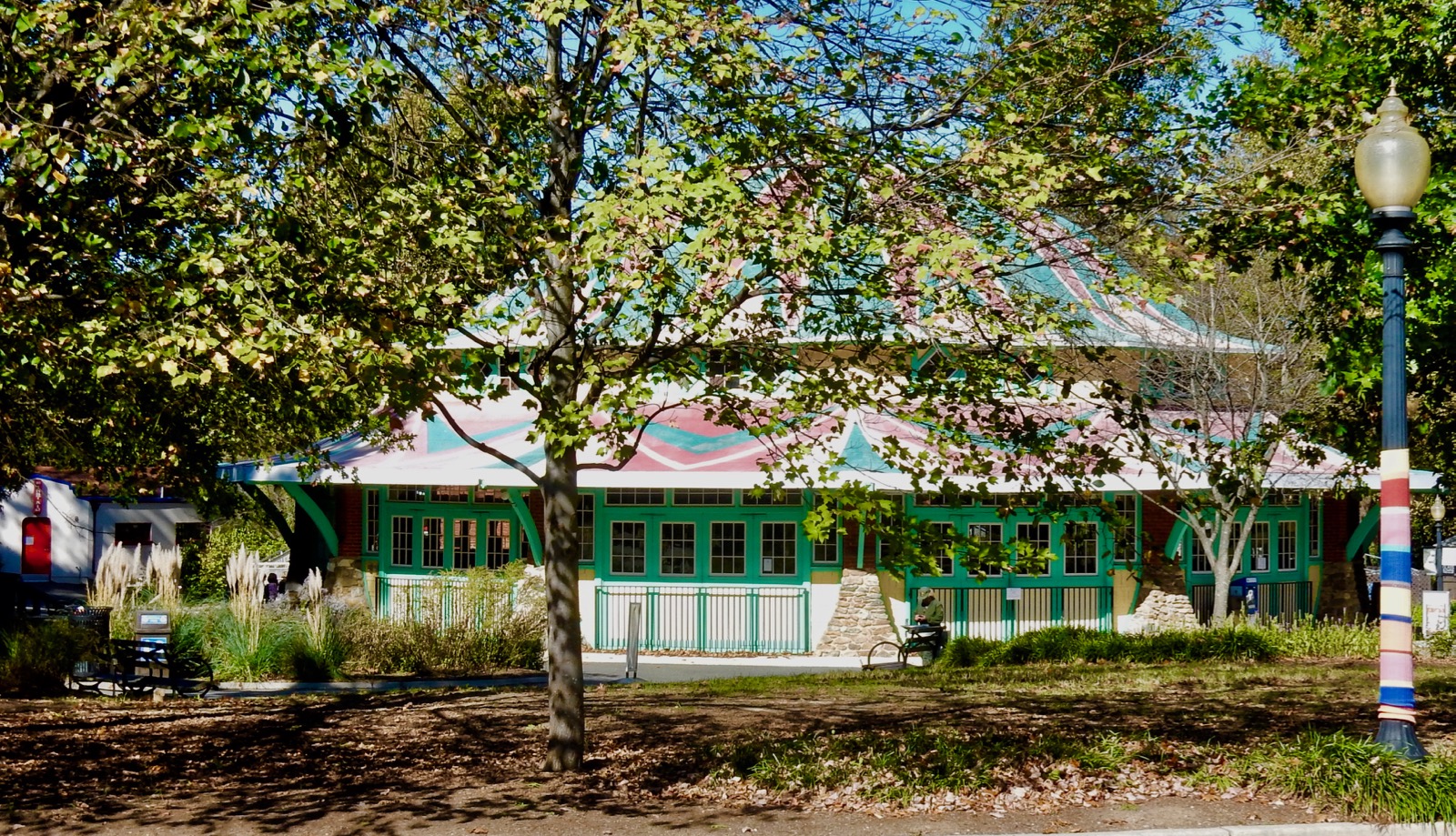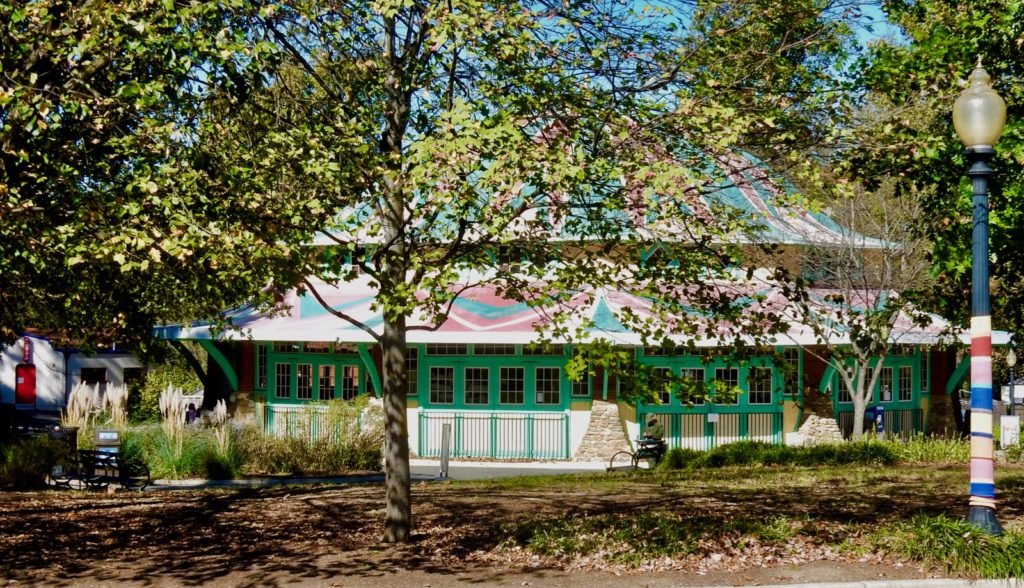 There are two Children's Theaters on premises – so the landscape turns into a rush of screaming kids on any given school day.
The Washington Conservatory of Music set up shop in one corner of the former arcade. It offers classes in every conceivable musical instrument – even ukulele, folk guitar, Irish Fiddle, and voice.
There's an Aquarium where kids can learn about sea creatures and climb the tree house-pirate ship. For some reason, the old bumper car pavilion is a wedding venue favorite. And the former Hall of Mirrors is now, ta-da! a Dance Studio for children and adults.
Spanish Ballroom Glen Echo Park Montgomery County MD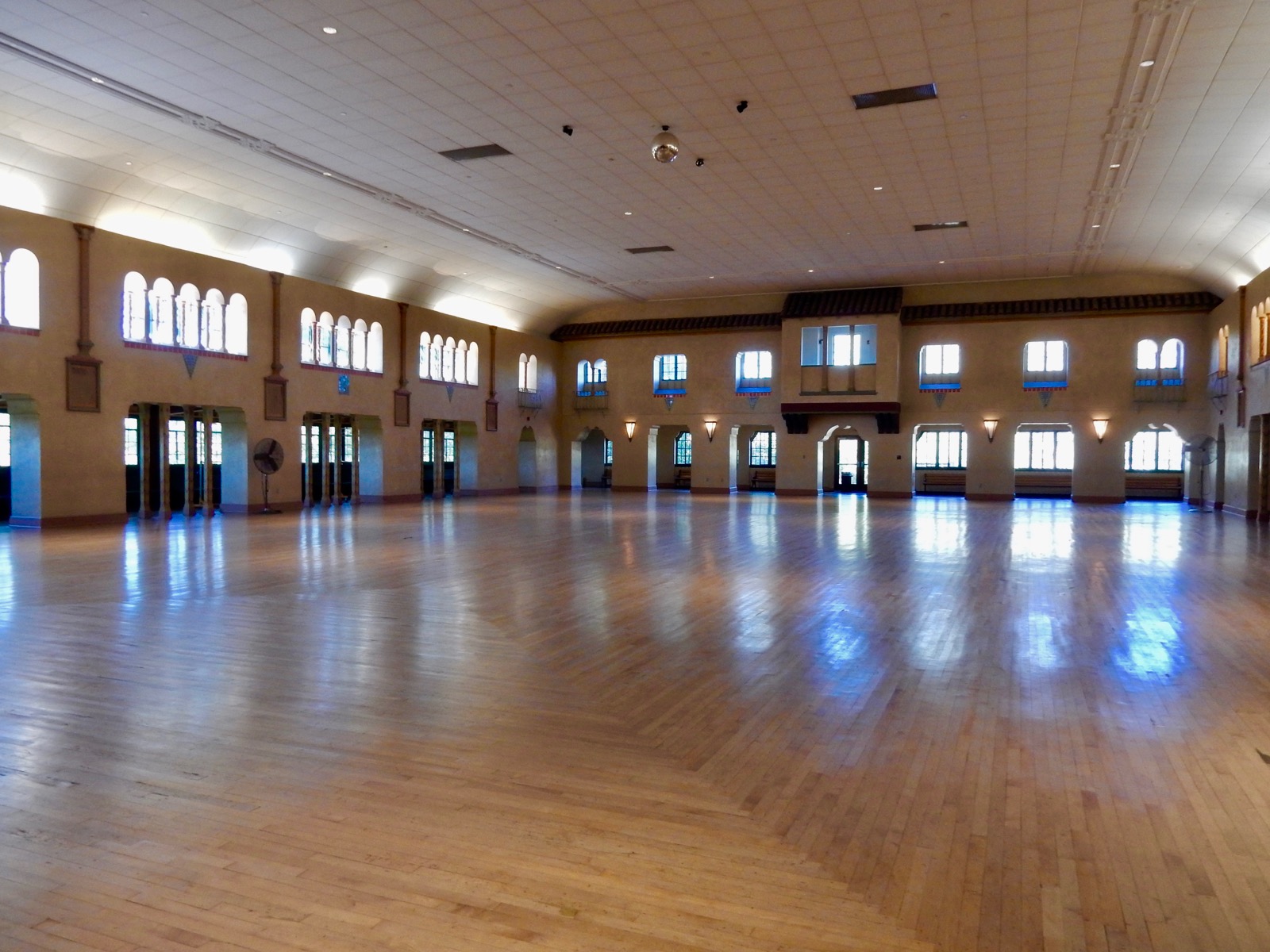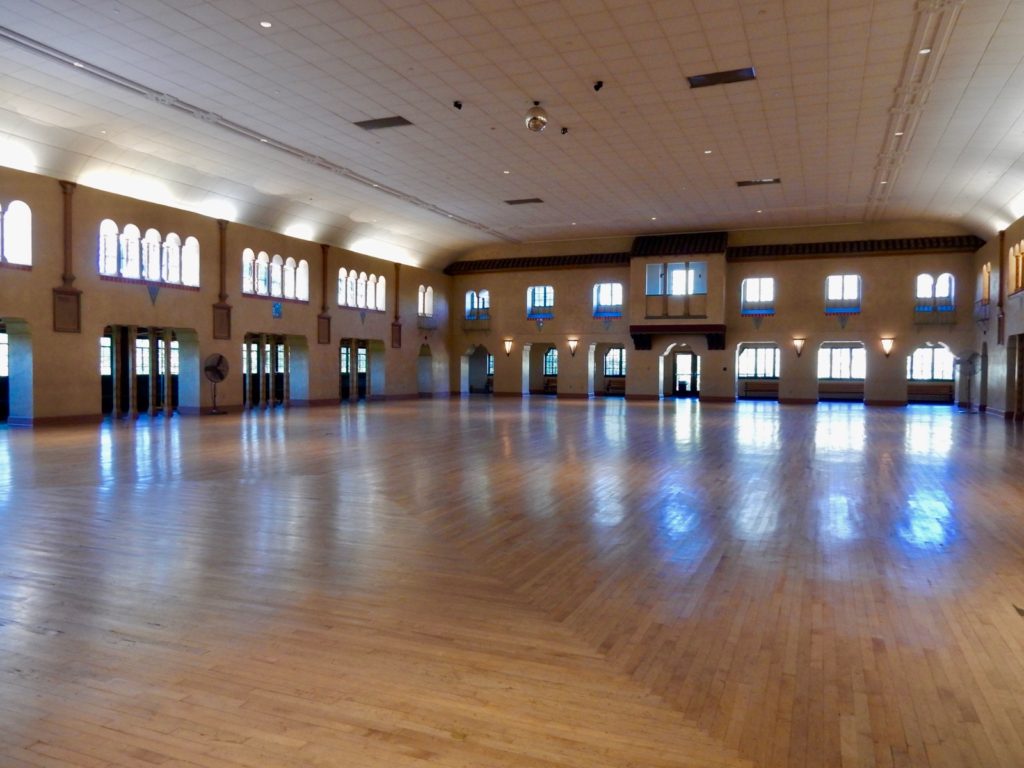 And speaking of dance, the famous Spanish Ballroom, opened in 1933 with 7,500 square feet of dance space to accommodate 1,800 foxtrotters, still attracts thousands of people a week from all over the country.
Come for Thursday Night Blues Dancing, Friday and Sunday Contra Dance, and  Saturday night Swing.
Amazingly, $18pp buys you an hour Swing lesson and three hours of dance time to a live band – one of the cheapest date nights ever. Though it's open year round, the Spanish Ballroom is not heated or air-conditioned. Thankfully, body heat and constant motion will warm you up in winter – but in the summer….well, that's what the fans are for.
Art Galleries Glen Echo Park
The art on display in the art galleries is nothing short of inspiring, you don't want to miss the revolving collection at the Art Glass Center.  Plus, watching the artists creating their works gives you a special appreciation for the talent and dedication that goes into each piece.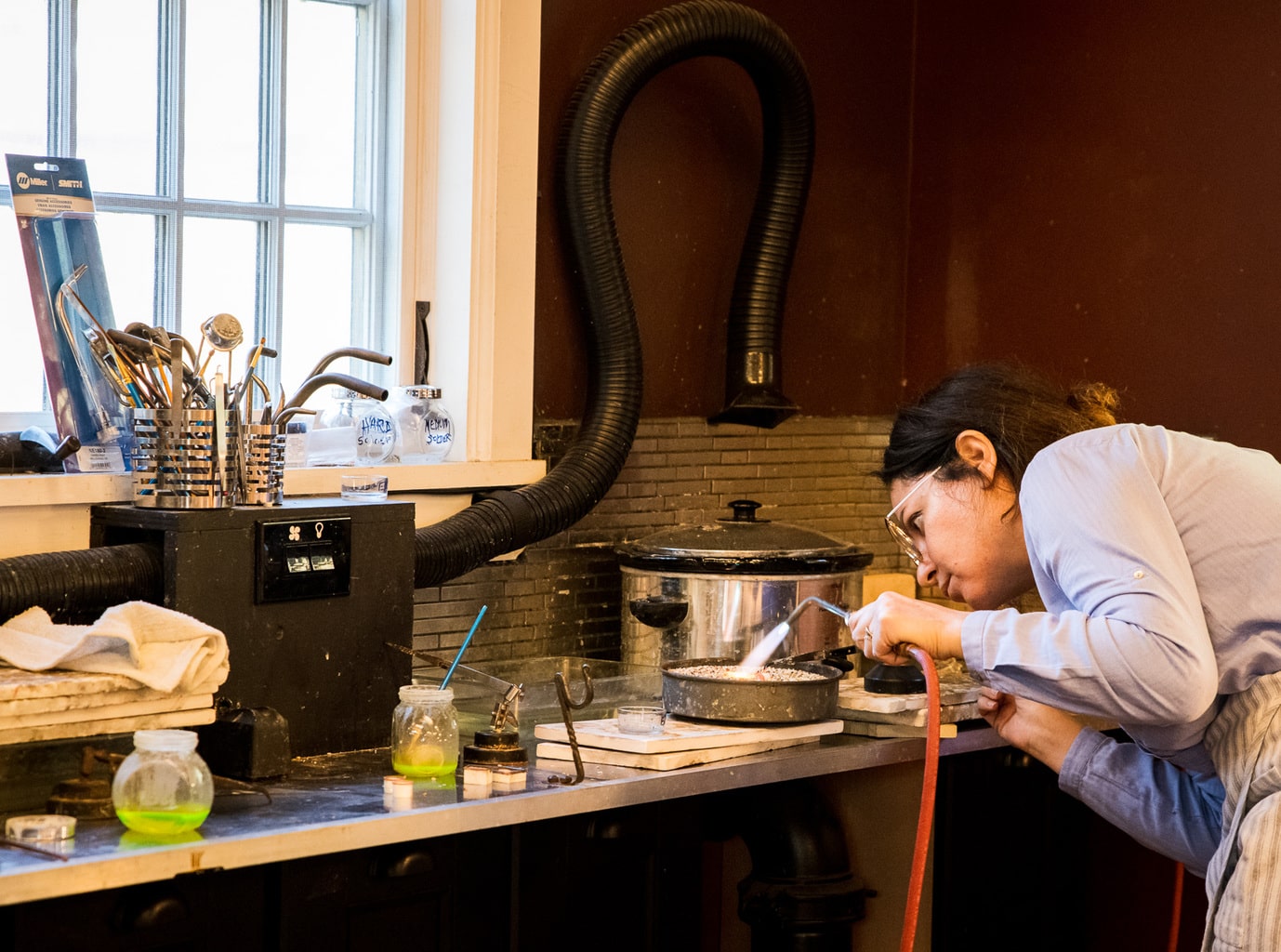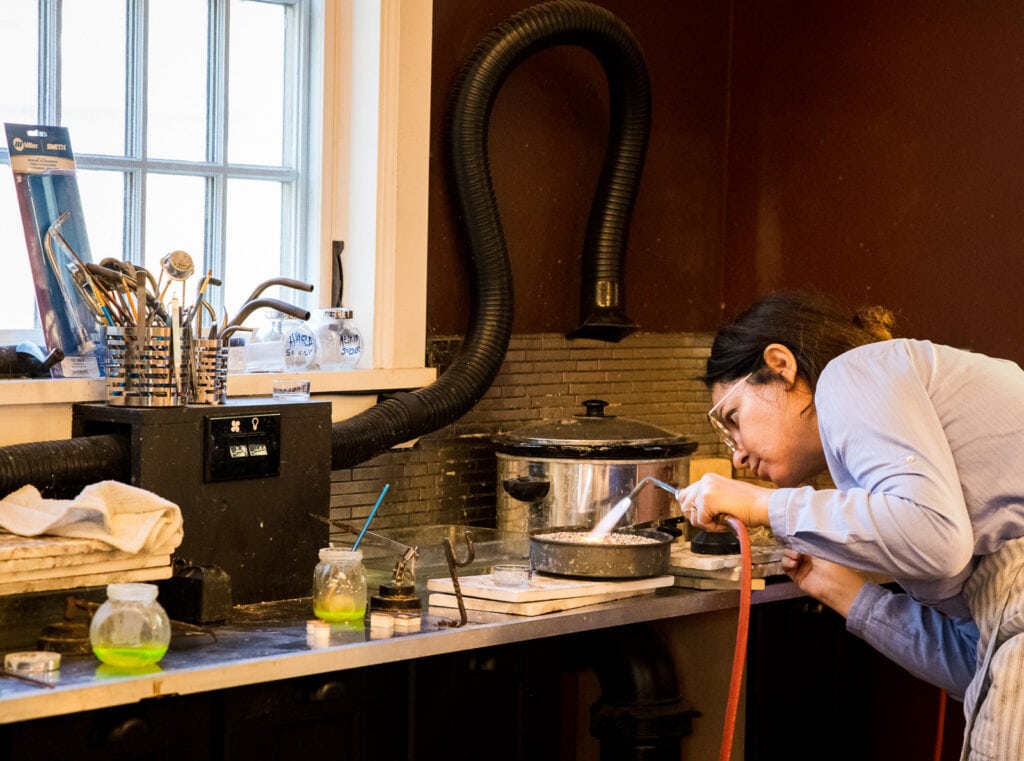 And I dare you to resist picking up a surprisingly reasonable pair of silver earrings from the Silver Works Studio Gallery.
Richard Batch Glen Echo Photoworks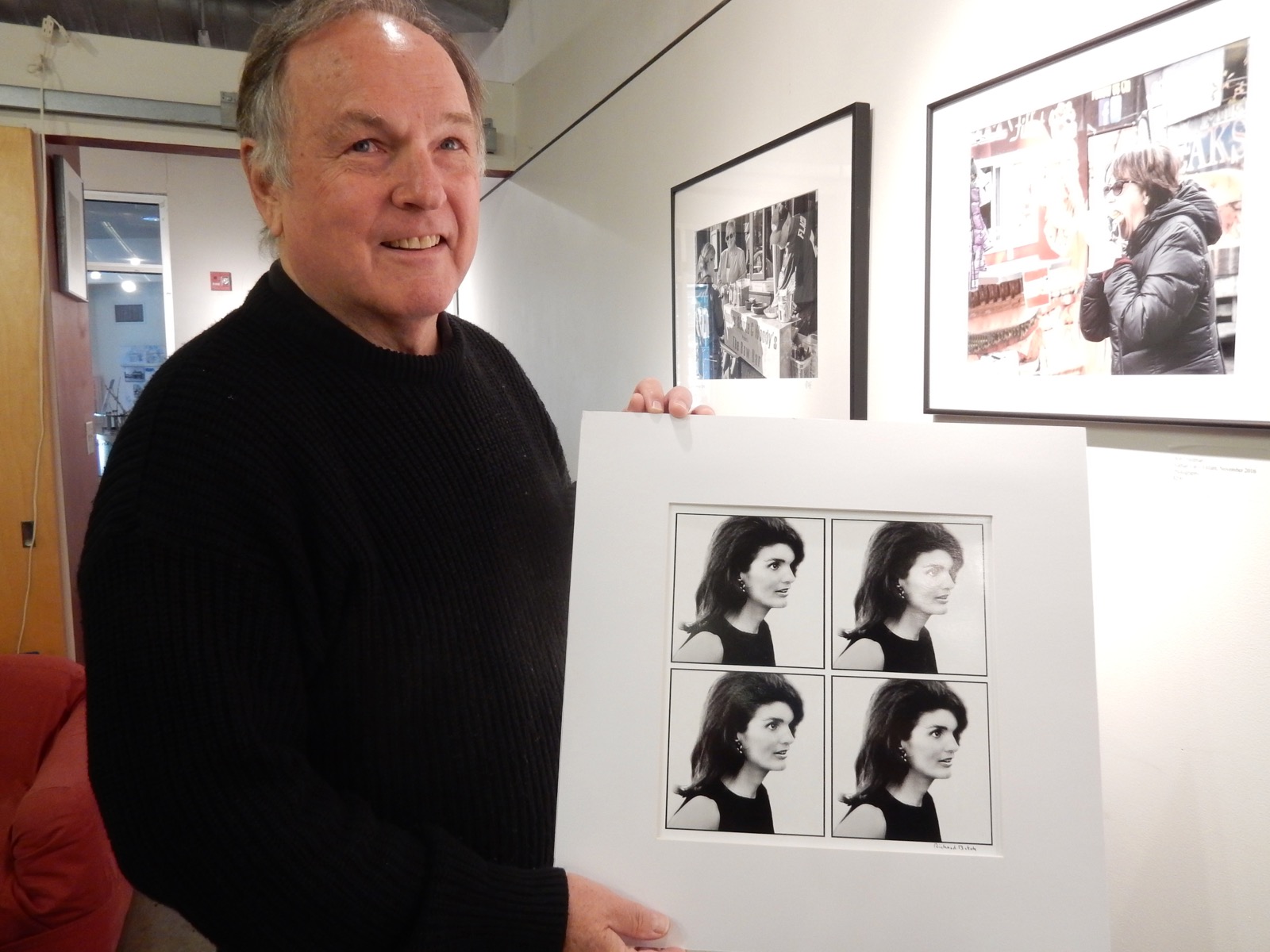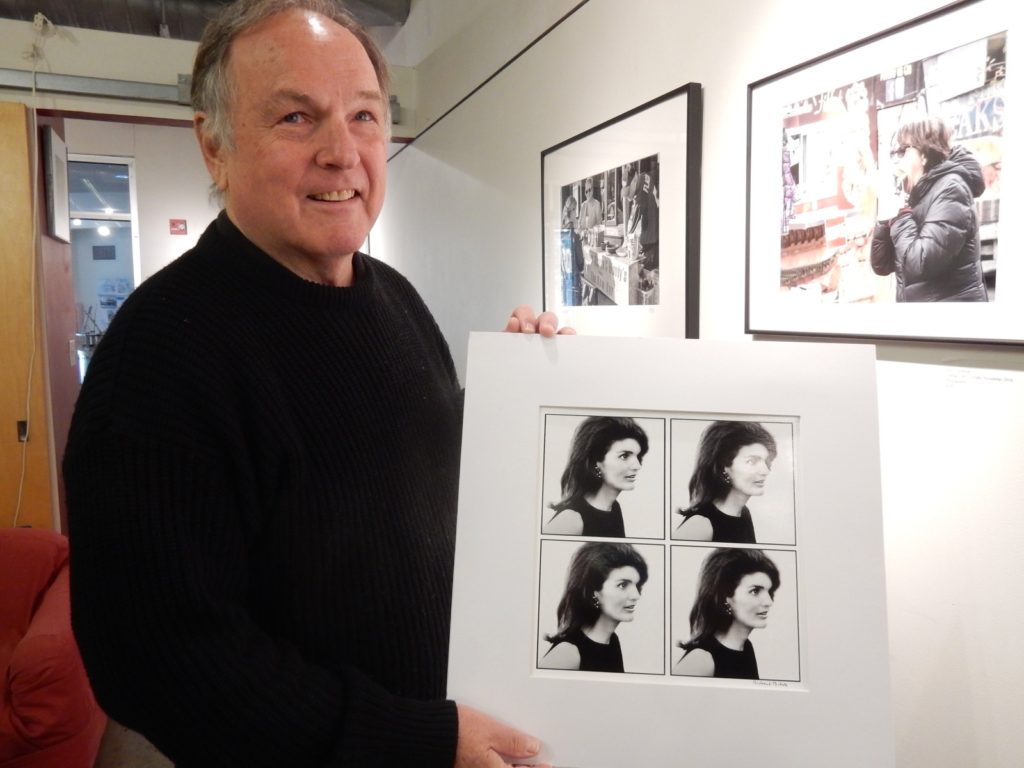 Of all the studios, my favorite is Glen Echo Photoworks, drawing faculty the caliber of Richard Batch, who has captured iconic images of a young Bill Clinton and Jackie Kennedy, among hundreds of other notables.
Photoworks is both gallery and school, with forty 3-month classes and workshops per year, including several in "old fashioned" film photography utilizing darkrooms stocked with enlargers and film developer trays.
Classes are popular, as this emerging, highly visual generation looks for ways maximize cell phone and digital camera skills, and use their "retro" 35 mm ones more effectively. Check website for classes, events, and gallery hours.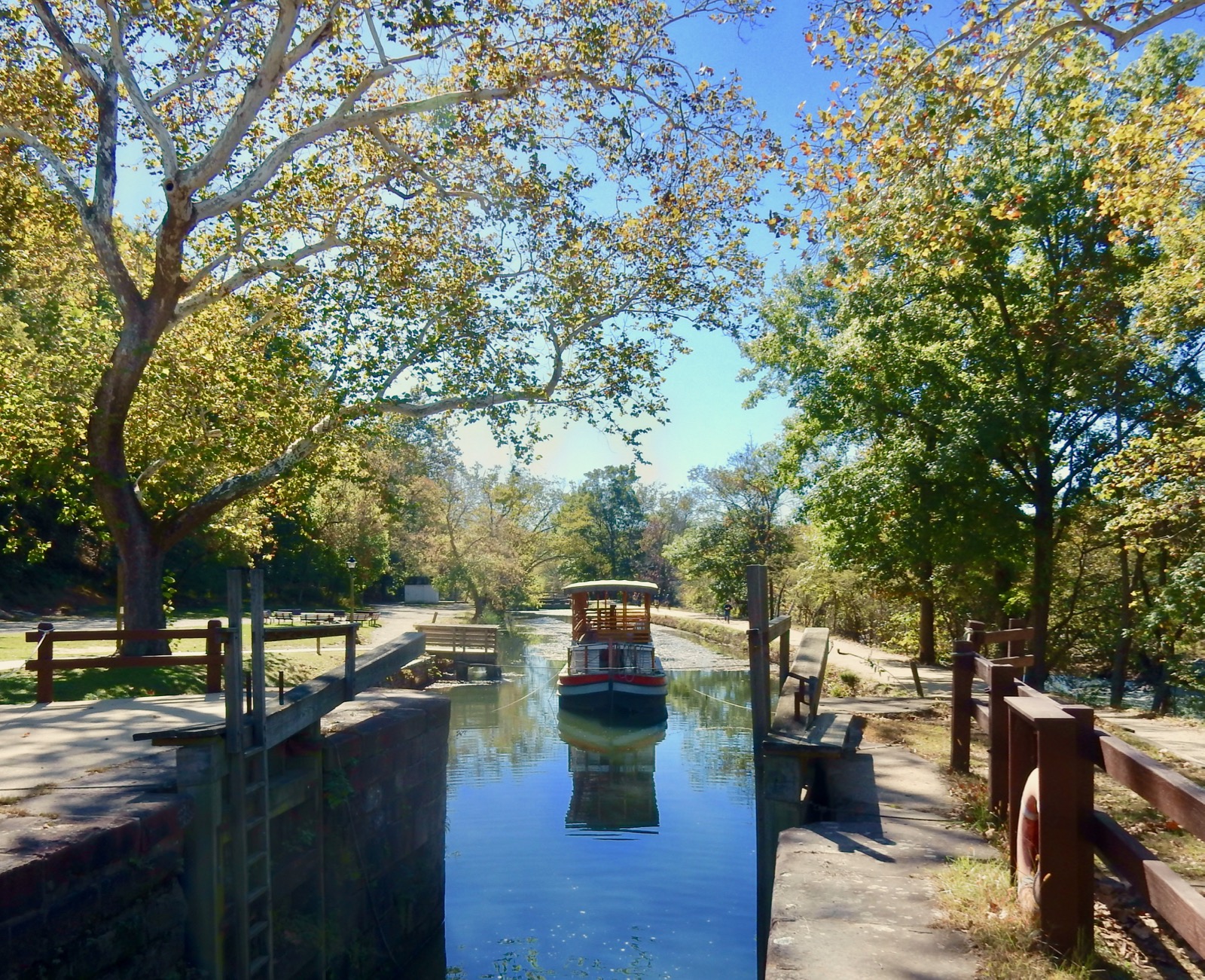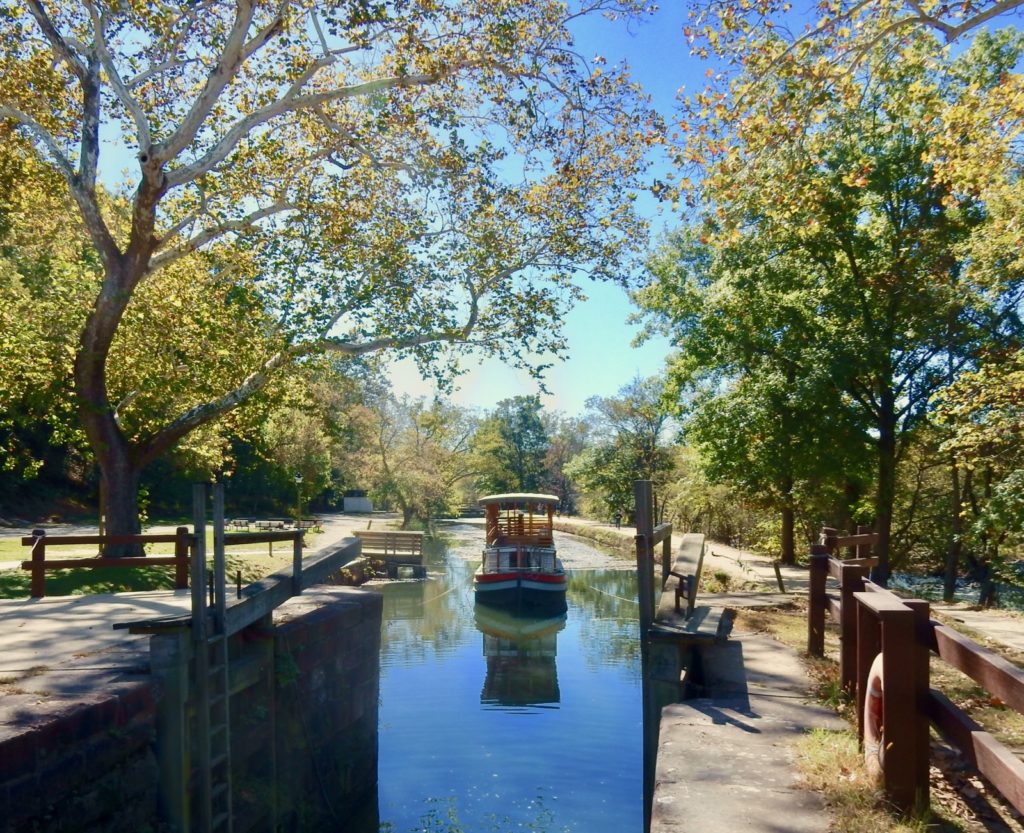 It's a lovely mile walk along the canal to the Great Falls overview from the Great Falls Tavern, built in 1823 – now a Visitor's Center and Museum. Plan to spend an hour or so here. Especially if you want to take a canal boat ride (in season only). $10 per car or $5 per person to get into the park.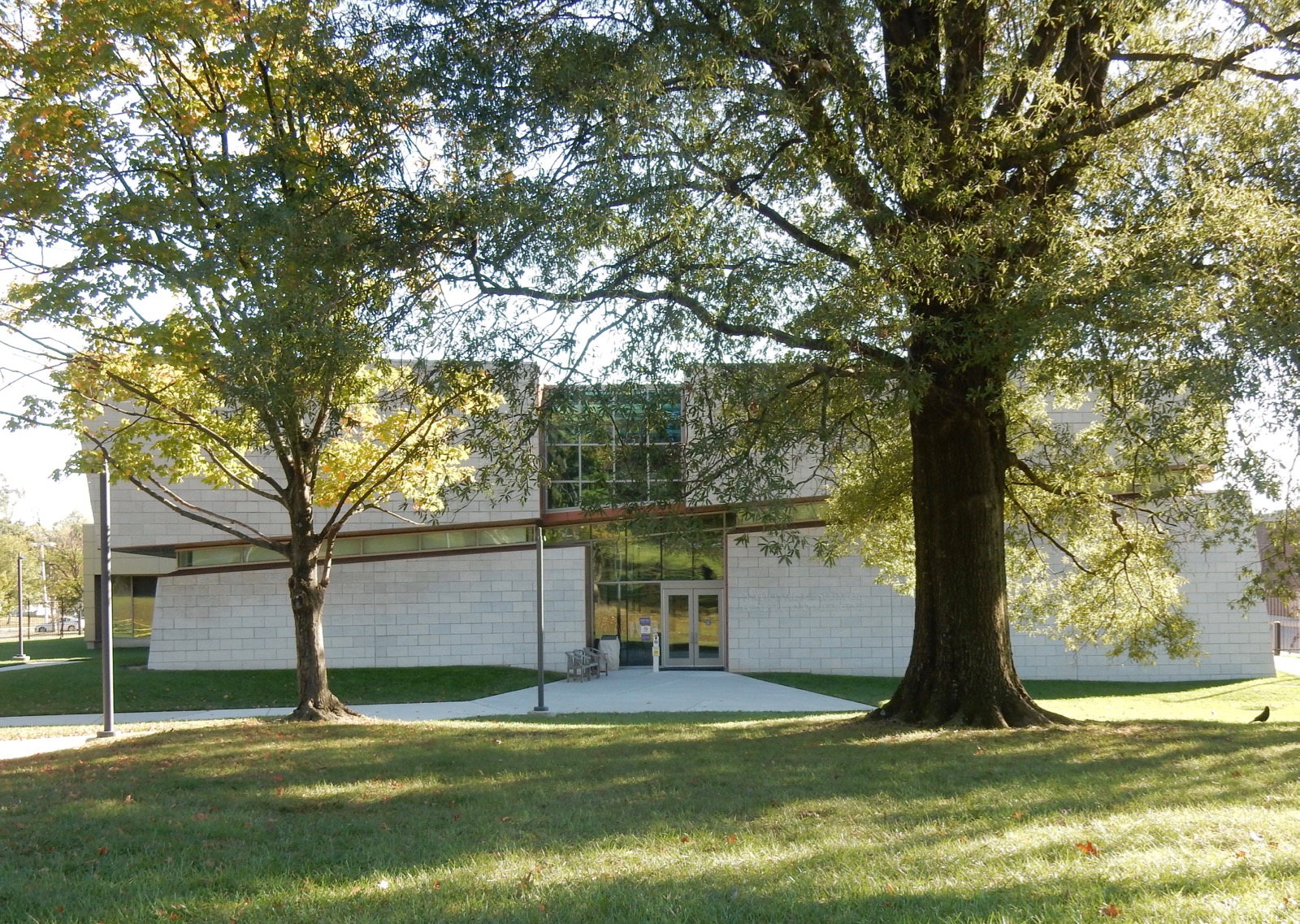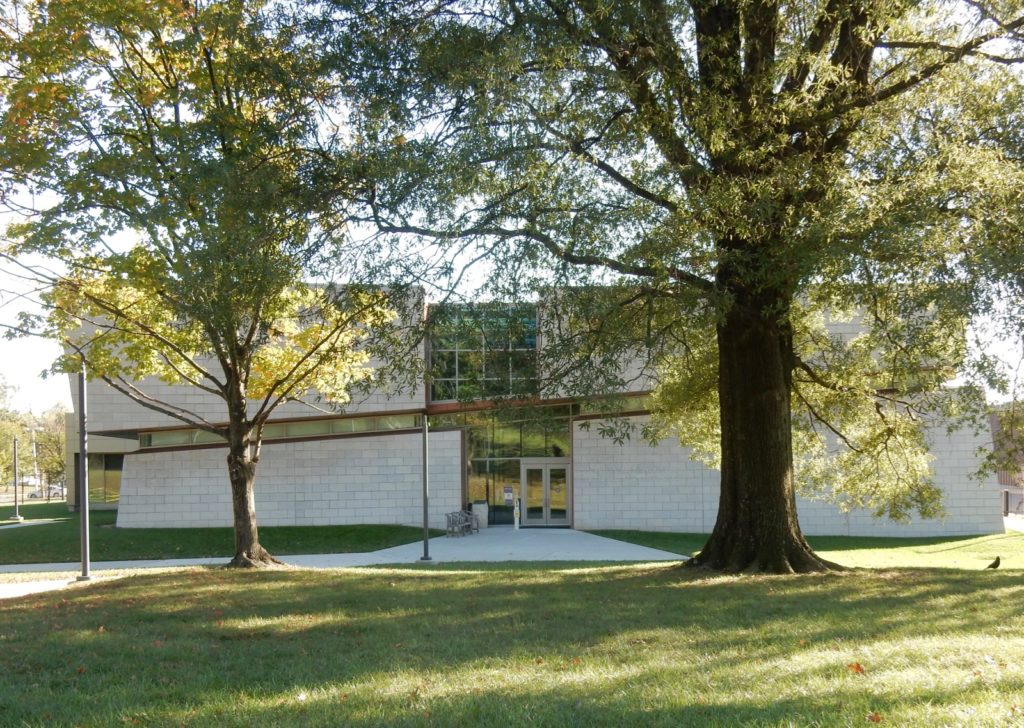 Founded by Surgeon General William A. Hammond in 1862, this institution highlighted the "Medical and surgical history of the War of the Rebellion." Now, the Department of Defense's National Museum of Health and Medicine is tucked away in a modern building behind the U.S. Army Forest Glen Annex.
Since 1862, the Museum of Medicine has moved nine times (last located in the now defunct Walter Reed Army Medical Center), until this edifice was built as its permanent home in 2011.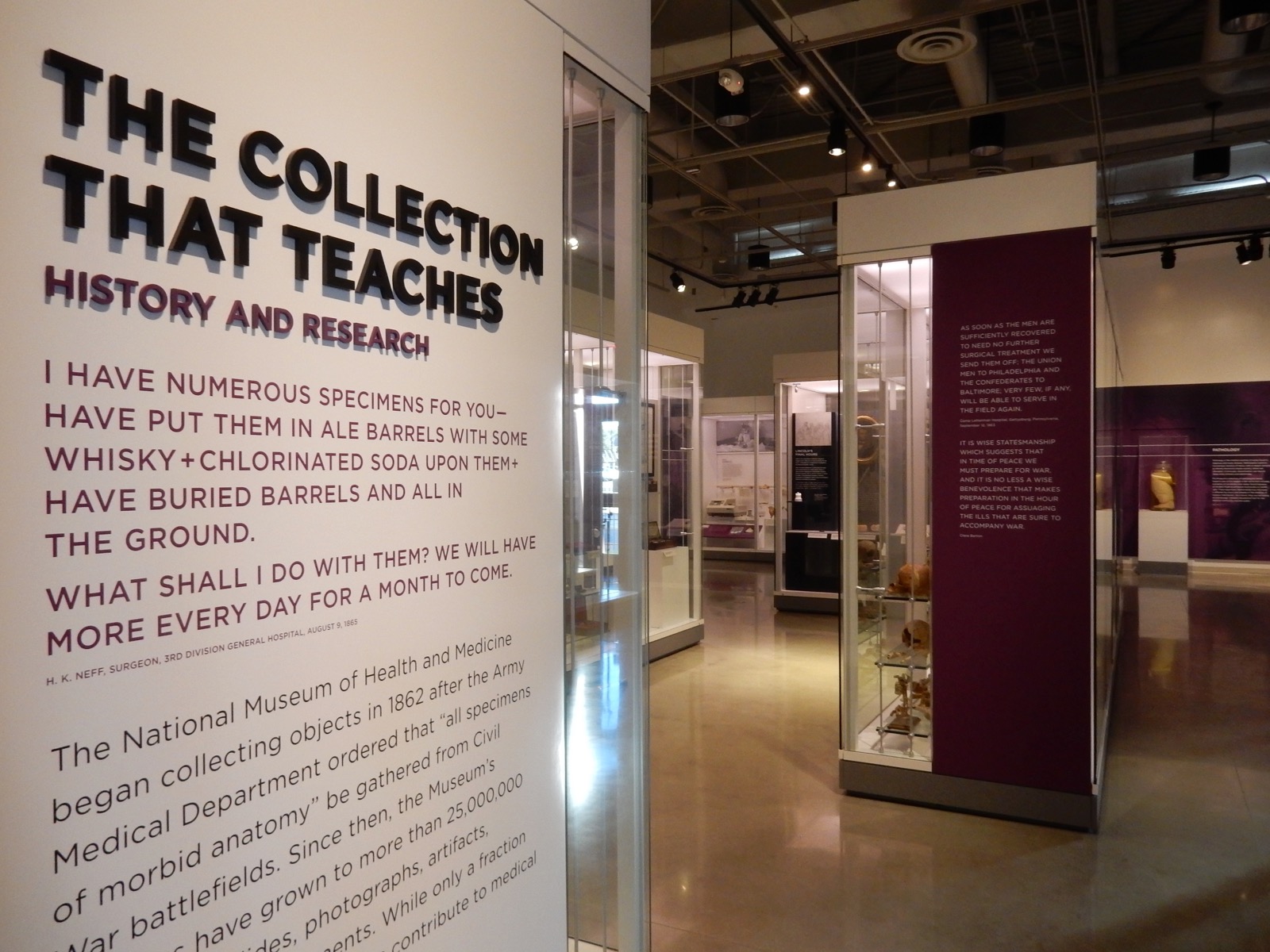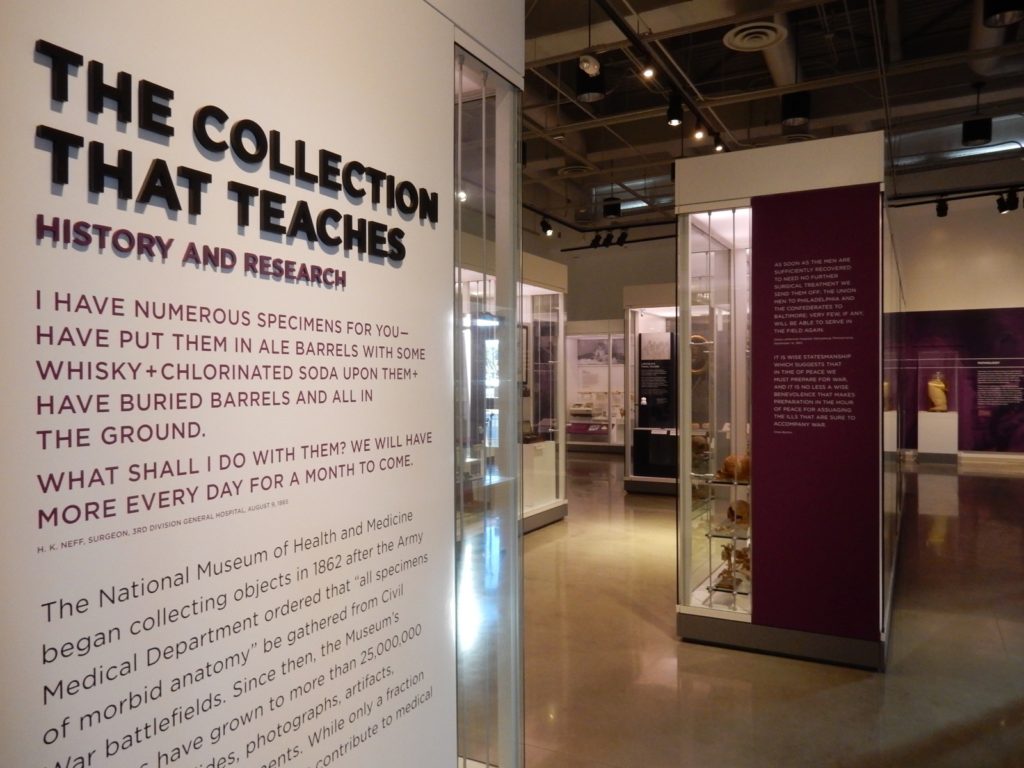 The earliest artifact can be seen just inside the entrance – a human skeleton purchased from Auzoux Labs, in Paris, France, in 1867. An array of glass cases hold a multitude of specimens.
See bone fragments with gunshot wounds, diseased appendages, medical tools, shrapnel, innovations in medical technology, and some pretty significant relics.
Bullet The Killed Abraham Lincoln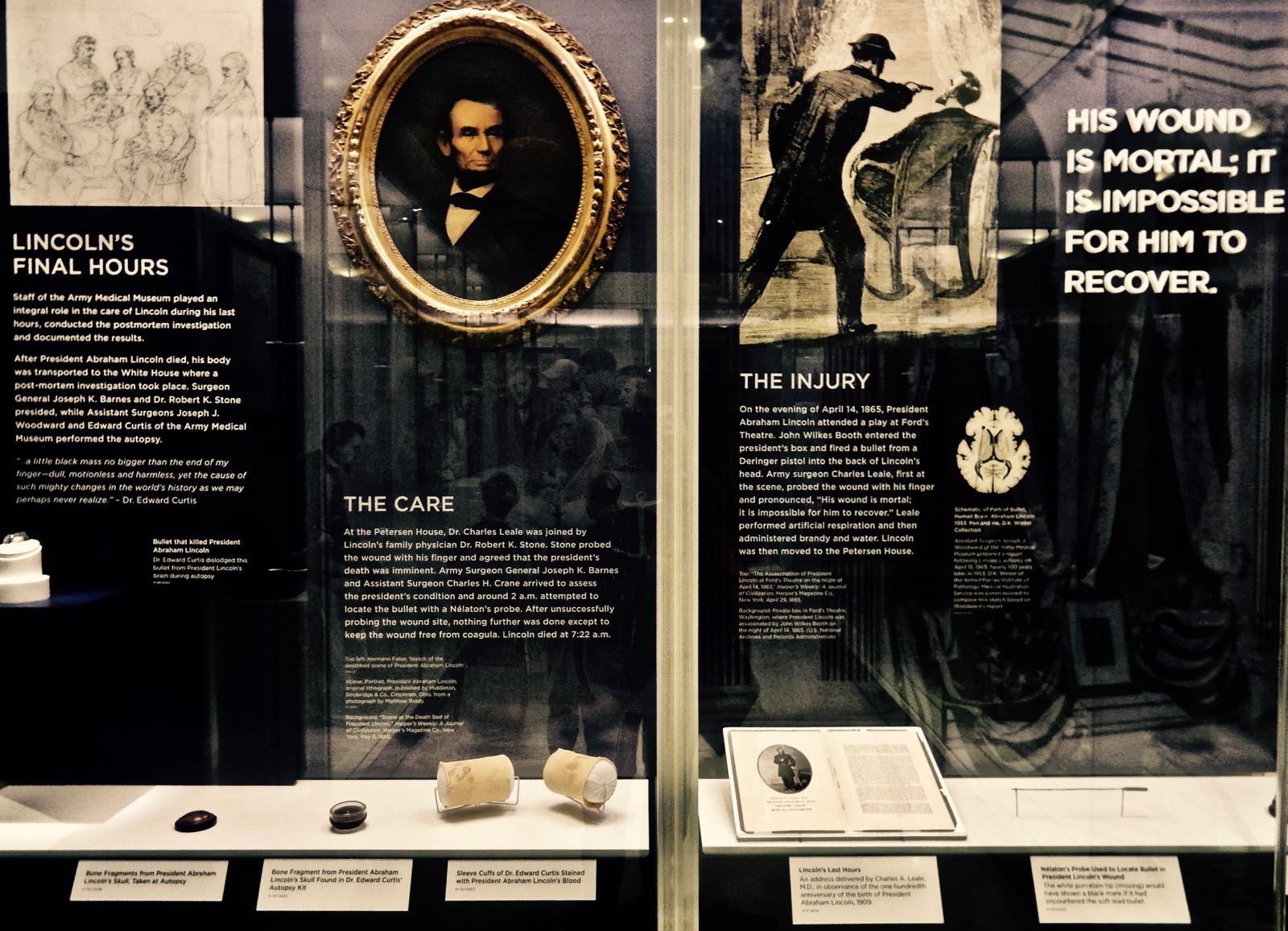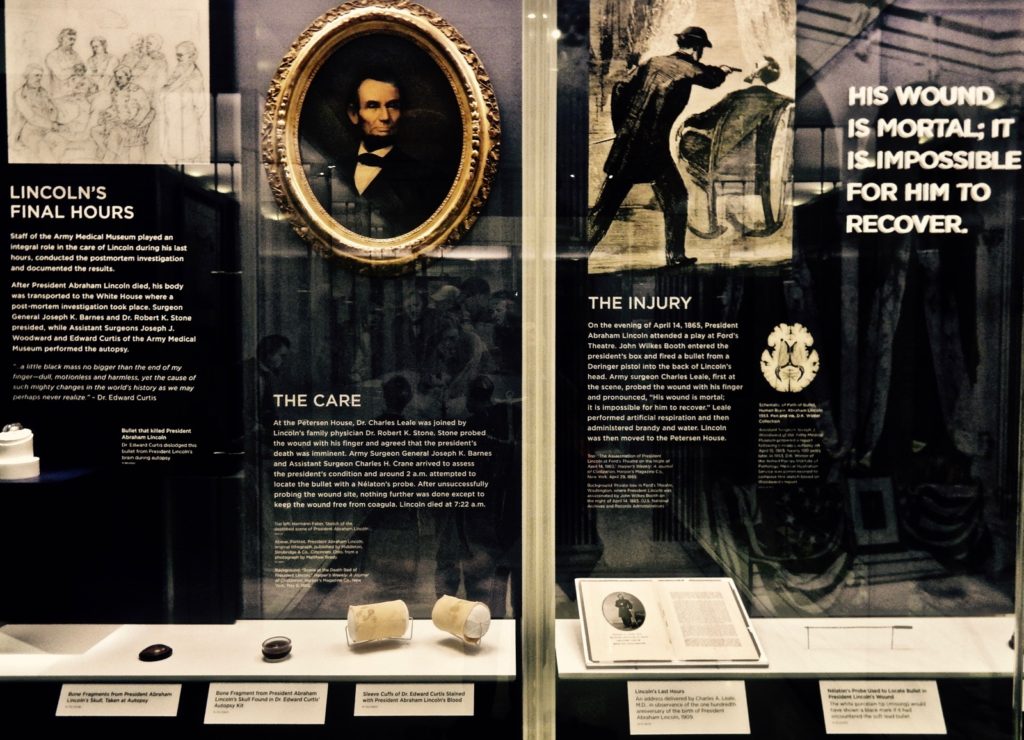 The most macabre pieces of history are on view in the Abraham Lincoln's Final Hours exhibit. Amazingly, this includes the bullet that killed him, and several pieces of his skull removed during the autopsy.
Nearby, another display delineates all the ways a human brain can be damaged, from blunt force to projectiles to bullets.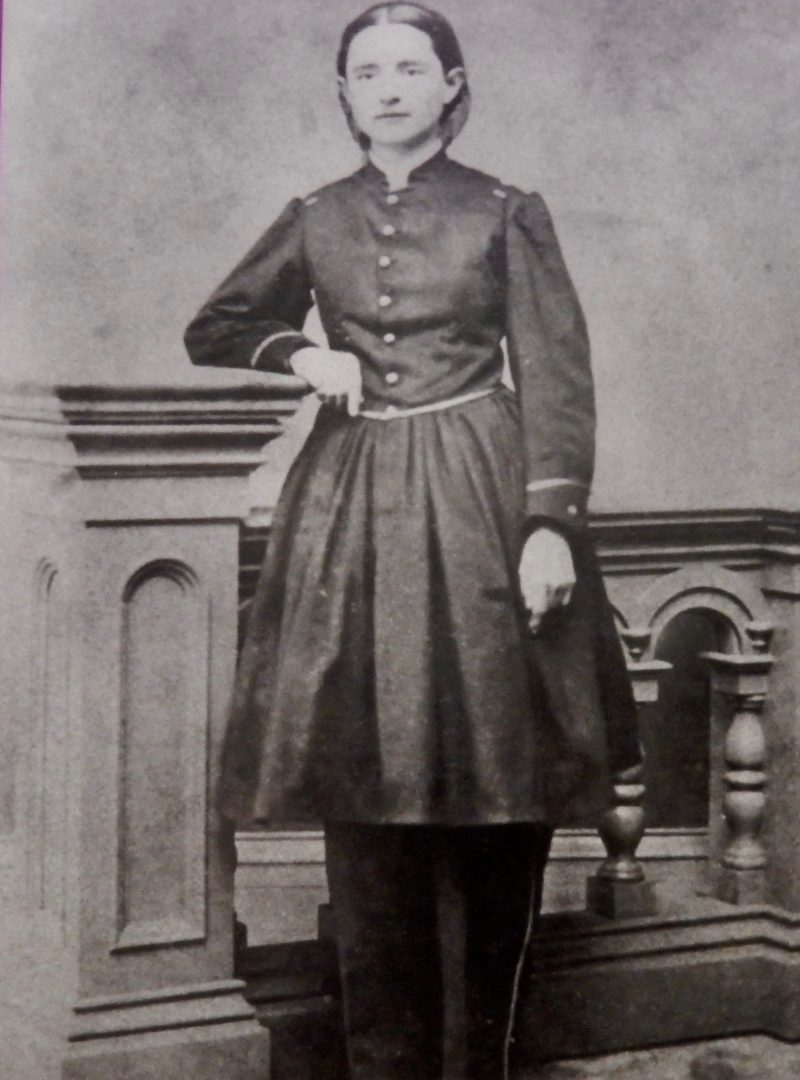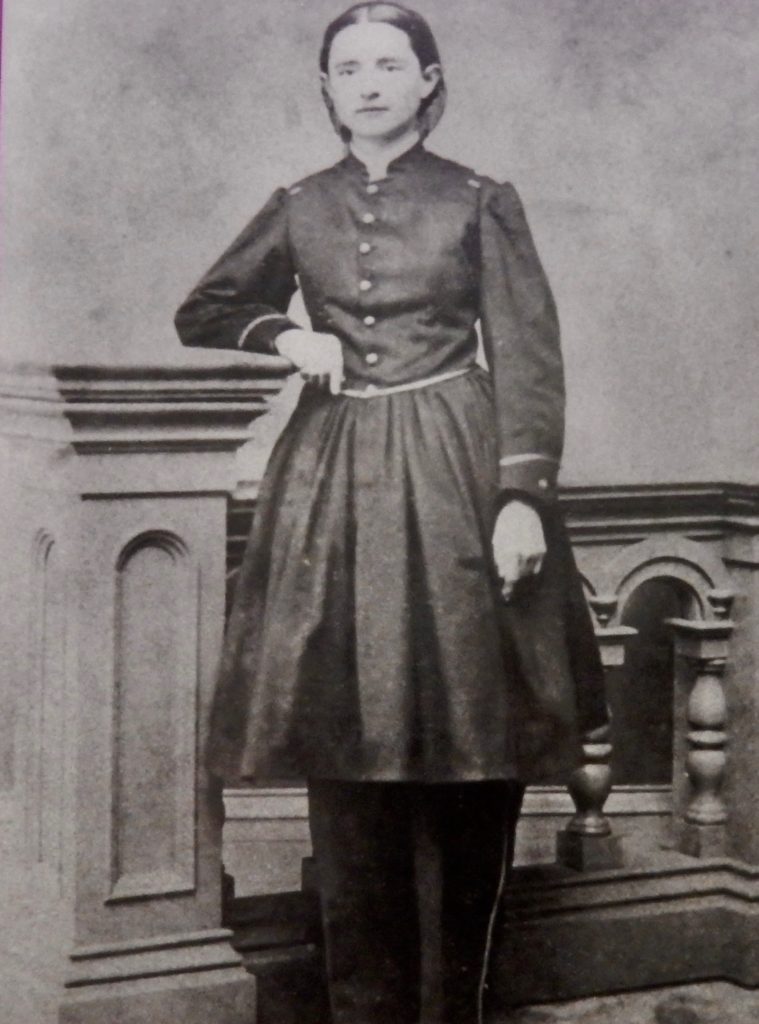 Learn about Dr. Mary Walker who was initially rejected by the Union Army during the Civil War, volunteered as a surgeon in a DC Hospital, and was captured by Confederate forces.
As a result, in her later years, Walker received the U.S. Army Medal of Honor. The only woman, before or since, to do so.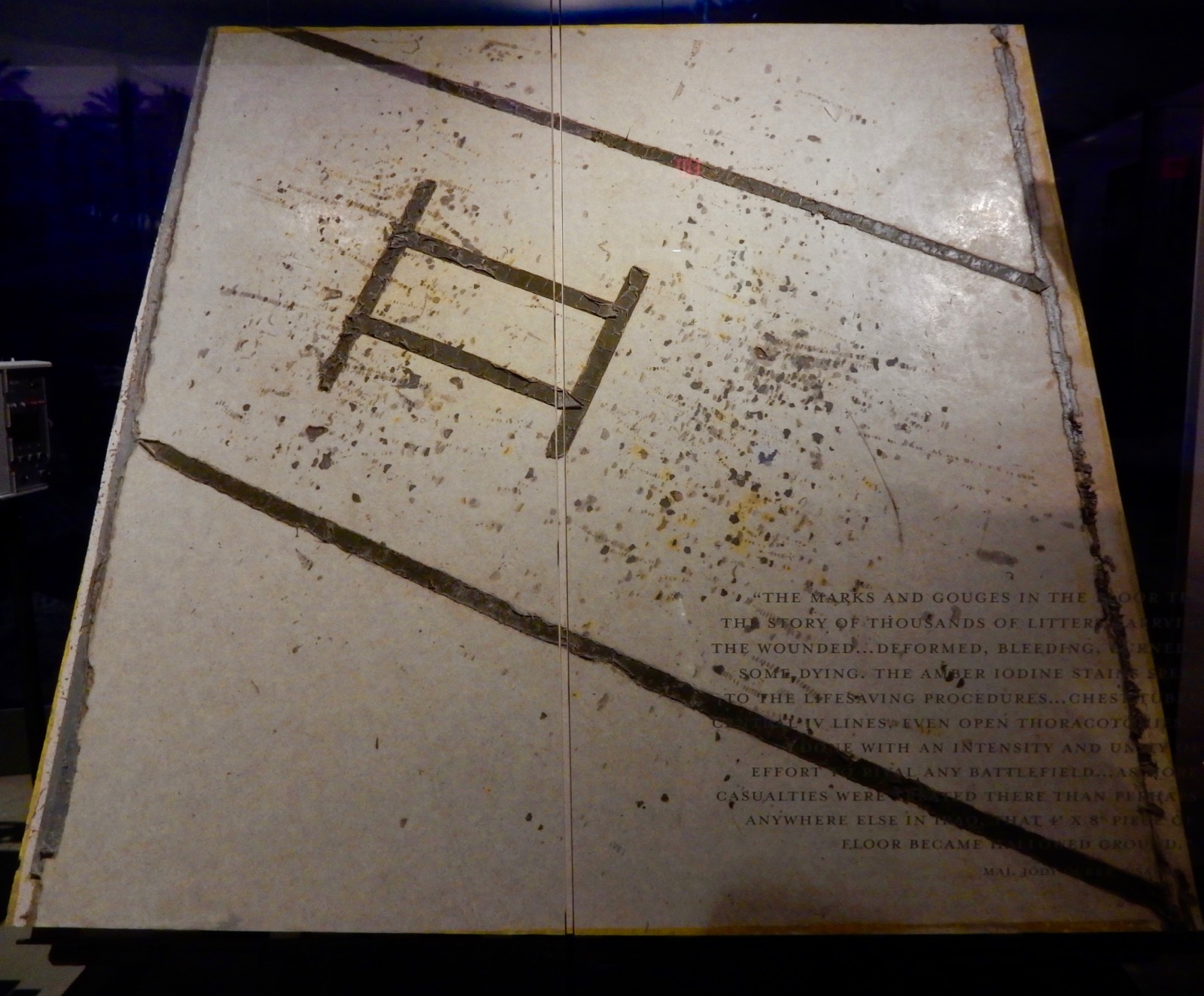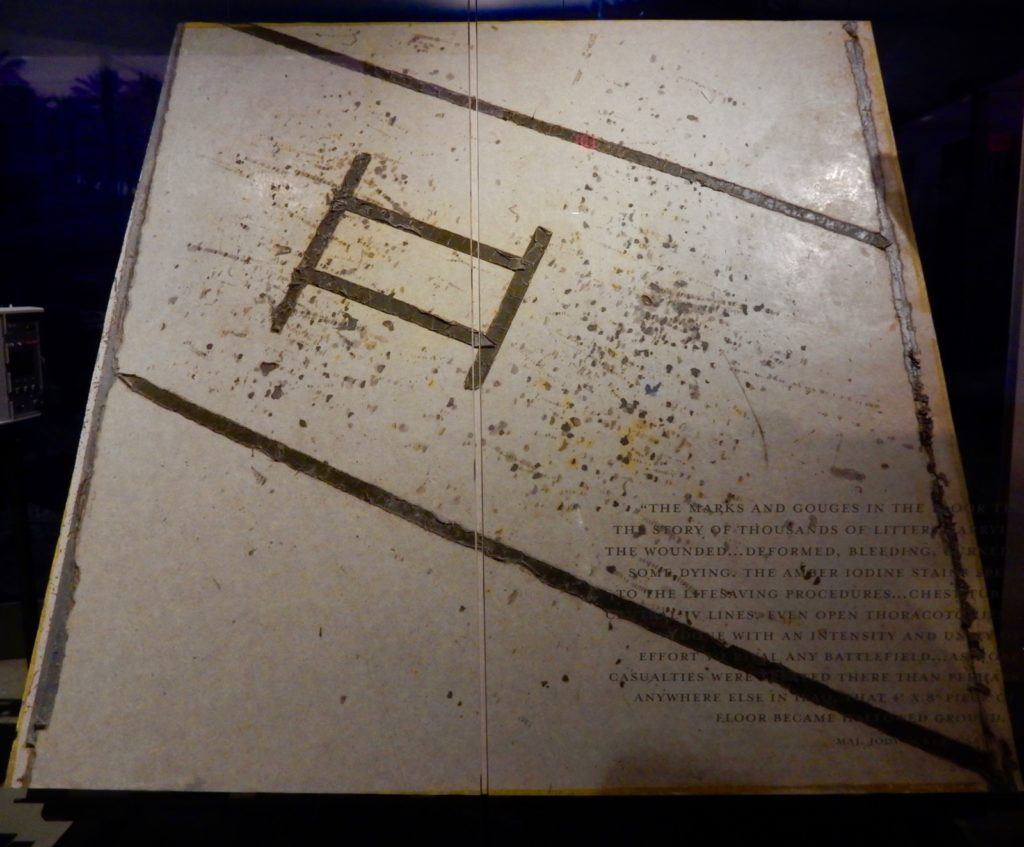 The most stirring artifact is a section of the pitted and iodine-stained concrete floor of Trauma Bay II from the Air Force Theater Hospital Balad in Iraq – which boasted a 98% survival rate. A semi-permanent medical tent, it was demolished in 2007. Open daily 10-5:30, free.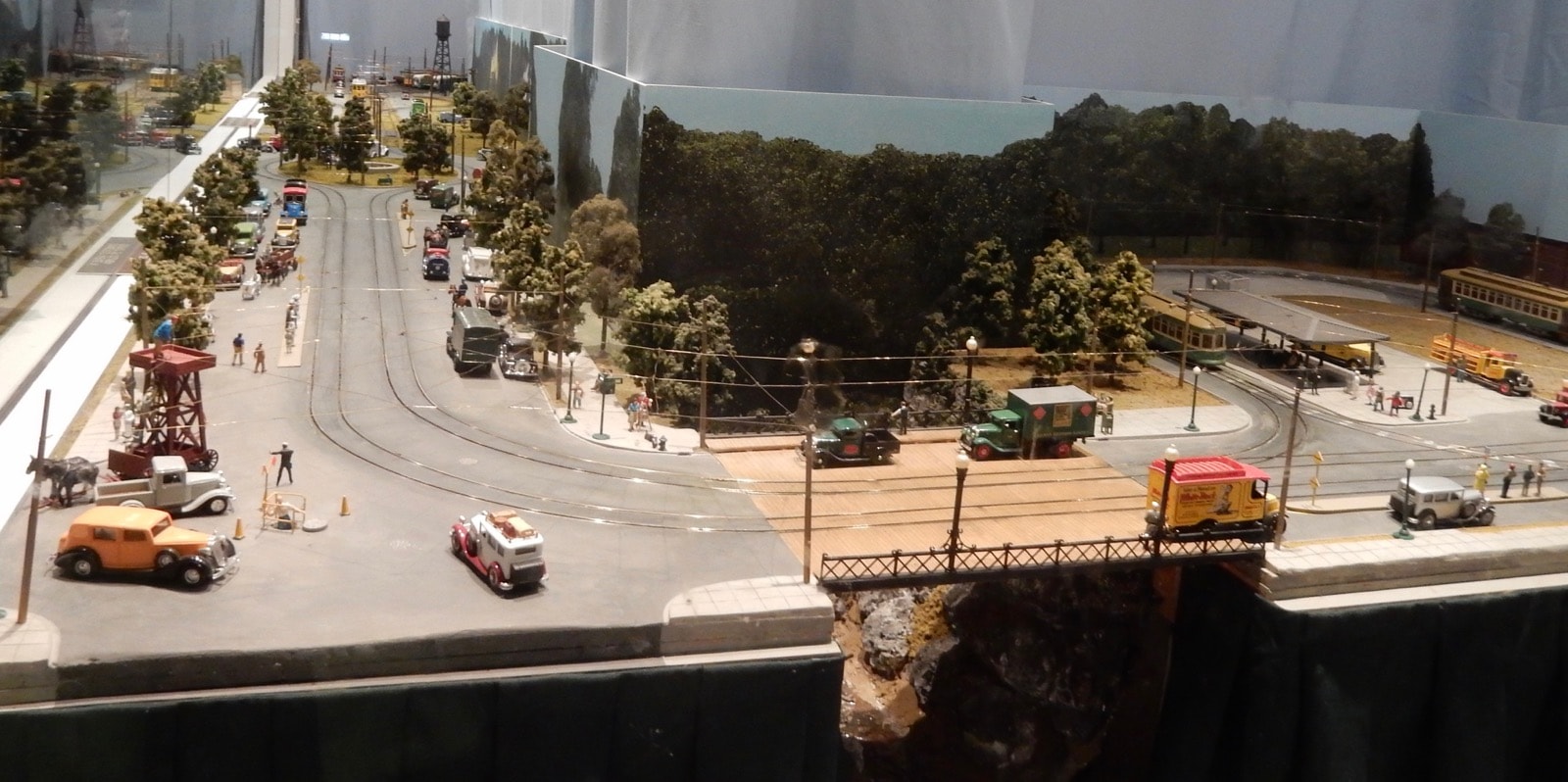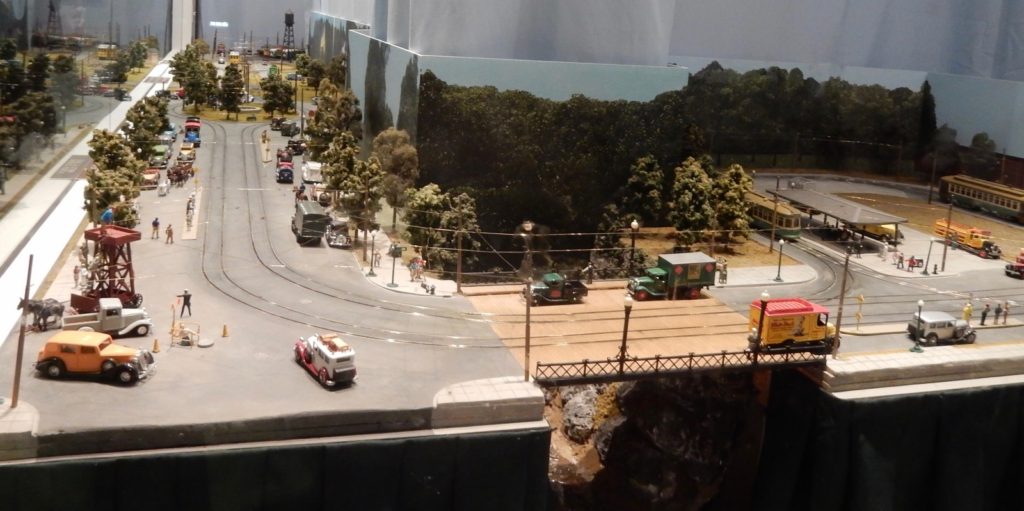 Most people come to this museum for the mile-long streetcar ride – the hallmark of this institution – and then leave. But there is much more to this small trolley museum than the "primary interpretive object outside," according to the Museum's Director, Ken Rucker, who chafes when parents come through the door making a "choo-choo" sound. "It should be 'ding-ding' or 'clang-clang.'"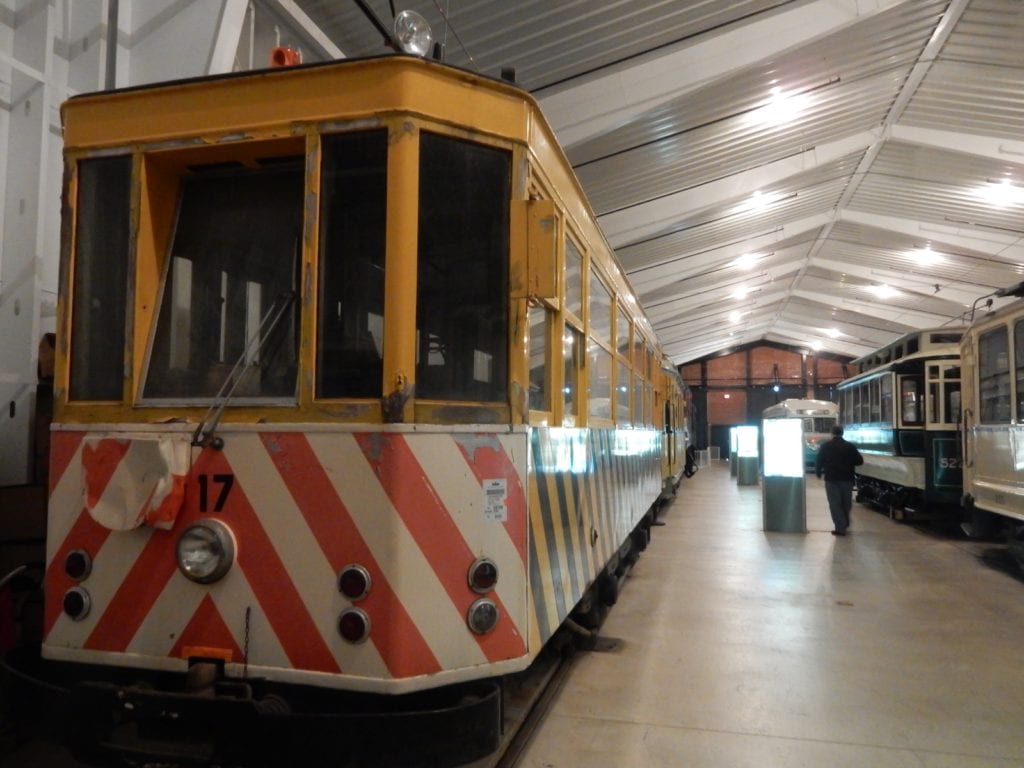 The second most popular exhibit is the hands-on diorama of the Rock Creek Railway from Chevy Chase to DC – a streetcar system built in 1890's for the sole purpose of "getting wagons out of the mud."
Rather than "dirt" roads, these "rail" roads, could withstand heavy loads (mostly coal) without sinking into the muck on rainy days.
Age of the Trolly
Steam locomotives could not adequately maneuver through streets. Enter the age of the trolly. First pulled by horses, then cables (ergo: cable-cars) and finally electricity, these streetcars became the prevalent mode of in-town transportation.
Early on, overhead poles were forbidden within city limits. So streetcars entering DC had to switch to an underground middle-rail conduit current. This claustrophobic task, requiring one man to crouch in a narrow trench to insert or remove a conduit "plow," was a dangerous one.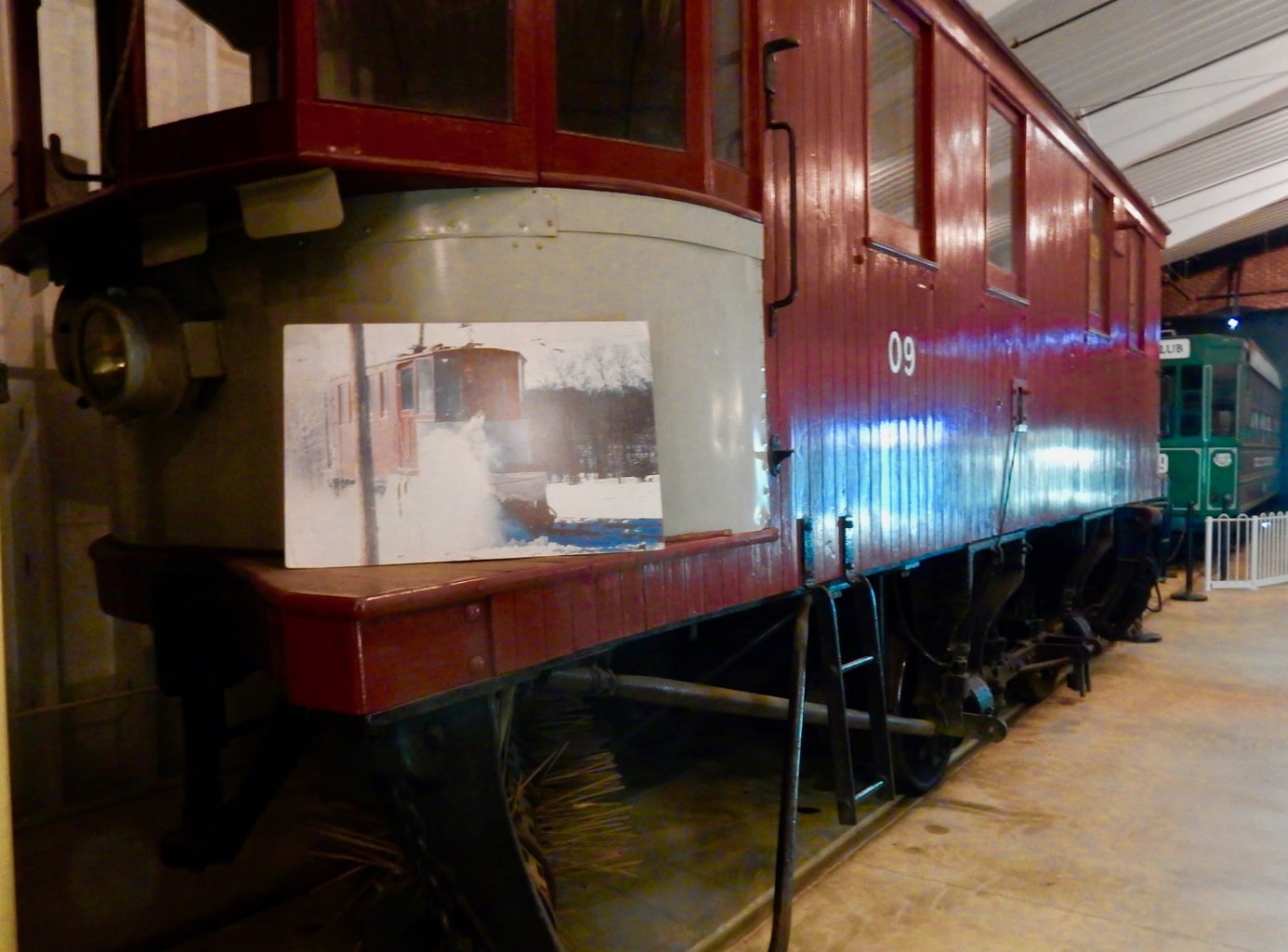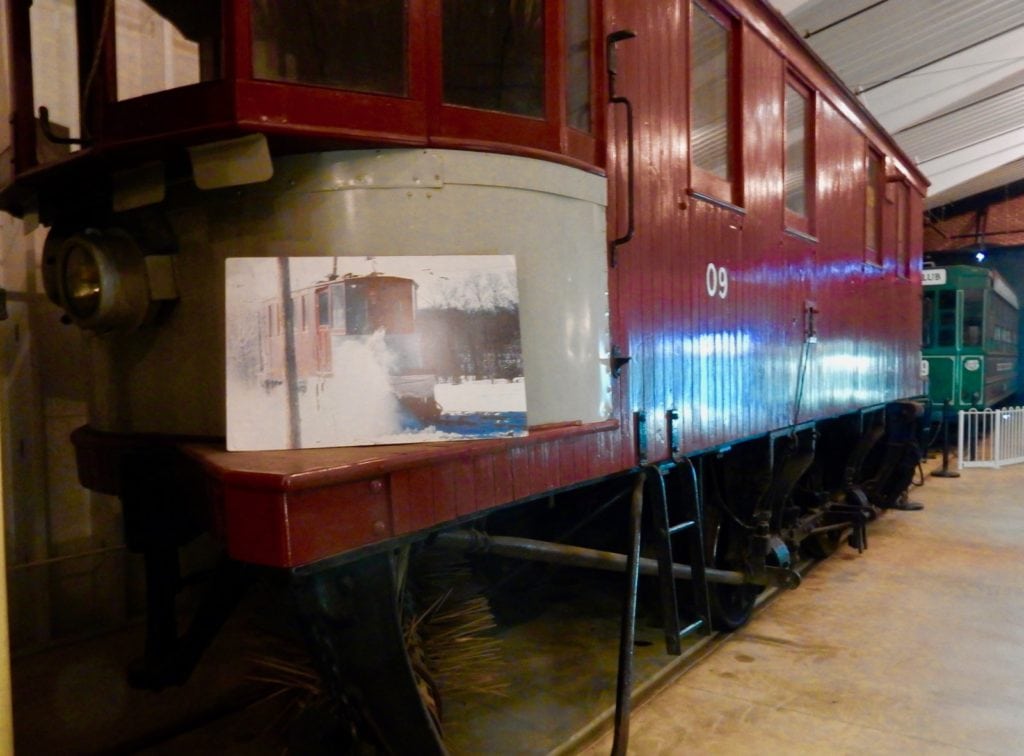 Don't leave before meandering around the "Street Car Hall," with 19 cars of various ages in the collection.
The oldest is the 1898 Washington DC Electric Car – its route identified at the time by its color: this one a forest green.
There's an 1899 "Snow Sweeper", which cleaned the tracks by pushing snow to the side with heavy bamboo bristled brooms.
The 1934 "Pleasure Beach" trolley car from Blackpool, England, looks like a boat (several are still in operation there).A DC Street Car, a city bus look-a-like, was in operation from 1937-1962, when trolley service ended in the city.
There's plenty of signage about trolley communities and engineering as well. Open Saturdays 12-5. $10 adults, $8 kids includes trolley ride.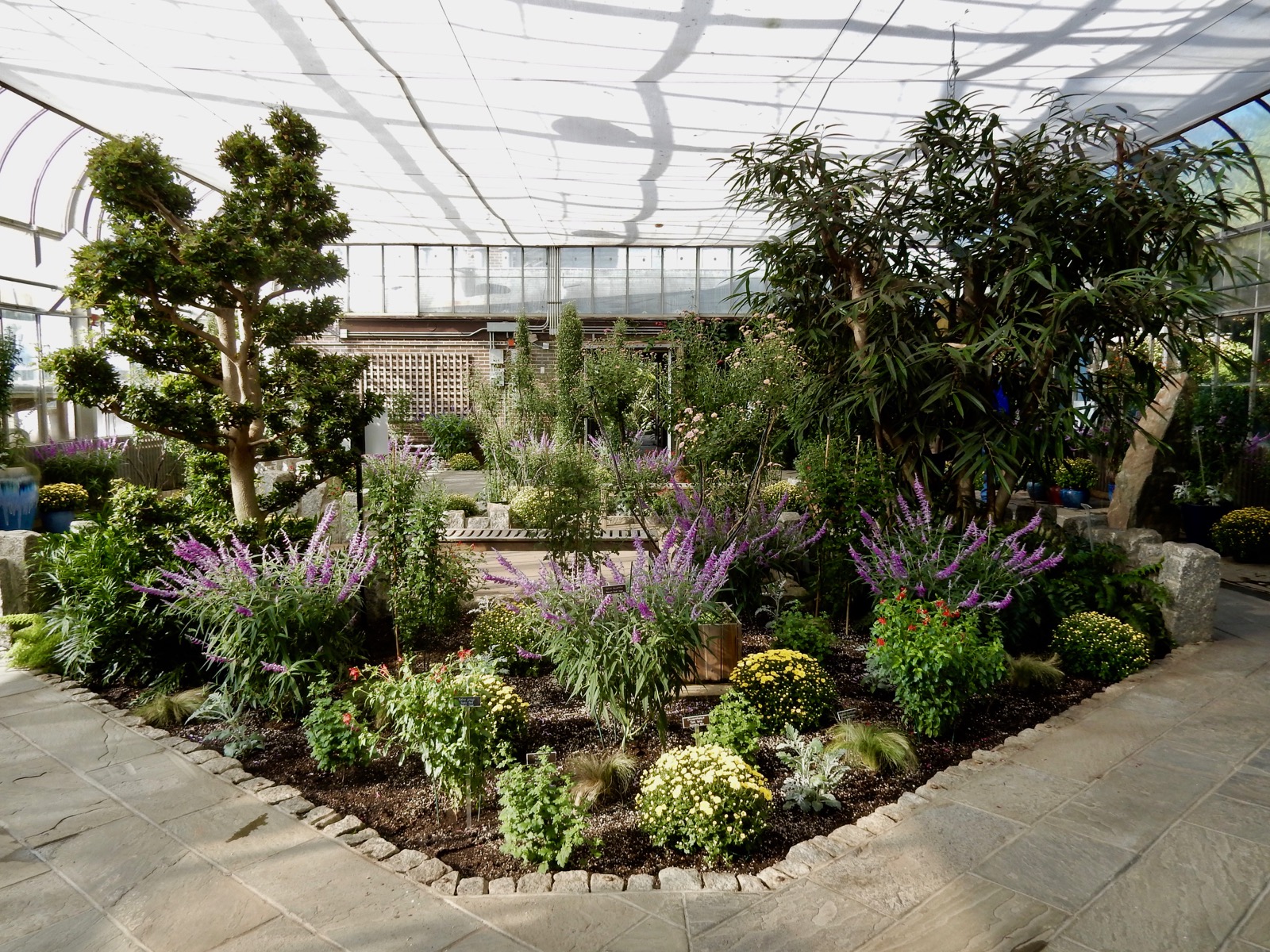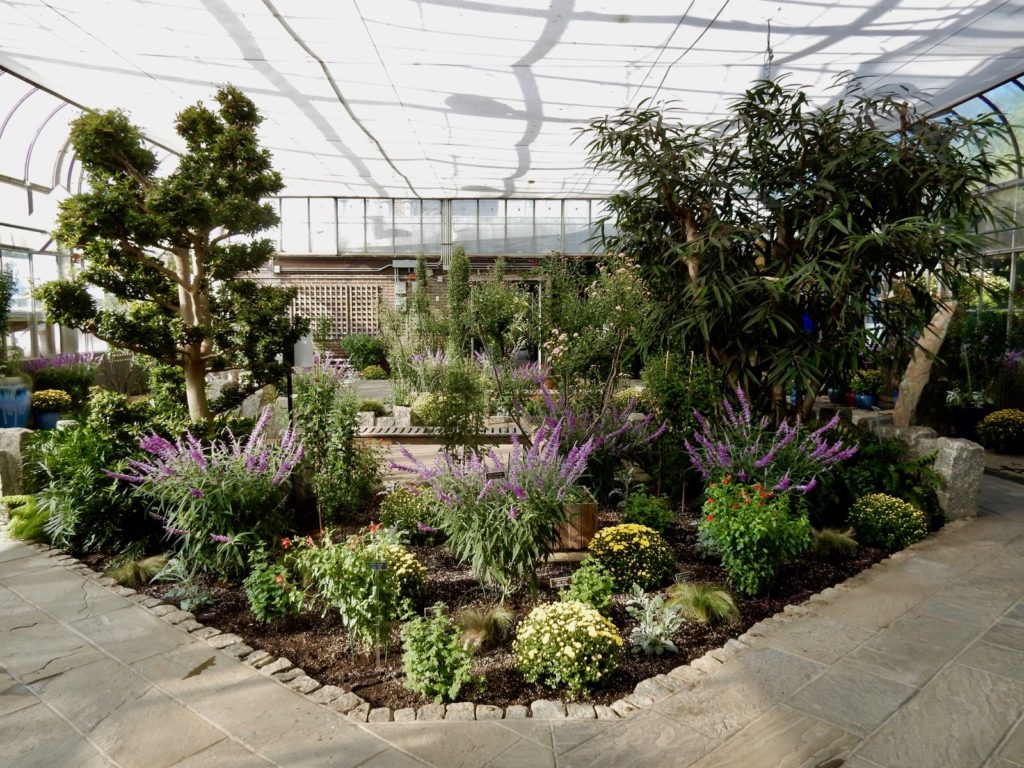 Don't be in a rush here. Plan at least an hour to meander through and around fifty stunning acres of gardens, woodlands, ponds and terraces – and an indoor Conservatory. Free, gardens open daily sunrise to sunset. Visitor's Center 9-5.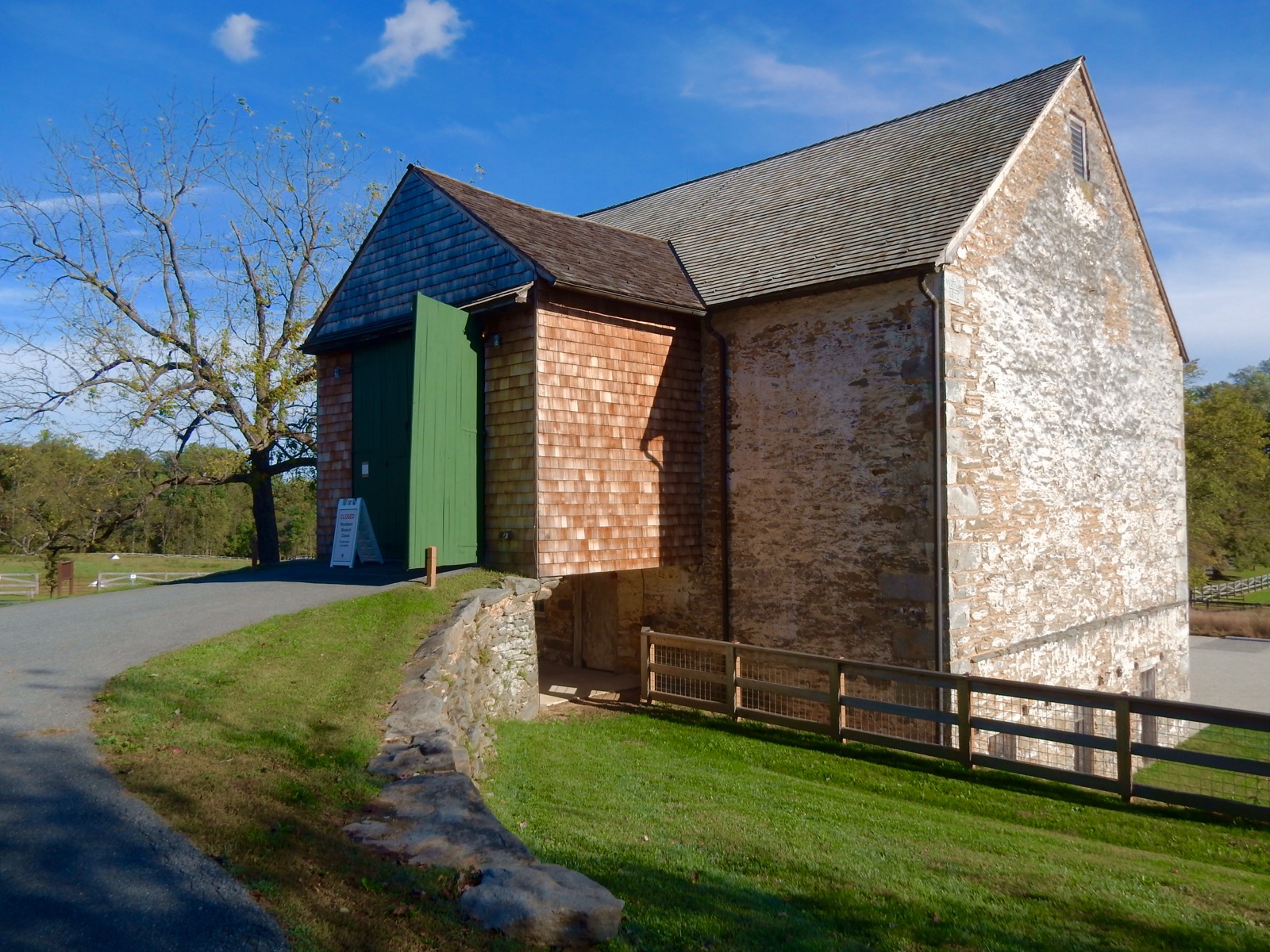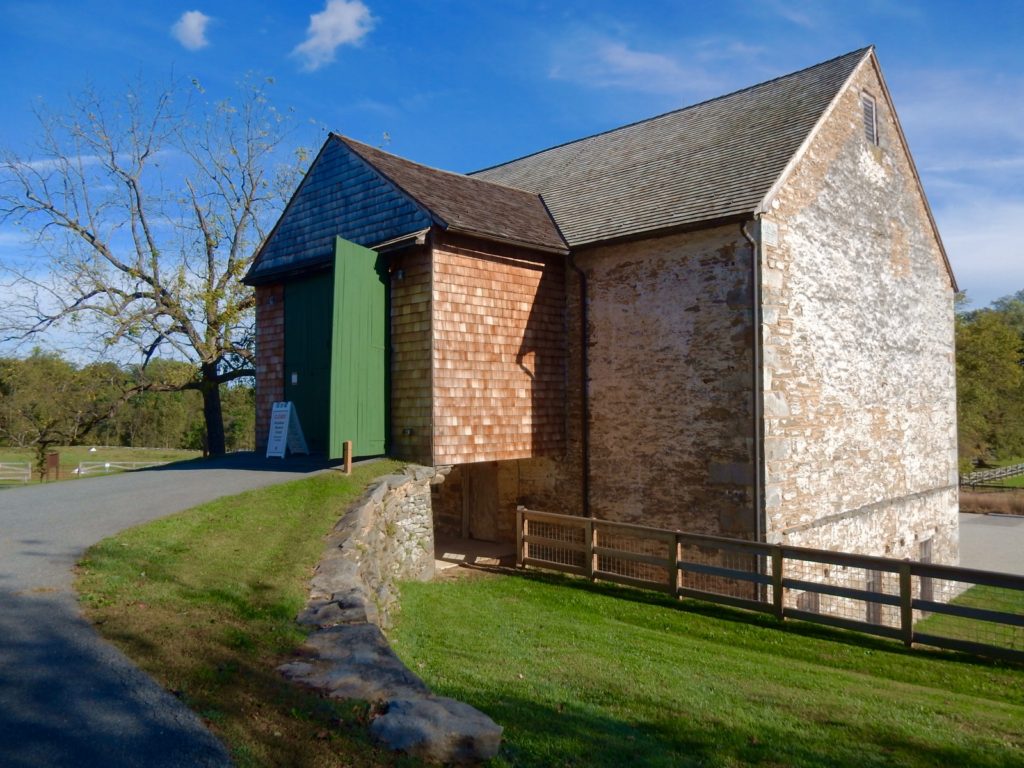 The walls literally talk at Woodlawn Manor. After a major renovation in 2016, the 1832 Stone Barn on this farm, managed by the Montgomery Park System, offers one of the most engaging ways to learn about slavery and the difficult decisions encountered by both the enslaved (to run or stay) and the slave owners (to free them or not).
Interactive exhibits highlight the area's agricultural landscape, the Underground Railroad and the Quaker experience in Montgomery County, revealed through the lives of the Woodlawn's residents – the Palmer family and enslaved laborers.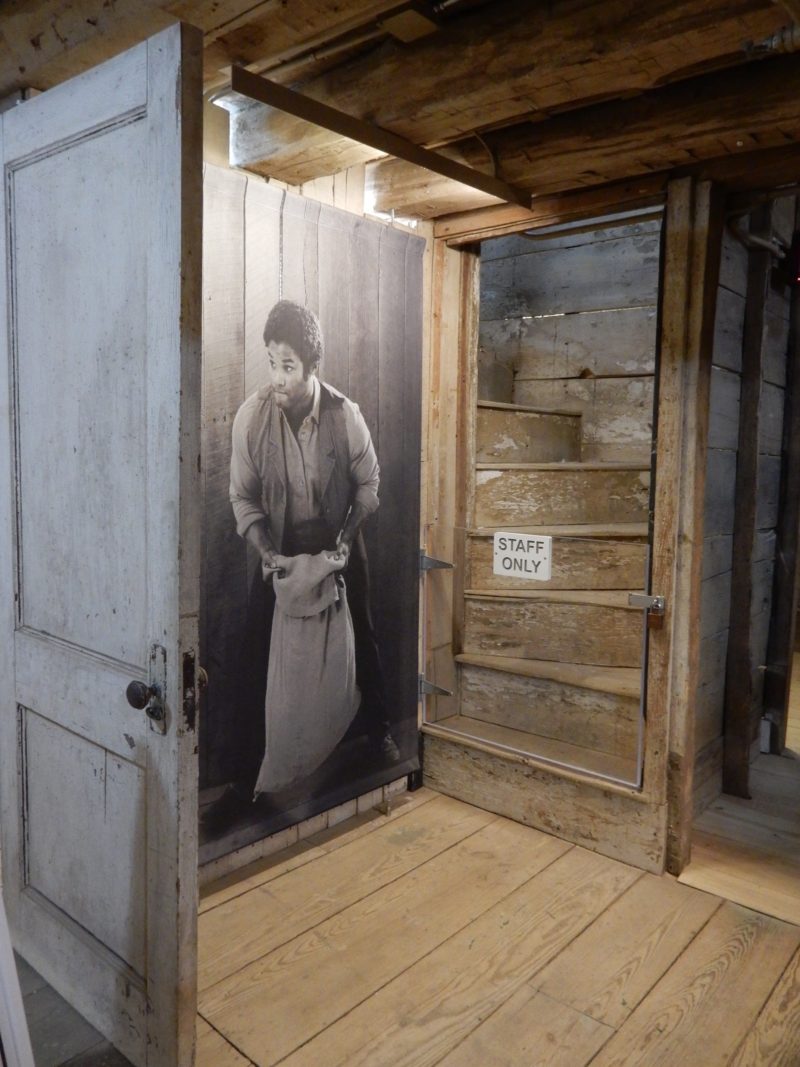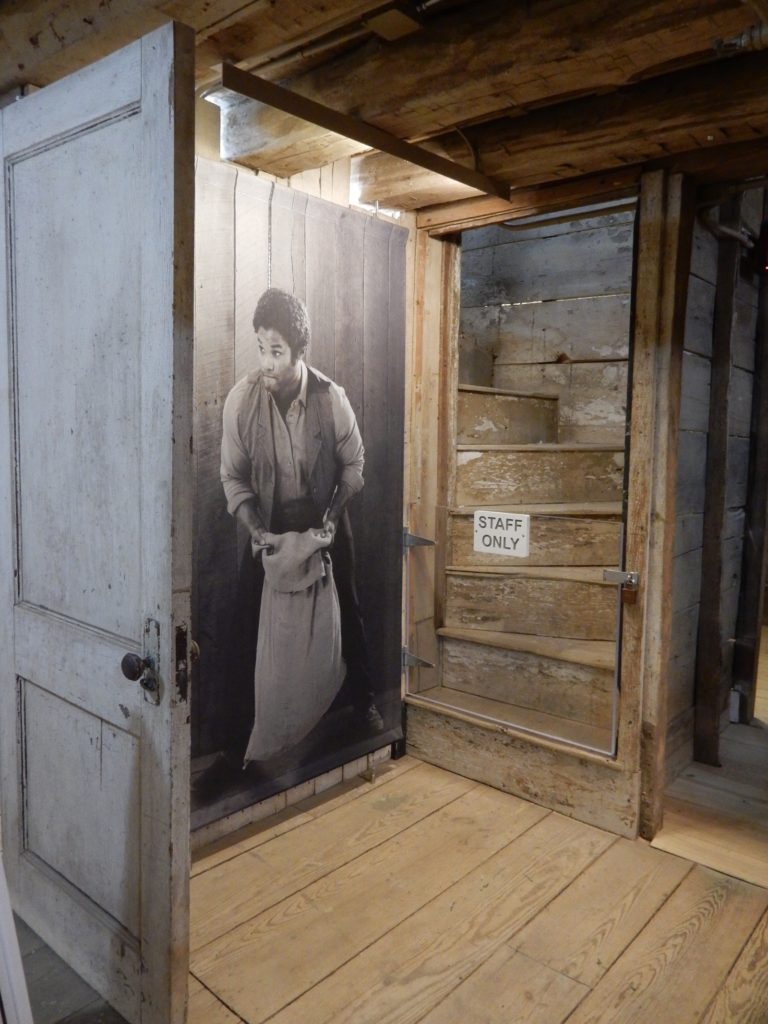 Dr. William Palmer, a Quaker, built the farm in 1832. Although he did not believe in owning other human beings, his second wife brought as many as 13 slaves into the marriage.
This decision cost Palmer his standing in the Quaker faith. He was excommunicated – or in Quaker terms, his fellows "read him out."
Stone Barn Multi-Media Museum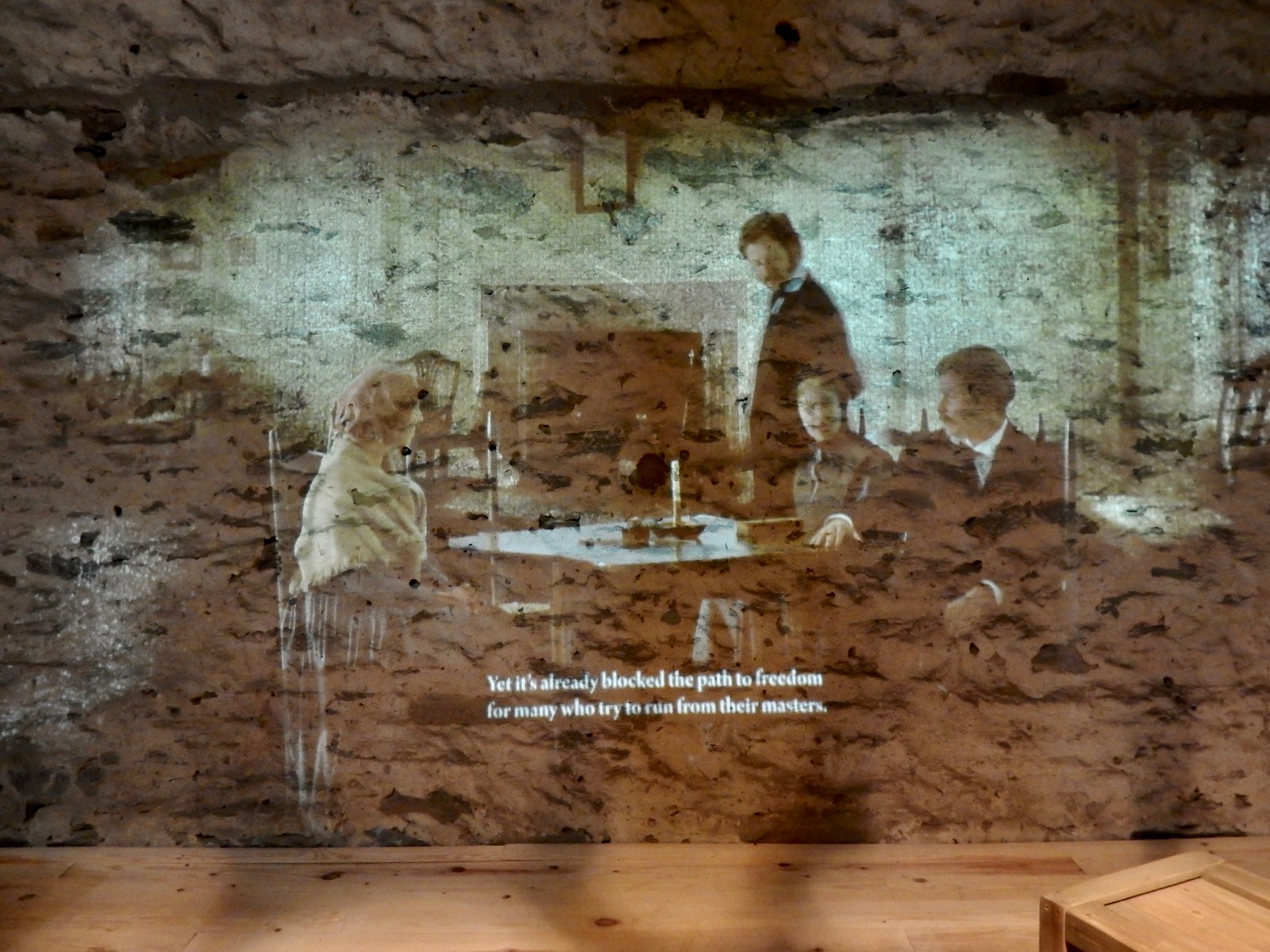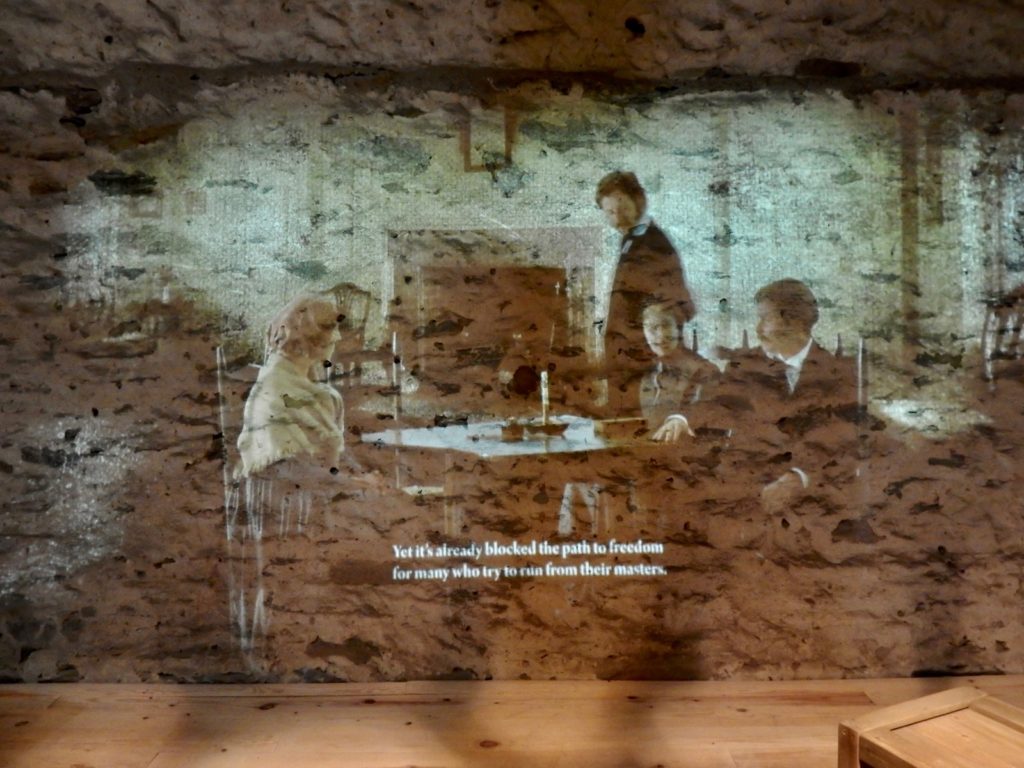 The three-story Stone Barn serves as a multi-media museum. Roughhewn stonewalls come alive with projections of ten 90-second video vignettes of actors in period dress interpreting the enslaved and slave-owning families.
You'll see Quaker kin discussing potential punishments for breaking the law – harboring runaway slaves in defiance of the Fugitive Slave Act, and enslaved families deliberating on whether or not to attempt escape at risk of death. One segment depicts a young couple telling friends that freeing their elderly slaves seems cruel. "Where would they live? Who would care for them?"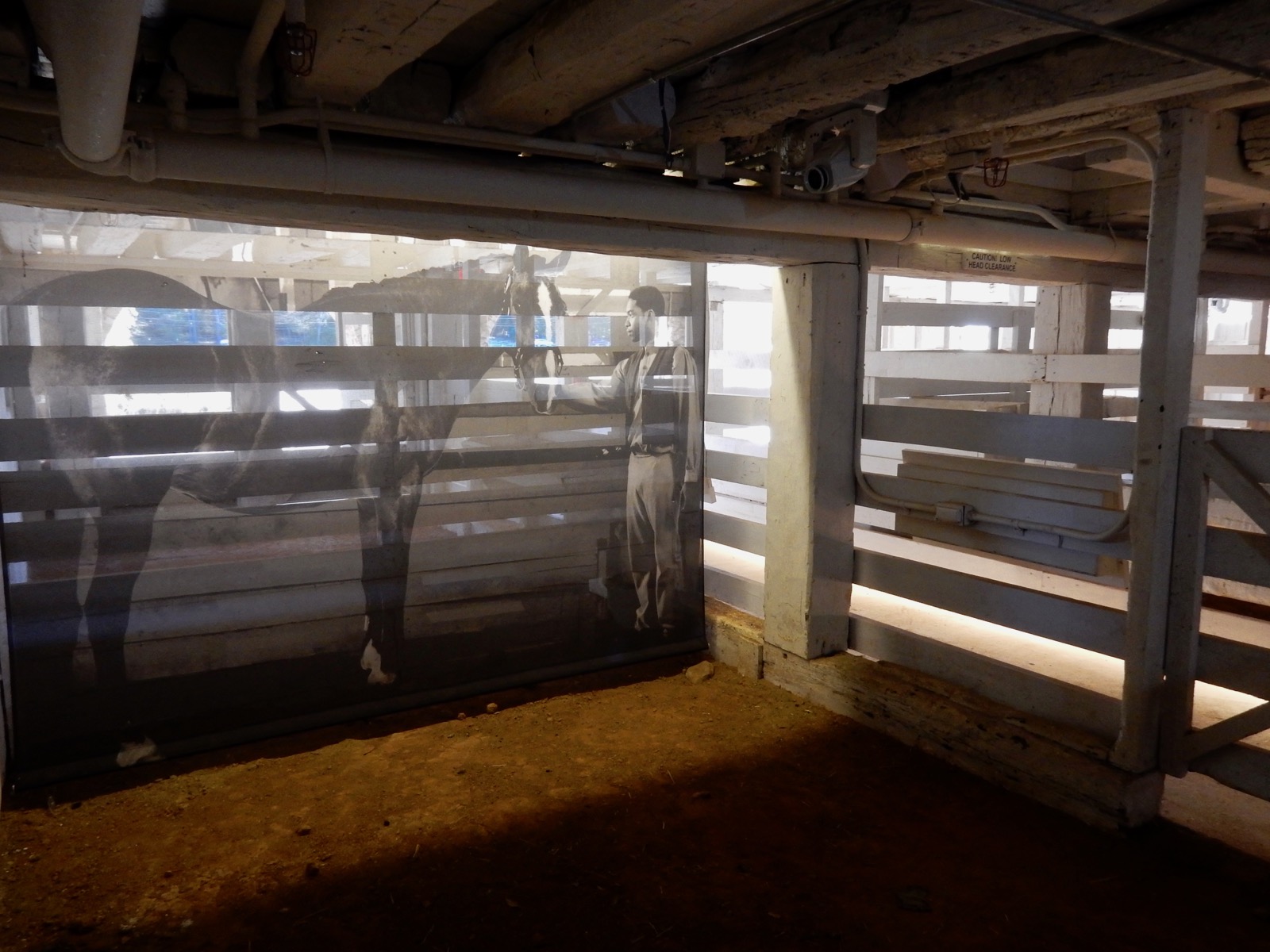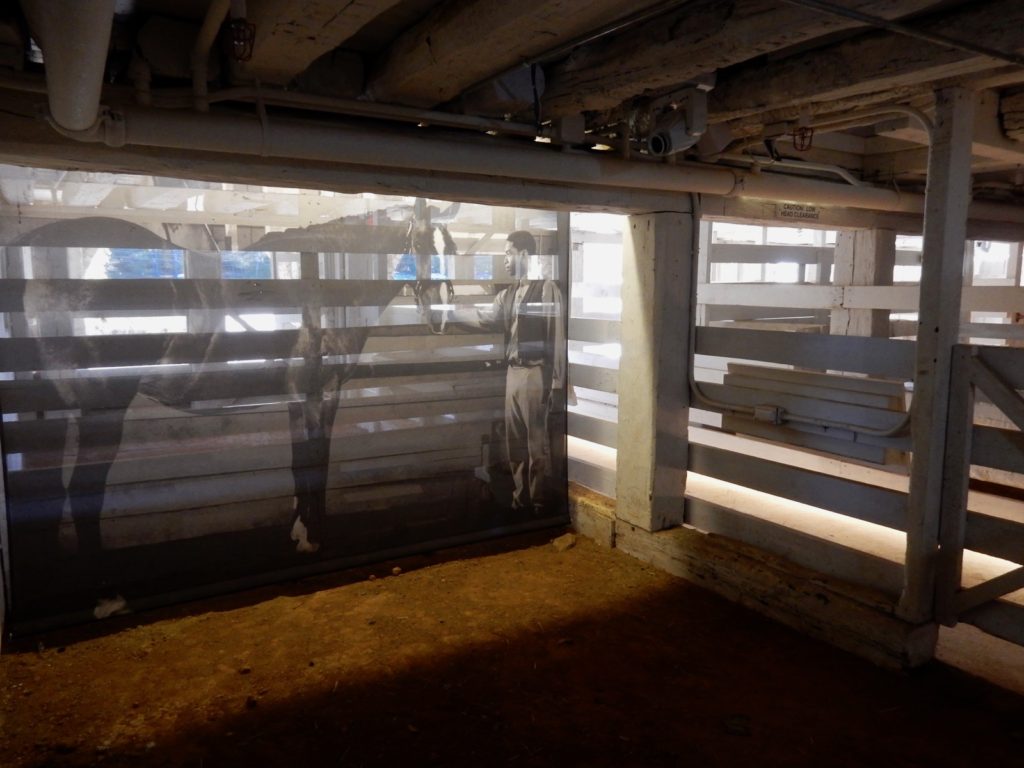 Continuing on through the barn. The lower level served as stables and root cellar, where now enlarged photos stand in cleverly for the livestock that would have been kept here.
Woodlawn Manor Gardens and Grounds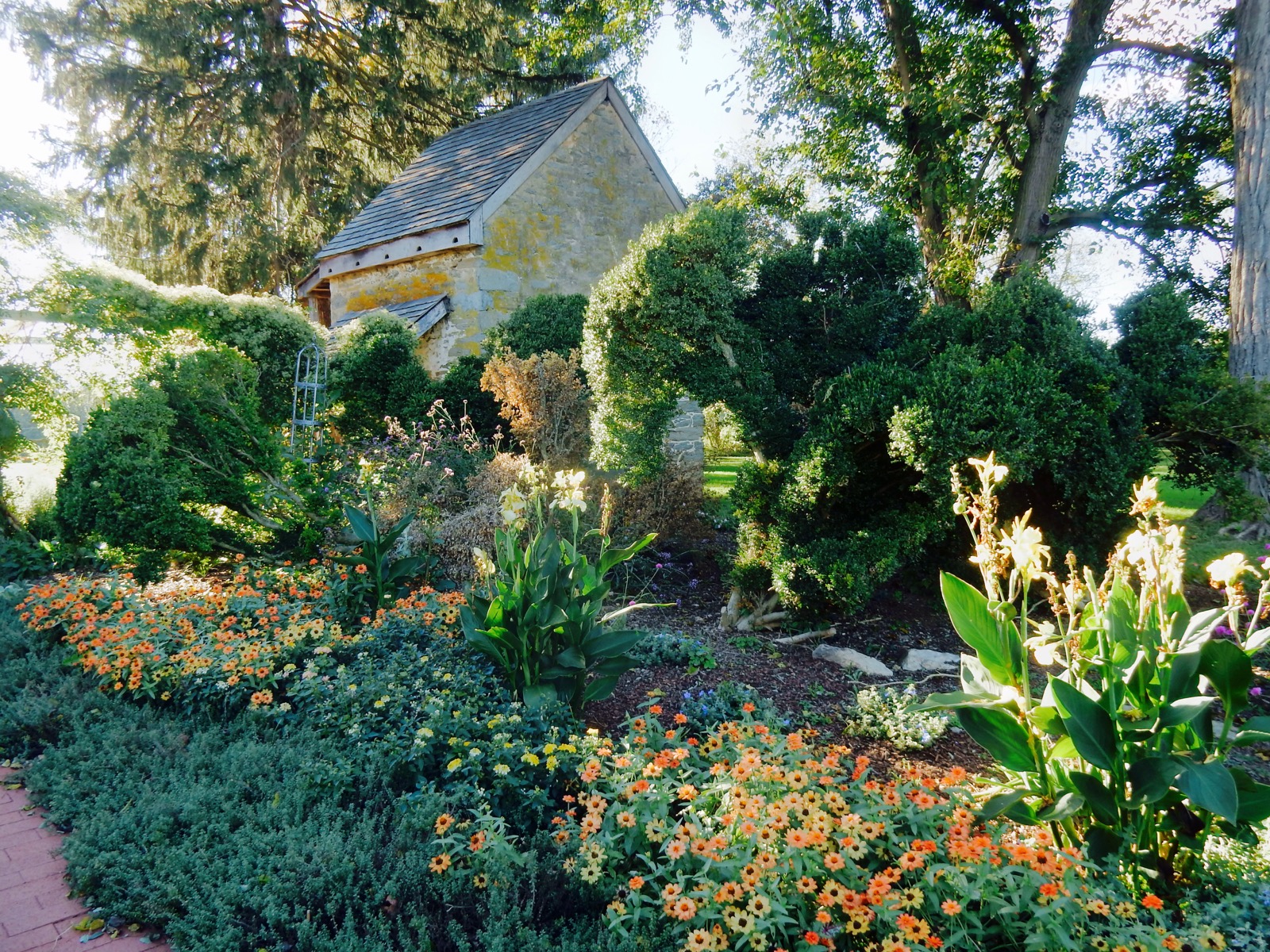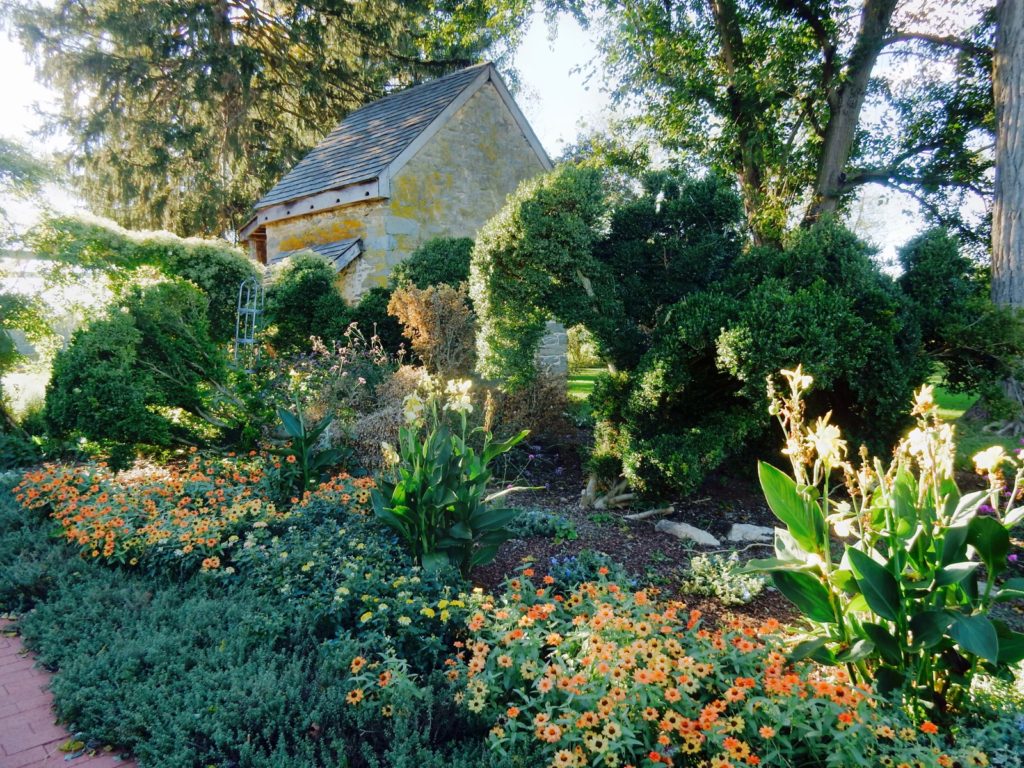 For now, the Mansion itself, renovated in the 1970's with no original furniture, is a popular backdrop and staging area for weddings. Walk over there on a fine Spring, Summer, or Fall day when the gardens pop with color.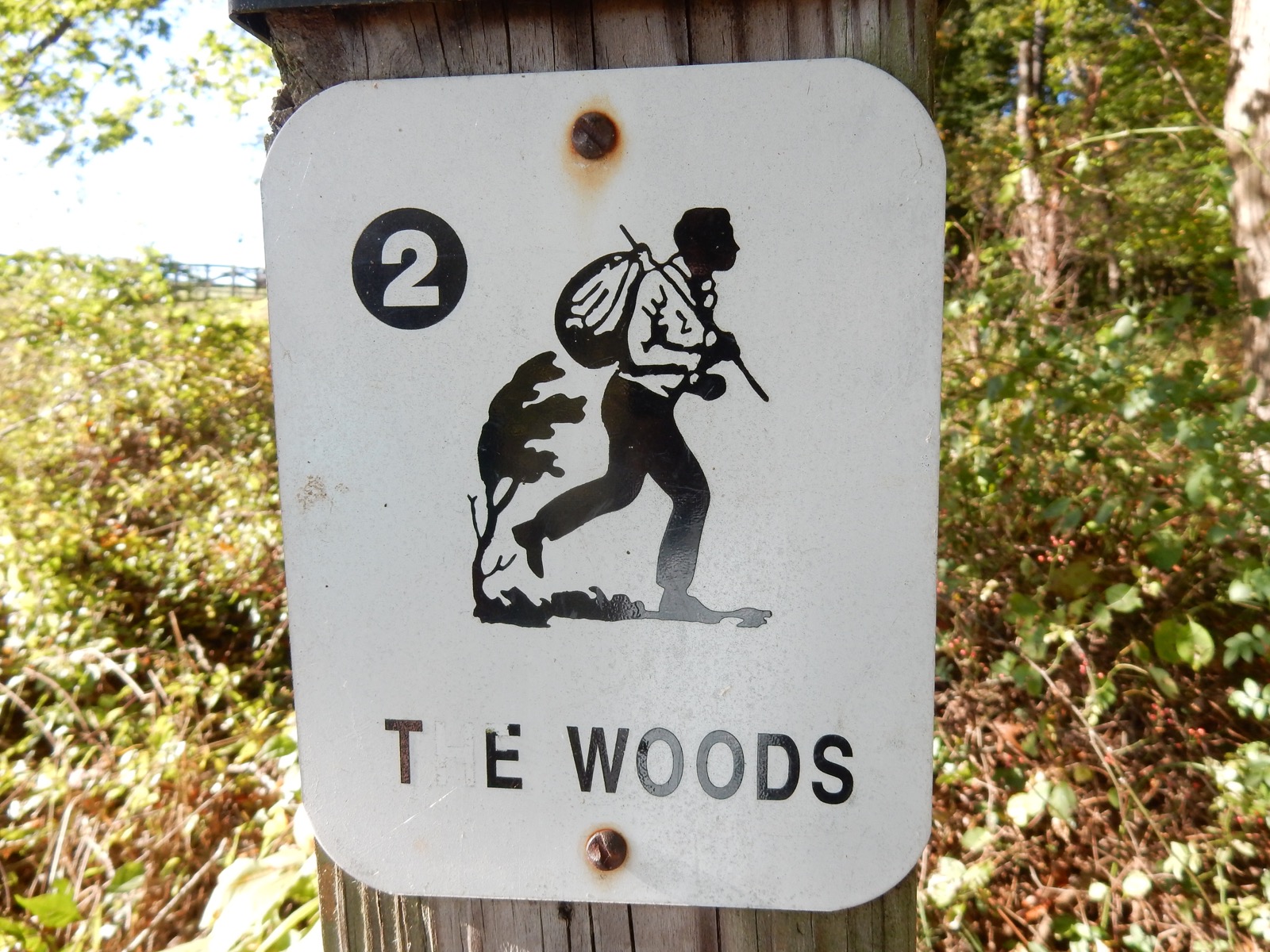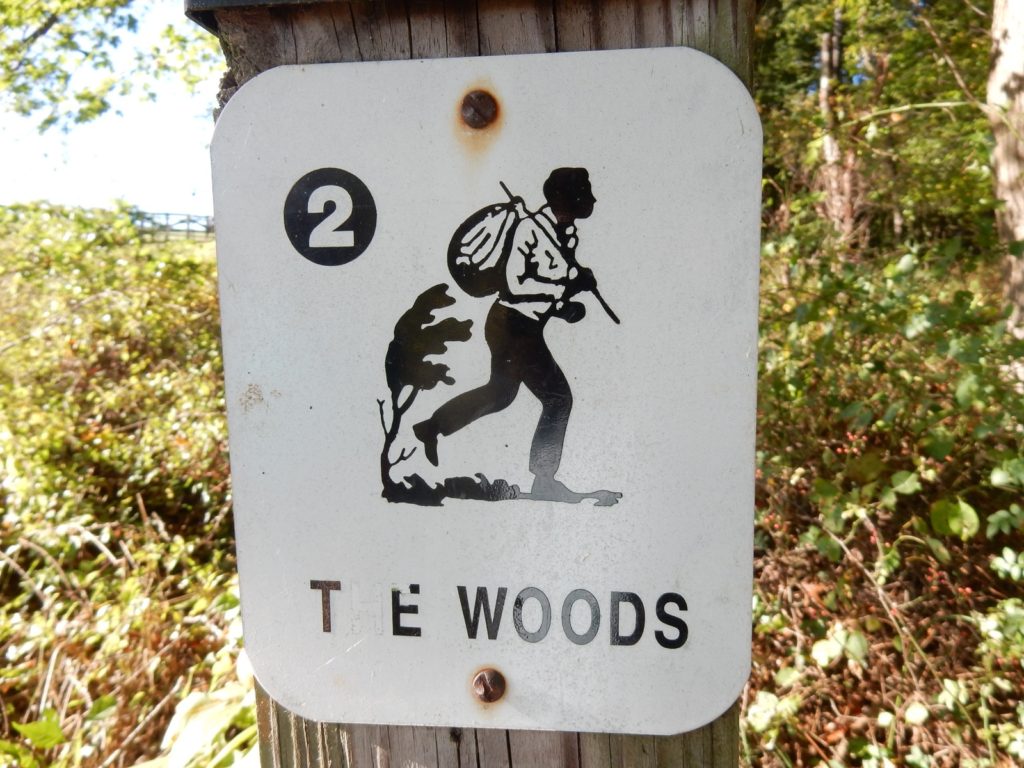 Woodlawn Park also features a 4-mile round-trip hiking trail, marketed as the Underground Railroad Experience.
Numbered landmarks include "The Brambles" – where freedom seekers could conceivably hide, and the Y-Shaped tree which could have been a coded meeting place.
Though there was no evidence of this particular forest path being an escape route, it's a way to tell the story that is very much a part of Montgomery County MD. Trail open daily dawn to dusk. Stone Barn Open April-Nov., Fri and Sat 10-4, Sun. 12-4, $5. Check website for Night Hikes on the Underground RR Trail and other events.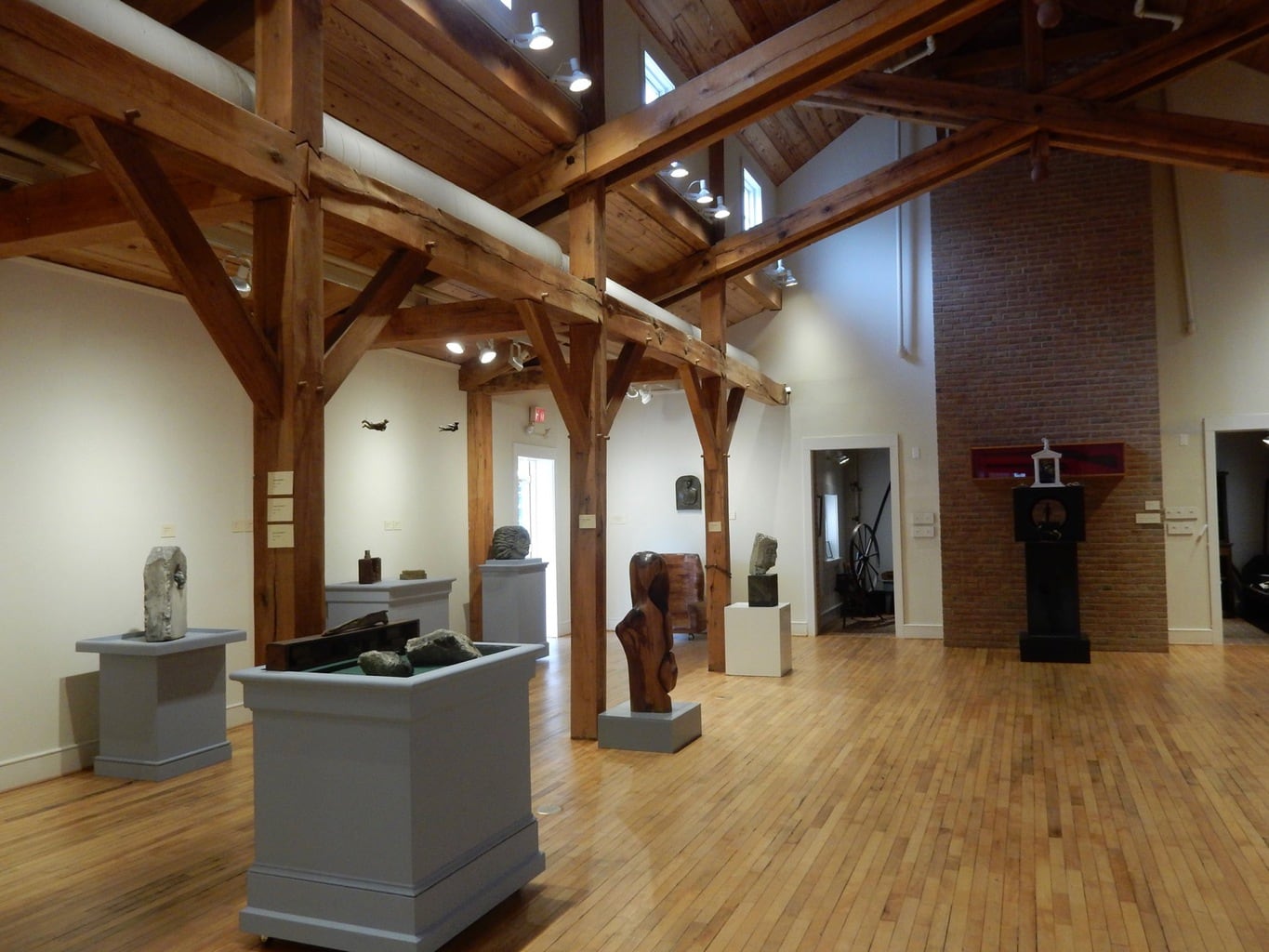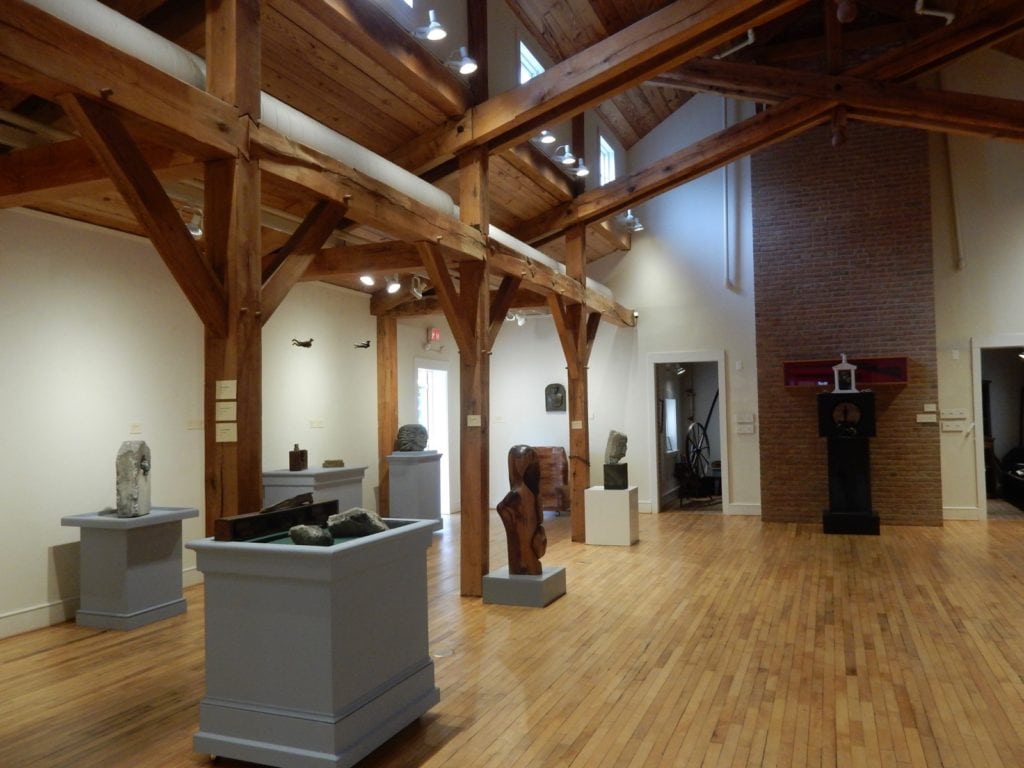 Characterized as a "mini-Glen-Echo," this small but stunning arts and culture center has a bit of everything, from contemporary art, to antique artifacts, to interactive classes and workshops in several barn-like galleries and artist studios.
The Sandy Spring Museum serves as a true grass roots "community center." People from the area come with ideas – which Museum employees help to "professionalize." There are concerts, book talks, lectures, studio tours and even classes.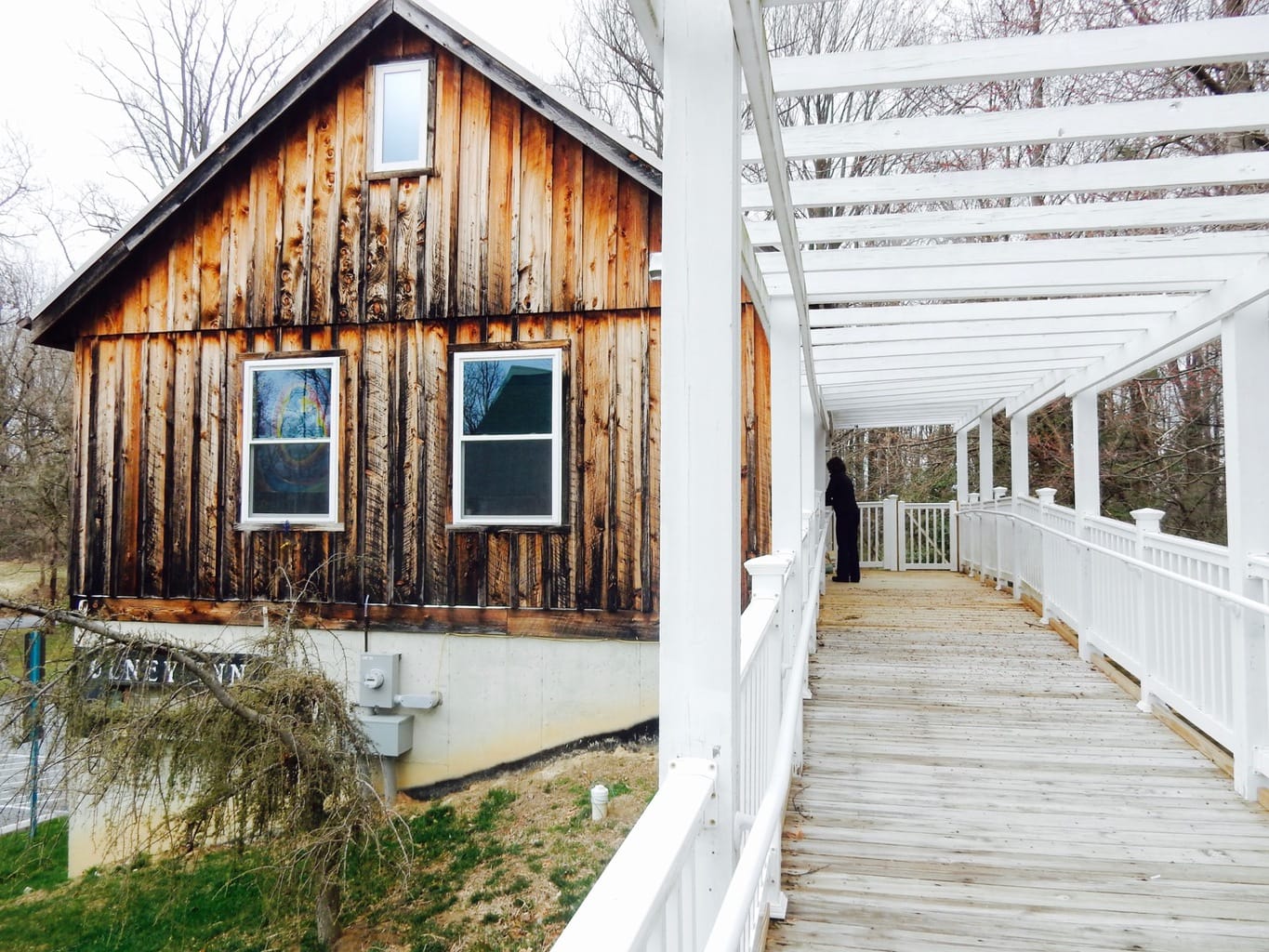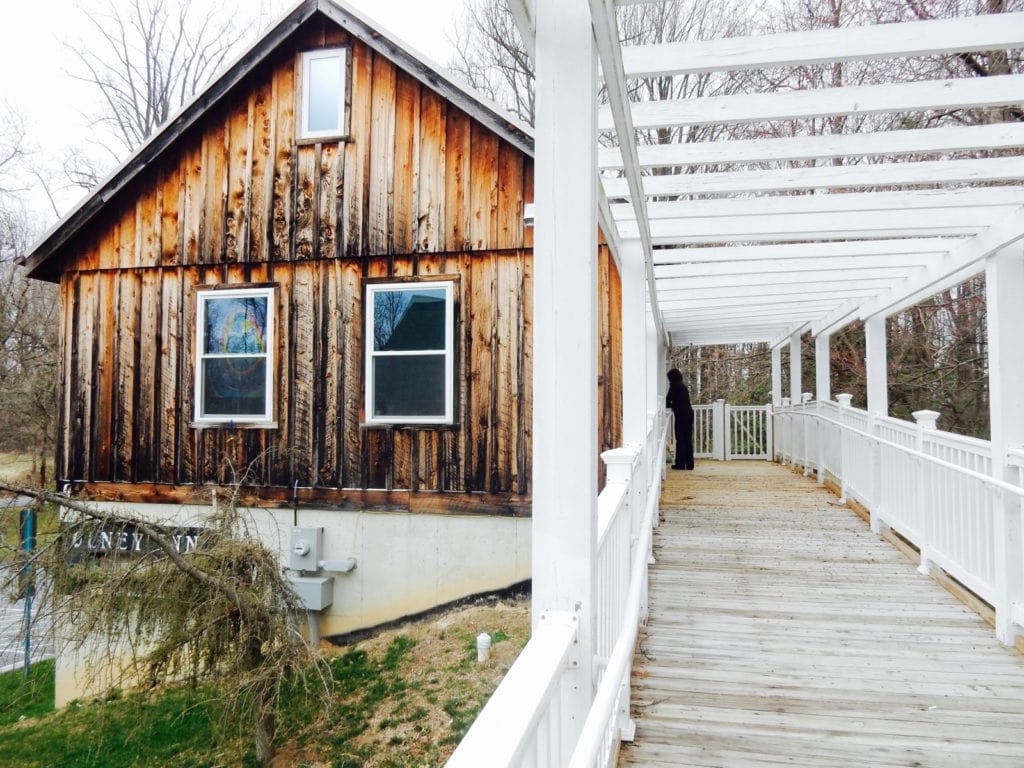 Though the bulk of the museum was recently built to "blend into the architecture of the town," the 19th Century barn, moved here board by board, is original. It houses artists studios, such as a jeweler who offers a 3-hour Hammered Cuff ($95) or Sterling Silver Stacking Rings ($95) workshop. Open Wed-Sat 10-5, $5 adults, $3 kids.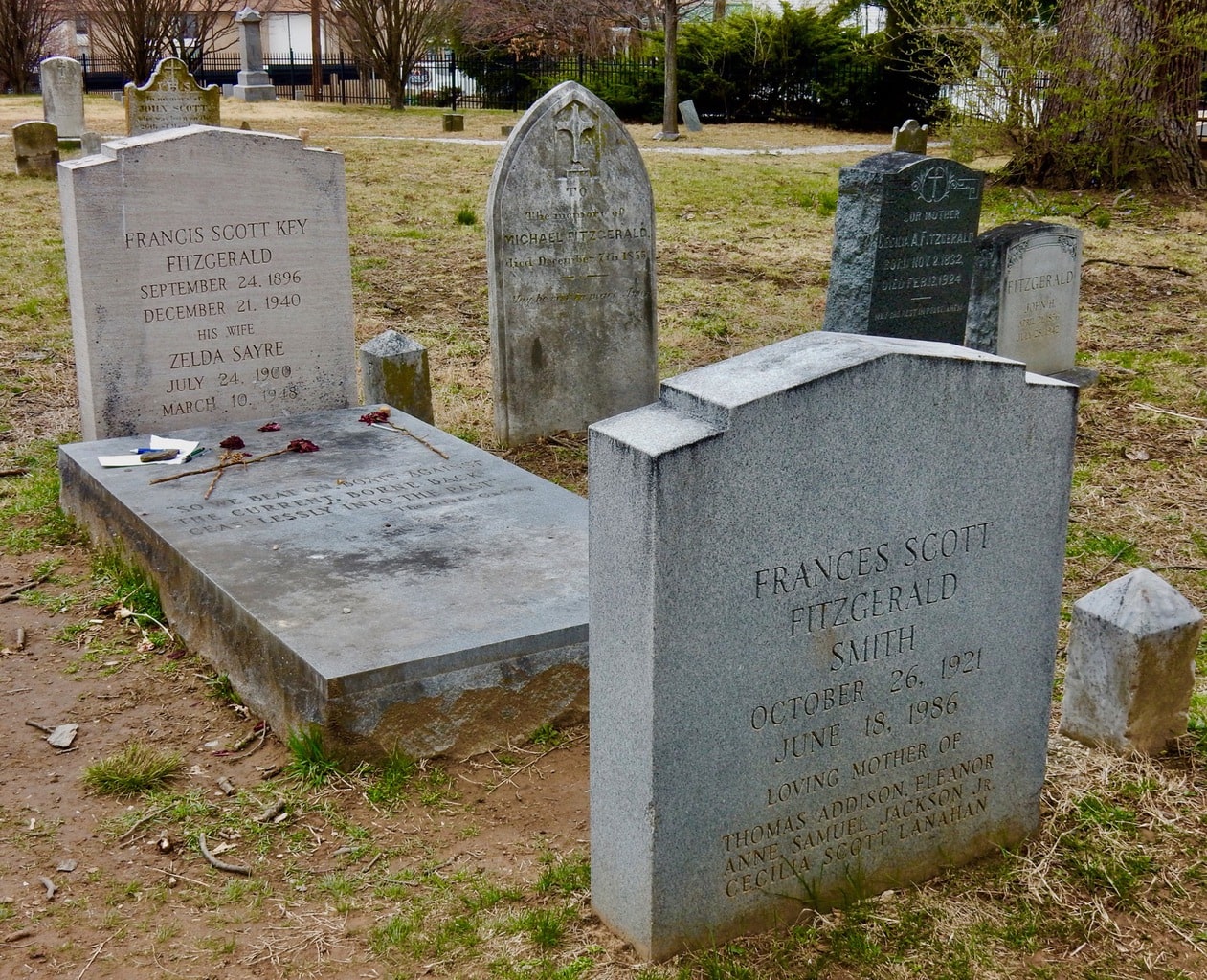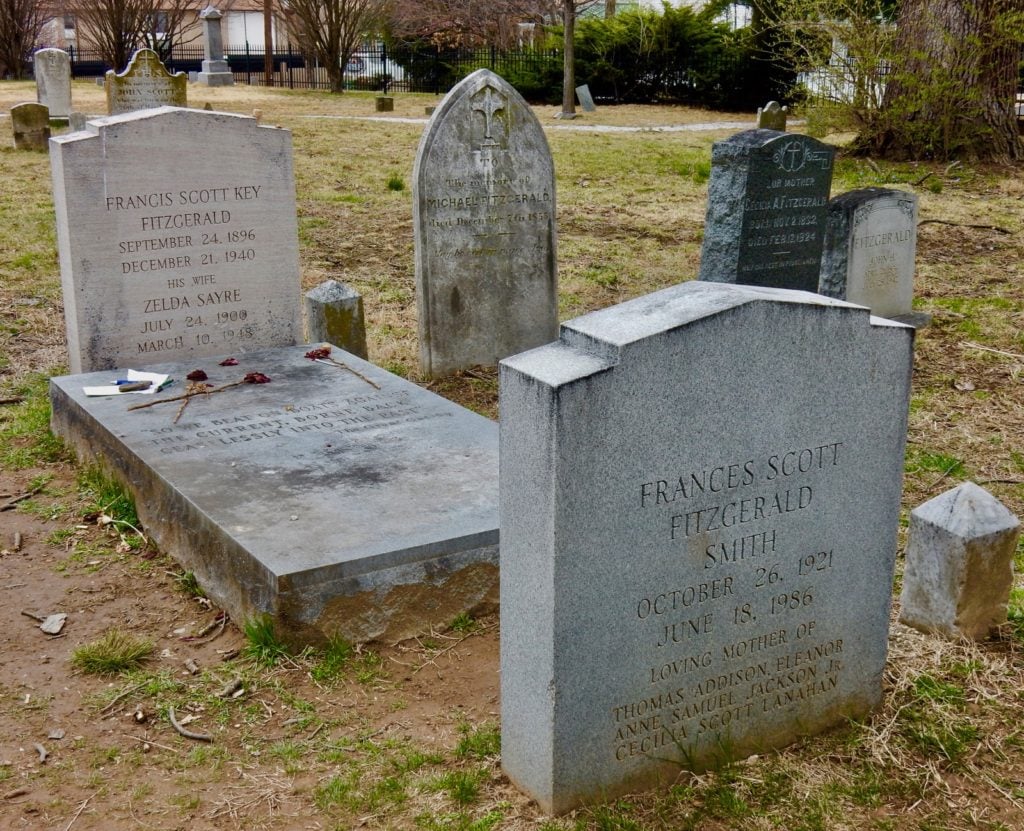 F. Scott and his wife, Zelda, are buried together in this family plot. You never know what you'll find on the tombstone of the man who wrote The Great Gatsby and other icons of American literature. On a recent visit: two letters, a few pens, and three dying roses.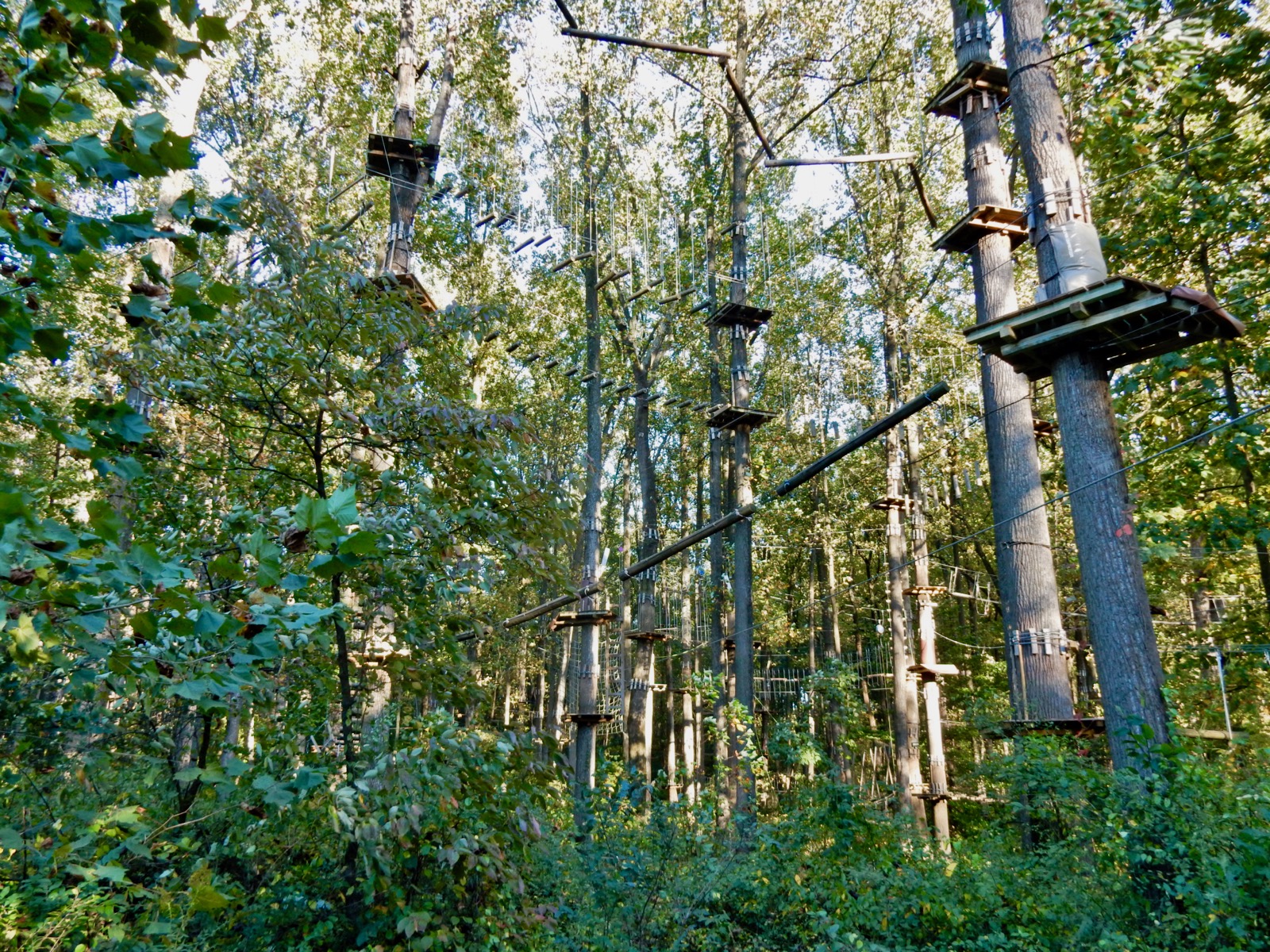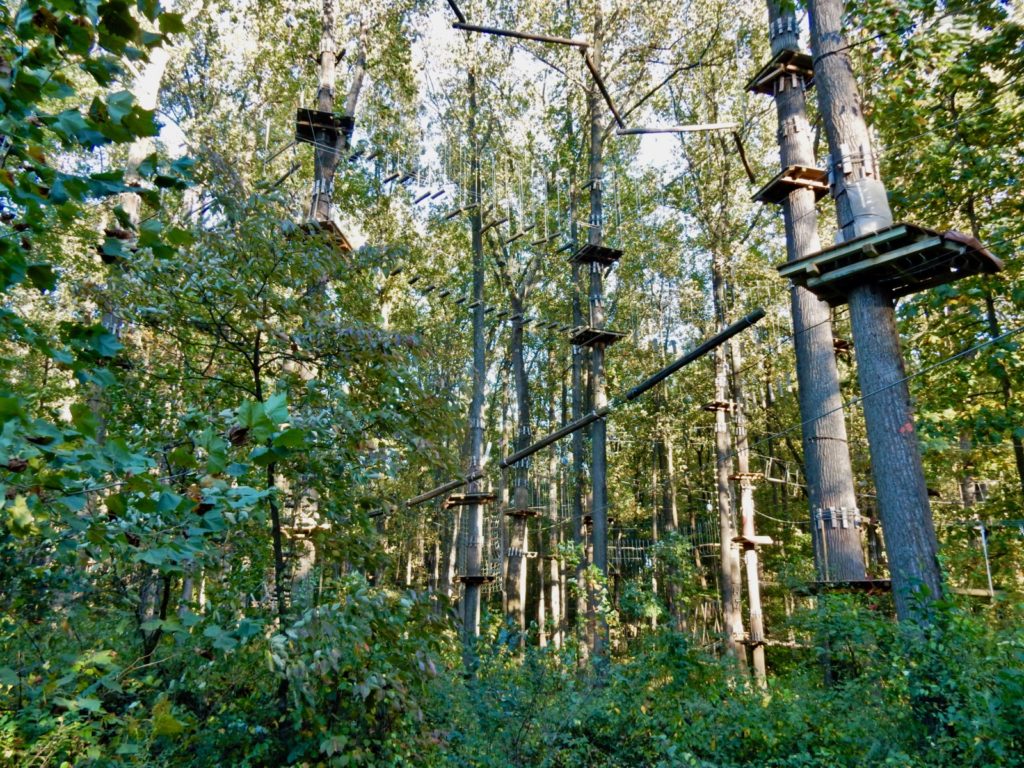 Test your upper body strength on this ropes-zip-line tree canopy course. It's a great alternative for those who tire of (or are not interested in) history and shopping. Open day and night, Spring through Fall. Check website for rates and times. $55 adult for 3 hours of climbing.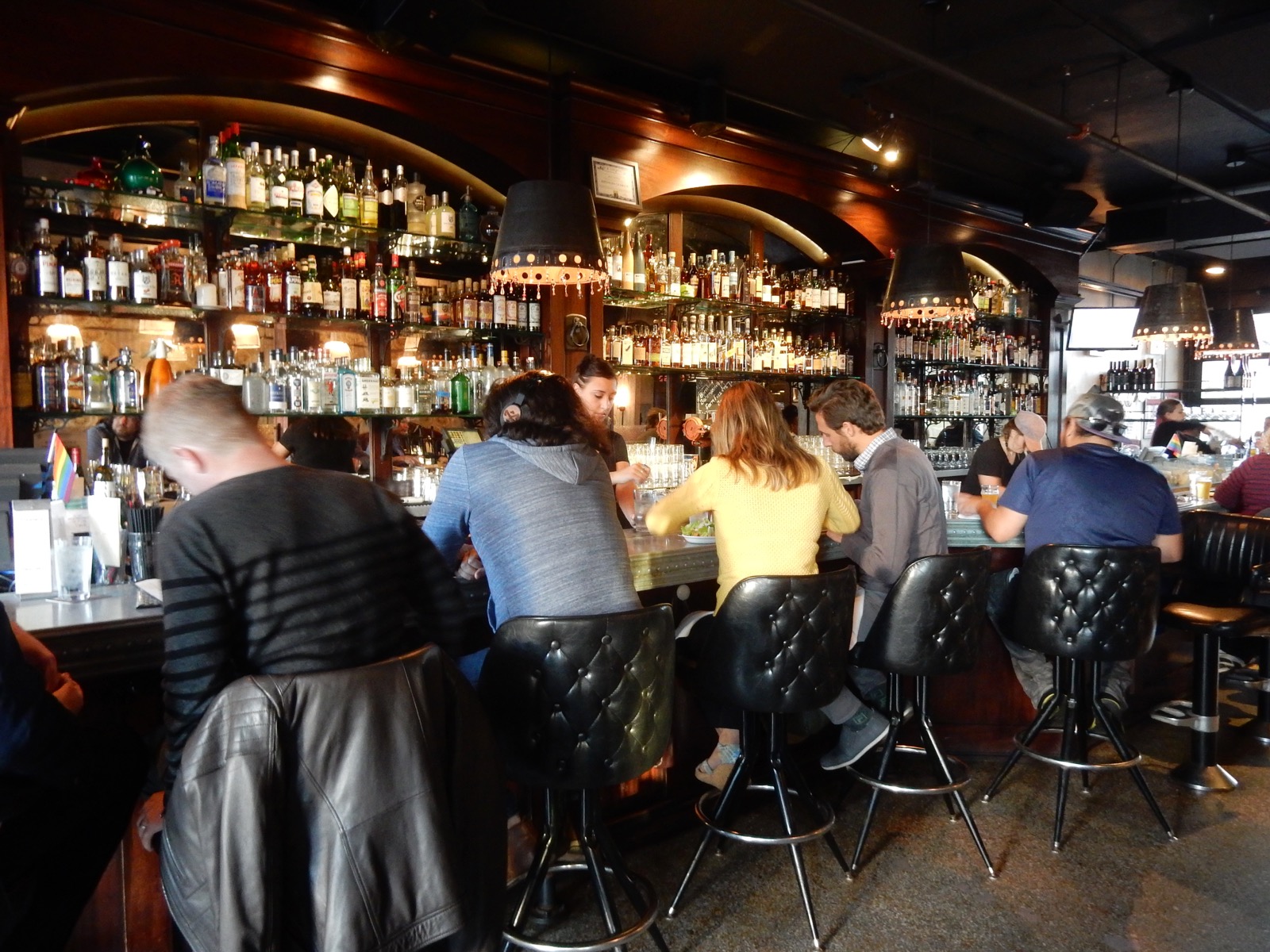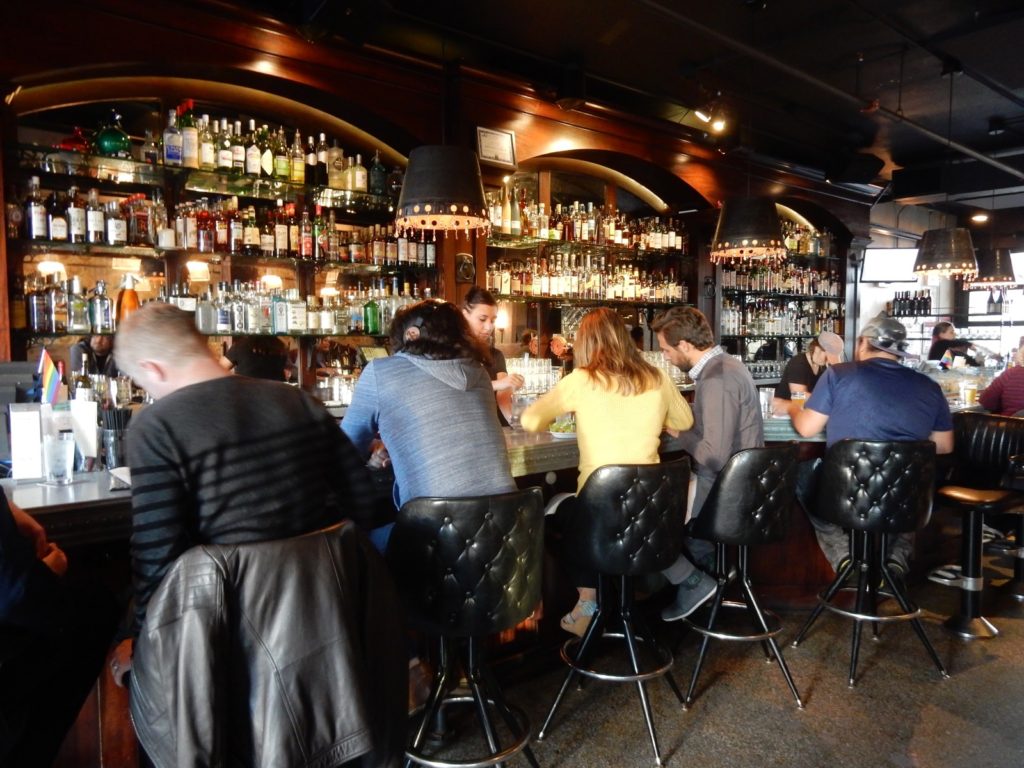 EXPLORE: Takoma Park
Formerly a hippy hangout, you'd be hard pressed to tell the difference between Takoma Park and Park Slope, Brooklyn. On the DC border, this enclave of independent shops, boutiques, and restaurants jams with young parents pushing strollers and holding toddlers in check. It was declared Washington DC's "Coolest Suburb in America's 35 Biggest Cities" by Thrillist in 2016.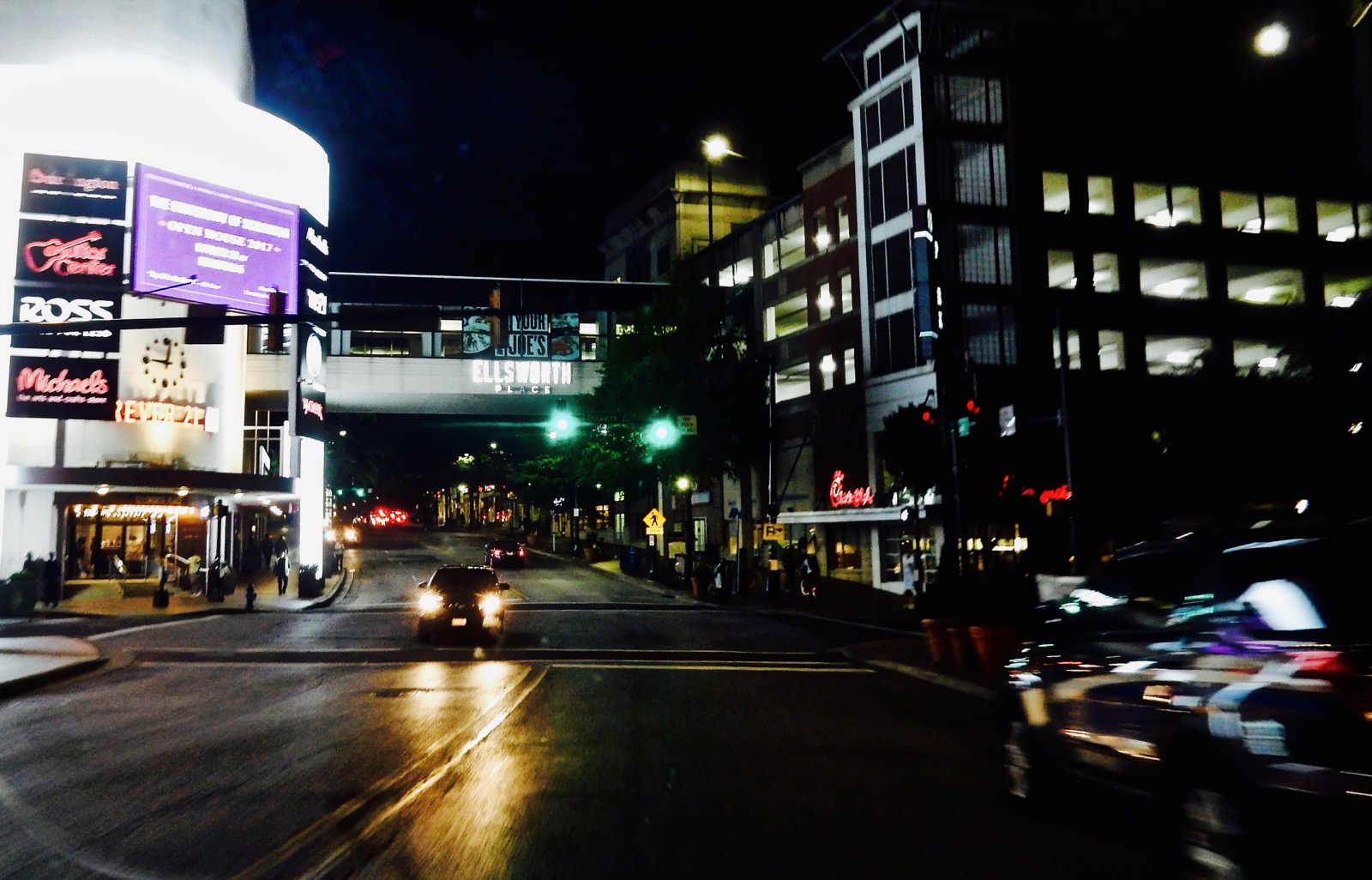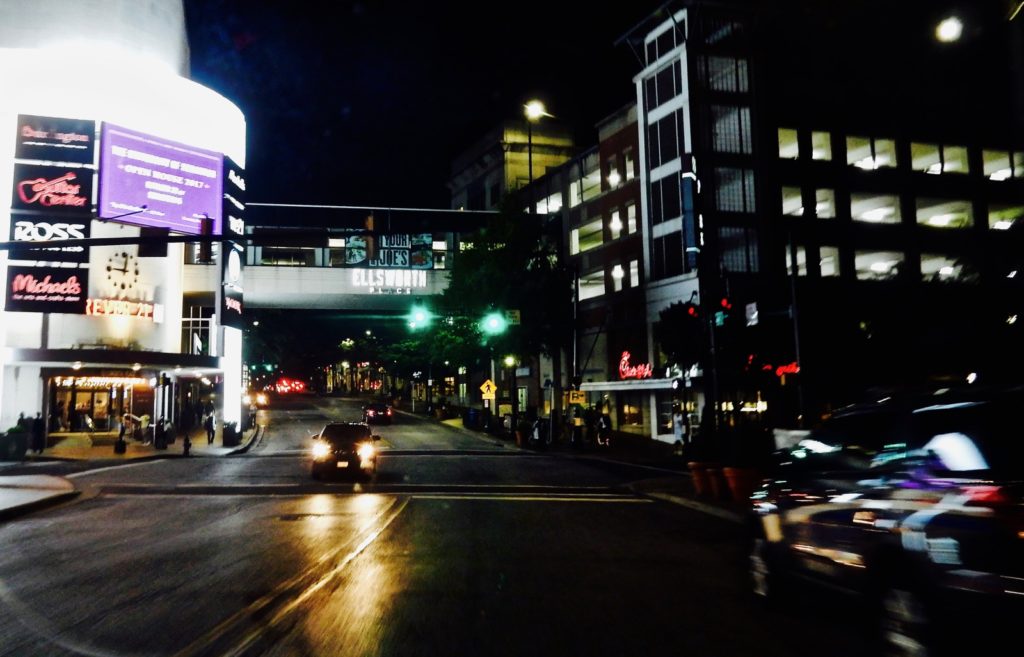 EXPLORE: Silver Spring
The most urban Jumbo-tronny of all Montgomery County towns, Silver Spring is a business and burgeoning entertainment center. Plenty of decent restaurants, the new Denizens Brewery (corn hole, anyone?), and quiet, quaint, and laid-back Urban Winery (see below) are bringing this business center to life after dark.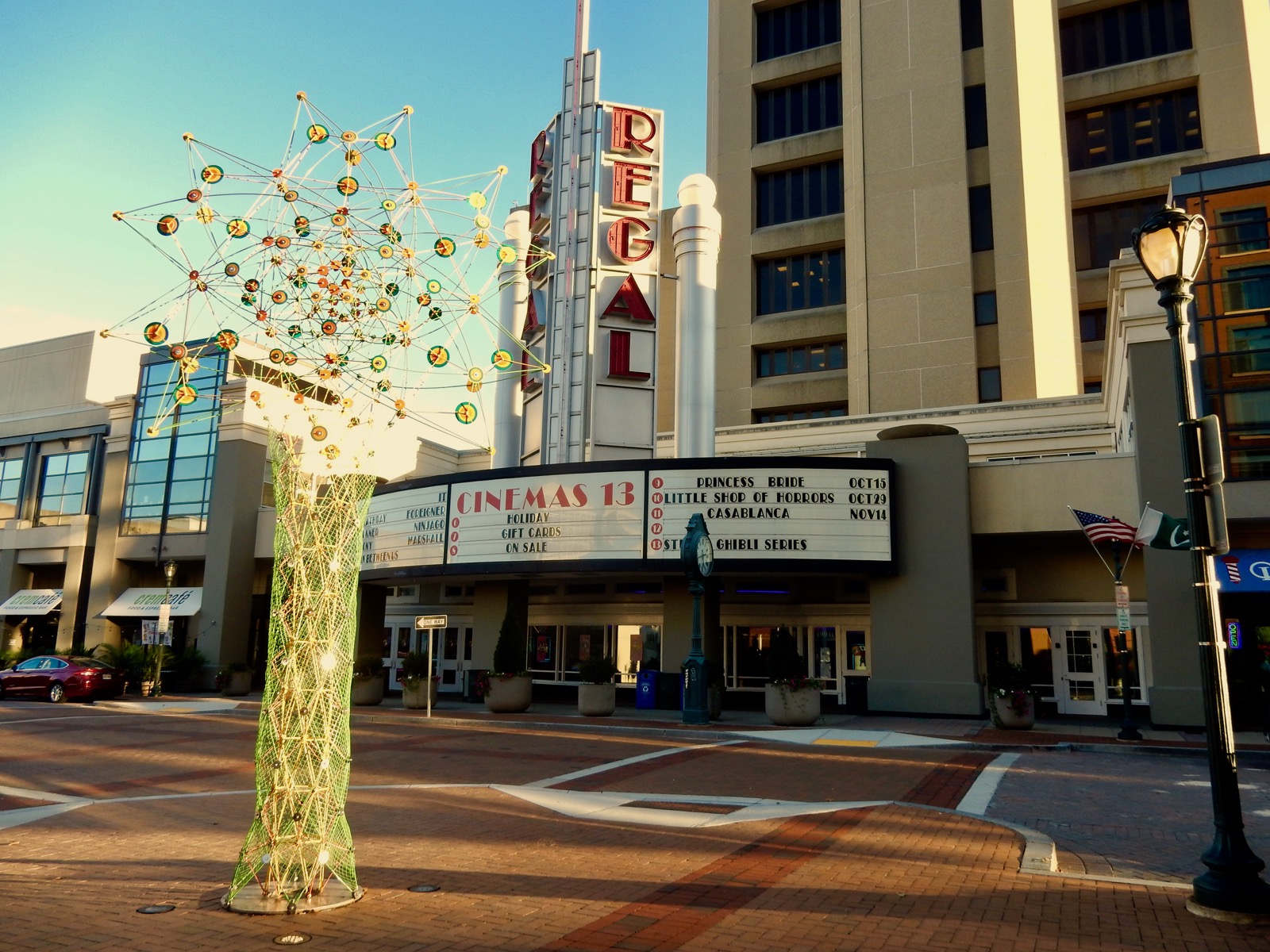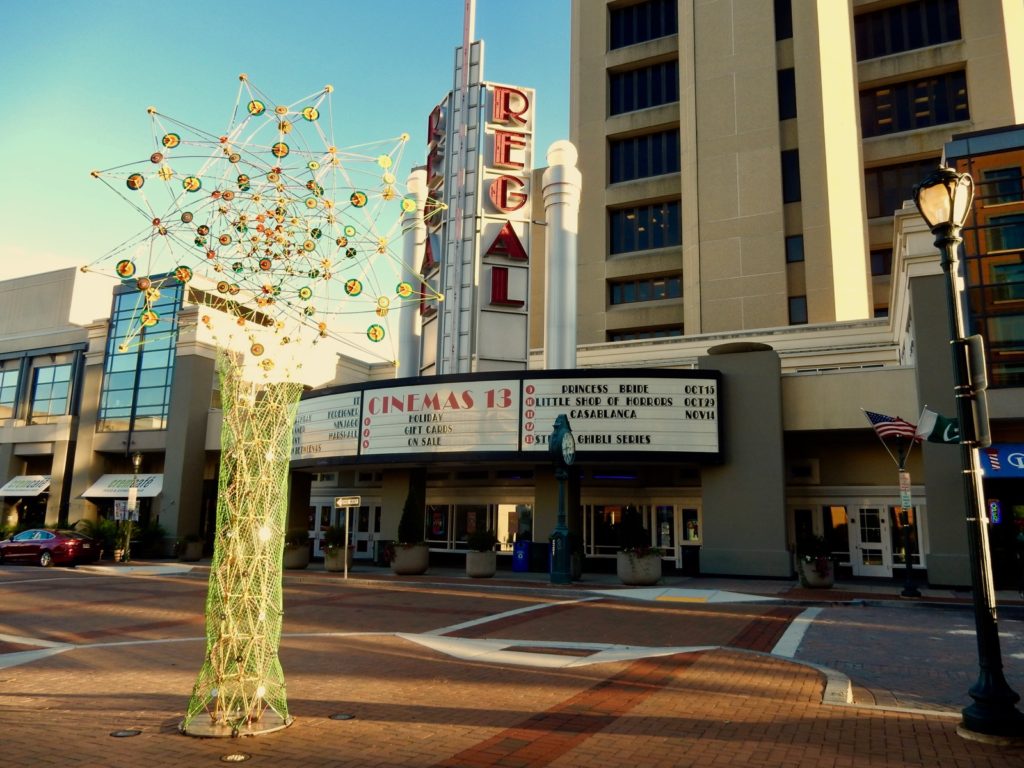 EXPLORE/STAY: Rockville Town Square
Another mixed-use development, this one with the vintage-looking Regal Theater Cineplex, plenty of eateries (e.g. Mellow Mushroom Pizza), a brewery (Gordon Biersch Brewery), and indie shops, proves that Montgomery County has figured out how to create lively, walkable neighborhoods from scratch within steps of a Metro Stop. (See Cambria Hotel in Where to Stay below).
Best Restaurants in Montgomery County MD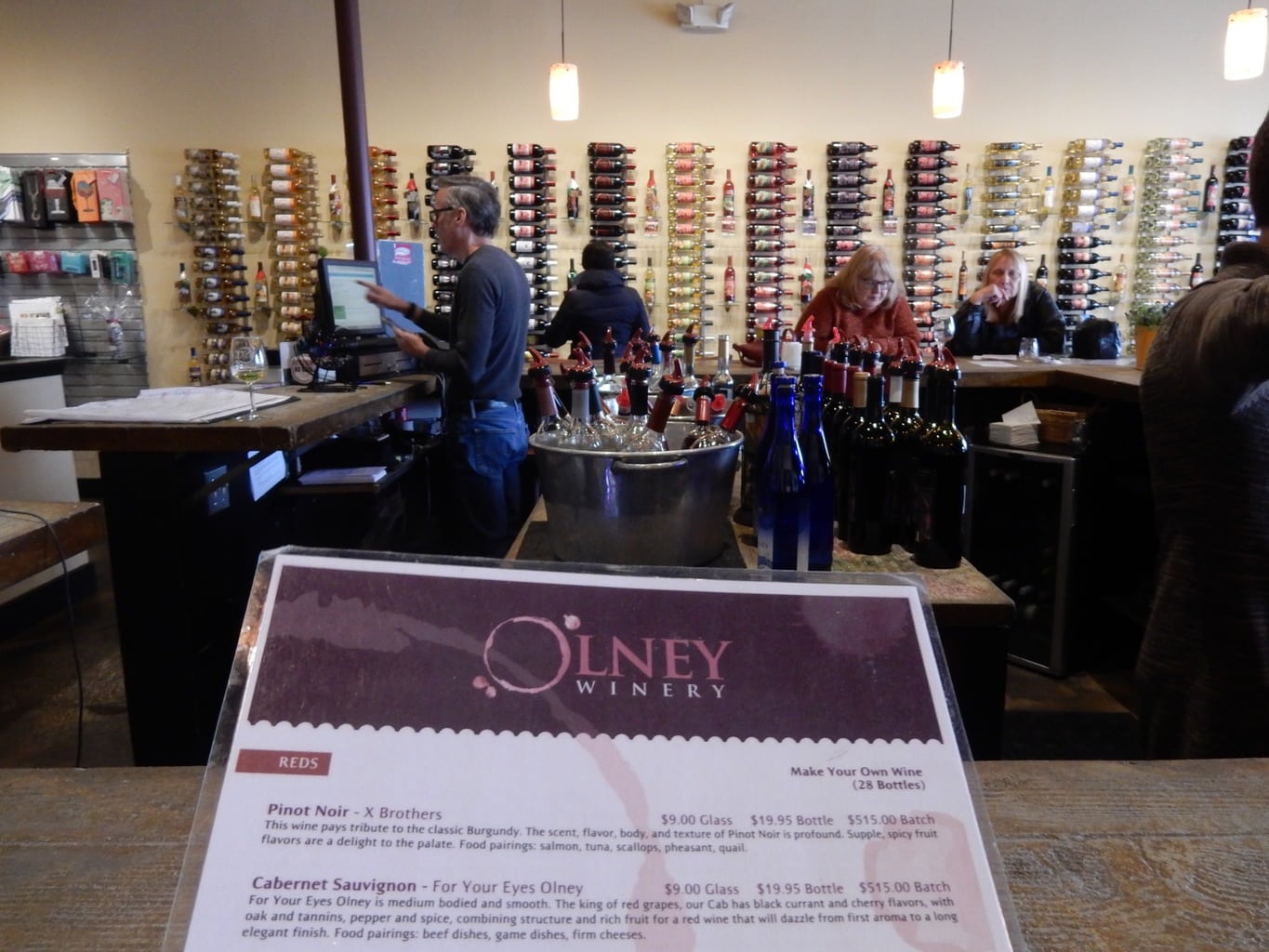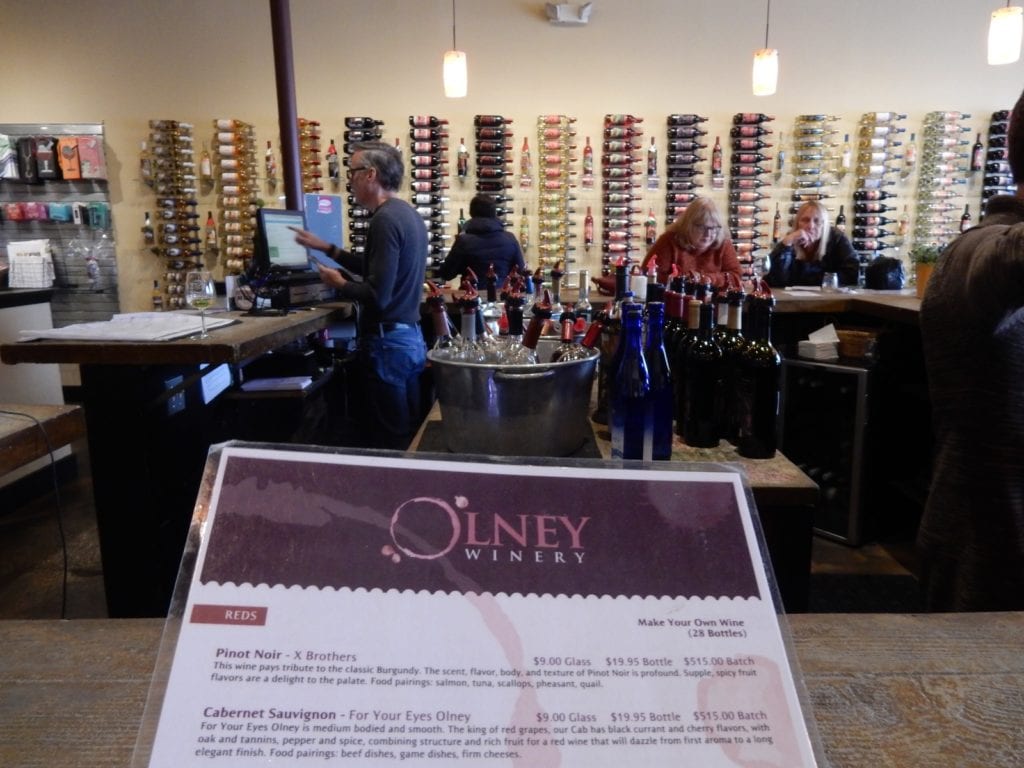 The location of this winery's tasting room –  in a suburban strip mall- might be a bit off-putting. But inside, it's pretty and bright, with lots going on.
Known for its fruit-infused wines, and very creative pairings (Potato Chip and Wine, Cupcakes and Wine) and other delightful events, Olney is a popular place. After all, its slogan is "Good Wine Made Fun."
Try "Fire & Ice" – a Riesling Ice Wine jazzed up with a whole jalapeño pepper. Or stay safe with Peach Chardonnay, Watermelon Merlot, or dozens of other blends.
You can also make your own wine with customized label – a great party idea. (Yields about 28 bottles from $495 for Sangiovese to $825 Barolo).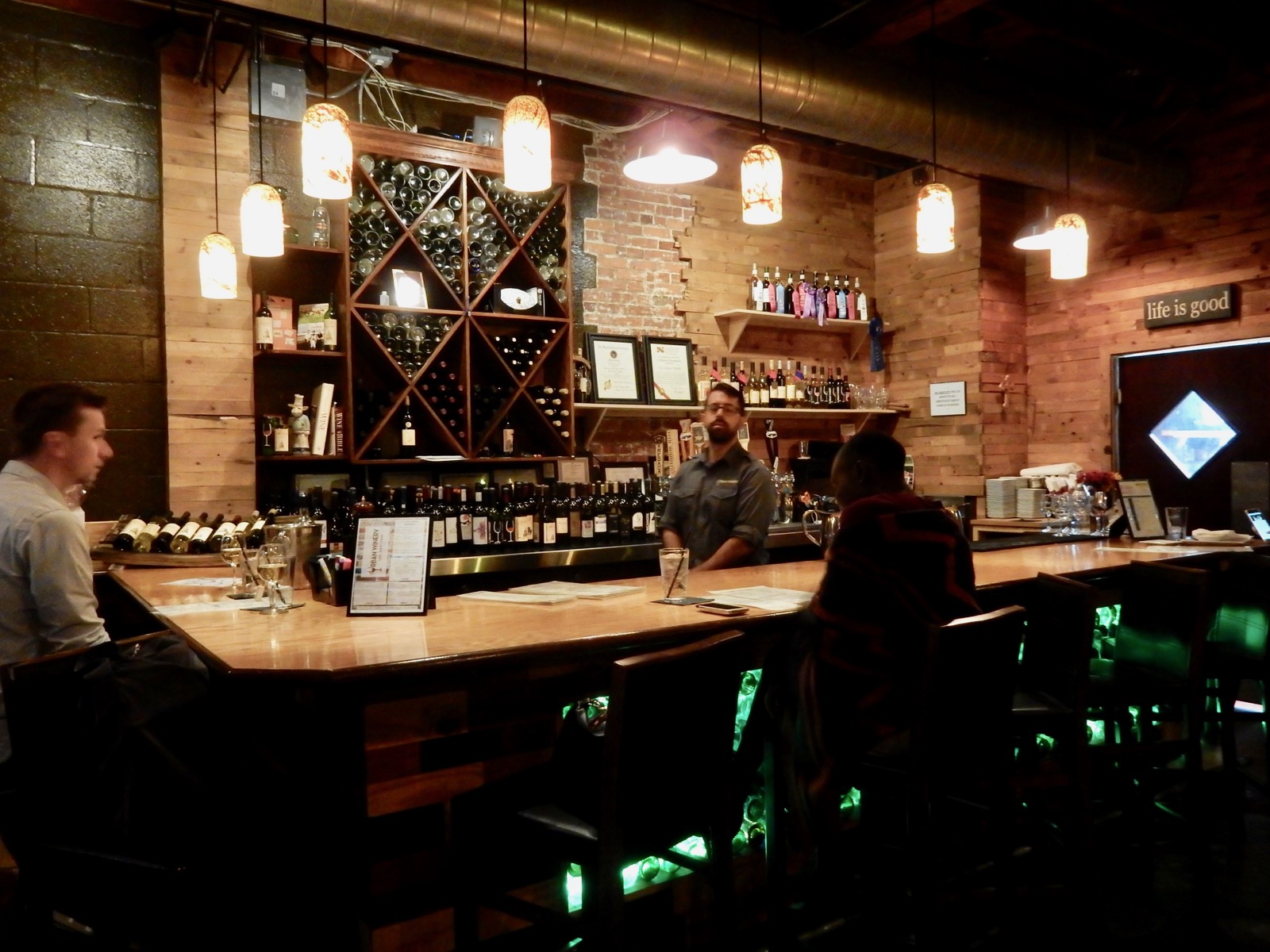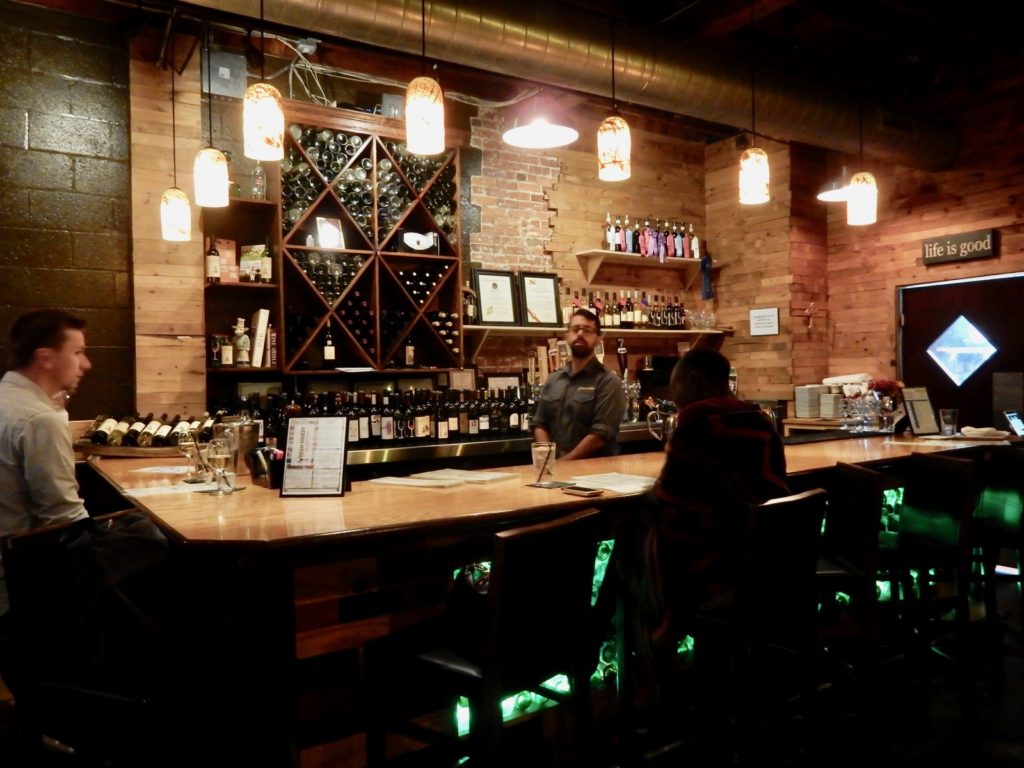 It's all about the wine (made on premises with grapes purchased "from all over") at this mellow side-street spot. Try a flight of house wines, produced by Greek owners with Mediterranean flair.
Both Silver Spring White and Silver Spring Red pair well with the delectable "mezze" plates, charcutterie and cheese platters, and flatbreads from the kitchen.
You'll probably want a double or triple portion of the warm, crusty-chewy bread straight from the oven. Tuesday night is Flight Night (wines from around the world), Wednesday is Trivia Night, and check website for other events like the hands-on "Personal Winemaking Experience."
What to do with an old boy's summer camp turned equestrian center? Keep the horses, and add beer. Come taste, ride, tour and bring the kids. Alternately, Brookeville Beer Farm is also fun for families. Plus, you can bring your dog!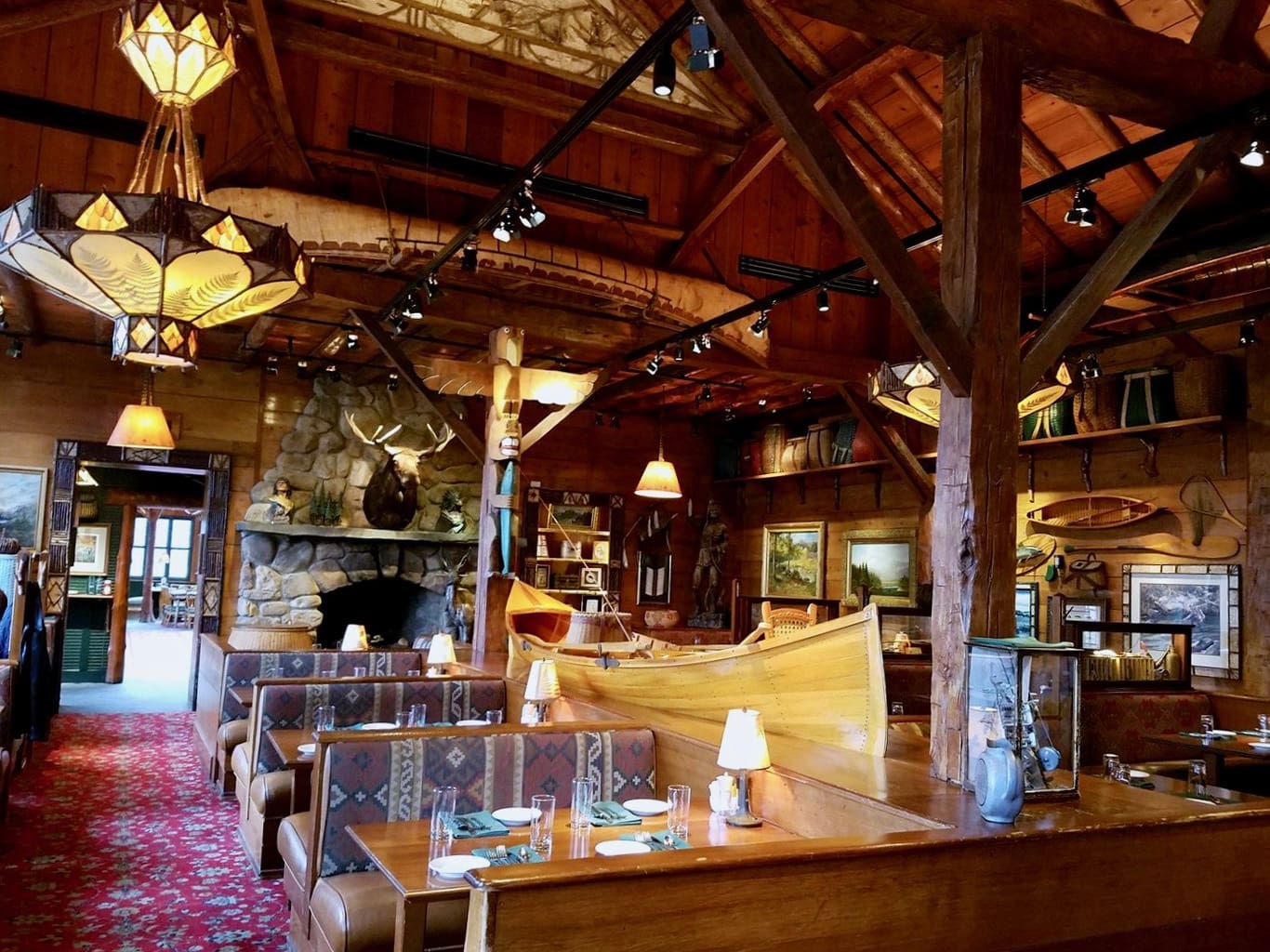 With its American Indian meets Adirondack décor, the very distinct Tower Oaks Lodge is an anomaly in the corporate high-rise section of Rockville.
The Great Room, stocked with canoes, fly-fishing lures, and other antiques, is actually a disassembled and rebuilt barn from Vermont. Check out the old juggling pins from the now defunct Barnum and Bailey Circus.
You can spend your whole time here studying the artifacts, but do try the "Clyde's Classic" Trout Parmesan: flash-fried, parm encrusted, and tasty as all get out.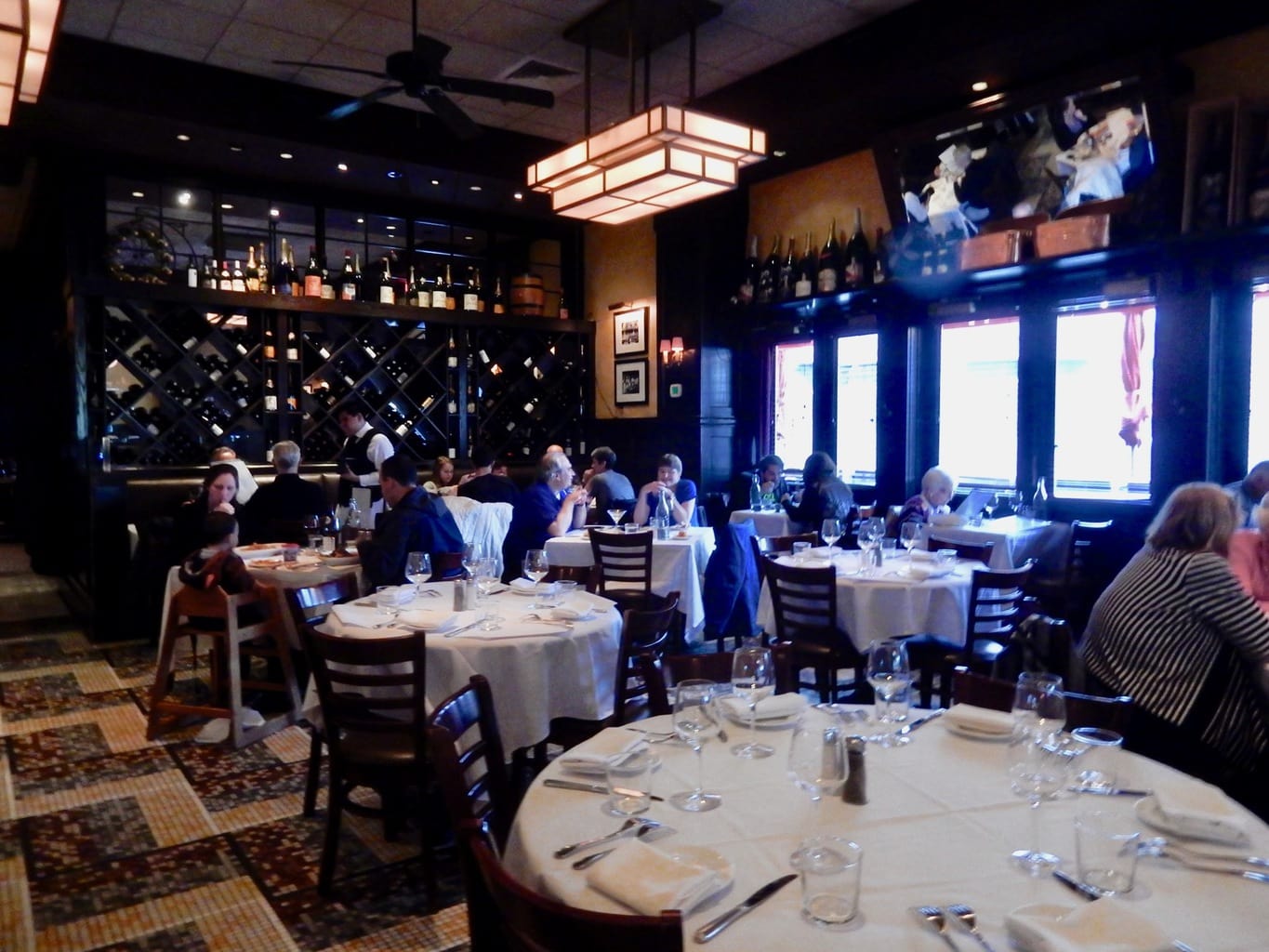 If you have a hankering for "sizzling" Escargot, book a table at this Mon Ami Gabi (one of 5 countrywide). This classic French bistro features all of your favorite saucy, buttery dishes done to perfection – including, of course, Steak Frites. So popular, there was hardly an empty seat on a cold April Monday night. Hence, RSVP's are highly recommended.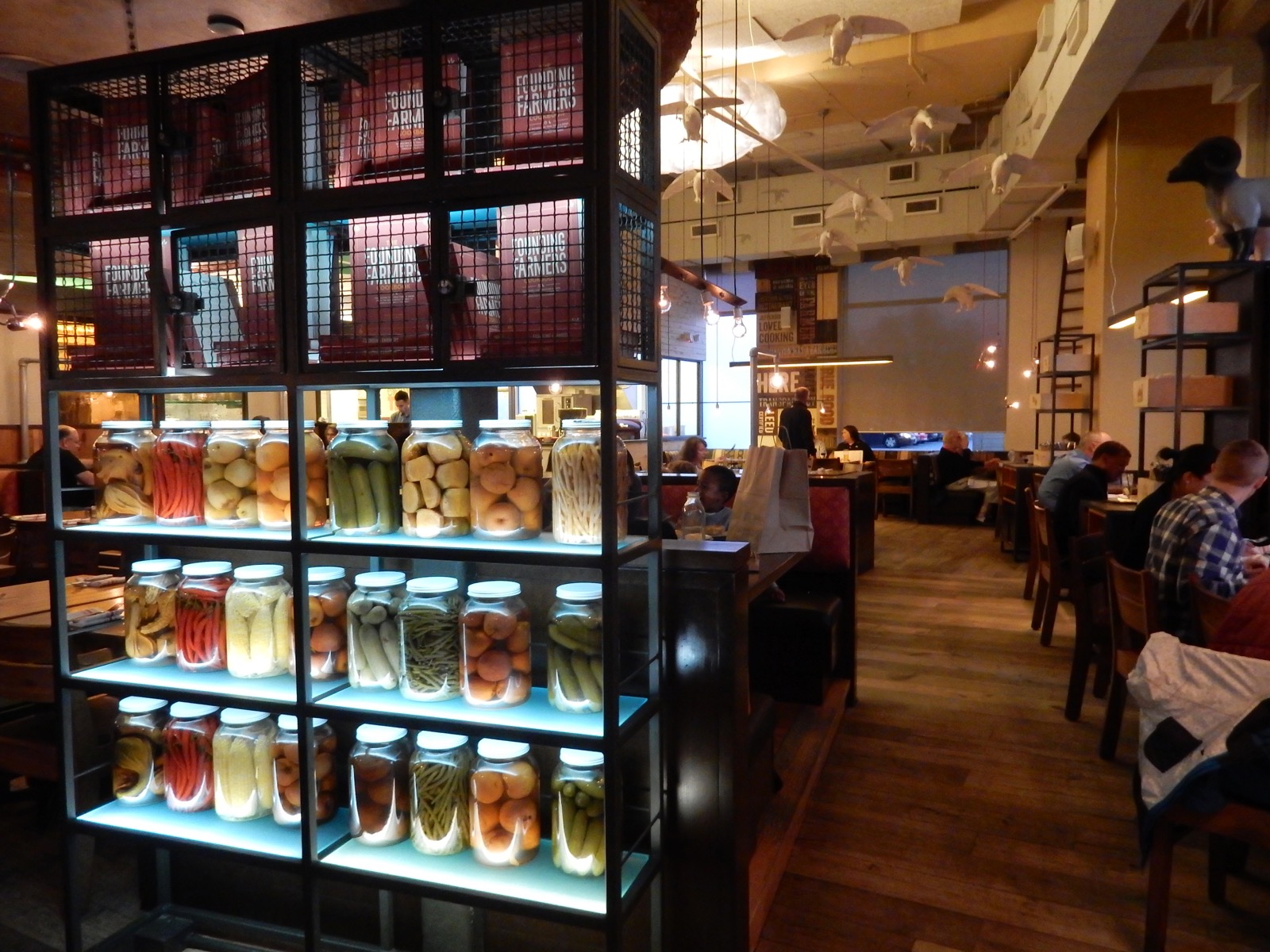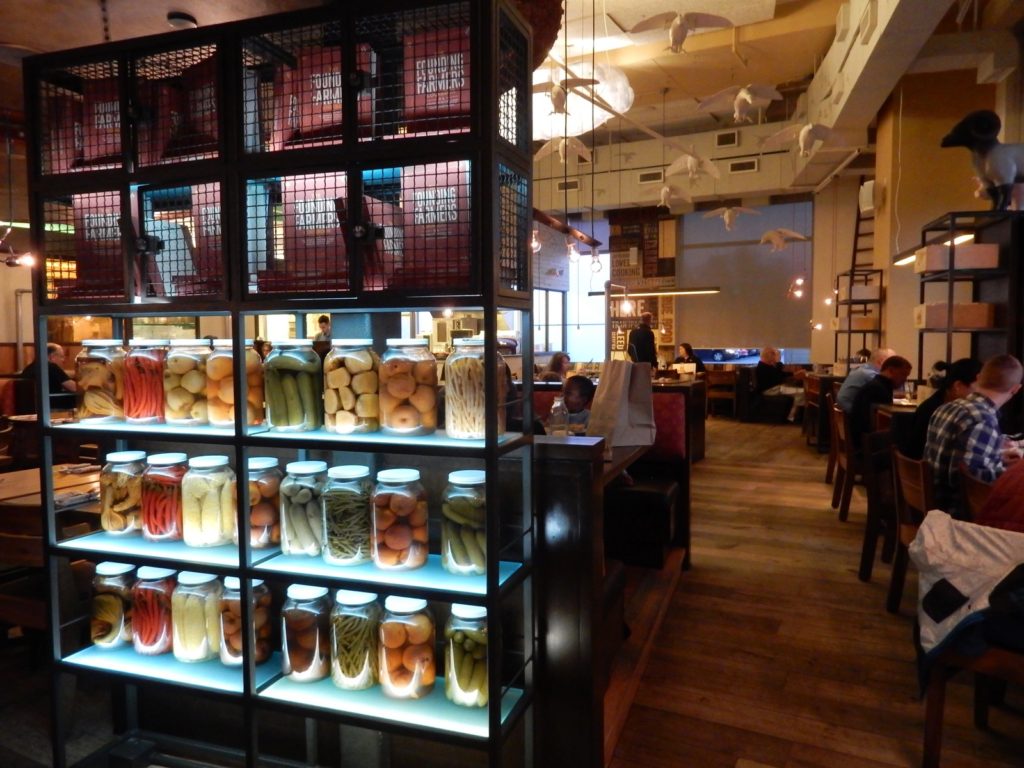 Everything's made from scratch in this farmer-themed restaurant, including the sodas – called "Rickeye's" here. There's all manner of burgers, flatbreads, greens, and Southern comfort foods, of course. But Founding Farmer's claim to fame is Spatchcock Chicken ($17), a quarter bird quick-roasted in an 800 degree oven, which keeps the meat moist and the skin crackly. Scrumptious.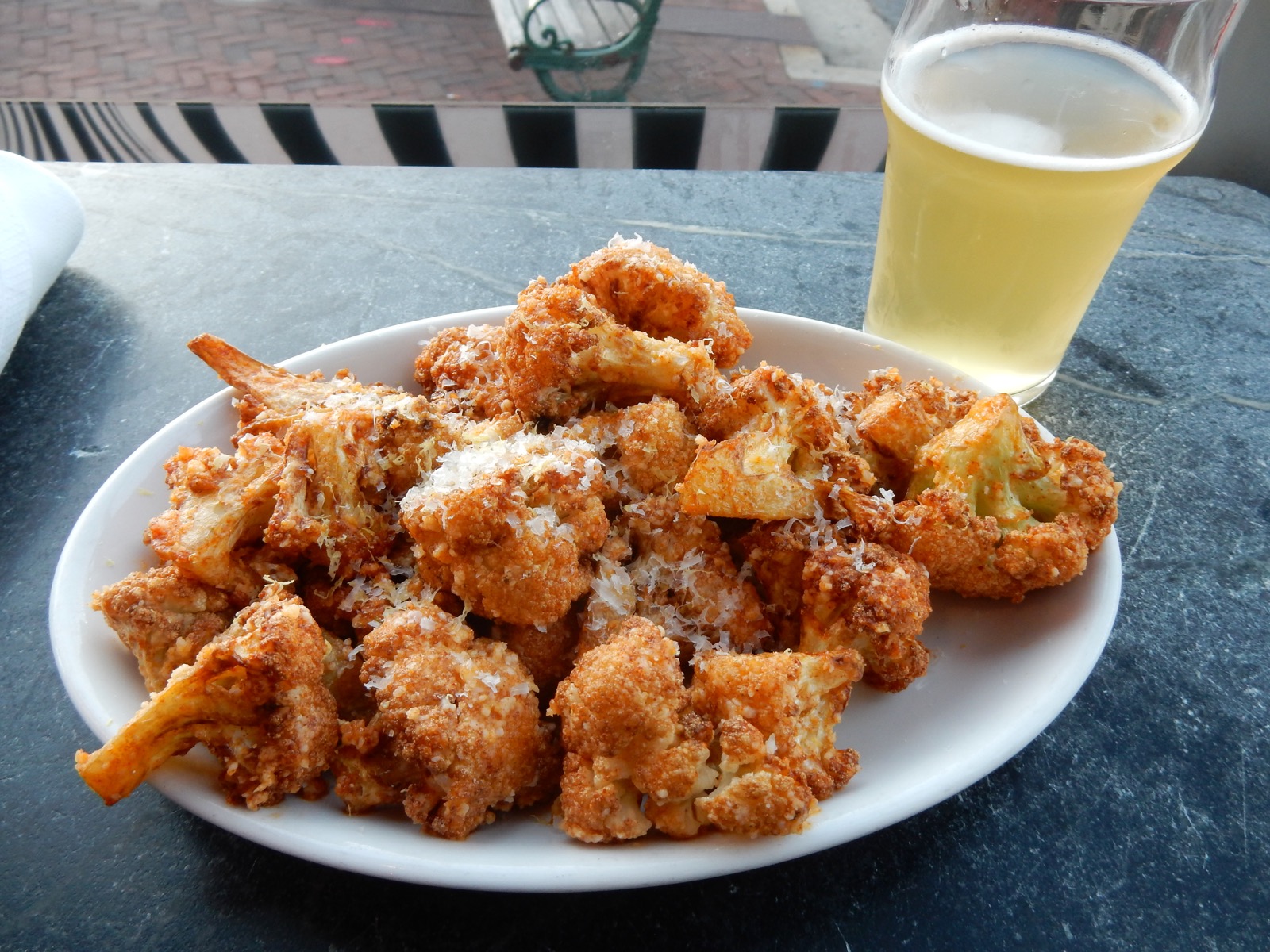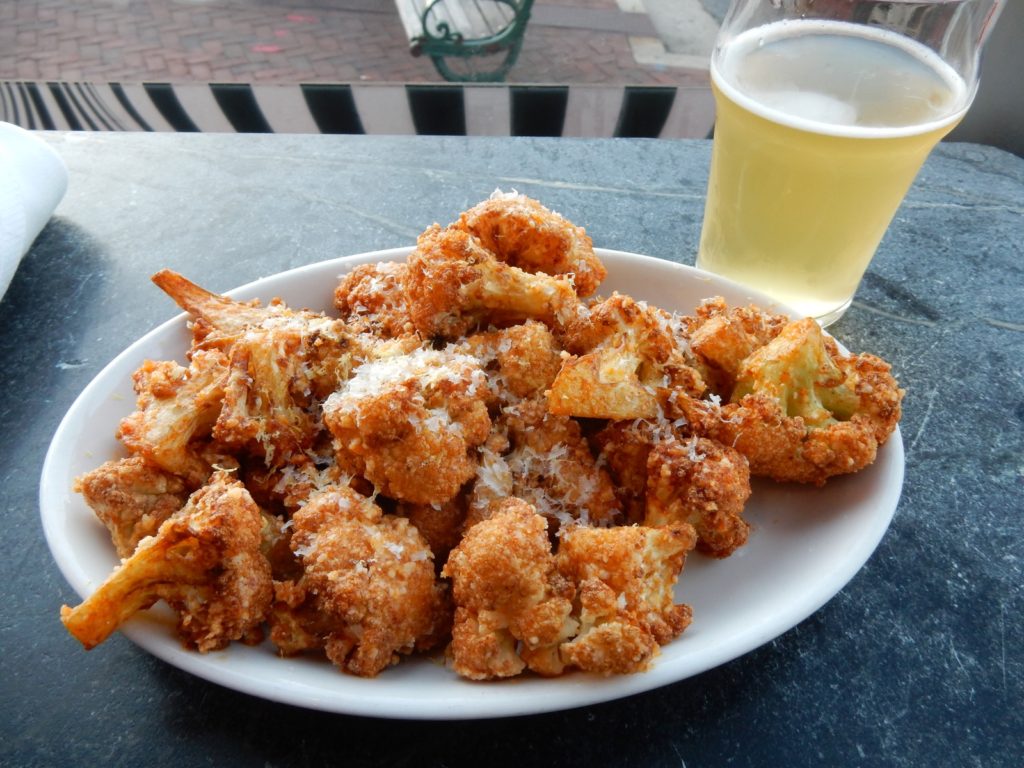 I can't wait to get back to this hipster bar/grill for the decidedly un-greasy upscale bar-food, like the Roasted Spiced Cauliflower ($9) and Tempura Green Beans ($9) – the perfect accompaniments to $4 craft beer during Happy Hour. Locals also love Mark's Kitchen – right across the street for breakfast and excellent vegan cuisine.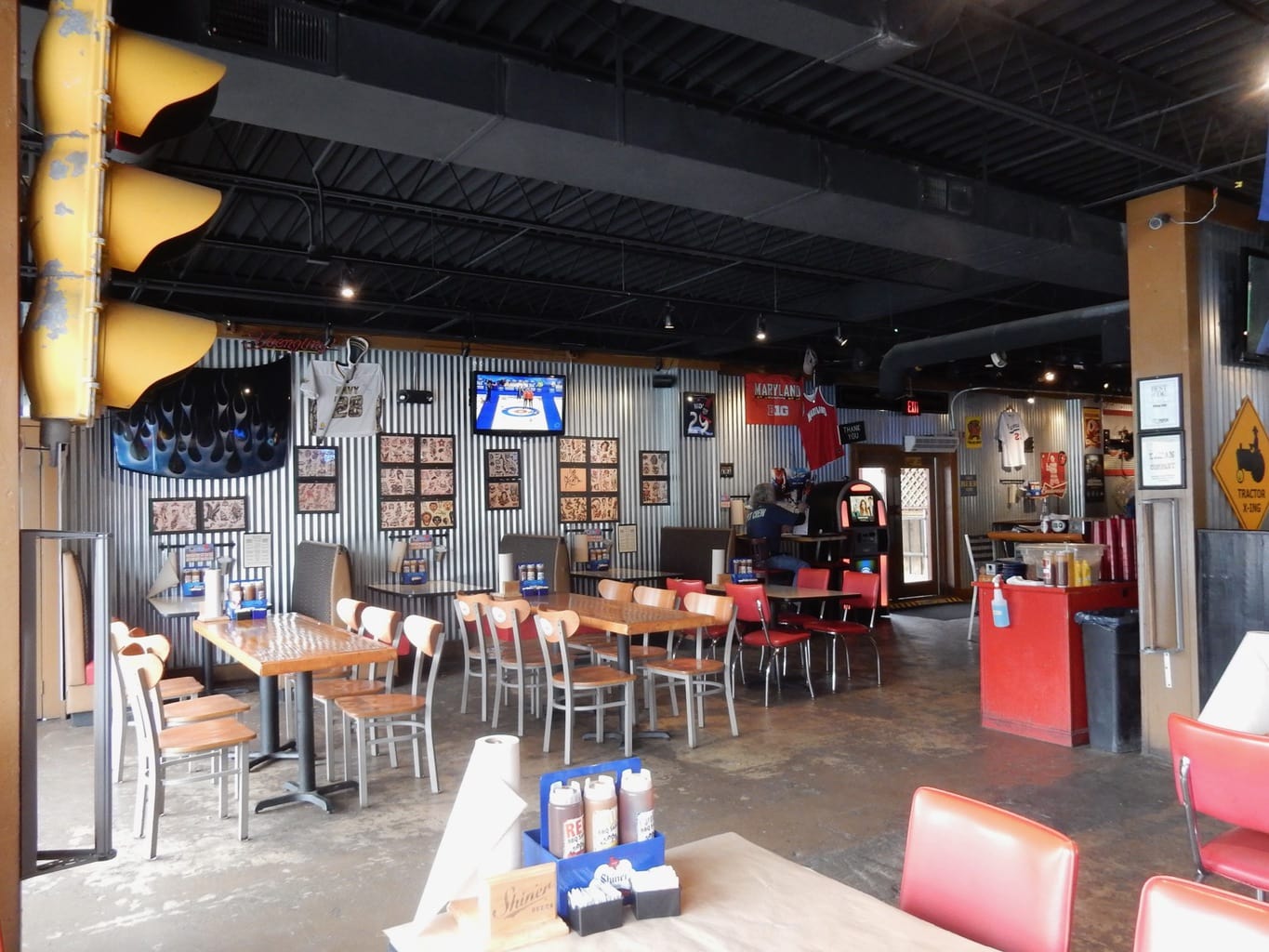 A "mostly MD" franchise, Urban BBQ has its fans. Especially those who rave about the signature "Soul Rolls" – beef brisket, caramelized onions, and three cheeses wrapped up like an egg roll.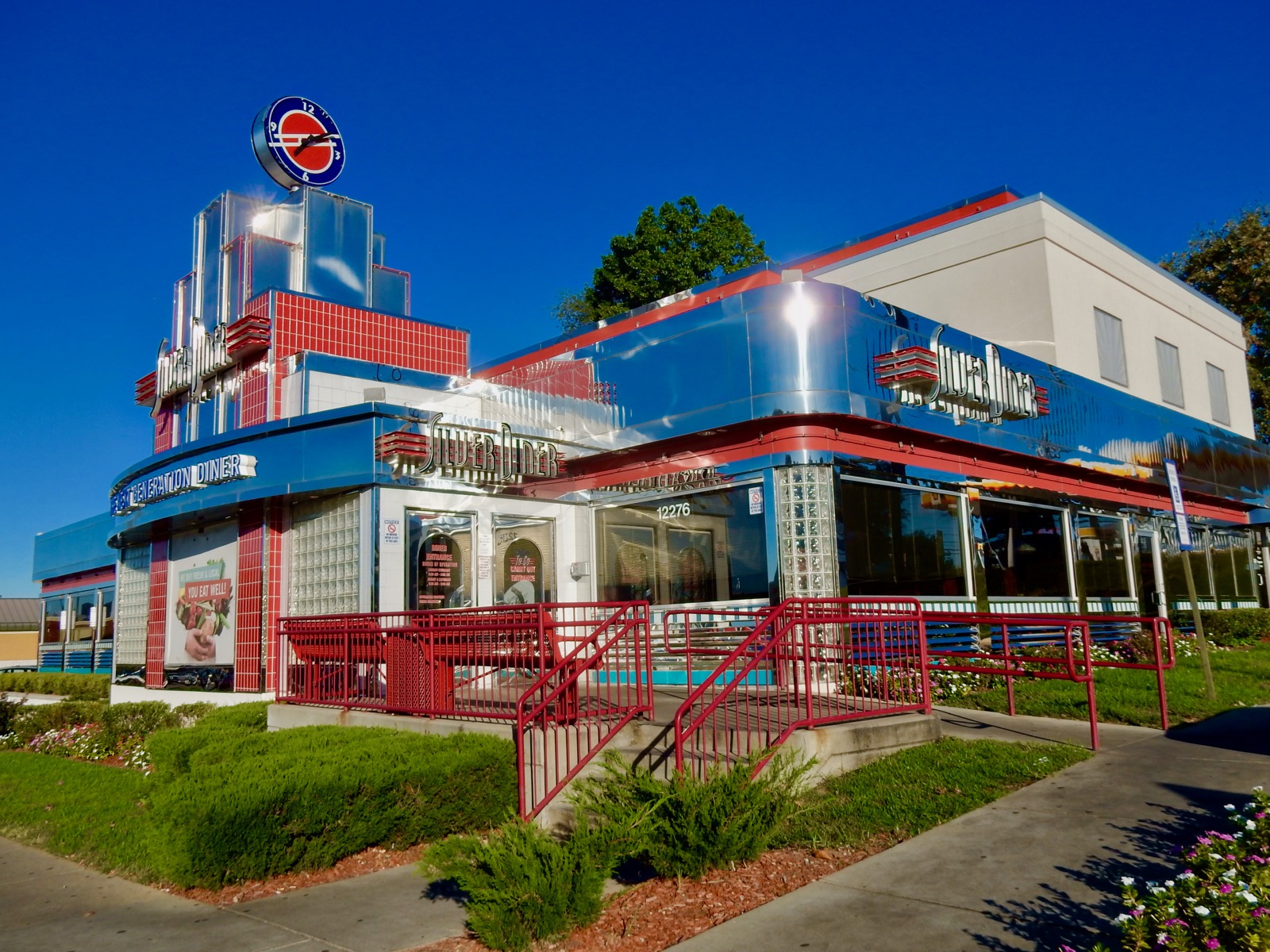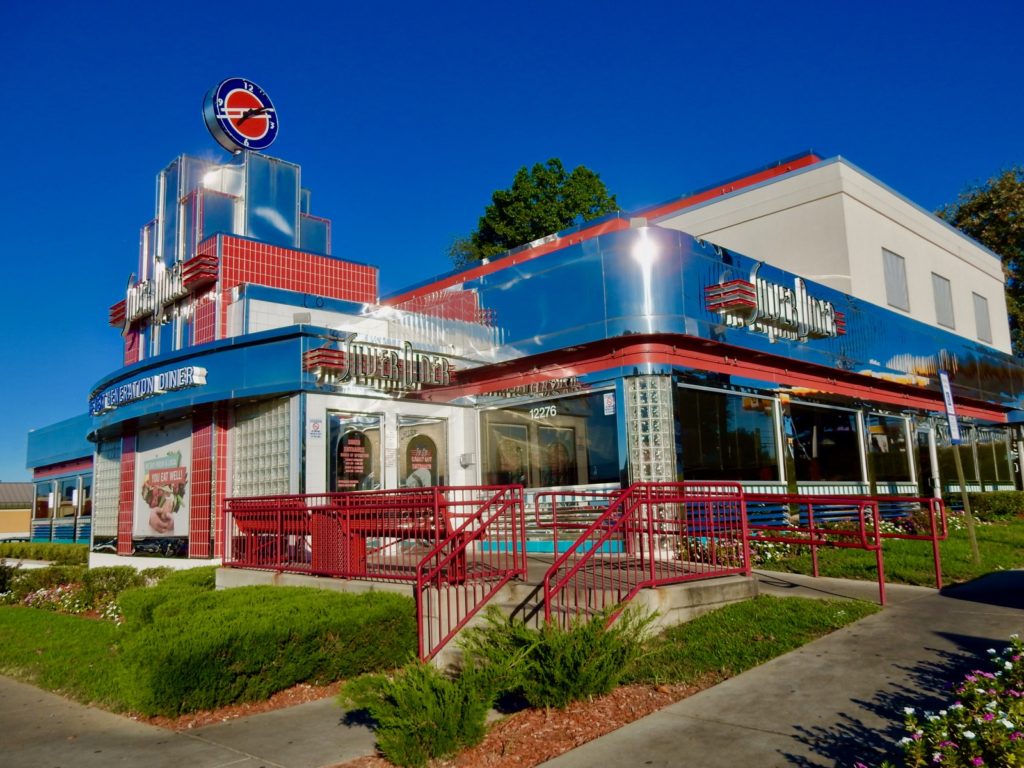 EAT/BREAKFAST: Silver Diner, Rockville, Montgomery County MD
It's a chain, but a good one, with 40's era décor, and twists on traditional breakfast food. Try the Coconut French Toast and perfectly cooked Egg White Omelets.
Hotels in Montgomery County MD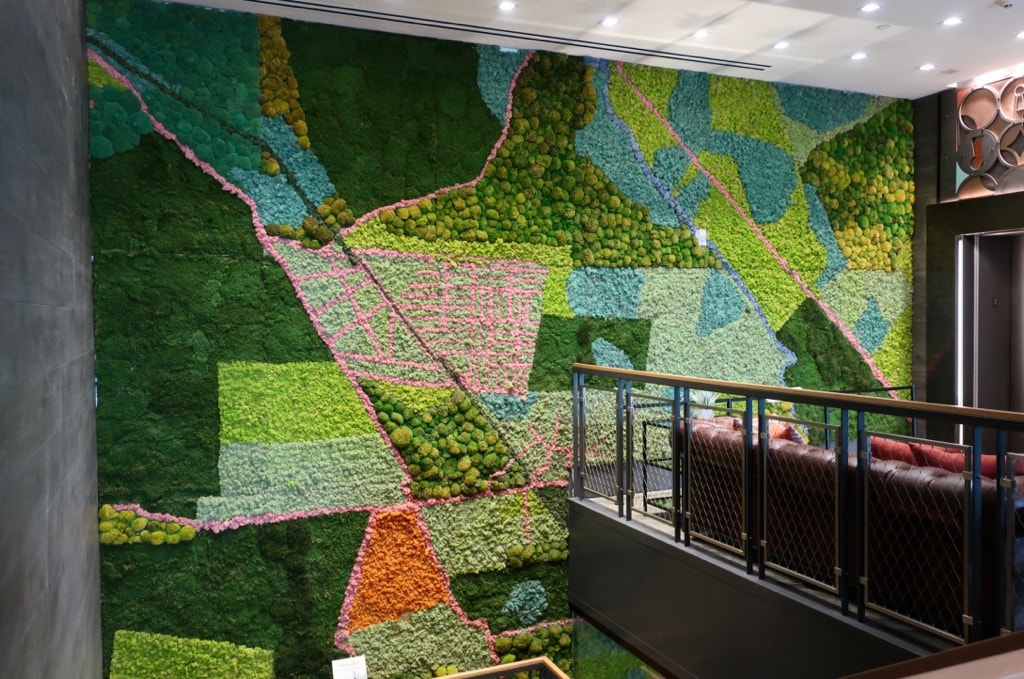 STAY: Canopy Hotel Pike and Rose
Found in our Bethesda and Pike and Rose post.

Lobby Cambria Hotel and Suites Rockville Town Square MD
STAY: Cambria Hotel & Suites, Rockville Center
Once catering to a mostly corporate and government clientele, Cambria – the higher end choice of the Choice Hotel Group – is transitioning of late from a limited to full service lodging.
This Cambria is just two blocks from the Rockville Metro Stop and a great alternative to more expensive options in Washington DC, a 25 minute metro-ride away. Plus, overnight parking here is relatively cheap – just $15 per 24 hours.
The stylish lobby – in hues of brownstone and desert – serves as a popular gathering place. There's plenty of seating and outlets for laptops. Sunlight, pouring through floor to ceiling windows, reflects off a curved separation wall of sparkly quartz.
First Impressions of Cambria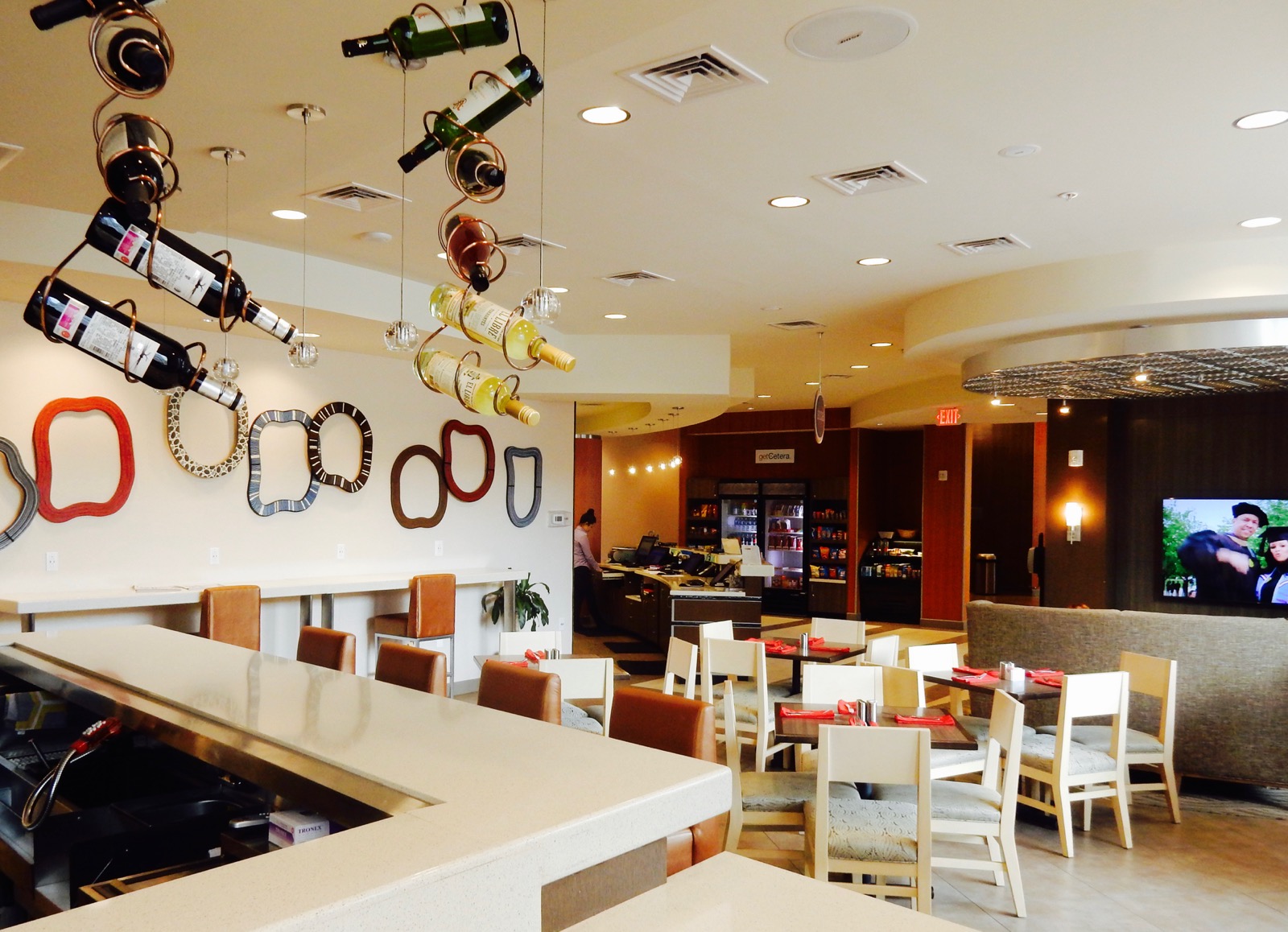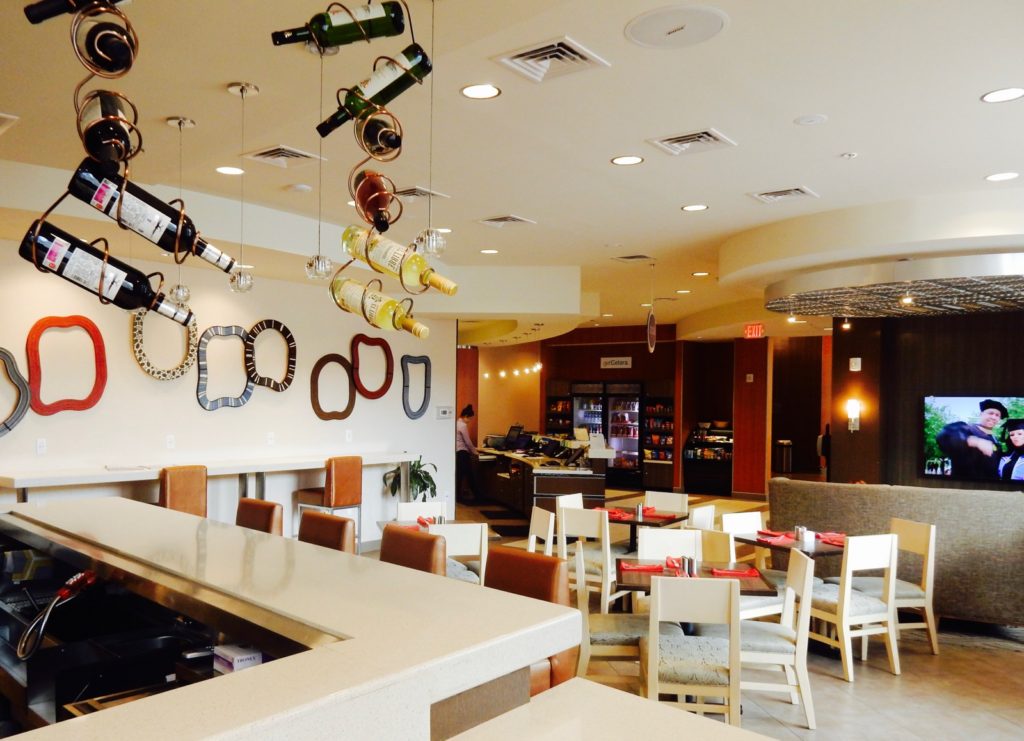 The ground floor also features a café that offers "Fun, Fresh, and Familiar" fare – a $15 all you can eat buffet breakfast. Later in the day, find upscale pub food like sliders and mac & cheese with local craft beer and wine.
There's a Get Cetra "grab and go" section offering yogurt, granola, salads, and other healthy options in case you don't want a whole meal, which you can bring back to your room to store in the refrigerator or heat up in the available microwave.
Guest Rooms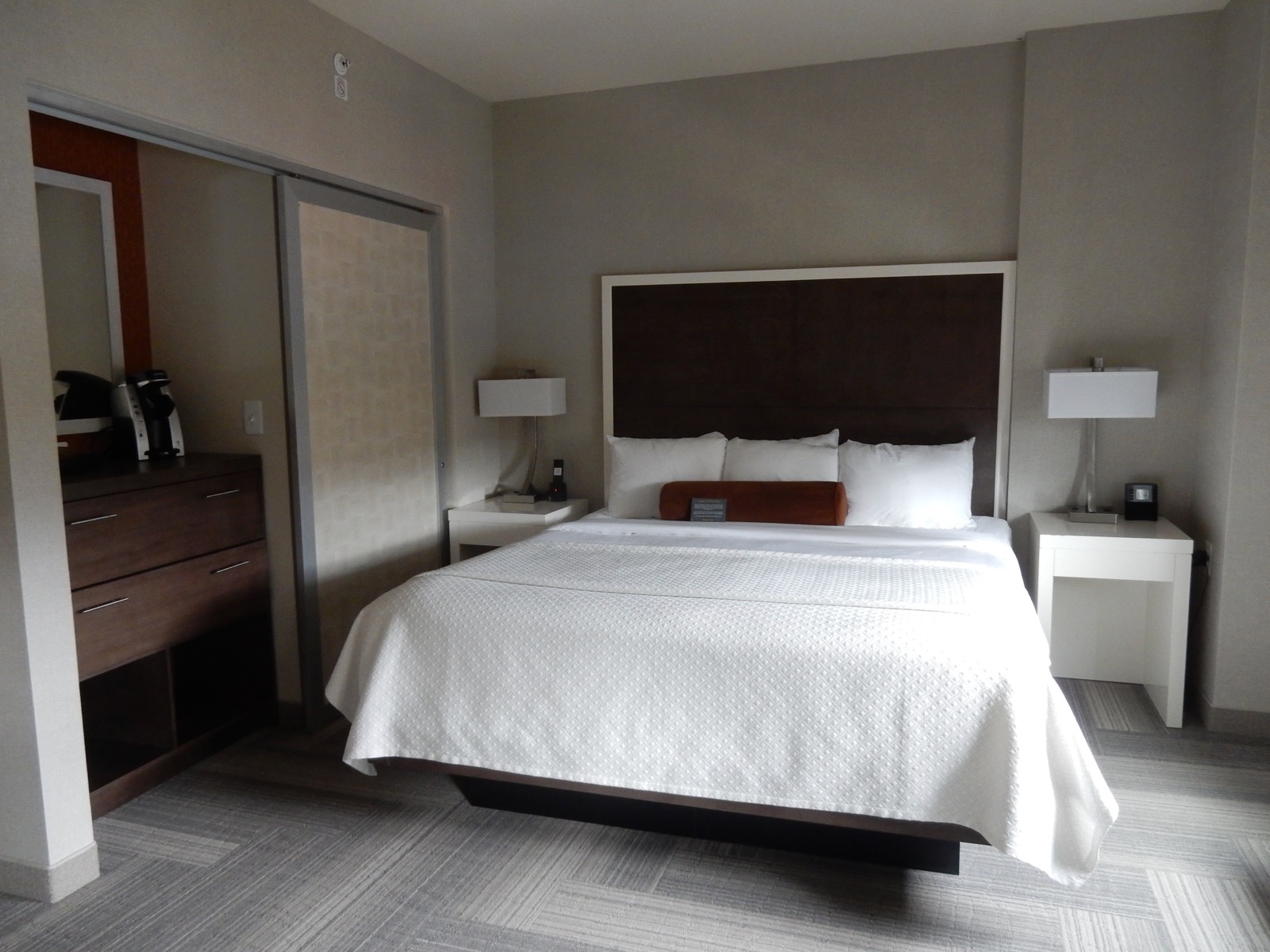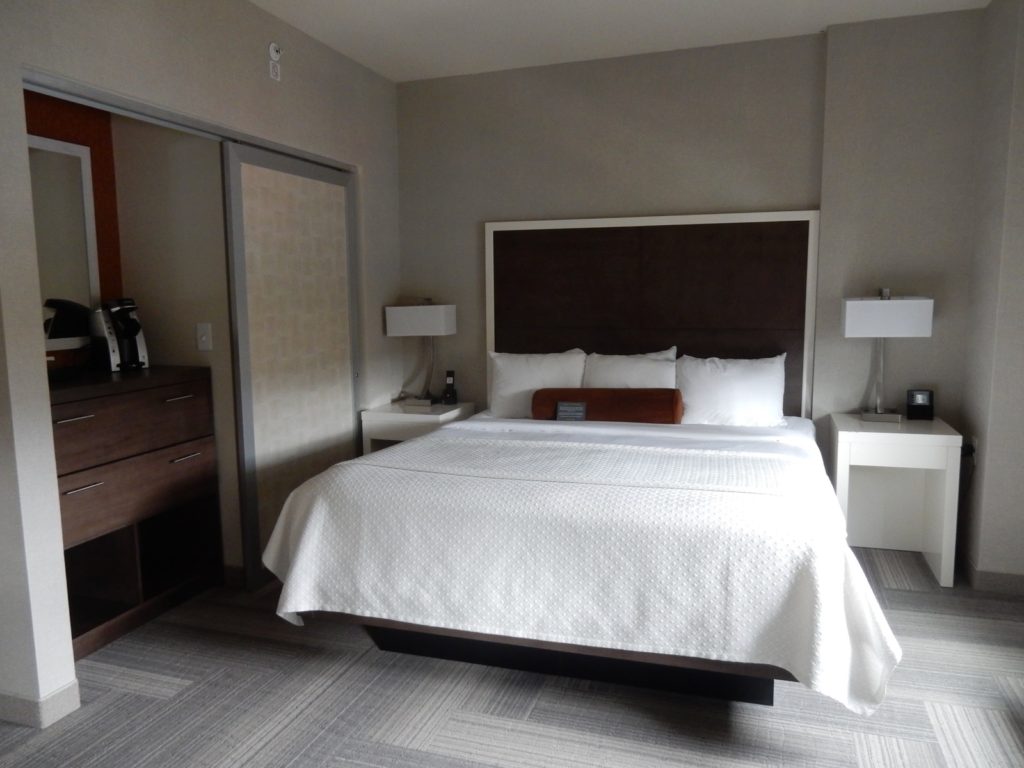 The smallest guest rooms, in neutral woodsy colors, are a spacious 320 sq feet. Though not opulent, they are upscale in the ways that count: black out shades, lots of drawer space, Keurig coffee makers, and electrical outlets on bedside tables.
Floating platform beds are dressed in ultra-comfy sheets and duvets. Bathrooms are sleek and large, with ample lighting, counter space – and double glass rain shower.
All guest rooms were installed on only one side of each corridor to minimize noise. Ice, soda, and snacks are available on every one of eight floors.
And for all of those explorers who land here after a few days on the road, you'll be happy to find complementary washer/dryers (purchase soap downstairs) – a nice perk.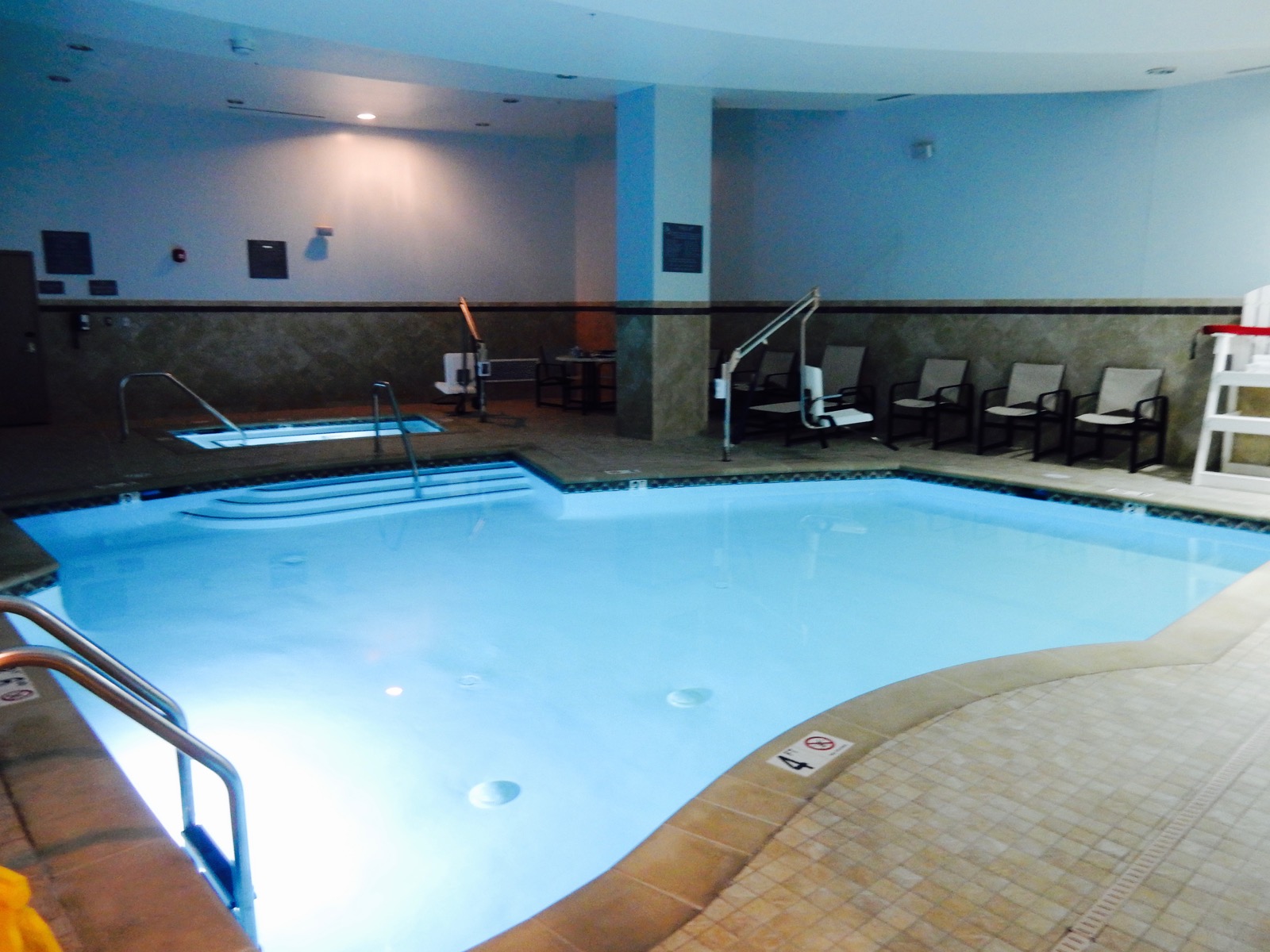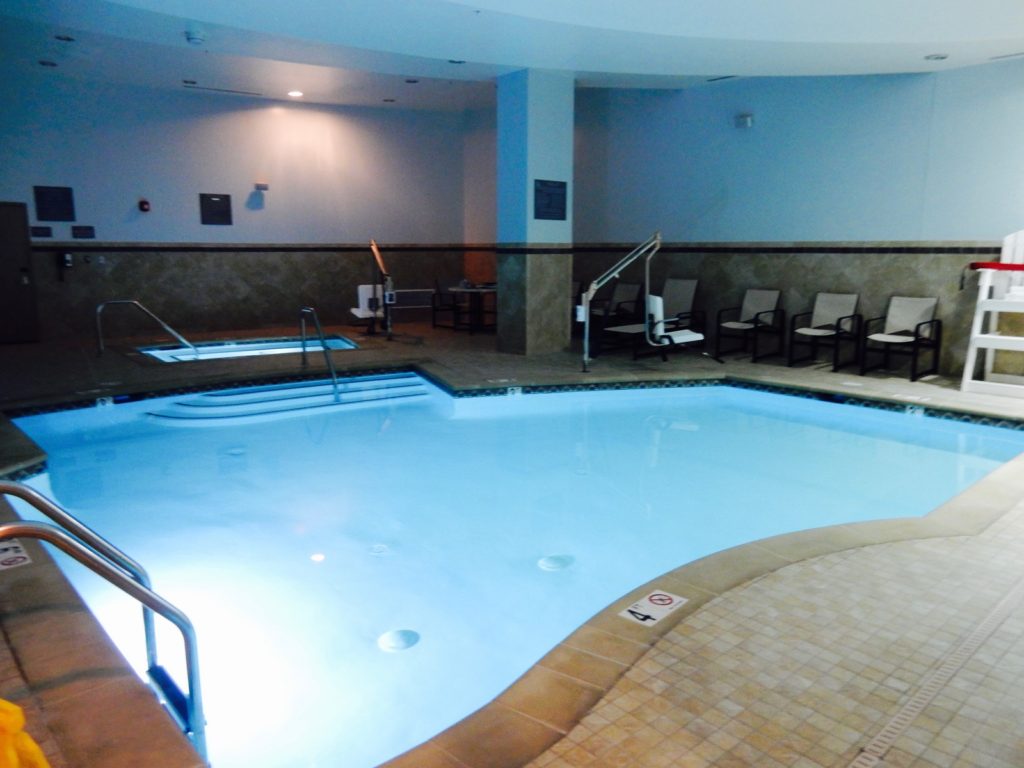 Add to all this an indoor pool, extensively furnished fitness room, and multi-plex cinema right outside the front door, and you'll be surprised to find that room rates start at $109 per night – through $399 per night in season for the largest 450 square feet Tower Rooms.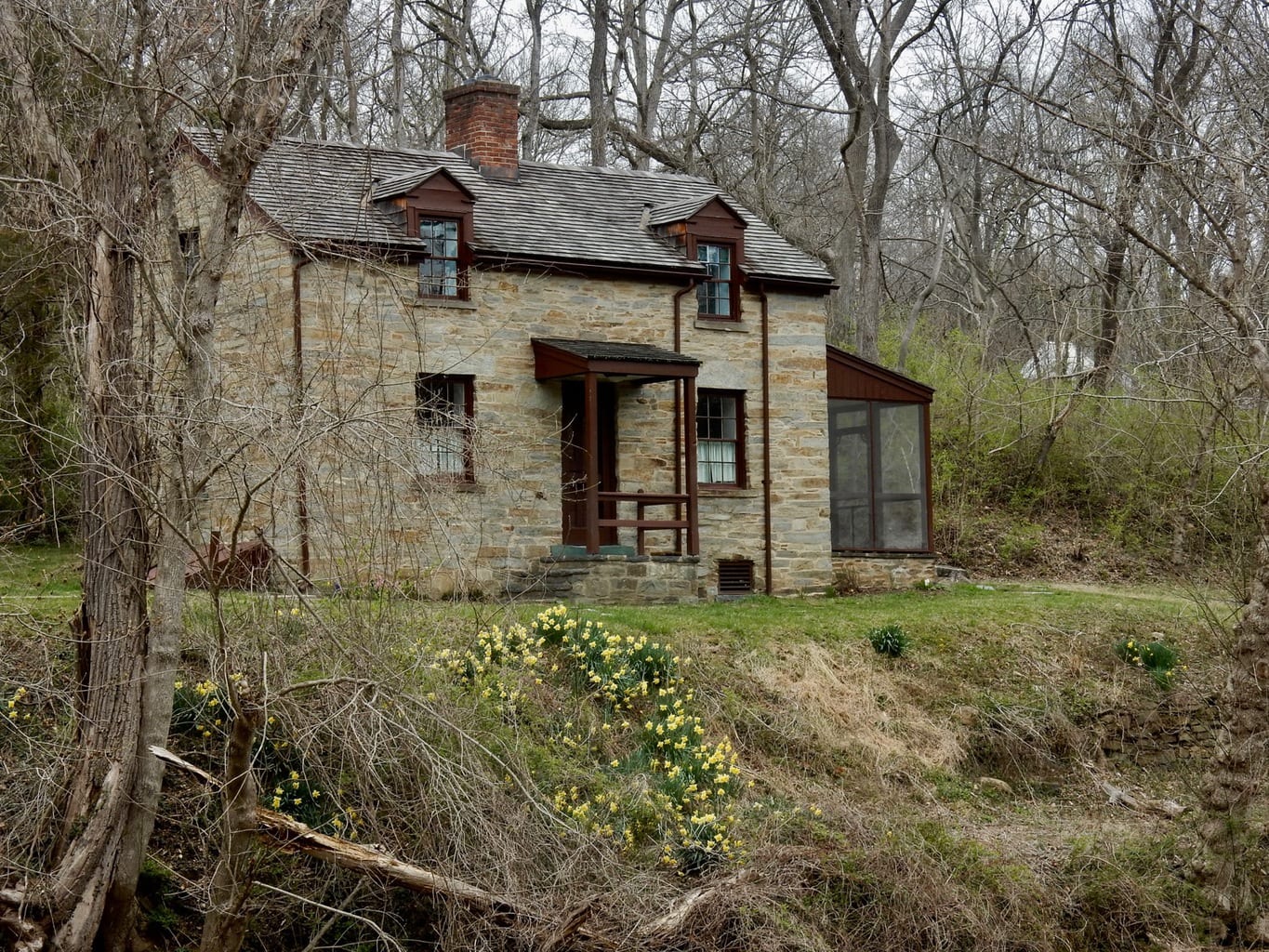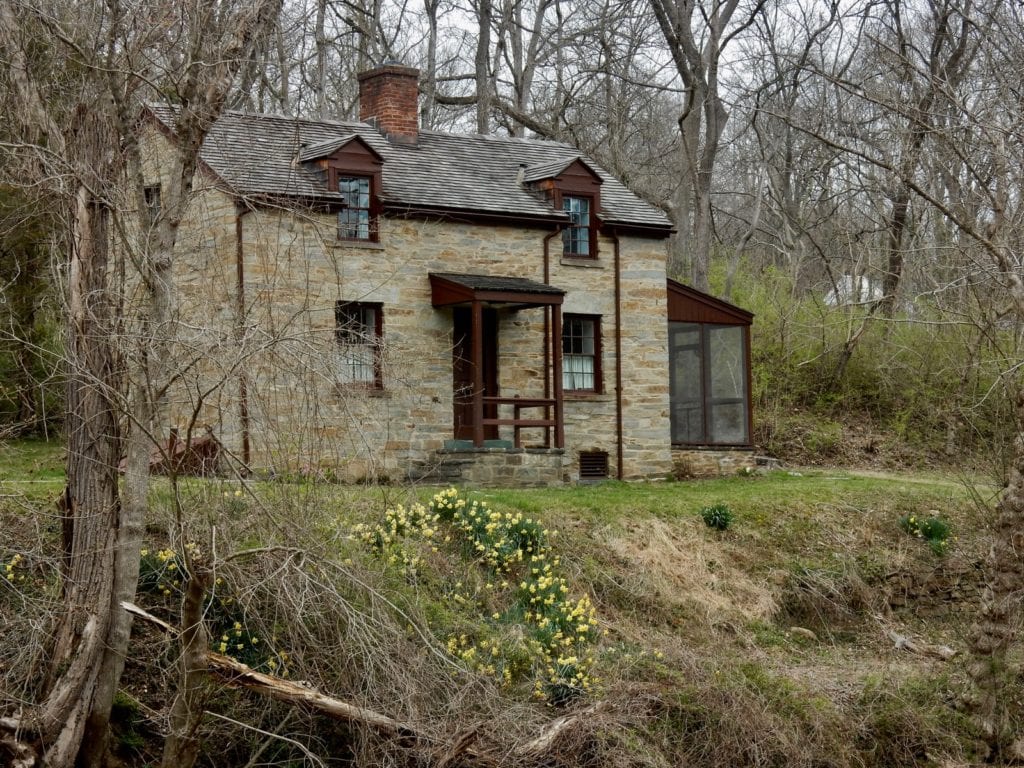 The C& O Canal Quarters program has welcomed over 18,000 guests in seven restored buildings on the 184.5-mile C&O Canal to "Experience the life of a lock-tender" since Lock House #22 opened in 2009. A stay at the two-story renovated Lock House #10 right on the popular Canal bike trail is a win-win for all.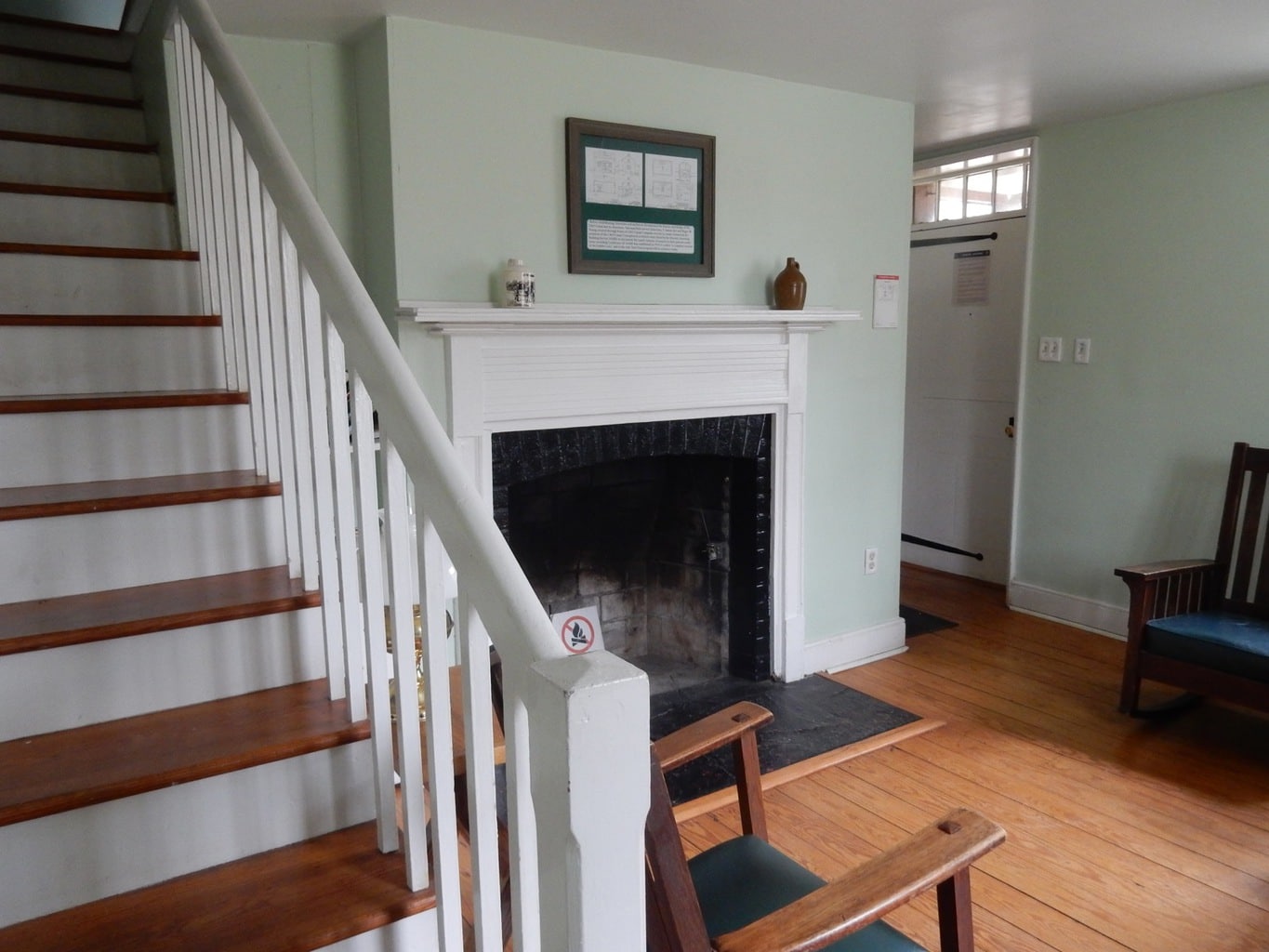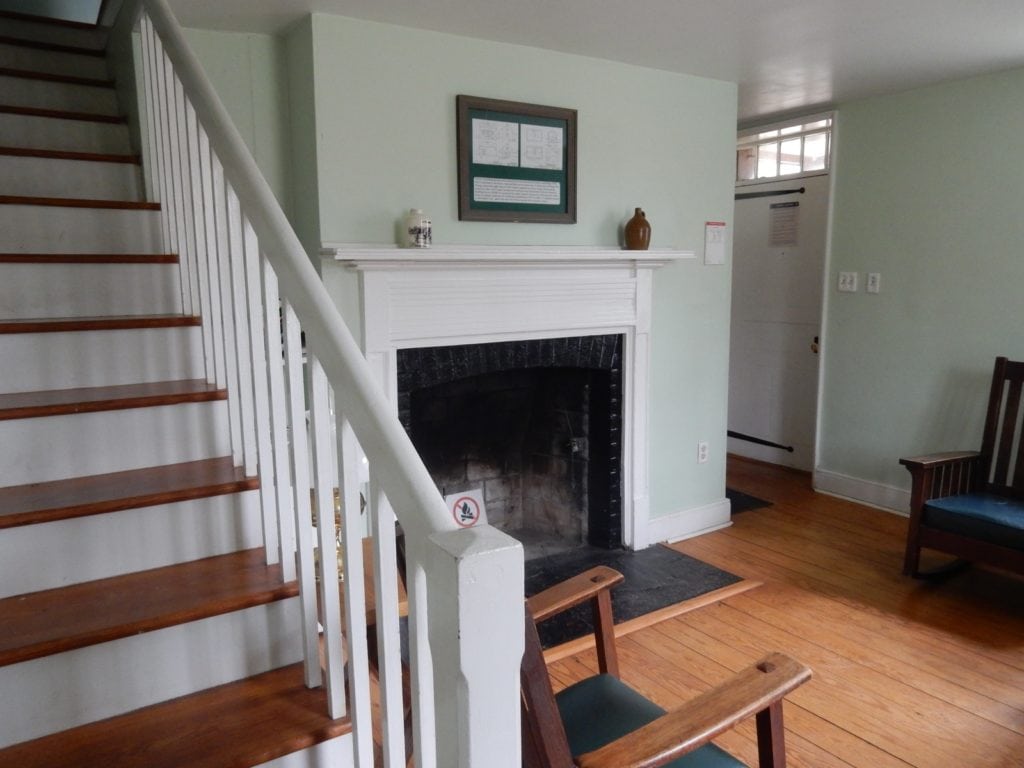 Interpreted to look like it did in the 1910's and 20's, with room for 6-8 people in two spare bedrooms, and including a bathroom, kitchen, screened in porch and fire-pit, it's an upgrade from the more rustic "stone tent" lock-houses along other parts of the canal path.
Your $160 per night rate benefits the C&O Canal Trust, which has been restoring these pieces of history ever since it was established. No internet, no TV, bring towels and sheets. RSVP 6 months in advance.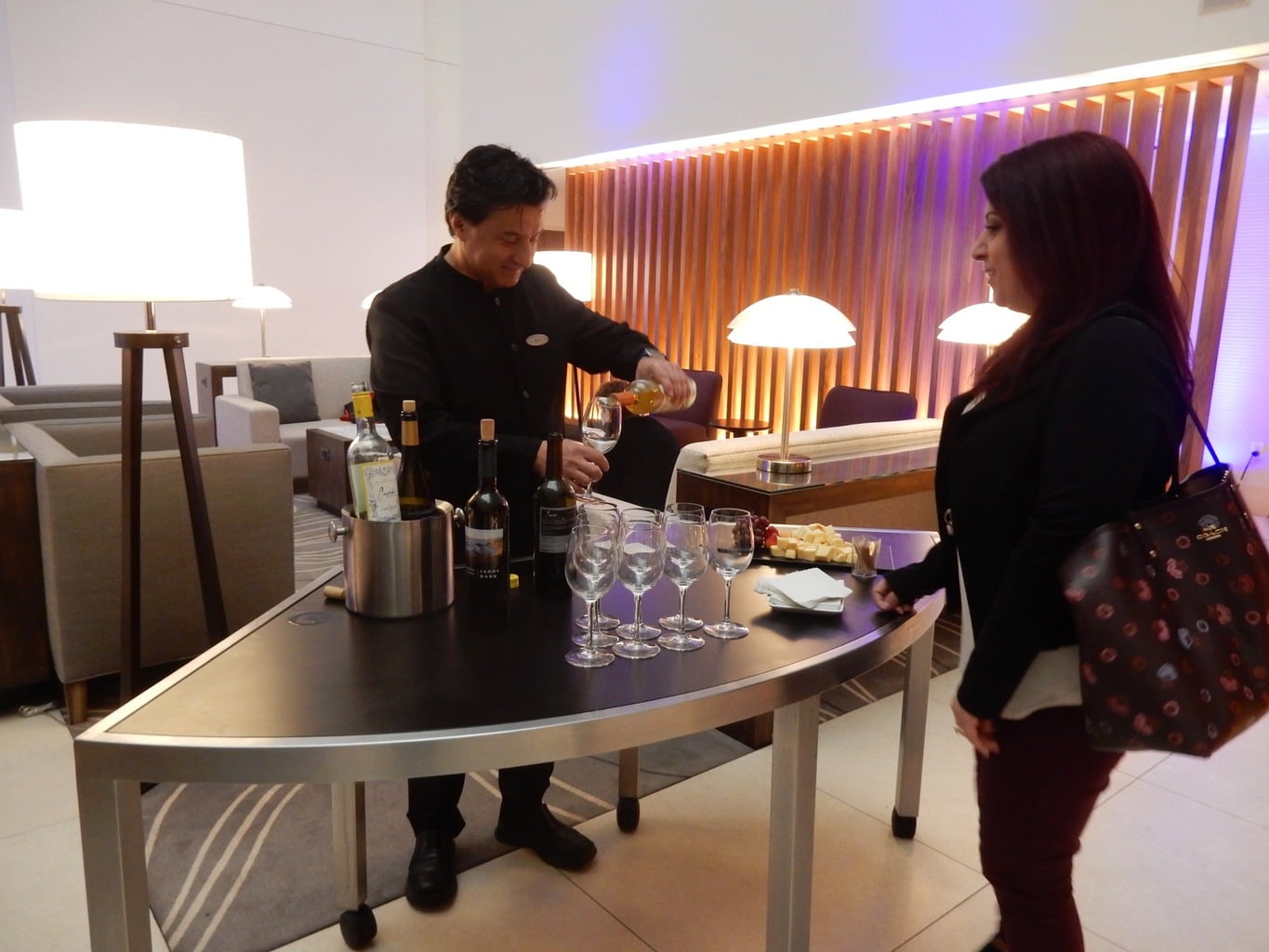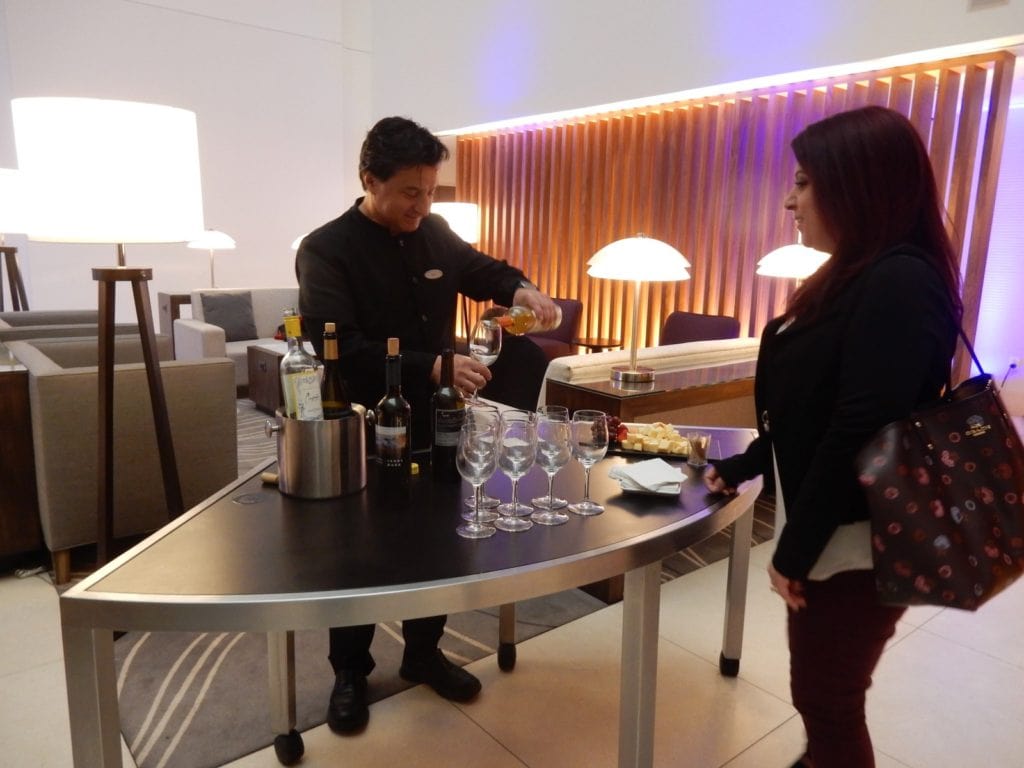 STAY: Hyatt Regency Bethesda
Built in 1985 ("where there was nothing out here"), perched atop a Red Line Metro stop, and now newly revived (after a $40 million renovation in November 2017), the Hyatt Regency Bethesda is once again the best place to stay for luxury weekend travelers who don't want to deal with the hassles (or price) of driving and parking in Washington DC.
With the Metro Station right downstairs, it takes less than 20 minutes to get to downtown DC. On weeknights, there's a "Welcome Wine and Cheese," and on Wednesday nights a Manager's Reception with wine, beer and small bites.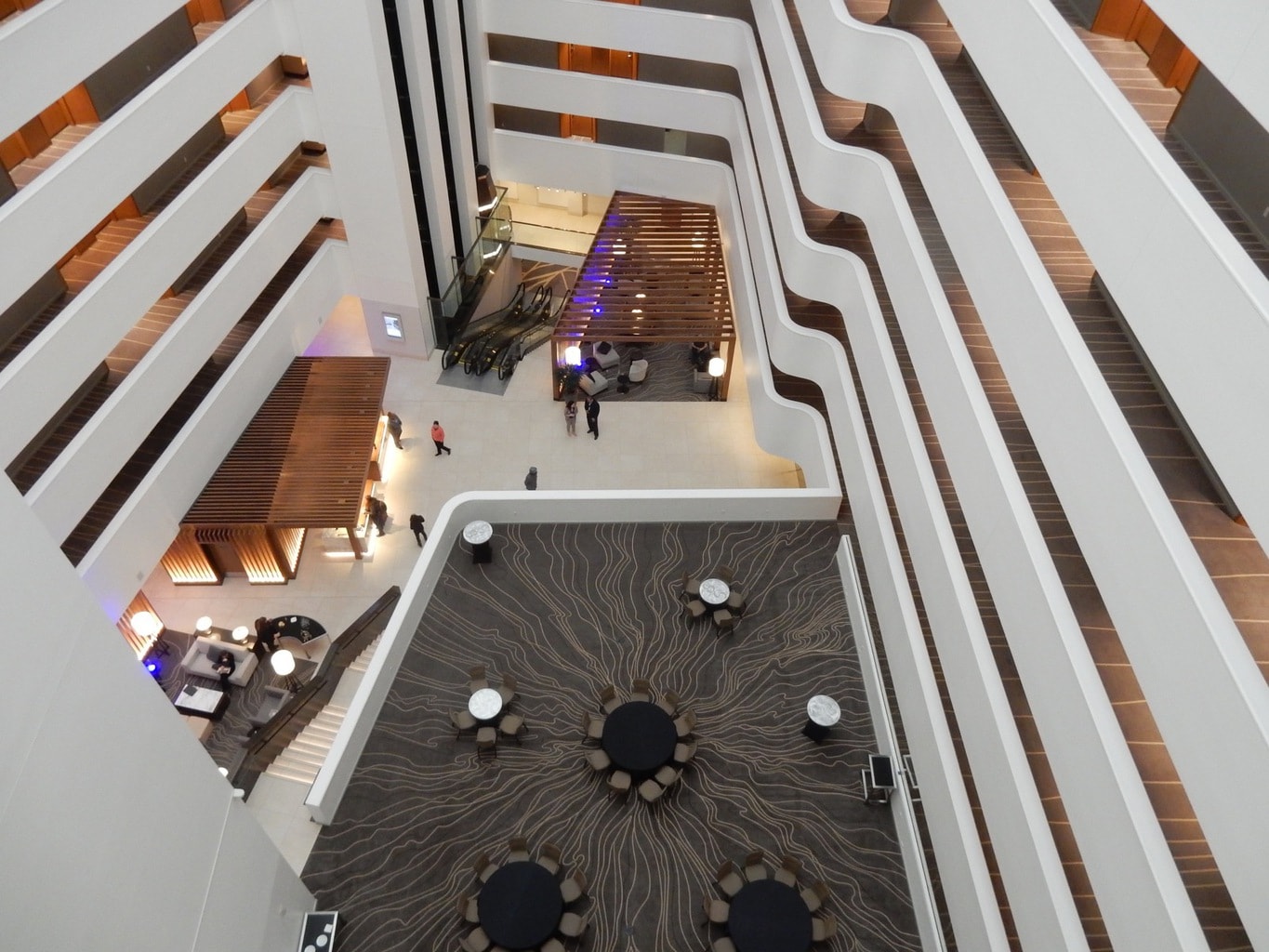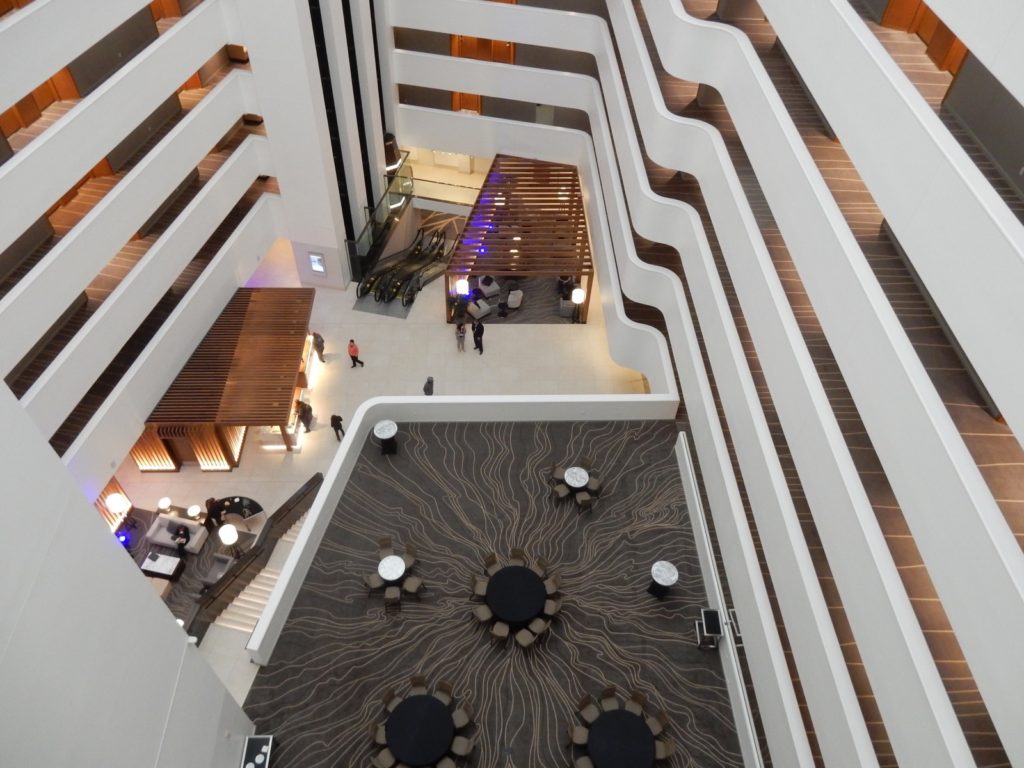 The lobby is Hyatt-soaring, with trademark center atrium reaching to the stars, and all 390 guestrooms are handsome and tidy: nice havens for both the corporate and leisure traveler.
Plus, the hotel is within steps of over 200 restaurants, boutiques, galleries, and theaters in the adorable Bethesda Arts and Entertainment District. Rates $99-$149 weekends, $209-$300+ during the week, with parking $18 weekends and $22 weekday nights.
Looking for more weekend getaways near Washington DC? The Getaway Mavens has you covered.