Last Updated on September 21, 2021 by Editor
Seeing Washington DC in a day might be too much of a challenge. When the National Museum of African American History and Culture opened it became one of nineteen museums and galleries that compose the Smithsonian Institute in the District of Columbia.
You could spend a lifetime getting around to all the historic attractions in our nation's capital, but here's what to see when you're short on time.
And when you do get to return, we've got you covered with this Washington DC getaway.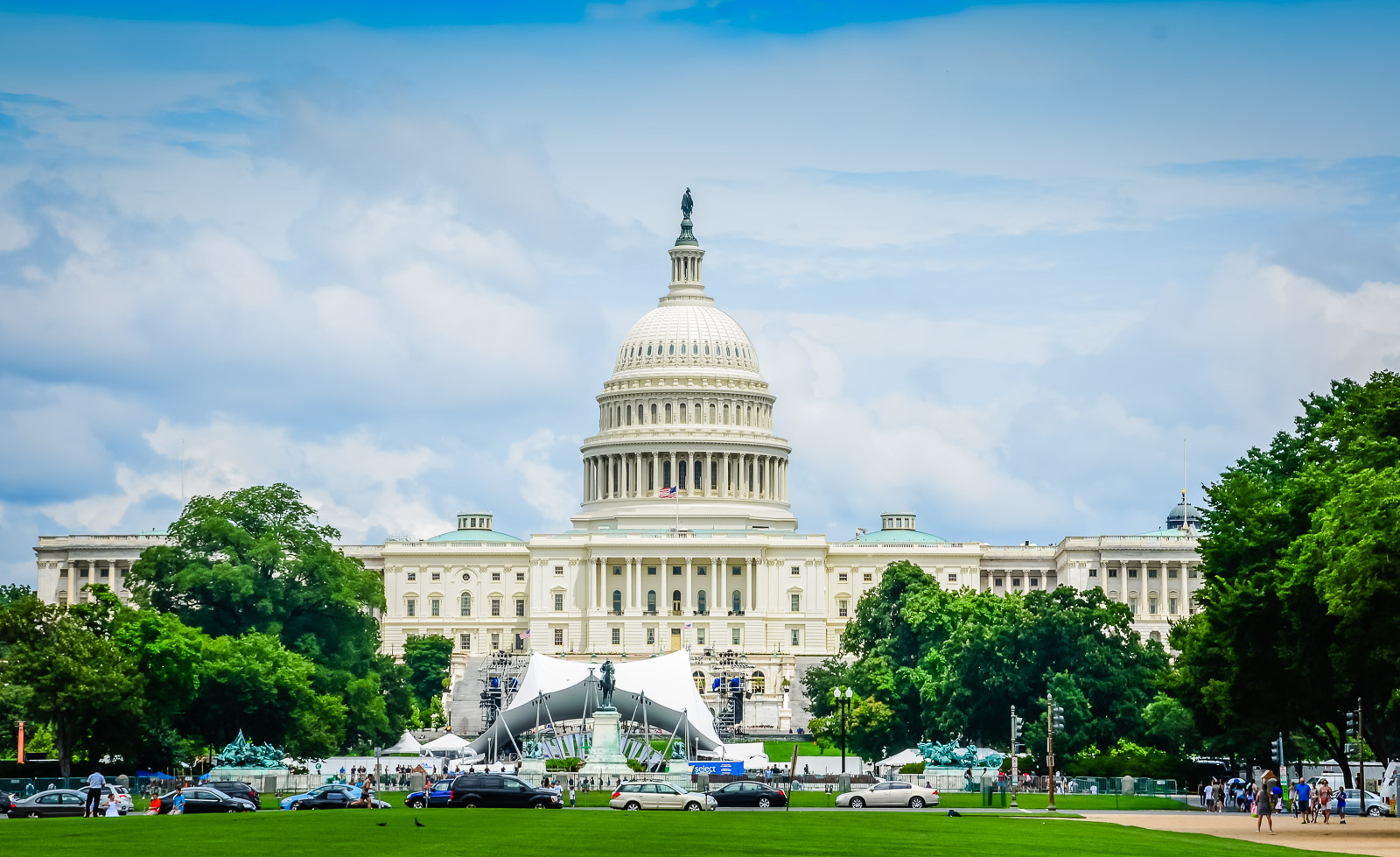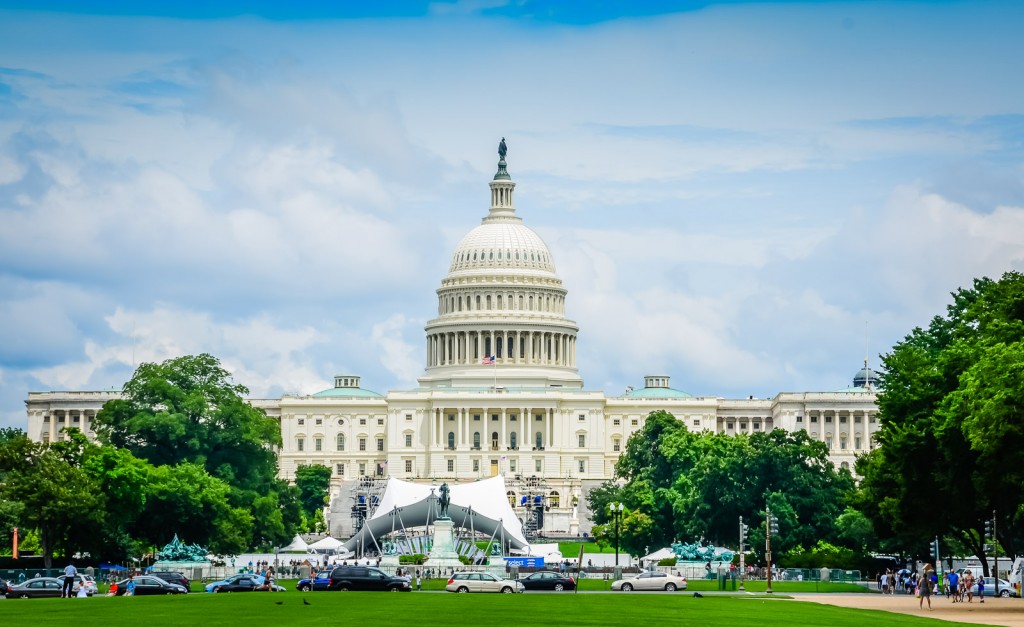 Washington DC In a Day Self-Guided Walking Tour
Even though it was late December, temperatures were surprisingly Spring-like. It was a perfect day for a walking tour. But because our party included teenagers and a sprightly near-octogenarian, we wanted to temper our enthusiasm with plenty of rest stops to fuel our not-too-ambitious plans.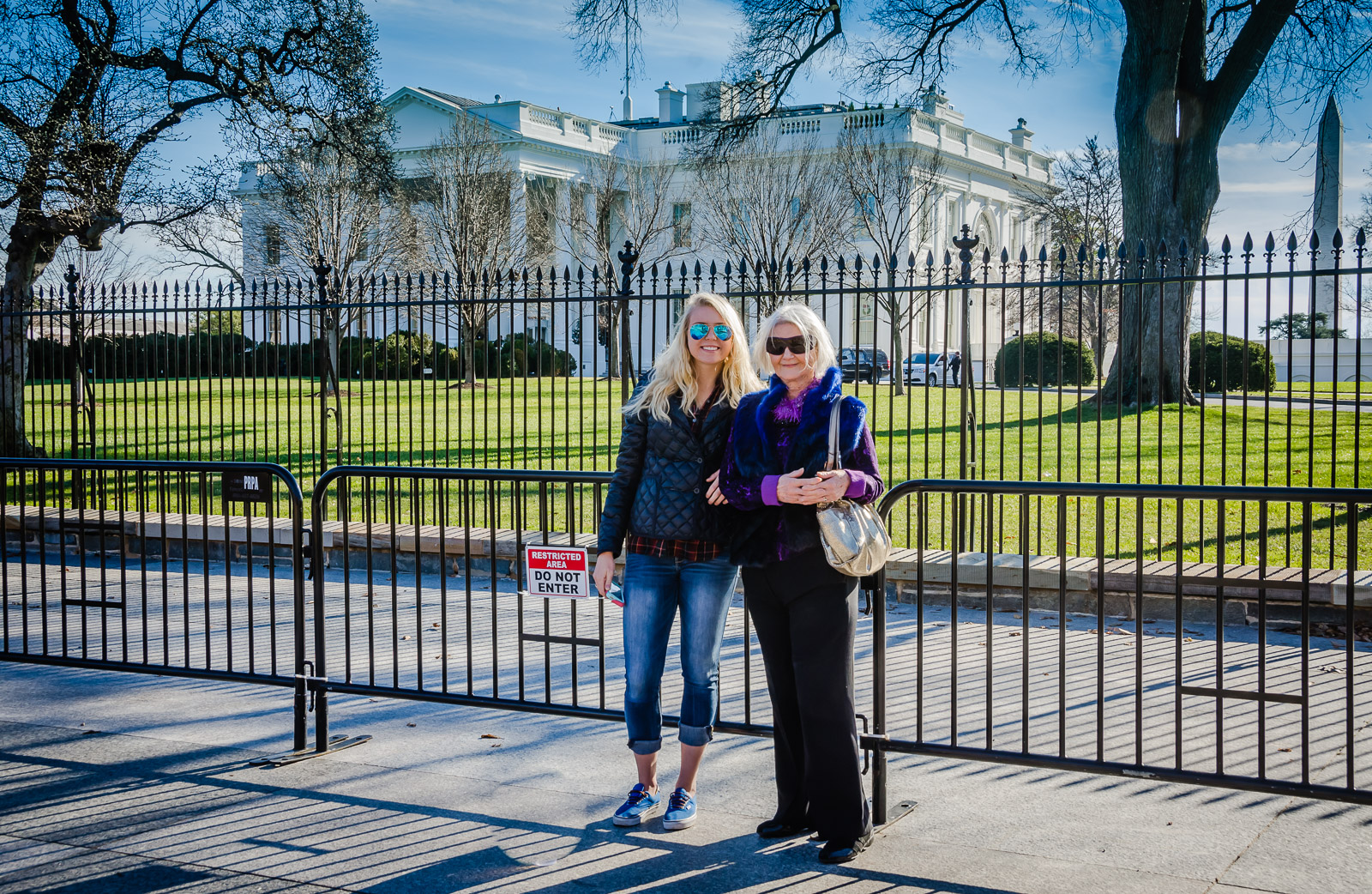 PHOTO OP: After breakfast in Georgetown, we strolled down Pennsylvania Avenue to the White House where the teenagers shot Instagram and Snapchat photos in front of the iron gates.
Both kids attended the 2009 White House Egg Roll, so this was a trip down memory lane for them. (Note that planning a White House visit is a complicated matter requiring that tour requests be submitted through one's Member of Congress.)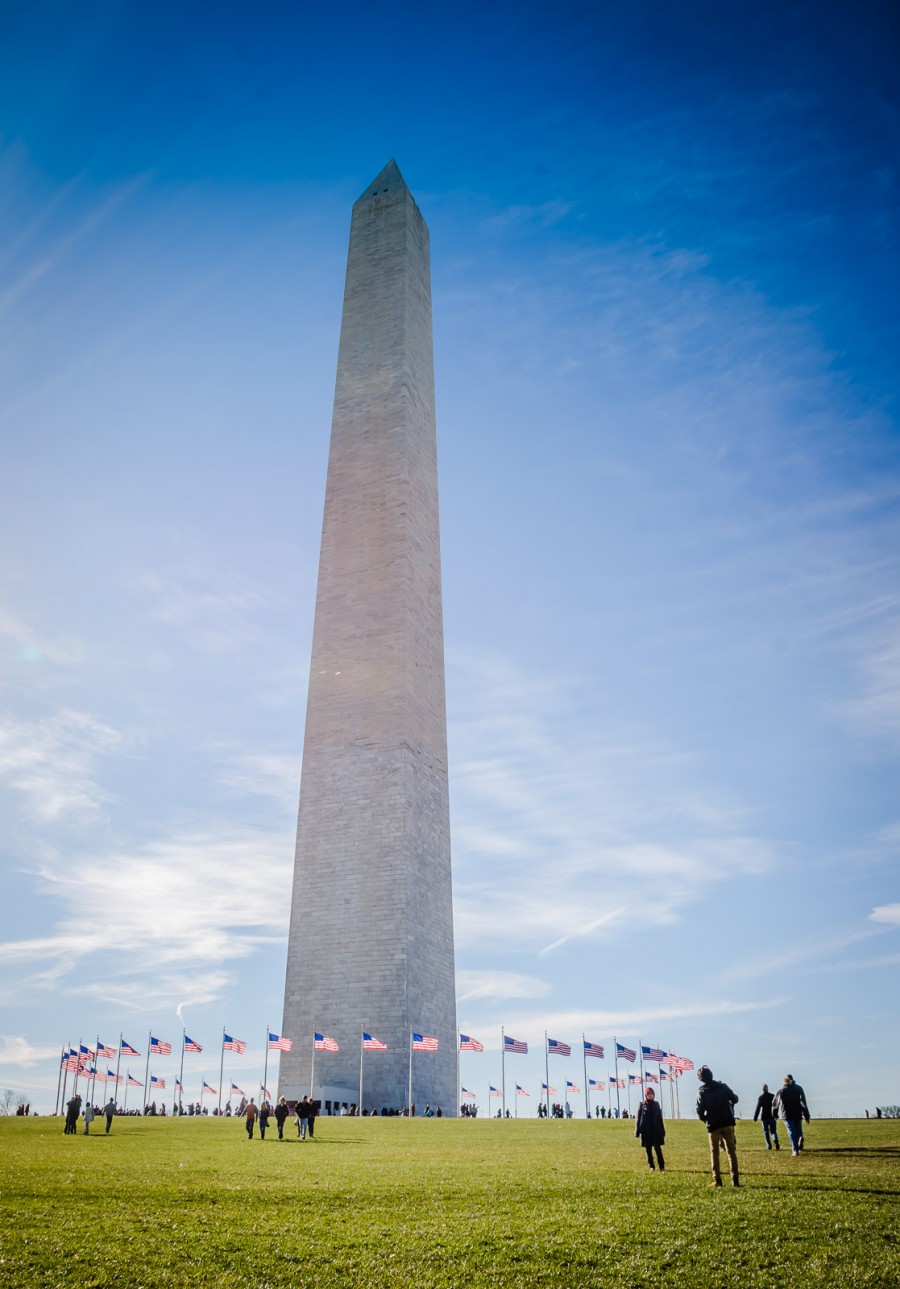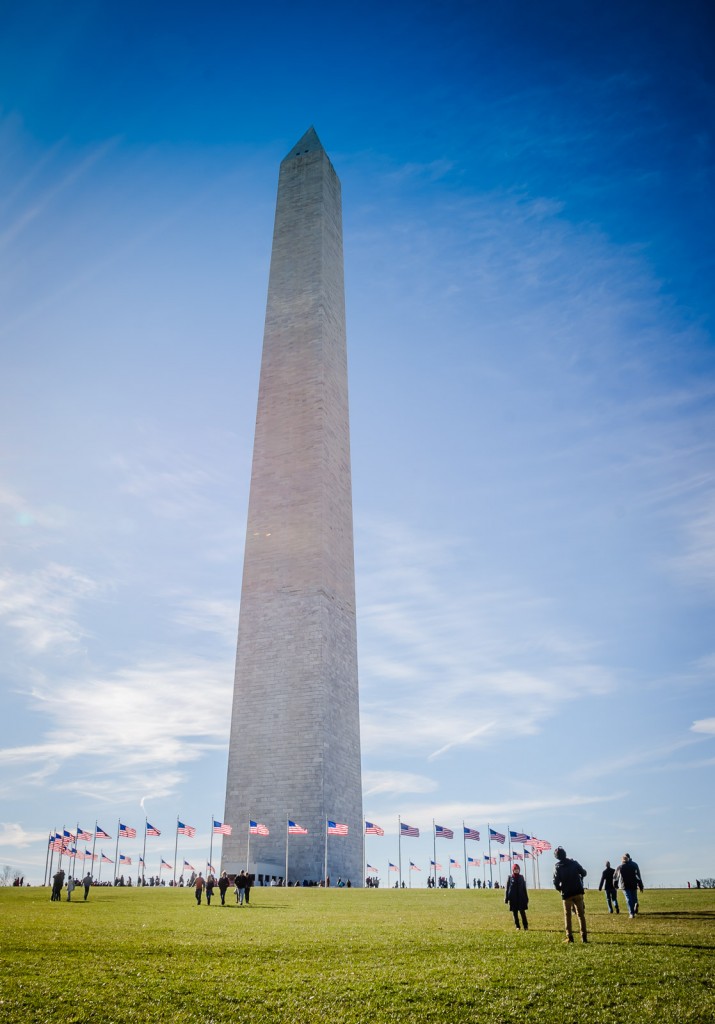 SEE: From the White House, we made a beeline for the Washington Monument at the center of the National Mall since it was clearly visible in the distance. I foolishly hoped that we could go to the top, but discovered that although tickets to the Washington Monument are available on a first come, first served basis, you have to arrive early to get them.
The park ranger recommended arriving by 8am to score tickets before tours start at 9am, but one member of the party can obtain up to 6 tickets. Tickets may also be reserved in advance online.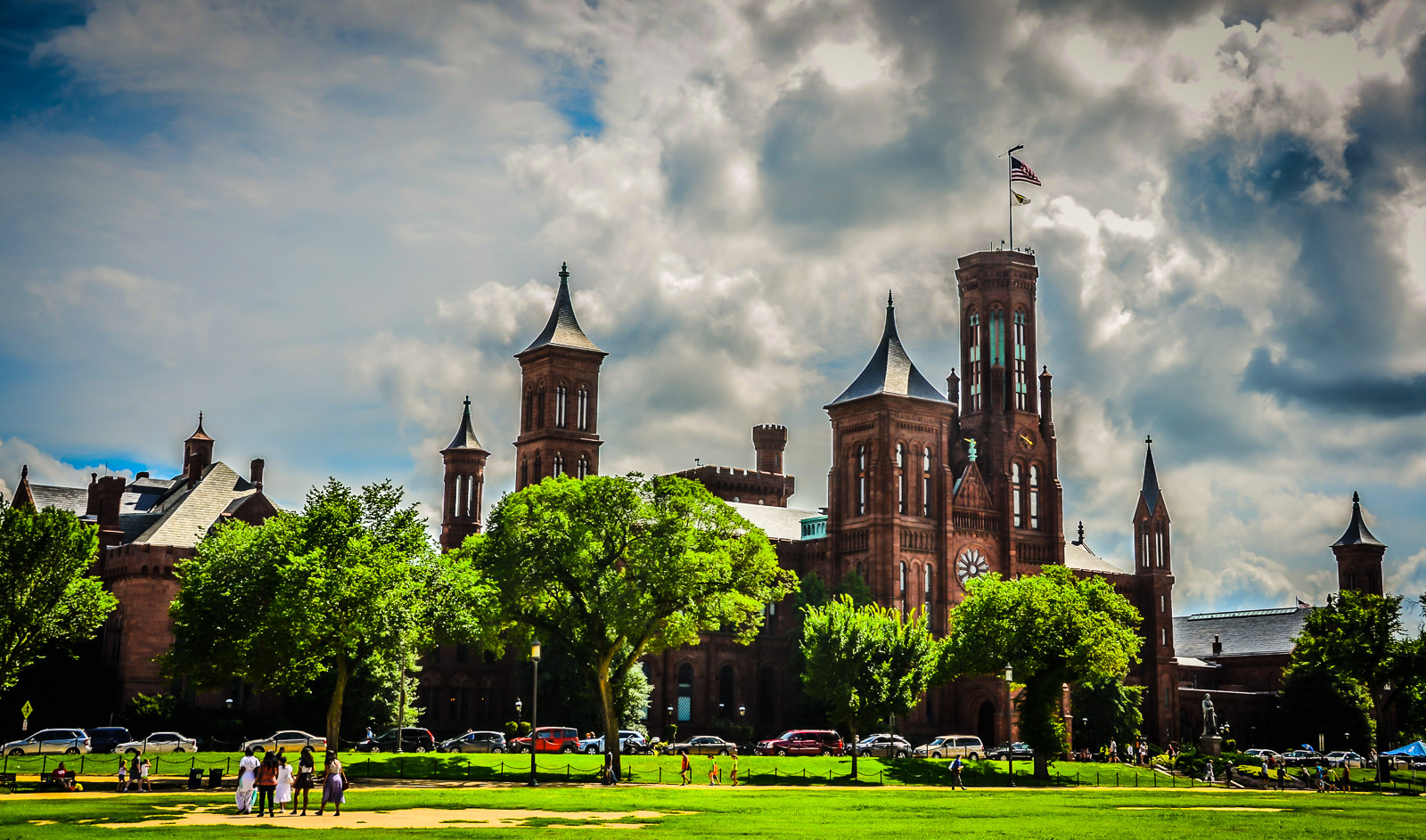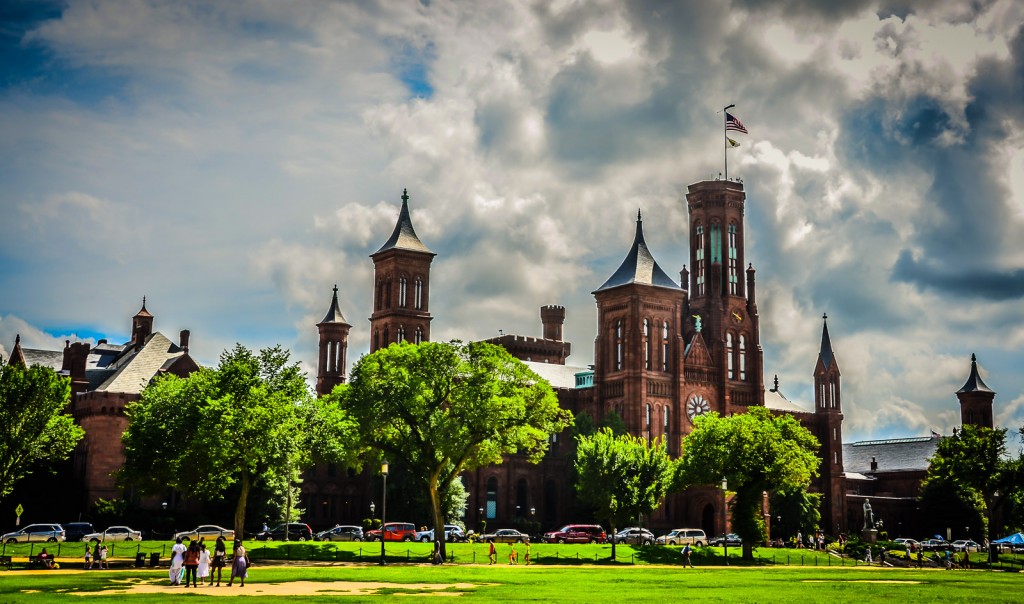 Washington DC Attractions On the National Mall
Although you can power walk the entire circuit of the National Mall in less than a couple of hours–2.5 miles separate the Lincoln Memorial and Capitol Building at either end–there are too many attractions (all with free admission) to do so unless wearing blinders.
There are eight National Monuments and Memorials
:
Washington Monument
Lincoln Memorial
World War II Memorial
Franklin Delano Roosevelt Memorial
Vietnam Veterans Memorial
Korean War Veterans Memorial
Thomas Jefferson Memorial
Five museums and historic attractions:
National Gallery of Art
U.S. Capitol
U.S. Botanic Gardens
National Gallery Sculpture Garden
U. S. Holocaust Memorial Museum
And nine museums of the Smithsonian Institution:
Smithsonian Castle Information Center
African Art Museum
Air and Space Museum
American History Museum
Natural History Museum
American Indian Museum
Hirshhorn Museum and Sculpture Garden
Freer Gallery of Art
Arthur M. Sackler Gallery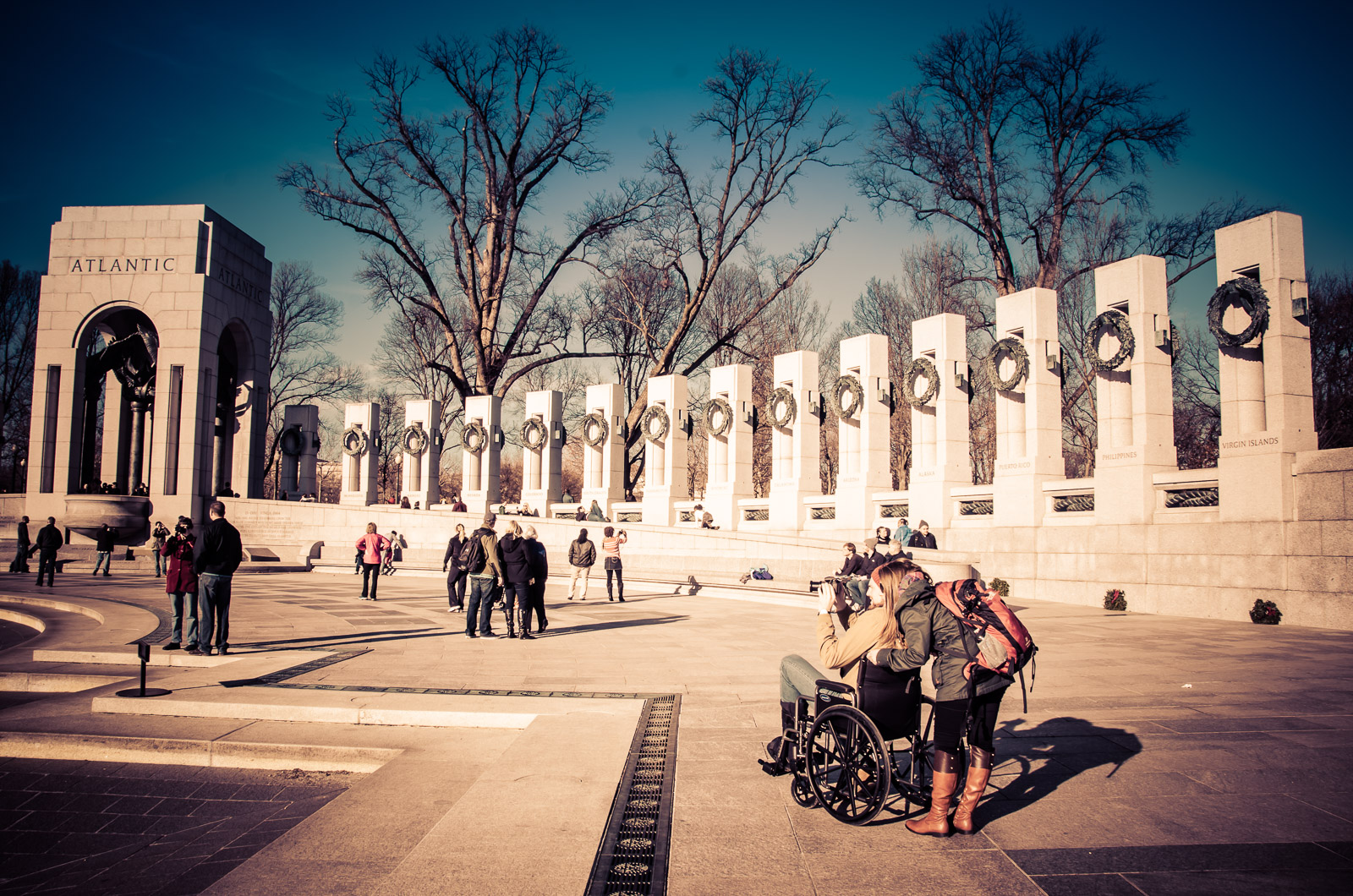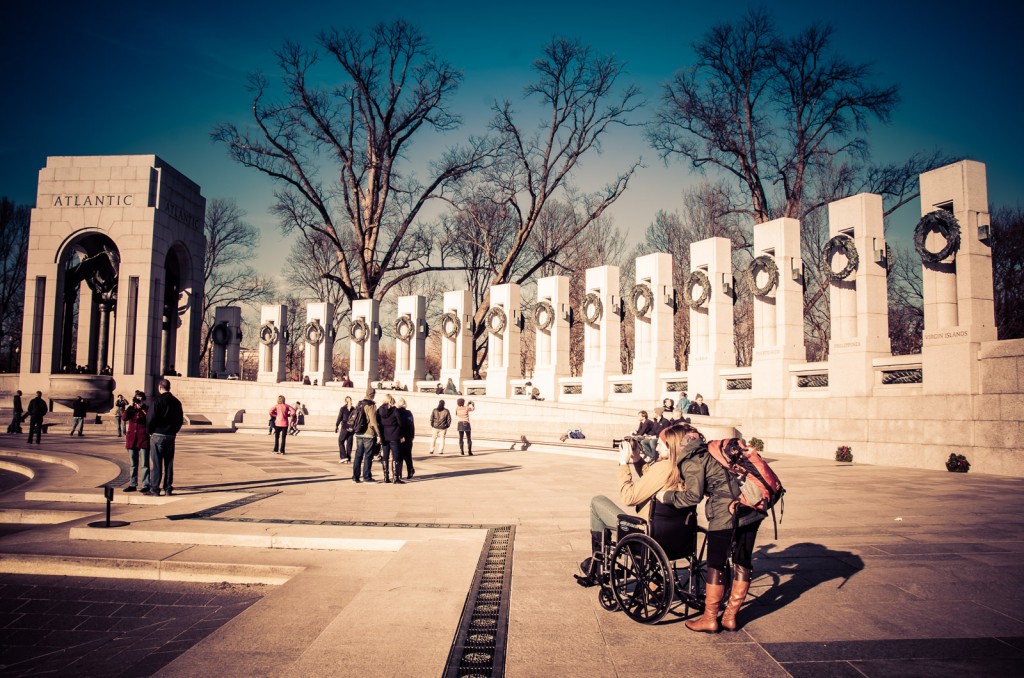 SEE: Turning toward the Lincoln Memorial, we passed the World War II Memorial, dedicated to those who served both in the armed forces and as civilians. The monument consists of 56 tall granite pillars, each dedicated to one of the U.S. states and territories, half circling a fountain.
It's an open, understated plan, but when constructed it was quite controversial. Opponents were not happy that it cut the line of vision between the Washington Monument and Lincoln Memorial; others were angry because this was space previously used by demonstrators; some rejected it on the grounds that it resembled Nazi architecture.
We didn't see the resemblance, choosing instead to look for the pillars representing our hometowns. Travel Tip: look for "Kilroy was here" graffiti.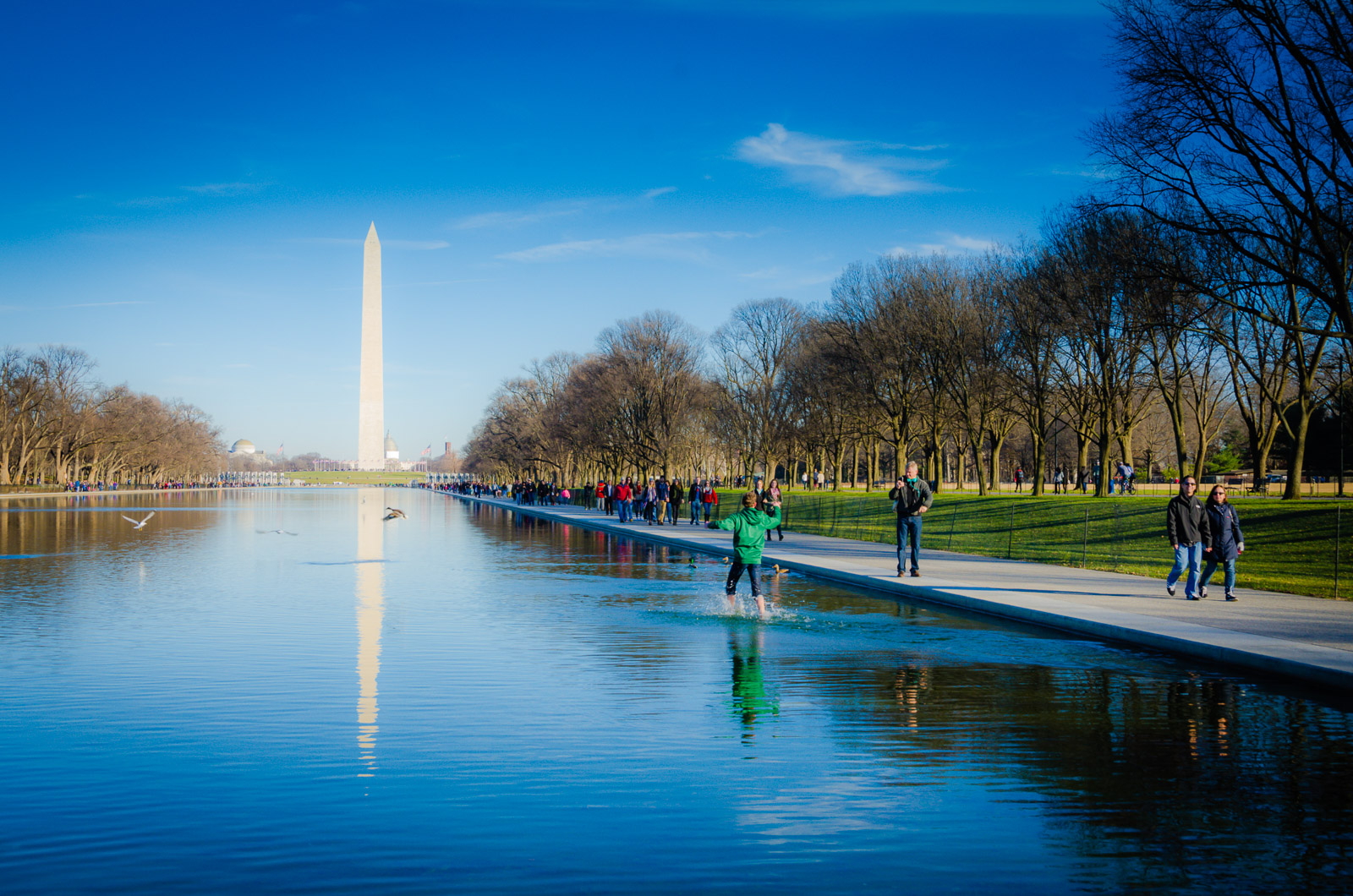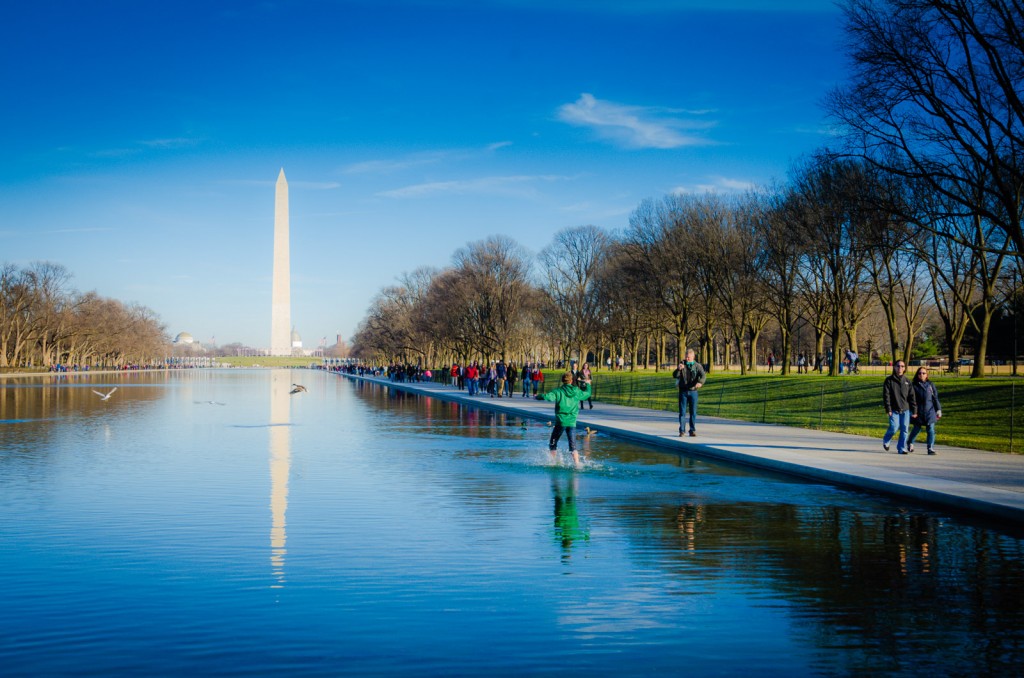 VISIT: We made for the Lincoln Memorial because Alex wanted to reenact the scene from Forrest Gump where Tom Hanks runs through the Reflecting Pool shouting, "Jennyyyyy!"
Wading and swimming are not recommended activities at the Reflecting Pool. Although there is a history of multi-use that includes ice-skating and sailing model boats, after the $34 million renovation completed in 2012, there are bans against anything other than dipping toes in the water. Plus, waterfowl still use the pool. Enough said.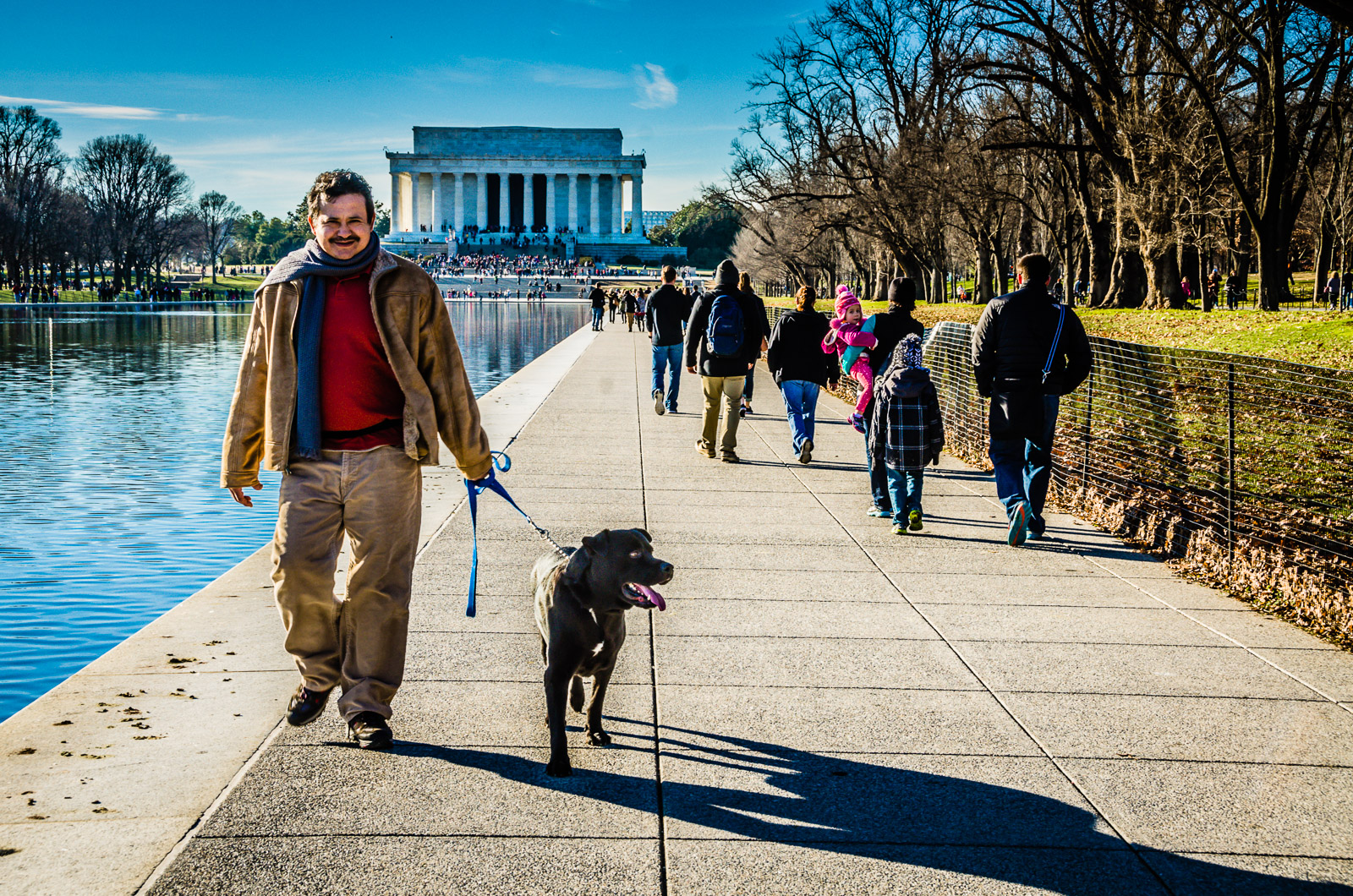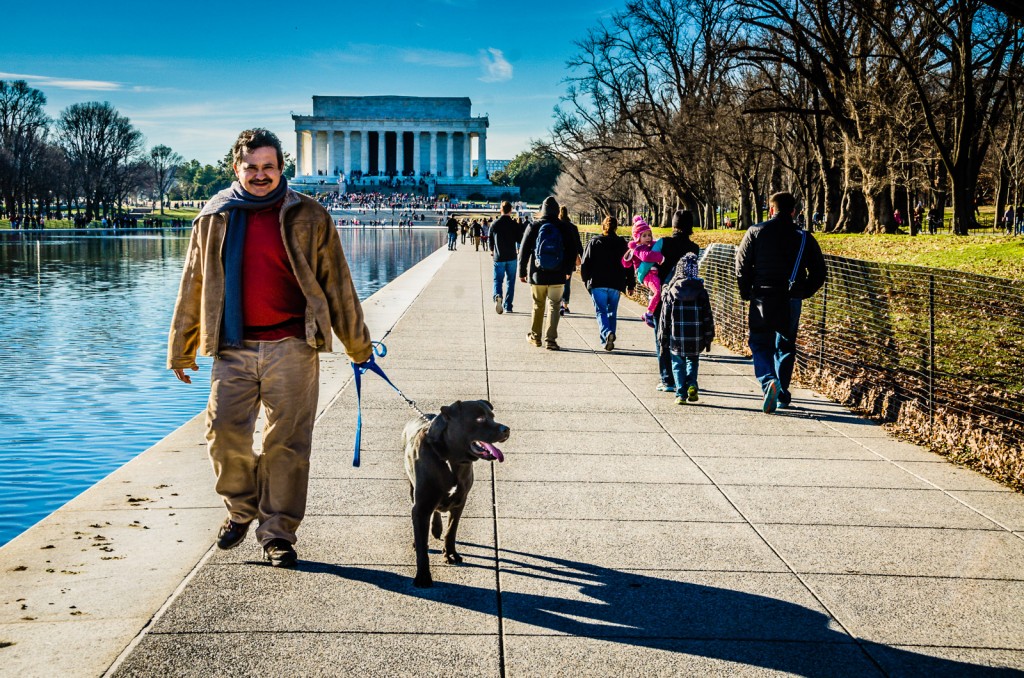 On this visit, we barely peeked into the Lincoln Memorial as it was packed on this sunny weekend day. It's America's most popular monument, receiving over 7 million visitors in 2014, and the interior can get quite congested. Since we've toured the interior before, and will no doubt do so again, we moved on to another monument that we hadn't seen before.
We ended our walking tour next door at the second most visited monument among America's national parks is the Vietnam Veterans Memorial,  receiving over 4 million visitors annually. Many come to find the names of family members on the list of 58,000 Americans who died in service to their country. These men and women are remembered, not just in stone, but in heartfelt tributes of flowers, mementos, and even Christmas trees.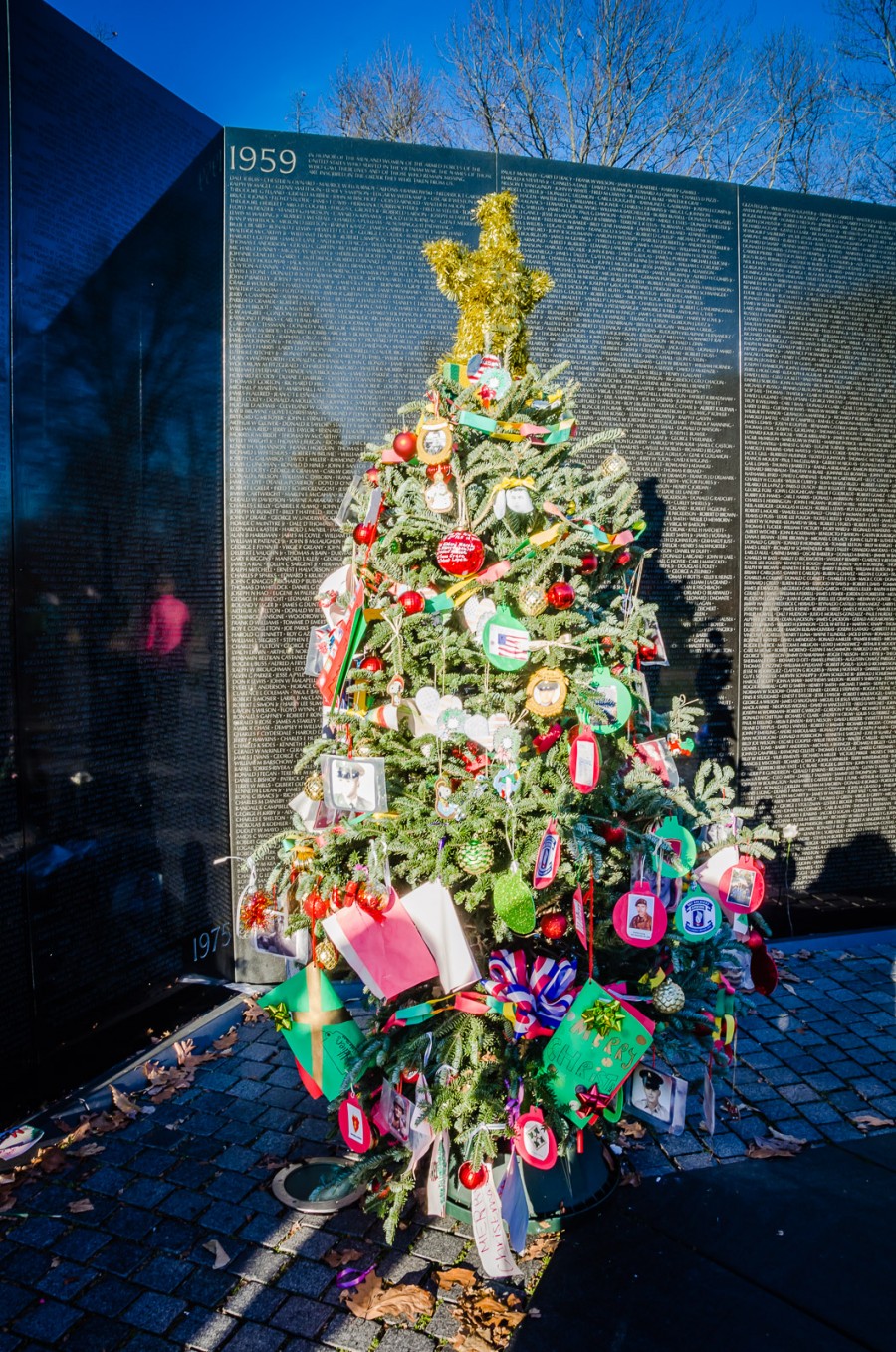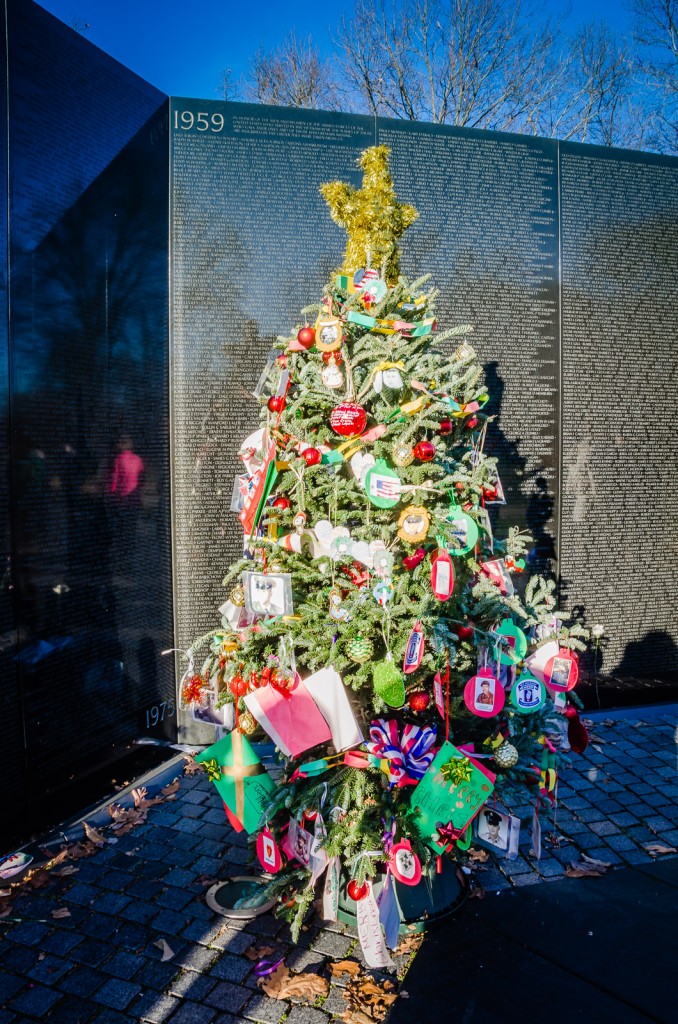 Complementing the Vietnam Veterans Memorial are two bronze statues, the Vietnam Women's Memorial and the Three Soldiers. Both were considered to add a more traditional element to the monument. I don't think selfies with the servicemen is what the memorial architects had in mind.
GET THE APP:  The National Park Service app for the National Mall and Memorial Parks sites is available for both iPhone and Androids. It's your up-to-date source for events and programs, walking directions, tours, and information.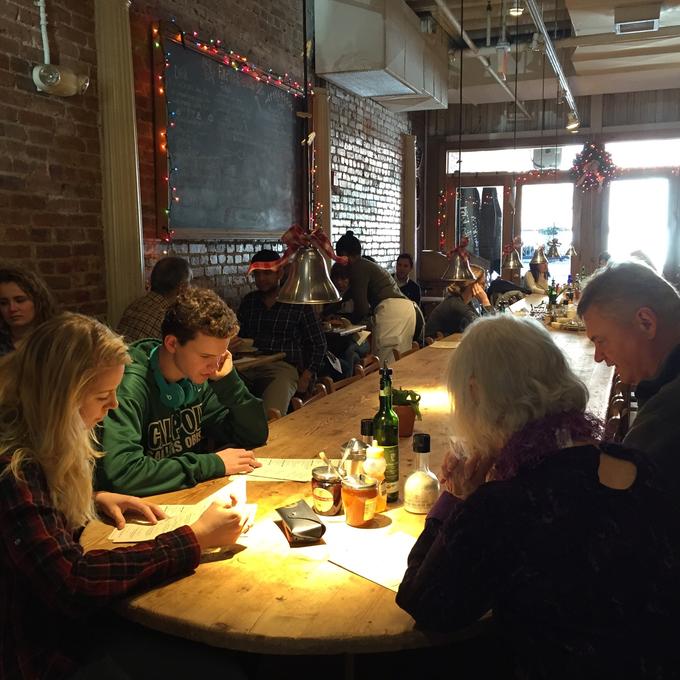 Restaurants In Washington DC
BREAKFAST: A hearty breakfast at Le Pain Quotidien's communal table amply fuels city walks, and gets you seated faster. Organic, locavore menu with a few creative items, possibly too creative. Although I loved the Spinach & Goat Cheese Frittata, it was not a hit with rest of my party.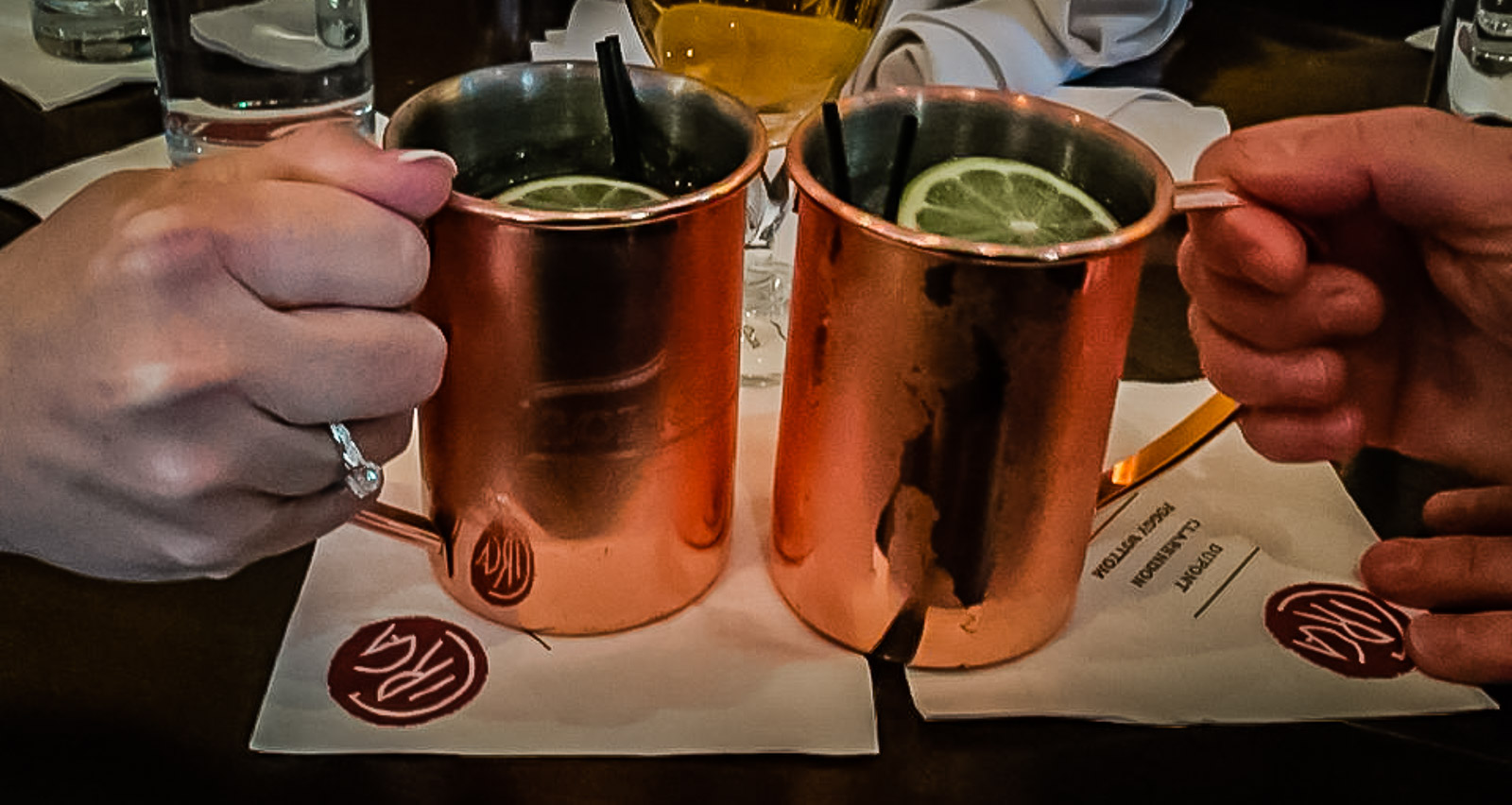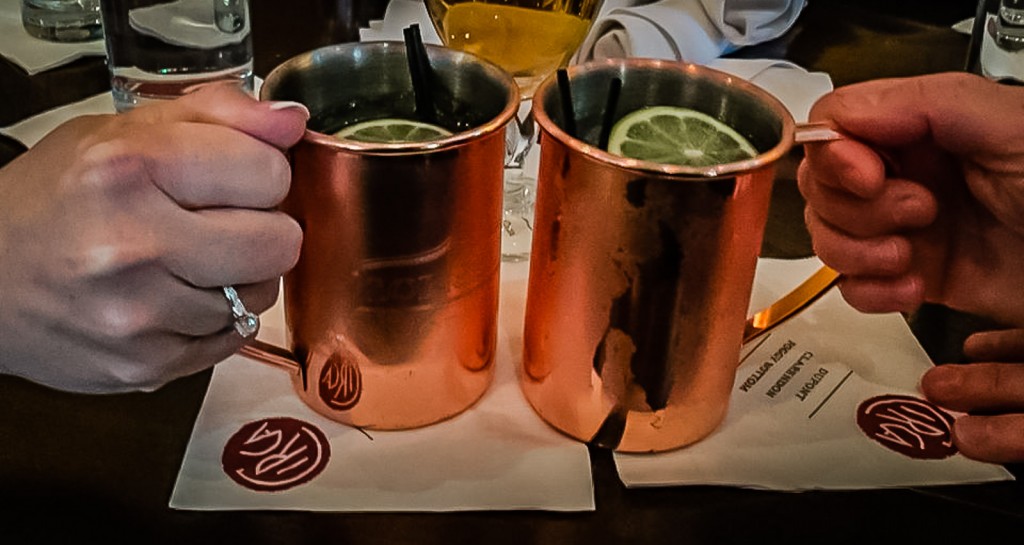 BISTRO: Brunch to Late Supper, bar at CIRCA at Foggy Bottom takes center stage: over 20 wines by the glass and classic cocktails like the refreshing Moscow Mule. Menu is tasty and plentiful, and the bread ambrosial.
TAPAS: Commence a festive night in Georgetown at Bodega during Happy Hour (Sunday through Friday, 4-7pm.) Order the Sangria, served in authentic clay pitcher, and dig into a savory selection of tapas (word to the wise, keep the sauces to dip (free) bread.
Tip: Find months worth of dining options on 25 Classic Washington Restaurants.
DINE/DRINK/DANCE: Fresh mojitos and the dancing is hot, hot, hot at Cuba Libre every Friday and Saturday night, 10:30-3am. Tip – Take the Metro to get there, taxis available to take you back.

Where To Stay In Washington DC
We arrived late at night for a 2-day stay at The Melrose Georgetown Hotel, a boutique hotel on Pennsylvania Avenue in Washington, D.C. Our basic room was spacious (by city standards) and attractive, with a nod to American history in the US Constitution wallpaper.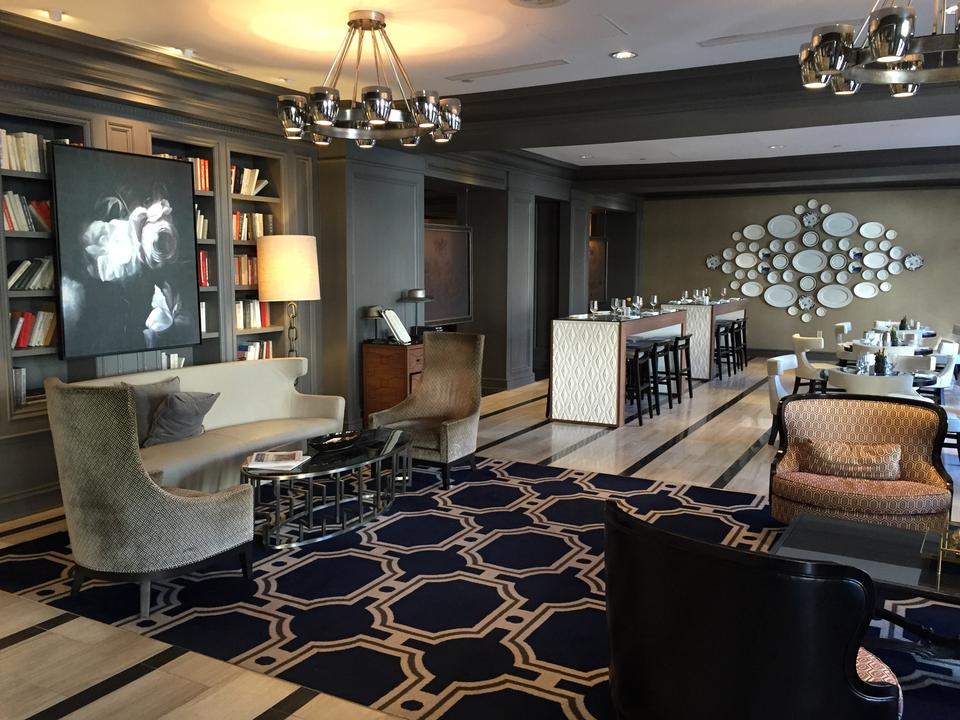 The stylish lobby is especially welcoming, and seating arrangements as well as the Happy Hour bar menu encourage informal get togethers. Best of all is its location within a 2-block walk from Georgetown's bars, shops, and restaurants and 15-minute walk from the White House and National Mall.
My only caveat is that parking is pricey ($48/day valet parking.) But it is close to the Metro, or you could take your chances with street parking. Rates start at $225/night, but I found rooms priced significantly less on Travelzoo and other hotel booking sites.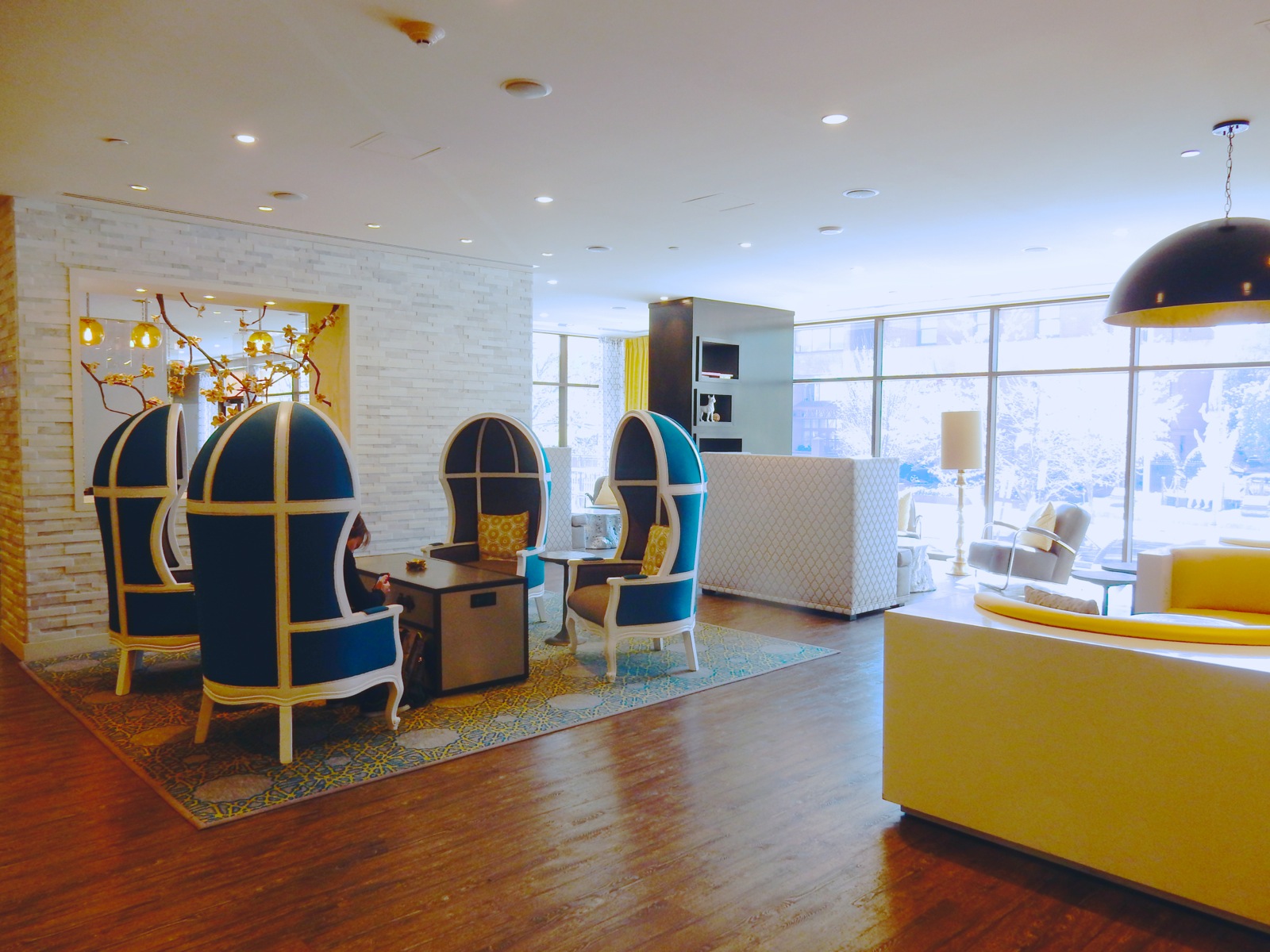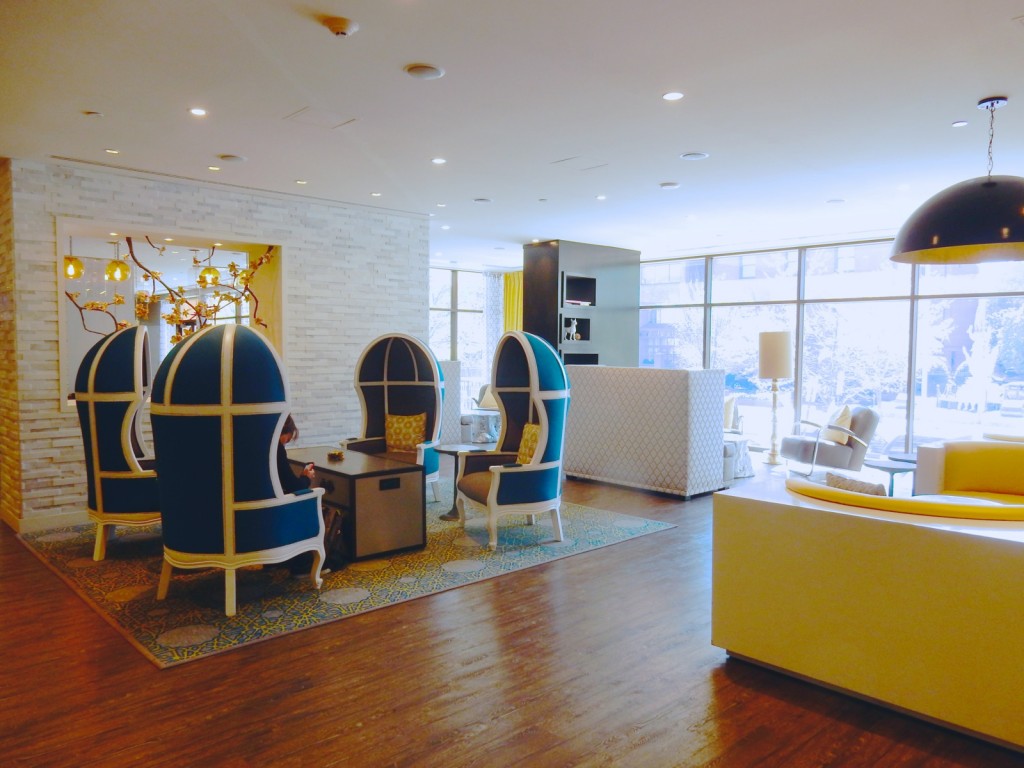 STAY: Embassy Row Hotel. A Maven Favorite, you can read our whole write-up here.
Washington DC Getaway Guides:
Weekend Getaway Near Washington DC: