WHY GO: Throughout its history, Richmond VA has represented both the best and most fraught aspects of the United States of America. Patrick Henry bellowed the famous "Give Me Liberty or Give Me Death" speech here, spurring patriots to fight for independence from England.
George Washington petitioned for a canal to bypass the rocky rapids of the James River so merchant ships could deliver goods.
The Virginia State Capitol, designed by Thomas Jefferson, was built in 1788. However, the very edifice that represented American Independence served, ironically, as the Capitol of the pro-slave Confederacy for Southern President, Jefferson Davis, during the Civil War (1861-1865).
The relatively new American Civil War Museum, riverfront access, and an historic 1.25 mile Canal Walk entice more visitors to this central Virginia city.
So, yes, Richmond VA is replete with American History. But it is also rich in food culture and the arts.
More and more people are venturing into a transitioning downtown to explore warehouses and row homes that have been repurposed into trendy restaurants and inns. Whole neighborhoods are being flooded with breweries, distilleries, and cideries.
There's a vibrant, youthful, Brooklyn-before-it-got-upmarket vibe in Richmond and great ways to access that energy. Let the Getaway Mavens tell you what to do in Richmond VA – a getting cooler by the year, cusp-of-Old-South escape.
Richmond is on our list of 20 Surprisingly Romantic Getaways in VA. Check it out if you wish to explore the state further.
Looking for someplace dreamy outside of Virginia? Check out our 150 Best Romantic Getaways in the Northeast US (Virginia to Maine).
Both the Historic St. John's Church and Poe Museum are two of the best quirky Places to Propose in Virginia. 
What to Do in Richmond VA
Designed by Thomas Jefferson, and completed in 1788, the blazing white neoclassical Virginia State House stands proudly atop a hill adjacent to the small but beautifully landscaped Capitol Square Park. This is where Jefferson Davis took the Oath of Office as President of the Confederate States.
Start at the Visitor's Entrance down the hill on Bank Street. After clearing security, you can either take a guided or self-guided tour, which brings you through underground tunnels, past informative exhibits, and then into the Capitol Building itself.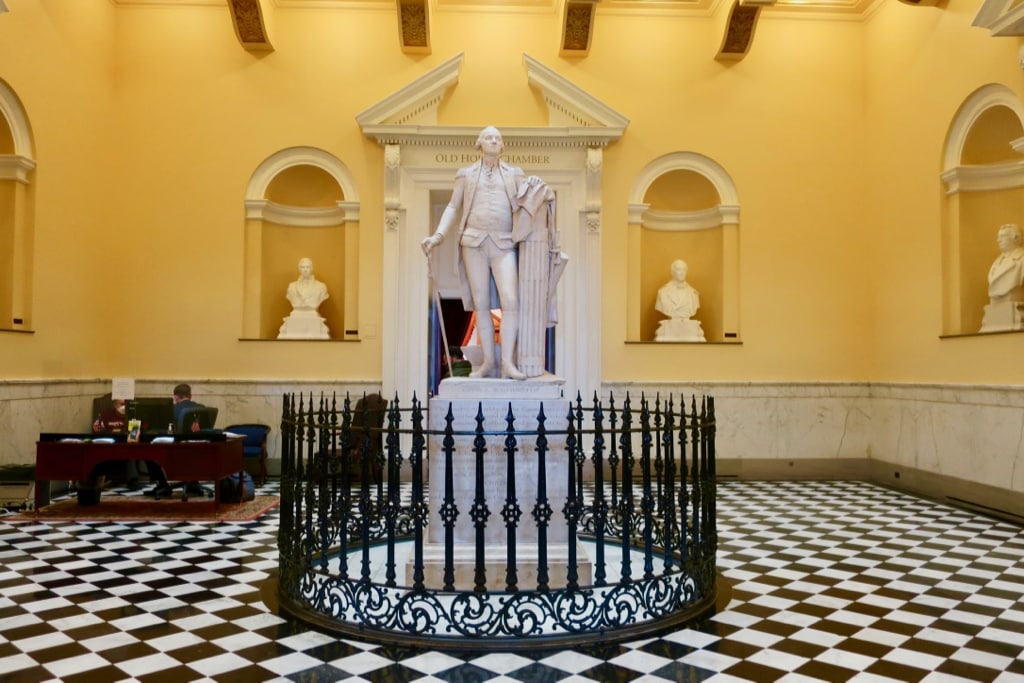 Most life-like sculpture of George Washington in the world
The most life-like sculpture of George Washington in the world sits in the center of the Capitol's rotunda. Sculptor Jean Antoine Houdon traveled to Mount Vernon to take measurements and a life-mask of the country's first President – and used them to carve the perfect replica of GW specifically for this space in 1796.
During the Civil War, on April 23, 1861, Robert E. Lee accepted command of the Virginia forces here. On April 27, 1870, the 2nd floor Supreme Court of Appeals collapsed, killing 62 and injuring 251 people who had crowded in to watch the proceedings in a contentious case.
Don't leave before heading up to the 3rd floor rotunda Governor's Gallery, ringed by portraits of Virginia's Governors – with a great bird's eye view of the George Washington statue. Open Mon-Sat 9-5, Sun 1-5. Free one hour guided tours.

VISIT: American Civil War Museum at Tredegar
Formerly the Museum of the Confederacy, this interactive walk through four years of our own country at war at the American Civil War Museum is broad in scope, depicting the war from various viewpoints: North Vs. South, Free Vs. Enslaved Blacks, civilians vs. soldiers.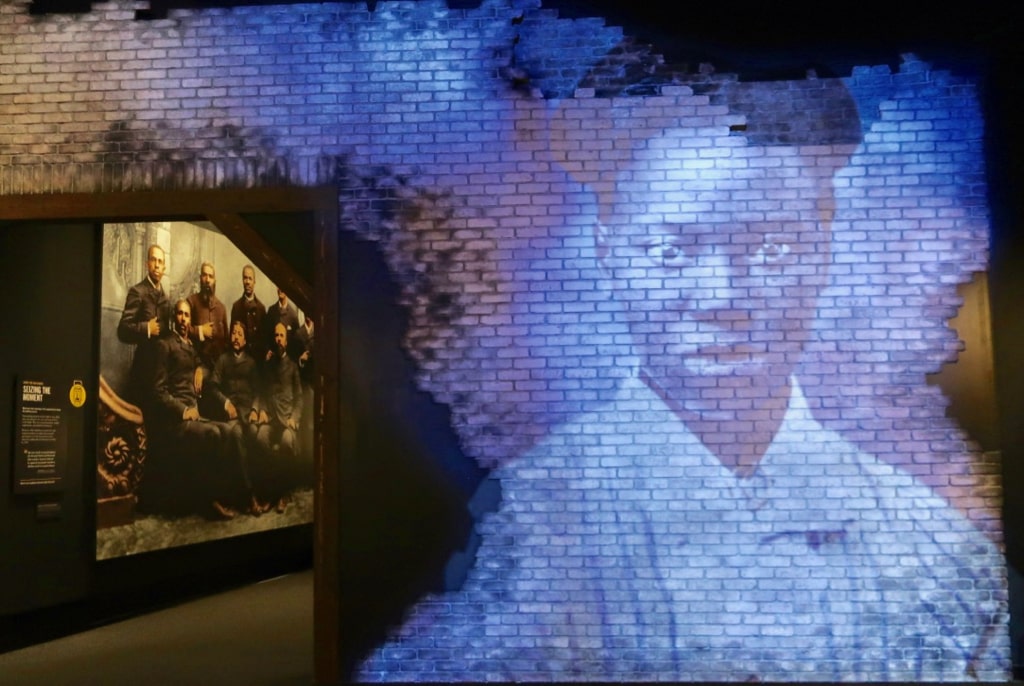 Check out the stats on specific battles at interactive kiosks, watch short multi-media videos, and see artifacts that provide visceral responses.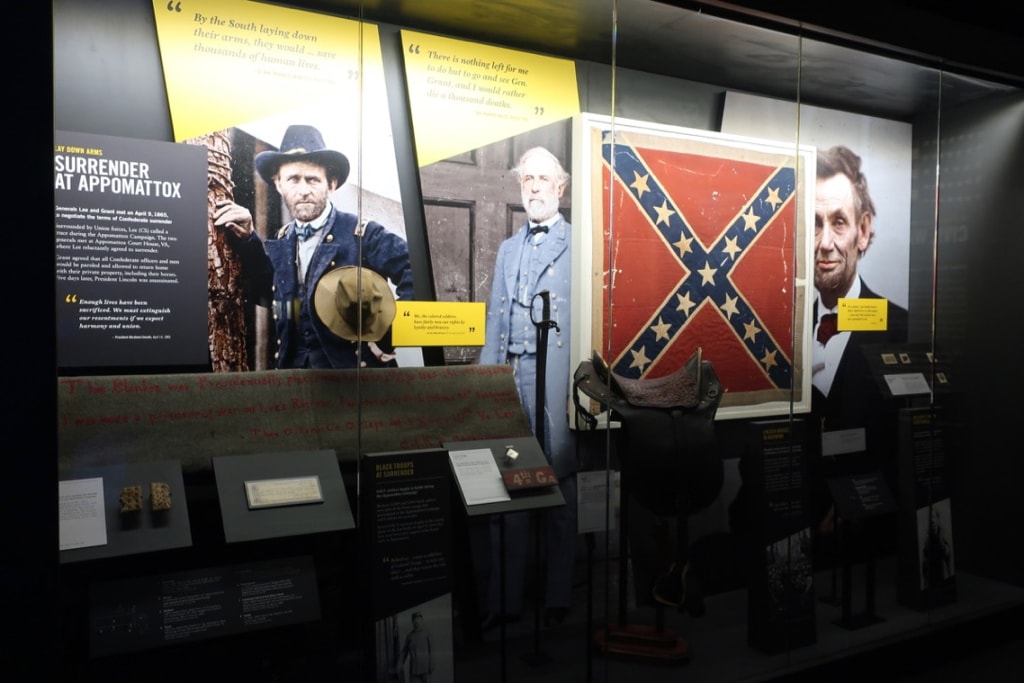 My favorites? Photographs of the greatest three Civil War personalities: Abe Lincoln, Robert E. Lee, and an unusually hunky picture of Ulysses S. Grant in his dashing younger years.
I was also quite taken with the montage of Black government officials, elected to Congress right after the Civil War, during Reconstruction.
By 1887, however, during the rise of the Jim Crow era, African Americans were excluded from serving in Congress, with only five holding office from 1888-1901, and not one from 1901 until 1929.
You can spend hours at this relatively new (2019), intriguing museum. Open daily 10-5, $16 adults, $8 youth.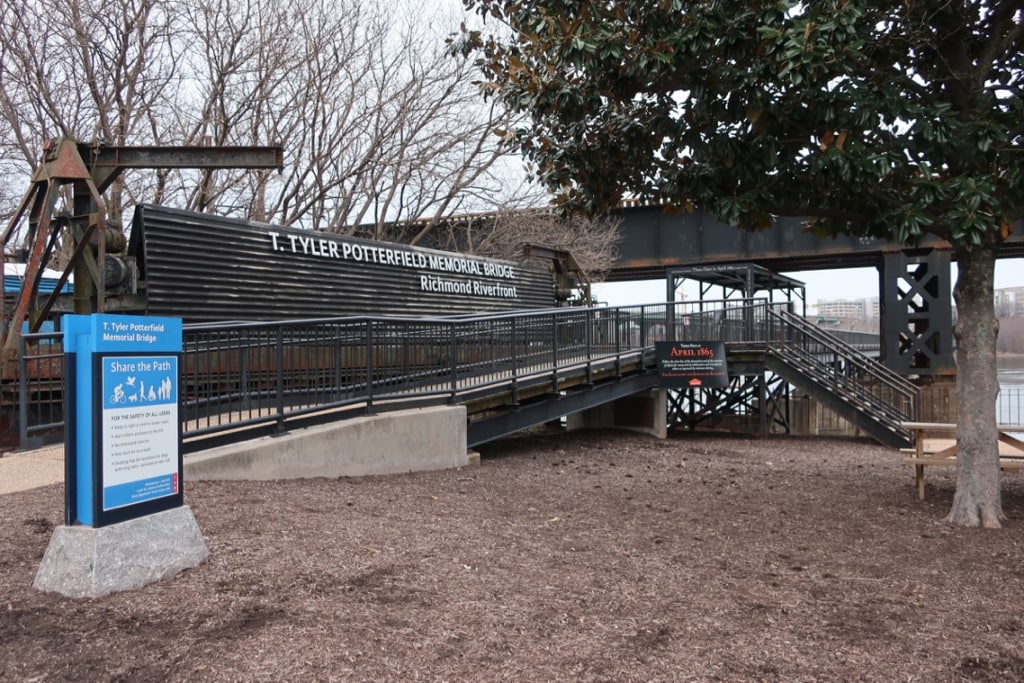 WALK: Richmond Riverfront and Historic Canal Walk
The Civil War Museum at Tredegar is on the James River waterfront and Historic Canal Walk – both of which are worth a stroll.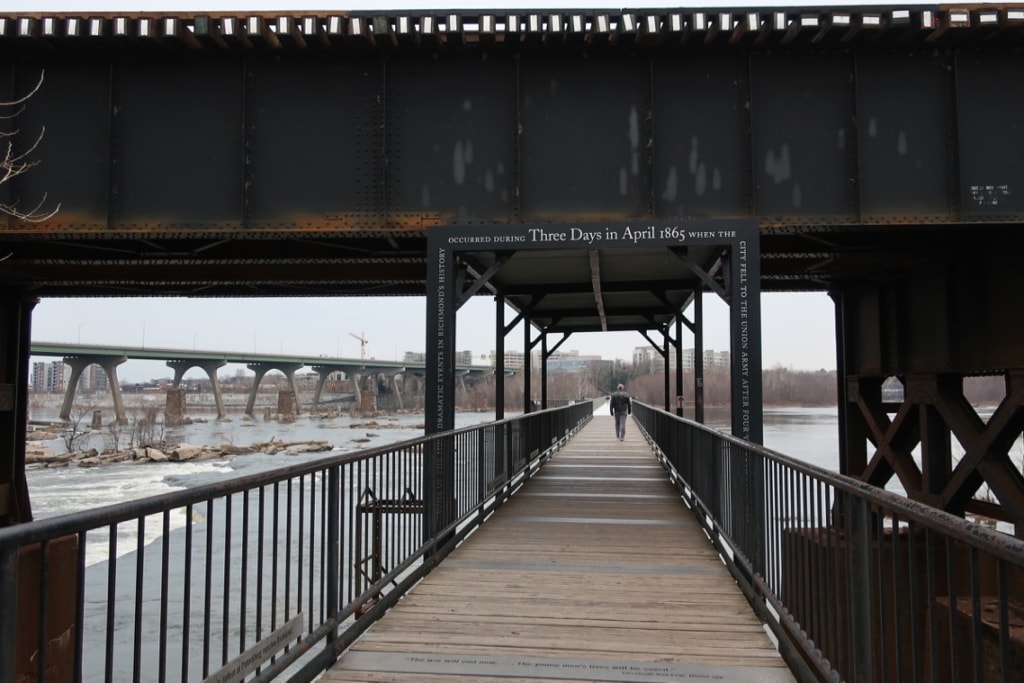 Walk across the river on the T. Tyler Potterfield Memorial Bridge for great views of the Richmond skyline.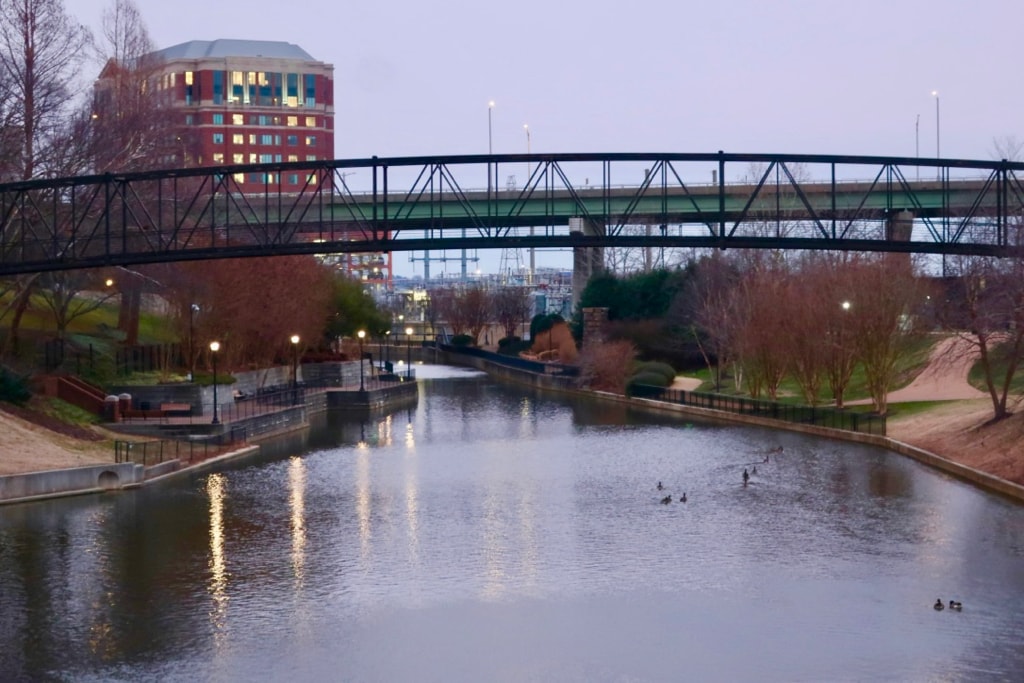 In 1774, George Washington originally proposed Richmond's historic canal in as a way for merchant ships to bypass the rapids on the Thames River. Now, you can stroll 1.25 miles along this placid waterway, with historic sites and sculptural art along the way.
It was the phrase that spurred a Revolution: "Give Me Liberty or Give Me Death!"
What about this particular place excited such a passionate outburst? Virginia was the wealthiest of all the colonies with the most to loose. And St. John's Church was the largest building in Richmond to hold a political gathering.
Thus George Washington, Thomas Jefferson, and Richard Henry Lee were in attendance on March 23, 1775 when Patrick Henry thundered his fateful words, inspiring them to take action.
Reenactment of Patrick Henry's Speech at St. John's Episcopal Church
Take a "tour" – more like a one-man show – of St. John's. I dare you not to be inspired as well. Sit in the Church pews as Ray Baird (or an alternate guide), donning Patrick Henry garb, takes us back in time. For 150 years, England pretty much left the Colonies alone. We elected our own officials, fended for ourselves, and grew rich as a result. Thank you very much.
All of a sudden, England is debt ridden, issuing The Stamp Act to generate revenue. This decree led to the "No taxation without representation" Tea Party revolt. British soldiers with guns appeared on our shores. "It's happening in Boston. It's just a matter of time before they come here, to Virginia. What would you do?"
It's a thinking-person's tour, timely in any political climate, and should be a mandatory first stop in Richmond. The fact that it's entertaining and engaging makes it all the better.
Wander the church grounds and cemetery for free. Look for the graves of Edgar Allan Poe's biological mother (who died when Poe was a year old), and George Wythe, the first law professor in the USA. Open Weekends only in Winter. Check website for Reenactment Tours. Tour tickets $12 + tax.
Edgar Allan Poe was born in 1809, the same year as Abe Lincoln and Charles Darwin. He arrived in Richmond, VA as a baby – his 24-year-old mother deathly ill from tuberculosis.
When Poe's mother died, the Allan family adopted Edgar, endowing him with the middle name that would identify him throughout his life and after death.
Although his 1845 poem, The Raven, made him a huge success, Poe received only $15 for it. Incredibly, the famous poet earned just $6,200 over his lifetime, mostly from speaking engagements near the end of his life at age 40.
Poe Artifacts
Though the museum is not located in any home that Poe inhabited (and there were many along the Eastern seaboard), it does house artifacts from his life. Included among pieces of his boyhood furniture is a backless chair. (His boss at the time cut off the back to make him sit up straight).
You'll also find elaborately stitched clothing, portraits of the women in his life (again, there were many), first copies of his published books, handwritten poems, his notes on Milton and Shakespeare, and many decidedly un-sinister photographs of the handsome young man.
Poe died in Baltimore under mysterious circumstances. He was found delirious and in strange dress, and the cause of his death remains in dispute.
Take the 45-minute audio tour. Its popularity attests to the fact that Poe remains a beloved cult figure. Tues-Sat 10-5, Sun. 11-5, $9.
The best way to see a large swath of Virginia's State Capital city is via Segway, and Segway of Richmond offers a good variety of tours.
If this is your first time in Richmond, take the popular Richmond Landmarks Tour, which rolls down sidewalks of cobblestone streets, through the Canal Walk, to Monument Ave., the State House and other historic sites.
Or opt for a tour of the Hollywood Cemetery – the second most visited cemetery in the country where three US Presidents (Tyler, Monroe and Davis) are buried. If you've been there done that, the Downtown Public Art Tour brings you to the best murals and sculptures in neighborhoods where the bold and talented are turning things around. Check website for tour times, rates from $50-$68 per person.
DO: Discover Richmond Tours, Carytown Tour
"Over the last decade, Richmond has turned into a 'food powerhouse,'" says Brian Beard, the bearded owner/guide of Discover Richmond Tours. On this tour, guests sample the goods from six restaurants and cafes.
Though Beard and his guides run many city tours, (including scavenger hunts, and brewery tours), funky Carytown Tour is a good first choice. And ever changing. "With our tours, we want you to feel that you have a friend in the neighborhood. We want you to feel like an insider."
Brian has indeed proven to be that friend. His tour business is growing leaps and bounds in popularity with both tourists and locals.
One can say that Carytown originated as a shopping district in 1938. That's when Cary Court – the first shopping center on the entire East Coast that could accommodate scores of cars – was erected here as the city of Richmond spread west. Cary Court still draws them in, with fun boutiques and restaurants. Look for the photo from 1947, which shows Maytag, A&P, and other stores long gone.
Stops on Carrytown Food Tour
Though Beard changes up the stops, your tour might begin at a popular coffee shop, move on to the iconic French Brasserie, Can Can in Cary Court, then to Home Sweet Home – a soup and grilled cheese sandwich comfort food of a place.
And then quite possibly, to the lively tea spot, The Tottering Teacup, owned by the bubbly and colorful Anatash Werne.
Beard loves to promote independent restaurants. He was one of the first to sing the praises of Broken Tulip. Sariann Leher, and her husband, David built "a community around food" with 6 course tasting dinners and local chefs invited to set up pop-up kitchens here midweek.
You'll most likely end the tour with sweets at Carytown Cupcakes where the baked goods are so delectable, lines form out the door. End the tour happy, full, and ready for a nap! Carytown Tour Sat and Sun 2-5, $63 per person.
Warning – this is a tough hour for anyone who walks though the door of this excellent, compelling, somber, and oft-times horrifying museum. Curators have assembled a no holds barred examination of an incomprehensible era in recent history.
Exhibits includes graphic photos from Death Camps, Displacement Camps, and a re-creation of parts of the Nuremberg Trials via diorama and audio.
A recent study showed that Americans are "forgetting about the Holocaust," with a fifth of Millennials not even sure what it is. That is terrifying – and a reason that more people should visit. Open Mon-Fri 9-5, Sat and Sun 11-5. Closed on Jewish High Holidays, Thanksgiving, Christmas and Eve, and New Years Eve. free.
Blooming with flowers in Spring, this city respite pleases the eye, calms the mind, and somehow gets kids to love, respect and appreciate flowers. On 50 acres, with ponds, pedestrian bridges, fountains, a conservatory, a butterfly zone, and massive gift shop, I wanted to stay way past closing time just to Zen out within a marvelous landscape.
Kids and those who love them also clamor to the Tree House, Children's Garden, and Water and Sand Activity Areas, where they can play all day.
There are daffodils, ornamental grasses, hillside meadows, Cherry Trees, and more than 1,800 roses in the Louise Cochrane Rose Garden.
Though considered the #4 Best Public Garden in North America by readers of USA Today, the Lewis Ginter Botanical Garden is somewhat under the radar for visitors from outside of Virginia. I'd recommend it as one of the top attractions in Richmond. Open daily 9-5, $13 adults, $8 kids 3-12.
This world-class encyclopedic museum – covering ancient to modern in two distinct wings – can take hours to see. If you just have an hour or so, beeline to the Faberge Egg and Art Nouveau/Art Deco exhibits, which are approachable in their scope. Open daily 10-5, free for general admission.
You'll find this sounds-boring-but-is-actually-fantastic museum right next door to the VMFA. (In fact, they share a parking garage). Chock full of local history curated for maximum impact, don't miss "The Story of Virginia: An American Experience" in the Edmund Randolph Williams Gallery. Exhibits illuminate pivotal points in Virginia History that made the USA what is it today.
The most imposing room, by far, is the Cheek Mural Gallery. This soaring space is devoted to dramatic depictions of "Seasons of the Confederacy," painted by artist Charles Hoffbauer specifically for this space. Open daily 10-5, $10 adults, $5 youth.
This small, minimalistic, two story museum is the polar opposite of the venerable one in Washington DC. Moved to the renovated Armory (built in 1895 for African American Militia) turned school turned recreation center, turned museum in 2016, this welcoming and thought-provoking place highlights Slavery, Emancipation, Reconstruction, Jim Crow, Brown Vs. Board of Ed, Civil Rights Era, and Black notables, in several spare rooms – utilizing enlarged photos, quotations, and interactive boards to minimize clutter.
The contemporary glass entrance can be found at the rear of the 1895 building. An original Woolworth's sign and mock-up of the soda fountain from the Greensboro Sit In graces the gift shop area. $10 adults, $6 children, Open Tues-Sat. 10-5, Sunday by appointment only. Closed Mon.
PHOTO OP: Statue of Maggie Lena Walker
Walker, the daughter of a slave, was a self-made millionaire. She was the first woman of any race to charter a bank in the United States (in the early 1900's). Of course she is well known in Richmond, but should be a nationally known figure. Feature film, anyone?
This is Virginia's Capital City's first and only freestanding contemporary art museum. The ICA opened with an exhibit called 'Declaration' that confronted social issues in the city that was once the capital of the Confederacy. It's been taking artistic risks ever since. Open Tues-Sun 10-5.
Yes, astoundingly, there's whitewater right in Richmond. In fact, you'll begin miles out of town, float and splash through calm and rapid streams to end up at 14th street. It's a blast in season and a way to view Richmond from yet another perspective. Flatwater kayaking tours start at $69, whitewater rafting trips start at $83.
Best Restaurants in Richmond VA
TASTE: Blue Bee Cider
You'll stumble on Blue Bee Cider in an old Police Horse barn in the Scott's Addition neighborhood of Richmond – an industrial area where breweries and cideries are opening at a blistering pace. So blistering, in fact, Scotts Addition is alternately termed "The Beverage District." Try a flight of dry or sweet hard ciders ($9 for 3 1oz pours) infused with bourbon, ginger, or other innovative ingredients. Enjoy either inside or out, in the former stables courtyard.
WANDER/TASTE: Breweries, etc in Scotts Addition Neighborhood
For those eager to try other spirits, wander the transitioning Scotts Addition sector of Richmond. Join any party in process in nearly 30 breweries and wineries from The Answer Brewpub to Vasen Brewing Co. With food trucks galore, you don't have to even leave for a quick dinner.
EAT: Can Can Brasserie in Cary Court
Can Can is a bone fide French Brasserie, with every piece of décor from France. The cavernous mosaic floor center room, and smaller party rooms, hold over 600 people per meal in total, rendering Can Can one of the largest restaurants in Richmond.
Helmed by Richmond native, Chris Ripp, who got his first pair of shoes in the shoe store formally in this space, Can Can serves up everything from French pastries to five course meals paired with wine. In need of a snack? Can Can's "Frites" are out of this world.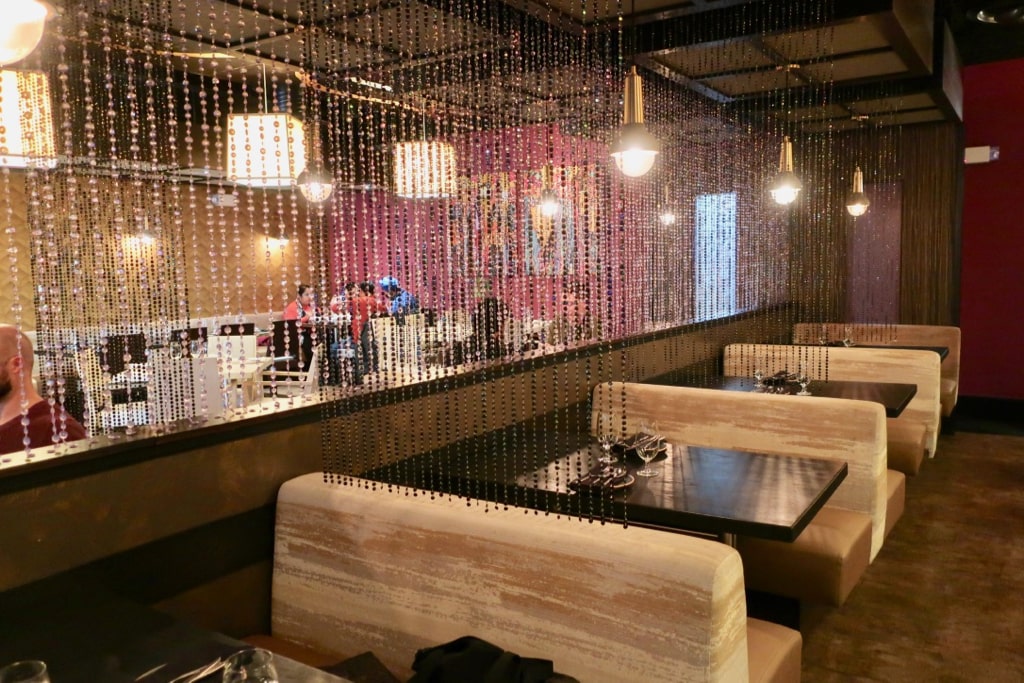 EAT: Lehja Contemporary Indian, Short Pump
Lehja is not officially in Richmond downtown (Short Pump is a development about 10 miles from city center), but I include it here because it is that good. Yes, Richmond and Washington DC foodies have discovered this place.
It's an Indian restaurant far from the norm. Sure, it's got your Masalas and Biryani's. But order the Street Food starters, and Contemporary dishes for a habit-forming experience. Your taste buds will thank you.
EAT: Broken Tulip
Sariann Leher, and her husband, David, serve a complete 6 to 12 course meal for 26 twice an evening Wednesday through Saturday at The Broken Tulip. There is no menu – everyone eats the same thing.
But you can be sure the the duo showcases the best of local farms, with local chefs invited to set up their own pop-up kitchens here midweek.
Sari and David started a supper club in their home in Portland OR, and kept their original dining table as a reminder of their restaurant's origins.
It now serves as one of two large tables around which patrons dine family style. Dinner, $93 per person (includes taxes and 20% service fee – requires advanced tickets). Lunch 2 courses for $18 or 3 courses for $23, with 2 or 3 choices for each course (walk ins only).
EAT: Home Sweet Home
Were tomato soup and grilled cheese your childhood comfort foods? You'll find excellent and unique versions at Home Sweet Home – a rustic down-home restaurant in the former Mezzanine space.
EAT: Sub Rosa Bakery
Lines into Sub Rosa Bakery form early in the charming historic neighborhood of Church Hill, and no wonder. Pastries, brown and flakey-crunchy, emerge warm from the wood-fired oven and are immediately snapped up. Flat buns are as big as salad plates. I'd drive 7 hours from my Connecticut home just to have one again. They are that ambrosial.
EAT: SB's Lakeside Love Shack, across from Lewis Ginter Botanical Gardens
Take the B 52's song, Love Shack, break it up into menu items, and you've got Jukebox Money Grilled Cheese, It's As Hot as An Oven Grilled Cheese, Wearing Next to Nothing Egg Salad, It's About To Set Sail BLT – you get the idea.
You might just pass this Funky Little Shack, which isn't a shack at all, but a storefront in a strip shopping center. But you probably won't, as The Whole Shack Shimmies on the days that cocktails, called Love Potions, rule. A solid 5 on most review sites, SB's Love Shack rocks in more ways than one.
EAT/OYSTERS: Rappahannock
Come right into this plucked-from-the-bay-fresh oyster spot, and you'll find bartenders reaching under the bar to shuck those bivalves right before your eyes. Compare the salty, briny taste of Chincoteague Oysters to the sweet clearwater Rappahannock River Oyster – you don't have to choose. This restaurant is basically a delivery device for the underrated Chesapeake Bay area oysters, and they will hook you (or is that scoop you up?) for sure.
EAT: The Roosevelt Restaurant
In a former pharmacy, tin ceiling and worn wooden floorboards still intact, the Nouvelle Southern eatery, the Roosevelt, has gained notice and even on weekday nights hums with a diversely aged crowd. As is the trend now, cocktail names reflect a youthful sense of humor.
Order The Seersucker – bourbon, sweet tea, bitters with "charred lemon cube," or She Wolf Paw – apple brandy, green chartreuse, crème de cacao. The menu features down-home cooking: Catfish, Black eye Peas and Rice ($17) hits the mark.
Graze on sides like fried Brussels Sprouts ($4), and end the meal with Coca Cola Cake or the inexplicable Foie Gras Pound Cake (?!).
Mama J's Chef/owner, Velma Johnson, worked for the Sheriff's Department before opening up her own catering business. Evidently filling a niche in Richmond, her food was in such demand, clients urged her to open a restaurant.
She did and it hasn't been empty since. Johnson makes the most superb catfish nuggets, yams, and her famous "Rum Cake" – ideal for people who don't think they like rum cake – and incredible, pork-free, vegetarian collard greens. I'd like a vat of that, please.
The passionate chef-owners of Saison started out on the cutting edge of the craft beer and modern whimsical cocktails revolution with a Jumbo-jet-sized drink menu in a Smart-Car dimensioned space.
Saison has curated a peculiar draft list that "plays well with food," and wait-staff are happy to pair up drinks with the innovative Southern and Central American inspired cuisine, or, in quirky cook-speak, "Colonial foodways coming up from Latin America."
Fun menus pasted into travel-guide photography books delineate offerings like toothsome Oxtail Sopes with Masa Cakes, a cornucopia "Fall Salad"and Cilantro Mint Ice-Cream. Bring in your favorite vinyl record and get $5 off your bill if it's chosen to play. The strangest one yet? Sermons by Billy Graham.
EAT: Lemaire Restaurant at the Jefferson Hotel
Lemaire reigns as one of Virginia's Favorite Restaurants. Using local purveyors, honey from rooftop hives, and on-site garden herbs, New American dishes take your taste buds on a flavorful ride.
The Butternut Squash soup is certainly a "Hug In A Bowl," and other playful menu items are a far cry from the fine, but stuffy restaurant it was before. The more casual bar draws an "after work" crowd with "Create Your Own Manhattan" swing.
Best Places to Stay in Richmond VA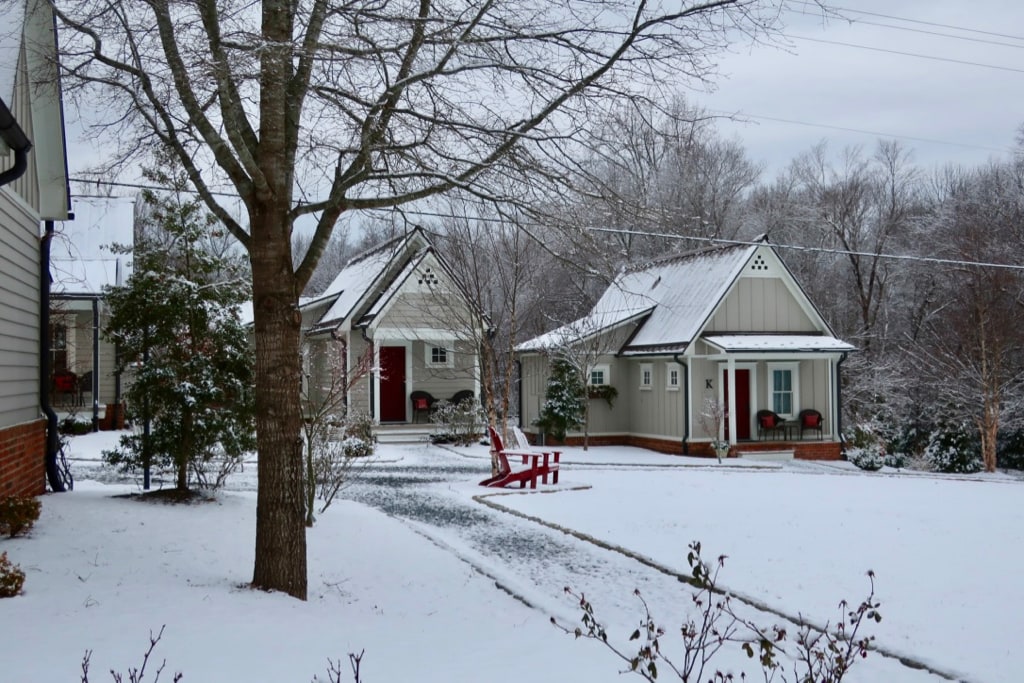 STAY: Guest Cottages at Mill @ Fine Creek, Powhatan
The Mill at Fine Creek, a half hour drive from Richmond, is the perfect getaway from a getaway. Those looking for a bit more isolation, less crowds, and lots of charm will find it all there.
STAY: The Commonwealth
Once the hotel of choice for government officials, The Commonwealth Hotel, Richmond VA, within steps (and with great views) of the Virginia State Capitol, has been newly renovated and updated as a cute artsy boutique for trendy travelers as well.
Joining the growing number of boutique hotels in Richmond VA (Quirk, Graduate Richmond, and Maven Favorite, Linden Row Inn), The Commonwealth is attracting a growing number of non-elected officials from all over the world.
First Impressions of The Commonwealth Hotel
You can't get much closer to the Virginia State House: in fact, if you inch past The Commonwealth on Bank Street, you'll hit the Capitol's security barriers.
The lobby is full of light, thanks to casement windows and cream colored cushy couches that offset the cool black and white marble floor. The space, you'll soon see after check-in, is much more sedate than the colorful room décor. Reception is uber friendly and quick – it's a no-fuss kind of place.
Rooms and Suites At Commonwealth Hotel Richmond
Guests are rewarded with eclectic art as soon as they exit the tiny (3-person) elevator: each floor corridor is graced with a different vibrantly painted mural. Guestroom doors are also "tattooed" with contemporary art.
Ask for a corner suite overlooking the Virginia State House and Capitol Square Park – a set of rooms larger than most NYC apartments. The view is unparalleled.
Rooms are painted in bold colors, and furnishings are Crate and Barrel modern, handcrafted by local Virginia artisans. Comfortable, clean beds are encased in white duvet and sheets.
Bathrooms are design-forward with marble tile floors, white subway tile showers, and plenty of light. Rooms and Suites from $120-$250 per night. Packages with breakfast available.
STAY: Boutique Hotels are booming in Richmond
These include the above Commonwealth, the below Linden Row Inn, and the newest funky-spacious Quirk Hotel, and Graduate Hotel Richmond.
Stay historic without paying a fortune. The Linden Row Inn incorporates five Confederate row homes and two girls schools, and is regarded as one of the country's best surviving row of Greek Revival architecture today.
According to historians, Edgar Allan Poe (who lived across the street), first courted his life-long love, Elmira Royster, in the garden where Linden Row now stands.
And when Irene Langhorn attended school here, her wealthy parents held a monthly "suitor party," for years, but the picky future first "Gibson Girl" never found one to her liking.
On the National Historic Register, Linden Row Inn was the brainchild of artsy, affluent, entrepreneurial Mary Wingfield Scott, who bought up these seven homes in 1949, connected the balconies and first rented to artists before turning the property over to Historic Richmond Foundation in 1980.
In 1988, the Inn underwent a major renovation and in 2003, bathrooms were updated to luxury standard. Elevators may be creaky, floorboards warped and slanted, some curtains frayed, but rooms are charming and clean, with much more luxurious appointments than you'd expect at this price-point. Rooms $109-$155 per night, Parlor Suites $209 night include Continental Breakfast, complimentary shuttle, free wi-fi, free YMCA fitness pass.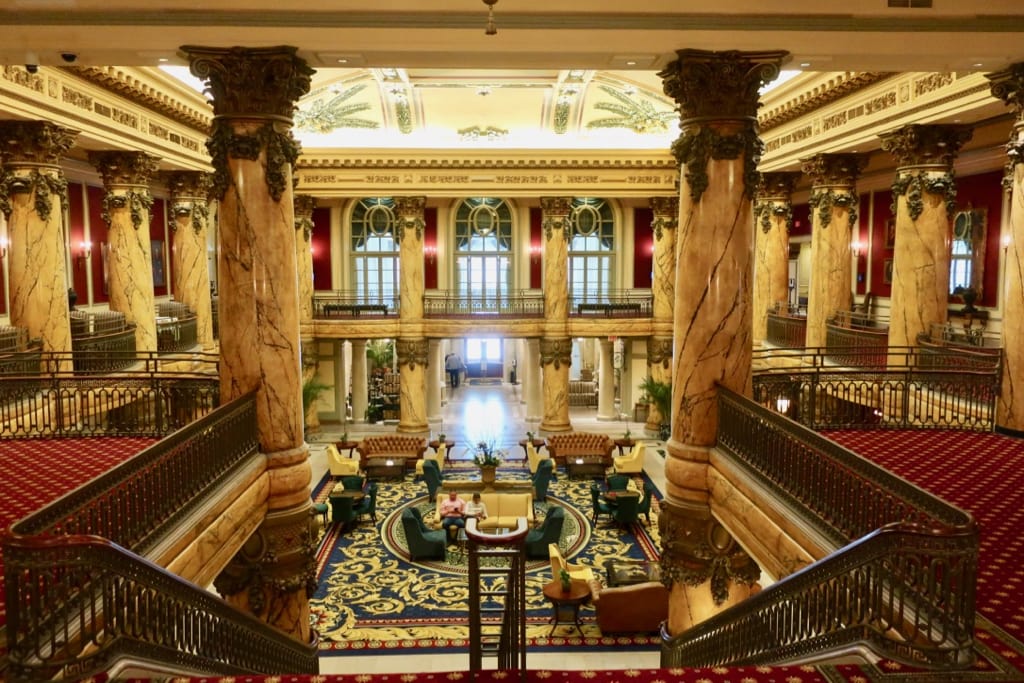 STAY: Jefferson Hotel
The premier destination hotel in Richmond, The Jefferson once sported alligators in the Courtyard fountain. Built by Tobacco magnate, Major Lewis Ginter, it was and remains opulent lodging built for tycoons.
If you've got the bucks and want to check one of 33 Forbes 5-Star and AAA 5-Diamond hotels in the country off of your list, here's your chance. Weekend discount rooms from $255, weekday room rates from $345.