Last Updated on
WHY GO: The Laurel Highlands region of Western PA, about an hour southeast of Pittsburgh, is so spectacular, it proved the ideal setting for several Frank Lloyd Wright masterpieces. It's also where you'll find the hometown of both "Mr. Rogers" and Arnold Palmer (Latrobe), a small town Art Museum that won a major Architectural Design award, a "Truman-Show-"perfect small town, fantastic whitewater rafting, and one of the most unusual yet luxurious resorts so quirky, it could serve as Poster Child for the offbeat Getaway Mavens. Encompassing 3,000 square miles from PA's highest mountains (3,213 ft) to the deepest river gorge (Youghiongheny River), The Laurel Highlands, touted as "Pittsburgh's playground," doesn't have to shout out its many merits. Go, and you'll be literally and figuratively swept away.
 What To Do in The Laurel Highlands, PA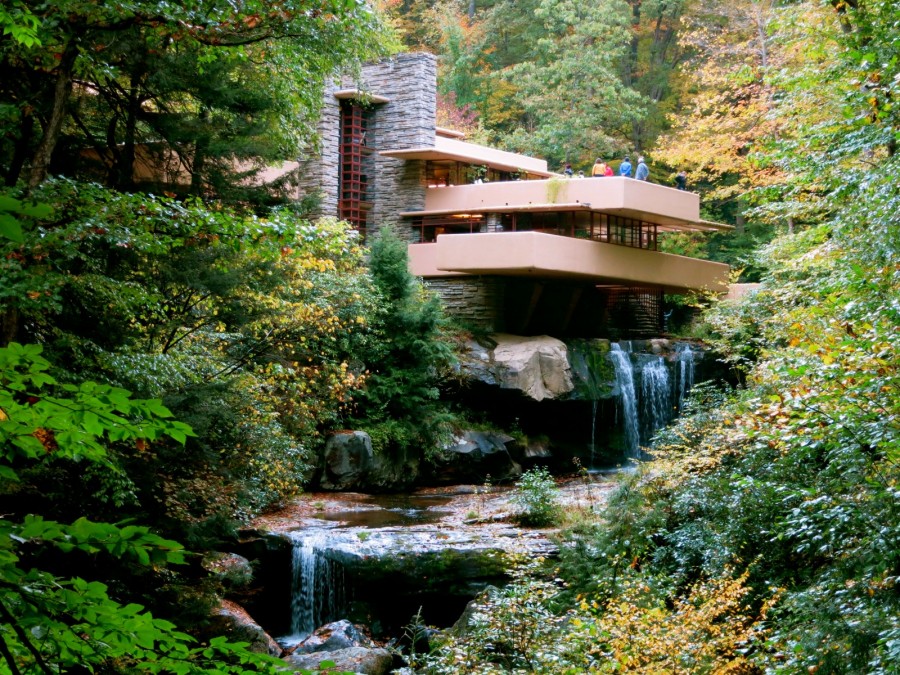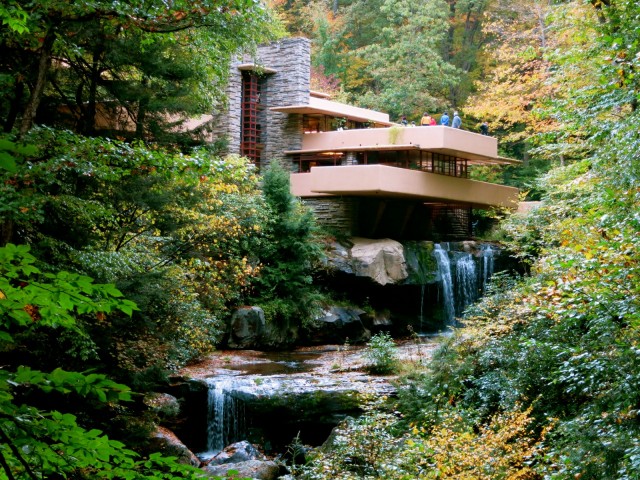 TOUR: Fallingwater. Take the "Behind the Scenes Tour" of this weekend home, designed by legendary architect, Frank Lloyd Wright for Pittsburgh department store magnate, Edgar Kaufman and his family. Built between 1936 and '37, this was Wright's mid-career masterpiece; a composition of stone, wood, and glass cantilevered over cascading water.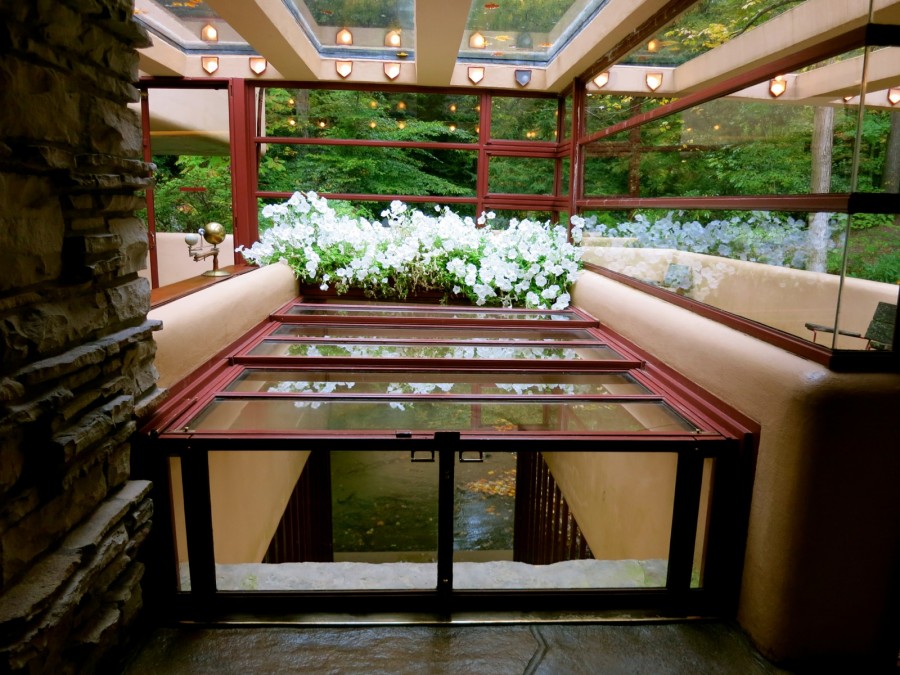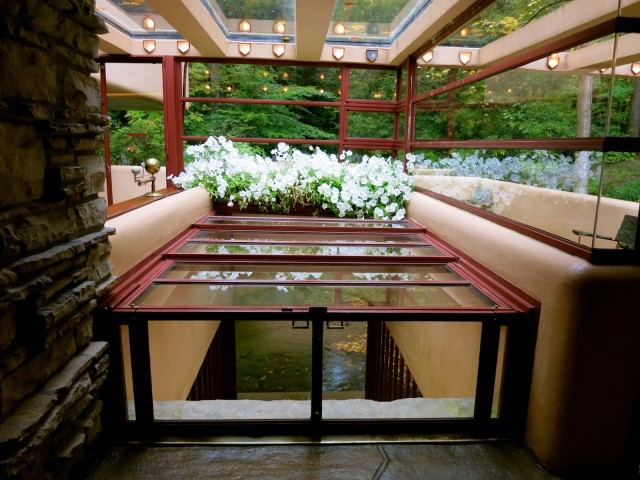 Features of Fallingwater are both practical and whimsical. There's soap-on-a-rope by the stream-fed fountain at the front door, a glass hatch in the living room that opens onto a staircase descending to the river beneath the home, couches built into the walls ("hanging in the air") to mimic cantilevered sections of the home, and corner windows that open completely to create an illusion of outdoors inside (a Wright signature). Edgar and Liliane Kaufman's only son donated the home to the Western Pennsylvania Conservancy in 1963, when it was opened to the public. Since then, over five million people have visited this mountain treasure.
All guests are asked not to carry any large bags onto the property. Cell phones must be turned off – and no video cameras allowed. The extended tour takes you to secondary rooms and up to the staff's quarters. Open April-November daily, March and December weekends. $25 for regular tour, $72 in-depth tour. Check website for tour times.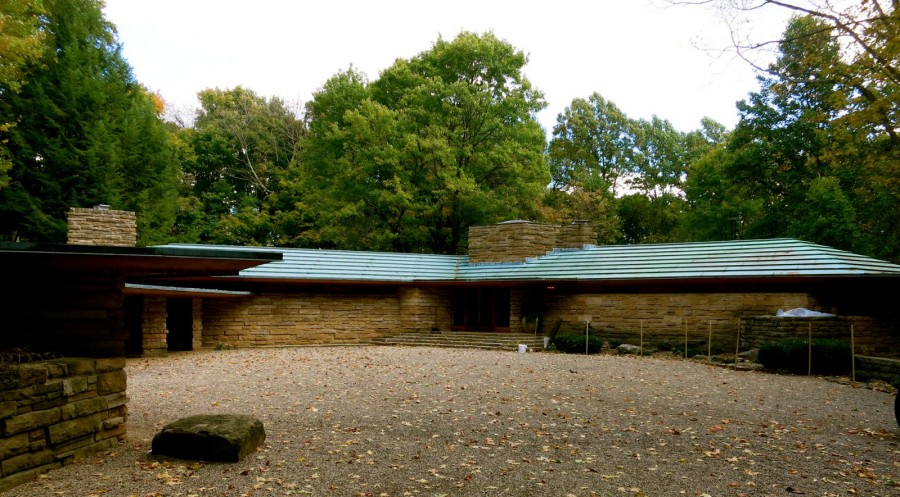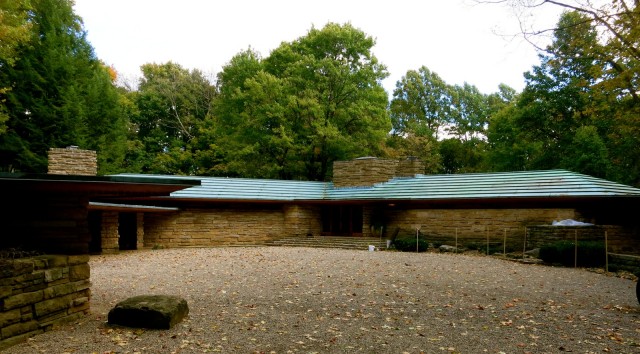 TOUR: Kentuck Knob. Built in 1956, this was one of Frank Lloyd Wright's later commissions and has been open to the public only since 1996. I.N. and Bernardine Hagan (of Hagan Ice-Cream fame) were friends of the Kaufman's (who owned Fallingwater), and wanted a similar, but smaller, home nearby. Wright sized up his clients as "perchers" or "nesters" – and apparently, the Hagans were perchers. Up on a ridge, views from the windows and balconies are outstanding.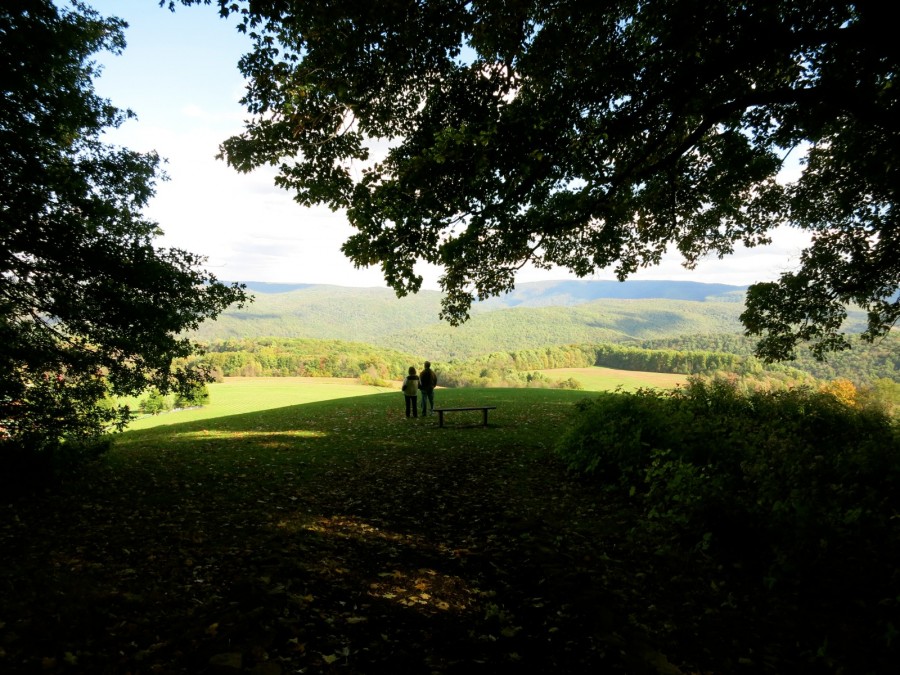 Bernardine Hagan lived to be a hundred years old and spent her last 28 years at Kentuck. In 1986, Lord Peter Palumbo purchased this 2,200 sq. ft. vacation home for $600,000, and then opened it to the public ten years later.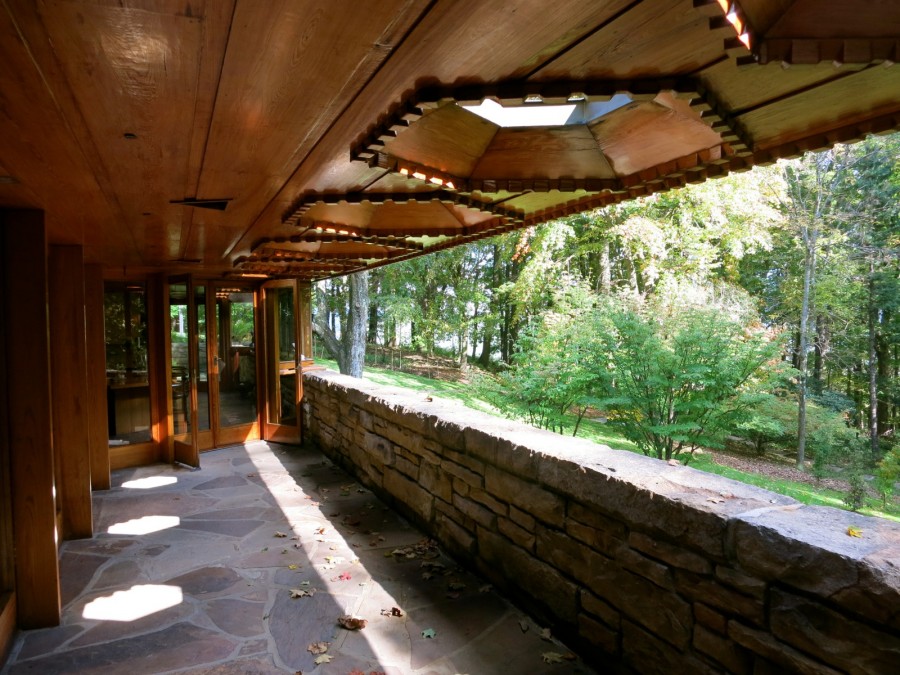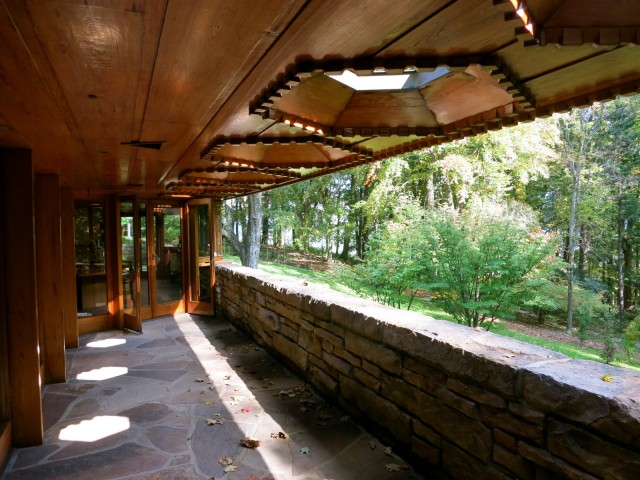 Take the 90-minute in-depth tour that begins at a small Visitor's Center. You'll be whisked uphill by van, and dropped off at the front door to find Wright's bright red signature FLW tile. The home's original copper roof has oxidized green with time. Wright designed Kentuck Knob on a hexagonal grid and you'll see this distinctive form repeated throughout the home. The bright yellow dining room is drenched in sunlight through windows and hexagonal skylights, and just steps outside, the shape repeats through overhang cutouts along the long patio.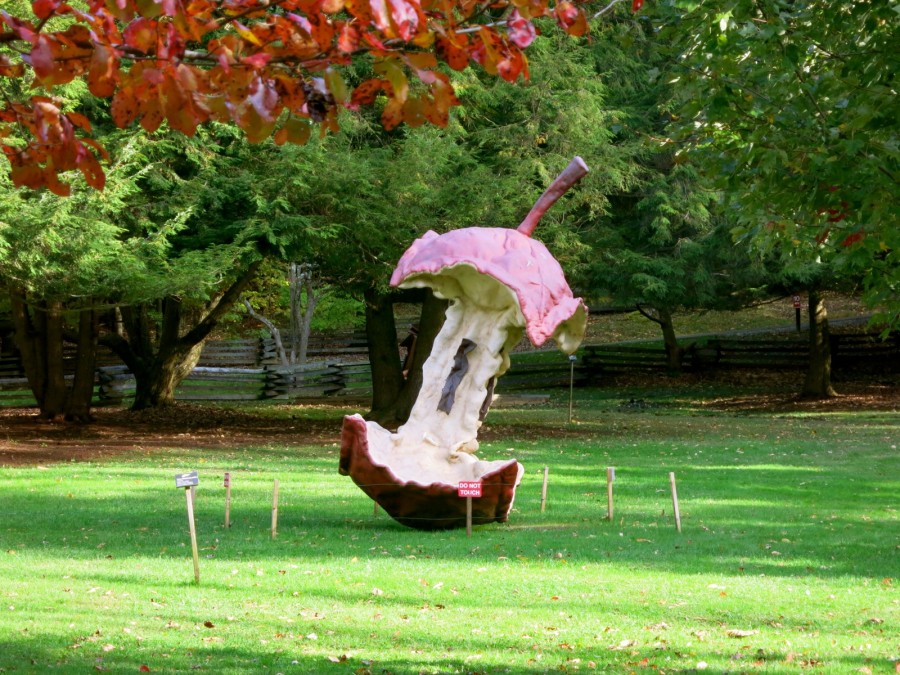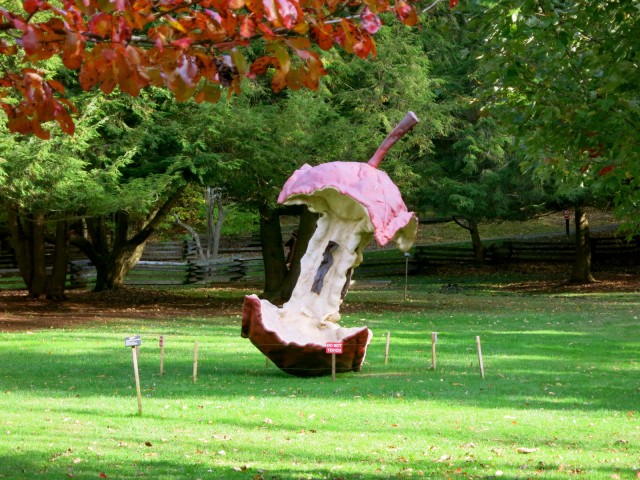 Kentuck Knob's spotless kitchen, the "nucleus of the home," is a study in mid-Century modern encompassing stainless steel counters, 15 foot ceiling with hexagonal skylight, cork flooring, Jetson's era Panasonic-TV, and the original Westinghouse Oven. Bedrooms in the home are small but ingenious, with storage cubbies and furniture that Wright designed to fit into the odd angles. Don't leave the property without a taste of Hagan ice-cream, which is still sold in the Visitor Center and still quite the treat. Tours March-October daily 9-5, Wed 12-5. November 10-4, Dec. Fri-Sun 10-10. Closed Jan-Early March. 45 minute tours $22, In Depth tours $60.50. 2-hour brunch in Mrs. Hagan's Art Room plus tour, $110.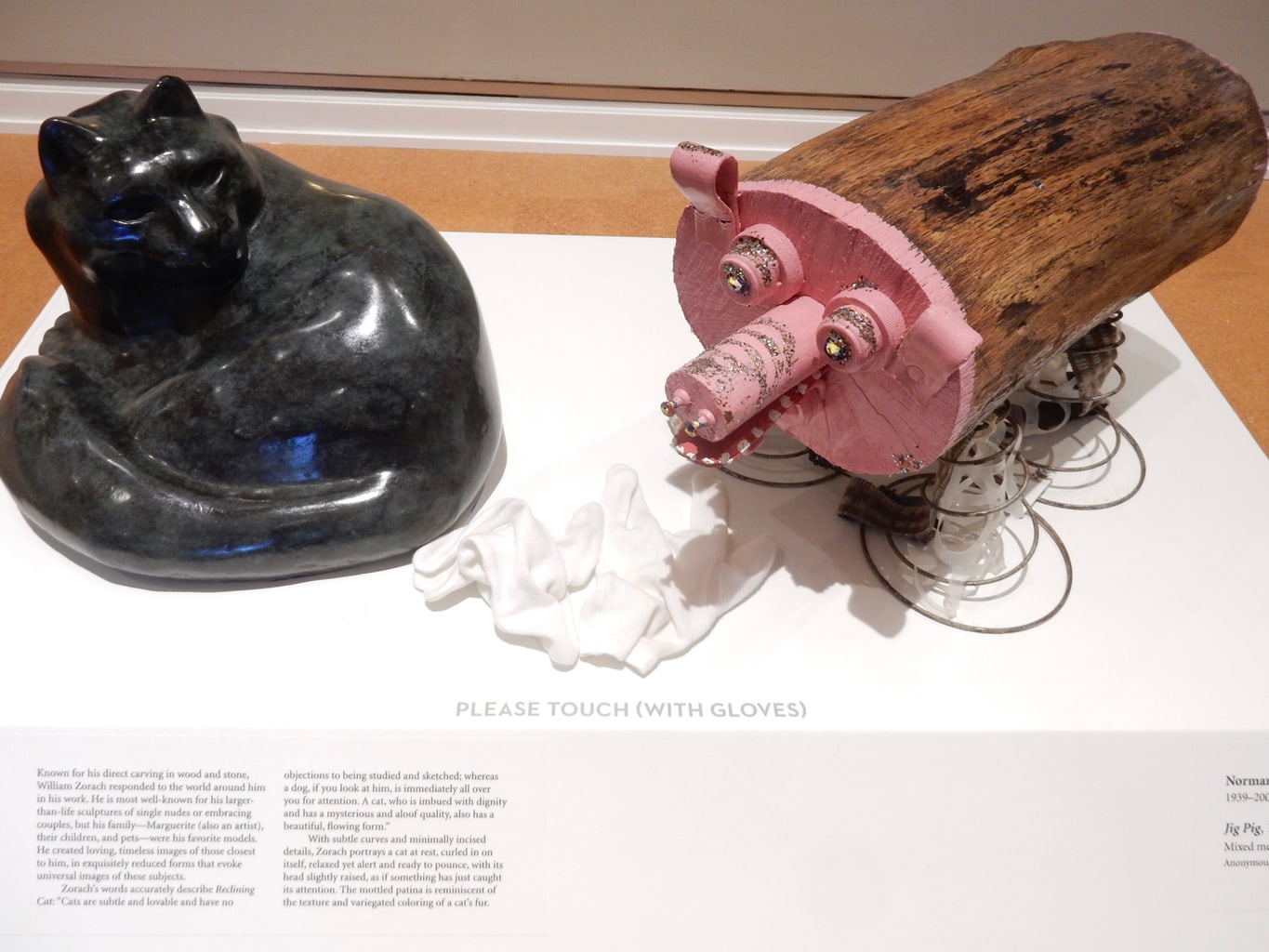 VISIT: Westmoreland Museum of American Art, Greensburg. This small county art museum, dedicated to American art from 1750 to the current day, is a revelation: mostly because it takes the simple act of art appreciation and meditation seriously, and also acknowledges that rather than being passive, the very act of gazing at a piece of art is interactive and immersive. To that end, the Westmoreland Museum is stocked with mobile chairs stamped with – "move me to your favorite spot, then sit and stare for awhile." Plus, it's the only museum I've ever been to that stocks yoga mats in its galleries – available to "relax, meditate, and see art in a different way."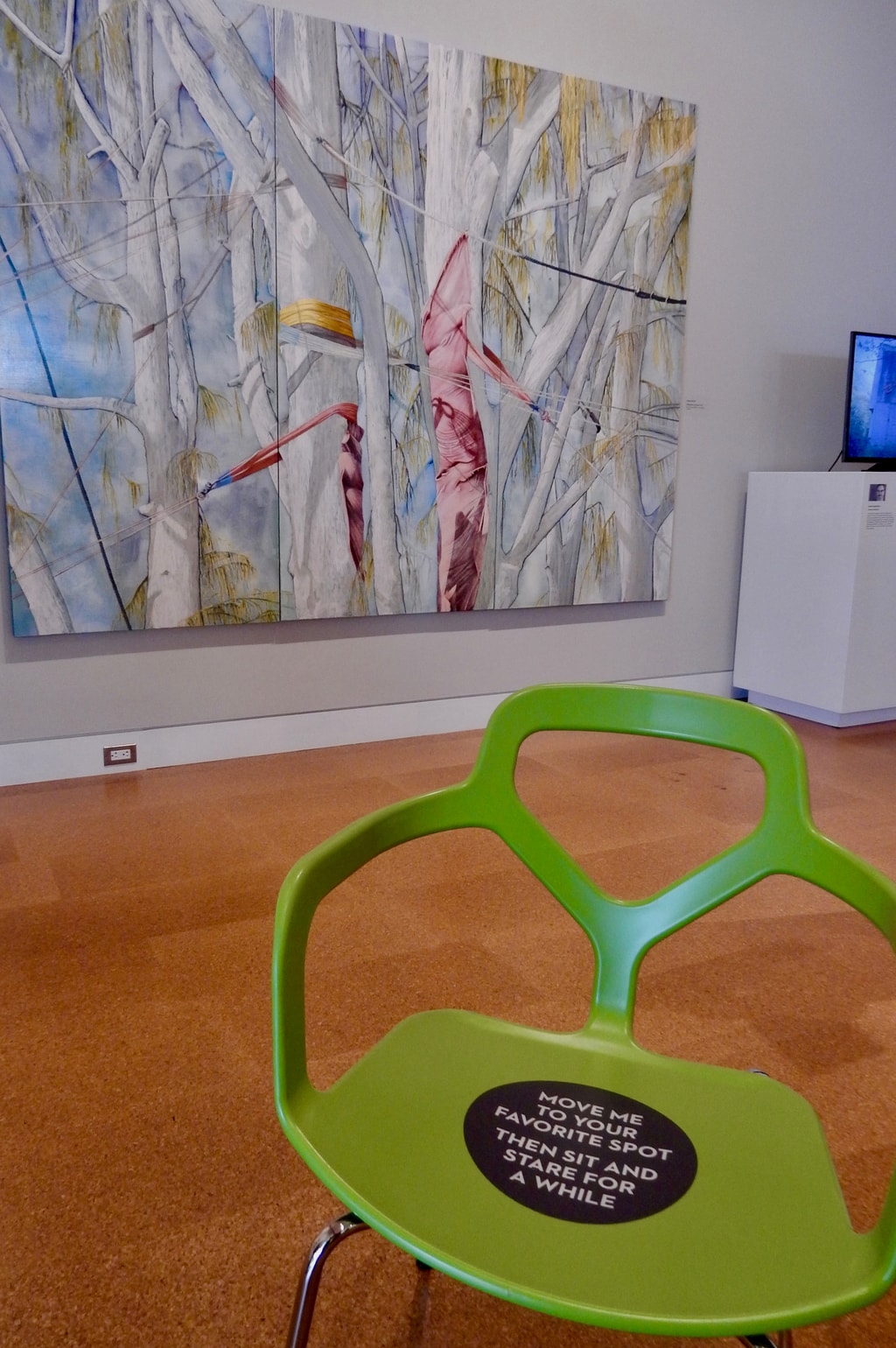 Why is this world-class museum, named by Architectural Digest as the Best Designed Museum in Pennsylvania, in a small (pop 35,000) western PA town? Art lover, Mary Marchand Woods, bequeathed her entire estate in 1949 to establish the institution that would become the Art Museum ten years later, and the grateful community has supported it ever since.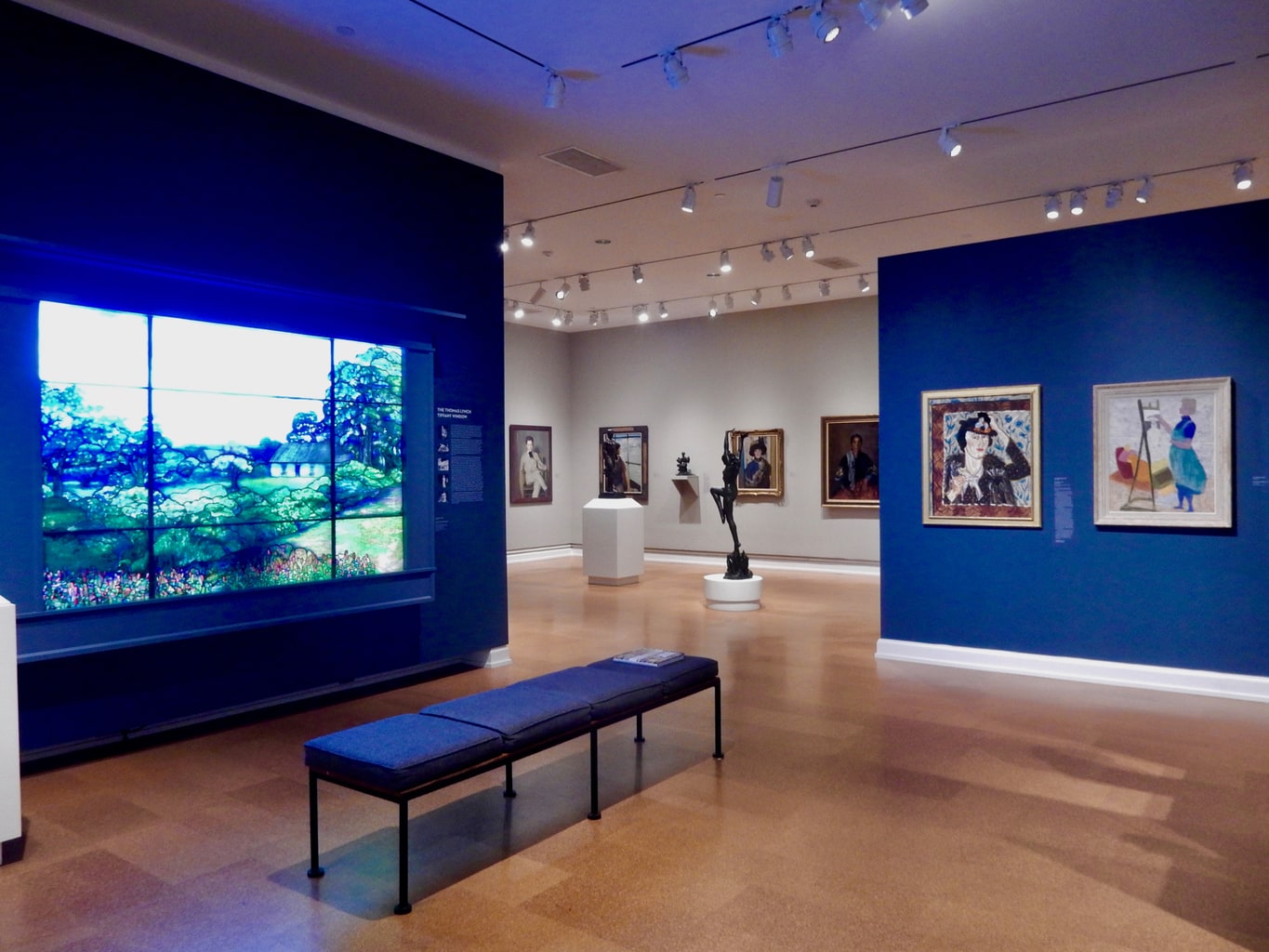 The last expansion, in 2015, added a beautiful LEDE Silver glass-enclosed entrance and gallery. Exhibits on three floors include a Tiffany window, the works of Mary Cassatt, Milton Avery, and other well-known artists. Initially, the Romanticism movement in Europe heavily influenced American art, as a painting by Benjamin West attests. The center salon-style gallery, with some of these romantic renderings, focuses on the landscapes and cityscapes of southwestern PA.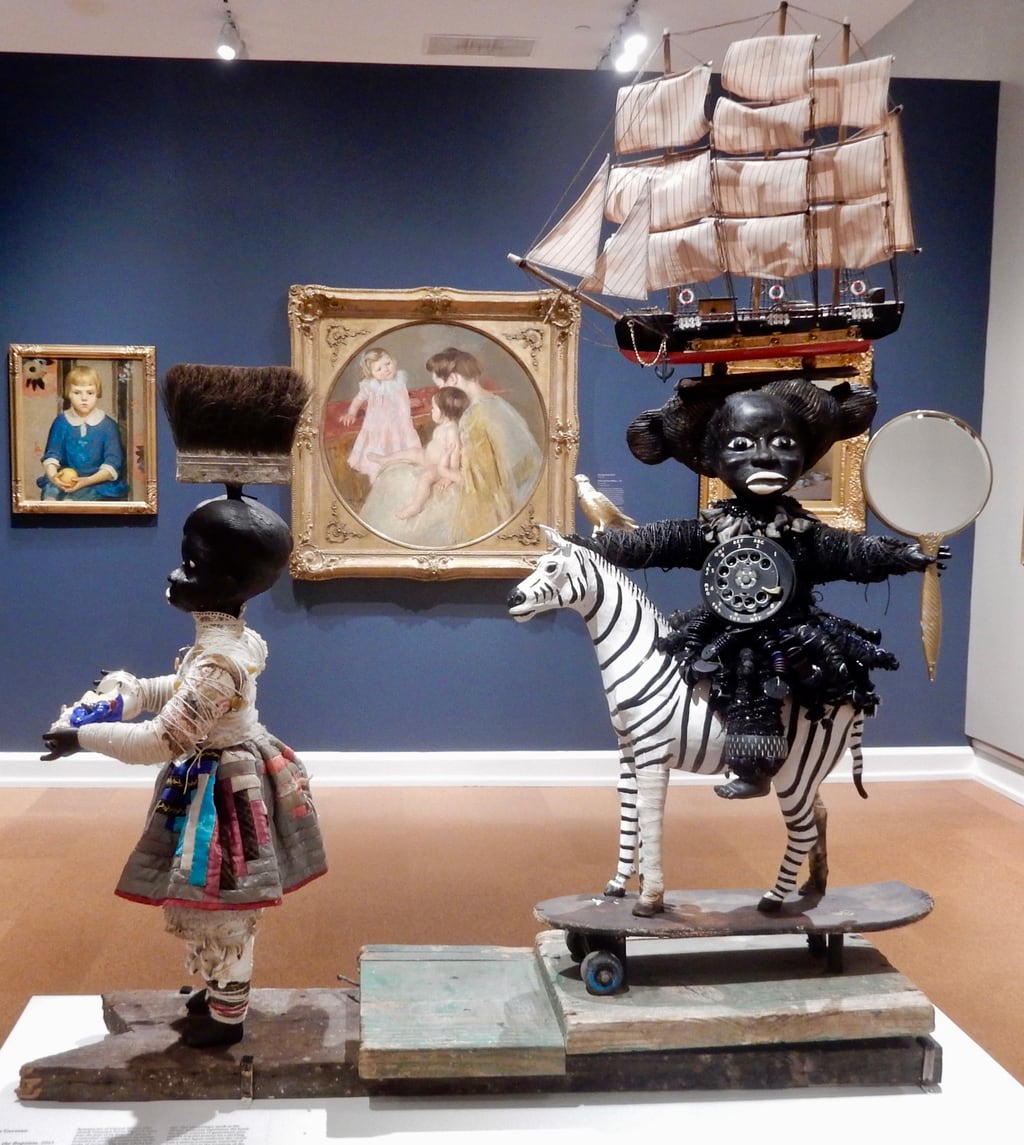 One piece – a contemporary sculpture by Vanessa German called "Parade to Baptism," stopped me cold. A bold statement of the Black Experience in America, if I'd had more time, I would have brought the sit and stare chair over to study it more carefully. Open Tues-Sun 11-5, Wed. until 7 (5-7 free on Wed.), $15 adults, under 18 free.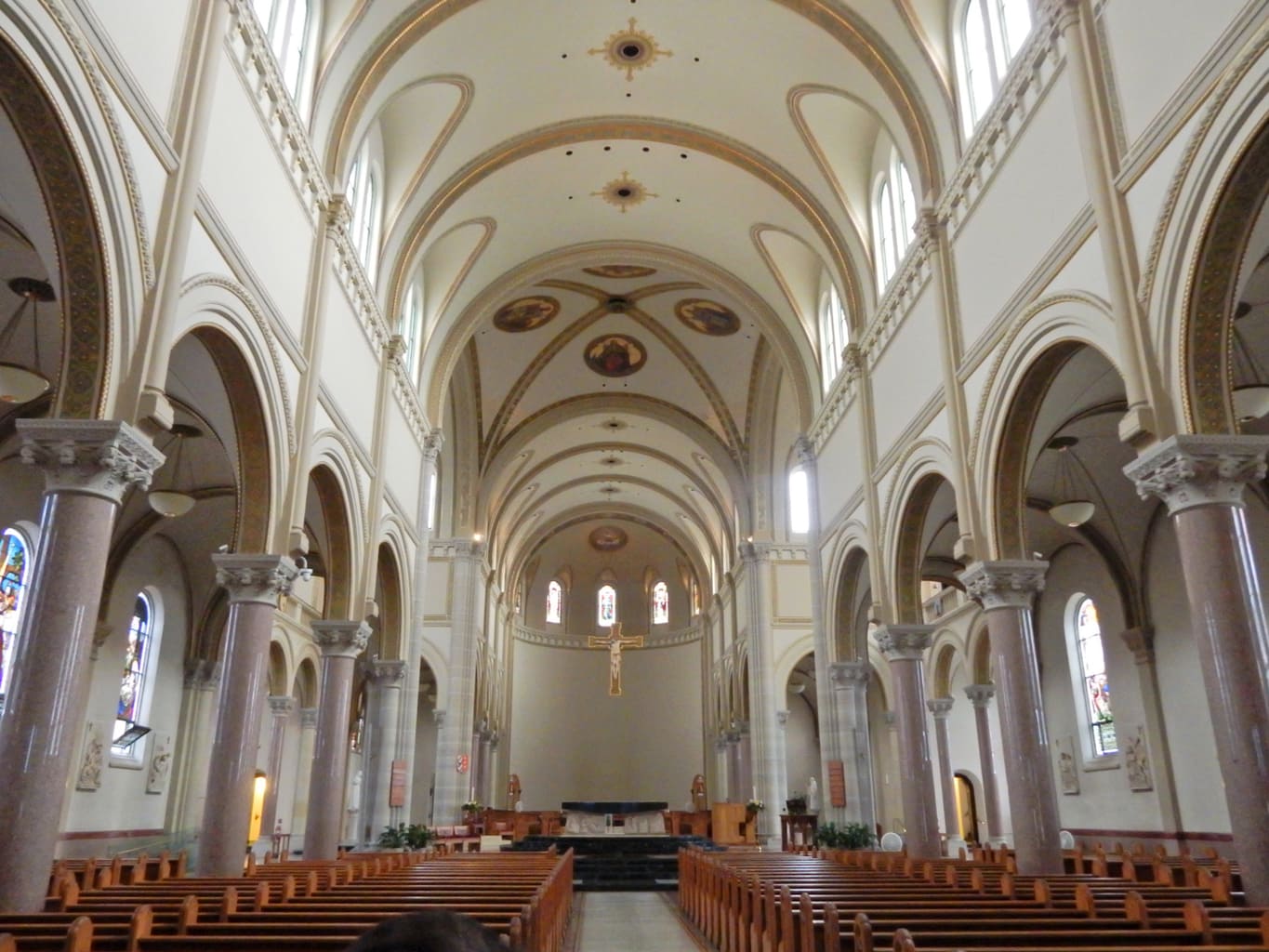 VISIT: Latrobe PA. Hometown of "Mr. (Fred) Rogers" and Arnold Palmer, and the Birthplace of the Banana Split in 1903, Latrobe is also where, on the grounds of Saint Vincent College, you'll find the oldest Benedictine Monastery and the largest Benedictine Basilica in the USA. St. Vincent College owns one of the first printings of the Canterbury Tales and, unexpectedly, serves as the Pittsburgh Steelers summer training camp. Established in the mid-1800's, when western PA was still wilderness, some 200 Benedictine Monks still live, teach, and practice at this campus-based Archabbey Church.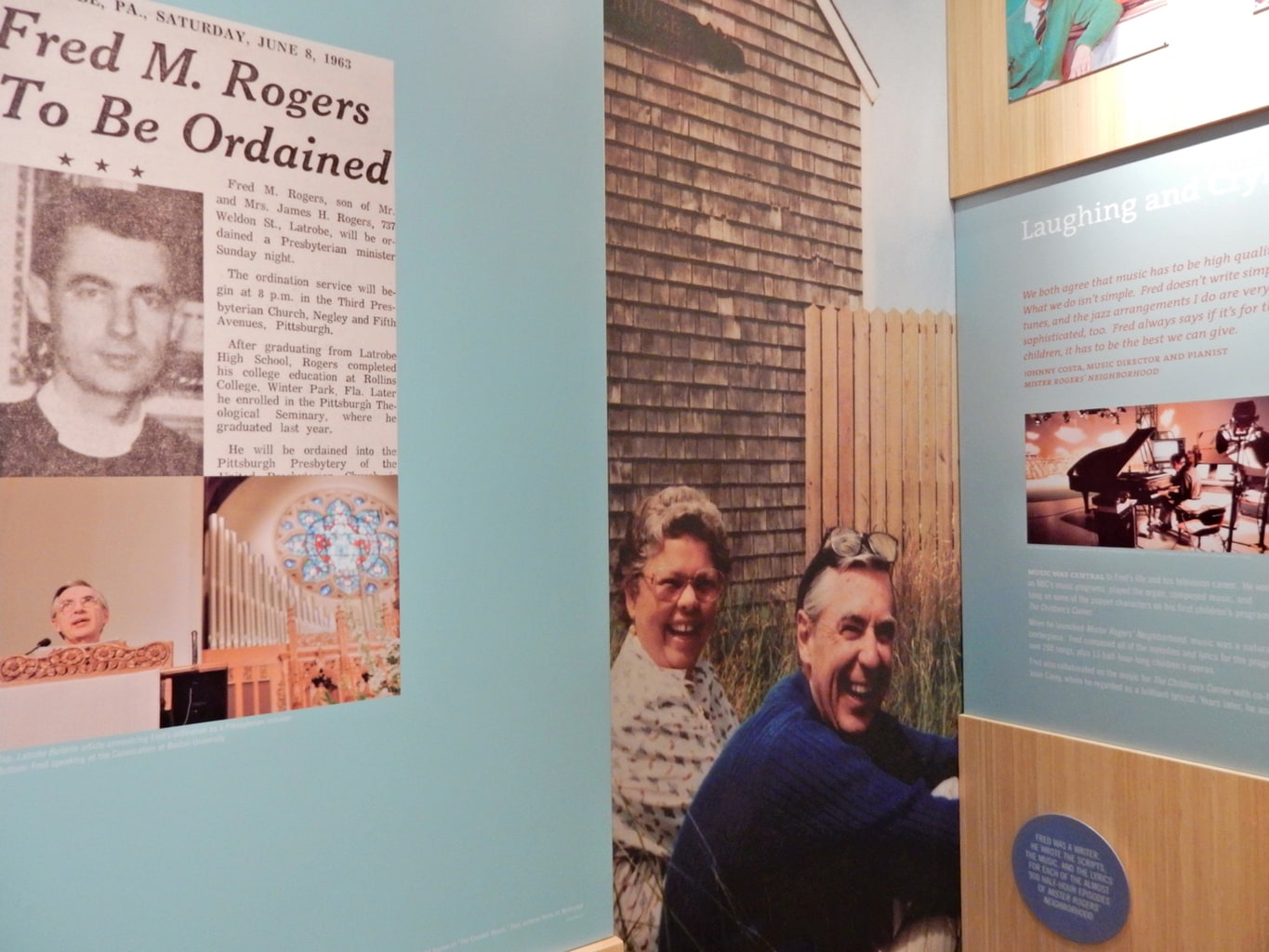 VISIT: Fred Rogers Center, on campus of Saint Vincent College, Latrobe. It's no surprise that in these divisive times a movie documentary about the quiet, compassionate, "Mr. Rogers" became a smash hit. Or that Tom Hanks will be playing, in an upcoming movie, the man who on 900 episodes of Mr. Roger's Neighborhood confronted the ills of our time with kindness and love. An ordained minister, Fred Rogers considered his television show to be his ministry, leading one reviewer to write, "Mr. Rogers Neighborhood makes us feel safe, cared for, and valued. Wherever Mr. Rogers is, so is sanctuary."
The Fred Rogers Center was the prime resource for both the Documentary, and the in-production Biopic (yes, Tom Hanks spent time here doing research). It also features a small time-line and artifacts museum that displays Rogers' four different colored sweaters – knitted by his mother (that he alternated every day and couldn't differentiate due to his red-green color blindness), puppets used on the show, plenty of photos, and quotes by Rogers and others about him. Fred Rogers died in 2003. He was, as many said, "an island of peace." We sure could use him now.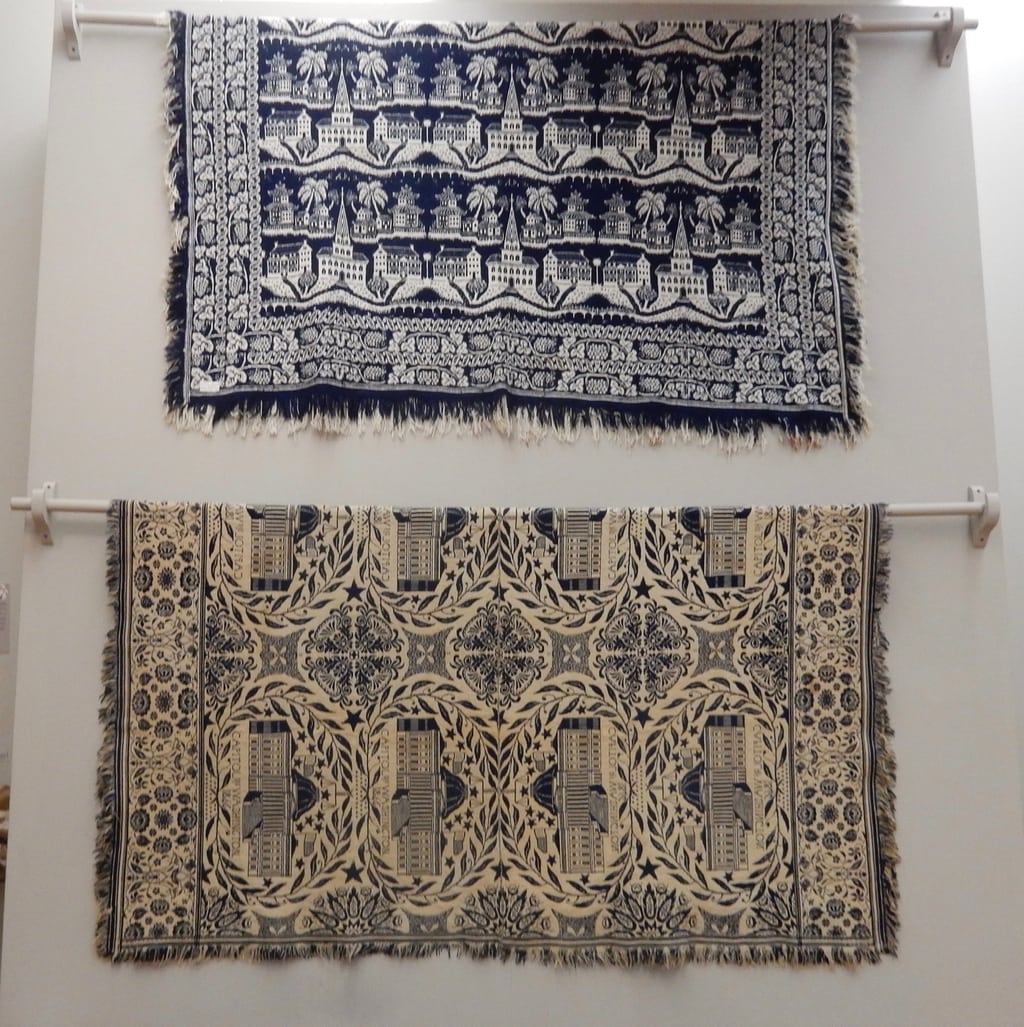 Downstairs, you'll find the McCarl Coverlet Collection – a gallery showcasing stunning examples of a bygone American tradition. Rogers and Coverlet exhibits open Mon-Fri 8:30-4:30, donations accepted.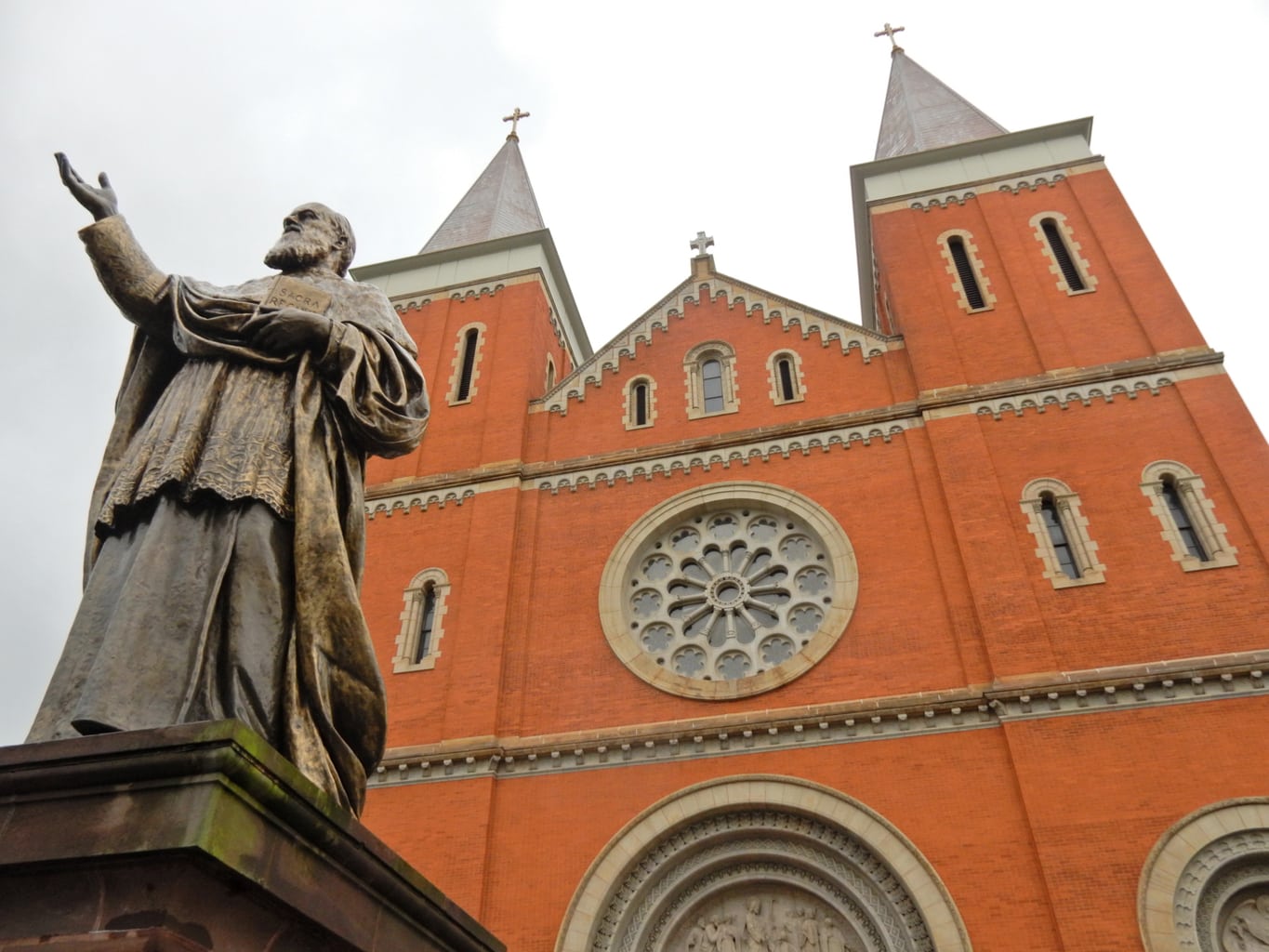 VISIT: St. Vincent Basilica on campus of St. Vincent College. Golf fans most likely saw the interior of this Basilica, as it hosted the funeral of golf-great, Arnold Palmer (who was not Catholic, but had strong connections here), which was broadcast on sports tv shows. (Palmer was cremated, and his ashes spread over his golf cart). The Church is stunning, and a worthwhile stop while on campus.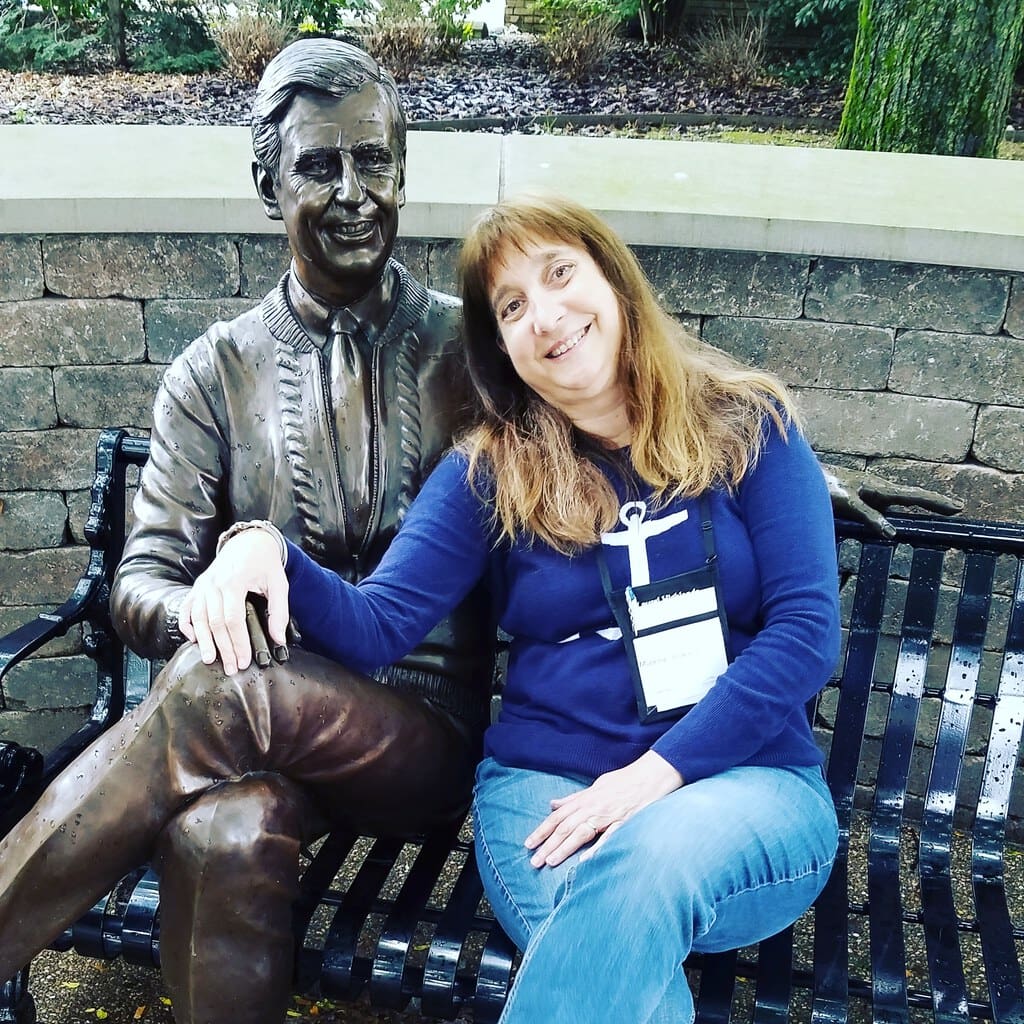 PHOTO OP: James Rogers Park, Latrobe. Come sit a spell next to "Mr. Rogers" at this pocket park in the center of town. He's more than happy to take a picture with you.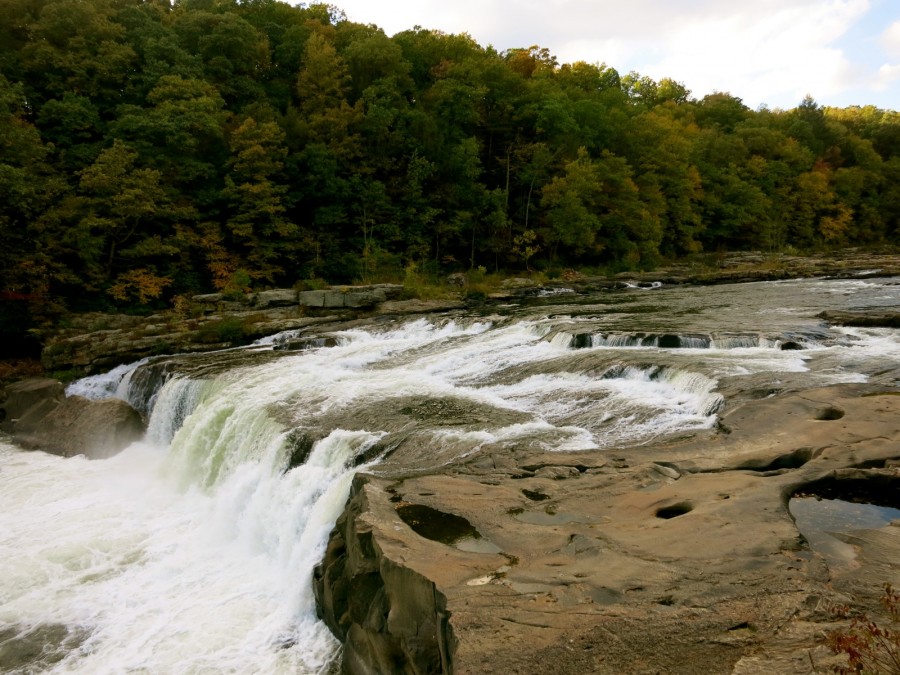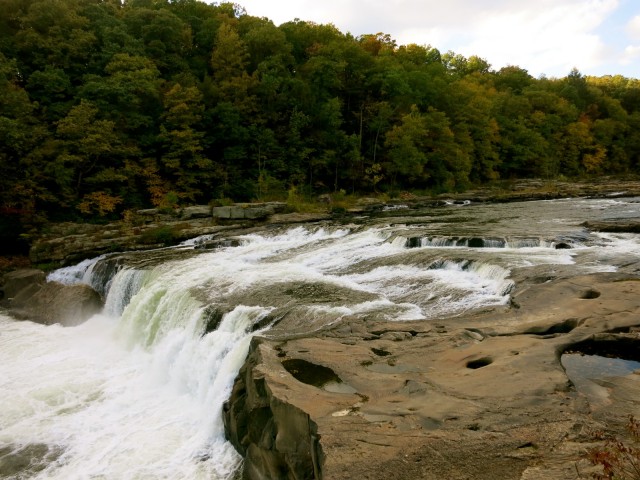 DO: Whitewater Rafting in Ohiopyle State Park. Take a wild 5-hour trip on the Lower Yough River – a 7.5-mile stretch of Class III and IV whitewater or the calmer Middle Yough through Wilderness Voyageurs. ($30-$110 pp depending on day, guide and length of time).
TOUR: Ligonier. It's a tiny town that puts one in mind of the hit movies, The Truman Show or Pleasantville. Downtown Ligonier – a "Brigadoon" like square – is as Hollywood-perfect as a downtown gets. Locals walk their dogs, stop and chat, window shop outside family owned stores: it's achingly old school, yet what we all yearn for deep down.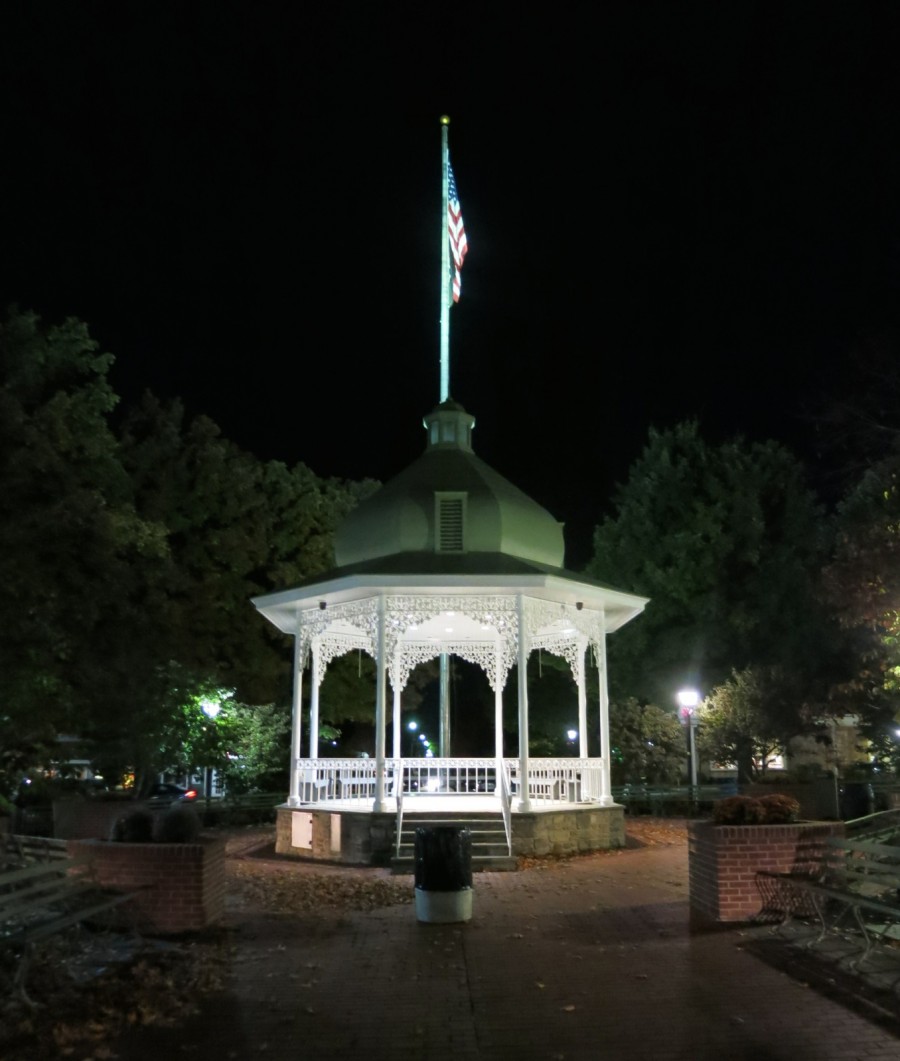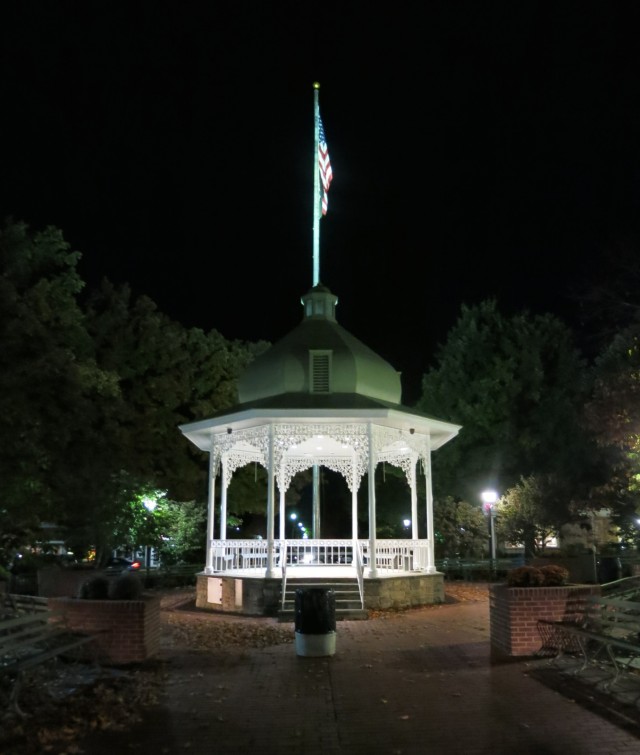 Interestingly, Ligonier, at the westernmost boundary of the British Colonies, was also the site of one of our country's forgotten conflicts: the French and Indian War. Fort Ligonier was one of many forts built every fifty miles or so by the British in the 1750's, as they expanded westward. In 1758, Fort Ligonier was attacked by French troops and Native Americans on the frontier as the French-controlled colonies pushed eastward. George Washington arrived here late October to fight for the British as a young officer, and stayed only two weeks.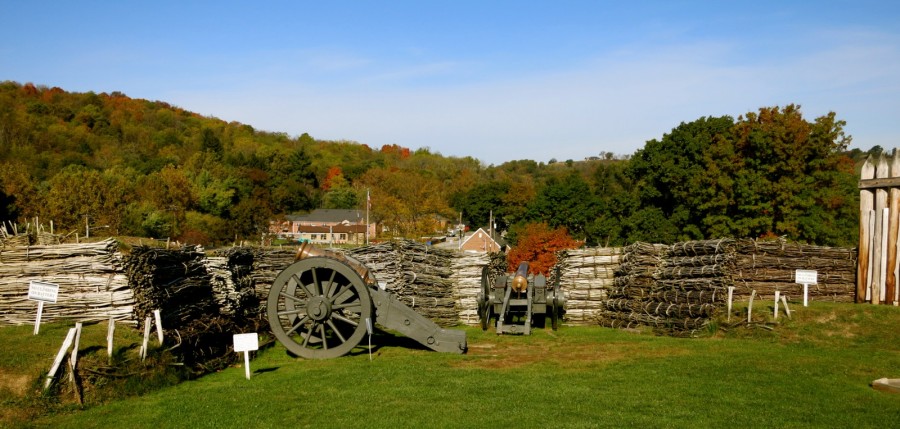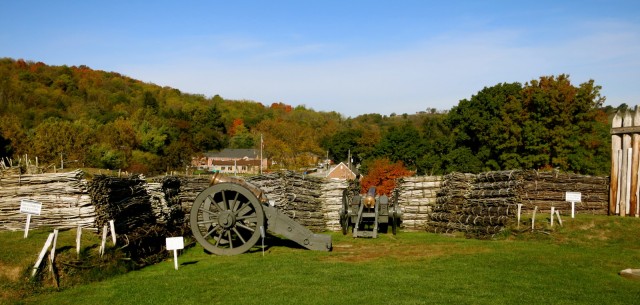 What now stands as Fort Ligonier is a reconstruction built on the fort's original footprint. The Visitor's Center museum is highly engaging, housing a comprehensive collection of 1758 artifacts, including several invaluable objects. There's a pair of Washington's engraved saddle pistols – a gift from Marquis de Lafayette, documents in Washington's own hand reflecting on his time in Western PA, a portrait of Washington by Rembrandt Peale, depicting the young Virginian as he might have looked in 1758, and plenty of other items uncovered here during an archeological dig. It is worth spending a few hours delving into events surrounding this precursor to our Revolutionary War. Open mid-April – mid-November, Mon – Sat 10-4:30, Sun 12-4:30, $10 Adults, $6 kids.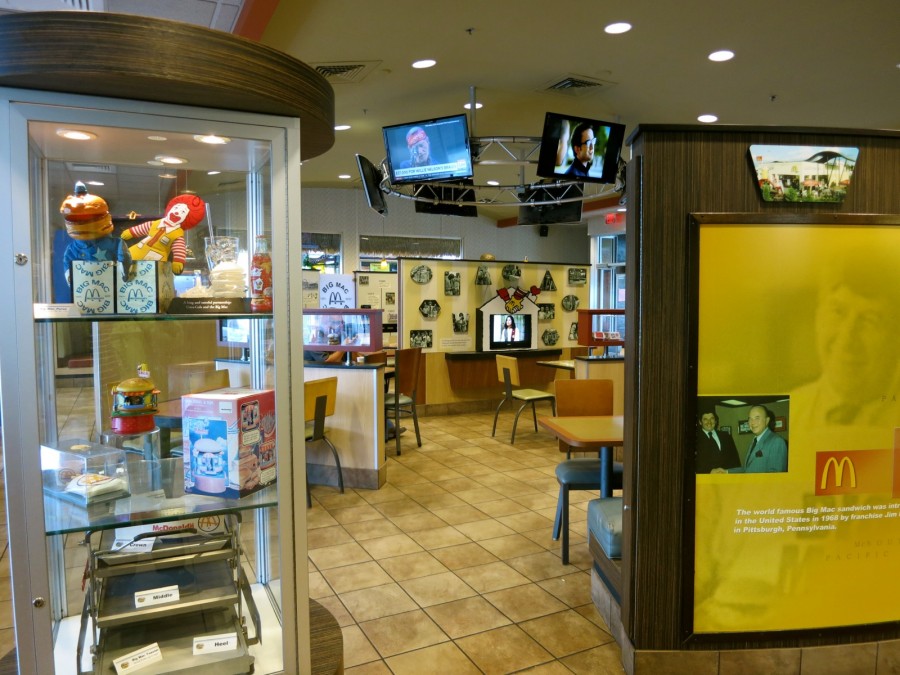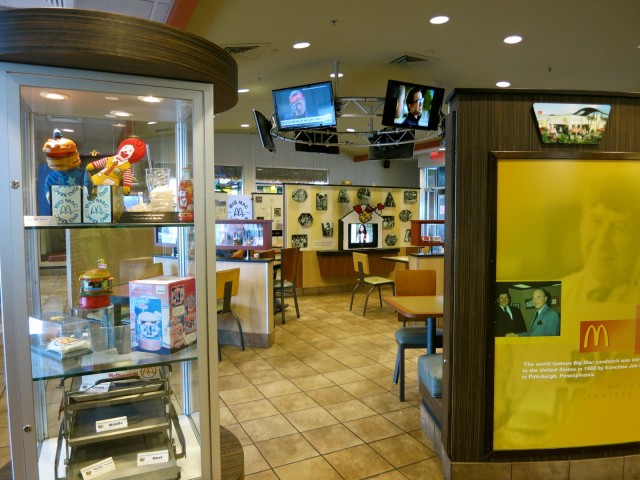 STOP: Big Mac Museum/North Huntingdon Township. Yes, there is one. It's on your way from the Laurel Highlands to Pittsburg just off Route 30 in North Huntington, next door to a Bob Evans and Auto Supermarket. This random, still operating McDonalds, is a paean to Jim Delligatti, who came up with "two all beef patties special sauce pickles onions on a sesame seed bun," in 1963. After 51 years, the Big Mac remains "the most popular sandwich on the planet" and a McDonald's staple.
Best Places to Eat in the Laurel Highlands PA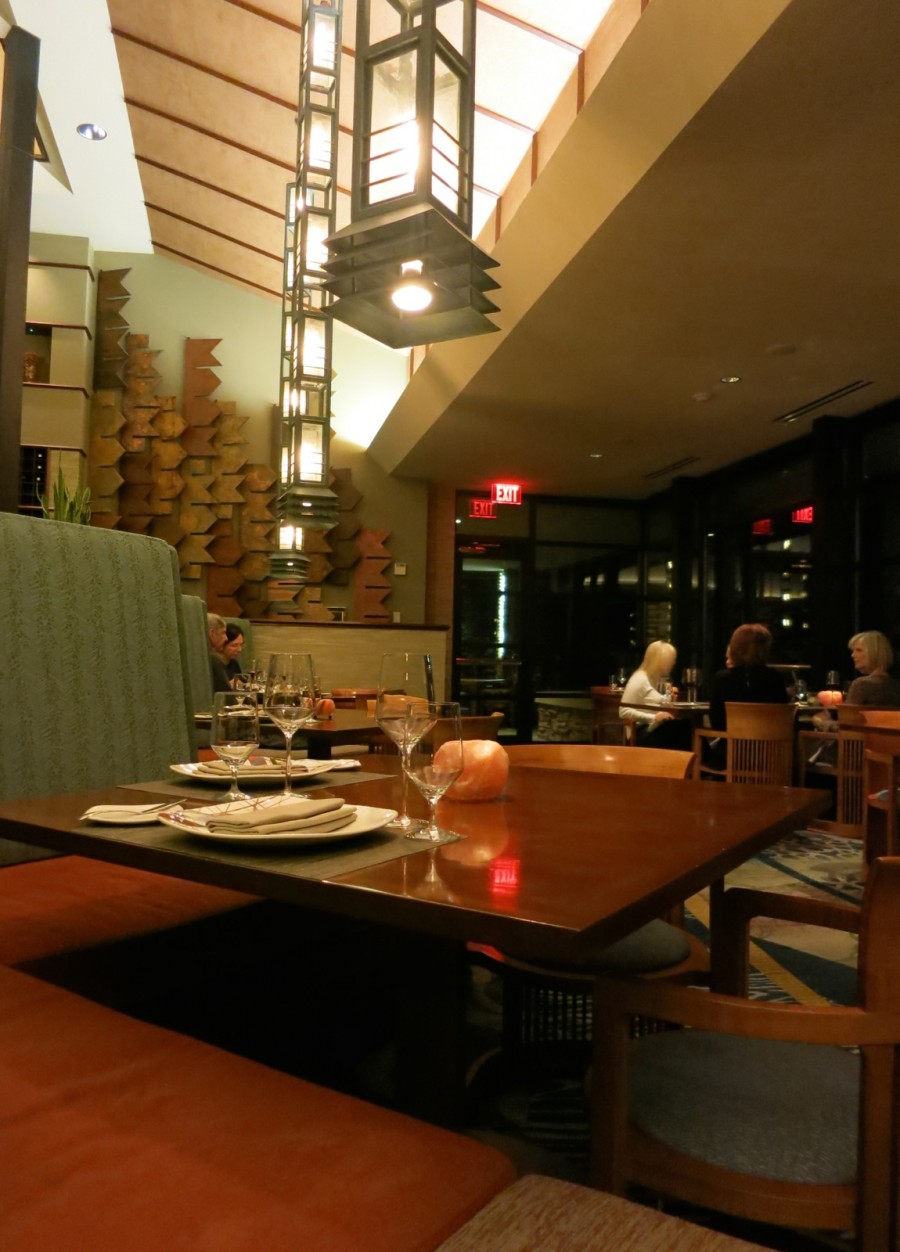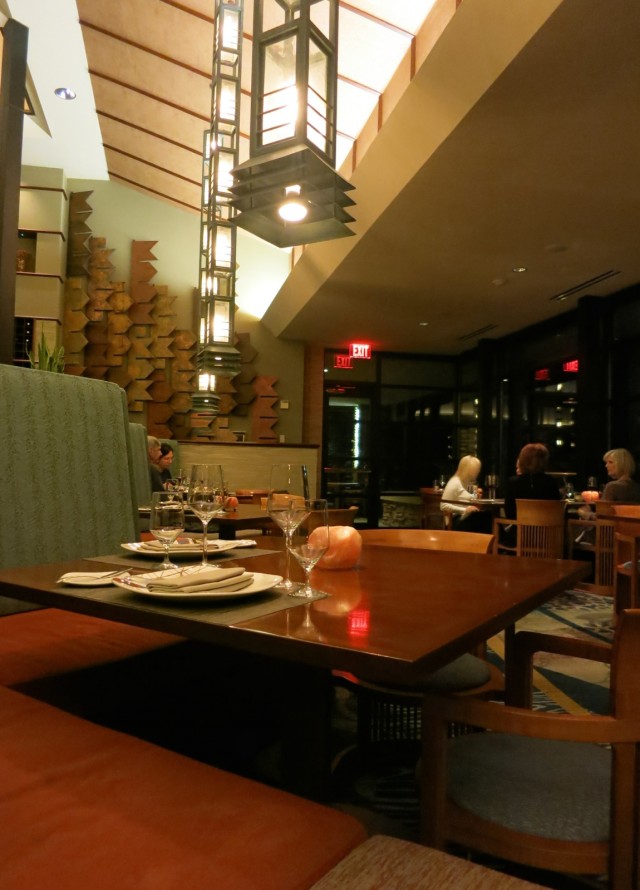 EAT: Aqueous @ Falling Rock at Nemacolin Resort. Chef Mathew Gale presides over this excellent steak house, searing his 48 oz. signature Tomahawk Ribeye to perfection. At just $85 for two, with two "opportunities" – sides that range from Brussels Sprouts to the kick-ass Radiatori Pasta Mac and Cheese – prices at this mid-Century Modern designed restaurant are rather reasonable for one of Pennsylvania's finest restaurants. Gale is also adept at non-beef dishes – Elk Chops, "Veggie Meatloaf" and a wonderful Candied Salmon appetizer, which emphasize his considerable kitchen skills. Cuisine at Aqueous certainly rises to the level of its Five Diamond rated host hotel.
EAT: Lautrec @ Chateau Lafayette at Nemacolin Resort. Highlighting the best of Namacolin's 25,000-bottle wine cellar (21,000 stocked right now), you can dine on contemporary, lighter French cuisine beneath the lithographs of famous French artists including Henri Toulouse Lautrec. Exceptional dining all around, Lautrec has been awarded Five Stars by both Forbes and AAA.
EAT: Caddyshack at Nemacolin. Casual, and overlooking Links Golf Course, the kitchen is best at Smoked Brisket Sandwich ($12), Corn and Crab Fritters ($11) and the scrape-the-skillet decadent Cast Iron Chocolate Cookie ($8) for dessert.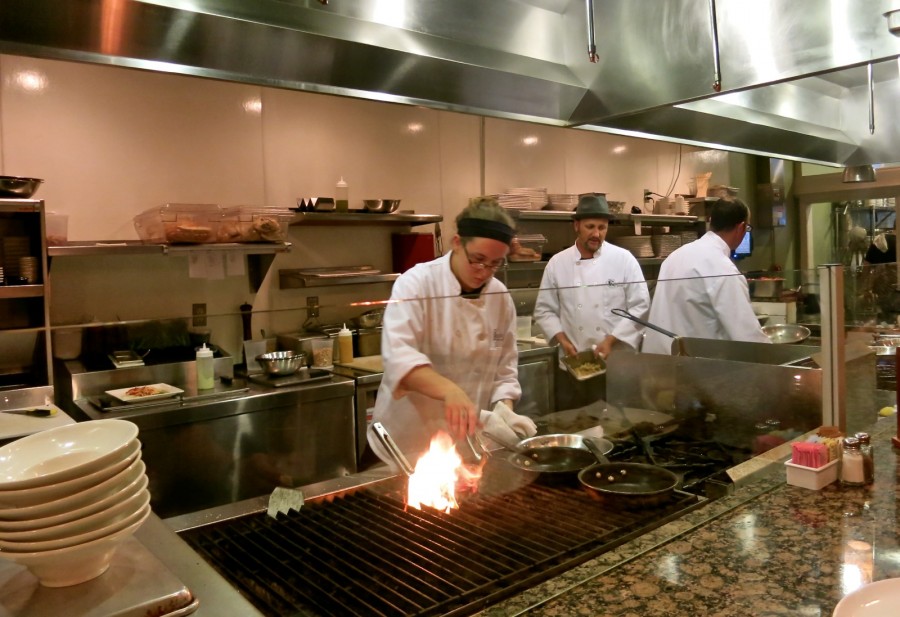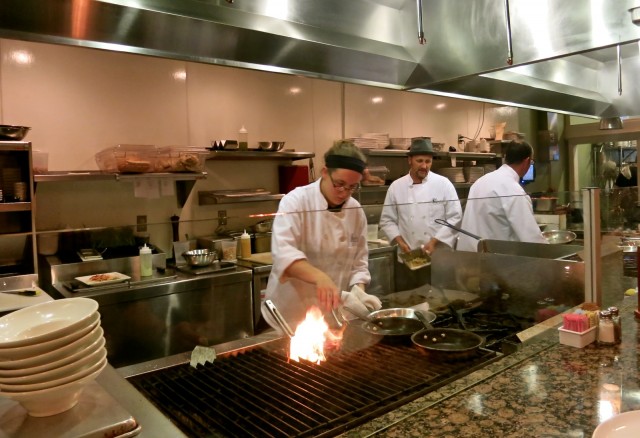 EAT/LIGONIER: The Kitchen on Main. Towns in the Laurel Highlands are attracting foodies and the chefs who cater to them. Exhibit A in Ligonier – Chef Josh Fryer's open-kitchen upscale "diner," named, appropriately enough – The Kitchen. Formerly a grocery store, the tin ceiling has been preserved, lending a Victorian-mod air to the place. Sit at the counter and watch the action; Pepper Crusted Scottish Salmon ($25), Rack of Lamb ($29), and the amazing Roast Corn Bisque are just a few of the must-order signatures from chefs bustling in-plain-view.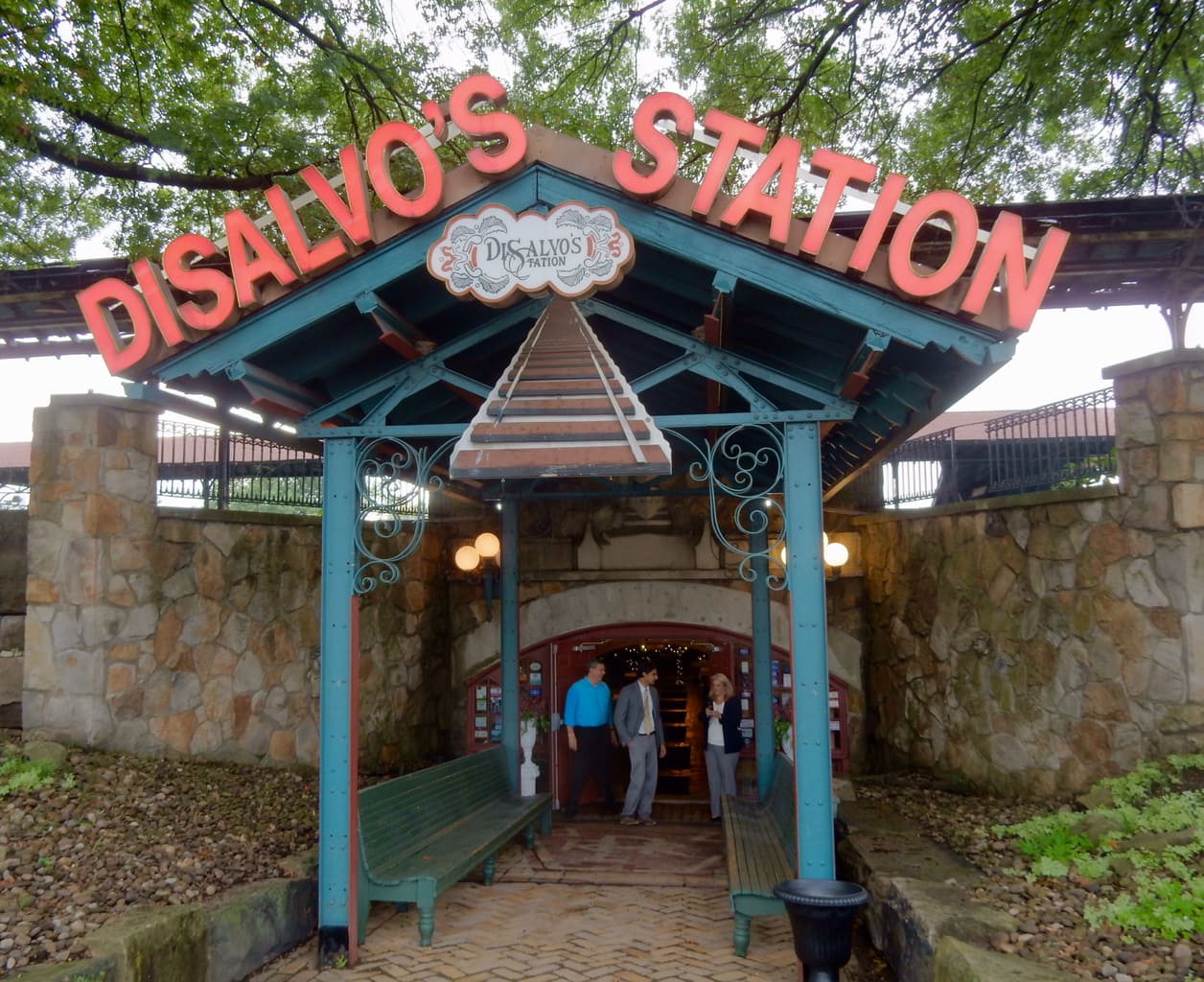 EAT: Disalvos Station Restaurant, Latrobe. The town's best-known restaurant for sure, Disalvos operates out of the former train station, with its entrance beneath the tracks, through a tunnel and into the former cobblestone train yard (now enclosed). Dine on good, traditional Italian food in either formal dining rooms or in a train car, while passing trains rumble by overhead. Owners and staff are the friendly sort you don't see much of these days.
Where to Stay in the Laurel Highlands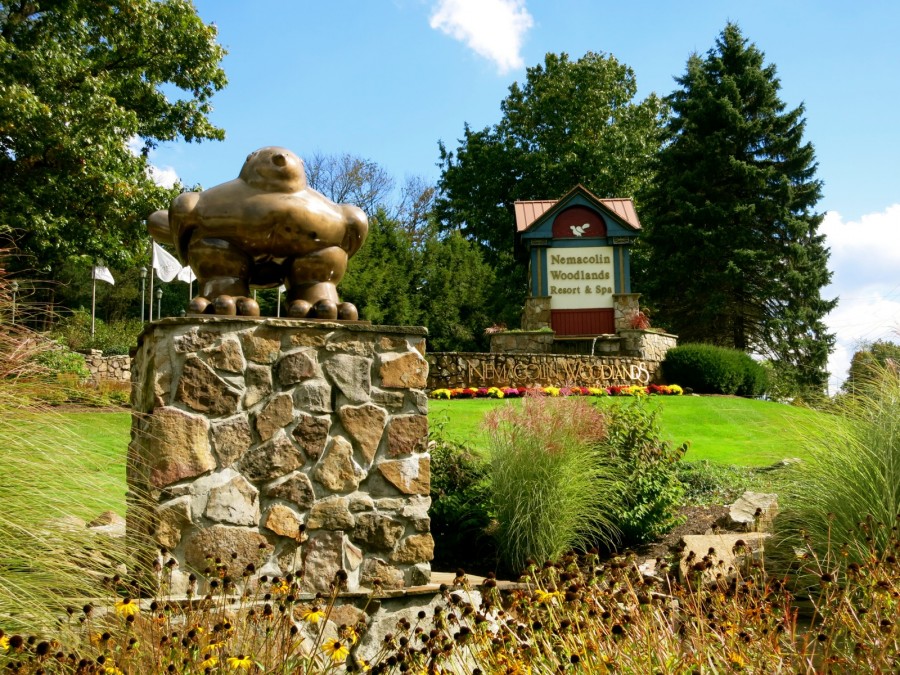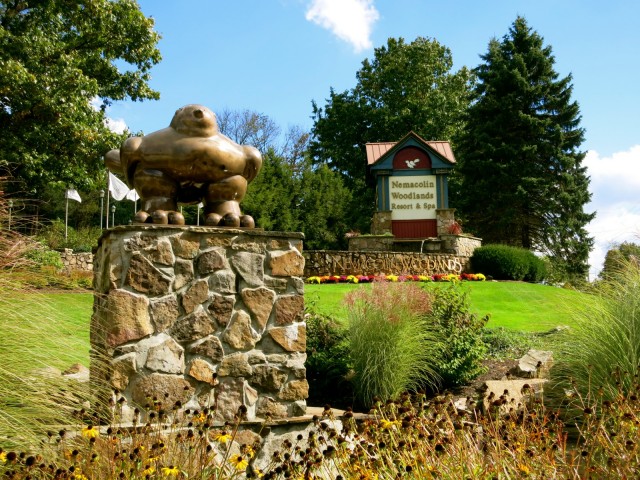 STAY/TOUR: Nemacolin Woodlands Resort. What exactly is Nemacolin? It's a wildlife sanctuary. It's a small-plane airport (" just don't ask who's flying in on his/her private plane.") It's an award-winning golf course (Pete Dye designed Mystic Rock, The Links) and Golf Academy. It's a Holistic Healing Center and spa for both humans and animals, and much, much more. Nemacolin is a deliriously wacky, extravagant, homey, friendly, fun establishment. And of course, it's an overnight luxury resort. Read all about it in this Getaway Mavens review for much more insight and information.
STAY: Kentuck Knob Rental House. You can rent this small two-bedroom country-cute home for just $200 per night. No housekeeping or breakfast, and it's on a main road, but if you are here to tour Fallingwater and Kentuck Knob, it's a most convenient place to stay. $200 Sun-Thur, $300 per night Fri-Sun.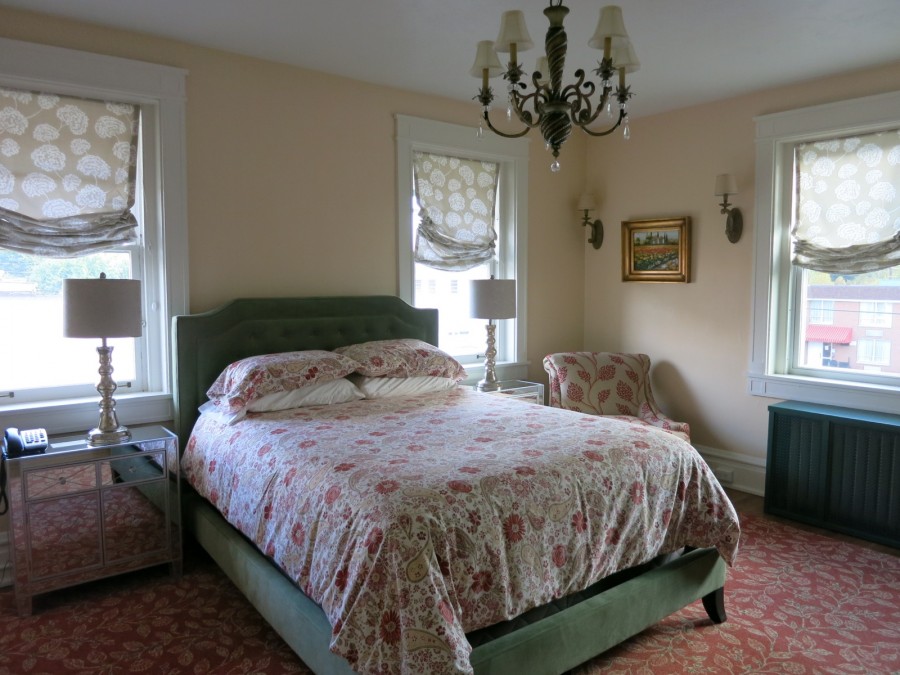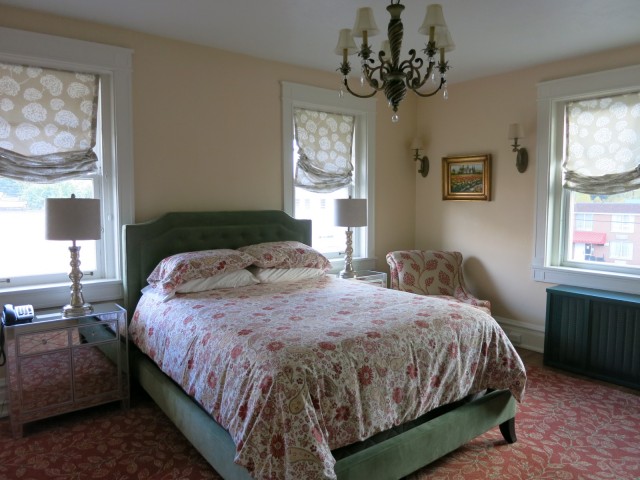 STAY/LIGONIER: Thistledown at Seger House. Rooms in this in-town brick mansion are surprisingly attractive – renovated in craftsman-20's style with modern twist. Two blocks from the square, otherwise known as the "Diamond," Thistledown used to be a surgical outpatient center until a year ago. Don't judge the place by the lobby alone – which is marked by a yarn shop and cute coffee shop. The beauty and luxury can be found in the rooms upstairs – styled in a mesh of 20's and Craftsmen furniture and pallet.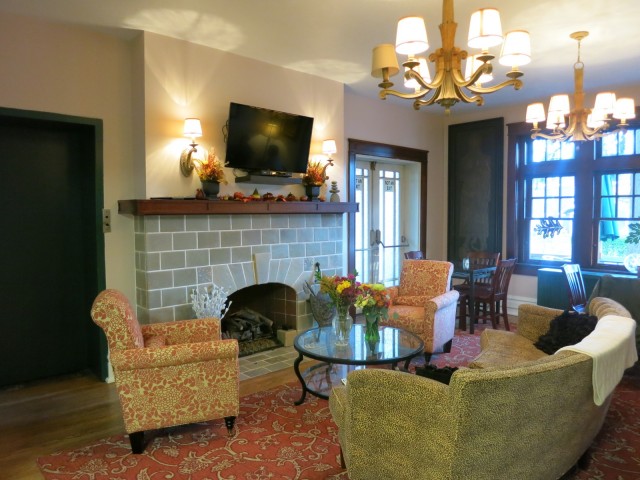 Tidy rooms done in rusts and off-whites, feature contemporary floral-embossed bedding, rug-covered hardwood floors, stone gas fireplaces, mirrored bed-tables and lamps – decidedly, not your grandma's doily B&B. Baths vary in size, but can be small. Even the smallest ones, though, gleam in white subway tile walls and octagonal mosaic floor, with glass rain shower. Adorable. Parking and wi-fi are free, and that little café will serve you breakfast in the morning – complimentary. Rates $150-$275 includes hot breakfast.