WHY GO: While Longwood Gardens is the most visited attraction in nearby Brandywine Valley, lesser known but just as worthy gems beckon visitors to Northern Chester County PA.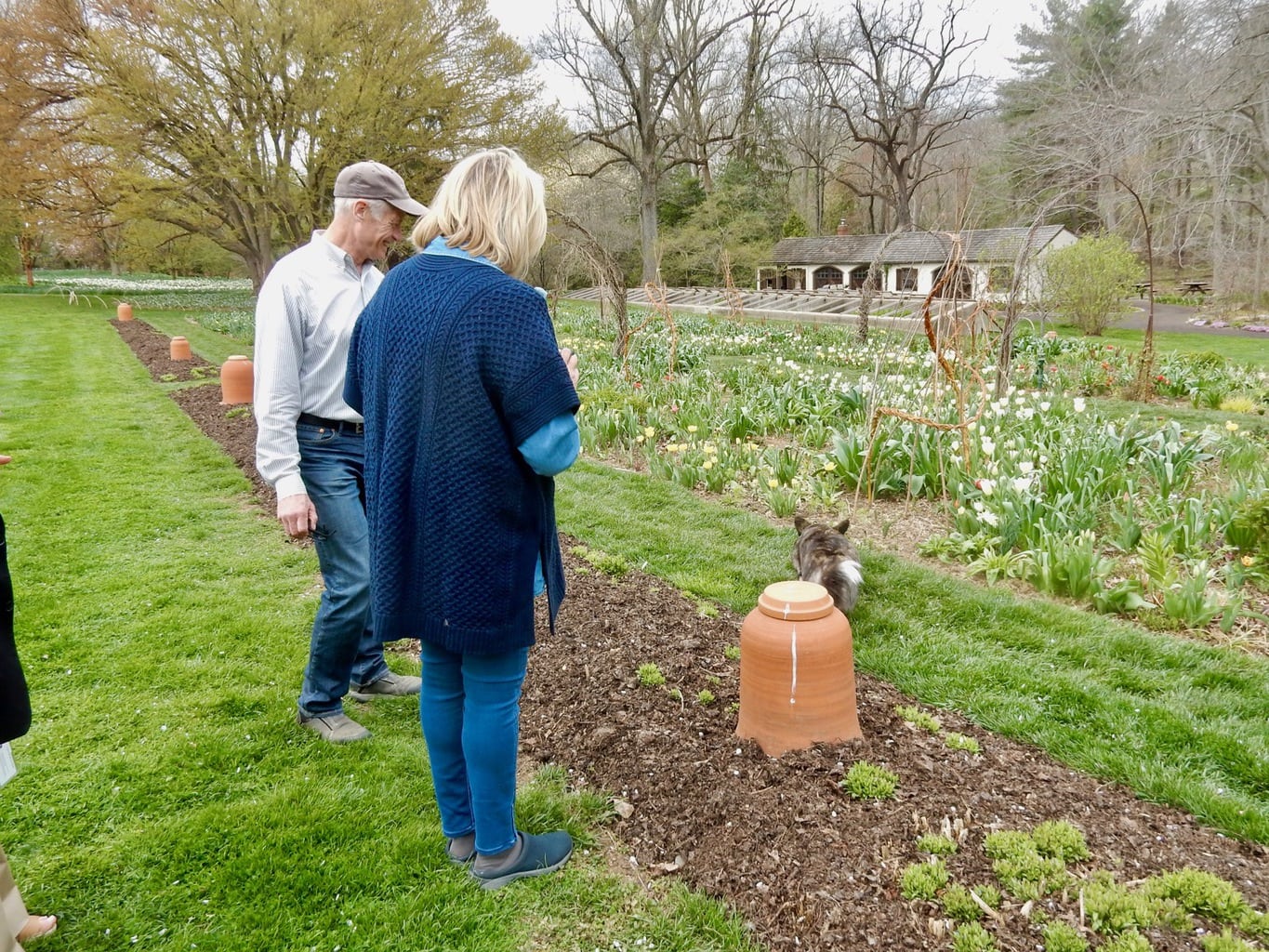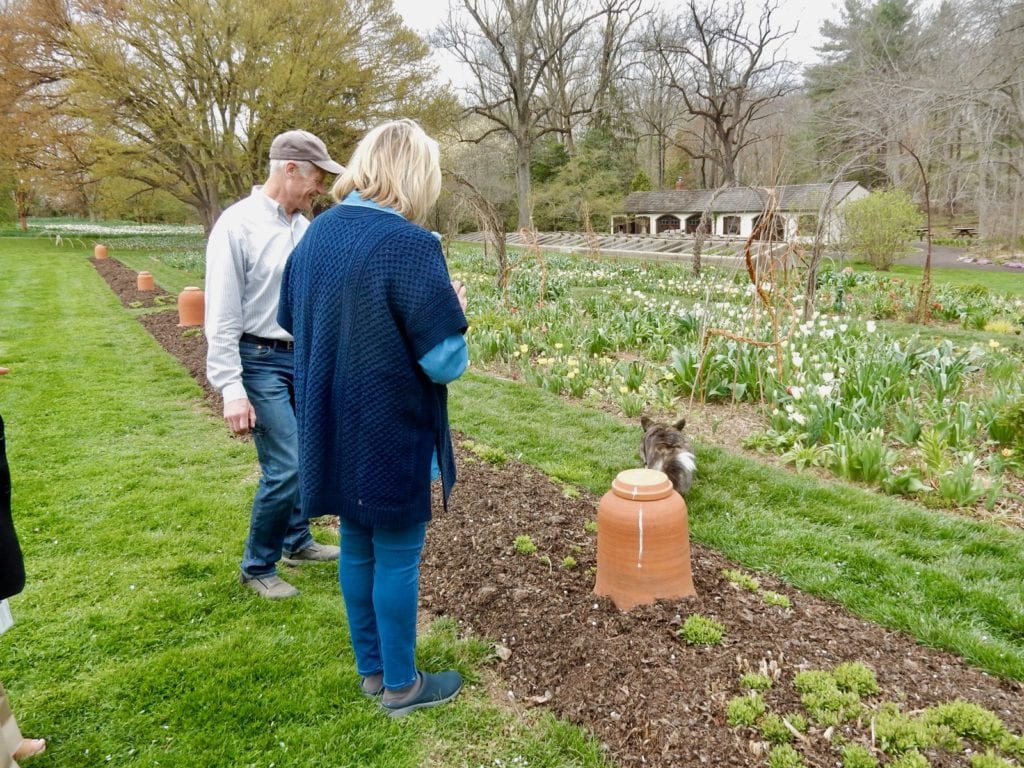 There's a a 35-acre "pleasure garden" favored by Martha Stewart and Brits; two tiny "Brigadoon"-like hamlets with world-renowned cred; the place where an iconic campy horror movie was filmed; and ruins of a medical hospital commissioned by George Washington.
Here, the Getaway Mavens discover Yellow Springs (aka Chester Springs), St. Peter's Village, Chanticleer Gardens, and more. You want offbeat? You got it!
To get the most out of a Chester County PA Visit, refer to this Brandywine Valley companion piece.
Things to Do in Chester County PA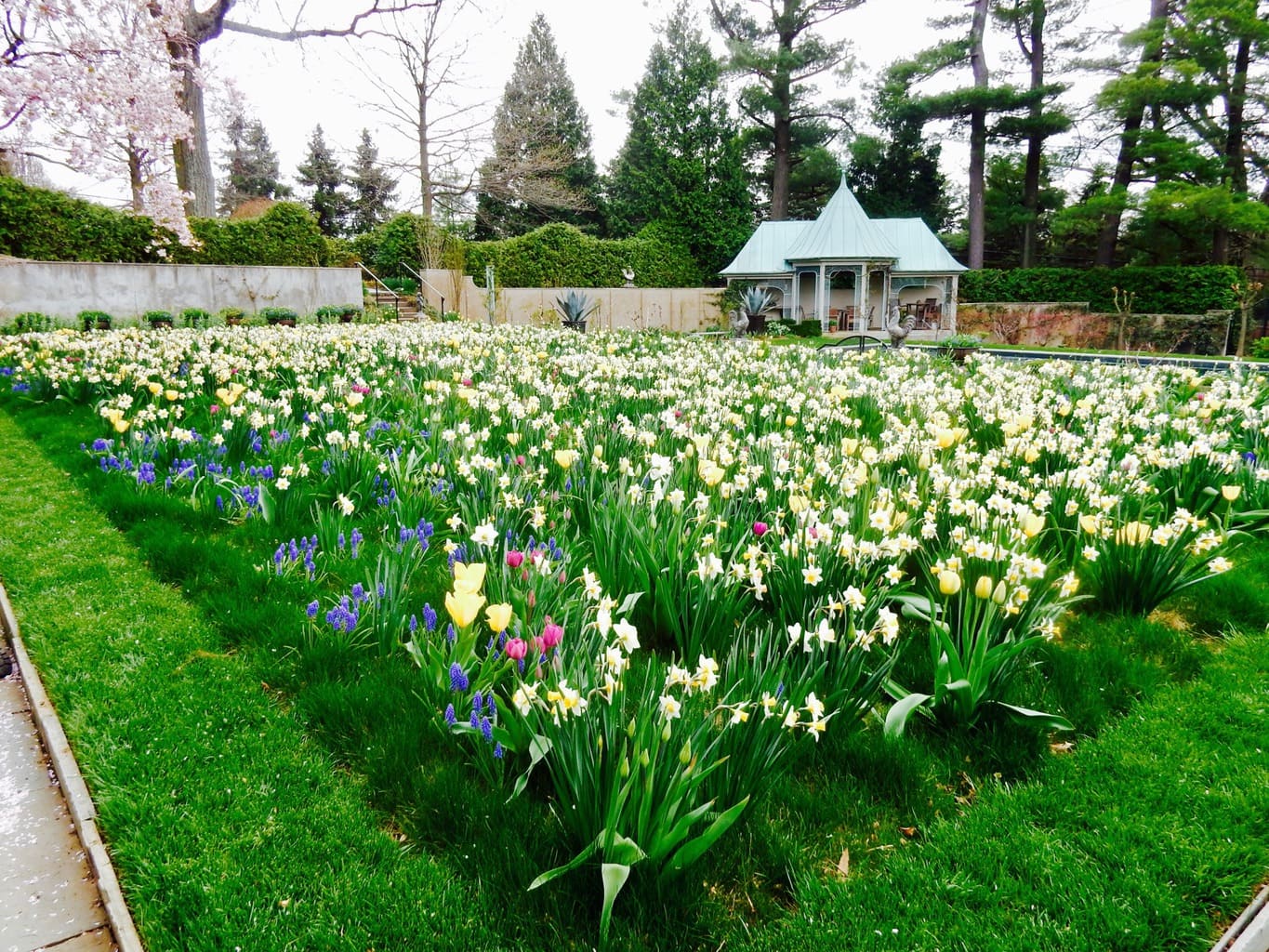 Every gardener is like Oscar Hammerstein's Optimist. For the very act of planting is based on hope for a glorious future. – Adolph Rosengarten, Jr., benefactor, who left this property to the Chanticleer Foundation upon his death.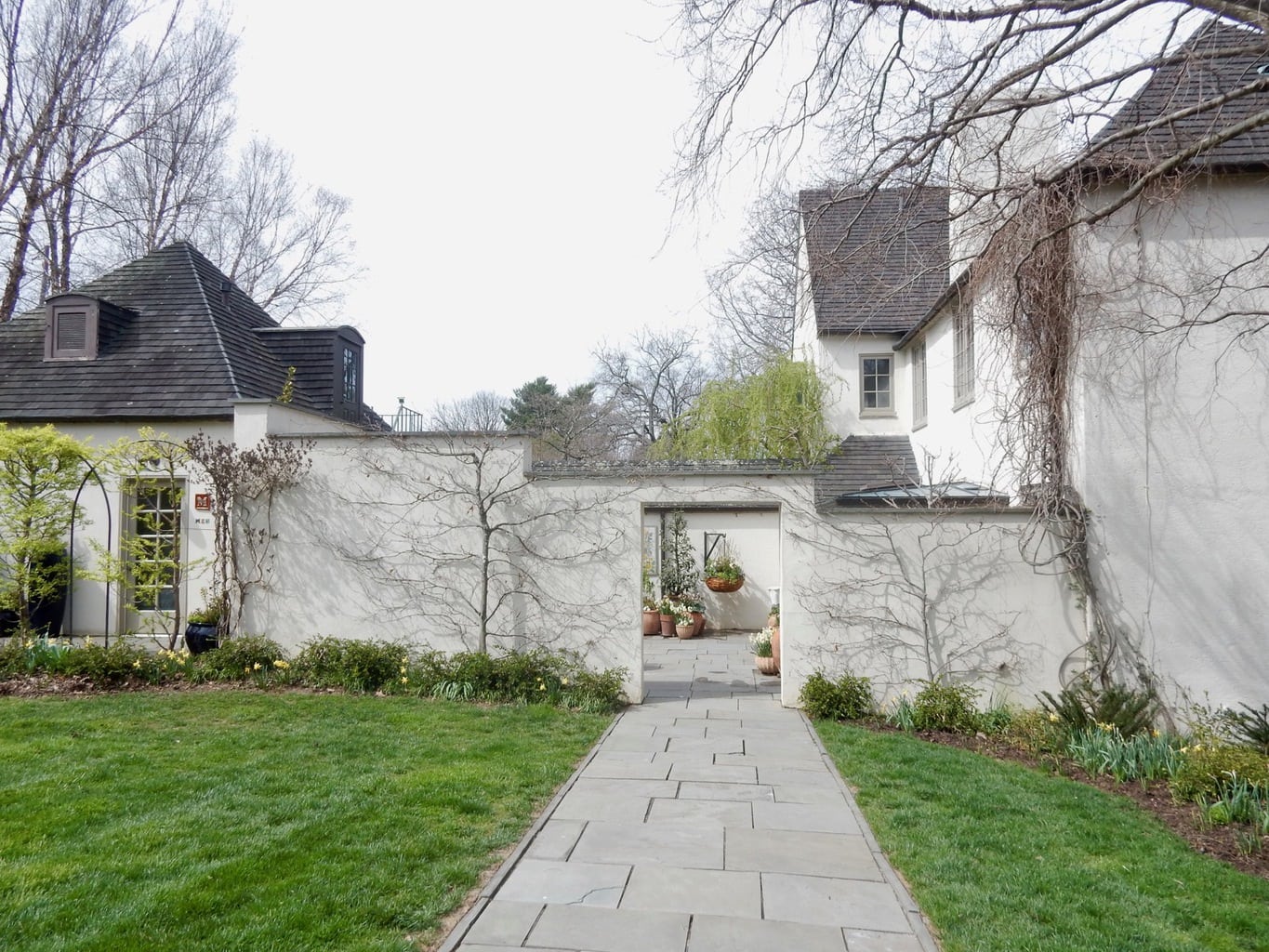 At 35 acres, and with 60,000 visitors a year, Chanticleer, opened to the public in 1993, is smaller and more intimate than nearby Longwood Gardens. (Longwood averages 1.5 million visitors per year).
But this former private estate of the aptly named Rosengarten family is a genuine "find" in the rural landscape of rolling hills, farms, and country homes.
Interestingly, people from England (and Martha Stewart, who comes on occasion) have discovered Chanticleer. Many compare this small "Pleasure Garden" favorably to Longwood.
Unique, Inviting Grounds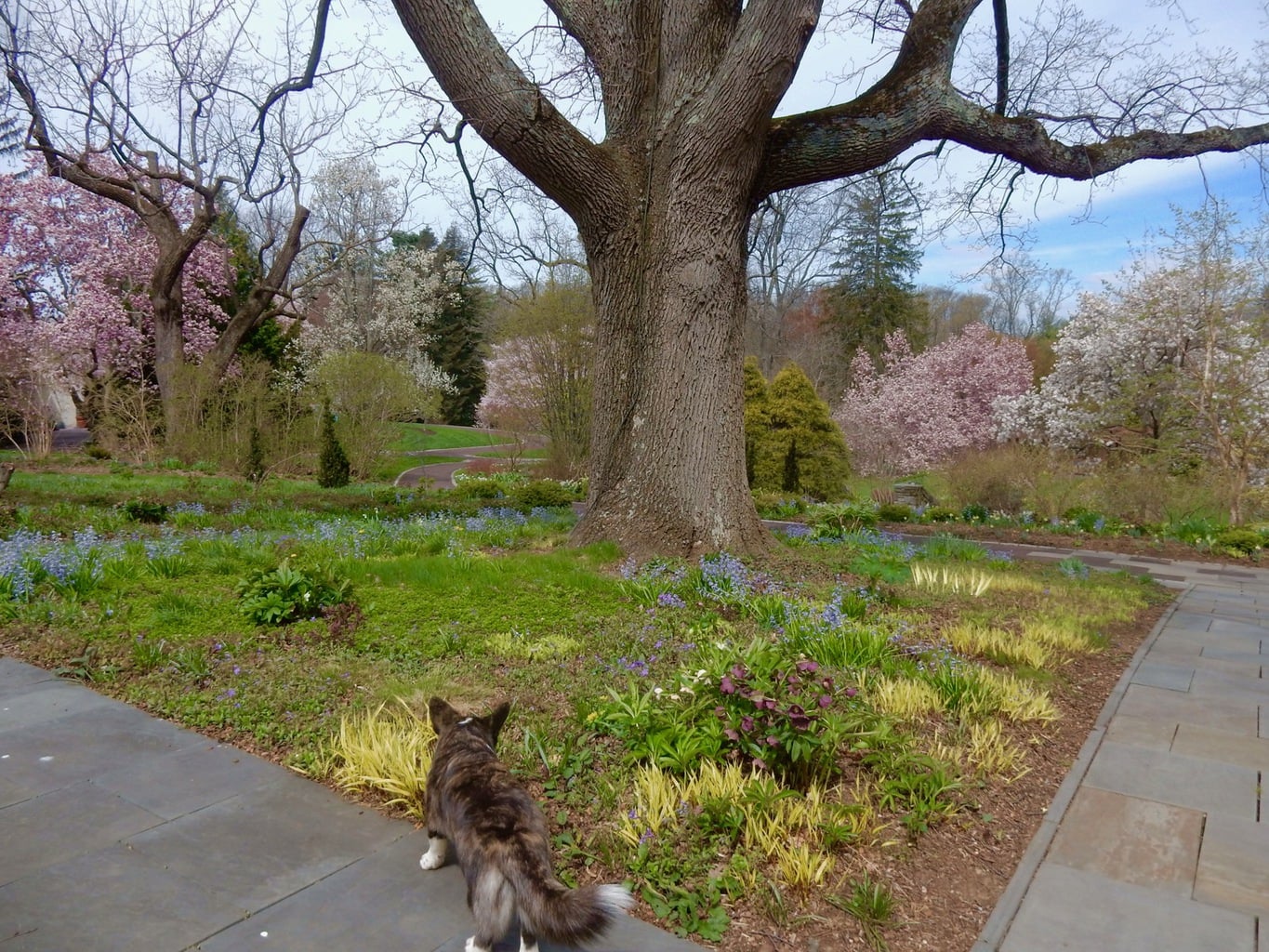 The grounds are embellished with hand-crafted and uniquely designed functional sculptures. Five titled gardeners fashion benches, water fountains (constructed to send excess water back into the flower beds) whimsical Plant List boxes, and even a pedestrian bridge shaped like a fallen tree with great care. Each of the five has complete authority over a designated section of the garden.
Bring A Book to Read in Blissful Surroundings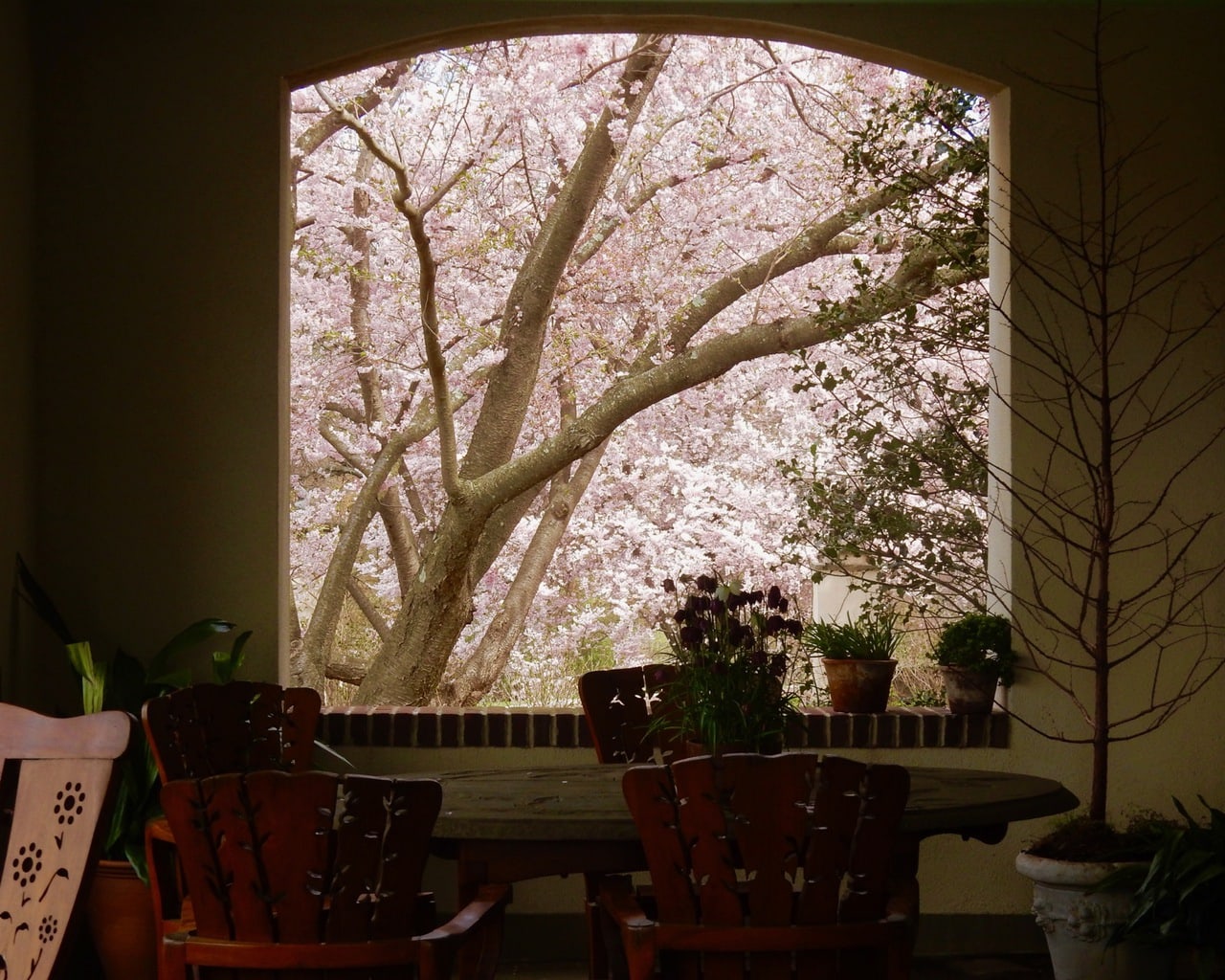 Given extensive creative latitude, these horticulturalists have free reign to translate their unique visions into botanical and sculptural art. Visitors are encouraged to bring a book, pack a picnic, relax on the inviting Overlook Terrace of the Main House. Or just wander among the cheerful flowerbeds and shade trees.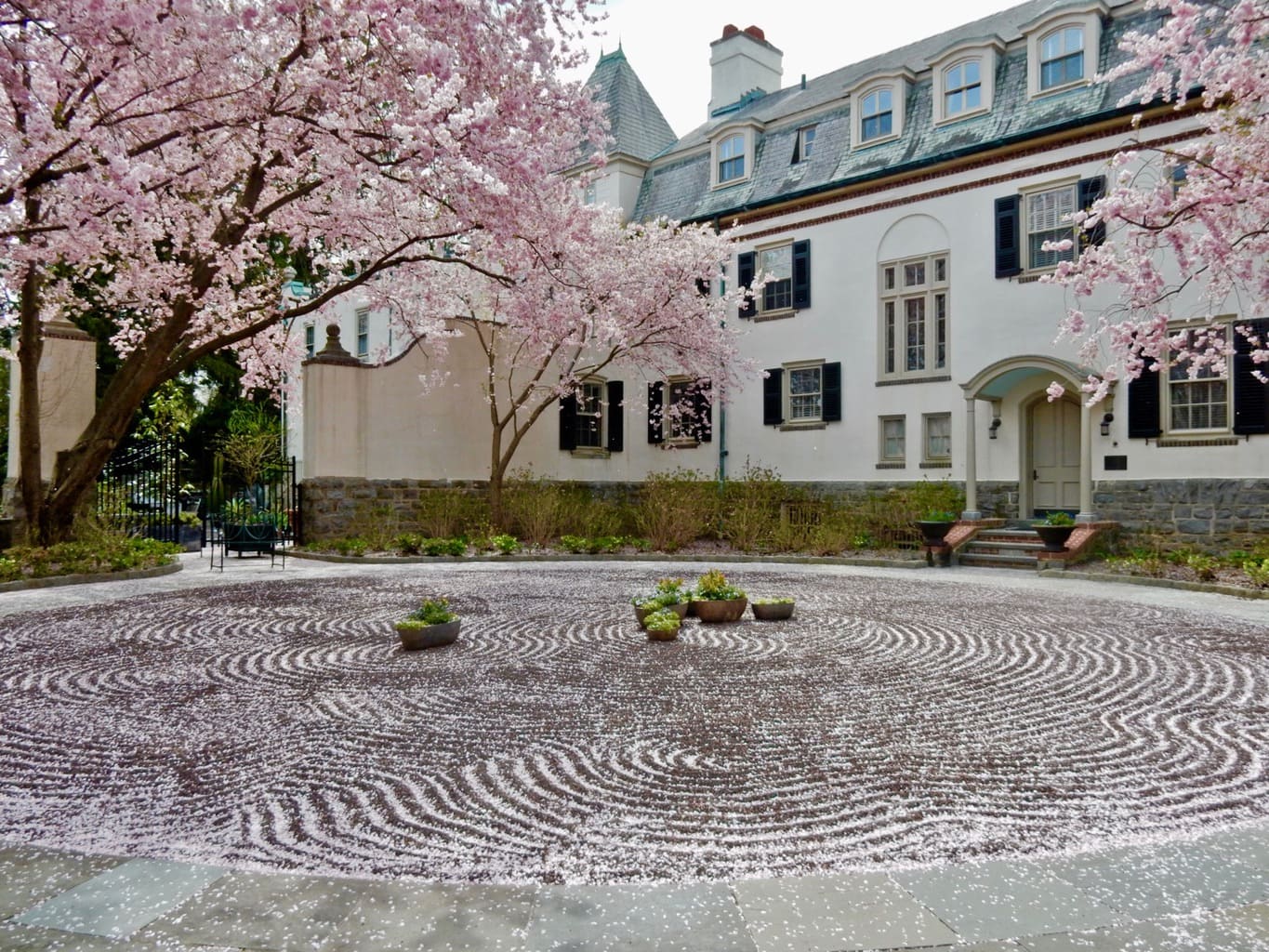 The main Rosengarten home – sometimes open for tours – features a circular graveled driveway. "Every day, the staff rakes the gravel in a different pattern," says Chanticleer Director, Bill Thomas. "We never know how it will look."
Thomas loves his job, and his sense of humor is readily apparent. Pointing to a copse of hand-made ceramic bamboo – each stalk topped with an orange comb – he quips, "This bamboo has been genetically crossed with rooster genes."
250,000 Yellow Daffodils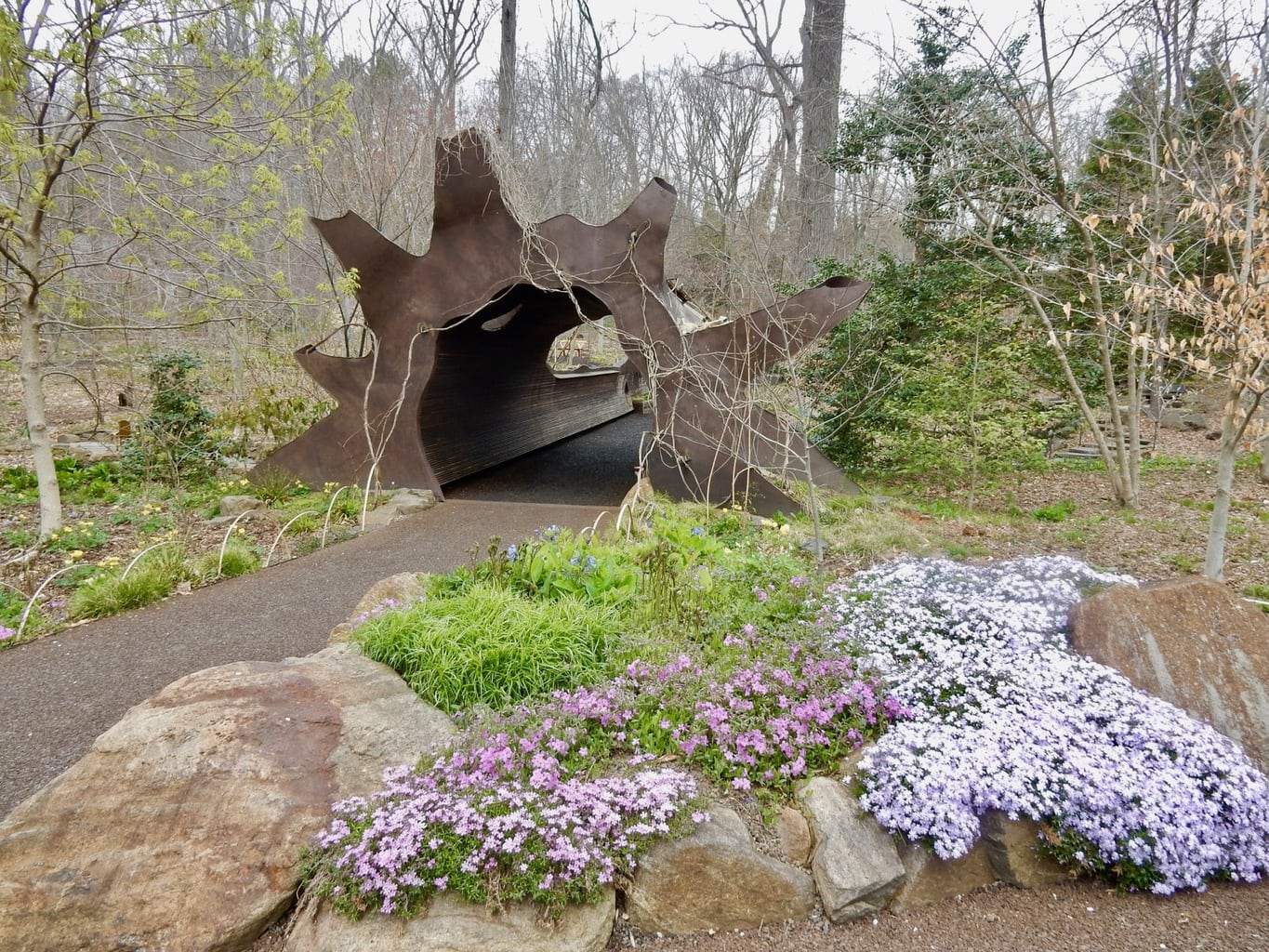 In Spring, the Magnolia and Cherry Trees burst into various shades of pink, and 250,000 yellow daffodils sprout from the earth. It's a spectacular time to come. But every season from April through October has its charms, with "luxuriant foliage and exotic flowers" at every turn.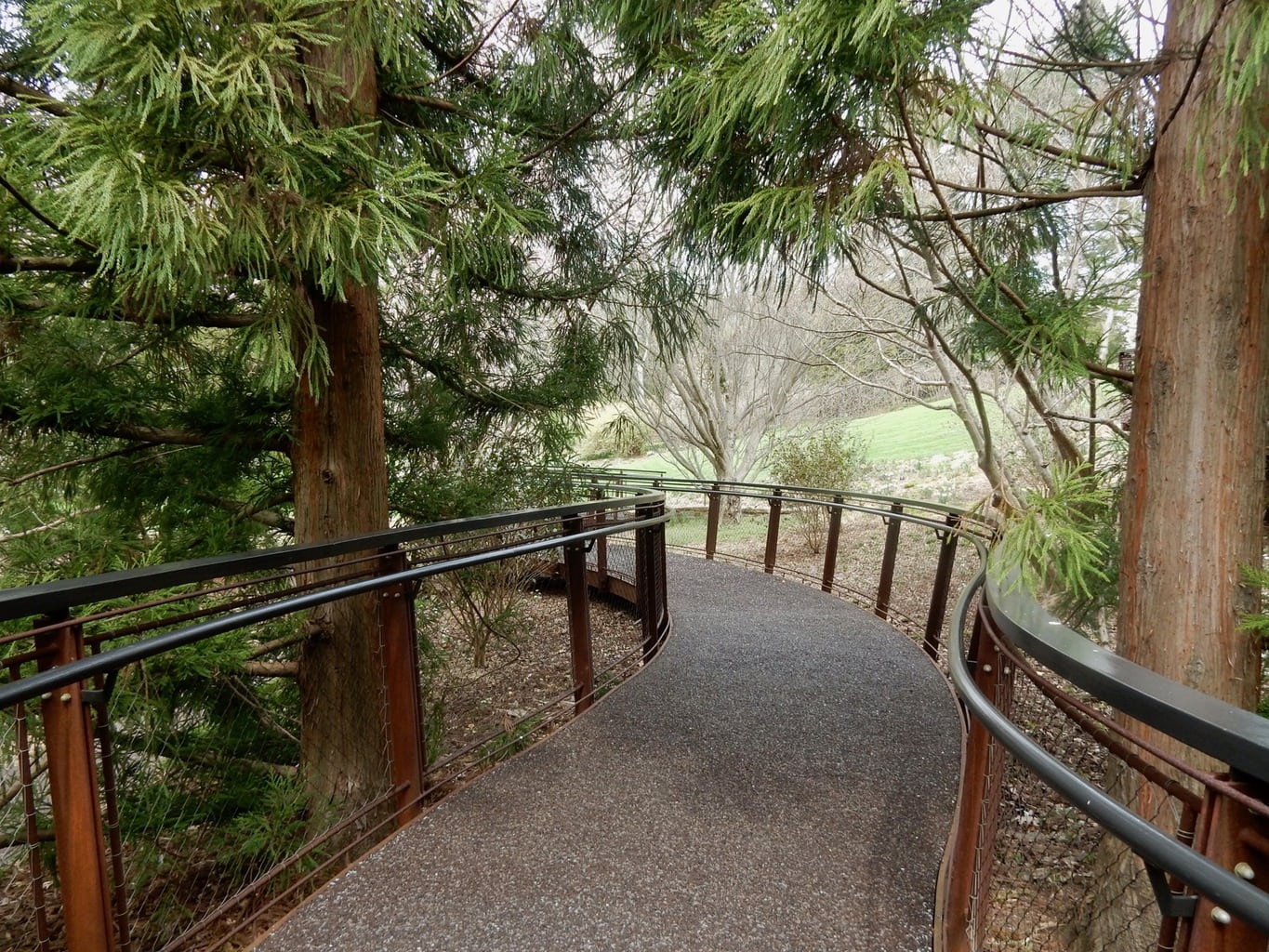 A new Elevated Walkway, paved with springy shredded tires and pervious material, snakes downhill, making it easy to get to the meadow, an area blitzed through with bulbs that bloom in the Fall.
Japanese Pee House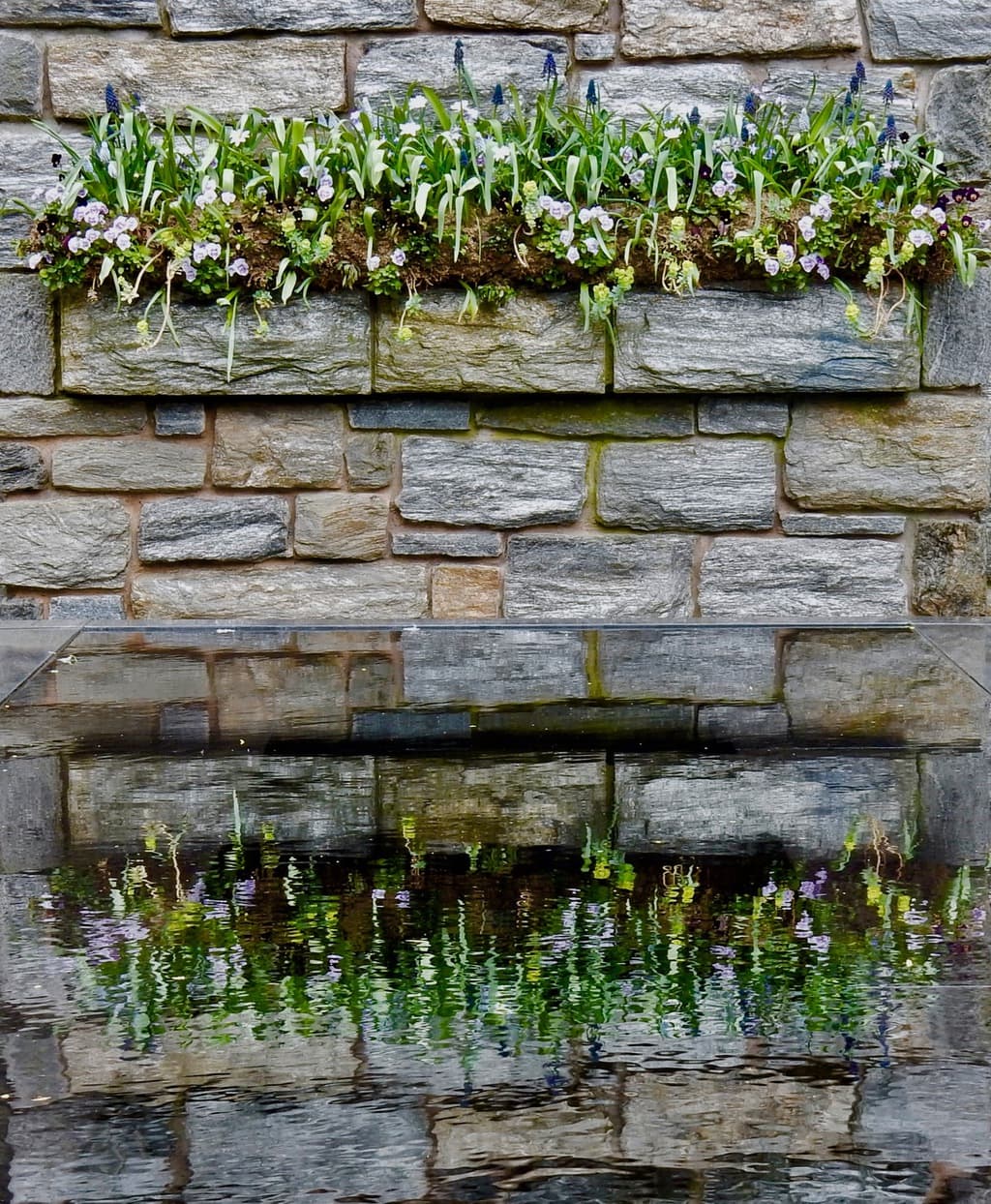 The Asian Garden, with plantings from China and Japan, is farthest from the Visitor's entrance. When gardeners realized the need for a restroom here (for themselves and guests), they built the "Japanese Pee House" in the image of a…. well, you know.
Innovations at Chanticleer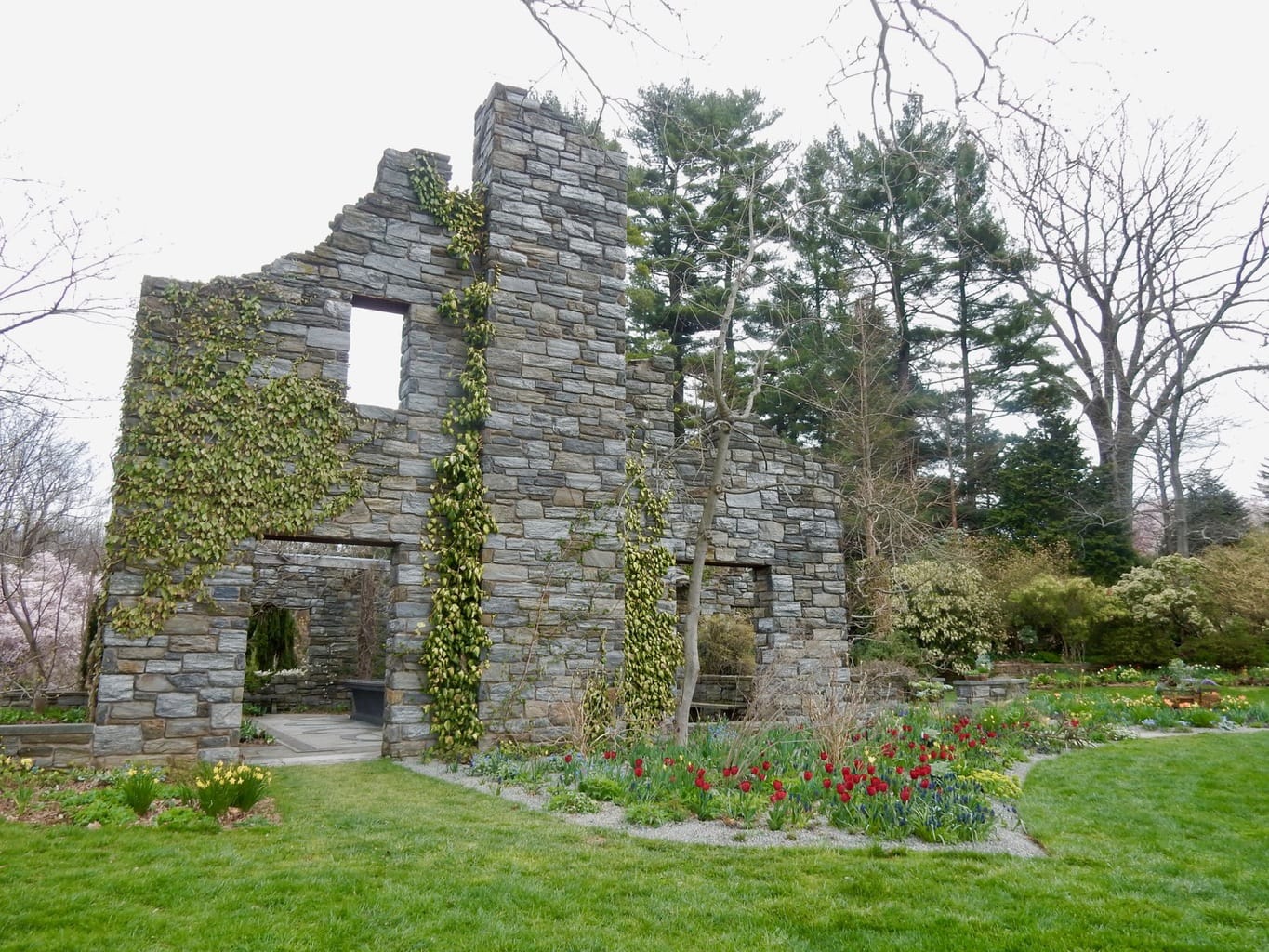 Besides the Main House, two other homes, built for the Rosengarten's children, were located on the property. Once now serves as the Visitor's entrance. The other was demolished and replaced by "ruins" on its former footprint. Here, the walls come alive with flowing plants reflected in small pools of water. Captivating.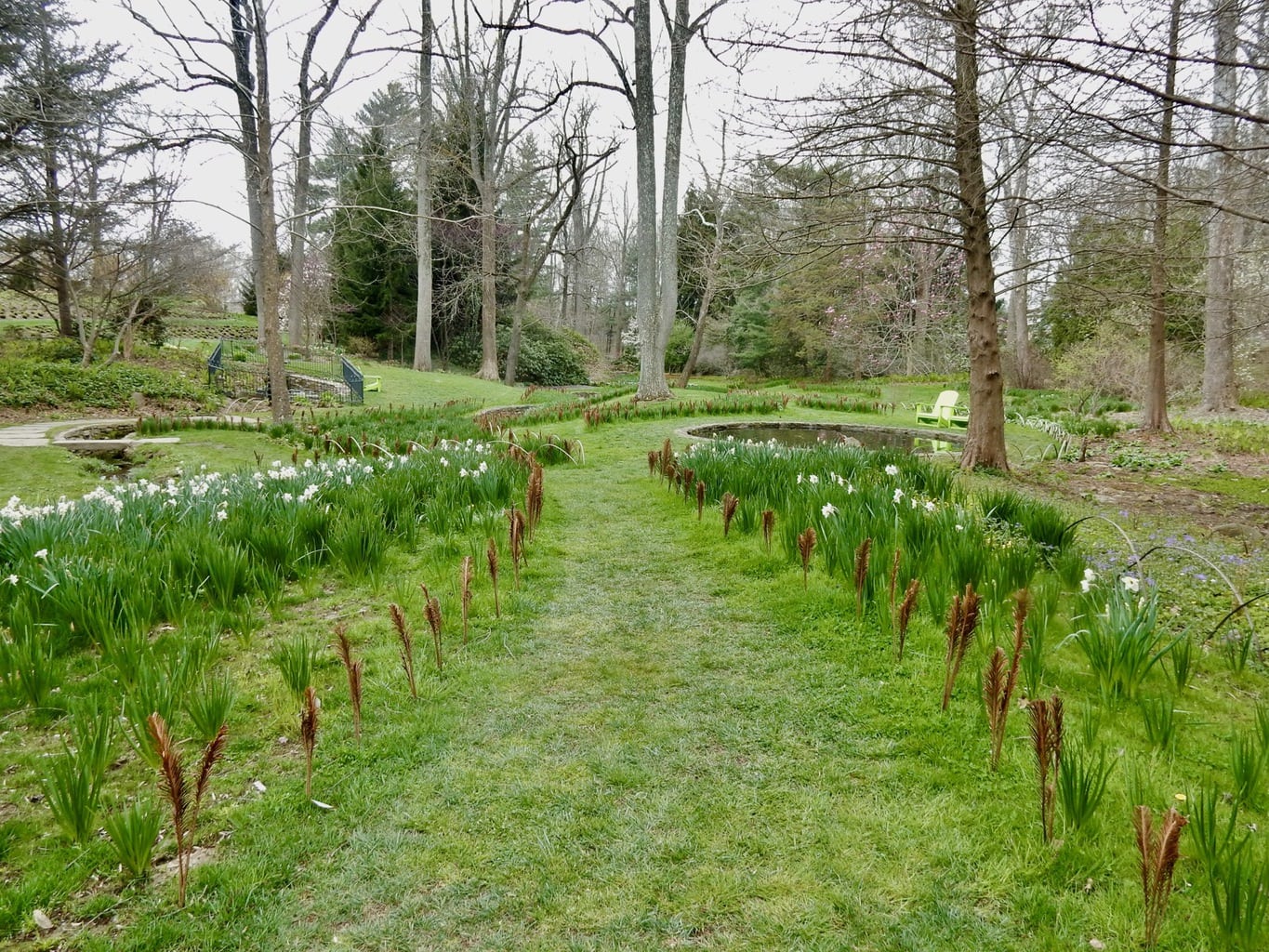 There are more surprises amid the creeks and footpaths. Sticks of Ostrich Fern form an organic "fence" that protects vulnerable spring flowers. And shredded tires have been dyed to look like wood chips in the Native Plant Garden. Best of all, these gardens help the community.
The small vegetable garden is harvested three times a week in season. Two thirds of the gleaning goes to staff members – the last third to a local homeless shelter. Open April – Oct. Wed-Sun, $10, kids 12 and under free.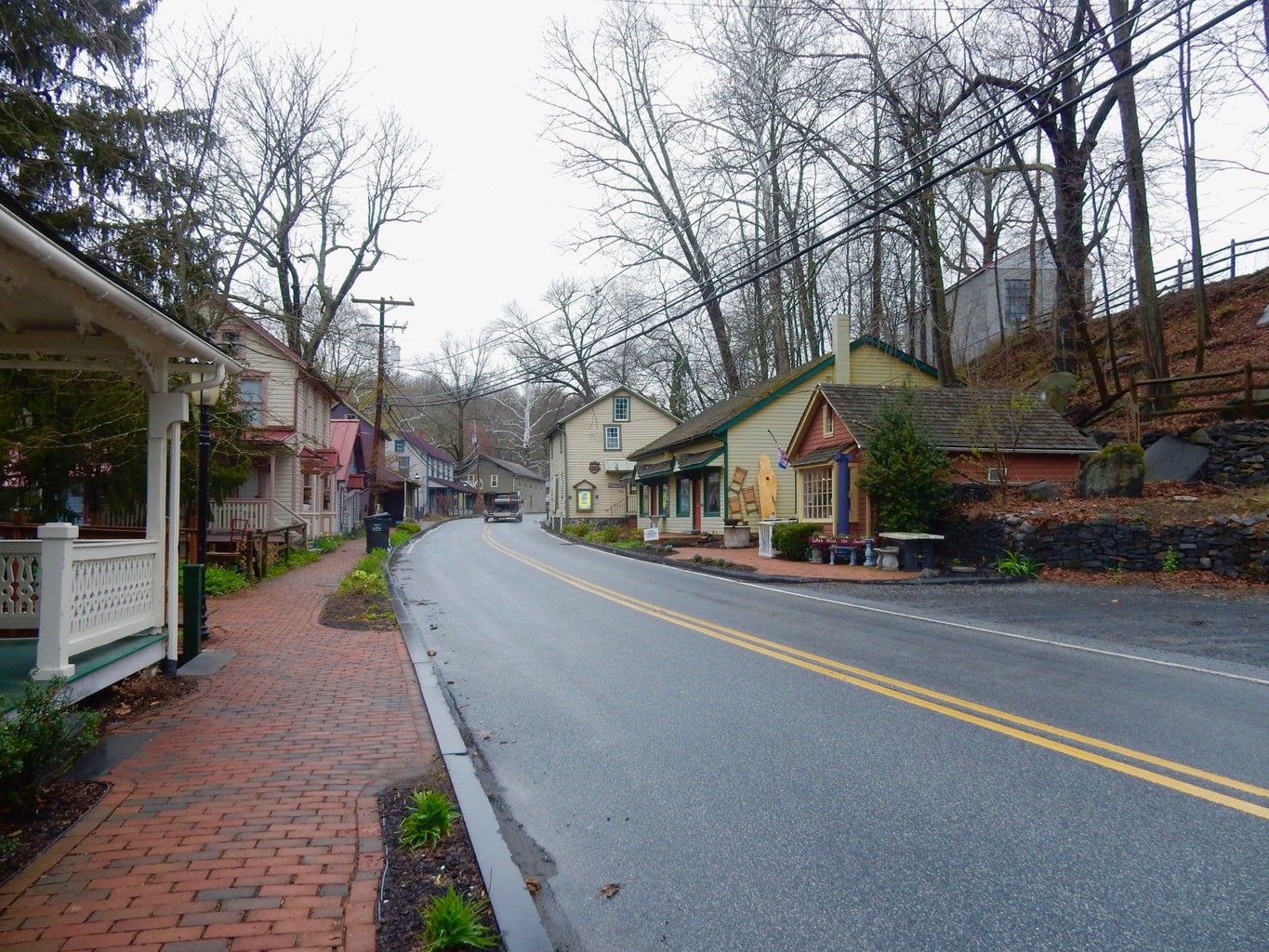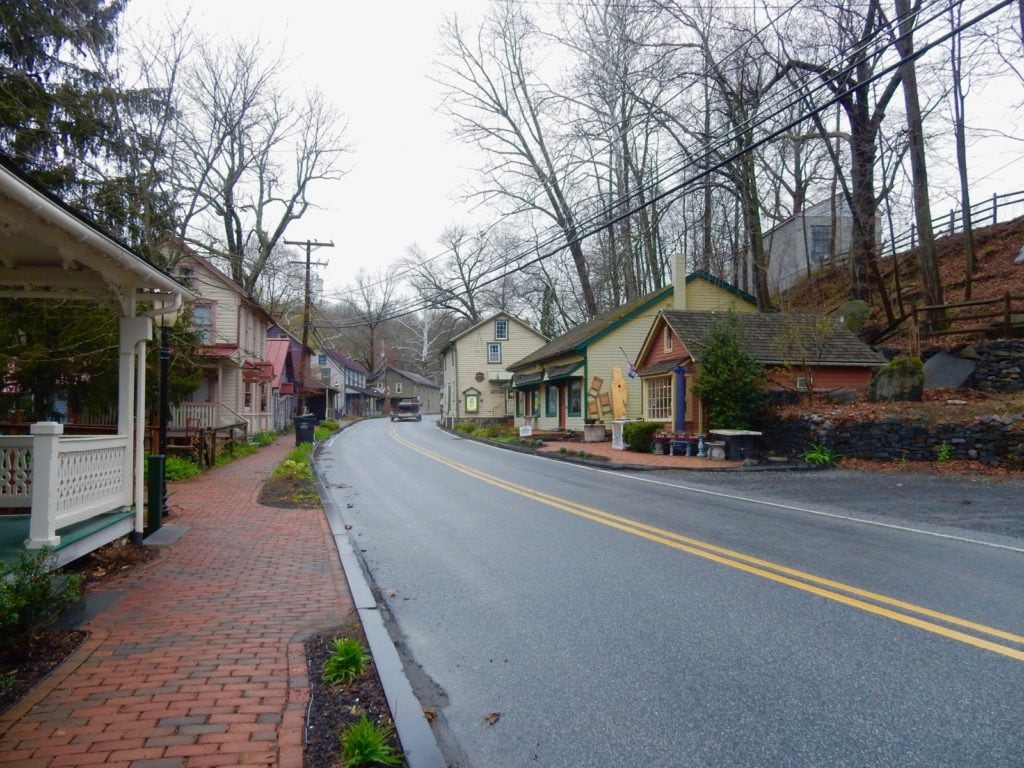 EXPLORE: St. Peter's Village Historic District; 40 minutes from West Chester
A quaint 'burg, St. Peter's Village, in Chester County PA, is not gussied up or interpreted for tourists.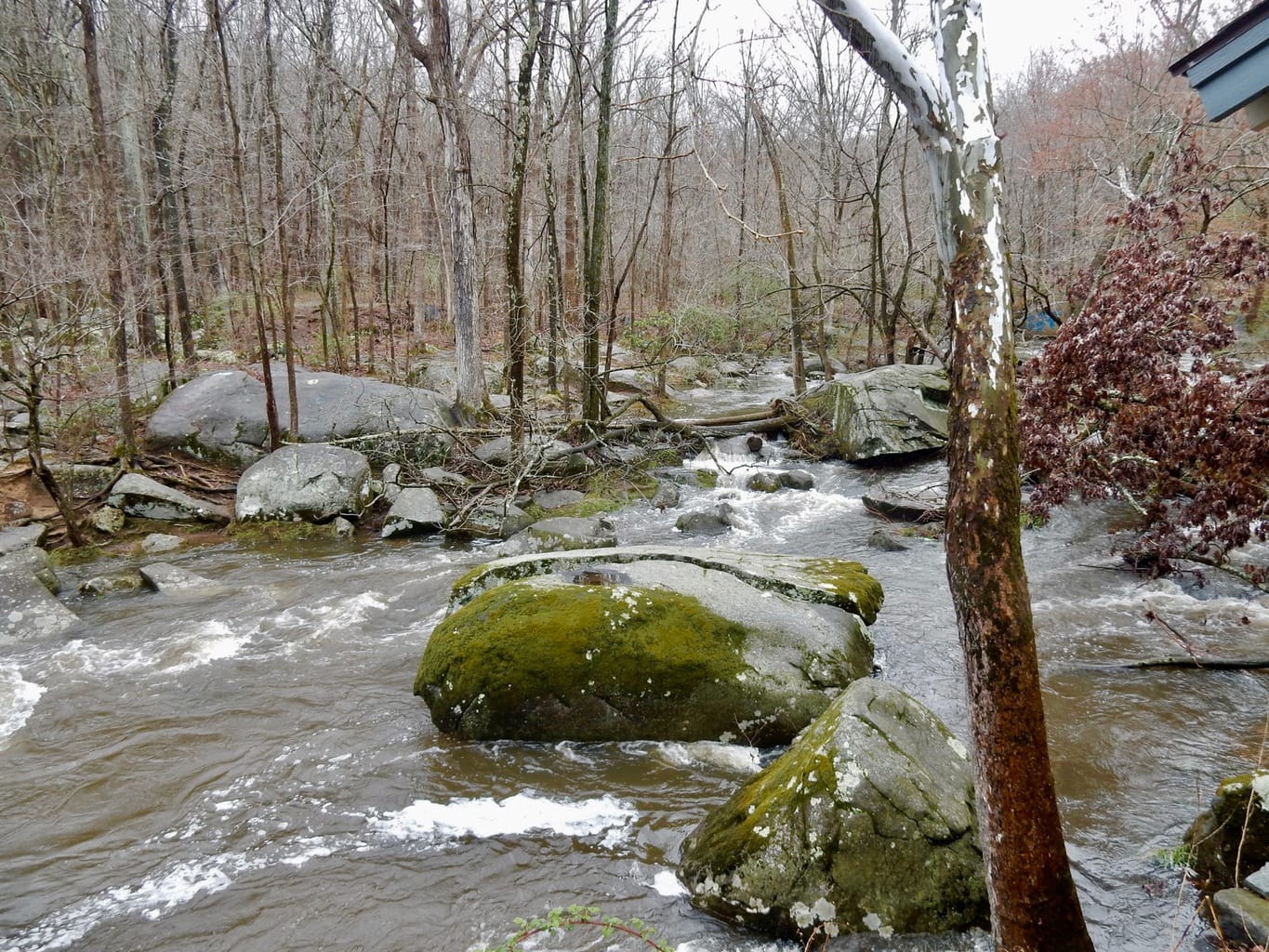 But seekers of off the beaten track will find much to love here – especially the rocky, tree-studded French Creek that both rages and meanders over and through boulders behind Main St.. It's so stunning a scene, those who know how to find St. Peter's compare it to Brigadoon. A former quarry town, St. Peters had to reinvent itself when that business closed down in the 1960's.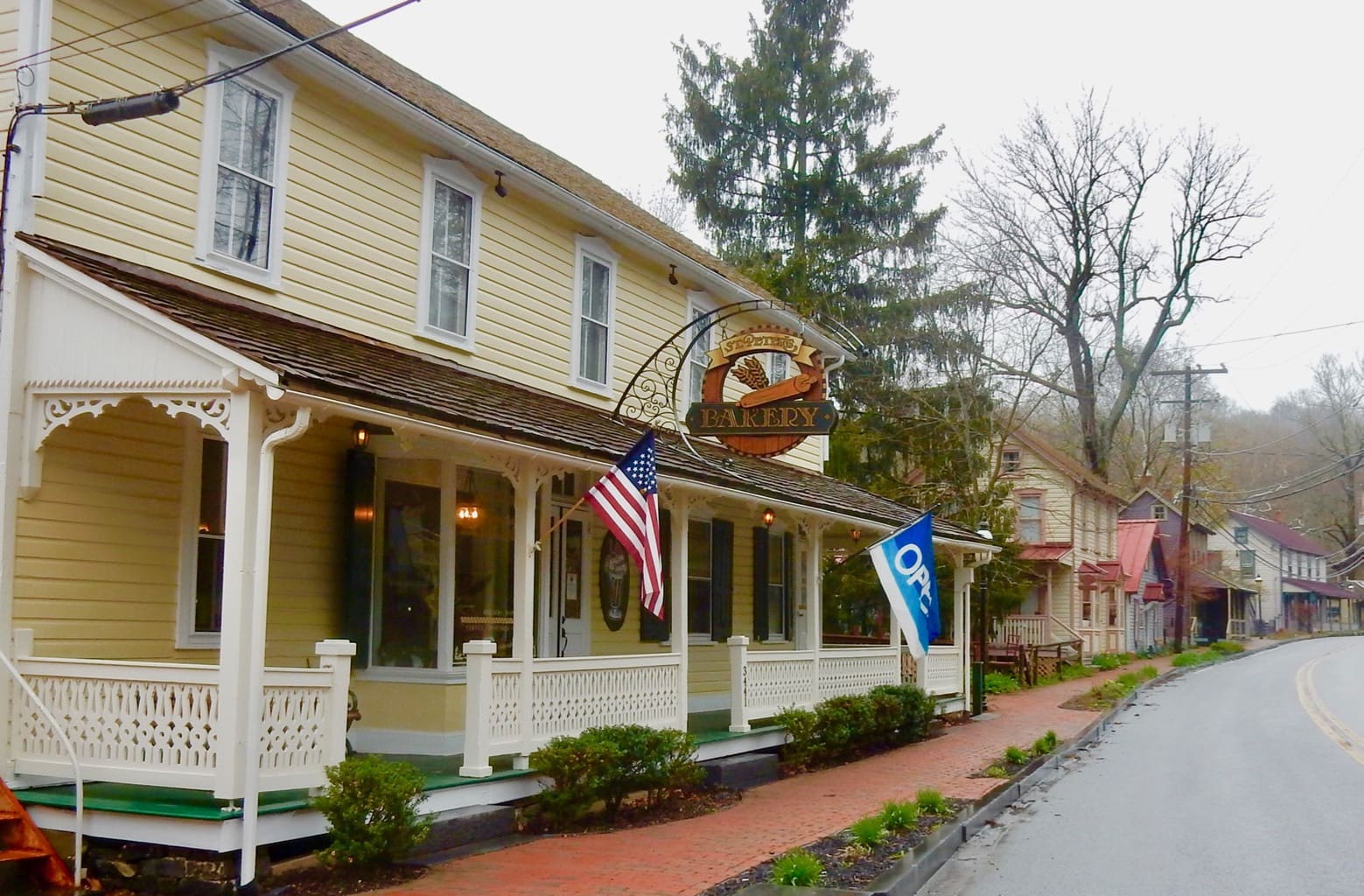 Most locals flock to St. Peter's Bakery for coffee and flakey pastries fresh out of the oven. On sunny days, patrons take their crispy croissants, sandwiches, and lattes out to the back deck to watch the water dance around and over boulders and tree roots on French Creek.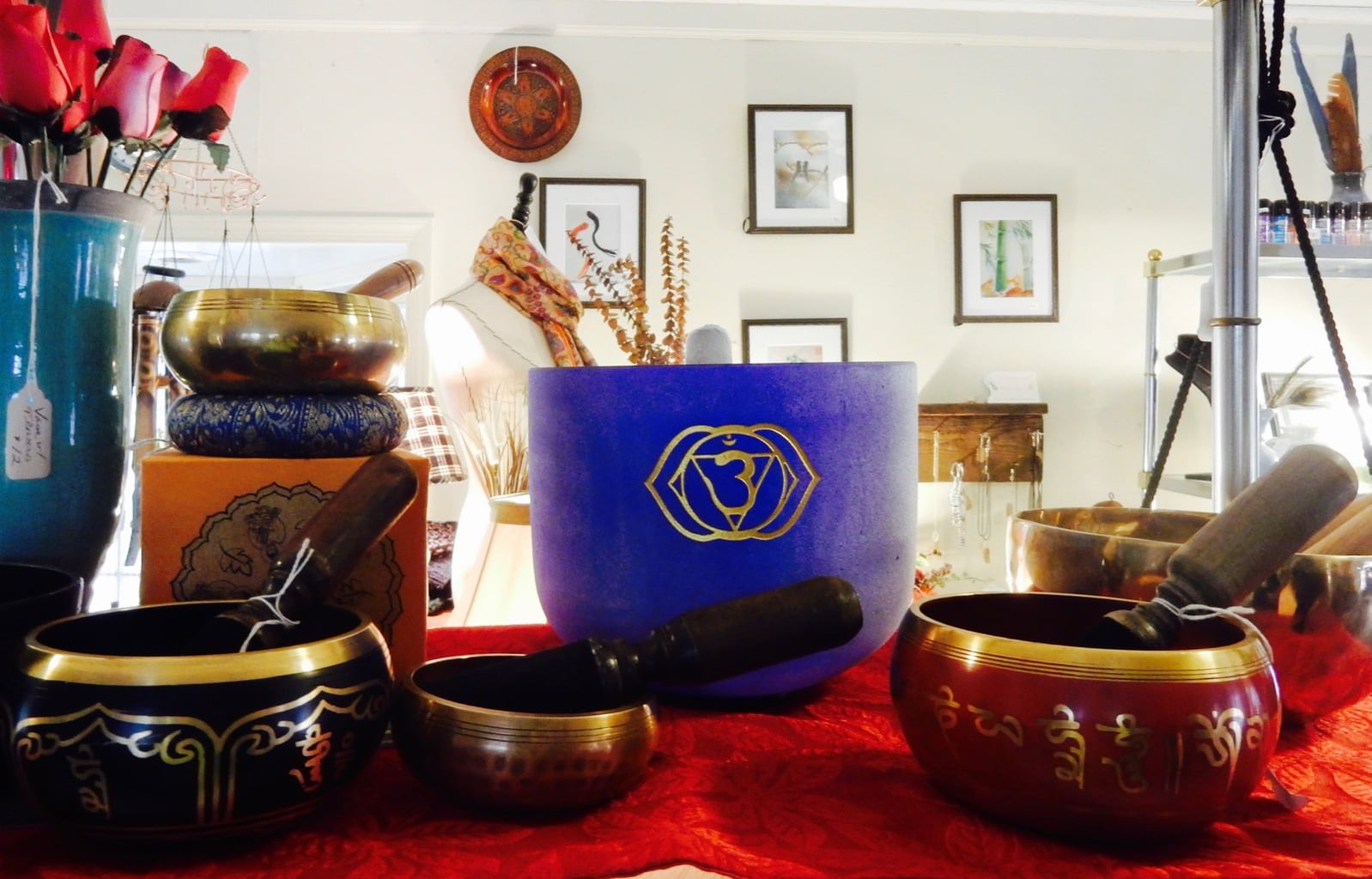 Shops in town run the gamut of antique stores, a wine tasting room, an old fashioned pinball arcade, and Healing Spirit Café, owned by Terry, who, besides offering Reiki sessions, sells crystal and hammered metal "Healing Bowls," along with elixirs, salt lamps ($25), and a bounty of other transcendental accoutrements.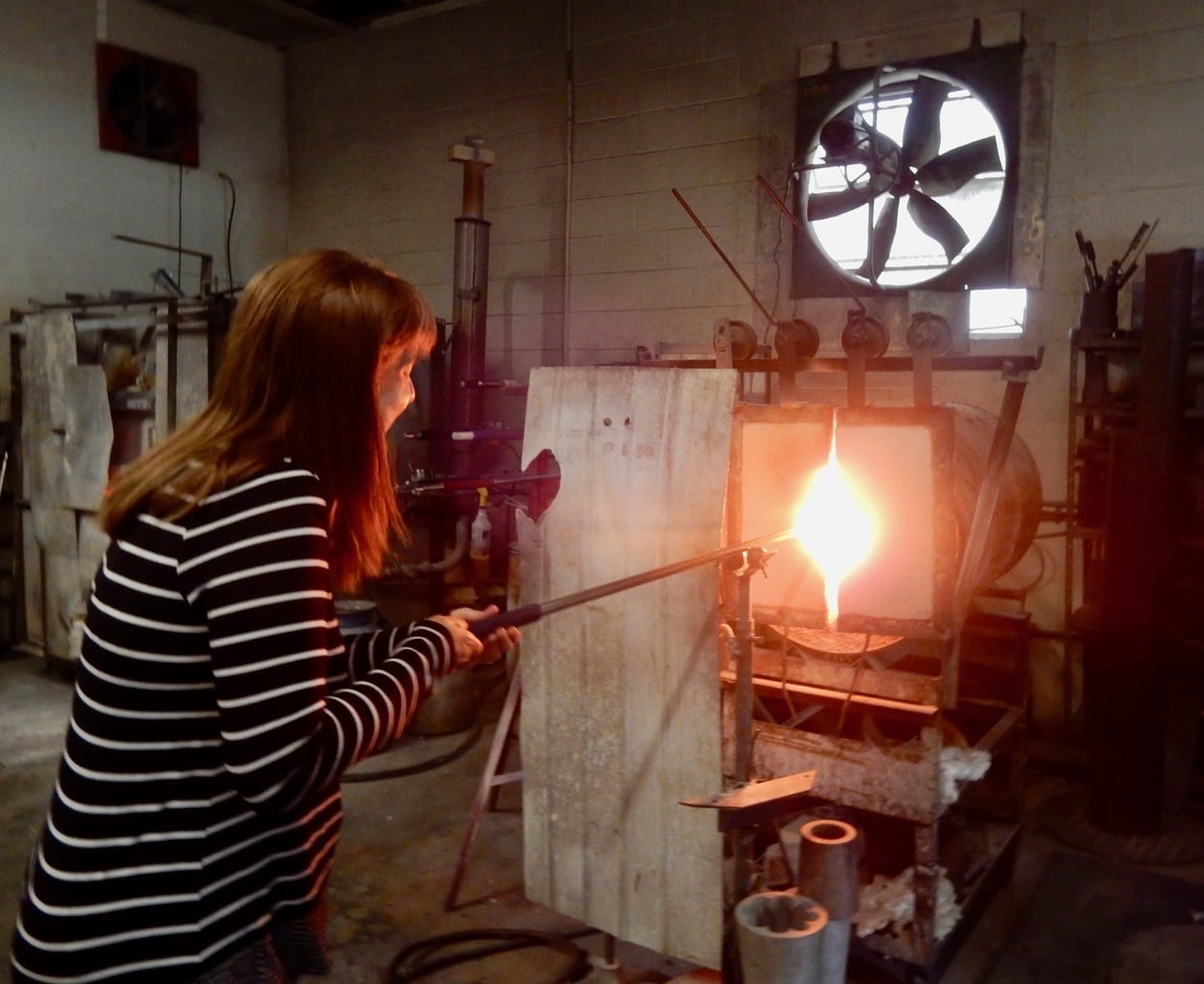 DO: Glassblowing at Glasslight Studio, St. Peters Village
Having had experience with half a dozen drop-in glassblowing classes in other studios around the country, I can honestly say that the full-day make-and-take class at Glasslight is the most hands-on, immersive experience you will ever have as a novice. It is worth a drive from anywhere.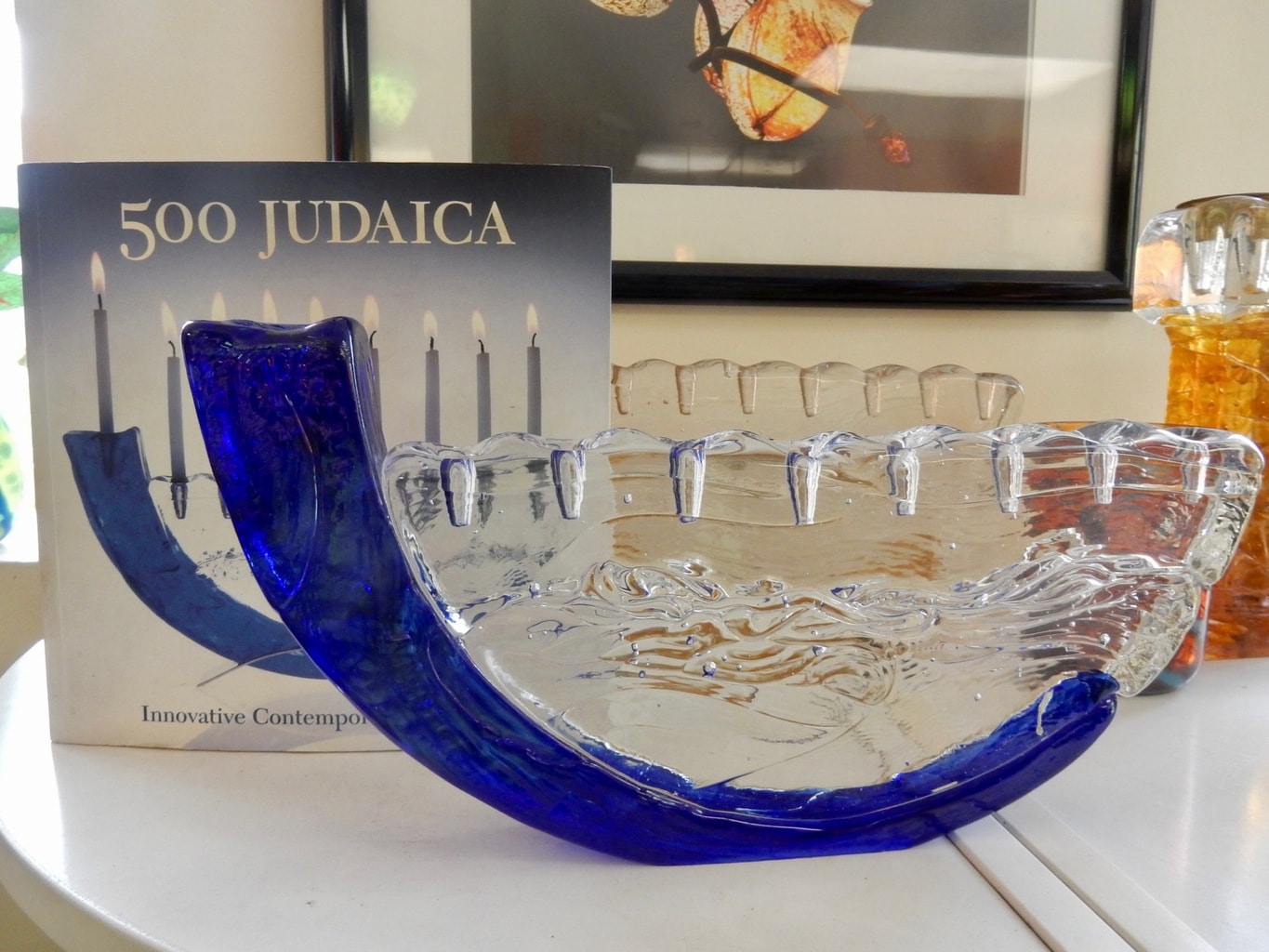 But, to me at least, that was not the biggest surprise in this small, seemingly middle-of-nowhere artist studio.
Famous Hanukah Menorah
Glasslight owners, Joel and Candice Bless, are the designers of a well-recognized contemporary glass Hanukah Menorah. Joel had been experimenting with glass casting right around the Jewish Holiday of Lights. Candy said, "why don't you make something useful – like a Menorah we can use?"
And thus, the Shofar Menorah was born. The Bless's design was included in the Bloomingdales catalog that year, and according to Joel, "we had to work 7 days a week to fill orders." The Shofar Menorah is still for sale in many Jewish Museums and Judaic Shops. In fact, in 2010, the clear and blue menorah graced the cover of the book, 500 Judaica: Innovative Contemporary Ritual Art.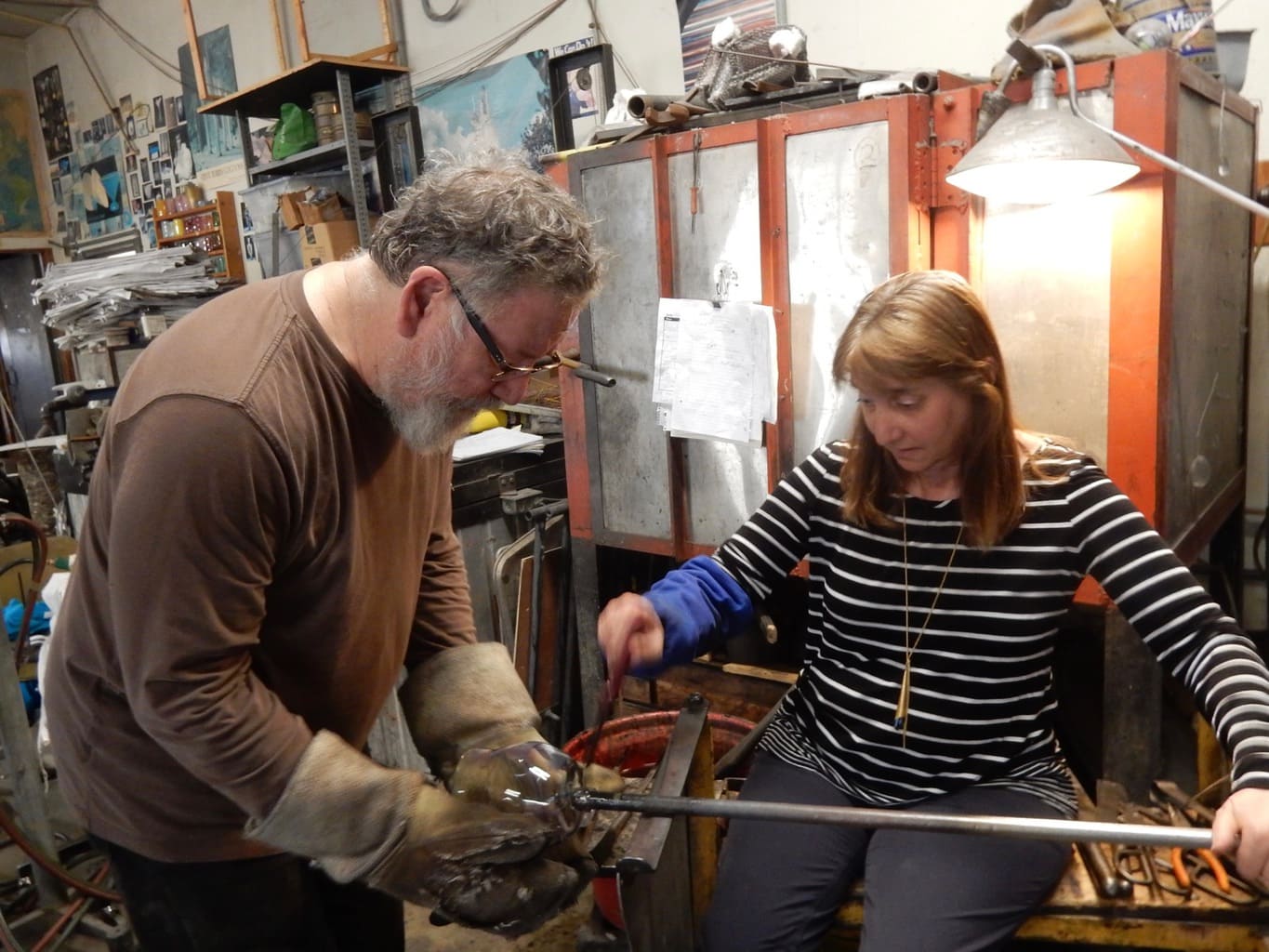 Glasslight Studios still creates custom pieces for homes, businesses, and houses of worship, fabricating metal in house as well. And though you might be tempted to purchase something in the studio shop, visitors eager for a more immersive experience will want to sign up for a One Day Class on the weekend.
You'll help "pull molten glass" from the furnace, blow it till you look like Satchmo, help shape and cut it, and learn firsthand how glass art is made. For $190, you'll make four pieces – a paperweight, a bowl, a drinking glass, and a vase. An unheard of value.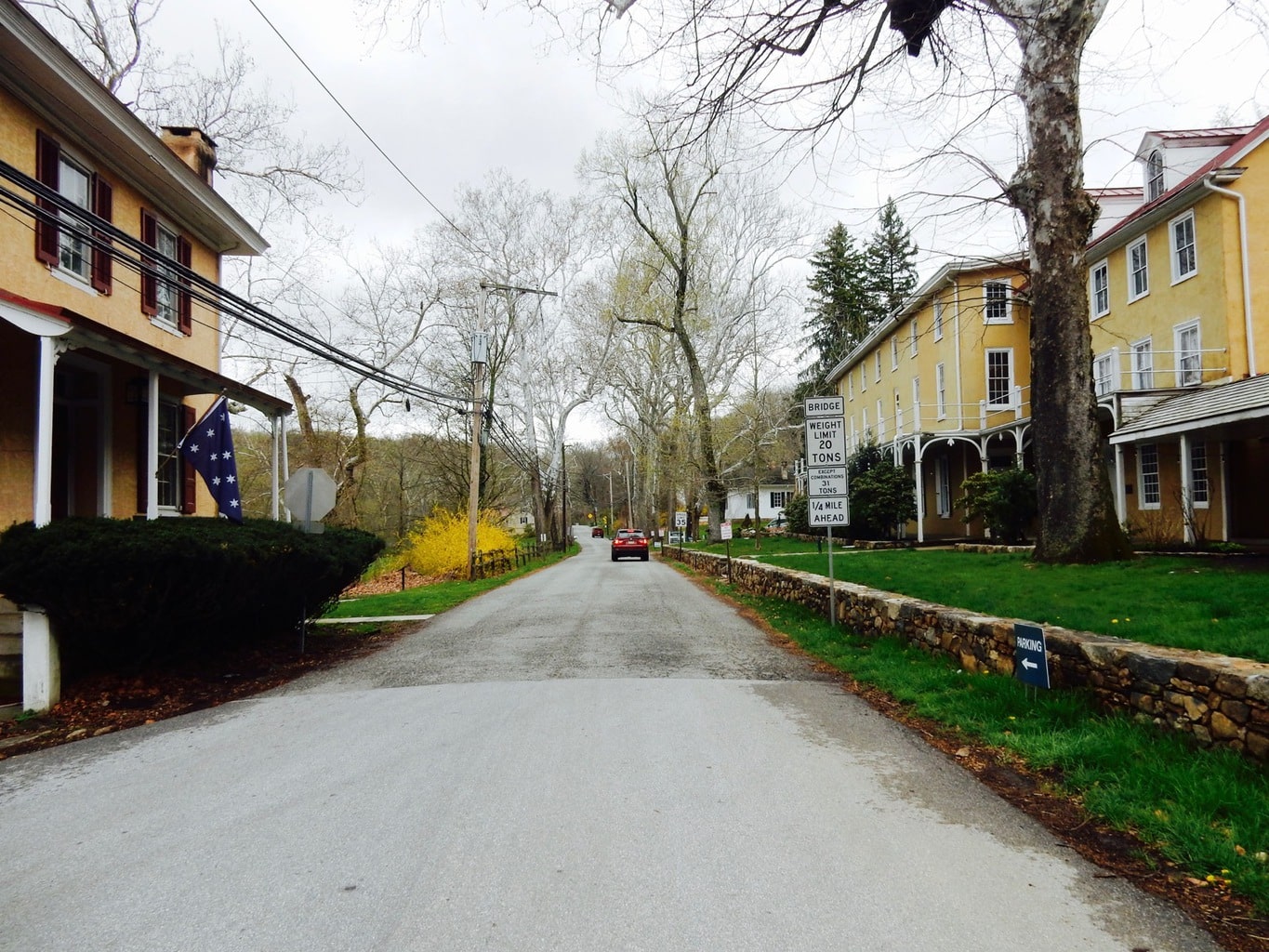 Years ago, I wrote a short story about a cowboy who wins a whole, nearly abandoned, "tumbleweed tract" town in a poker game. Yellow Springs PA, which has changed hands multiple times, could have been that fictional town.
The Village itself is on the National Historic Register, with a history dating back to before the American Colonies, when the indigenous Lenape Tribe named the area "Yellow Springs" for the iron-tinted color of the spring water.
Colonial Era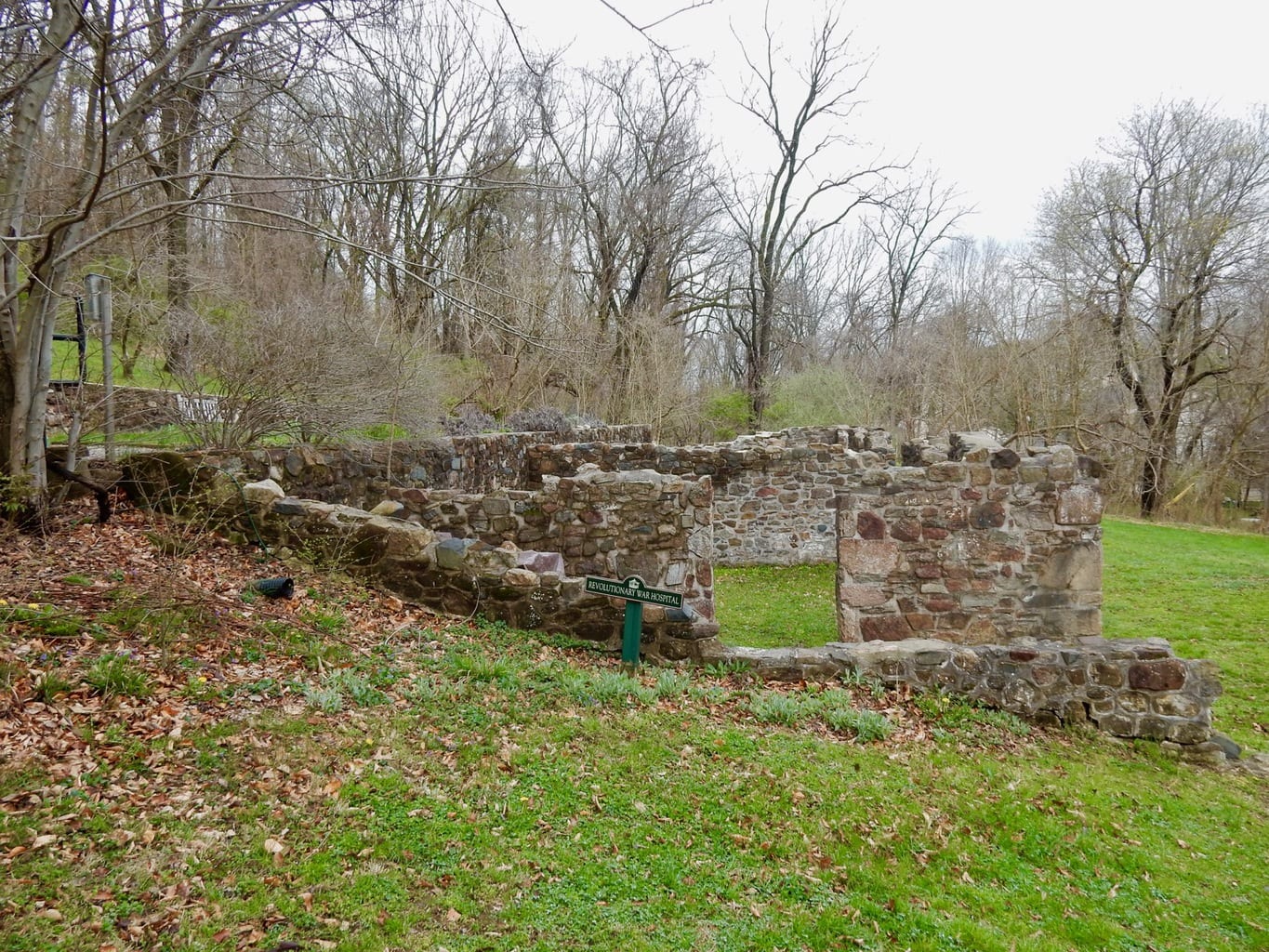 Researchers discovered a newspaper announcement from 1722, enticing visitors to bathe in the springs for their medicinal qualities. George Washington was well aware of this "Spa Town" when, after loosing the Battle of Brandywine in 1777, and during one of the deadliest Winter Encampments in nearby Valley Forge, he petitioned the Continental Congress to build a 126-bed state of the art Military Hospital here.
It served as a Medical Center until 1781, when the War moved south. Visitors can climb a small hill to see the ruins of this historic building.
Spa Resort Town
From 1810 until the Civil War, Yellow Springs was a bustling resort town – a place to see and be seen – with bowling alleys, ice-cream parlors, and hotels. Jenny Lind, the Swedish Nightingale, brought to the USA by P.T. Barnum, stayed in Yellow Springs to recover from her whirlwind American Tour.
By 1838, the entrepreneurial Margaret Holman owned a "good chunk" of town. She wrested the reins of property ownership away from her drunk, n'er do well husband, Frederick, at a time when women were not allowed to own property. (Holman's son acted as her agent after Frederick died in 1820).
From Orphans to The Blob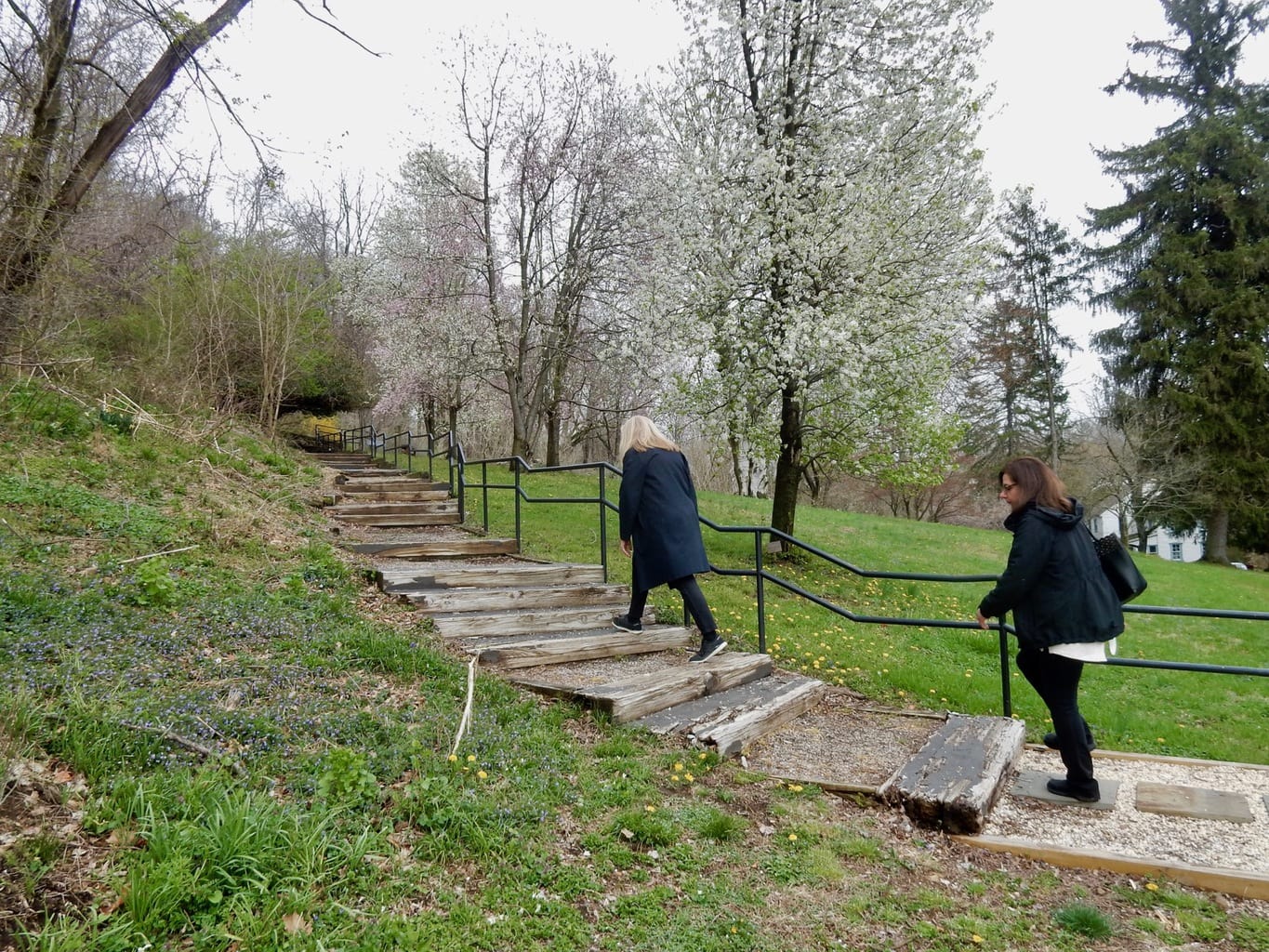 After the Civil War, the appeal of spa towns waned. And in 1868, Yellow Spring was converted into an orphanage for war orphans, and a boarding school for children of destitute military veterans. These operated until 1912, when the whole village was put up for sale.
Pennsylvania Academy of Fine Arts owned Yellow Springs from 1916-1952, until the genteel art of "plein aire" painting lost favor, and the town was once again on the block.
This time, Irwin "Shorty" Yeaworth saw Yellow Springs as the ideal place to shoot religious films and promote Christian messaging through his Good News Productions. But those "holy"endeavors weren't financially successful. So Yeaworth and his wife, Jean Bruce, turned to making campy horror movies, establishing the for-profit Valley Forge Productions. Yeaworth's most enduring Cult Classic? The Blob, partially filmed in nearby Phoenixville (see below).
Art History
By the 1960's, a local group rented the buildings in Yellow Springs for art classes. It finally formed a 503(c) Nonprofit organization and purchased the town outright to promote the arts in Chester County PA.
Dedicated to the visual arts, environment, and the village's 300 year history, Historic Yellow Springs now hosts one of the largest Annual Art Shows in the region, showcasing the work of 209 artists over a 2-week period every spring.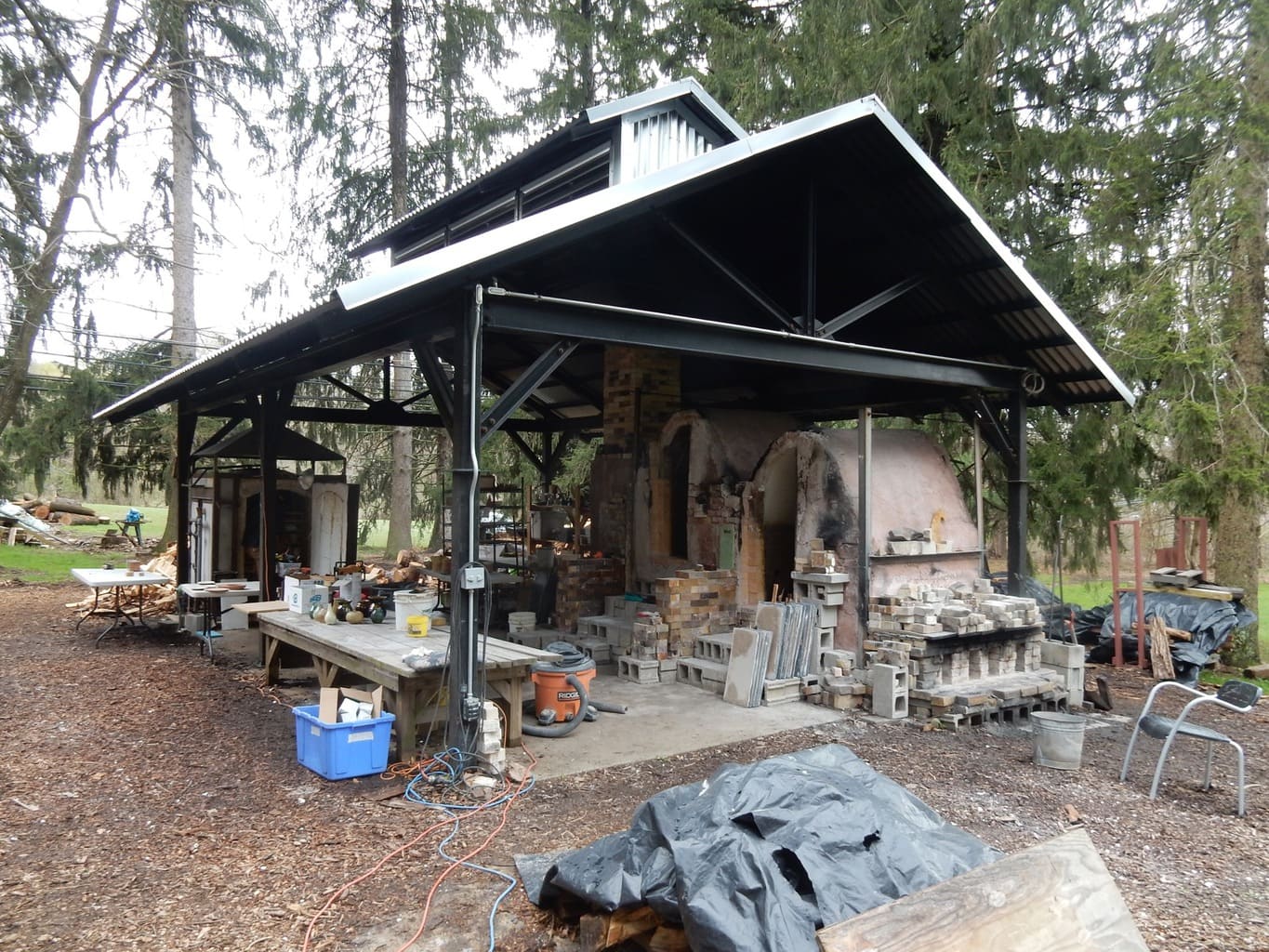 Though a variety of art classes are offered here, Yellow Springs is distinguished by its very active Ceramics Studio with a large wood kiln (built in 2014) that draws students from Philly and elsewhere (the nearest one of comparable size is in Baltimore).
Though guided walking tours of Historic Yellow Springs can be arranged for groups of 10 or more for a fee, mentions Executive Director, Eileen McMonagle, you can pick up a self-guided walking tour brochure in the Lincoln Building. Free.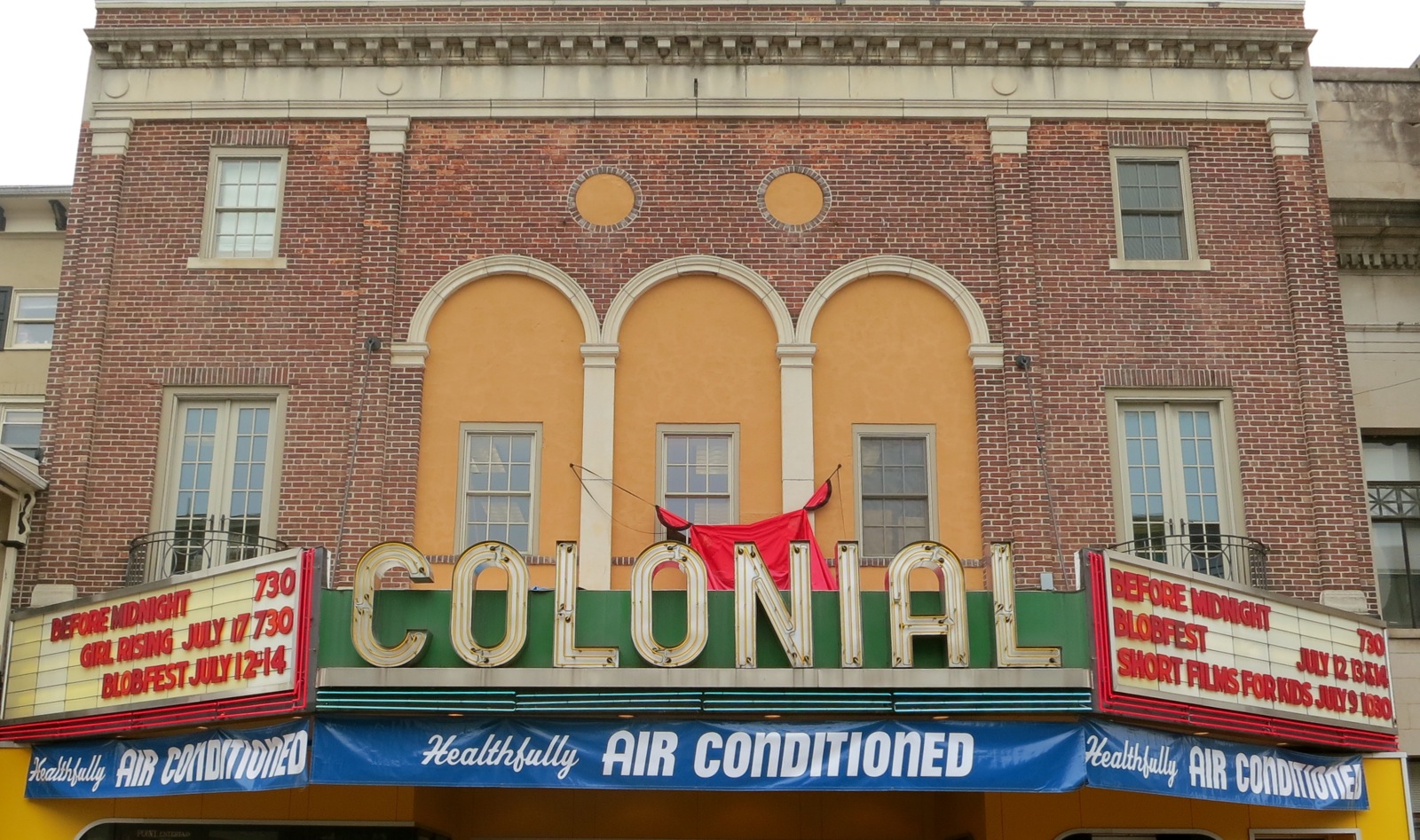 The movie theater is packed.  Suddenly, a ball of icky goo murders the projectionist and starts after the rest of the gang.  Mayhem ensues. Moviegoers run from the theater; a young Steve McQueen among them.
The Blob, as memorable as a B-movie gets, was filmed right here in Phoenxville, PA. To raise money for the theater that by the 1990's was in its final frames, the newly formed Association for the Colonial Theater screened The Blob. The event was an instant hit.  Now, every year over a weekend in July, BlobFest takes over Phoenixville, drawing The Blob lovers from all over the world.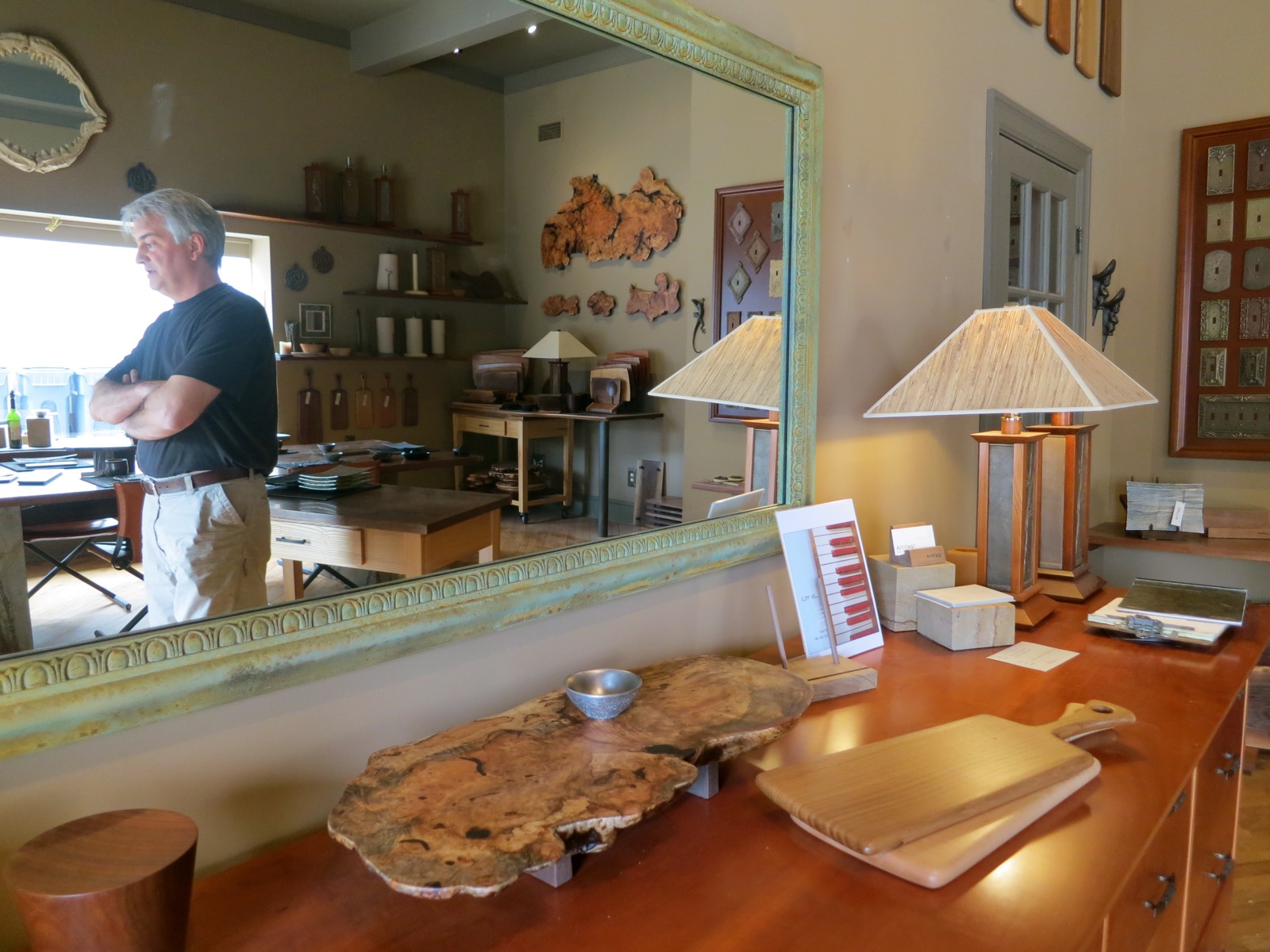 STROLL/SHOP/EAT: Downtown Phoenixville
What was once a steel foundry town has been reinvented as an arts and epicurean hot spot.
Or down a custom Italian Soda at Steel City (a venue for local and regional musicians nearly every night).
Plan to spend more time than you originally allotted for a perusal of the Diving Cat Gallery (named after owner Markels Roberts' philosophy to just dive into life the way cats dive after prey). Roberts considers her store as "one big sculpture." You can definitely loose yourself amid the ceramic cats, Buddha's, clothing, scarves, jewelry and thousands of can't resist impulse purchases.
Before leaving town, make one last stop at  Artifaqt, both a factory and artist studio. It's not generally open, but if you press the door buzzer, owner/craftsman John Luttman might let you into his world and work. This includes designing for Disney, the Bronx Zoo, Longwood Gardens (cheeseboards made from Longwood's fallen trees), star chef and restaurateur, Jose Garces and others.
Great chefs and Disney bigwigs make pilgrimages here to see the artist at work and discuss their newest projects, but you can, too.  Just push the buzzer.  "The curious are always welcome."
Restaurants In Chester County PA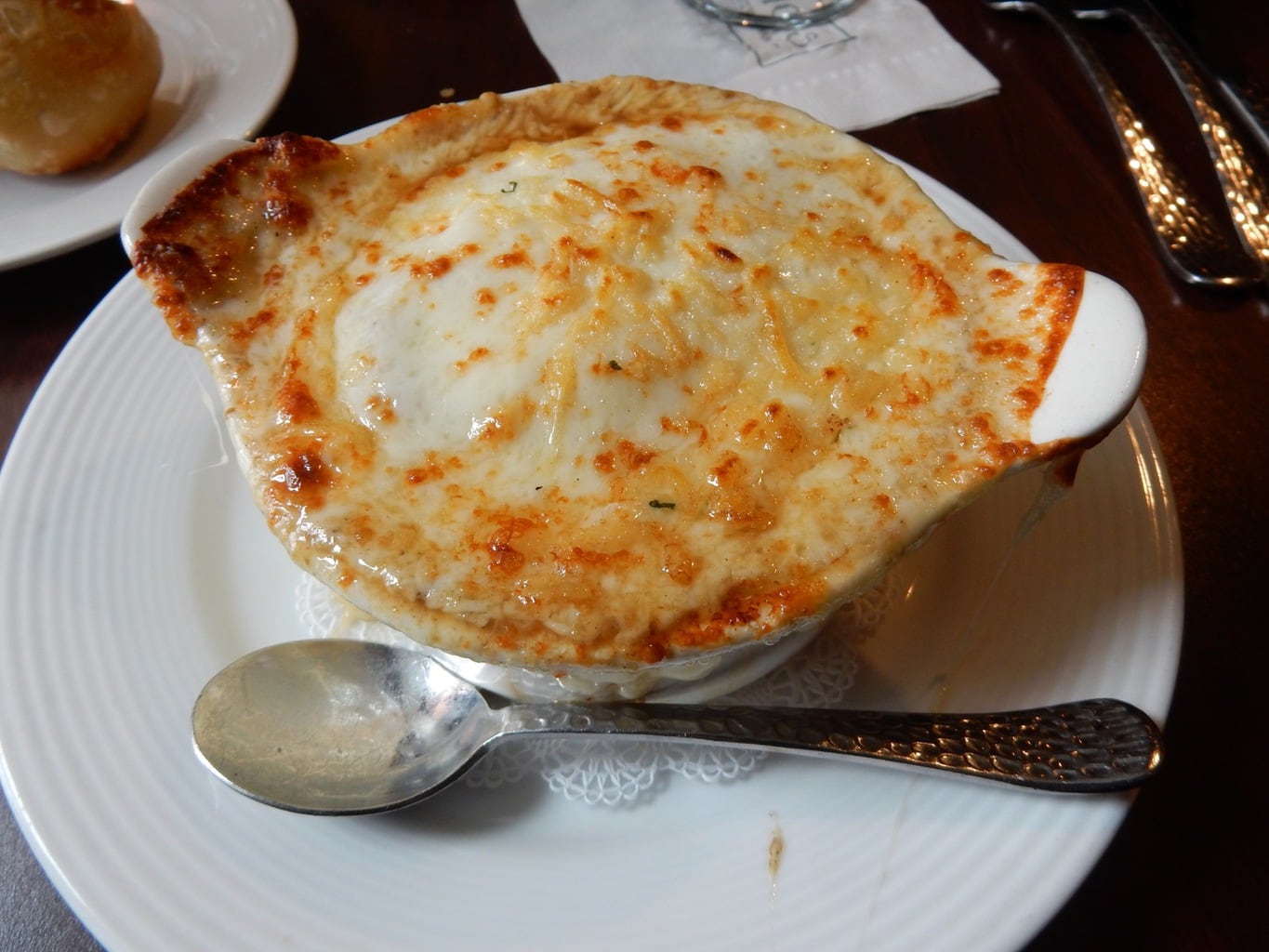 What was once the General Store and Post Office (built in 1848) on the rural intersection of Routes 100 and 401 ("Cornerstone Pike"), and then the Black Angus Inn, has, since 1992 been restored, strangely enough, as an Oyster Bar with a New England theme.
The original "Buck A Shuck" – $1 per shucked oyster on select days- has not gone up in price in 26 years!
No wonder Ludwig's sells on average 3,000-4,000 oysters per week. But that's not all Ludwig's dishes out – and other items are equally excellent.
Take the popular French Onion Soup – chock full of sweet, caramelized onions and capped with a prodigious amount of melted gooey cheese. Or the "Wedge Salad" deconstructed and chopped, with Bibb Lettuce to soften each fresh bite.
These, and craft cocktails, steaks, burgers, sandwiches, and of course those oysters, keeps this crossroads restaurant hopping.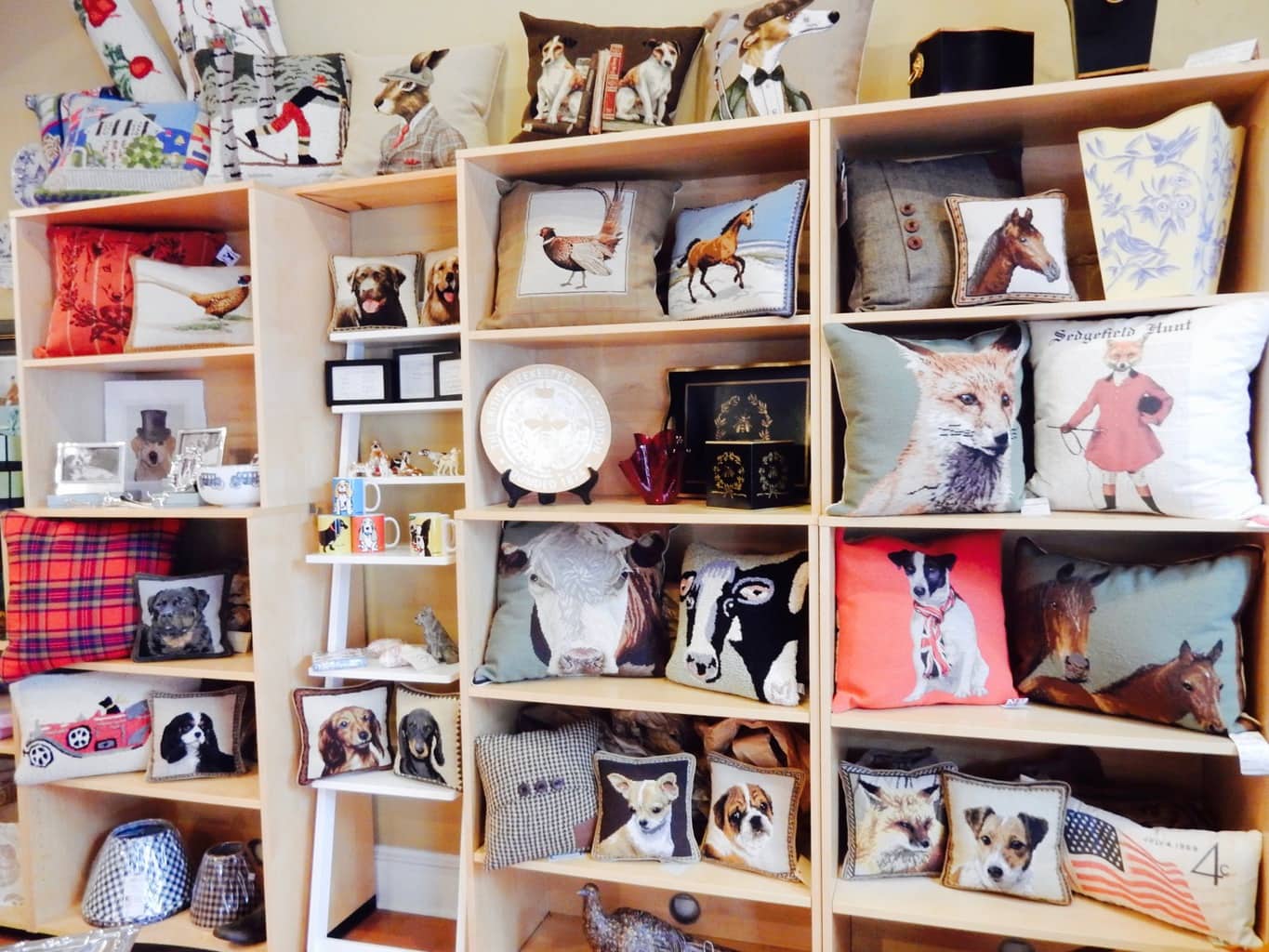 In the same complex, find a small upscale Ludwig's Village Market  perfect for provisioning and picnics.
A few doors down is Eleanor Russell Gift Shop – in case you're hunting for the perfect unique hostess, wedding, or baby gift. Owner Lori Musson, who has a penchant for dogs and equestrian themed items, named her store after her grandparents, Eleanor and Russ.
Highly rated, often cited as the "best restaurant in town," accolades are well deserved. Try the warm sushi-rice and seaweed salad topped Tuna Tartar ($12) with a texture/flavor combination that leaves a gal wanting more. The menu is inventive and the room cheerful – and not a Blob in sight.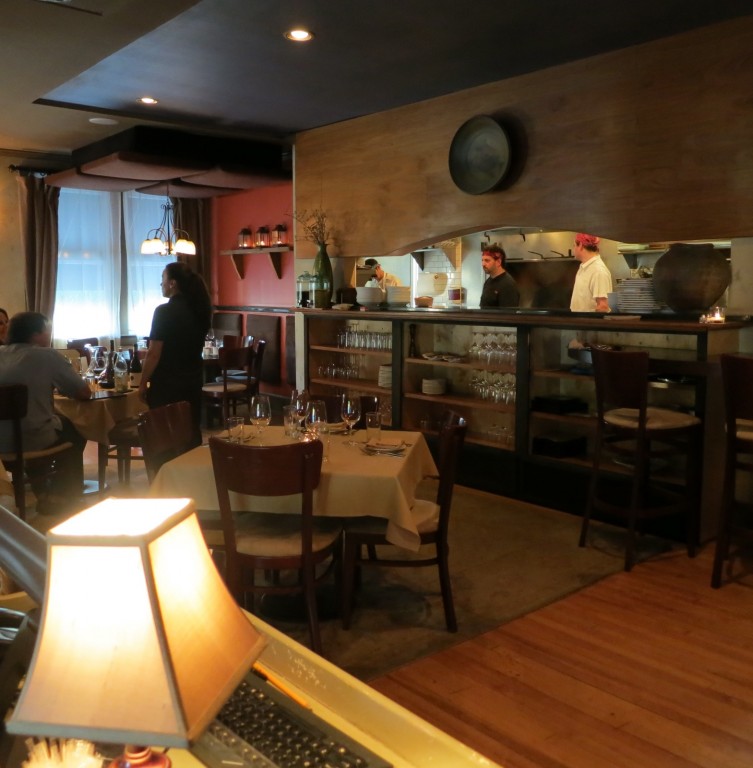 Chef Sean Weinberg, a James Beard darling, dedicated to high quality, locally produced foods, opened up this big city caliber eatery in the blink-and-you'll-miss-it town of Malvern  years ago, And the great reviews are never ending.
Hotels In Chester County PA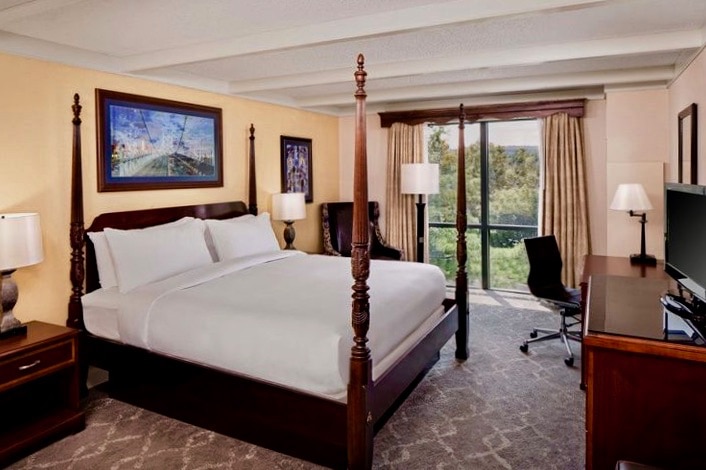 Though the hotel itself is sized for a corporate clientele, rooms at the Desmond (A Hilton flagged hotel) are nevertheless charming. Some rooms sport four-poster beds and Federalist furniture.  Three on-site restaurants assure that you'll find something as casual or as fine as you'd like. And in fact, the service and dishes in the in-house Fork & Bottle are very fine indeed. Rooms and suites from $169-$289.