WHY GO: The part of Central Pennsylvania that encompasses State College, Bellefonte, Boalsburg, and Pine Grove Mills, is known as Happy Valley PA for good reason. With 15 producers of adult beverages (beers, wines, ciders, liquors), it's a fun, spirited, and even romantic place.
The Happy Valley PA town of State College, of course, is best known as home to Penn State University (PSU). But even those visiting without teens on the college tour can explore its campus, museums, and fantastic Arboretum.
Drive a few miles and you'll find yourself at the center of the Stamp Collecting world, inside the Country's Only "All-Water Cave and Wildlife Park", and, incredibly enough, within inches of the traveling desk that Christopher Columbus might have had with him as he "sailed the ocean blue in 1492."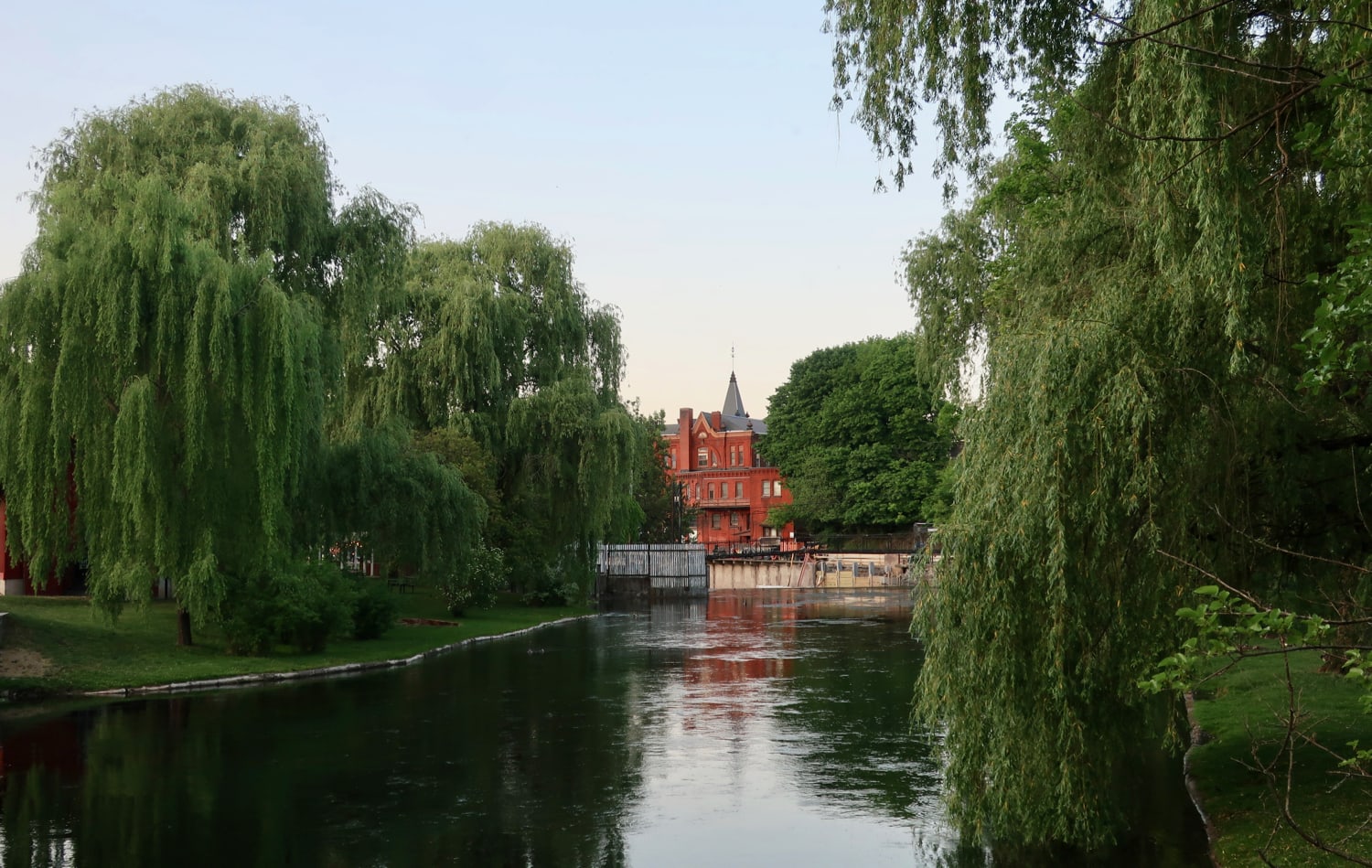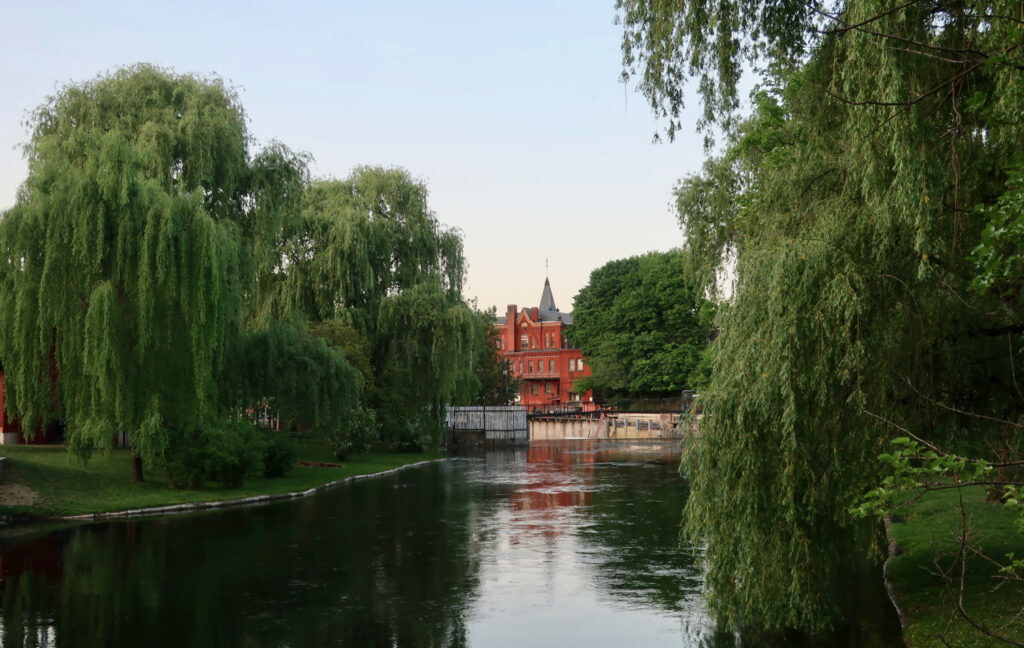 In our new 2023 update, we highlight the Romantic B&B's and industrial-cool lodgings in Bellefonte – especially sought after on Penn State football weekends.
There are surprises galore on this Happy Valley Adventure. Follow along here….
Where is Happy Valley PA
Happy Valley PA lies in the center of Pennsylvania, 1 1/2 hours (85 miles) northwest of Harrisburg. It's 2 1/2 hours (135 miles) northeast of Pittsburgh and 3+ hours (190 miles) northwest of Philadelphia.
Things To Do in Happy Valley PA – Boalsburg
TOUR: Columbus Chapel and Boal Mansion Museum Boalsburg
It almost seems too suspect to be true. The cross that Christopher Columbus used to claim unexplored land and his circa 1400's Admiral's Desk is in a vault in this tiny mid-PA town? Plus, slivers of the True Cross of Jesus, as well?
Well, at least one of those has been authenticated, the other taken on faith. But both artifacts have ended up in this small town address: the home of 8 generations of the Boal family in Boalsburg PA, now the Columbus Chapel and Boal Mansion Museum.
How? Well, the answer is quite the love story, actually.
The fifth generation Boal, Teddy, an architect, met Spanish born Mathilde Dolores Denis Lagarde while attending the prestigious Ecole de Beaux-Arts in Paris. Mathilde was the niece of Victoria Columbus Montalvo, widow of Diego Colon, a descendant of Christopher Columbus.
Mathilde Boal's Family Heirlooms in Happy Valley PA
Because Victoria died childless, the Colon (Columbus in English) family heirlooms passed down from her to Mathilde in 1908.
These Family treasures included not just the travel desk, but some shackles from Columbus's ship, the Santa Maria. (Research shows that these were not used to chain slaves. The famous explorer was just notoriously distrustful of his own men).
Columbus Family Chapel
Incredibly, the complete Columbus Family Chapel, dating back to the 1400's from the Columbus Castle in Asturias, Spain, was completely reconstructed here. Consequently, little Boalsburg PA is home to the most significant collection of Christopher Columbus artifacts in North America.
Teddy, a Protestant, had the Catholic Chapel installed on Boal Mansion's grounds as a comfort for his religiously observant wife. It was said that Mathilde took solace in the consecrated Catholic Chapel when her husband and son were off fighting in France during the Great War (WWI).
Using good old Pennsylvania limestone for the exterior, he incorporated original pieces, such as the 15th century carved oak door and alter, and marble cross. Portraits of the Columbus family depict them as saints, as was de rigueur for wealthy dynasties of the time. The original Colon Family Crest is built into a railing in the rear of the sanctuary.
At this point in the tour, your guide opens the rear cabinet door to reveal a reliquary holding two splinters of what is believed to Christ's Cross.
Preserving Columbus History at Boal Mansion
At first, Columbus's Admiral's Desk sat among the gilded alter and artifacts inside the Chapel. Over time, humidity and fluctuating temperatures started to take their toll. So the desk and a stack of Columbus Family papers, believed to be hundreds of years old, discovered in a cabinet crumbling with decay, have been moved into a third building on the property – a temperature-controlled walk-in vault.
The papers are now going through a digitation process, which will provide much more information. Though credited with "discovering America," Christopher Columbus never sailed farther north than what is now the Dominican Republic.
And he never set foot on mainland USA. He went back to Spain, negotiated a 10% deal with Queen Isabella on all the riches gleaned from the New World, and made his family quite wealthy.
Touring the Boal Mansion
A tour of the Boal Mansion Museum, Vault, and Columbus Chapel includes all three structures. Photos and portraits of Presidents, celebrities, friends, and family members cover every inch of every wall throughout the 2-story home.
Both Teddy and his son, Pierre, served admirably during WWI. Teddy trained troops here to fight the Keiser, and then fought for the US with the 28th Infantry Division. Pierre served with the French Cavalry.
Pierre, like his father, also married a French woman, Jeanne de Menthon, and was appointed Ambassador to Peru and Nicaragua under FDR. One of Pierre's daughters, Mimi, married the Governor of Maryland, Blair Lee, a Richard Henry Lee descendent. The wedding generated congratulations from Presidents and dignitaries. Do you see where this is going?
Boal Mansion
Much of what you'll find in the Mansion itself is incredibly valuable or at least historic. It was said that "Teddy inherited three fortunes and spent them all." He collected everything.
There's a deck of cards and lock of hair from Napoleon Bonaparte. Teddy purchased the White House piano that belonged to Dolly Madison which was put on the market when Teddy Roosevelt moved in.
Boal Mansion Now
Upon his return from his Ambassadorship in 1952, Pierre Boal donated the house as a museum as is – "Clutter and all." The next year, the Boal Barn Playhouse, the oldest continuously operating summer stock Theater in a Bank Barn, was established on site, and is still going strong.
Pierre Boal and his father, Theodore, are buried in the Chapel crypt. After her husband's death in 1938, Mathilde went back to France and passed away there in 1951. More and more people are discovering this eccentric place with its dizzying number of important artifacts that once belonged to world-renowned historical figures. It definitely should be on your list of places to visit in the Penn State area.
GO: Pennsylvania Military Museum and Shrine to the 28th Infantry Division, Boalsburg
Across the street from Boal Mansion, it's easy to combine a visit to the Pennsylvania Military Museum with a tour of the Boal Home and Chapel. Though small, this military museum is engaging and well designed, with a focus on the lesser-known WWI up to current military operations.
Begin by walking through a trench, and into rooms replete with jeeps and tanks. The park itself and its War Memorials are beautiful. And a walk around is a good way to pay your respects to our lost soldiers, and take in some fresh air.
Things to do in Happy Valley PA – Bellefonte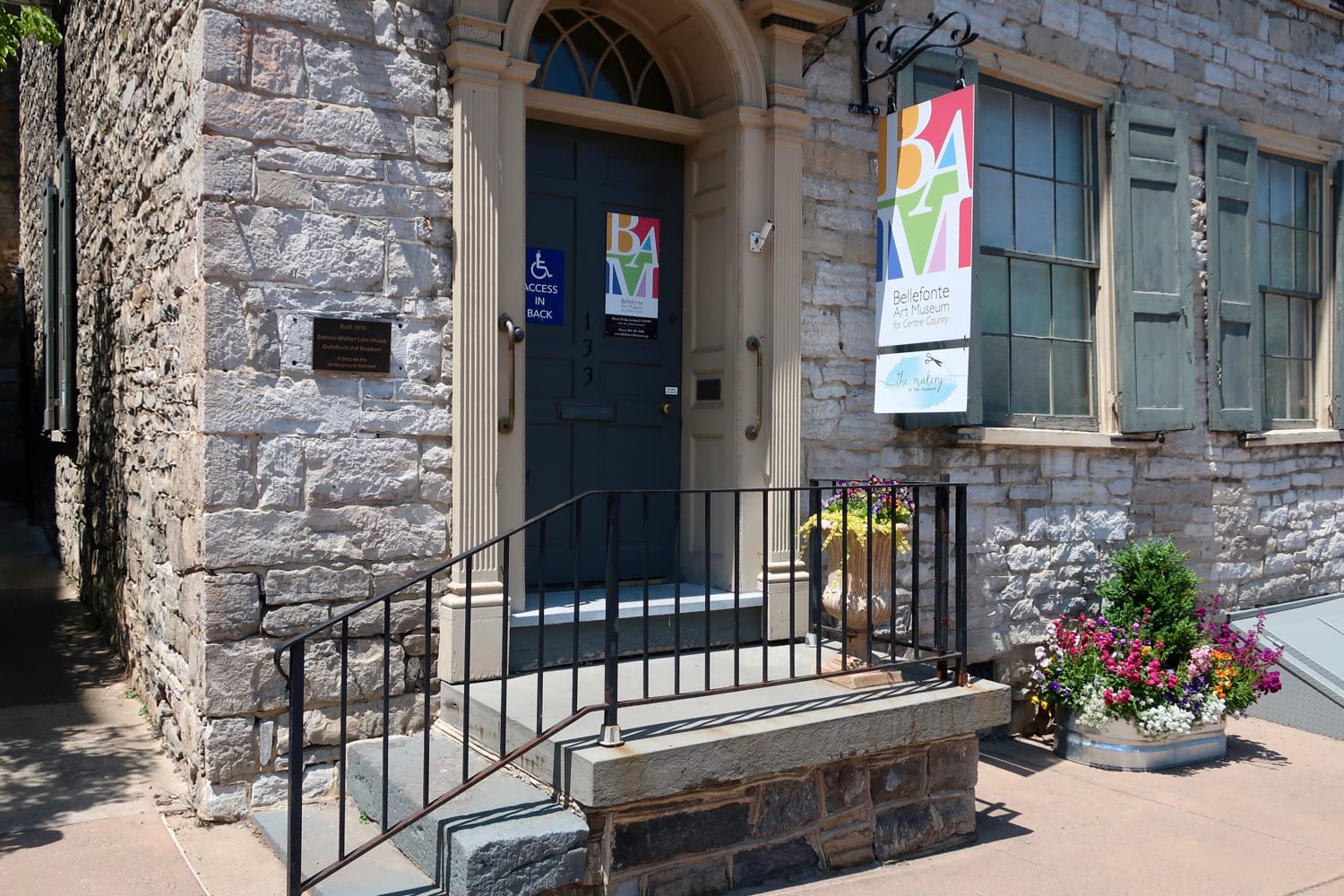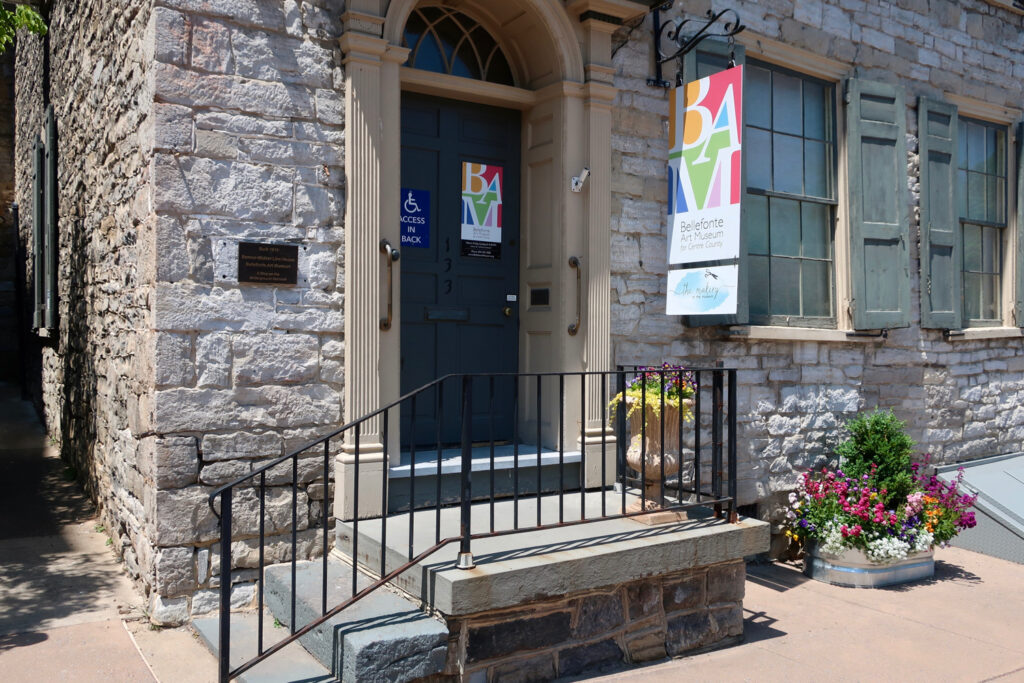 VISIT: Bellefonte Art Museum
For a small-town, the Bellefonte Art Museum packs a huge punch –in creativity, innovation, and accessibility. Plus – it's got some Underground Railroad history.
You don't even have to enter (for free, by the way, thanks to generous members and patrons) to enjoy the art 24/7. An outdoor walkway from parking lot to the main street front door passes an enclosed illuminated windowed corridor showcasing the latest works.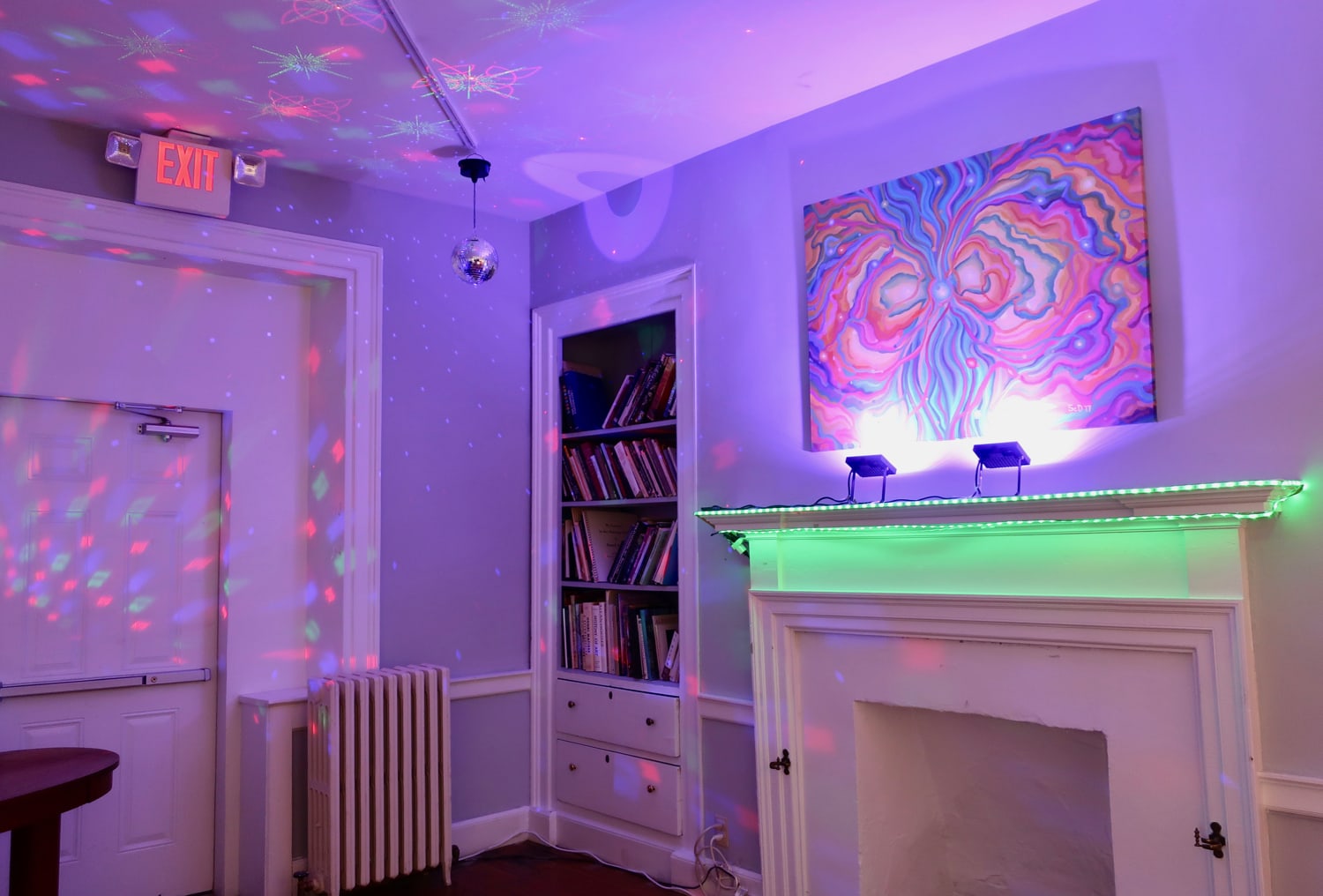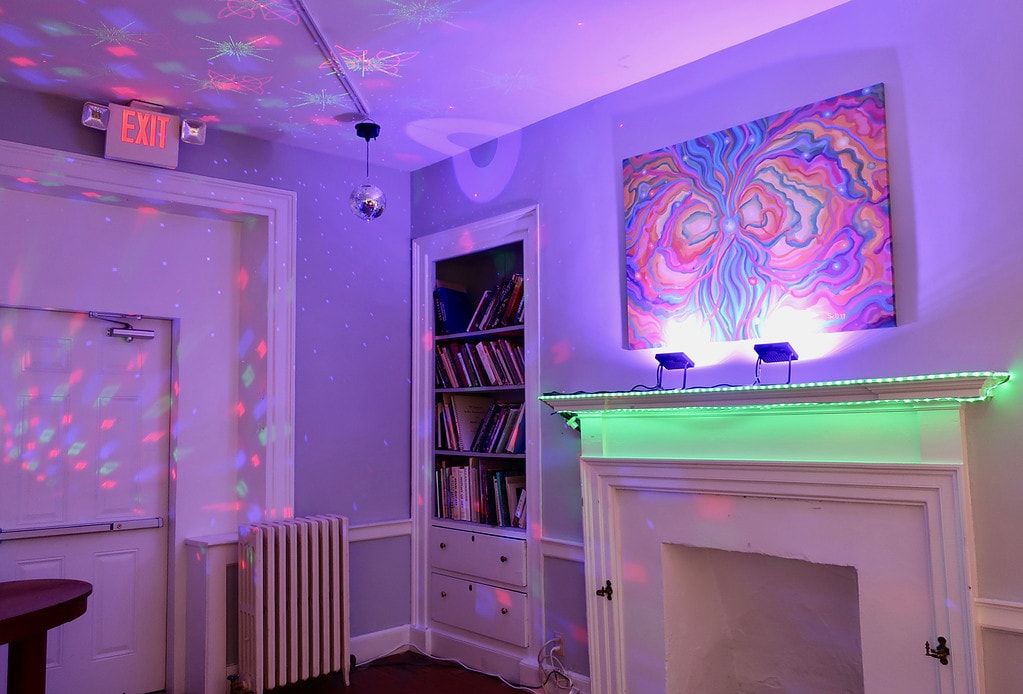 Throughout Fall, Winter, and Spring, exhibits on three floors change monthly. To involve families, the museum offers more interactive art experiences for the three months of summer. (The theme of Summer of 2023 is "Awash in Color" – and includes a trippy rainbow projection in one gallery).
Programs could be a template for other museums of this size: for example, encouraging the community to be inspired, poetically, by an image, for the monthly Ekphrastic Poetry Contest.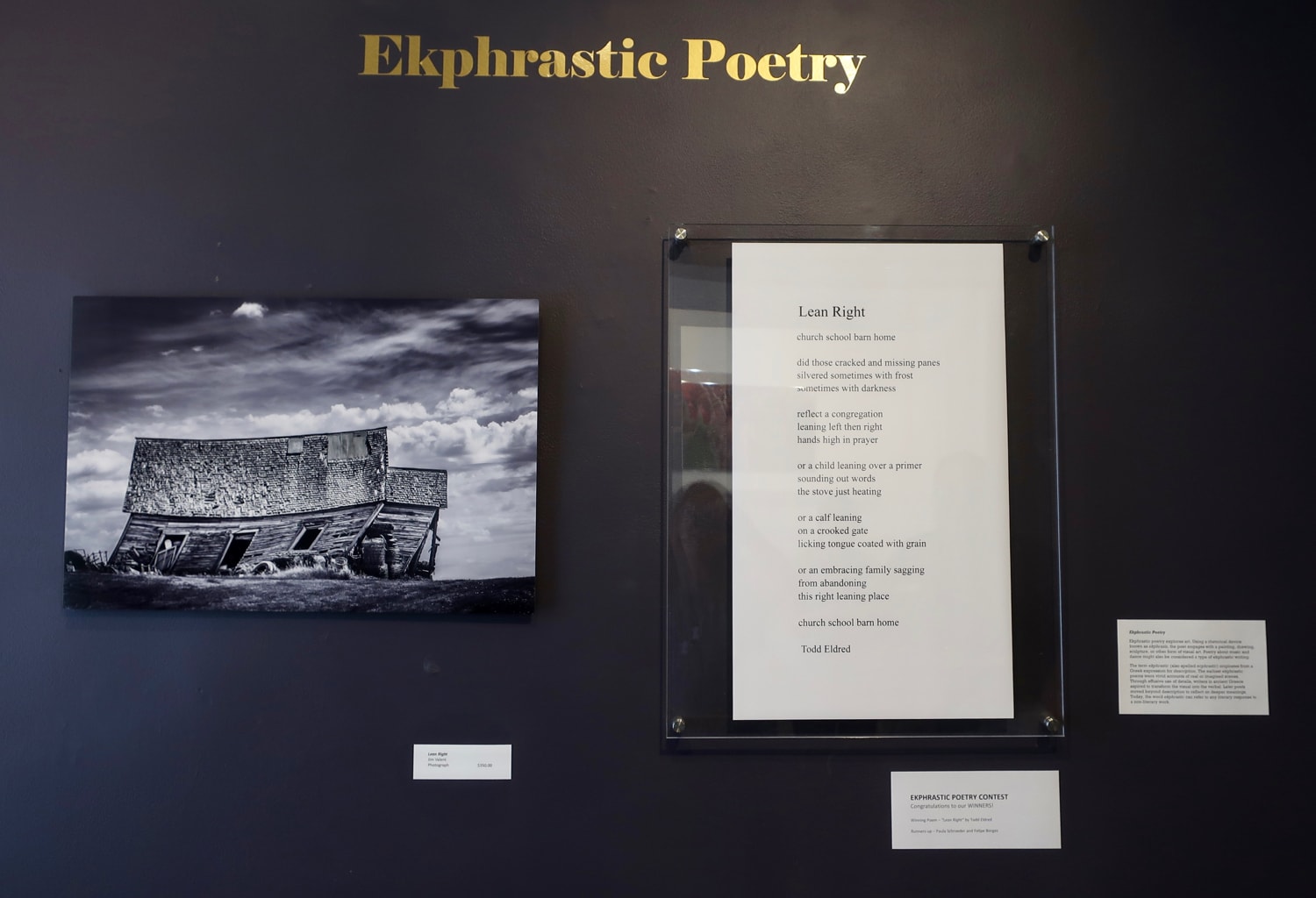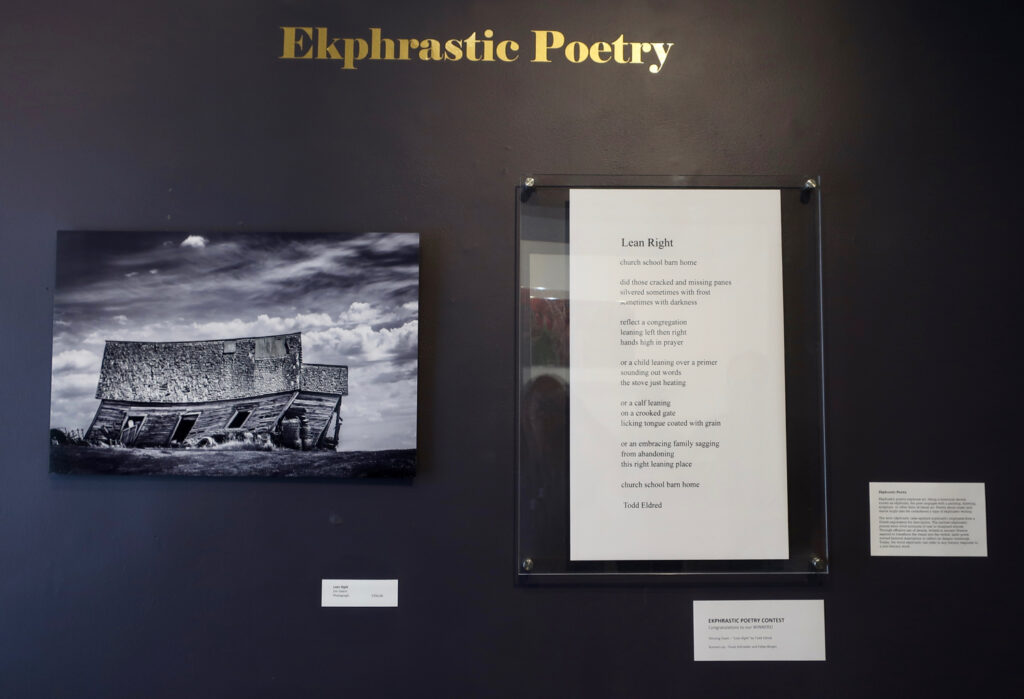 There's a scavenger hunt and a Craft Project in the "Makery Room," corresponding to the museum's exhibits that month.
Don't leave without visiting the third floor. The building, initially a private home erected in 1810, housed abolitionists, who, it was rumored (and then passed down through generations by word of mouth) harbored freedom seekers in an attic crawl space.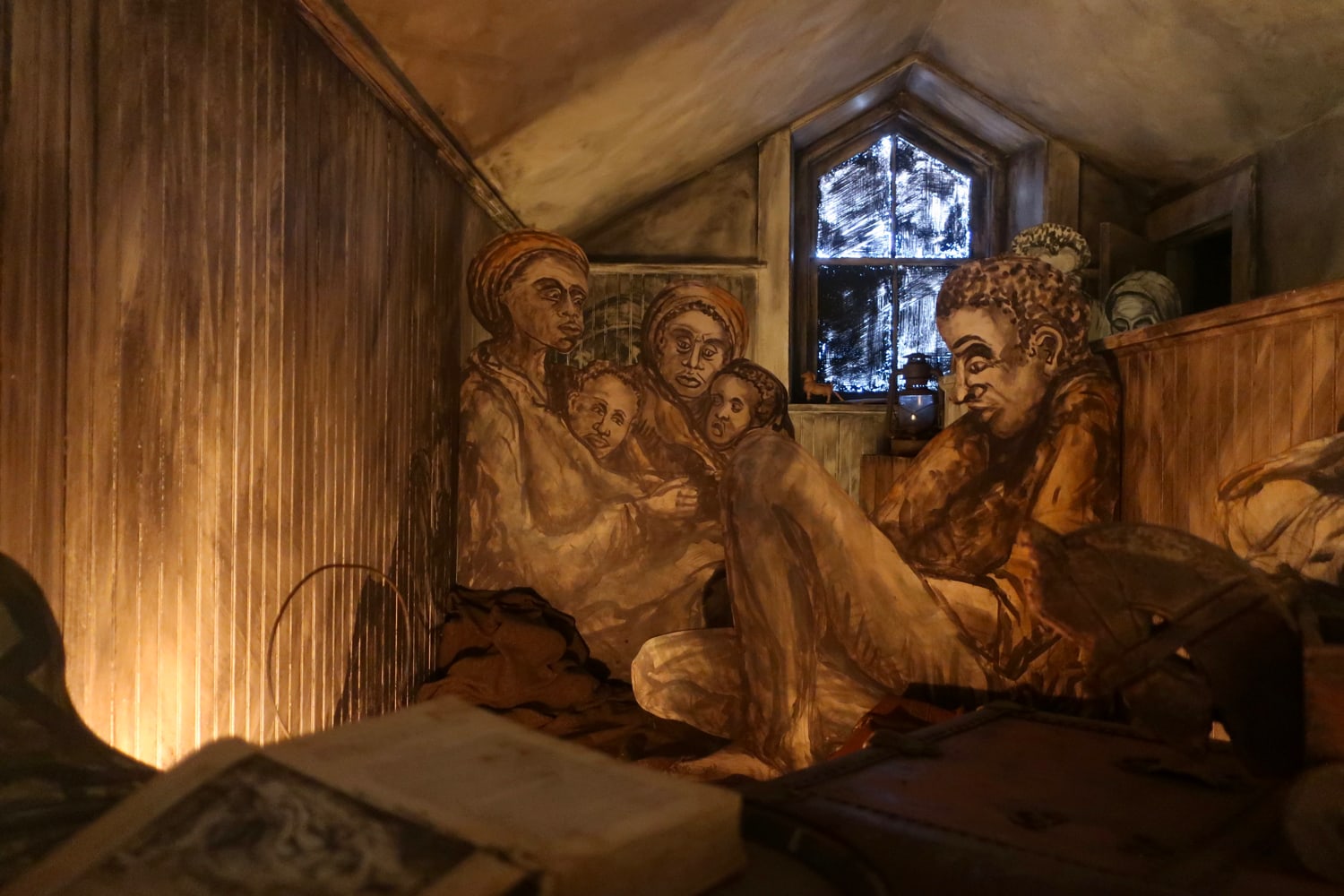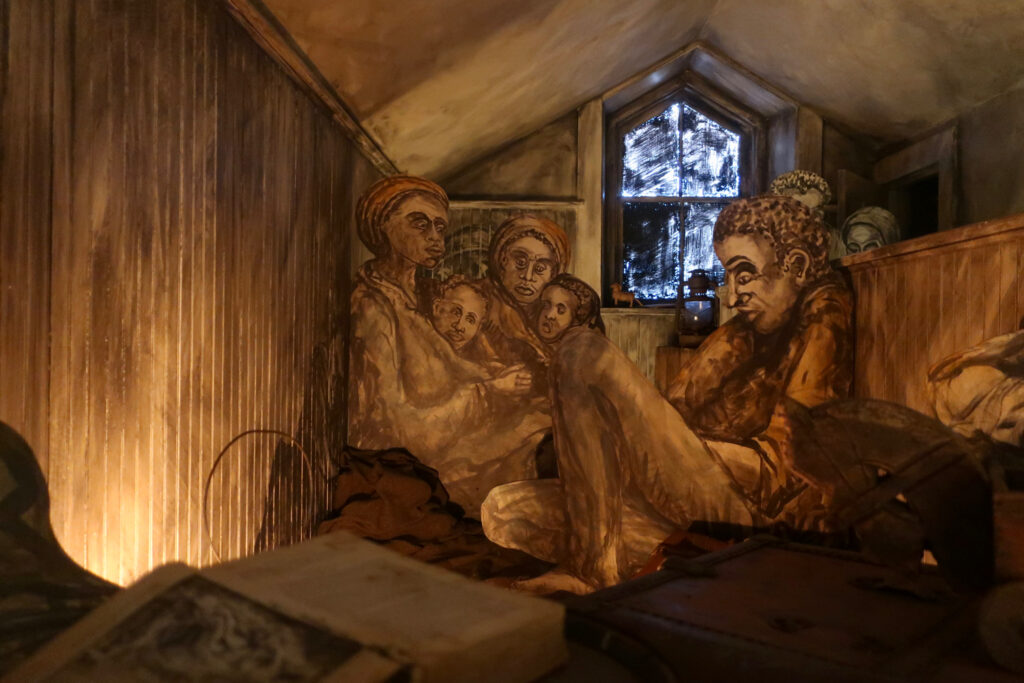 The rumors were so prevalent, that, in 2016, new owners of the building knocked down top floor bathroom walls, revealing a secret hiding place. They installed windows into the small room, and added informational panels about the Underground RR.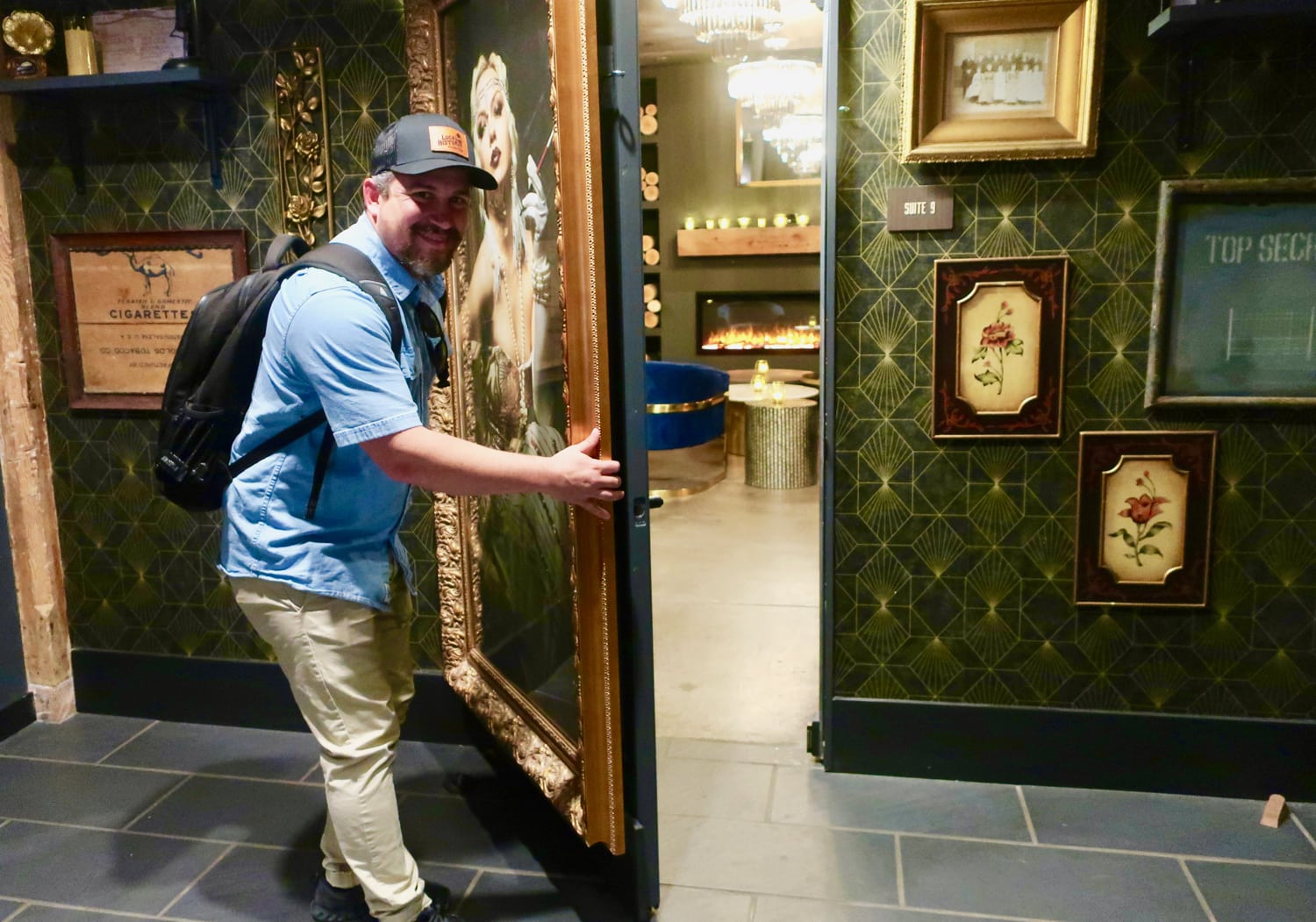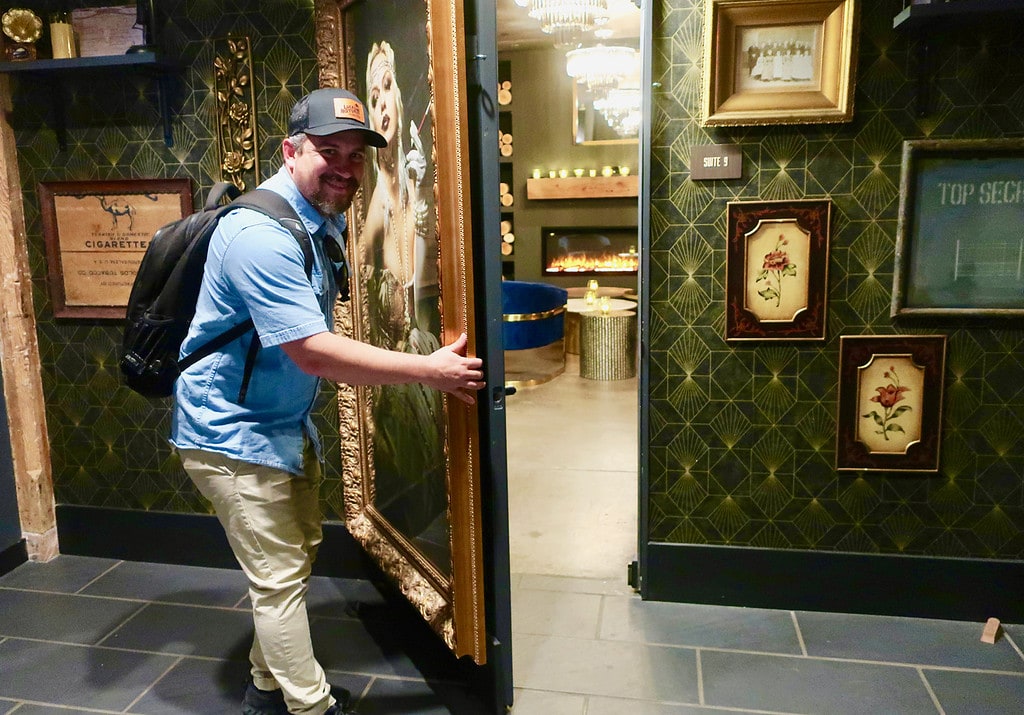 GUIDED TOUR: Local Historia
High School history teacher, Matt Maris, is crazy about local history, and it shows. His company, Local Historia, runs several area tours – including one about the newly renovated Gamble Mill.
Matt takes you back to the late 1700's, to the "Iron Rush," when lumber and iron drew fortune seekers to this farming region. (An acre of forrest per day was cut down to feed each of the 19 iron smelting furnaces that dotted the land).
The first mill was said to have been established on this site in 1786. The current structure was built after a fire, in 1893, and was in business until the 1940's. So, what is now the Gamble Mill served the community as a flour mill, off and on, for nearly two centuries.
In the early 1900's, Gamble Mill was known for its high-grade "Snowflake" flour. But, by the mid-1900's large corporations rendered small town grist mills obsolete.
In 1975, the abandoned mill was slated for demolition, but initially saved by locals, who turned part of it into a restaurant. It again stood vacant from 2015-2019, when brothers, Chris and Jon Virgilio, purchased and restored it into a multi-use property. It reopened with a bar (The Republic), a restaurant (Creekside), eight suites for overnight guests (see below), a Speakeasy, and a craft gift shop.
The Virgilio's made sure to retain some original elements, like chains imbedded in entry stone walls used to tie up horses, and rusted electric turbines behind local craft displays in the gift shop, Smith + Front.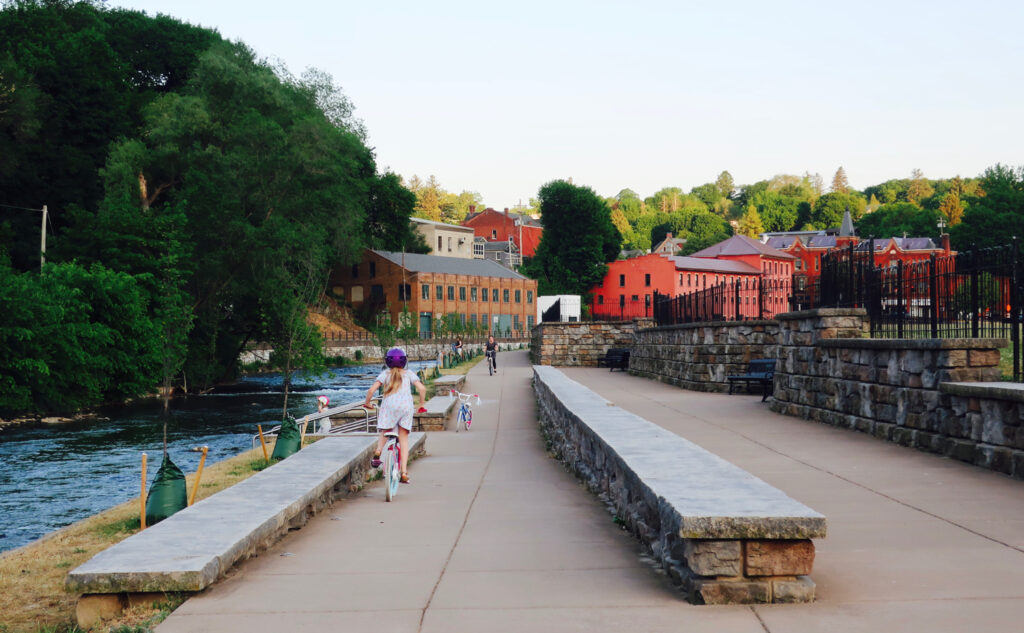 WALK: Talleyrand Park
Spring Creek runs right through the town park. So a late afternoon walk might take you by kids riding bikes and fly fisherman serenely casting away. Continue on the path and walk over the historic Cable Bridge. The paved path places you in the center of downtown Bellefonte as well.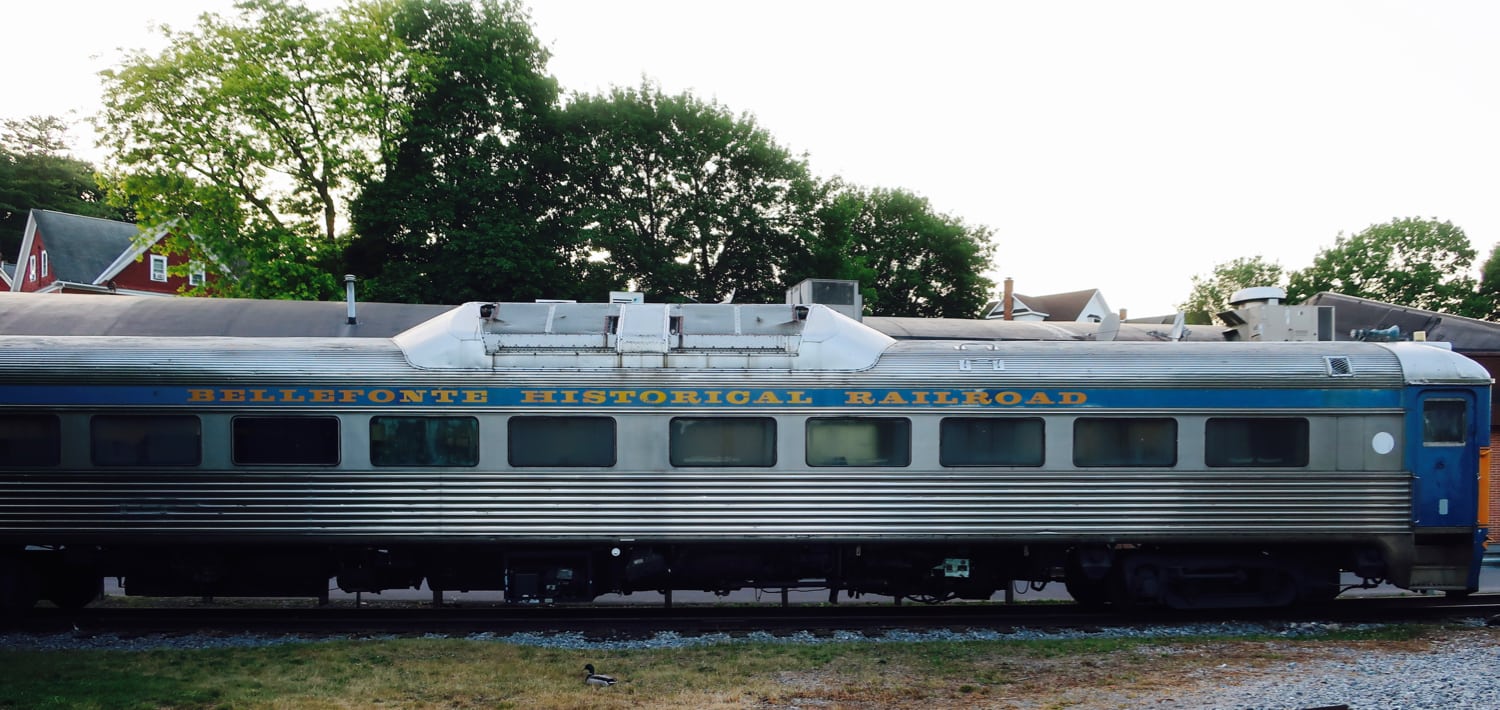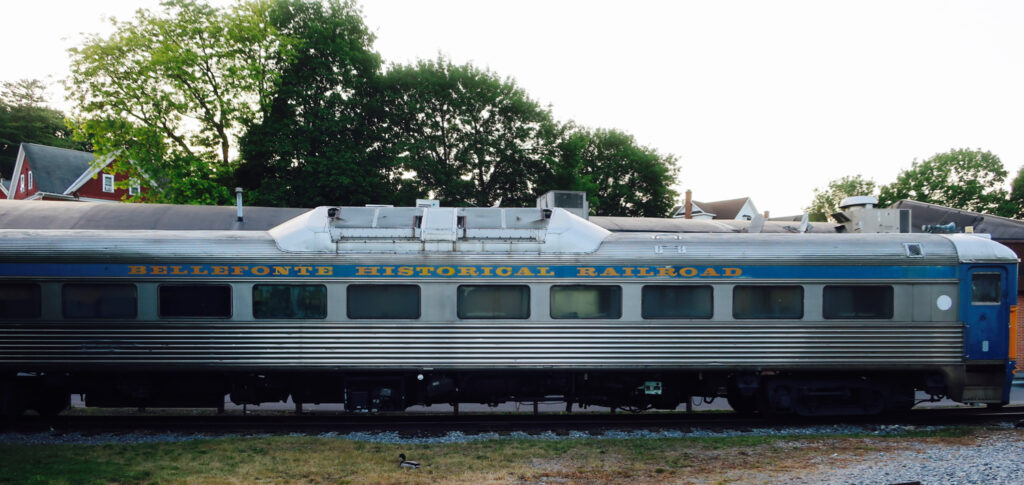 REOPENING: Bellefonte Historical Railroad Society
After some refurbishing of historic train cars, the Bellefonte Historical Railroad Society will be reopening later 2023 or early 2024.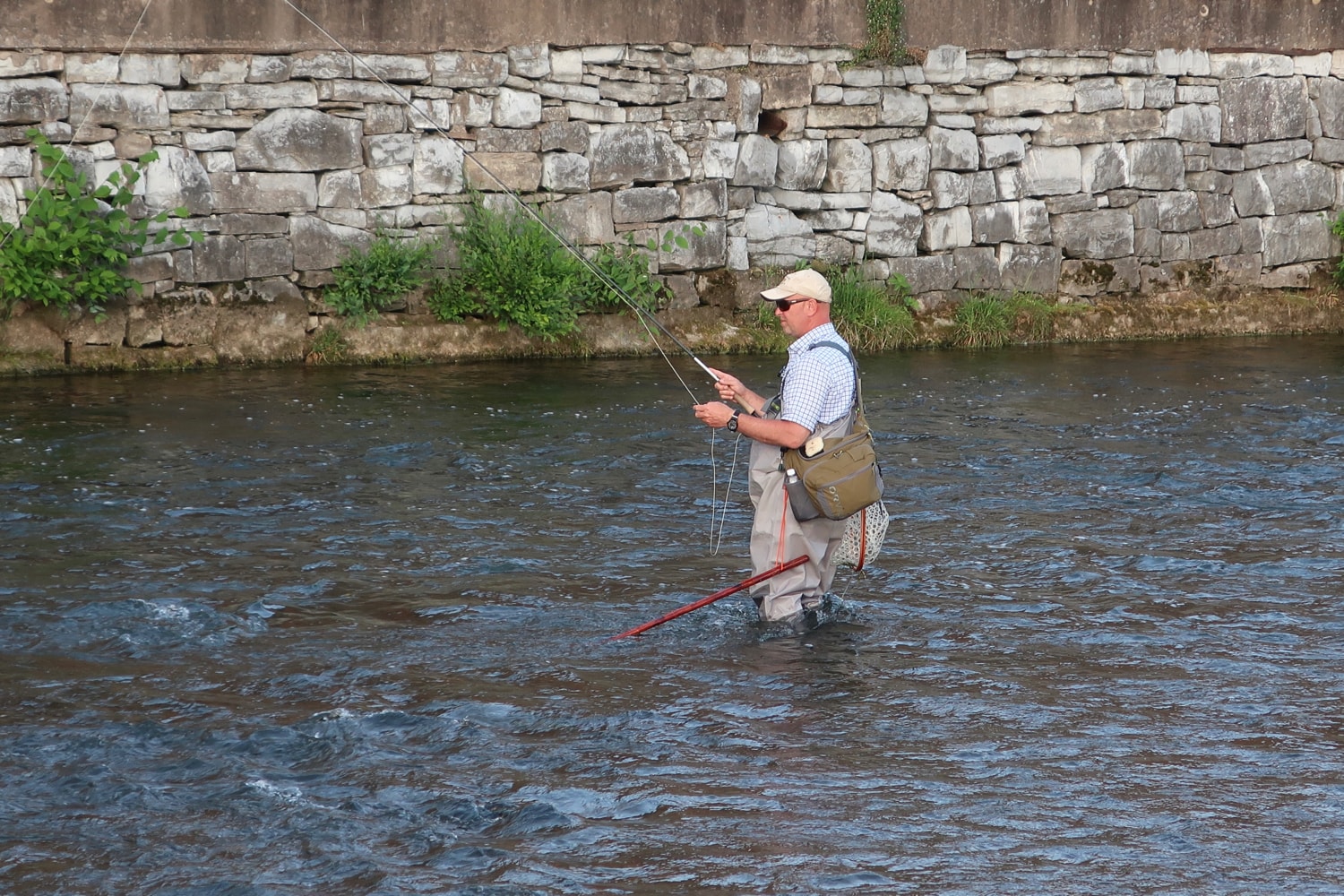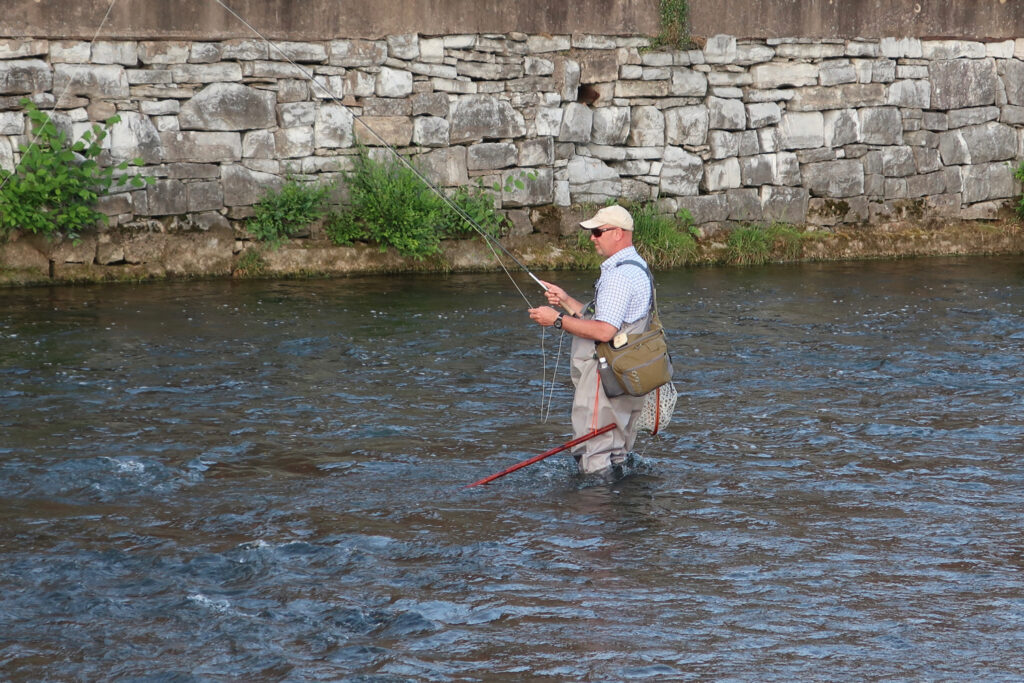 DO: Fly Fish in Spring Creek
Spring Creek pumps out 13 million gallons of fresh water a day, riffling over stones and dips on its journey; rendering it a great home for trout. So, you'll likely see fly fishing fans knee high in the water on a sunset stroll.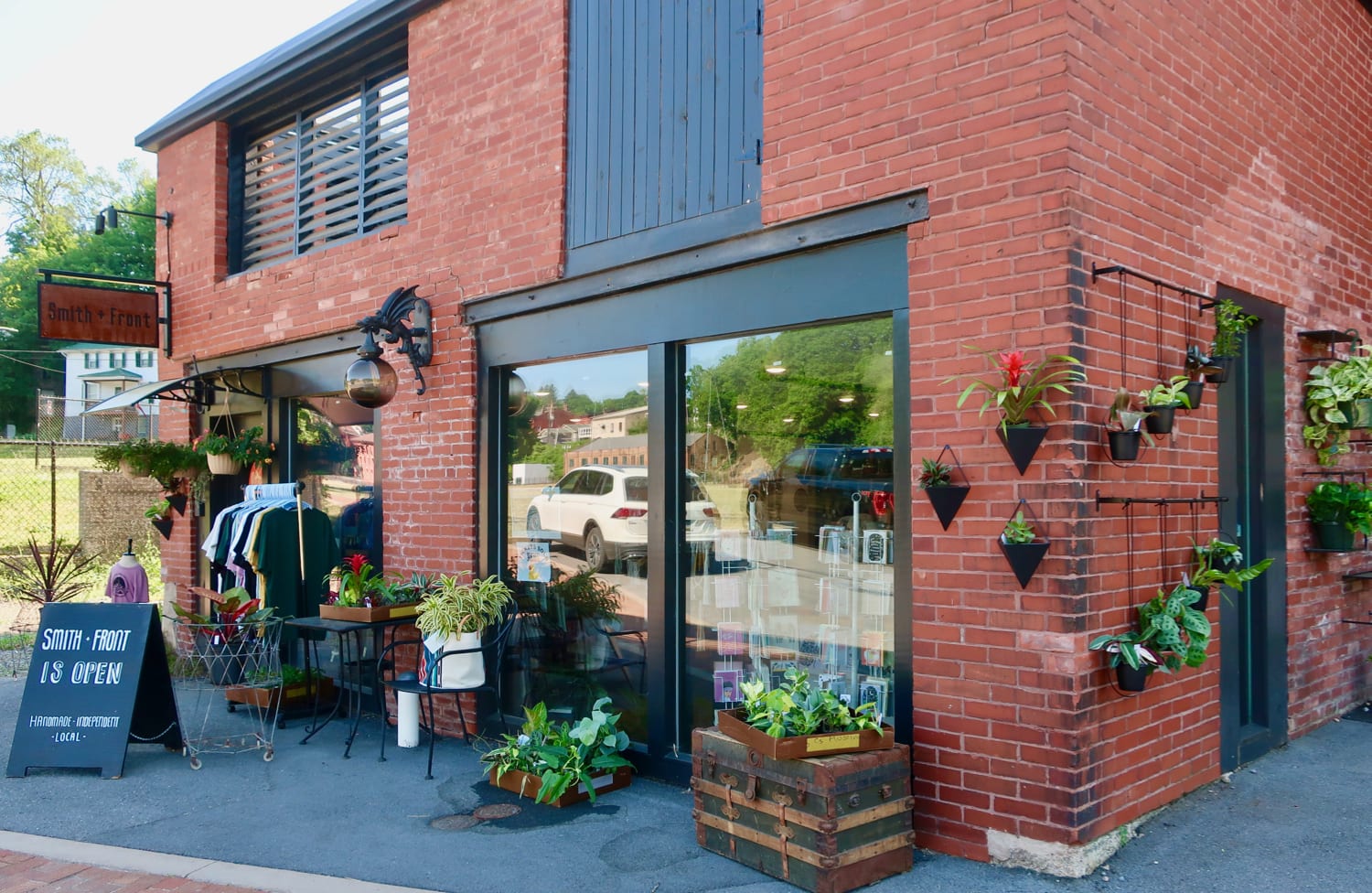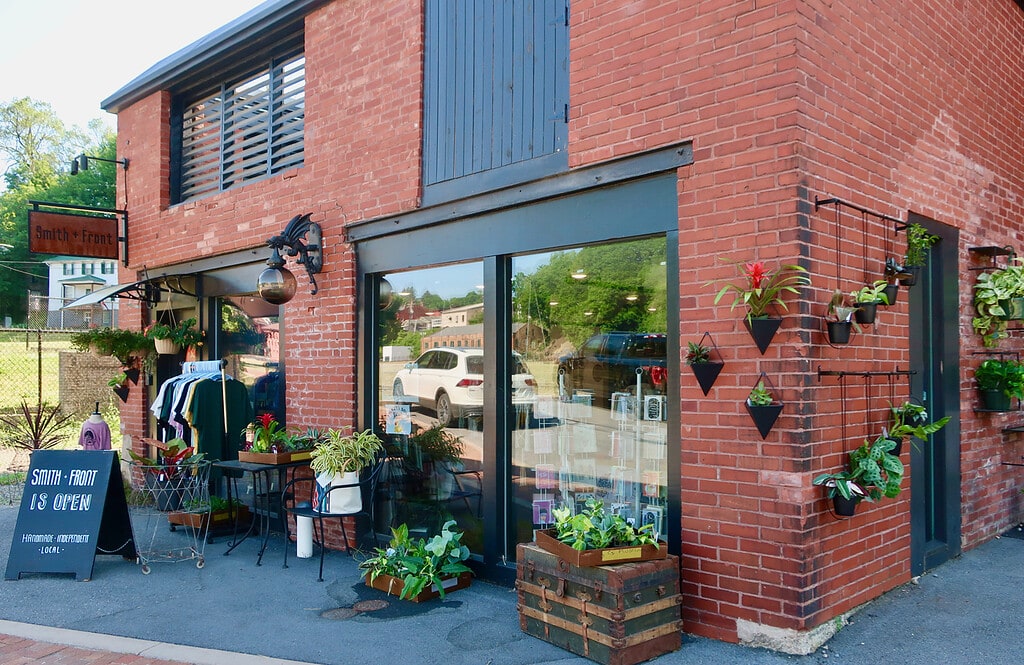 SHOP: Smith + Front at Gamble Mill
For shoppers looking for great handmade gifts – candles, jams, jewelry, plants – the indie Smith + Front at Gamble Mill has what you need.
RESEARCH: Centre County Library
The Centre County Library has one of the finest collections for Genealogical Research in Pennsylvania.
VISIT: American Philatelic Society Headquarters at the Match Factory, Bellefonte
A quick 20 minute drive from State College brings you to Bellefonte, a lovely "river runs through it" kind of town and center of the universe for all things philatelic.
"Philatelic" may be a mouthful of a word, but in essence it concerns stamp collecting and postal history – with an emphasis on academic research. Who knew that the hobby some of us pursued as kids could be so exciting? And you'll discover that at the American Philatelic Society Headquarters.
The APS, founded in 1886, "is the largest, most influential and respected organization in the world of stamp collecting." Aside from publishing the American Philatelist Quarterly and Philatelic Literature Review, sent to 28,000 members worldwide, the APS bestows annual awards on those who conduct distinguished research and are major donors.
What to See at Philatelic Society Headquarters
The Headquarters is comprised of several departments, including the magazine publishing office, operations, and, several reasons to visit. There's a small museum, the largest public access Philatelic Library in North America, and the rescued Old Headsville WV Post Office, still operating as the Bellefonte PA Post Office.
As the demographic of the serious philatelist ages, the APS is actively seeking to attract a younger stamp collecting crowd. A social media campaign has proven effective. YouTube videos ("Exploring Stamps" with the Millennial, Graham) and the release of youth-relevant stamps – e.g., in August 2018, "Here There Be Dragons" are also popular.
Philatelic Society Headquarters Key Exhibits
The museum's key exhibit, "Alphabetilately A to Z," is worth a long look. Created for the 15th anniversary of the Smithsonian's National Postal Museum in Washington DC, it's on permanent loan here.
Twenty six panels are pasted with stamps that correspond to the alphabet. EFO's (Error's, Freaks, and Oddities – yes, a stamp classification), Overprint, Persian Rug (refering to security patterns in the background), War Issues, Zeplin Post, and the like invite closer inspection.
Collectors are forever watching out for errors, and one of the fan favorites is the "Inverted Jenny" – an airmail stamp with an upside-down airplane. One sheet of 100 stamps made it into the market, making them very rare indeed. (A member donated a single Inverted Jenny to the APS, which is held in a safe. A facsimile is on display).
An Old Post Office Still in Use
Did you know that you could send live chicks through the mail? Raw eggs? You'll discover this at the relocated Old Headsville Post Office, from which you can buy new stamps and send mail. Canceled stamps read: "American Philatelic Society, Bellefonte PA."
The day after the new Mr. Rogers stamp was released, it was sold out here. In a scene that tapped into the compassion and kindness of its subject, as the sheets of Rogers stamps were selling out, people who were fortunate enough to be early in line started buying just one stamp each so that others behind them could get one as well.
TOUR: Penn's Cave and Wildlife Park, Spring Mills
You can't miss ads and billboards for Historic Penn's Cave and Wildlife Park about a 25 minute drive from Penn State. Touted as the "Only all-water Cavern AND Wildlife Park" in America: See It By Boat!" this show cave has been delighting tourists for 133 years.
Yes, there's a Wildlife Park Safari on the premises. But visitors short on time should opt for the mainstay: a half mile boat ride though the otherworldly cavern of dripping stalactites and unusual formations.
Yes, it's touristy – but you'll never see anything like it elsewhere. FYI – you've got to be in relatively good shape to walk down a long hill and steep sets of stairs to get to the small boats that hold about 20 people and leave every 10-15 minutes.
Things to do in Happy Valley PA – State College
VISIT: All Sports Museum at Beaver Stadium, Penn State, State College PA
I didn't go to Penn State. And I don't follow Penn State Football. But I admit to being impressed that Penn State has the second largest college stadium in the country at 106,500 seats, second only to U of Michigan, with 109,000 seats. And although I don't have much interest in sports, I gamely went to Beaver Stadium to check out the All Sports Museum. I'm glad I did.
The stadium itself is imposing. But the museum swept me up in the fierce devotion, positive striving, and competitive spirit of the "Blue and White." Exhibits are laid out sport by sport on two floors. Some displays offer interactive opportunities.
All Sports Museum Exhibits
I tried to lift a 100 lb. dummy and give a boxing bag my best shot in Wrestling and Boxing. And I read that the sport of rifle shooting originated in 1917 during WWI Student Army Training, and was invited to "be a sharpshooter." The museum is a multi-media extravaganza of shouting crowds and clashing athletes playing on myriad screens. It's actually pretty exciting.
Not one sport is left out. Gymnastics, Fencing, Basketball, Volleyball, Swimming and Diving, Bowling, Ice Hockey, Field Hockey, Track and Field, Cross Country, Soccer, Lacrosse, Softball, Baseball, Golf, and of course Football are all represented.
The Sandusky scandal is glossed over, and Joe Paterno is lionized posthumously, which is to be expected in this rah-rah museum that accentuates the positive.
If there's no game going on, ask to be escorted up the elevator to the 4th level Club Room. You'll get a great overview of the surrounding "Happy Valley" landscape and of an eerily empty stadium.
VISIT: Palmer Museum of Art at Penn State
Another great college Art Museum, The Palmer Museum of Art, is the largest art museum between Philly and Pittsburgh. The Palmer focuses on American Art from the 18th Century through today, with detours into 16th and 17th century French and Italian religious art, stoneware from around the world, and important glass pieces.
What is most compelling here, however, are the clever juxtapositions. A 1972 Botero rendering of a portly nun is mounted right beside Jeff Davies 1980 portrait of the beer-bellied Jerome Paul Witkin.
The most disturbing piece, at least to me, is upstairs in the William Hull Gallery. It's a bronze sculpture, created in 1933 by Jewish dentist-turned-artist, Seymour Lipton, called "Lynched."
A dead black man in fetal position, mouth open, rope around his neck and hands bound behind him; it's a powerful statement on the sanctioned murder of Black men in the South. Woefully, Lipton fashioned while the practice was still going on. I couldn't tear myself away. Open Tues-Sat 10-4:30, Sun noon – 4, also 6-9pm on "Third Thursdays," free.
WALK: Arboretum at Penn State: H.O. Smith Botanic Gardens
A copse of evergreen trees pierces the sky, and colorful sculptures and flowers beguile throughout the serene Arboretum At Penn State. No wonder it's one of the most popular attractions on campus.
There's a Children's Garden, a Lotus Pool, Tropical Grove, and Marsh Meadows, and many more gardens to explore. Plan on at least 30-40 minutes to meander and appreciate the art of both Mother Nature and Man. Open daily dawn to dusk, free.
MUSIC: Bryce Jordan Center at Penn State
Catch your favorite country star at Penn State's performance arena, the Bryce Jordan Center.
Restaurants in Happy Valley PA

EAT: RE Farm Café at Windswept, State College
At the spectacular RE Farm Café at Windswept, opened in July 2019, you can "See the Farm from Your Table." Every foodie should make the drive from downtown State College to this "RE-generated" farm, once a source of chemically grown feed for animals.
Left alone for three years to allow the land to "heal itself," the produce that now emerges from the earth is clean: and, thanks to owners Duke and Monica Gastiger, deliciously and expertly prepared for patrons of one of the best restaurants in PA.
A visit to RE Farm Café – named for all the "RE's" in its modus operandi to re-use, re-purpose, re-cycle, re-store, and practice re-sponsible sourcing – also includes a tour of the 57 acre property. Chefs pick greens and vegetables right before cooking – so, depending on the season, your meal might include Winter Squash Samosas, Beet Juice refreshers, and sautéed Shishito Peppers.
The Café building itself is a marvel – a Living Building Challenge Project structure – that aims for net-zero, or positive, impact on the earth. It is certainly a model for the re-newal of our planet.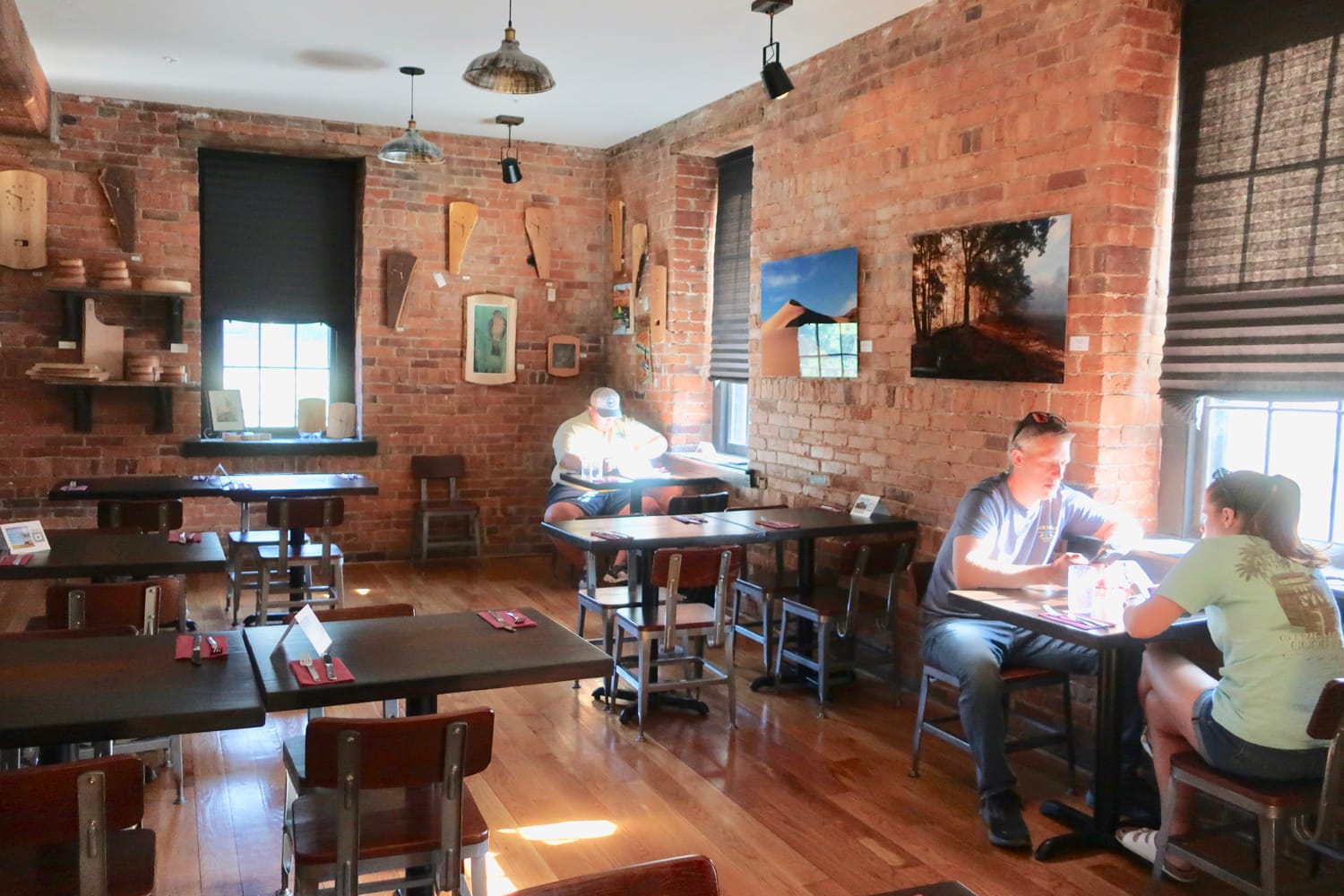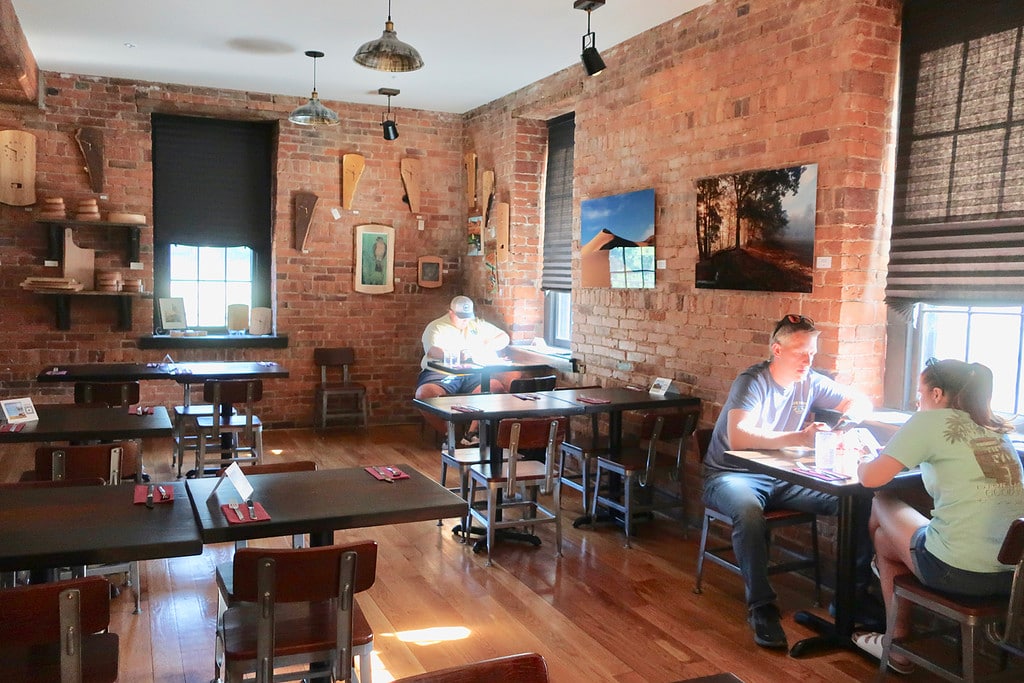 EAT: Creekside at The Gamble Mill, Bellefonte
Creekside At the Gamble Mill Chef/Owner, Michael Marx, earned his chops at restaurants all over the world, and first opened his own restaurant, in Baltimore in 2000. Creekside, his latest, is obviously a labor of love. Marx works with six farms all within 15 miles of Bellefonte.
Farmers call him when they've got something especially good and plentiful, and Marx will design the day's menu around it. He cures and smokes his own meats in house, so elevated pub food offerings could very well include Pastrami Potato Pancakes. Try Eggplant Caprise, the Veggie Lasagna du jur, or Bison Burger – which, I've been told, is one of the best of its kind anywhere.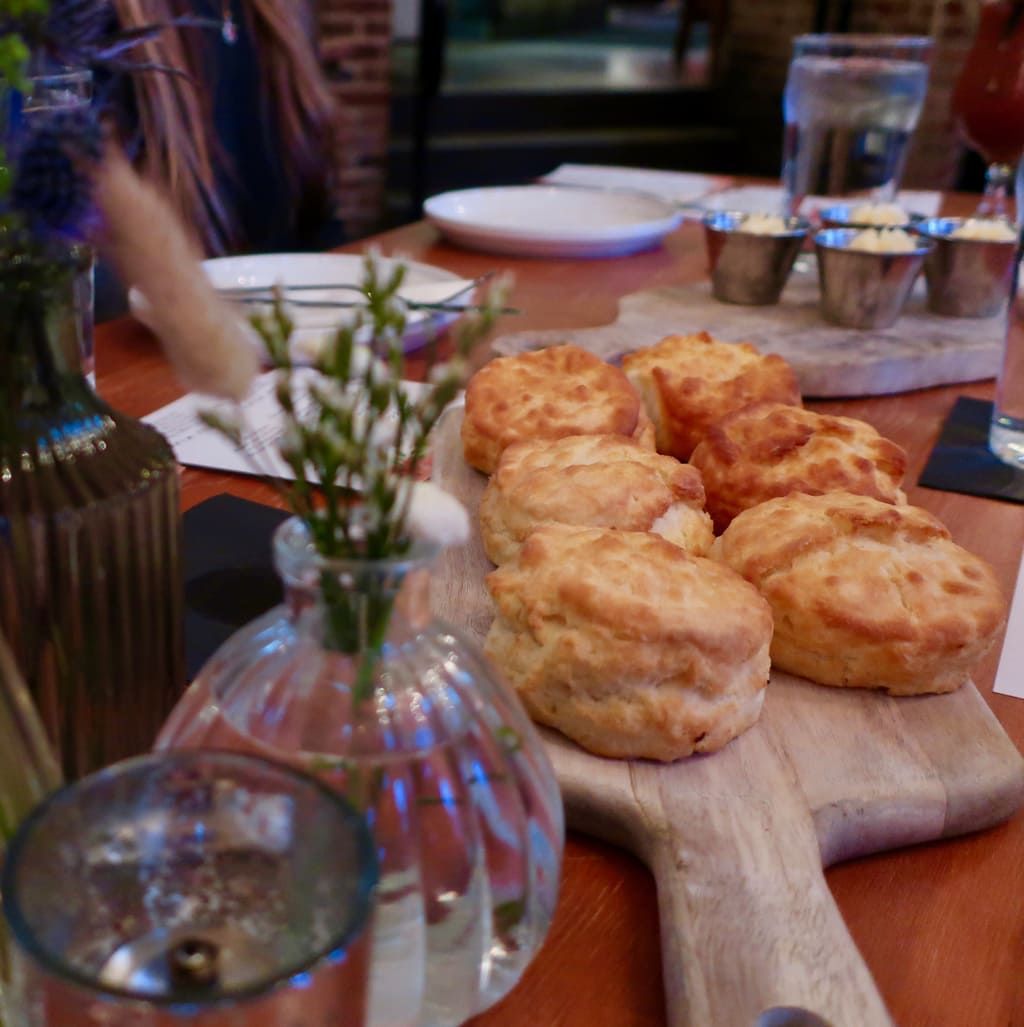 EAT: Gigi's Southern Table, State College
The buttery-biscuit-obsessed with just adore Gigi's Southern Table, where these discs of deliciousness come to the table hot and flakey. Come for brunch and order the undeniably popular Bacon and Egg Bloody – a Bloody Mary that comes topped with two Chipotle Eggs and Cajun Candied Bacon.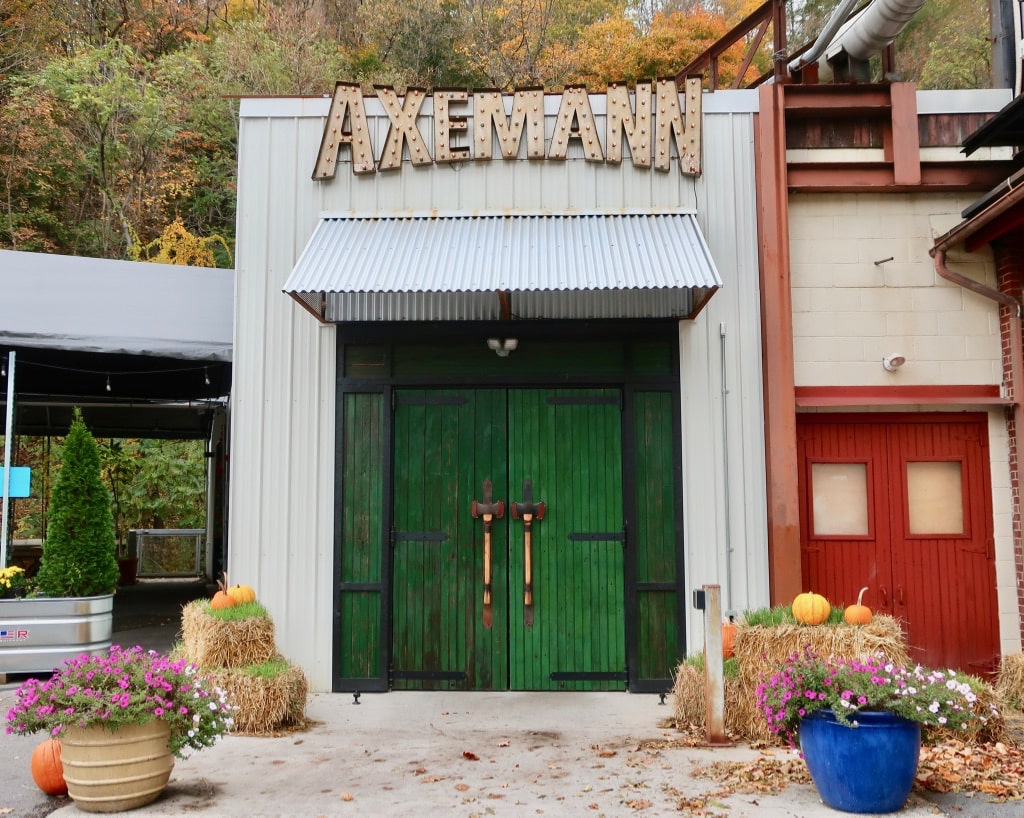 DRINK: Axemann Brewery, Bellefonte
Opened during the pandemic, Axemann Brewery turns out European and West Coast style lagers in a 27,000 sq. ft. former metals factory. Keeping the character of the old facility, Axemann has been deemed an "Industrial Octoberfest" as brewers specialize in German beers.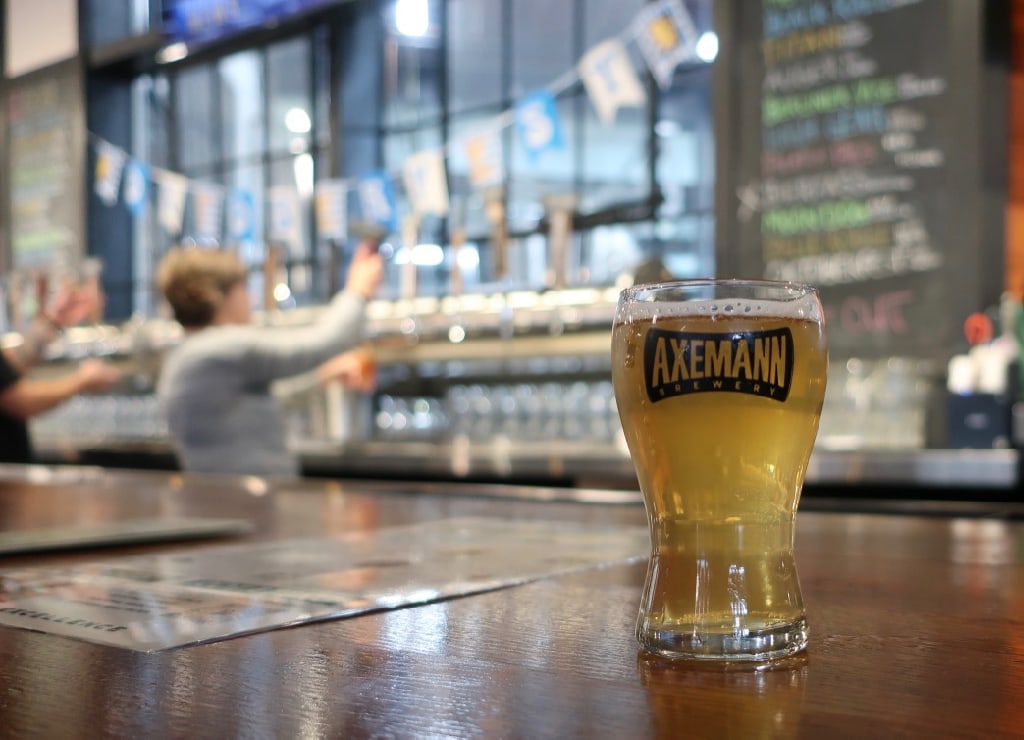 Axemann is one of 15 breweries, distilleries, cideries, and wineries on the Central PA Tasting Trail. Pick up a Passport ($35), get free stuff, and a cozy sweatshirt after you visit all establishments.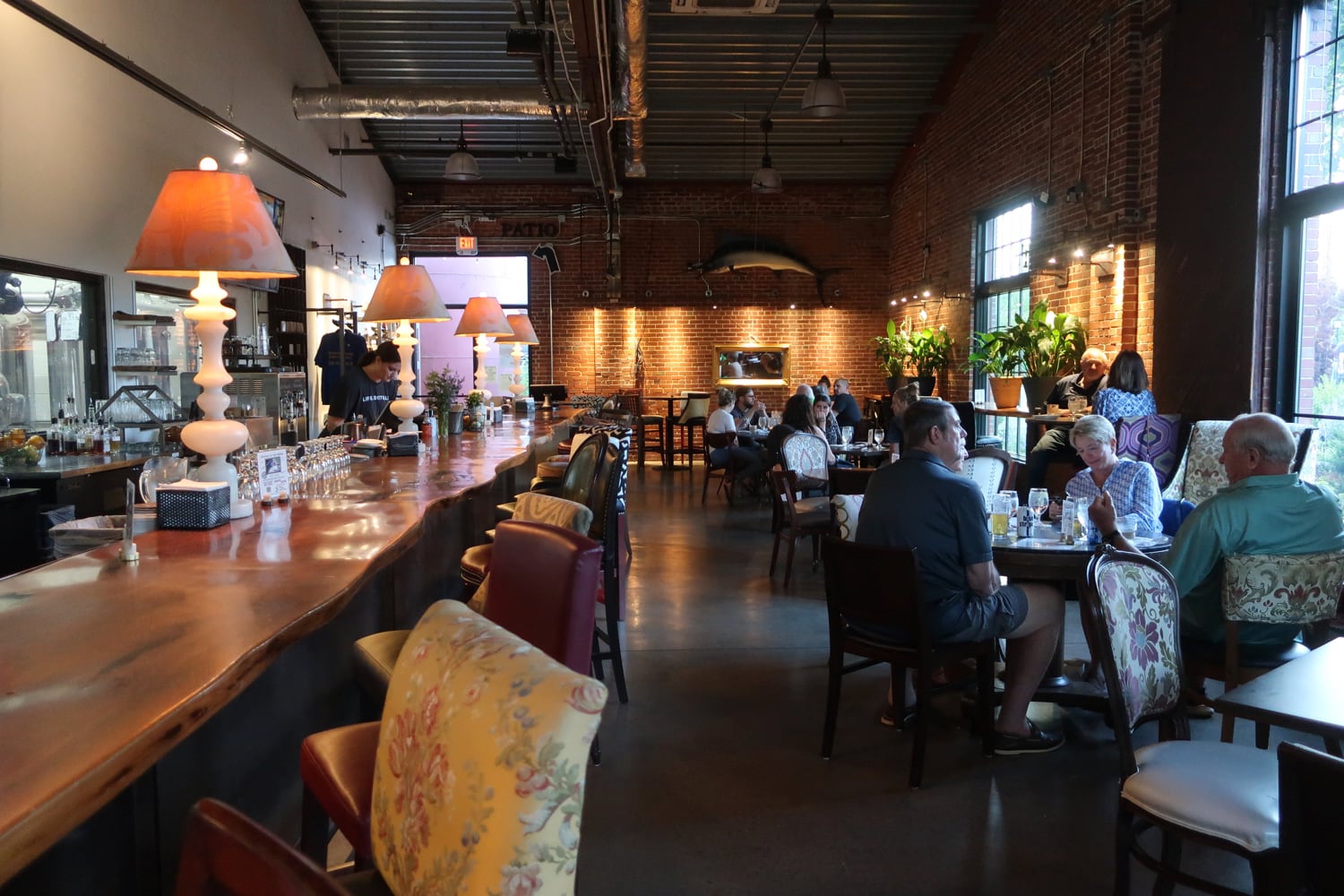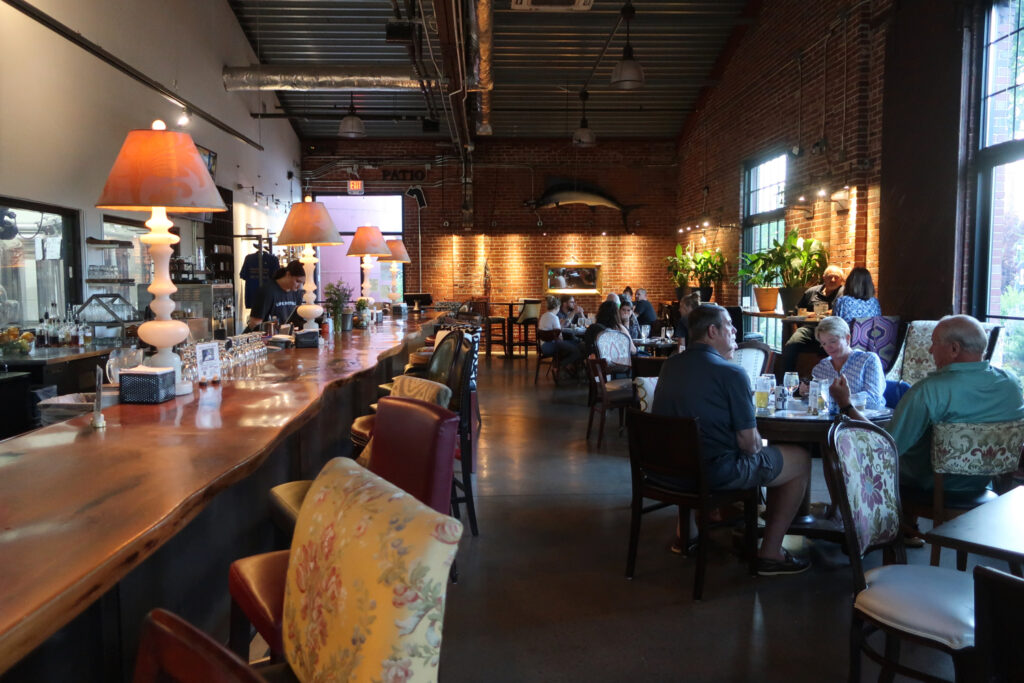 TASTE: Big Spring Spirits, Match Factory, Bellefonte
Big Spring Spirits is just around the corner from the Philatelic Society in the same complex. It has one of the prettiest distillery tasting rooms I've ever seen. By dint of its aesthetics, quality of its products, and innovative mixed drinks, Big Springs Spirits is not only the perfect follow-up to a visit to the Stamp Society, but worth a drive from anywhere.
Rare for a distillery, décor has a soft touch. Table lamps and floral print chairs warm the place up. Order Big Spring Vodka, Straight Corn Whiskey, or any of the fantastic craft cocktails made with those spirits at a long, pretty bar. My favorites?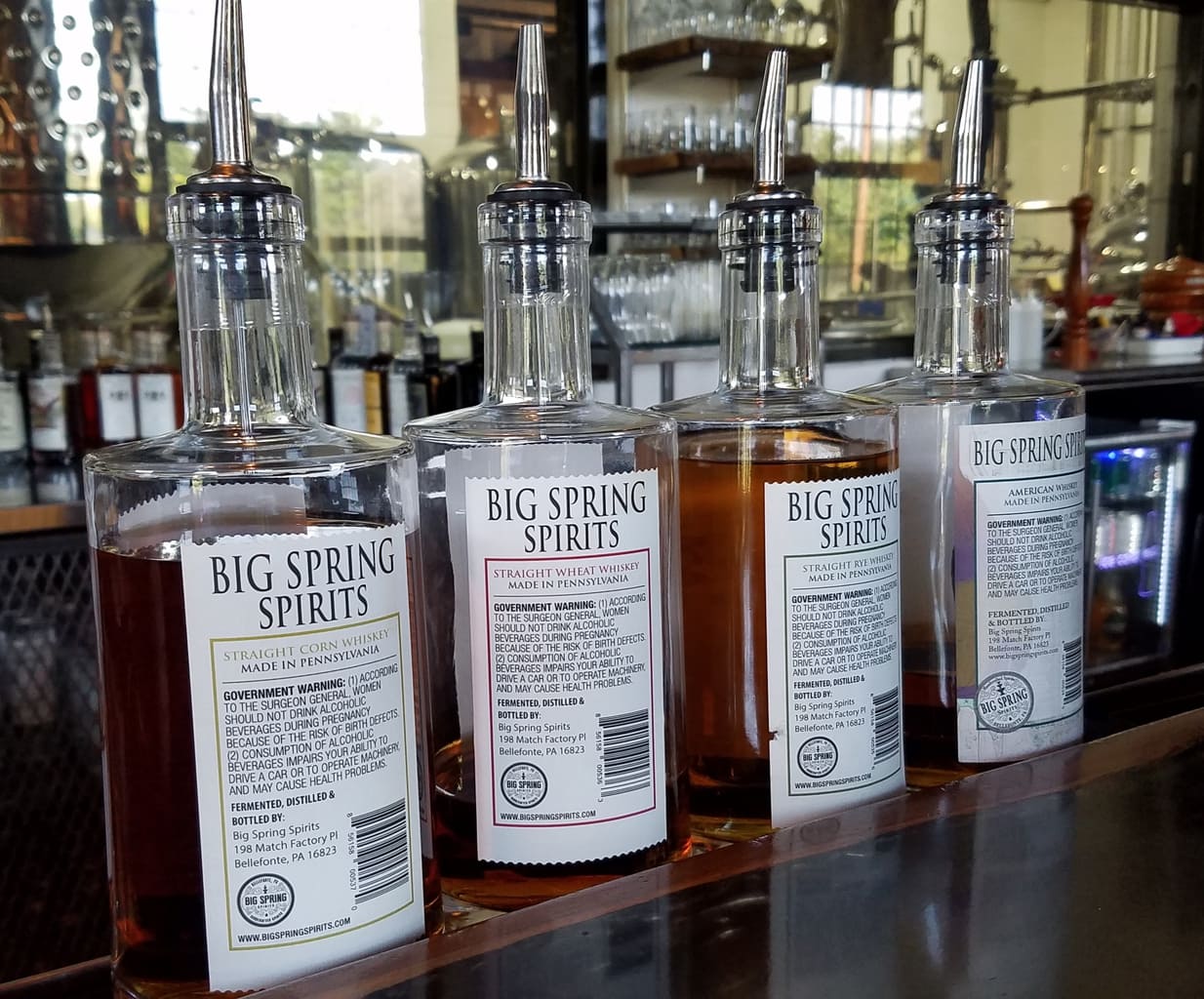 The Hawaiian Lion – gin, basil, pineapple syrup, club soda; Harvest Mule – aged corn whiskey, ginger beer, local apple cider; and – Salted Caramel Martini – vodka, dulce le leche, salt and cream. Heavenly.
Pair these up with food offerings, like humongous pretzels, Charcuterie, Roasted Baby Kale and Beet Salad, or White Wine Braised Pork Mac and Cheese, and you've got yourself a meal. The latest, and most popular trend ? Cartons of 8 different Grab and Go Cocktails that are a big hit with Penn State tailgaters.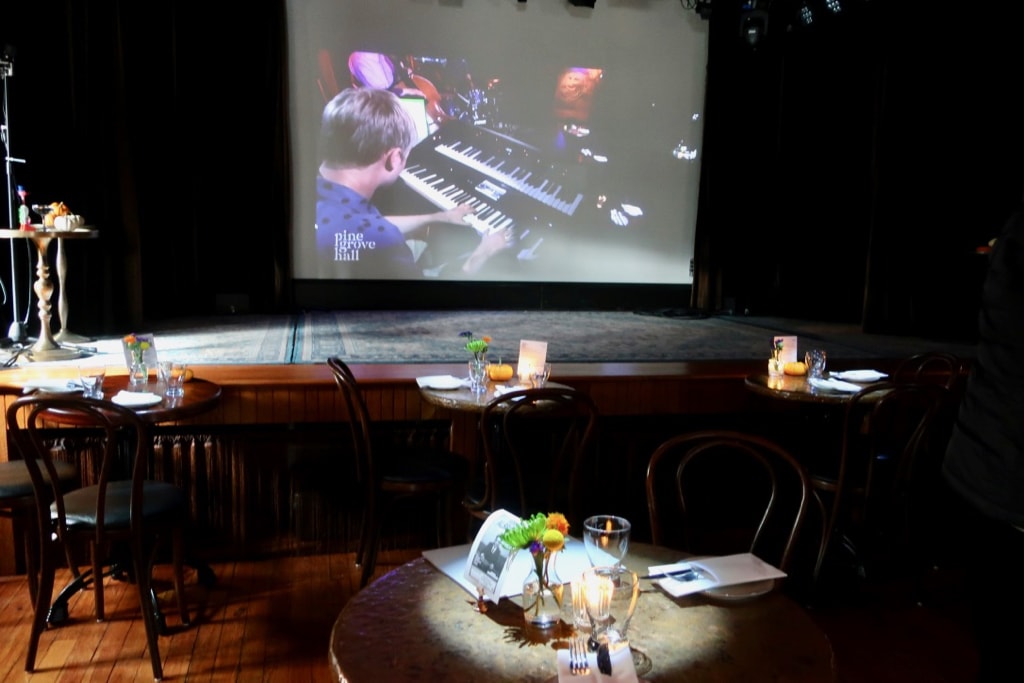 EAT/DRINK/MUSIC: Pine Grove Hall, Pine Grove Mills
Home-gal and musician, Liz Grove, returned to PA from a career in New York City to open Pine Grove Hall in Pine Grove Mills PA as a music venue in 2020. She hired Chef Tony Glossner to helm the kitchen and was surprised to find that people started coming for the food and innovative craft cocktails as well as the jazz, swing, blues, and other indie bands on stage.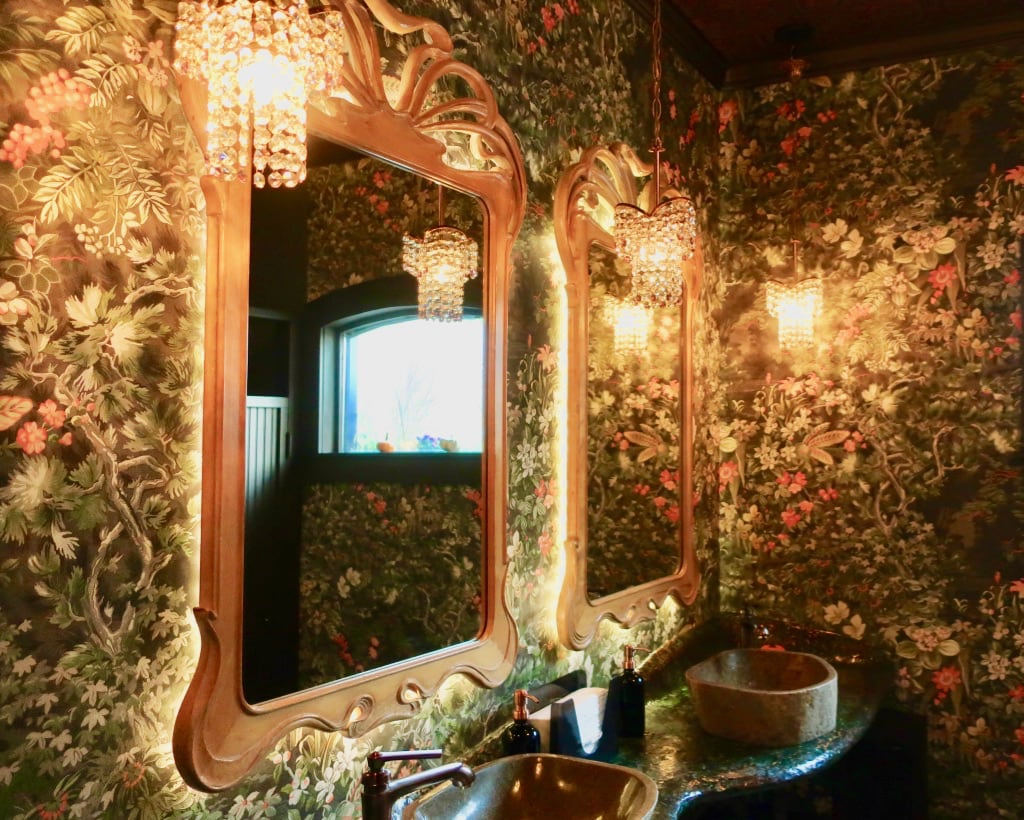 With two stages (upstairs and down), state of art streaming capabilities, and bathrooms you gotta see to believe, Pine Grove Hall encourages patrons to "Eat, Drink, and Listen." Successful on all counts, this place has become a darling of Central PA, and is making Happy Valley even happier.
Those on a quest to find the best ice cream in America will most likely join the long line to the counter in this blue and white cafeteria-like ice cream parlor.
Penn State is known for its ambrosial and creamy versions – dispensed on campus in the Food Science building. Little known fact: Ben & Jerry split the $5 cost of a Penn State ice-cream-making correspondence course. And then they famously opened their first shop in Burlington Vermont. Open 7am-10pm.
Where to Stay in Happy Valley PA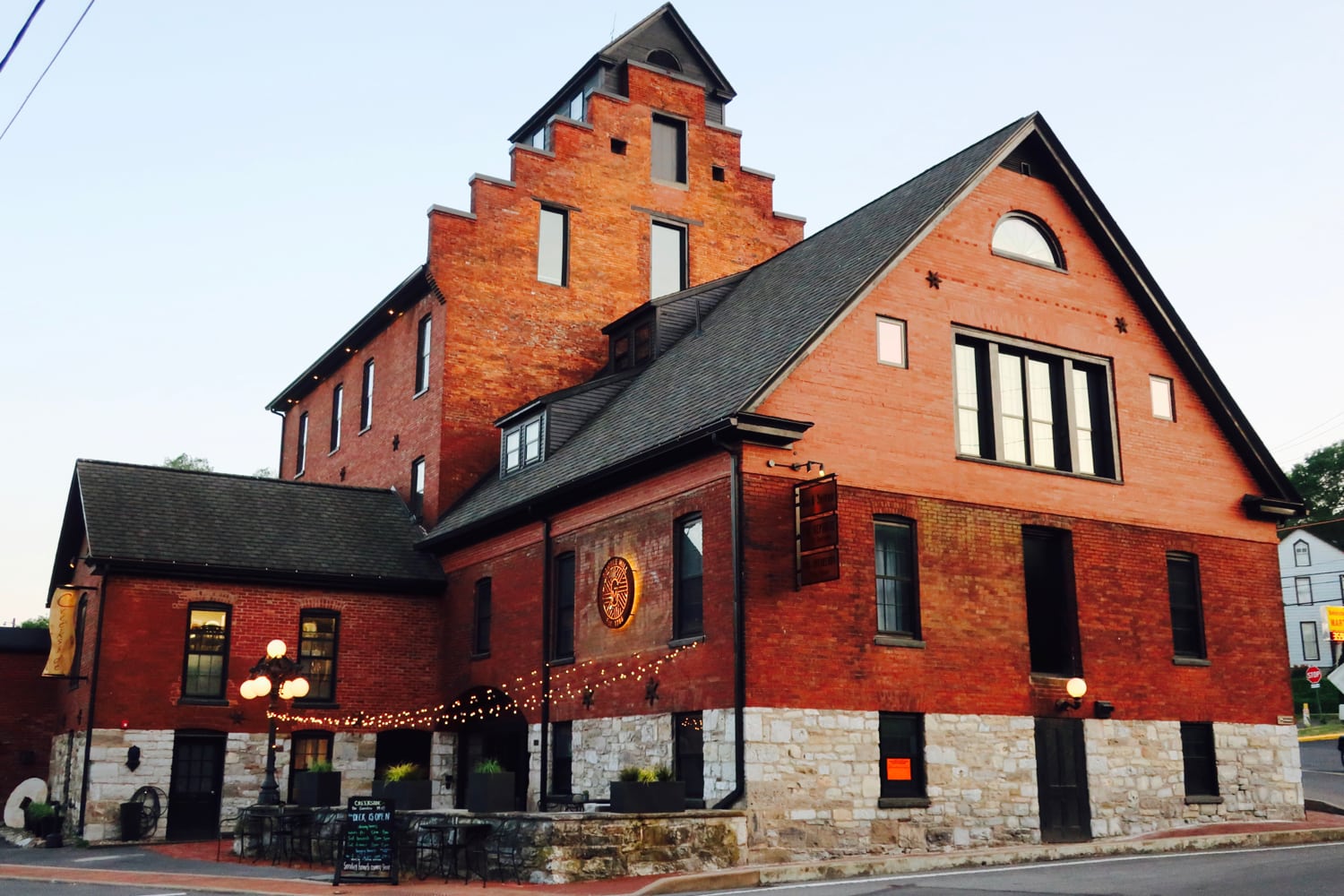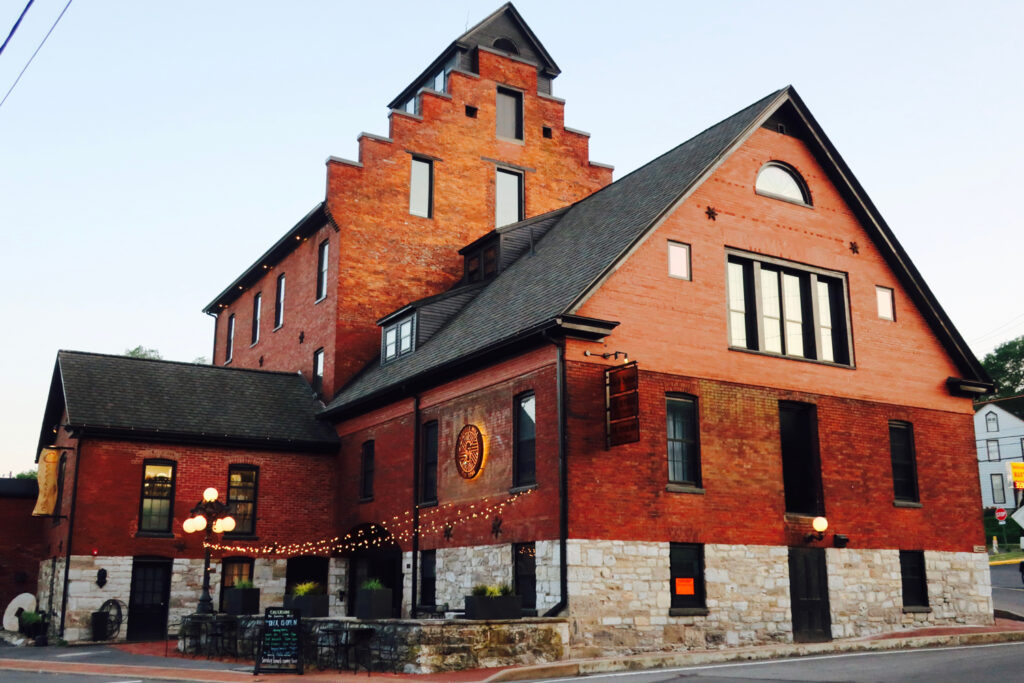 STAY: Gamble Mill Inn and Suites, Bellefonte
If you want your privacy, and to stay overnight where you need not leave the building for excellent food and drink, book a night or two at Gamble Mill Inn and Suites.
There's no "check-in" per se, but you'll receive a text that provides the name of your suite and keypad code to get in.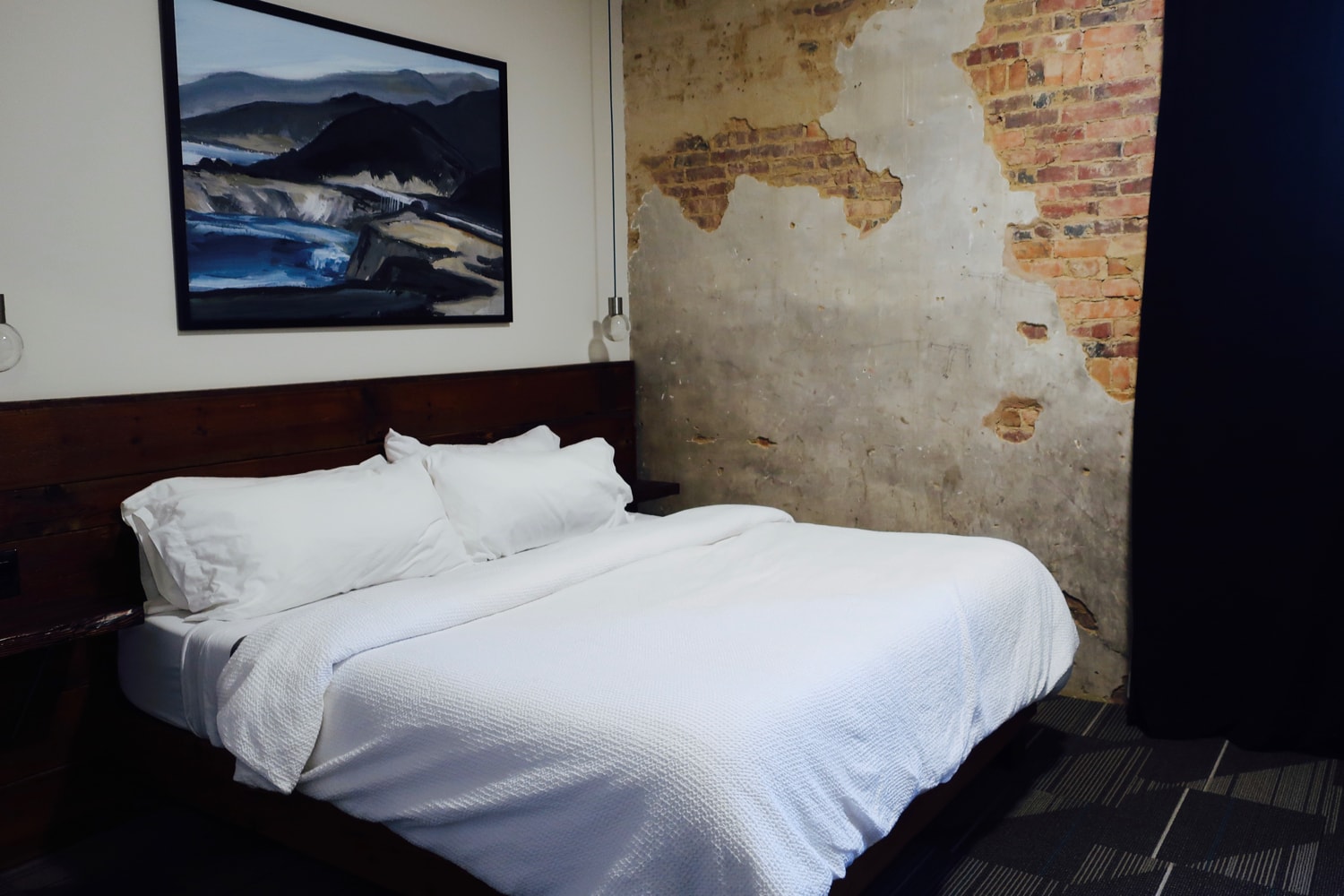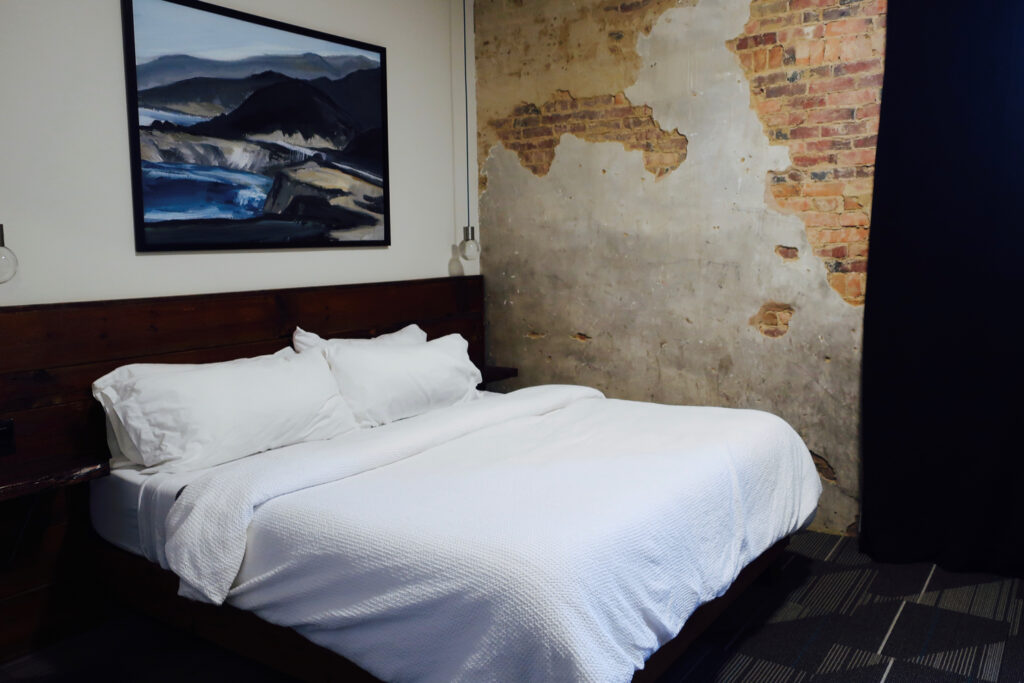 Seven out of 8 suites at Gamble Mill are on the second or third floor of this former flour mill. So, if you book one, be prepared for a climb. Fear not, however. These swanky industrial-chic one and two bedroom suites are so worth the exertion. (There is one ADA compliant suite on the main floor).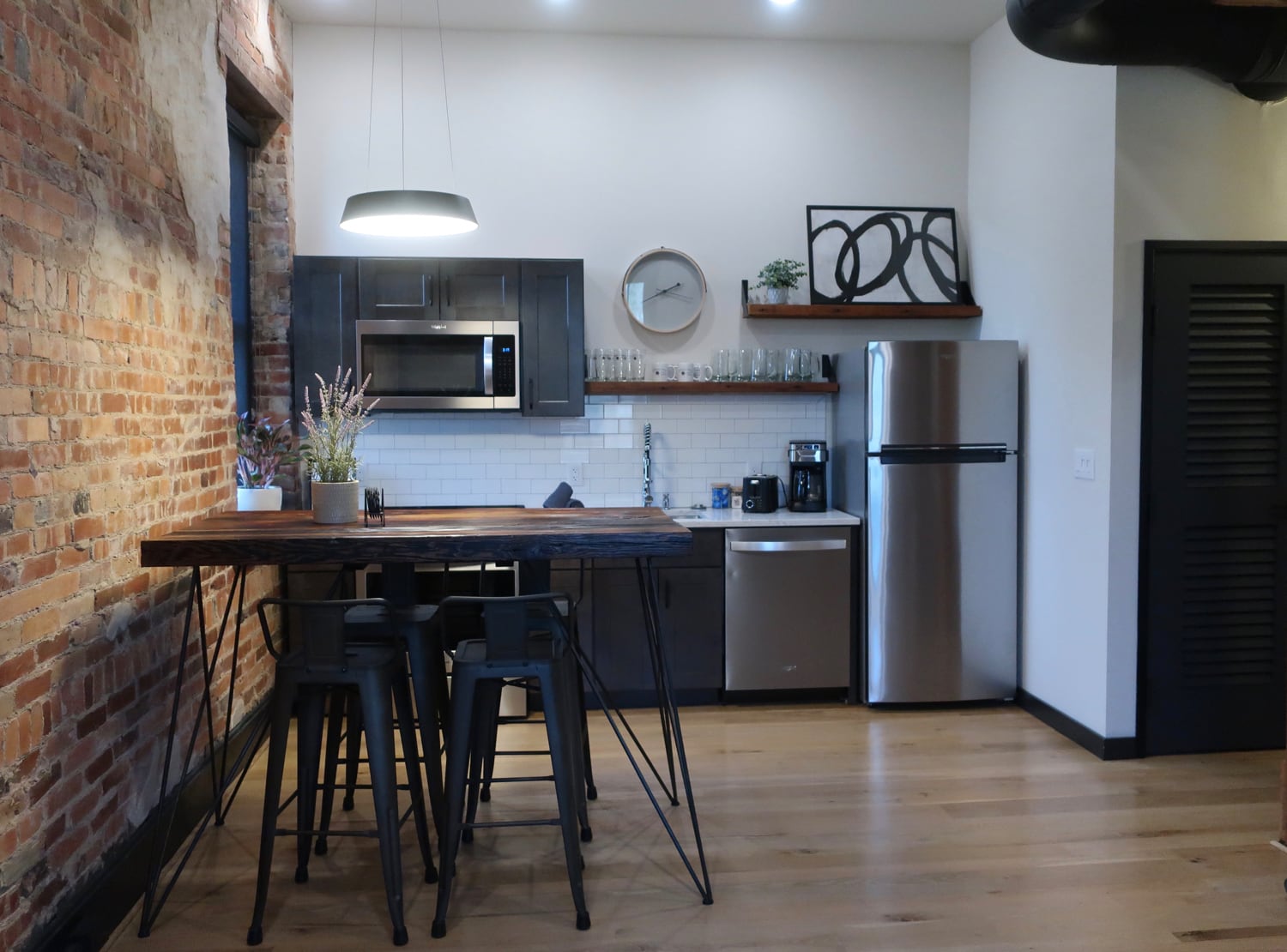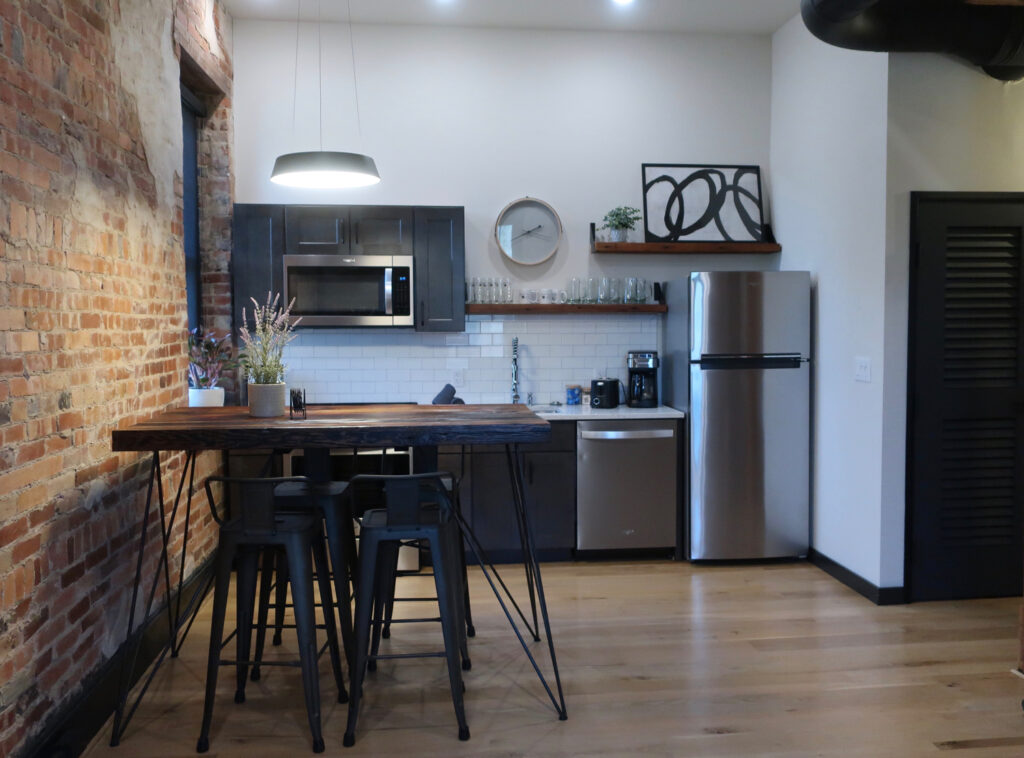 Trendy, distressed original brick walls are smeared with plaster in places. The effect is: "yes, this was a grist mill, but now it's a kind of cool museum of the past with lots of art, a restaurant, bar, speakeasy, and gift shop."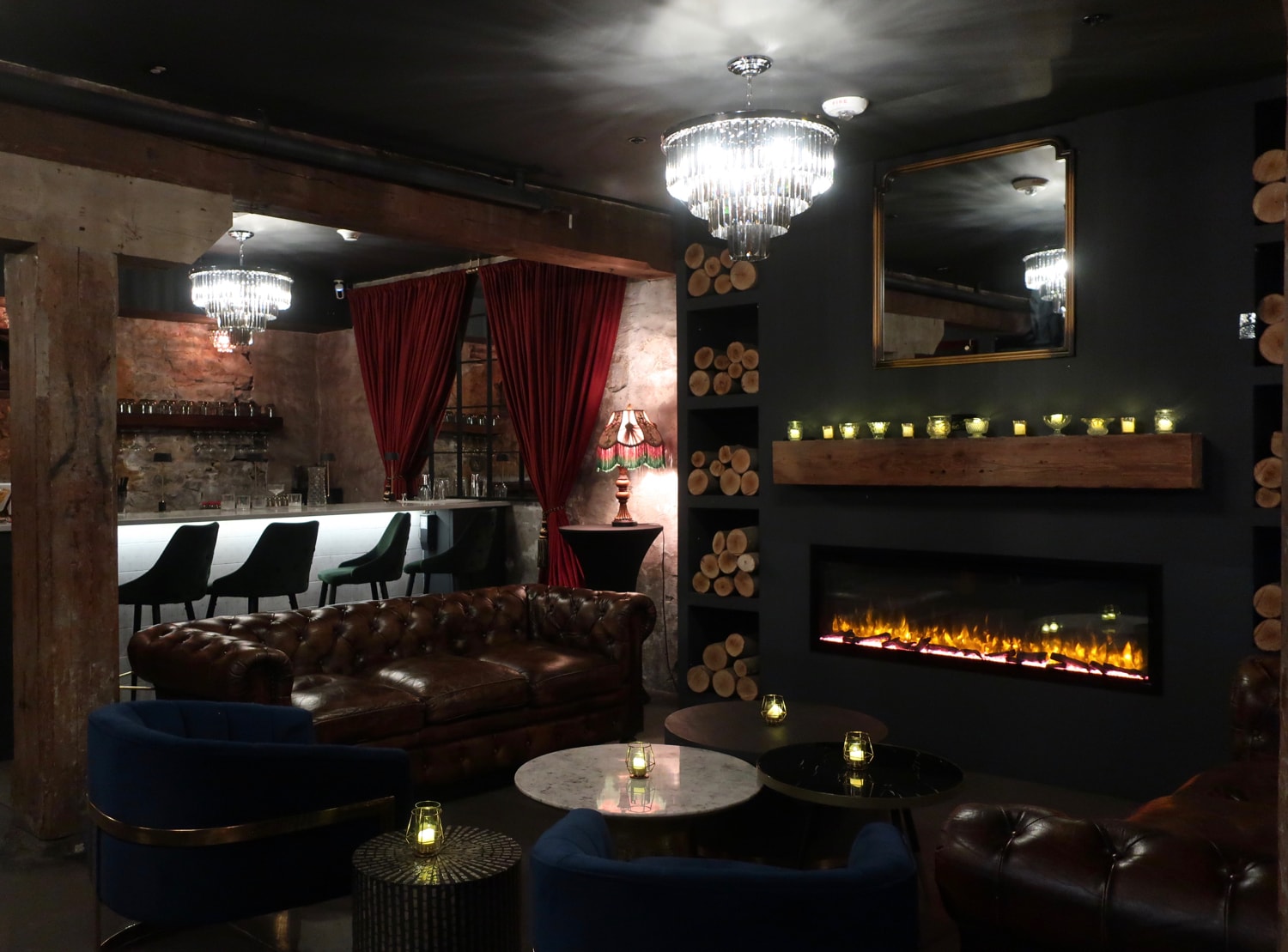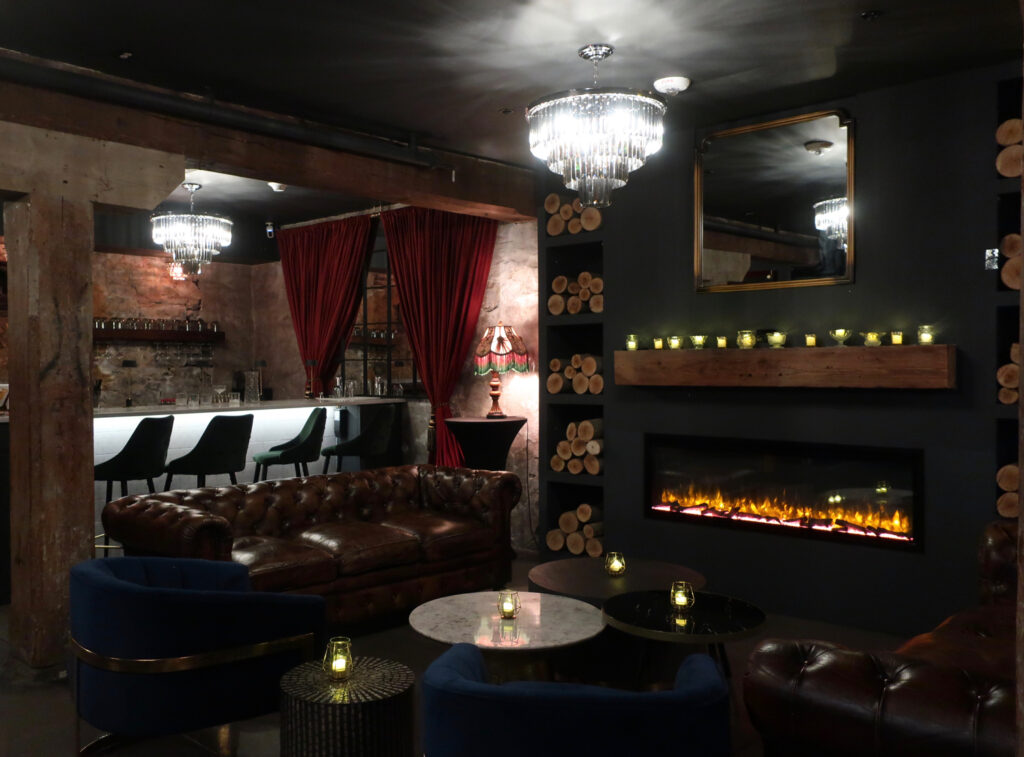 It's definitely fun to have it all within the same walls, without having to go outside (especially cozy in a thunder storm or blizzard).
Each high-ceiling apartment has a stocked kitchen, sitting area with large TV, subway-tile glass shower bathroom, and bedrooms with dreamy bedding.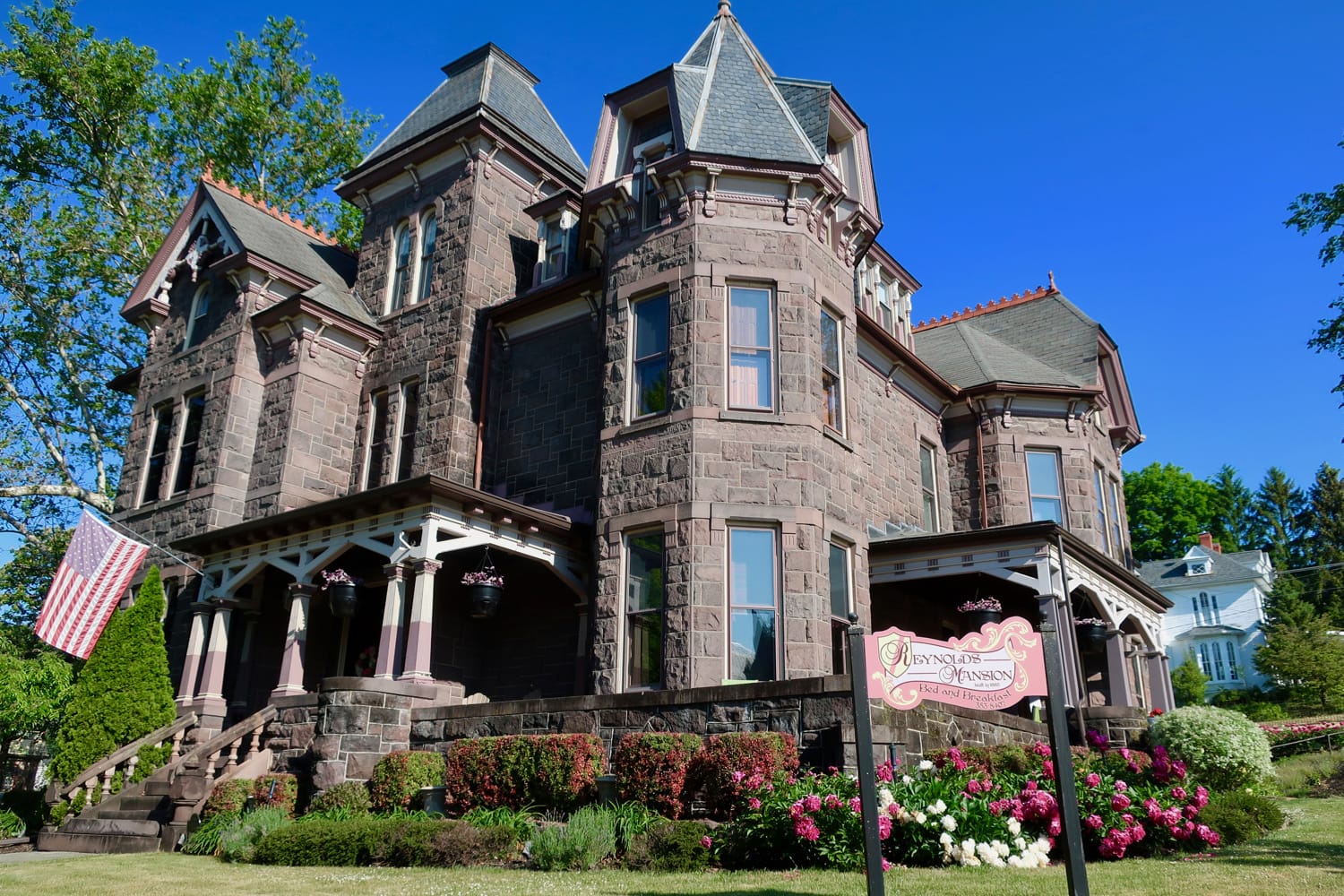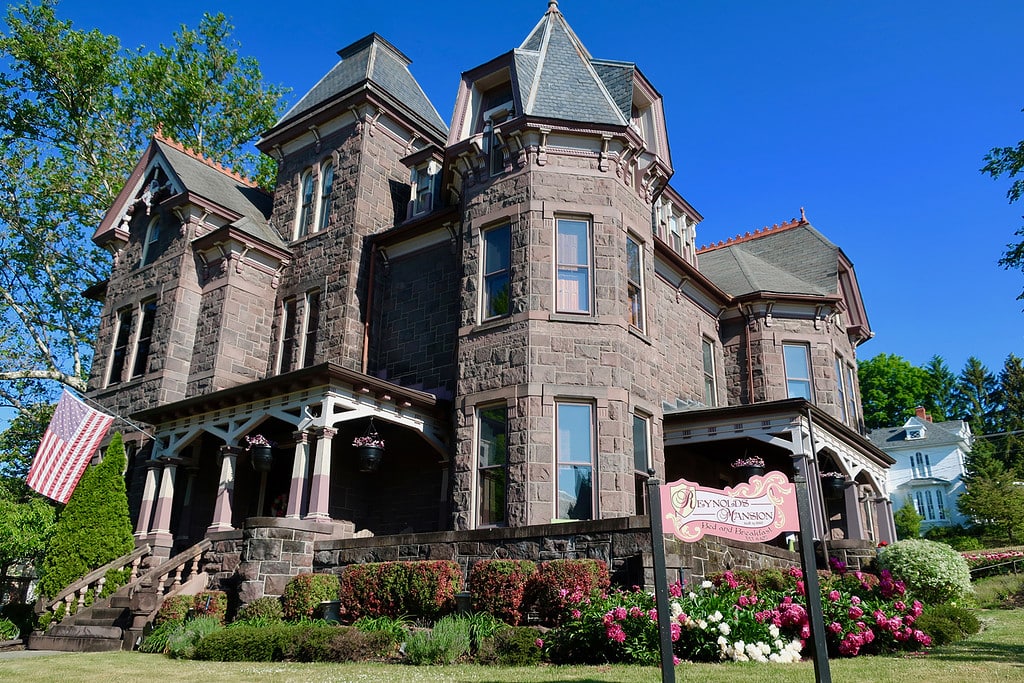 STAY: Reynolds Mansion, Bellefonte
It's romance plus at this baronial, fireplace-in-every room stone Reynolds Mansion B&B. The carved wood interior is fit for a tycoon, with a whiskey decanter and Hershey's Kisses set out for guests, and several common areas more extravagant than the next.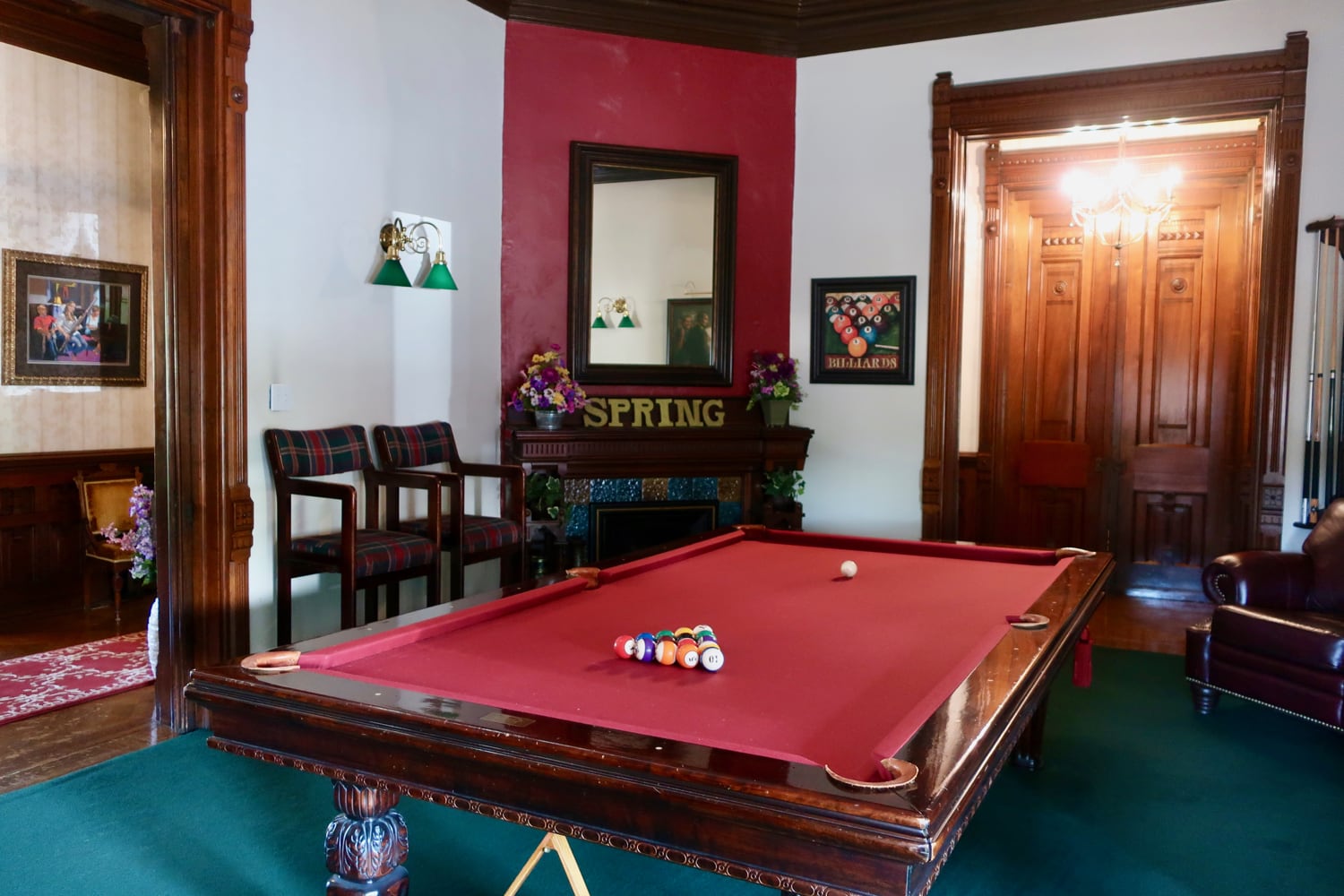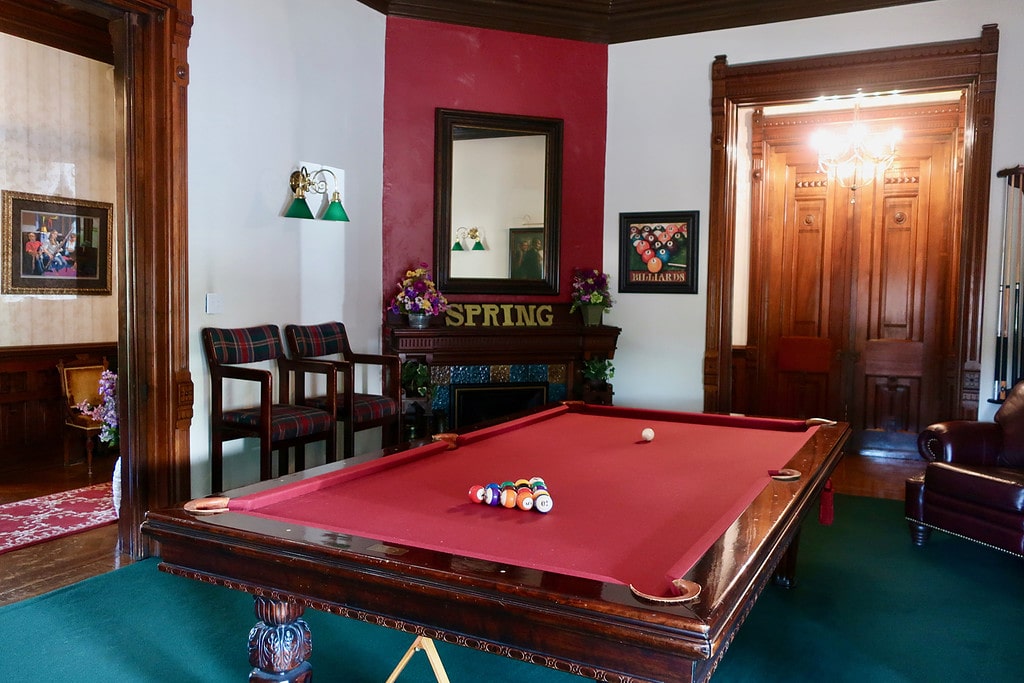 Owners Mike and Tricia Andriaccio have thought of everything. There's a billiards room; a massage room; a small museum room with documents about the history of the home.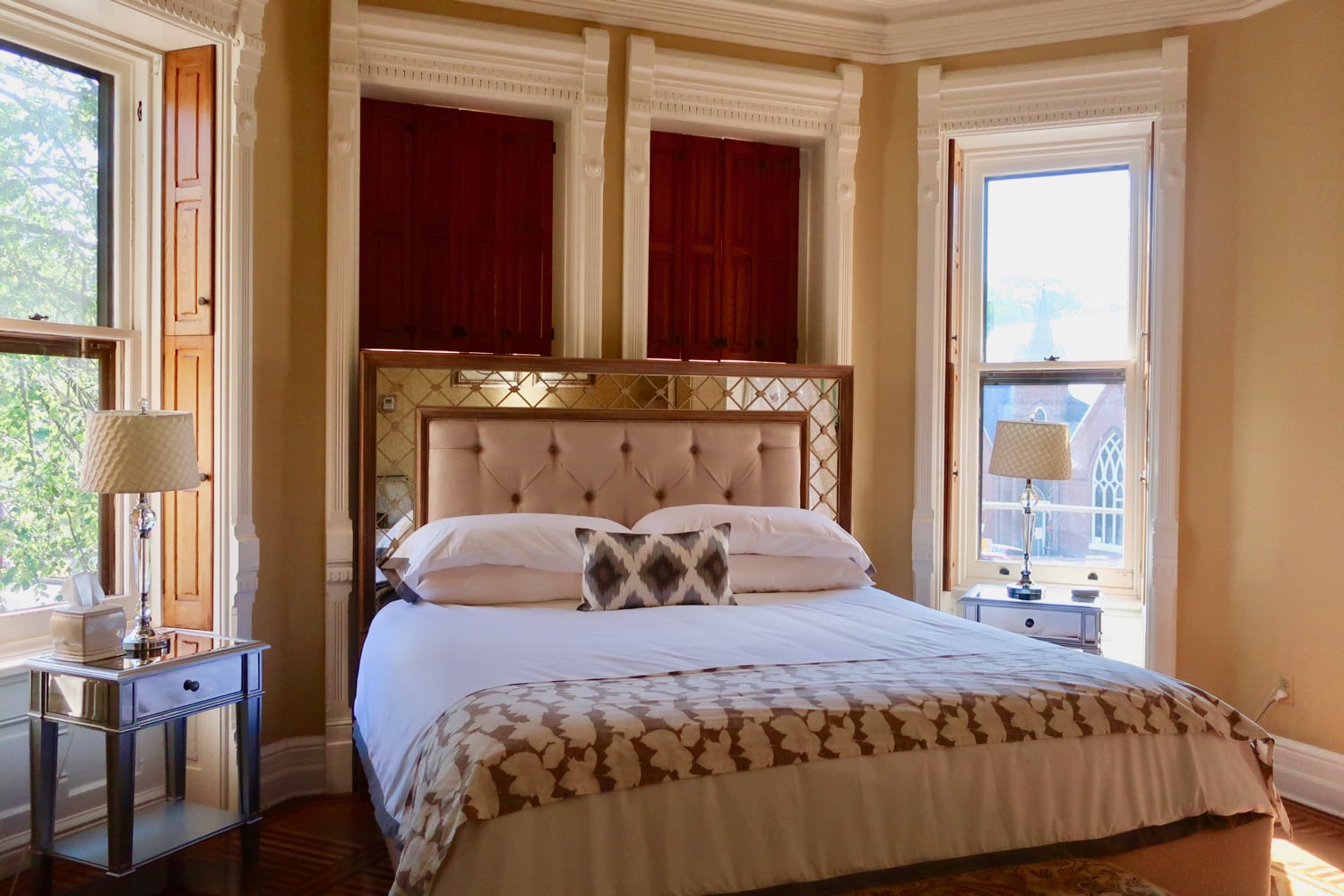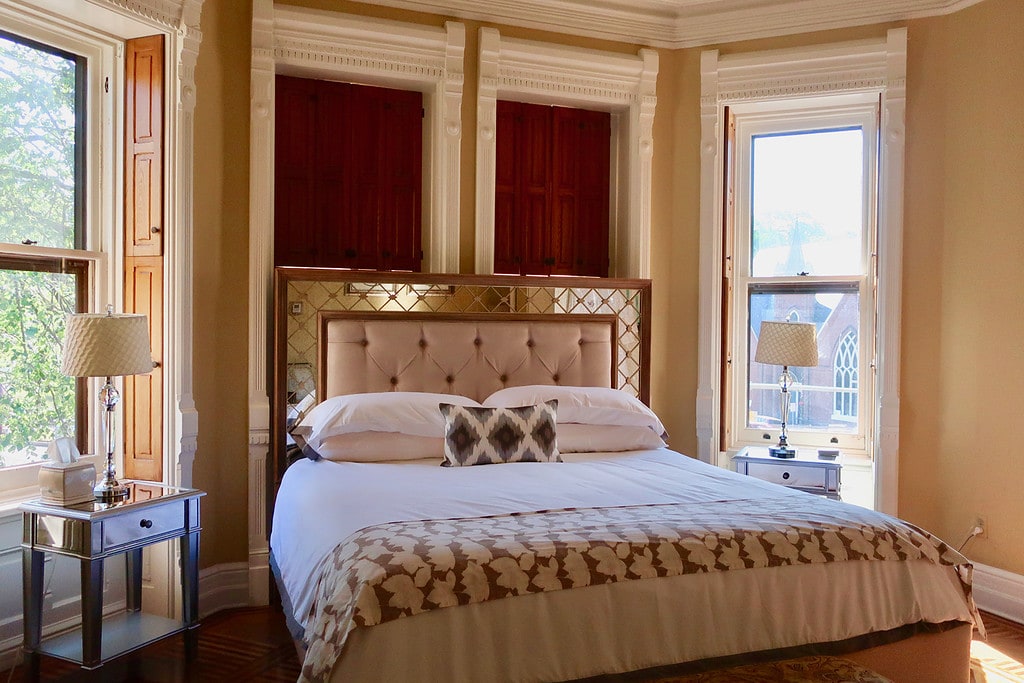 Each large guest room is individually decorated: one with a mural of cherubs on the ceiling and curvy bedside stand-alone soaking tub, others with immaculate antique appointments.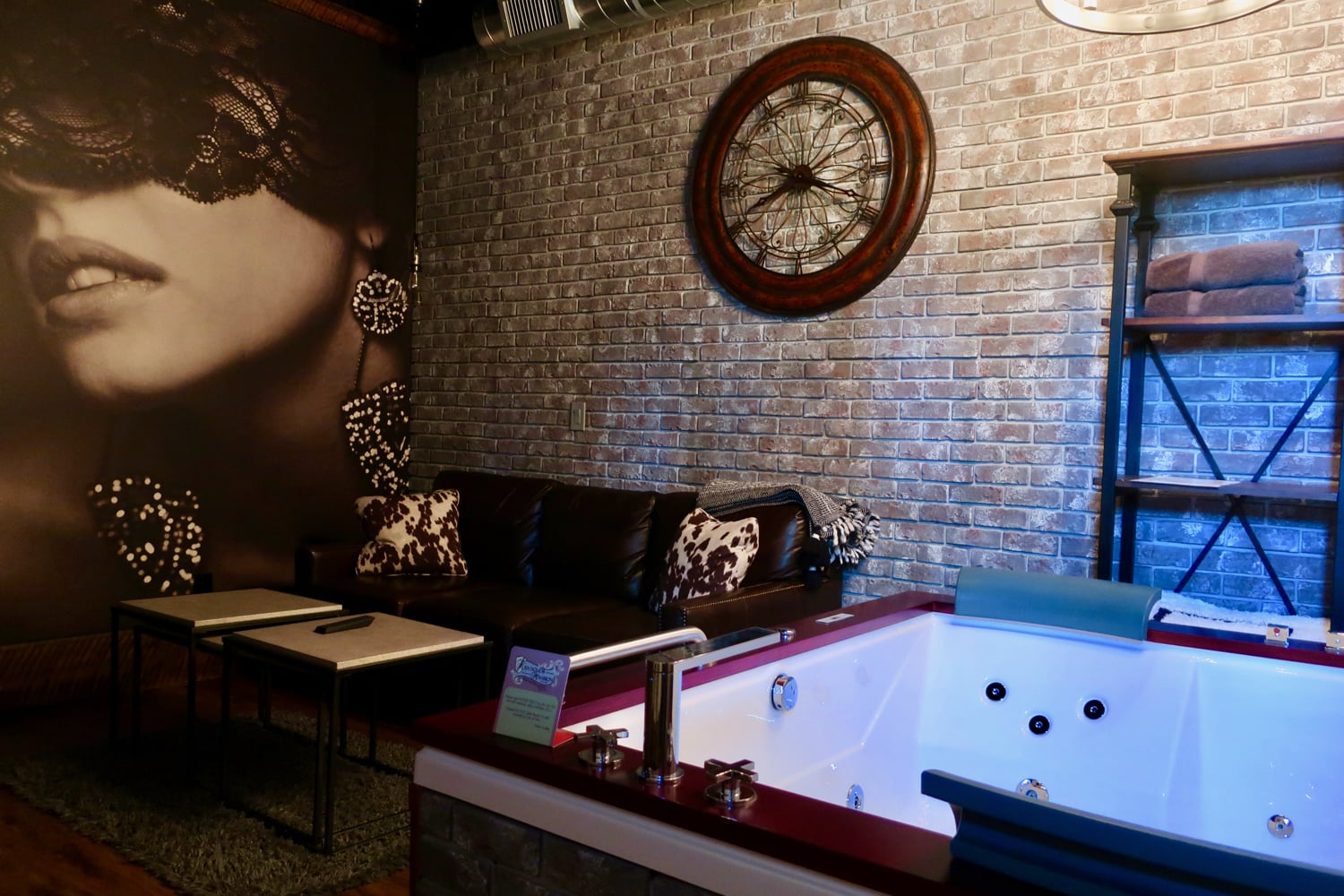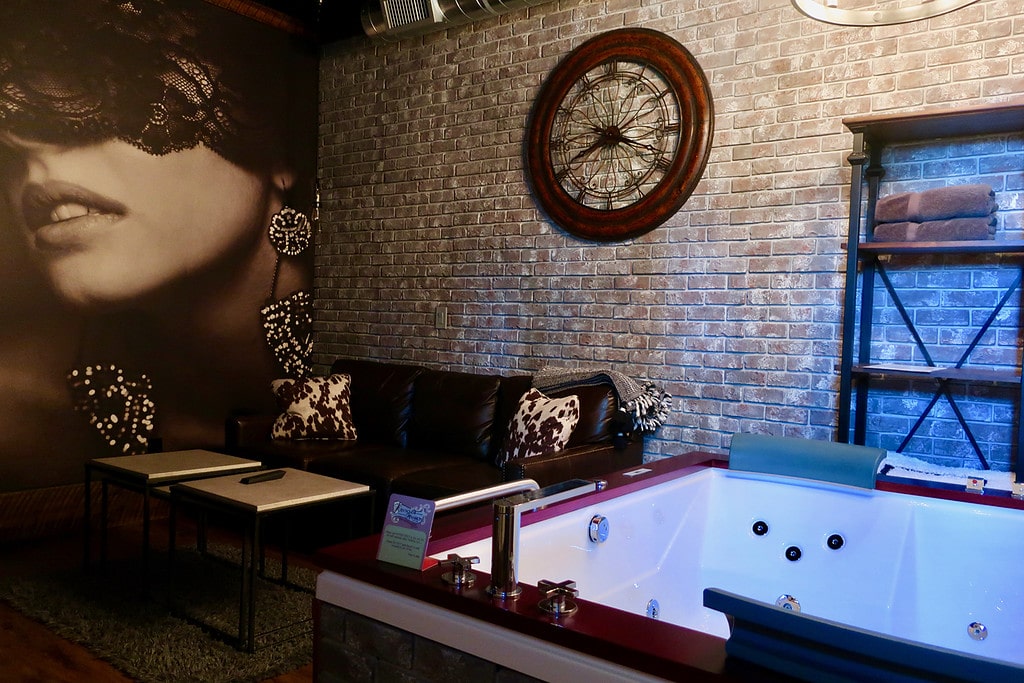 Two large contemporary suites in the Carriage House are honeymoon-ready, with state of the art rectangular jetted tubs built for two.
The Reynold's Mansion breakfasts are fantastic. Mike attended Boot Camp at the Culinary Institute of America (CIA), and he brings that expertise to the morning table. The main event might be something savory like Croque Madame or specialty French Toast. But, chances are you'll ask for another Scone for the road. They are that good.
STAY: Four Bellefonte B&B's
There's a place for every personality in Bellefonte. Do you love Victoriana? Fly Fishing? Secret Gardens? Craftsman-style homes? Choose from any of the four below. Just be sure to make reservations well in advance. Rooms at these small B&B's tend to book up for Penn State Football weekends.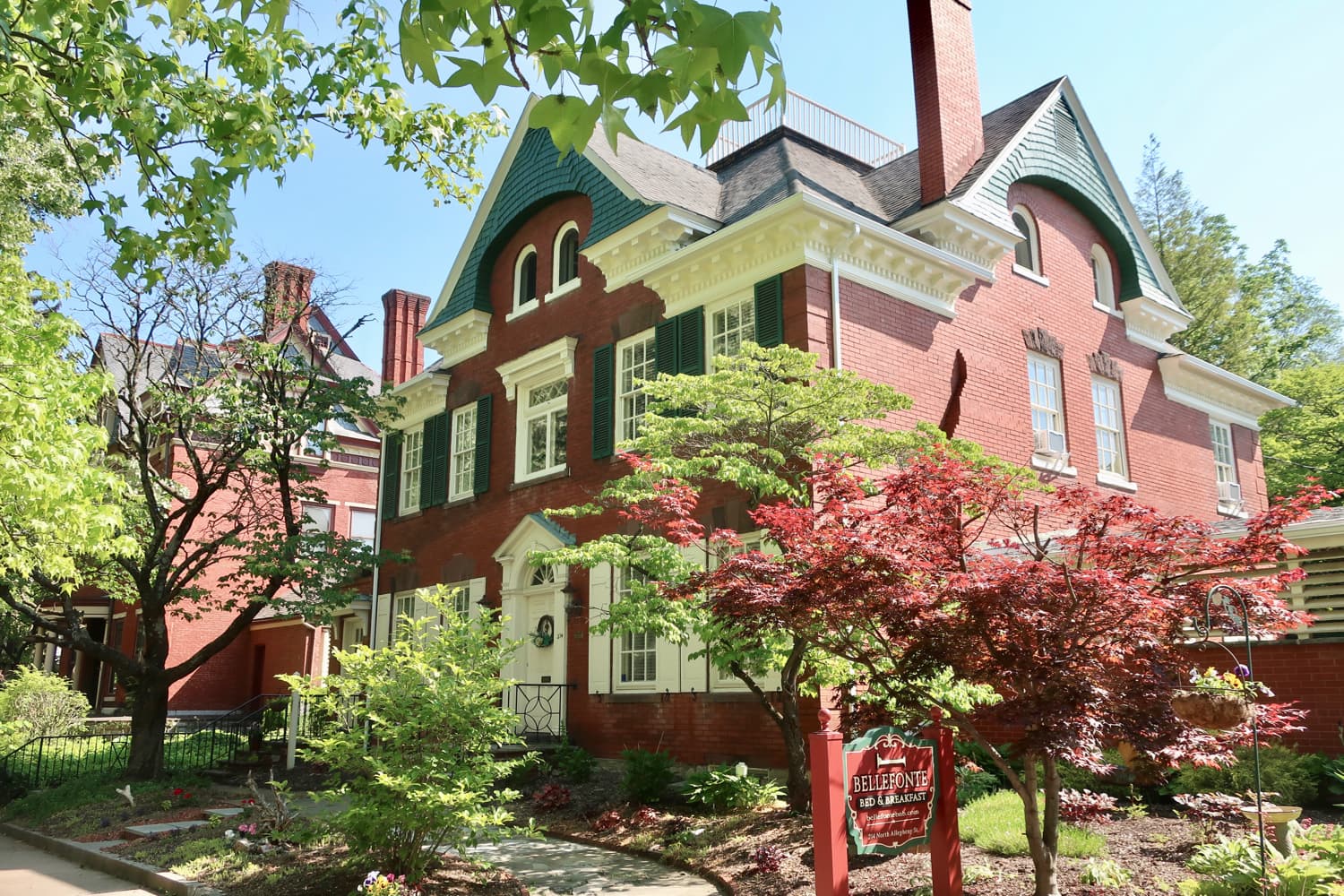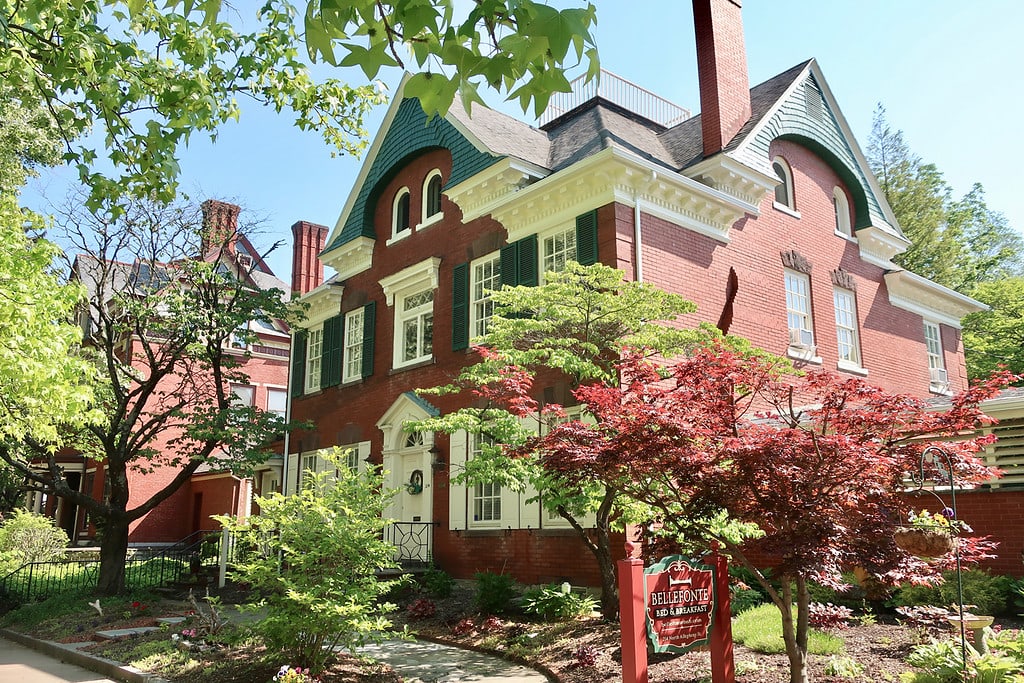 Bellefonte B&B
Kathy and Phil Breidenbaugh are all about celebrating with their guests in their 3-room Bellefonte B&B, opened in 2019. So, if you're getting away for an anniversary, say, they might stock your room with a mini bottle of bubbly before you arrive. There's complementary snacks and soft drinks. Guest rooms, in different themes, are bright and fresh, with little electric fireplaces. Outside, the fern-filled "Secret Garden" is a respite from the world.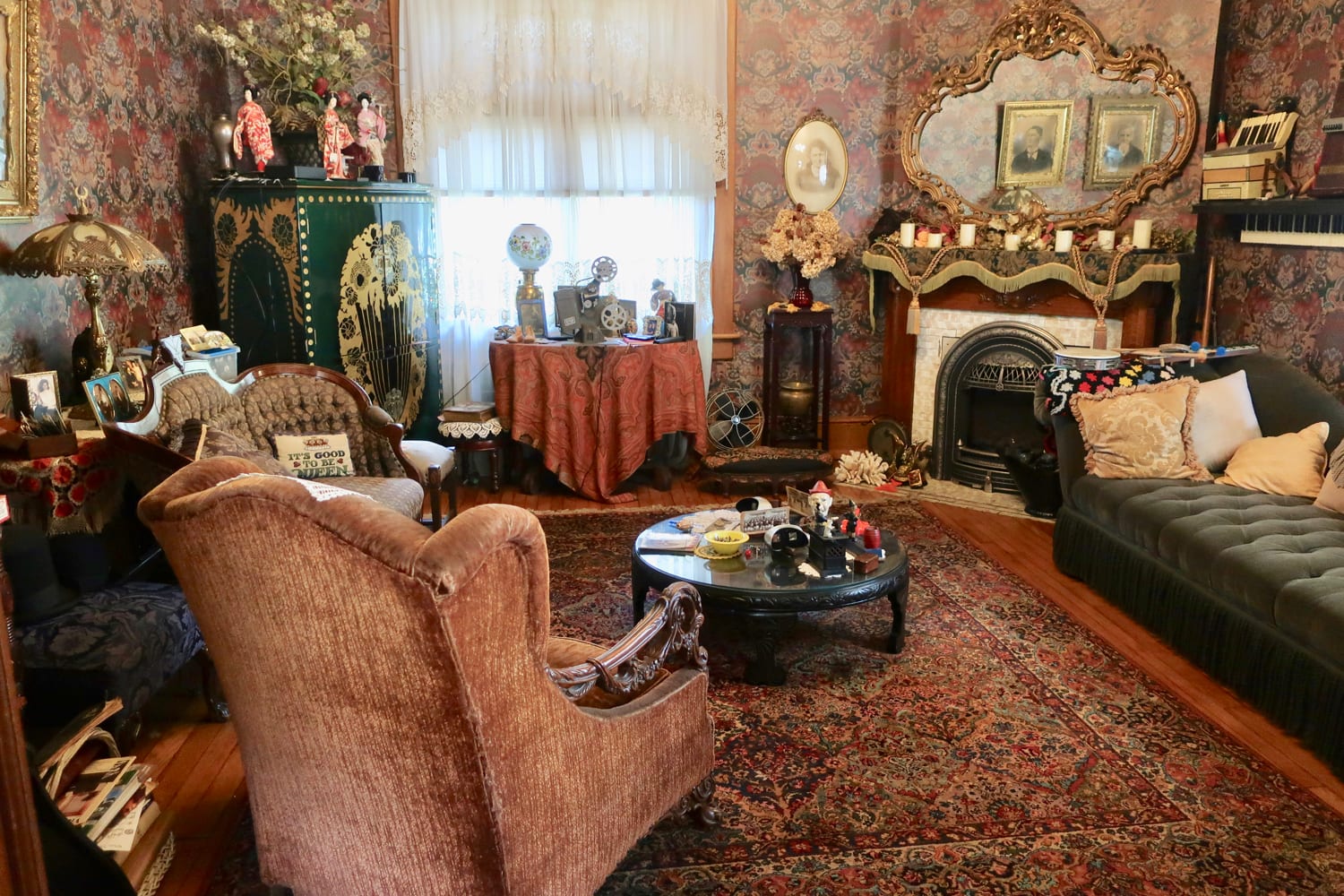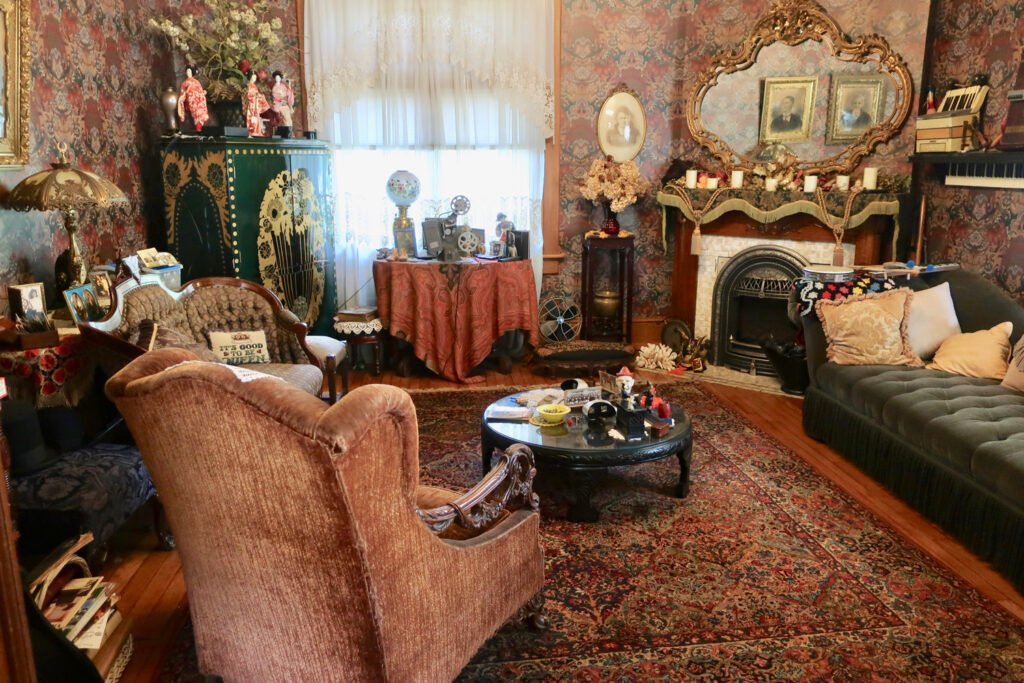 The Queen: A Victorian Bed and Breakfast
Sheba, the formerly feral black cat, wanders around rooms stuffed with Victoriana – curios from another age. The Queen: A Victorian B&B owner, Nancy Noll, invites others to bring their own friendly pets, as well. The vivacious Nancy also wants to enjoy her guests, so upon arrival, she introduces them to her player piano, antique stereoscopes, and a tin opium pipe. Yes, you read that correctly. (Her pharmacist grandfather had a license to sell opium in the 1920's and 30's, when it was still legal). Three large guest rooms are also jammed with knick-knacks. Minimalist, it isn't. But The Queen sure is interesting and welcoming.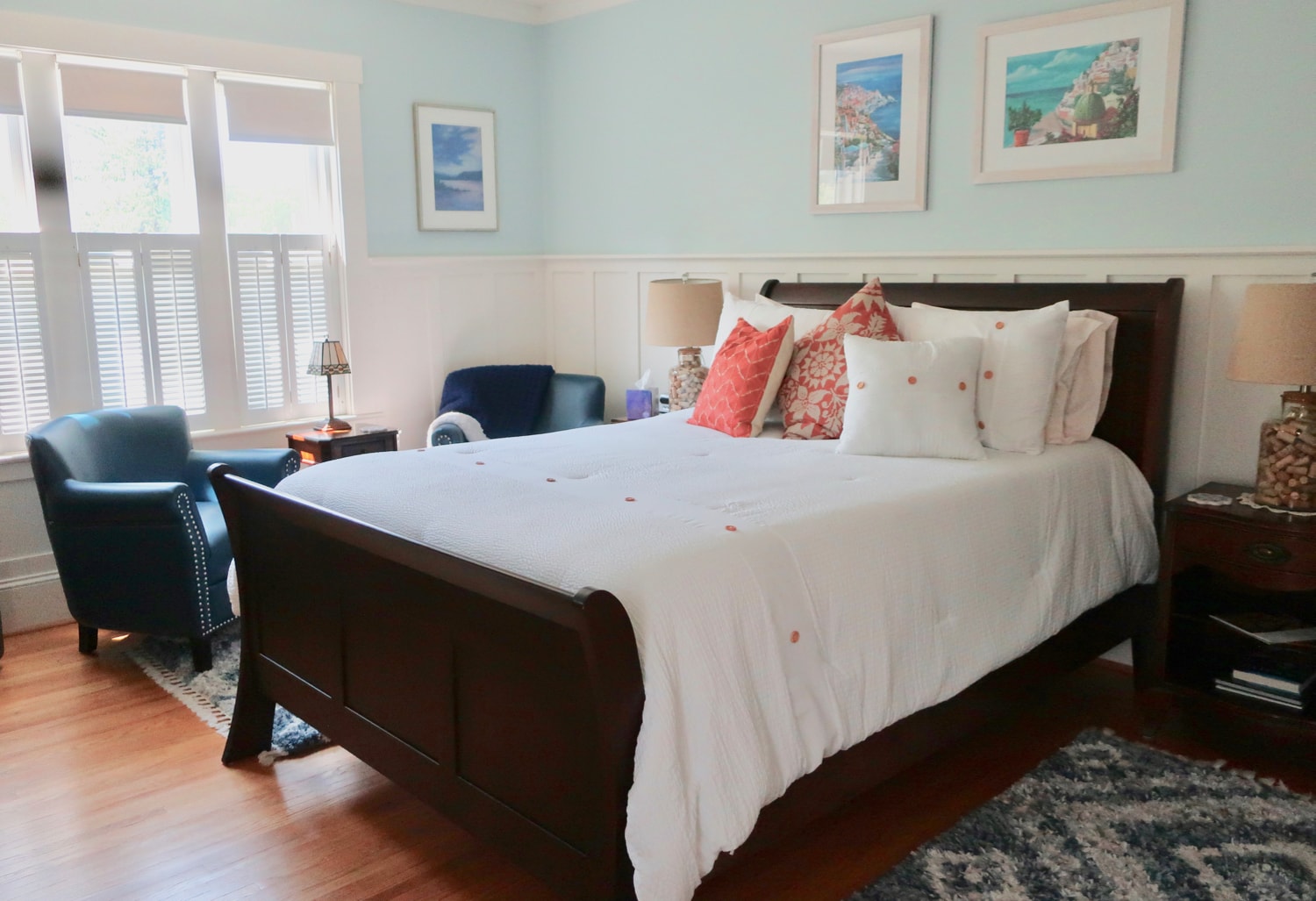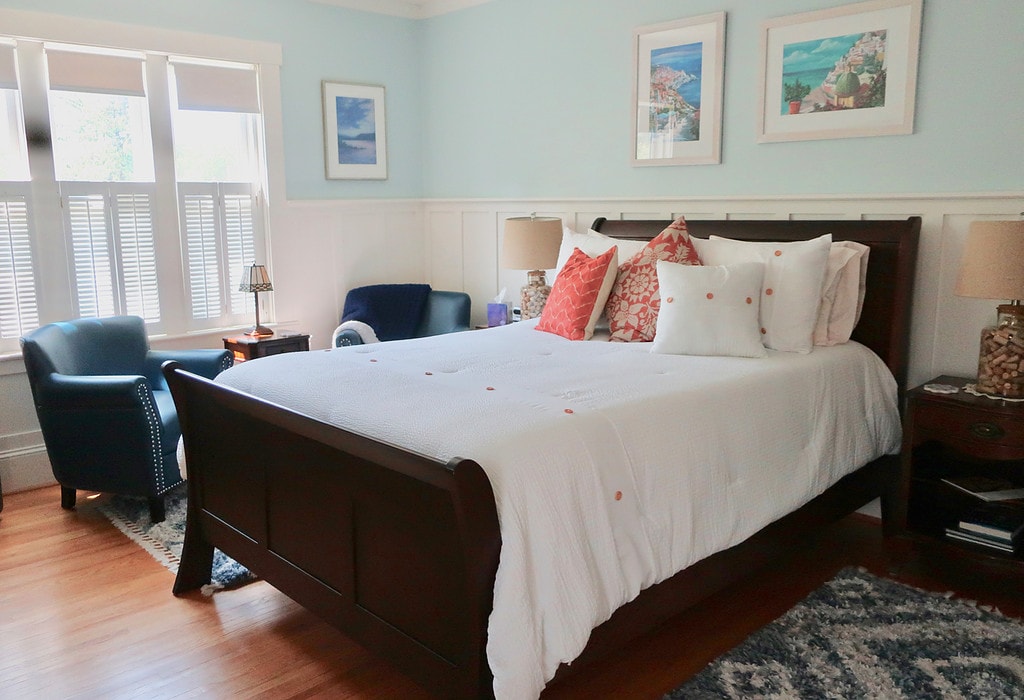 Craftsman on Curtain Street
For a small, two-room B&B, Craftsman on Curtin St., owned by Jane and Dave Provan, has lots of plusses, especially for Penn State fans. (Dave's business creates the Nittany Lion in both resin and chocolate – the latter a pillow-top treat). The Queen bedroom – the Mediterranean Room – is large and airy, with new wainscoting. It shares a cute bathroom with the 2-twin "Train" room – great for a friends getaway, especially since the guest section of the home can be shut off from the rest. Outdoors, there's a koi pond, hot tub, and wood-fire pizza oven.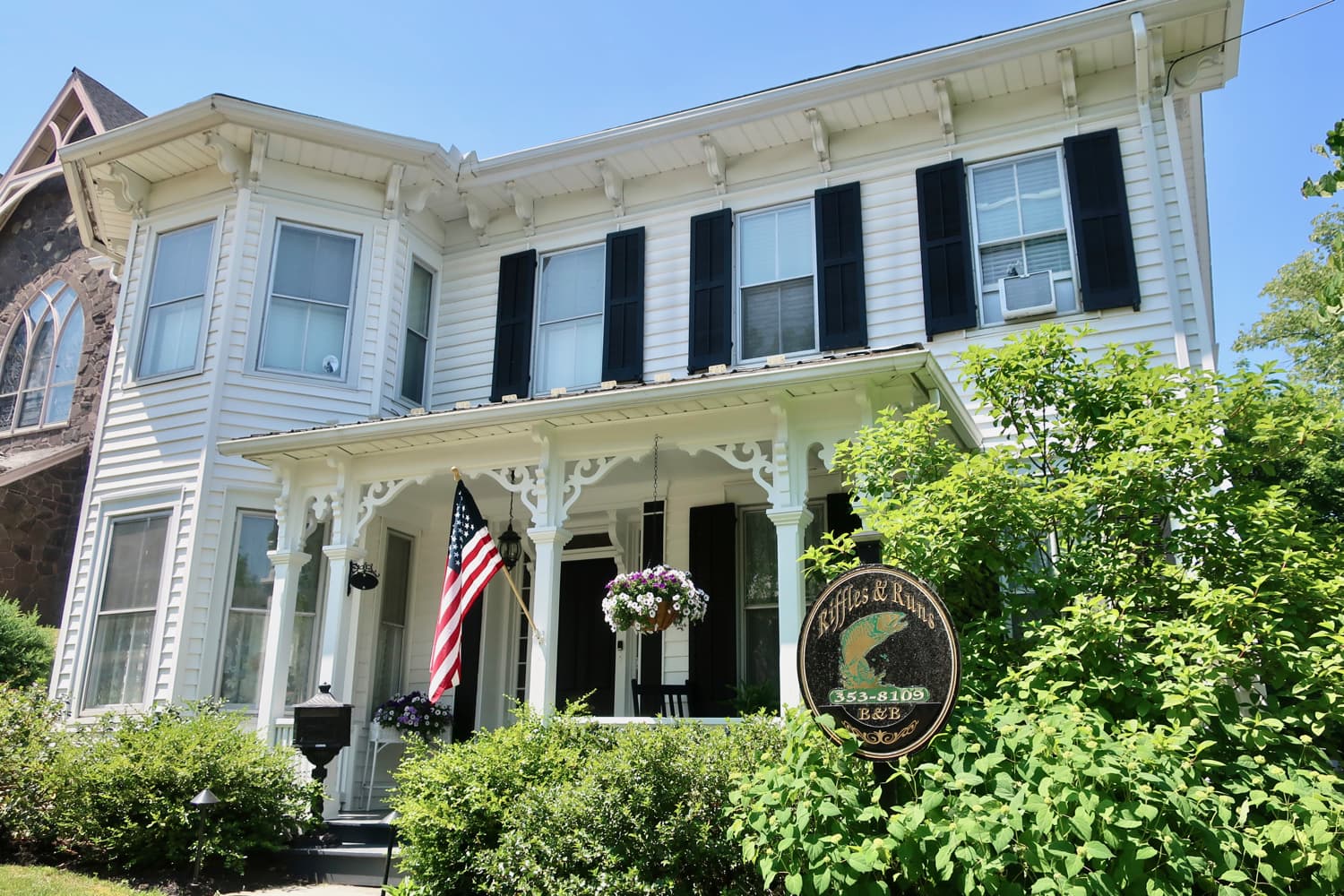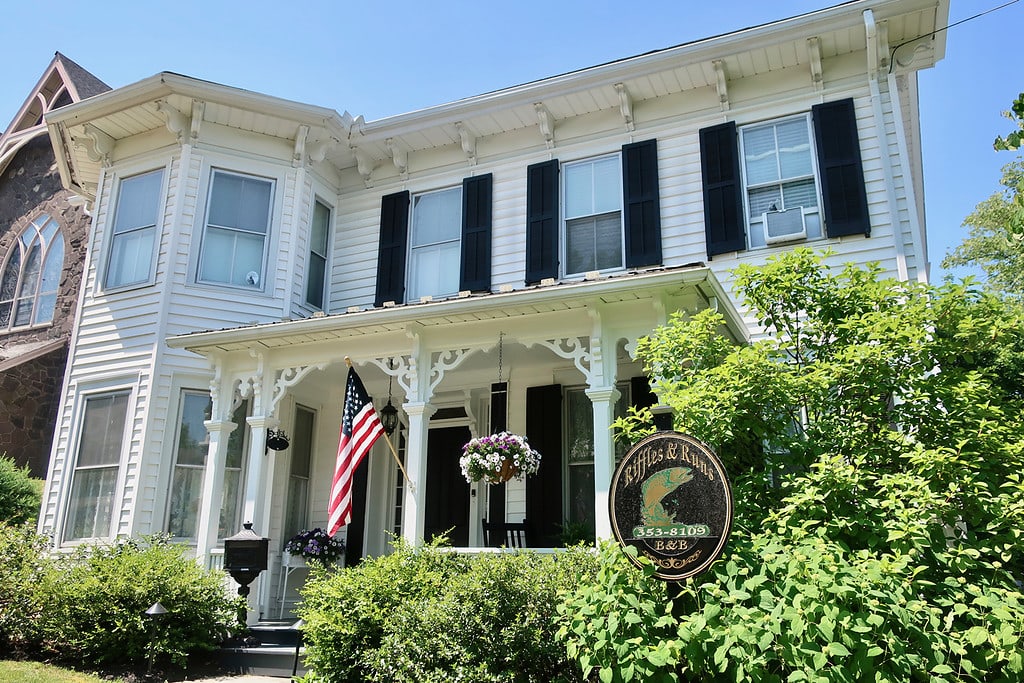 Riffles & Runs B&B
Anyone into fly-fishing will adore the homey, 2-room shared bath Riffles & Runs B&B, owned by Connie and Steve McCullen. The house décor runs with that theme – antique rods, photos of fishermen, and fish sculptures abound. Connie loves to cook a huge breakfast: in summer, she "puts up" preserves, and freezes fresh peaches, to make her popular Peach Cobbler year round. The backyard patio and grounds overlook Spring Creek below.
STAY: Penn Stater Hotel, State College
The corporate looking Penn Stater Hotel welcomes you with a mid-century modern living room – complete with roaring gas fireplace – as soon as you walk through the door.
It's a charming first impression of the place where many Penn State parents, prospective students, and visitors to the area stay when they want to feel at home in the land of the Blue and White. Walk around, and you'll see Nittany Lions everywhere.
STAY: Hyatt Place, State College
Those who prefer to stay "Off Campus" will find much to admire about Hyatt Place – right across from Happy Valley PA Adventure Bureau office (so you can pick up tips on the best of the best nearby. Rooms are modern and immaculate, in soothing earth tones. The second floor lobby is colorfully cool and spacious, with plenty of seating and tables.
FAQ'S
How Do I Get To Happy Valley Pennsylvania?
Happy Valley, aka Centre County Pennsylvania, is accessed via I-80 and then I-99 in the center of the state.
What Is The Closest Large City To Happy Valley PA?
The closest large city to Happy Valley is PA's State Capital – Harrisburg – 1 1/2 hours to the east.
Why is State College PA called Happy Valley?
Word has it that Happy Valley PA was so named during the United States Great Depression in the early 1930's, when the effects of the major economic downturn hardly touched the region where Penn State University was located.