WHY GO: College Park and its neighboring towns in Prince George's County MD are so much more than just the University of Maryland. Did you know it's where the Wright Brothers literally launched an airfield, still in operation today? (The World's Oldest Continuously Operating Airport, in fact). And where you can find a popular craft brewery owned and run by three genial deaf guys? Or a tchotchke-toy-gift-wine-general store-brewery that defies description?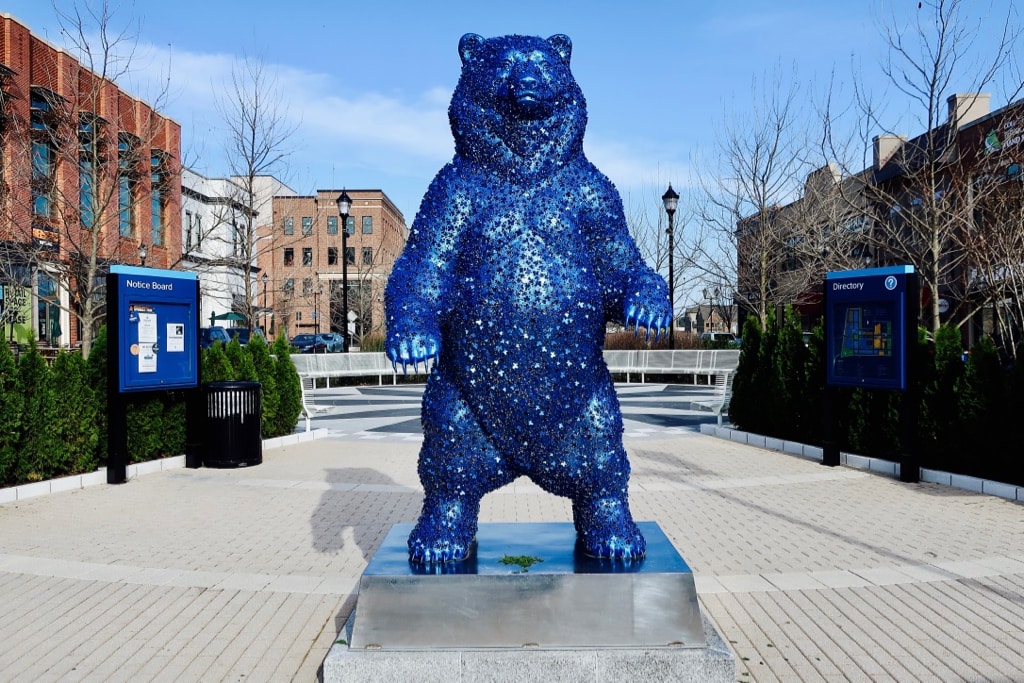 Add art galleries, historic homes, breweries – throughout Prince George's County – and you've got the makings of a great 2 or 3-day getaway just outside of Washington DC.
To kayak around the Ghost Fleet in Mallows Bay, or tour the home of Dr. Samuel Mudd (who fixed up Lincoln assassin, John Wilkes Booth), read this Getaway Mavens post about neighboring Charles County MD.
And FYI – The Hotel College Park made it onto our 20 Best Romantic Hotels Northeast USA 2021 list.
College Park and environs also made it on to the Getaway Mavens 20 Most Popular Romantic Getaways in the Northeast US 2021 list.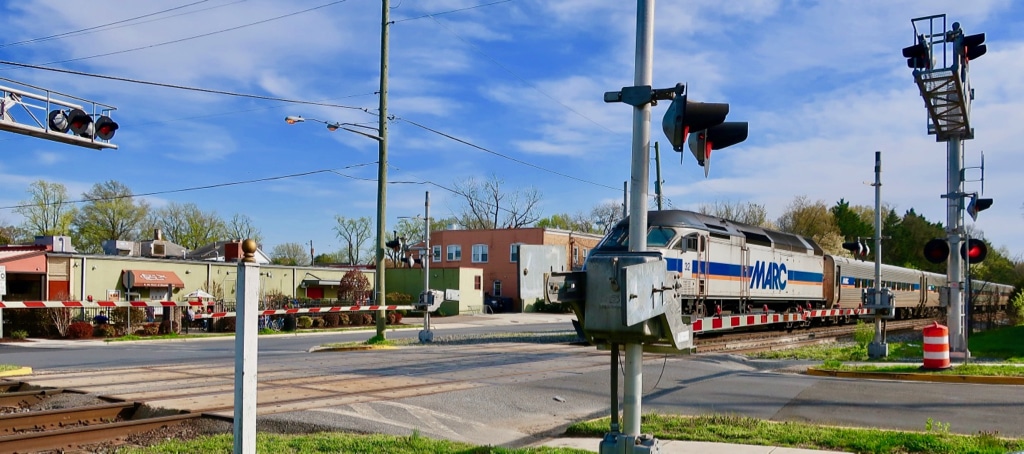 Where Is College Park and Prince George's County MD?
Prince George's County hugs the eastern side of Washington DC, with College Park and abutting Hyattsville MD up north, and National Harbor to the south. With its proximity to both DC (9 miles) and Baltimore (30 miles), the Patuxent Riverfront, and farmland, Prince George's County is composed of both rural and suburban sections.
Prince George's County is so large, in fact, we've divided it into three posts. 1. this one, covering College Park, Hyattsville, Riverdale Park, Brentwood, and Laurel. 2, National Harbor. And 3, the "Rural Tier" composed of Upper Marlboro MD and Brandywine MD.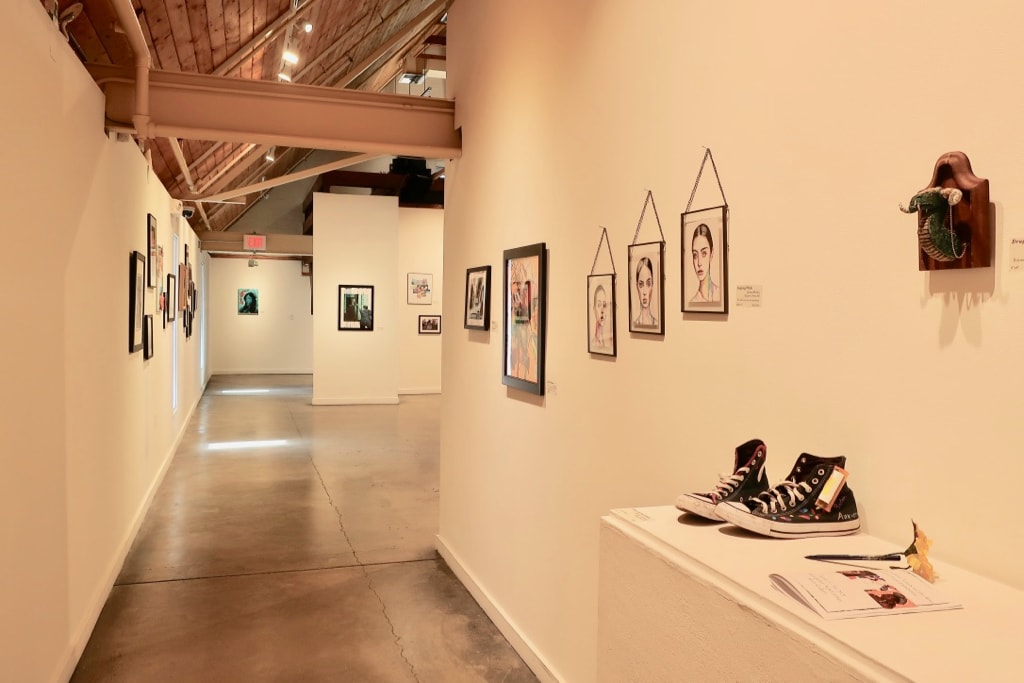 Things to Do In Greater College Park
The 'burgs around College Park are artsy, "spirited," and commercial by turns. There are breweries, art galleries, storefronts, Whole Foods; collectively four miles of sporadic, eclectic neighborhoods. Some are in transition, others so pretty and tidy, I imagined myself living there.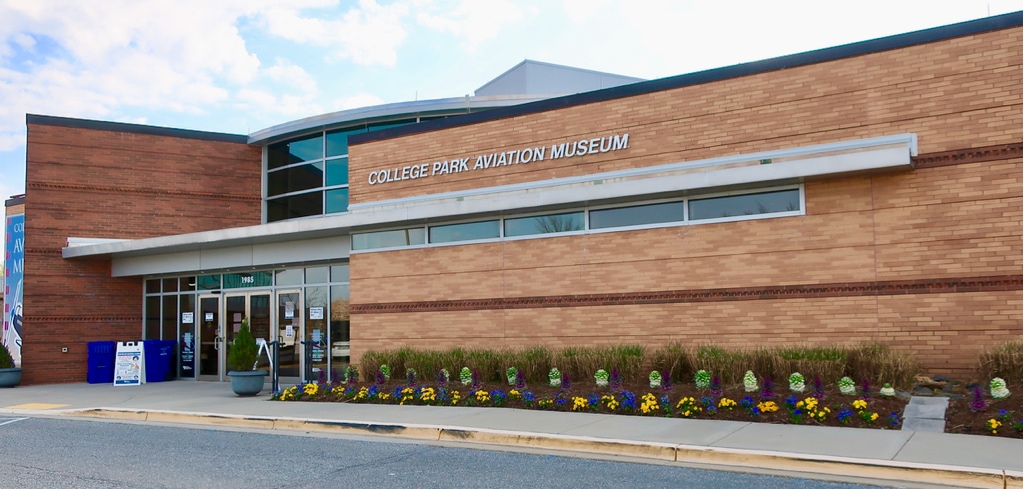 In 1903, the Wright Brothers made history by gliding 852 feet in 59 seconds over Kitty Hawk in their newfangled flying machine. Four years later, they won a contract to sell several of these contraptions to the United States Government. In 1909, the US Army summoned the brothers to provide flight instruction to our country's first military aviators, right here at College Park Airfield.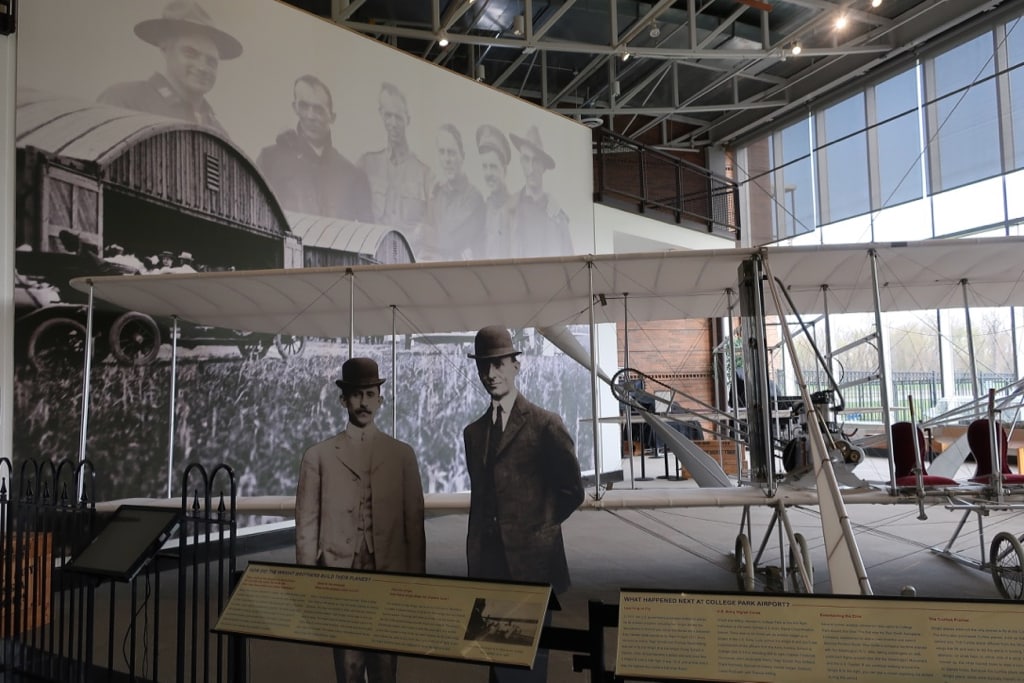 The College Park Aviation Museum, bordering the World's Oldest Continuously Operating Airport (small planes only: call letters CGS), illuminates the history of manned flight and is a must-see. A self-guided tour of the 27,000 sq. ft. museum should take about 45 minutes. Engage with the knowledgeable docents scattered about, however, and you could stay hours.
If you're lucky – you'll be able to watch planes taking off and landing right outside a wall of windows in the main exhibition area. (Airport schedules are unavailable due to security concerns, so if you want to see a plane, you'll just have to "wing it.")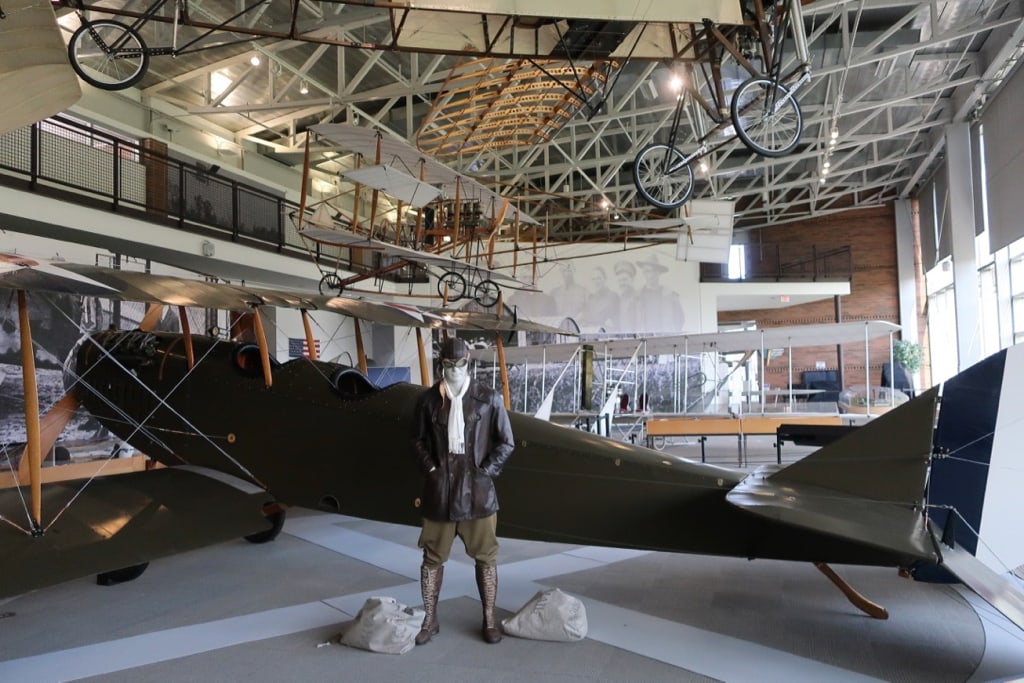 The museum is arranged in time-line fashion, with functioning replicas and authentic aircraft, informational panels, videos, and artifacts. Of course, it begins with the Wright Brothers – and even includes a short film of the duo utilizing their "Catapult Launching System" – a huge counterweighted slingshot that sent the plane airborne.
There's a whole exhibit about Women's Air Force Service pilot, Elaine Harmon, who served in the non-combat Ferrying Squadron during WWII. Harmon attended University of Maryland and learn to fly here.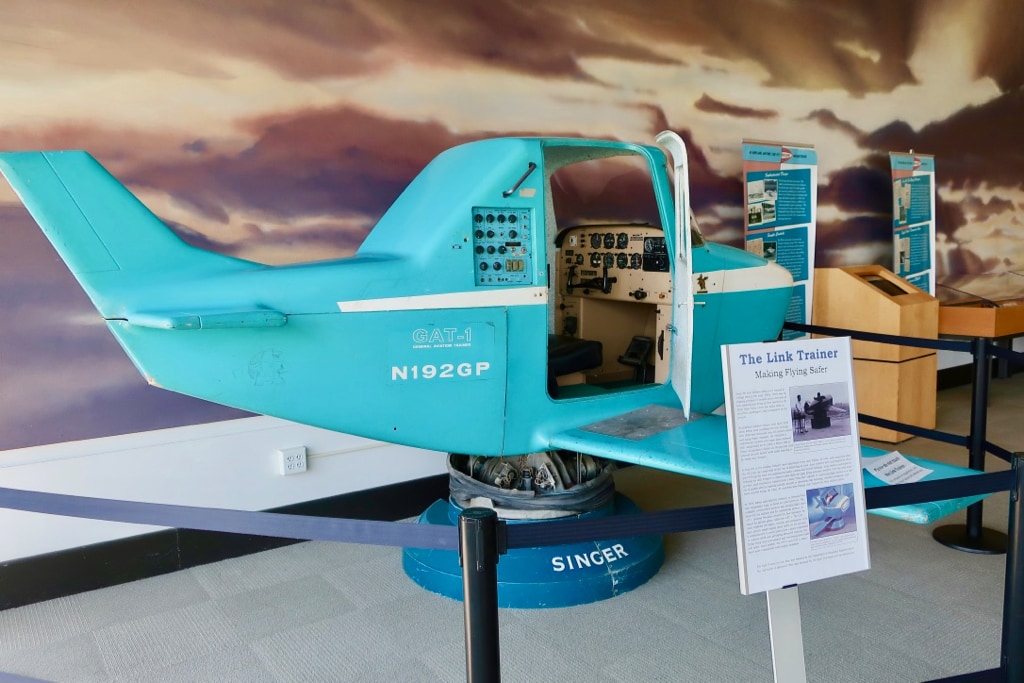 Of all the displays, though, the most curious (to me, at least) was the Link Simulator Trainer. Early on in the initial era of flight, many pilots in training would crash and die, often taking their instructors with them. So, in 1929, Edwin Link devised an apparatus to simulate flight control using pumps, valves, and bellows. By the early 1950's over half a million US pilots had been trained on the Link Trainer. Open Tues-Sun 10-4, $5 adults, $2 kids.
This was chosen as one of the Best Places in Maryland to Pop the Question.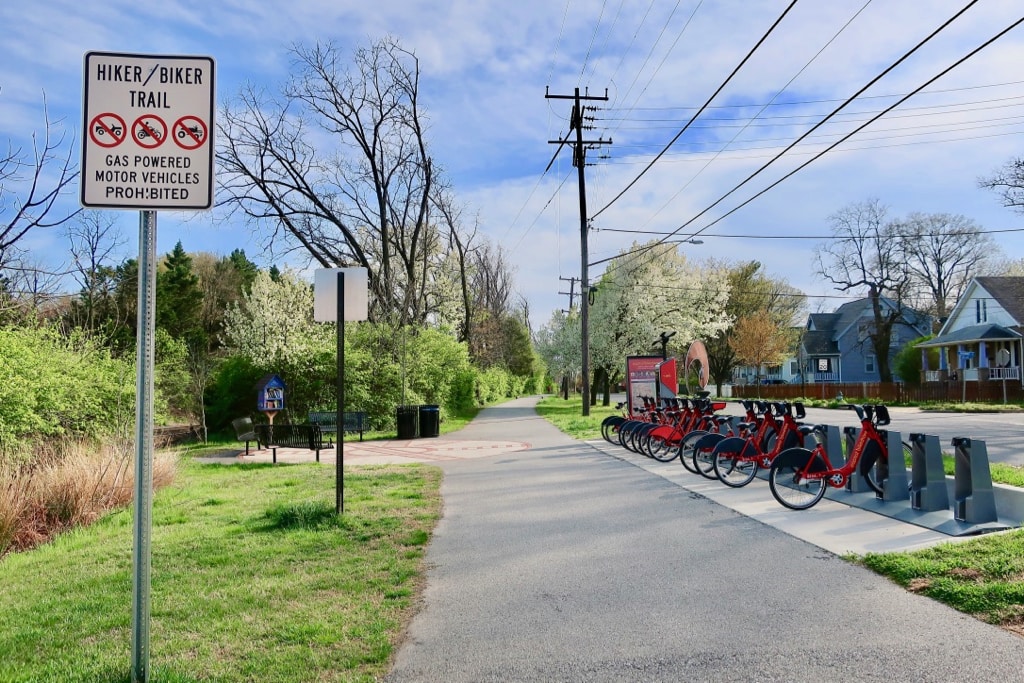 BIKE: Rhode Island Avenue Trolley Trail, Riverdale Park
This 3.8 mile flat paved trail traverses College Park through Riverdale Park to Hyattsville MD. If you time it right, MARC – the train that takes commuters from Riverdale Park to Union Station DC in 15 minutes – will pass alongside you and then stop at the tiny station as you roll up.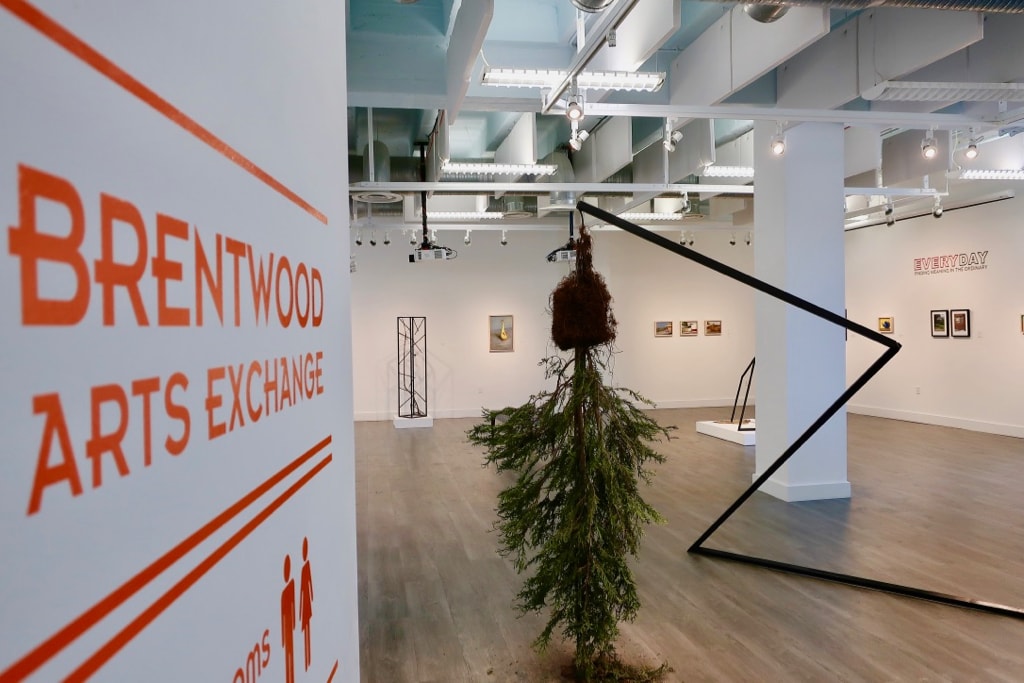 The Brentwood Arts Exchange has two large contemporary galleries that support ten shows a year. A destination for arts in the DC area (and just three miles from The Hotel at College Park), it also offers a series of classes for adults and kids, summer camp, music films –to the tune of 100 programs per year. Group art shows are built on themes. In the past, these included "Aesthetic Understanding, Art and Healing, Black Women, and currently "Everyday – Finding Meaning in the Ordinary." Open Mon, Wed, Fri. 11-5. Online advanced tickets required for now.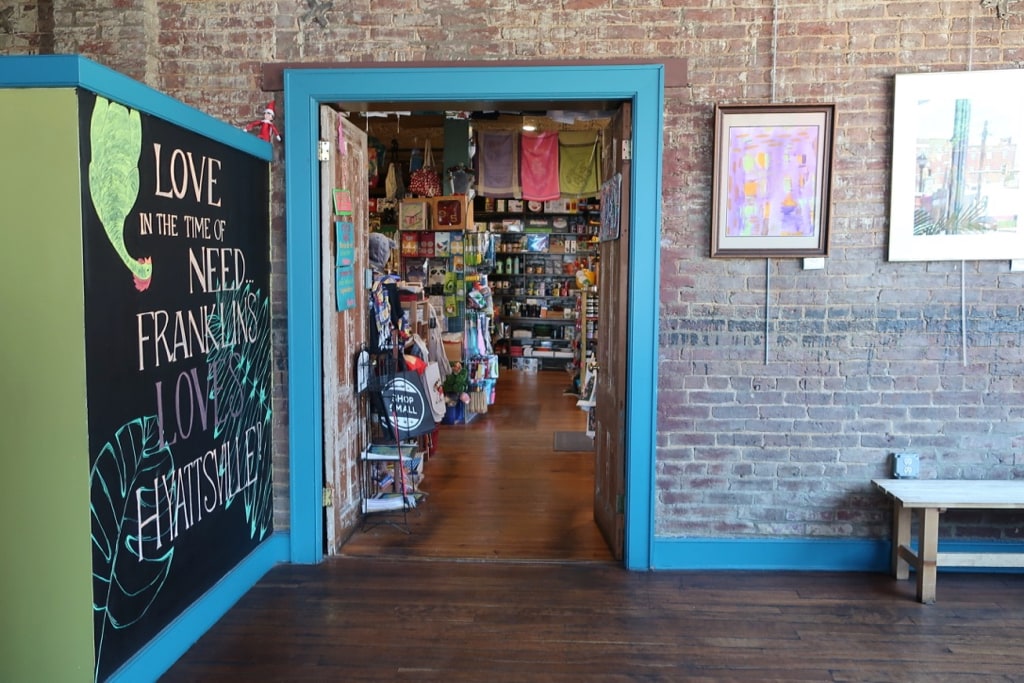 You gotta see this place! Located in the heart of historic Hyattsville MD, Franklins is Prince George's County's first microbrewery, and the only combination restaurant, brewery, and toy store in the world.
In 1993, Mike Franklin, then a manufacturers rep for Ravensburger Puzzles and toys, took a chance on the Hyattsville Hardware store in a fading former "whistle-stop" town. Purchased at a price he couldn't refuse, Mike renovated it and re-opened as Franklins General Store and Deli.
Taking a leap of faith in 2002, Mike built a third section for a craft brewery and restaurant. He turned Franklins into an entity that's become a "neighborhood joint," where you can take "your Mom and your two year old," and both will be happy.
What was Hyattsville Hardware is now Franklins General Store, a rustic space with its original 1910 wood floors. Everything on the shelves has been "handpicked by someone here." There's an abundance of food, incense, hot sauce, candles, kitchenware, beer, wine, puzzles, and a wonderland of toys.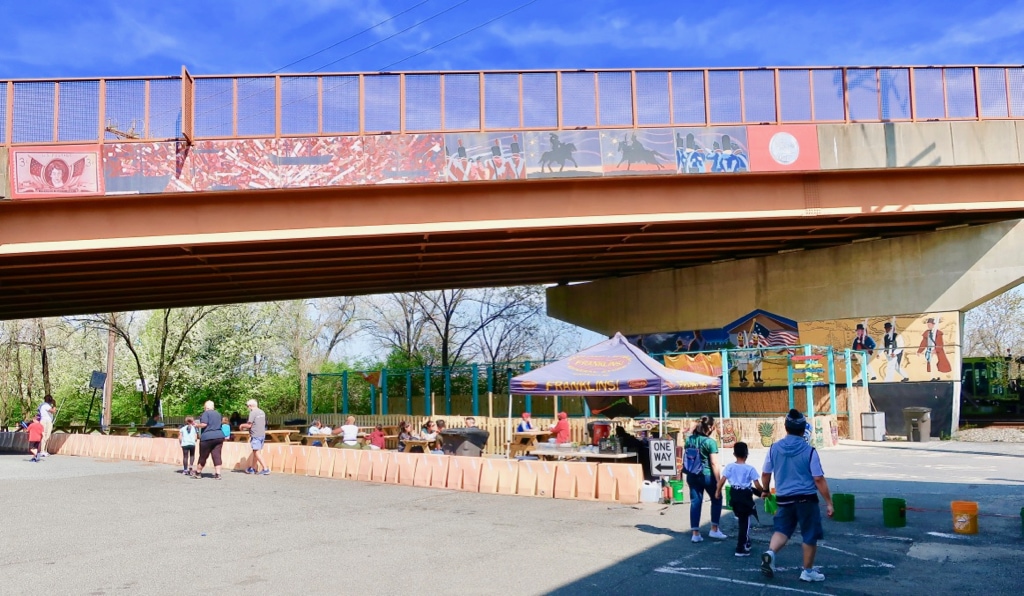 Franklins is also known for its wide variety of beer – 17 on tap, and for it's locally grown great quality of food. Regulars and newbies enjoy the freshness and vitality of seasonal food, while also supporting the local farmers who provide it.
Mike Franklin is devoted to giving back and being a "good neighbor." The neighborhood has responded in kind. As soon as he built the brew pub, the place became an "instant it." It hasn't slowed down since. Franklins has also earned quite a tourist following. Come here for a "two-fer," says Franklin. "Have a meal and a pint, then shop at the store."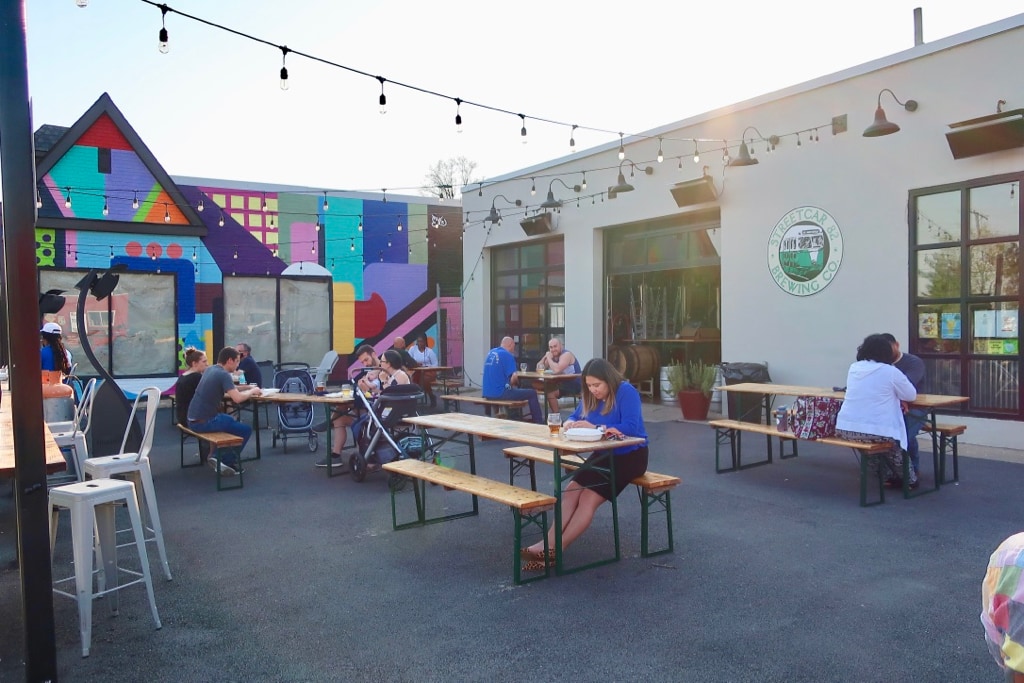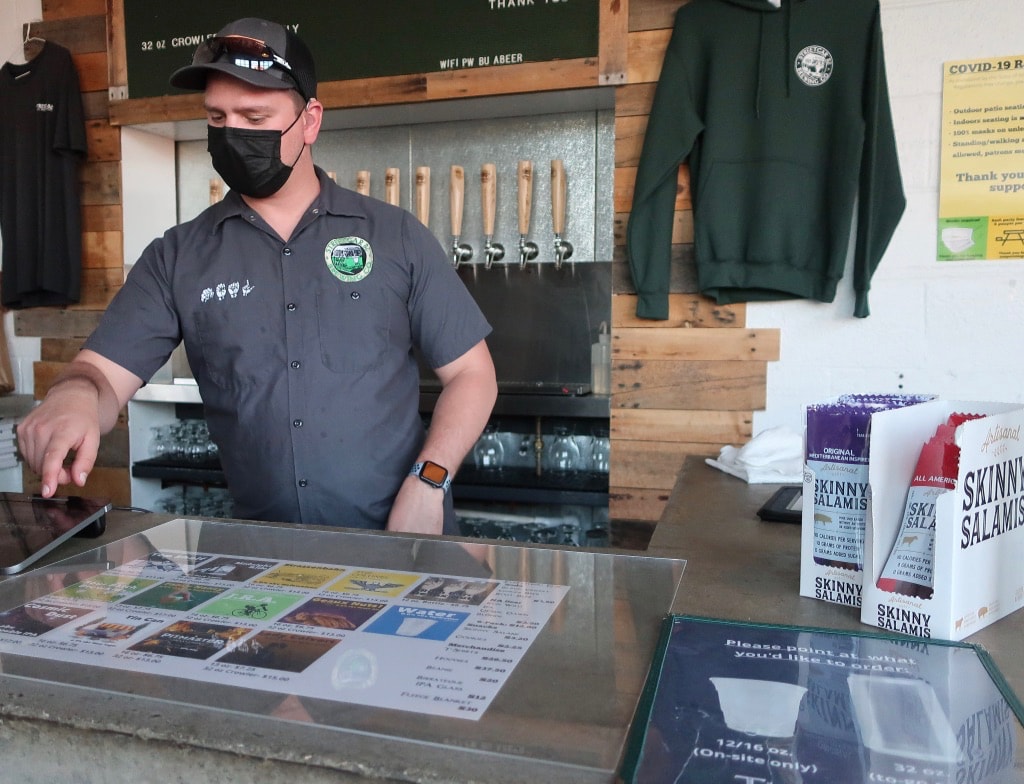 The trio obviously settled on a winning combination. Named for the streetcar that ran by their building until 1958, the place is packed almost every warmish night, with dozens of patrons mingling outside, swigging exceptional craft beer and gobbling up Food Truck fare (on Tuesdays).
How do you order if you don't know Sign Language? Easy. There's a laminated craft beer menu right on the bar, and another one depicting size of glass. Just point to your preferred pour and beer selection, and the guys hand over a great brew. Oh, and, yeah, and they can read lips, and talk to you, too.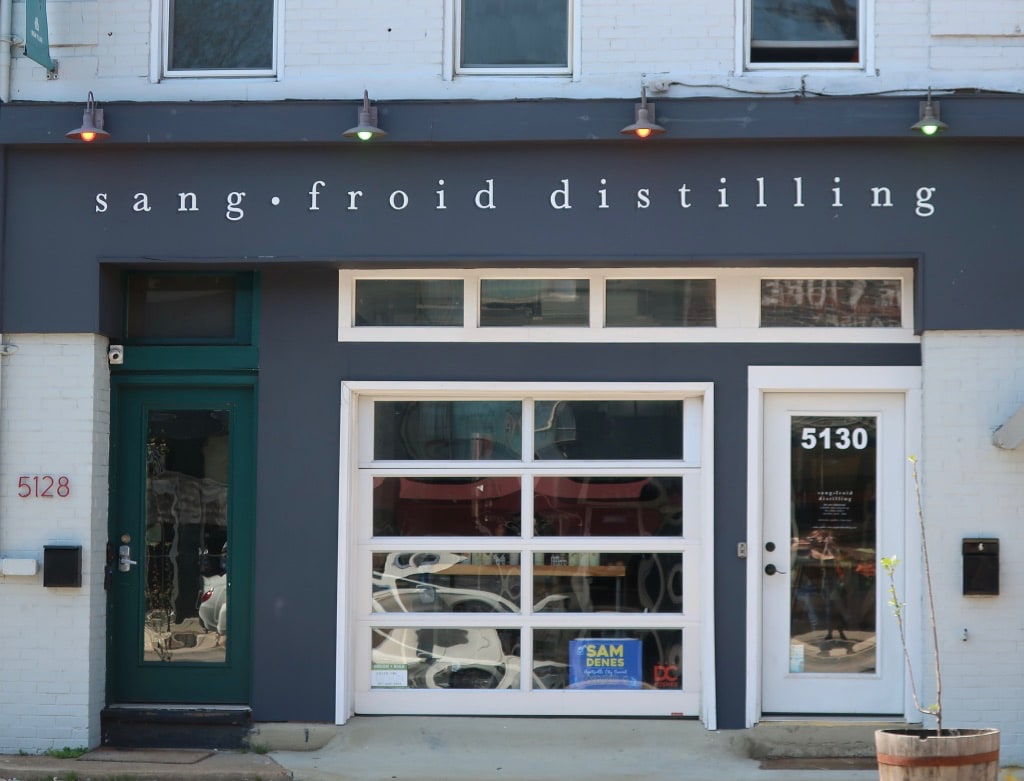 Sangfroid, a small, artisan distillery, across the street from Franklin's Brewery, focuses on fruit-based brandies, rye whiskey, and dutch-style gins. Two brothers-in-law, inspired by European and early American traditions, source the best ingredients from farms nearby.
Restaurants in College Park and Hyattsville MD
As college town, of course there are a slew of eateries in the area – mostly fast food. Try our recommendations below if you are here one or two nights.
EAT: Franklins, Hyattsville (See Above)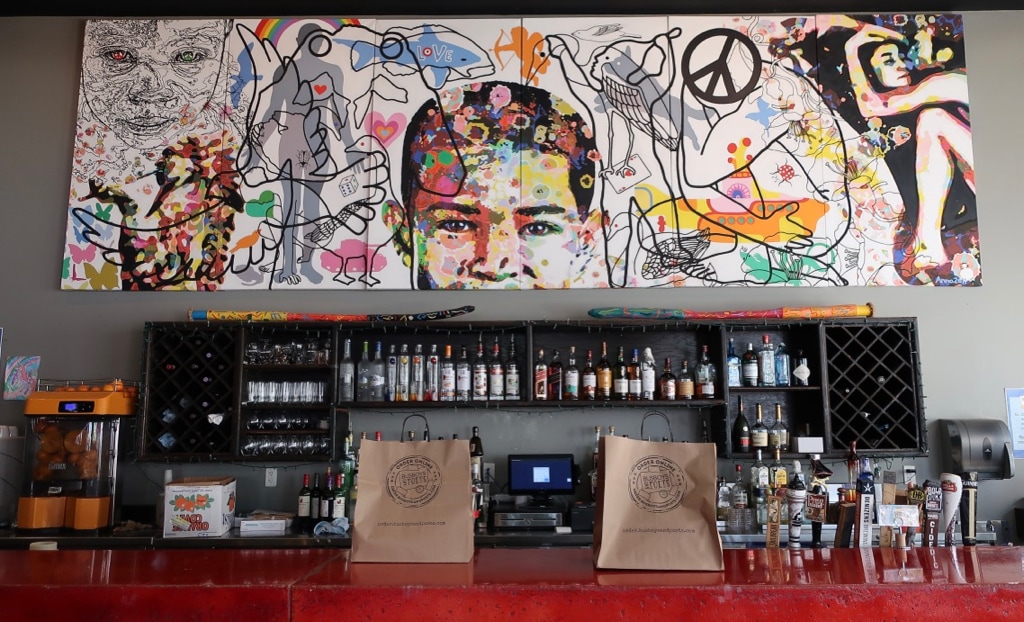 One of several Busboys & Poets in the DC area (this one in a new residential/shopping/eating development on Route 1 near College Park), you can dine morning, noon and night on elevated bar bites in a giant restaurant-bookshop. Alt-rock blasts, the food pickup line is robust at 4pm on a Monday night – no big surprise. The crispy cauliflower is OMG so good.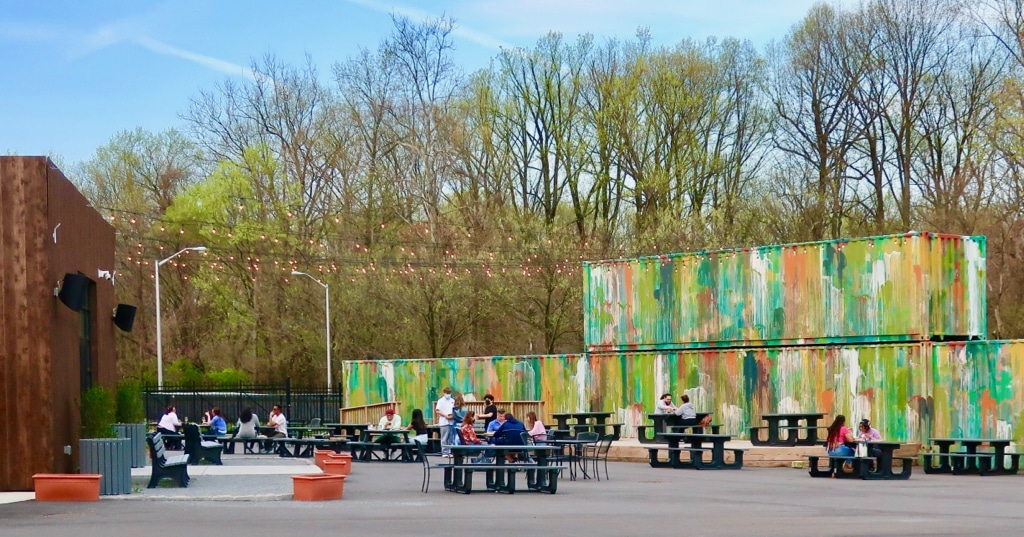 I ate at The Hall two nights in a row for two very specific reasons. One – the Wings. I did Buffalo, but the prevailing favorite is "Old Bay." They were, in a word, fantastic.
Second – the restaurant was right behind The Hotel at College Park, where I was staying. As a solo woman, I shun driving at night, especially after a glass of wine. The Hall is a two-minute stroll away, with a massive outdoor space, and interior industrial-esque space big enough for a bowling alley.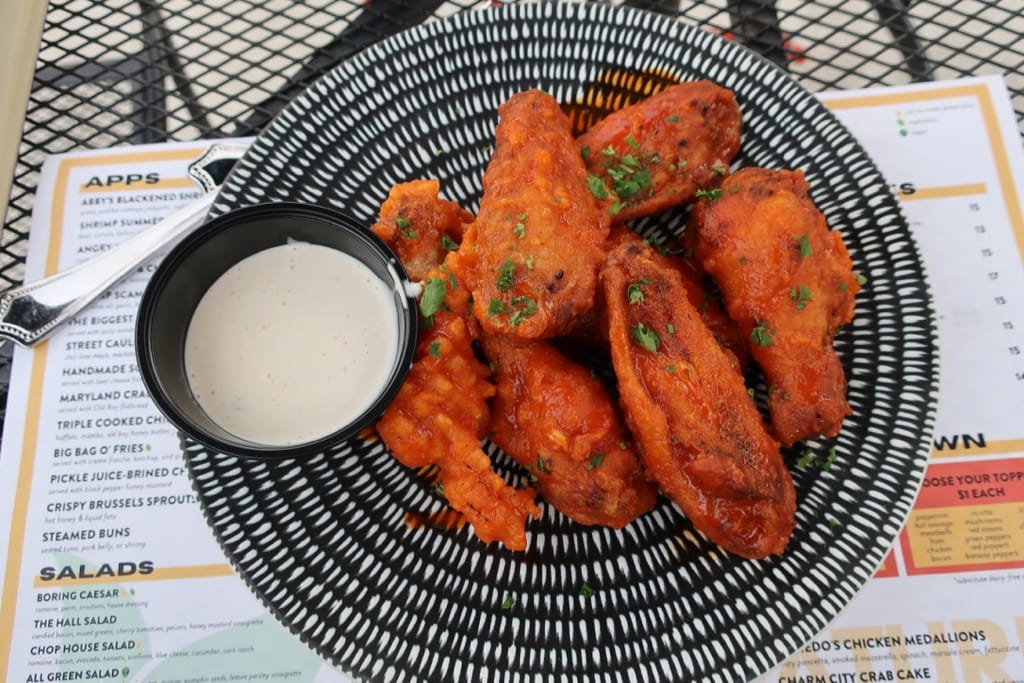 I love being surrounded by a cross section of happy people, in this case, parents with UMD kids, couples on dates, girlfriends, senior groups, chowing down on burgers, pizzas, salads, tacos, and of course, wings.
Things to Do in Laurel MD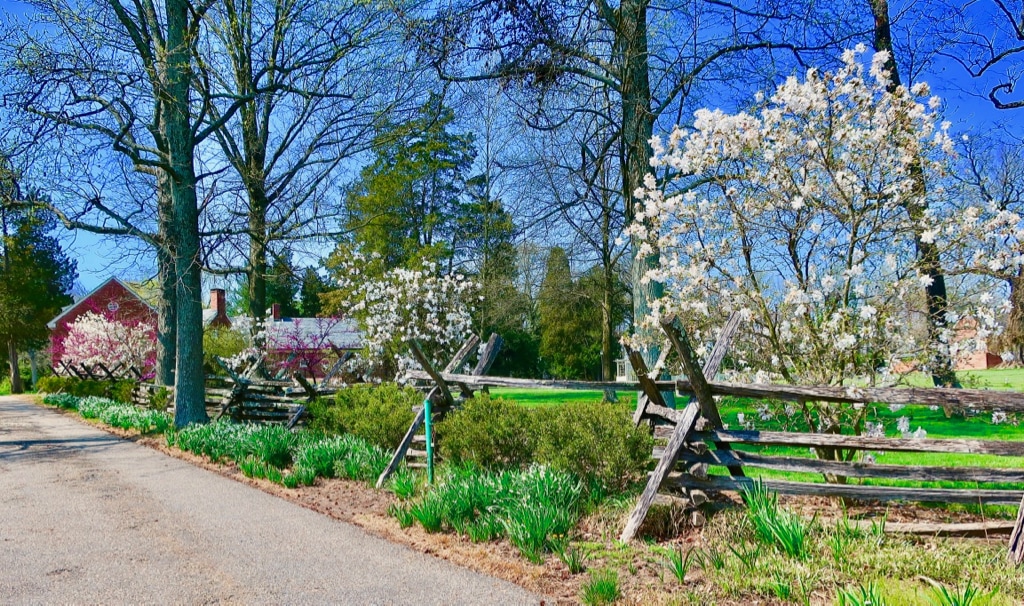 Laurel MD is ten miles from College Park – and will take about 20-25 minutes to drive to the following attractions.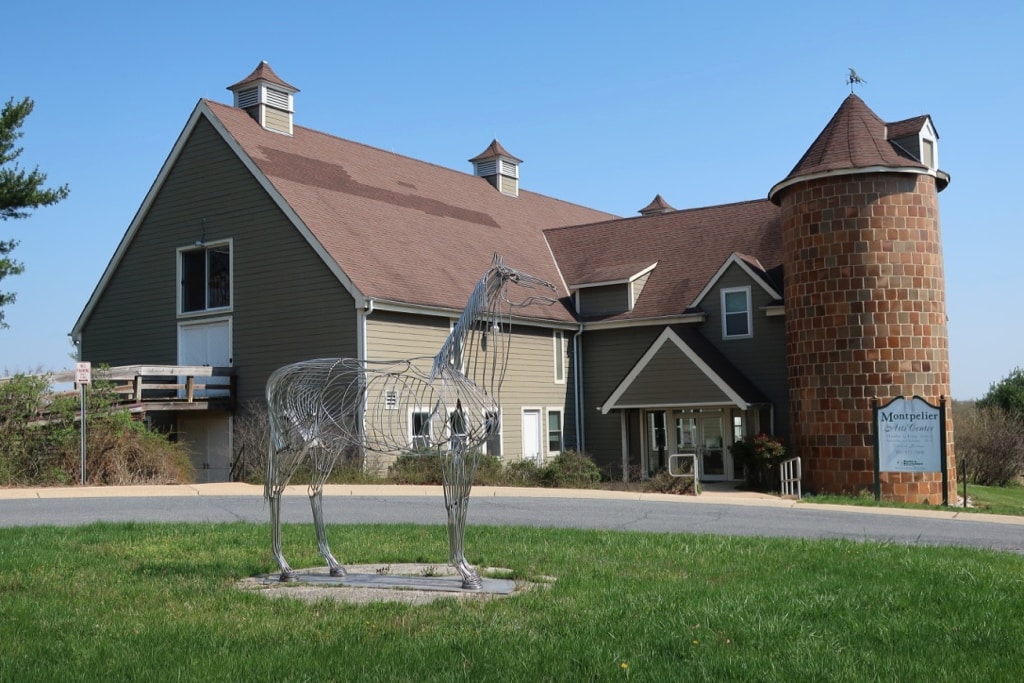 Explore the galleries of Montpelier Arts Center, a multifaceted, community-oriented facility that has been an arts destination for over 40 years. The three galleries housed at the Arts Center introduce changing exhibitions by local and national visual artists who work in a variety of media styles. Gallery hours are Monday, Wednesday, and Friday 11:00am-5:00pm. For now by appointment only.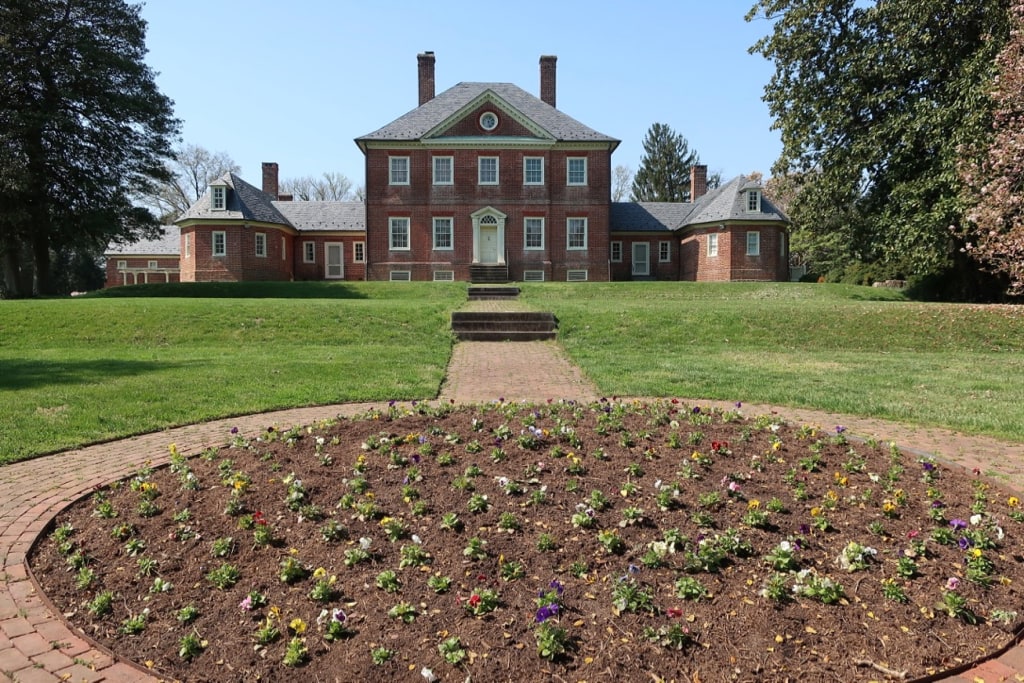 Montpelier Mansion was built in the 1780s as a plantation for agriculture and iron production. Now a historic landmark, it preserves the histories of the free and enslaved residents who lived there. The plantation house was home to four generations of Snowdens, as well as enslaved individuals, named Nance and Catte Creek, and Ben, a blacksmith, documented to have lived here. Explore the daily life of the residents as reflected through the architecture, archaeology, and of course, stories that dig even deeper. Check website for tours.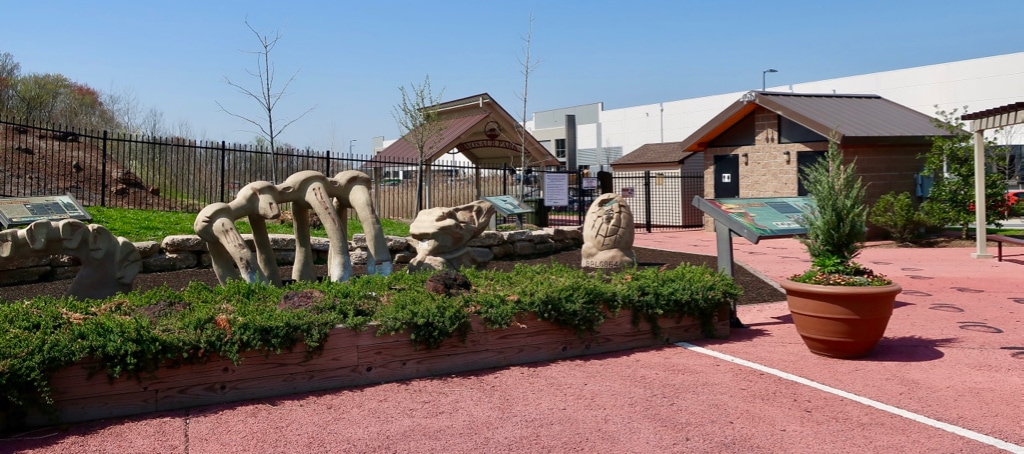 In the 18th and 19th centuries, the clays of the Muirkirk Deposit in Prince George's County, MD were mined for siderite, or iron ore. Iron furnaces located throughout the region melted down the mineral, producing iron and steel used in construction and manufacturing. In 1858, African-American miners working in open pit mines were the first in Maryland to discover dinosaur fossils, including Astrodon teeth and bones.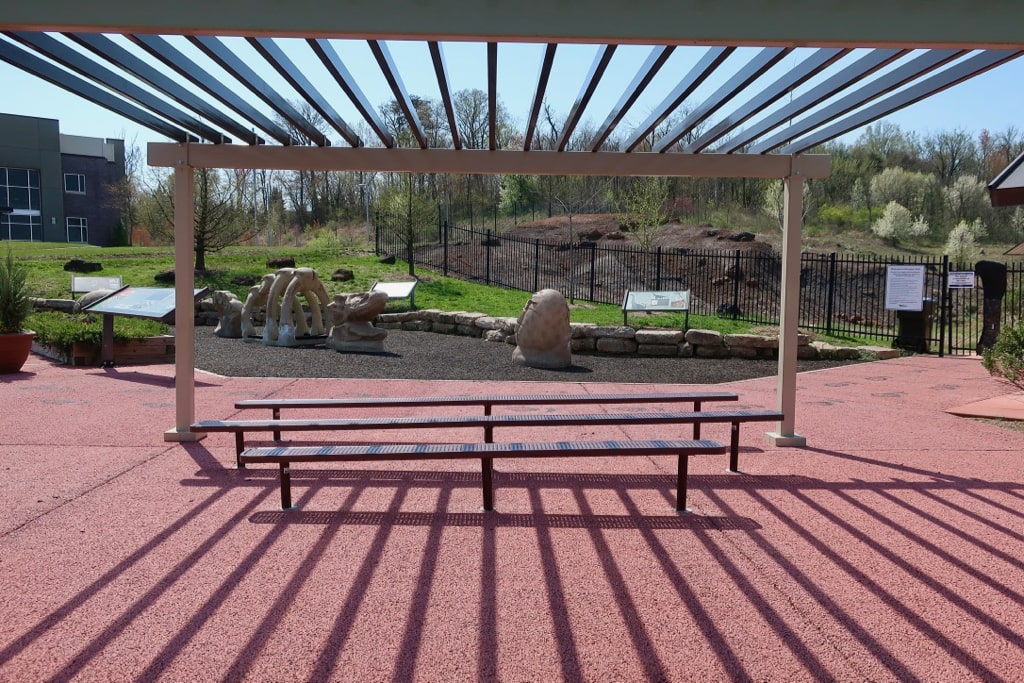 Now, this mini-playground, in a parking lot smack in the middle of an active office park, features a fenced area where visitors can join paleontologists and volunteers in search of early Cretaceous fossils. Dino Park also has an interpretive garden with plants and information signs, and several cement "dino bones and eggs" for kids to climb on. Bring a bagged lunch and eat on covered picnic tables.
Where to Stay in College Park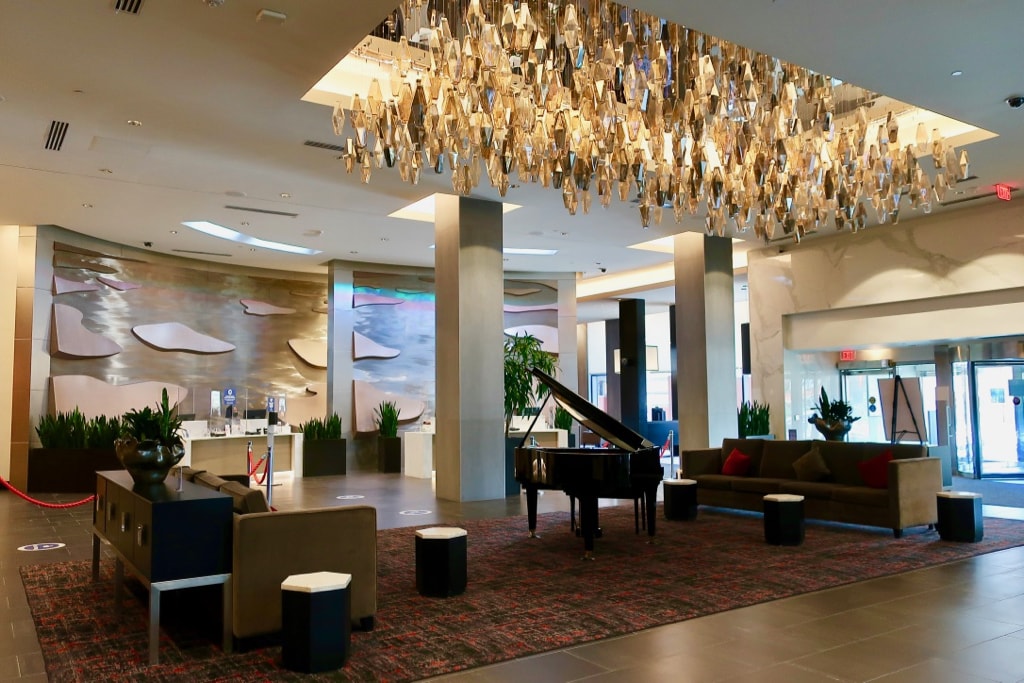 Automatic window shades? Now, that's a first-class hotel guest room amenity. But that's not the only thing that places this University of Maryland AAA 4-Diamond campus hotel in the luxury category. It's actually artsy and unique.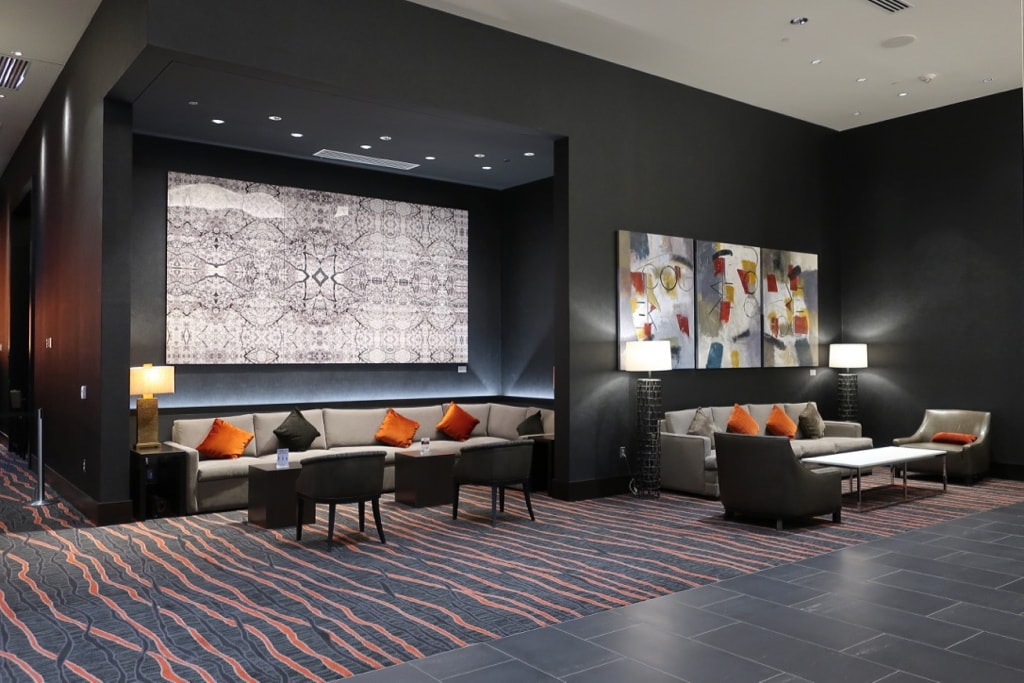 Though from the exterior you might expect a corporate vibe, the aesthetic of this independent, woman-owned hotel is clearly boutique.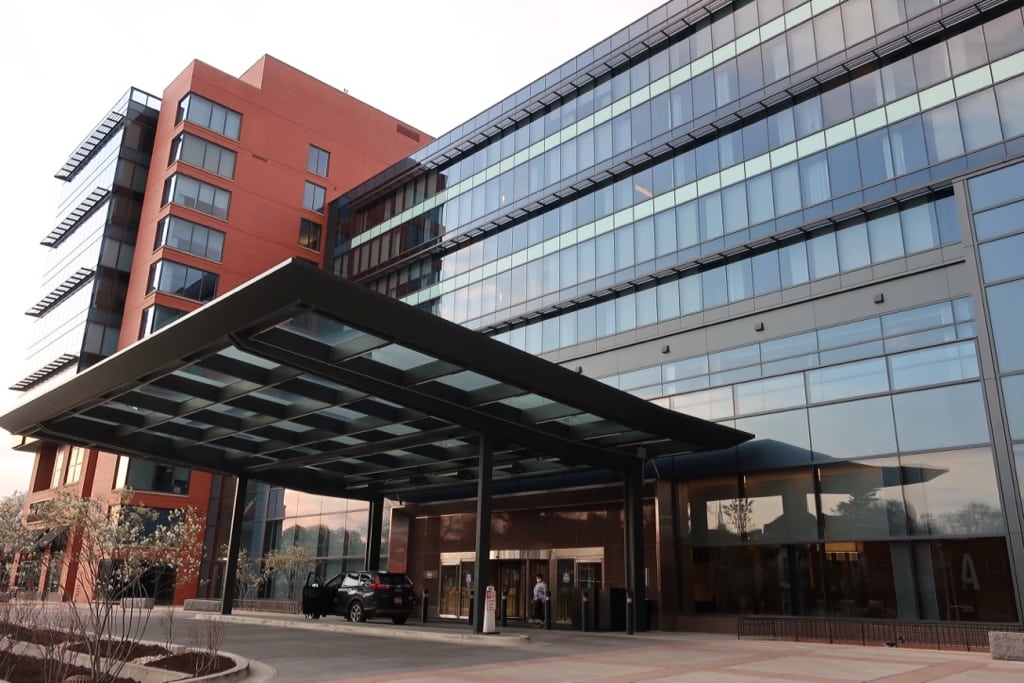 The Hotel stands tall in an area of Prince George's County known more for moderately priced chain hotels. Right on the UMd campus, it is also integral to the University.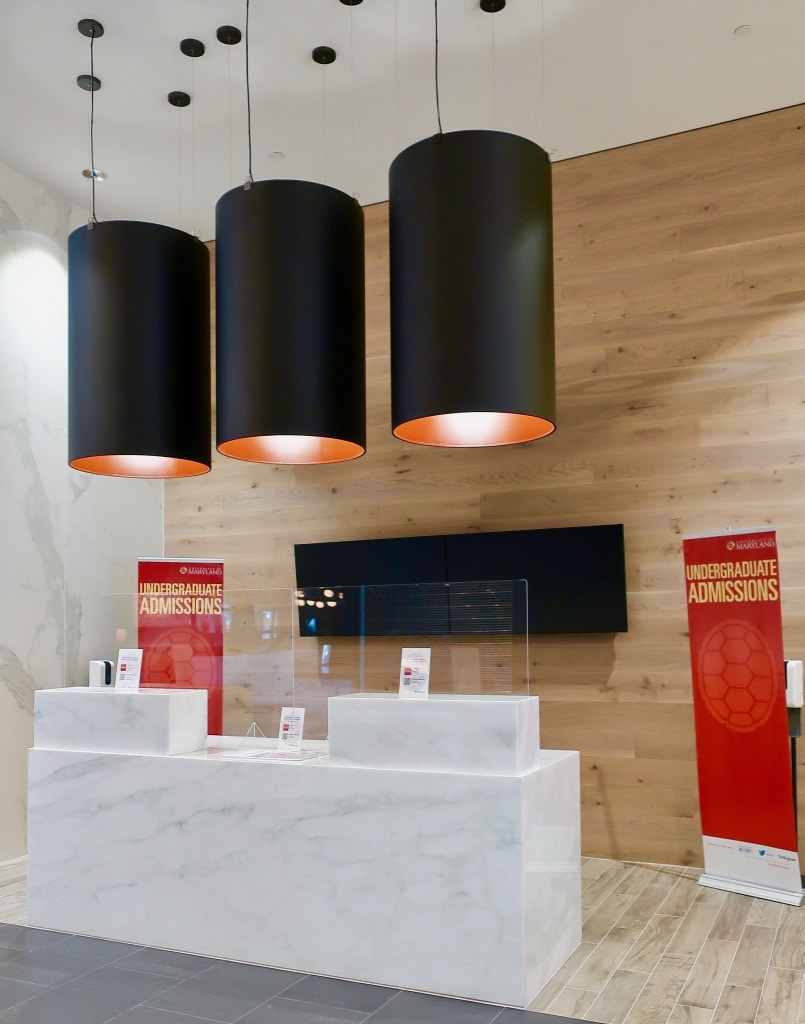 In fact, there's a desk dedicated to Undergraduate Admissions right in the lobby.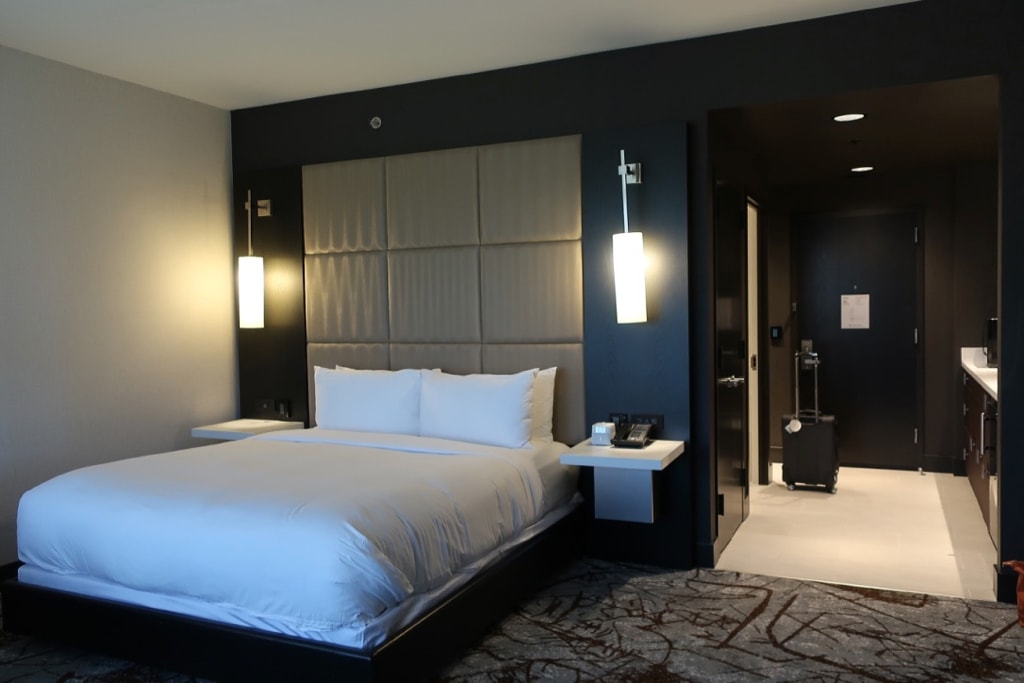 Rooms at The Hotel College Park
Rooms are handsome, modern and elegant, in shades of espresso, Café au lait, and grays. Abstract art, in bold reds and golds, add pop.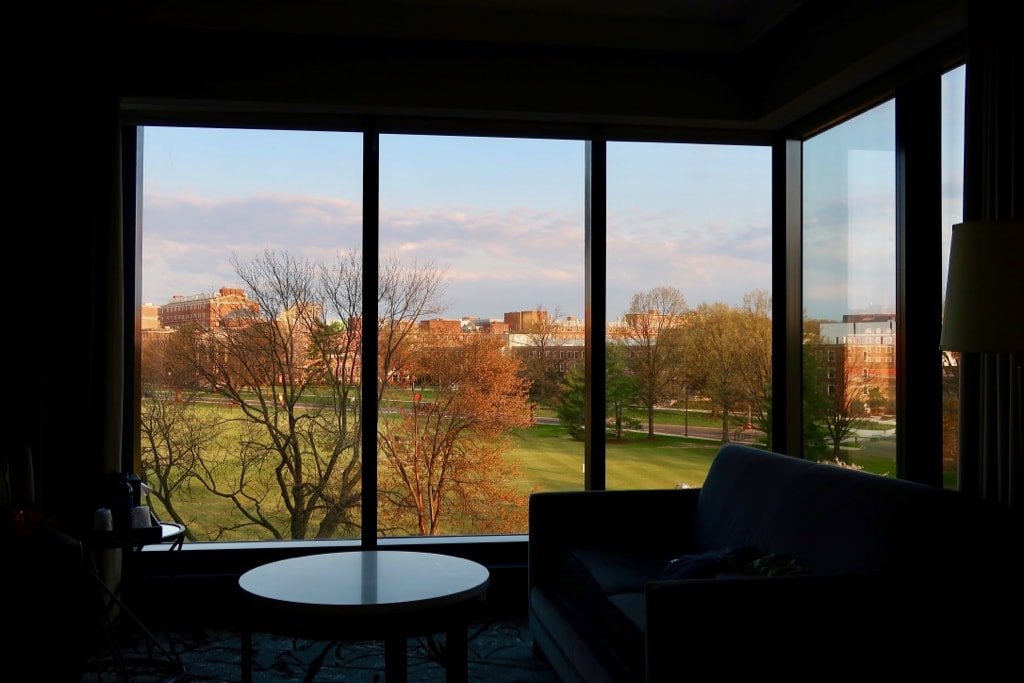 Ask for a corner room facing the UMD campus, with floor to ceiling picture windows on two walls. When you awake, you're rewarded with a captivating panorama of University buildings, aglow in the early morning sun.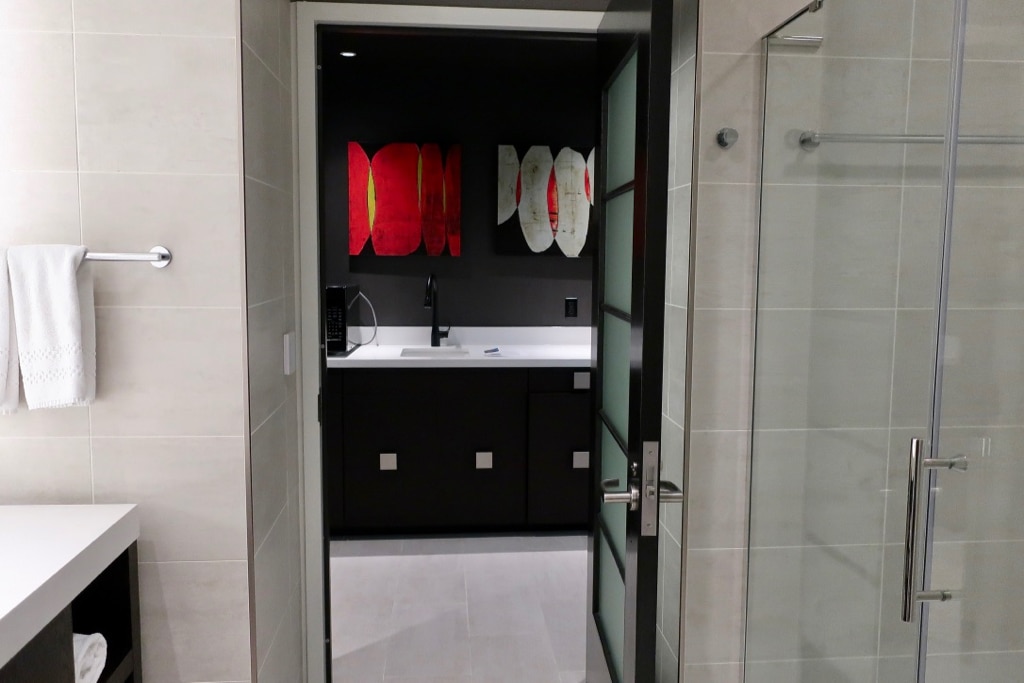 As befits an upscale hotel, the beds are ultra-comfy, with white duvets so prevalent now during the pandemic (easier to clean). It also goes without saying that each room is equipped with flat screen TV and Kerug-style coffee makers.
Brand new bathrooms are well lit, with walls covered in textural gray grass cloth. Floors and large glass showers feature fashionable ceramic tiles in neutral, soothing creams.
Dining at The Hotel
Bagels & Grinds
Grab a coffee and from-scratch NY style bagel at this bagel-salad-sandwich café right by the main entrance to the hotel. Watch bagels made through glass windows. Now, that's fresh.
Potomac Pizza
Pizza! What do you expect from a college campus hotel. Nice that it's right on site.
The Hall CP
See above under "where to eat." Though not in the hotel itself – it's a stones throw behind it.
The Hotel at College Park Amenities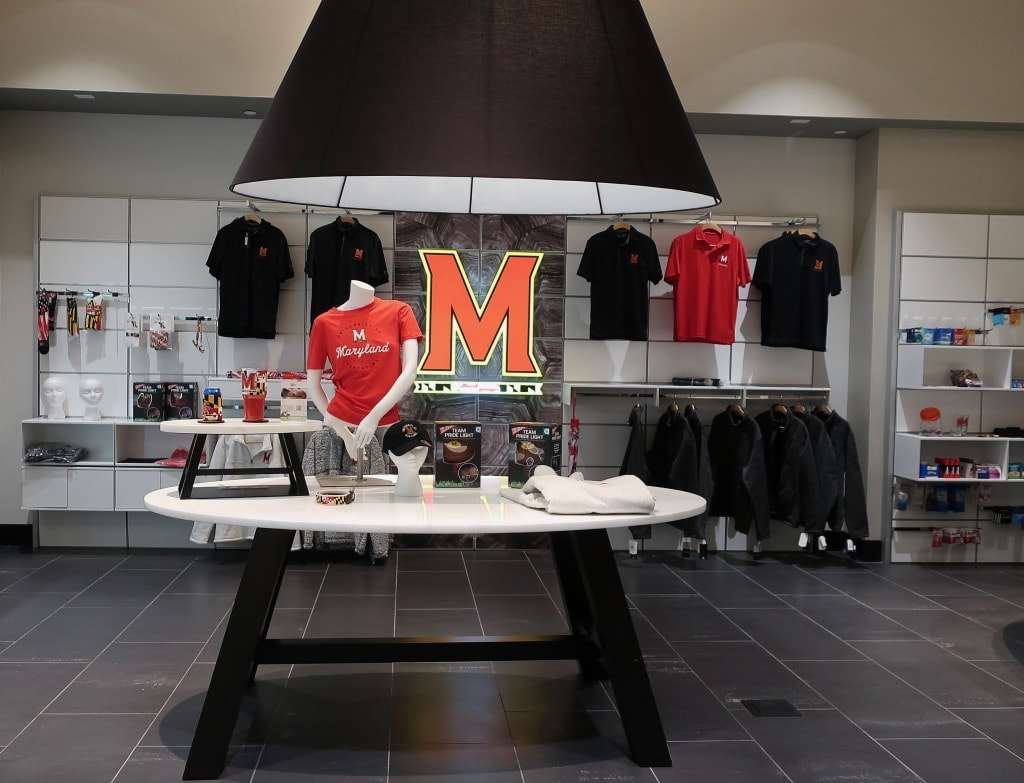 UMD Shop
It stands to reason that this campus hotel would have a University of Maryland "Spirit Shop." Stop in for all clothing and accessories emblazoned with the college name.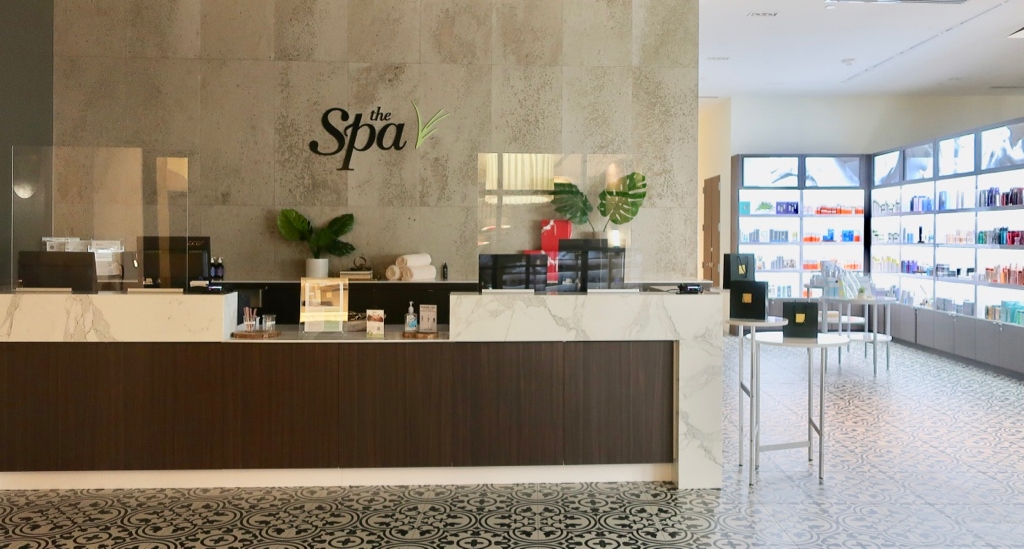 Spa
The hotel features a full-service spa. Ahhhhh.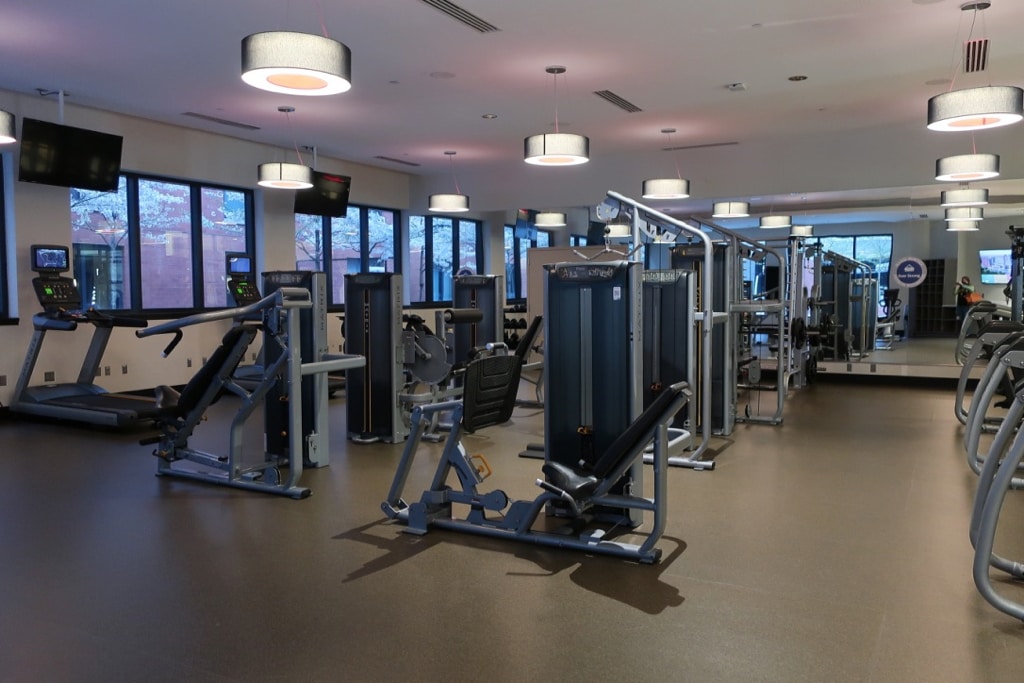 Fitness Center
The Hotel's fitness center is larger than most, with state of the art machines.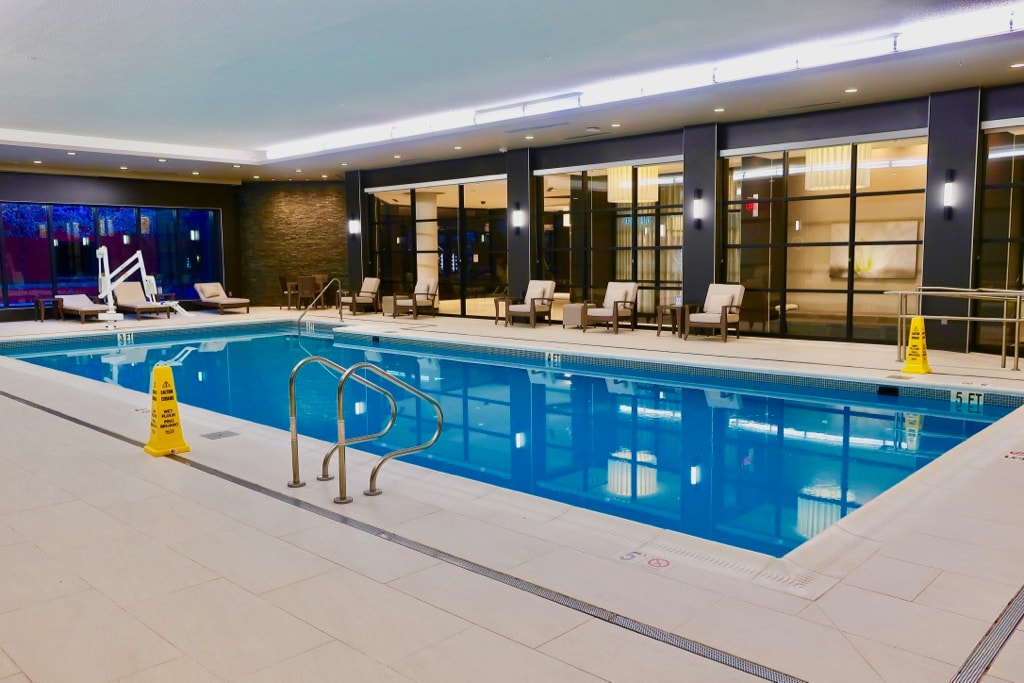 Indoor Pool
The indoor pool is a boon for families.
Room rates start at $135 per night. Can increase to over $400 for UMD events.