WHY GO: The number 7 figures prominently in Wytheville VA (pronounced with-vil) in Southwestern Virginia's Blue Ridge Mountains. There are seven small town museums. Two downtown craft breweries start with 7.
First Lady, Edith Bolling Wilson, was the 7th of 11 children in her family. The most romantic B&B in town opened in 2007, and has seven fireplaces. Oh – and Wytheville just happens to sit at the intersection of Interstates 81 and, yep, 77.
Named for George Wythe, Thomas Jefferson's Law Professor at William & Mary, Wytheville's tagline is, "There's only one!" Unlike most town names that can be found in multiple states in the USA, there is only one Wytheville. In the world.
As celebrated birthplace of Edith Bolling Wilson (wife of President Woodrow Wilson), with a shop-lined downtown, access to the Blue Ridge Mountains with privately owned observation tower, a boutique hotel, and a B&B built for romance, Wytheville VA is more than just a pit stop along I-81. So, plan to stay a night or two.
Where is Wytheville VA
Wytheville VA is in Southwestern Virginia right at the intersection of Interstates 81 and 77. It's 70 miles (1+ hours) north of the border of Tennessee, 5 hours southwest of Washington DC (via I-66W, I-81S) and 4 hours southwest of Richmond VA (I-64W, I-81S).
Things to Do in Wytheville VA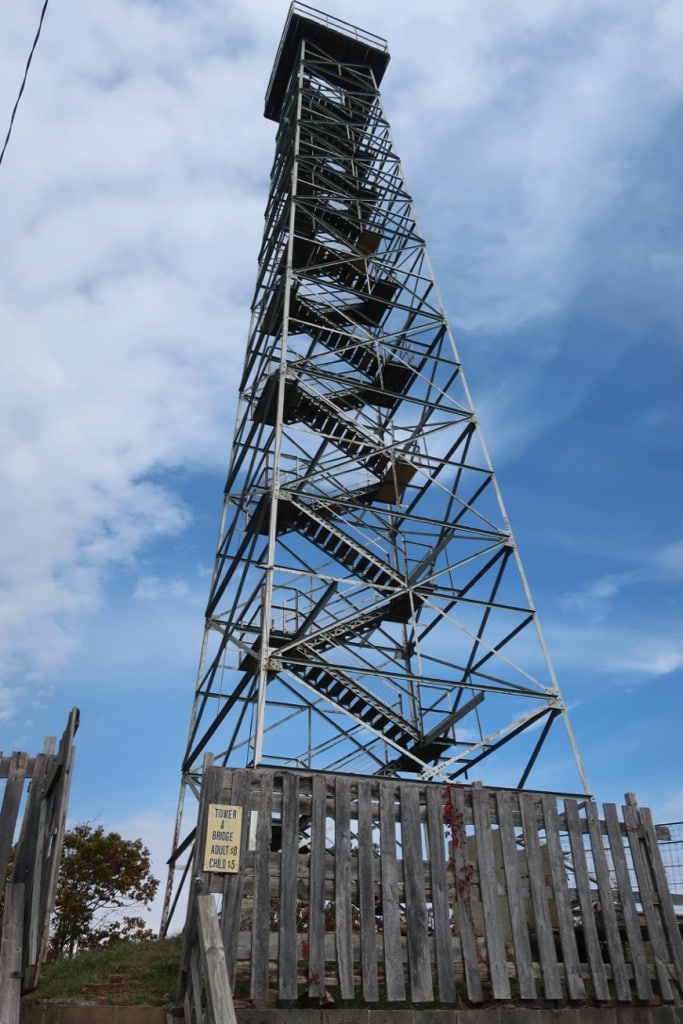 CLIMB: Big Walker Lookout Tower
This 100-foot tall Big Walker Lookout Tower is Virginia's oldest privately owned scenic attraction. Third generation owner, Heather Kime, explains that her grandfather, a tool and dye maker, saw a similar tower in the Ozarks, and thought it would make a great tourist attraction.
He secured a schematic diagram, looked for "his mountain" and purchased this hilltop – now surrounded by National Forest. Grandpa Kime then built the steel structure to withstand winds of 100mph (one would hope).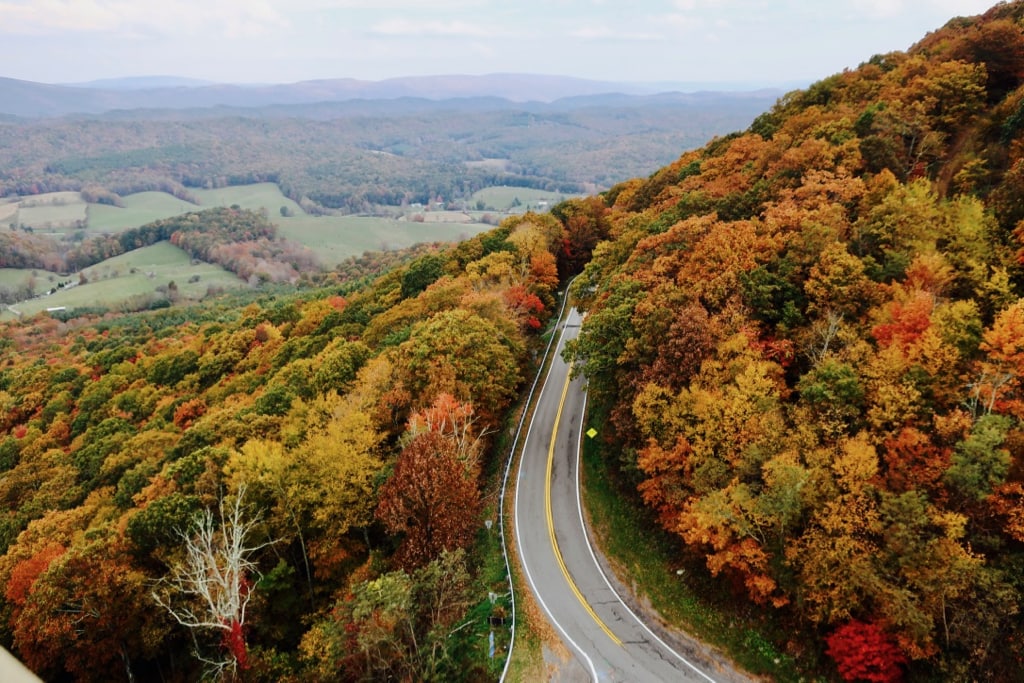 If you can face your fears, the 5-State views from the top are extraordinary, especially on a clear day. "Only the birds see more," claims the Kime clan.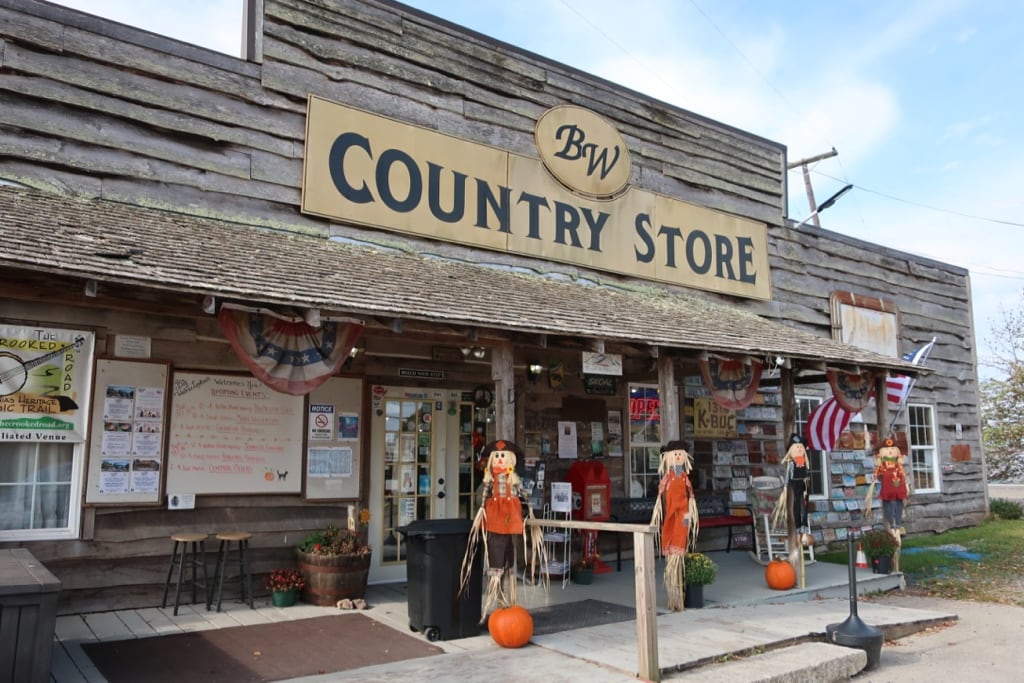 Afterwards, peruse locally crafted gifts and souvenirs at the Kime's BW Country Store, where you'll find regional musicians playing and artisans displaying their work every weekend from May to October. $8 adults, $5 kids to climb the tower. FYI – as you wind your way up the mountain from Wytheville (about a 25 minute drive), you'll pass a sign for Big Ben-4 miles. Don't turn up that dirt road. The Big Walker Tower is just ahead at the top of the paved road.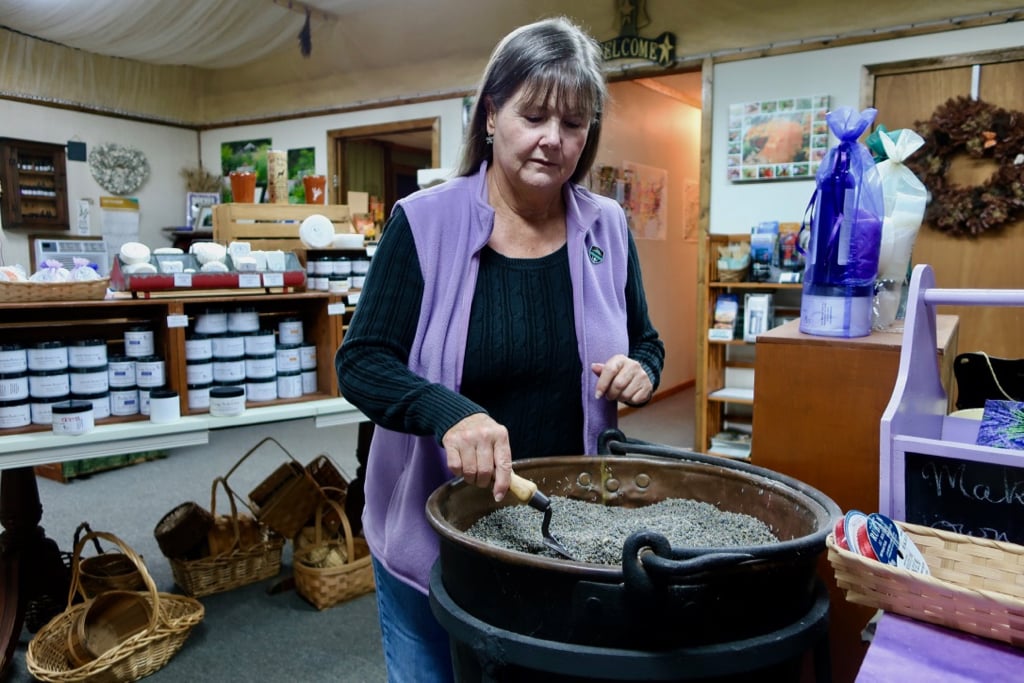 VISIT: Beagle Ridge Herb Farm, Wytheville VA
Beagle Ridge Herb Farm is a lavender farm; a nature center; a gift shop; a craft cocktail destination. It's a Butterfly Garden; and an event and education center. One thing Beagle Ridge Herb Farm is not is boring. But it takes a concerted effort to get there – off a main road, on 3.5 miles of dirt and gravel each way. But, it's so worth it.
In her former life, Beagle Ridge owner, Ellen Reynolds, was a successful cross-stitch designer. Her patterns could be found all over the country in Big Box stores like Wal-Mart. Although she and her husband Gregg lived in North Carolina, (where her beagles loved to run on mountain ridges), the Reynolds would spend weekends on what was a part of a hunt club in a remote section of Virginia.
A Garden "Out of Hand"
They loved the land so much, they purchased it so Gregg could do his thing. So, while Gregg was off hunting, Ellen "started a garden, and it got out of hand."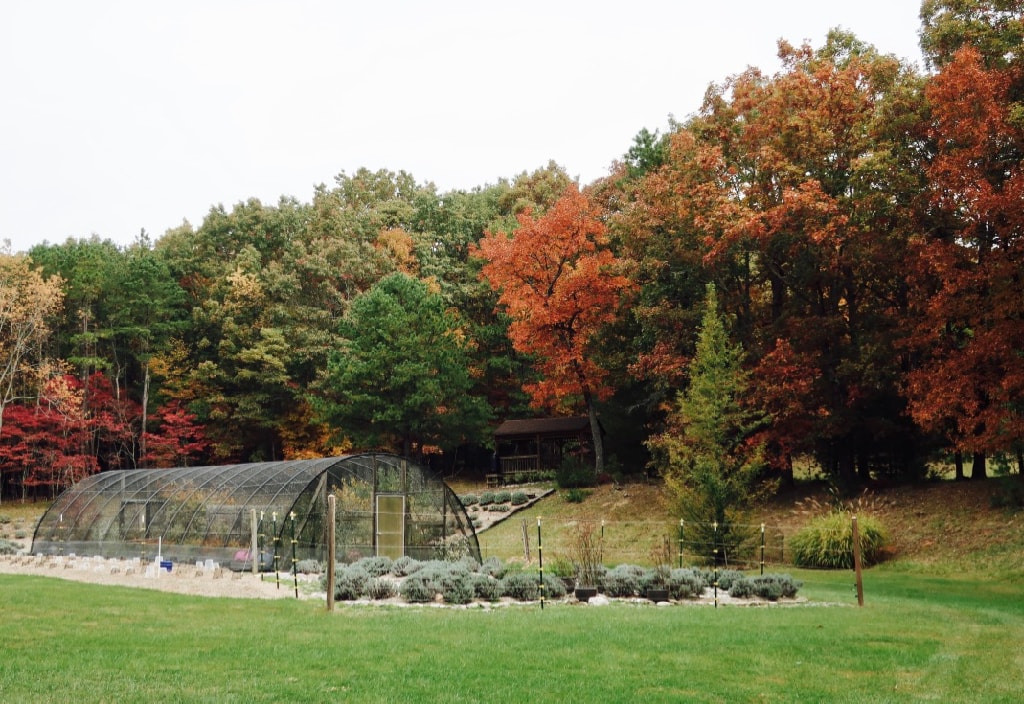 Now, not only does she teach school groups about botany, and the natural world, Ellen makes herb-based lotions, soaps, sachets, sprays, simple-syrup mixes, and more for farms, shops, and galleries around the country – specializing in lavender.
There are only two acres of formal gardens, and 1,100 lavender plants, and a small walk-through butterfly garden that the Magazine Birds and Blooms ranked as one of the 14 best in the country for its educational component. "We were STEM before STEM was a thing," says Reynolds, who also is an instructor at lavender farm conferences.
Reynolds has tapped into her creative energy – creating reasons for people to make the trip out here. On "Thirsty Thursdays," adults are invited to drink cocktails that mixologists create using just-picked herbs. Funday Sunday brings out pizza-loving families. And, on occasion, she hosts up to 50 guests for weddings, held either in the Event Center or down by the 2-acre pond.
Getting to Beagle Ridge Herb Farm
FYI: If coach buses can make the trip, then you can, too. Turn off of Cripple Creek Rd. onto the rough gravel Matney Flats Rd. When you get to the "Private Property" gate, you're half way there. Keep going until the road dead ends right at Beagle Ridge (on your left). Open May – mid-Oct. Thurs-Sun.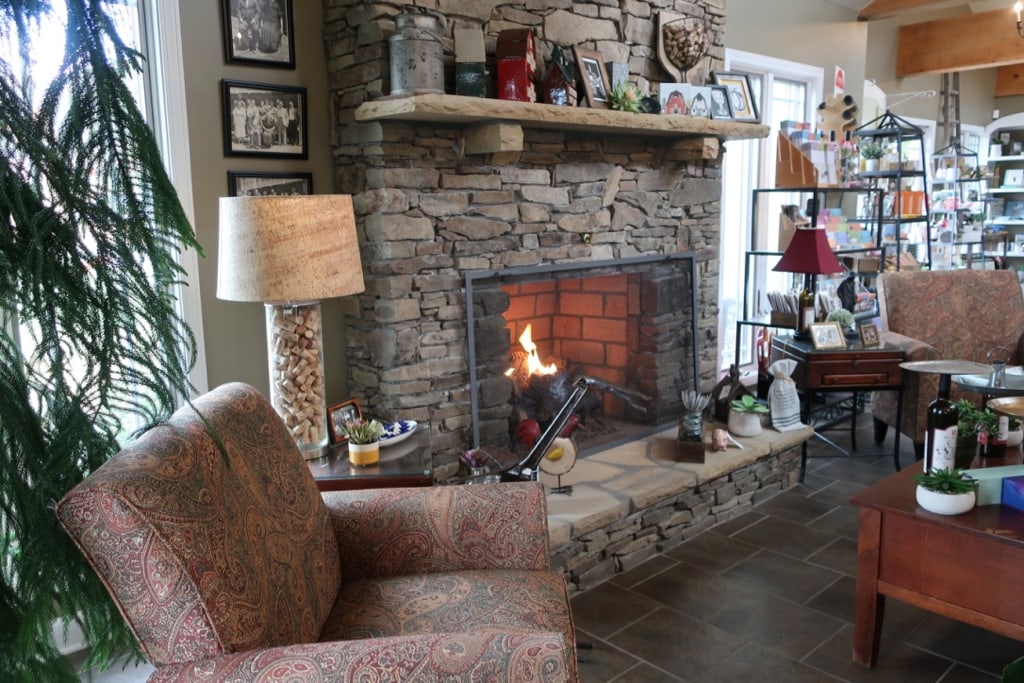 VISIT: West Wind Farm, Max Meadows
The joyful, and joshing, Jason Manley presides over this 4th generation owned "small batch" winery in Max Meadows – about 20 minutes from Wytheville. His grandparents bought the farm in 1914. It became a vineyard in 2003, and West Wind Vineyards opened for tasting in 2006.
Bigger than it looks, the West Wind Farm tasting room is also a great, and expansive gift shop. Manley estimates that 70%-80% of visitors come off of I-81/I-77, which have been crossroads for over 200 years. (Where the Great Road and the Wagon Road met).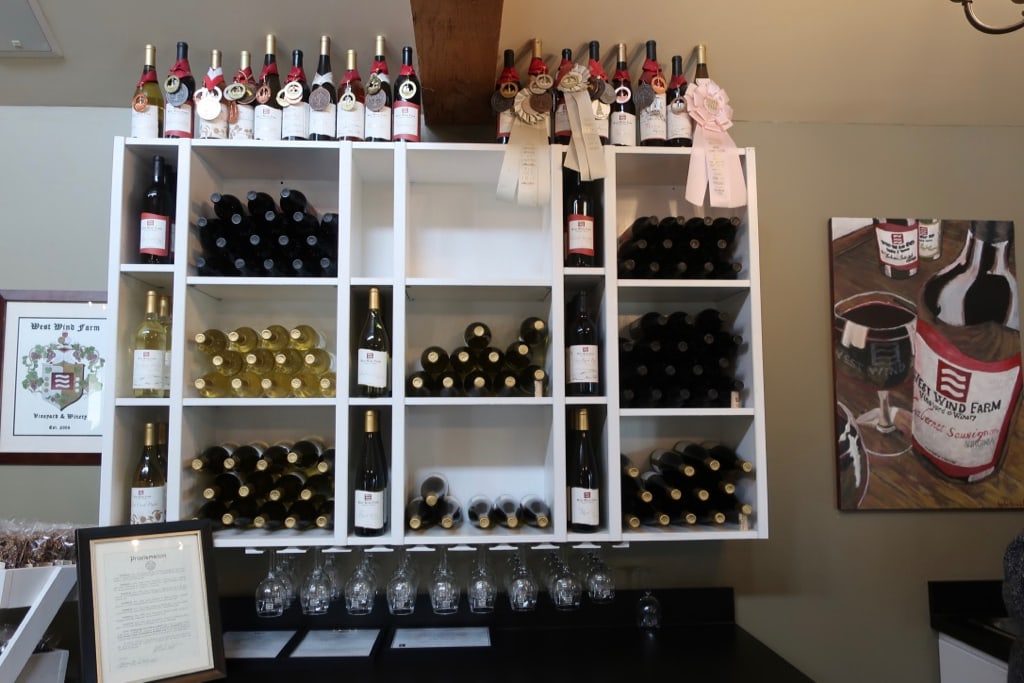 The wines are mellow and extremely drinkable. Plus the place is very homey, with a fireplace aglow in the cooler months. Manley tells the story of a couple who recently came in every day at the same time for a week. They'd buy a bottle of wine, and sit in front of the fire to drink it, and then leave.
After so many days in a row, Manley's curiosity peaked. He asked, what gives? Turns out, the two were Hurricane Ian evacuees from N.C. They'd driven as far as they assumed they'd be safe, and then booked into a local motel. West Wind Farm was a short drive away. After visiting once, they decided it would be nicer to drink a bottle of good wine in front of a fireplace than in their hotel room. Open year round Mon-Sat 11-6, Sun 1-6.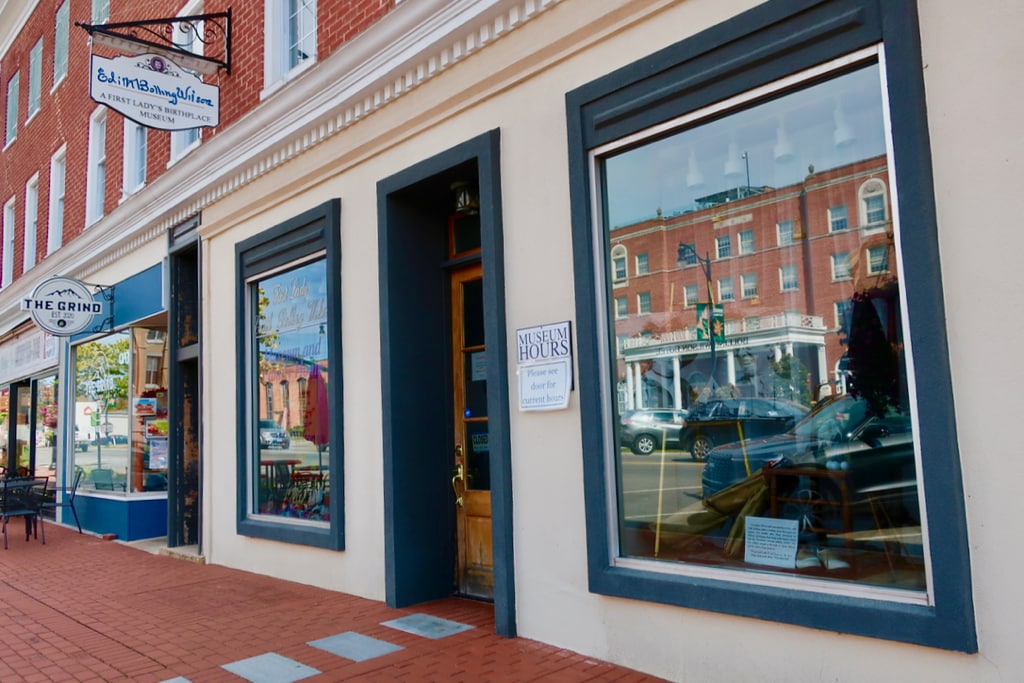 TOUR: Edith Bolling Wilson's Birthplace and Childhood Home
This small Virginia town capitalizes on the fact that hometown girl, Edith Bolling, moved "From Wytheville to the White House," and then became "America's First Woman President." It was a long and winding road, in every way, and you'll learn all about her early life and rather audacious later life as President Woodrow Wilson's wife, at the Edith Bolling Wilson Birthplace Museum. It's one of only eight museums in the country dedicated to a First Lady.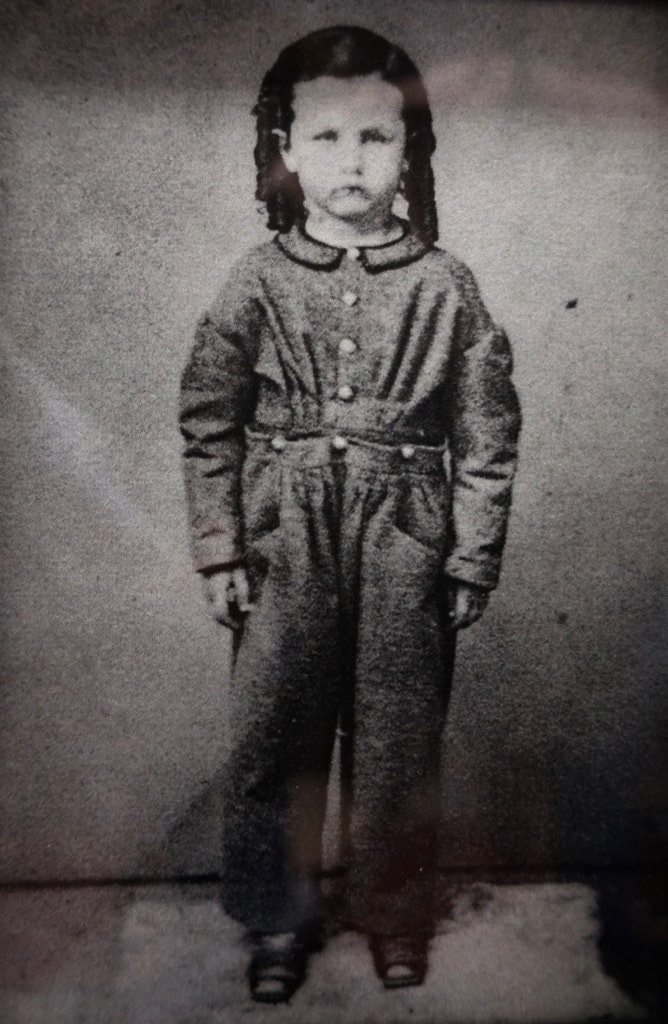 Edith, a descendant of Pocahontas and related to Thomas Jefferson, was #7 of eleven children in the Bolling family. The Bollings lived in a large 2nd floor apartment (now being renovated) on Wytheville's main street. For now, the museum entry includes a small collection of her memorabilia, a fantastic video in her own words, and a guided tour of the restoration-in-progress apartment above.
From Mrs. Galt to Mrs. Wilson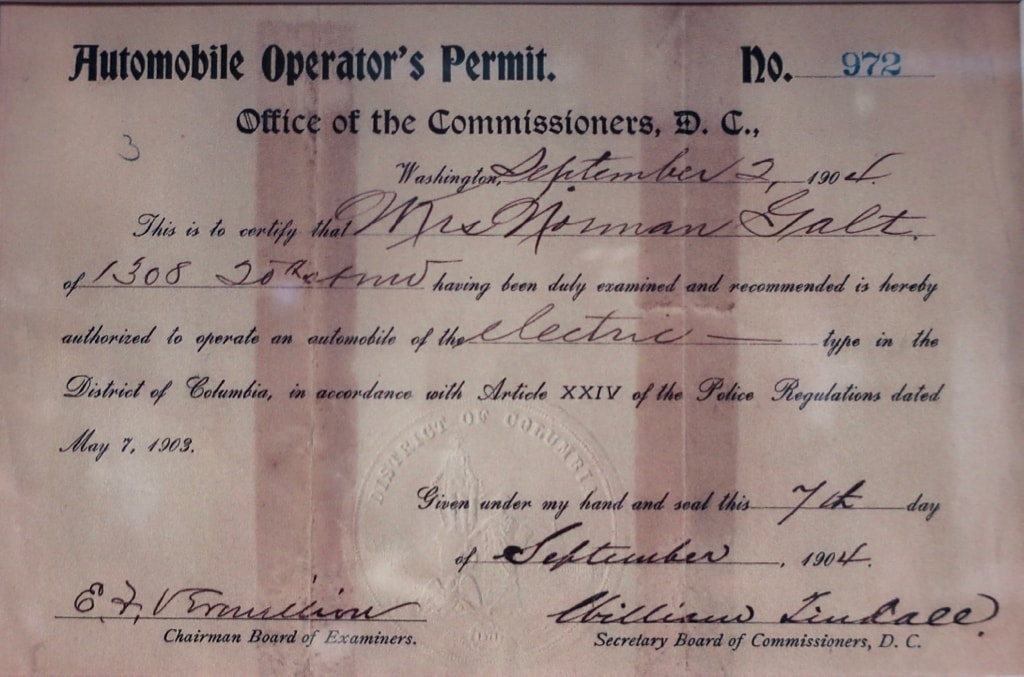 In 1896, Edith married Washington DC jeweler, Norman Galt, who swept her away to the nation's capital. She was the first woman in the District to own an electric car. (Amazingly, her official "Operator's Permit," dated 1904, was found on e-bay and hangs on the wall here).
Galt passed away in 1908. In 1915, a cousin introduced Wilson, whose wife had recently died, to Edith Bolling Galt. She was 43, he was 59. It was a second marriage for both.
Edith Bolling in the White House
During WWI, austerity was the watchword in the U.S.A. In order to save money, the Wilsons installed a flock of sheep on the White House lawn to "mow" the grass, freeing up the gardeners for military service. As a win-win, shorn fleece was sold as "White House Wool" to raise funds for the Red Cross.
In January 1919, Bolling Wilson attended the Paris Peace Conference with her husband, establishing her as the First First Lady to become involved in international diplomacy.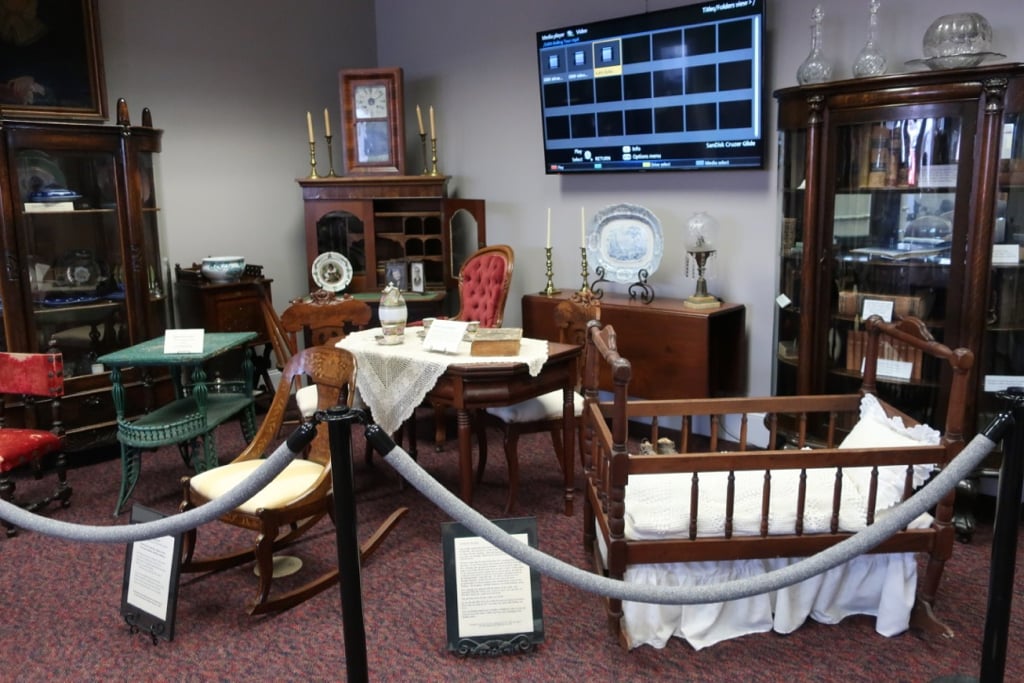 After President Wilson's debilitating stroke in October 1919, with 17 months left of his term, the 35th First Lady assumed stewardship of the Executive Office. She served as gatekeeper of the West Wing and protector of his political legacy. She was Wilson's personal assistant, advisor, and confidant, active in political causes, and heavily involved in conservation efforts.
Given her gumption as a partner in her husband's affairs, it's no surprise that Edith had a lifelong friendship with the like-minded Eleanor Roosevelt. Some consider Bolling-Wilson the "Mother of the Modern First Lady," as she mentored others.
After Woodrow Wilson's Death
Woodrow Wilson died in 1924, and afterwards, Edith spent the rest of her life promoting peace. Her last visit to Wytheville was in 1960. She stayed at what was then the George Wythe Hotel (now the Bolling Wilson Hotel) – right across the street – overlooking her childhood apartment. She passed away the following year.
Although in a bit of shambles, the apartment upstairs looks like it did when the Bollings lived here; its original wood floors warped and pitted. There are push-button information panels to hear Edith's words about her home life– more user friendly than an audio tour.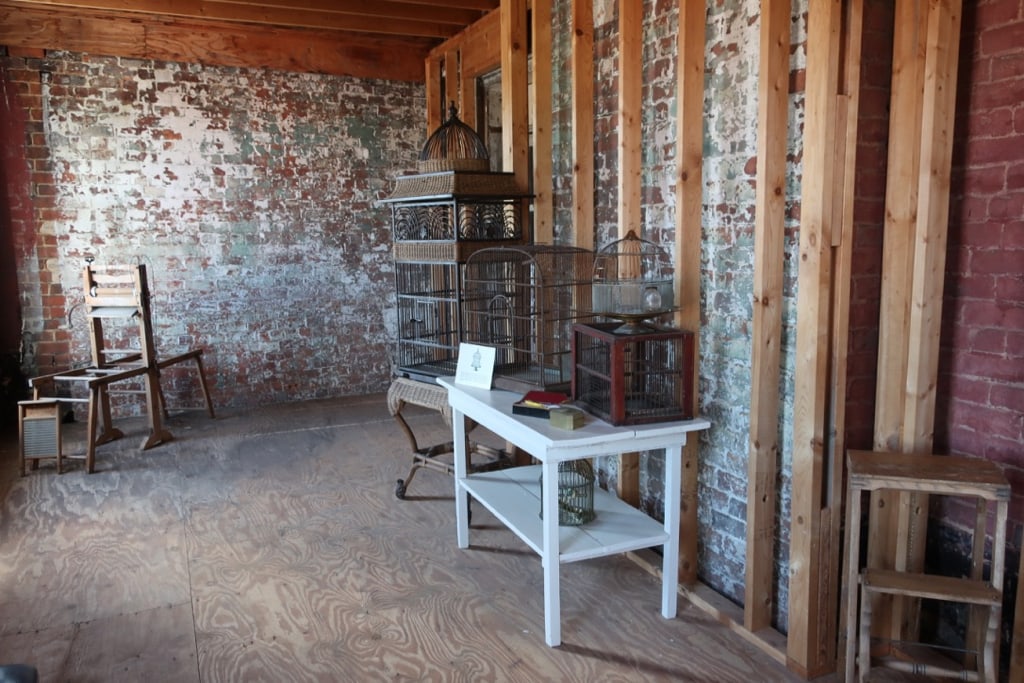 The original sleeping porch is set up the way it was when Edith was tasked with caring for the family's 26 canaries. A photo depicts the future First lady, age 13, sitting on a stool beside a stack of birdcages. Sit on a lookalike stool, and you can have a photo taken to reenact the scene (for a small donation).
Throughout her adult life, Bolling Wilson was fond of canaries, orchids, and bourbon. (Woodrow gave Edith an orchid every day of their courtship), which is why you'll see nods to all in the Bolling Wilson Hotel across the street. Open Tues-Sat 10-4, donations greatly appreciated.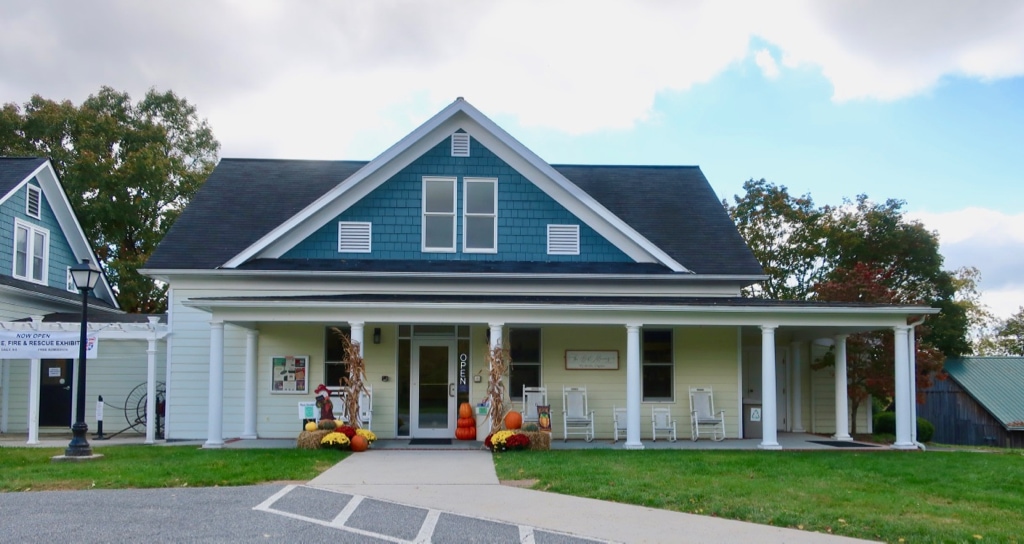 VISIT: Wytheville Visitor's Center
Besides information about the area – the Wytheville Visitors Center just opened a First Responders exhibit. It highlights the dangerous work of local firefighters, police, and rescue personnel, and memorials to those lost in the line of duty. Open daily 9-5, free.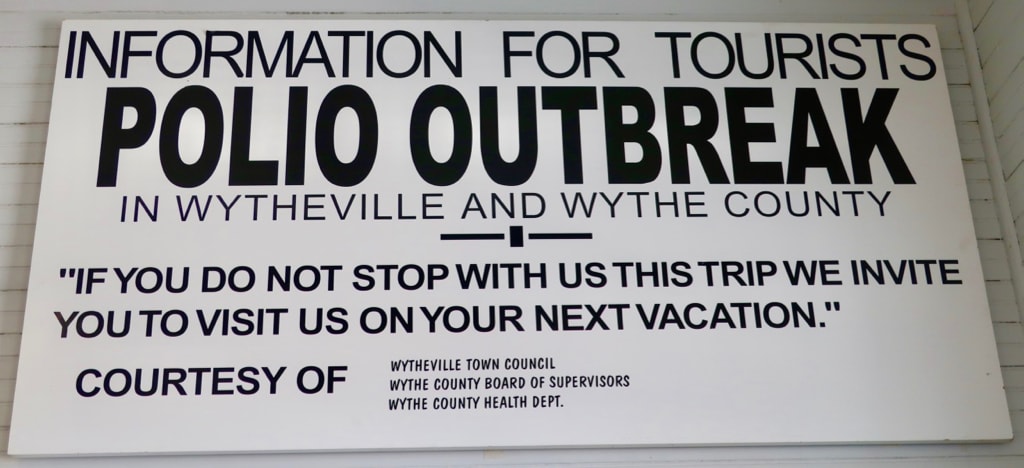 VISIT: Thomas J. Boyd Museum
Although some people visit the Thomas J. Boyd museum, dedicated to the "Father of Wytheville," to see exhibits about local military and mining history, most are here to learn about polio. More specifically, why, in 1950, the tiny town of Wytheville was one of the hardest hit towns, per capita, in the entire country.
The outbreak was so extreme, with 189 cases and 17 deaths, Look Magazine ran a story about Wytheville, and the March of Dimes filmed part of a documentary here (running in video loops in the museum).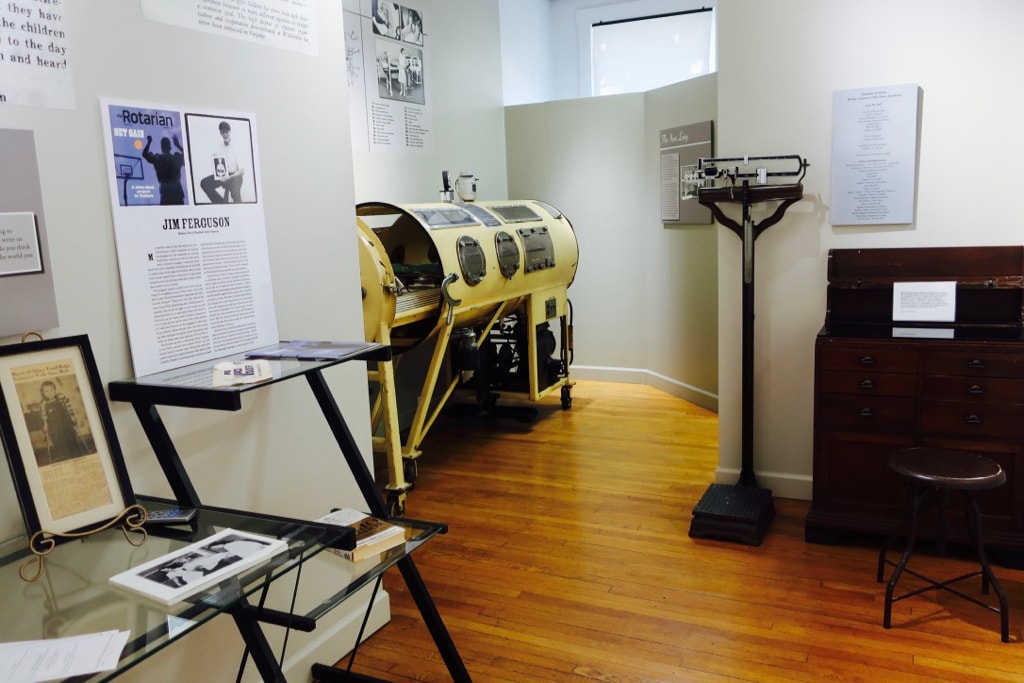 There are two iron lungs on display – one for adults, a smaller, heart-wrenching one for babies – and newspaper clippings touting insurance policies that would cover a loved-one's polio care. One emotional article, called "A Summer Without Children," documents the eerily quiet summer of 1950, when kids were kept inside to prevent them from getting ill.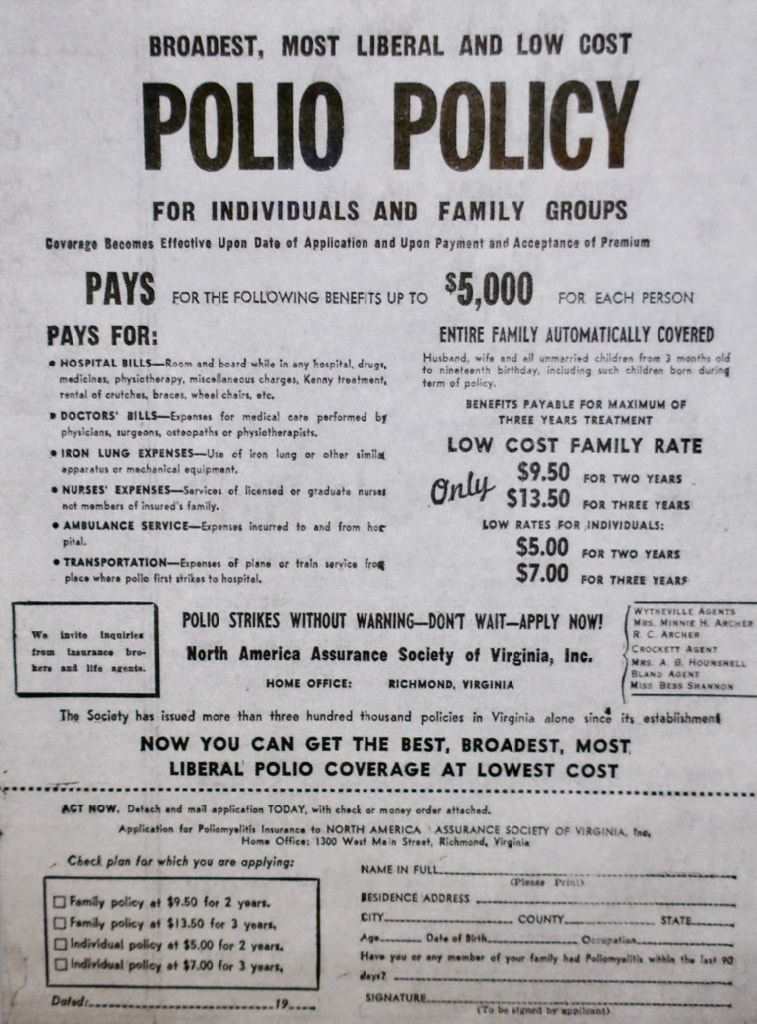 During Covid, exhibits about viral epidemics have become much more popular, and this is no exception. Scientists are still unsure about why Wytheville was hit so hard, but they do know that, like "Long Covid," many of those who lived through a bout of polio suffered from PPS (Post Polio Syndrome) for decades afterwards. Museum open Wed-Fri, 10-4, $4.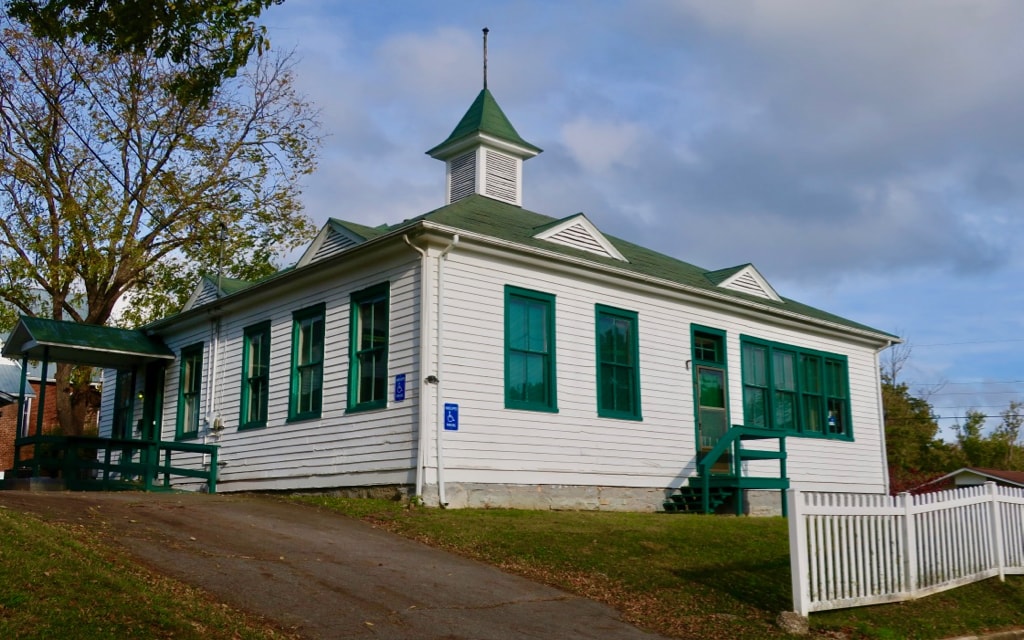 VISIT: Wytheville African American Heritage Museum in the Wytheville Training School
Located in the current Wytheville Training School, pictures and documents that make up the African American Heritage Museum in several rooms tell the story of Black education in a segregated southern town.
During Jim Crow, African American children were not allowed to attend the white schools. So, in 1939, the local Black community set up a "normal school" to formalize education for the kids left out. Drawing from districts up to 77 miles away, kids had to walk, hitch rides on mail or milk trucks, and otherwise find ways to get to school.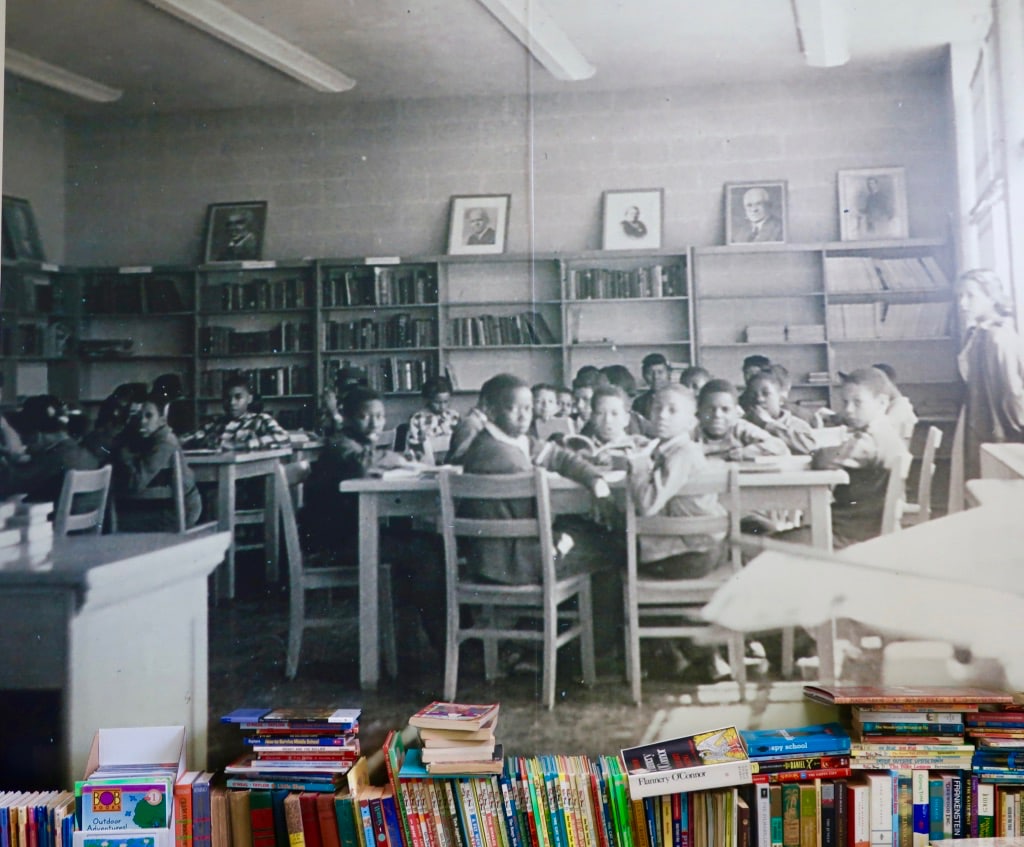 Most teachers came from Bluefield State College, and in photos look professional and fresh-faced. Enlarged pictures of classrooms, the football team, proms, and parties show students and teachers doing typical High School stuff. Many have come back to identify themselves in the photos.
Wytheville VA Training School Now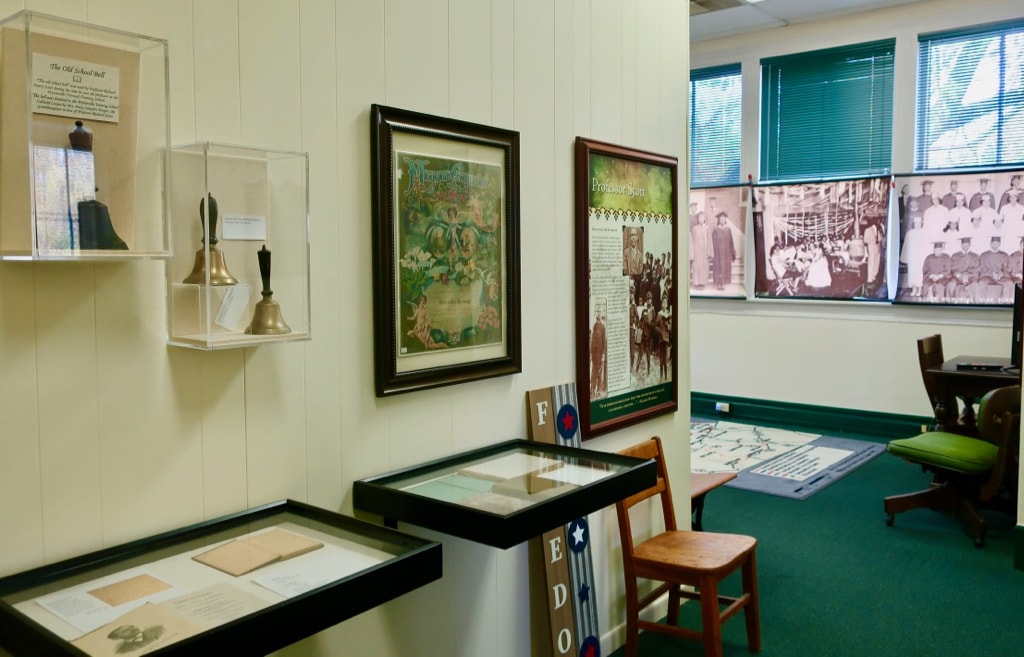 In the 2000's, the Wytheville Training School now serves a diverse community. Volunteers offer an array of practical Adult Ed classes: finance (Managing Your Cash Flow in an Up and Down Economy, How To Start a Checking Account); legal issues, (How to Select an Attorney); home and online safety; mental and physical health, (Manage Your Diabetes, Essential Colon Screening); and more.
There are classes, such as "Say No to Bullying," and arts and crafts for kids. Everything is free, including one-on-one tutoring – always in big demand after grades come out. Museum Hours, Mon-Fri 1pm-6pm, 1st and 3rd Sat. 11am-3pm, donations gratefully accepted.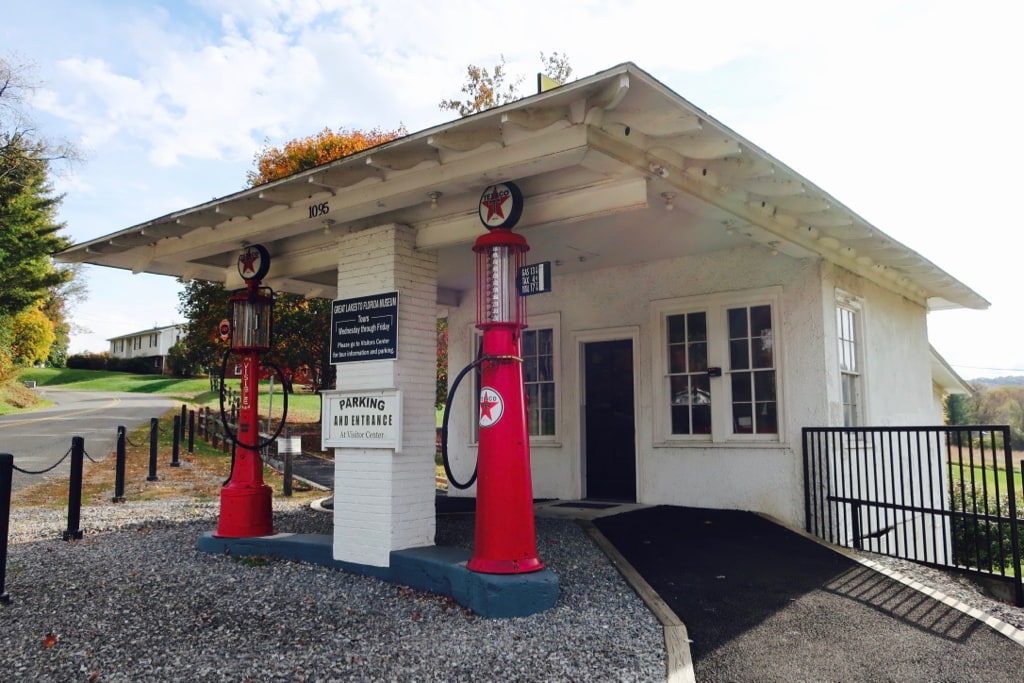 VISIT: Great Lakes to Florida Highway Museum
Walk from the Visitor's Center along a path to this tiny attraction. Set inside a small, decommissioned gas station, the teeny Great Lakes to Florida Highway Museum stands testament to the thousands of snowbirds who drove Route 21 from Ohio to Florida every year.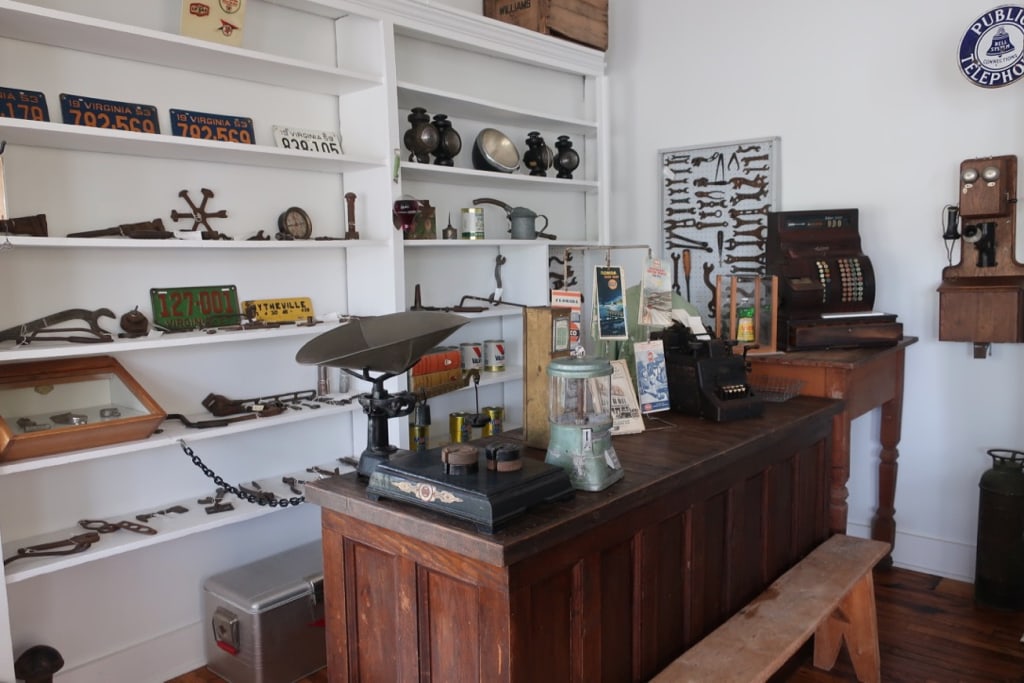 Vacationers would fill up their car at this 1926 Texaco Station, grab candy and snacks when it became a convenience store in the 50's, and then get back on the road. Check out the cash register. It's original. Open Wed-Fri. 10-4, $4.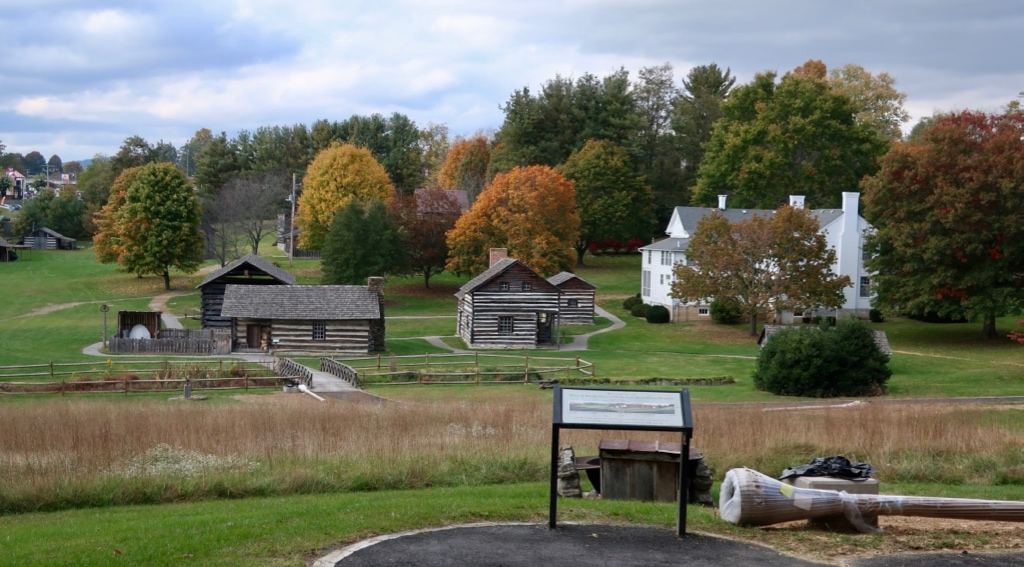 VISIT: Homestead Museum
Located behind the Wytheville Visitor's Center, the outdoor collection of log cabins and main home is currently open for special events only. Log buildings, saved from demolition, have been turned into a blacksmith shop, harness shop, and kitchen house on 9 acres: left to the town by the Jackson Family.
Pick up a site map at the Visitor's Center. The Homestead Museum will cover the 1800's to the 1940's (log cabin settlers to the highway-driving snowbirds), with the Jackson's big white house slated to be a Decorative Arts Museum.
The driving force of this enterprise is the Jackson Family – who owned the gas station on Route 21 and the main home. The Jacksons gifted their home and property to the town, wanting to see lots of children learning and having fun. Their own kids, Cecil and Seawillow, have taken over the reigns of the project.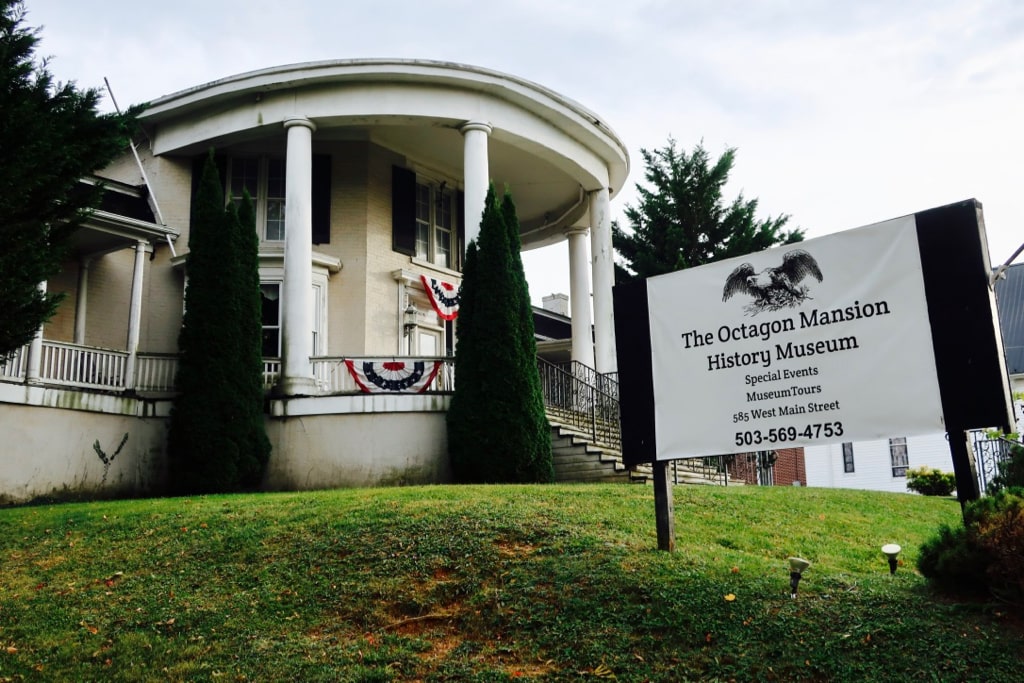 VISIT: Octagon Mansion History Museum
Peruse one of the largest private collections of Civil War artifacts in the country at the Octagon Mansion History Museum. John Cushman began collecting American History memorabilia when he was five, and finally found this unusual historic home to house it all.
He and his wife, Debbie, have rescued the home ( next door to the Trinkle House B&B, another rescued home), and in the process installed well-curated exhibits about the "War Between the States," and other relics of America's past. Open Friday and Saturdays 12-4, $8.
VISIT: Haller-Gibboney Rock House
For now, this stone house, serving as the Wytheville Historical Society, is closed due to structural issues. Opening TBD.
Best Places to Eat and Drink in Wytheville VA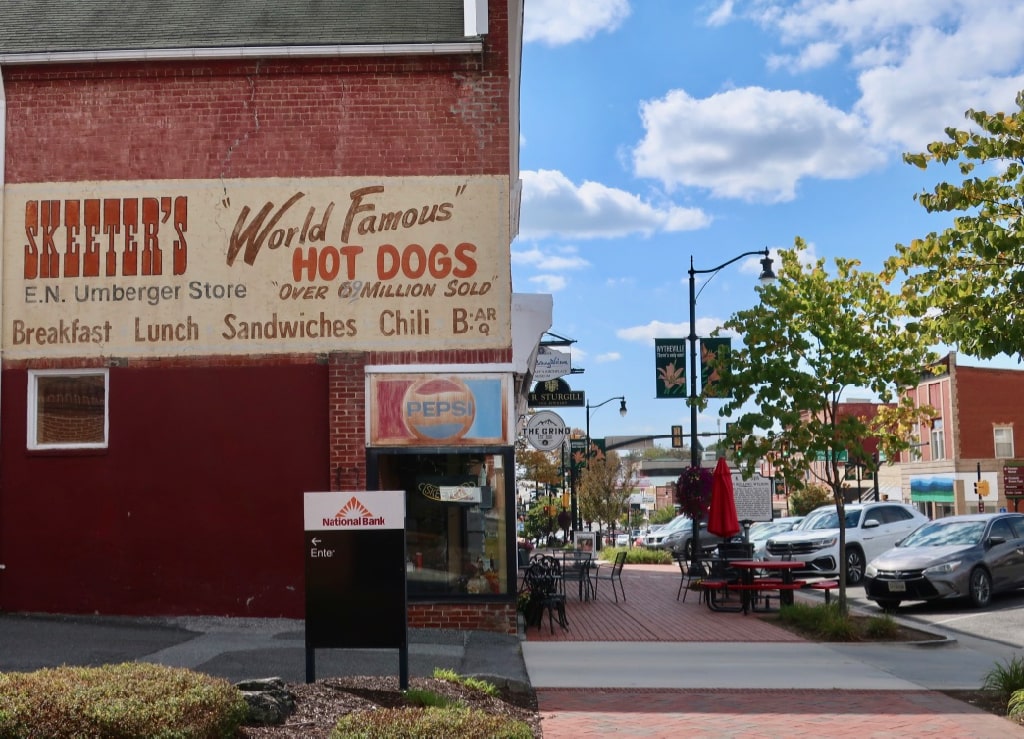 EAT/LUNCH: Skeeters
Edith Bolling Wilson had already moved out of the apartment above by 1925, when Skeeter's "World Famous Hot Dogs" sprang from the grocery store below. Owned by E.N Umberger, (whose son's nickname was Skeeter), the grocery's hot dog lunch side business turned into a fan favorite, drawing crowds. So, why generalize when you can specialize? Today, you can still get a "Skeeterdog," with mustard, onion, and chili, for $3. It's the best fast food in town.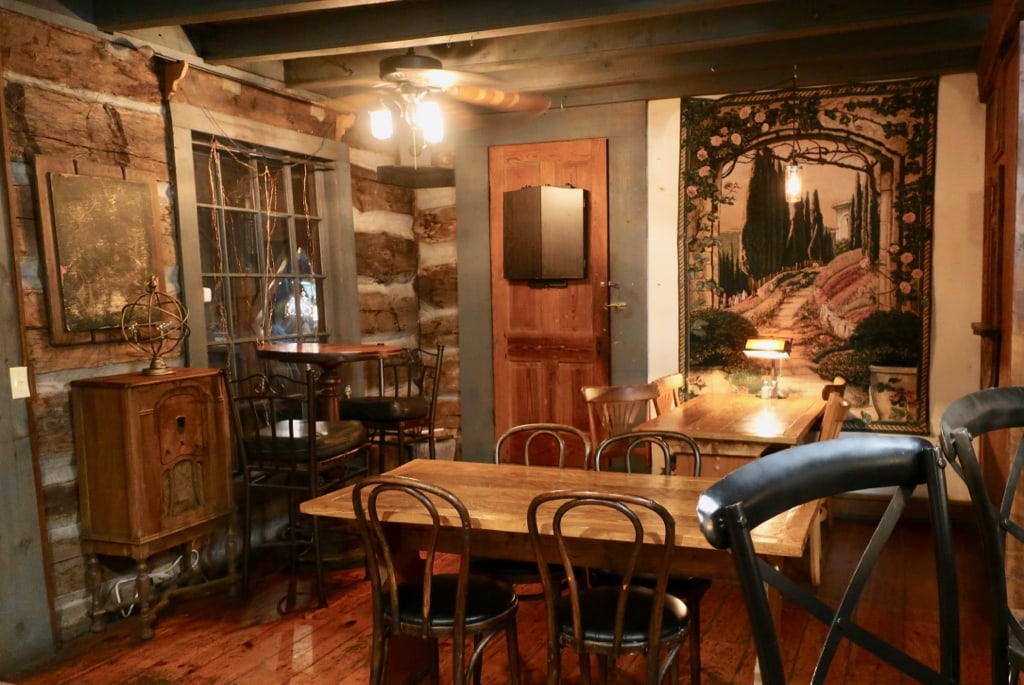 EAT/DINNER: 1776 Log House
First built in 1776 by a guy named Will – and then expanded in 1804 by furniture makers, the Rich Brothers (crafters of the famous Wytheville Pie Tins with "urn and tulip" markings) – the Log House 1776 Restaurant is a trip and a half.
Around the Civil War, Joseph Chadwell, his wife, Abby, Benjamin Steptoe – a free Black – and his wife, Nanny, occupied the expanding home. Benjamin and Joseph left to fight in the Civil War. Only Benjamin came home. Buildings were added, surrounding a courtyard now filled with gardens (planted by Nanny Steptoe and Abby Chadwell), bunnies, a fire pit, and outdoor sculptures.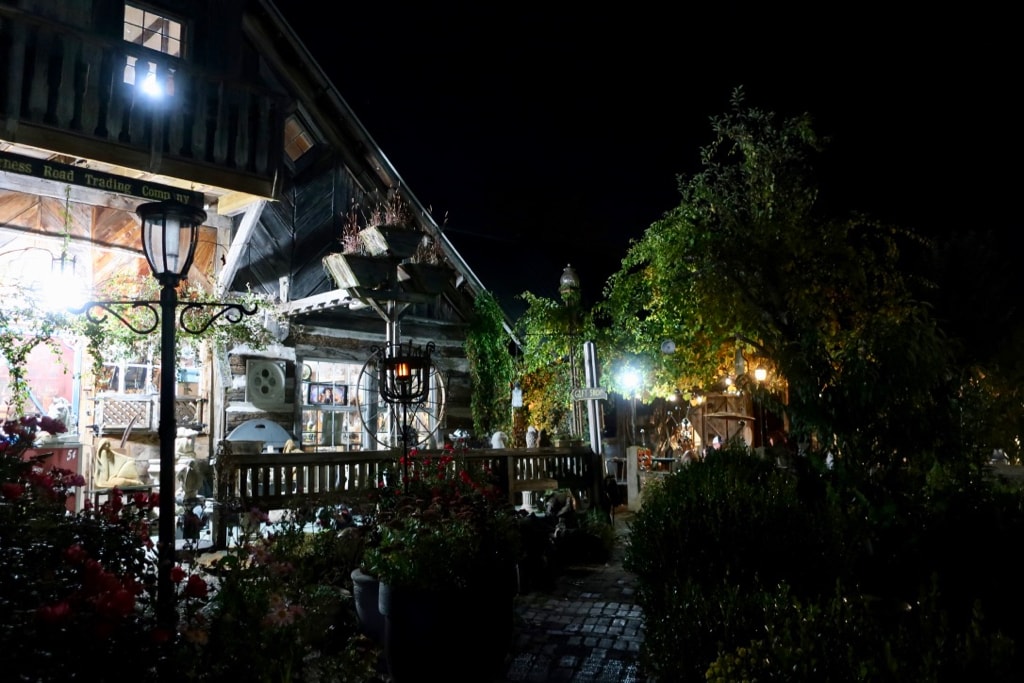 There's a "grandma's attic" gift shop that winds through rooms and up to second floors. This is the kind of indescribable place locals take friends from out of town. Sure, it's cool. But is the food good? Yes it is!
Get the hush-puppy-like Corn Fritters with Honey ($9), famous Stuffed Squash side ($4), and/or the Blue Ribbon Ribeye or Wasabi Salmon. It's all good.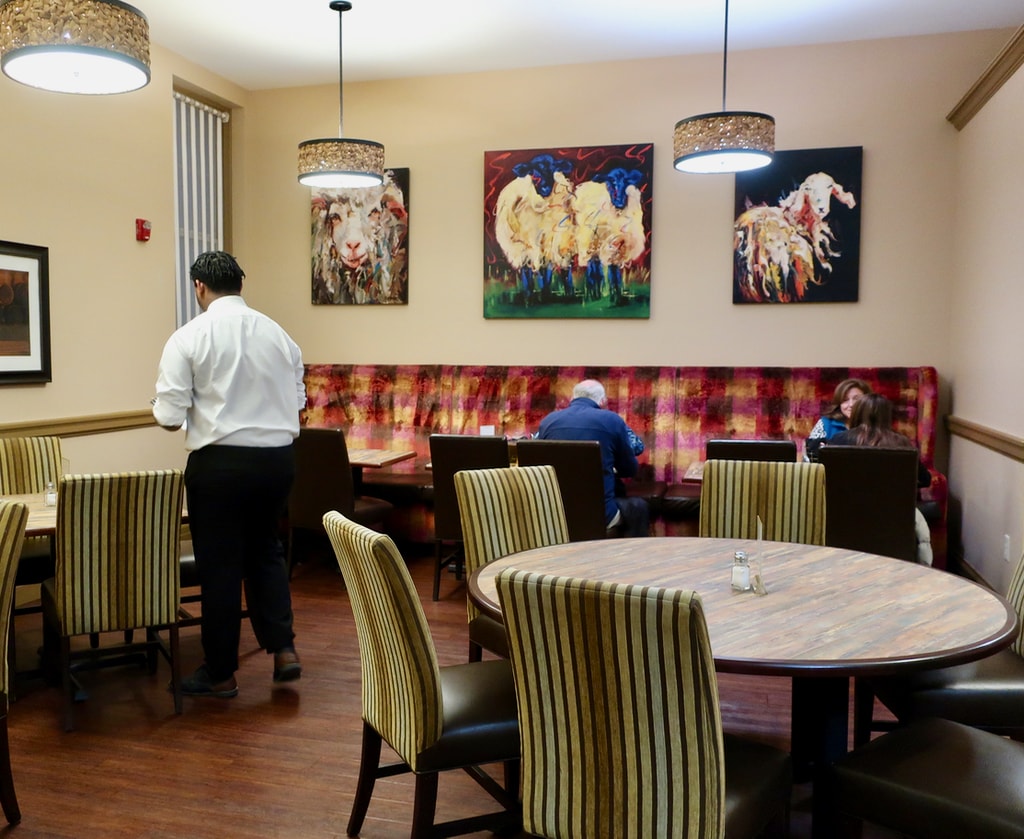 EAT: Graze on Main at Bolling Wilson Hotel
If you love down-home Southern fare, book a table at the pretty Graze on Main Restaurant in Wytheville VA's only boutique hotel. You got your fried green tomatoes, pimento cheese, country fried chicken, shrimp and grits – and other dishes.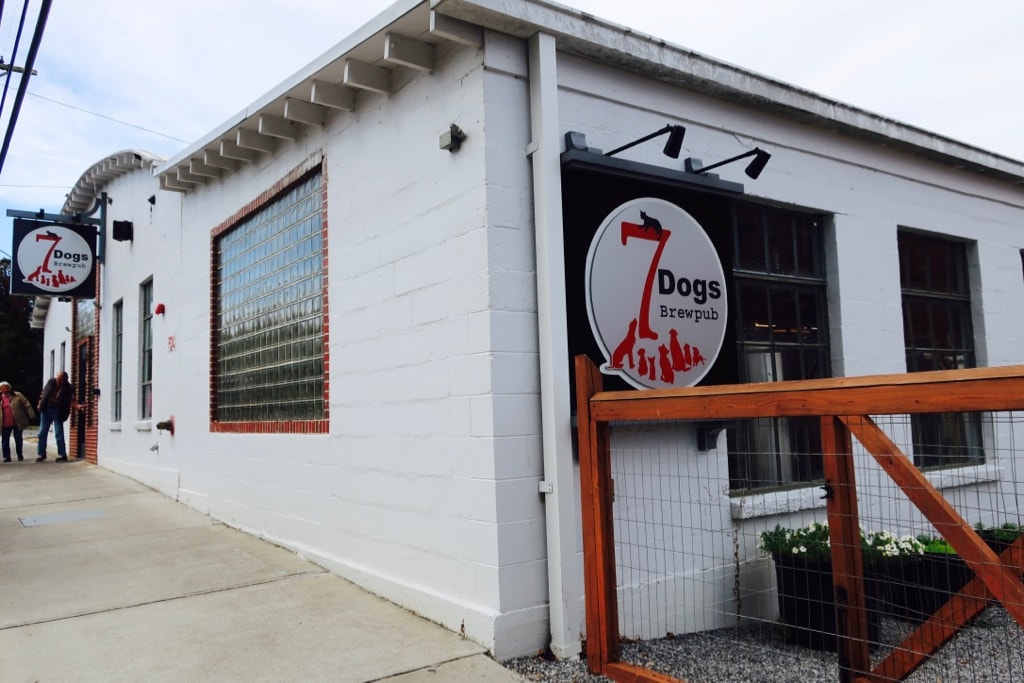 EAT/DRINK: 7 Dogs Brewpub
Portraits of dogs hang on the brick walls of this 7-Dogs Brewpub-music hall, reflecting the owner's love for pooches. He rescued seven dogs, and seemingly loves pups as much as he loves making small-batch beer. Pick up a growl-er, sc-arf up some elevated bar food, fetch a hamburger for your own dog ($3.49), yap with your friends, and perk up your ears to great live music in this former hosiery mill.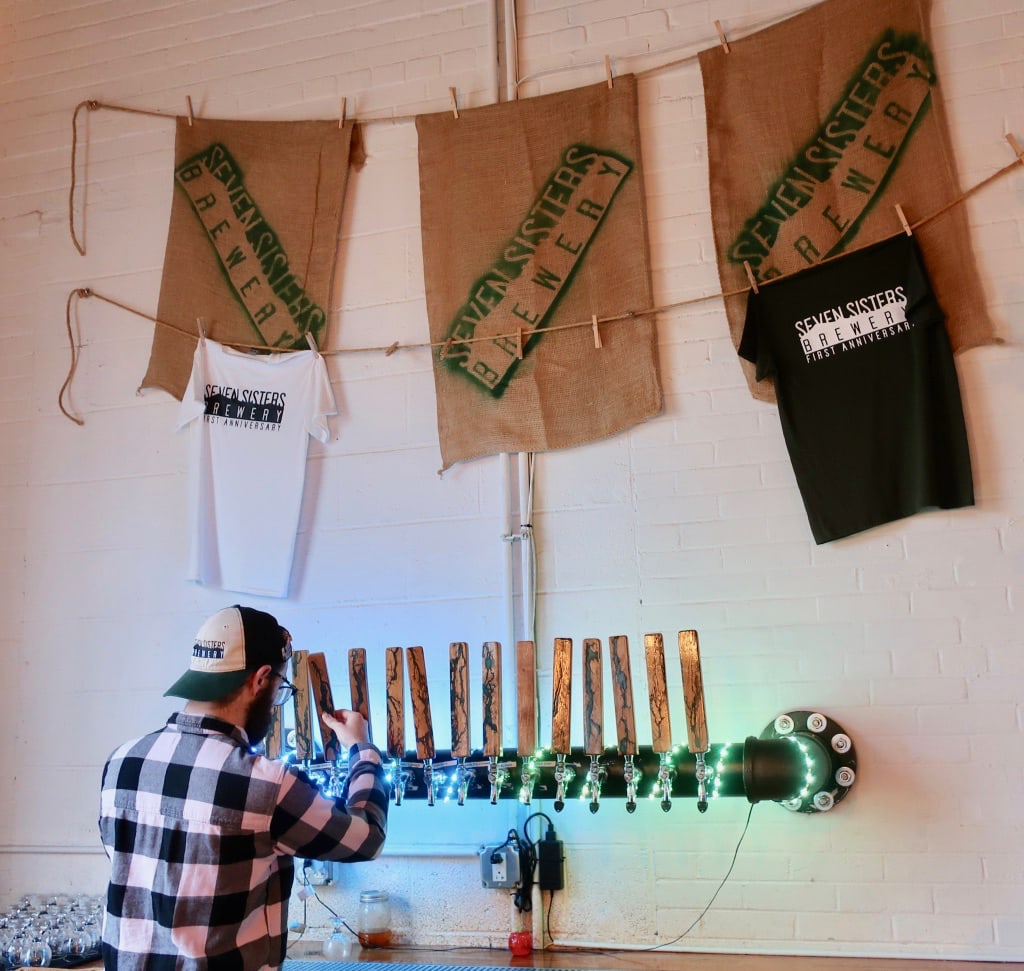 DRINK: Seven Sisters Brewery
Named for the nearby Seven Sisters Mountain range, Seven Sisters Brewery is another draw for downtown Wytheville VA. Kid and pet friendly, with soaring ceilings and plenty of natural light – it's a happy place, made even happier (and hoppier) with freshly made beer.
Where to Stay in Wytheville VA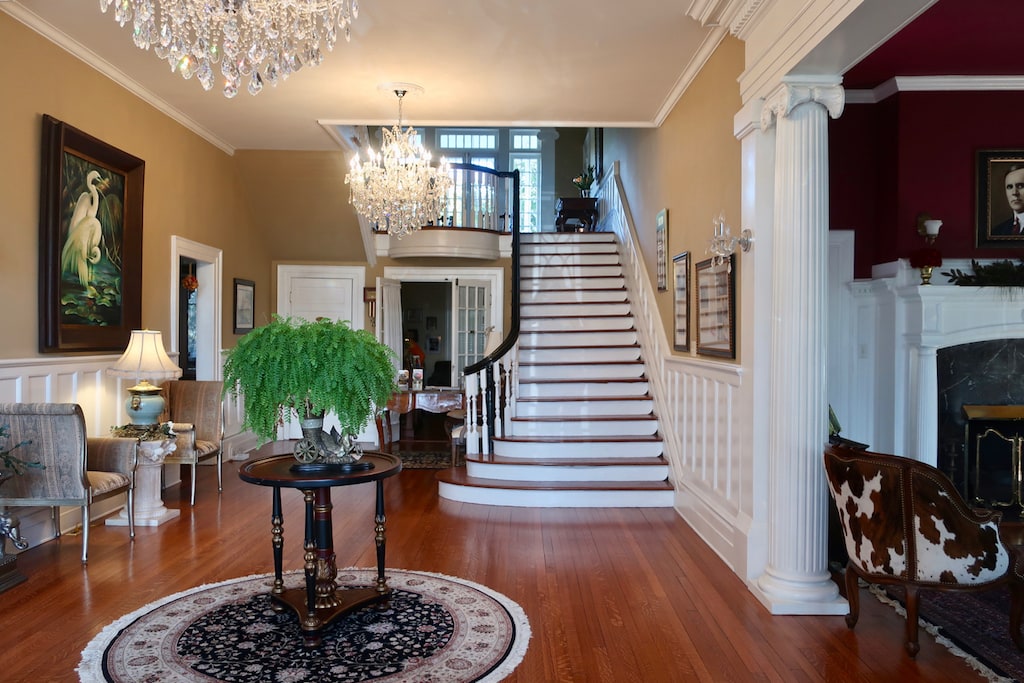 STAY: Trinkle Mansion B&B
To stay in the Trinkle Mansion B&B in Wytheville VA is to be immersed in Southern gentility. Rooms are a study in decorous finery: silk drapes and needlepoint chairs, clawfoot tubs and sturdy carved furniture. This Bed & Breakfast is so romantic and gracious, it's a Maven Favorite. So, we've written a whole page review in this Trinkle Mansion B&B review post.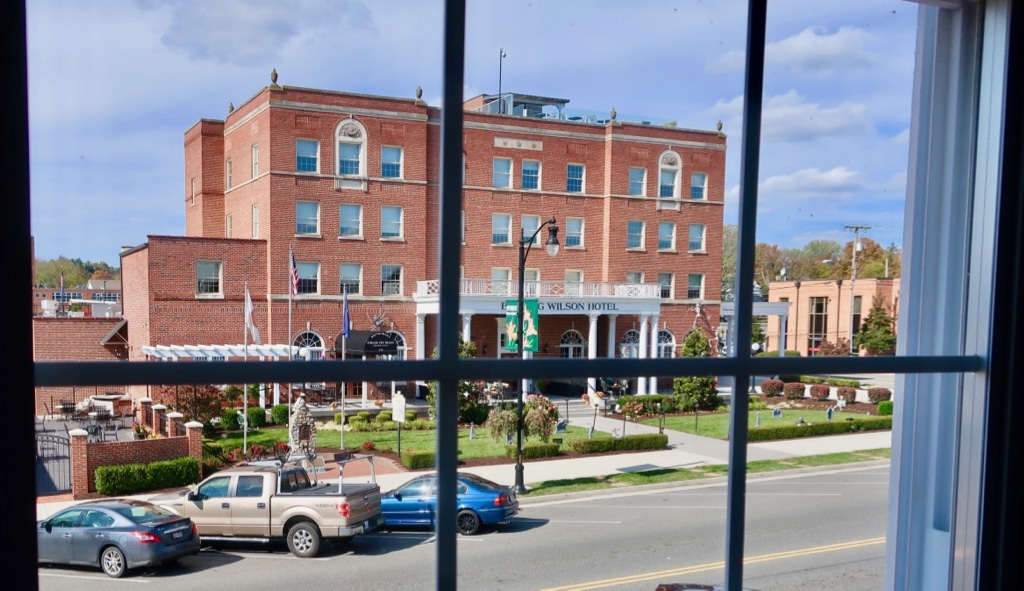 STAY: Bolling Wilson Hotel
In 2014, the renovated George Wythe Hotel reopened as the Bolling Wilson hotel, in honor of the country's 35th First Lady, Edith Bolling Wilson, born and raised across the street. The hotel is themed around Edith's favorite things: canaries, orchids, and bourbon!