Last Updated on September 24, 2022 by Editor
WHY GO: First and foremost, Charlottesville VA is a college town: home to the Thomas Jefferson designed University of Virginia. But it's also part of a region rich in the arts, spirit making, and full of creative entrepreneurs and chefs with diverse backgrounds.
Contrary to the tiki-torch-toting Neo-Nazis who marched in Charlottesville in the summer of 2017, the town exudes an open-minded friendly vibe, with a diverse and international populace. Charlottesville is everything that those angry White Supremacists are not: respectful, peaceful, and proud of their birth or adopted country and community.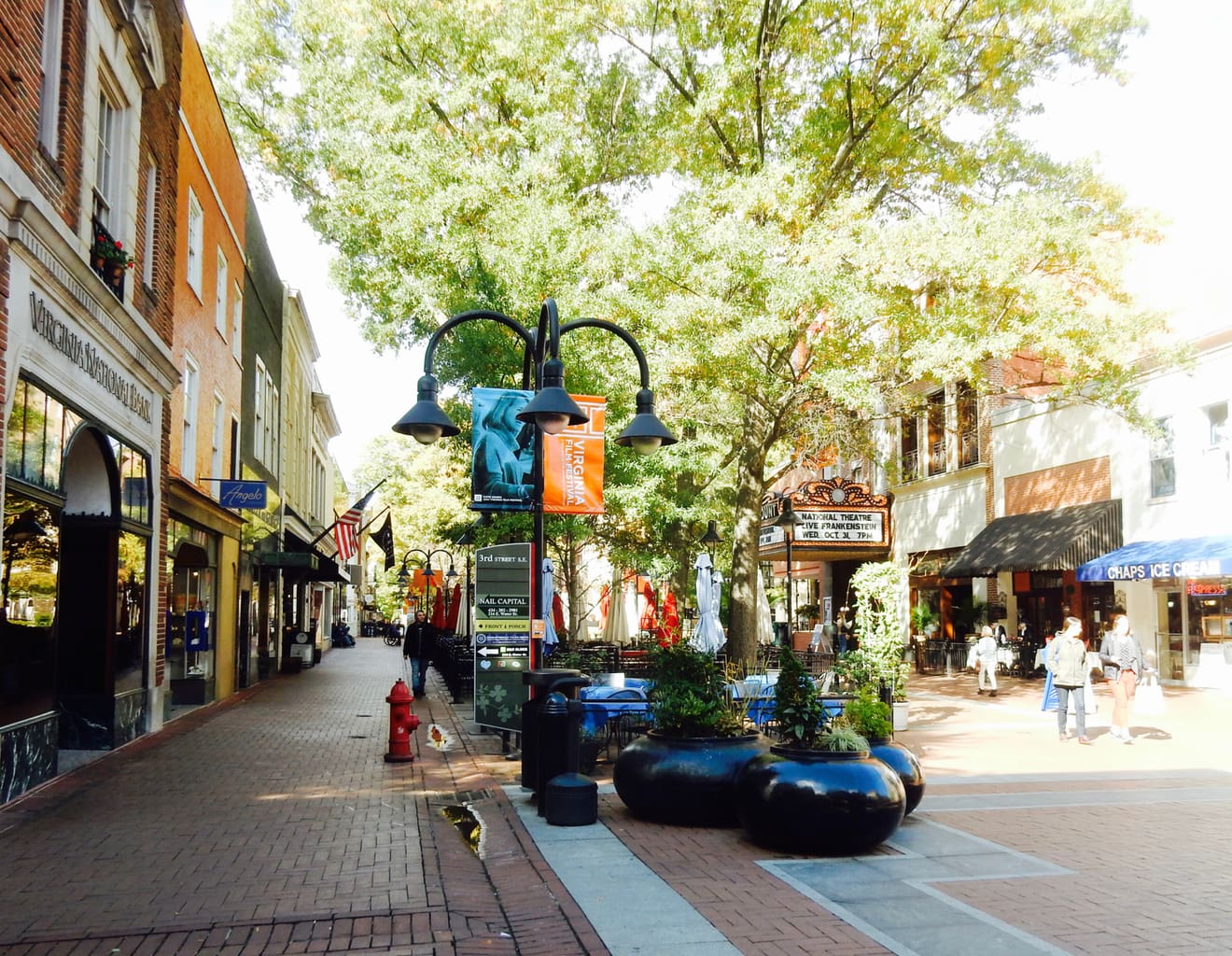 I discovered that residents of Charlottesville want you to come and see what they are really like, and enjoy some incredible sights, food, and drink while doing so.
Discover Georgia O'Keeffe's artistic origins, the only Australian Aboriginal Art Museum in the United States, a top art gallery tucked miles away on hilly farmland, a cattle ranch distillery with some of the best bourbon and burgers (made from mash-fed cows) you'll ever scarf down, the only Sake Brewery in Virginia, a thinking (wo)man's Wine Shop, great shopping, fantastic restaurants, and so much more.
Throw in some cool boutique hotels, combine it with a visit to Thomas Jefferson's Monticello and other sites recommended in This Getaway Mavens Post, and you've got yourself a three-day vacation just a short drive away.
Have more time? Discover the architectural and Shakespearian achievements in nearby (40 minute drive) Staunton VA.
Or spend time in the highly touted (and increasingly trendy) Richmond VA, just an hour away.
Charlottesville is on our list of 20 Surprisingly Romantic Getaways in VA. Check it out if you wish to explore the state further.
Looking for someplace dreamy outside of Virginia? Check out our 150 Best Romantic Getaways in the Northeast US (Virginia to Maine).
Things to Do in Charlottesville VA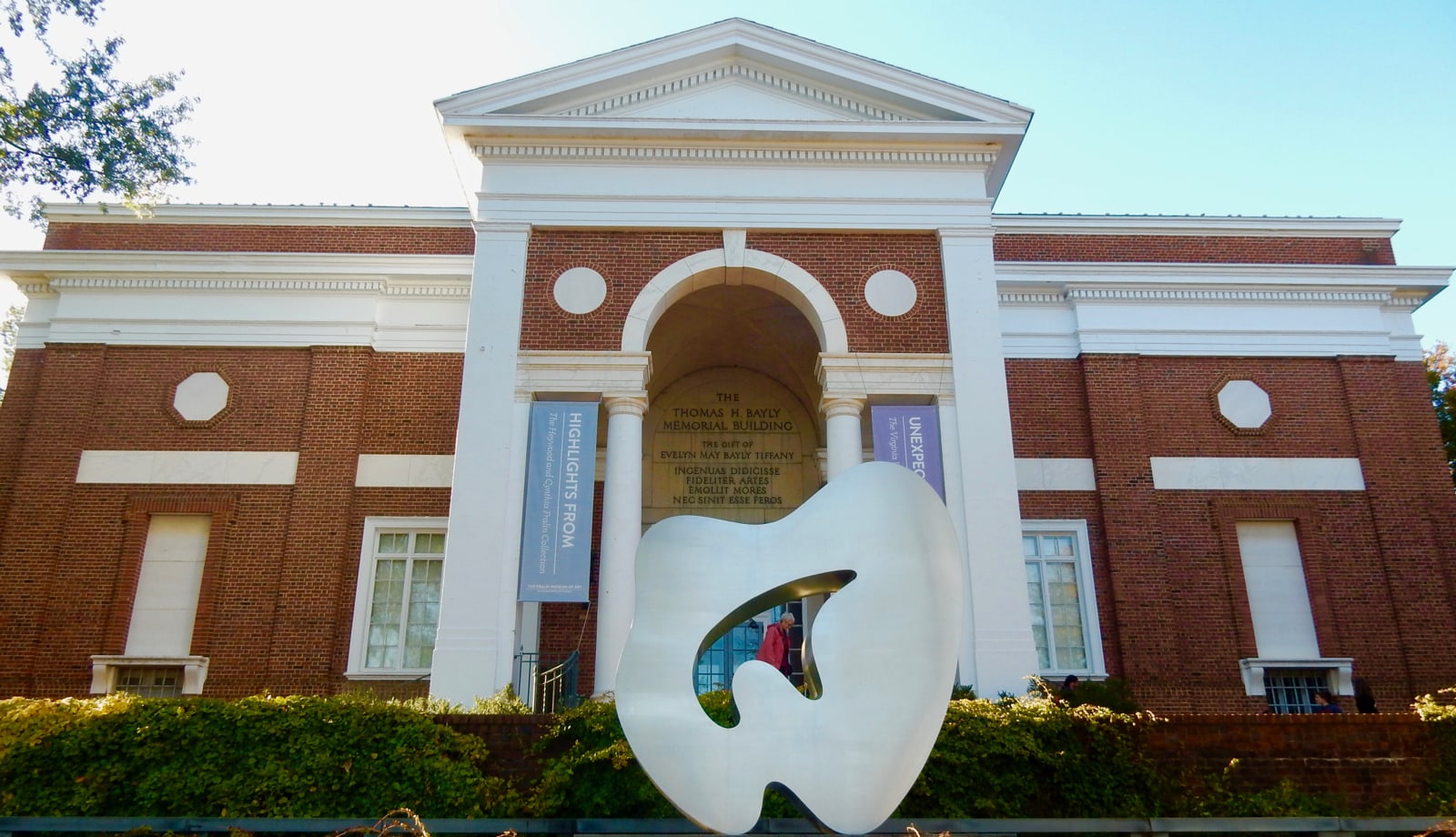 The Fralin is a dynamic, community-integrated college art museum, with the vibe of a much larger institution. One of its signature programs is the creative "Writer's Eye," developed for 3rd graders to adults, which serves as a catalyst for experimental poetry and prose.
Though the Fralin's focus is on American Art and Photography, European Prints and other works on paper, the museum has an encyclopedic collection, albeit a small, select one, which makes a visit here so satisfying. Not overwhelming, you can spend time with your favorite art pieces.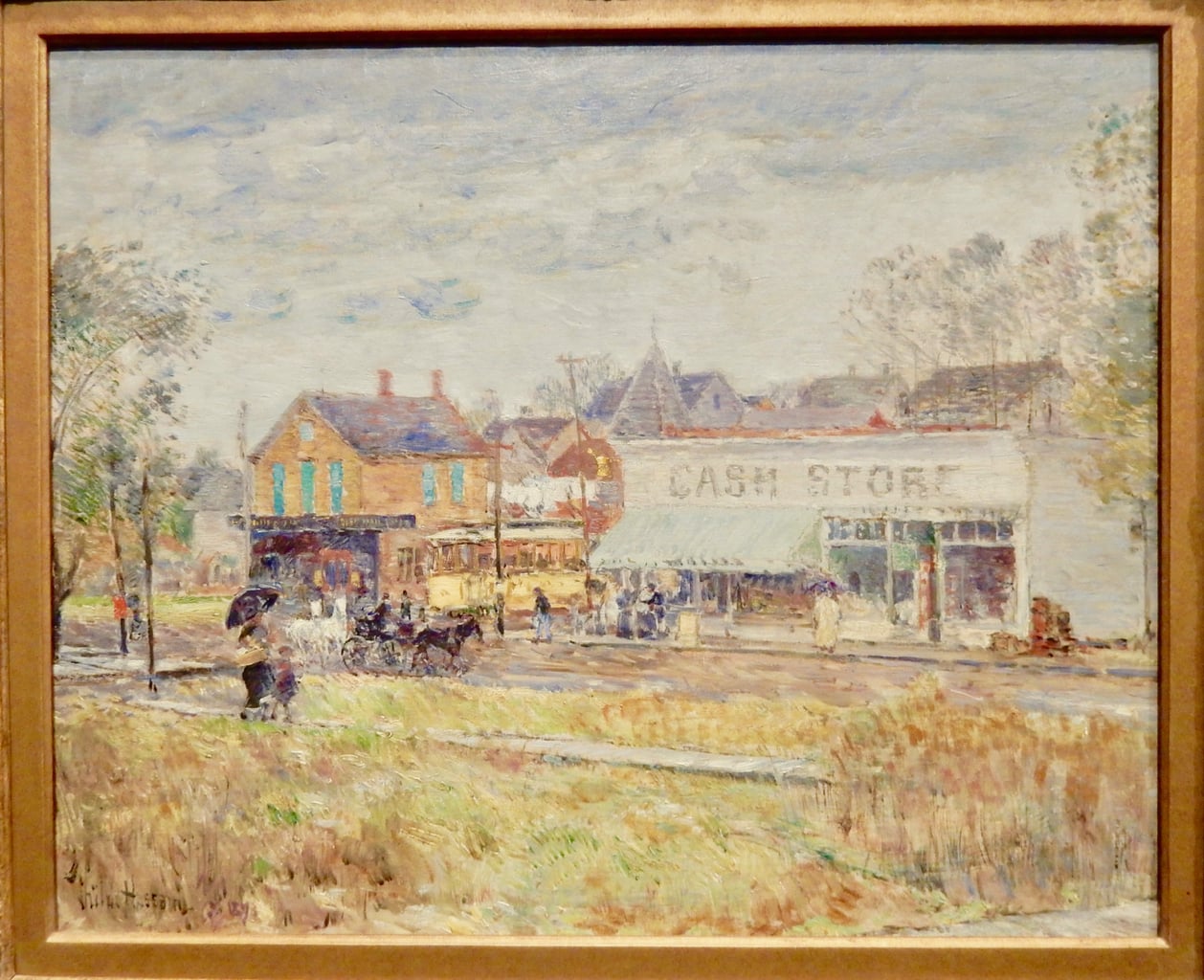 Encounter a bold Frank Stella sculpture in the lobby, Rodin's "The Kiss" on the stairwell, and Mexican, Mesoamerican, Columbian, Greco-Roman, Egyptian, Asian and East Asian figures, plates, and vessels in the Object Study Gallery on the 2nd floor.
There's American art that spans time, and worth studying deeply, which is possible in this highly accessible place. My own favorite is a painting by Childe Hassam – one of our country's first Impressionist Painters – that captures the moment when the trolley took over the horse and buggy. It's a picture that certainly sparks all kinds of conversations about history and lifestyle.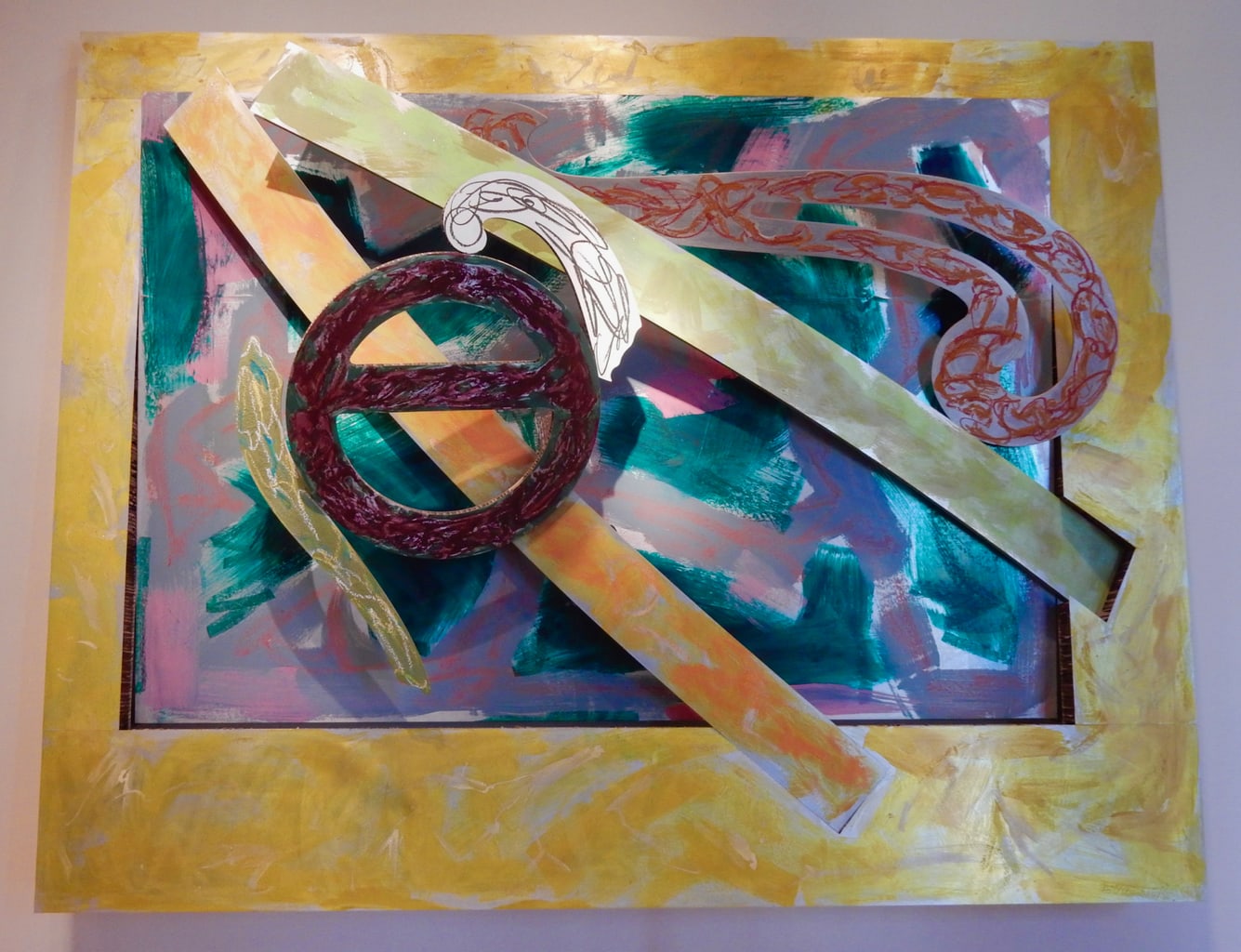 O'Keeffe in Virginia
And, you thought Georgia O'Keeffe was strictly a Western artist? Not quite. At a time when only men were allowed to attend University of Virginia, O'Keeffe found a loophole. Just when she had all but given up on being an artist, O'Keeffe discovered that she could take classes in the less restricted summertime.
So, from 1912-1916 the famed artist was both a student and teacher in Charlottesville, wandering the town, UVA campus, and the Blue Ridge Mountains, rendering in watercolor everything in sight. These pieces are printed on a "Georgia O'Keeffe Walking Tour" map, which you can pick up in the museum for free. Fans of O'Keeffe will thrill to see Charlottesville through her eyes. Open Tues/Wed 10-5, Thurs 10-7, Fri/Sat 10-5, Sun 12-5, free.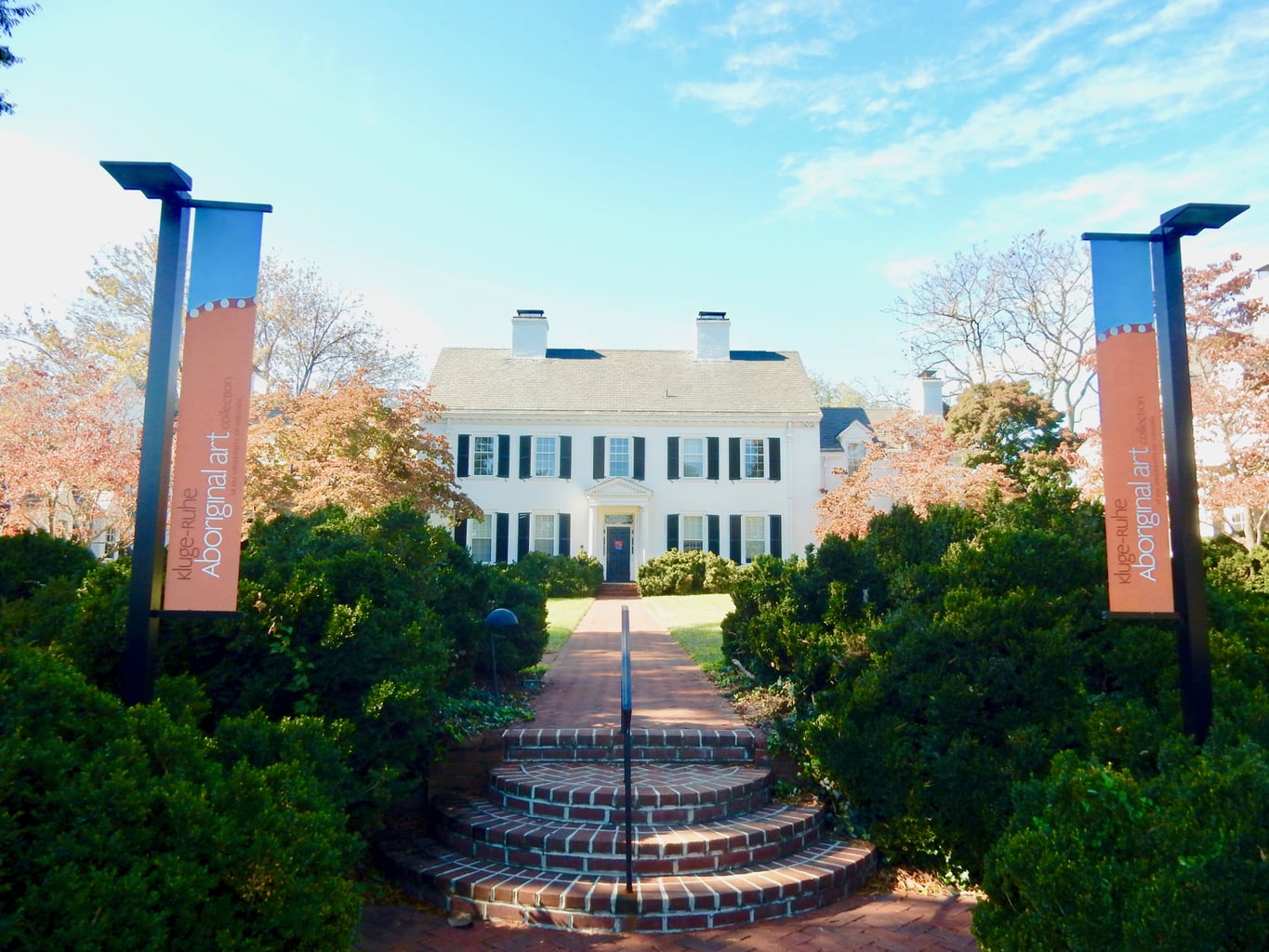 "The land has everything it needs. But it couldn't speak. It couldn't express itself. Tell its identity. And so it grew a tongue. That is the Yolngu. That is me." – Djambawa Marawili.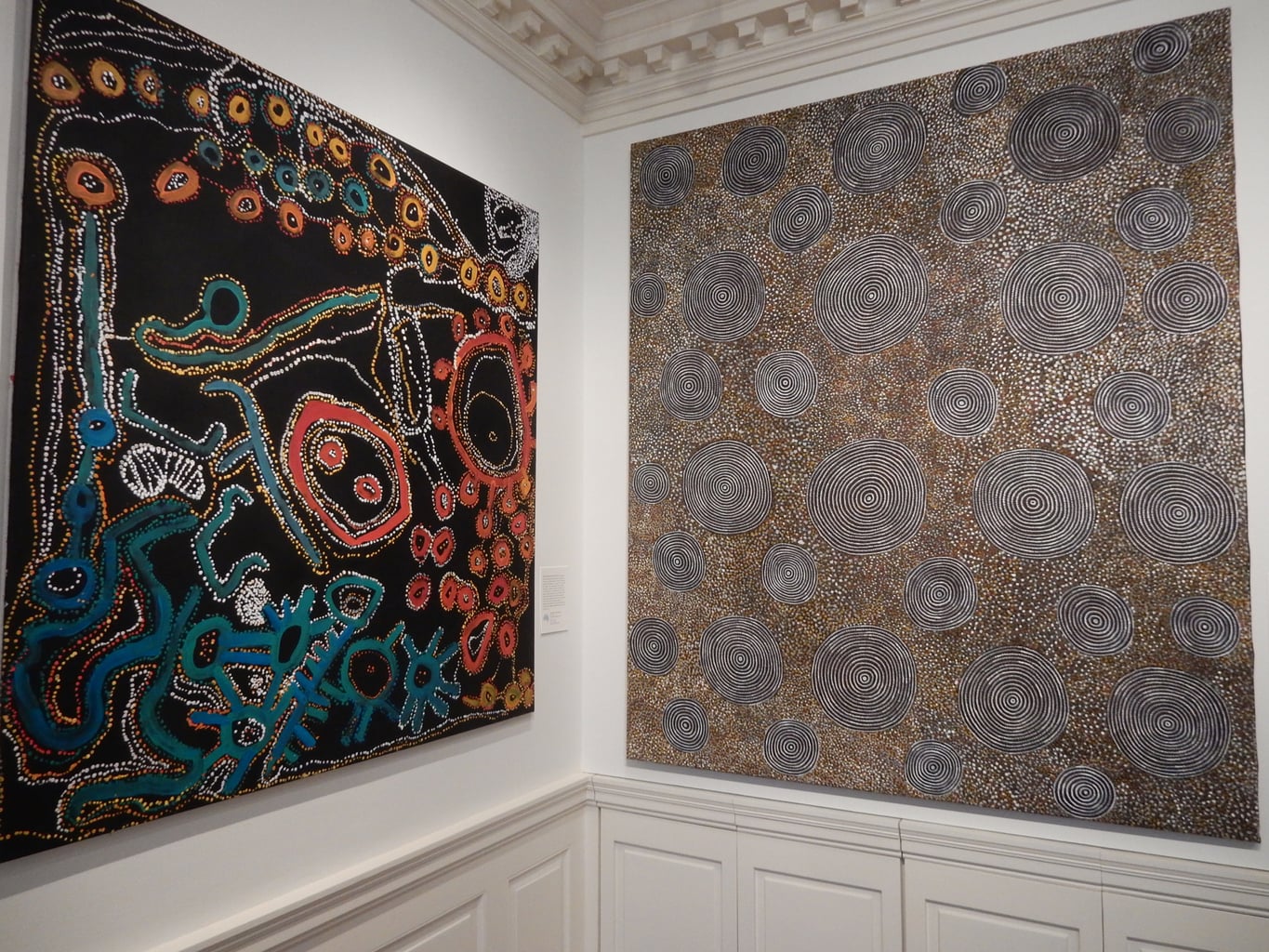 Affiliated with UVA, and four miles from campus, the Kluge-Rube is the only museum in the USA dedicated to indigenous Australian art.
Named after Ed Ruhe, an English Professor who traveled to Australia on a Fulbright Scholarship, purchasing pieces directly from the indigenous people he met in the 1960's and '70's, and media mogul, John Kluge who bought Ruhe's collection and commissioned Aboriginal works of his own then donated it all to UVA, the Kluge-Ruhe is a must-see while in Charlottesville.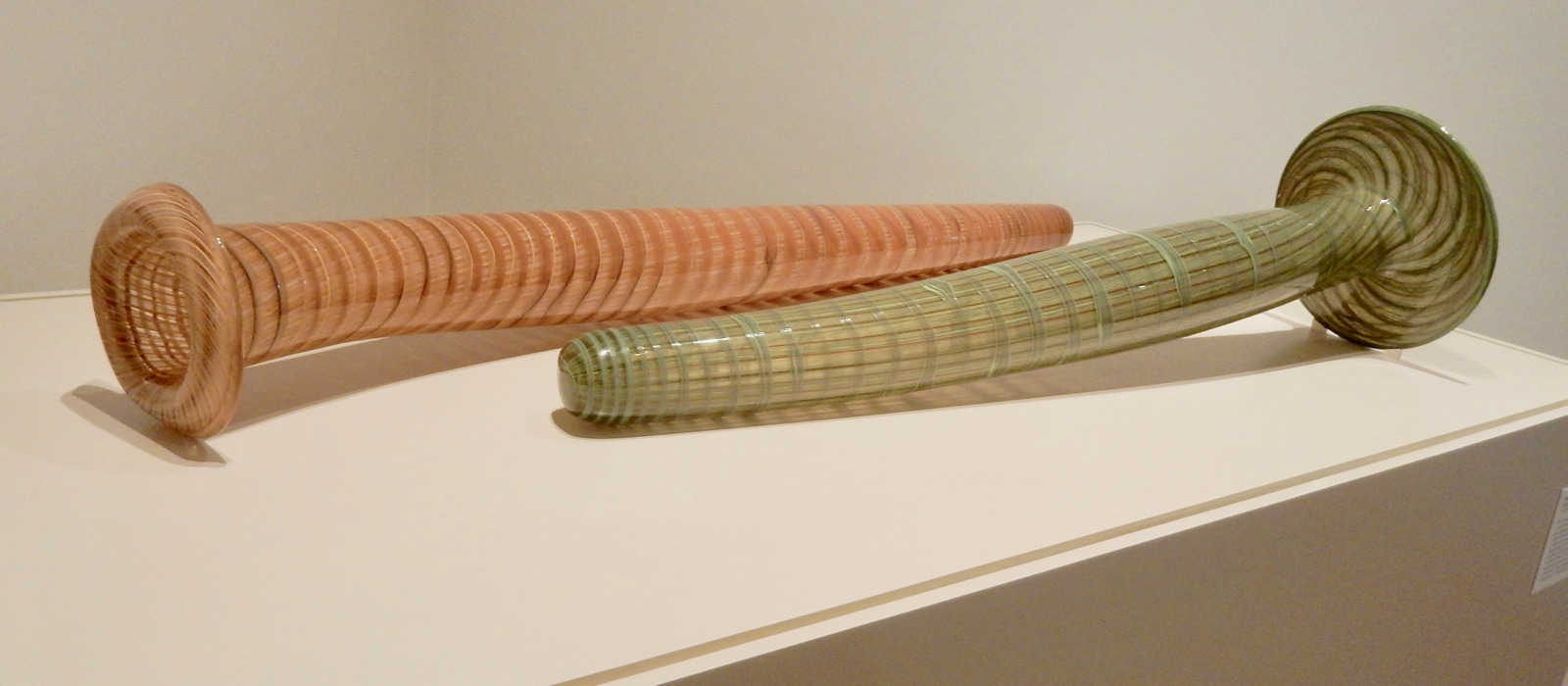 The creative output from a wide range of Aboriginal communities hangs in brightly lit rooms in, ironically, a whitewashed Federal-style building that sits on land once owned by Thomas Jefferson.
Art of Aboriginal Australia
Part of the museum's mission is to illuminate the surprising diversity among Australia's indigenous people who live in urban, desert, grassland and shoreline environments.
Quotes from these different sources on educational panels serve to amplify their voices and lend credence to their existence. When colonists first came to Australia, they didn't see the landscape as being inhabited – all they saw was territory for the taking. This museum not only recognizes Aboriginal ownership of the land, it showcases its many facets.
The oldest piece in the collection is from the 1940's, though most are contemporary. From stunning "sacred" Bark Paintings with hidden meanings that reflect the life and values of each particular tribe, to graffiti art incorporating metallic foil, exhibits at the Kluge-Ruhe shed light on the transformation of Aboriginal Art over 8 decades – most dramatically by juxtaposing old with new.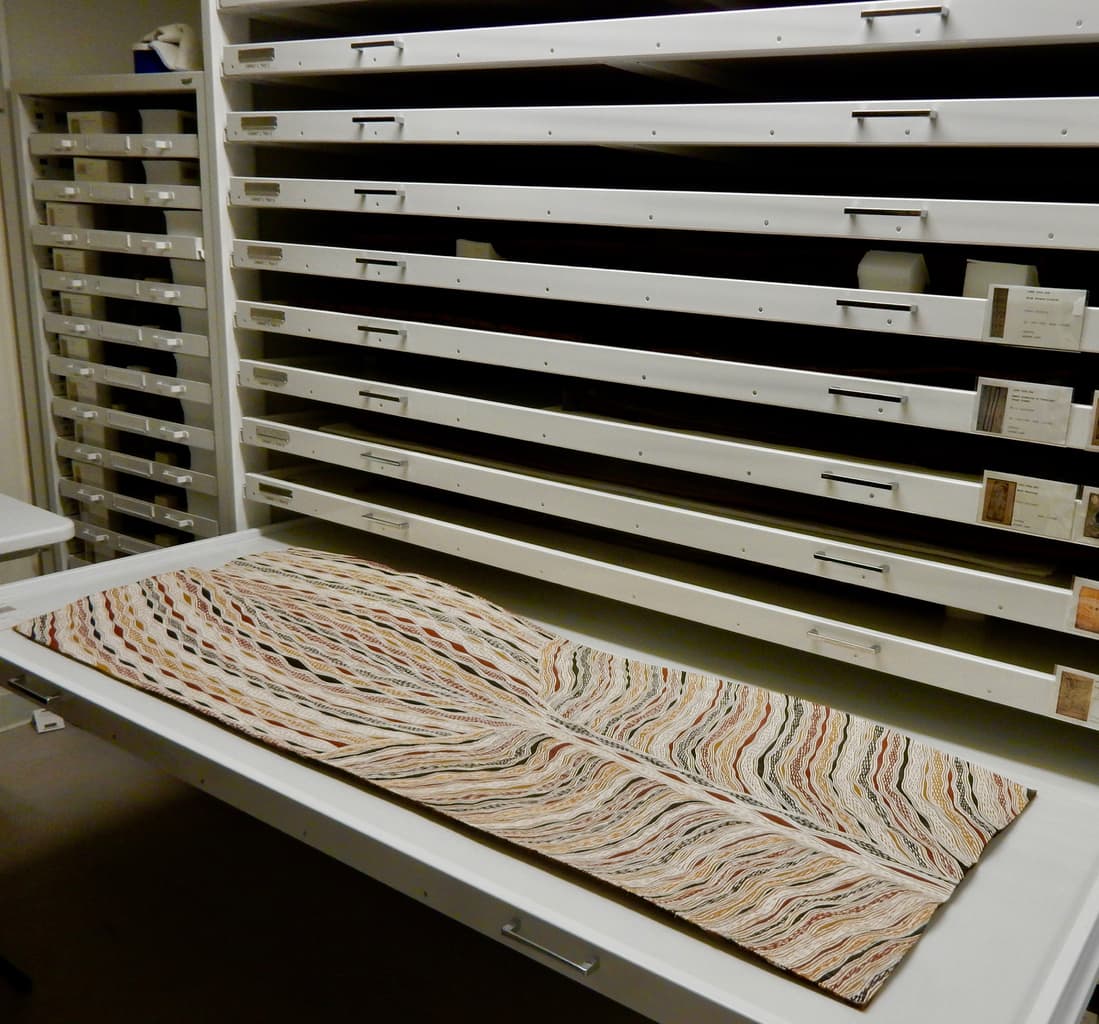 Though works of art rotate in the galleries, go on a "Behind the Scenes" tour that brings you downstairs to the Storage area. There – learn about the Bark Paintings that form the core of the collection. These are some of the most poignant works of art I've ever seen, each with symbolism worth more than 1,000 words. Open Tues – Sat 10-4, Sun 1-5, Guided tours every Sat. 10:30, free.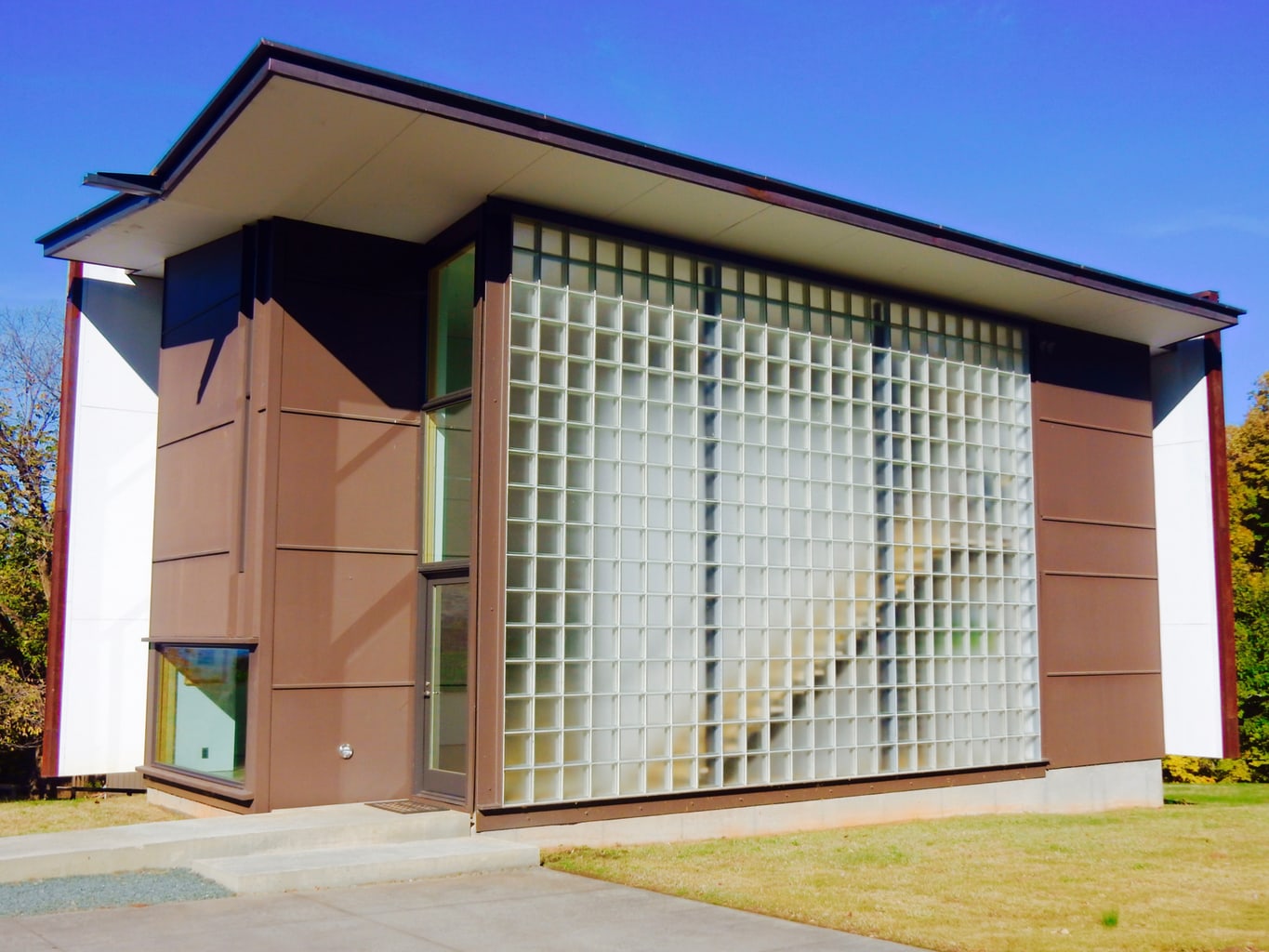 GO: Les Yeux du Monde Art Gallery
Translated from the French as "Eyes of the World," this farmland-set gallery at the end of a half-mile dirt road off a secondary paved road takes some effort to get to. But it's worth a drive from anywhere. It's that special. Artist rep, Lyn Bolen Warren, and her husband, fellow artist Russ Warren, had this ultra-modern 2-floor gallery-studio built on their property after outgrowing a home studio.
As an agent who represents top-shelf painters and photographers, Lyn hosts gallery openings and other programs to introduce would be collectors to her clients, including her husband, in this bucolic place.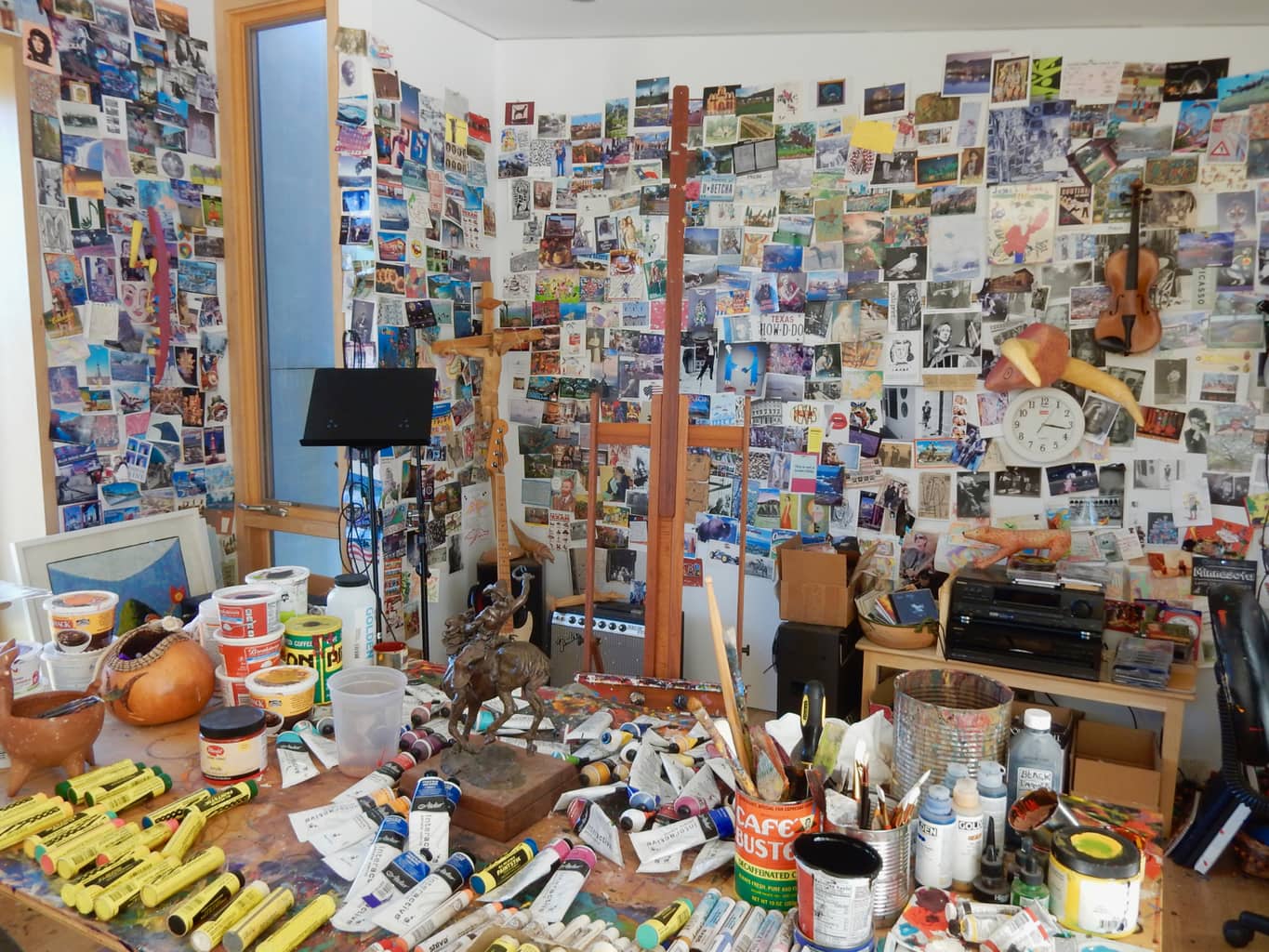 Russ, whose art was shown in the Whitney and Venice Biennials, draws primitive figures from thickly applied, vibrantly colored livestock markers, and sells each for $2200 (unframed) – $2500 (framed) – a bargain for a one of a kind piece of art.
His process can only be seen by a visit out here. Used marker leavings create a messy, abstract artwork of its own. Open Thus-Sun 1-5 and by appointment. You can find Les Yeux du Monde, also, on Artsy.net.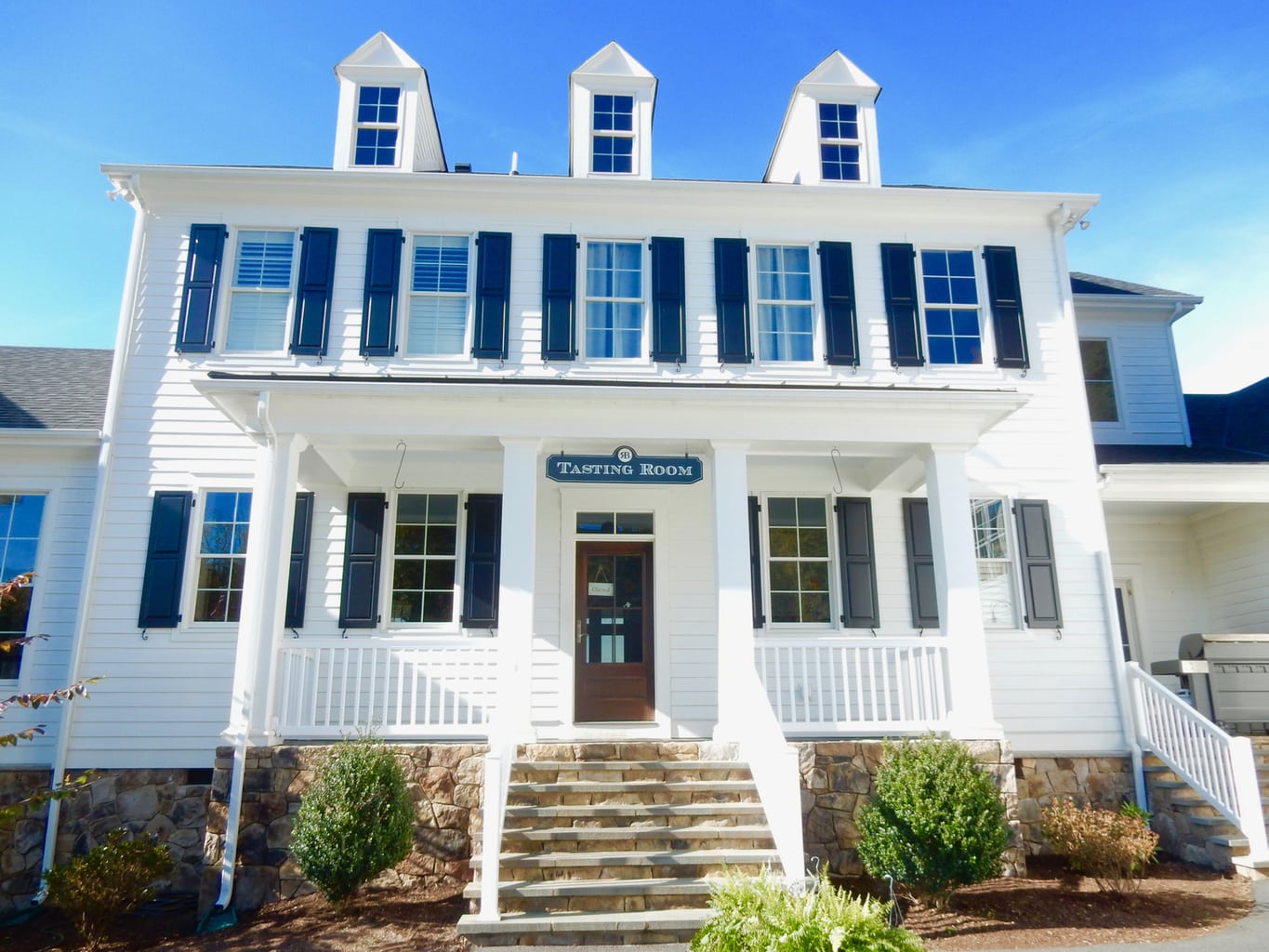 Here's an interesting closed system for you to chew on. Raise cows, open Virginia Straight Bourbon distillery, feed cows spent mash, discover that mash-fed cow beef is better than grass-fed beef, gain attention for both excellent bourbon and beef, invite public to enjoy both, raise more cows, make more bourbon, repeat.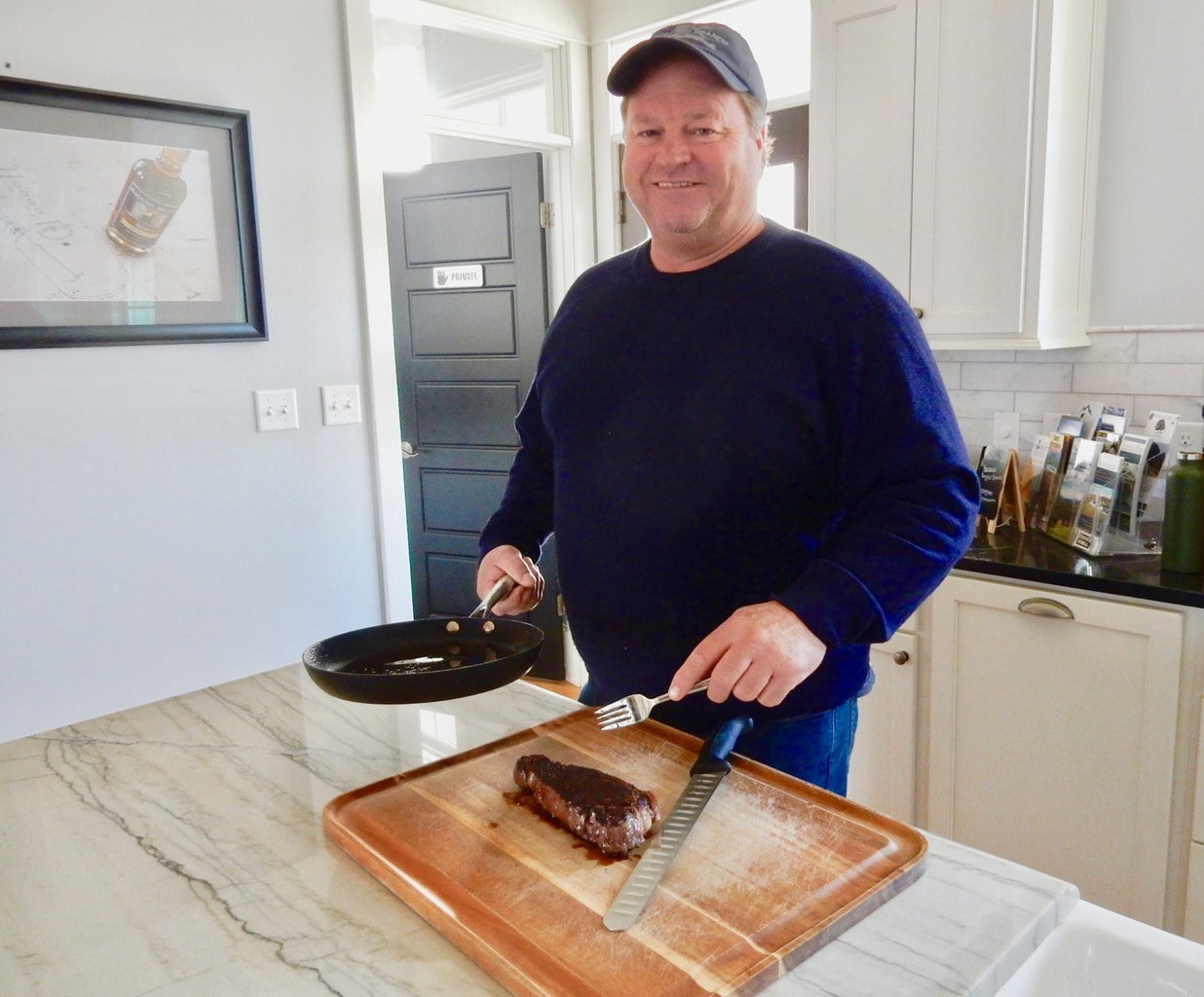 Alex Toomy was originally just a "cattle guy" who liked the idea of opening a "Farm Distillery" on his 800-acre property. A farmer at heart, Toomy now also grows his own grains for his spirits. "Mostly everything in the bottle comes from within 15 miles."
Focusing on barrel-aged Wheated and Rye Bourbons, Ragged Branch turns out 300 bottles a day. The distillery was initially required by law to get rid of the spent mash in an ecological manner.
Drunken Cows
Toomy found that his herd of cows loved the fermented grains, thus serving as the best "mash disposal system" he could ask for. After selling these happy cows to local restaurants, chefs were amazed at the taste, tenderness, and quality of the beef. They wanted more.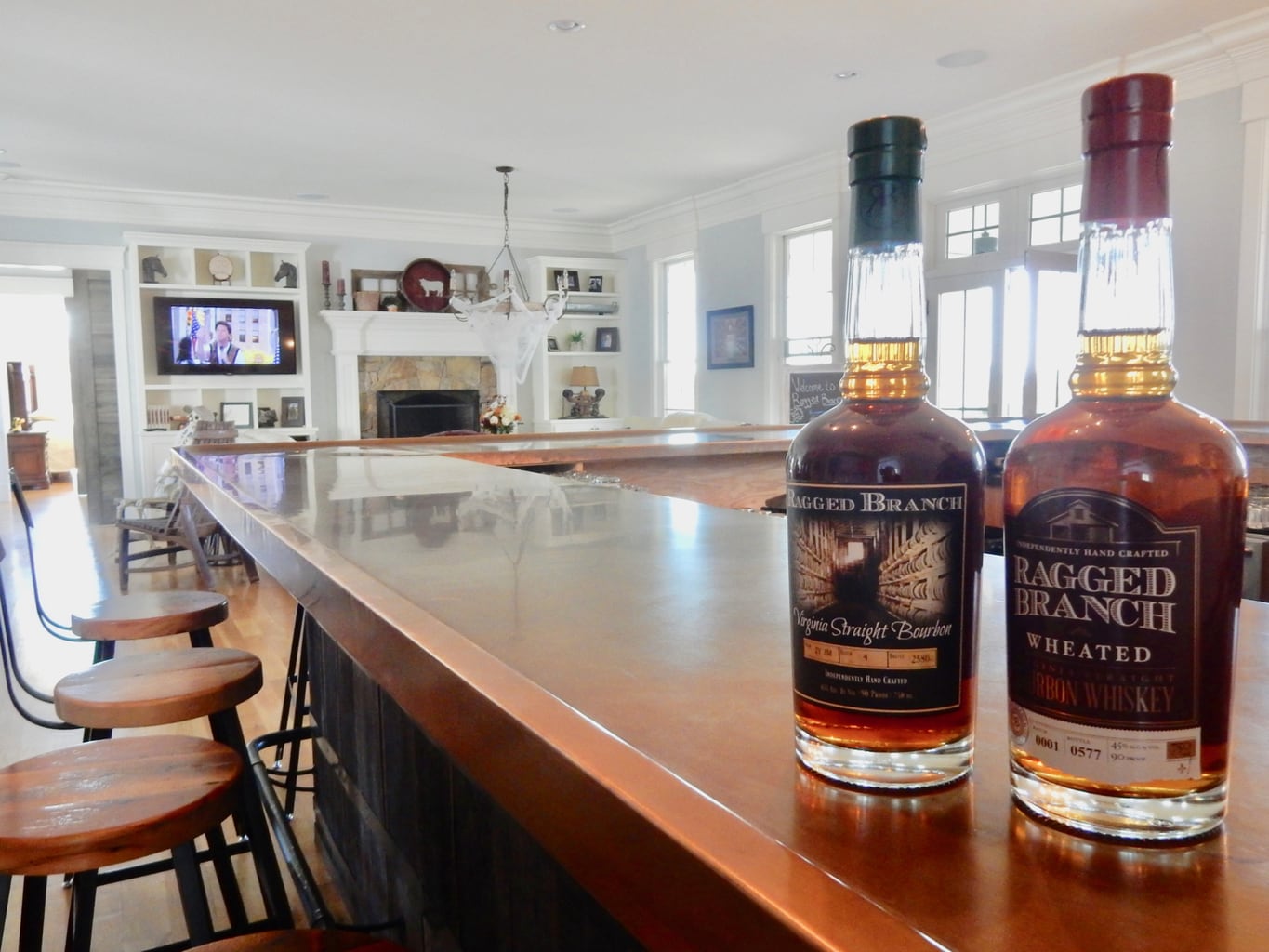 Now, hundreds of people a day come to the Ragged Branch Distillery Tasting Room, designed and opened in 2017 as a mansion on a hill (above the distillery and barrel house), for burgers and craft cocktails in a country-luxe living room environment.
Toomy hired a mixologist-chef – Josh – who designs the menu and concocts the drinks. If you're a big group, call ahead. If not, just come on up. One caveat, however – though it looks like a great place for a cigar, smoking is not allowed on property, so leave your stogies at home. Open Fall/Winter Thurs – Sun 12-6. Spring/Summer Thurs/Fri 2-8, Sat 12-8, Sun 12-6.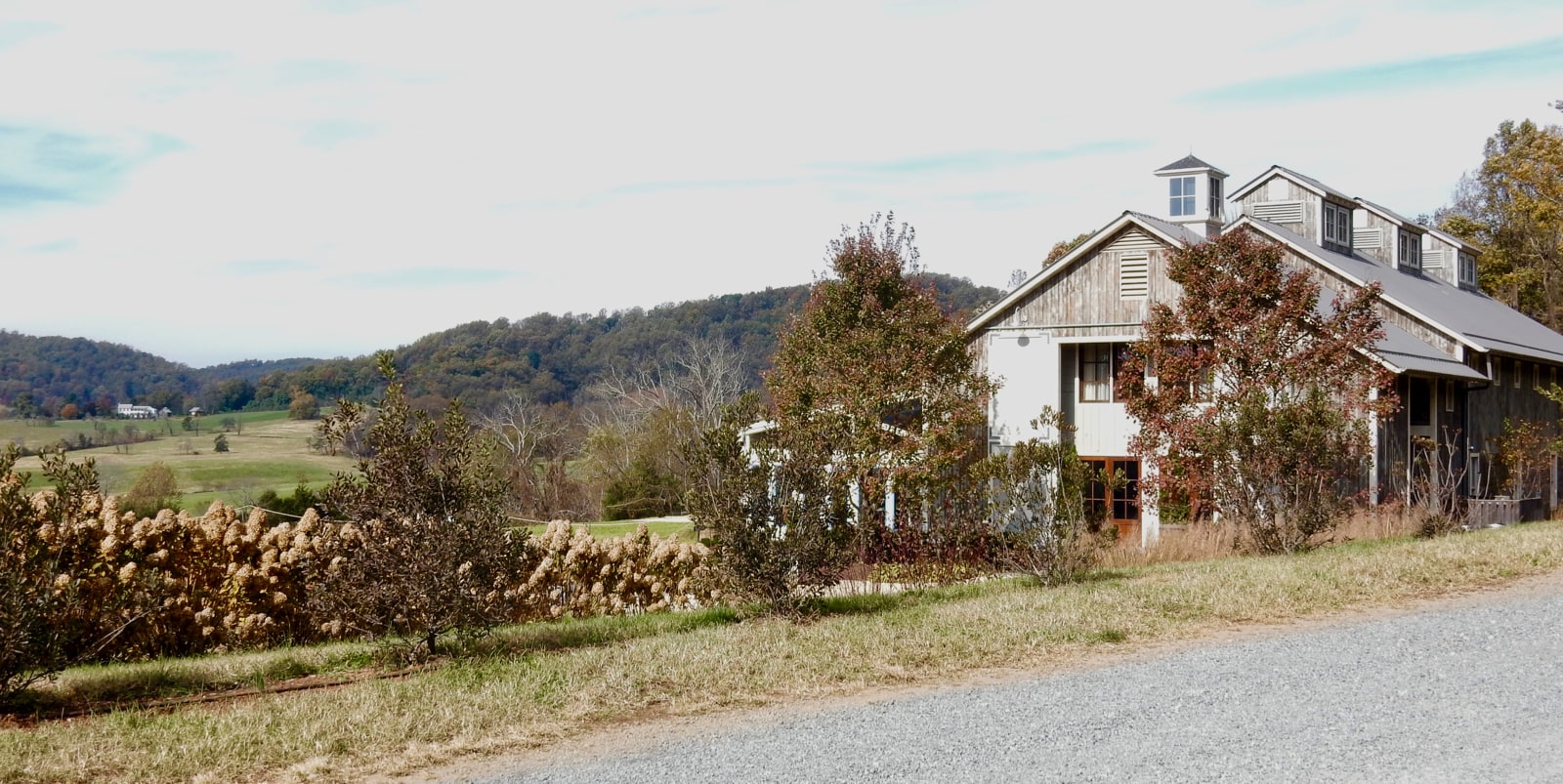 Pippin Hill is renowned for its heart-stirring setting, its right-from-the-hen Deviled Eggs, popcorn from corn grown on site, farm to table cuisine, and of course, its Petit Verdot, Viognier, and Cabernet Franc wines.
Come for a meal and/or a tasting ($10 for 5). The Sparkling Rose is a hit with Bachelorette parties.  Sauvignon Blanc is a popular white. And Cannon Red – a blend of mostly Chamberson and Merlot grapes is a much-purchased red. Get a bottle, order a meal, and revel in the surrounding landscape for a bite-sized romantic getaway.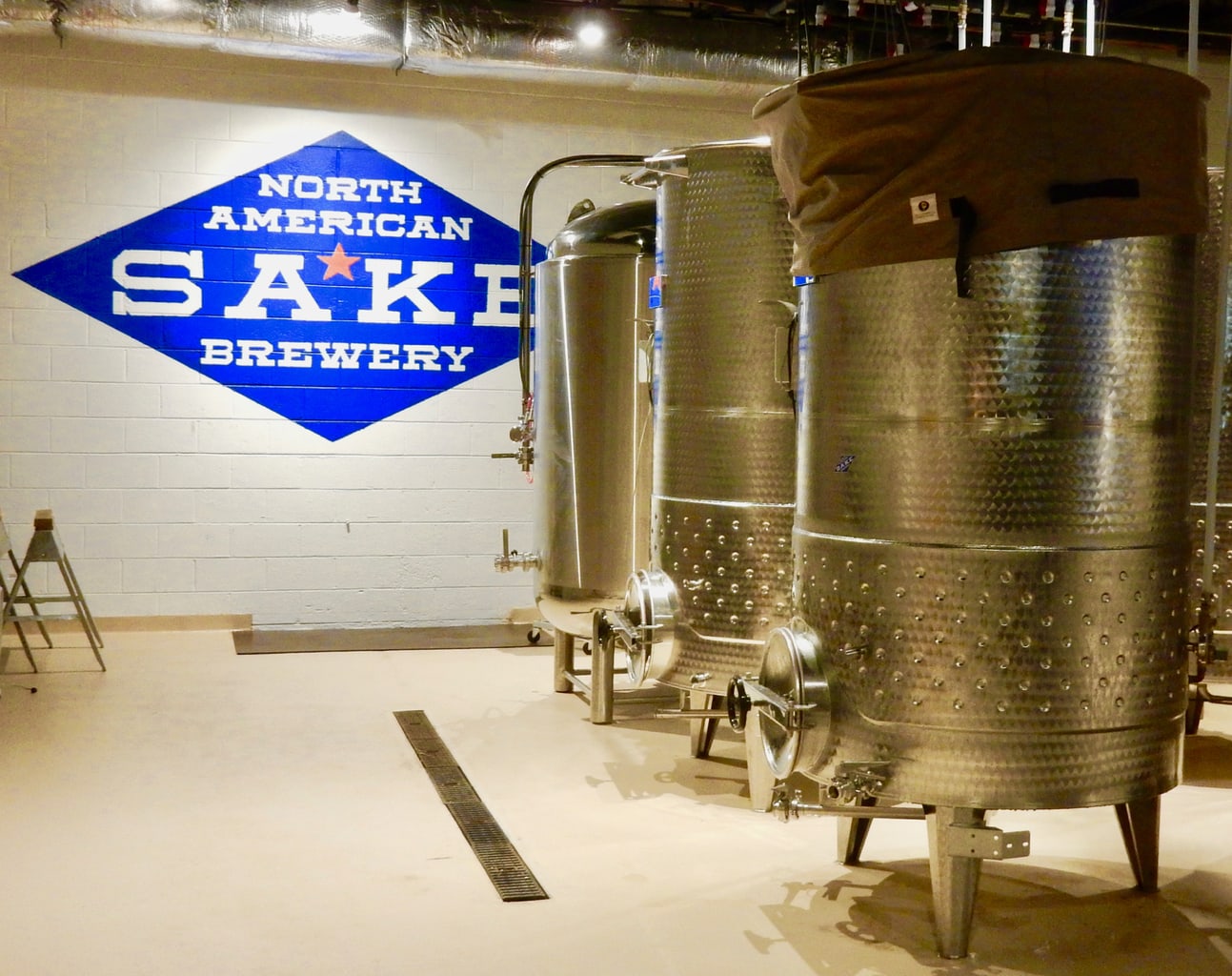 I'd always assumed that Sake was distilled even though it's called Japanese Rice Wine. But surprise, surprise, sake is actually brewed like beer.
And, for those who are firm in their belief that sake is served warm, you'll be in for a surprise. According to North American Sake Brewery owner, Andrew Centofante, "sake is traditionally served chilled."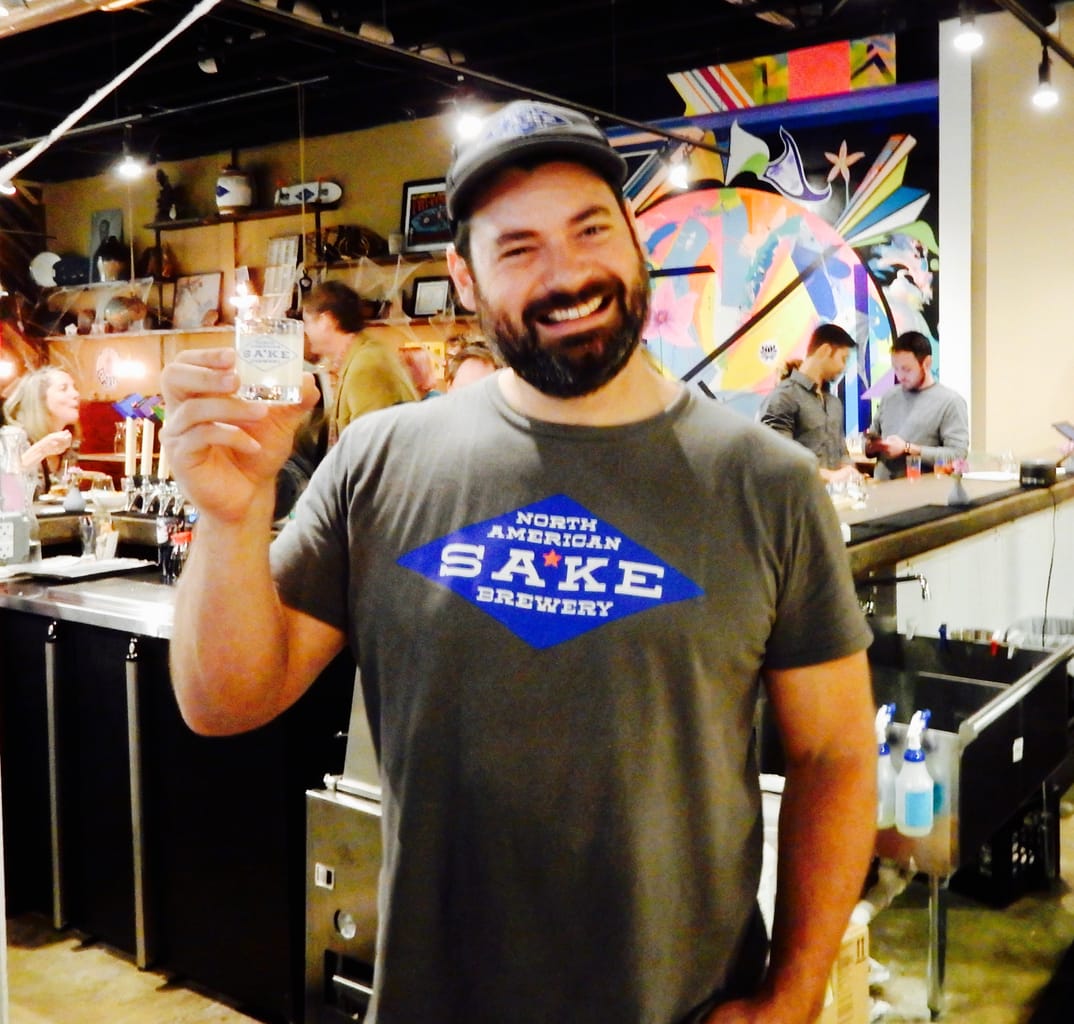 You learn about the making of sake in the unlikely town of Charlottesville, from the unlikelier owners of this Sake Brewery, Centofante and Jeremy Goldstein, a former award-winning filmmaker.
The not-at-all-Japanese Centofante dabbled in home brewing beer before taking a trip to Japan 7 years ago. He loved everything about the country, especially the sake, which led him to wonder how it was made, and if he could make it himself. Determined, Centofante went back to Japan to learn.
The result is this very rare brewery – one of only about a dozen in United States and the only one in Virginia – that makes craft sake. For those who have gagged down warmed over versions of the drink, these cold-brewed, cold served varieties are a delicious revelation.
The cloudy Brewer's Style sake and fruit infused varieties, dry to sweet, satisfy a range of tastes.  Hungry? You don't have to leave. You'll find Southern and Japanese bites on the menu.
Apparently, Johnny Appleseed was busy all over Virginia, but our friends at Fun In Fairfax VA have identified the best orchards for pick your own apples.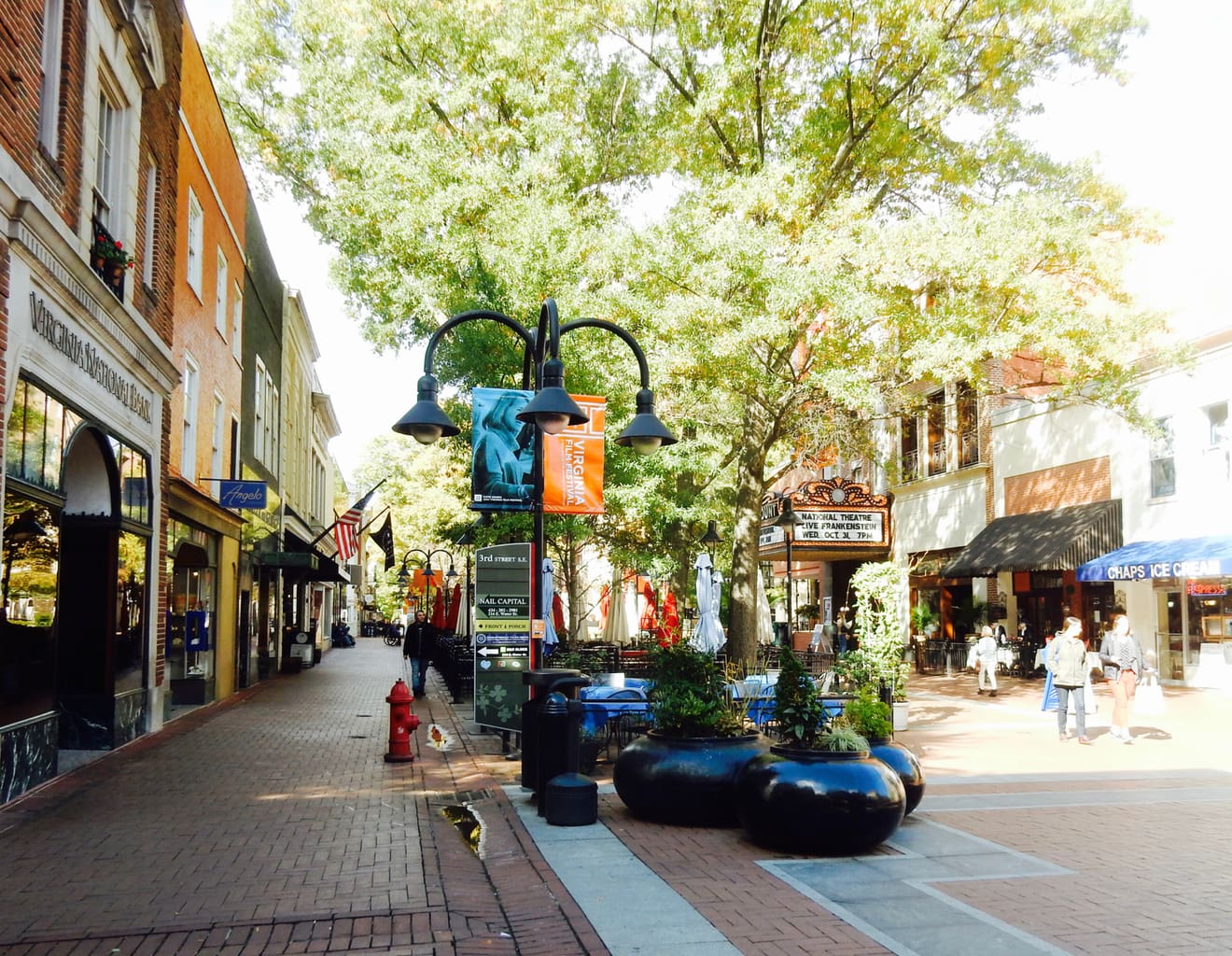 WALK/SHOP: Downtown Pedestrian Mall
This beautifully landscaped eight block outdoor mall, called the "Jewel of Charlottesville," is chock full of great restaurants and shops. These are our favorites: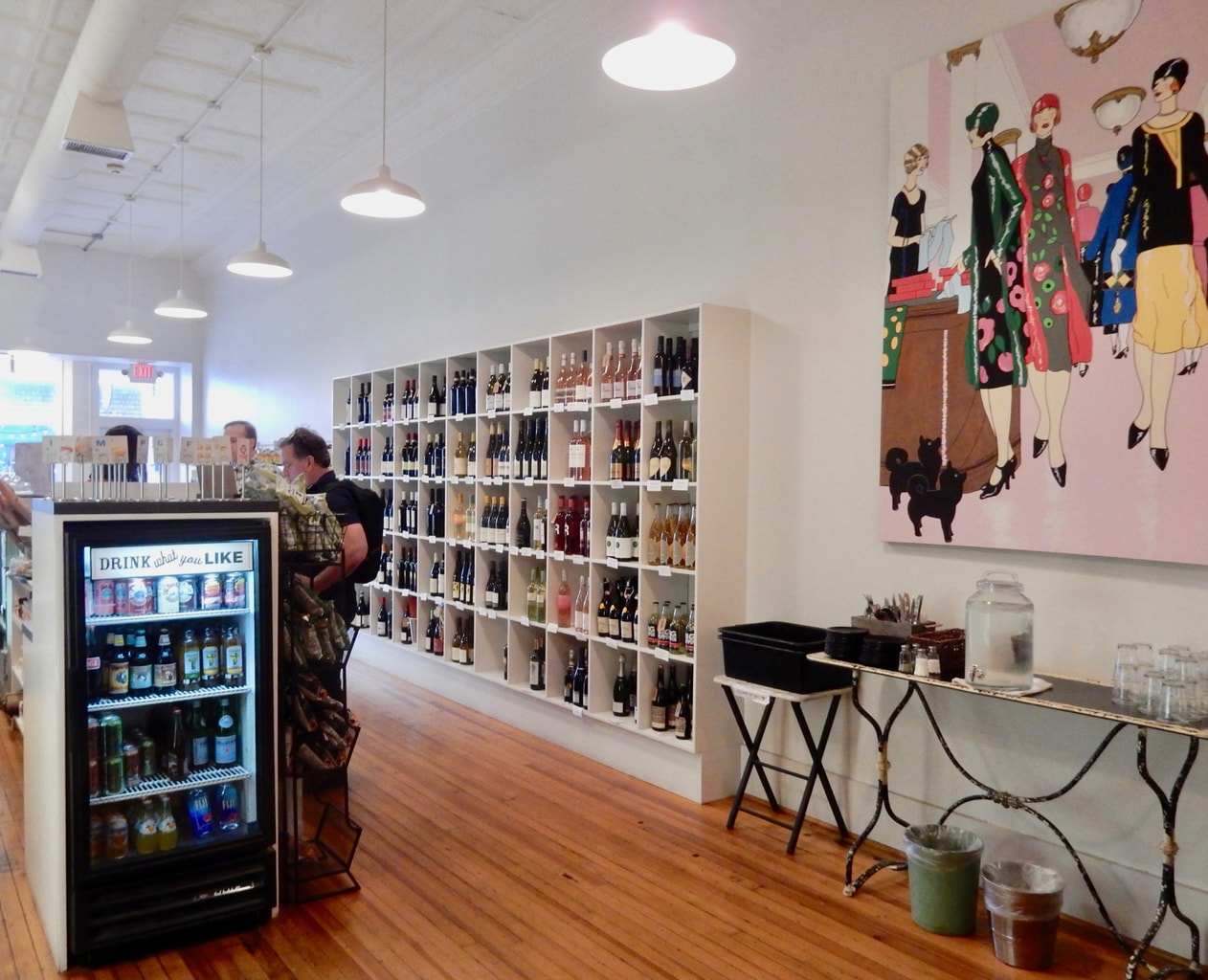 This new contemporary wine, charcuterie, and cheese bar has become a go-to for friends/family meeting on the Mall. Come from 3-6 Monday through Friday for 50% off Happy Hour wine and cheese/meat boards.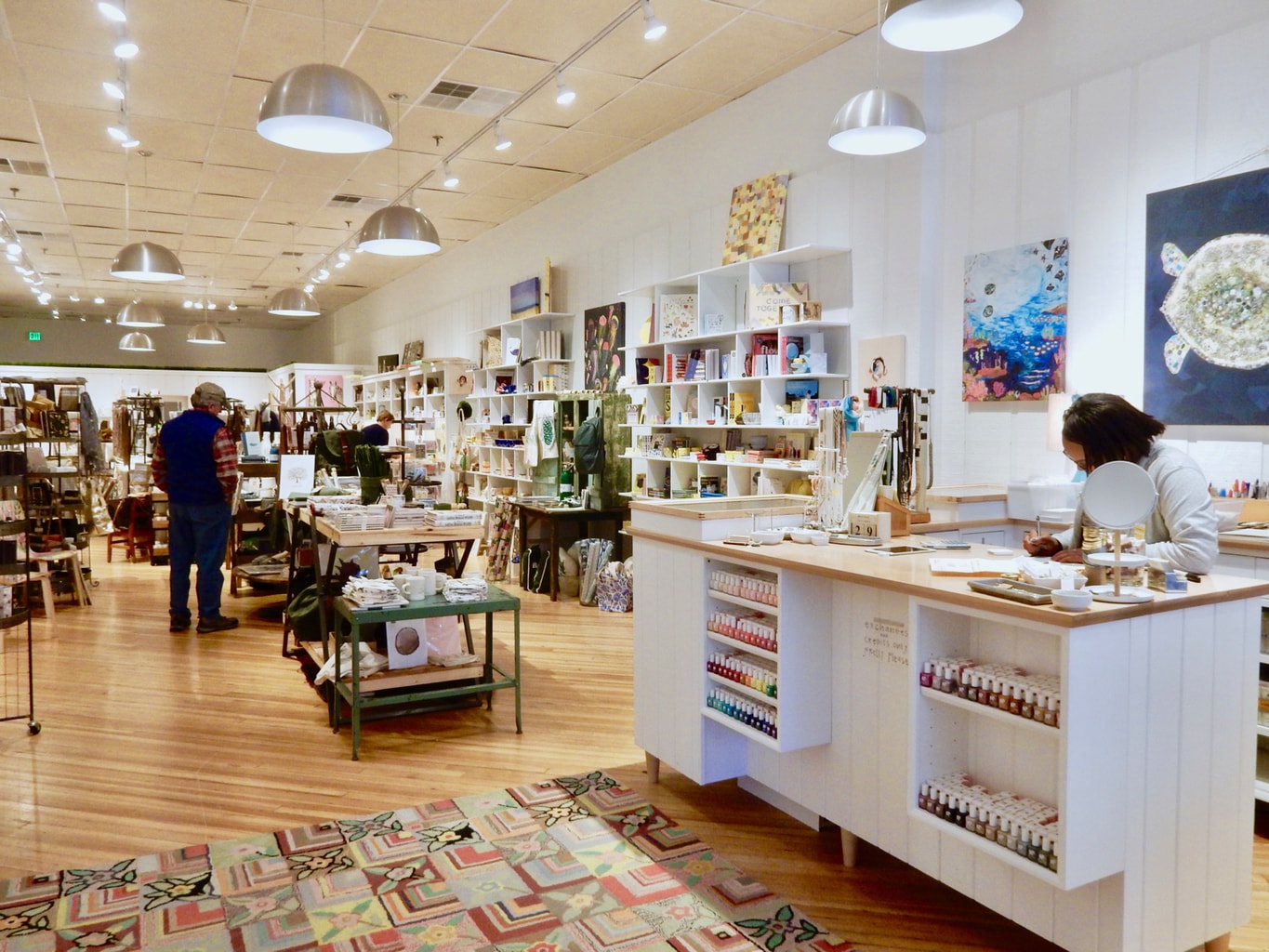 I walked through this unique gift shop with a smile on my face. Items from tea towels to scarves to Feminist books are grouped by color, not by category. Pop in even if you're not in the market for a cool gift.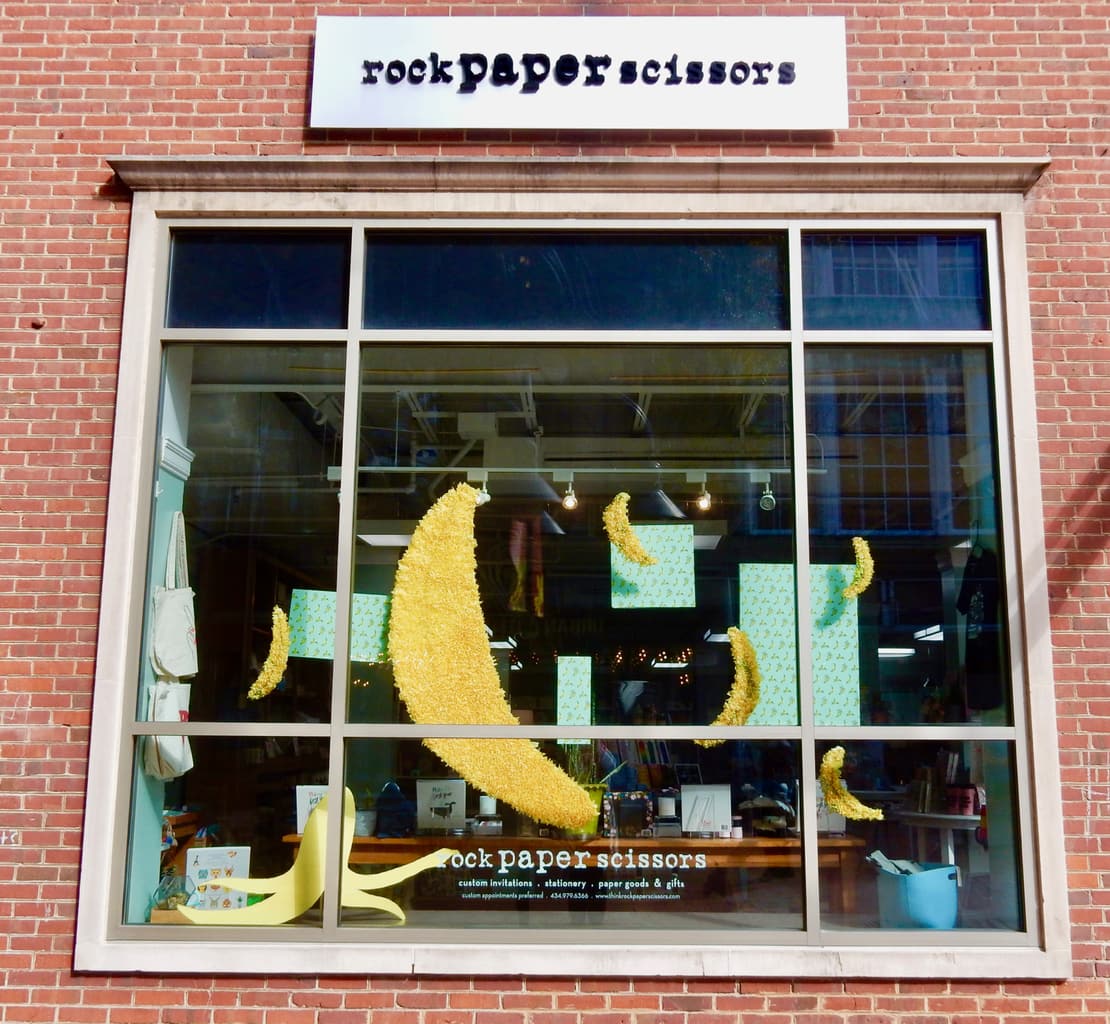 cards lovers, scrap bookers, and anyone looking for fine wrapping paper will adore this store.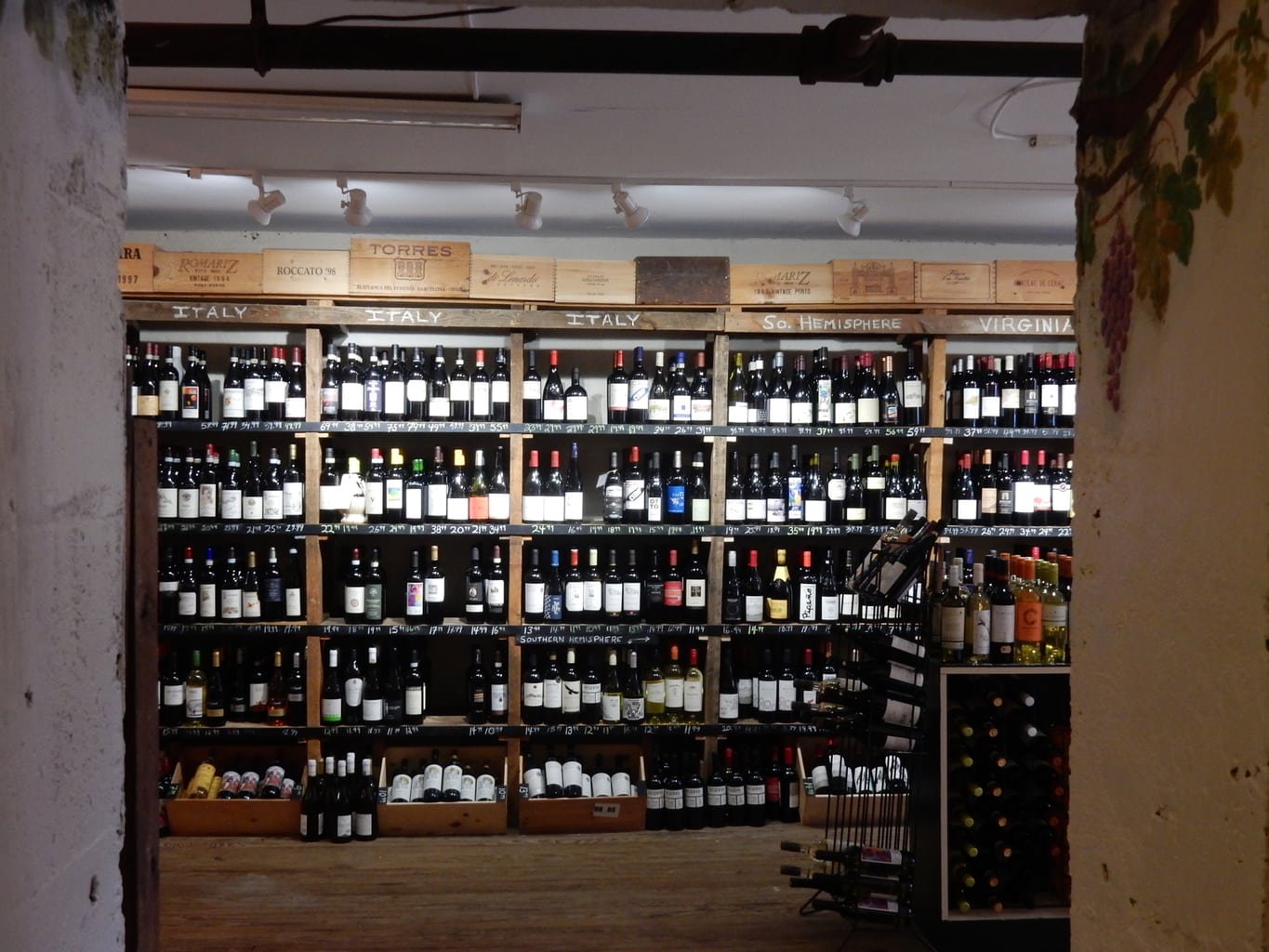 Not to be confused with "Market St. Market," To find this one, walk up 4th, take a left on Market St., cross the street, and you'll see a sign marking the entrance to this grotto-like basement wine shop, that has been here for years yet few know about. It's a beautiful space and a true "hidden gem." New owners have refocused on small brands and producers from around the world, with a good selection of local, organic, natural, and Kosher wines. Tastings every Friday from 5-7:30 are free.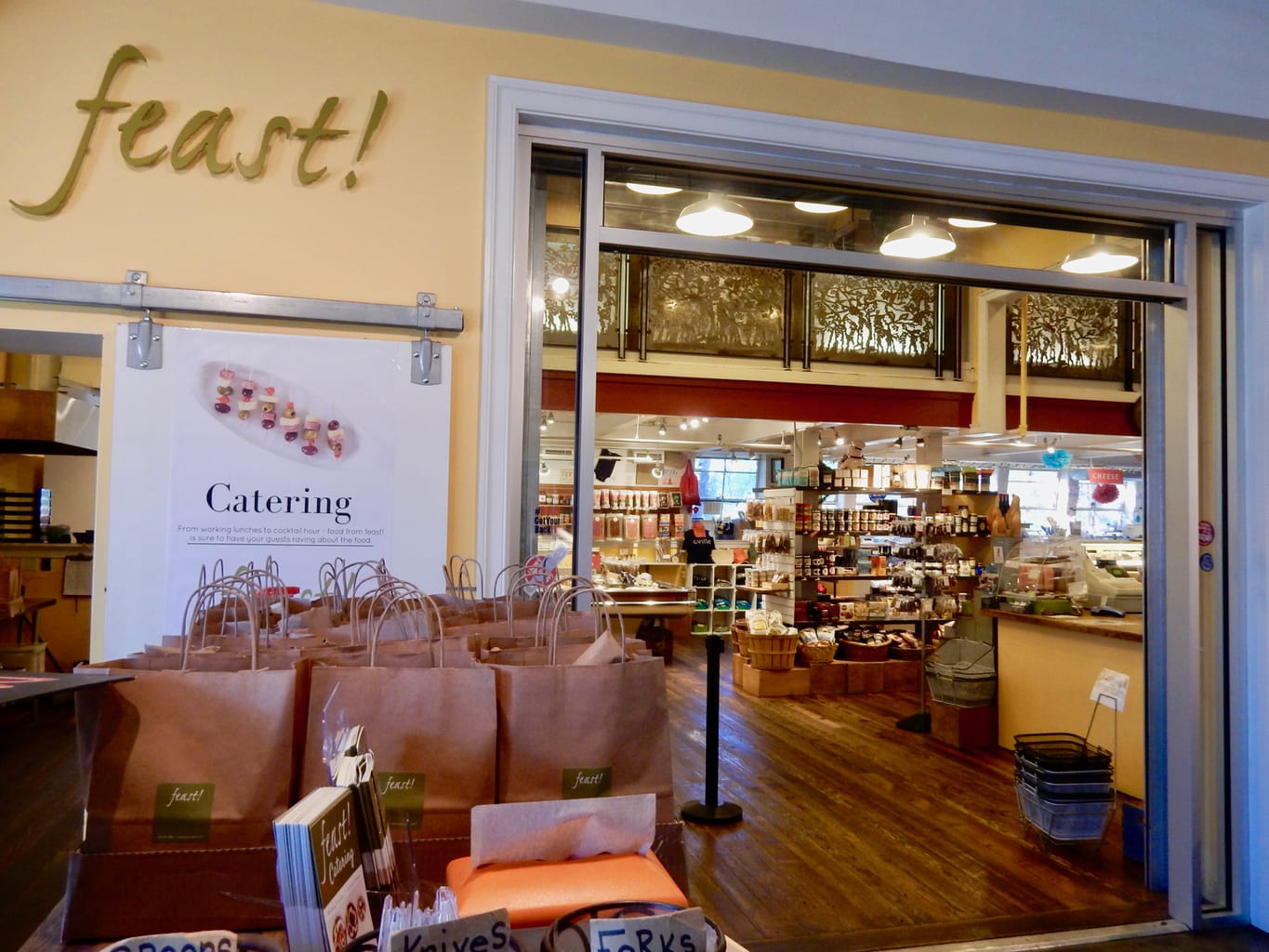 SHOP/PROVISION: Main Street Market Shops, Charlottesville VA
These include Feast! Pick up prepared foods at the deli counter, wine, cheese, preserves, olive oil, charcuterie – anything for a tailgate or picnic. Inside this small mall you'll also find the Coffee Truck by Feast! and spices galore at The Spice Diva.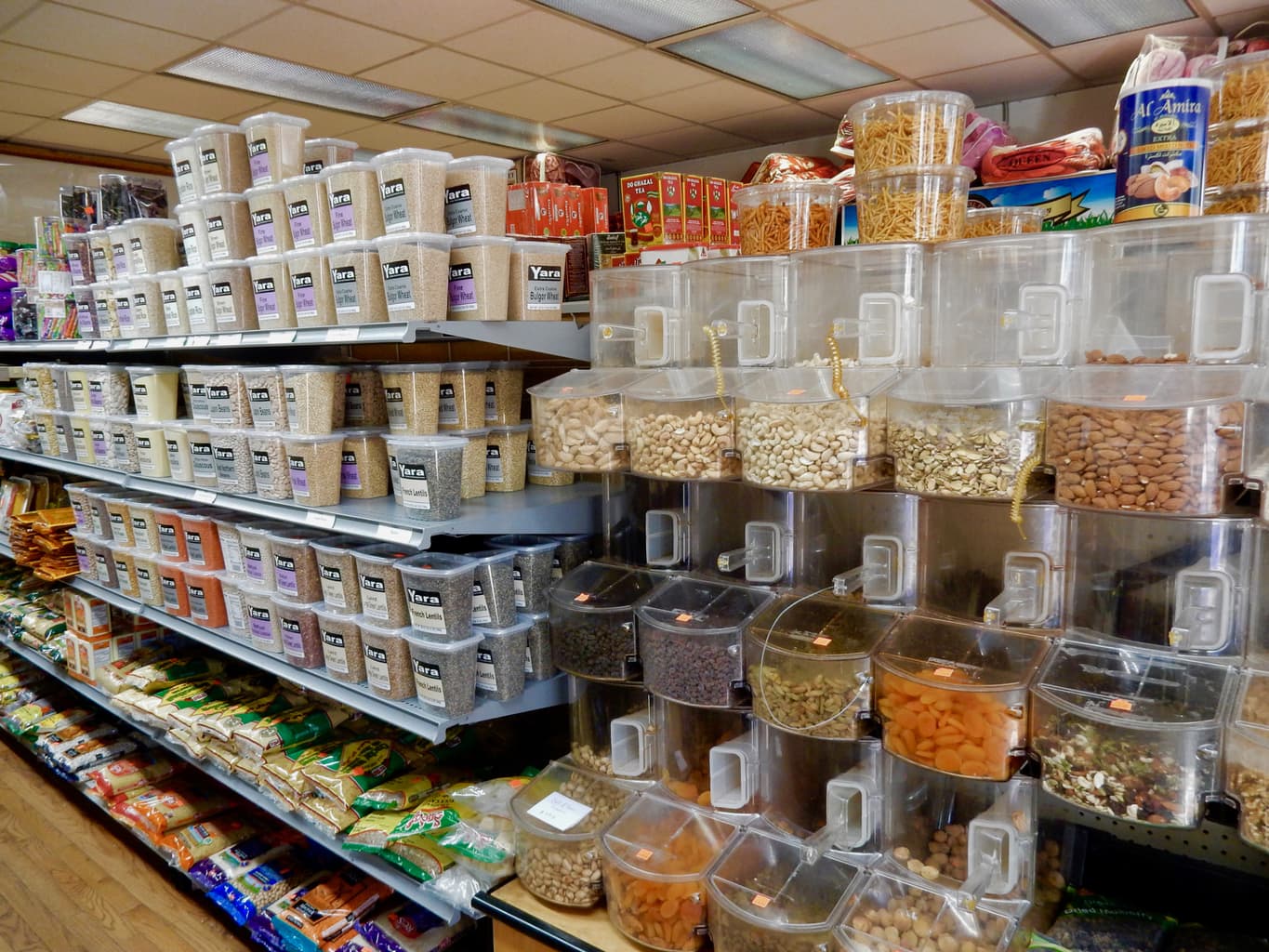 SHOP/PROVISION: International Grand Market, Charlottesville VA
Across the Street from Main St. Market, Grand Market serves a very diverse community. Many refugees from Afghanistan came here via the International Rescue Committee – most who helped US Troops with translation and security and required asylum in America. So, there's Afghan food – great nuts and spices – and foodstuffs of other lands. I purchased a lovely Turkish jar of nuts in honey – a work of art in itself.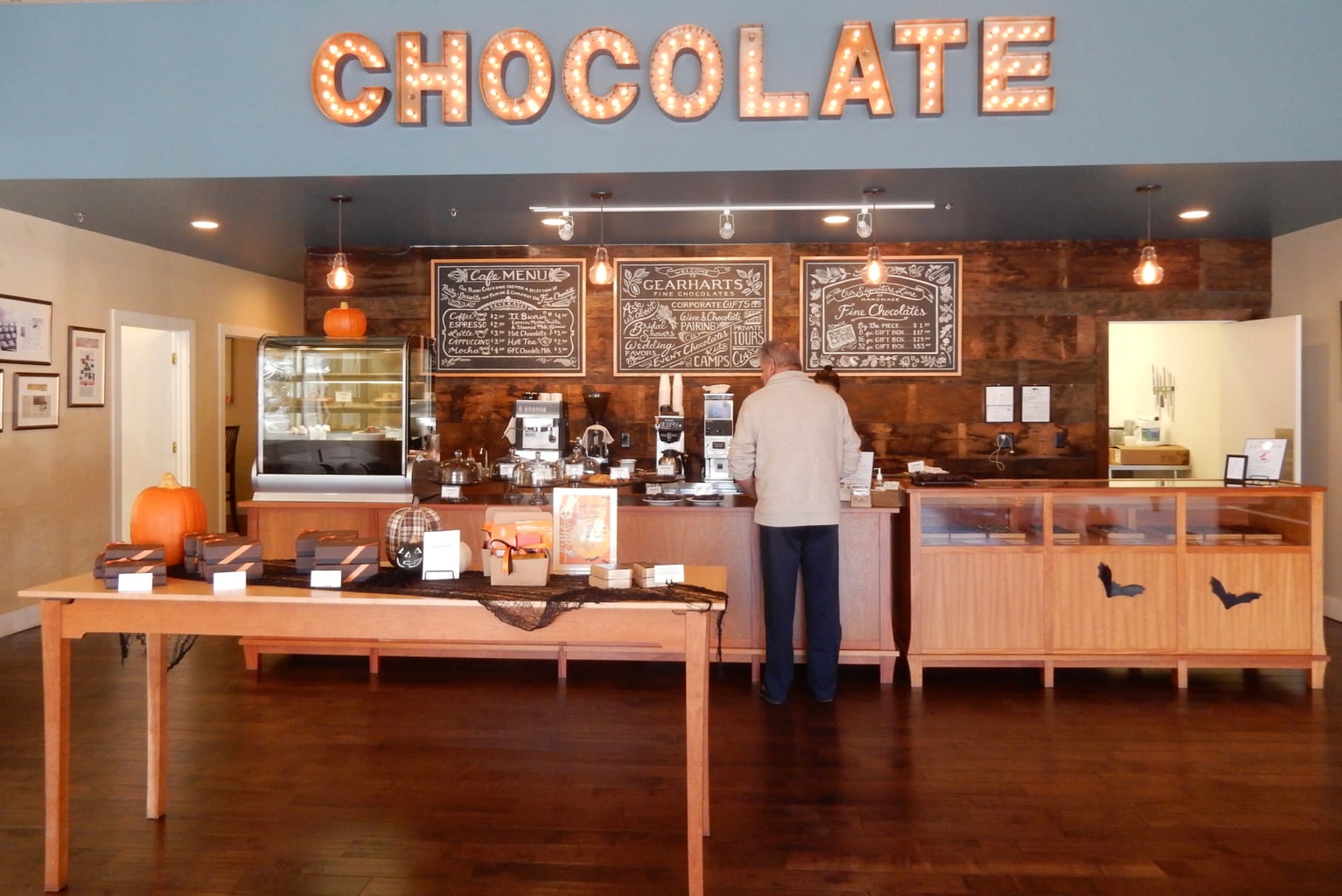 Even if you don't buy anything – stop by to watch chocolates being made in the production kitchen. And breath in that unmistakable, sensuous scent of cocoa. Stay for a cup of hot chocolate and dessert.
Where to Eat in Charlottesville VA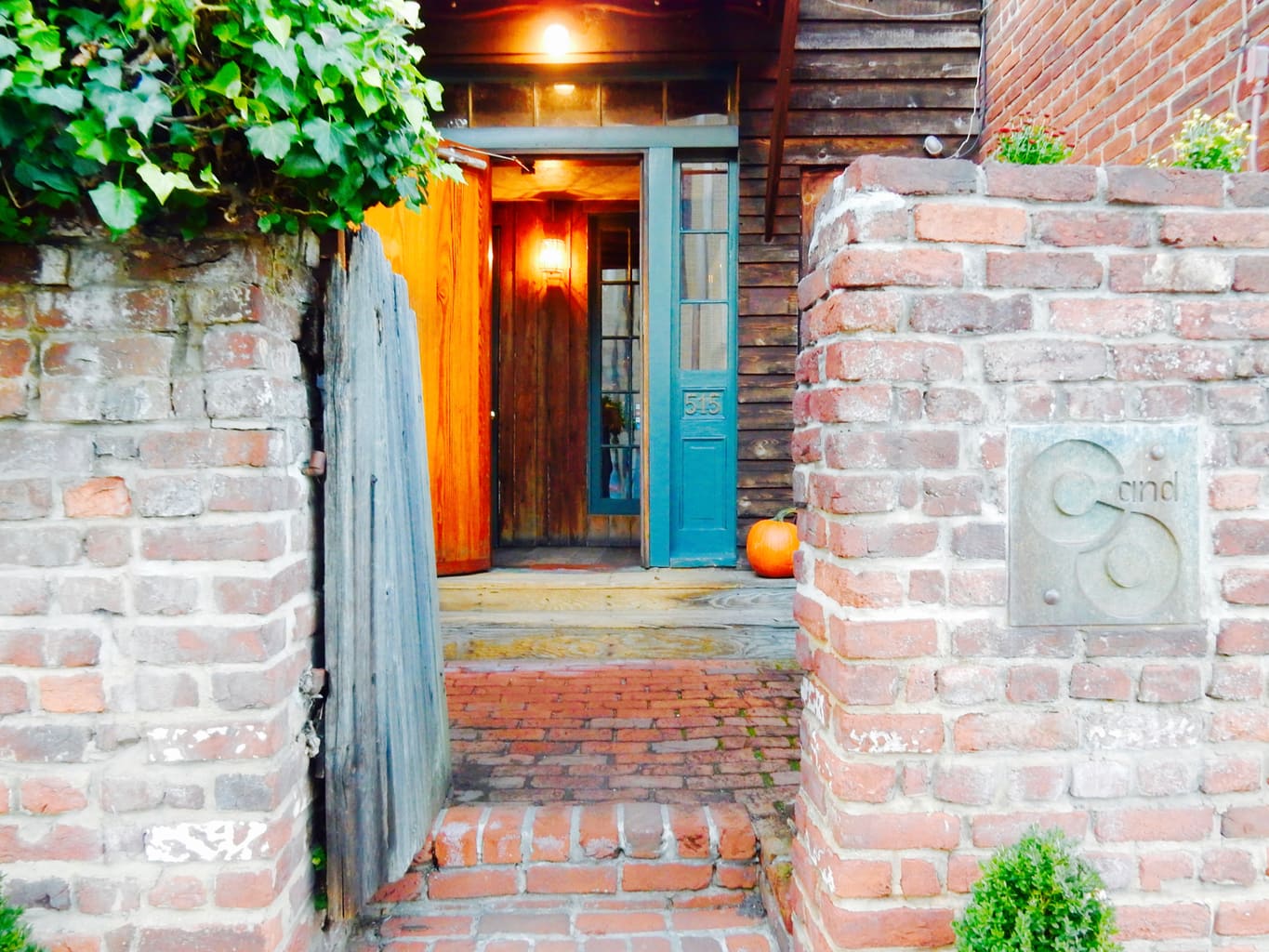 This fine-dining restaurant was carved from the bunkhouse built for railroad workers in 1900. It opened in 1976 with reclaimed barn-wood walls (out of frugal necessity: decades before this décor became popular).
Earlier in the evening, it's an intimate, candlelit French restaurant serving up dishes like the signature Steak Chinoise ($28) with scallions and tamari-ginger pan sauce. It's been on the menu for 40 years.
But seven days a week, during what would be considered after hours at almost every other restaurant, C&O turns into a haunt for "industry people" who order the favored Cheeseburgers and hang out till 2am. Be like a local, and join in.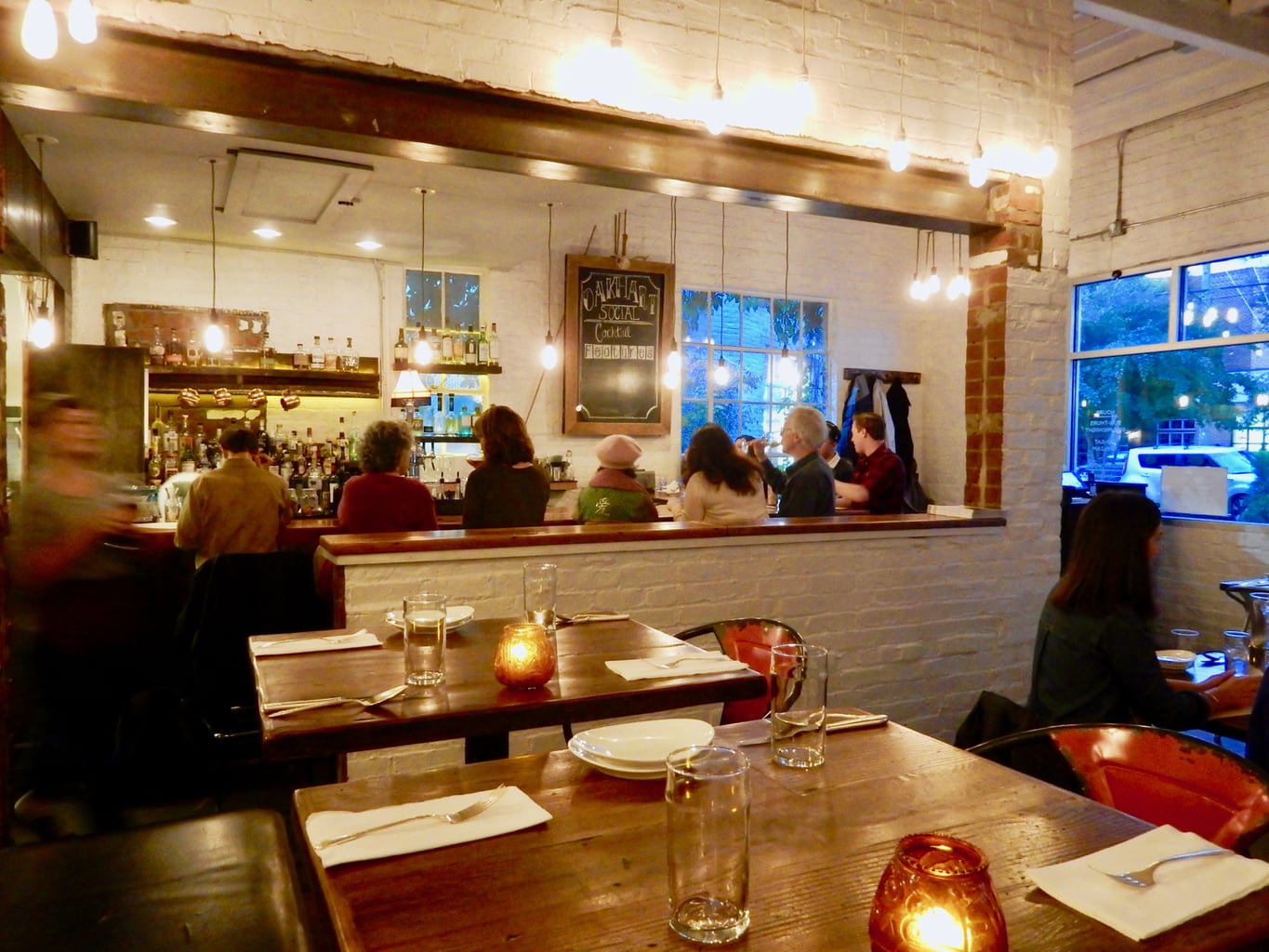 One of the latest Charlottesville dining sensations, Oakhart serves up some Southern vittles with panache. On a cool, Autumn Monday night, the high-top tables at this gas station turned restaurant were packed with people grazing on excellent innovative small bites, and sipping wine.
Chilled Roasted Cauliflower ($6), Chicken Wangz with salsa and Buttermilk Dressing ($11), Lamb Ribs ($27), Hangar Steak ($22), House pizzas ($15), and more keep 'em coming back. My perfect dinner? The Wangz and a glass of Cab Franc.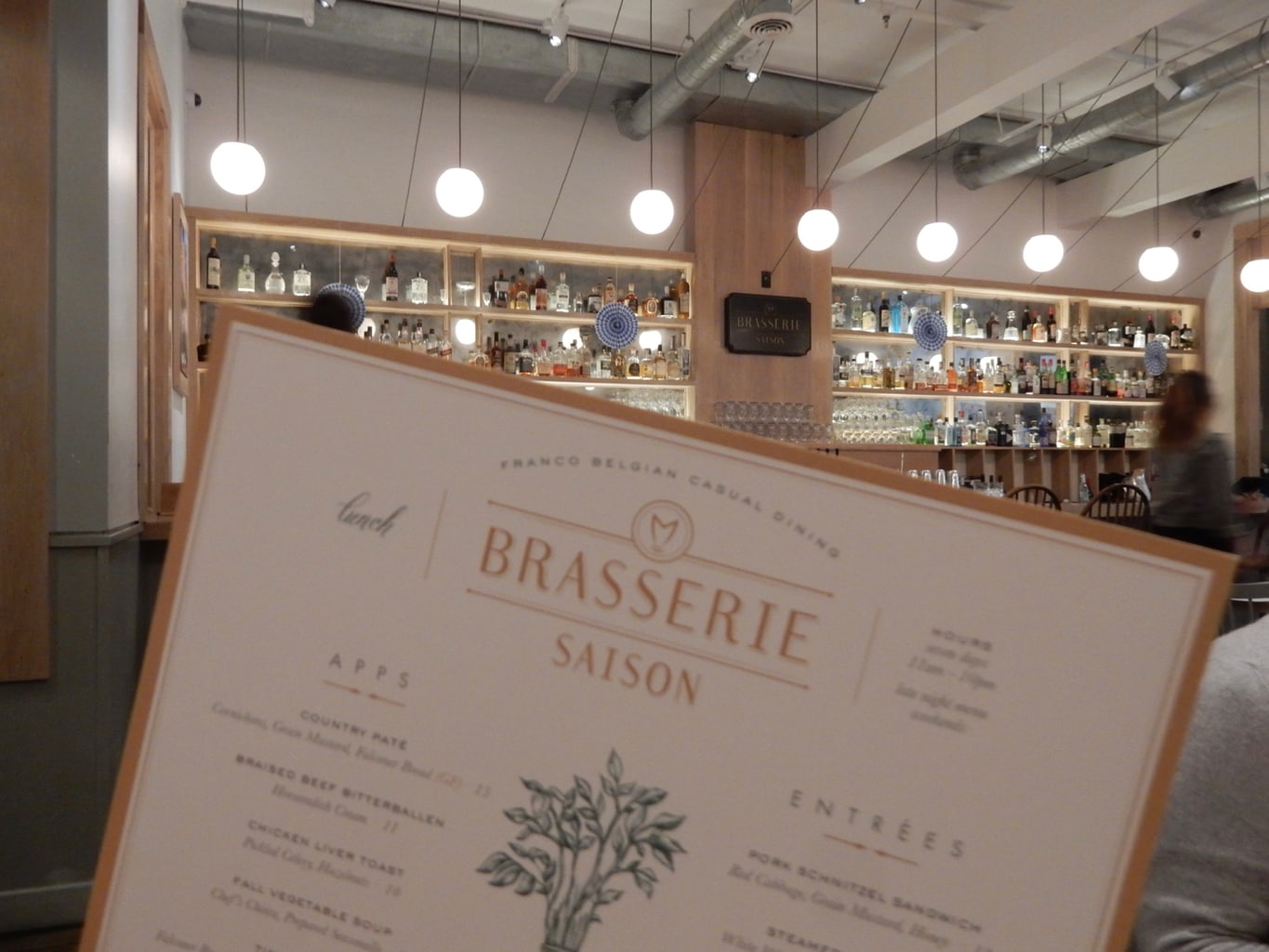 EAT: Brasserie Saison, on the Downtown Mall Charlottesville VA
Friends and families gather to dine on "Moules Fritte" – Mussels in white wine and Fries, Pork Schnitzel, and other Classic French-Belgian delights in this boisterous, light-flooded bistro. Downstairs, you'll find an intimate wood paneled clubroom for private parties, and a "secret" speakeasy behind bookcases.
"There's an outsized food culture for this size town," says General Manager, Will Curley. "Talented chefs are returning home from larger cities to raise their kids." One of those talented chefs, apparently, is right here.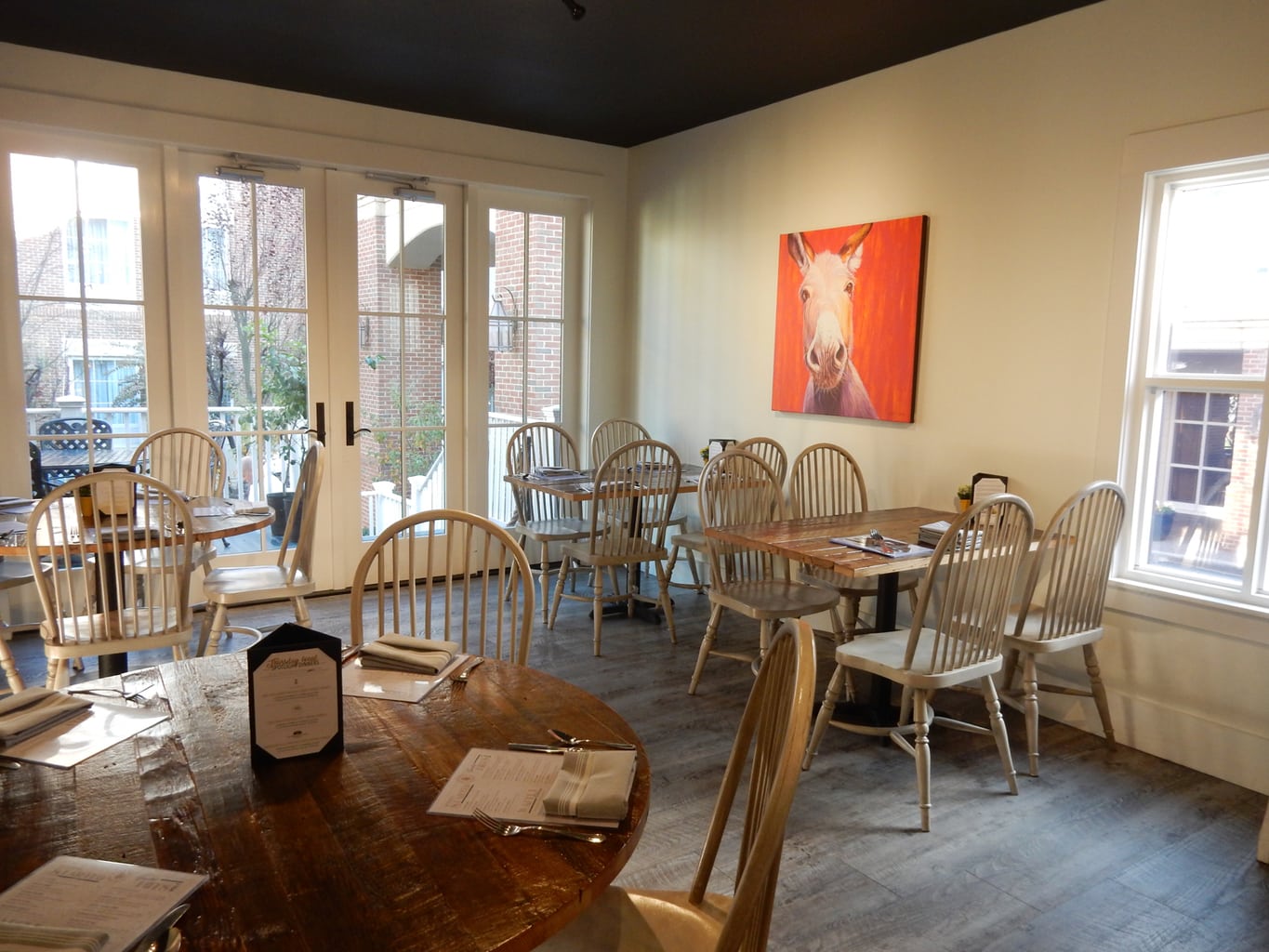 Though the Dinsmore Inn has been operating for some time, its in-house restaurant, Farm Bell, opened in 2017 and fast became one of the town's top restaurants. That might have something to do with Chef Jabari Wadlington, late of Los Angeles, who puts his own Cajun, French and African spin on Southern Cuisine, and Dinsmore Inn owner, Ryan Hubbard who adds a bit of wit and whimsy to the menu.
Farm Bell Restaurant sources and supports 40 local farms, including Ragged Branch from which Hubbard obtains some good-eatin' mash-fed beef (see above).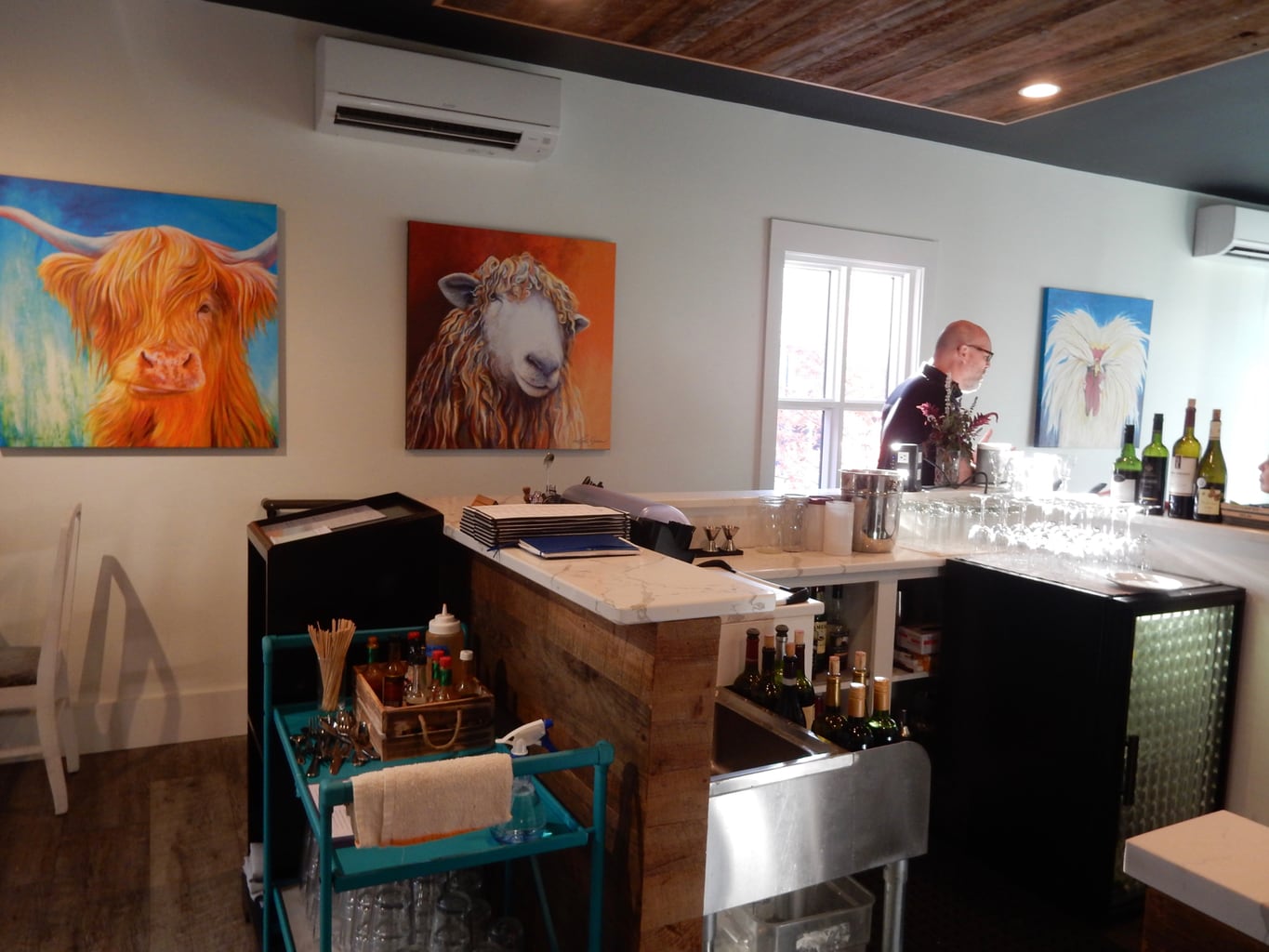 Choose the art-splashed café area – formerly the town-home's sleeping porch – or one of two more formal dining rooms. (Note: Inn guests get precedence over others). Order "Game of Scones" (four seasonal scones for $9), "Common Taters" ($4) or other small bites from the "Hello From the Other Sides" section.
For now, the dining room is open only three nights a week for dinner. But Brunch on Saturdays and Sundays can draw over 300 people.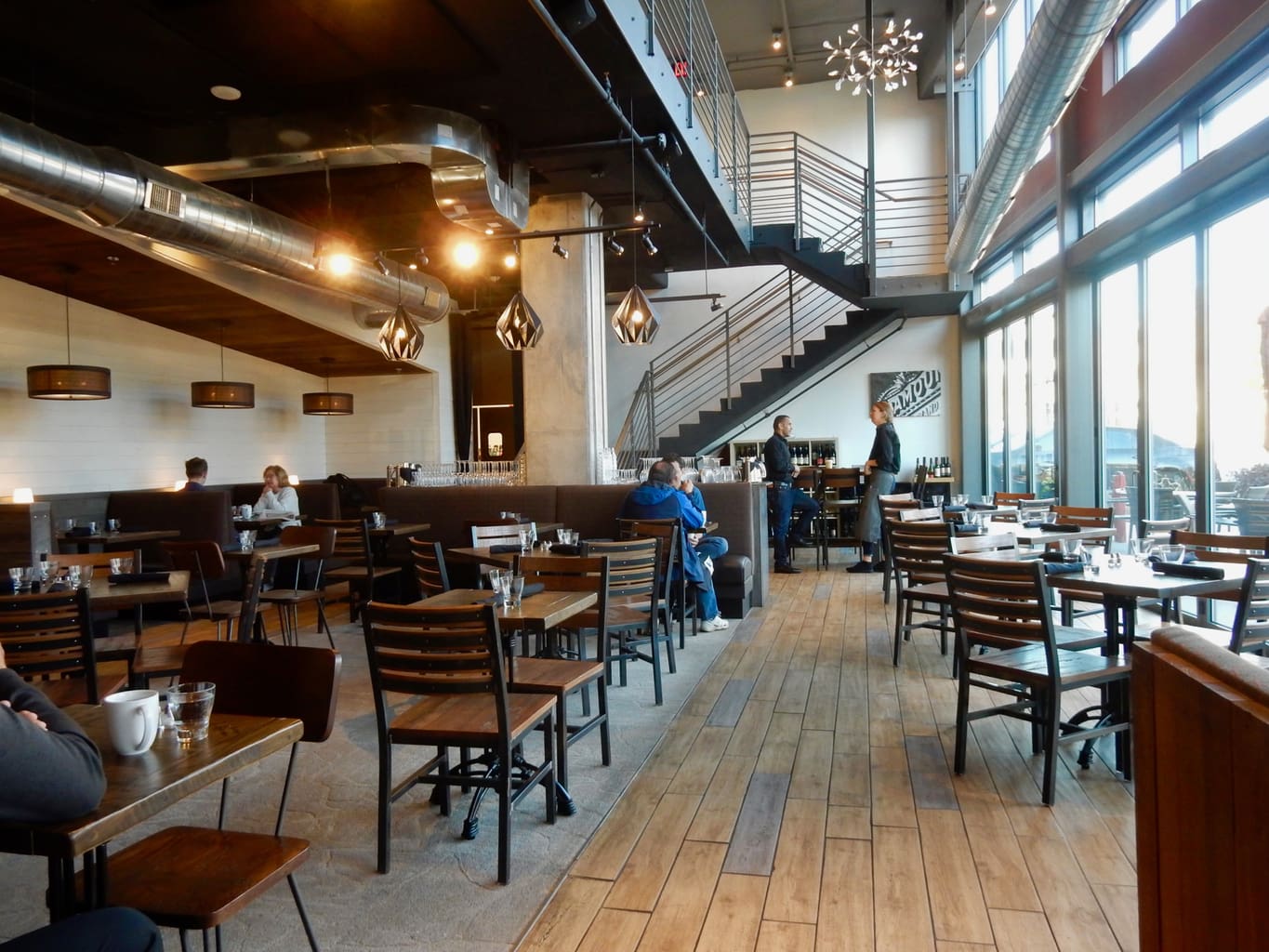 Another new, trend-forward restaurant in town, Renewal, situated in the Draftsman Hotel, has been earning raves since it opened. With an industrial feel, soaring warehouse like ceilings, and great food, patrons love the self-serve beer and cider taps at the bar. It's a cool feature for those who don't want to wait for a bartender.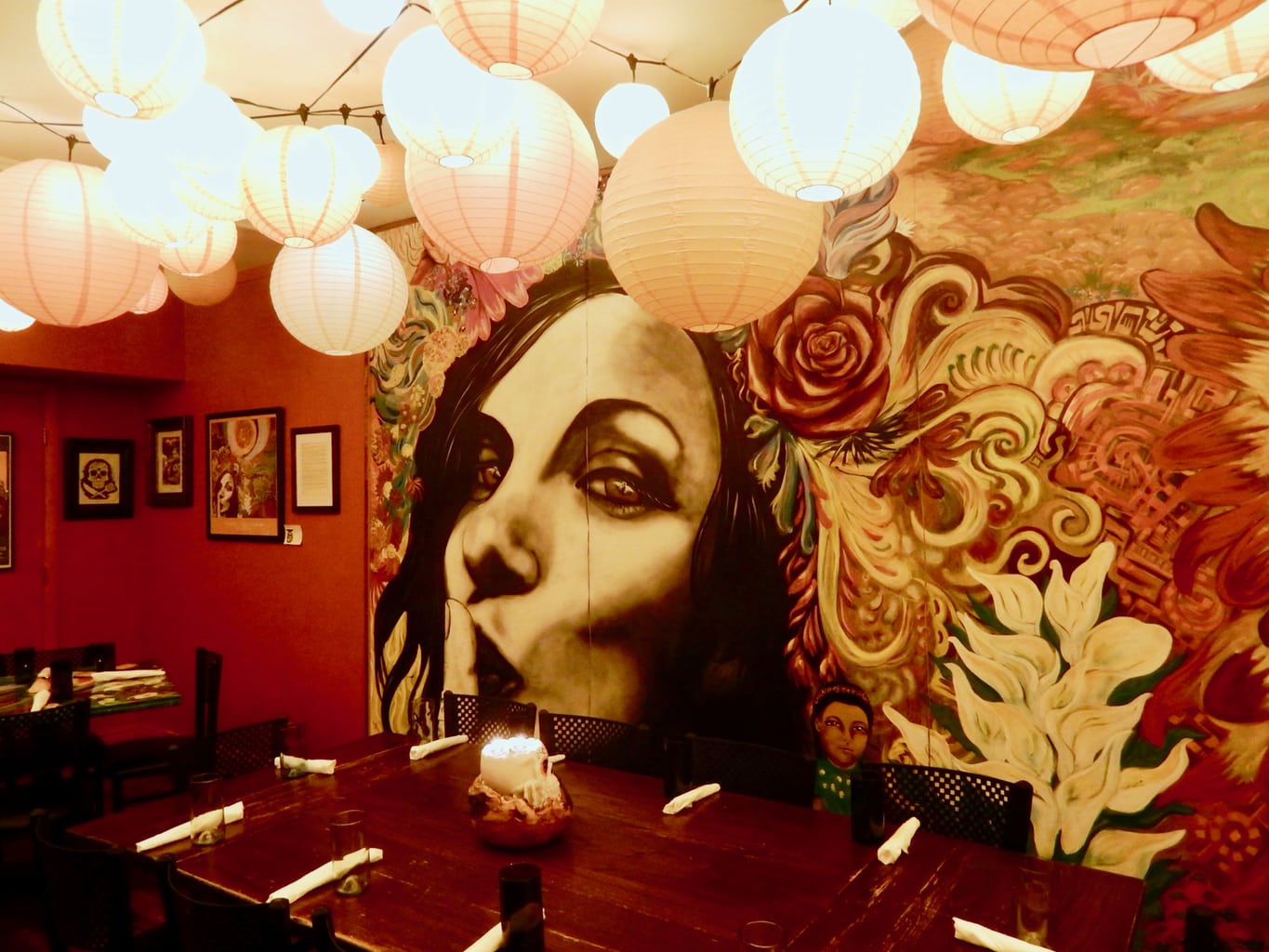 On the Pedestrian Mall, this Mexican restaurant offers live Latin music most nights. Every Monday night – Tango! Come for dessert and an after-diner drink (there's an expansive Tequila and Mezcal list) and dance!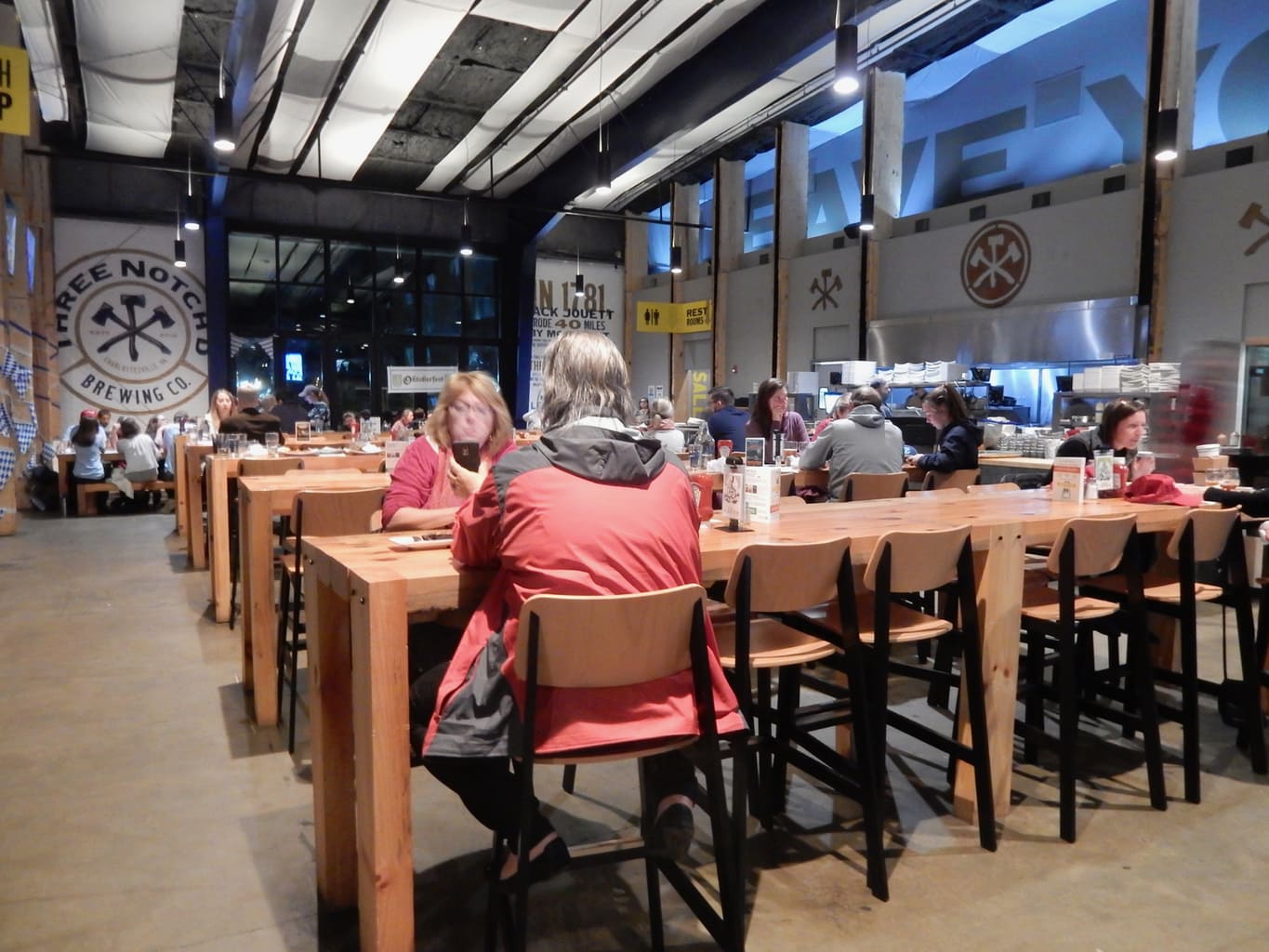 TASTE/EAT: Three Notch'd Craft Kitchen and Brewery
Named for the main east-west road during the Colonial era, this brewery sits right above the North American Sake Brewery. Its vast interior encompasses rows of communal tables, beer garden style, on which you can eat decent elevated pub food and try a passel of brews, including sours.
For IPA lovers, order a pint of 40-Mile IPA – a reference to "Virginia's own Paul Revere," Jack Jouett, who rode 40 miles to warn about the Brit's arrival, and purportedly saved Thomas Jefferson from capture.
Where to Stay In Charlottesville VA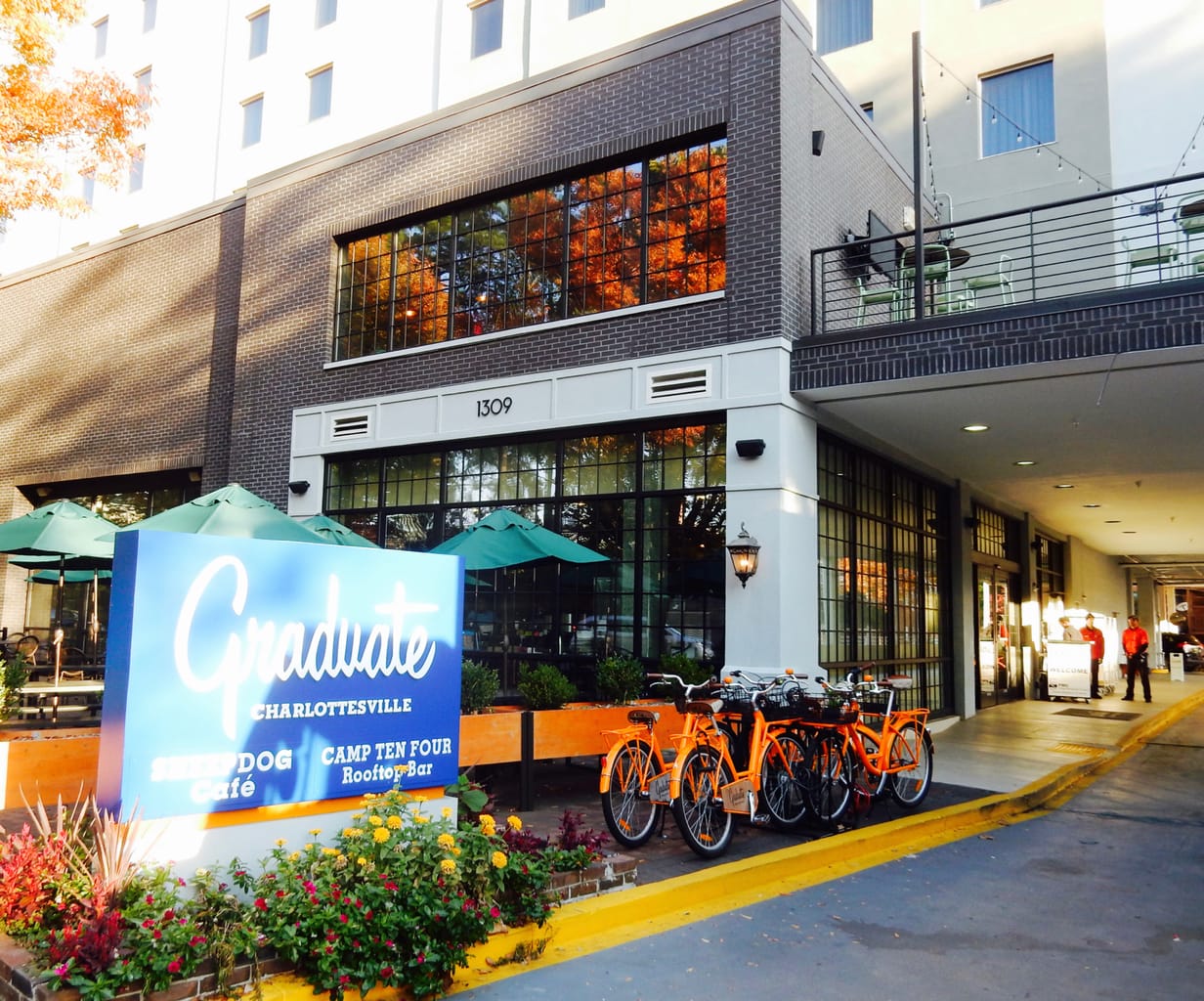 Nearly abutting college campuses, the well-located, "thoughtfully crafted" Graduate Hotels are sprouting up in many University towns throughout the USA, and offer a quirky, fun, boutique alternative to other stuffy, corporate competitors.
To whit, Charlottesville: where The Graduate Charlottesville, across from UVA campus and a 10 minute walk from the Downtown Mall, has a 40's-era College-Meets-Summer-Camp vibe, and guest rooms sport a "dorm room" motif of a simpler era. Of course, with all the modern amenities of a luxury hotel.
First Impressions of Graduate Charlottesville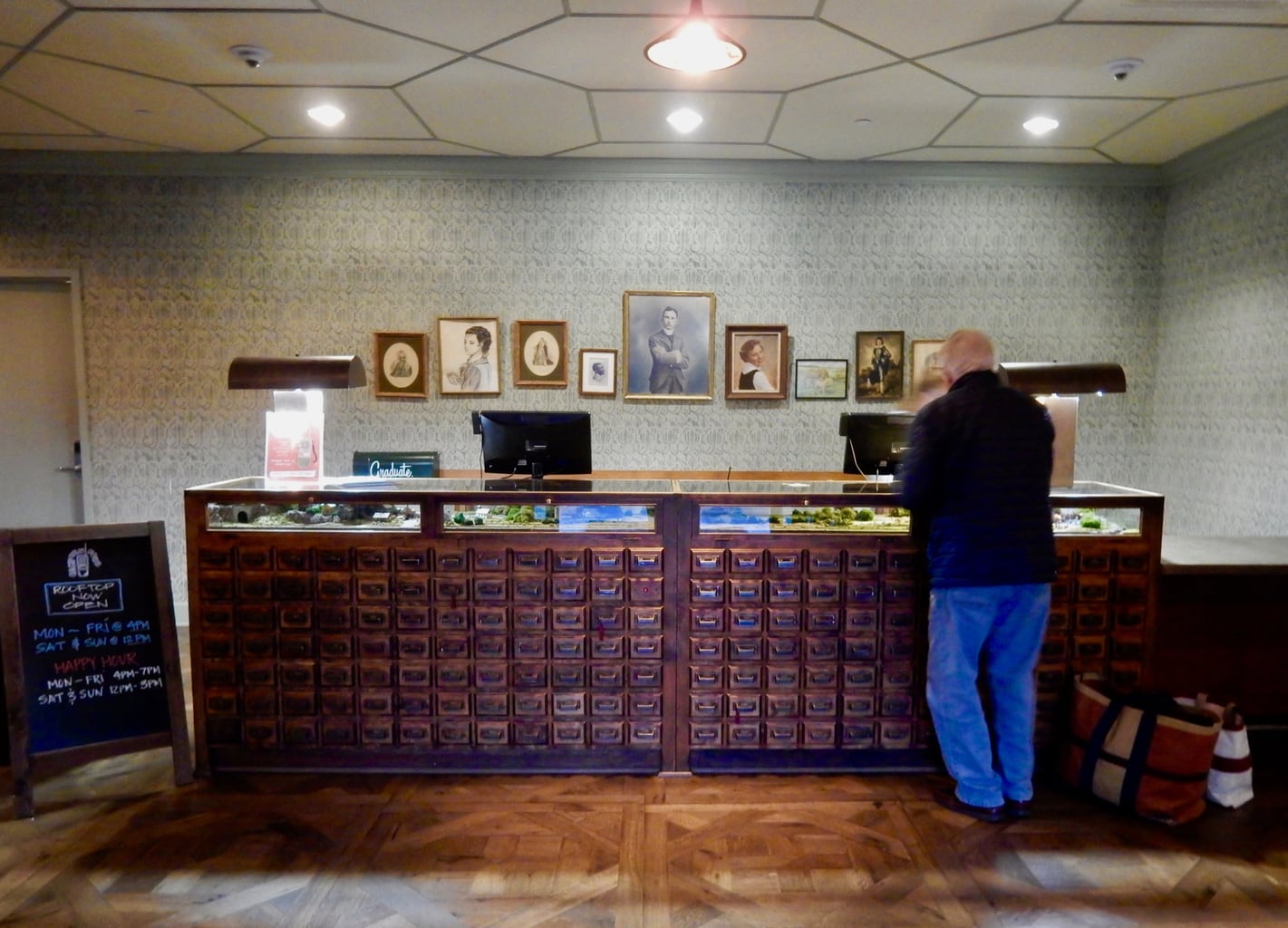 Right on Main St., this snazzy contemporary hotel has an off-street driveway and friendly eager valets to assist you.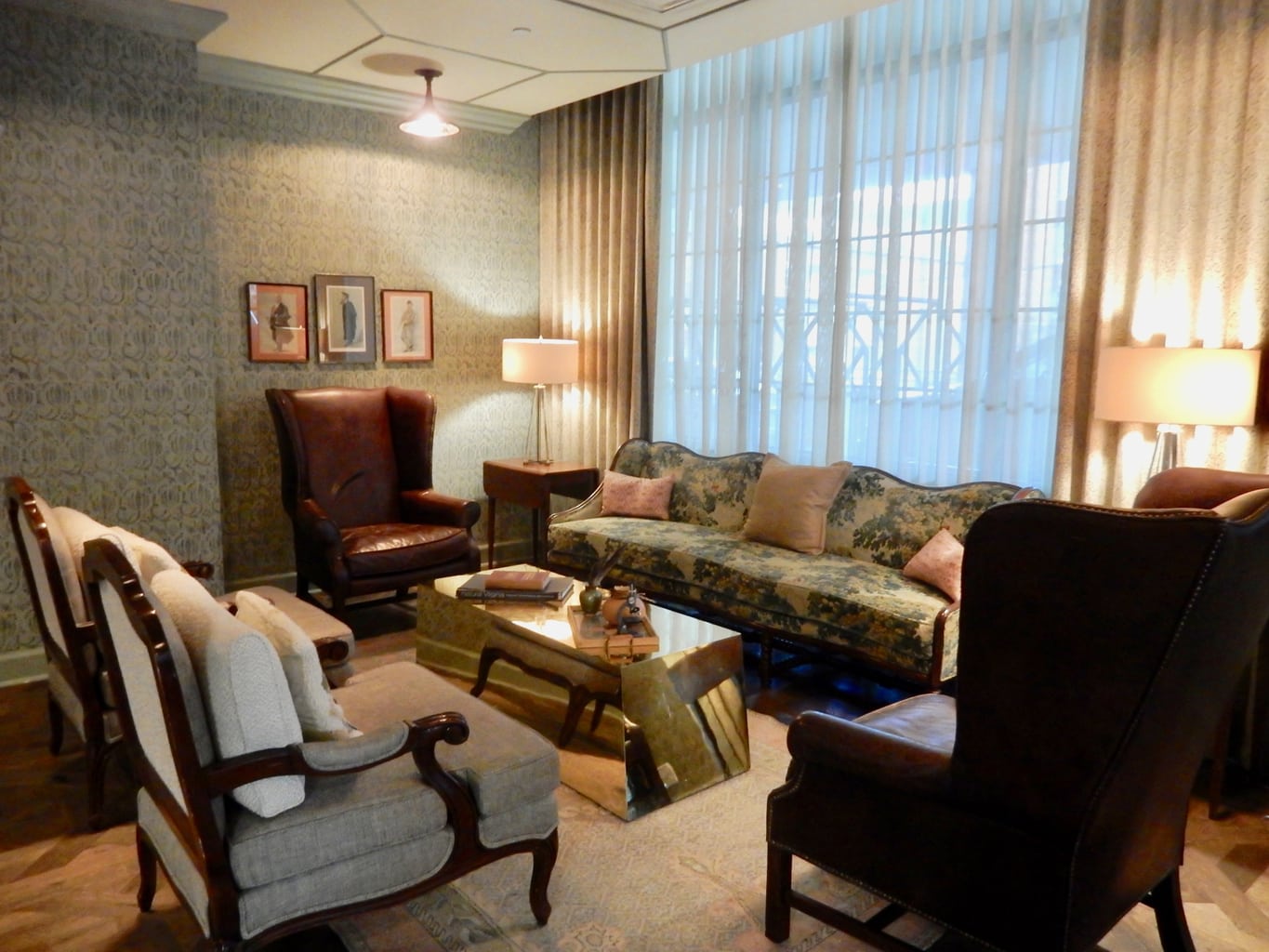 Check in at the card catalog reception desk (a library search system that only Boomers will be familiar with) where you're issued a Student Union Card room key.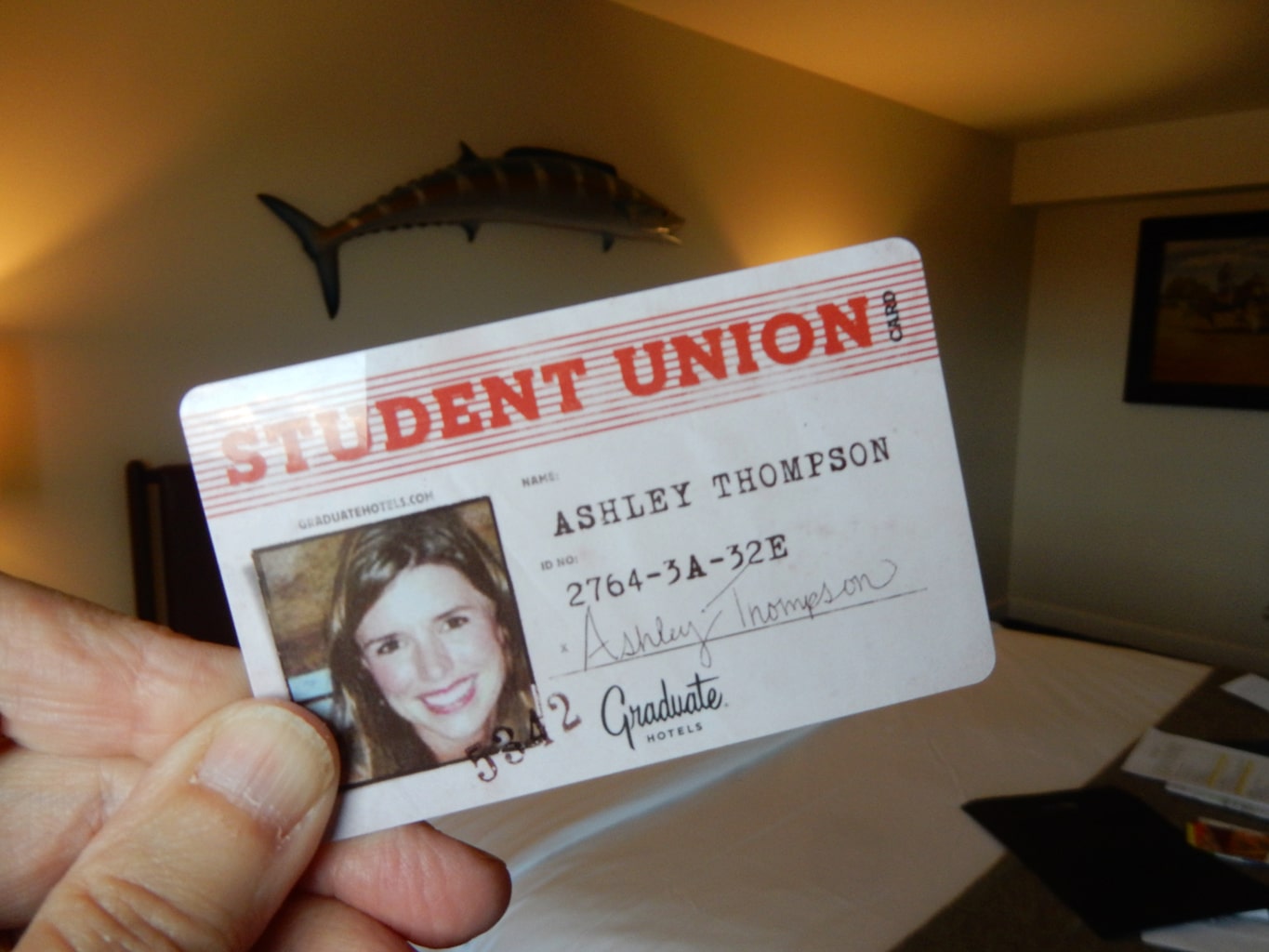 Then, grab a bite or coffee in the street-side lobby café before heading up to your room. Or hang out in one of the living rooms dressed in mid-1900's retro furnishings. Mid-Century modern 50's is so overdone. Time to hark back to the 40's here.
Rooms at The Graduate Charlottesville VA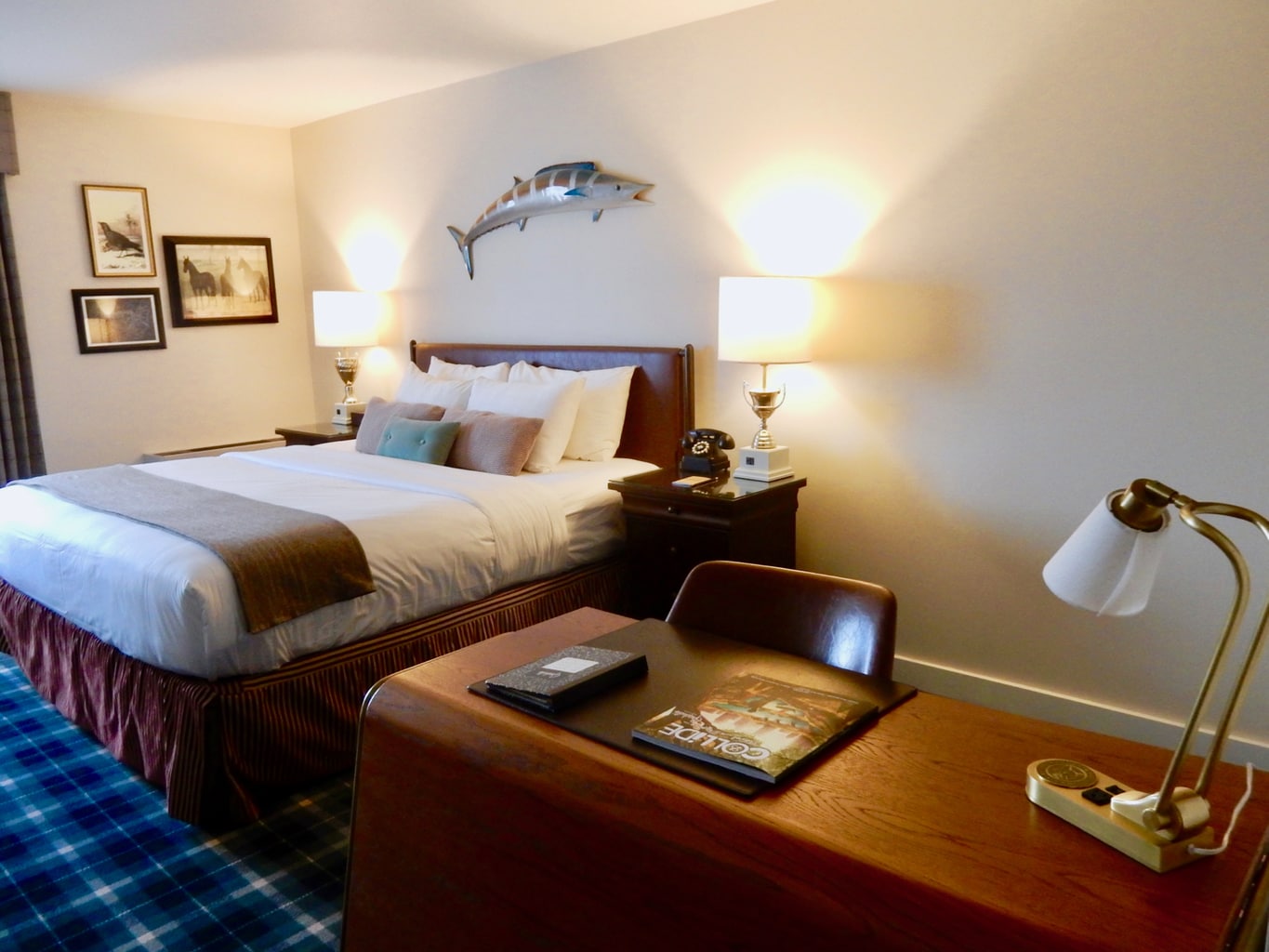 Graduate Hotel rooms have all the comforts of home and enough whimsy to keep me grinning. Hound's-tooth curtains and tartan carpeting create the "rah-rah" vibe of another, more innocent, era. (I honestly spent a few moments hunting for cheerleading pom-poms).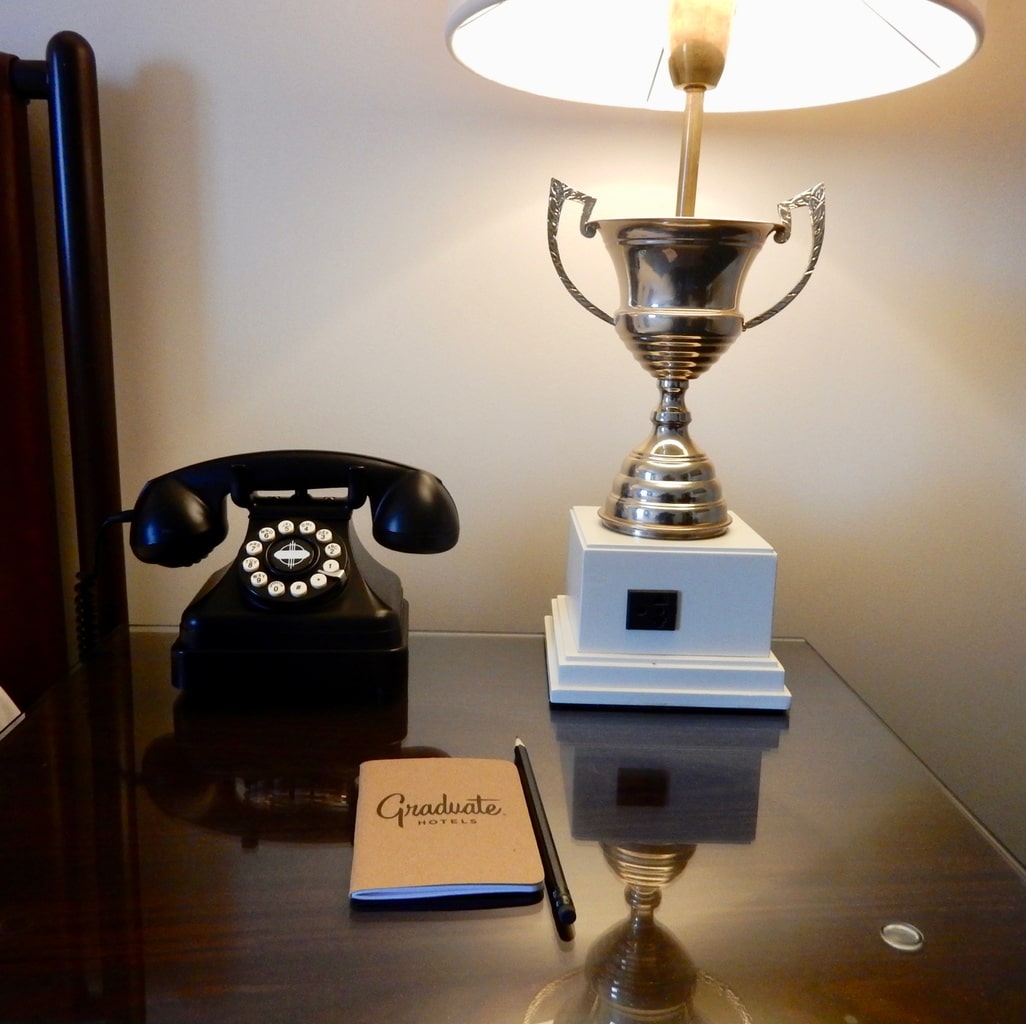 A mounted fish hangs above the bed that is cloaked in a white duvet stuffed with just the right amount of down comforter to earn high grades for comfort. A rotary phone, sports-trophy lamp, and chest of drawers, adorned with silhouettes of America's founding fathers, will send those of a certain age into fits of nostalgia and college-age kids into fits of retro-hip wonder.
Dining at The Graduate Hotel Charlottesville VA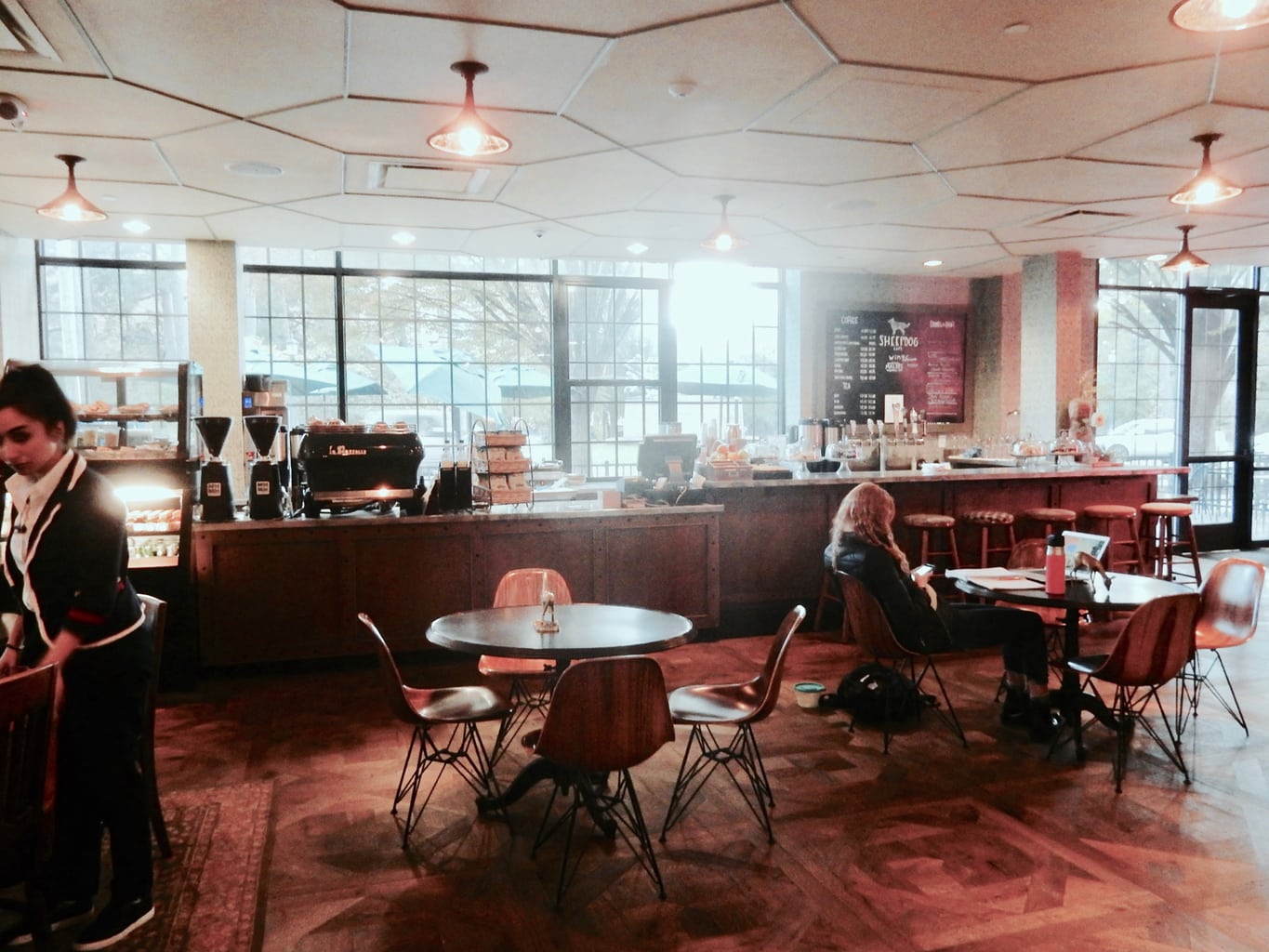 The Lobby level coffee shop is perfect for a quick snack, and your first jolt of caffeine in the morning.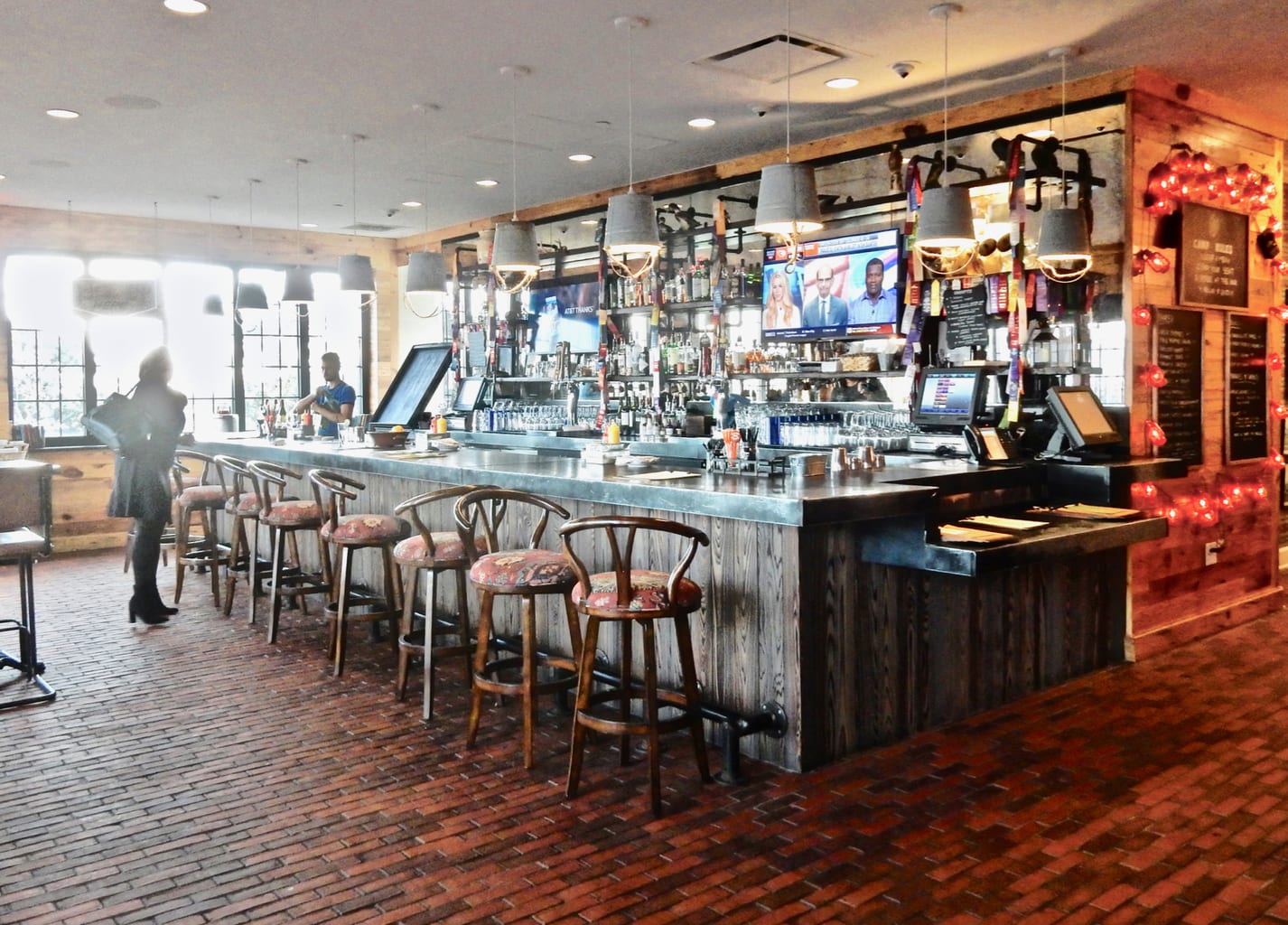 But to maximize your experience here, head up to Camp Ten Four on the rooftop for burgers, hushpuppies, shakes, and other memories of a summer in the mountains – with craft cocktails. OK – so maybe your student or prospective students can't enjoy the cocktails, but they'll love the mountain views and magical sunset.
Amenities at Graduate Charlottesville VA
Complimentary bikes (first come-first served).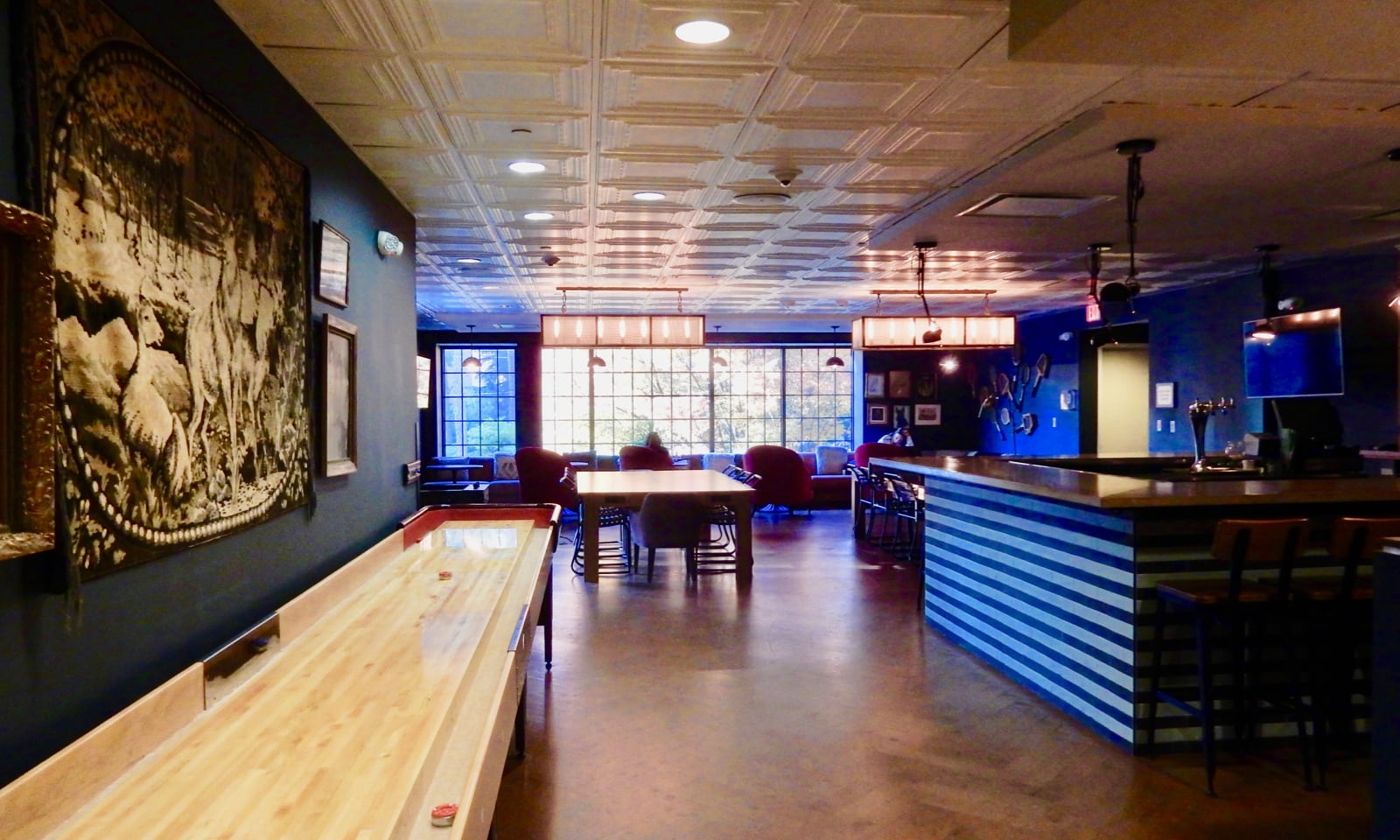 Game Room (foosball, pingpong, shuffleboard).
Fitness Center.
Free WiFi
Dog-Friendly – dogs stay free.
Rooms from $97 offseason midweek to over $400 in season, and more for special events, include bike use, game room, wi-fi, fitness center.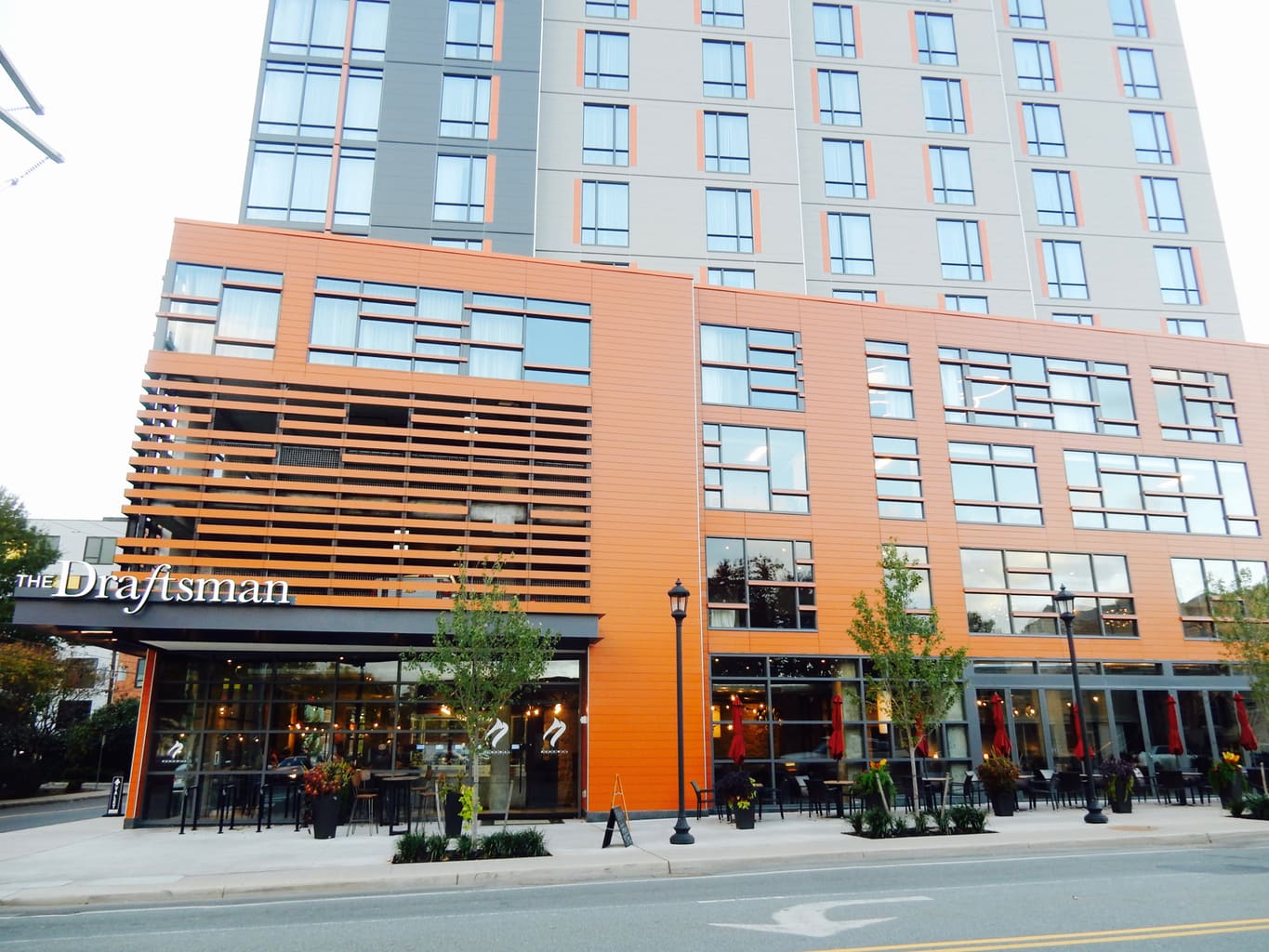 Another boutique new on the Charlottesville VA scene (May '18) The Draftsman now stands on the site of former art supply store. There's a drafting table in the living room-library-lobby, a Jefferson-style alcove bed that serves as seating, and a 1700's map of Charlottesville painted on the ceiling.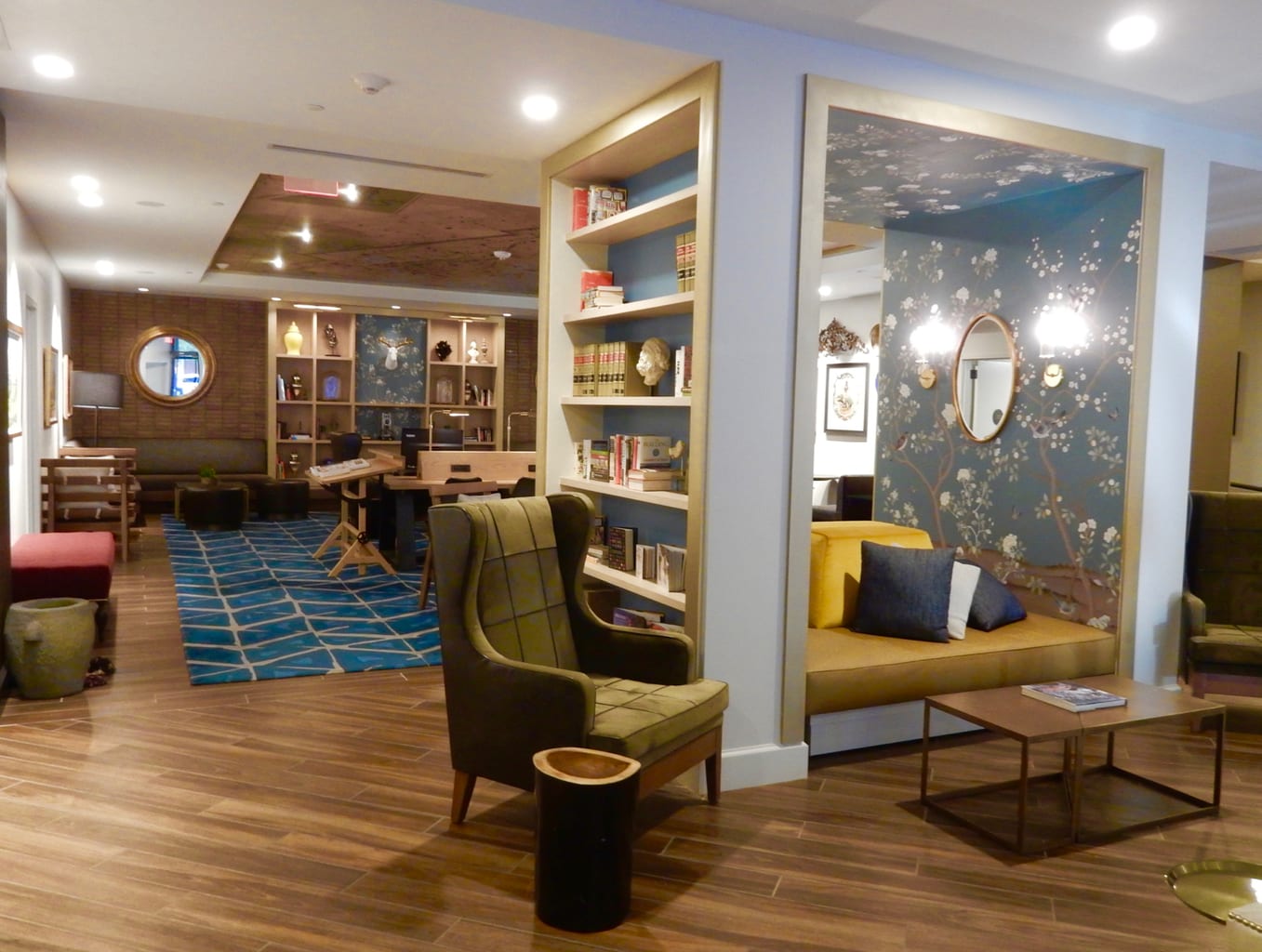 If you're lucky, you'll meet Bullet – a young Wheaton Terrier who happily welcomes you as you check in. In training as a Therapy Dog, Bullet will surely be a hit with the kids at Children's Hospital next door, as well. Rooms sport contemporary furnishings, wine from Dave Mathew's own Blenheim Winery (honor bar), barn-door bathrooms, subway tile showers, and orange and blue seersucker robes.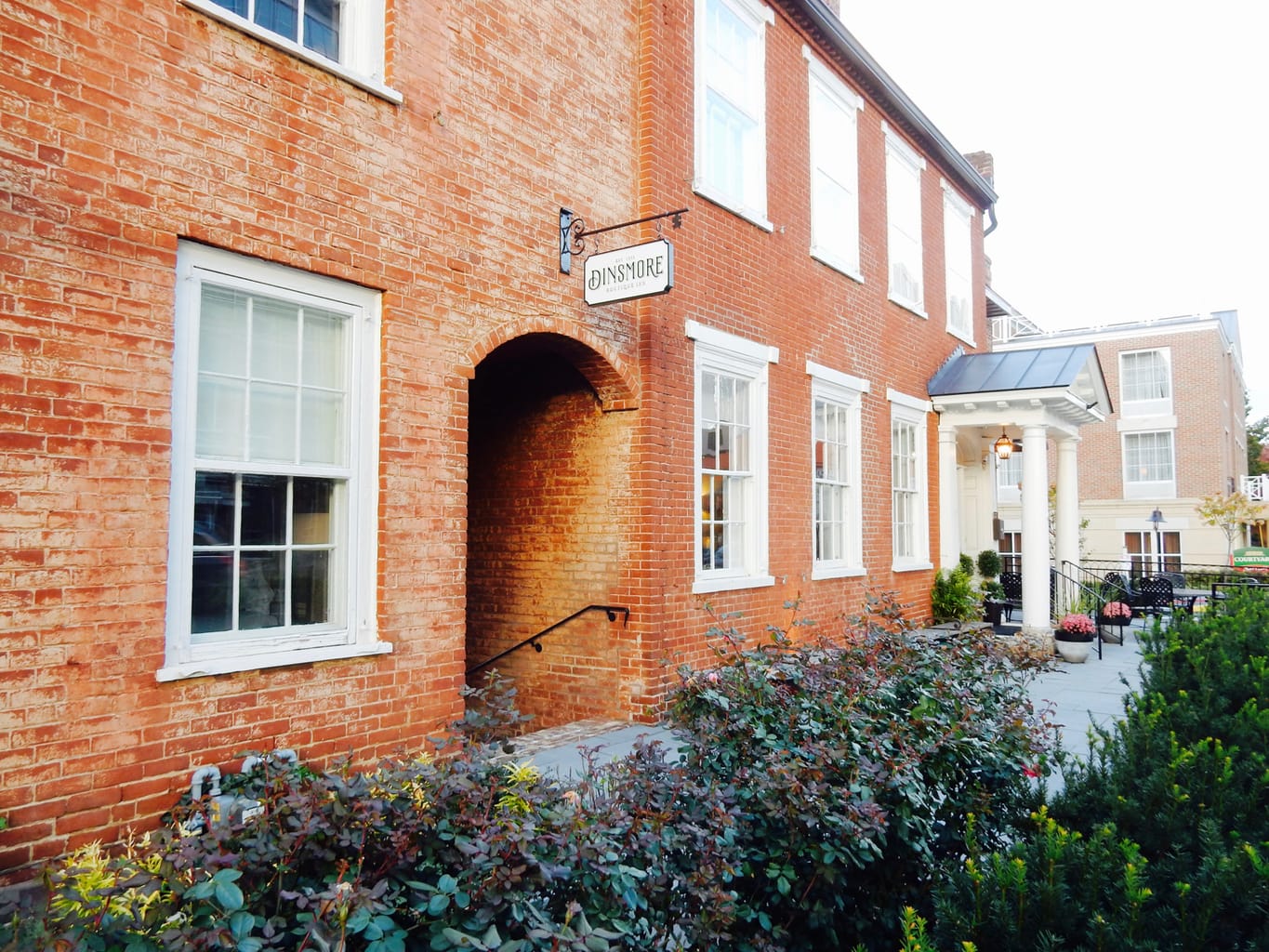 With just nine luxury rooms, this lodging is more intimate than those previously mentioned, but, near UVA, is just as conveniently located. While a student at UVA, Ryan Hubbard walked by this Federal style red brick townhouse – constructed in 1822 by Thomas Jefferson's builder – nearly ever day. In 2003 he bought it.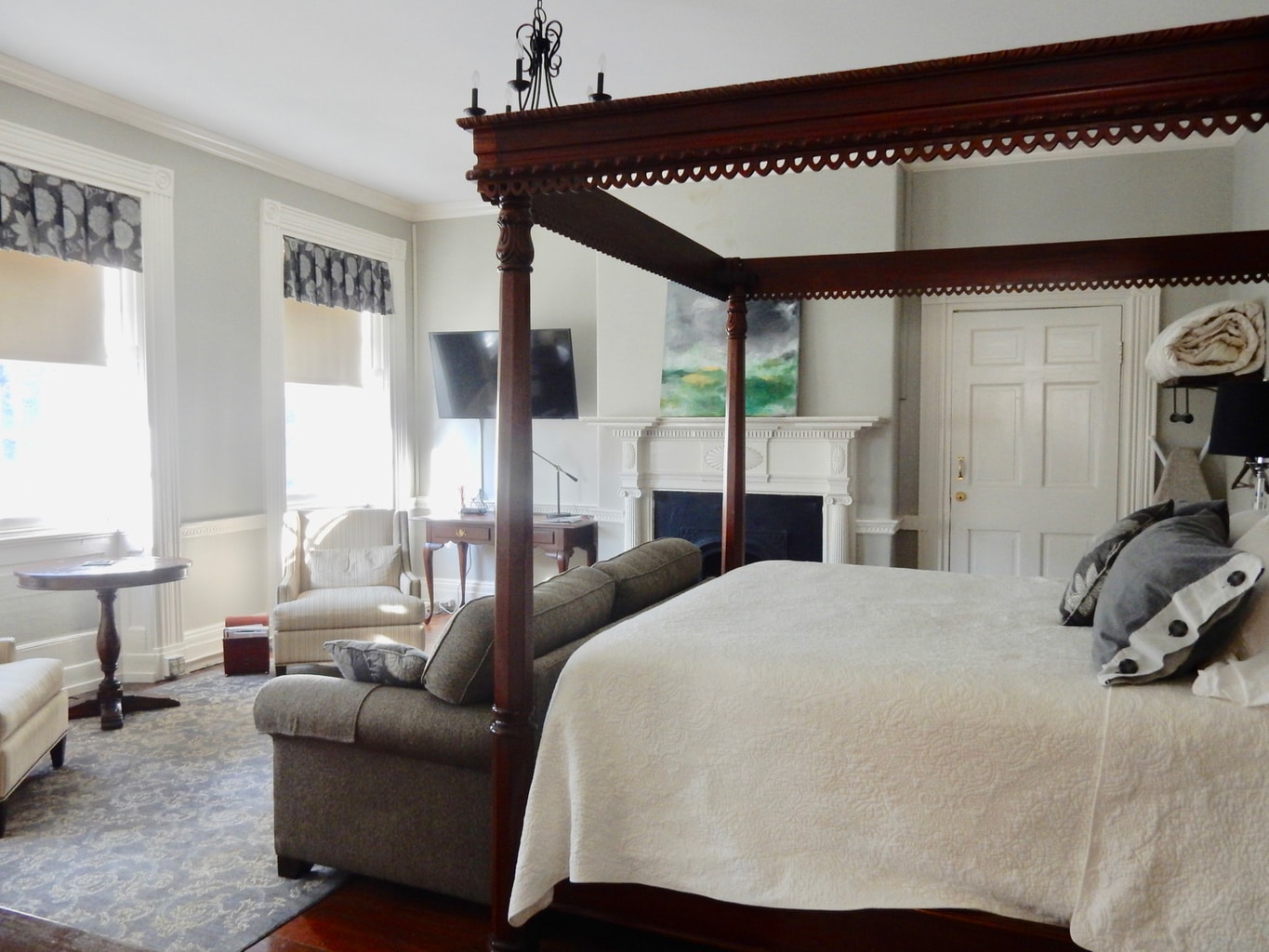 Almost immediately, Hubbard opened his property as the Dinsmore Inn. In 2016, he completely renovated the rooms to luxury standards, and in 2017 opened an on-site restaurant, Farm Bell Kitchen. Rooms are elegant, with lovely attention to detail.
There are tiled showers and clawfoot tubs, original floors and doors, four-poster beds and fireplaces – what you'd expect from a small posh inn. But I'd venture to say that this is the only lodging where the restaurant chef also makes the proprietary bath salts.