WHY GO: There are plenty of things to do in Lewes DE (pronounced "Lewis"), formerly a fisherman's paradise, that have nothing to do with a rod and reel. This Delaware Beach Town has upscaled to a funky, exuberant, culinary destination – with a seriously fun focus on history.
Both a resort and residential town, Lewes Delaware is now a favorite with retirees wishing to downscale space and spending. But not lifestyle.
Lewes is on the Delaware shore, an 85-minute ride from the tip of the New Jersey Shore on the Cape May – Lewes ferry.


It's full of cute shops, great indie inns, and some surprising attractions most people miss. So, read along and make your plans to stay a night or two.
Lewes is on the roster of these 6 Romantic Getaways in Delaware, and is one of the Perfect Places to Pop the Question in Delaware.
Things to Do in Lewes DE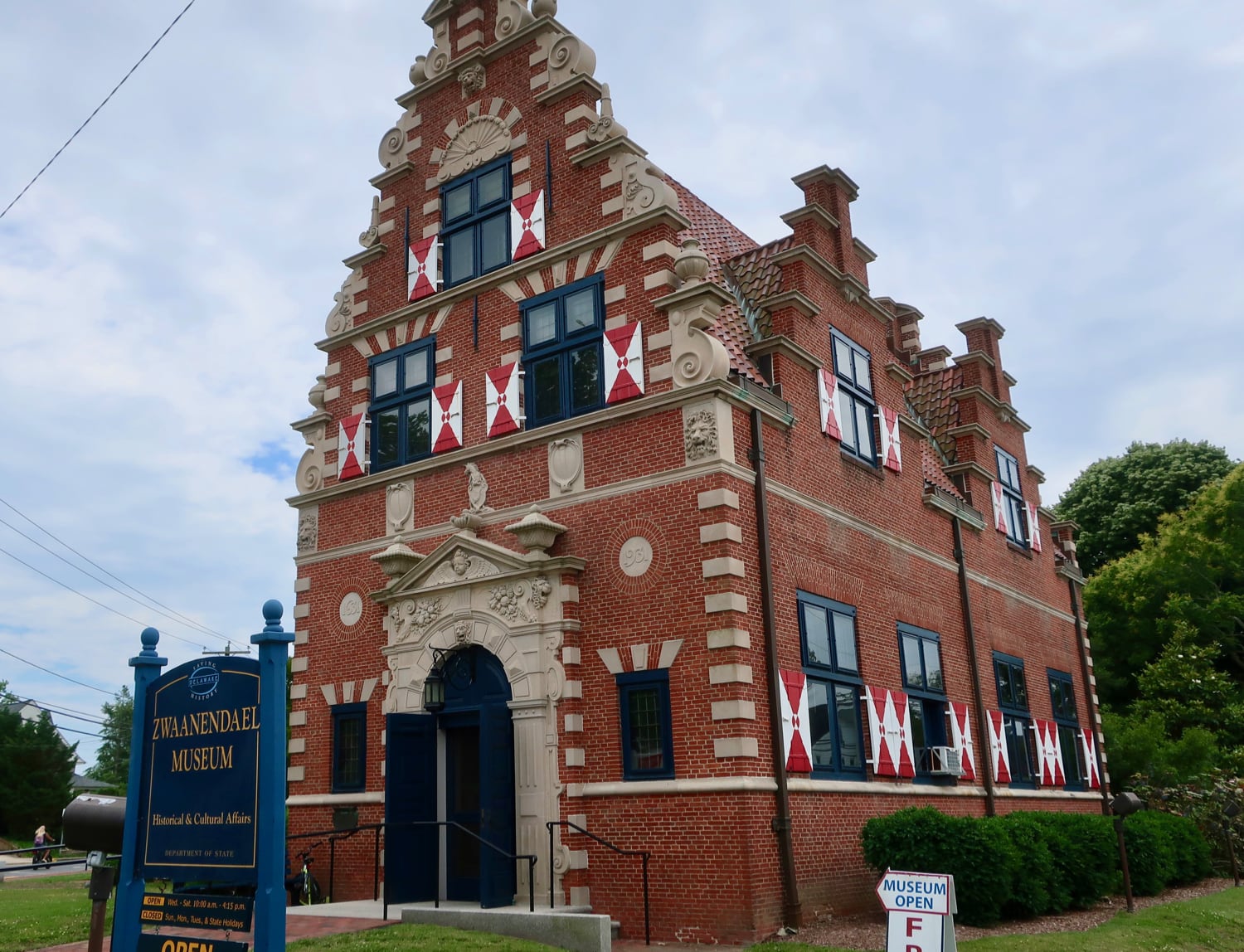 VISIT: Zwaanendael Museum
The Zwaanendael Museum was built in 1931 as a replica of the Hoorn City Hall, to commemorate the 300th anniversary of this Dutch Whaling Settlement. As such, it's a fanciful architectural anomaly in Lewes DE.
The Zwaanendael's mere appearance draws curious visitors. But what's inside is nearly as captivating. Discover how the first group of men from Holland were welcomed and then killed by Native Americans. (It was a "cultural misunderstanding.") And, also, how it remained a Dutch trading post until the British took over in 1664.
Fate of the HMS DeBraak
In its permanent exhibit, the museum tells the tale of the HMS DeBraak, a single-masted Dutch merchant ship retrofitted, with additional mast, top-heavy rigging and more crew, for the British Navy.
This added weight was the ship's undoing. As it approached the shoals off of Lewes in a storm in 1798, it went down right off Cape Henlopen. The sloop was believed to have just captured a Spanish ship, and rumors spread that the DeBraak was laden with chests of Spanish gold.
These rumors were so ingrained that in 1984, when a salvage company finally located the ship's remains, it spent over a million dollars in legal fees and labor costs to claim ownership to whatever was found.
The recovery, in 1986, became a huge international media event. Although the treasure hunters found no gold, they did manage to botch the recovery of the DeBraak's fragile hull. The only wooden remains of a British ship from that era ever recovered, they heaved it to the surface in just 3 ½ minutes. It almost completely deteriorated soon afterwards. (What's left of it is in a preservation tank at Henlopen SP).
To add insult to injury – no gold was found. However, the scavengers did manage to uncover other artifacts, some which are displayed here.
Don't leave until you've visited the 2nd floor. There, you'll find one of the most popular and peculiar exhibits in the museum.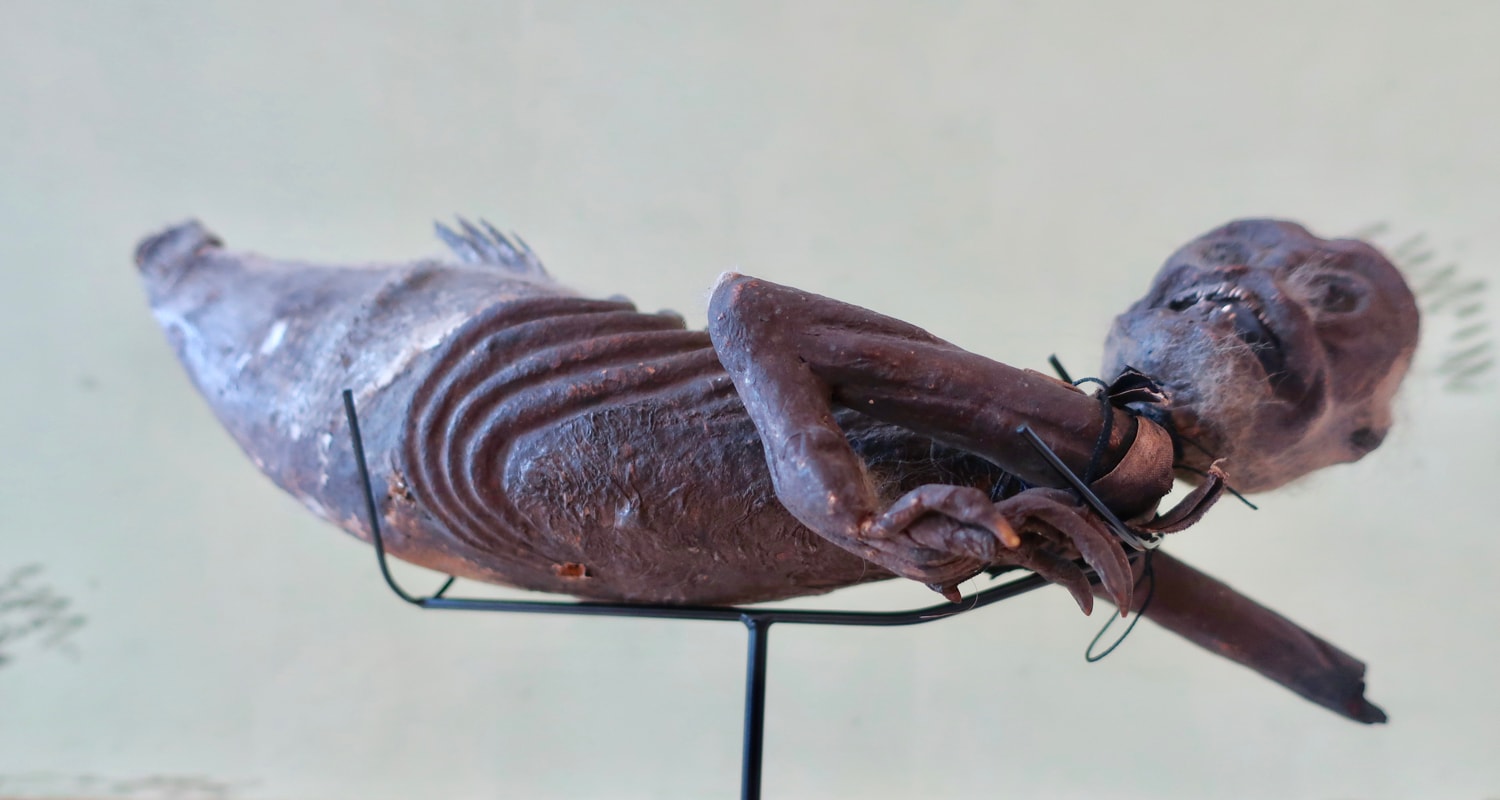 A visiting sea captain gifted what came to be known as the "Zwaanendael Fiji Merman" to a Lewes DE family. Most likely stitched together and sold in Japan to a gullible foreign market (PT Barnum promoted one as the "FeeGee Mermaid" in the 1840's) this one was re-gifted to the Museum and has been on display here since 1985.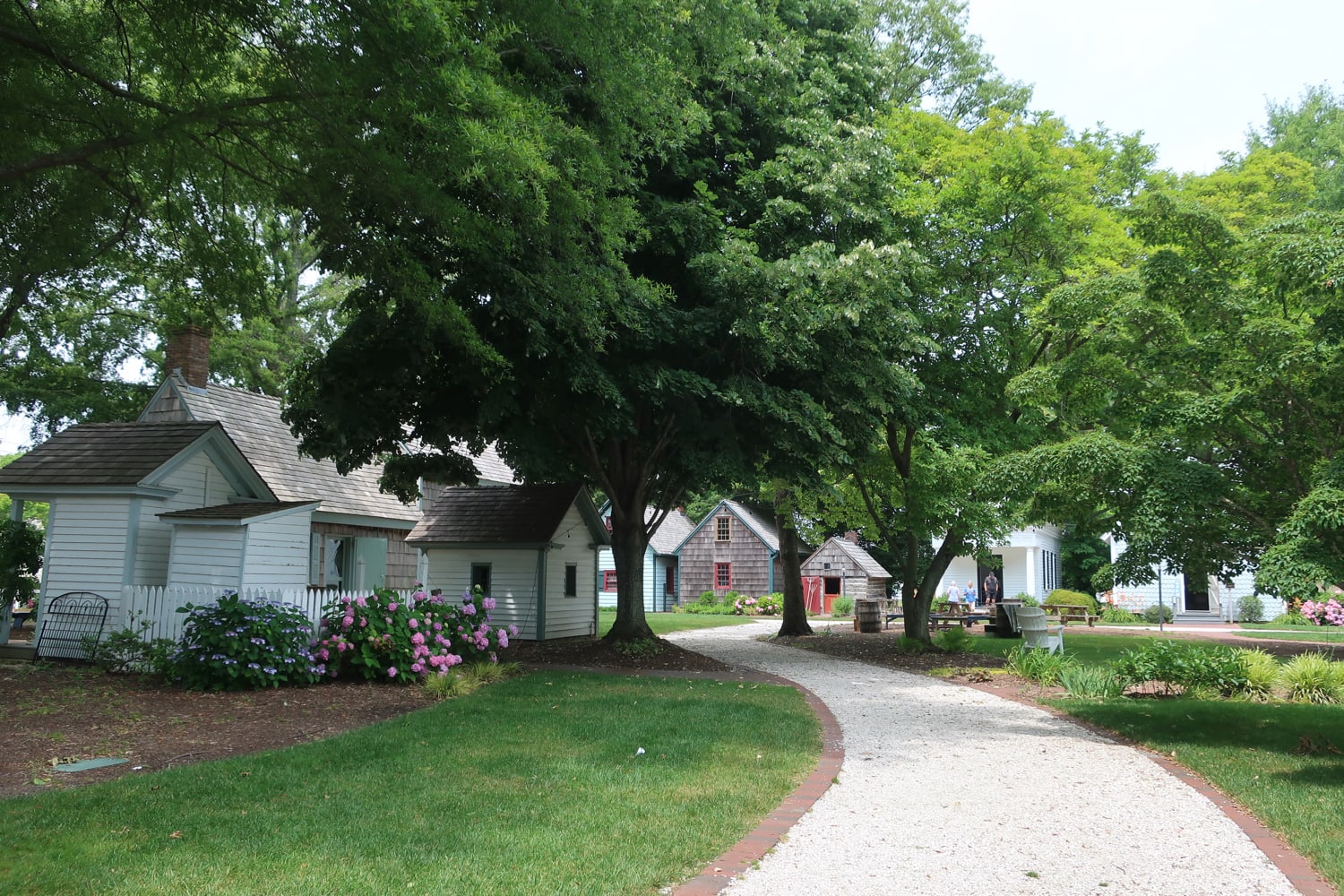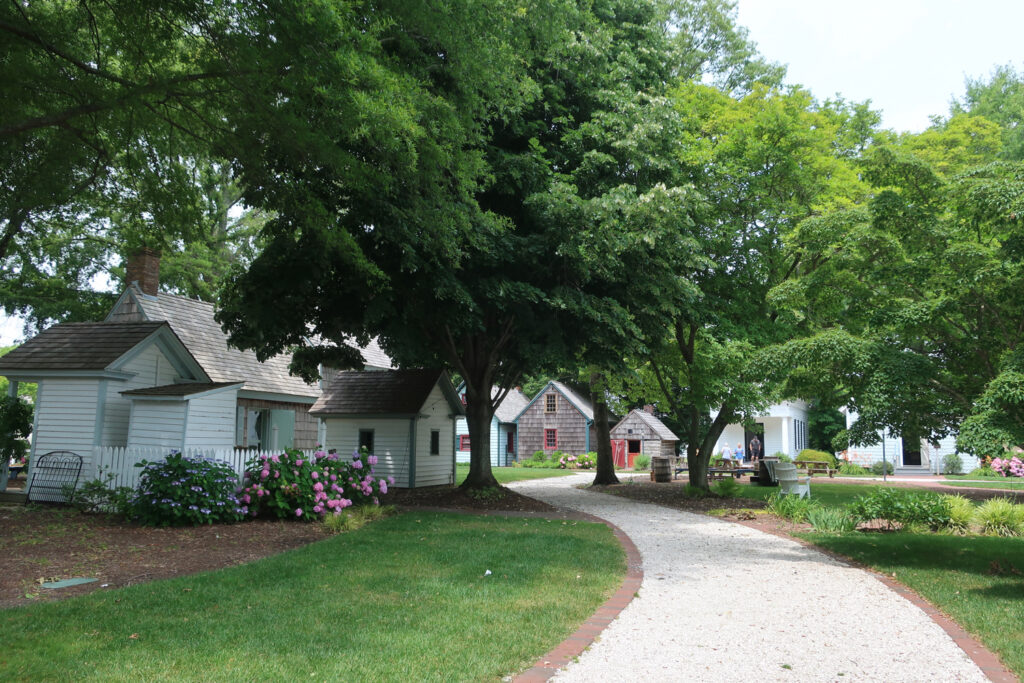 TOUR: Lewes DE Historical Society
The Lewes Historical Society runs a slew of fantastically engaging history tours, so check the website for one that fits your schedule. In the meantime, you can visit most of their properties on your own.
Start at Lewes Historical Society Campus
A mini Williamsburg, the Lewes Historical Society maintains 13 structures, many of which are bundled within a free living history complex in a beautifully landscaped town park. These include a blacksmith shop, a schoolhouse, doctor's office, a wealthy family's home, and a tavern.
Of course, meander through all – and engage with the docents in each to learn about Lewes's past.
But plan to spend some time in the recreated Sussex Tavern (original stood 7 miles from here), where you'll be privy to a tale about the first time "cocktail" is mentioned in an American publication – supposedly after a Hudson New York reporter visited here in 1806.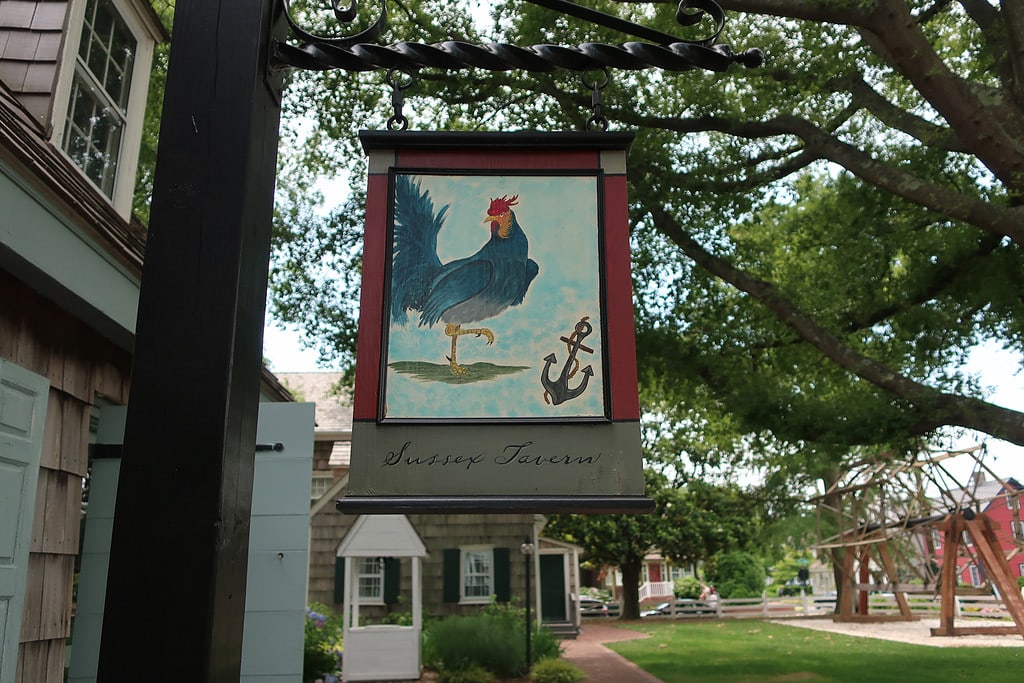 Said reporter tried a new drink – a Bittered Sling – that, in addition to water and sugar, included bitters mixed with pure spirits. At the time, horse owners were required to cut or "cock" the tails of non-thoroughbred horses to make them easily identifiable.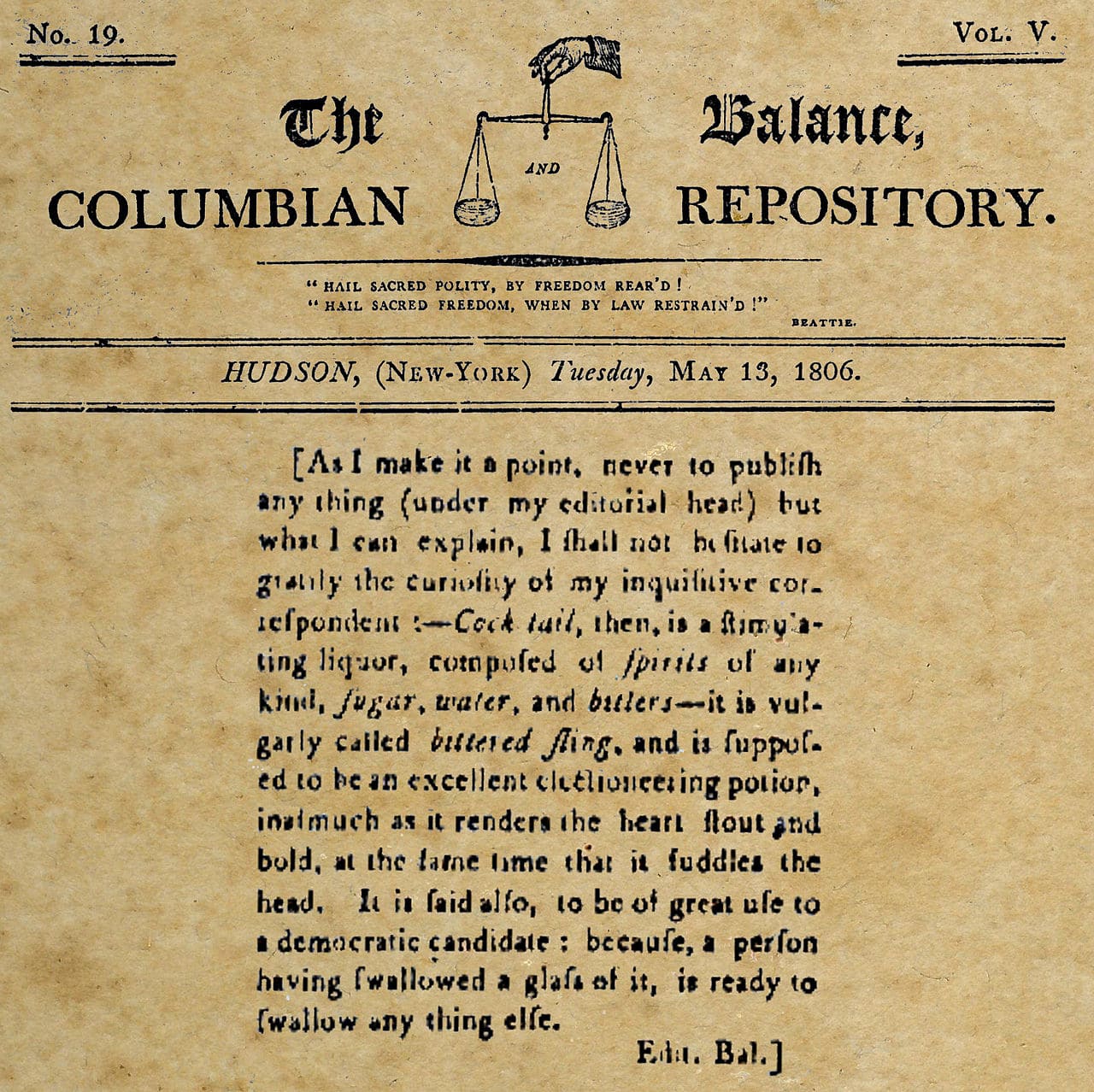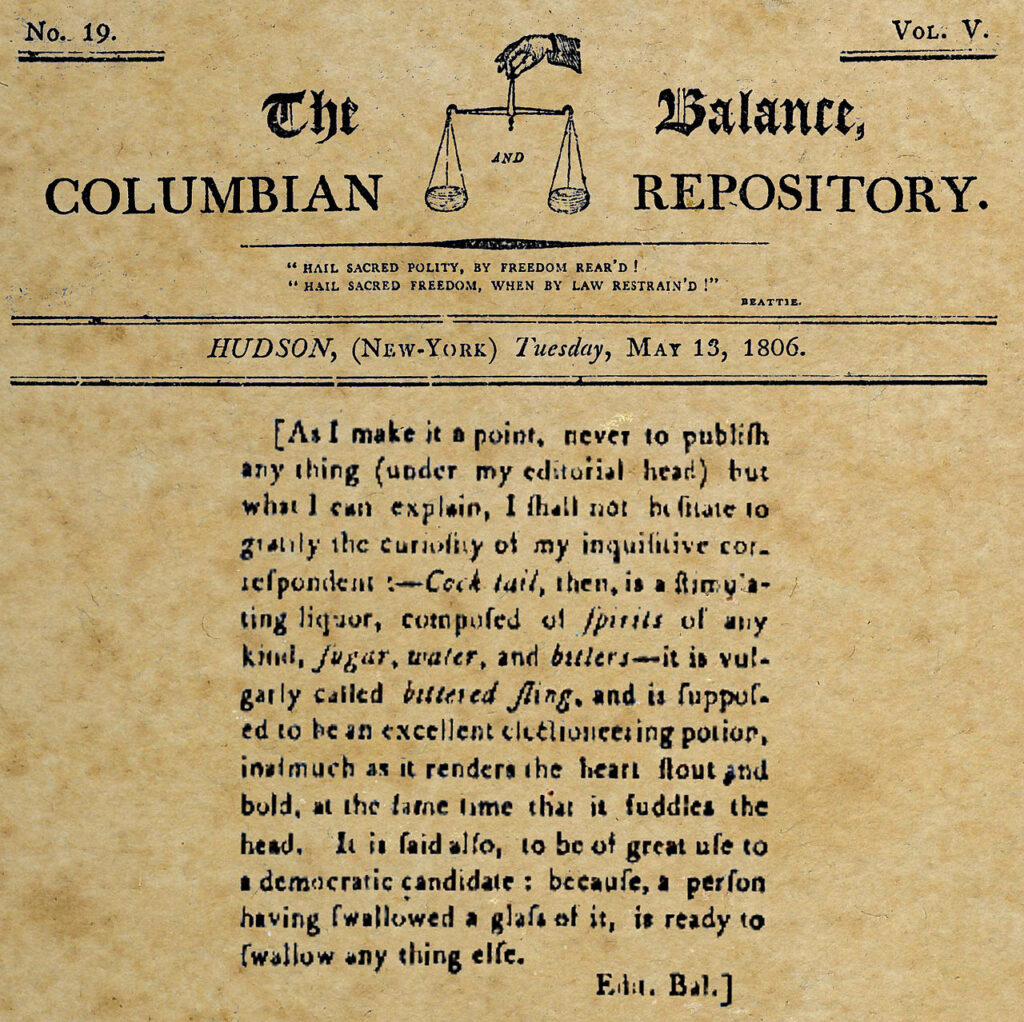 As this tavern's "Bittered Sling" was not "pure" but included other ingredients, the journalist humorously called it a "cocktail." According to this version of events, after publication, the name spread like wildfire.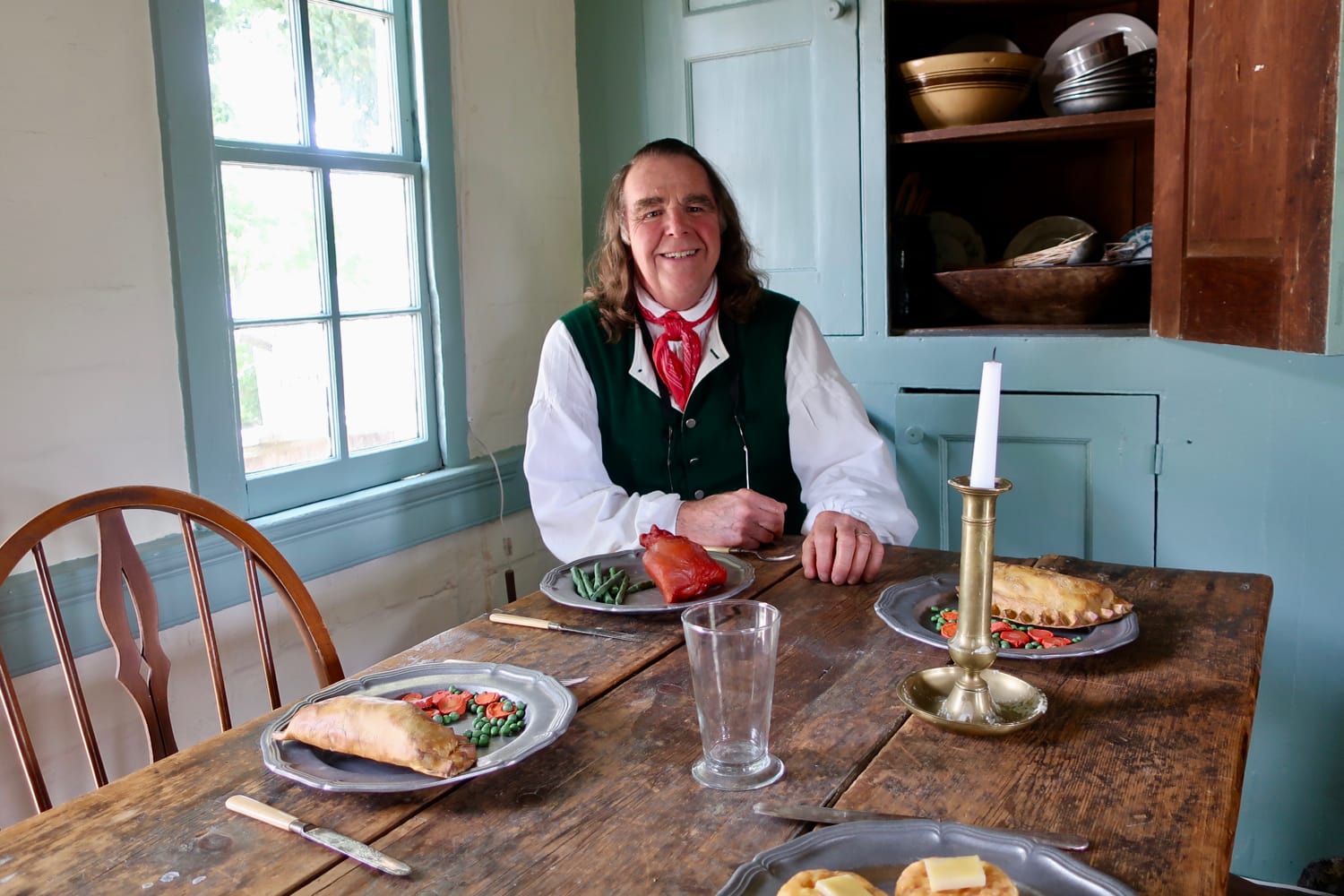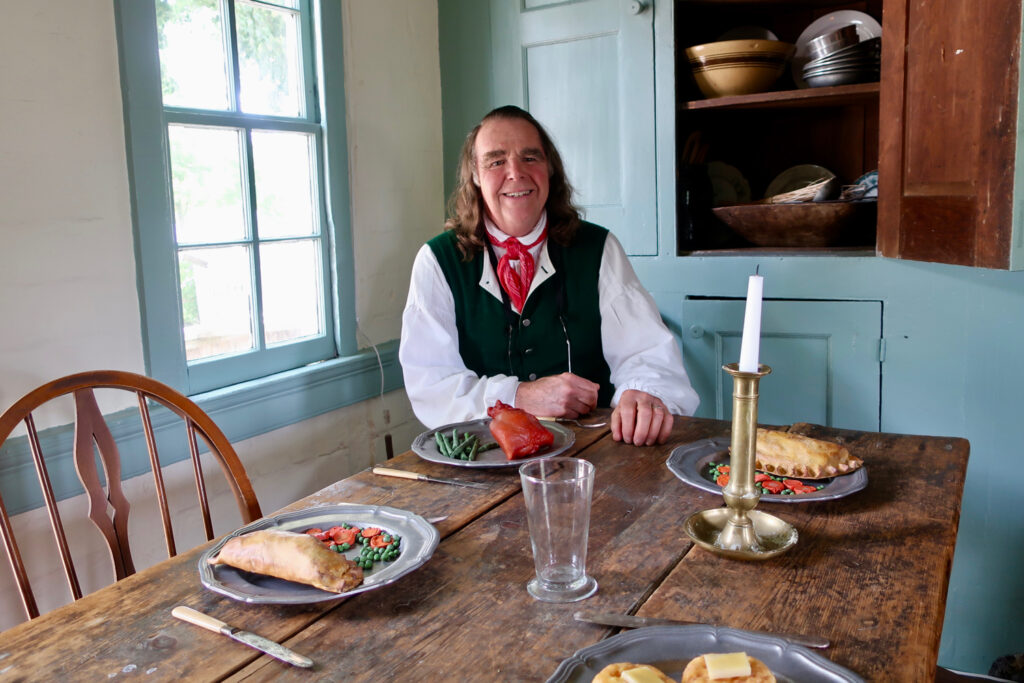 Costumed interpreter, the lively Bill Hicks dressed in Ben Franklin finery, introduces visitors to that story, and shows them how to play some tavern games of the day – which all are welcome to do.
The actual Sussex Tavern not only survived the 1813 bombardment of Lewes, but, run by Sarah, the wife of the deceased owner, it was kept open for locals. A ballsy move. Join fellow revelers on the First Friday of every month for First Friday Drinks, when the tavern serves up some of the same cocktail recipes used way back when.
Spooky Legends Walking Tour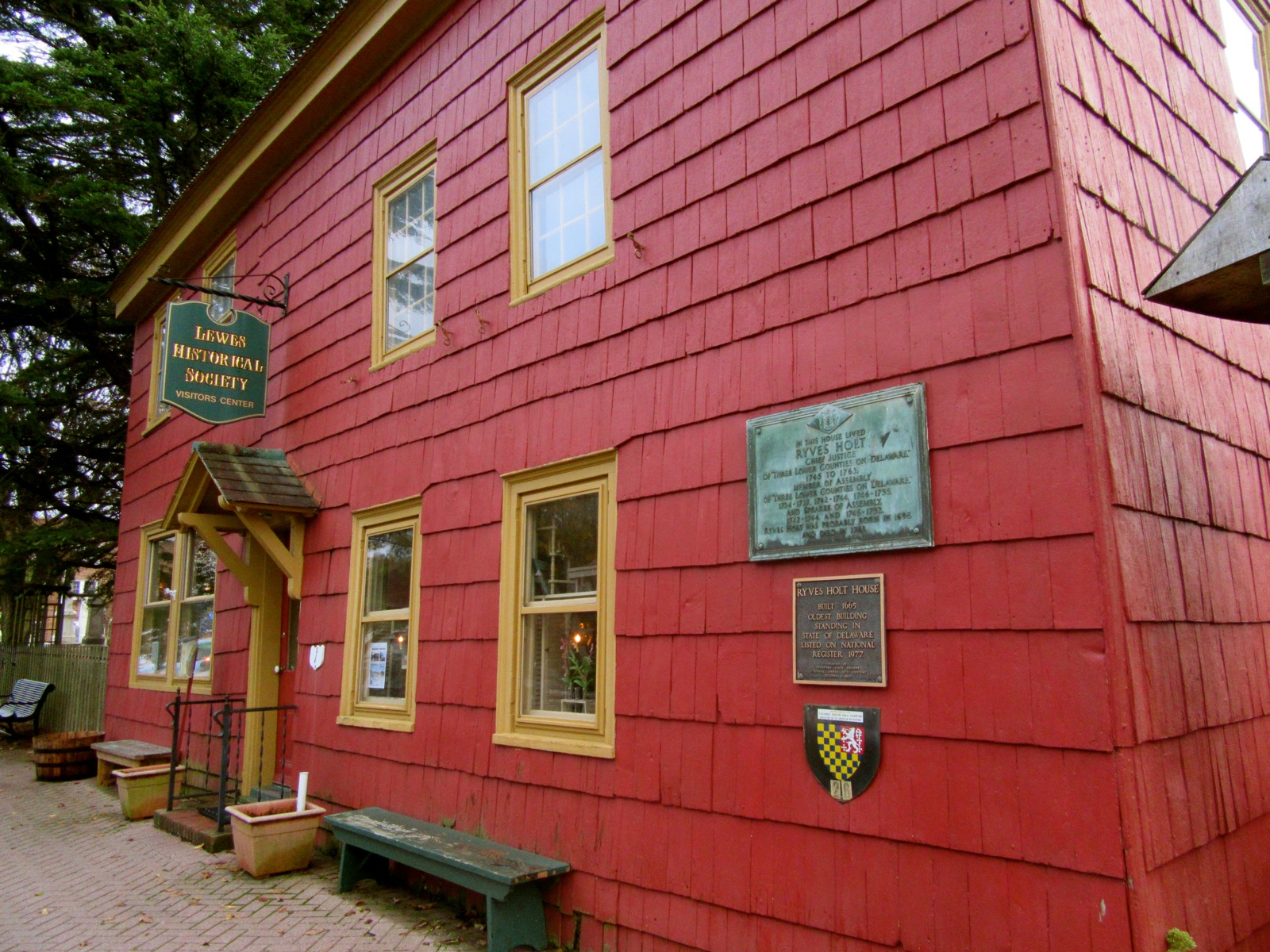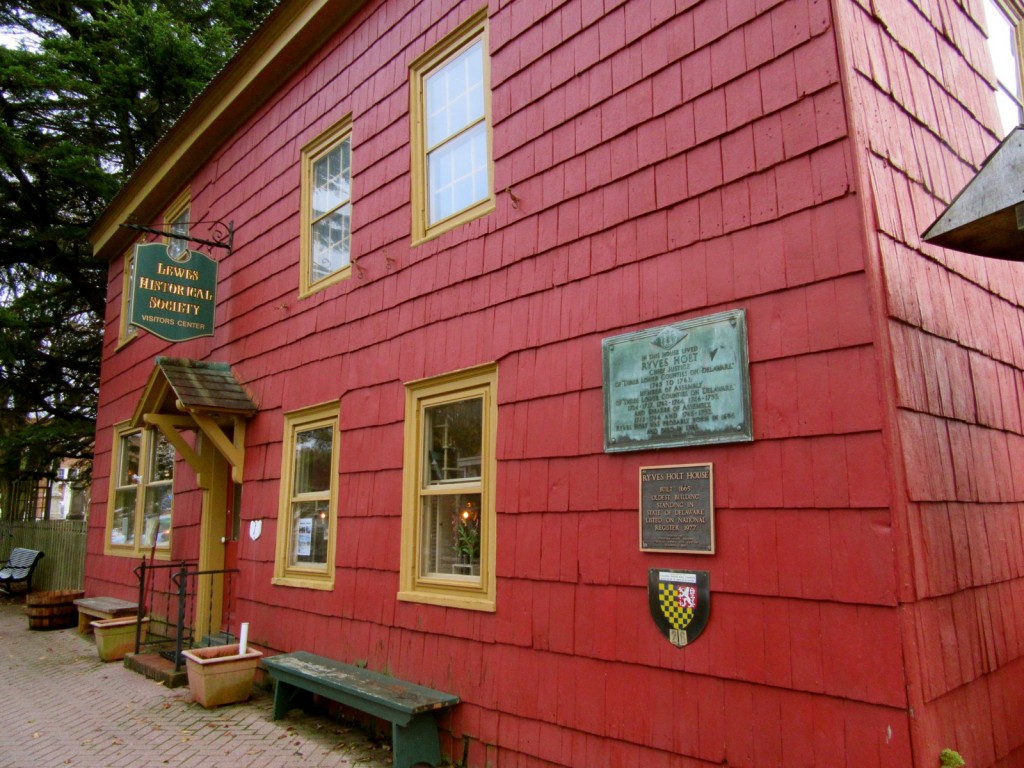 But for thrills and chills, I'm partial to the 90-minute Lewes Legends Walking Tour (April – Oct). It's incredibly spooky on a blustery October night. Most tours begin at the LHS Visitor Center in the 1665 Ryves Holt Home, the oldest building on its original foundation in Delaware.
The Legends Tour begins with the story of a girl who passed away in the basement of the home, along with a brief history of the town. The guide recommends that you download the "Ghost Radar" App on your phone. One phone chirped the word "Grab" at the top of the basement steps!
In St. Peter's Churchyard, where the Commander of the HMS DeBraak is buried, our guide pointed out a "mistake" on a tombstone. Elizabeth H. Cullen's gravestone was inscribed with her birthdate, Feb 30th, 1760. February, as we all know, has just 28 or 29 days. Whoops.
The Cannonball House – the last remaining home in town showing damage from the War of 1812 bombardment of Lewes (on April 6 & 7 1813) – is particularly creepy at night. With a cannonball still embedded in the wall, the home is one of the most visited in town, and home to a Nautical History Museum.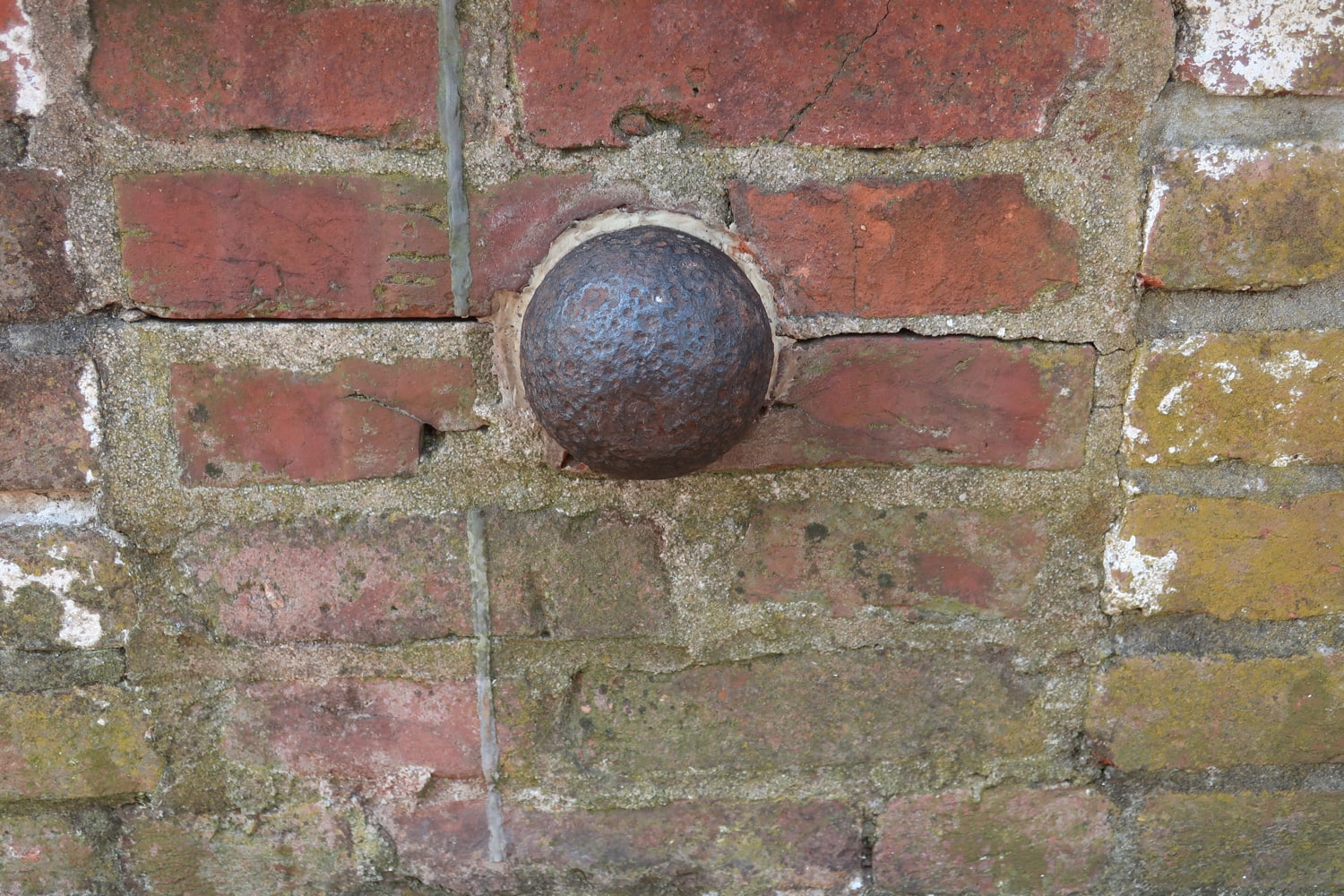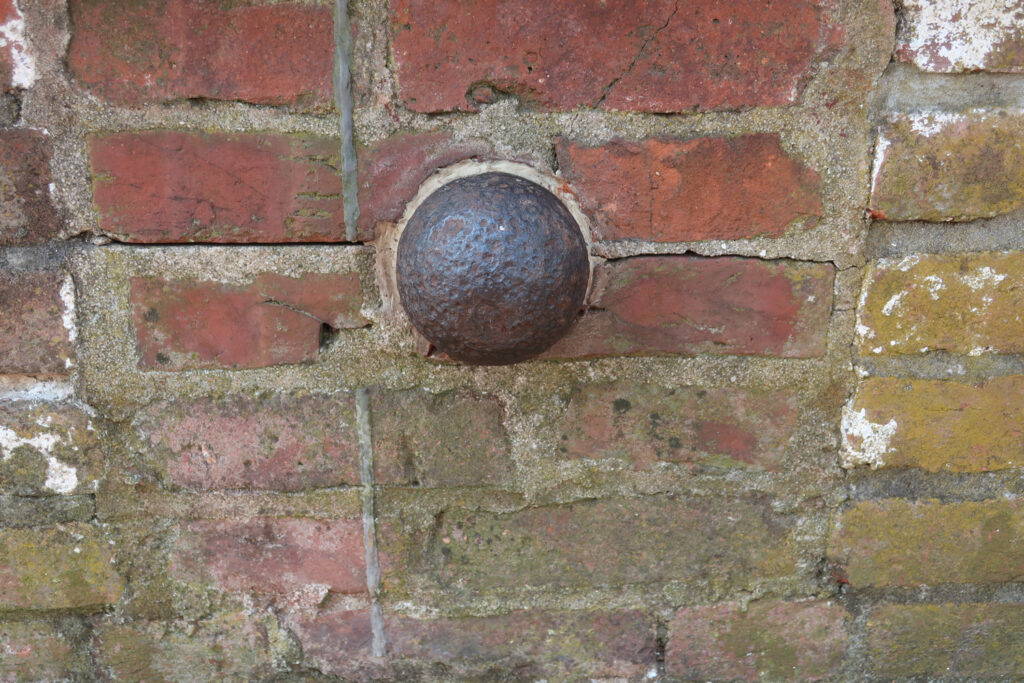 It's also purportedly haunted by a woman who lived there and died after her dress caught fire. She apparently likes to unlatch and open one particular door – even when nailed shut.
The Lewes Historical Society Main Campus has its share of spooky tales. In the 1830's, at the Burton-Ingram House, a 29-year-old society woman died falling downstairs, and supposedly still haunts the grounds.
I experienced of the weirdest things however, after the tour, when downloading my photos from the evening. I'd taken a daytime picture of this in-town historic home:
And then, on the tour, in the evening, I took the one below, when no one was around. Upon enlarging the night-time picture, I noticed the figure of a man, wearing an orange sash – an outfit worn by Union Army officers during the Civil War. Chills…..
Visitor's Center open April – Dec. daily 10-5, Jan-March Fri-Mon 11-4. For tours, events and programming check website. Most walking and trolley tours $10 per person.
TOUR/SWIM/FISH/BIKE/KAYAK: Cape Henlopen State Park, Lewes DE
Cape Henlopen State Park – which sits between the Delaware Bay and the Atlantic Ocean with breathtaking views of both – has so much to offer, you can spend a week trying to do everything.
The largest State Park in Delaware, its 5,200 acres are split into "chunks," – this one the park's northernmost section accessed on the road that runs to the Lewes-Cape May ferry.
What can you do here? Choose your outdoor activity.
Love to walk? There are 17 miles of trails through dunes, salt marsh and various coastal and inland habitats with three stunning overlooks.
Want to bicycle? A three-mile bike loop curves through this section of the park.
History Lives on Cape Henlopen
Interested in history or archeology? There are active archeological sites here, and you can just show up and help. Or check out WWII sites. As a strategic position on the East Coast, there were 17 bunkers, a manned fortress, watchtowers, and lots of mysteries (some still classified, while others now public).
The Top Secret SOSUS (Sound Surveillance System) operated from here, tracking Russian submarines along the coast. At least one bunker, now covered with pop art, was used as a bar in the '70's. Climb into one of the iconic Delaware "Beach Towers," concrete cylindrical watchtowers used to determine the target range of enemy fire.
And then tour what remains of decommissioned Fort Miles – now a National Historic Area left with cement block barracks and WWII artillery.
So Much To Do in This Beachy State Park
Care to swim? There's a lifeguard beach with its own bathhouse right on the Atlantic. Love to fish? You can drive your car on another beach to surf cast (requires special license) or head to Cape Henlopen's Fishing Pier with its very own Bait and Tackle Shop.
Are you a birder? Cape Henelopen is on a migratory route and is a prime spot for bird watching. The Hawk Watch Platform was built specifically for ornithologists who can add their bird spottings to the daily Bird Count board.
You can rent kayaks or canoes (join an eco-tour in summer), go horseback riding (BYOH, off-season only), play an 18-hole round of Disc Golf, and check out Terrapins, fish, and other native creatures in a cool little Nature Center.
And if you decide to stay overnight because you can't fit everything in to one day, reserve a campsite or cabin. Both are extremely popular in season, so plan accordingly.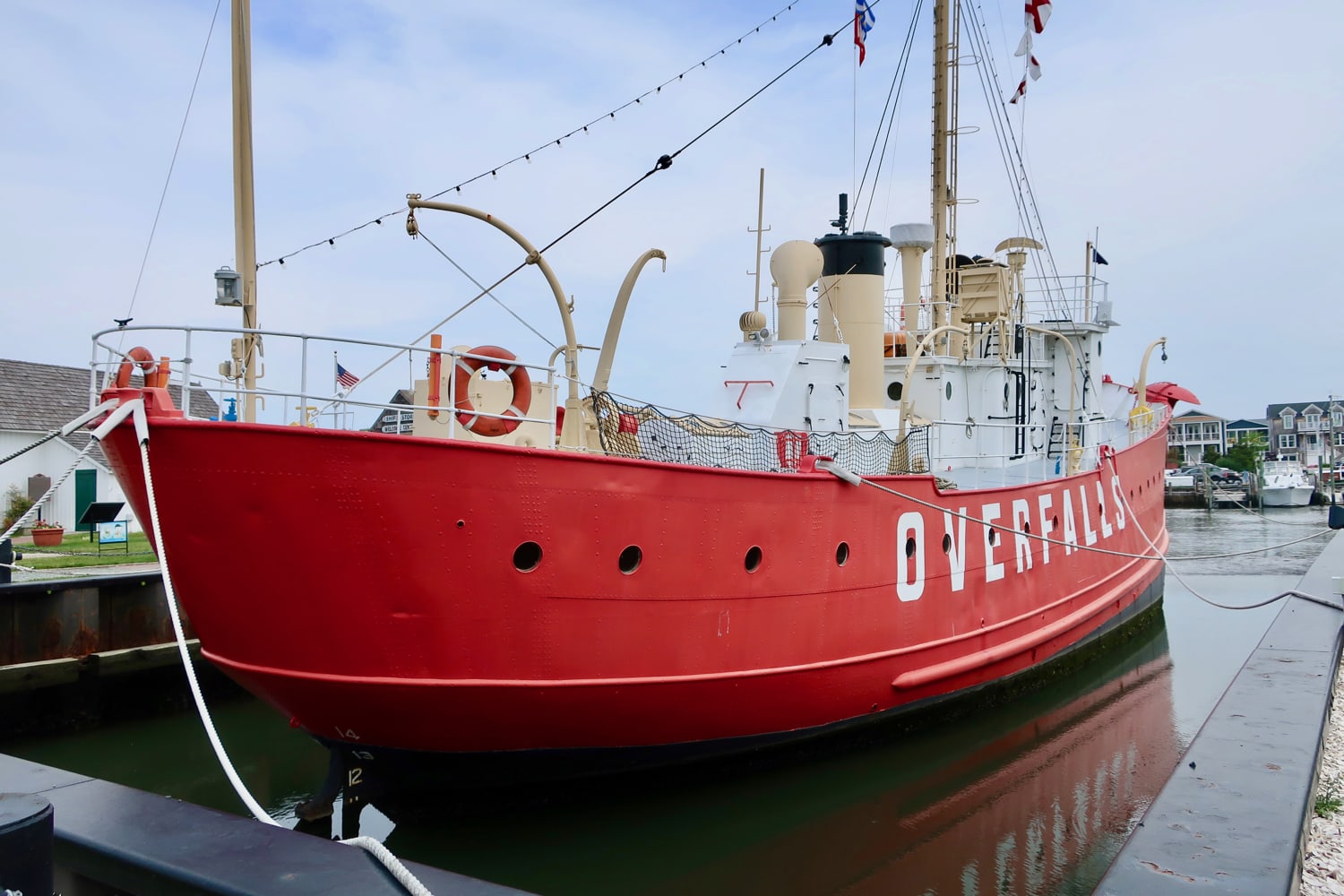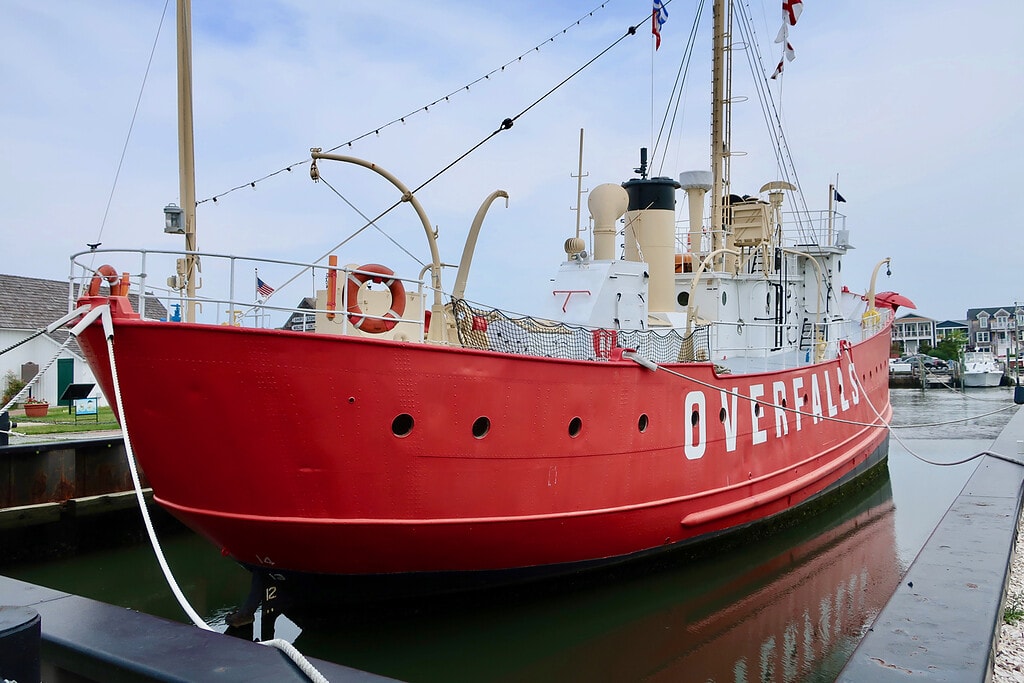 TOUR: Lightship Overfalls
This restored Lightship Overfalls is one of a handful of lightships remaining out of the 179 built as floating lighthouses between 1820 and 1952. This one, built in 1938, protected the mariners on Long Island Sound NY before being decommissioned in 1972 and ending up here. Take a fascinating tour to learn about the bygone era of lightships and their courageous crews.
GO: Lavender Fields @ Warrington Manor, Milton
Just a few miles away from Lewes, this shop/farm/cottage industry – Lavender Fields – is worth a few hours of your time. Marie Mayor and Sharon Harris were Federal Employees and bought the 5-acre property "for retirement." They did anything but.
"We wanted people to come here and learn about things that can make you feel happy – by taking care of yourselves," says Mayor.
(Sadly, Sharon Harris passed away in 2020).
Healing Lavender
Lavender does just that – it's an antiseptic, a cooking ingredient, it helps wounds heal, and is calming.
Come to see thousands of lavender plants, and to purchase sprays, and eye and neck pillows, infused with peppermint and imported essential lavender oil from France.
Brides come routinely to pick up bridesmaids gifts. Lavender Key Rings are favorites, but you can get your laundry dryer sashays, tea sets and famous anti-mosquito potion, Bug Away, here as well.
The property is bucolically bounded by a tree farm on one side and horse ranch on the other: a perfect place to picnic (and yes, you're invited to bring food).
There's a butterfly and bee garden, a vegetable garden, and event space on the property, as well.
SHOP/TOUR: Nassau Valley Vineyards, Milton. (Five miles from Lewes)
Learn the history of "Winemaking Through the Ages" in catacomb-like galleries situated near the tasting room of the first commercial winery in Delaware, the Nassau Valley Vineyards.
Opened in 1987, the family business is now run by Peggy Raley-Ward and her sister Suzette Hopkins, who oversee this vineyard known for its multiple award-winning fruit wines, Cabernets, Chardonnays and other vintages.
Raley-Ward claims that the Blueberry Wine, made from 100% fermented fruit, is "off the hook with cheesecake," and purchased by cardiologists as holiday gifts for friends and patients as it's loaded with anti-oxidants.
Though Nassau Valley is serious about its wines, it does sell one novelty blend, "Redneck Rouge," which, quips Raley- Ward, "goes well with Possum."
Best Restaurants in Lewes DE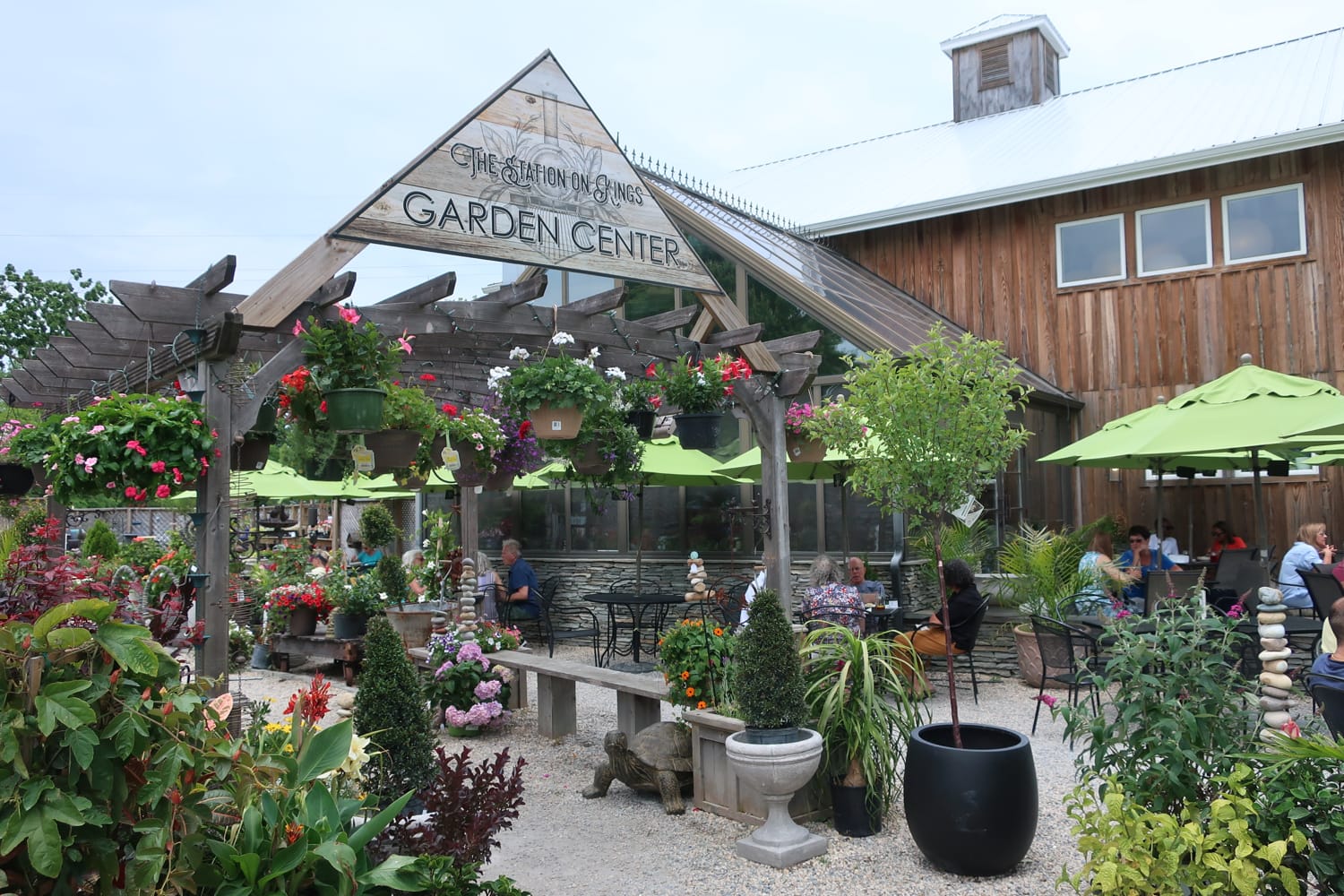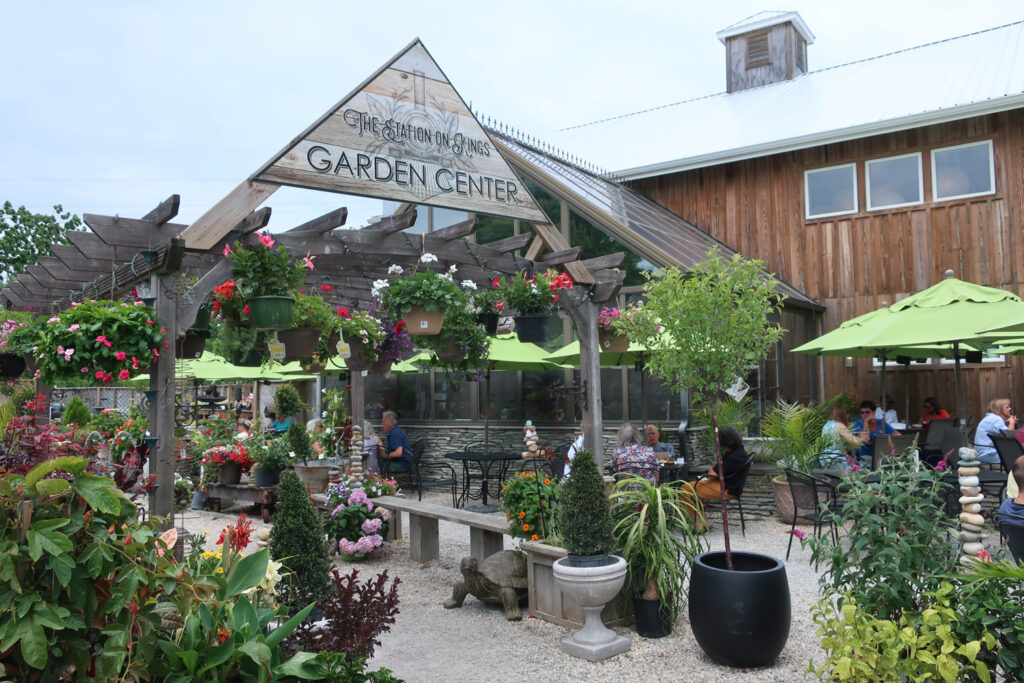 EAT: Station on Kings
As with most eateries located in Garden Centers, the Station on Kings – which also features an uber-stylized gift store – serves up excellent food. Naturally, salad ingredients seem just-picked. And sandwiches, like the "Grilled Cheese" – which also piles on turkey and bacon – are not your ho-hum usuals. No surprise that the place is packed for lunch every day.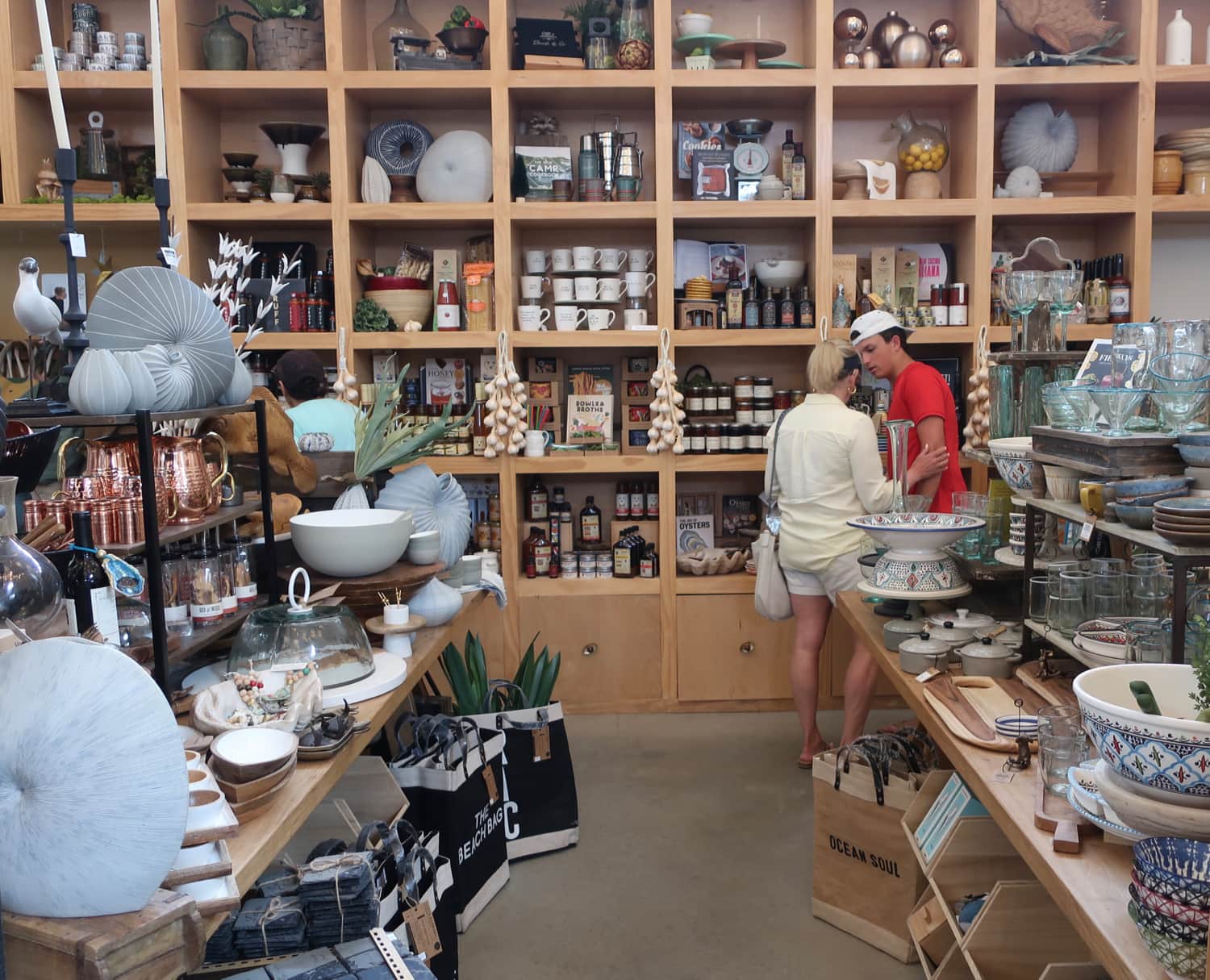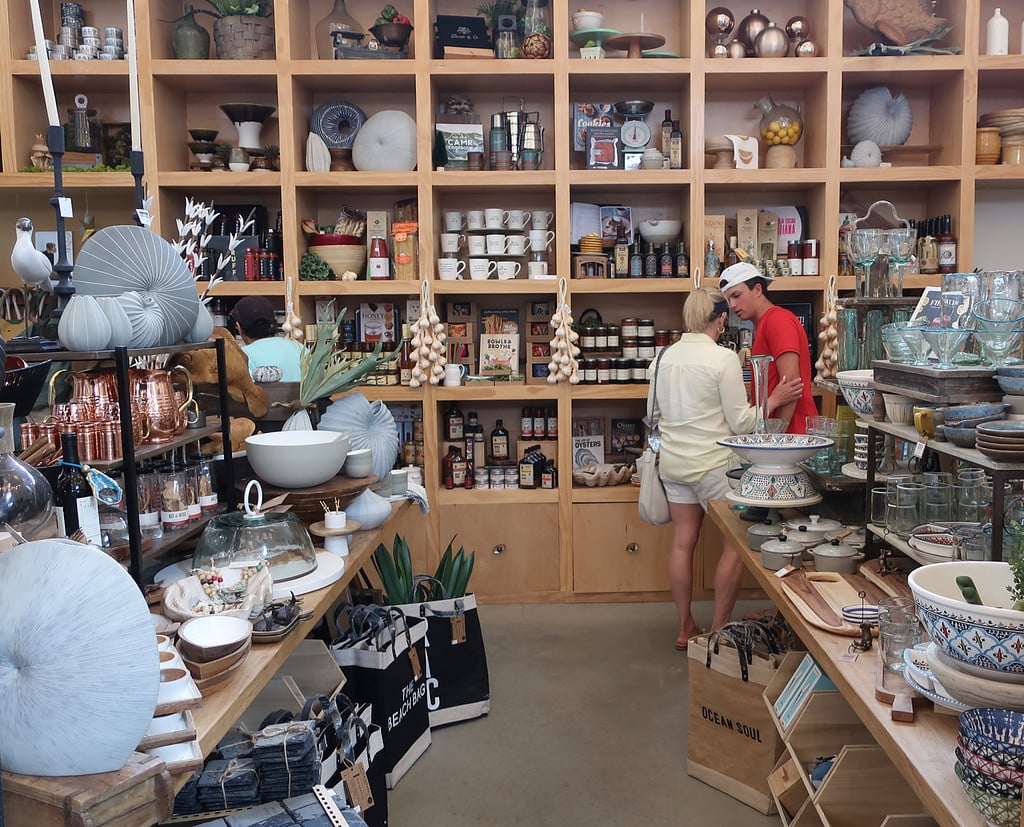 If you fancy a bit of fancy shopping while waiting for your food, peruse the eclectic home and garden emporium. It's fun, passes the time, and offers some unique gifts.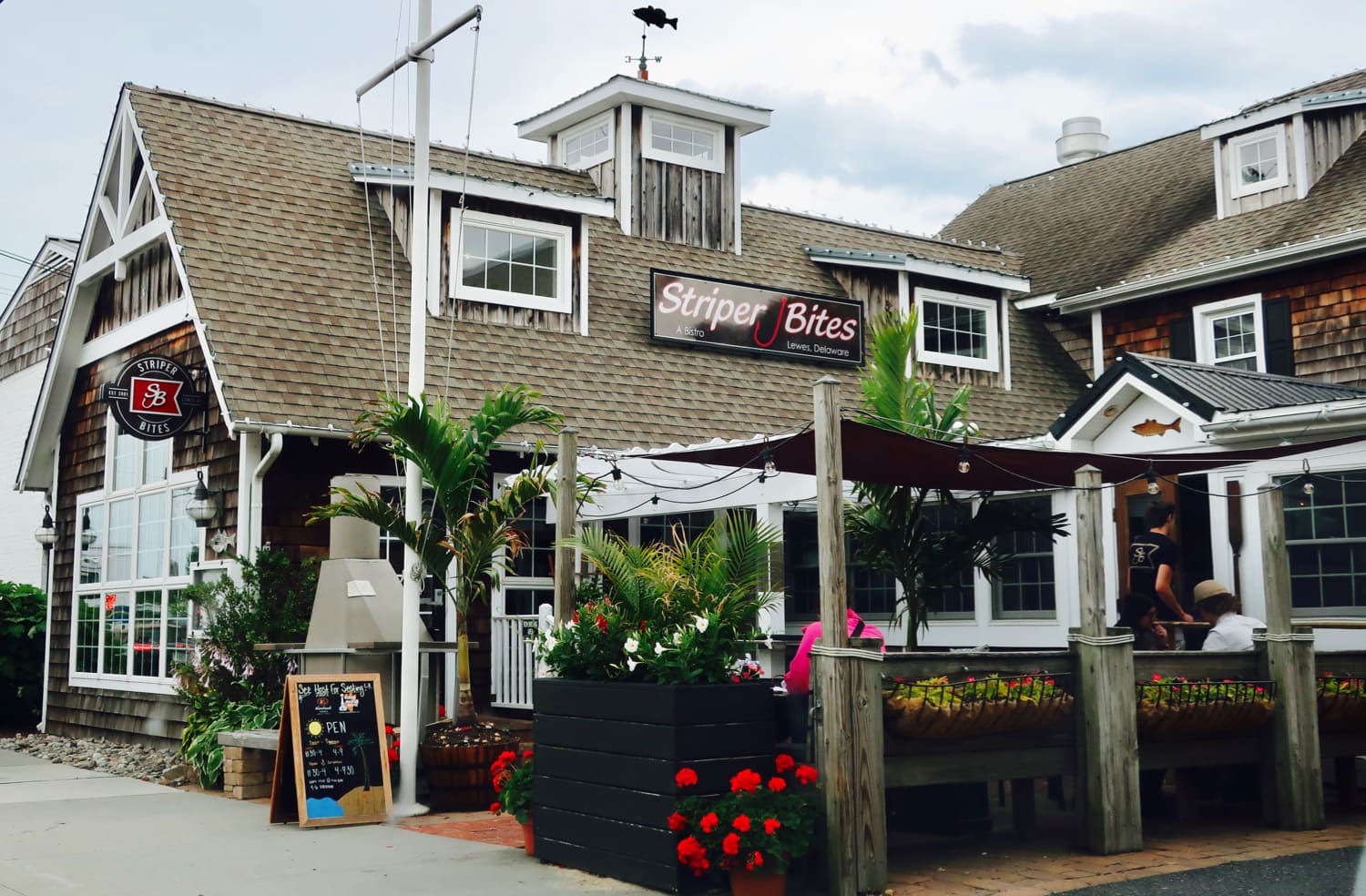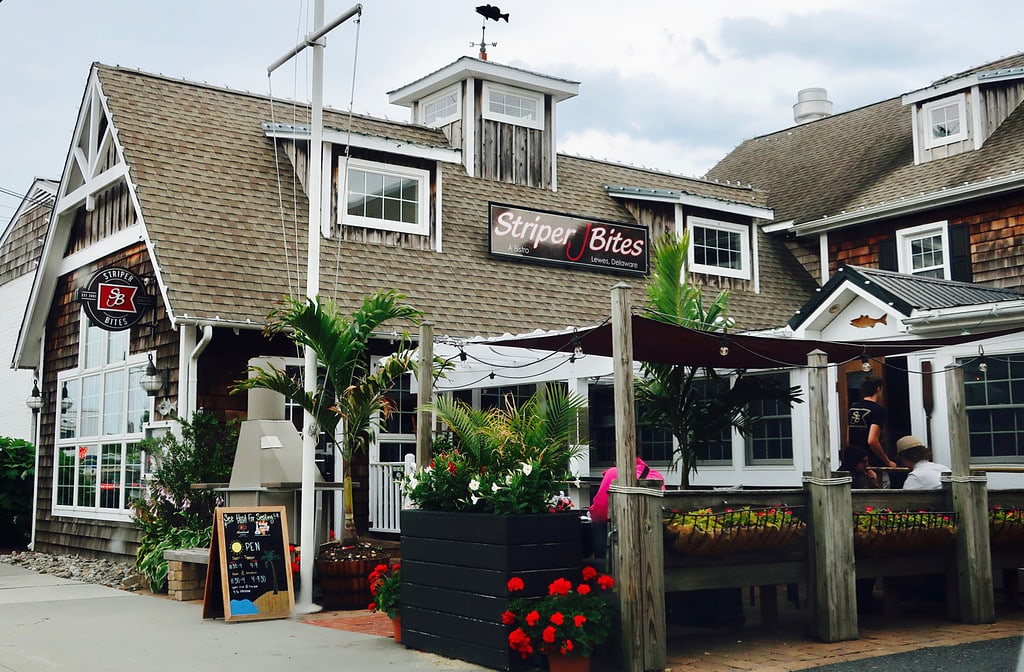 EAT: Striper Bites
Rustic nautical meets stainless steel streamlined at the seafood hotspot, Striper Bites. Grey walls, dramatic photographs, steel tables, condiments in tin containers, and boats hanging from the ceiling set the stage for some fantastic elemental fish dishes and incredibly inventive sushi.
EAT/LUNCH: Nectar
Walk into a small shop front that opens onto a series of appealing rooms. Nectar is Victorian Tea Shop meets French-Country House meets "Friends" decor. There's a high style living room with fireplace, a cozy dining area and, near the entrance, a take out counter.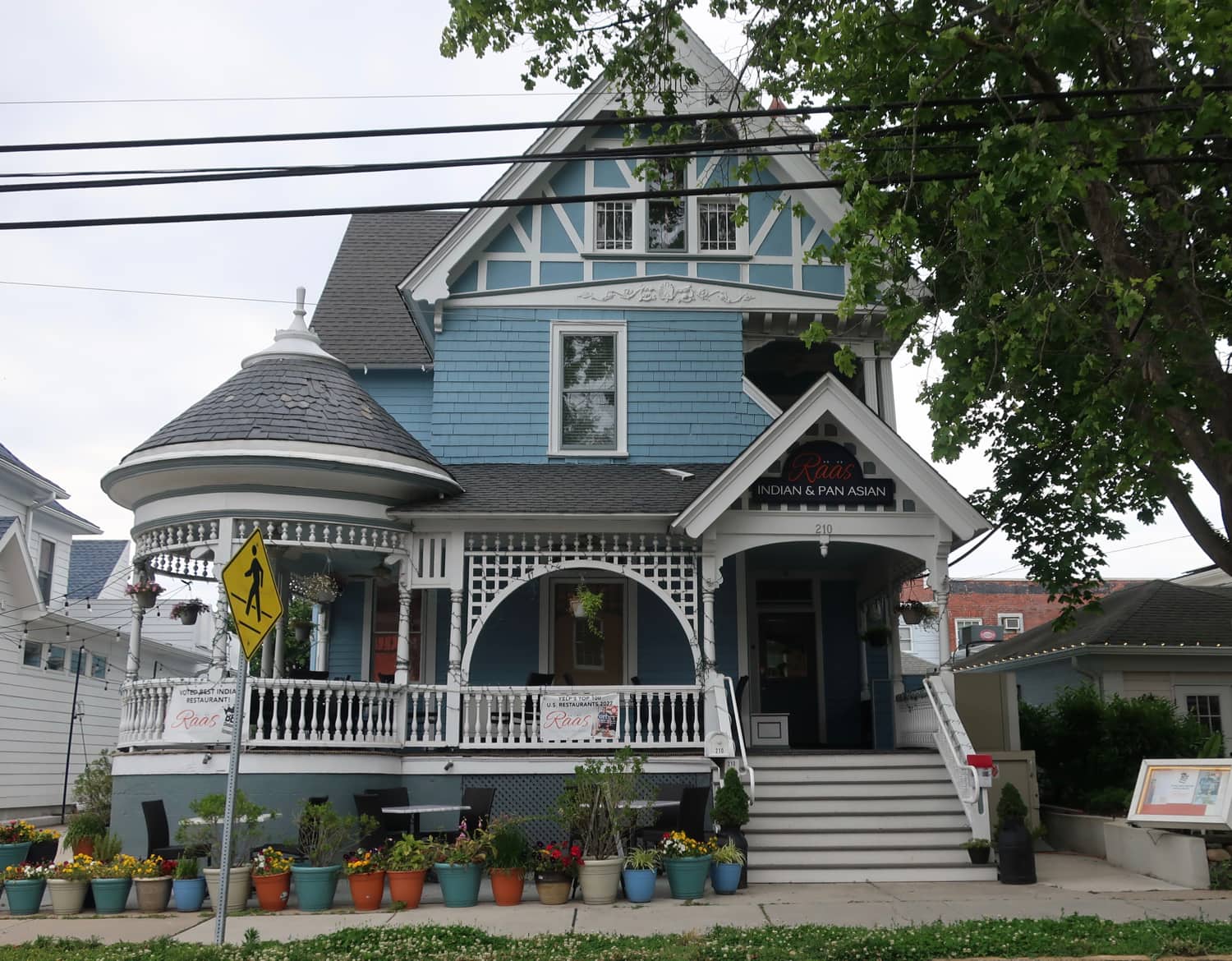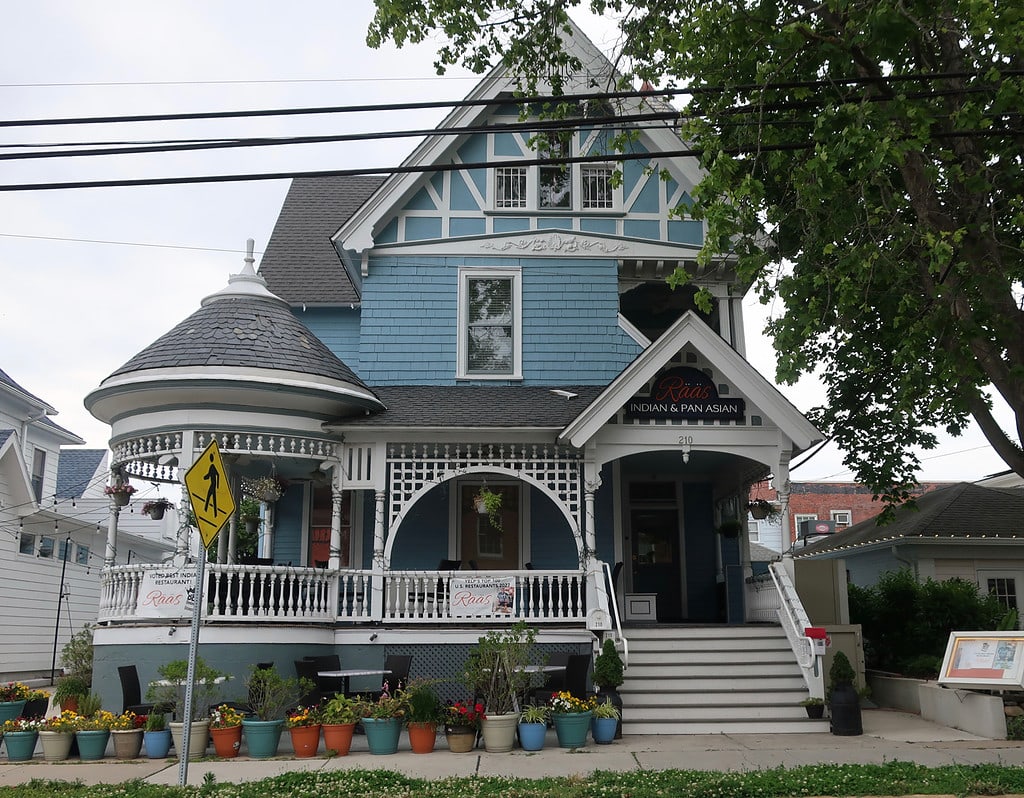 EAT: Locals Also Recommend
The Pig and Publican for Belgian pub food, Lewes Oyster House, Bramble & Brine for New American, Raas for Indian, Heirloom for inspired food and décor, Honey's Farm Fresh for breakfast.
Best Places to Stay in Lewes DE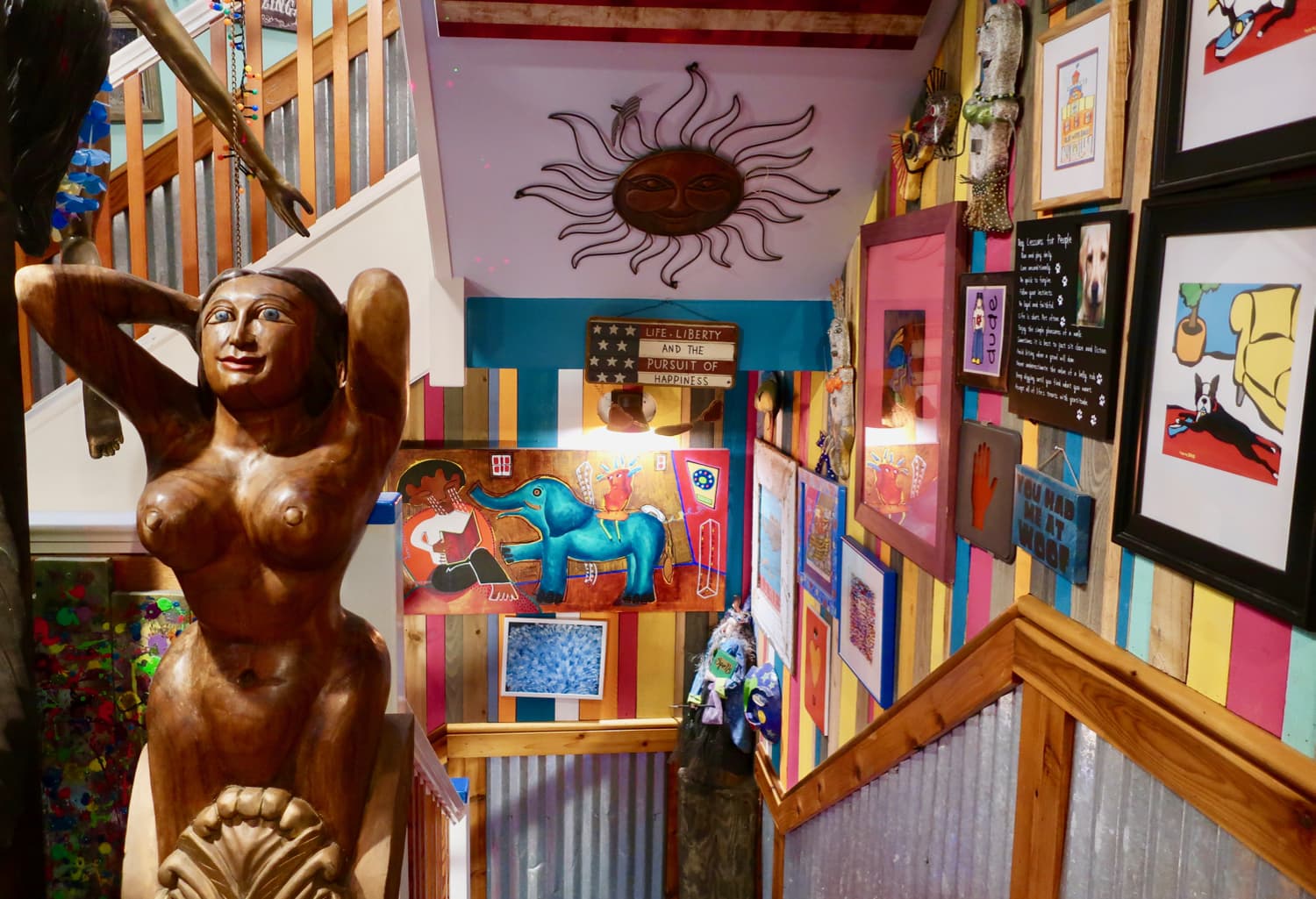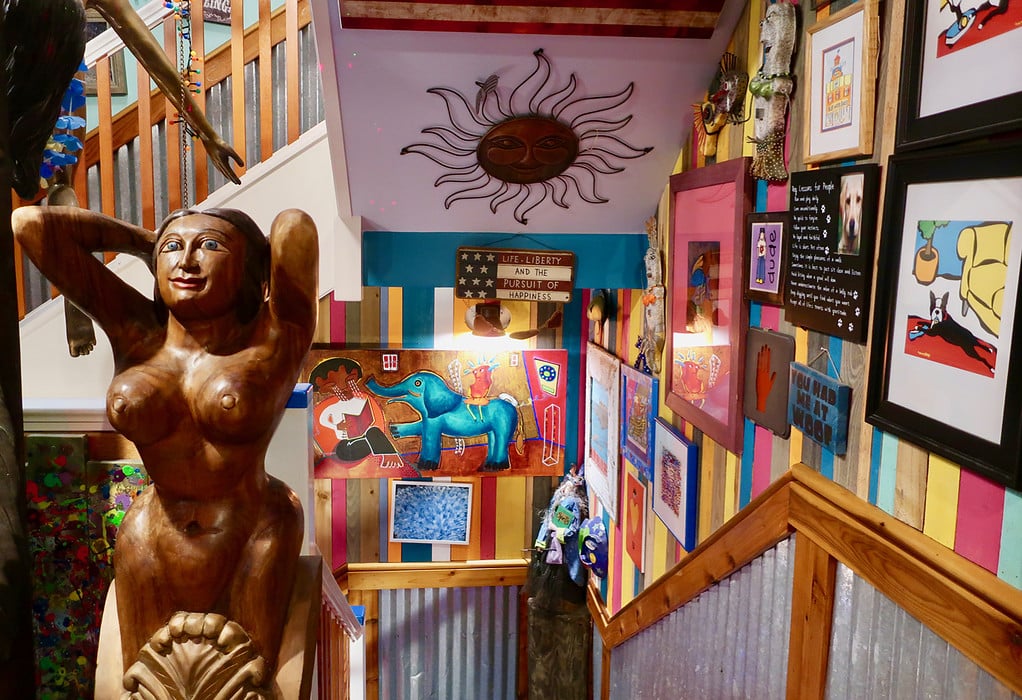 A boutique hotel run amok, owner, Rick, is an unabashed lover of color. In fact, he stresses, "if you don't like lots of color, stay elsewhere." Those who get along with vibrant hues, however, are lucky ducks for sure.
The Blue Water House would fit right into the hotel scene in the Florida Keys. As such, it's a favorite of artists or those with artistic souls. A block from Lewes Beach on a residential street, the clapboard structure stands out with mermaids, surfboards, and other sculptures scattered around the entrance.
Rick, like his place, possesses zero pretension. He is as laid back as the décor is outrageous.
Guest rooms verge on campy with a touch of high-style. Mine featured a semi-canopy four-poster bed with bamboo frame, a thatched ceiling, cork floor and mosaic tile bathroom. The top floor serves as common room with a 360 degree view balcony and of course an abundance of art.
Breakfast is most casual. Coffee, cereal, Pop Tarts, and fruit are laid out for guests. You can order eggs any way with bacon or sausage, too.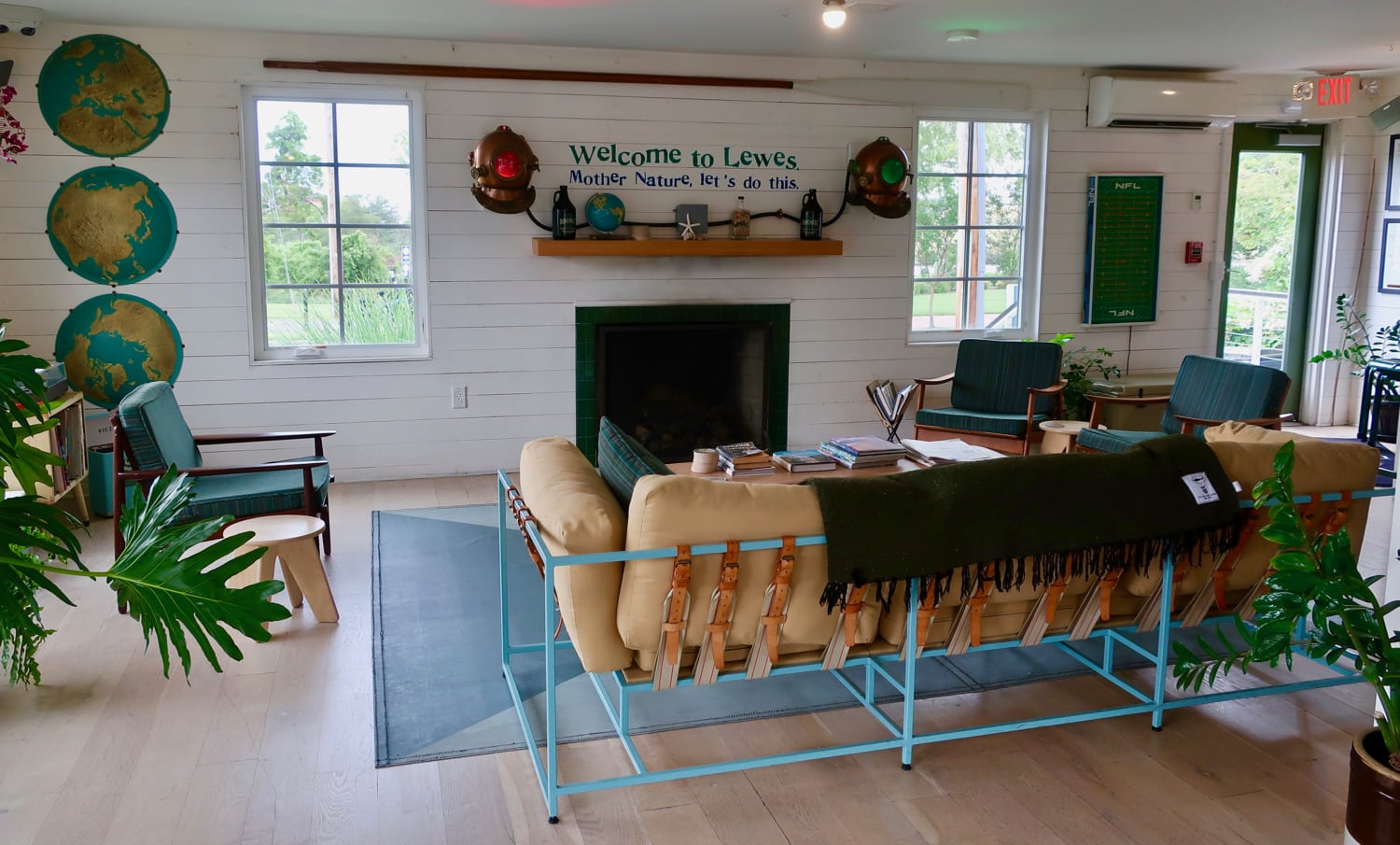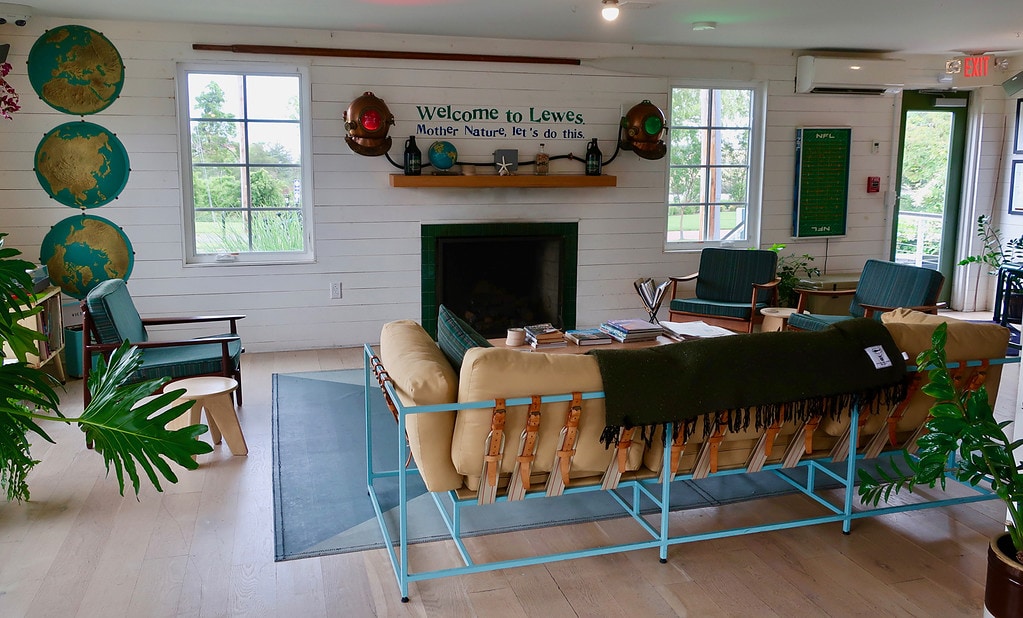 STAY: Dogfish Inn
Brought to you by the folks that make Dogfish Head Beer, the renovated, pet-friendly "fisherman's motel" (formerly the Vesuvio), Dogfish Inn right on the canal, is a brew-loving hipster favorite. Spare but pristine rooms feature bleached wood floors, posters by beer label artists, platform beds, and huge tile showers in small bathrooms. The Dogfish Inn has been called "Base camp for exploring the Rehoboth Beach Brewpub and Milton DE production brewery."
Dogfish Inn made it on the Getaway Mavens Best Romantic Hotels in Delaware list.
STAY: Savannah Inn
This former boarding house for nurses was renovated in 2008. Now, it's a luxurious, tranquil, contemporary in-town inn. Savannah Inn also features a Spa on site (Donna's Touch) and Yoga studio for guests. Rooms are dressed in sunny or soothing colors, and include all modern amenities. Rooms $145-$295 include hot gourmet breakfast.
STAY: Hotel Rodney
This recently renovated boutique, Hotel Rodney, was named for Delaware's signer of the Declaration of Independence, Cesar Rodney. It's the only one right on 2nd Ave in the center of town. Originally opened in 1926, new owners kept the antique "lift" – an elevator with iron gate – and completely refurbished rooms with black and white marble and subway tile baths, high-count thread sheets and a visceral sense of "cool."
STAY: Inn @ Canal Square
Overlooking the canal, park, marinas and the Overfalls Lightship, this tony 25-room "Nantucket-style" Inn @ Canal Square is the most conventional on this list. Rooms are being updated now and will debut with new carpeting, sheets and a fresh look. One perk for boaters – the Inn has its own set of docks, so you can motor in, tie up and stay overnight in style.
All articles belong to Getaway Mavens LLC, and all photos belong to us as well, unless otherwise noted. It's all copyrighted. Please don't repost anything elsewhere without asking us first. All rights reserved. This site uses cookies to enhance your experience.
We make no guarantees of any price listed on our site. We're not responsible for content on external websites linked to ours, including linked resources, an external blog post, any partner site, hotel property sites, or affiliate sites. We only write about places we have vetted, but can't guarantee that your experience will be exactly the same.
Posts may contain affiliate links at no cost to you. Several of our trips are also compensated by the respective tourism boards for the city or state we are visiting. This never impacts how we share the destination with you – opinions are always our own and we pride ourselves on that. We do not sell links or accept unsolicited guest posts under any circumstances. Don't even ask.
United States Copyright, Getaway Mavens, LLC