WHY GO: Until recently, Clearfield County PA, in mid-western Pennsylvania just off I-80, was believed to be nothing more than deer and elk hunting grounds. After all, it's got the largest number of elk outside of the American West.
But though it's hard to imagine, cool things are happening here. This remote region, with 102 miles of the Susquehanna River, thick, verdant forests, unique rock formations, and a quirky entrepreneur bringing "Roadside Attractions" back, makes for a great overnight stop between NY or DC and Chicago.
Stay in the same train car that Teddy Roosevelt used to travel the USA, see how automobiles and animal mounts mix, learn some alternative Civil War history, and stay comfy, on this surprisingly fun PA Getaway.
Things to Do in Clearfield County PA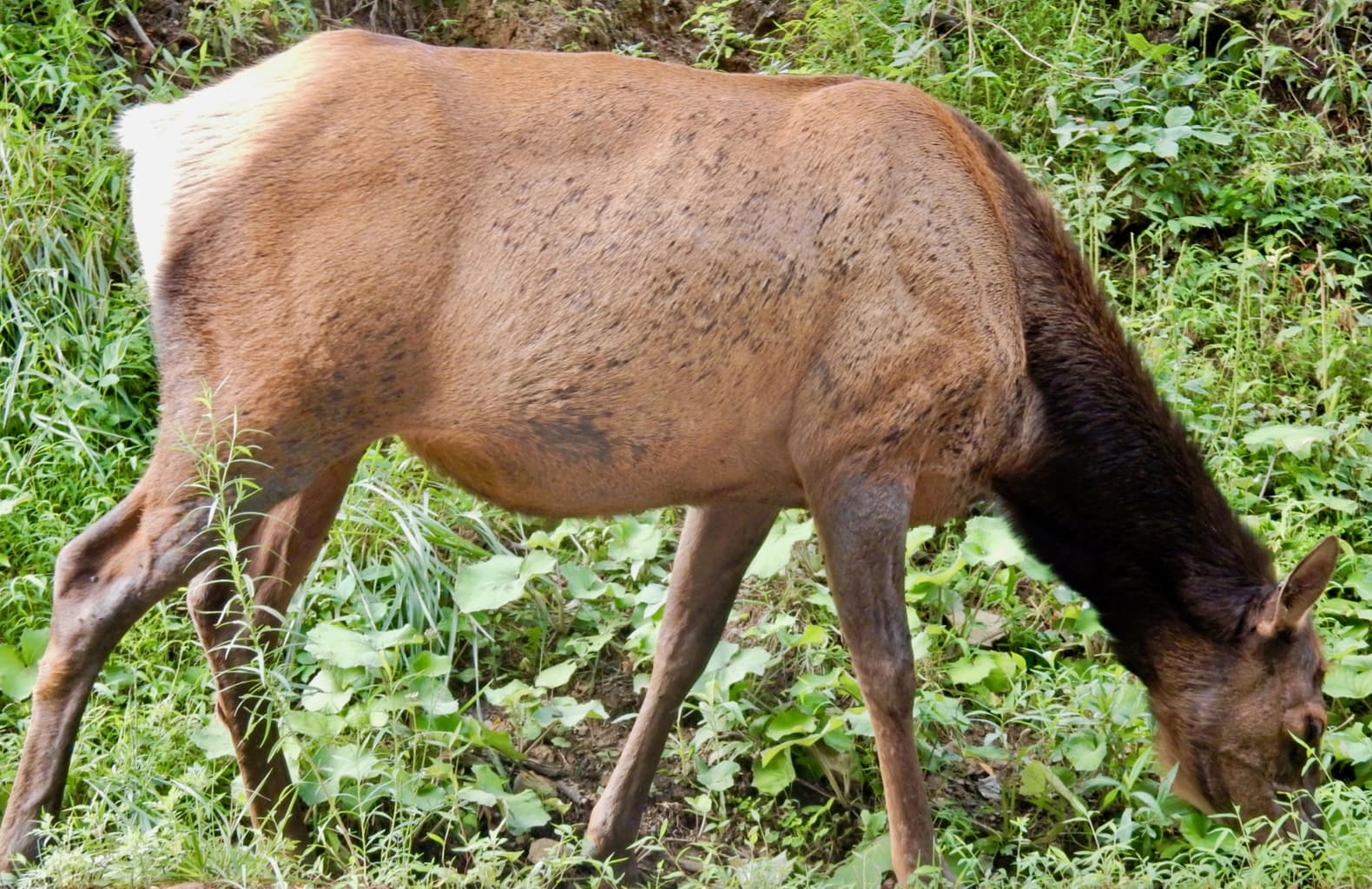 Though just outside of Clearfield County PA, most people who come to this area of Pennsylvania are here to see herds of Elk. The best time to see these moose/deer mashups is at dusk and dawn. And, the best place to see them is through the Elk County Visitor's Center's picture windows. Or, walking the trails around open fields.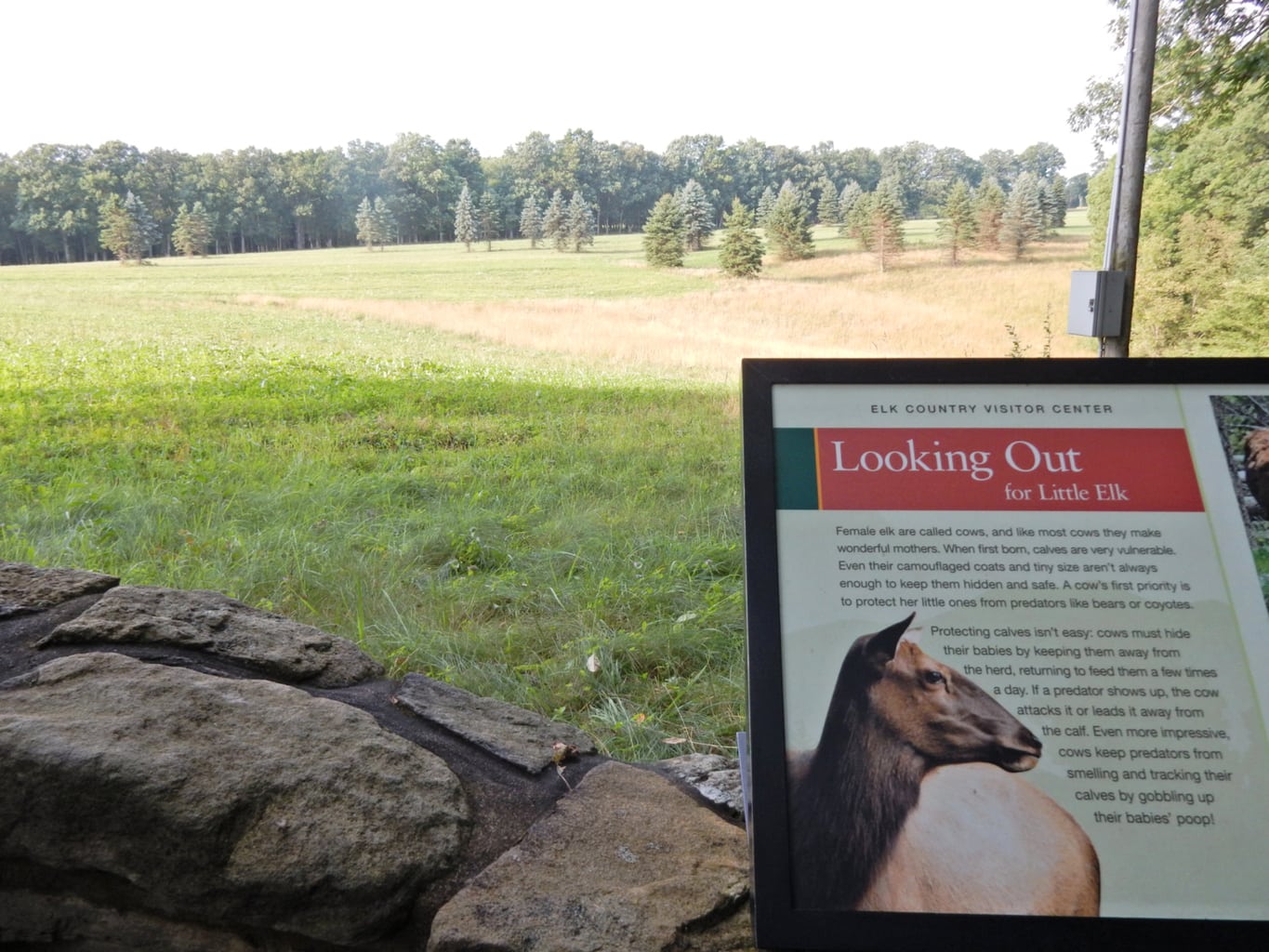 The elk cannot be hunted within the preserve. Hence, they tend to be less skittish than their Western counterparts. Often, they even show up in the back yards of permanent camp homes in town. Most of the time, you don't even need to get to the top of the hill, to the Visitor's Center itself, to see them.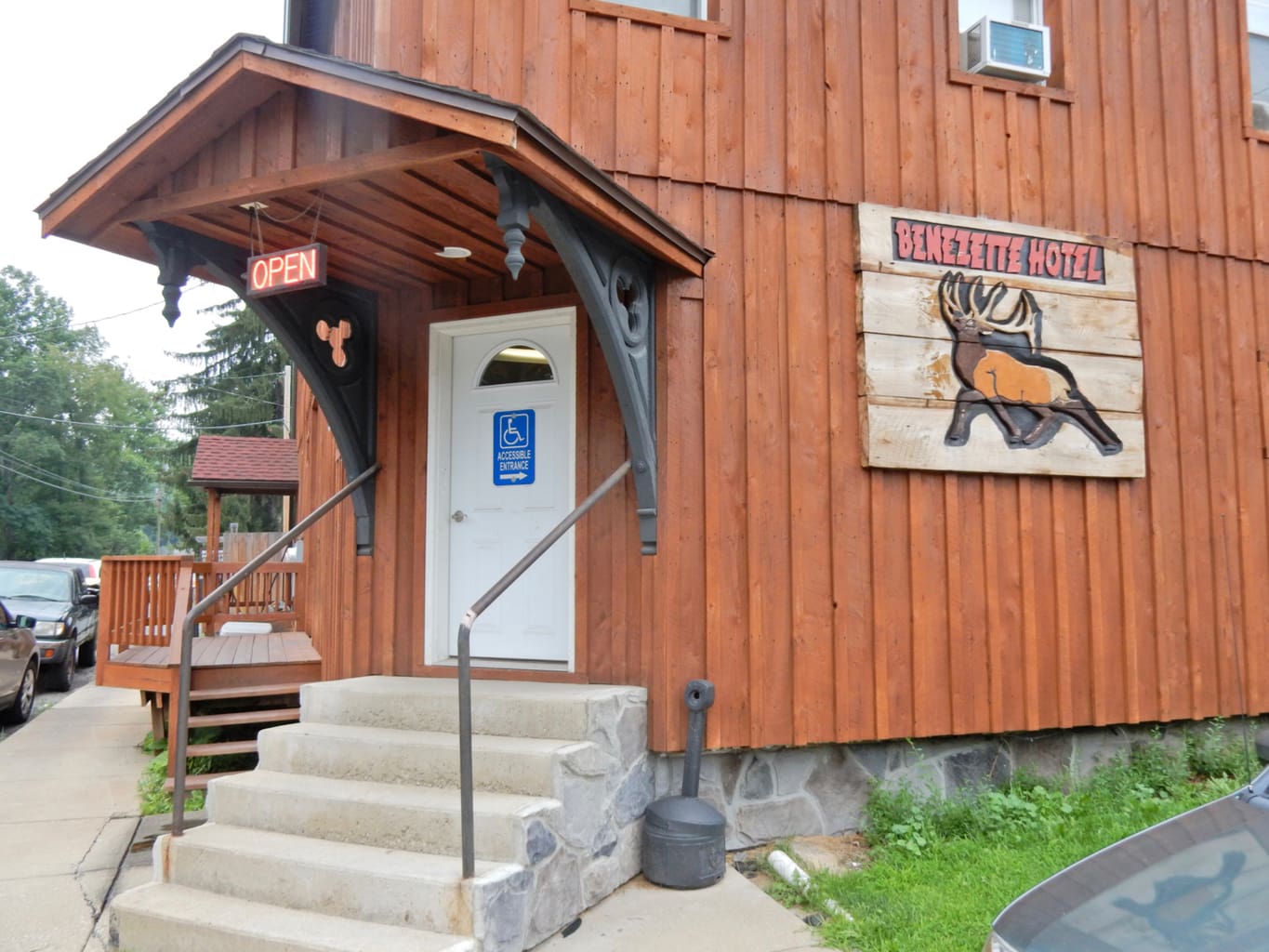 Afterwards, stop at the hunting-lodge casual Benezette Hotel Restaurant at the base of the hill for a lean and tasty Elk Burger ($8.95). It's a tradition in these parts.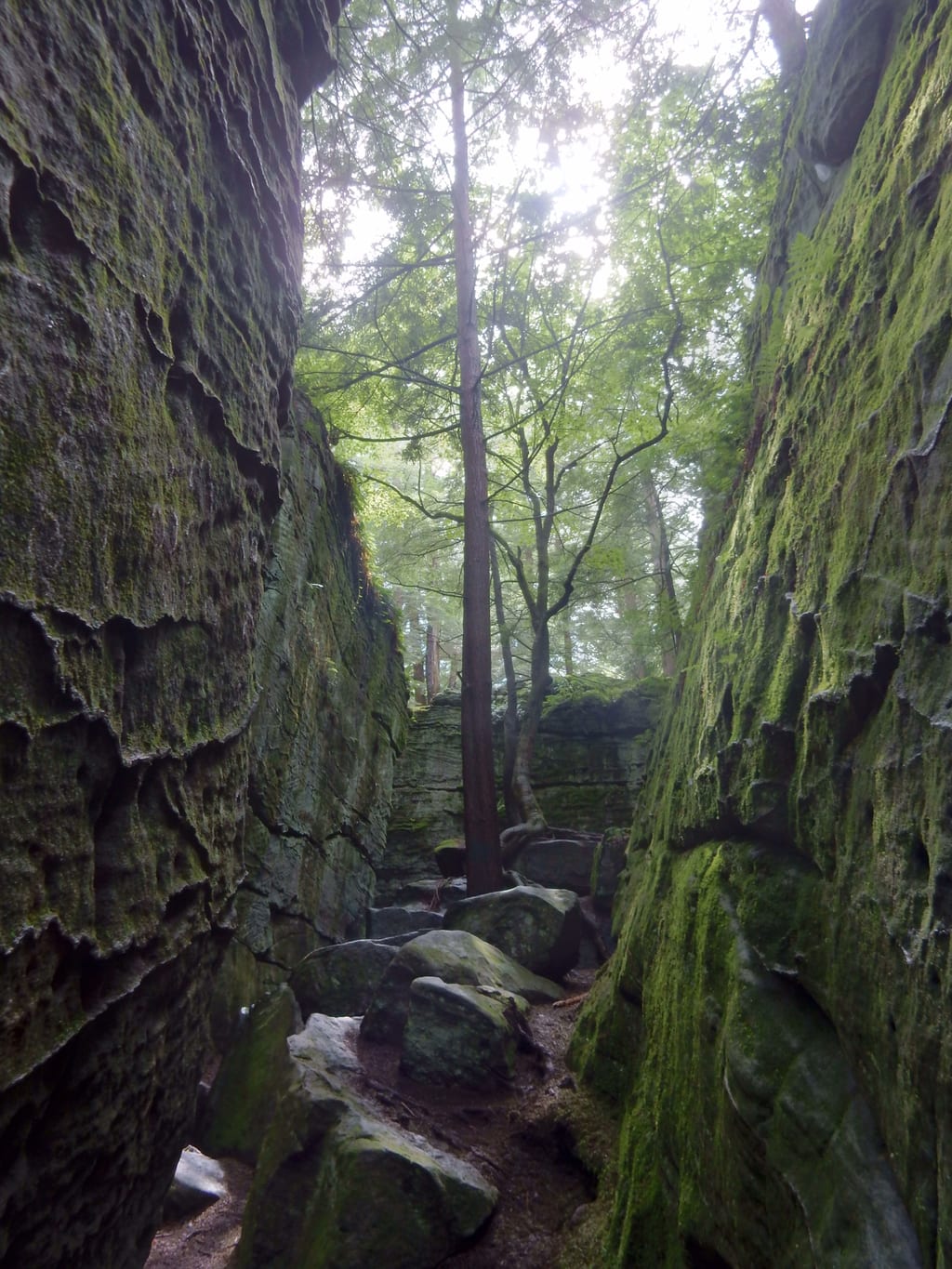 Stumbling on this 20-acre natural wonder is akin to discovering Angkor Wat Temple in the midst of a Cambodian jungle.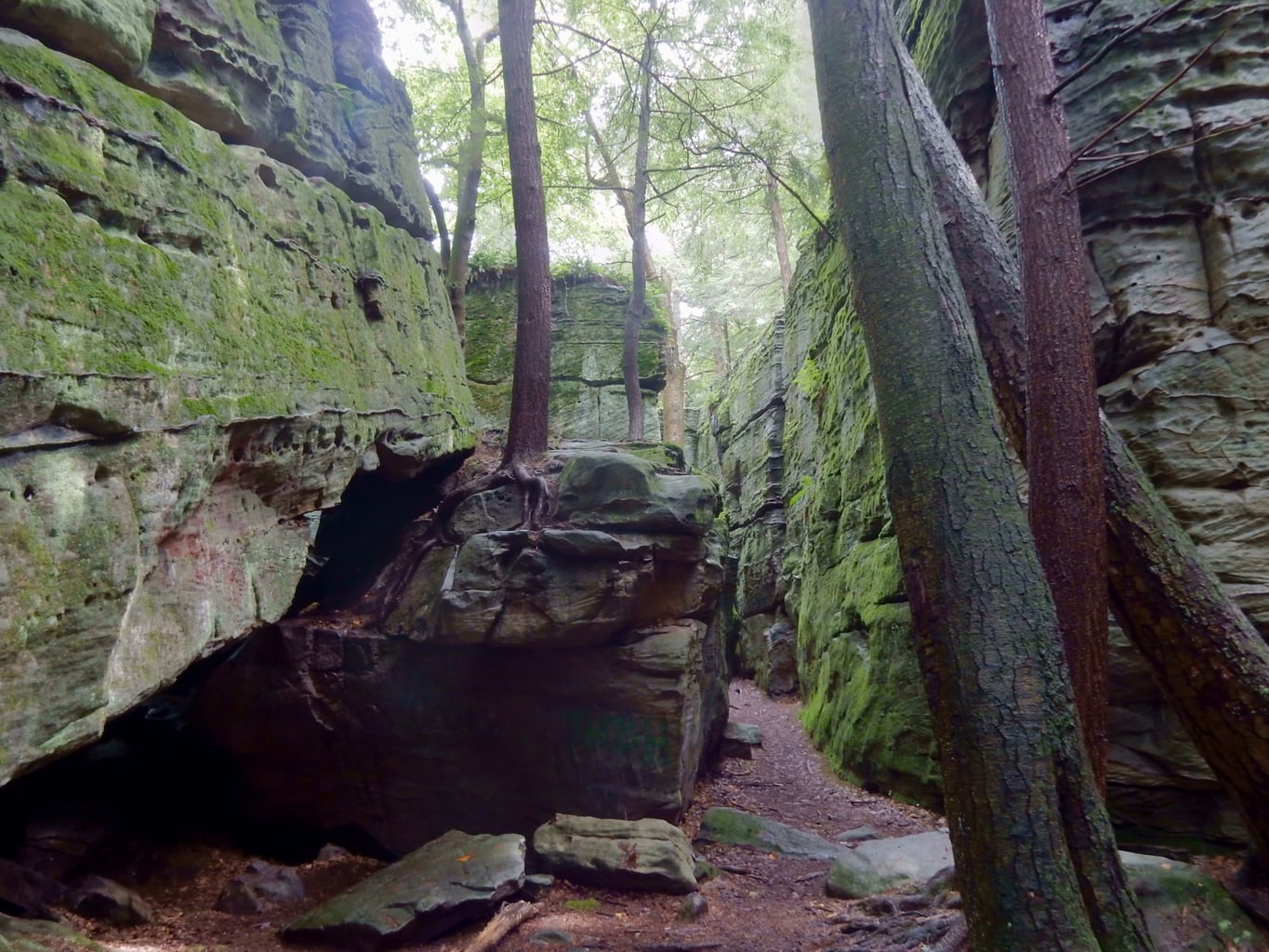 Roots and trees shoot out from rock outcroppings, some overtaking them entirely. This geological phenomenon was caused by "frost wedging" – where angular boulders broke off from the surrounding mountainside, creating narrow stone passageways, caves, and moss-covered stone chunks. Some are as high as a 5 story building, and perfect for climbing.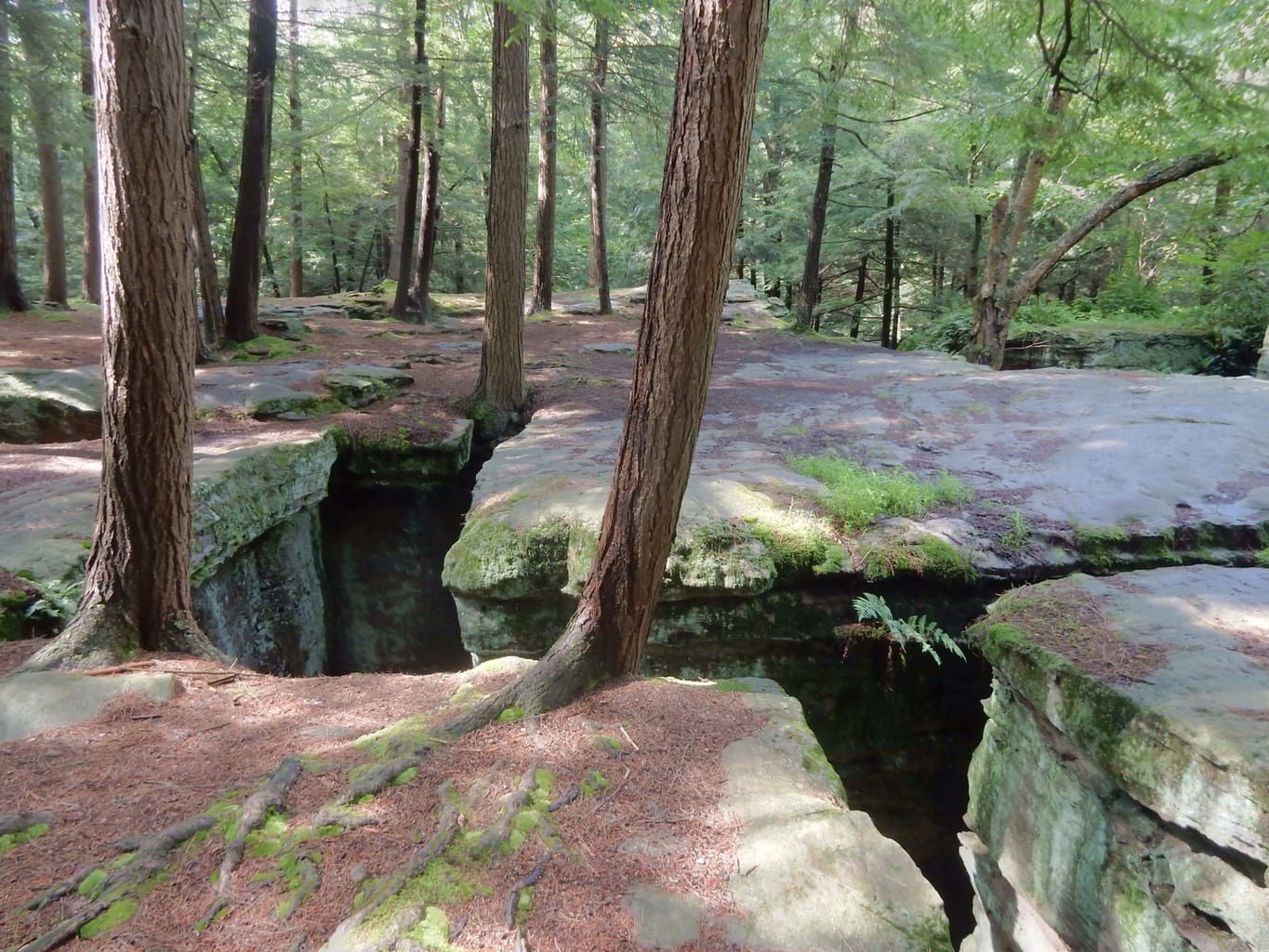 Hike up the trail to the roof of the rocks. Fissures, like glacial crevices, create a strange, fractured landscape. An Instagram darling. Free, open year round.
Bilger's Rocks is one of the most quirky-romantic places to propose in PA.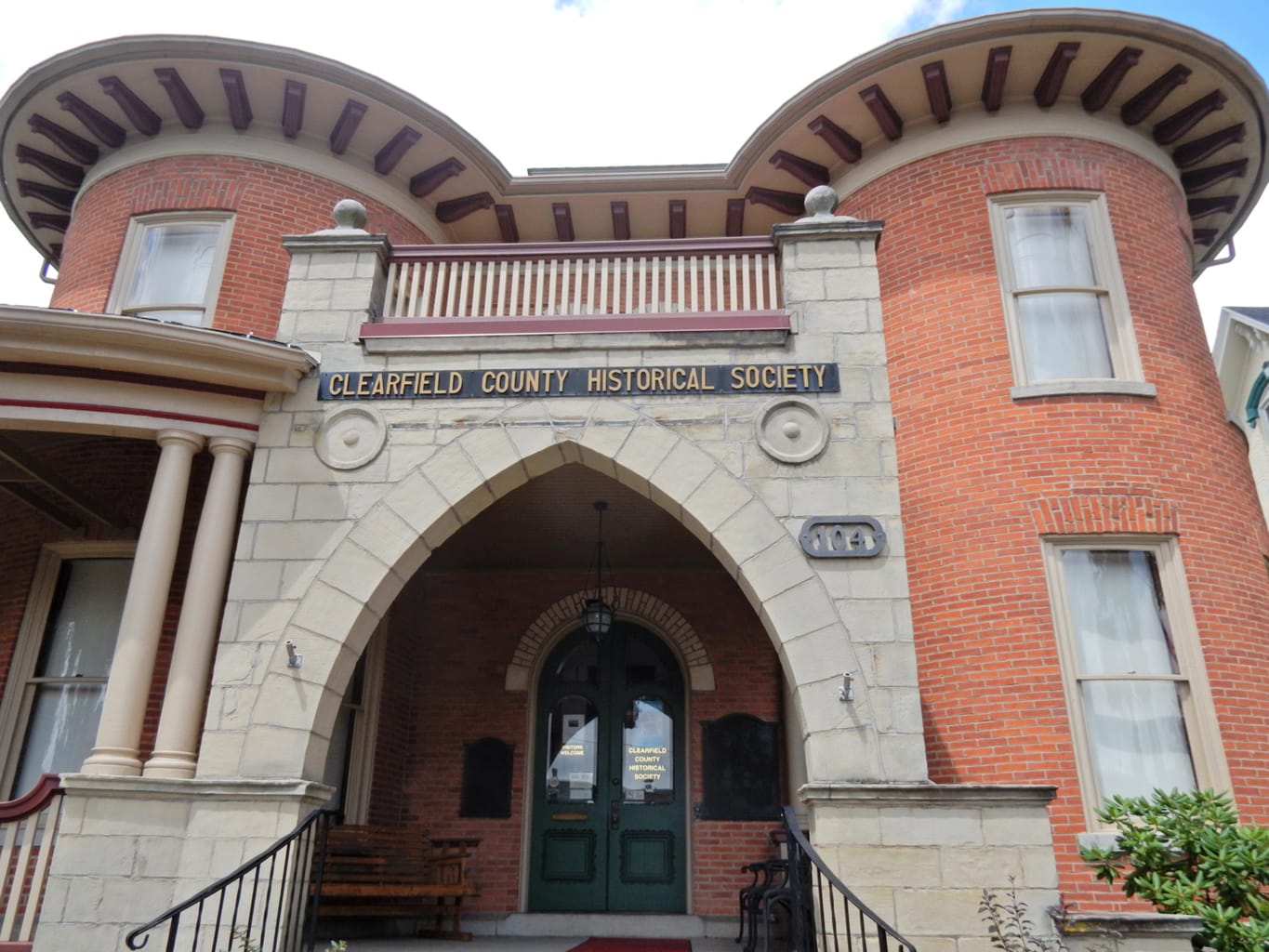 Timber and logging were central to the wealth of Clearfield County, as this 1880 "One-Percenter" brick home, overlooking the Susquehanna River, attests. The home now showcases 10,000 years of Clearfield history. The local Lanape tribe cut down various trees, using just what they needed for housing (good forest management).  After the "Alien Invasion," Europeans settlers began growing native White Pine in earnest,  (bad forest management).
These foreigners allowed the fast-growing pine trees to overtake the forests – leading to a timber industry that made many a non-Native American man wealthy. The more buoyant White Pine drifted easily on the river. Not surprisingly, the logging company owner who owned this home could watch his product float – and his money grow – from the front porch.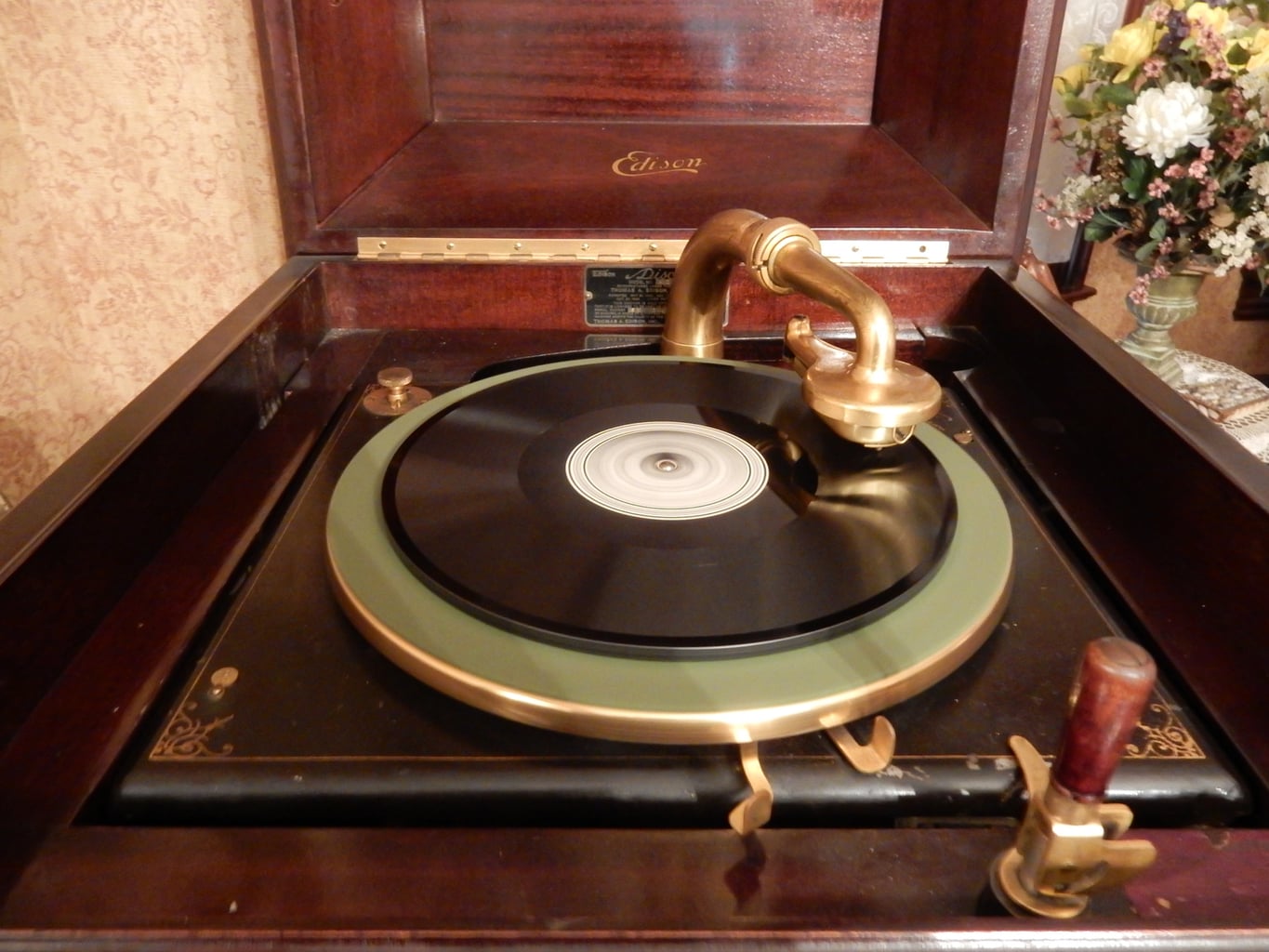 What did all this wealth buy? Parquet floors that guests still tread on. Plaster molding painted to look like wood. A drawing room with pocket doors. An Edison record player that guests are invited to listen to. Kupfer cut crystal, sturdy shutters, and more finery.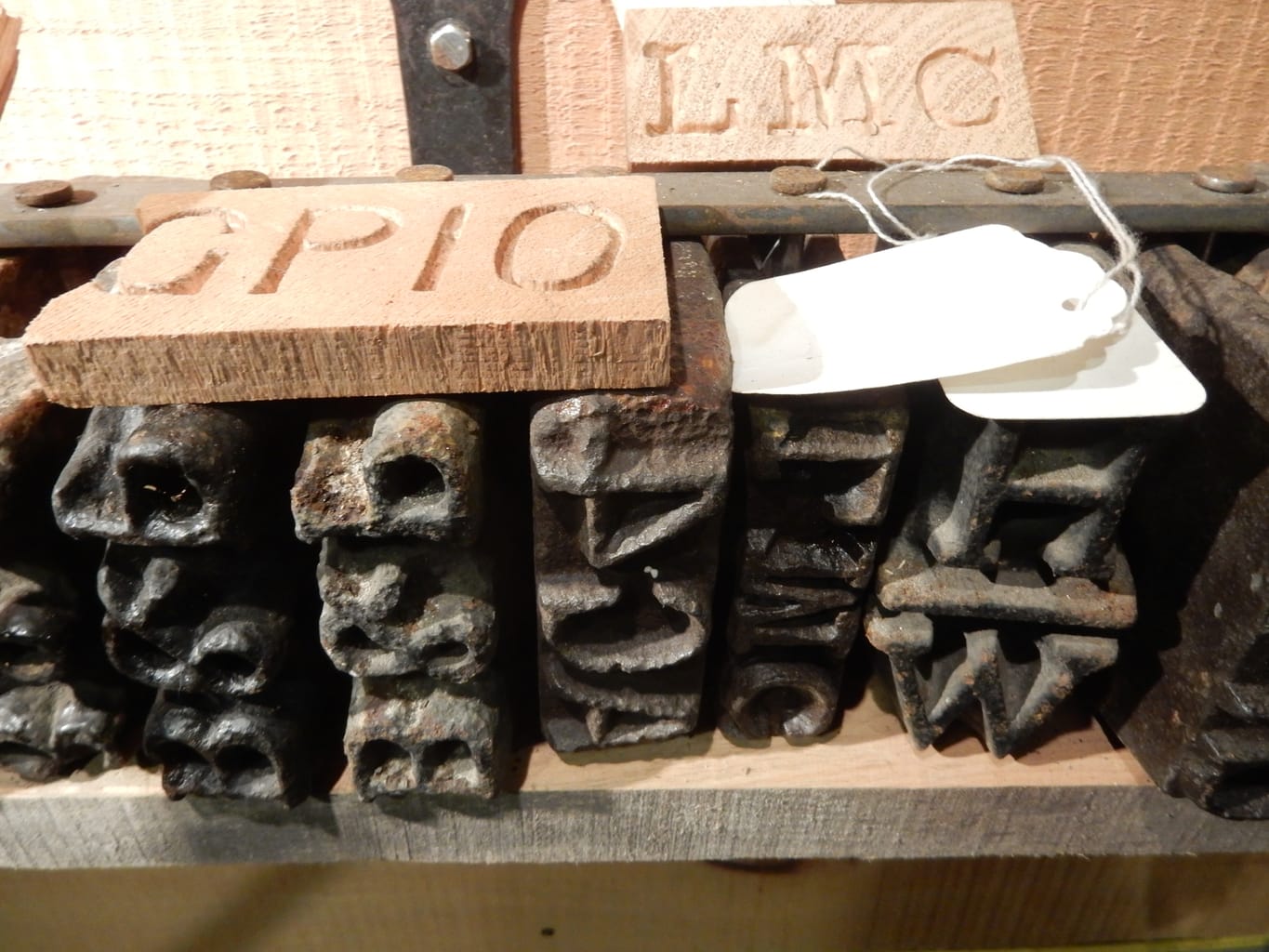 The home itself is a repository for stuff, separated by themes in each room. One highlight is the case jammed with projectile points (once called "arrowheads" or "spearheads"). Antique tools of all kinds can be found in the basement.
These include mining and logging implements, a coal car filled with coal, and rare log "brands" – type-set company initials that were hammered into felled trees, indicating ownership. Welsh and German immigrants flocked to this region. Whole families were put to work. Pennsylvania was, according to historians, "the worst abuser of child labor in the USA".
Largest (poached) elk in Pennsylvania History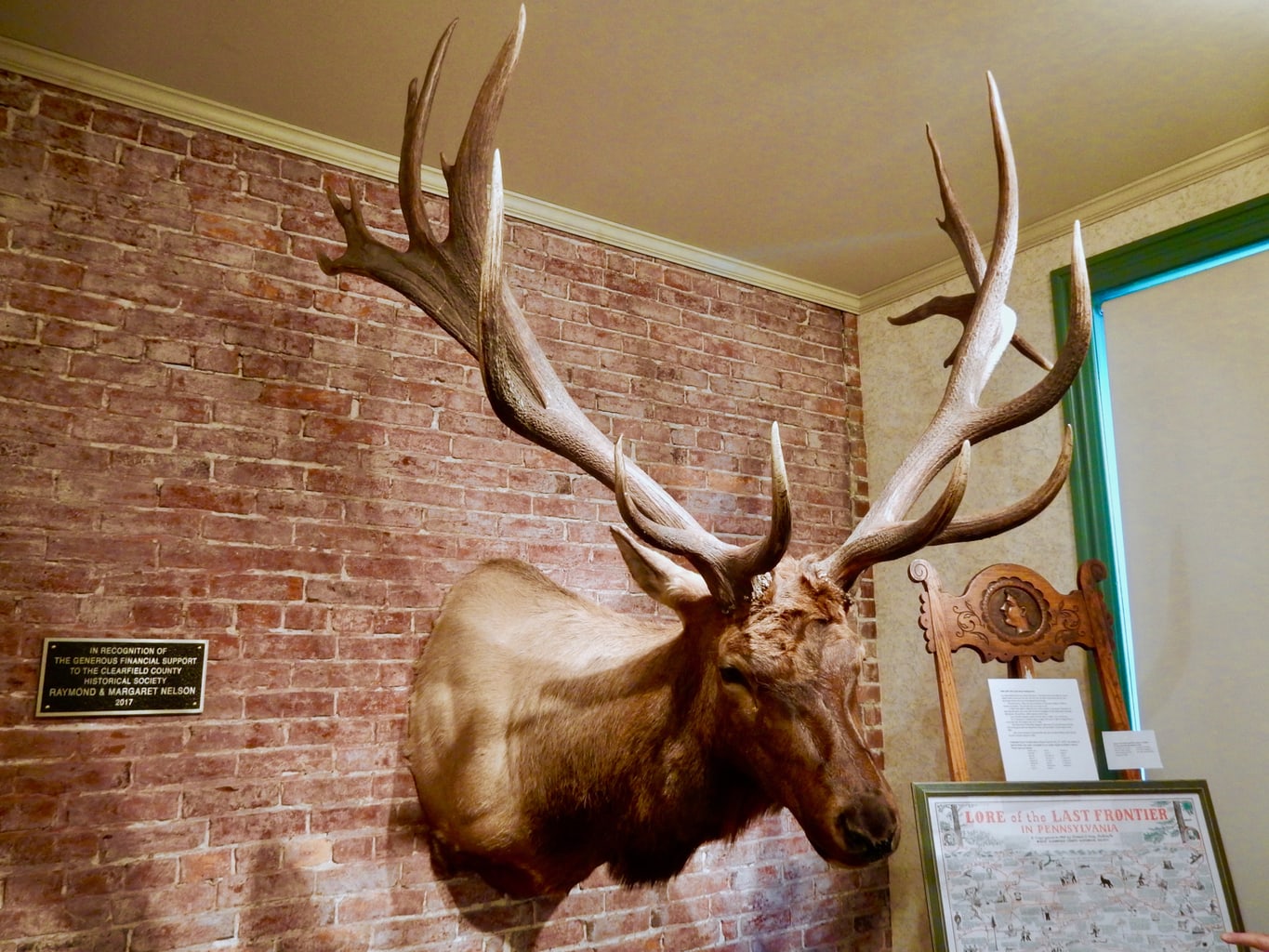 Upstairs, you can't miss the "largest (poached) elk in Pennsylvania History." Mounted above the staircase landing, its dimension are unbelieveable: 75" high, 61" wide and 30" deep, with a 19-point rack. Other rooms hold period dress, shaving mugs, surgical equipment, sports and military paraphernalia. If you don't have much time – concentrate on the basement, drawing room, and yep, this creature. Open May-October Thursday and Sundays 1:30-4.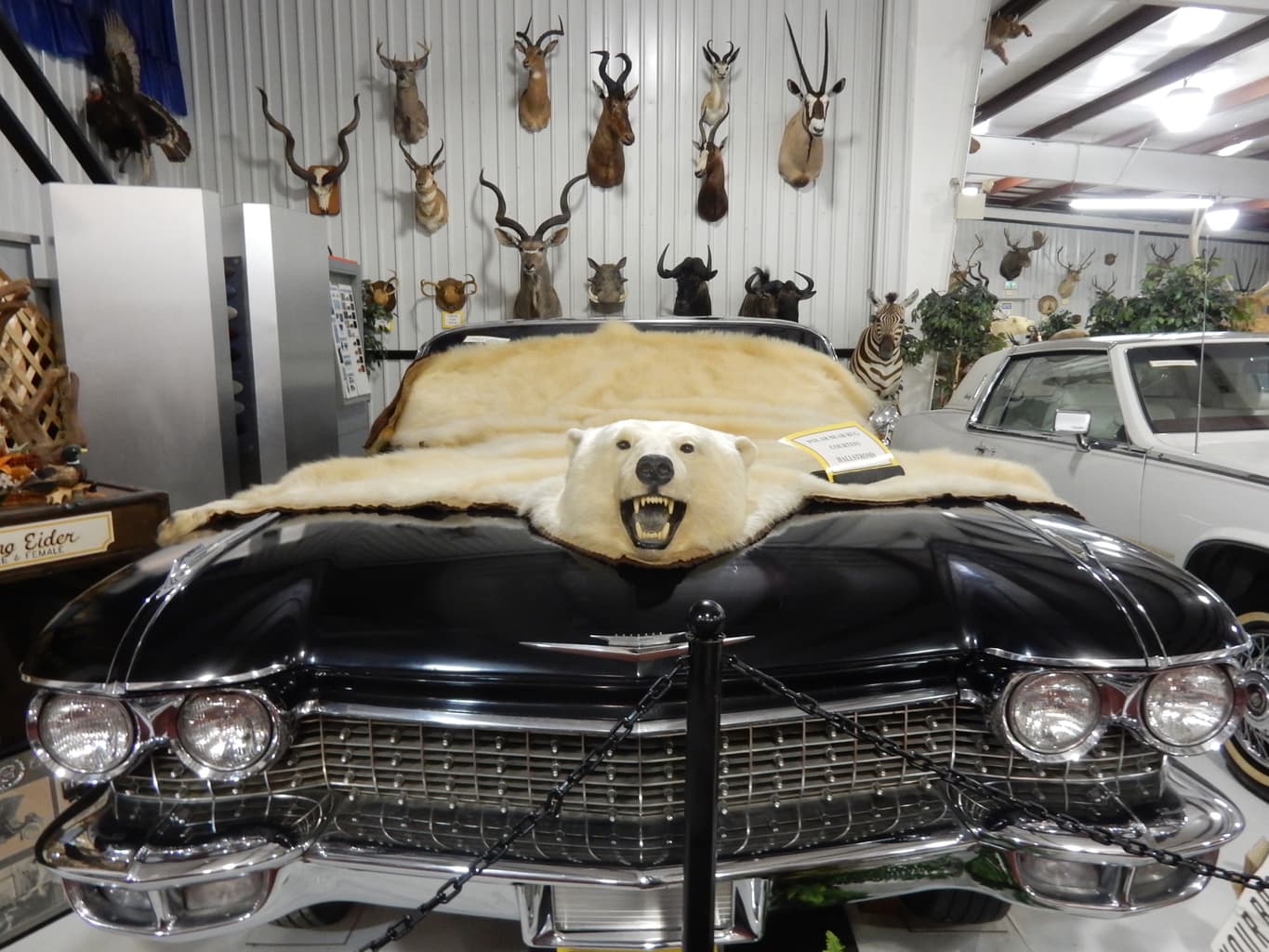 Lynn "Scoot" Grice is very into ammo and autos. And animal mounts. From the time Scoot was ten, he rode his bike after school 16 miles to work at his Uncle Tom's gas station. That job led to a life-long fascination with cars. Especially colorful, shiny, blingy ones. After serving overseas in WWII, Grice got into firearms, opening up his own gun store in Clearfield PA – the largest in the state – which provided him with the funds to start collecting his favorite automobiles.
Polar Bear skin on the hood of a '60 Caddy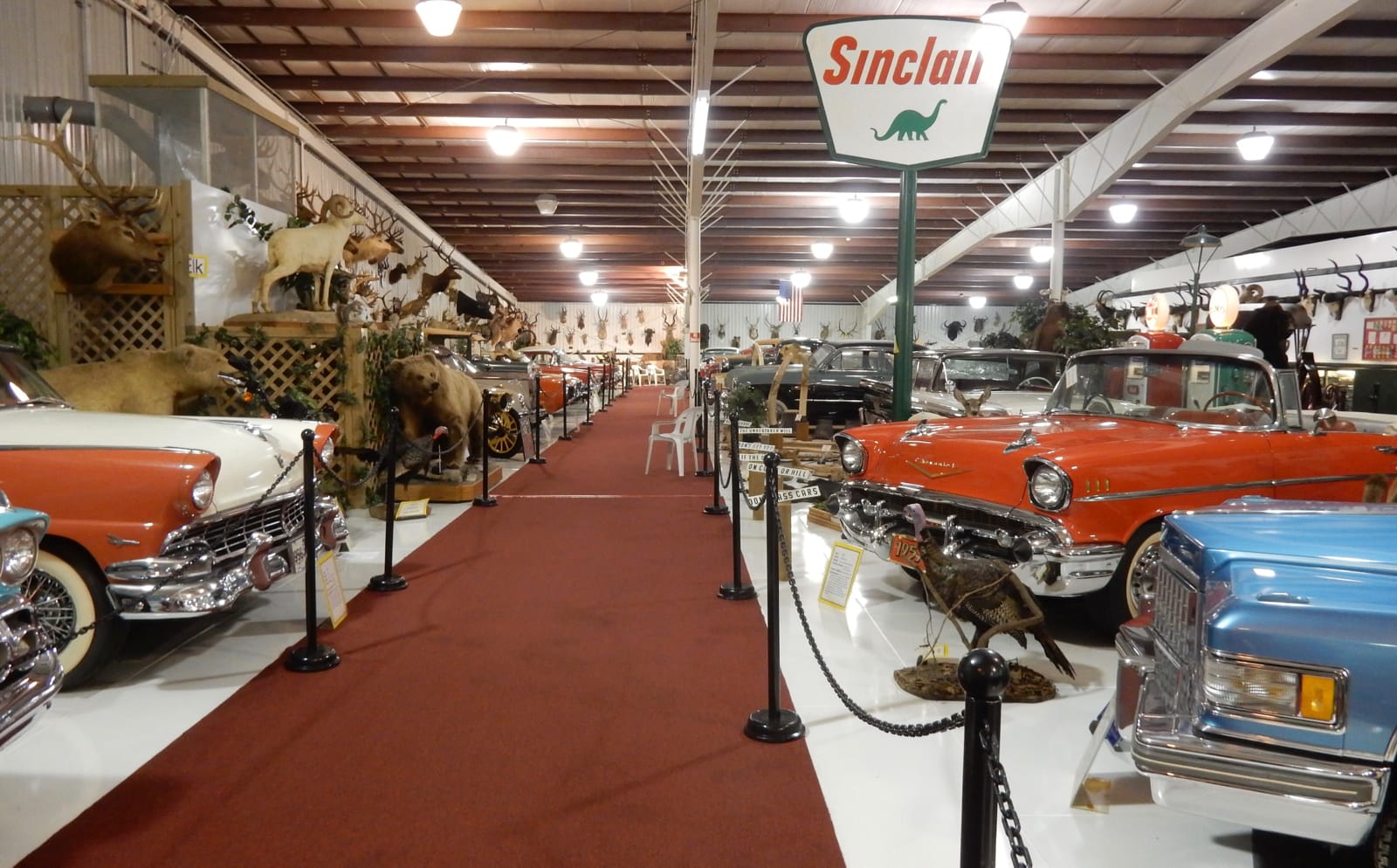 Now, those with the same fascinations can see over 70 antique and classic cars interspersed with over 800 taxidermied animals mounted on walls and scattered around the collection. (For example, there's a Polar Bear skin on the hood of a '60 Caddy, and a '79 Cadillac Eldorado with horns). The juxtaposition is rather bizarre – like a wing of the Museum of Natural History sponsored by Watkins Glen International.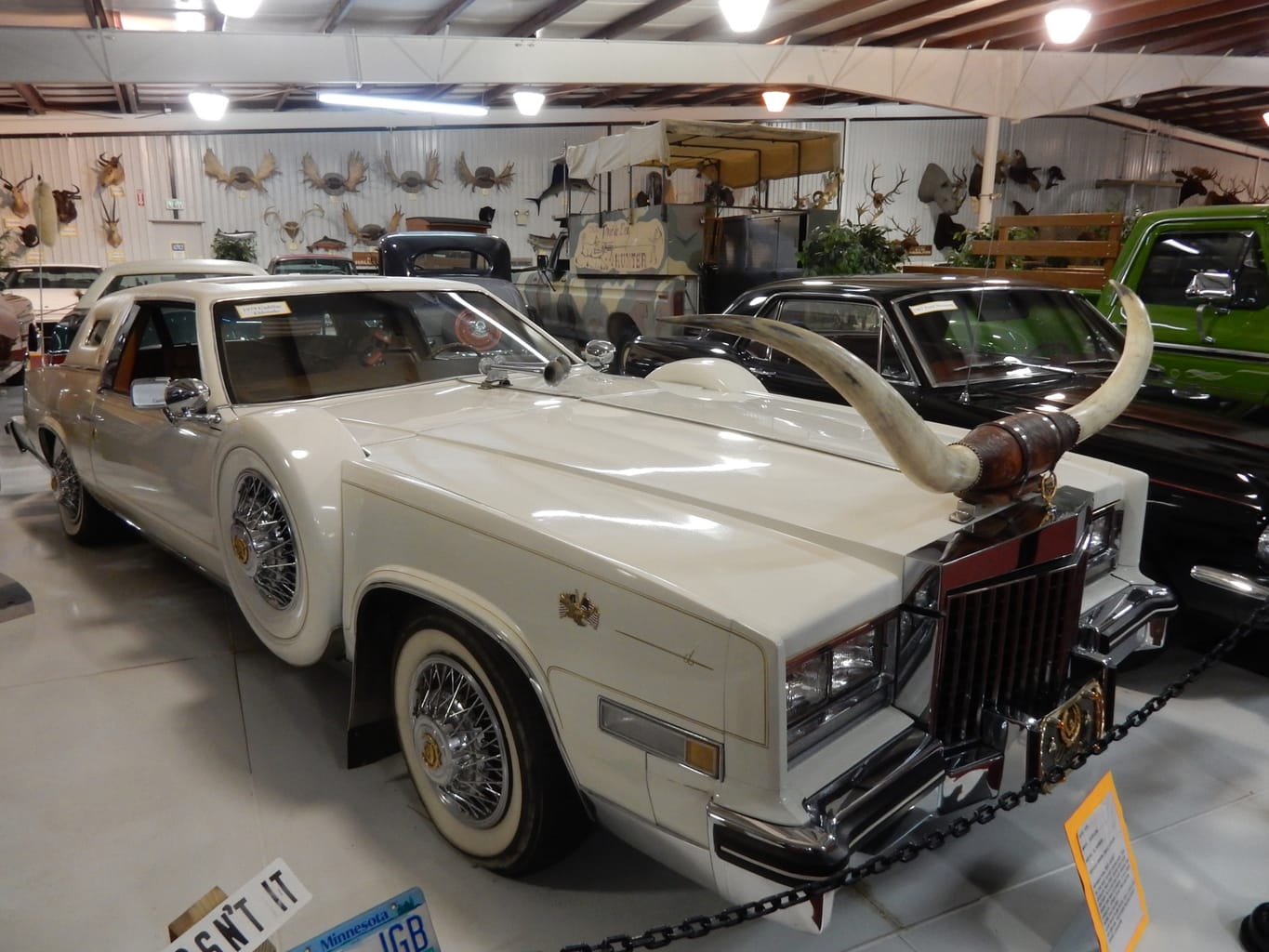 The Grice Museum owns seven Crosleys – the largest collection on the East Coast. Also find the pink and white '55 Crown Victoria that started it all, an ahead-of-its-time '36 Cord with hideaway headlights and front wheel drive, two gangster-like '86 Zimmers, a '60 and '63 Corvette Convertible sitting side by side to show the change in design, a 1910 Metz – the oldest in the collection, and a custom Mitchell-Heim Spyder '53 that raced at Watkins Glen. The latter was built right here, in town.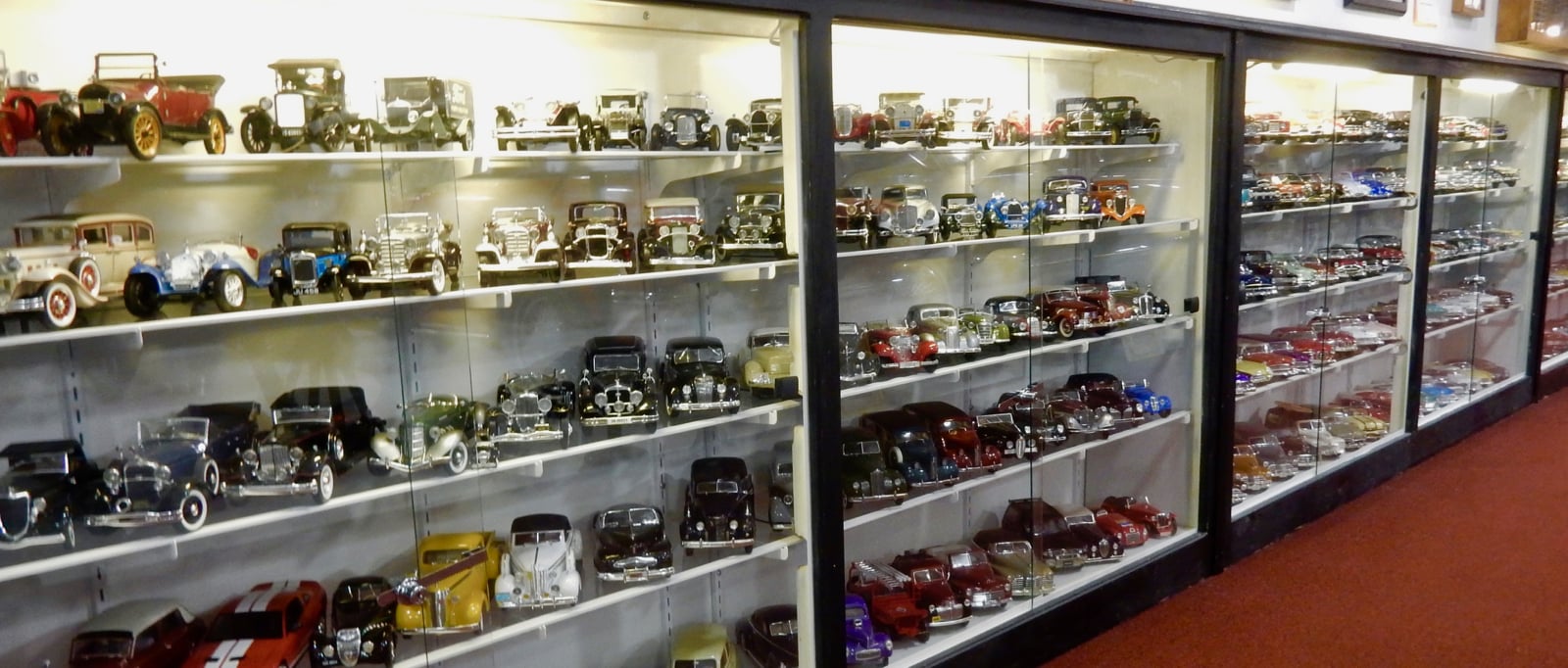 Each car gets waxed and buffed to shine every April. So, the cars absolutely sparkle. And that treatment extends to the 675 1/18th scale die-cast models, representing cars from 1913-2013, donated to the museum several years ago. It's a most colorful and artistic collection. Open Memorial Day weekend through Sept. 30. Mon-Sat 10-4, Sun 12-4. $6, 12 and under free.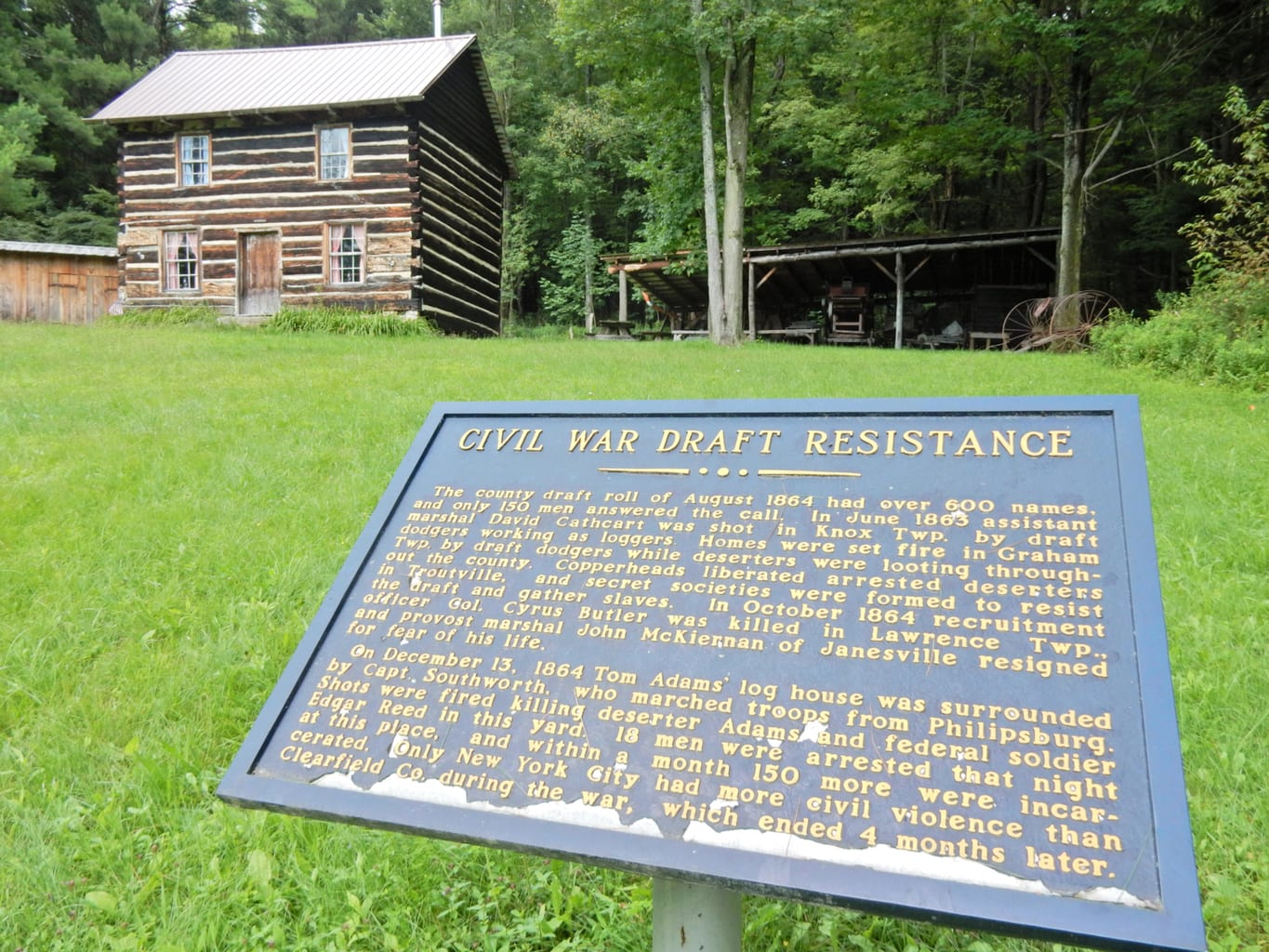 PHOTO OP: Bloody Knox, Olanta
Civil War sites tend to be divided into two categories: Union/North or Confederate/South. The Northern Timberlands of PA, dense and isolated and thus a hotbed for resisters and deserters, was neither. The people who lived here were poor uneducated loggers, "stubborn hillbillies." They were not anti-Lincoln per se, but definitely anti-authoritarian.
Timber-baron bosses didn't look kindly on the US Government seizing their workers for Army duty. Provost Marshall, John McKiernan, accepted the job to go from shack to shack in the area to encourage draft-dodgers to join up. According to reports, he was frequently met at the door by an irate wife with a shotgun.
In December 1864, Tom Adams, who had deserted the Union Army, convened with other deserters in this, his home. Army officers in search of these n'er do wells surrounded the house, and from the 2nd floor, Adams shot and killed a 19-year-old soldier. He was shot and killed in return.
The structure on the property is a re-creation of the original on its footprint. (A plaque outside mentions that McKiernan resigned "for fear of his life," which, according to local historians, is not true. He just grew frustrated with the attitudes in this region).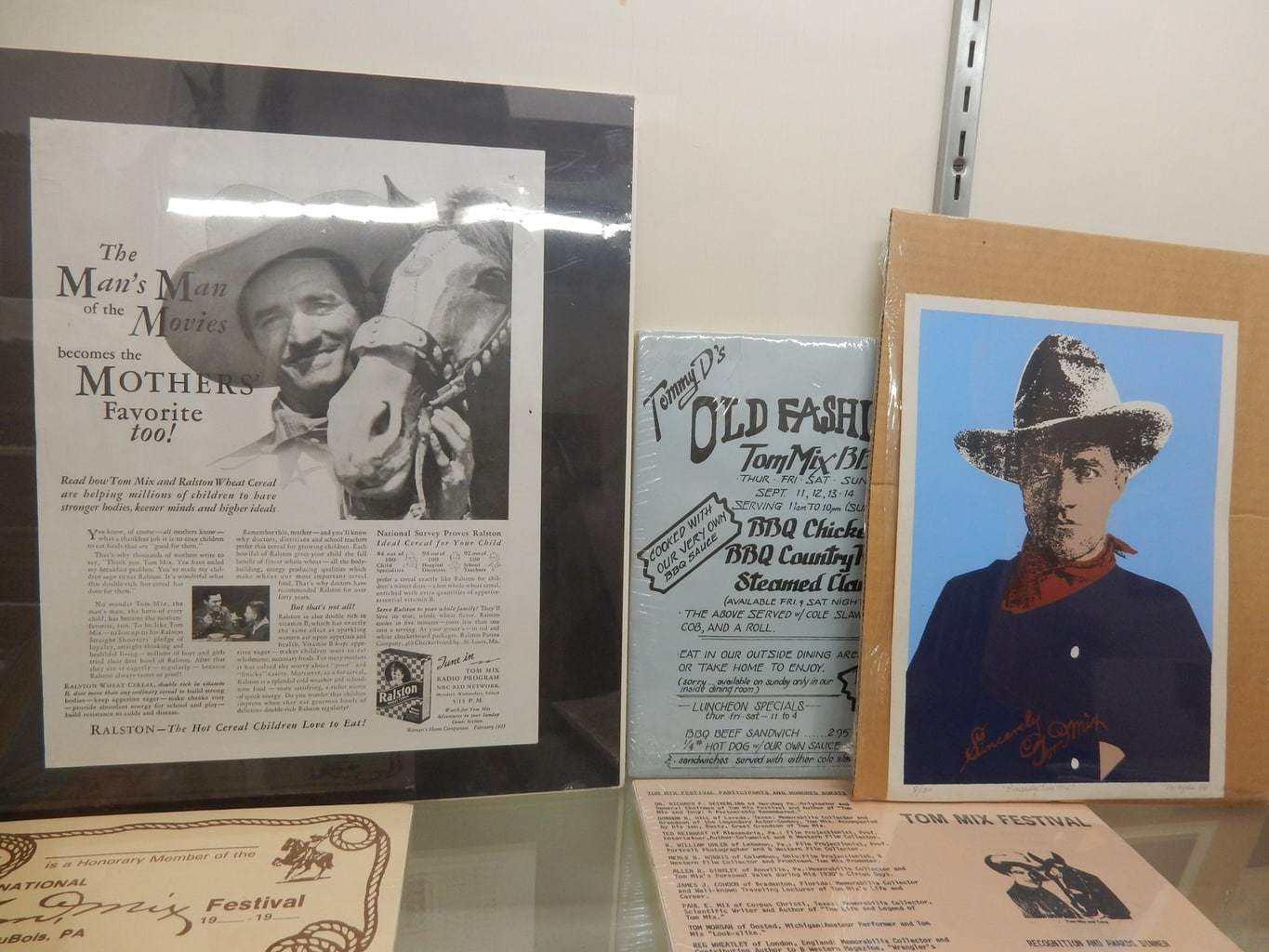 Sure, it's a "glass case" museum – but some of what's under glass is worth a peek at least. Tom Mix, Hollywood's first "Western Star" (he made 279 movies in the early 1900's) was born and raised in Dubois PA. Though he lived the L.A. lifestyle, he came home every so often to see his Ma.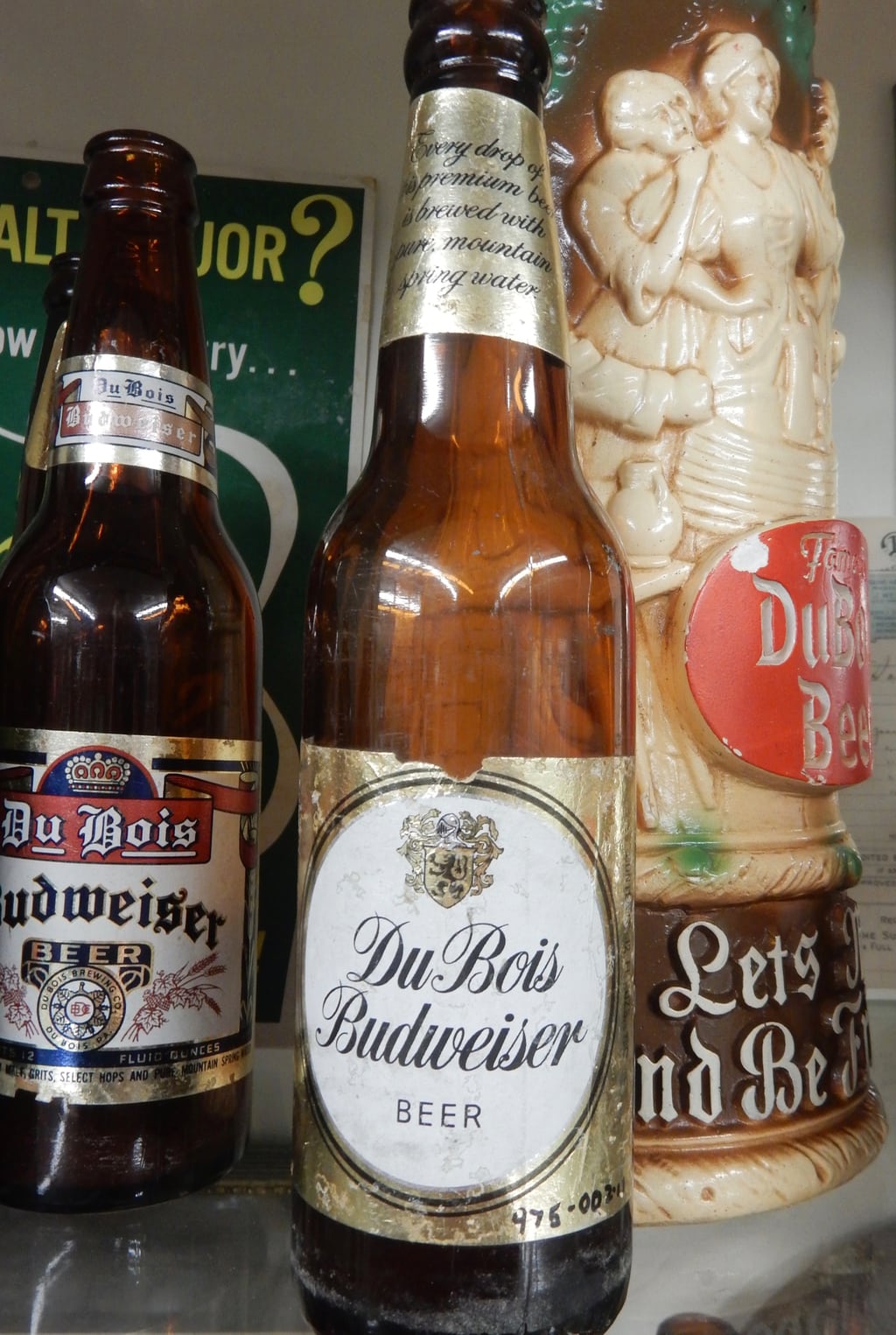 There's a whole exhibit about DuBois Brewing Co.'s Budweiser Beer.  Yes, DeBois PA can boast the original Budweiser Beer. The name stuck until Anheuser-Busch purchased it from this small PA brewery.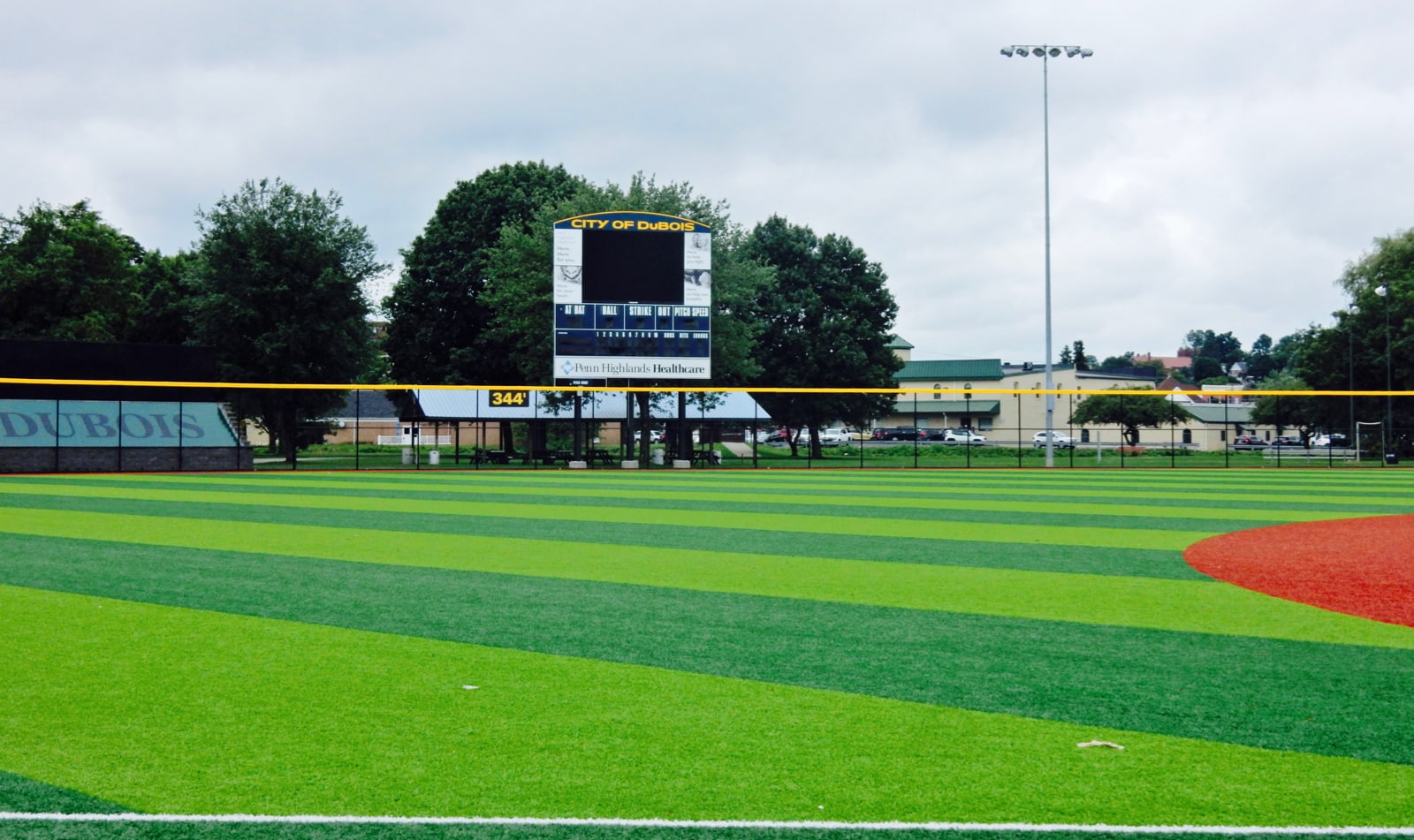 The museum encompasses three buildings worth of stuff. Its focus is on coal – which fed railroad engines, drawing immigrants to work the mines – the timber industry, which built the expanding west, local military and sports. Sports are huge in DuBois– a big tourist draw. The town recently hosted the Small College World Series. April – November Tues, Wed. 10-4, free, donations happily accepted.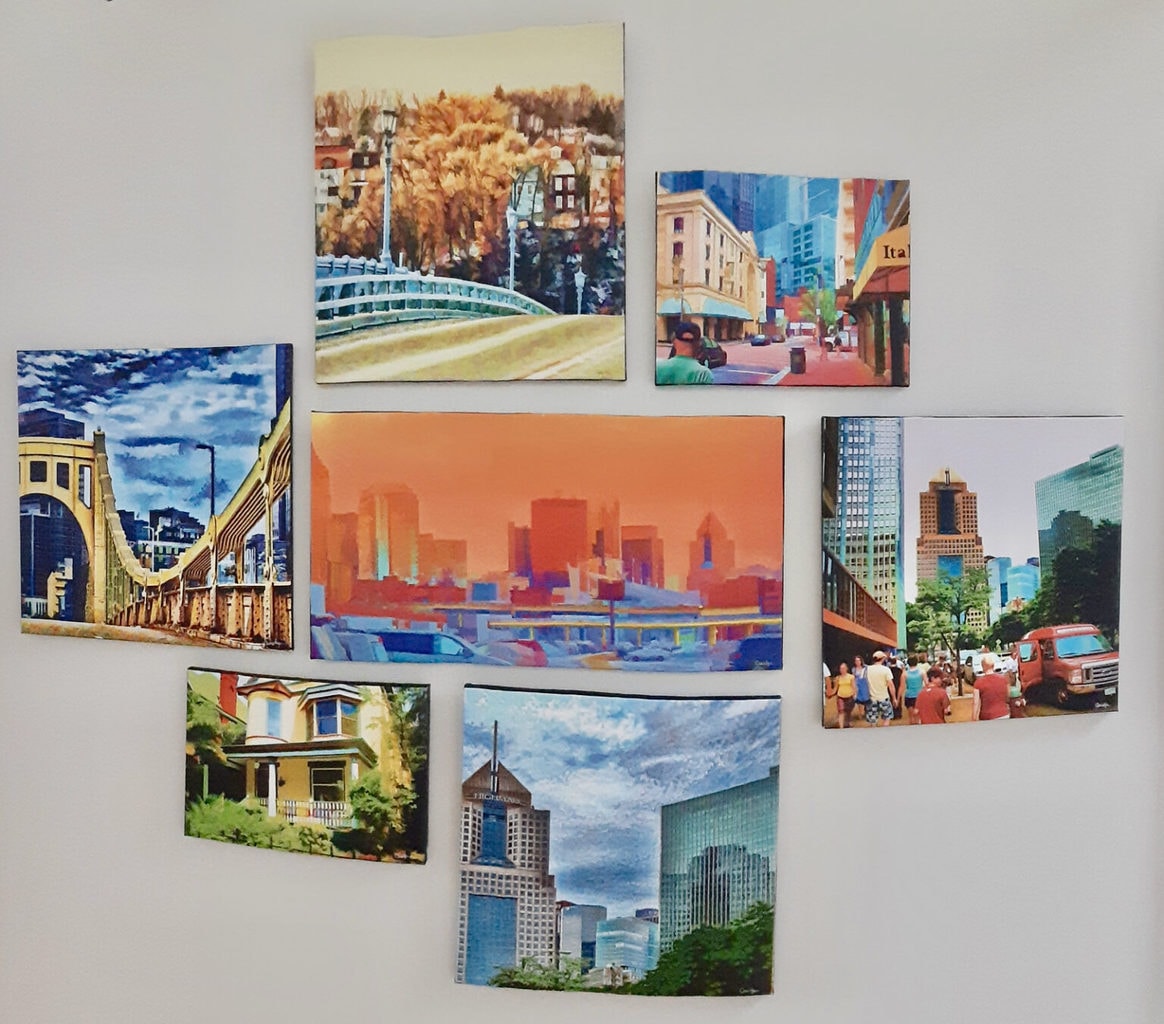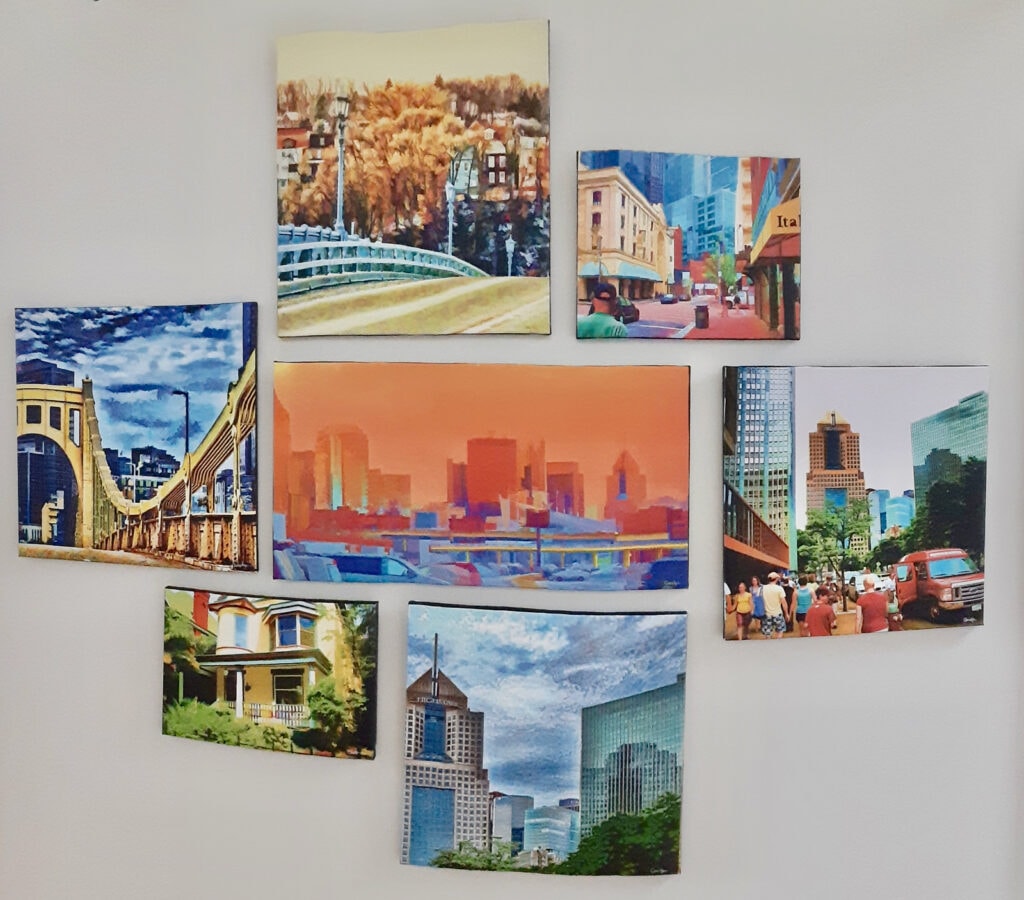 An artist himself, Perry Winkler has a penchant for recognizing good local art and photography.  are This quirky, multi room gallery, represents about 14 artists. And their work is sprinkled amidst historic carousel horses (and a full non-working merry-go-round) stored here by the building's owner, Dr. Jeffrey Rice. A dental and facial surgeon, Rice has been renovating and bolstering the whole town of DuBois. (See Doolittle Station below).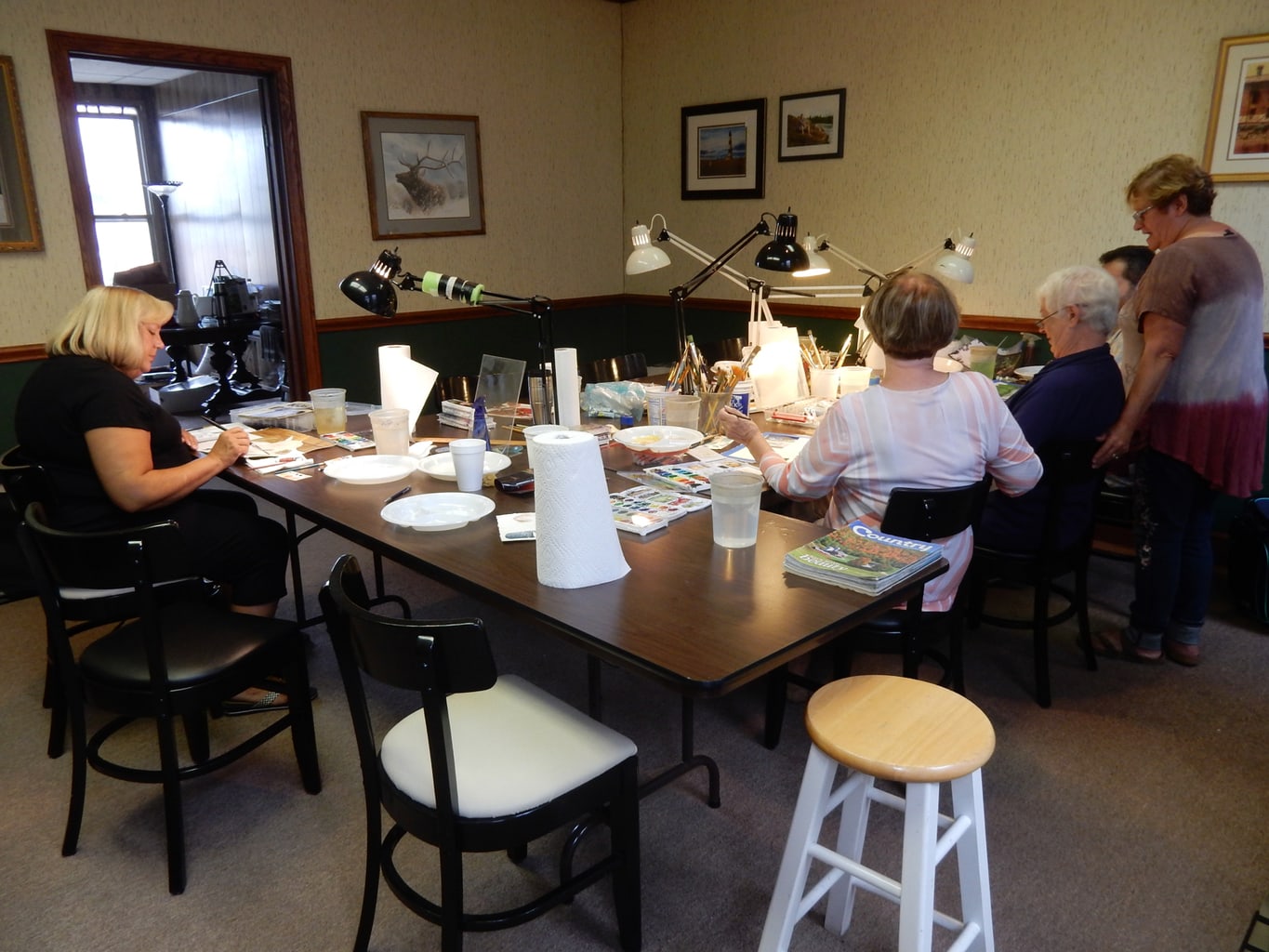 Come in to see some pretty spectacular work, from Winkler's landscapes to the digital photography by artist Carolyn Schiffhouer. If you are so inclined, pop over across the street to take Winkler's watercolor class (sign up online) that he teaches twice a day.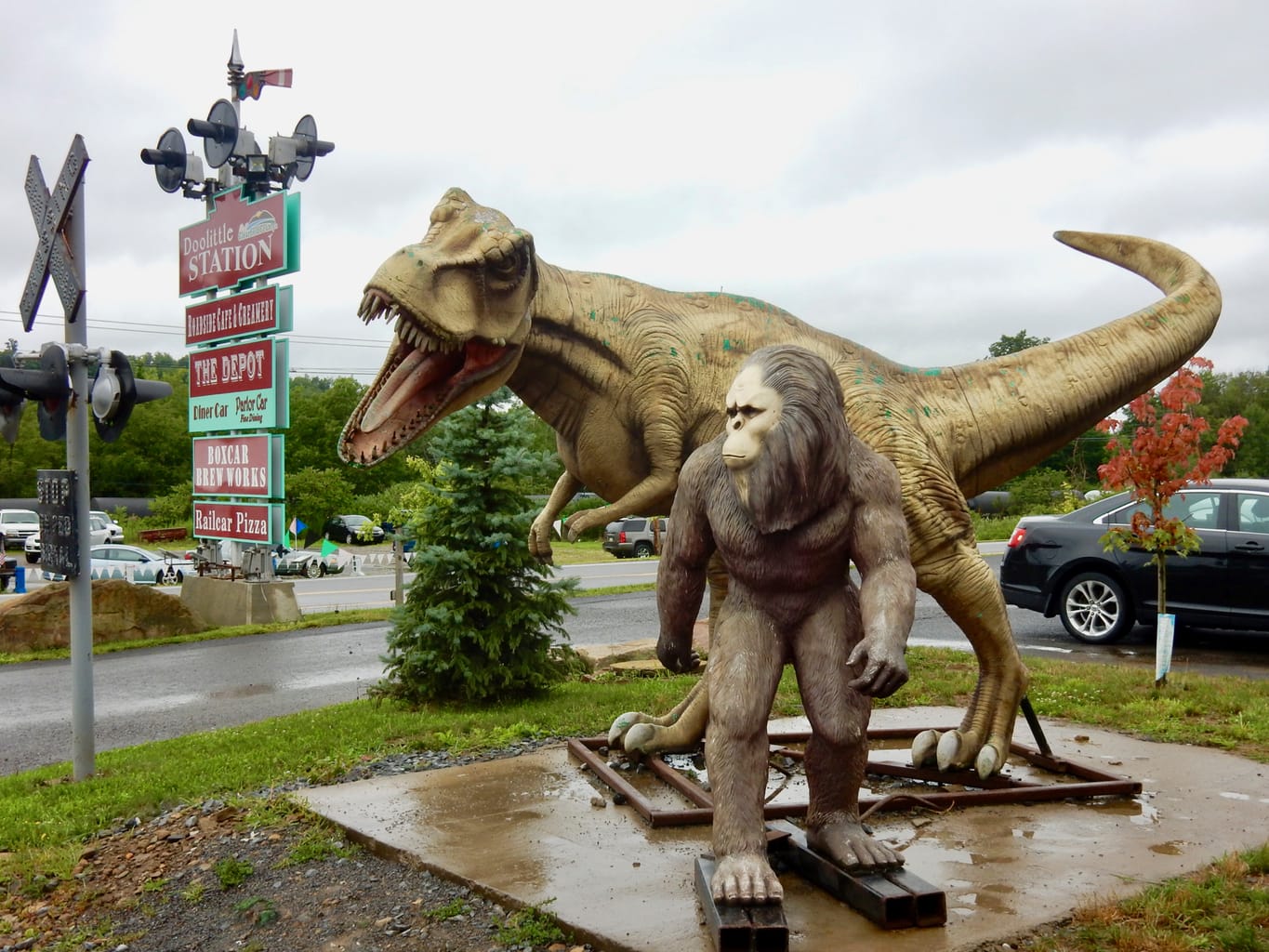 This complex of old train cars, just off I-80, has been drawing travelers from the Interstate in greater and greater numbers lately. There are two reasons for this. First, the visionary Dr. Rice (see above) has been collecting singularly iconic train cars (e.g., Teddy Roosevelt's travel Pullman, the Ringmaster's and grunts' cars from Barnum and Bailey Circus), repurposing them as hotel rooms, restaurants (including a fire-oven pizza parlor), a brewery, ice-creamery, a laser tag venue, with lots more planned.
And second, Tara Tyger, a culinary-school trained chef who spent four months in Italy and four months in NYC, runs all of the restaurants. They are better and more interesting than most other roadside attraction eateries in the country.
1901 Teddy Roosevelt Pullman Car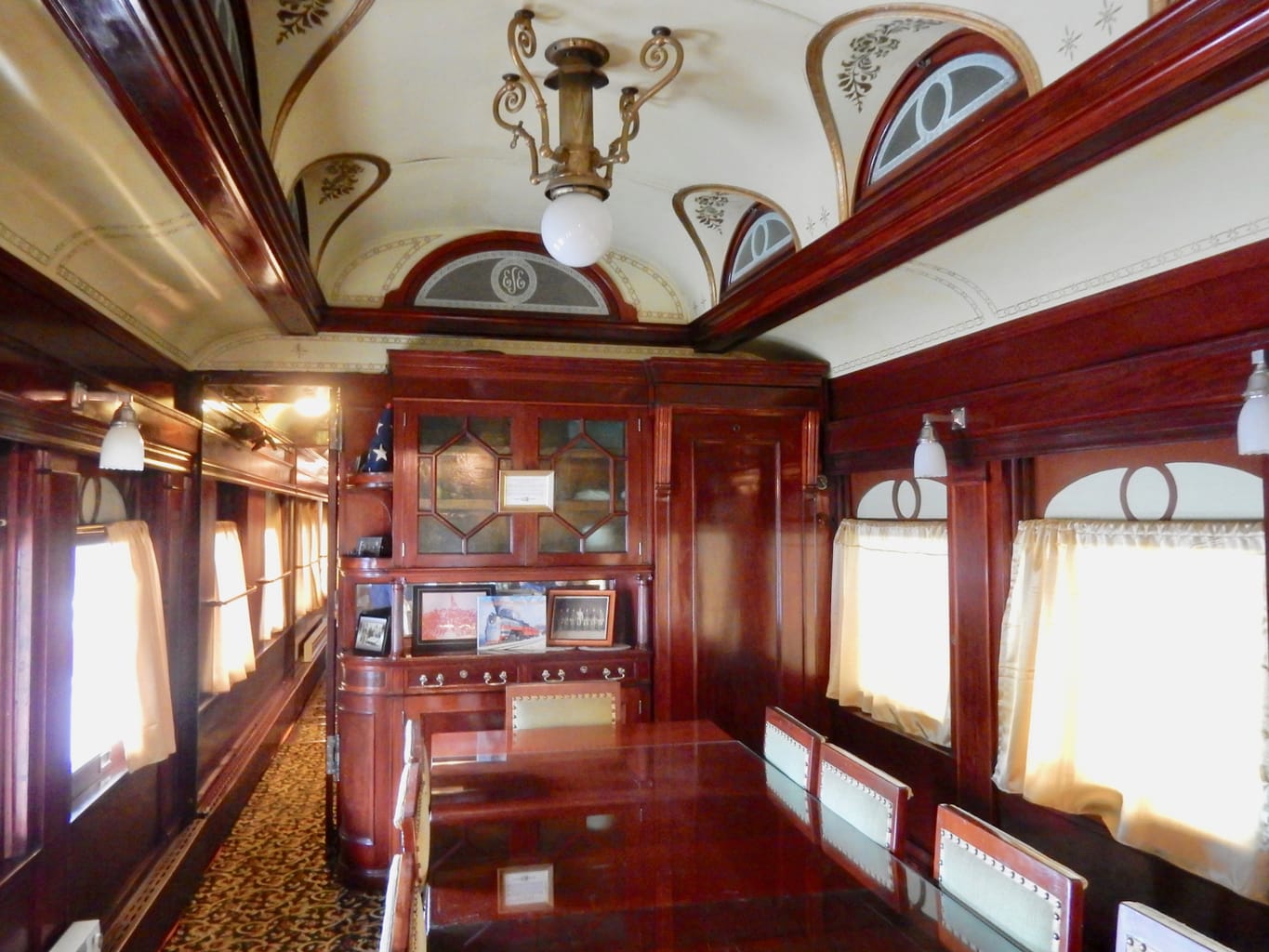 History/train fans are eager to stay in the 1901 Teddy Roosevelt Pullman Car for the night (see below in "Where to Stay"). Rice found it in mint condition, with all original woodwork and furniture intact. If you stay here, you can play Mini Golf for free. Otherwise, the fee for drop-ins, is just $3 per person per round. It's a great leg stretcher on a long drive.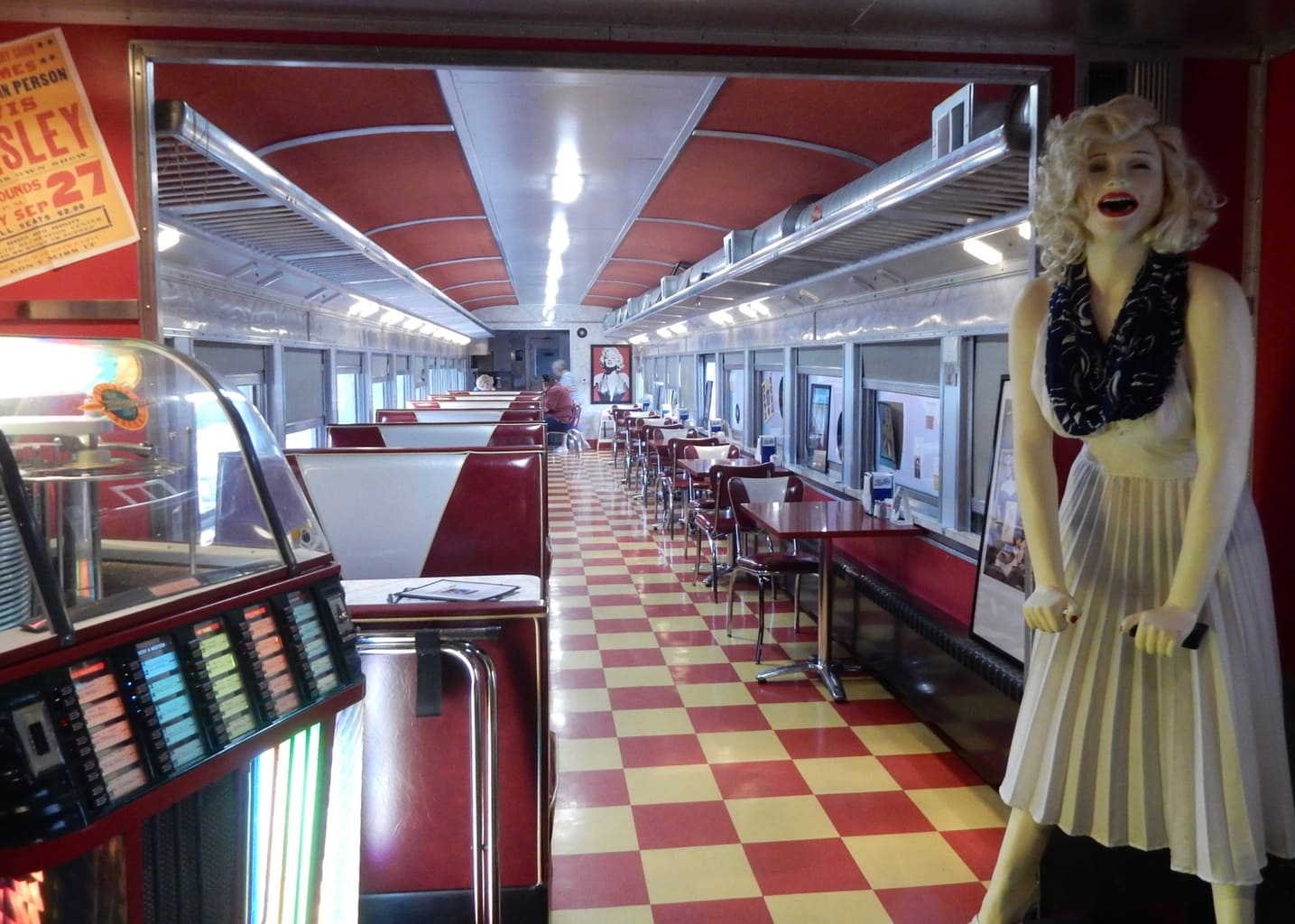 The Depot serves as museum, gift shop, and entrance to the red and white checkered 50's Diner (complete with Marilyn Monroe and Elvis statues), and the 1913 Parlor Car Fine Dining Restaurant. Both are excellent, thanks to Chef Tyger. (see below in Where to Eat).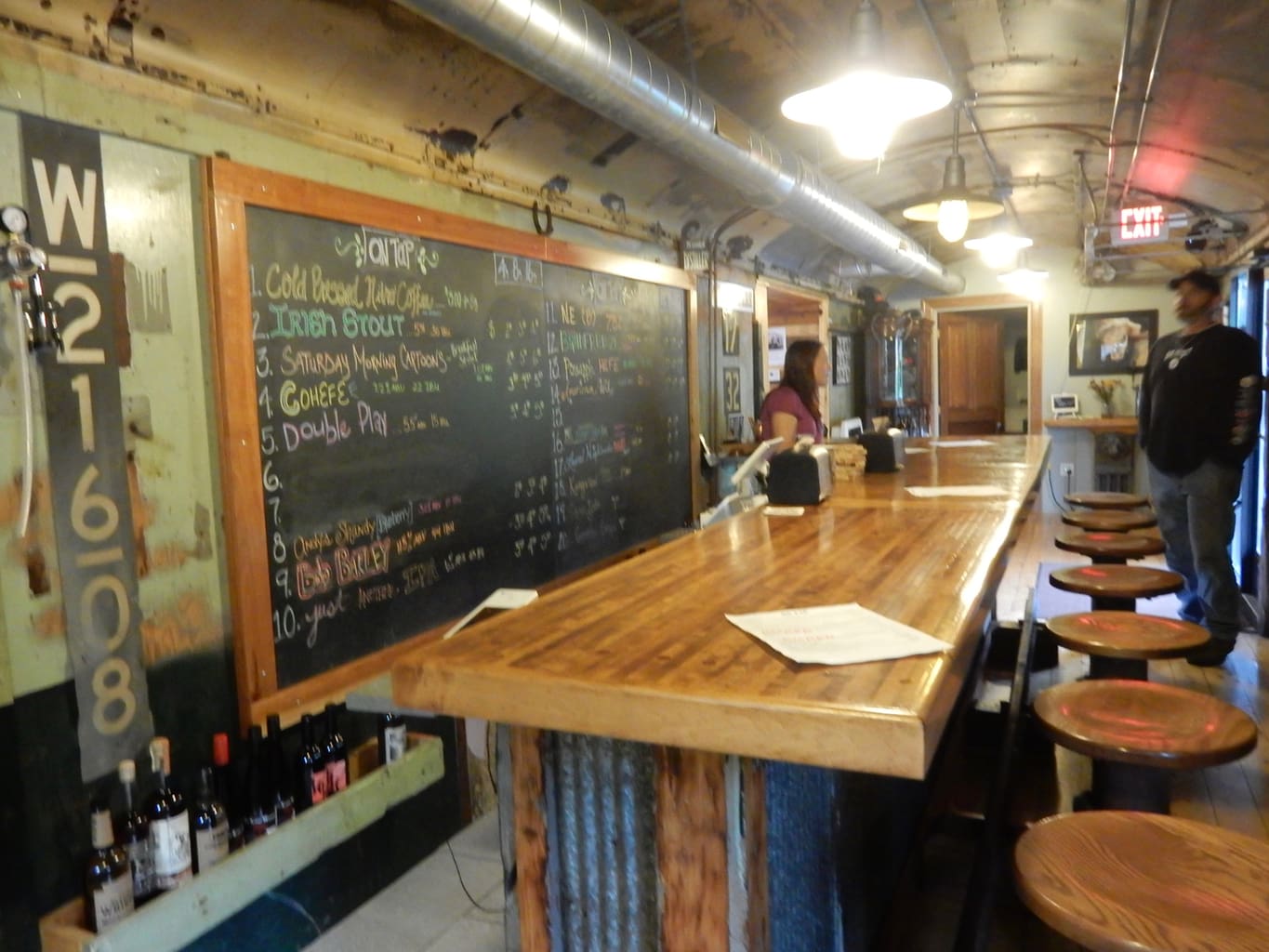 This train car brewery and tasting room, is a community-collaborative endeavor: "Beer made by friends for friends." You'll find at least one "friend-made" hard cider, mead, cold-pressed nitro coffee, and beer here – Andy's Shandy and Brian's Brain Freeze, for example – along with small bites like stuffed poppers and grilled cheese ($6).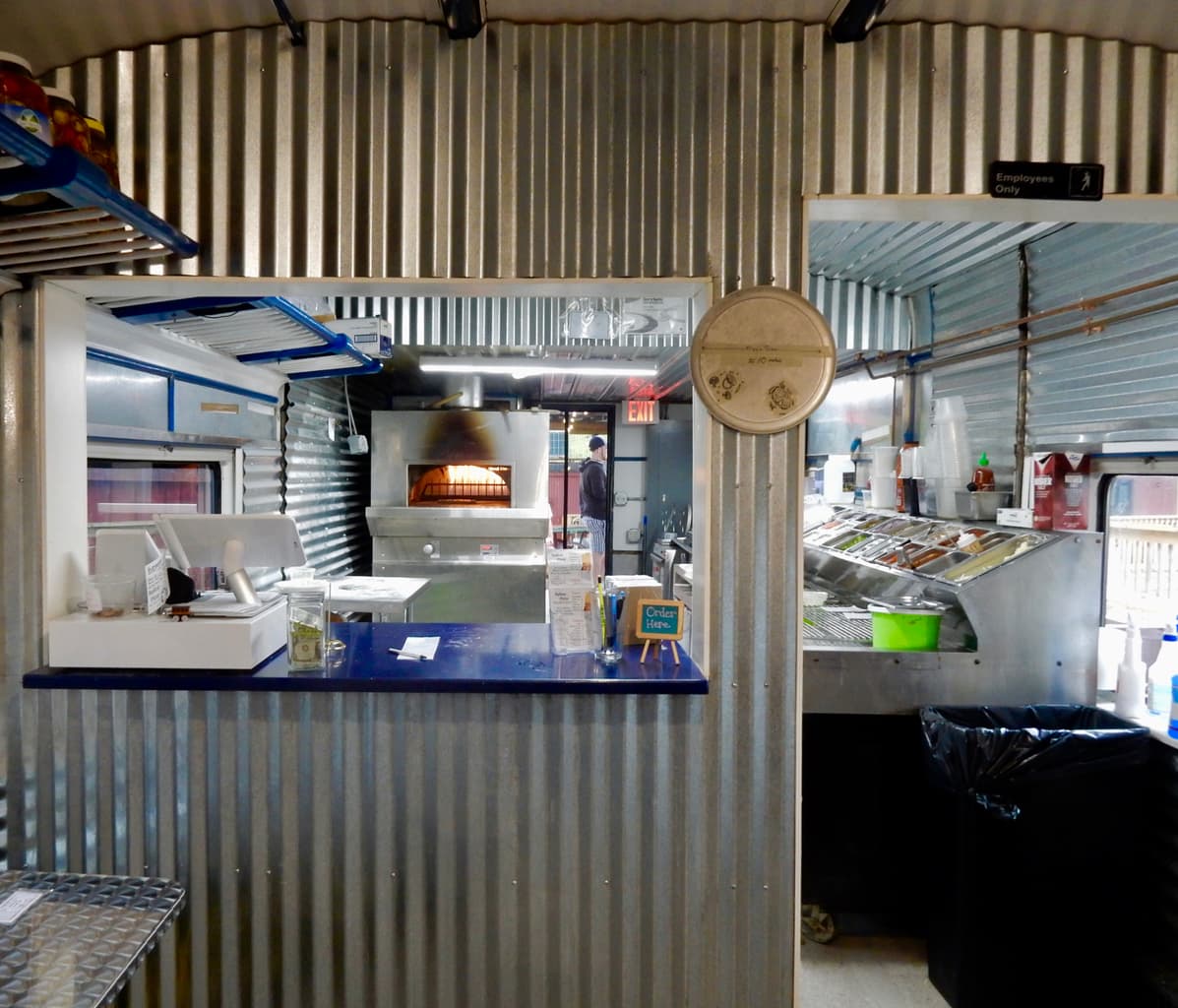 Next door, Railcar Pizza, gets innovative with its small-space gas-fired pizza oven. In addition to Gluten Free and Vegan options, this cool pizzeria uses spent grains from adjacent brewery to make their Wort Crust Pizzas (10" $5.75, with unlimited toppings $8.50). A New York expat actually tosses the dough, and knows what he's doing in this cramped space.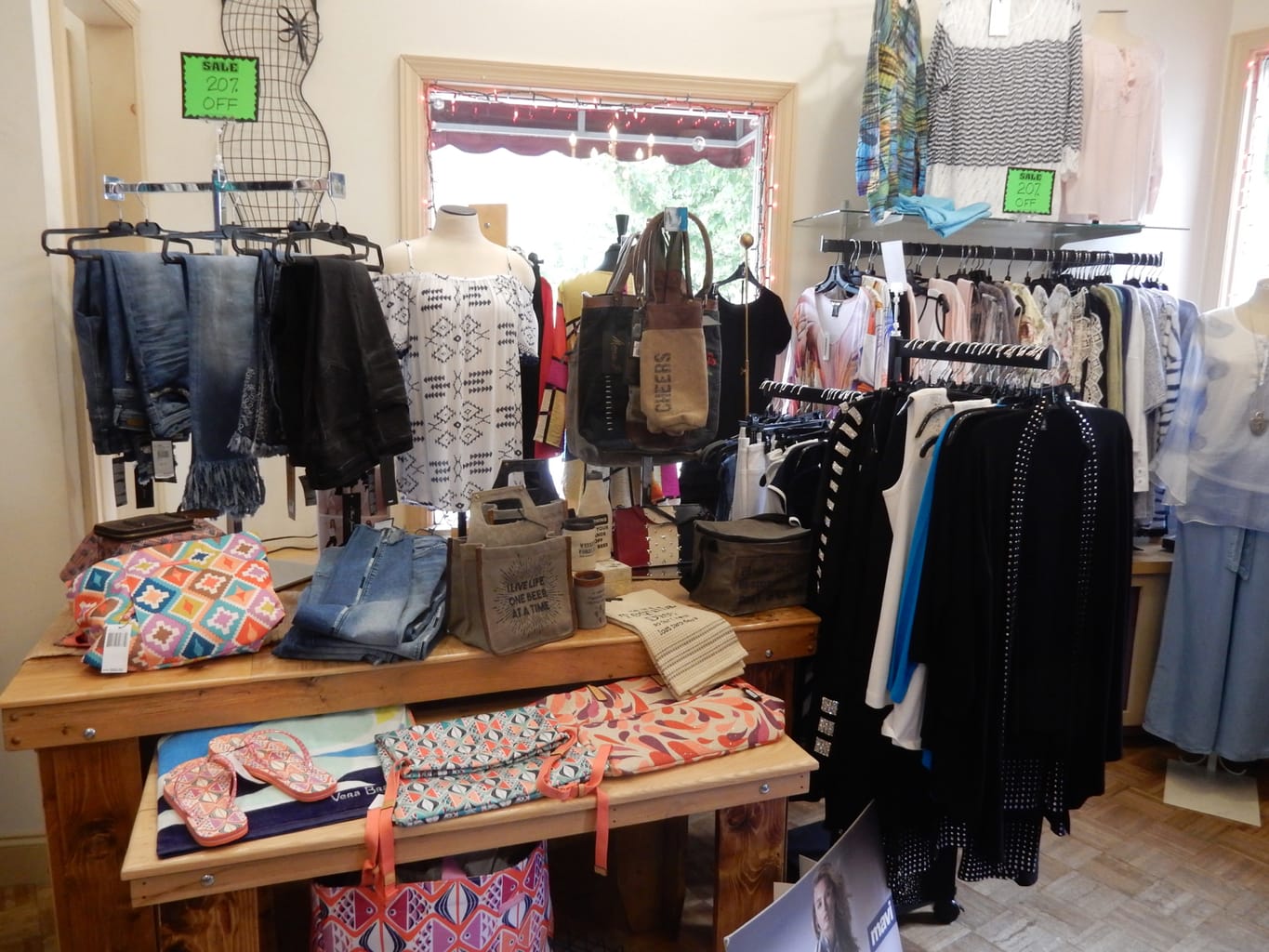 SHOP/DUBOIS: Brady Street
Best shops include Guzzo's & Co. for stylish men's and women's wear, Brady St. Florist – with fantastical window designs, Uzi's Pastries, and Hookman Candy – both DuBois institutions.
Best Restaurants in Clearfield County PA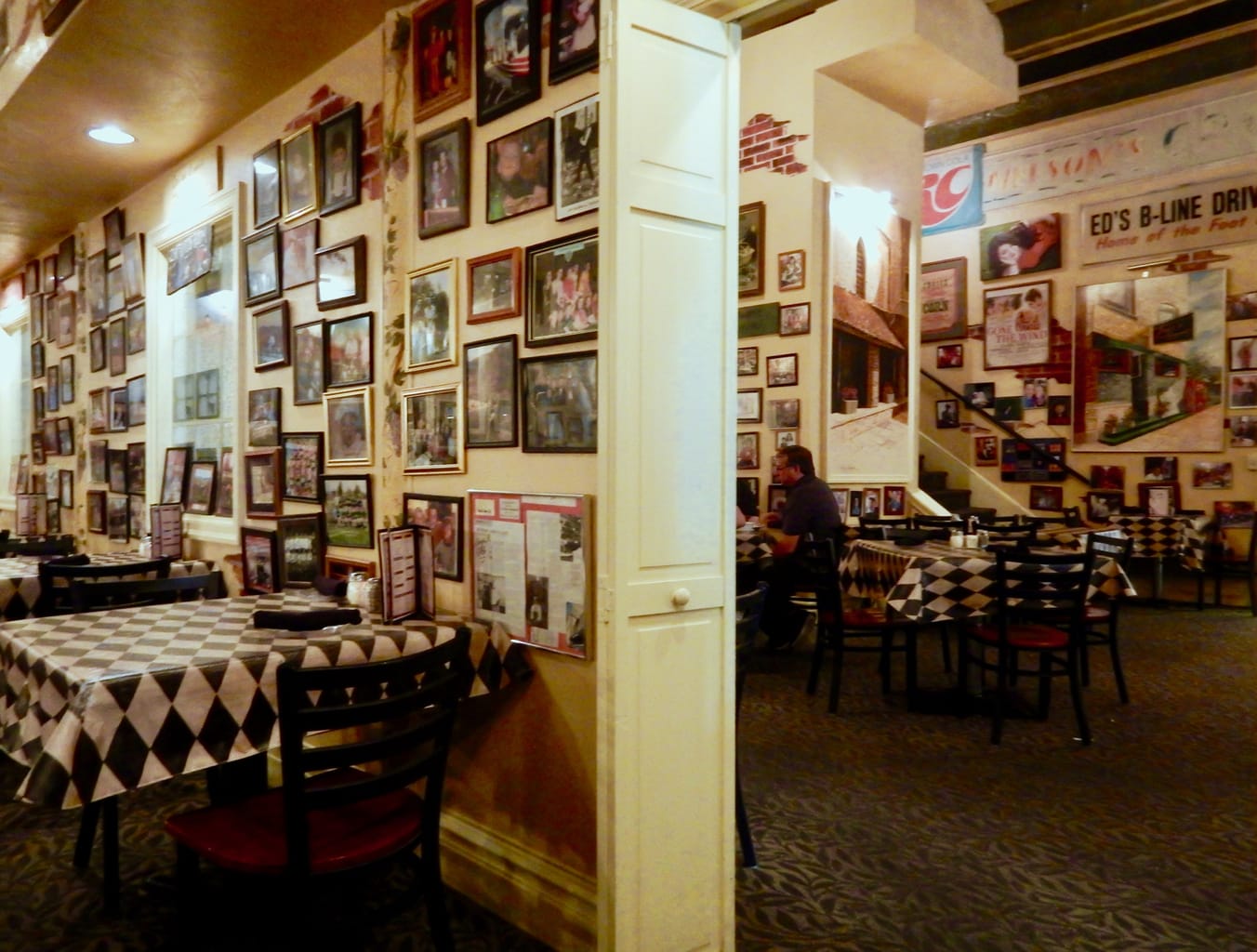 If you've been paying attention to billboards on I-80, you've seen ads for this wonderfully quirky, and excellent, Italian restaurant, three miles off the highway in the center of DuBois. Luigi's is owned by Eddie "Skip" Tate, a gregarious, likable guy who proclaims, "we're not the easiest place to find, so we have to treat people well." Luigi's puts Sardi's to shame, with over 1,000 pictures of customers, friends, and family adorning the walls throughout several dining rooms.
Eddie's father, William, established the first Luigi's in Clymer PA 35 years ago. William's father immigrated to the USA from Italy and loved to cook. It was a passion that obviously rubbed off on his son and grandson. Devotees of "old-school" red sauce, and traditional, nourishing, from-scratch Italian food will find much to love here.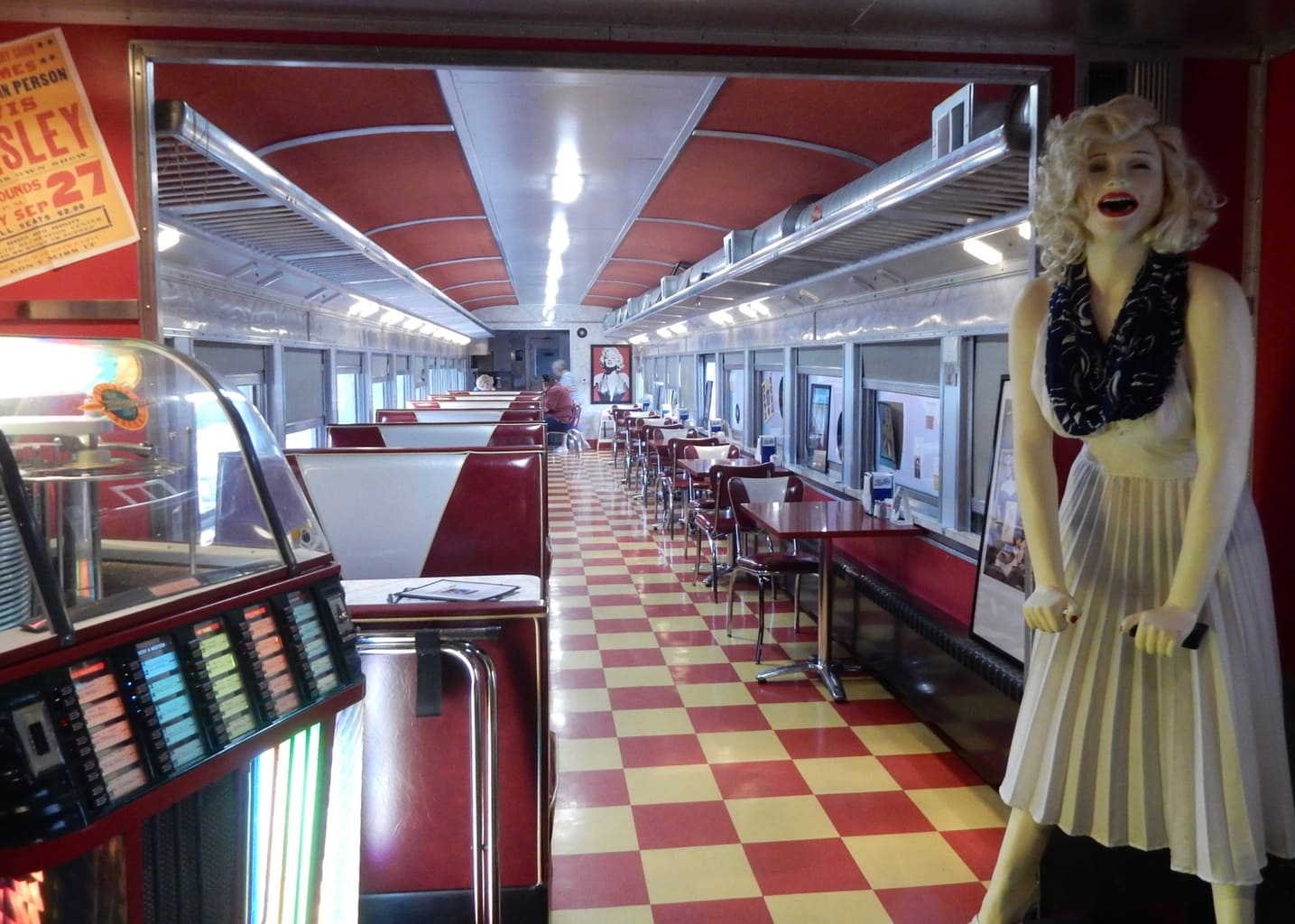 Even vegans will be happy at this train car Diner, with helpings of Drop the Beat Beet Burger ($9), Vegetarian Nut Loaf ($10.50), and Buddha Bowl ($10) on the menu. Of course you can also order more traditional meaty fare. The "Blended Burger" is so good, in fact, it was recently entered into the James Beard Blended Burger Project.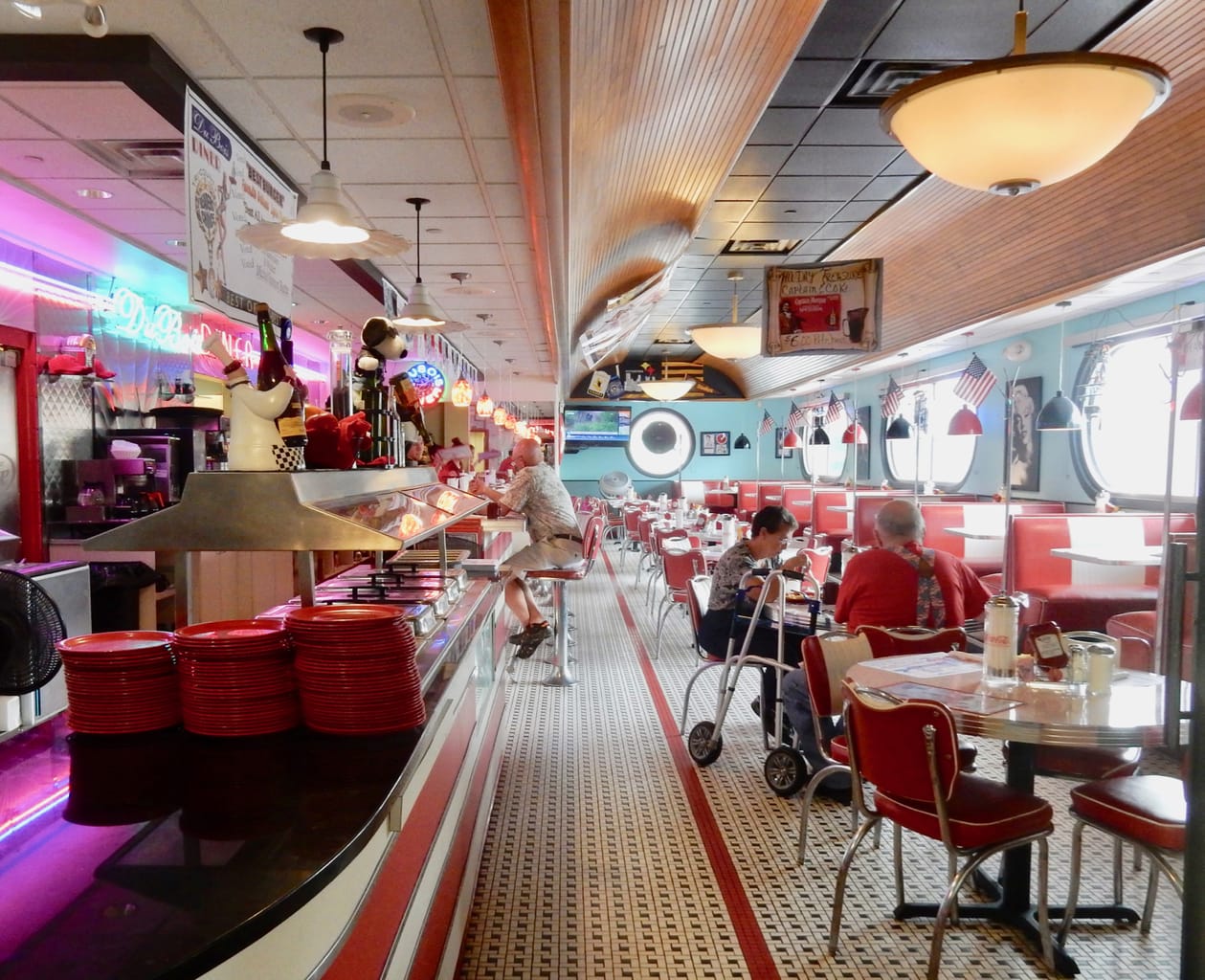 This family-owned "real food" restaurant has all the accoutrements of a glossy 50's diner: steel siding, neon signs, stools at service counter, pie case. This was by design.
Opened in 2006, owners Sean and Lisa Garred, built this place with all the elements of an old fashioned diner. And then they stuck on a neighborhood bar. Though all menu items are good and fresh, the Breakfast Scramble ($10)– a deep dish of layered eggs your way over grilled veggies over crunchy brown shredded potatoes is an amalgam of tastes and textures I still yearn for again, weeks after scarfing it down. No wonder this place is a local favorite.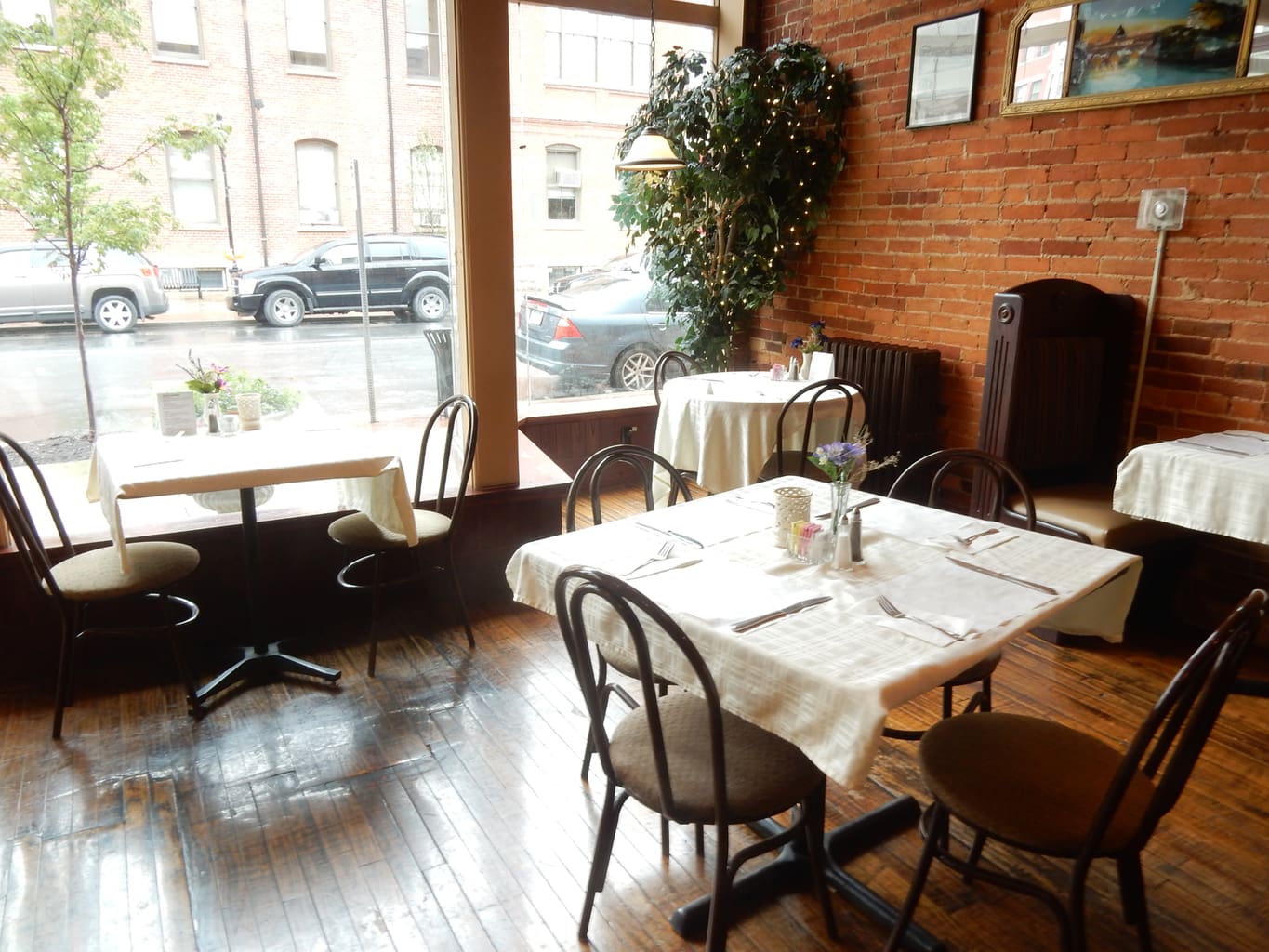 EAT: Moana's, Clearfield
This pretty eatery, in a former downtown Five and Dime store, hasn't lost its pressed-tin-ceiling charm. The food is "Italian Influenced" with good pasta dishes, salads, sandwiches and homemade soups.
EAT: Locals recommend
Denny's Beer Barrel Pub in Clearfield is known for its famous 25lb and 50lb burgers. Opened in 1977, Denny's is the home of the "World's Largest Hamburger Challenges." It's been featured on Rachel Ray, the Food Network, GMA, Today Show, and David Letterman's Top 10.
Where to Stay in Clearfield County PA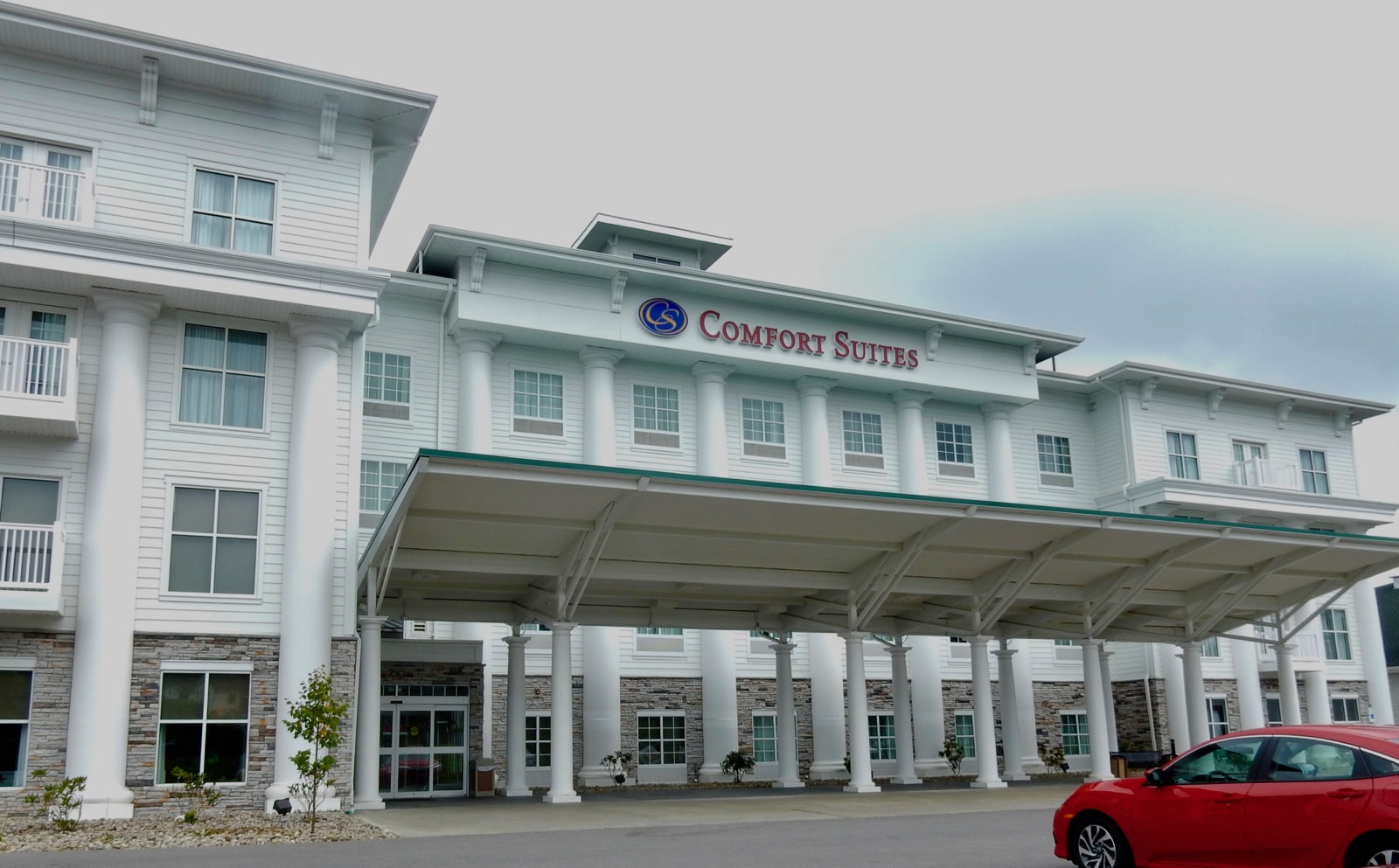 STAY: Comfort Suites, DuBois
While I generally avoid chain hotels, this one is more like an indie than a corporate franchise. It's also eye-catching inside and out.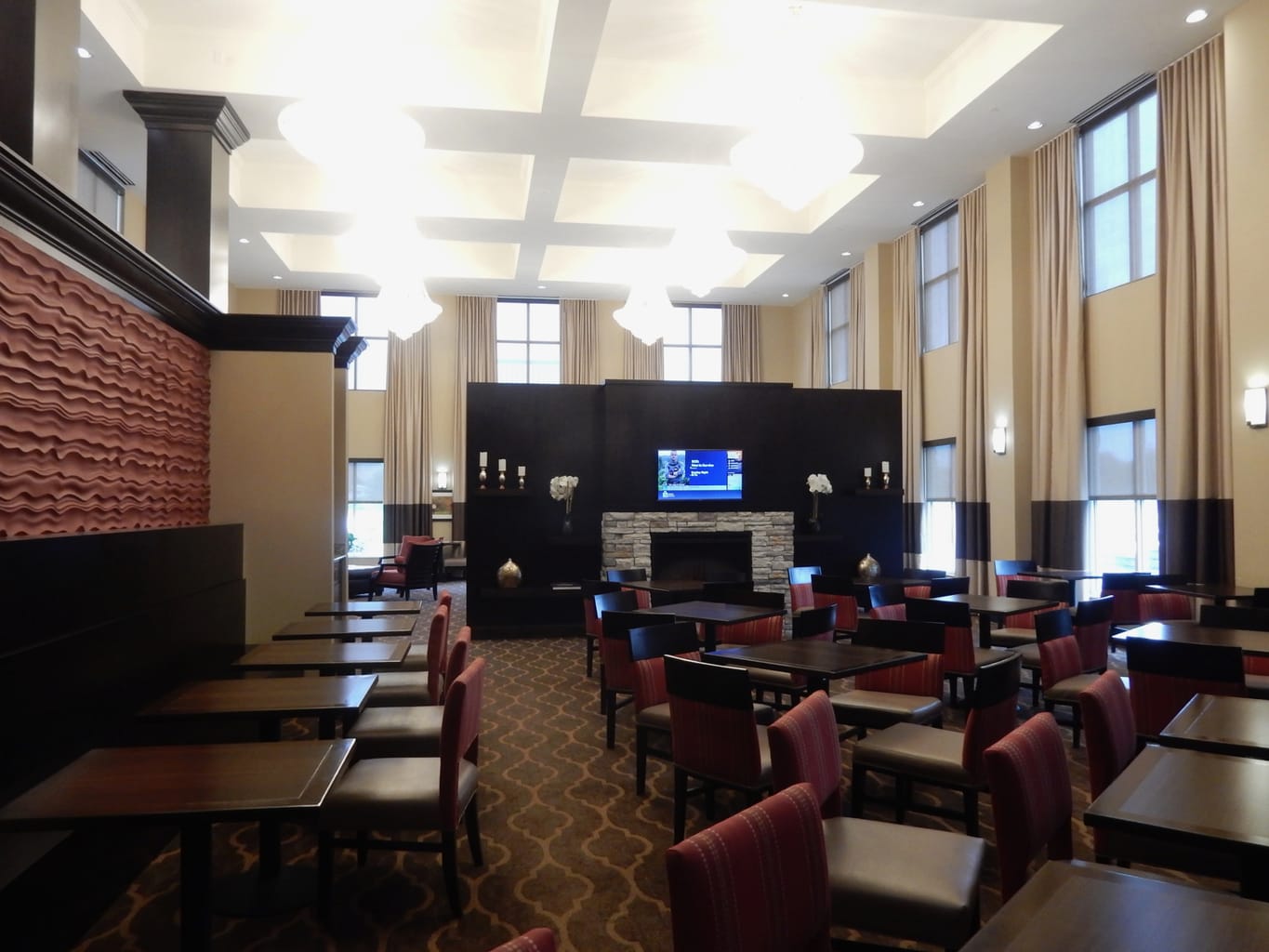 Suffice it to say that not many Comfort Inns have multiple crystal chandeliers in a soaring ceiling lobby, an expansive and very comfy gathering place for all. Or are located on the grounds of a Country Club.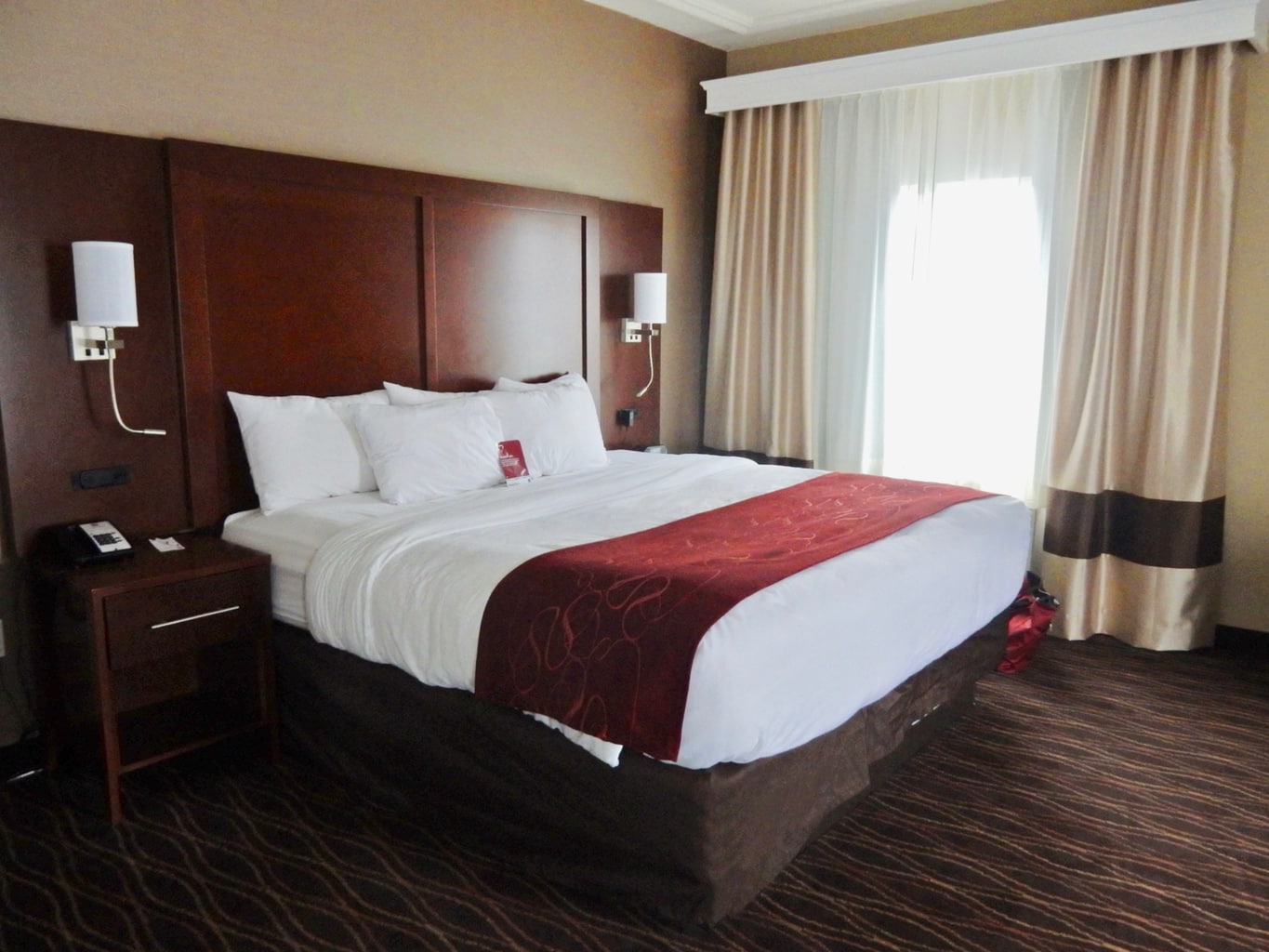 Rooms have been newly refreshed, and the result is comfy, clean, and contemporary.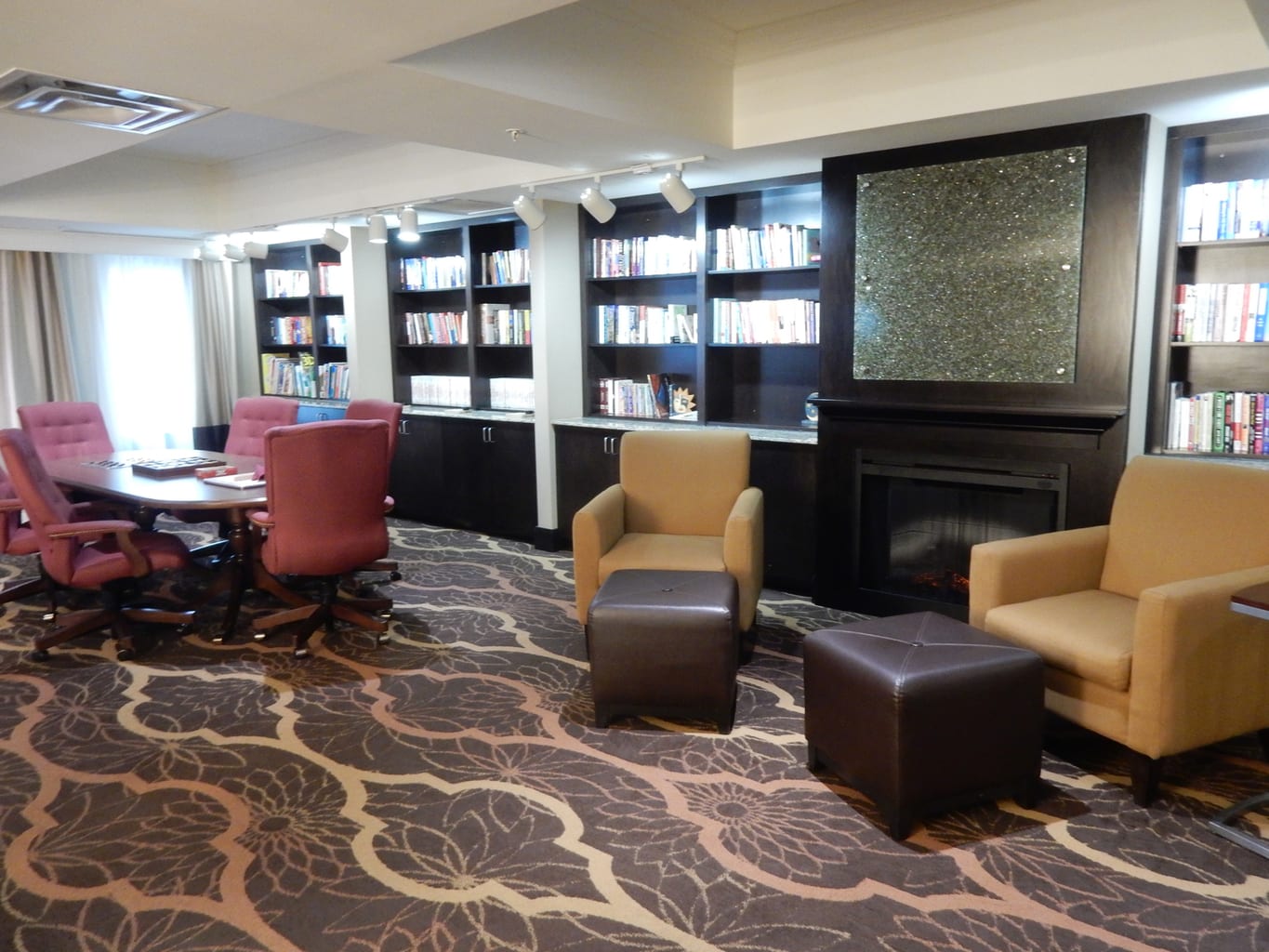 The upstairs Library is a quiet, pleasingly decorated place to read or play board games.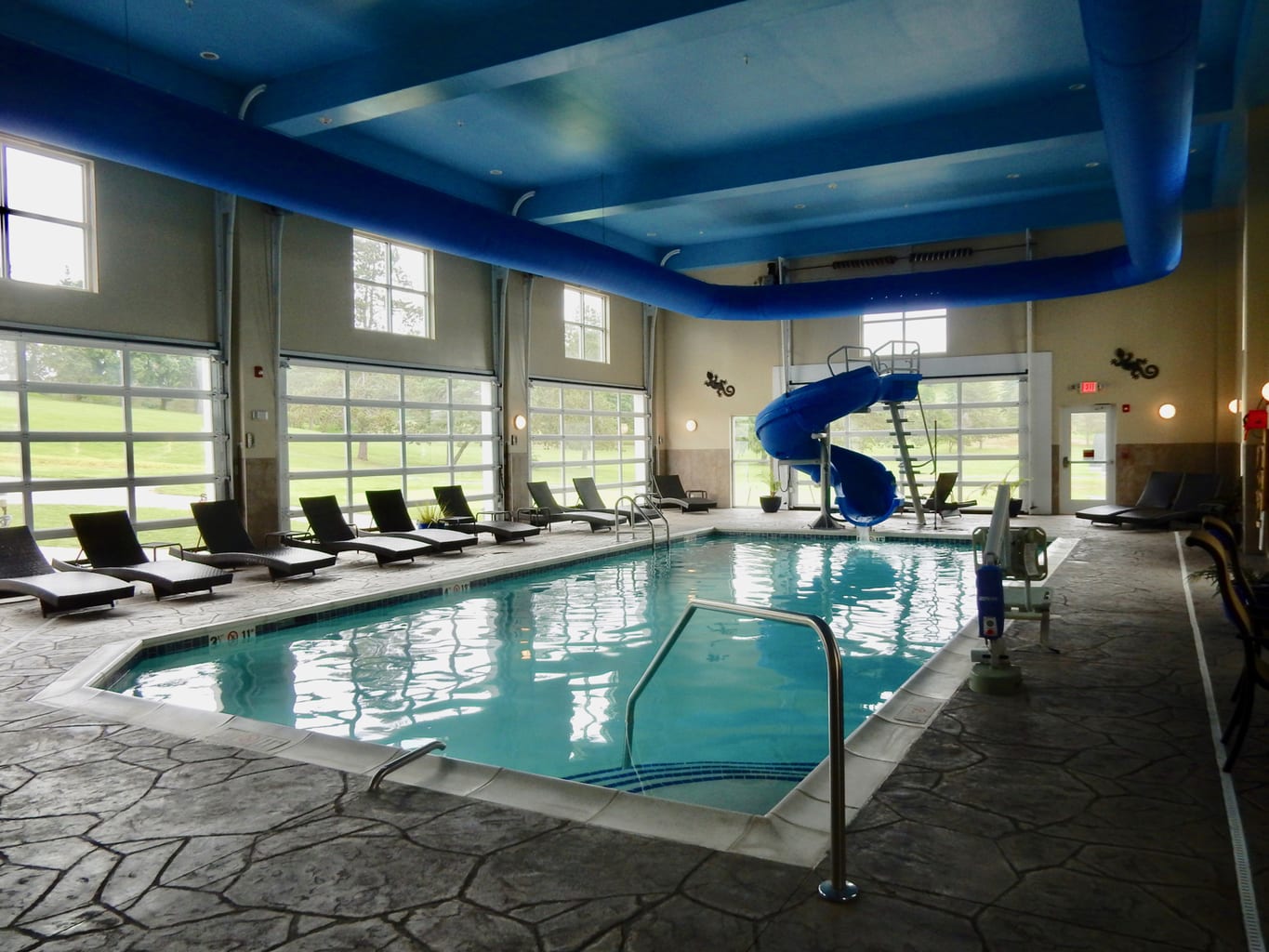 There are two indoor pools – one specifically for laps, the other with a corkscrew slide.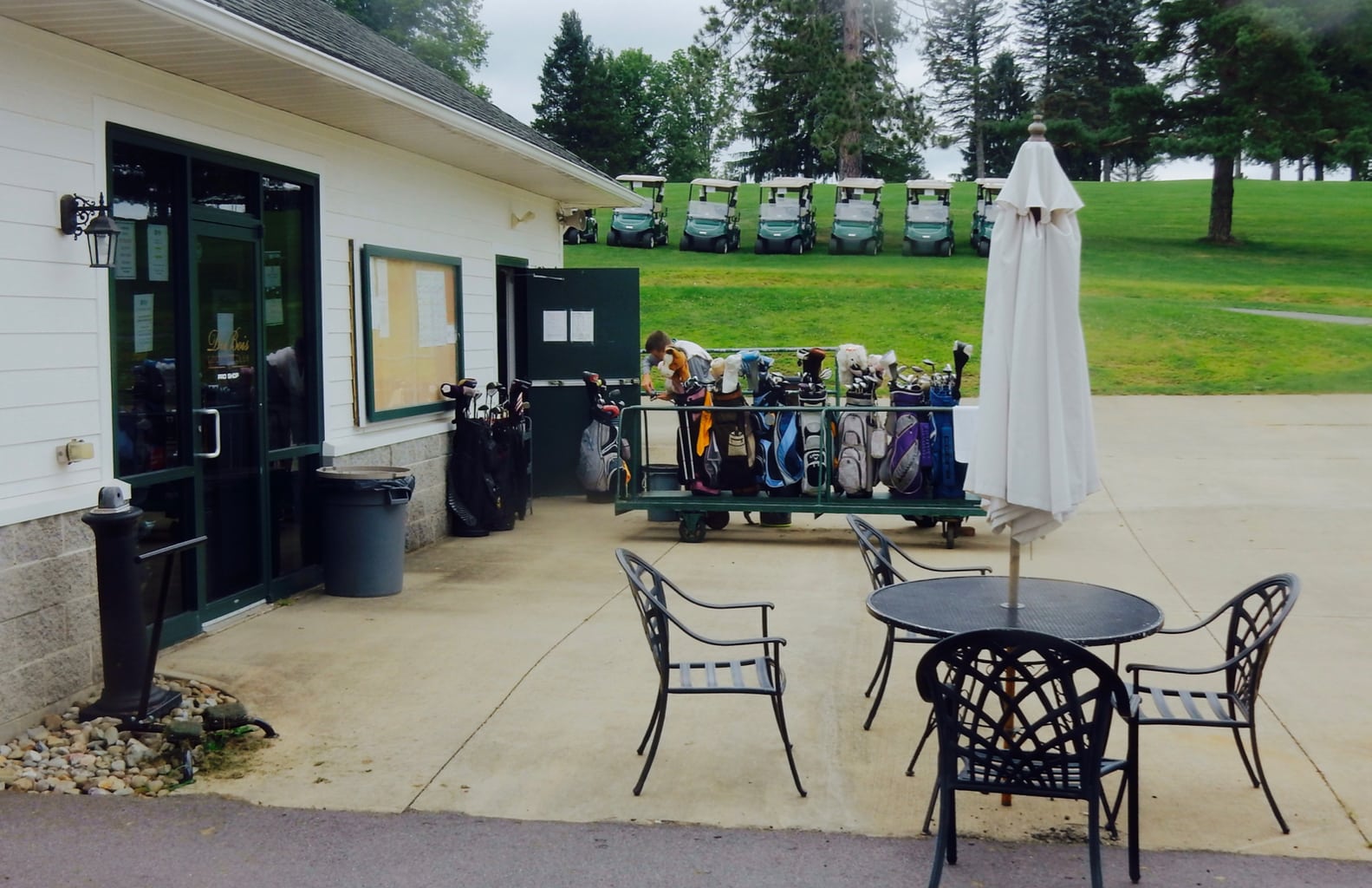 There has to be a pretty compelling reason to book this place, as it's several miles off of I-80. If you are a golfer, here it is: Every guest can play an 18-hole round of golf for free at the adjoining Country Club, with a $20 golf cart rental. If you don't have clubs, the Inn has "loaner sets." Rooms from $127 include breakfast and all amenities. Includes a 18-hole golf game, with $20 cart rental.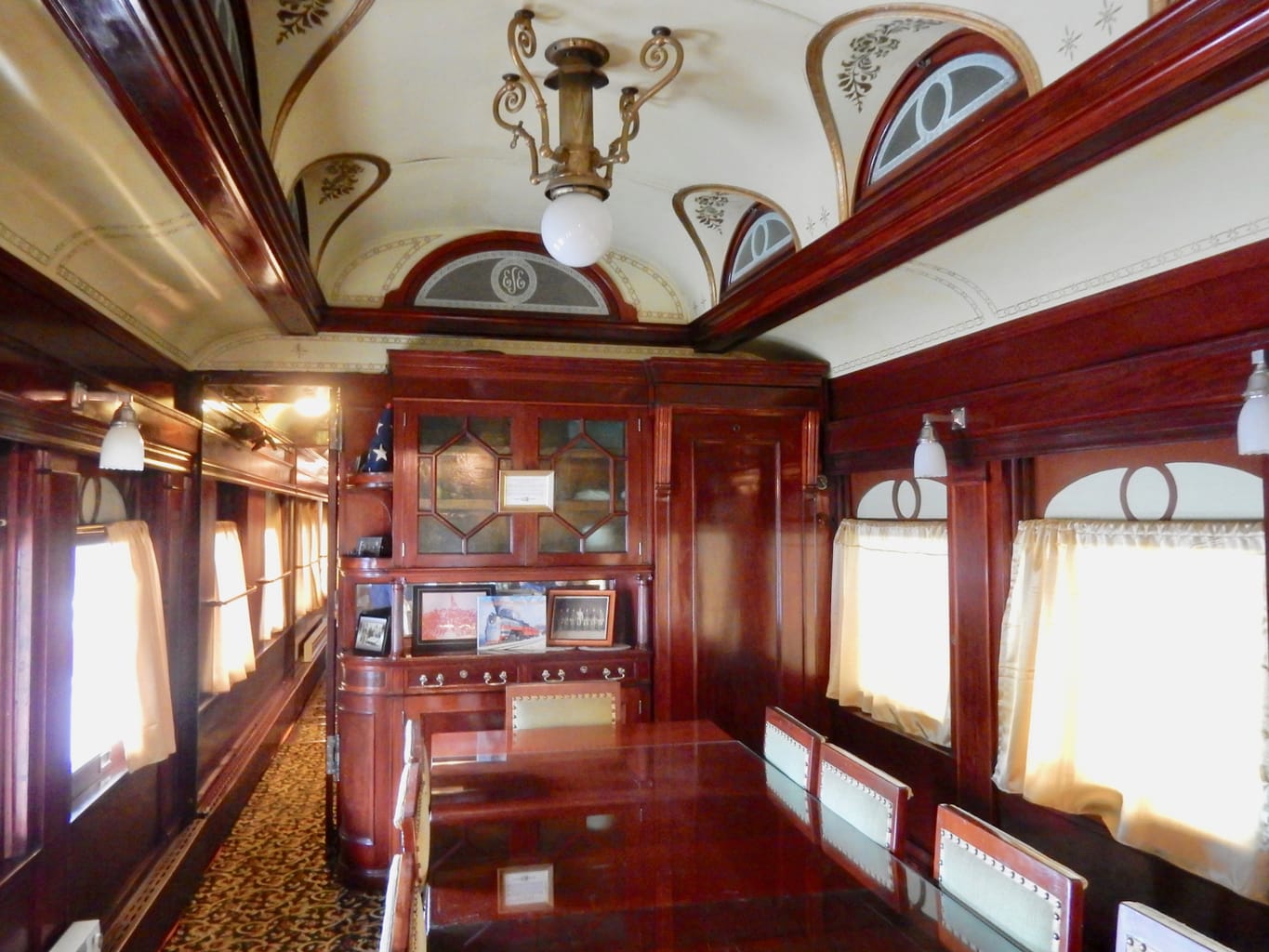 This opulent train car is still in mint condition, a beauty with gleaming woodwork interior and original furniture (which President Roosevelt himself probably used). Accommodations include two bathrooms (one in the entry foyer), a dining room, library, and three sleeping chambers that can accommodate a total of 4-6 people on one double bed and four bunk beds. $150 per night Sun-Thurs, $200 per night weekends.