WHY GO: Norfolk VA is home to the world's largest Naval Base and is one of the busiest shipping ports on the East Coast. But, this maritime town has always had an appeal to outsiders, with leafy cobblestone streets, an historic waterfront, and a working harbor.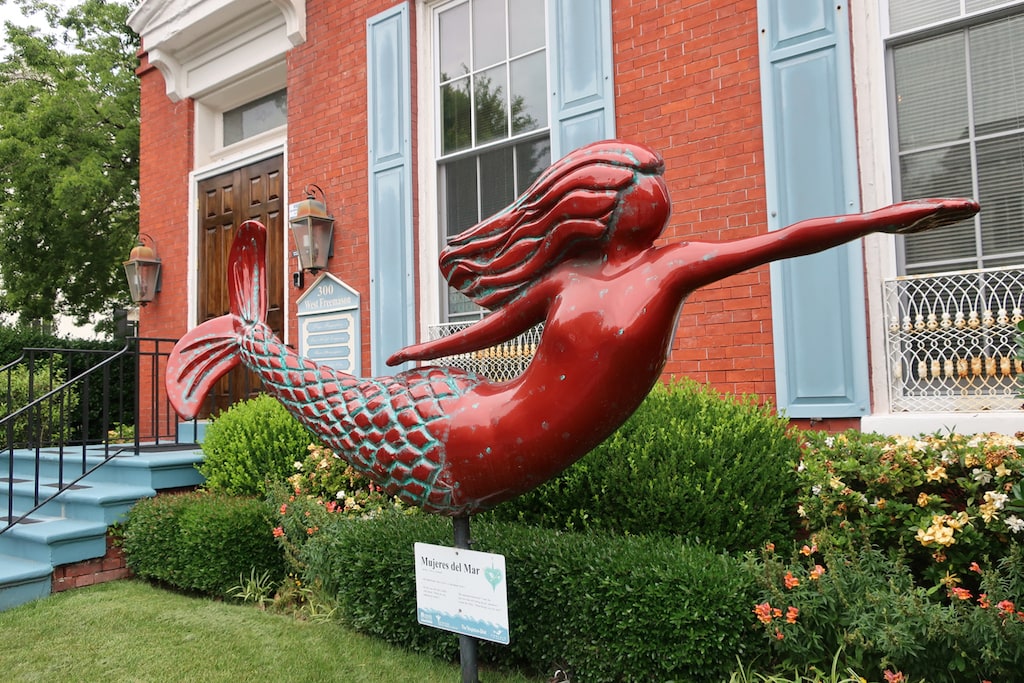 Lately, Norfolk VA has morphed into "The City With Bite," a great culinary and arts destination. Trendy new eateries join renowned establishments. The NEON Arts District, features witty, patriotic, and creative murals on exterior walls in transitioning neighborhoods.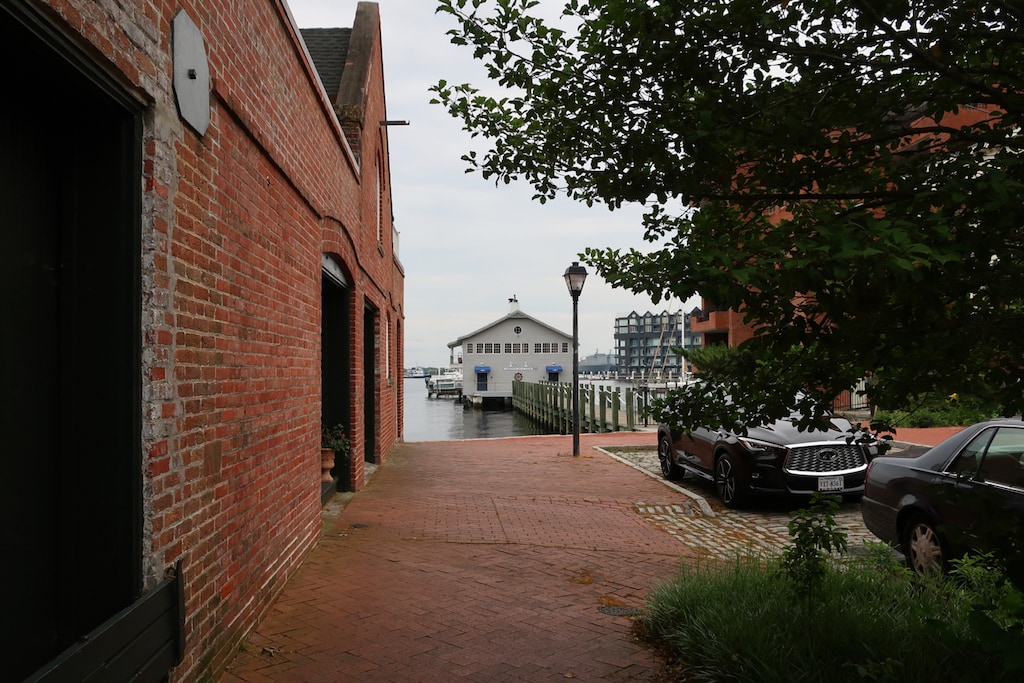 Norfolk's got pagodas and NEON, waffle cones and meerkats, sunset cruises, and abundance of glass art. And of course, Naval History.
How can you NOT like a town whose mascot is a mermaid! You'll see them all over the place on this romantically artsy, Naval, foodie Getaway.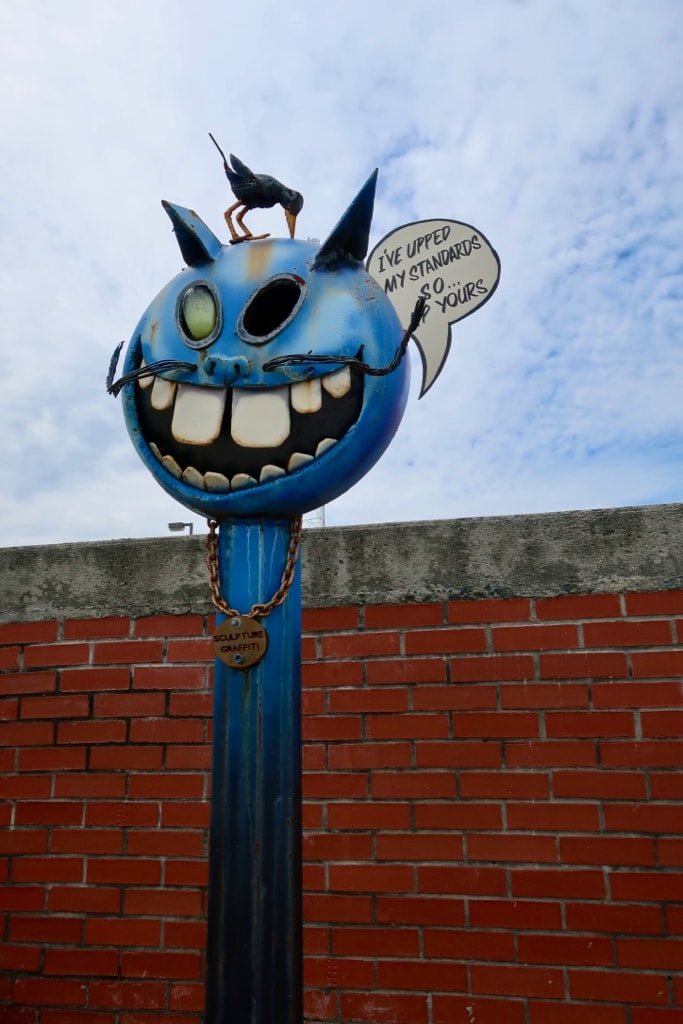 Combine this with a visit to neighboring Hampton VA and/or Newport News VA for a complete Hampton Roads vacation.
And FYI, the Marriott Waterfront made it onto our 20 Best Romantic Hotels Northeast USA 2021 list.
Don't have your own car? No problem. Take a bus from New York City to Norfolk.
Things to Do in Norfolk VA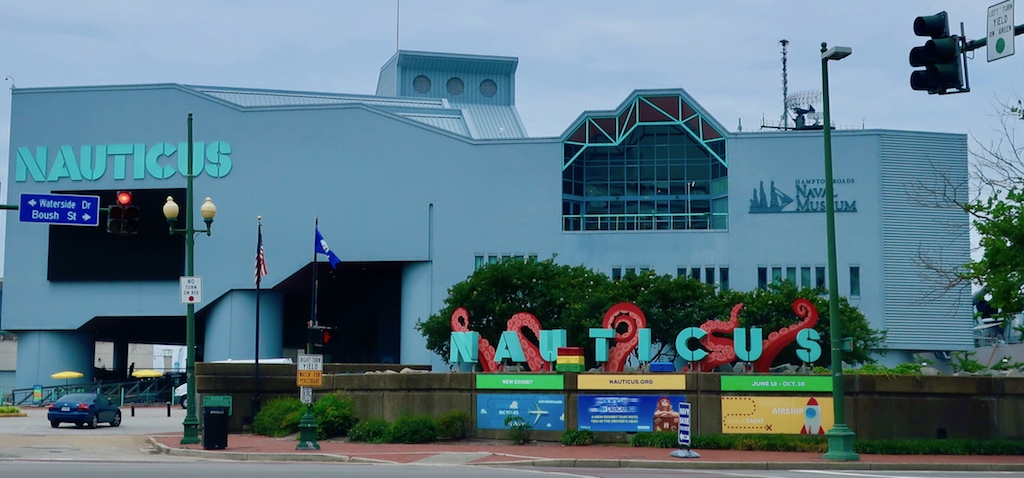 You could spend a few hours – or more if you've got young kids – at Nauticus. It's definitely worth a trip, albeit a bit tough to explain.
Nauticus is a huge building – just a couple of blocks from waterfront hotels – with two floors of museums and a gangway to one of the largest and last battleships ever built by the US Navy.
The second floor features the Hampton Roads Naval Museum, and Battleship Wisconsin. The Naval Museum is free to the public – and covers the Navy's history from its inception during the Revolutionary War to today.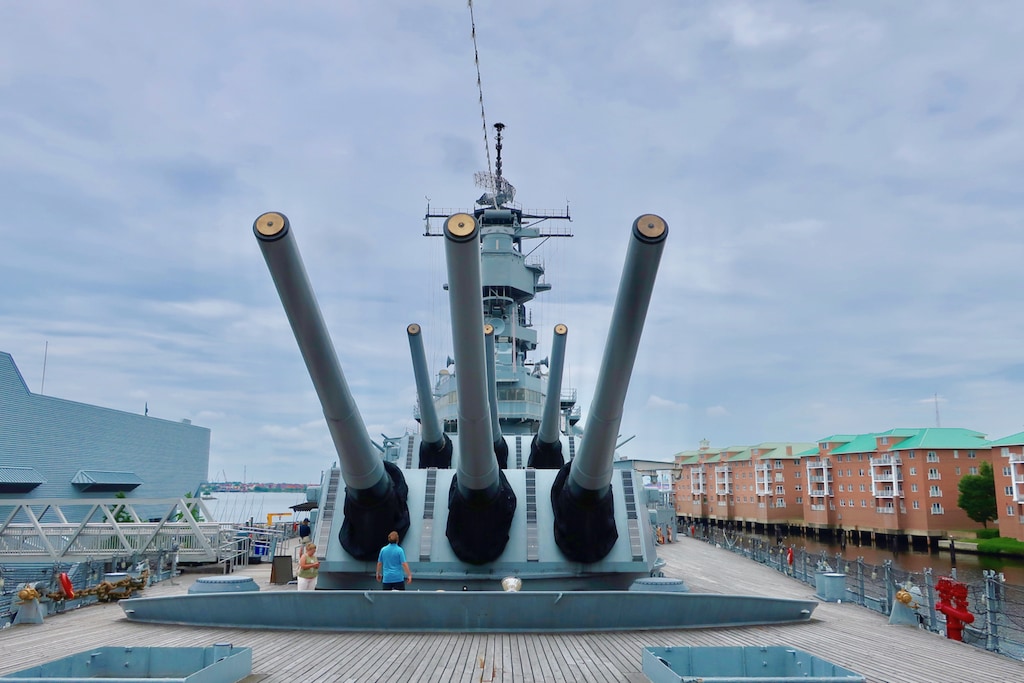 Once on the Wisconsin, you'll find several guides posted off the gangway. You can sign up for a tour of the ship, or take a self-guided stroll, with plenty of informational signage, and somewhat loose directions. One of the most striking stops is right beneath six "Big Guns" in the bow. Towering overhead, you can just imagine their might in battle.
Kids in particular love to climb up and down to platforms all over the massive ship. Inside, you can peek into bunkrooms, utility rooms, the mess hall, and other spaces to get an idea of life onboard.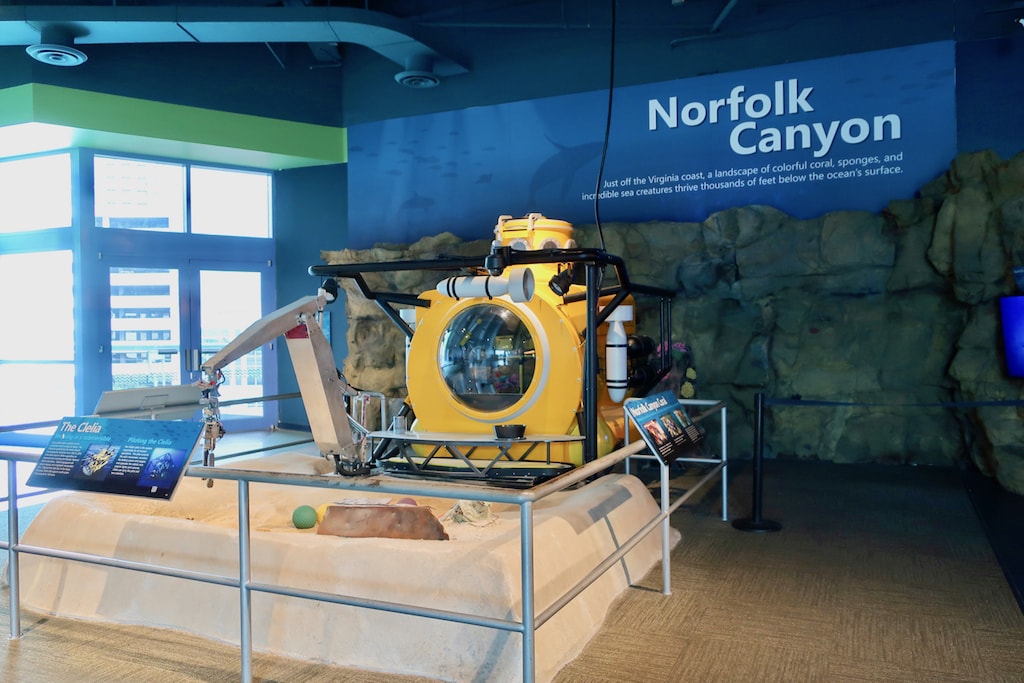 The somewhat perplexing, but ambitious Nauticus Museum is on the third floor. It encompasses a hodgepodge of exhibits, including those about the Battleship Wisconsin, NOAA, and Marine Biology, with fish tanks, submersibles, information panels about 19th century Orient Trade, antique arcade figures, and how to survive a tsunami.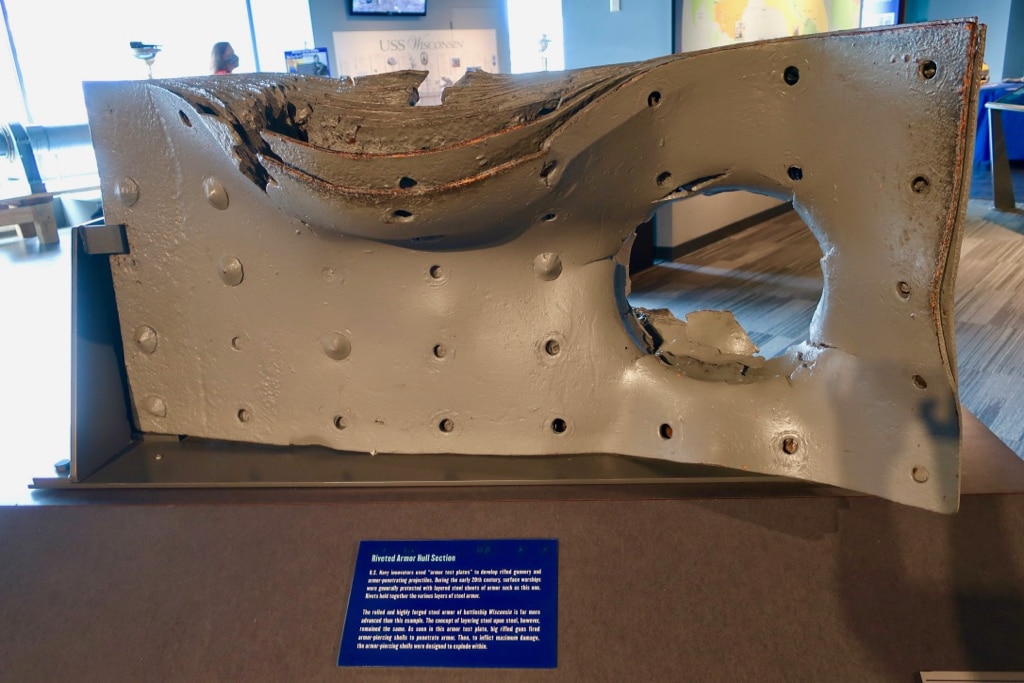 My personal favorite was a segment of perforated, and somewhat obliterated, layers of steel: the result of ballistic tests on the hull of a battleship. A fascinating, visceral look at the destructive force of modern projectiles. Open Wed-Sat 10-5, Sun 12-5, $15.95 adults, $11.50 kids.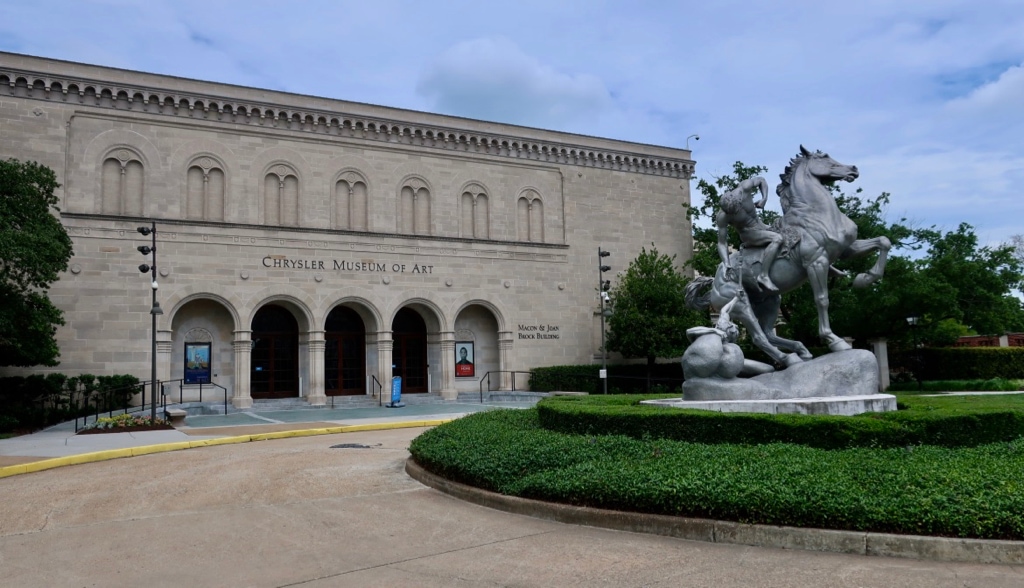 You can totally get your steps in as you move through the centuries at this imposing and utterly impressive art museum.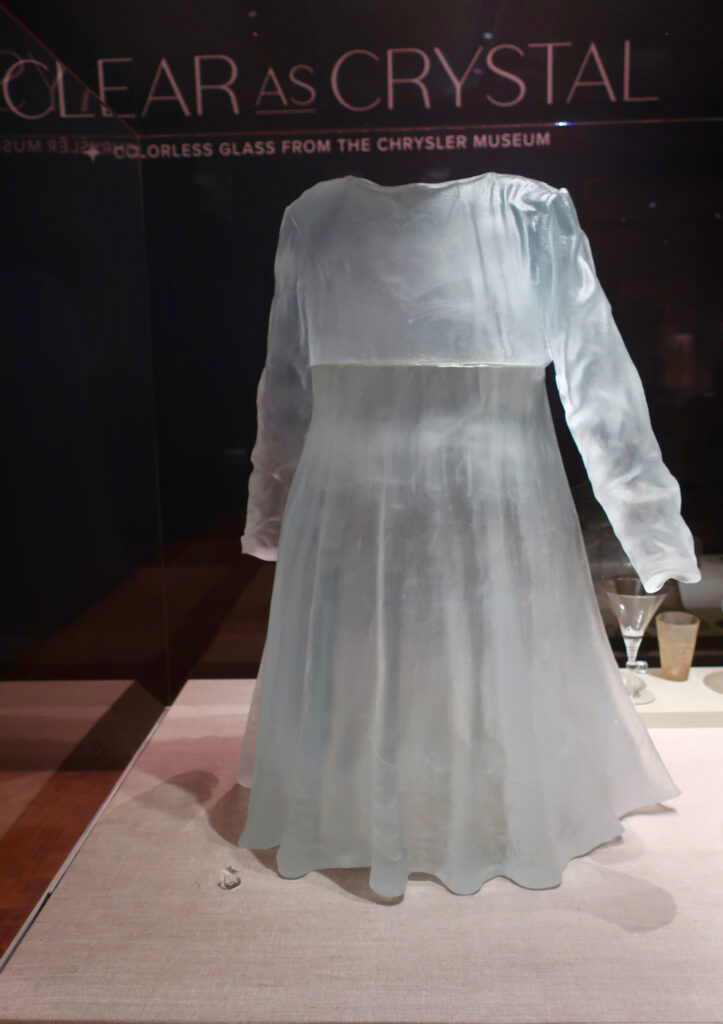 The Chrysler is home to one of the world's largest glass art collections, and, in the US, second only to the Corning Museum of Glass in upstate NY.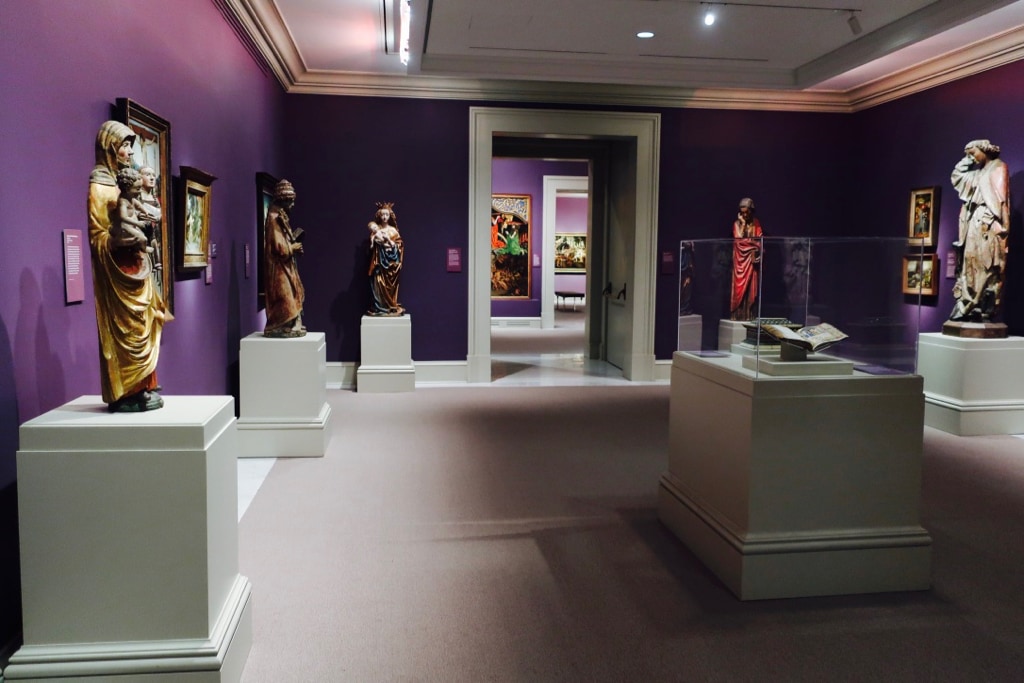 With 50 unique galleries and 30,000+ objects, featuring ancient artifacts, Tiffany glass, and modern masters (Matisse, Degas, Picasso, to start), to see it all would take hours. Or, at a brisk pace – a bit over an hour. But, oh, what an enjoyable power-walk it is. Open Tues-Sat 10-5, Sun 12-5, third Thursdays until 8pm, free.
Enjoy a narrated glassmaking demonstration at the Chrysler Museum of Art's Perry Glass Studio, where their internationally acclaimed glass collection comes to life. Open Tues-Sat. 10-5, Sun 12-5, free.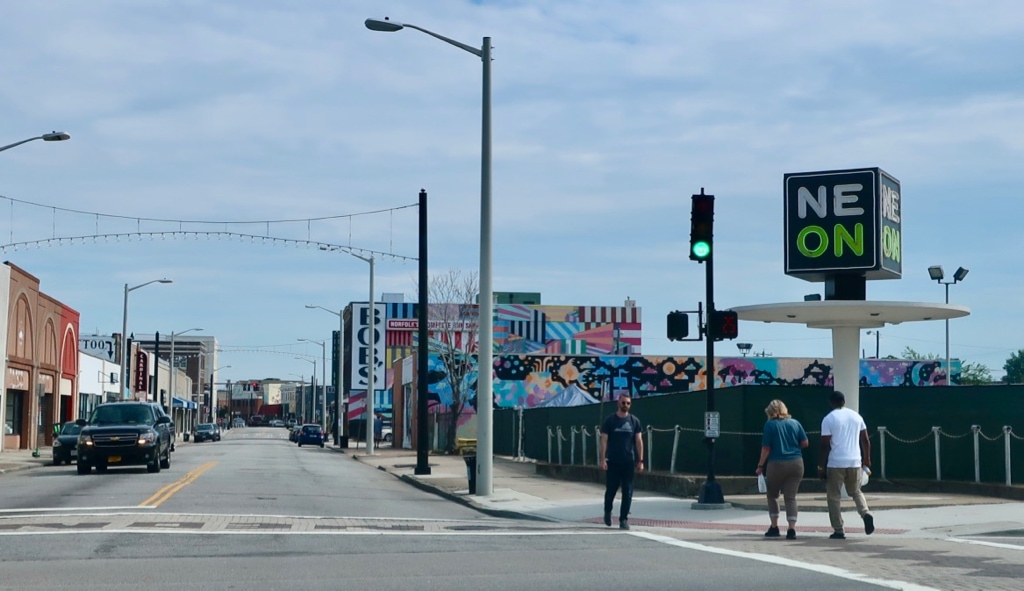 The NEON District (an acronym for the New Energy of Norfolk) houses 80+ works of public art. Once a blighted neighborhood, these murals started to grace the walls of abandoned buildings about five years ago, and are growing in number by the week.
Now, this area is a magnet, not just for tourists, but also for restaurants and coffee shops (e.g. Café Milo), and of course, artists.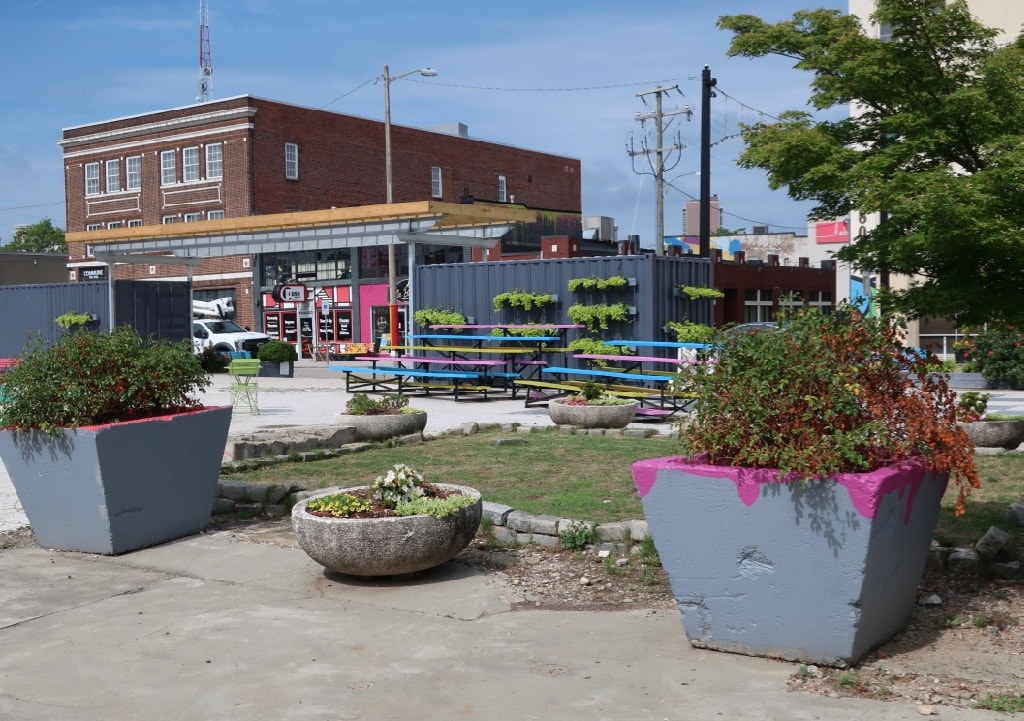 Start at The Plot (across from Commune), an outdoor event space. And then explore Granby Street and Magazine Lane.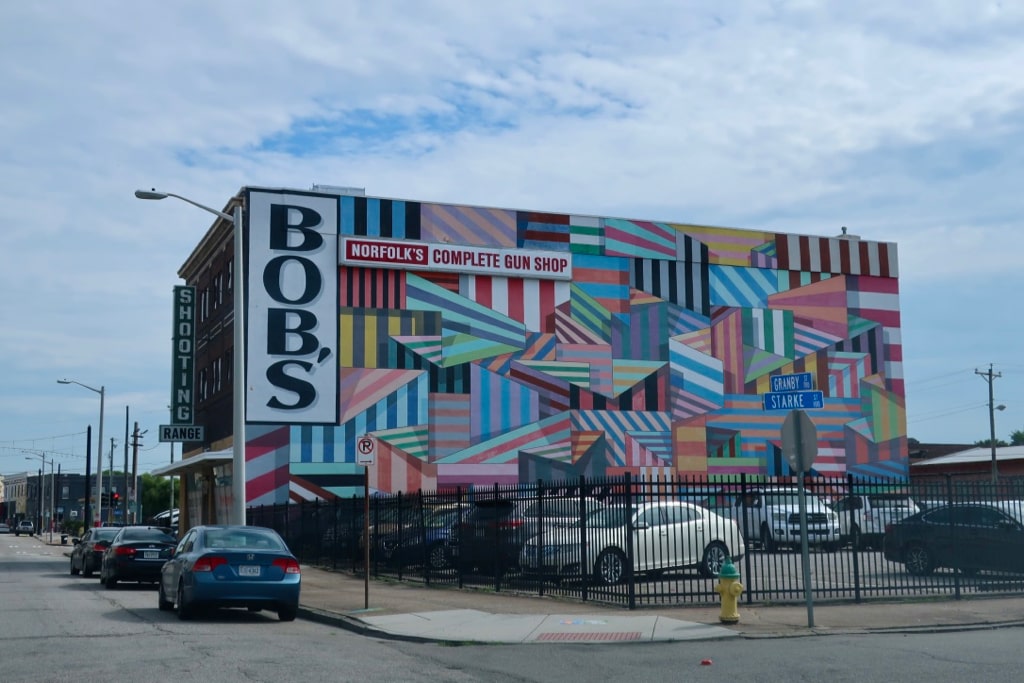 Most murals were commissioned. Take the one on Bob's Gun Shop, for example. Though much more colorful than its inspiration, the design is a nod to the black and white camouflage painted on WWI Navy ships.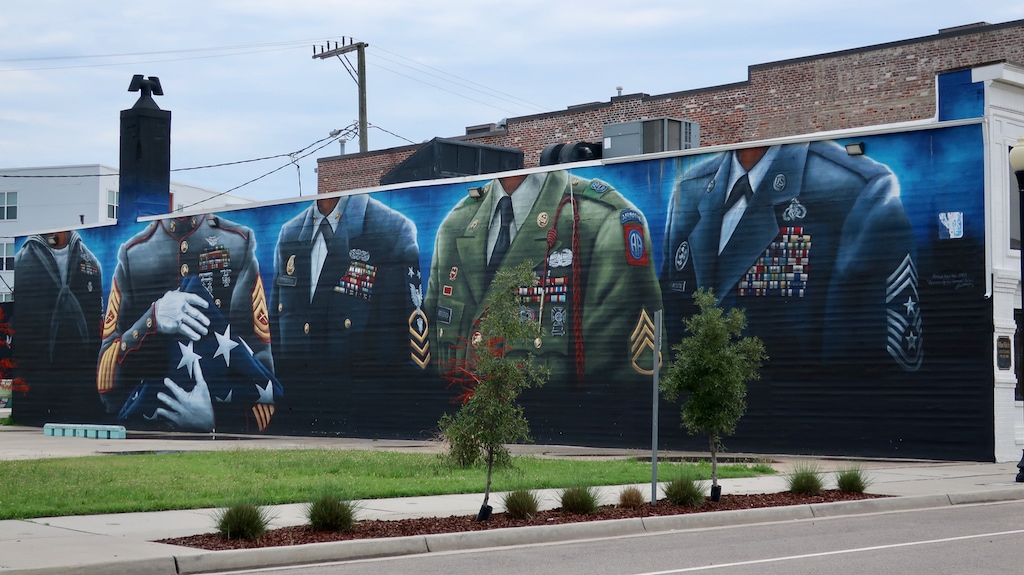 Be sure to check out the mural on West Olney Rd near the Glass Wheel Arts Center – an homage to our men and women in uniform.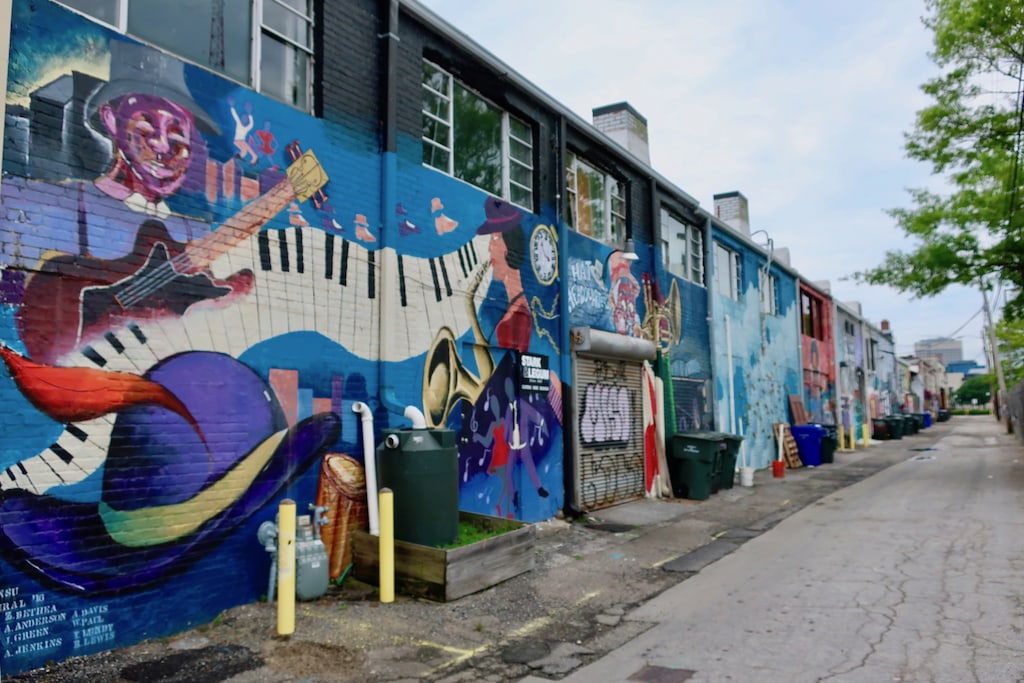 And, don't forget to walk down Magazine Lane – for un-commissioned work done by graffiti artists. Comments a local, "Every day, it seems, there's always something new."
The NEON Arts District is one of the best quirky Places to Propose in Virginia.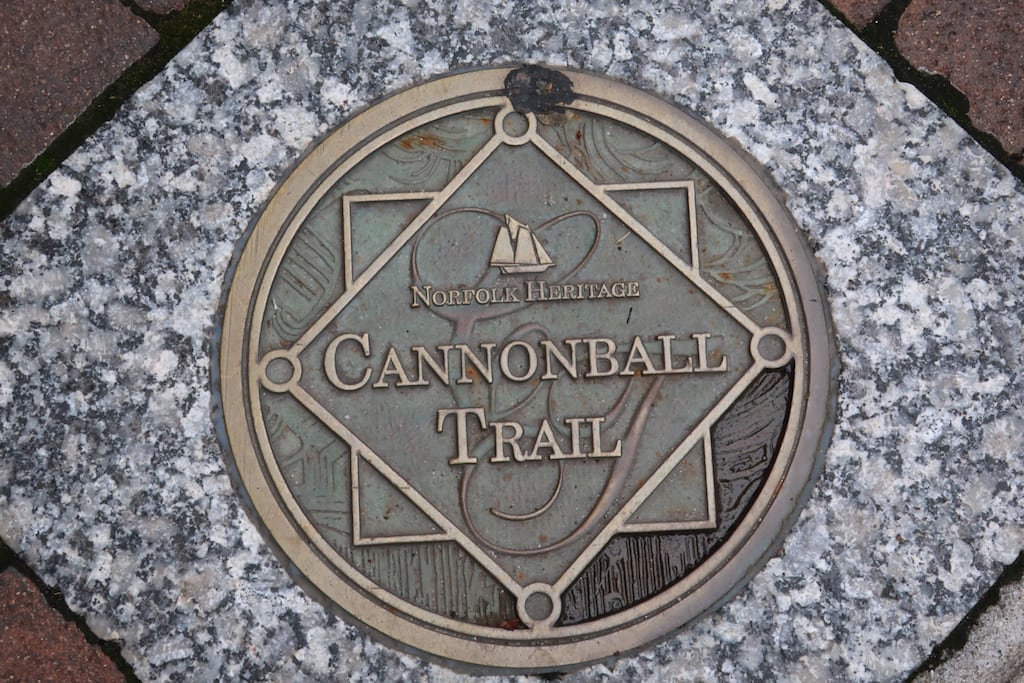 This self-guided tour in Downtown Norfolk, with over 40 historic sites (e.g. Camp-Hubbard House, Wisham Roper House, Old Norfolk Public Library, John Cary Weston House) spanning 400 years of Norfolk and American history should take you about two hours. Like the Freedom Trail in Boston, you can spend as much or little time as you'd like at each historical site.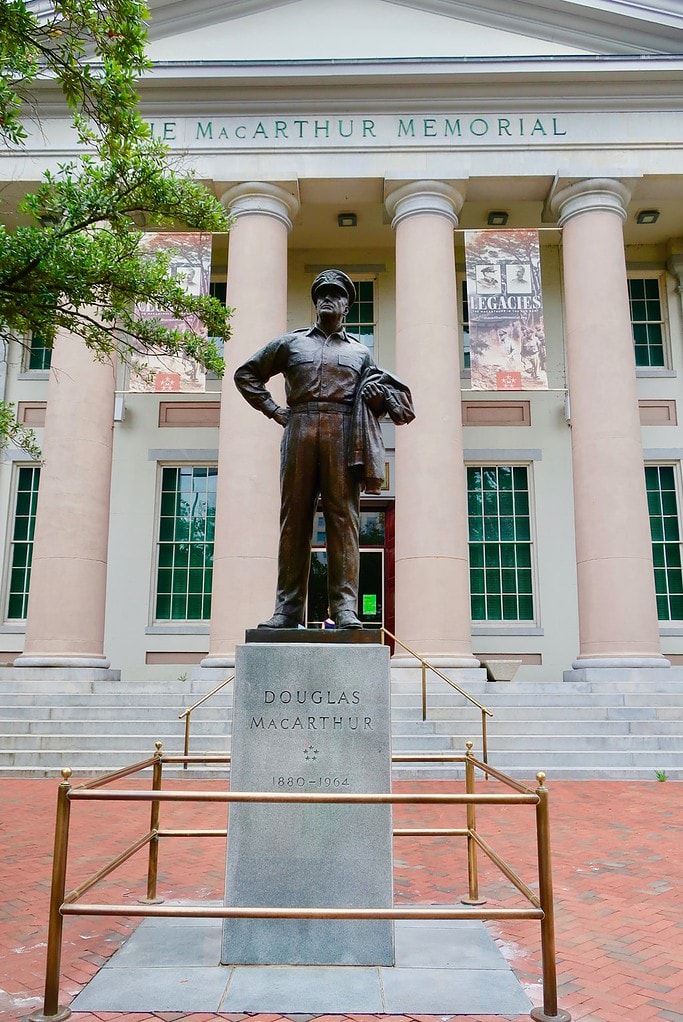 Dedicated to the life and legacy of General Douglas MacArthur, the Memorial Museum also pays tribute to the millions of Americans who served during World War I, World War II and the Korean War.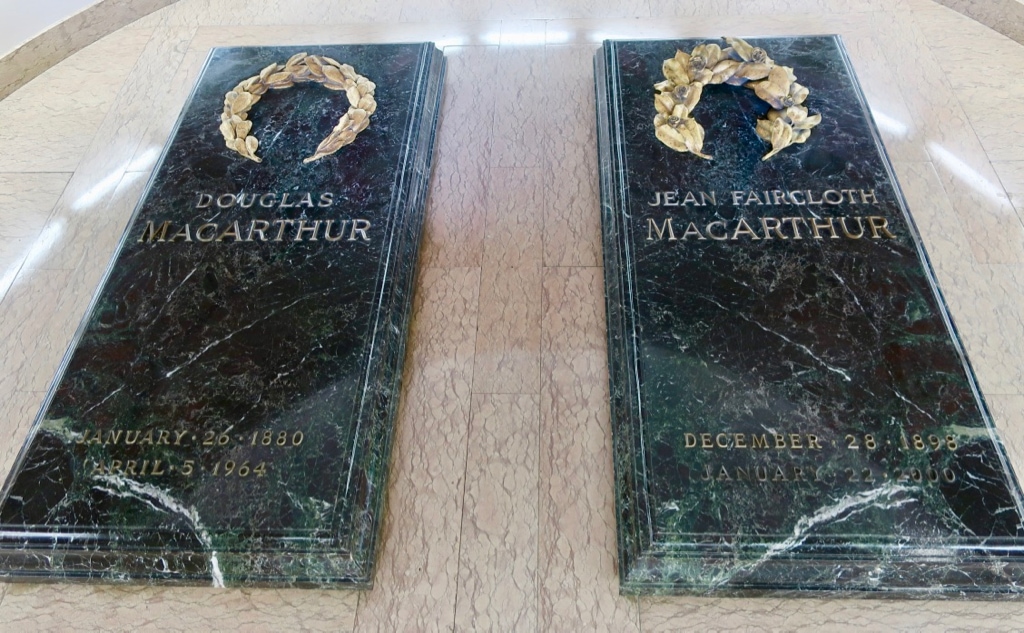 Pay your respects to MacArthur, one of the most highly decorated soldier in US history, and his wife, interred side by side. Open Tues-Sat 10-5, Sun 11-5, free.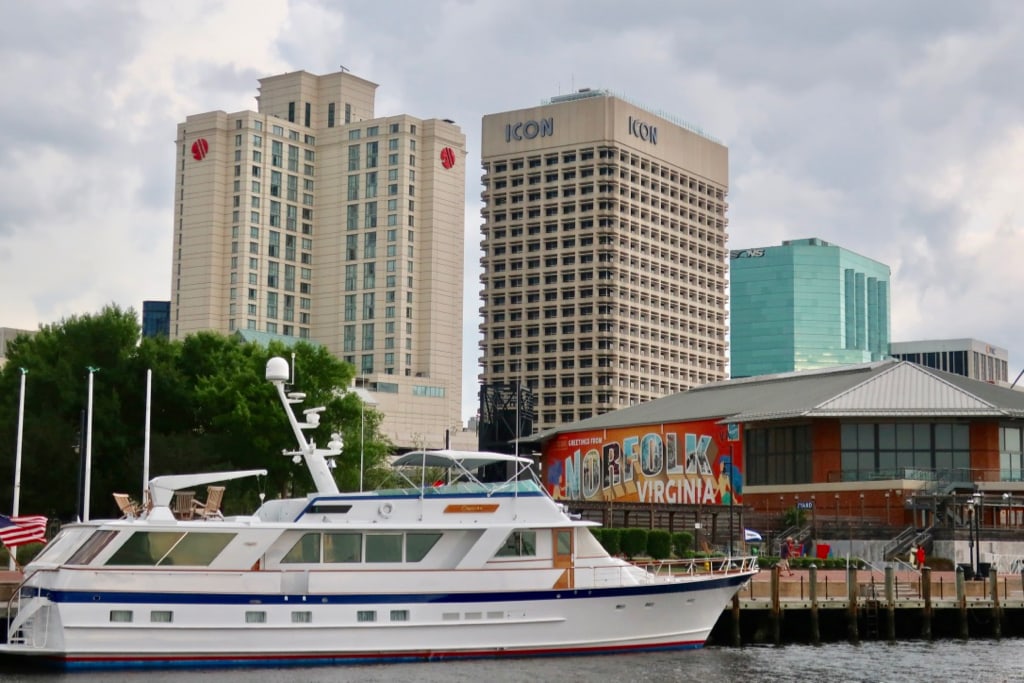 This 10.5-mile pedestrian trail runs along the Downtown Norfolk waterfront, offering views of the Elizabeth River and passing ships. Plans are in the works to create more parks, kayak launches, and other improvements along the 12 sections of the trail.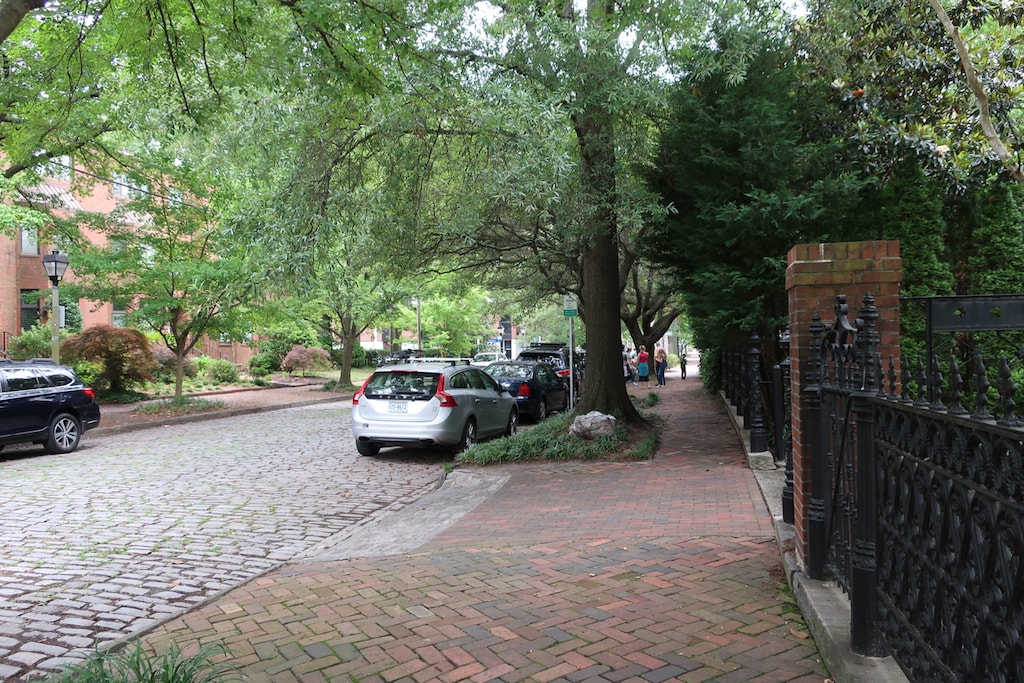 Less commercial than Baltimore's Fell's Point, or New Bedford MA's Whaling District, Norfolk's oldest standing neighborhood along the Elizabeth River, features beautiful tree-lined cobblestone streets and historic homes presenting three centuries of architectural styles.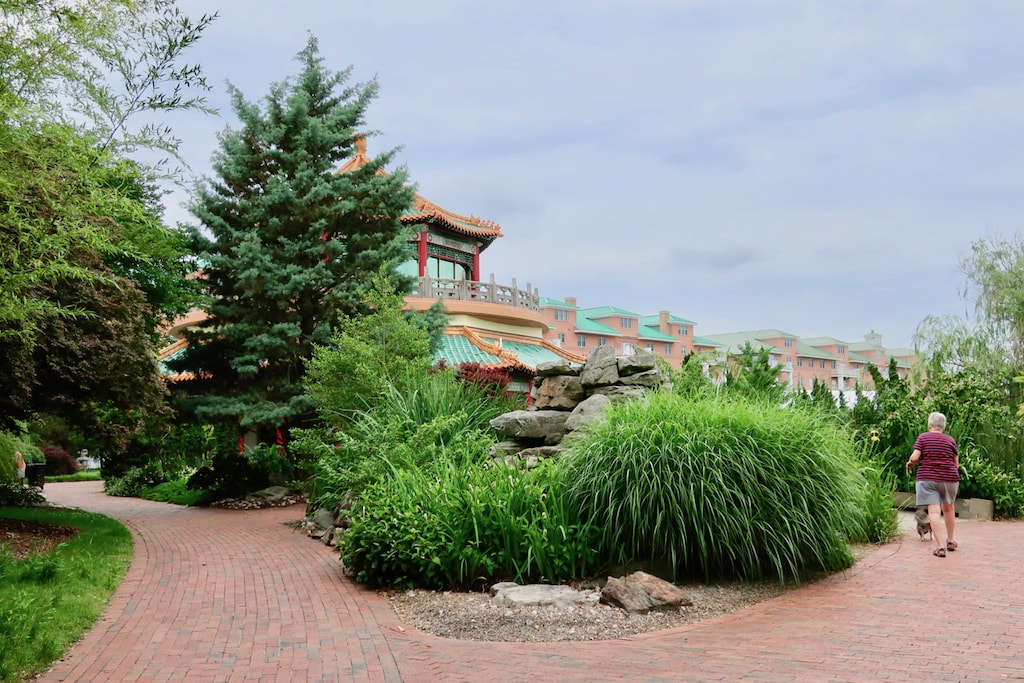 Freemason District is also where you'll find the Pagoda, a gift to the Commonwealth of Virginia from Taiwan in 1983. The two story octagon structure was built on the site of a molasses storage tank. Quite the improvement. The surrounding garden is exquisite – and a popular place to walk dogs.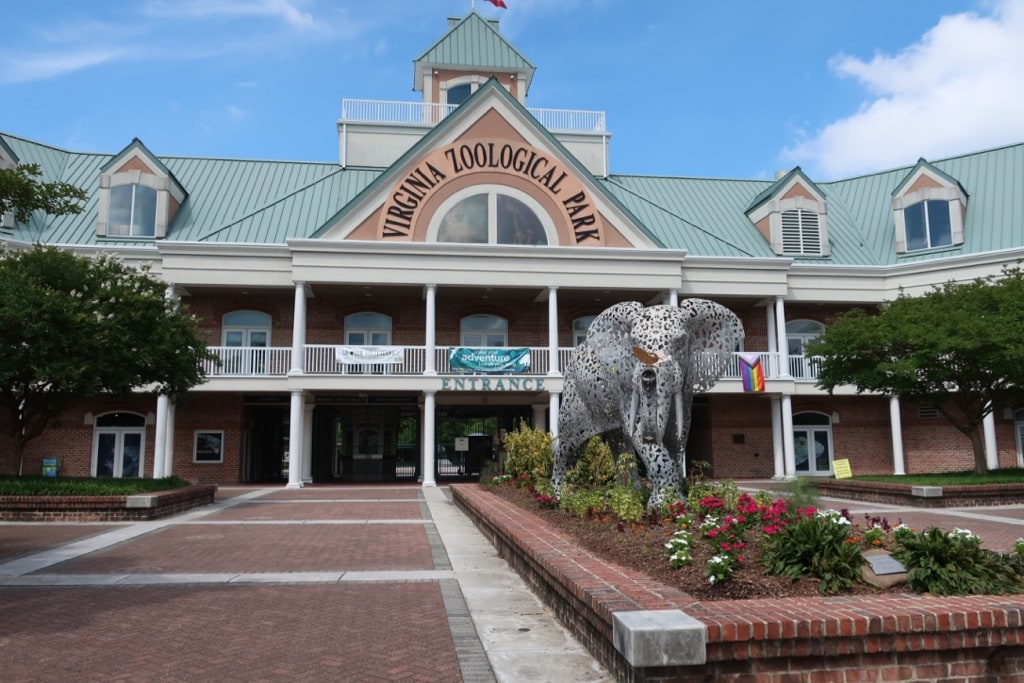 If you have time, check out the Virginia State Zoo, conveniently located in Norfolk, for its easily navigable African and Asian exhibits. In each section, you follow one path to see that continent's indigenous animals: lions, tigers, giraffes, and other large exotics.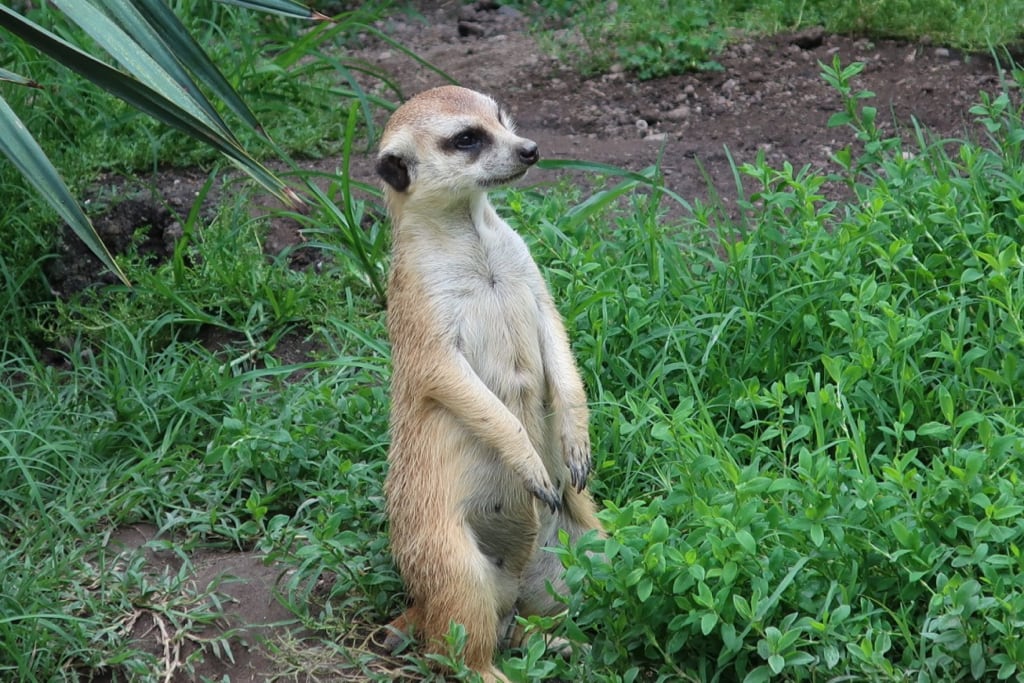 But for me – it was a passel of small critters that got my attention and consumed my time. Meerkats! They were digging, digging, digging, until I showed up. Then, to attention! In one case, it was as if he was posing for the cover of Nat Geo. Open year round daily 9:30-4:30, $17.95 adults, $14.95 kids.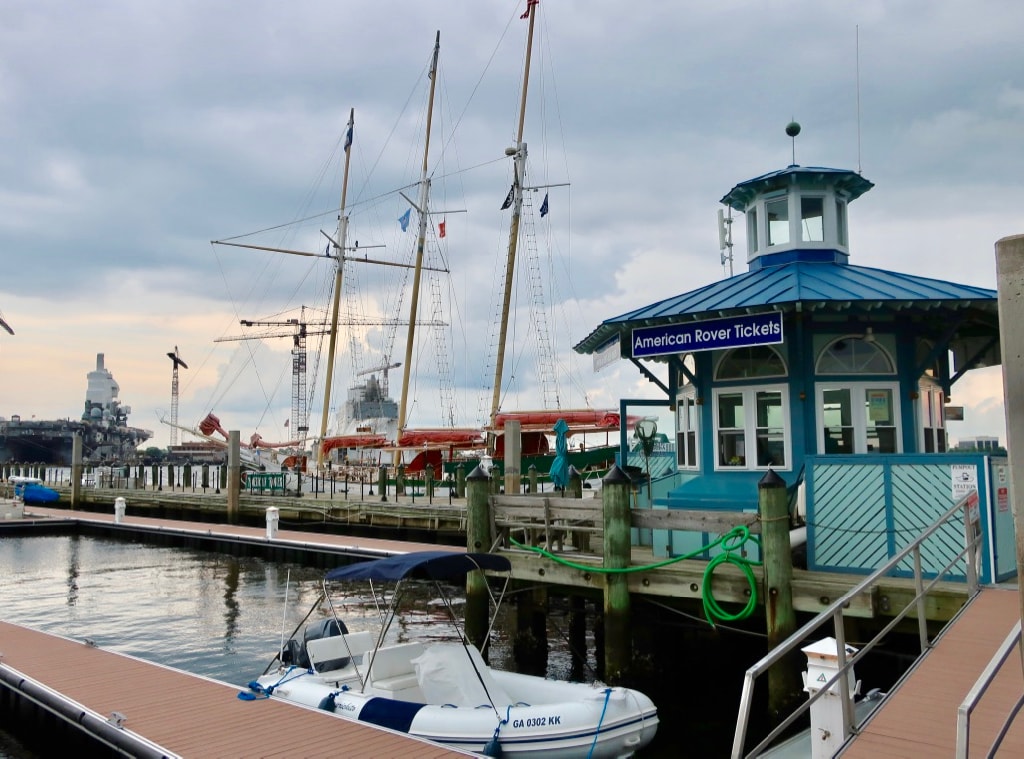 Experience Norfolk VA's beauty and history from the water as you sail on this three-masted topsail schooner on a narrated sunset cruise with live music. Most Tues-Sunday evenings 7-9pm, $40 pp. Check website to confirm.
Where to Eat in Norfolk VA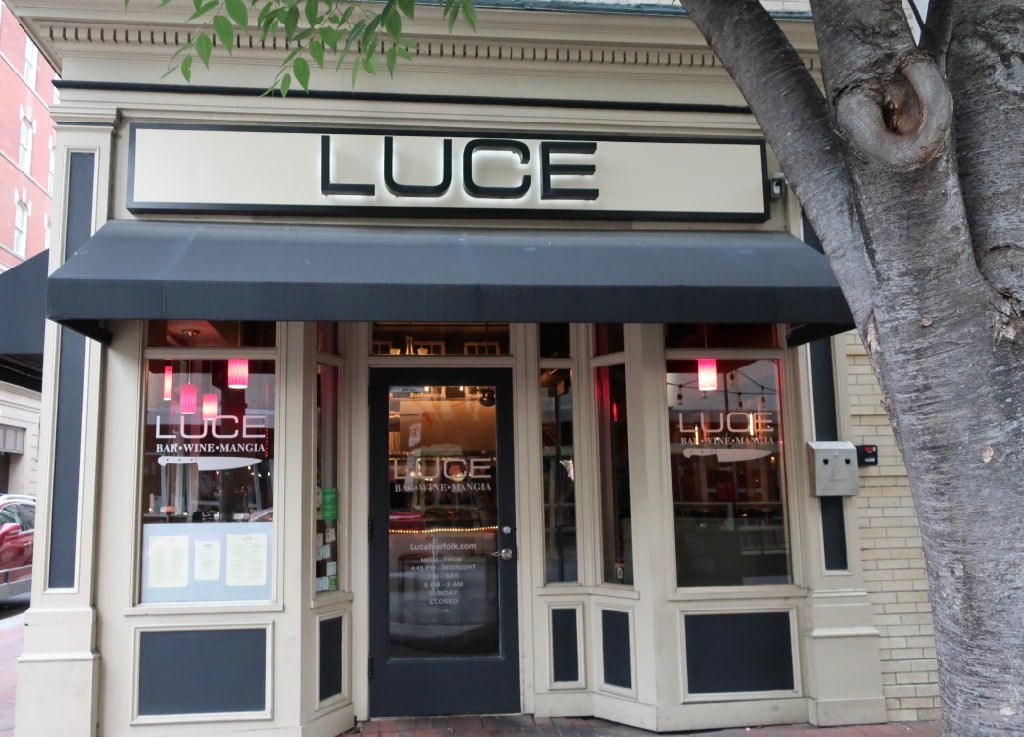 This intimate Italian restaurant is dominated by its bar, dramatically backlit red. Planks of wood from Italian wine crates line the walls, along with family photos.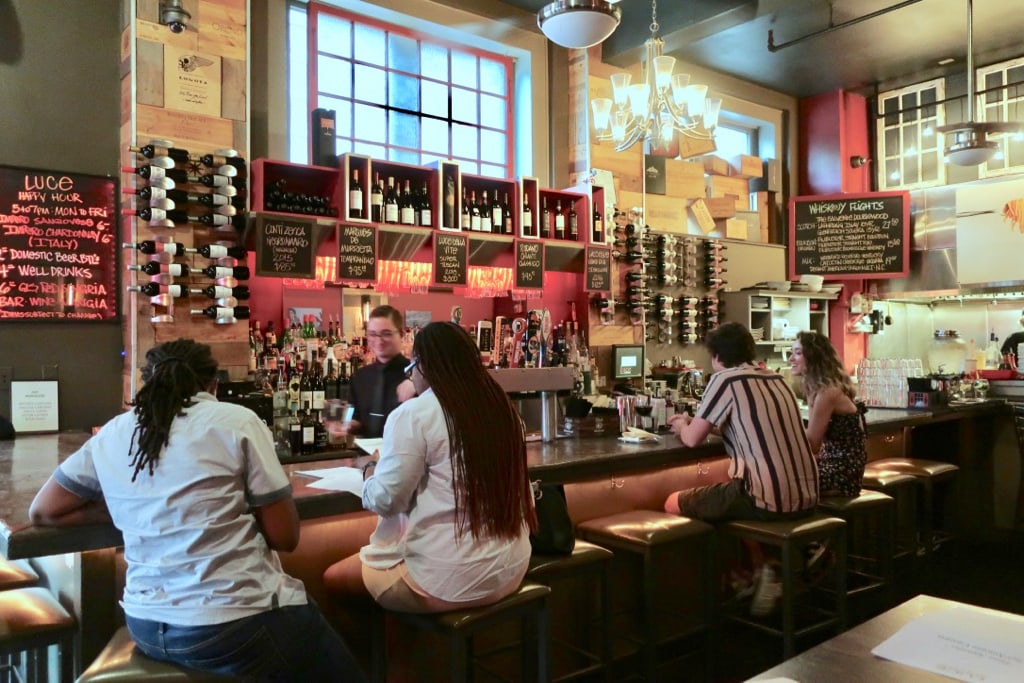 Chef/Owner, Antonio Caruana, works his magic in a small open kitchen up front. Caruana is inked to the max, which lends a "bad-boy at the stove" sense of quirkiness to this exceptional restaurant.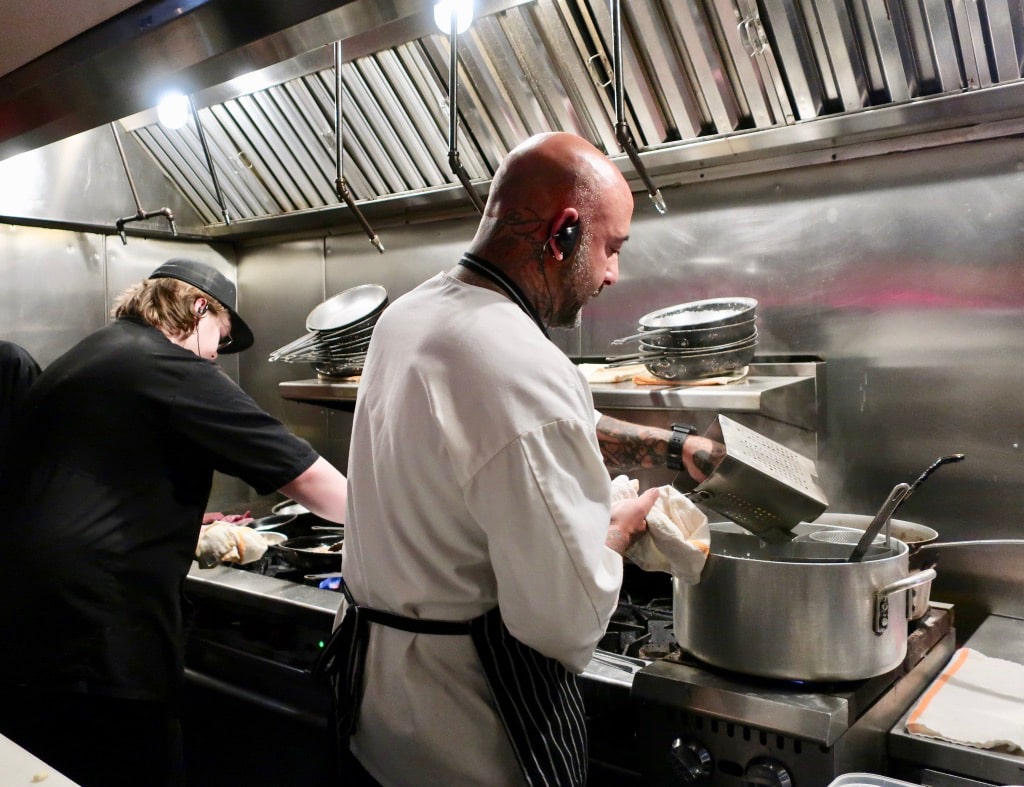 Luce excels at dishes from three regions of Italy. Everything is made from scratch, including the pastas: el dente and dressed in deliciously flavored sauces. And, as good chefs work with the best ingredients of the day, the menu changes all the time. You can't go wrong: Pasta, Pesci, Pollo, or Carne. The hardest part is deciding what to get.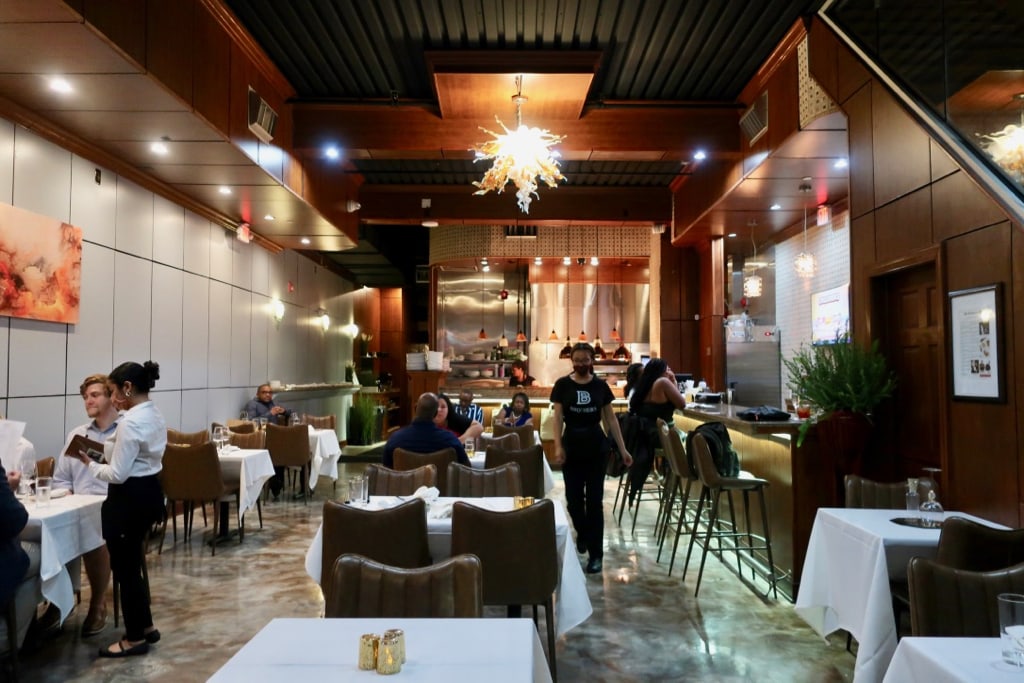 No, a bunch of brothers don't own this swanky steakhouse-jazz club. In this case, "Brothers" is longtime NBA referee and Norfolk native, Tony Brothers.
Opened February '21 during Covid, Brothers' "Chops/Seafood/Spirits" is just getting going. The elegant dining room on the main floor was half full early on a stormy June Thursday night, with patrons chowing down on $49 steaks, and $30 Salmon, among other traditional American fare.
Upstairs was another scene. Rogers Brown, and his RaJazz Trio drew fans for their mellow, mood-enhancing "Jazzy Thursdays" – 6-9pm. I dined on expertly flavored Lamb Chop Lollipops ($18) while grooving to great Jazz and R&B.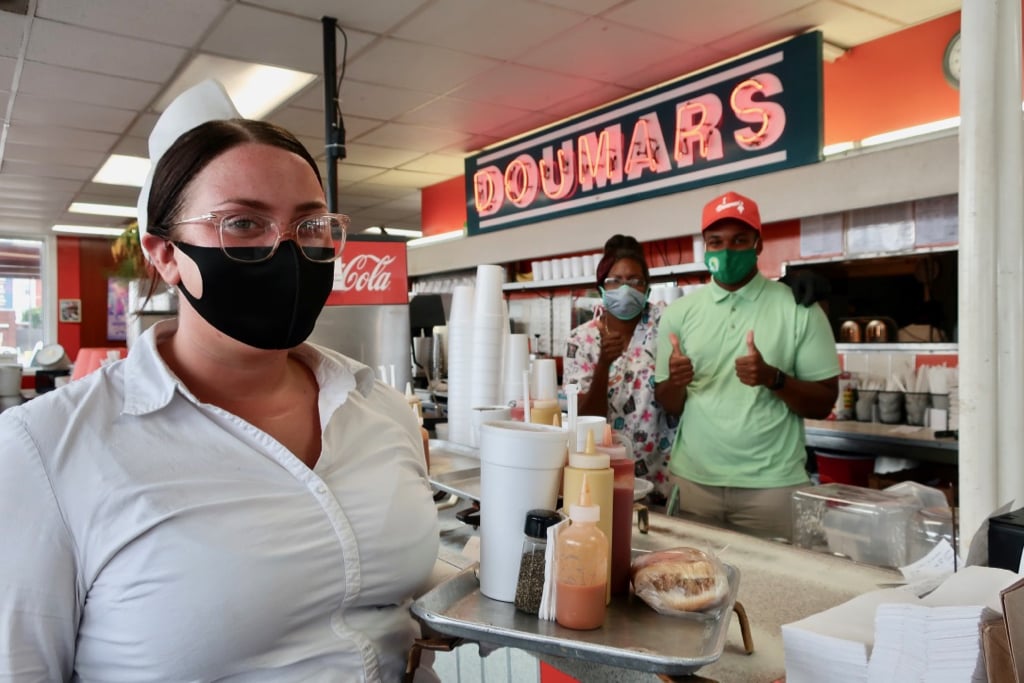 Drive up to Doumar's, Home of the World's First Waffle Cone, for old school curb service. You'll feel as if you've time traveled back to the '50s. In 1905, "Great Uncle Abe Doumar" created a device that would make these ice cream cones by the hundreds: a true Coney Island sensation! In 1907, Abe moved to Norfolk VA – and the rest is history.
Amazingly, you can witness that very same machine in action, run by a younger member of the family.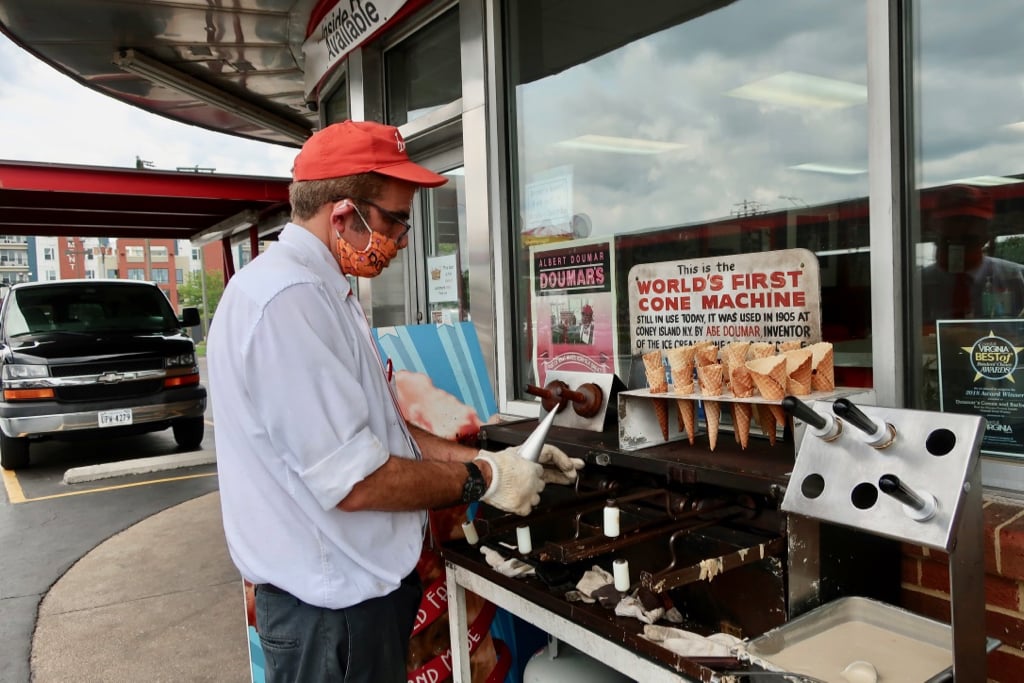 With all these old-fashioned recipes and great service, no wonder this ice cream and BBQ joint is a local favorite. It's also been featured on Rachel Ray and Diners Drive Ins and Dives. Current generation Doumar, Kathy, and her family still dish out pork BBQ on homemade buns, Lime Aide, and best selling ice cream – on waffle cones, of course.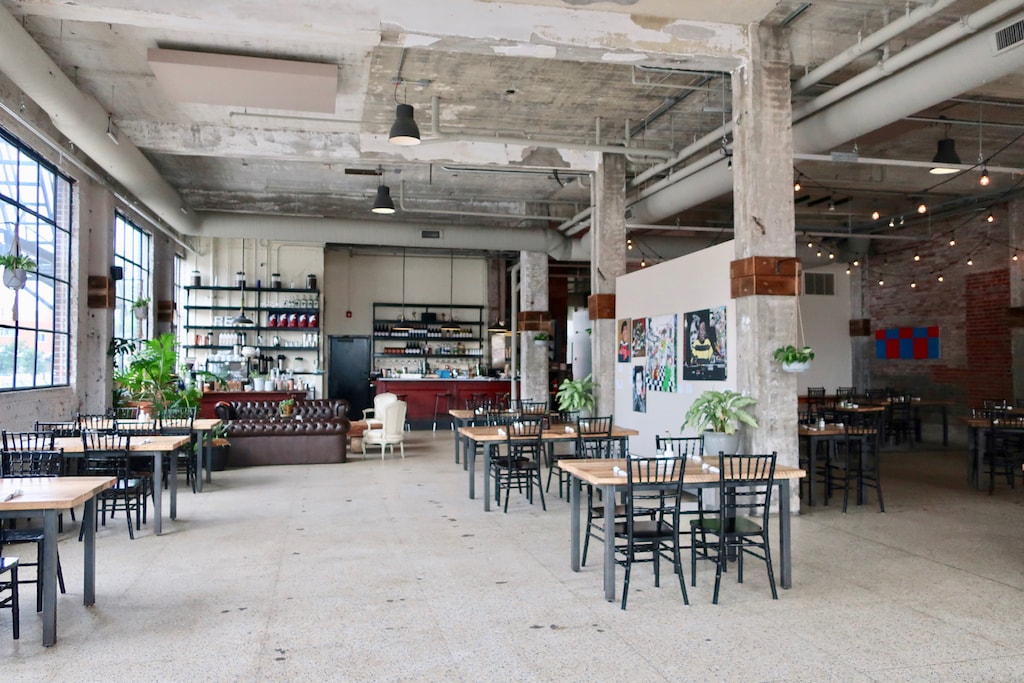 Virginia' first farmer-owned restaurant, Commune also offers cooking classes to kids. It's industrial space, replete with large, properly distanced tables, impels groups to dine on real food together. The menu features seasonal produce and all local and sustainable dishes, as well as coffee, cocktails, and a great non-alcoholic beverage menu.
"Classic Breakfast" ($8.50) includes chicken sausage and sunny-side-up eggs with special sauce. I opted for the Chicken Sausage Sandwich – on a just-baked brioche bun. Delish.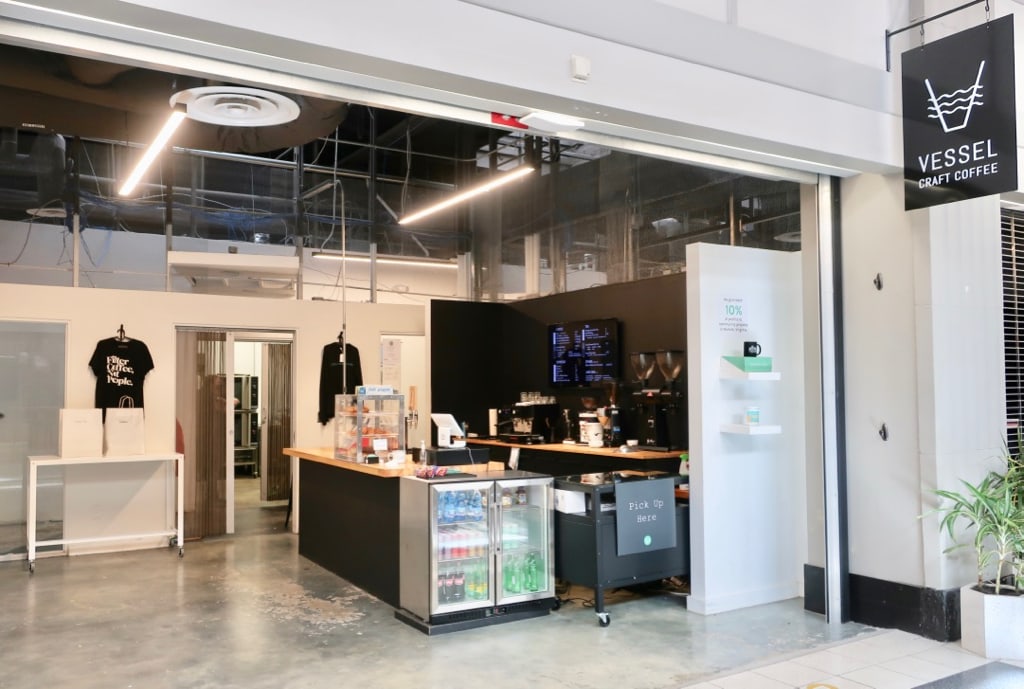 Find this unassuming coffee house inside the historic Selden Market, along with shops and boutiques.
EAT/DRINK: Hilton Norfolk The Main
What's your pleasure? Cocktails or Craft Beer? Good news – the Hilton has two nightspots – Saltine and Grain – so you can go to both in one night.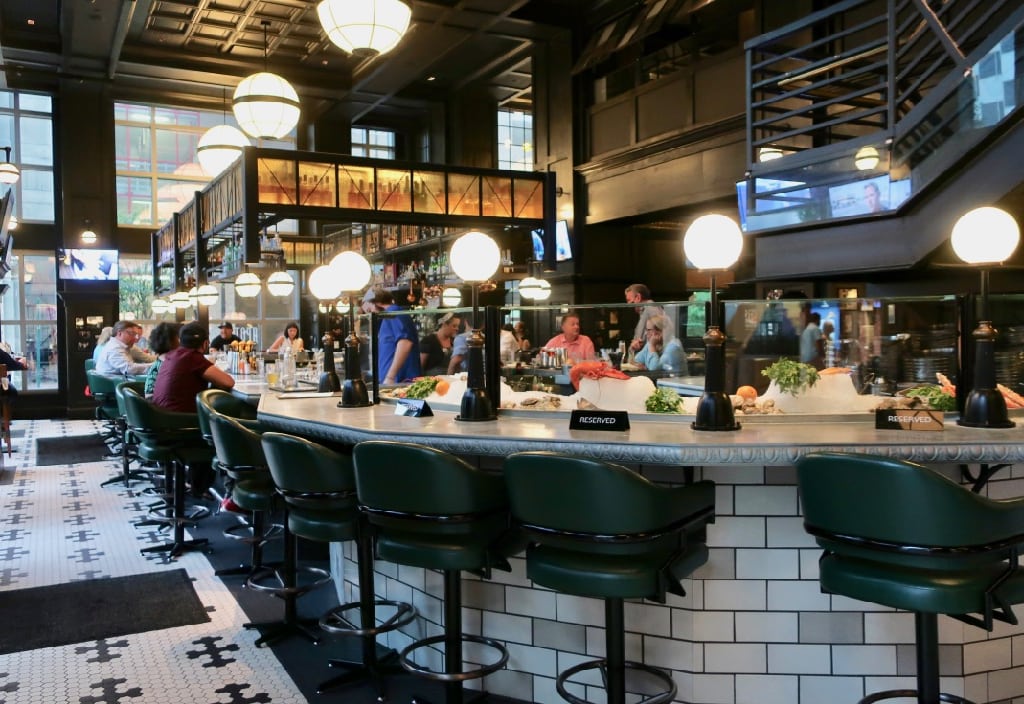 Indulge in carefully crafted cocktails at Saltine, a street-level seafood restaurant that offers up inventive creations at their Apothecary Bar.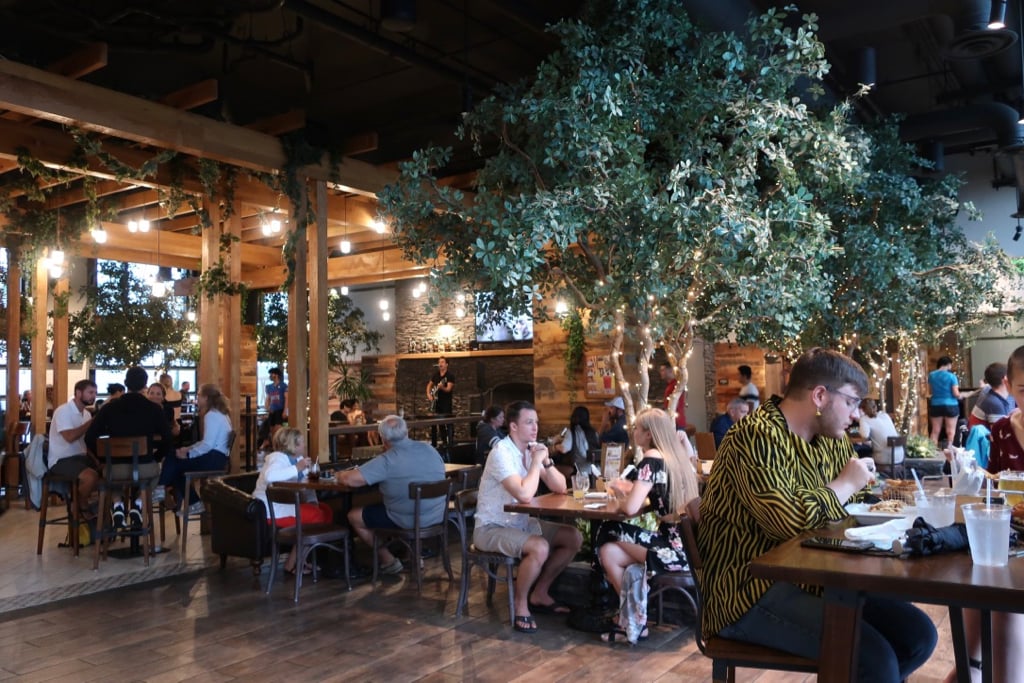 Beer lovers will revel in a variety of flights at Grain's rooftop beer garden, located on the 6th floor. Grain features the most craft beer taps in town and a large open-air patio overlooking stunning views of the Elizabeth River.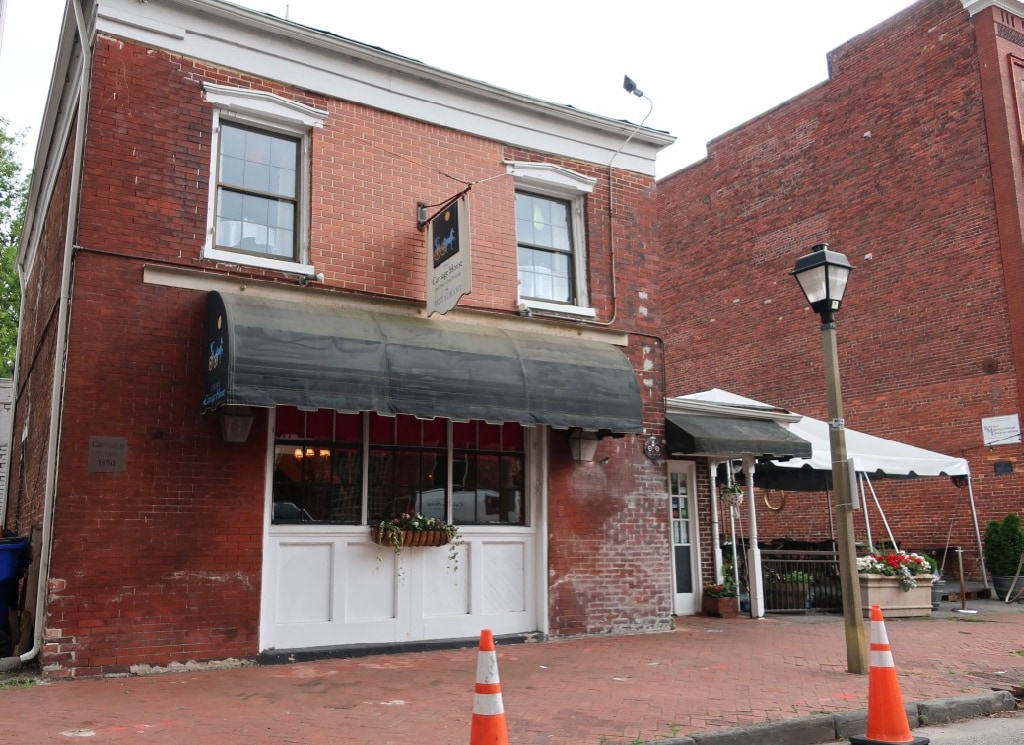 EAT: Locals Love
Handsome Biscuit – sweet potato biscuits, stuffed with the likes of Nashville Hot Chicken. Freemason Abbey, in a historic church – famous for its She-Crab Soup. 411 York – attached to a B&B and an uber popular brunch spot. Blanca – owned by a young (30-something) woman – in the Riverview Neighborhood.
Also, Omar's Carriage House – known for its Moroccan Monday menu and Moroccan French dishes: "great escargot." Press 626 in a former bank in the Ghent Neighborhood, with three female sommeliers, and wine cellar in the former bank vault. Mermaid Winery – the only urban winery in Virginia.
Where to Stay In Norfolk VA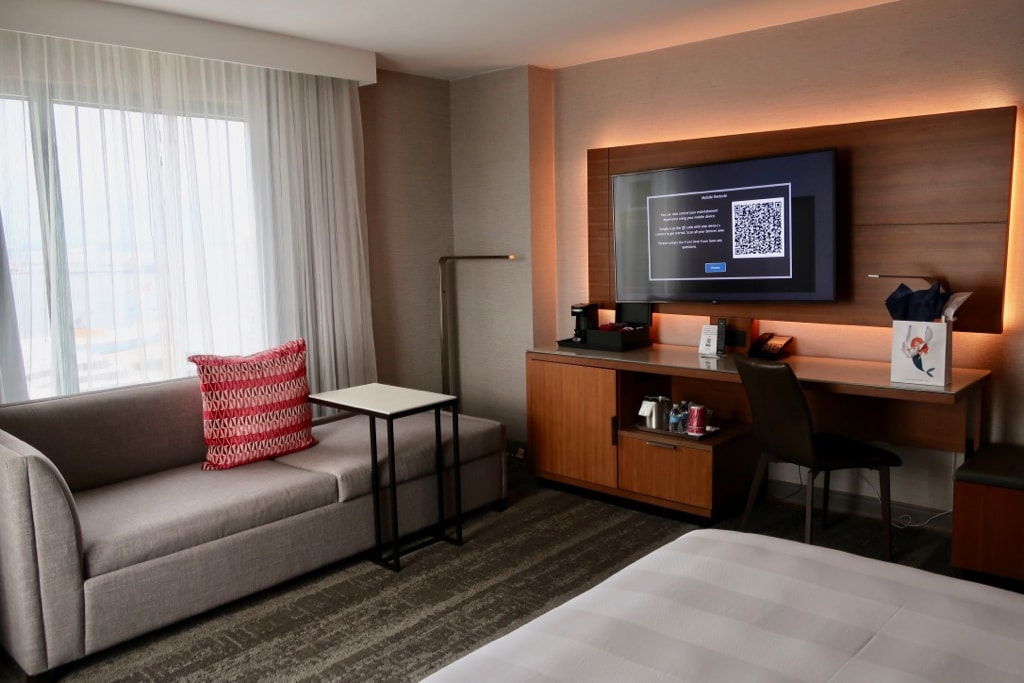 STAY: Norfolk VA Waterside Marriott
This upscale hotel overlooks Norfolk Harbor – so for a real thrill, book a corner room on one of the top floors, which offers 180 degree views of the waterfront. A block from Granby St, the Marriott is within walking distance to attractions like Nauticus/ Battleship Wisconsin, Elizabeth River Trail, river cruises and the hottest restaurants in town.
Reception is quick and friendly, the modern, spare lobby scrubbed to Covid protocols.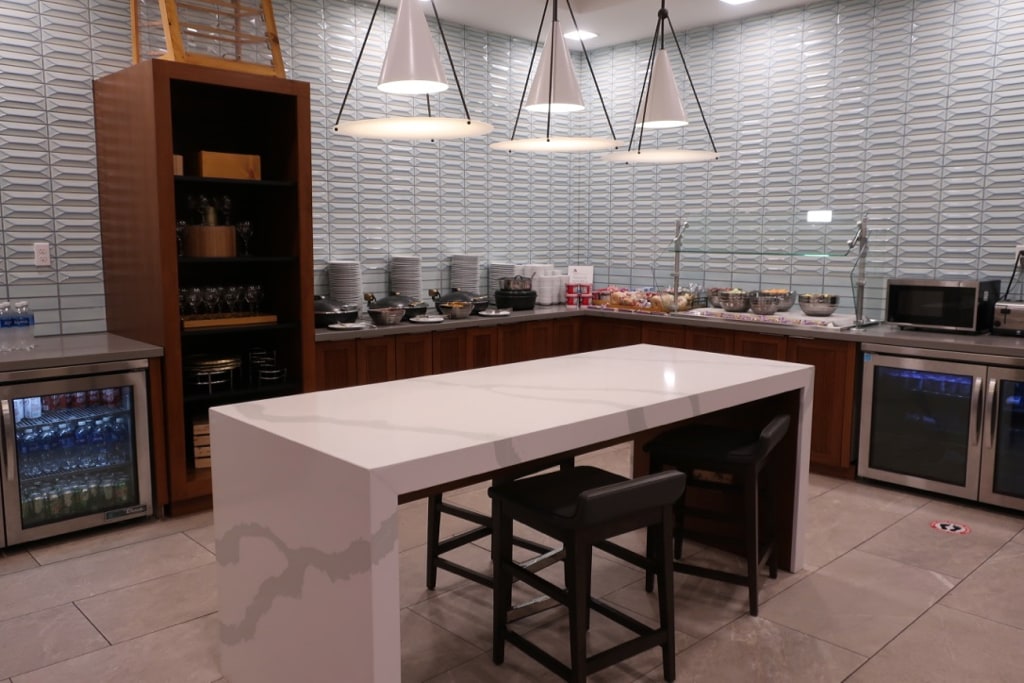 All rooms have been recently renovated, in nautical teaks and grays. Bathrooms are well lit and pristinely clean, with large showers and lighted mirrors.
For the best bang for your buck, stay on a concierge floor (23rd or 24th), which not only grants you access to the M-Club, where breakfast and a light dinner are complementary, and snacks, juice, and water is available all day long, but to some of the best water views in town. M-Club room rates start at $180 per night, includes breakfast, light dinner, snacks, newspaper, lounge.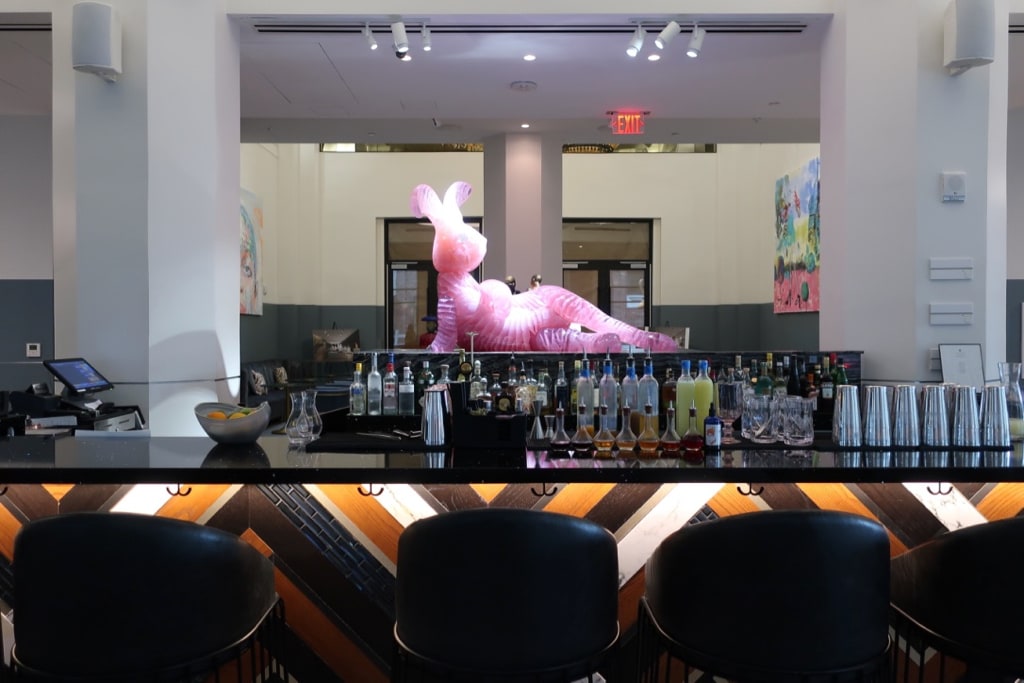 STAY: Glass Light Hotel, Autograph Collection
The darling of travel press when first opened in December 2019, Glass Light stumbled a bit a few months later when Covid hit. It's now finding its footing once again with a Glass Art Museum in the works, and new chef.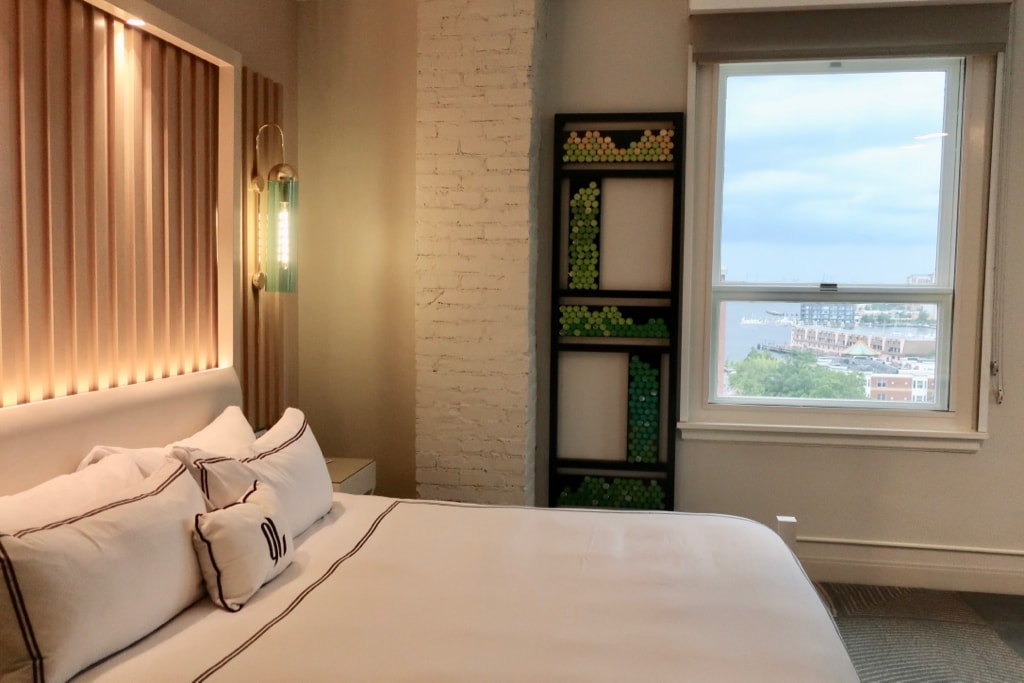 The historic 1912 Royster building (residential, and fertilizer company, of all things), has been repurposed as a 113-room boutique hotel – soon to incorporate a museum featuring exceptional works of glass art by world renowned artists, Peter Bremers, Lino Tagliapietra, and glassmakersfrom all over the planet.
Of particular note are two 1,100 lb glass rabbits – one a neon pink. What is their significance? Well, the owner's Mom was "Grandma Pat" to her grandchildren who loved the book, "Pat the Bunny." So, in addition to the glass rabbits, each stylish room features a glass carrot. What's up doc?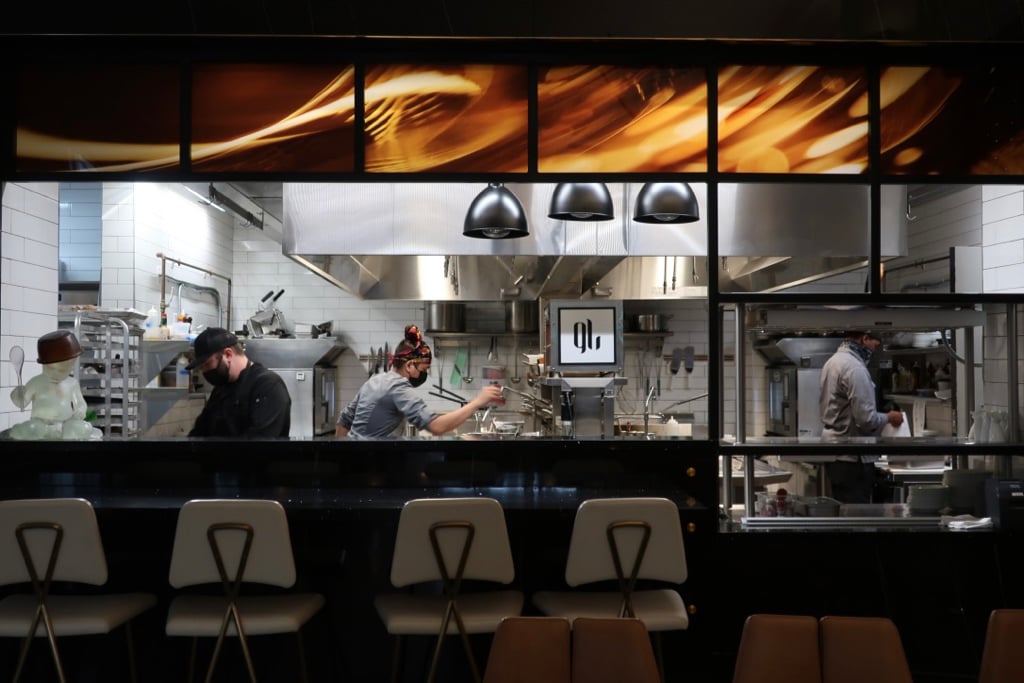 Even if you don't stay here, the open-kitchen French restaurant in the lobby is a hot ticket. RSVP early. Rooms from $179-$358 plus taxes per night includes snacks, water.
The tallest hotel in the Historic District, the Hilton is another swanky choice for visitors. It's just steps from Granby St., Nauticus, and Selden Market, putting you clearly in the center of the action. Rooms from $188 plus taxes per night, average $250.
STAY: Sheraton Norfolk VA Waterside
Closest to the waterfront, but only several stories tall, rooms at the Sheraton have gone through a nice refresh. If your intent is to be closest to the docks, chose this. Rooms from $183 per night plus taxes.