Last Updated on March 5, 2023 by Editor
The Getaway Mavens have been hard at "work," scoping out the best romantic luxury hotels, inns, and B&B's in the Northeast USA through several waves of the pandemic in 2021.
Each one of these 20 fabulously romantic lodgings from Massachusetts to Maryland (and Washington DC), adheres to Covid protocols, with some restrictions in place (e.g. housekeeping on request only). All properties are either brand new or recently renovated, and rise to our high standards of luxury and excellence. (In some cases, surprisingly so).
From farmland to cities, minimalist to traditional, historic to newly built, these hotels might just prove to be your perfect antidote to the crazy world outside. If only for one night.
*Conditions are still changing rapidly, so double check that each property is open, and if masks and proof of vaccines are required.
Massachusetts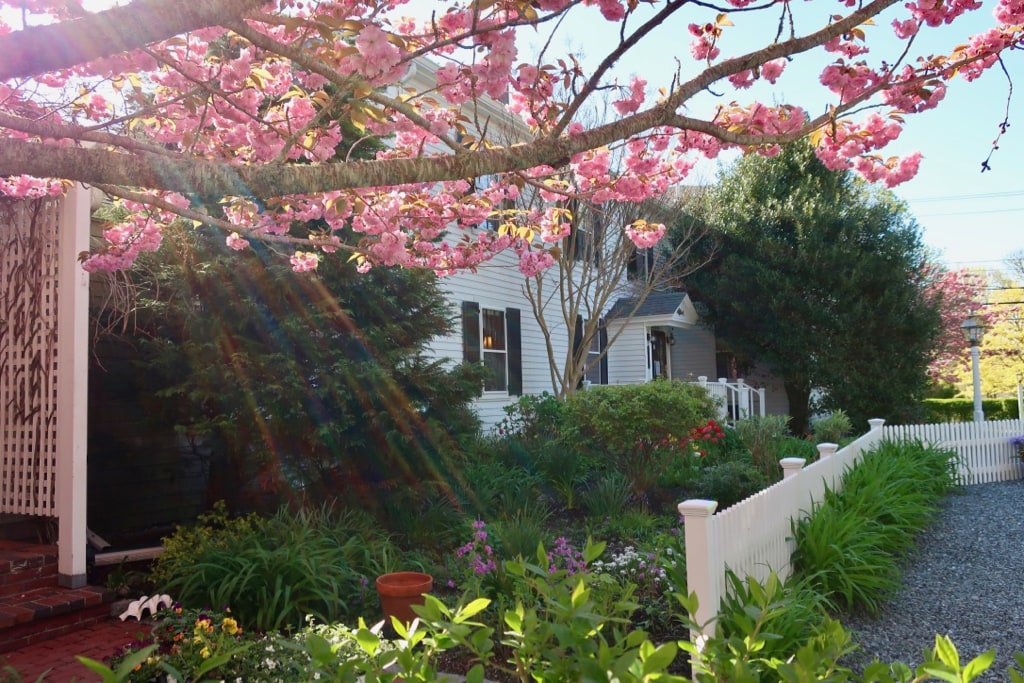 Candleberry Inn, Brewster MA (Cape Cod)
The Candleberry Inn in Brewster MA is currently, and for good reason, one of the highest rated Inns on Cape Cod. It's also one of the most romantic. In 2016, Marco Di Domizio and Angelo Ferraro purchased the circa 1790 home, which had been operating as an inn since the 1940's, and went about restoring it after staying at over 30 B&B's to get an idea of what travelers seek. As a result, the property, guest rooms, and common areas are exquisite – most decorated with items from Di Domizio and Ferraro's own eclectic art and furnishings. Open seasonally. For the full story about this enchanting inn, check out our Candleberry Inn, Brewster MA post.
Connecticut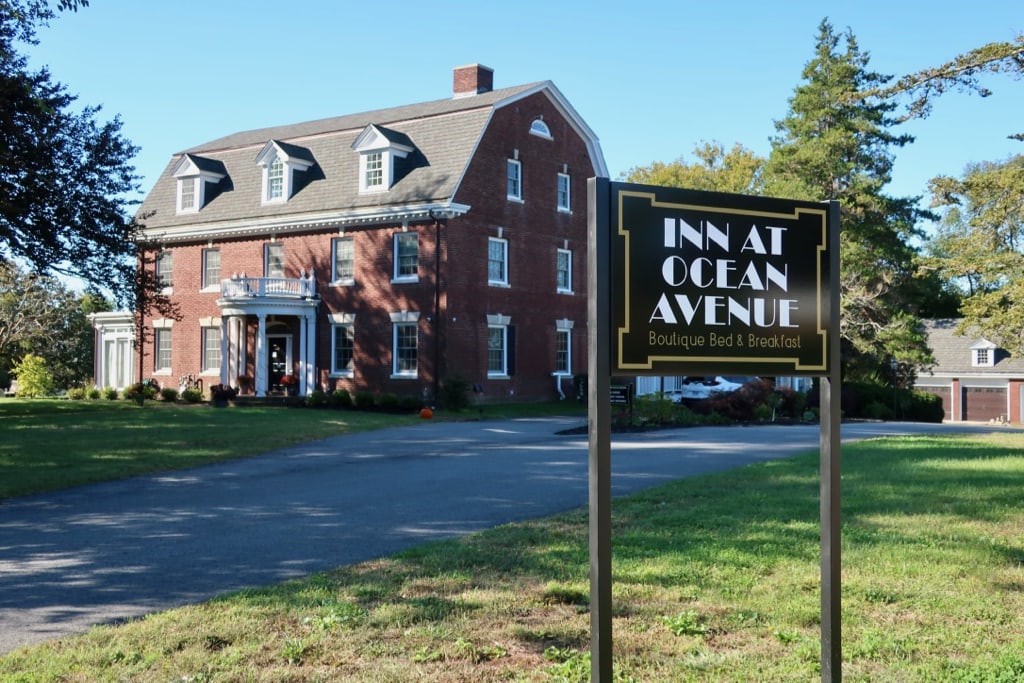 Inn at Ocean Avenue, New London CT
On four sprawling acres that encompass a pool and undulating lawn, the recently opened six-room Inn at Ocean Ave, stands in contrast to the other more modest homes on Ocean Avenue in New London's beach and marina district. Stylistically, each room is a study in the glamour of bygone days, in subtle shades of white and off-white with mirrored furniture and stunning marble bathrooms. Although a mere 20 minutes from Mystic Seaport, guests, sheltered from crowds, discover the optimal hideaway – and a perfect place to pop the question. For much more about this inn and the best things to do in the area, check out our New London and Groton CT Getaway post.
New York City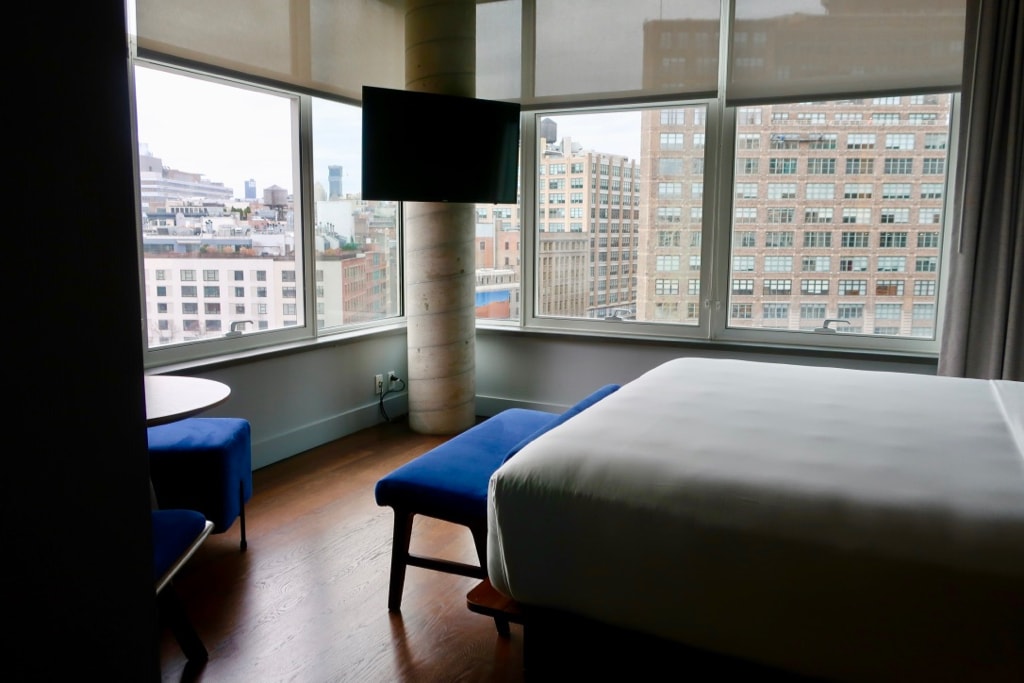 ModernHaus SoHo
With riveting views of downtown Manhattan, ModernHaus SoHo, (formerly James SoHo), in the artsy, paving-stoned streets of Manhattan, is one of the most romantic boutique hotels in New York City. This hotel is unique in that it was built as a narrow, contemporary, stand-alone high-rise. As such each room boasts incredible lower Manhattan views – including the Freedom Tower, Hudson River, and Empire State Building. This, plus its great restaurants, contemporary art collection throughout the hotel, rooftop pool, and industrial-chic rooms have put ModernHaus on the international map. Locals are just catching up.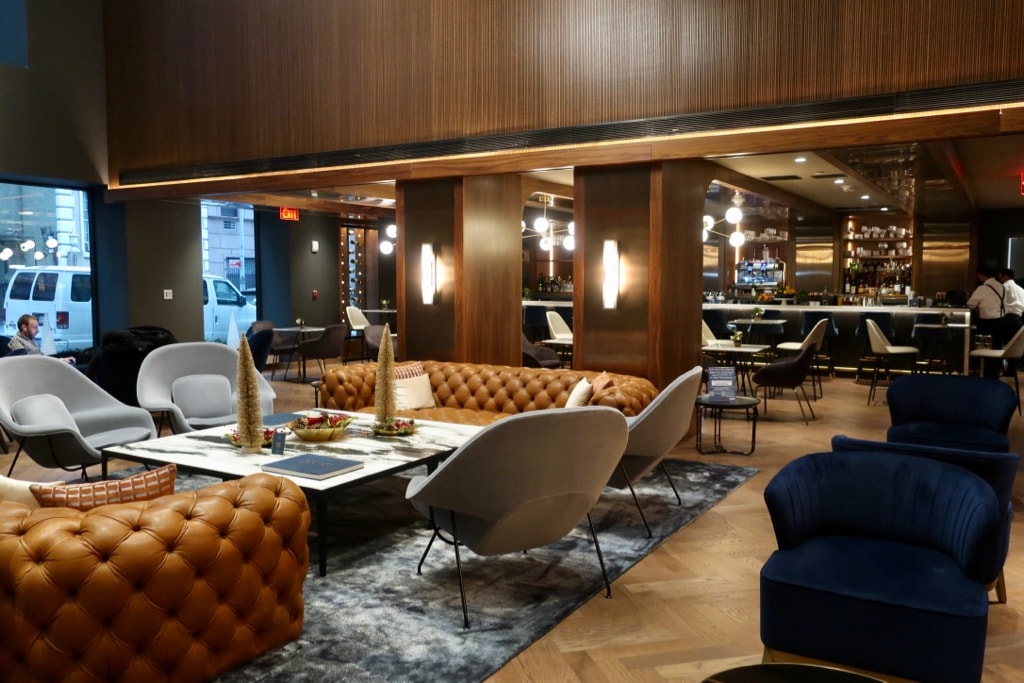 NH Collection Madison Ave, Midtown Manhattan
Just a few blocks from Grand Central Station, this is the luxury NH Collection's inaugural location in the United States. Furnishings are so of the 50's era, it's no surprise that designers were going for a Madison Avenue's "Golden Age of Advertising" aesthetic. You can just imagine Mad Men cast members lounging around on the Womb Chairs in the lobby, and Don Draper coming in for a drink at the snazzy bar. For much more about this hotel, consult our NH Collection Madison Ave post.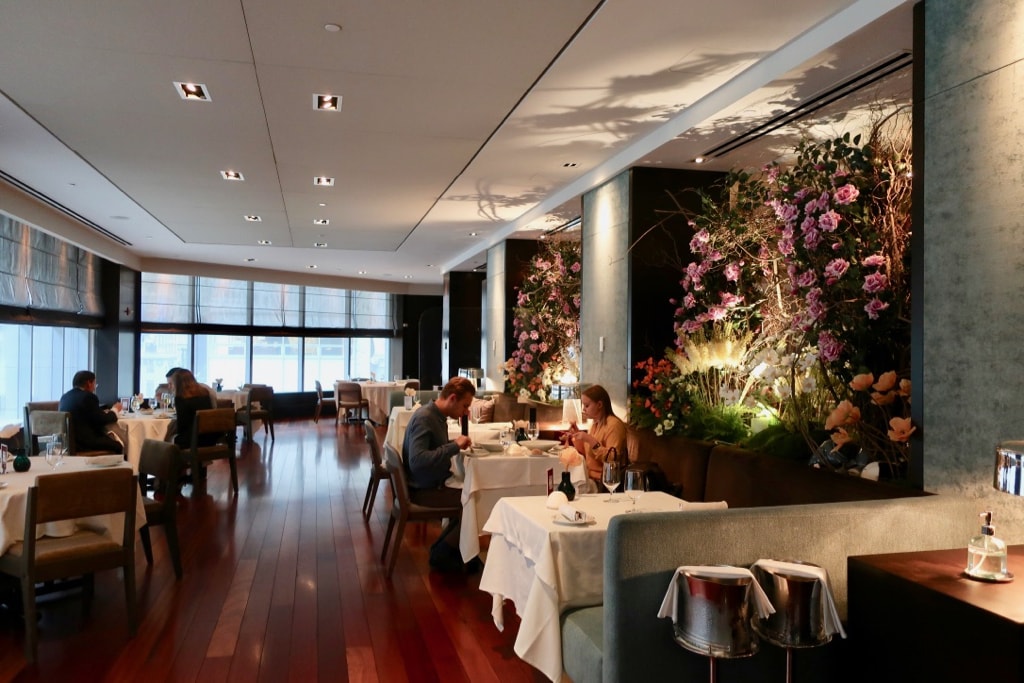 The Langham, Midtown Manhattan
If you're looking for a romantic, extravagant, indulgent, special overnight in New York City, search no more. The Langham on 5th Avenue in midtown Manhattan near the Empire State Building, and three blocks from the New York Library, houses the Michelin-starred, sensuously floral Ai Fiori, on the 2nd floor. Artwork by Alex Katz is mounted behind the reception desk, and throughout common areas and guest rooms. The Langham staff love to create safe celebrations for couples and groups, and have been known to showcase intimate plays and musical performances in its handsome guest rooms. For much more about this hotel, read our The Langham NY: Over The Top Romantic post.
New York State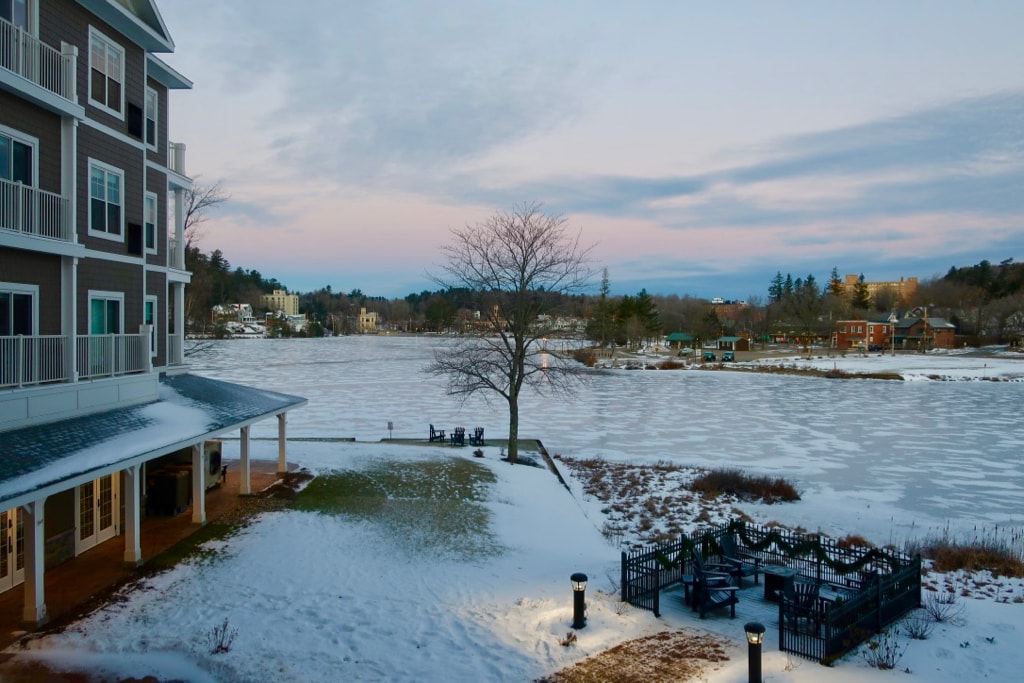 Saranac Waterfront Lodge, Saranac Lake NY
Opened in mid-2021, the romantic 93-room Saranac Waterfront Lodge, reminiscent of other grand Adirondack hotels, is the only lodging that sits right on Saranac Lake. In the summer, guests wielding wine or cocktails (ordered inside at the Boathouse Restaurant) commandeer Adirondack chairs, picnic tables, or the various lawn games set out on the waterfront. Wintertime is particularly enchanting, with the Saranac Lake Winter Carnival held nearly right outside. For your own love story, book a lake-view room and toast to the panorama from your window, especially during the sunrise and sunset hours. For more information about this hotel and other great things to do in the area, check out our Saranac Lake and Tupper Lake NY: Under the Radar Adirondacks post.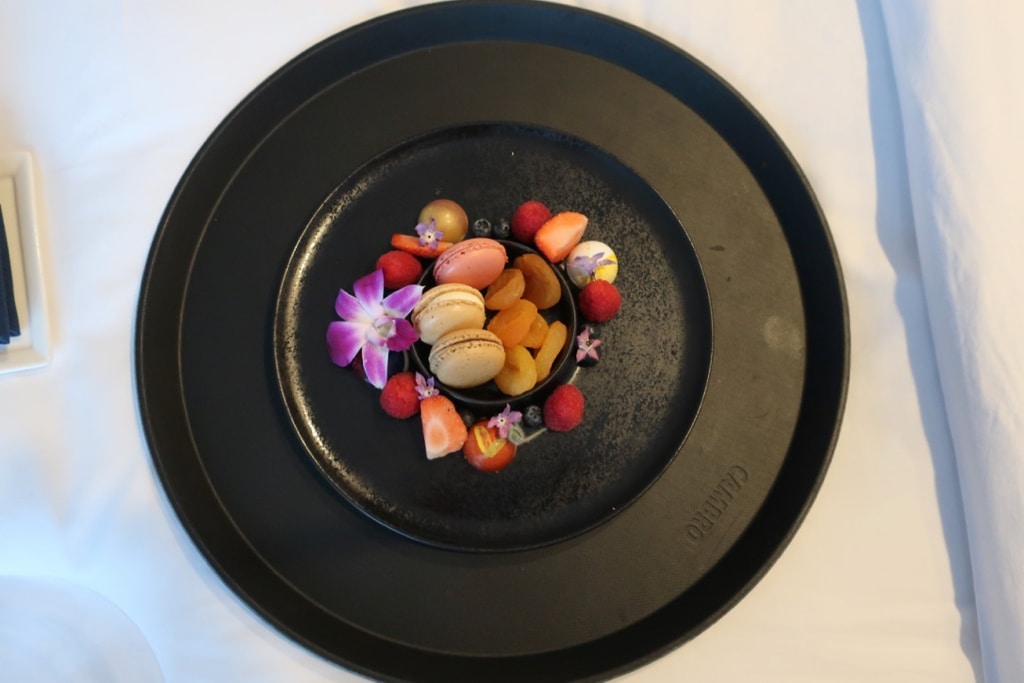 The Opus, An Autograph Collection Hotel, White Plains NY
The Opus Westchester, a new boutique hotel, recently replaced the prestigious Ritz Carlton in downtown White Plains, NY. Although this Marriott Autograph Collection Hotel has taken over, it still offers the surprisingly friendly, exceptional service it did as a Ritz. To impress that special someone, order this sweet amenity – dried and fresh fruit, artisanal chocolates, and macarons – to greet you upon arrival. Discover more about this hotel and Westchester County NY in this Port Chester-Rye-White Plains NY Getaway post.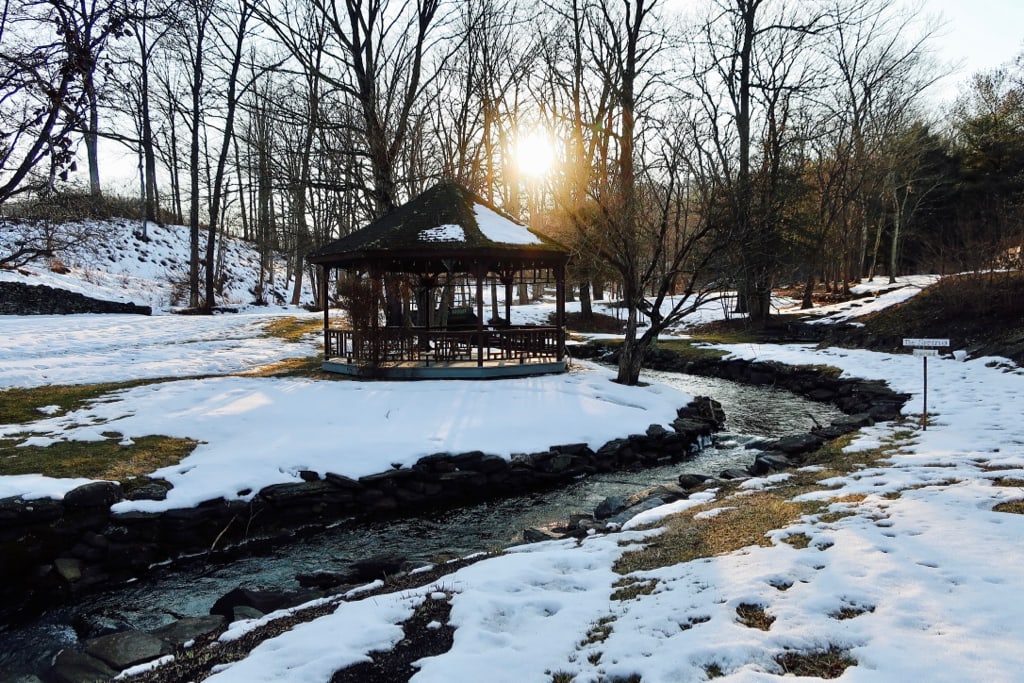 Troutbeck, Amenia NY
For over 250 years, Troutbeck has been a Northern Dutchess County NY retreat in the woods for literary giants, environmentalists, Civil Rights and political leaders. Now, after a complete renovation, this former faded conference center is a paradise: reshaped into a luxury inn, with romantic rooms inside the grand stone English-style manor house, and throughout other buildings on this river-runs-through-it property. Take a Yoga class together in the Barns, wander over streams and through a rose garden, then plan to dine at least one night at the on-site restaurant. New American dishes are a joy to behold – and devour. For much more about this inn, read our Troutbeck: Storied Luxury in Amenia NY post.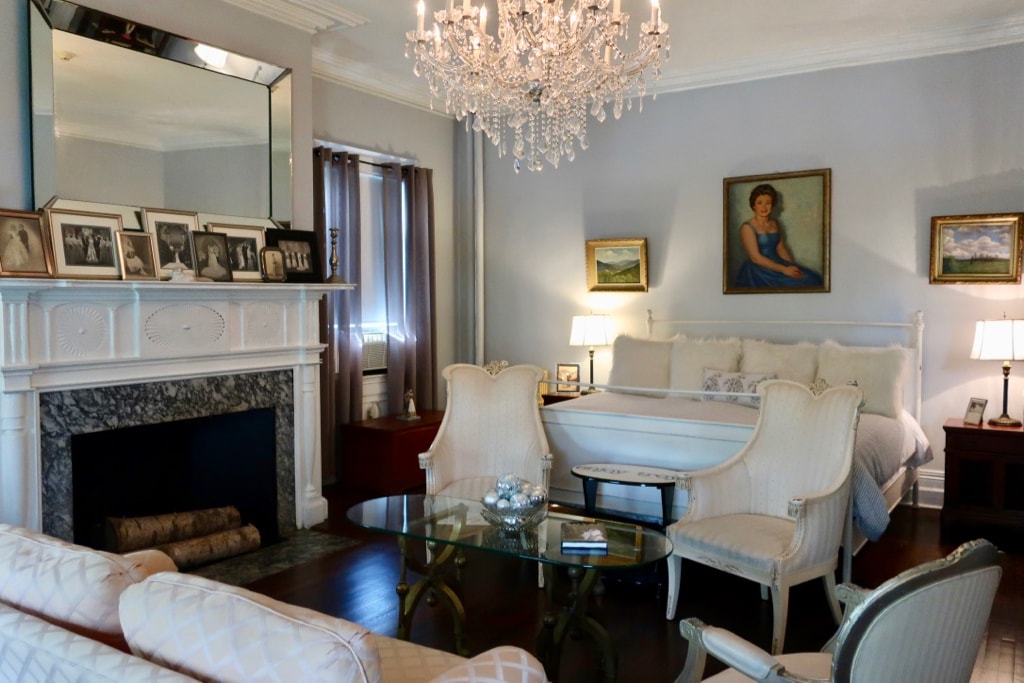 Gardner Farm Inn, Troy NY
The five eccentrically designed rooms in this B&B fuse wit, whimsy, and glamour enough to make any passion-plate giddy. Opt for the Oscar Wilde, Mae West, Josephine Baker, or John Waters suite – all exquisitely dressed, as you'd expect from their namesakes. But, for a passion-fueled getaway, choose the Jean Harlow room – a fantasy in white. Consult this post for much more to do in Troy NY. For more about this B&B and area attractions, read our Troy NY: Considerably Hip post.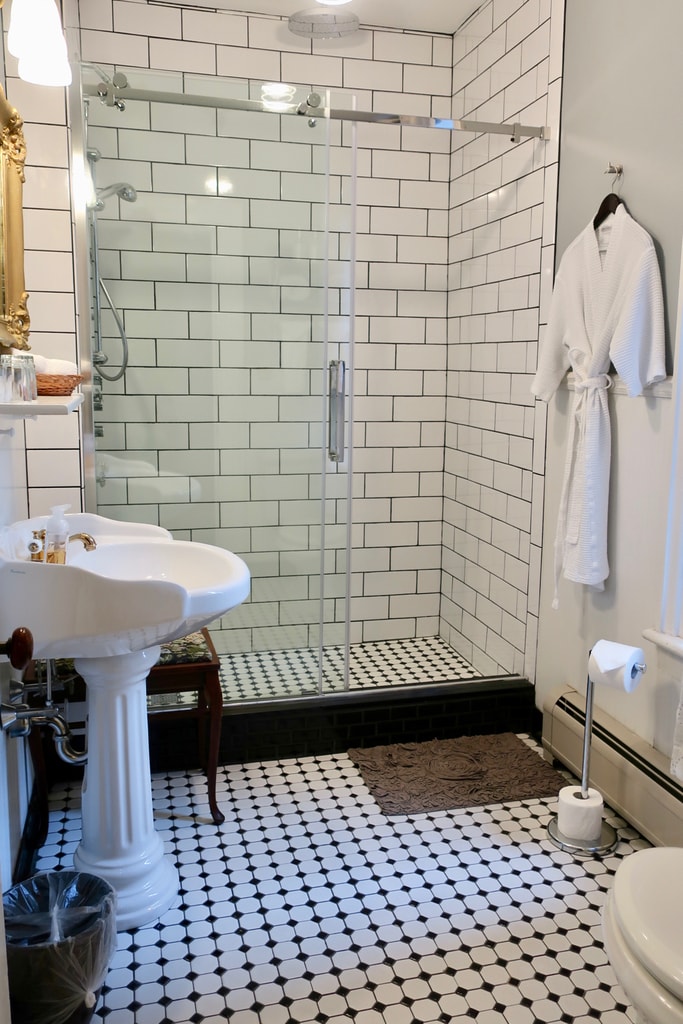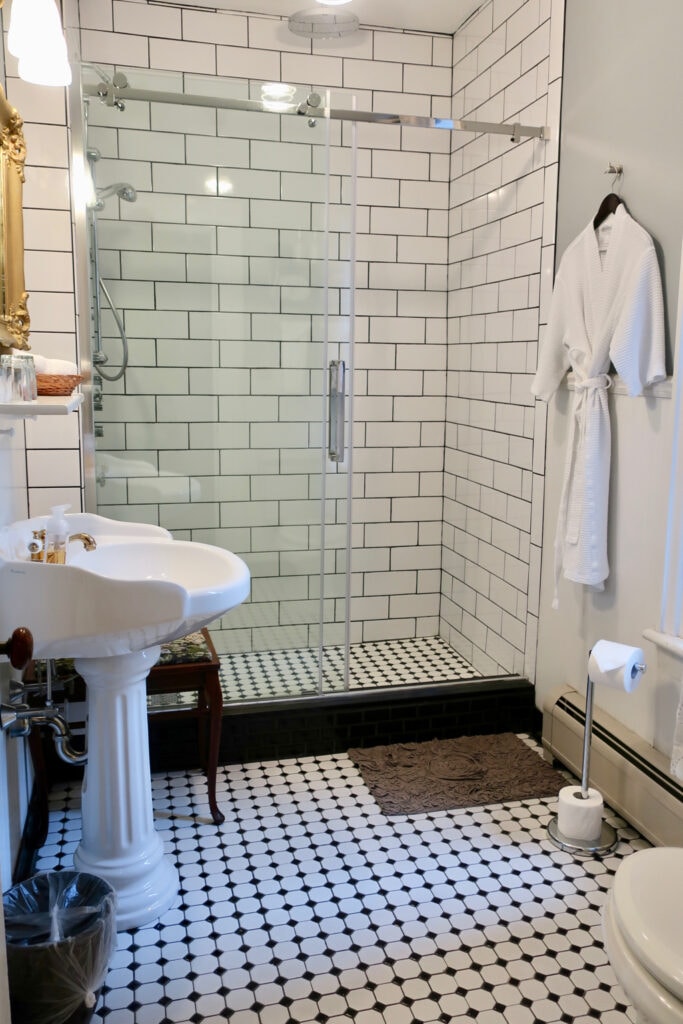 Rosemont Inn B&B, Utica NY
Utica NY was once a pretty grubby town, and the last on most minds as a potential tourist spot. But Rita and Bob Sleys saw promise several years ago, purchasing this in-town 1800's mansion to capture the adventurous guests sure to come. And come they did. Once a frilly Victorian B&B, guest rooms, including fantastic glossy new bathrooms, now skew modern, as Utica itself spruces up with European-style coffee houses, a Philip Johnson designed art museum, and classy restaurants. For more about this B&B and things to do nearby, read our Utica NY: Flourishing City of Refugees post.
New Jersey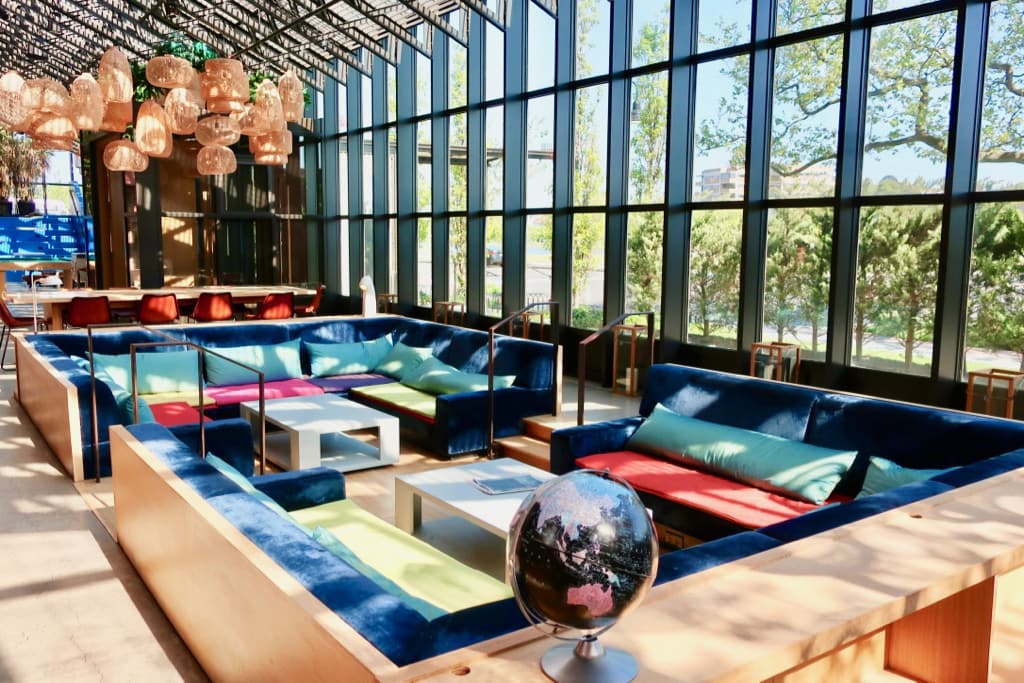 The Asbury, Asbury Park NJ
Retro-cool and tremendously trendy, "The Asbury" has seen an onslaught of fashionistas curious about Bruce Springsteen's Jersey Shore. Shelves of vinyl records line the lobby. A soaring backlit bar anchors one side of the room. Guest rooms are appropriately beachy-modern, bright and sunlit. Though a couple of blocks from the beach, The Asbury is clearly an Asbury Park NJ hotel of choice for today's style-loving guests. For more info about this hotel and Bruce Springsteen's Asbury Park, read our Asbury Park NJ: Boss, Boardwalk, Boutiques post.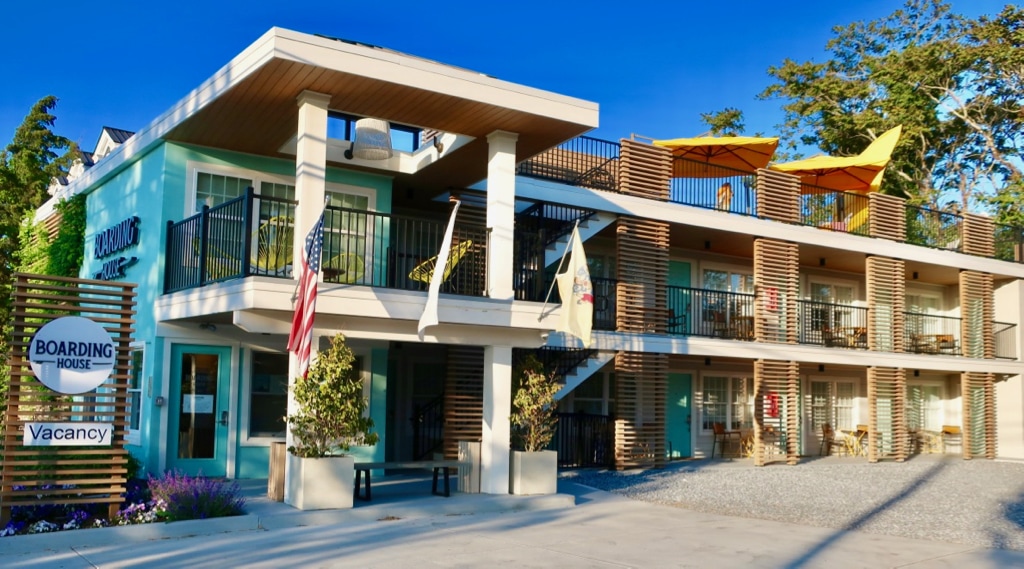 The Boarding House, Cape May NJ
In Cape May, if a hotel is not in town or on the beach, it's got to have something else going for it. And, The Boarding House does. With flair. Let's just say, Black Labs have a ball here. I'm talking figuratively, though I'm sure when actual balls are tossed, they'd love that, too. Yes, well behaved, non-barking dogs up to 80 lbs are not just welcome here. They are encouraged. Rooms are modern, cool and cheerful, but you'll want to join fellow guests on the roofdeck at 5pm for the daily complimentary wine and beer hour. And, water for Fido. Open seasonally. For more info about this hotel and what to do in the area, check out our Cape May NJ Getaway post.
Pennsylvania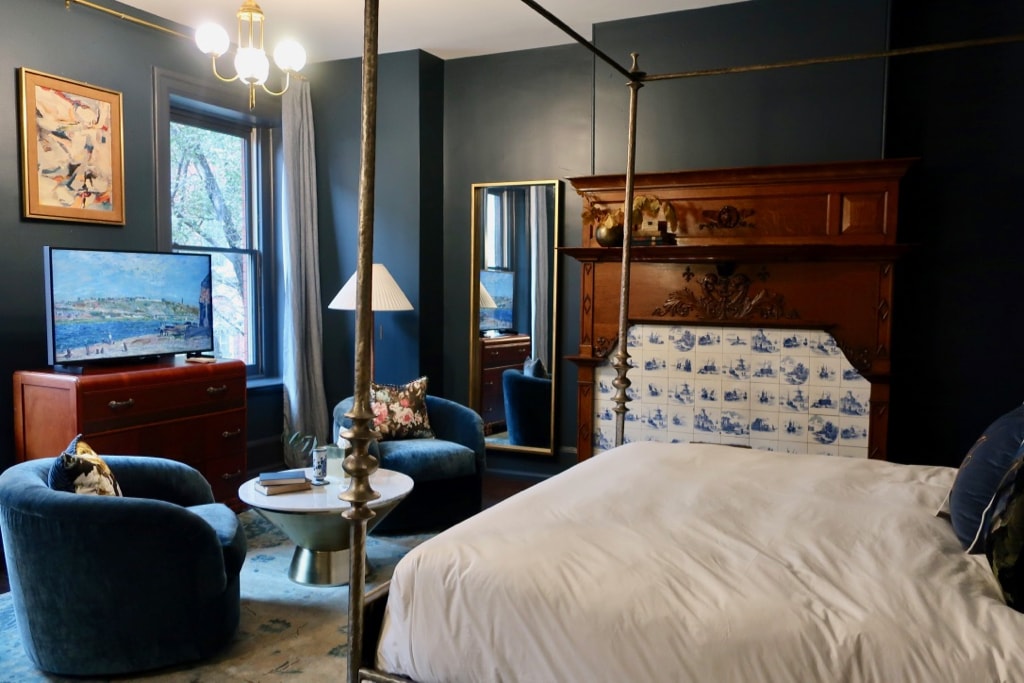 The Guild House Hotel, Philadelphia PA
The Guild House Hotel, a classic mid 1850's Italianate brick row house in an area of Philadelphia teaming with great restaurants, holds some heady history. At a time when women could not enter fine-dining establishments without a husband, feminist Eliza Sproat Turner created what became the New Century Working Women's Guild, which, after several moves, came to this property on Locust Street in 1907. After an extensive renovation in 2021, dining and meeting rooms have been elaborately reconfigured as luxury boutique hotel guest chambers, which, with stunning quasi-Victorian decor and sumptuous private baths, buck the trend of today's contemporary hotel rooms. FYI- This is a "contactless" hotel experience – no staff on site, but at the ready with a phone call. For more about this inn and best things to do in Historic Philly, read our Philadelphia Getaway As An American History Professor post.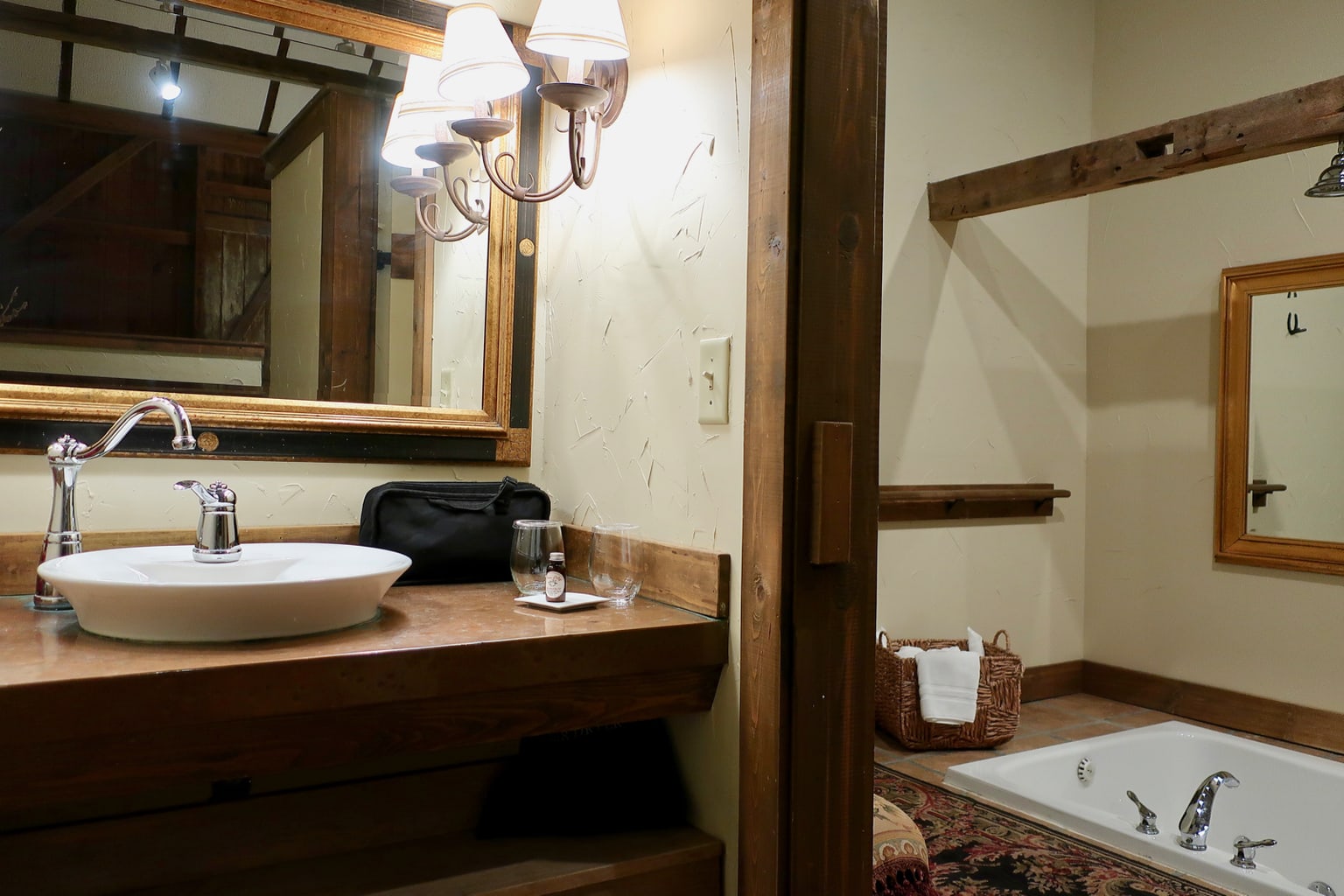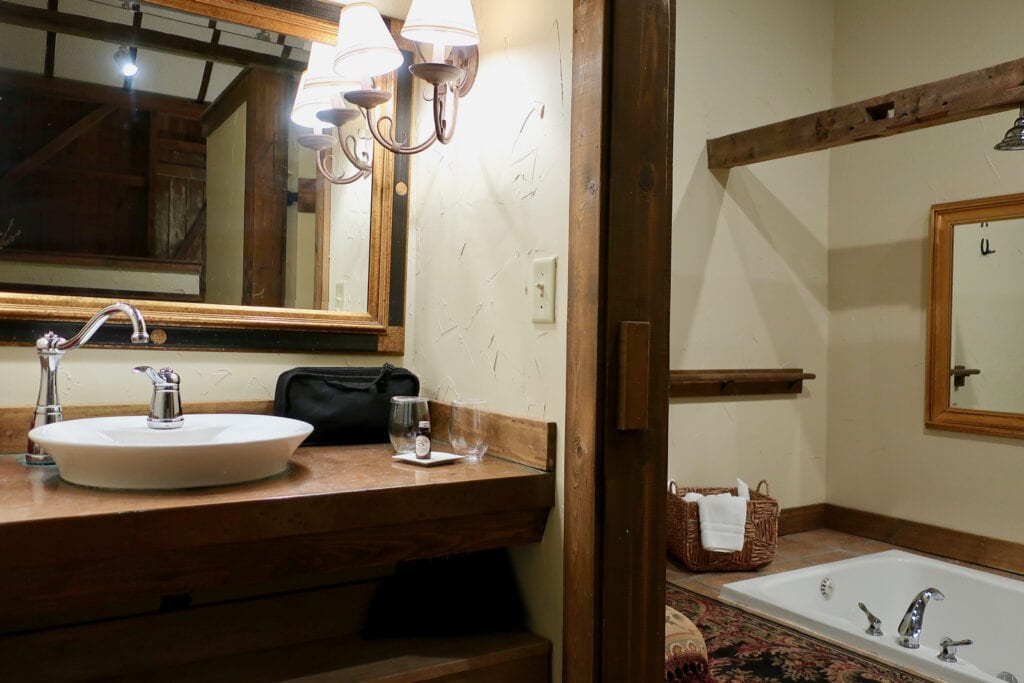 Inn at Leola Village, Leola PA
Though it opened just a mere 22 years ago (2000), The Inn at Leola Village, composed of cottages and buildings reconfigured as 62 high-style romantic guest suites, restaurants, a spa, and shops, has been deemed a Historic Hotel of America. The whole complex is listed on the National Trust for Historic Preservation by dint of its renovated antique farmhouses and reclaimed tobacco barns. If you really want to get away – as, in the midst of rural Amish homesteads – you can't get more enchanting than this. Read more about this inn and what to do in the area in our Lancaster PA Amish post.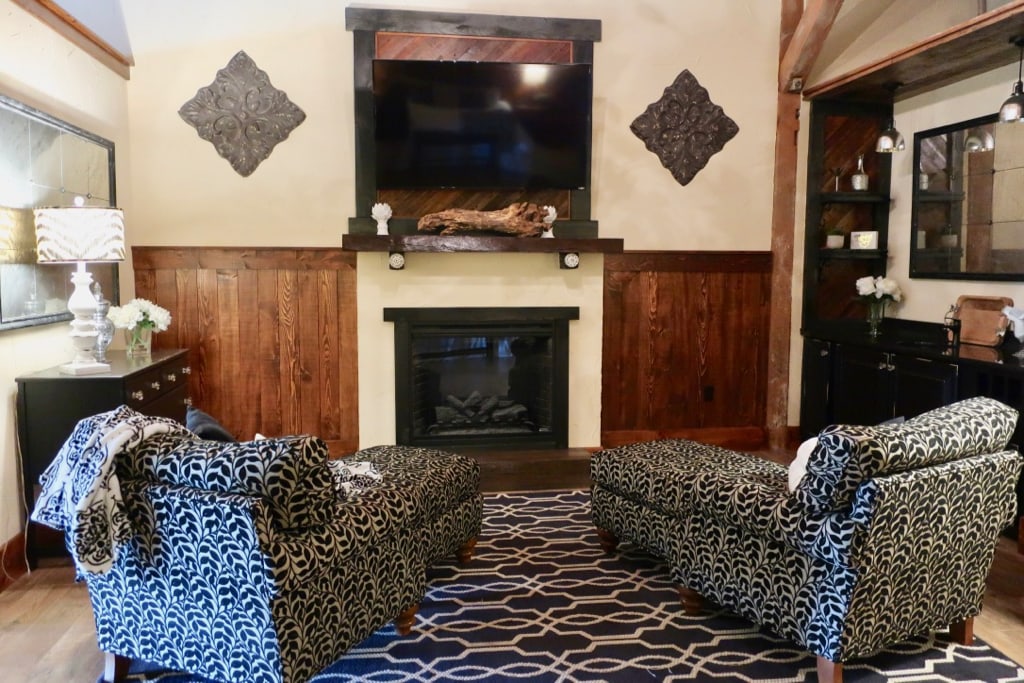 Rusty Rail Brewing Suites, Mifflinburg PA
As someone who frequents luxury hotels around the world, these posh accommodations hours from any major city, took me by complete surprise. I will recommend a stay in this former buggy factory to anyone seeking a real off-the-radar high-end getaway that costs half of what it would in larger towns. The Rusty Rail Suites, situated above a busy brewery pub, are complete apartments dressed in exposed brick, industrial height ceilings, knockout bathrooms, and luxury kitchens. For max-romance, book the Diamond Suite. With its repertoire of sweet sentiments such as "Always Kiss Me Goodnight," and "Love Never Fails," emblazoned on plaques and pillows, you'll never forget why you're there. Learn more about this inn on our Mifflinburg-Lewisburg PA post.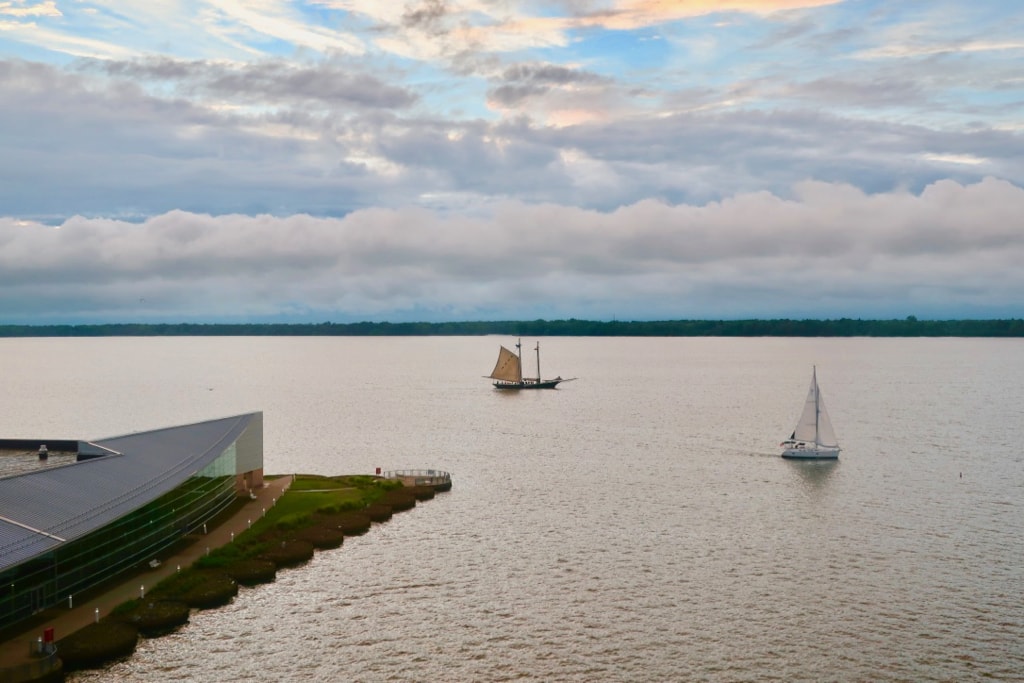 Sheraton Erie Bayfront Hotel, Erie PA
Disregard any negative reviews you might have read about Erie PA. This lakefront city has been hard at work to welcome discerning guests, with new waterfront hotels and restaurants. The Sheraton Erie Bayfront Hotel sits next door to a bustling marina and a new, streamlined Convention Center. Newly refreshed rooms are clean and handsome, with décor that doesn't overpower great views of either Presque Isle Bay or the nearby marina. It's the perfect waterside spot to start (or continue) a Great Lakes romance. Discover more to do in this Erie PA post.
Maryland and Washington DC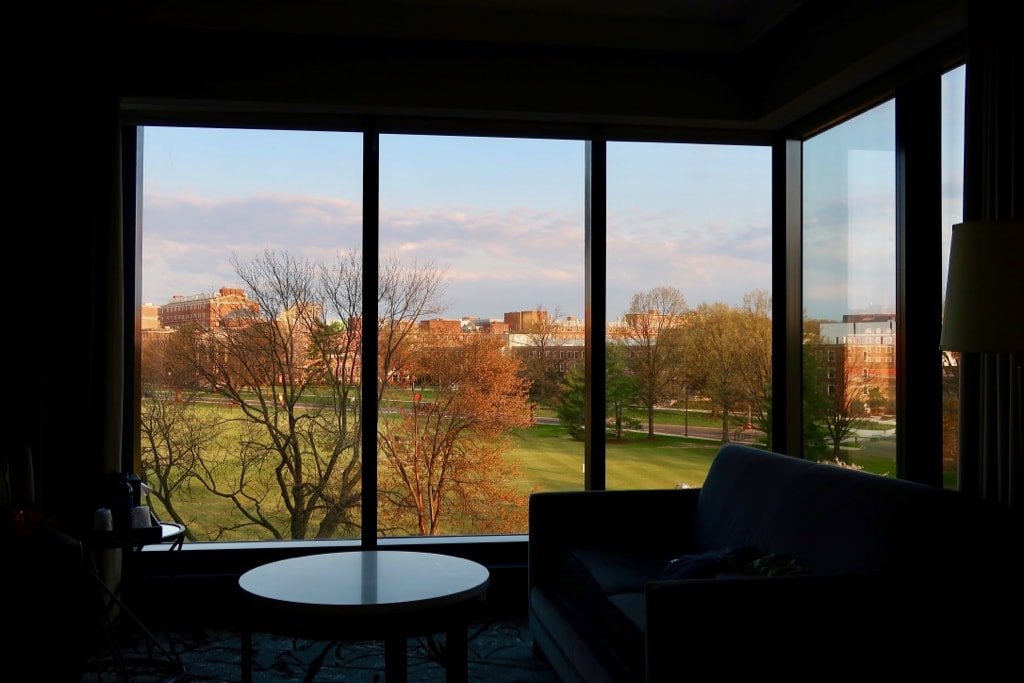 The Hotel at University of Maryland, College Park MD
Did you meet at UMCP? Do you pine for those innocent, first love days? You can revisit them, in style. This University of Maryland AAA 4-Diamond campus hotel is actually artsy and unique. Though from the exterior you might expect a corporate vibe, the aesthetic of this independent, woman-owned hotel is clearly boutique. Best of all, large guest room windows overlook parts of the campus – so you can relive those bygone days while adulting in the lap of luxury. For more about The Hotel – read 10 Best Attractions in Greater College Park MD.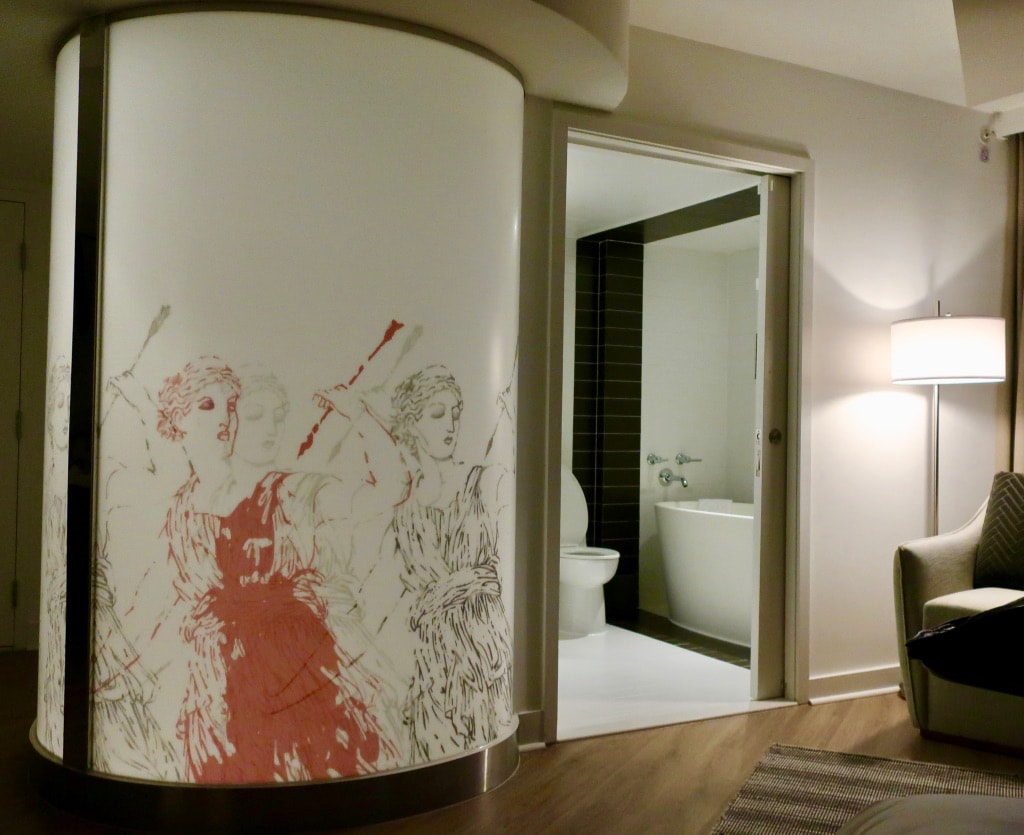 Hotel Zena, Washington DC
Hotel Zena – "part hotel- part art gallery" – is both provocative and fun: a vibrant celebration of feminine power that resonates with guests of both sexes. Plus, it's sexy right into its guest rooms, where showers, emblazoned with kick-ass Greek goddesses, spiral inward like nautiluses. Hotel Zena is one of our three Romantic Washington DC Hotels That Are Sexy as Hell.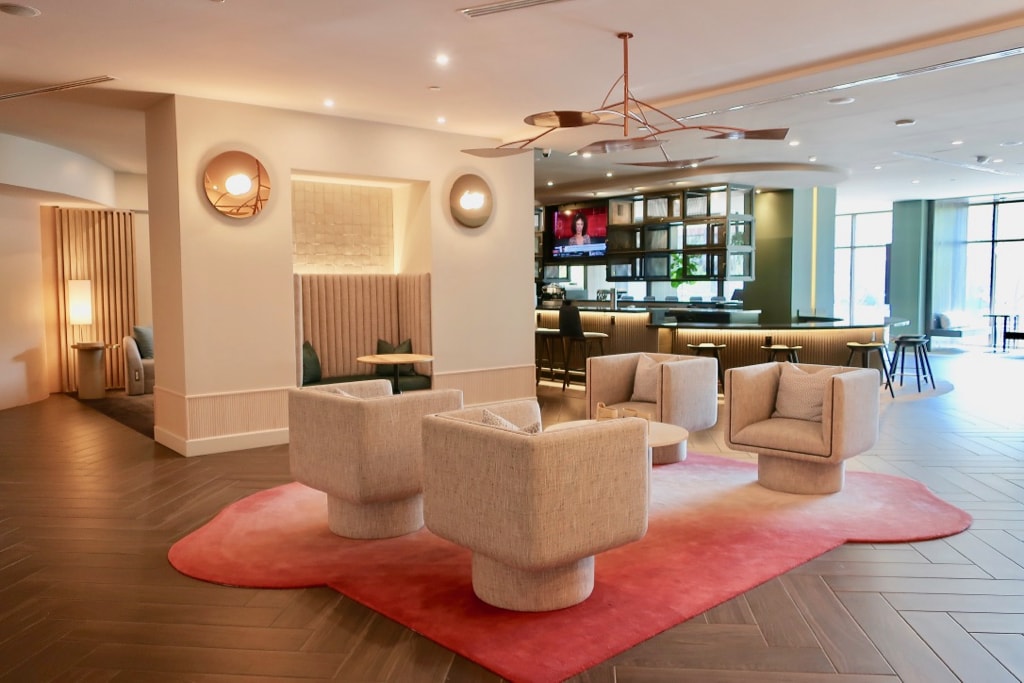 The Ven at Embassy Row, Washington DC
What makes The Ven Embassy Row, (formerly just the Embassy Row Hotel) one of the most romantic hotels in DC? It's soft colors, curved lines, and location. The Ven sits on a mansion-lined street, just 84 steps from DuPont Circle in Washington DC, and is surrounded by stately town homes and foreign embassies. The Ven is also one of our three Romantic Washington DC Hotels That Are Sexy as Hell.
Virginia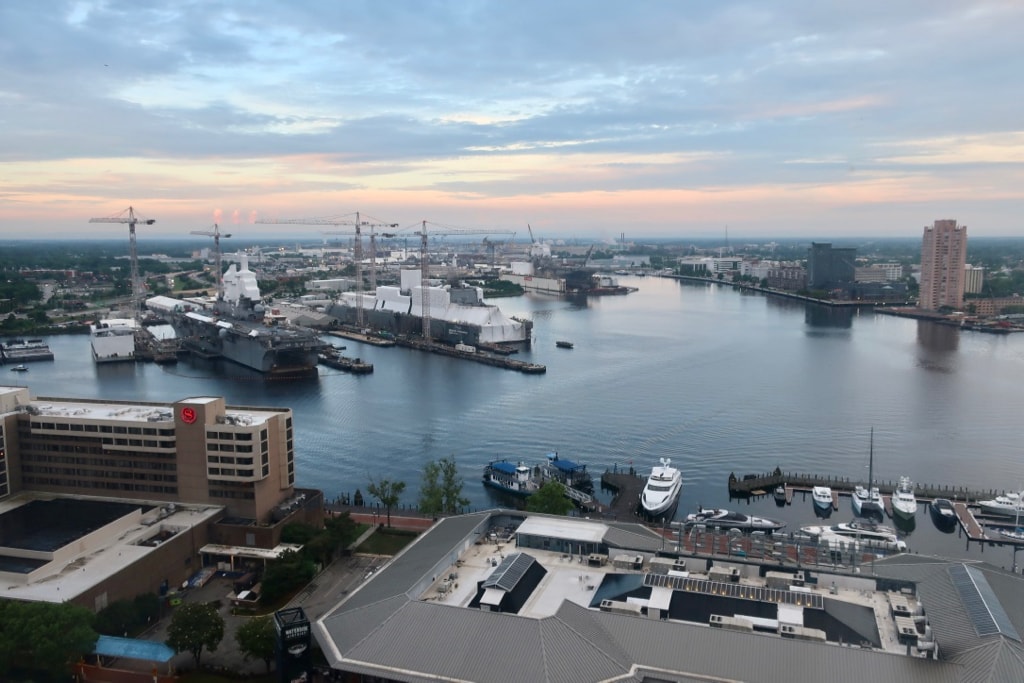 Norfolk Waterfront Marriott, Norfolk VA
This upscale hotel overlooks Norfolk Harbor – so for a real thrill, book a corner room on one of the top floors, which offers unobscured 180-degree views of the waterfront. Watching the comings and goings of commercial and Naval traffic in Norfolk Harbor can mesmerize and stir up couples with a certain nautical bent. For more information, read Norfolk VA Arts and Foodie Getaway.