Where are Mifflinburg and Lewisburg in Central PA? And why go?
The Susquehanna River Valley is in Central Pennsylvania, comprised of the small, but surprisingly romantic hamlet of Mifflinburg PA – aka "Buggytown" – tiny Penns Creek, and the Bucknell University town of Lewisburg. We also add a jaunt north of I-80 to Allenwood PA for a very special reason.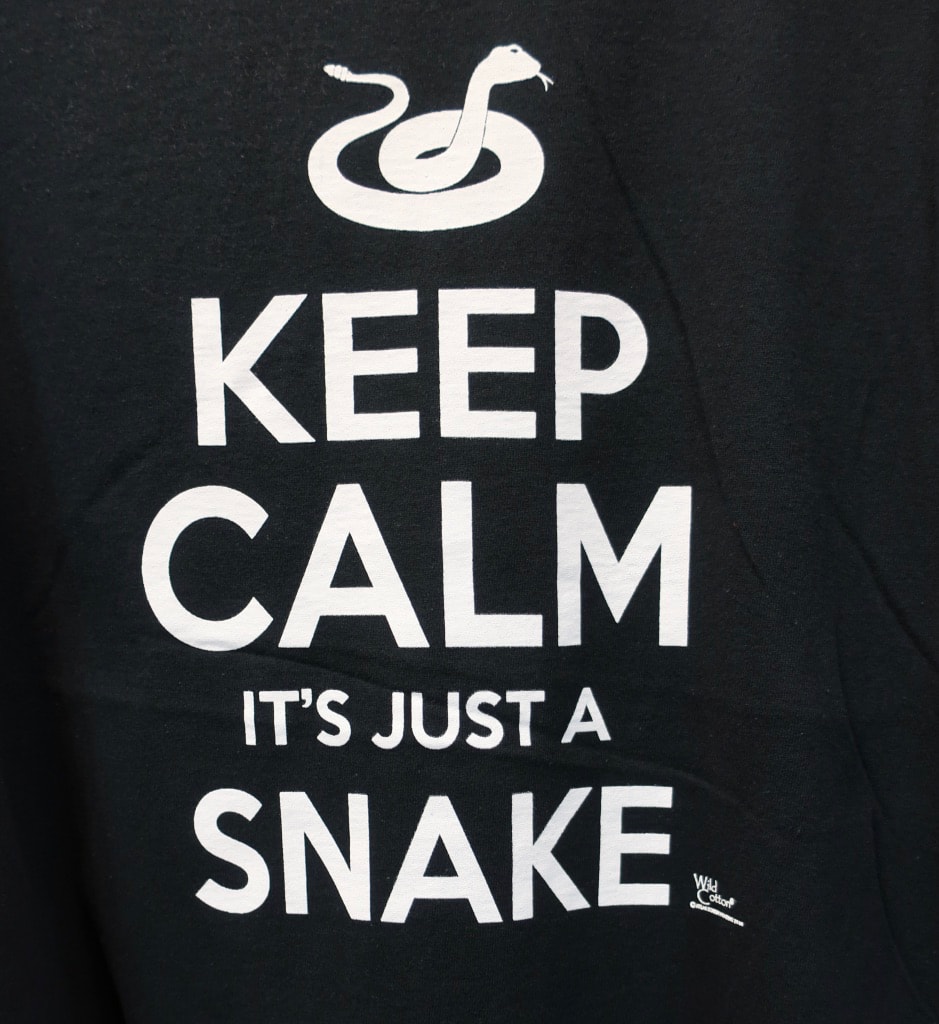 Learn about crawly, slithery creatures, discover the industry that made Mifflinburg famous, be heartened by rescued animals and potters who hand-make bowls the old fashioned way. Eat well, and stay at one of the most surprisingly romantic inns in the northeast on this Central PA Getaway.
Make this a stop on your College Tour: State College (Penn State) is only 1 1/4 hours away.
In the mood for amore? Check out these other ideas for Romantic Getaways in Pennsylvania.
Consult this post for up to the minute info about the Susquehanna River Valley in Central PA.
FYI – the Rusty Rail Brewing Suites are so over the top romantic, they made it onto our 20 Best Romantic Hotels Northeast USA 2021 list.
Mifflinburg-Lewisburg also made it on to the Getaway Mavens 20 Most Popular Romantic Getaways in the US 2021 list.
Things to Do in Mifflinbug, Lewisburg, Allenwood, and Penns Creek in Susquehanna River Valley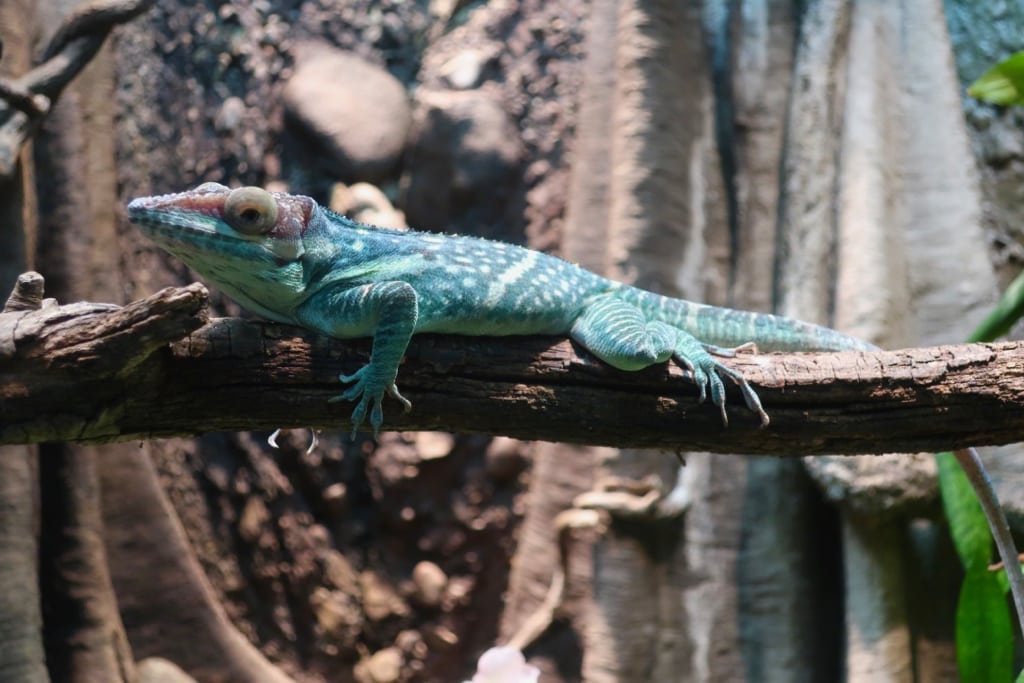 What I first believed to be a hokey, or, worse, stodgy, roadside attraction is, in fact, an accredited zoo with professional cred. Just ten minutes north of I-80 (on Rt 15) in Central PA, it's a can't miss, interactive emporium of cold blooded animals, feathered friends, and nearly living dinosaurs.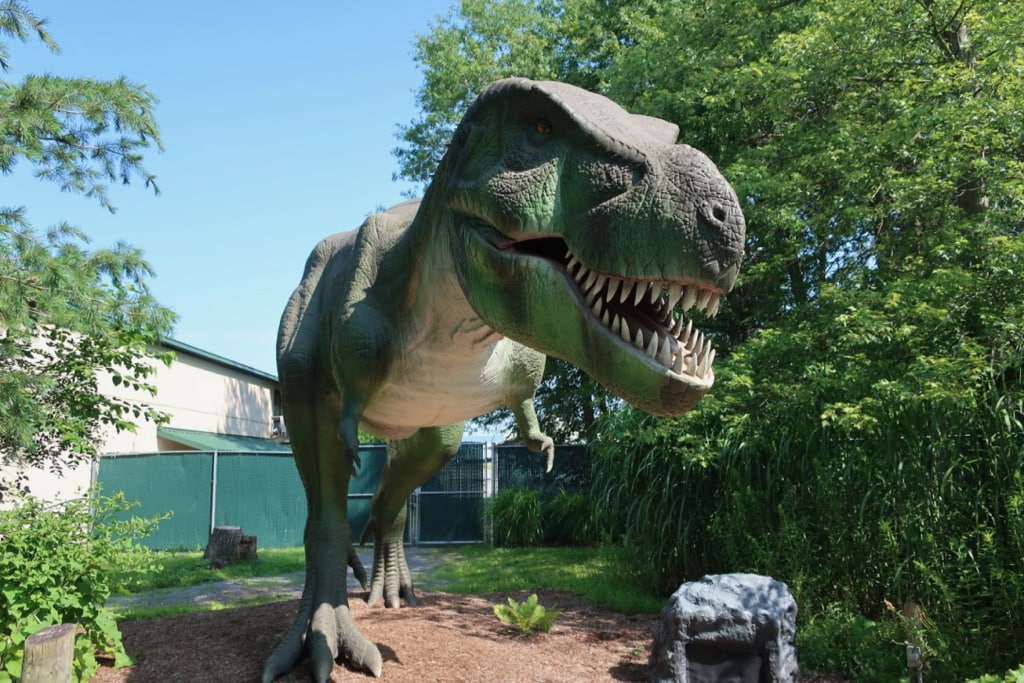 You don't have to be a kid to love this place. Allow two to three hours. You'll need it.
Established in 1964 by the still-working Clyde Peeling, Reptiland has been expanding ever since. If you don't live in PA, but Peeling's name sounds familiar, that's because he spends months each year taking his creatures all over North America. Peeling flies them himself in his plane, while trucks transport the exhibits.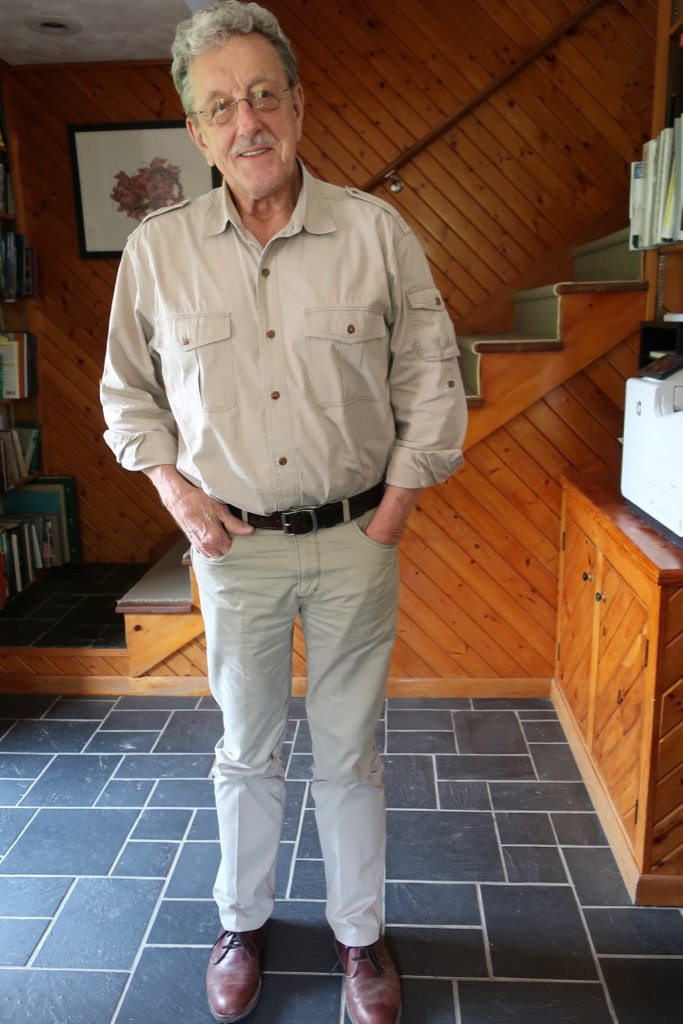 Learning About Reptiles
Evidently, all the living things, including the gem-toned Poison Dart Frogs, are cared for in the best way possible. Sometimes, that means recognizing that when the resident Rhino Iguana bobs his head up and down, he "wants attention and his head scratched."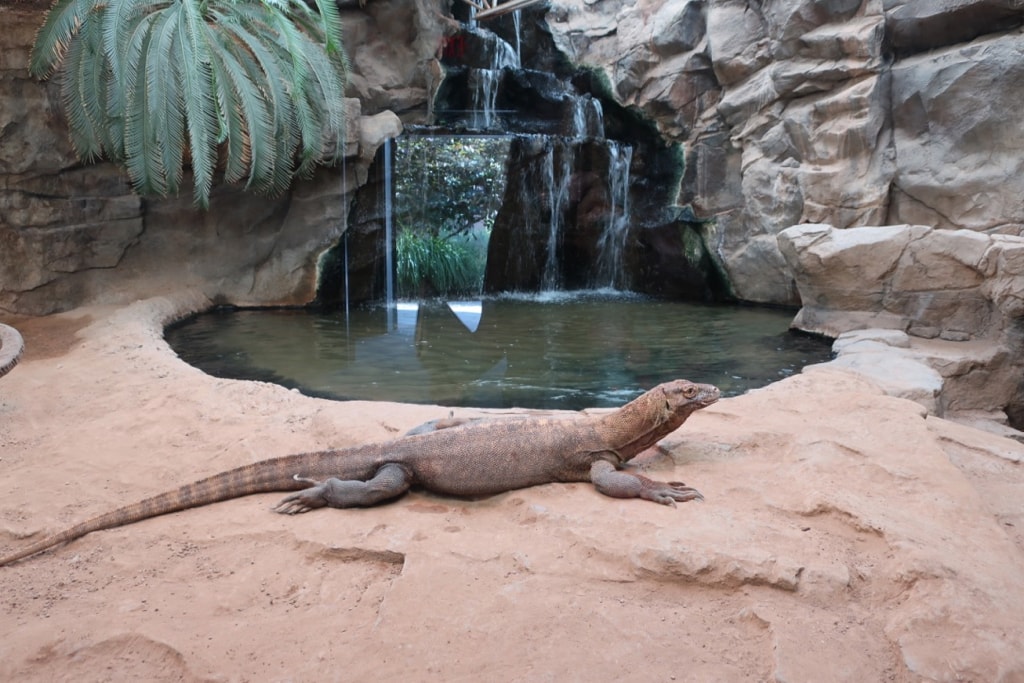 Even the cannibalistic Komodo Dragon, Bonita, gets special treatment. Staff finds dead deer hit by cars, and she'll eat the whole carcass. The zoo is attempting to breed these endangered reptiles that can reproduce asexually, laying up to 25 eggs. It's a tough endeavor, as Komodo Dragons are "not good parents. They eat their young."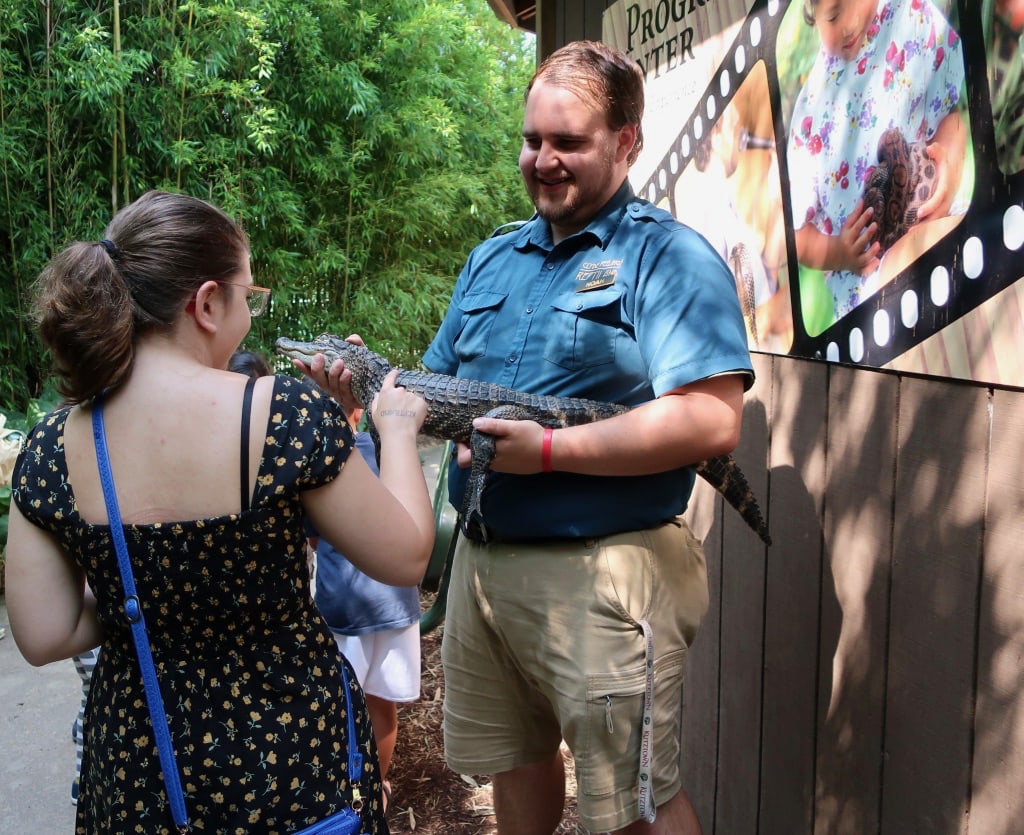 There are all kinds of ways to both learn about and interact with these animals. Naturally, this being a zoo, you'll find a reptile gallery filled with a variety of glass-case enclosed snakes, frogs, lizards, and other silent creatures.
Get the Most out of Reptiland
But, there's so much more to do here. Walk around the six acre park, and you'll get spit on by an animatronic T-Rex on the dynamic Dinosaur Path. You can pet the male Emu ("he loves his neck and head scratched").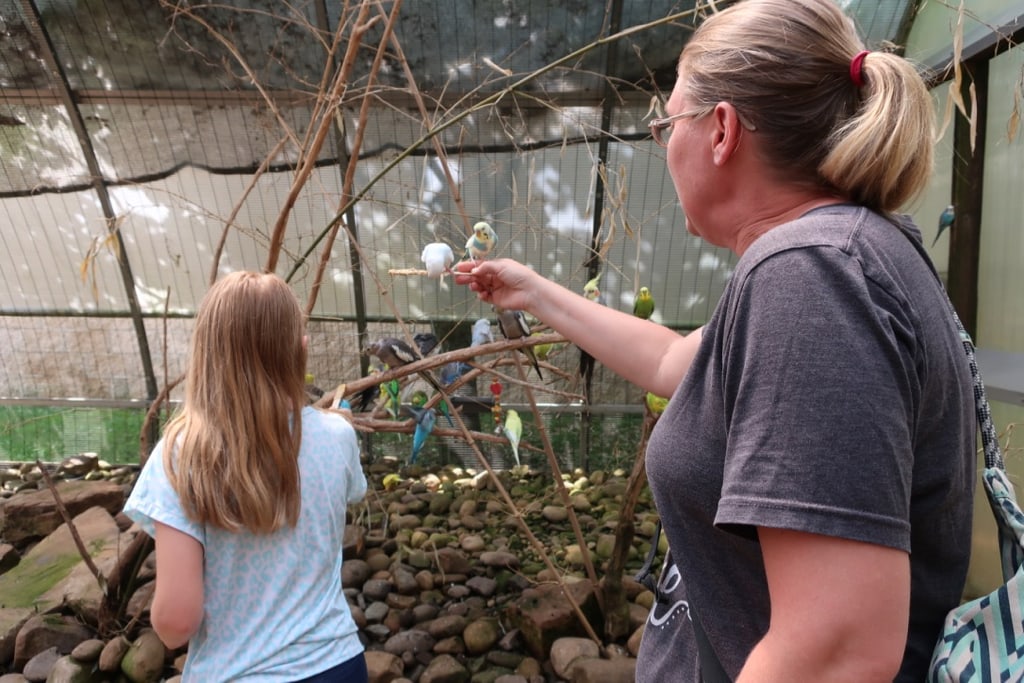 Dig for fossils. Entice parakeets to perch on your arm with seed-covered spoons. Attend lectures about Ancient Adaptations, Lizards and Snakes, and/or Venom – each taking place daily.
For an additional fee ($15) you can have your picture taken with a live Boa Constrictor (my choice, named Brian) or junior alligator.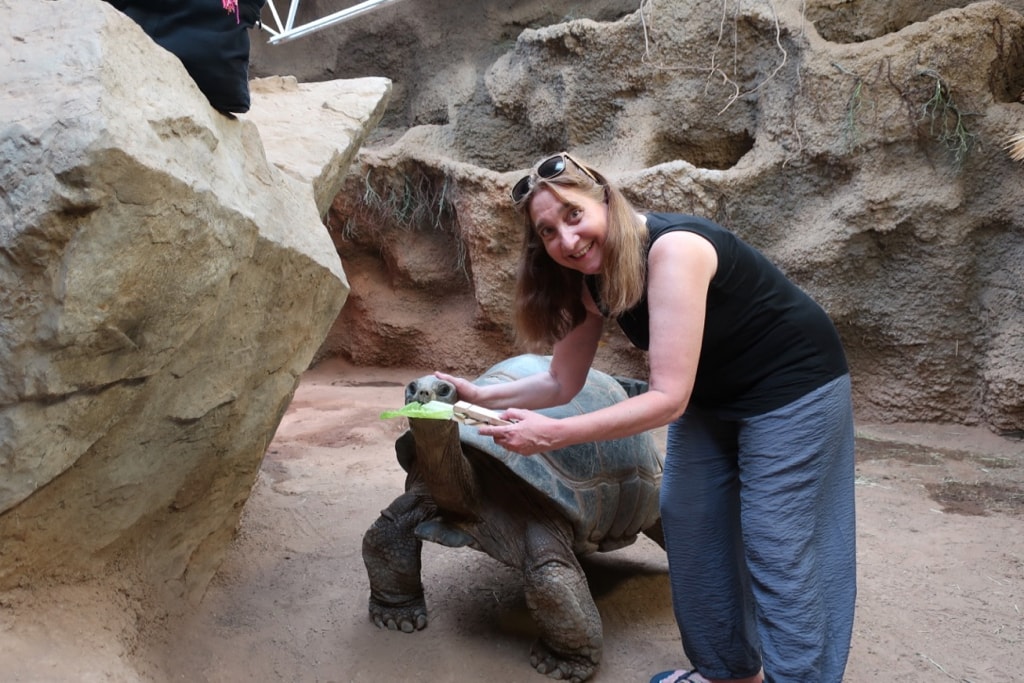 Of all the extra-expense things to do, though, I'd repeat my "Meet and Feed the Gentle Giants Experience"($30). I was allowed 15 minutes with Al and Henry – two very engaging and lively tortoises. I learned that they have nerve endings on their massive domed shells, so I pet them very tenderly.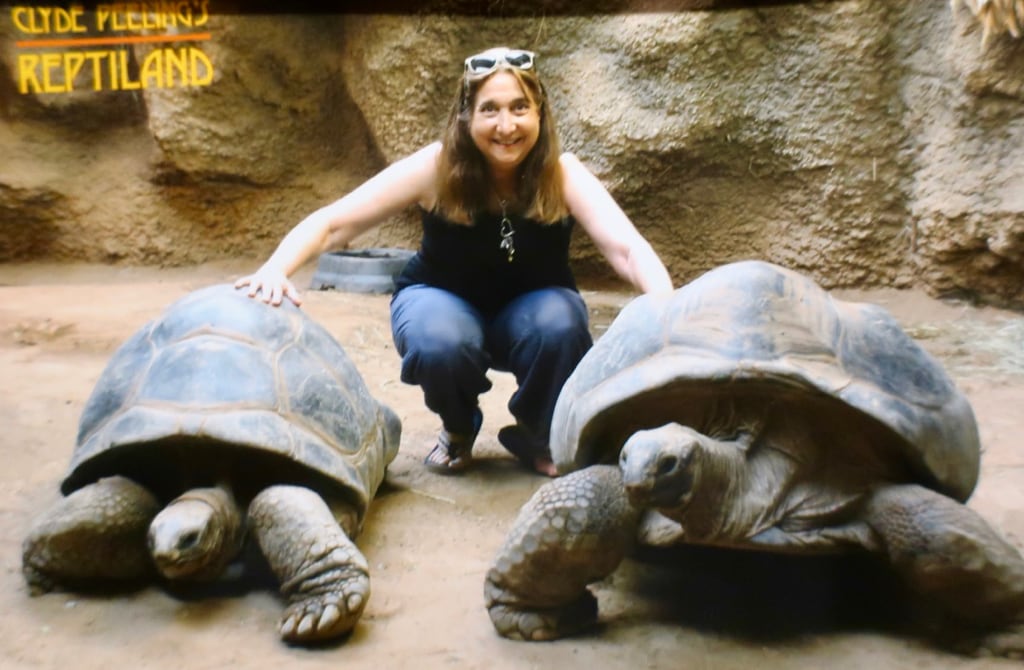 The 60-something year old duo ate lettuce from my hand, and kept their necks long and sturdy so I could scratch their heads and the base of their necks. They seemed to encourage this social behavior. It absolutely blew me away. Open summer daily 9-6, winter 10-5, $18 adults, $16 kids, $15 photo, $30 Gentle Giants Experience, $120 Behind the Scenes for up to 4 (does not include entry fee).
Reptiland is one of the most quirky-romantic places to propose in PA.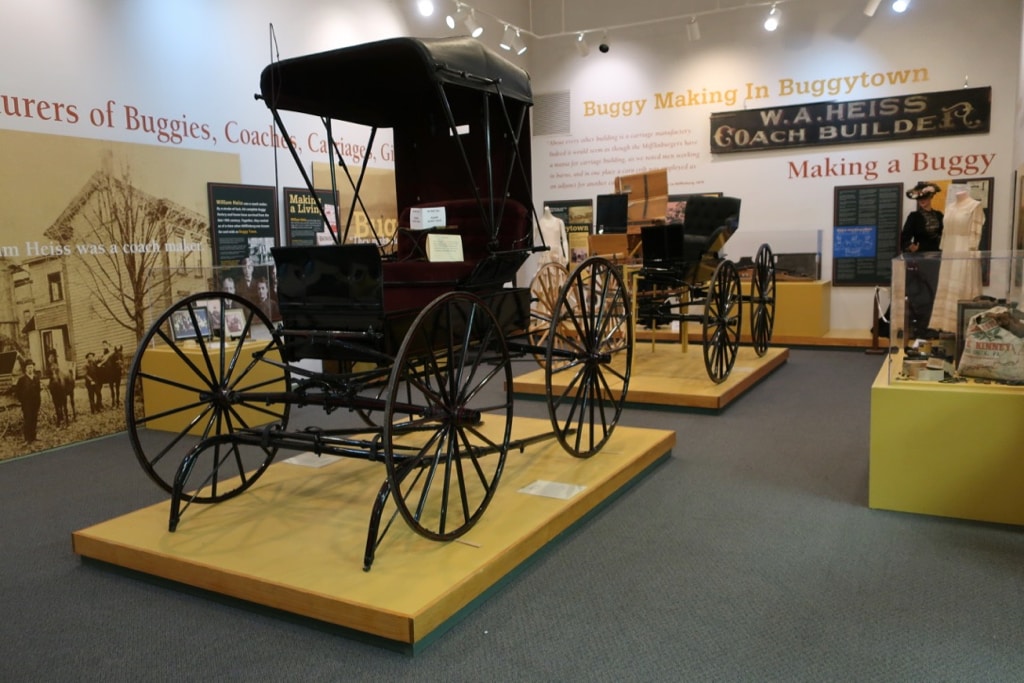 From 1845 into the early 1900's, Mifflinburg PA was home to 91 buggy makers. There were so many, in fact, Mifflinburg was known as "Buggytown."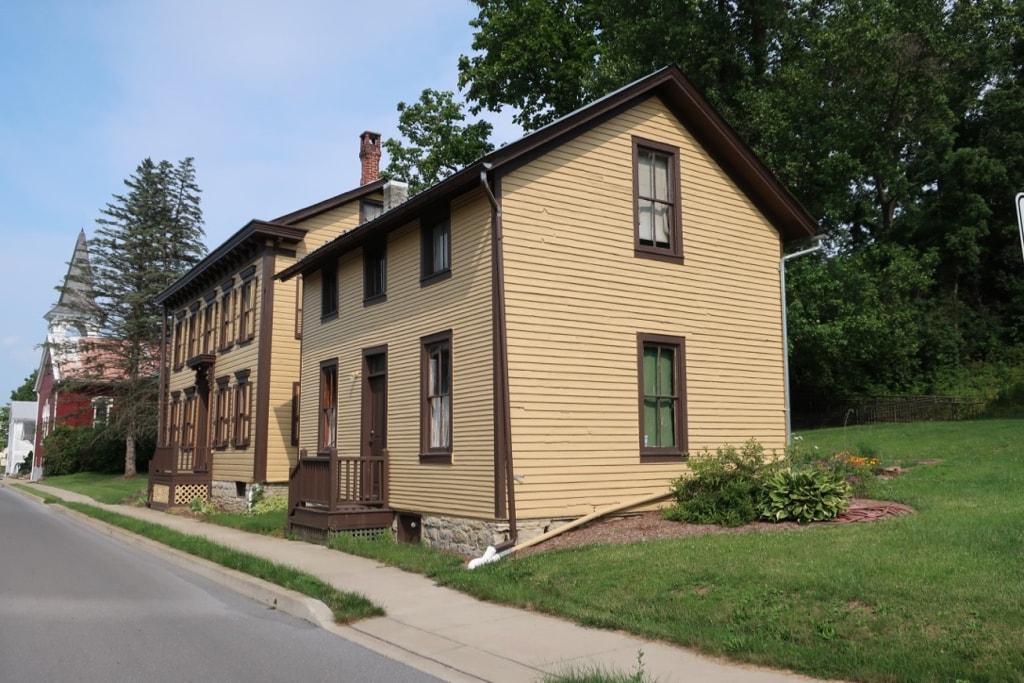 So, to honor its past, and preserve history, Mifflinburg town residents established a Buggy Museum, with lively and entertaining guided tours that delve into the life of one local buggy-manufacturer – William A. Heiss, Coachmaker.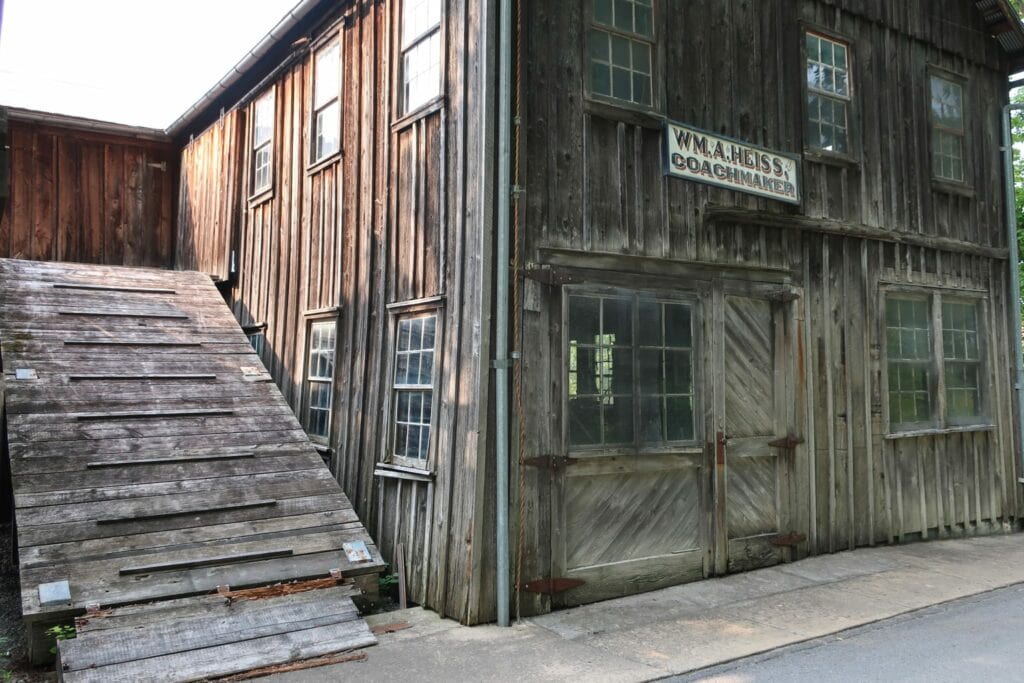 Your tour begins in the barnlike Visitor's Center, replete with several buggies made in town, and lots of informational signage and photos. Families in the buggy biz were not particularly well-off. It wasn't a career that created a great degree of wealth, for the business owner or the town.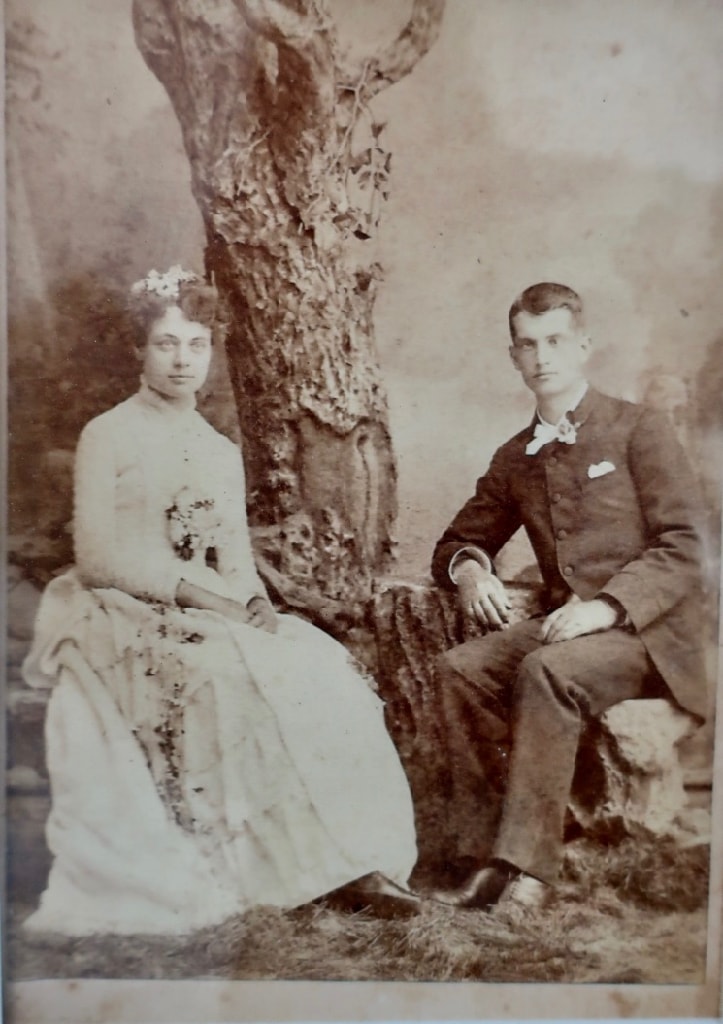 But, as you'll see from this story-filled tour of four buildings (Heiss Factory, Heiss family home, Carriage House, and Repository – or Showroom), the Heiss's had the basic necessities, and some luxuries, such as a telephone, that served mostly as a home intercom, and record player.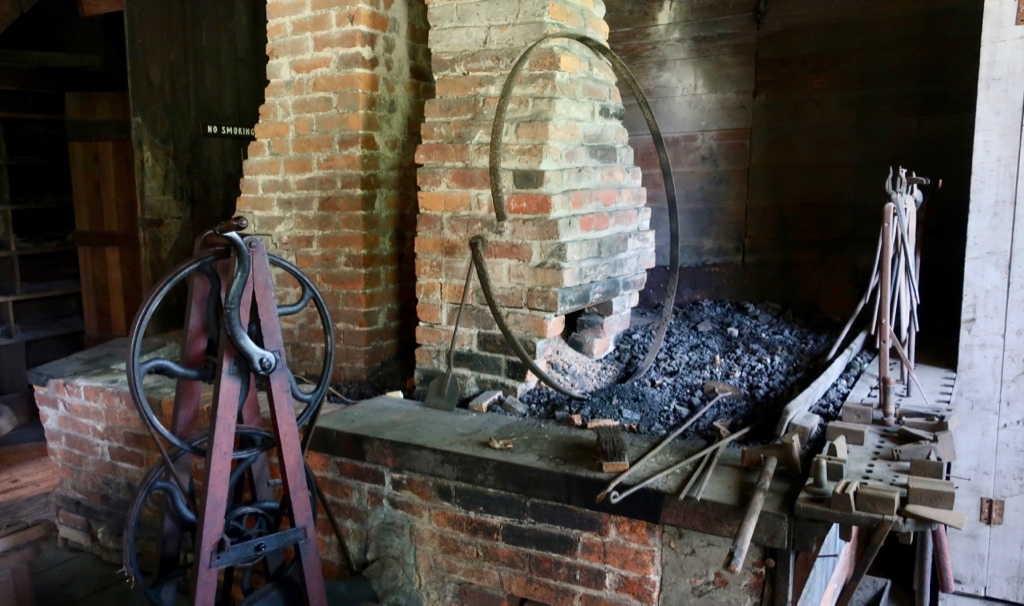 In the mid-late 1800's, the young William and his wife, Anna, were industrious and entrepreneurial. Anna took in sewing and sold "women's health products" as a midwife. William, in addition to running his buggy making business, also sold stoves and twine, kept bees – and was quite handy around the house – as you'll discover. (No giveaways here!)
Buggy Making in Central PA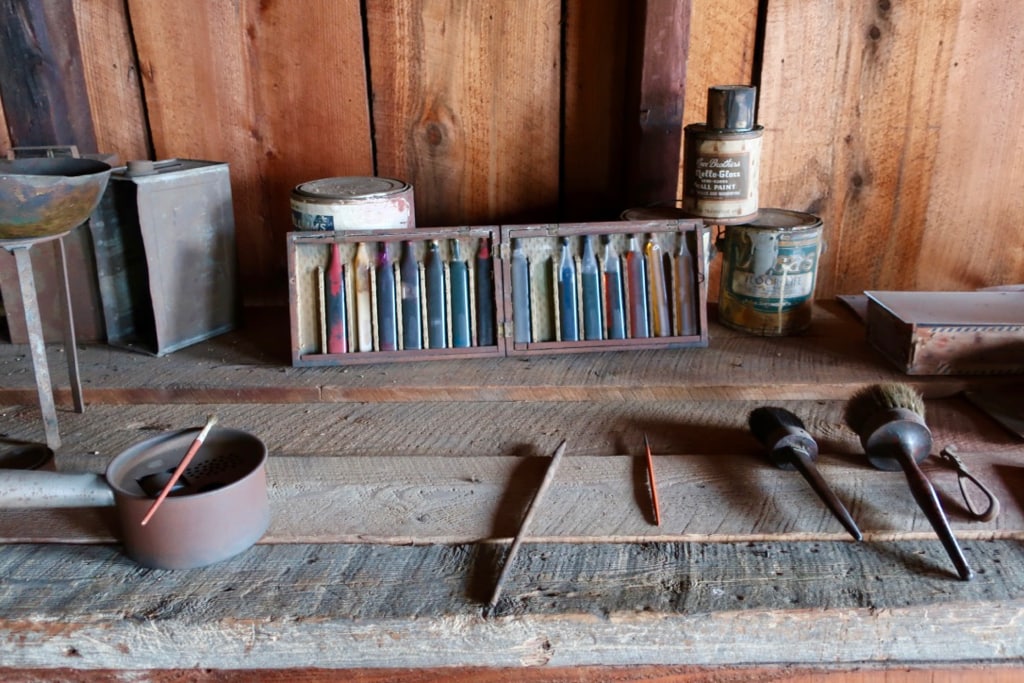 Prior to electricity, assembling buggies by hand was arduous and painstaking. Learn about each step in the process from wheel making (done with a genius blacksmithing tool), to painting, upholstering, and trimming.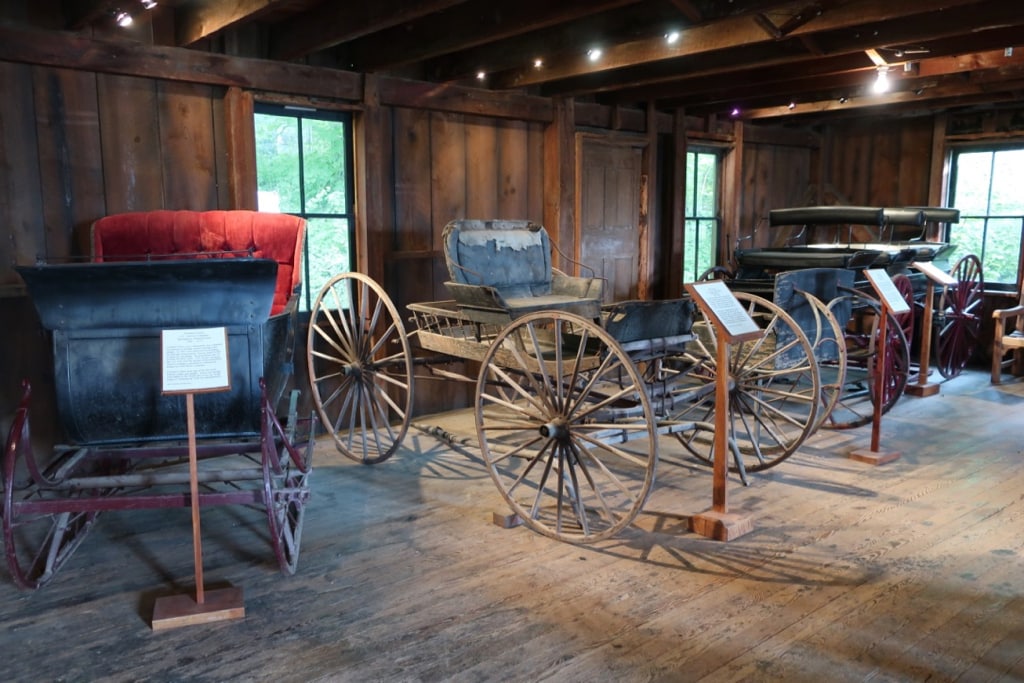 Most interesting to me: a case of paint powders left – still in their original vials – in a hot and humid room. Apparently those were the conditions for optimal drying and setting back then. I was also amused by the low-fi, extremely elemental way that William kept inventory. (Again, no spoilers. But it's as basic as it gets).
The continuous reciting of entertaining stories makes this 1 ½ to 2 hour tour go by quickly. In the process, you'll learn a lot about the strivers and buggy makers of Mifflinburg. It's like podcast meets show and tell – and better than each separately. Open Saturdays May-Oct, 1 ½ hour guided tours $10.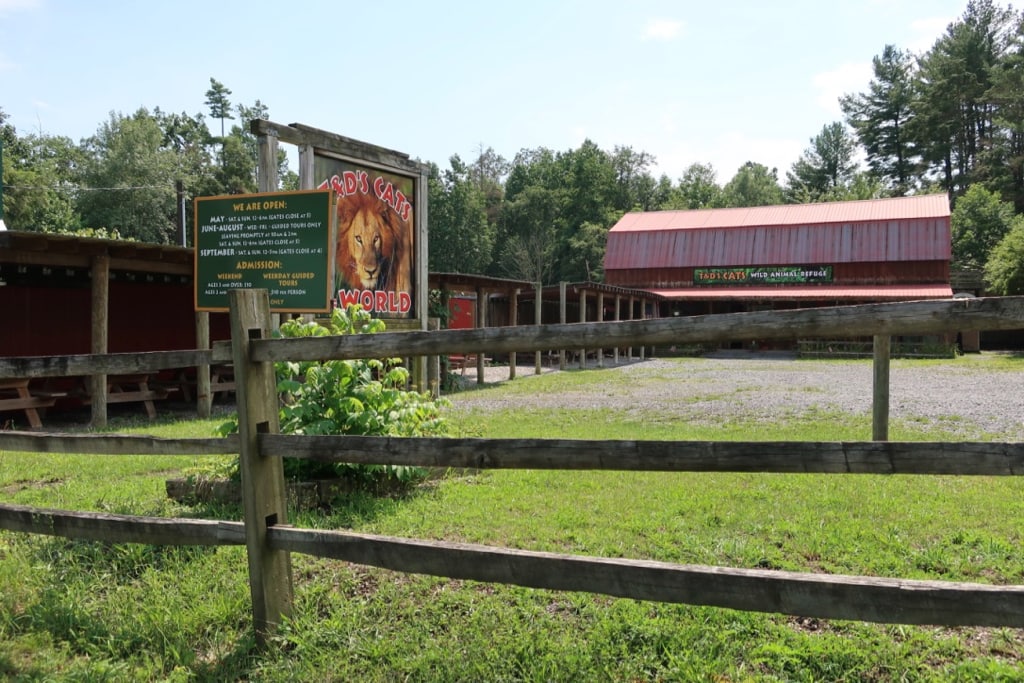 Jennifer Mattive grew up in this world of mistreated, abused and unwanted animal rescue. For 31 years, she's been saving illegally owned confiscated pets, zoo rejects, and birds left alone by hoarders.
Mattive's parents established this place, and still use their own money to pay for food, though it's not enough to care for the few hundred animals (not just cats) that come from half of the US States.
T&D works with government agencies that send confiscated and abandoned wild animals here. Four veterinarians donate their services.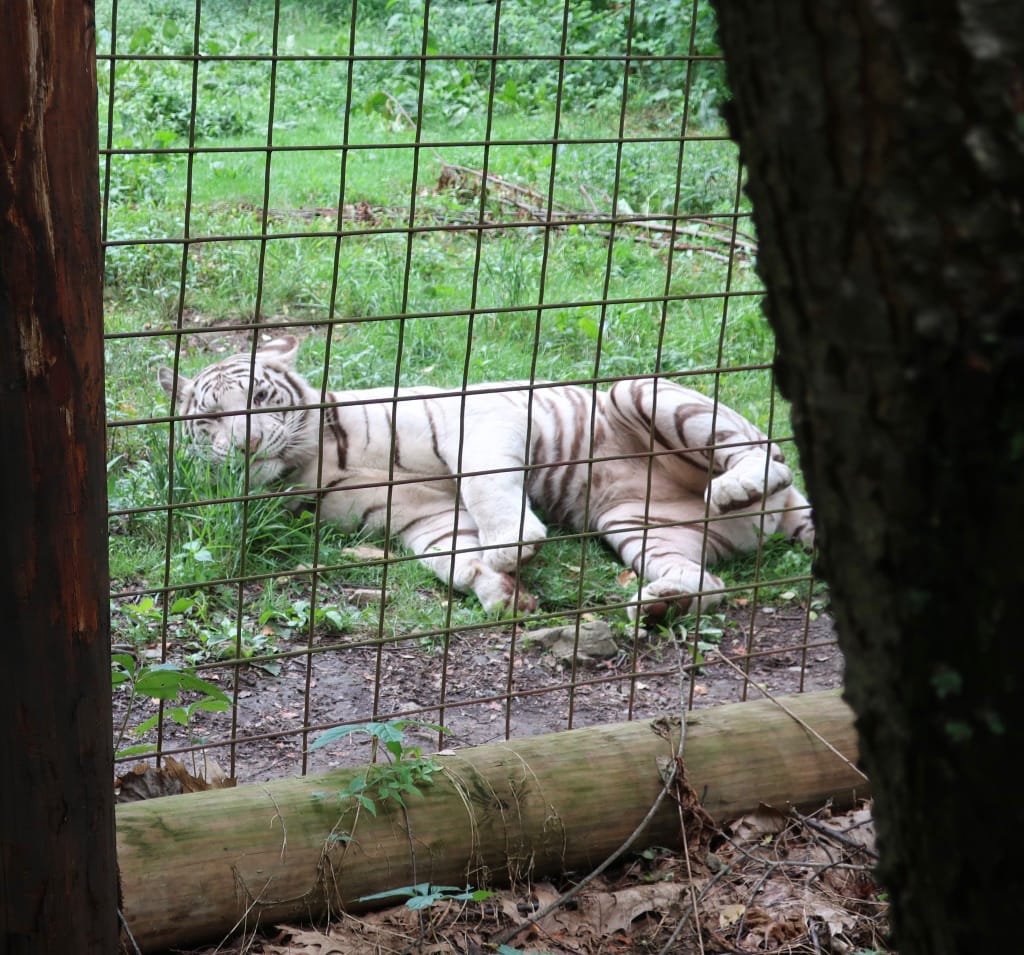 Come for a tour on one of the 70 days per year T&D is open, and you may or may not see the shyest of the critters. "We grow vegetation so that the animals can hide if they want to," Mattive says.
Two new young coyotes, however, seem to be people pleasers. They are doglike, playful, and adorable, and come to the fence and interact with guests.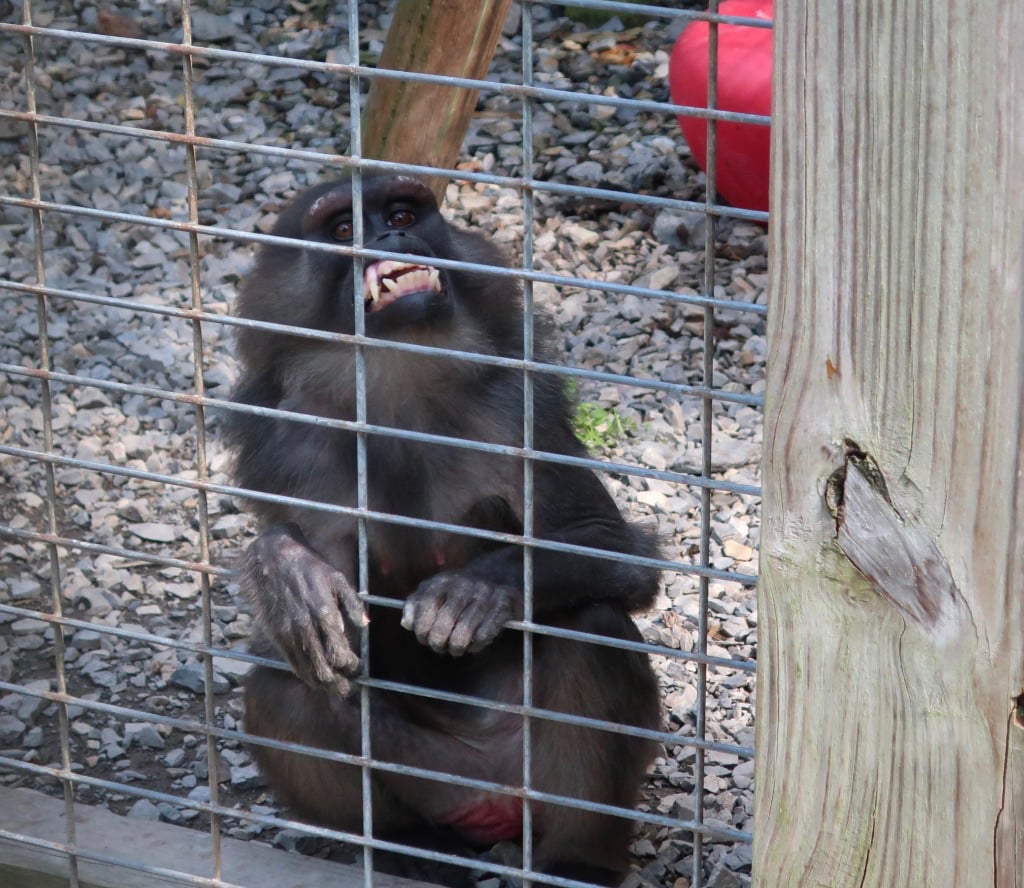 In another case, Mattive tells me that one monkey taught his bro in the neighboring enclosure how to "smile." Now, he does it every time a human comes close.
Visitors will be asked to leave if they make noises or tease the residents. The sanctuary is for the foxes, bobcats, wolves, bears, monkeys, raccoons, tigers, birds, and other creatures that live here. Not for humans, in other words. "We want people to respect them." $10 cash, Open May-Sept. Wed-Fri., tours at 10 and 2pm.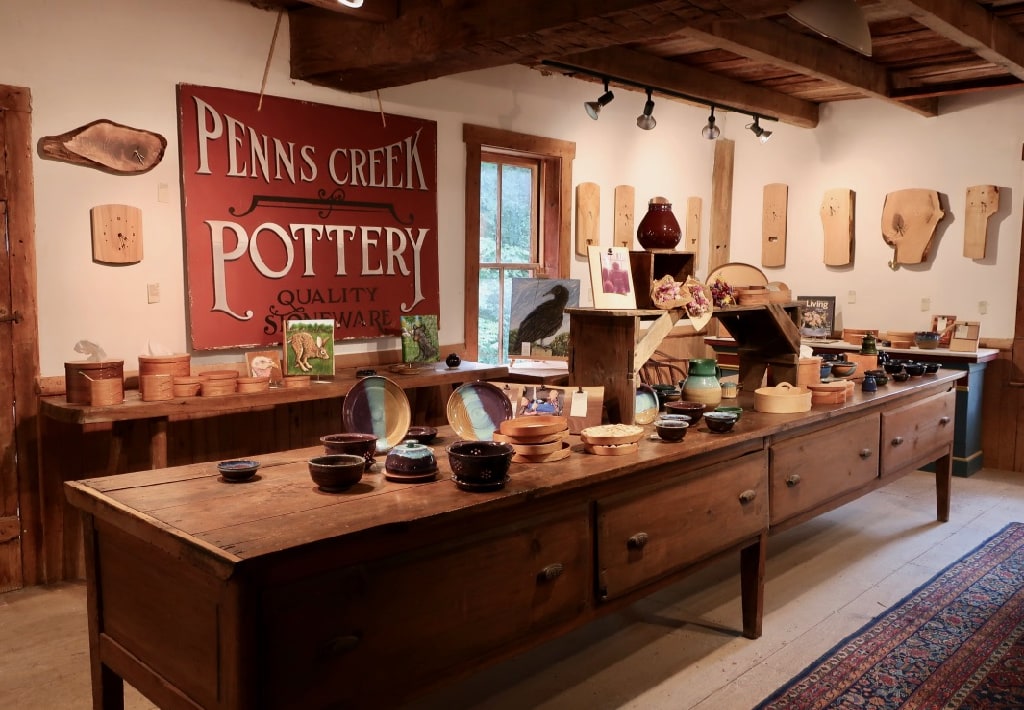 Be sure to stop into this pottery shop in a Penn's Creek gristmill when traveling to or from T&D's Cats from Mifflinburg. Even if you're not into stoneware, visit this exquisite showroom to meet the amiable owners, Bill and Sharon Lynch.
The Lynch's purchased this once dilapidated mill in 1978, and renovated it over 11 years into a gorgeous showroom and production studio. Go upstairs to see the original sifters and other gristmill machinery they kept as reference to the structure's history.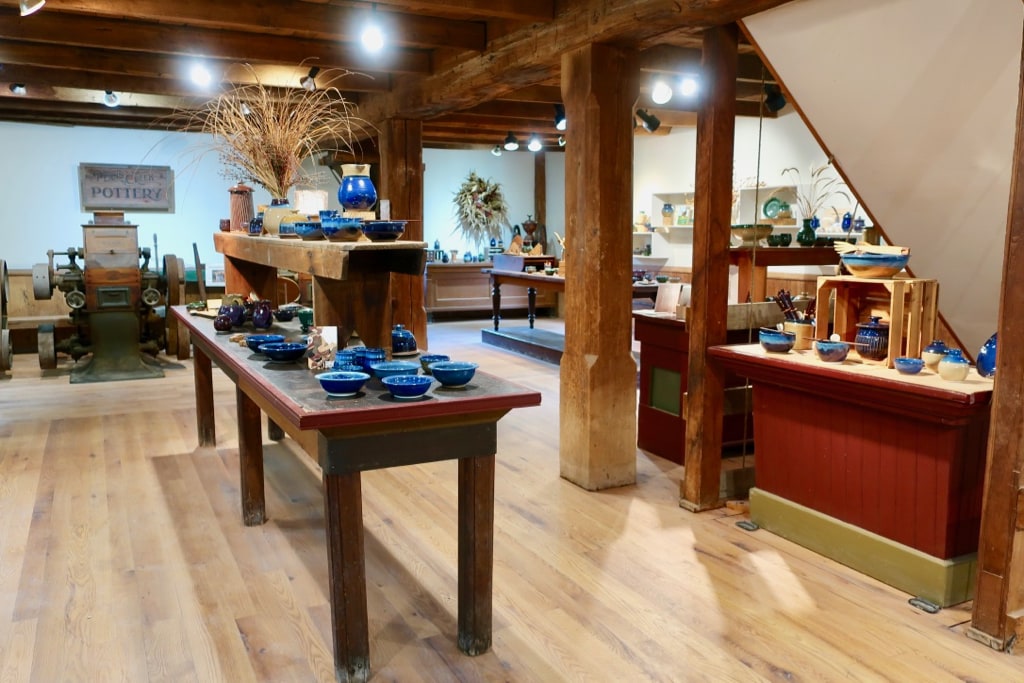 Although they once sold colorful mugs and bowls retail, wholesale, through shows, and then online, the Lynch's now sell only directly to customers who come here. You can watch Bill at the potter's wheel, "so you know what you're getting." Says Sharon, "we love meeting new people and we have very loyal customers."
Should you wish to bed down in this bucolic spot, you can! The Lynch's operate the cute one- bedroom Millstream Cottage, formerly the 1818 Summer Kitchen, right by a rushing creek. $130 per night includes coffee, tea, and breakfast breads, no pets allowed.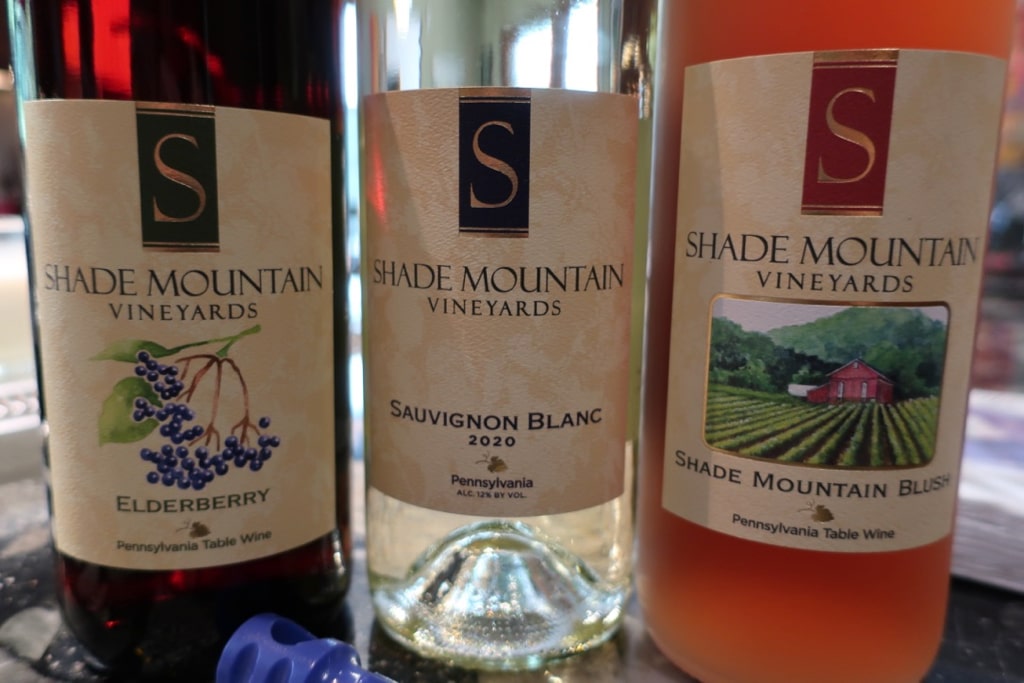 The 70-acre Shade Mountain Winery is a family owned operation. Go independent businesses! Try a Tasting Flight of 5 wines for $10, or a Mimosa Flight of 3 full glasses, also for $10 at one of Central PA's premier wineries.
Add Union Cellars Winery and Fero Vineyards, both in Lewisburg, to fill out your area winery crawl. They, and Shade Mountain are all within a 10-mile drive of each other.
Where to Eat in Lewisburg, Mifflinburg in Susquehanna River Valley PA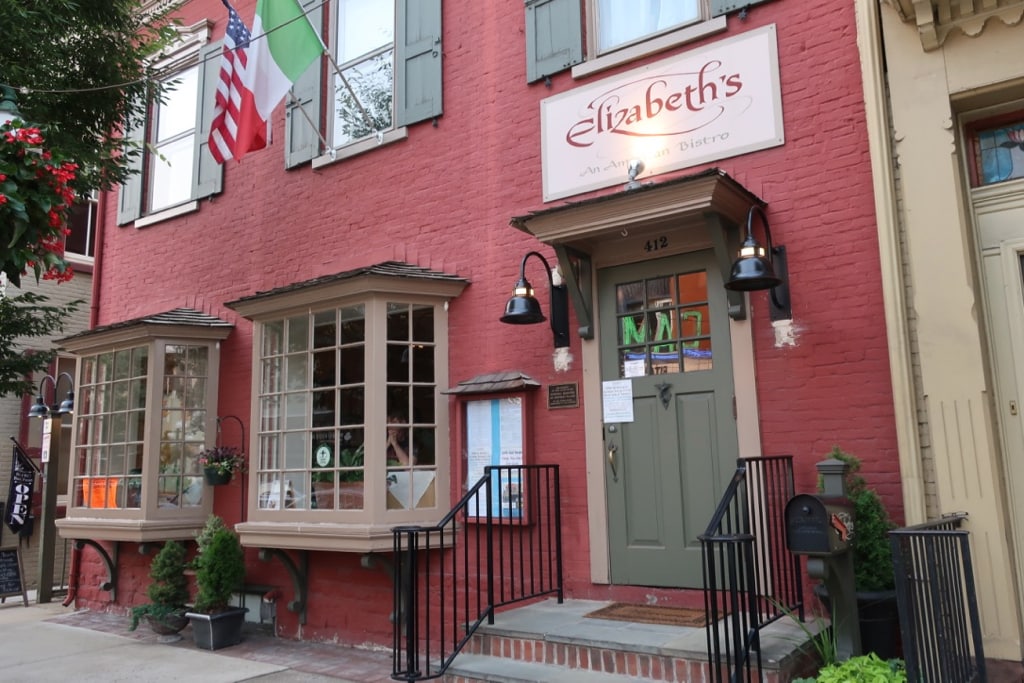 This cheerful, yellow walled "American Bistro" has been a highlight of the Central PA food scene for 25 years. Mention Elizabeth's and many locals, Bucknell students, faculty, and parents will declare it their favorite eatery in the area.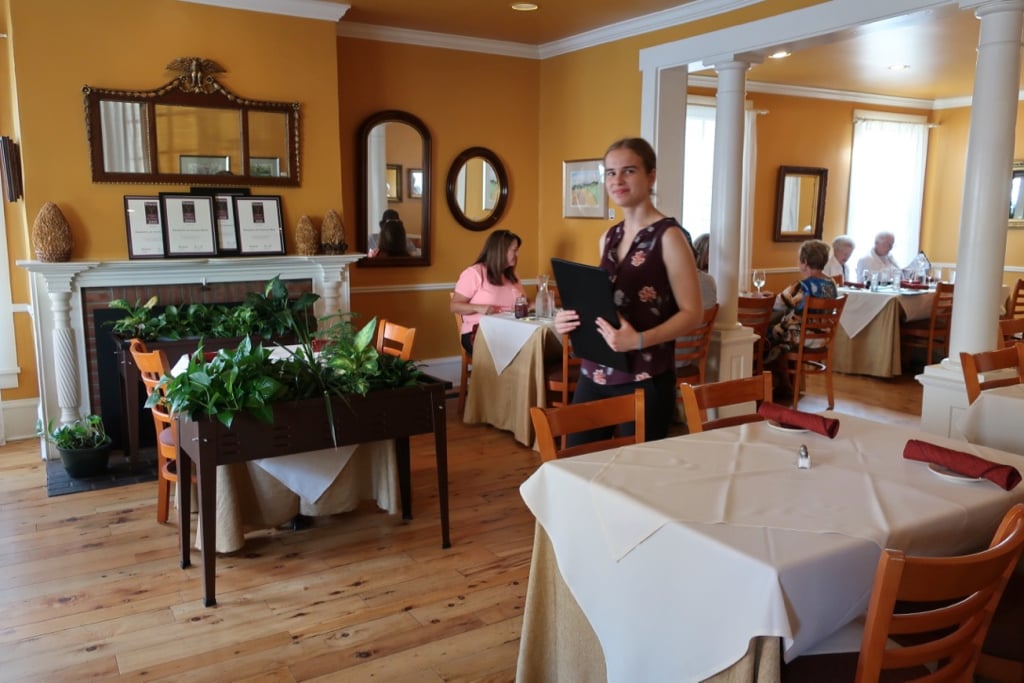 Chef Melissa Geinett creates seasonal dishes using the best produce and meats from local farms. She excels at everything from Brick Fired Pizza ($13), to Tempura Sushi Roll ($15). The most expensive dish on the menu – Grilled Beef Tenderloin ($37).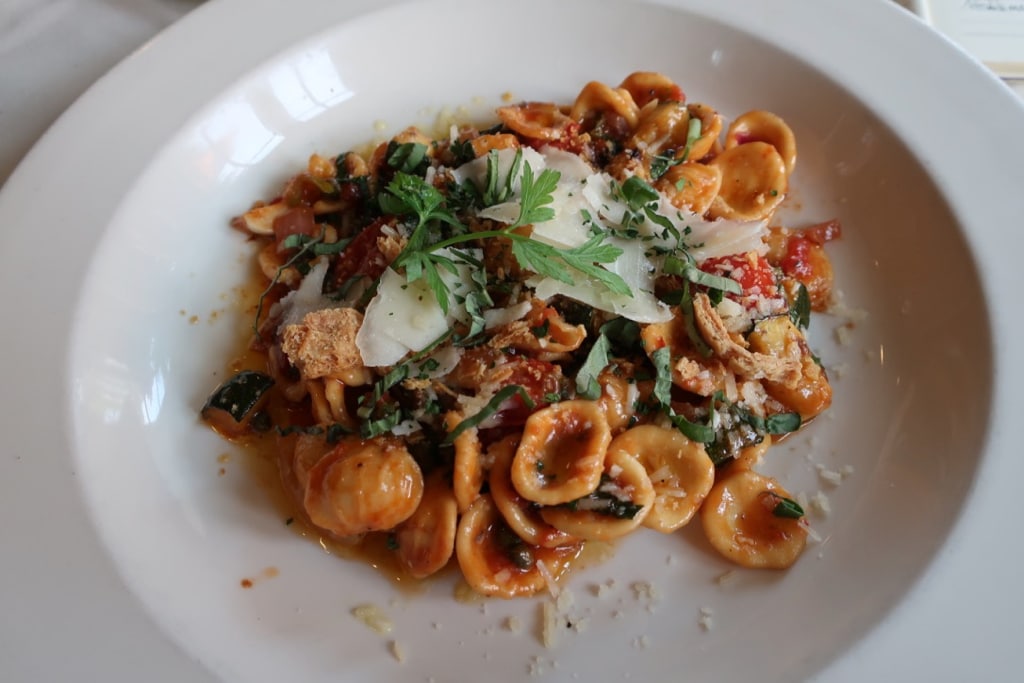 I ordered the "Egg Free Caesar Salad" – a perfectly dressed balance of tangy-crunchy freshness. The Summer Pasta, (1/2 portion $13 – plenty for me), was a delightful amalgam of Orecchiette – "little ears" – pasta, zucchini, and blistered tomatoes from Mifflinburg. I scarfed up every morsel.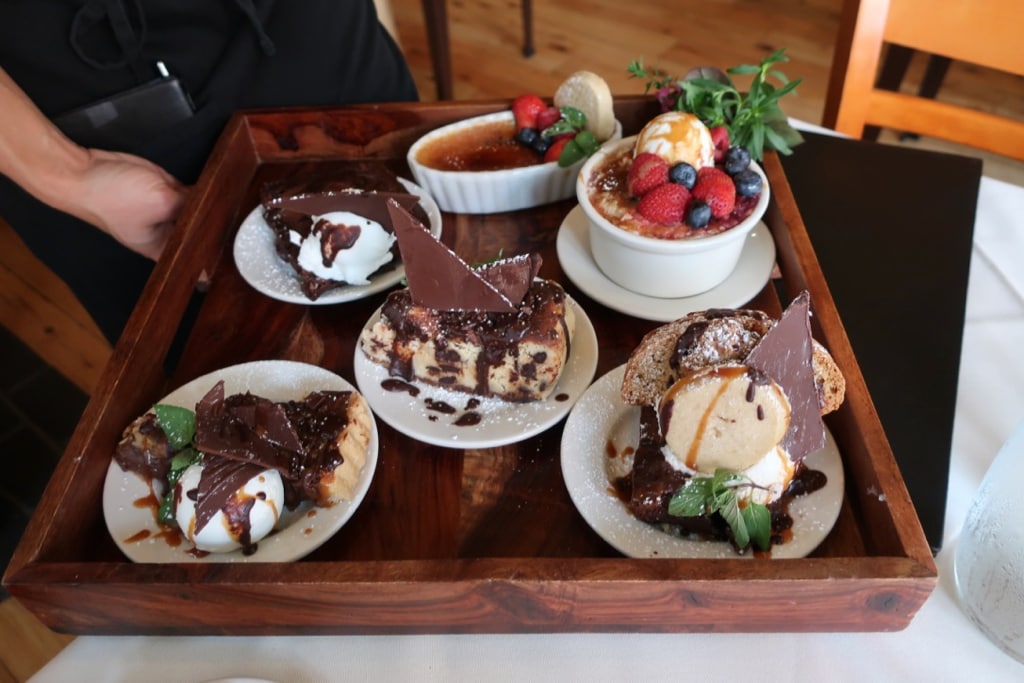 Desert is a "whole thing," said my adorable, attentive waitress, as she brought a tray of six options to the table (like the desert trays of old), all made by Elizabeth herself. It was tough to choose, but I settled on the Milk Chocolate Salted Tart. Like everything else here, it was a hit with my taste buds. I left nary a crumb on my plate.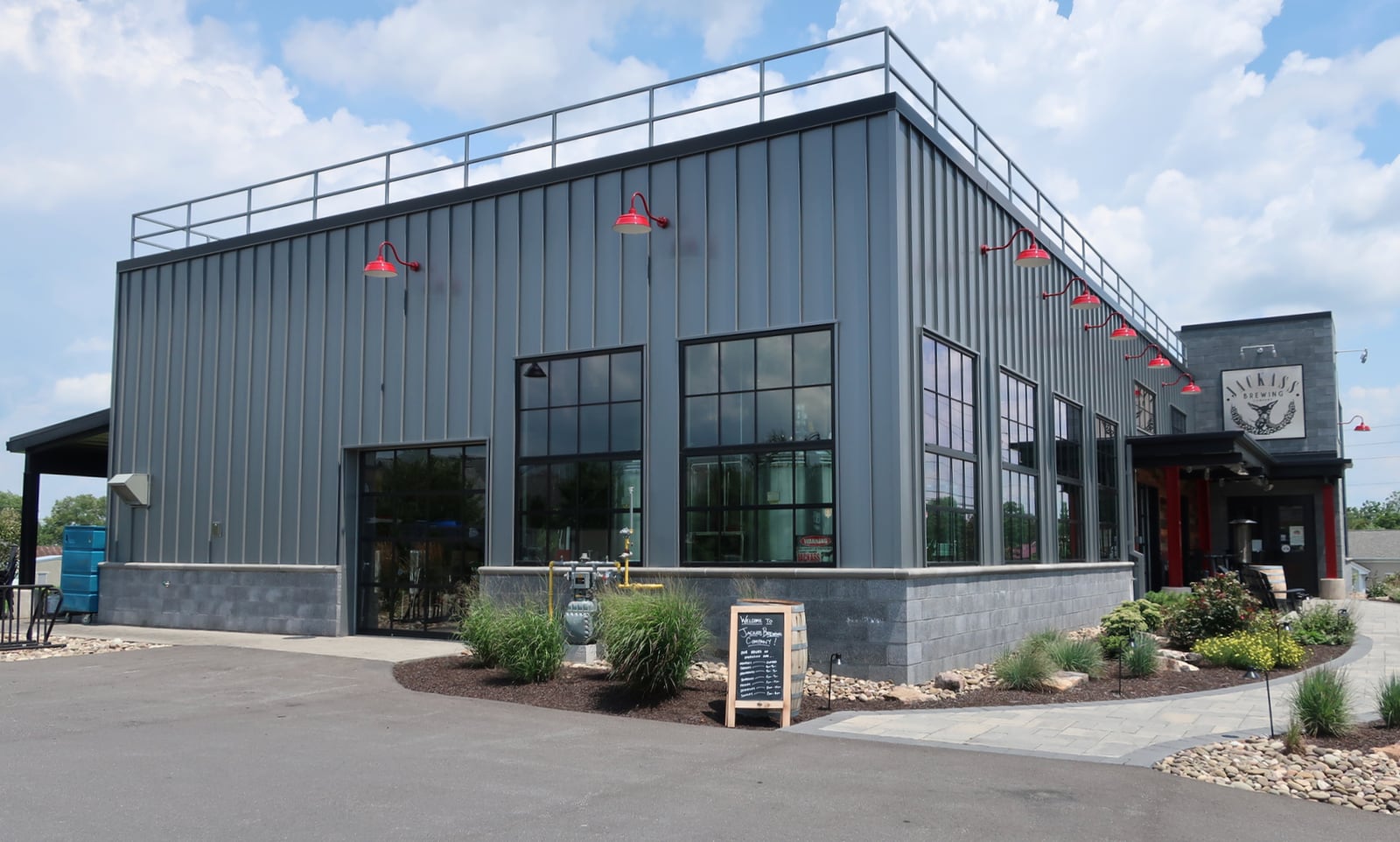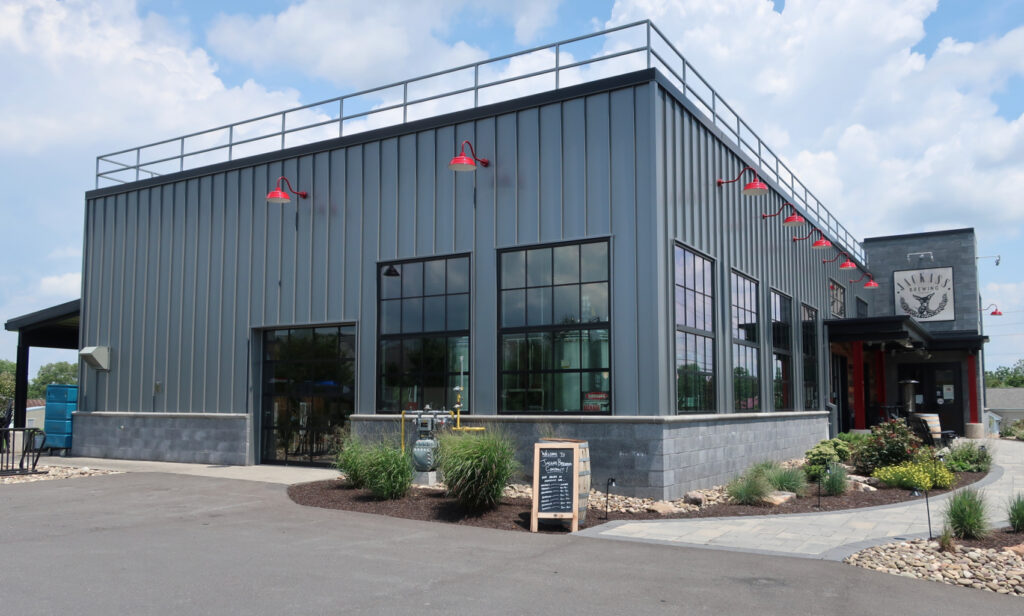 What happens when a dentist and 4th grade teacher decide to brew beer, and then make so much they can't possibly drink it all? They open up a brewery, of course.
Larry Winans (dentist, just retired after 27 years), and Chemistry Major, Skip Kratzer, still a teacher, have been friends for a long time. Says Winans, "my purpose in life is to make people happy." Evidently, that purpose involves a lot of beer. Why "Jackass?" "Just hang around us for ten minutes."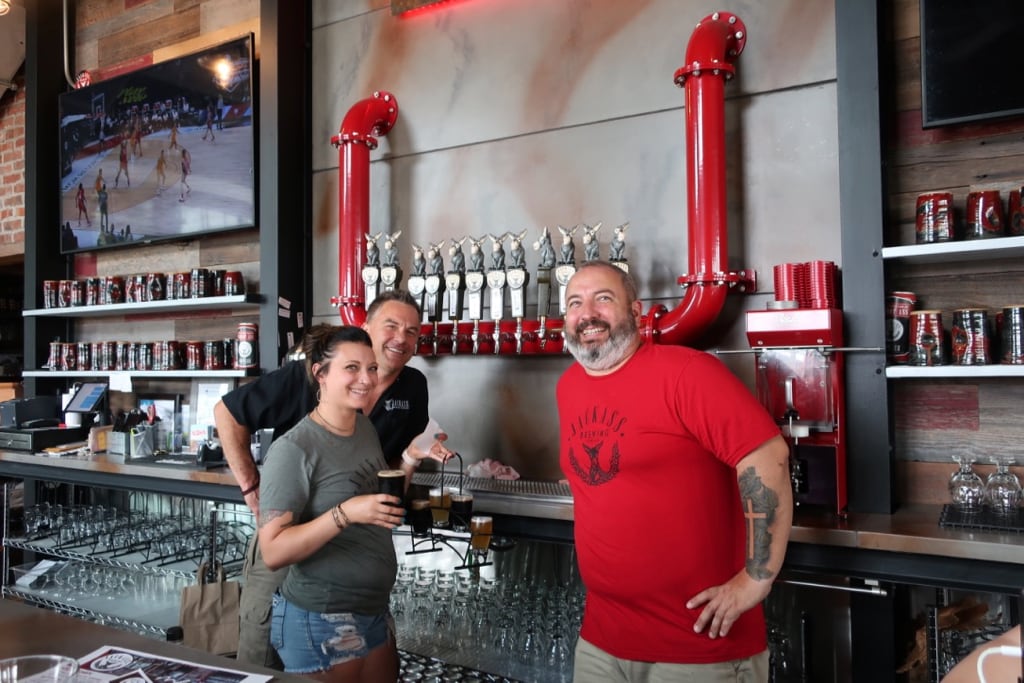 The two friends built this brewpub from ground up – a beautiful modern edifice you can miss on the main road from Mifflinburg to Lewisburg. They opened at an auspicious time – March 2020 – five days before Covid lockdown. Thankfully, as many breweries thrived during that time (takeout growlers, anyone?), so did Jackass.
Now, people line up at the door before opening time at 11am for great beer and good grub – all with witty names. Try the "Moms With Pitchforks Triple IPA" or "Lushy Ass New England IPA." Jackass has some delish sours as well: the malt forward Imperial Sour, and Donkey Lime (keylime) to start.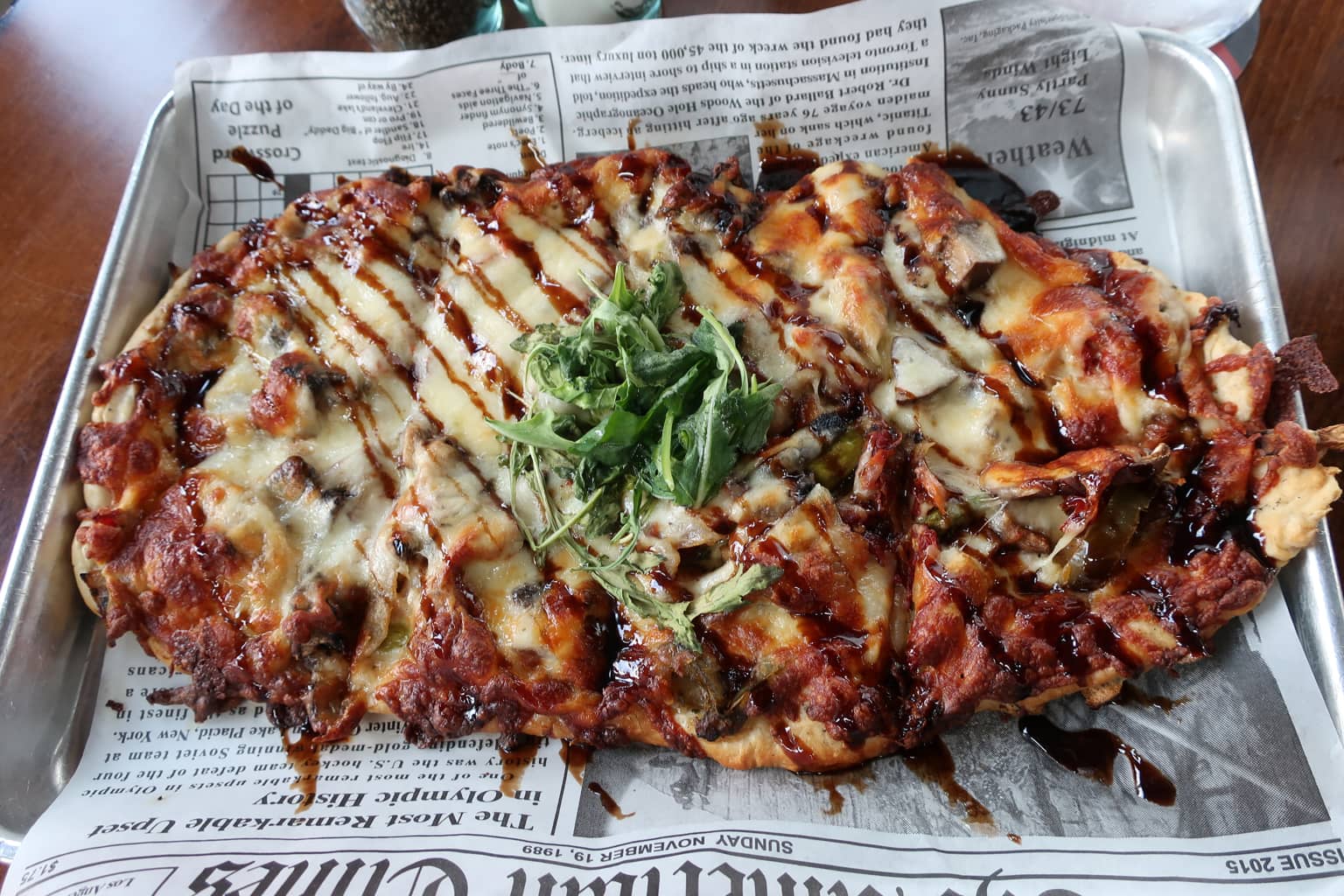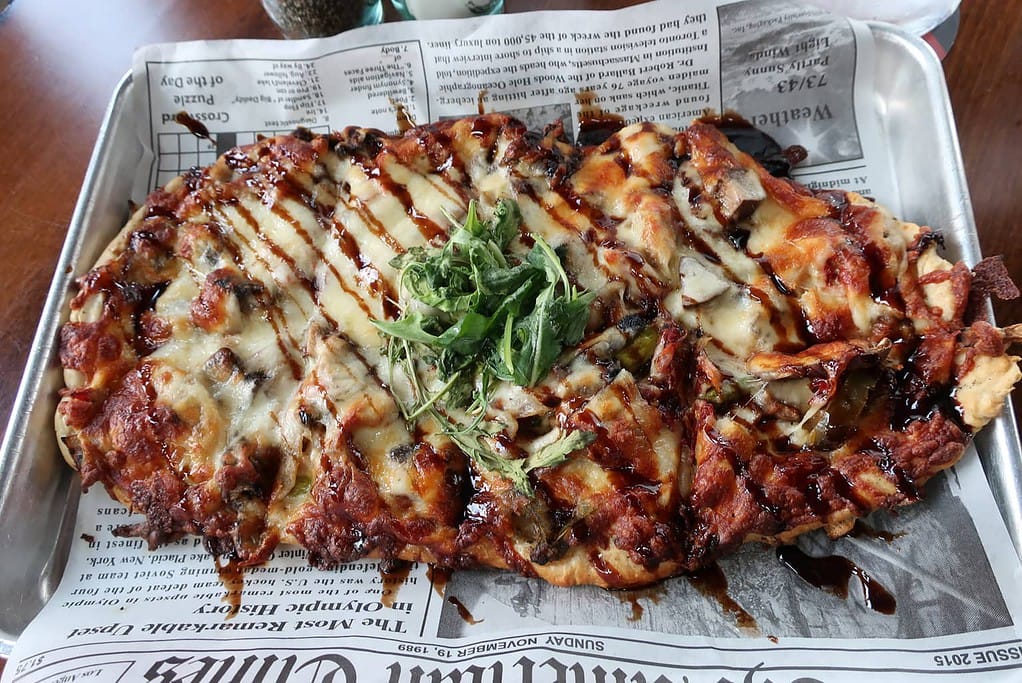 Food is terrific pub fare. "Thai You Shoes" ($13)– is comprised of shoestring fries with chili glaze and pork belly. "Our Chef's A Little Dippy" ($12) is made up of a rotating dip selection. "Vegetables Don't Have Wings" ($10) veggies with wing sauce. One of my favorites, though, was the chewy, gooey, crusty, flatbread (pictured). Sensational.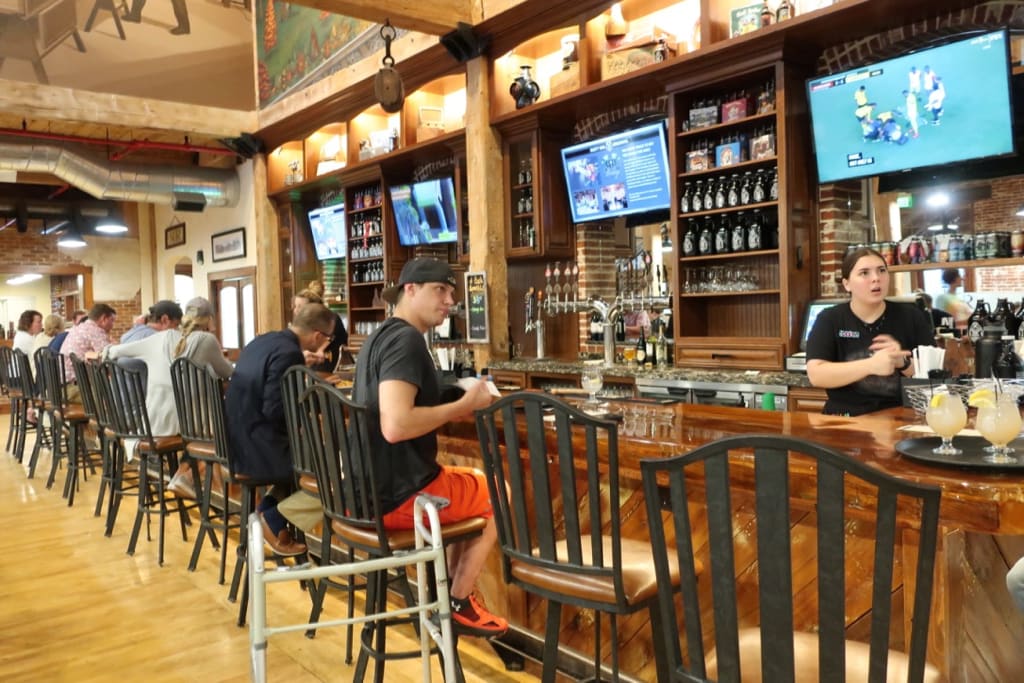 EAT: Rusty Rail Brewing (See Below Under Where to Stay)
Where to Stay in Susquehanna River Valley PA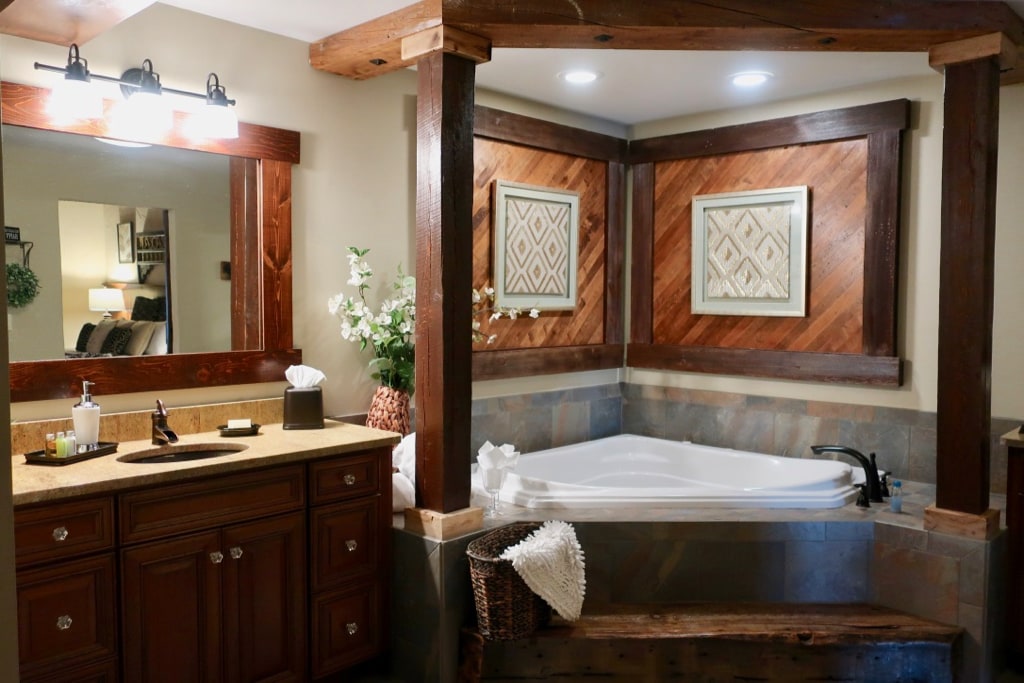 As someone who frequents luxury hotels around the world, these posh accommodations in literally the middle of farmland Central PA, hours from any major city, took me by complete surprise. I will recommend a stay here to anyone seeking a real off-the-radar high-end getaway that costs at least half or a third what it would in larger towns.
The Rusty Rail Suites, situated above a busy brewery/restaurant/ are massive, posh, and loft-like in height. Each one is industrial above, and refined below – and honestly – would make for my ideal apartment if I were single.
I was shocked to find this luxury honeymoon haven in Mifflinburg PA, aka, Buggytown – ten miles from Bucknell University in Lewisburg. In a brewery, yet.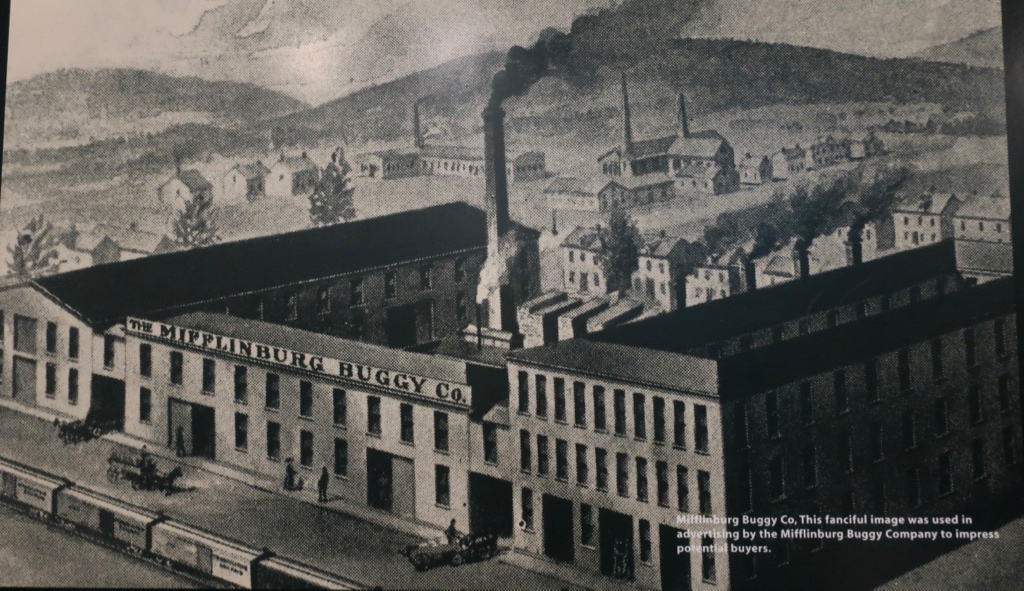 History of the Rusty Rail
The building that houses Rusty Rail Brewery began its life, logically enough, as Mifflinburg Buggy Co. (renamed Mifflinburg Body Co.) It subsequently served as one of the largest Model T body factories in the USA, and then a billiards manufacturer.
When the building was in danger of being torn down, local brothers, Paul and Eric John, owners of Legacy Crafted Cabinets, came to its rescue. They had visions of creating a destination to put Mifflinburg PA on the map. Rusty Rail Brewing opened in 2015 to much anticipation, and it's remained just that – a Central PA destination – ever since.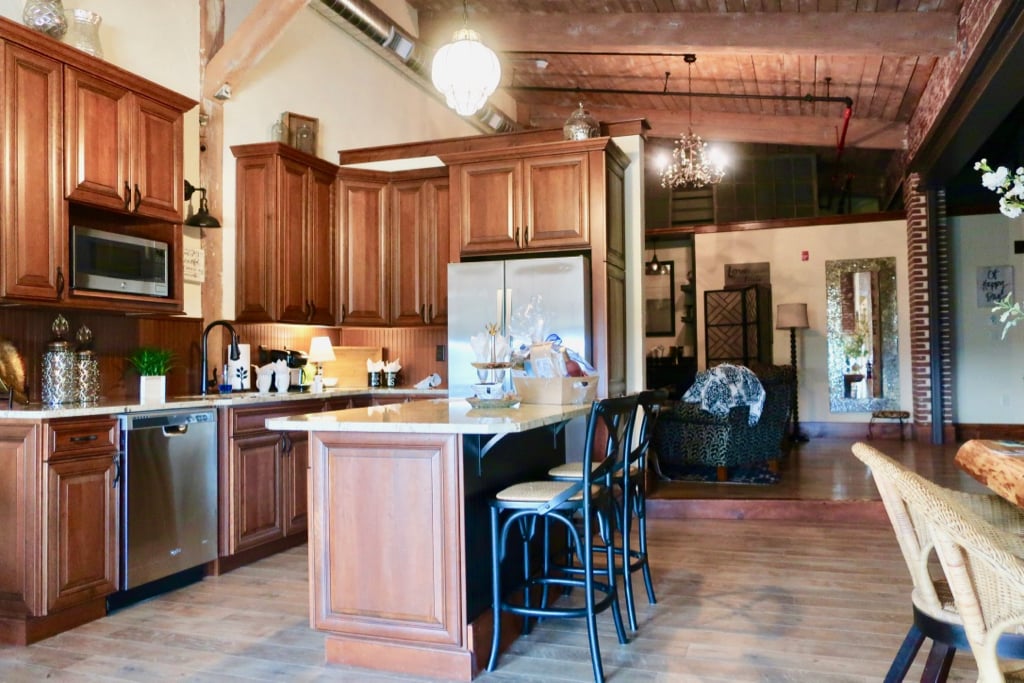 Many of the building's elements were repurposed during renovation, but the John's decided to keep the original brick walls. This necessitated quite a bit of sandblasting and restoration. Everything, including the brick and wood beamed ceilings, had been painted white.
While the John's installed their own Legacy Crafted Cabinets in each of the eight suites, shelves were made from the kitchen's subfloor. Original frosted glass windows now serve as architectural elements.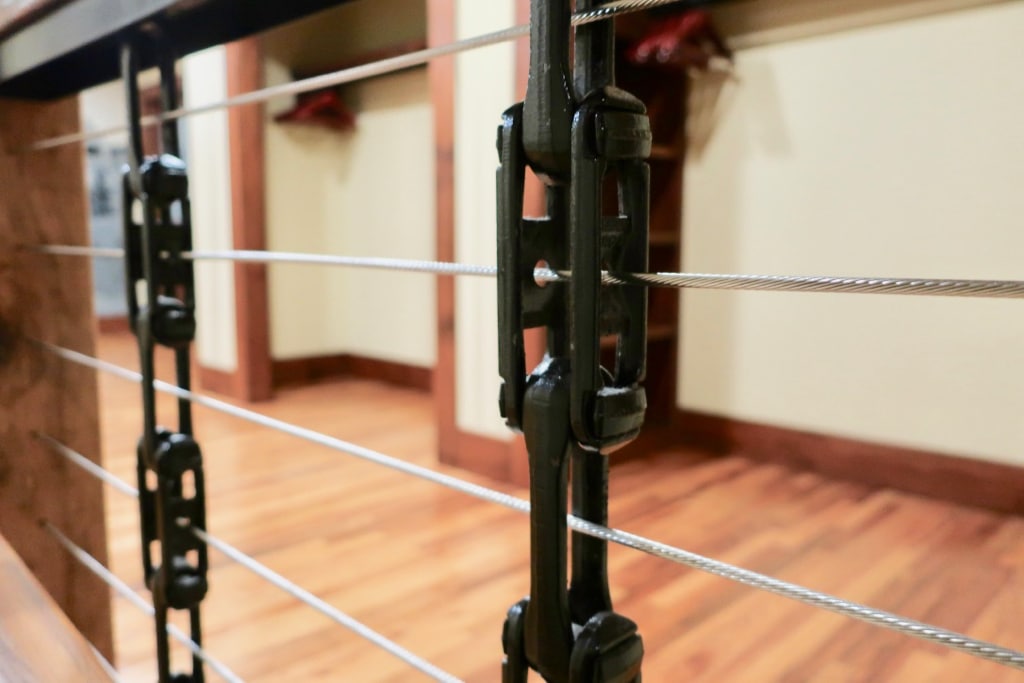 Bar tops were once factory doors. Factory chains, painted black, have been repurposed as railings in the two-story restaurant/brewery.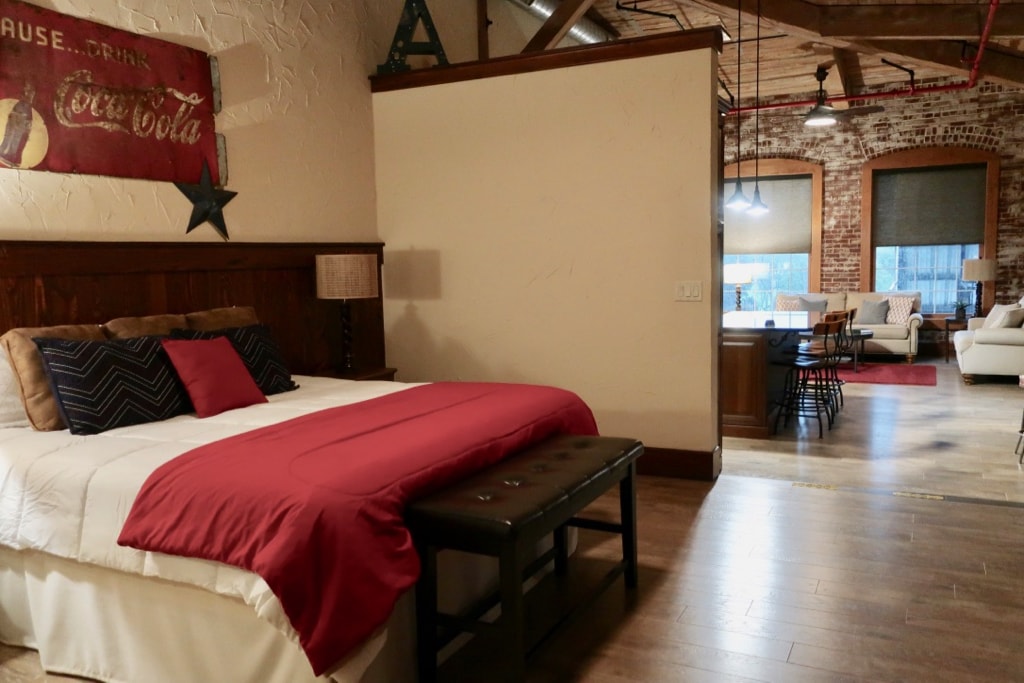 Suites at the Rusty Rail
Accommodations are exceedingly lavish – in an industrial-modern-lovey-dovey way. Each suite is different but all sport a kitchen with island, living room, and large bathroom.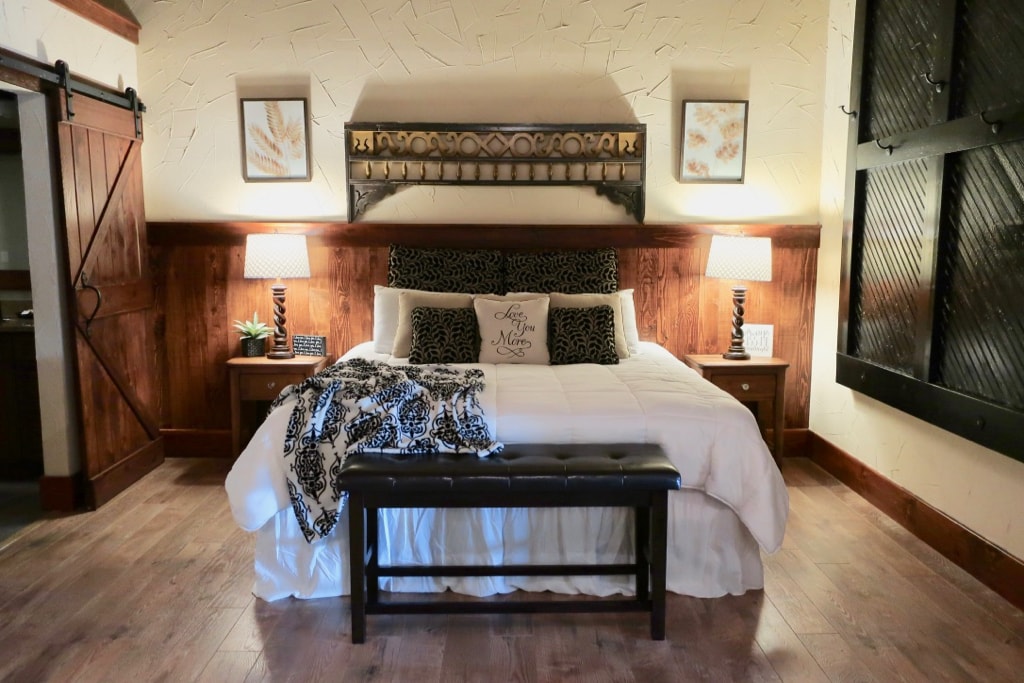 The Diamond Suite #8, however, is the largest, and most romantic. As such, it's generally used for pre-wedding prep or as the Honeymoon Suite.
The huge bathroom, the size of a NYC apartment, encompasses Jacuzzi for two, two independent sink areas, and large shower.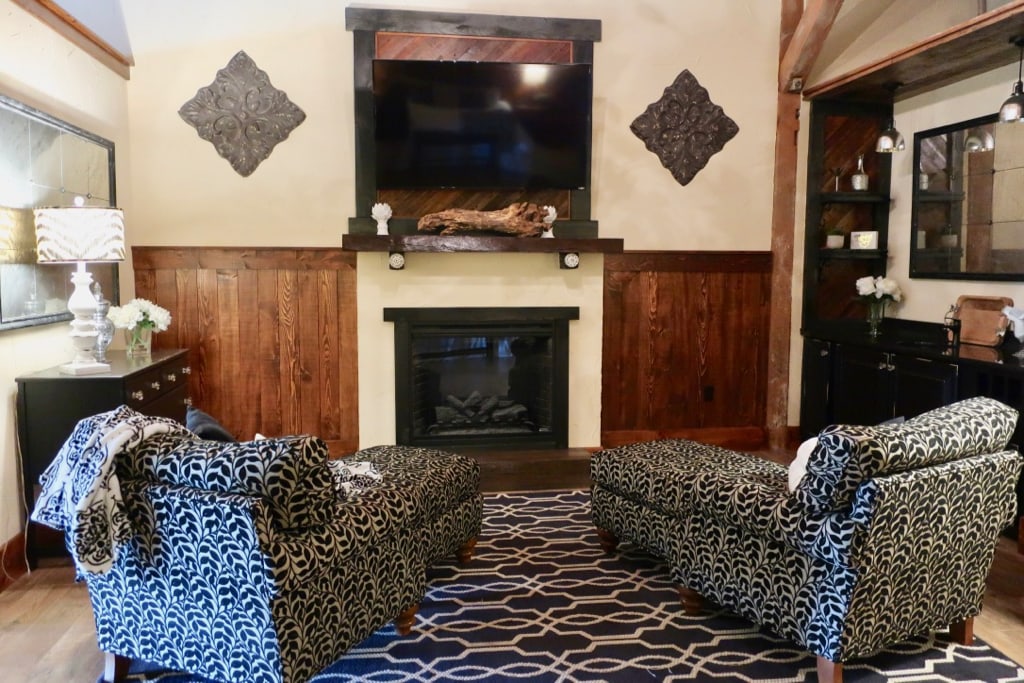 Two plush black and white chaise lounges face a fireplace and flat screen TV. A wet bar is nearly within reach of the chairs.
You know the Diamond Suite is for the newly-nuptialed: pillows and plaques with schmaltzy sentiments are incorporated throughout. "Love You More," "Never Miss a Chance to Dance," "Oh Happy Day," "Always Kiss Me Goodnight," "Love Never Fails," and the like come at you from all angles. It is, in the right moment, as sweet as can be.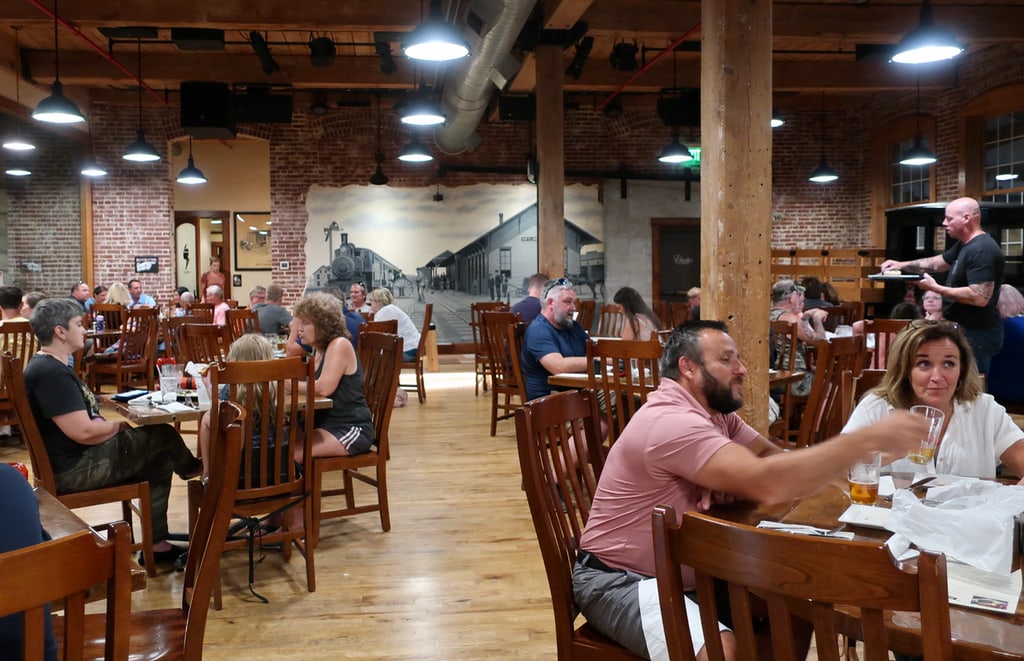 Food, Drink, and Fun at Rusty Rail
The soaring double-decker restaurant-tasting-billiards-room space thrums with patrons at two large bars, throughout a massive dining room, and around pool tables, shuffleboard, and Foosball in the Game Room.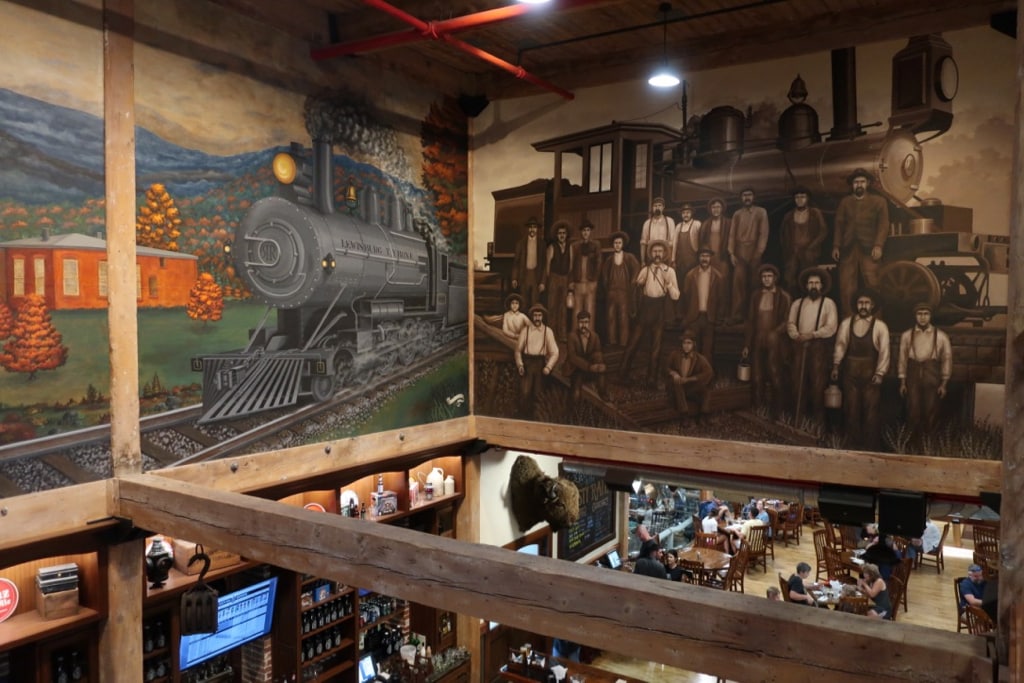 Fantastic hand painted murals blanket the brick walls – all done by local artist, Jef McGreevy, who recreated old historic photos as works of art.
Of course, there's a Rusty Rail store, where you can purchase cans of Rusty Rail beer, t-shirts, and other paraphernalia.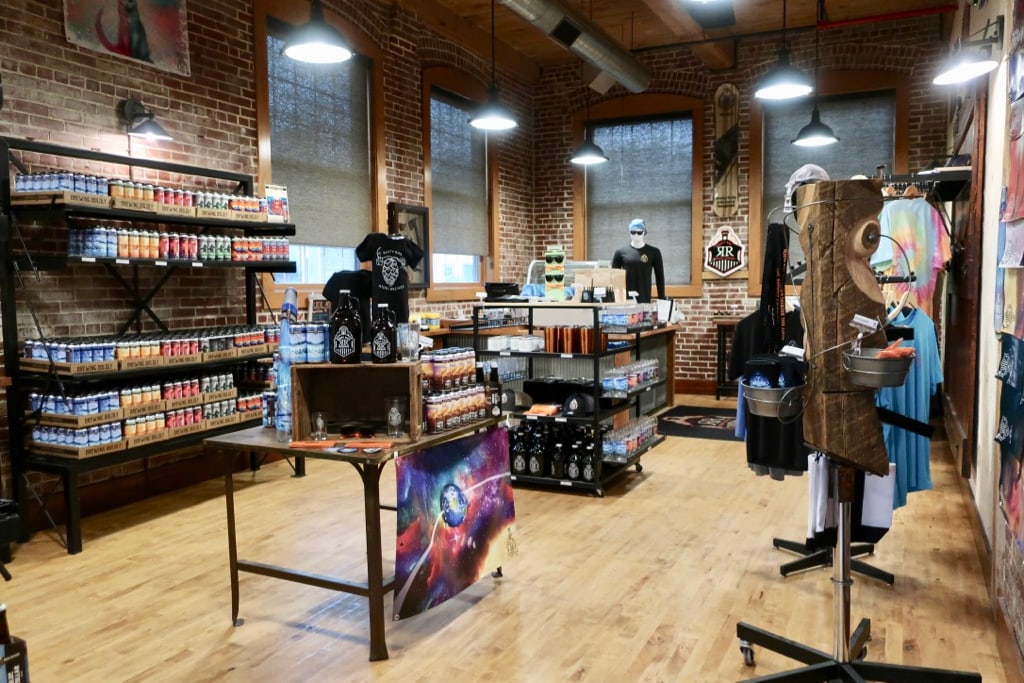 Upstairs – there's a dedicated event space, and prep rooms for both the bridal and groom's parties. Naturally, Rusty Rail has become quite a popular wedding venue.
Food and drink – beer, of course, but also inventive cocktails – bond people together. Though not "haute" dining, the dishes are good, and combined with the funky, convivial, artsy atmosphere, make for a great dining experience.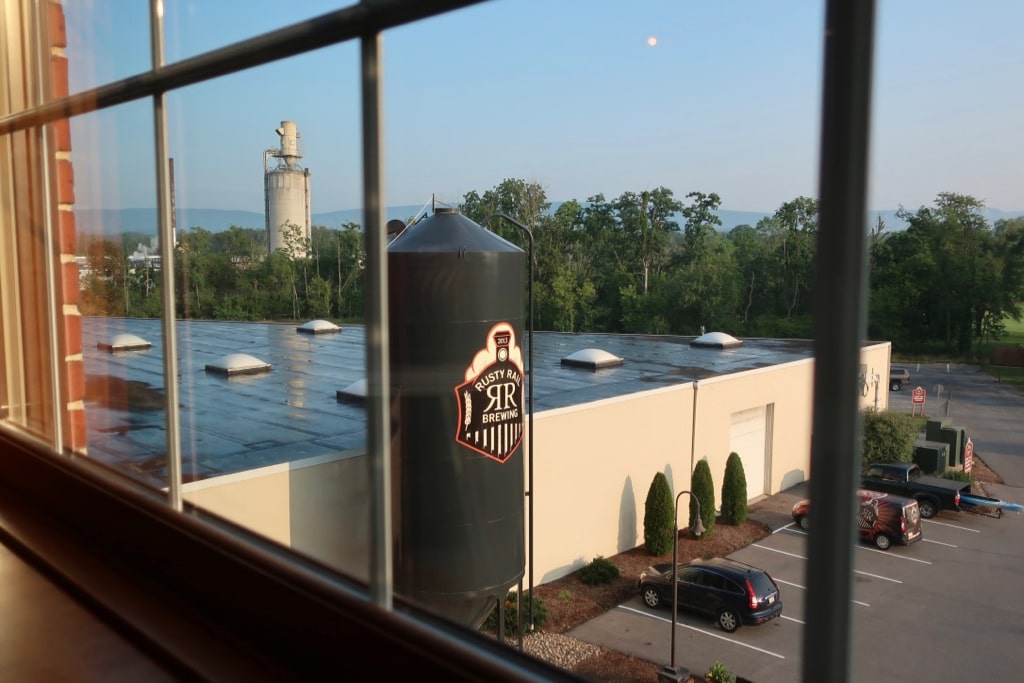 The biggest surprise to this New York City area gal? The overnight rates per suite. Sun-Thurs, $150 per night, $250 for the Diamond Suite includes a bottle of Champagne. Friday and Saturday nights are tough tickets due to weekly weddings, but if available are $225 for King Suite, $275 for Double Queen, and $350 for Diamond Suite, includes Champagne. That includes taxes!
Find Rusty Rail Suites on Getaway Mavens 15 Top Romantic Hideaways Northeast US 2022
STAY: Lewisburg Chain Hotels
There are plenty of franchise options in and near Lewisburg, including Best Western, Hampton Inn, Fairfield Inn & Suites, Holiday Inn, Country Inn and others.