Last Updated on
WHY GO: Port Chester has always been the poorer industrial cousin to neighboring Rye, Harrison, and Greenwich, CT, so why do the Mavens recommend it?  Well, one of them spent her formative years working in her father's downtown office and has watched Port Chester's revival and growing culinary scene with appreciative interest. Back in the day, the air was fragrant with the aroma of fruit and mint pumped into the air by the Life Saver Factory, based in Port Chester and gone to condo by the mid-80's. As a teen, she'd walk to see the Grateful Dead, Jefferson Airplane, Al Stewart, and other rock and roll giants perform at the venerable Capitol Theater, known as "the Cap," which closed in the mid '70's, and reopened in late 2012. Most tourists come to this area of New York for the National Historic amusement park, Rye Playland, which opened at the tail end of the "Roaring 20's" and is still going strong. But the food scene is now also drawing epicurean attention. There has always been a strong Italian and Latin influence in Port Chester, and you'll find the most delectable dishes in unlikely holes-in-the-walls. Guess who'll let you in on her favorites? Ride an historic roller coaster, eat cheap and celebrate with music like it's 1999, all on this unique Getaway.
What to Do In Port Chester/Rye NY
VISIT: Rye Playland. This iconic, art deco, seaside park was opened in 1928 – just one  year before the stock market crash that set off the Great Depression.  That it's still going strong is a testament to the appeal of amusement parks in tough economic times. On the National Historic Register, seven original rides remain (among many other newer rides), including the 25mph, centrifugally forceful "Derby Racer" – one of only three high-speed carousels left in the United States. The 3,400 ft long wooden Dragon Coaster has been thrilling riders since it opened in 1929.  Check out this Depression-era home movie on YouTube showing men in hats and suits and women with fur stoles enjoying the plunges and turns. Fans of the movie Big (starring Tom Hanks) might find Playland familiar, as it's where Hanks consulted the amusement park Fortune Teller. Park is open in season – check website for days and hours.  $30 adults, $20 under "48 tall, unlimited rides. Parking $5 weekdays, $10 weekends.

SKATE: Playland Ice Casino. The historically important, Playland Ice Casino is the granddaddy of Ice Skating rinks.  Set on a stunning piece of Long Island Sound property, this skating venue is a throwback to the days of refined family outings. The newly refreshed art deco lobby gives visitors a glimpse of the illustrious ice palace this was in 1929 when first opened, and retains it's Roaring 20's appeal. $9.75 adults, $4.25 skate rentals. Check website for public skating hours. 
TOUR: Still The One Distillery. This unexpectedly small, loading-bay-sized distillery is turning out some of the best "Mead" Vodka and Gin in the country. Created from honey, Comb Vodka, Comb 9 Gin, barrel-aged Comb Blossom Brandy, and unfiltered and un-aged Comb White are some of the most distinctive and purest-tasting spirits you'll find anywhere. Opening the first distillery in Port Chester since Prohibition, free spirits Ed and Laura Tiedge established Still The One as a second-chapter career. Contact Ed via the CombVodka website to arrange for a tour to see the submarine-like contraptions used to distill vodka, whiskey and other alcoholic nectars, then take a taste. Honey, I promise you'll be hooked!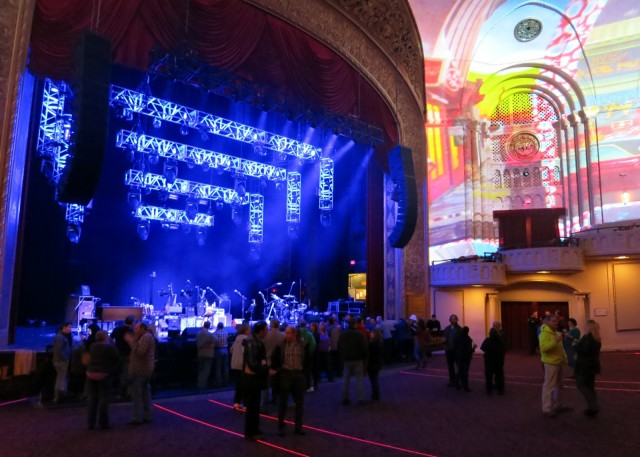 ROCK CONCERT: The Capitol Theater, Port Chester. Once the preferred venue for The Grateful Dead, Janice Joplin and the greats of rock n roll, "The Cap" became a key venue for nesting pigeons and mold after it shut down in the mid 1970's. Thanks to nostalgia with bucks behind it, the Cap has been refreshed and renewed, re-opening with a bang in late 2012. Big names have been lured back, so if you're planning a stay in town, be sure to get tickets in advance.
Best Places to Eat In Port Chester/Rye NY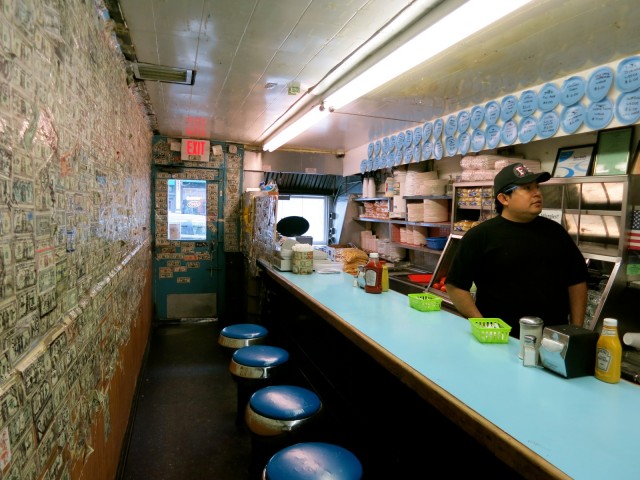 SNACK/FRIES: Hubba, Port Chester. You'll find unsurpassed Chili Fries in this inconspicuous eatery barely wide enough to squeeze into. It's what this place has been doing best for over 40 years, since it was called "Texas Lunch," then Pat's Hubba Hubba, and now just Hubba – as you can tell from the fryer and humongous chili pot in the front window. Order fries "well done," and these golden morsels will come smothered with hot and tasty ground beef with a kick.
SNACK/ICECREAM: Paleteria Fernandez.  The "paleteria" – a Mexican frozen fruit and cream-pop shop – has gained more than a toehold in Port Chester. The first time I tried one of the dozen or so flavors of this frozen treat, I was hooked. My favorite? Dolce le Leche.  It is an eyes-roll-back-in-the-head, exceedingly delectable frozen version of the creamiest caramel I've ever tasted.
EAT/LUNCH: Kneaded Bread. Right across from Tarry Market, in the shadow of the original Life Savers Factory turned condo, this purveyor of Foccocia, Ciabata, Rye, Crusty French loaves, soups, salads and sandwiches remains THE place for the artisanal bread obsessed (like me).
EAT: Tarry Lodge, Port Chester.  Back in the 1960's, my grandparents gathered their kids and grandkids together every Sunday eve for pizza and red-sauce pasta at the casual, friendly Tarry Lodge. It was loud, the food was good and cheap, and we were assured, despite Grandpa's fearsome warnings about living in the "age of the Atom Bomb," that all was right with the world. Then, we grew up, moved away, Grandma and Grandpa passed away, and so did Tarry Lodge.  Or so we thought.  The restaurant closed for several years, and then for some unknown reason caught the eye of celeb chef, Mario Batali. Now, Tarry Lodge is a scrubbed, upscale hotspot with wonderfully executed dishes, though it has lost something in translation. But, yes, I still recommend it to anyone who's looking for haute Italian. Black Fettuccine with 'nduja and rock shrimp, Pizza With Guanciale, Black Truffles and Sunny Side Egg, Whole Roasted Branzino with braised fennel, and whatever catches the chef's imagination.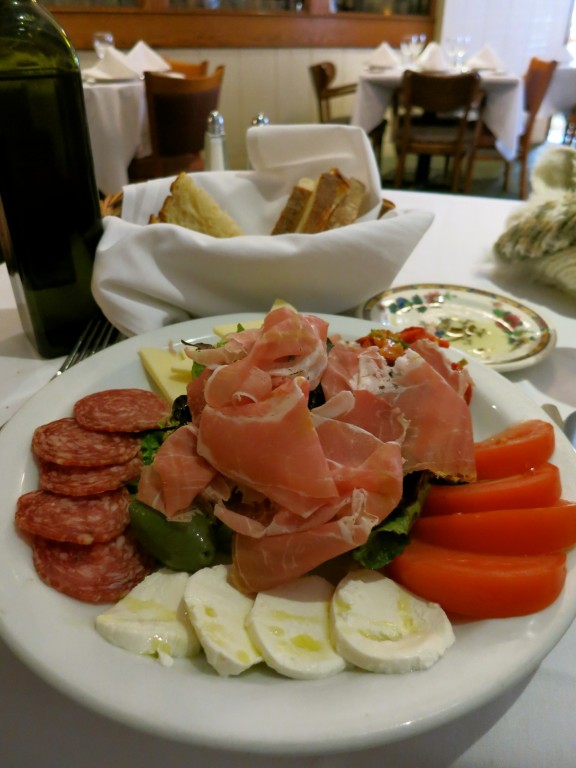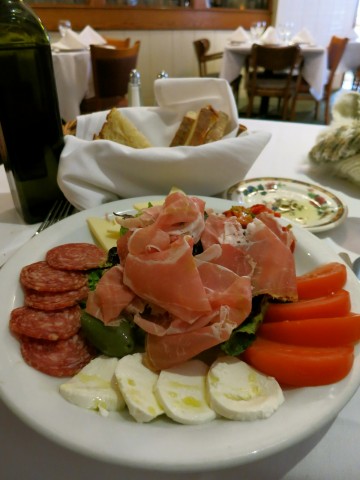 EAT: Marianacci's, Port Chester. This was my family's "fine-dining" favorite way back when, and where the best Old World Italian cuisine has been hiding in plain sight for 64 years. With due respect to Batali and Co., if you want time-capsule worthy stuffed clams ($9.75), real hearty Zuppa Di Pesce (Italian bouillabaisse, $28.75), and simple antipasti free of roasted beets and other modern embellishments ($12.75), you'll make your way to this tough-to-find, white tablecloth, fuss-over-you-like-family oldie-but-goodie.
EAT: Aqua Es Santa Fe, Port Chester. Columbian food, cheap, good and nice owners, this sweet little BYO-wine corner café is starting to gain notice. Empanadas (12 for $16) and Arepas (cornmeal cakes, $8-$12) are perfect for sharing and entrees like simply prepared grilled chicken, beef and salmon are at a reasonable price point ($13.50-$27, includes rice and salad). Right across from the Port Chester train station (a Metro North Stop) and a block from the Capitol Theater, it's a perfect pre concert meeting place.
Where to Stay in Port Chester/Rye NY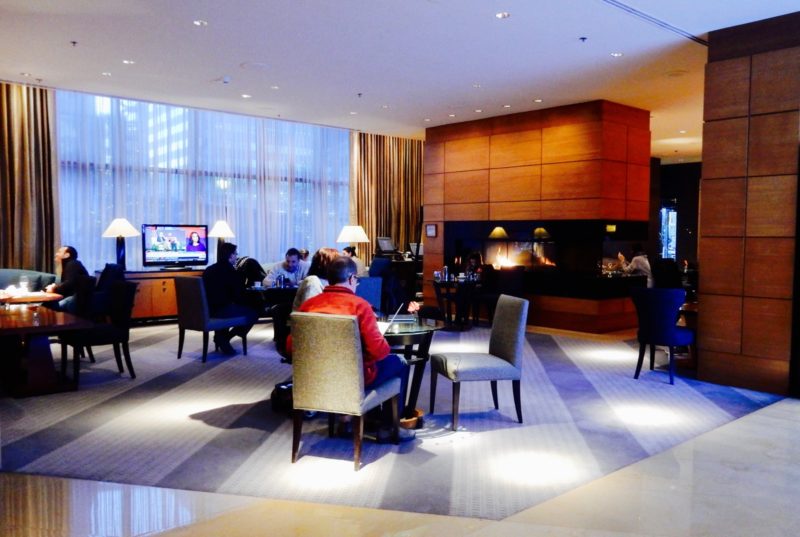 STAY: Ritz Carlton Westchester. Though not in Port Chester or Rye, this splurge of a hotel is just a few miles away, and is so exceptional, it's a Maven Favorite, with its own write-up here. For Spa-goers, the Ritz Carlton Spa is the largest in Westchester County, with some of the swankiest amenities.
STAY: Courtyard By Marriott, Rye. Located right off of the I-95/I-287 exchange ramp, this is the ONLY place to stay in Port Chester.  So, good thing it's nice. The small lobby is inviting, and features a small café, rooms are refreshed and clean, with flat-screen TV's, granite counter bathrooms and free wifi.  And one very state-of-the-art and as yet offbeat amenity: parking lot includes two EV (electric vehicle) Charging Stations, so by all means, drive your Leaf or Tesla on over! Rates start at $109.